Disclaimer: This page may contain affiliate links. Please review our full Terms and Conditions for more information and our Privacy Policy. Note that any pricing, operating hours, or other such information provided below may have changed since initial publication.
Compiled by the Road Trip Alberta team
Last updated on July 18, 2023
There is no other province in Canada that invites visitors to explore such diverse scenery and activities. In the span of one day, you can climb a mountain and a hoodoo or watch a world-class rodeo and then shop at the largest mall in North America. And that's just for starters. Consider this your essential guide to the best things to do in Alberta.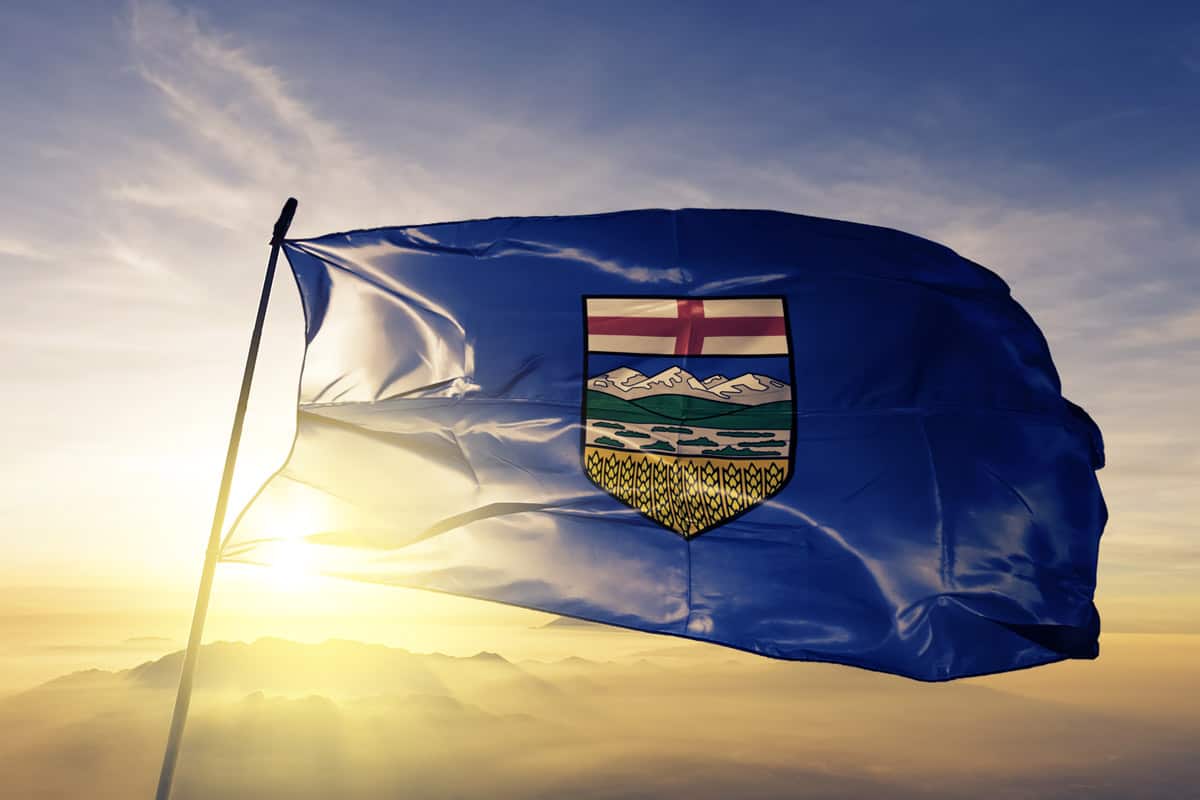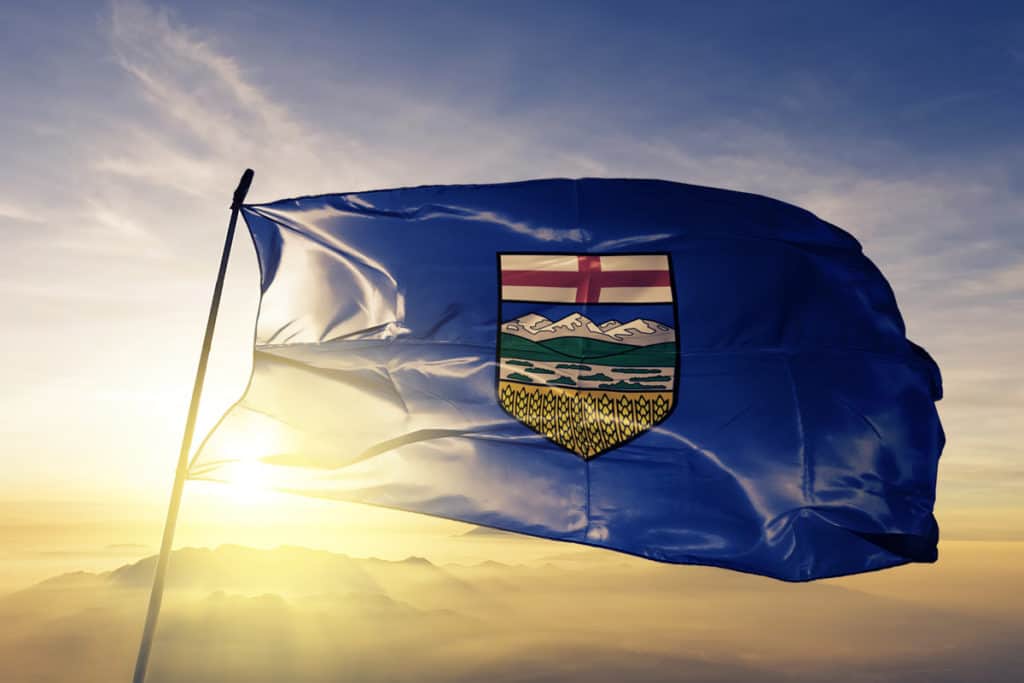 We didn't stop at just 100 things – the list currently clocks in at 126! We've divided the post up into sights and activities in the two biggest cities – Edmonton and Calgary – and then into the mountains, north, central, and south.
Use this to plan your ultimate Alberta outing! And whatever you do – don't you dare say you're bored.
Best Things to Do in Edmonton
Playing in the Edmonton River Valley
Edmonton is home to the largest urban park in Canada, with 160 km of maintained trails and 20 major parks, all nestled up to the North Saskatchewan River that runs from the Rocky Mountains and right through the city. You can play in the Edmonton river valley all year round by walking/running/biking the trails in summer and even taking fat-tire Segways in winter!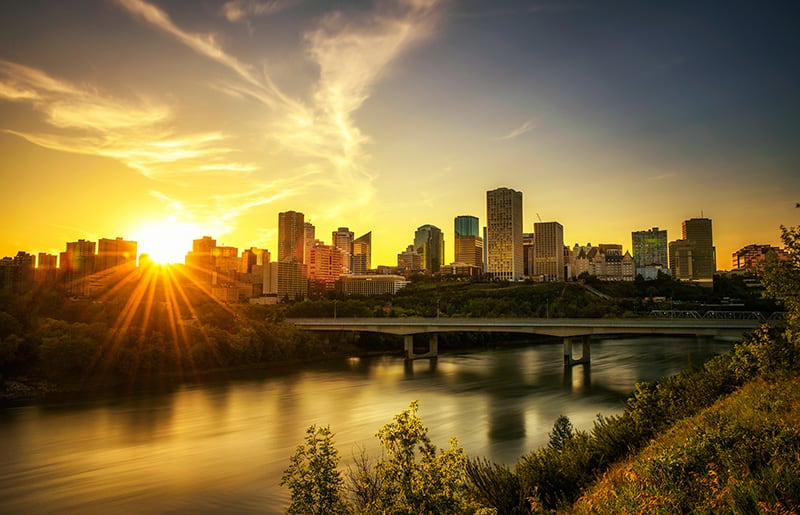 Get Artsy in the City
Discover some of Edmonton's most diverse and controversial art in the heart of the city. Choose from a variety of self-driven tours found online to experience the diverse sculptures and more throughout the downtown core. There's also plenty of street art perfect for your Instagram feed!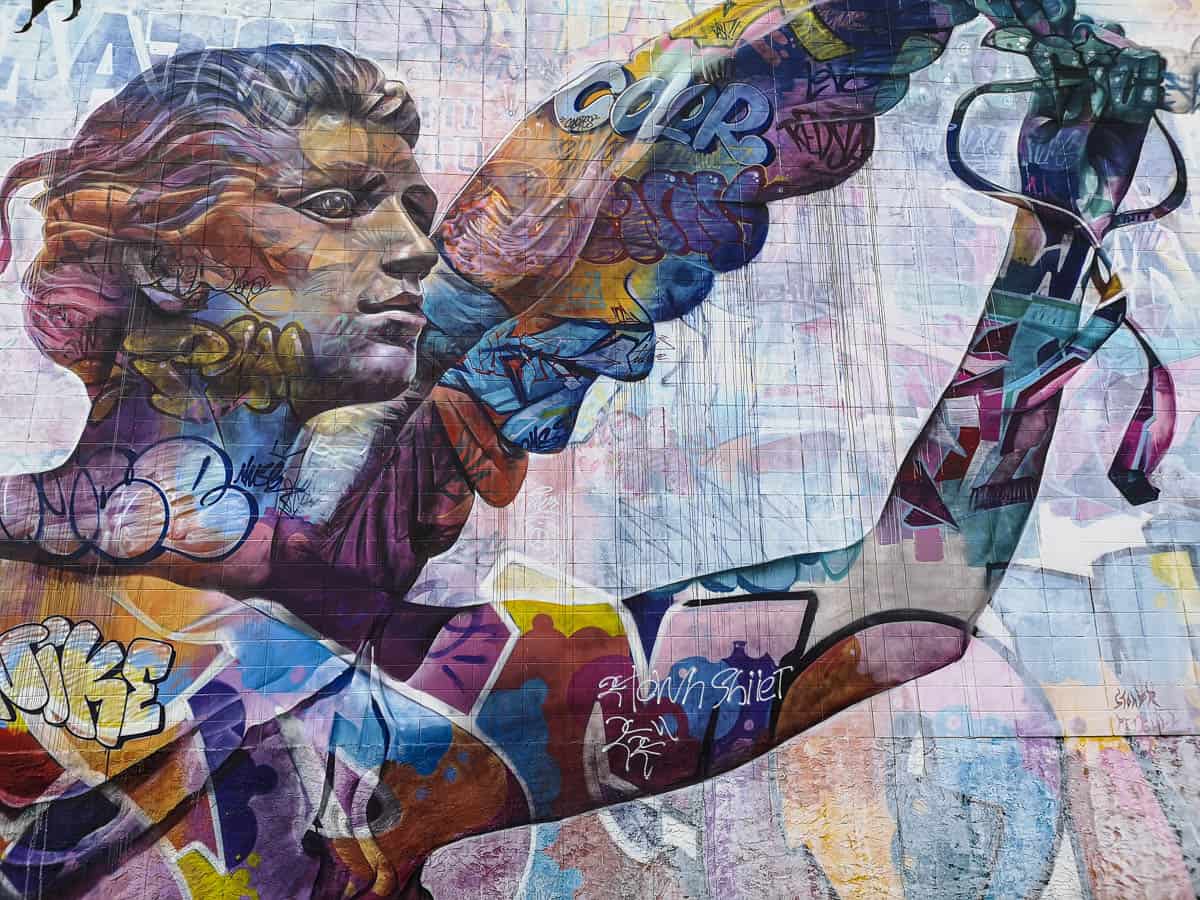 Visit the Ukrainian Cultural Heritage Village
Experience the history and life of the Ukrainian pioneers that settled in Alberta from 1892-1930 by exploring this town alongside people in costume portraying the lives of actual pioneers. Explore more than 30 restored buildings including a school, grain elevator, blacksmith shop and three churches.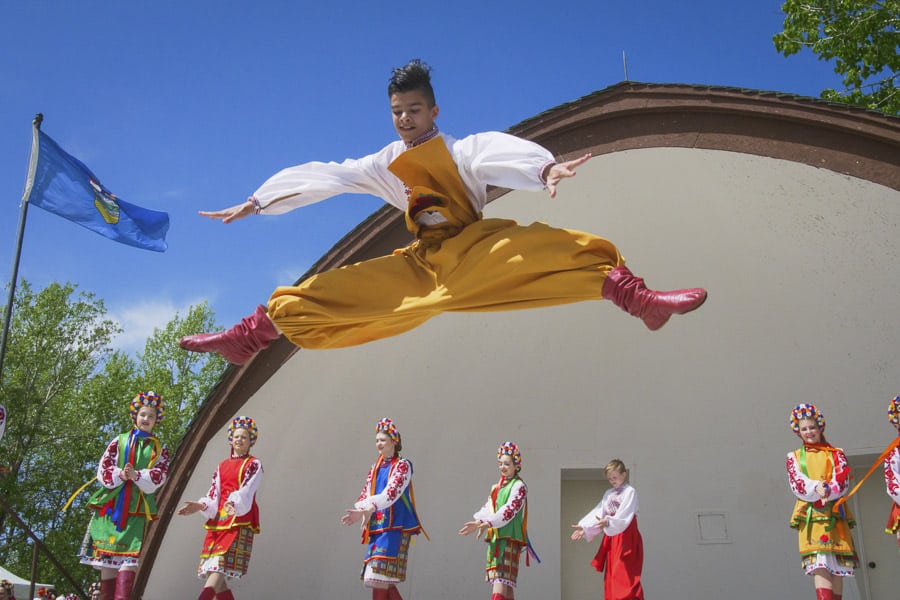 Stroll and Shop on Whyte Ave and in Old Strathcona
In one of Edmonton's trendiest neighbourhoods – the Heritage district – lies one-of-a-kind boutiques, trendy art galleries and music shops, and unique restaurants and cafés. If you happen to be in the area on a Saturday, make sure to also take in the year-round Old Strathcona Farmers' Market and find over 130 vendors selling only the freshest local food and handmade arts and crafts!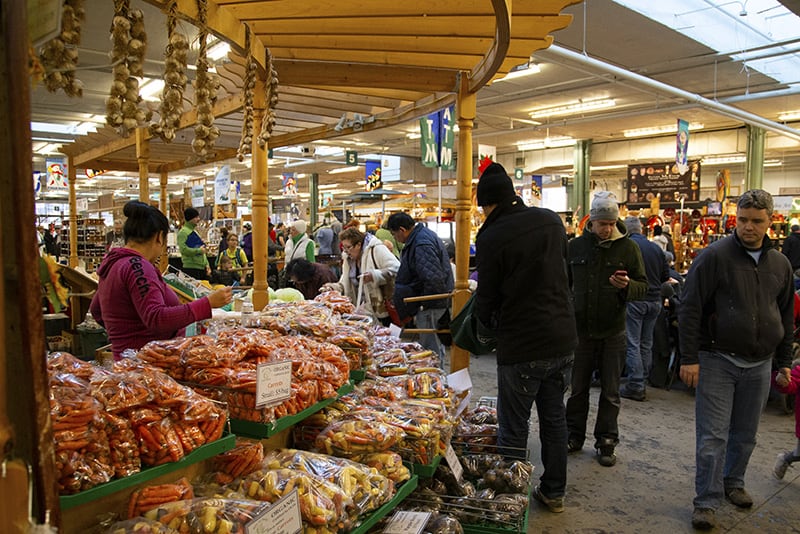 Take an Alberta Legislature Tour
Alberta became a province in 1905 and the impressive five-story Legislature Building was built and completed in 1912. It is recommended (but not required) to get a Heritage Interpreter guide booked visit, which can include a standard Legislature Building tour, a visit to the Legislative Assembly Visitor Centre and watching Session from the galleries in the Chamber. All tours at the Legislature are free to visitors but a reservation in advance is required.
Experience Life as a Pioneer
Nestled along Edmonton's river valley in wooded parkland, Fort Edmonton Park is a unique place to experience the evolution of Edmonton's early history. Travel back 150 years in time and experience the fur trade and the life of the pioneers, dating as far back as 1885.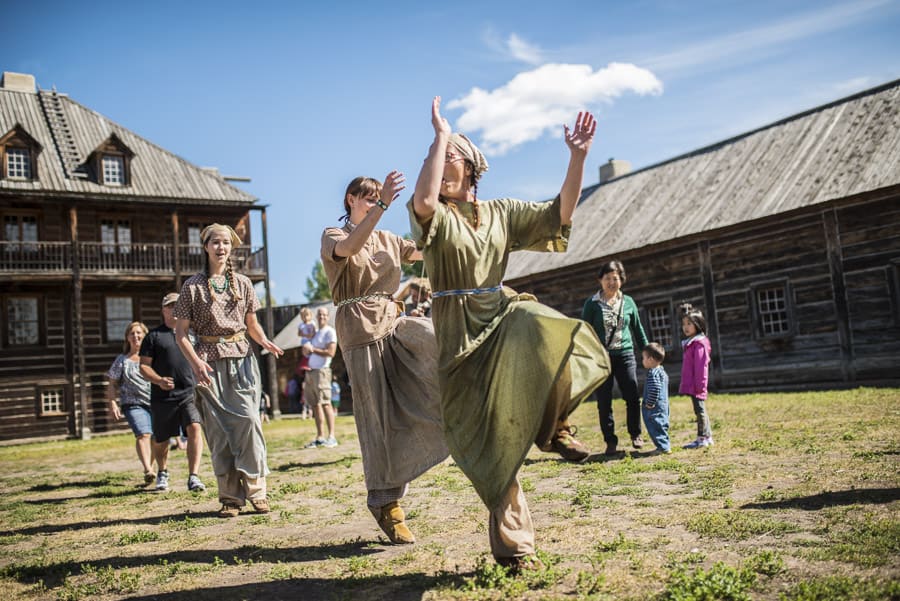 Stroll Through the Neon Sign Museum
The City of Edmonton gathered 20 historic neon signs, restored them, affixed them on downtown buildings (to the Mercer Warehouse and the TELUS building), and introduced a very unique-to-Edmonton museum. The first of its kind in North America, it is open 24/7, requires no admission fee, and is a hot spot for Instagram photos.
Segway Like a Pro – in Winter!
Yes, Segways come with fat tires, too! Dress the part (layer up) and take a cruise through the Edmonton river valley on a trusty segway with River Valley Adventure Co. While you're at it, they also have snowshoes for rent to allow you to tramp around in the area as well.
Shop 'til you Drop
One of Edmonton's biggest attractions is the iconic West Edmonton Mall – the largest shopping mall in North America. There are over 800 stores to drop money in and the famous Fantasyland Hotel to crash in after. Bored of shopping? Then splash in the World Waterpark, ride all the rides in Galaxyland, go for a skate at the Ice Palace, and sate your appetite at one of over a hundred dining venues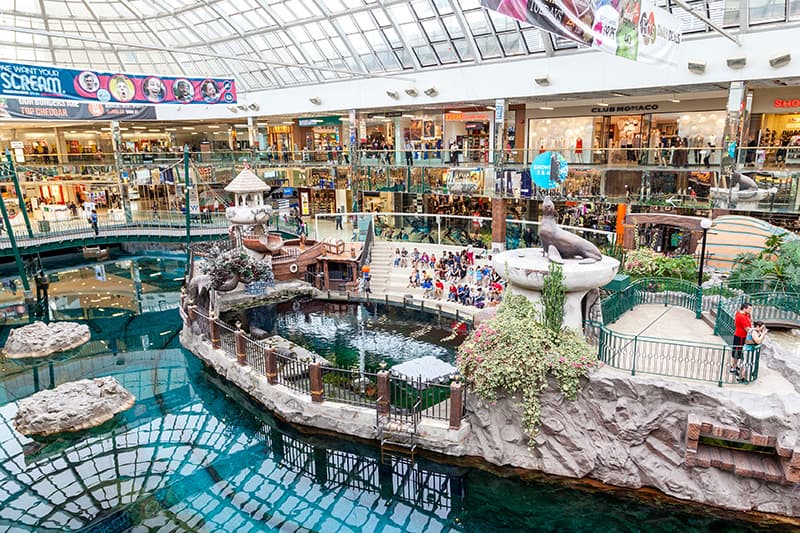 Take on the Telus World of Science
Experience science like never before! Fun for all ages, the Telus World of Science has no shortage of activities. Marvel at Canada's largest planetarium, watch an IMAX movie on the biggest screen in Alberta, take part in interactive galleries and experiments or explore feature exhibitions that happen several times a year and have included Harry Potter, Star Wars, Indiana Jones and Body Worlds.
Glamp on an Island
Glamping on an island near Edmonton? You bet! Just opened in 2020, book a night (or more) with Urban River Adventures and you can stay in a dome tent, bell tent, or tree tent! Price includes Jetboat transportation on the South Saskatchewan river to your spot, and you can also book river adventures like kayaking, paddle boarding, gold panning, and more for a truly unique adventure.
Go Bison Spotting
Nearby, Elk Island National Park has some of the best wildlife viewing in Alberta and is widely known for its bison and wildlife conservation efforts. Packed with hundreds of free-roaming bison, there is a good chance you might just catch a glimpse of a herd grazing in a meadow or you could end up getting stuck in a bison traffic jam.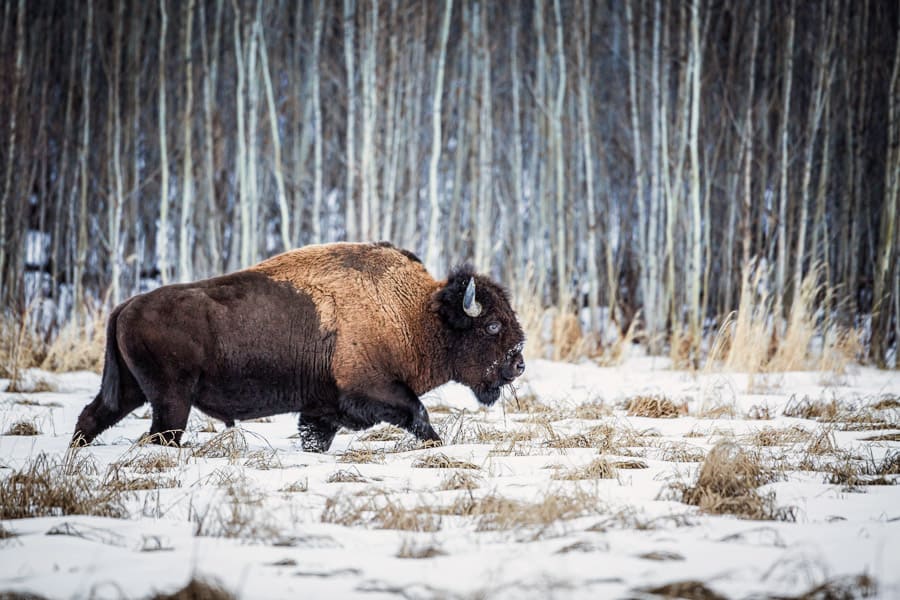 Go Green
Explore the world's plant life by visiting the Muttart Conservatory which is nestled in the Edmonton river valley and home to 3 glass pyramid biomes: arid, temperate, and tropical. Take a guided or self-guided tour to learn and experience more than 700 species of plants.
Spot Some Big Balls
(Sorry, we couldn't resist.) We're referring, of course, to the Talus Dome – a sculpture composed of nearly 1,000 handcrafted stainless steel spheres forming an abstract talus shape. The Dome will take on different colours with the changing seasons and hours of the day which make it a very fun spot to get a photograph or two. It is on a major junction of the river valley trail system so easily accessible (at Quesnell Bridge and Fox Drive).
Ride High
From spring through fall, take a ride on the historic heritage street car on top of the Edmonton High Level Bridge. Official streetcar service in Edmonton ended in 1951 but reopened again over the bridge in 1979 to celebrate Edmonton's 75th anniversary. Follow it up with a visit to the Streetcar Museum in the nearby Strathcona neighbourhood.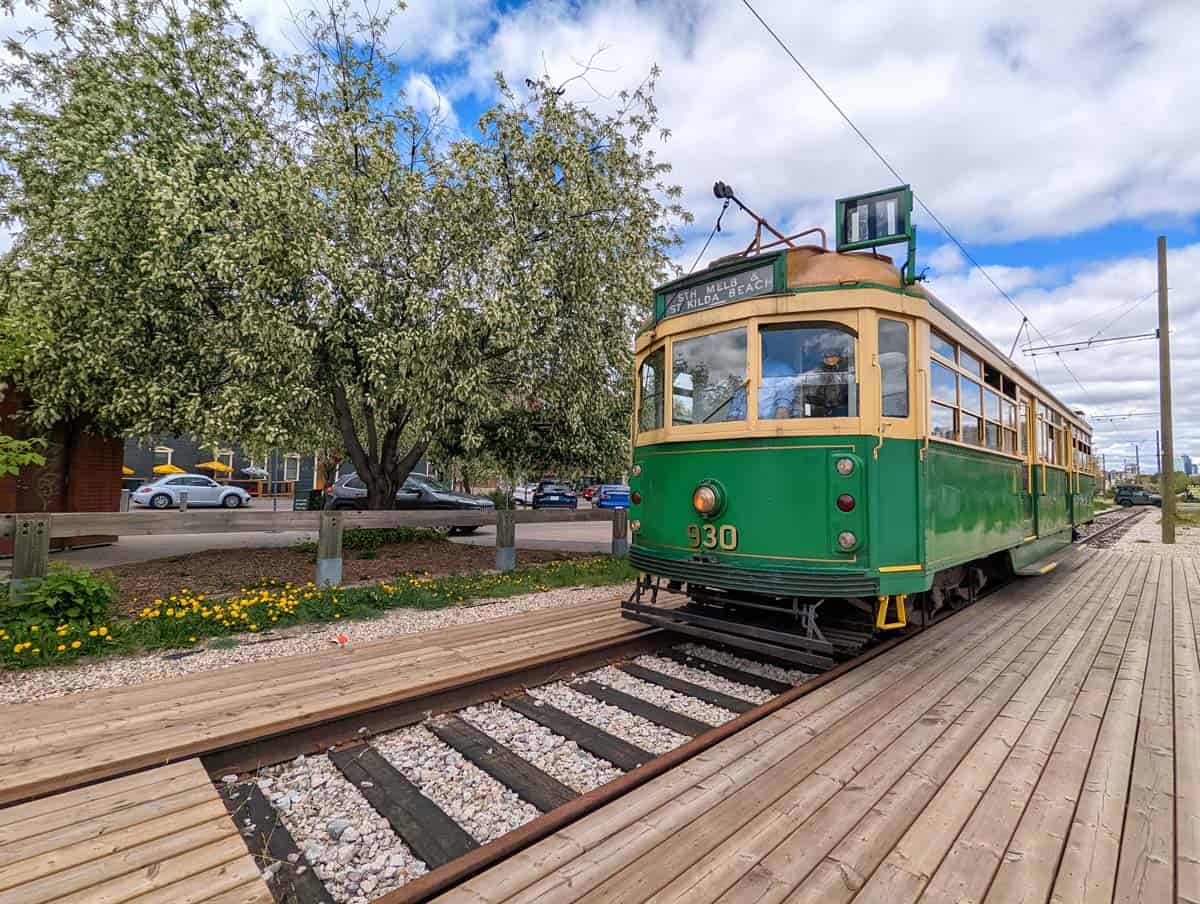 Where to stay in Edmonton
Luxury – Nothing beats the iconic Fairmont Hotel MacDonald. You can't miss this hotel as it offers spectacular views of the Edmonton river valley and features a restaurant and spa. This hotel is worth the splurge even if it's just for one night!
Mid-range – The Meterra Hotel on Whyte is close to the shopping and vibrant amenities Whyte Ave is known for. Fitting in with the funky vibe of Old Strathcona, it offers rooms decorated in fire, earth, air, or water themes.
Budget – Close to Whyte Ave and West Edmonton Mall, Travelodge by Wyndham Edmonton South gives you access to Edmonton sightseeing without breaking the bank. Great for kids, it also has a hot tub and pool and also includes a complimentary continental breakfast.
Best Things to do in Calgary
Start with a Cocktail
Canada's official cocktail (YES, that is a thing!) – the Caesar – was born in Calgary in 1969. This Canadian brunch-time classic was invented by beverage manager Walter Chell at what is now The Westin hotel. Many restaurants in Calgary now offer their own version, but we recommend trying one at The Beltliner and choosing your own accompanying skewers from chicken and waffles to chocolate cake and many more!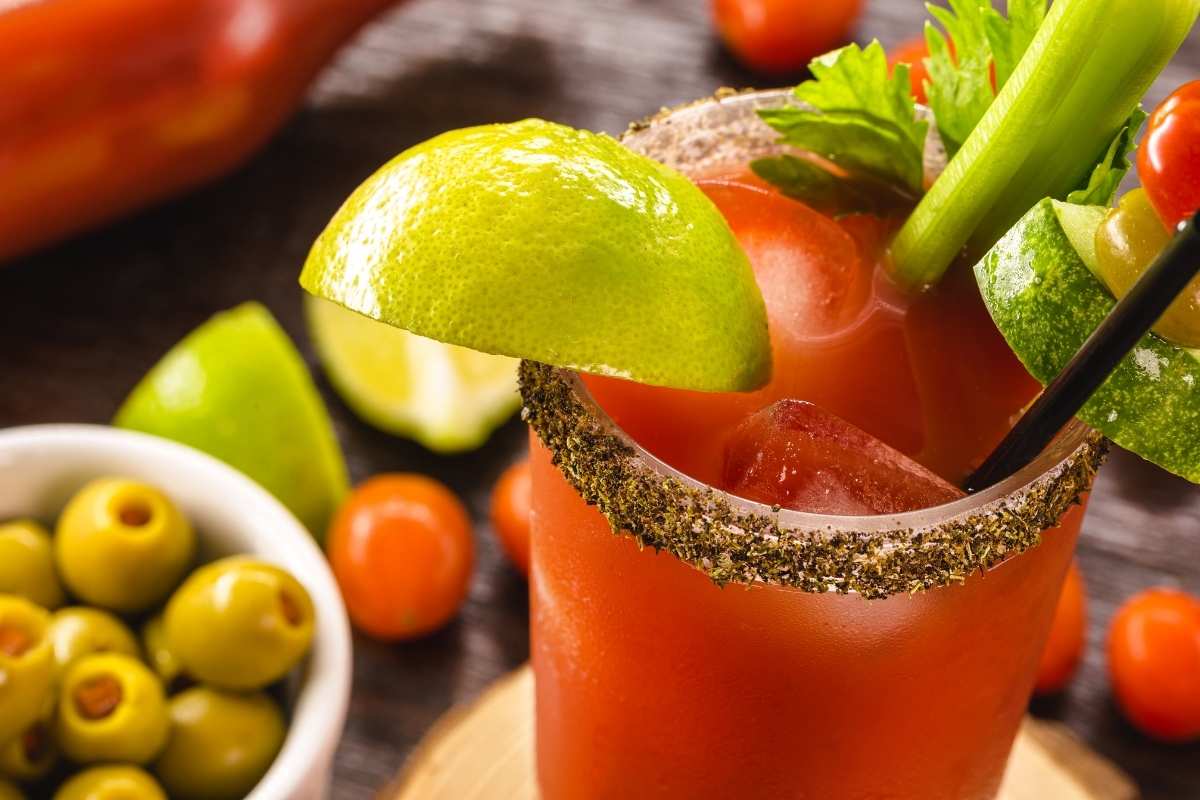 Go to Where the Wild Things Are
Calgary is home to the second-largest zoo in Canada. Visit the penguins at the Penguin Plunge, discover the animals that call Canada home at Canadian Wilds, take a walk through the tropical rainforest pathways, view gorillas, snakes and crocodiles at Destination Africa, or explore Eurasia and say hello to the tigers and the red pandas.
Make Peace with the Calgary Peace Bridge
Its construction was a contentious topic for locals as it was being built (with an over $20 million price tag), but the Calgary Peace Bridge quickly became an iconic symbol for the city and is well used by pedestrians and bicycle enthusiasts alike to get across the Bow River into downtown. Take a stroll in it to see what all the fuss is about, and don't forget to take a selfie in this Instagram hot spot.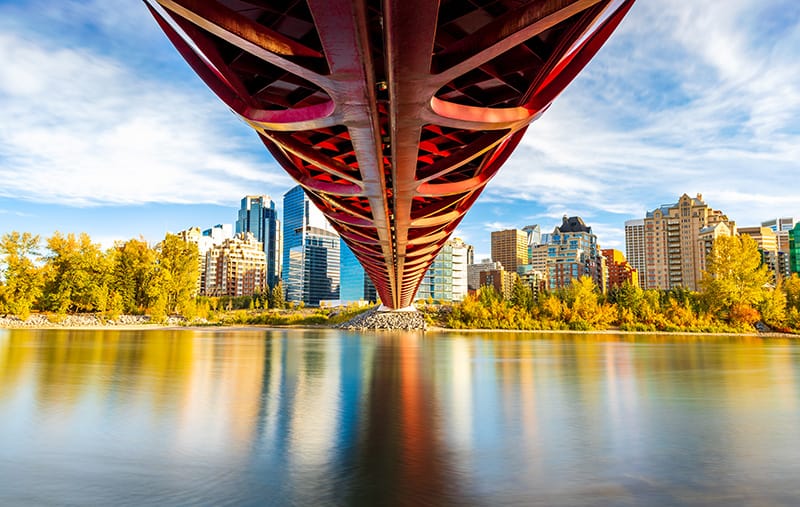 Explore the Heritage
Visit Canada's largest living history museum at the Heritage Park Historical Village, one of the best museums in Calgary. With so many activities available, it will be hard to decide which to do first! You can explore preserved heritage buildings and homesteads, take a tour of the park on an antique steam train, make yourself some old fashion ice cream, help build a tipi in a First Nations' Encampment, and so much more.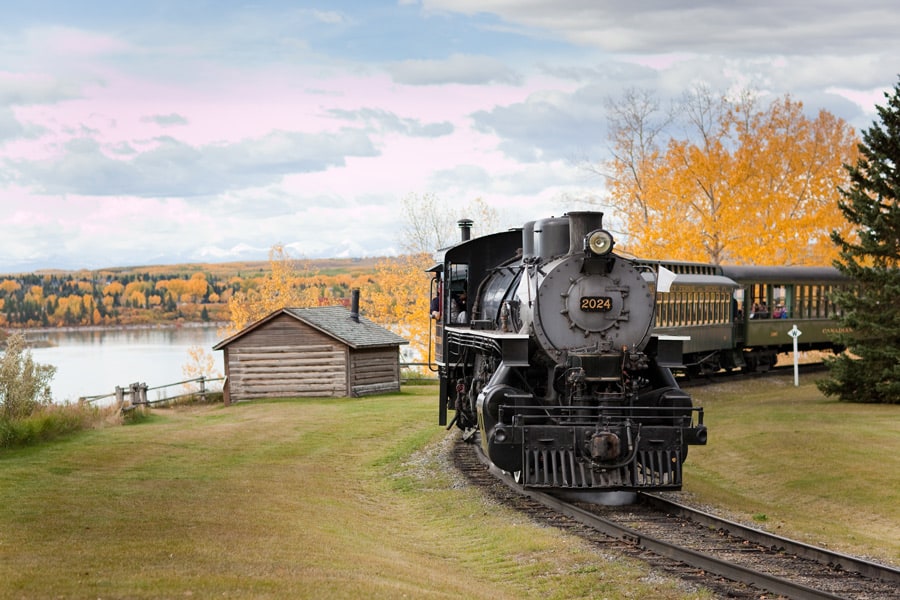 Horse Around at Spruce Meadows
This multi-sport facility situated just south of Calgary is best known as the home to world-class equestrian show-jumping events. Each year it hosts six outdoor and eight indoor tournaments, offering lots of options for equestrian event lovers. ATCO Field was also constructed on site in 2019 and is home to the Calvary FC, a soccer team in the Canadian Premier League.
Rise Above at the Calgary Tower
Originally built to honour Canada's centennial celebrations as well as to promote the downtown core, the Calgary Tower soars a whopping 191 metres and arguably provides the best view in Calgary from its observation deck. You'll be able to see the Rocky Mountains to the west, the prairies to the east and stand on a glass floor while looking straight down on a busy 9th avenue below. A visit to Calgary is only complete when you take a trip up the tower!
Take a Self-Guided Food Tour
Stroll through Kensington and sample good eats via the Alberta Food Finder Game from Alberta Food Tours. It is Canada's first such tour delivered on a GPS-enabled mobile device – clues to help you complete your mission will pop up on a map of the area. Not only will you have access to food samples that no one else will, but you'll also receive valuable discounts while having a great time sleuthing!
Live Your "Cool Runnings" Dream
**Note that it is currently under repair and unavailable.
The bobsled track from the 1988 Winter Olympics in Calgary is open and waiting for you to take a run on it. Strap on a helmet, squeeze into the sled, and let a professional driver race you to the bottom in just over a minute. Try counting the turns as you go and we bet you'll lose track after turn four. (Warning: you may also forget your own name by the end of it!)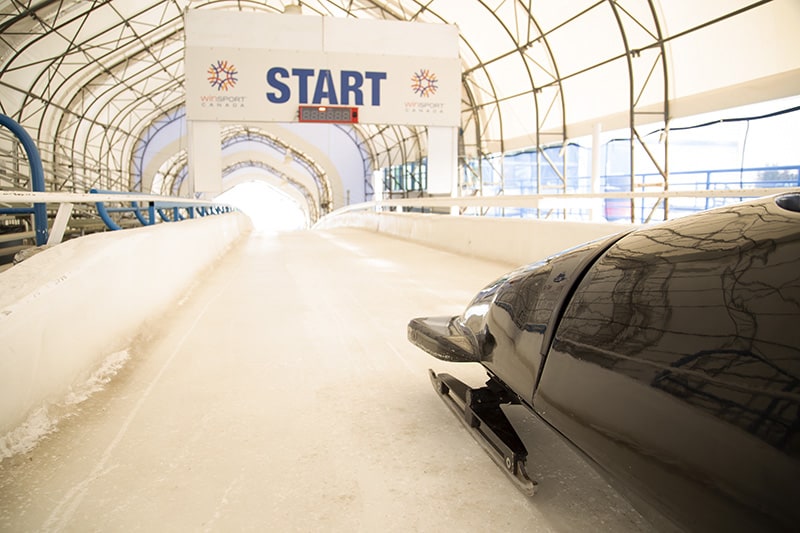 Indulge Your Need for Speed
Imagine soaring down a ski jump but without skis. This is absolutely possible at the WinSport facility during summer months, where you fly down a zipline that starts at the top of the ski jump. It is North America's fastest zipline: you can reach speeds of 120 km/hr as you travel 500ms with a vertical drop of 100ms.
Downhill Karting
Race your family and friends by ripping downhill in a kart at Calgary Winsport's Downhill Karting. The track is 1.8km long and has 50 twists and turns to get the heart pumping. The best part is when your first rip is done, is that you can take the chairlift to the top (elevation at 1250m) and do it all over again!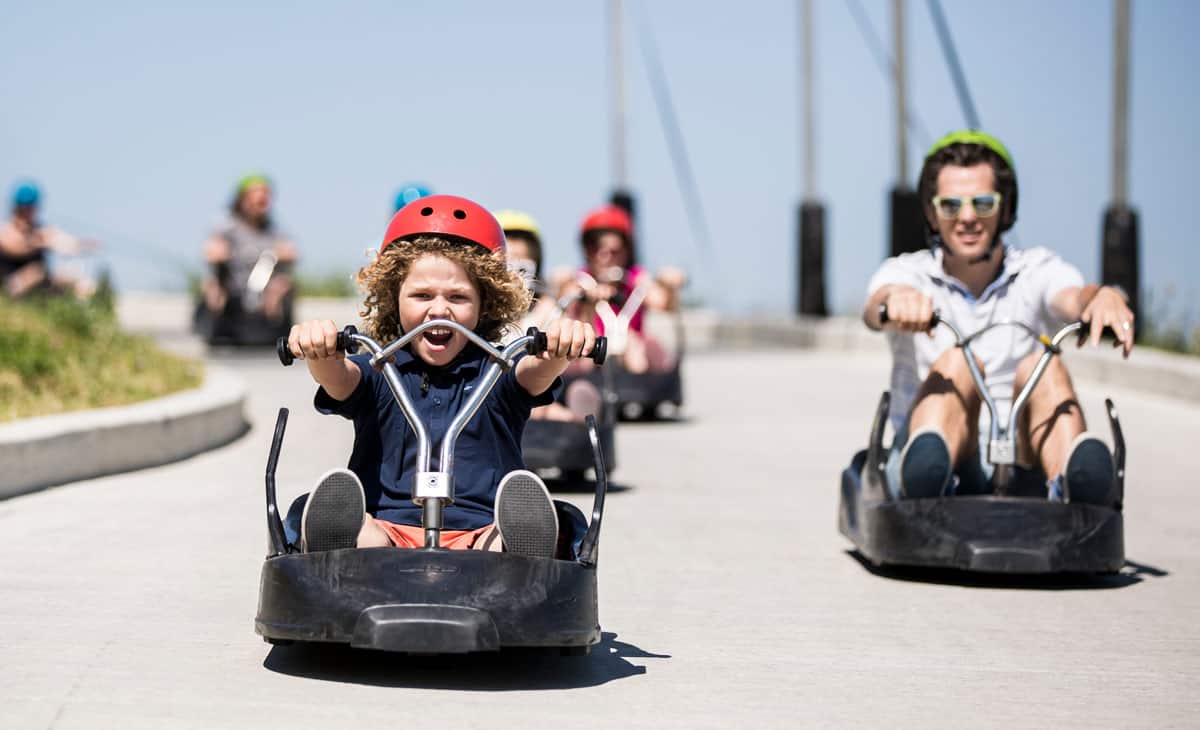 Get Thrilled at Calaway Park
Release your inner child at Western Canada's largest outdoor family amusement park. With 32 rides, 24 food locations, 23 fair games, live entertainment and a 3D theatre, you are sure to find fun for the whole family.
Go for the Books, Stay for the Architecture
Opened in 2018, the Calgary Central Library is a marvel of design and has taken home multiple big awards and was even named by TIME magazine as one of the "100 Greatest Places of 2019".
Fly Without Actually Flying
Skydive without the fear of SPLAT! At iFLY in northeast Calgary, you can try indoor skydiving in a vertical wind tunnel and get the feel of flying through the air for 60 seconds without actually being that far off the ground. Upgrade to get the photos and videos of this memorable experience.
Name That Tune
Experience music like you never have before in a building that is out of this world. With five floors of exhibitions to explore at the Bell National Music Centre, you can celebrate music icons at the Canadian Halls of Fame, bring out your inner rockstar with their interactive instrument installations, sing along to your favourite song in a vocal booth, and so much more.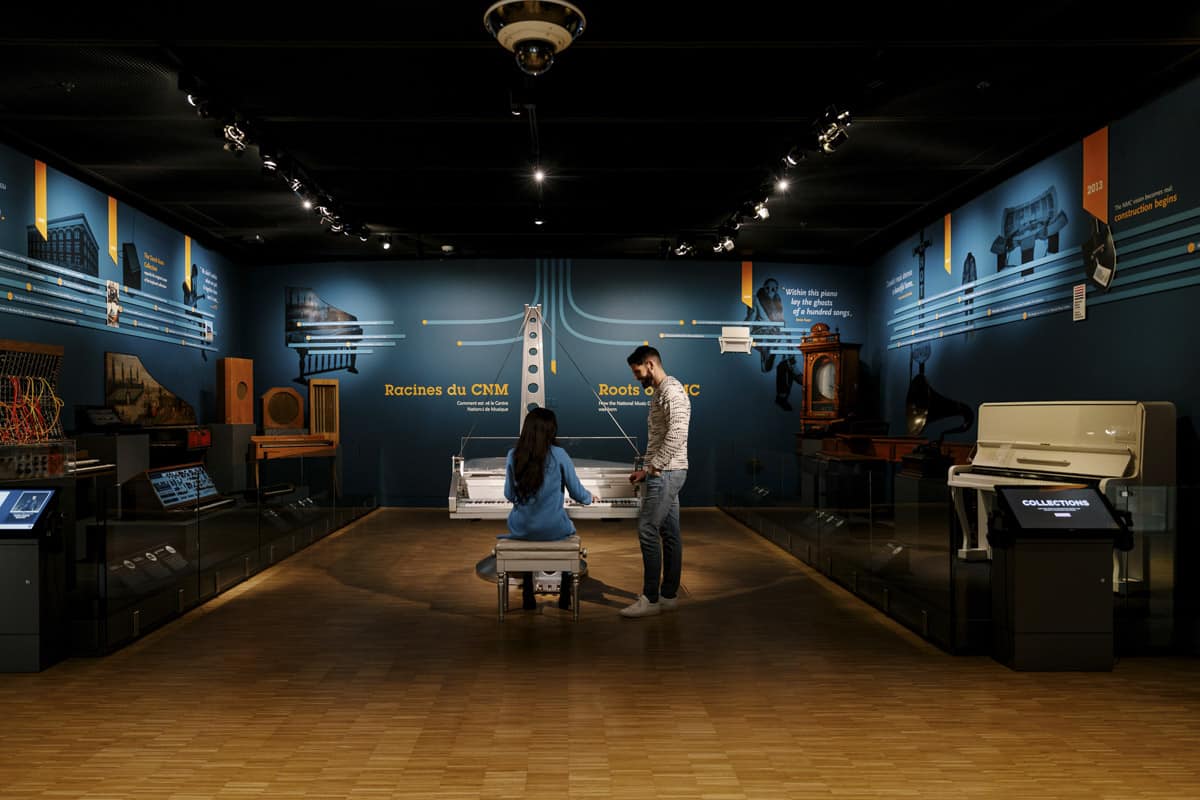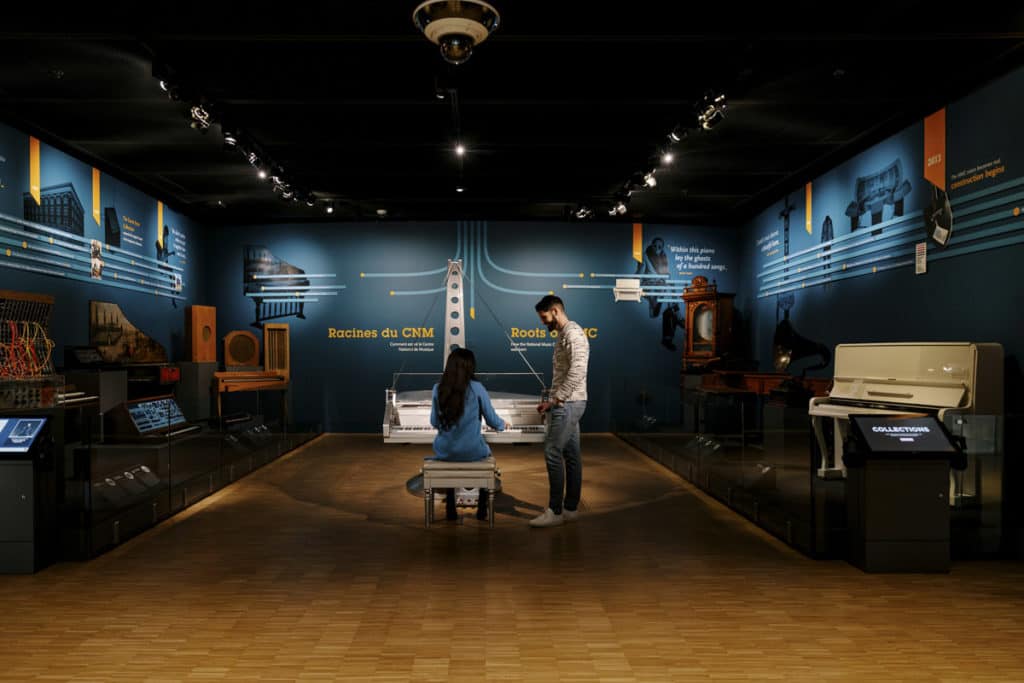 Explore the Dynamic Glenbow Museum
**The Glenbow Museum is currently under restoration and is set to reopen in 2024
This independent, non-profit, downtown Calgary museum is perfect for the art lover, pop culture enthusiast, and history buff as they can all find something inspiring. Immerse yourself in historical galleries and exhibitions of art and culture from around the world. And thanks to the $25 million donation from the Shaw Family Foundation, you can visit the museum for FREE when it reopens in 2024.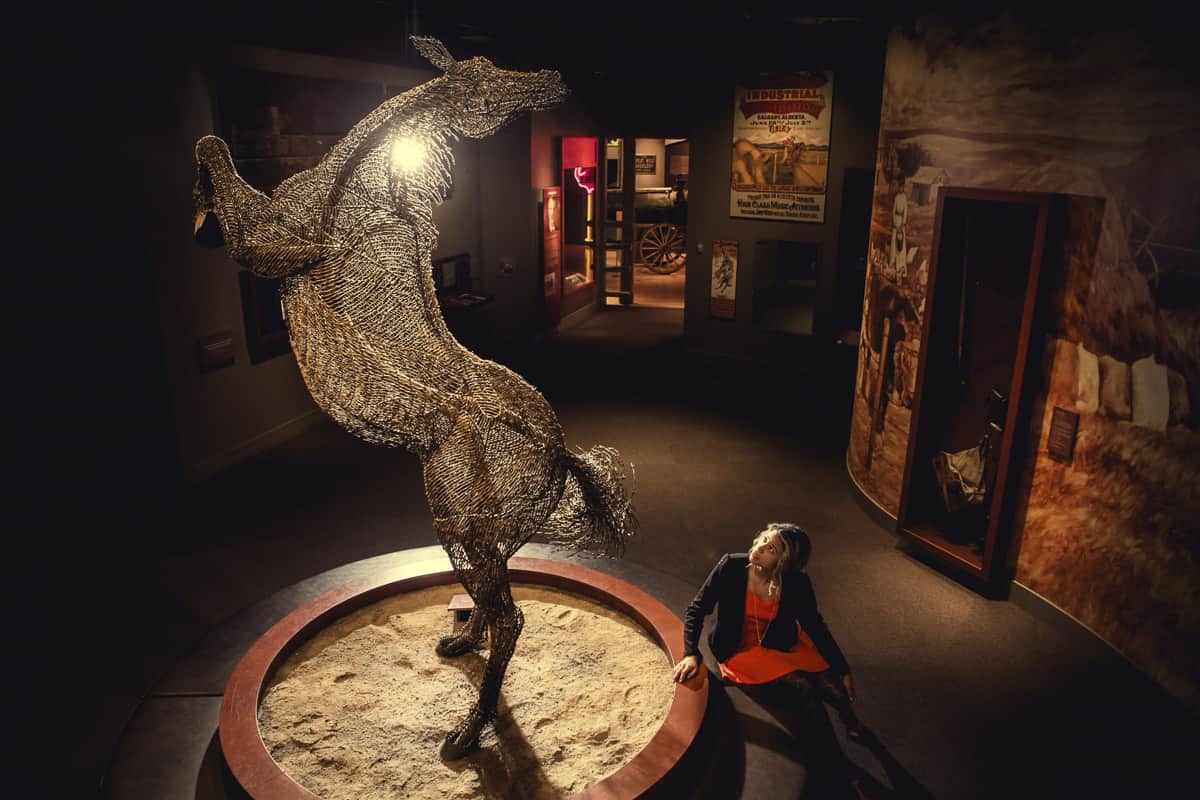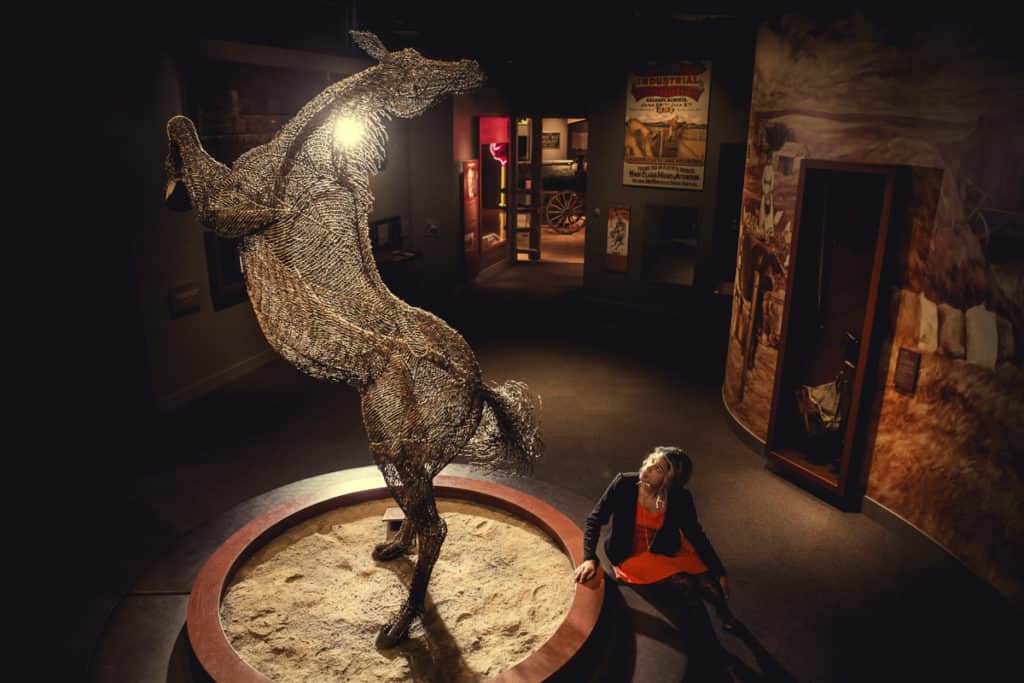 Get Hooked on Fish
The Bow Habitat Station in Calgary is the perfect place for the fish enthusiast, or for those wanting a unique experience that features Alberta's fish, wildlife, and water. Explore the Discovery Centre with hands-on exhibits, feed thousands of fish in the hatchery, fish in a Trout Pond, or stroll the trails of the Interpretive Wetland.
Are you an avid angler and want to spend a day catching your dinner? The Bow River, connecting the Rocky Mountains and Calgary, is a very popular spot for fishing in Alberta and an excellent source of trout (and other species).
Float Down the Bow River
Admire Calgary's skyline while lounging in an inflatable raft and coasting down the Bow River that runs through the heart of the city. Whether you want to float for an hour or make it a whole day trip, it's the perfect summer activity. If you don't own your own raft, don't worry, there are plenty of places to rent one.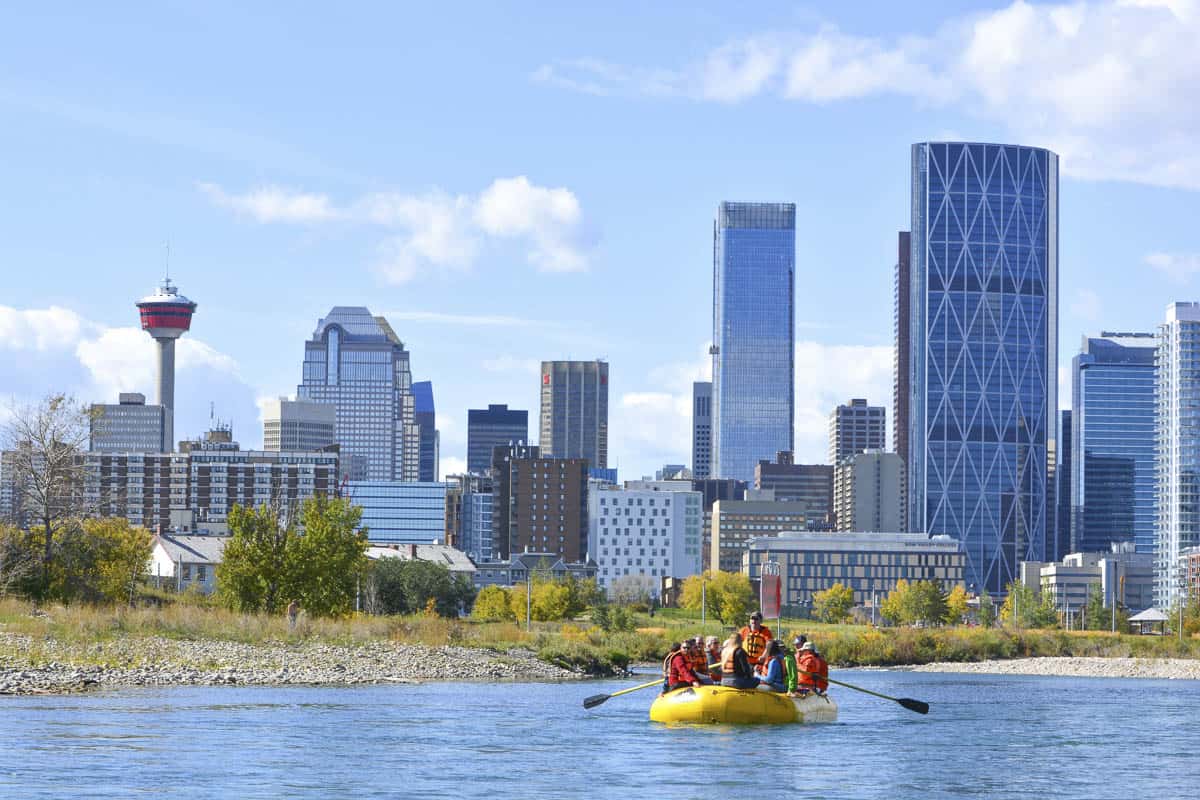 Where to stay in Calgary
Luxury – Stay in the heart of downtown Calgary in the historic Fairmont Palliser Hotel. You'll be walking distance to some of the city's most renowned shops, entertainment, and restaurants! There is a spa with a pool to pamper yourself too.
Mid-range – Hotel Arts offers a beautiful and eclectic space. Sip cocktails and eat world-class food around the poolside (open to non-hotel guests too). The hotel features two superb local restaurants and it sports its own commuter bike program to help you explore the city.
Budget – If you're looking to budget more for excursions than where you rest your head, check out Canada's Best Value Inn. It's close to the transit system and great shopping at nearby Chinook Centre.
Home away from home – Airbnb is always one of our favourite ways to stay in new places and Calgary has many options to choose from.
Best Things to Do in the Rocky Mountains
Rise Above (Banff)
Experience a whole new side of the Canadian Rockies and take this 8-minute journey to the top of Sulphur Mountain by way of an amazing Banff gondola experience year-round. Once you have arrived, enjoy a mountaintop experience by walking the boardwalk and stopping at the 360-degree rooftop observation deck. Step indoors and visit the interpretive centre and theatre or grab lunch or dinner at one of the dining options that offer an unforgettable view.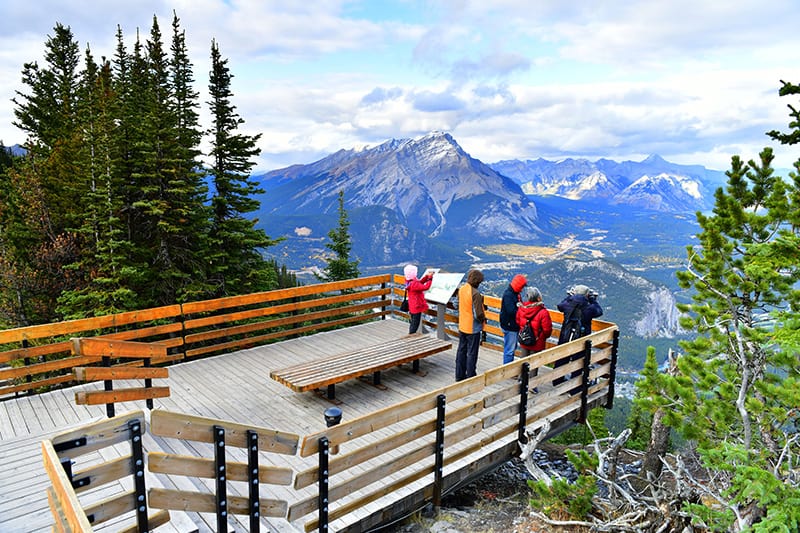 Go Caving (Canmore)
Explore the Rat's Nest cave year-round. This full-day tour is not for the faint of heart – it includes rappelling, hiking uphill, sliding, shimmying, crawling, and ending at a crystal-clear pool with stalactites and stalagmites. It is one of the longest caves in Canada (at 4km) and is actually a Provincial Historic Resource because of its archaeological importance.
Walk on the Edge (Mount Norquay)
Via Ferrata means "Iron Road" in Italian, and it is indeed thin pieces of iron and steel that will keep you clipped in and safe along narrow paths that skirt the edge of Mount Norquay near Banff. Get your adrenaline rush on these challenging paths you could not walk otherwise that offer views you would not otherwise see!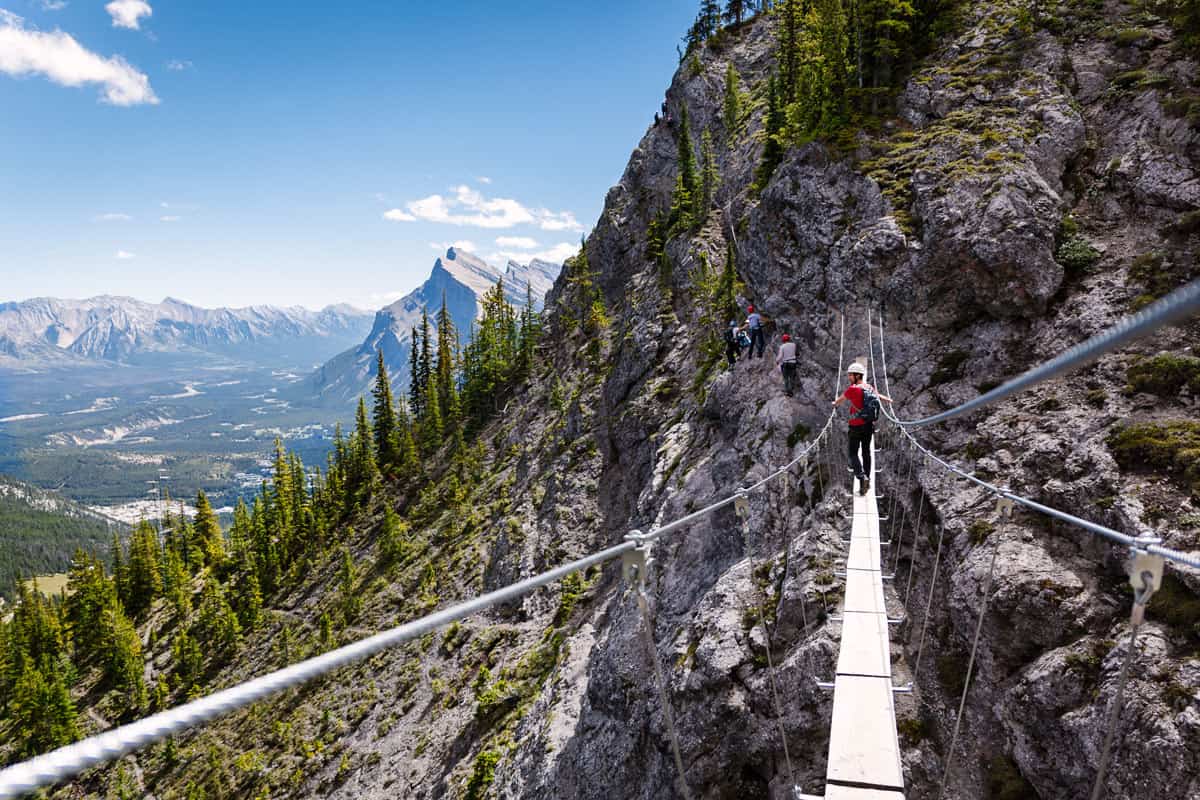 Dive into a Ghost Town (Lake Minnewanka)
Although on the surface Lake Minnewanka looks serene and much like the other lakes in the area, underneath the depths lay an old resort hotel that is a popular scuba diving destination! The popular Minnewanka Landing resort was purposely flooded under nearly 100 feet of water for wartime necessity to bring more hydroelectric power to the area in 1941. The remnants of the resort, several houses, and wharves were abandoned to be frozen in time beneath the glacial meltwater and now the only visitors are divers and curious fish.
Tour Through an Iconic Hotel (Banff)
The iconic Banff Springs Hotel is one of Canada's grand railway hotels and dates back to the inception of Banff National Park. The hotel is steeped in history; tales of ghosts, celebrity visitors, and secret passageways which make this hotel not only impressive to look at but incredible to walk through. Want to "Eat the Castle" with a food tour through the Banff Springs? You can do that too.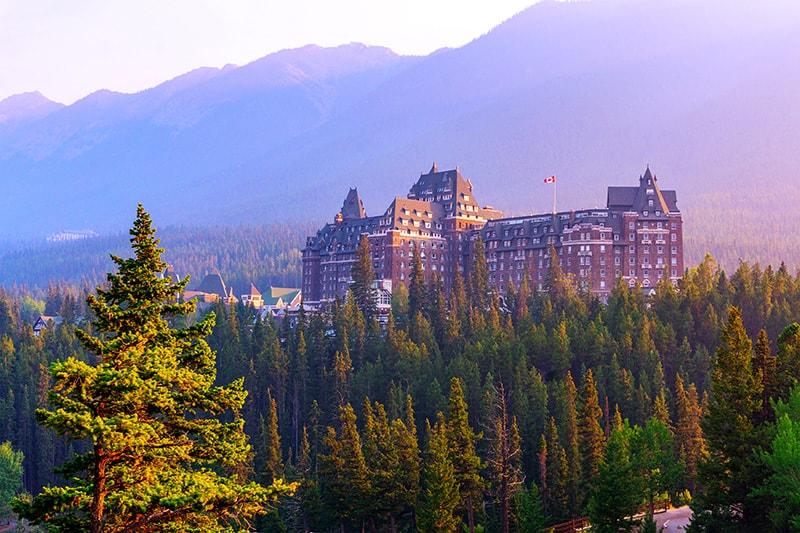 Hike a Canyon (near Banff)
Johnston Canyon is a moderately rated hike and is one of the busiest known trails in the Canadian Rockies. Explore both the upper and lower falls during any season as you wind your way through the canyon. If you are feeling even more adventurous, make sure to venture 3 km further to experience the ink pots – seven mineral springs that bubble to the surface in the open meadows beside Johnston Canyon Creek. Trek it in winter for a totally different (and frozen) view – try it with an informative guide for a daytime or nighttime tour to enhance your new perspective.
Snowshoe on a Mountain Top (Sunshine Village)
Nothing beats the crunch of snow under your feet while trekking on the epitome of Canadian transportation – snowshoes. Journey above the treeline at Sunshine Village Ski Resort via gondola and chairlift and enjoy crisp powder and a guided tour that gives you a true backcountry snowshoe experience complete with 360 views of Mt. Assiniboine.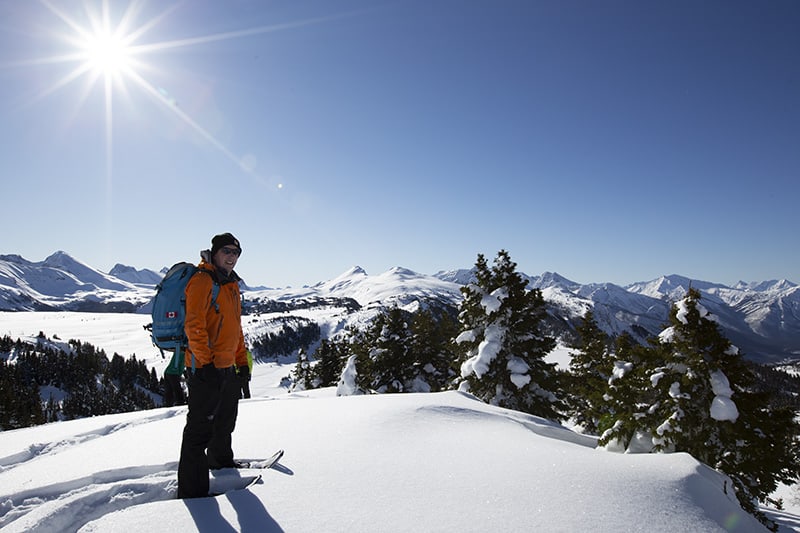 Skate on or Canoe in a Postcard (Lake Louise)
With stunning blue waters and surrounding snow-capped peaks, it is easy why Lake Louise is one of the world's most photographed glacial lakes and one of the greatest natural wonders in Alberta. Step onto the lake in either winter with your ice skates or when it's thawed for a gentle canoe or kayak ride and get your own picturesque snapshot.
Go by Dog Sled (Canmore)
Drive your team or snuggle in tight as your guide and pack of excited husky dogs guide you through the Rockies just outside Canmore. This is a unique opportunity for the romantic, adventurer, and thrill-seeker.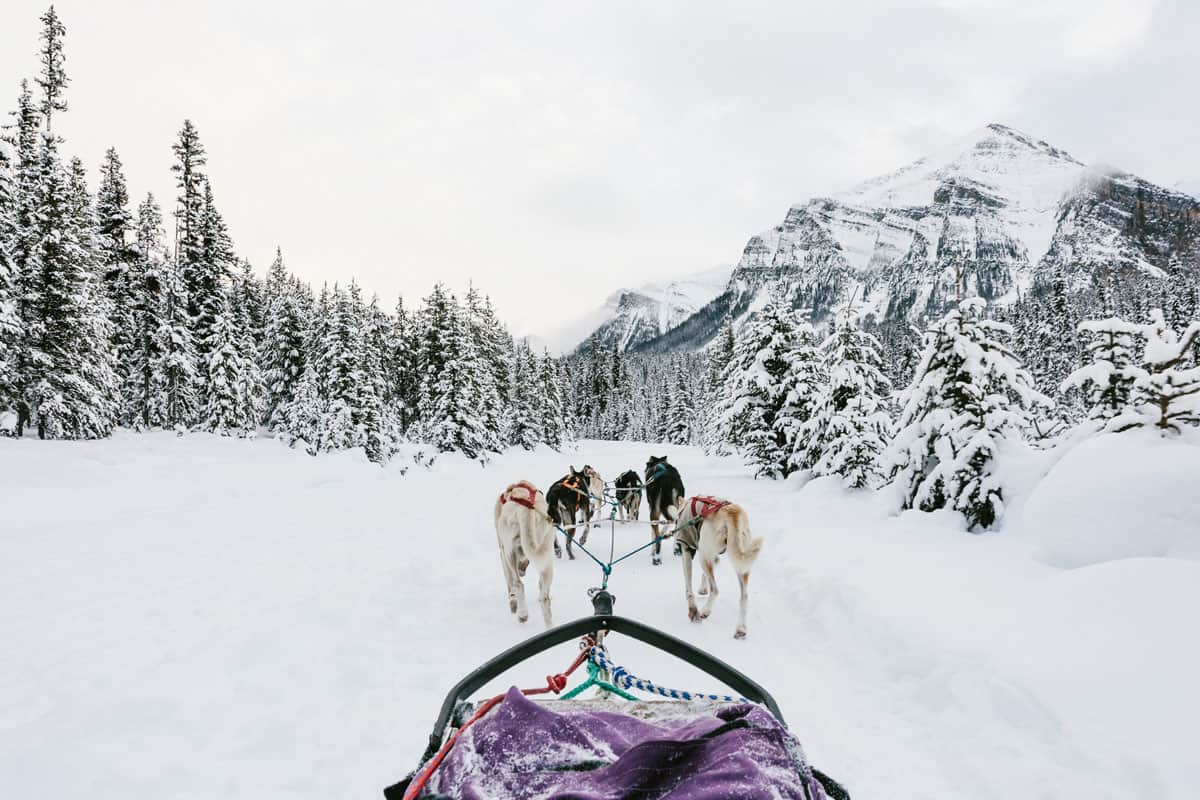 Soak in Springs (Banff & Jasper)
Stories of hot springs in Alberta and within Banff National Park go back thousands of years and these pools of hot mineral water have Indigenous significance and importance. Cave and Basin is called the birthplace of Canada's National Parks and the guided tours offer a natural and cultural history of the mountains that you can take in before or after a dip in the pool. Discover the hot water that seeps from the rocks with the distinct smell of minerals straight from the earth. For a more luxurious experience without the history, visit Banff Upper Hot Springs. If you're in Jasper, nearby Miette Hot Springs will help you soak away sore muscles earned in all your adventures.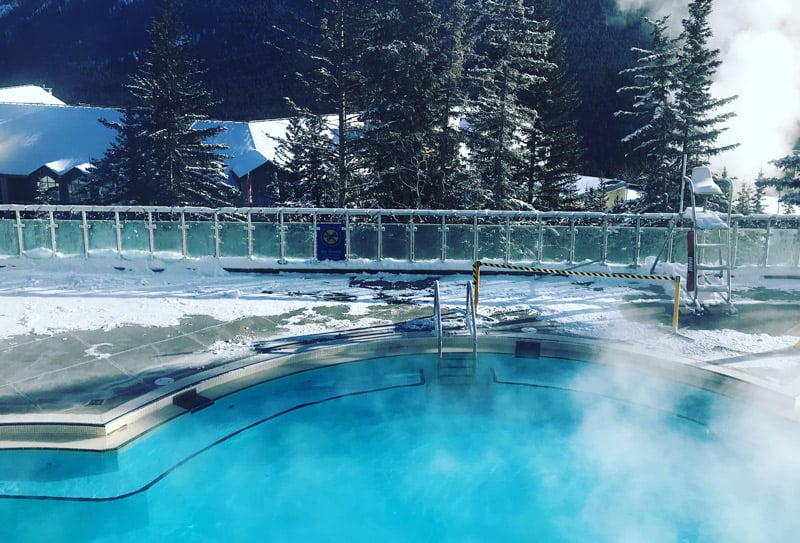 Strap on Cross-Country Skis (Canmore)
One of the top-rated things to do in Canmore, cross-country skiing is an excellent way to take in a winter destination. With its endless supply of mountain views and scenic trails, Canmore lends itself as a picturesque Alberta destination to explore this heart-pumping activity. The Canmore Nordic Centre Provincial Park, with over 100km of trails to trek, is the place to go for cross-country skiing in Alberta.
Seek out Ice Bubbles (near Banff)
Imagine millions of bubbles visible just under the surface of a frozen lake. These bubbles trapped by methane gas in Abraham Lake (and others in the area) cause quite a sensation in the winter months. Closer to Banff, check out Lake Minnewanka. They are definitely a sight to see.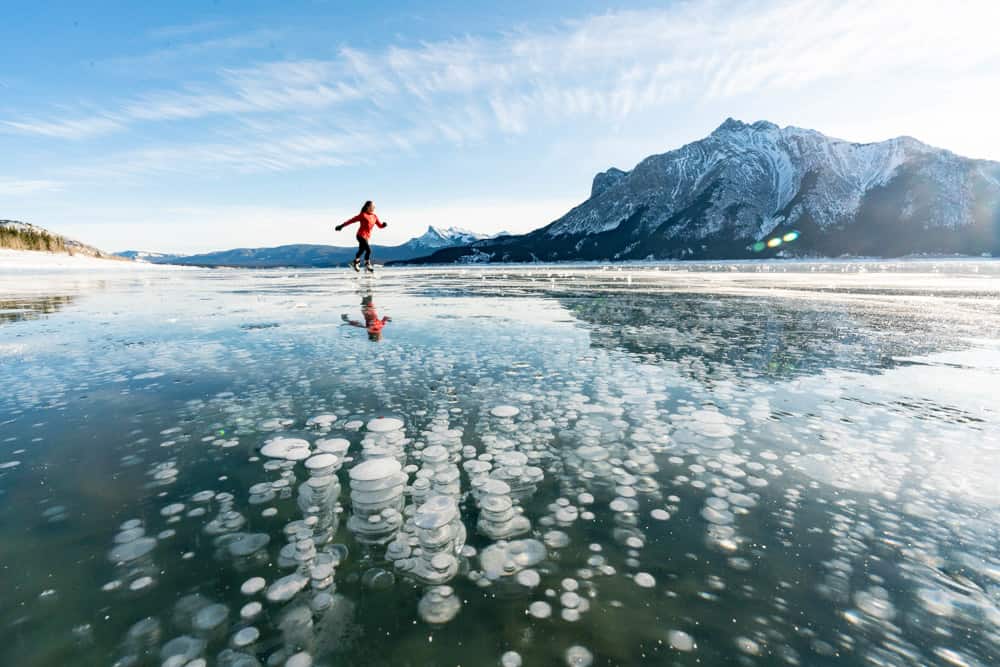 Take a Sleigh Ride
Live out your Canadian winter fantasy by taking a horse-drawn sleigh ride in the Canadian Rockies. Snuggle up in the backseat with a loved one as you glide over meadows in Banff National Park. With the white snow sparkling and the mountains towering overhead, this will give you fond memories to last for ages. (Want some more ideas for guided tours in the area? See our guide to the best Banff Tours.)
Ski the Big3 (near Banff)
Canada's first National Park is home to not one, not two, but THREE world-class ski resorts! Conveniently, with a SkiBig3 Pass, you can easily ski the breathtaking and exhilarating runs at Banff Sunshine, Lake Louise, and Mt. Norquay. Another perk? The resorts found in Banff & Lake Louise have the longest ski seasons in North America. For more information, see our full guide to skiing in Alberta.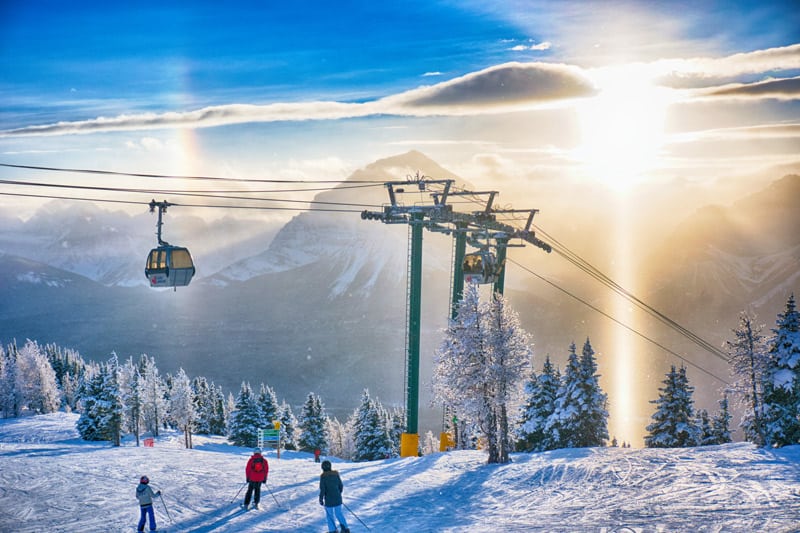 Tube Down a Mountain (Mount Norquay)
If you are looking for an adrenaline rush and some family fun, try jumping on an inflatable snow tube to slide, spin and speed across the snow at Banff's Mt. Norquay's Tube Park.
Go Knordic (Kananaskis)
The Kananaskis Nordic Spa is the first of its kind in Alberta, and this alpine sanctuary invites you to spa-like the Nordics do. Go from a sauna to a cold pool and back to the hot tub to feel an invigoration like never before, and it's good for your heart! Entrance to the spa is on a first-come-first-serve basis (check their Twitter account for wait times), or consider also booking a massage to guarantee your spa spot.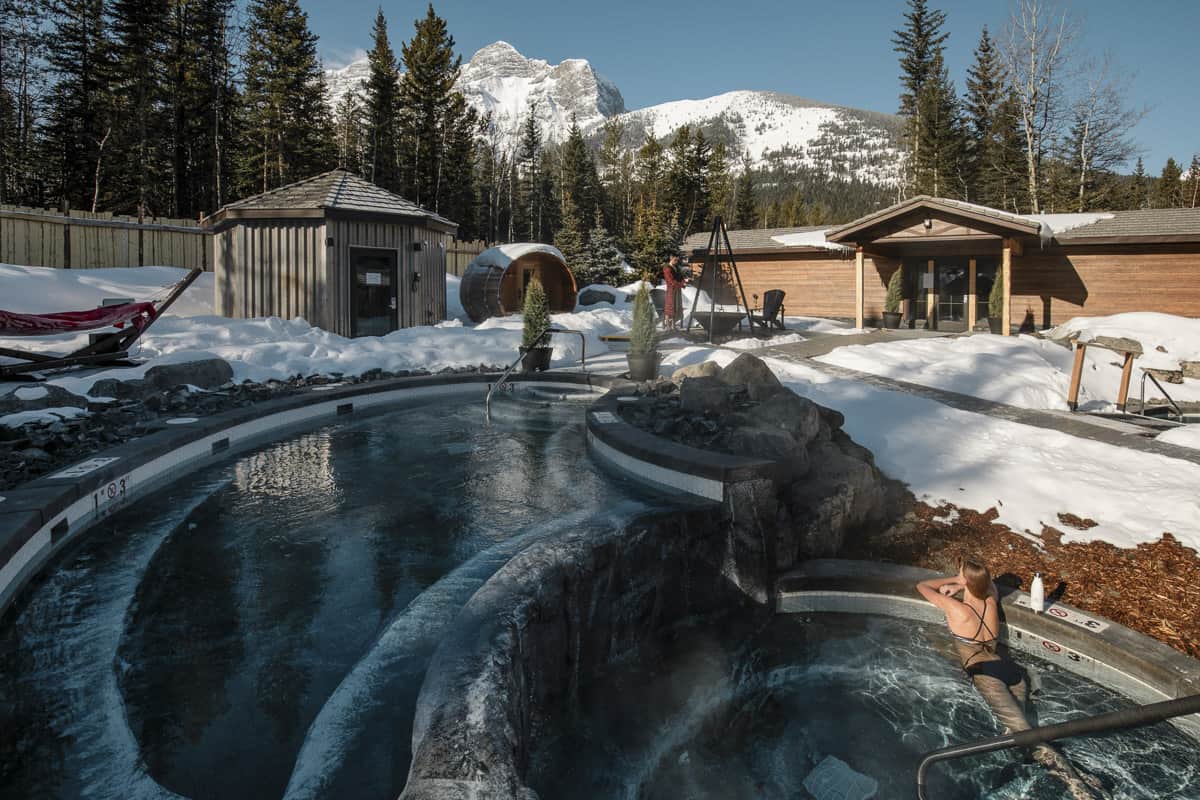 Find a Cold War Bunker (Kananaskis)
Yes, it's true! Initially built to store Canada's most important documents and keep them safe in case of any nuclear fallout during the Cold War, the large tunnel carved deep into Mt. McGillivray leads to two chambers that are roughly 80 feet by 25 feet. The original plans called for a system of impenetrable chambers and vaults that were climate-controlled and protected from all elements and dangers from mildew to a hydrogen bomb. Unfortunately, the company went bankrupt before the plans could be finished and so the tunnels sit unfinished within the north-facing slope of Mt. McGillivray and have become a favourite spot for amateur hikers and cavers.
Take the guesswork out of planning your Alberta trip!
We now offer two ways to help ease the burden of travel planning:
We've developed ebook itineraries and travel guides for hot Alberta destinations and for a variety of 7-day trips. For one low price, you'll get local travel advice that you WON'T find elsewhere!
Want a custom trip tailored exactly to your needs? We are pleased to also offer a custom service for planning your Alberta vacation.
Soar over the Rockies (Canmore)
You can walk on them and you can ski down them, but how about soaring over them? A helicopter ride in the Rockies doesn't have to break the bank – Alpine Helicopters in Canmore offers a 12-minute tour for just $150. It's a quick ride, but a truly unforgettable thing to do in Alberta.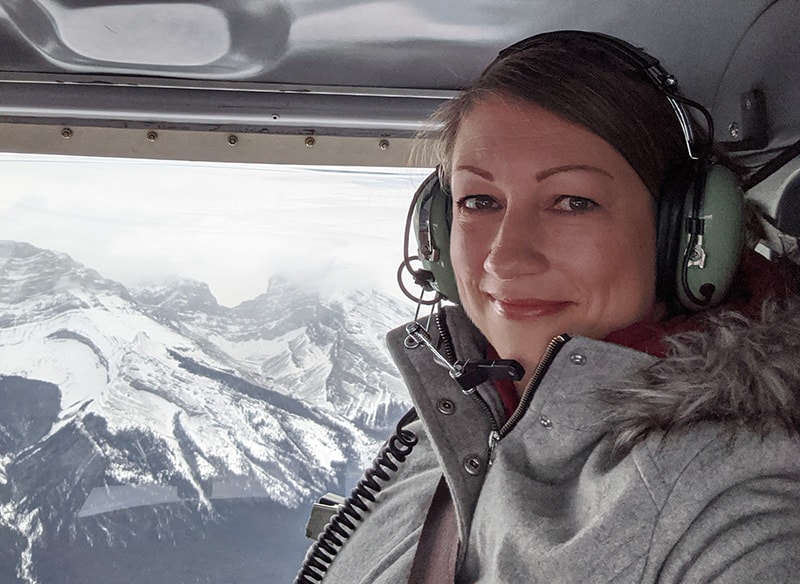 Visit the Smallest Museum in the World (Canmore)
The Curbside Museum is the world's smallest museum, tucked inside a fence along a public sidewalk in Canmore. This ongoing project changes its exhibit every 7-8 weeks, exploring ideas both large and small, on subjects that are factual or fictional and can range from whimsical to serious. This museum has no limits, except for what can fit into its tiny space.
Hike to the Tea House (Lake Louise)
Situated near Lake Louise in Banff National Park, Lake Agnes Tea House rests at an altitude of 2,135 m right on the shores of Lake Agnes. After a 3.5 km hike through the forest and an elevation gain of 400 m, enjoy a cup of fine loose-leaf tea at one of the 'Lakes in the Clouds' like others have done since 1905. If the hike is too daunting, rent a horse for the trek!
Drive (or Cycle!) the Icefields Parkway
Spanning 230 km (142 mi), the Icefields Parkway connects Banff National Park and Jasper National Park. It may seem like a short drive, but trust us and make a full day of it. This stretch of highway is perfect for taking in the rugged beauty of the Canadian Rocky Mountains including abundant wildlife sightings, roadside waterfalls (some of the most stunning waterfalls in Alberta!), and breathtaking glaciers. There are plenty of viewpoints along the way so make sure to stop and breathe in the fresh mountain air while drinking in the landscape.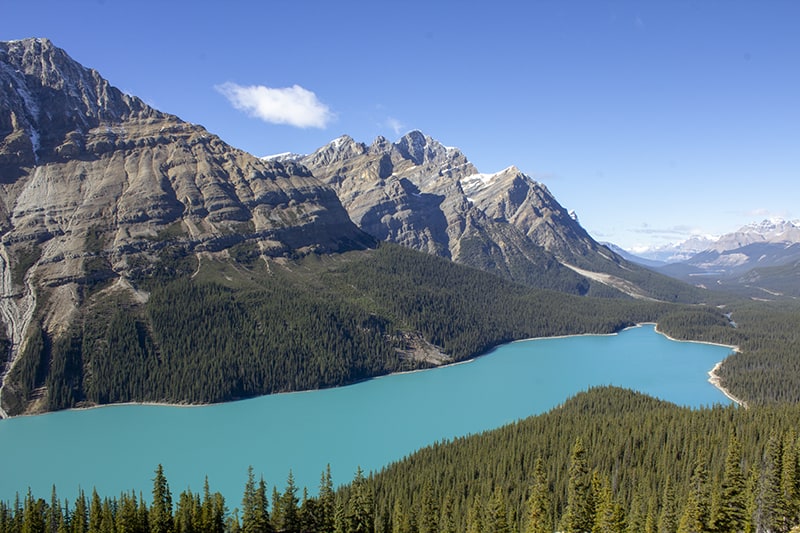 Where to stay in the Banff/Canmore area
Luxury – For over 130 years, the iconic Fairmont Banff Springs has been the epitome of class and a must-see destination in Banff National Park. This is a once-in-a-lifetime type stay that is totally worth the experience. (We've stayed once, so can say that!)
Mid-range – We booked at the recently renovated Canalta Lodge and really enjoyed our stay amid its eclectic design. In a small town such as Banff, the underground parking feature that this property offers is a huge perk. Additionally, this property has been recognized as the best value in Banff.
Budget – Save your budget for exploring all that Banff has to offer and stay at the Banff International Hostel. It's located on the beautiful property of the Banff Centre, has a fully equipped kitchen for all to use, free breakfast, and is highly rated.
Walk on a Glacier (Columbia Icefield)
The Columbia Icefield is rich in stories and standing on the ancient sheets of ice of the Athabasca Glacier, history comes alive. Discover glaciology and learn about the past and how the glaciers may look serene but continue to form and shape the regional landscape as you trek on a giant Ice Explorer. This is a place where time is measured in millennia and yet the present moment is incredibly powerful. Go explore hidden spots in the Athabasca Glacier with a half-day tour.
Walk on the Edge (Columbia Icefield)
At the Jasper Skywalk, encounter waterfalls, wildlife, fossils, and more as you walk along the 1 km walkway that leads to a lookout that you have never experienced before! Step out on a glass-floored platform which is the only thing that separates you from the Sunwapta Valley and a 918-foot (280m) drop.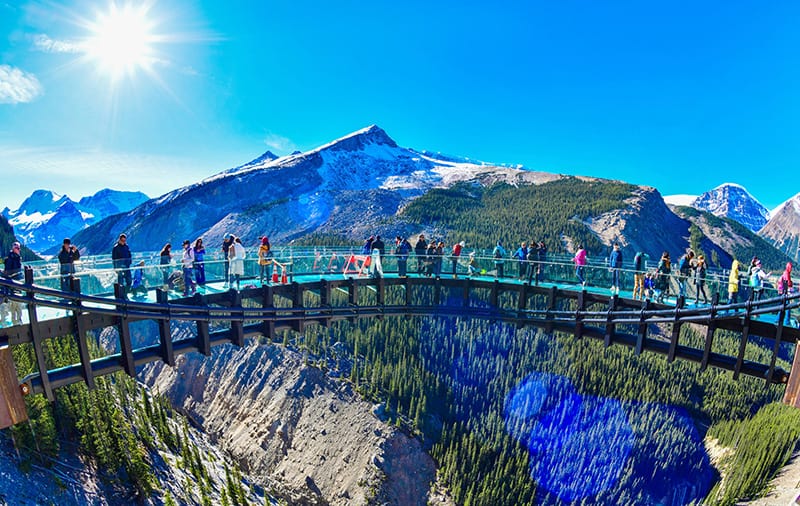 Rise up in a Sky Tram (Jasper)
Hop aboard the longest and highest guided aerial tramway in Canada and be prepared to view Jasper National Park in a whole new way. After your seven-minute, one-way trip has concluded and you have reached the top, make sure to get out and have a look around. Feast your eyes on six mountain ranges, glacially fed lakes, rivers, and the town of Jasper.
Kayak/Canoe to Spirit Island (Jasper)
Spirit Island is only accessible by water which lends itself to a mysterious and tranquil air as it sits nestled in the heart of a turquoise alpine lake and surrounded by majestic mountains. You could take the 14km journey from the docks at Maligne Lake by tour boat, but we highly recommend taking a half-day and doing the journey via canoe or kayak.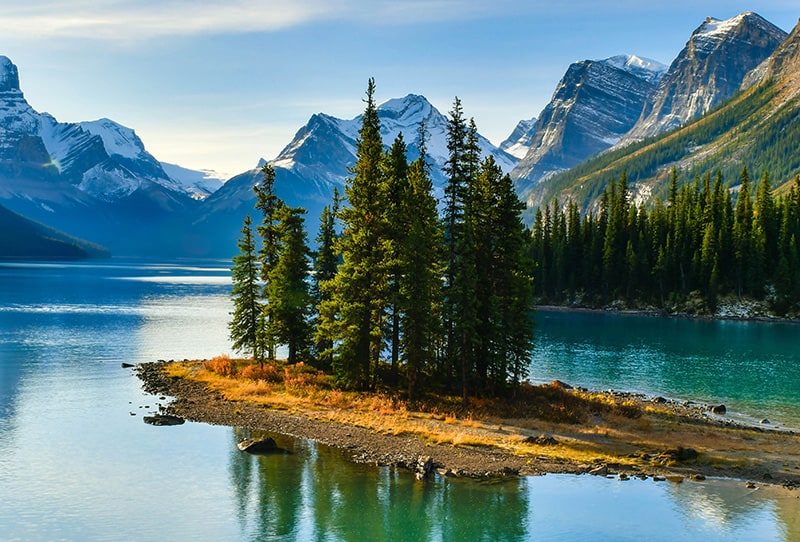 Go Star Spotting (Jasper)
Jasper National Park is one of 17 designated Dark Sky Preserves in Canada and is the second-largest Dark Sky Preserve in the world. Learn about the celestial bodies and planets in the solar system at the Planetarium Dome Theatre and through the powerful telescope from astronomy experts. If possible, try to plan your visit during October and take part in the annual Dark Sky Festival!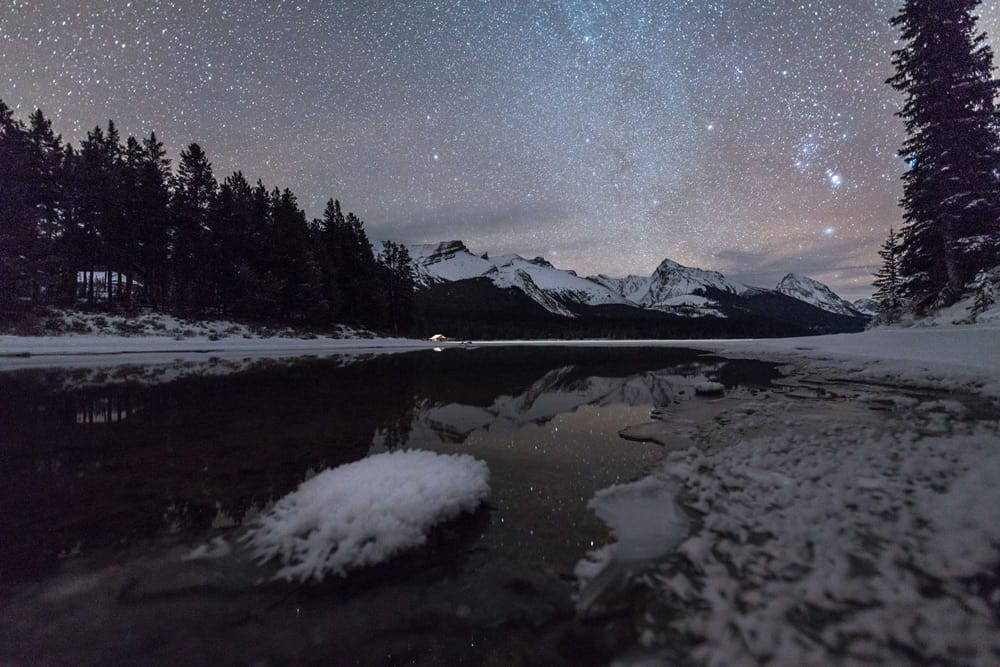 Try Ice Climbing (Jasper)
Within the national parks are hundreds of ice climbing opportunities, but the largest concentration of them can be found along the Icefields Parkway between Lake Louise and Jasper. Within this cluster of world-class ice climbing opportunities, arguably the most popular climb is in Maligne Canyon (very near Jasper) as it is accessible to a wide range of ice climbing opportunists from novice to expert.
Dine on a Mountaintop (Jasper)
Enjoy a three-course meal atop a mountain overlooking the Jasper townsite. Included in the ticket is a gondola ride up the mountain, a meal at Sky Bistro, and a complete panoramic view of the valley and surrounding peaks. If you're feeling adventurous when arriving at the top, take a hike all around, and after dinner take some more time to gaze at the stars above.
Ride in Style (Jasper)
From the comfort of a sidecar attached to a Harley Davidson, take in the fresh mountain air and have unobstructed views of Jasper National Park. On this tour with Jasper Motorcycle Tours, you'll drink in the fresh air while cruising by stunning scenery including snow-capped mountains, emerald green lakes, and bright blue glaciers.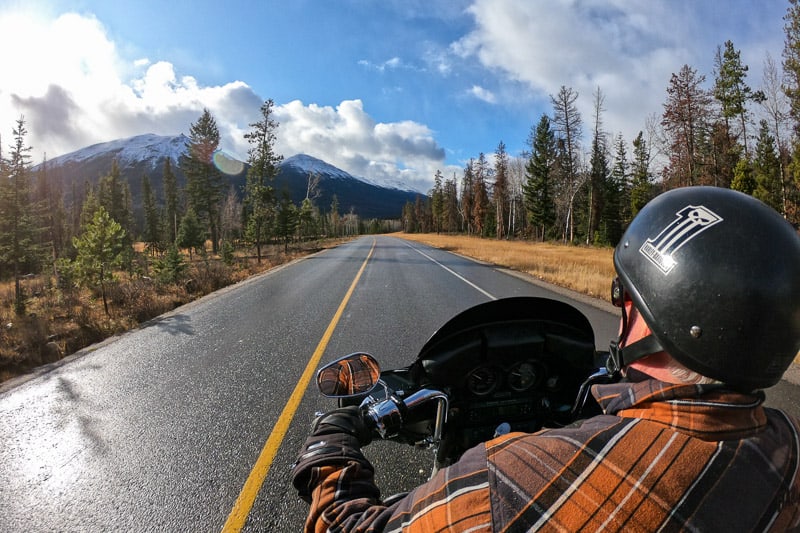 Swing Clubs at One of Canada's Best Courses (Jasper)
The Fairmont Jasper Park Lodge hosts one of the best Alberta golf courses; it has made many "top" lists in Canada and across the world, and for good reason. Set in the rugged majesty of Jasper National Park, this 18-hole course offers dramatic bunkers and holes that line up with spectacular views. The wide fairways will also make it pleasurable for beginners and competitors alike.
Where to stay in Jasper
Luxury – If you are going to splurge during your vacation to Jasper National Park, we highly recommend staying at the Fairmont Jasper Park Lodge. This luxurious hotel has tons of amenities such as 8 on-site restaurants, a spa, and an award-winning golf course while providing breathtaking lakefront views of Beauvert Lake.
Mid-range – Surrounded by mountain views and just a 14-minute walk from Athabasca River and a 30-minute drive from Jasper town center, relax in your own wood cabin at Jasper East Cabins! You get the amenities of a hotel room stay but with enough quiet and serenity that it kind of feels like you are "roughing it".
Budget – A good budget hotel option in Jasper is Maligne Lodge. Apart from the stunning mountain views, the lodge has a sauna, an indoor pool, and an outdoor hot tub!
Want more options? Check out our entire guide dedicated to accommodations in Jasper
Discover a Town Buried in a Slide (Crowsnest Pass)
In April of 1903, with no warning in the wee hours of the morning, 110 million tons of rock slid down from Tunnel Mountain and consumed most of the town of Frank in the Crowsnest Pass. Up to 90 residents perished, most of whom remain buried under the rubble. It is now a Provincial Historical Site and home to a popular interpretive center.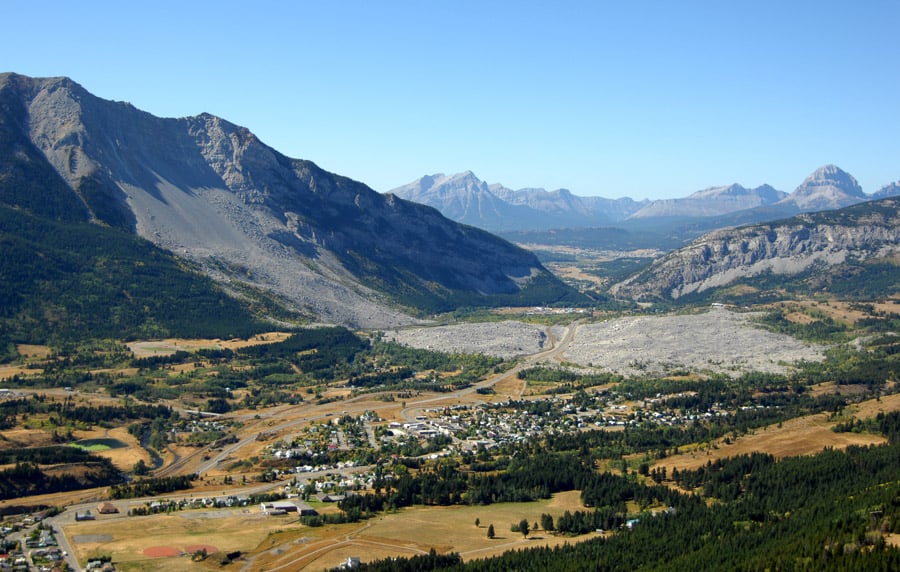 Take an Underground Mine Tour (Crowsnest Pass)
One of Canada's underground coal mines, the Bellevue mine was active from about 1905 until 1961. It is now a place to experience and learn about the history of mining in the area as you walk in miners' footsteps and adventure 1,000 feet into the mine and 150 below the surface.
Explore Alberta's Newest Provincial Park (Castle Provincial Park)
Designation for this park was just approved in 2017, protecting a massive amount (>25,000 hectares) of stunning land. Four campgrounds are on site, and a large number of outdoor activities are available onsite: hiking, fishing, mountain biking, hunting, and even skiing at nearby Castle Mountain Resort. Don't miss splashing around at Castle Falls, or climbing the arduous (but very rewarding!) Table Mountain.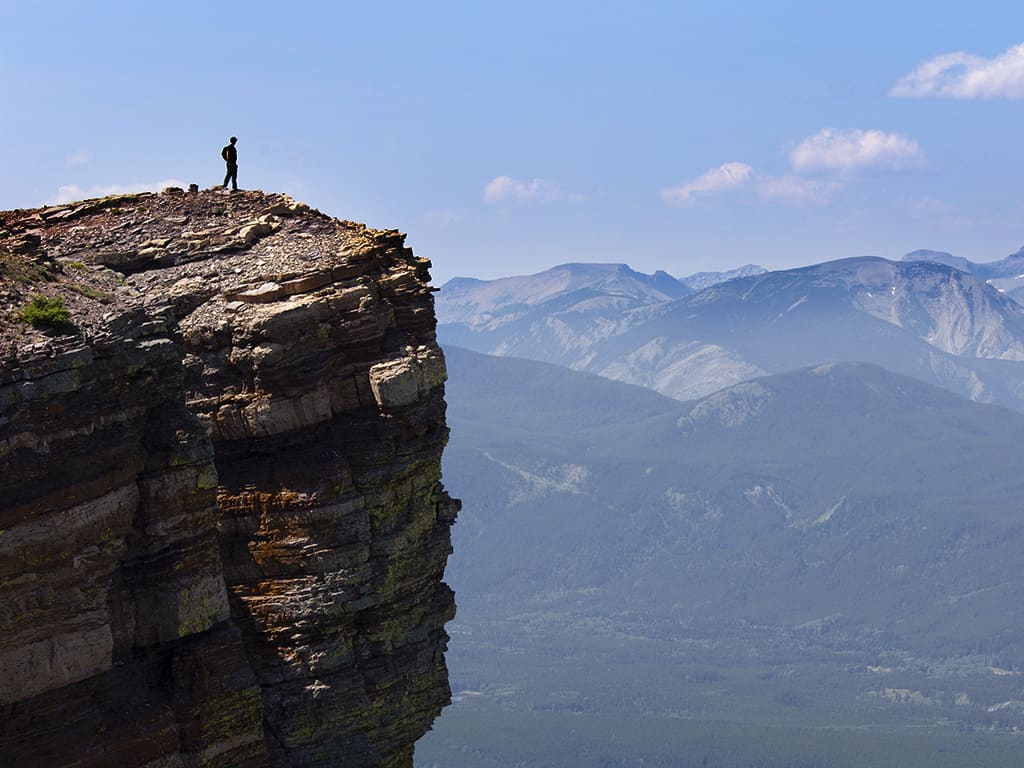 Hike Crypt Lake (Waterton)
Accessible only by the Waterton Shoreline Cruise, this hike is bucket list-worthy and one that should not be missed! Rated among National Geographic's "World's 20 Most Thrilling Trails", you will be required to climb a ladder, scale a portion of the mountain using a cable, crawl through a tunnel, and trek a total of 17 km before reaching your destination – a beautiful pristine mountain lake. This hike may not be for the faint of heart, but if you are feeling adventurous, you will embark on an experience of a lifetime.
Go International (Waterton)
Join in a 30+ year tradition by beginning a hike in Waterton all the way to Glacier National Park, USA. The 13km one-way hike is led by both a Canadian Park Interpreter and an American Park Ranger. At the end of the hike, you return to Waterton by boat. The hike is free, but the boat transfers are not and reservations must be made in advance. Most importantly, don't forget your passport!
Take Tea at the Prince of Wales Hotel (Waterton)
Take in a traditional High Tea experience at the iconic Prince of Wales Hotel in Waterton Lakes National Park. Enjoying this afternoon tea is one of the hottest things to do in Waterton, and is perfectly paired with petite finger sandwiches and a stunning view of Upper Waterton Lake.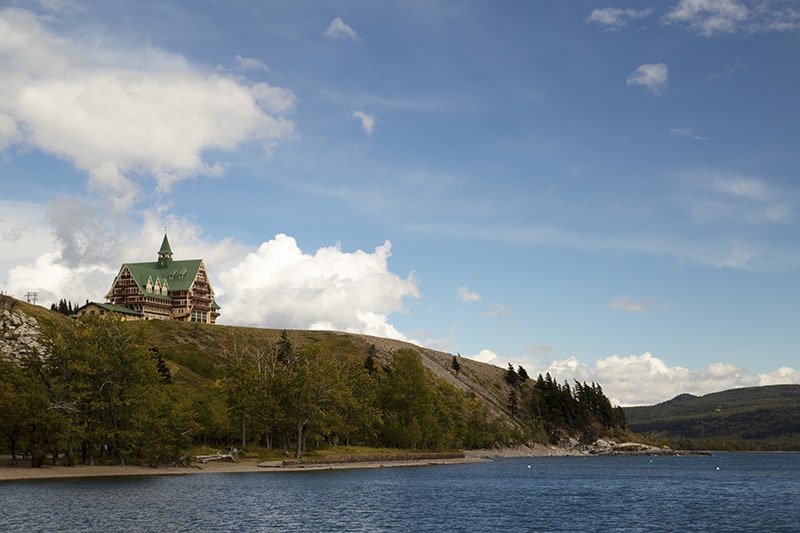 Looking for more info? Read our ultimate guide to visiting Banff for details on where to stay, what to eat, and more! We also have one for what to do in Jasper.
And if you do plan to make a drive along the incredible Icefields Parkway, we also have a detailed guide on where to stop along the way from Banff to Jasper (or vice versa)!
Best things to do in Northern Alberta
Paddle the Mighty Peace River (Peace River)
Climb aboard a canoe and relive the feeling of discovery like the explorers who used this water route to traverse the Canadian wilderness in the 1800s. Stay on the riverbank in your own cabin through Peace River Cabins and Outdoors and take the time to connect with nature and maybe even reconnect with yourself in the vast northern Alberta wilderness
Drive the Dunvegan Valley (Dunvegan)
This iconic spot southwest of Fairview is home to Alberta's only driveable suspension bridge. Cruise over the mighty Peace River and visit the historic Provincial Park. Walk along the many scenic riverside trails and take a tour of the former trading post side and Indigenous gathering place. This spot is especially spectacular in autumn colours.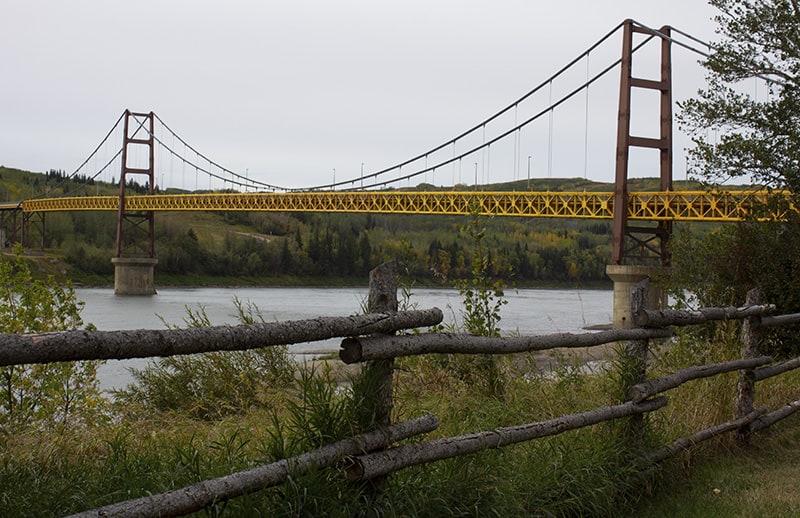 Visit a U-pick Farm (Shaftesbury Trail)
The Shaftesbury Trail, running along the Peace River for 26km, is one of the most scenic in the Peace Country. It's dotted with several important historic sites but is particularly popular with locals because of the Bridgeview Gardens. Let's face it: there's nothing quite like a piece of fresh ripe fruit, and U-Picks are a great option for those who don't have a green thumb but would still like to enjoy the fruits of somebody's labour.
Dig for Dinosaurs (Wembley)
When you think of dinos, you undoubtedly think of Drumheller and the Canadian Badlands, but now it's time to turn your attention north. Opened in 2015 in the small town of Wembley, the location of the Philip J. Currie Dinosaur Museum was chosen because of the proximity to the River of Death which has been the source of many fossils. During summer months, you can literally rub shoulders with paleontologists and join them for a dig on the famous Pipestone Creek bonebed.
Stroll thru Muskoseepi Park (Grande Prairie)
A gem in the heart of Grande Prairie, and rated the #1 thing to do in the area, this 1100+ acre parkland is a great place to bask in the sun and adventure outdoors. After taking a wander, the alternate activities are endless! Bike, swim in the outdoor pool, play tennis or basketball, visit the skateboard park … the list goes on and on.
Spot Northern Lights (all over, but increase your odds in Fort McMurray)
It is sometimes possible to spot aurora borealis in the southern reaches of Alberta, but to increase your odds, head way north. The city of Fort McMurray is located within the auroral band that roughly centers on the 65th parallel which means that on most cold and clear nights (between October and March), chances are you will see at least some colours dance overhead. Watch in coming years for a resort of giant glass igloos to be built so that overnight visitors can be mesmerized throughout the night. Really, who needs to sleep when northern lights are present?
For more information, click through to our guide on how to see the northern lights in Alberta.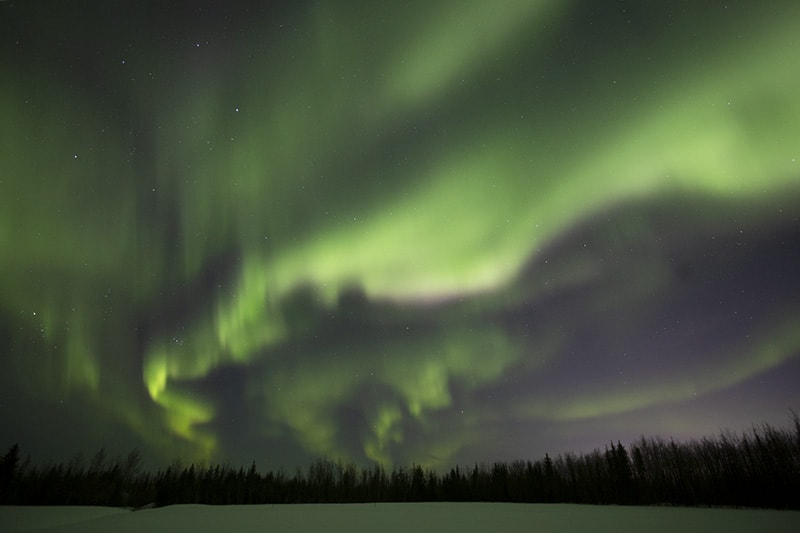 Tour the Oilsands (Fort McMurray)
Some may consider this a controversial visit, but you can only benefit from learning more about it! Gain a new perspective from the sky with an aerial tour or visit the Oilsands Discovery Centre and explore interactive displays, various educational films, and informative demonstrations about the history, science, and technology of the Alberta Oil Sands.
Float in, Hike, Paddle, and Camp (Wood Buffalo National Park)
The largest national park in Canada and the second-largest in the world, Wood Buffalo National Park was established in 1922 to protect the last remaining herds of bison in northern Canada. The number of activities to do are plentiful, including canoeing, hiking, camping, mountain biking, swimming, boating, snowshoeing, animal watching, and some of the best star gazing around!
Explore Jurassic Forest (Gibbons)
Take the kids just north of Gibbons to a prehistoric adventure just waiting to be had. Travel back millions of years in this 40-acre prehistoric preserve and experience gigantic, life-sized, and realistic-looking dinosaurs in their natural habitat! Enjoy an expert-guided safari, dig for ancient remains, peruse the gift shop, and much more!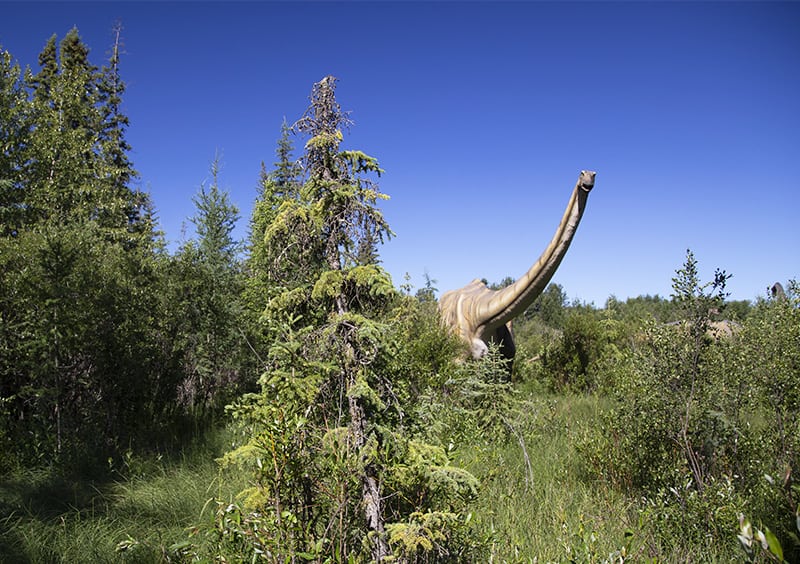 Ride the Golden Triangle (Whitecourt)
Whitecourt is known as one of the premier snowmobiling stops in Canada and it is a perfect place to start the 350km Golden Triangle Trail. Connecting this small city with Fox Creek and Swan Hills, you'll find warm-up shelters along this winter wonderland route. The best time to take on the trail is February through April.
Go Birding (Sir Winston Churchill Provincial Park)
This is Alberta's only island park surrounded by watery Lac La Biche. A 300-year-old boreal forest sits on the island and sandy beaches skirt its edges. Bring your binoculars to spot birds while walking through trees on over 3 km of trails. Camping is also available here year-round.
Spot a UFO (St. Paul)
The truth is out there. At least the fine folks in St. Paul sure believe it is. So much so that in 1967, the residents organized to build the world's first UFO Landing Pad as a landmark for the town. Be sure to drop into the Visitor Centre and check out the UFO exhibit including actual UFO photographs and unexplained crop circles.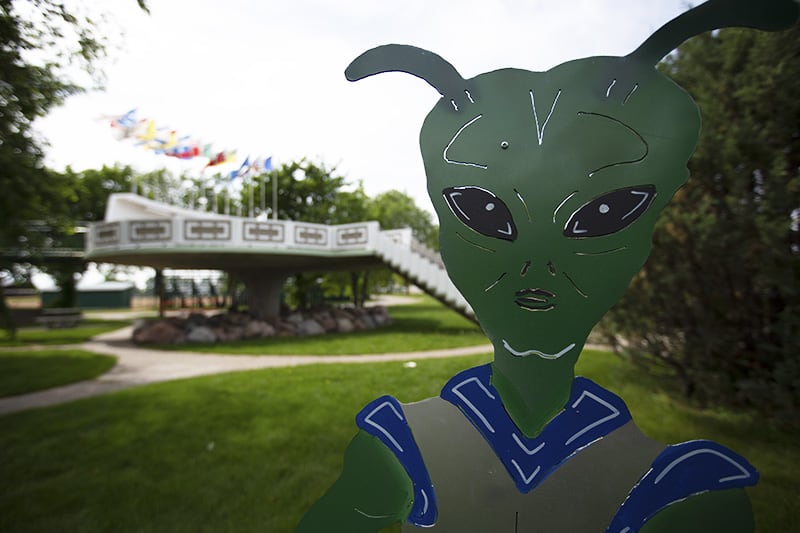 Visit a City Divided (Lloydminster)
Lloydminster has the unique situation of literally straddling the provincial border of Alberta and Saskatchewan. The border runs along the Fourth Meridian from north to south through the town on 50th Avenue. Addresses east of 50th Avenue are considered to be in Lloydminster, Saskatchewan and addresses west of 50th Avenue are considered to be in Lloydminster, Alberta. A monument of four 100-foot survey markers stands near the city's downtown core to commemorate this distinctive and unique bi-provincial status.
Eat Ukranian (Glendon & Mundare)
Ukrainian heritage is so strong in northern Alberta that there are giant statues to make sure you remember that. And our favourites are in the towns of Glendon and Mundare because they are of food. Stop in Glendon to get a selfie in front of the world's largest perogy, and then drive an hour and a half to Mundare to stand in front of the world's largest kielbasa (and don't forget to buy some delicious sausage at the famous Stawnichy's).
Celebrate Easter Year-Round (Vergreville)
Add one more Ukrainian stop to your route with a visit to Vegreville, the home of a giant Pysanka sculpture (the second largest in the world). It is 31ft long and three and a half stories tall! Be one of the thousands who stop to see it every year.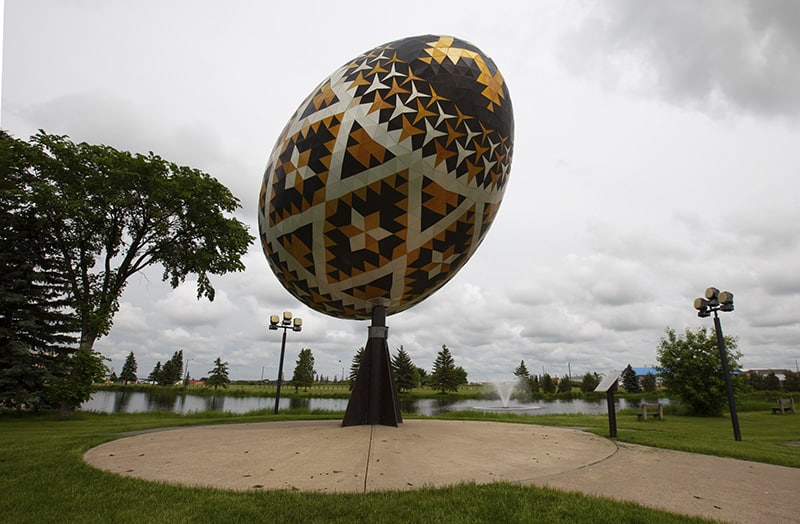 Best things to do in Central Alberta
Go Prehistoric (Drumheller)
One of the indisputably coolest museums in the world is the Royal Tyrrell Museum in Drumheller. It features the world's largest display of dinosaurs and a variety of fun interactive displays for the whole family to enjoy. Visitors also can get outside and follow the 1.4km interpretive trail that winds through the Badlands. And to get really interactive the museum hosts both a "Dinosite" where one can dig for fossils and see real dinosaur remains on this hike through the badlands.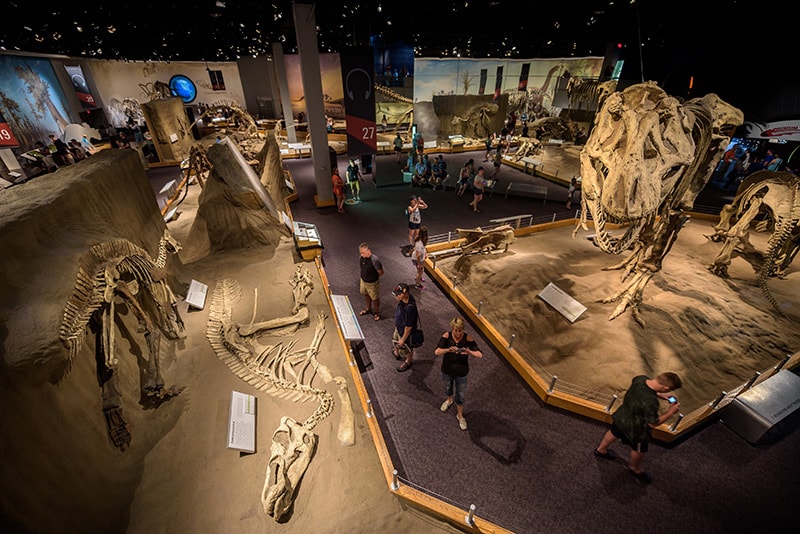 Get an Epic Selfie at Horseshoe Canyon (near Drumheller)
Just 17km east of Drumheller, the top of this canyon is a marvel to view and appreciate the unique, prehistoric topography of the Canadian Badlands. You can stand on the edge of this U-shaped canyon for some epic selfies, or if you're feeling adventurous, dip down into it for a scenic day hike. Each arm of the canyon extends approximately 5km.
Take a Short Hike in Horsethief Canyon (also near Drumheller)
Located on the Dinosaur Trail near Drumheller, this moderate 0.8-kilometer hike is a must-stop while exploring the Badlands. Admire the valley below as you gaze down from the top, or explore the canyon from below which was named after the outlaws who hid their stolen livestock there more than 100 years ago.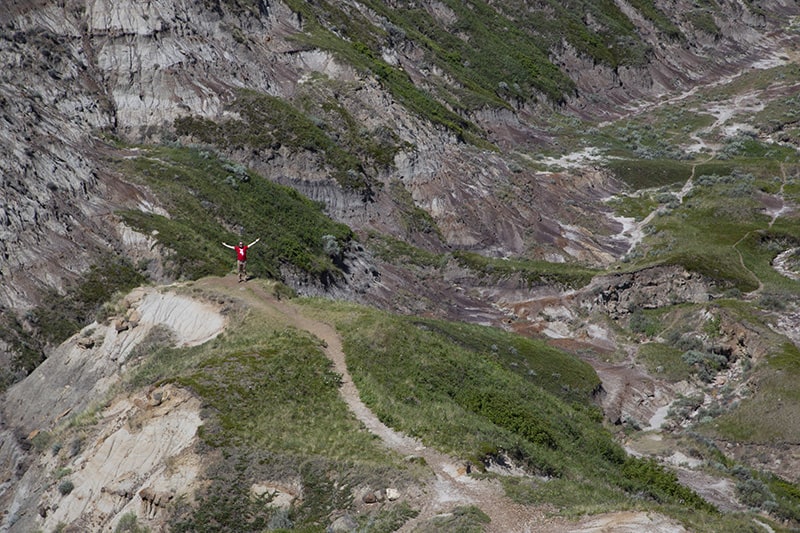 Throw One Back at the Last Chance Saloon (Wayne)
This saloon at the Rosedeer Hotel is just about all that keeps the hamlet of Wayne from being a ghost town, but it has stood the test of time. Relics from nearly 100 years ago still exist inside (like a piano from 1927); in those days when the bar was actually called the "Bucket of Blood" because of how rowdy its patrons were. It promotes a much more pleasant atmosphere now, including a menu of comfort food and regular live music performances.
Walk a Long Suspension bridge (near Drumheller)
Placed over the Red Deer River and located just east of Drumheller, the 117 m (384 ft) Star Mine Suspension Bridge was originally in the early 20th century, an aerial cable which transported buckets of coal from the east side of the river to the west. When the mine shut down, the cable was converted into a suspension bridge and is now a popular tourist attraction, fishing stop and the gateway to great Badlands terrain.
Spot a Hoodoo (near Drumheller)
Technically, hoodoos can be found in many spots in eastern Alberta, but the easiest place to get up close and personal with this natural phenomenon is near Drumheller. Just outside of town (on Highway 10) is a small protected site where you can see some of the biggest hoodoos (averaging 5 to 7 feet tall). They are super cool but also extremely fragile, so please promise not to climb on them!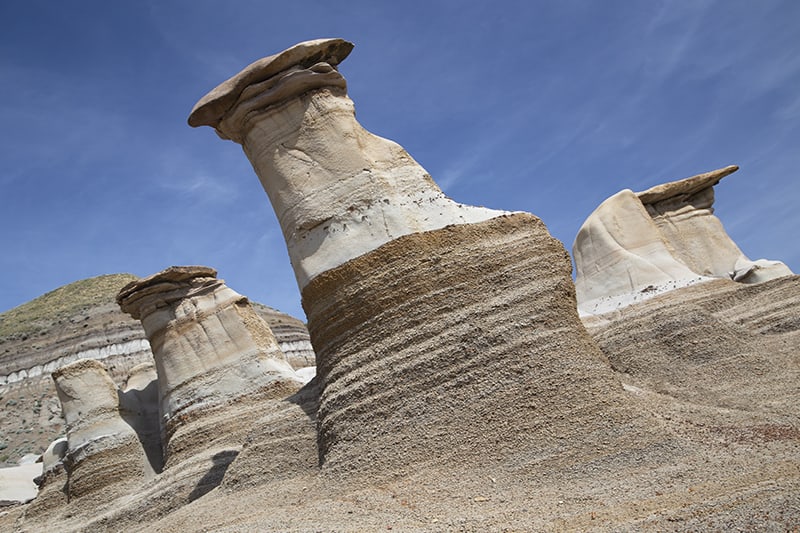 Looking for more info? Read our ultimate guide to visiting Drumheller for details on where to stay, what to eat, and more! We also have all the details on getting to Drumheller from Edmonton or Calgary.
Tube Down Discovery Canyon (near Red Deer)
Take a break from the summer heat and visit this hidden gem right near the city of Red Deer. Bring a tube or rent one on-site, and take a ride down this lazy river or chill in the beach area. Grab a snack at the concession, enjoy a picnic lunch, or head to one of these great Red Deer restaurants.
Try Not to Get Caught (Red Deer)
For the thrill-seekers that are looking for something out of the norm, nothing makes the blood pump faster than the thrill of being a pretend fugitive who is on the run at Heritage Ranch. The purpose? Try to not get caught for one hour as you try to capture four flags throughout the ranch. Bonus: Win or lose you get a ribeye steak dinner!
Visit a Secret(ish) Buffalo Jump (Dry Island Provincial Park)
As far as "secret gems" go in Alberta, this might be the secret-est and the gem-est. This Provincial Park is the site of an ancient buffalo jump where the Cree people drove bison over the cliffs in large numbers. Today, the area is popular with nature enthusiasts and bird watchers. It offers stunning views of the Red Deer River and a hand boat launch to experience the area by a paddle on the water.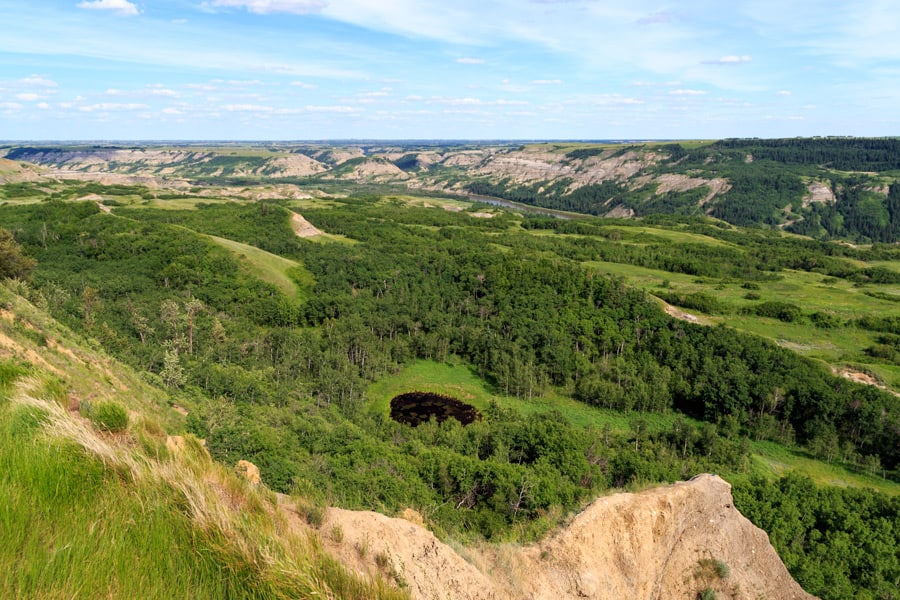 Or, Get Robbed! (Stettler)
Head to Stettler for an unexpected adrenaline rush onboard a vintage passenger train from the 1920s. Hold onto your valuables, because the train is undoubtedly going to be halted by a robber during the excursion. Keep your head down while a short "gunfight" ensues! This is just a small part of the fun though, because the Alberta Prairie Railway also offers dinner, murder mystery parties, and more.
Attend a Long Table Dinner (Stettler)
This is a true Alberta farm-to-table experience for the whole family. The annual Stettler long table dinner takes place each August right on the main street downtown. 100 people can taste the diverse dishes that are locally sourced from the surrounding farms and cooked by chefs from the central region.
See a "Furry Freak Show" (Torrington)
The Torrington Gopher Hole Museum has been called a "furry freak-show", and for good reason. This tiny museum, open since 1996, features stuffed gophers posed in a variety of dioramas that showcase local scenes (think: curling gophers, hunting gophers, a beauty shop, and more).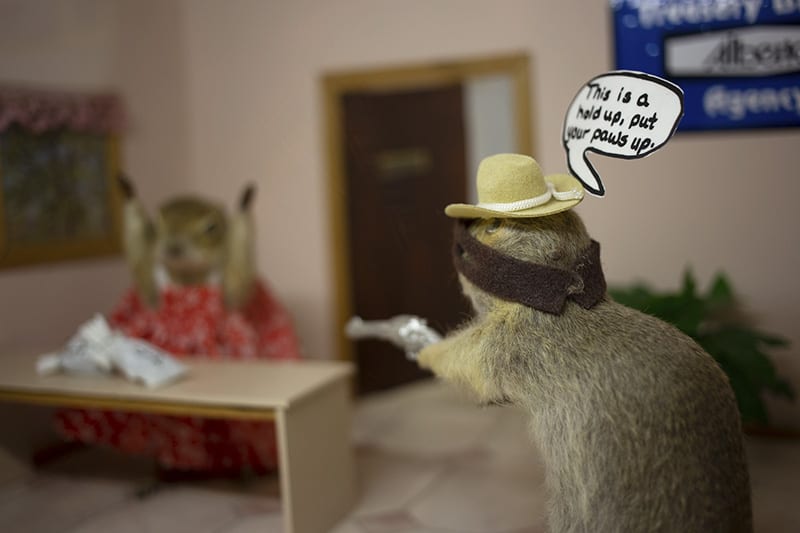 Beach it (Sylvan Lake)
Sylvan Lake is a thriving lakeside community just west of Red Deer. It's known province-wide for its pleasant beaches and is a popular spot to camp in the summer (check out our article on Sylvan Lake campgrounds if this sounds appealing). But Sylvan Lake also offers fantastic amenities and activities as well. Most recent additions worth exploring: two craft breweries (Snake Lake Brewing Company and Undercurrent Brewing) that are worth a stop at. Snake Lake Brewing Company made our list of the best Alberta breweries for craft beer!
Splash in White Water (Sundre)
The Red Deer River runs right through Sundre, Alberta, and has actually been touted as the most fun rafting river in Western Canada! Get ready for the ride of your life as you traverse down exciting rapids with Mukwah Rafting Tours.
Hit a Backcountry Trail by Horse (Sundre)
The best way to view the foothills of the Canadian Rockies is undoubtedly by horseback. Crisp mountain air paired with an authentic western experience soothes the soul and instantly brings you back to Alberta's roots. Witness rushing waters, high mountain meadows, and exquisite panoramas that are the perfect setting for horseback riding right outside Sundre, Alberta.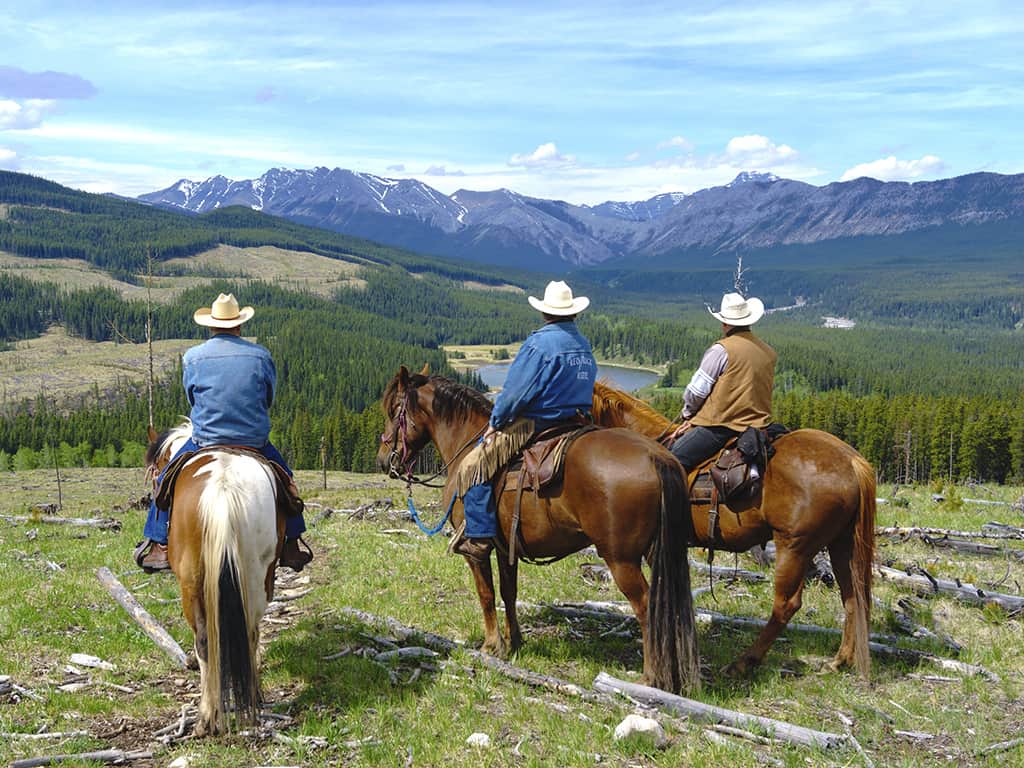 Boost Your Outdoor Skills (near Sundre)
Visit Painted Warriors, an indigenous outdoor adventure company near Sundre, and experience the traditional and modern-day lifestyle of the Cree and Saulteaux people. Try your hand at animal tracking, snowshoeing, horse riding, and archery, or you can even spend the night in an authentic Métis-style trapper tent. This is one of many exceptional Indigenous experiences in Alberta!
Watch Ram Falls (near Nordegg)
Just south of Nordegg lies Ram Falls Provincial Park and the home of the beautiful Ram Falls. Pack a picnic lunch and make use of the large picnic shelters or day-use area that include the use of fire pits. Explore the area by way of several easy hiking trails that can be used for either walking or by bike. If you would like to extend your stay in the area, Ram Falls Campground is a great place to hunker down for the night!
Visit with Wolfdogs (Cochrane)
It's often a desire for people to want a dog that looks like a wolf, but soon after they acquire a wolfdog, they realize that it doesn't often behave like a regular dog. Enter the Yamnuska Wolfdog Sanctuary, a non-profit rescue organization that rehabilitates and also rehomes displaced wolfdogs. It is open for visits and tours to learn about wolfdogs and interact with their beautiful "ambassador" dogs.
Seeing wildlife is a *must* experience for any visitor to this province. For a guide on how to do it safely, read this post on seeing wildlife in Alberta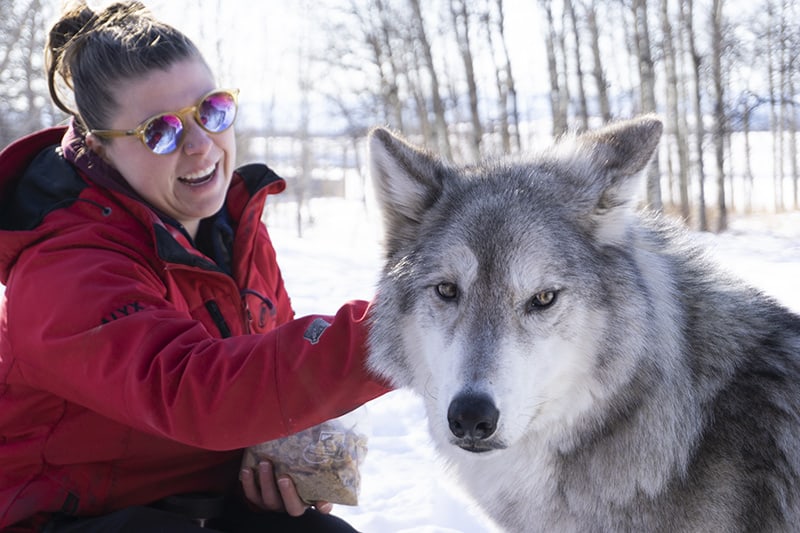 Best Things to do in Southern Alberta
Celebrate National Indigenous Persons Day (Head-Smashed-In Buffalo Jump)
This important day of June 21 would be the perfect time to visit the UNESCO World Heritage Site of Head-Smashed-In Buffalo Jump, but in truth, any time is a good time! The facility onsite preserves and interprets over 6,000 years of the fascinating Plains Buffalo culture. And if you visit any Wednesday from July to August, you can experience authentic First Nations culture by listening to Blackfoot drummers, singers, and dancers perform at this sacred location.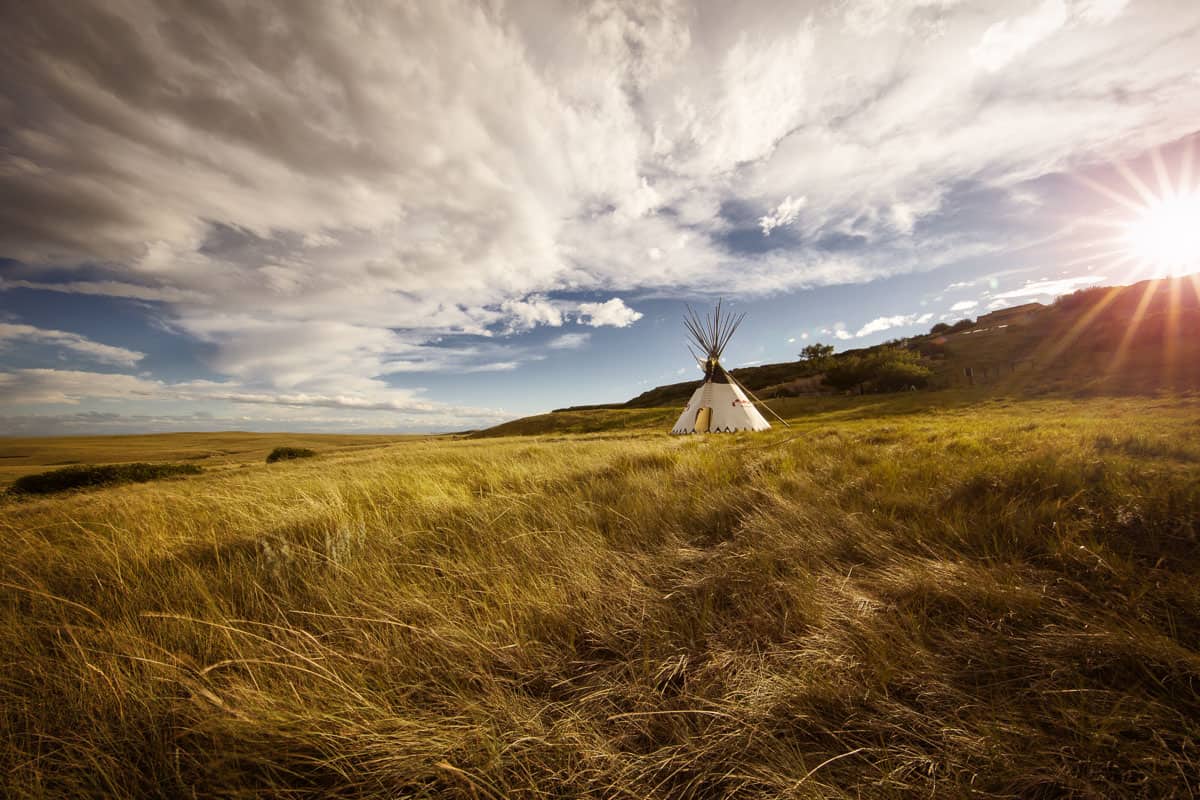 Stroll and Shop on Antique Row (Nanton)
You likely won't leave without opening your wallet. On the main street through the small town of Nanton is a string of four well-appointed antique shops. Plan for a full day of it so that you can also stop in the miniature museum and the famous Candy Store that can't be missed.
Spot the 'Big Rock' (Okotoks)
Southwest of the small city of Okotoks is a glacial 'erratic' that gave the city its name (Okotoks means 'Big Rock). This large boulder sits seemingly in the middle of nowhere, left behind by a retreating glacier during the last ice age, about 30,000 years ago. It is roughly the size of a 3-storey apartment building, and well worth a look.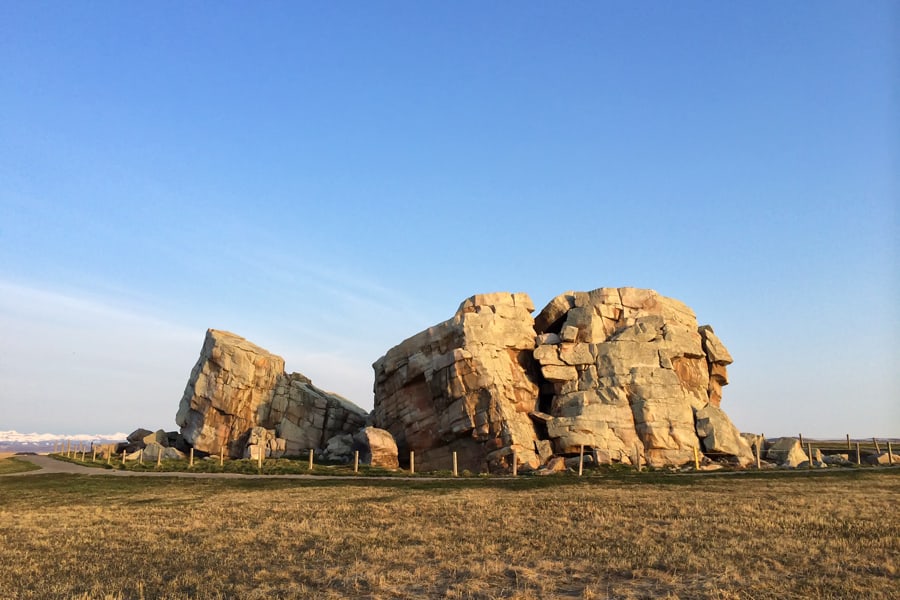 Taste Craft Spirits (Turner Valley)
Visit the Eau Claire Distillery in Turner Valley for a behind-the-scenes look into the world of how spirits are made. Tour their working distillery or visit their bottling warehouse to taste some Eau Claire products, some of which are exclusive to this location. Be sure to try their signature Equinox Mule cocktail and we promise you won't be disappointed.
Go Balloon Spotting (High River)
Hot air balloon pilots from North America and Europe meet every year in September to take to the skies and put on the Heritage Inn International Balloon Festival! Several pilots even compete in competitive flights during the festival which requires them to drop markers as near as possible to specific goals on the ground. The Balloon Night Glow is also a spectacular sight to see with balloons lit up like light bulbs throughout the night sky.
Live Long and Prosper (Vulcan)
The residents of the small town of Vulcan realized the potential they had by being named the same as the fictional Star Trek planet. They built a visitor center to look like a space station which features a large set of memorabilia from the popular TV show. The staff are all in character and ready to answer your questions about the town and the show.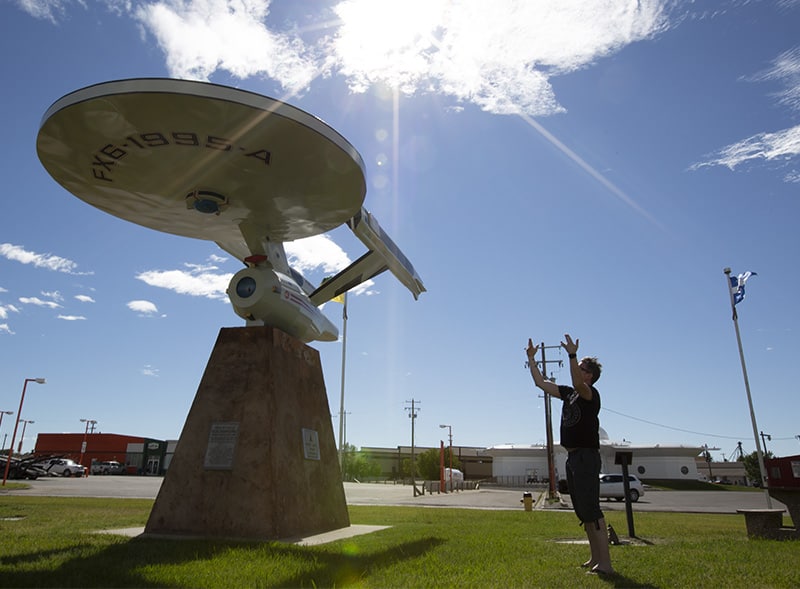 Learn the Nitty-Gritty of Cowboy Life (Longview)
At Bar U Ranch near Longview, this National Historic Site has exciting offerings that allow visitors the chance to discover what the life of a ranching cowboy in the late 1800s was like. Learn cowboy skills and old-style ranching ways, and take in the gritty stories of Alberta's humble ranching beginnings.
Watch the RCMP Musical Ride (Fort Macleod)
What started as relief for the officers from the daily drills and routine duties that were expected of members of the North-West Mounted Police turned into an intricate routine on horseback set to music that drew a crowd! Now it is recreated multiple times daily at The Fort Museum in the summer months.
Scout Filming Hot Spots (Fort Macleod)
We're not saying that Fort Macleod is basically "Hollywood North", but we're not NOT saying it either! So many blockbuster films and TV have been shot here, including Ghostbusters: Afterlife, Brokeback Mountain, scenes from Fargo, and more. While many of these shows include shots from all over Alberta, Fort Macleod is often featured. If you want to learn about Alberta movie locations, expect to make a spot here. And you'll also stop in Fort Macleod if you follow our road trip guide to see The Last of Us filming locations!
Detour to Lundbreck Falls (Lundbreck)
In the southern foothills of Alberta, you'll find these sparkly falls near the small hamlet of Lundbreck. They only fall about 12ms but they sure are mighty, and very worth the quick little detour off of the main highway. Observe from above or hike down below and feel the spray!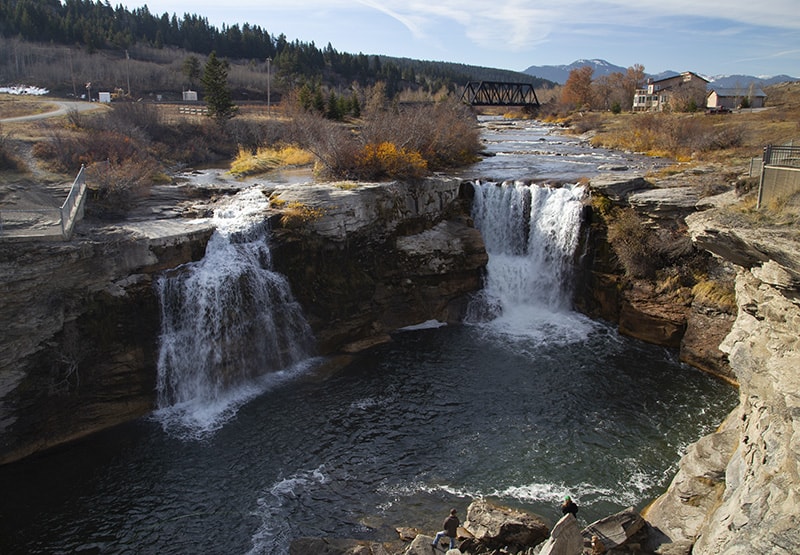 Golf in Paradise (Lethbridge)
Surrounded by the hills and cliffs of the Old Man River lies an oasis which is the Paradise Canyon Golf Resort. This golfer's dream is rated the number one course in southern Alberta and one of Canada's top sixty courses by Golf Digest. It's perfect for all ages and all skill levels!
Find A Moment of Zen (Lethbridge)
Nikka Yuko, a 3.75-acre garden was built to recognize the contributions made by citizens of Japanese ancestry to the multicultural community of Lethbridge. A symbol of international friendship, exploring this beautiful tranquil garden will sure to give you a sense of peace and serenity. Looking for something more adventurous? In summer months, watch for announcements of "Sumo Sumo Sundays" where you can see if you have what it takes to wrestle with the big guys. And don't miss the popular Winter Lights Festival where the entire garden is lit up with colourful lights (one of our favourite spots in Alberta to enjoy lights at Christmas).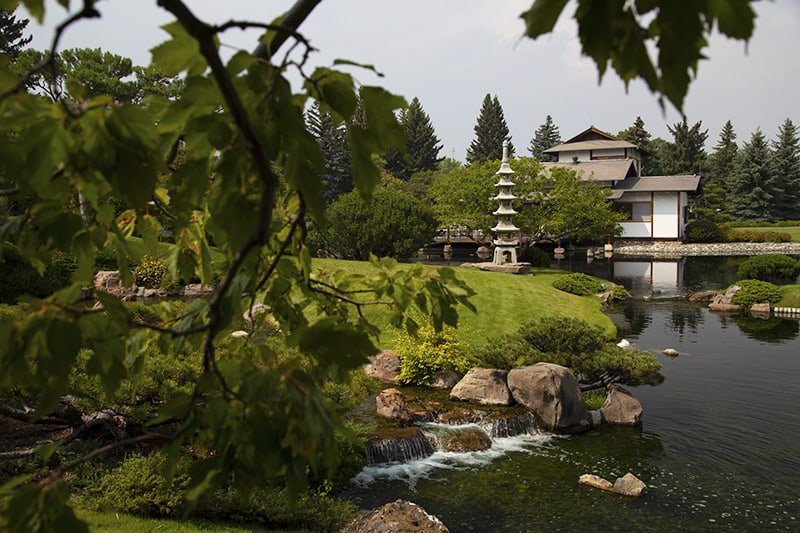 Spot the Highest Train Bridge in the World (Lethbridge)
It's pretty hard to miss it! The Lethbridge Viaduct (also known as the High Level Bridge) is a massive steel trestle over the Oldman River that divides the city and is the largest of its kind in the world. Trains from the Canadian Pacific Railway run over it, and the bridge has stood tall for over 100 years.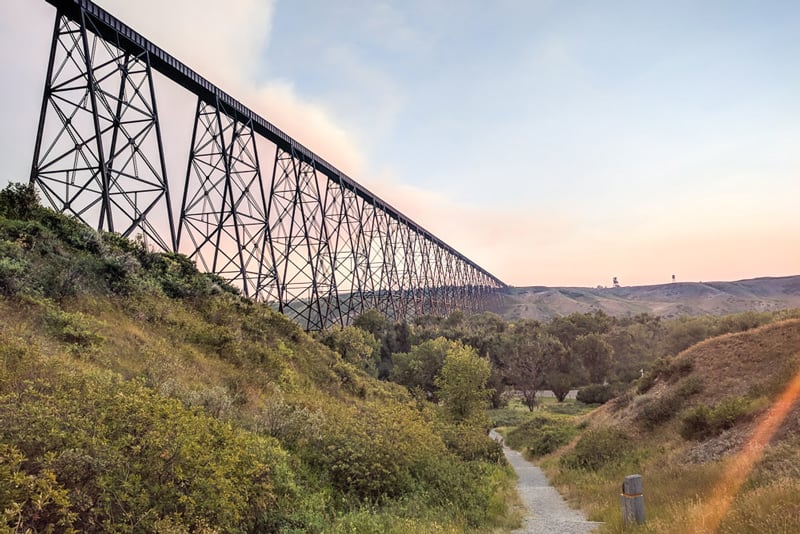 Looking for more info? Read our ultimate guide to visiting Lethbridge for details on where to stay, what to eat, and more!
See a Dinosaur Egg (Warner)
In 1987, a young girl found what she believed was a dinosaur egg along the Milk River Ridge. She actually had stumbled upon a Hadrosaur (duck-billed dinosaur) nesting site! The full story, along with a reconstructed nest and embryo is on display at the Devil's Coulee Dinosaur & Heritage Museum just south of Lethbridge.
Learn From Birds (Coaldale)
Get up close and personal with feathered friends at the Birds of Prey Foundation. Active since 1982, this exemplary conservation centre rescues and rehabilitates all kinds of birds. Visitors can wander through the complex, learning about hawks, owls, eagles, and more.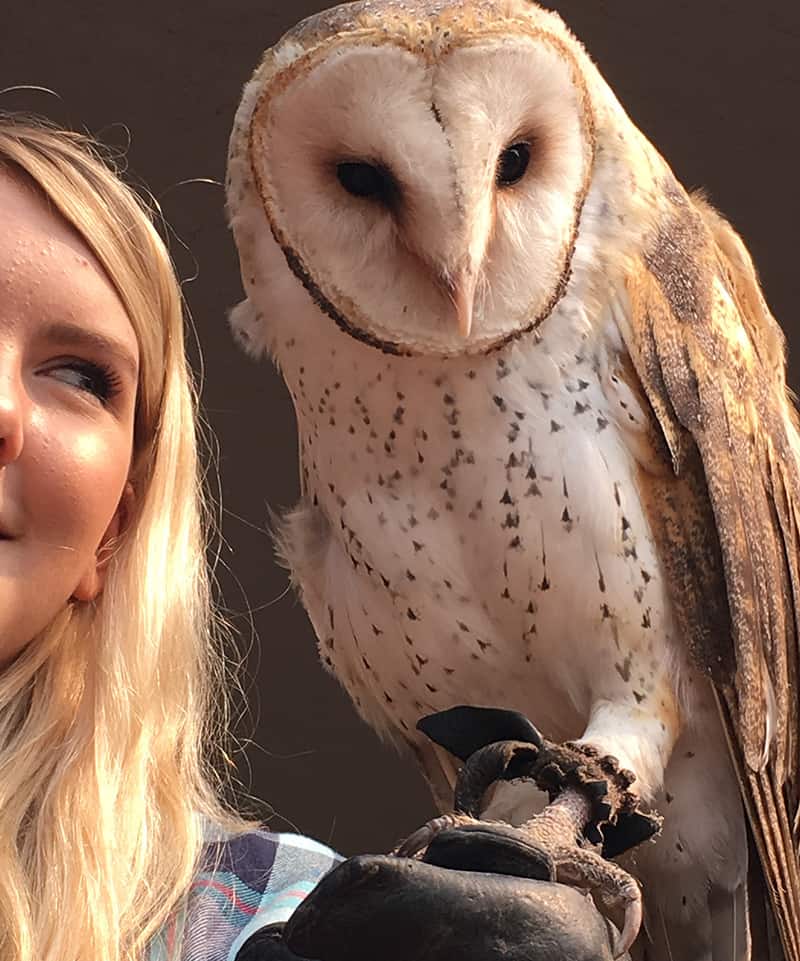 Go Backcountry Hiking with Hoodoos (Writing-on-Stone Provincial Park)
The sandstone rock formations called hoodoos provide a fun "do it yourself" hiking adventure just beyond the river (ask for a map at the Visitor Center). Rumour has it there is a slot canyon there! Dress for a river cross and beware of rattlesnakes. Bring plenty of water for your adventure too. (If you prefer more of a guided experience, there are three well-groomed trails near the Visitor Center as well.)
We're so sure you'll fall in love with this area that we urge you to bring your camping gear too! Writing-on-Stone Provincial Park is one of our picks for the coolest campsites in Alberta.
Take a Rock Art Tour (Writing-on-Stone Provincial Park)
First Nations people camped at Writing-on-Stone as far back as 3,500 years ago – the steep sandstone cliffs have a deep spiritual meaning and are still regarded as a sacred place. In fact, Writing-on-Stone contains the highest density of rock art anywhere in the plains of North America. Bonus info: Áísínai´pi (the traditional name of this spot) means "where the drawings are".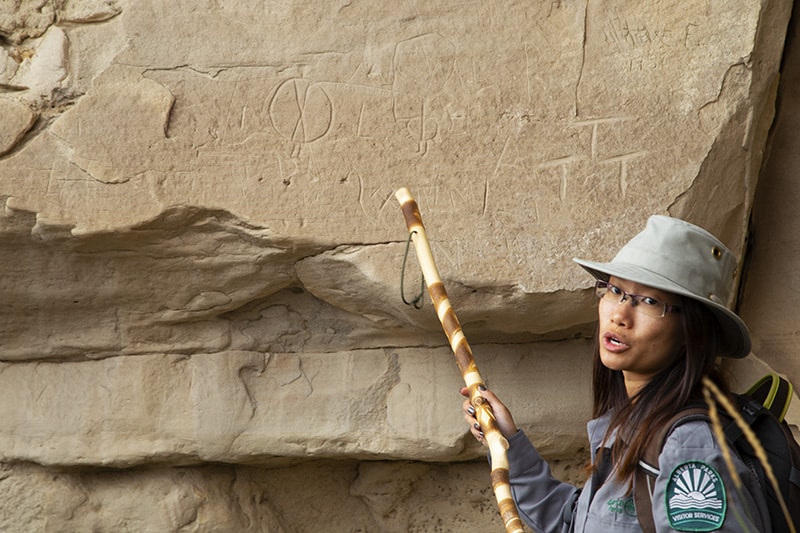 Go to the Corn Source (Taber)
Every summer, the Corn Capital of Canada hosts the largest free family festival in western Canada. "Corn is King" at Cornfest, and the famous Taber vegetable is celebrated in displays, events, and of course food. The festival also has live music, carnival rides, chilli cookoff, a corn-eating contest, and even a skateboard corn-test.
Visit Red Rock Coulee (near Medicine Hat)
But how? This is the first thing you'll ask yourself when arriving at the Red Rock Coulee Natural Area. Dotting the landscape are many rust-coloured spherical boulders (called "concretions"), some of which are as wide as 10ft. Some are near-perfect circles, and others have been split over time. This is designated a Provincial Natural Area and can be found 54 km southwest of Medicine Hat.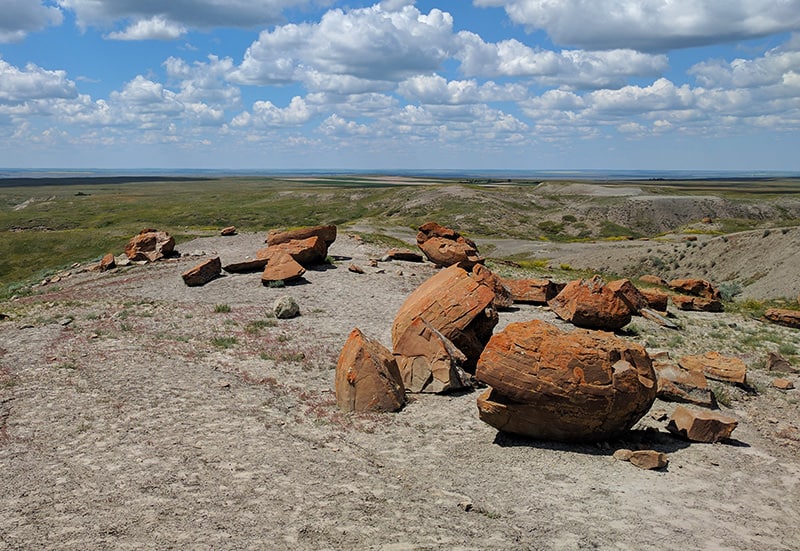 Get Fully Caffeinated (Medicine Hat)
This sixth-largest city in Alberta has an unmatched love for coffee with a surprisingly strong (pun intended!) café culture. Take a walking tour and tasting with Indy Coffee Tours – start by roasting your own beans and come away with a caffeine jolt to last you all day.
See the World's Largest Teepee (Medicine Hat)
It weighs 800 tons and stands at the height of a 20-storey building. This tribute to Canada's Indigenous heritage was built for the 1988 Winter Olympics held in Calgary, and its assembly was astoundingly completed in less than one week. The Saamis Archeological Site is within walking distance in the coulee below, where experts believe there are upwards of 80 million artifacts buried.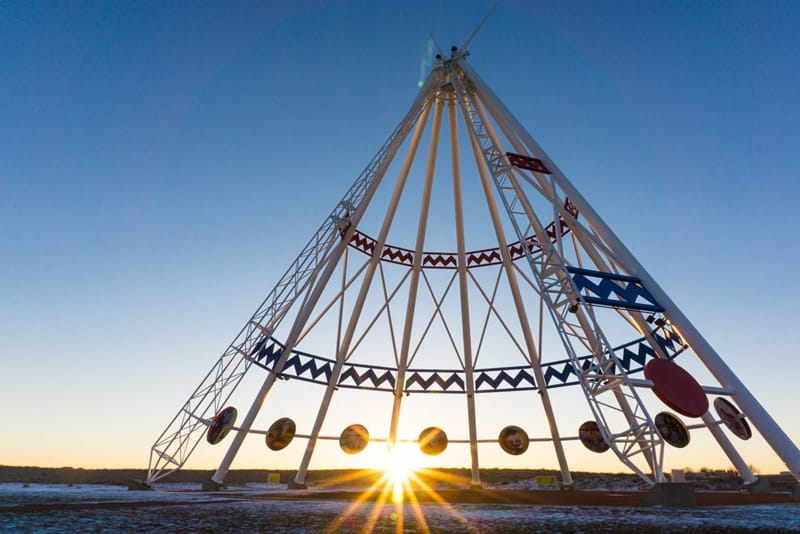 Catch the Big One (Medicine Hat)
Cast a line in the South Saskatchewan River for Alberta's largest game fish – the powerful sturgeon. This fish does not give up easily so prepare for the fight of your life! Other fish varieties that you could hook are walleye, sauger, goldeye, pike, mooneye, and burbot. For more info, read our guide to fishing in Alberta.
Learn from Clay (Medicine Hat)
The Medalta Museum is situated against the dramatic cliffs of the South Saskatchewan River in the Hat. It was this river that provided the expanse of clay giving the factory its resource. What was once home to some of the earliest industries in Western Canada is now an impressive interactive museum. You can tour the old factory floors, pick up some of the old bricks, peer into the old kilns that were once fired up, and of course, hear the stories of the importance of industrial history. Included in admission is access to the number of galleries set up by local and Indigenous artists.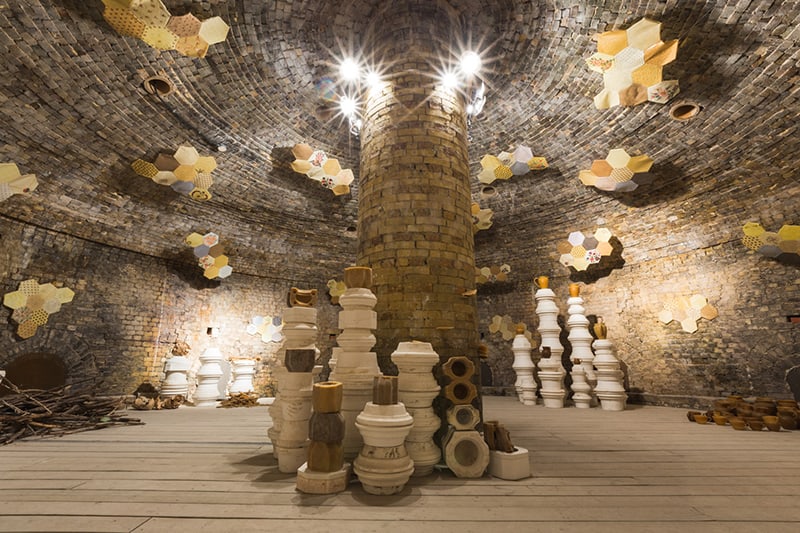 Dine in a Train Car (Mossleigh)
An 1887 Pullman Dining Car that was once the private business car for Prime Minister John Diefenbaker sits at Aspen Crossing, near the small town of Mossleigh. Everything on the menu is made from scratch and many of the ingredients are locally sourced. Book a table in advance and dine in a piece of history throughout the year (closed January through March).
Get Your Grill On (Patricia)
How do you like your steak cooked? Rare? Well done? The famous steak pit at the Patricia Hotel Restaurant gives you the chance to cook your own juicy beef or buffalo steak to your liking. The hotel was originally built in 1915 and since then it has added extra rooms plus the famous Steak Pit.
SUP (and More) in Cypress (Elkwater)
As you drive in the southeast of Alberta across flat plains towards Saskatchewan, the area of Cypress Hills Interprovincial Park can come as a bit of a surprise. In the middle of prairie land, this large region boasts a unique mix of forests, rolling hills, grasslands, and an outstanding array of plants and animals. On the Alberta side of the park (it also stretches into Saskatchewan), spending a few days in the small town of Elkwater can open up an array of adventures. Camp, hike, eat well, kayak, and finally, get up on that SUP board to enjoy Elkwater Lake at your leisure.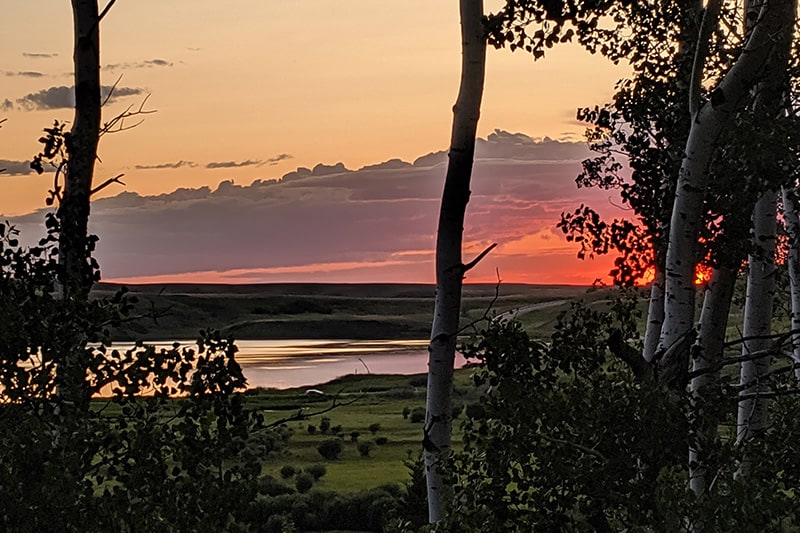 Learn Important History (Blackfoot Crossing)
The language, culture, and history of the Siksika (Blackfoot) people are presented and preserved at Blackfoot Crossing Historical Site. The entire building pays homage to the vast range of Blackfoot culture through various metaphors and concepts utilizing sacred icons and stories of the people. Immerse yourself in traditional Blackfoot culture through the many interactive exhibits, yearly Powwows, and even partake in a Tipi sleepover in Chief Crowfoot's Tipi Village.
Glamp Among Dinos (Dinosaur Provincial Park)
This UNESCO World Heritage Site takes you back to the time of the dinosaurs while providing all the amenities for a good night's sleep. Comfort camping takes place in one of the Park's high-quality canvas tents that have wooden floors, plenty of ventilation, and even an electric fireplace, mattress, and a mini-fridge! Take to the Badlands by day, looking for dinosaur fossils, and relax in comfort by night. Dinosaur Provincial Park is home to some of the most important fossil discoveries – specifically 35 species of dinosaur – which date back 75 million years.
PHEW! That was a massive list of things to do in Alberta. Although we are sure that some of you have more suggestions of what should be on this list, so let us know!
And…don't forget to download our fun and free Road Trip Alberta bingo cards to track how much of the province you've seen, or to help you plan your next road trip!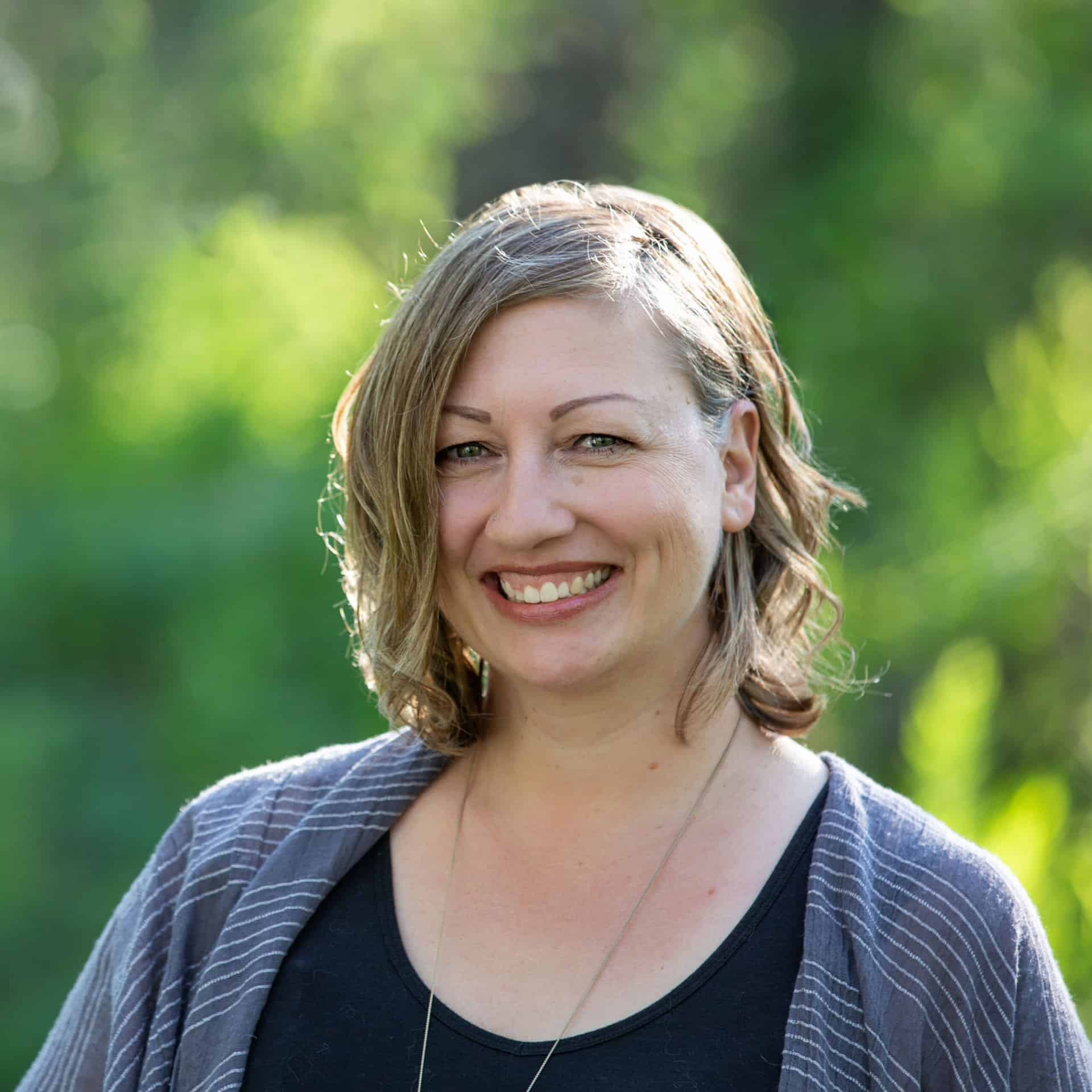 Dalene Heck is a co-founder of Road Trip Alberta. She was born in Edmonton, grew up in the Peace Country, and has ventured to almost every corner of Alberta and the world (she's travelled to 60 countries)! She is a serial blogger, the CEO of HMI Marketing, co-creator of the Trip Chaser card game, a leukemia-slayer, and cat whisperer.