Disclaimer: This page may contain affiliate links. Please review our full Terms and Conditions for more information and our Privacy Policy. Note that any pricing, operating hours, or other such information provided below may have changed since initial publication.
Compiled by the Road Trip Alberta team
Last updated on August 27, 2023
When venturing into Canmore, Alberta, there is an abundance of good restaurants to choose from. For a relatively small town, there is practically every type of cuisine on offer and a good selection between casual and formal dining. Surely you will find something for yourself and your family! Best of all, you get a meal surrounded by some amazing scenery of the Bow Valley. Below are our top picks for restaurants in Canmore.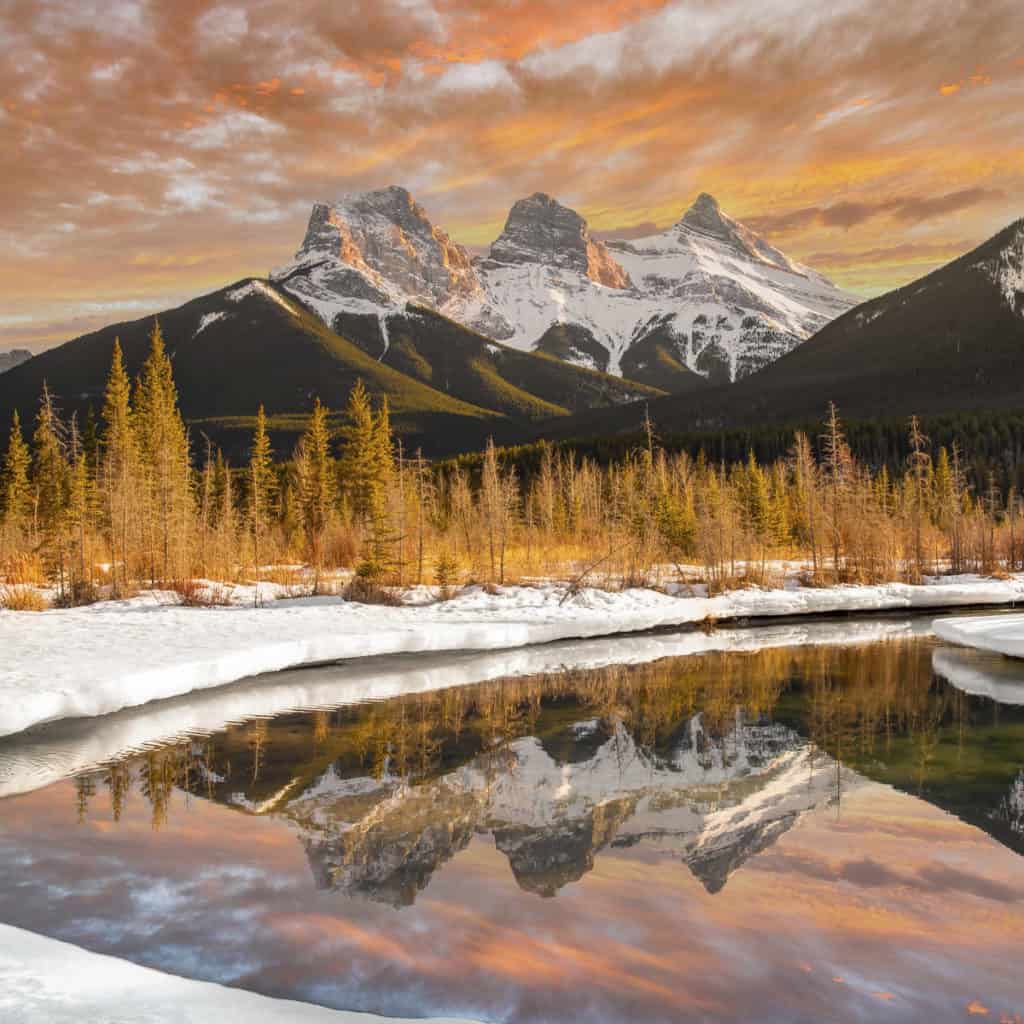 The Best Restaurants in Canmore
Crazyweed Kitchen
Location: 1600 Railway Ave
Don't be fooled by the name… the Crazyweed Kitchen is anything but scattered or chaotic. In fact, the food they serve is downright delicious! Found in the heart of the Canadian Rockies, this Canmore restaurant has attracted five-star reviews since it opened.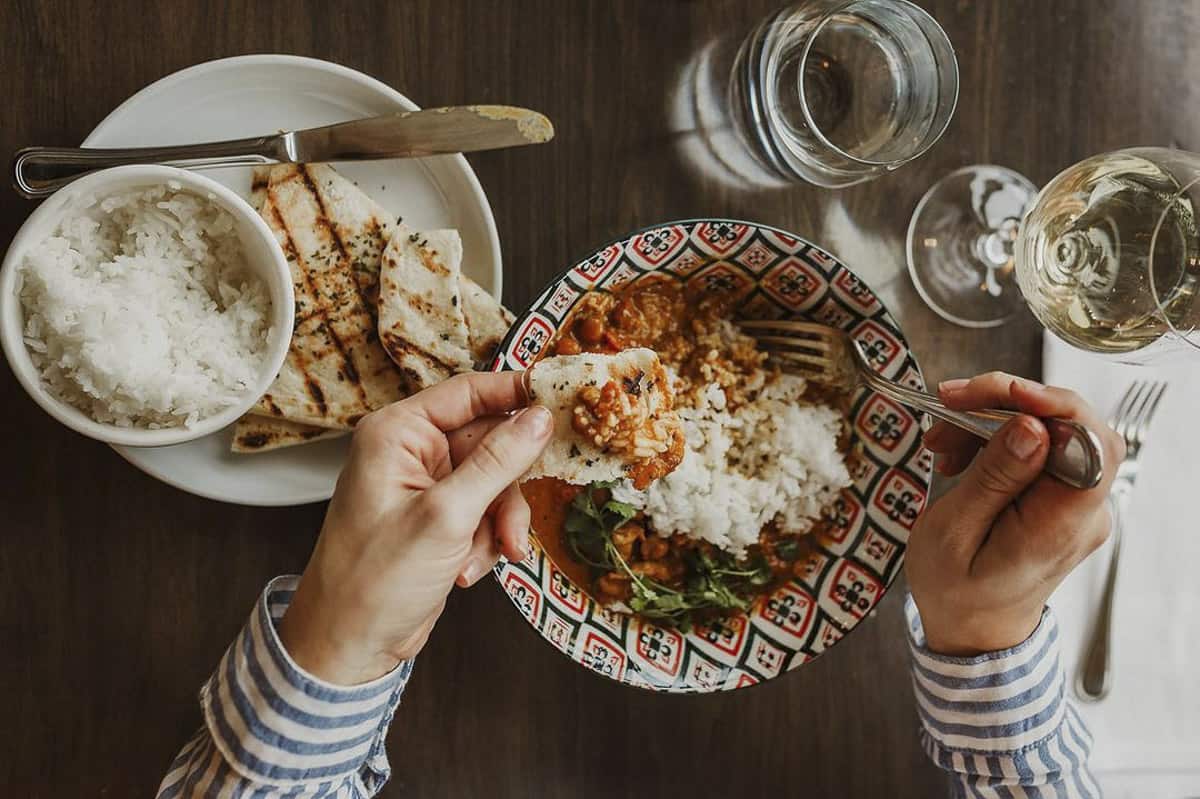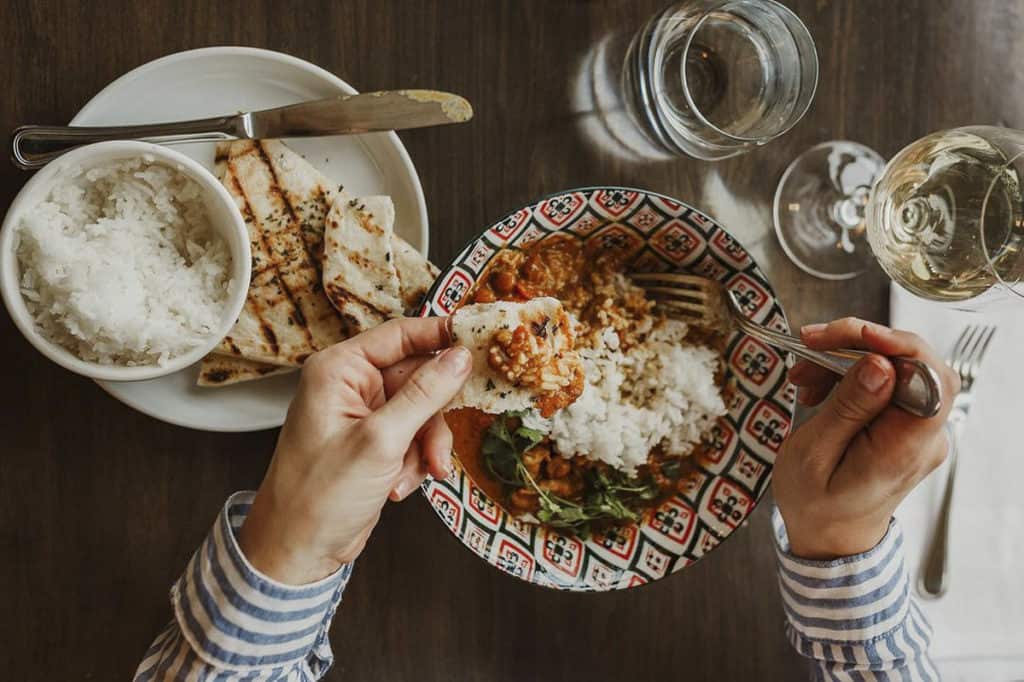 Blending Canadian ingredients with Middle Eastern and Asian recipes, you'll fill up on dishes like Masala Ribs, Moroccan Lamb Sirloin, and Singapore Prawn Curry. With excellent food presentation and a warm, welcoming vibe to the restaurant, Crazyweed Kitchen might become your top choice for an evening in the town of Canmore. Reservations are recommended.
The Sensory
Location: 101-300 Old Canmore Rd
If you're in the mood for a meal to remember, look no further than The Sensory. This upscale restaurant aims to serve food that is expressive of the Rocky Mountains, combining years of culinary experience with the freshest ingredients found in Canada.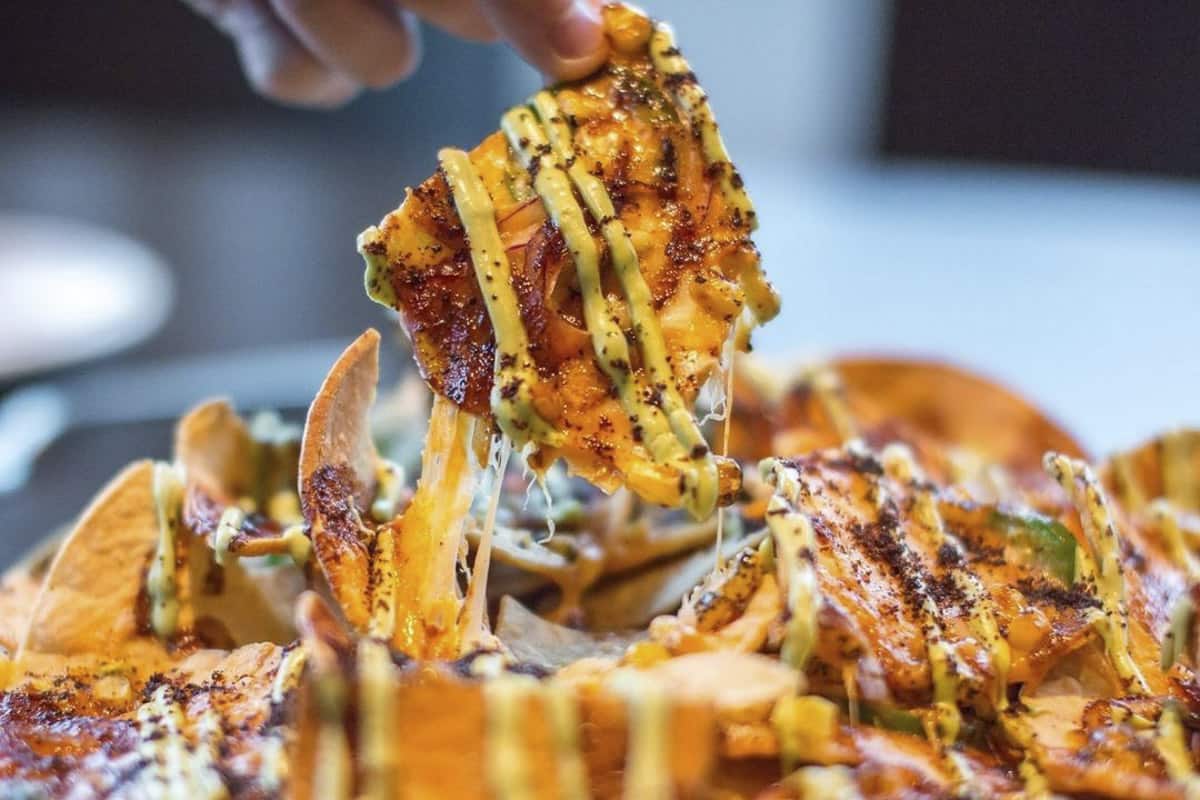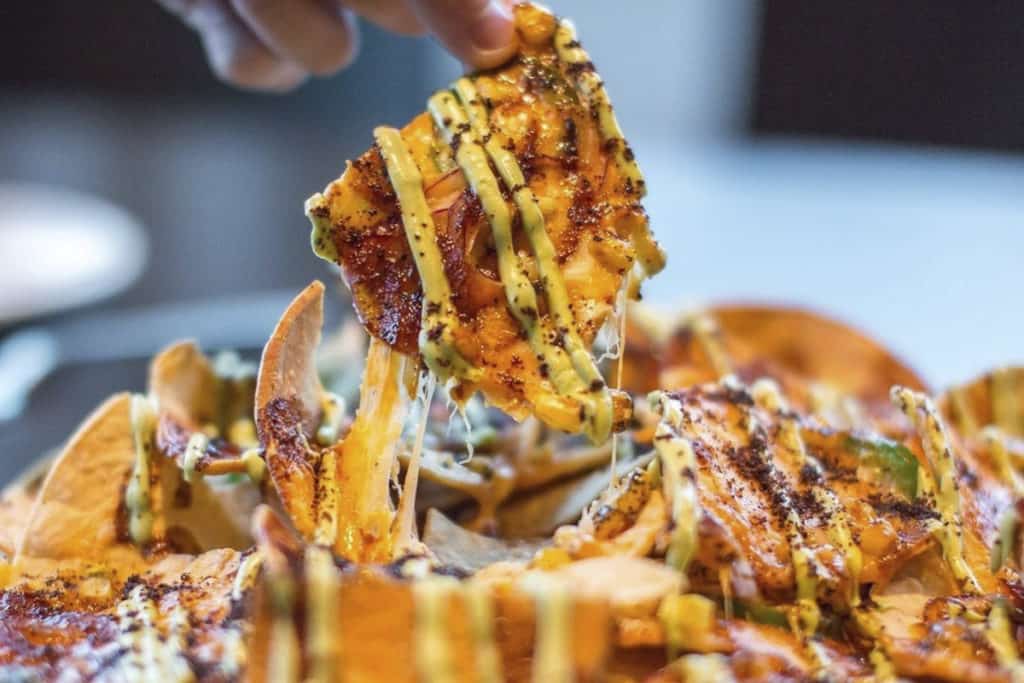 The Sensory in Canmore proves that fine dining doesn't have to be boring and is elevating the Canmore food scene. Their menu is innovative, fresh and inspired by local ingredients. Try their Lamb Shank, Baked Coho Salmon, or Mushroom Risotto, all washed down with one of their many fantastic wines. Feeling really hungry and adventurous? Try their Chef's Surprise 3-Course Tasting Menu and add a wine-pairing Reservations are definitely recommended.
Tank310
Location: 310 Old Canmore Rd
Connected to the Grizzly Paw Brewery, Tank310 is an offshoot from the popular Canmore spot. Head here for the same amazing hospitality and delicious beers as Grizzly Paw, but with a slightly more adventurous menu; think Mediterranean Mezze, Confit Duck Leg, and Smoked Sturgeon Rillette. Or you can go with an Albertan favourite – the 10oz Ribeye Steak paired with potatoes, mushrooms and black garlic butter. Thankfully, they've included all the best beer pairings to go with whatever you order!
Reservations are recommended.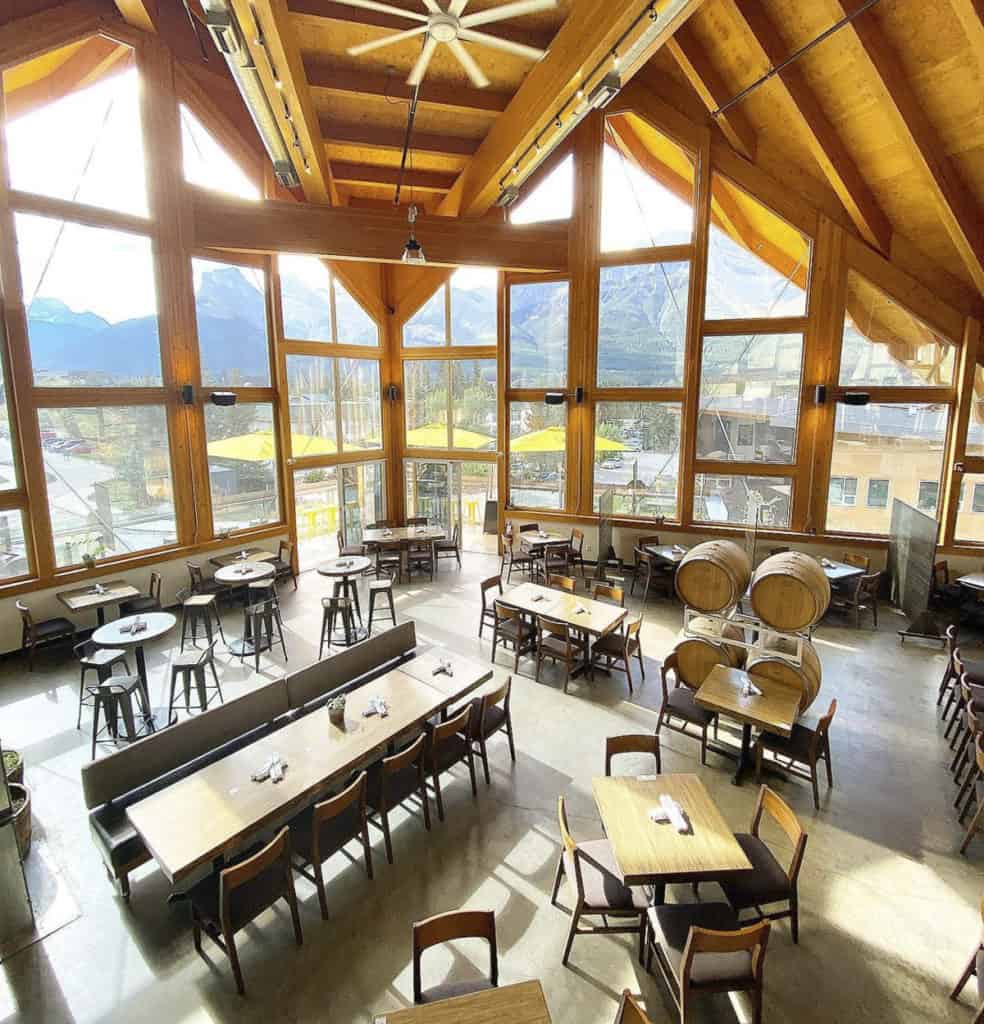 Sauvage
Location: 633 10 St, Canmore, AB T1W 2A2
Formerly called "Tapas Restaurant", Sauvage's recent rebrand brings charming character, a community spirit, and, of course, an incredible array of tapas. Small plates are a fantastic way of getting to try a variety of flavours, and Sauvage certainly doesn't disappoint; past menu items include yak and wild boar meatballs, ricotta gnocchi, elk short rib, and beets three ways.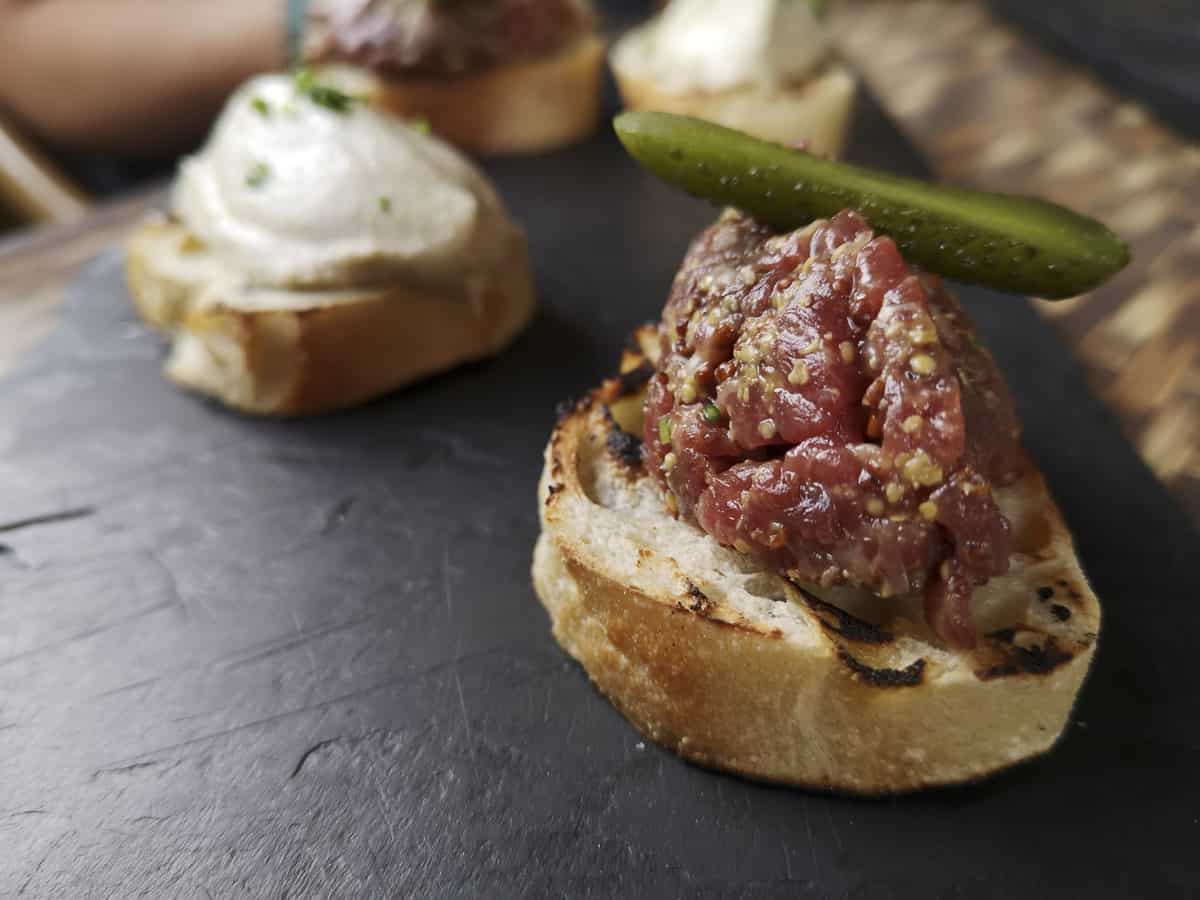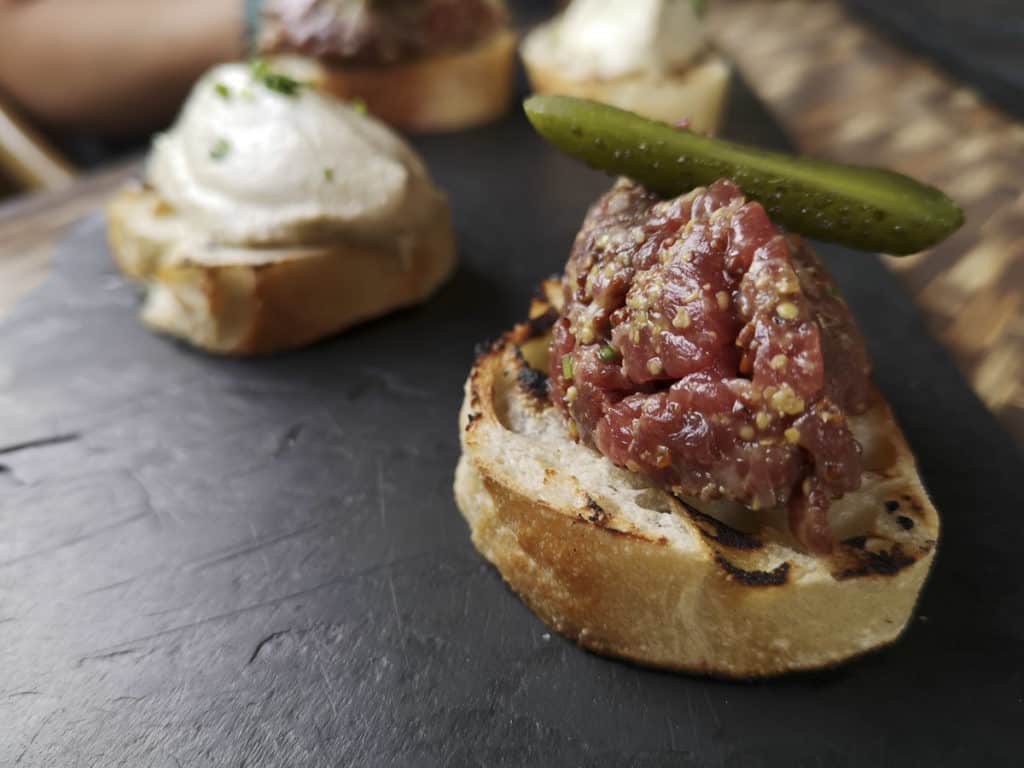 Serving up the best of Alberta products with innovation and ingenuity, Sauvage is one of our top picks for the best restaurants in Canmore. Reservations are recommended!
4296
Location: 626 8 St Unit 3
4296 is an excellent choice in Canmore when it comes to innovative dishes, one-of-a-kind cocktails, and a warm, trendy atmosphere. Found in the heart of downtown Canmore, this restaurant prides itself on its elevated dining concept with Asian influences fused with Alberta ingredients.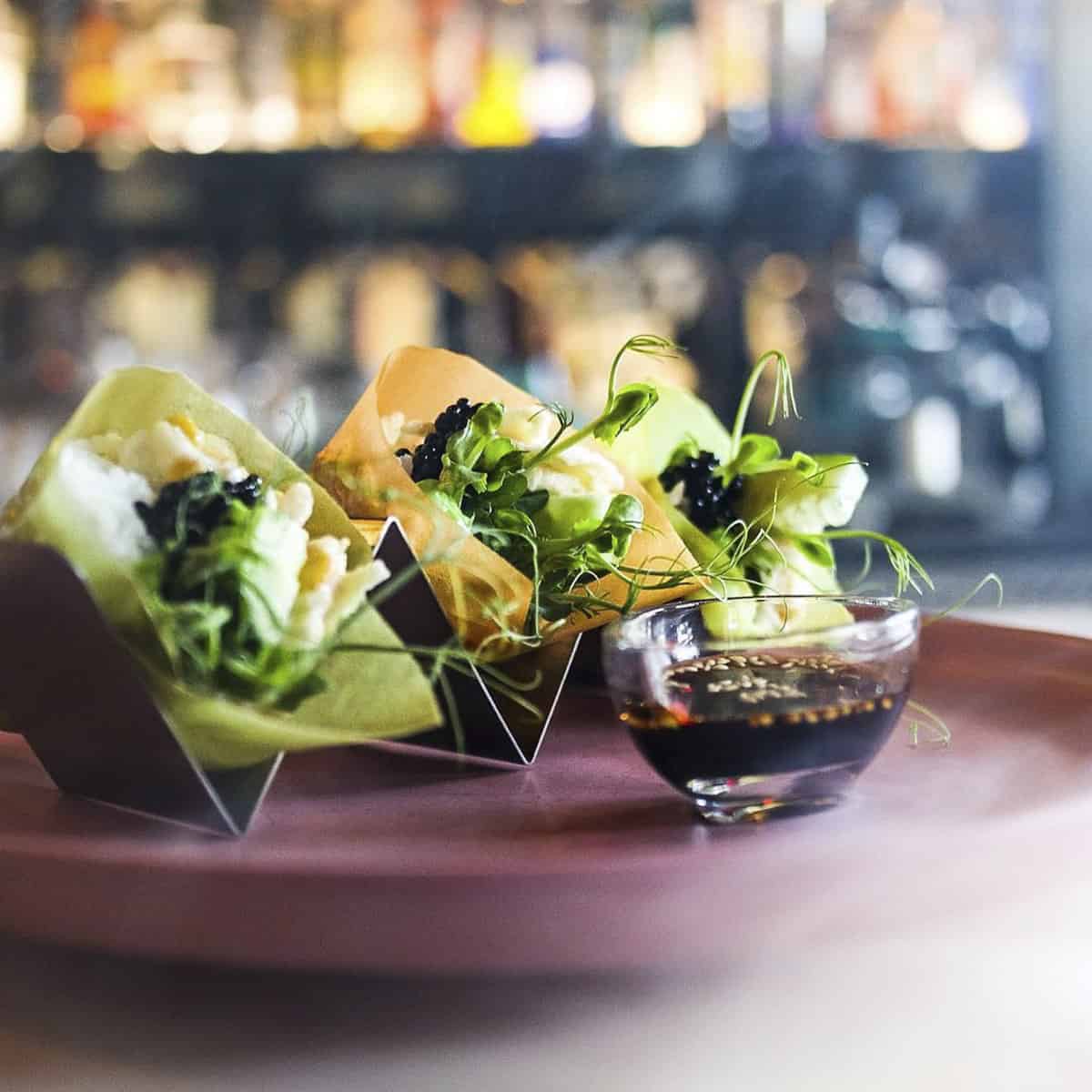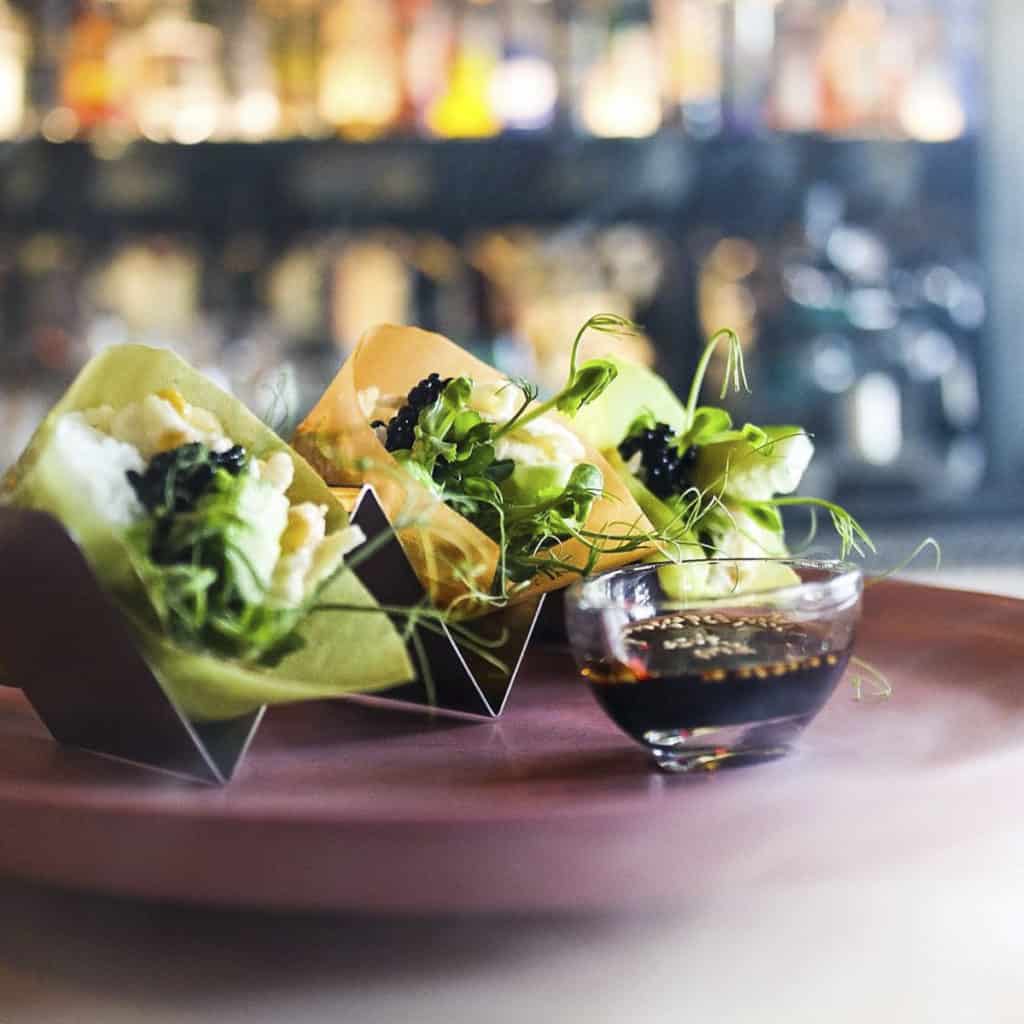 Be sure to try the Chick'n Fried Maitake, the Tomahawk Tonkatsu, or the Vietnamese Tartare, they're all divine. And the drinks alone are enough to make you want to return again and again, as their cocktails are a fantastic blend of Japanese spirits and fresh local ingredients. Reservations are highly recommended.
The Market Bistro
Location: 75 Dyrgas Gate #102
Make your way to this family-run bistro for the best in French-inspired food. With an extensive outdoor summer patio as well as indoor seating all year round, fill up on casual fare such as sandwiches and soups or try one of their excellent entrees, including vegetable lasagne, duck confit, or prawn risotto.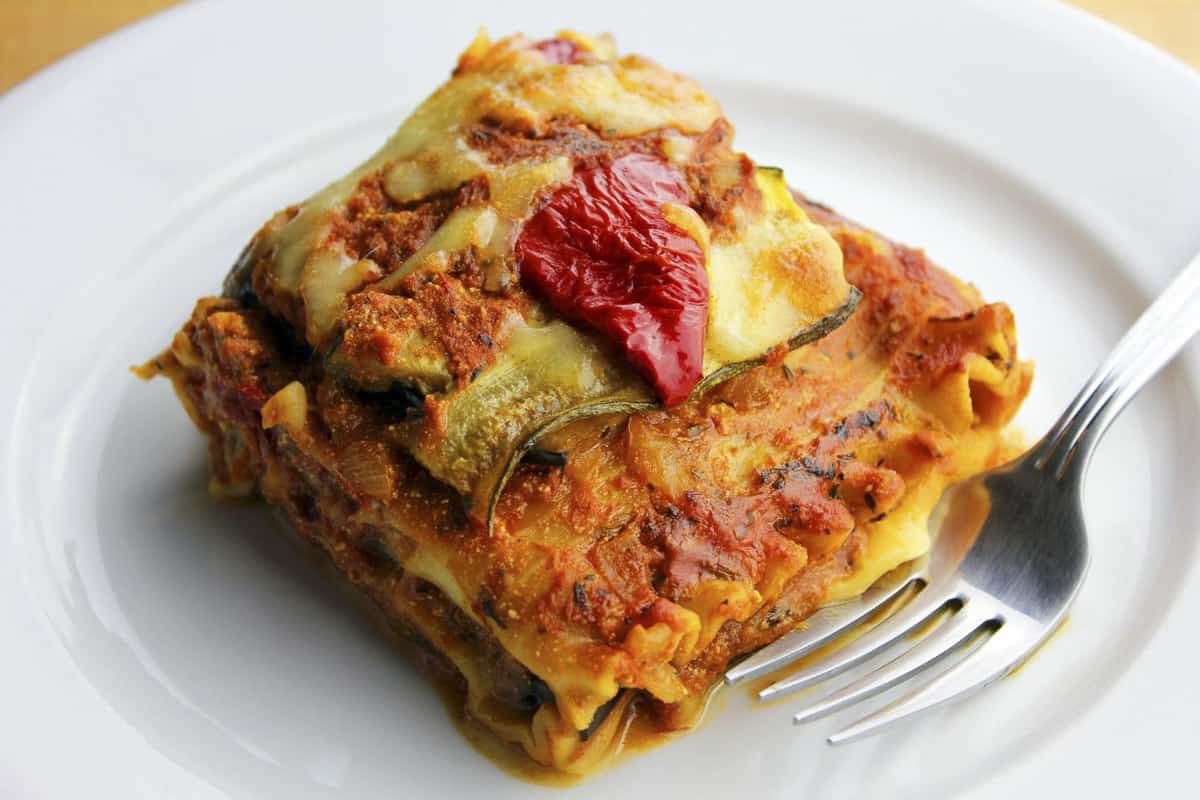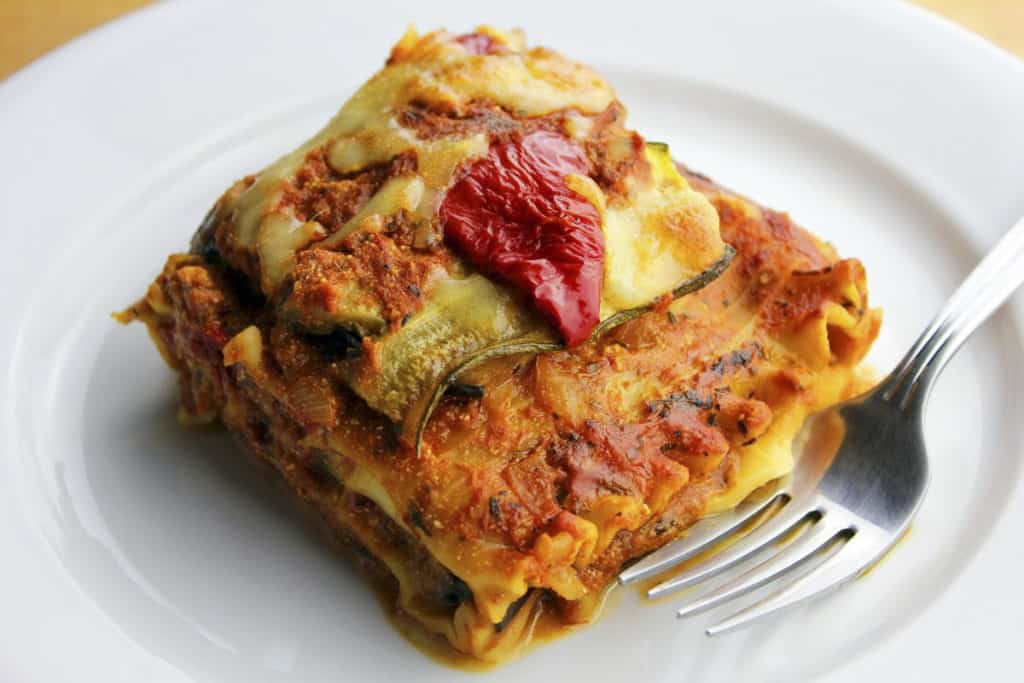 With gorgeous views of the Three Sisters mountain range, the patio is an especially great reason to visit The Market Bistro in warmer Canmore weather. Sit back with a cocktail, enjoy the live music, and take in the jaw-dropping views all around you.
Graze Food and Drink
Location: 102-717 8 St
For a relaxed but delicious meal, make your way to Graze Food and Drink. With a lovely little patio to enjoy in warmer weather as well as indoor dining, they serve breakfast, lunch, and dinner. Each meal features classic dishes that are guaranteed to satisfy your craving and fill you up for the day's (or night's) adventures ahead.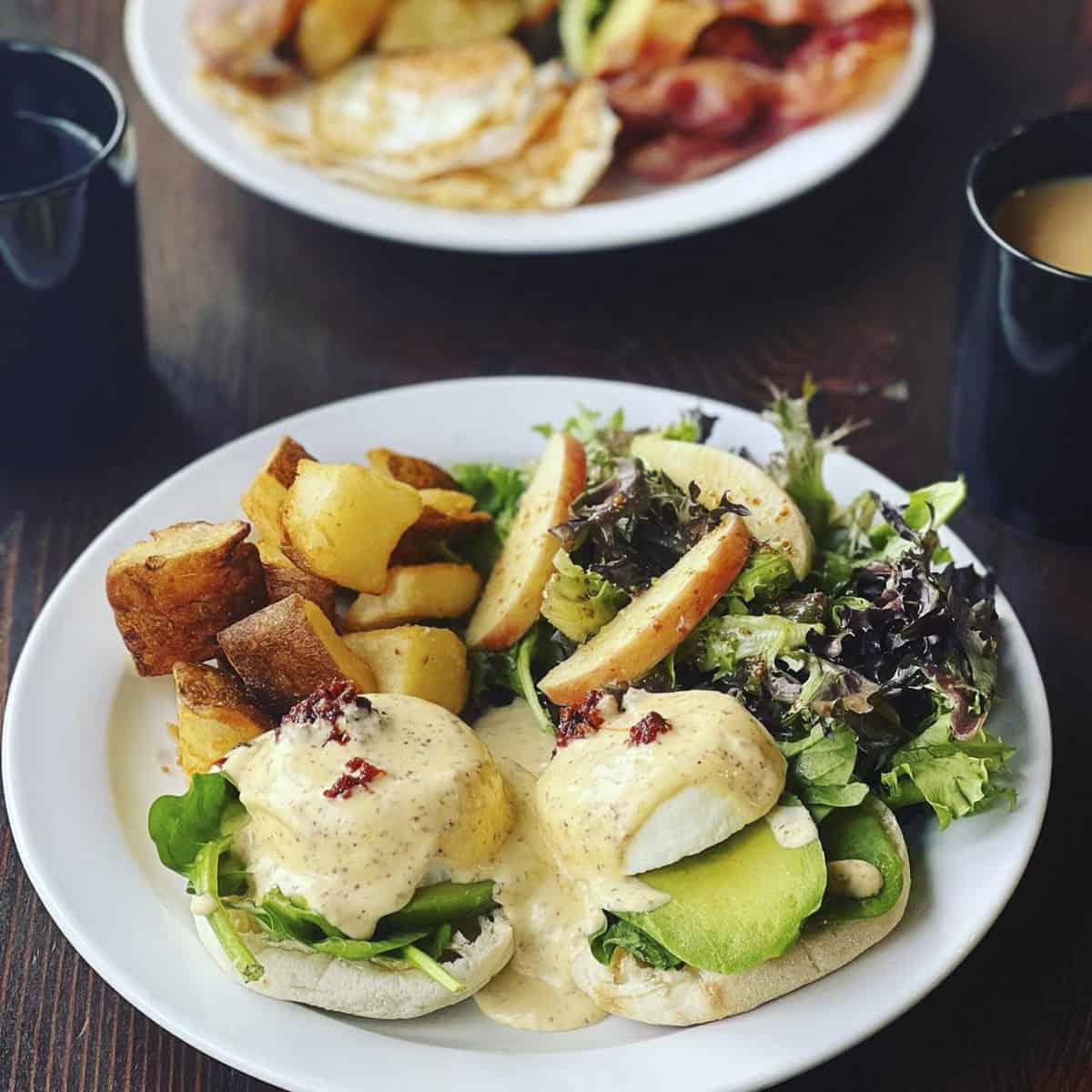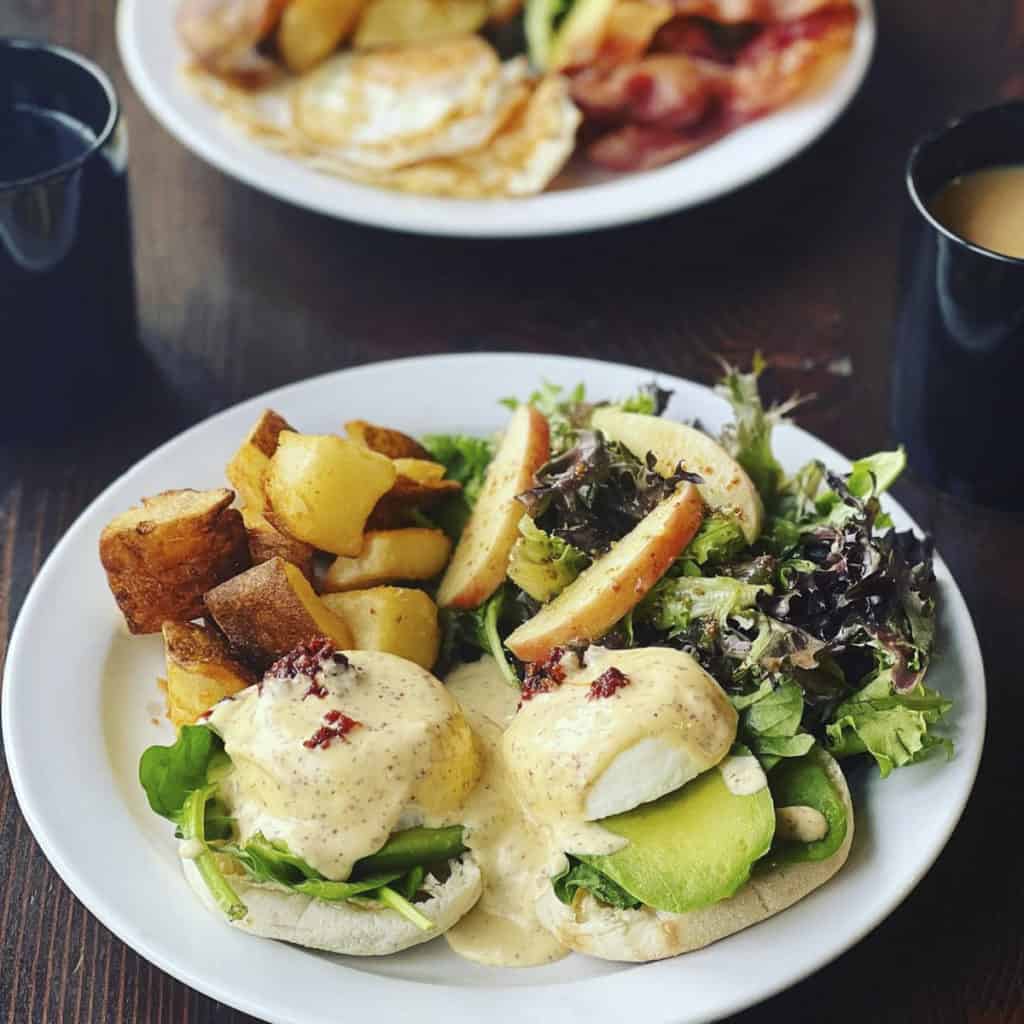 For breakfast, we love the Croque Madame or their three different types of eggs benedict (traditional, beef brisket, or farm fresh vegetarian). For lunch and dinner, the braised pork belly tacos or the Buddha bowl are excellent choices. It's one of the best Canmore restaurants for a casual meal.
Kain Tayo
Location: 725 9 St, Canmore
Kain Tayo's tagline is, "Bringing the flavours of the globe to our alleyway." With a focus on international street fare, diners can expect a wide array of vibrant flavours on their menus. With dishes from the Philippines, Bangladesh, Japan, Peru, and more, there's always something new to try at Kain Tayo, making them one of the most exciting restaurants in Canmore.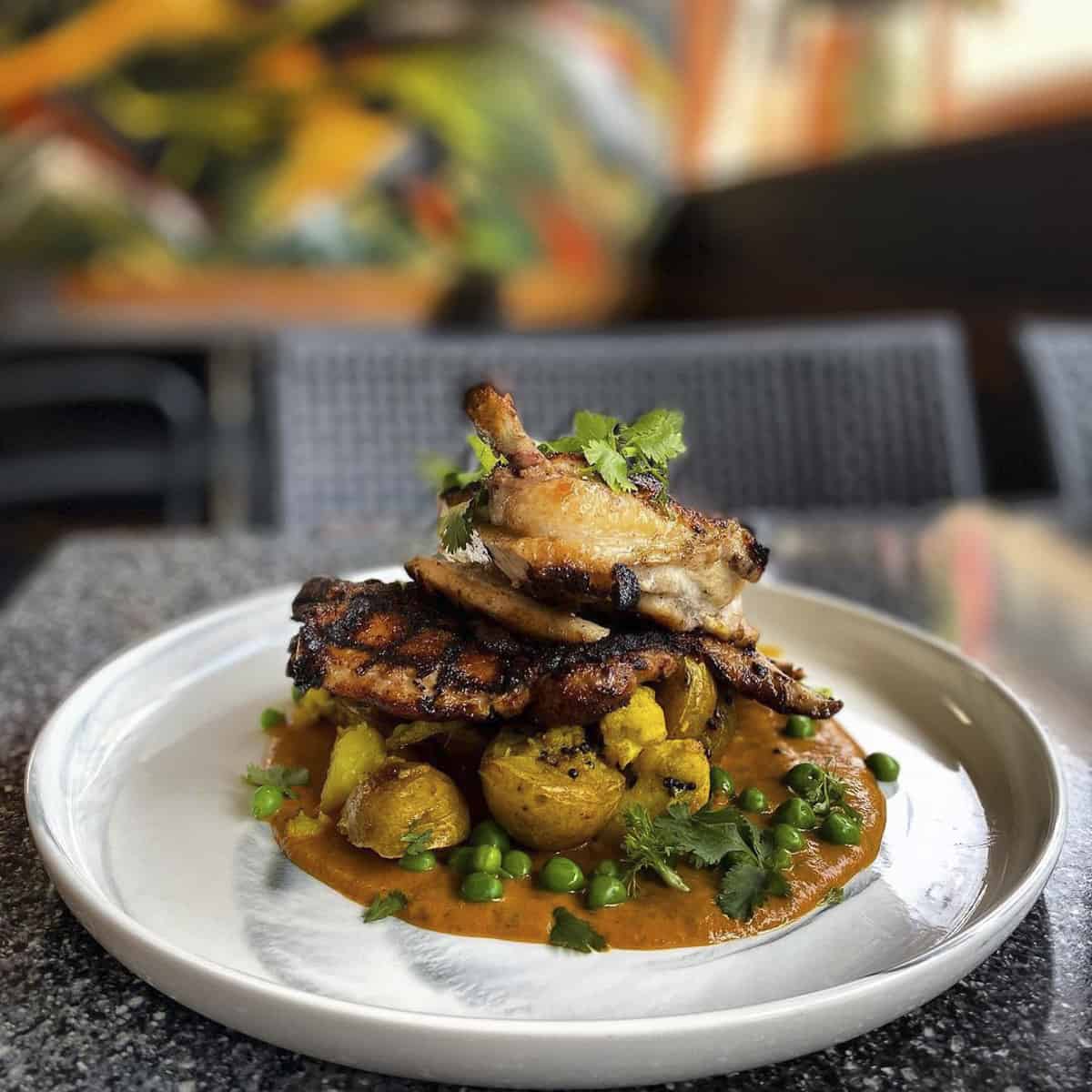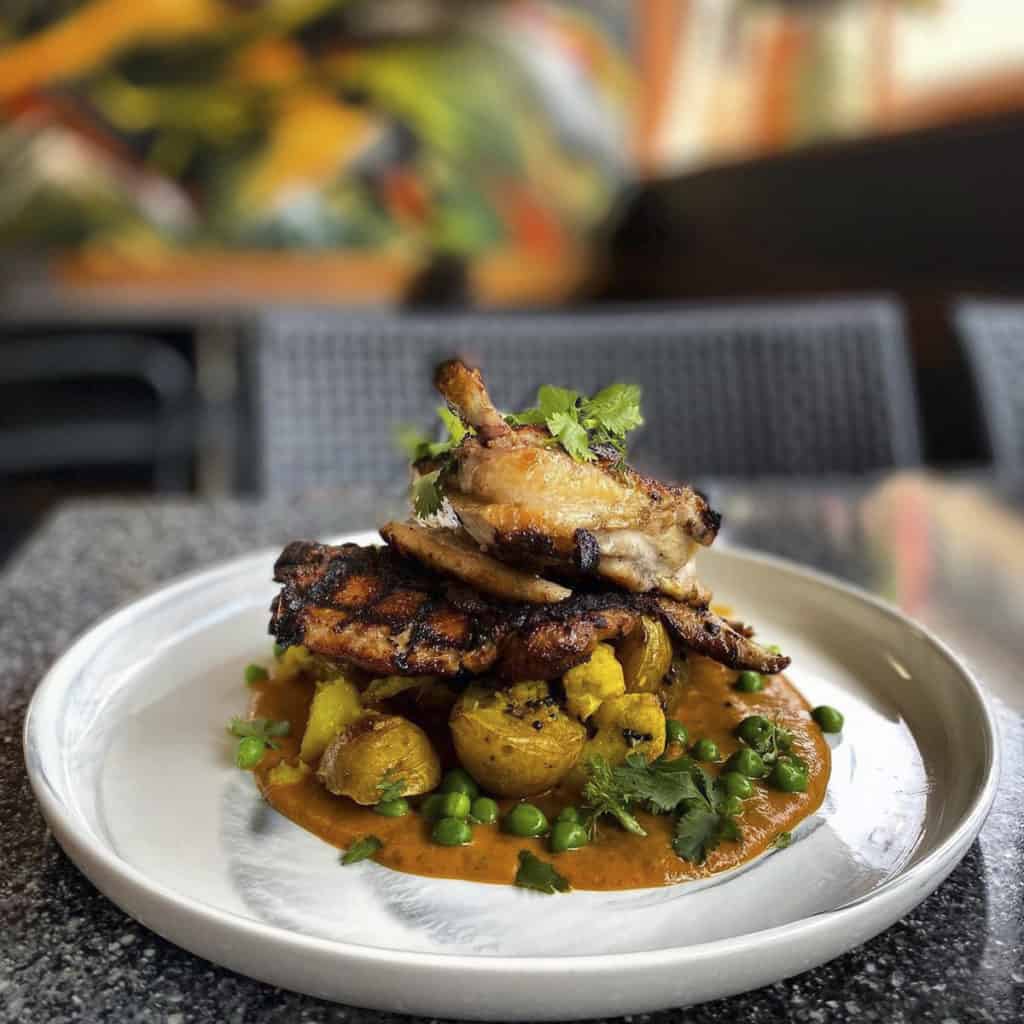 Check them out for Sunday brunch, too, where they serve Tiramisu Waffles, Chilaquiles, and a tasty Patatas Bravas Omelette.
Bridgette Bar Canmore
Location: 1030 Spring Creek Dr
Bridgette Bar has expanded from Calgary and opened its newest location in Canmore. The location is a prime spot, right when you come into the downtown and the space is modern and beautifully decorated. There is ample seating inside and outside on the patio that offers stunning views of the surrounding mountains.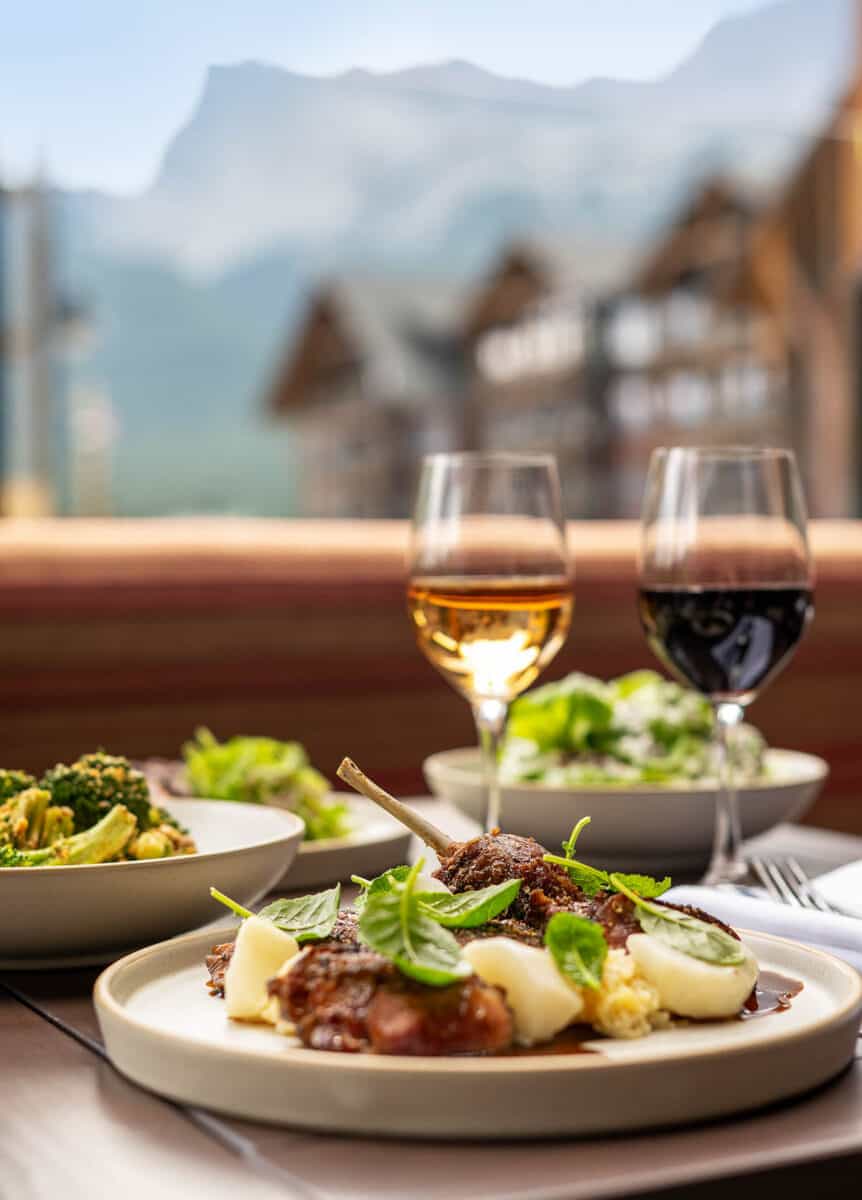 And the food, like the Calgary location, is exceptional. Our favourites include the Elk Carpaccio, Wood Roasted Half Duck, Maple BBQ Rainbow Trout, and the Italian Pork Sausage Pasta. The pizzas are fantastic as well, especially the Fennel Salami and the Wild Mushroom. Bonus, if you happen to be there from 2 pm – 5 pm it's happy hour and it's half-off for all beverages and pizzas.
Gaucho Brazilian Barbecue
Location: 629 8 St
Calling all meat lovers! This traditional Brazilian barbecue restaurant is inspired by the real-life cowboys of South America, and you can expect food that bursts with flavour and passion. Rodízio dining at Gaucho Brazilian Barbecue is an experience everyone should try at least once, where the servers will come to your table with skewers of meat; you decide how little or how much you'd like to try. Best of all? They won't stop coming to your table until you're completely full!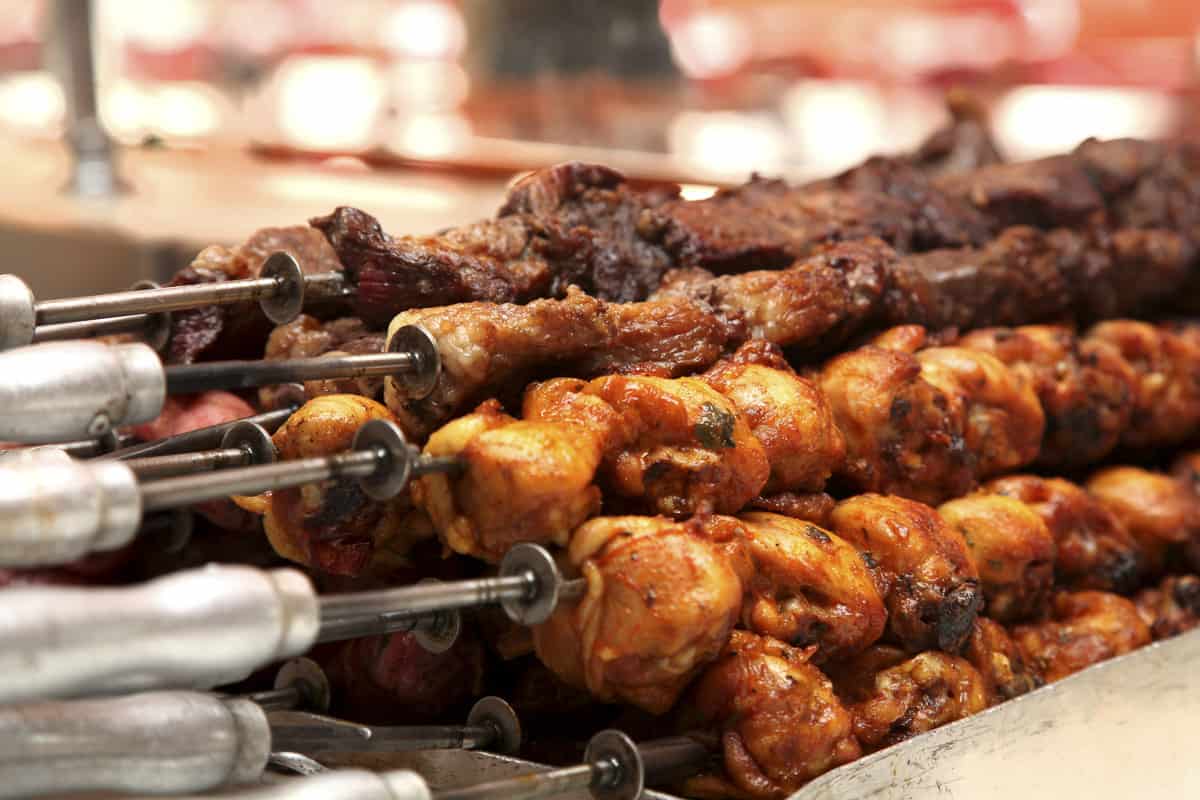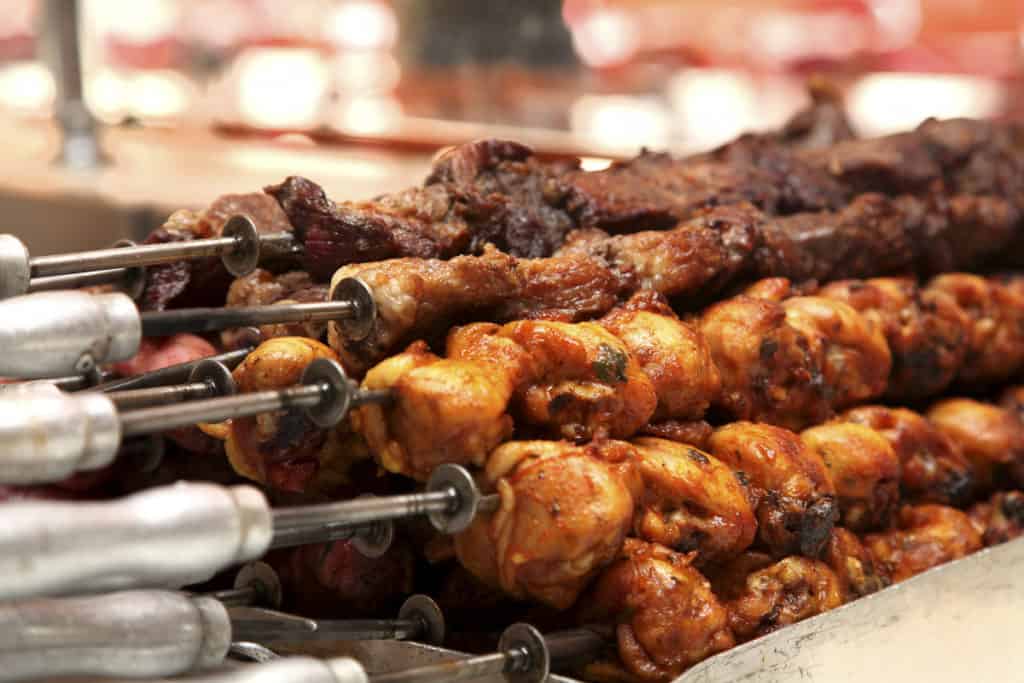 There's also an amazing selection of South American cocktails to choose from, so it's a guaranteed great evening out in Canmore.
Bella Crusta Foods
Location: 903 6 Ave
Serving happy customers in Canmore for over 20 years, Bella Crusta is the place to go for warm-out-of-the-oven bread, hearty sandwiches, and gourmet pizzas. They're famous for their homemade focaccia bread, so choose from one of their sandwich options to try it for yourself. There's everything from the "Health Freak" (with hummus and vegetables) to the "Heartstopper" (complete with ham, salami, roast beef, and mozzarella).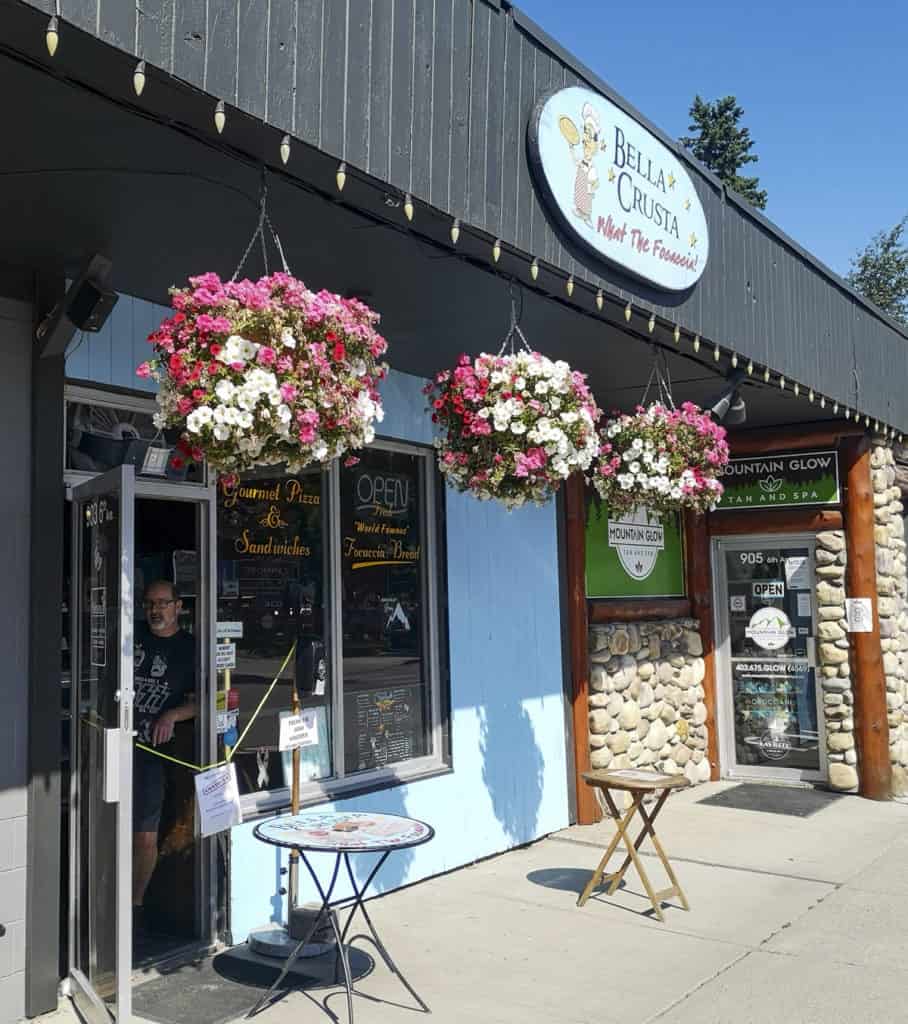 Bella Crusta is a fantastic option when you're looking for a quick to-go meal for a picnic or a gourmet pizza to take home for dinner.
Cabeza Grande
Location: 802 8 St Unit 103
Fiesta, Siesta, Tequila, Repeat. We love that this is how Cabeza Grande rolls. They bring Mexican cuisine to the mountains. Their food and drinks are inspired by the bright vibrant flavours and ingredients from Mexico.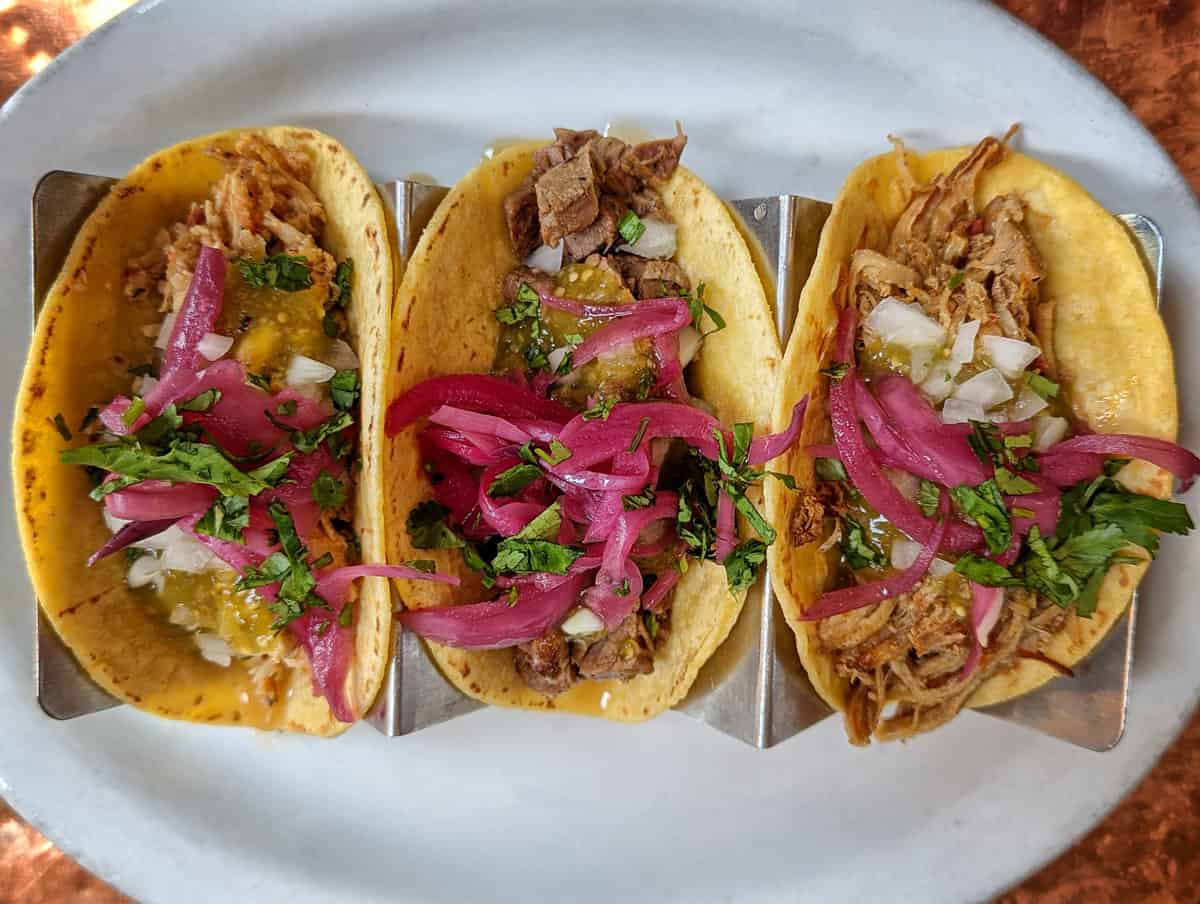 Tacos are their specialty, and diners can mix and match their choices. Our favourites: the carne asada, chicken tinga or barbacoa mushroom. If you're looking for a pre-dinner snack, be sure to try the Queso Cervezo – you can never go wrong with a cheddar beer dip. Most importantly, don't forget to wash it all down with one of their signature margaritas!
Ramen Arashi
Location: 1000 7 Ave Unit 105
For those who love ramen, Ramen Arashi might become your new favourite restaurant in town. Perfect after a busy day of exploring the best things to do in Canmore, their extensive list of ramen is sure to warm you up on a cold day.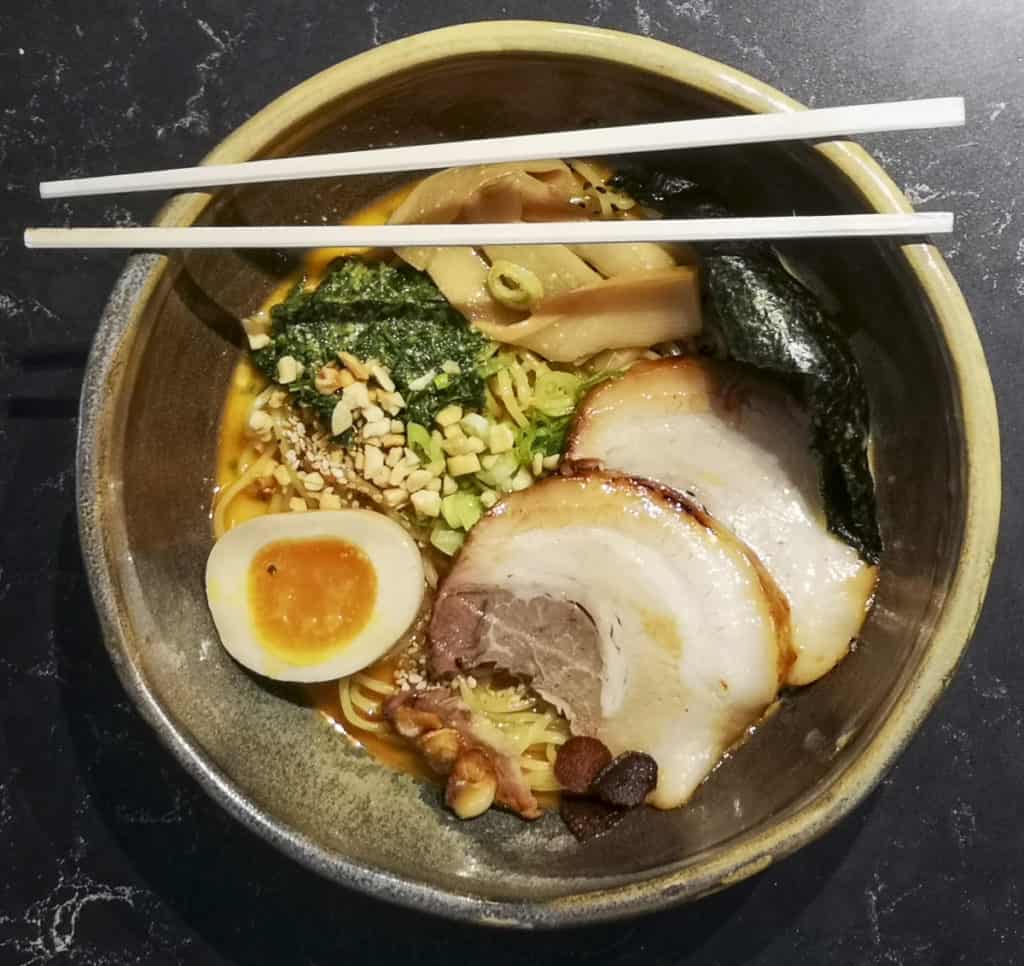 There are also ramen salads to choose from (yes, they exist!) as well as a grocery stocked with Japanese sweets, snacks, frozen goods, and more. If you're looking for a taste of Japan in Canmore, you've come to the right place.
Blake Brewhouse and Distillery
Location: 810 Bow Valley Trail
Spacious and modern, the Blake Brewhouse and Distillery makes for a great place to hang out with friends on an afternoon or evening out in Canmore.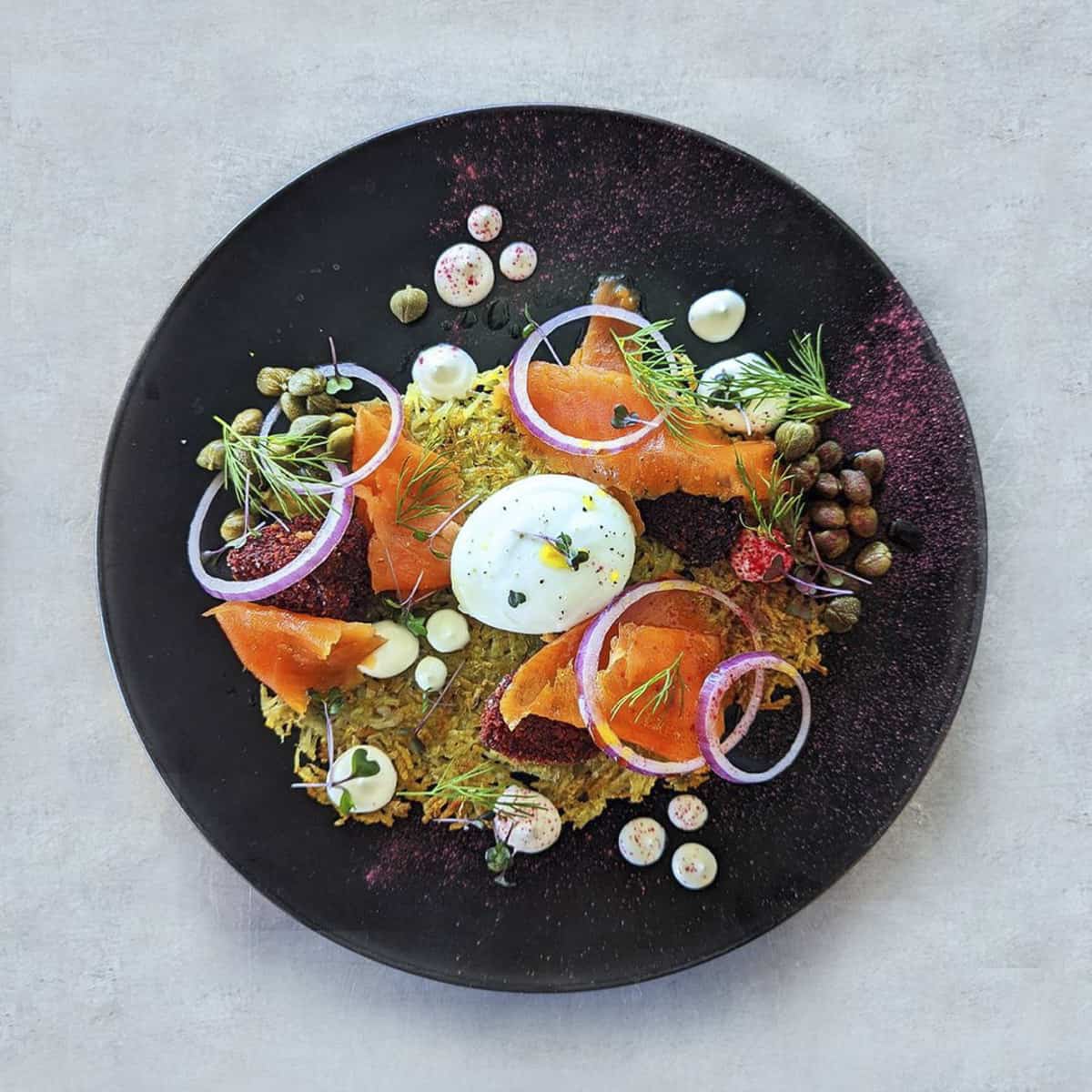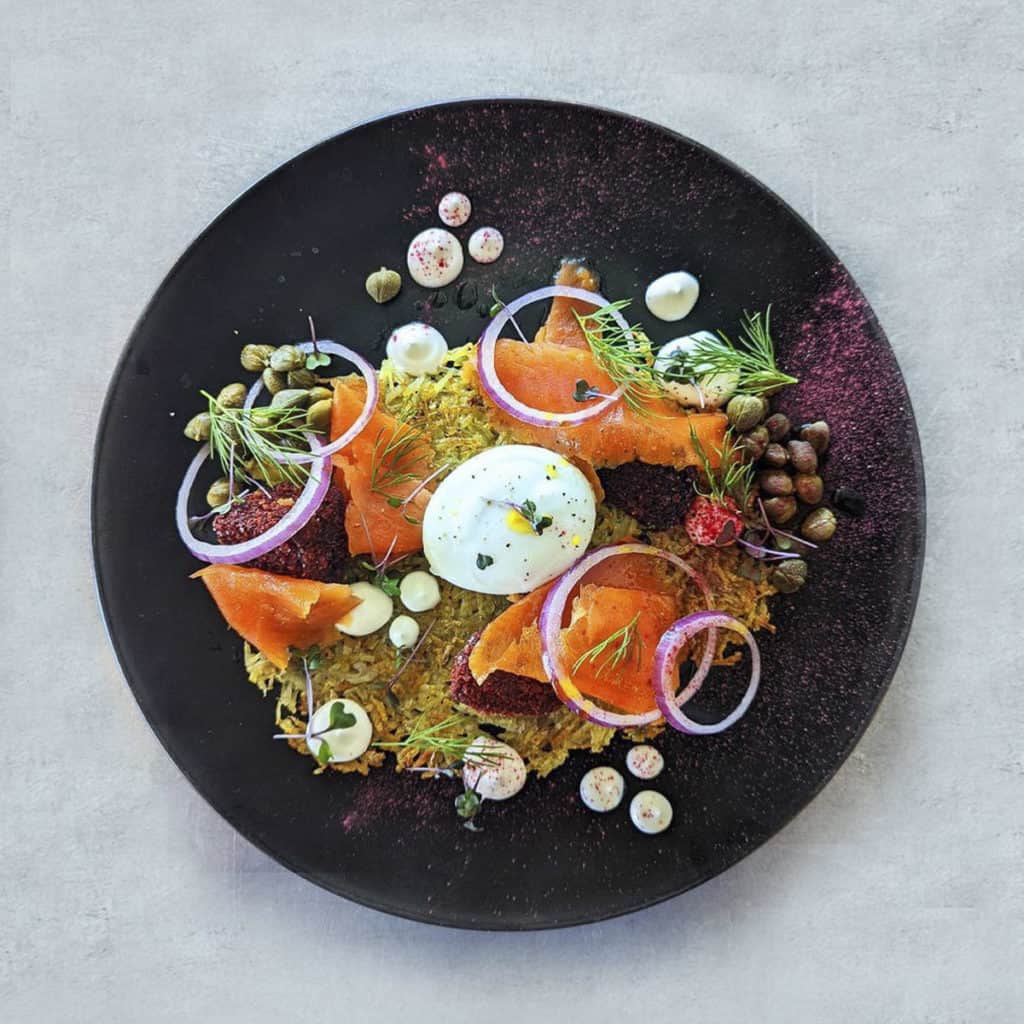 Found in a converted car garage, the Blake serves up much more than just the average pub fare; think pork kimchi dumplings, crispy beets, miso habanero ribs, and maple cider yam salad. They also make a mean Alberta beef burger! Wash it all down with a flight of their signature beer or one of their in-house spirits, and you're sure to have a meal to remember.
Stirling Grill and Lounge
Location: 321 Spring Creek Dr
The Stirling Dining Room and Lounge are both found at the Malcolm Hotel in downtown Canmore. Choose from the lounge, which offers casual, cozy dining at a reasonable price; here you'll find filling meals that blend Scottish cuisine with contemporary favourites.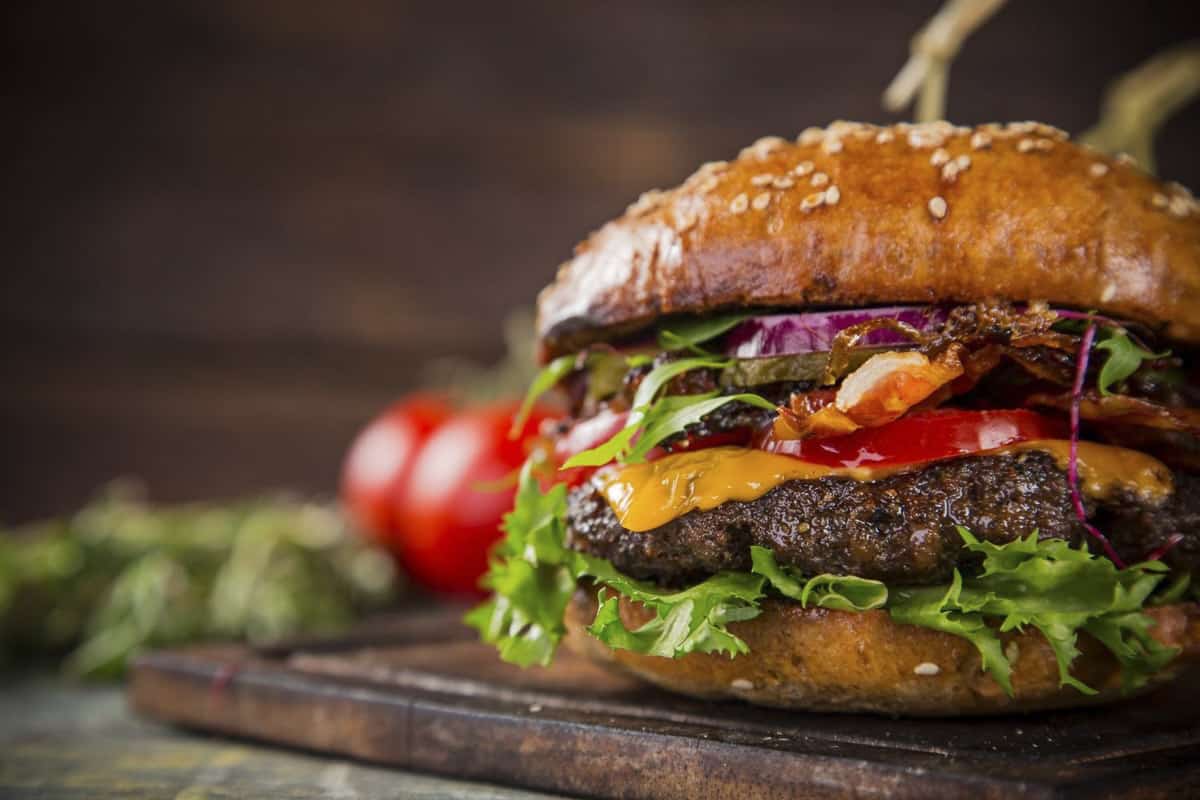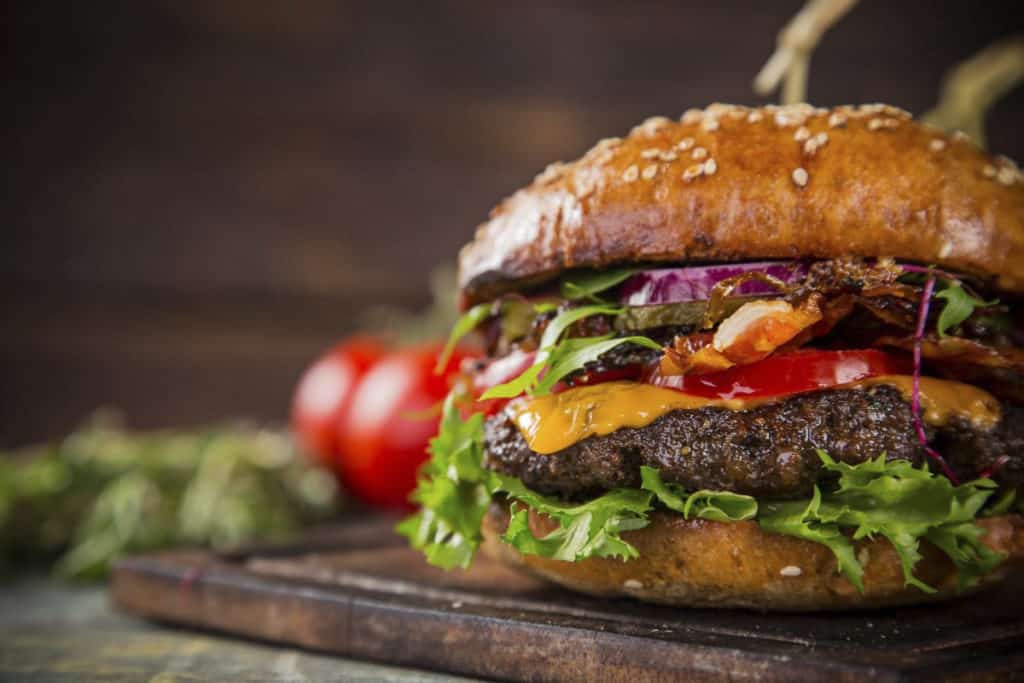 Head to the grill for a more luxurious dining experience, including a "Trust the Chef" three-course meal and sommelier pairing. Reservations can be made for either the grill or the lounge.
Ankor
Location: 1430 2 Ave Unit 103
Ankor opened its doors in the fall of 2020 to rave reviews. With an emphasis on sustainability as well as highlighting the best of Canadian cuisine, this restaurant has quickly become a fine-dining experience that frequently makes the "best of" lists of restaurants in Canmore.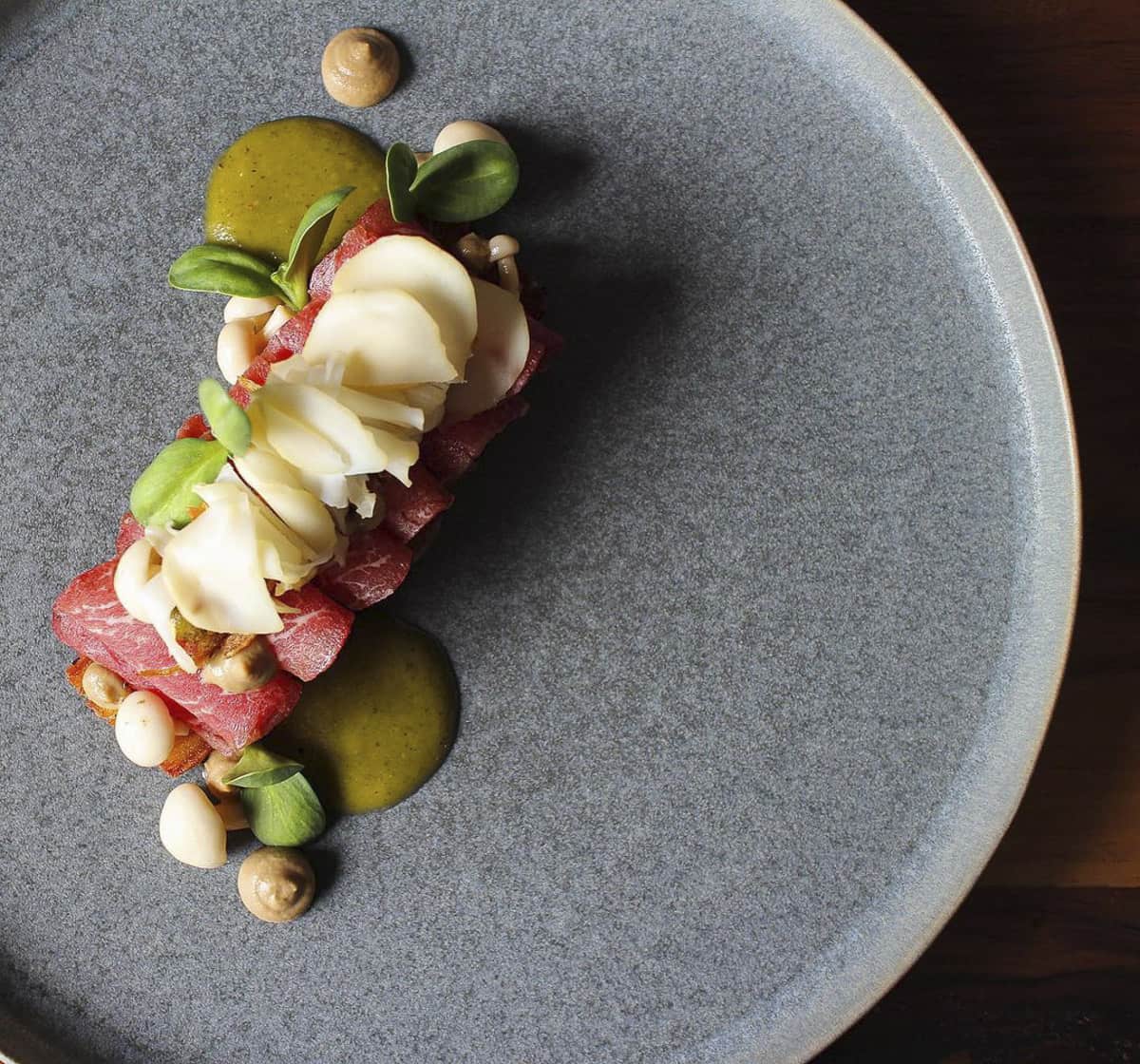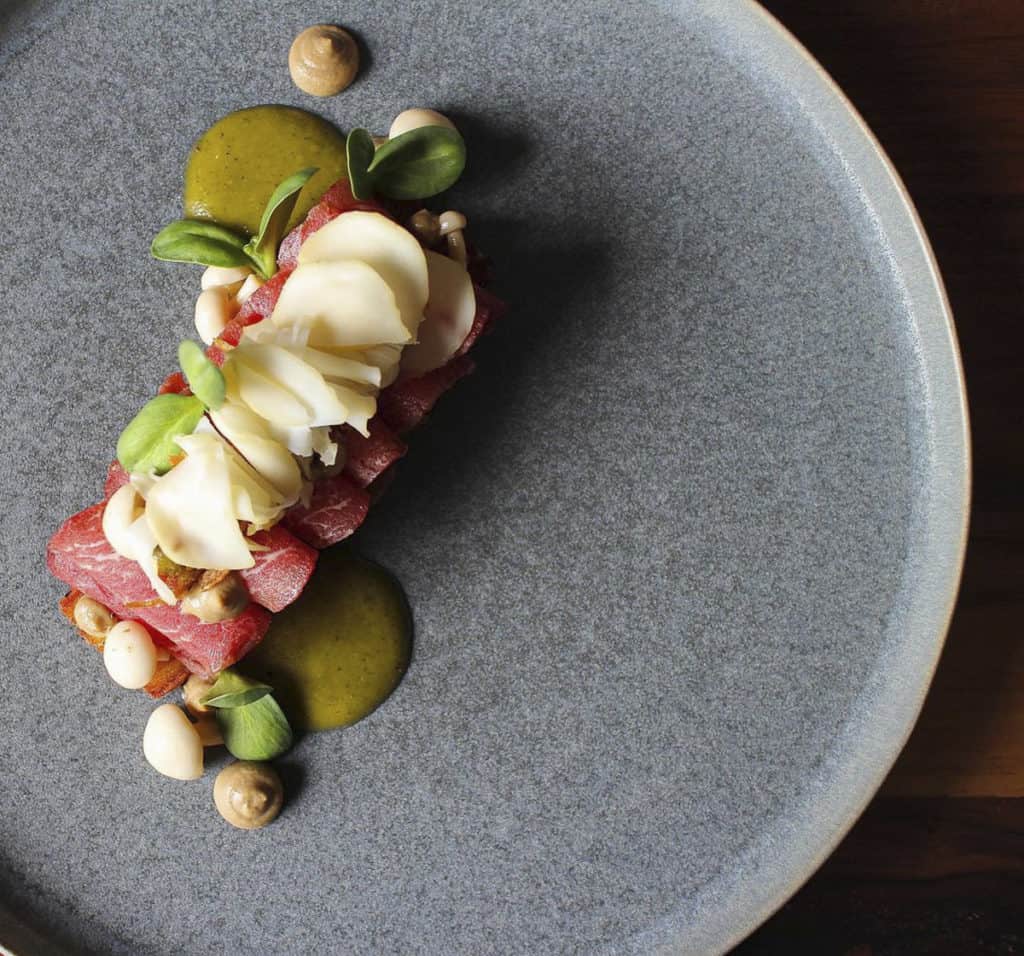 The intimate, cozy space has a menu that features local Alberta ingredients, including duck, elk, salmon, and seasonal vegetables such as mushrooms, squash, and beets. There's also a mouthwatering list of signature cocktails, as well as a fantastic selection of European wines and Canadian beers. Reservations are recommended!
Best Canmore Pizza
Red Rock Pizza
Location: 1005 Cougar Creek Dr #100
This is one of the best spots for Pizza in Canmore voted as 'Best Pizza in Canmore' in 2020 and 2021. With takeout and delivery options, Red Rock Pizza is no doubt a local favourite. Build your own pizza, or try one of their signature dishes; we personally love the True North with maple-soaked bacon for a fantastically Canadian dish, or the Mango Tango, complete with… you guessed it…mangoes.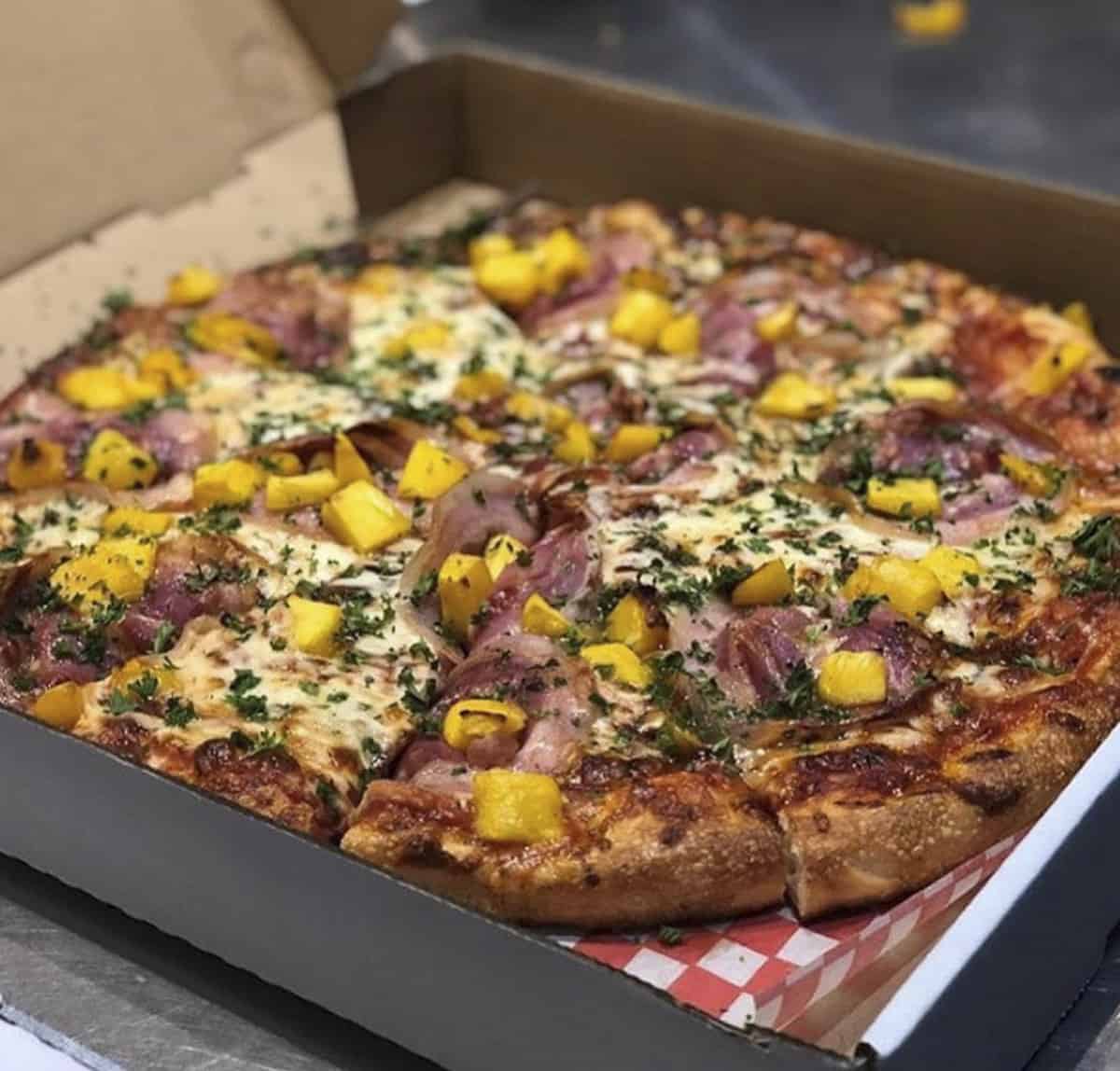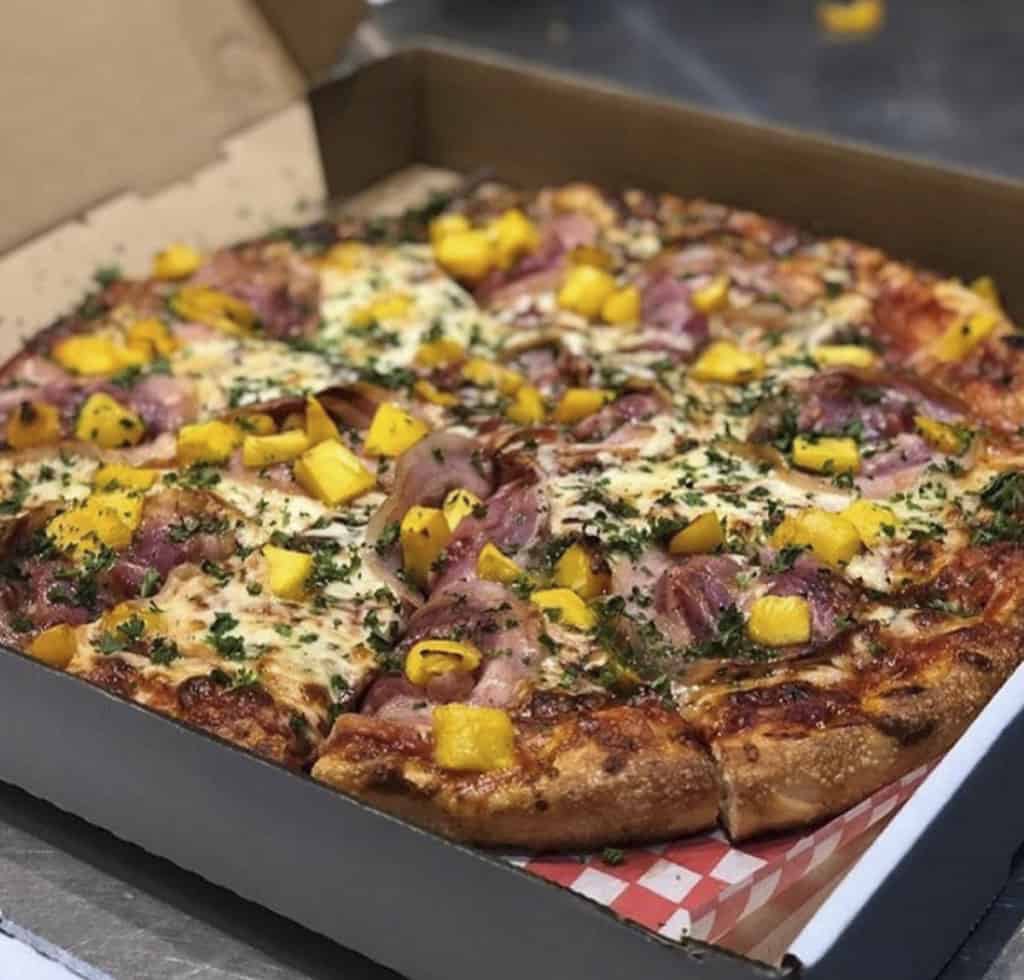 There are also plates of pasta, salads, and appetizers to choose from to complete your meal. Whether you're picking up, dining in, or getting delivery, you can't go wrong with Red Rock.
Rocky Mountain Flatbread Company
Location: 838 10 St
Stop at the Rocky Mountain Flatbread Company for a satisfying and tasty meal. This popular Canmore spot has excellent kids' food options along with an extensive takeout menu. Be sure to try the wood-fired flatbread pizzas, homemade pasta, or a lunch combo, all made with organic, fresh, farm-to-table ingredients… and for a good price, too.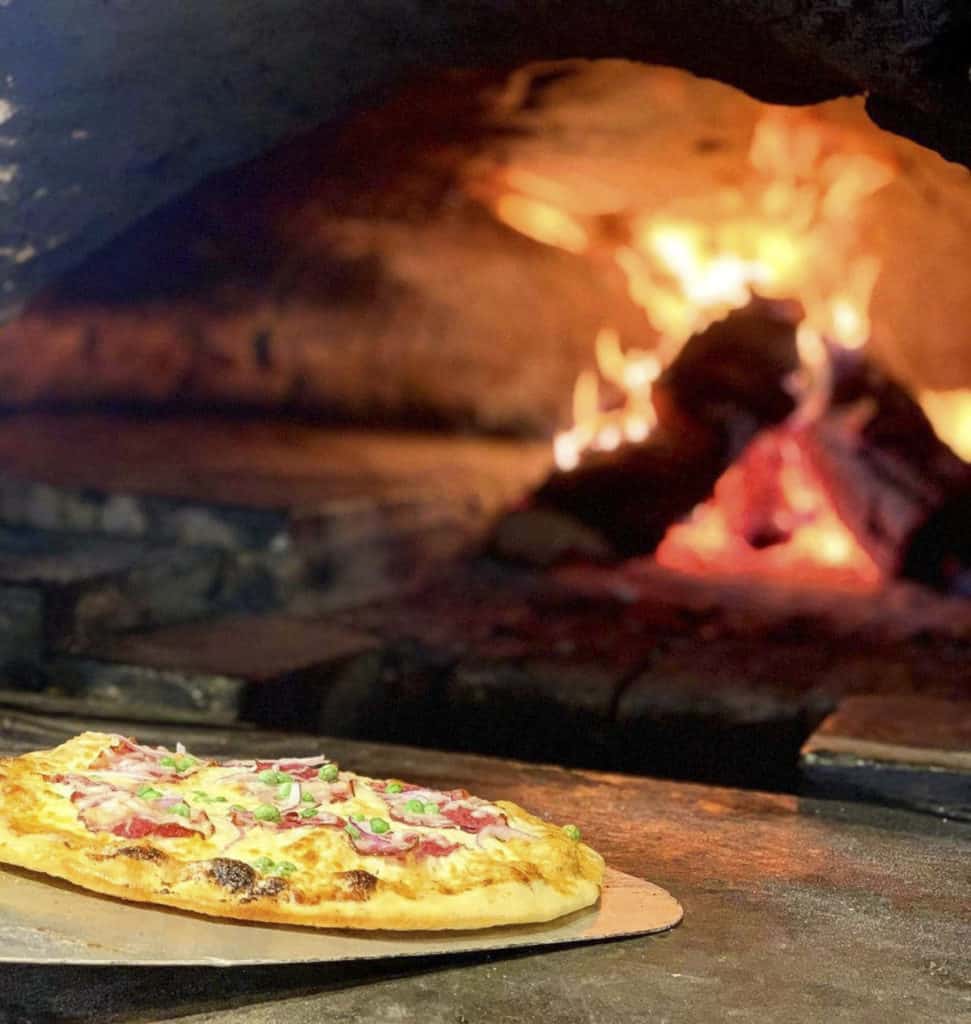 Serving locally brewed beers as well as a great range of non-alcoholic beverages, the restaurant is perfect for a relaxed meal surrounded by friendly staff.
Rocket Pie
Location: 304 Old Canmore Rd #101
Behind Rocket Pie is a father and son with a lifelong love of pizza. Neapolitan style is their specialty, and their pizzas regularly make it onto the list of the best meals you can find at Canmore restaurants. With eat-in and take-out options, try one of their tomato-based pizzas (we recommend the Diavola or the Marinara) or their fancy-base pizzas (the Mortadella has a creamy garlic anchovy base).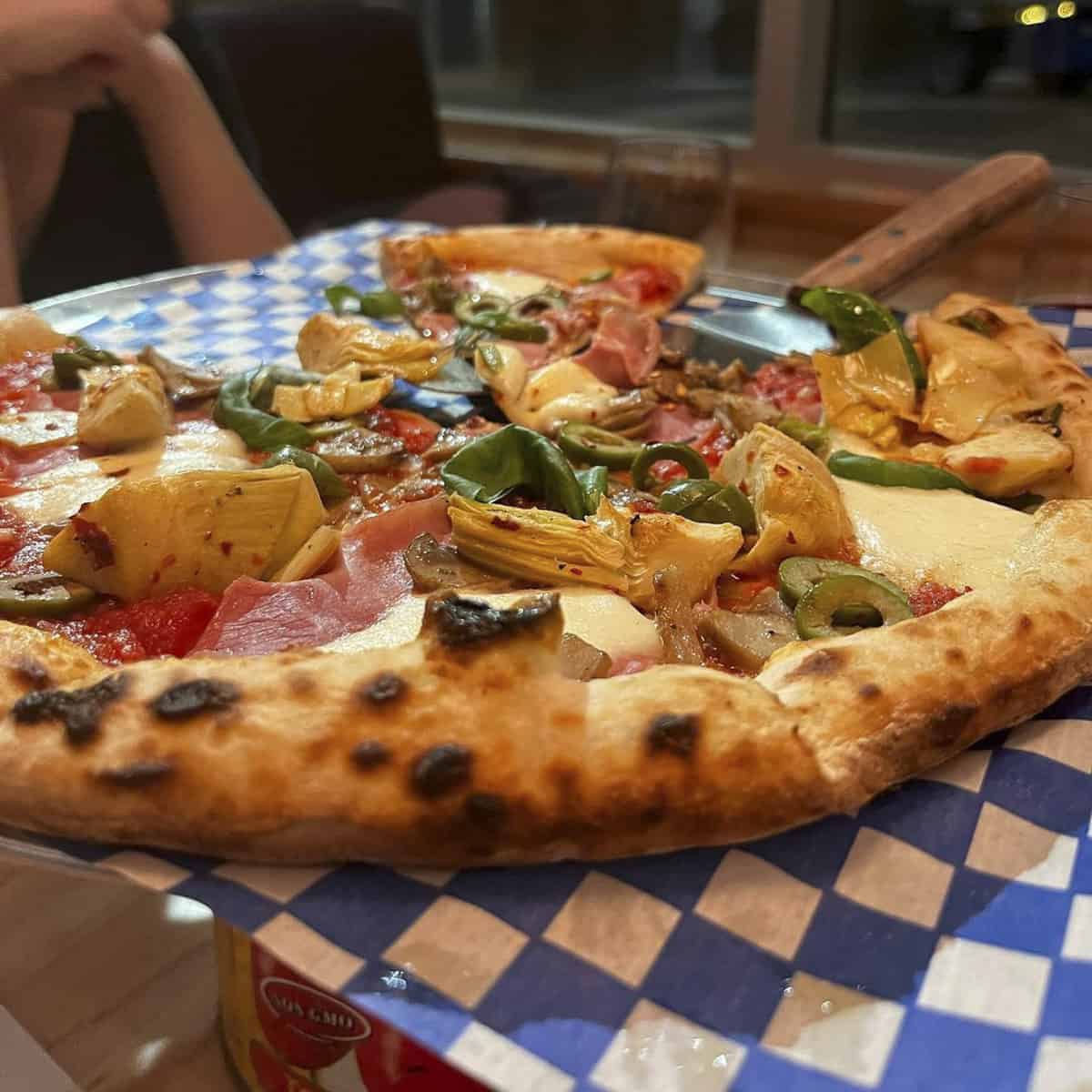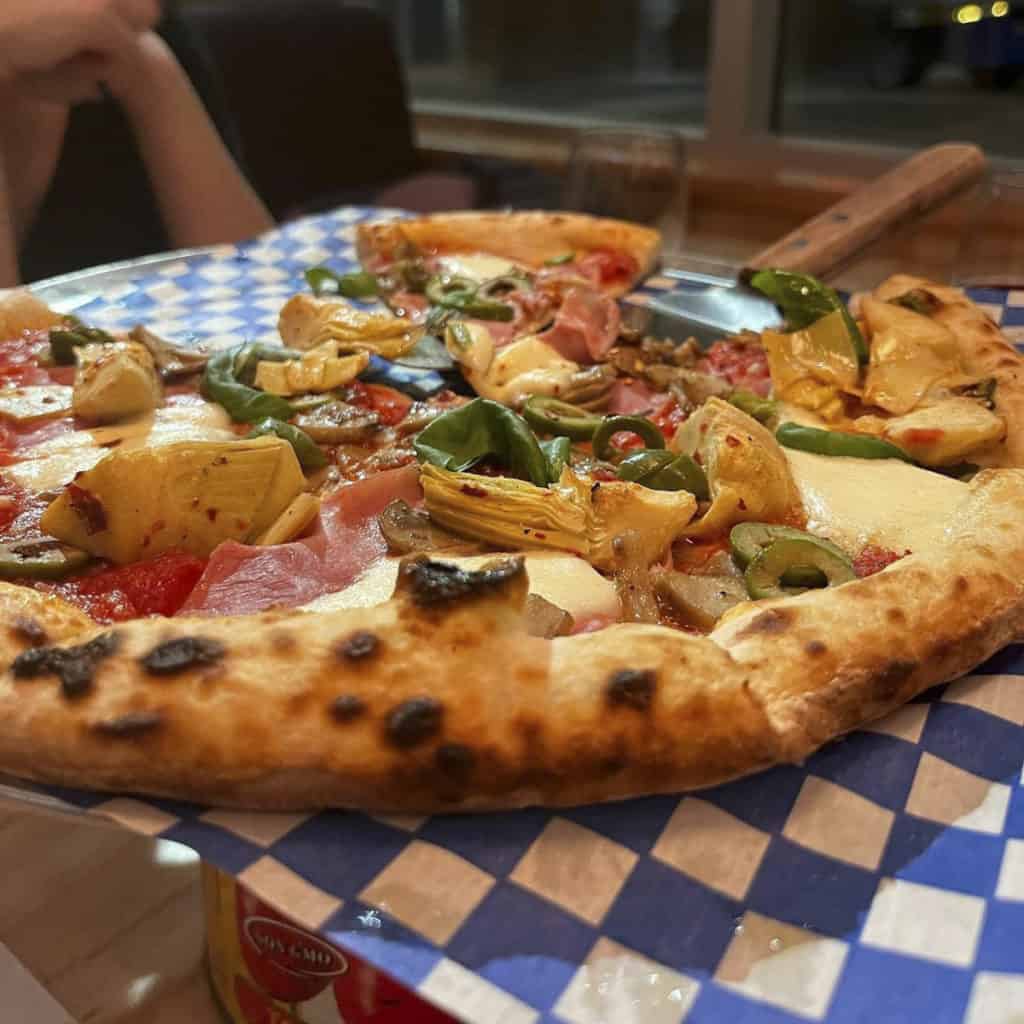 There are also calzones, lasagna, meatballs, and more to choose from (including vegetarian and gluten-friendly options). All in all, you can't go wrong at Rocket Pie. Reservations are recommended on Friday nights and weekends!
Best Canmore Pub and Grills
Iron Goat Canmore Pub and Grill
Location: 703 Benchlands Trail
Open since 2008, the Iron Goat Pub & Grill is an institution when it comes to Canmore restaurants. With an unbelievable vista of the Bow Valley and the Rocky Mountains – the windows stretch a few stories high to maximize these views – it's hard not to immediately fall in love with the Iron Goat.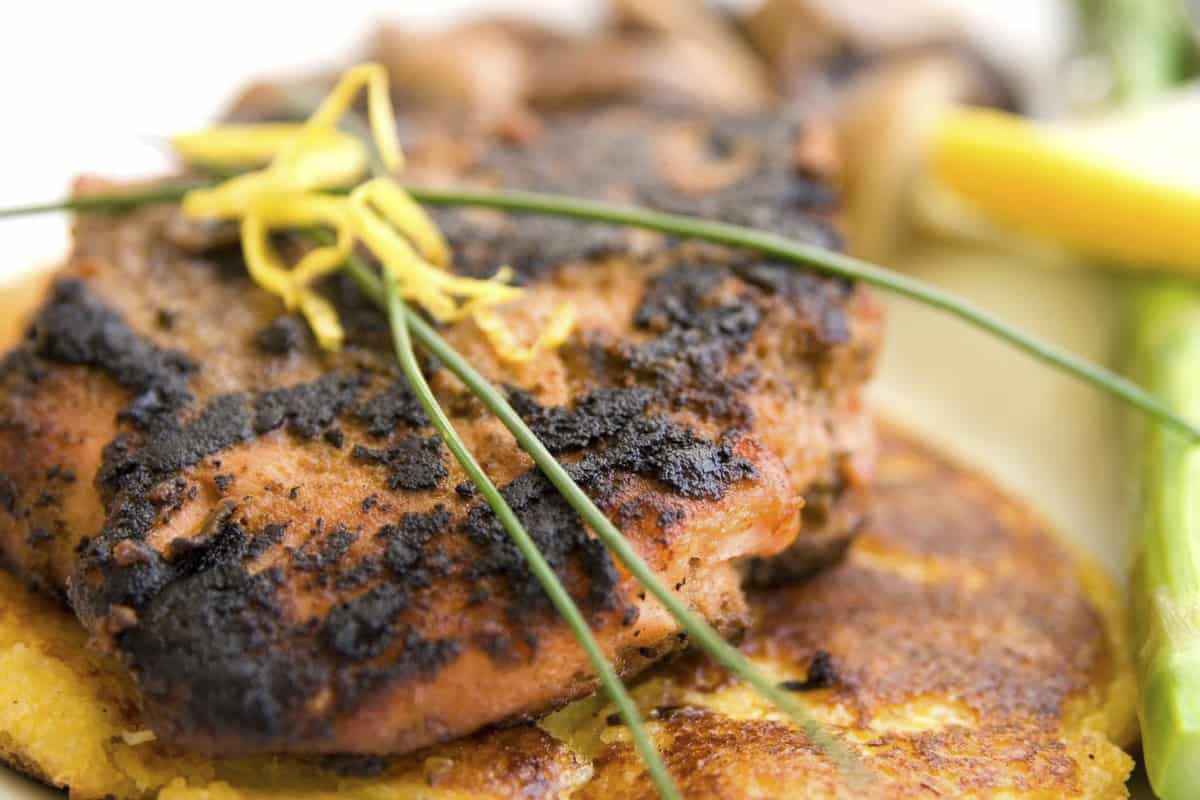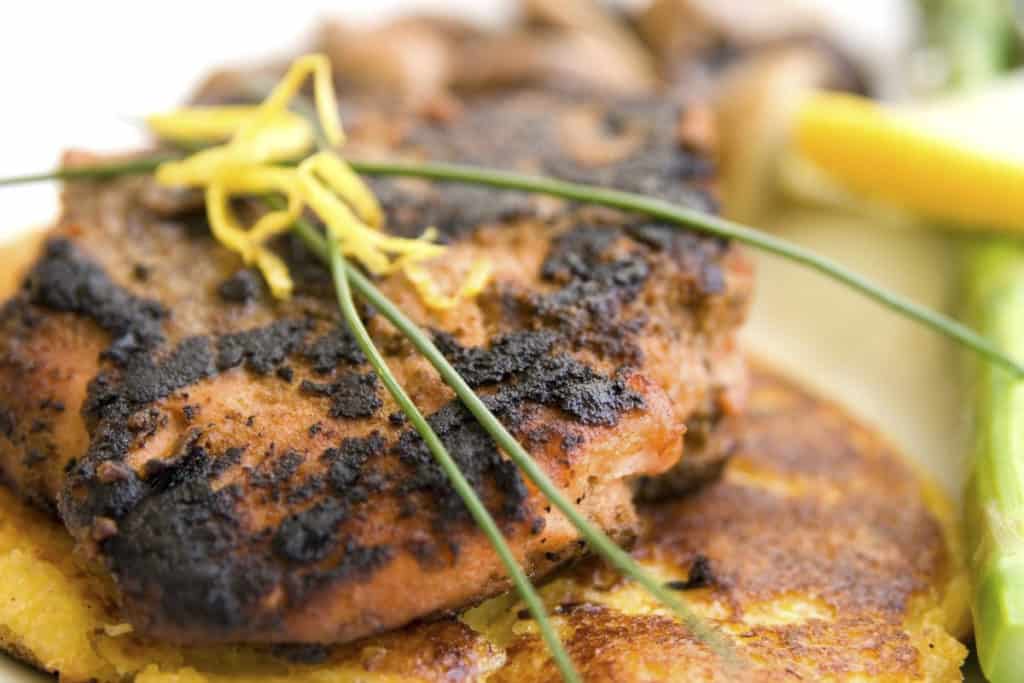 The menu is filled with familiar favourites like blackened salmon and baby back ribs, but there's a lot of innovation on the menu, too, often combining local flavours with flavours from abroad; think Ahi Tuna and Wonton Nachos, a Southwest Jackfruit Bowl, and more.
Tavern 1883
Location: 709 9 St
Always a favourite in the Bow Valley, Tavern 1883 is a surefire win for a delicious meal and a pint of beer. The menu is filled with Canadian staples like poutine, burgers, wings, beer-battered fish, and baby back ribs, so you're best to arrive hungry!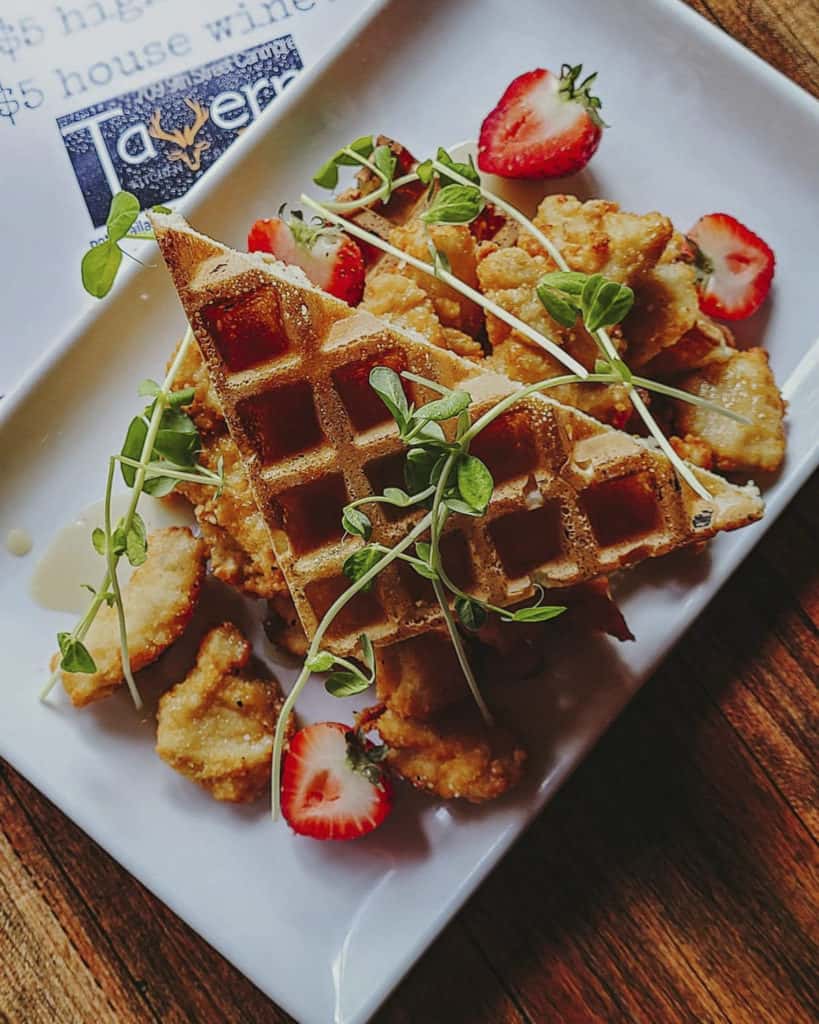 Make sure to try one of the tavern's craft beers on tap – they regularly feature local Alberta breweries and in the summer, enjoy their patio and outdoor seating. Plus, keep an eye on their event schedule; Tavern 1883 frequently hosts parties, trivia nights, and live music making it a popular local Canmore hang-out.
Where the Buffalo Roam Saloon (Canmore Saloon)
Location: 626 8 St #2
As far as writing about restaurants in Canmore goes, we couldn't forget Where the Buffalo Roam Saloon! With a passion for community, great food, and flowing drinks, the staff at the saloon loves to showcase the best of Alberta ingredients.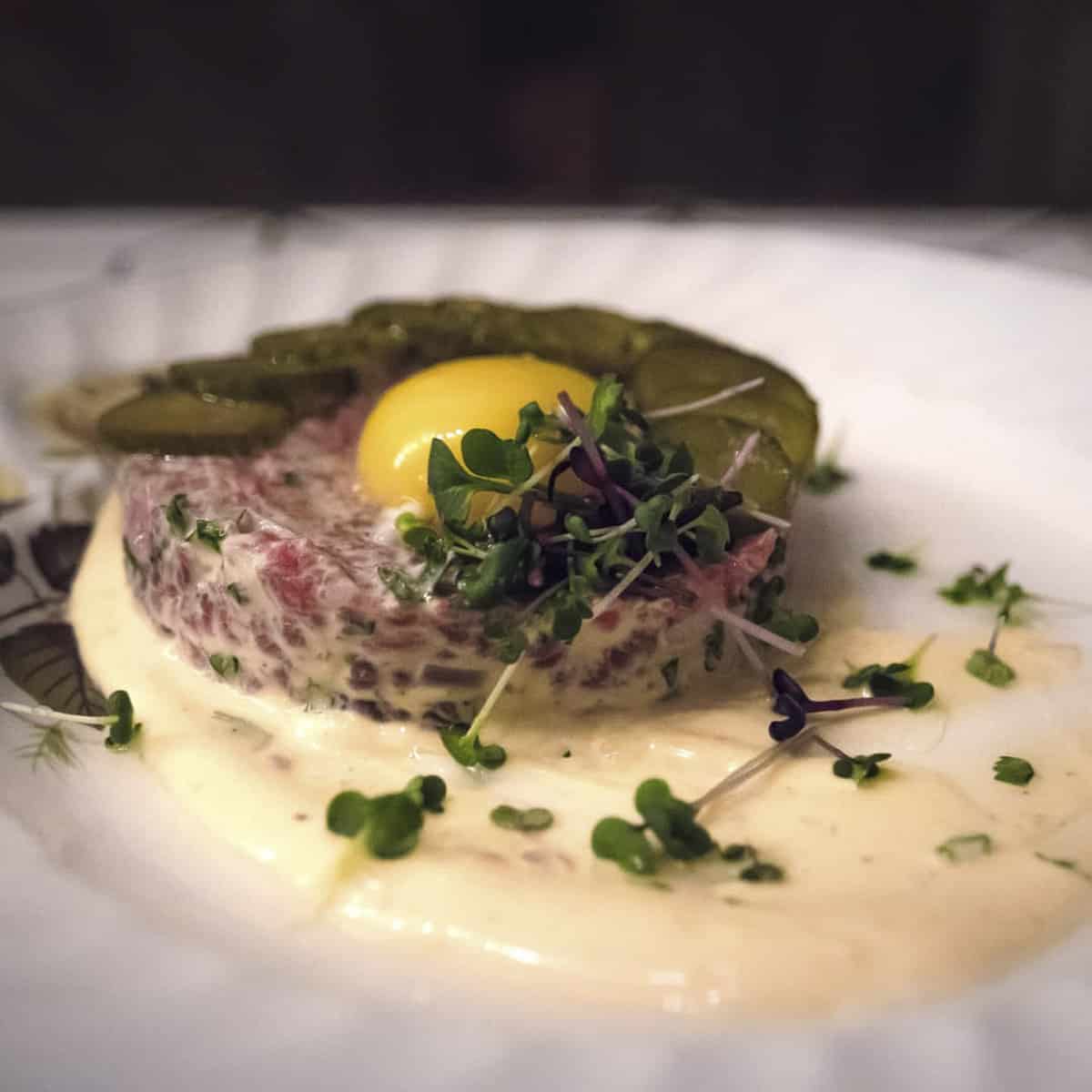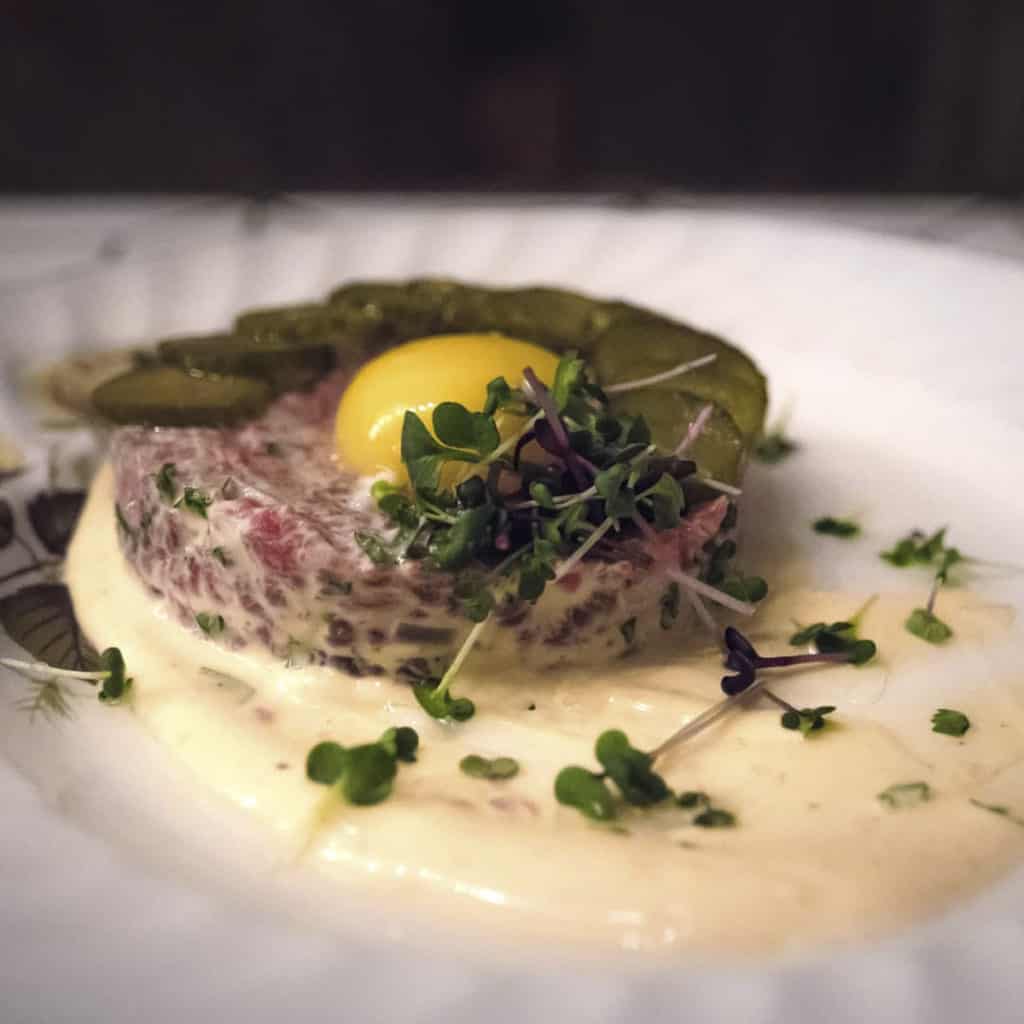 The vibe in the restaurant is contagious, with good conversation and good music carrying on long into the night. With a focus on sharing menus, try the Drunken Calamari, Charred Heirloom Carrots, or the Waygu Meatballs. In terms of cocktails, we recommend the Midnight Cowboy, The Rising Sun, or the Applewood Smoked Manhattan. Don't be surprised if this quickly becomes one of your favourite restaurants in Canmore.
The Grizzly Paw Pub and Brewing Company
Location: 622 8 St
With over 25 years of brewing experience in Canmore and the Bow Valley, The Grizzly Paw Pub and Brewing Company is the place to go if you want to sample some of the best local beer in the Rockies. They also make their own sodas using cane sugar and mountain-fed water, so you can bring the entire family to the pub.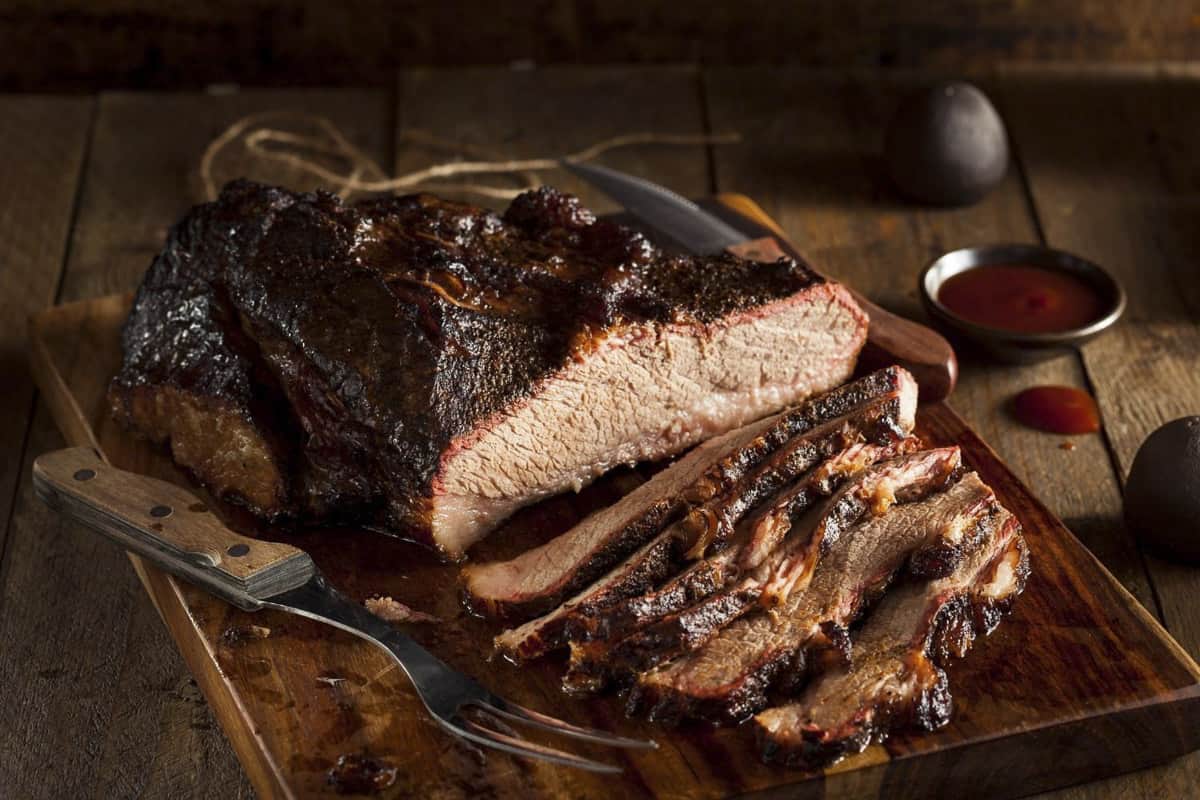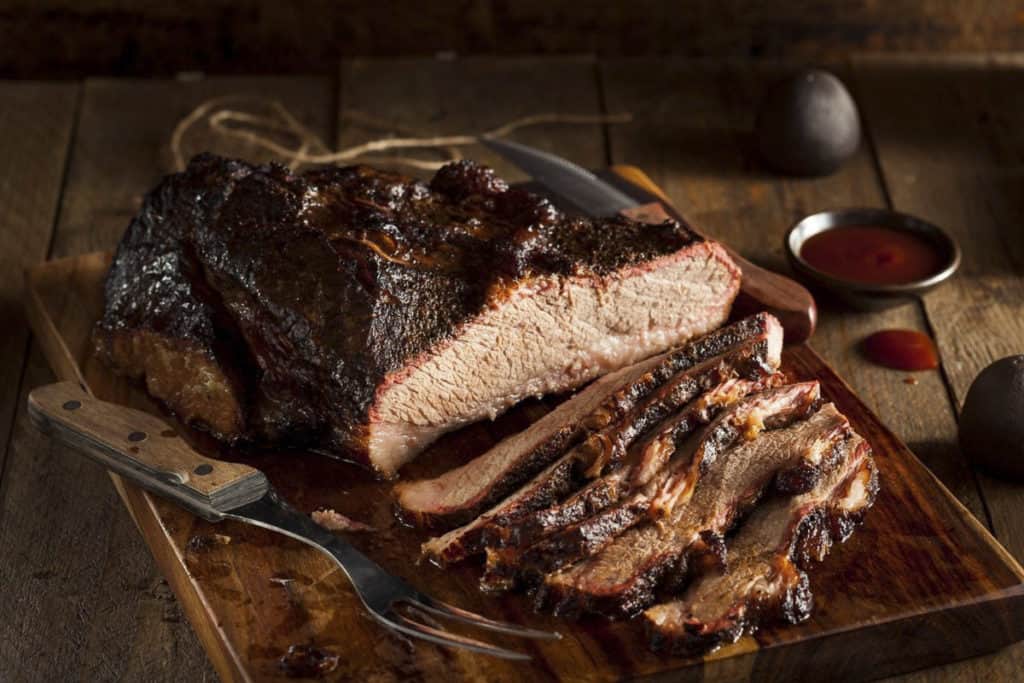 The restaurant offers burgers, salads, fish and chips, and a smoked brisket sandwich that's become famous in Canmore, while their beer encompasses everything from raspberry wheat ales to a malty red ale. You can also book in advance for a brewery tour!
Best Canmore Cafes
Harvest Cafe
Location: 718 10 St #2
Head to Harvest Cafe for breakfast, lunch, coffee, or dessert. With many vegan and gluten-free features on the menu, they specialize in healthy, filling food that'll keep you energized during your time in Canmore. But don't be fooled… they also bake a mean cinnamon bun! Only available on weekends, make sure to head to Harvest Cafe before the buns are all gone. But don't worry if you miss out, because the array of brownies, cookies, and muffins will be sure to satisfy your sweet tooth no matter what.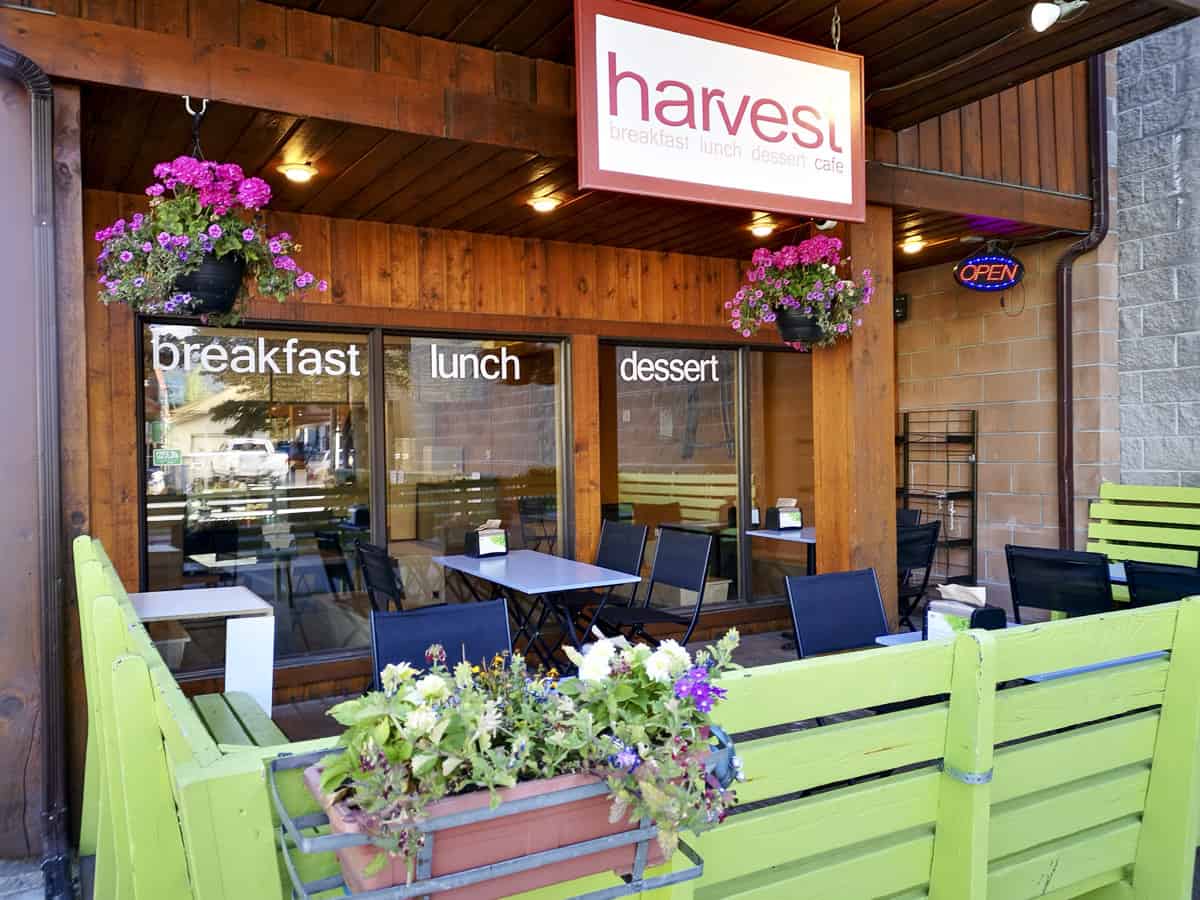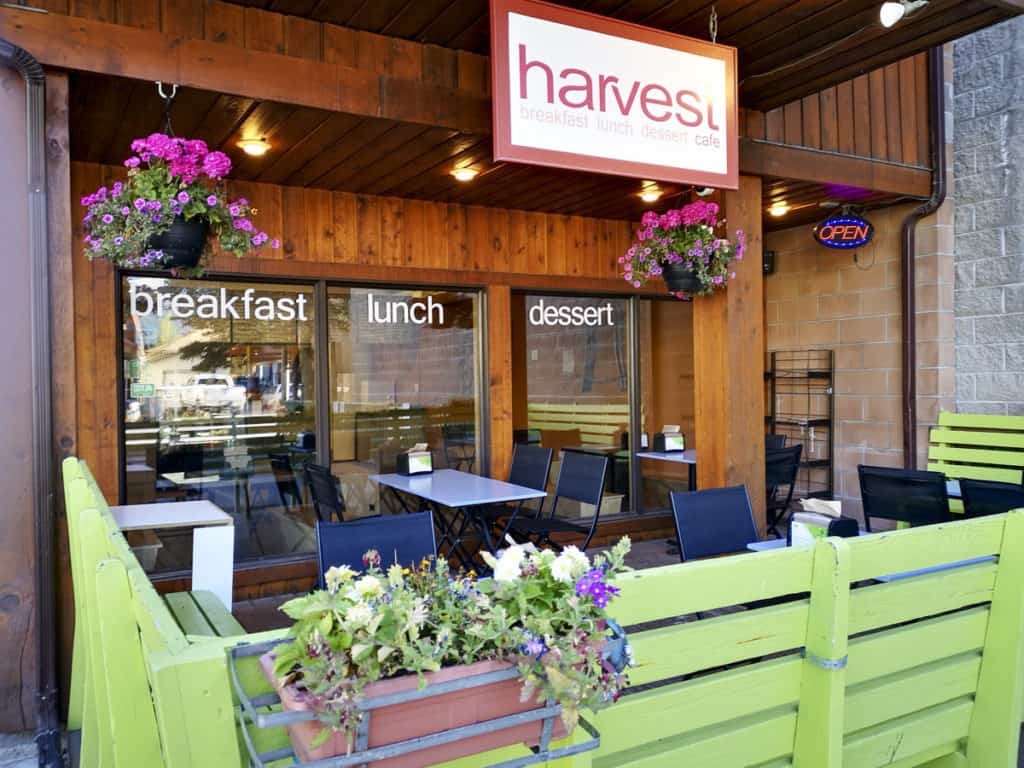 Communitea
Location: 117-1001 6 Ave
"Keeping Canmore fresh, healthy, and vibrant" is Communitea's tagline, and we believe they fully live up to their name. Serving healthy meals from breakfast until early evening, choose one of their bowls for an explosion in flavour; the Nori Bowl is popular for its sushi inspiration, while the Yoga Bowl is sure to leave you feeling energized. (It's no wonder it is one of our favourite Canmore breakfast spots!)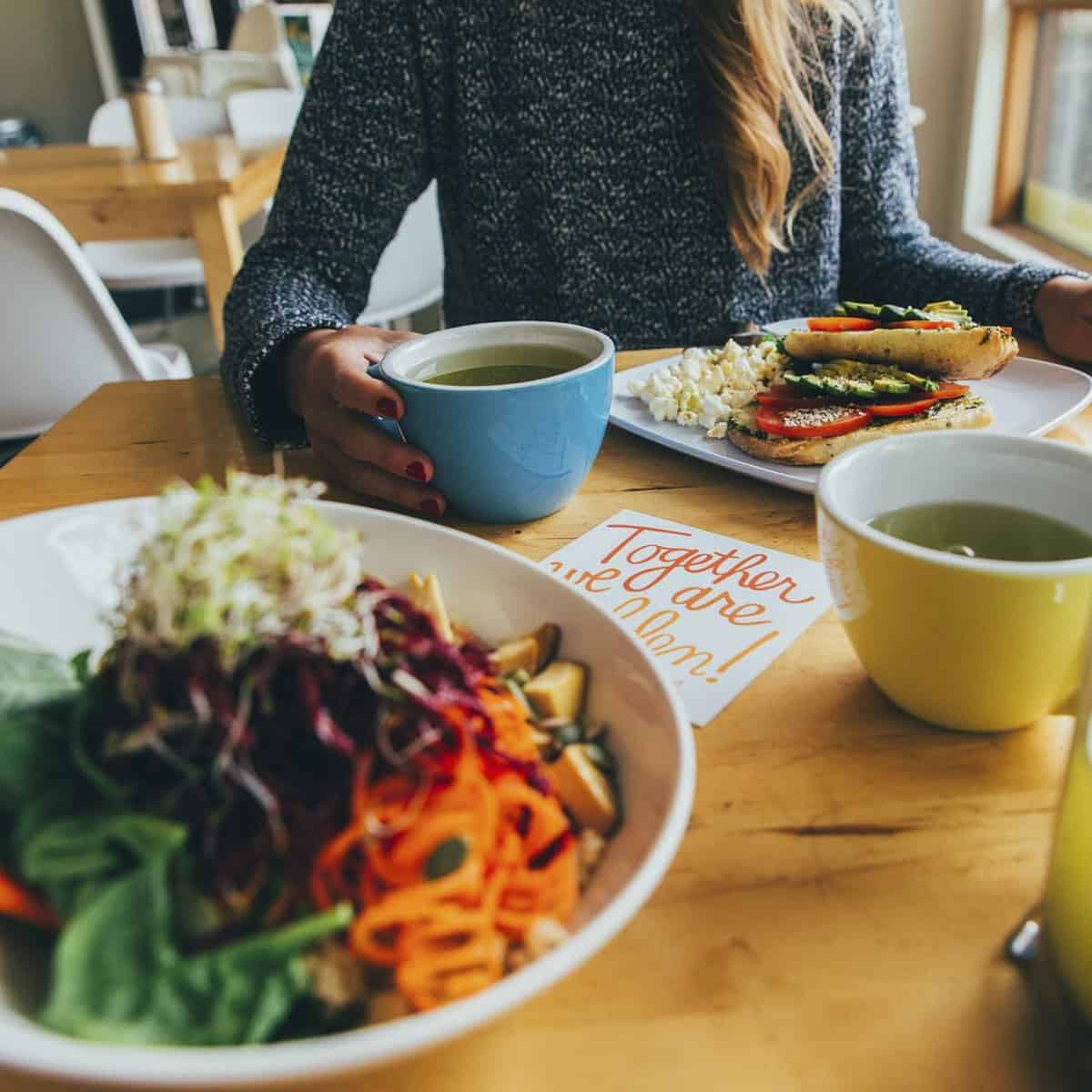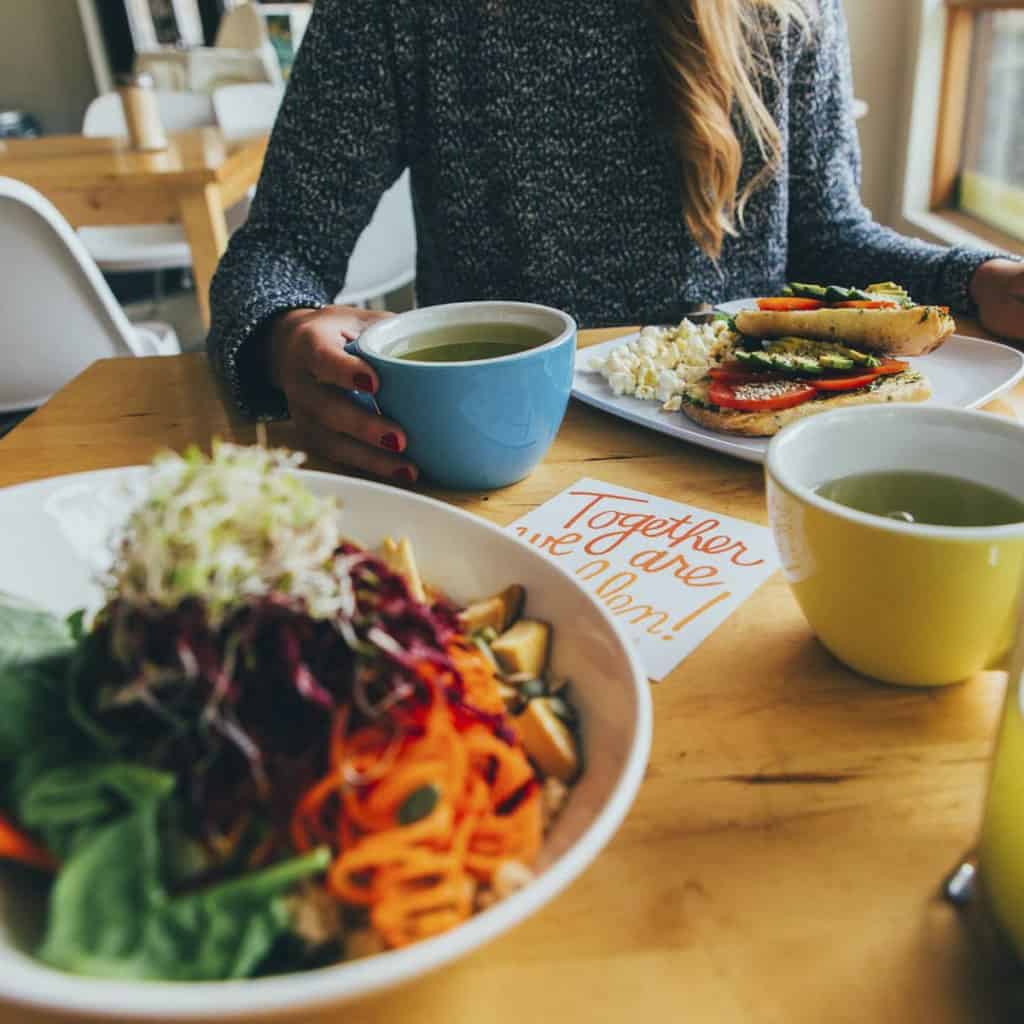 There's also an amazing collection of chilled drinks, coffee, and, with a name like Communitea, lots of teas on offer! Make sure to check out the tea store to bring some home for yourself, and keep an eye out for the live music they have in-house, too.
Eclipse Coffee Roasters
Location: 817 8 St / 1516 Railway Ave
Often touted as the 'best coffee shop in town', Eclipse Coffee Roasters has been serving Canmore residents and visitors since 2014. And now there are 2 locations! Everything they serve is freshly roasted, guaranteeing a perfect cup of coffee. And their baked goods are just as tasty as their coffee. Be sure to try one of their butter croissants which are sinfully delicious!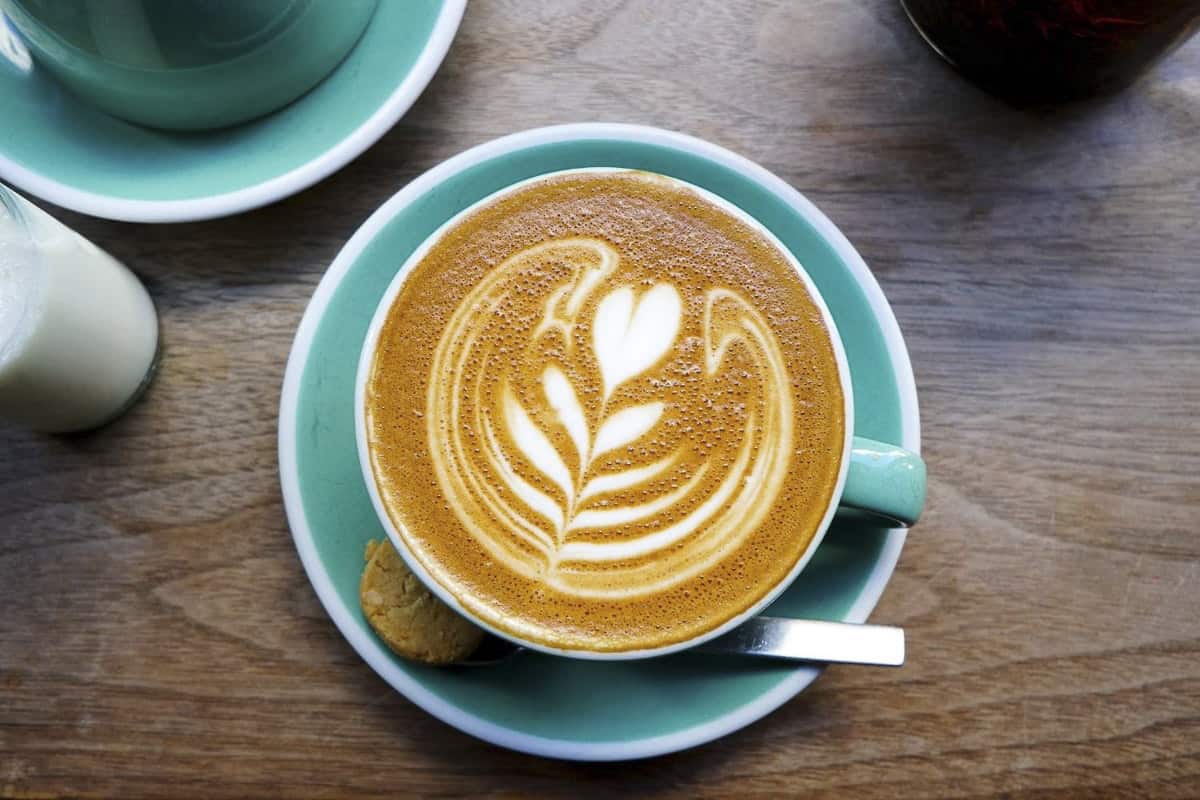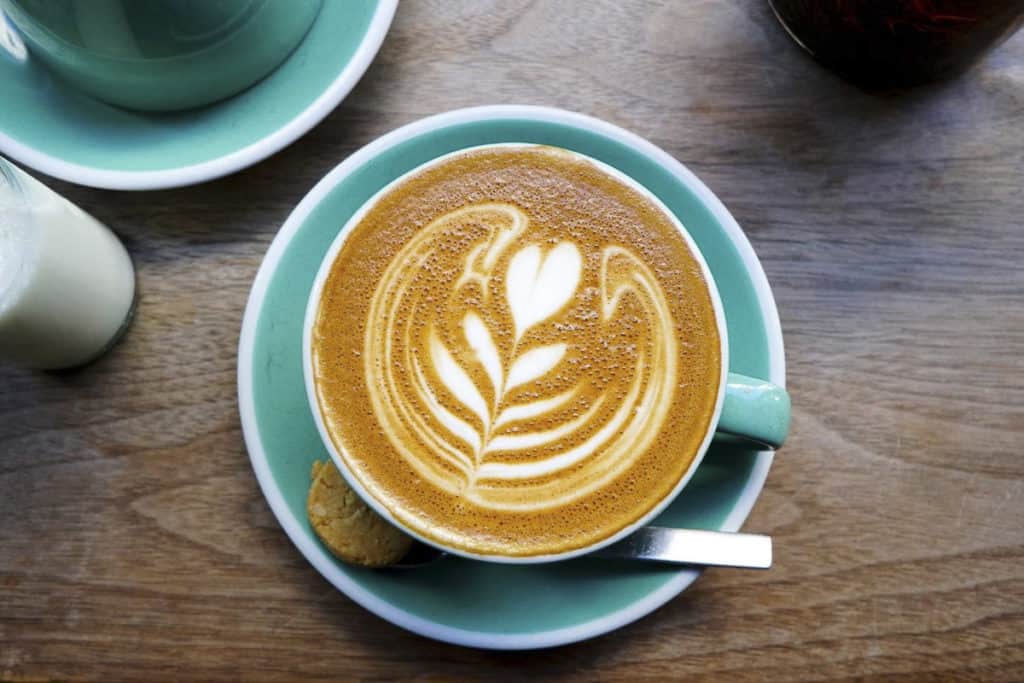 The Summit Cafe
Location: 1001 Cougar Creek Dr #102
The Summit Cafe is labelled as one of Canmore's best-kept secrets. Well, not anymore! It has been serving locals since 1999, and its full breakfasts are a local favourite. Try their Breakfast Burrito or Spicy Mexi-Eggs, and you won't be disappointed. And take time to enjoy your breakfast or coffee on their patio and soak in those mountain views.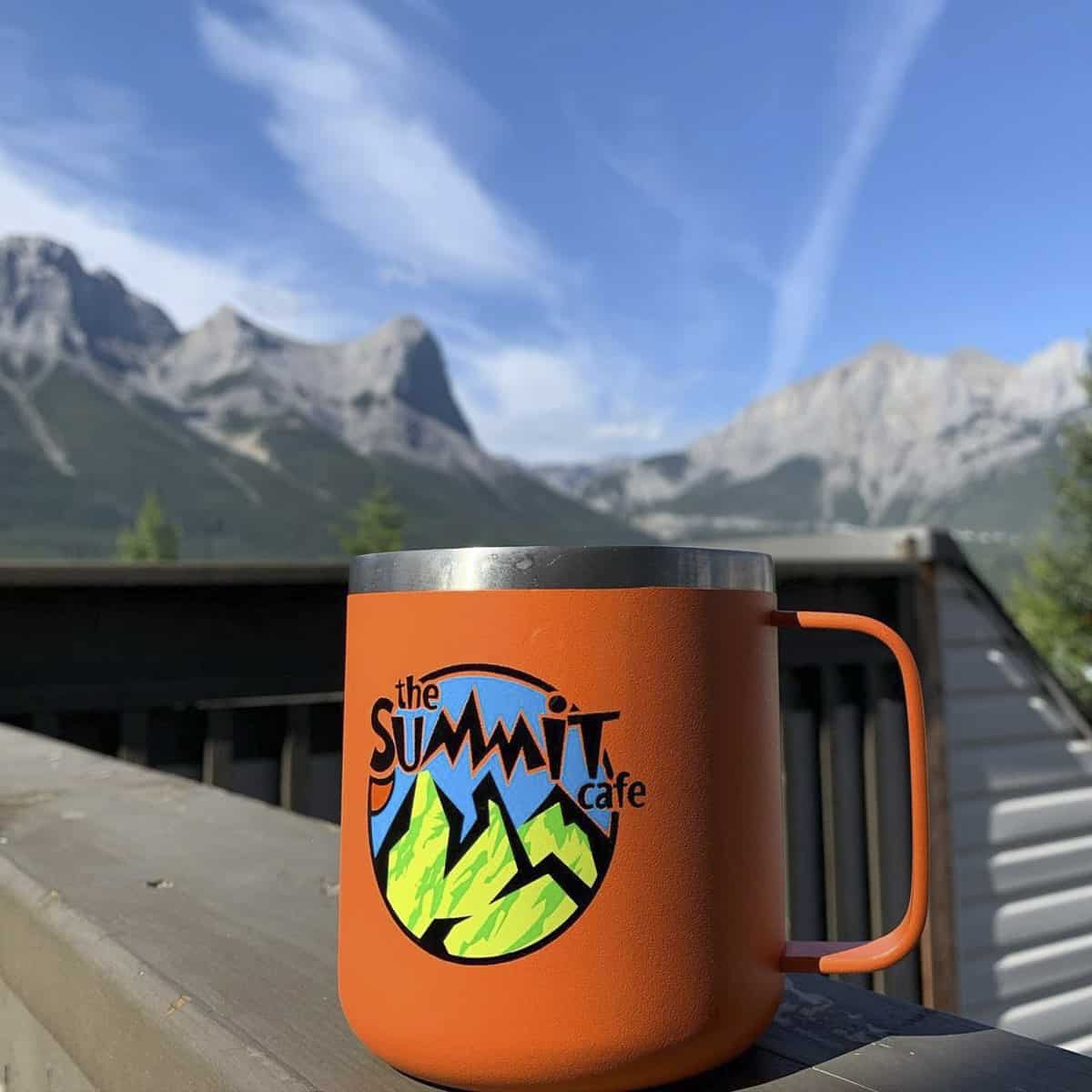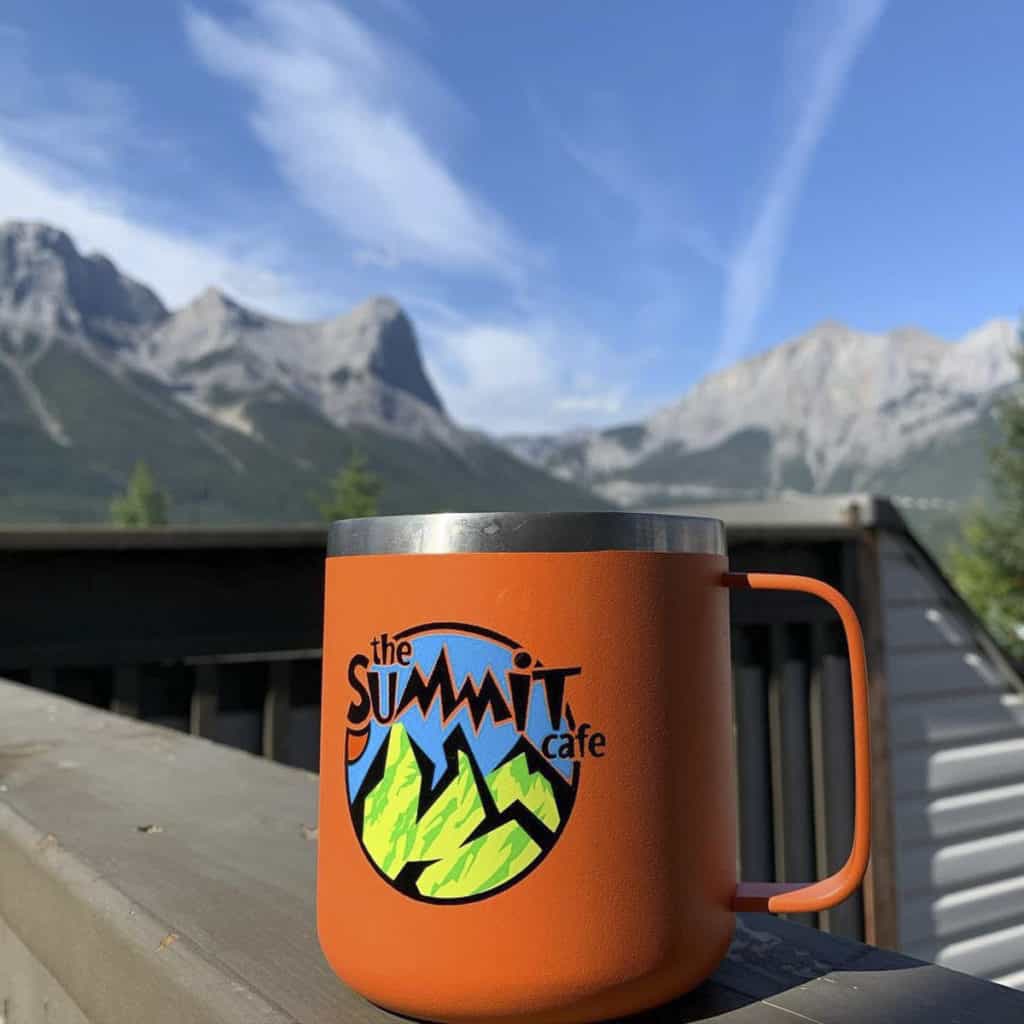 This small mountain town is an adventure mecca, so be sure to check out all the things to do in Canmore (including some great Canmore hikes) to work up an appetite for the restaurants in this post!
And if you're also looking for a place to rest your head as well, we've published a guide on the best Canmore hotels for any budget.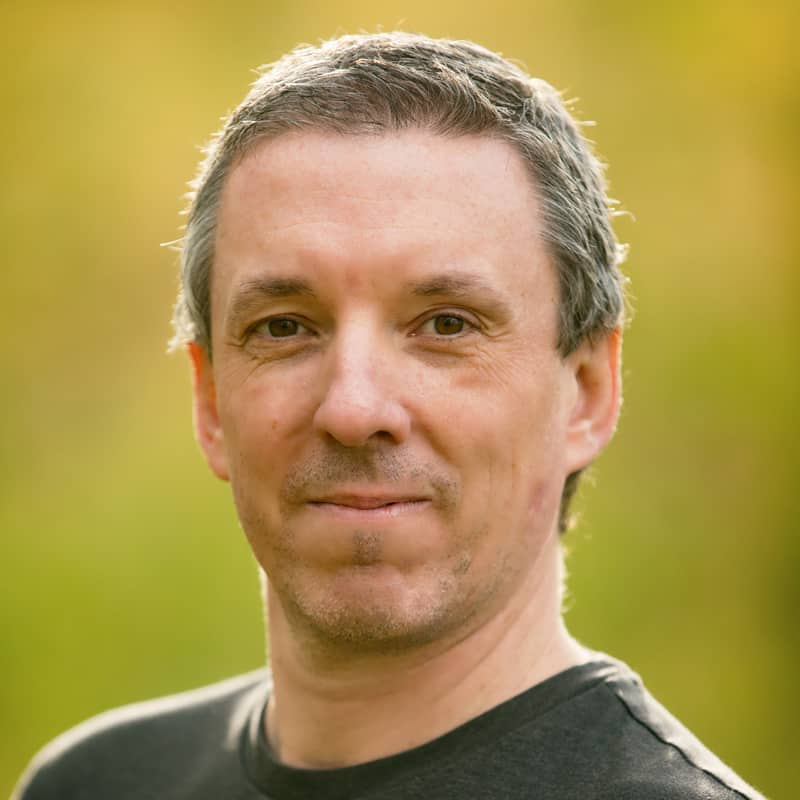 Pete is a co-founder of Road Trip Alberta. Growing up in Edmonton he has an extensive knowledge of Alberta and everything the province has to offer. He loves to eat good food, hike (especially in the winter), play tennis and curl. Apart from running Road Trip Alberta, he is a director with HMI, a digital media agency, half of the Hecktic Travels duo, and a co-creator of the popular card game Trip Chaser.