Disclaimer: This page may contain affiliate links. Please review our full Terms and Conditions for more information and our Privacy Policy. Note that any pricing, operating hours, or other such information provided below may have changed since initial publication.
Compiled by the Road Trip Alberta team
Updated April 22, 2021
No matter the method of your arrival in Calgary, once Alberta's biggest city is in view, what lies to the west holds an immediate appeal for most. Off in the distance, the jagged peaks of the Rocky Mountains line the horizon. In winter, they are begging to be explored by ski or dogsled; by summer, hiking trails line their valleys and ridges.
And nestled at their base is the alluring resort town of Banff. While the stunning scenery and outdoor activities are the main draws, this town inside of a National Park of the same name holds appeal for everyone. Think soaking in hot springs, a deluge of fine dining options, museums displaying Banff's unique history, and so much more.
While Calgary is a worthy destination in its own right, getting to Banff is easy and attracts the masses. Below you will find options on how to make the trip from Calgary to Banff and some fun options for what to do along the way.
About the Route
The distance between Calgary and Banff varies if you're taking the fast route or the scenic route.
Fastest route – From Calgary to Banff take the Trans-Canada (Highway 1). The distance on this route is 127km and driving time is approximately 1 1/2 hours.
Slightly more scenic route – For your return trip from Banff to Calgary consider taking Highway 1A through to Canmore before rejoining Highway 1. The Calgary to Banff distance on this route is 134km and driving time is approximately 1 3/4 hours.
Note that these driving times are in optimal conditions and not necessarily representative of winter driving nor peak traffic. Weekends are always busy – if you are planning to get to Banff on a Friday night and back on Sunday, you should expect additional time on the road.
IMPORTANT: Note that Banff National Park requires a pass in order to enter the park.
The current daily fees are:
Adult: $10.00
Senior: $8.40
Youth (up to 17 yo): FREE
Family/group (up to 7 people): $20.00
Commercial group (per person): $8.40
The daily passes expire at 4 pm the following day.
Alternatively, a Parks Canada "Discovery Pass" can be purchased and used for multiple days and re-entry for one full year. The fees are:
Adult: $69.19
Senior: $59.17
Family/group: $139.40
The park gates are 100 kilometers west of Calgary on Highway 1, and passes can be purchased upon arrival. Alternatively, they can also be purchased online in advance. For more information, visit the Parks Canada website.
Take the guesswork out of building your Alberta trip itinerary!
We now offer two ways to help ease the burden of travel planning:
We've developed ebook itineraries (available at a very low price!) that showcase top highlights of the province.
Want a custom trip tailored exactly to your needs? We are pleased to also offer a custom service for planning your Alberta vacation.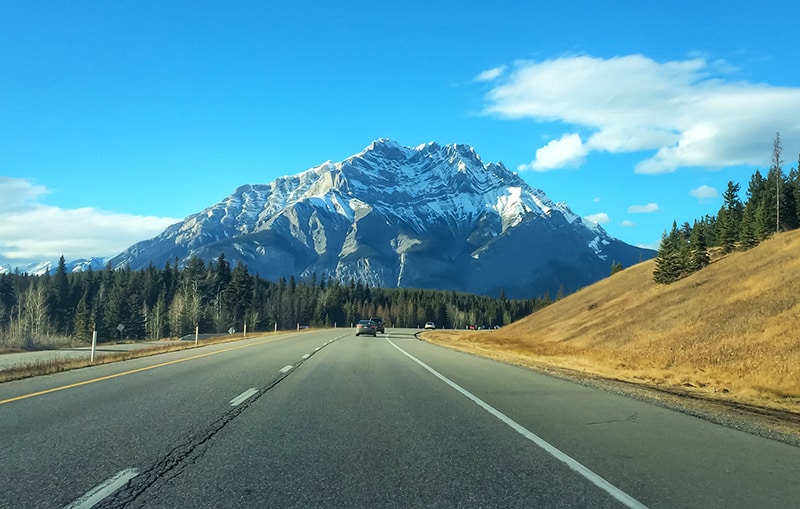 Assuming that you are arriving in Calgary via airplane, following are all of the options to get you to Banff.
Calgary to Banff National Park by Car
Fortunately, the drive to Banff National Park is scenic and full of surprising sights as the prairies give way to foothills and ultimately lead to the Rocky Mountains. Going by car allows you to make as many photo and other stops along the way as you like.
Please be mindful of driving conditions, especially in winter. While Alberta's highways are in great shape and well-maintained, snowstorms can wreak havoc for days at a time, and construction can slow things down in summer. Learn more about Alberta's road laws and driving guidelines. In addition, check current road reports before you leave.
The closest airport to Banff is Calgary International Airport which is located on the north end of Calgary. From the airport, the best way to get to Banff is via highway 2 north to Stoney Trail (201) which meets up with Highway 1 (also known as the Trans-Canada Highway) and takes you all the way to the town of Banff.
Fortunately, there are also plenty of car rental options at the Calgary airport. Book in advance to ensure less hassle:
We recommend booking via RentalCars.com, to select the cheapest rate or to book with whichever company you prefer.
If you are not interested in a traditional car rental through an agency, you can also rent cars through a website called Turo (think AirBnB for car rentals). The Calgary International Airport is a frequent pick up/drop off point.
Just arrived in Calgary and need a hotel?
If you are not in a rush, or want to spend an extra night in Calgary because you arrive late, there are plenty of hotels in the area. Those right onsite at the airport tend to be more expensive, so we prefer these options:
Hotel Clique is a super chic and affordable hotel that has free parking, free WiFi, and a great restaurant onsite. It is a quick shuttle ride from the airport, and we have stayed here several times when we have an early flight out of Calgary. Bonus: it has two rooftop pools!


Want to start the journey and cut down on the drive the next day? The Four Points by Sheraton is on the western edge of the city, just off of Highway 1. You'll get an easy jumpstart to Banff the next day. Parking and WiFi are both free.
Want to see more options? Then check out our definitive list of the best hotels in Calgary, and our guide to Calgary Airbnbs. Both are structured by city quadrant and also highlights some near the airport.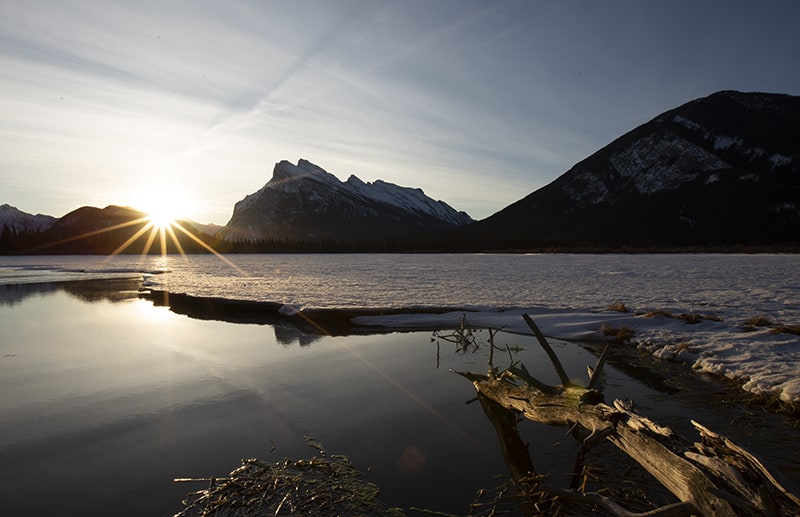 Calgary to Banff by Bus
Taking the bus to Banff can actually be a great idea for those who want to sit back and enjoy the scenery. There are a number of options for a Calgary to Banff shuttle and the following companies offer the service: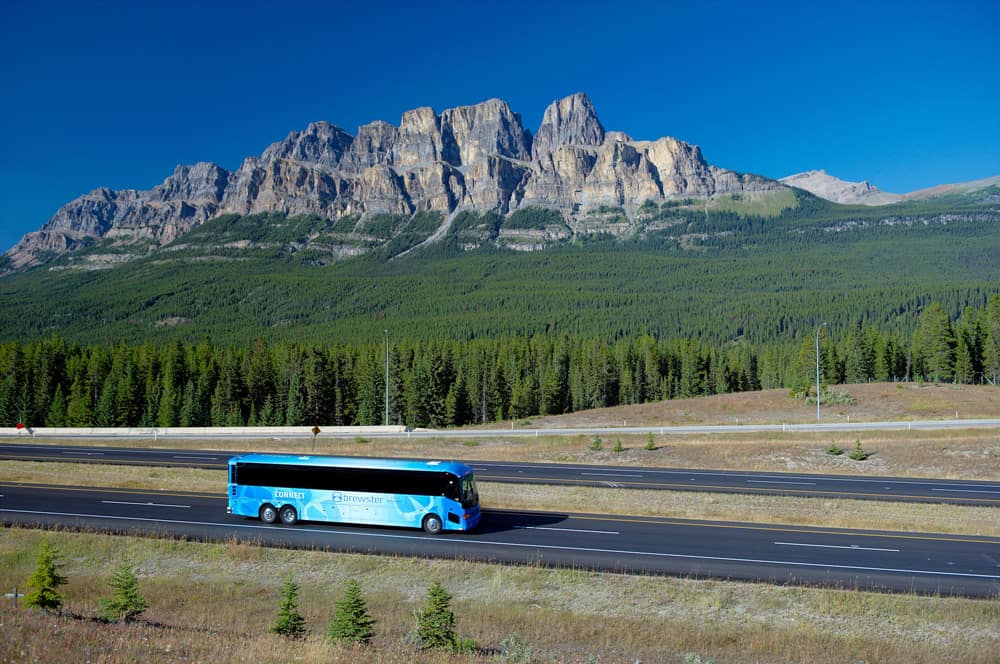 Calgary to Banff by Private Transfer
Private transfers from Calgary International Airport to Banff National Park are a convenient and relaxing way to get to the Rocky Mountains without waiting in lines or making multiple shuttle stops. Some private transfer options are below:
Calgary to Banff by Other Options
Taxis are always an option, of course, and plenty will be waiting at the airport for your arrival! Note that it can cost approximately $250 for a one-way journey.
Uber is in Calgary, however, consider that drivers may not be willing or capable to make the drive and the price is close to what a taxi would cost for just one way.
Consider Poparide.com. There are options to select your driver based on your luggage and equipment requirements if you are traveling with skis, bikes, etc. Poparide charges per seat so you have an opportunity to meet other visitors if you are traveling solo to Banff National Park. Currently, no seat appears to cost more than $20 for the ride from Calgary to Banff.
At the moment, there is no Calgary to Banff train or flight.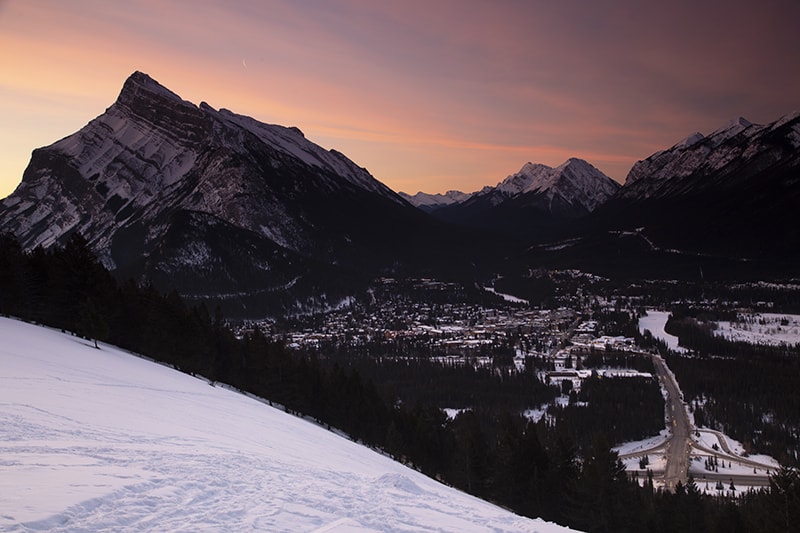 Fun Things to do Along the Way
If you arrive in Calgary early and decide to travel by car, there are so many things to do on the way to Banff. Here are a few of our favourites: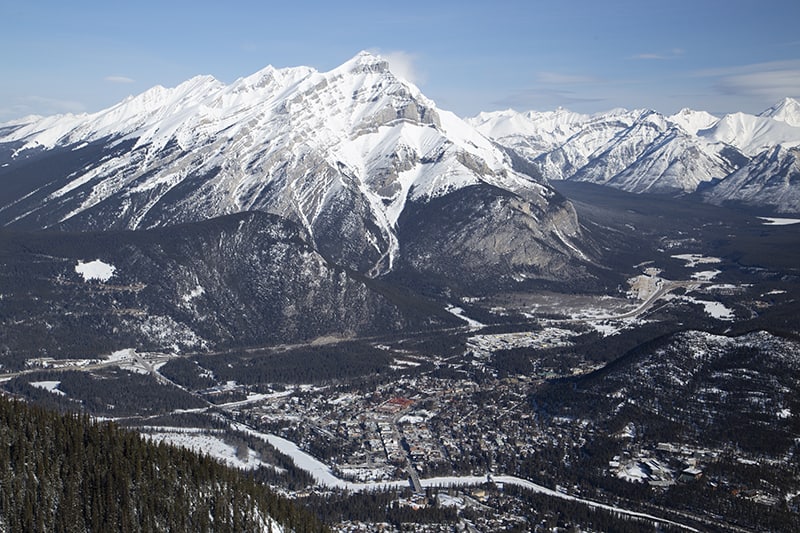 Upon Arrival in Banff
You made it!
Need to eat before starting your Rocky Mountain adventures? Read our guide on Banff restaurants to know where to go.
If you would like to get some useful information on Banff attractions, hiking trails, and much more, check out our Banff Destination Guide, but also pay a visit to the two Visitor Information Centres in Banff National Park:
Banff Visitor Centre at 224 Banff Ave
Banff Visitor Information Kiosk at the Banff Railway Station
Where to Stay – Find a Hotel in Banff
The accommodations in Banff are plentiful and most are centrally located and close to the main downtown area. While the locations of the accommodations are quite similar, the main difference is the price points.