Disclaimer: This page may contain affiliate links. Please review our full Terms and Conditions for more information and our Privacy Policy. Note that any pricing, operating hours, or other such information provided below may have changed since initial publication.
Compiled by the Road Trip Alberta team
Last updated on June 29, 2023
Jasper National Park is the sort of place that beckons the solo adventurer. With over 11,000 square kilometres of mostly empty space amid mountain peaks, it's where you go to get lost so that you can find yourself. It is an ideal location to explore the great outdoors, and while it might be tempting to tackle it all on your own, it's not always possible, logical, or recommended. And that's where this article about the best Jasper tours comes in!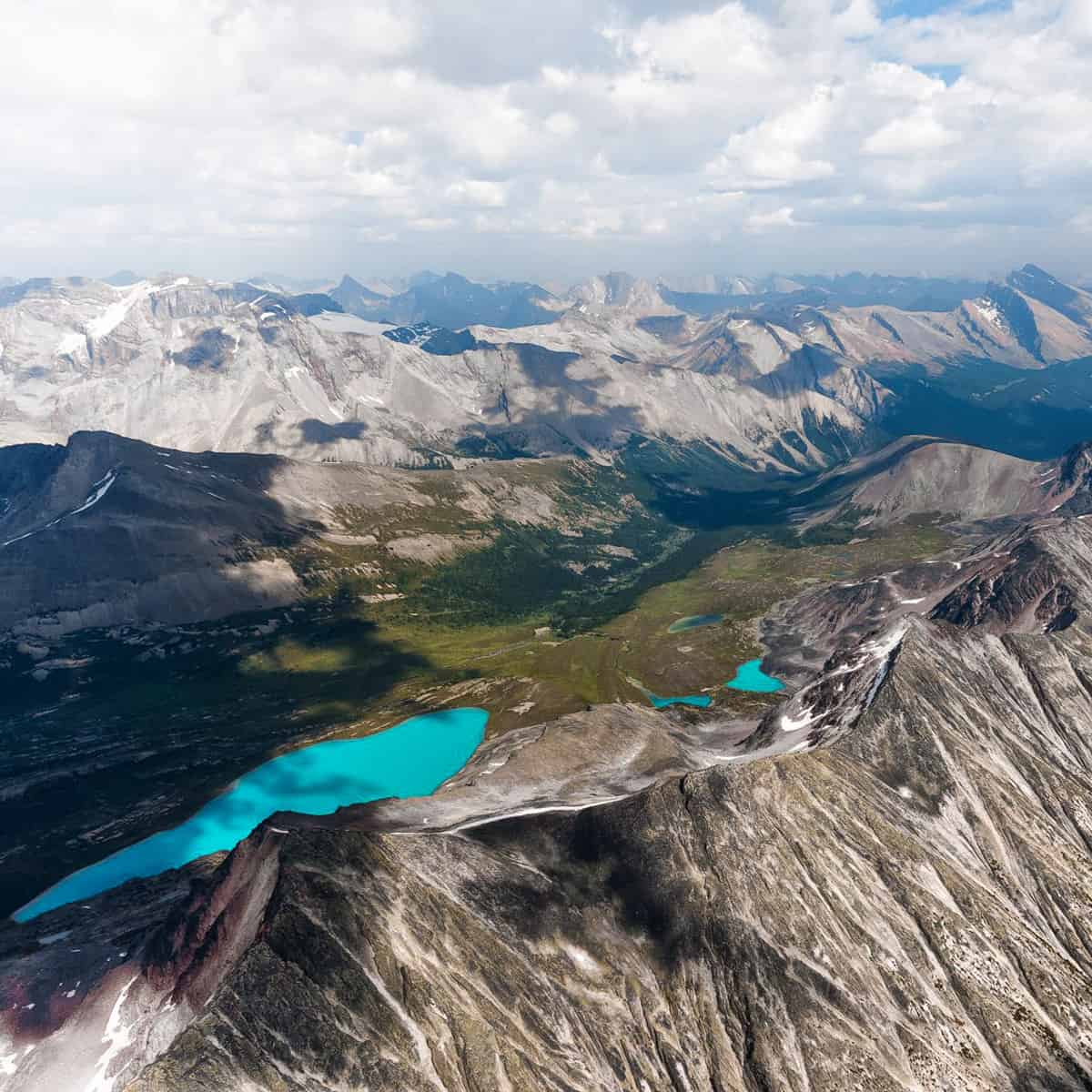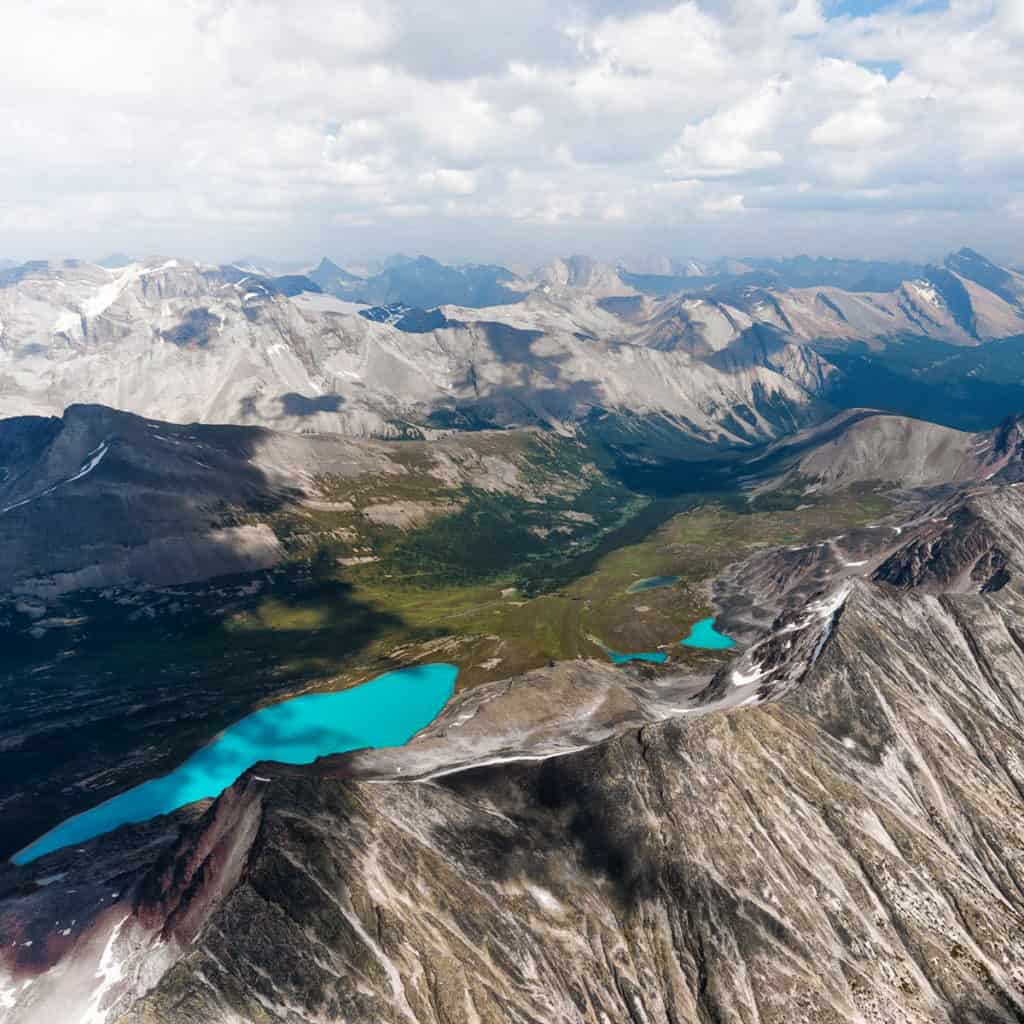 In order to really explore the best of what the region has to offer, booking an experience with a trusted guide can give you the kind of valuable insight that only local knowledge can provide, not to mention a convenient way to see or do a lot in a short amount of time. From hiking to camping to skiing and snowshoeing, our specially curated list below gives you year-round options to enjoy this gorgeous corner of the world.
Jasper Tours In Summer: Our Top Pick
Maligne Lake Cruise
Tour Length: 1 hour 30 minutes
Star Ratings: 4.5/5 (130+ reviews)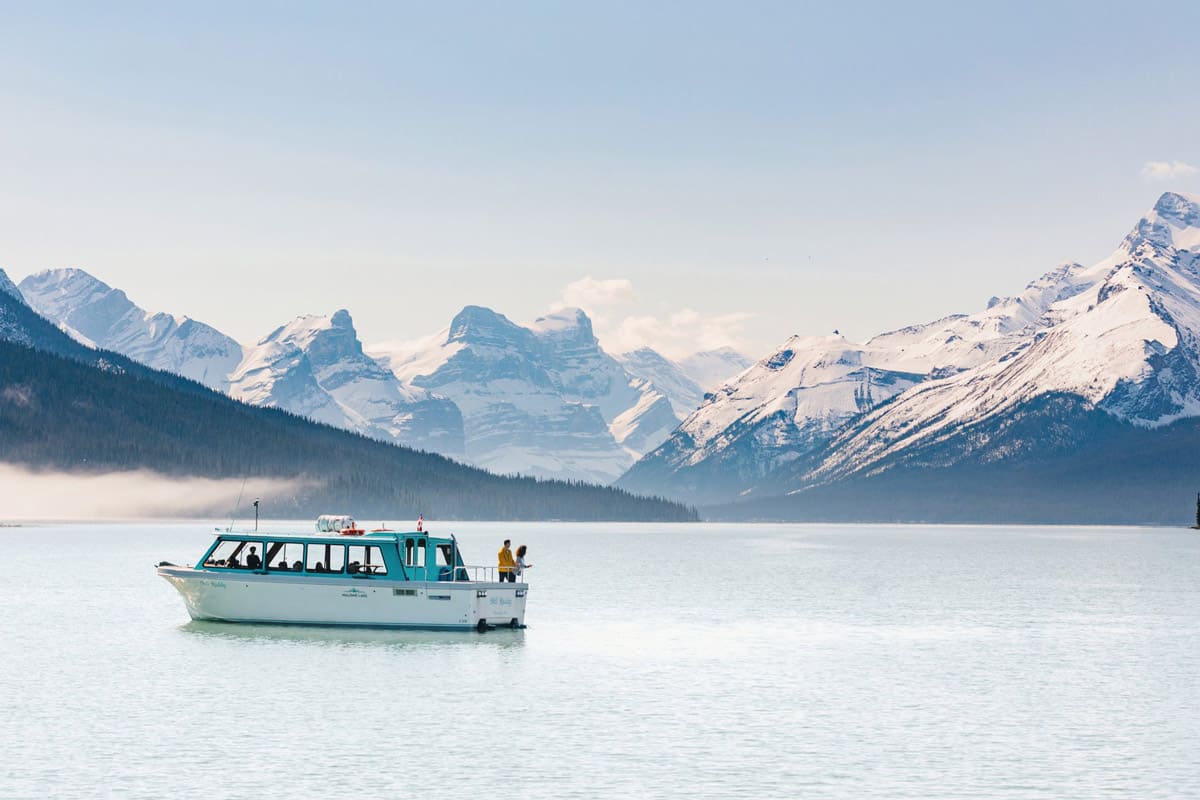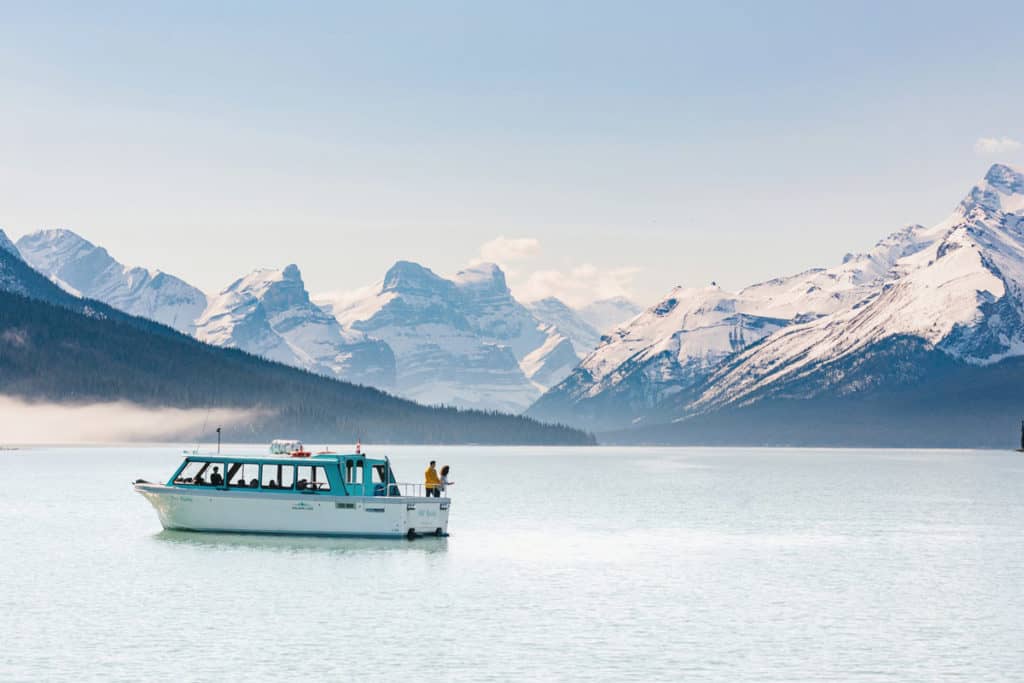 Of all the Jasper tours available, THIS is the one that can't be passed up. This fully-narrated Maligne Lake cruise not only provides vital information about the largest glacially fed lake in the Canadian Rockies, but it allows you to get up close and personal with Spirit Island – one of the most photographed places in the Canadian Rockies.
The island is only accessible by boat, and the Maligne Lake boat cruise is fully enclosed and heated, making sure you stay warm as you soak up the alpine scenery and views of local wildlife. Admire views of the surrounding mountain peaks, beautiful turquoise water, and ancient forests on this 90-minute cruise. The ride begins and ends at the Maligne Lake Boathouse and Chalet and runs from June to October.
Absolutely brilliant. They take you up the lake to spirit island where you can stop off and take pictures. Well worth the money and the staff are very friendly and provide lots of helpful information along the way. Views are sensational even on a cloudy day.

Review by Viator user John_W
Other Excellent Jasper Tours in Summer
Jasper National Park Tour: Maligne Valley, Medicine Lake, and Spirit Island
For a completely immersive Jasper National Park tour experience, this 6-hour guided excursion brings visitors all throughout the Maligne Valley from Jasper. You can choose between a boat cruise on Maligne Lake to Spirit Island or a short guided hike, but there is no wrong choice as both options provide ample opportunities to look for the abundant wildlife in Jasper National Park, including moose and wolves.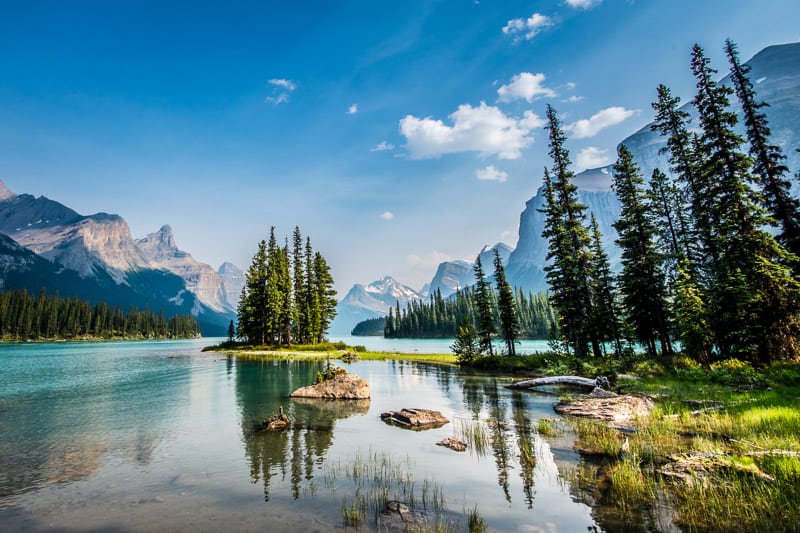 Throughout the entire day, there are several stops for short walks to stunning viewpoints and ideal selfie spots, plus stops such as Maligne Canyon, Medicine Lake, Maligne Lake, and Spirit Island. With pick up and drop off right at your hotel, all you have to do is sit back and be guided around the top places to see within Jasper National Park.
---
---
Canadian Rockies Tour by Chauffeured Sidecar from Jasper
Zoom Zoom…adventure is calling! This Jasper tour is unique in that it is completely customizable by you depending on what you want to see and do, so the tour length varies from 1 to 3 hours. Pick from among a range of destinations for your ride, including Medicine Lake, Maligne Canyon, Maligne Lake, Athabasca Falls, Angel Glacier, Miette Hot Springs, or Mount Edith Cavell. Feel the rush of the open road as you relax in a sidecar being driven by a professional driver on a Harley Davidson motorcycle.
The motorcycle ride can accommodate up to two passengers and includes round-trip transport from your hotel and live commentary during the trip. Take in the beauty of the Canadian Rockies and wildlife viewing opportunities on this once-in-a-lifetime Jasper tour!
Simply fantastic – start to finish! Cool bikers/guides, excellent customer service, and so much 'Harley' FUN. Highly recommend this tour.

Review by Viator user Lal_P
---
---
Jasper Wildlife and Waterfalls Tour with Maligne Lake Hike
Be guided through the Maligne Valley to see some of the most spectacular scenery in the Canadian Rockies! Follow forest paths to visit sprawling mountain vistas, Maligne Canyon, waterfalls, and lakes (even a disappearing one!).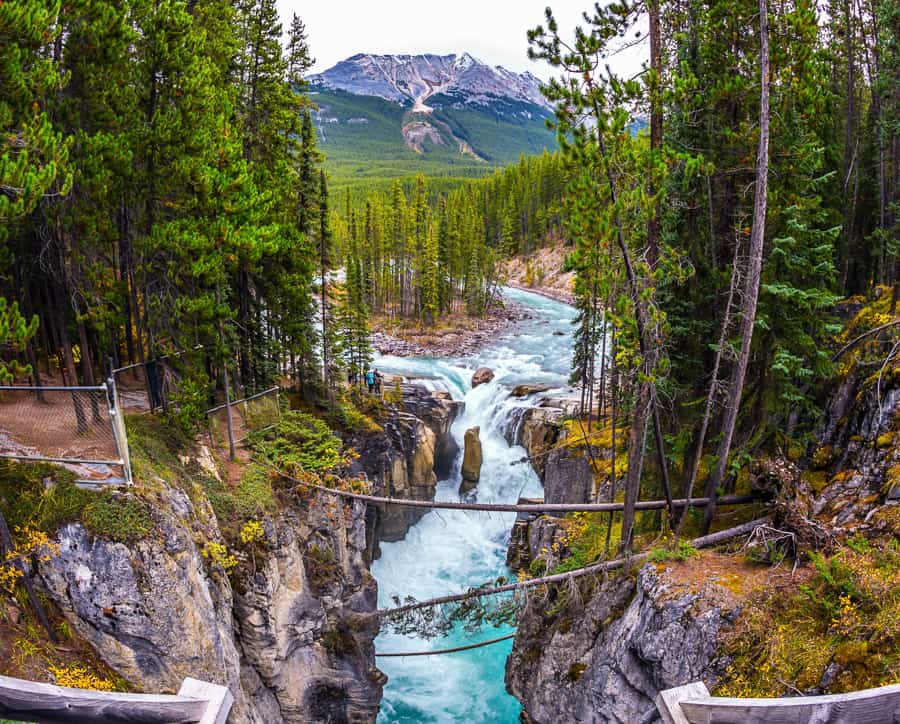 Go through approximately 45 km of vast Canadian wilderness with a mix of short hikes, photography stops, and interpretive bus driving, all through prime habitat for moose and bears, so keep your camera ready.
This was a great way to see some sights in Jasper. The waterfalls were beautiful and we were excited to see a bear and a bald eagle in the same location. Jamie was a wonderful guide. He was very knowledgeable and friendly.

Review by Viator user Judith_A
---
---
Glacier Skywalk
While not necessarily a tour per se, visiting the Glacier Skywalk has to be included in this list. The Glacier Skywalk in Jasper National Park is located in the heart of the Canadian Rockies and gives visitors a chance to experience the beauty of the area from a unique perspective overlooking the Sunwapta Valley from May to October. Departing from the Columbia Icefield Glacier Discovery Centre, visitors board a coach for a 5-minute transfer to the famed Glacier Skywalk.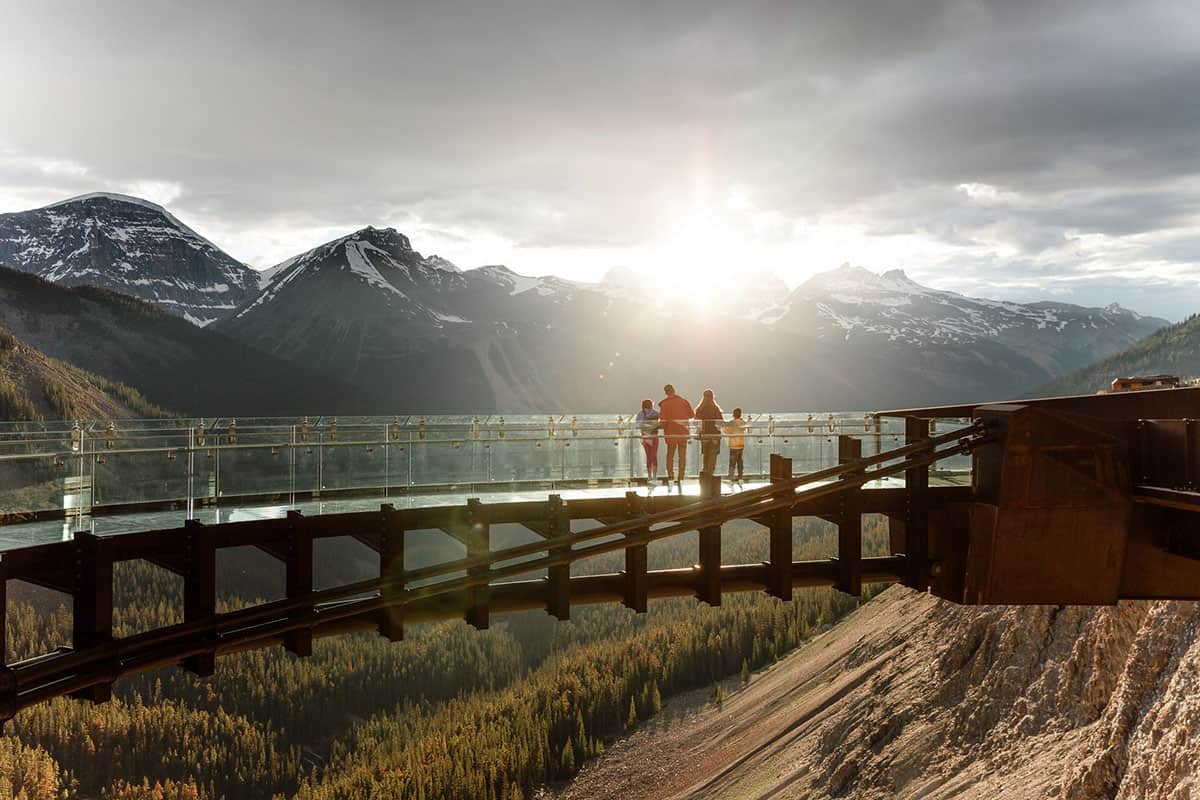 The Skywalk is a 1 km stretch of steel and glass walkway suspended over a glacier-fed river below. Step out onto an incredible glass-bottomed viewing platform (called Discovery Vista) and take in the breathtaking views of the surrounding mountains, glaciers, and wildlife. It is recommended to allow for at least 45 minutes here before heading back to the Centre, as there is also Discovery Trail to explore. The short hike offers interpretive displays of the region's geology, biology, ecology, and Aboriginal history while also offering great views of the valley.
I visited the glacier and skywalk with my adult daughter and we had a great time. Beautiful scenery and entertaining guides. A lovely visit.

Review by Viator user Kathryn_M
---
---
Rafting Athabasca Falls Run
Rafting down the Athabasca River Canyon in Jasper National Park is a truly magical and exciting experience. The canyon is full of awe-inspiring sights, from towering mountains and lush forests to adrenaline-pumping rapids. The class II river rapids provide a thrilling ride, and the calmer sections of the river offer a peaceful opportunity to take in the stunning scenery.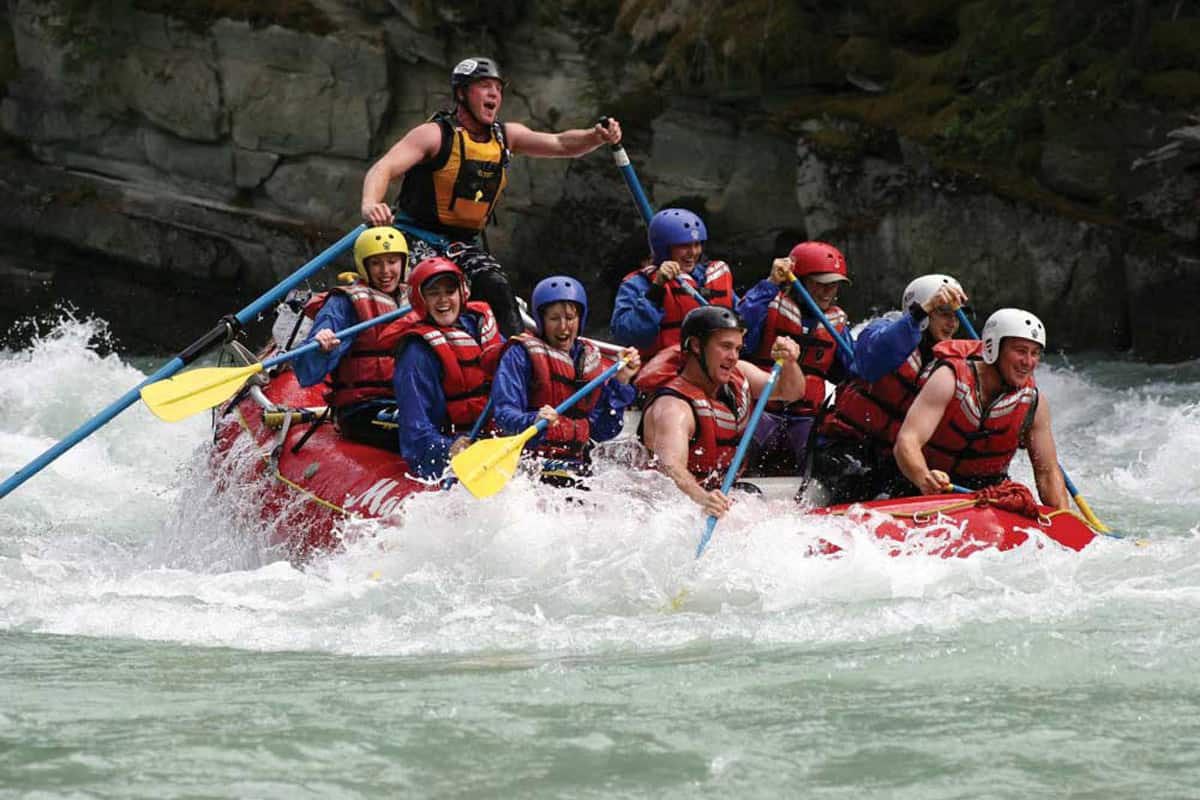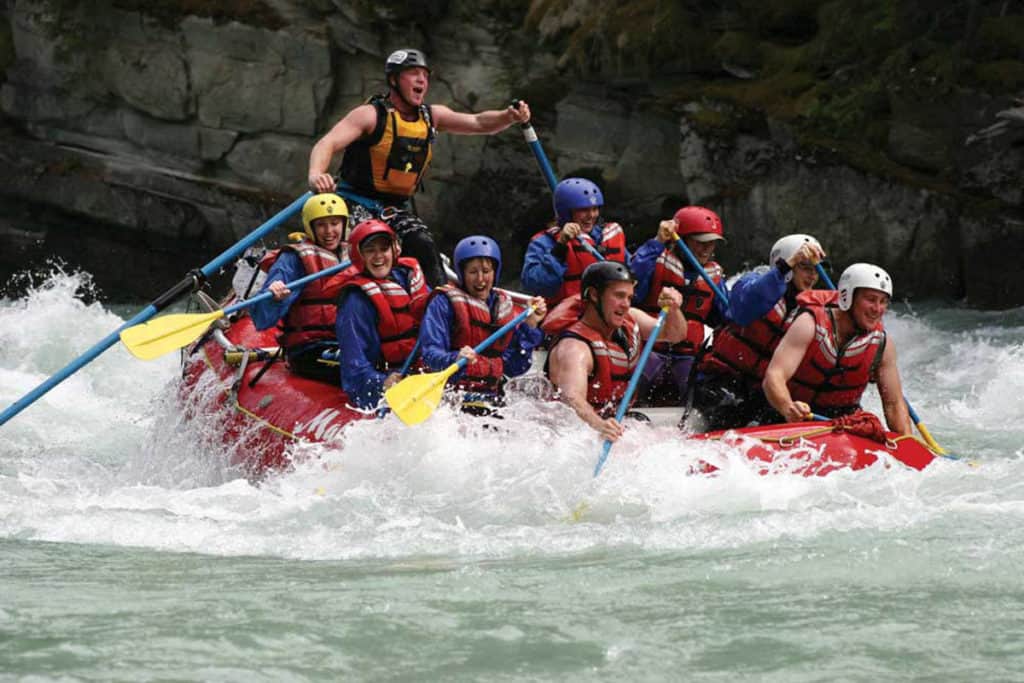 A guided rafting experience down the river canyon is a great way to experience the best of Jasper National Park. The knowledge the guides impart will provide insight into the Canadian wilderness while the whole family is captured having so much fun and given photos as keepsakes when it's all over.
First-time rafter… had such a great time!! The staff were funny and made the experience that much better!! Will be going back!!

Review by Viator user Tracey_G
---
---
Private Mountain Bike Tour In Jasper National Park
Embark on a private mountain bike tour in Jasper National Park with your own tour guide! As you ride through the vast expanse of the national park, you can take in all the gorgeous views on a course tailored to your biking ability.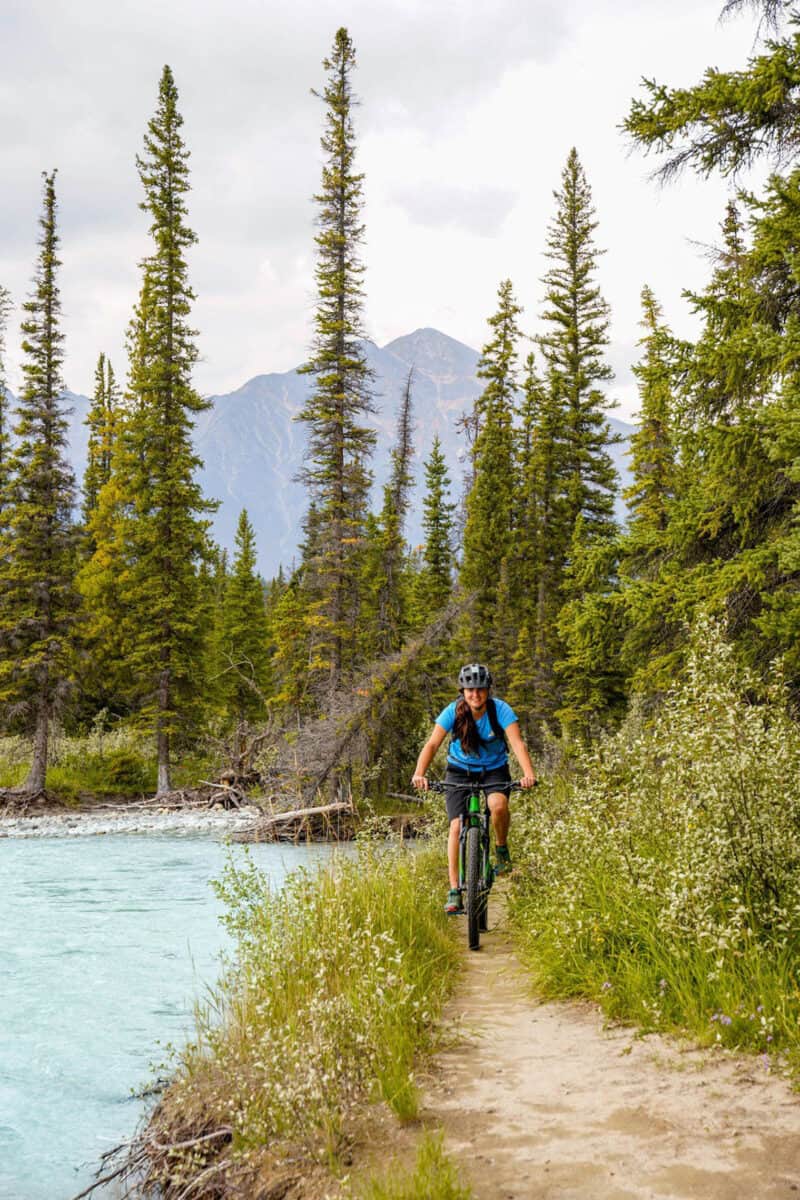 You will also have the chance to explore the park's vast wilderness, with opportunities to spot Jasper wildlife like elk, bears, and mountain goats. With the help of a knowledgeable guide, you can make the most of your experience and ensure an unforgettable adventure.
Beautiful! Well organized, friendly and helpful guide. We can see beautiful landscapes and travelled a beautiful dirt track.

Review by Viator user Dominica_I
---
---
Canoe Pyramid Lake
Prepare to experience a relaxing paddle adventure on Pyramid Lake in a cedar strip canoe! With a knowledgeable local tour guide leading the way, dip your paddle in and enjoy this laid-back mode of transportation with room for up to 8 people.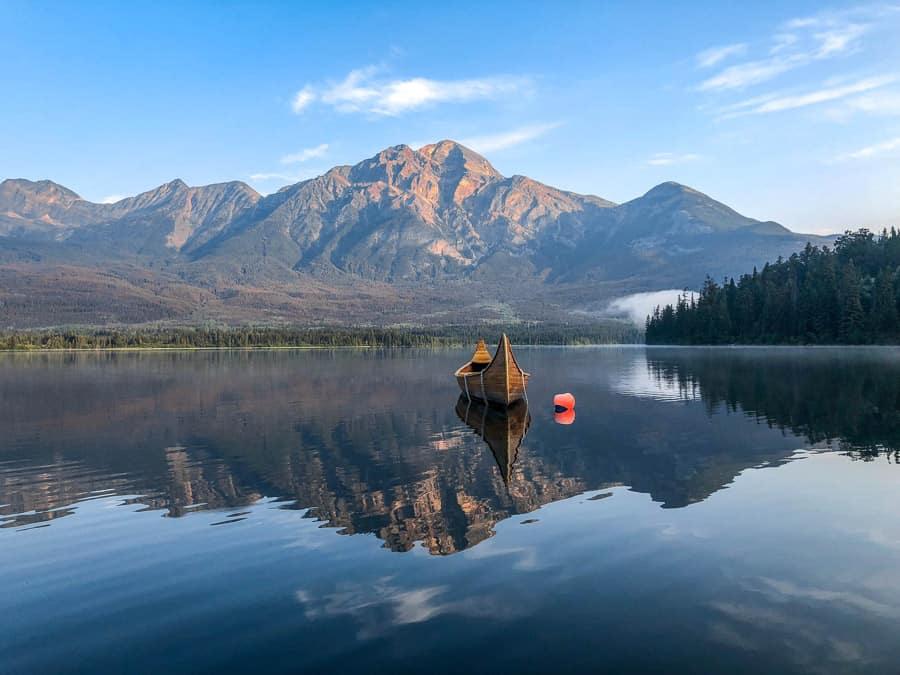 The tour explores a clear mountain lake so you can take in the classic Rocky Mountain vistas and wildlife viewing opportunities. There is even a stop to shore halfway through the tour for a chance to stretch the legs and have complimentary snacks, including fruit, baked goods, and a coffee and tea service.
Went on the morning tour and had a really great time. Mike is lovely, really friendly and knowledgeable, the lake is beautiful and so quiet and peaceful. Really recommend this tour if you're staying in Jasper.

Review by Viator user Sharon_L
---
---
Jasper Rock Climbing Experience
Try your hand (and feet!) rock climbing on the shores of the Athabasca River, and embrace outdoor adventure in Canada's open wilderness. This introductory rock climbing tour is suited to all ages and skill levels and includes all safety and climbing equipment.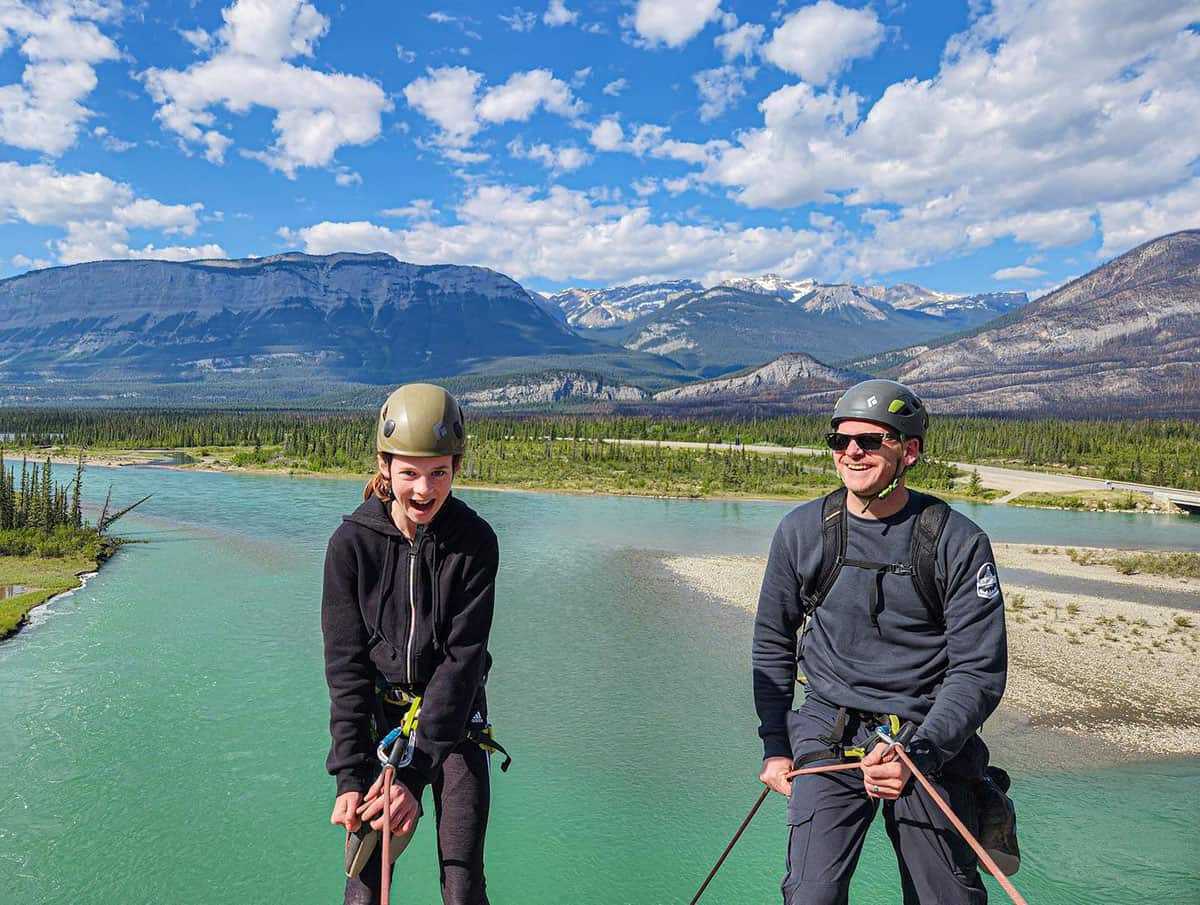 After meeting in downtown Jasper, the climbing site is a 20-minute drive away, followed by a 10-minute hike, finally settling in on a beautiful spot next to the Athabasca River. After setting up and giving a safety demonstration, your guide will set up the rope systems, and you will have an opportunity to climb a variety of routes ranging from easy to challenging.
I was in safe hands with Frank, my knowledgeable and friendly guide. I have lots of indoor climbing experience and loved the challenge and beauty of this outdoor excursion. With a variety of ascents, my expectations were exceeded, and I would highly recommend this outfit for both beginner and experienced climbers.

Review by Viator user Anna_H
---
Tread Lightly Glacier Hikes – Athabasca Glacier Icewalk
Get up close and personal with the incredible ice formations on one of the best sightseeing tours found in Jasper National Park. This is one of the most exceptional Jasper tours to embark on due to the amazing hike across rock, snow, and ice while at the same time listening to the local guides share stories about the history and geology of the area.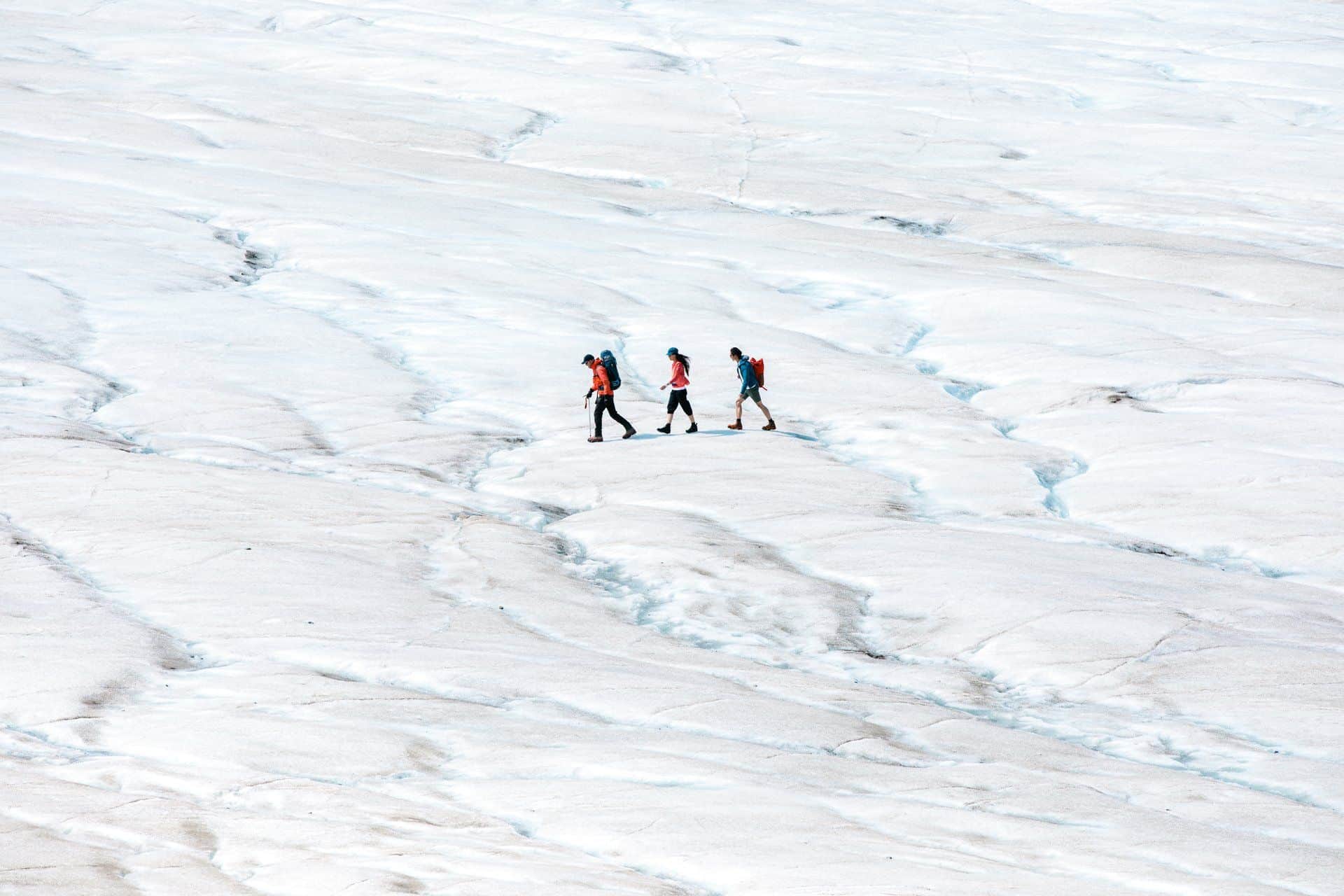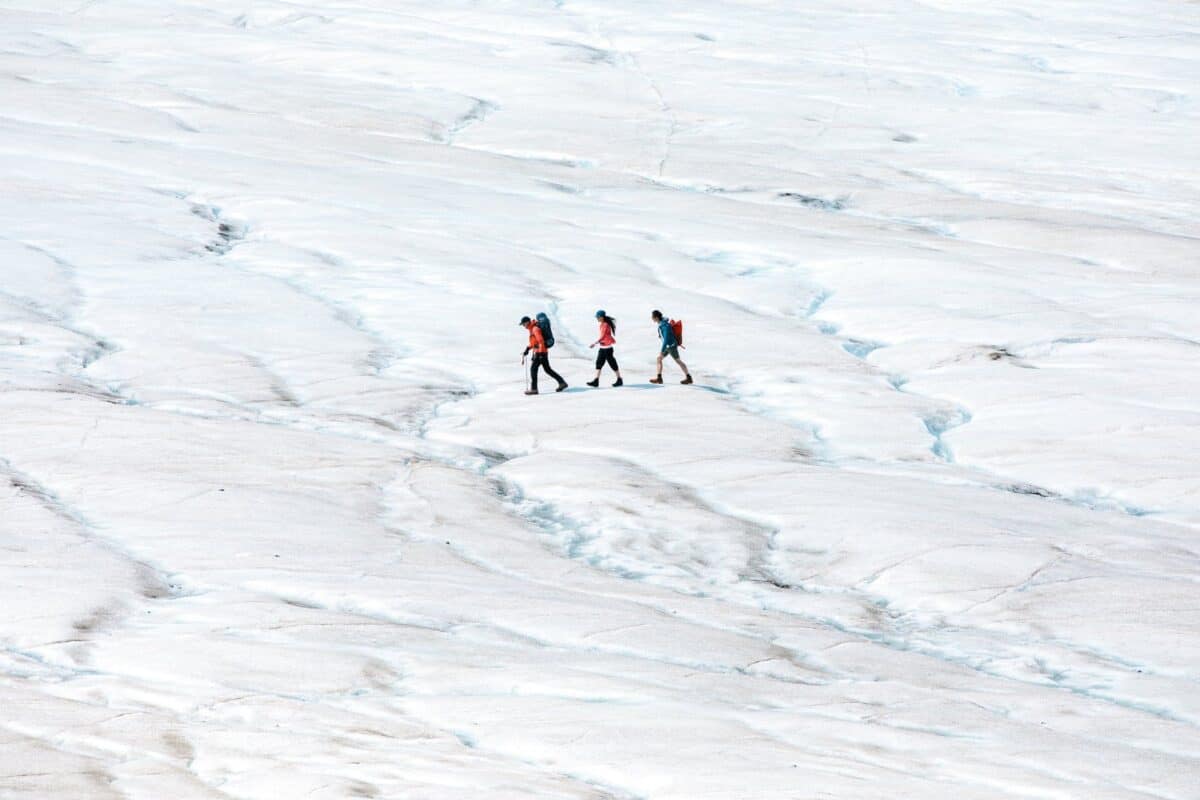 Discover the hidden wonders of the Athabasca Glacier, and for those that are daring – your guide will look for opportunities for you to descend below the ice surface. Being a small group (no more than 10 people) ensures one on one attention from the tour guide, and this Jasper tour includes the use of necessary equipment, including poles and crampons, so there is no need to pack your own.
It was my first time in Jasper and experiencing the glacier and it was above my expectations! The guides were great. Super knowledgeable and friendly. We spent over 4 hours on the glacier. It was amazing. If you can only do one thing in Jasper, I would highly recommend this one!

Review by Viator user Kim_P
---
---
Jasper to Banff One-Way Tour
Need to get from Jasper to Banff – then why not make it an unforgettable trip with stops at the highlights? The Icefields Parkway is one of the top scenic drives in the world, and this is an incredible full-day experience of the Icefields Parkway with hotel pick up and drop off, with lunch and snacks included!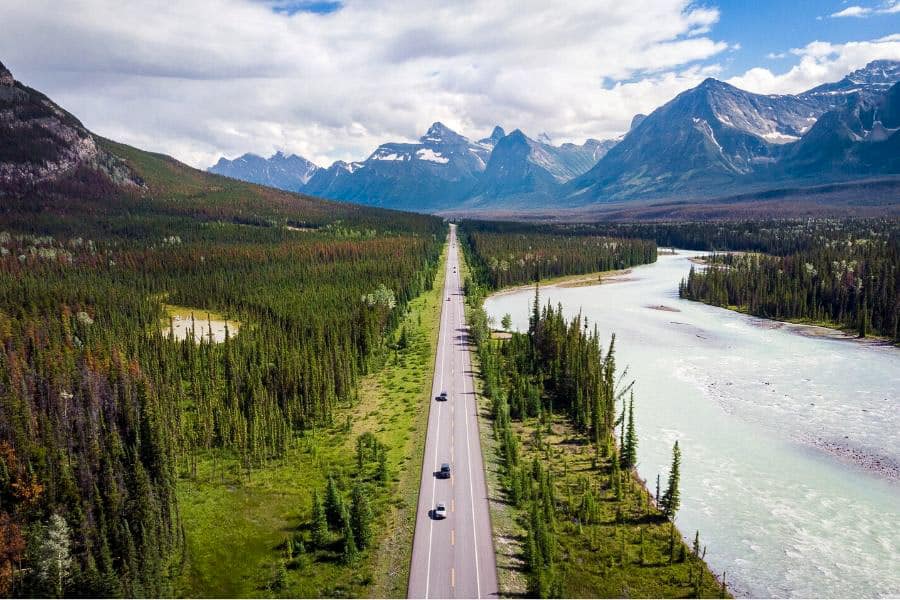 With guided interpretation, the entire way and offered from May to October, take in the breathtaking scenery that can be found between Banff and Jasper on the Icefields Parkway. Stops include the Crowfoot Glacier, Athabasca Falls, Columbia Icefield Discovery Centre and Glacier Skywalk, Bow Lake, Columbia Icefield Skywalk, and the Athabasca Glacier. Note: this tour only goes one way from Jasper to Banff.
What a fantastic tour! It was a long day but it was a great day thanks to Chuck who is a well spoken, well informed guide. He was a great educator who kept the group focused and timely. Simply wonderful day with a wonderful tour and tour guide. Thank you!

Review by Viator user LAN-travel2
---
---
Jasper Tours In Winter: Our Top Pick
Jasper Ice Climbing Experience
Tour Length: 6 hours
Star Ratings: 5/5 (25+ reviews)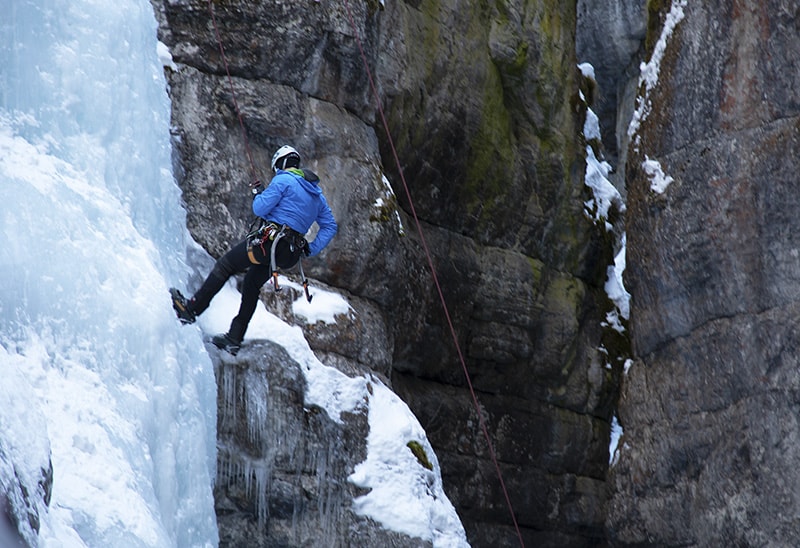 The locals know that Maligne Canyon offers some of the best ice-climbing conditions in Jasper! With our top winter Jasper tour, embark on an adventure deep into the Jasper wilderness to climb a frozen waterfall and try out this extreme sport under the tutelage of an expert instructor.
But don't worry, this is a beginner-friendly tour, and with all safety equipment included in the tour, all you need to bring is your winter clothes and be ready for adventure.
"Absolutely incredible experience. Can't recommend enough for adventure seekers. As someone who enjoyed hiking a via Ferrara, this was right up my alley. And Maarten was the most fantastic guide!"

Review by Viator user Andy_J
---
---
Other Excellent Jasper Tours in Winter
Winter Wildlife Discovery Tour
Offered from October to April, this winter tour allows visitors to sightsee wildlife in their native environment in the beautiful Maligne Valley within Jasper National Park. During the tour, visitors can expect to see a wide variety of animals, such as moose, caribou, bighorn sheep, wolves, and many more.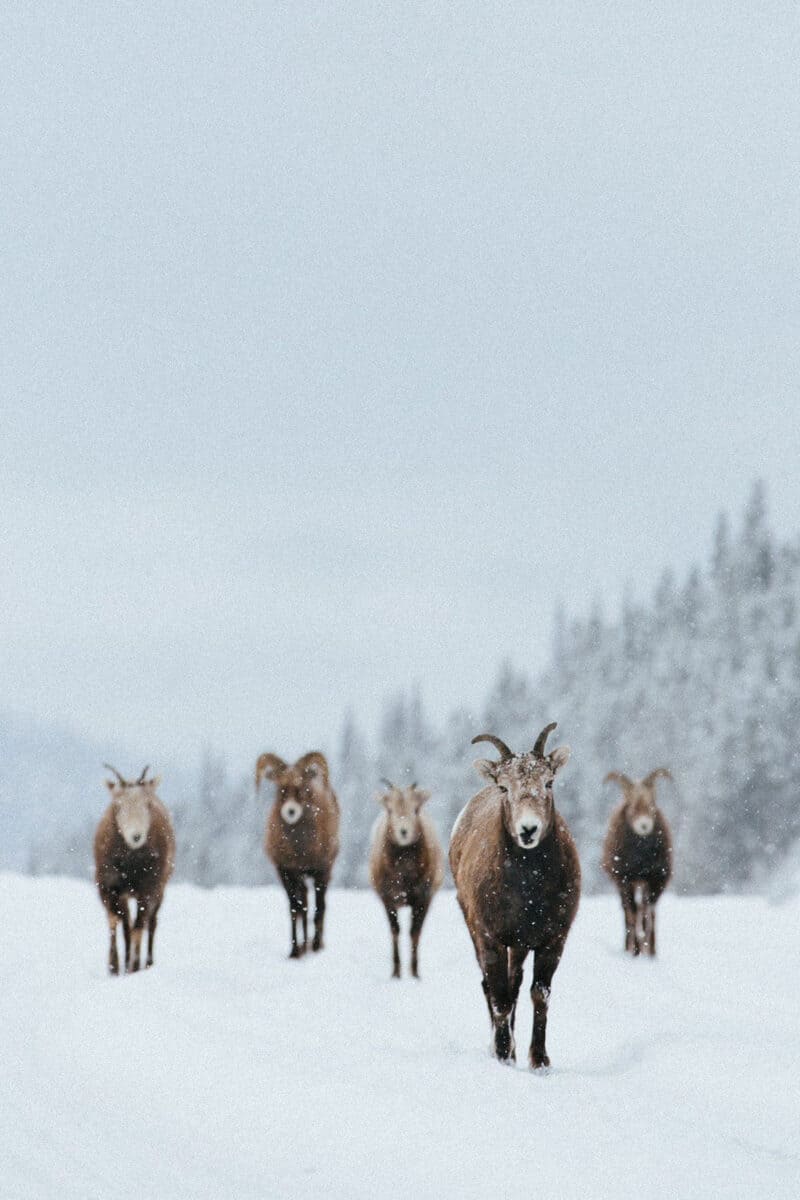 Not only is this experience a great opportunity to observe and photograph the animals, but it is also a great way to learn about the ecology and conservation of the park. This tour is also available during the summer and includes a Maligne Lake cruise.
Great tour with a knowledgeable and entertaining guide. Definitely value for money! Seeing a nesting bald eagle was a particular highlight 🙂

Review by Viator user Katherine_J
---
---
Half-Day Jasper Culture Food Tour
This mountain town was made for foodies! Don't sleep on the amazing food that is being served up in Jasper, and this half-day guided tour can bring you to some of the hidden gems in the culinary scene.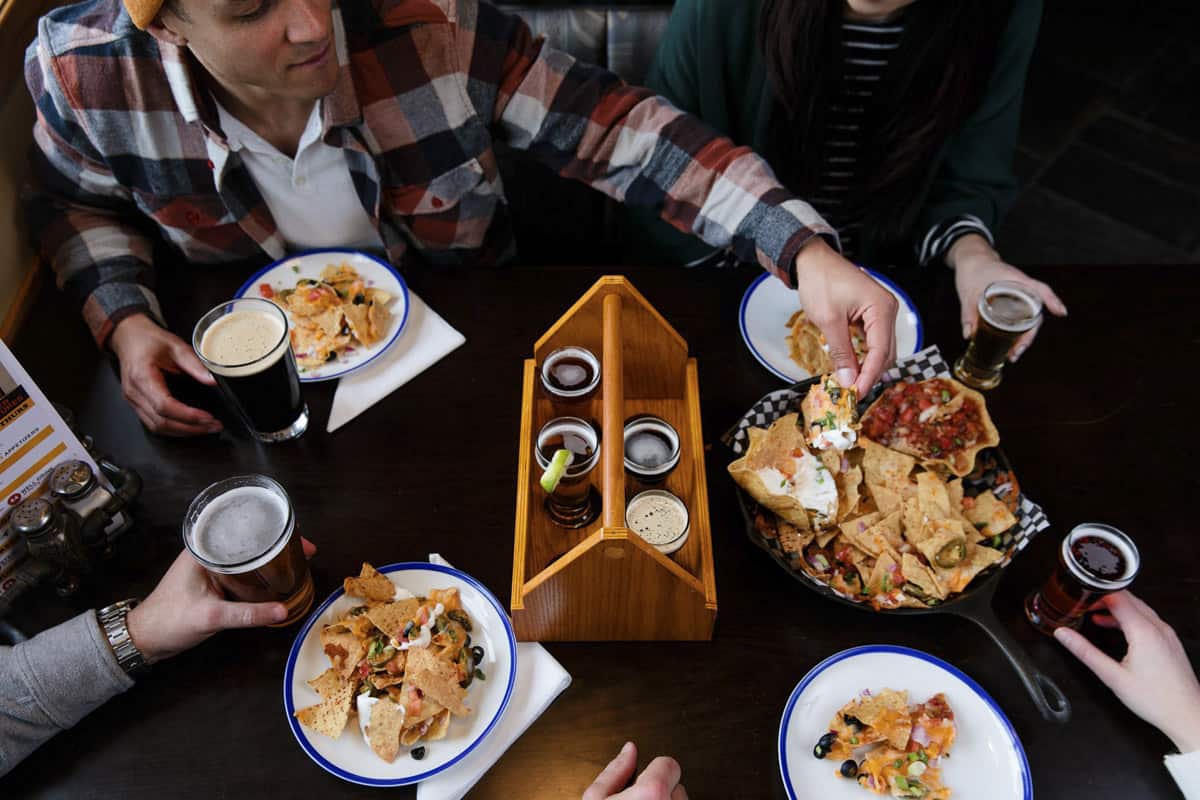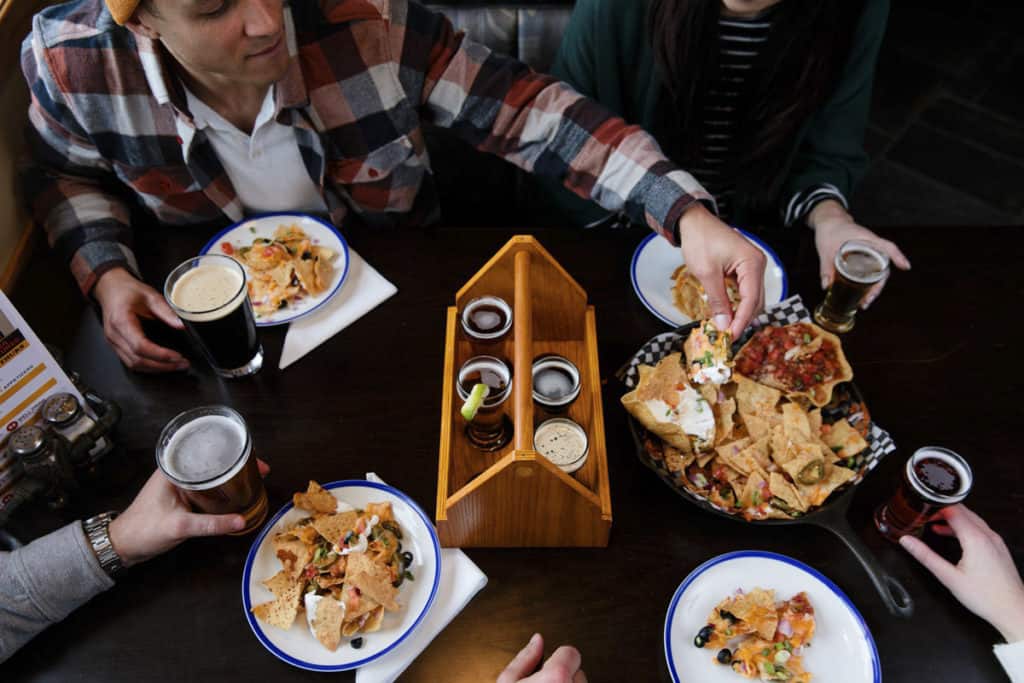 Listen to the fascinating history while going between four restaurants, sampling a specialty of the house dish and boozy beverage at each stop. The best part? The tour occurs throughout the year and the price is inclusive of everything so you can just meet new people and have fun!
Such a good afternoon enjoying local food and drink. Our guide Hilary was very informative about the local culture and History of Jasper. Definitely worth it for a great foodie and information gathering experience. Lots of laughs along the way 🙂

Review by Viator user Anya_S
---
---
Maligne Canyon Ice Walk
Go on an incredible guided journey through Maligne Canyon, allowing you to take in the towering limestone walls that stretch up hundreds of feet above the frozen river below. During the tour, in which you walk approximately 3.5 km, you'll learn about the canyon's geological history, explore incredible ice caves, and see frozen waterfalls and ice formations.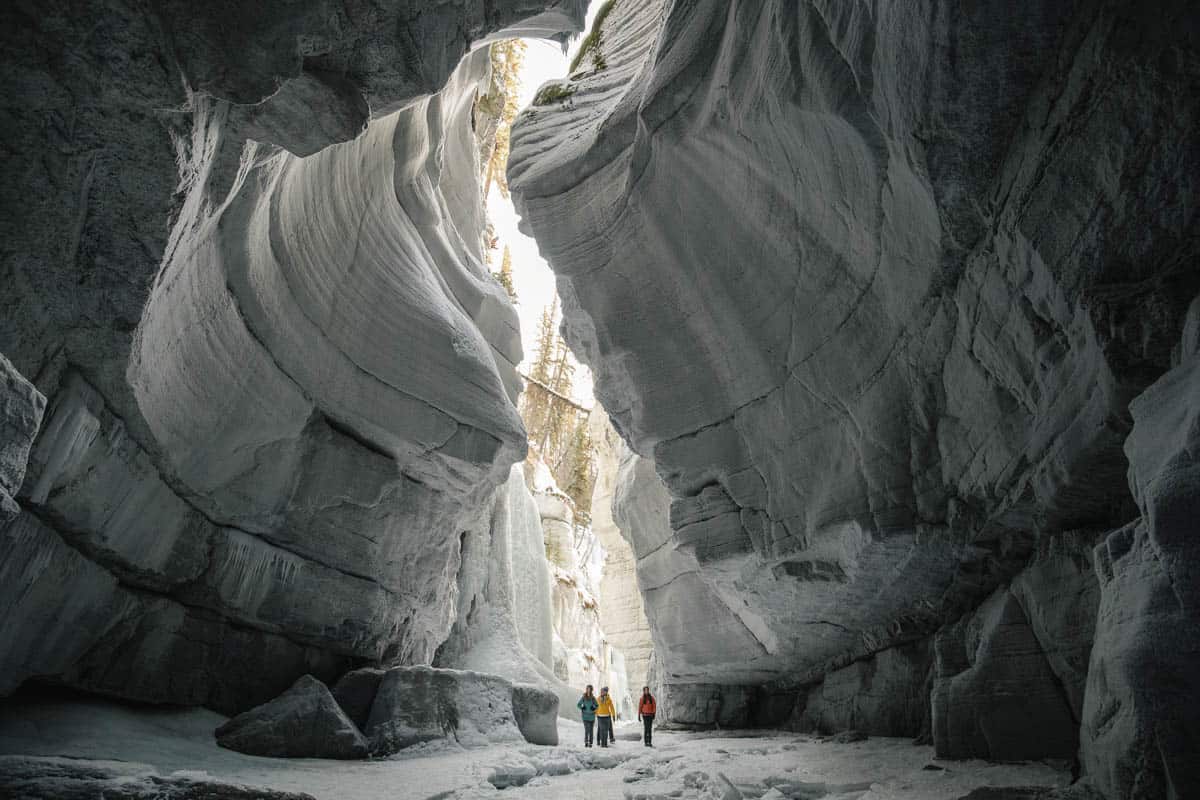 The guides are knowledgeable and friendly, and ensure that you have a safe and enjoyable experience. Warm boots and ice cleats will be provided, but you will need to otherwise dress for the weather. This is one of the most popular Jasper tours and is a great way to explore nature in winter in Jasper National Park while taking in some of the most beautiful views.
Steve our guide was excellent, very passionate about the Park and it's history. Beautiful views well worth the time.

Review by Viator user Rick_M
---
If you are basing yourself in Calgary, we can help you plan your stay: