Disclaimer: This page may contain affiliate links. Please review our full Terms and Conditions for more information and our Privacy Policy. Note that any pricing, operating hours, or other such information provided below may have changed since initial publication.
Compiled by the Road Trip Alberta team
Updated on February 2, 2023
Often overshadowed by neighbouring Banff, Canmore is a small city on the edge of the magnificent Canadian Rockies that is becoming harder to overlook. It began as a coal town but is now a large tourism magnet all on its own. It's a hub for several provincial parks like Kananaskis and Spray Lakes, where countless outdoor adventures can keep you busy for days. And with an impressive amount of things to do in Canmore itself, the town's attractions will cement your desire to return again and again.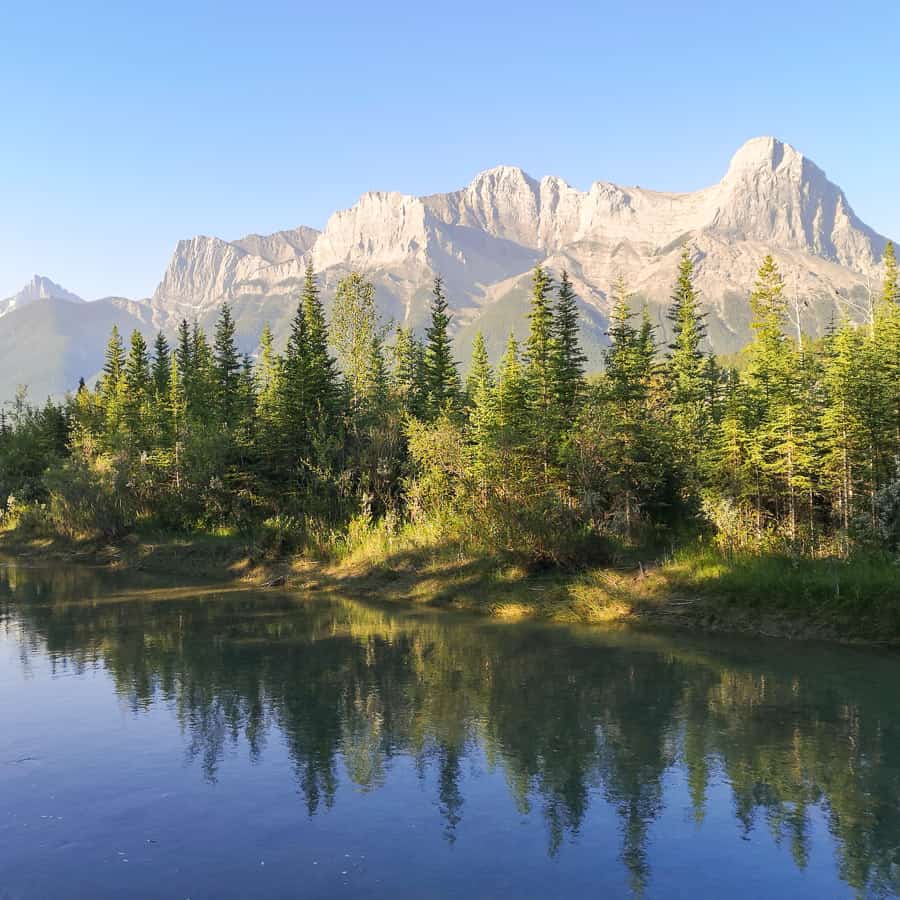 Being just a short drive from Calgary and outside of the confines of Banff National Park, Canmore attracts many day-trippers but also offers top-notch options to spend weekends or even weeks there, year-round. The world-class Canmore Nordic Centre offers prime cross-country skiing and other amenities; in summer, there are endless trails to hike or bike and even a thriving art scene for collectors to admire. And for such a small city, the number of choice eateries may surprise (and will undoubtedly delight).
Personally, Canmore has fast become one of our favourite places in Alberta to explore the Rockies without feeling part of an overrun tourist mecca. After spending a month there recently, we sampled a lot and have outlined many of our favourite stops and activities below.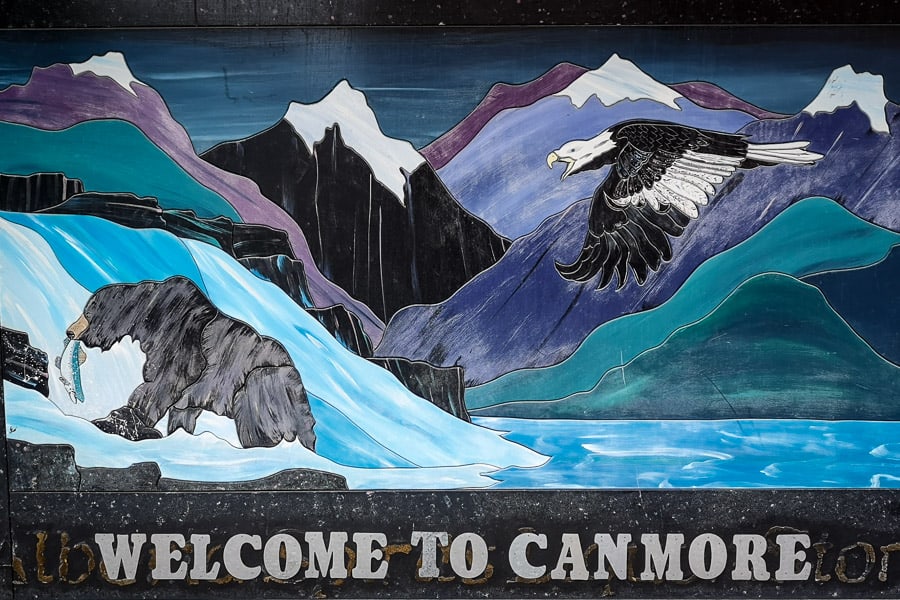 Acknowledgments
Canmore is located on the traditional lands of Treaty 7 Territory, including the Stoney Nakoda Nations of Wesley, Chiniki and Bearspaw; three Nations of the Blackfoot Confederacy: the Pikani, Kainai, and Siksika; and the Tsuu T'ina of the Dene people. Canmore is also shared with the Métis Nation of Alberta, Region III.
Getting to Canmore
Driving
The city of Canmore is located just off Highway 1, 103 km west of Calgary and just a few kilometres from the gates into Banff National Park. You can also take the more scenic route, Highway 1A from Calgary to Canmore, but it will add an extra 15 minutes.
It's also just a quick jaunt from Canmore to Banff. You can drive the 21 km in just a few minutes by car or head up the popular Legacy Trail on foot or bike if you're feeling energetic.
Shuttle or Bus to Canmore
There are several options to catch a shuttle or bus to Canmore. Options are available from the Calgary International Airport, Calgary downtown or other Calgary locations. The best companies to book transport with are Brewster Express, Banff Airporter and the Banff Express, all with one-way and return options available.
Roam Transit
Roam Transit is your #1 choice for transport within Canmore. It's the local public transit service, and Route 5 will get you from your hotel to throughout the townsite. Their Route 3 will also get you to and from Banff, and other options can get you to popular destinations such as Johnston Canyon, Lake Louise, and the Upper Hot Springs.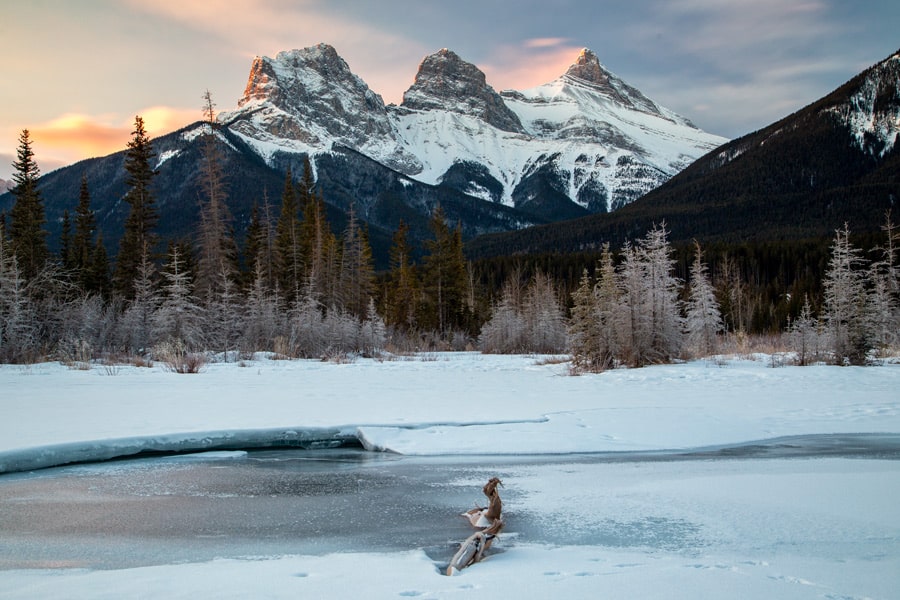 Take the guesswork out of planning your Alberta trip!
We now offer two ways to help ease the burden of travel planning:
We've developed ebook itineraries and travel guides for hot Alberta destinations and for a variety of 7-day trips. For one low price, you'll get local travel advice that you WON'T find elsewhere!
Want a custom trip tailored exactly to your needs? We are pleased to also offer a custom service for planning your Alberta vacation.
Accommodations in Canmore
Before you begin lining up your list of things to do in Canmore, plan for the rest and rejuvenation you'll desperately need after all of your activity! There are plenty of places to stay in Canmore; it all comes down to personal choice. Below are our recommendations.
Luxury
The Solara Canmore melds the charm of a backcountry ski lodge with all the amenities of an alpine resort. Whether you want to indulge at the on-site spa or warm up those muscles at the 'fabulously-rated' fitness centre before you hit one of the nearby hikes, Solara Canmore has a little bit of luxury for everyone. All rooms come with a fully-equipped kitchen, with access to a balcony so you can truly enjoy the natural beauty of Canmore.
Read Reviews | Check Availability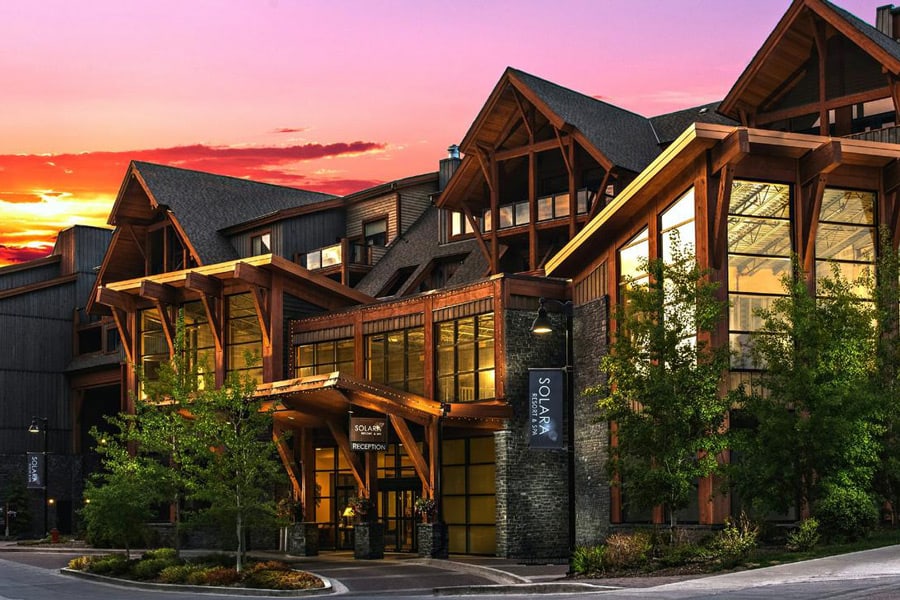 Mid-Range
Minutes from Banff National Park, the Canmore Lodge offers sweeping mountain vistas and cozy rooms. There are one, two, and three-bedroom fully furnished condominiums, each with its own fireplace and balcony. After a day of skiing, you can melt away those tired muscles in one of the year-round heated pools.
Read Reviews | Check Availability
Budget
Located just off the Trans-Canada Highway, you can wake up early at the Canmore Rocky Mountain Inn and head downtown (an 18-minute walk or 5-minute drive) to explore Canmore's quaint and quiet streets and still have time to make it back for your deluxe continental breakfast at the inn. Most offer a small patio or terrace to make the most of those gorgeous Canmore views.
Read Reviews | Check Availability
Get out of town!
Not precisely in Canmore, but the Mount Engadine Lodge is worth the drive! Nestled deep in Spray Valley Provincial Park, in the shadow of its namesake peak, Mount Engadine Lodge is the ultimate in remote luxury. Explore trails by day, and unwind with a massage and a sauna in the evening. Breakfast, lunch (bagged), and dinner (family table style) are included, and the lodge is accessed by car, or, if you have the means, via helicopter.
Read Reviews | Check Availability
Want more options? We've got an entire guide on the best hotels in Canmore for all budgets.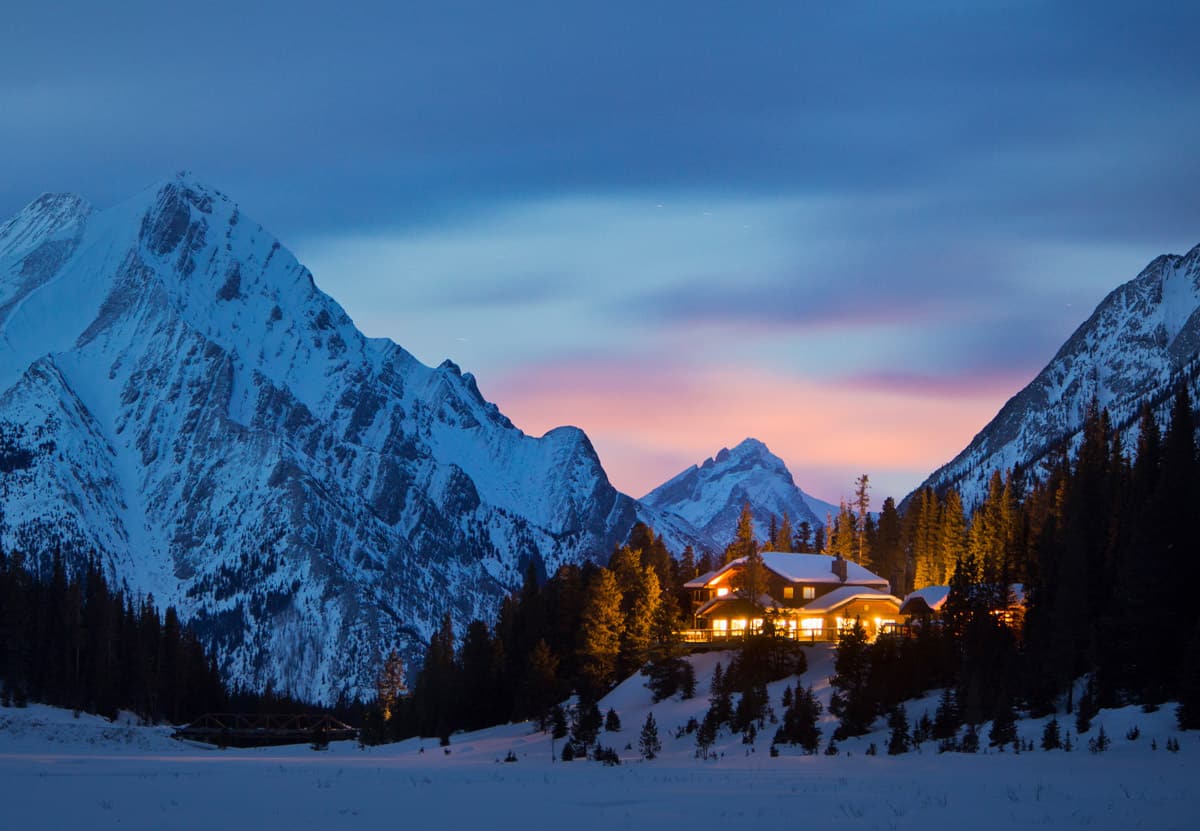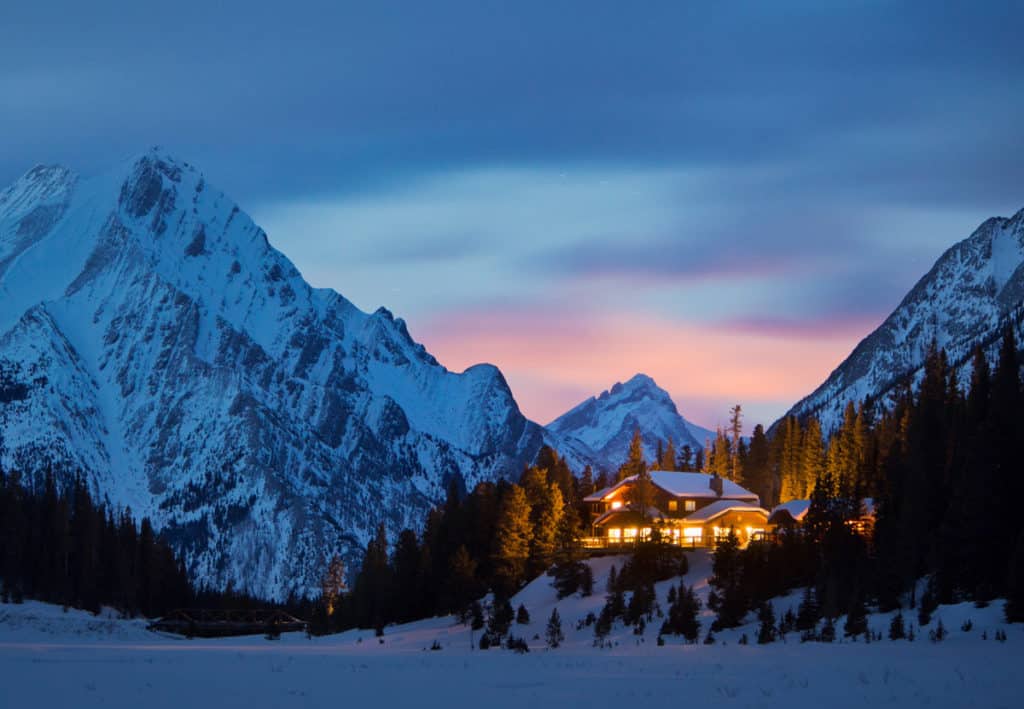 Canmore Airbnb
Canmore is one of the few towns we know of in North America with specific rules around Airbnb (if you're interested, read more about it here). We've used Airbnb in Canmore before without issue, though, and there are many great places to stay! Start your search here.
Camping in Canmore
If you want a bit more of a nature-filled experience for your time in the Rockies, numerous campgrounds surrounding Canmore are certainly worth a look. Starting June 1, 2021, visitors to this area (Kananaskis) will require a Kananaskis Conservation Pass. The pass is $15 per day or $90 per year + GST per vehicle while visiting Kananaskis and the Bow Valley corridor. Details about the pass are available here, and you can buy your pass here.
Bow Valley Campground – Located about 30 km east of Canmore, just north of Hwy. 1 off Hwy. 1X, Bow Valley offers well-treed sites with scenic mountain-meets-valley views. There are six walk-in tent-sites (unserviced), 131 serviced (water, 15 – 30 amp-powered) sites, and 36 unserviced sites. –> Reserve a Spot
Wapiti Campground – Operating year-round, with 362 summer sites and 75 winter camping sites, Wapiti offers private spots along the Athabasca River. Great for both tenting and RVing, there are plenty of lots with electrical hookups and fire pits and hot showers available. –> Reserve a Spot
Spray Lakes West Campground – Deep in the heart of Spray Lakes Provincial Park, the West Campground is tucked along the quiet shores of Spray Lakes Reservoir. There are 50 unserviced sites suitable for both RVs or tents, with a water pump, firepits, and secure food storage available. This is a first-come, first-served location open from June 1 to September 20. –> Reserve a Spot
Want to review more options? Check out our post on the best Canmore camping spots.
Things to do in Canmore
We have spent a lot of time in Canmore in both the summer and the winter. There is no shortage of activities in this small alpine city and our first attraction is always the beautiful trails we can trek with our hiking boots on. But trade those boots for bikes or skis and your to-do list just grew a bunch more!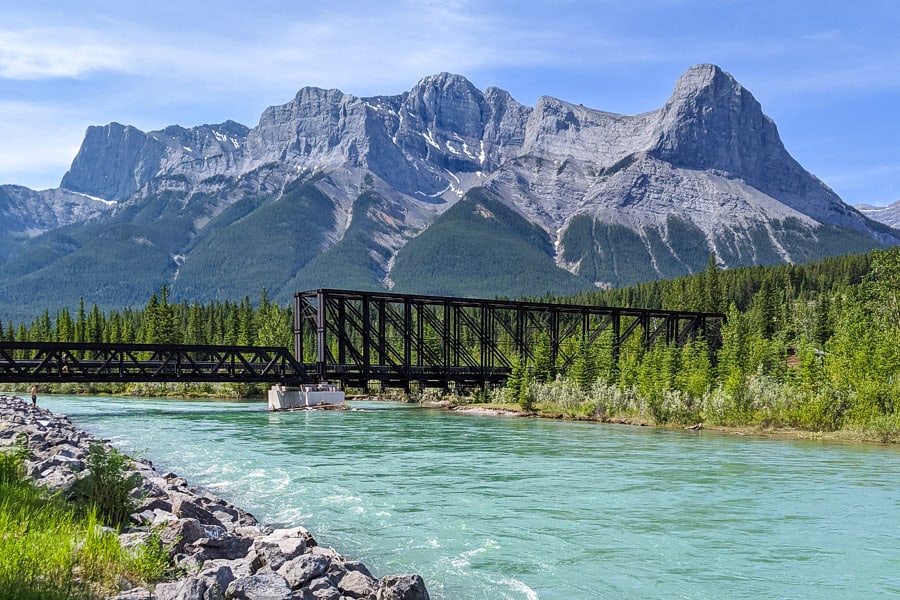 Walking Trails in Canmore
There are many walking trail options in Canmore to keep your feet busy in the area – so much so that you can almost walk across the city without touching pavement! Here are a few of our favourites:
Policeman Creek Boardwalk – The name says it all. Easy as walking the beat in a city, this paved/boardwalk trail is a leisurely out-and-back 3.9 km hike with moderate traffic. This trail is wheelchair-friendly, offers a host of activity options for families, and your four-legged friend is welcome to come along as long as they're on a leash. A bonus is that this walk is easily done in winter without snowshoes!
Bow River Loop – A gentle 2.1 km loop, this paved trail crosses Canmore Engine Bridge for a quick taste of nature, then loops back into town. The path is excellent for a morning warm-up jog before you hit the Nordic Centre or a pleasant evening stroll after a delicious meal at BLAKE's.
Larch Island Loop – One of our favourite things to do in Canmore! For a quiet, relaxed walk, wander around Larch Island, which passes right next to the babbling Bow River. If you're lucky enough to visit during the fall when the larch trees – or Tamarack trees as our southern neighbours call them – turn gold, then you're in for double the treat!
Trans Canada Trail – Canmore's own slice of the Trans Canada Trail, this 6.1 km path follows along the Bow River and is best from May through October. The trail begins just north of Bow River Campground and ends in Canmore, just north of Rocky Mountain Flatbread (how convenient 😏).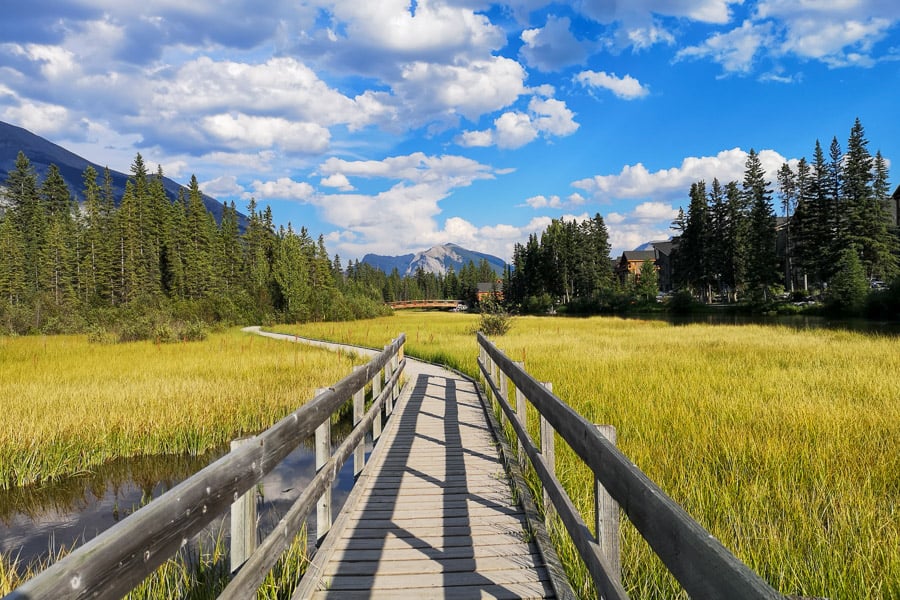 Hiking in Canmore
There are plenty of options for Canmore hikes in the area (and hikes in Kananaskis country) for all skill levels. Whichever hike you choose, remember to respect nature by bringing out what you bring in, don't feed the wildlife, and be bear prepared (carry bear spray and know how to use it). Note that as of June 1, 2021, enjoying all of these hikes will also require the purchase of the Kananaskis Conservation Pass.
Here are some of our favourite hikes:
Grassi Lakes – Forests, meadows, waterfalls – and cap it all off with a glimmering turquoise lake? The answer is yes. This 4.3 km trail is great for every skill level and is the perfect hike to do with the family or your trusty canine (or feline😉) companion. It can be done out-and-back or via a loop; we recommend taking the "harder" way up and the "easier" way down. The "harder" way is substantially more scenic but only slightly more difficult.
Ha Ling Peak – One of the top things to do in Canmore, for epic mountain peak views fit for the heartiest 'scrambler', head for Ha Ling's summit. This 7.2 km hike gains you nearly 800m of elevation. If summiting isn't your game, you can still make it to the Ha Ling Saddle, located 3.5 km in. For an alternate route, take the split in the path to Miner's Peak and share the trail with far fewer people.
Grotto Creek Canyon – At just over 4 km roundtrip, Grotto Creek is a quick and breezy out-and-back hike. There's tons of scenery, including forests, gorgeous canyon walls, a creek, and even a charming waterfall. It's the kind of trail even your hike-hating partner can't help but like. You can even hike this area in winter! Just be sure to wear ice cleats – when you're walking directly inside Grotto Canyon, you will literally be on a frozen creek.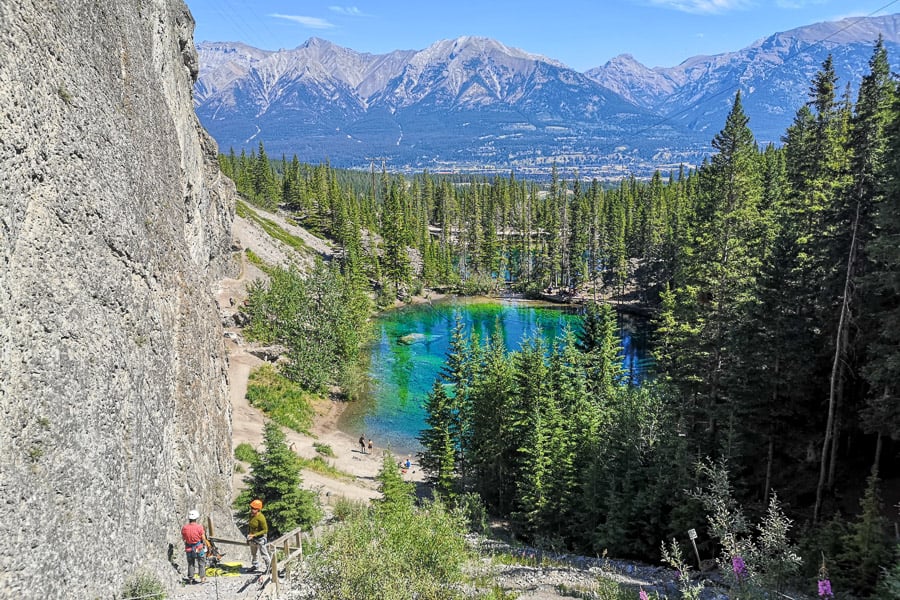 Caving in Canmore
Rat's Nest Cave, a Provincial Historical Resource with significant archaeological importance (including ancient pictographs and 7,000 year old bones) can be explored on this full-day tour. It is one of the longest caves in Canada (at 4km) and is not for the faint of heart. But if you are up for a big adventure underground where you will rappel, crawl, slide, hike uphill, and end at a crystal-clear pool with stalactites and stalagmites – then you WANT to do this!
Bikes Trails in Canmore
Bikes are everywhere in Canmore and in this town, almost any trail can be considered a biking trail. You'll see cyclists on any of the walking trails we mentioned above (except for the Larch Island Loop).
Canmore Nordic Centre – Craving some adrenaline with your nature? You got it. The Canmore Nordic Centre boasts a network of mountain biking, hiking, and cross-country skiing trails for every skill level, from beginner to advanced. To wind down your day, head out for a relaxed paddleboard on Rundle Forebay.
Banff Legacy Trail – Connecting Canmore with Banff, this 26km paved biking path will make you earn your trip to Banff Brewing. Enjoy gorgeous mountain views on the ride up to Banff, take a wander around town, then head back for a leisurely downhill ride back to Canmore.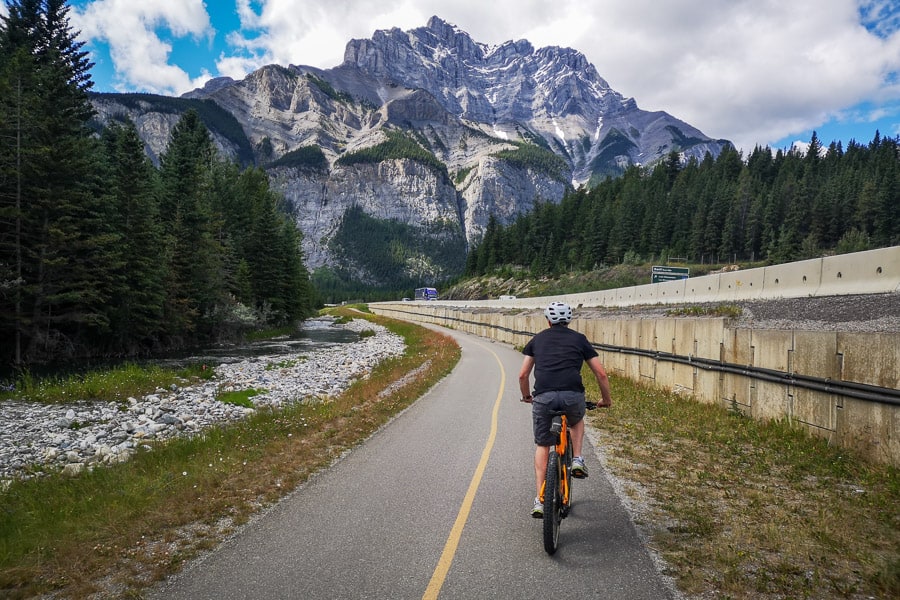 Canmore Museums & Galleries
It's easy to understand why creative minds are drawn to Canmore. If you're interested in art, you can set your eyes on murals throughout the town or duck into many of the galleries and studios scattered throughout. Our favourites include the Carter-Ryan gallery (owned by two very lovely people) and artsPlace. For something incredibly quirky, take a few minutes to visit the Curbside Museum, but be careful not to walk right by it as this tiny space is easy to miss.
Shopping
Support the local economy by adding shopping to your "things to do in Canmore" list – options are more than plentiful in this charming mountain town, especially around Main Street (8th Street). With everything from vintage threads at Hello Vintage, to sporting equipment at Switching Gear, you're bound to find everything you need – and more! If you're fortunate enough to visit during the summer months, you'll be delighted on Thursdays at the Canmore Mountain Market where you can find unique local products, art, gifts and more!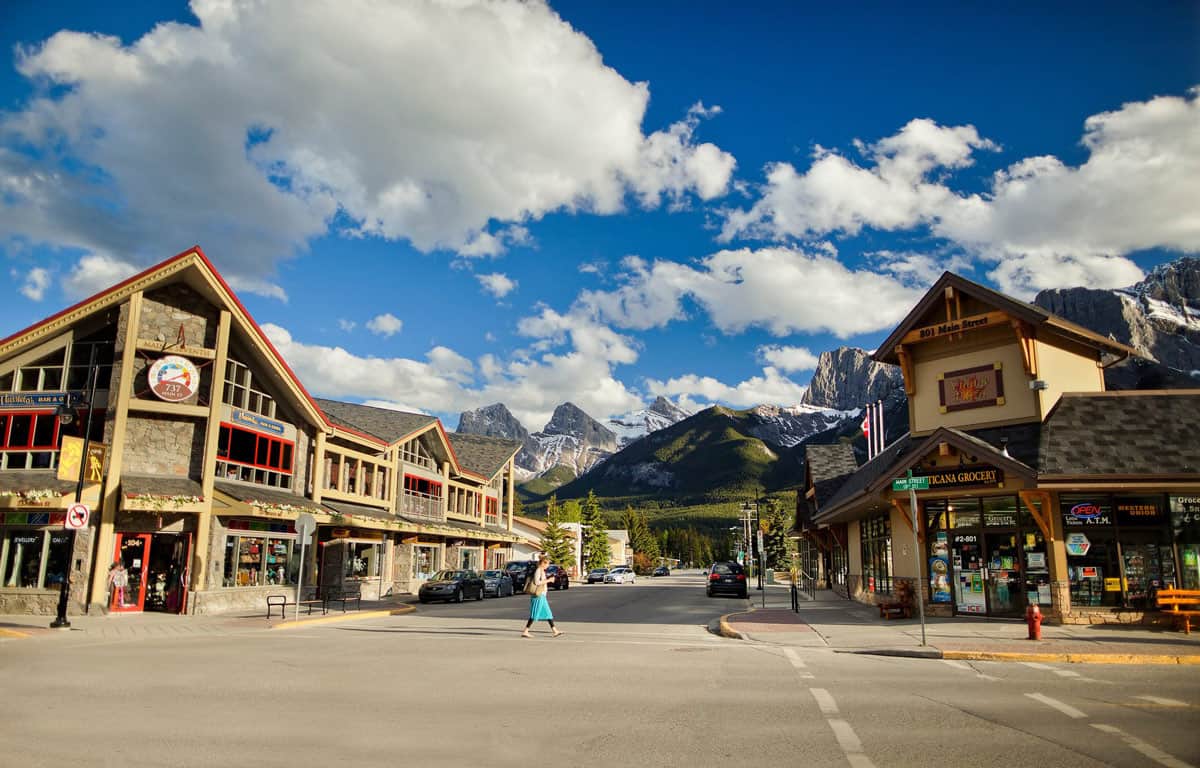 Festivals in Canmore
This small mountain town offers big excitement with some renowned festivals. Especially don't miss the Canmore Folk Music Festival at the end of July and the Canmore Winter Carnival in late February for ice carving competitions, beaver tails eating competitions, a fun dog parade, log sawing, and so much more.
Canmore Spas
Sure, mountains inherently offer rejuvenation, but why not treat yourself to a Canmore massage at Bodhi Tree Spa in the Silver Creek Lodge? Their Thai/India-inspired full-service Aveda-concept offers luxury treatments, including massages, body wraps, facials, and mani/pedis.
Or if you're feeling tight from that recent hike, then head to One Wellness for an in-depth body treatment. Staffed by massage, physio, fitness, and sports medicine therapists, this spa is your one-stop-shop for rejuvenation and repair!
Golfing in Canmore
Every golf course in Canmore will take your breath away with towering mountain views and alpine trees. Golfers have three options that are some of the best Alberta golf courses: Stewart Creek Golf Course, Silver Tip Golf Resort, and the historic Canmore Golf Club which was founded in 1926.
Each course has been sculpted into the Rocky Mountain landscape, each course will give golfers the alpine golfing experience. A word of caution, besides being distracted by all the surrounding beauty, it is recommended to bring bear spray (and know how to use it) in case of a bear encounter on the course.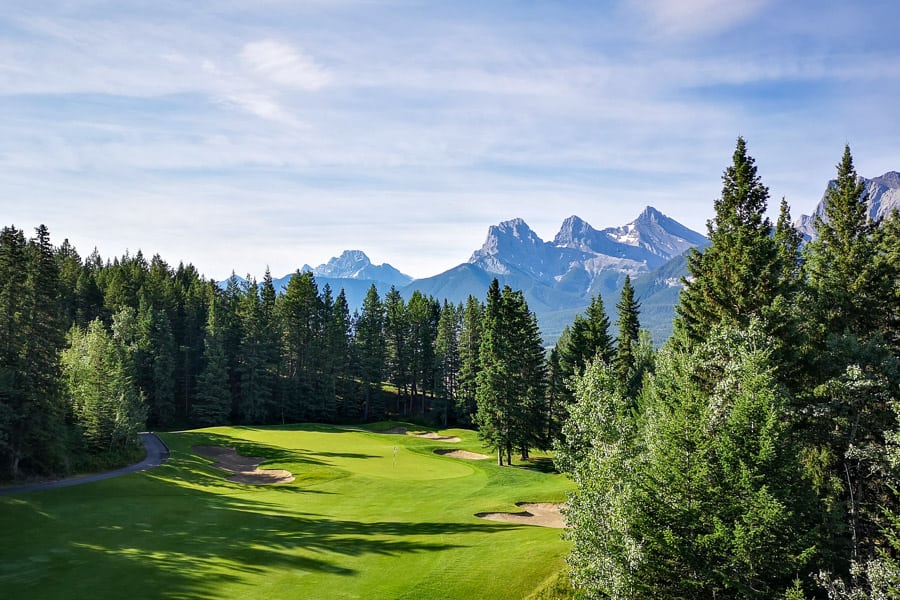 Downhill Skiing in Canmore
Although there is no official ski hill in Canmore, it is an ideal place to stay (and to apres-ski) for access to all the big hills in Banff National Park and to Nakiska in Kananaskis.
Here are the distances to the major ski hills in the area:
For more information, check out our full guide to skiing in Alberta.
Cross-Country Skiing in Canmore
Considering that Canada's Olympic team trains here, it's easy to understand why cross-country skiing is one of the top things to do in Canmore. The Canmore Nordic Centre is the perfect place for any skill level from beginner to advanced to strap on a set of skis and get in a good workout. There are also plenty of trails to explore on skis throughout the city and surrounding area.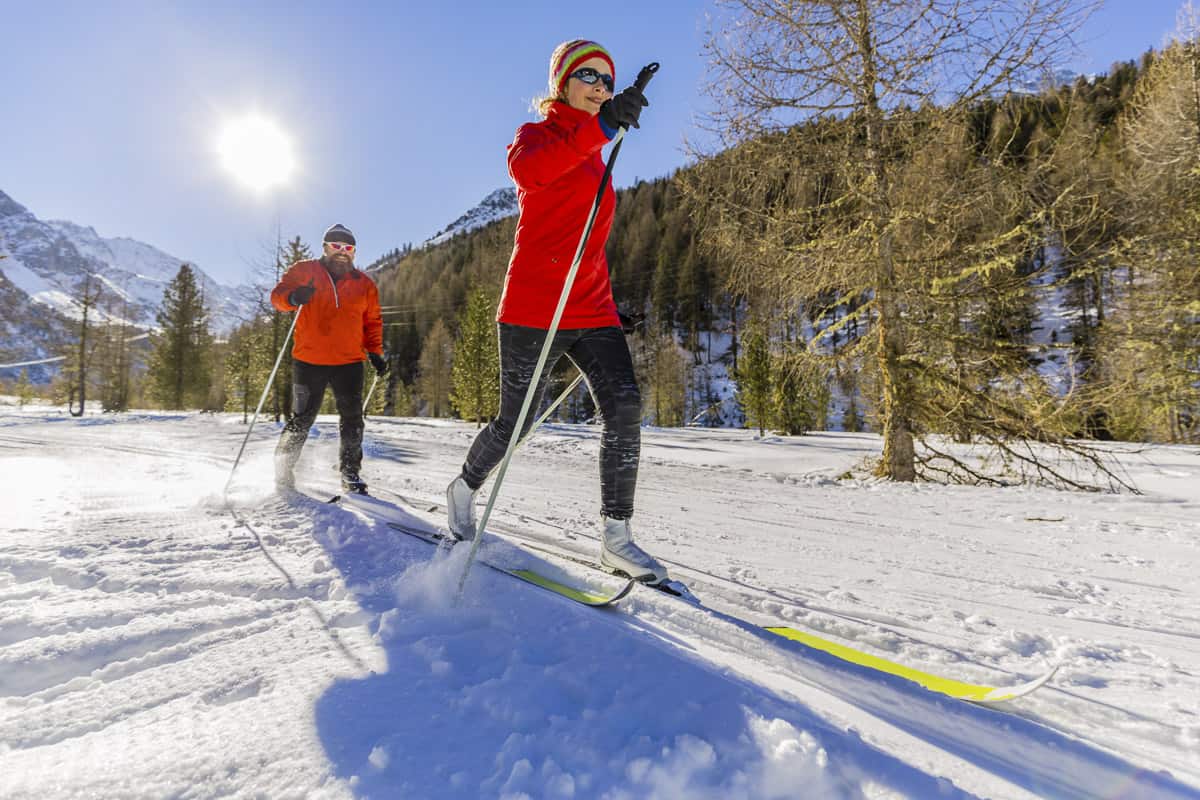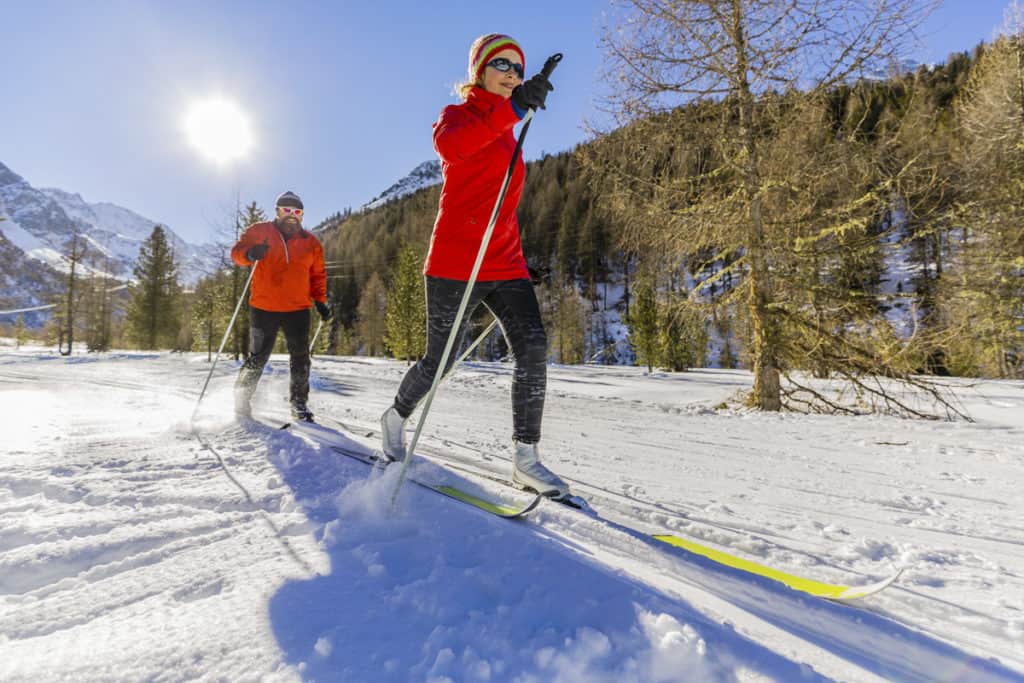 Outdoor Skating
Enjoy the commonly blue-bird skies of winter by grabbing your skates and heading outside – Canmore and the surrounding area have numerous places to go ice skating. Start at the Canmore Town Pond (along 7th avenue, close to downtown), or if you're okay with a bit of a drive, head up the Smith Dorrien Trail to Spray Lakes for an exceptionally scenic backdrop as you glide across the frozen ice.
Dog-Sledding
Want a thrilling Rockies experience? Enjoy gliding along pristine mountain trails while others (excitable and run-loving husky dogs!) do all the work. You can snuggle under blankets in the sled, or stand with your feet on rails and help guide the highly-trained dogs along the trail. There are several companies that offer this experience – Snowy Owl Sled Dog Tours is the most highly-rated in town. (Consider this our top recommendation for a romantic trip in Canmore – book it for Valentine's Day in February!)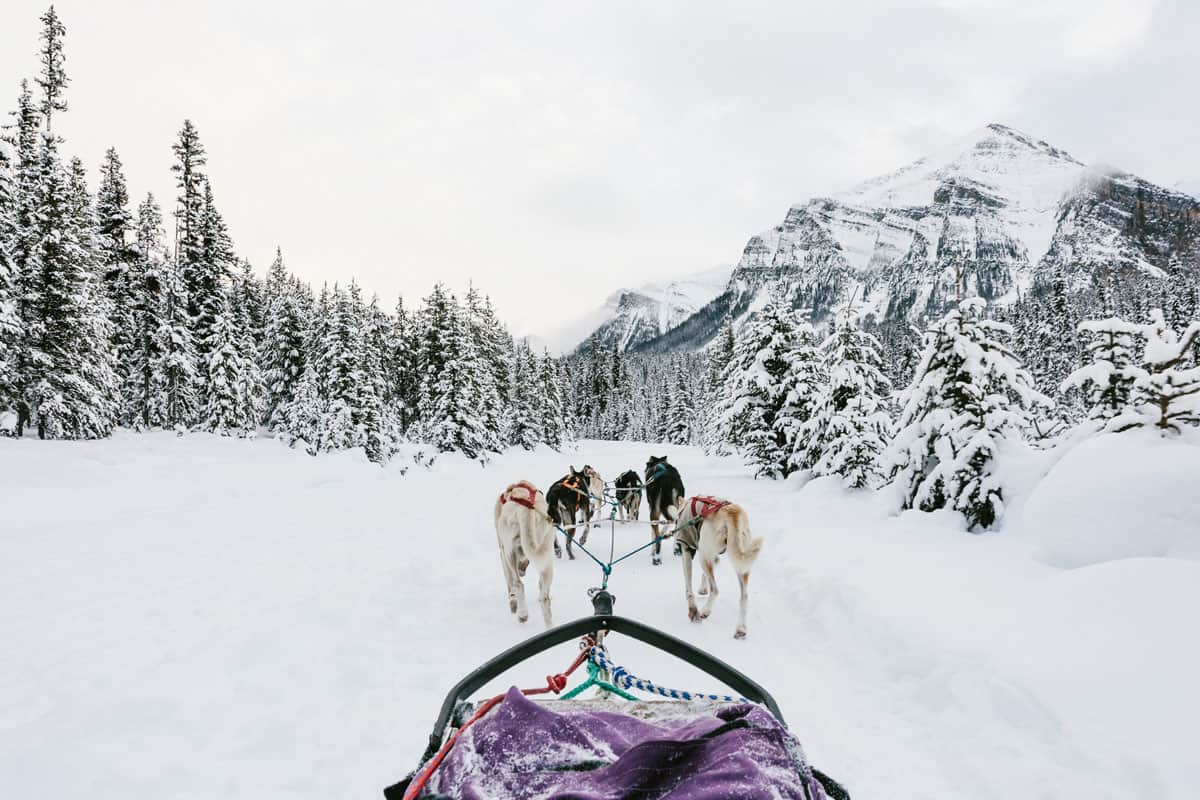 Where to eat in Canmore
It's a hard task, narrowing down restaurants to recommend in the area, but we hungrily accepted the challenge! We've got an entire guide to the best Canmore restaurants, as well as awesome Canmore breakfast spots, but also a smaller selection below. For a relatively small place, the number of delicious options is undoubtedly enticing. One of the most epic things to do in Canmore is just to sit and eat your face off!
Sauvage
Low-lighting combined with Spanish small plates and lively Latin music? That's a recipe for romance. Bring your favourite someone to Sauvage (formerly known as Tapas Restaurant) for a charming, cozy evening of old-country wines, an intimate atmosphere, and tapas-style plates that will leave you full, but feeling light enough to get up and dance.
Red Rock Pizza
Devour piping hot pizza while you take in the Three Sisters Mountain range on Red Rock's quaint patio space. Known for their creative twists on classics, like 'Wicked Chicken' and our favourite – the 'Buddha Gouda' – Red Rock Pizza is a sure hit if pizza is what you're craving after wandering around downtown Canmore.
Bella Crusta Foods
A local favourite, Bella Crusta makes their own focaccia bread each day for deliciously fresh sandwiches. Also known for its chicken salad, this old-school sandwich shop offers a casual dining experience and is great for those looking for hearty food at a reasonable price. Be sure to try their lemonade, too!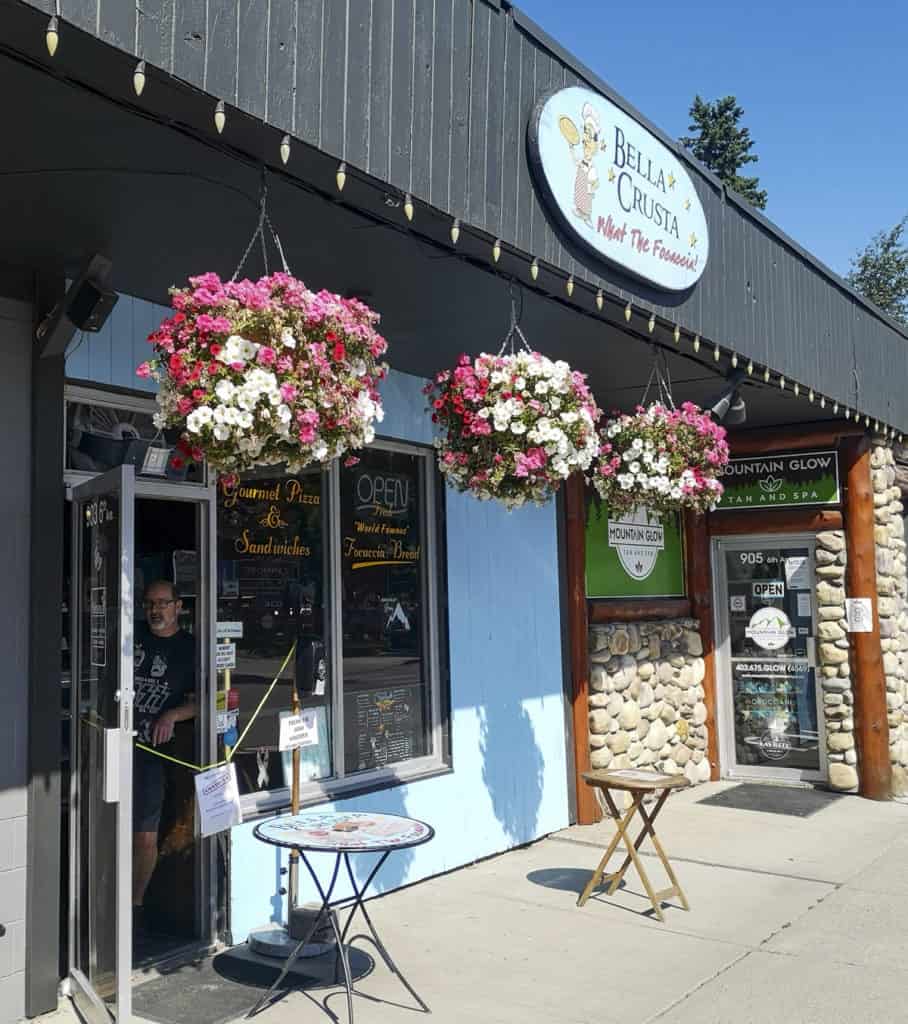 Tavern 1883
This rustic, down-to-earth space is known for its solid service, good food, great drinks, and its cozy atmosphere. Designed around an early 1900's home, Tavern 1883 feels like you've stepped back into the past – but with a much more versatile food and drink menu (thank goodness).
Grizzly Paw
With over 25 years of brewing experience in Canmore, the Grizzly Paw Pub and Brewing Company is a top place to go if you want to sample some of the best local beer in the Canadian Rockies. Their beer encompasses everything from raspberry wheat ales to a malty red ale. You can also book in advance for a brewery tour! Grizzly Paw also makes their own sodas using cane sugar and mountain-fed water, so you can bring the entire family to enjoy the pub. The restaurant offers standard pub fare of burgers, salads, fish and chips, and more.
Harvest Cafe
Where hearty meets healthy, Harvest Cafe is the spot to hit for a quick and delicious bite. They make all of their soups and sauces (which are always gluten-free) in-house, as well as their freshly baked, ooey-gooey cinnamon buns. Vegan and gluten-free options are available for their wraps and paninis.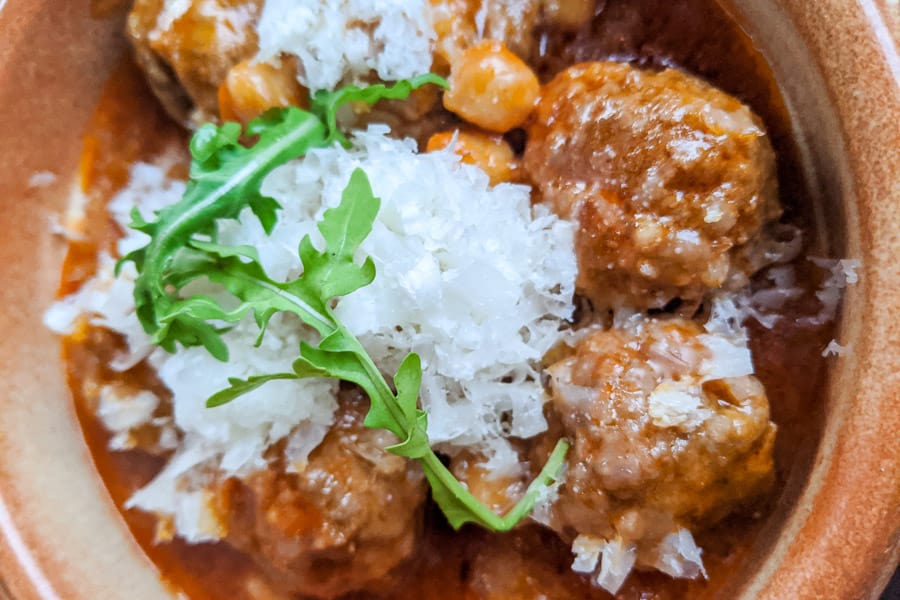 If you're basing yourself in Canmore, you are very near to Banff National Park, so don't miss out on all the best things to do in Banff.
Chances are, you might be making your way to the mountains after landing at YYC, so we suggest also taking a few days to enjoy all the things to do in Calgary.
And don't forget about our FREE Road Trip Alberta bingo cards! They'll be sure to add another dose of fun to any road trip in this beautiful province.