Disclaimer: This page may contain affiliate links. Please review our full Terms and Conditions for more information and our Privacy Policy. Note that any pricing, operating hours, or other such information provided below may have changed since initial publication.
Compiled by the Road Trip Alberta team
Updated on February 6, 2023
Many people who visit Alberta immediately look west. And we can't blame them – the Rocky Mountains possess an interminable draw. But it would be a mistake to do so repeatedly and not turn attention to the east. It's where the Canadian Badlands stretch out across the prairies, where dinosaurs used to roam, and where there are so many things to do in Drumheller, the town that sits at its epicentre.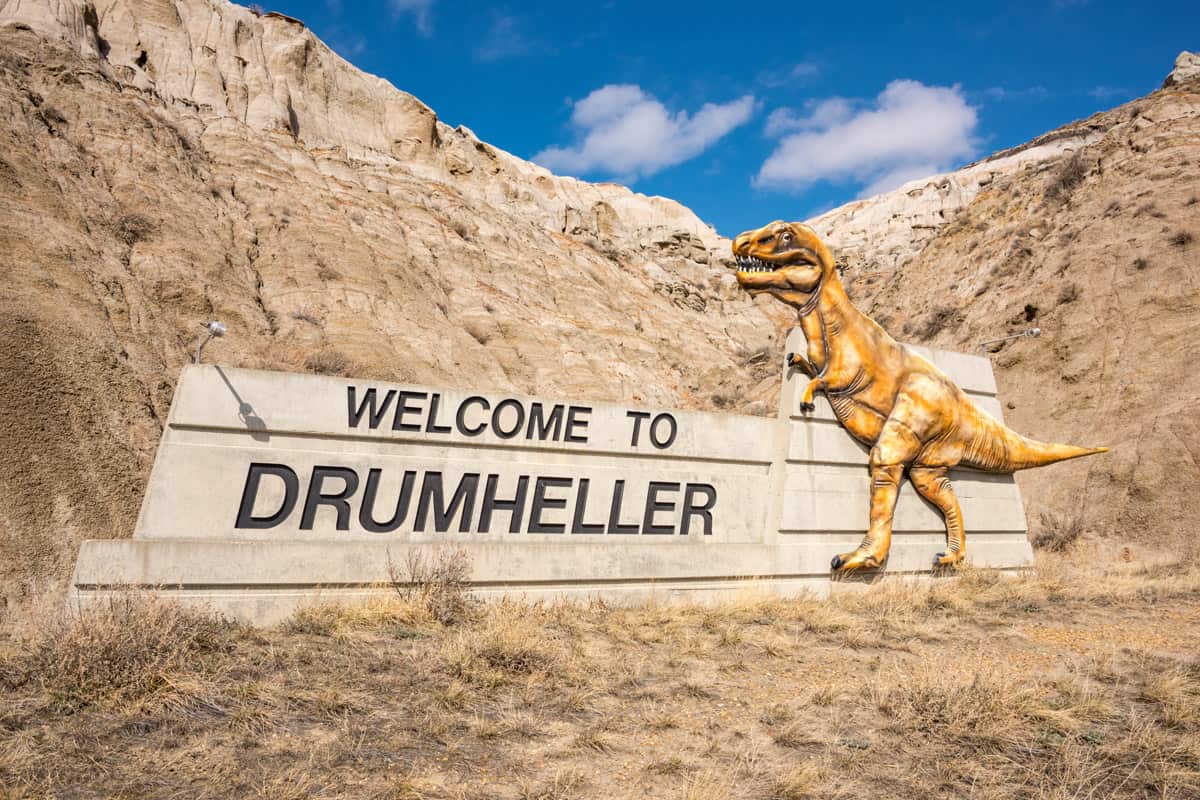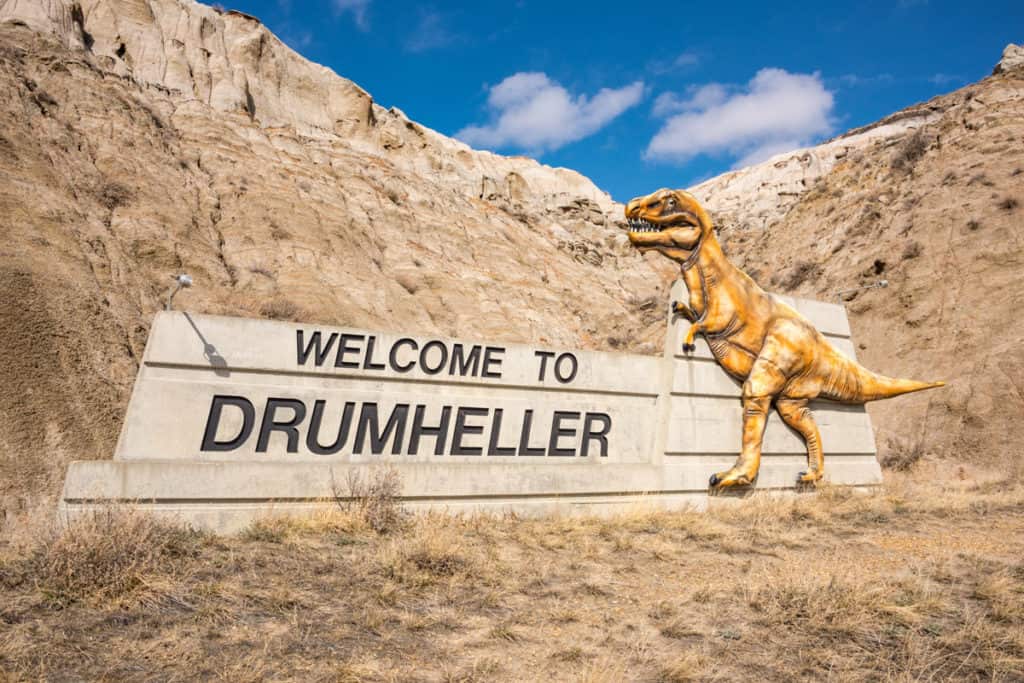 It is nearly all dinosaurs, all the time, as Drumheller is home to the world-famous Royal Tyrell Museum. It is Canada's one and only museum dedicated to paleontology. There are so many creative and fun experiences apart from the museum. Try spotting all the dinosaur statues around town, including the world's largest (you can't miss it!) It's a fun way to spend a few hours or even a few days.
The geology of the Badlands themselves is a marvel. Have you ever hopped on a hoodoo? Probably not, if you haven't been to or around Drumheller, but trust us and add it to your bucket list.
Our complete guide to what to do in Drumheller gives you all you need to know, including how to get here and enjoy this goodness in the Badlands.
About the Town
Acknowledgments
The land on which Drumheller is located is Treaty 7 territory and the traditional territory of the Niitsitapi (Blackfoot), Nakoda (Stoney), and Tsuut'ina.
History of Drumheller
The area around Drumheller was once a tropical paradise full of flora and fauna, and dinosaurs flourished here.
Drumheller was first a railway station and was first incorporated as a village in 1913. It was then recognized as a city in 1930. It started as a coal-mining town and boomed until after WWII. In 1998 it amalgamated with the Municipal District of Badlands and reverted back to town status.
Today Drumheller is a hot spot for dinosaur tourism and the agriculture industry. The community is known for its hospitality and sunny days.
Fun fact: The first part of the Albertosaurus was found in the Drumheller area all the way back in the 1880's!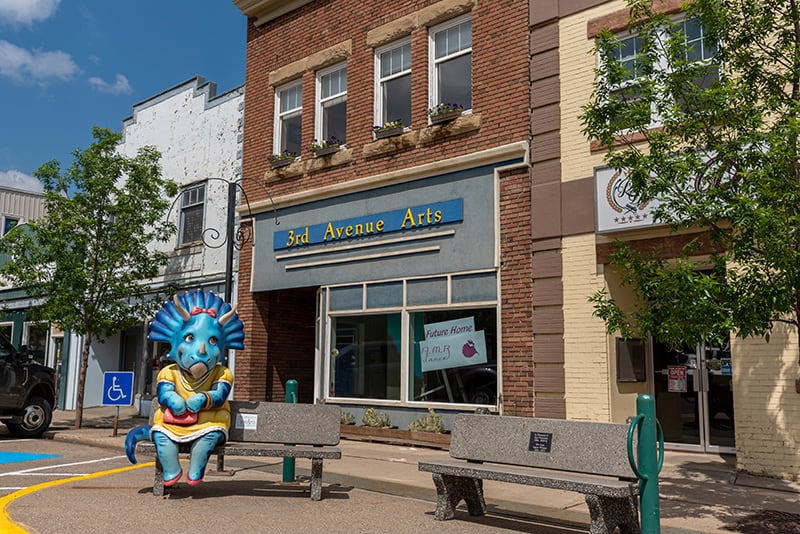 Where is Drumheller?
Driving east through southern Alberta's rolling prairies, the fields will suddenly give way to steep and colourful coulees! The Drumheller Valley is the heart of the Canadian Badlands.
Getting to Drumheller
By Car
Calgary to Drumheller
The fastest driving route from Calgary to Drumheller is 135km and takes approximately 1.5 hours. From Calgary, take Highway 2 north to Balzac, then head east on highway 566. At Keoma, take highway 9 north, and this will bring you directly into Drumheller.
Edmonton to Drumheller
The fastest route from Edmonton to Drumheller is 281km and takes approximately 3 hours of driving. From Edmonton head south down Highway 21 to Bashaw then head east before turning south on Highway 56. Follow highway 56 through Stettler and then south directly into Drumheller.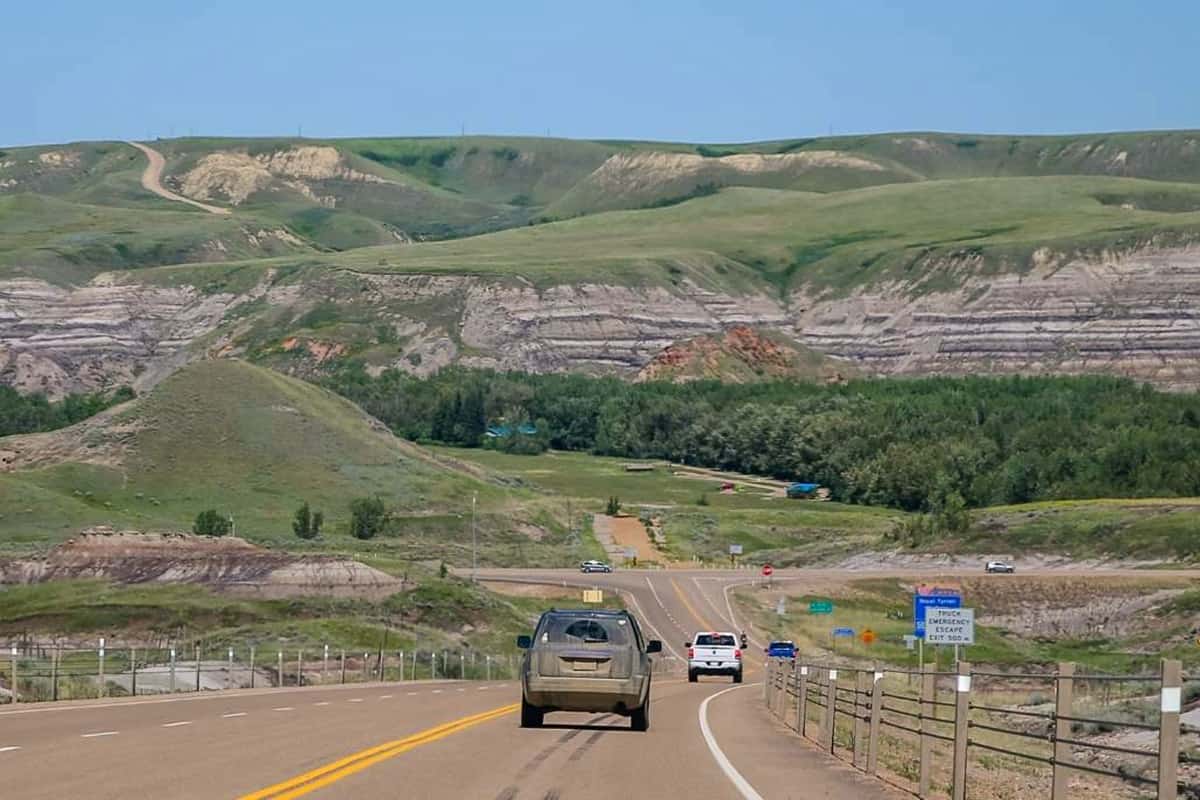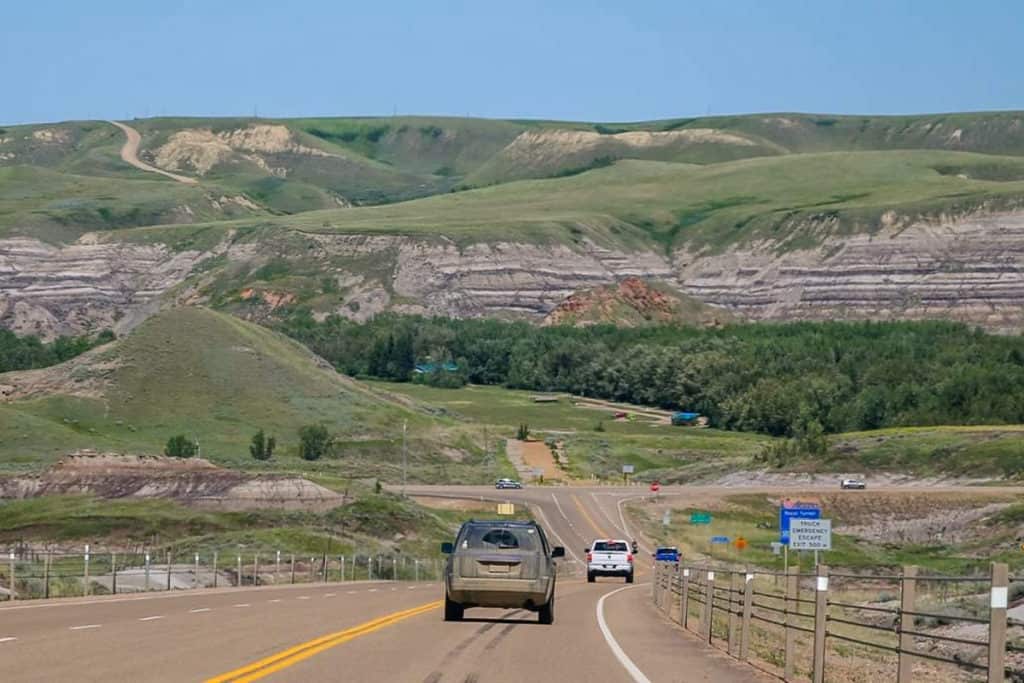 Lethbridge to Drumheller
The fastest route from Lethbridge to Drumheller is 262km and takes approximately 3 hours. From Lethbridge, head north on highway 23 to Mossleigh. Next, head east towards Highway 1 before turning north on Highway 56, which will take you into Drumheller.
Medicine Hat to Drumheller
The fastest route from Medicine Hat to Drumheller is 246km and takes approximately 2.5 hours. From Medicine Hat, take the Trans-Canada (Highway 1) east to Highway 56. Then, turn north and continue directly into Drumheller.
For more detailed instructions, check out our guide on how to get to Drumheller.
If you don't have your own car, there are generally many rental options from wherever you may want to originate in Alberta! We recommend booking via RentalCars.com, to select the cheapest rate or to book with whichever company you prefer.
Looking for some fun things to do along the way? We've got a whole article themed on Alberta Badlands road trips that will be sure to fill you with ideas.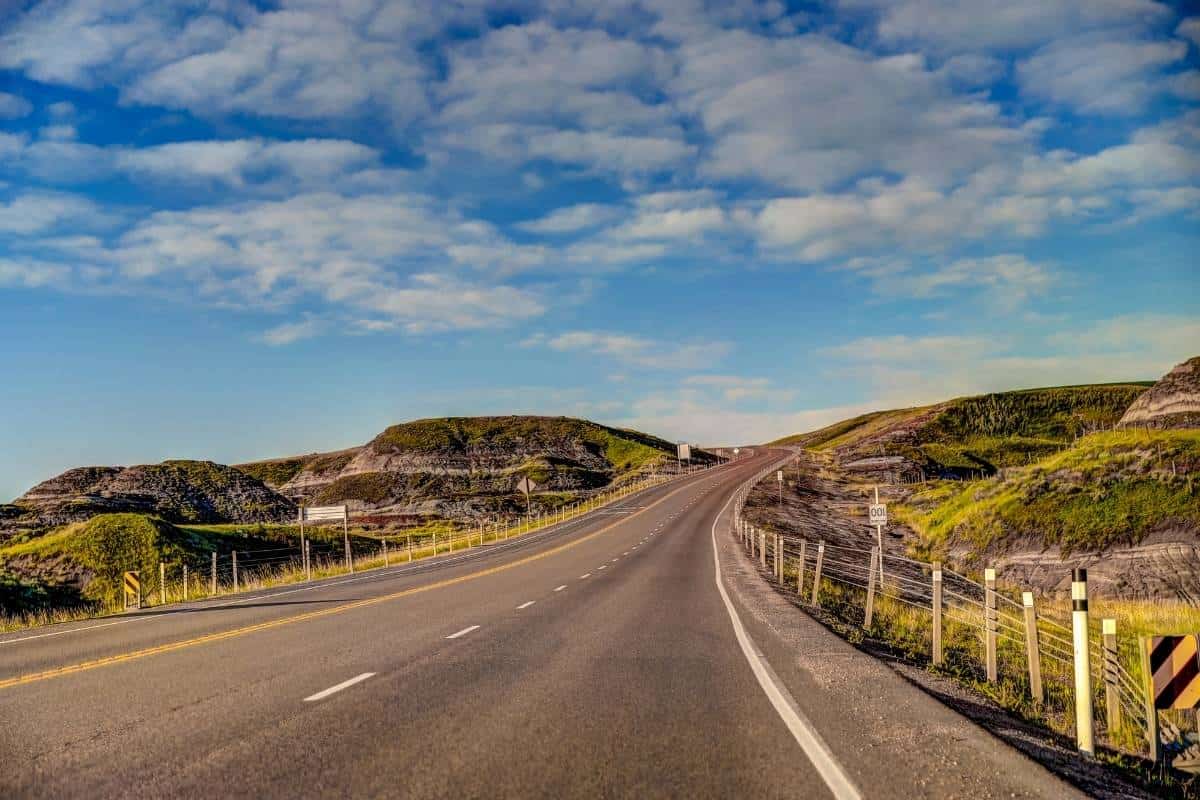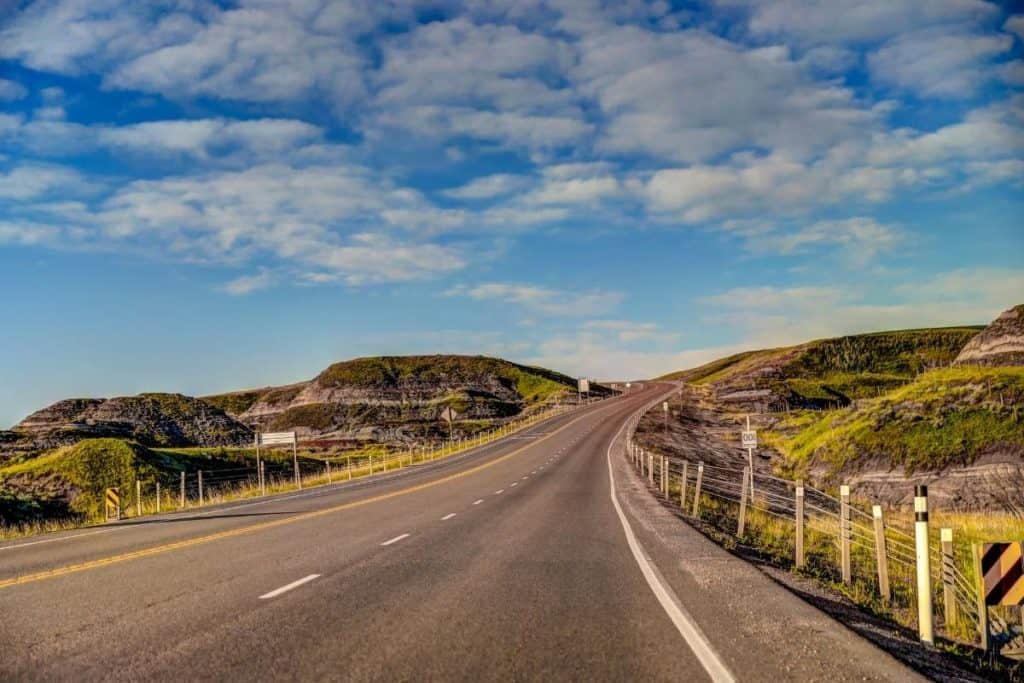 By Plane
The closest airport to Drumheller is Calgary International Airport (YYC). For directions on how to get from YYC to Drumheller, check out our guide on how to get to Drumheller.
Note that Wild West Badlands Tours acts as a Taxi service from the Calgary International Airport. They can help you get to and from town.
By Bus
There are currently no direct bus routes from Calgary and Edmonton to the Drumheller area. Some taxis will take you from Calgary, but finding willing drivers elsewhere can be challenging. See our travel to Drumheller guide for more information.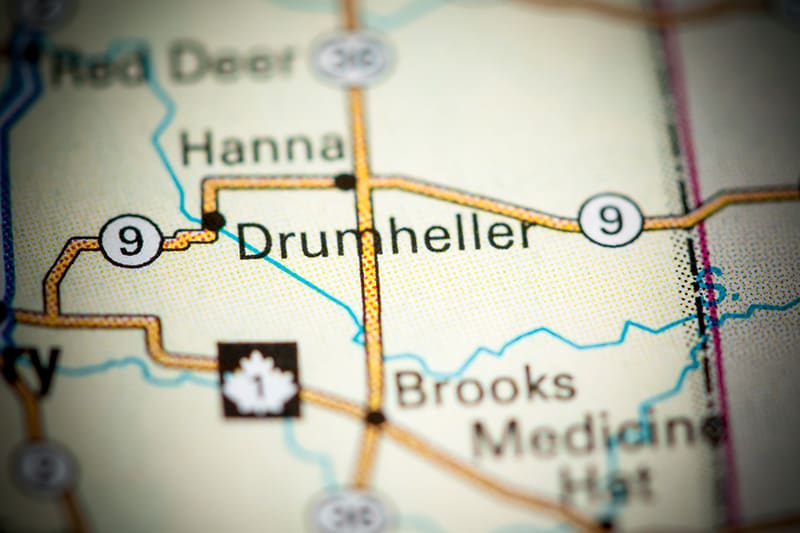 Take the guesswork out of planning your Alberta trip!
We now offer two ways to help ease the burden of travel planning:
We've developed ebook itineraries and travel guides for hot Alberta destinations and for a variety of 7-day trips. For one low price, you'll get local travel advice that you WON'T find elsewhere!
Want a custom trip tailored exactly to your needs? We are pleased to also offer a custom service for planning your Alberta vacation.
Practical Essentials
When to Visit Drumheller
Drumheller is a destination you can visit year-round, but you'll want to visit when there's plenty of daylight to get as much exploring time as possible. That means the best time for visiting Drumheller is between June and September! Make sure to book accommodations and tours ahead of time to avoid disappointment as the little town can get very busy.
Weather in Drumheller
Summer is the most popular time for visitors, with Drumheller weather being very pleasant, having an average temperature of 26°C. But don't be fooled. In the summer, nights can get cold, so having layers is necessary.
Winter in Drumheller is typically snowy and cold, with an average temperature of -18°C.
Getting Around Drumheller
Drumheller is a small town – so small, in fact, that it does not have a public transit system! People get around via car, bicycle or walking. The town has a tourist map to help you find your way on foot.
For taxis in Drumheller, you are also low on options. Classic Cabz is the only choice.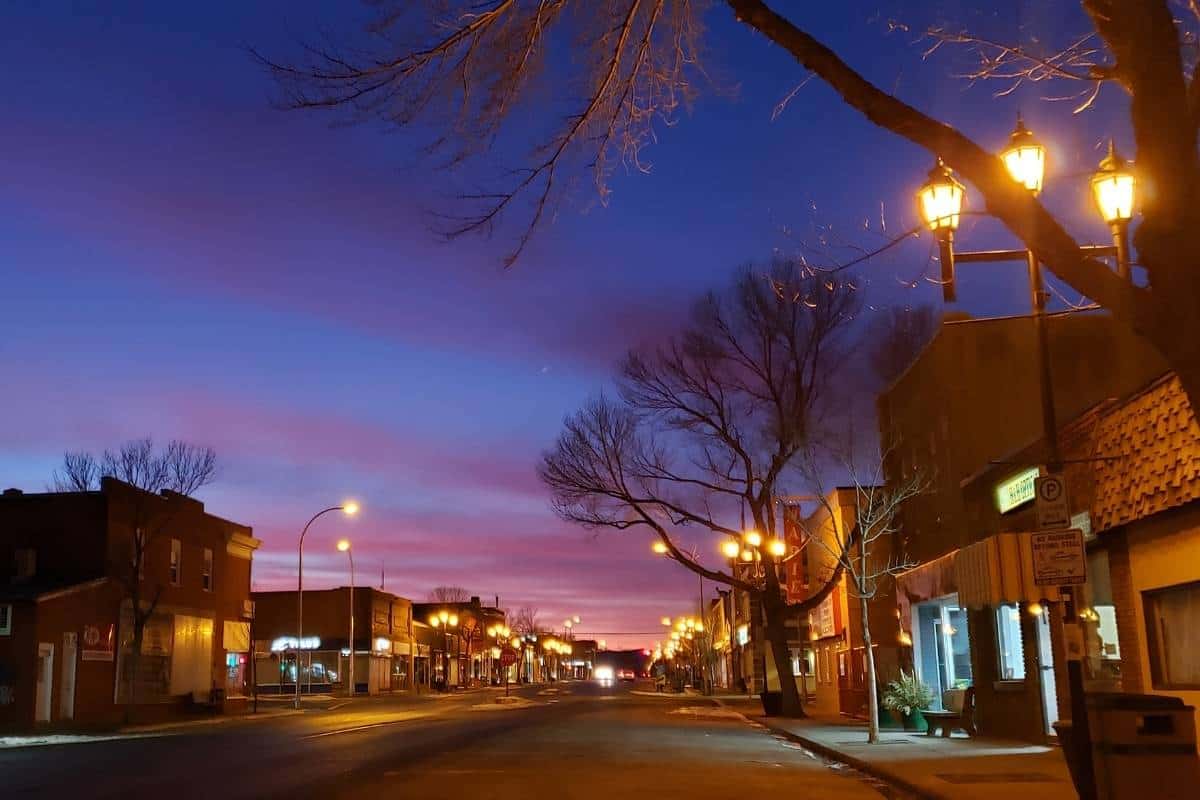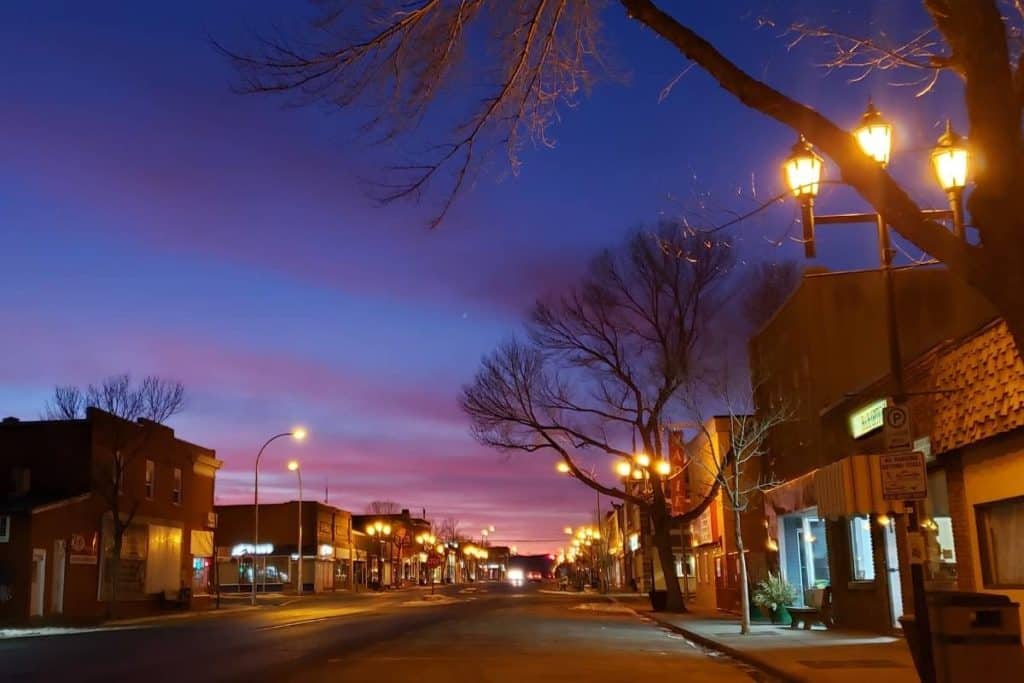 Where to Stay in Drumheller
Luxury(ish) – Keep in the dinosaur theme of your vacation going and stay at the Canalta Jurassic! In addition to a great location, this top-rated Drumheller hotel also includes a complimentary breakfast with your stay. And if you are travelling with kids, Ramada by Wyndham is also in a great location and offers an indoor pool and waterslides.
Mid-range – Benefit from the remarkable Badlands scenery in a budget-friendly hotel. Travelodge by Wyndham is nestled right in the river valley and is an excellent option if you are only looking for a place to spend the night and have endless adventures happening all day during your stay.
Budget – Take your dinosaur experiences with a side of local history and stay in the Dinosaur Hotel, which was originally built in 1924 and has rooms for cheap.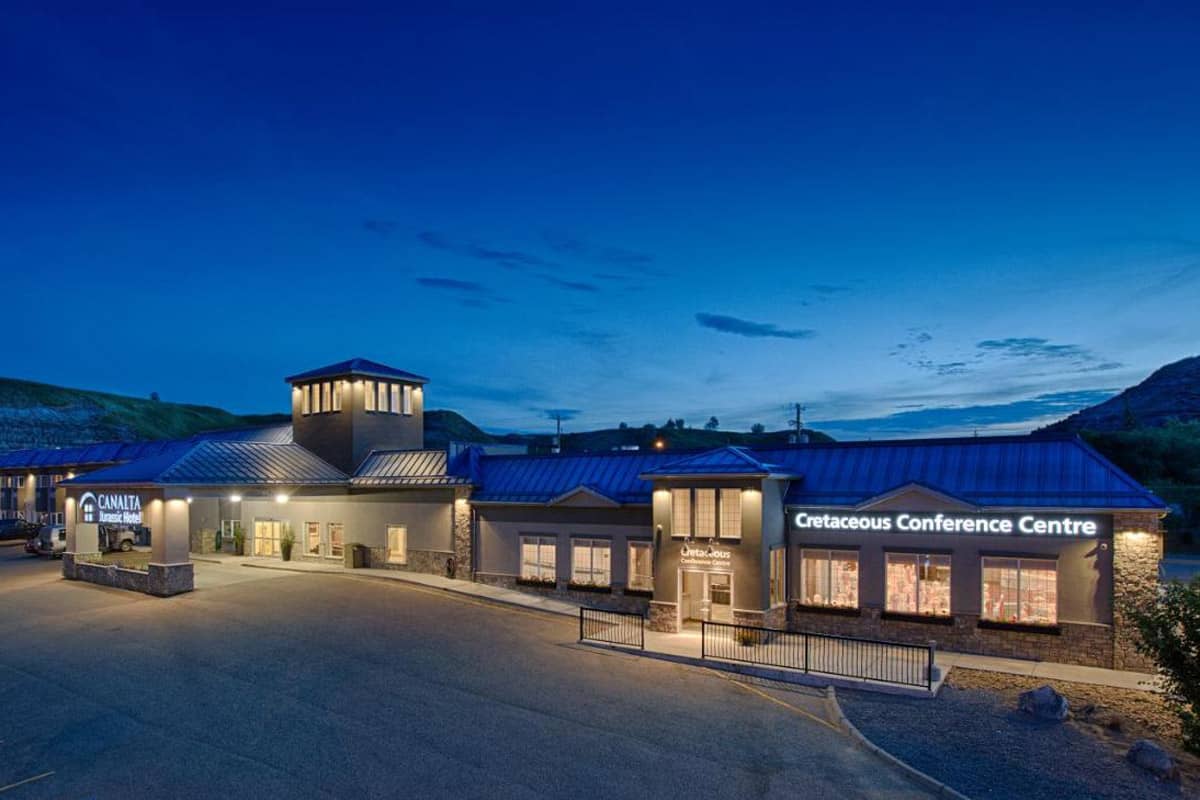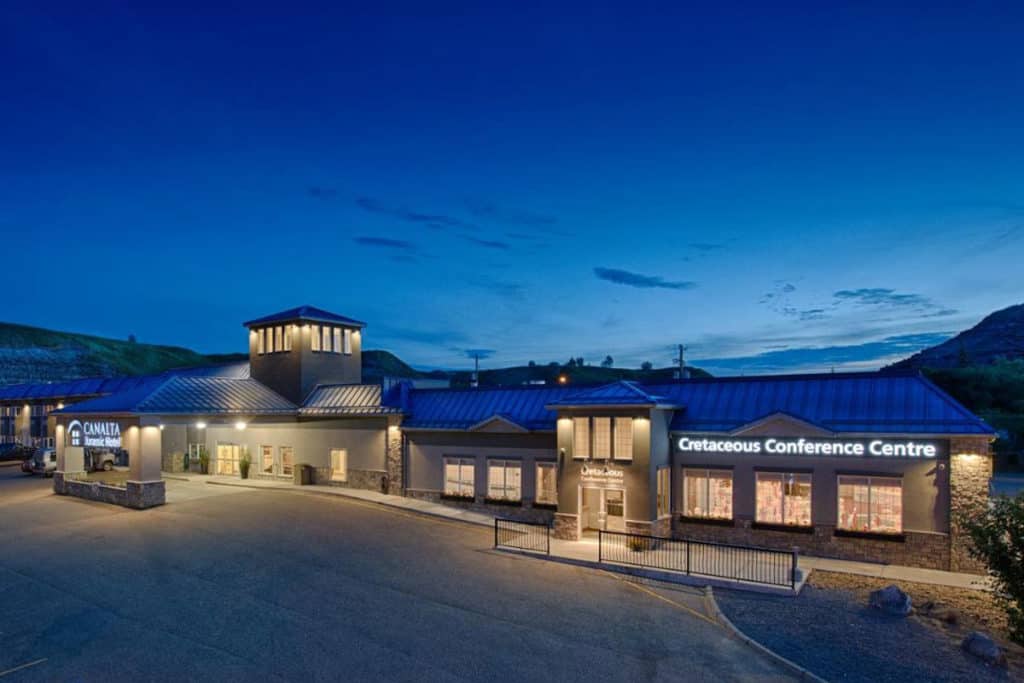 Home away from home – Airbnb is always one of our favourite ways to stay in new places, and there are a few options for a Drumheller Airbnb to choose from!
Camping – Planning on pulling your own RV or pitching a tent? Then we've got you covered with this guide to the best Drumheller camping spots.
Sights to See in Drumheller
Hoodoos
A hoodoo is a tall and thin rock spire made of sandstone. Formed over millions of years, the Drumheller hoodoos mark the landscape surrounding the town and provide a remarkable backdrop for selfies! Standing 5 to 7 feet tall, smaller versions of hoodoos can be found throughout the Badlands, but the biggest ones can be found in a protected site right within Drumheller (just outside of town, east on Highway 10). Keep in mind that hoodoos are incredibly fragile so climbing in most places is prohibited.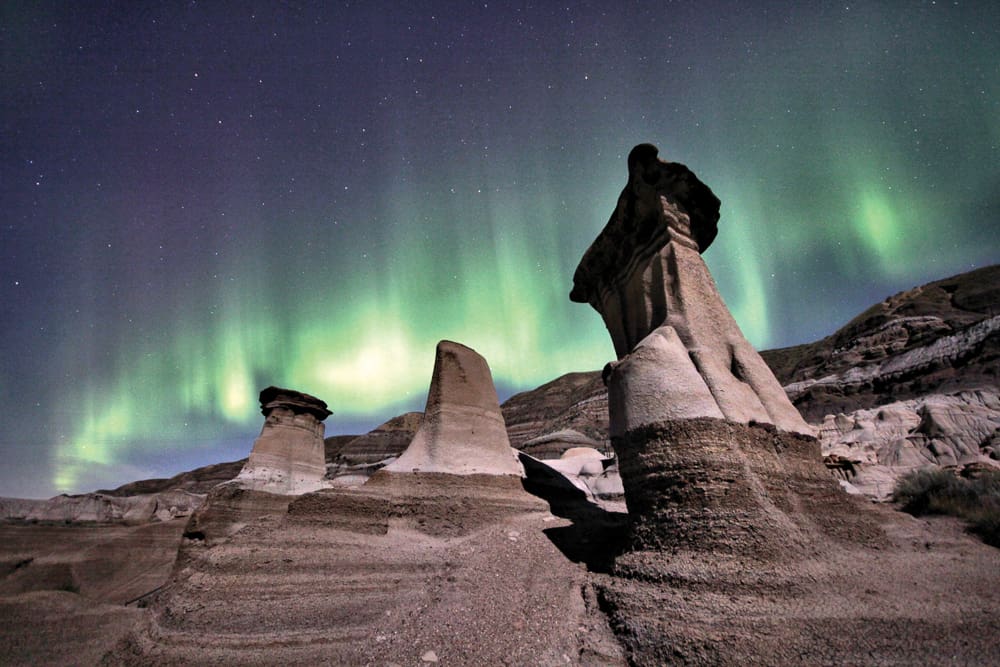 Horseshoe Canyon & Horsethief Canyon
There are two canyons near Drumheller which allow for magnificent views (and plenty of hiking). Of the two, Horseshoe Canyon is busier due to being right on Highway 9, so it sees plenty of Calgary traffic but is only 17 km southwest of Drumheller. To get to Horsethief Canyon, follow the Dinosaur Trail north past the Royal Tyrrell Museum for 16 km. (See more in our guide to hikes in Drumheller.)
Both canyons are where the yellow canola fields meet the quintessential Badlands landscape. Be sure to follow the interpretive signs as it's deceptively easy to get turned around in the canyons. Also, be sure to know the weather forecast as conditions can change rapidly.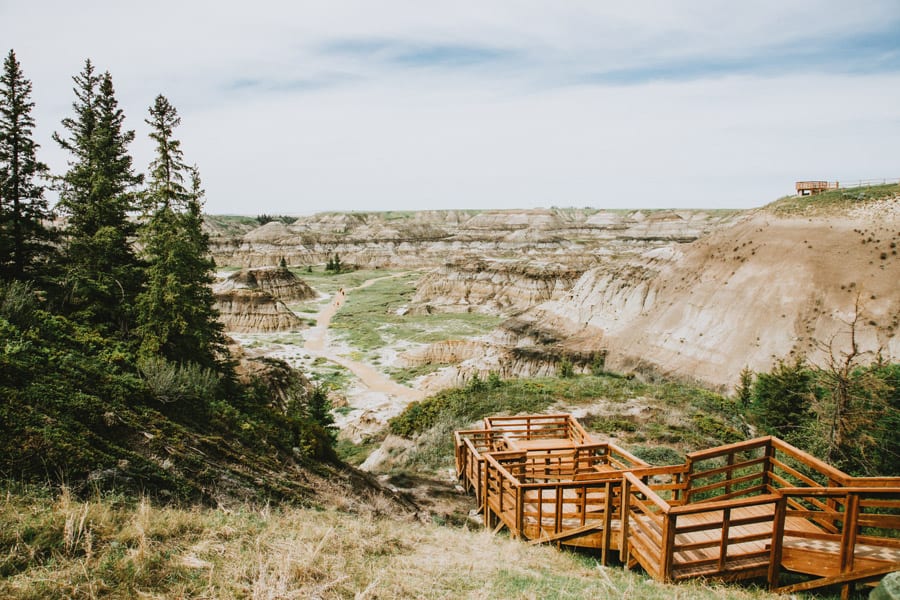 Orkney Viewpoint
Located 17 km northwest of Drumheller, this simple lookout provides some of the most stunning views of the Red Deer Valley. Perched high on red rock cliffs watch the Red Deer river snake through the river valley for a great distance.
The Little Church
It's a wee little thing that only fits six people at a time, and stands in stark contrast to the enormity of the landscape around it. It makes for a cool photo opportunity (although recognize that it is a place of worship – so be respectful!) and is very near the Royal Tyrell Museum, so easy to make a stop.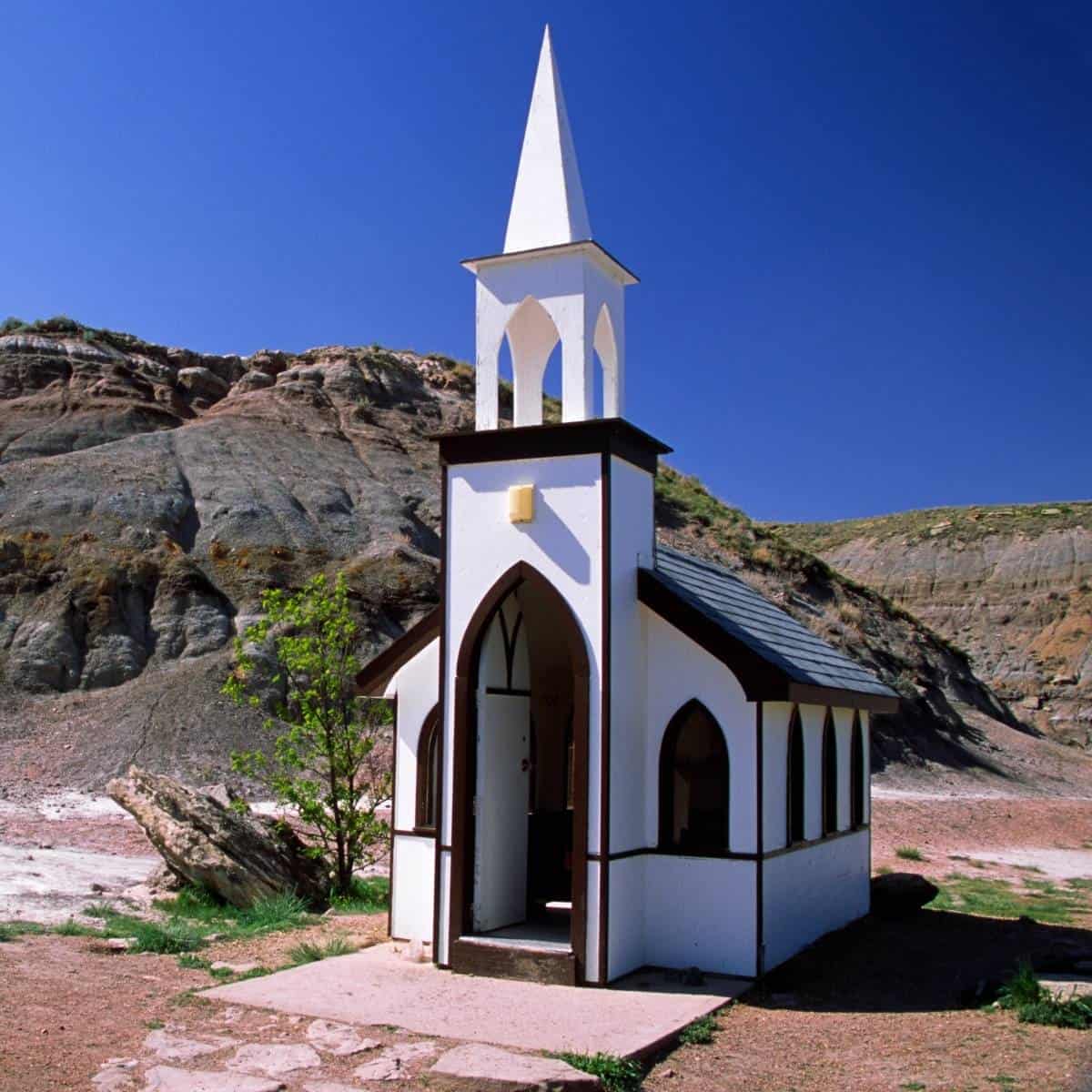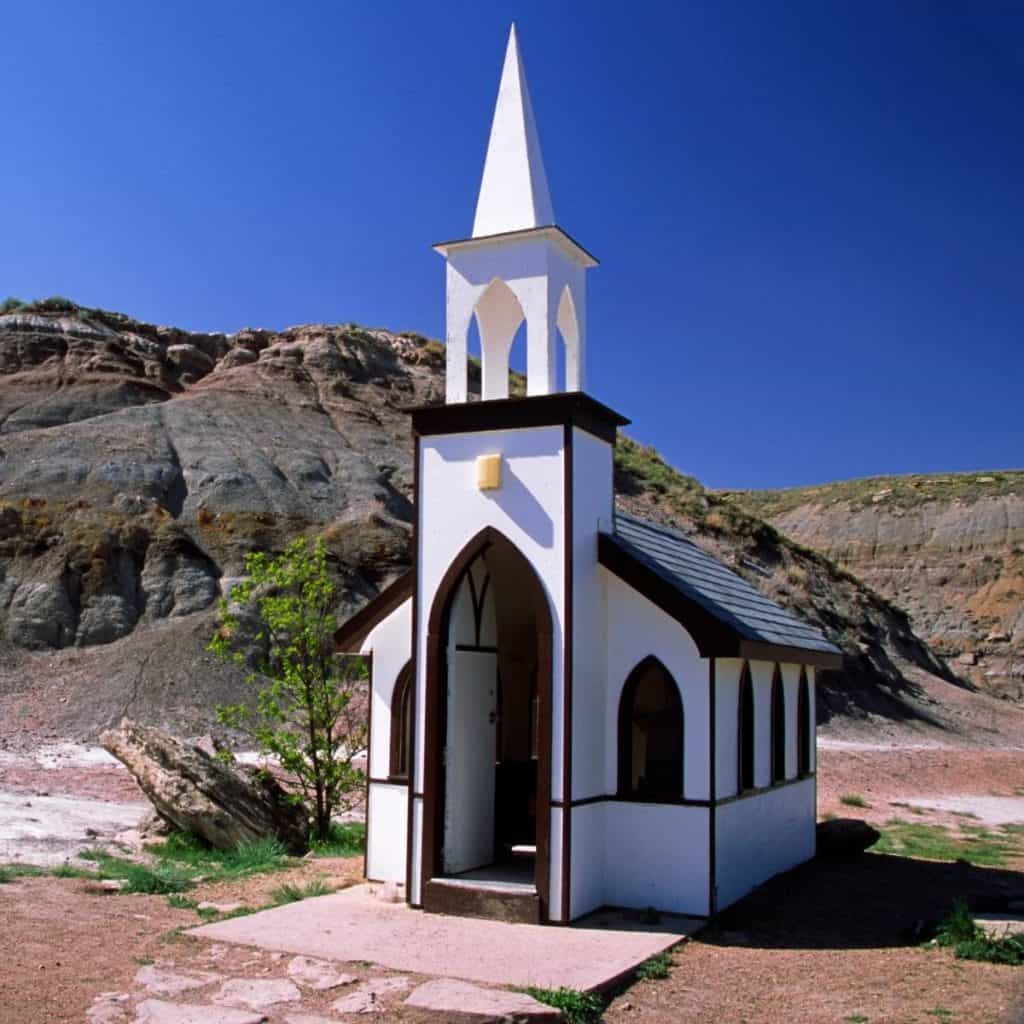 World's Largest Dinosaur
Climb 106 stairs into the mouth of the largest dinosaur in the world! You'll take in the views of downtown Drumheller through the T-Rex's mouth. The dinosaur structure stands 86 ft (25 metres) tall and 151 ft long and she (yes she!) has been looking over the town since 2001. The Drumheller dinosaur is an iconic part of this Dinosaur Capital of the World, and certainly one of the most popular of all the Alberta roadside attractions.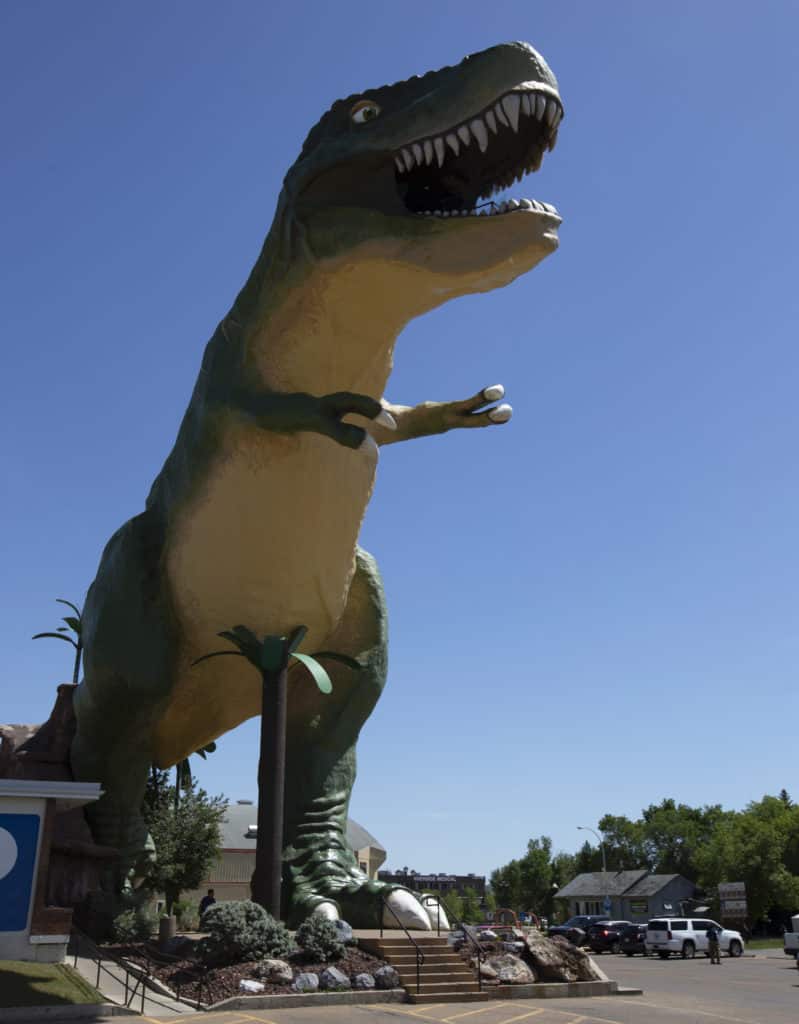 Drumheller DinoWalk
Take a self-guided tour around downtown Drumheller and get to know over 20 dinosaurs that were discovered in the area. Each way-finding sign location features one of the dinosaurs, so you can learn about the prehistoric heritage while visiting different areas around the town. All of the locations are mapped out here.
Rossdale Suspension Bridge
Located 9 km from Drumheller, the historic Rosedale Suspension Bridge was once used by miners to get to and from the mines. Now the bridge is a favourite fishing spot with the locals as well as a cool backdrop for a selfie. Note that it is currently closed for repairs but we hope it is open again soon!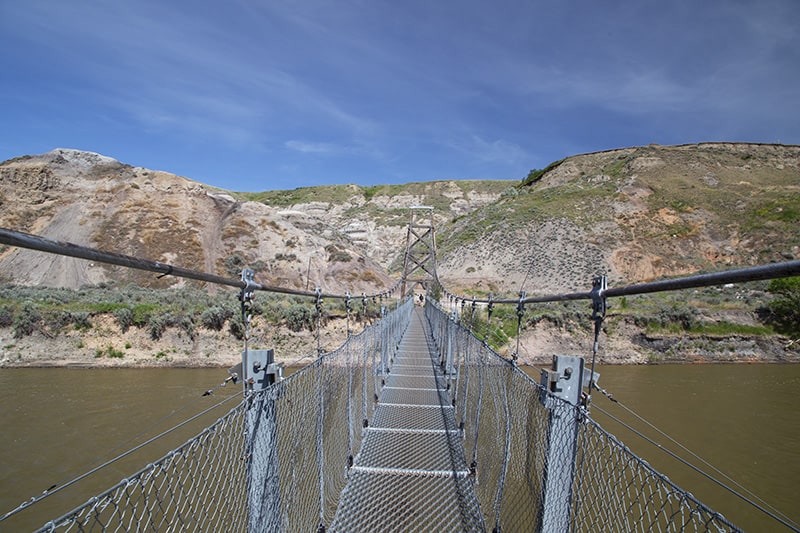 Best Things to Do in Drumheller
Drumheller Royal Tyrrell Museum
Being the Dinosaur Capital of the World, Drumheller offers visitors the world-class Royal Tyrrell Museum which takes visitors into the not-so-distant past when dinosaurs roamed the earth. It houses the world's largest displays of dinosaurs and Canada's only museum dedicated exclusively to paleontology.
It's a must-see and makes a great day trip destination from Calgary. Visitors will marvel at the hundreds of thousands of fossils in the museum and take in the sheer magnitude of the reconstructed displays. They also allow a glimpse into the work uncovering each fossil takes with observation windows into paleontologist labs.
Tip: Test your hand at archaeology and sign-up for one of their interactive digs experiences!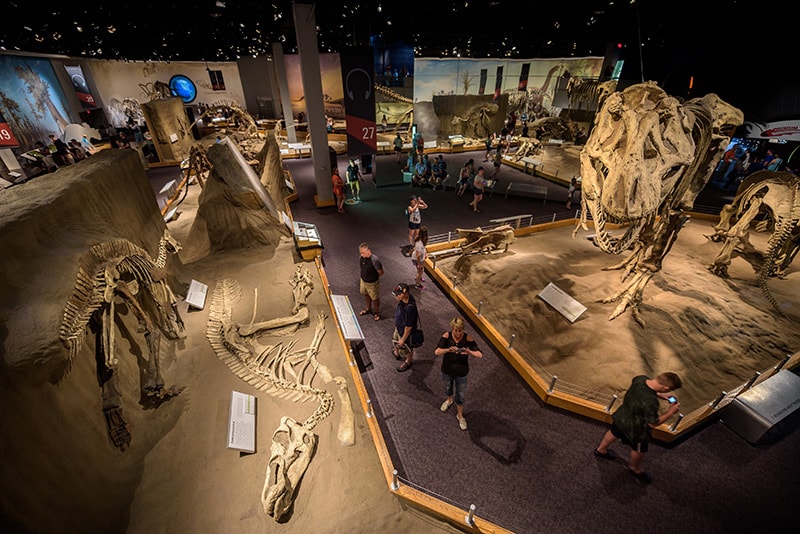 East Coulee School Museum
Twenty minutes east of Drumheller, the East Coulee School Museum gives a glimpse into the life of a coal town, focusing on the home life and schools of the coal mining era of the Drumheller Valley. The 11-room building operated as a school from 1930-1971 and now pays tribute to the men and women who built their homes, raised their families, and contributed to the coal mining community of East Coulee.
Atlas Coal Mine National Historic Site
Step back in time to a more dusty and dirty period in Alberta's history. The history of coal mining and the time when "Coal was King" in the Drumheller Valley is displayed at Atlas Coal Mine National Historic Site. Their signature experiences take curious visitors on specialty tours that explore parts of the site not normally seen by the public.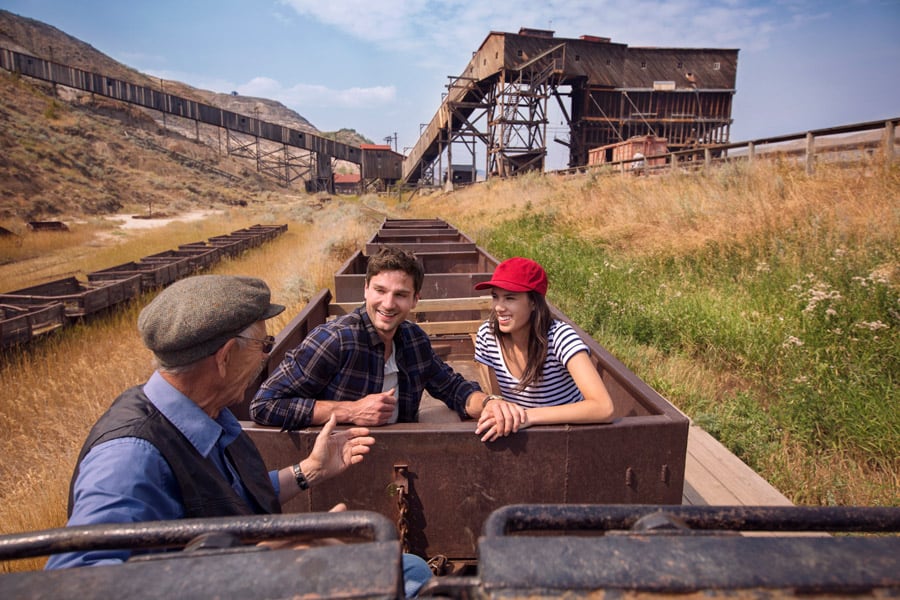 Fossil World Dinosaur Discovery Centre
Get a dinosaur experience that is fun for the whole family at the Fossil World Discovery Centre, complete with an animatronic T Rex! Enjoy a variety of hands-on experiences including digging up a dinosaur skeleton and learning how to identify different minerals while taking in over 200 real fossil specimens. And don't forget to check out Drumheller's largest fossil and souvenir gift shop on your way through.
Badlands Amphitheatre & Rosebud Theatre
The outdoor Badlands Amphitheatre is naturally formed by the massive Badlands coulees and seats 2,500 spectators. Throughout the summer season, it holds a variety of musical, theatre, and light shows.
For another performing arts option, the Rosebud Theatre attracts its own share of visitors to this community of fewer than 100 people, just 35 km southwest of Drumheller. With five plays a year and shows happening seven times a week, the musical and theatrical productions at Rosebud Theatre are widely-acclaimed.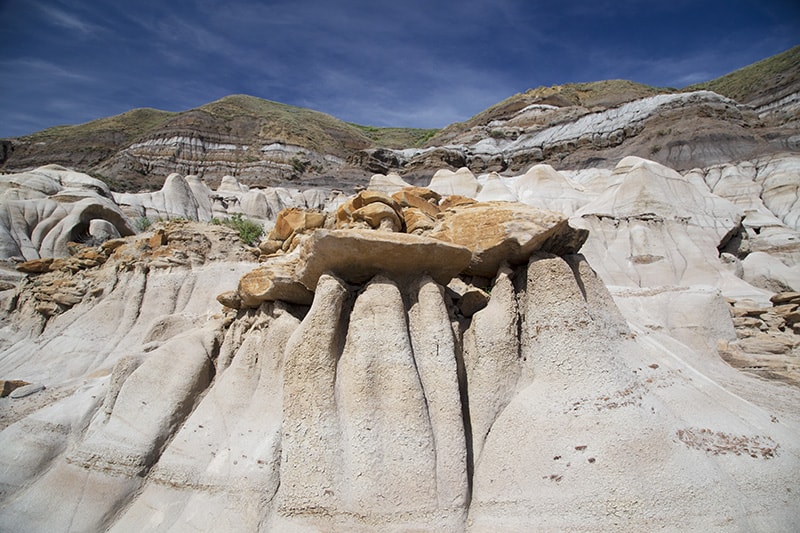 Where to Eat in Drumheller
Definitely plan to go to Whifs FlapJack House if you are looking for the best breakfast joint in Drumheller. (Note that they are closed during winter months, and generally open again in March.) Tip: get there before lunch because they close shortly after!
Featured on the Food Network's "You Gotta Eat Here", Bernie & the Boys Bistro is known for their extremely generous portion sizes and serving the juiciest burgers in Drumheller. Tip: If you're into spicy food, try the Volcano Burger with magma sauce!
A unique dining experience is located in a (very) small community of Wayne, Alberta. It's located just 14km southeast of Drumheller and has a population of roughly 50 people. The Last Chance Saloon is in the historic Rosedeer Hotel and served thirsty Rosedeer coal miners in the 1920s. Now it is a decorated restaurant where every item on the walls has a story behind it.
Want more options? Check out our post on restaurants in Drumheller.
In the Area
Calgary/Banff
In just 1 1/2 hours you can find yourself in CowTown. Whether you're a foodie, an art lover, or a sports enthusiast, the biggest city in Alberta has something that everyone will love! Take a walk down 17th avenue SW for some shopping and people-watching (there are many great restaurants there too). Catch sports action at one of the stadiums around the city or get involved at one of the many beloved parks. Our full Calgary Destination Guide covers everything you'll need to know! Want to cruise a little further? Take yourself from the Badlands to the Canadian Rockies. You can get from Calgary to Banff in just a little over an hour more. Let our Banff Destination Guide woo you there, too.
Dinosaur Provincial Park
If your dinosaur interests have been peaked but not sated, we highly recommend also visiting Dinosaur Provincial Park, just 170 km east of Drumheller. It's the landscape from which many of the displays in the Royal Tyrrell museum are recovered.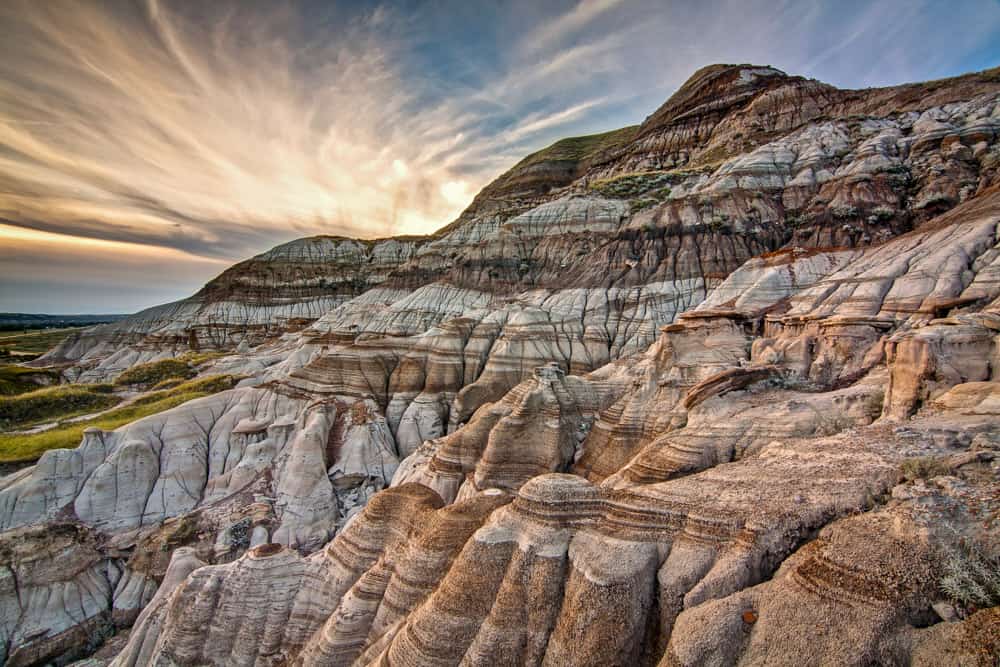 Visiting other spots in Alberta? Check out our extensive guide for all the things to do while visiting Jasper or Edmonton!
ALSO, don't forget that while you're on the road, you can download our FREE Road Trip Alberta bingo cards, to make it just that much more fun!