Disclaimer: This page may contain affiliate links. Please review our full Terms and Conditions for more information and our Privacy Policy. Note that any pricing, operating hours, or other such information provided below may have changed since initial publication.
Compiled by the Road Trip Alberta team
Last updated on February 3, 2023
Alberta's capital city is wonderful to visit during any season. The river valley provides an abundance of things to do throughout the year, and the city is also frequently buzzing with festivals seemingly happening every month. The food scene is becoming well-known with several Edmonton restaurants ranking top in Canada and North America. And if you want to use the city as a base for exploring via several day trips from Edmonton, we support that idea too!
Needless to say, if you are coming to the city for a good time, we are sure you'll find it! And this post will also help you find the best Edmonton hotels to stay at.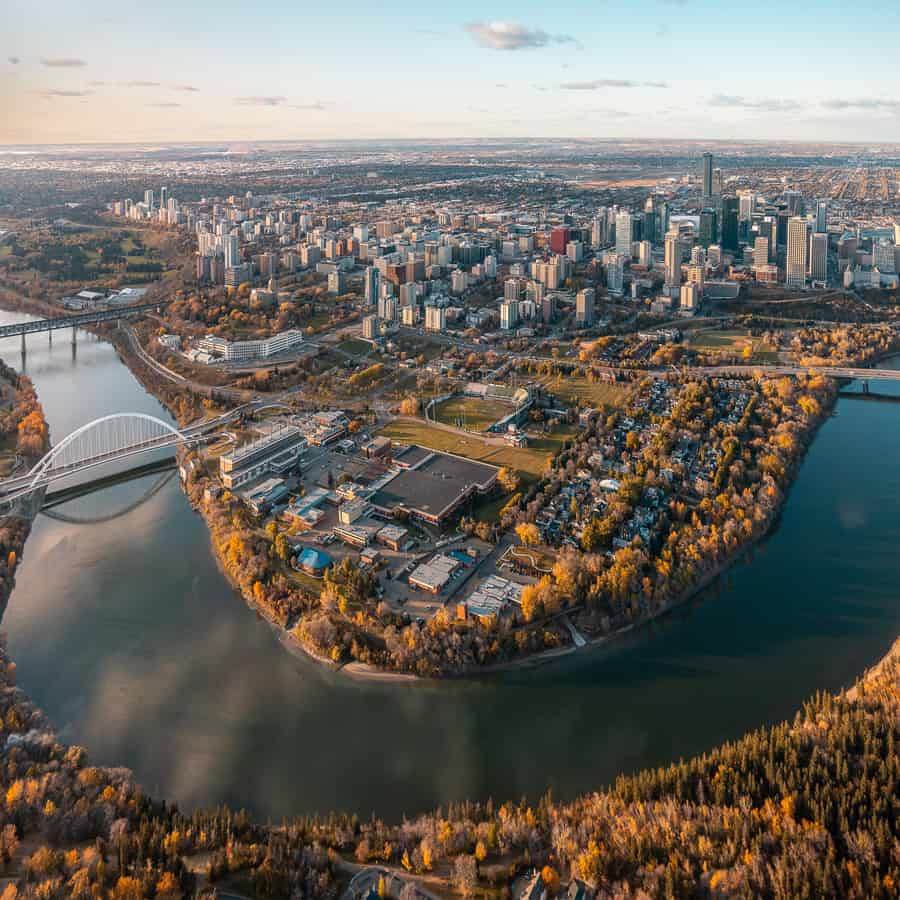 No matter what you are looking for, there are plenty of Edmonton hotels with pools, waterslides, jacuzzis, gyms, or free parking throughout the city. And there are so many wonderful areas to stay in.
The Edmonton downtown district is the heart of the city and home to many great restaurants, museums, the gorgeous river valley and the Edmonton Oilers (for any NHL fan – attending a game is a must-do experience). Strathcona/Whyte Avenue is the trendy area to enjoy a pint or cocktail at one of the pubs, have a casual or fancy meal at one of the many restaurants, or wander through all the independent shops.
The west end is home to one of the biggest malls in the world and is the gateway to Jasper. And staying in south Edmonton will give you easy access to the QEII to head toward the airport, Calgary, and/or Banff.
We've made it easy for you to make your decision with details below on the best Edmonton hotels to stay at.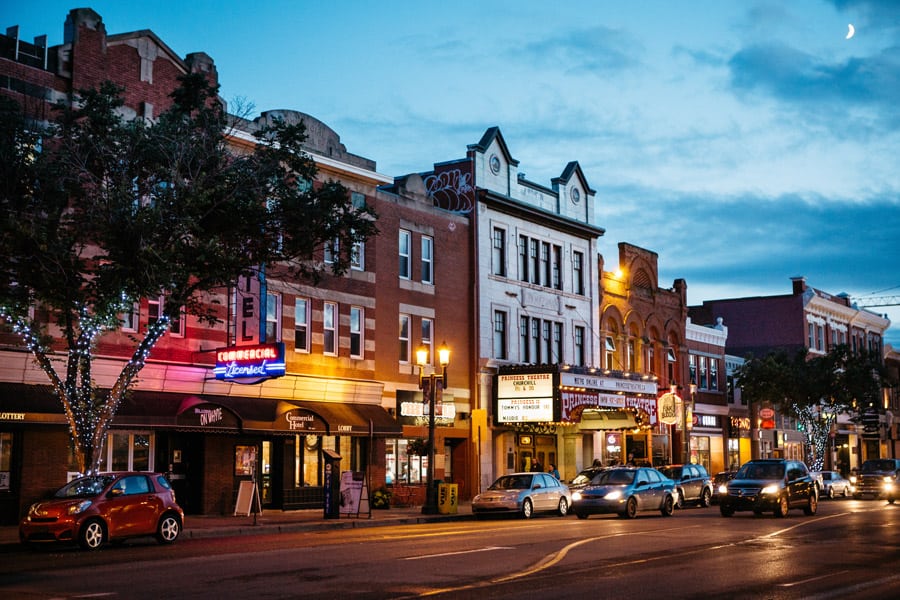 Our Favourite Edmonton Hotels
Fairmont Edmonton Hotel MacDonald
When you pull up to the Fairmont Hotel Macdonald, you will feel like you're staying at a castle. Since 1915, this historic Edmonton hotel has been known as the "Chateau on the River", nestled atop the beautiful river valley. All 198 guestrooms are classically designed and each has the finest amenities, but we highly recommend booking a river valley-facing room to experience the true beauty of the hotel. Comfort, class, and convenience are what every visitor can expect with a stay here.
Reasons to stay here:
The view – you can't beat it.
Enjoy the afternoon tea for two and feel like true royalty.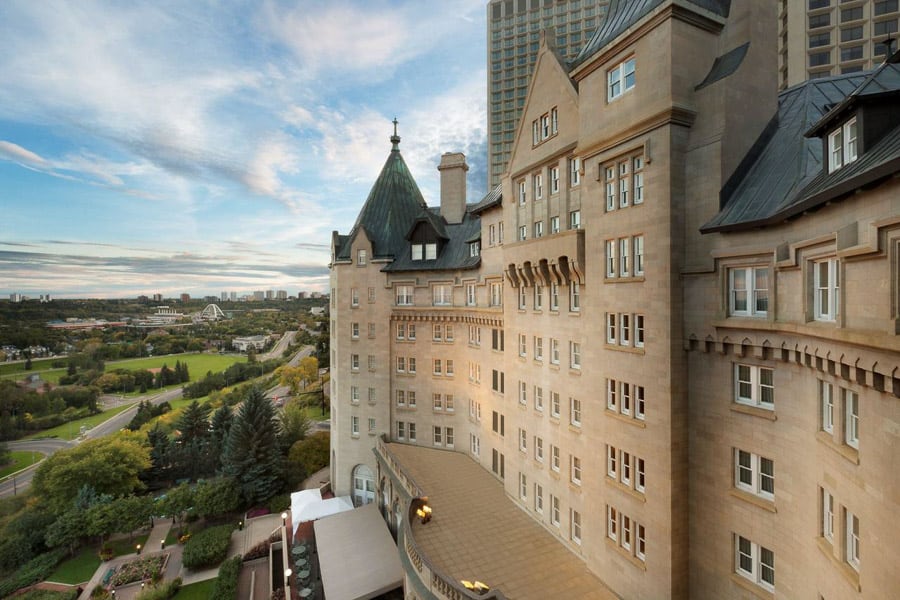 Metterra Hotel on Whyte
Situated in the heart of the city's trendiest neighbourhood is one of Edmonton's most unique and exclusive hotels – Metterra on Whyte. It's described as an "authentic lifestyle hotel offering a contemporary hospitality experience". What makes this hotel stand out is the sincere service from its staff – they go out of their way to make sure that every guest's experience is exceptional. The hotel is in one of Edmonton's most walkable districts and is surrounded by many restaurants, coffee shops, pubs and boutiques.
Reasons to stay here:
The staff – it's their trademark to ensure your stay is exceptional.
Location, location, location – right on Whyte Avenue and close proximity to the Edmonton river valley.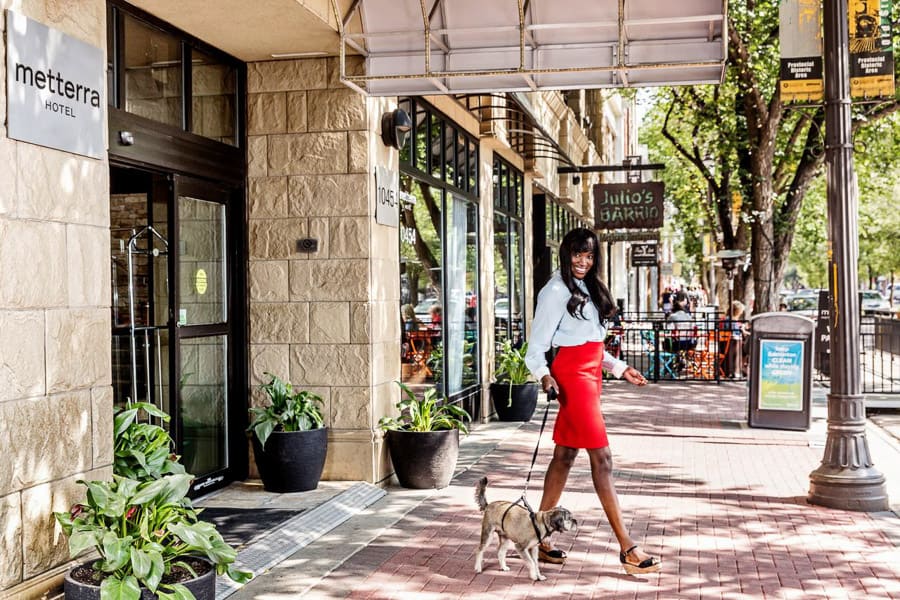 JW Marriott Edmonton ICE District
You can't get closer to the heart of Edmonton by staying at the JW Marriott Edmonton ICE District. It's a hotel to experience when visiting Edmonton, especially if you're catching an Oilers game or other event at Rogers Place given that the hotel is connected. It has 346 guest rooms and 24 sophisticated suites and if you really feel like splurging, book the 1,825-square-foot Presidential Suite. Each room offers spectacular views of the city and is decorated with custom furnishing inspired by the natural beauty of Alberta.
Reasons to stay here:
Everything is in one place, 4 on-site dining options, a 13,000 sq. foot luxury fitness facility and pool, and a spa to relax and unwind in.
The location – right in the heart of Edmonton's downtown and the trendy ICE District.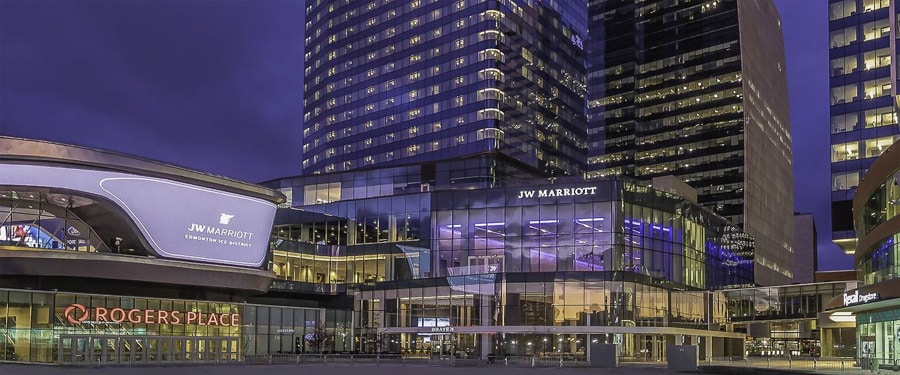 Airport Hotels
If you are flying in late and need a hotel or have an early flight out and need a room the night before, there are some great options for Edmonton airport hotels. It should be noted that the Edmonton airport is actually in Nisku – 20km from the southern edge of the city. There are plenty of restaurant options nearby and if you need a car rental at the Edmonton airport it's conveniently located on the ground level, across from arrivals.
Renaissance Edmonton Airport
Attached to the Edmonton International Airport (YEG) is the Marriott Renaissance Edmonton Airport Hotel. It's all about convenience and luxury staying here. Each room is soundproof (no planes will wake you up!), there's an on-site fitness facility including a swimming pool, and the Halo Bar and Bistro will offset any late-night hunger cravings. This hotel takes away any stress of travel.
Reasons to stay here:
Location – it's right in the airport.
Sound-proof rooms to get a sound night's sleep.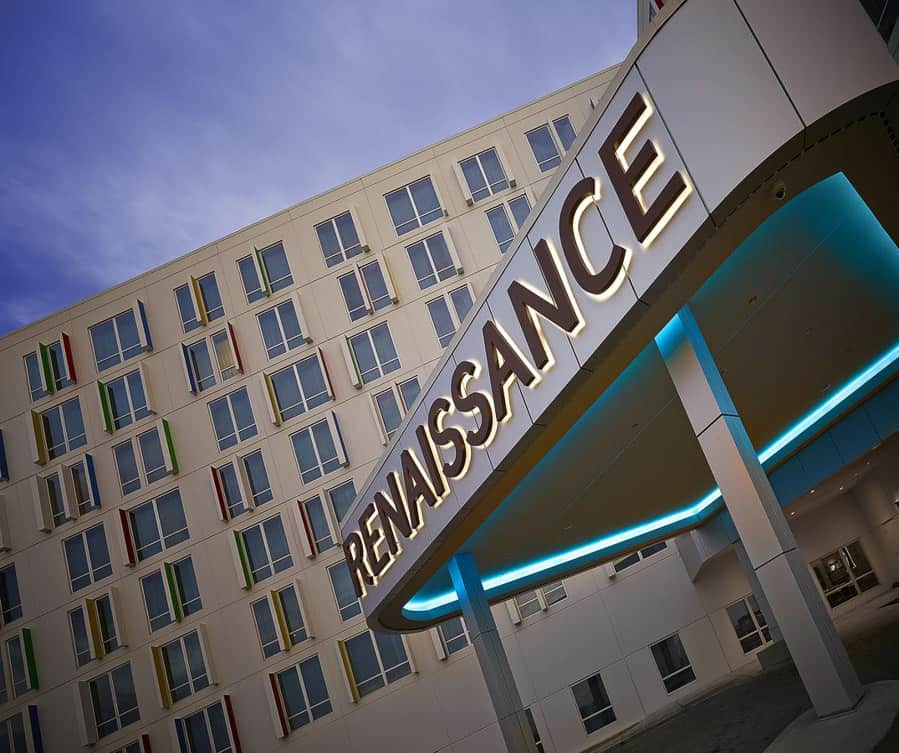 Fairfield by Marriott Edmonton Airport
The Fairfield Marriott Edmonton Airport Hotel is only a two-minute drive away from the terminal. An added bonus is that there's a free shuttle that will take you to and from the airport. Also, if you want to get some last-minute shopping in, the hotel is located directly across from the Premium Outlet Collection where you'll find all your favourite shops.
Reasons to stay here:
Free shuttle to and from the airport plus free private parking.
The hotel amenities include an indoor saltwater pool, a 24-hour fitness center and a free daily hot breakfast.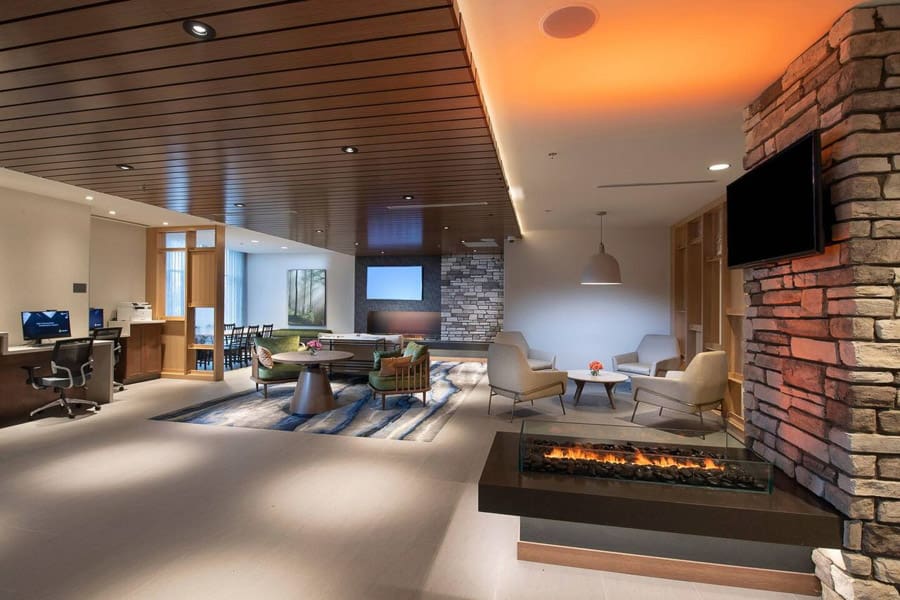 Downtown Edmonton
There's something special about staying at a downtown Edmonton hotel. Whether it's the electricity of the city's core, admiring the skyline at sunrise or sunset, or close proximity to the river valley, it's always a preference of ours to stay downtown.
The Westin Edmonton
Located in the heart of downtown Edmonton is the Westin Edmonton Hotel. The location is perfect for any visitor to the city. It's minutes away from many attractions including the Alberta Art Gallery, Royal Alberta Museum, Citadel Theatre, downtown shopping centre, Rogers Place, and many fantastic restaurants. Try to get a room on a higher floor to take in the beautiful view of the Edmonton skyline.
Reasons to stay here:
State-of-the-art fitness centre and luxurious swimming pool.
The beds are extremely comfortable and get very high reviews from most travellers.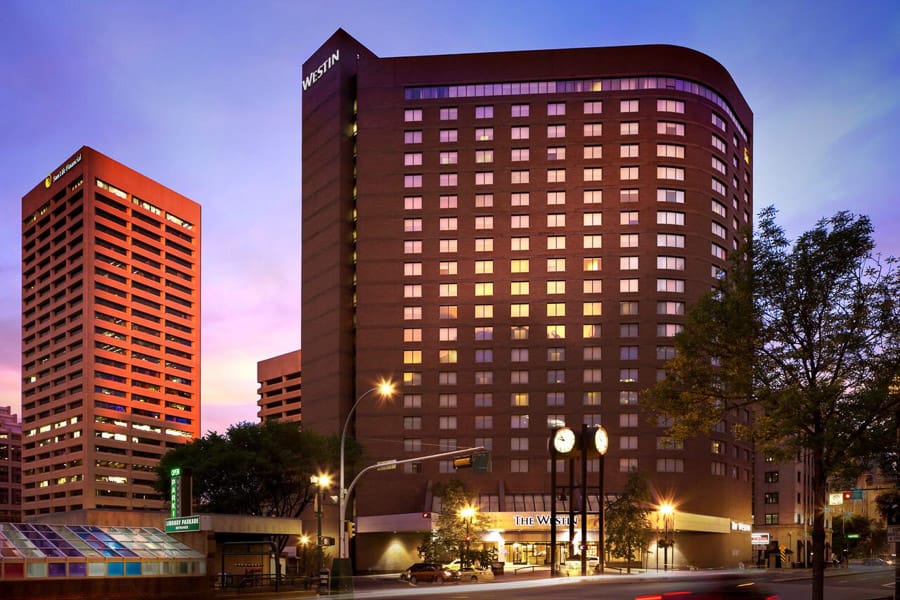 Crash Hotel Downtown Edmonton
"Corporate with an edge" is how Crash Hotel Edmonton describes itself. This extremely popular hotel located across from Rogers Place in downtown Edmonton is a favourite amongst travellers. No two rooms are the same and there is a touch of fun, vintage and quirky designs styled throughout. 
Reasons to stay here:
The beds – all the guests rave about them!
Quiet floors throughout the week; party floors for the weekend.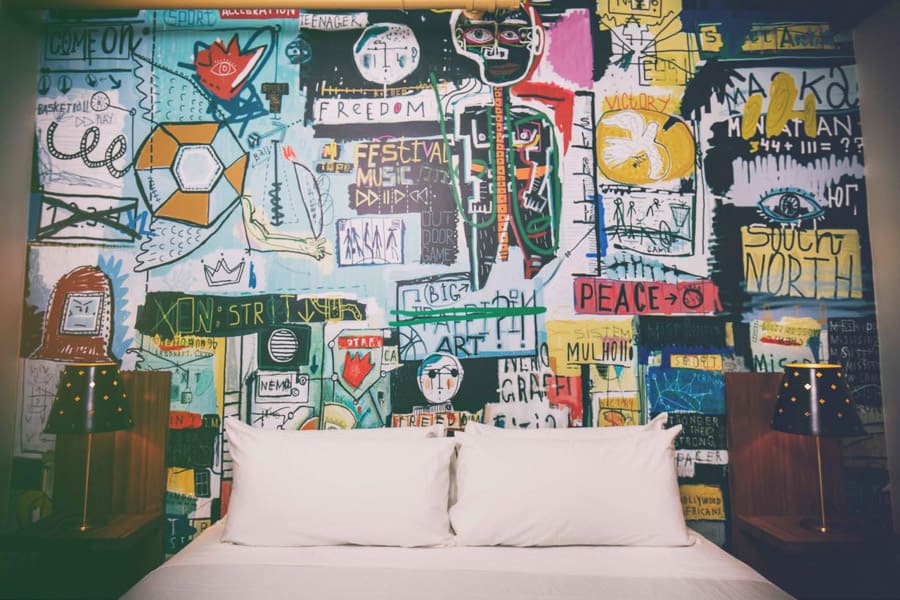 Boutique Hotels
Union Bank Inn
The Union Bank Inn is ranked as one of the most romantic Edmonton boutique hotels. So if you're looking for something special with your loved one, this is where you'll want to stay. The four-star inn is dedicated to ensuring their guest have a luxurious and comfortable stay. It's conveniently located downtown within short walking distance of the Citadel Theatre, Winspear Centre, and Art Gallery of Alberta.
Reasons to stay here:
All guestrooms feature a fireplace and luxury bedding.
Spoil your partner with the 'Signature Collection' which includes chocolate truffles and roses making that romantic occasion even more special.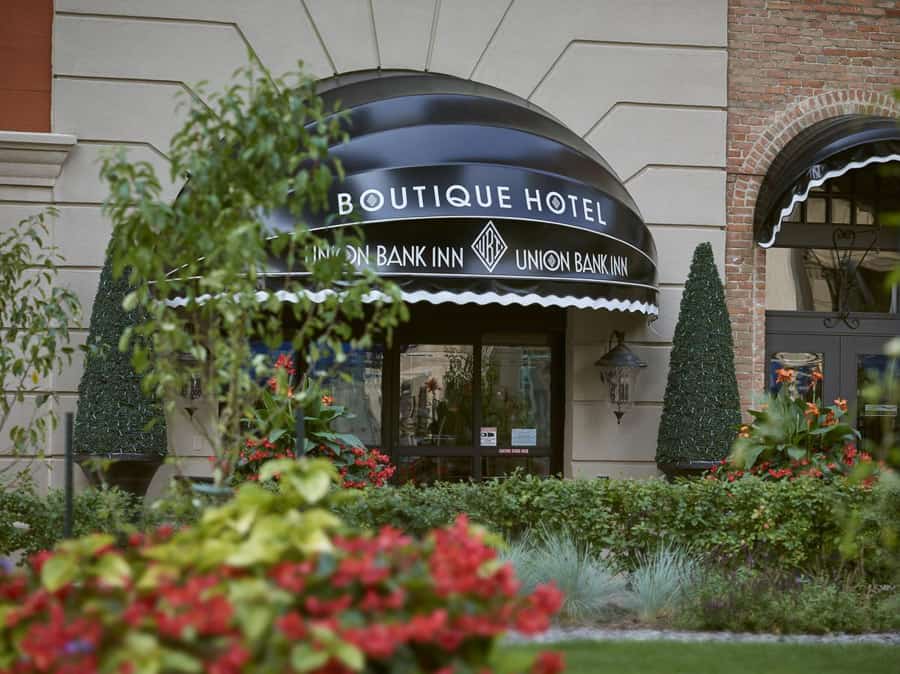 Matrix Hotel
One of the top picks by travellers for Edmonton hotels is the Matrix Hotel. Guests at the downtown location will relax in comfort and appreciate the minimalist, sleek, modern décor. There's on-site dining and a lounge so finding a restaurant isn't an issue. Visitors also appreciate the small touches each room has including complimentary Voss water bottles and a variety of coffee and tea selections!
Reasons to stay here:
Breakfast is included.
Starbucks is on-site so coffee is never a worry.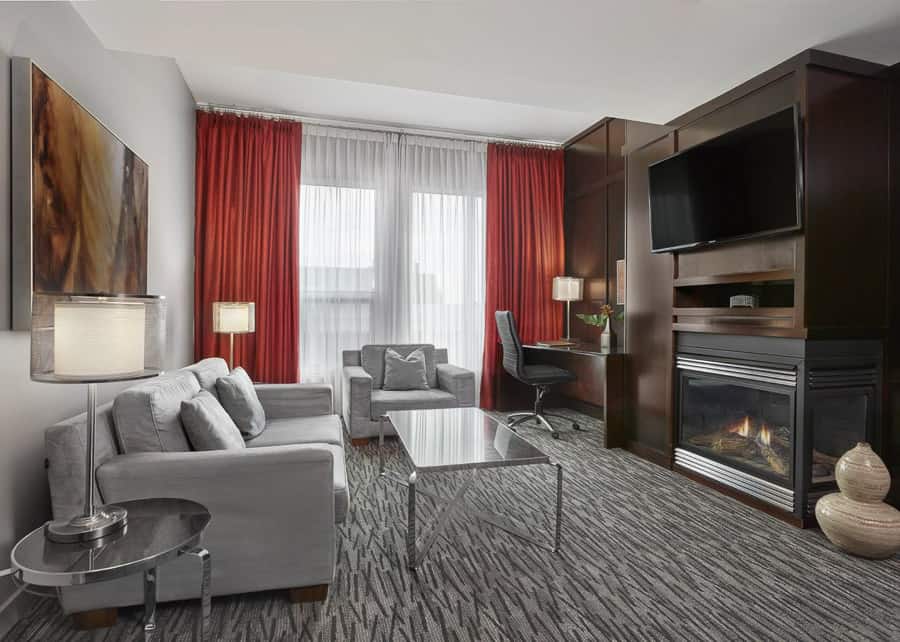 West Edmonton
Fantasyland West Edmonton Mall Hotel
The Fantasyland Hotel in West Edmonton is touted as one of the world's most unique hotels. Guests will have a very unique experience by staying in one of the creative theme rooms. There are 13 different theme rooms perfect for couples or families. Feel like an astronaut in the space room, chill out in the Arctic room, or even sleep in the back of a pickup truck – these are just a few of the different themes. Apart from the cool-themed rooms, the hotel is directly inside West Edmonton Mall, one of the biggest malls in North America.
Reasons to stay here:
Themed rooms! It's the reason it's one of the most unique hotels in the world.
Direct access to West Edmonton Mall – get all your shopping done!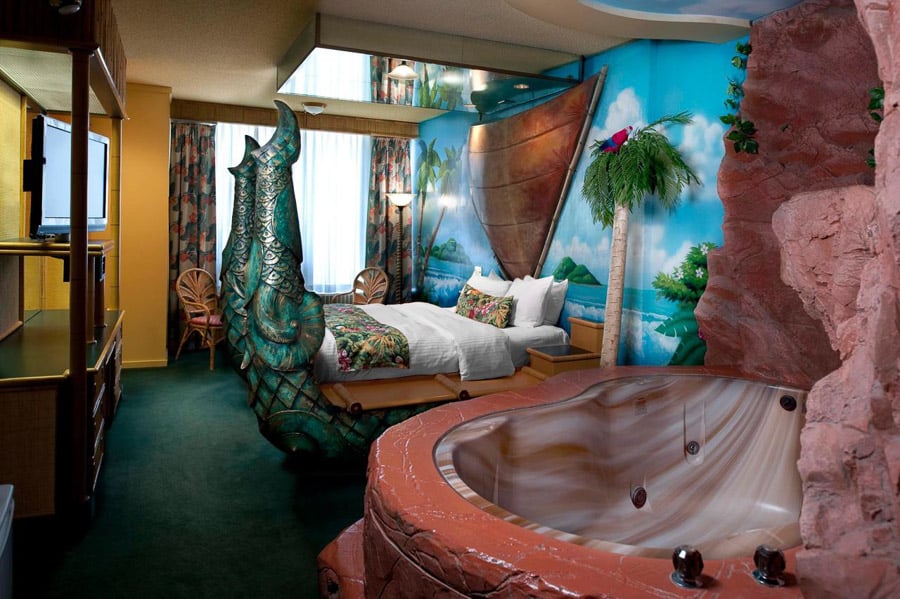 Candlewood Suites West Edmonton
Guests keep coming back to the Candlewood Suites West Edmonton hotel. It's clean, comfortable, affordable, and in a great location within the city. Located in the west-end mere minutes away from West Edmonton Mall, it's also a great spot to stay if you're heading from Edmonton to Jasper as you'll be out of the city quickly and heading west towards the mountains. The suites include all the amenities guests could want including a full-size fridge and freezer.
Reasons to stay here:
Proximity to the west end of the city makes it quick to get on your way to Jasper.
Full-size fridge and freezer (including an ice maker) making long stays comfortable.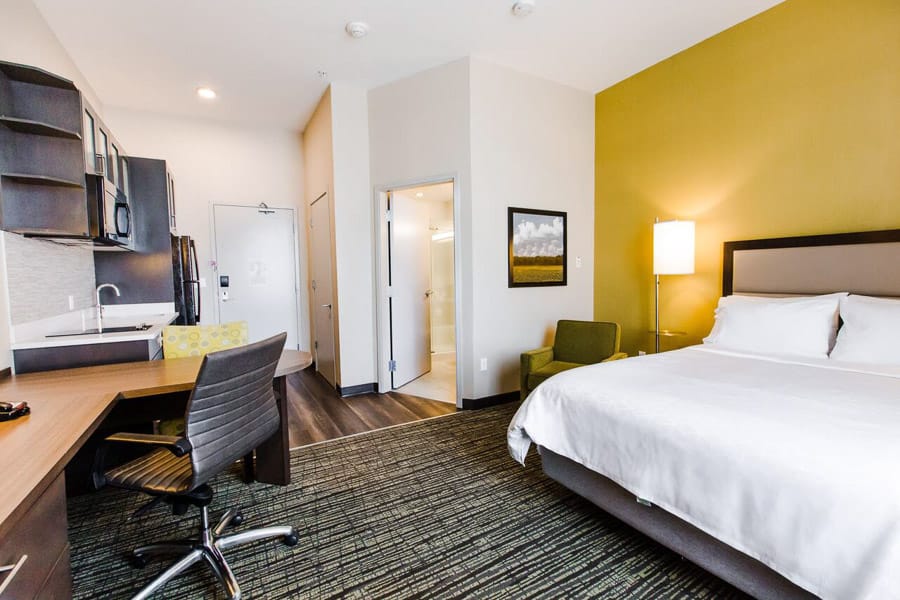 South Edmonton
Sandman Signature Edmonton South
Finding a hotel in south Edmonton is convenient for guests with many shopping options and restaurants nearby and easy access south out of the city. Guests at the Sandman Signature Edmonton South hotel appreciate getting the most value for price and extremely comfortable beds. Visitors also appreciate the chic decorated property with attention to detail in every room. 
Reasons to stay here:
The beds are extremely comfortable.
Pet friendly and a great hotel for families.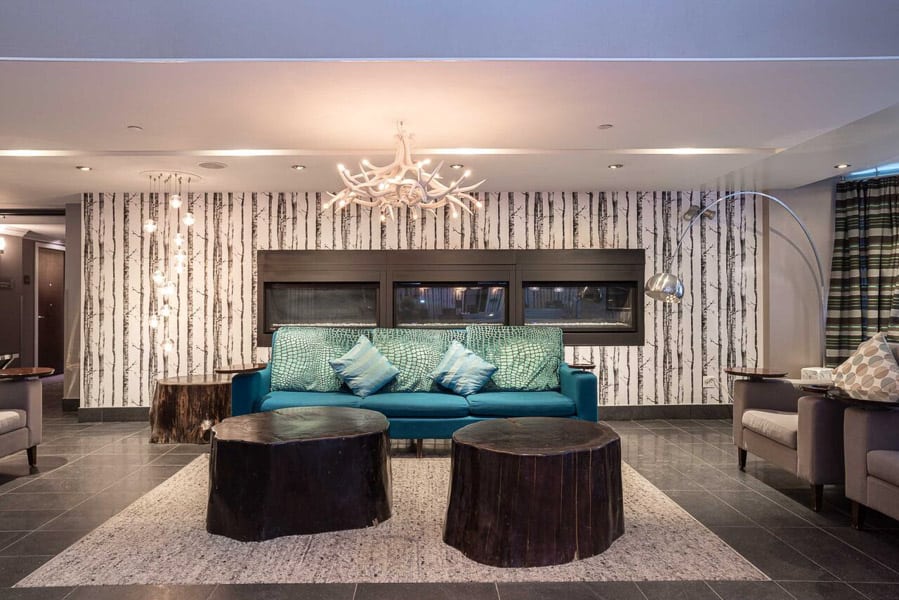 North Edmonton
Chateau Nova Yellowhead
There are not too many options for north Edmonton hotels, but guests love the Chateau Nova Yellowhead. Clean and quiet rooms with friendly and extremely polite staff are what travellers seem to appreciate most from this 3-star hotel. There's a restaurant, lounge, and fitness facility all on-site for their guests. So if you find yourself needing to stay in the north end of Edmonton, this is the hotel to stay at.
Reasons to stay here:
Top pick for north-end Edmonton hotel.
Great for families and pet friendly.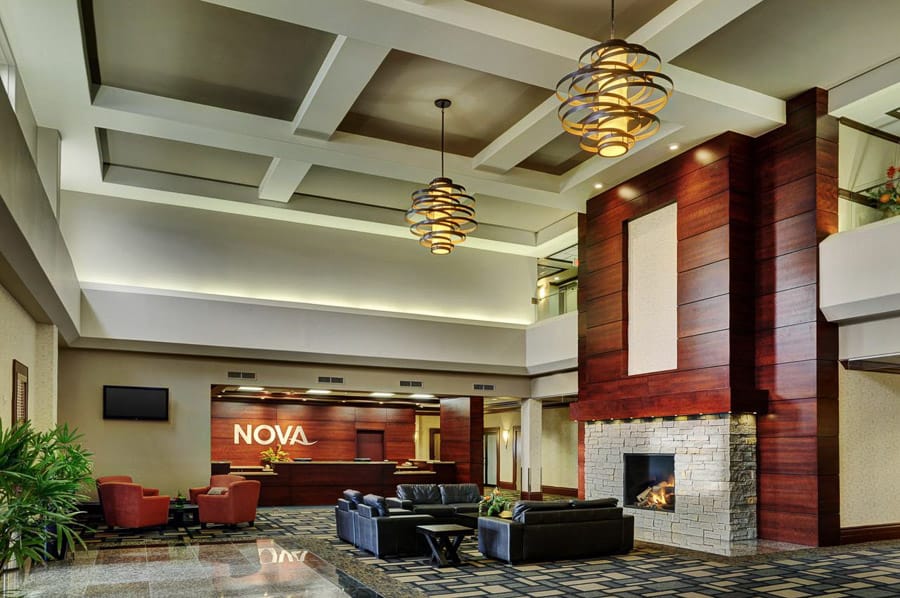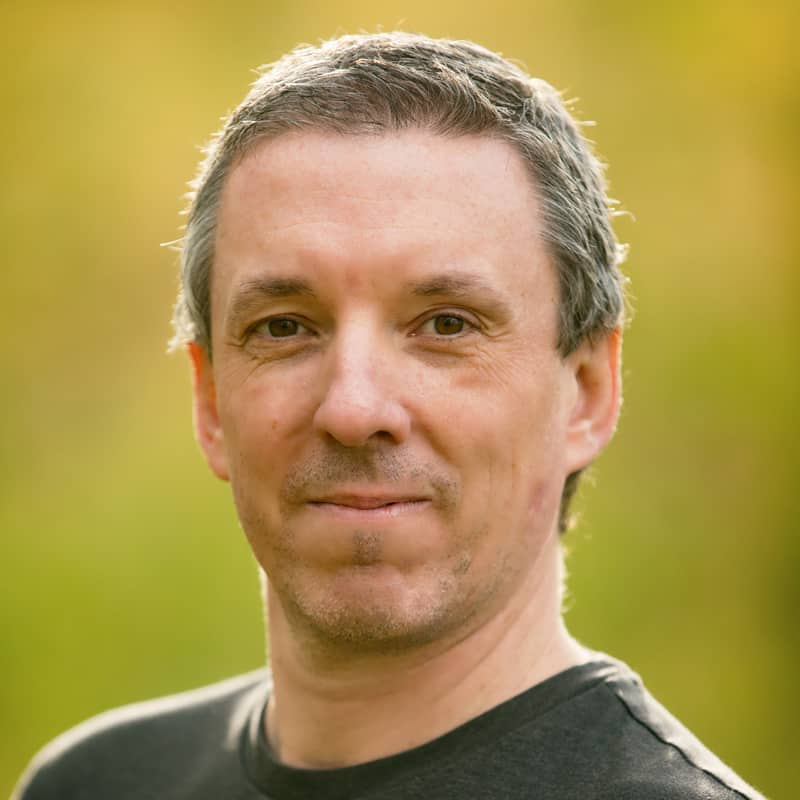 Pete is a co-founder of Road Trip Alberta. Growing up in Edmonton he has an extensive knowledge of Alberta and everything the province has to offer. He loves to eat good food, hike (especially in the winter), play tennis and curl. Apart from running Road Trip Alberta, he is a director with HMI, a digital media agency, half of the Hecktic Travels duo, and a co-creator of the popular card game Trip Chaser.