Disclaimer: This page may contain affiliate links. Please review our full Terms and Conditions for more information and our Privacy Policy. Note that any pricing, operating hours, or other such information provided below may have changed since initial publication.
Compiled by the Road Trip Alberta team
Last updated on April 24, 2023
Banff is a popular destination within Alberta, largely because there is such a wide range of incredible things to do and see. If it seems overwhelming when deciding what to put on your itinerary, that's because it can be! This is why we often recommend partaking in some of the excellent Banff tours on offer, especially for newbies to the area. Sometimes you need a trusted source to help you experience the area, and being guided by professionals who can give you local tips and impart the area's history can amplify your experience substantially.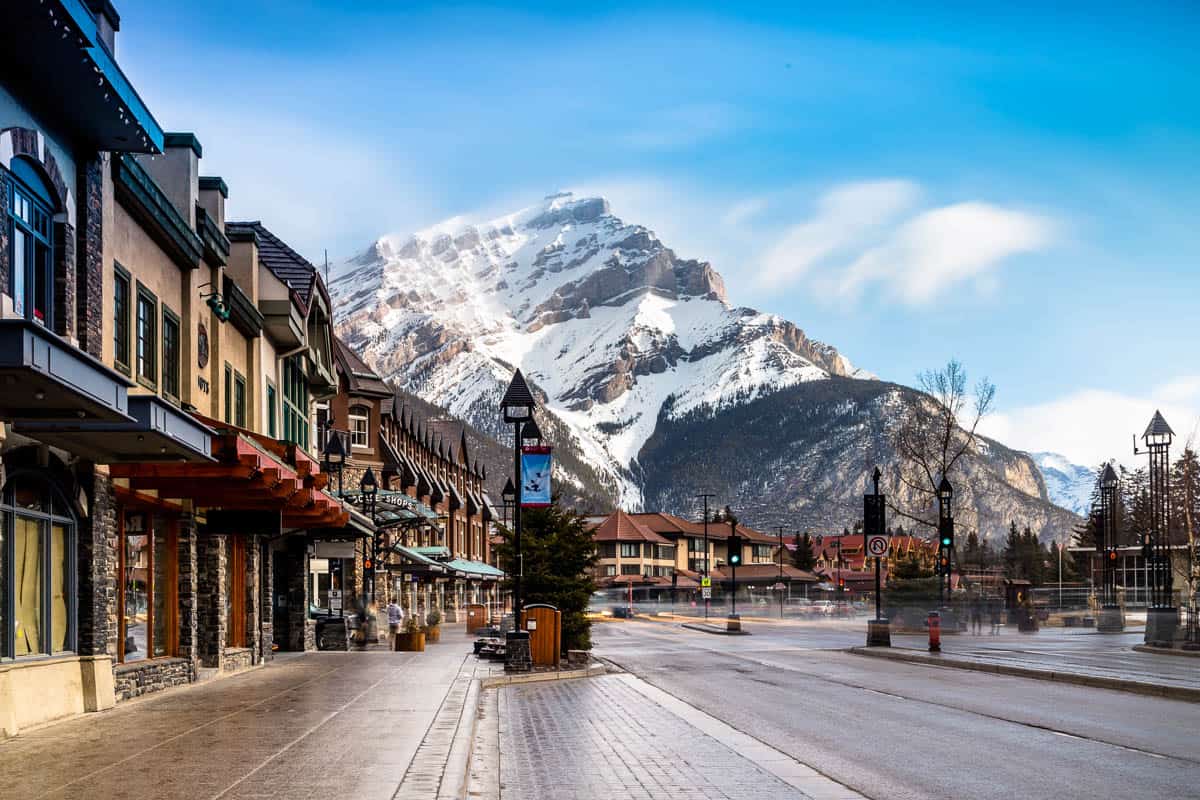 Whether you want to explore outdoors and get the adrenaline pumping or partake in more leisurely outdoor activities, there is something on this list for you. Or maybe you want to explore the food scene in Banff? There's an option for you here, too! From overnight horseback riding trips to scenic Banff Gondola rides, or guided tours on a big canoe, if you are planning on heading to Banff, we highly recommend taking some of the stress out of your trip by letting someone else show you around.
Banff Tours in Summer: Our Top Pick
Lake Louise and the Icefields Parkway – Full-Day Tour
Tour Length: 8 or 9 hours
Star Ratings: 5/5 (250+ reviews)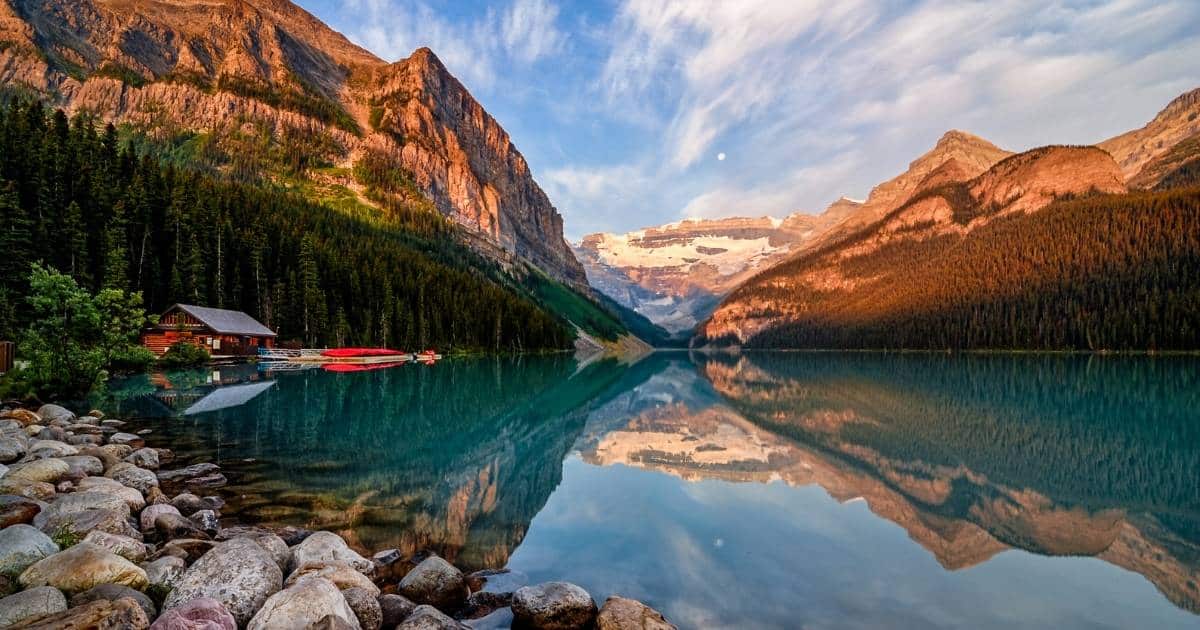 This is one of the top Banff tours (just look at the reviews!) and our top pick for a summer tour in Banff. It allows you to easily explore Lake Louise and the Icefield Parkway in one day with round-trip travel from the Banff townsite. See sweeping views over attractions such as Bow Falls and Moraine Lake as you hop on and off at the picturesque spots.
Also, since this small group tour is limited to 15 people, you can enjoy personal attention from your guide and ask specific questions about the area. Stops include Lake Minnewanka, Lake Louise, Moraine Lake, Icefields Parkway (pass by), Bow Lake, Crowfoot Glacier, and Peyto Lake.
Note: this Banff tour is available in both the summer and winter seasons, both offering an exceptional experience.
Other Excellent Banff Tours in Summer
Banff Food Tour: Eat The Castle
This tour is a designated Canadian Signature Experience so you know it must be good! Tour four culinary locations within the Fairmont Banff Springs Hotel, one of the world's most iconic hotels and a National Historic Site. So not only is this a foodie tour, but the tour guide will also impart knowledge about the hotel's history and the surrounding area of Banff National Park.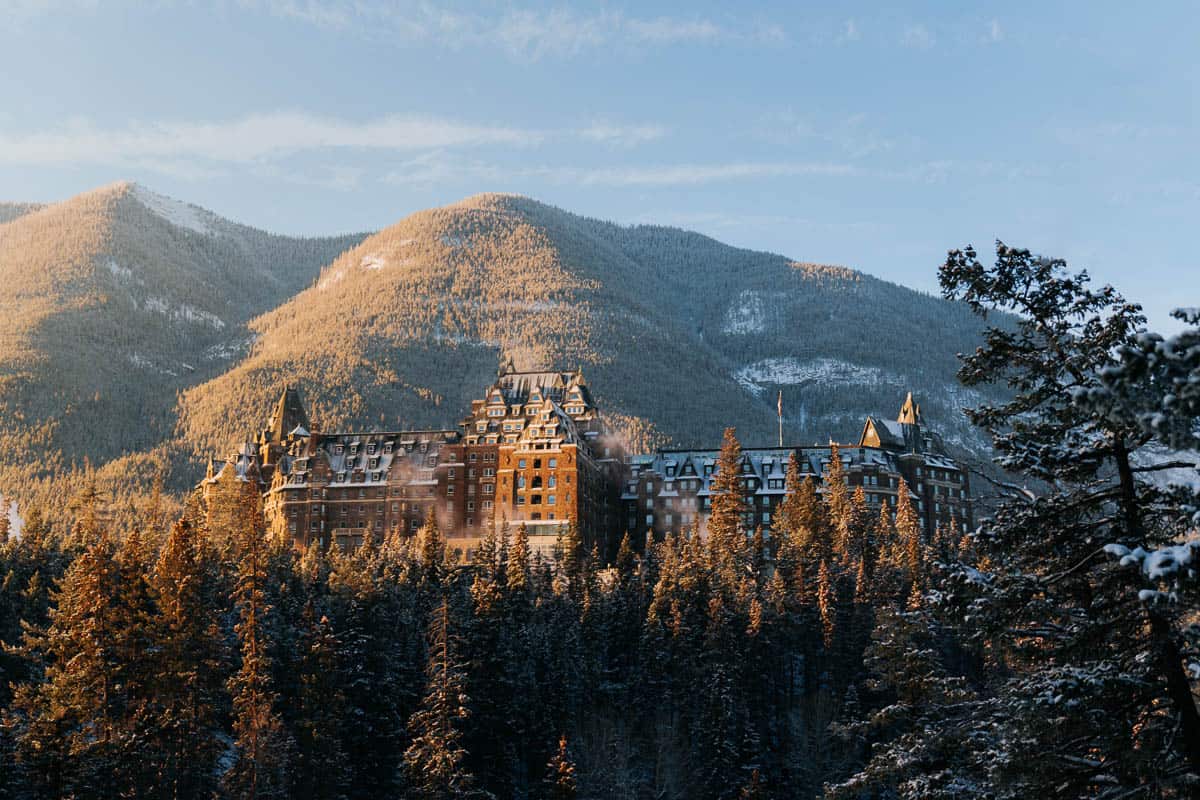 Also, don't fret, this is not a sampler type of culinary tour, it is a "fork and knife" tasting at all stops with the perfect beverage pairings, the ultimate small-group tasting tour that is offered year-round!
---
---
Summer Evening Wildlife Tour
Spend dusk on a 2-hour group tour that's perfect for nature enthusiasts! Along with an expert guide and coach bus, go searching for wildlife and keep an eye out for bears, big horn sheep, deer, elk, and more. Learn about their natural habitat and conservation efforts while driving around trying to spot some in the wild (this tour has a 95% success rate of viewing animals in their natural environment).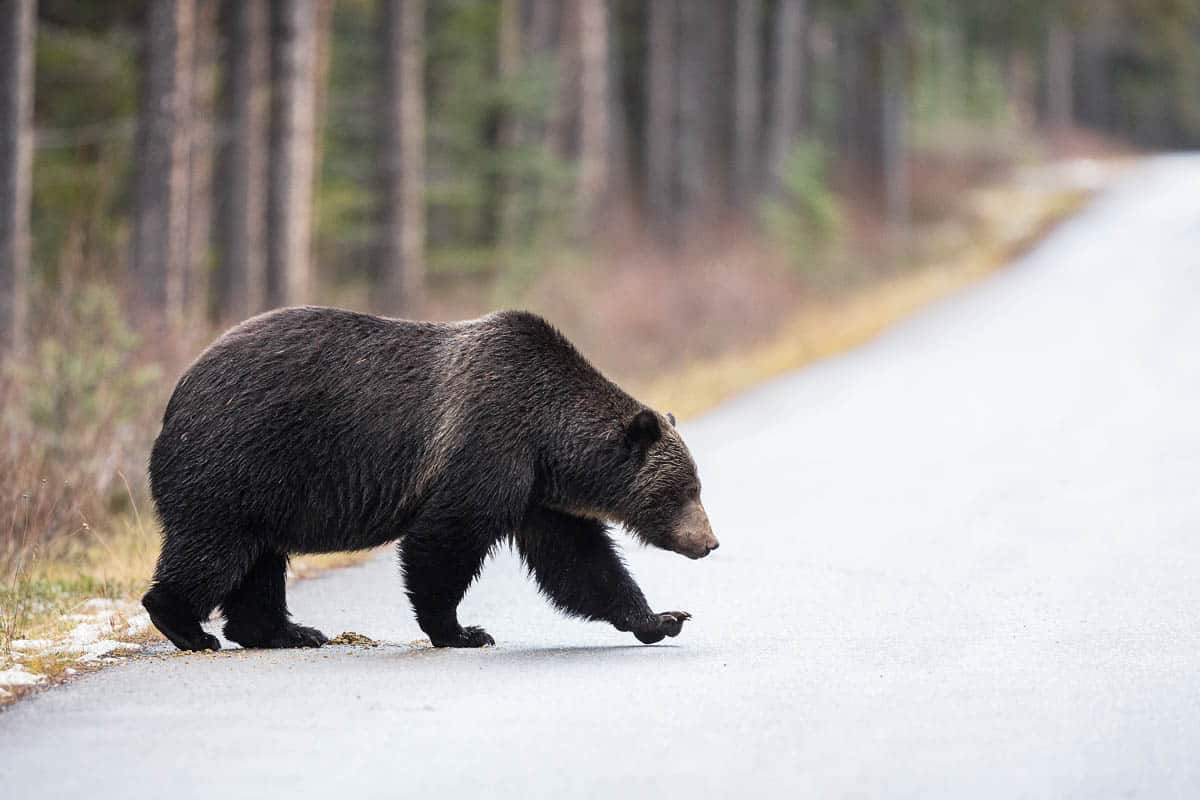 Before getting dropped back off in downtown Banff, the tour stops at an interactive touch table to view rare animals, props and artifacts. Providing an immersive experience that will be a highlight of your trip.
Our guide helped spot some animals and talked about their characteristics. He also shared some fun stories about the places we saw.

Review via Viator user Halina_C
---
---
Climbing Experience of Via Ferrata
Via Ferrata is a Latin word for 'Iron Path'. In hiking, it is a man-made climbing route built with a stainless steel cable that you attach yourself to with safety clips as you climb. Via Ferrata routes can be found all over the world and Banff is no exception! The via ferrata in Banff is on Mt Norquay and offers 4 amazing routes to choose from in varying degrees of terrain and time allotment.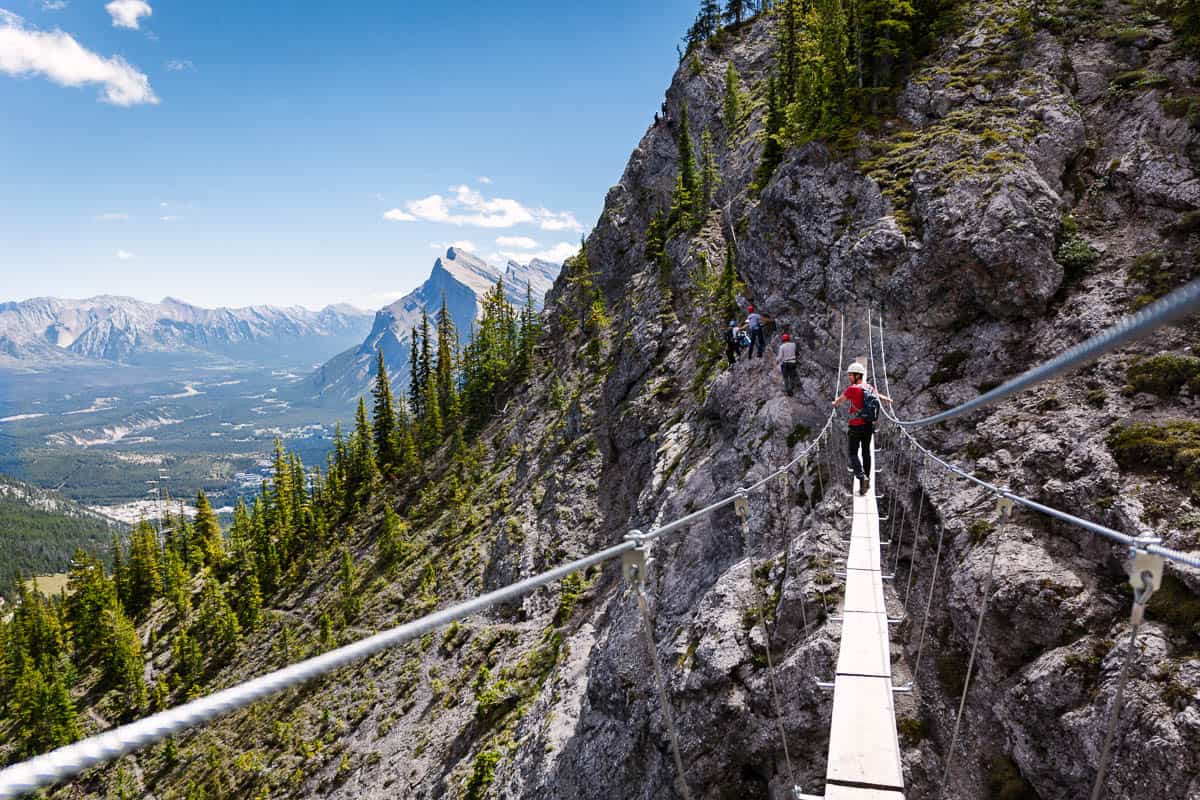 With the assistance of a professional and certified guide, you can safely venture on a unique adventure that allows people to experience the terrain that is usually reserved for rock climbers. There's even an option that crosses an "airy" 55m suspension bridge! The routes are uncrowded (a rarity in Banff) and exhilarating in their uniqueness – giving you unprecedented views of mountain peaks and nearby lakes.
---
---
Johnson Lake SUP
Try your hand at Stand Up Paddleboarding (SUP) surrounded by the beautiful Rocky Mountains! The setting is Johnson Lake, a turquoise-coloured beauty of a lake that is surrounded by both Rundle and Cascade Mountains, and perfect for quelling any nerves as you learn the basics of SUP.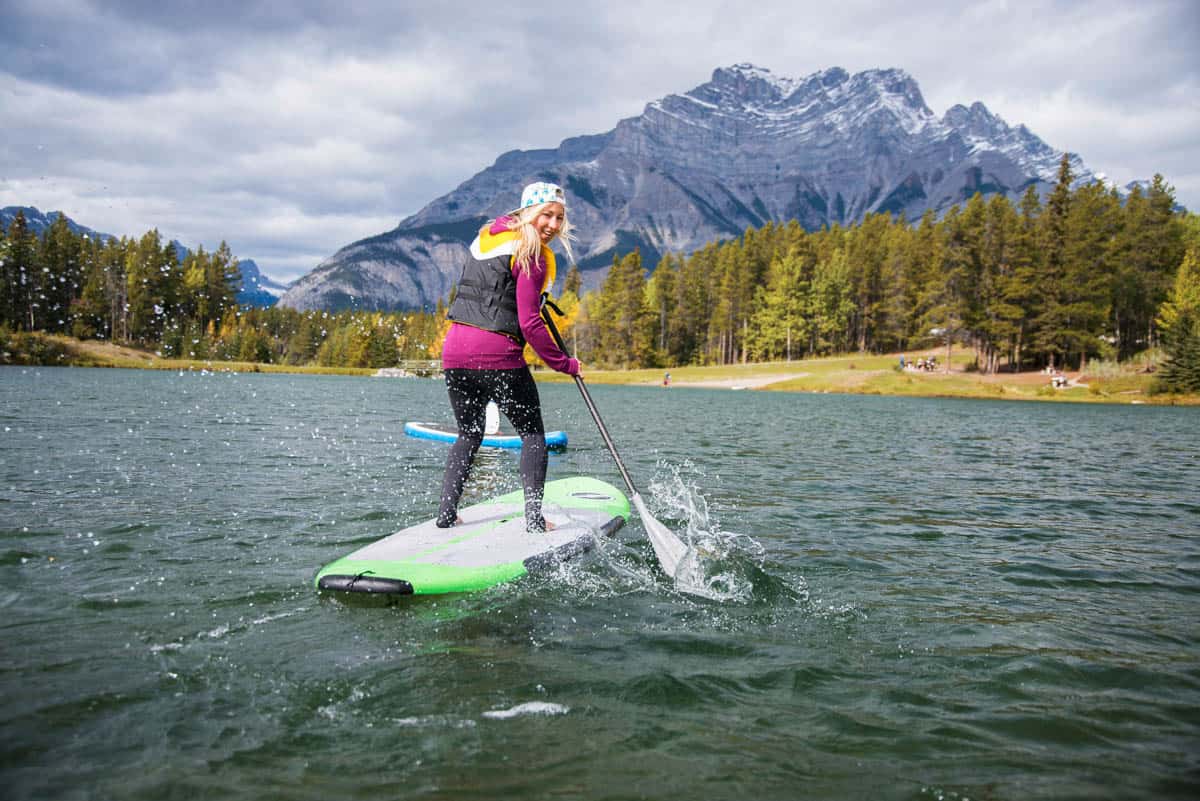 This experience includes an intro session with a certified SUP guide to learn water safety, get comfortable standing up on the board, and learn general skills to maneuver the board. All equipment is included with this tour and even comes with a personal floatation device and whistle, just in case.
Beautiful SUP tour. Friendly and knowledgeable staff. Such a fun experience. The scenery is magical and the water is so clear.

– Review via Viator user Sheena_B
---
---
Experience Rock Climbing
Learn the ropes (literally!) and get up the wall in this informative and safety-conscious rock climbing opportunity that is suitable for all levels of experience, from novice to advanced. With the help of an experienced guide, learn site safety and awareness, climbing technique, mock leads and rappelling, belaying top rope and lead climbers…basically, all the information you will need to rock climb anywhere in the world! This small group tour ensures expert individual instruction so everyone walks away confident in their new climbing abilities.
Was the highlight of our trip. Great way to spend the day doing something so exhilarating. The guide was bang on with his knowledge and skill. I would highly recommend this to anyone!!!

– Review by Viator user Cale_D
---
---
Big Canoe Tour
Paddle along the Bow River on an oversized canoe that seats 12 – perfect for groups and those visiting with kids. See native wildlife, admire the magical scenery, and listen to your guide inform you about Canadian history, heritage, and local information.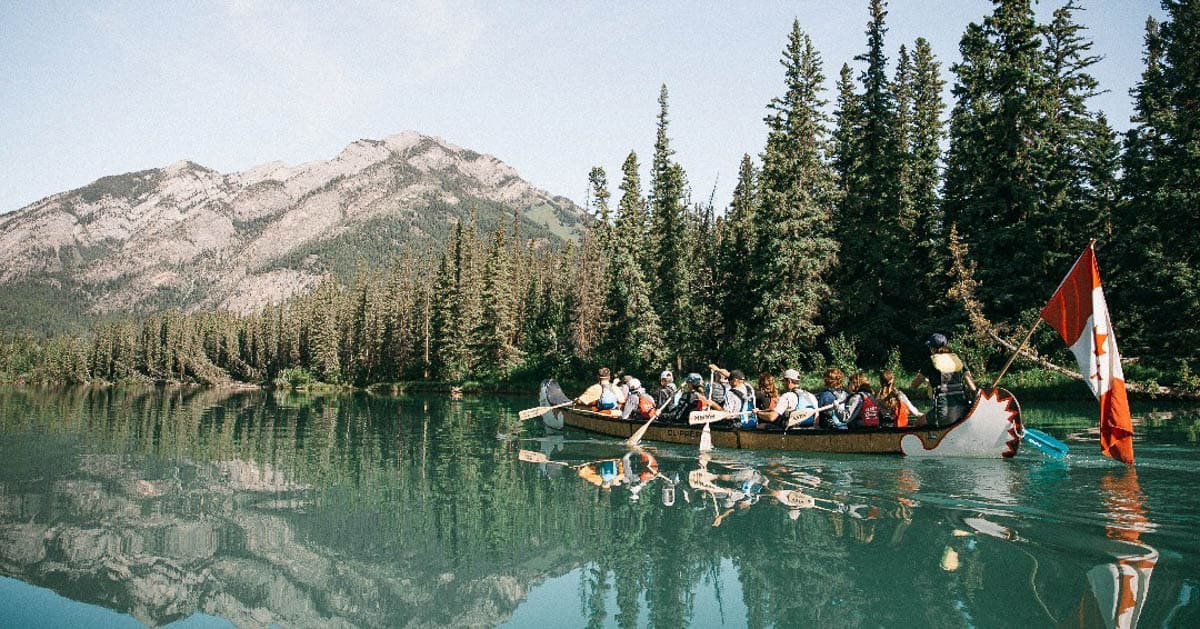 The start and end point is the Banff Canoe Club, which is just a 5-minute walk from downtown Banff. This experience is not only unique and makes for a fantastic photo op, but you can be on the water with no prior water knowledge. Just sit back and relax, do some light paddling, and enjoy the views and company. This tour is perfect for the whole family!
Tour guides Marc and John were wonderful. Canoes were solid. Safety was covered. It was a lot of fun and very easy. Highly recommend!

– Review via Viator user Kathy_L
---
---
2-Hour Banff Horseback Riding Adventure
Arguably, one of the best places to get amazing photos of the Rocky Mountains is while on horseback! This 2-hour experience is short on time but big on wilderness and nature opportunities. Pass by the natural hot springs, head to Cave and Basin National Historic Site, and trek along the Bow River as you soak in the views of the Bow Valley. The experienced guides will ensure you see as much as possible within the 2-hour window.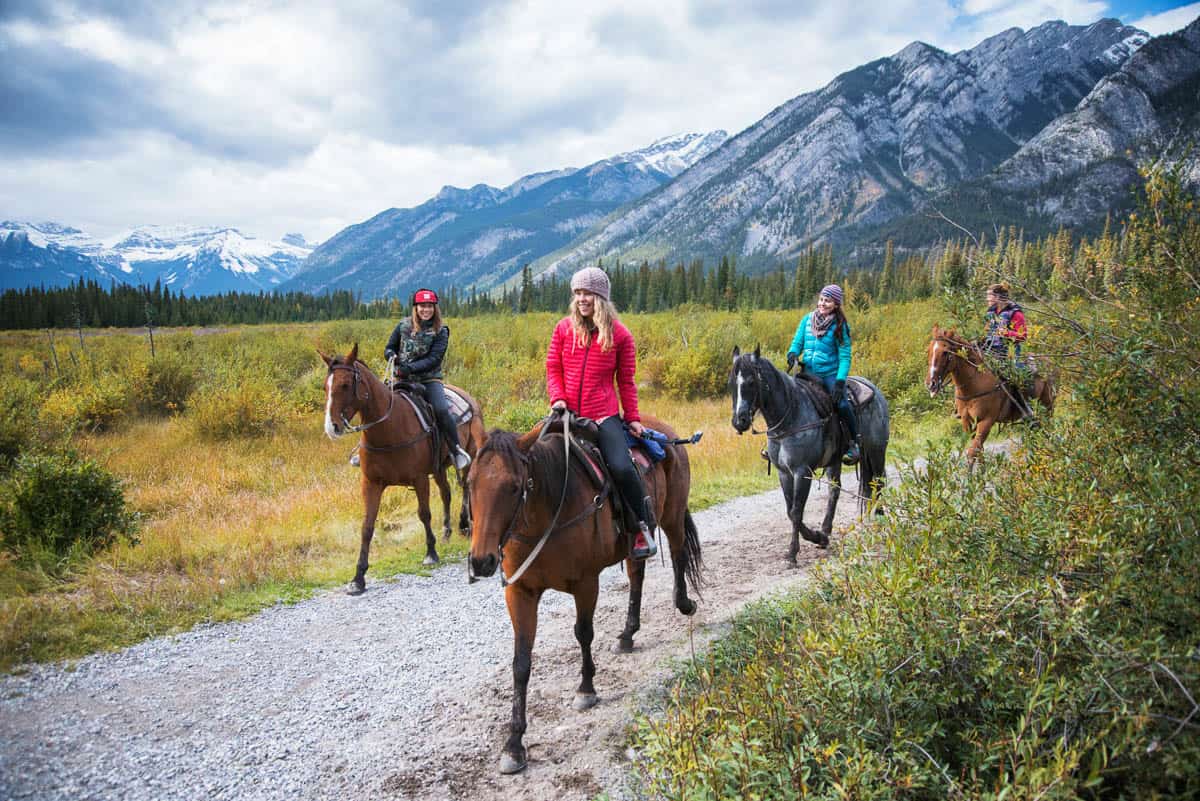 This was a beautiful ride! My horse, Possum, was so fun to ride. I felt completely at ease with him and my group. The scenery was gorgeous and we even saw a bear (from a safe distance)! It was wonderful. Highly recommend for all skill levels.

– Review by Viator user Denise_L
---
---
Sulphur Mountain Horseback Ride
Take in the gorgeous Rocky Mountain scenery from 6 or 7 feet up, a different perspective given to you by being on the back of a horse! On this 4-hour day tour adventure, you can venture past the base of Mount Rundle, lead your horse across the Spray River, and pass by the Fairmont Banff Springs Golf Course on a trail ride.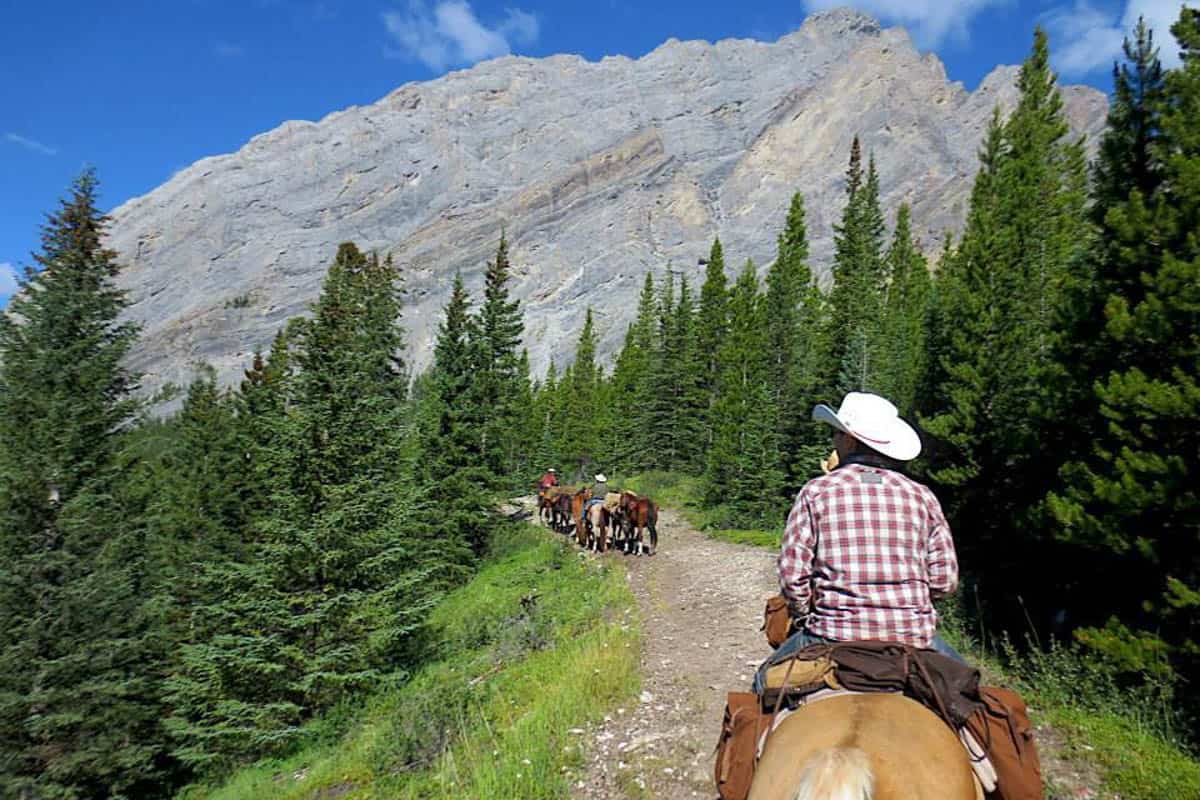 Led by your cowboy guide, saddle up and get a feel for what it was like for pioneers first settling in this once-wild area. The meeting point for the 4-hour Spray River Ride is at the Banff Springs Corrals in Banff, located near the Fairmont Banff Springs Hotel behind the tennis courts.
Probably the best way to start your trip in Banff. Our guide was incredible and very personable and answered all of our questions. Even if you have never been on a horse you can do this. Very safe and 10/10 would recommend.

– Review via Viator user Anna_W
---
---
2-Day Overnight Backcountry Horseback Trip
Spend your days exploring the Bow Valley countryside on horseback and your night at a luxurious backcountry haven! It's a 10-mile journey from the Warner Stables to Sundance Lodge, where the horses take you by glacier-fed creeks and fantastic scenery that will take your breath away. And fear not – this trip has no sleeping bags or camp stoves!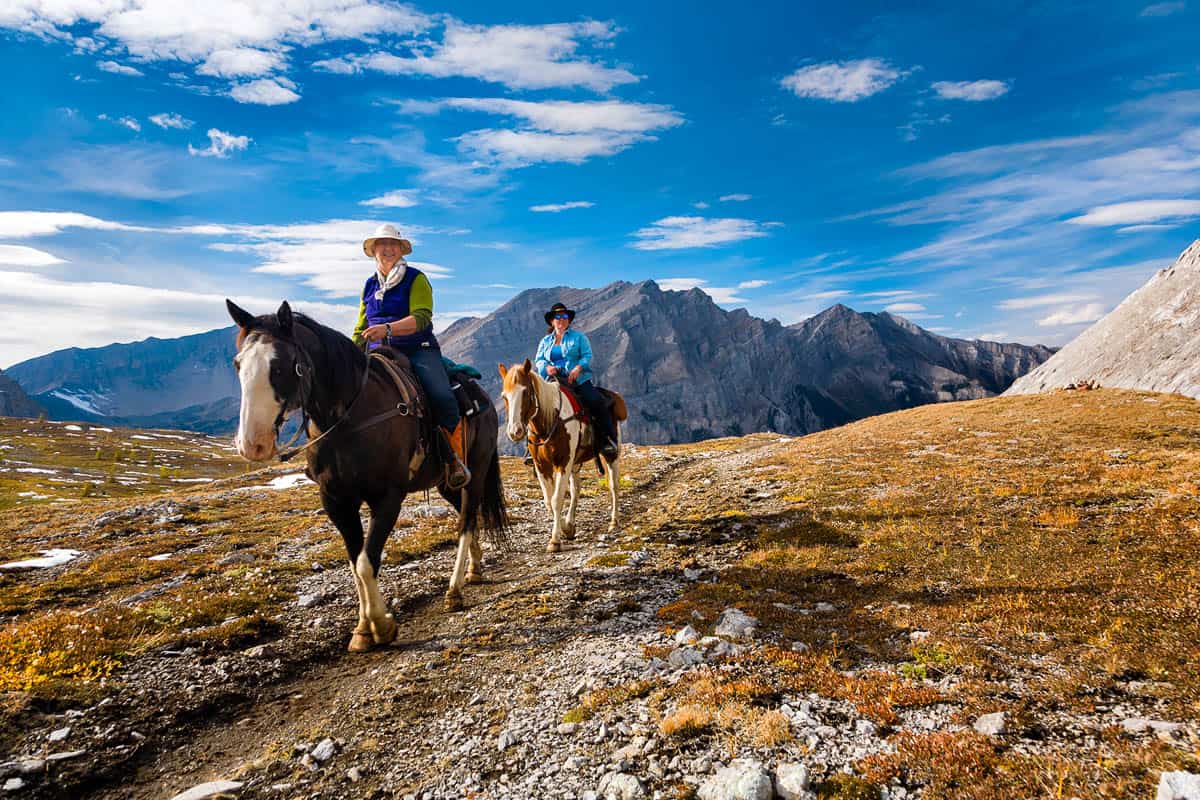 It is all luxury dining and soft beds to rest your head after the long day. On the second day, after waking up in paradise, you will take a leisurely ride back to the stables armed with plenty of stories and a rejuvenated spirit to bring back to Banff.
Food was great, staff was knowledgeable and professional. Lodge was very clean and dinner was excellent. Great scenery and well kept horses. Great experience overall! Thanks!

Review via Viator user Harvey R
---
---
3-Day Horseback Adventure
Sometimes the best way to explore a new place is to disconnect from technology and be immersed in nature completely! If reconnecting with nature and letting go of any stress or worry is the goal, then this three-day horseback riding adventure is precisely what you need! Explore the backcountry of Banff National Park and easily spot elk, deer, and moose while taking in the sights of the Bow River and the towering Rocky Mountains.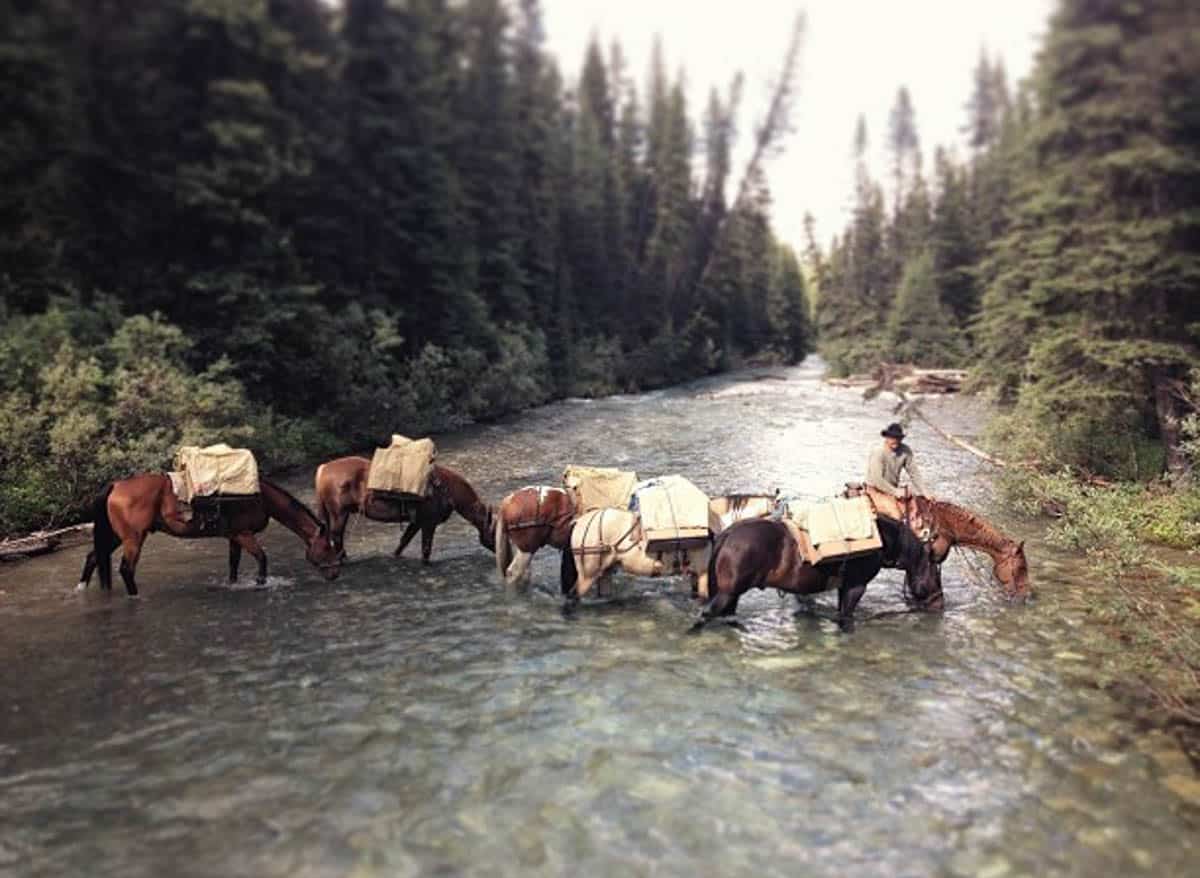 While the daytime is full of wilderness, the nighttime activities are hosted at the Sundance Lodge, a rustic 10-bedroom log cabin outfitted with amenities such as heating, indoor washrooms, and showers. You can truly have a relaxing time and let the guides show you around, provide breakfast, lunch, and dinner and take in everything from horseback.
Even though it rained we had a fabulous time. Ali was so helpful as was Jamie. The lodge was neat and clean. Beds were comfortable. The scenery was breathtaking. Everyone should do it at least once. Horses were well taken care of and well fed.

– Review via Viator user Karen H
---
---
6-Day Horseback Adventure
Be prepared to fully leave civilization and life behind on this six-day horseback riding adventure! Venture up to 8,100 feet and stay in the backcountry of Banff National Park for an extended period of time, taking in the uncrowded views in a unique way.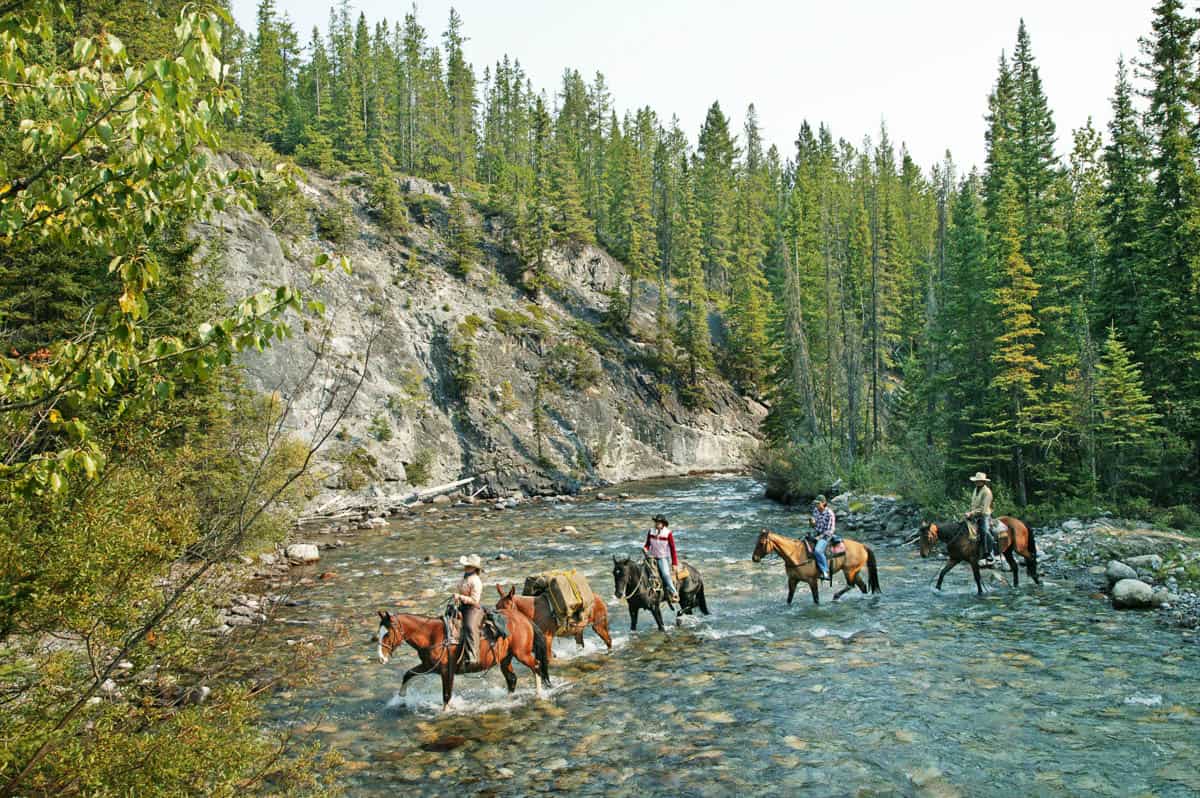 This experience includes five nights' accommodation in comfortable lodges, all meals during the six days, and professional guides to help you wrangle your inner cowgirl/boy as you steer your horse throughout the beautiful Canadian wilderness. On one of the days, there is even a scheduled rest day to give your body a break from the ride, and instead can adventure on a hike, or take the day to relax at the lodge. This whole trip is blessedly stress-free!
I was nervous when packing to leave for this trip, but once we were there all that anxiety went away. There were 6 of us ranging in various ages & riding experience. The entire staff was excellent along with the accommodations. It was so relaxing I hope to do it again.

– Review via TripAdvisor user
---
---
Ticket to Banff Norquay with Chairlift Sightseeing
This Banff tour has views for days! Need we say more? Offering unobstructed views of Banff and the Rocky Mountains, the Banff Sightseeing Chairlift was even once visited by Marilyn Monroe! Enjoy a 10-minute ride up on an open-air chairlift to the historic tea room turned bistro that has a retro-cool look right out of a European chalet.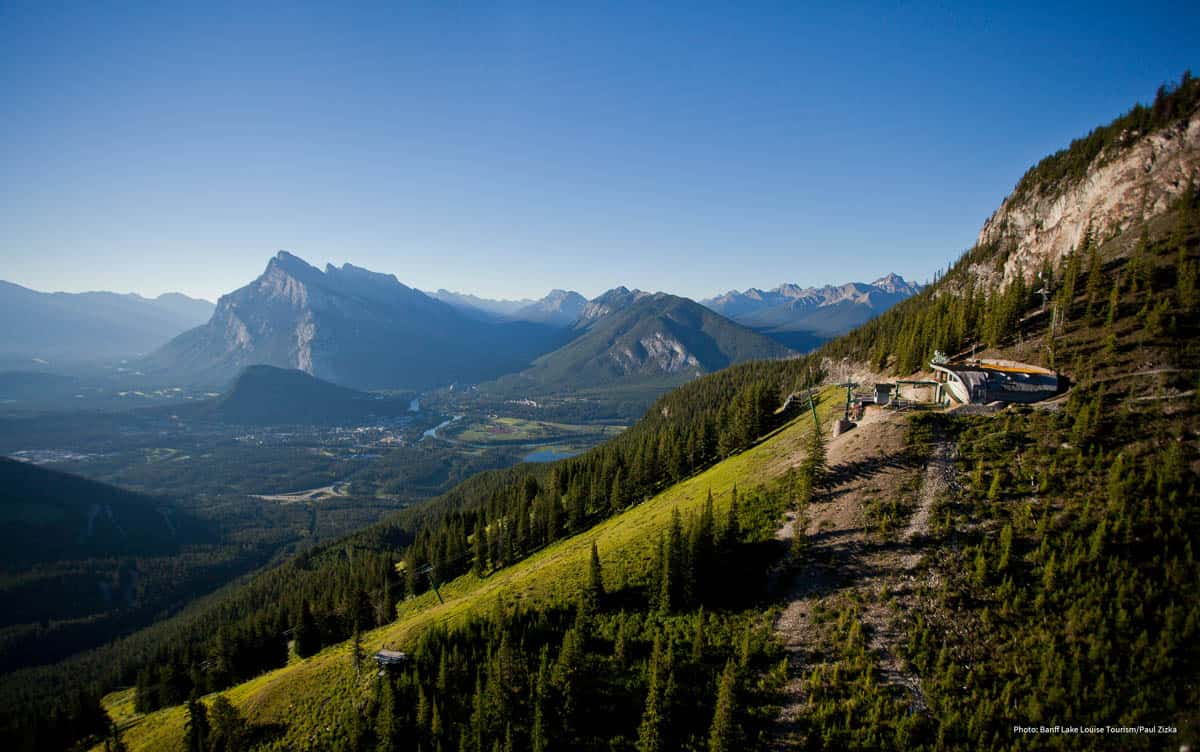 Soar to nearly 7,000 feet elevation and gaze upon panoramic views with plenty of nature viewing and wildlife opportunities (black and grizzly bear viewings are not uncommon). This experience is unguided, but there is no shortage of things to capture your attention!
---
---
Lake Minnewanka Cruise
A boat cruise on Lake Minnewanka is one of the top things to do in Banff National Park, and it is easy to see why! From the boat, you can see mountain views and hidden gems unlike anywhere else in North America. Be surrounded by the turquoise-coloured lake, old-growth pines, and stunning mountain peaks that are all filled with wildlife in their natural habitat, including bears, deer, eagles, and coyotes.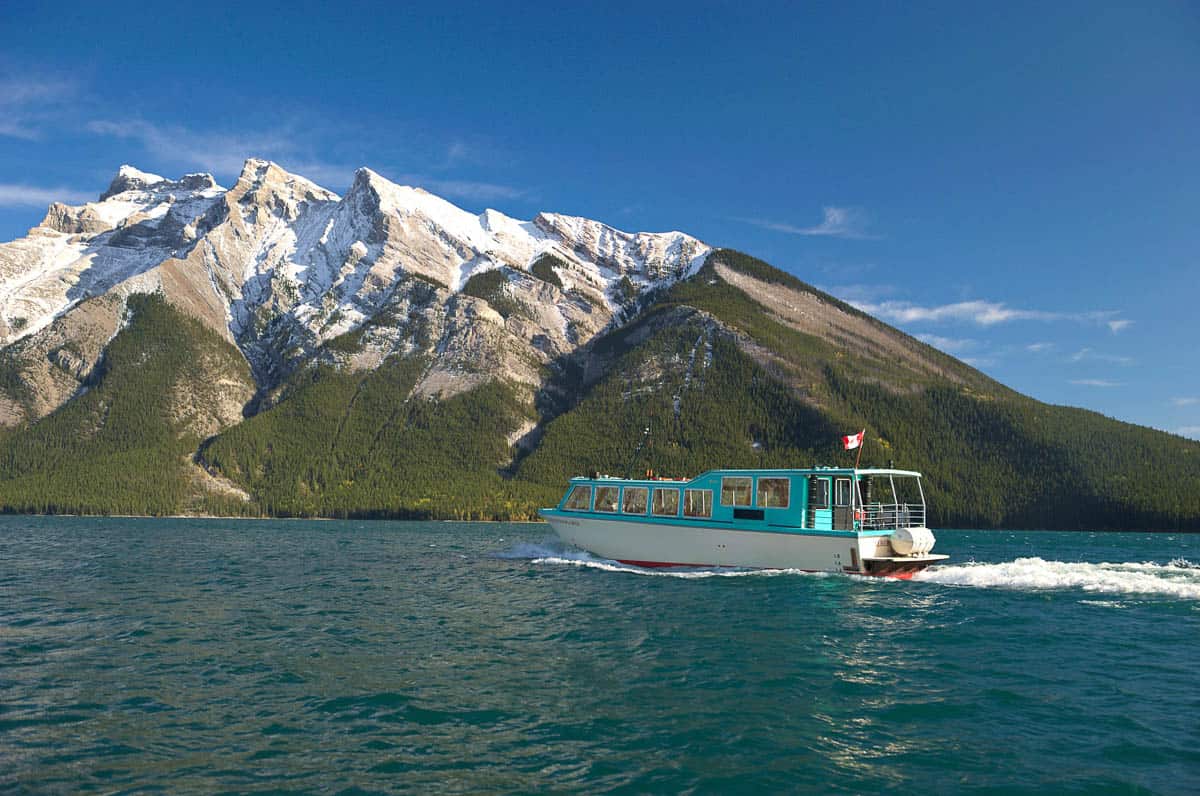 The photo opportunities are endless! Tour the beautiful valley landscape of Canada's oldest National Park. The dock is just a short drive from the town of Banff, and on board, hear stories of the history of Banff, including the submerged town of Minnewanka Landing deep beneath the water. This is a leisurely summer cruise with an amazing storytelling component, so no physical activity is required to enjoy all the wonders surrounding you. During the summer, in peak hours, boats depart every 30 minutes!
Excellent customer service and boat cruise. Our tour guide was very knowledgeable and kept us very interested in the history the whole time and captain Paul was also wonderful. Will definitely be back again. Thank you for a great experience.

– Review via Viator user Karla_F
---
---
Private Photography Session
Catch a Banff sunset with a Rocky Mountain backdrop for your family photos! Whether visiting in summer or winter, a professional photographer will help capture the memories of your Banff National Park vacation, and you will receive up to 60 high-resolution digital images within five days of your shoot.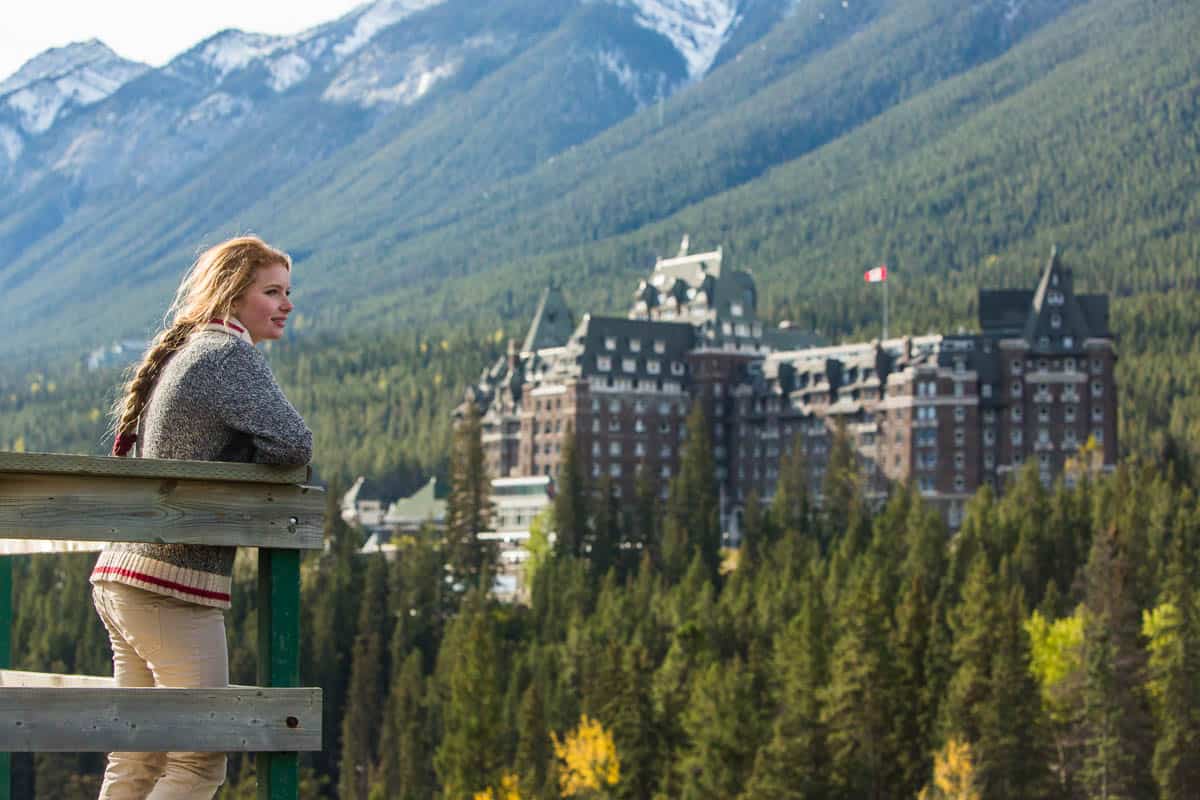 This Banff National Park tour is unlike any other, letting you curate the photo points and choose a 60, 90, or 120-minute shoot. Don't settle for average smartphone snapshots – capture the park's beauty and have everyone in all the photos! No selfies with half-captured faces here.
---
---
Lake Louise Private Photos
Imagine that the backdrop for your next set of family photos is the stunning summer scenery of Lake Louise. Or picture a frozen Lake Louise with a gentle snowfall as the location for a surprise engagement that is tastefully captured by a professional photographer.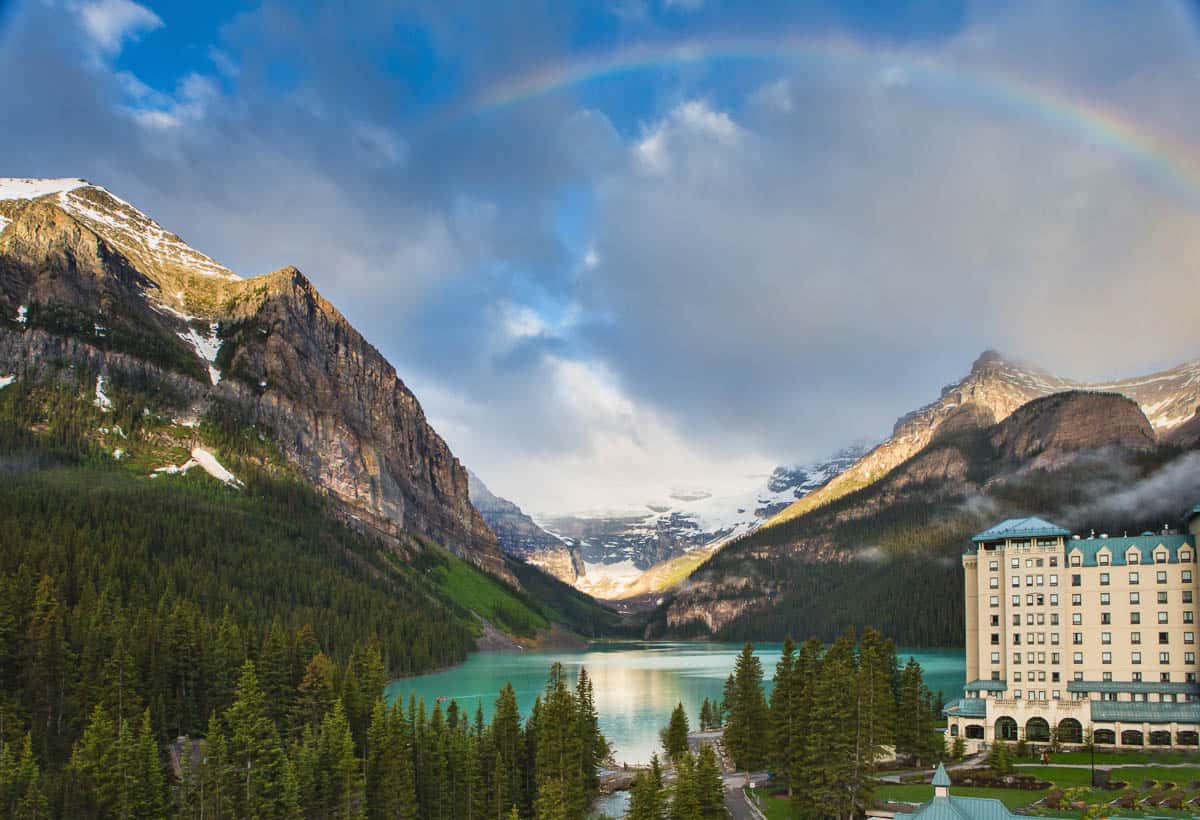 A popular choice of Banff tours, the Lake Louise Private Photos experience allows for a local photographer to bring their unique regional knowledge to find the perfect backdrop for your photoshoot. Not interested in just photo opportunities at Lake Louise? This session brings you to 3-4 locations at Banff Springs or Lake Louise, ranging from 30-35 minutes.
Nik was awesome, the photos were stunning, we had lots of fun and Nik captured a very special family holiday for us. I am very grateful to have such beautiful photos at such a beautiful location.

– Review via a TripAdvisor user
---
---
Covered Wagon Ride in Banff with Western Cookout
From May to September, saddle up for a ride along the Bow River in Banff and a Western-style cookout! But don't worry – you can choose to either ride on horseback or in the covered wagon to get to the dining site. Both options give ample opportunity to check out the majestic Rocky Mountain terrain.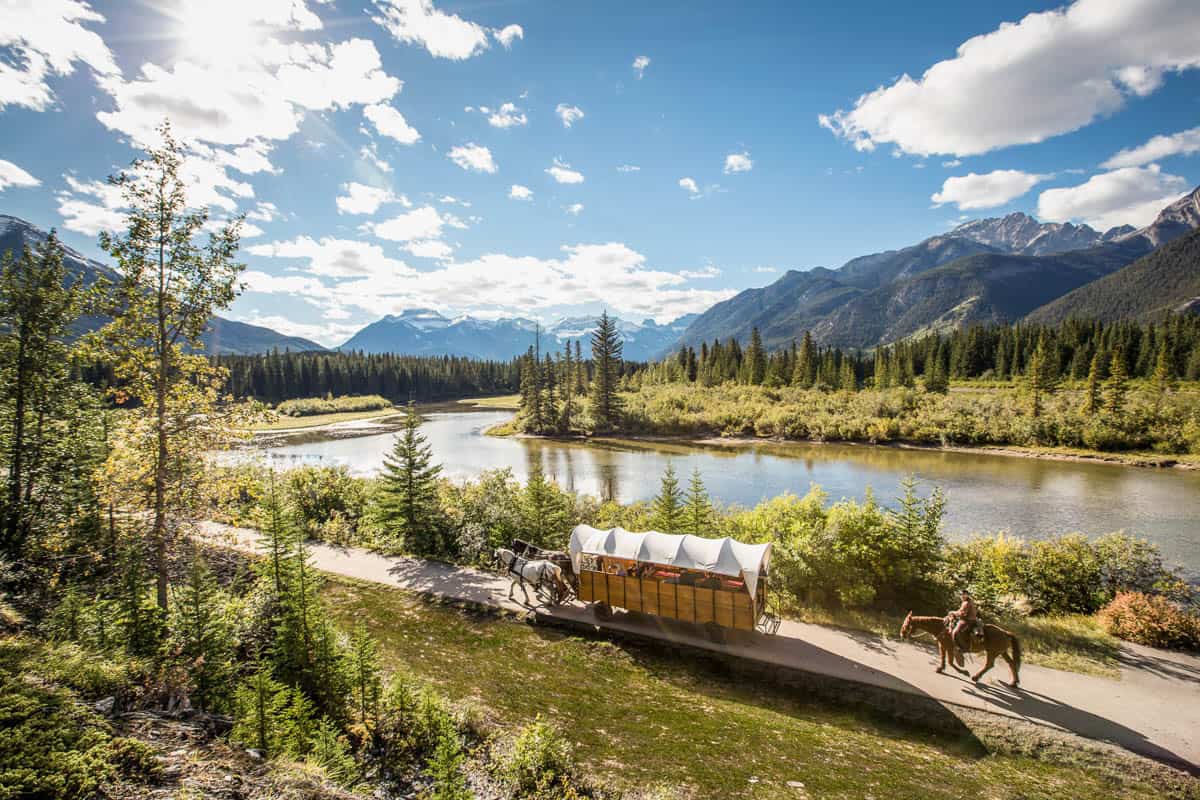 At the dining site, tuck into a meal of steak, salad, baked beans, and potatoes while also trying out your roping skills and playing a game of horseshoes. This tour is fun for families (although horseback riders must be over eight years old).
This was an interesting experience. I mean, how often does the chance to ride in a covered wagon present itself? The barbeque lunch was so good! My friend is vegan. I didn't know they offered a vegan alternative to the lunch, but they said you had to request it ahead of time. However, they magically made it appear, even though we hadn't pre-requested it. They went above and beyond.

– Review via Viator user Deborah_P
---
---
eBike and Hike To Johnston Canyon
Combine two popular activities in one guided tour! Swiftly e-bike and admire views of Vermilion Lakes, the forests of Legacy Trail, and the Bow Valley Parkway. From there, this half-day tour continues a hike to Johnston Canyon (Banff's most popular day hike), including the Lower Falls Bridge.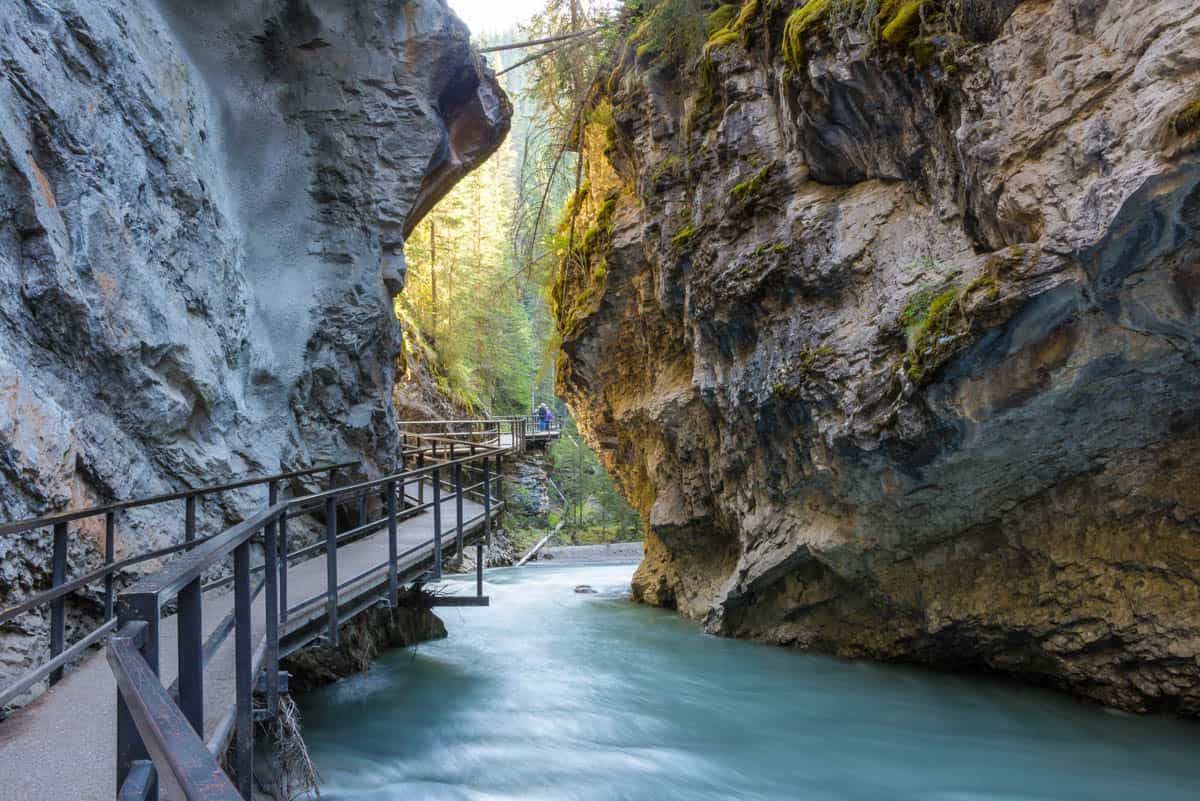 This tour is a great alternative since the Bow Valley Parkway is closed to vehicles from June to September. Fast and efficient, cover 26km biking and 3km walking in this 4-hour, round trip tour.
Wonderful scenic bike and hike!! Monica was very accommodating and showed us a great time. 1st time on e-bikes!! What fun!! Best excursion we took while in Banff!!

– Review via Viator user Debra_I
---
---
Canadian Rockies: Scenic Helicopter Tour
You can find Rockies Heli Canada, the tour operator for this scenic helicopter tour, between the national parks of Banff and Jasper. Take one of their 20, 30, or 55-minute flights and be in awe as you cruise over the heart of the Canadian Rockies any season of the year.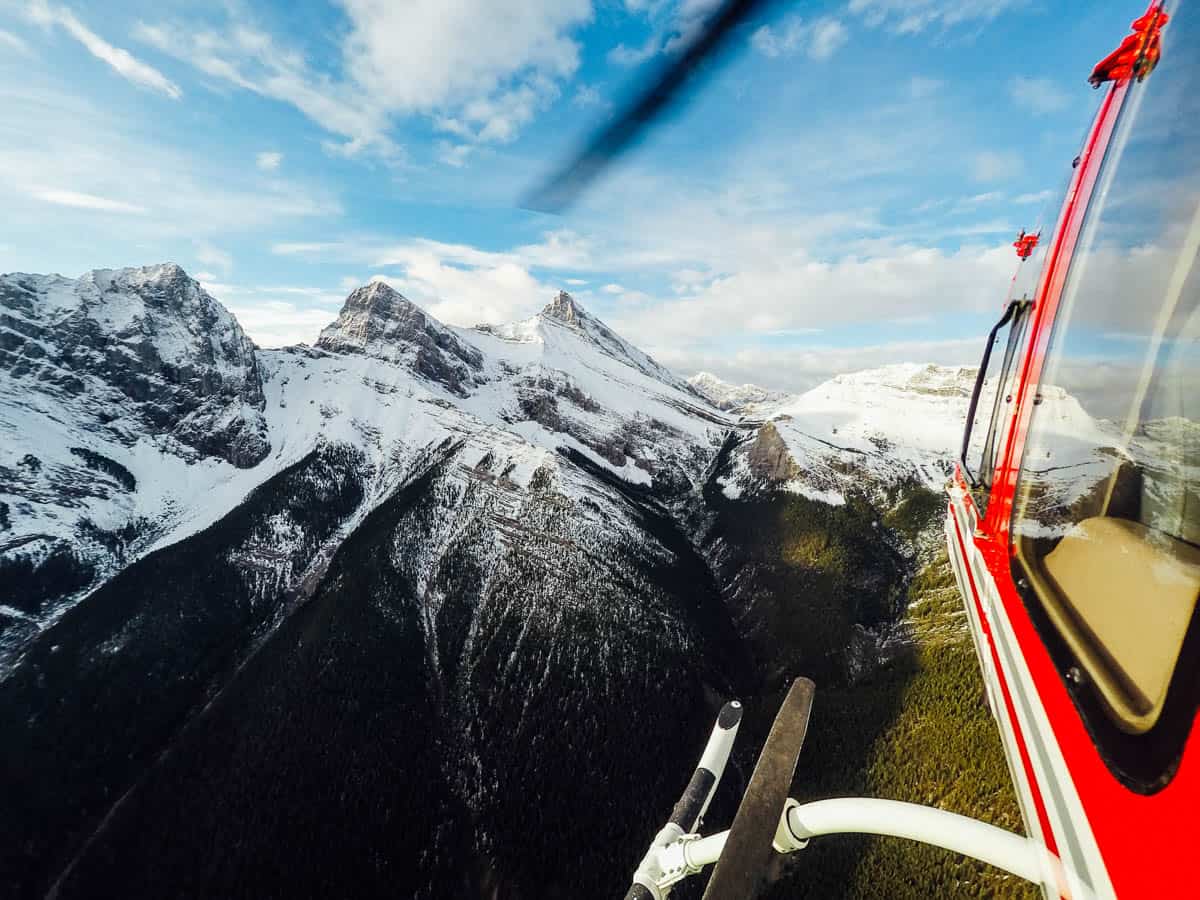 You can see Abraham Lake on the 20-minute flight, soar over Cline Pass and the Wilson Icefield on the 30-minute flight, and have a complete Columbia Icefield adventure for 55 minutes of gorgeous scenery, including frozen lakes and waterfalls narrated by a great tour guide throughout it all. This is one of the best tours to get the bird's eye perspective of the Canadian Rockies in all of their splendour.
Amazing experience and beautiful scenery. Our pilot was very knowledgeable and guided us through the mountains perfectly. We even got to see some wildlife way up on the mountains. Great people at the front desk and ground crew. Definitely worth it and we would do it again.

– Review by GetYourGuide Traveler
---
---
Banff Medicine Walk
Take an easy yet informative walk in and around Cascade Ponds with an indigenous guide! A truly unique experience that can be done in both winter and summer months, the tour begins with a ceremonial process and is full of cultural information about the land. Hear stories, survival tips, and how the indigenous people of Alberta used various plants, trees, and bushes to survive in the Rocky Mountains for centuries. It is an eye-opening and enjoyable experience that is unique to Banff.
---
---
Banff Gondola Ride Admission
Enjoy a leisurely ride up Sulphur Mountain which offers views of six different mountain ranges! The Banff Gondola leisurely takes you up to nearly 7,500 feet. Then, at the top, stroll the boardwalk at the summit leading to a nearby national historic site and partake in some food and beverages at one of the dining options available. There is a state-of-the-art building at the summit that includes interactive interpretive exhibits, a theatre, and a 360-degree rooftop observation deck.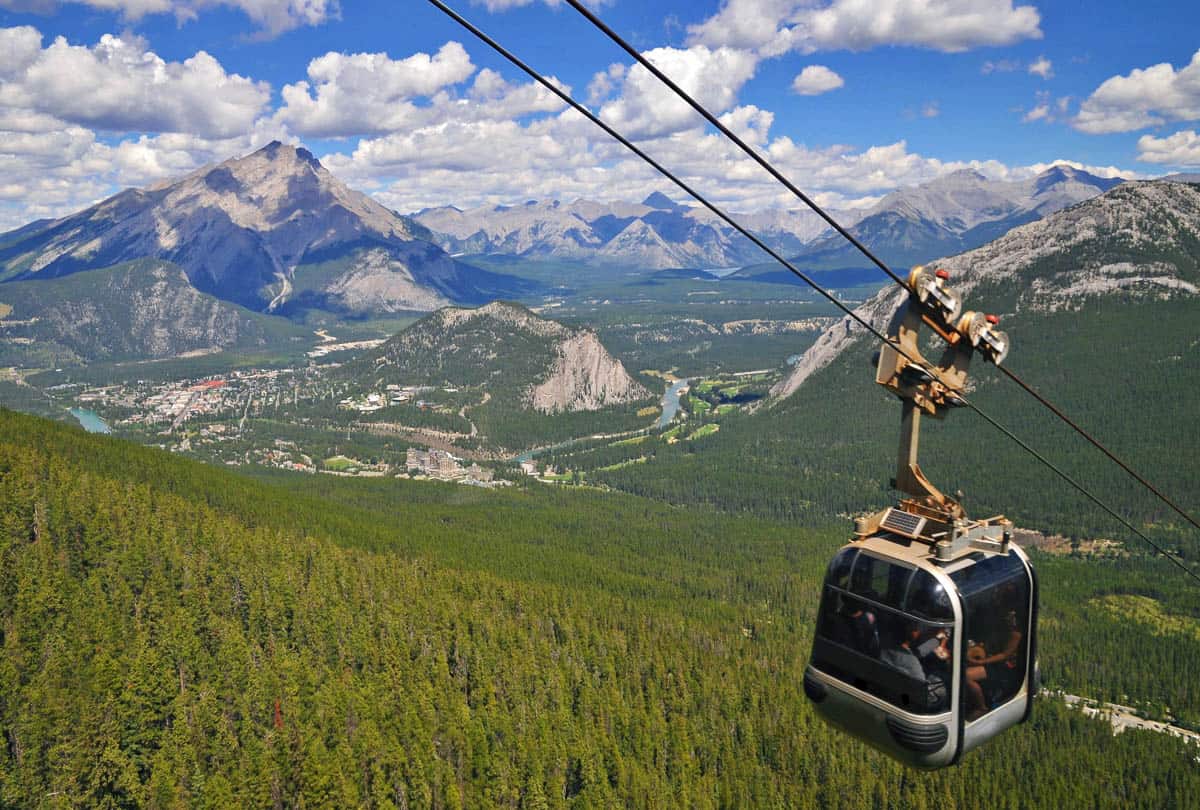 The Banff Gondola is open year-round, with snow stretching for miles during winter and glistening clear lakes and warm blue skies in summer. While this experience is unguided, there is plenty to explore on your own. Tip: For a different experience, try riding up at night and seeing Nightrise, which utilizes light projections to honour the magic of sacred mountains (Nightrise is returning in October 2023).
The views of the Canadian Rockies are the best! Nowhere else can you get these views. For the price, this is a must-do in Banff.

– Review via Viator user Rebecca_V
---
---
Banff Tours in Winter: Our Top Pick
Johnston Canyon Icewalk
Tour Length: 4 hours
Star Ratings: 5/5 (350+ reviews)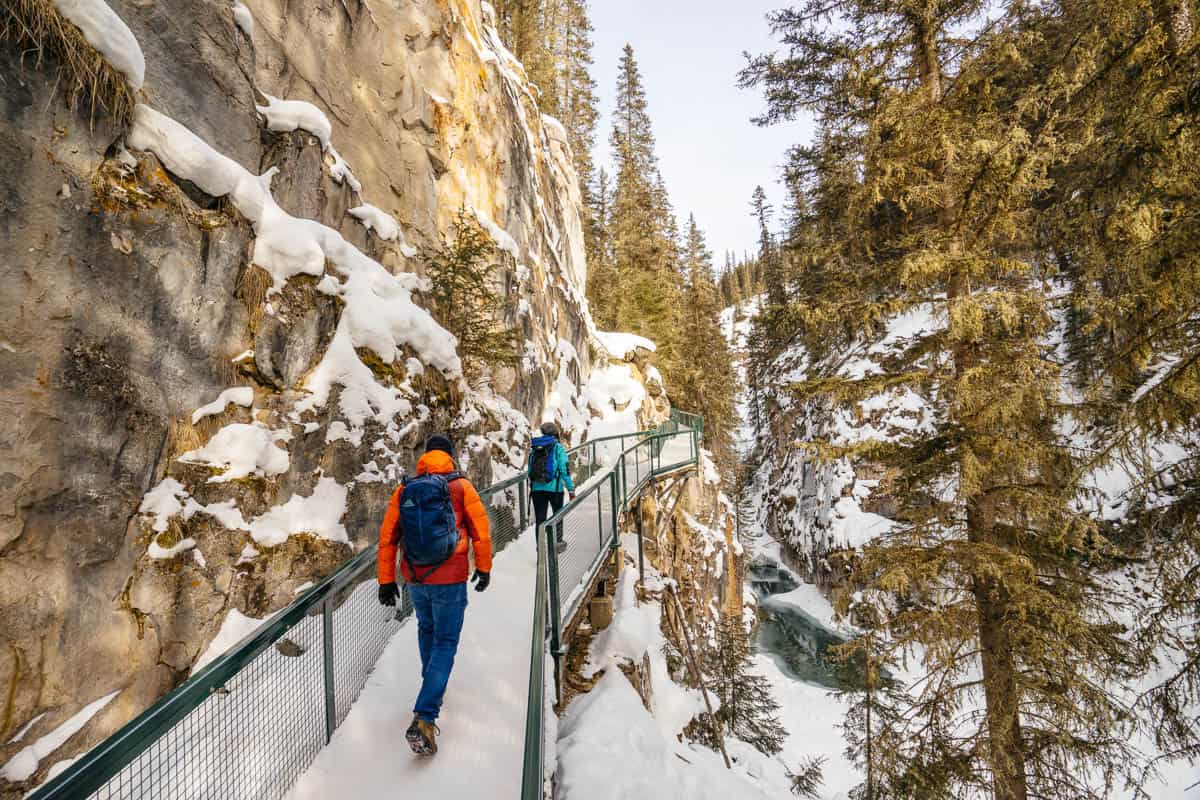 There is a very high likelihood that when seeing winter photos of Banff posted online, it is Johnston Canyon that is featured. The beautiful ice-covered waterfalls and surrounding scenery are prominently seen in many Instagram photos – and for good reason!
This particular Johnston Canyon tour is our top choice because the reviews are INCREDIBLE. On this tour, you can explore the canyon with a knowledgeable guide who will tell you all about the canyon's history and geology. The guide also supplies ice cleats to properly hike and explore the steel walkways along the canyon's edge. Also included is a light snack and hot chocolate to help warm you up during this winter walk.
– Review via Viator user Sally_R
Other Excellent Banff Tours in Winter
Johnston Canyon Evening Icewalk
Discover one of Banff National Park's most popular hiking trails at night (without the fear of getting lost) during this small-group tour. On the way to the trailhead, you can also take in the breathtaking scenery and nature on the Bow Valley Parkway. Explore Johnston Canyon with a guide leading the way, and marvel at shimmering frozen waterfalls as you hike along a suspended catwalk.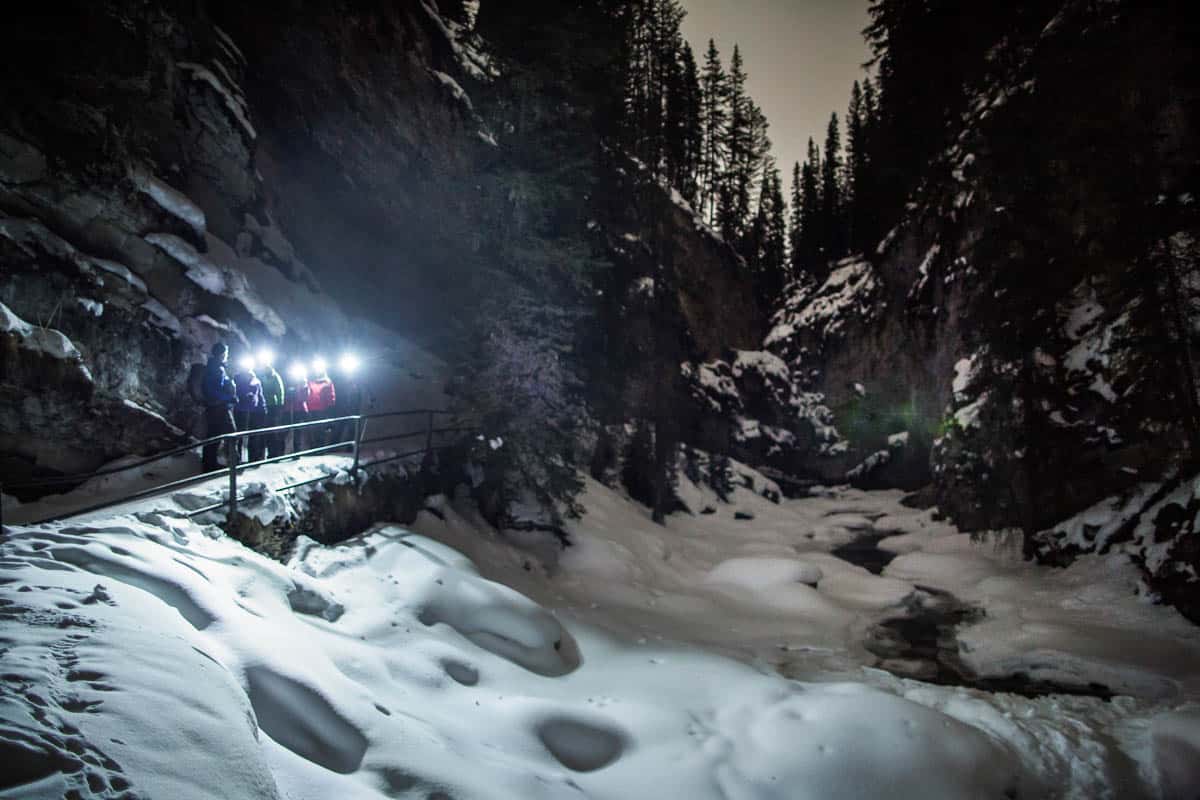 Equipped with a headlight, you can see this trail in a new light and a different perspective than during the daytime. This tour also includes a small snack and hot chocolate to warm up with. Bonus: In the evening, this hiking trail is way less crowded than it is during the day.
Great trip! Amazing tour guide. Ryan was very perky and knowledgeable. Would do it again for sure! Also the maple cookie was the bomb! 😀

– Review via Viator user Stacia_P
---
---
Snowshoeing On Top Of The World
Start with a gondola ride to this epic snowshoe experience! Feel the crunch of deep powder snow under your snowshoes in the Rocky Mountain backcountry, safely guided by a trained professional that can show you the perfect spot to get 360 views, including of Mt. Assiniboine and into British Columbia.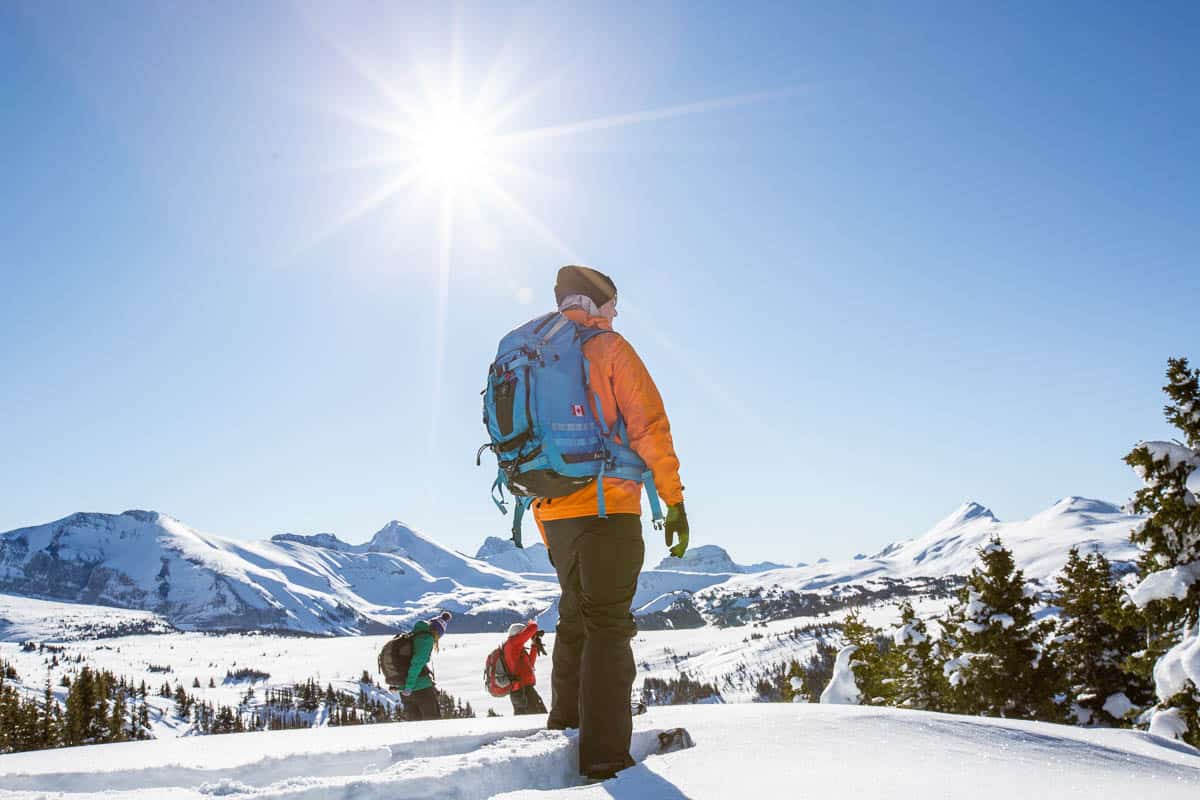 The meeting point for one of these tours can be right from your Banff hotel or in Sunshine Village at the base of the Sunshine Village Gondola. Note that though the snowshoes are provided, you are still responsible for having warm winter clothing, including snow boots, hats, gloves, snow pants, and a winter jacket.
Perfect way to spend an afternoon — our small group had the spectacular winter world of Sunshine Meadows all to ourselves. So glad I did this!

– Review via Viator user Sarah_F
---
---
Historical Walking Tour
Meeting outside the Banff Park Museum National Historic Site, get ready to explore Banff's most iconic spots with a local guide (sometimes they even show up dressed in historic gear from the era the park was founded in 1885).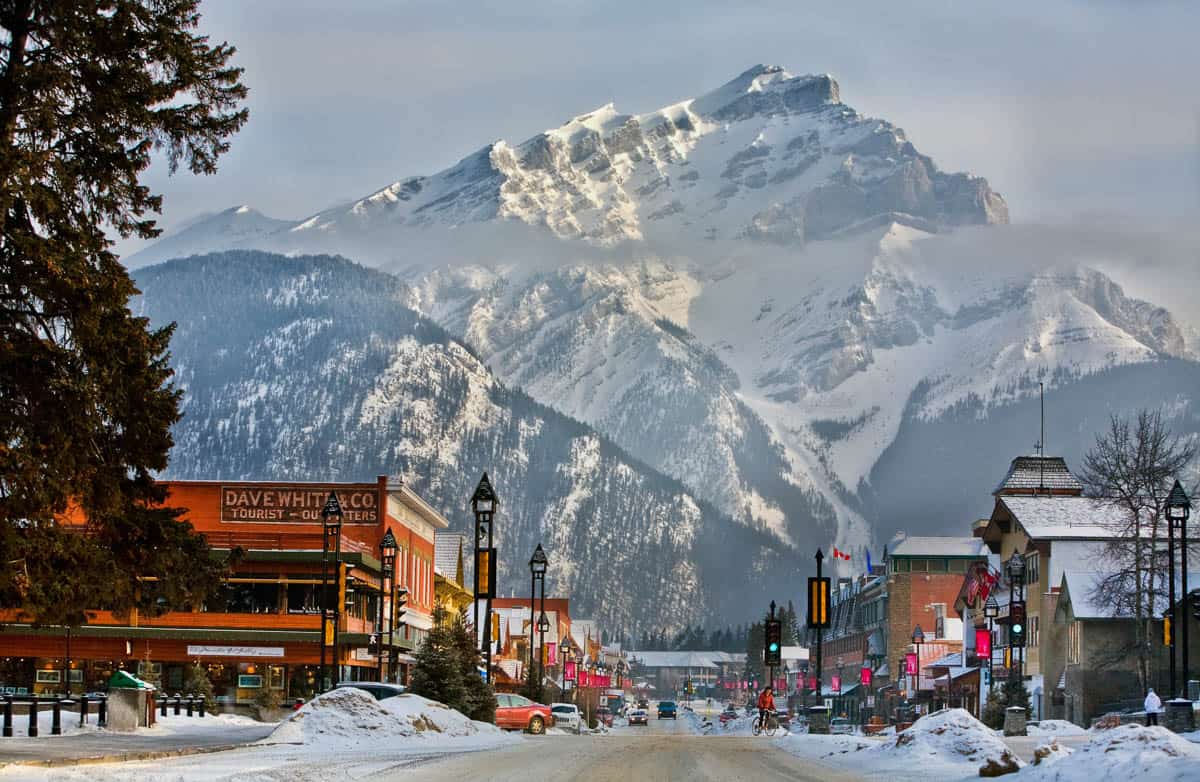 The tour includes entry into the Cave and Basin National Historic Site along with a knowledgeable guide to share stories about the area, famous people, and natural history. In the winter months, ice cleats and a hiking pole are provided, and in summer, they supply bear spray just in case.
The tour was sprinkled with humor, history, plant and animal info, and some ecological facts. Highly recommend if you are interested in history presented with humor with breathtaking views.

– Review via Viator user Trina_R
---
---
Ice Climbing
All climbing gear for this is included, all you need to bring is yourself and a sense of adventure! In this full-day tour, you will experience the exciting sport of waterfall ice climbing in the Canadian Rockies. The knowledgeable guide will help you travel to a local frozen waterfall, learn the basic skills, and quickly be off the ground swinging ice tools and climbing. Don't sleep on this one! If you're up for it, it is definitely a bucket list opportunity.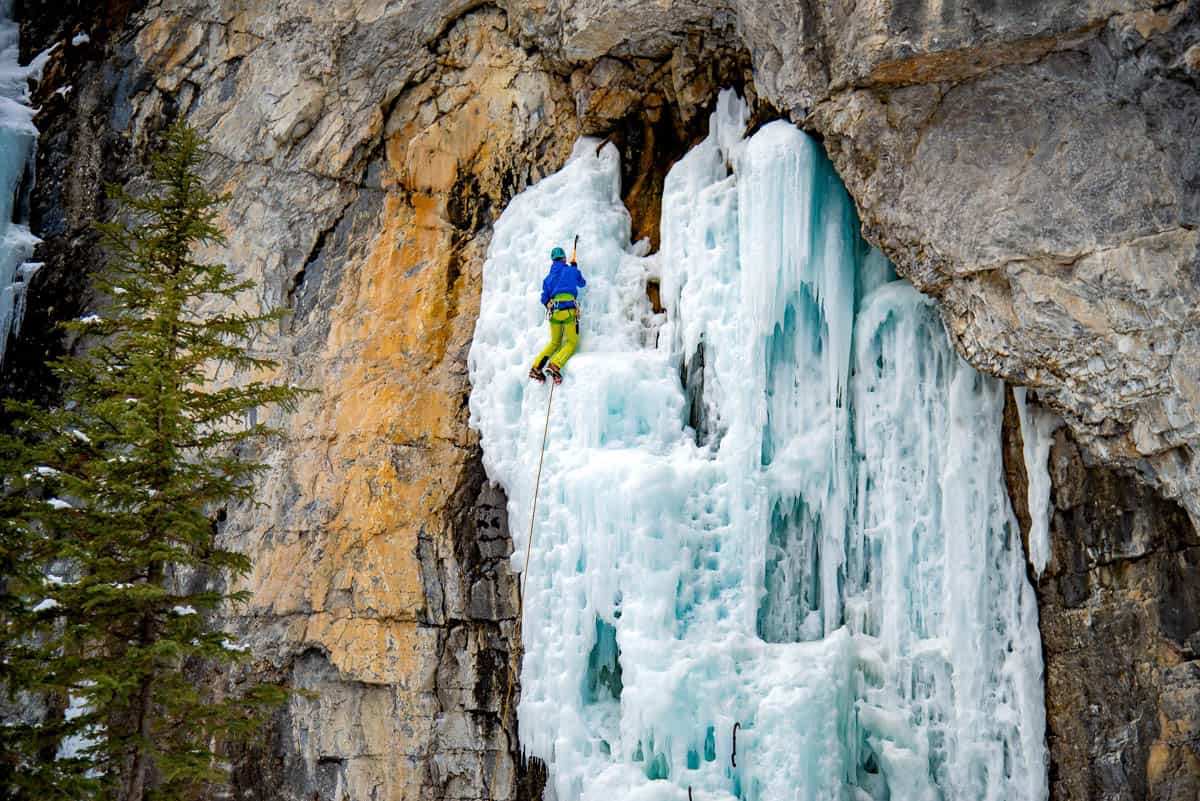 He provided a high adventure experience while never compromising safety. A true pro and really nice guy. The overall operation was extremely professional and the condition and quality of the climbing gear was top notch!

– Review via TripAdvisor Reviewer
---
---
Private Horse-Drawn Sleigh Ride in Banff
Did somebody order some Hallmark movie romance? Settle in for a horse-drawn sleigh ride for two throughout the winter wonderland of Banff National Park! For 40 minutes, admire the stunning views of majestic Mount Rundle and Mount Norquay as your guide provides information on the surrounding area. To add to the ambiance, a cozy blanket and s'more kit are also provided. This is a magical ride with a good possibility of seeing some local wildlife as well, including deer and elk.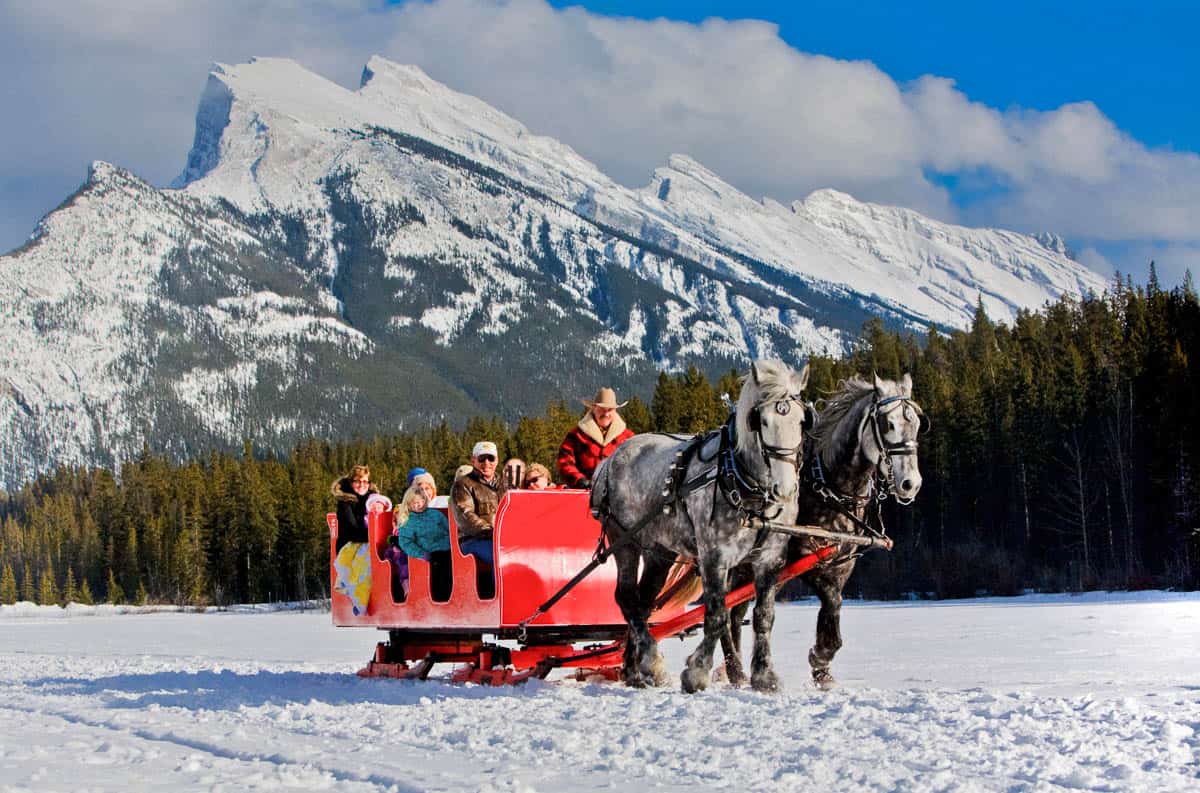 ---
---
Discover Lake Louise and Snowshoeing
Learn how to snowshoe with the stunning Lake Louise as the backdrop! Lake Louise and Moraine Lake are arguably the two biggest attractions in Banff National Park, but getting to Lake Louise on your own can be a bit of a hassle. This tour includes a shuttle with pick-up from Mount Royal Hotel so getting to this magical winter wonderland will be a breeze. This is a guided beginner snowshoe, so you can take your time to learn the ropes, check out the scenery, and keep your eyes open for some wildlife opportunities!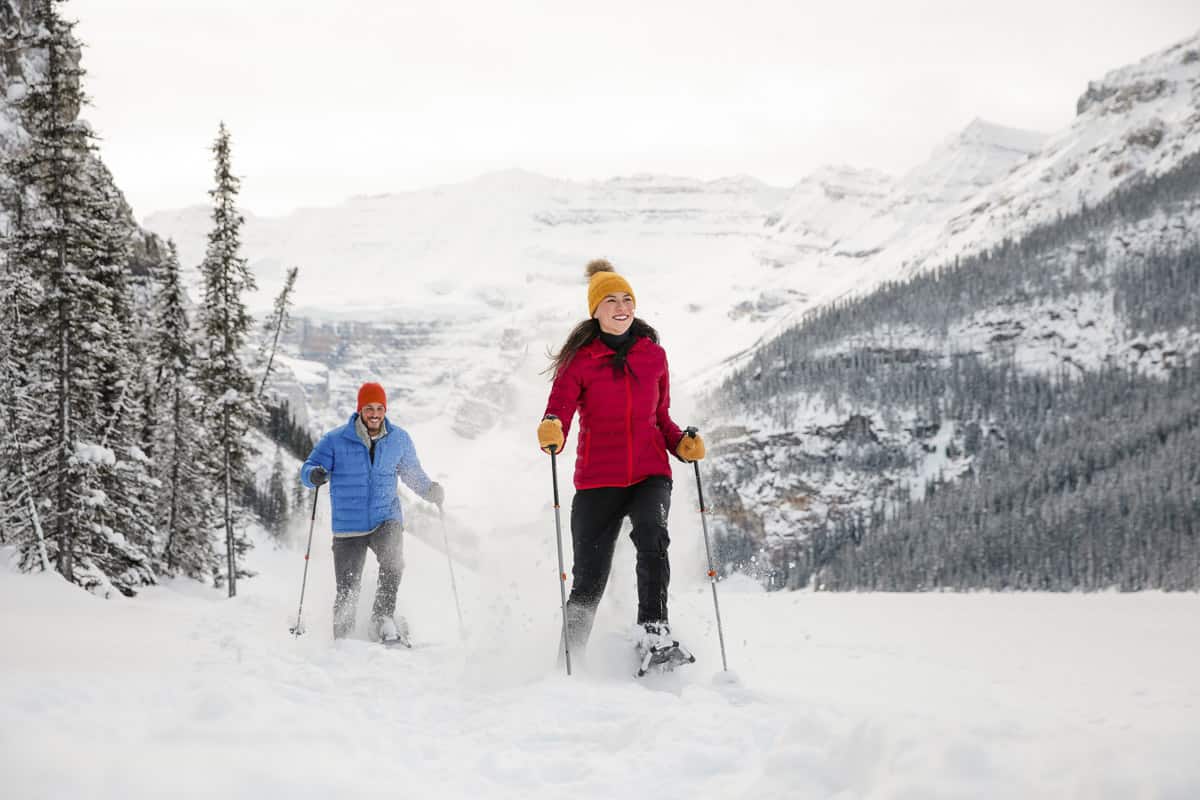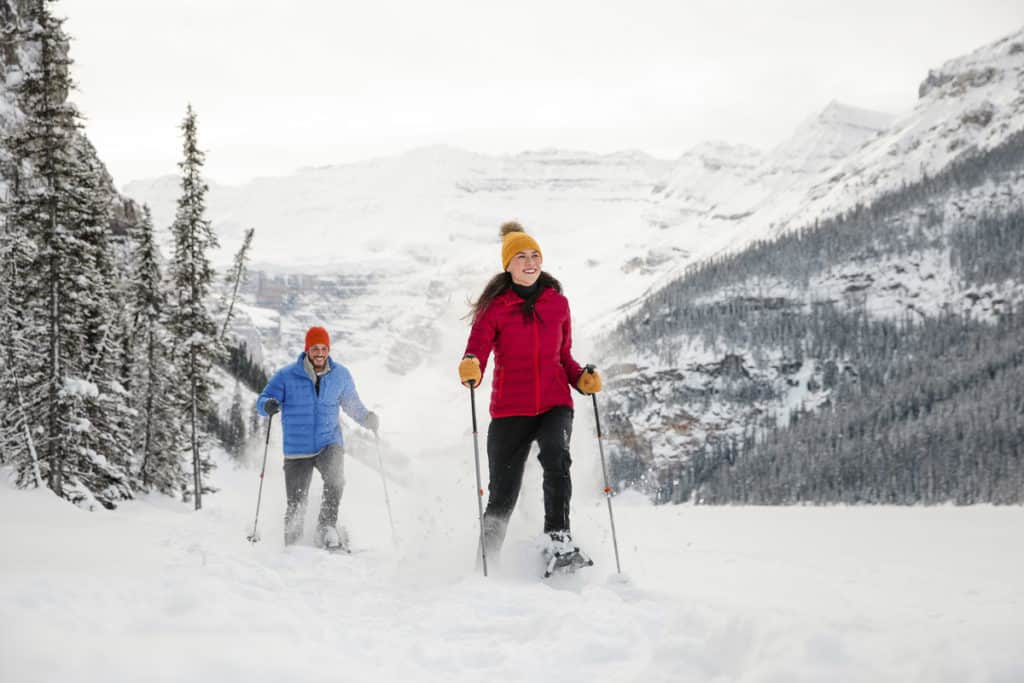 Wonderful afternoon leaving how to snowshoe with Lake Louise as the backdrop. So much fun and our guide was just the best.

– Review via Viator user Arlene_L
---
---
Athabasca Glacier Snow Trip
Now this is a FULL-DAY of adventure! Visit the Athabasca Glacier (just outside of Banff National Park) and enjoy the stunning scenery lining the breathtaking Icefields Parkway along the way. With a stop at the Columbia Icefield Adventure Discovery Centre, this tour travels halfway along the world-famous Icefields Parkway before boarding a 6-wheeled Ice Explorer that will take you over top the surface of this glittering sheet of ice.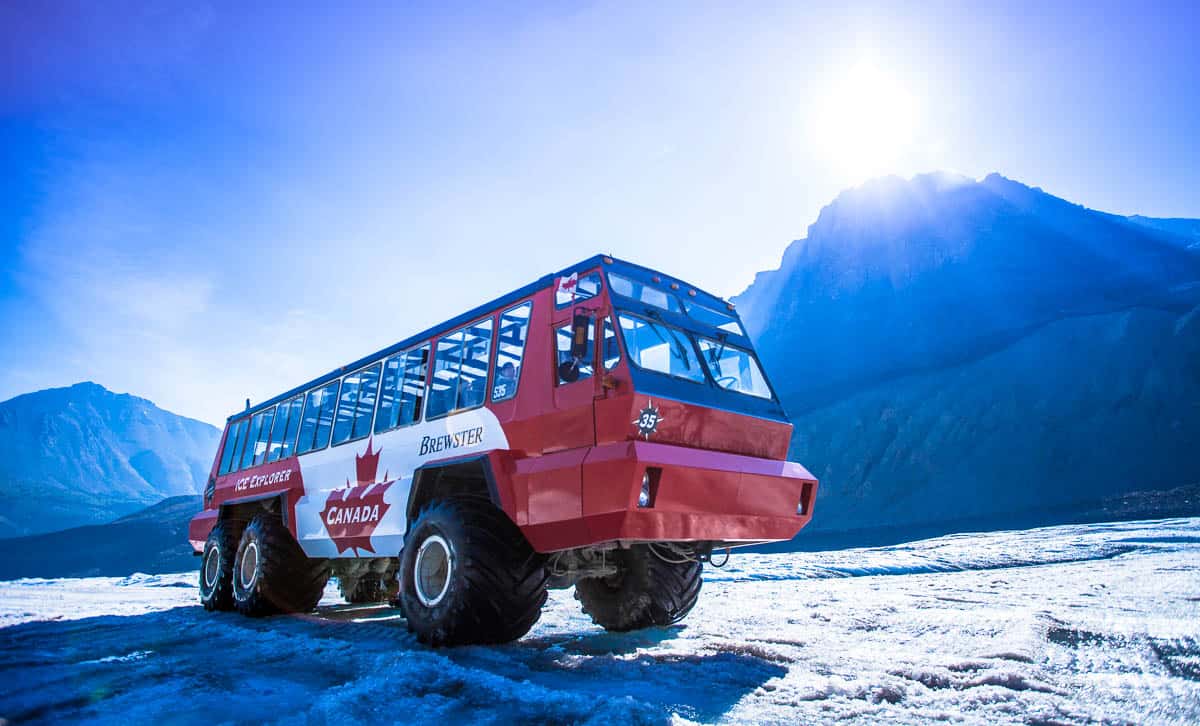 This tour also includes an admission ticket to the Glacier Skywalk that hangs from the edge of the Sunwapta Valley at 918 feet up – guaranteed to give an unparalleled view of the canyon below and the mountains around! This is a jam-packed 11 hours that also includes stops at the Crowfoot Glacier and Bow Lake. This tour is perfect for any season that you visit Banff National Park.
The whole trip is well organised. Nice bus, decent picnic lunch provided. Knowledgable tour guide introducing Banff and national parks. Worth to join.

– Review viay Viator user Kelvin_C
---
---
Scenic Winter Helicopter & Snowshoe Tour
If you've been having difficulty deciding between a winter helicopter tour of Banff or a snowshoe experience in the Rocky Mountains, this tour gives the best of both! Start with a 20-30 minute helicopter ride to an alpine meadow covered in a winter wonderland of fresh powdered snow.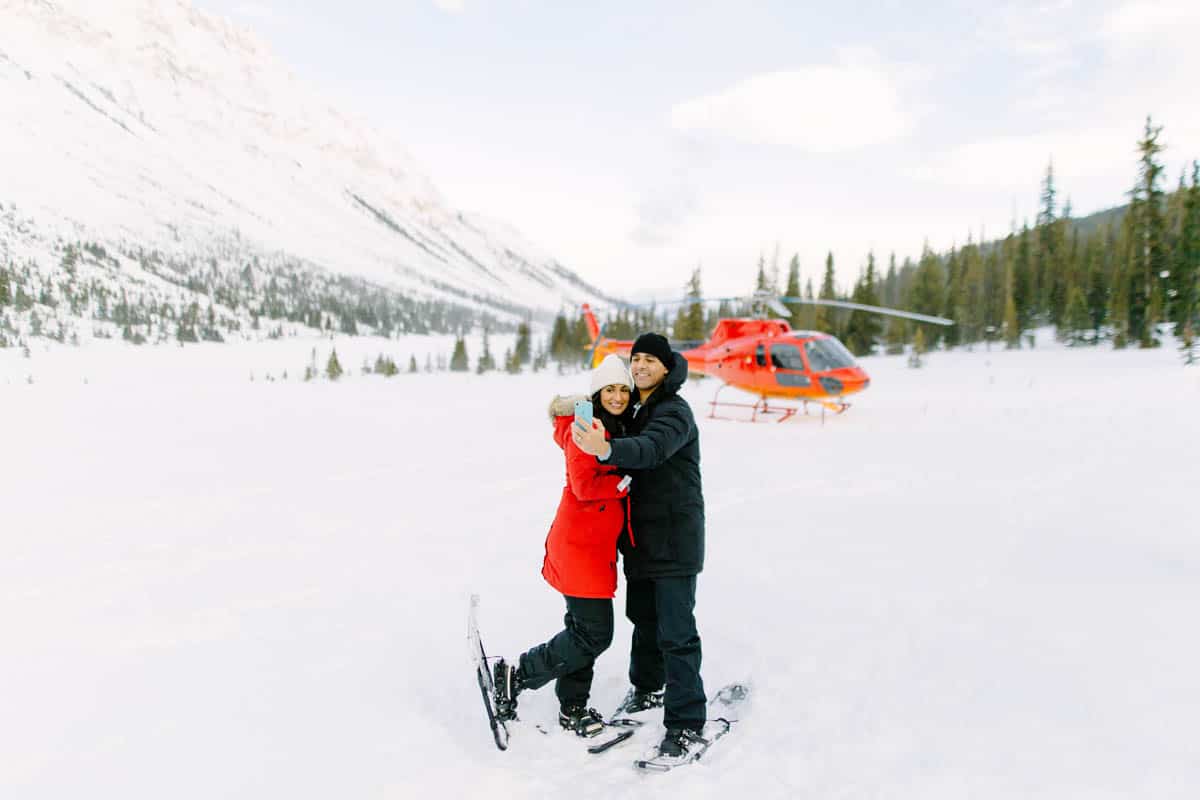 From there, set off on an exciting 1-hour snowshoe adventure ending at a frozen waterfall. Also included in the tour is a complimentary hot chocolate to warm up while adventuring in the wilderness.
It was a great and thrilling experience! I can't wait to go again

– Review via a GetYourGuide traveller
---
---
Dogsledding in Canmore
Yes, we know Canmore is not Banff, but this tour's so good we had to include it! Where else can you have an epic dog sledding experience in the Rocky Mountains? Departing only 30 minutes outside Banff, this two-hour dog sledding immersive experience even allows you to lead a team of dogs through the Canadian wilderness.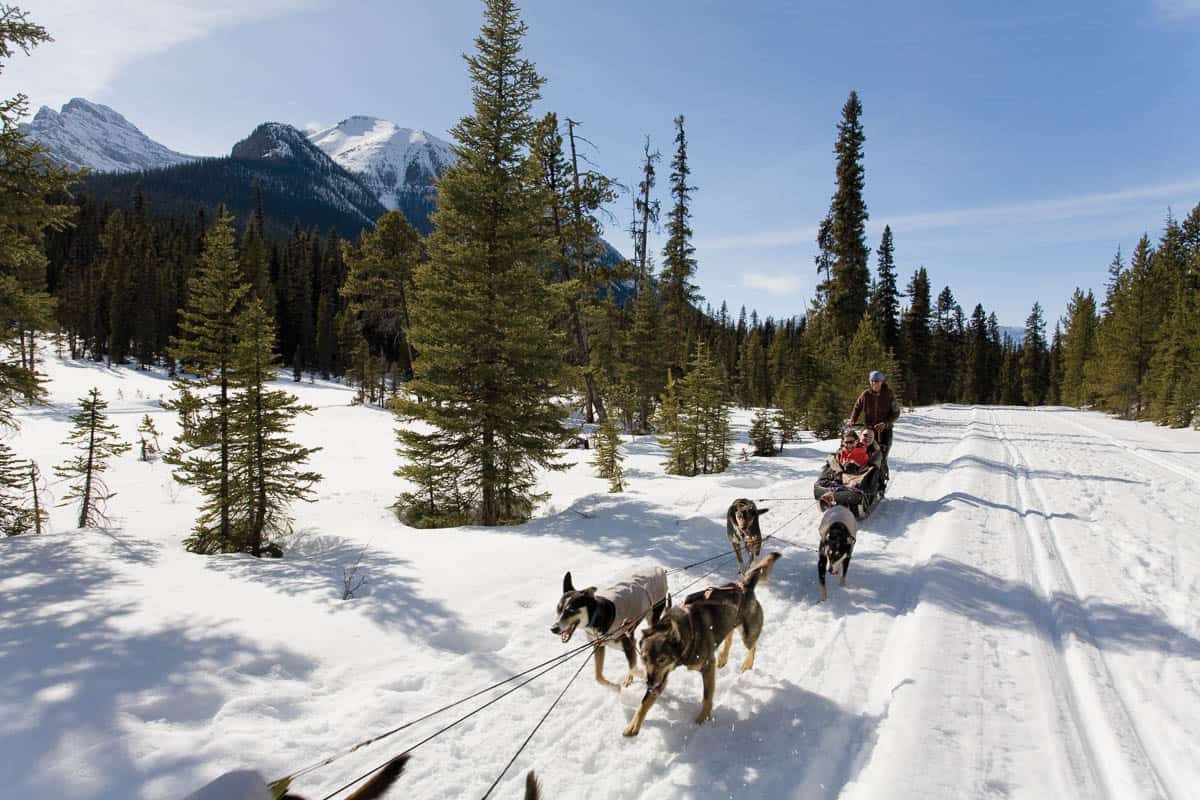 You of course have the option of a guide-driven dogsled as well if you would prefer. But regardless of who is in the driver's seat, the panoramic views of Spray Lake Provincial Park captured via dogsled is an exhilarating opportunity that you won't want to miss out on.
---
Where to Stay in Banff
Need a place to stay? Check out our map for the best options for a stay in Banff: