Disclaimer: This page may contain affiliate links. Please review our full Terms and Conditions for more information and our Privacy Policy. Note that any pricing, operating hours, or other such information provided below may have changed since initial publication.
Compiled by the Road Trip Alberta team
Last updated on August 16, 2023
You can't go wrong with basing yourself in Calgary on your next Alberta trip – there's a lot to see in the city and within a short driving distance! In just one hour, you can immerse yourself in the foothills and then the Rocky Mountains, or see dinosaur fossils at Dinosaur Provincial Park in the Canadian Badlands, and more. Even better, a stay in Calgary can introduce you to all kinds of fun experiences within city limits, and sometimes the best way to experience any city is through guided tours.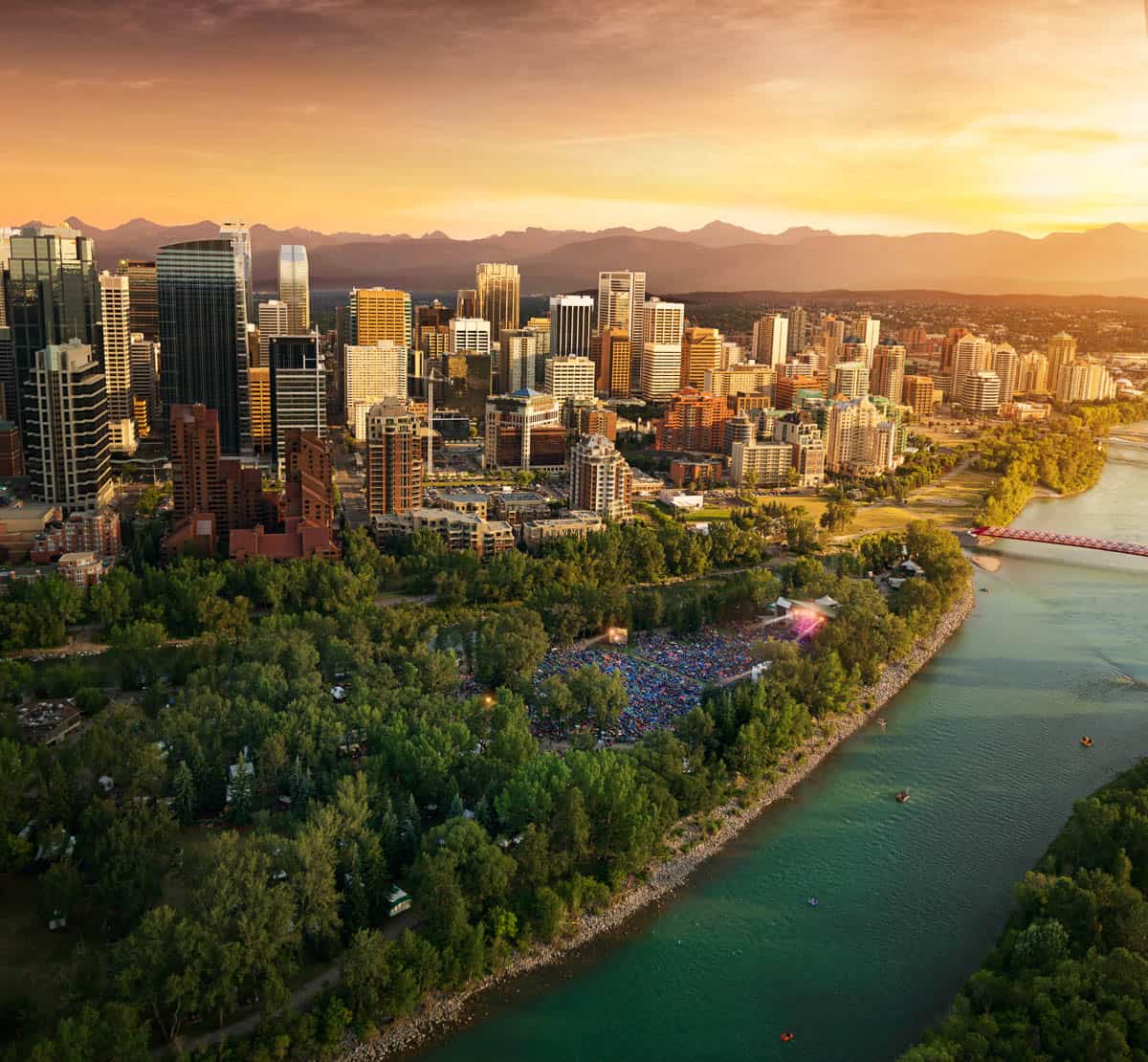 There are plenty of Calgary tours available, but we made the research and selection process more manageable by rounding up some highly recommended experiences. So whether you're looking for tour operators right in Calgary or one to take you on a side trip to Drumheller or Banff or more, read through this guide to the best Calgary tours for inside the city and beyond.
Calgary Tours – Our Top Pick
City of Calgary Sightseeing Tour by Sidecar
Tour Length: 1 hour 15 minutes
Star Ratings: 5/5 (20+ reviews)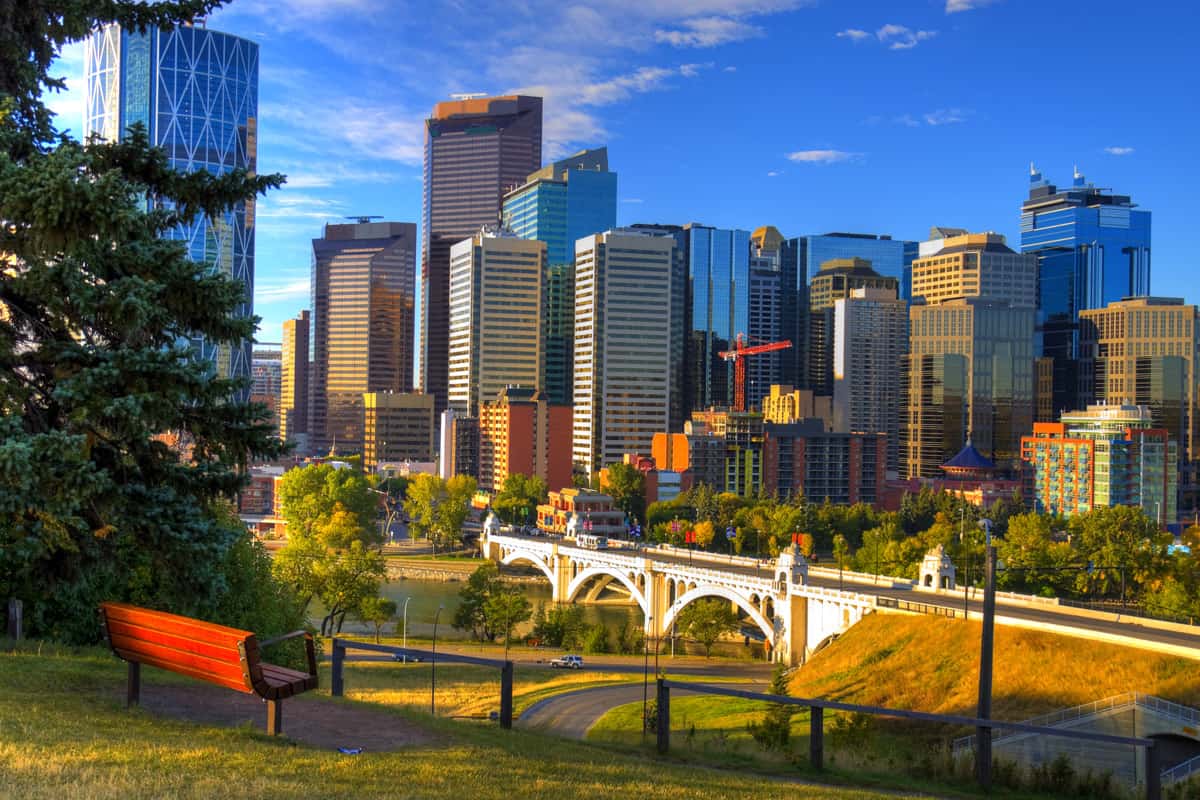 With so many great options it was hard to narrow it down, but because of the unique mode of transportation and the Calgary views, this tour rose to the top.
Take in the sights of the city on a vintage sidecar tour! On this 70-minute guided tour of Calgary, you can relax while your driver takes you around the city and narrates the sights along the way.
There is a brief stop for photos at either Scotsman's Hill or Crescent Ridge where the driver also doubles as a pseudo-photographer for some tourist shots overlooking the heart of Calgary. Included in the ticket price is the option to choose your pick-up location from one of the downtown Calgary hotels or at the base of the Calgary Tower.
OTHER EXCELLENT CALGARY TOURS
3-hour Bike Ride Through Beautiful Calgary and the Bow River
Tour Length: 3 hours
Star Ratings: 5 / 5 (10+ reviews)
Slow down and hop on two-wheeled transportation to connect with the city. See tourist hot spots like the Peace Bridge, Prince's Island Park, Fort Calgary, the Calgary Stampede grounds, and more! Start your journey at Joe's Garage Bicycle Rental and Repair in southwest Calgary and embark on a trip to 10 different spots throughout the city, all while hearing tales of conquest, mystery, and First Nations culture before ending back at the bike shop.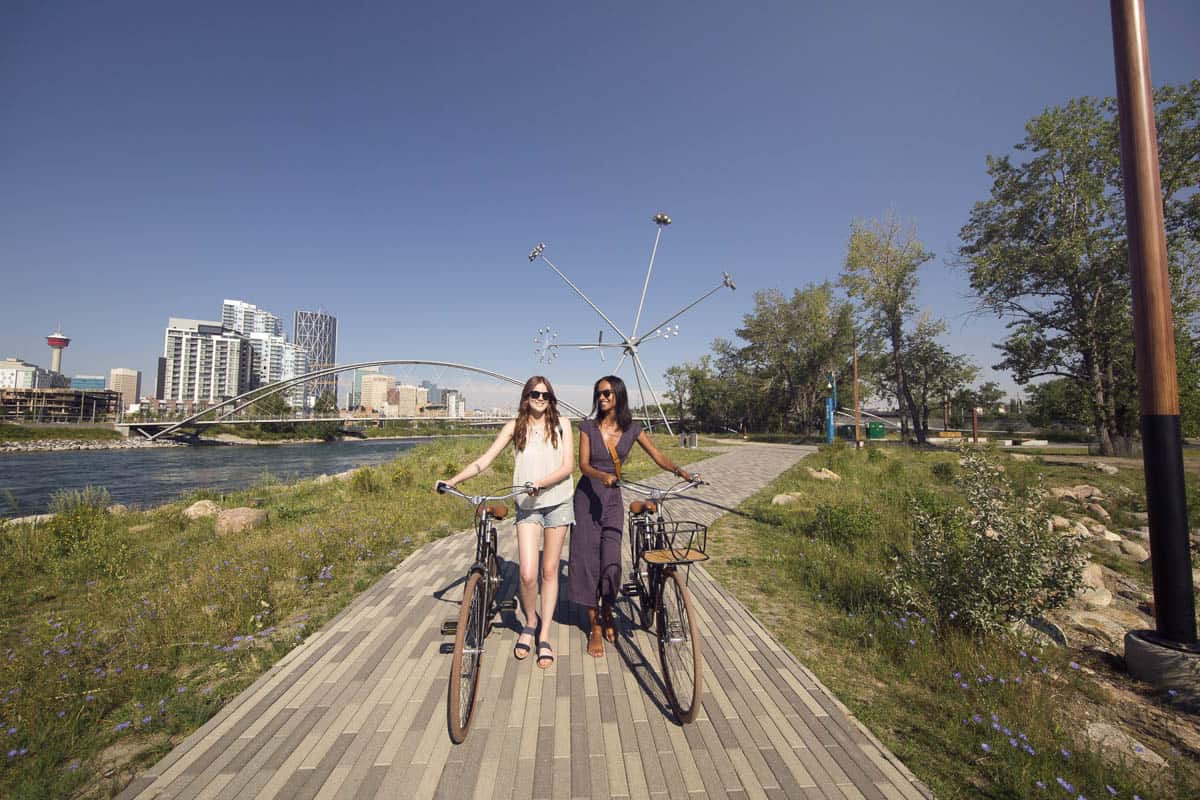 The tour operator has infant seats and buggies available for children so that they can join in on the experience, and since there is a cap of 12 travellers in the group, it is guaranteed to be a small, intimate experience. Please note that this tour is moderately physical and not recommended for those with heart problems or other serious medical problems
This tour includes:
Use of bicycle – no need to bring your own!
Helmet (if wanted)
A bicycle lock
Our guide, Dan, was wonderful! Very knowledgeable and accommodating! It was just my husband and I on the tour, and we loved every minute! It was a great way to see the city and learn all about it!!

– Viator user Judy_Z
---
Calgary Brewery Tour
Tour Length: 3 hours and 30 minutes
The microbrewery scene in Calgary has exploded in the last decade, and there are some seriously good award-winning brews to sample on this tour! You will even have access to your very own self-proclaimed "beer geek tour guide" and get an educational, behind-the-scenes beer sampling experience. The meeting (and end) point is downtown at Fairfield Inn & Suites by Marriott, and you will be transported around in style by a branded Canadian Craft Tours van.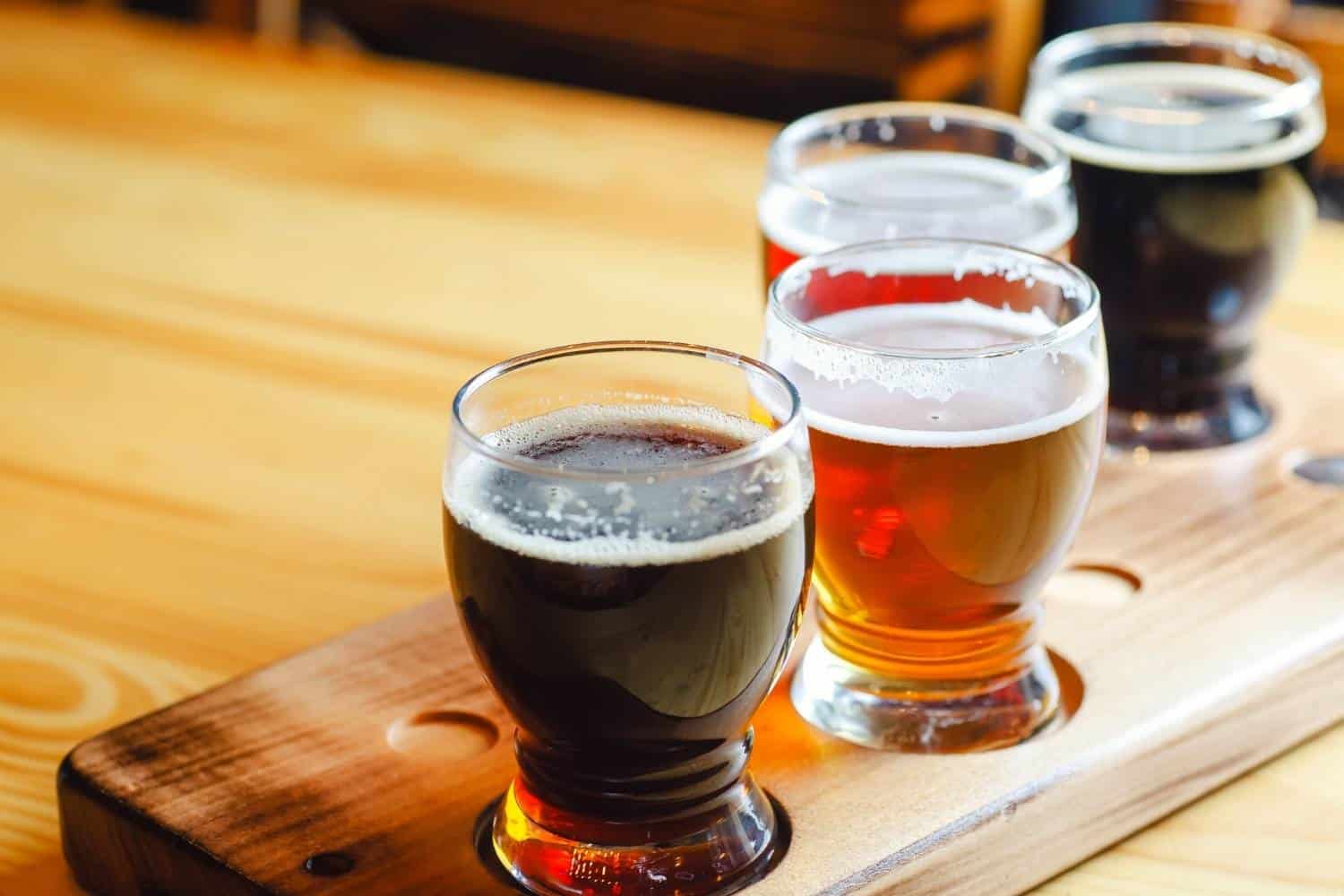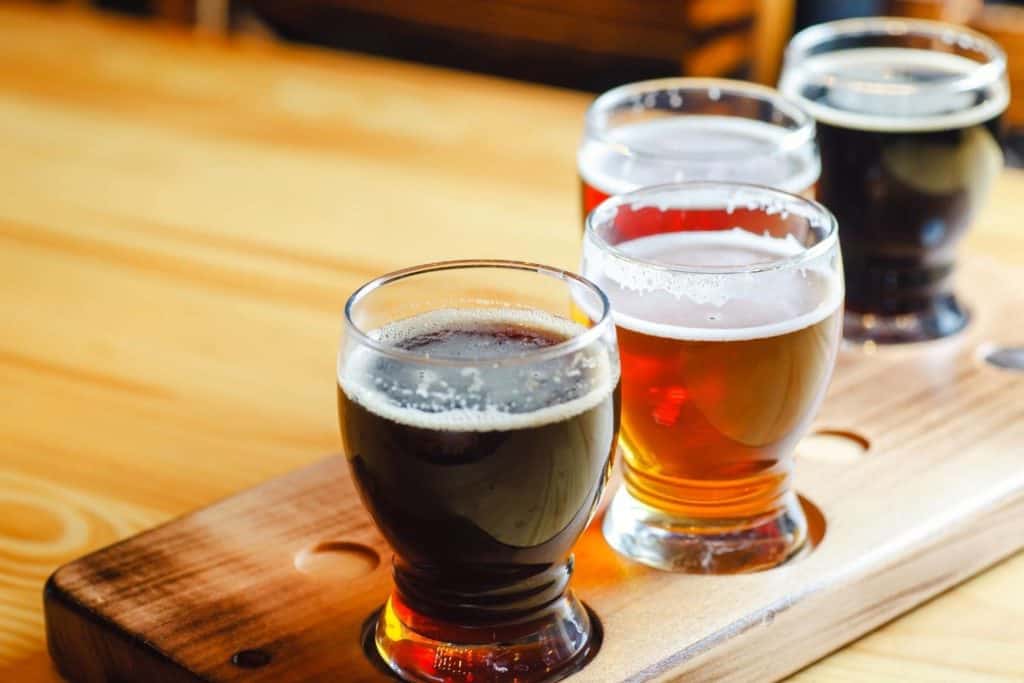 There are three stops on this Calgary tour: Bow River Brewing, OT Brewing Company, and Born Brewing Co. Each sharing their story, vision, and of course, some stellar brews!
---
Private Self-Guided River Rafting Tour in Calgary
Tour Length: 2 to 4 hours
Star Ratings: 5 / 5 (70+ reviews)
This experience is rated as Calgary's number one outdoor activity, so you know it will be a good time! This self-guided experience on the Bow River begins at the launch point in West Baker Park, so all you have to do is show up, and a 4, 6, 8, or 10-person inflatable raft will be waiting for you. Hop in with your crew and enjoy a leisurely float at your own pace as you explore some natural parks and enjoy exceptional views of the cityscape. Depending on the river flow, this journey can take anywhere from 2 to 4 hours, and the final destination is Prince's Island Park in the heart of the city.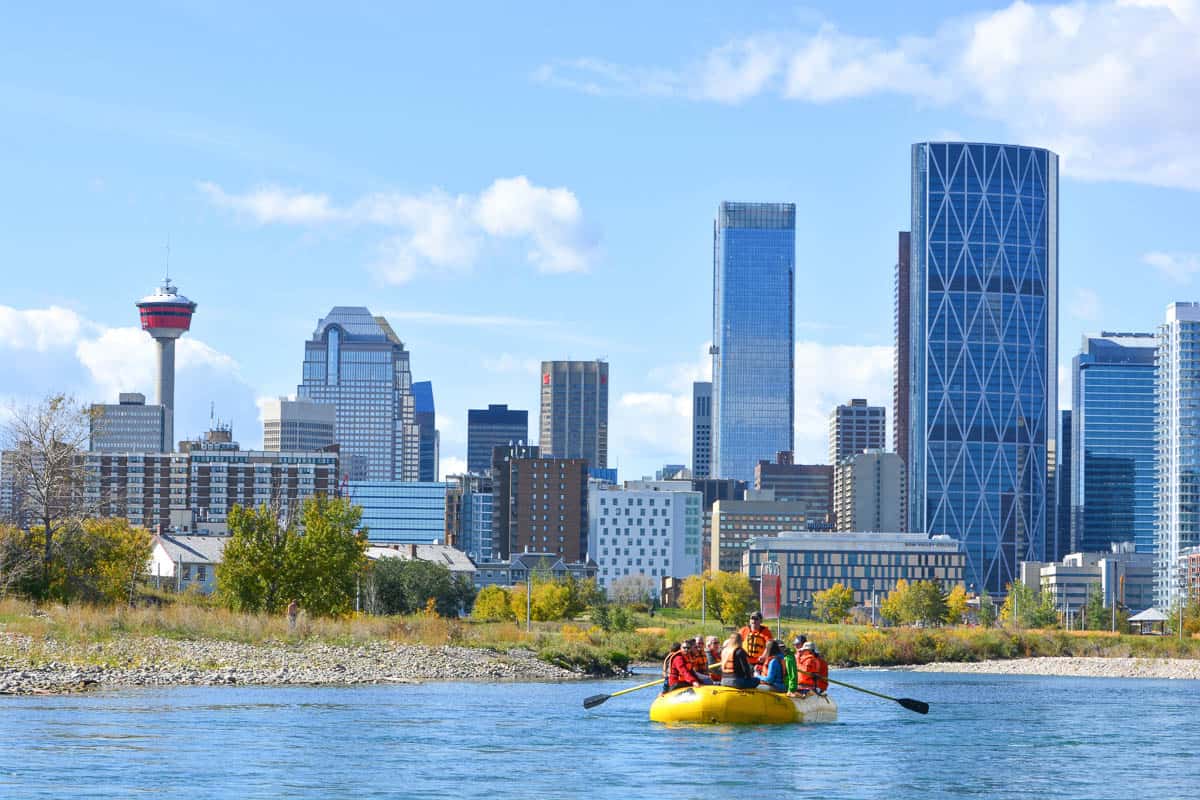 For an even more convenient experience, you can grab a ride in the shuttle from the Lazy Day office in northwest Calgary to the launch point and back for an additional fee of $7 per person.
This is an amazing way to spend a day in Calgary! Pack a picnic lunch, grab your tunes, and head out! So much fun!! You have the rental raft for the whole day, so take your time, stop along the way! We had so much fun the first time, we went 2 more times this summer!

TripAdvisor Reviewer
---
Ghost Tour of Calgary By Sidecar
Tour Length: 3 hours
Star Ratings: 5 / 5 (3 reviews)
If ghost stories and unique transportation are your jam, look no further than this spooky Calgary tour by sidecar! This adult-only ghost tour takes you to historic parts of the city, places like Fort Calgary, Inglewood, and Scotsman's Hill, with experienced drivers. Listen to a professional storyteller providing live narration via helmet communication along the way. Stop at historic pubs for non-alcoholic refreshments (or an alcoholic drink at your own expense). Enjoy a fun night in Calgary while learning about the darker parts of the city's history and some of its notorious residents.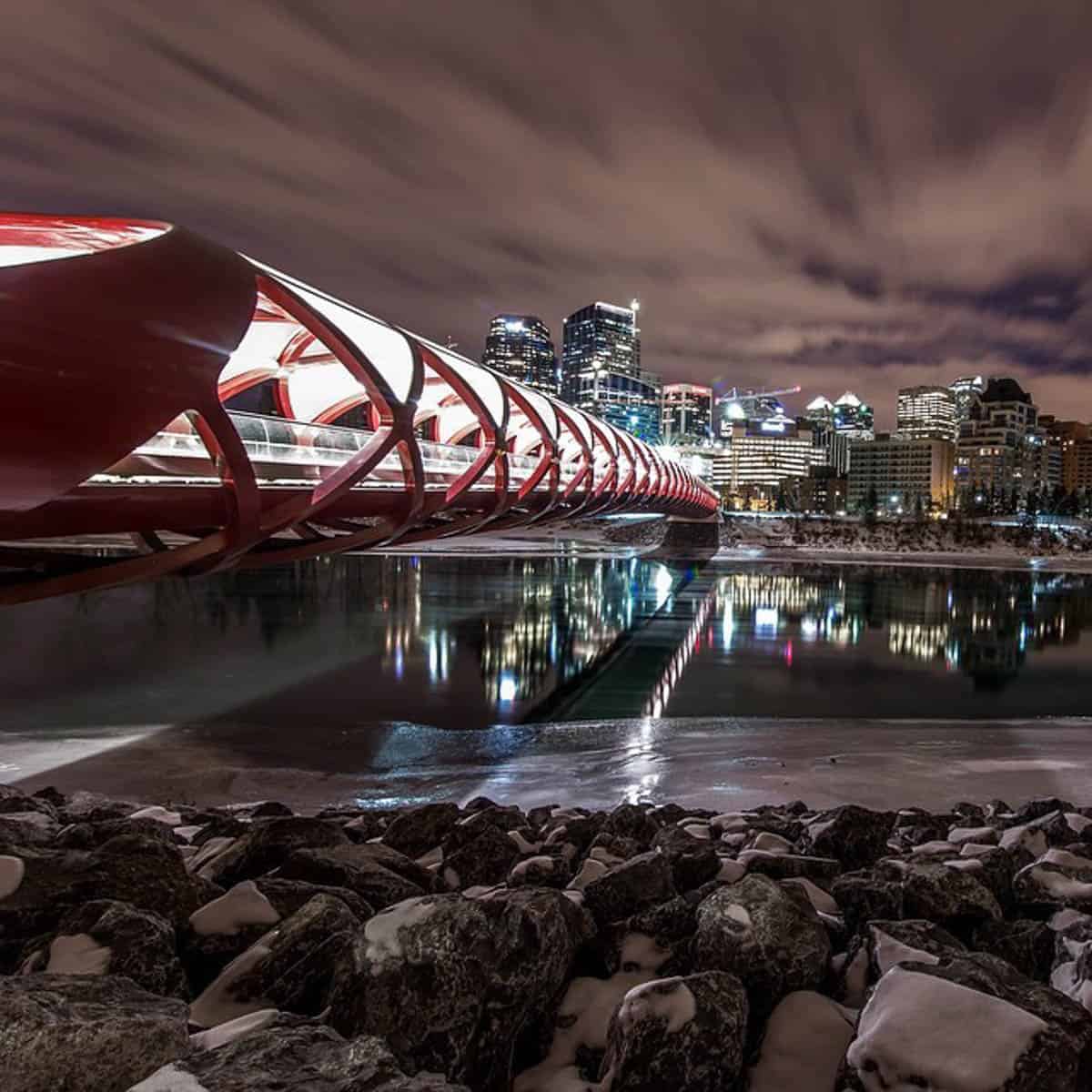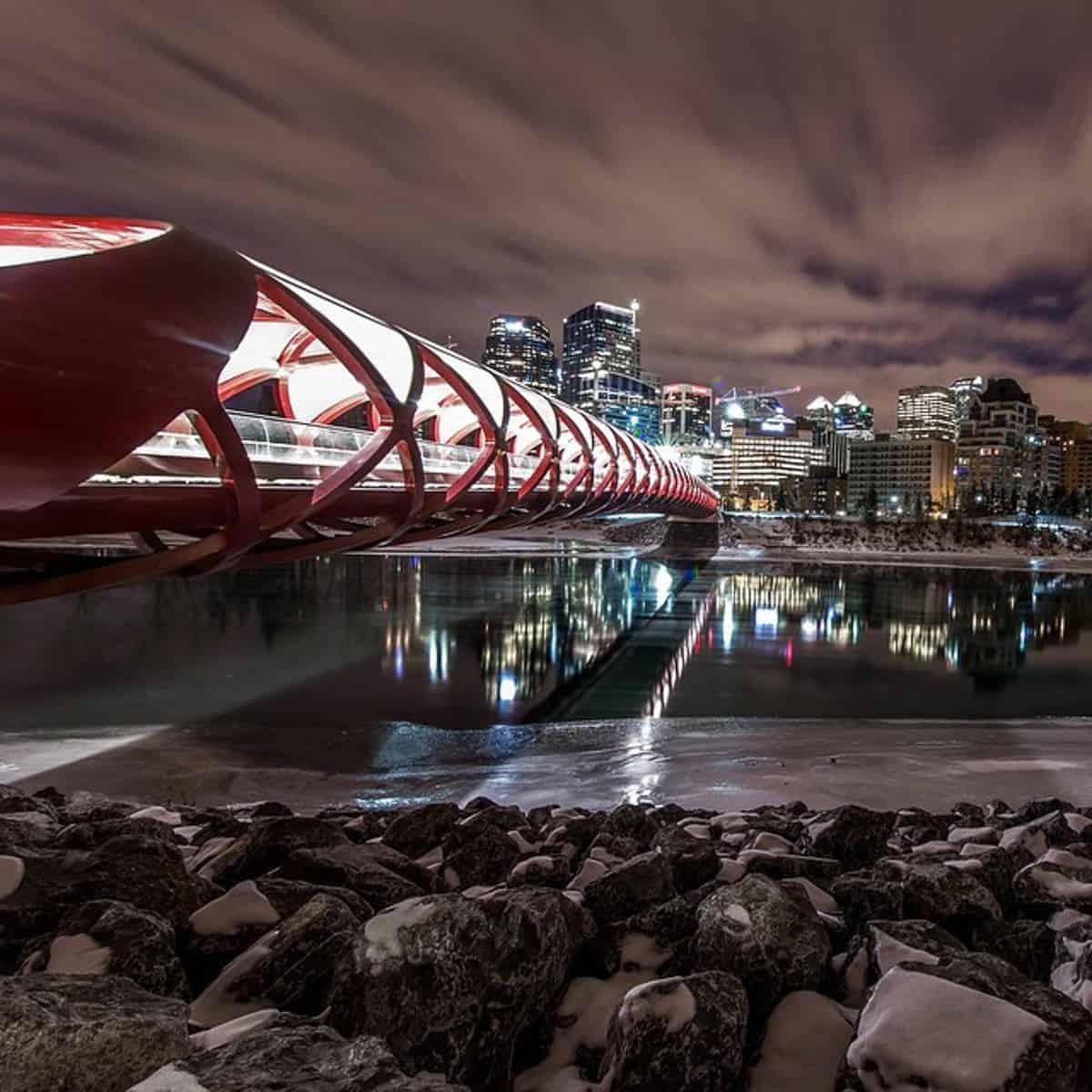 This experience is tailored to small groups tour and only allows a maximum of 6 travellers. It meets and ends at the Calgary Tower with a starting time of 7:30 pm.
We had sooooo much fun. I would do it again. They were the nicest people to have with us. If you're looking for a great time don't pass this up!

– Viator user Ann_H
---
The Best Of Calgary Walking Tour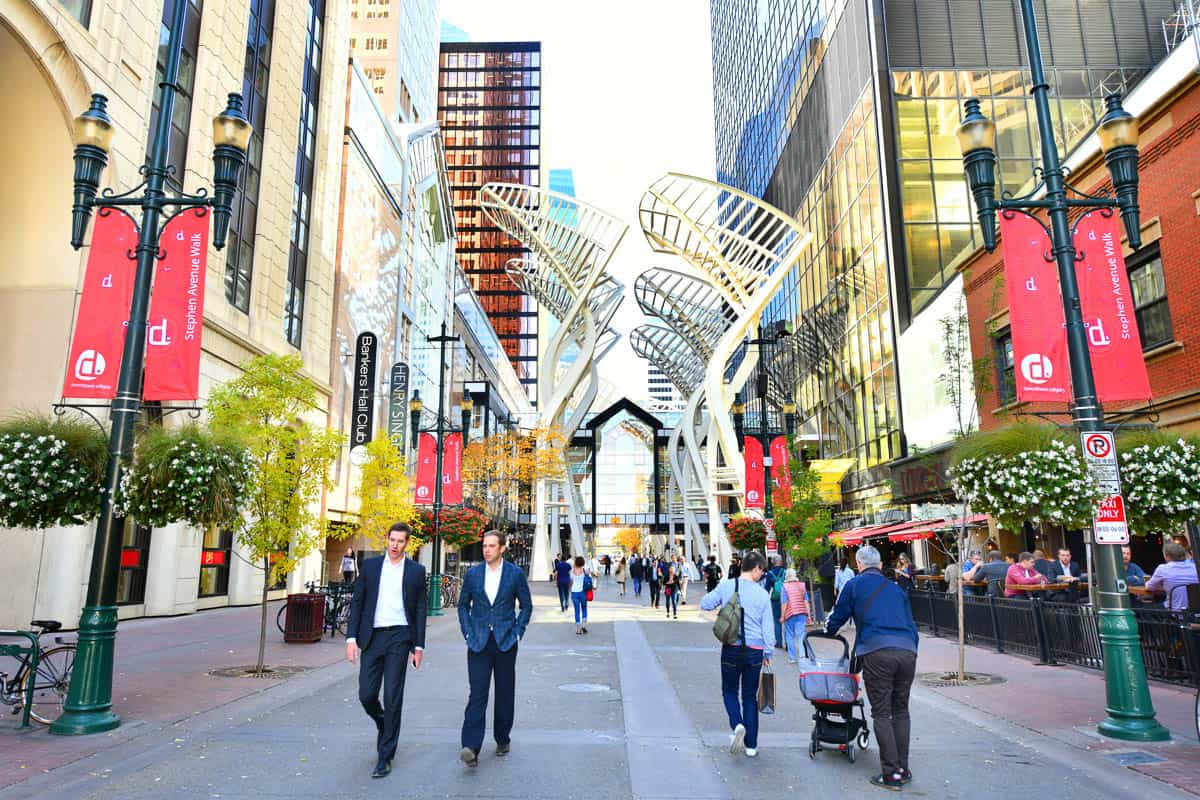 The absolute best of Calgary is highlighted in this 2-hour walking tour that begins at the Calgary Tower. This experience is a private tour that comes with a knowledgeable guide who will enlighten your group about the roots and old stories of how Calgary came to be and how it developed into Canada's Stampede City. Get your listening ears and legs ready for 2 hours of walking and talking!
---
Calgary Private Food Tour
This tour is unique because it is fully customizable! Provided through Alberta Food Tours, you can set up a group of 2-45 people with your very own guide(s), depending on group size. The tour time is customized to fit your needs, whether late morning, afternoon or evening, Sunday through Thursday.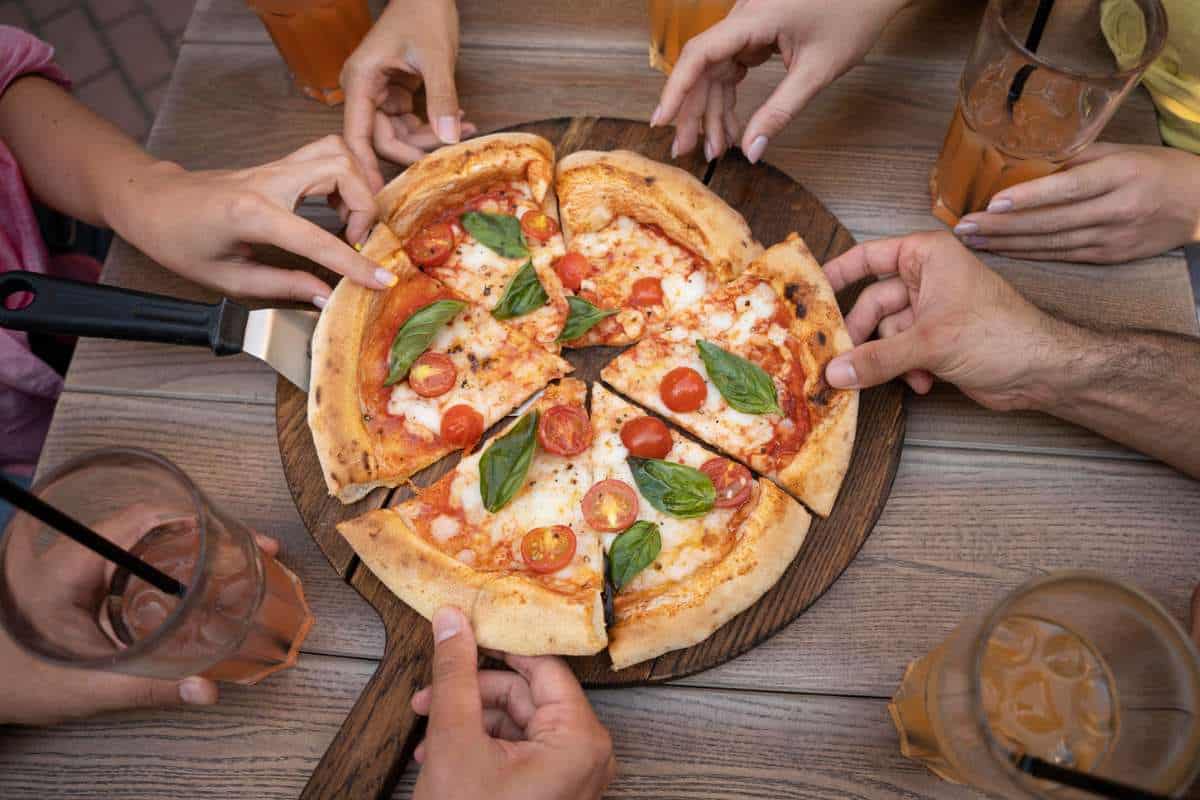 What dining establishments you end up at are customized depending on what you want to experience! Indulging in delicious food with good company – this personalized experience is definitely a fantastic and memorable way to spend a few hours.
---
Day Tours From Calgary
Horseback Trail Ride in Kananaskis
The raving testimonials seal the deal on why this horseback adventure is a top pick for Calgary tours found outside Calgary.
Tour Length: 2 hours
Star Ratings: 5/5 (120+ reviews)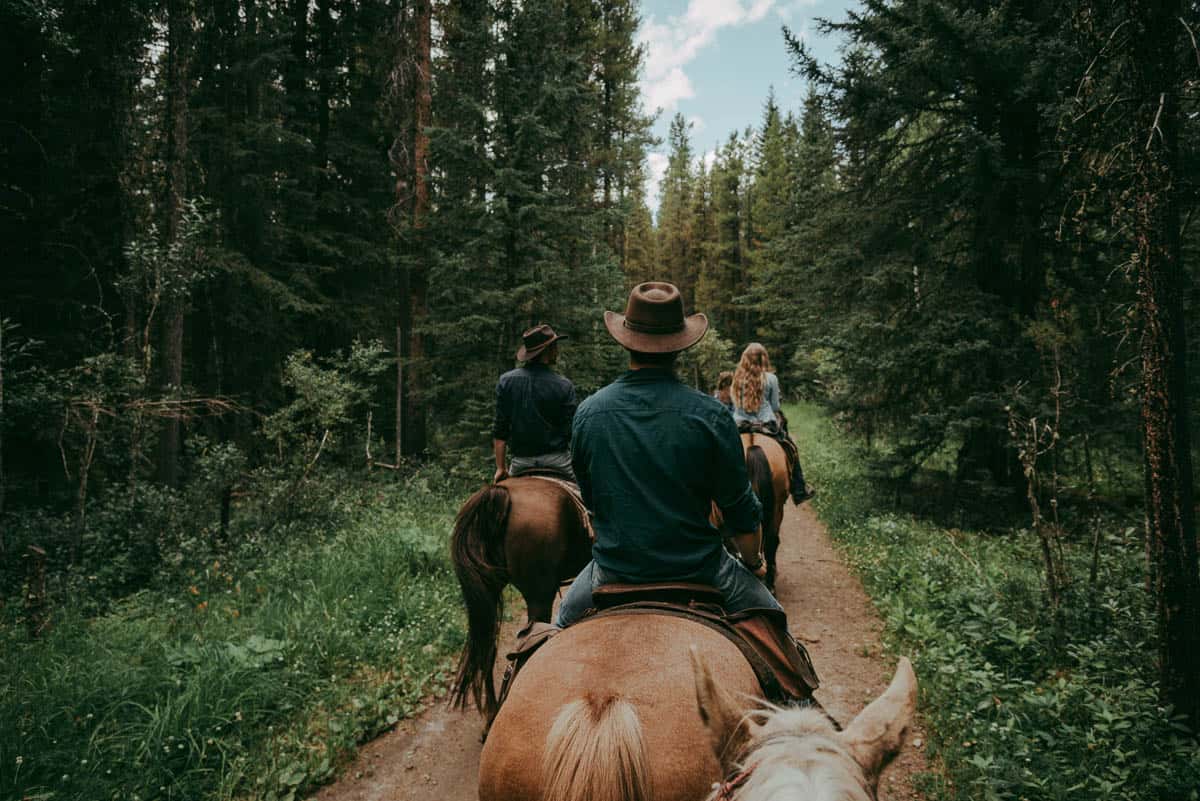 A trip to Alberta will not be complete without a horseback riding adventure! And the spectacular scenery in Kananaskis is some of the best in all of Canada. This wonderful tour is capped at eight people to ensure personal attention by the guides throughout the journey, and it is open to all skill levels of horse experience, from novice to experienced riders. The activity begins and ends in Kananaskis, so a vehicle is required to get there by yourself from Calgary. However, the scenic drive alone is worth it, not to mention the exciting opportunity to leisurely explore the Kananaskis Valley and have many wildlife viewing opportunities.
This tour includes a professional and experienced guide, and the use of a horse and necessary equipment.
It was a great experience. Our trail ride leader was excellent as was the trailing rider. We had a great time. The horses were great. We would recommend it to everyone who wants the experience of doing a trail ride and seeing some awesome country. – VIATOR USER Thomas_O
Day Tours From Calgary
Kananaskis River Rafting
Tour Length: 4 hours
Star Ratings: 5 / 5 (35+ reviews)
Pair fantastic views with some adrenaline-pumping action, resulting in this Kananaskis river rafting adventure. This small group tour leaving from Canmore or Banff is excellent for all levels of whitewater rafting experience, even beginners and even includes snacks! Embark on a 1.5-2 hour rafting experience followed by a refreshing swim in the Kananaskis River, one of Alberta's most pristine waterways. Also included in this tour are free photos of your rafting adventure available online so you can download and share your epic time with all your family and friends.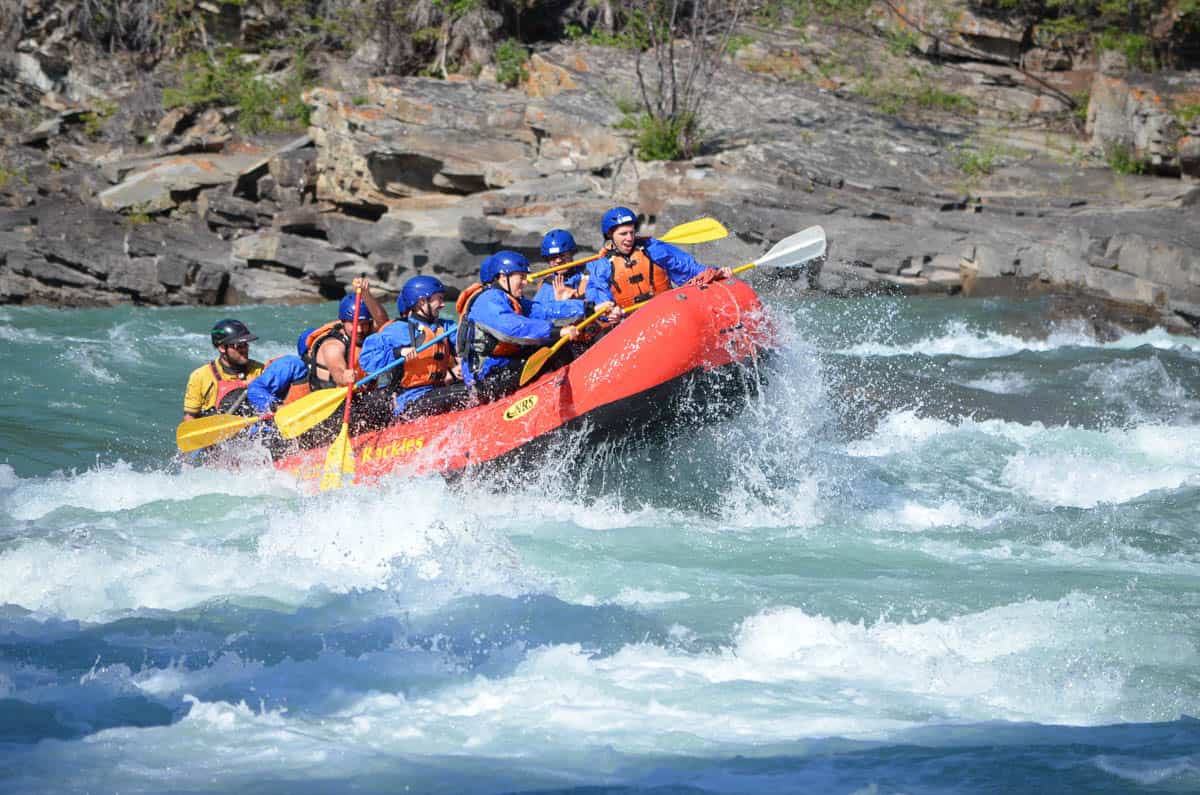 A group of 10 of us went rafting, and it was so much fun. Our guide Tim was fantastic, made us feel safe and we had tons of laughs.

– Viator user Jim_N
---
Banff National Park Tour From Calgary
Tour Length:
Star Ratings: 4.5/5 (60+ reviews)
Enjoy exploring all Banff National Park has to offer without worrying about driving yourself or paying a national park fee! Starting from a hotel in downtown Calgary, travel in an air-conditioned tour bus to Banff National Park in the Canadian Rockies and visit landmarks such as Sulphur Mountain (there is an opportunity to add on a gondola ride here too, which is HIGHLY recommended), Bow Falls, and Johnston Canyon. The full-day tour also allocates some free time in the Banff townsite for shopping and grabbing a bite to eat before heading back to the bus for the journey back to Calgary.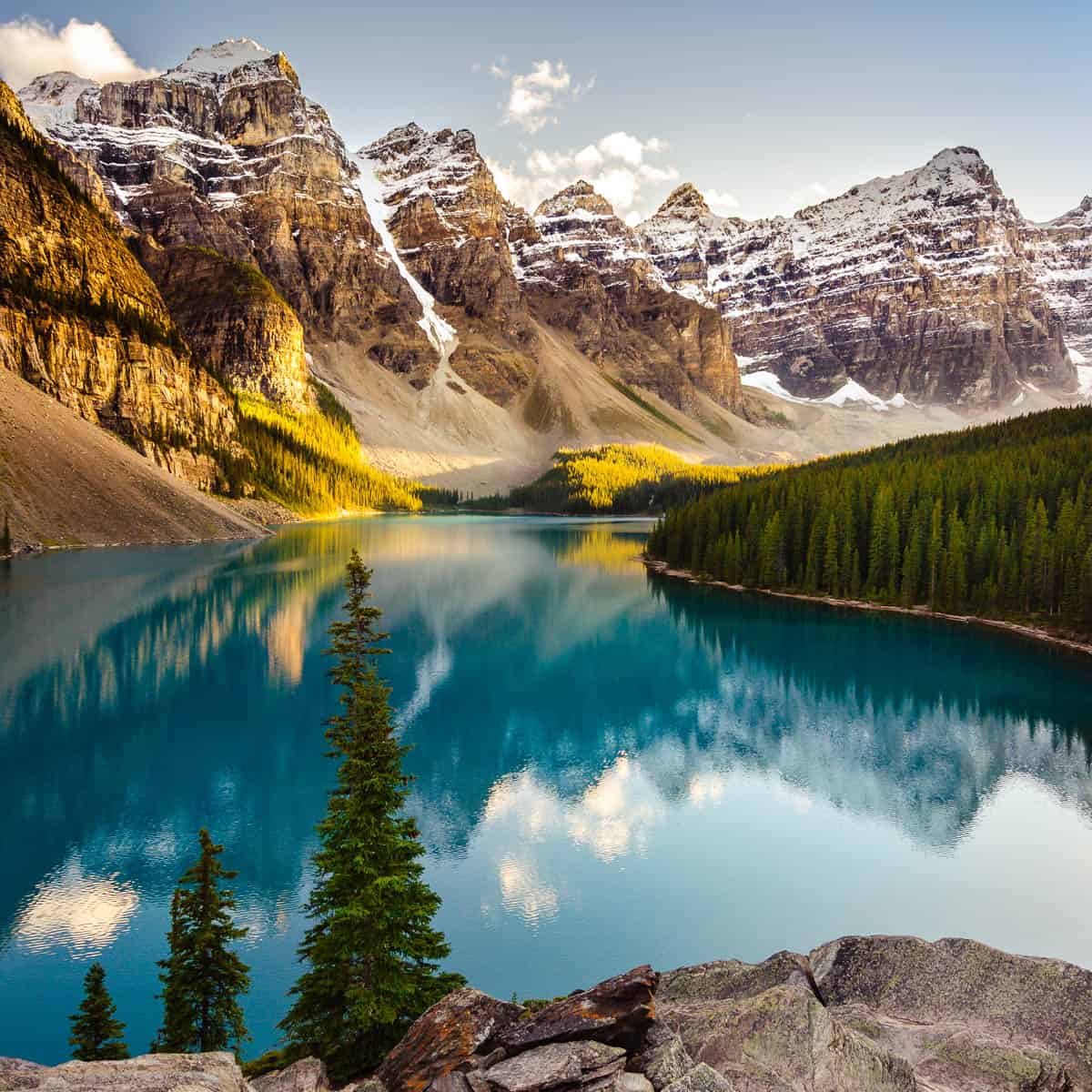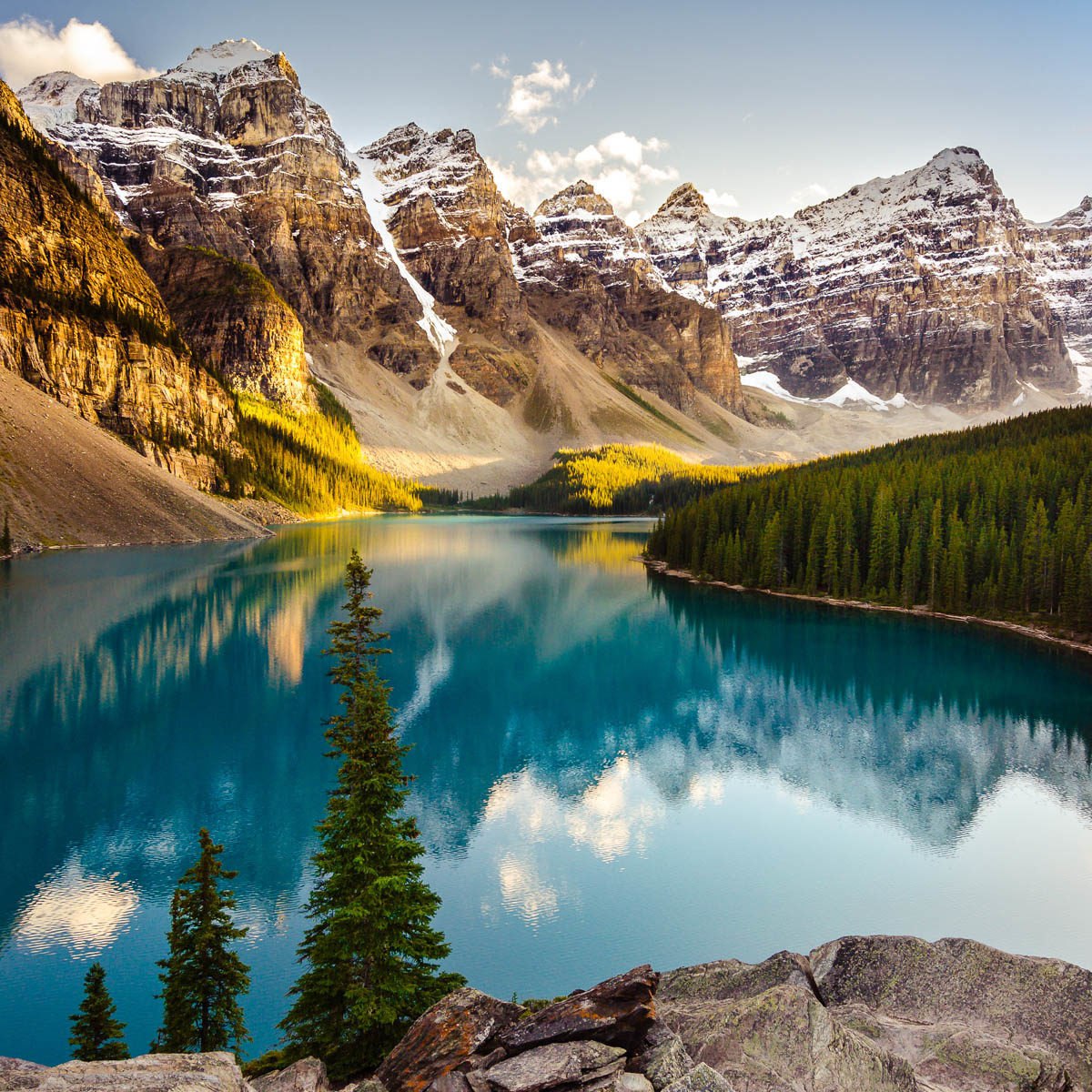 The scenic views, in the Banff area are outstanding!! Also our Driver/Guide Sammy was excellent!!! The trip was well organized and implemented!!!

– Viator user Kevin_G
---
Canmore Caving
Tour Length: 6 hours
Star Ratings: 5 / 5 (220+ reviews)
Embark on a "Caver For A Day" experience in Rat's Nest Cave, one of the longest caves in Canada! Pick from two departure times to begin a tour that will test your physical and mental limits. The full-day tour begins with a 45-minute hike uphill learning about the area's geologic history with possible wildlife sightings. Once at the cave entrance, you will rappel down 59 feet and begin the route, ending at a crystal-clear grotto.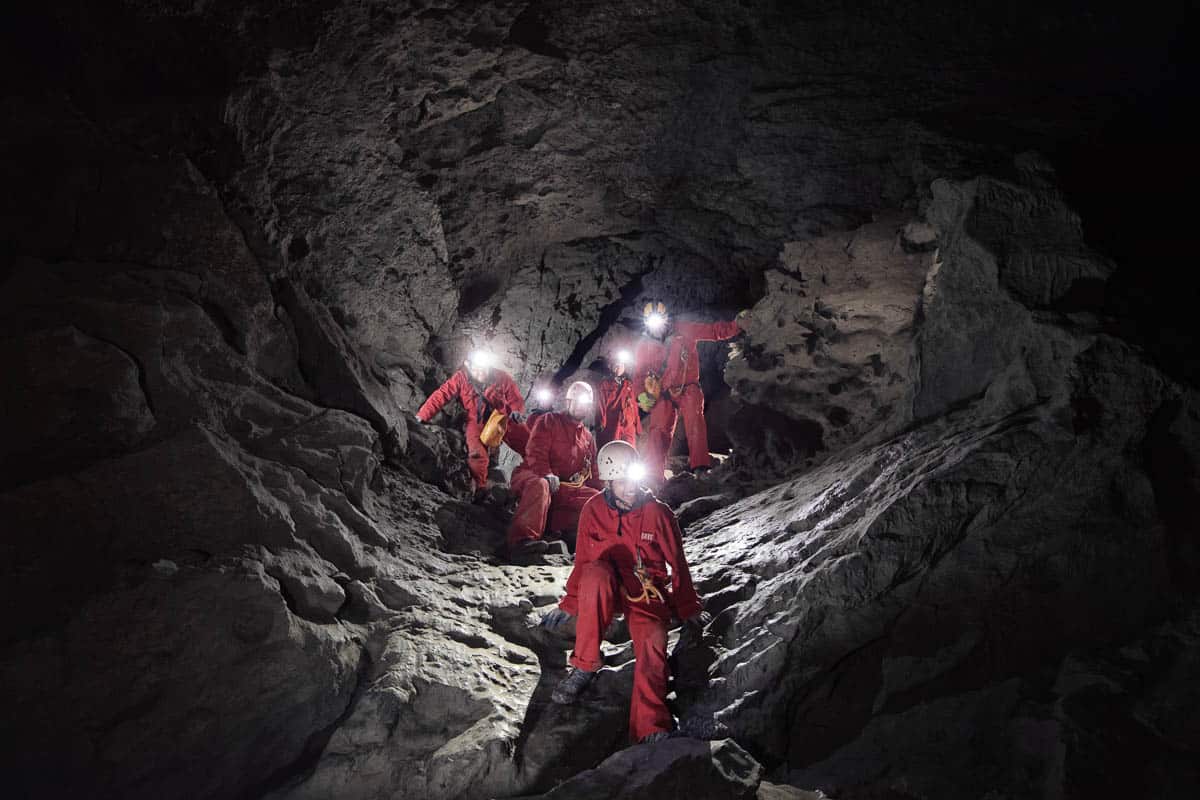 Note: Caving is a moderately strenuous activity and requires climbing, crawling, squeezing, and sliding through a cave. In addition, guests are required to wear a helmet as well as a safety harness which has a maximum waist size of 45″ (114 cm) and a maximum leg size of 33″ (84 cm). Equipment will be provided.
A unique experience. Something that should definitely be on a bucket list. Very informative as well as fun. John was fantastic.

– Viator user Jacqui_P
---
Private Day Tour – Calgary to the Royal Tyrrell Museum
Tour Length: 8 to 10 hours
Star Ratings: 4.5 / 5 (10+ reviews)
Discover the hoodoos in the rustic Canadian Badlands landscape with a trip to explore Drumheller. In addition to the amazing landscape, during the trip, see the World's Largest Dinosaur, Drumheller's Little Church, Horseshoe Canyon, and Horsethief Canyon.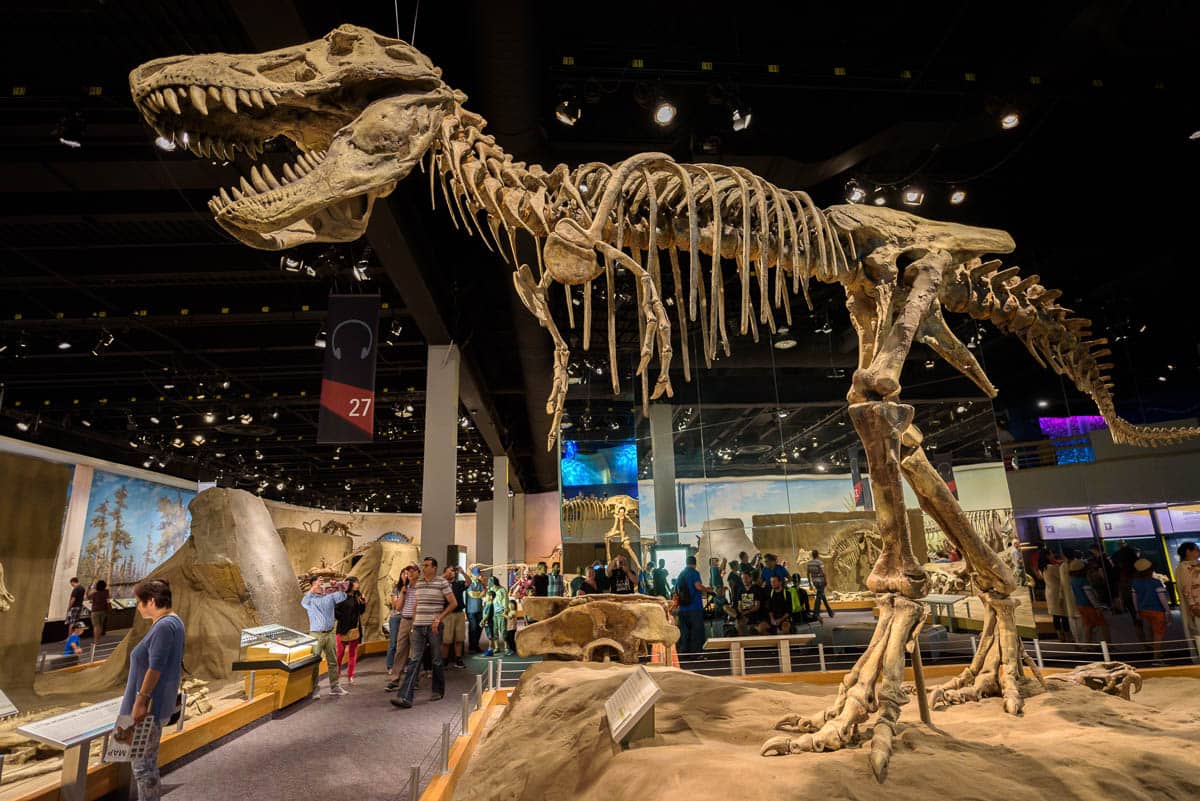 There is an option to add on the Royal Tyrrell Museum and Atlas Coal Mine National Historic Site for the additional admission fees, and in our opinion, they are both definitely worth the costs. Although this is a sightseeing tour with no narration, it is a private chauffeured experience for you and your group, so enjoy the luxury!
Jeff was a great guide! He was very knowledgeable of the area and gave fantastic local (and international) travel tips and recommendations. He offered to take photos of us at every stop which is super important to me.

– Viator user Hannah_R
---
Columbia Icefield Adventure 1-Day Tour From Calgary or Banff
Tour Length: 13 Hours
Star Ratings: 4.5 / 5 (10+ reviews)
Spend the day exploring the wonders of the Canadian Rockies! And also get the once-in-a-lifetime chance to discover the Columbia Icefield on foot. This full-day tour picks up from either downtown Calgary or Banff. You will see natural wonders, including the Waputik Range, Peyto Lake, Bow Lake, and the Crowfoot Glacier – many of the top highlights found on the famed Icefields Parkway.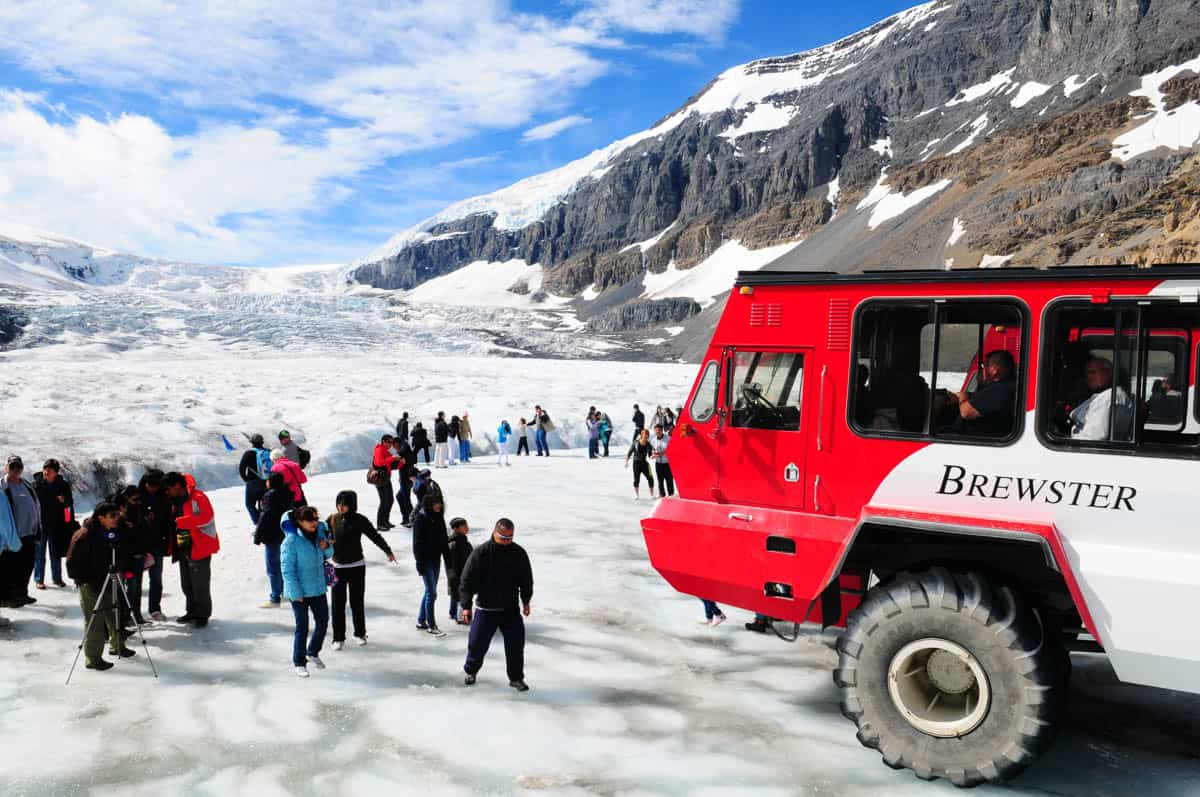 For an additional cost, you can also hop on the Columbia Icefield Ice Explorer and see the landmark up close! This great tour includes highlights to discover from both Banff National Park and Jasper National Park, with the convenience of round-trip transit throughout.
Glacier is stunning and driver provided good service. He is knowledgeable and professional and helped taking pictures for us.

– Viator user Quilin_Z
---
Lake Louise and Yoho National Park From Calgary
Tour Length: 8 to 10 hours
Star Ratings: 4.5 / 5 (110+ reviews)
See the most stunning Canadian Rockies landscapes – from Lake Louise to Moraine Lake – on this exciting full-day tour! With pickups in Calgary and Banff National Park, you will get to witness the amazing sights of Lake Louise, Moraine Lake, and Emerald Lake, with a pass-by of the Spiral Tunnels before being dropped back off at your starting point. Learn about the area's history from your tour guide and enjoy the scenery as you sit back and relax. Bonus: if you book this tour during the winter months, it also includes snowshoeing.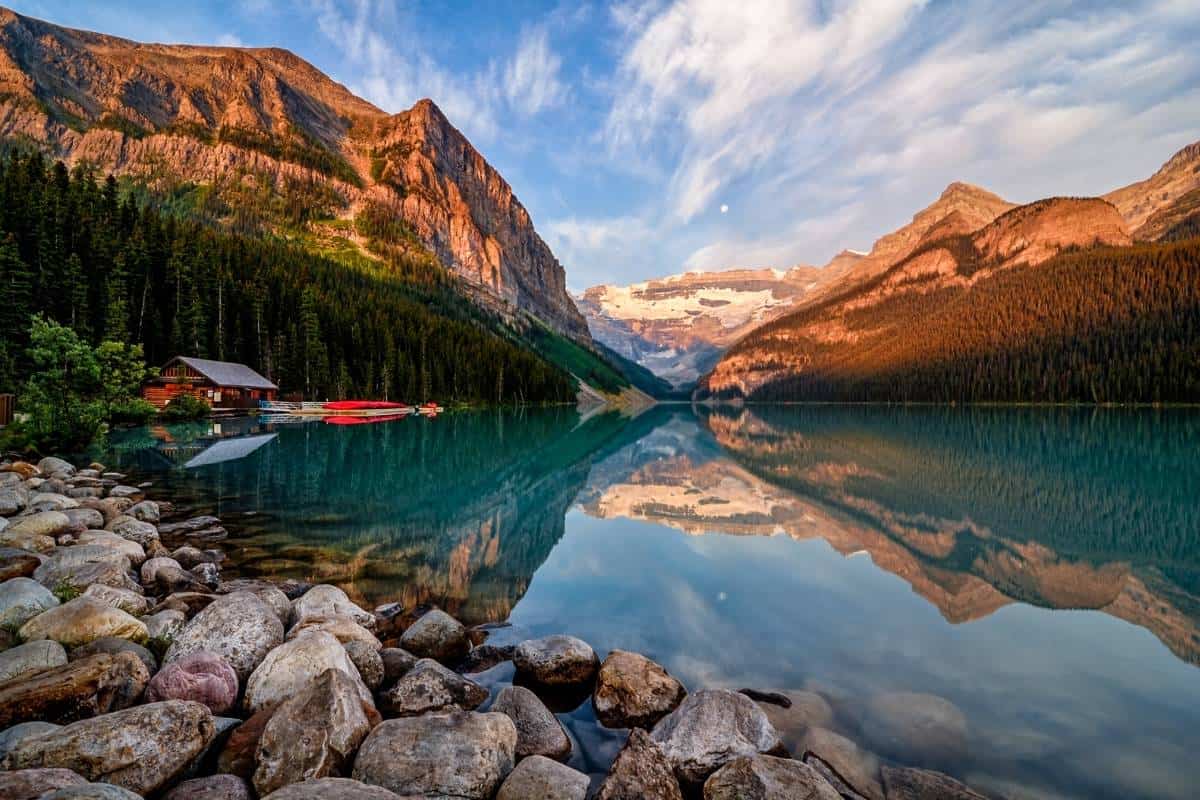 Our guide, Alan, was so knowledgeable. Perfect amount of time allowed at each stop. So nice having someone else do the driving and parking. Highly recommend this tour.

– Viator user Cyndy_P
---
If you are basing yourself in Calgary, we can help you plan your stay: