Disclaimer: This page may contain affiliate links. Please review our full Terms and Conditions for more information and our Privacy Policy. Note that any pricing, operating hours, or other such information provided below may have changed since initial publication.
Compiled by the Road Trip Alberta team
Last Updated on March 20, 2023
So many factors go into making the BEST pizza. Thin crust or deep dish? Lots of toppings or minimal toppings? What type of sauce and what type of yeast is in the dough? Even weather conditions and levels of humidity can affect the rise and taste of the dough. Needless to say, there's so much to consider when narrowing down where to find the best pizza in Calgary. Need not worry, the city has a fine selection of options! Here are 16 favourites.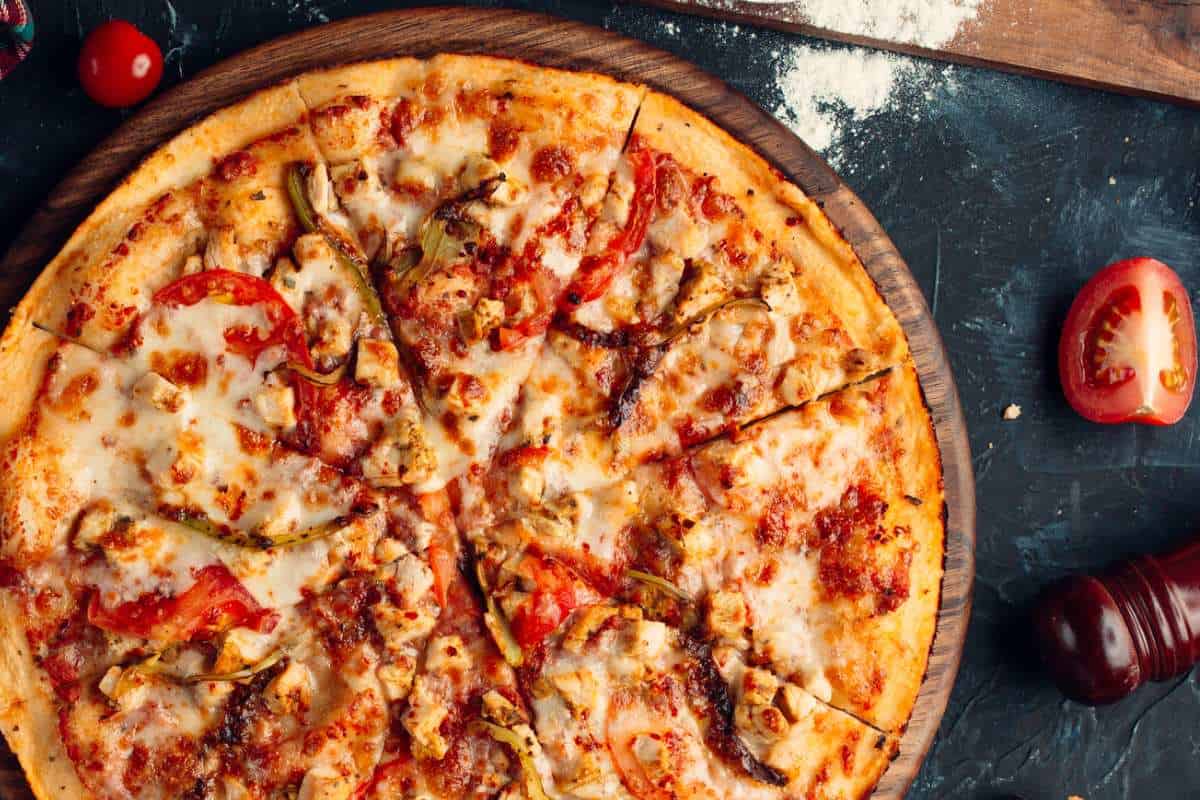 Our Favourite Spots for Pizza in Calgary
Gaga Pizzeria
Location: 1236 12 Ave SW
Gaga Pizzeria's goal "is to make sure everyone who takes a bite of our pizza is happy." With an endearing story behind the name of the pizza restaurant – it comes from a nickname given to Chef Safeta Zeljic by her husband – this spot is routinely listed as one of the very best pizza restaurants in Calgary. While the menu includes sandwiches, soups, and more, the star of the show is definitely the pizza.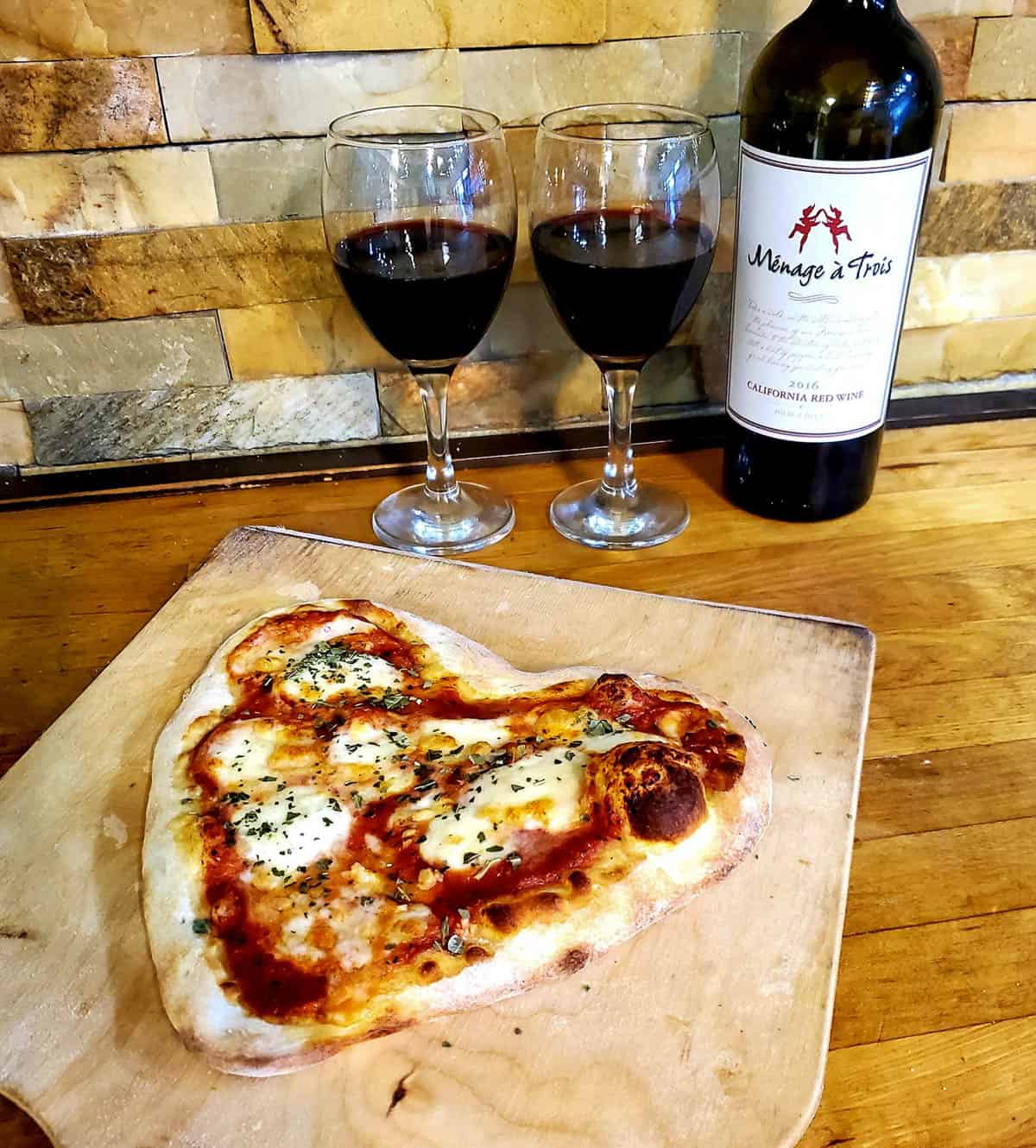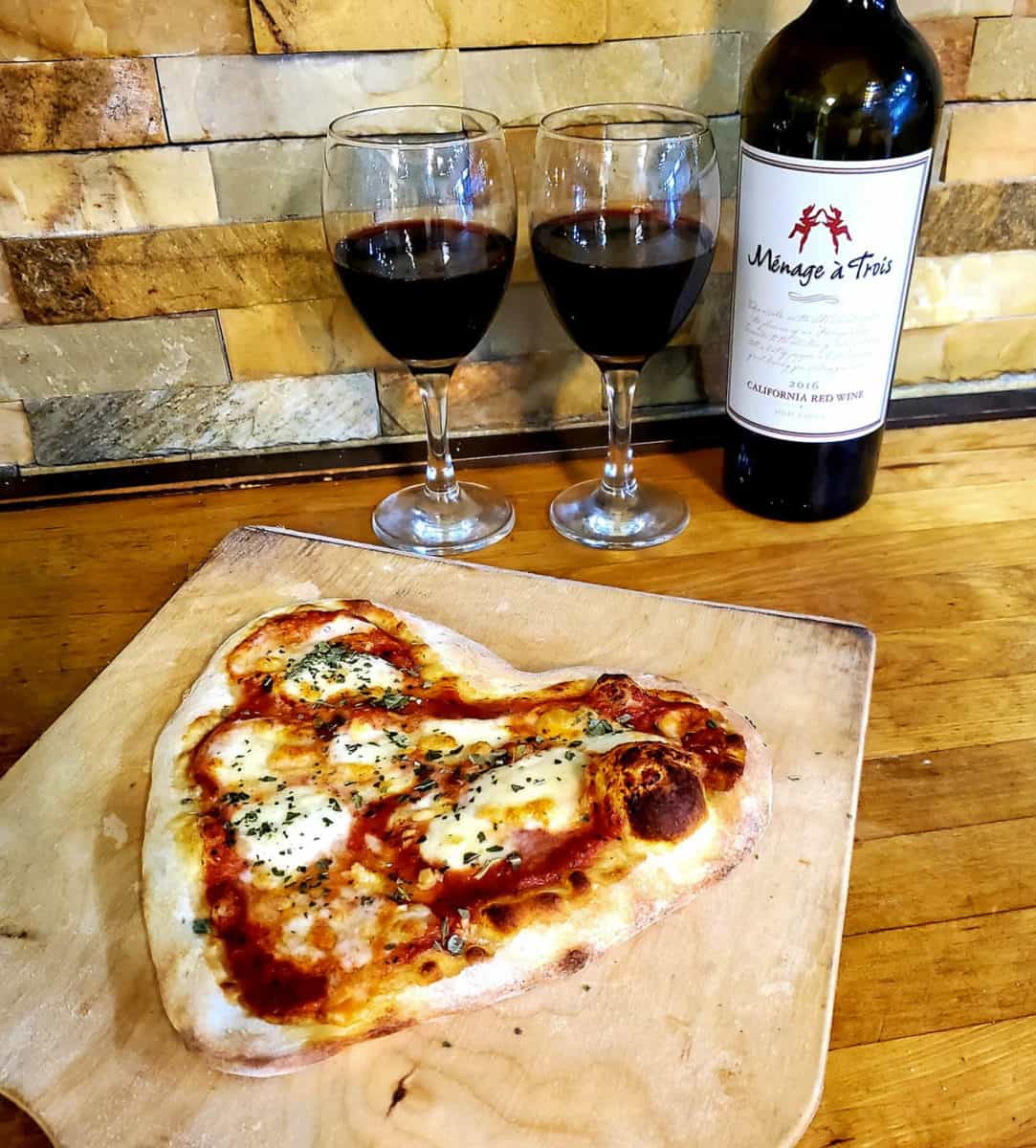 With classics like the Margherita and the Sicilia, there are also a lot of unique toppings that make for an awesome pizza. Try the Stella Rosa Belgrado (with mozzarella, ham, bacon, feta and prunes, which is surprisingly delicious), the Nikola Tesla (with white sauce, potato, onion, and walnut), or our favourite, the Signora Gaga (with mozzarella, spinach, olives, prosciutto, Bocconcini, and figs). Always fresh and always tasty, Gaga Pizza is absolutely delicious.
Michael's Pizza Restaurant
Location: 139 10 Ave SW
If you're looking for deep-dish pizza in Calgary, head to Michael's Pizza Restaurant. This casual and welcoming restaurant has been in the business since 1981, and we especially love that it's been family-run the entire time… it means the great pizza recipes have been passed down from generation to generation! Using only local, fresh ingredients, the restaurant is now a staple in the downtown Calgary culinary scene. Knowing that the produce is hand-picked and the dough and tomato sauce are made fresh every day just adds to the experience of the meal.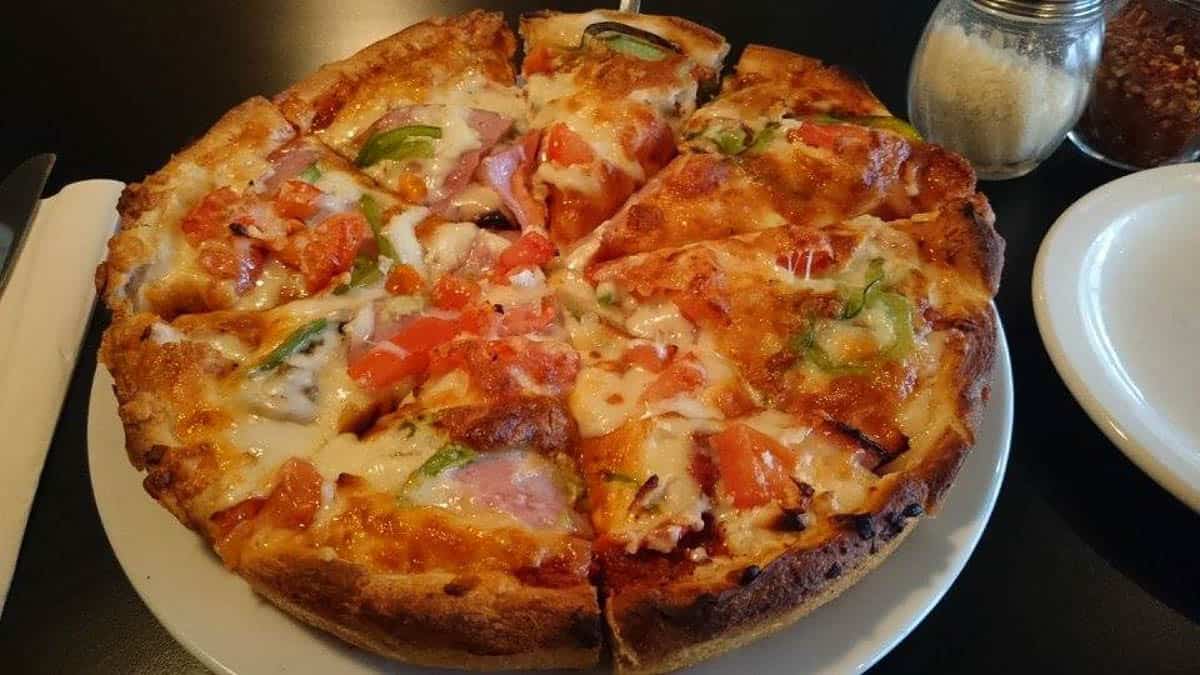 Also known for their delivery, the menu features a variety of starters and entrees that include Veal Parmesan, Fettuccini with Creamy Garlic Sauce, and BBQ Chicken and Ribs. But if you're anything like us, we go to Michael's for the pizza; with multiple selections to choose from, the pizzas are simple but fantastic, with a thick crust and fresh toppings. No need to be fancy here… a pepperoni pizza, mushrooms and green peppers pizza, or Hawaiian pizza are all incredible just as they are. And in summer, make sure to take advantage of the rooftop patio!
Una Pizza and Wine
Location: 618 17 Ave SW, 8529 Broadcast Ave, and 110-69 7a St NE
This cozy little pizza spot in Calgary has definitely earned its place on this list; in fact, we include it in our guide to the best restaurants in Calgary. With three locations, Una Pizza and Wine is the perfect place to go for some really good pizza and a fun wine bar. Serving California-style, thin-crust pizzas, the restaurant is known for its trendy, fun vibe that will quickly become your new neighbourhood favourite.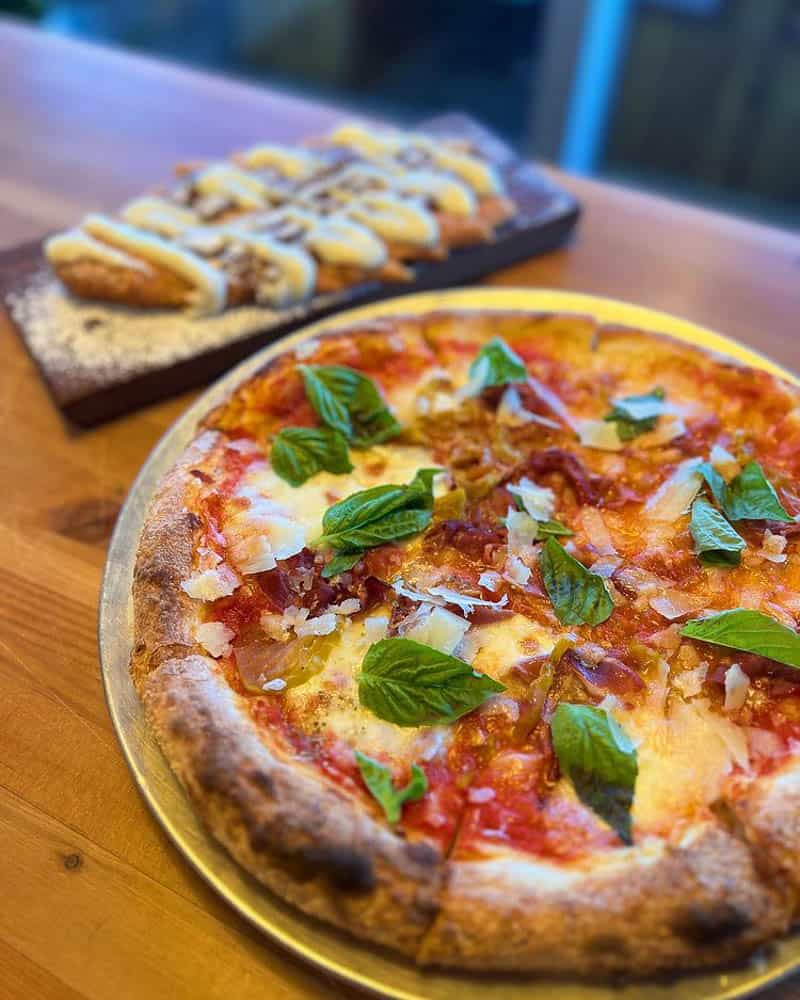 With a focus on using local food and only the finest ingredients, the pizzas are cooked in stone deck ovens. This produces pizzas which are thin crust, including a crispy bottom and chewy centre. On the menu, expect delicious Mediterranean appetizers such as Baked Medjool Dates and Braised Pork Meatballs; there's also a Kale Caesar Salad which is quite famous in Calgary. There's a long list of pizzas to choose from, including the Veggie (with sun-dried tomatoes, roasted red peppers, mushrooms, honey, and feta cheese), the Supreme (with San Marzano tomato sauce, pepperoni, mushrooms, green peppers, and mozzarella), and our pick, the 4-Maggi (with provolone piccante, mozzarella, fior di latte, pecorino romano, UNA's truffle honey, and cracked pepper). You can't go wrong with this pizza spot in Calgary, no matter which location you choose.
Gus's Pizza
Location: 1620 29 St NW
If you're looking for no-fuss pizza in Calgary, head to Gus's Pizza. This simple yet delicious pizza place is all about quality and taste, and you're sure to fall in love with their tried-and-true recipes. With excellent weekly deals, including the daily special, there's always a reason to visit Gus's.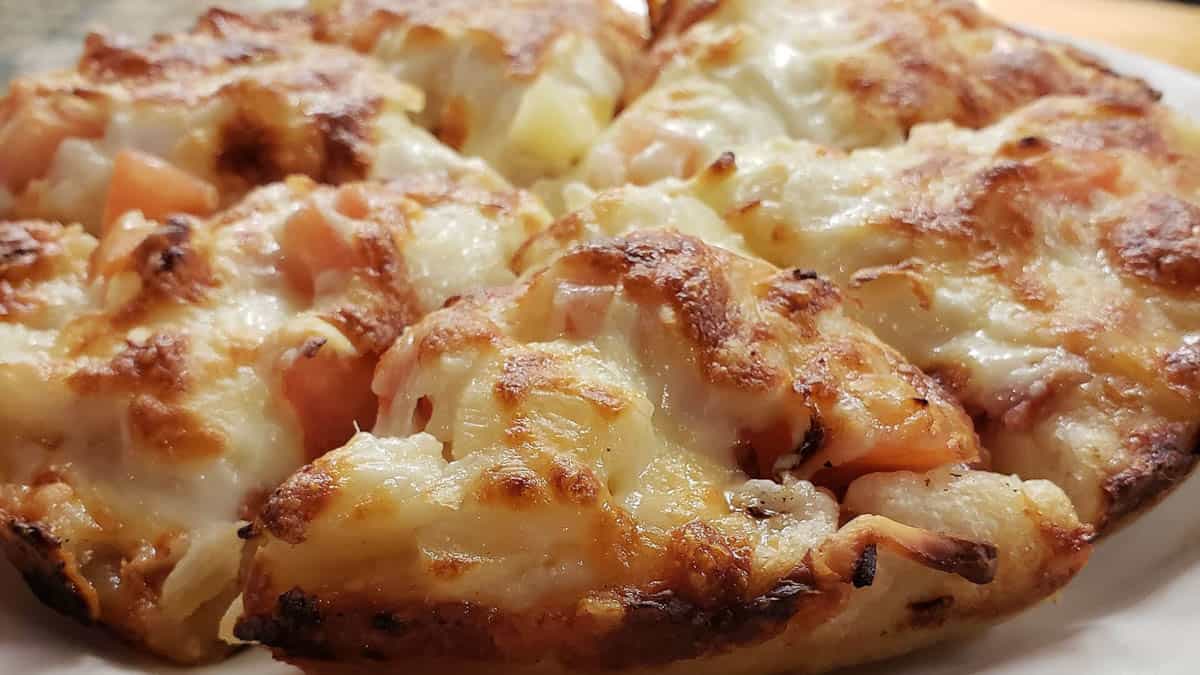 On the menu, you'll find many options, including starters, sandwiches, salads, pasta, and even quesadillas. But in order to make this list, you know their pizza has to be the standout! "In crust we trust," as they say at Gus's, and we're in agreement; the pizzas really are that tasty. With a solid list of classics – everything from Meat Lovers to Plain Cheese to Vegetarian – we tend to stick to "Gus's Favourites", which include the Roma (mushrooms, sun-dried tomatoes, artichokes, olives, and feta cheese), the California (chicken, pesto sauce, spinach, sun-dried tomatoes, and red onions) and El Mexicano (lettuce, tomatoes, jalapeños, salsa, ground beef, and sour cream… don't knock it until you've tried it).
Noble Pie
Location: 720 11 Ave SW (back alley entrance)
"Simple pies. Meticulously made." That's the motto that Noble Pie lives by! Noble Pie is the creation of self-taught pizza maker and owner Mike Lange, who dutifully researched the best pizza around the world before opening his own spot in Calgary. Open permanently since 2021, this Calgary pizza place is one of the most talked about restaurants in the city. Using fresh produce and innovative flavour combinations, you're sure to try a pizza like no other when you visit.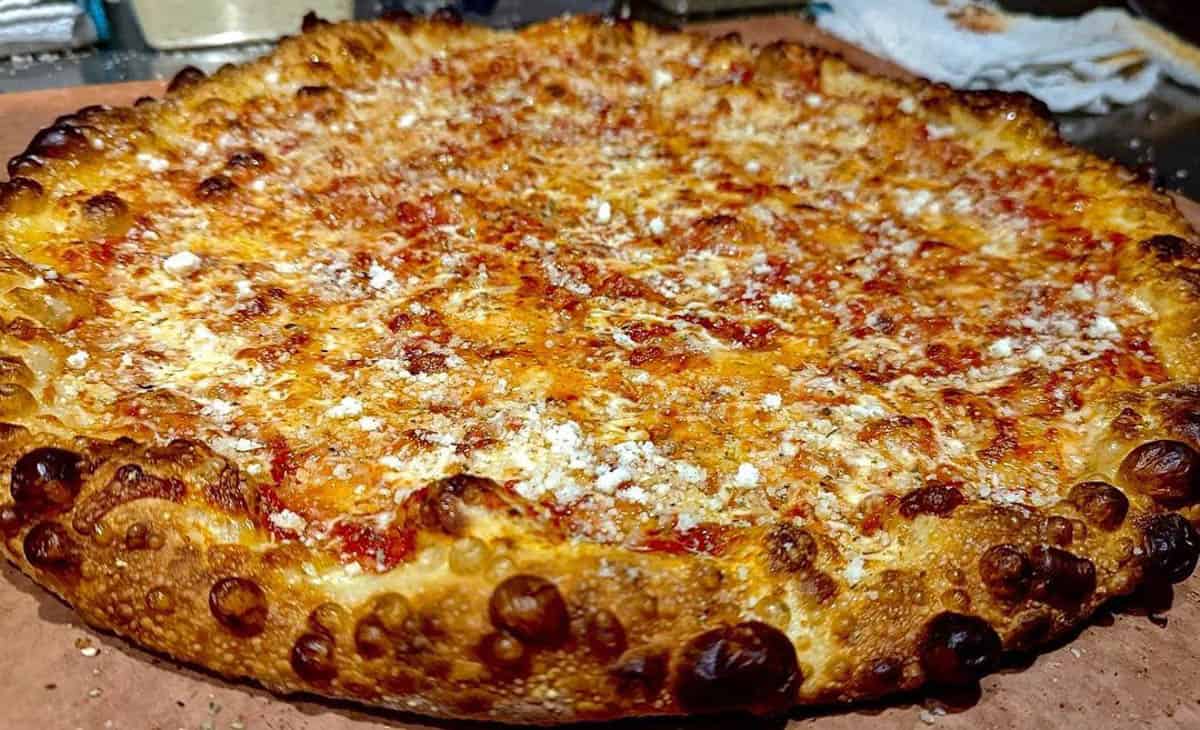 Though we're huge fans of all of the options on the menu, some of the standouts include the Extra Fancy (with garlic, red onions, roasted mushrooms, Ezzo pepperoni, jalapeños, grana padano, pecorino, and Sicilian oregano), the Saucy Mama (with fennel sausage, Mama Lil's Goat Horn Peppers, red onions, grana padano, and pecorino), and the Brooklyn White (with an olive oil base, ricotta, caramelized onions, grana padano, pecorino, parsley, and a sesame seeded crust). Always lively, Noble Pie is a fantastic place for a date, for a night out with friends, or a tasty takeaway option. Also, take advantage of their half-and-half options to try multiple toppings!
Pulcinella
Location: 1147 Kensington Crescent NW
With so many options for pizza in Calgary, it can be difficult to narrow it down to the best. At Pulcinella, you know you're in for a tasty slice no matter what! With a modern vibe and fun atmosphere balanced with traditionally great pizza made with high-quality ingredients, the wood-fired oven produces hit after hit that the restaurant claims is "straight outta Naples". The menu includes so much more than just pizza, though, including pasta, salads, antipasti, soup, entrees, and more, making it one of the best Italian restaurants in the city, not just for pizza.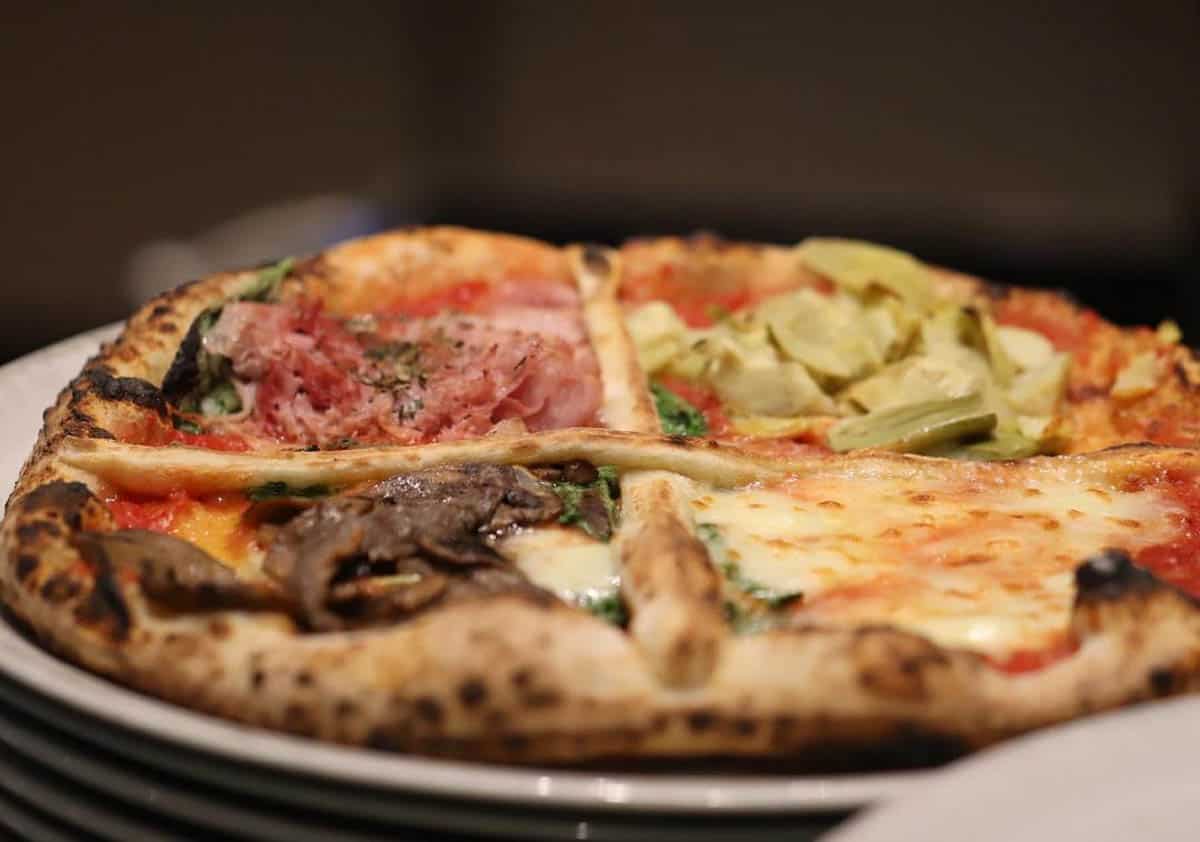 But the pizza? You do need to try it, because it's some of the most authentic pizza in Calgary. Choose between the regular pie with tomato sauce and the pizza bianco (without sauce), just as you could in Italy. Though it would be impossible to name all of the favourites, standouts are the Cotto e Funghi (tomato sauce, mozzarella, prosciutto cotto (ham), mushrooms, parmigiano, and basil), the Verdure Grigliate (tomato sauce, grilled aubergine, peppers, zucchini, mozzarella, parmigiano, basil, and fresh tomato), or the Tartufo (fontina cheese, mozzarella, parmigiano, shaved black truffles, topped with an egg yolk).
Pizza Mercato
Location: 346 23 Ave SW
Using fresh toppings and ingredients directly from Italy, you know you're in for some of the best pizza in Calgary when you eat at Pizza Mercato. And with a tagline like "Pizza that fills your soul. And your stomach", you know it will be some of the best food around! With your choice of pizza rosso (with tomato sauce) or pizza bianco (without sauce), the menu is small but mighty. And who can resist a juicy pizza topped with some of the best Italian ingredients around?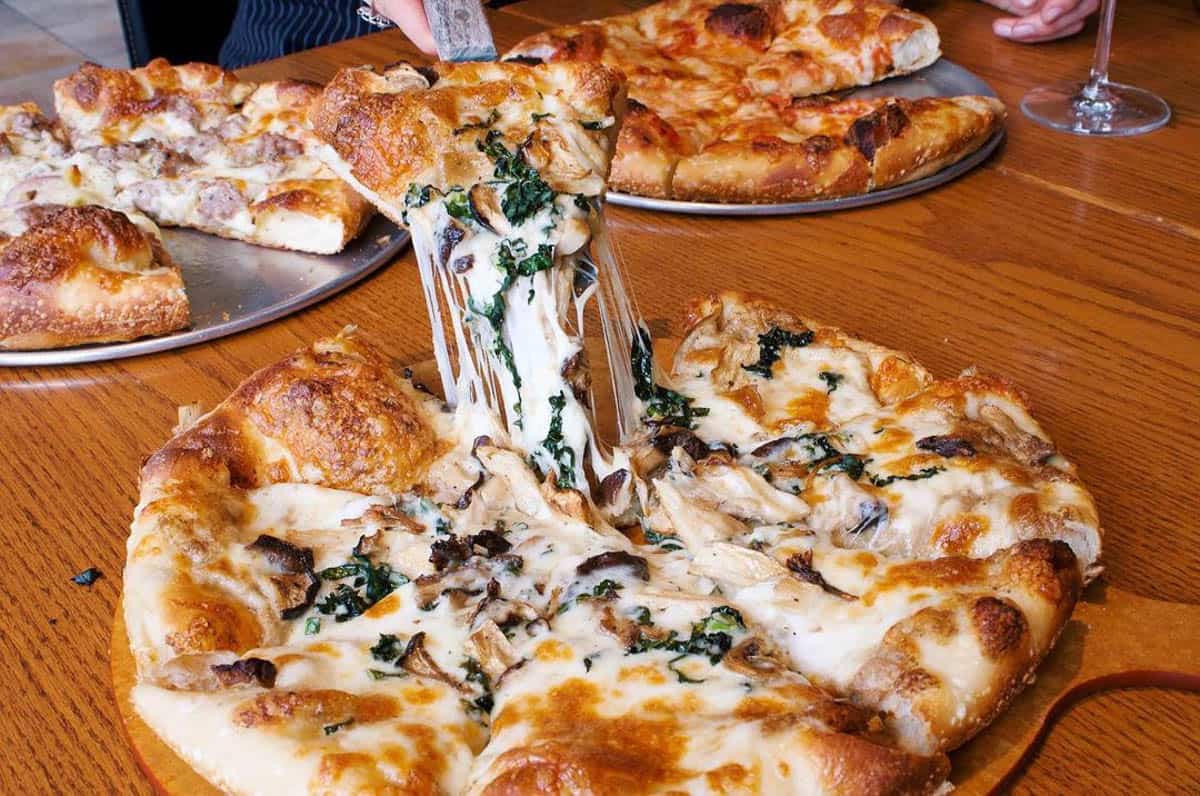 Try the Isola, with Italian ham, pancetta, jalapeños, smoked provolone, and roasted pineapple, proving that yes, some Italians do indeed eat pineapple on their pizza (we're huge fans!). Another favourite is the Melanzane, with grilled eggplant, walnut pesto, garlic confit, mozzarella, and provolone. There are also a few kinds of pasta, salads, and starters to try – the arancini are phenomenal – so you're sure to find a lot to love at Pizza Mercato.
Actually Pretty Good
Location: 2509 14 St SW
The name is quite a humble one… the pizza at Actually Pretty Good is actually pretty great! With eclectic decor, friendly staff, and delicious pizza, you're always in for a good time when you visit this spot in Calgary. The menu is fantastic, with plenty of starters (try the burrata or the garlic fingers), pasta, vegetable dishes and salads, and, of course, pizzas. You can't go wrong with options that include the French Onion (with caramelized onion, gruyere, red wine jus, and fior di latte), the Buffalo Chicken (with house hot sauce, shaved celery, gorgonzola ranch, and fior di latte), and the Club Med (with semi-sun dried tomatoes, charred red onion, Calabrian chillies, kale, feta, and mozzarella). There's also an amazing list of cocktails, craft beer, and wine, as well as weekly specials.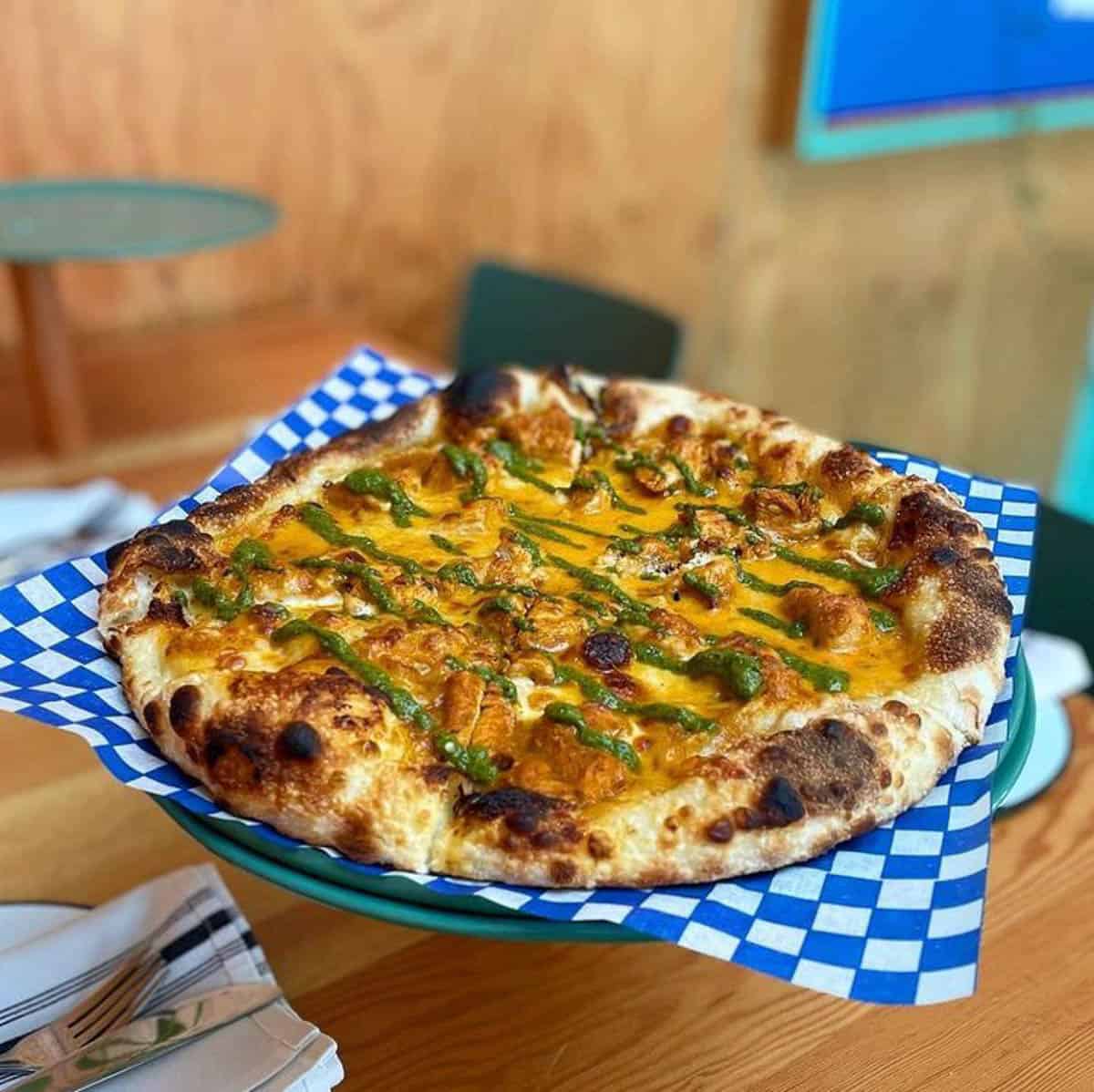 But one of the biggest draws to visiting Actually Pretty Good? The weekend brunch! If you've never had "brunch pizza" before, you have to try it. The loaded six-inch pizzas include the Chorizo Benny (with pickled red onion, banana peppers, two poached eggs, and hollandaise), the French Toast Fingers (with maple blueberry compote, charred pineapple, and whipped nutmeg mascarpone), and, naturally, the Avocado Toast pizza (with queso fresco, pistou, hot sauce, fresh avocado, and sprouts). It's a totally unique meal and one that places this spot firmly on the list of the best pizza places in Calgary.
Bow Tie Pizza
Locations: Multiple
Ask where you can find the best pizzas in Calgary, and you'll surely hear the name "Bow Tie Pizza" once or twice! With multiple locations around the city, you're never too far from this much-loved spot. Claiming that every aspect of their pizza recipe has been meticulously designed, each and every pizza is made with love. Started by three friends, the restaurants are now known for continually putting out some of the best pizzas in Calgary.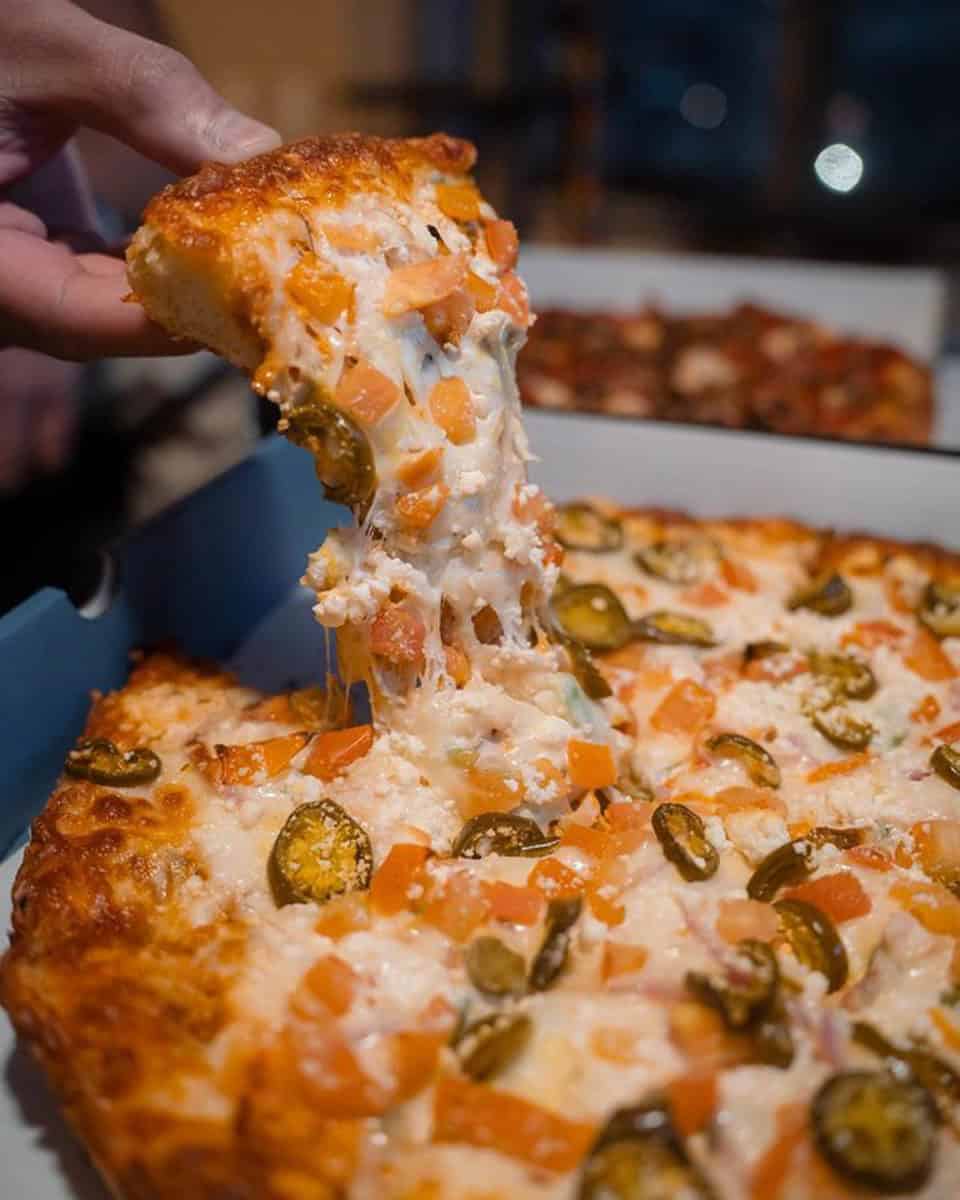 With a thick crust and gooey cheese baked on top, the menu at Bow Tie Pizza is to die for. While there are certainly many classics to be found – including Meat Lovers, Hawaiian, and New York Pepperoni – there are also a few twists. Try the donair pizza, which has sweet donair sauce, beef donair meat, onions, tomatoes, and mozzarella, or the Mother of Dragons, a spicy pizza with ham and salami. Wanting something specific? You can also craft your own custom pizza, meaning you always get exactly what you're craving at Bow Tie Pizza.
Spiro's Pizza and Greek Taverna
Location: 1902 33 St SW
If you're looking for an extensive menu, a laidback atmosphere, and a place that's amazing for the entire family, head to Spiro's Pizza and Greek Taverna. Claiming to have "the best pizza in town," Spiro's also serves up salads, appetizers, souvlaki, pasta, and so much more. People rave about the friendly service and the reliable high quality of the food, especially if you're after something filling, hearty, and homemade.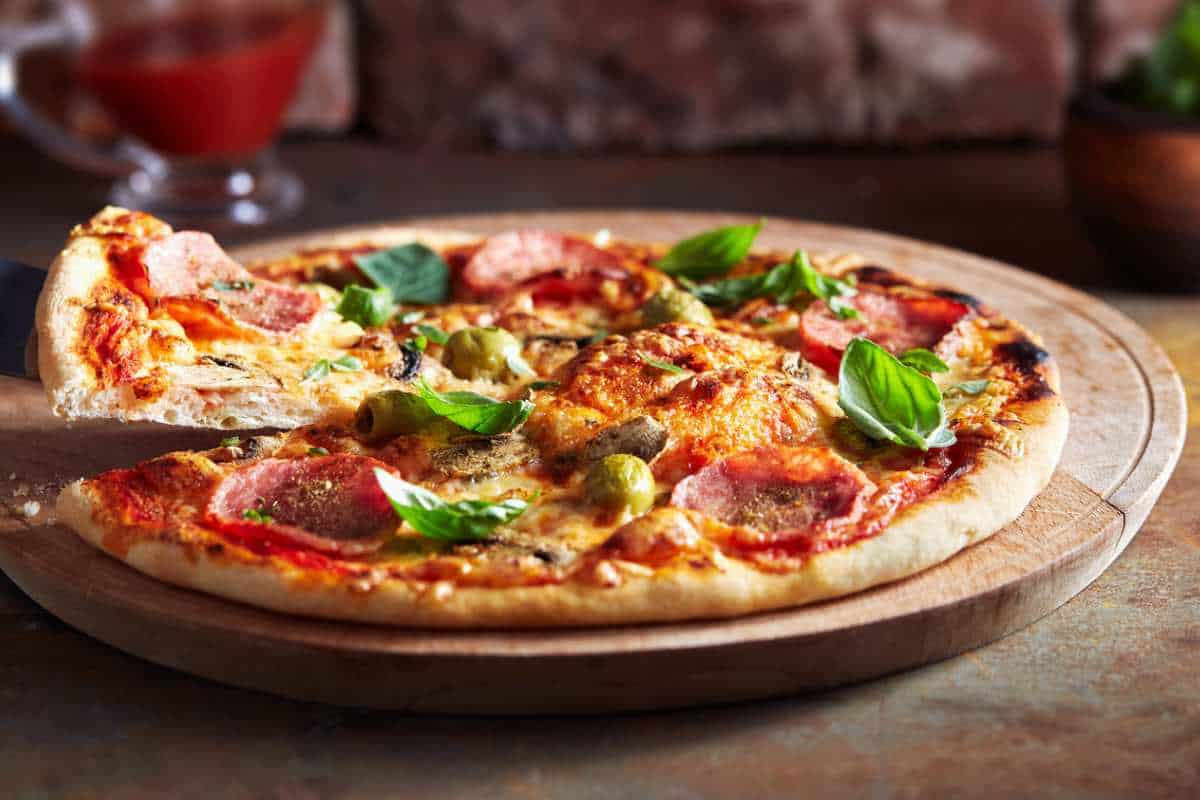 Open since 1969 – in the same location, too! – the pizza recipes have been passed down from generation to generation. While there's no denying that the Greek food here is a must-try, the pizzas are famous for their thick crust and generous toppings. Want something beyond the usual pepperoni? Try the Smoked Oysters and Onion pizza, the Cheeseburger pizza, or, our favourite, the Spanakopizza with spinach and feta cheese.
LDV Pizza Bar
Location: 916 1 Ave NE (upstairs)
You'd be forgiven for not knowing that LDV Pizza Bar existed… you may have walked right past it! Found on the second floor of a building, this family-run establishment is the perfect place to enjoy some craft beer and wood-fired pizza. Masters of the pizza oven, the Cosentino family knows how to serve up a delicious meal, especially if you're after authentic ingredients and a thin crust.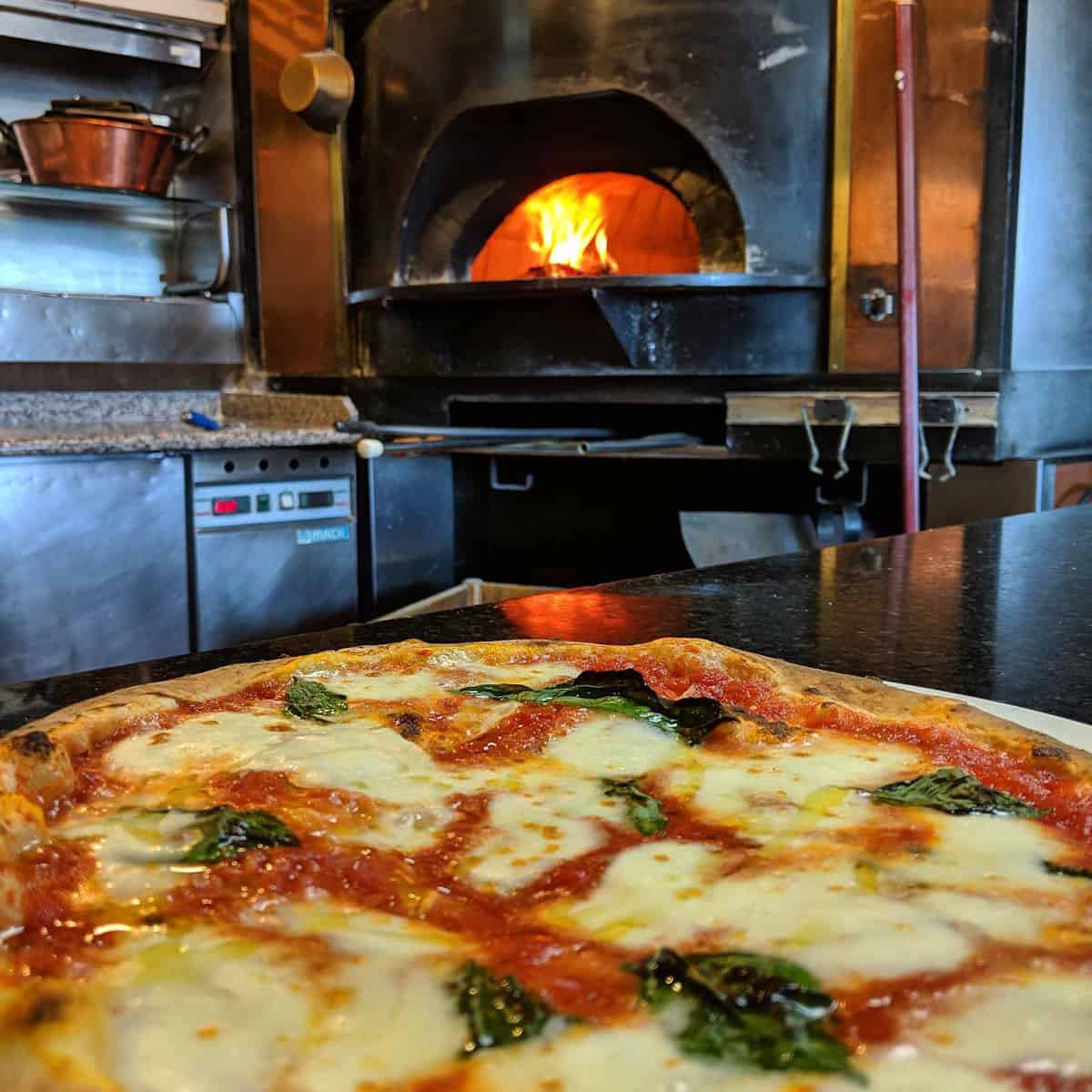 With an amazing list of antipasti, salads, pasta, and more, we're always drawn to their incredibly fresh pizzas. With a crispy thin crust, the flavours of the dough really pop; eating here is as if you're in a little trattoria in Italy. Try the Funghi e Prosciutto Cotto (with mushrooms, cooked ham, fresh tomato sauce, and fiore di latte) or the Vegetarian (with roasted zucchini, eggplant, red peppers, cherry tomatoes, mushrooms, olives, fresh tomato sauce, and fiore di latte). Want something you may not have tried before? Go for the San Francesco, which has a mushroom truffle base topped with fior di latte, gorgonzola, and fresh cherry tomatoes; once out of the oven, arugula, shaved parmigiano cheese, and sliced prosciutto is added.
Posto Pizzeria and Bar
Location: 1014 8 St SW
Head to Posto Pizzeria and Bar for gourmet pizzas, tasty cocktails, a great selection of wine and beer, and an undeniably cool vintage vibe. Found in the design district, many claim this is some of the very best pizza in Calgary. Pro tip: visit Posto Pizzeria and Bar on Sundays, where you can find $15 pizzas and all-day happy hour. What could be better than that?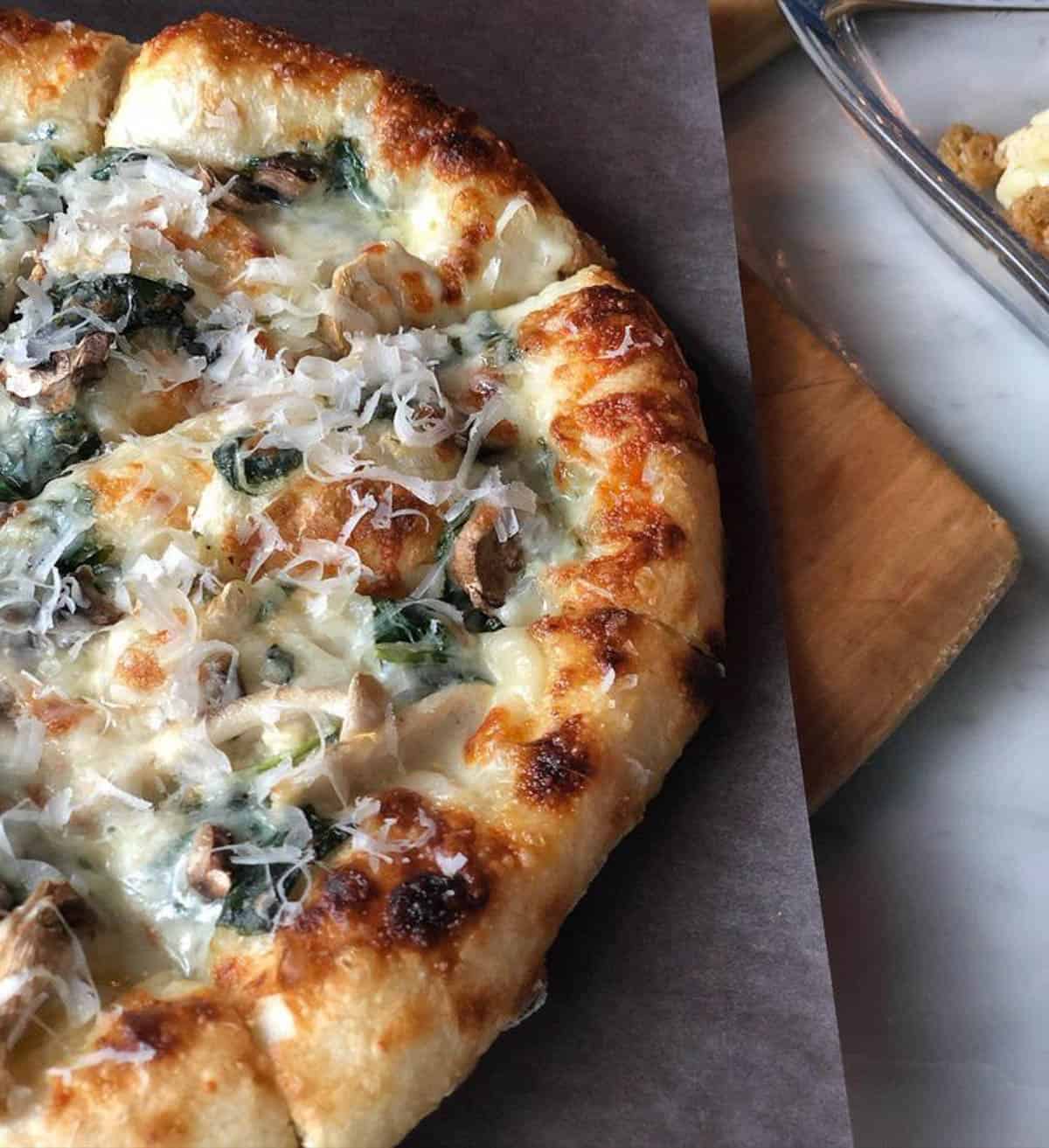 As for the pizzas themselves, there are flavour combinations we haven't seen anywhere else in the city… or anywhere, for that matter. Imagine a pizza with smoked salmon, pickled onions, capers, and arugula, for example, or another with roasted squash, ricotta, mint, hot honey, and pumpkin seeds. There's also a mouthwatering list of antipasti, pasta, salads, and meats, all bringing that same sense of innovation. If you're a foodie who loves trying new things, Posto Pizzeria and Bar is for you.
Double Zero Pizza
Location: 6455 Macleod Trail SW #1133
When it comes to Calgary pizza places, look no further than Double Zero Pizza. With a sophisticated vibe and modern decor, you can find Double Zero Pizza in CF Chinook Centre. Almost always busy, this is the kind of place you go to relax after a successful day of shopping (and when that pizza craving is just too strong to ignore).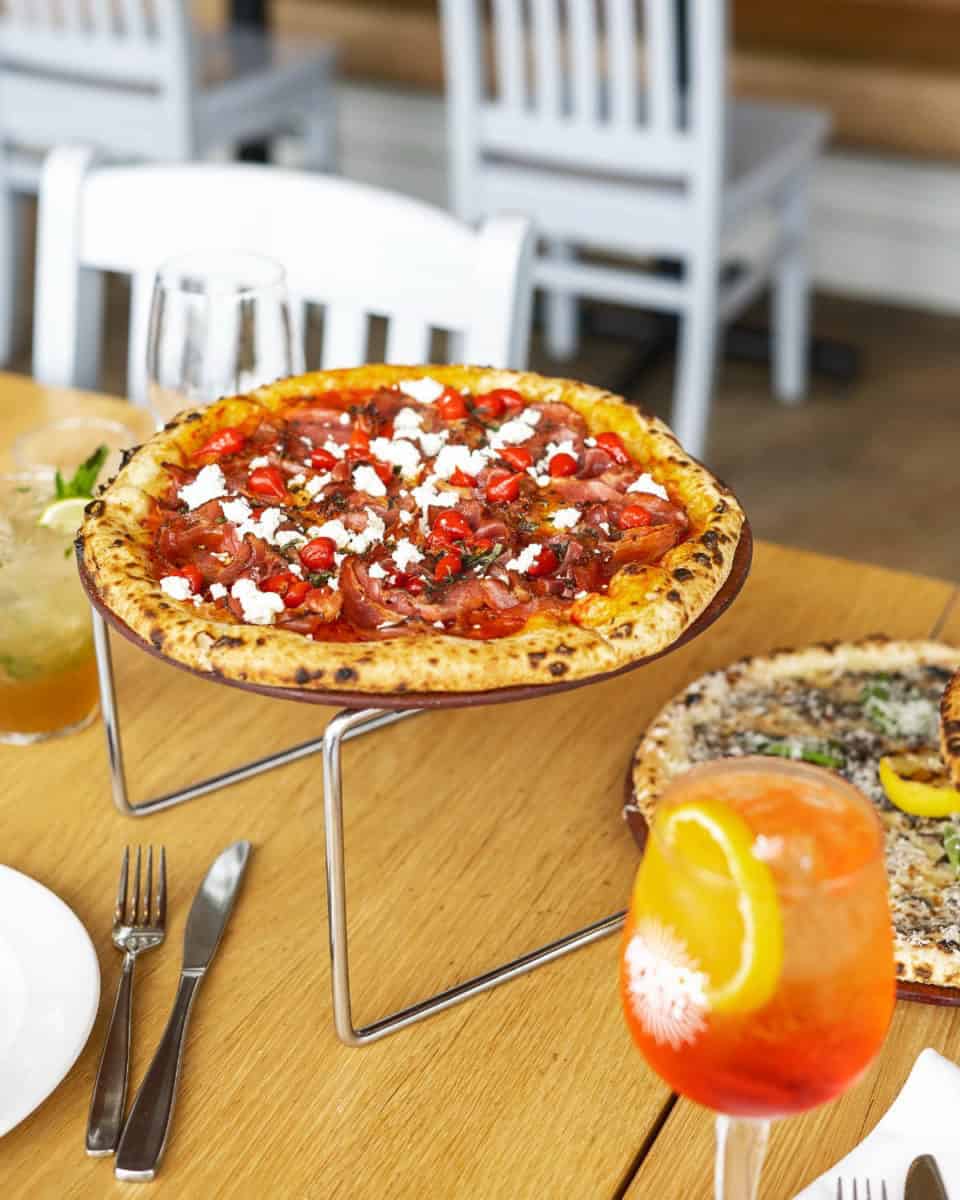 With beautifully prepared starters, salads, and pasta, the real star of the menu is the pizza. Featuring fresh ingredients of only the highest quality, every thin-crust pizza highlights a different combination of flavours that are bound to impress. Try the Kale Pizza (with garlic cream, kale, dried tomato, chilli, roasted garlic, provolone, mozzarella, and asiago), the Beef Bresaola (with tomato sauce, bresaola, smoked cheddar cheese, and pickled peppers), or, our favourite, the Six Cheese. That's right, forget the four-cheese pizza… Double Zero has the Six Cheese, with garlic cream, fontina, gorgonzola, asiago, fior de latte, pecorino, parmesan, lemon honey, and black pepper.
Pizza Culture
Location: 1114 Edmonton Trail #1
You can't talk pizza without talking about Naples, and at Pizza Culture, the Neapolitan pizza reigns supreme. Their thin-crust creations are sure to make you want to return again and again. Relying on tradition – their method of baking pizza in a wood-fired oven has been around since the 16th century in Naples – they also use only the simplest yet finest ingredients on their pizzas, and as much of it as possible is sourced straight from Italy. In short, if you want Napoletana pizza in Calgary, you go to Pizza Culture.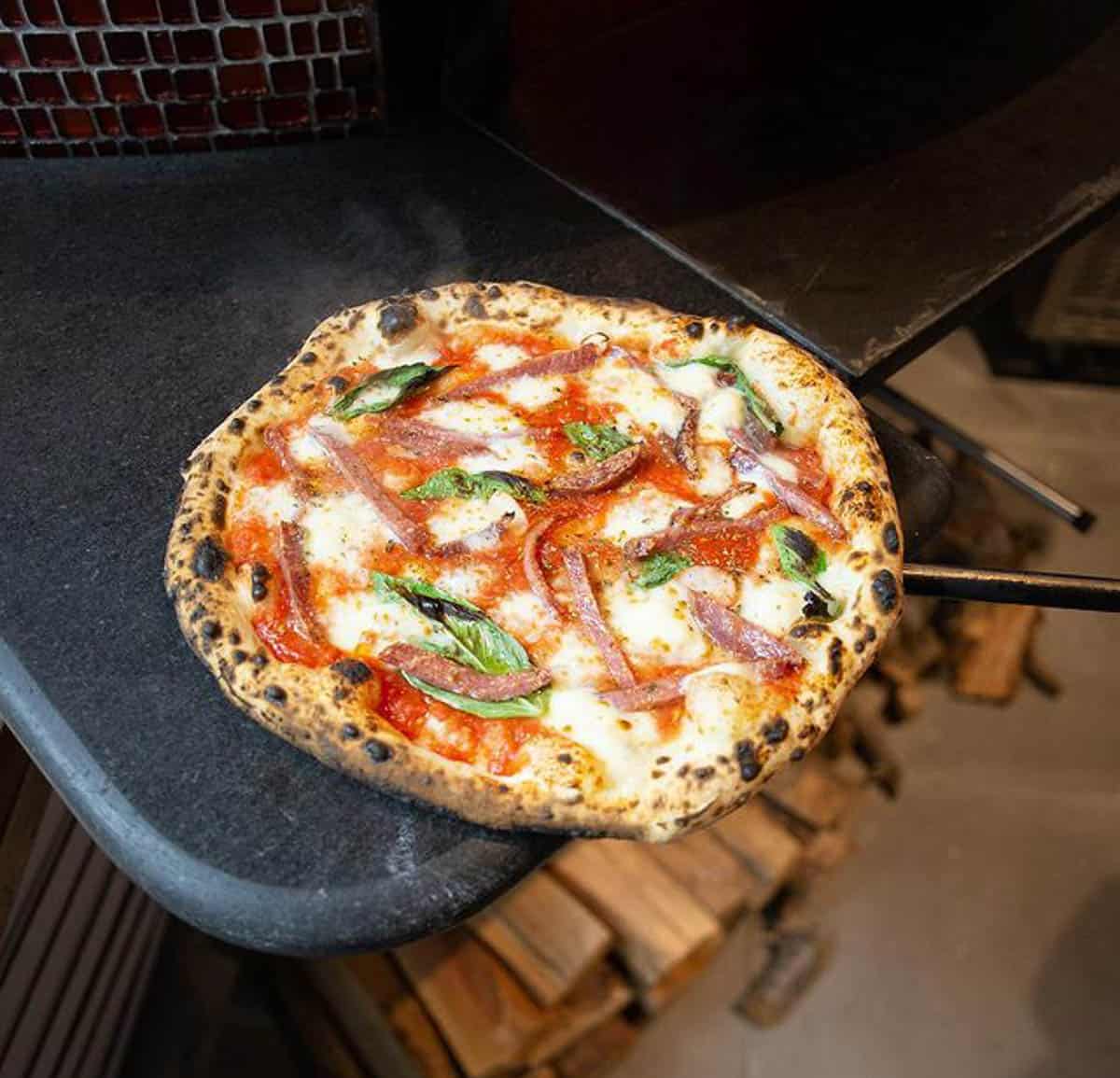 On the menu, you'll find "old school" and "something new" styles, so there's something for the curious foodie as well as the staunch traditionalist. Try the D.O.P Margherita made with artisanal buffalo mozzarella flown in from Italy (although it's so popular, it comes in limited qualities!). The Toscano is also divine, as it's a truffle-based pizza with a variety of mushrooms, mozzarella, truffle oil, and lemon oil. But really, absolutely any of the pizzas you choose from Pizza Culture will be a winner, because this place is just that good.
The Village Flatbread Co.
Location: 2511 17 Ave SW
Head to The Village Flatbread Co. when you're after a pizza that's made with locally-sourced ingredients. Leading the pack when it comes to organic food, the Calgary pizza place also offers a lot of gluten-free, halal, dairy-free, vegan, and keto options, so almost all dietary needs are covered. They also have excellent "take and bake" pizzas to take home with you and enjoy whenever you want!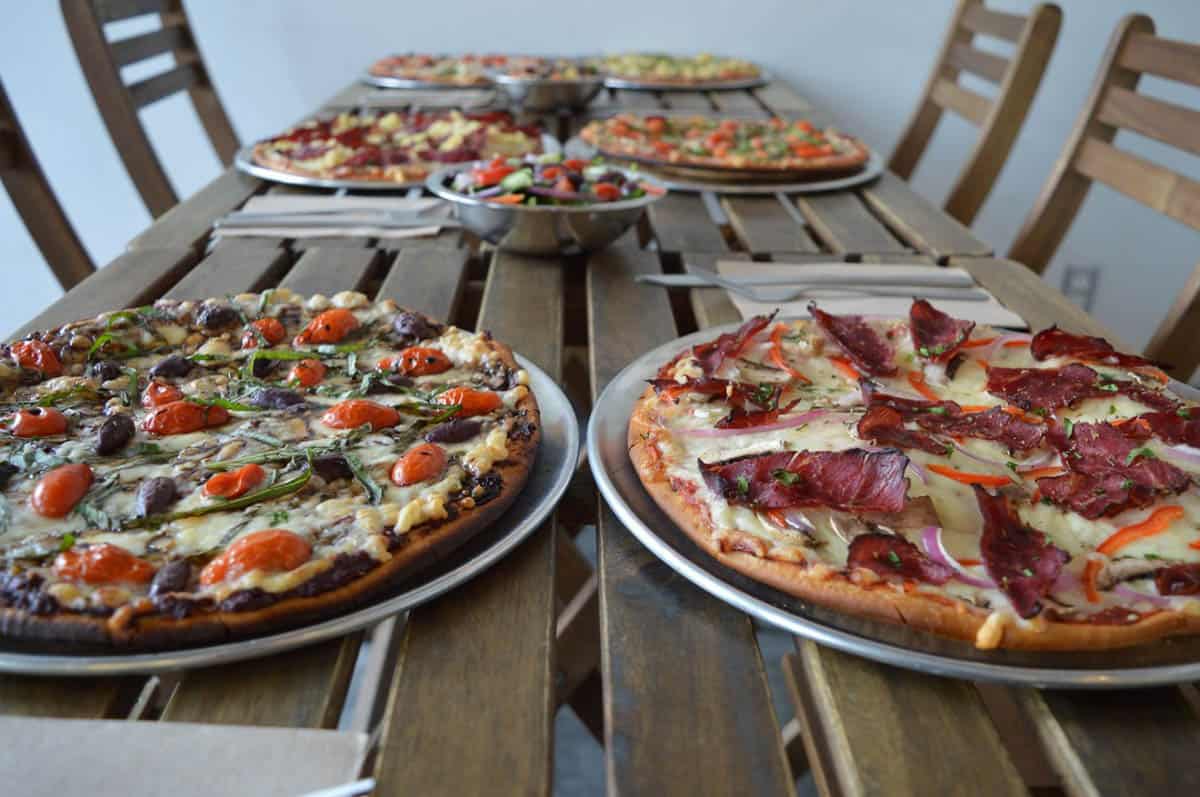 On the menu, you'll find lots of bowls, starters, and salads, but where the restaurant really shines is with its pizza options. Choose from meat or vegetarian offerings, or create your own pizza for your perfect bite. Going for one of their creations? We recommend the Aspen (with chimichurri, roast beef, mozzarella, mushrooms, red onions, and rosemary) or the vegetarian Maple Ridge (with pesto, mozzarella, cheddar, gouda, goat feta, parmesan, and maple syrup drizzle). They also have vegan mozzarella for no charge, and there is Beyond Meat available to add to any of the pizzas.
Crispy Crust Pizzeria
Location: 464 B Woodbine Blvd SW
With more than a decade of pizza-making experience, cheese fans must try Crispy Crust Pizzeria. As they say, "thick n cheesy is just the way we like it", and they aren't kidding around! With ooey, gooey pizzas absolutely loaded with cheese, this Greek-style pizza has been awarded the title "The Cheesiest Pizza Calgary Has Ever Seen".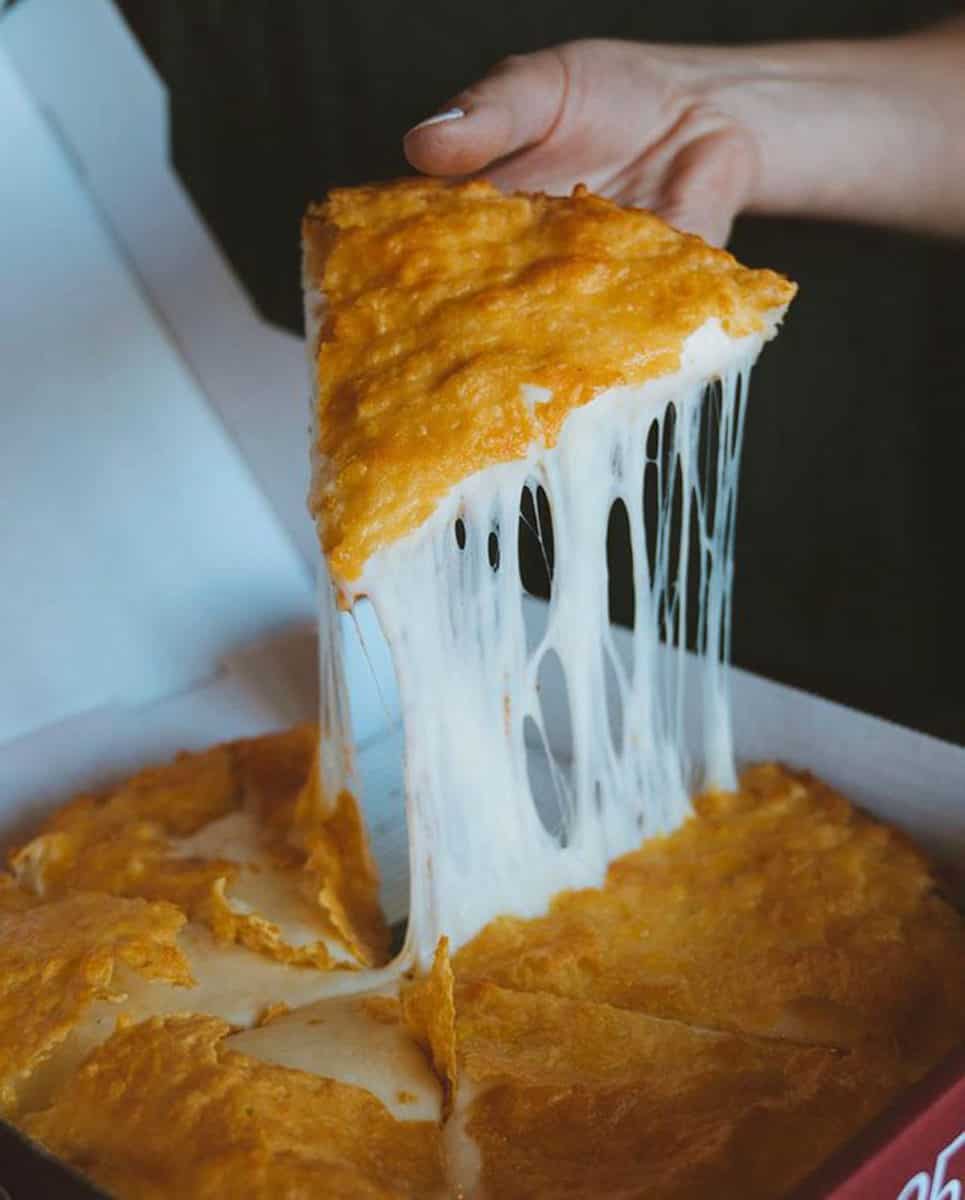 The menu is fairly small, but with such high-quality ingredients and such a knack for creating the perfect pizza, there's no need to go overboard on the options. We love the classic Cheese pizza (loaded with extra mozzarella, if you can believe it), the Loaded, and the Greek. No matter how you slice it – pun very much intended – you're sure to love Crispy Crust Pizzeria.
Looking for more good food and drink in Calgary?