Disclaimer: This page may contain affiliate links. Please review our full Terms and Conditions for more information and our Privacy Policy. Note that any pricing, operating hours, or other such information provided below may have changed since initial publication.
Compiled by the Road Trip Alberta team
Last updated on June 23, 2023
Looking for pizza in Edmonton? Well, you're in the right spot. The city offers a number of solid options to satisfy any pizza lover's cravings. From classic pizzerias to upscale pizza joints, there is surely something for everyone. Most establishments take pride in using fresh, locally sourced ingredients to create their own unique pizzas. Regardless if it's classic Neopolitan style, New York, or Chicago deep-dish you're after, there's a vibrant pizza culture here and a lot of spots for pizza in Edmonton. It makes it easy to indulge in a delicious slice whenever the craving strikes.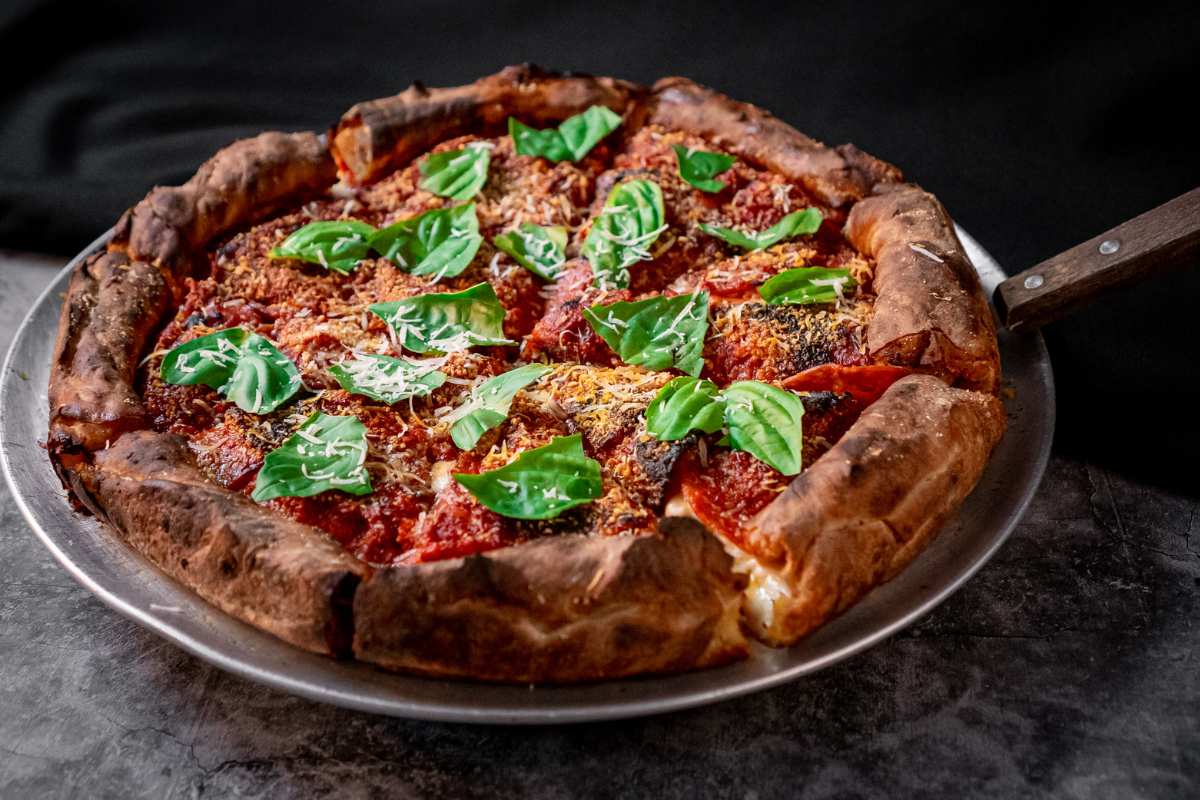 Vaticano Cucina
Location: 10310 45th Ave NW
If you chat to a local about Edmonton's pizza scene, chances are they'll mention Vaticano Cucina. This highly-rated spot has some of the best pizza in the city, and the elegant, modern decor of the restaurant just adds to the appeal (don't forget to check out the frescos on the ceilings). But Vaticano Cucina claims to be much "more than an Italian restaurant"; it's a place to feel at home, a place to bask in Italian authenticity and tradition, and yes, a place to eat really good pizza.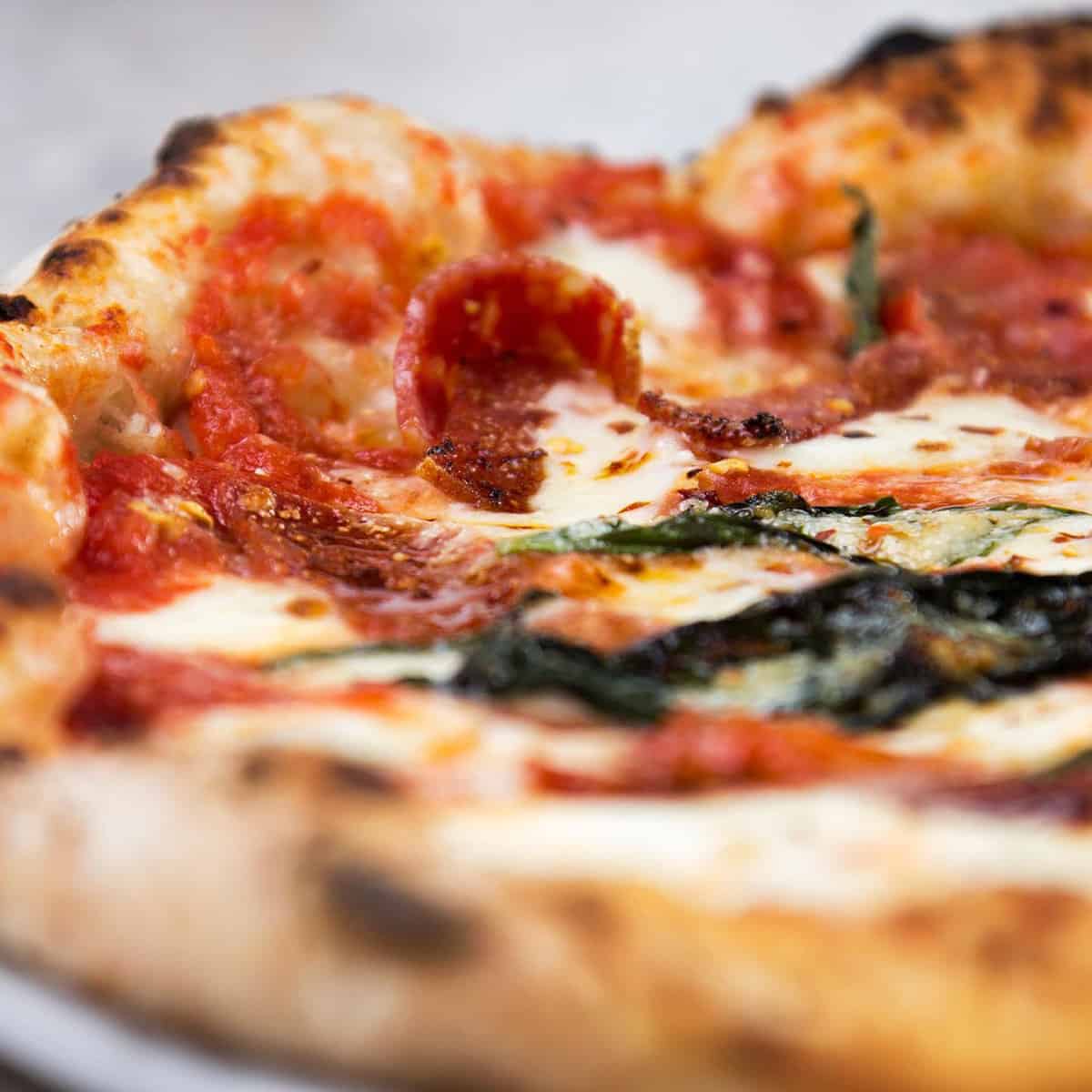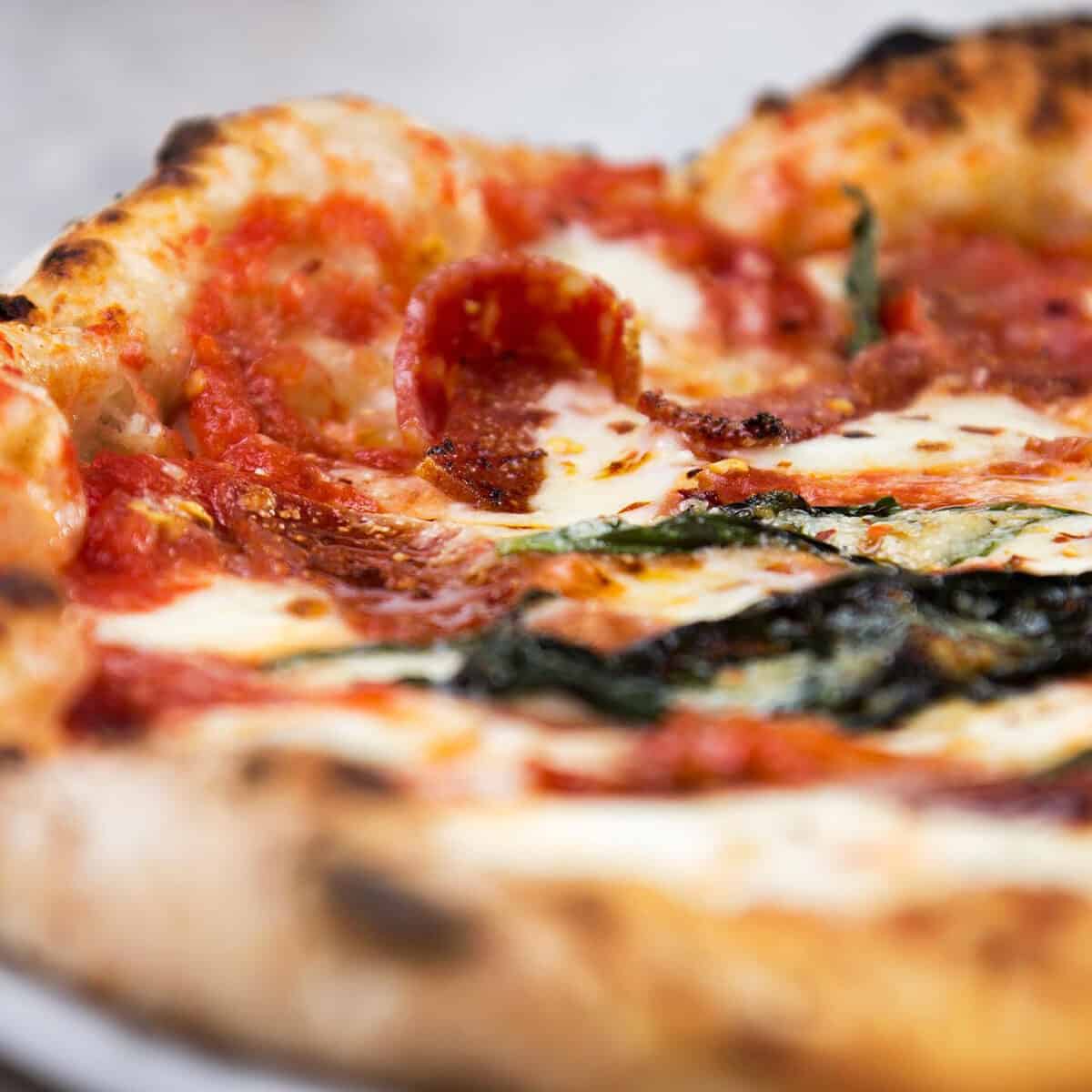 As one of the best Italian restaurants in Edmonton, the pizza is incredibly authentic. The chefs aim to use only the freshest, highest-quality ingredients as well as a creative approach to every dish. Thankfully, the prices are reasonable, so you don't have to spend a fortune to have a fantastic meal. As for the pizzas themselves, try the St. Michael (with black truffle oil, porcini cream sauce, fior di latte, crumbled Italian sausage, and sauteed mushrooms), the St. Francis (with onion jam, fig, goat cheese, fior di latte, arugula, and a balsamic drizzle), or the St. Anthony (with "all the meats" and fior di latte cheese), although really, every single pizza is a delight. Gluten-free and vegan cheese are also available.
Rosso Pizzeria
Location: 8738 109 St NW
Known for being local, organic, and always fresh, Rosso Pizzeria is an amazing option when it comes to Edmonton pizza. Rosso Pizzeria seeks out only the best ingredients from local sources, ensuring that every meal is full of flavour. The atmosphere is also one of the most remarkable in the city, with a warm, lively feel to it whether you dine here for breakfast, lunch, or dinner.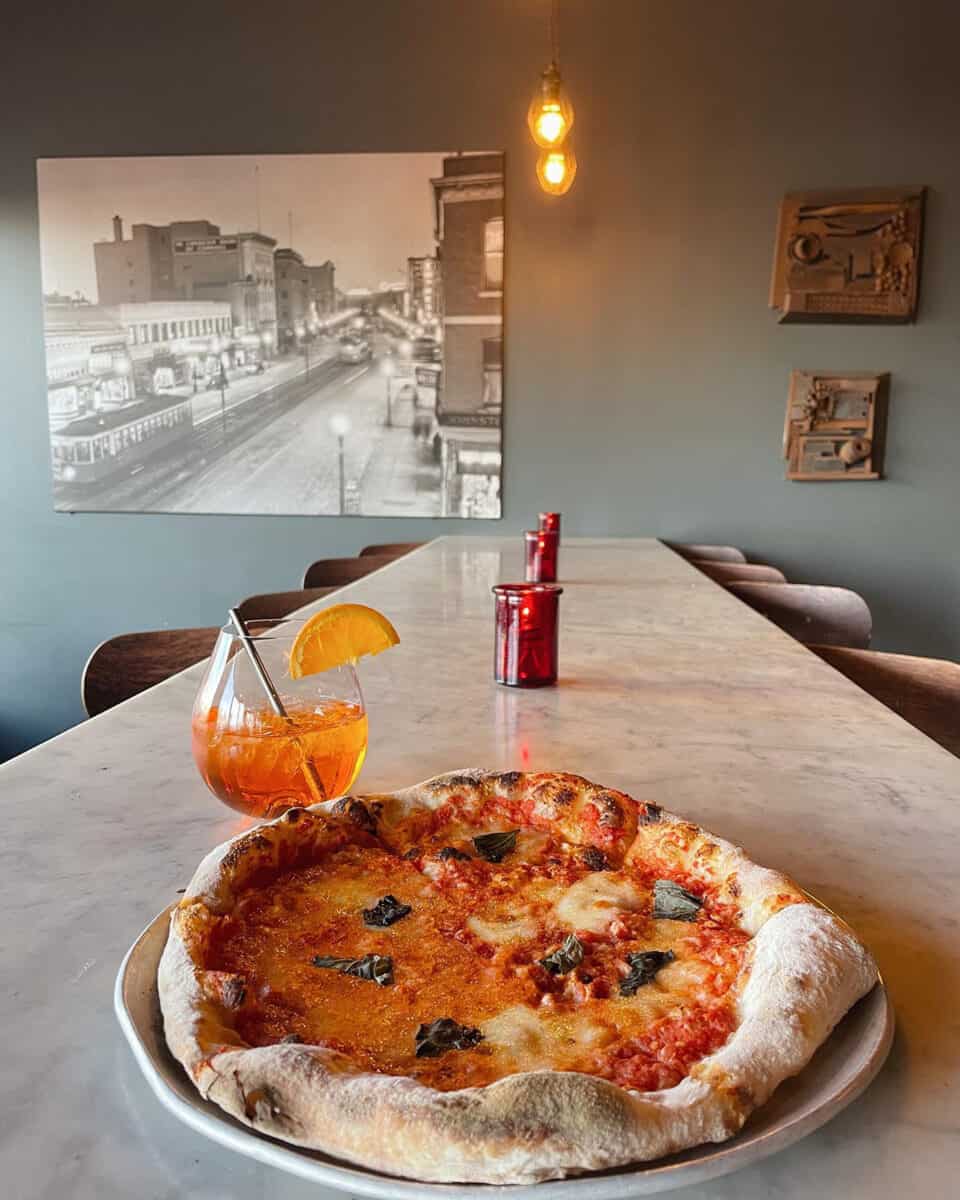 On the menu, you'll find an unbelievable array of Italian dishes, all with a creative spin. And while options range from Lobster and Crab Eggs Benedict for breakfast to a Caprese Mozza Panini for lunch, we feel the pizza is the real star of the show at Rosso Pizzeria. If you like spicy food, try the Rosso, which is made with San Marzano tomato sauce, mozzarella, fior di latte, taleggio cheese, soppressata, local homemade Italian hot sausage, seasonal hot peppers, and chili oil. The Ortolona is also fabulous, made with local goat cheese, roasted eggplant, artichoke, red onion, mixed mushrooms, and kalamata olives. And yes, there's even pizza for breakfast, with the Canadese being our favourite; it has sliced Yukon gold potatoes, pancetta, mozzarella, fior di latte, and rosemary oil, topped with an over-easy egg.
Tony's Pizza Palace
Location: 9605 111 Ave NW
If you're craving the perfect thin crust pizza in Edmonton, make your way to Tony's Pizza Palace. One of the best pizza places in Edmonton, there's a beautiful story behind the restaurant – Tony Mazzotta Sr. first fell in love with the art of fine pizza in the late 1940s in Cosenza, Italy, and eventually made his way to Edmonton via New York – and so there are decades of mastery behind every single pizza produced. Continuing in the family tradition, the restaurant is still owned and operated by the Mazzotta family.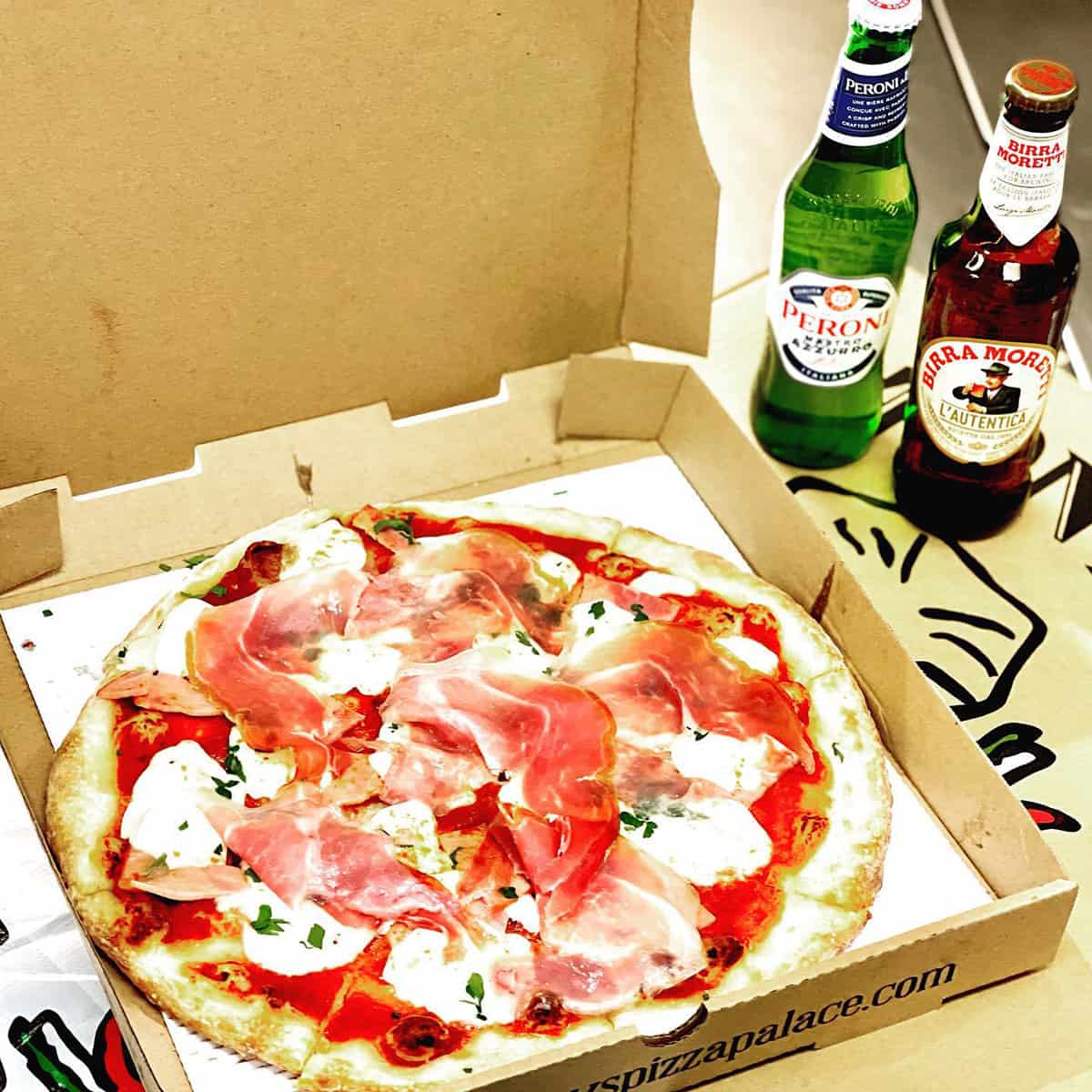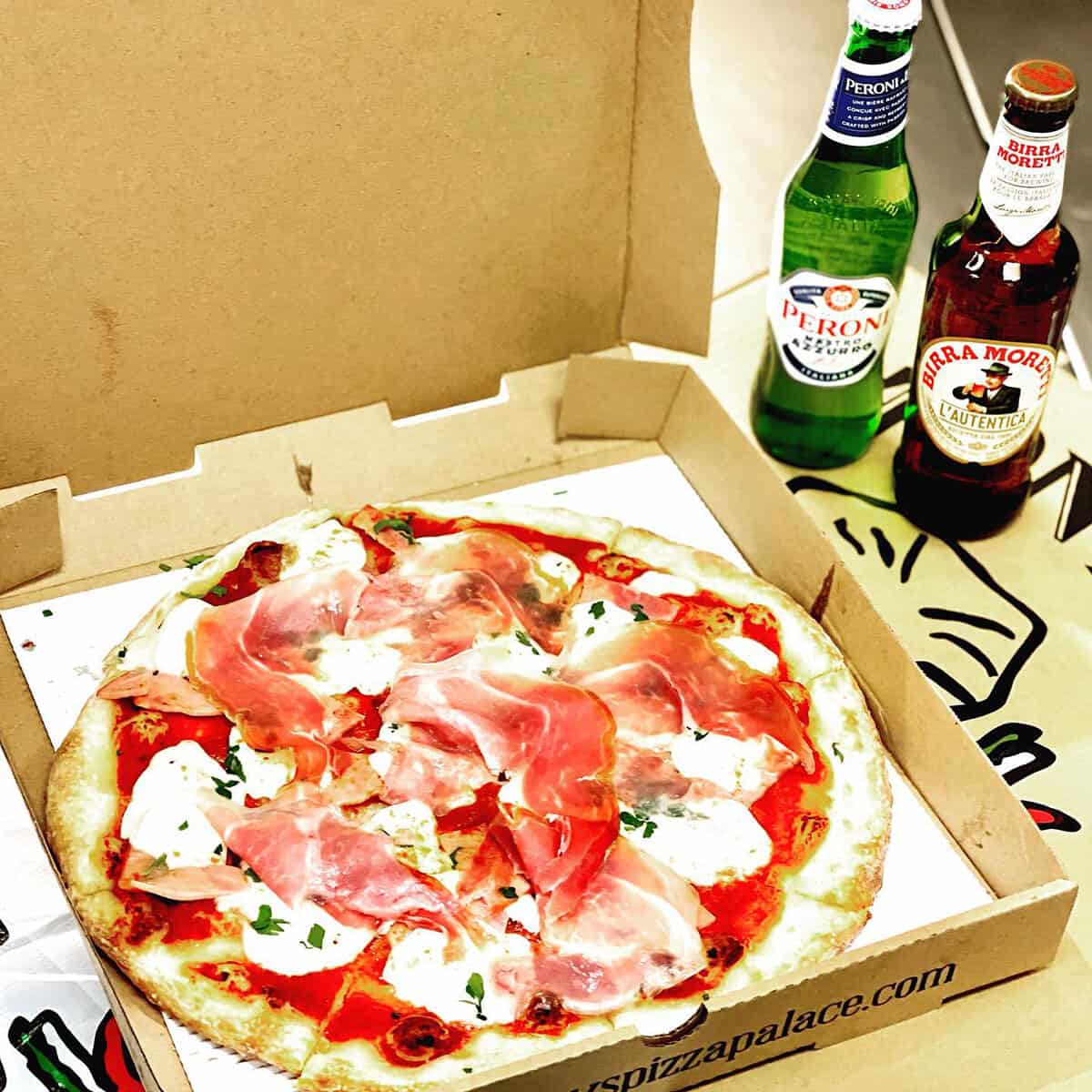 On the menu, you'll find an amazing selection of appetizers, pasta, wine, salads, and house specials. But you don't call yourself a pizza palace for nothing… the pizza is truly outstanding! Their award-winning, New York-style pizza is made with homemade tomato sauce and fresh mozzarella cheese, and you can create your own masterpiece or choose from one of the tried-and-true restaurant specials. No matter which pizza you choose, we're sure you'll be blown away by the taste and the authenticity.
High Dough
Location: 7341 104 St NW
Make your way to Old Strathcona to try High Dough, another one of Edmonton's best pizza places. Open seven days a week, 12 pm to 10 pm (or until the pizza sells out), head here if you're after a true Detroit deep dish pizza. This casual eatery packs quite the punch, as you are almost guaranteed to be full after indulging in one of their hearty and delicious pizzas… do you think you can eat the whole pie to yourself?! It's also a popular place for take-out and pizza delivery.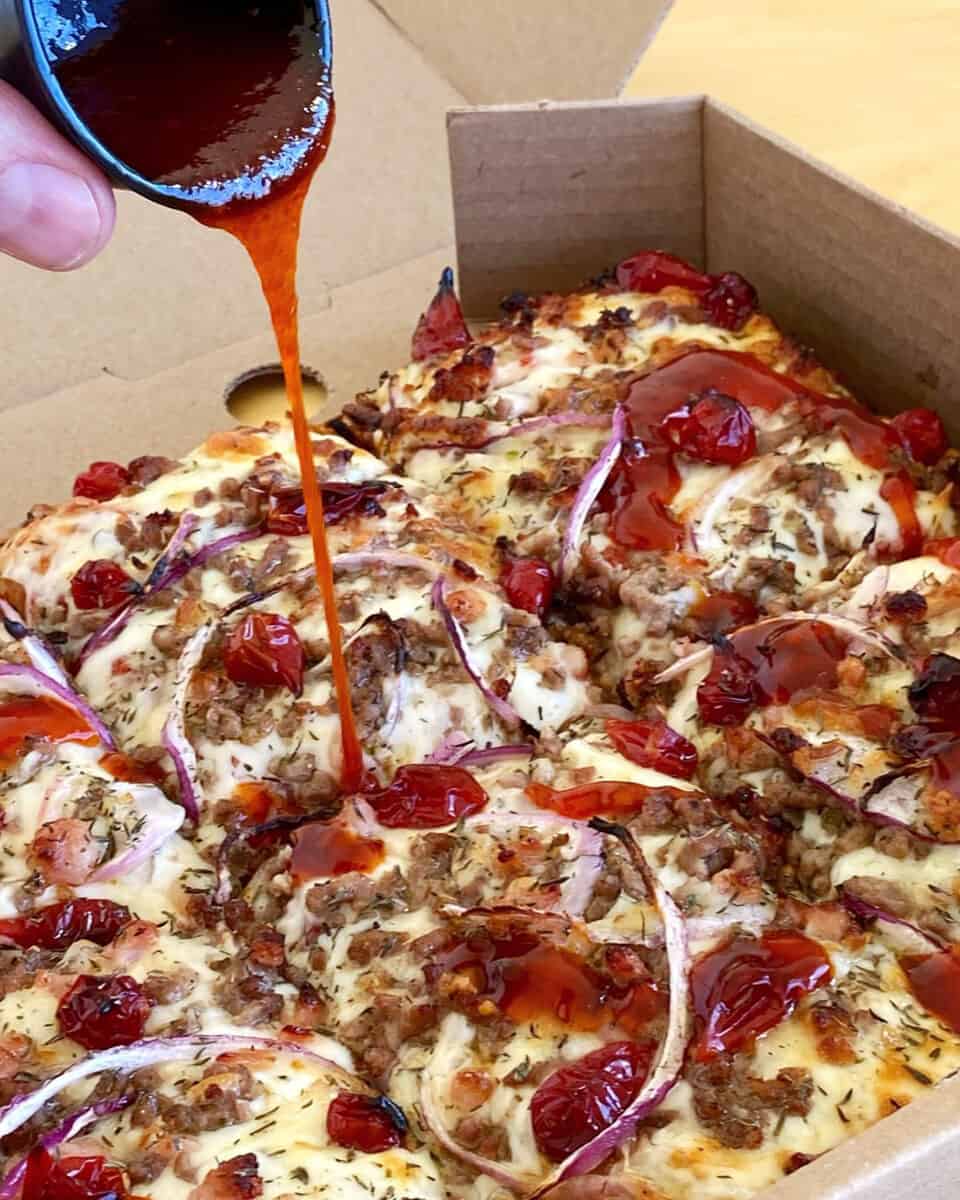 On the menu, you'll find a fantastic list of signature pizza pies to choose from, with everything from the classics to the more innovative and unique flavour combinations. We love the "Mort & Mindy" (with shaved mortadella, pistachio pesto, arugula, grana padano, balsamic glaze, mozzarella, and tomato sauce) as well as the "Donair, Don't Care" (with seasoned donair beef, tomato, onion, pickled jalapeño, garlic sweet sauce, mozzarella, and tomato sauce). You can also build your own pizza with whatever topics you'd like, and don't forget the dipping sauce; they have everything from buttermilk blue cheese sauce to truffle honey to beer cheese.
Die Pie
Location: 11817 105 Ave NW
Alberta's first plant-based pizzeria, Die Pie's pizza is as unique as it is tasty. The brainchild of chef Neil Royale, this vegan/vegetarian restaurant has an "industrial-chic" interior and is often packed for both lunch and dinner. With tons of gluten-free options on the menu, you can rest assured that every single dish on offer is 100% plant-based. Often cited as one of Edmonton's best vegan restaurants, we can safely say it's one of Edmonton's best pizza restaurants, too.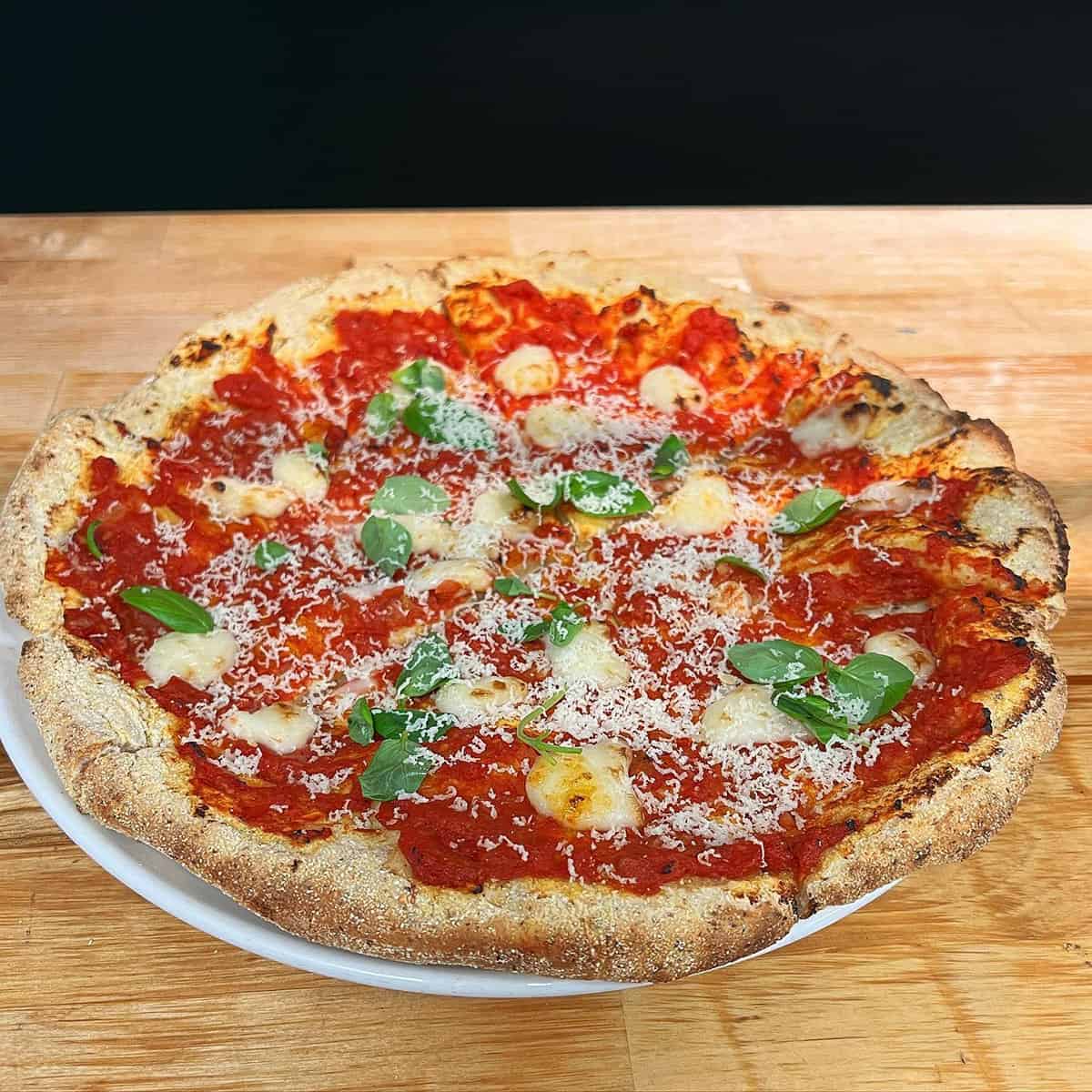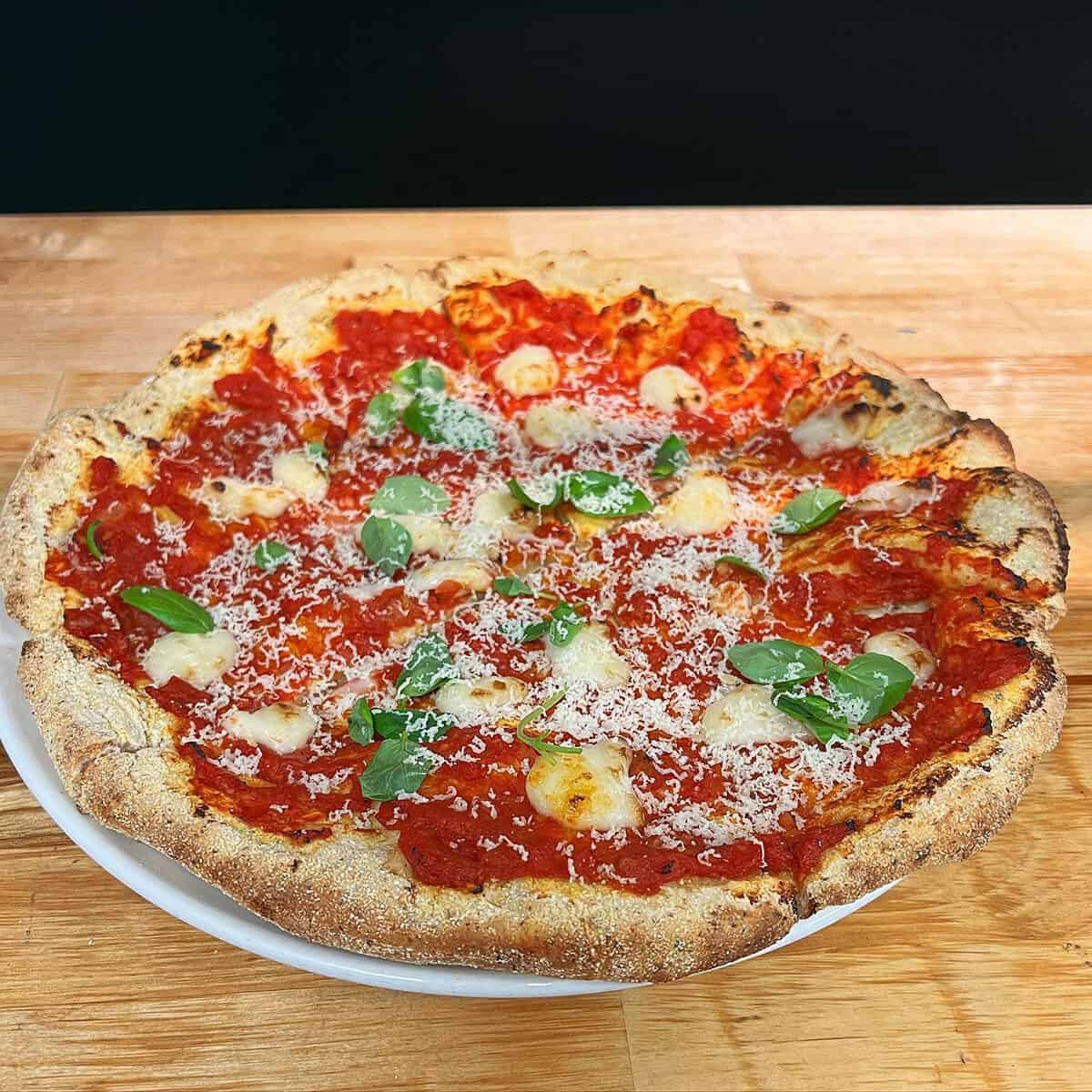 Choose from a thin crust Neopolitan-style pizza, a deep dish Detroit-style pizza, or a gluten-free crust. From there, there's a solid list of meat-free options, including the Vegan Meat Lovers Pizza, Pickle Pizza, Mac and Cheeze Pizza, and an amazing Pierogi Pizza with cheddar sauce, shaved potato, feta, sour cream, green onions, and "bacun" parmesan. No matter what you order, we're sure you'll love their creative flavour combinations.
Ragazzi Bistro
Location: 8110 82 Ave NW
Known for bringing an authentic Italian experience, Ragazzi Bistro is proud to serve up some of the best pizza in the city. Family-owned and operated, the Mazzotta family has been in the pizza business since the early 1970s; Ragazzi Bistro opened in 2001, and has been delighting customers ever since. Fun fact: "ragazzi" means "boys" in Italian, and Ragazzi Bistro was opened by Vince Mazzotta and his four sons… hence the restaurant's name!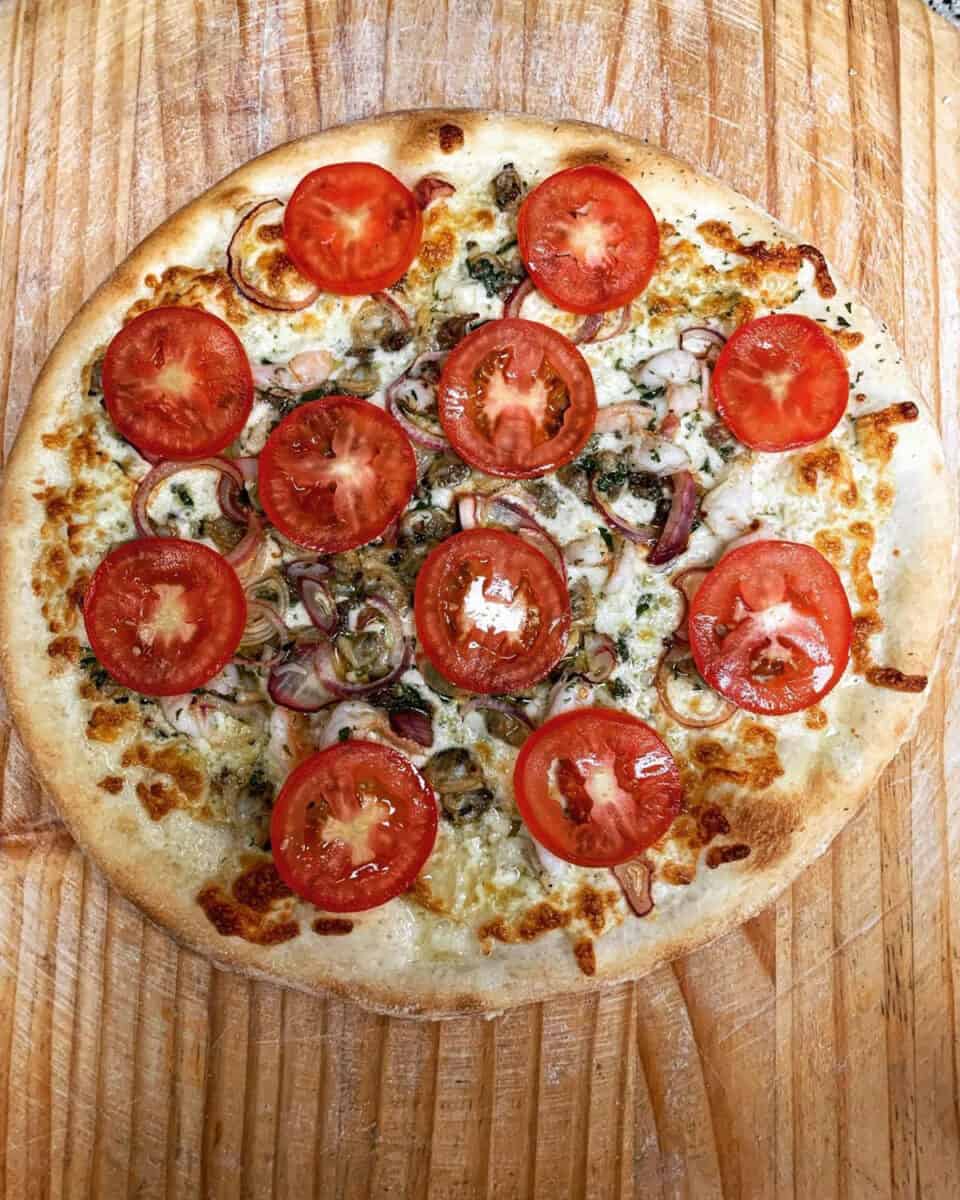 With an incredible menu filled with Italian appetizers, pasta, and more, you'll probably be tempted by a lot of items. But we urge you to try at least one of their pizzas, as their traditional, hand-tossed pizza is a real taste of Italy. Create your own pizza with as many toppings as you'd like, or try one of their signatures; we love the Deluxe (with prosciutto, Italian sausage, lightly layered mushrooms, and fresh artichoke hearts), the Frutti di Mare (served with an olive oil base with shrimp, clams, diced anchovies, fresh garlic, red onions, parsley, and fresh tomatoes), or Daniele's Tricolore (with olive oil, spices, chicken, spinach, and cooked tomatoes with a blend of mozzarella and feta cheese). If you're anything like us, you'll be heading back to Ragazzi Bistro for their pizza time and time again.
Bianco
Location: 10020 101A Ave #120
Located inside the Phipps-McKinnon Building, this stylish restaurant makes you feel as though you're in a cosmopolitan city in Italy sipping on an aperitif as you wait for your pizza. Created by friends Dave Manna and Joe Viana, Bianco aims to showcase not only Italian food, but also Italian hospitality and culture, and that is achieved by attention to detail in everything from the menu to the decor. It helps that they have some of the best pizza in Edmonton, too!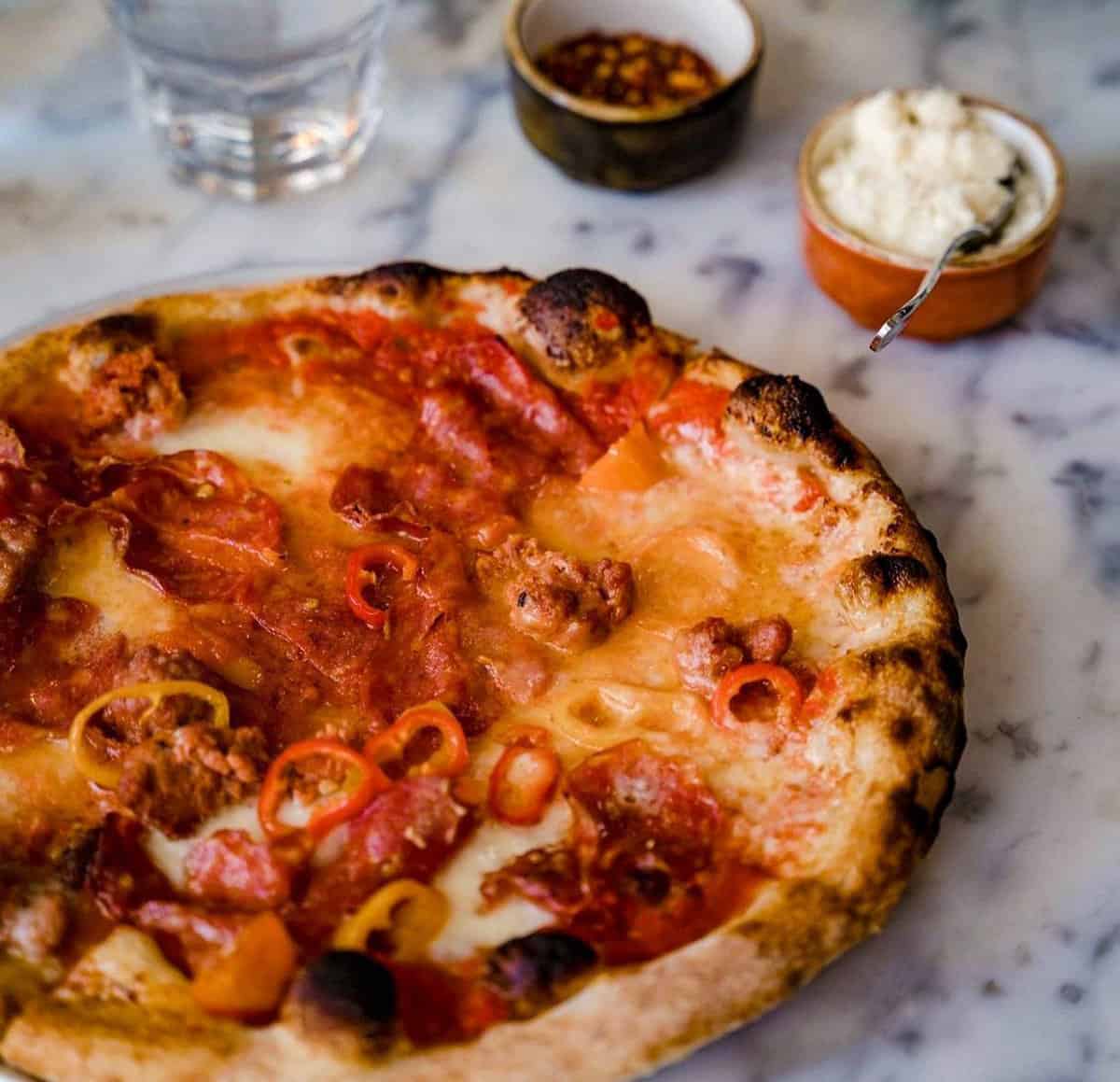 But let's talk about that menu, because that's what you're here for, right? All of Bianco's pizza dough is made by hand, "using unbleached, wholegrain, non-GMO, organic flour, and a lot of love". The pizzas are cooked in a wood-burning oven and served Neopolitan-style with either a tomato or white sauce; not only that, only the freshest, most authentic ingredients are used. Try the Burrata (with San Marzano tomato sauce, fresh burrata mozzarella topped with olive oil, fresh basil, and pecorino Romano), the Soppressata (with San Marzano tomato sauce, mozzarella fior di latte, spicy Soppressata, and oregano), or La Famiglia (with roasted garlic, mozzarella, fior di latte, roasted artichokes, roasted wild mushrooms, prosciutto cotto, and truffle oil), although really, all of their pizzas are utterly divine.
Pink Gorilla
Location: 11909 Jasper Ave NW
So much more than just a pizza joint, Pink Gorilla is one of Edmonton's most fun and dynamic restaurants. With a great outdoor patio, killer craft cocktails, a cool atmosphere, and, of course, some of the best pizzas in Edmonton, Pink Gorilla has established itself as a fantastic place to be whatever the occasion. Perfect for a date, a night out with friends, or anything in between, Pink Gorilla also has a lot of vegan and vegetarian options.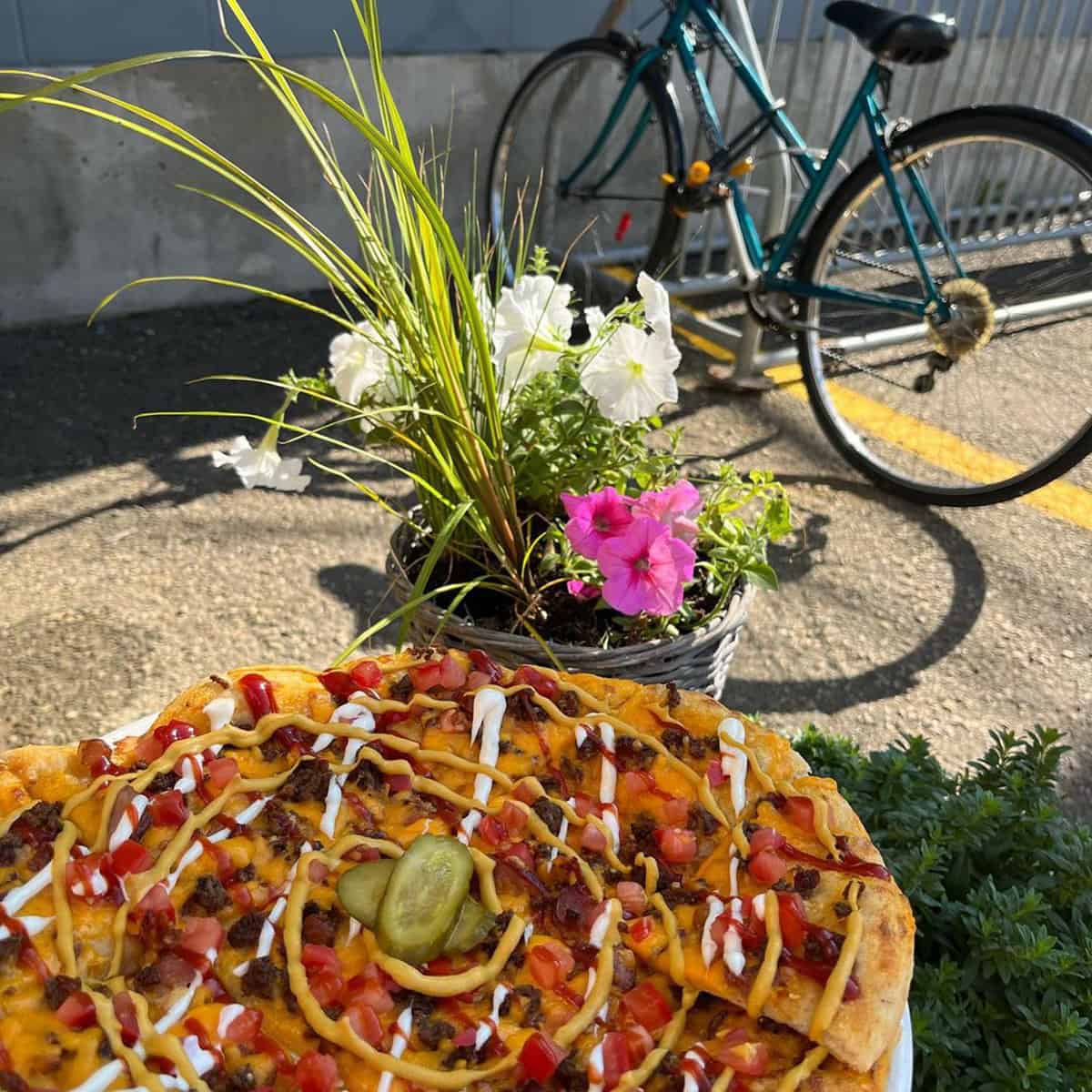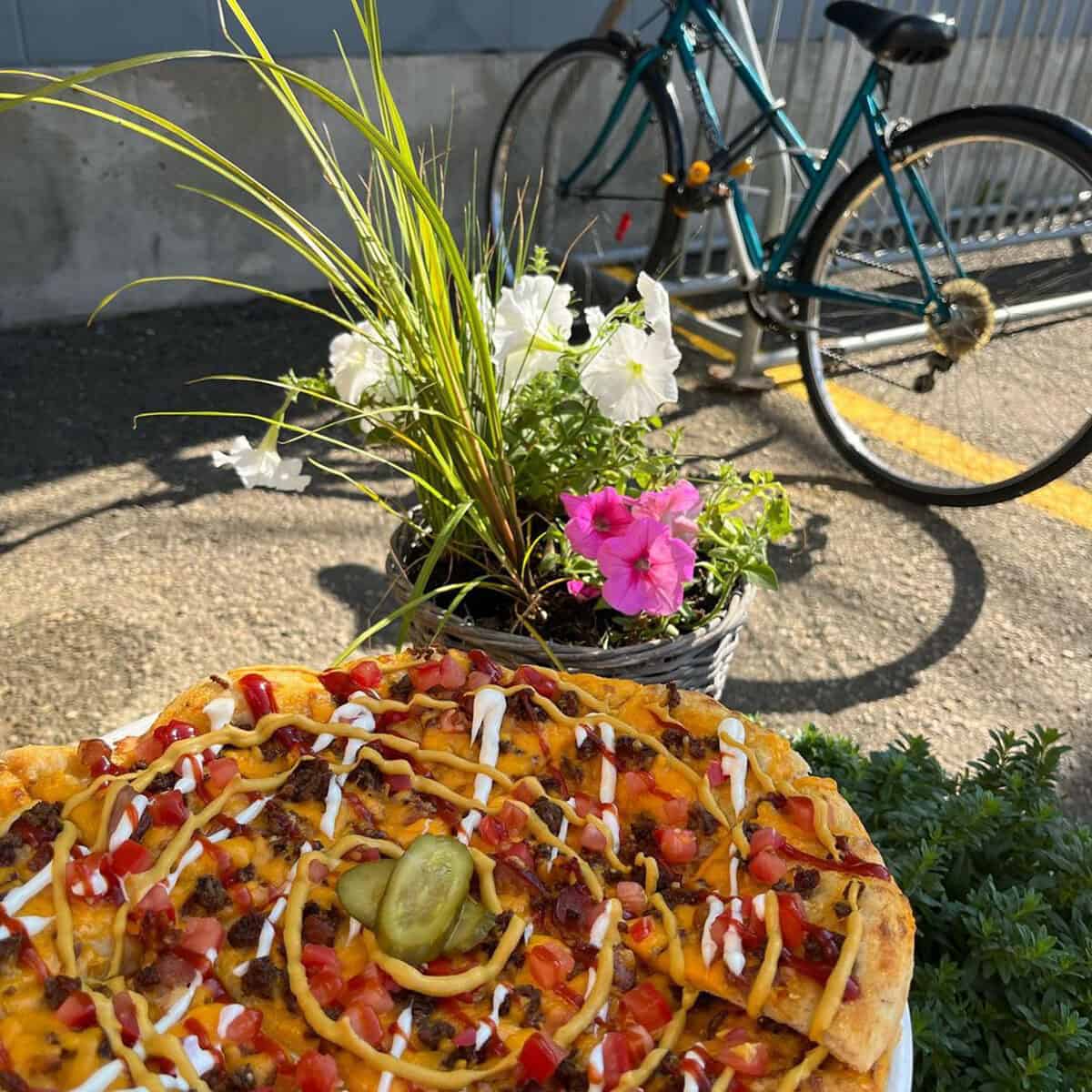 As for the pizzas, expect the unexpected. With lots of innovative toppings, you're always in for a real treat when you eat at Pink Gorilla. Try the Royale with Cheese, which is served with ground chuck, bacon, fresh tomato, cheddar, ketchup, mustard, mayo, and pickle (yes, ketchup and mustard on a pizza). There's also the tasty Pineapple Jam and Ham, ideal for those who love a Hawaiian but want to mix it up; that one comes with house jam, country ham, fresh mozzarella, pineapple, creme fraiche, and a dash of mint. And vegans will love the Molly Jones, a pizza with curried chickpeas, kale, vegan cheese, fresh pickled carrots, green onion, and tahini maple. Choose from a regular crust, thin crust, or served as a calzone.
Community Taps and Pizza
Location: 8232 Gateway Blvd NW
This undeniably trendy spot is one of our favourites for pizza in Edmonton. Community Taps and Pizza "was born from a passion to bring people together over amazing drinks and acclaimed pizza", and we believe they've done a great job in achieving their goal! With craft beer on tap, an eclectic decor, a welcoming vibe, and the work of local artists on display, this is the spot you take visitors to Edmonton when you want to show them what the city's all about. And oh yeah, they have really great pizza, too.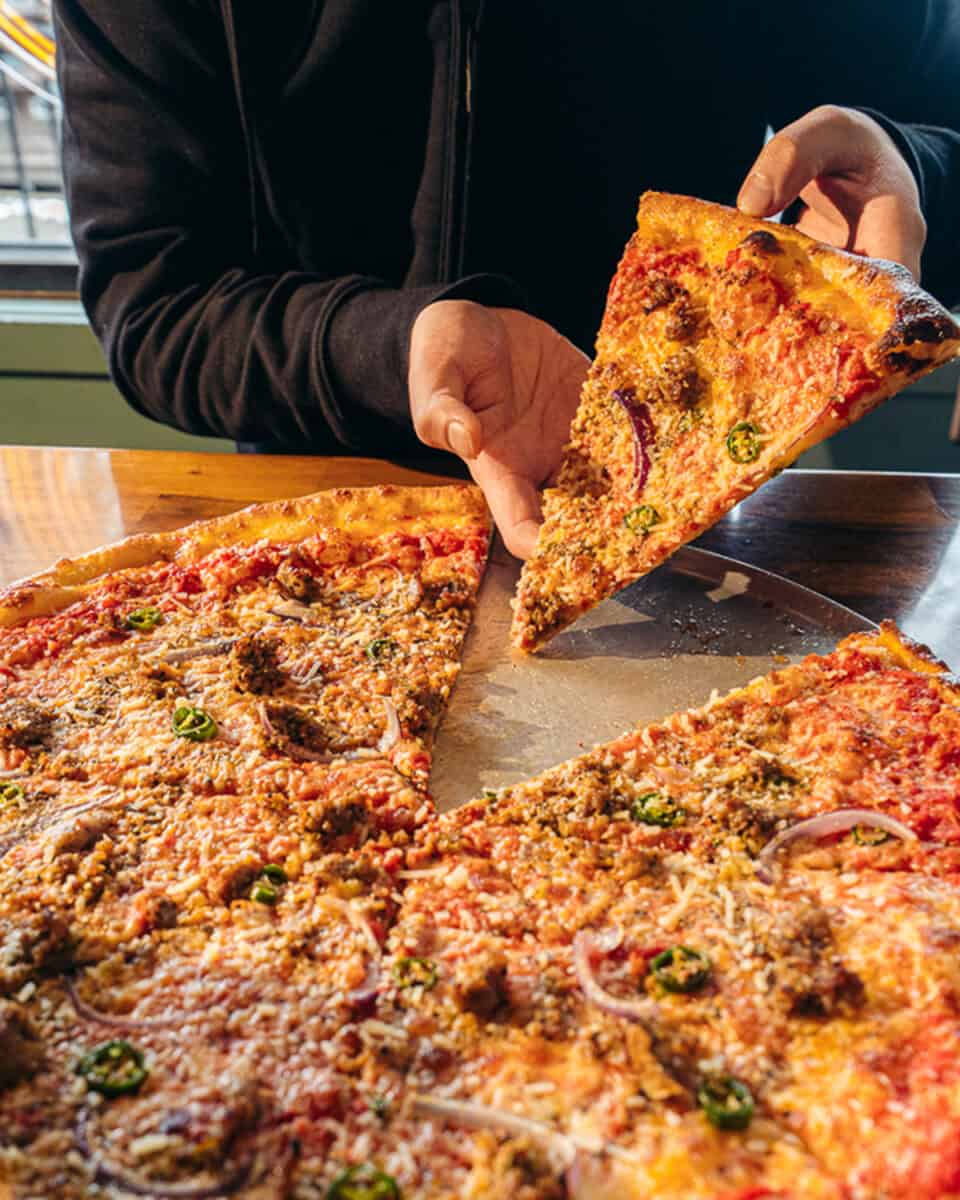 As for the pizza, you can choose from New York-style pizza pies (made with a hand-tossed thin crust) or Detroit pizza (a rectangular pan pizza with a thick, crisp, chewy crust). There's a terrific selection here, and all of the ingredients work together to create a pizza that's both delicious and unique. Try the Brussels and Bacon (with mozzarella, bianca sauce, chopped Brussels sprouts, gorgonzola, dates, candied walnuts, and hot honey) or the Don't Be a Jerk (with mozzarella, cheddar, jerk chicken, mango chutney, lime curry aioli, serrano peppers, green onion, and cilantro). We told you their pizzas are unique! Delicious food, tasty drinks, and a welcoming atmosphere… what more could you want from a pizza place?
Blaze Pizza
Locations: 1338 99 St NW / 12010 104 Ave NW / 15709 37 St NW
With three locations across Edmonton, you're never too far from a Blaze Pizza. Extremely popular for takeout pizza in Edmonton, Blaze Pizza offers everything from simple classics to your one-of-a-kind, build-your-own masterpieces. Some of our favourites of the chef's signature recipes include the Art Lover (with artichokes, mozzarella, ricotta, chopped garlic, and red sauce dollops), the White Top (with white cream sauce, mozzarella, applewood bacon, chopped garlic, oregano, and arugula), and the Meat Eater (with pepperoni, crumbled meatballs, red onions, mozzarella, and red sauce). There are gluten-free as well as vegan and vegetarian options, and if you like thin crust, this is the place for you.
But more than the delicious pizza, Blaze Pizza wins major points for its devotion to sustainability. This shows up in its eco-packaging as well as the care they take in sourcing all of their ingredients; this means sourcing ethical products as well as local ones. They also make sure their food is free from artificial preservatives and make all of their own dough from scratch every morning (meaning the pizza dough is never frozen). All of this adds up to some of the best pizza in Edmonton, hands down.
LovePizza
Locations: 10196 109 Street / 2812 James Mowatt Trail / 5011 Mullen Road NW
If you're looking for something fast and convenient, LovePizza might be your new favourite spot. With three locations in Edmonton, including one in the heart of downtown, you're always fairly close to a LovePizza in the city. Created by a husband and wife team who first fell in love over a pizza together – hence the name of the restaurant – they believe that pizza can bring people together.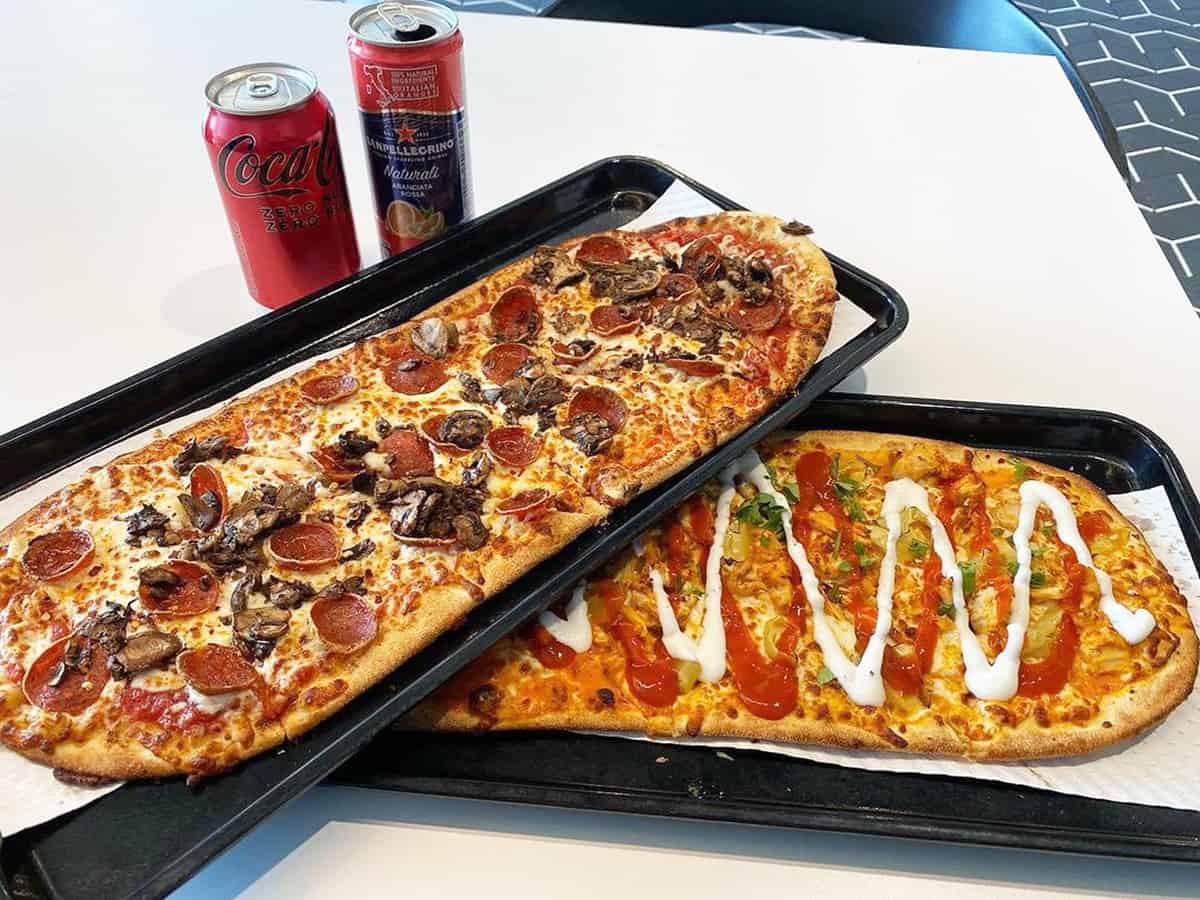 With traditional, gluten-free, and keto crusts available, you can choose from a variety of tasty pizzas; there are also lots of vegetarian options as well as a kids' option. With staples such as Buffalo Chicken and Hawaiian, there are also quite a few innovative flavour combinations, including our favourite, the City Market (with roasted garlic spread, pesto pulled chicken, artichoke hearts, fresh tomato, pickled red onion, goat cheese, and a balsamic reduction). With great delivery and takeout options, LovePizza is a fantastic choice for an easy and tasty meal in Edmonton.
Want more suggestions for where to eat in Edmonton?