Disclaimer: This page may contain affiliate links. Please review our full Terms and Conditions for more information and our Privacy Policy. Note that any pricing, operating hours, or other such information provided below may have changed since initial publication.
Compiled by the Road Trip Alberta team
Updated on December 18, 2020
We do enjoy Banff. But we desperately and truly love Jasper.
Jasper possesses many similar amenities to Banff but on a smaller scale. And given that it is a bit farther from everything – the distance from Edmonton to Jasper, and the closest international airport, is 365kms – it attracts those that are looking to get a little further off the beaten path and away from the crowds. It gets full in summer – don't get us wrong – but it still feels like you can get a piece of it all to yourself.
It is a small town in the middle of Canada's largest Rockies national park, after all. Alberta's tallest mountain is nearby, as is the stunning Spirit Island in the middle of Maligne Lake. It is home to the world's second-largest dark sky preserve, and has 1,200 kms of hiking trails. It is a beacon to all lovers of the outdoors.
This guide will show you what to do in Jasper and help you plan to fall in love with it as we have. (Or if you're looking for some quick info, we have a guide on how to spend 3 days in Jasper that will be helpful!)
About the town
Acknowledgments
Jasper is located on Treaty 8 territory and a traditional meeting ground and home for many Indigenous Peoples, including Stoney, Tsuu T'ina, Secwépemc, Kelly Lake Metis Settlement Society, and Aseniwuche Winewak.
History
Originally a trading post run by the Hudson's Bay and North West Companies, Jasper has changed a lot over the years. The town actually got its name from the original manager of the post, Jasper Haws. Jasper National Park was officially established in 1907. With a size of 2,774,500 acres, it became the largest park in the Rocky Mountains. It took 21 years after establishing the park for the Jasper-Edmonton highway to open.
Where is Jasper, Alberta?
The Jasper townsite sits between the Yellowhead Highway and the Icefields Parkway. The Colin Range, Mount Edith Cavell and Pyramid Mountain are all staples of the skyline.
The community has a population of 5,200 people and is a model for being environmentally conscious. Jasper National Park itself protects the Columbia Icefield (a bucket-list stop on many lists!) and plenty of animals.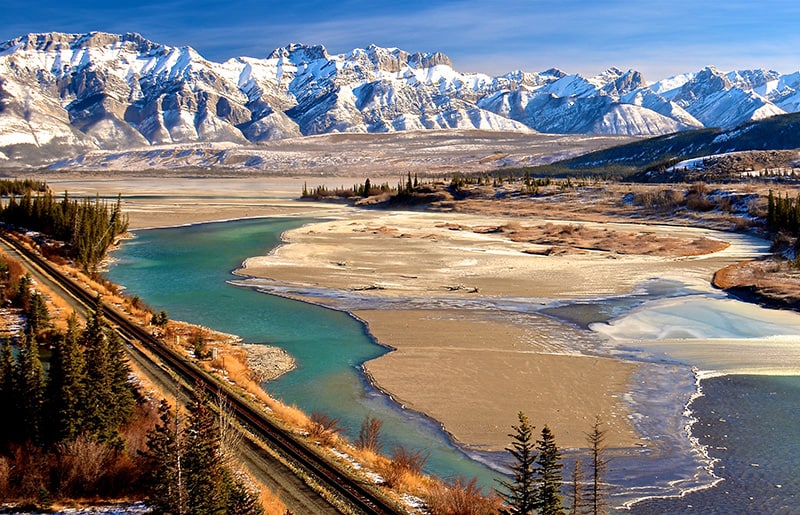 Getting to Jasper
There are no direct flights to Jasper – the closest airport is Edmonton International Airport (YEG), and Calgary International Airport (YYC) is also a reasonable option if you would like to explore Banff National Park on your way to Jasper.
You have several options to get to Jasper from either of those locations. You can either rent a car and drive, use a bus or shuttle service, and there are even rideshare options. If you either of the last two, you can also rent a car upon your arrival in Jasper to get you around the area.
The most direct route would be to leave from Edmonton, and we have outlined detailed options in this post on getting from Edmonton to Jasper. However, brief details, including for another originating city, is also available below.
By Car
No matter your starting point, you can expect to spend a good amount of time in the car to get yourself to Jasper. Take your own comfy four wheels, or we recommend booking via RentalCars.com, to select the cheapest rate or to book with whichever company you prefer.
How far is Jasper from Edmonton? Jasper is 394km from the Edmonton International Airport (which is just south of Edmonton in Nisku). The fastest route from Edmonton is on AB-2 N until you reach AB 16 which will take you straight to Jasper. This will take just over 4 hours to get to Jasper.
How far is Jasper from Calgary? Jasper is 413km northwest of Calgary, and the best driving option is via the Trans-Canada (Highway 1) going through Banff and along the Icefields Parkway. This route takes just under 5 hours but the scenery cannot be beat. As this route is mainly through the mountains, ensure that you have proper winter tires if driving in the winter months (they are mandatory) and allocate lots of time for potential traffic jams from either accidents or crossing wildlife. Please note that the Icefields Parkway also often closes in winter due to heavy snowfall.
How far is Jasper from Banff? Jasper is 288km from Banff, and just over a three-hour drive if you don't make any stops. But trust us, you'll want to make many stops! The Icefields Parkway is a very popular road trip and touted as one of the most scenic in the world. Allow yourself enough time to make it and also read up on our Banff to Jasper guide for more information about this trip.
How far is Jasper from Vancouver? The drive from Vancouver to Jasper is just over 8 hours long, or 795km. It is an extremely scenic route and you'll want to take your time – stopping in Kamloops can help you split up the drive!
By Train
Luckily, there are a couple options for traveling by train into Jasper National Park via either Edmonton or Vancouver. A train trip from Edmonton to Jasper typically takes 6 hours and 29 minutes on VIA Rail Canada and this a direct route that runs every day. VIA Rail also has a run into Jasper if you are departing from Vancouver, although the trip duration is quite lengthy at 19 hours.
Rocky Mountaineer also has a route from Vancouver to Jasper but it isn't direct and focuses more on the tour aspect of the journey as opposed to the fastest time. Regardless they offer a one way option that takes either 2 or 4 days.
By Bus
Getting to Jasper by bus is a great way to enjoy the scenery of the Rocky Mountains and not have to worry about driving conditions. There are a few options of bus services to Jasper depending on your departure city:
Sundog Tours can pick you up at the Calgary International Airport and bring you to Jasper via Banff and the Icefields Parkway. Alternatively, they can pick you up at the Edmonton International Airport and bring you to Jasper via Highway 16.
Although there is no direct option to bus from Vancouver to Jasper, you can take a Rider Express from Vancouver to Banff and then hop on a Sundog Tour bus to complete the journey to Jasper.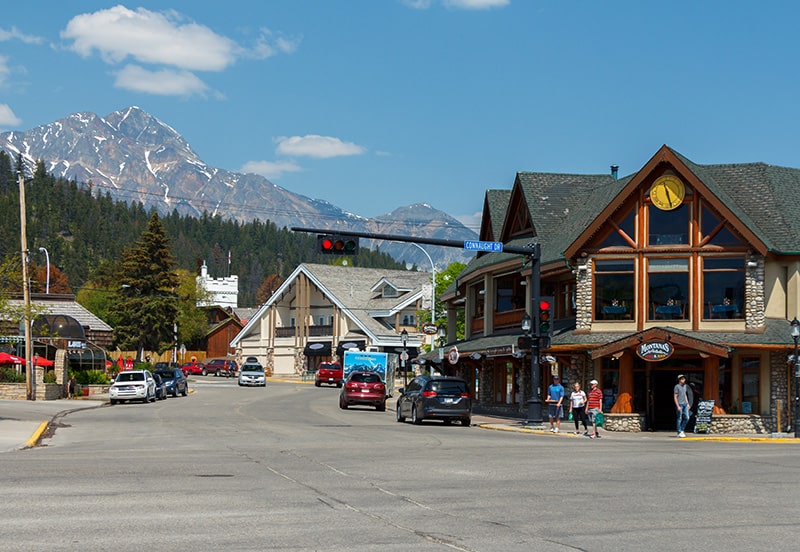 Practical Essentials
Park Pass
Note that Jasper National Park requires a pass in order to enter.
The current daily fees are:
Adult: $10.00
Senior: $8.40
Youth (up to 17 yo): FREE
Family/group (up to 7 people): $20.00
Commercial group (per person): $8.40
The daily passes expire at 4 pm the following day. If you're looking to enter multiple times or staying longer, consider the Discovery Pass It gives you unlimited admission for a year. Fees are as follows:
Adult: $69.19
Senior: $59.17
Family/group: $139.40
Take the guesswork out of building your Alberta trip itinerary!
We now offer two ways to help ease the burden of travel planning:
We've developed ebook itineraries (available at a very low price!) that showcase top highlights of the province.
Want a custom trip tailored exactly to your needs? We are pleased to also offer a custom service for planning your Alberta vacation.
Getting Around Jasper
Jasper is a small town that is mostly walkable. However, there are so many things to do in the area that you will definitely want to employ other options to get around.
Cycling: Whether it's summer or winter, you can rent bicycles from the Bench Bike Shop. The local shop rents skinny and fat tires for any season. Many of the hiking trails can be reached by walking or cycling, just make sure to add the time it takes to get there when planning.
Shuttles: If you are without wheels and you want to explore some of the bigger adventures, you'll have to take a shuttle! The majority of shuttles in Jasper are run by tourism companies. These tours include knowledgeable guides that can make your experience more immersive. One company that does summer and winter tours is the Jasper Adventure Centre. They do tours by bus, train and boat.
Taxi: There are only two options for a taxi in Jasper – Caribou Cabs, and Mr.Taxi & Tours. There is no Uber or Lyft as of yet.
Rent a car: If you arrived into Jasper via a shuttle or bus service and want to rent a car while you are there, there are a few rental companies in Jasper to choose from:
We recommend booking via RentalCars.com, to select the cheapest rate or to book with whichever company you prefer.
Best Time to Visit Jasper
There are plenty of things to do and sights to see in Jasper year-round. The busiest season tends to be June to mid-September (prices for accommodations are generally higher too), but generally worth it for the multitude of outdoor activities available. A slower season to visit is during mid-September to mid-October. Like Banff, traffic to Jasper tends to pick up again for the winter ski season (but not to the same level as summer visitors).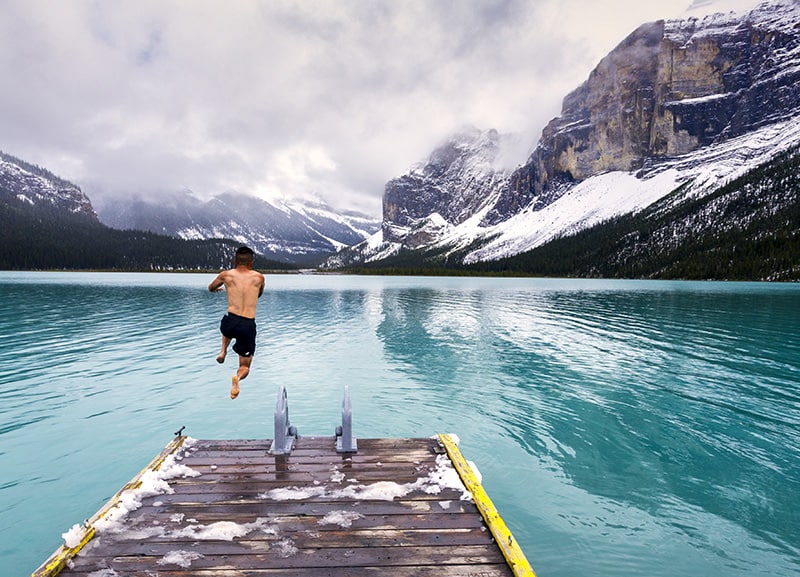 Where to Sleep
Luxury – If you are going to splurge during your vacation to Jasper National Park, we highly recommend staying at the Fairmont Jasper Park Lodge. This luxurious hotel has tons of amenities such as 8 on-site restaurants, a spa, and an award-winning golf course while providing breathtaking lakefront views of Beauvert Lake.
See reviews and check availability.
Mid-Range – Surrounded by mountain views and just a 14-minute walk from Athabasca River and a 30-minute drive from Jasper town center, relax in your own wood cabin at Jasper East Cabins! You get the amenities of a hotel room stay but with enough quiet and serenity that it kind of feels like you are "roughing it".
See reviews and check availability.
Budget – A good budget hotel option in Jasper is Maligne Lodge. Apart from the stunning mountain views, the lodge has a sauna, an indoor pool, and an outdoor hot tub!
See reviews and check availability.
Home away from home – There are plenty of Jasper Airbnb options but we recommend the popular Nest Guest Suite – an entire apartment perfect for 2 guests in the heart of Jasper.
Camping – If you would rather experience the outdoors and "become one with nature", there are a plethora of options available for you to pitch a tent or park your trailer. For a full list of the best camping that Jasper has to offer, check out our guide to the the best Jasper camping spots. You may also find our guide to RV rentals in Alberta helpful!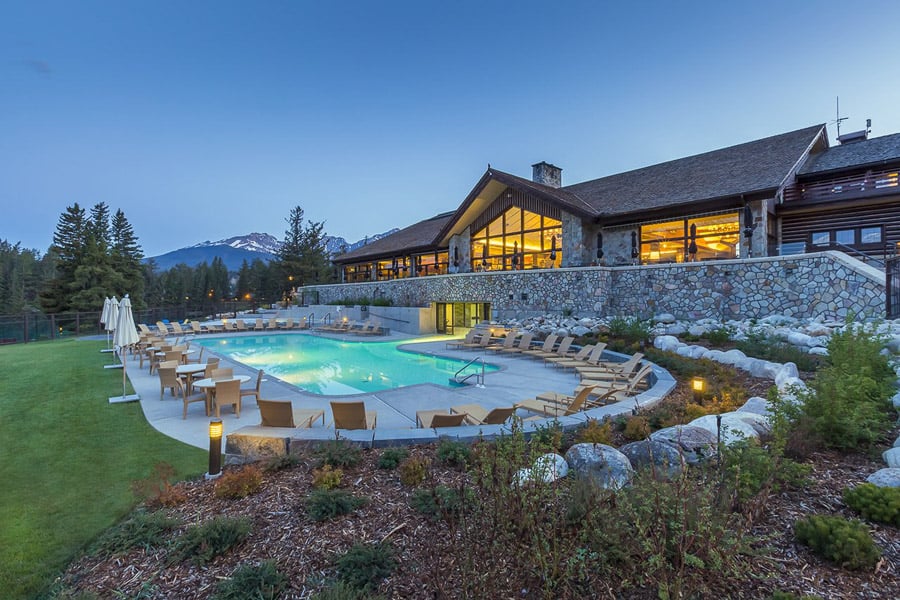 Sights to See Around Jasper
Whether you visit in winter or summer or somewhere in between, the sights of the Canadian Rocky Mountains always deliver some magical moments. Here are our top things to see in Jasper National Park.
Maligne Lake
Maligne Lake is the largest glacially-fed lake in the Canadian Rockies and is surrounded by stunning mountain views. Maligne Lake is located 47 kilometres (30 miles) outside of the Jasper townsite. You can take a 90 minute Maligne Lake boat tour on the lake where a knowledgeable guide talks about the history of the area, its geology, wildlife, weather, flora and fauna. The cruise leads to the most photographed places in the Canadian Rockies: Spirit Island. The view of the island framed by impressive peaks and glaciers is breathtaking and iconic and only available from the south end of Maligne Lake. To preserve the area in its natural state, walking onto the island is not permitted.
Wildlife
Being in such a picturesque destination in the heart of the Canadian Rocky Mountains, the wildlife viewing is outstanding in Jasper National Park. Most wildlife (grizzly bears, moose, elk, cougars, mountain goats and more!) can be seen just by chance as you explore the area, however, to really see the park's most iconic species we recommend going on a guided wildlife tour. Guided tours are a great way to gain local knowledge and learn about the history of the area while looking for wildlife in the perfect spots.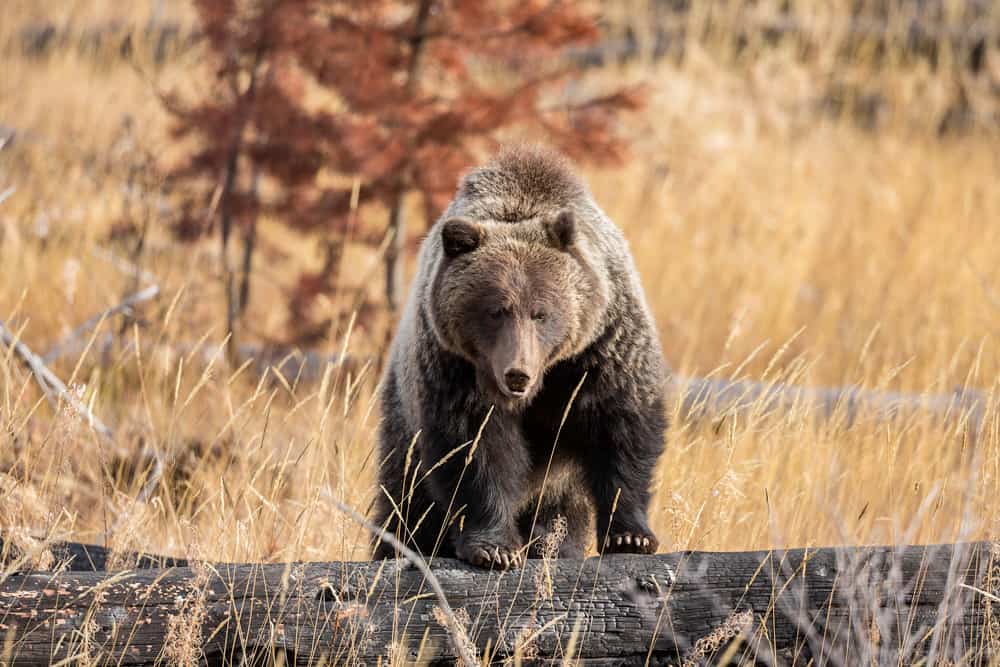 Dark Sky Preserve
In 2011, Jasper was designated as one of the 17 Dark Sky Preserves in Canada by the Royal Astronomical Society of Canada. Because the light pollution is so limited in Jasper, the area has ideal conditions for dark sky viewing. Further, because there is a town within the limits of the preserve, Jasper National Park is the largest accessible Dark Sky Preserve in Canada.
As the daylight hours begin to recede, October is the ideal time to celebrate the skies and so the annual Jasper Dark Sky Festival was created. This festival has become Canada's largest celebration of the night sky and regularly draws thousands of spectators to take in all of the night views and knowledge from the stacked list of guest speakers that has included NASA astronauts and Hollywood celebrities. Bonus: make a trip to the planetarium (which is open year-round) and visit with some local astronomy guides.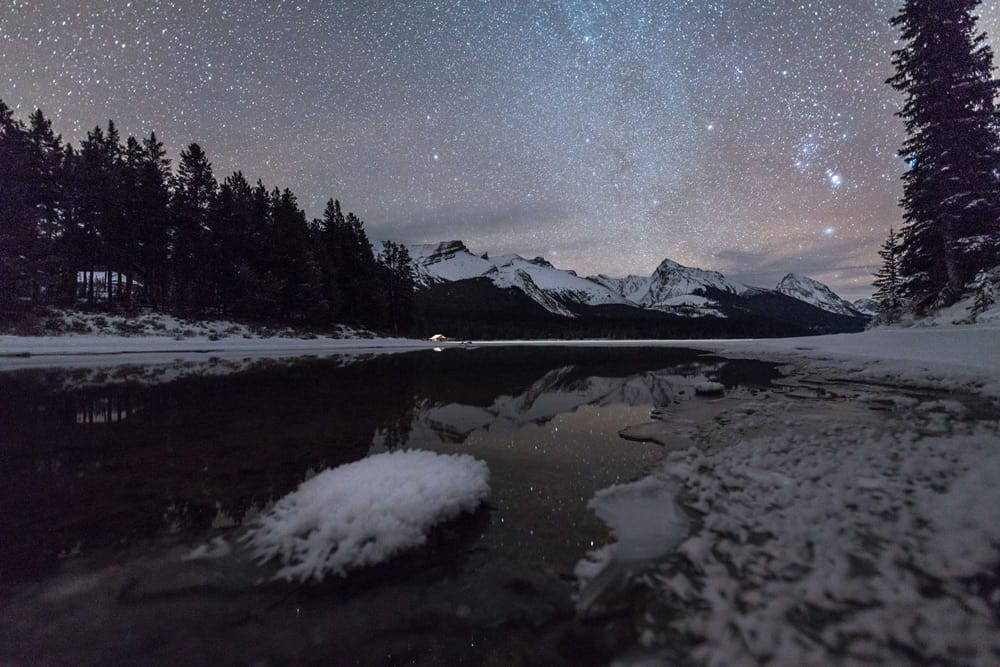 Take a Tour of Jasper National Park on a Motorcycle
Let the fresh glacial air hit your face as you ride tandem on a Harley Davidson motorcycle through Jasper National Park. You'll have unobstructed views and fresh mountain air while cruising by stunning scenery including snow-capped mountains, emerald green lakes, and bright blue glaciers.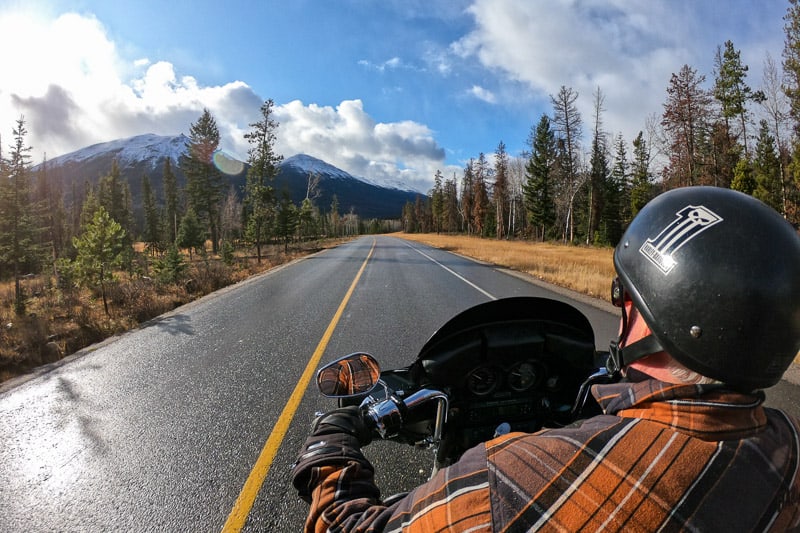 Columbia Icefields
At the heart of the breathtaking Icefields Parkway is one of the largest non-polar ice fields in the world: the Columbia Icefield. Explore the ancient Athabasca Glacier on an Ice Explorer then travel to the Skywalk. The Columbia Icefield Skywalk is unlike anything you have ever seen before. A 1-kilometre walkway provides the ultimate 360 view of giant glaciers perched above and a spectacular valley spreading out below. See waterfalls, wildlife, and even fossils on this experience which ultimately leads to a platform where glass is all that separates you from a 918 foot (280 m) drop.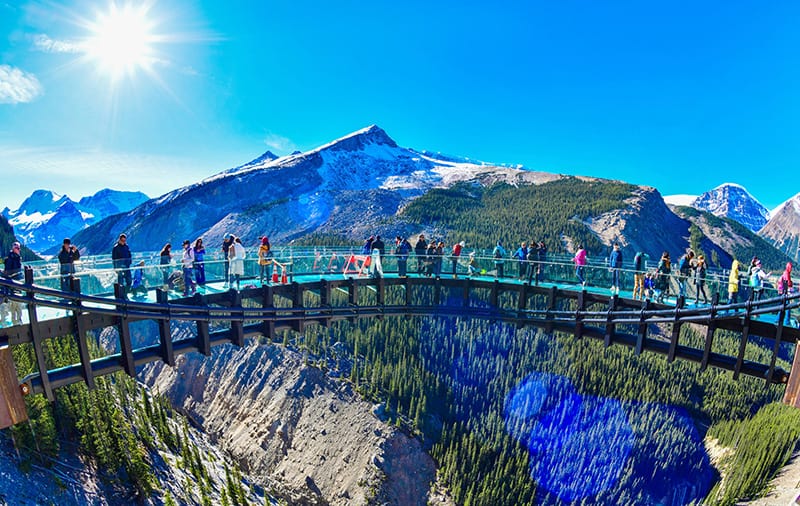 Athabasca Falls
Flowing from the glaciers of the Columbia Icefield, the Athabasca River drops 23-meters to where it is known as Athabasca Falls. Although the falls themselves are not very high compared to others in the Canadian Rockies, the size of the river makes these falls one of the most powerful in the Canadian mountain national parks (and one of the most stunning waterfalls in Alberta). They are a definite sight to see while in Jasper National Park.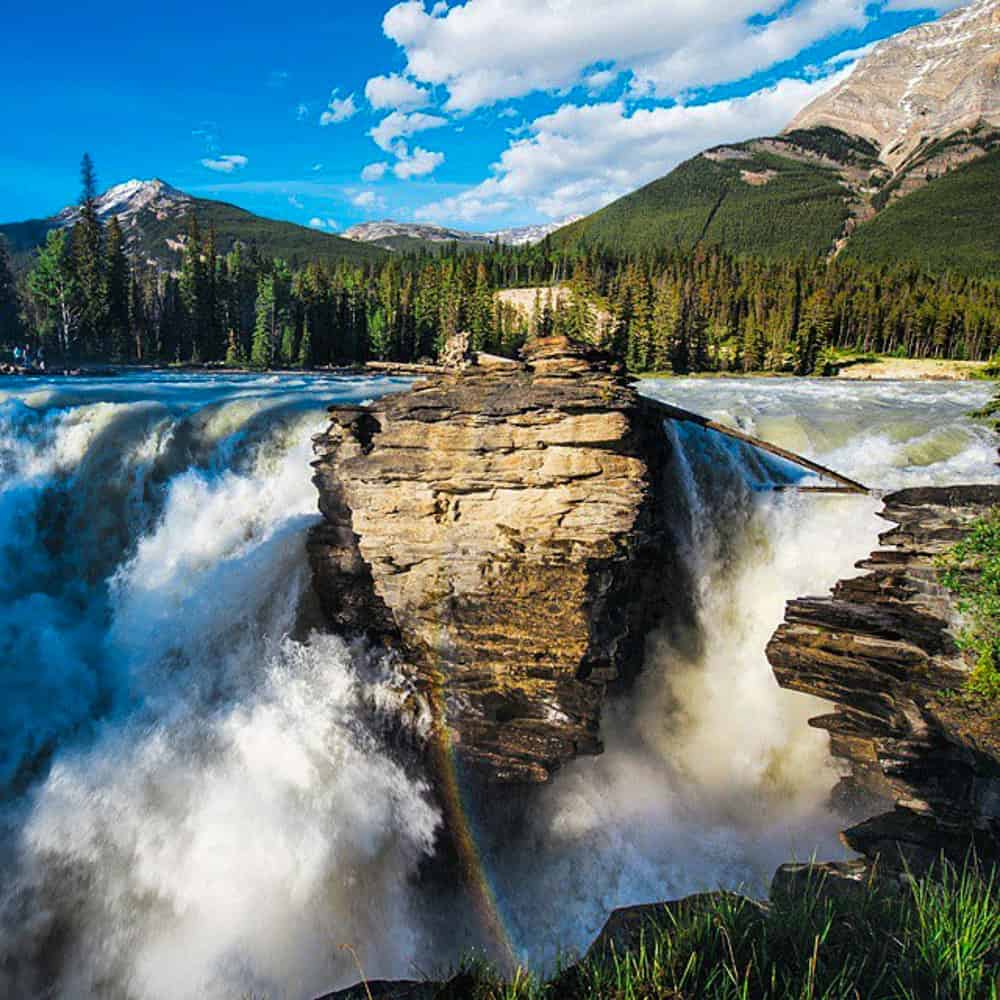 What to Do in Jasper
For those not in the know, it may come as a surprise that Jasper National Park is a year-round destination. Visitors enjoy horseback riding, kayaking, and of course hiking in the summer while hitting the slopes, taking a sleigh ride, or visiting an ancient glacier in the winter. Here are some of our favourite things to do in Jasper National Park.
Jasper SkyTram
Experience the best views in Jasper with Canada's highest and longest, guided aerial tramway. For the 7 minute journey in the Jasper SkyTram, there is a local guide who will be available to point out things to see and answer any questions! You get off at the Upper Station at an elevation of 2,263 meters where you can get a bite to eat at the Summit Restaurant or just enjoy the views. If the skies are clear you might even be able to see Mt. Robson in neighbouring British Columbia.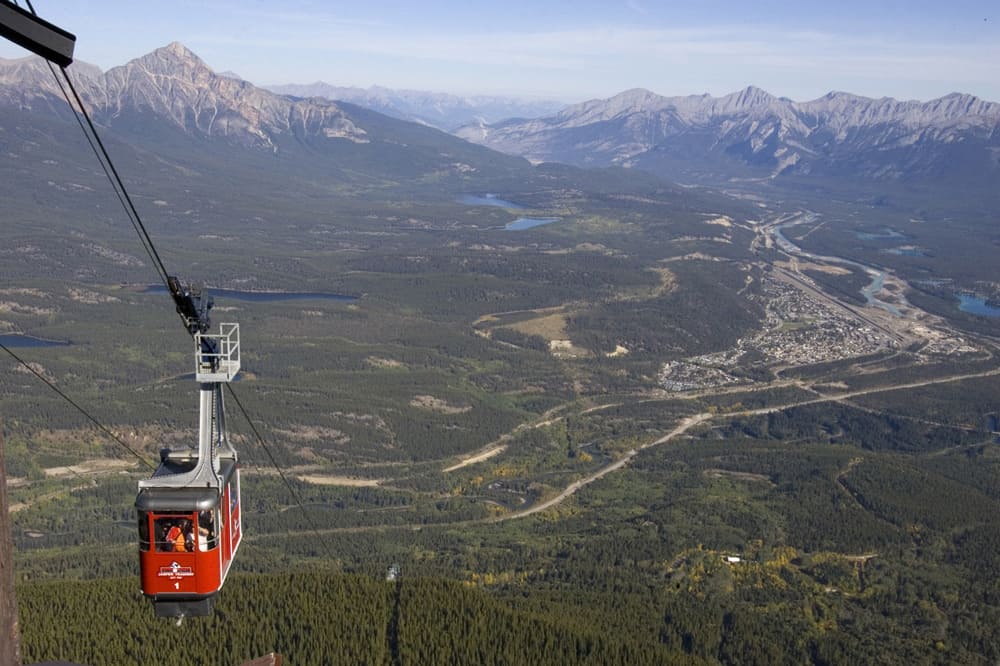 Kayaking/Canoeing/Rafting
With the multitude of rivers and bodies of water found in Jasper National Park, getting out on the water in a kayak, raft, canoe, paddleboard, is one of the most popular summer activities to do in the park. Take a serene canoe or SUP ride on Lake Beauvert or get the adrenaline pumping while whitewater rafting on one of Jasper's many rivers. There are some excellent tours available tailored to your skill and comfort level and how long a ride you want to experience.
Skiing
Unlike Banff which has 3 beautiful hills to choose from, Jasper only has one: Marmot Basin. However, this resort offers 3,000 vertical feet of supreme powder that stretches across 1,720 acres of varied terrain. Marmot Basin is only 20 minutes from the Jasper town and is a favourite for skiers and snowboarders alike due to the relaxed and friendly atmosphere mixed with the superb variety of terrain framed by the beautiful scenery of the Rocky Mountains. (Also, for beginner skiers, we personally can highly recommend this hill!)
For more information, including prices and current ski conditions, see our complete guide to skiing in Alberta.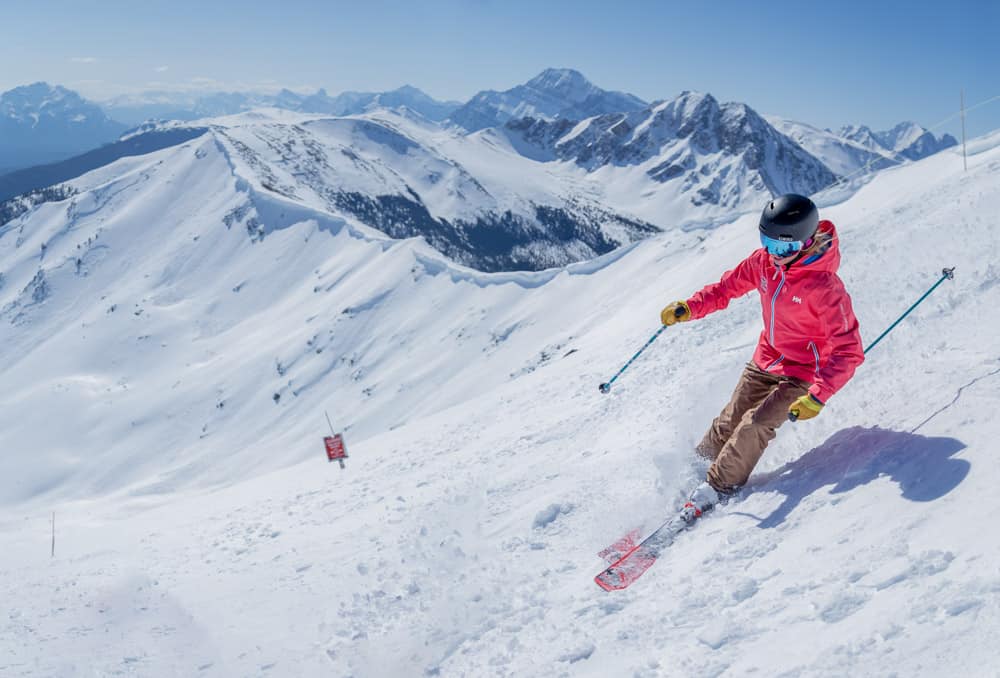 Miette Hot Springs
With water temperatures kept steady between 37 and 40ºC, the Miette Hot Springs are the hottest hot springs in the Canadian Rockies! Not only does the water put the 'hot' in hot springs, the panoramic views while you relax, and the scenic drive through the wild Fiddle valley to get to and from there make this experience a must-do.
Dog Sledding
Dog sledding may be a trope that you scoff at for it's stereotypical Canadian iconography. That is until you try it. Magic appears when the dogs pull you effortlessly over the snow, at the sound of their pants and yips, and with the frosty air nipping at your nose and cheeks.
If you're going to do dog sledding anywhere, why not choose one of the most majestic scenery to accompany you on your sled ride? There are quite a few dog sledding adventures found in Jasper National Park to suit your comfort level. Tip: for a fully immersive experience try mixing your dog sledding adventure with a little bit of history of the Rocky Mountains and try the 4-5 hour Ghost of Cold Fire Creek Dog Sled Tour! On this tour, you follow a 100-year-old trap line up 1,000 vertical feet to see how trappers and prospectors once explore the vast mountain wilderness.
Hiking
One of the best ways to explore a new destination is just to take a walk and Jasper National Park is no exception. There are so many amazing trails in Jasper that allow you to experience beautiful valleys, magnificent lakes, and pristine mountain scenery. One of the best things is that it is a summer or winter destination and exploring can be done in the summer with hiking boots or bikes, or in the winter on snowshoes or X-country skis. There are plenty of rental companies in town to outfit you for whatever season you are getting out in.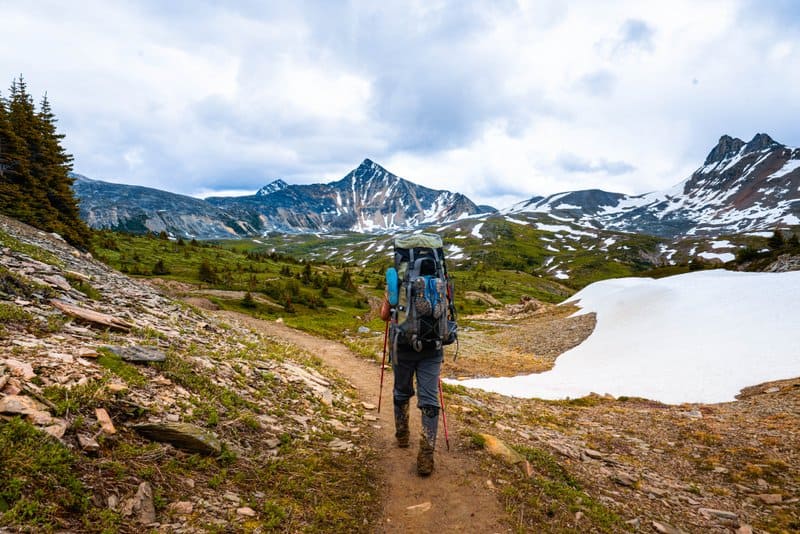 Golf
It may come as a surprise that Canada's #1 golf resort is found in this small town in the mountains of Alberta, but one look at the smartly designed holes beautifully framed by dramatic mountain peaks, and fairways that carve through thick forest and you will see why. The award-winning course (the best of Alberta golf courses!) at the Fairmont Jasper Park Lodge Golf Club is a dream course that is one of the must-play courses in Canada.
Maligne Canyon Icewalk
Just a 10-minute drive north of the Jasper townsite is one of the most incredible ice walk adventures you will ever experience. Journey through the deepest canyon in the park and watch as adventurers climb vertical sheets of ice. Maligne is an adjective that means evil – also baleful, malevolent, and malicious – and upon stepping into the haunting atmosphere of it is clear why the name has remained. However, the experience of exploring the depths keeps visitors coming back for more and has made this canyon one of Jasper's most popular spots to visit during winter. Be sure to only undertake such a walk with proper ice cleats for your own safety.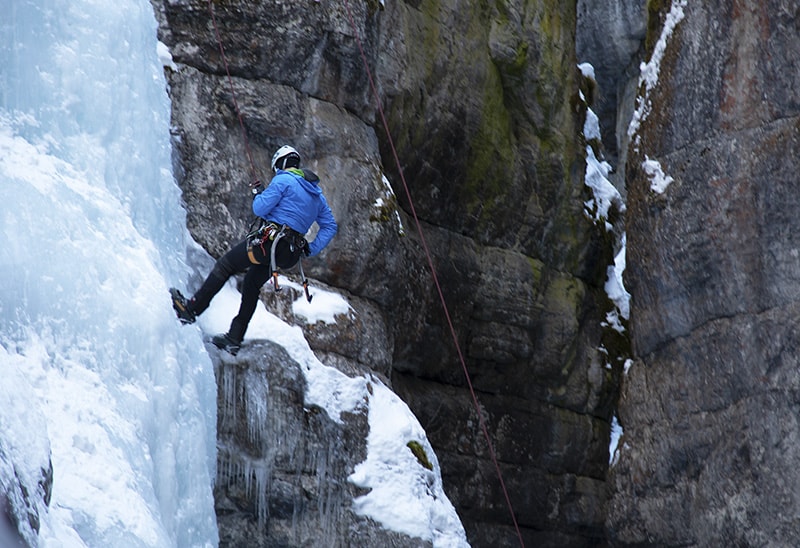 Places to Eat in Jasper
Need some more suggestions? Check out our guide to 18 of the best Jasper restaurants.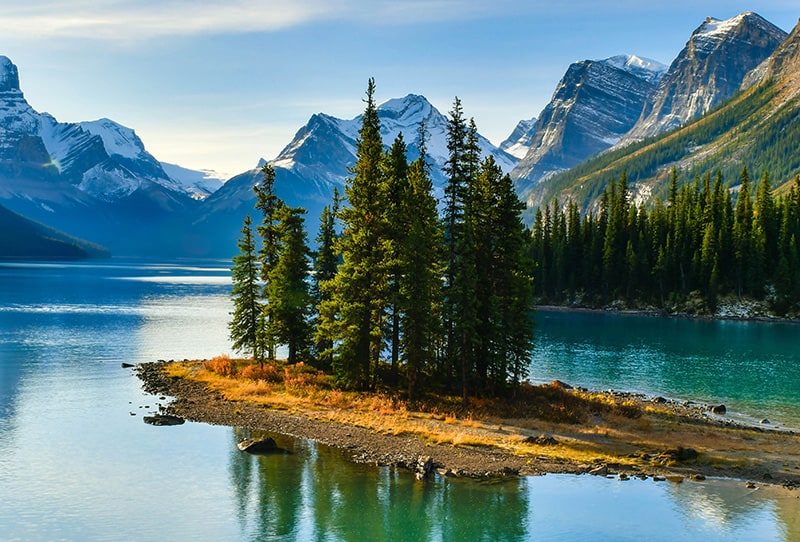 In the Area
Hinton
The town of Hinton is known as the "Gateway to the Rockies", and has a must-see 3km 'Beaver Boardwalk' around Maxwell Lake. It is the world's largest freshwater boardwalk and a great way to see beavers!
Horseshoe Lake
Just 30km down highway 93 you'll find Jasper National Park's beautiful Horseshoe lake. The region has a small trail network full of bridges, views, and clear water. The lake is one of the deepest in Jasper and is known for scuba diving, swimming, and fishing.
Folding Mountain Taproom
Looking for a cool bite to eat outside of Jasper? Check out the Folding Mountain Brewery! This great local place is just 10min West of Hinton at the edge of Jasper National Park. Enjoy some quality Alberta craft beer while admiring the Rocky Mountains. The kitchen has tasty gluten-free and vegetarian options so everyone can find something to love!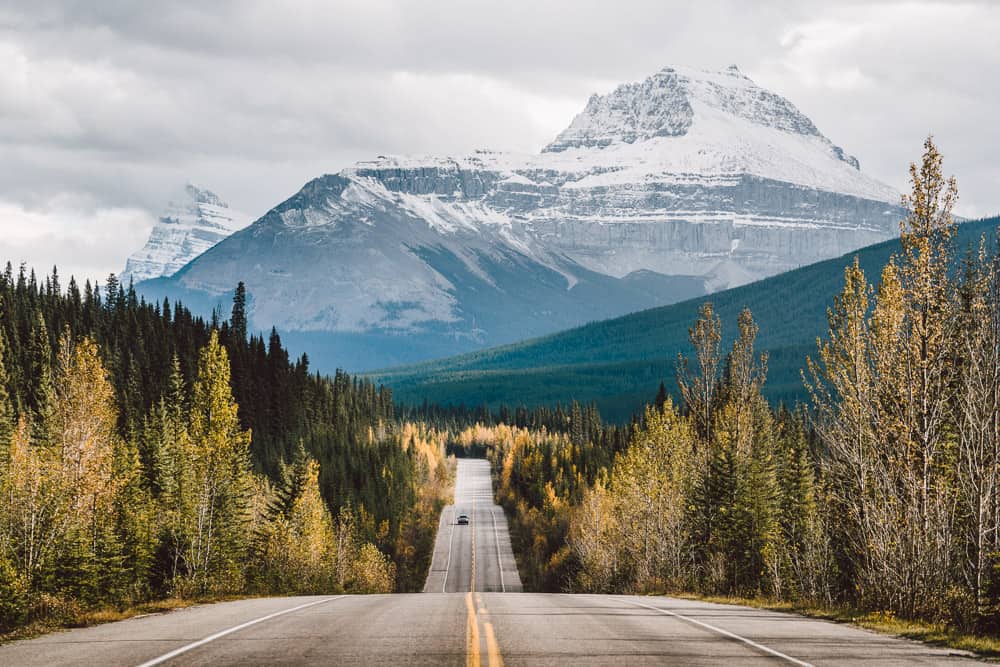 Icefields Parkway
Explore some of the best of the province of Alberta by driving along the Icefields Parkway! It is self-driveable, but there are also tour buses that can take you through the parkway if you just want to enjoy the views. Check out our full guide to road-tripping from Banff to Jasper for more information.
Don't Forget!
Visiting other spots in Alberta? Check out our extensive guide for all the things to do while visiting Edmonton, Banff, or Calgary!
ALSO, don't forget that while you're on the road, you can download our FREE Road Trip Alberta bingo cards, to make it just that much more fun!