Disclaimer: This page may contain affiliate links. Please review our full Terms and Conditions for more information and our Privacy Policy. Note that any pricing, operating hours, or other such information provided below may have changed since initial publication.
Compiled by the Road Trip Alberta team
Last updated on July 7, 2023
What's so hot about Alberta hot springs? (We're glad you asked!)
The province is a natural playground for outdoor enthusiasts…and what often comes after big adventure? Sore muscles! Not only can you soak away your soreness in the geothermally-warmed waters of a natural spring, but you are also often treated with other positive side effects from the minerals (like relief from eczema, increased relaxation, and improved circulation).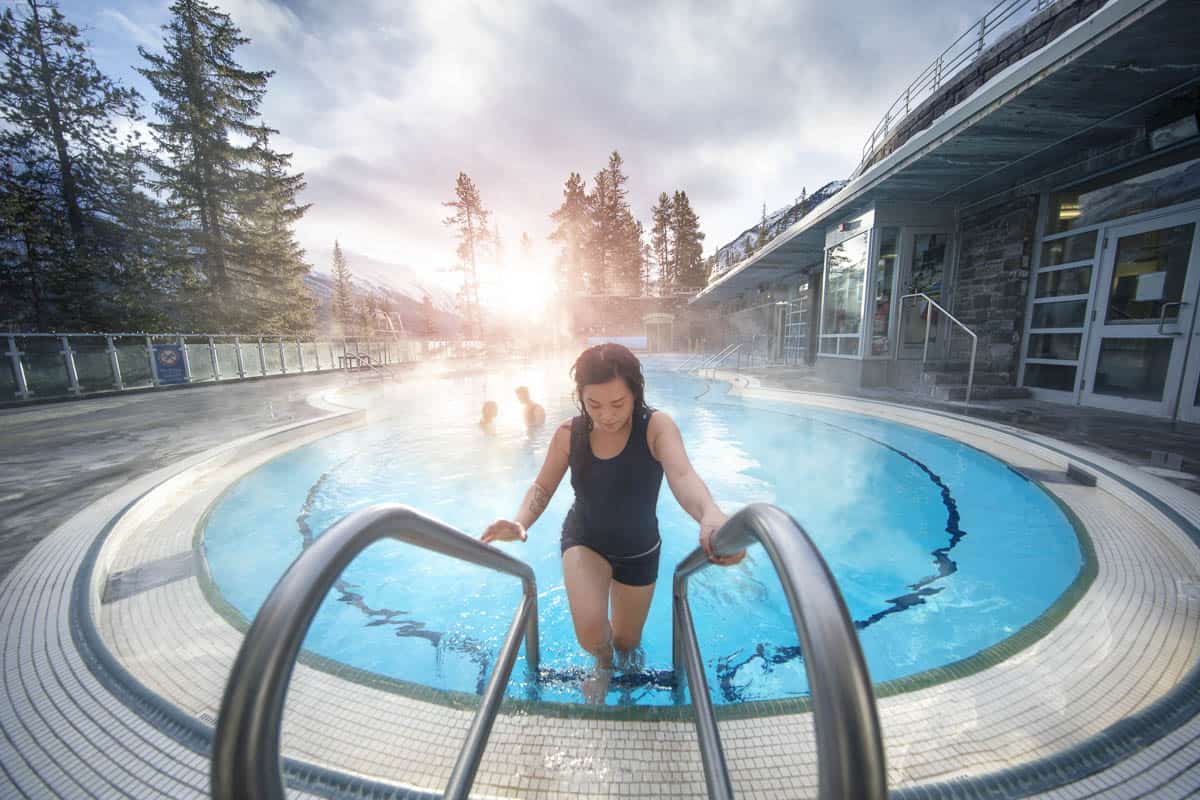 And while there are actually just a few natural hot springs in the province, another added benefit is that they are usually surrounded by pretty epic scenery. Can't get yourself to one of those that occur in nature? Then there are also many resorts with outdoor hot tubs and saunas that are set up to replicate some of those benefits. We've got all the details on amazing Alberta hot springs in this post.
The Best Hot Springs in Alberta
Banff Upper Hot Springs
Perhaps the most famous hot springs in Alberta, the family-friendly Banff Upper Hot Springs, have a long history of providing rest and rejuvenation. First used by the Indigenous people of Alberta to maintain health and cure illnesses, there has been a bathhouse on the premises since 1932. With many renovations since, today the site is one of the most popular tourist spots in Banff National Park.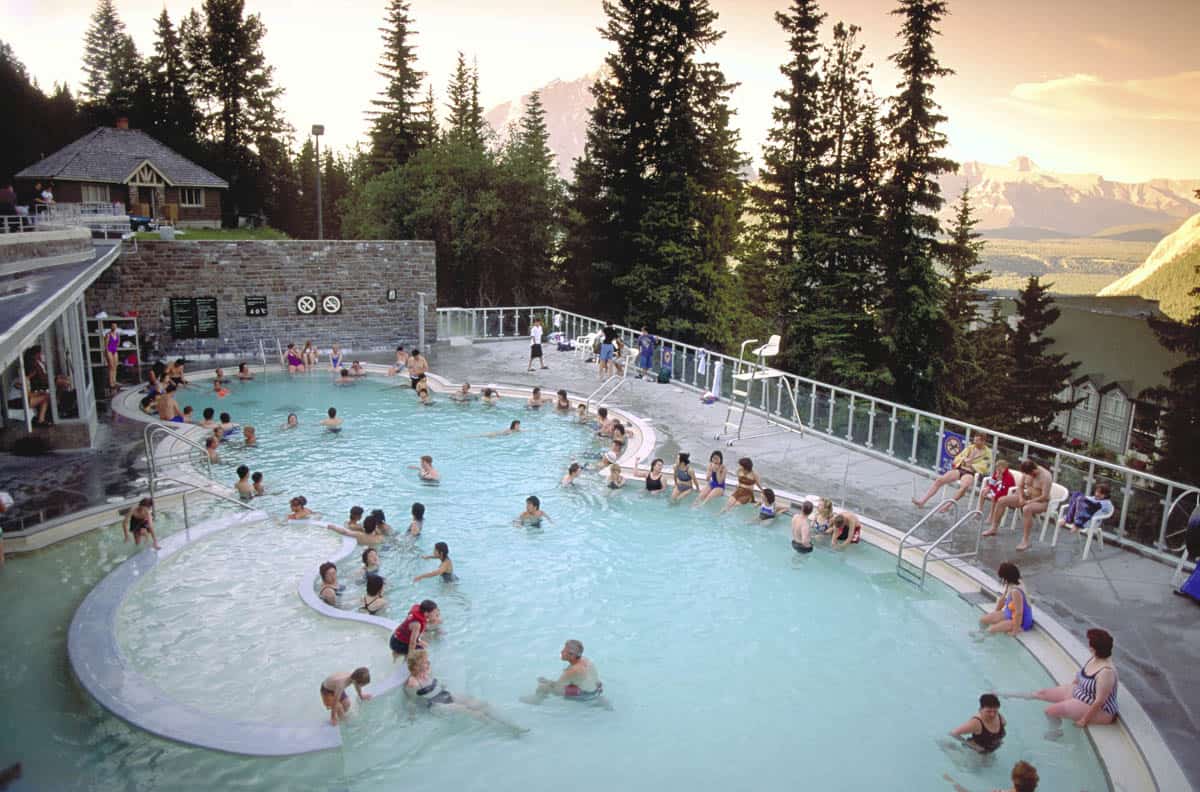 Located just south of Banff near the Banff Gondola, the hot springs are available on a first-come, first-served basis, and pool capacity is based on a ratio of one lifeguard to 75 patrons. Swimsuits and towels are available for rent, and the changing rooms are very spacious.
Visiting the Banff Upper Hot Springs can take the better part of a day if you desire, especially as there's a gift shop, picnic area, café, and a day spa with various treatments that include massage, steam rooms, and aromatherapy. The Banff Upper Hot Springs may be the most popular hot springs on this list, but they're popular for good reason: a visit is one of the best things to do in Banff National Park. There truly is nothing like soaking in the warm springs in the Canadian Rockies as you take in the scenery all around you!
Miette Hot Springs
One of the most popular attractions in Jasper National Park, the Miette Hot Springs offers incredible views of the Fiddle Valley. One of the most unique aspects of the Miette Hot Springs is that they are the hottest hot springs in the Canadian Rockies, and it's an amazing experience to warm up in the outdoor pool while taking in the fresh alpine air. The natural hot springs water flows from the mountain at 54°C (129°F) but then is cooled to a much more comfortable temperature of 40°C (104°F) before it enters the pool.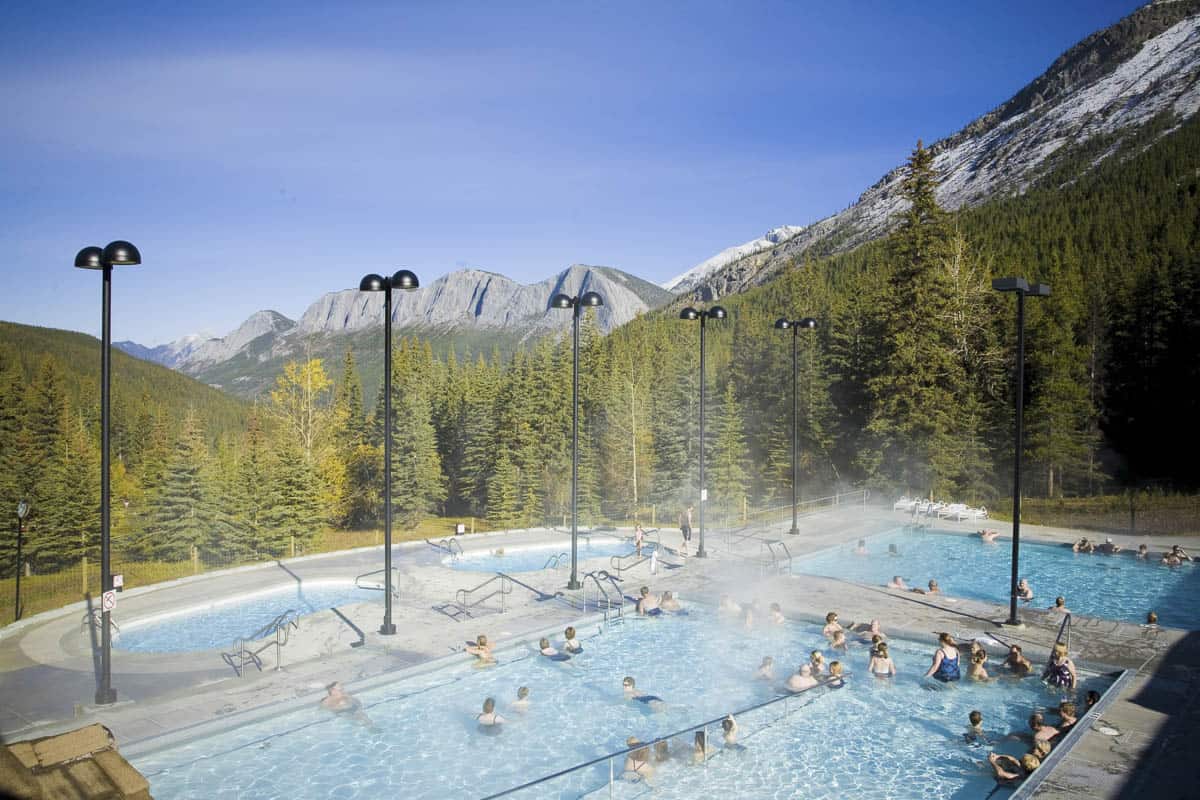 Found 61 kilometres east of the Jasper townsite, the Miette Hot Springs are well worth the scenic drive… especially as you're driving on one of the most beautiful roads in Canada. Reservations are not permitted here – the hot springs are first come, first served – and you can rent both a bathing suit and a towel. So soothe your sore muscles in the mineral waters and be prepared to want to visit again and again.
* Note that as of the date of updating this post, the Hot Springs are closed due to the closure of Miette Road. Check this page for updates on its opening.
Willow Stream Spa at the Fairmont Banff Springs
Although the thermal waters at the Willow Stream Spa at the Fairmont Banff Springs aren't pumped in directly from the Banff Upper Hot Springs, there's no denying that a visit to this alpine sanctuary is one of the best ways to unwind in the Canadian Rockies. Breathe in the mountain air as you enjoy the 40,000 square feet of spa amenities and hot springs, including an indoor mineral pool, outdoor whirlpool, saunas, lounges, steam rooms, aromatherapy rooms, and three waterfall whirlpools.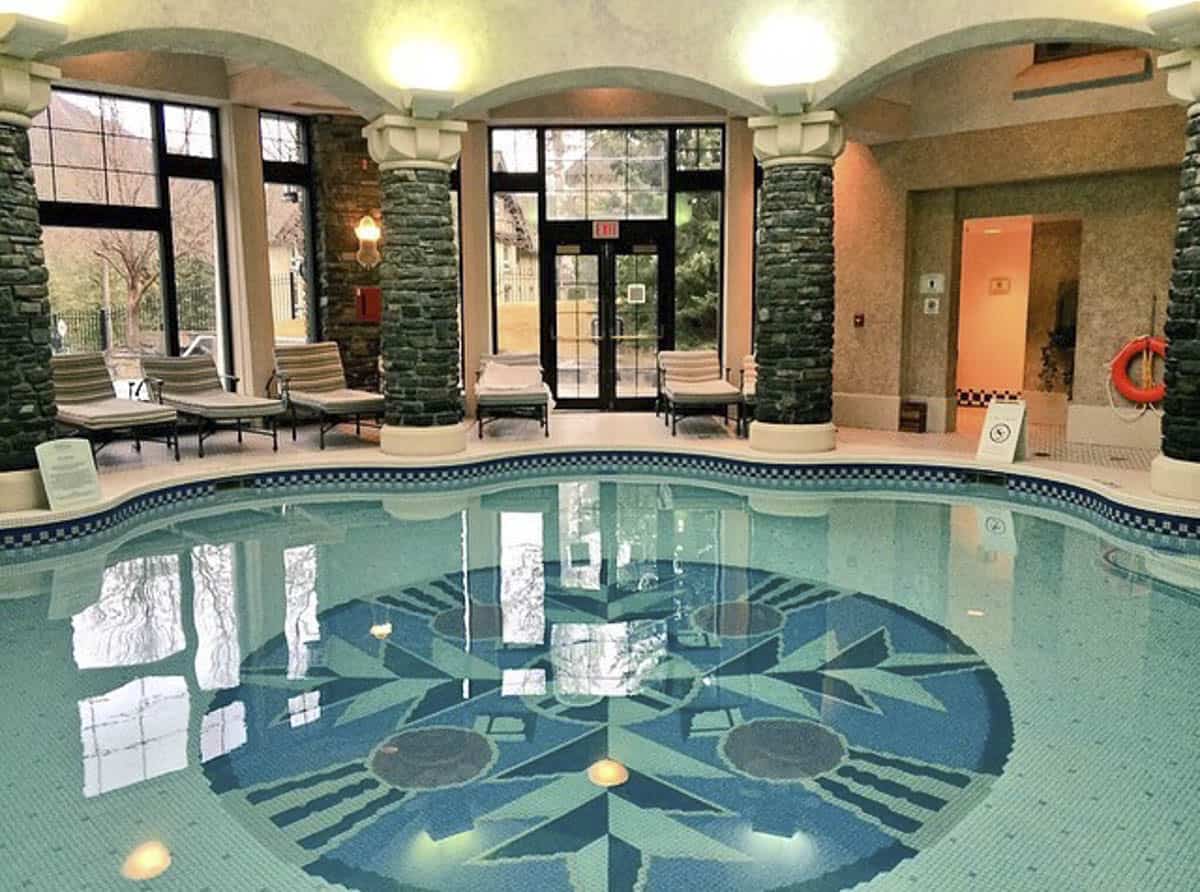 Perfect for a couples holiday or a relaxing vacation with friends, the spa services are fantastic. Choose from a massage, a facial, a full body treatment, or salon treatments… or a few of each! The Willow Stream Spa aims to "restore balance and energy" in both the body and the mind through the intoxicating blend of the mineral waters and the beautiful setting, and we think they do an outstanding job.
Mist Mountain Hot Springs
Unlike some of the other hot springs on this list (where you can simply pull up to the parking lot and walk a few metres to the hot spring itself), Mist Mountain Hot Springs requires a lot of work to enjoy. But if you're looking for a non-commercial, truly natural springs experience, the hike to Mist Mountain Hot Springs in Kananaskis Country is for you. The hiking trail is considered difficult, and it's common for hikers to lose their way for a bit, so be prepared for the elements and potentially changing weather. The hike itself is 6.4 kilometres out and back, although there is a lot of elevation, so you should prepare for the better part of a day on the trail.
As the hot spring is tiny, you may have to wait your turn until it's empty; if you want to avoid the wait, try going as early as possible. Despite the potential challenges, a visit to the Mist Mountain Hot Springs is one of the most memorable experiences you can have in the Alberta Rockies.
Kananaskis Nordic Spa
Though not fed by natural hot springs, the Kananaskis Nordic Spa offers an incredible hydrotherapy experience. This adults-only spa is Alberta's first Nordic spa, and the idea is to use varying temperatures of the cold and hot pools to "repair the body and relax the mind". It is recommended to follow the hydrotherapy circuit three to four times in order to soak up – pun intended – the best experience.
With various hot pools, a cold plunge pool, relaxation pools, an exfoliation cabin, a steam cabin, banyan and barrel saunas, a Finnish sauna, and hammocks and outdoor rest areas, you can easily spend an entire day at Kananaskis Nordic Spa.
Although the spa is only a 45-minute drive from Calgary, you can extend your visit by staying at the nearby Pomeroy Kananaskis Mountain Lodge. In fact, there are "spa and stay" packages that are perfect for a romantic holiday or a trip to escape the stresses of everyday life. Indulge in a massage to truly unwind, and make sure to enjoy a meal at the Two Trees Bistro to refuel during your stay.
Cave and Basin National Historic Site
Although you can't actually swim or soak in the hot springs at Cave and Basin National Historic Site, we've included them on the list for their history and importance in Alberta and in the local Indigenous culture. In fact, the Cave and Basin hot springs are often credited for the creation of Banff National Park, Canada's very first national park, making them one of the most significant of Alberta's hot springs. Today, they're a popular tourist attraction and are maintained by Parks Canada. One of nine sulphurous hot springs found on the northeast side of Sulphur Mountain, the water is heated from a depth of approximately three kilometres.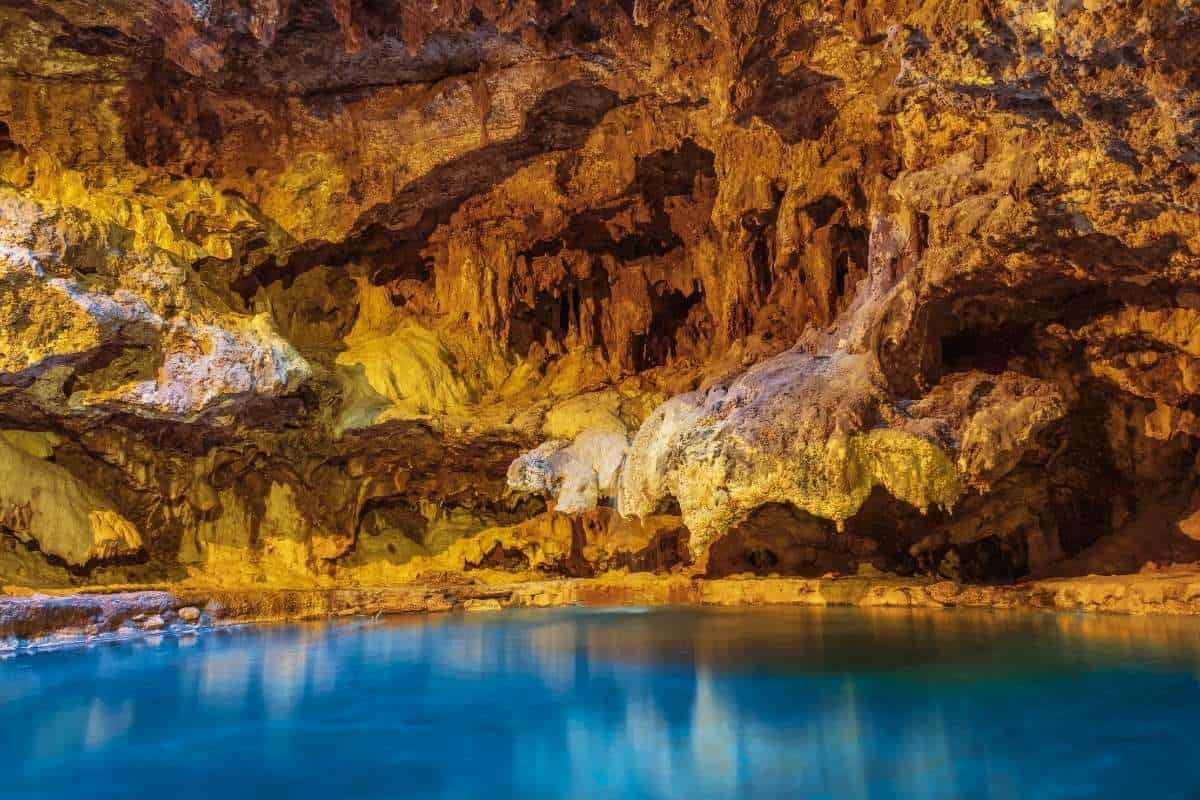 Used by the Indigenous people of the land for thousands of years, the hot springs came to national attention when Canadian Pacific Railway workers William McCardell and Frank McCabe commercialized the site in the late 19th century. Visitors can now explore the hot springs with exhibits such as an artificial tunnel to the natural grotto, a replica of the original 1887 bathhouse, a swimming pool and structure from 1916, interpretive displays, and a few hiking and snowshoeing trails, depending on the season.
Hot Springs Near Alberta
Thankfully, there are also a few excellent hot springs just over the provincial border in British Columbia. So whether you choose to go for a day trip or tack a few days in BC onto your Alberta vacation, each of the hot springs listed below are within a few hours' drive from Alberta's border.
Radium Hot Springs
Located in Kootenay National Park and open all year round, Radium Hot Springs are incredibly popular with tourists and locals alike. With a huge hot pool to soak in as well as a cooler swimming pool, both kids and adults will love spending a few hours in the water here; take in the gorgeous views of the scenery and let all your worries float away. It's also worth it to explore the village of Radium Hot Springs itself, as there are great hiking trails, golf, fishing, and many more things to do.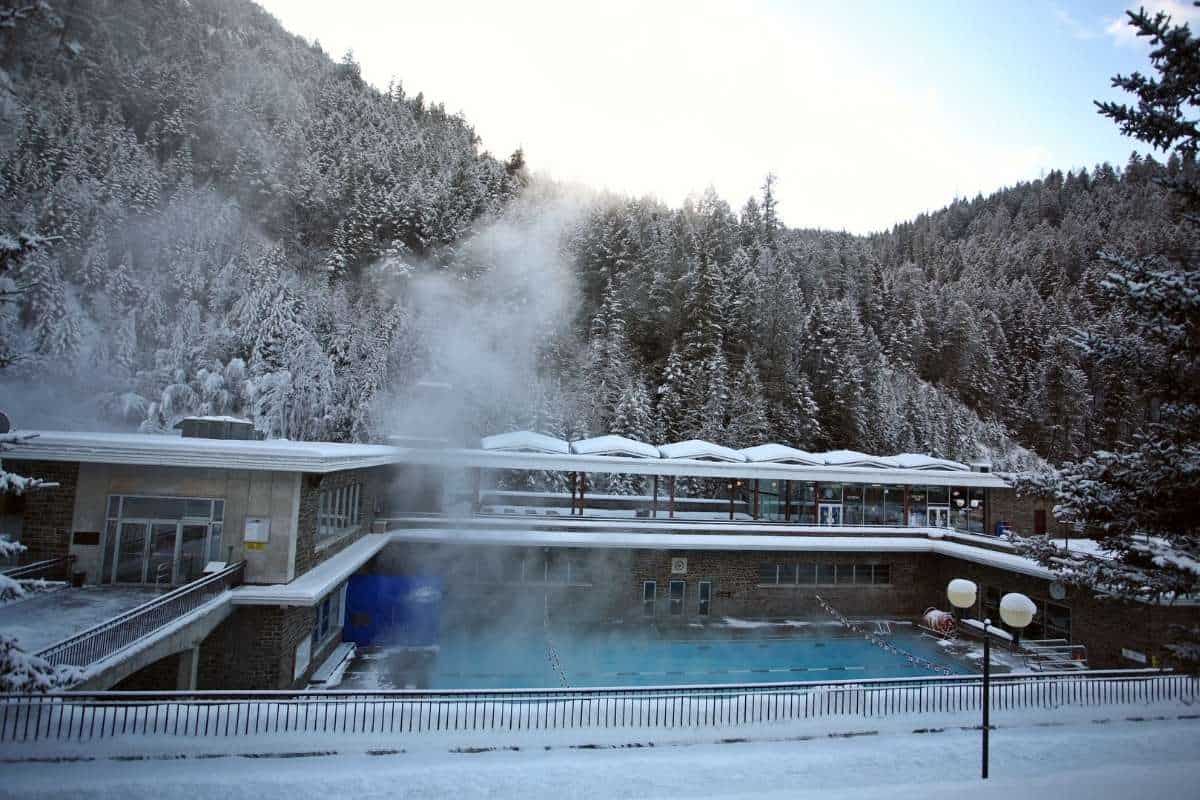 Lussier Hot Springs
Head to beautiful Whiteswan Lake Provincial Park to visit Lussier Hot Springs. Extremely popular due to their natural beauty, the springs get quite busy by mid-morning, so it's best to go as early as possible. The springs get cooler as they get closer to the adjacent river, so you can enjoy a range of temperatures as you move from pool to pool. You can even cool off in the river before heading back to the hottest spring to start the entire cycle again!
Fairmont Hot Springs
The Fairmont Hot Springs are actually Canada's largest mineral hot springs, so get ready to swim, play, or simply soak to your heart's content! With stunning panoramic views of the mountains, there's a swimming pool, dive pool, and soaking pool, all of which are heated naturally. While there, consider a spa treatment at the Natural Springs Spa to truly unwind.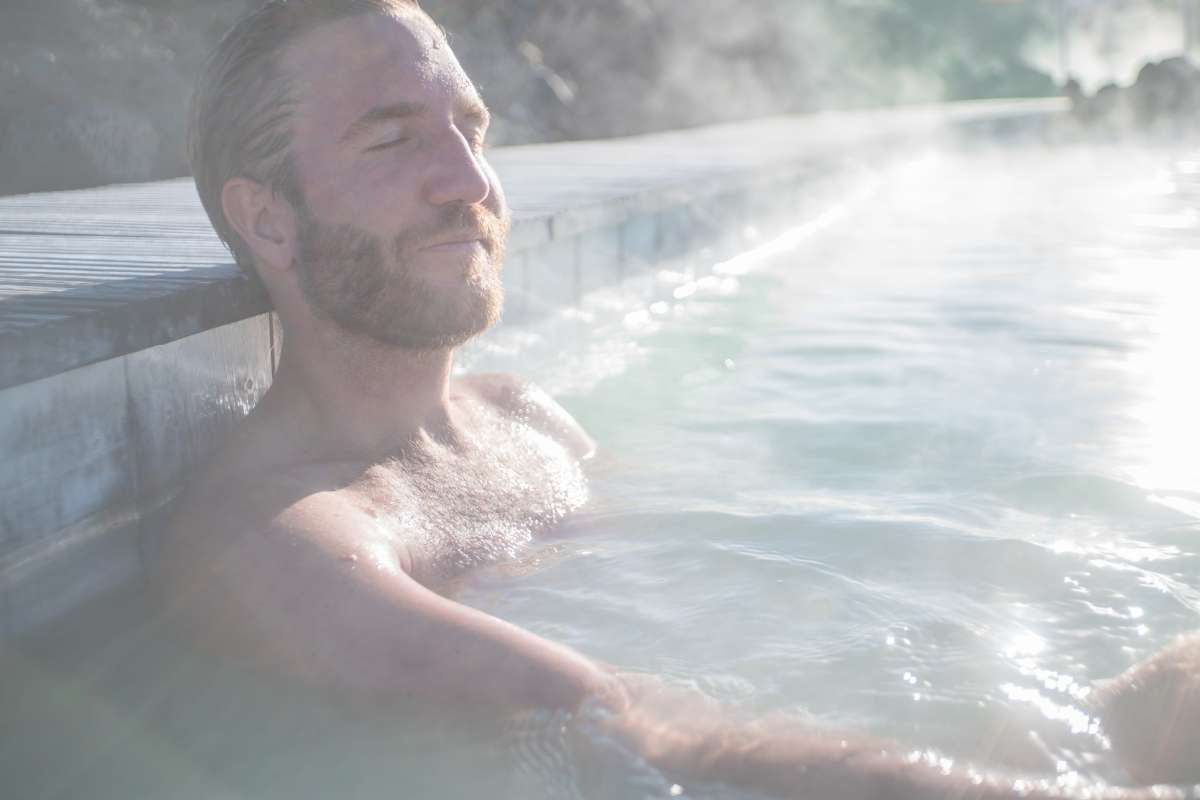 Ram Creek Hot Springs
Found in East Kootenay, Ram Creek Hot Springs are the perfect spot for anyone looking to avoid manmade or developed pools. The natural hot springs require a hike to get to – prepare for approximately 11 kilometres of hiking on the out-and-back trail – but are well worth visiting for their unbelievable setting. Even better, the water is warm but not too hot, meaning you can easily soak here for hours.
Looking for some hikes to get those muscles aching so you can take advantage of these hot springs? Here are some of our favourites: