Disclaimer: This page may contain affiliate links. Please review our full Terms and Conditions for more information and our Privacy Policy. Note that any pricing, operating hours, or other such information provided below may have changed since initial publication.
Compiled by the Road Trip Alberta team
Last Updated March 23, 2022
It shouldn't come as a surprise that ALL of the hikes in Banff are breathtaking! Even a walk through downtown Banff will wow you – especially if it's your first time visiting. There is a very good reason why hiking is one of the best things to do in Banff National Park.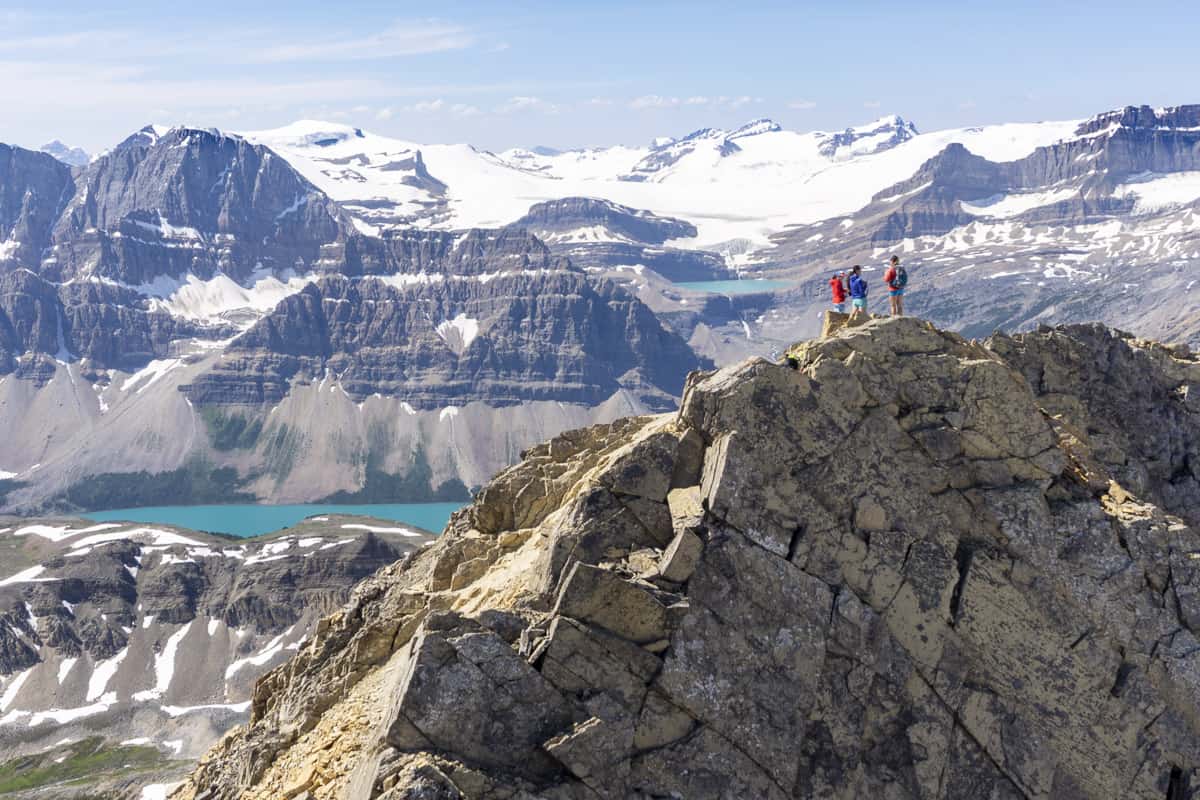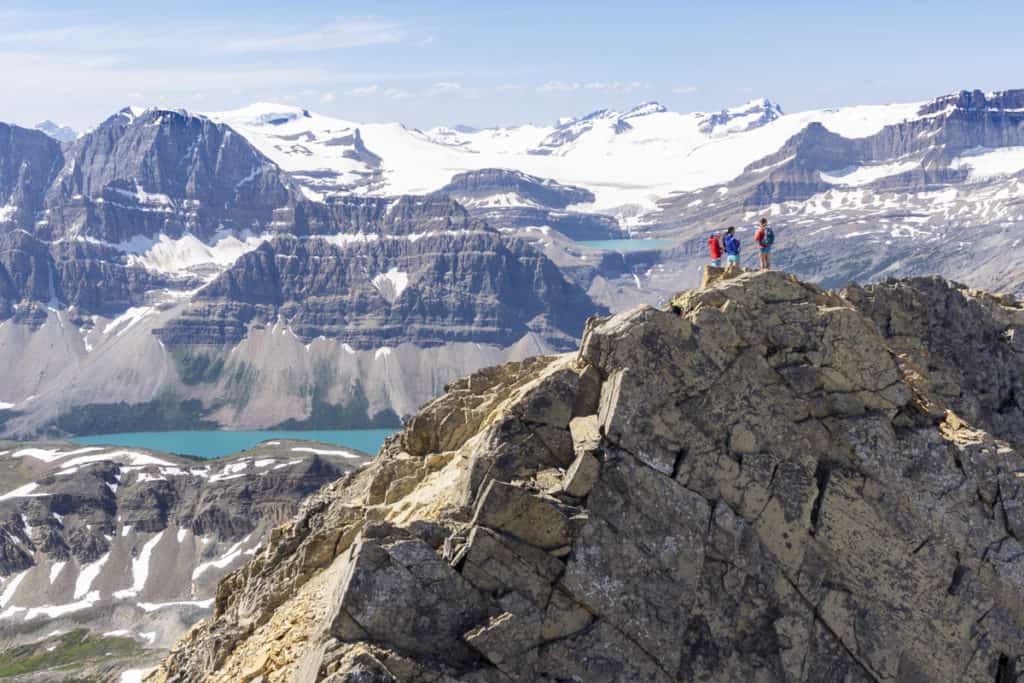 If all you want is a great hike, you can close down your browser, throw a dart at a map of Banff National Park, and be confident there's an incredible hike wherever the tip touches.
However, if you want to find the cream of the crop – the absolute best hikes in Banff that will suit your skill level –keep on reading because we've got a list of hikes that are guaranteed not only to impress, but to match your skill level too.
Know Before You Go
Be Prepared for Weather Conditions
Weather can change drastically and quickly in Banff National Park. Before you go be sure to check the weather forecast and prepare accordingly. Make sure to pack for all sorts of weather (from sun to snow) and bring sunblock, sunglasses, bear spray and a hat. Finally be sure to let people know where you are planning to go in case an emergency happens. The more prepared you are the better.
Stay Bear Safe
Before we go any further, it's important to mention all these hikes in Banff are located in bear country. Though bear spray isn't required to bring (although it is recommended) on the more heavily trafficked trails, you should always be bear aware. That means: make noise while you're hiking (sing, talk, etc.), don't throw out food along the trails (apple cores, crumbs, etc.), and if you do see a bear, stay calm and keep moving on. Don't try to get closer to it, and remember to tell others nearby about your bear sighting.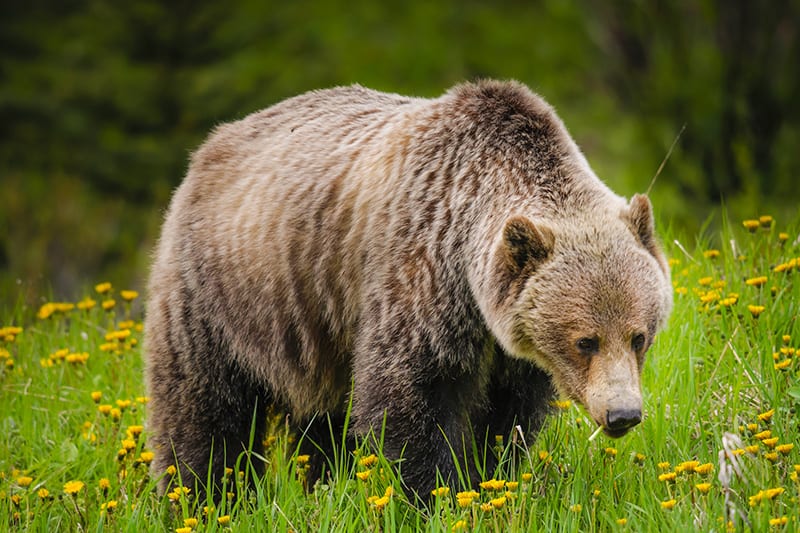 Easy Hikes in Banff National Park
Not everyone likes hiking for days to attain a summit, but in Banff that's (literally) no sweat! There are a variety of hikes accessible to everyone that have amazing views, beautiful forests, and enough scenery to fill up your Instagram feed, along with your heart.
Moraine Lake Rockpile
Moraine Lake is absolutely gorgeous, which is why it's one of the most trafficked hikes in Banff. During high times, that means the parking lot is full, and the road in is closed. Unless you want to pay to catch a bus from the Chateau Lake Louise, we recommend getting there really early – like sunrise early. Otherwise, you risk being turned back at the gate.
Once you're in and parked, there's nothing but a short walk to the Instagram-famous Moraine Lake rockpile. If you find yourself wanting more, you can head back to the parking lot and hike around the lake!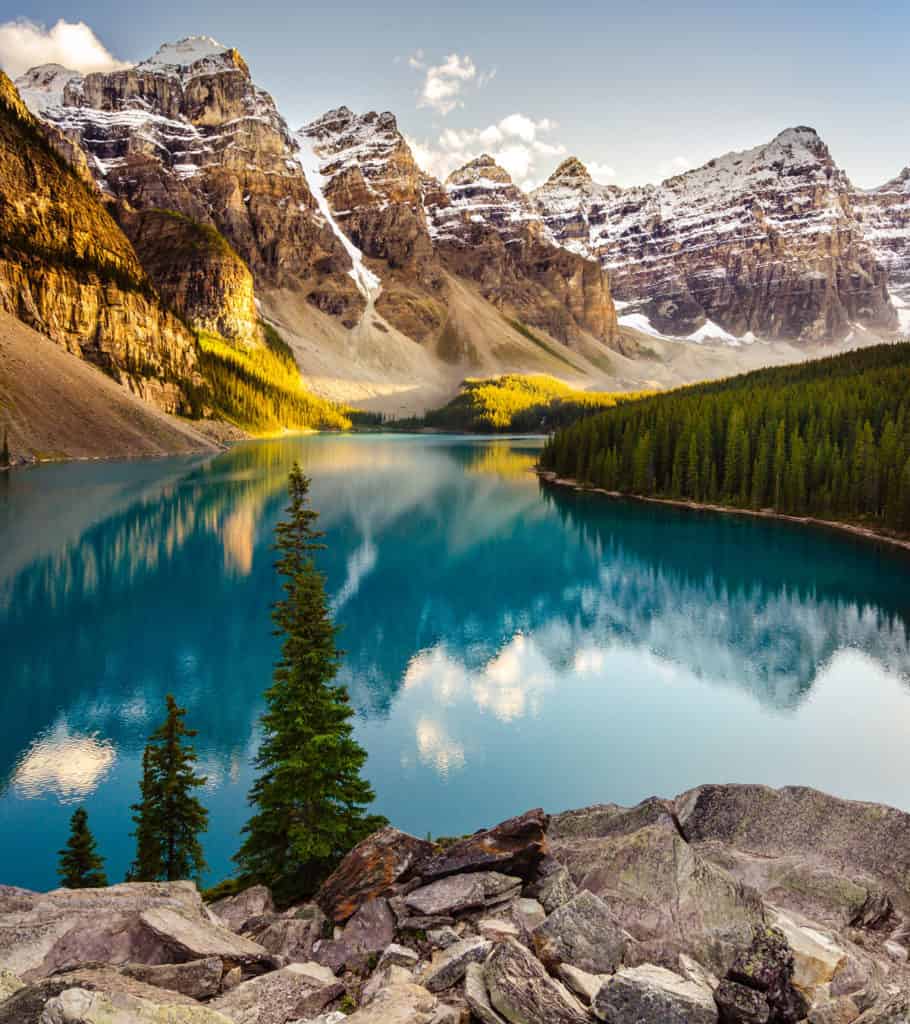 Lake Agnes and Little Beehive
Want to sit down to tea and crumpets (or soup and biscuits) at the top of your hike? Crazy as it sounds, Banff has you covered! The Lake Agnes hike features a series of switchbacks that lead to a beautiful waterfall, and beyond that, the Lake Agnes Tea House, nestled along the shores of the brilliant blue, glacier-fed Lake Agnes.
Stop for tea and photos (especially if you're there during the fall when the larch trees turn a bright and brilliant yellow) then continue up Little Beehive (the trail goes up behind the tea house – just ask one of the waitstaff at the tea house if you're unsure where to go) where you can watch canoes skitter across the surface of Lake Louise like water bugs.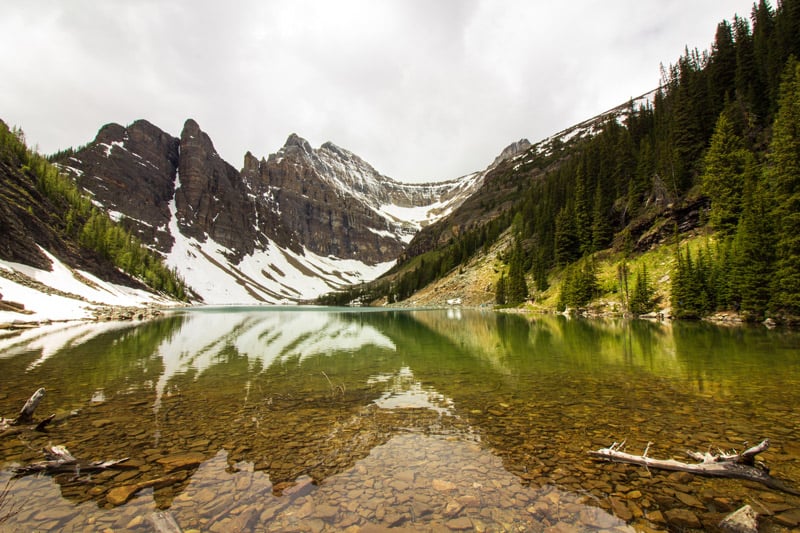 *This trail also offers a moderate option if you choose to take the Big Beehive trail to the right of Lake Agnes from the tea house.
Johnston Canyon and Ink Pots
Featuring bridges, forests, waterfalls, and the famous Ink Pots – the only thing that matches the beauty of the Johnston Canyon hike are the crowds that flock to see it. The trail winds through Johnston Canyon to two different sets of falls: the lower and upper falls. But, for those who are a little more adventurous than the average tourist, the trail also proceeds to the Ink Pots, which are small, naturally occurring, light blue mineral springs.
Whether you choose to end your trek at the upper falls, or go beyond to the Ink Pots, the relaxed pace and accessibility make Johnston Canyon a great choice for an easy hike. (It also happens to be on our list of the best Alberta hikes.)
Two Jack Lake
Two Jack Lake is less a hike than a 'choose your own adventure' series of trails with plenty of options for hikers and those who simply want to stretch their legs in a gorgeous mountain setting. Take a quick half-hour stroll, or continue along the shores of Two Jack Lake until it meets Lake Minnewanka – the choice is yours.
Wherever you end up hiking, you'll enjoy the peace and tranquility of the area, along with views of a gorgeous lake. If you fancy a cool-off in the summertime, you could brave a quick jump into the ice-cold waters of Two Jack!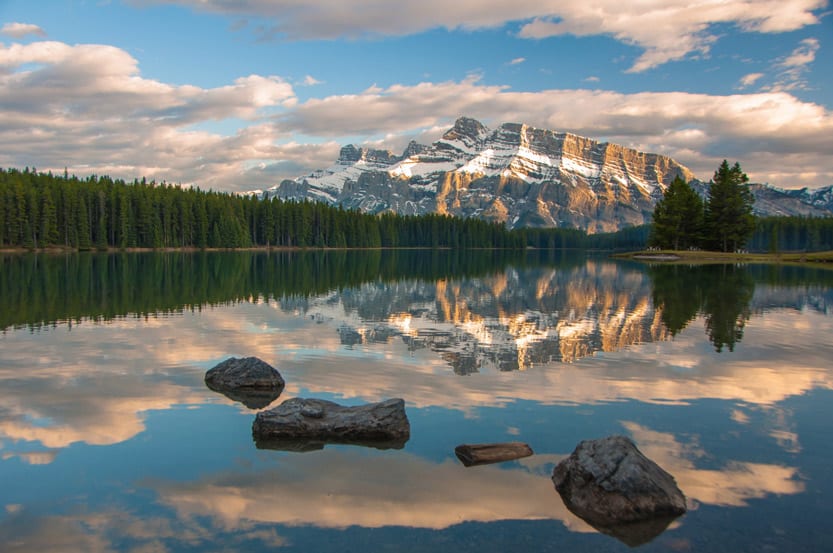 Moderate Hikes in Banff National Park
Ready for a bit of a challenge to spice up your visit? These hikes in Banff National Park will make you sweat, but not too much. Most of the below hikes will require much of your day, and we highly recommend packing a lunch, but every single one of them is worth the investment. If you like to hike, but don't want to spend the whole day sweating, or scrambling up rocks to the summit, these moderate hikes are perfect for you!
Larch Valley
If you've woken up at 5:00 am to see Moraine Lake, but crave a hike with a bit more challenge than the rockpile, Larch Valley is the way to go. The Larch Valley hike begins lakeside, just to the right of the lake as you approach, but quickly ascends. Though autumn, when the larches turn to golden torches, is the preferred season for this hike, it's beautiful in spring and summer as well.
* Due to bears, this hike may require a minimum number of hikers per group, but hikers are often waiting at the bottom to be grouped up.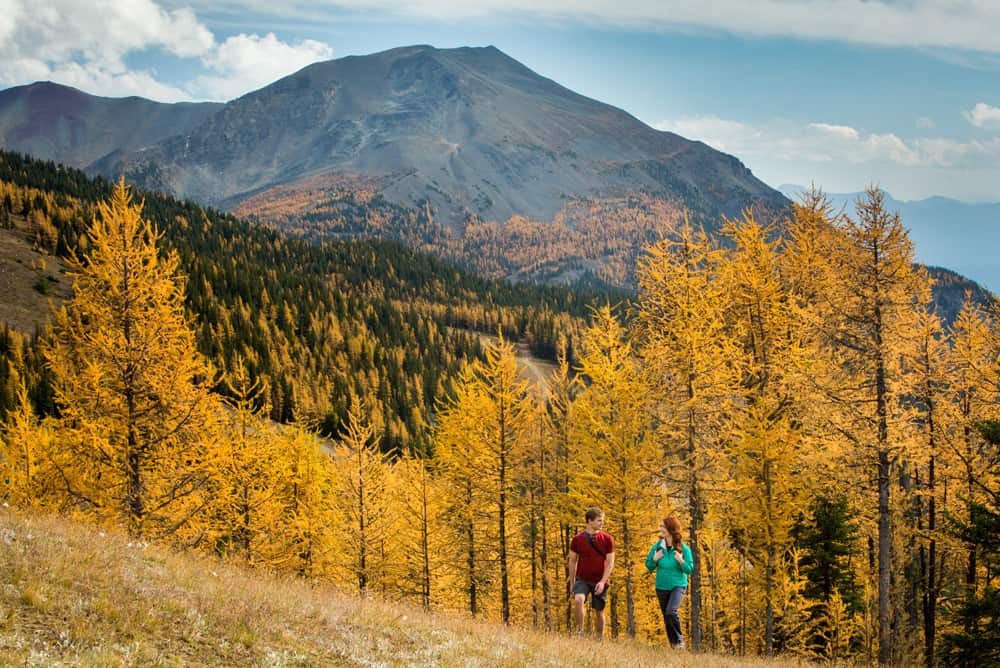 Tunnel Mountain Hike
A quick hike that's easily accessible, the Tunnel Mountain trail leaves straight from the townsite, and is one of the most highly-trafficked hikes in Banff. The trail ascends Tunnel Mountain through evergreen forest before opening up to breathtaking views of Banff and the surrounding nature. If you're pressed for time, or just don't want to drive all over the Banff National Park to find a good hike, this is the hike for you!
Plain of Six Glaciers
Lake Agnes isn't the only hike featuring a tea house to warm chilly travellers. The Plain of Six Glaciers trail leaves from Chateau Lake Louise and hugs the lake before ascending to the plain where the tea house beckons weary travellers. From there, hikers can continue on to one of the eponymous glaciers to take in the views, including 3 mountain peaks (Mt. Whyte, Devil's Thumb and Fairview Mountain) as well as Lake Louise, where you started your adventure.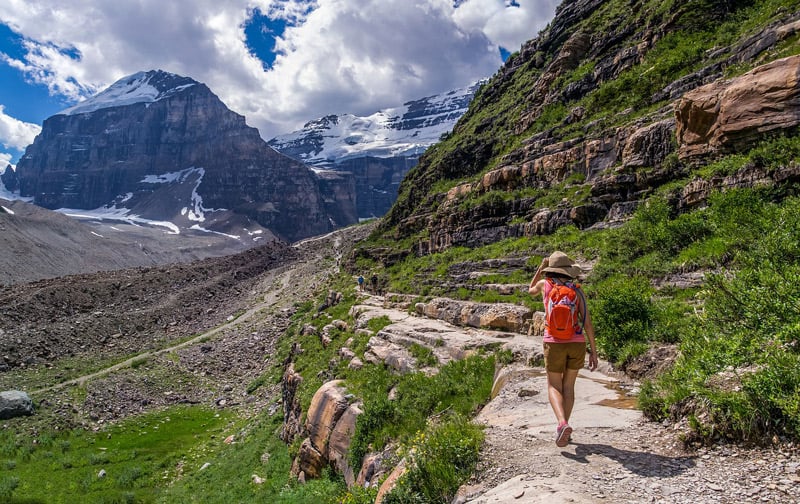 Sulphur Mountain Trail
Want to really get that heart pumping? Sulphur Trail follows a series of strenuous switchbacks through forested terrain to gain elevation quickly and start your quads burning! Of course, you could simply take the Banff Gondola all the way up, skipping the switchbacks (and if you're too tired once you get to the top we definitely recommend that as weariness can cause accidents on this strenuous hike) but where's the fun in that?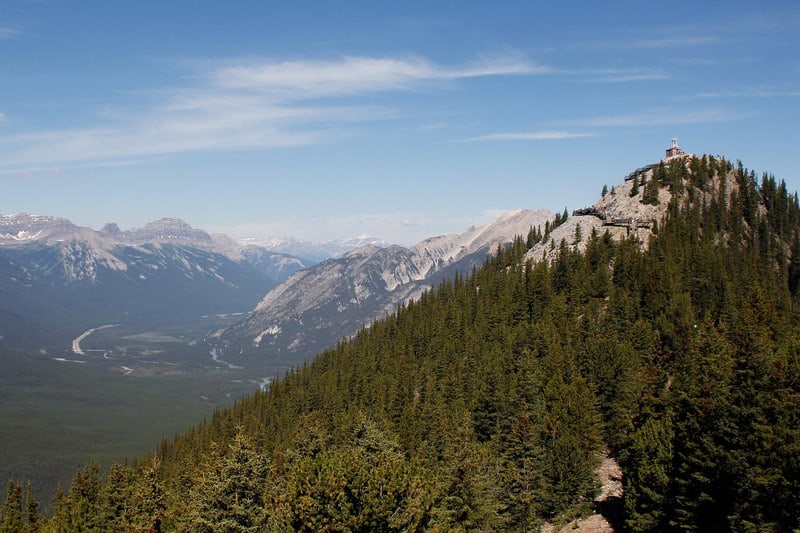 Hard Hikes in Banff National Park
Here they are, the most difficult, scambliest, least populated, best hikes in Banff. Do you dare take on these mountains? If you've got the fitness and the experience, each one of the below hikes will repay ten-fold every ounce of energy you put in. So buckle up for an adventure and take your hiking to the next level!
Helen Lake and Cirque Peak Trails
An hour's drive north of Banff, past Lake Louise up the Icefields Parkway, the Cirque Peak Trail features the beautiful Helen Lake, and gorgeous views worth the drive. The trek up to Helen Lake is tiring but not overwhelming. However, if you still have the energy, pushing up to Cirque Peak through scree and scramble is worth it.
Be careful on the ascent and descent, as the scramble can be difficult, and may even require that you ditch your poles meters from the top to free up your hands for an all-points finale.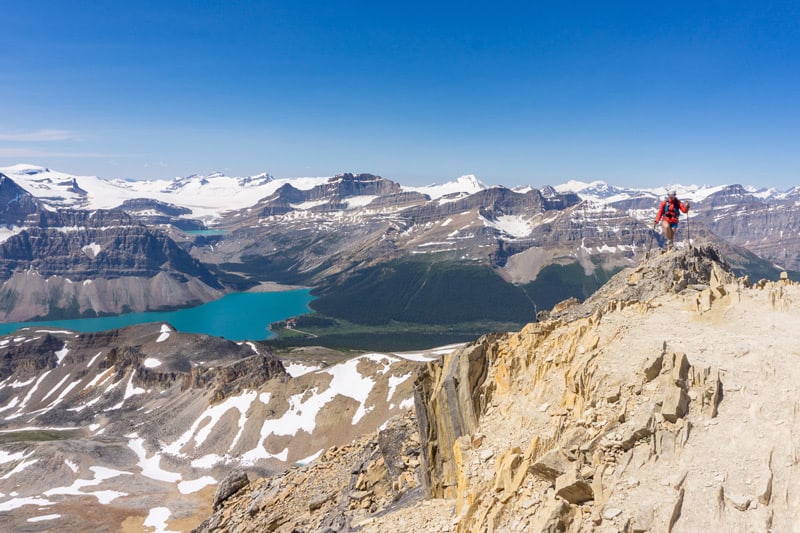 Sentinel Pass
If you can tear yourself away from the beauty of Moraine Lake and the blazing tamarack trees of Larch Valley, you'll discover Sentinel Pass, and the reason why this is one of the best hikes in Banff National Park. Once past the larches, the trail opens into a beautiful alpine meadow with three lakes, then follows switchbacks, often covered with snow well into summer, to attain Sentinel Pass.
The hike winds through the most picturesque terrains in the park to the craggy views. Sentinel Pass is impossible to beat and one of the best hikes in Banff National Park.
*Due to bears, this hike may require a minimum number of hikers per group, but hikers are often waiting at the bottom to be grouped up.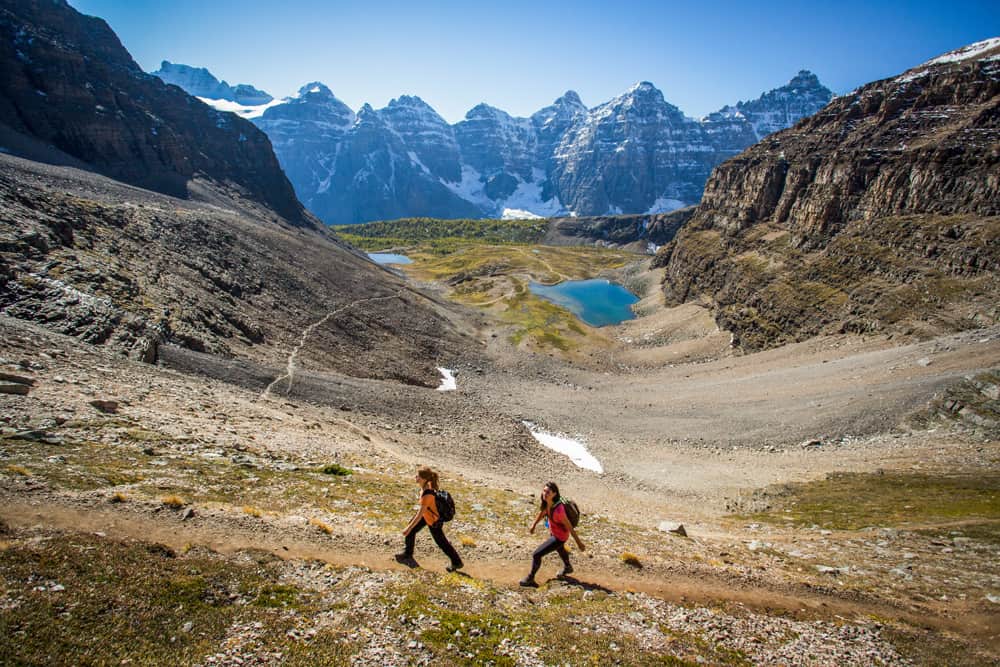 Mount Rundle
Not for the faint of heart, the Mount Rundle Trail is steep, long, and features some scrambling to attain the summit. But, if summiting a mountain in Banff is on your to-do list, it's hard to find a better hike. The trail starts in forest, but once you hit the switchbacks, it quickly climbs past the treeline to an alpine ridge.
Follow the ridge up past two false summits and you'll find the real summit where you can enjoy a well-deserved rest along with the unreal landscape views.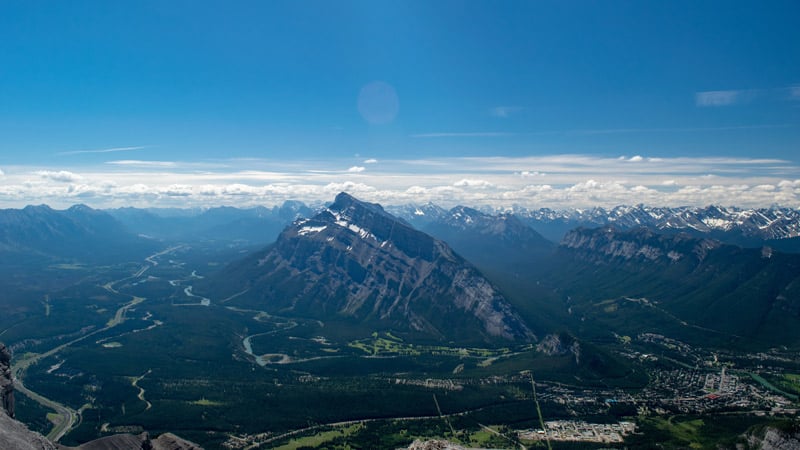 Edith and Cory Pass Circuit
Technically two trails, Edith Pass and Cory Pass meet just behind Mt. Edith to form a loop. We suggest taking a clockwise approach up Cory Pass first, as you'll have fresher legs for the more dangerous and strenuous parts of the hike.
Cory Pass features scrambles, steep inclines and narrow trails over very steep drops, that offer amazing views, but may cause a touch of vertigo in anyone who struggles with heights. Once you attain the top, after taking in the views, you can look forward to a much milder decline courtesy of Edith Pass.