Disclaimer: This page may contain affiliate links. Please review our full Terms and Conditions for more information and our Privacy Policy. Note that any pricing, operating hours, or other such information provided below may have changed since initial publication.
Compiled by the Road Trip Alberta team
Last Updated January 11, 2022
A bull moose stands tall and proud, knee-deep in a misty pond, his giant antlers tangled with moss. His glassy eyes watch you – like a king watching his citizen – and you sense he's in no hurry about anything. It's serendipitous moments like these that draw hikers here for some of the best hikes in Jasper National Park, Banff's less busy, northern brother.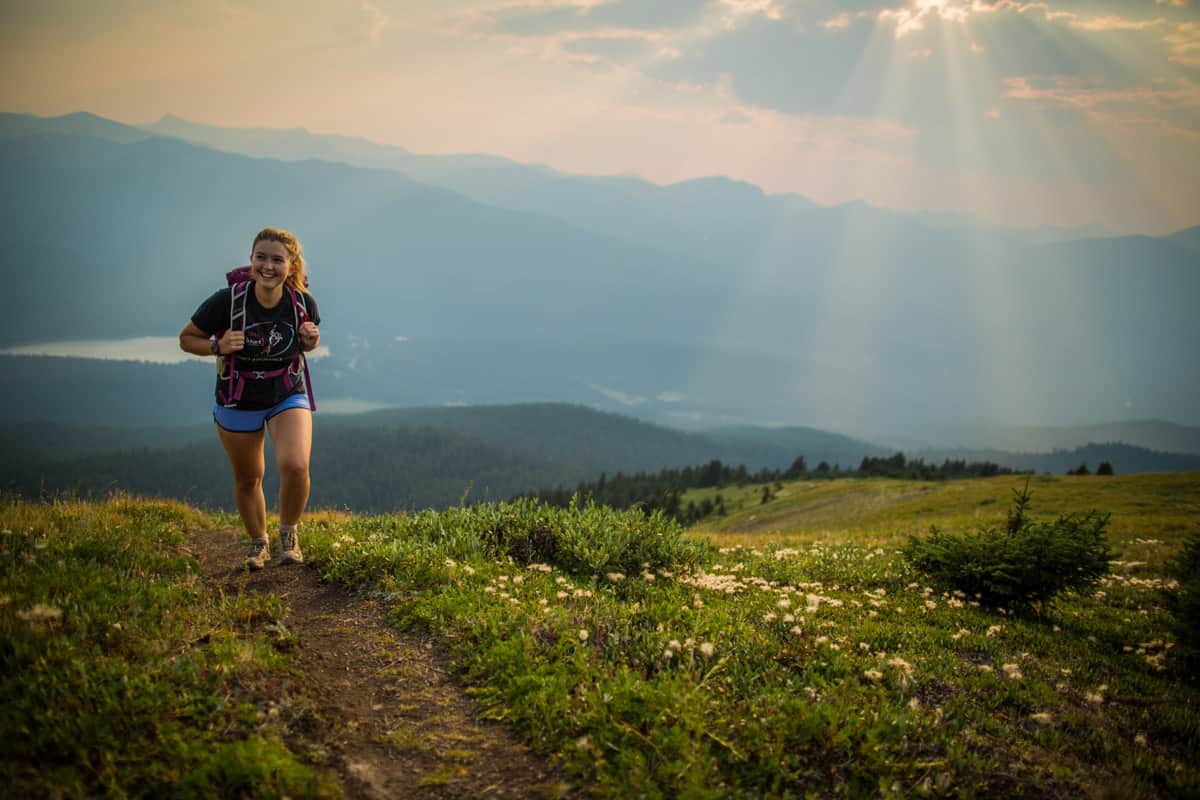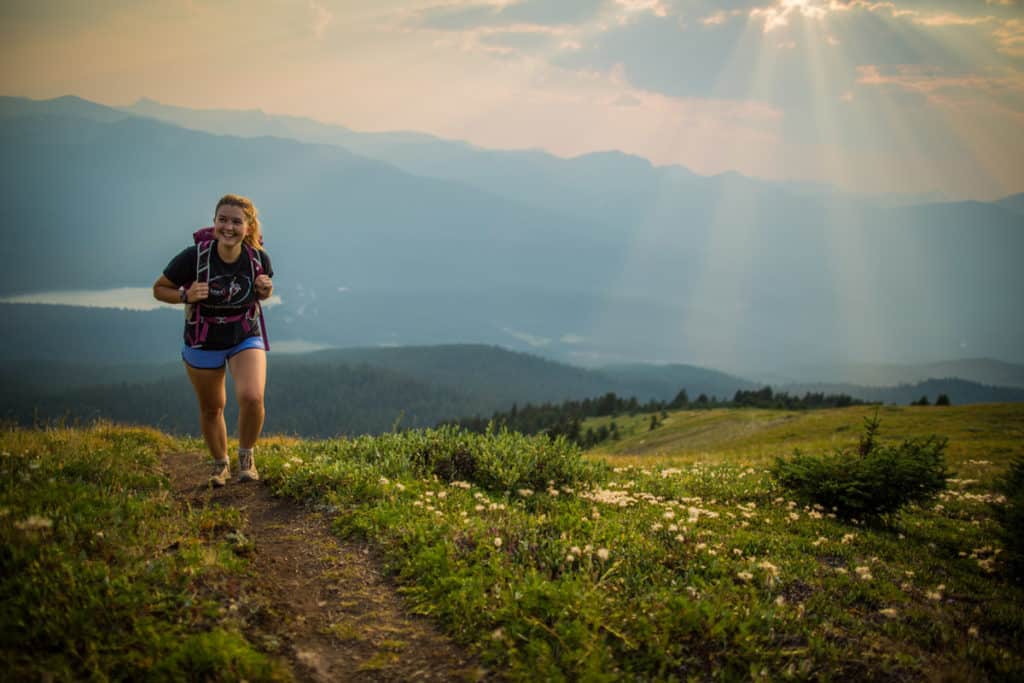 The moment you set foot out here, the pace of life seems to slow right down. From the laid-back vibes of Jasper's townsite to the glacier-fed lakes and meandering alpine trails surrounding it, this 11,000 square kilometre park gives you the chance to experience nature with fewer crowds.
Best Hikes in Jasper National Park
Jasper Townsite Hikes and Walks
Some of the most beautiful hikes in Jasper are just minutes from the townsite, making it easy for all experience levels to embrace Jasper's rugged wilderness. Keep in mind the hikes in town skew toward the quick and easy side of the scale, and should be able to be completed in 1 – 3 hours. (The great news is you'll have time to fit in a hike between brunch and happy hour at Jasper Brewing Company)!
There are four main hikes within the Jasper townsite and all are considered easy.
Jasper Discovery Trail
This loop around the town is split into three sections and the complete distance is 8.3km. Be sure to follow the bear symbol on signs and there will be markers and maps to guide your way! can be started nearly anywhere.
Wapiti Trail
This is a 4.7 km one-way trail with no elevation. Depending on your speed and how many photos you take, it will take 1-2 hours to complete.
Bighorn Alley
This easy trail accessed via the north-east end of the Discovery Trail gives access to lakes Edith and Annette by going over the Moberly Bridge. It's 4.3km one way and has very little elevation change (33m).
Red Squirrel
A very simple 1km (one way) trail gives beautiful views of the Athabasca River. There is no elevation change and takes 30 minutes to 1 hour to walk.
You can find more Jasper townsite trail information along with downloadable maps here.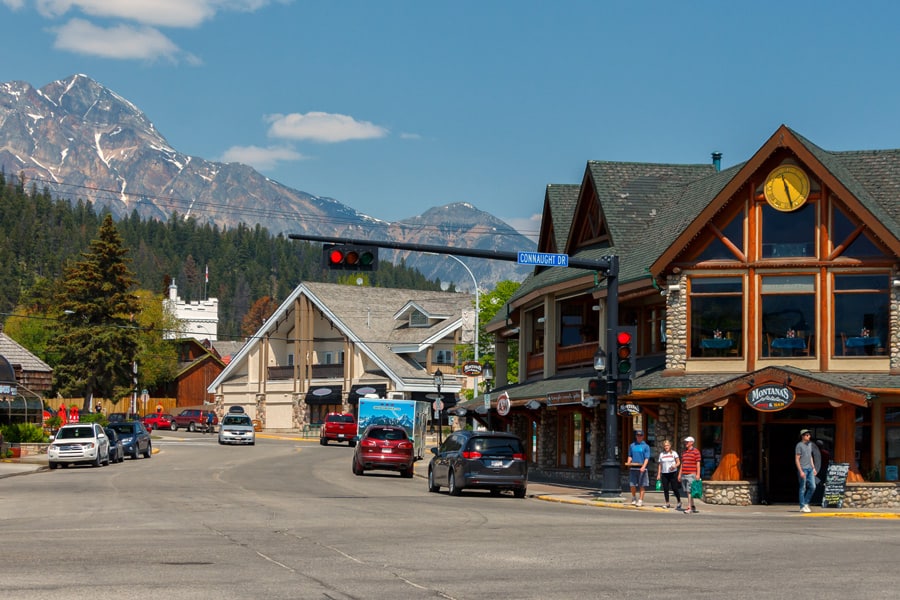 Jasper Skytram
For those looking to begin their Jasper hikes above the clouds, the Jasper SkyTram lets you conserve your energy for exploring the alpine meadows on top of Whistlers Peak. This is an absolute must for those looking for 360º mountain top views!
For the more adventurous, get off the boardwalk and onto the trails leading all the way to the top of Whistlers Mountain. Be sure to be prepared for changing weather conditions. A complete trail map on top of the mountain can be found here.
Book Jasper SkyTram Tickets here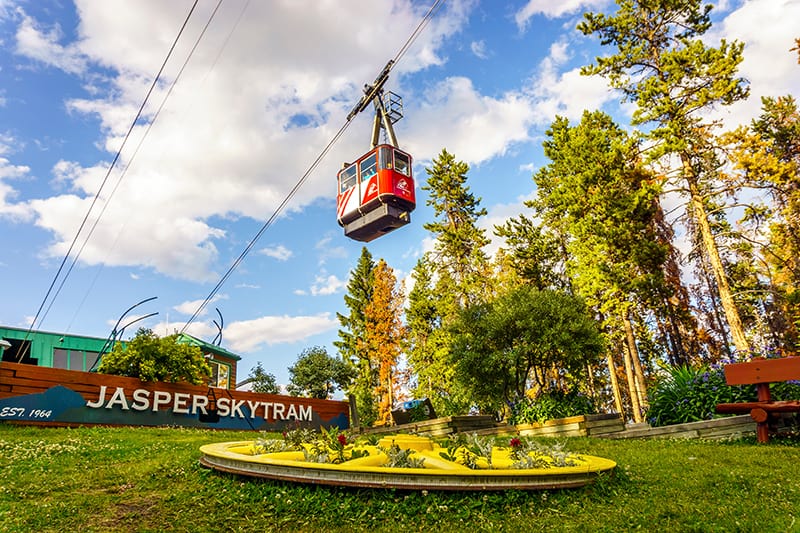 Jasper Day Hikes
From half-day hikes to multi-day hikes – and everything in between – there are tons of trails of varying difficulties for you to discover once you leave Jasper townsite. From glacier-fed lakes bluer than Ryan Gosling's eyes to winding paths through untouched alpine meadows, to breathtaking mountain top views, there's a hike for everyone in Jasper! The hardest part is choosing which trail to take. 🙂
Half-day hikes in Jasper
Athabasca Falls
Just thirty minutes drive from the townsite, Athabasca Falls is considered the most powerful in the Canadian Rockies. A quick walk in leads you to a network of trails around the falls and a canyon begging for you to take photos. Stay on the marked paths and be very careful of that ice cold-spray of glacier water!
Athabasca Falls Information :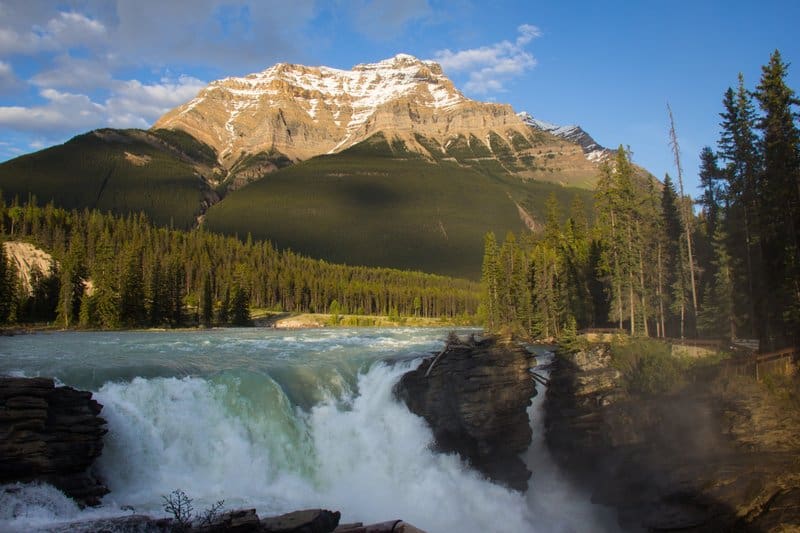 Maligne Canyon Trail
The Maligne Canyon trail brings hikers through a lush forest and follows a deep, narrow centuries-old fissure cut into the local limestone. The winding trail features waterfalls, gorgeous views, and five suspension bridges spanning the gorge. For those who love Johnston Canyon in Banff, Maligne Canyon is a great, less crowded alternative.
Maligne Canyon information: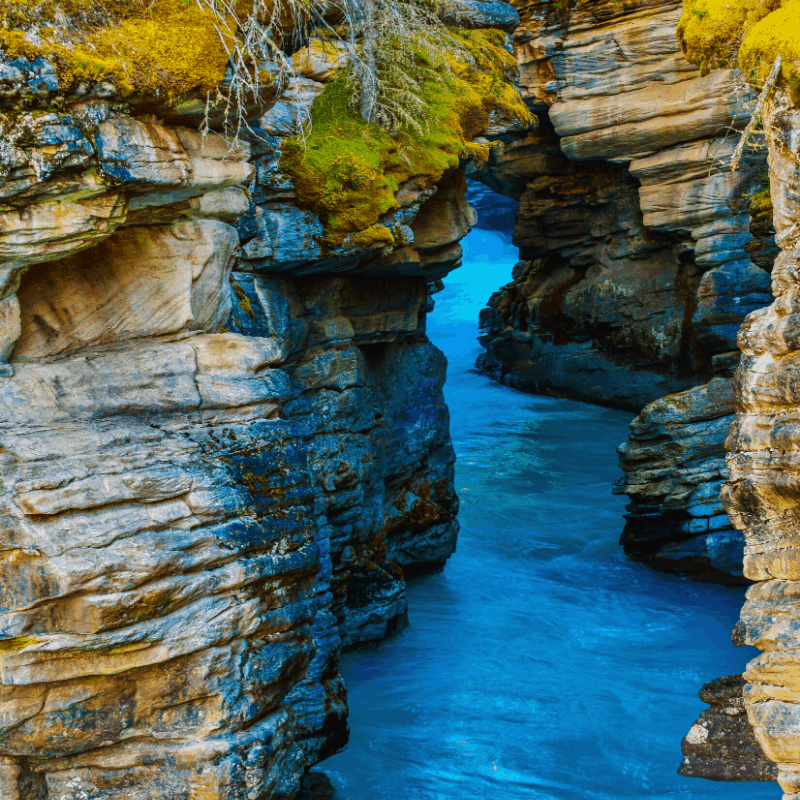 Valley of the Five Lakes
The five lakes of this hike offer an array of colours rarely seen outside Group of 7 paintings. From milky jade to icy blue, each lake is stunning in its own right, but lake #3 and #4 are often considered the most awe-inspiring. While the hike only takes 1.5 to 2 hours, hikers should pack a lunch as the sheer amount of photo ops might keep you busy all day!
Valley of the Five Lakes information:
Full-day hikes in Jasper
Bald Hills
The Bald Hills hike gives you the chance to work up an appetite as you conquer not one, but three peaks, along with the most scenic lunch spots you'll ever experience! Depending on the route you take, the trail varies from a long, slowly ascending hike with little challenge, to a steeper, shorter hike that can include simple scrambles. But once you're at the top and enjoying the gorgeous view as you eat your lunch, the effort it took to get there will melt away.
Bald Hills information: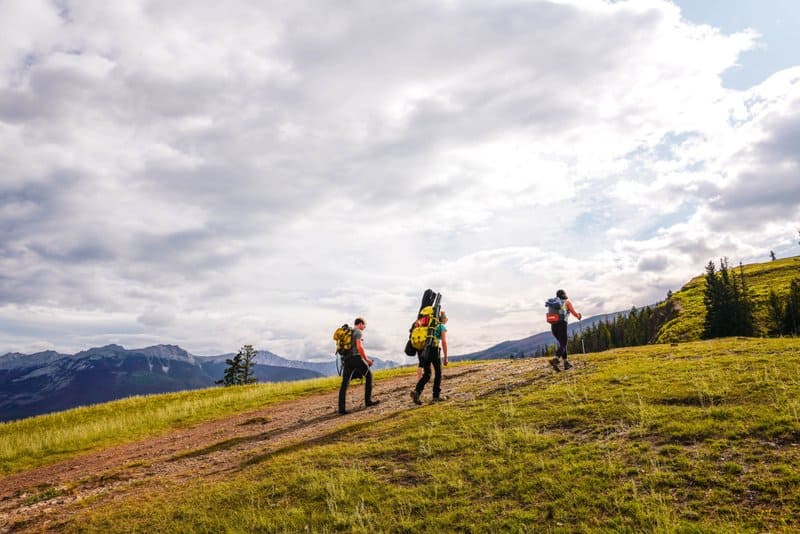 Sulphur Skyline
Short and steep (ahem, we mean sweet!) perfectly describes this hike. Come prepared – both physically and mentally – and you won't be disappointed by the amazing views at the top. From the peaks of the skyline, hardy hikers can see countless mountains spanning the great, Canadian Rockies. As an added bonus, the trailhead is near Miette Hotsprings – the hottest natural springs in the Canadian Rockies – offering hikers the perfect place to relax after all that hard work, as long as you're down before it closes.
Sulpher Skyline at a glance: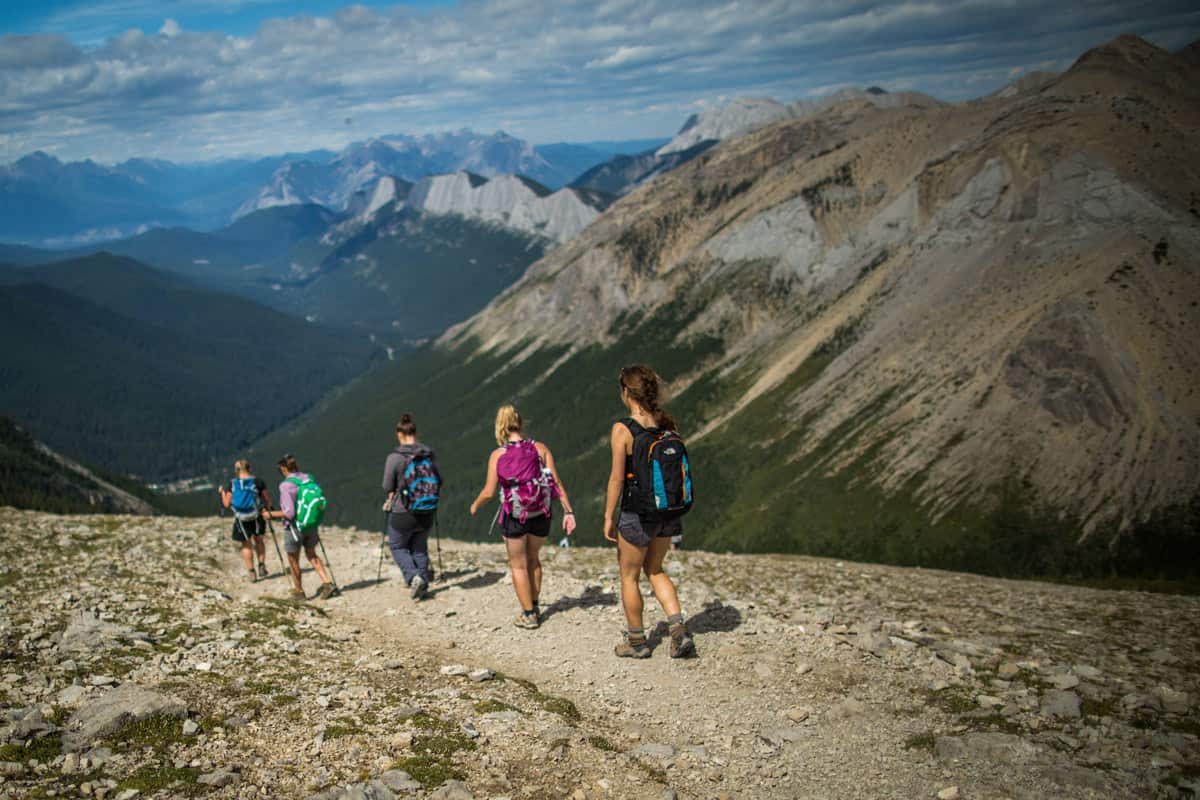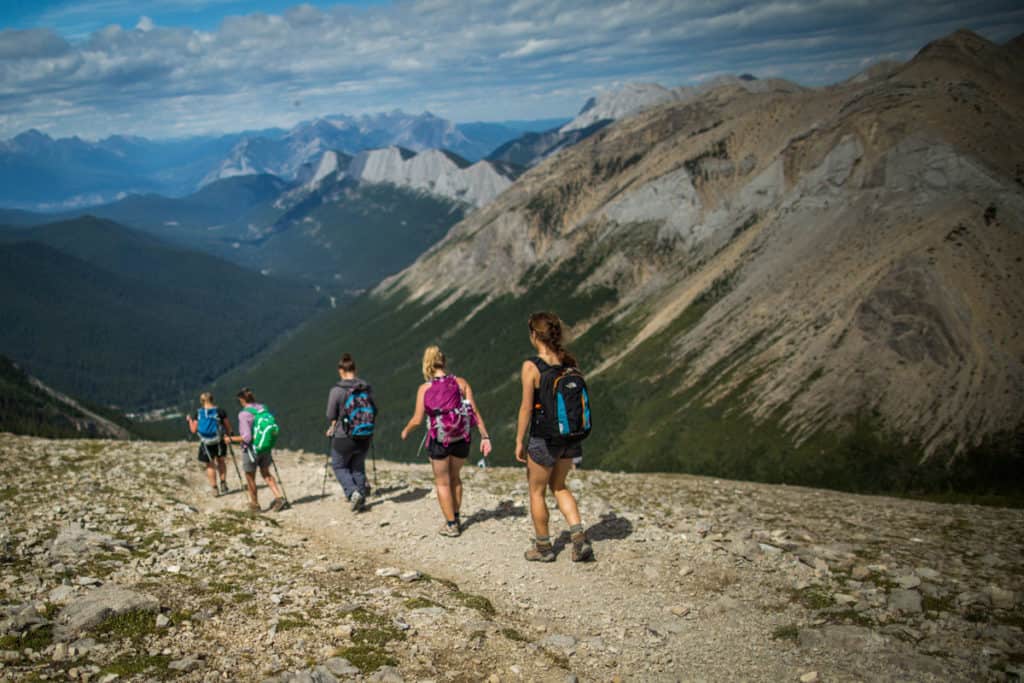 Whistler's Peak
Whistler's Peak offers a choose-your-own-adventure. You can choose to 'Ironman-it', hiking both up and down the mountain, or ease the leg requirements and switch out one of the trips for a relaxing Skytram ride. The upper station observatory is only 1.4 km from the Skytram, and sits at 2263 m of elevation, offering a view of the highest peak in the Canadian Rockies (Mt. Robson) on a clear day whether you're walking all the way, or choosing the more scenic way out.
Book Jasper SkyTram Tickets Here
Whistler's Peak information: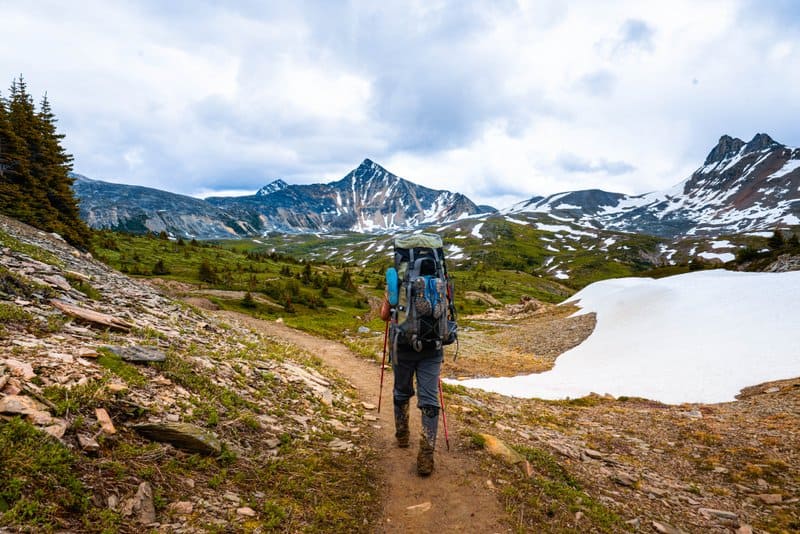 Multi-day hikes in Jasper
Skyline Trail, Jasper
The epic, 40+ km Skyline Trail is one of the most popular backpacking trails in Jasper (and one of the best hikes in Alberta), all for good reason: most of the hike is spent at or above the treeline. Hike among clouds and follow along three lone mountain passes while you enjoy panoramic views of the surrounding landscape. And since there are plenty of campsites along the trail, you'll have no shortage of spots to rest and replenish your energy.
Be sure to book your campsite ahead of time, or call 1-877-RESERVE (1-877-737-3783) to reserve a spot.
Skyline Trail information: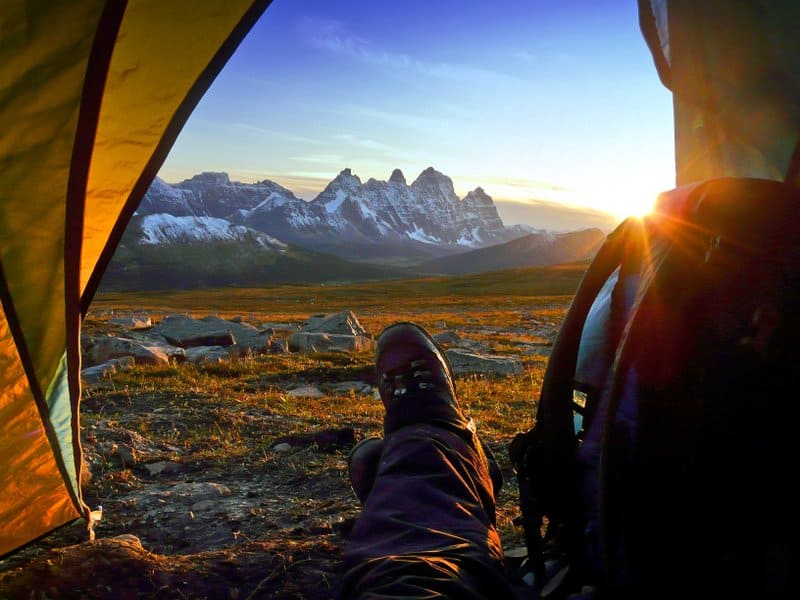 Tonquin Valley
Starting from either the Portal or Astoria Trailhead, the Tonquin Valley hike offers amazing scenery and a great chance of seeing some wildlife – including bears and endangered Woodland Elk.
While hikers can park at one trailhead, and start from the other for the complete experience, it requires some ingenuity or budgeting for a $100 taxi ride from one trailhead to the other. For those who don't want to pay, an out and back option is available.
Whether you choose point-to-point, or out and back, the highlight of the trip is Amethyst Lake, with its glorious view of the Ramparts – a jagged stretch of rugged mountains that are absolutely breathtaking.
Be sure to book a campsite early, or at one of three accommodations:
Tonquin Valley information: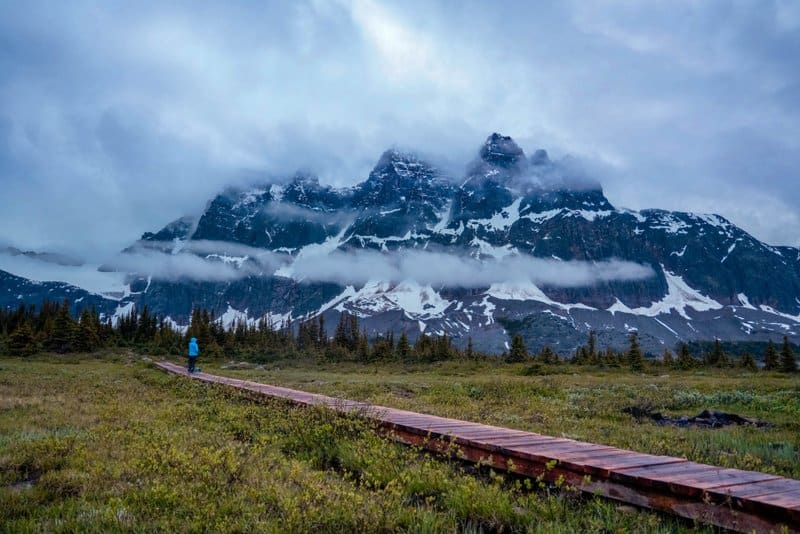 Berg Lake Trail in Mount Robson Provincial Park
We're cheating just a bit on this one – but this hike is worth it. The trailhead for Berg Lake (and the lake itself), is in Robson Provincial Park, Jasper's little British Columbian brother. But since this multi-day trail is only an hour outside of Jasper, and Berg Lake itself is only a couple of kilometres from the Alberta/Jasper border, we figured the beautiful scenery, the glacier-fed lake (complete with icebergs), the majestic, heart-pounding Emperor Falls, and a view of the tallest mountain in the Canadian Rockies – earned the hike a place on the list!
There are tons of day hikes within the Berg Lake Trail hike too, and you can spend as much time on this hike as your food supply – and your energy level will allow.
Berg Lake Trail information:
Click here for more information and for a complete list of Berg Lake Trail hikes.
Other Information
If you want to continue your outdoor adventure, there are plenty of campgrounds in Jasper! Whether you are pitching a tent, or want to hook up to a fully serviced site, there are a few different options available.
For a full list of where to stay, check out our guide to the best Jasper camping spots. But if you'd rather have a rough over your head after exerting so much energy, be sure to check out our top picks for Jasper accommodations.
Need some help planning your itinerary? Check out our guide for all the things to do while visiting Jasper.
And if you plan to enjoy Alberta's capital city as well, check out our complete guide of fun things to do in Edmonton.
ALSO, don't forget that while you're on the road, you can download our FREE Road Trip Alberta bingo cards, to make it just that much more fun!