Disclaimer: This page may contain affiliate links. Please review our full Terms and Conditions for more information and our Privacy Policy. Note that any pricing, operating hours, or other such information provided below may have changed since initial publication.
Compiled by the Road Trip Alberta team
Last updated on September 26, 2023
From cozy cafes to warm rustic lodges, fine dining to simple diners, these are all options you will find when searching for a spot for breakfast in Jasper. For being a small mountain town, there are a number of great spots for a morning bite. So before your busy day of exploring Jasper National Park, fuel up and grab a meal at one of these popular Jasper breakfast spots.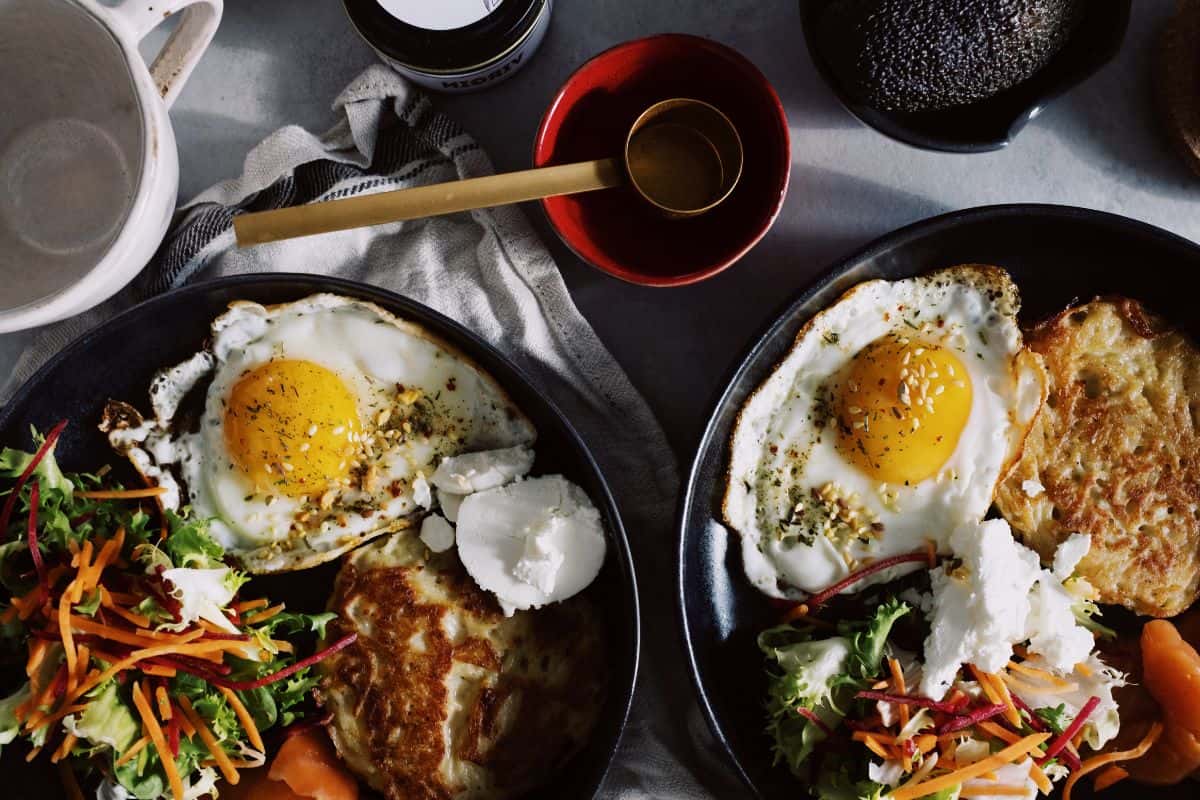 The Best Breakfast and Brunch Spots in Jasper National Park
Sunhouse Cafe
Location: 610 Patricia Street
Almost always included when it comes to listing the best restaurants for breakfast in Jasper, Sunhouse Cafe is a massively popular option found in downtown Jasper. Established in 2018, this bright, airy cafe was opened in Jasper with the aim of bringing Australian cafe culture to Alberta. Appealing to locals and tourists alike, there's an effort to provide the freshest flavours and the most sustainable options to your plate, which means you can expect a lot of local and independent suppliers featured on the menu.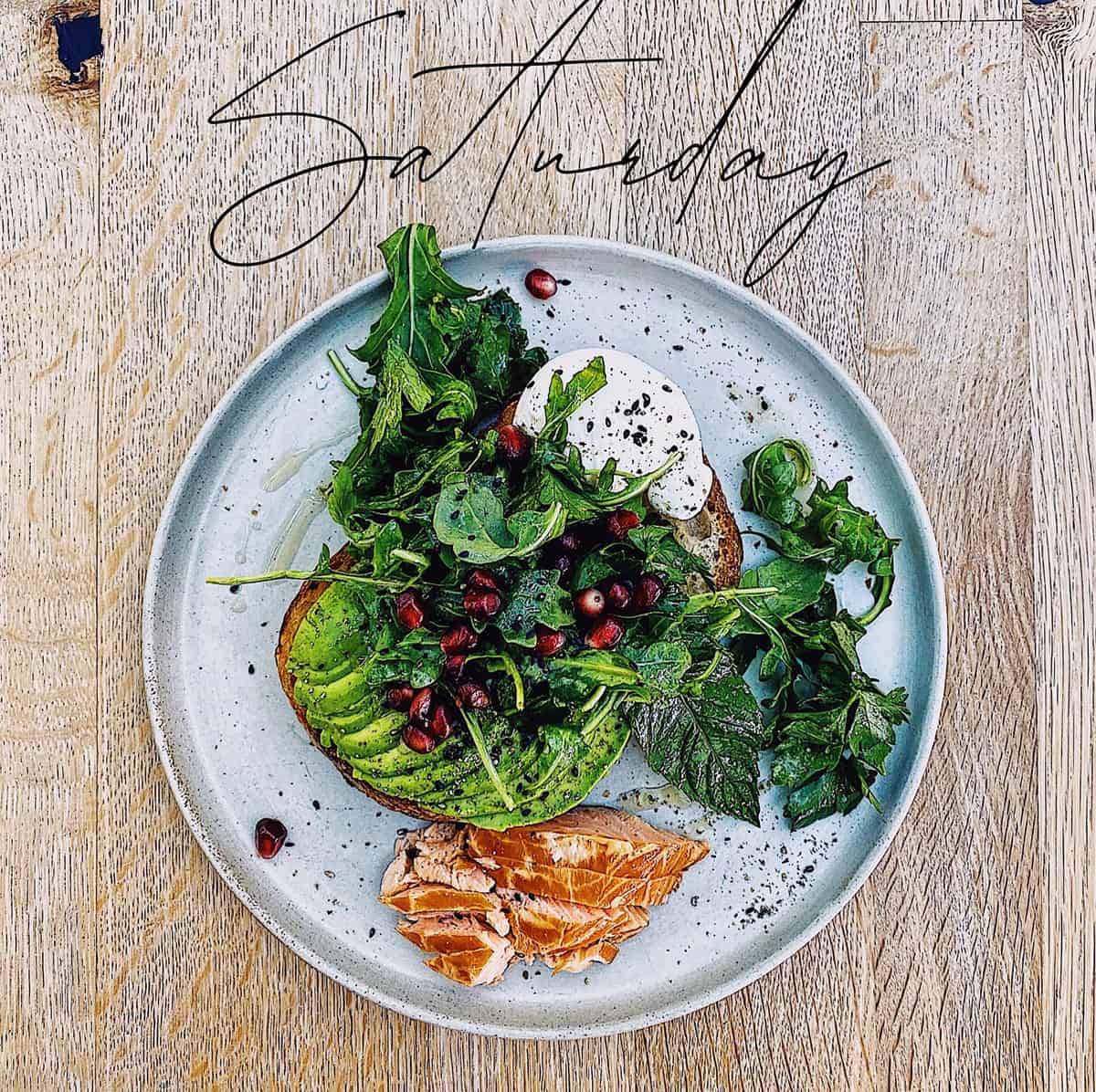 So what's for breakfast at Sunhouse Cafe? Lots of innovative and delicious meals, including Key Lime French Toast, a breakfast burger with crispy smoked ham, and the ever-popular Sunshine Bowl (with smoked salmon, a poached egg, avocado, quinoa, roasted pepitas, house pickles, and an herb lemon dressing). One of our top picks is the Turkish Eggs and Halloumi, which also comes with labneh, crushed cucumbers, flatbread, and a scrumptious macadamia chilli crisp. Make sure to wash it all down with one of their fantastic coffees, as they have some of the best coffee in town.
Aalto
Location: Located inside the Pyramid Lake Lodge, North Pyramid Lake Road
"Alpine Meets Shoreline" is the tagline for Aalto, and it's a great description when it comes to what's on the menu. Found inside the Pyramid Lake Lodge just outside of Jasper, you get absolutely stunning views of Pyramid Lake as you dine. Thankfully, the food is just as good as the view; as the meals are simple yet divine, come here for a classic egg breakfast or a hearty meal before you set out hiking or exploring in Jasper.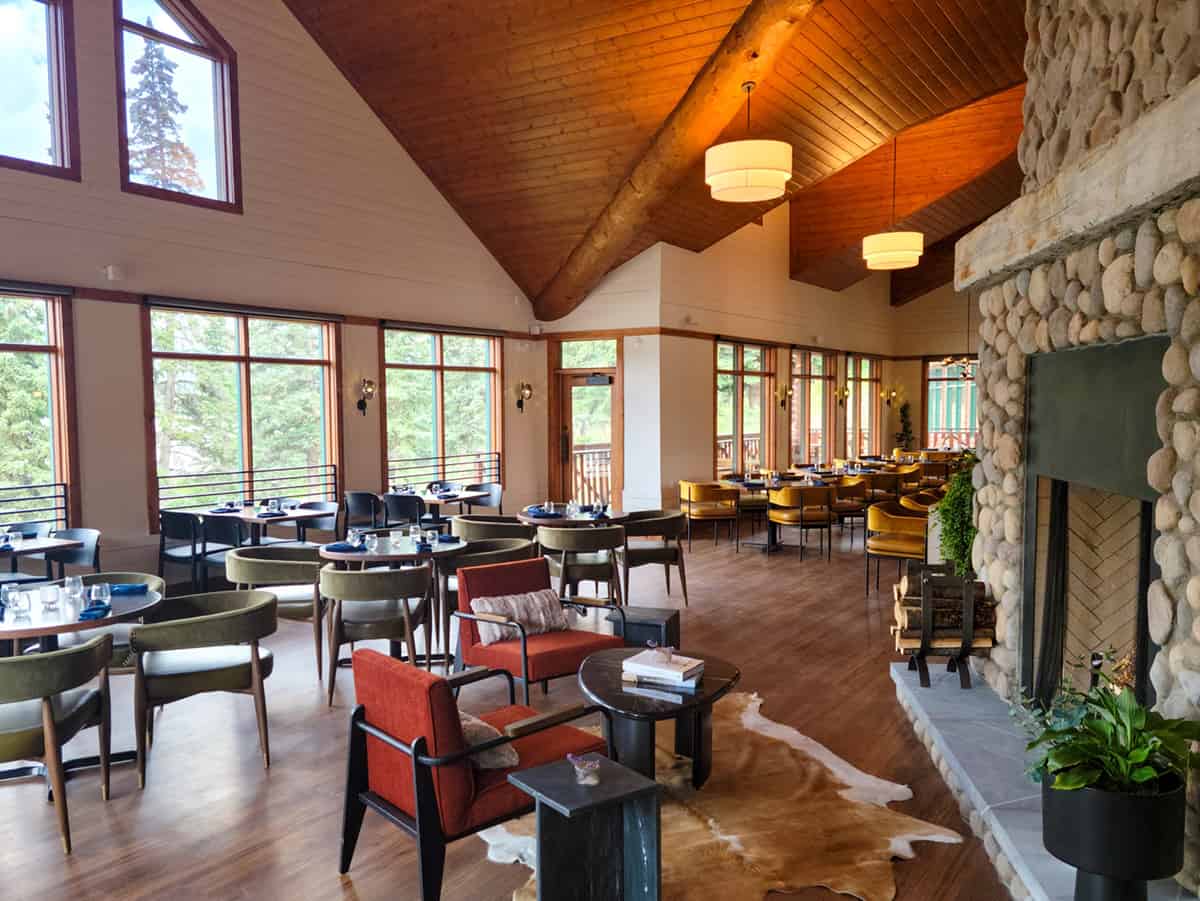 On the menu, you'll find some staples such as yogurt parfait and porridge, but both are delicious; attention to detail, such as using Alpine Museli and local fruits and preserves, really make the meals at Aalto stand out. The Aalto Toast is a standout, as it features brioche French toast, marzipan custard, maple syrup, berries, and smoked almonds. However, our favourite of the bunch is the Double Duck Omelet, served with duck confit, local eggs, Lakeside Farmstead Cheese, greens, orange segments, duck prosciutto, and potatoes. The food at Aalto seems highly elevated while still hitting the spot in that homemade way.
Orso Trattoria
Location: 1 Old Lodge Rd (Fairmont Jasper Park Lodge)
Breakfast is always a treat when we dine at Orso Trattoria. Located at the Fairmont Jasper Park Lodge, the restaurant is always serving the breakfast classics including 'The Benedict', 'The Omelet' or the 'Pyramid Stack of Pancakes." Want something out of the ordinary? Try their Salmon Cake Benedict or Chorizo Poutine Skillet, which will give you plenty of fuel for your activity-filled morning.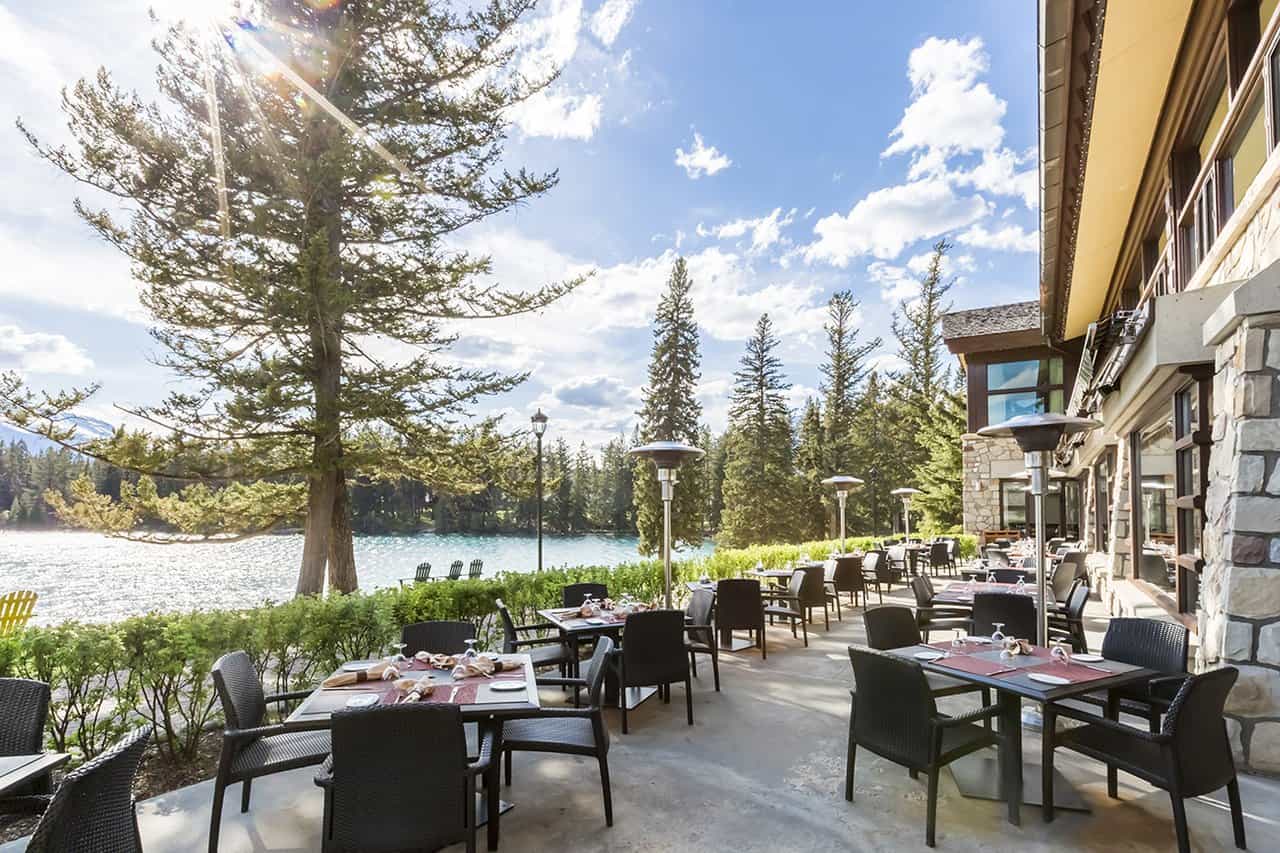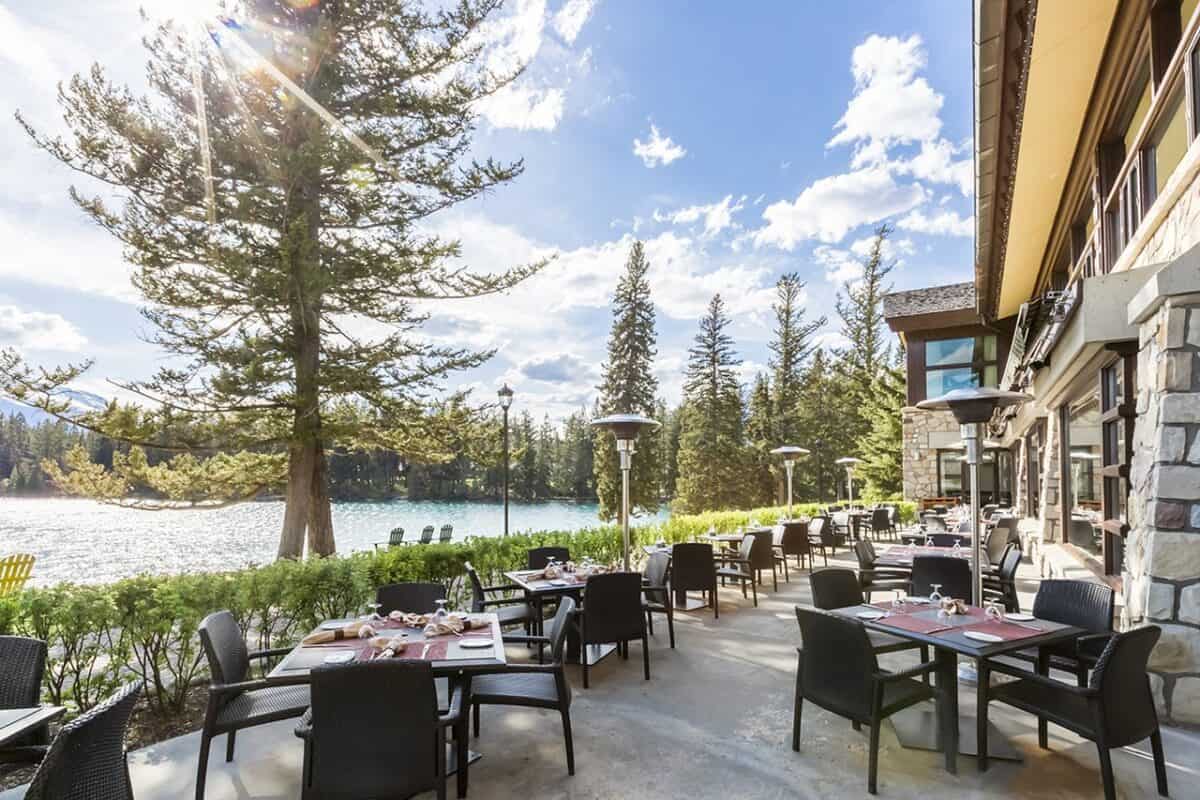 The best part of dining at Orso Trattoria though is the view from their patio. If you don't mind a cool morning, it's worth it to sit outside and soak in the fresh mountain air while staring across Beauvert Lake. This alone makes it one of the best spots for breakfast in Jasper.
Bear's Paw Bakery
Location: 4 Pyramid Lake Rd
One of the most popular places for breakfast in Jasper, Bear's Paw Bakery is a great little coffee shop in Jasper that's perfect for a quick meal on the go or a break during a busy day exploring the national park. Serving some of the best coffee in Jasper, choose from your favourite coffee drinks, including cappuccinos, flat whites, or one of their delicious featured lattes. Their baked goods are unmatched in town, with an amazing assortment of croissants, muffins, scones, sticky buns, sausage rolls, and so much more, including heartier options like stuffed ciabatta and daily sandwiches. They also sell freshly baked bread as well as tons of sweets (we love their mini cheesecakes!).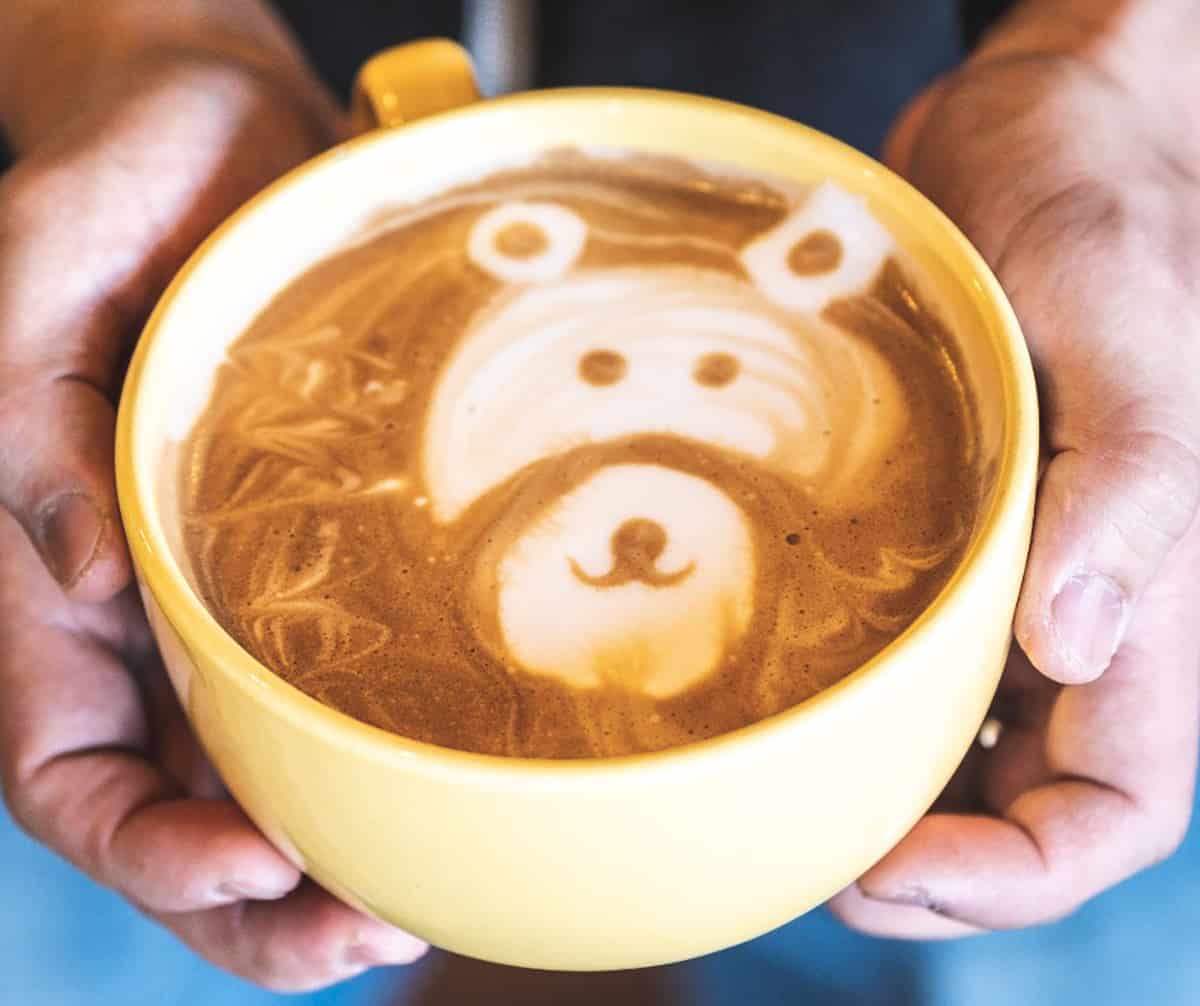 Interestingly, there's more than meets the eye when it comes to Bear's Paw Bakery. In the evening, this wood-panelled restaurant actually turns into a cozy scotch-tasting lounge called Ursidae Lair, where you can sample scotch, wine, beer, hard cider, and non-alcoholic drinks alongside a light menu. Also, make sure to check out the Other Paw Bakery at 610 Connaught Drive; this cute little sister restaurant has lots of baked goods, sandwiches, wraps, and more for a tasty breakfast in Jasper. Bonus: the two locations are both open early!
Harvest Food and Drink
Location: 616 Patricia Street
We included Harvest Food and Drink on our list of the best restaurants in Jasper, and it's easy to see why: its charming vibe alongside its carefully crafted menu means it's one of the best breakfast spots in town. As one of the most exciting and extensive breakfast menus in Jasper, the options range from sweet to savoury, with one of your favourites almost guaranteed to be offered. The classic breakfast and the breakfast sandwich are always great choices, and the Eggs Benedict options are unreal: choose from housemade back bacon, Montreal smoked meat, house-smoked salmon rillettes, or truffled mushrooms and spinach.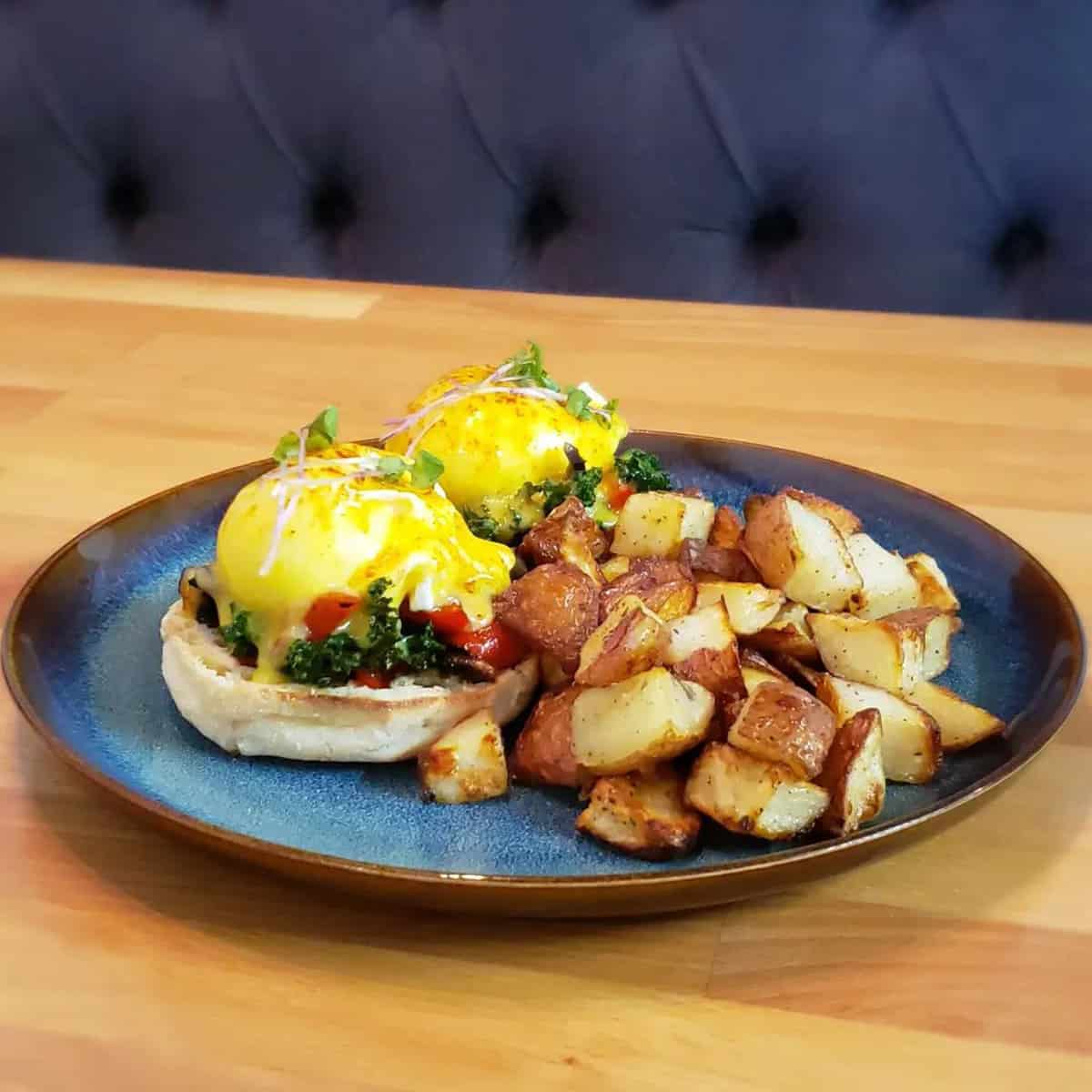 But that's not all on offer at Harvest Food and Drink. There are amazing brunch bowls – we love the short rib poutine bowl with beer braised short rib – as well as tons of "fancy toasts" that include avocado toast as well as scrambled tofu toast. Looking for something sweet? Go for the French toast or Belgian waffles, both of which come with options such as whipped cream, fresh berries, and lemon mascarpone.
Terra
Location: 200 Connaught Drive
Found inside The Crimson Hotel in downtown Jasper, Terra is another great option when it comes to the best breakfast spots in Jasper. "Exceptional food in unforgettable places" is how they describe themselves, and their dedication to locally farmed and foraged food is at the heart of what they do. With seasonal menus rotating throughout the year to best reflect what is grown in and around Jasper, Terra prides itself on being both "rugged and refined."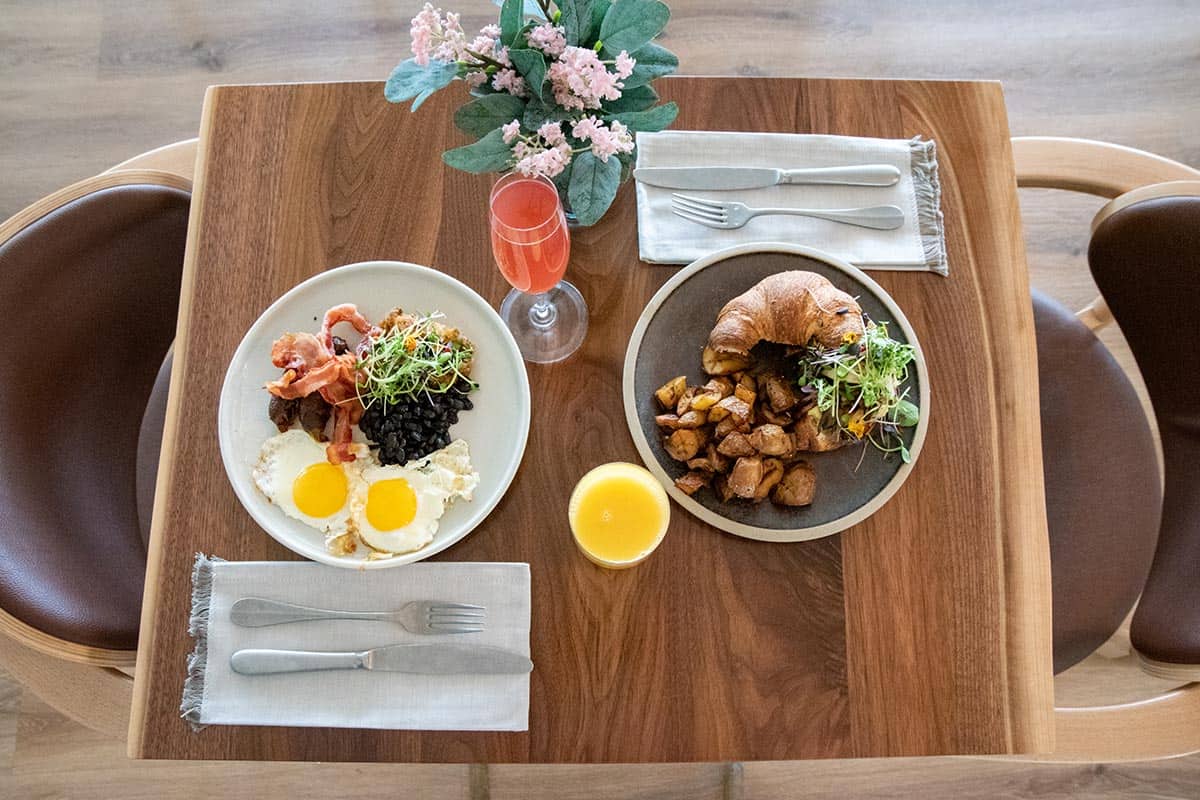 With an extremely friendly staff and a cozy dining room to boot, Terra's breakfast and brunch menu is exceptional. They're also open from 7 a.m. every day, so it's a fantastic choice for early risers and those looking to start exploring Jasper as early as possible. We love the Terra Toast (with sourdough, edamame and white bean hummus, two poached eggs, za'atar hollandaise, and kale), the Buttermilk Johnny Cakes (with apple compote, miso caramel, and crème fraiche), and the Breakfast Poutine (with hand-cut fries, cheese curds, crispy bacon, sausage, poached eggs, and a foyot sauce). There's also an excellent kids' menu, making this a family-friendly place for a Jasper breakfast.
SnowDome Coffee Bar
Location: 607 B Patricia Street
A great place to start your day, SnowDome Coffee Bar is a quaint little coffee shop in Jasper if you're looking for a quick but terrific breakfast. And even cooler? It's actually a self-serve laundromat as well! This retro spot has been in business since 1961, with SnowDome opening in 2004. Stop in to do some laundry and to have a wonderfully prepared cup of joe at the same time… it's ideal for tourists who need to kill two birds with one stone!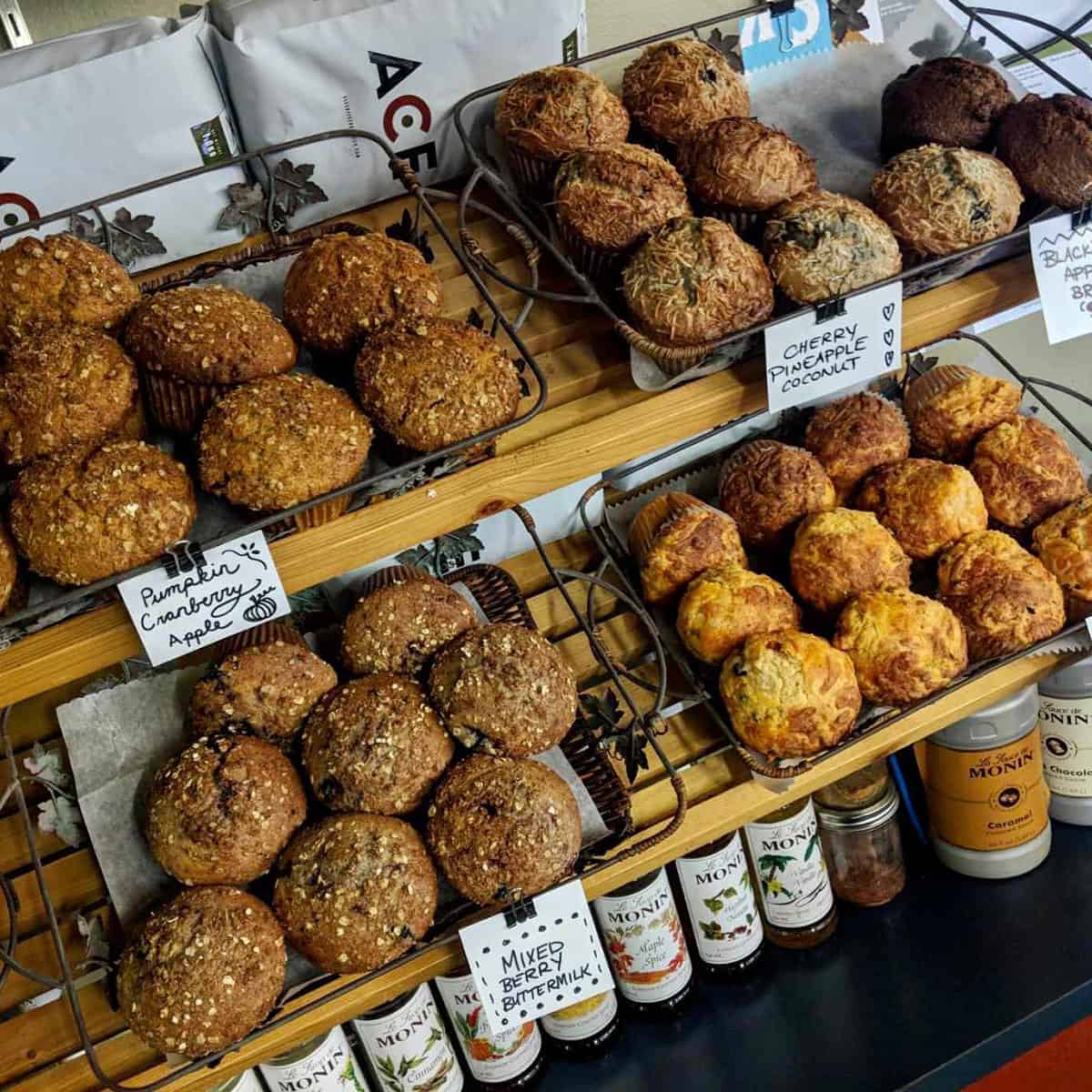 On the menu, you'll find locally sourced coffee from Alberta roasters, ensuring your coffee is both delicious and sustainable. As for food, there's a good selection of scratch baking on offer, including banana bread, muffins, cookies and more. As everything is made in-house, it has that amazing home-baked quality that will make you an instant fan. While we wouldn't recommend going here for a hearty breakfast, if you're the type that just needs a coffee and a muffin to start the day, this is the spot for you.
Jasper's Wafflato
Location: 618 Connaught Drive
For a relaxed vibe and all-day breakfast, make your way to Jasper's Wafflato. Open from 7:30 a.m. to 10 p.m. every day of the week, it's an extremely popular spot with locals… and it's easy to see why! With extremely tasty meals and inventive flavours, it has a fantastic mix of sweet and savoury items. Offering the best of Belgian waffles plus an espresso bar, smoothies, freshly squeezed juice, ice cream, and a tasty brunch menu, it's a great spot to pop in any time of day for a pick-me-up.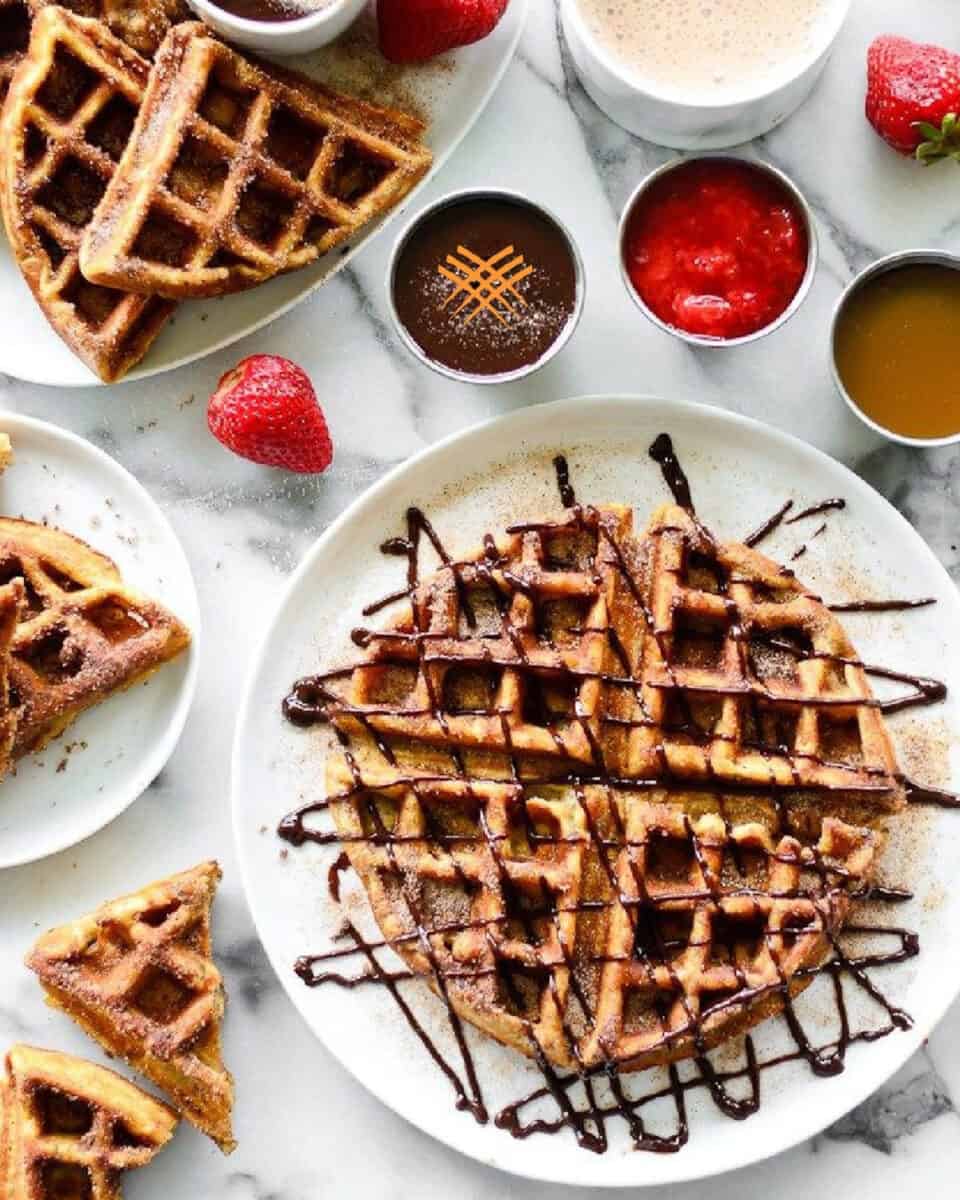 And when it comes to the menu, it's almost impossible to know where to begin! There are plenty of options like the Rocky Mountaineer Breakfast, which comes with eggs, sausages, bacon, toast, hashbrowns, and fruit, while there are also lots of staples such as omelettes and avocado toast. But for us, the real draw is the waffles; choose from savoury or sweet, including some of their absolutely amazing signature waffles. We love the Jerk Chicken Waffle (served with pineapple and garlic aioli) as well as the Mixed Fruit Waffle with whipped cream…. but you honestly can't go wrong, no matter which one you choose. It's no wonder Jasper's Wafflato is consistently named the best breakfast in Jasper!
Coco's Cafe
Location: 608-B Patricia St
If you're looking for good food and good coffee, look no further than Coco's Cafe! Another terrific spot for a Jasper breakfast you'll find this cozy cafe right in the heart of town. Open since 1991, it's long been a favourite with locals, but you'll often find a lot of tourists here, too, as its reputation is one of friendly service, high-quality food, and a laidback, inviting atmosphere. There's also a good selection of vegan and gluten-free options, so it's a great option for groups with various dietary needs.
Stop in for a warm drink and pick up some of their unbelievable artisanal bread while you're there. Known for its Montreal-style bagel as well as its wraps, Coco's Cafe is perfect for a quick but delicious breakfast when you're on the go or for when you feel like lingering over a cup of coffee. "Unabashedly weird and queer," the cafe is welcoming and inclusive to all, which – in our eyes – makes it well deserving of being on this list.
LouLou's Breakfast and Pizzeria
Location: 407 Patricia Street
Make your way to LouLou's Breakfast and Pizzeria for a relaxed breakfast. This Canadian eatery is known for its breakfasts, pizza, and poutine, and boasts a ton of dine-in specials and all-day meals. Breakfast is served until 2 p.m. and includes all the usual fare, including traditional eggs, skillets, omelettes, and smaller dishes such as fruit salad, English muffins, and bagels. There's also a lot of outdoor seating (with heaters, too!) so you can enjoy the fresh air alongside the Rocky Mountain views while you dine.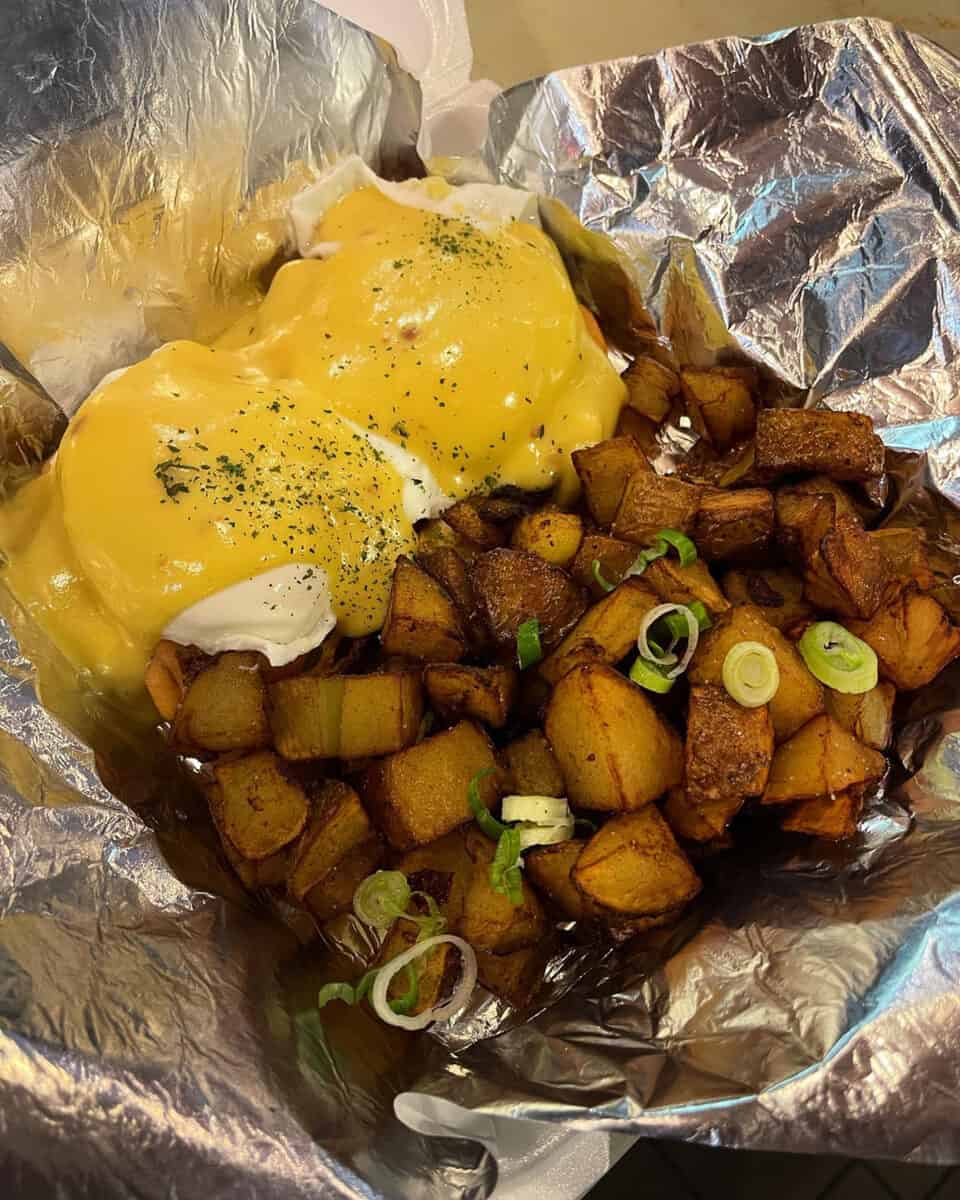 Some of our favourites on the breakfast menu include the Breakfast Poutine Skillet (with two eggs, roasted potatoes, cheese curds, and hollandaise sauce), the Breakfast Club Sandwich (with bacon, eggs, cheese, lettuce, tomatoes, and mayo served with roasted potatoes), and the homemade pancakes (served with fruit, whipped cream, and maple syrup). Hearty and fresh, LouLou's is one of the most reliable spots in town for a satisfying breakfast.
Papa George's Restaurant
Location: 406 Connaught Drive
Located inside the Astoria Hotel, Papa George's Restaurant has been a staple of the food scene in Jasper since 1925. And when a restaurant has been in operation for a century, you know it's going to be reliable! This family-owned and operated spot is warm and welcoming, and its menu features a lot of breakfast classics that are sure to prepare you for a great day of exploring the mountains. Open for breakfast from 7:30 a.m. to 2 p.m. daily, it caters to both the early bird and to those who like to linger a little bit longer in bed.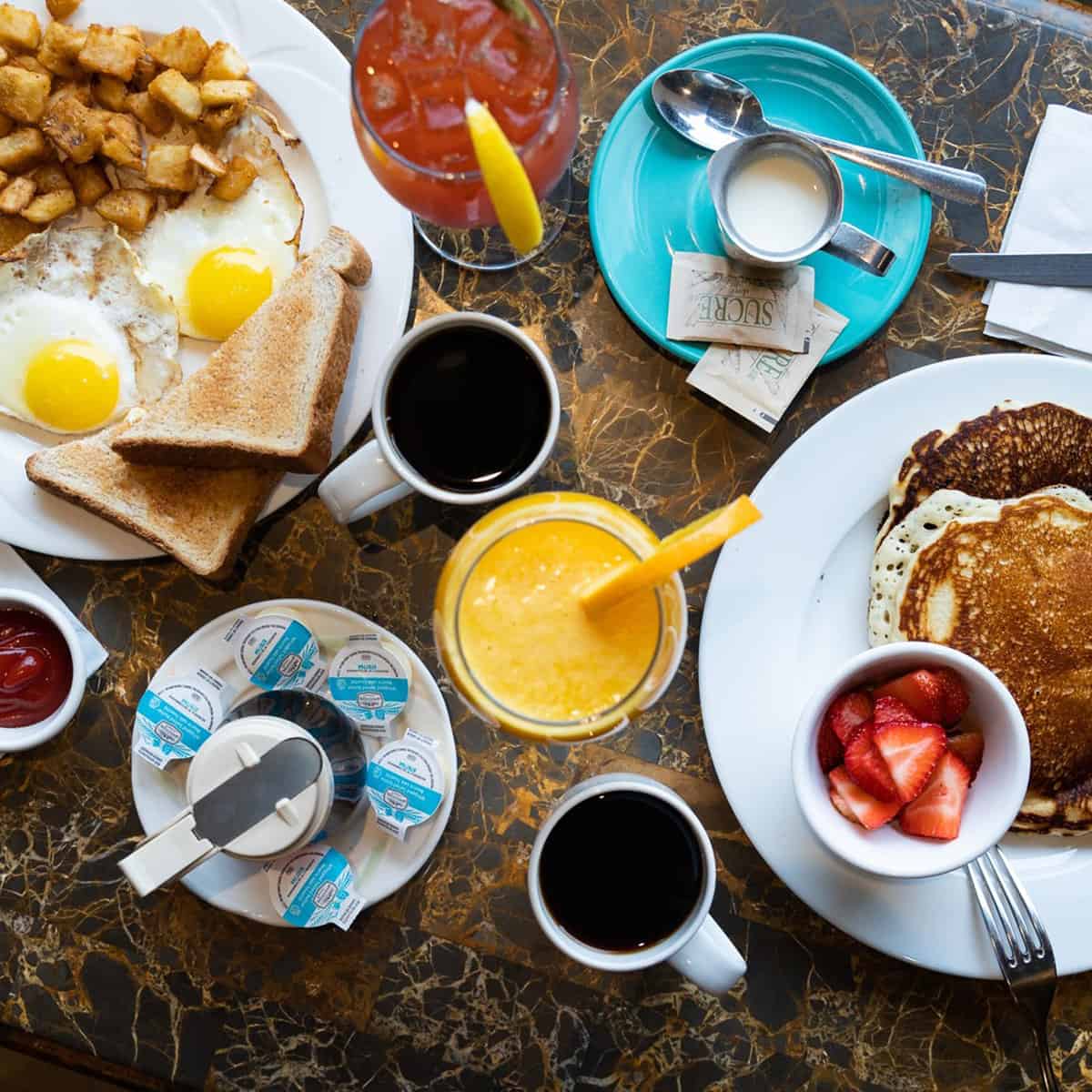 As for the menu, it's one of the best breakfast menus in town. Choose from one of their egg dishes, including omelettes, classic egg breakfasts, and eggs Benedict. There are also meals from the griddle, including pancakes and French toast, while their breakfast burritos are both hearty and delicious (you can't go wrong with a breakfast burrito served with scrambled eggs, cheese, green onions, and tomatoes wrapped in a soft flour tortilla that comes with sour cream, salsa, and hashbrowns). Another one of our faves is George's Backcountry Oatmeal; considered one of their "healthy start" breakfasts, you get warm oatmeal surrounded by an assortment of seasonal fresh berries, walnuts, almonds, raisins, craisins, and bananas, all topped with chia seeds and a side of 100% pure maple syrup. Yum!
Wicked Cup
Location: 912 Connaught Drive
Found inside Maligne Lodge, Wicked Cup is a fantastic place for organic tea and coffee in Jasper. Amazingly, their coffee is roasted by a world-renowned Master Roasted with over thirty years of experience, so you know you're going to get one amazing drink when you visit Wicked Cup! Open daily from 7:30 a.m. to 2:30 p.m., there's a small but mighty selection of sandwiches, bagels, breakfast burritos, pancakes and more to go along with your cappuccino, latte, or Americano.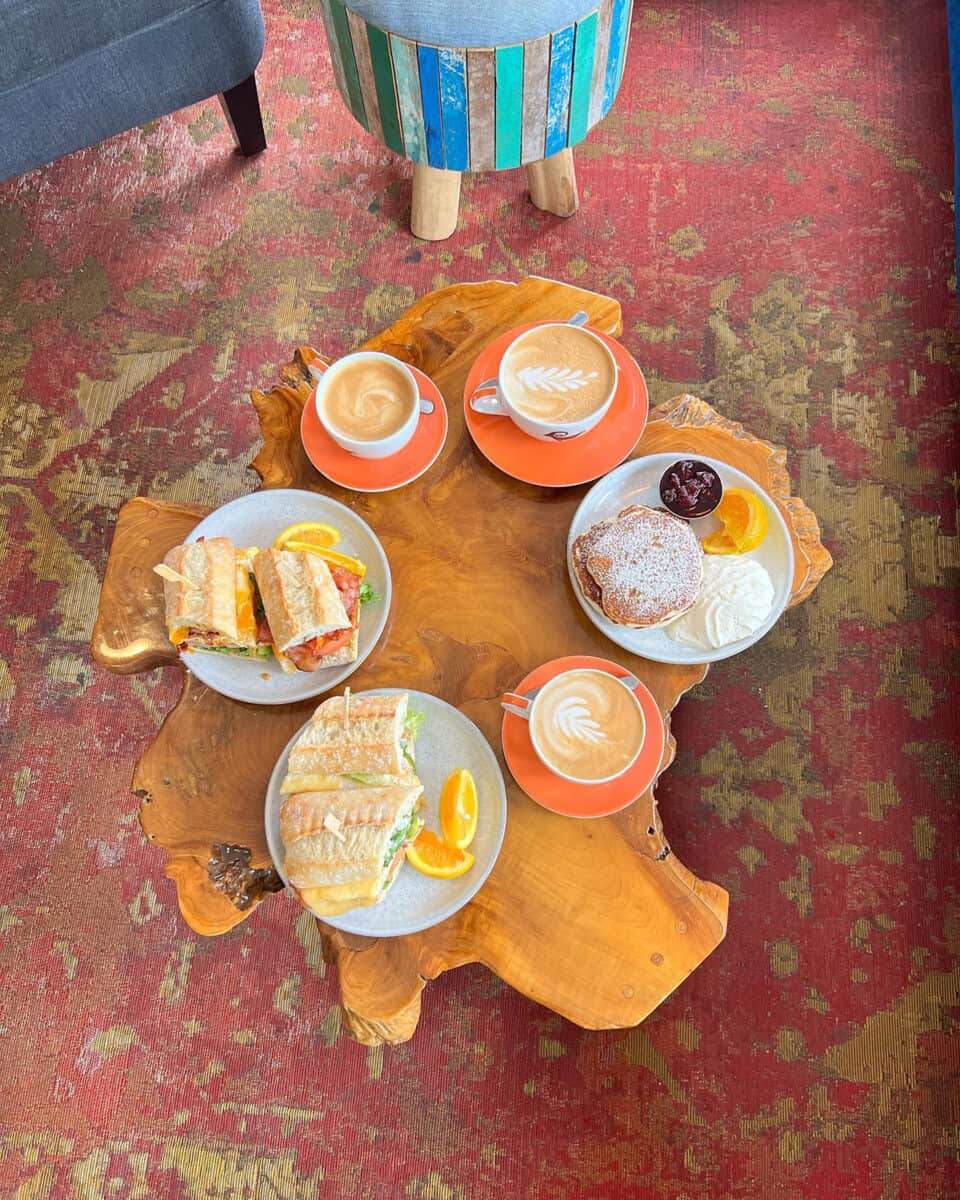 Some of our favourites include the Smoked Salmon Bagel, the Morning Mason Jar (with wild berry compote, Greek yogurt, seasonal fruit, and homemade granola), and the infamous Archie's Famous Pancakes (the perfect stack of pancakes made to order and topped with compote, whipped cream, and optional real maple syrup). With a wonderfully relaxed vibe and welcoming atmosphere, Wicked Cup is one of those breakfast spots in Jasper where you instantly know you'll become a regular.
Altitude Restaurant
Location: Glacier View Lodge
If you want a meal to remember, head to Altitude Restaurant. Found inside the Glacier View Lodge on the Icefields Parkway (meaning this is a drive out of town), Altitude offers wonderful breakfasts alongside some of the best views you can get in Jasper National Park. Featuring fresh, local, healthy ingredients, the restaurant strives to serve the best of farm-to-table and lake-to-table cuisine from Alberta and Western Canada. But please note: the restaurant is only open for breakfast from 7 a.m. to 9 a.m. every day, so get there early! It's the perfect start for those doing some more exploring in the area, especially if you're visiting the Columbia Icefield Glacier Discovery Centre.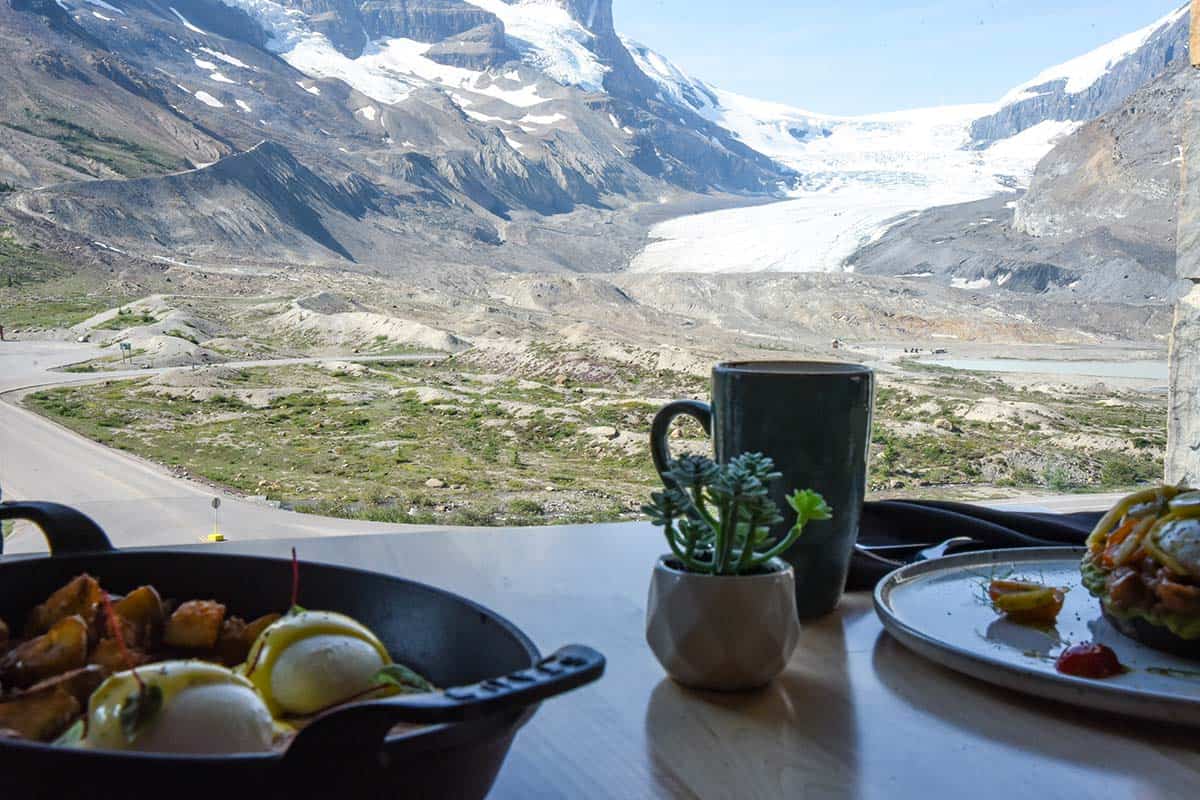 With a strong emphasis on Canadian dining, take in the view of the glacier's edge as you enjoy breakfast items at Altitude, such as French toast, Eggs Benedict, or a breakfast croissant. We personally love the smoked salmon breakfast, as it comes with local salmon, sour cream, soft scrambled eggs, crispy capers, and sourdough toast. There's also a "tiny explorers" menu that has some good options for kids, while drinks include locally roasted coffee and organic tea.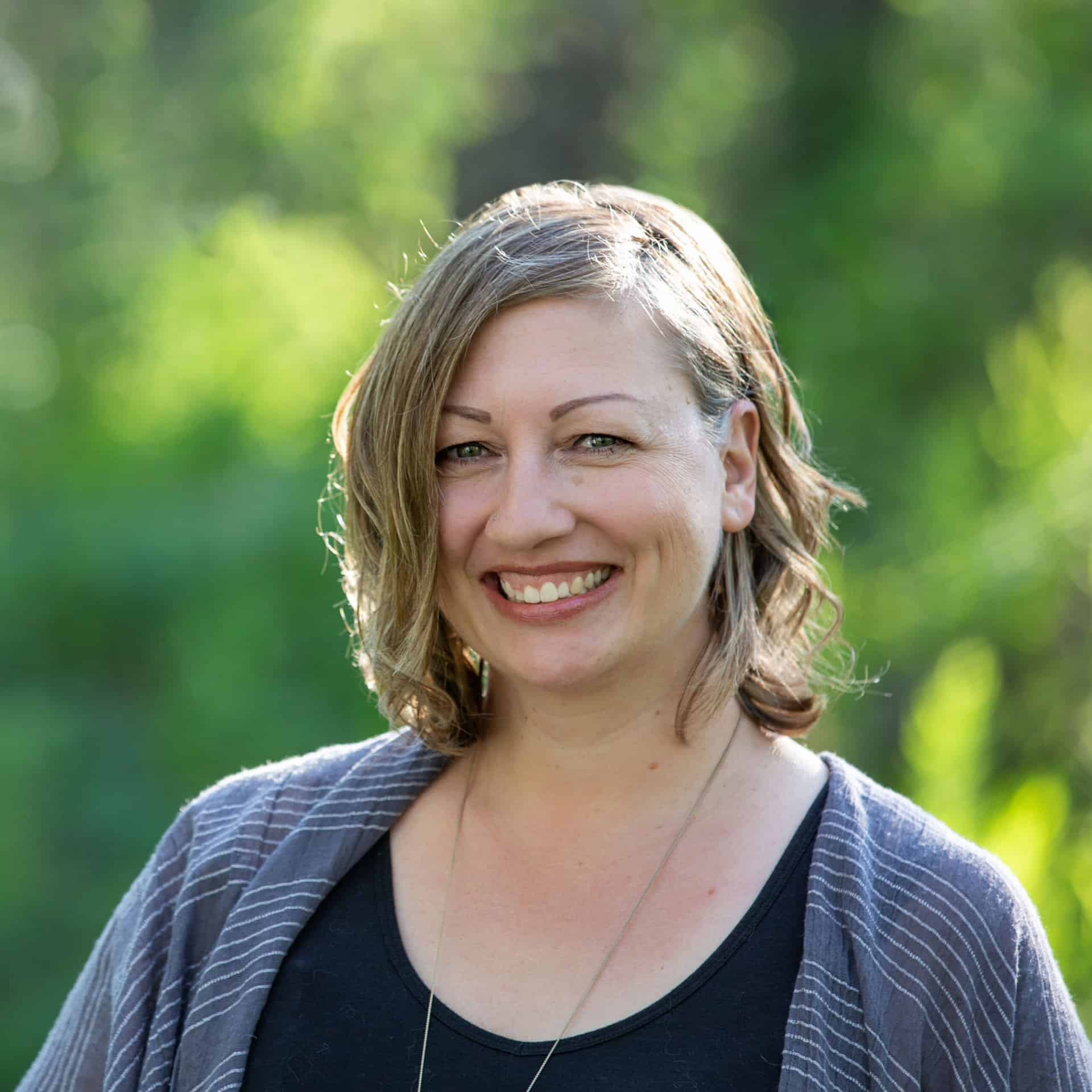 Dalene Heck is a co-founder of Road Trip Alberta. She was born in Edmonton, grew up in the Peace Country, and has ventured to almost every corner of Alberta and the world (she's travelled to 60 countries)! She is a serial blogger, the CEO of HMI Marketing, co-creator of the Trip Chaser card game, a leukemia-slayer, and cat whisperer.