Disclaimer: This page may contain affiliate links. Please review our full Terms and Conditions for more information and our Privacy Policy. Note that any pricing, operating hours, or other such information provided below may have changed since initial publication.
Compiled by the Road Trip Alberta team
Last Updated on July 28, 2023
One of our favourite things to do before a hike is pack up the car and grab breakfast in Canmore. There are a number of fantastic spots for us to choose from. Whether it's an eggs benedict type morning, a simple breakfast sandwich, or grabbing a quick cinnamon bun and cappuccino to go sort of morning there are all sorts of options. These are our favourite Canmore breakfast spots.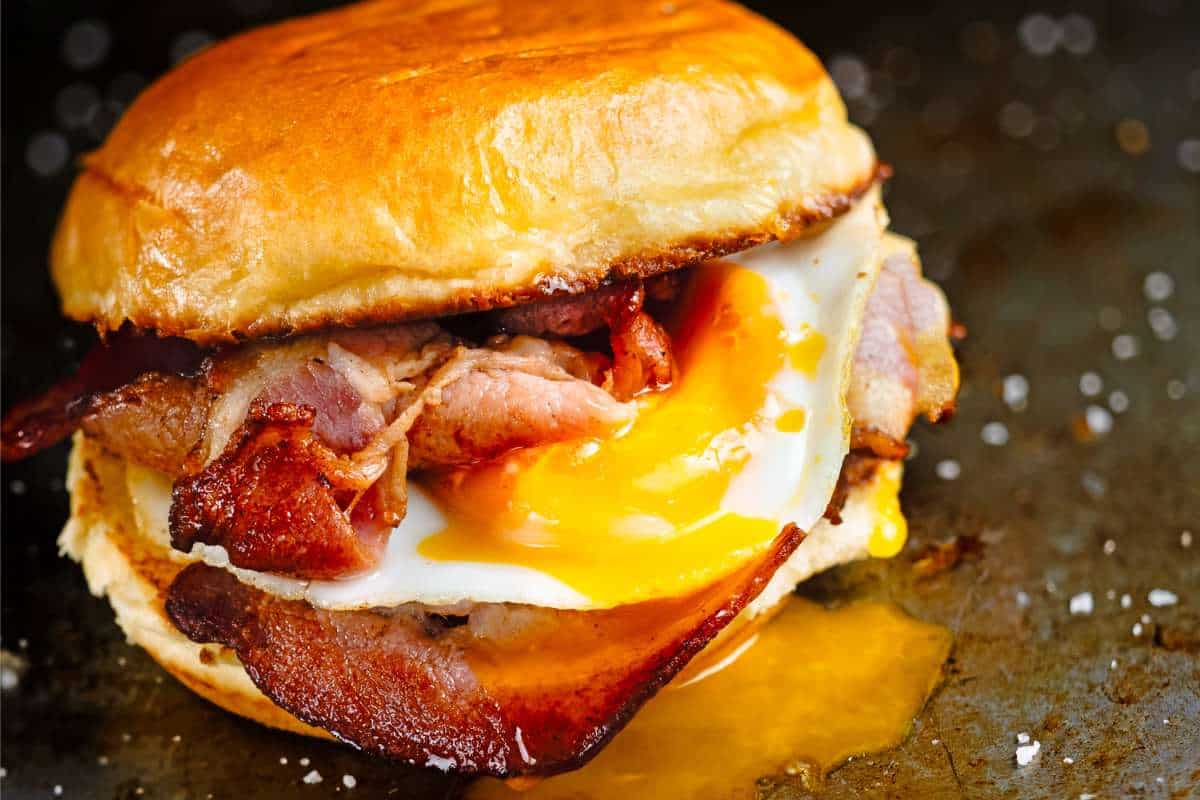 Best Spots for Breakfast in Canmore
Chez Francois Restaurant
Location: 1716 Bow Valley Trail
Established in Canmore for over 30 years, Chez Francois Restaurant is consistently named the place to go when it comes to breakfast in Canmore. This family-run restaurant serves French-inspired breakfast, lunch, and dinner, although it's particularly famous for its all-day breakfast. Add a warm dining room, an extensive menu, and friendly staff, and it's easy to see why so many people love Chez Francois.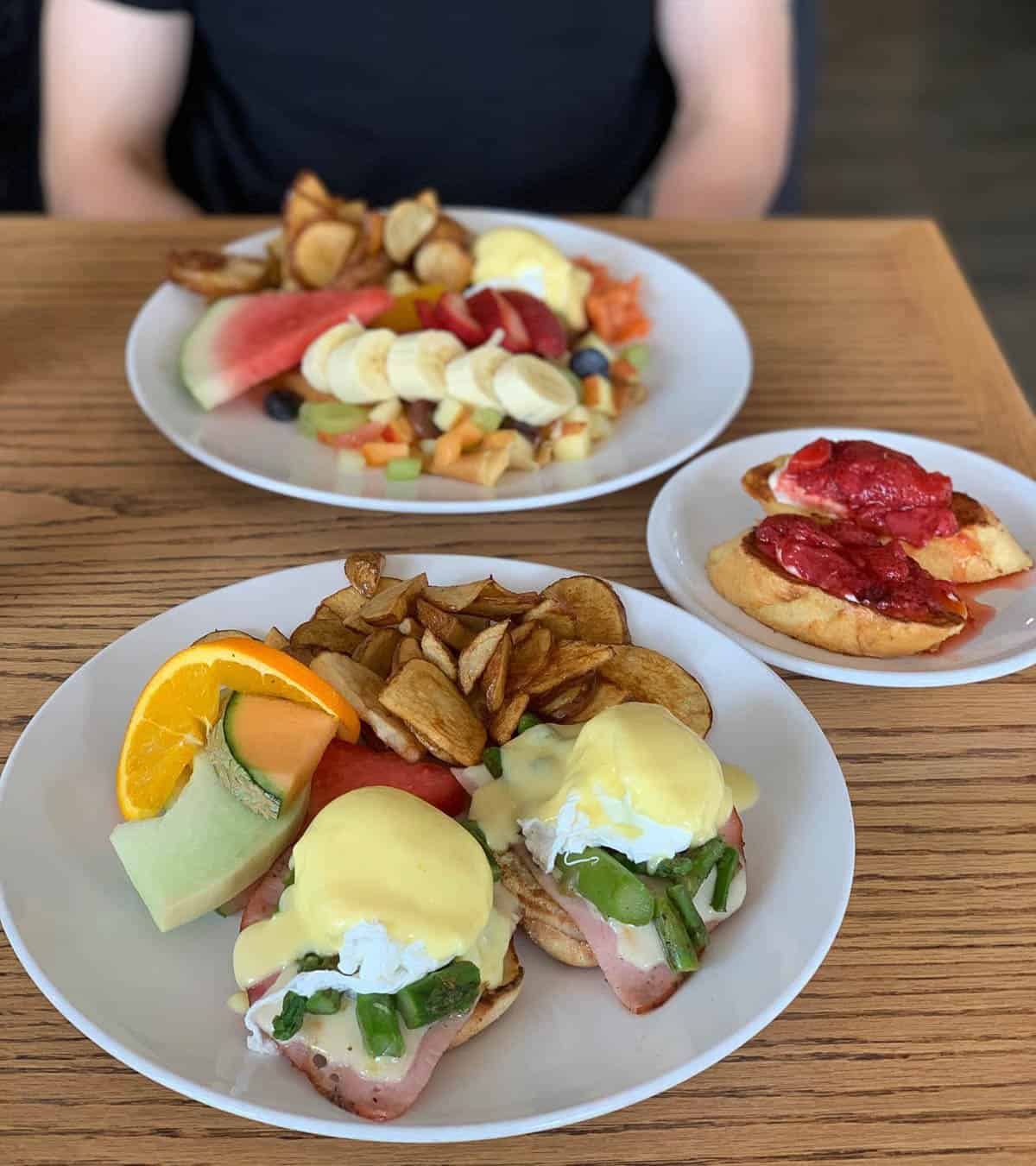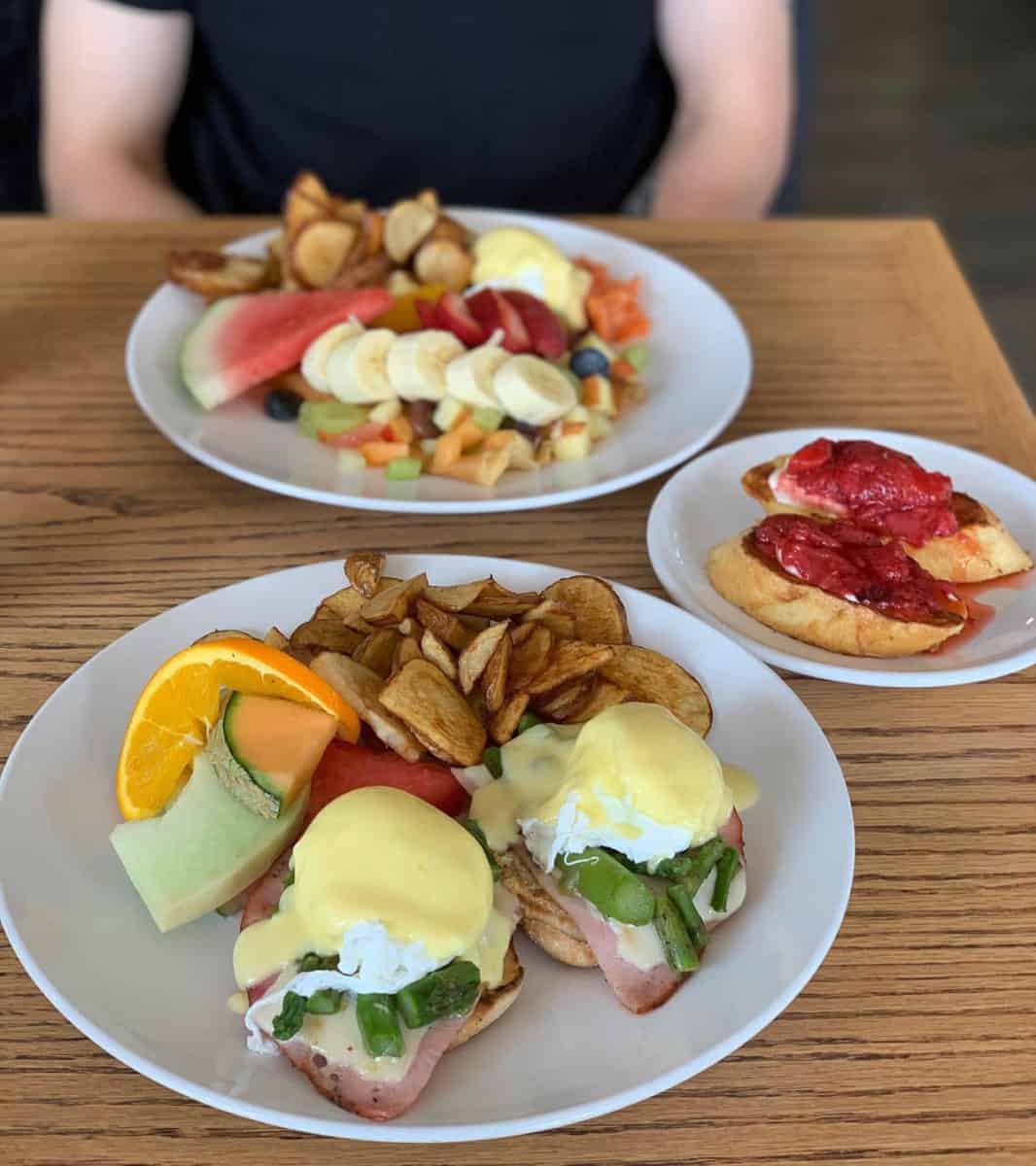 Located in the Chateau Canmore, the French restaurant has beautiful views of the Canadian Rockies, perfect for your Canmore brunch. Choose from egg dishes, omelettes, crepes, breakfast sandwiches, waffles, a kids' menu, and so much more. Some standouts include French toast with caramelized bananas and Nutella, Eggs Benedict with swiss cheese, ham, and asparagus, or the crepe with spinach and bechamel. Feeling like something a little unusual? Try the croissant with duck liver pate, a Chef Francois specialty. There are also gluten-free, vegetarian, and vegan options.
Craigs' Way Station
Location: 1727 Mountain Ave
Known as an iconic breakfast restaurant in town, Craigs' Way Station is perfect for a Canmore brunch. This all-day breakfast spot has incredible vistas of Ha Ling Peak and Rundle Range, so you can enjoy your coffee, scrambled eggs, oatmeal, or whatever else you fancy with a view that's out of this world! Open since 1986, this restaurant is ideal for those looking for a casual, hearty breakfast in a place that instantly feels like a home away from home.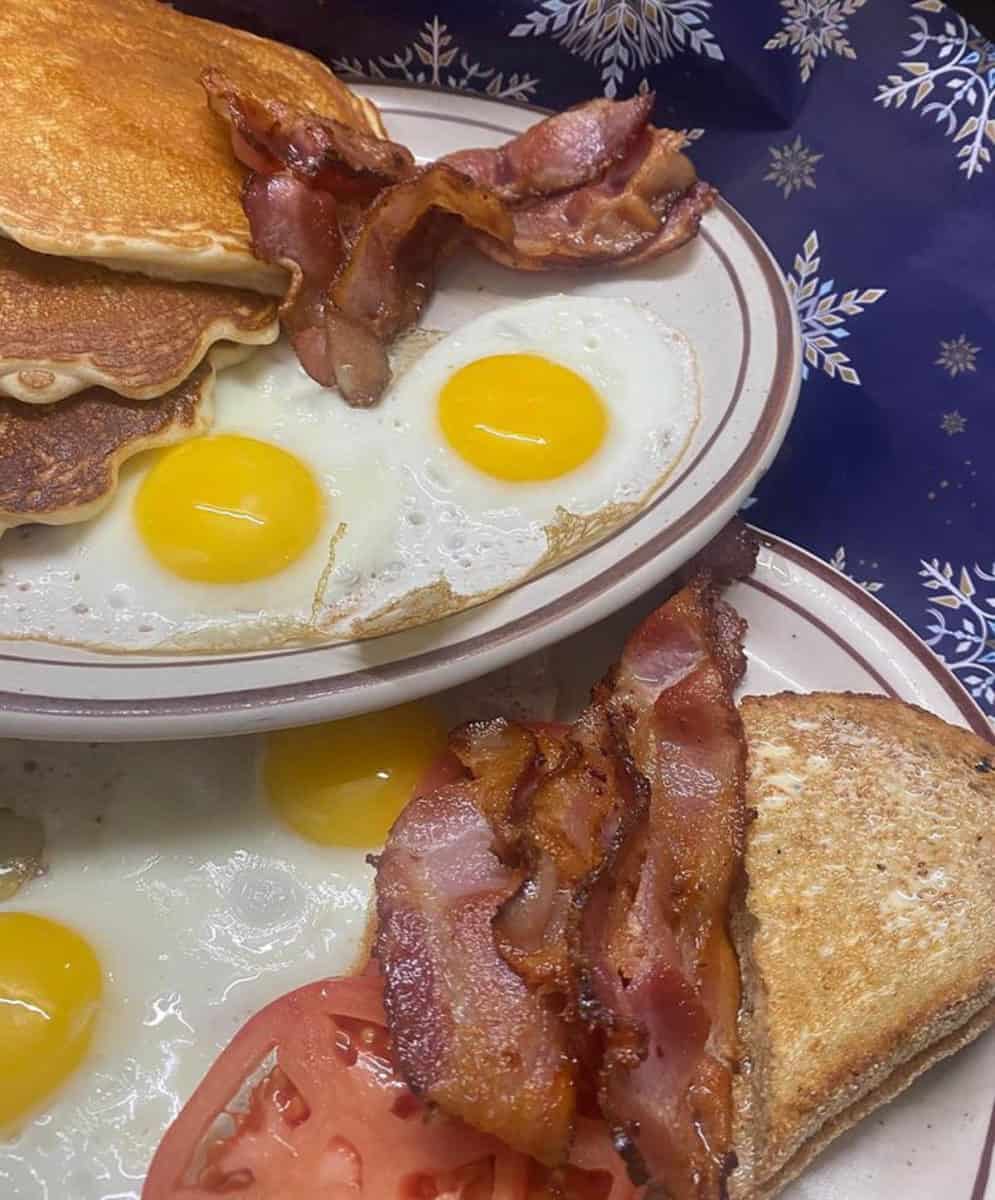 While there's an extensive lunch menu, breakfast and brunch are what Craigs' Way Station does best. Choose from items from the breakfast grill (the Rancher's Breakfast is their most popular), a three-egg omelette (there's a great selection, including a Veggie Cheddar or a Country Club), Eggs Benny, scrambles, pancakes, waffles, French Toast, or "Light Eaters" (which includes a delicious egg and veggie sandwich). No matter what, you're in for a wonderful breakfast or brunch at Craigs' Way Station.
The Bankhead Restaurant and Lounge
Location: 1602 2 Ave
Taking its name from a small mining town near Banff, the Bankhead Restaurant and Lounge is committed to honouring the area's mining history and contributing to Canmore's overall success. With that in mind, they're known for serving delicious breakfast, lunch, and dinner in town, all with an international twist on classic Canadian cuisine. With gorgeous plating – you may be tempted to post your plate on Instagram – and a great atmosphere, it's quickly become one of the top places for brunch in Canmore.
Covering all the basics, the brunch menu includes everything from the decadent (think waffles and croissants) to the healthy (like a kale smoothie bowl or steel-cut oats). There's an amazing selection of Eggs Benedict, including flavour options such as shakshuka, beef short rib and mushroom, or pulled pork and hot sauce. We're also big fans of the Turkish Eggs, served with roasted garlic yogurt, chilli oil, sourdough, and kale salad, as well as the Kimchi Scrambled, which is served with a green onion pancake.
Communitea
Location: 117-1001 6 Ave
This gorgeous, sun-filled café has the perfect blend of healthy meals, a vibrant atmosphere, and entertainment, as they often host live music. Serving breakfast from 9 to 11 am, they have tons of gluten-free, dairy-free, and vegan options, making Communitea a good choice for those with dietary restrictions or preferences. With pops of bright colours and a fun outdoor space, it's almost impossible not to feel great as soon as you walk in the door.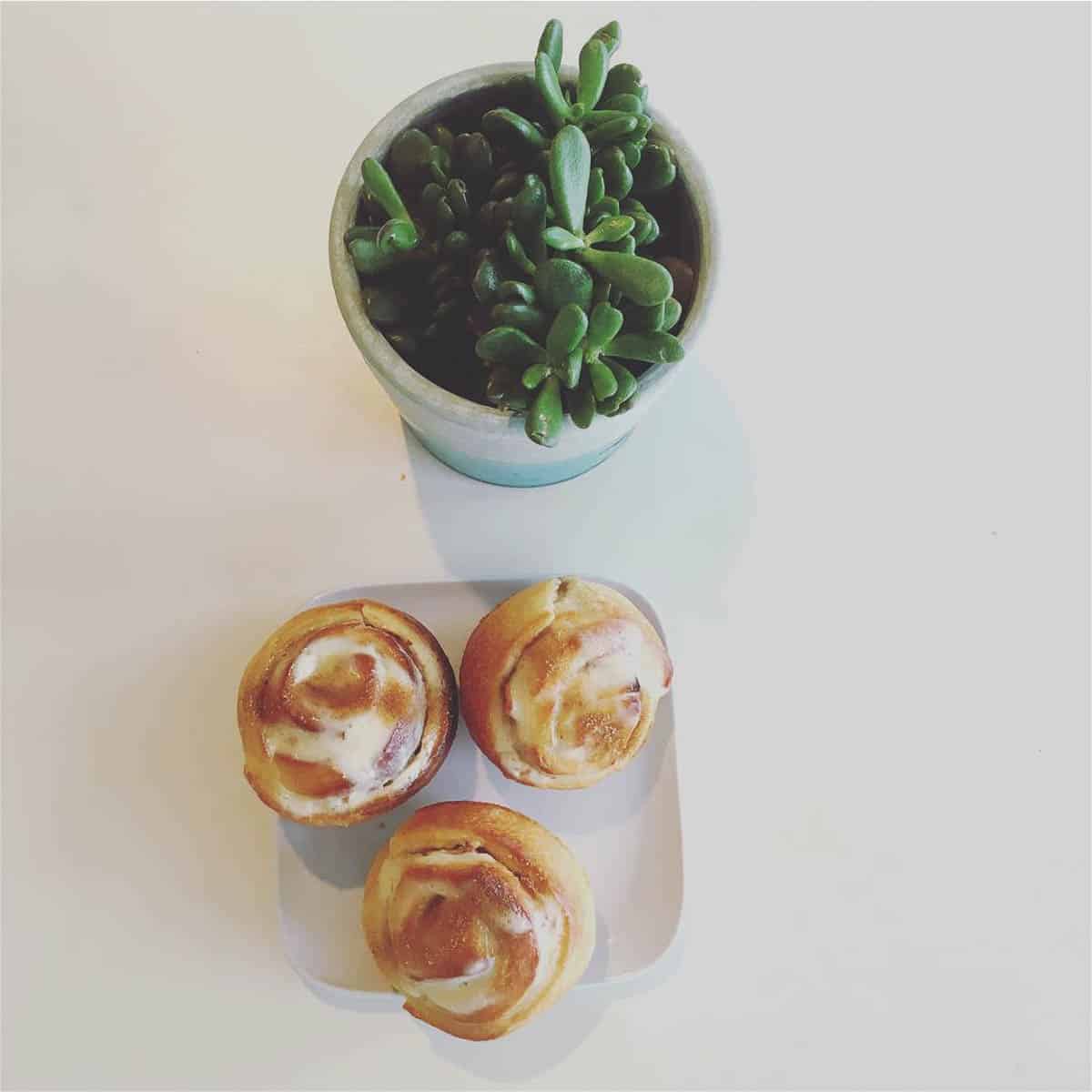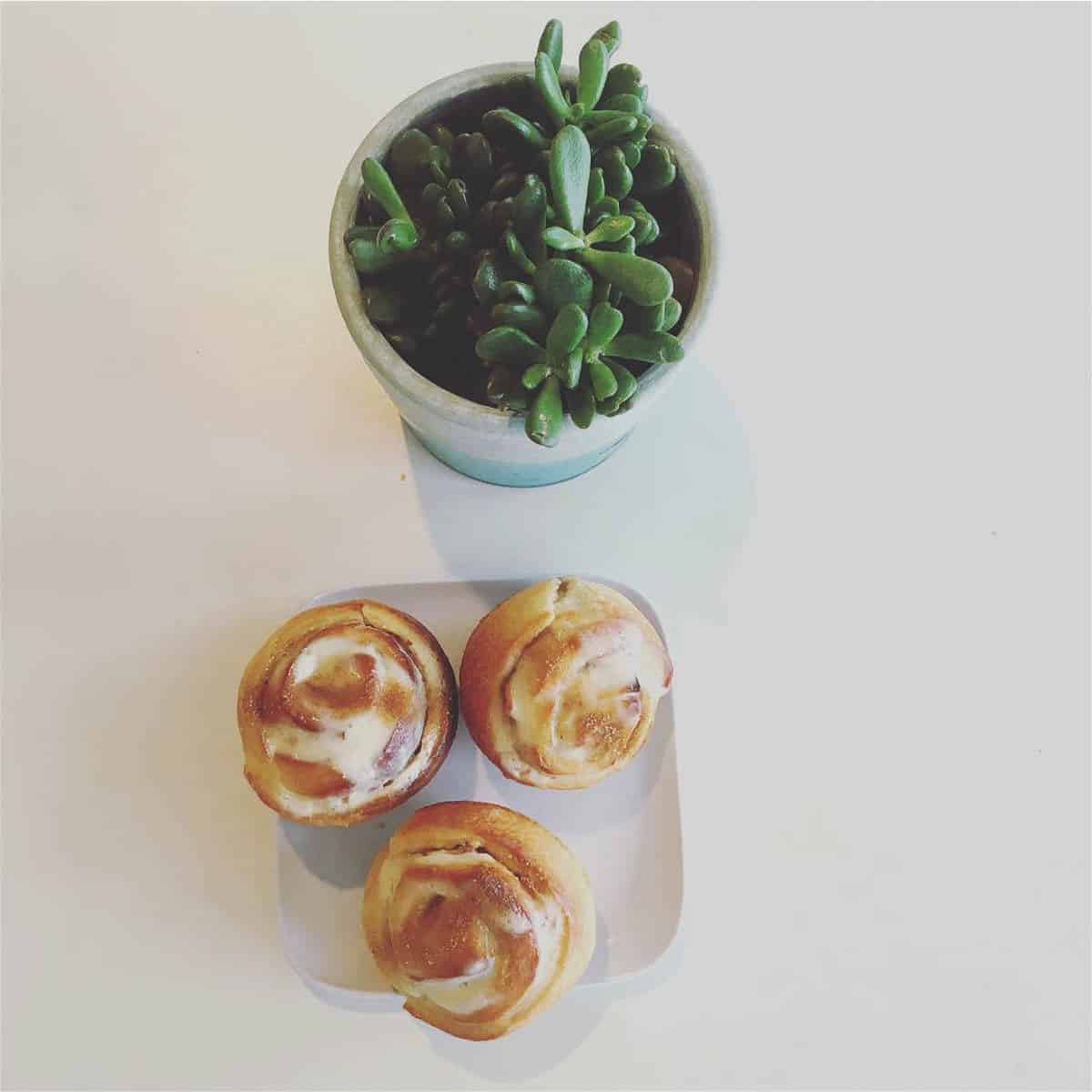 On the brunch menu, expect lots of healthy bowls, wraps, sandwiches, and smoothies. Some of our top picks include the Rise and Shine Panini (with egg, aged white cheddar, tomato, spinach, hummus, and chipotle spread, with the option of adding bacon or avocado), the Big Breakfast Bowl (with scrambled eggs, avocado, quinoa, spiced black bean mix, roasted sweet potato, and tomato over spinach), and the Super Berry Smoothie. There's also an extensive list of teas available; choose from over 80 premium loose-leaf teas and infusions, from Walnut Green to Blood Orange Mate to Lavendar Vanilla Rooibos.
Where the Buffalo Roam Saloon
Location: 626 8 St #2
Regarding brunch spots in Canmore, you often hear about Where the Buffalo Roam Saloon, even though they only offer the meal on Sundays. Found on the main street in town, the saloon is mainly known for its fantastic lunches, dinners, and cocktails, but if you're staying in Canmore on a Sunday, we highly recommend swinging by for brunch! While the menu is small, it's highly innovative and one of the tastiest meals in town.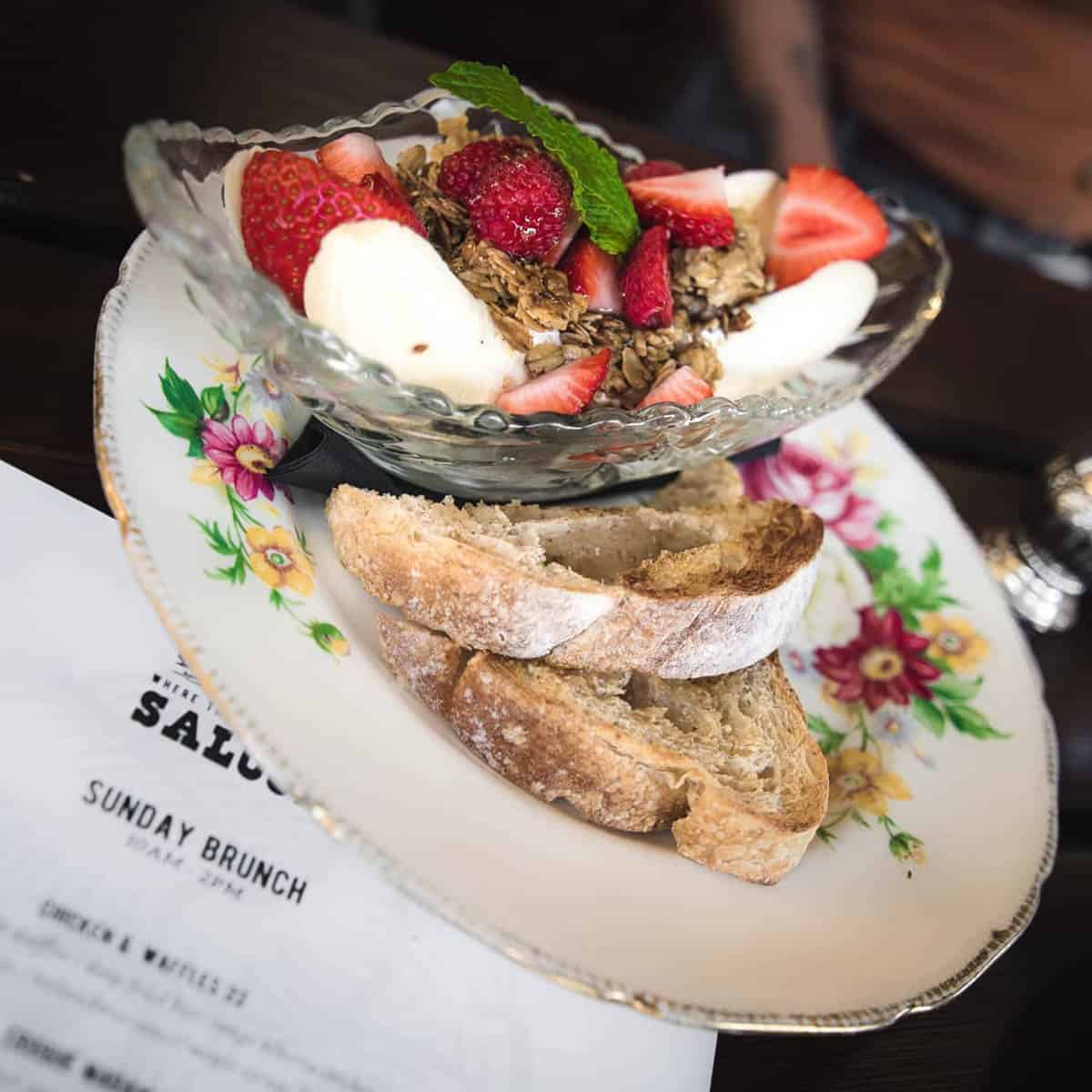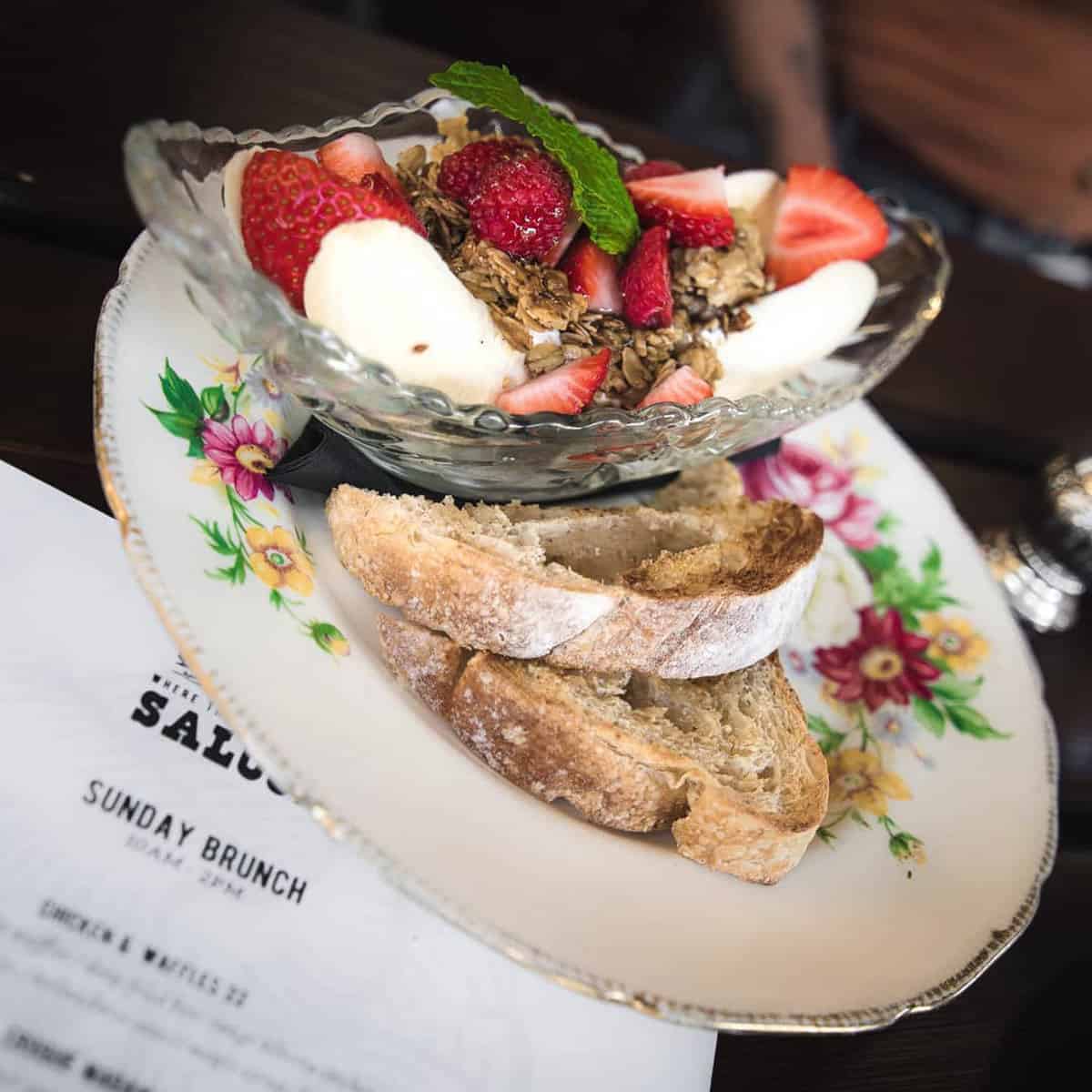 Choose from unique creations such as Breakfast Duck Poutine (with Brome Lake pulled duck, double smoked speck, Quebec cheese curds, beef gravy, green onions, two poached eggs, and house cut fries), Salmon Pierogies (with potato cheddar pierogies, smoked salmon, two fried eggs, fried potatoes, fresh dill, pickled red onions, and lemon sour cream), or the Rueben Eggs Benny (with corned beef brisket, sauerkraut, gruyere, toasted rye bread, French dressing, and fried breakfast potatoes).
The Summit Cafe
Location: 1001 Cougar Creek Dr #102
Often listed as one of the best coffee shops in Canmore, Summit Cafe is much beloved by locals in town. But it's much more than just a place to get coffee; they have a fantastic breakfast and lunch menu daily! With gluten-free and dairy-free options, one of the perks of Summit Cafe is its patio with gorgeous views (especially on a bright, sunny day). Open since 1999, this family-friendly restaurant is definitely worth the stop.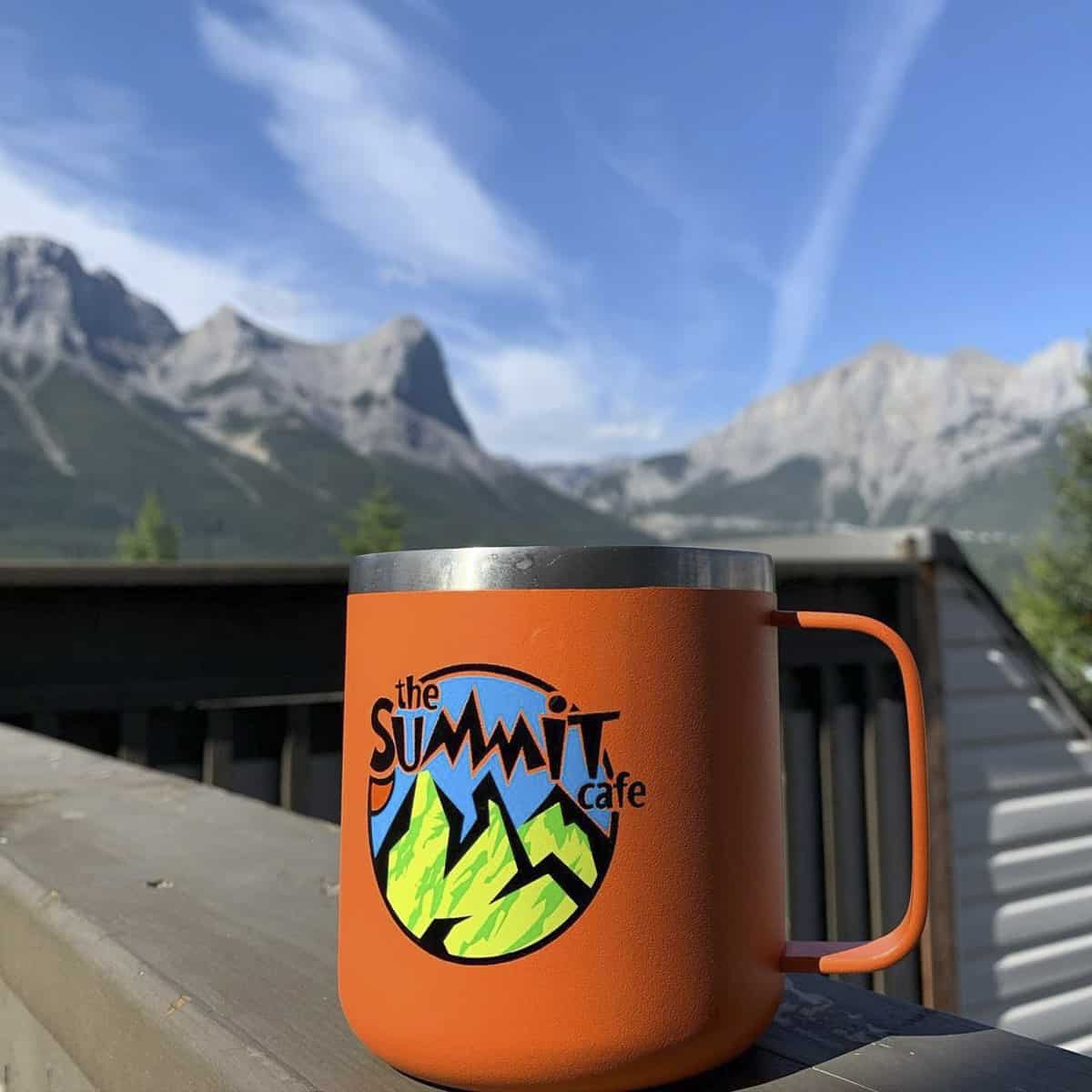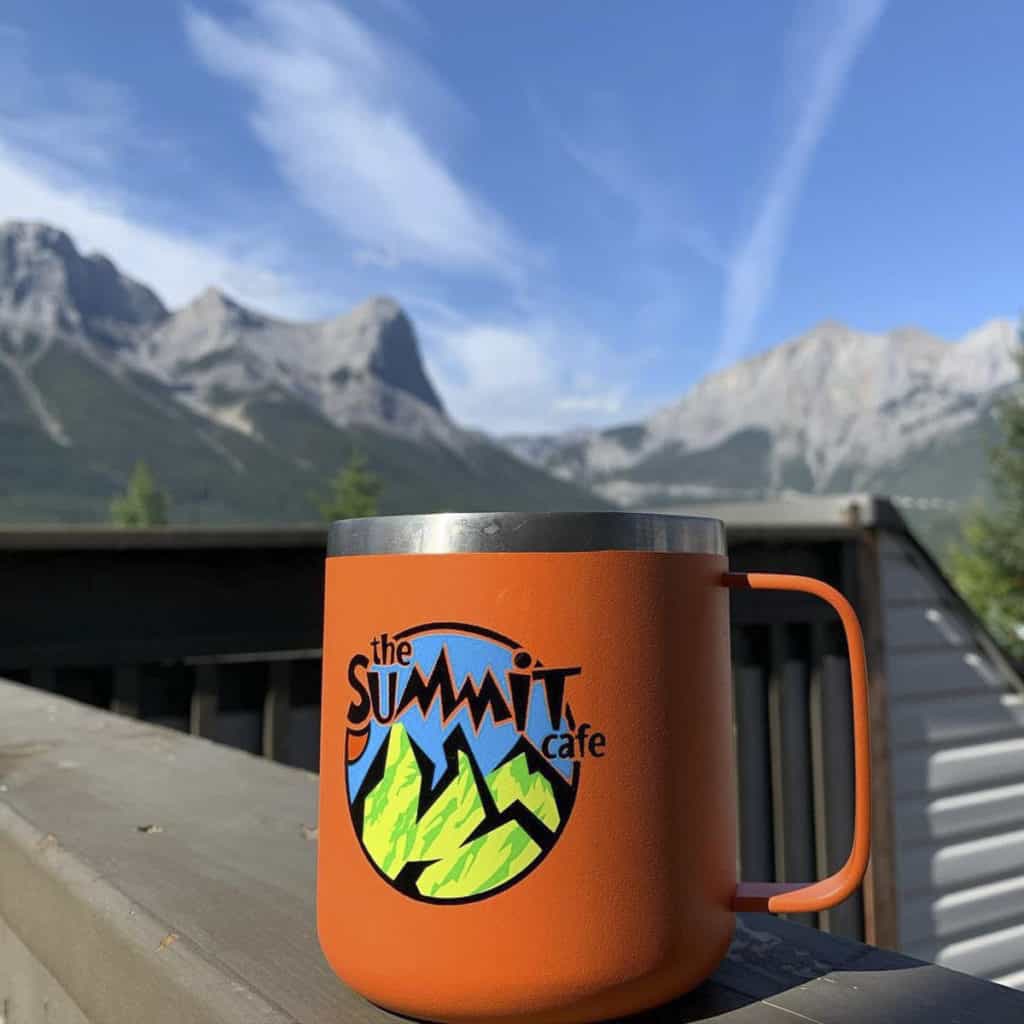 On the menu, you'll find a lot of egg dishes, including Spicy Mexi Eggs and Huevos Rancheros. There's also a delicious breakfast burrito, either with ham or made vegetarian. With a kids' menu, fresh baked goods, and some of the best coffee in town, the Summit Cafe is an easy choice for a Canmore breakfast or brunch.
Cacao 70 Canmore
Location: 302 Old Canmore Rd Unit 109
Calling all chocoholics! The brilliant Cacao 70 Canmore is a worldwide chain, from Montreal to Senegal to Guatemala to… yep… Canmore. The concept is simple: create really delicious food, including weekend brunch, with chocolate as the star ingredient. What began as a chocolate drinking bar turned into a place where you can sample all sorts of food and drinks made with and from chocolate, so it's sure to be a meal to remember.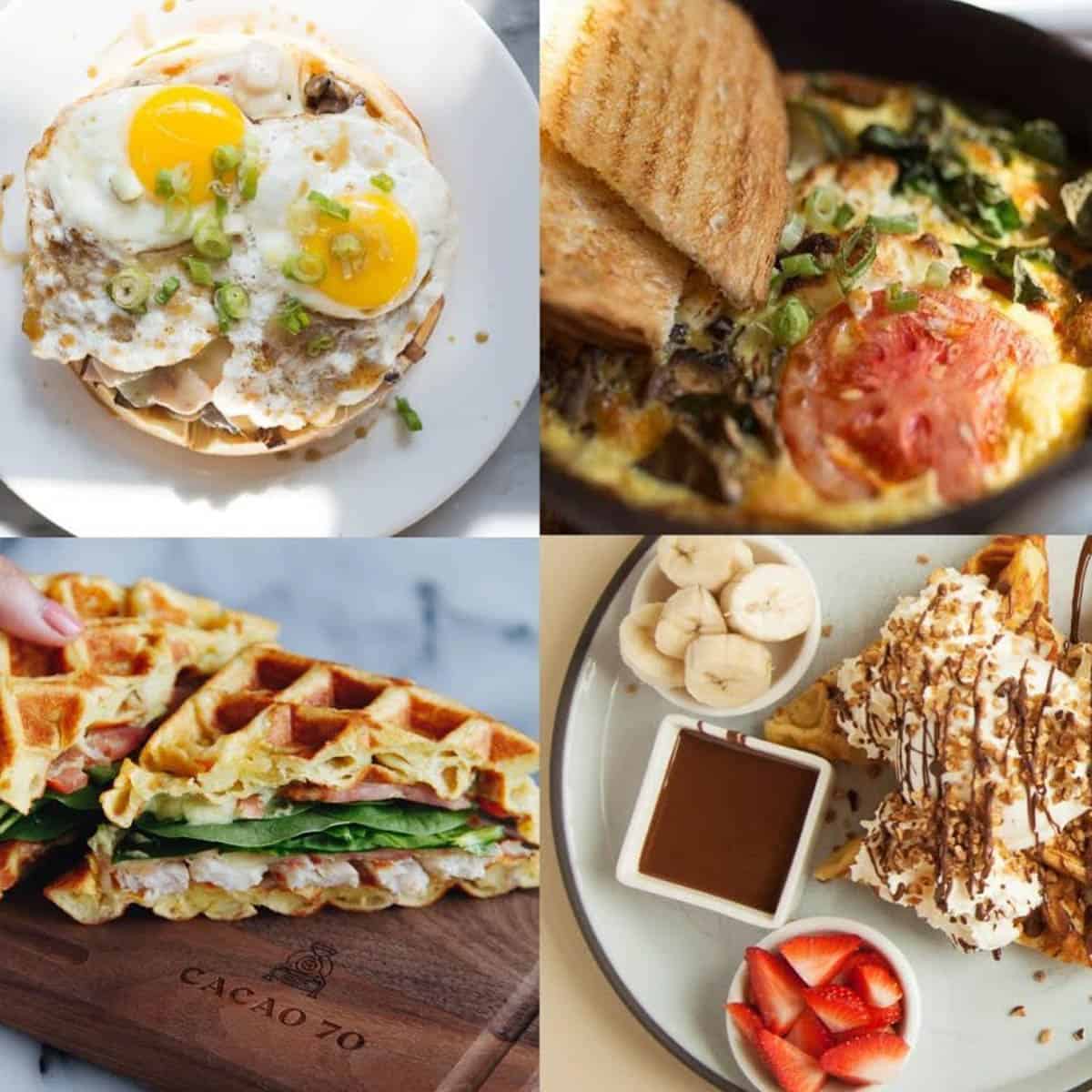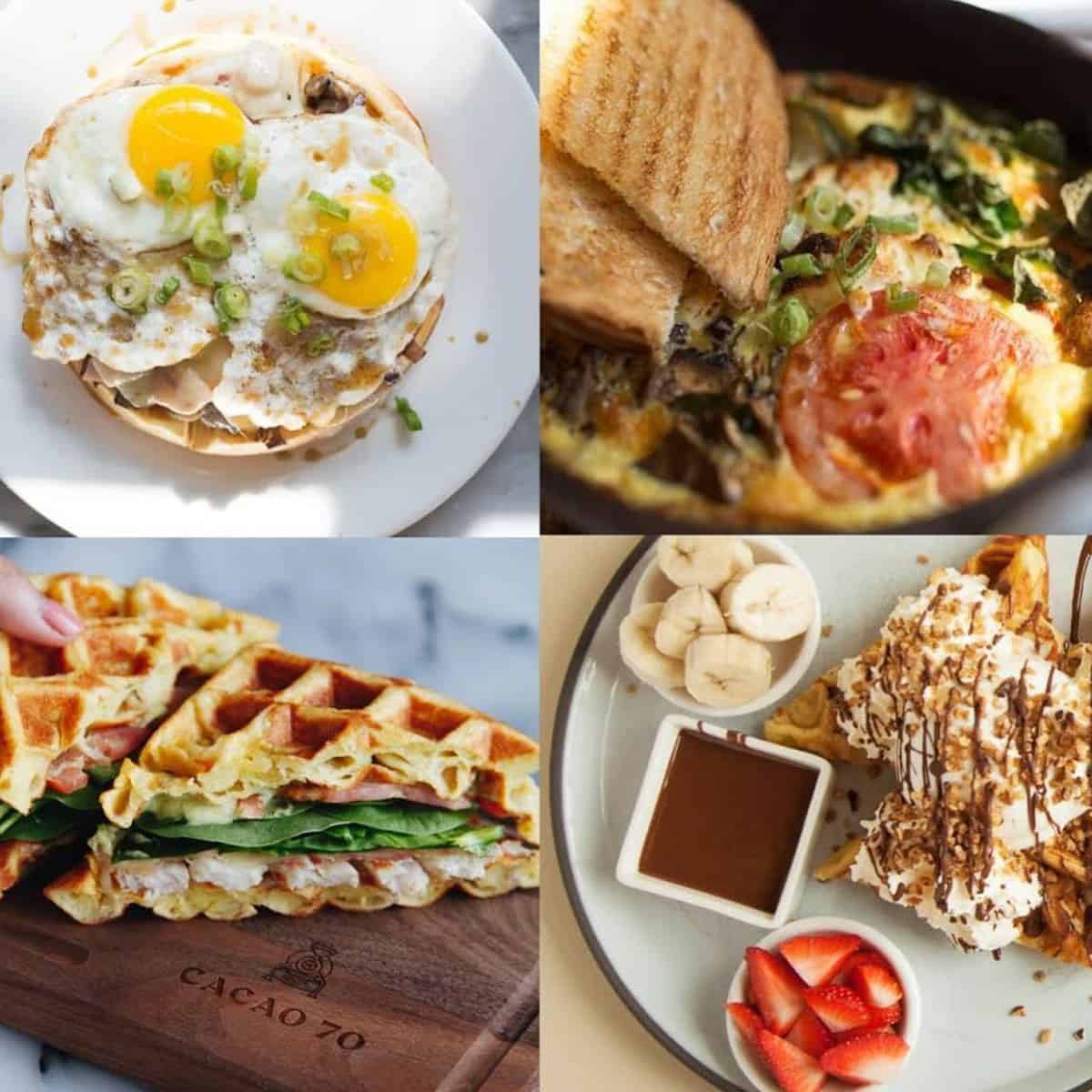 At the Canmore location, the breakfast menu is extensive, with plenty of savoury items such as avocado toast and veggie crepes. But if you're heading to a place famous for its chocolate, you should try the sweet items on the menu. First, there's the unbelievable hot chocolate, with flavours like Praline Rocky Road, Mexi Cocoa (made with cinnamon, cayenne pepper, and spices), and even Chai Hot Chocolate. Then, to eat, try one of the decadent waffles (our favourite is the "Illegal Waffle" with caramelized bananas, vanilla ice cream, and melted chocolate) or the chocolate fondue. Trust us, this is the perfect place for someone with a sweet tooth.
Sage Bistro and Wine Lounge
Location: 1712 Bow Valley Trail
With nearly three decades in business, Sage Bistro and Wine Lounge is a family-run restaurant that serves a fantastic weekend brunch in Canmore. Open from 10 am to 2 pm for weekend brunch on Saturdays and Sundays, the restaurant is in a stunning log building with magnificent views of the Rocky Mountains. A local favourite, the spot is a fantastic mix of the modern and the traditional, and it has one of the best brunch cocktail menus we've ever seen (try the Twisted Cider, the Morning Bliss, or the decadent Broski).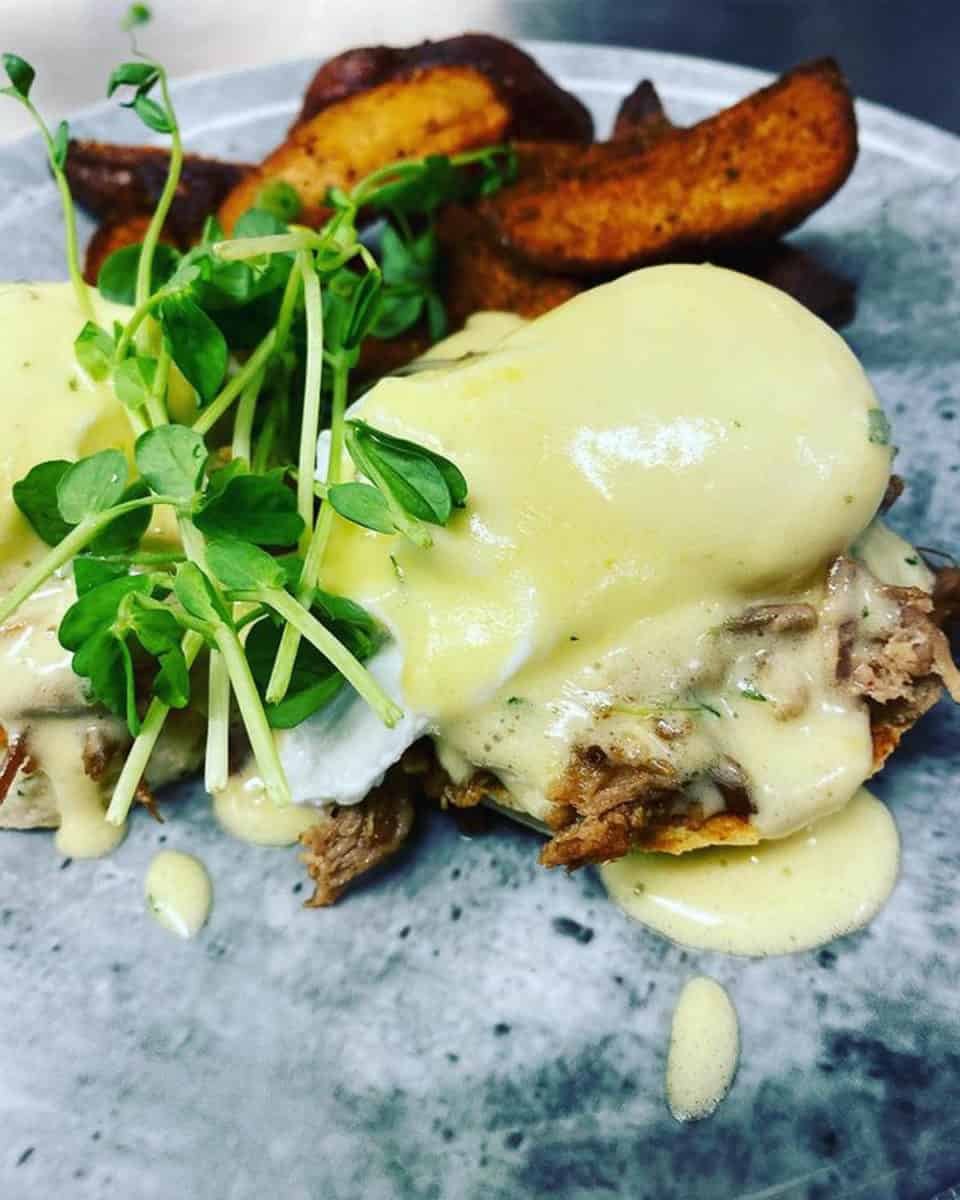 As for the menu, you're sure to find something you love. There are plenty of the "Usual Suspects," including meals featuring eggs, potato wedges, bacon, sausages, toast, and more. There's a great list of Eggs Benedict, too, with our pick being the Fresh Crab or the House Smoked Steelhead Trout, while other classics include a Quiche Lorraine, Ricotta Pancakes, and Banana Bread French Toast. Hungry? You must go for the "The Train Wreck," which is served with four eggs, three chicken and apricot sausages, three pieces of back bacon, three pieces of regular bacon, banana bread French Toast, ricotta blueberry pancakes, local cherry tomatoes, fruit and berries, potato wedges, and multigrain toast (yes, they recommend sharing this dish).
ÉpiCanmore
Location: 102 Boulder Crescent Unit 4
This cozy little café is perfect for those who love crepes. With an incredibly homey vibe and a friendly staff to boot, we love ÉpiCanmore for its specialty coffees and its array of sweet and savoury crepes. Using organic, locally grown milled grains and ancient fermentation methods, their crepes are always fresh and delicious, no matter which ingredients you choose. And it always feels good to support a local business, one with many ties to the community!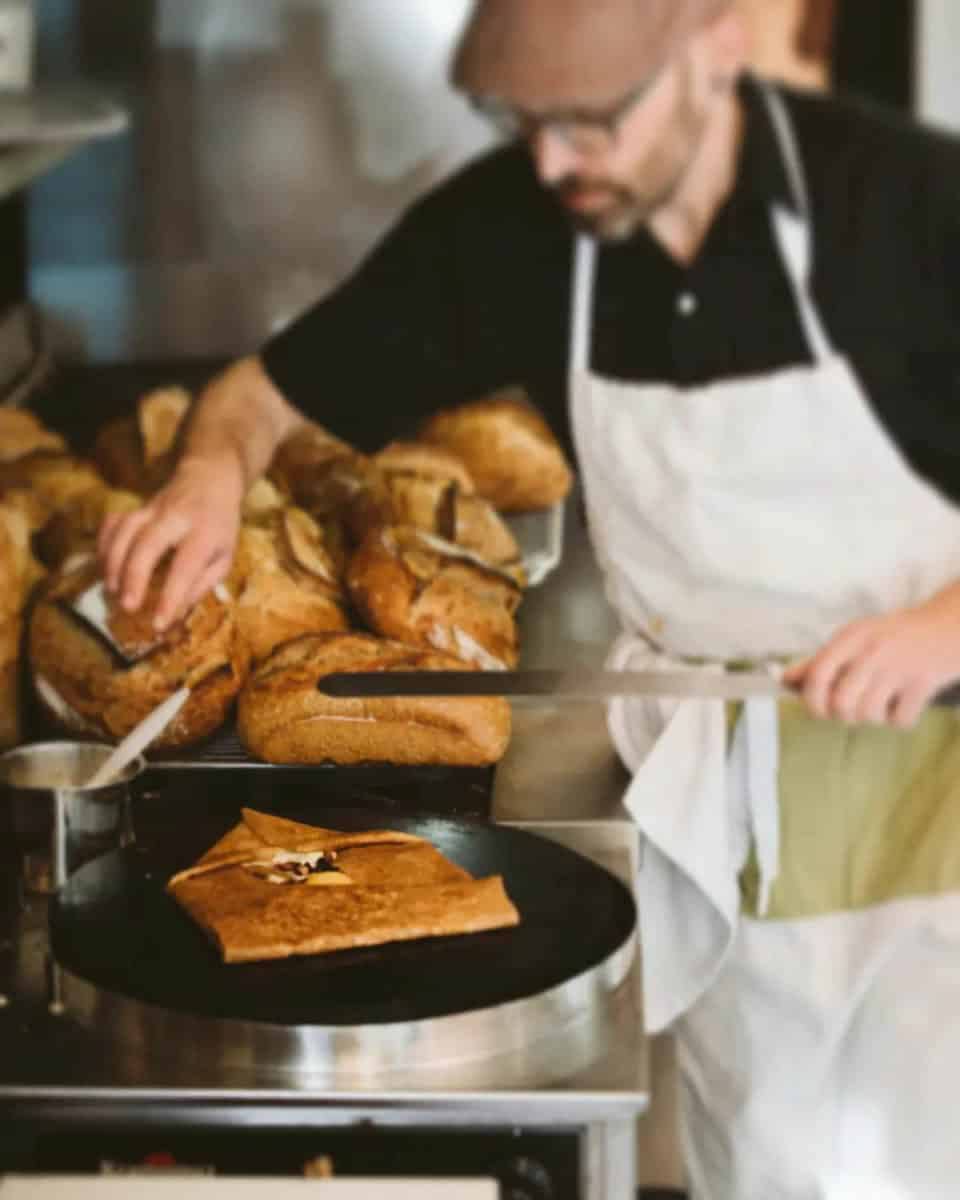 Not in the mood for a crepe? The café is also known for its incredible sourdough bread, all baked fresh every day. In addition, there are sandwiches, handmade pastries, and more, all of which you can eat at the restaurant or take away. When it comes to restaurants in Canmore for brunch, we think ÉpiCanmore certainly deserves its spot on the list.
Graze Food and Drink
Location: 102-717 8 St
Found in the heart of downtown Canmore, Graze Food and Drink is an excellent choice for breakfast or brunch. This relaxed eatery has a great patio space out front, ideal for warmer months. And with a lengthy breakfast menu available from 9 am -12 pm daily, it's often listed as one of people's favourite places to pop in for a Canmore breakfast. We even named it one of the best restaurants in Canmore.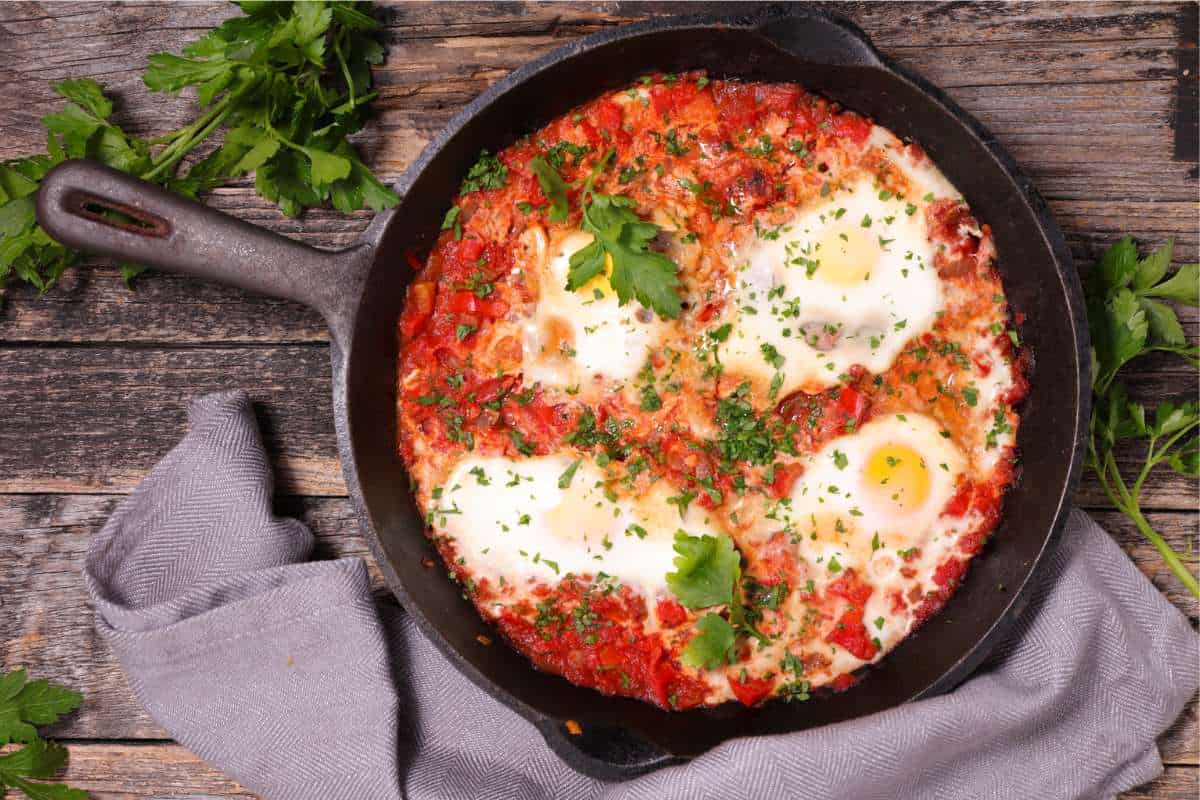 No matter what you're after for your first meal of the day, Graze Food and Drink has you covered. Every meal on the menu is prepared with love, from breakfast burritos to buttermilk pancakes to a croque madame to shakshuka. And while we love the Eggs Benny with braised beef brisket, we often head to Graze for the breakfast poutine; we're huge fans of the Canadian Eh?, which is served with herb potatoes, Maplewood smoked bacon, maple sausage, a fried egg, cheddar curds, and Prosecco hollandaise. Yes, you read that correctly… Prosecco hollandaise! You won't regret it.
Rocky Mountain Bagel Company
Locations: 101, 1106 Bow Valley Trail and 102, 830 8 St
The Rocky Mountain Bagel Company has two locations in town, perfect for a quick stop for all of your Canmore breakfast or brunch needs. Known for its great coffee, freshly baked bagels, and cozy vibe, you can dine in or take away some of the restaurant's delicious offerings; we especially like stopping in for our road trip snacking needs when we're on our way from Canmore to Banff or beyond. Both locations are also open seven days a week, making them even more convenient.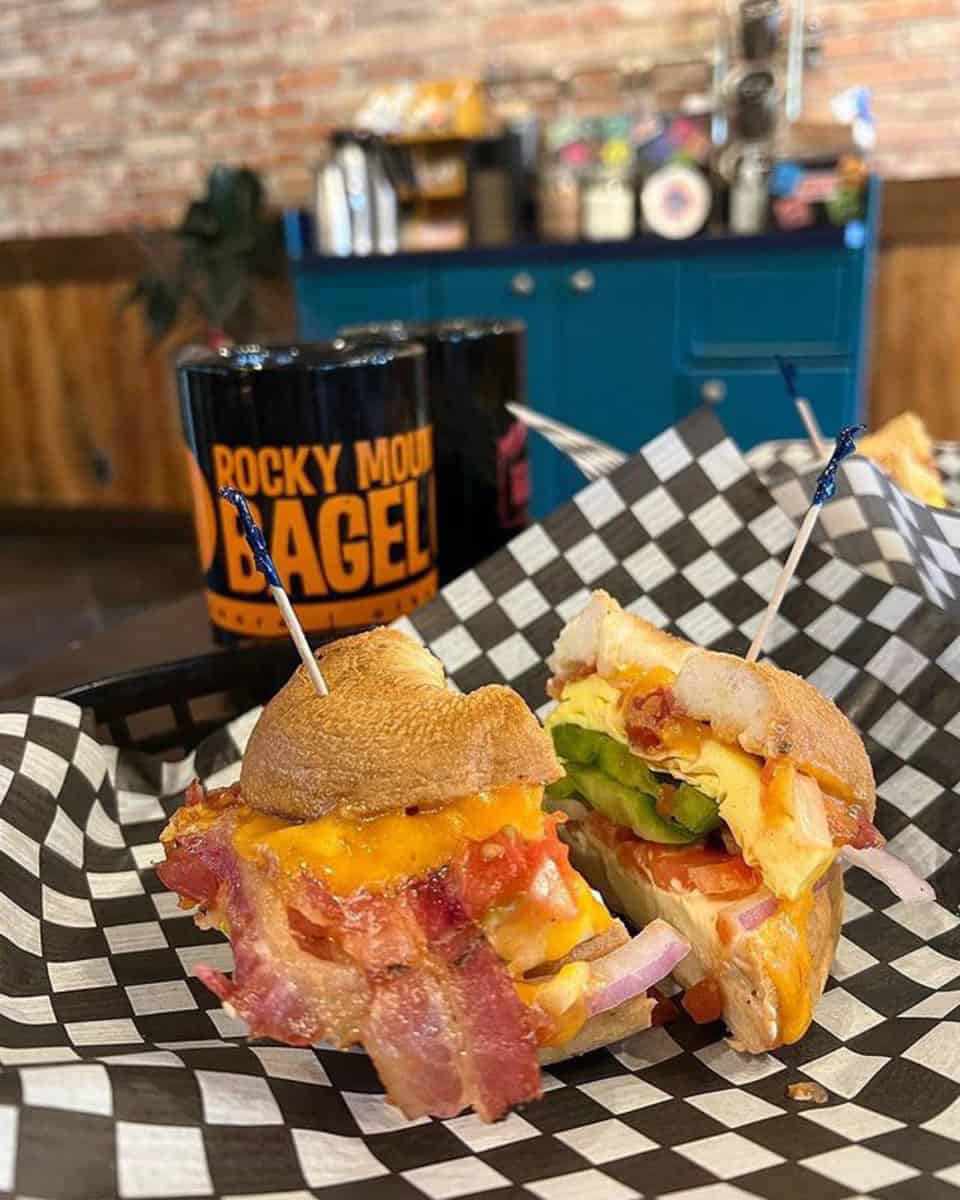 At Rocky Mountain Bagel, the menu is full of variety. Try one of the breakfast bagel sandwiches, an open-faced bagel, or "bagelwiches." There's sweet, there's savoury, and there's everything in between. Choose from the Vegan Delight (a bagelwich with housemade hummus, greens, tomato, cucumber, green pepper, carrots, beets, and a house dressing), the open-faced Traditional Bagel and Lox (with smoked salmon, cream cheese, red onion, capers, and lemon), or the BCLT breakfast bagel sandwich (with bacon, swiss cheese, lettuce, tomato, and mayo). No matter what you order, the bagels are guaranteed fresh, the flavours guaranteed tasty, and the coffee is guaranteed to put a pep in your step for the day.
Georgetown Pub
Location: 1101 Bow Valley Trail
Make your way to the Georgetown Inn to eat at the Georgetown Pub, your place in Canmore for everything authentically British. With a warm wooden interior and lots of homey accents, you'll feel as though you've just stepped into a pub in the English countryside at the Georgetown Pub. Whether you're staying at the inn or not, if you feel like comforting, hearty food for breakfast, this is your spot.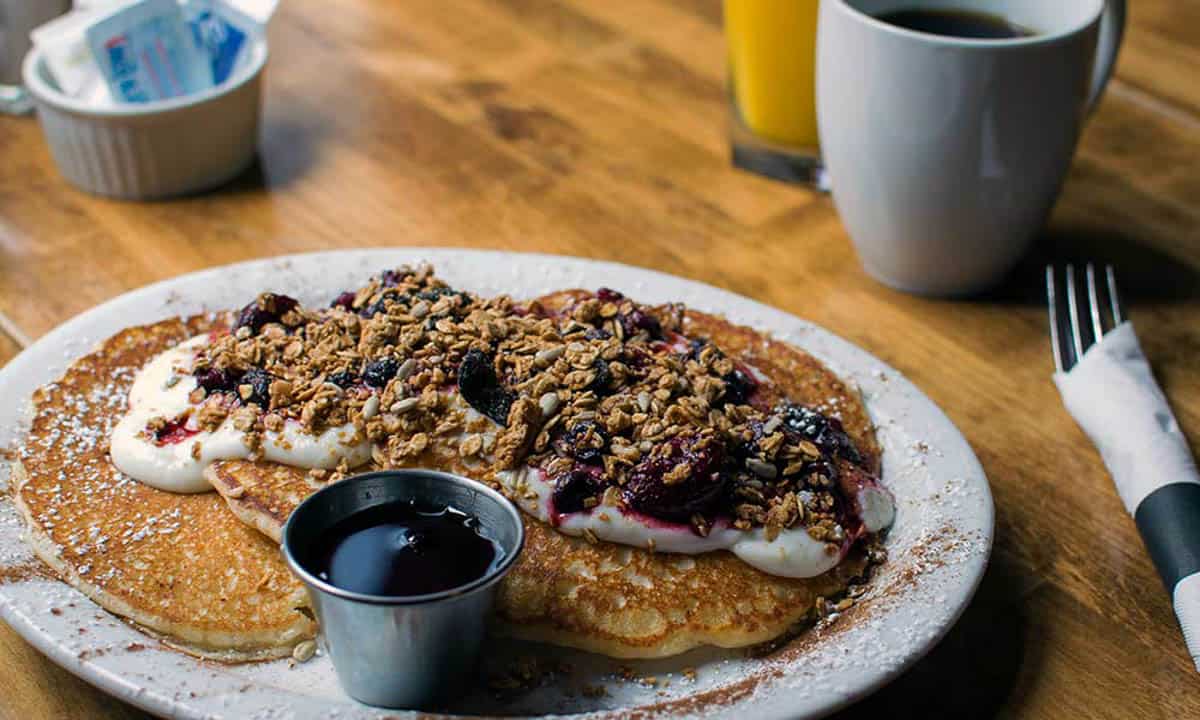 On the menu you'll find, naturally, a full English breakfast with two eggs, bacon, sausage, baked beans, hash browns, and marble rye toast. There are also excellent omelettes, a Breakfast Skillet Hash, a Smoked Salmon Avocado Toast, and a Weekend Benny that changes weekly. And if you visit later in the day, Georgetown Pub has been voted as having the best fish and chips in all of Canmore for over a decade!
Harvest Cafe
Location: 718 10 St #2
With a warm, rustic interior, Harvest Cafe is locally owned and operated. Serving housemade food that includes wraps, paninis, soups, muffins, toasties, frittatas and more, the all-day menu is perfect for when you're after a tasty Canbmore brunch. Also famous for their baked goods, their cinnamon buns are legendary in town. But they're only available on weekends, so head there early to snag your own, or preorder them, so you don't miss out!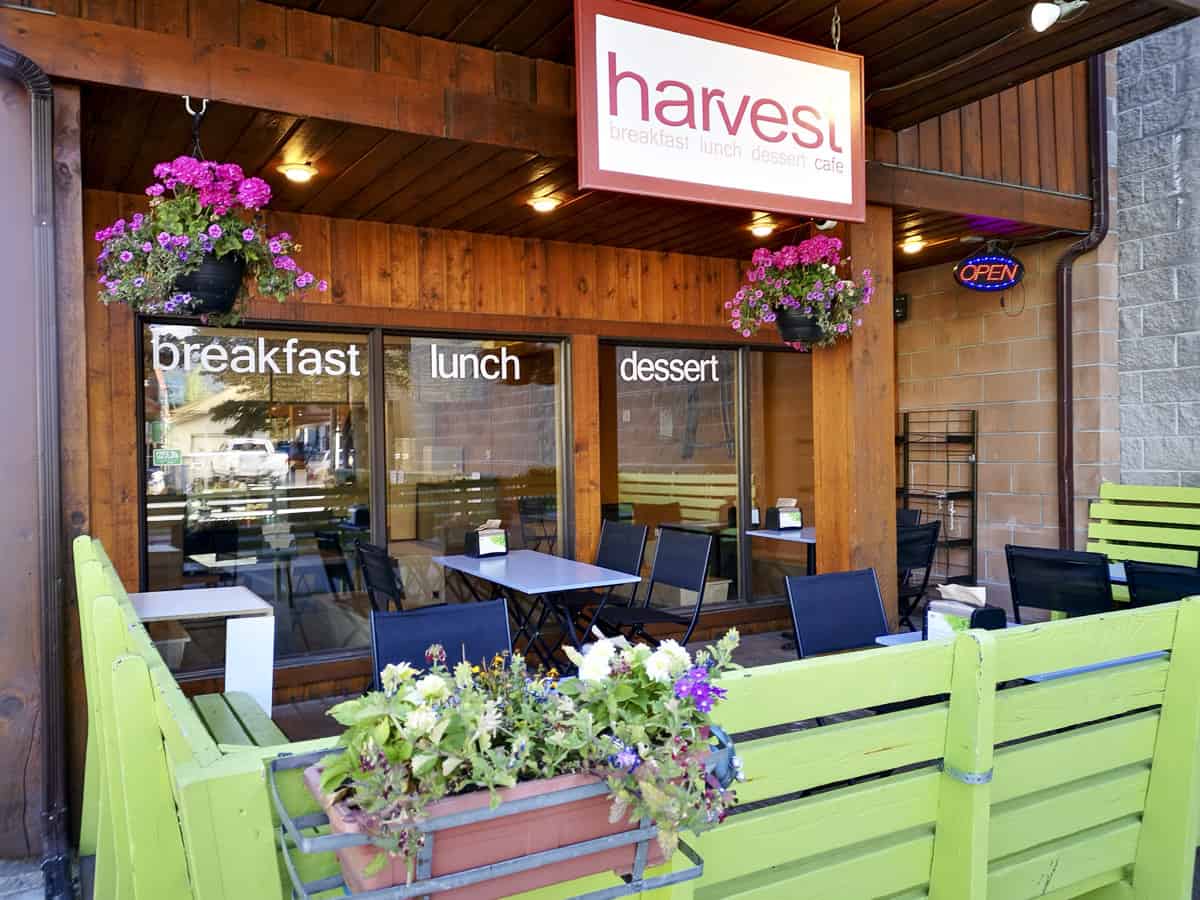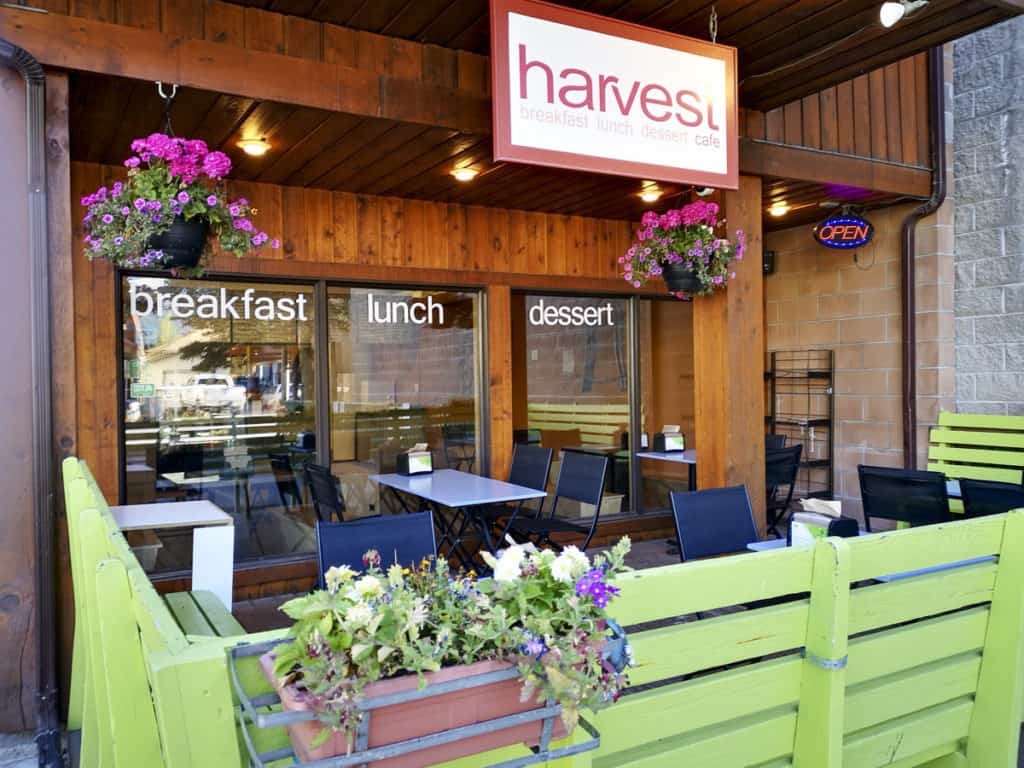 As for the choices of meals, we often go for the Miner's Wrap (with scrambled eggs, roasted yams, chorizo sausage, housemade Mexican Mole sauce, and cheddar cheese in a grilled tortilla), the Breakfast Panini (with scrambled eggs, sliced tomato, medium cheddar cheese, and a choice of smoked bacon or ham on multigrain bread), or, when we're in a hurry, the Express Egg-Muffin-Wich (an English Muffin with egg, cheddar, and bacon). Also try their fantastic coffees, organic teas, or house-brewed ice teas.
The Grande Kitchen and Bar
Location: 901 Mountain St
This beautiful, modern space is known for its French and Italian cuisine and stylish design. The Grande Kitchen and Bar in Canmore is located in the Grande Rockies Resort and has excellent indoor dining and patio options. The global menu, friendly service, and convenience for visitors make it an excellent option for a Canmore breakfast!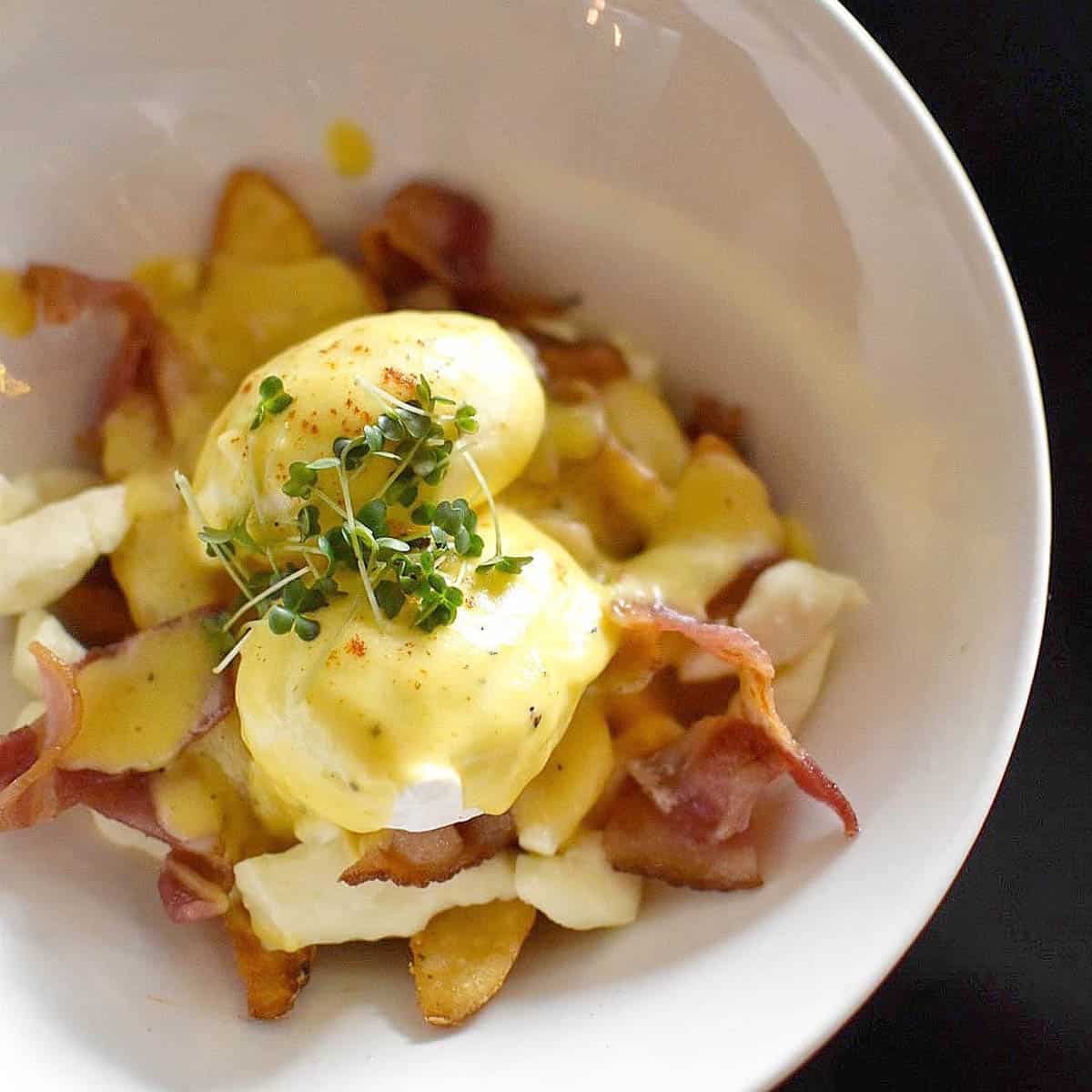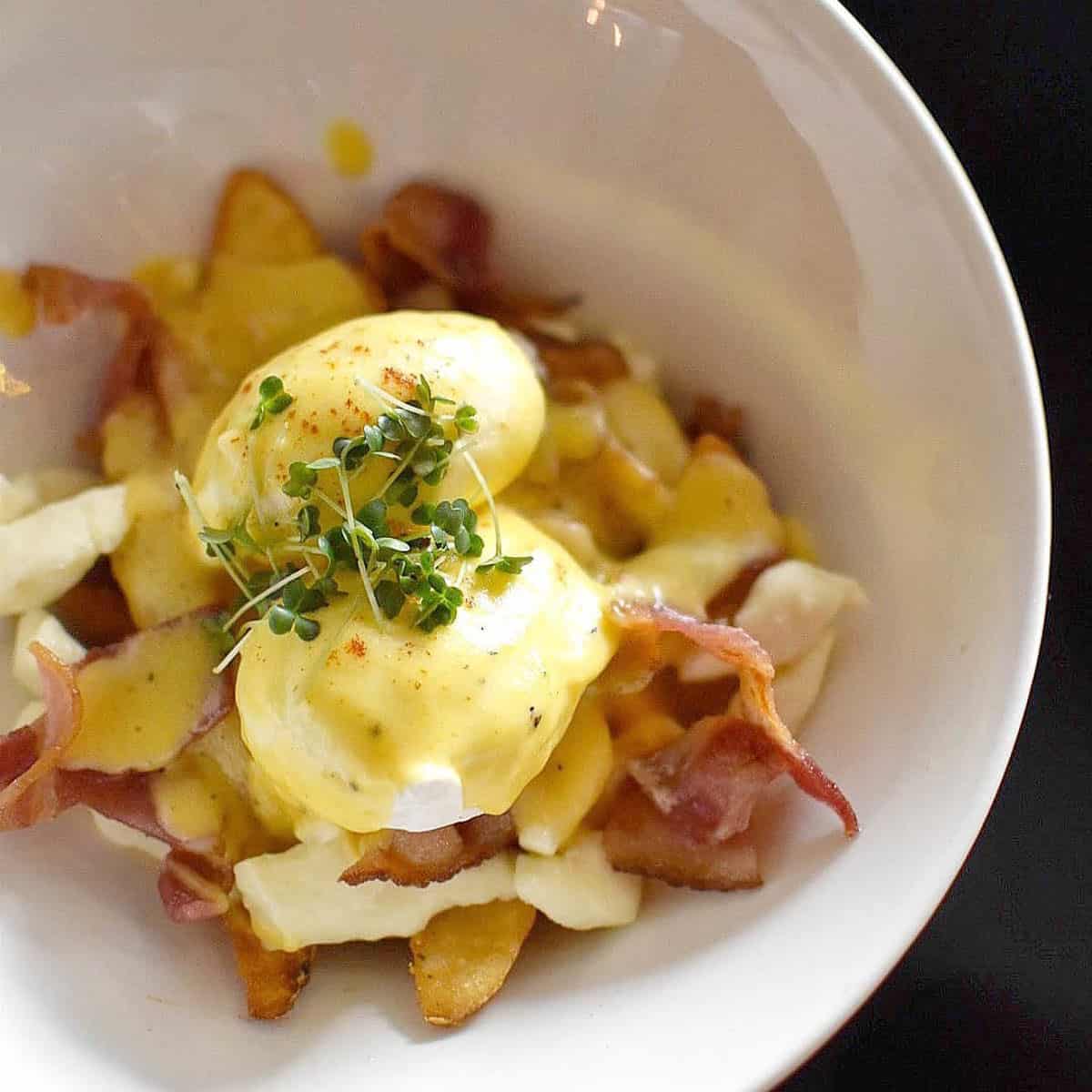 Choose from classics like egg breakfasts, including bacon and eggs, Eggs Benny, or omelettes. There's also a divine Monte Cristo sandwich, as well as a variety of bowls to try; our favourite is the Root Beer BBQ Pulled Pork bowl (with poached eggs, wedged potatoes, Montreal cheese curds, and brown butter hollandaise). With a kids' menu and a fun selection of mimosas (choose from classic orange or try grapefruit, cranberry, or pineapple juice), The Grande Kitchen and Bar makes for a memorable meal.
Looking for more to do in Canmore?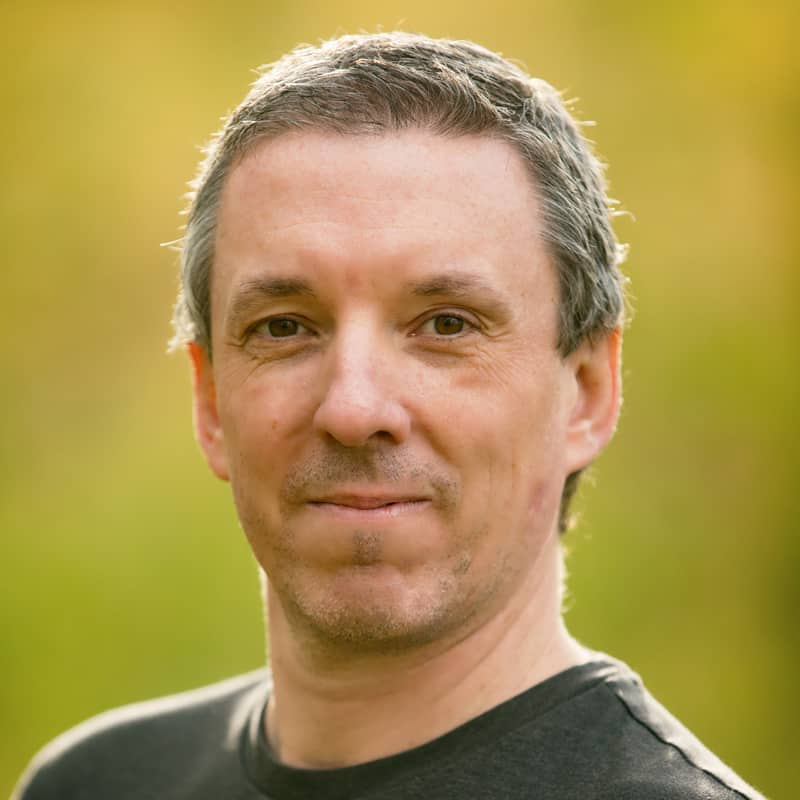 Pete is a co-founder of Road Trip Alberta. Growing up in Edmonton he has an extensive knowledge of Alberta and everything the province has to offer. He loves to eat good food, hike (especially in the winter), play tennis and curl. Apart from running Road Trip Alberta, he is a director with HMI, a digital media agency, half of the Hecktic Travels duo, and a co-creator of the popular card game Trip Chaser.