Disclaimer: This page may contain affiliate links. Please review our full Terms and Conditions for more information and our Privacy Policy. Note that any pricing, operating hours, or other such information provided below may have changed since initial publication.
Compiled by the Road Trip Alberta team
Last Updated on January 24, 2023
If you're an Albertan, you've undoubtedly driven from Calgary to Edmonton (and/or Edmonton to Calgary) many times. It is the busiest route in the province, and if you're anything like us, you set the car on cruise control once you've passed the congested traffic of the cities, and mindlessly let the road guide you there. You might make a stop in Red Deer to visit The Donut Mill (as you should) or eat at one of the great restaurants in Red Deer, but otherwise, you just burn on through.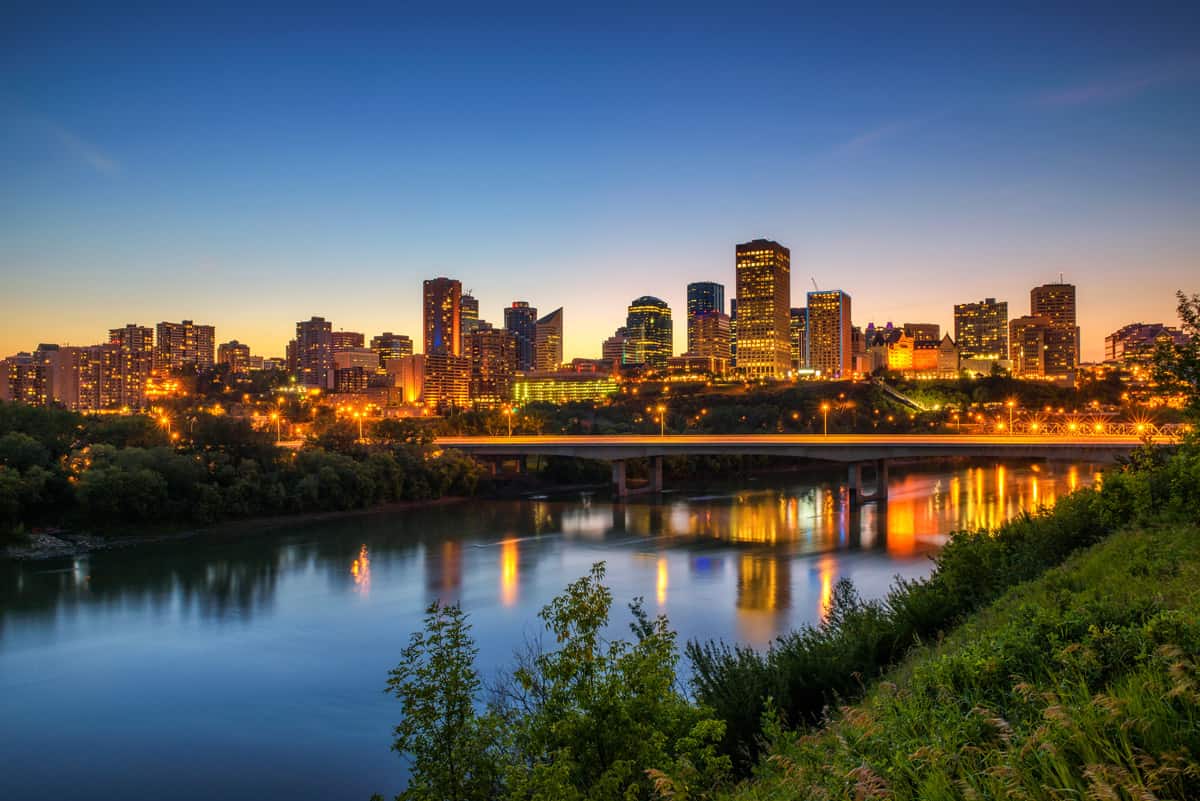 We want to challenge you to do something different this time. And to anyone reading this visiting from out of province or country, you have likely been advised just to take the fastest route as well. But we were hoping you could take our challenge too.
In this guide to travel between Alberta's two biggest cities, we've given you details on the fast route for those in a hurry. But we have also outlined two alternatives and more scenic routes, plus a lot of fun stops to make along the way. Taking one of these alternative journeys will make the road trip a lot more enjoyable and give you a glimpse into more of what Alberta has to offer.
About the Route
The distance of the fastest route from Calgary to Edmonton is 303 km, with a straight drive on the heavily trafficked QEII highway. It should take less than 3 hours to make the journey, but many factors can change that: construction (there always seems to be something going on in summer!), traffic, and of course, the variable Alberta weather.
If you have to get to either city quickly, there is no faster route. But if you have some extra time and an appetite for adventure, you have a couple of options to get there.
Fastest Route from Calgary to Edmonton
Take the Queen Elizabeth II (known locally as the QEII or Highway 2), which has at least two lanes of free-flowing traffic in each direction the entire way.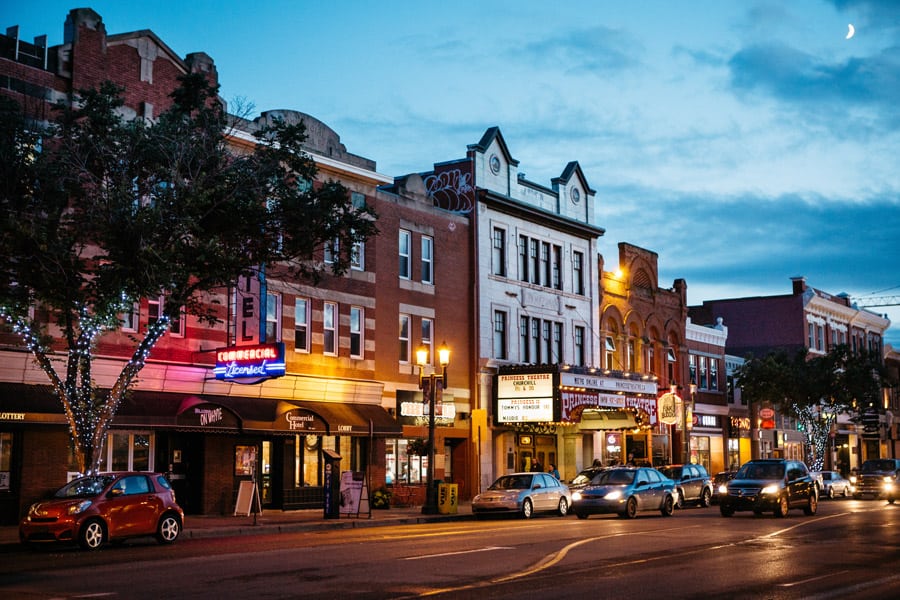 Alternate Scenic Route #1: "The Boomtown Trail"
You'll take a brief jaunt along the QEII, just north of Calgary, but the rest of your time will be on paved back roads that will take you through quaint towns along the east. From Calgary, take Highway 2 north and then take exit 340A east on Highway 27 toward Trochu. Once in Trochu, head north and follow the map to Edmonton. This route will take you through Camrose and Wainwright, plus there are a few more turns along the way; follow the map below for the rest of the details!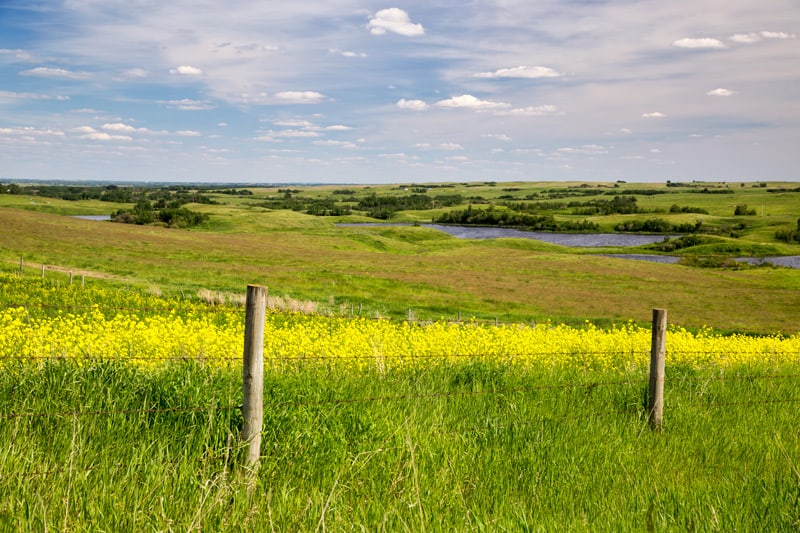 This route should take you roughly four hours, but make time for the interesting stops and side-trip opportunities along the way, outlined in the "fun things to do" section below.
Suggested scenic route #2: "The Cowboy Trail"
This is actually a 700 km route that extends into far southern Alberta. However, you can get on the trail by heading west from Calgary towards Cochrane and then turning north on Highway 22 to do a portion of it. To arrive in Edmonton, take the Yellowhead (Highway 16) east at Entwistle towards the city until it meets up with Highway 22, and turn south at Entwistle.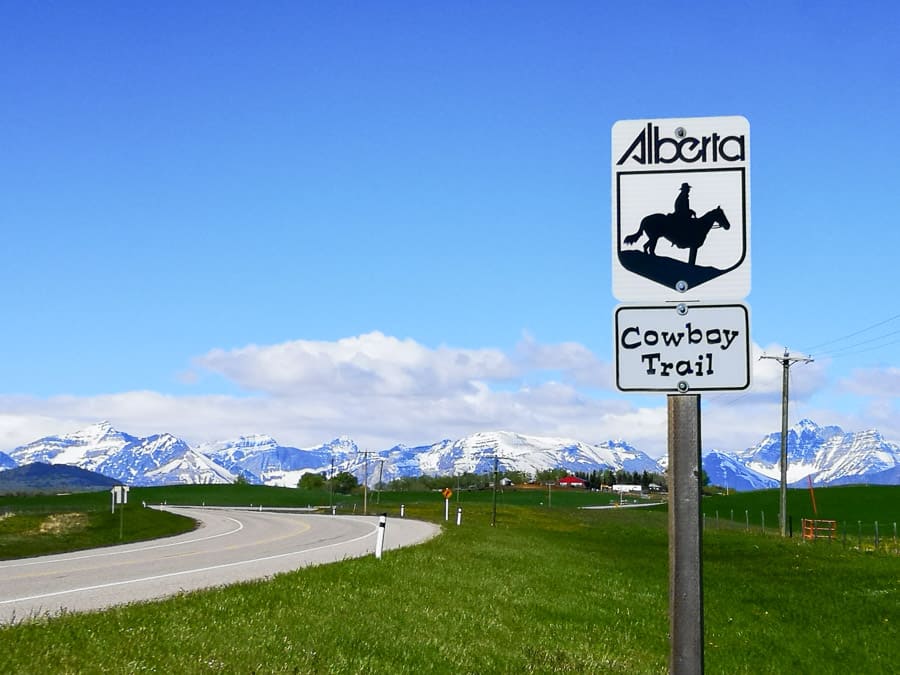 For most of the drive up, you'll have the mountains out your left window and prairies out your right. Worthy stops along the way are detailed in the "fun things to do" section below. Depending on your stops, this should take up to five hours.
Calgary to Edmonton (and Edmonton to Calgary) by Car
As each city has an international airport, it's easy to pick up a vehicle (we suggest using Rentalcars.com to compare pricing among your favourite agencies) and be on your way. Both the Calgary International Airport (YYC) and Edmonton International Airport (YEG) are near the QEII, and you can be on your way quickly. However, if you want to take either of the more scenic routes outlined above, you'll need your own wheels, as none of the other transportation listed below will take these roads less travelled.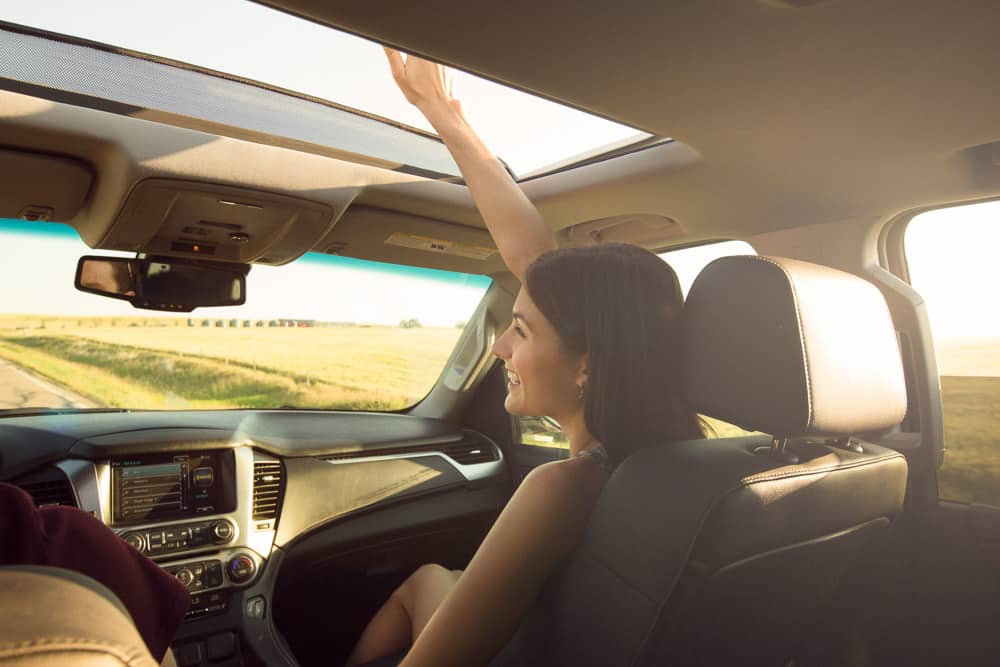 If you are not interested in using a traditional car rental agency, you can also rent cars through a website called Turo (think Airbnb for car rentals). Both airports serve as frequent pick-up/drop-off points.
Before you get on the road, be sure to check out Alberta 511 for up-to-date road reports. Every winter, there are at least a few days that this trip can be a treacherous journey thanks to inhospitable weather, and trust us, you don't want to be caught in it!
Just arrived and need a hotel?
If it turns out that the weather doesn't look good, or you get in late at either airport and want to get some sleep before undertaking such a drive, we've got some recommendations for airport hotels at either end:
Calgary Airport Hotel
Hotel Clique is a super chic and affordable hotel that has free parking, free WiFi, and a great restaurant onsite. It is a quick shuttle ride from the airport, and we have stayed here several times when we have an early flight out of Calgary. Bonus: it has two rooftop pools!
Or, if you prefer to book a "home-away-from-home", we've got a guide dedicated to the best Calgary Airbnbs that includes some options by the airport for a quick and easy stay in the city.
Edmonton Airport Hotel
Calgary to Edmonton by Bus or Shuttle
There are some good options for bus service between Edmonton and Calgary that are reasonably priced. The following companies offer direct service between Alberta's two biggest cities:
Red Arrow – Probably the most popular bus service connecting the two cities (and more spots in Alberta), Red Arrow offers multiple pick-up spots in each city and at each airport. Average one-way tickets run at around $72 per person, including tax.
Rider Express – A bargain with prices starting at $47 per person, Rider Express runs twice times almost daily between the two cities, with a stop partway in Red Deer. However, the pick-up and drop-off spots in each city may be a little awkward for some, and no stops are made at either international airport.
Ebus – This is Red Arrow's offering of a more economical option; for $52, you can get this convenient bus from Edmonton to Calgary (and vice versa) with two scheduled routes almost daily. This is also most convenient for shoppers, including a stop at the popular CrossIron Mills Shopping Center north of Calgary.
Coldshot – $37 will get you between the two cities. Coldshot makes up to 2 trips almost daily (early morning and early evening). Bonus: every sixth trip is free!
The Canada Bus – A brand new service offering service between Calgary, Red Deer and Edmonton. There are even plans to expand to Canmore and Banff in the near future. A one-way ticket from Calgary to Edmonton is $39 and if you purchase a 6-ticket pack (good for 180 days) you'll get a 15% discount.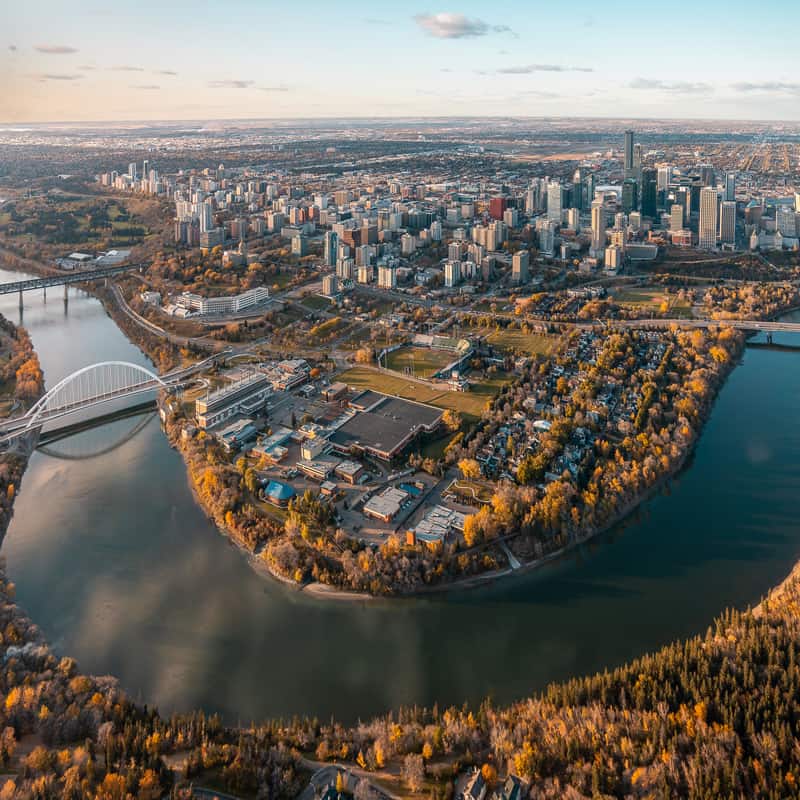 Calgary to Edmonton by Private Transfer
Private transfers between Edmonton to Calgary (and vice versa) can take all the stress out of driving the busy QEII. Some private transfer options are below:
Quest Limos – Prices start at $540 for luxury private transfers between Calgary and Edmonton, but with vehicles that fit up to 12 people, the low cost per person makes this an attractive option to arrive in style.
Taxi – Taxis are always an option, of course, but rates run around $500 for a taxi to make the big journey.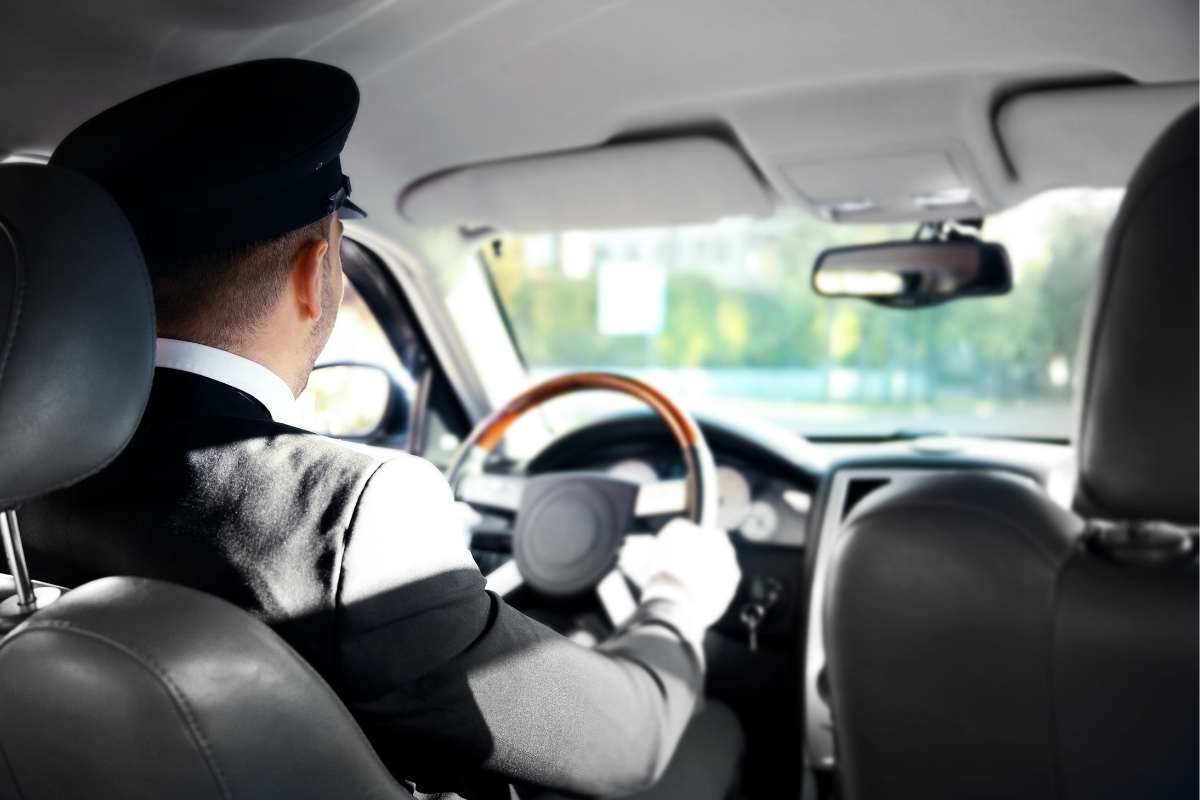 With the number of rideshare options nowadays, finding a ride from Calgary to Edmonton or (Edmonton to Calgary) can be as simple as searching for a ride on Kijiji.ca with your dates.
Poparide.com – there are options to select your driver based on your luggage and equipment requirements if you are travelling with skis, bikes, etc. Poparide charges per seat so you have an opportunity to meet other visitors if you are travelling solo to Edmonton or Calgary.
Uber serves both cities and so is another rideshare option, however many drivers may not be willing or capable to make the drive and the price is close to what a taxi would cost for just one way.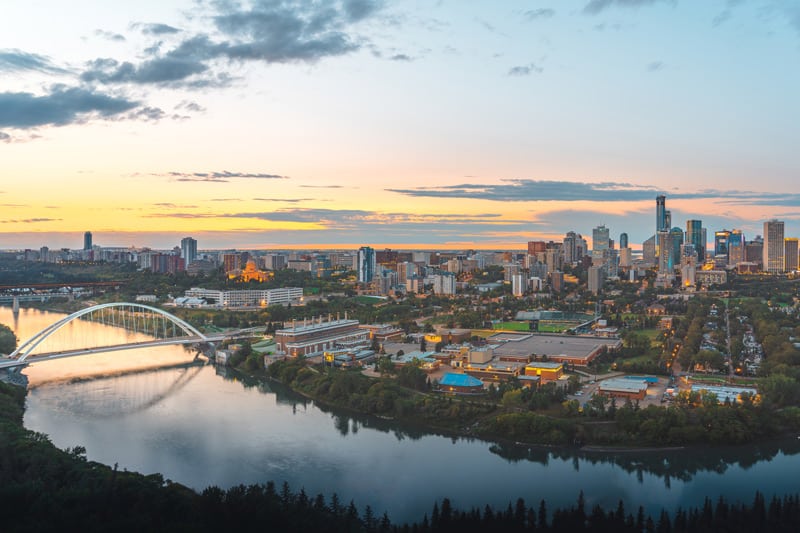 Fun Things to Do Along the Way
If you have your own car and some spare time, you can easily turn your three-hour trek into a day-long adventure!
The Fastest Route
We'll keep this selection light, as we know that most people driving the QEII highway just want to get from Point A to Point B as quickly as possible!
As the city of Red Deer sits almost exactly in between Calgary and Edmonton, it makes for a logical rest point, and what is commonly known as "Gasoline Alley" (a stretch of the main highway at the south end of Red Deer) is the perfect place to get gas, stretch your legs, and grab a bite. If you have a bit of time, it is worth discovering some of the fun things to do in Red Deer.
But if you just need a quick snack to fuel the rest of your trip, stop at the iconic Donut Mill for a pastry. You can't miss it – the storefront is a large windmill on the west side of the highway – and there is a very good reason why this spot is listed on our "foodie" road trip Alberta bingo card. Try the unmissable Boston cream, or take a chance on the variable "donut of the month" which is always a crowd-pleaser.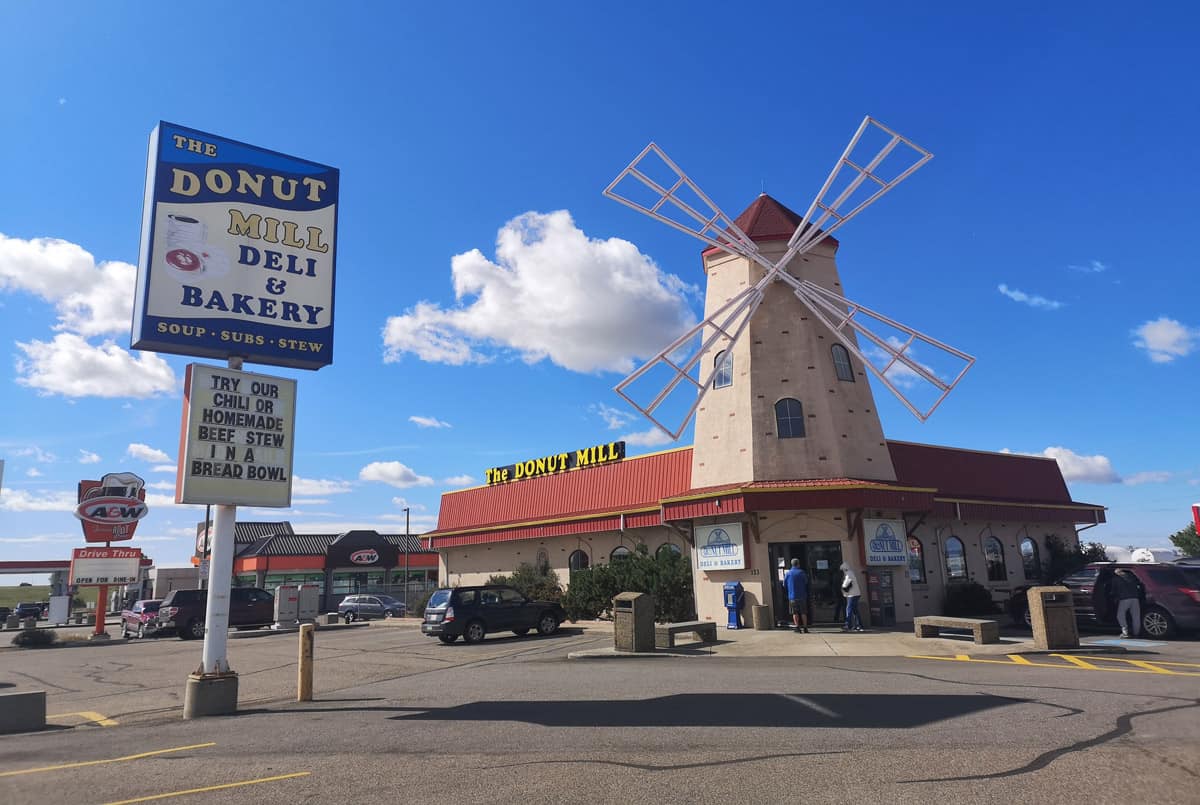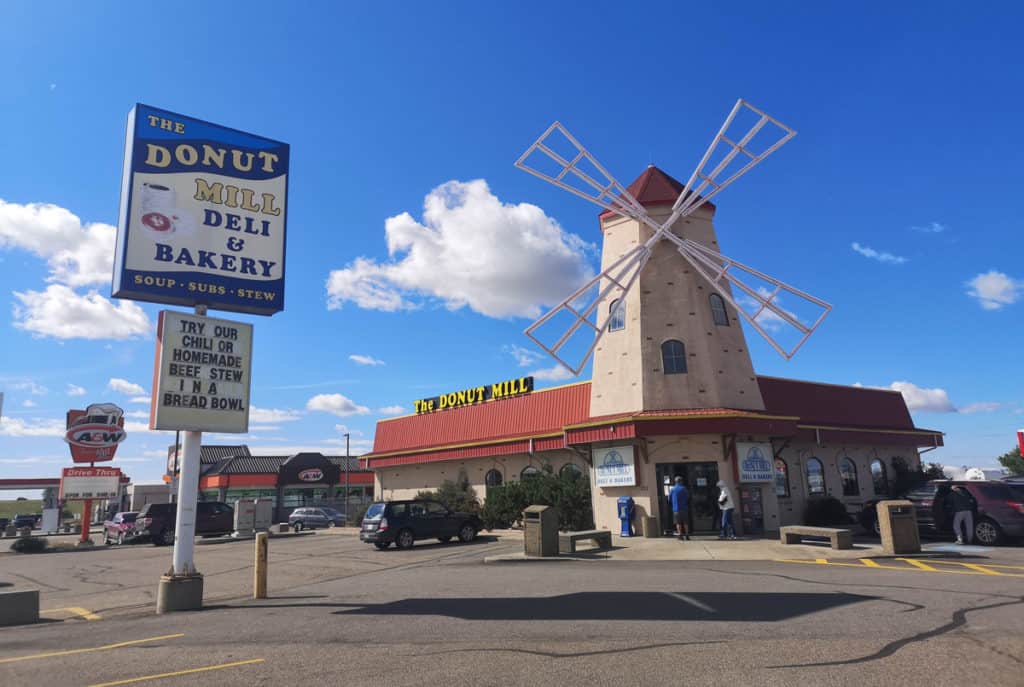 If you're pulling into Red Deer around mealtime and need something heartier, the Big Bend Market is very worth the stop for their made-to-order sandwiches. Self-proclaimed as a "year-round farmer's market", their meat selection is award-winning and their products are almost entirely locally made.
We'll throw in one suggested stop, and purely for fun: if you really want to stretch your legs, book a time at nearby Heritage Ranch to experience the thrill of being a fugitive! You'll be released onto the ranch with a map and a mission: capture all four flags within an hour while being chased by a tracker on a horse. The game starts at 3 pm and comes with a steak dinner (hopefully in celebration of you not being caught)!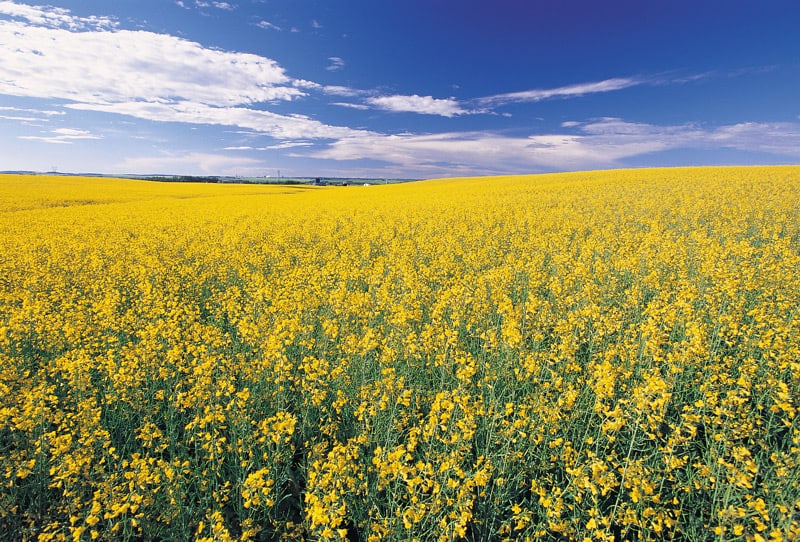 Along the Boomtown Trail
Heading north of Calgary, after you take the exit to Highway 27 east, but before you hit Trochu, make your first stop at the Torrington Gopher Hole Museum. While it's not officially a part of the Boomtown Trail, it is on the way and certainly a quirky spot not to be missed. Touring the whole museum can be done in just a few minutes, and we promise, it will fuel a lot of laughter for the rest of your trip.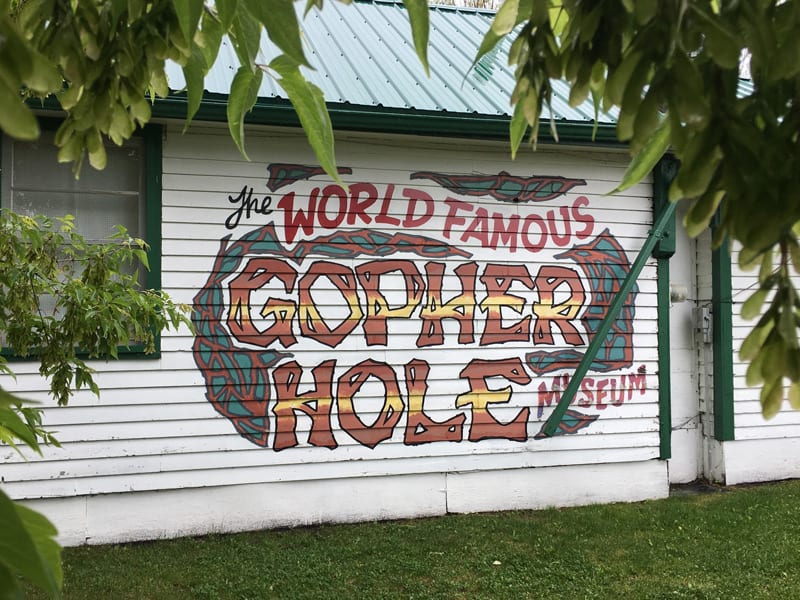 Continuing on to Trochu, stop to take a quick selfie at the (disputed) World's Largest Golf Tee. Built in 2009, it stands a whopping 40 feet tall.
There are several historic buffalo jumps within Alberta, but Dry Island Buffalo Jump is one of the lesser-known, making it a true "hidden gem". Drive 20 minutes northeast of Trochu (it will take you off the official "trial" for a wee bit) to find this provincial park that offers a stunning vista of a coulee with the Red Deer River nestled in the valley. You can boat, hike, or just enjoy nature and bird-watching. (Always check the link above in advance to be sure access is open; in wet weather, the road may be closed.)
The town of Stettler is one of the biggest on the route, so this could be a good stopping point for a meal. And if you have the time, book a visit to Alberta Prairie Railway for one of their different themed excursions. Ride on a passenger train from the 1920s and hold tight to your jewels, as it's likely that you'll encounter a gun battle when your train gets "robbed" along the way.
Love checking out "world's largest" roadside attractions? A quick jaunt to Donalda will offer another selfie opportunity in front of the World's Largest Lamp. It stands 42 feet tall and lights up at dusk (as a lamp should)!
Along the Cowboy Trail
Just about an hour north of your turn from Cochrane, make a stop in the picturesque town of Sundre. In fact, we recommend planning your whole day around it, to ensure that you hit Kodiak BBQ and Deli in time for lunch. Be sure to order the ribs (we know you'll thank us later for them).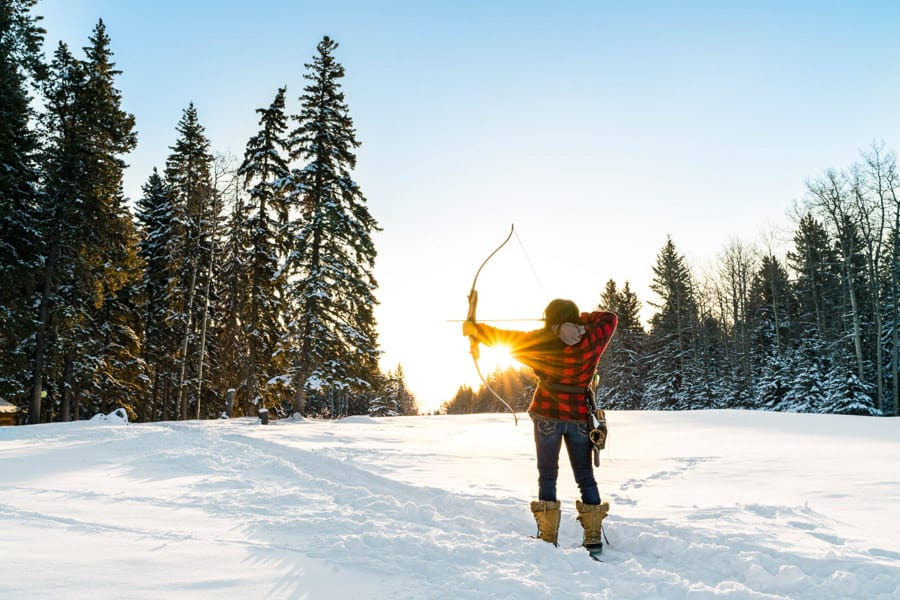 If you've got your clubs in the car, take a swing at the pristine Sundre Golf Club. Alternatively, pick up some new skills at Painted Warriors, an Indigenous-owned business that specializes in outdoor fun and education. Learn about archery and survival skills, or take a horse ride, an interpretive hike, or a snowshoe tour (season-depending).
Another hour away and you'll be in the small town of Rocky Mountain House, and a stop at the National Historic Site in town is certainly worth it. Learn about life at a trading post, explore the many Indigenous programs available, and even discover a new-to-you trade or craft. If you're towing a trailer or packing a tent you can also spend the night along the banks of the North Saskatchewan River.
For a little adventure along the way – and especially on a really hot day – pull the car off at Pembina River Tubing, just south of Highway 16. Leave your car and hop in a raft to float north on the Pembina River, a shuttle will pick you up on the other side of Highway 16, just before the Pembina River Provincial Park. Note that this can take over 3 ½ hours, depending on how high the river level is (check their website for estimates, and book in advance). If you are heading through in winter, they also now offer snowshoe rentals for taking a walk along the Pembina River.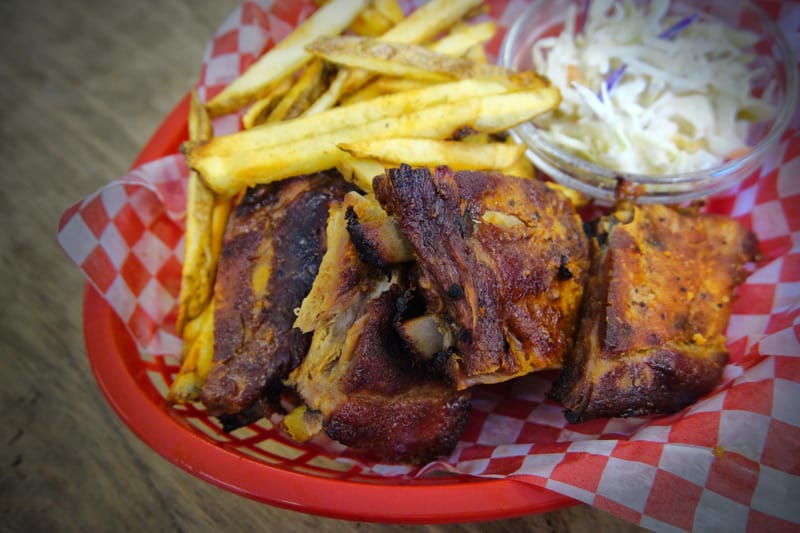 Where to Stay in Edmonton
Your adventure doesn't end there! We've got a large guide on things to do in Edmonton, too. Stay a few days in one of the great Edmonton hotels below and plan to make the most of your stay in Alberta's capital city.
Luxury – In terms of luxury accommodations in Edmonton, nothing beats the iconic Fairmont Hotel Macdonald. You can't miss this hotel as it offers spectacular views of the Edmonton river valley and features a restaurant and spa. Close to many Edmonton attractions and located right in downtown Edmonton, this hotel is worth the splurge even if it's just for one night!
Check Availability | See Reviews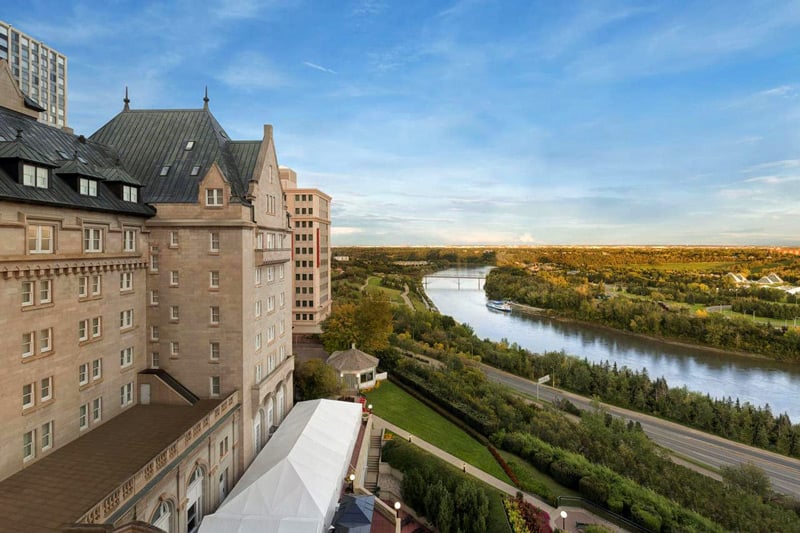 Mid-range – The Mettera Hotel on Whyte is close to the shopping and vibrant amenities Whyte Ave is known for. Fitting in with the funky vibe of Old Strathcona, Mettera Hotel on Whyte offers rooms decorated in fire, earth, air or water themes. Additionally, this boutique hotel features a cozy library with a fireplace!
Check Availability | See Reviews
Budget – Close to Whyte Ave and West Edmonton Mall, Travelodge by Wyndham Edmonton South gives you access to Edmonton sightseeing without breaking the bank. Great for kids, it also has a hot tub and pool and also includes a complimentary continental breakfast.
Check Availability | See Reviews
Where to Stay in Calgary
Doing the reverse trip? Then plan to enjoy some time in Cowtown as well! Book a few nights at one of the hotels below and follow our extensive guide on what to do in Calgary.
Luxury – Stay in the heart of downtown Calgary in the historic Fairmont Palliser hotel. You'll be within walking distance of some of the city's most renowned shops, entertainment, and restaurants! There is a spa with a pool to pamper yourself too.
Check Availability | See Reviews
Mid-range – Hotel Arts offers a beautiful and eclectic space; this boutique hotel in downtown Calgary is a must if you're into the art scene. Sip cocktails and eat world-class food around the poolside (open to non-hotel guests too). The hotel features two superb local restaurants and it sports its own commuter bike program to help you explore the city.
Check Availability | See Reviews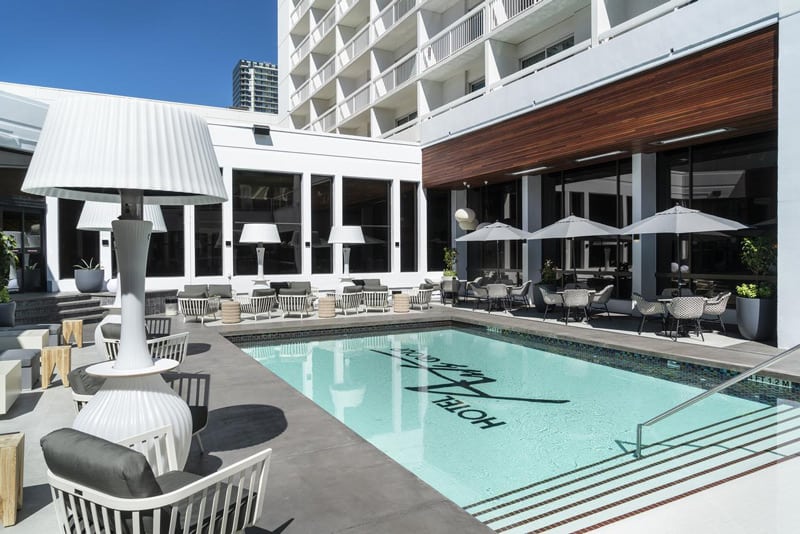 Budget – If you're looking to budget more for excursions than where you rest your head, check out Canada's Best Value Inn. It's close to the transit system and great shopping at the nearby Chinook Centre.