Disclaimer: This page may contain affiliate links. Please review our full Terms and Conditions for more information and our Privacy Policy. Note that any pricing, operating hours, or other such information provided below may have changed since initial publication.
Compiled by the Road Trip Alberta team
Last Updated on September 4, 2023
We lived in Calgary and the area for many years, back when the city was primarily known for just a few things: the oil industry, the infamous Calgary Stampede, the 1988 Winter Olympics, and steakhouses. And while those things are still an important part of the city's fabric, on every return visit since we left in late 2009, we always marvel at its evolution and all the new and exciting things to do in Calgary.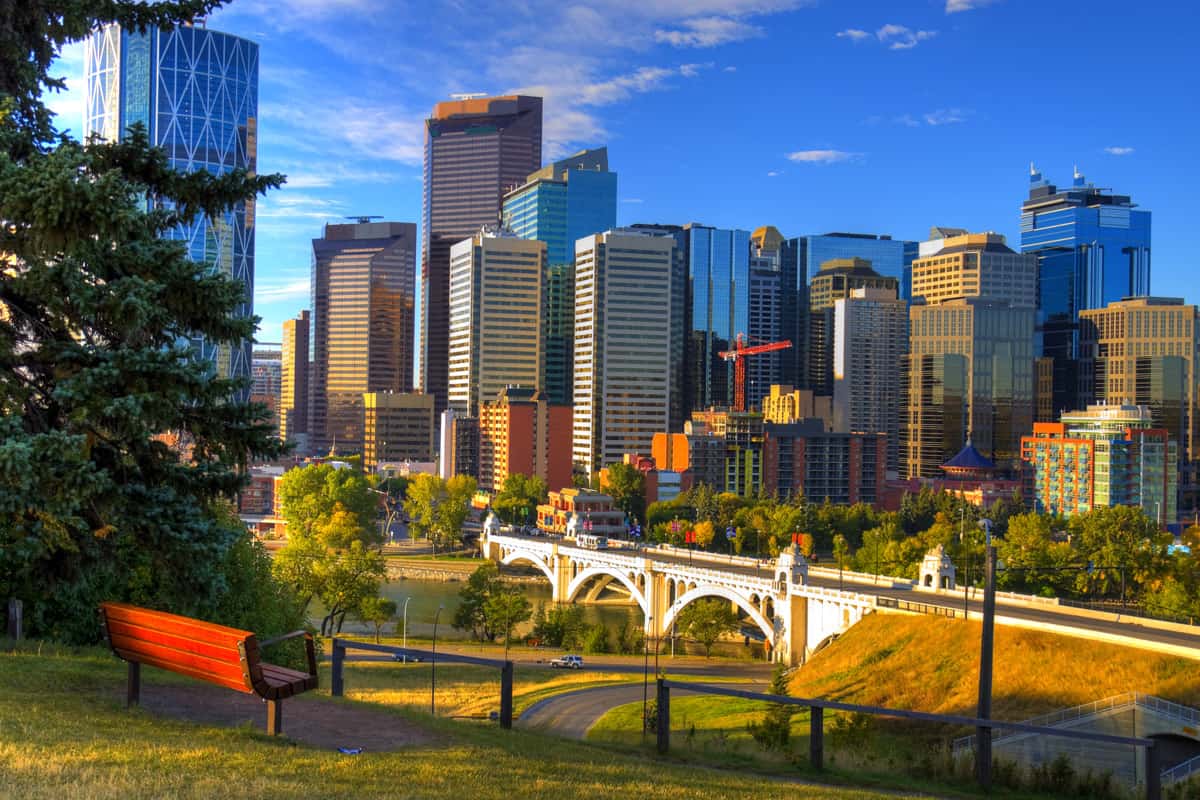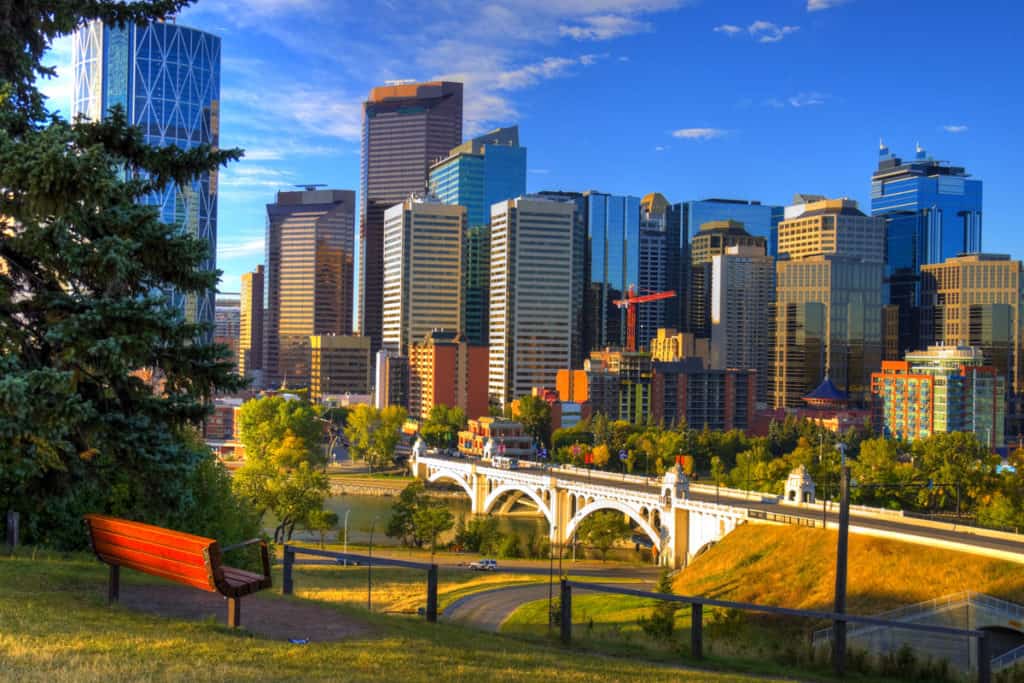 We have many friends still living in the city and find ourselves there often to visit or to attend business meetings. But in every spare moment, we endeavour to explore something new! We've taken many photos at many angles of the dynamic Wonderland sculpture. We've done the same with the Peace Bridge, checking it out at both the first day's light and at dusk.
We've eaten at so many fantastic new restaurants (although it is hard to pull us away from our major fave – Native Tongues); the magnitude of the explosion of exceptional eateries in the last decade is sometimes hard to fathom. But it happened, and the culinary scene alone is doing a lot to pull people in.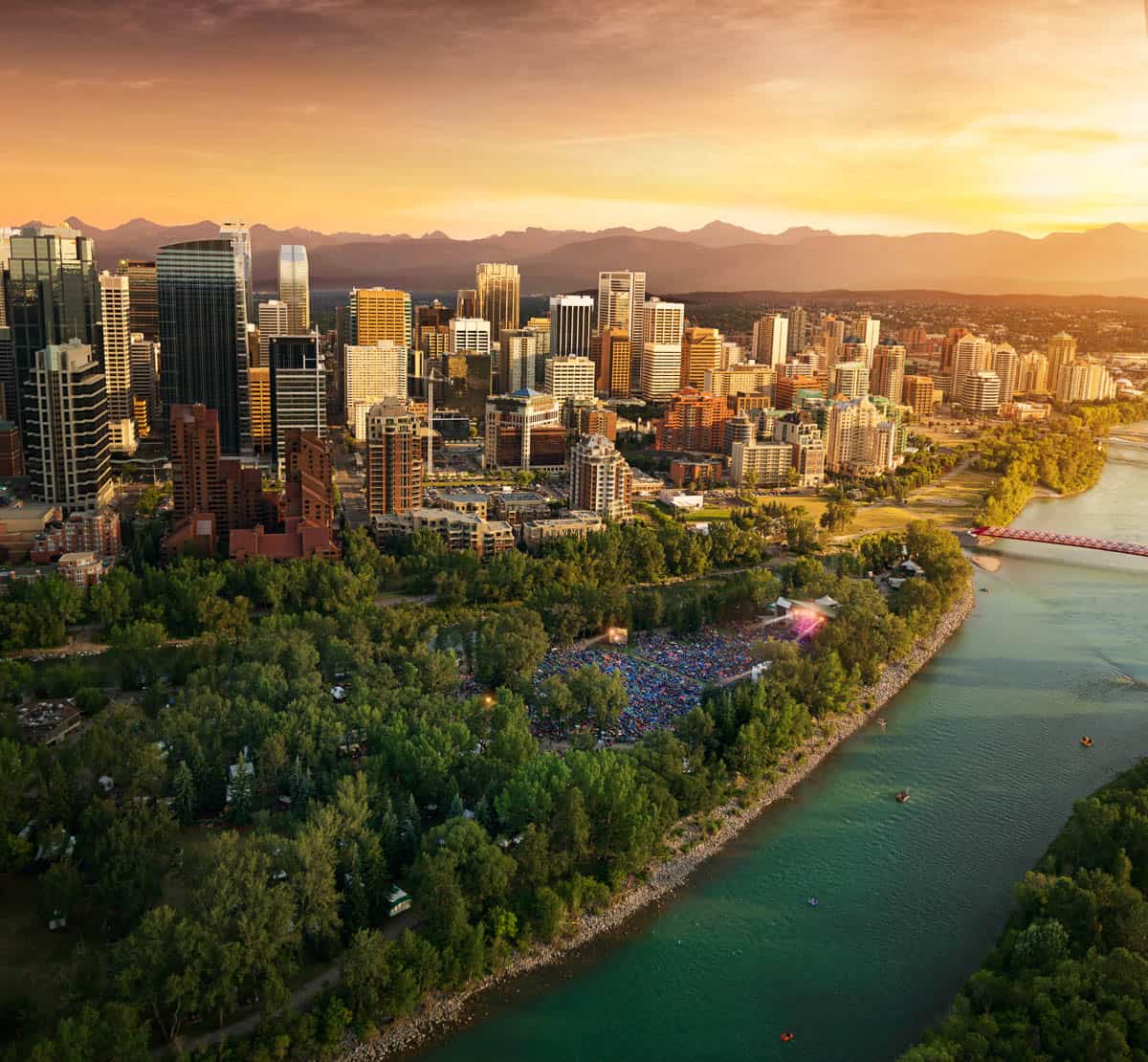 There is, however, so much more to see and do. Calgary is a city that is constantly evolving, and its prime location also makes it a perfect base to explore diverse neighbouring regions.
About the City
Acknowledgments
The land on which Calgary is located is in the traditional territories of the Niitsitapi (Blackfoot) and the people of the Treaty 7 region in Southern Alberta, which includes the Siksika, the Piikuni, the Kainai, the Tsuut'ina and the Stoney Nakoda First Nations, including Chiniki, Bearpaw, and Wesley First Nations. The City of Calgary is also home to the Métis Nation of Alberta, Region III.
History
The city of Calgary started as a North-West Mounted Police fort called Fort Brisebois (and eventually Fort Calgary). It was built in this area because of the importance of the meeting of the Bow and Elbow rivers. It was incorporated as a town in 1884 and then a city later in 1894. Initially a small town, the population saw significant growth when the Canadian Pacific Railway finally connected Calgary to Eastern Canada in 1883.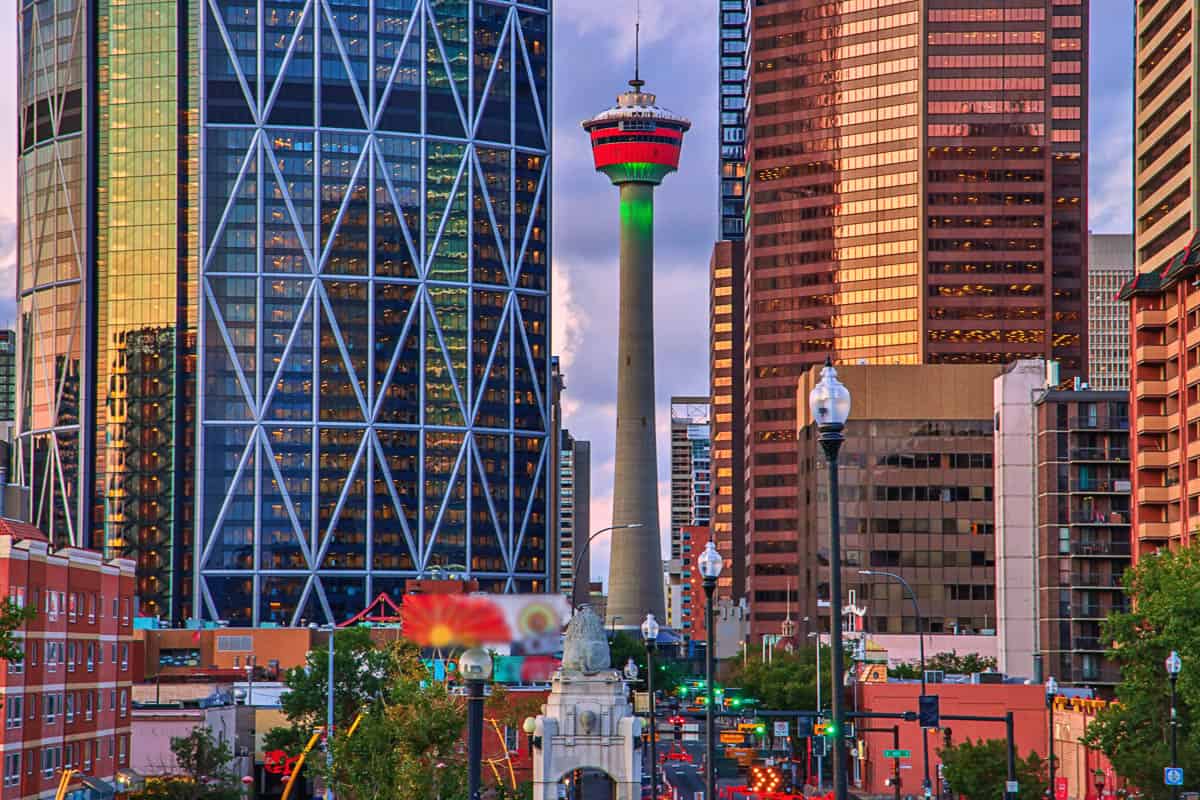 Only 18 years after becoming a city, the first Calgary Stampede was hosted by Guy Weadick. The Greatest Outdoor Show on Earth has only continued to grow since then! Calgary had its start as an oil city after multiple Southern Alberta oil strikes in 1914, 1920, and 1947. Though this is what shaped the city as the fastest-growing city by the '50s, the city was also known for its arts and education with the inception of the Glenbow Museum and the University of Calgary in 1966. The cultural importance of this city continued to grow in 1988 when it hosted the 1988 Winter Olympic Games – earning its reputation as a hot spot for international travel.
Boasting a population of over 1.3 million people, Calgary is the largest city in Alberta. Calgary's altitude is 1,048 meters above sea level and it is only 80 kilometres east of the Rockies. Still sporting its long-held nickname – Cow Town – is a modern, urban city built out of Western tradition.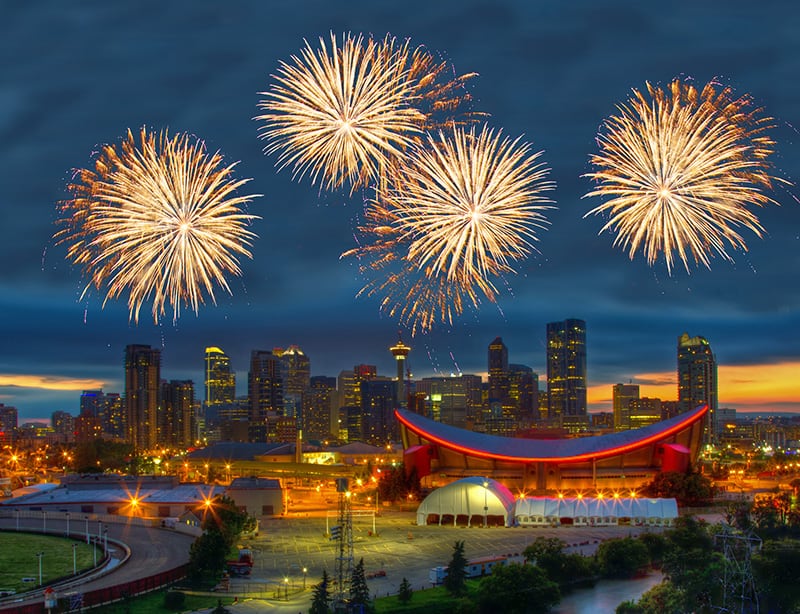 Fun Facts:
Calgary was dubbed the Sandstone City after a fire in 1886 burned much of the wooden home's to the ground and the city rebuilt with sandstone from the banks of the Bow. Old City Hall is one of the only sandstone buildings left in the city now.
The dry climate in Calgary is attributed to its mountain-high altitude. The city frequently experiences chinooks in the winter – warm, moist wind that raises the temperature dramatically.
Calgary is the birthplace of the Caesar! That spicy vodka and clam-infused-tomato juice cocktail was invented by Walter Chell for the opening of Marco's Italian in 1969.
The city proudly hosted the 1988 Winter Olympics. That year held Olympic favourites like the Jamaican bobsled team and Eddie the Eagle. This was a formative moment in Calgary history.
Calgary is a city of helpers. It has the most volunteers per capita out of all Canadian cities!
How to Get to Calgary
Driving to Calgary
How far is Calgary from Edmonton? Driving from Edmonton to Calgary, it will take approximately three hours (almost exactly 300 km). If you want to mix things up with an adventurous alternate route (or two!), check out our guide for getting from Calgary to Edmonton (and vice versa).
How far is Calgary from Vancouver? Driving from Vancouver to Calgary will take you around 10 hours, as it is 971 km away. We recommend splitting up the drive and taking in some of the sites along the way such as stops in Kamloops, Revelstoke, Golden, and Banff!
How far is Calgary from the USA? Getting to Calgary from the Del Bonita border crossing takes roughly 3.5 hours (when driving on AB-2 North). From the Carway Border Crossing, you'll be driving 260 km or 2 ¾ hours via AB-2 North. Another close border crossing is the Chief Mountain Border Station. The drive from here is also approximately 3 hours long.
Flying to Calgary
The Calgary International Airport (YYC) is a busy one with many connections, making it an easy way to get there. Getting into the city from the airport is possible through public transit, rental cars, and shuttles.
There are multiple options for renting a car at the Calgary airport. Book in advance to avoid any hassle! We recommend booking via RentalCars.com to select the cheapest rate or to book with whichever company you prefer.
There are hotel courtesy shuttles that take you to nearby hotels, plus a shuttle service that takes you straight to downtown Calgary. The regularly scheduled downtown shuttle is currently suspended due to COVID-19.
Public transportation recently started serving the Calgary airport regularly. You'll find buses across the roadway on the arrivals level at the domestic terminal and international terminal. Purchase tickets at Door 15, Pillar 32 and Door 1, Pillar 7 (debit, credit and coin payment accepted). The cost is $8 per person. For route information, visit the Calgary Transit website.
A taxi from the airport to downtown will take approximately 25 minutes and cost between $40 and $45 (under normal driving conditions).
Uber is also in Calgary and does pick-ups and drop-offs at YYC. There are three pickup zones at the airport: door 1, door 12 or door 17 in the passenger pick-up zone.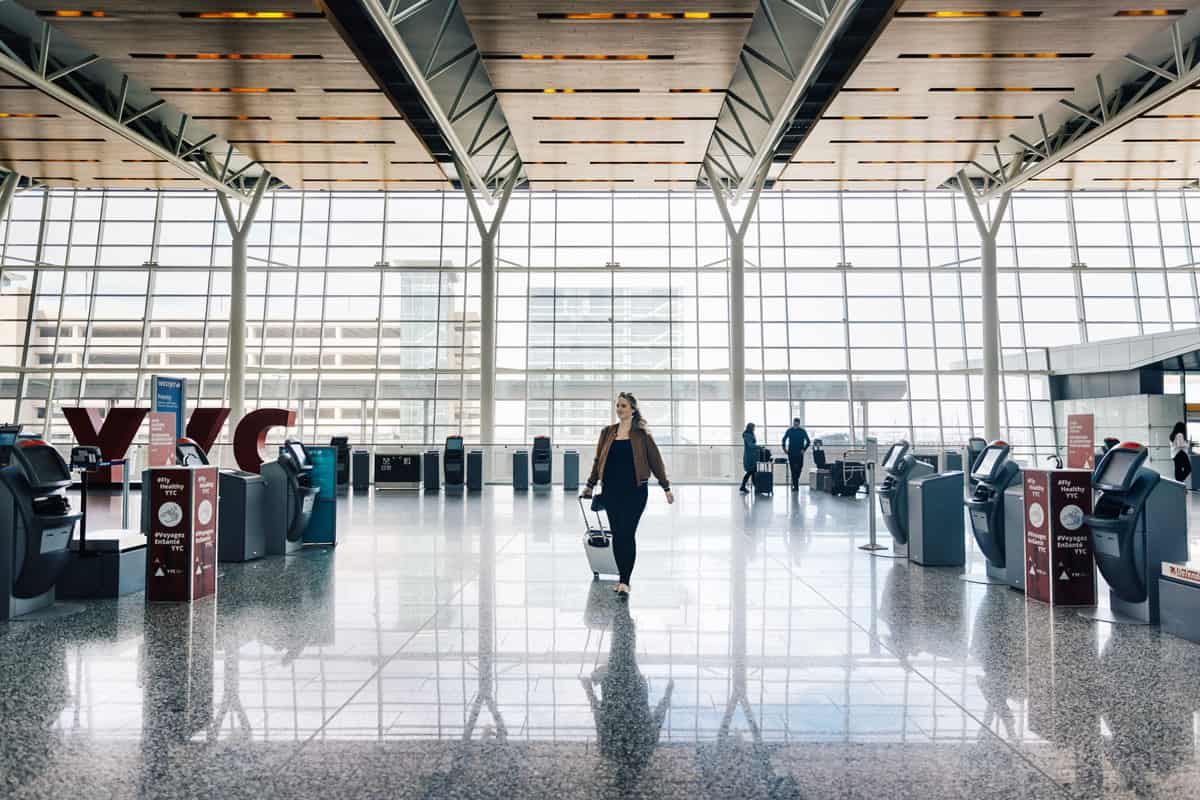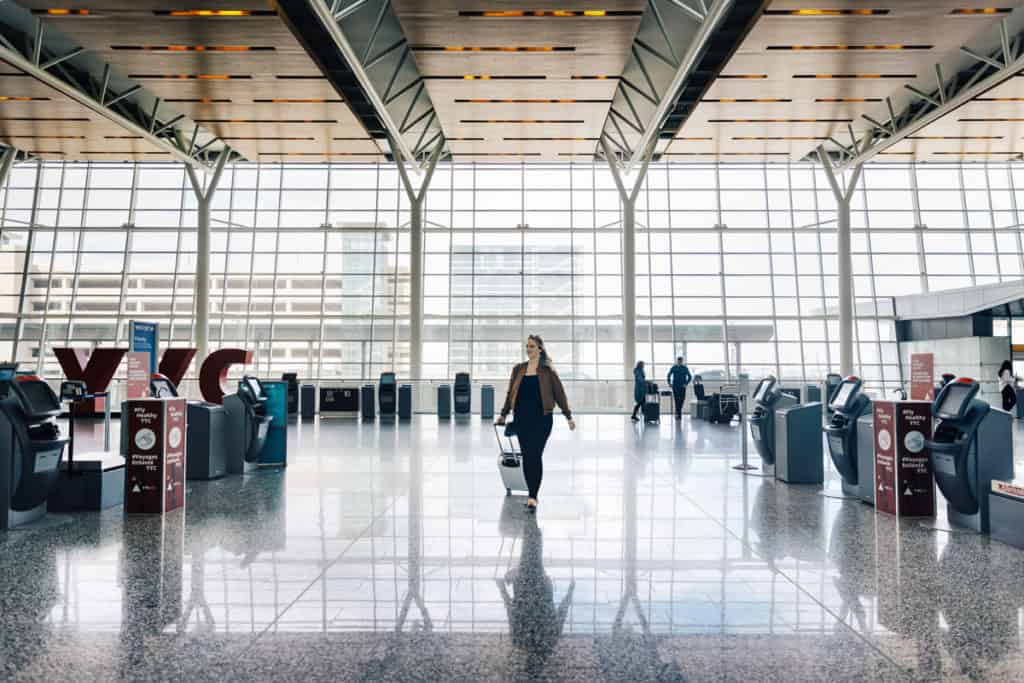 By Bus
Multiple bus companies have stops in Calgary (it's easy to compare them on Busbud, but here are a couple of our favourite options):
We've personally taken Red Arrow several times and always had a seamless and on-time journey. There are three drop-off points (north, downtown, and the Calgary International Airport). The Deerfoot Inn and Casino is also a stopping point but is by reservation only. The current cost, if traveling to Calgary from Edmonton, is approximately $75.
Ebus is Red Arrow's less-luxurious sister company, with similar pick-up/drop-off points but at a lower rate. If travelling to Calgary from Edmonton, the cost is nearly $64.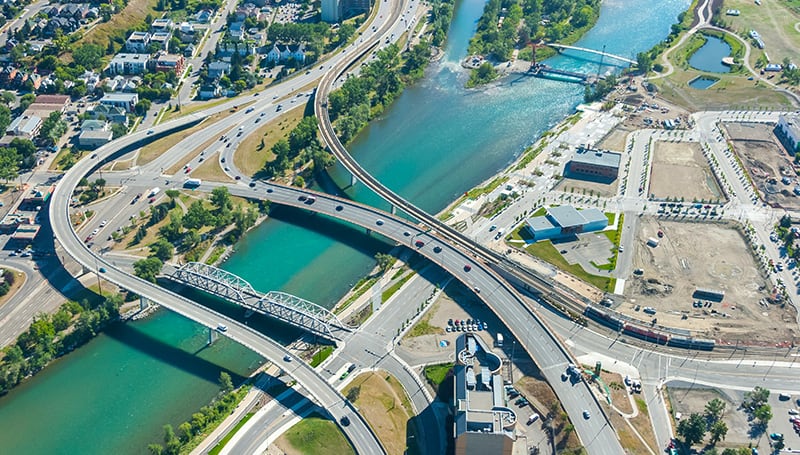 Take the guesswork out of planning your Alberta trip!
We now offer two ways to help ease the burden of travel planning:
We've developed ebook itineraries and travel guides for hot Alberta destinations and for a variety of 7-day trips. For one low price, you'll get local travel advice that you WON'T find elsewhere!
Want a custom trip tailored exactly to your needs? We are pleased to also offer a custom service for planning your Alberta vacation.
Best Things to Know About Visiting Calgary
Getting Around
Calgary Transit
Calgary Transit is an easy, cheap way to travel around the city. There are many free spots along the train line to park and ride throughout the city (it's a great way to avoid parking fees downtown). There are many bus and train routes to get you from the north to the south of the city. Check out schedule maps and fees.
Taxis
For quick, easy rides around town, check out one of the many taxi services: Checker Cabs, Associated Cabs, or Calgary Cab.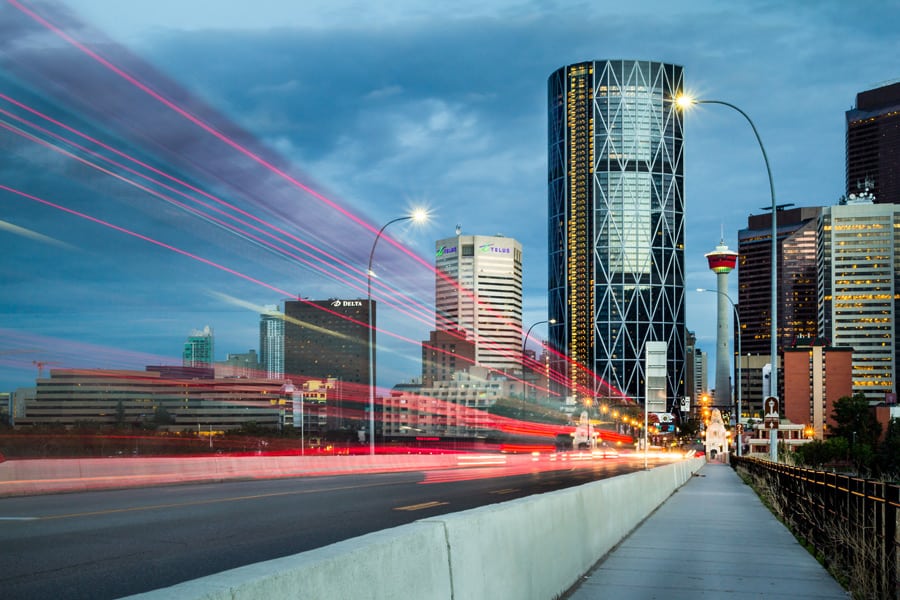 Uber
Uber operates in the greater Calgary area, between Airdrie (to the north), Okotoks (to the south) and Chestermere (to the east).
Biking and Walking Path Network
Make use of the most extensive urban pathway network in North America! Calgary bike paths are made for use by everyone – walkers and cyclists. There are many pathways downtown, with the network spreading to outer neighbourhoods from there. Check out the City of Calgary's maps for clearer direction.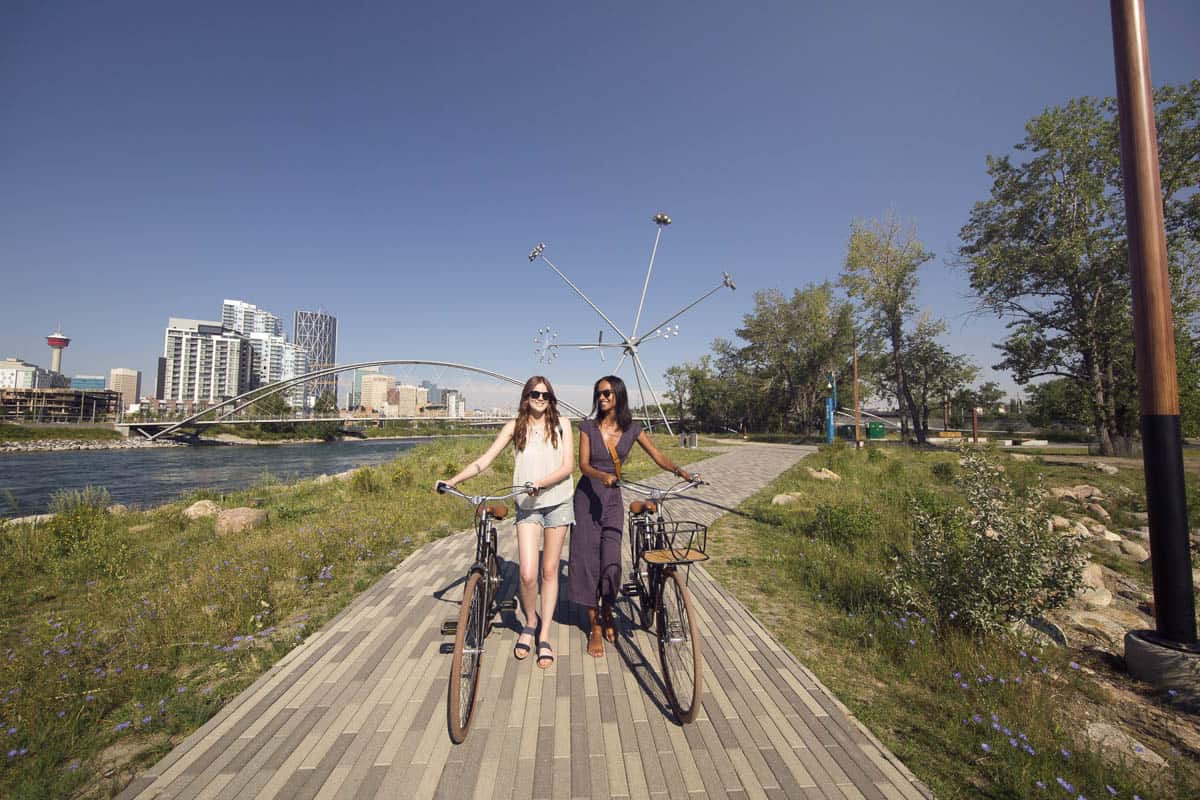 Downtown Plus 15
Found yourself in beautiful downtown Calgary on a not-so-beautiful day? The city has an extensive "Plus 15" system of indoor connected walkways just above the downtown streets. Use the system to explore the many buildings and shops. Download the map here.
Best Time to Visit Calgary
Calgary is great to visit at any time of the year, with many activities to keep you busy year-round! Visiting from June through August will ensure days full of festivals and a beautiful river valley setting. Longer days in the summer are also something to take advantage of. And don't forget about the world-famous Calgary Stampede that occurs every second week of July.
Calgary in winter can also be a delight. While there are guaranteed to be a couple of weeks where the city is in an inhospitable deep freeze, warm chinook winds off of the mountains can also melt it all and sometimes bring temperatures into the summertime range.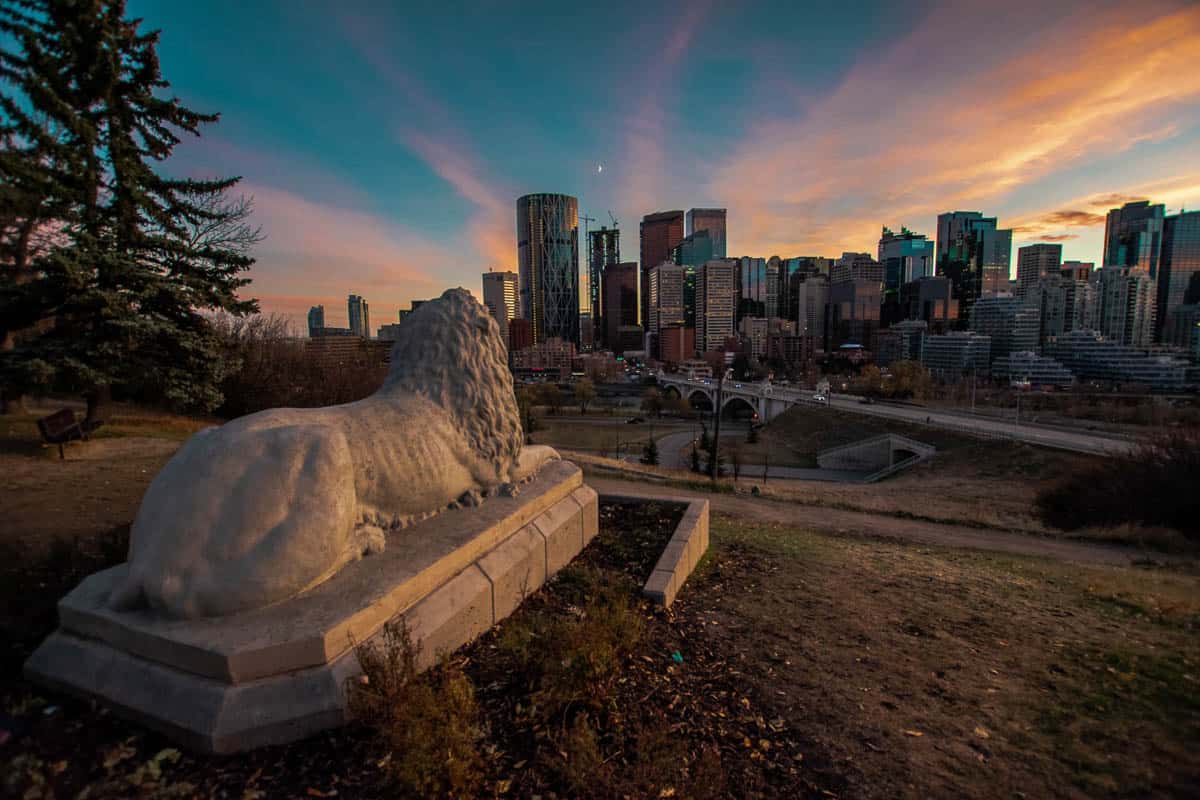 Being within range of the mountains also means that day trips to popular ski slopes are also possible. (Check out our guide on how to get from Calgary to Banff.)
Where to Stay
There are plenty of choices for accommodations in Calgary. Whether you're looking for an experience or just a simple room – there's something for everyone.
Calgary Hotels
Downtown – Stay in the heart of downtown at the historic Fairmont Palliser Hotel. You'll be within walking distance of some of the city's most renowned shops, entertainment, and restaurants! There is a spa with a pool to pamper yourself too.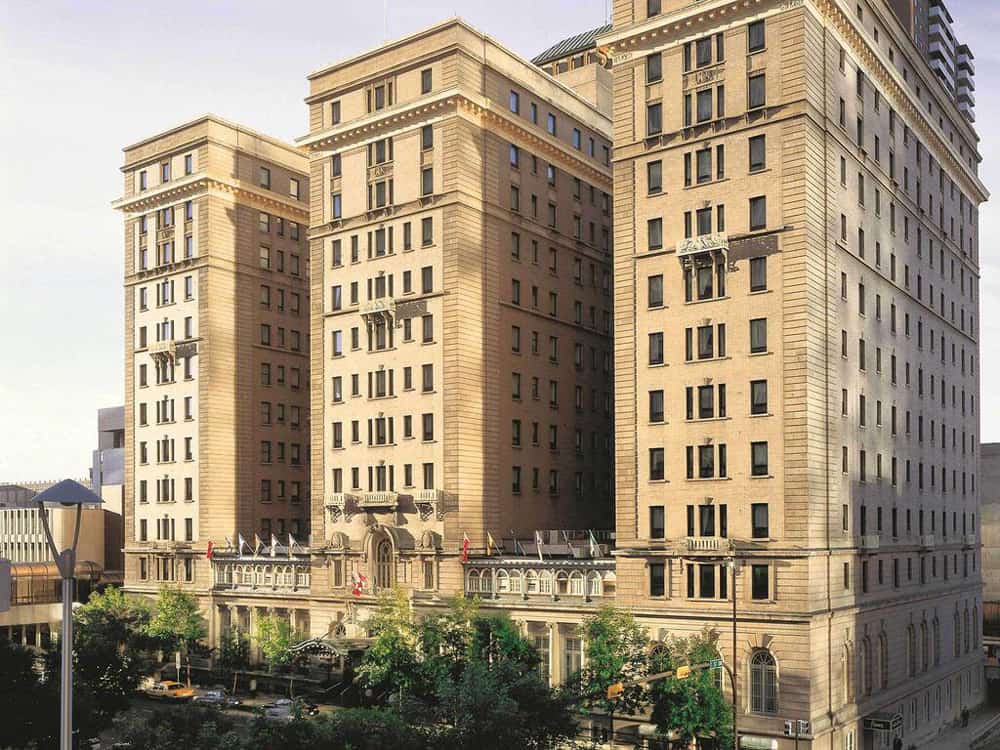 Beltline – Hotel Arts offers a beautiful and eclectic space; this boutique hotel in downtown Calgary is a must if you're into the art scene. Sip cocktails and eat world-class food around the poolside (open to non-hotel guests too). The hotel features two superb local restaurants and it sports its own commuter bike program to help you explore the city.
West Side – The Alt Hotel Calgary University is brand new and opened in July 2023! If you're looking for a good option to explore Calgary and a base to escape to Canmore or Banff for the day, this is the hotel to stay at. Conveniently located in the west end of the city, it's a great option to explore everything around Calgary or to get to the mountains easily and quickly.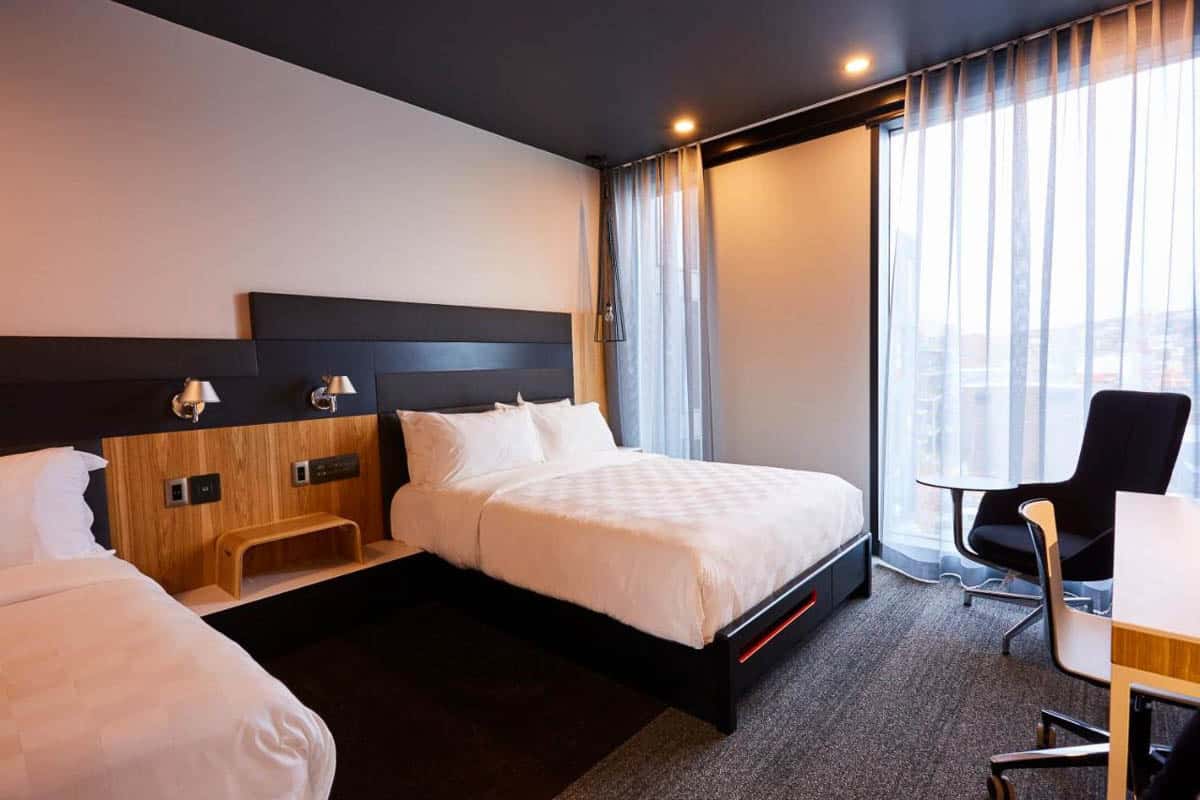 Want to see more options? Click through to see our guide to the best hotels in Calgary. If you are travelling with your pet, you might also want to check out our guide to pet-friendly hotels in Calgary.
AirBnbs and Rentals – Airbnb is always one of our favourite ways to stay when we travel and here's a post of our recommended Calgary Airbnbs to stay at.
Camping – There are a few options for camping very near the city limits and also other great ones within a few hours. Want the camping experience but need to rent an RV? We've got you covered with how to do it in this guide to RV rentals in Calgary (and Alberta).
Sights to See in Calgary
Prince's Island Park
Prince's Island Park is a hub for cultural activities in the city. Catch some Shakespeare in the Park hosted by Theatre Calgary, and the popular Calgary Folk Festival is held here in late July. You can dine at the sublime River Café, or just enjoy a picnic in the grass and watch the wildlife go by! Eau Claire Market is close too, which is great for some local shopping.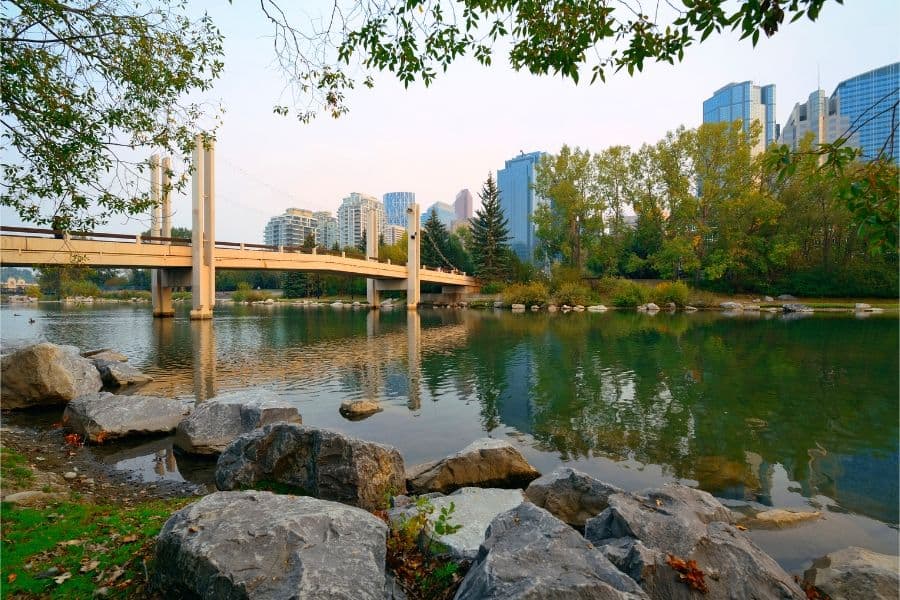 Calgary Peace Bridge
This eye-catching red bridge was finished construction in 2012 and quickly became an iconic Calgary sight. It stretches across the Bow River connecting Memorial Drive and Eau Claire Park. Take your time, enjoy some people-watching and be sure to get a selfie!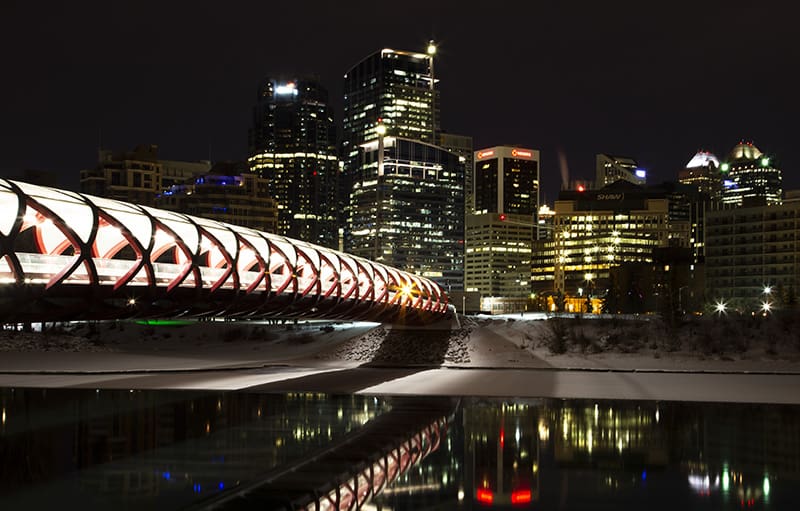 Wonderland
Don't miss this 12-metre-high metal sculpture in front of The Bow, the tallest building in Calgary. You can walk right through the sculptured, mesh share of a girl's head and get a new perspective on the downtown buildings.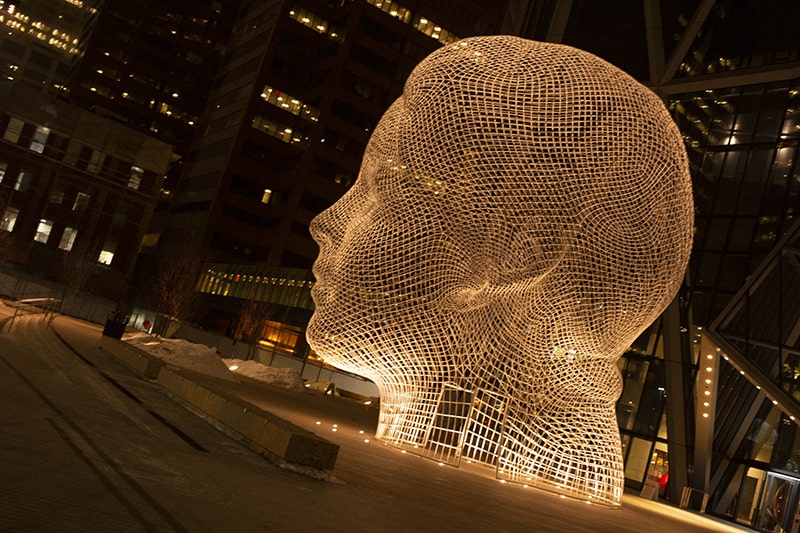 Calgary's East Village
Calgary's East Village is an exciting city neighbourhood all concentrated in a few well-connected walkable or bike-able streets. It's referred to as "a catalyst of urban culture, a future-facing hub of optimism, ideas and energy that is helping the city live its next chapter". It's a perfect way to spend an afternoon with the family checking out the cool shops, pubs and restaurants, and public art.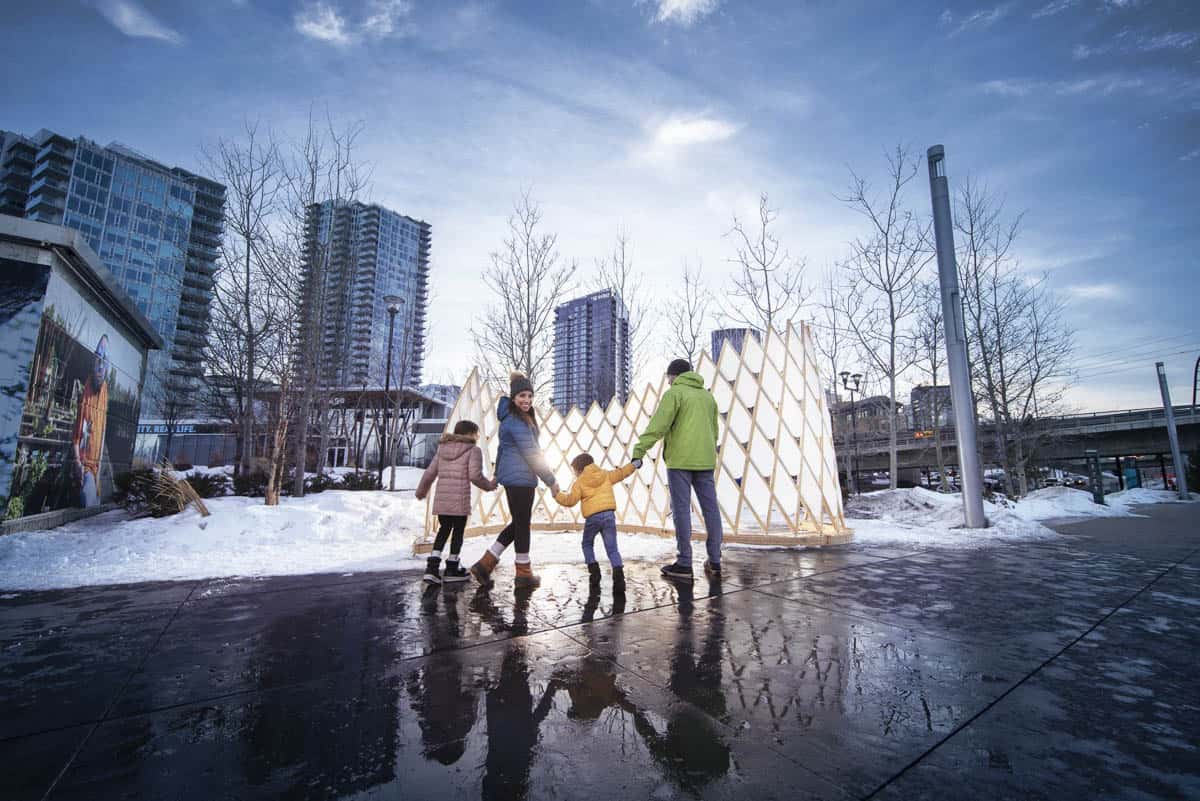 "The Last of Us" Filming Locations
From Mount Royal University and SAIT to Fish Creek Provincial Park and the neighbourhood of Inglewood, this HBO megahit starring Pedro Pascal and Bella Ramsey was shot all over Alberta but staged primarily in Calgary. If you want to see all of the sights and relive the magic (as well as find out where Pedro's fave spot to eat was), check our article on The Last of Us filming locations.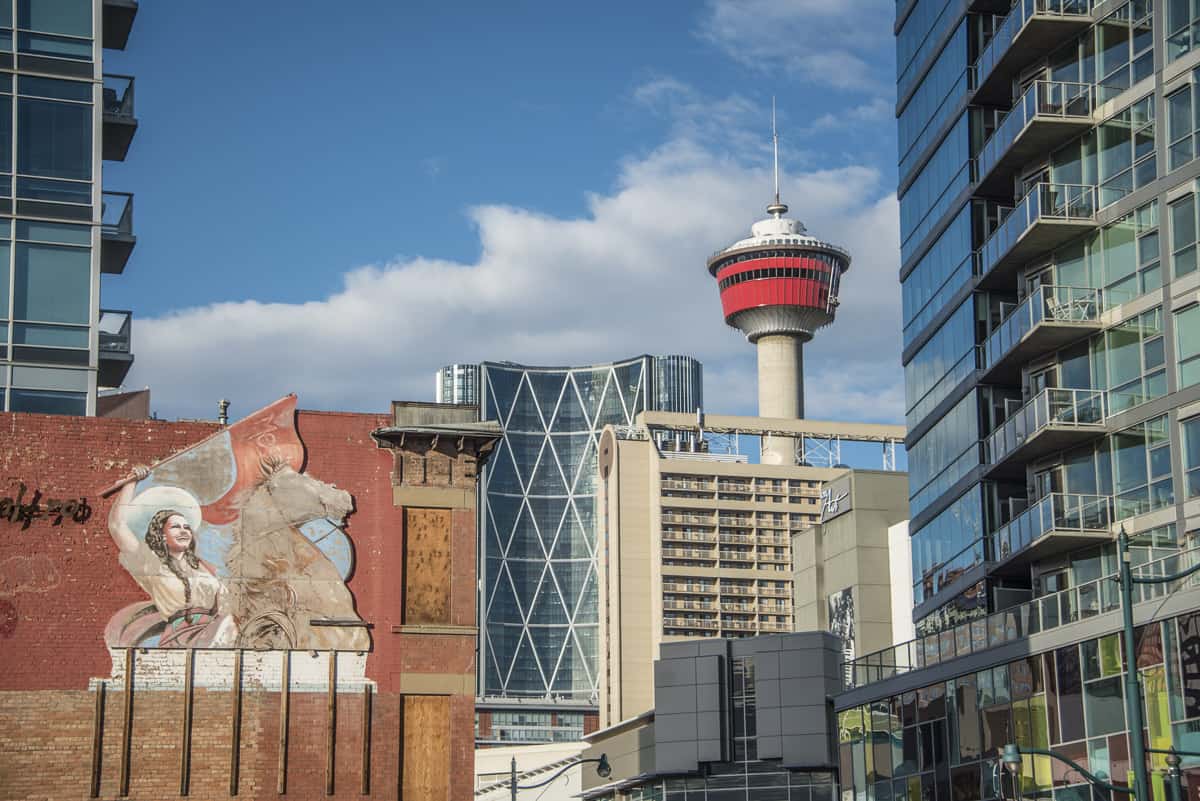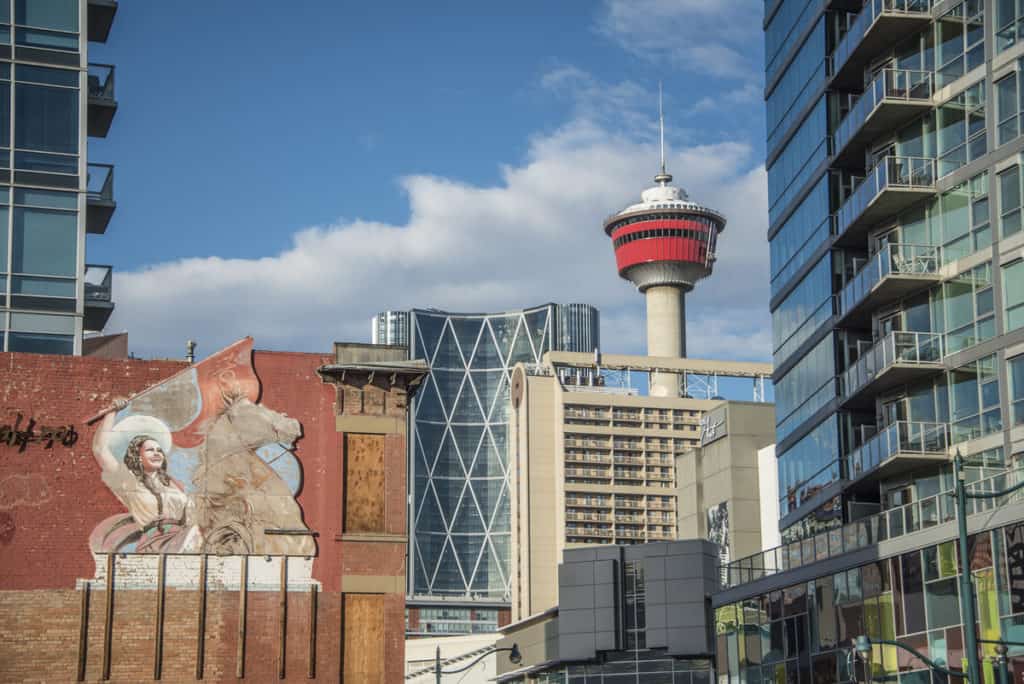 Festivals in Calgary
Calgary boasts a wide array of festivals to please any interested goer. Top events include:
Calgary Stampede
Calgary Stampede is easily the city's biggest event and attracts millions to the city in early July to experience the greatest outdoor show on earth. Spend an afternoon watching the rodeo, the chuckwagon races, and stay for the world-renowned Grandstand show later in the evening. For the thrill-seekers, at the Midway, there are plenty of rides and lots of festival eats to entice the foodies.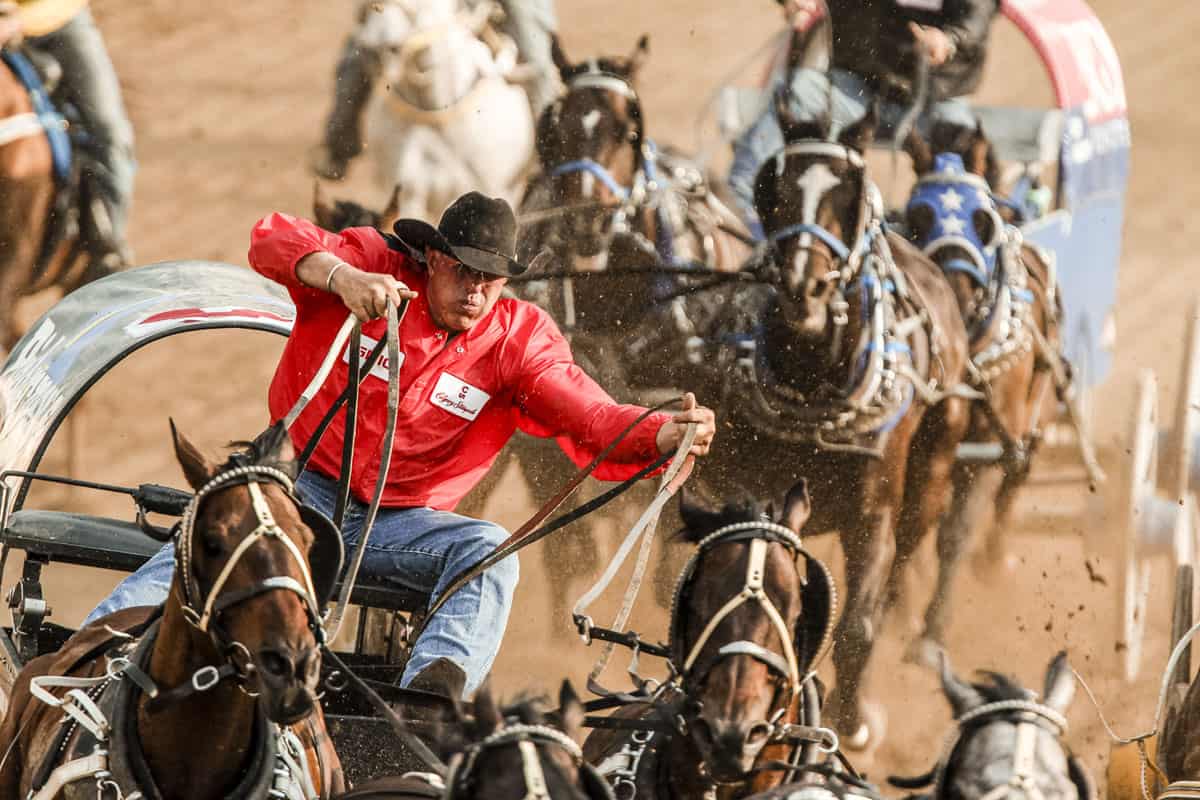 Over the ten days, there are concerts (some free) throughout the grounds and in neighbouring venues with live music and other performances. And also be sure to take a walk through downtown Calgary during any day of the Stampede. You are sure to find a free pancake breakfast somewhere.
Beakerhead
Beakerhead in mid-September is one of our favourites as it brings together the worlds of science, engineering, and art. The events, exhibits and concerts will entertain, educate, and surprise you – taking place all over the city but culminating in a massive spectacle at Prince's Island Park. This is an unmissable festival in Calgary!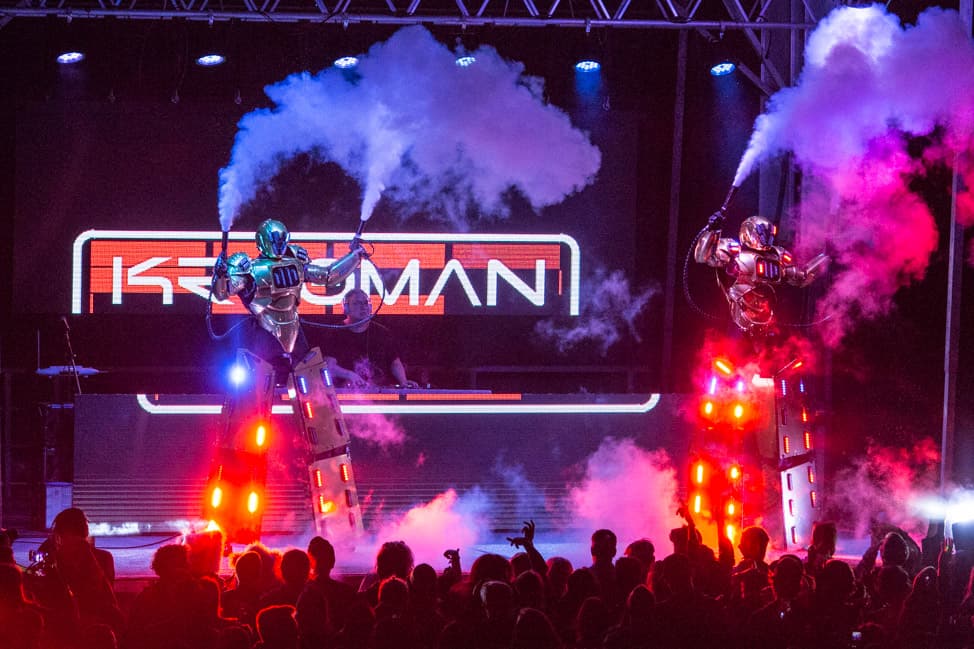 Calgary Folk Festival
The Calgary Folk Festival is an annual "four-day family-friendly cultural and musical extravaganza." Artists from Alberta, Canada, and around the world share live music and stories on multiple stages in the beautiful Princes Island Park. The Festival typically runs in July and is a local favourite for attractions in Calgary.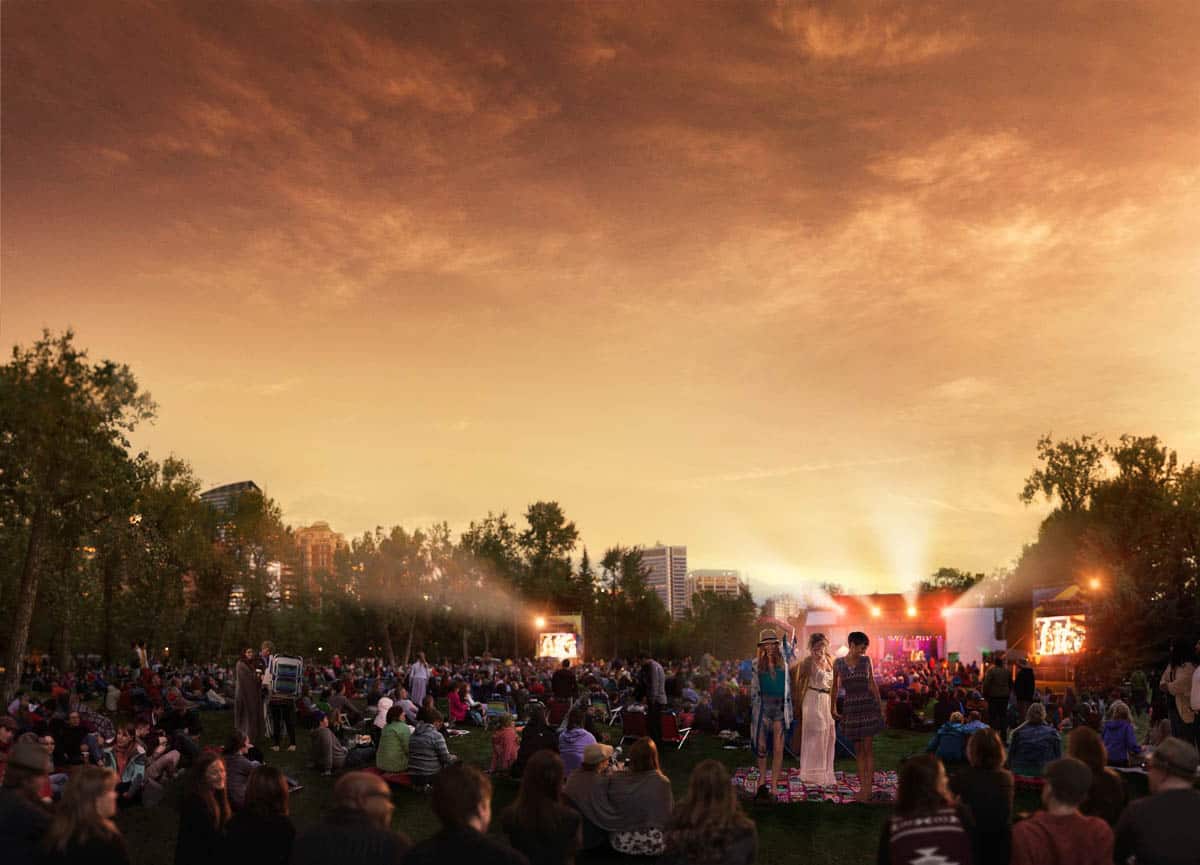 Chinook Blast
Locals and tourists embrace winter fun in Calgary by experiencing Chinook Blast – a six-week winter festival celebration. 2021 was the inaugural year of the festival featuring the best of Calgary's artists.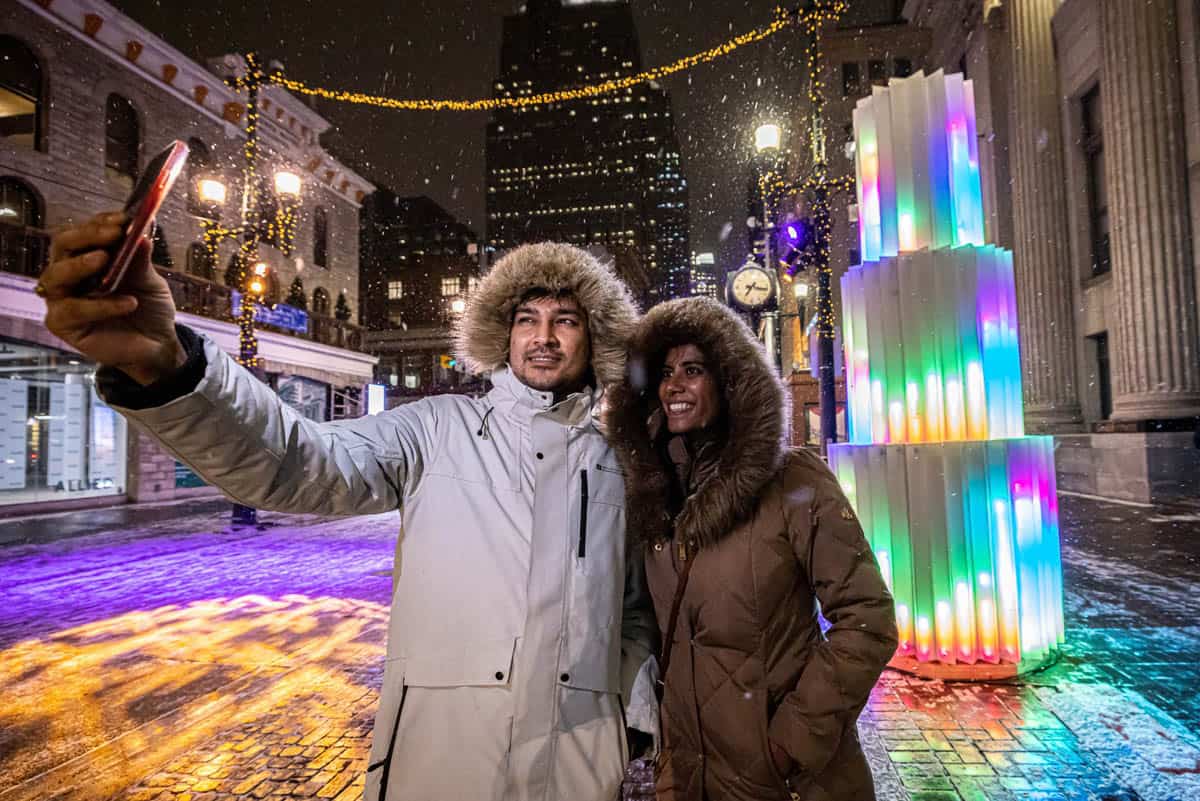 In addition to all the events, food trucks and displays, Chinook Blast anchors onto other popular festivals in Calgary during the winter months including:
High-Performance Rodeo
Calgary Folk Music Festival's Block Heater
Glow Festival
Ethnik Festival of Arts & Culture and
BIG Winter Classic
Best Things to Do in Calgary
There are so many different and fun things to do in Calgary throughout all four seasons – from skiing inside the city to enjoying the best Calgary museums or taking in some of the fun Calgary bowling alleys (if that's your thing) – visitors will never be bored in Cowtown. Here are some of the best things to do!
Calgary Zoo
The Calgary Zoo is one of the best things to do in town. It's located right near downtown and is a great place to spend a day with the whole family. The zoo is home to nearly 1,000 creatures across 119 species, and its mission is to become Canada's leader in wildlife conservation.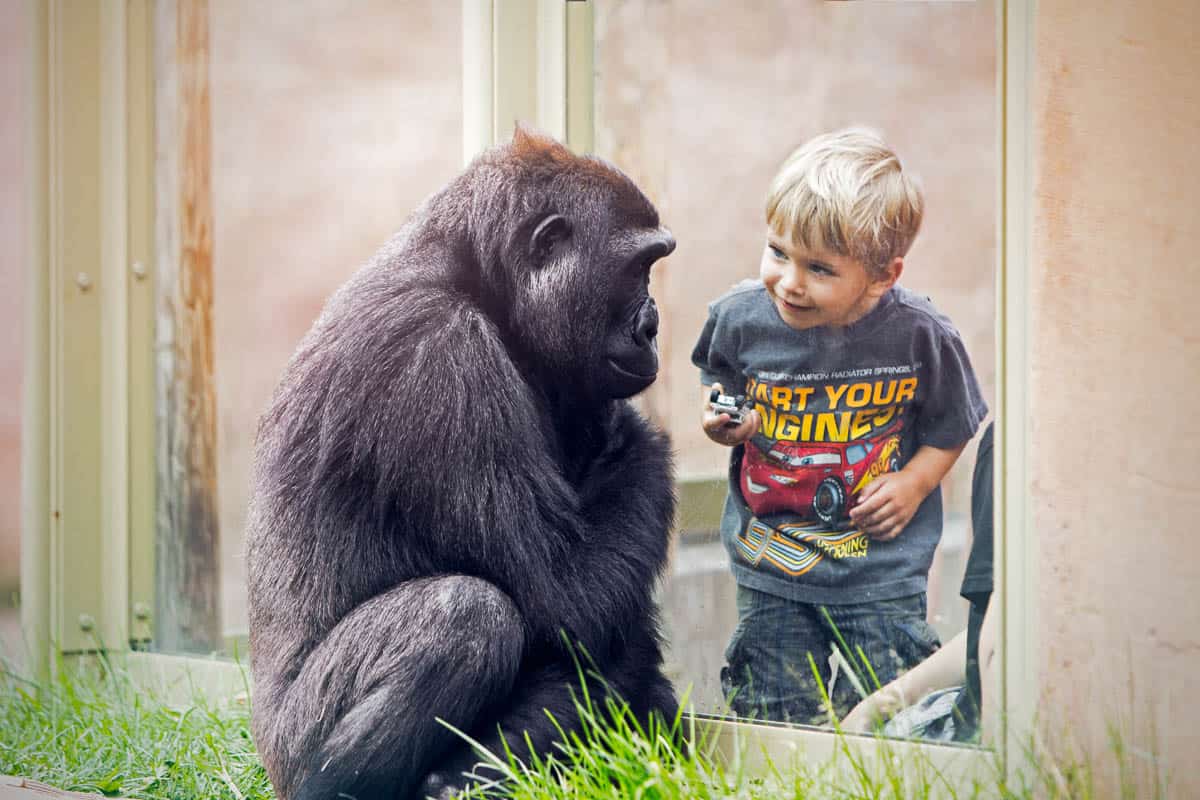 There are so many unique and amazing exhibits to find at the Calgary Zoo. Gorillas, polar bears, giraffes, and penguins are just a few of the animals that you'll find here. In the summer 2023, the Calgary Zoo opened the Land of Lemurs, which is Canada's first immersive lemur experience. Visitors will get to witness first-hand these rare creatures from Madagascar.
It's not only summer that the Calgary Zoo is busy. The popular ZooLights during the Christmas season brings many visitors here as well.
Heritage Park Historical Village
Located just 15 minutes away from downtown Calgary next to the Glenmore Reservoir, Heritage Park Historical Village is a fun spot to spend a day and is one of the top Calgary museums. The park is open all year round, and visitors will see and feel the past come to life through the authentic and interactive exhibits.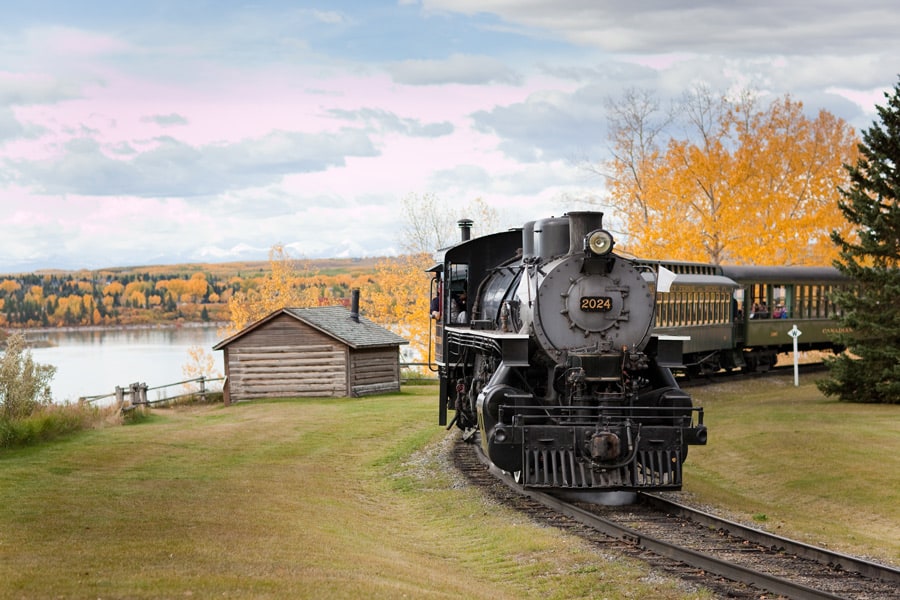 There are self-guided walking tours to give visitors the opportunity to learn about the history of Calgary and Western Canada. Guests will love the fully operational steam engine train (including rides), horse-drawn wagon rides, different daily activities, and the Gasoline Alley Museum featuring some vintage cars.
Fort Calgary
The National Historic Site of Fort Calgary is situated at the confluence of the Bow and Elbow Rivers and visitors will learn of the complex story it has to tell. The Fort has always been a historical and cultural gathering place. The Mounties built Fort Calgary in 1875 and laid the foundations for what the city is today. Visitors can experience the interpretive centre, roam around the 40-acre park and step back in time by visiting the Hunt House and Métis cabin.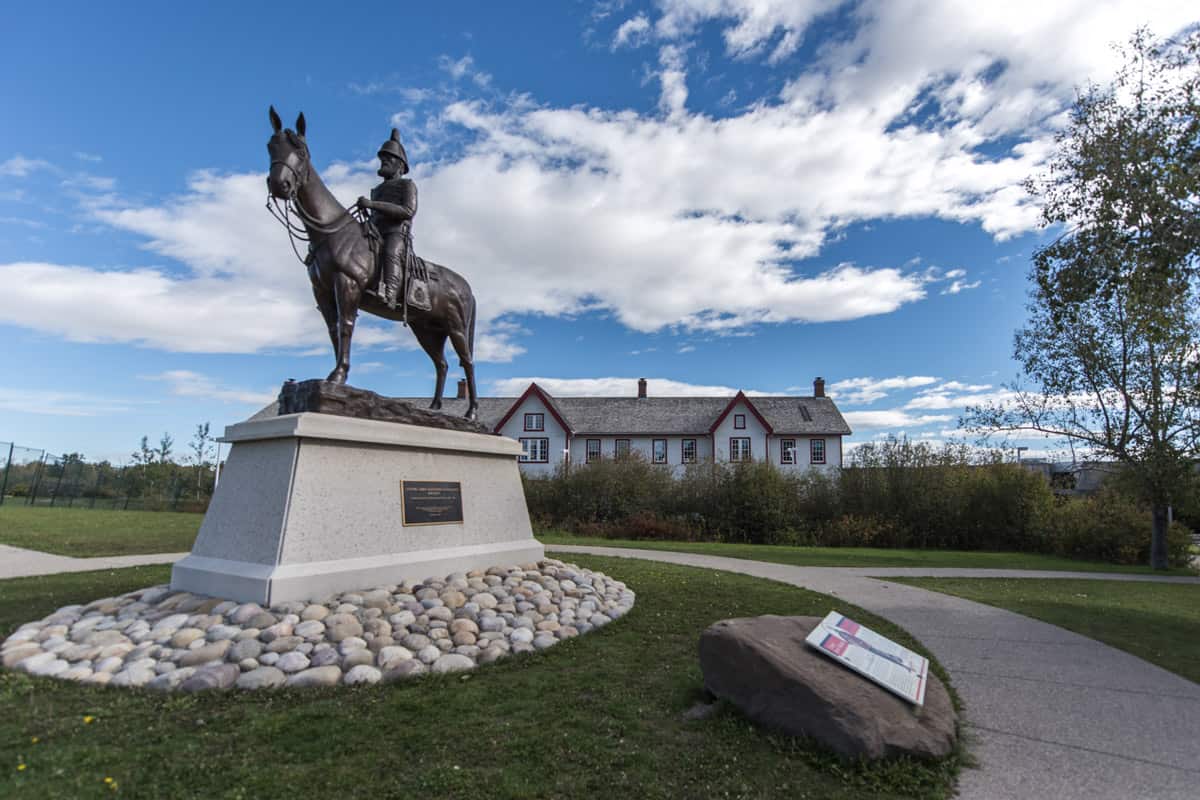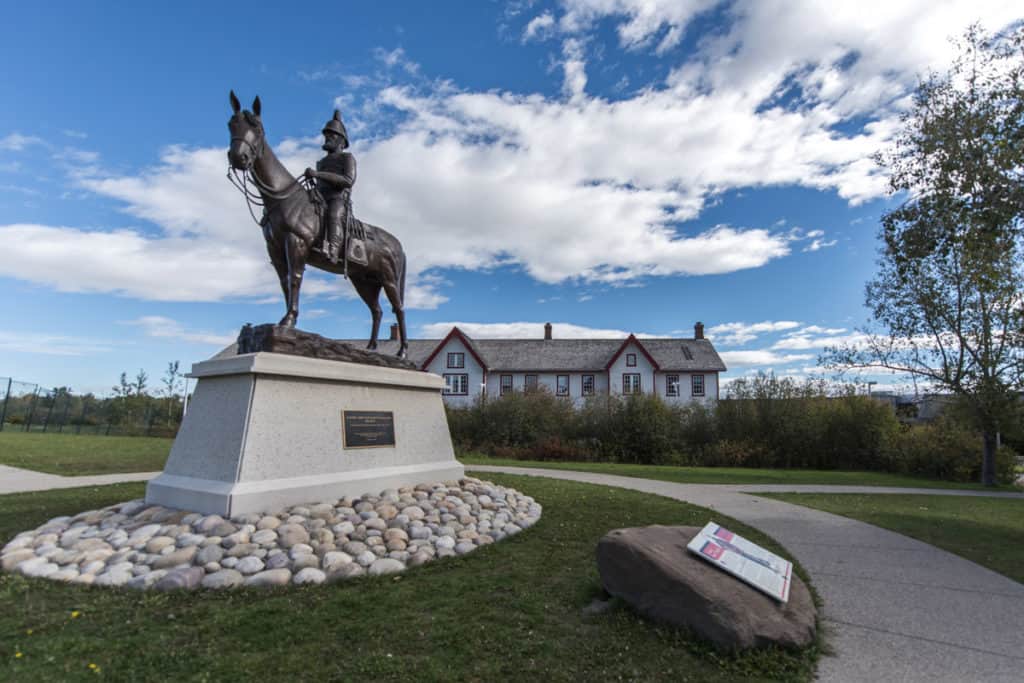 Go Rafting on the Bow River
The Bow River originates in the mountains and runs through downtown Calgary. A perfect summer afternoon can be spent on a raft floating down the gentle river (locals say it's one of the city's best things to do)! Rent your own raft or go with a tour guide so that you can just sit back and enjoy the city-line views.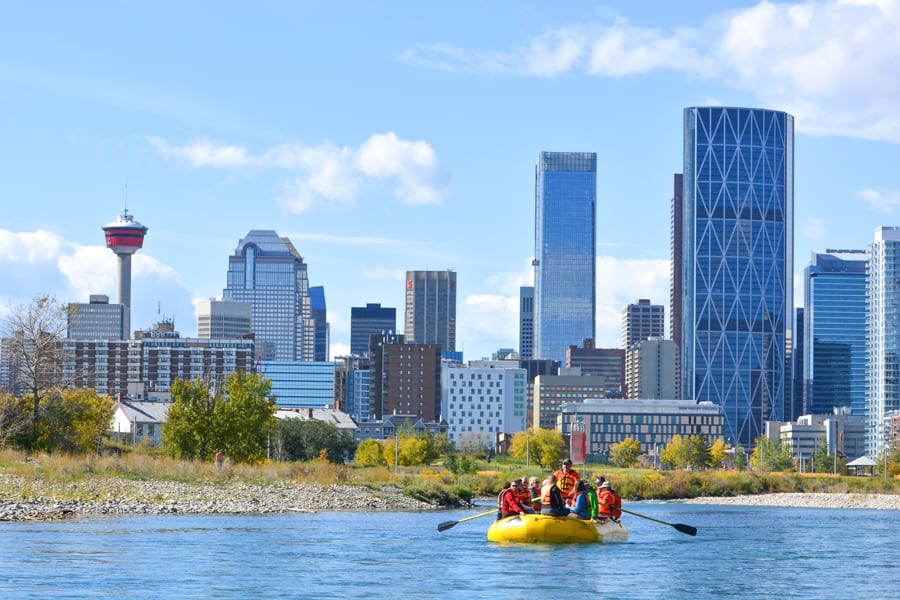 WinSport (Winter Sport Institute)
***The Winsport Bobsled Track is currently under repairs with no set date of when it will reopen.
Originally a venue for when Calgary hosted the 1988 Winter Games Olympics, Winsport (formerly known as Canada Olympic Park) is a hot spot for sports in the city. In the winter, you can ski and snowboard within city limits or even try hurling yourself down the Olympic bobsled track. In the summer, the Olympic Park ski hill is used for mountain biking and the Monster Zipline, where you can reach up to 120 km per hour!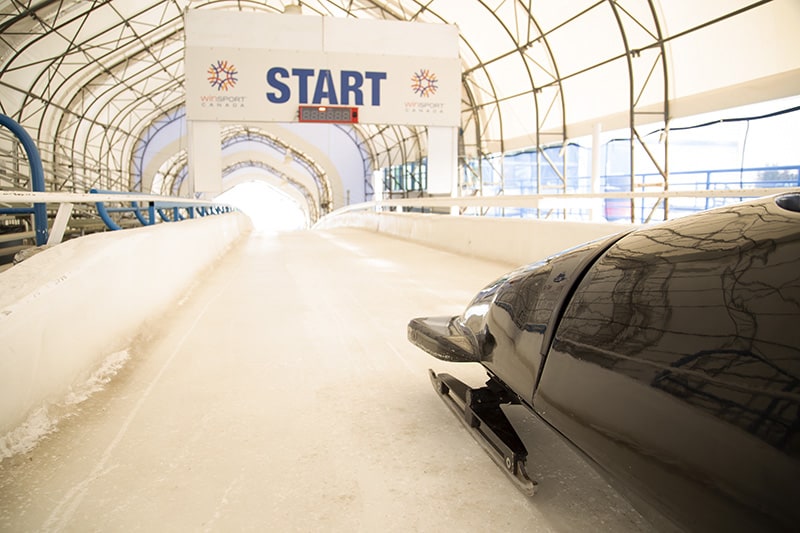 Watch a Calgary Flames Game
Catching the excitement of a live Calgary Flames game is a must-see for any visitor. It's Canada's national pastime, and if you're in town from October through April, grab a ticket and make your way to the Saddledome to watch a game. The Flames game atmosphere will be even more intense if the game is against the Edmonton Oilers!
Calgary Tower
One of the top Calgary attractions is viewing the city from the Calgary Tower, a 190.8-metre free-standing observation tower. Have a bite to eat in the Sky 360 Restaurant and Lounge, and then stand on the Observation Deck to see a panoramic view (not recommended if you are afraid of heights!). Be sure afterward to browse the gift shop, which features unique Calgary Tower memorabilia.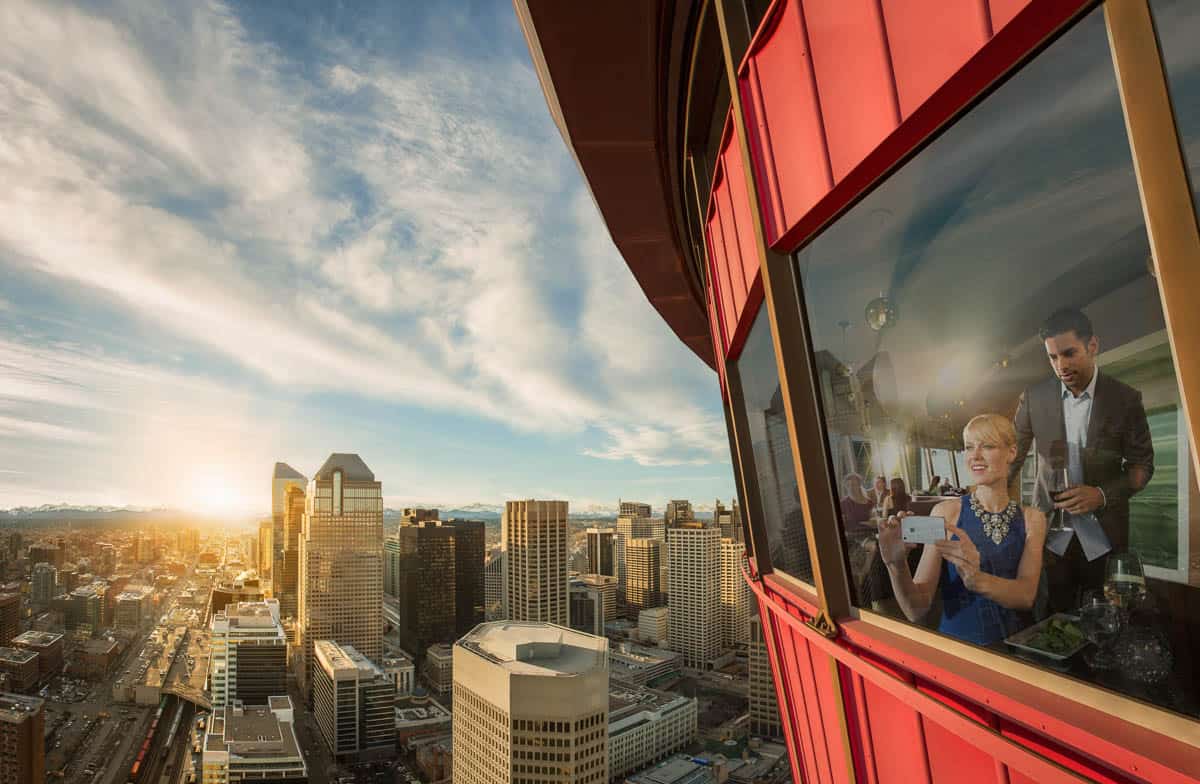 Downhill Karting
If you're an adrenaline junky, then Downhill Karting is a must-do on your visit to Calgary. You get to the top and start of the track via a chair-lift and it's where the excitement begins! You will race down the hill descending over 100 metres and winding down a 1.8 km track with over 50 twists and turns. It will surely get the blood pumping. The only question that remains is, who will take the checkered flag?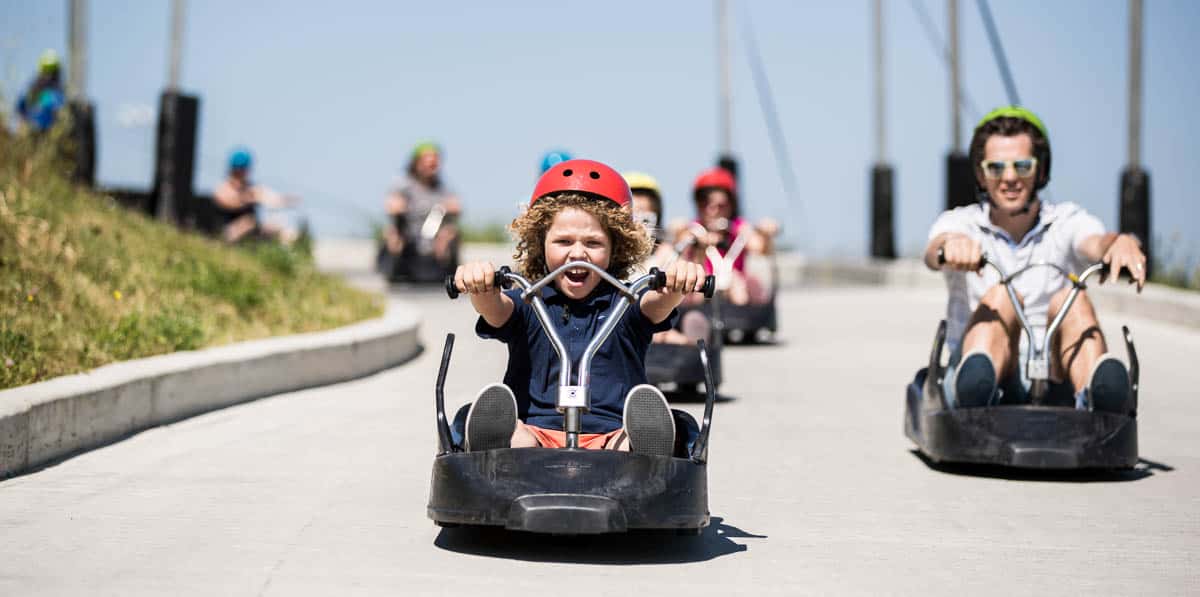 Spend a Day at Calaway Park
It's fun for the whole family at Calaway Park. Open from May through October, there is so much to do at this outdoor amusement park. There are so many things to do here, including 32 rides, with the Vortex roller coaster, the log ride, and bumper boats being the most popular. And included with the Calaway Park admission visitors get to enjoy unlimited rides, live entertainment, and access to the Haunted Hotel, Spray n' Play and Cinemagic 3D. The only thing you need to bring extra money for is food and games!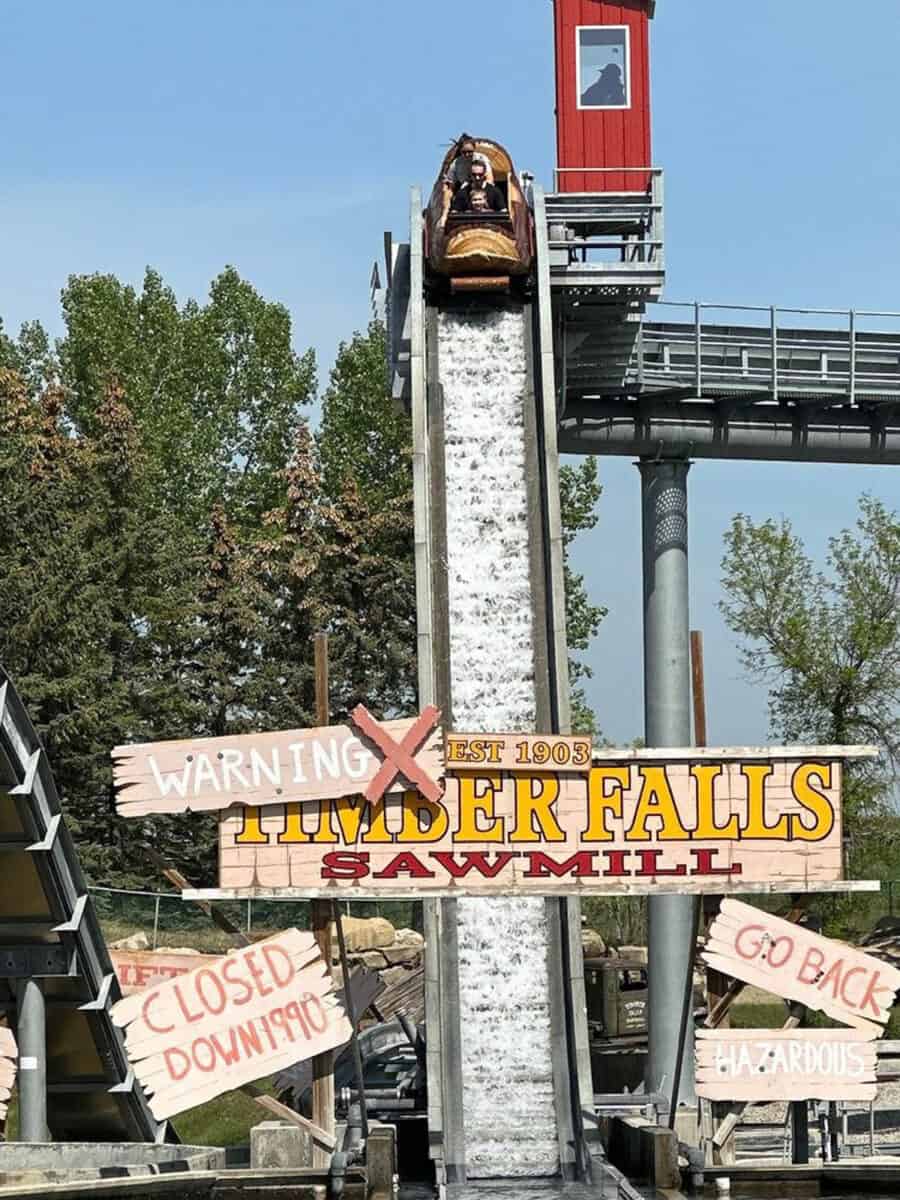 Keep your eyes on the Calaway Park Events webpage as there are special happenings throughout the summer. Family fun night happens multiple times when the park is open for an extra two hours to get as many rides in as you can. And everyone loves dressing up for Halloweekends throughout September.
Try an Escape Room
Have you ever felt the rush of trying to solve the clues to escape from a room? It's pretty exciting when you solve that last clue to win with seconds to spare. Escape rooms are a fun way for your friends and family to bond and work together. There are plenty of different options for escape rooms in Calgary.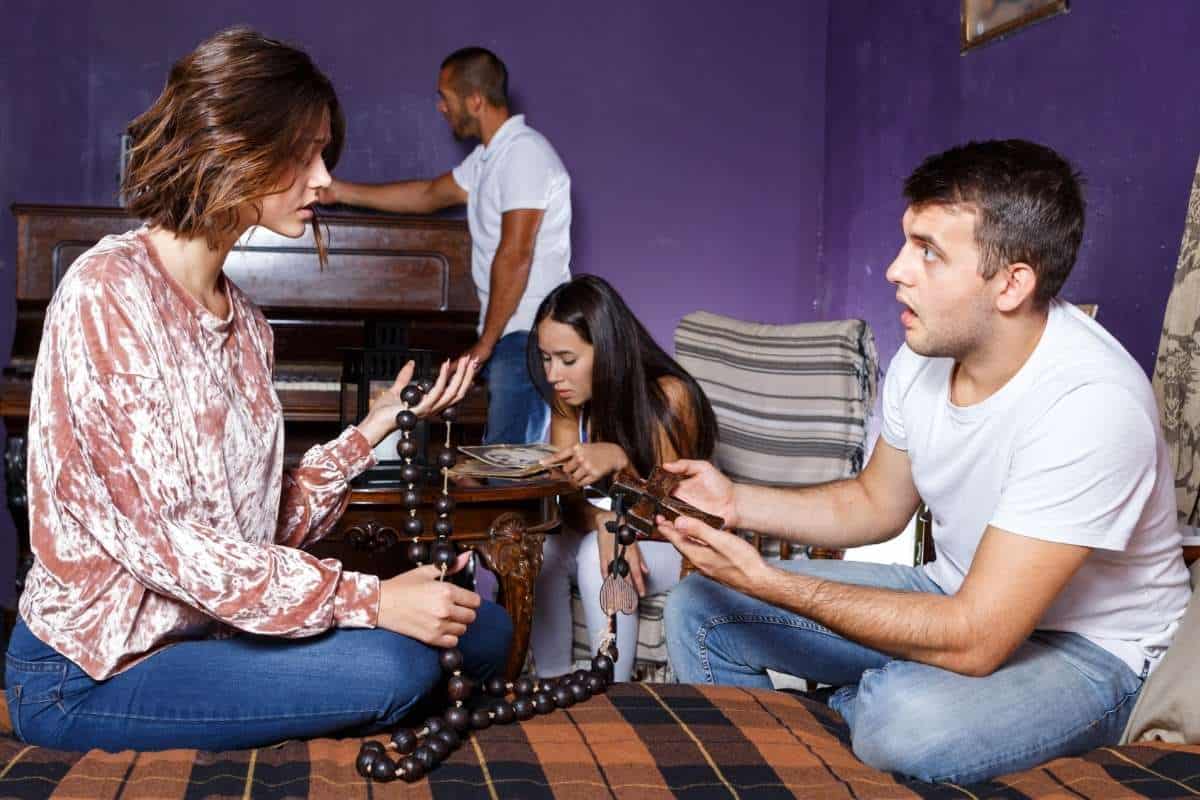 Studio Bell National Music Centre
The Bell National Music Centre is one of the top attractions in Calgary. The Centre is five floors of exhibitions telling the story of music in Canada. This is a place for music lovers to explore (and love). Visitors will have plenty to see and do, including the chance to experience the interactive instrument installations.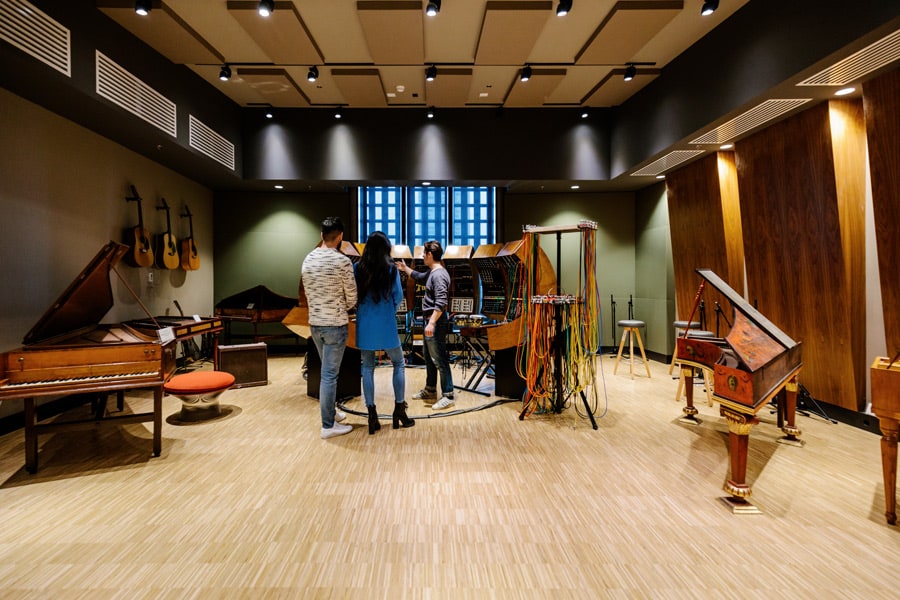 Any music fan will appreciate the Canadian Music Hall of Fame located on the top floor of the National Music Centre, which is entirely dedicated to recognizing Canadian artists and icons who have made their mark in music. There are also frequent concerts held at Studio Bell, so keep an eye on their events page to see who and what acts are coming to town.
TELUS Spark
The TELUS Spark Science Centre is one of Calgary's places for the curious. It has fun things to do for kids and adults alike. Everyone can embrace their desire for exploration and discovery in science, technology, math, and art. Fun fact: In 2018, it set a Guinness World Record for the largest functioning Rubik's Cube!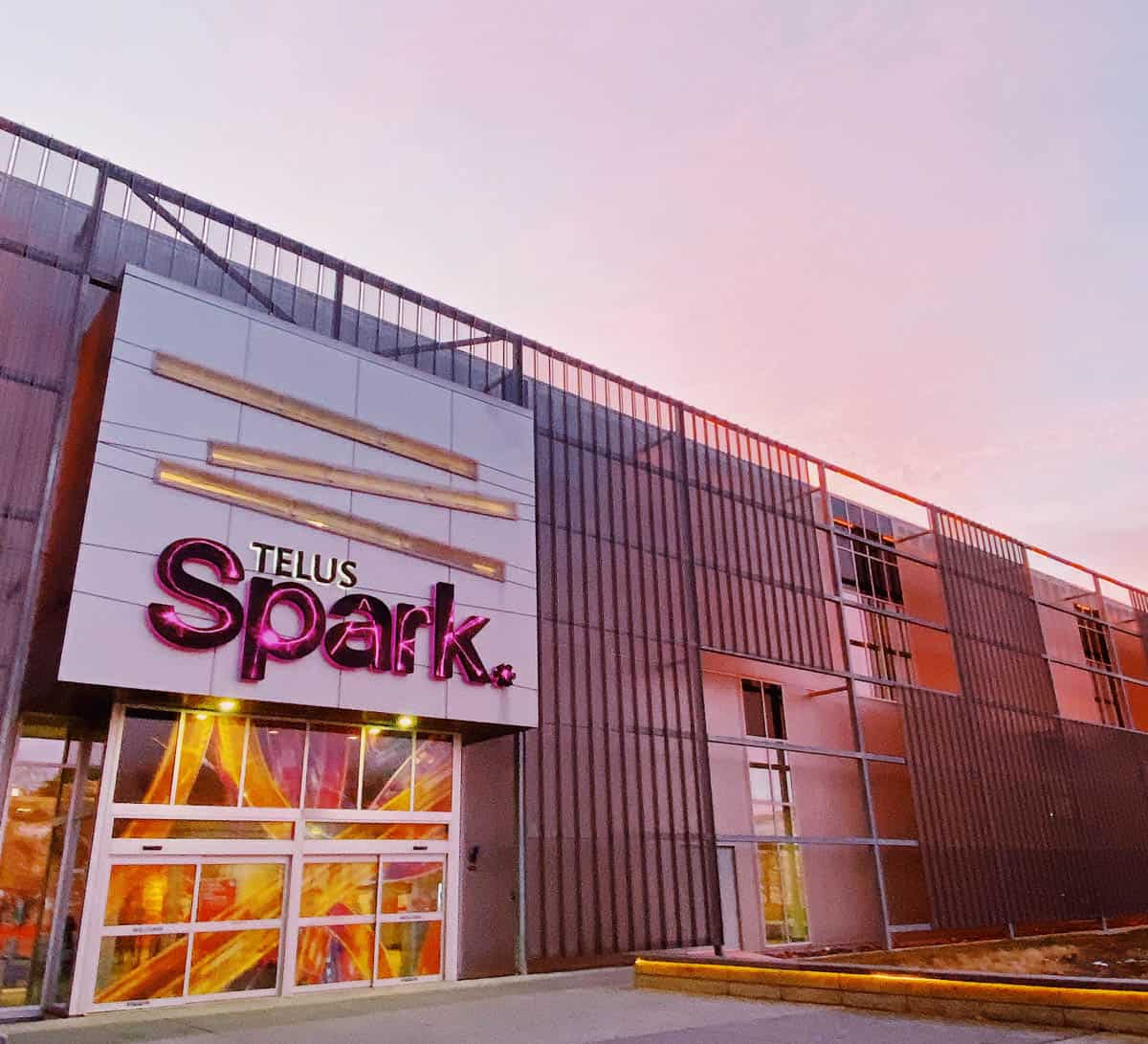 Canada's Sports Hall of Fame
Canada's Sports Hall of Fame is Canada's largest and only national museum for sport. It's one of the top Calgary attractions located in Canada Olympic Park at the west end of the city. Their focus is on the "recognition, education, curation and thought leadership with an emphasis on educating youth on the values, history, and culture of sport in Canada."
There have been close to 700 inductees since its inception in 1955 and it's the highest sporting honour awarded to Canada's top athletes.
Calgary Military Museum
Learn all about the Canadian Military in Alberta at The Military Museums in south-west Calgary. The museum, on the Garrison base, actually houses eight separate museums which include:
The Naval, Army and Air Force Museums of Alberta
Air Force Cold War Museum
Four museums of the founding regiments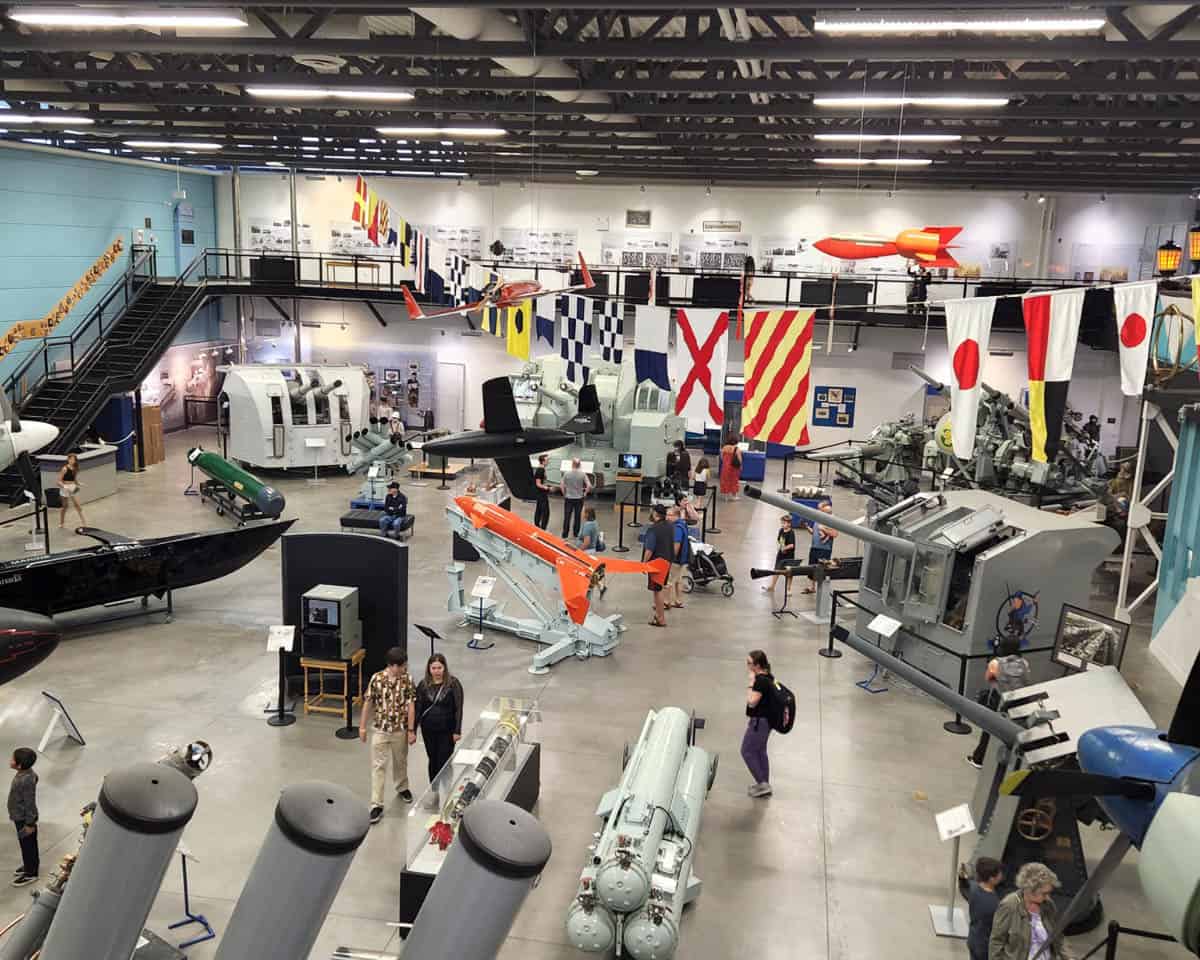 The museum is "dedicated to preserving the memories and traditions of the countless Canadians who proudly served their country through numerous wars and conflicts by their selfless dedication, commitment and courage." At this incredible museum visitors can see many exhibits throughout and get an understanding of the role of the military throughout our history.
Spruce Meadows
Just south of Calgary is Spruce Meadows, the home of internationally renowned horse-jumping competitions. There are numerous tournaments and competitions held throughout the year here, but none more prestigious than the 'Masters.' This is part of the Rolex Grand Slam of Show Jumping, a four-competition season where riders can win up to 1 million Euros. The Masters is held every September for four exciting days on the grounds.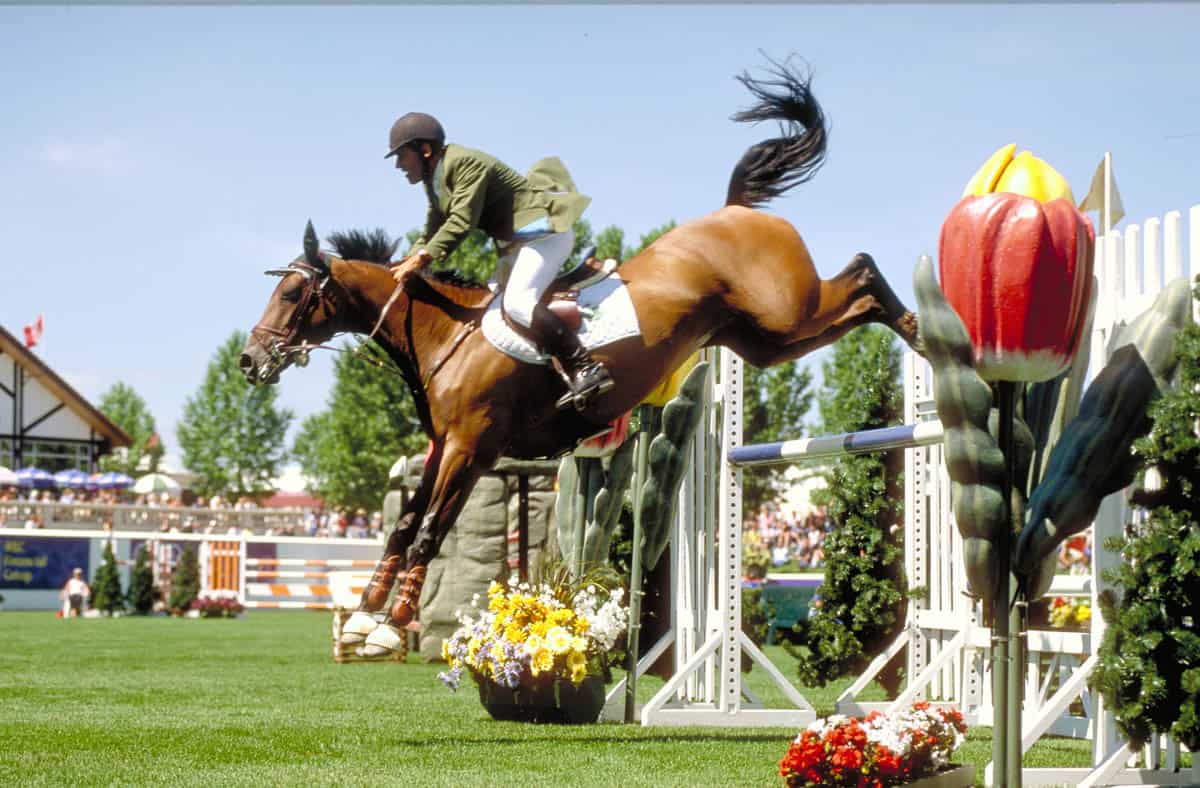 There are many other things happening at Spruce Meadows throughout the year as well. In summer, they host a number of Garden Parties, and in the winter, it's a popular spot for their Christmas Market and holiday lights throughout the grounds.
Treat Yourself to a Spa Day
After you've stuffed in all that you can into your time in Calgary, book at least half of a day off to unwind. Take a leisurely stroll in nature, get pampered with a massage, or even take a yoga class! The city has a lot to offer, so much so that we've got an entire guide to the Calgary spa and wellness scene for you to peruse.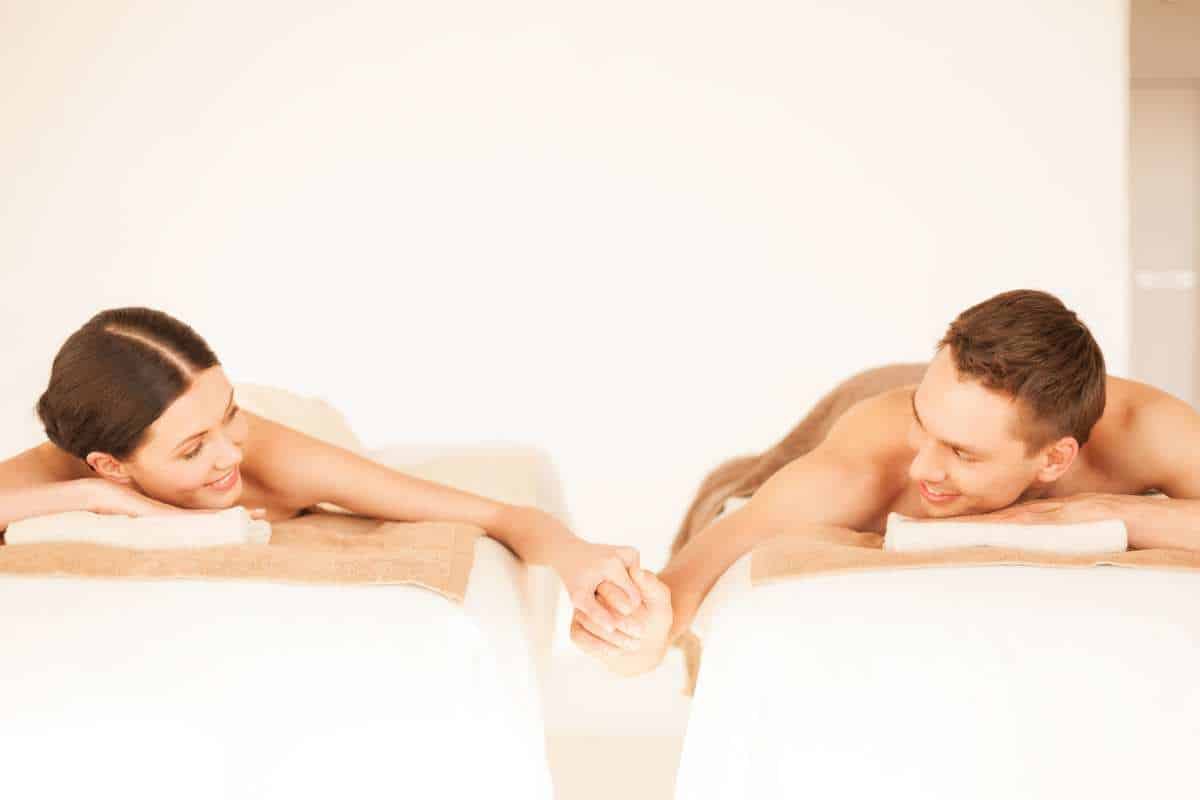 Take a Calgary Tour
If you'd rather have a knowledgeable local lead you around Calgary to show you the sights, teach you some history, and give you the very best expert advice, then there are some really great tour operators in the city! From food to brewery tours, sightseeing to rafting on the Bow River and more, check out our article on Calgary tours to pick what you'd like to do.
Best Free Things to Do in Calgary
Glenbow Museum
***Note that the downtown location is closed for renovation and will become the JR Shaw Centre for Arts & Culture. During the renovation, visitors can go to the satellite gallery at the Glenbow at the Edison located on the second floor at 150 9 Ave SW.
Thanks to the $25 million JR Shaw Free Admission Endowment, admission to the Glenbow Museum will forever be free! And there's always something fascinating to see at the Glenbow Museum, making it easily one of the best things to do in Calgary.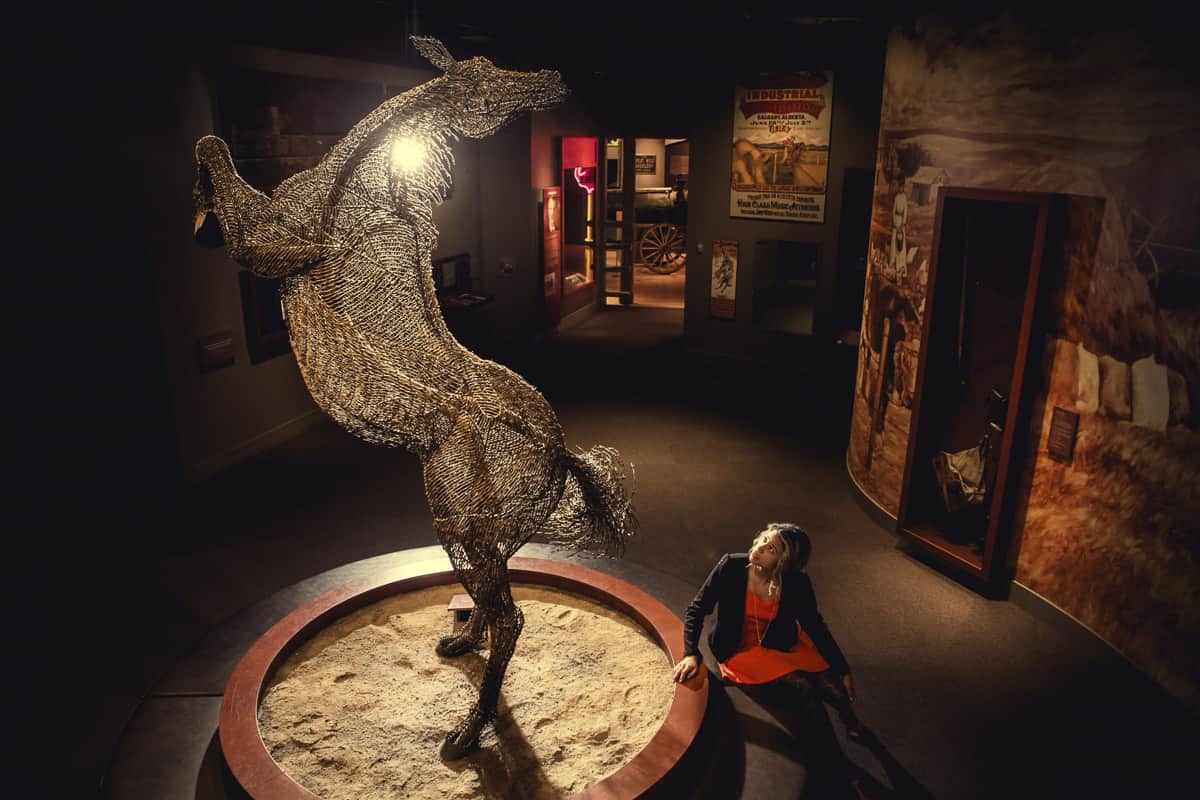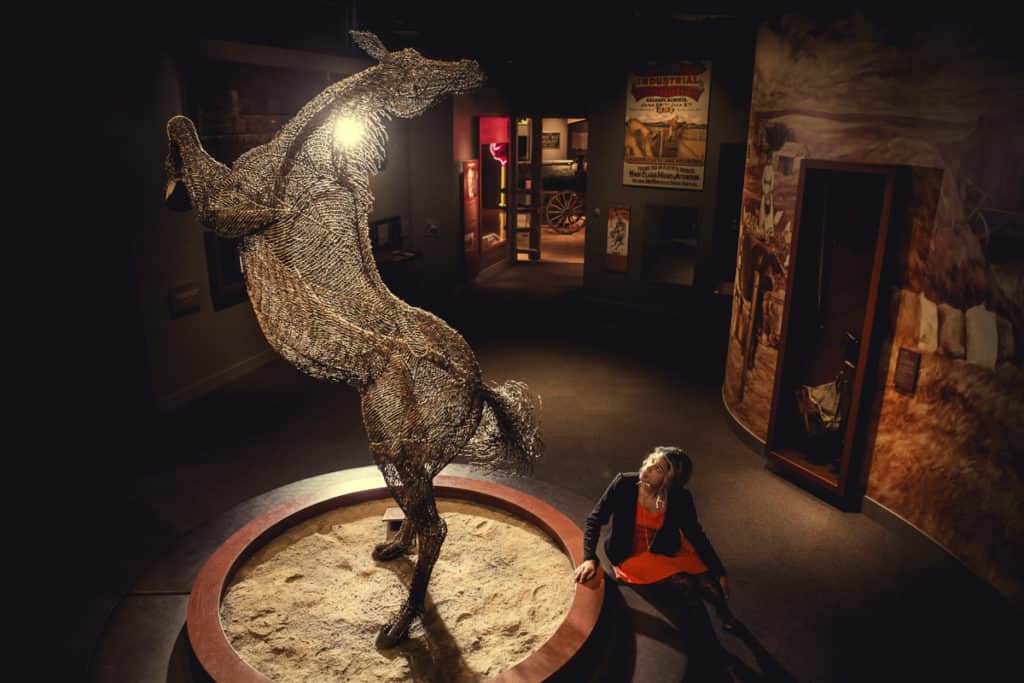 Learn about the history of Alberta, explore the West African collection, and check out the rotating exhibit that always proves to be popular! The Glenbow Museum always has an eye for great artists.
Nosehill Park
Take on these beautiful hiking trails right in the heart of Calgary! Nosehill Park boasts of being one of North America's biggest urban parks, taking up an area of over 11 square kilometres. Take in beautiful views of downtown and enjoy getting out into nature (without having to go very far).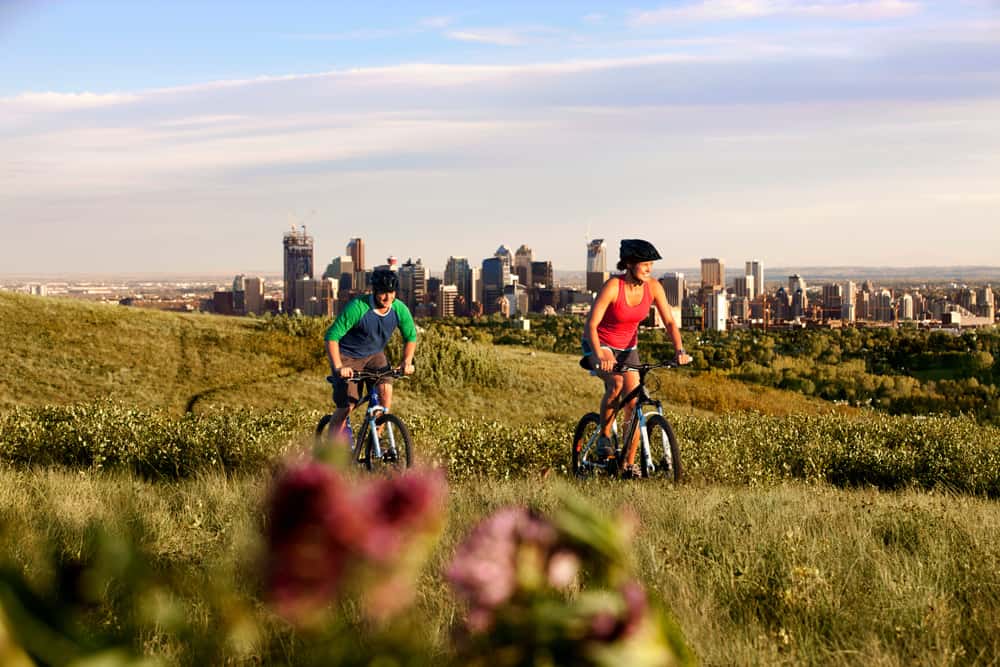 Fish Creek Provincial Park
Fish Creek Provincial Park is one of the largest urban parks in North America! At the south end of Calgary, the park stretches for an astonishing 20 km. When you are inside the park, you would never believe that you were in the middle of a busy city.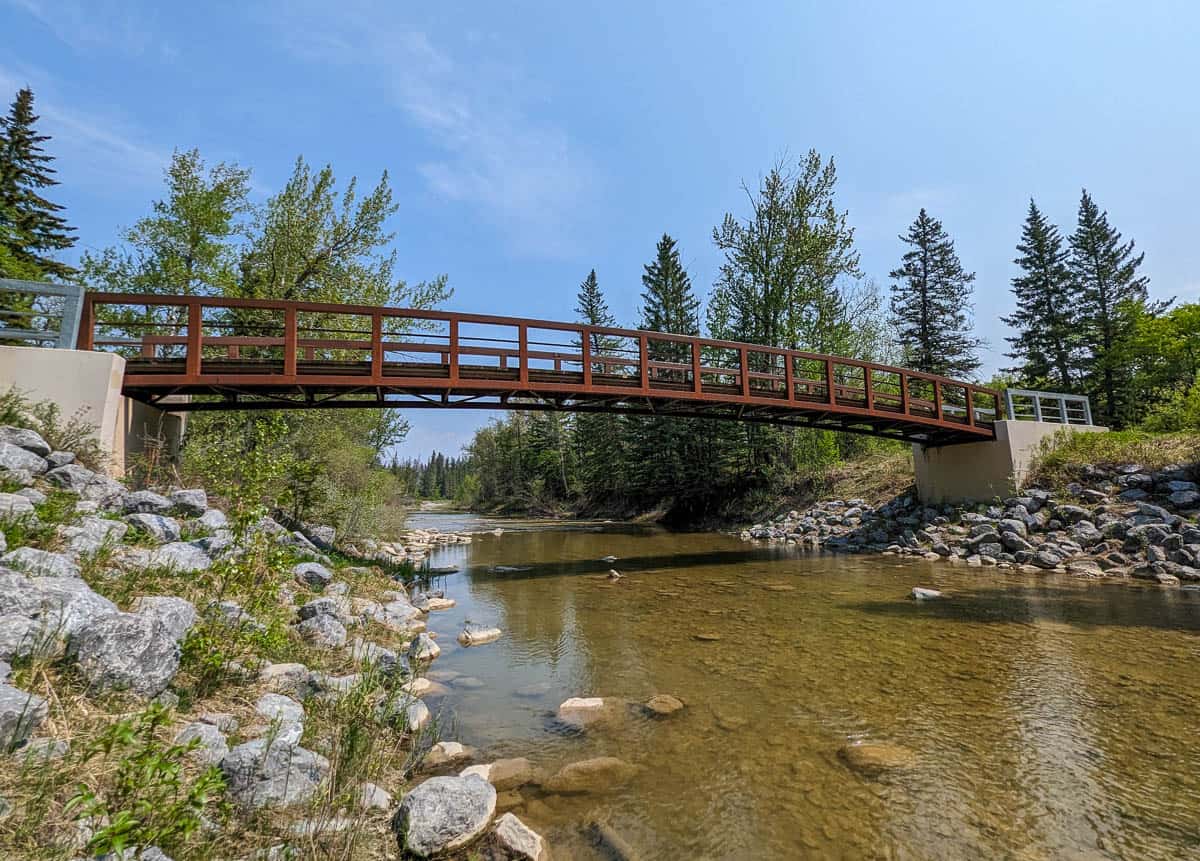 There are so many trails for hiking and biking, spots for nature viewing and photography and even an outstanding restaurant to enjoy a meal. In winter, Fish Creek Provincial Park is a popular spot for cross-country skiing Be sure to stop into the visitor centre and see everything the park has to offer
Calgary ArtWalk Downtown
Explore the public art scene with the Calgary ArtWalk. Every year, multiple galleries get together to put on 48 hours of art. Just download the map and start your self-guided walk!
Calgary Central Public Library
The Calgary Central Library is known for so much more than its books! Opened in late 2018, it was quickly noticed as an architectural marvel, even being recognized by TIME magazine as one of the 100 Greatest Places of 2019. Take pictures outside and inside this beautiful building (which is also the new hot spot for graduation photos in the city). The central library also offers free use of its computers, meeting rooms, and more.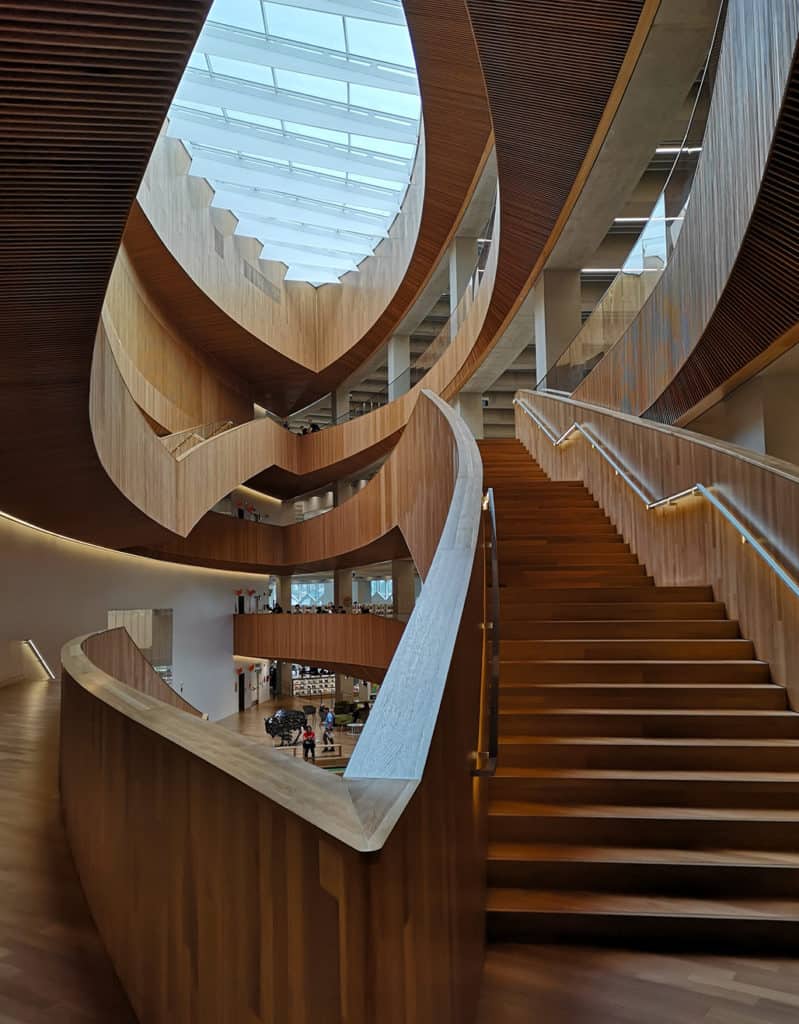 Take a Stephen Avenue Walk
Taking a stroll along the walking-only Stephen Avenue (8th Avenue) is another popular thing to do in Calgary. The street is full of commercial and entertainment spots and patios, making it a very prime after-work go-to stop for a drink. In the summer, on hot days, the street will be packed with locals and in the evenings, the nightlife will be buzzing.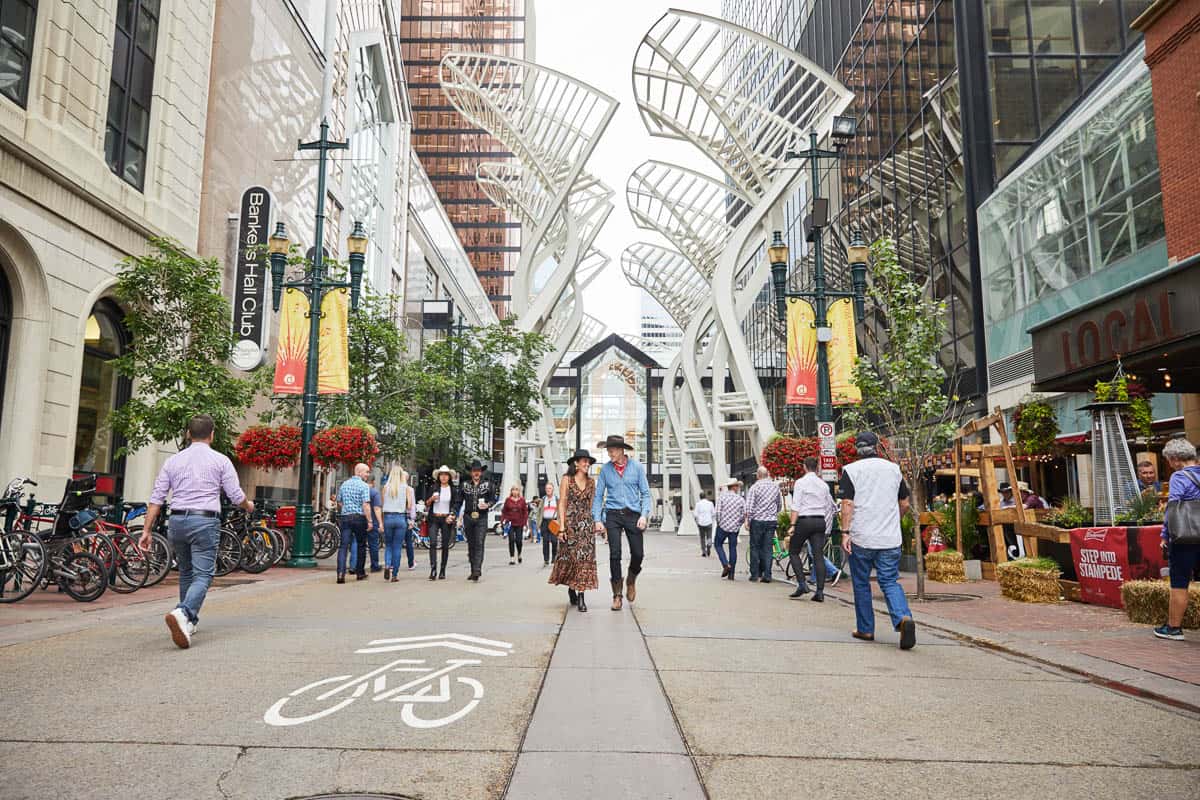 Enjoying the Holidays in Calgary
If all of the above isn't enough for you, then try coming to Cow Town during the holiday season! From skating on a frozen Olympic Plaza to taking in some of the awesome Christmas markets, there is always so much going on (see our post on Christmas in Calgary for plenty of ideas). And if you plan to be in the city at the end of December, check all of the party hot spots inside our New Year's Eve in Calgary article.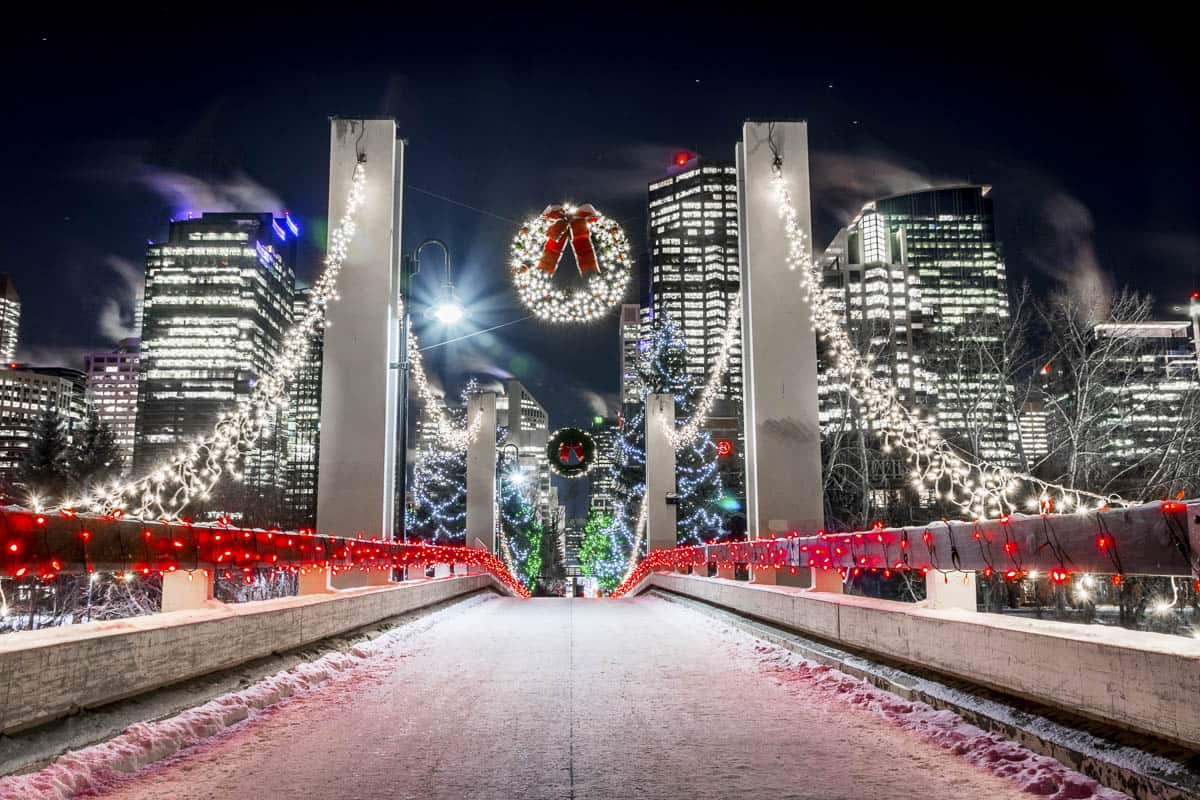 Where to Eat in Calgary
Narrowing down the list of restaurants in Calgary is tough; in the last decade, it has earned its place as a top foodie city in Canada. With the number of breweries in Calgary and funky hole-in-the-wall restaurants increasing every year, you'll have to make a couple of trips to try it all! Here are our top picks for Calgary food spots:
Native Tongues
Does award-winning Mexican food sound like your kind of night? Not only does Native Tongues have a menu featuring mouth-watering tacos, and it also has extensive tequila choices. If you're too tired to go out, don't fret! There's also a take-out/late-night menu so you can enjoy their food at home.
River Café
Enjoy fine dining in the middle of Calgary's scenic Prince's Island Park at River Café. Recognized as one of the most eco-friendly restaurants in Canada (and one of Calgary's best), it is a great place for your taste buds and your conscience. The menu is created every season from the best local ingredients.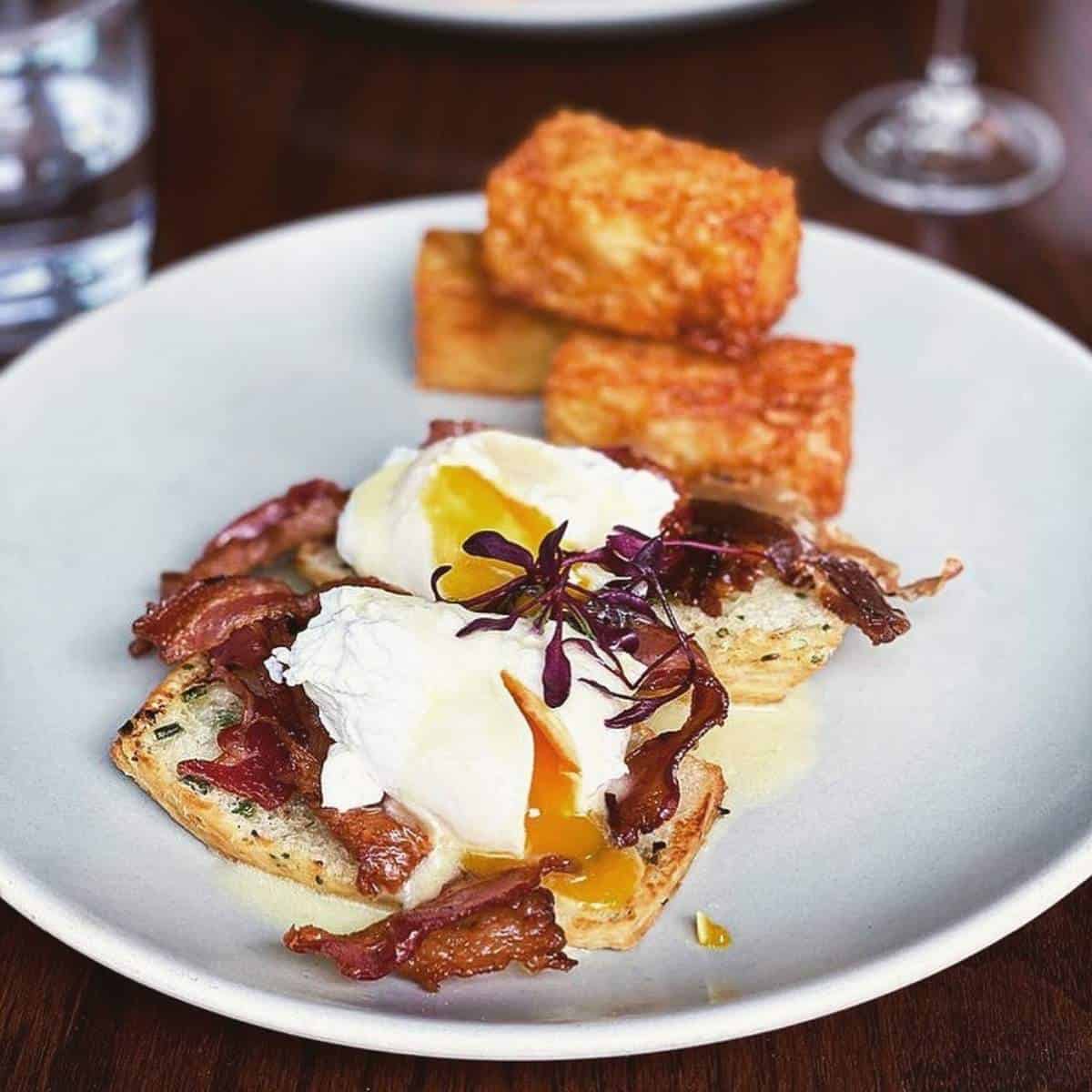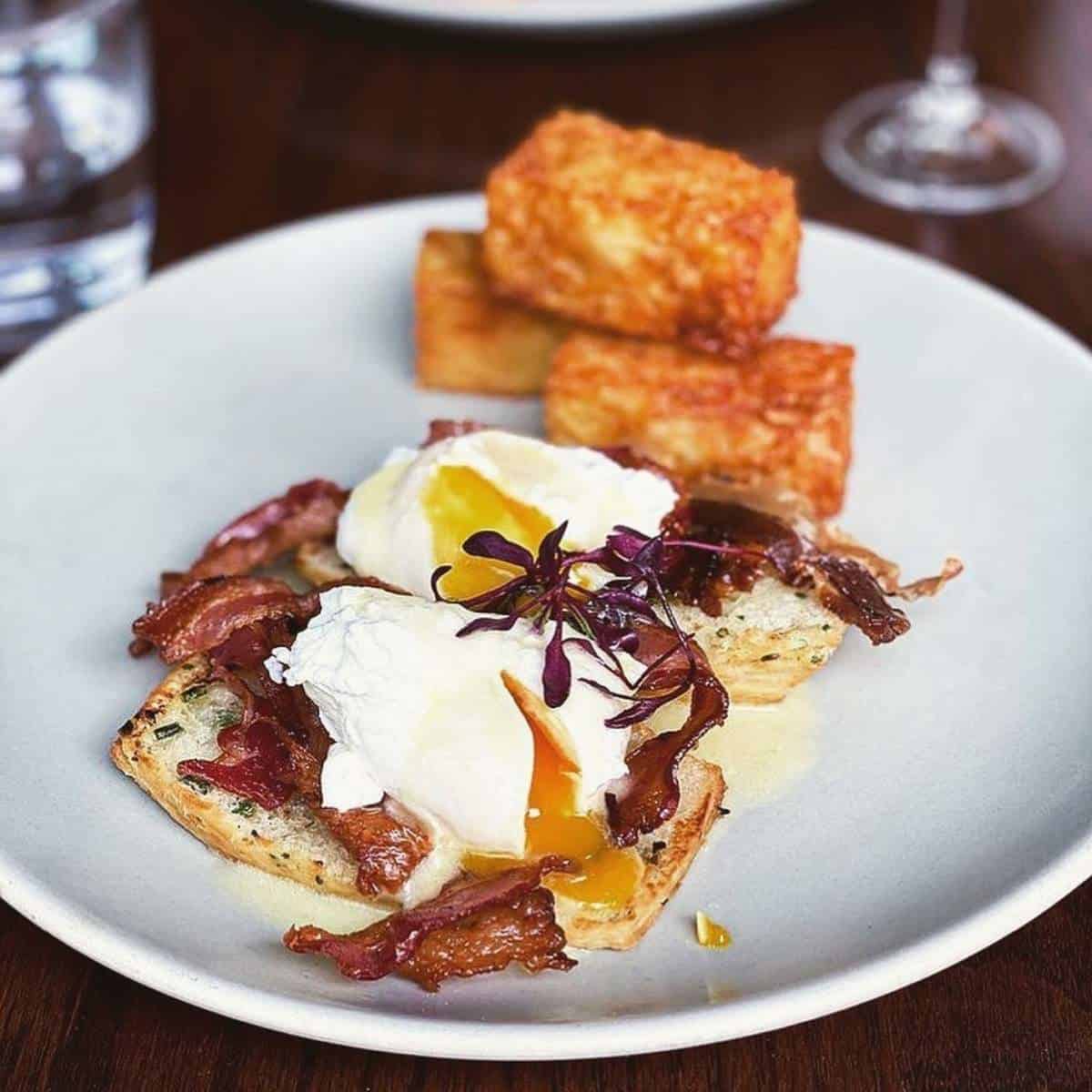 Trolley 5
Calgary has a really good brewpub scene. There are so many good options to check out, but we recommend going to Trolley 5. The two-story restaurant is set up with lots of brewing equipment in view. The menu features fun takes on typical pub food, and they have a killer brunch menu! Alberta Beef Brisket & Egg Sandwich, anyone?
First Street Market – Moose & Poncho
Yes, the food hall concept has come to Calgary too! Head to First Street Market for a yummy array of food and drinks to satisfy everyone. Our go-to is the divine Moose and Poncho – the au jus that comes with the delicious Birria tacos is seriously slurpable.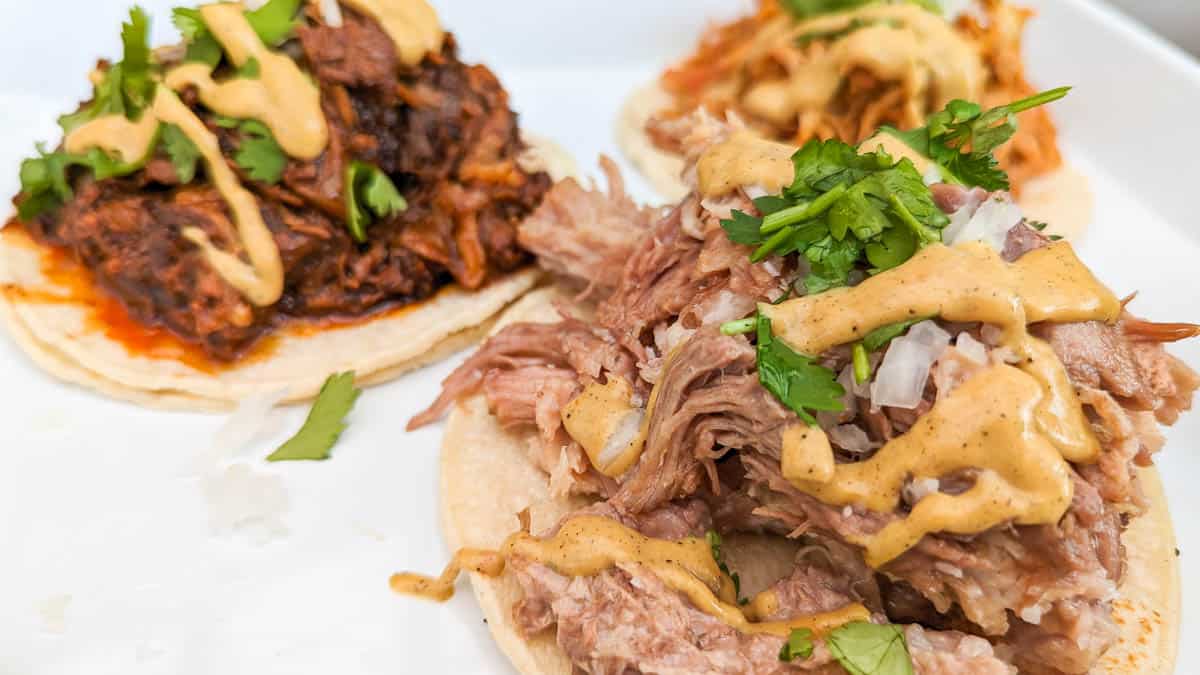 YYC Food Trucks
Also, step away from the restaurant experience and test out YYC Food Trucks! This group of passionate chefs and foodies go to multiple events around the city throughout the year spreading street food culture ranging from pizza to Asian fusion to local gelato.
Want more options? Check out our article on the Calgary restaurants we adore most. And if you're looking for more "specialty" eats, we've got full articles on where to get brunch as well as Calgary cafes and coffee shops.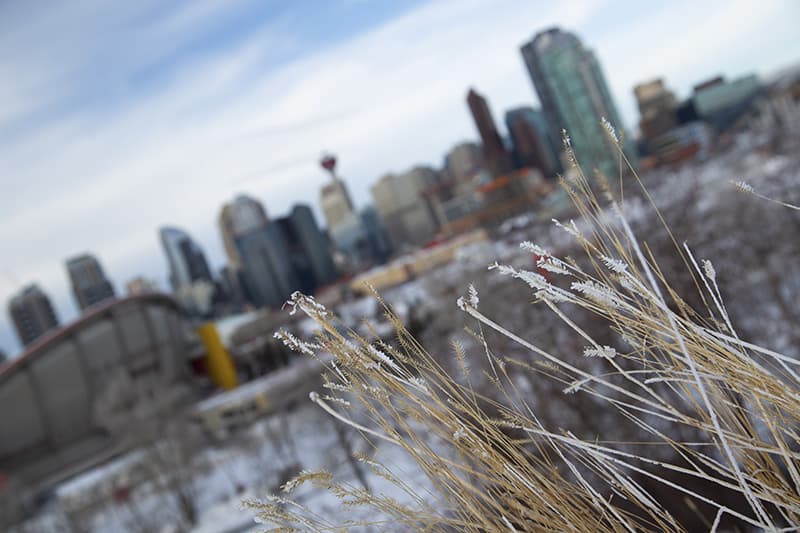 Things to Do Near Calgary
There are so many things to do in Calgary but it also serves as a perfect base for multiple day-trip opportunities. If you are itching to get out of the city and see more of what the province is about, you can't go wrong in any direction. Here are some of our favourites:
Banff and Canmore
By far, the most popular road trip and day trip from Calgary is to head to the Canadian Rockies and experience the mountain resort town of Banff (as well as Canmore, which is on the way). It only takes about 1.5 hours to get to Banff National Park (see our Calgary to Banff route guide, which covers all of your options and activities along the way).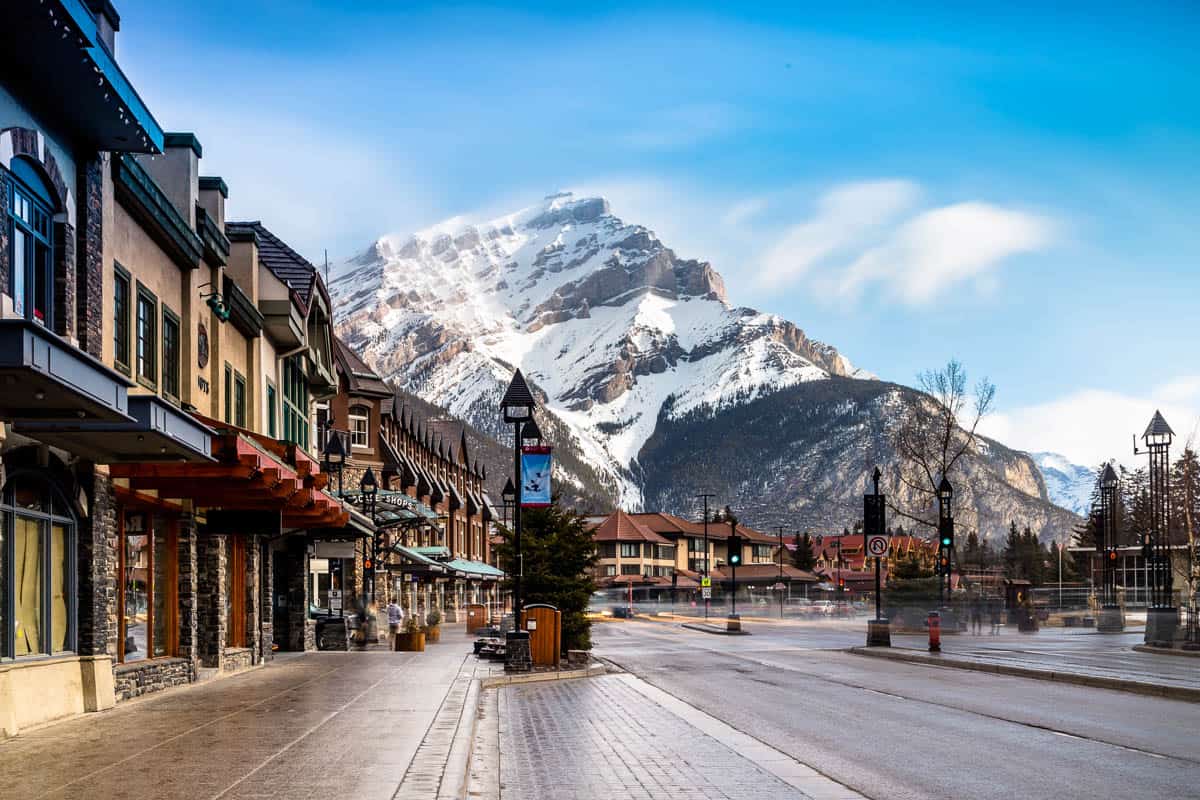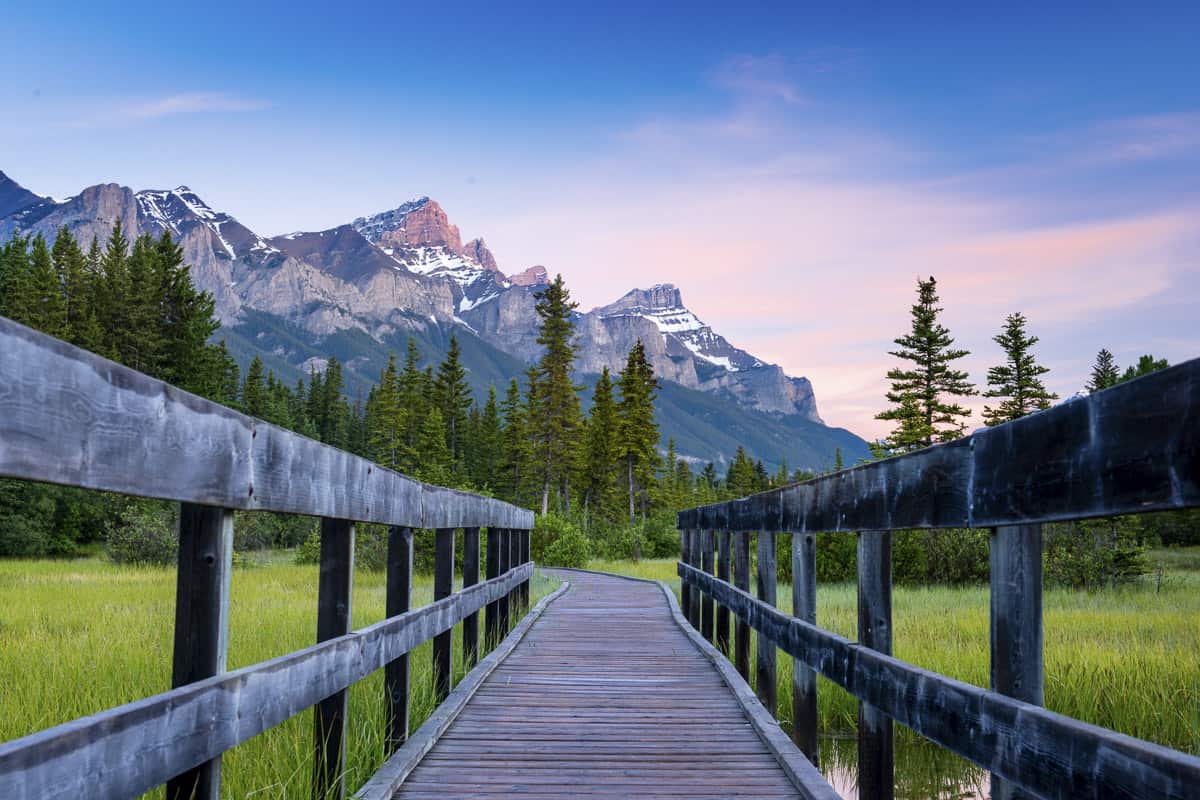 From hiking to shopping to skiing and more, there will be plenty to keep you busy. For what to do when you get there, check out our Banff destination guide. If you don't have time to enjoy an extended time there, then consider this one-day tour that will hit the highlights!
Canadian Badlands
Head on a road trip east from Calgary to step back in time (by millions of years)! Steeped in history, the Badlands of Alberta take you back to the time of dinosaurs which you can hear more about at the iconic Royal Tyrrell Museum in Drumheller and Dinosaur Provincial Park.
The landscape east is something out of an old spaghetti western and tales from back in the day can be heard at such places as the Atlas Coal Mine and seen at Medalta in the Historic Clay District in Medicine Hat.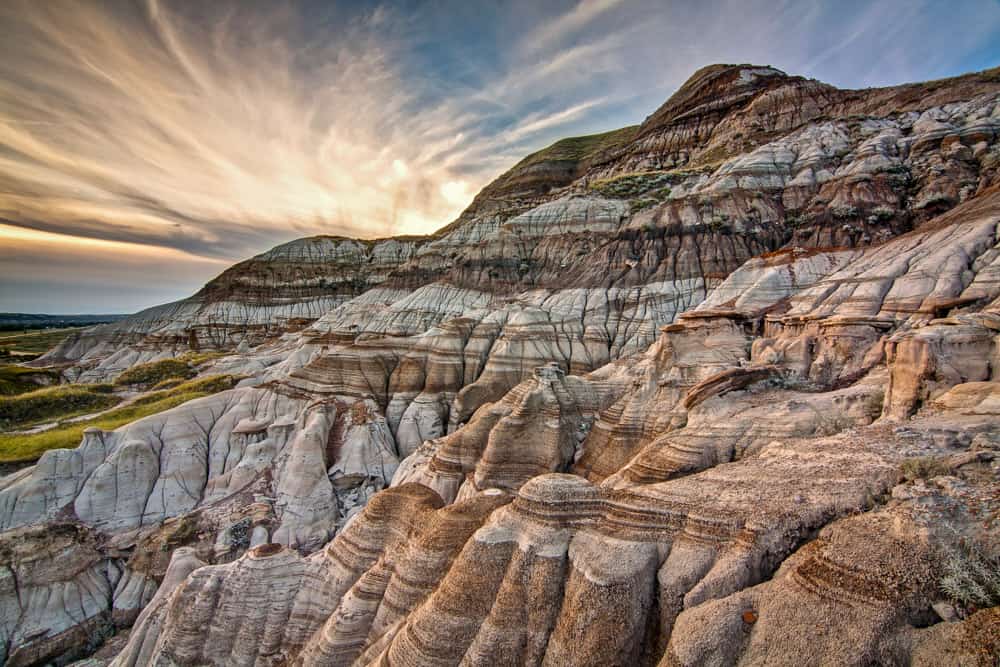 Sundre Area
Only a couple of hours' drive from the city is the town of Sundre. It sits in the foothills of the Rocky Mountains – the peaks are still visible but this spot offers more of a flavour of the wild west. Full of ranch lands offering horseback riding to explore more of the terrain, this area is for nature enthusiasts who can appreciate the cowboy traditions that helped shape Alberta. Enjoy camping, white-water rafting, some good eats, and more.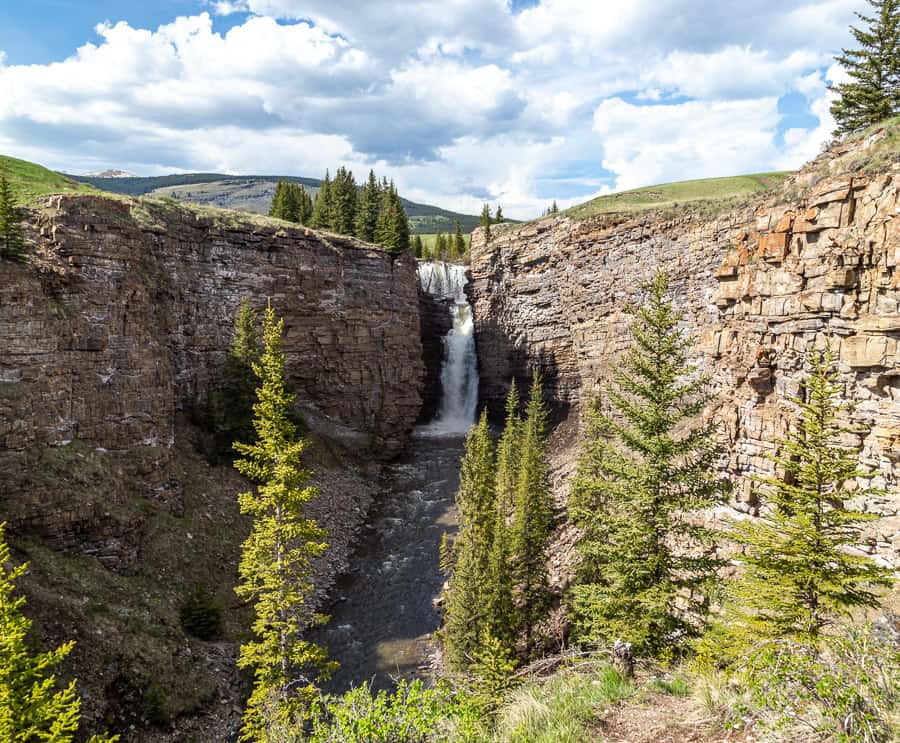 Turner Valley
Many are surprised to find a world-class distillery south of Calgary, but to those who are privy to the gems south of the city, a day trip there is a no-brainer. Learn about the cowboy history of Alberta at the nearby Bar U Ranch, and also make a pit stop to see the natural phenomenon of the Okotoks Erratic. There is a lot to see in just one day!
Don't Forget:
Visiting other spots in Alberta? Check out our extensive guide for all the things to do while visiting Banff, Edmonton, or just go for the whole she-bang and review our list of the 100+ best things to do in Alberta!
ALSO, don't forget that while you're on the road, you can download our FREE Road Trip Alberta bingo cards, to make it just that much more fun!