Disclaimer: This page may contain affiliate links. Please review our full Terms and Conditions for more information and our Privacy Policy. Note that any pricing, operating hours, or other such information provided below may have changed since initial publication.
Compiled by the Road Trip Alberta team
Last updated on January 12, 2022
Whether you are coming to Cow Town for business or leisure, you will undoubtedly be kept busy in this dynamic city. This means that at the end of the day, you're going to want a good spot to rest your head! There are so many options when looking for a hotel in Calgary, Alberta, and we've done the hard work of narrowing them down for you.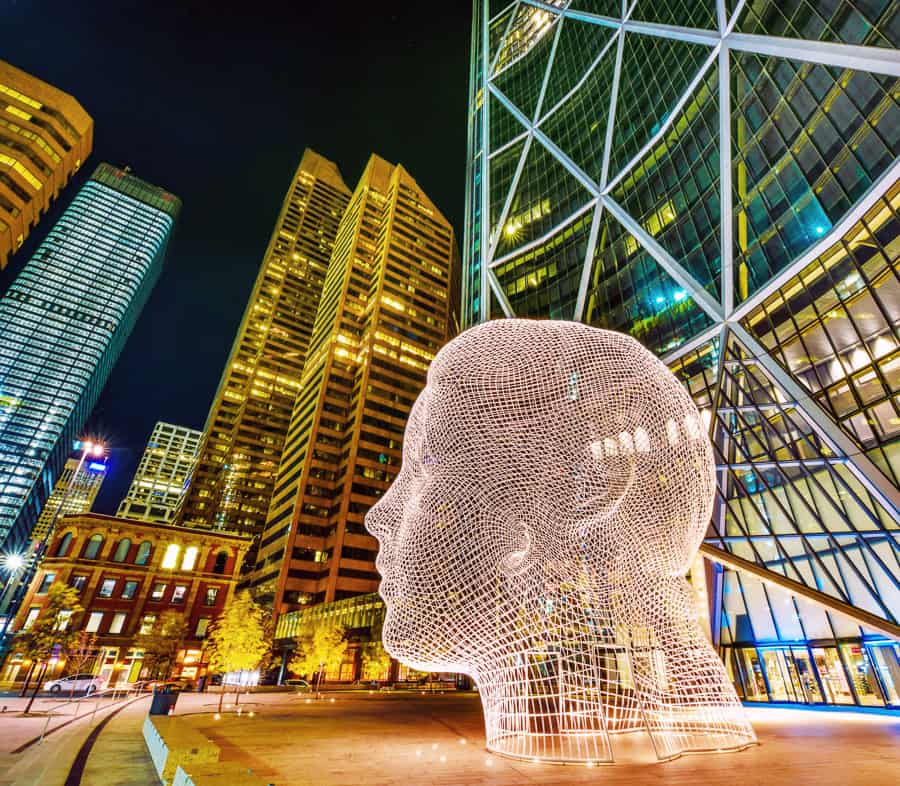 So depending on what part of the city you want to stay in, this post breaks our choices down by quadrant and lists many of the great amenities. You can't go wrong with any of our recommendations below.
What is the Best Area to Stay in Calgary?
The city of Calgary is divided into 4 quadrants – north-east, north-west, south-east, and south-west. Depending on the purpose of your visit and a relative idea of where you want to spend your time, knowing those things will make the decision of where to stay in Calgary much easier.
If you're visiting the city as a tourist or for the first time we would recommend finding a hotel in Kensington, the East Village, the Beltline, or even downtown, so that you are close to many of the attractions and restaurants. The latter few are also good choices if you're in town for the infamous Calgary Stampede. For a family visiting the city, finding a downtown hotel is a good choice seeing most are located close to the Calgary Zoo, Telus Spark Science Centre, and the Calgary Tower. Business travelers will most likely find a hotel near the airport or downtown. Knowing these areas will make your choice easier to pick.
Take the guesswork out of building your itinerary for your Alberta trip!
We now offer two ways to help ease the burden of travel planning:
We've developed ebook itineraries (available at a very low price!) for a variety of 7-day trips.
Want a custom trip tailored exactly to your needs? We are pleased to also offer a custom service for planning your Alberta vacation.
Finding a Hotel in Calgary – Our Top Picks
Hotel Arts Calgary
Perhaps one of the coolest hotels in the city, the aptly named Hotel Arts is one of our top choices. With oodles of charisma and charm, the hotel is home to ever-changing displays of art in both the common areas and the rooms. But its unique décor isn't the only reason you'll want to stay at the Hotel Arts: think luxury amenities, heated indoor and outdoor swimming pools, innovative cuisine, and even bicycles for guest use.
We really shouldn't play favourites when it comes to Calgary hotels, but the Hotel Arts sure does make it difficult not to.
Reasons to stay here:
Did we mention the art? Yeah, it's that cool.
The relaxing outdoor pool and patio area mean you might choose staying at the hotel instead of sightseeing.
Check availability and reserve a room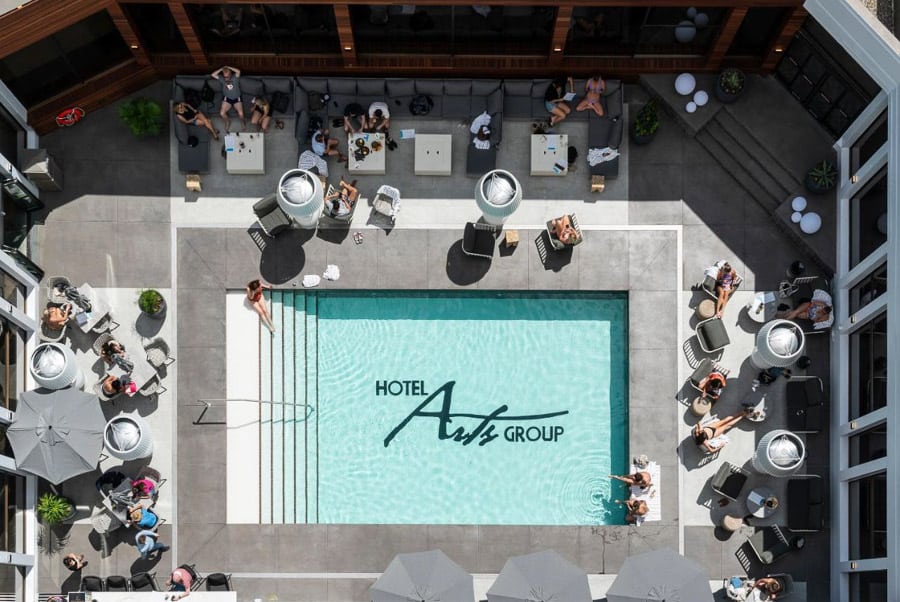 Fairmont Palliser Calgary
If you're looking for luxury, look no further than the Fairmont Palliser Calgary, located right in the heart of the city. With over 400 rooms and top-notch service, expect the highest quality when it comes to amenities and dining options. Visitors will enjoy the modern décor, the RnR Wellness Spa, and the Calgary Tower right outside your door. It's not a surprise that the Fairmont Palliser is one of our favourite hotels in Calgary.
Reasons to stay here:
The elegant décor and excellent service – you'll feel like royalty (in fact, royalty has indeed stayed here on visits to Calgary).
The proximity to many of the city's top attractions.
Check availability and reserve a room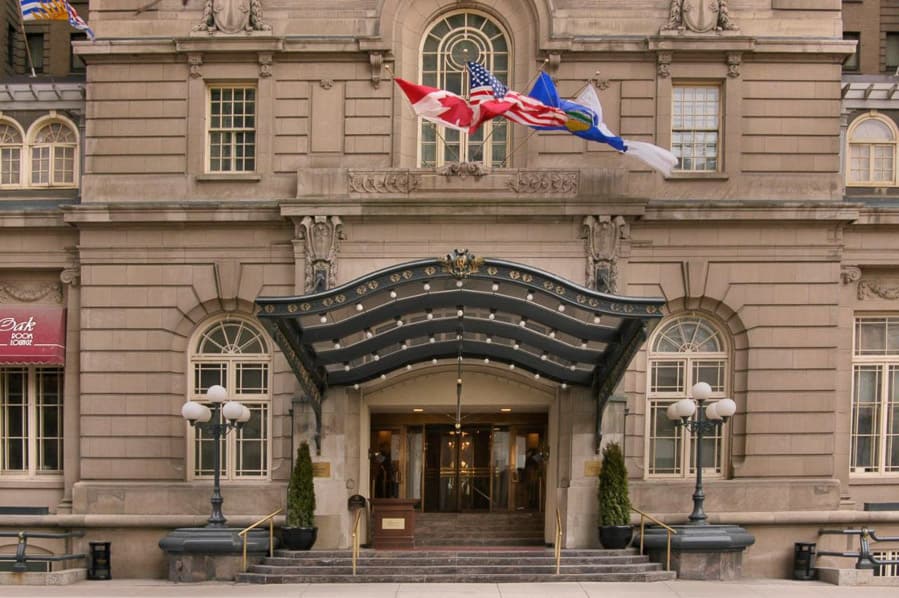 Sheraton Suites Calgary Eau Claire
The Sheraton Suites Calgary Eau Claire is the perfect choice if you're looking for the most comfortable beds in a hotel in Calgary. This downtown hotel is within walking distance of many Calgary attractions, boasts floor-to-ceiling windows with views of the Bow River, and there's also a restaurant and an Irish pub onsite. Furnished with classic décor, their rooms are known for their spaciousness and luxurious feel. Families will love the indoor pool, especially as there's a waterslide!
Reasons to stay here:
The location – its proximity to Calgary's downtown core makes many attractions walkable.
The elegant, spacious rooms and access to amenities.
Check availability and reserve a room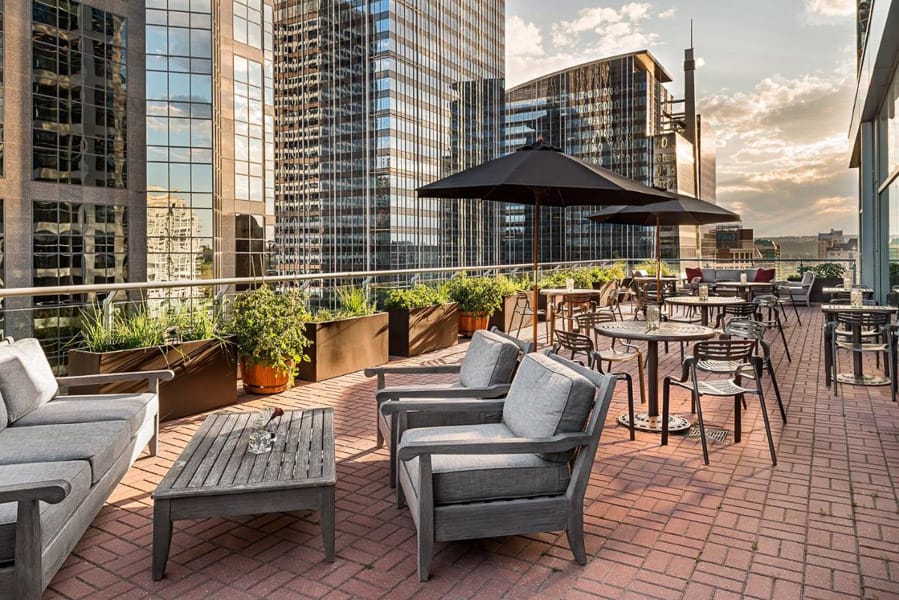 Calgary Airport Hotels
Calgary Airport Marriott
If you're looking for one of the best airport hotels in Calgary, set your sights on the Calgary Airport Marriott In-Terminal Hotel. Besides the convenience of being in the airport – perfect for a long layover or if you only have a couple of days in Calgary – it's so much more than what you'd expect from an airport hotel.
With sleek and spacious rooms, fitness and spa services, and superb dining options, the hotel serves luxury alongside comfort with every stay. While there isn't a shuttle service into Calgary's downtown, there are plenty of rideshare, public transportation, and car rental options to choose from. After all, you're only a twenty-minute drive from the heart of the city!
Reasons to stay here:
The chic, laid-back comfort.
The convenience of being in directly in the airport.
Check availability and reserve a room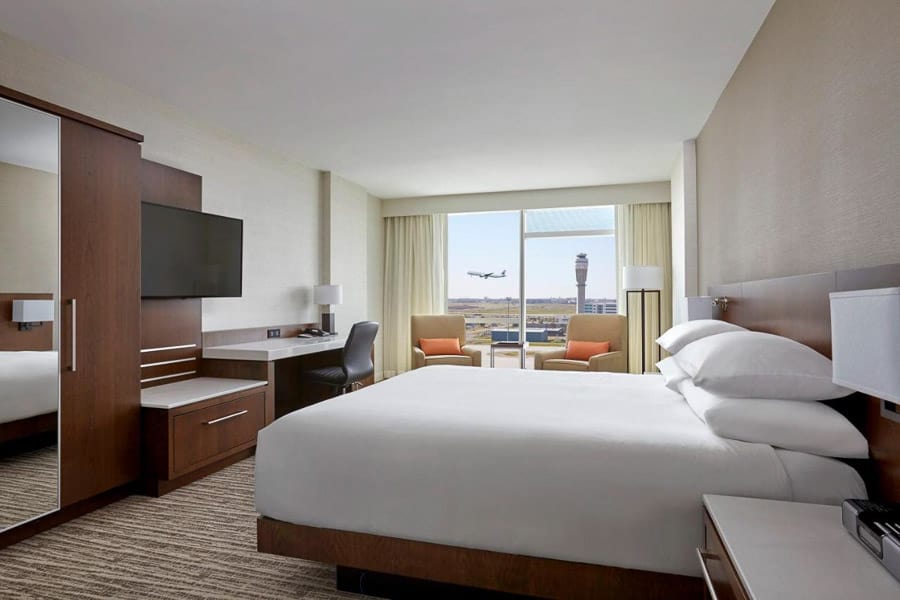 Four Points by Sheraton Calgary Airport
The Four Points by Sheraton Calgary Airport has everything you need and then some. The location and the proximity to the airport is the initial draw, but it's the little details that ensure your stay is comfortable and enjoyable, too. Details such as plush bedding, accommodating staff, an indoor pool, a fitness centre, a spa, and on-site dining are all part of the experience at this hotel.
What's especially great about the Four Points by Sheraton Calgary Airport is its unique location; it's smack dab between the airport and downtown Calgary, meaning you never have far to travel whether you're in town for business or pleasure. It also makes for a fantastic location for business conferences and meetings.
Reasons to stay here:
The friendly, helpful staff.
The central location, especially helpful if you're only in town for a few days and/or want to be near the airport.
Check availability and reserve a room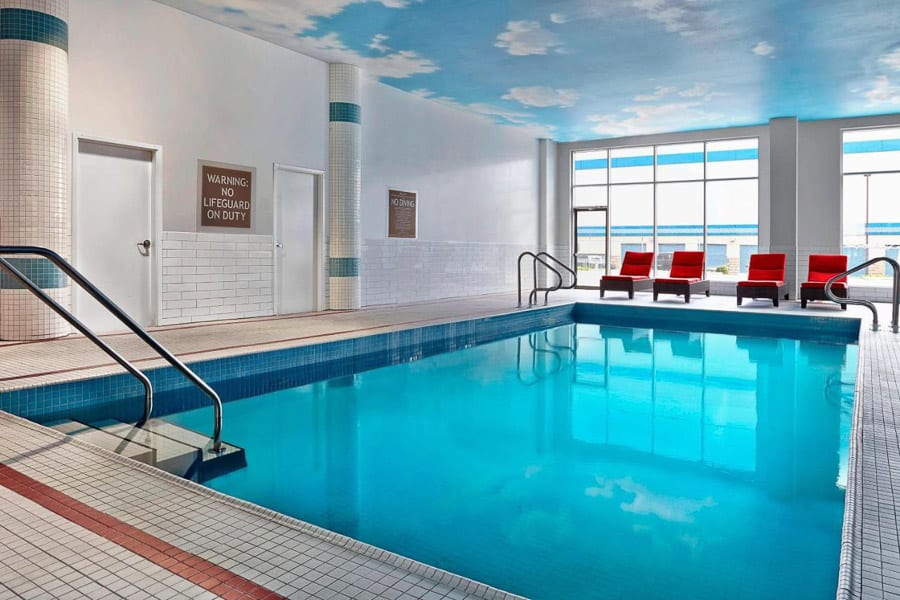 Downtown Calgary Hotels
The Westin Hotel Calgary
The Westin Calgary is undoubtedly one of the best hotels in Calgary, and it's easy to see why: the hotel's aim is to help you "find the right balance of inspiration and wellness". Right in the heart of Calgary downtown, you'll find this oasis of calm, a place where guests are encouraged to take advantage of the signature bedding, the spa-like shower, and the gorgeous views overlooking Calgary. There are even in-room spa options if you'd really like to relax and unwind.
When you're ready to leave the hotel, however, you'll find that you're right on the doorstep of all of Calgary's best things to do, with a perfectly central location that's ideal for exploring.
Reasons to stay here:
Location, location, location… you can't get any better than this!
The relaxed, calm vibe of the hotel.
Check availability and reserve a room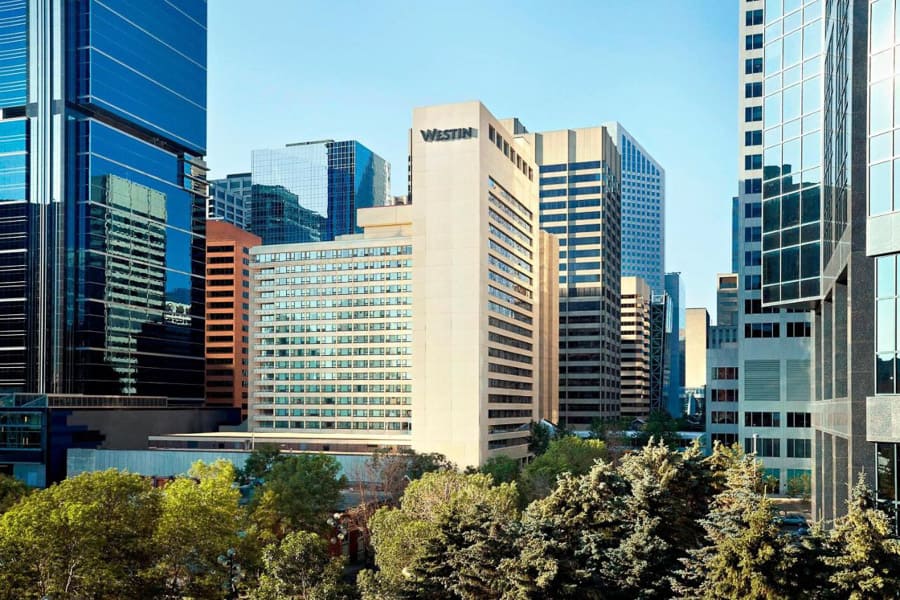 Hotel Le Germain Calgary
Found a stone's throw from the Calgary Tower, Le Germain Calgary deserves its spot on the list of best hotels in Calgary. With funky décor throughout its 143 rooms, you'll love the attention to detail that guarantees you'll have a comfortable stay: think plush bedding, rainfall showers, and a reputation as being one of the most romantic hotels in Calgary.
This downtown hotel has a 24-hour fitness centre, full-service spa, impressive service, and lively onsite lounge certainly help, but the real pièce de résistance is the rooftop terrace with views over Calgary.
Reasons to stay here:
The rooftop terrace – you really can't beat that view over the city.
Incredibly friendly staff and remarkable service.
Check availability and reserve a room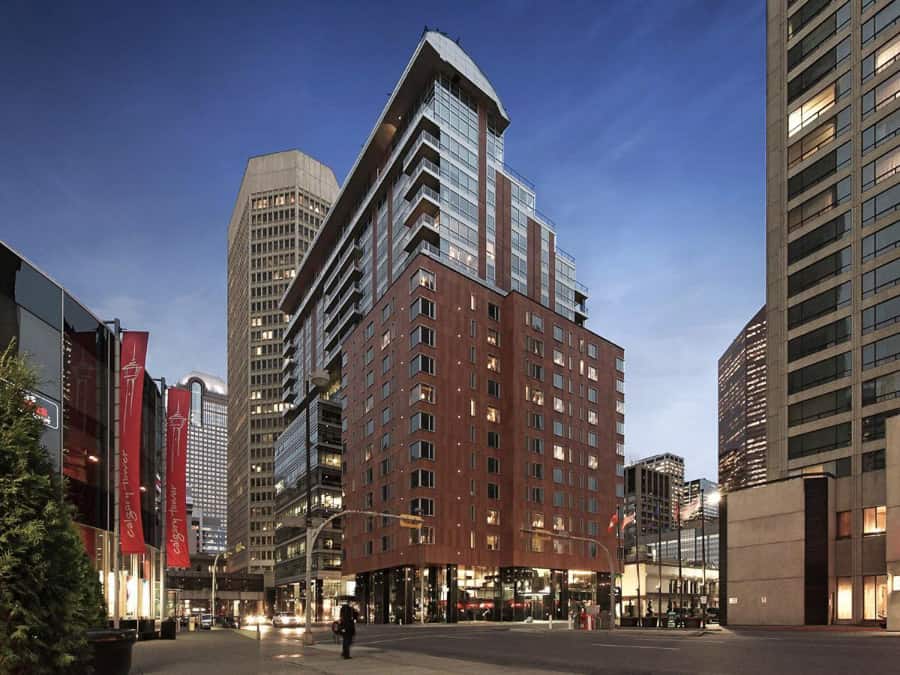 Other Favourite Hotels in Calgary
Hotel Arts Kensington
Chic, modern, and sophisticated, the Hotel Arts Kensington is a wonderful choice if you're looking for a boutique hotel in Calgary. With only 19 rooms and suites, you're sure to have impeccable service that makes you immediately feel at home.
Come for the artful design and the cozy vibe, but stay for the hospitality, the amenities, and the outstanding Oxbow restaurant and lounge found onsite. It's hard to top the warm atmosphere you'll find at this Calgary hotel.
Reasons to stay here:
The stylish, art-focused rooms that are as comfortable as they are beautiful.
The Oxbow restaurant and lounge, both of which focus on locally inspired cuisine.
Check availability and reserve a room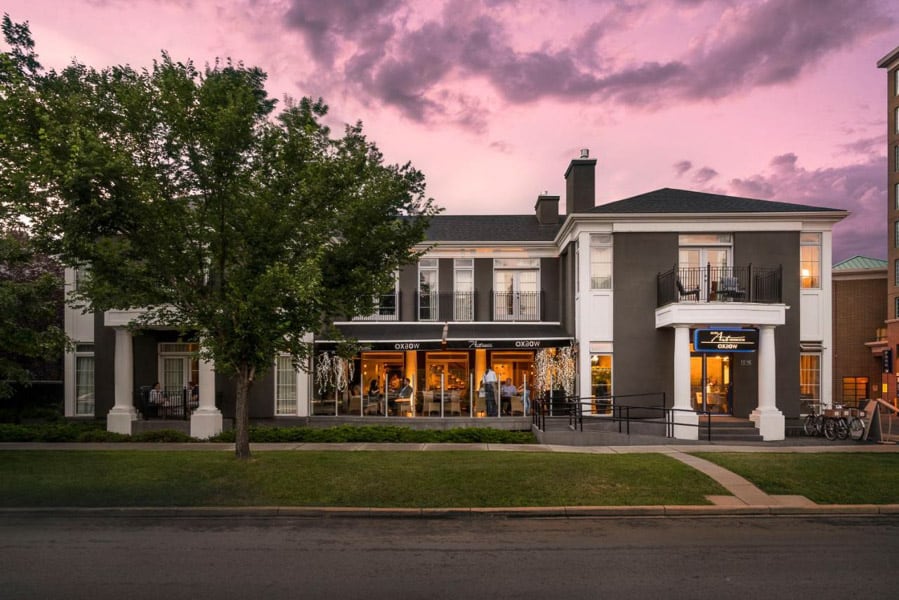 Aloft Calgary
Aloft Calgary says the hotel is all about "open spaces, open thinking, and open expression." No matter what you're after, there's no denying that Aloft Calgary is one of the best value Calgary hotels for those on a budget. Conveniently located for either city exploring or venturing on a day trip from Calgary, the hotel boasts bright, dramatic designs and encourages socializing in its W XYZ bar or its Re:mix lounge. The hotel is also home to a full-service spa, fitness centre, pool, and snack bar.
Reasons to stay here:
The lively, fun atmosphere.
The modern, eclectic style that gives you a luxury feel, even on a budget.
Check availability and reserve a room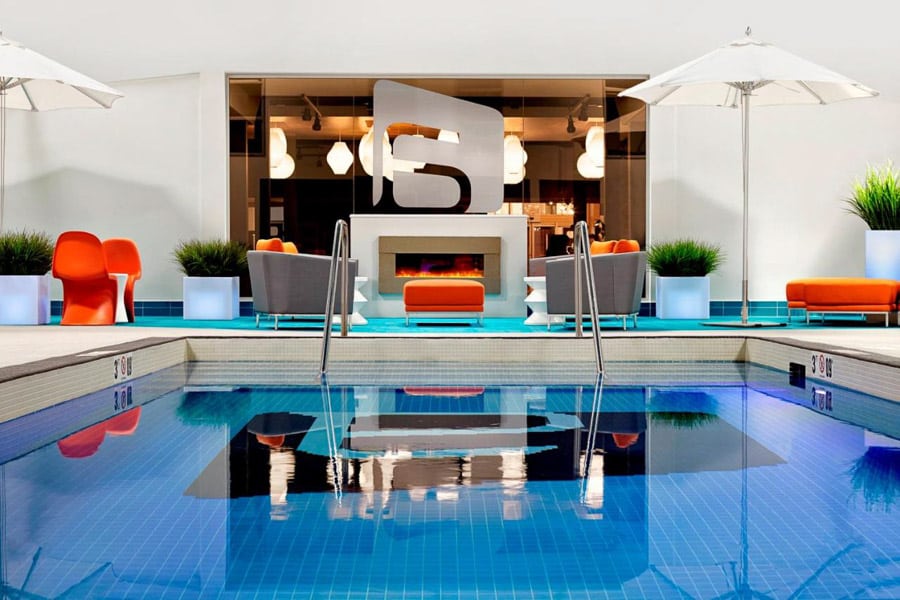 Delta Hotels by Marriott – Calgary South
Found only 15 minutes from downtown, the Delta Calgary South is an excellent option when it comes to family hotels in Calgary. Close to the city's largest shopping mall, Chinook Centre, the Calgary hotel is also a fantastic base for those exploring the nearby mountains and Southwest Alberta destinations.
Adults will love the comfortable rooms, three fitness facilities, and nearby access to some of Calgary's best dining options, while kids will love the two indoor pools and whirlpools, complete with the 'Big Gusher' waterslide. Oh, who are we kidding? The adults will love that, too!
Reasons to stay here:
The access to sightseeing spots south and west of Calgary.
The waterslide… it really is that fun!
Check availability and reserve a room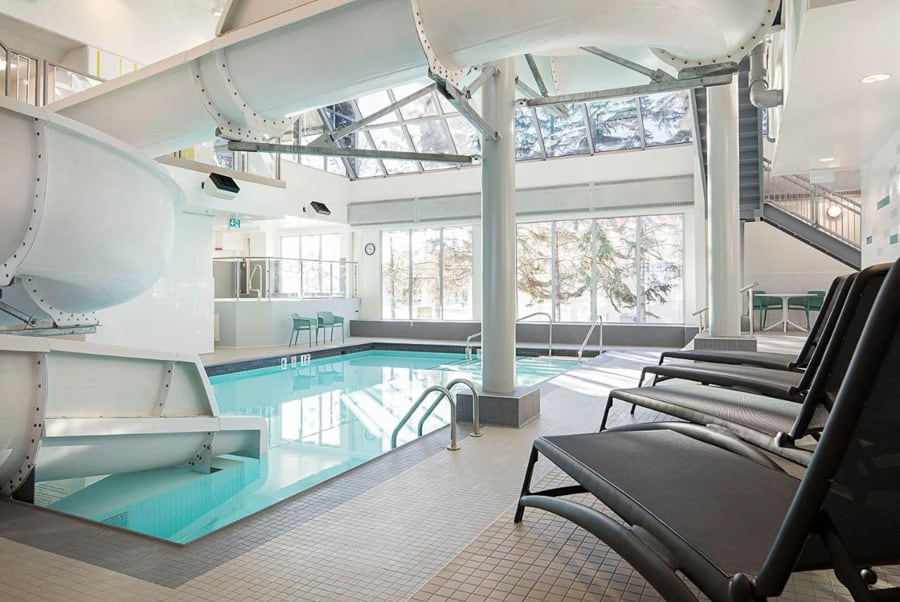 Alt Hotel Calgary East Village
If you're a sucker for modern design, you're in the right place. One of the most beautifully designed hotels in Calgary, the Alt Hotel Calgary East Village is all about the little details: bright, airy rooms, yoga mats on request, Nespresso coffee machines, and a flexible check out if you book directly with the hotel. You can also choose rooms with views of the majestic Bow River.
For dining options, head to CHIX Eggshop for classic breakfasts and lunches with a twist, while NUPO offers incredible sushi in the evening. If you're looking for a truly unique experience, make a reservation with EIGHT, an exclusive and innovative venue with only – you guessed it – eight seats.
Reasons to stay here:
The terrific dining options right at your fingertips.
The eye-catching design details in each of the rooms and common areas.
Check availability and reserve a room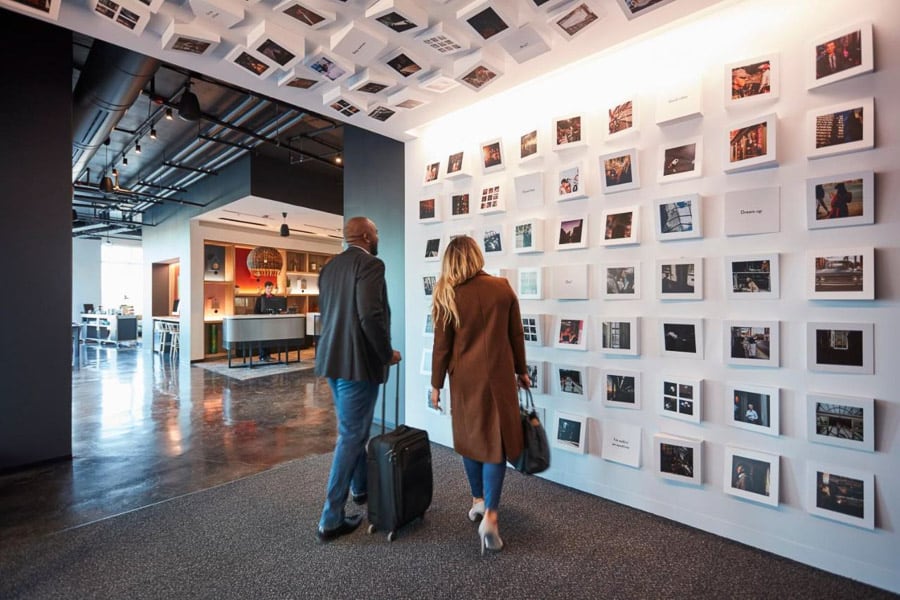 Residence Inn by Marriott Calgary Downtown-Beltline District
Another one of the best Calgary hotels, the Residence Inn by Marriott Calgary Beltline, is an affordable, comfortable hotel that just might become your new home away from home. Located in the lively Beltline District and built on the site of the former Alberta Boot Company, the hotel pays homage to its cowboy roots in its design; you'll find dark wood, cowhide prints, and artwork featuring horses and cowboys, all with a fashionable twist.
The rooms are spacious and bright, many of which have magnificent views over the city and/or the mountains, while the staff is known for being as helpful as they are friendly. There's also the stunning Hearth Room Lounge and Terrace with unbelievable views and even better cocktails. In other words? You can't go wrong with this Calgary hotel.
Reasons to stay here:
The views from the rooms and the Hearth Room Lounge and Terrace.
The warm, cozy atmosphere.
Check availability and reserve a room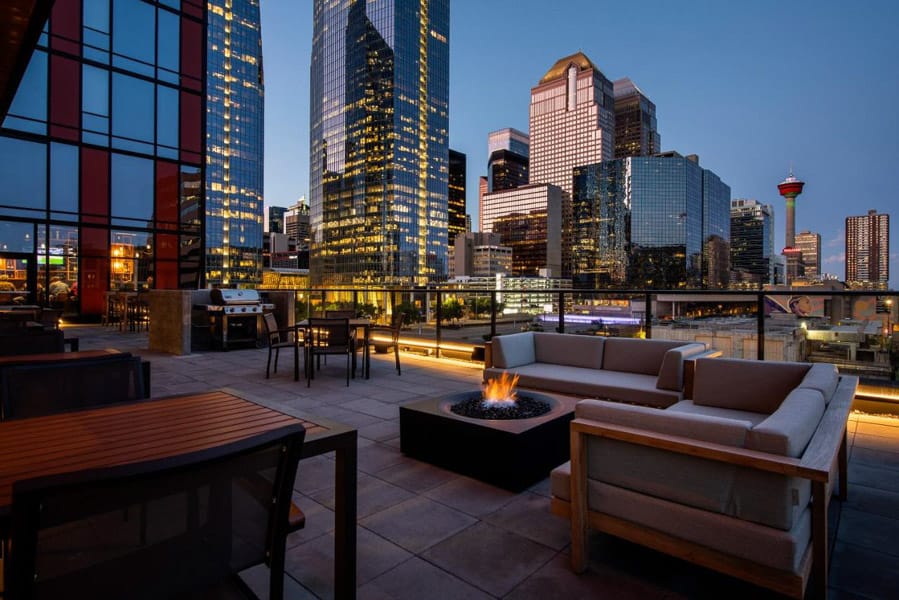 Don't Forget
Looking for an Airbnb in Calgary instead? Check out our guide for the best Airbnbs in Calgary.
Need some help planning your itinerary in Calgary? Check out our guides for all the things to do while visiting Calgary.
If you're hungry in YYC, we have you covered there too. Discover our choices for the best Calgary restaurants and also the most popular spots for brunch in Calgary.