Disclaimer: This page may contain affiliate links. Please review our full Terms and Conditions for more information and our Privacy Policy. Note that any pricing, operating hours, or other such information provided below may have changed since initial publication.
Compiled by the Road Trip Alberta team
Last updated on January 18, 2023
Idyllic charm is alive and well in this small city located just south of Calgary. But don't just come here to walk the cute and historic downtown, or for a stroll along the scenic Sheep River that runs through it – there are plenty of Okotoks restaurants worth a visit as well.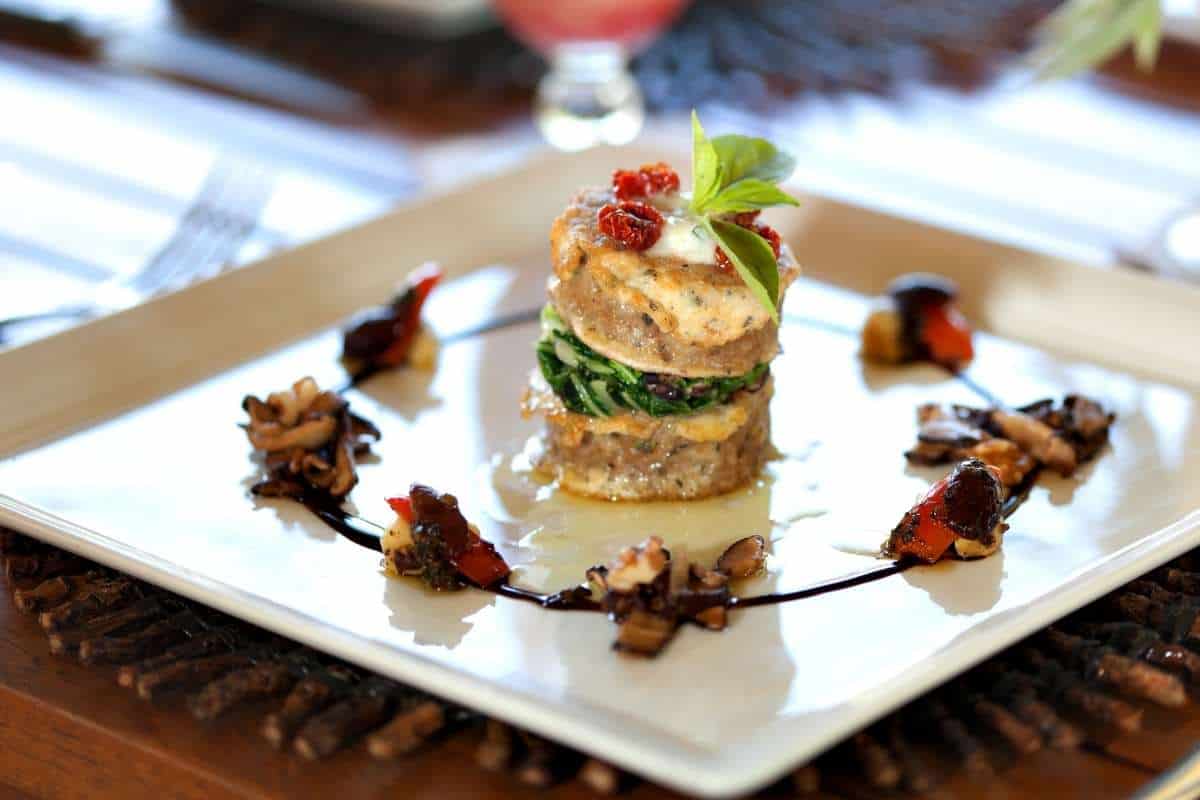 From classic French cuisine to fantastic sushi, delicious craft beer to delectable homemade baked goods – there really is something to appeal to every tastebud.
Our Favourite Restaurants in Okotoks
Bistro 1882
Location: 52 N Railway St
Located in a fantastic setting – the Sheep Creek Post Office building that was originally built in 1882 – Bistro 1882 has a memorable mix of history and delicious food. The building served as a post office until 1942 before becoming a restaurant in the early 80s, and it has been delighting patrons ever since. With only 20 seats in the intimate restaurant, there's only one seating per table for the entire evening service, meaning you never wait for a table and are never rushed to leave. How amazing is that?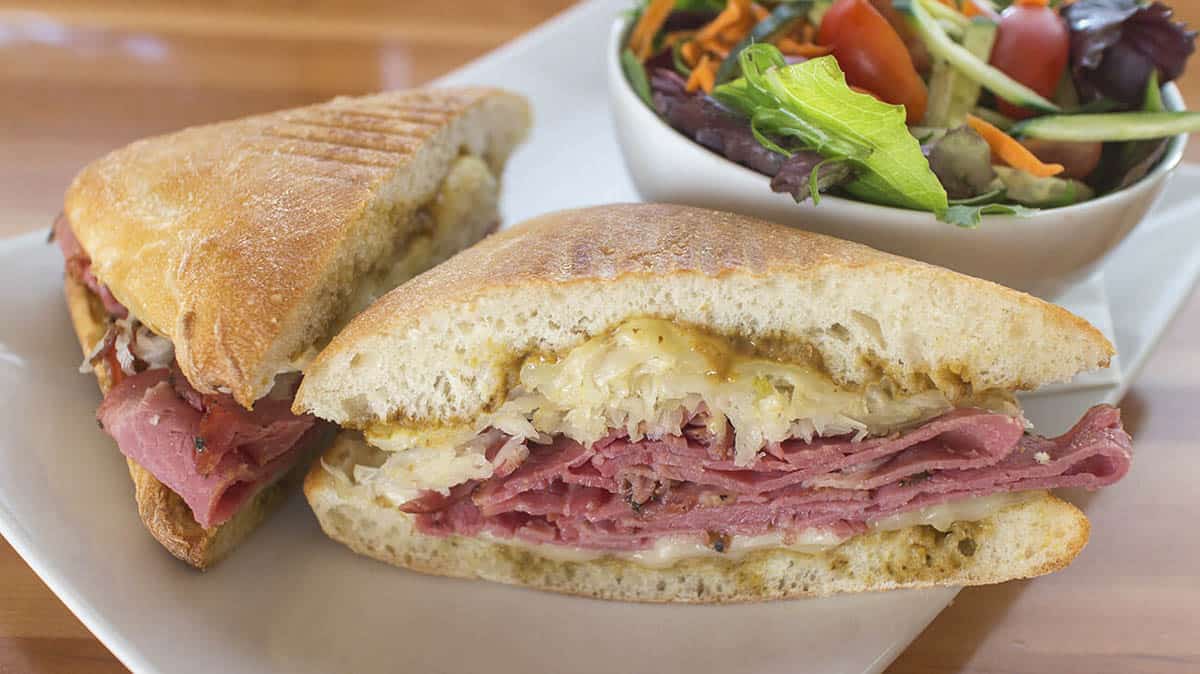 With gluten-free options as well as vegetarian dishes, the lunch menu has many tasty starters, salads, sandwiches, and a terrific quiche Lorraine. Dinner consists of exquisite meals such as Sterling Obie Braised Beef Bourguignon, Escargot a la Persillade, and Duck Margret with Saskatoon Berries. With an emphasis on beautifully prepared European dishes featuring Canadian ingredients, it's no wonder Bistro 1882 is our top choice for the best restaurants in Okotoks. Just make sure to book a reservation because trust us… this place fills up fast!
Cha Cha John's
Location: 100 Stockton Ave #155
By far one of the most popular restaurants in Okotoks, Cha Cha John's absolutely deserves its spot on this list. Known as a fusion kitchen, Cha Cha John's serves up Indian cuisine with a modern twist, and we guarantee that even those unfamiliar with Indian food will find something they love on the menu. The brightly-coloured dining room is perfect for meeting up with a few friends or for a family meal for lunch or dinner.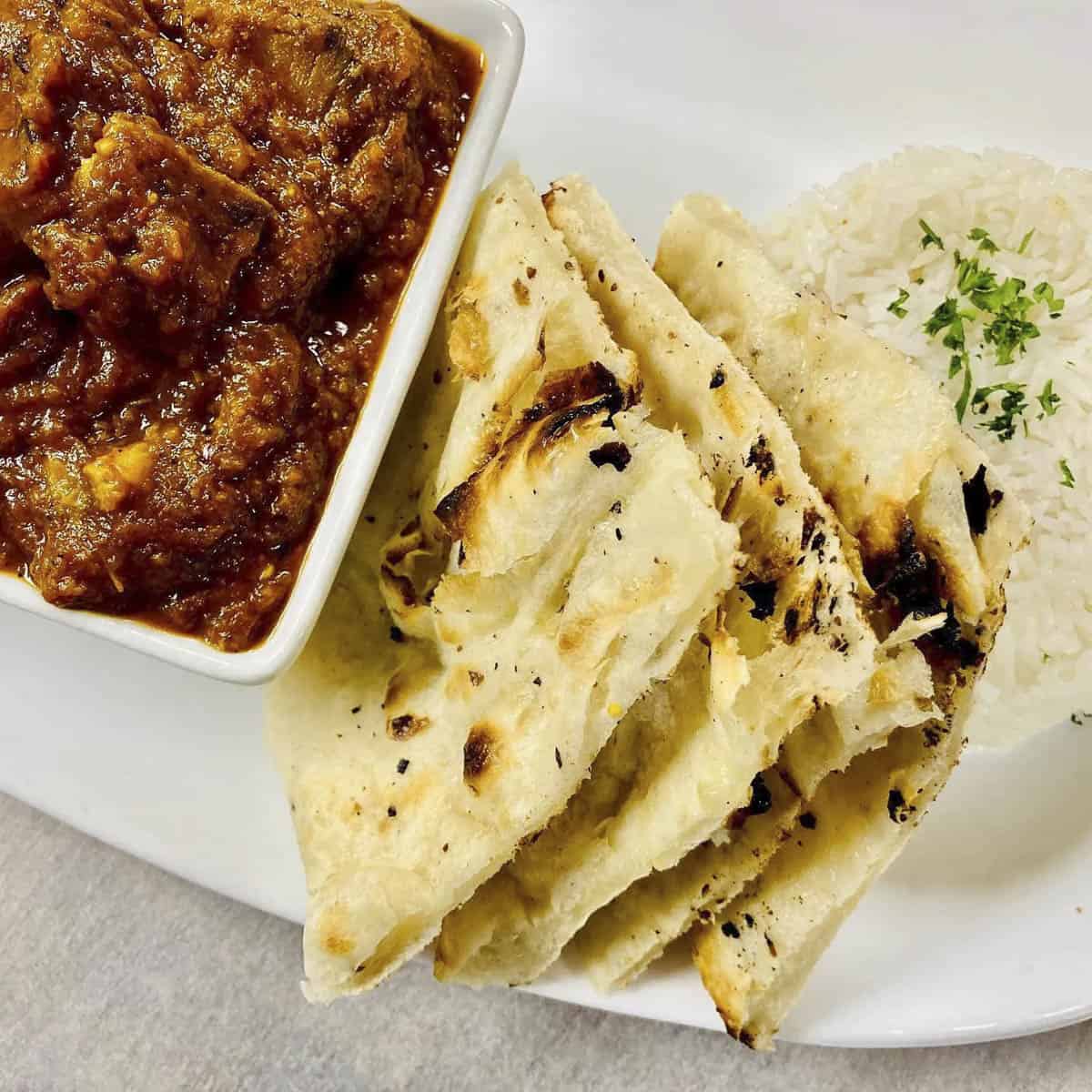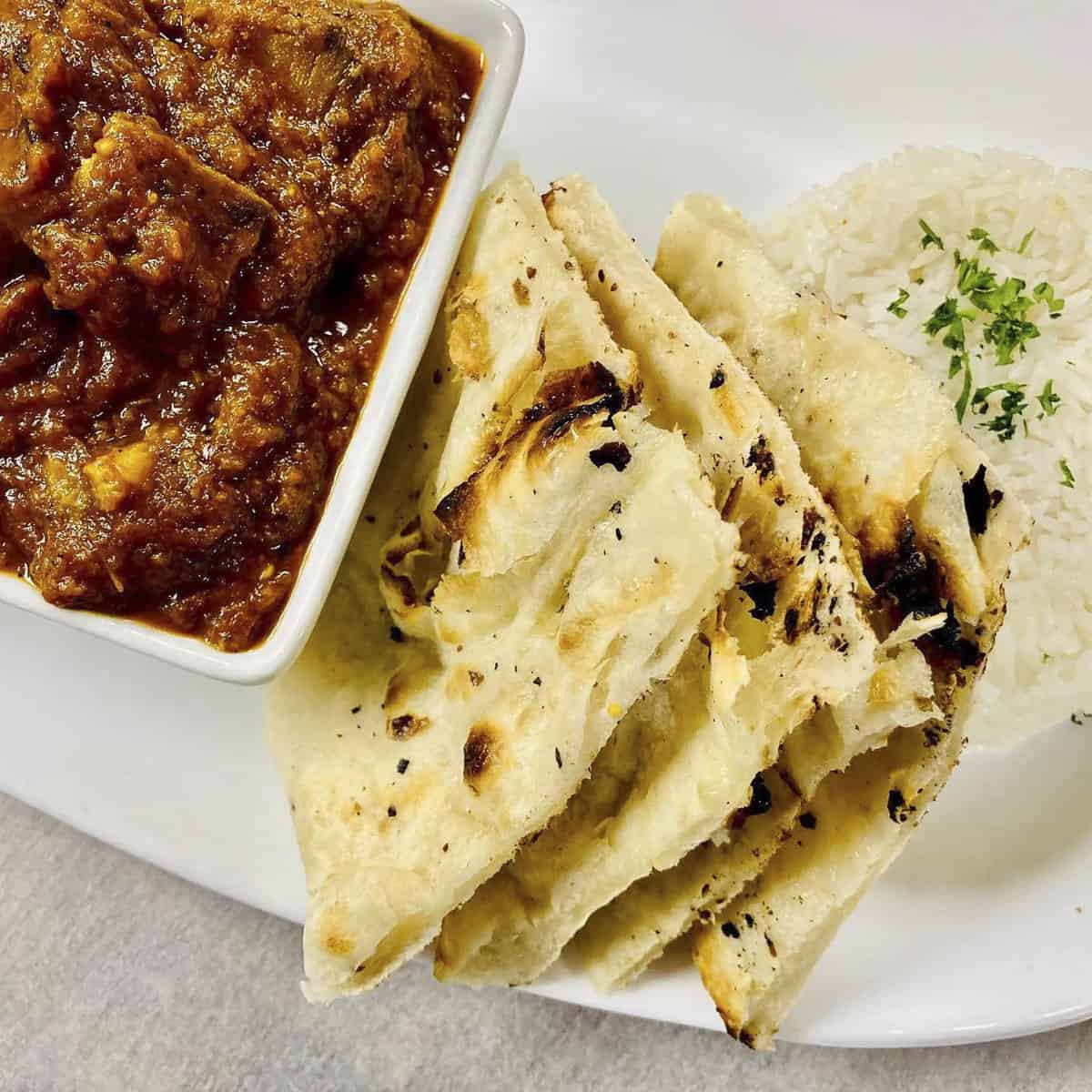 Choose from vegan and vegetarian options such as mango cauliflower, paneer tikka masala, or the falafel na-co (a na-co being a taco served on naan bread). Meat eaters will love the butter chicken poutine, tamarind vindaloo curry with beef, or the pepper fish na-co. Either way, the unique twist in each meal is certain to surprise and delight. Don't be surprised if you start calling Cha Cha John's your favourite restaurant in Okotoks!
Tom's House of Pizza
Location: 235 Milligan Dr
For some of the best pizza in Okotoks, try Tom's House of Pizza, a family-run establishment that has fantastic options for dine-in, take-out, and delivery. With a history that dates back to 1963, the spot is great for a casual evening out with friends or family.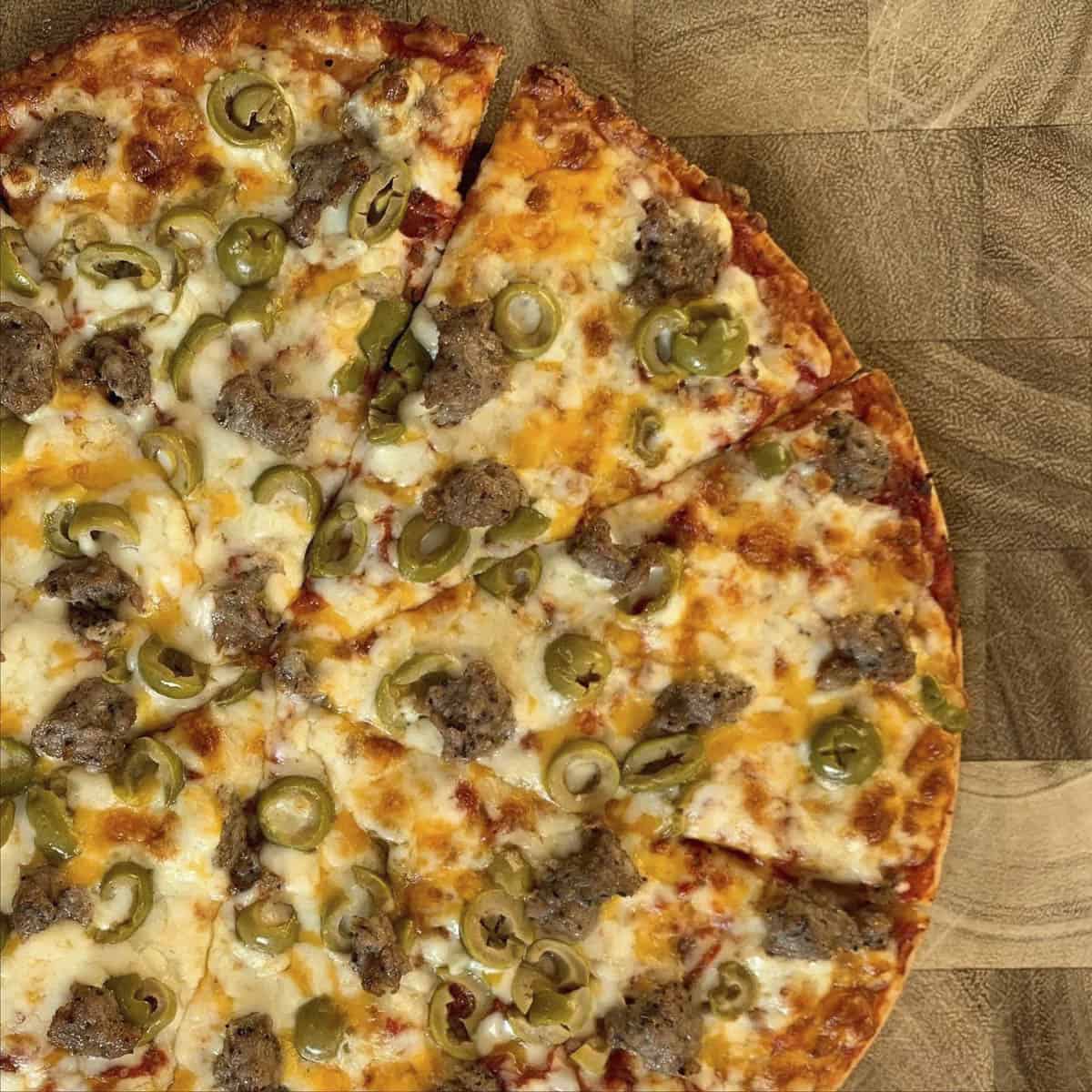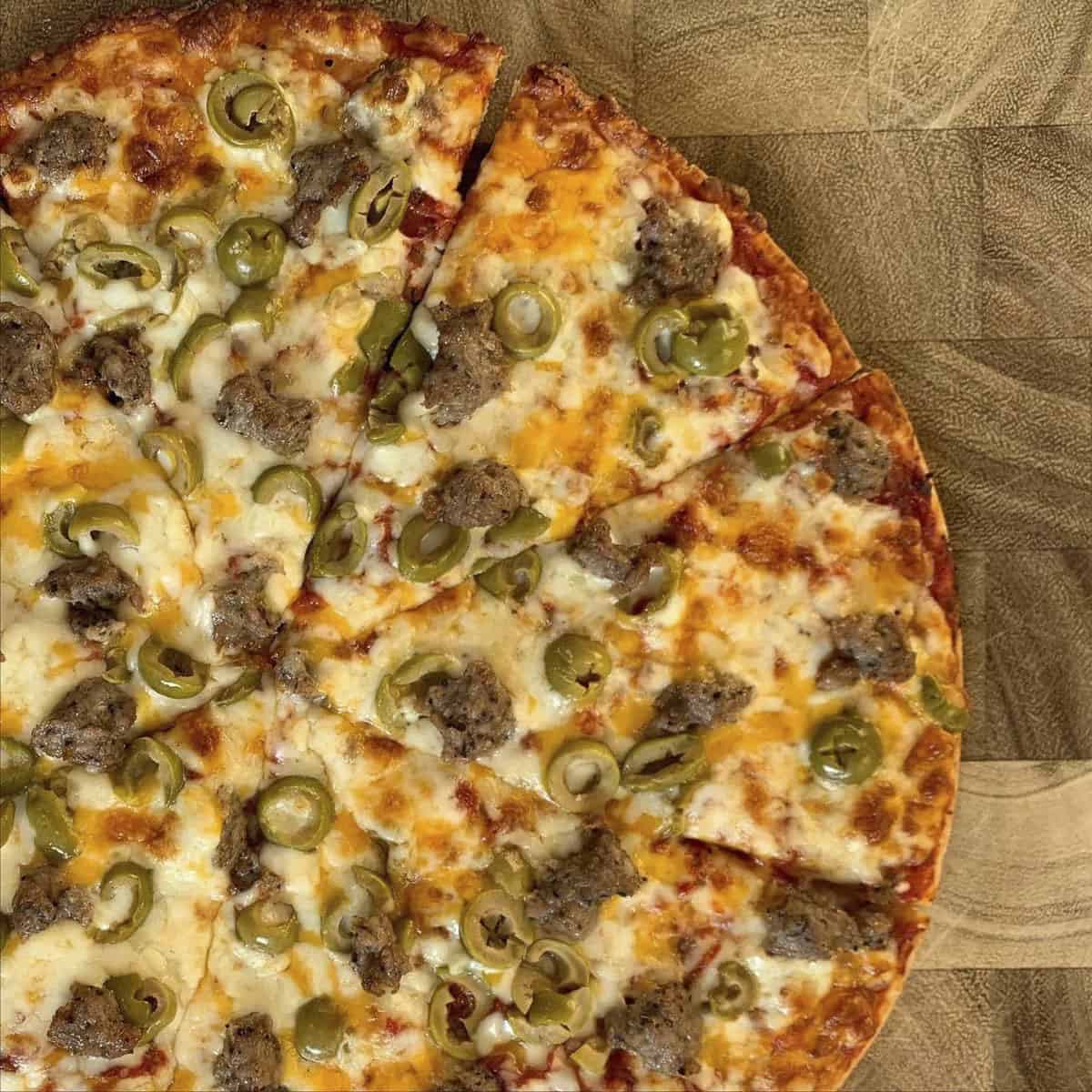 Tom's House of Pizza's specialty is their thin-crust pizza, and all of their pies use locally-sourced ingredients that always taste fresh. While their classic pizza options like Fresh Italian Sausage, Tender Mushrooms, or Sliced Pepperoni will never go out of style, there are plenty of unique flavour combinations to sample, too. Try the Mexi-style or Greek-style pizzas, or go for the Suzanne's Special, a tasty combo of grilled chicken, pineapple, banana peppers, and feta.
Saskatoon Farm Cafe
Location: 80181 338 Ave E #20, Foothills County
Although it's a ten-minute drive east of the city, we thought we'd still include the Saskatoon Farm Cafe on our list of Okotoks restaurants because it's too great not to mention! Serving Mexican fusion, the restaurant aims to "take your taste buds on a vacation" with dishes that showcase the best of the country's cuisine. With beautiful grounds to explore, u-pick berries, fresh vegetables for sale, a garden centre, and an excellent bakery for bread and sweets, a drive out to the Saskatoon Farm Cafe is well worth it.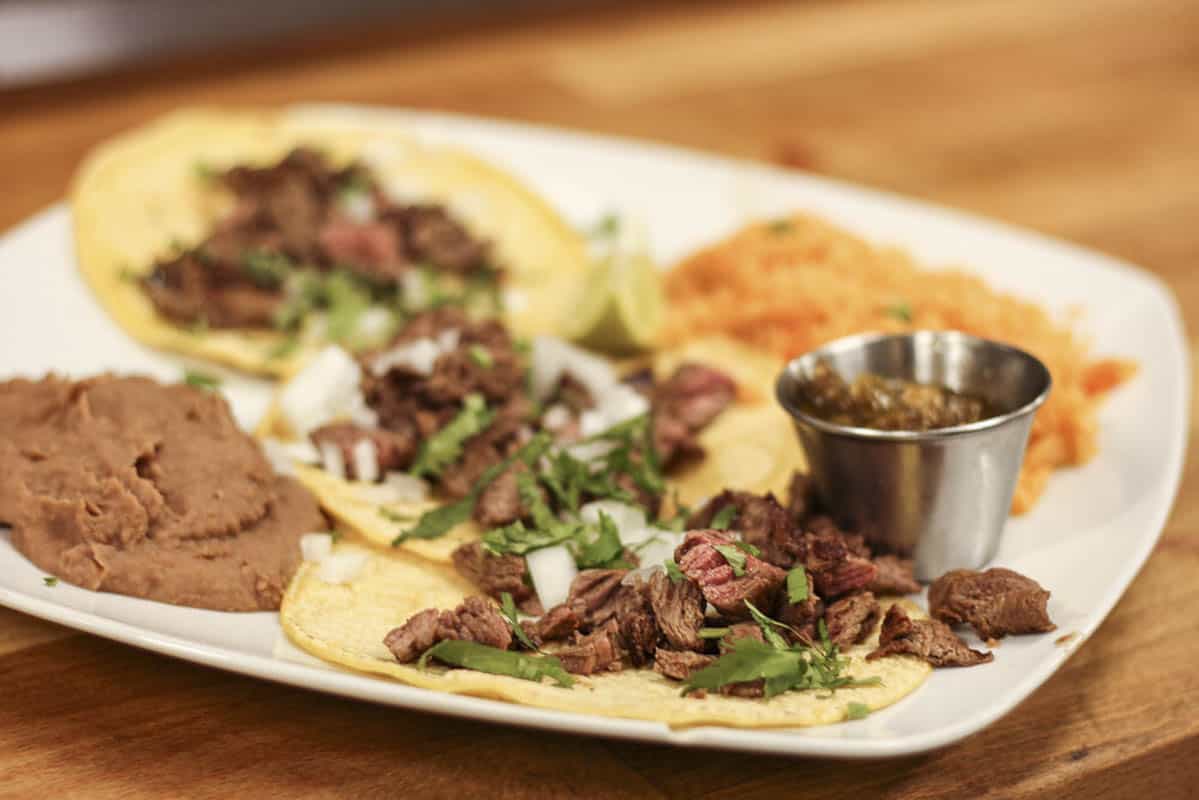 For breakfast at the restaurant, you'll find staples such as omelets, avocado toast, and waffles, but we particularly love the Mexican dishes: chilaquiles, huevos ranchos, and the breakfast quesadilla. For lunch or a mid-afternoon snack, classics such as the Rueben sandwich or their famous quiche are a delight, but we encourage you to try the tacos, guero bowl, or the unbelievable caldo de pollo, a hearty soup of chicken, rice, pico de gallo, lime, and avocado.
Hub Town Brewing Co.
Location: 41 Elizabeth St
Head to Hub Town Brewing Co. for a fun, memorable experience. Run by a lovely couple, Lisa and Mark, this family business is one of the most beloved Okotoks restaurants for its friendly atmosphere, food trucks, and, of course, its excellent beer. Perfect for enjoying the summer weather on their patio, the brewery brings in an array of food trucks to sample, including Il Forno Vagabondo pizza, Bub's Classic Grill, and Lynwood Ranch for the best wings in town. You're also welcome to order takeout to enjoy at the brewery.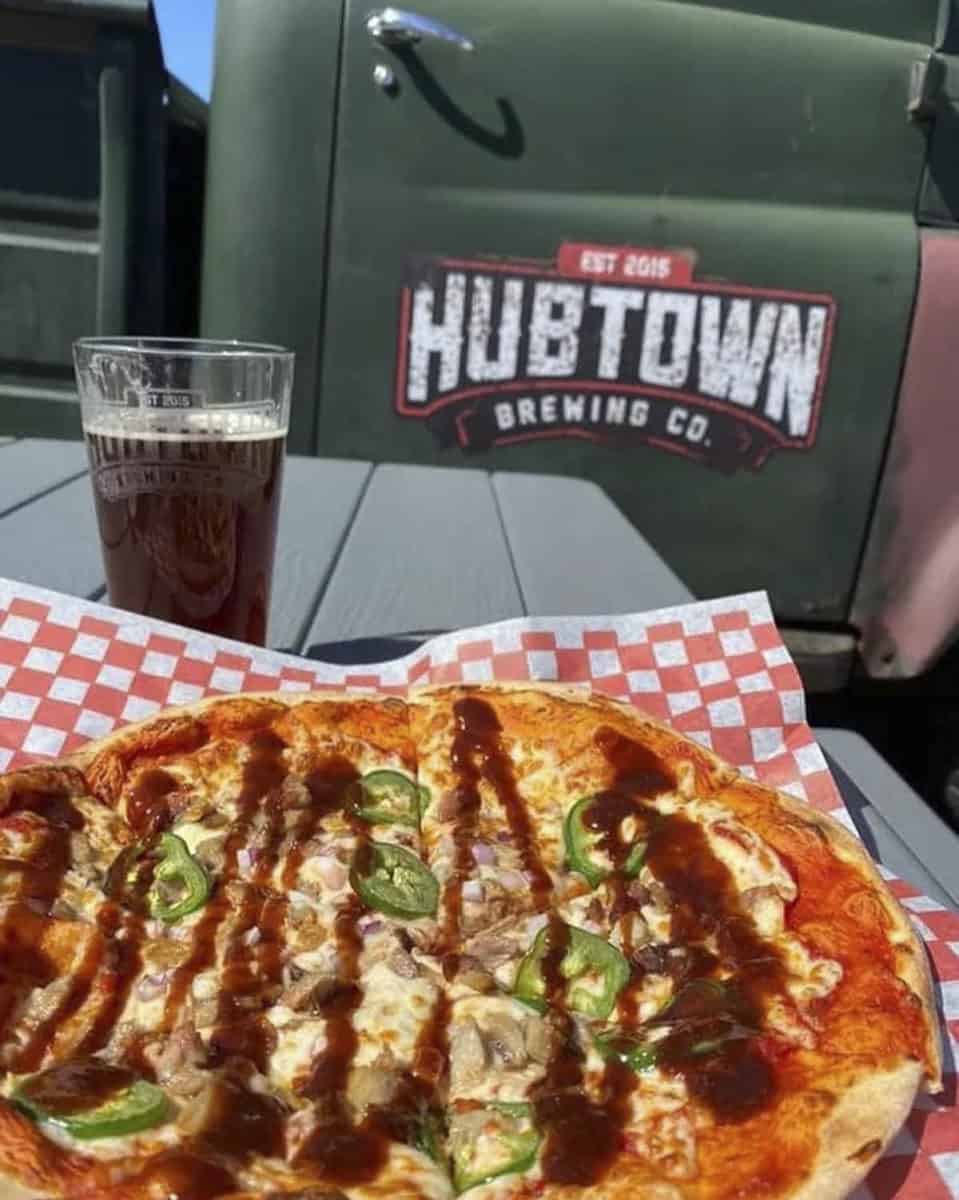 Alongside your meal, sample a beverage from the extensive (and innovative) drinks menu. We love the Berry Manly Raspberry Belgian Blonde Ale, The Legless Porter, and the I Dream in Tangerine NEIPA, but the beer cocktails and "smash-ups" are also definitely worth a taste. Hub Town also made our list of the best Alberta breweries – so don't miss it!
Pho Hoai Okotoks
Location: 71 Riverside Dr #153
Since the opening of Pho Hoai in Calgary in 1987, the restaurant has become one of the most reputable spots for authentic Vietnamese food. With a second location in Okotoks, their reputation only continues to grow! People flock here for the unbelievable pho, with the Beef Pho Sate with a spicy peanut kick (#15 on the menu) continuing to be their most popular order.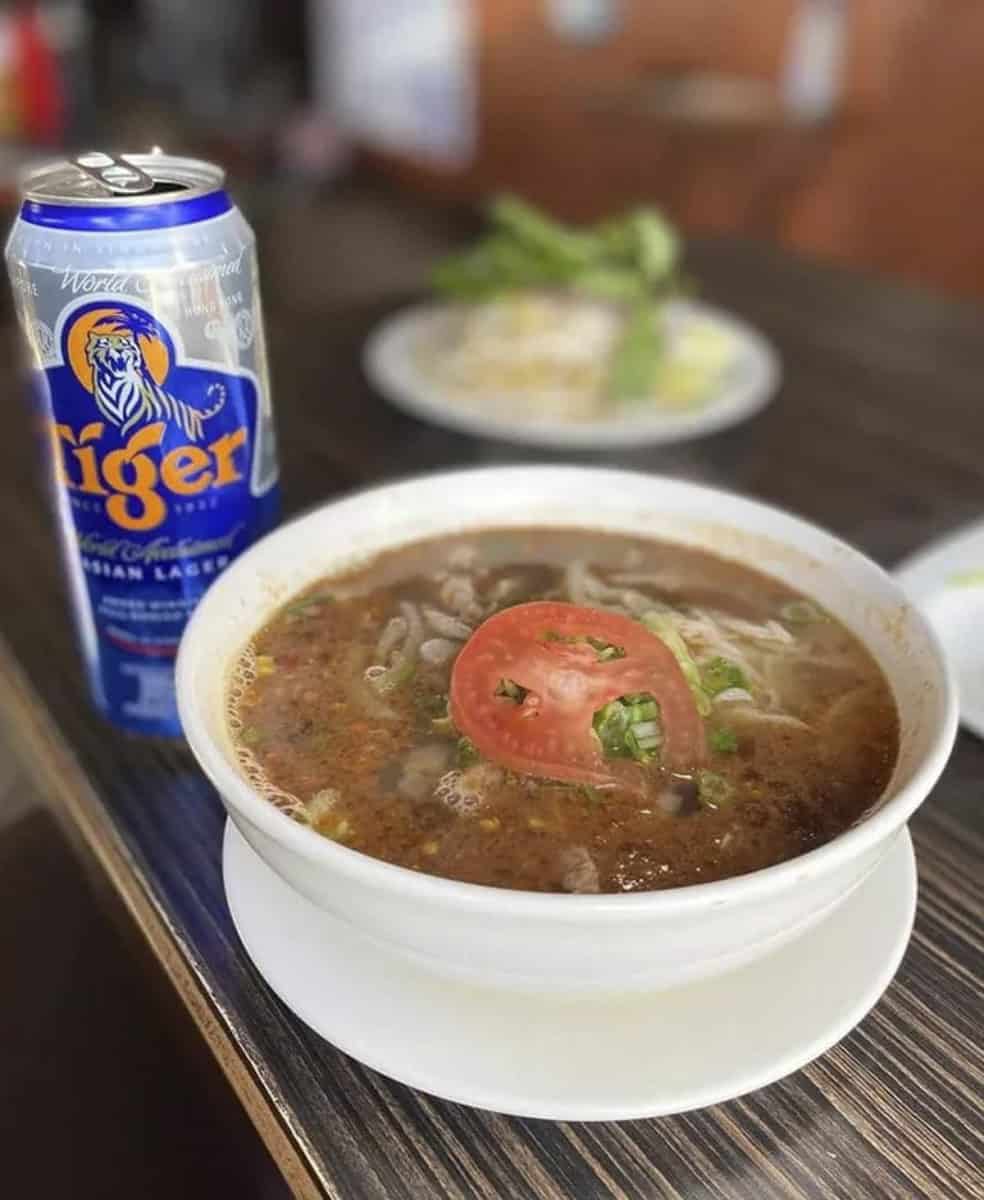 Other favourites include the Bun Bo Hue (a soup with pork meatballs), Bun Cha Gio Thit Nuong, (BBQ beef vermicelli with spring rolls), and Goi Cuon (fresh salad rolls). Also popular is Vietnamese coffee, which will make you feel as though you've stepped right into a cafe in Saigon. And don't forget to try Saigon Sub next door for some amazing banh mi!
Saluté
Location: 40 Elizabeth St
One of the best spots in Okotoks for a night out on the town, make your way to Saluté for an evening filled with great drinks, fun entertainment, and delicious shareables. This wine and cocktail bar is infamous for its incredible charcuteries and cheeseboards, all of which include a huge variety of local meats and cheeses, vegetables, fruit, crackers, and breads. In an effort to keep the boards fresh, an emphasis is placed on always updating the platters with seasonal ingredients.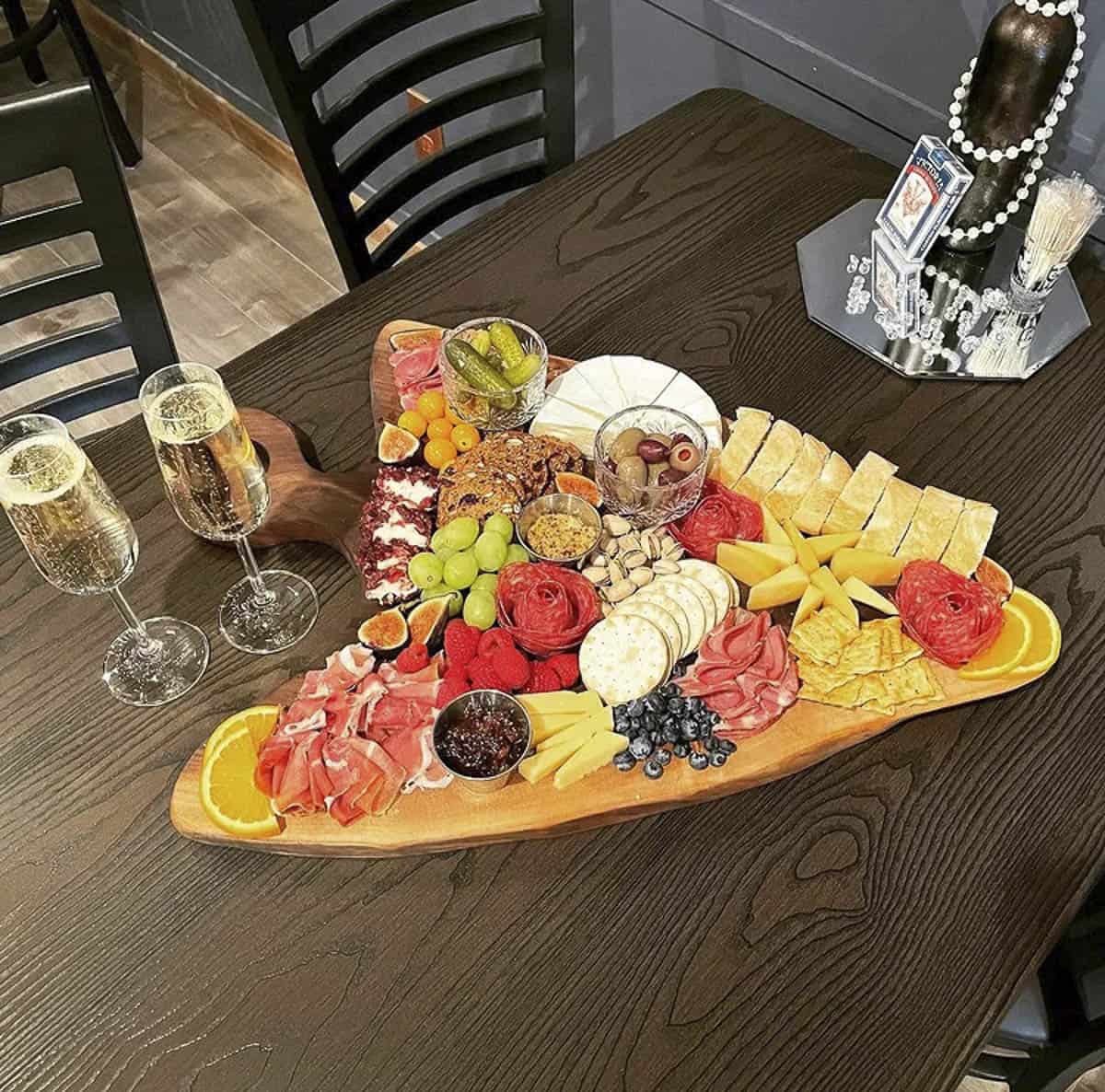 You can also order shareables such as baked brie, a spinach pesto flatbread, or bruschetta, while the array of hot dogs is also divine (we love the Hott Dawg and the Reuben Dog). With extremely knowledgeable bartenders, choose from your favourite cocktail or try one of their house-made creations. There's also an impressive wine and whisky list to choose from!
British Chippy
Location: 94 Elizabeth St
With the tagline "Traditional Recipes for the Modern Family", British Chippy uses organic ingredients, fresh-caught fish, and, best of all, their grandmother's recipes. Don't expect to find a fancy establishment or lots of frills… here the name of the game is good food in a casual atmosphere. Enjoy the patio in summer as you dine on some of the best British offerings on this side of the pond.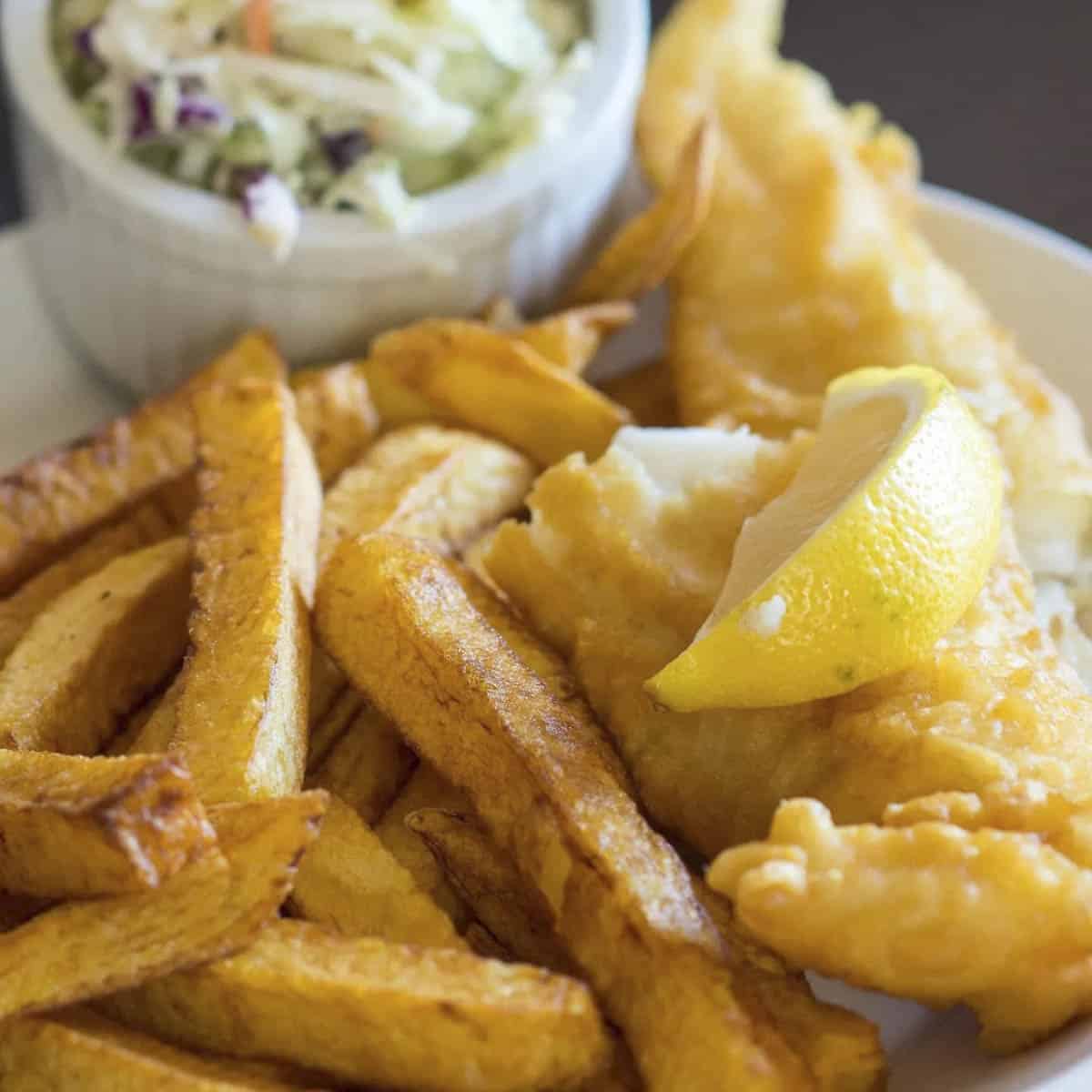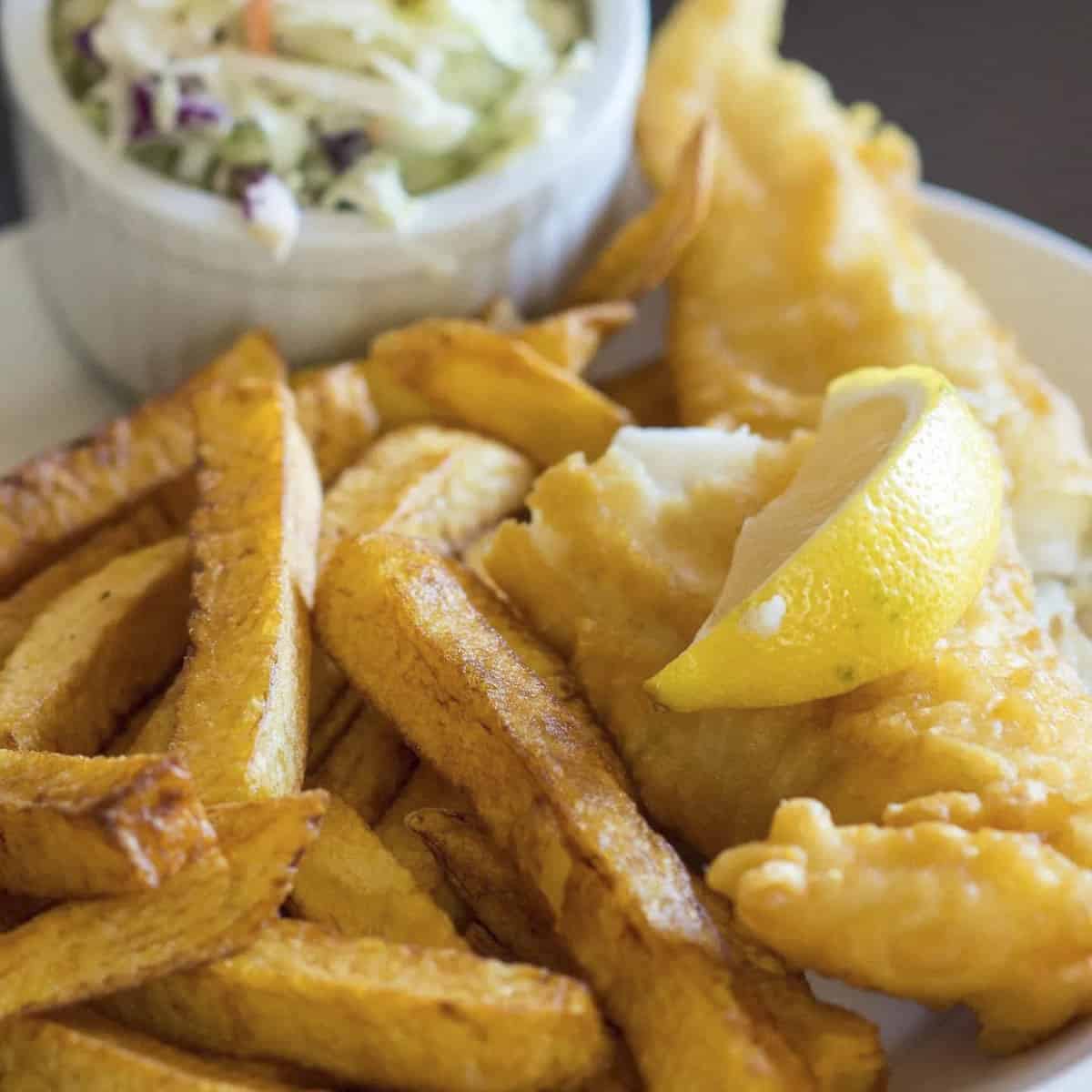 For over 100 years, the Hodgkinson family has been dedicated to serving only the finest fish and chips, so we obviously recommend ordering the dish when you're there! Made with fresh cod or haddock, the batter is made in-house with a traditional family recipe. Enjoy your fish alongside organic potatoes from a local farmer as well as mushy peas. Want to try something else? The sausages are equally tasty, as are the meat pies. There's also a good selection of side dishes as well as a kids' menu.
Heartland Cafe and Restaurant
Location: 46 McRae St
With a long history and a loyal customer base to match, Heartland Cafe and Restaurant is consistently named one of the best restaurants in Okotoks. With a menu chock full of innovative interpretations of classic dishes, the restaurant strives to use only the freshest and healthiest ingredients possible. Serving international food with a Canadian twist – think an Asian bowl with Alberta beef, or tagliatelle with Canadian salmon – there's an excellent array of pasta, burgers, and mains that include baby back ribs, confit cod, and Osso Bucco with polenta.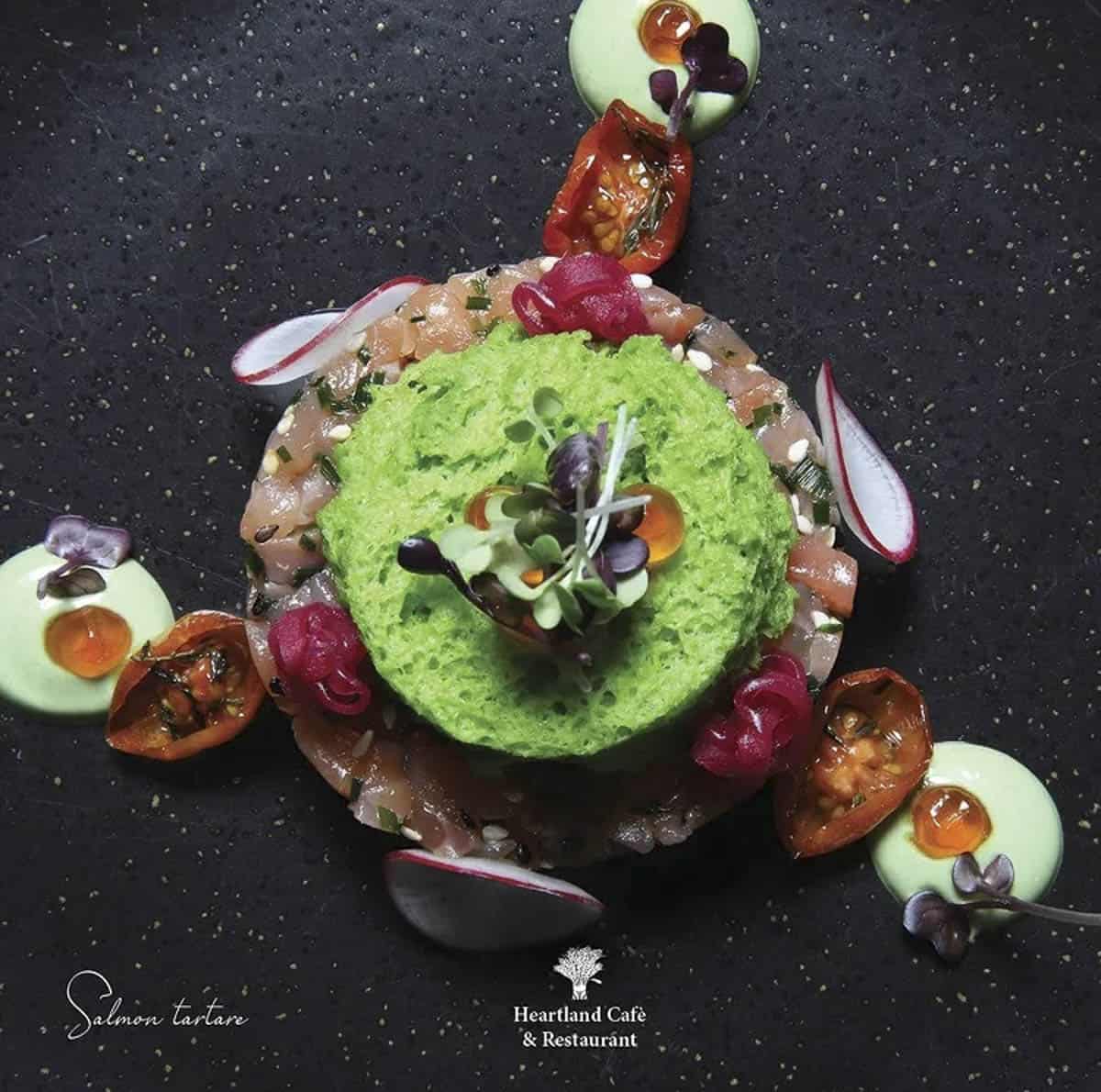 And the atmosphere at Heartland Cafe and Restaurant? Amazing! Located in a converted church, the setting is nearly as memorable as the food itself. With a warm vibe and incredibly friendly service, people often choose to host events here as well, including weddings and anniversary parties. We recommend making a reservation for your meal, as the restaurant tends to fill up quickly.
Almira's Mediterranean Grill
Location: #F, 40 Elizabeth St
Whether you're sitting down for a big meal with family or just grabbing a quick bite on the go, head to Almira's Mediterranean Grill. With generations of recipes passed down in order to create the perfect dishes, you can taste the tradition on every plate. Using only the freshest and most authentic ingredients, this is one of the best places to eat Lebanese food in Alberta and certainly one of the top Okotoks restaurants.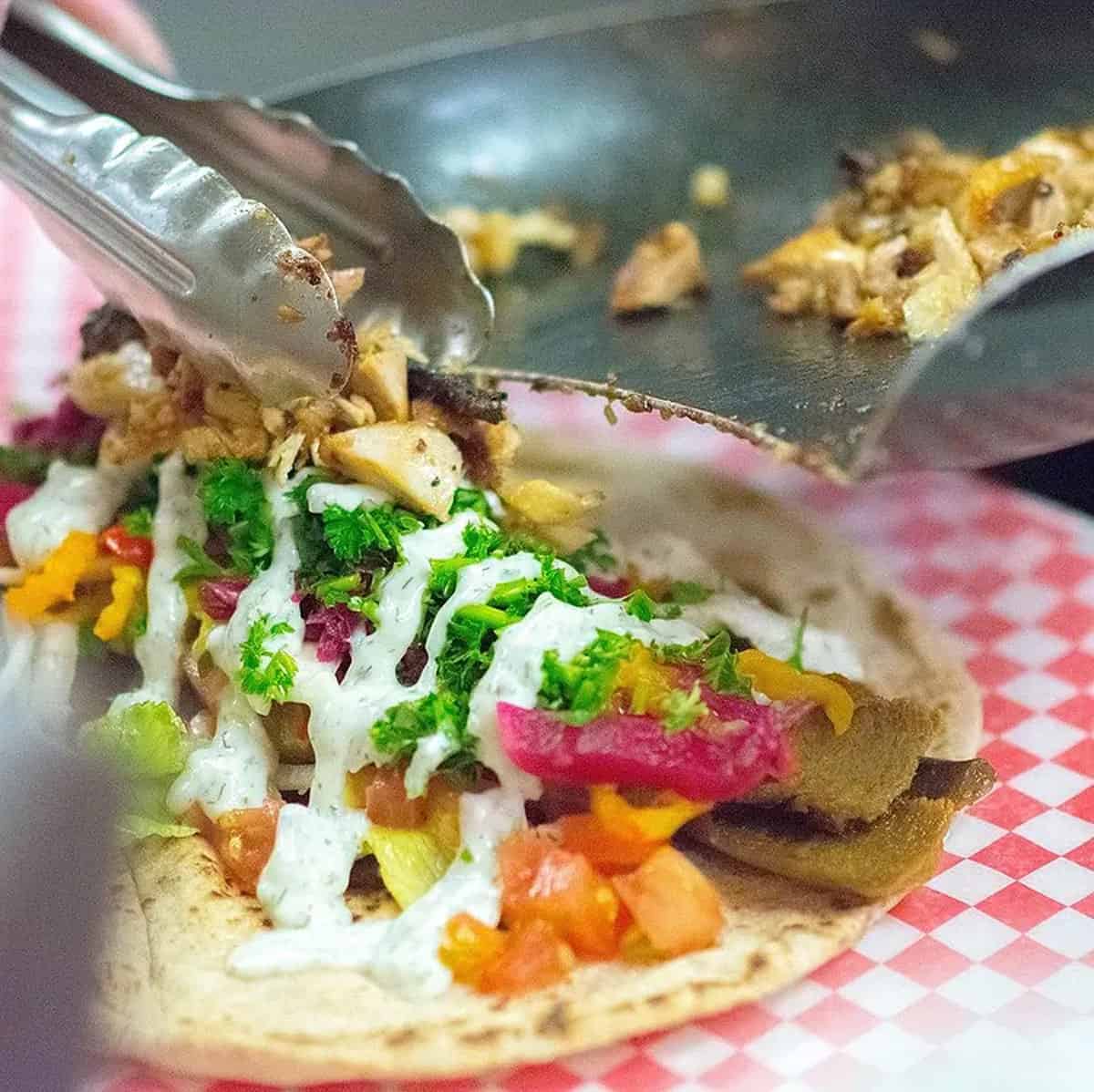 Starters include hummus, baba ghanouj, and sfeehas, which are Lebanese pies. There's a tasty list of salads and wraps – we always go for the shawarma or the falafel wraps – and main plates include mixed platters of meat, vegetables, dips, and more. And of course, make sure to save room for a piece of baklava for dessert!
Yokozuna Sushi and Grill
Location: 200 Southridge Dr
On a mission to serve the best sushi in Okotoks, Yokozuna Sushi and Grill places great emphasis on fresh fish, high-quality ingredients, and fantastic service. "Yokozuna" is the name for the highest rank of a sumo wrestler in Japan – a grand champion – and the restaurant certainly takes after its name! With an extensive list of Japanese cuisine to choose from, your favourite is almost guaranteed to be served at Yokozuna.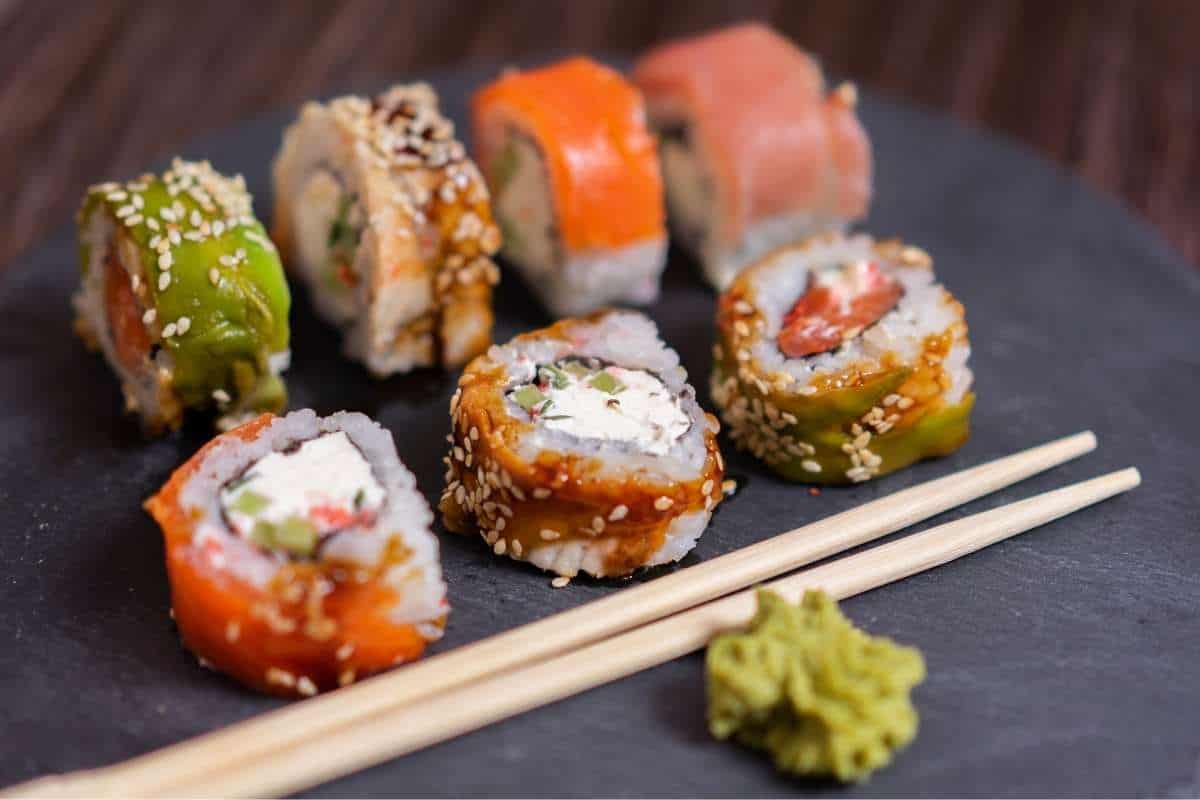 Start with gyoza, takoyaki, or the beef tataki salad, and then make your way through as many of the delicious rolls as you can… favourites include the inventive Fire Booster, Cowboy, and Cherry Blossom. There are also huge lists of combo platters, tempura, sashimi, grilled meats, noodles, and more. The only problem with Yokozuna? Trying to figure out what to eat, because it's all so tempting.
Sweetgrass Deli and Eatery
Location: 1-49 Elizabeth St
Make your way to Sweetgrass Deli and Eatery for some of the best breakfast and lunch options in Okotoks. Open early, you can start your day with one of their homemade meals; in the warmer months, make sure to snag a seat outside to enjoy the sunshine with every bite. With daily specials, pre-made meals you can take home, and a terrific selection of imported goods from Europe, don't be surprised if you become a regular at Sweetgrass.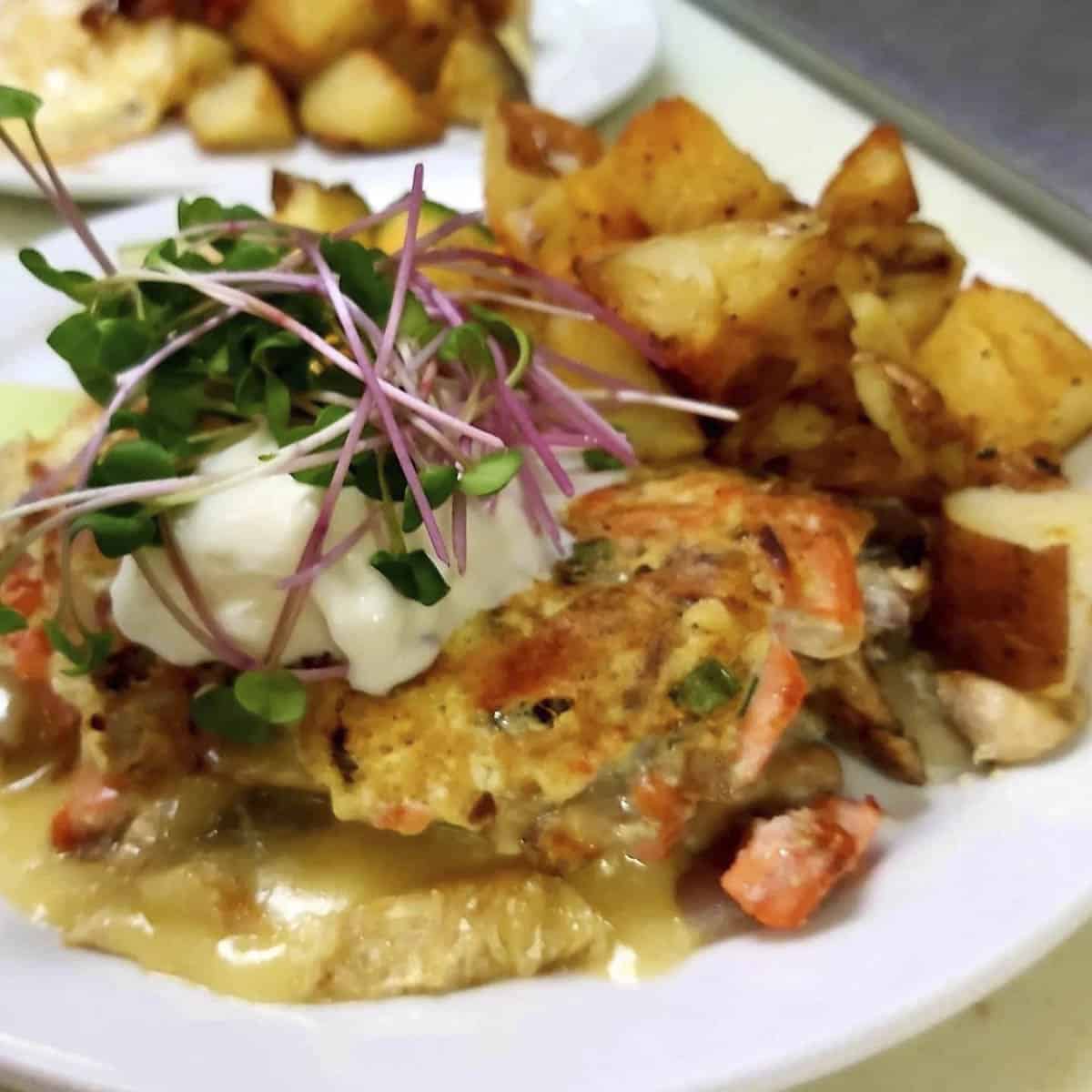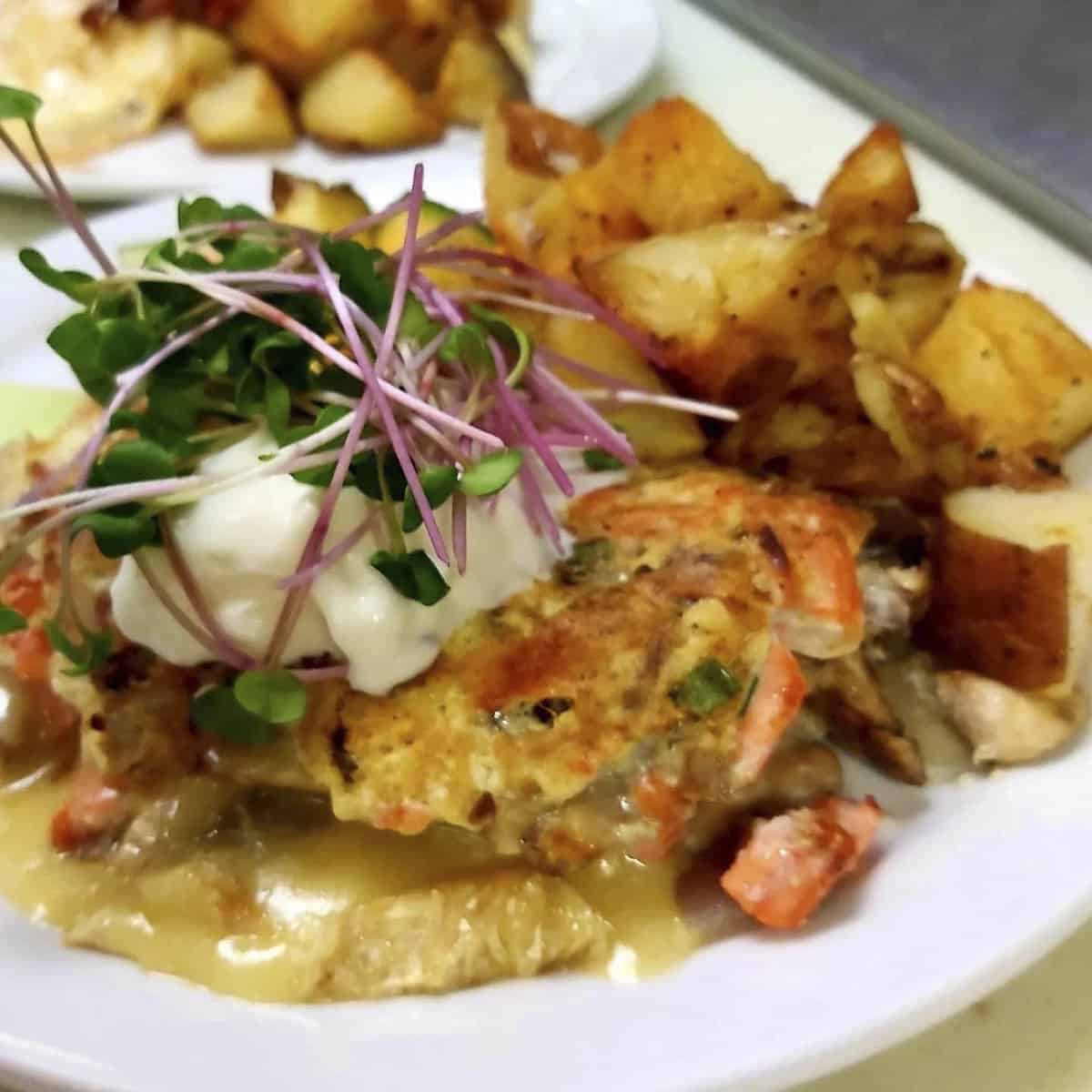 For breakfast, try the Big Rock Breakfast, the Monte Cristo Pan Scrambler, or their mouthwatering buttermilk pancakes. Lunch brings plenty to choose from as well, including your own custom-built deli sandwiches, fresh salads, daily soups, or a bowl of chili. And don't forget about one of their homemade desserts!
Plaka Greek Taverna
Location: 44 Riverside Gate Unit 104
Perfect for lunch or dinner, Place Greek Taverna consistently makes the cut when it comes to the best restaurants in Okotoks. With friendly table service and authentic Greek cuisine, it's no wonder locals keep returning again and again. The cozy atmosphere only contributes to the feeling of being right at home when you walk in the door.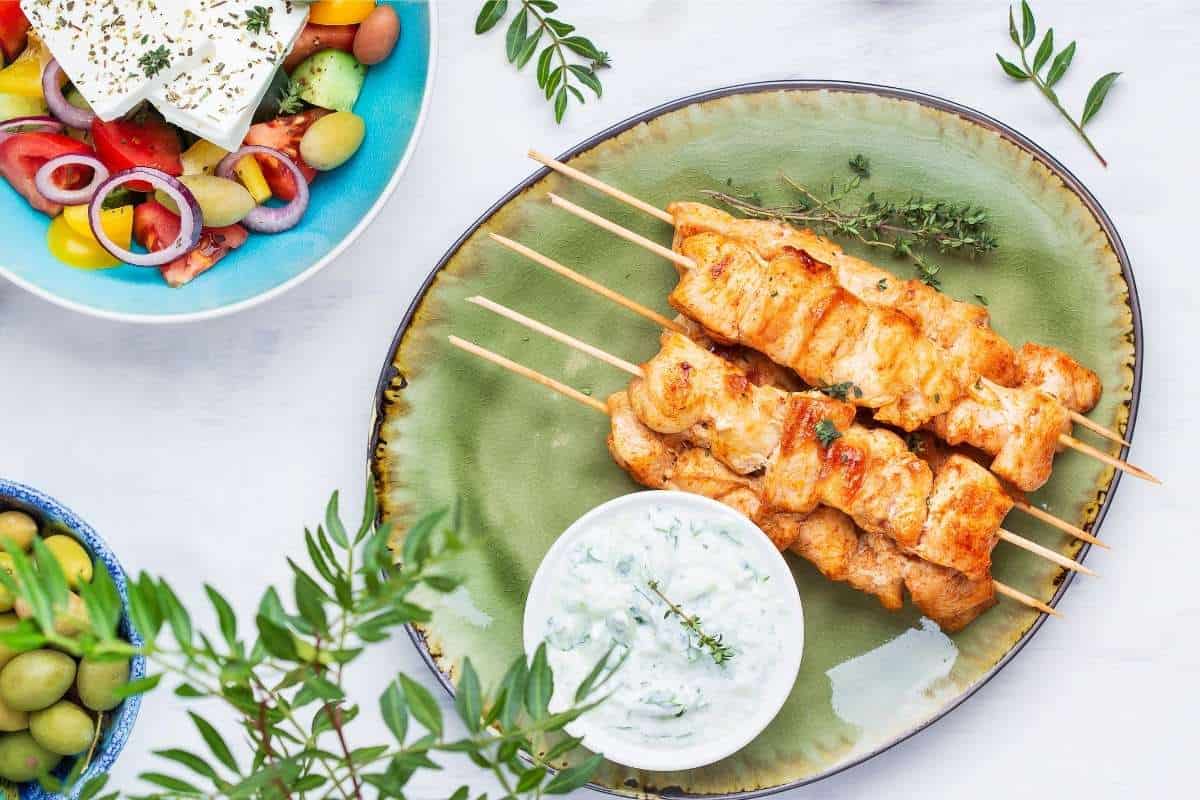 As for the food, we love the small plates, including the appetizer platter for two (which includes calamari, tzatziki, spanakopita, and more). Specialties include marinated lamb chops, vegetarian moussaka, and stuffed chicken breasts with spinach and feta, although the souvlaki is definitely worthy of a taste, too.
Little Fast and Fresh
Location: 44 Riverside Gate
Aptly named, Little Fast and Fresh is an awesome choice for those on the go and for a tasty, fresh meal. Whether for dine-in or take-out, Little Fast and Fresh aim to use only the best ingredients to make sure your meal never disappoints. There are lots of vegan and vegetarian-friendly options, as well as a menu for kids, making it one of the most popular restaurants in Okotoks.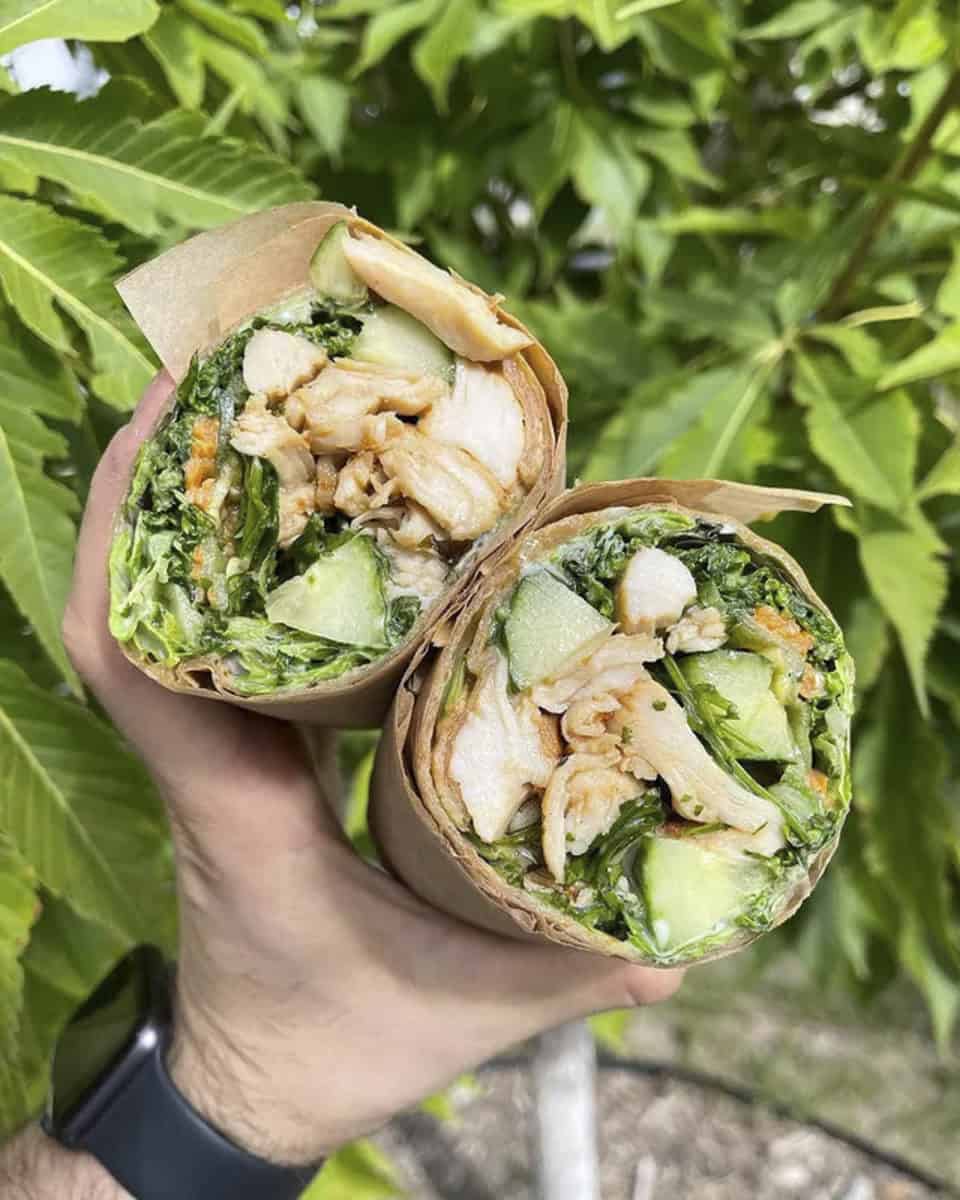 Open primarily for lunch, choose from one of the amazing wraps or sandwiches; we love the CTRL V, made with smoked cauliflower and chickpea falafels, as well as the Lawton, made with shaved smoked ham, gruyere, and roasted apple aioli. There's also a fantastic selection of salads, bowls, soups, and more, all with colourful flavour combinations and innovative use of ingredients.
Mama's Restaurant
Location: 100 Milligan Dr
Known for its large portions, friendly service, and consistently delicious meals, Mama's Restaurant has long been a favourite eatery in Okotoks. If you're looking for good old-fashioned cooking, this is your place; fill up on hearty meals that are sure to make you want to return again and again to try more.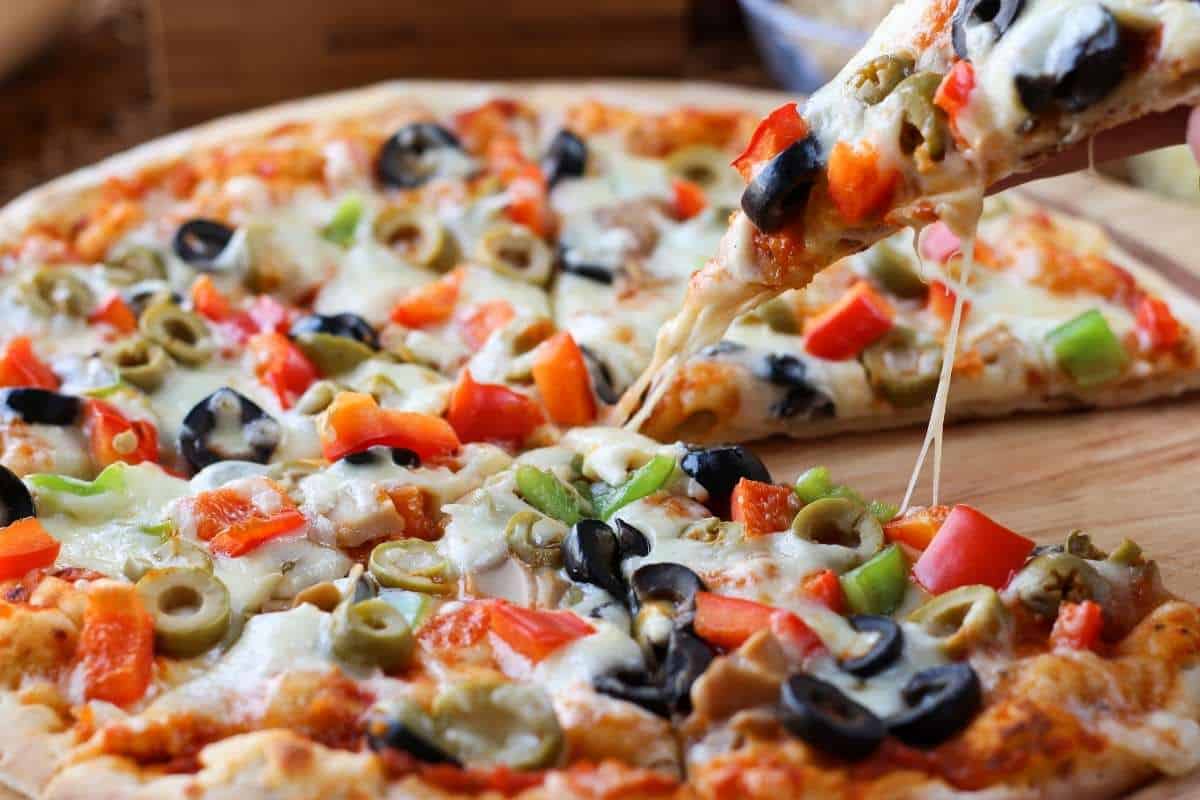 Pizza is one of their specialties, and every pizza is lovingly prepared with only the best ingredients. There's also pasta, sandwiches, burgers, and an impressive list of appetizers and salads to choose from, but we're partial to the donair. And no matter what you order, make sure you add some of Mama's Crazy Bread on the side… trust us on that one.
The Best Cafes and Bakeries in Okotoks
Brown Sugar Bakeshop
Location: 235 Milligan Dr #109
Calling all of those with a sweet tooth! Brown Sugar Bakeshop is one of our top picks for bakeries in Okotoks. With an extensive list of cupcakes, cookies, muffins, squares, and pies, many of their desserts can be provided gluten-free. There's also a tasty selection of specialty coffees made with organic free-trade coffee, as well as teas, smoothies, and more.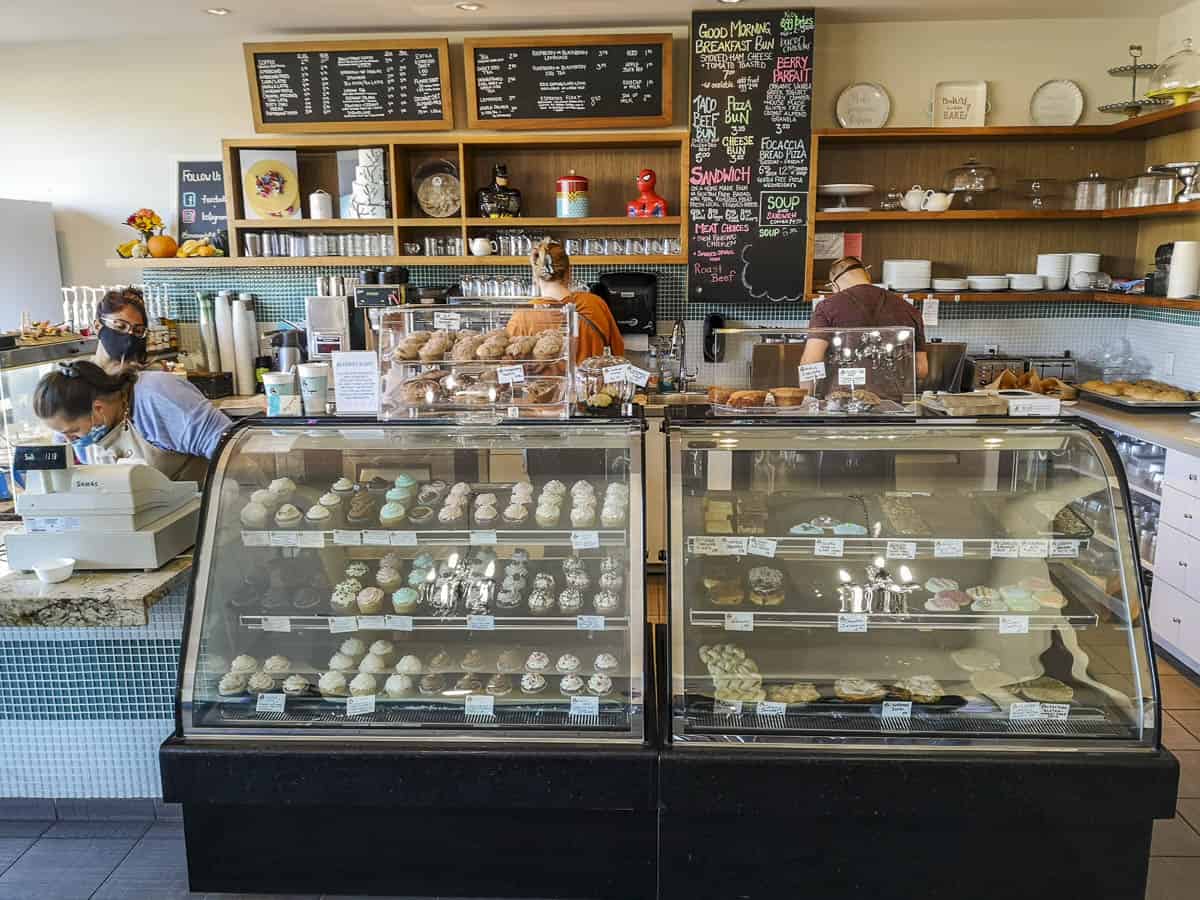 But Brown Sugar Bakeshop isn't only for sweets… there's also freshly baked bread and buns every day. In the mood for a meal? Try one of their delicious "bunwiches", which you can custom order with whatever toppings you'd like. Add a bowl of homemade soup to your bunwich for an extra perk.
94 Take the Cake
Location: 94 Elma St W
This cafe certainly "takes' the cake" for the coolest cafe in Okotoks. if you've ever wanted to pretend you're in the famous Aha video for their song "Take On Me", then this bakery is very worth the stop, if only for the amazing Instagram photo that will result!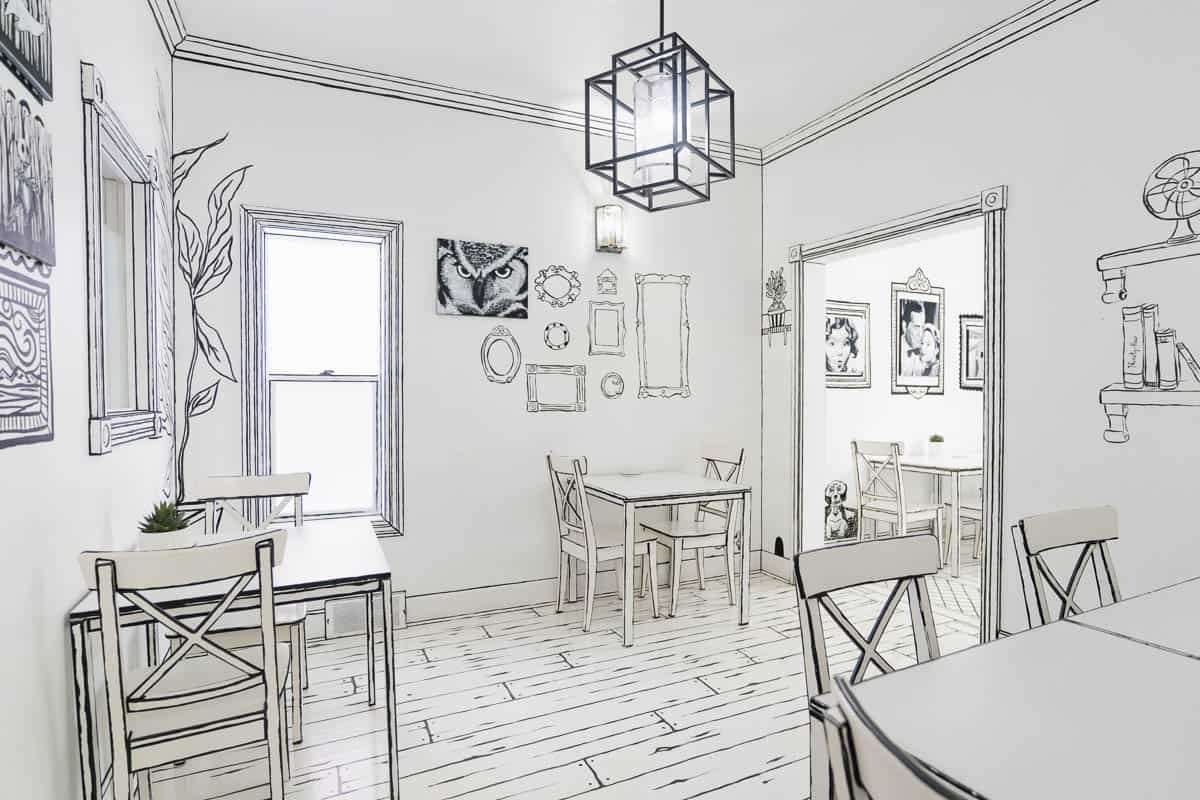 Made from scratch and made with love, all of 94 Take the Cake's baked goods are terrific. With gluten-free options available, enjoy their cake pops, pies, scones, cheesecake, and muffins… need we go on? The choices are endless, but no matter what you order, you know you're in for a real treat. The coffee, supplied by local Calgary roasters Chronicle Coffee, is the perfect accompaniment to your sweet treat.
Home Ground
Location: 22 N Railway St
Head to Home Ground for the best coffee in Okotoks. Pop in for a takeaway coffee or dessert – there's always a good selection of cinnamon buns, scones, and cookies – or stay awhile for a sandwich and cup of tea. For a real treat, try one of the featured drinks; there's always a new one on the board, no matter which day you visit!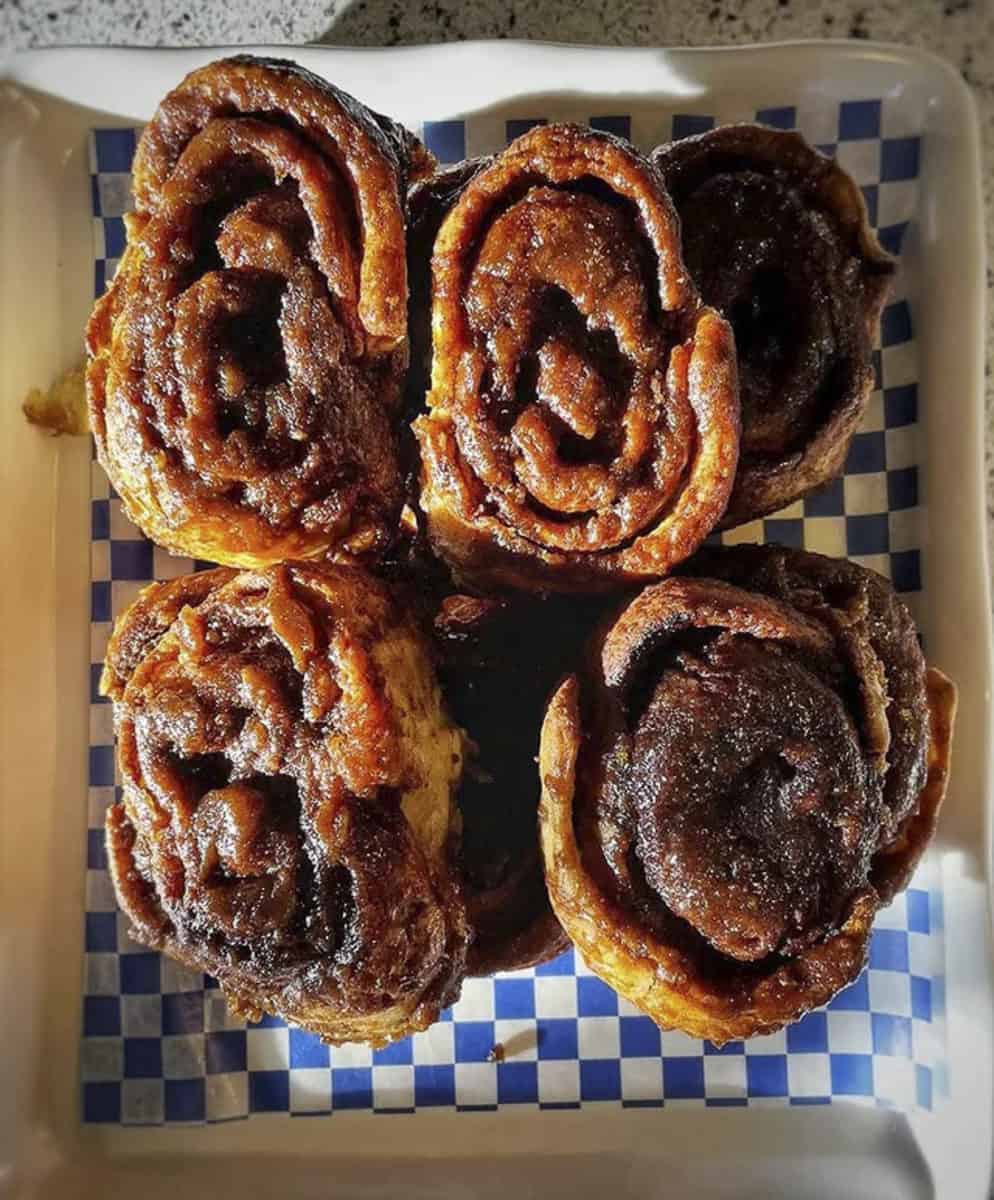 Serving organic, fair trade, and single-source coffee, the friendly staff are skilled at making whatever kind of coffee drink you fancy. Milk substitutes are available, as are vegetarian, gluten-free, and dairy-free baked goods.
French 50 Bakery
Location: 52 N Railway St
French 50 Bakery is extremely unique, in that it's a micro-bakery only open on Saturdays. Want to buy some of their famously tasty bread? You'll have to order online between Wednesday at 7 pm and Friday at 9 am in order to have your order ready for pick up on Saturday. It may sound slightly complicated, but trust us, it's worth the effort!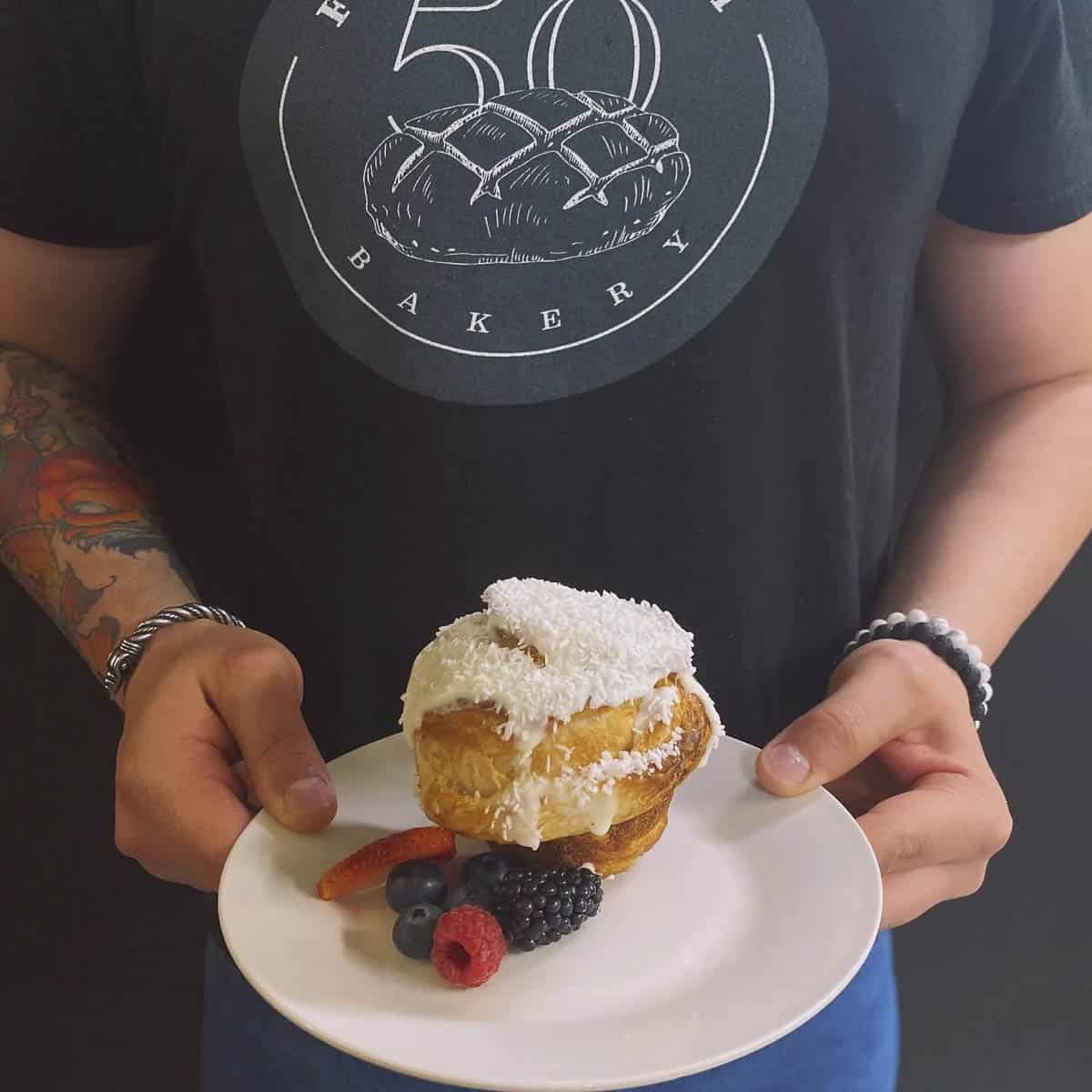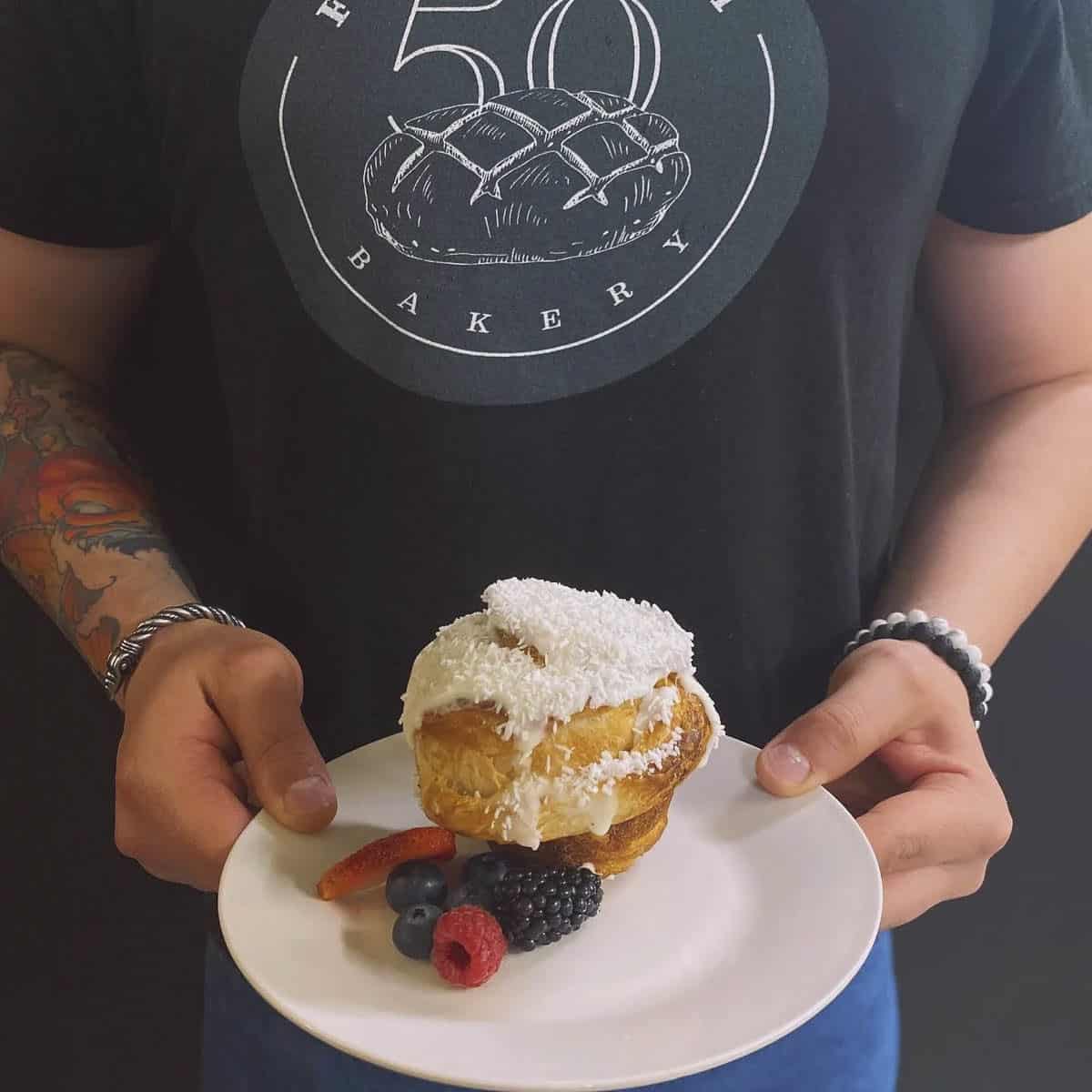 Choose from baguettes, hamburger buns, croissants, rolls, "cruffins", scones, pizza dough, and, of course, one of their many loaves of bread. We're huge fans of the pain alpine loaf, the cinnamon brioche rolls, and the dulce de leche cruffins.
Okotoks Restaurants Map