Disclaimer: This page may contain affiliate links. Please review our full Terms and Conditions for more information and our Privacy Policy. Note that any pricing, operating hours, or other such information provided below may have changed since initial publication.
Compiled by the Road Trip Alberta team
Last Updated on June 5, 2023
Edmonton, Alberta's capital city, is the farthest north of all of Canada's capitals, but don't expect it to be cold, dark, and inhospitable. It is exactly the opposite of all those things – except for maybe the cold, YES, winter temps can dip quite low – but it also exudes a level of "coolness" (pardon the pun), friendly warmth, and charm. The city has fully embraced its northerly location, and now there are many wonderful and exciting things to do in Edmonton year-round.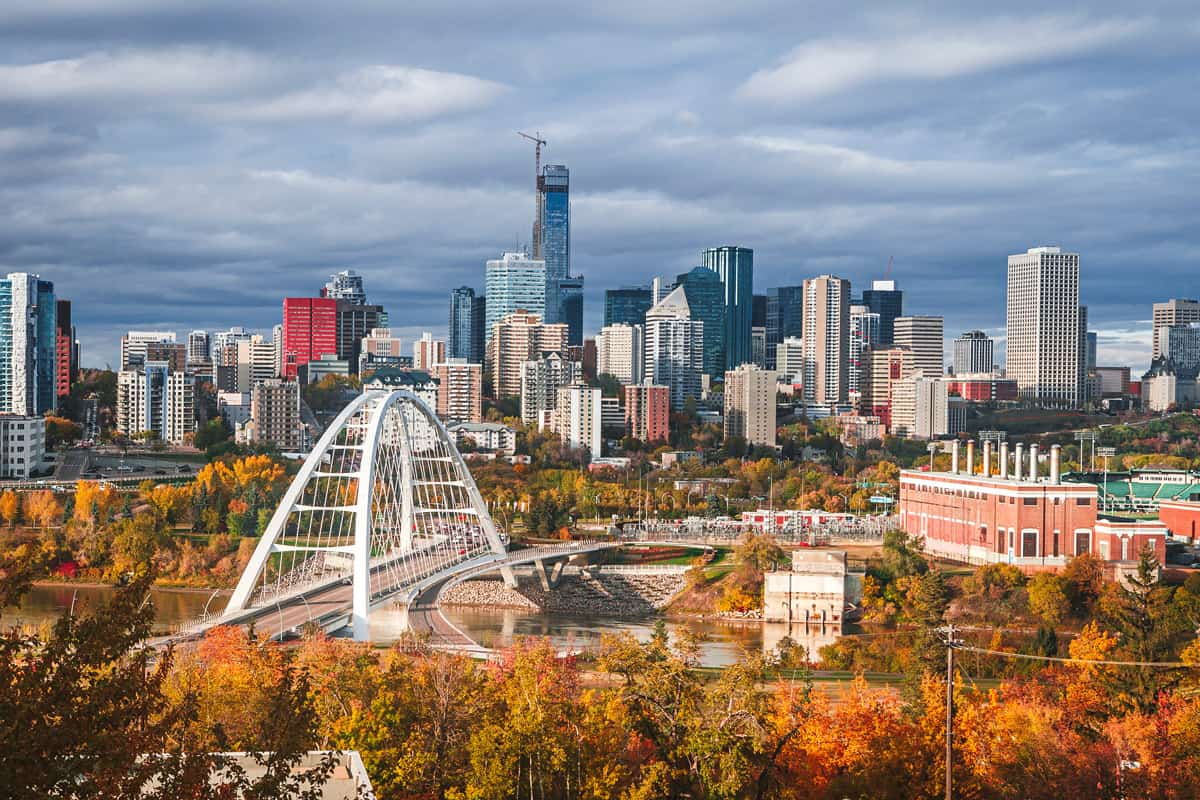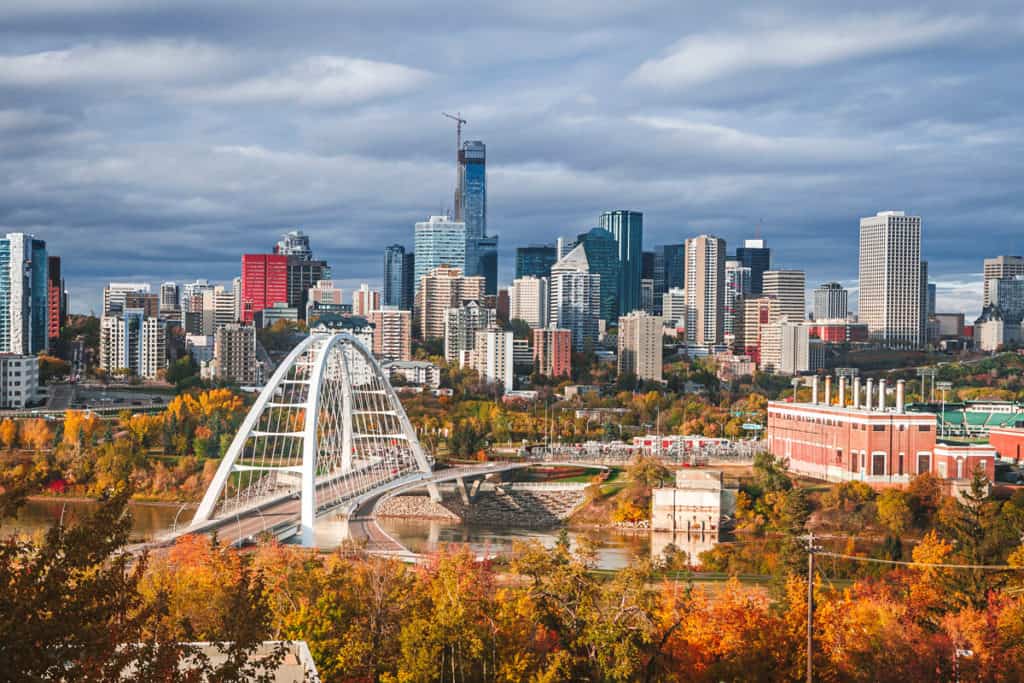 Acknowledgments
The land on which Edmonton is located is Treaty 6 territory and a traditional meeting ground and home for many Indigenous Peoples, including Cree, Saulteaux, Niitsitapi (Blackfoot), Métis, and Nakota Sioux Peoples.
About the City
Edmonton is Canada's "Gateway to the North", and the country's fifth-largest city, with a population of nearly one million people.
History
The city of Edmonton started out as Fort Edmonton in 1821. The name came from the town of Edmonton, England (which is now a part of London). People were slow to settle the area, largely because the Canadian Pacific Railway line only went up as far as Strathcona. It only received its own connection in 1905 after becoming the Capital City and being incorporated as a city in 1904.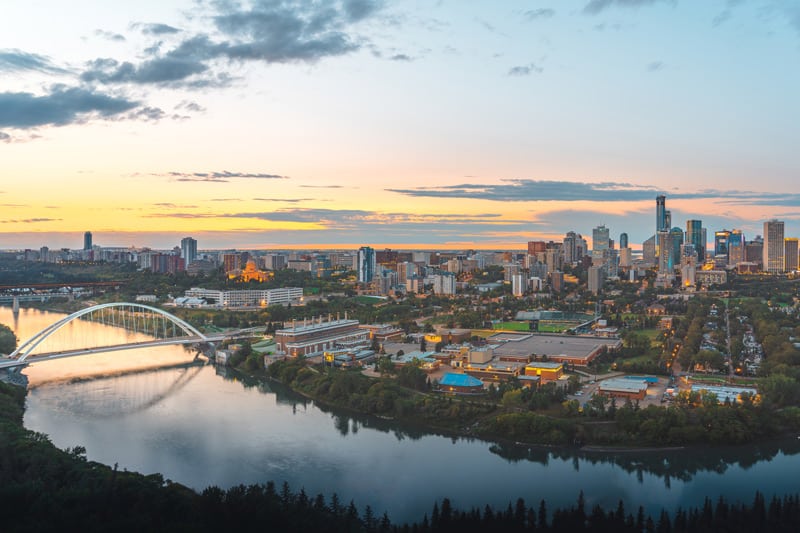 Where is Edmonton located?
Edmonton is 610 metres above sea level and is situated almost smack dab in the middle of Alberta (although the area is often called "northern Alberta"). To be exact, it's at 53.55 latitude and -113.47 longitude. It is 300km north of Alberta's 2nd biggest city – Calgary.
Fun facts:
Edmonton's River Valley is 22 times the size of Central Park. The urban green space is filled with many pathways for the public to enjoy.
One of Canada's sunniest cities, Edmonton sometimes getting up to 17 hours of daylight.
Being farther north, Edmonton is a hot-spot for the Aurora Borealis in wintertime.
Best Time to Visit Edmonton
Though Edmonton is great to visit any time of the year, visiting from June through August will ensure a lot of available activities and a beautiful river valley bursting with green. You'll get to enjoy summer in the prairies – mild weather and no* snow! This is also peak time for festival season, so there are plenty of activities to take part in. Longer days in the summer (up to 17 hours!) are also something to take advantage of.
*Once in a blue moon, it will snow in summer, but that's Alberta for you.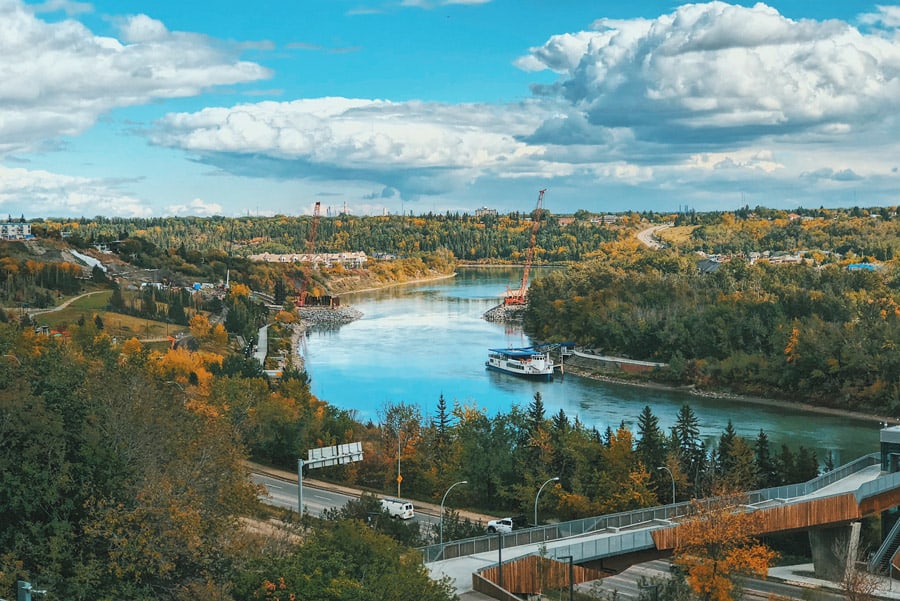 If you are not scared by winter, then Edmonton should also be on your must-visit list. If you're lucky, you'll get to marvel at aurora borealis (the best time to see northern lights in Alberta is winter). Consider also planning your visit around the Ice on Whyte Festival, which features an ice carving competition and even an ice slide! (Try not to worry too much about the weather! If you get cold, book an experience at one of the excellent Edmonton spas to warm yourself from the inside out.)
Getting Here
By Car
How far is Edmonton from Calgary? From city center to city center it is approximately 300 km. It takes just under 3 hours to drive via Highway AB-2 (or as locals know it, the QE2). Want a more scenic route? We have a guide outlining two alternatives to get from Edmonton to Calgary, plus it gives plenty of ideas for great places to stop along the way.
How far is Edmonton from Saskatoon? 522 km sit between Saskatoon and Edmonton, and it takes roughly 5 1/2 hours to make the drive.
How far is Edmonton from Vancouver? A whopping 1,159 km via the most direct route between Vancouver and Edmonton. If you want to make this drive (which takes over 12 hours), consider splitting it up with stops in Kamloops, BC, and/or Jasper, AB.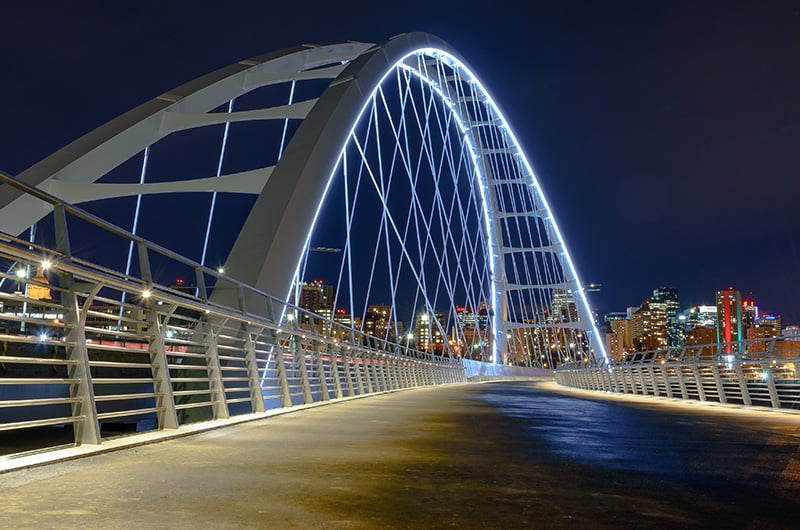 By Train
The Via Rail Canadian train connects to Edmonton! Experience travelling by train and you'll have time to appreciate all the beautiful sights out the windows. Connected destinations include Toronto, Winnipeg, Saskatoon, and Vancouver.
By Bus
Several bus companies also service Edmonton (easy comparisons can be made on Busbud, but a couple of the options are outlined below):
We've personally taken Red Arrow several times and always had a seamless and on-time journey. There are three drop-off points (south, downtown Edmonton, and the International Airport), and the current cost, if originating in Calgary, is nearly $80.
Ebus is Red Arrow's less-luxurious sister company, with similar pick-up/drop-off points but at a lower rate. If originating in Calgary, the cost is approximately $51.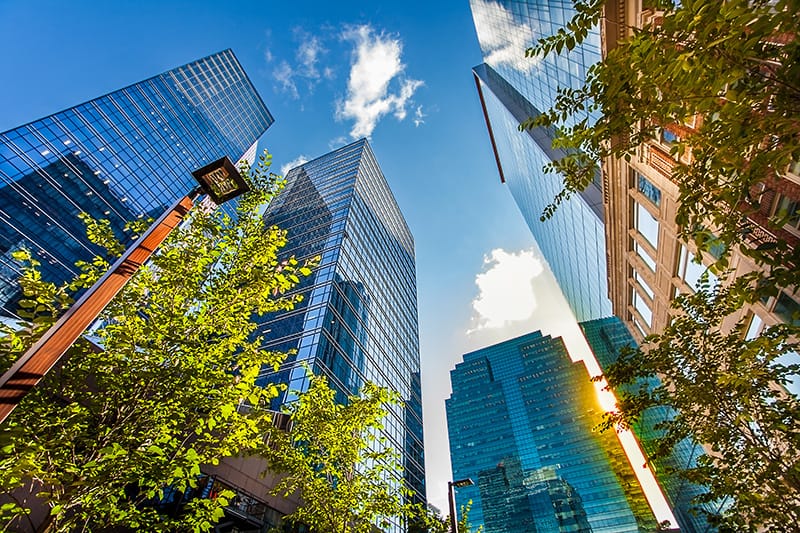 By Plane
With non-stop service to 50 destinations around the world, the Edmonton International Airport (YEG) is a popular spot for people travelling to the city. Travelling from the airport to the rest of the city is easy through a number of options:
There are multiple options for renting a car at the airport. Book in advance to avoid any hassle! We recommend booking via RentalCars.com, to select the cheapest rate or to book with whichever company you prefer.
A taxi from the airport to downtown will take approximately 40 minutes, and all taxis charge a flat rate of $62 or splurge and take a limo for $71. You can phone the Edmonton International Airport Ground Transportation Office at 1-800-268-7134 or 780-890-8553 for assistance booking a taxi.
Uber is in Edmonton and does pick-ups and drop-offs at YEG.
The Edmonton Transit Service (ETS) operates a bus (route 747), that travels from the airport to the southern transit station of Century Park (from there you can get on the light-rail-transit, or take a bus or taxi to get to your final destination). The one-way fare is $5. The ETS has this handy trip planner to help you figure out the system from there.
At the time of writing this, the Edmonton Skyshuttle service from the airport is reported as being currently suspended.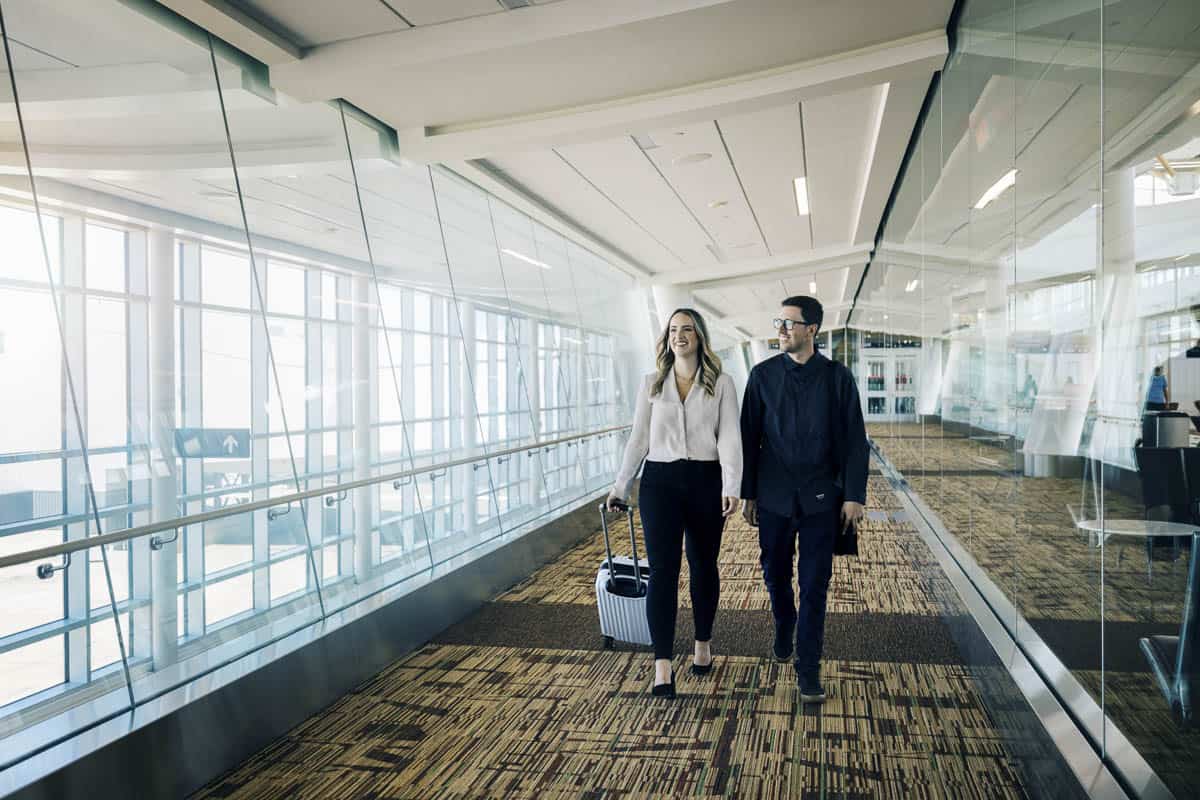 Take the guesswork out of planning your Alberta trip!
We now offer two ways to help ease the burden of travel planning:
We've developed ebook itineraries and travel guides for hot Alberta destinations and for a variety of 7-day trips. For one low price, you'll get local travel advice that you WON'T find elsewhere!
Want a custom trip tailored exactly to your needs? We are pleased to also offer a custom service for planning your Alberta vacation.
Getting Around Edmonton
Taxis – There are multiple taxi services available to get around! Download the Greater Edmonton Yellow Cab app for easy access to eight taxi fleets. The app is available on the App Store and Google Play (or just the good ol' telephone)!
Uber – Edmonton Uber gives you a large area of travel with nearby communities of Fort Saskatchewan, Spruce Grove, Leduc and Sherwood Park making the map.
Transit – A cheaper option for travelling around Edmonton is its transit system. An adult day pass is only $10.25! The Edmonton LRT map and bus route maps can all be found on their website. There is also a handy trip planner to help you figure out how to get from point A to point B.
Cycling – Looking for a more active way to travel? Rent a bicycle at United Sport & Cycle – they're just a few blocks south of the River Valley. Travel around on either a mountain, road, electric or casual bike. (Here's a map of all of Edmonton's bike trails.)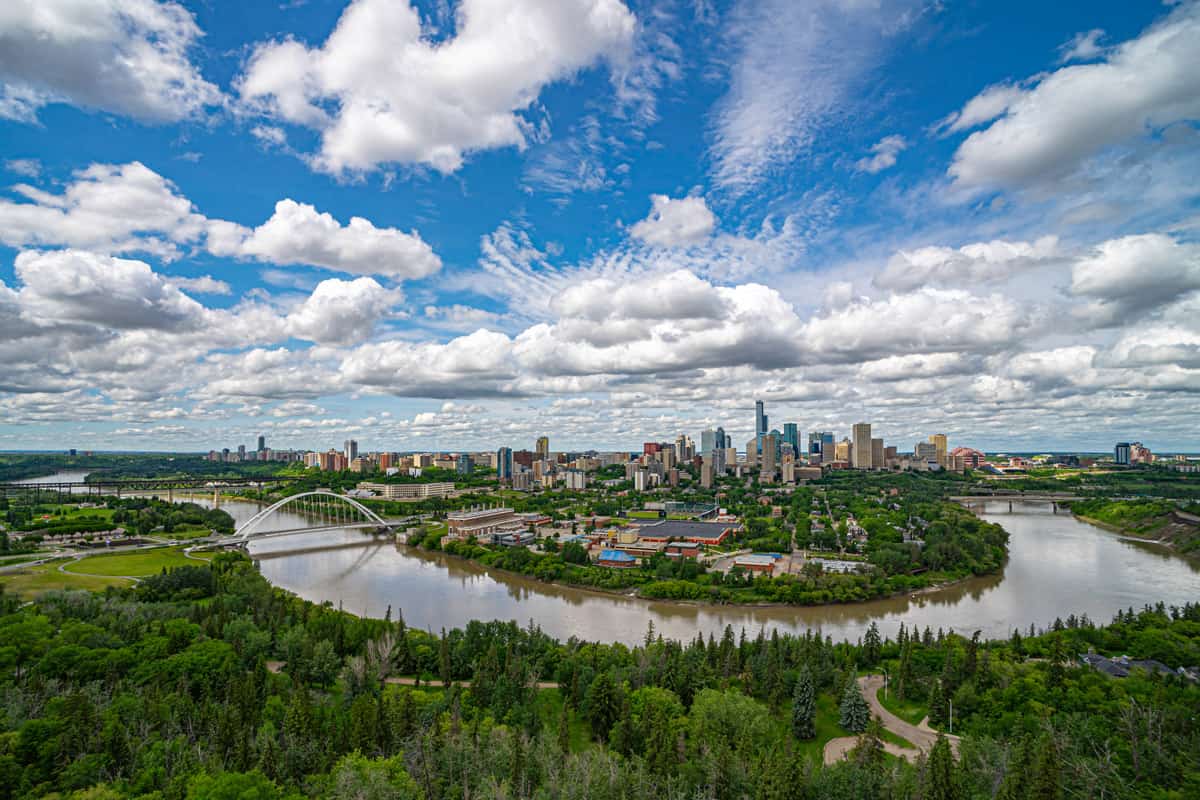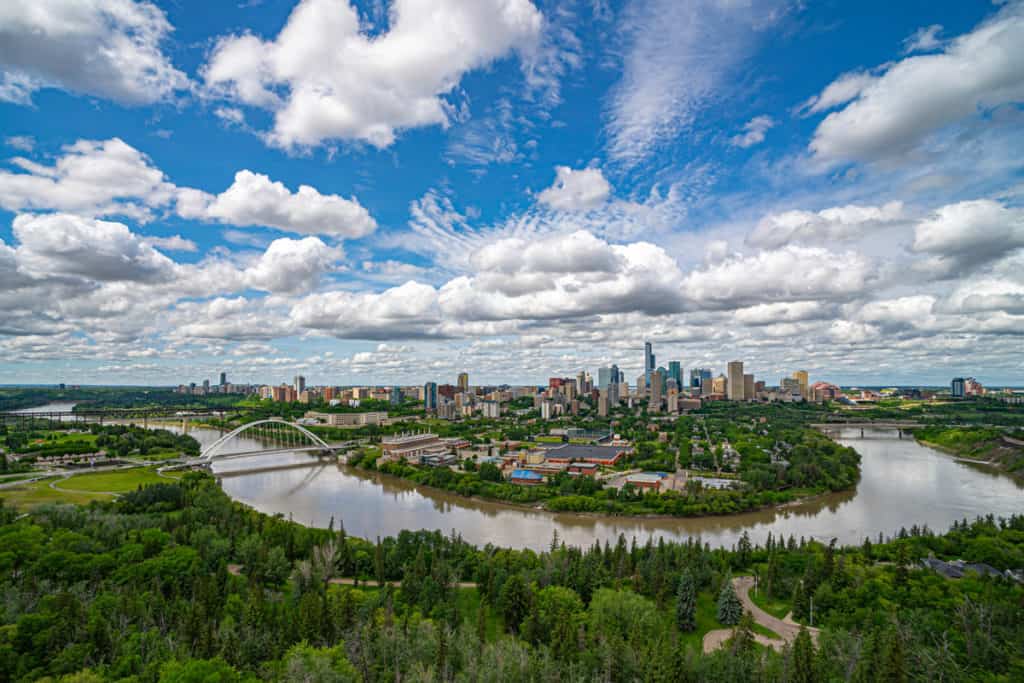 The Best Things to Do in Edmonton
There are so many things to do in Edmonton. From beautiful parks to explore, a vibrant food and beverage scene and more festivals than any other destination in Alberta, Edmonton has a plethora of things to do in any season.
West Edmonton Mall
Most likely, Edmonton's number 1 tourist attraction West Edmonton Mall is on your to-do list. It's a destination in and of itself! What was once the largest mall in the world is now the largest mall in North America, with over 800 stores and services. Also inside, the mall hosts theme parks, a giant amusement park (Galaxyland), the massive World Waterpark, 2 miniature golf courses, an indoor race track, multiple movie theatre complexes, and even a large indoor skating rink, so you don't have to spend all your time shopping.
Conveniently, there is also an on-site hotel at West Edmonton Mall that has one-of-a-kind themed rooms, including Pirate, Space, Polynesian, and more.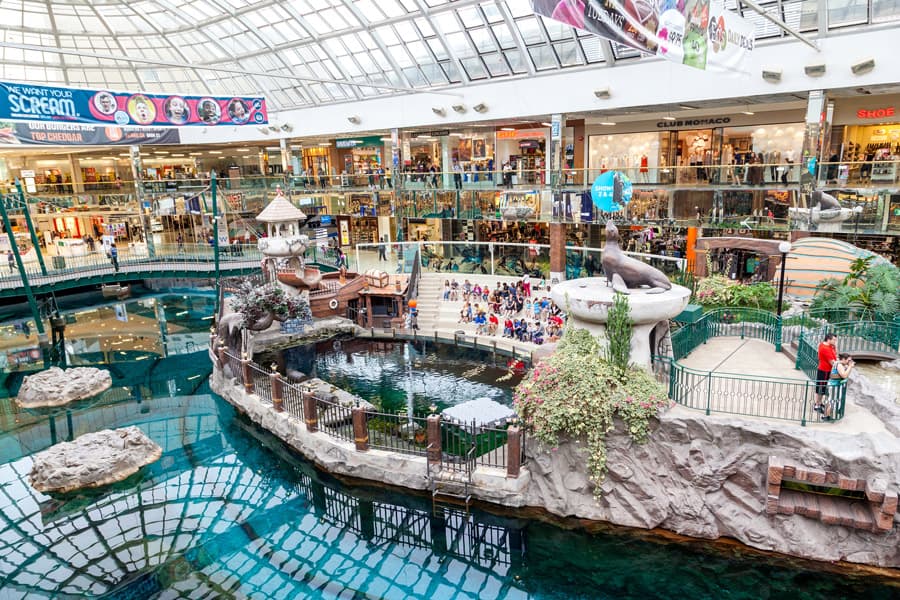 Fort Edmonton Park
Experience a true immersion into the history of Canada in one of the best Edmonton museums! Complete with costumed historical interpreters, Fort Edmonton Park is the largest living history museum in Canada by area at 64 hectares (158 acres).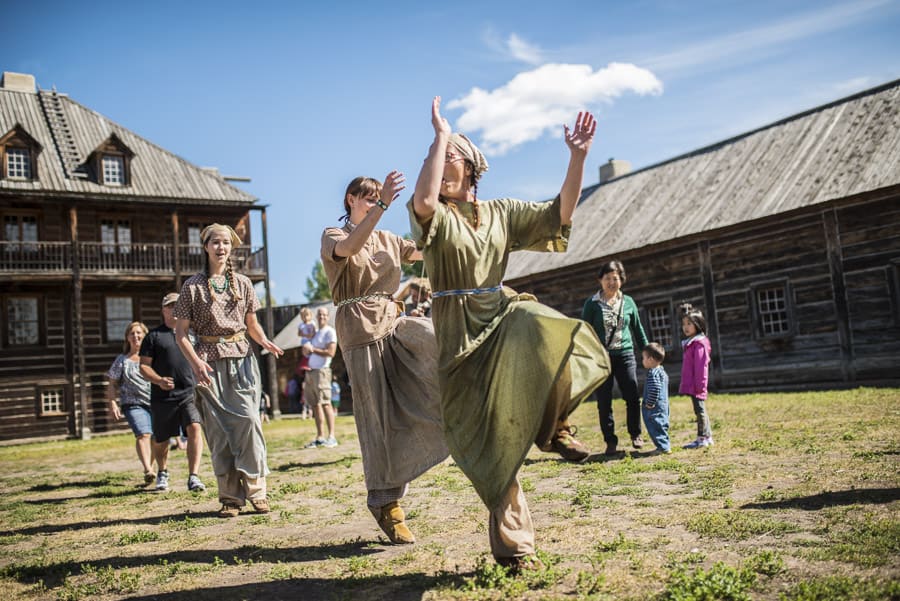 The Park includes a reconstructed Hudson's Bay Fort from 1846, as well as historically accurate reconstructed streets from the years 1885, 1905, and 1920, each depicting the evolution of Edmonton's early history.
Muttart Conservatory
The iconic glass pyramids of the Muttart Conservatory juxtapose the river valley that surrounds them. Inside each pyramid is a climate-regulated biome with three different zones – arid, temperate, and tropical – with a mission of education and conservation. The conservatory is home to more than 700 species of plants and has an on-site restaurant to make a nice afternoon out of a visit.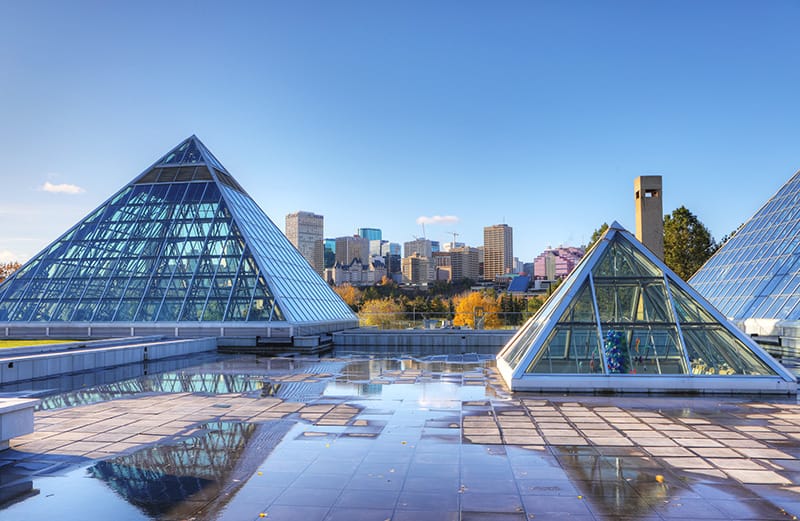 Stroll Along Whyte Ave
If you are in the mood to get a taste of Edmonton and really feel what the city is all about, a trip to Whyte Avenue in Old Strathcona is a must. It is full of historic buildings but also is the trendiest part of town – with art galleries, music shops, and trendy restaurants and cafes (including some of the best Edmonton cafes and coffee shops). Also, take a stroll through the picturesque Dr. Wilbert McIntyre Park, which, in true Edmonton fashion, is a place for festivals, public events, and informal gatherings at the notable gazebo.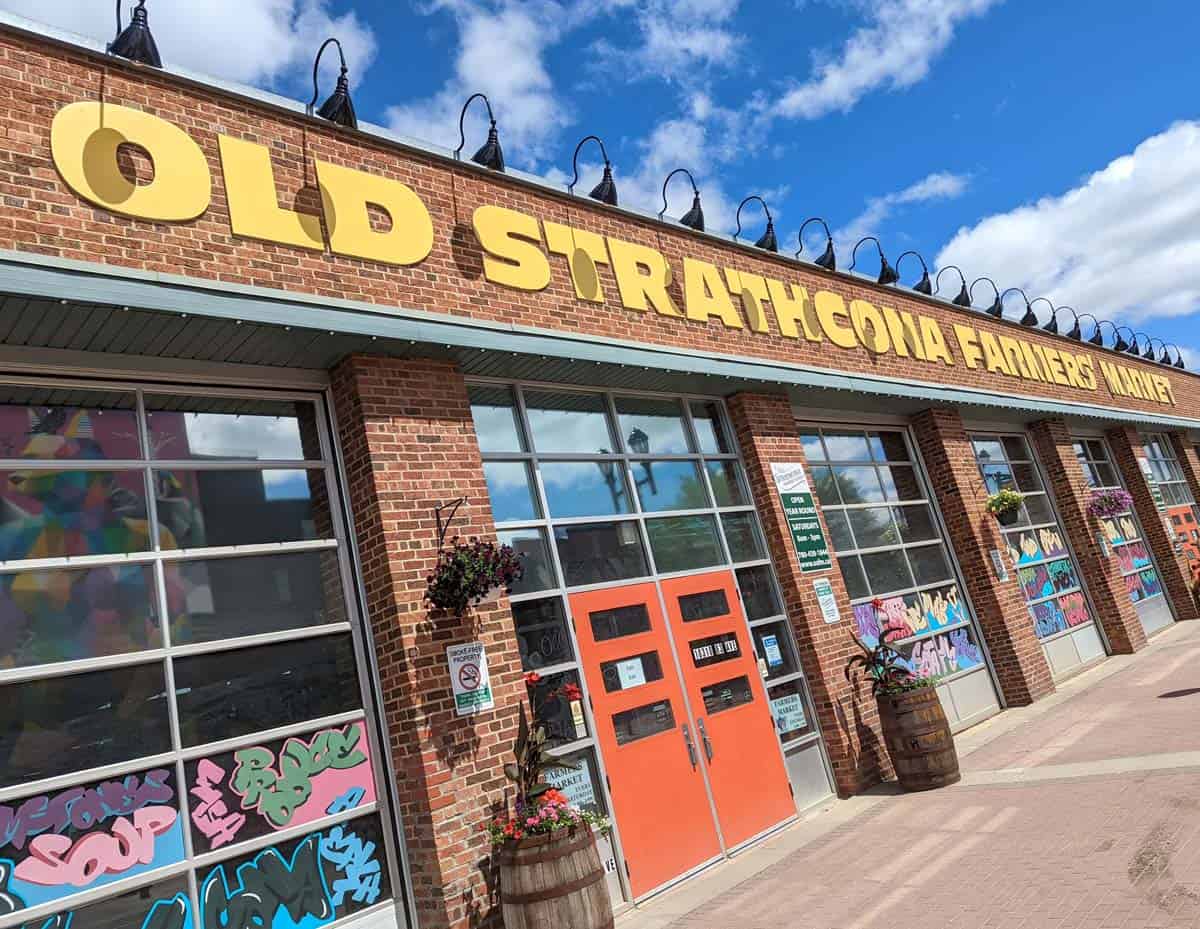 Also, don't miss the Old Strathcona Farmers' Market, which is just off of Whyte Avenue and is open every Saturday 8 am – 3 pm year-round!
Take the High-Level Bridge Streetcar
Running on what used to be Canadian Pacific Railway's mainline over the North Saskatchewan River (from Old Strathcona to downtown), the High Level Bridge Streetcar is a fun way to experience this piece of history plus get gorgeous views of Edmonton's river valley. Running at limited times, and only from May through October, don't miss a chance to enjoy (and support) this volunteer-run streetcar service.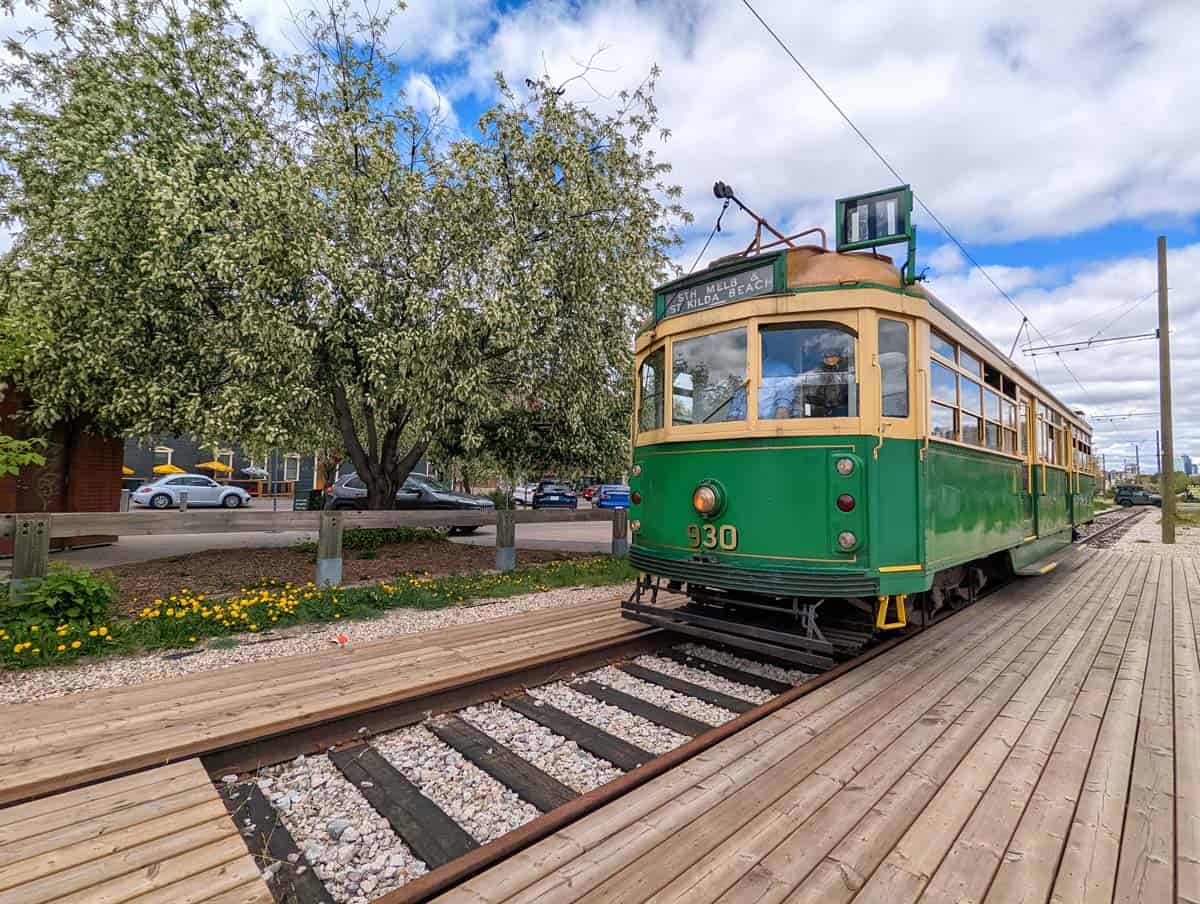 Alberta Legislature Building
Known to Edmontonians as "the Ledge," the Alberta Legislature Building is definitely a sight to see during your stay in this capital city. Constructed in 1913, not only is the building architecturally interesting to look at, political buffs would be interested to note that the building is the meeting point for the Legislative Assembly of Alberta and the Cabinet of Alberta.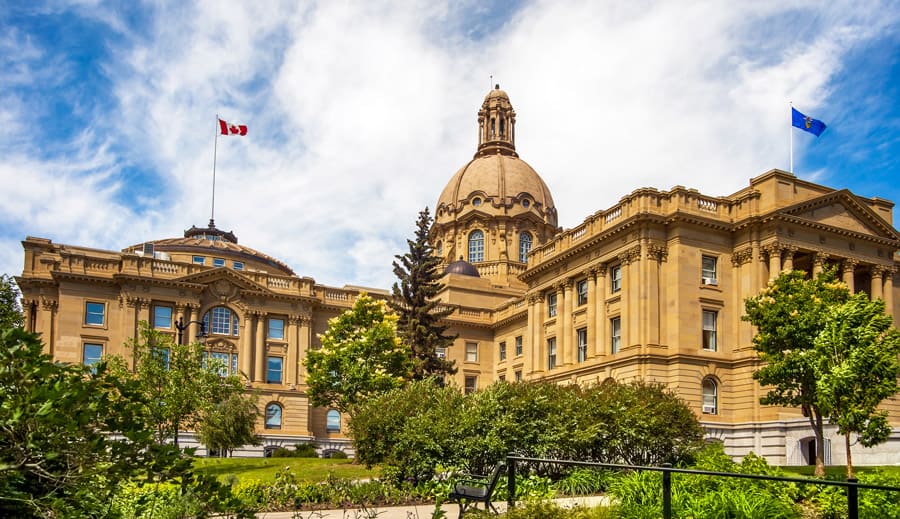 Free tours of the building are available 362 days a year and cover topics related to the levels of government, Alberta's political history, and the art and architecture of the building.
TELUS World of Science
Everyone loves to learn, right? Science nerds rejoice at the TELUS World of Science in west Edmonton. It's their mission to: "Ignite curiosity. Inspire discovery. Celebrate science. Change lives." Spending a day at the World of Science is easy for the family as there is always so much to do with the fun and interactive exhibits. And the best part is that the exhibits change so often, each time you visit it's a new experience.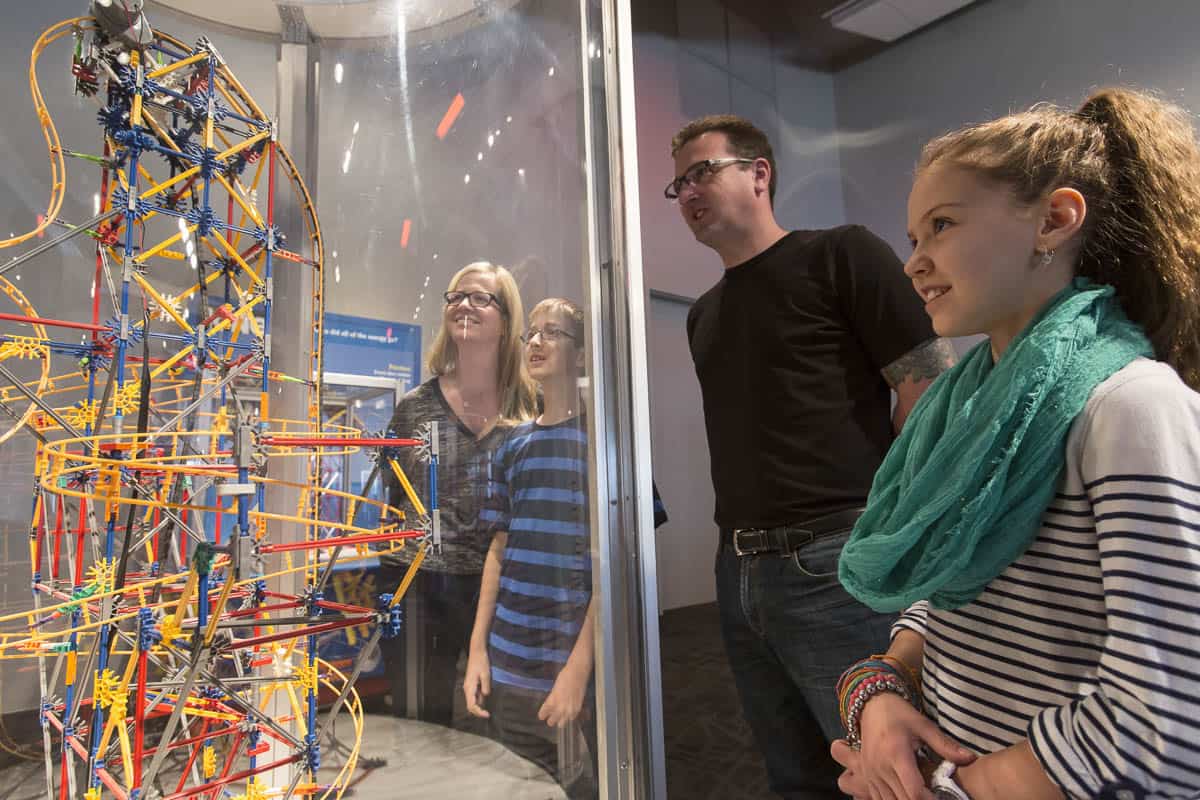 Want more family-friendly fun? Read our recommendations for Edmonton bowling alleys and Edmonton escape rooms.
Winspear Centre
"My dream is to have a place where the people of our region can make the most beautiful music they are capable of – and share it with each other." –Dr. Francis G. Winspear.
The Winspear Centre is home to the Edmonton Symphony Orchestra, and attending a symphony here is a special experience. There are scheduled performances throughout the year and special holiday shows over Christmas.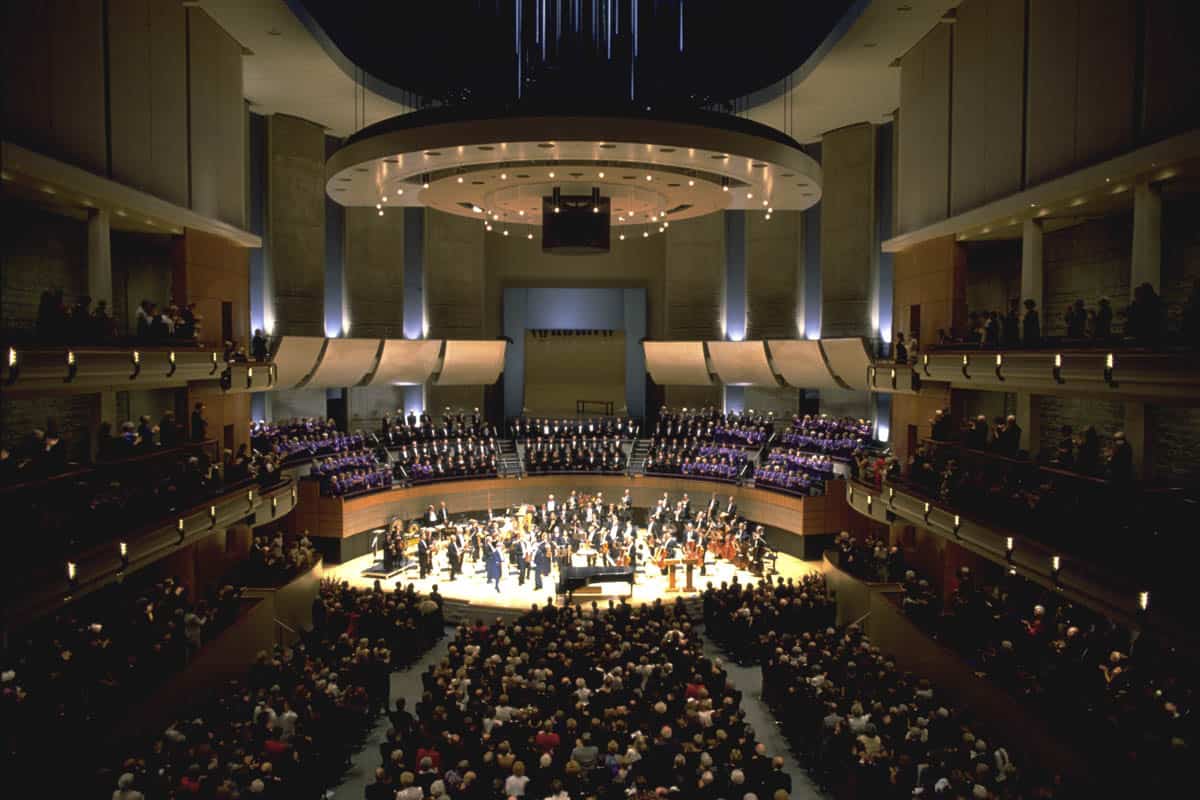 Alberta Art Gallery
One of the most unique pieces of architecture in Edmonton is the Alberta Art Gallery. The building itself is a piece of artwork, and the artist, Randall Stout, wanted to juxtapose a 190-metre steel ribbon that took inspiration from the North Saskatchewan River and Aurora Borealis. Inside there are three floors of galleries, a gift shop, and a 150-seat theatre. Exhibitions rotate throughout the gallery, so check the website to see what's currently on display.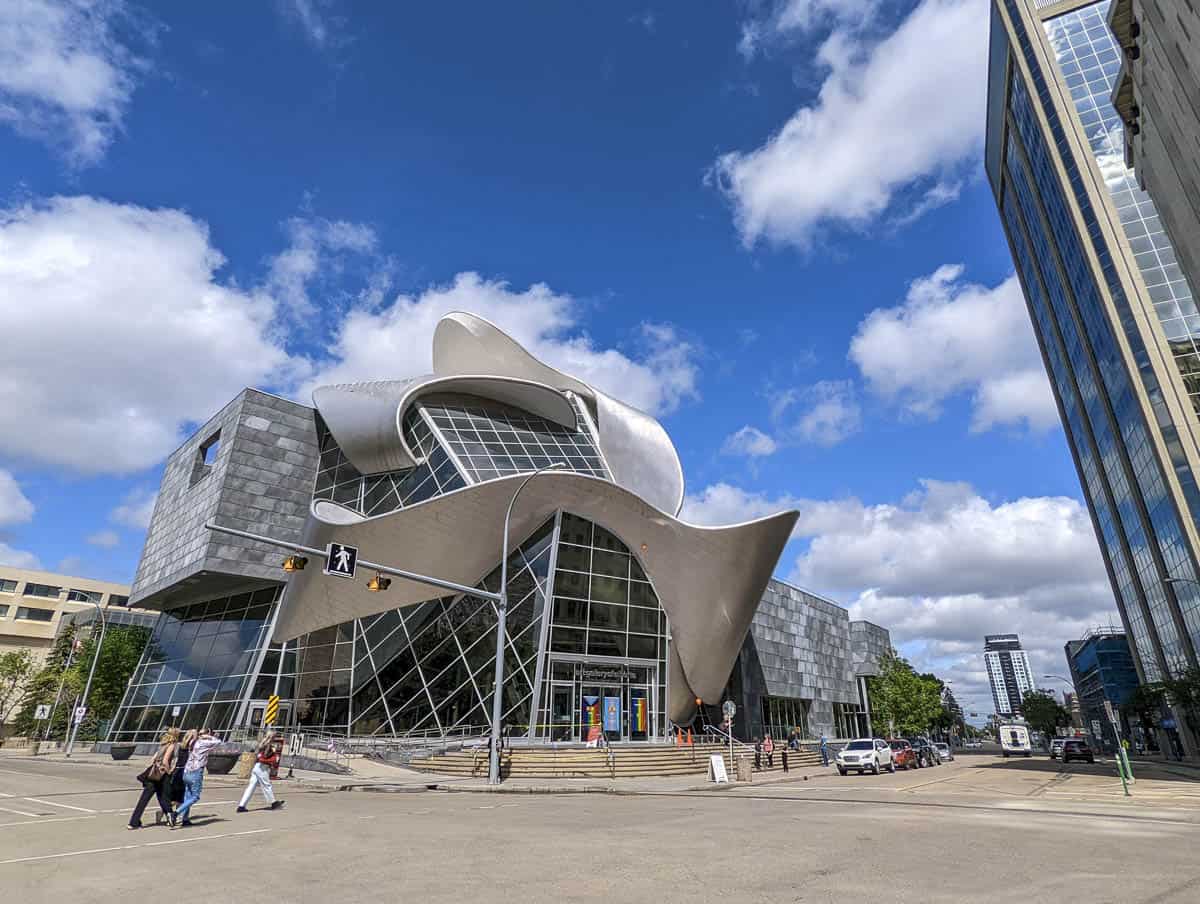 Royal Alberta Museum
One of the top Edmonton museums is the Royal Alberta Museum (RAM). It's the largest museum in Western Canada and opened to the public in 1967. It showcases all that makes Alberta so incredible, with exhibits ranging from the province's natural history, Indigenous culture, botany, archaeology, political history, geology, zoology, plus much more. It's a fantastic place for individuals or families to indulge all their curiosity about the history of Edmonton and Alberta.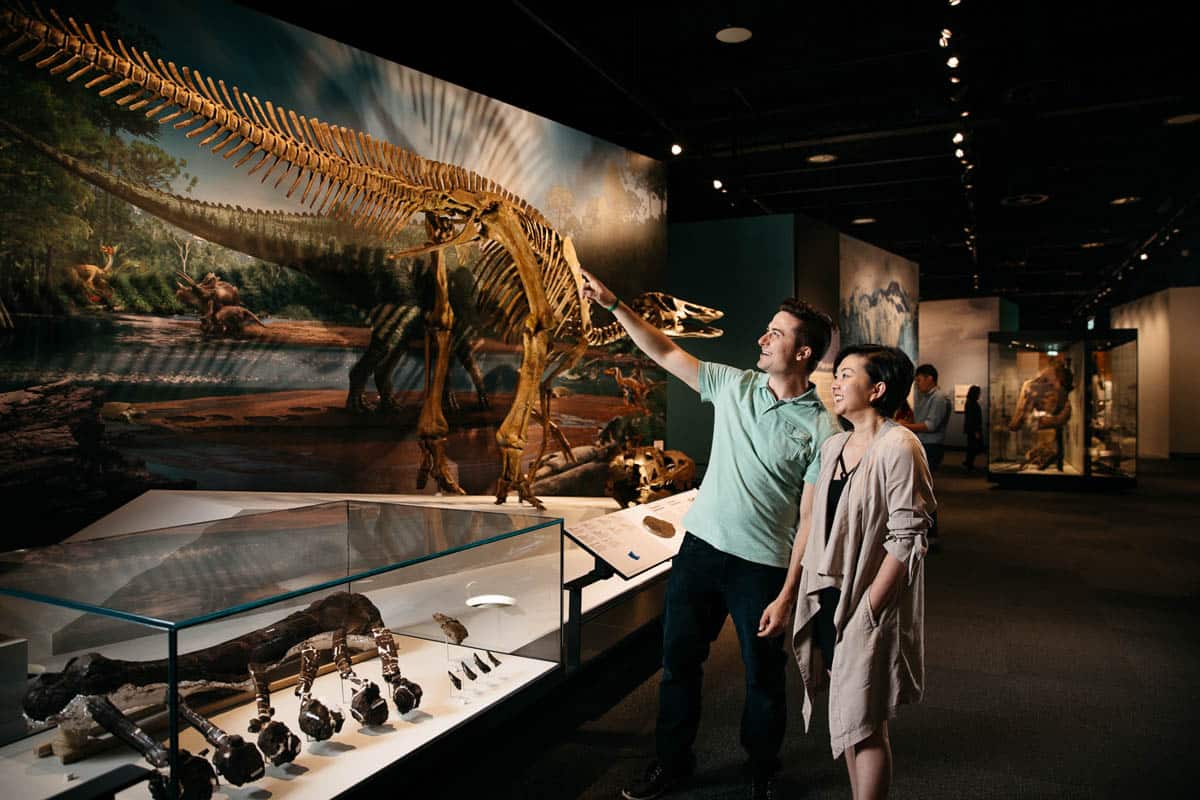 Edmonton Riverboat
Step onboard and cruise down the North Saskatchewan aboard the Edmonton Riverboat. There are options for weekend brunch, dinner on board, or just a beautiful sunset cruise. The new owners have invested in a million-dollar renovation on what was formally known as the Edmonton Queen (it's now known as the Edmonton Riverboat). Tickets can be purchased online.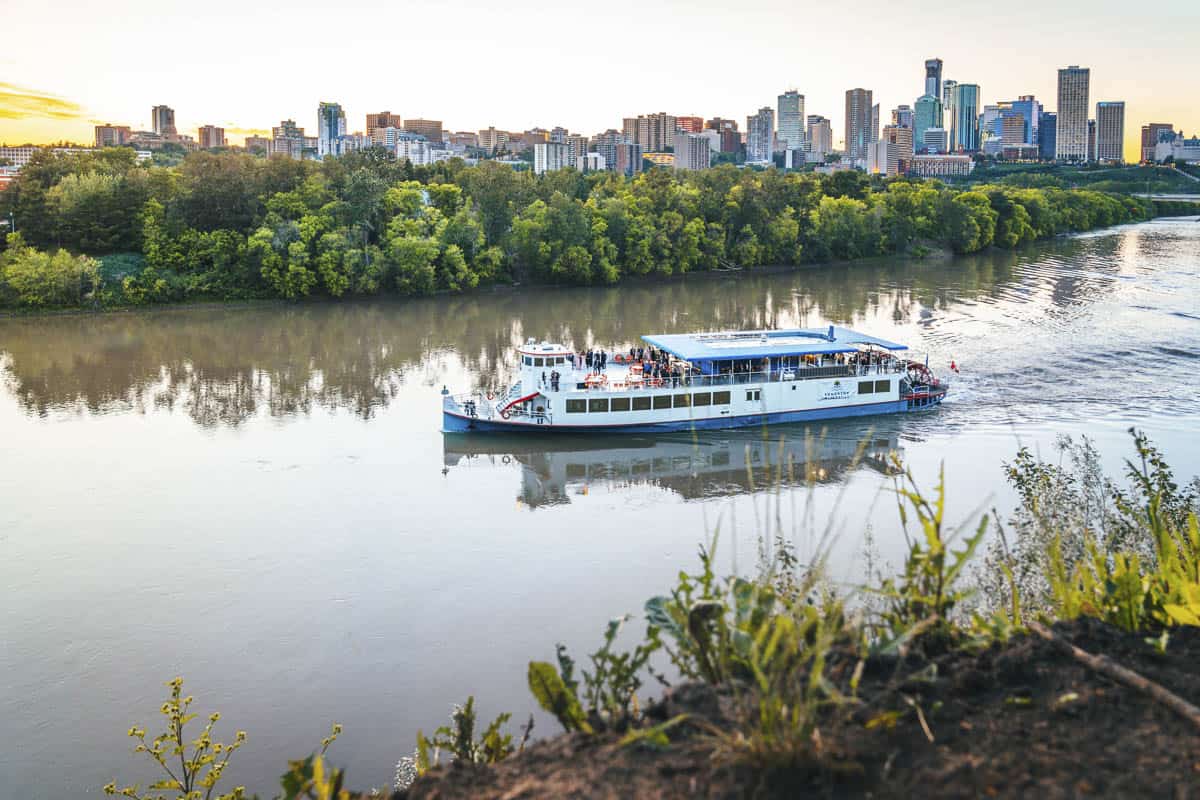 Edmonton Riverhawks
Is there anything better than a beer in hand, a footlong hotdog and watching a baseball game on a hot summer night? It's tough to beat, and that's why going to an Edmonton Riverhawks baseball game is a fantastic idea. The stadium is nestled right in the Edmonton River Valley and on the footstep to downtown. Grab a ticket and cheer on the 'Hawks – kaw kaw'! Tickets are available online and at the stadium on game day.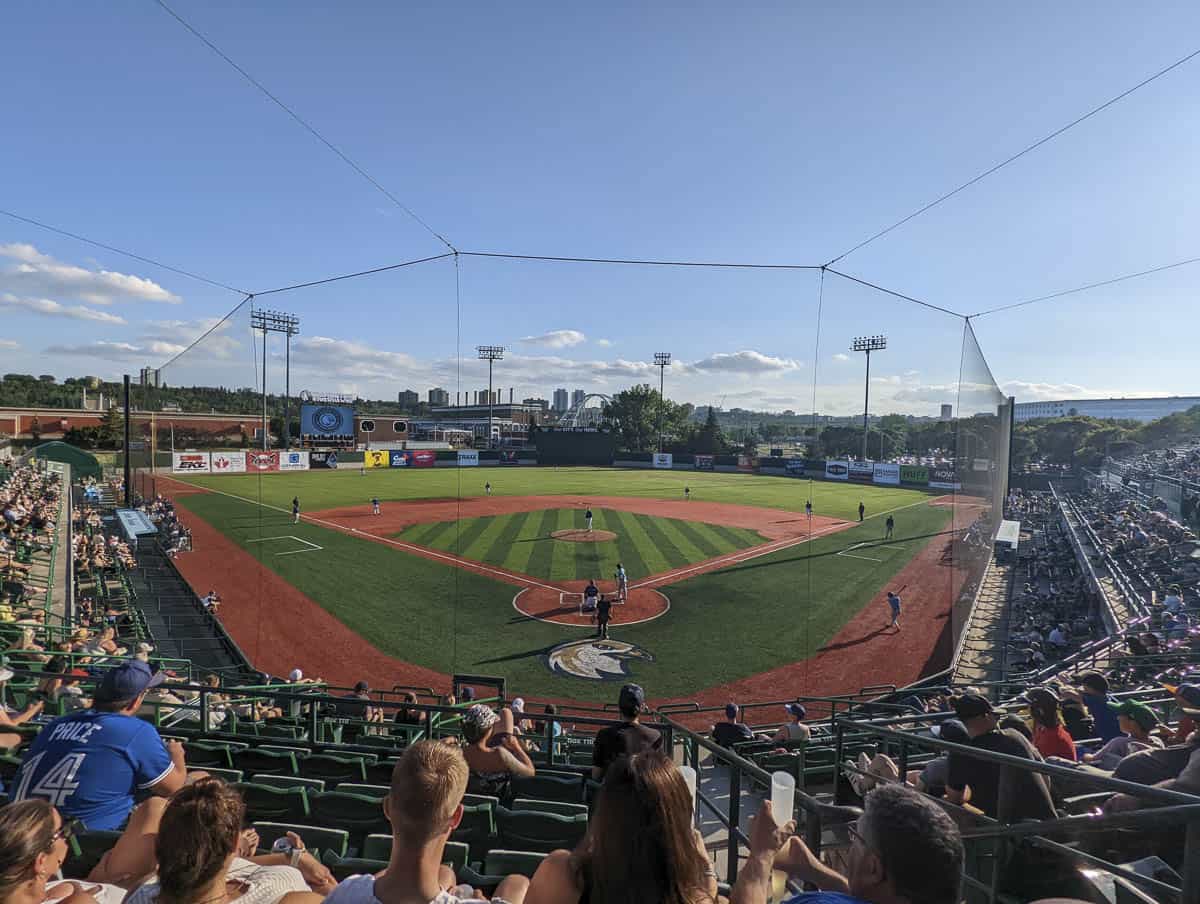 Edmonton Valley Zoo
Nestled in the river valley and open 364 days a year (only closed on Christmas Day) is the Edmonton Valley Zoo. Home to more than 350 animals, it's a popular spot for families to spend a day. There are interactive exhibits, petting farms, performances, a gift shop and spots to grab a bite to eat. In the winter, it's home to Zoominescence, a popular spectacular Christmas light display in Edmonton.
We must mention, however, the controversy surrounding the Edmonton Valley Zoo, which has been named the Worst Zoo for Elephants because of its treatment of Lucy the Elephant. Among many issues recorded over the years, one of the most damaging is that Lucy has lived alone for over 15 years, which violates zoo standards because of the fact that elephants are highly social. For years, many activists such as Jane Goodall have called for the move of Lucy to a sanctuary. But now, because of Lucy's advanced age and health problems, an independent review at Goodall's request has determined that moving Lucy would be unethical.
Edmonton Festivals
Festival season never seems to end in Edmonton; there is a good reason why it is called 'the Festival City'. From music, street performing, heritage and culture, and even ice sculptures, Edmonton hosts over 100 festivals annually across all genres. The renowned International Fringe Theatre Festival, Flying Canoe Volant, Cariwest, and the Folk Festival are just a few that give a taste of what Edmonton has to offer.
Edmonton Folk Music Festival
Since 1981, the second weekend in August has played host to the Edmonton Folk Music Festival in beautiful downtown Gallagher Park. The four-day festival sees popular folk artists from around the world come to Alberta's capital. It's one of the world's leading folk festivals.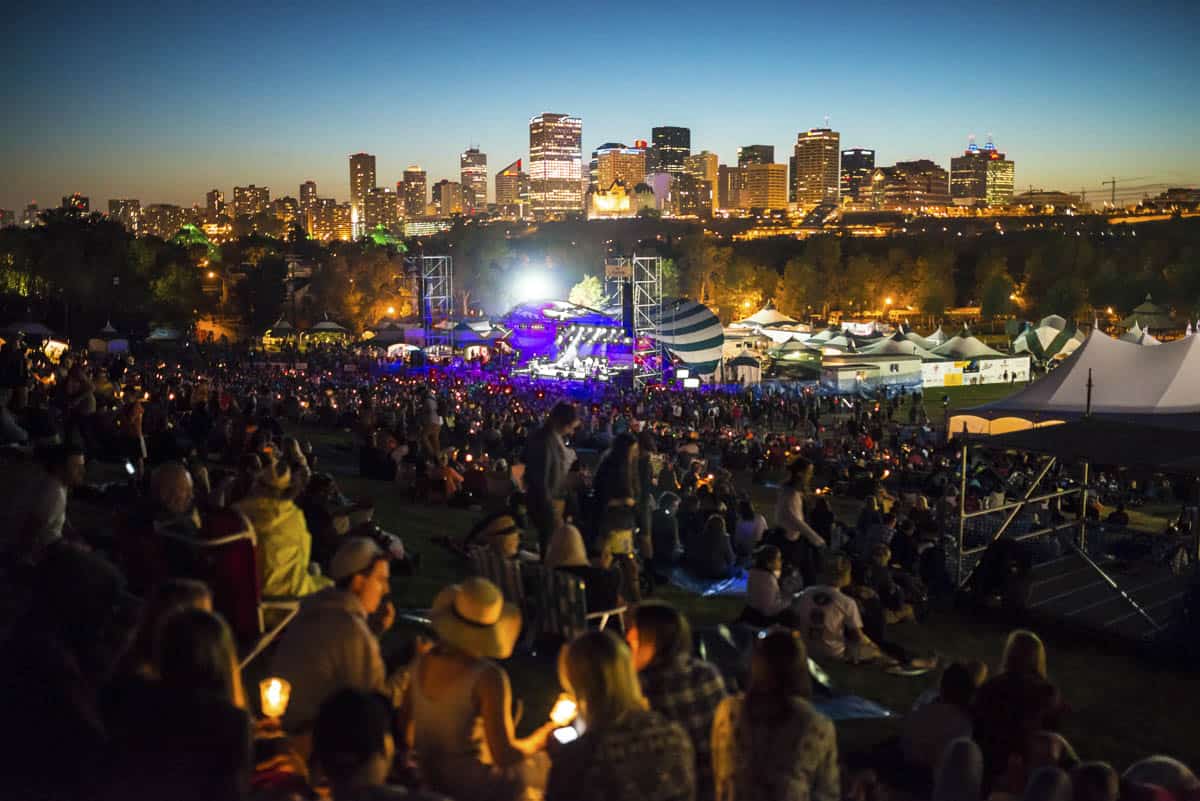 International Fringe Theatre Festival
For the last 40+ summers, the Edmonton International Fringe Theatre Festival has entertained the city. It is the largest, longest-running Fringe Theatre Festival in North America and ranks among the top 5 Fringe Festivals in the world. For 11 days, it is also one of North America's most influential art movements. Located in the heart of Old Strathcona, there are over 160+ shows in 25+ venues, including live and street performances, plus many more events throughout the 2 weeks. Tickets for shows can be purchased in advance.
K-Days
Formerly known as Klondike Days, K-Days is a 10-day festival and midway that runs during mid-to-late July in Edmonton. There are thrilling rides, exciting games, free concerts, performances, and the zaniest festival food. It's fun for all ages!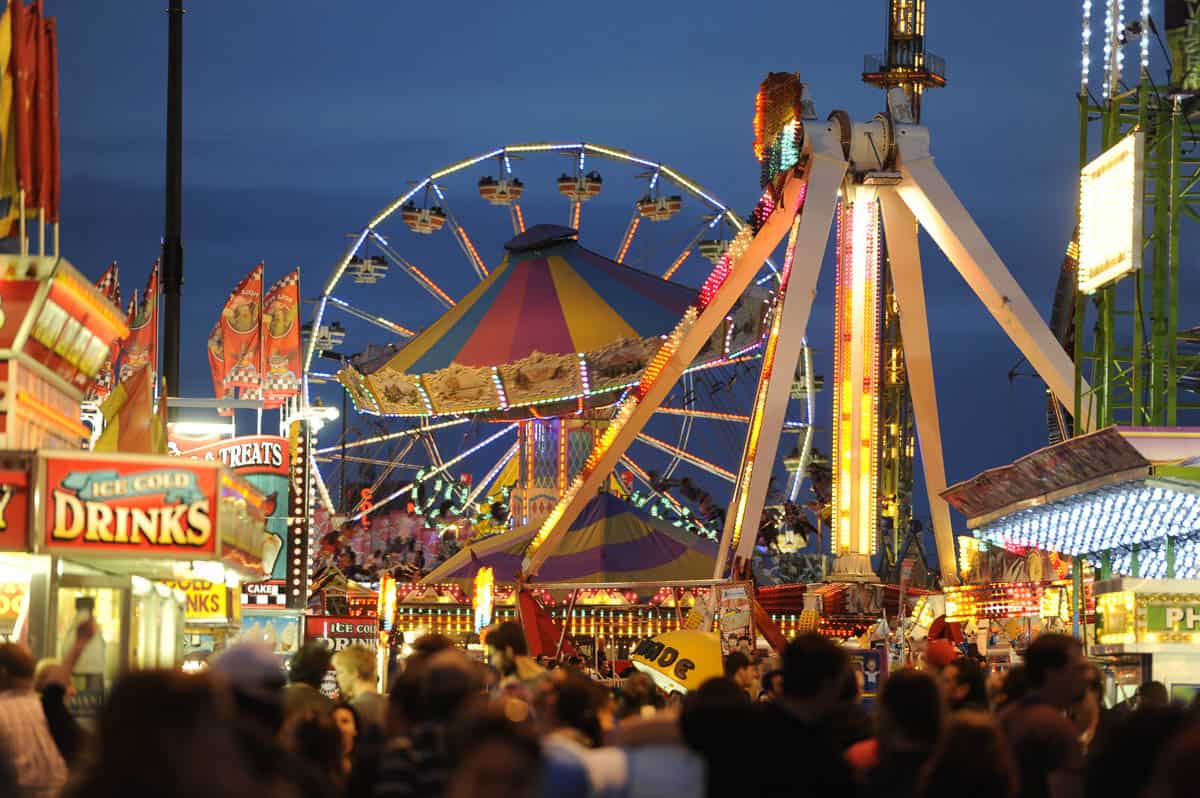 Cariwest Festival
The 3-day Cariwest Festival in downtown Edmonton and Churchill Square is one of the most colourful and vibrant to experience in the summer! It was first introduced to Edmonton in 1984, and over the 3 days, there is Caribbean art, music, scrumptious food, costumes, and carnival culture. There's a parade, a Costume Extravaganza, live entertainment, a marketplace, plus much more!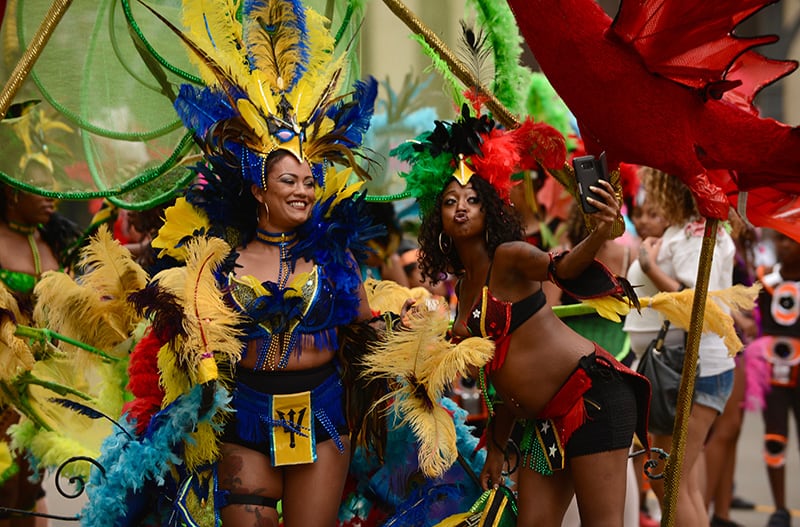 Flying Canoe Volant
This high-energy evening outdoor festival is a must-do if you appreciate local Canadian folklore and great storytelling. The Flying Canoë Volant festival is lit by colourful LED lighting, and festival-goers wander among tipis and enjoy live performances. There is live music and dancing, Indigenous art, hot drinks, and bannock roasting. There is lots of good cheer at the Flying Canoë Volant – and it will warm you to your very soul! Best of all, admission is FREE!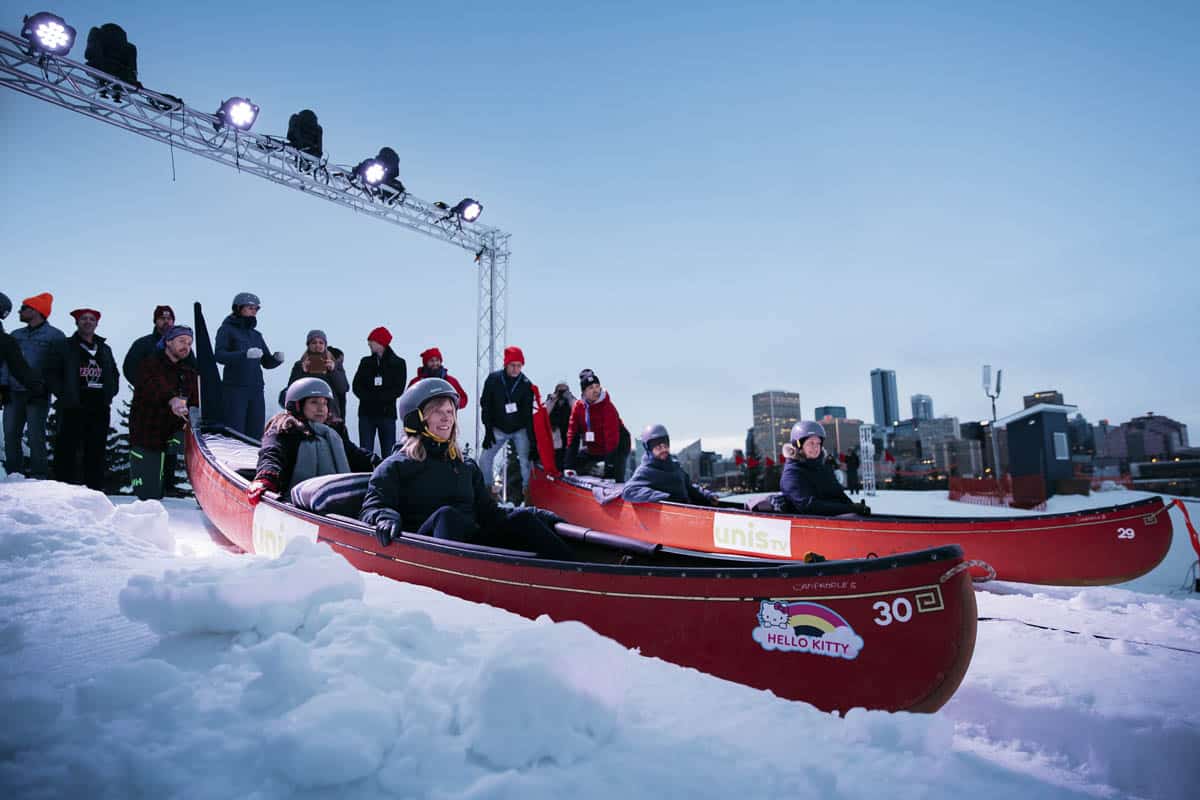 Enjoy the Holidays in Edmonton
It's magical to visit Alberta's capital during the holiday season! From enjoying the holiday lights at the Legislature to taking in some of the awesome Christmas markets, there is always so much going on (see our post on Christmas in Edmonton for plenty of ideas). And if you plan to be in the city at the end of December, check all of the party hot spots inside our New Year's Eve in Edmonton article.
Things to See in Edmonton
Edmonton really is a beautiful city. The city has a lot to offer, with the downtown core surrounded by the beautiful river valley, plus there are so many parks, murals, and other viewpoints throughout.
Edmonton River Valley
Did you know that Edmonton has the largest urban park in all of Canada? With more than 160 km of maintained pathways and 20 major parks, the Edmonton River Valley provides endless outdoor opportunities for exploration and recharging in nature. Bonus: You don't even have to leave the city to immerse yourself in nature! The north Saskatchewan river valley is a must-see on any visit to Edmonton, especially in the summer.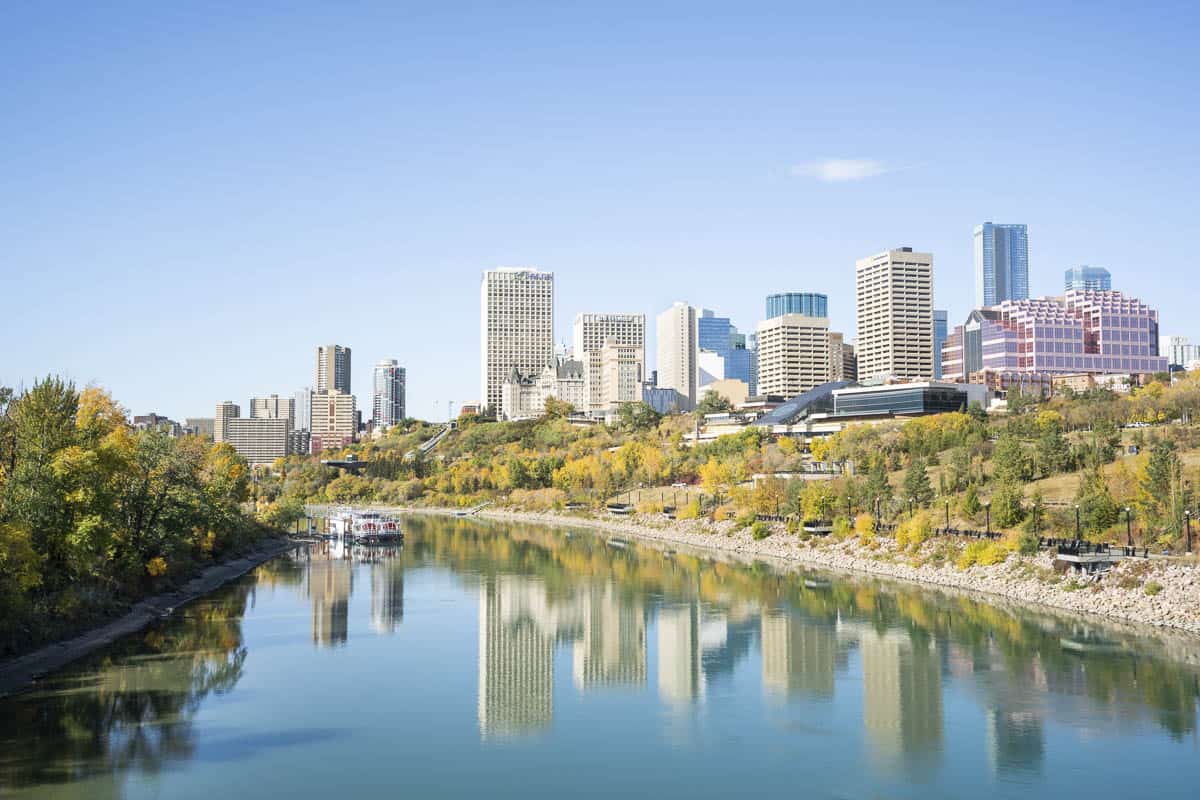 Neon Sign Museum
The Edmonton Neon Sign Museum is a blast-from-the-past, shining in neon! The first of its kind in Canada, 20 functional historic signs tell the story of Edmonton's neon past. You can find this installation 24 hours a day, 7 days a week on the east wall of the TELUS building and the south wall of the Mercer Warehouse building on 104 Street and 104 Avenue. No admission is required.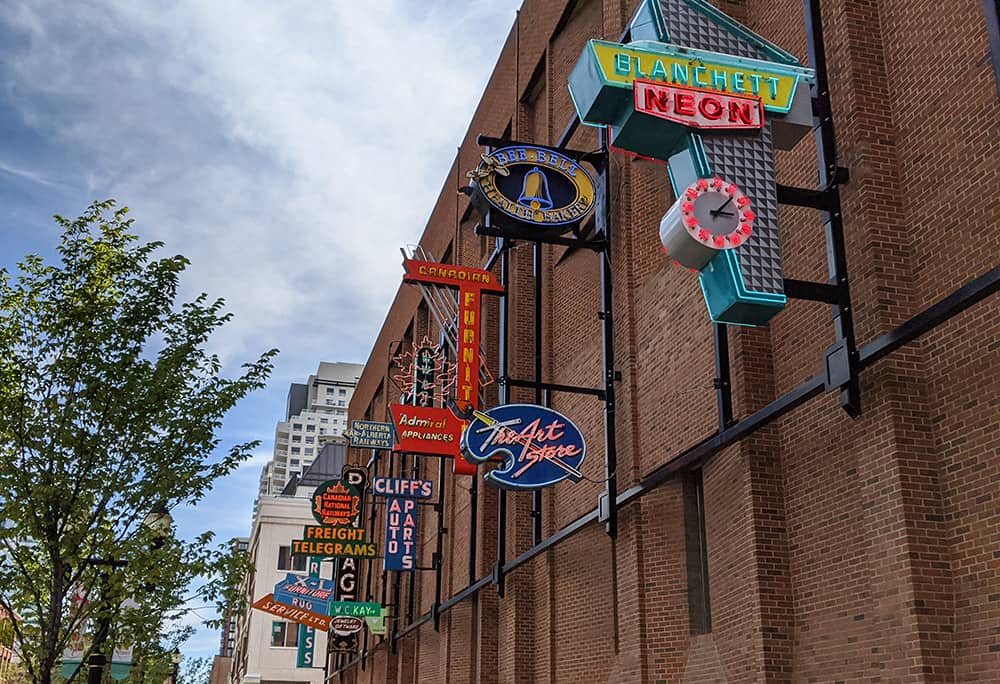 Sir Winston Churchill Square
Sir Winston Churchill Square, next to city hall, in downtown Edmonton, is the place to be in the summer months. There's always something happening in the lively plaza in the heart of downtown. There are festivals, pavilions, public art, a pool and water features and plenty of seating areas. It's a perfect spot to grab a bite to eat or an ice cream and watch the world go by.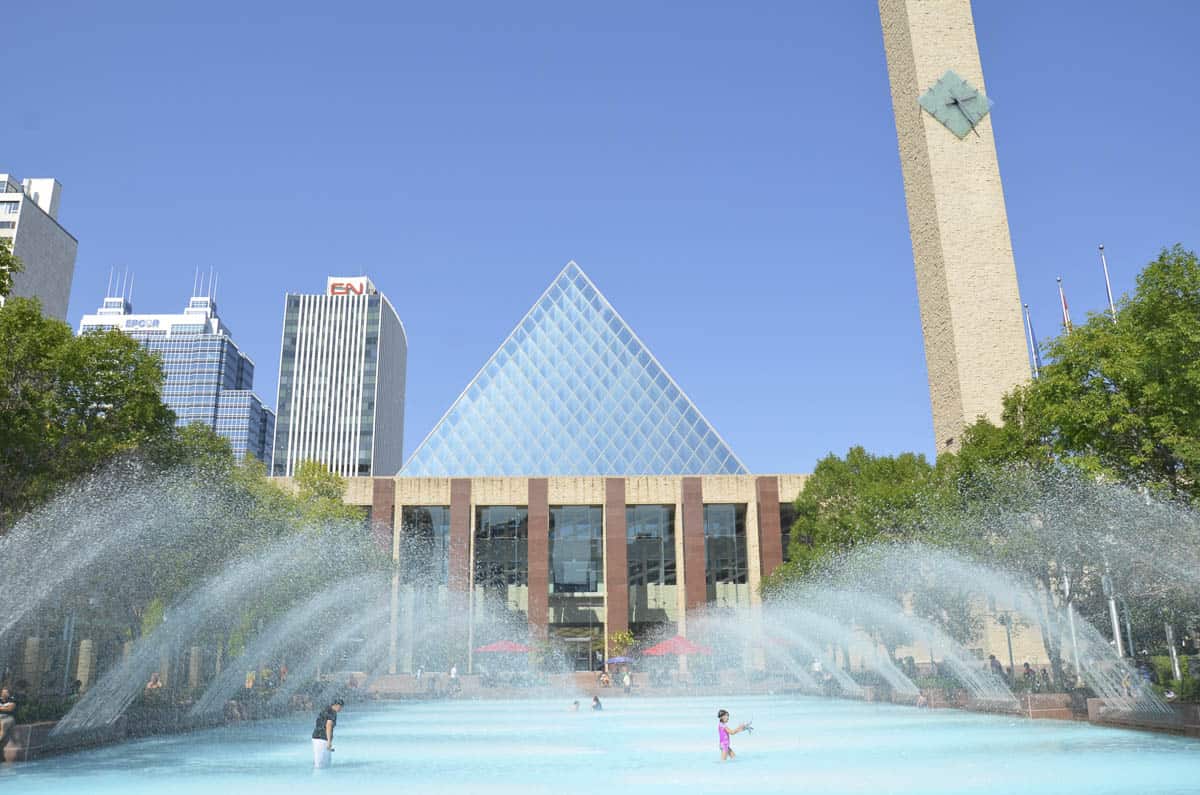 100 Street Funicular
The 100 Street Funicular opened in 2017 and gives visitors viewpoints of Edmonton's north Saskatchewan river valley. At the bottom, there is a viewing platform over the river and a panoramic view of downtown from below. Taking the funicular is a fun and scenic way to get from the river valley up McDougall Hill to reach downtown or vice versa. Feeling energetic? You can also take the stairs and race your friends up to burn off a few calories.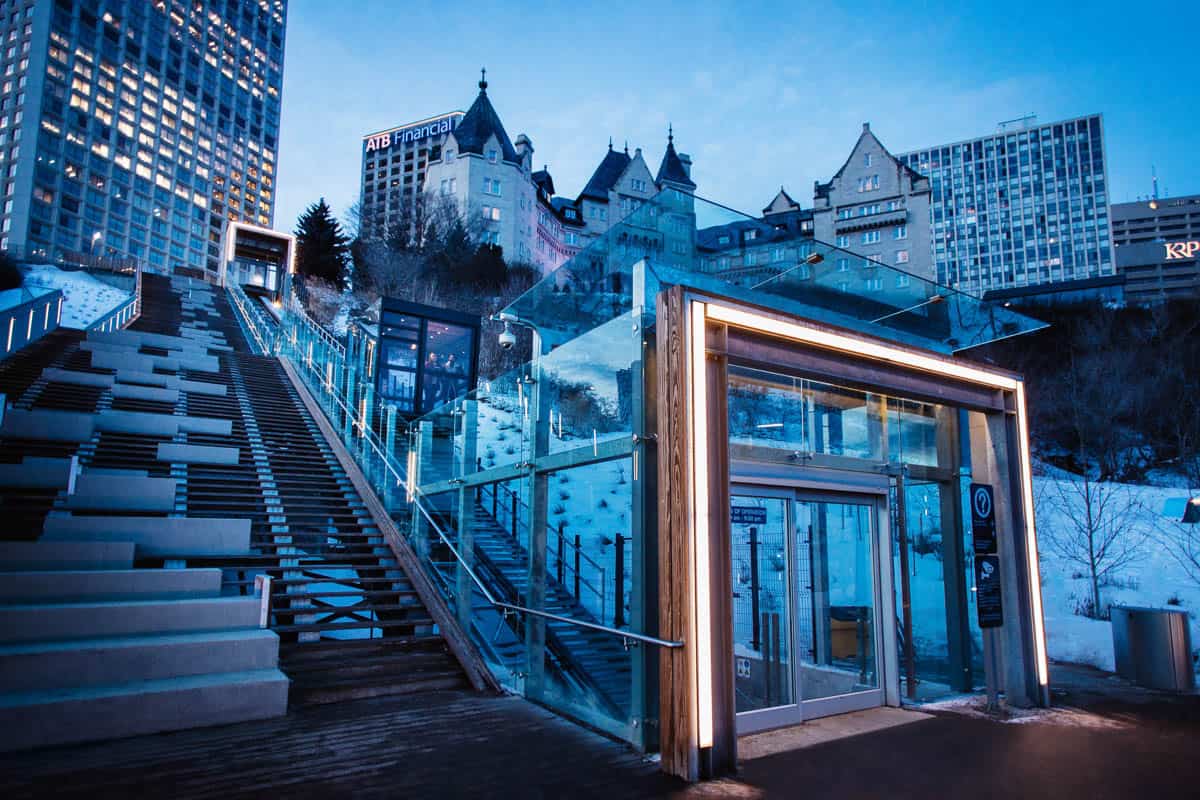 Edmonton Murals and Street Art
Scattered throughout Edmonton, there are a bunch of amazing murals and sculptures. The murals are painted on buildings, walls, sidewalks and more. Every year, more and more appear, with businesses getting into the spirit by decorating their own premises. Here is a detailed list of Instagrammable Walls of Edmonton curated by resident Linda Hoang.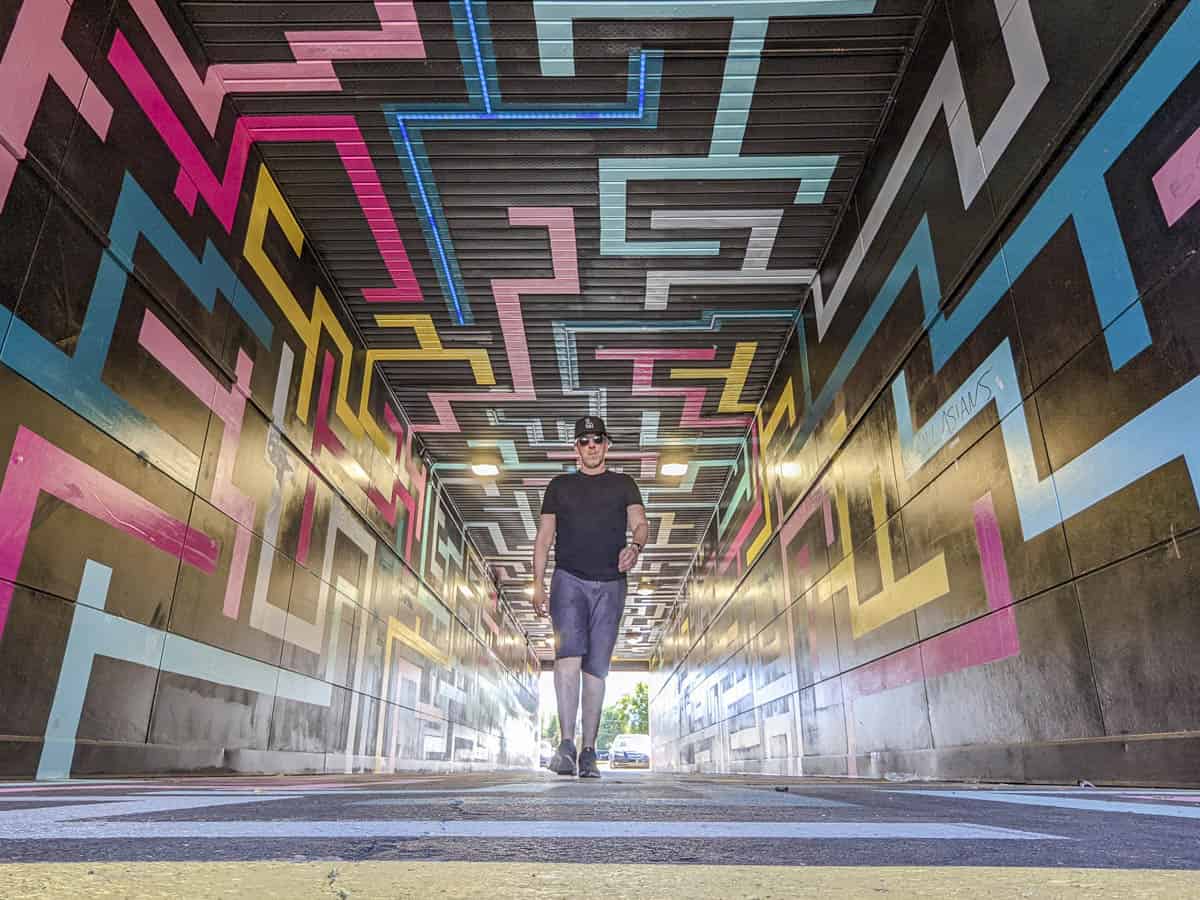 The Silver Balls
Better known as the Talus Dome, this pile of silver balls is both a sculpture that represents the landscape and also the reflection of that landscape. It's made up of nearly 1,000 handcrafted stainless steel spheres forming an abstract talus shape, and it reflects the sky, weather, and passing cars. It's a fun spot to capture a selfie.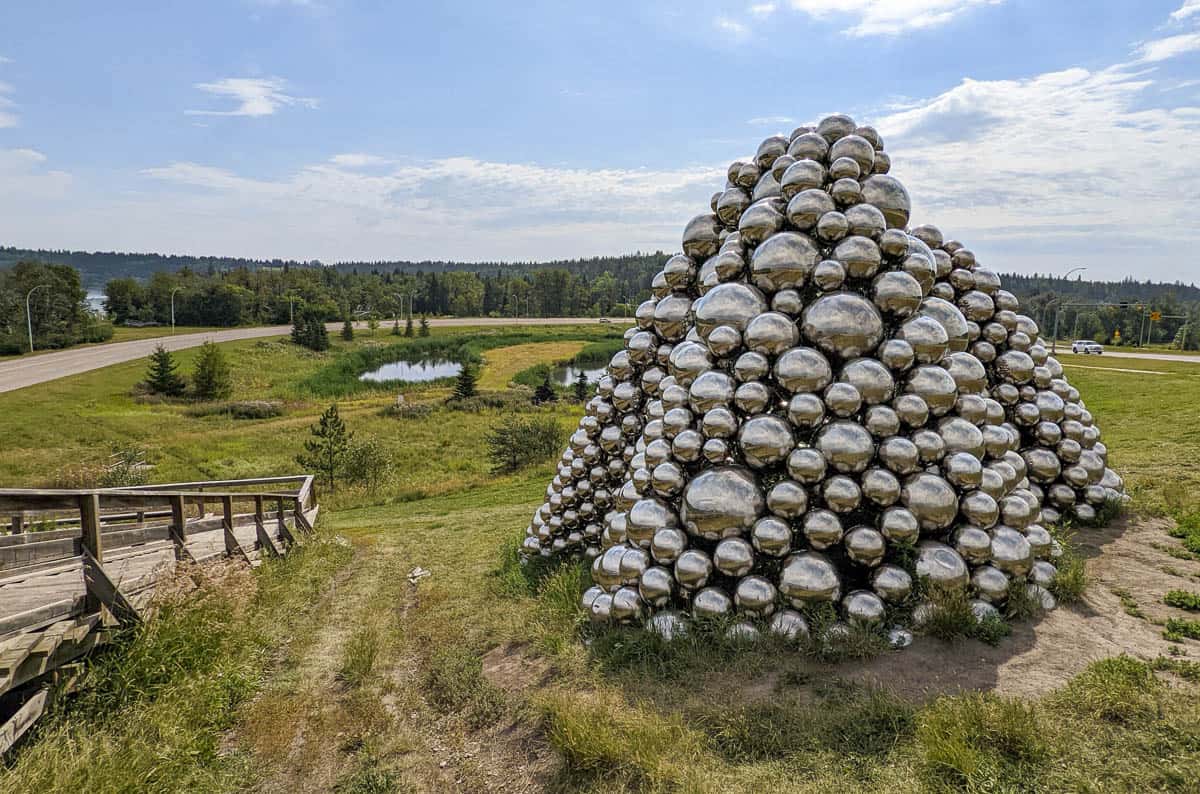 Edmonton Parks and Outdoor Spaces
Finding a park in Edmonton for a picnic, a hike, a running or biking trail or ice-skating in the winter is simple. There are so many beautiful parks and green spaces to choose from. Some of our favourites include William Hawrelak Park, Gallagher Park (home of the Folk Festival), Mill Creek Ravine in the south, Terwillegar Park (be sure to check out the view from Wolf Willow Stairs) and Borden Park. For more park suggestions, visit the City of Edmonton website.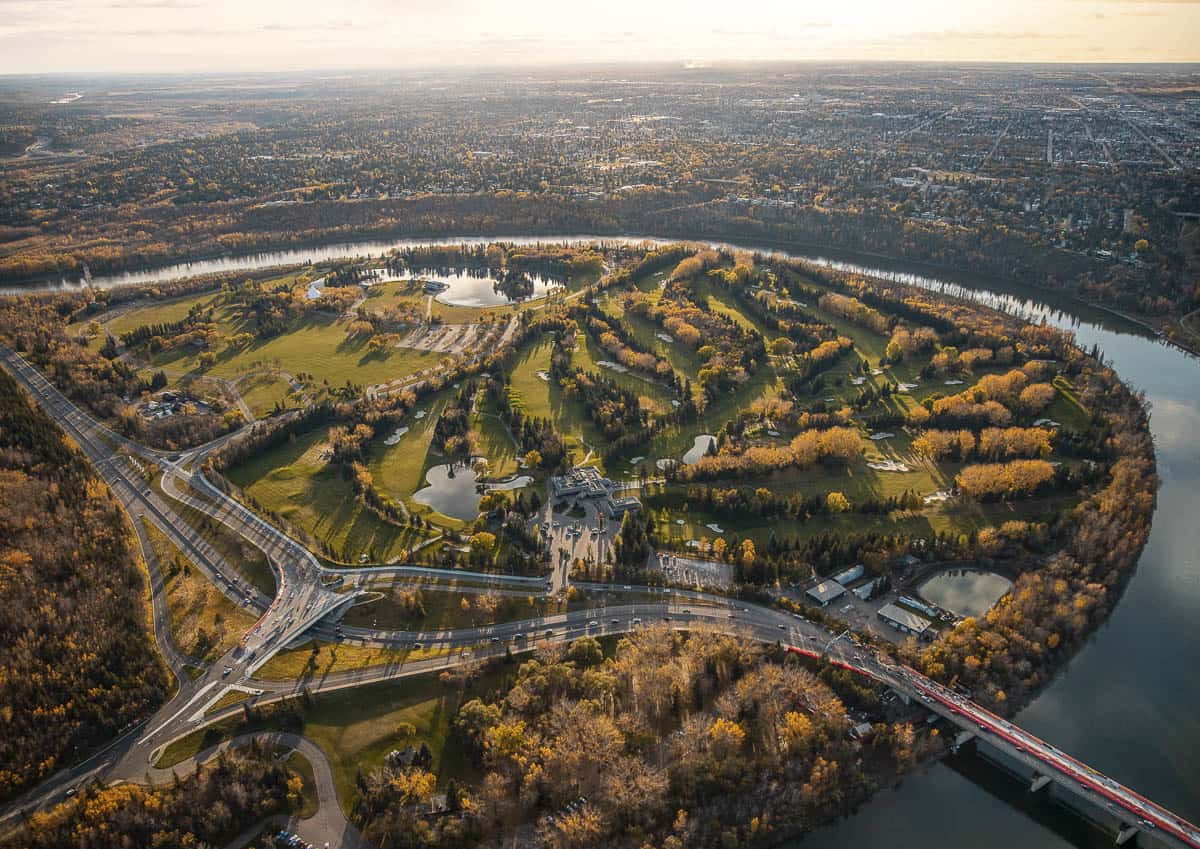 Things to Do Near Edmonton
Venturing just outside the city limits, there are a number of fun and unique places to visit near Edmonton. For more ideas, check out our 11 day trips from Edmonton post for some family-friendly travel suggestions.
University of Alberta Botanic Garden
Over 240 acres of gardens, plants, flower collections and stunning natural spaces have long impressed visitors at the University of Alberta Edmonton Botanical Gardens. Visitors can (and are encouraged to) spend hours wandering through the variety of gardens and sprawling landscapes, including a Japanese garden for that moment of zen. Take in the sights of all of the trees, plants, flowers, shrubs, plus much more. You may even see a wedding because it's a very popular spot for one.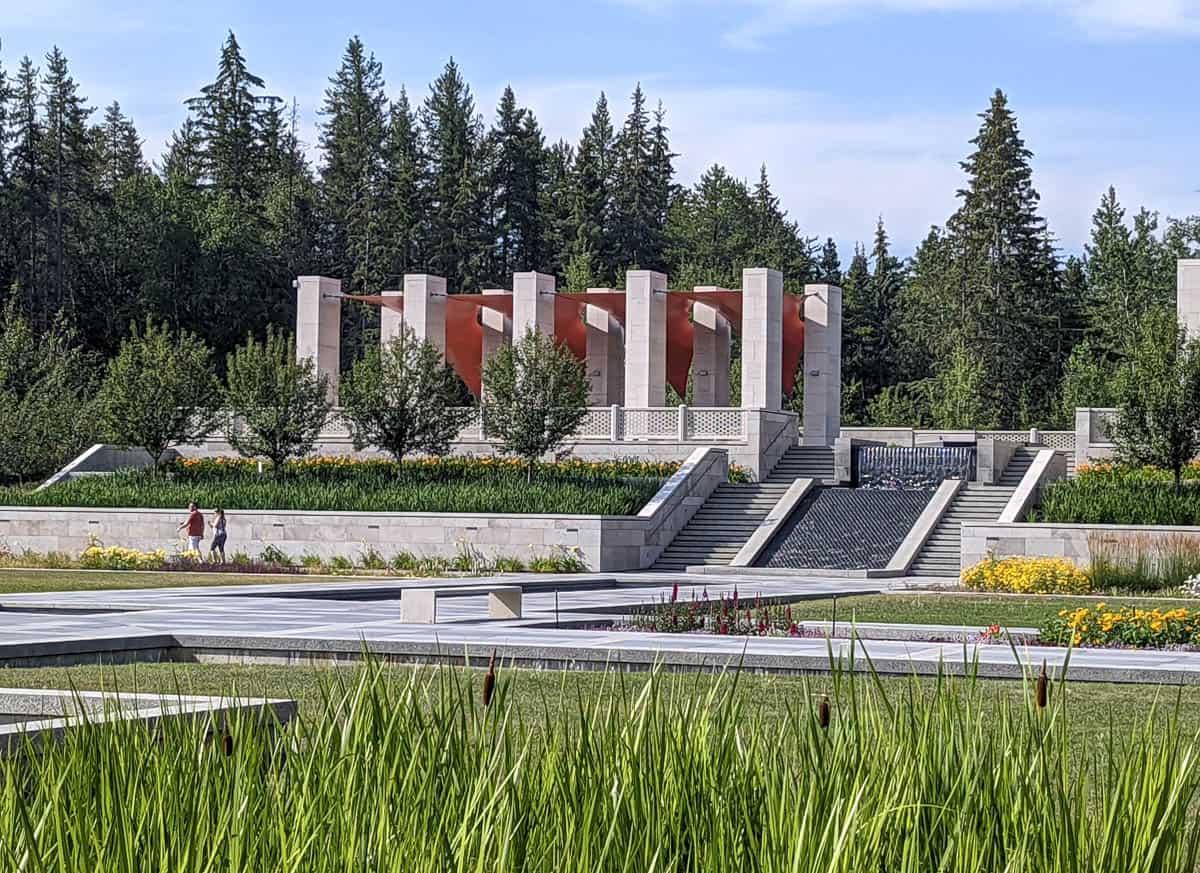 Edmonton Corn Maze
One of the most popular attractions west of Edmonton is the Edmonton Corn Maze. It's a giant 15-acre corn field which each year is uniquely themed into a maze. It opens in August (the corn has to grow all summer) and runs until October. There are plenty of other fun activities and games for the kids, a marketplace, and the best part – a petting zoo with goats.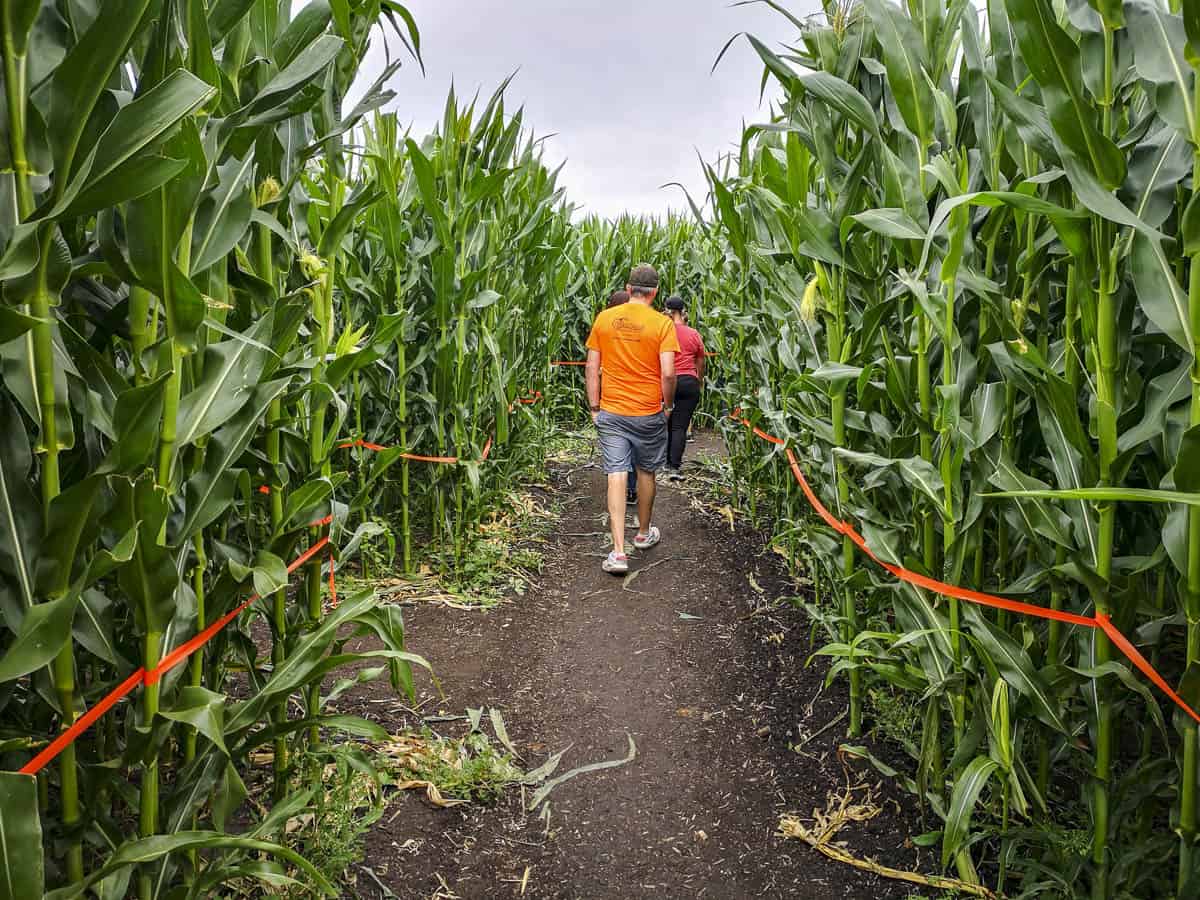 Ukrainian Cultural Heritage Village
Can't get enough of local history? The Ukrainian Cultural Heritage Village is located 25 minutes east of Edmonton, and this open-air museum houses refurbished buildings from east-central Alberta that tell the tale of the early and abundant Ukrainian settlement in Alberta from 1892-1930.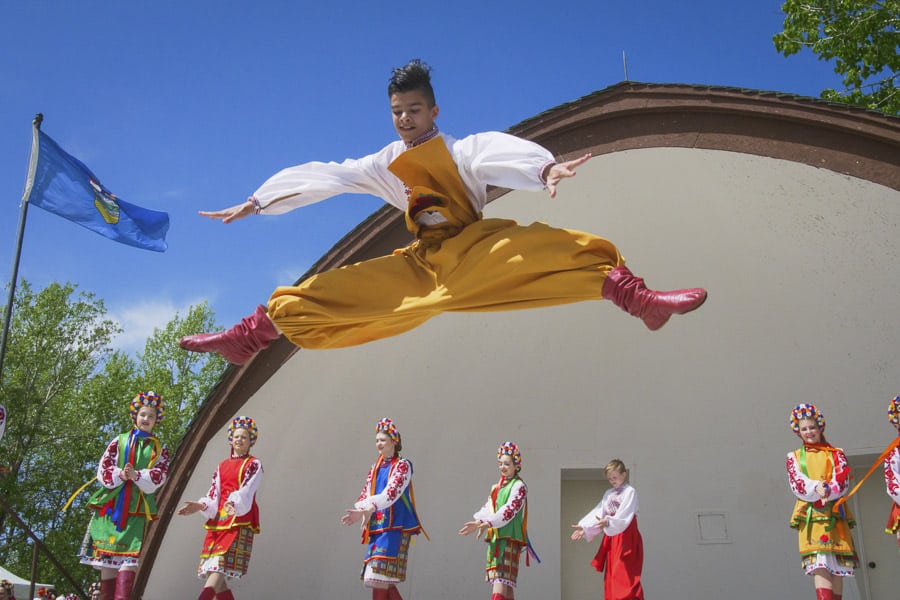 These early settlers made a significant impact on Alberta's identity, and the museum showcases the stories of survival and perseverance through more than 35 restored historic buildings and costumed interpreters. The 25-minute drive is also well worth it for the mouth-watering Ukrainian food available at the concession!
Elk Island National Park
Another wee jaunt from the city, Elk Island National Park is also well worth the trip. It is one of the best spots for stargazing and northern lights viewing, and the park is also an important refuge for bison, elk, and more than 250 species of birds.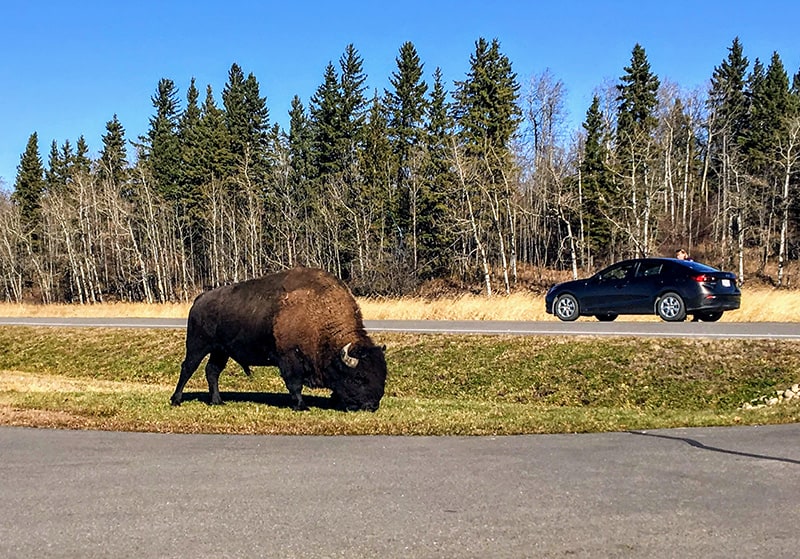 The national park is open year-round, but a summer visit also includes some incredible camping options (including "comfort" camping)! Note the fees that come with visiting National Parks in Canada.
Elk Island National Park Fees
Effective January 1, 2023 Elk Island National Park daily pass fees are:
Adult: $8.50
Senior: $7.25
Youth (up to 17 yo): FREE
Family/group (up to 7 people): $16.75
Commercial group (per person): $7.25
Annual Elk Island National Park pass fees:
Adult: $41.75
Senior: $36.75
Youth (up to 17 yo): FREE
Family/group: $83.75
The daily passes expire at 4 pm the following day. If you're looking to enter multiple times or staying longer, consider the Parks Canada Discovery Pass. It gives you unlimited admission for a year to all the national parks in Canada.
Discovery Pass fees are as follows:
Adult: $72.25
Senior: $61.75
Family/group: $145.25
Where to Eat in Edmonton
Tasting Edmonton is also exactly what you should do. The culinary scene has really been heating up, rivalling Alberta's other major delectable metropolis of Calgary. Be sure to line up some of these top Edmonton restaurants to complement your full day of exploring (or dive into a fabulous meal for breakfast or brunch in Edmonton, to start your day off right)! Oh, and save room for the craft beer scene, too – don't miss enjoying any of these excellent Edmonton breweries.
Rge Rd
We cannot recommend Rge Rd enough. It handily tops our list of best Edmonton restaurants with its exciting menu of local fare that changes with the seasons. Meat-eaters will especially rejoice here (you can't go wrong with any protein on the menu – but especially try the bison with spaetzle), and more adventurous dinners can order the "questionable bits" which exemplify the restaurant's commitment to using all parts of the ingredients they source.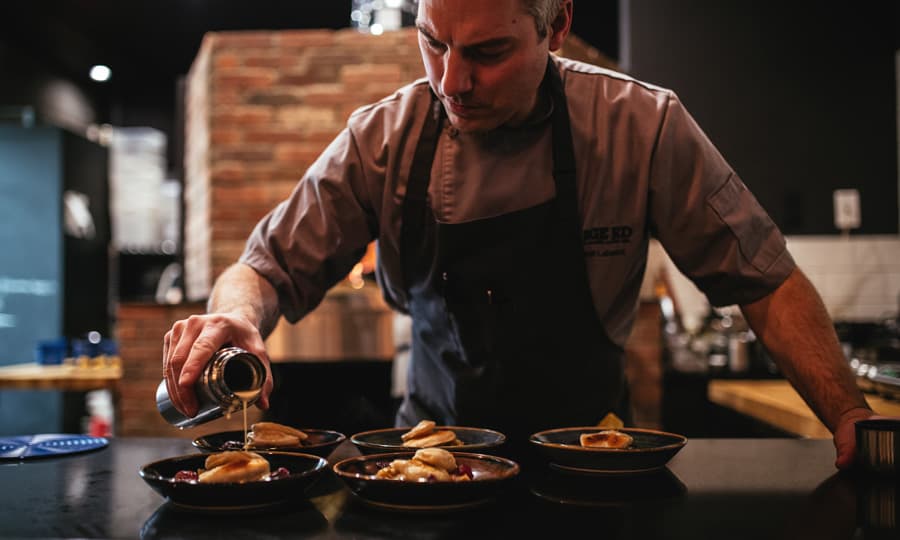 Vaticano Cucina
Ranked as one of the best restaurants in Edmonton, Vaticano Cucina is the place to go for authentic rustic Italian food. With a warm ambiance and creative decor, Vaticano Cucina is a welcoming place to warm your belly with fresh pasta and hot pizza that is made fresh with the highest quality ingredients for a reasonable price.
Frida Urban Taqueria
Frida Urban Taqueria, just outside the downtown core, is fairly new to Edmonton. The restaurant is all about authentic Mexican street food and family. The result? They take tacos to the next level. Every tortilla is made by hand in their kitchen and the tacos, in our opinion, are as close to eating a taco at a taco stand in Querétaro, Mexico as you can get.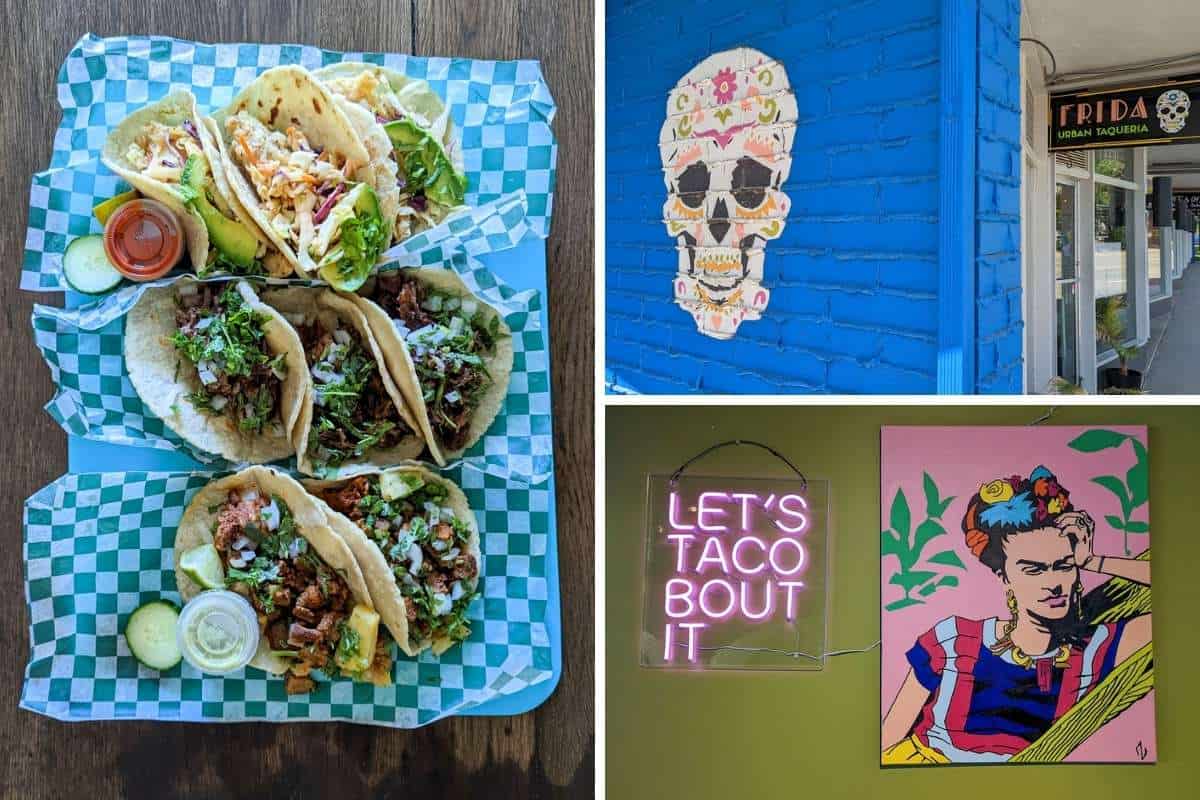 Hathaway's Diner
Offering one of the best breakfasts in Edmonton, Hathaway's Diner is a secret local spot! There's a good reason why it is such a popular restaurant in Edmonton. Despite the lack of curb appeal, Hathaway rocks the old-school-cool-diner atmosphere while serving up quality food at reasonable prices. Don't forget to finish your meal with some pie…it is to die for!
Duchess Bake Shop
Looking for something sweet? The Parisian-inspired Duchess Bake Shop offers the perfect blend of classic French pastries with Alberta favourites that are made from scratch daily. The quality is especially notable as only the finest ingredients are used to create their fresh goodies, including imported chocolate from France. It's no wonder they are regularly mentioned as one of the best cafes in Edmonton.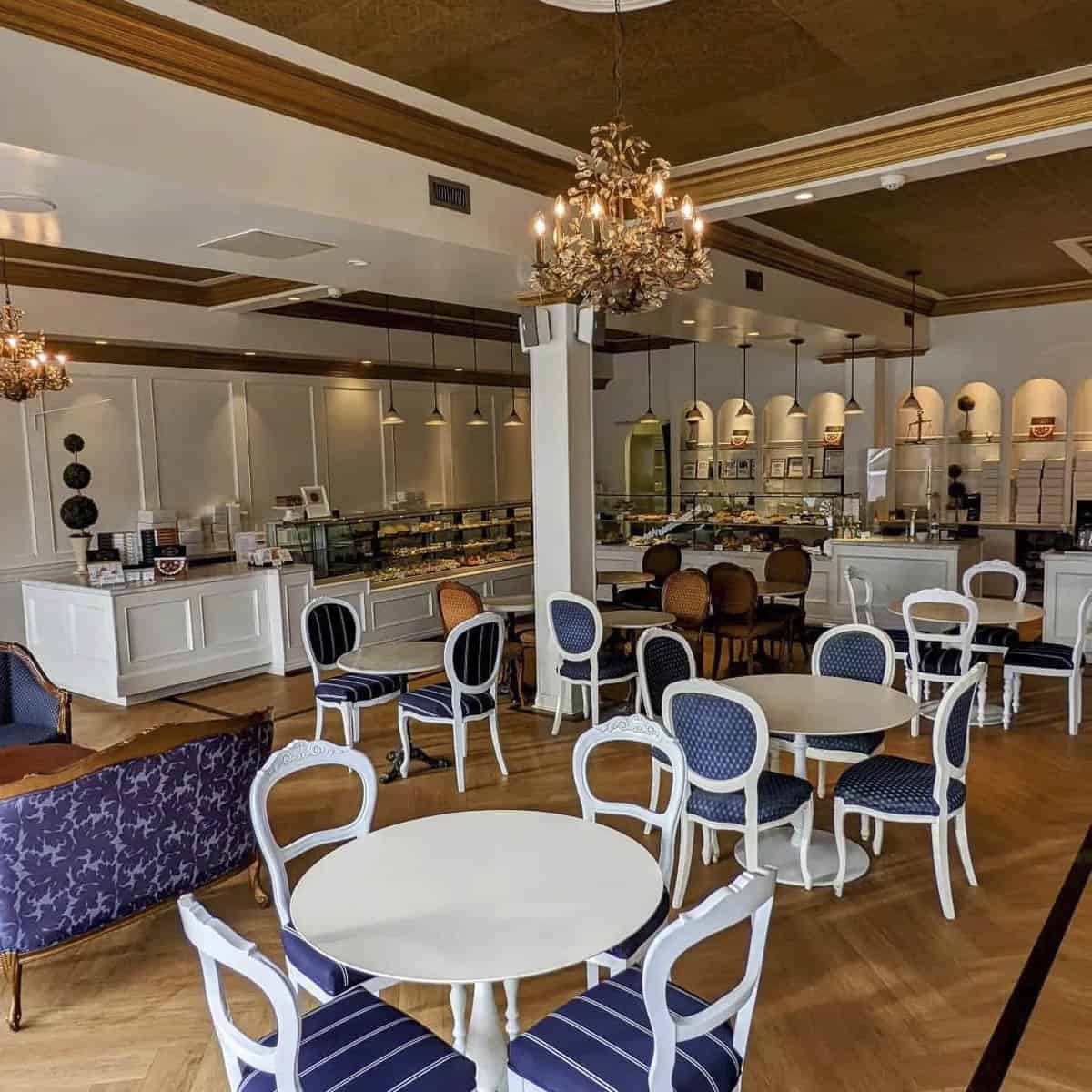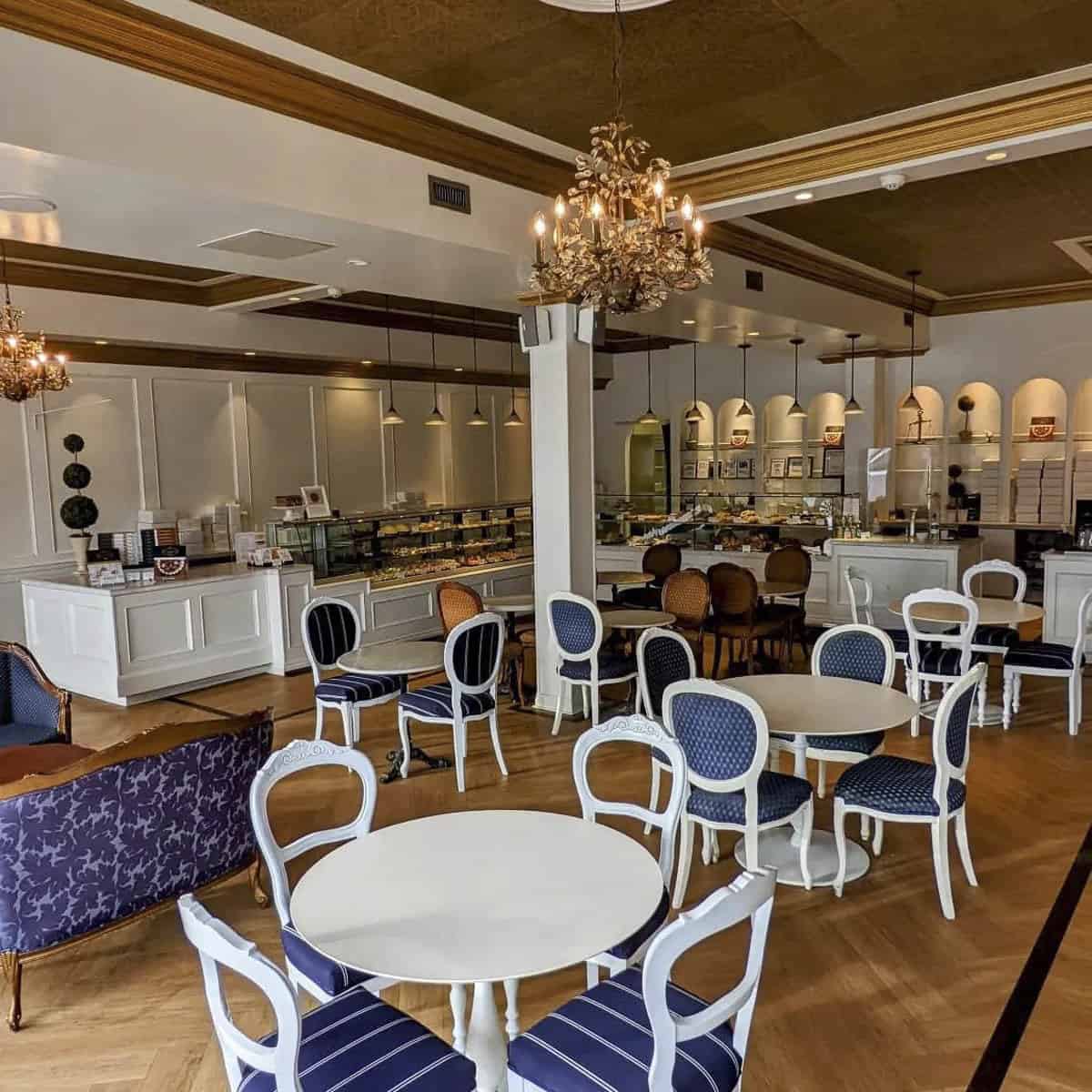 Where to Sleep in Edmonton
Being Alberta's capital city, there is no shortage of great Edmonton hotels to rest at during your travels. Not all are created equal, though, and the quality you get is really dependent on your budget.
Fairmont Hotel MacDonald (Luxury)
In terms of luxury accommodations in Edmonton, nothing beats the iconic Fairmont Hotel MacDonald. You can't miss this hotel as it offers spectacular views of the north Saskatchewan river valley and features a restaurant and spa. Close to many Edmonton attractions and located right in the heart of downtown, this hotel is worth the splurge, even if it's just for one night!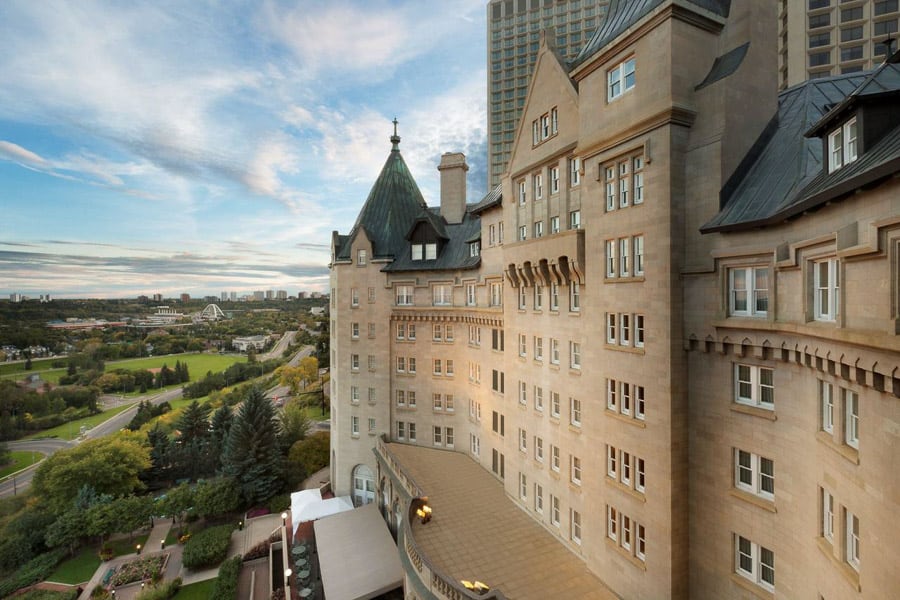 Mettera Hotel on Whyte (Mid-range)
The Mettera Hotel on Whyte is close to the shopping and vibrant amenities Whyte Ave is known for. Fitting in with the funky vibe of Old Strathcona, Mettera Hotel on Whyte offers rooms decorated in fire, earth, air, or water themes. Additionally, this boutique hotel features a cozy library with a fireplace!
Travelodge by Wyndham Edmonton South (Budget)
Close to Whyte Ave and West Edmonton Mall, Travelodge by Wyndham Edmonton South gives you access to Edmonton sightseeing without breaking the bank. Great for kids, it also has a hot tub and pool and also includes a complimentary continental breakfast.
Edmonton Airbnbs
Being such a large city, there are plenty of options for Edmonton Airbnbs. We recommend staying at the cozy carriage house in Strathcona, perfect for 2 people and close to Whyte Avenue.
Quick Jaunts From Edmonton
Sylvan Lake
You don't need to go all the way to British Columbia to enjoy time at a quality lake! Sylvan Lake is one of the most popular lakes in Alberta and is less than a two-hour drive away. The 2.5 km white sand beach is perfect for relaxing. Grab some ice cream at the 'Big Moo' on Lakeshore Drive to help you cool off on those hot summer days. During the summer, catch the weekly movie at the beach. The food trucks are always out during movie nights so you can grab some great local food too! There are great campgrounds in Sylvan Lake, hotels, and cute cabins to stay in to extend your visit.
Alberta Beach
On the southeast shore of Lac St. Anne sits Alberta Beach, just an hour north of Edmonton. The beach is in the center of town, with a grocery store and ice cream store within walking distance. This cute cottage-filled village is a popular spot for boating, swimming, and fishing. There is a campground in the middle of town too, open from May 1 to Sept. 30. Check out local goods at the weekly farmer's market every Sunday from spring until fall.
Jasper
The town of Jasper is a four-hour drive from Edmonton and one of our favourite towns in Alberta. It's the anchor to Jasper National Park in the Canadian Rockies and is the laid-back counterpart to the more popular Banff. For more information, check out our post on travelling from Edmonton to Jasper, as well as our guide on what to do in Jasper.