Disclaimer: This page may contain affiliate links. Please review our full Terms and Conditions for more information and our Privacy Policy. Note that any pricing, operating hours, or other such information provided below may have changed since initial publication.
Compiled by the Road Trip Alberta team
Last Updated on January 4, 2022
Alberta's capital city is the farthest north of all of Canada's capitals, but don't expect that means Edmonton is cold, dark, and inhospitable. It is exactly the opposite of all those things – except for maybe the cold, YES, winter temps can dip quite low – but it also exudes a friendly warmth and charm. And in recent years, the city has done more than just tolerate its winters, it has decided to fully embrace them, by offering experiences and so many things to do in Edmonton that you will be very glad you made the trip.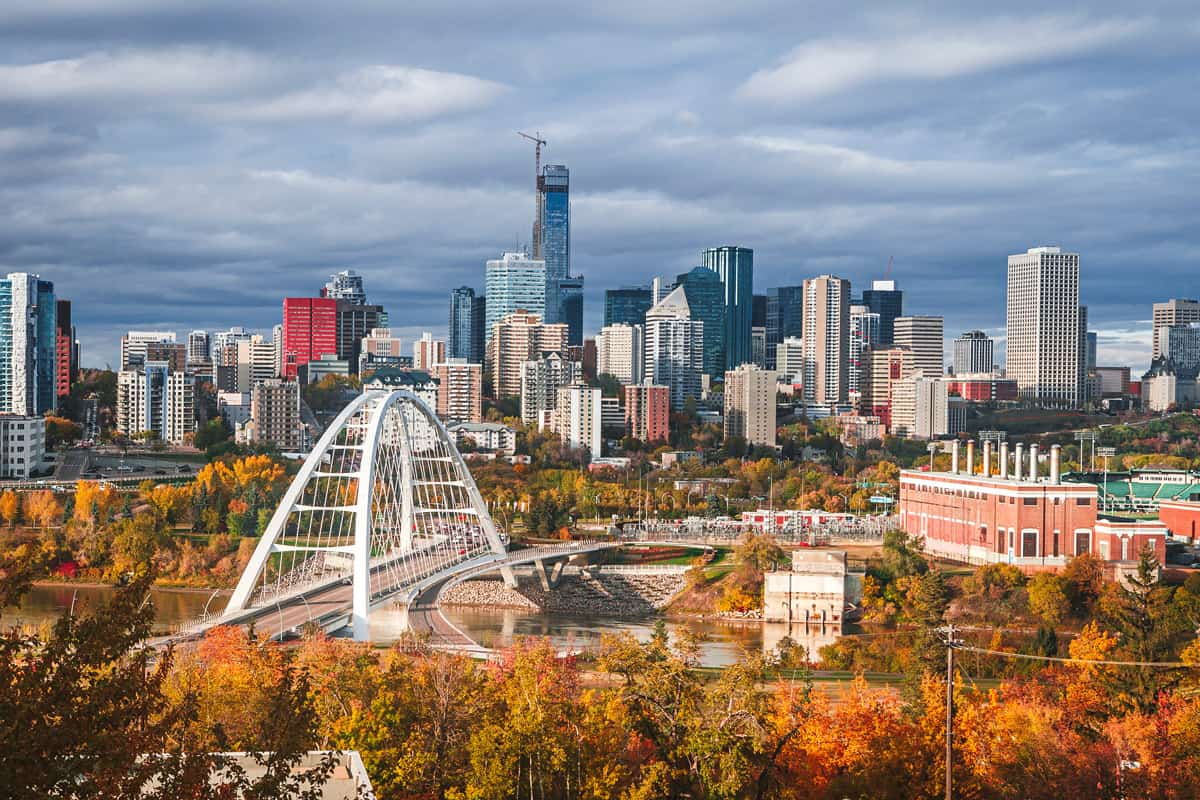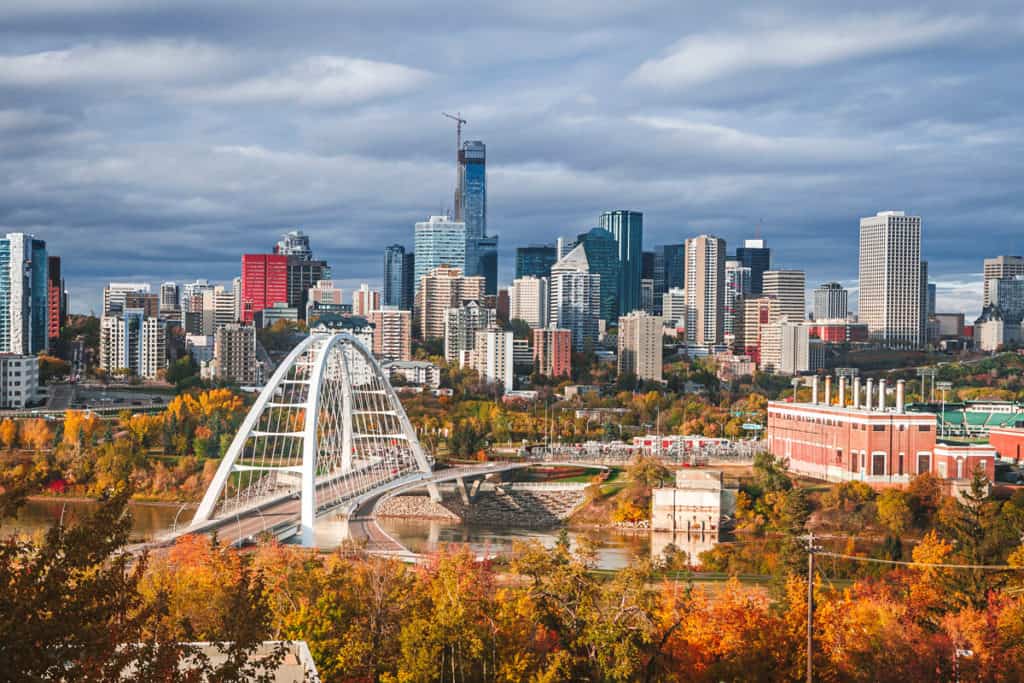 Why You Need to Visit Edmonton
While Edmontons' stellar festival lineup year-round enables the city's strong claim on being one of Canada's top festival spots, it's their summer schedule that really makes them shine. The renowned International Fringe Theater Festival, Interstellar Rodeo (not a real rodeo!), and the Folk Festival are just a few that give a taste of what Edmonton has to offer.
Tasting Edmonton is also exactly what you should do. The culinary scene has really been heating up, rivaling Alberta's other major delectable metropolis of Calgary. You're going to be super hungry anyway after all of the shopping you'll do along Whyte Avenue and at North America's largest shopping mall (yes, this is yet another tremendous thing that the city generously offers), so be sure to line up some of these top Edmonton restaurants to compliment your full day. Oh, and save room for the craft beer scene too – don't miss enjoying any of these excellent Edmonton breweries.
For the rest, dive into our guide below for the best things to do in Edmonton, in order to plan out several unforgettable days in this delightful city.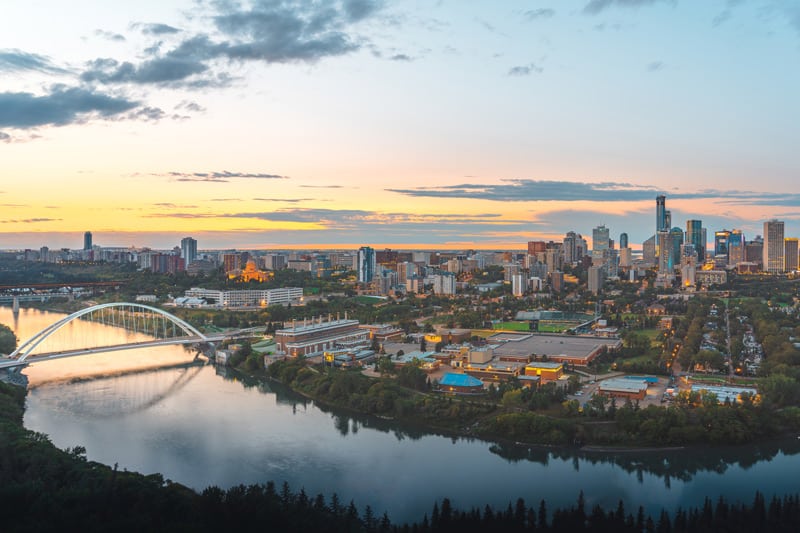 About the City
Edmonton is Canada's "Gateway to the North", and the country's fifth-largest city with a population of nearly one million people.
Acknowledgments
The land on which Edmonton is located is Treaty 6 territory and a traditional meeting ground and home for many Indigenous Peoples, including Cree, Saulteaux, Niitsitapi (Blackfoot), Métis, and Nakota Sioux Peoples.
History
The city of Edmonton started out as Fort Edmonton in 1821. The name Edmonton came from the town of Edmonton, England (which is now a part of London). People were slow to settle the area, largely because the Canadian Pacific Railway line only went up as far as Strathcona. It only received its own connection in 1905 after becoming the Capital City and being incorporated as a city in 1904.
Where is Edmonton located?
Edmonton is 610ms above sea level and is situated almost smack dab in the middle of Alberta (although the area is often called "northern Alberta"). To be exact, it's at 53.55 latitude and -113.47 longitude. Edmonton is ~300km north of Alberta's other biggest city – Calgary.
Fun facts:
Edmonton's River Valley is 22 times the size of Central Park. The urban green space is filled with many pathways for the public to enjoy.
One of Canada's sunniest cities, Edmonton sometimes getting up to 17 hours of daylight.
Being farther north, Edmonton is a hot-spot for the Aurora Borealis in wintertime.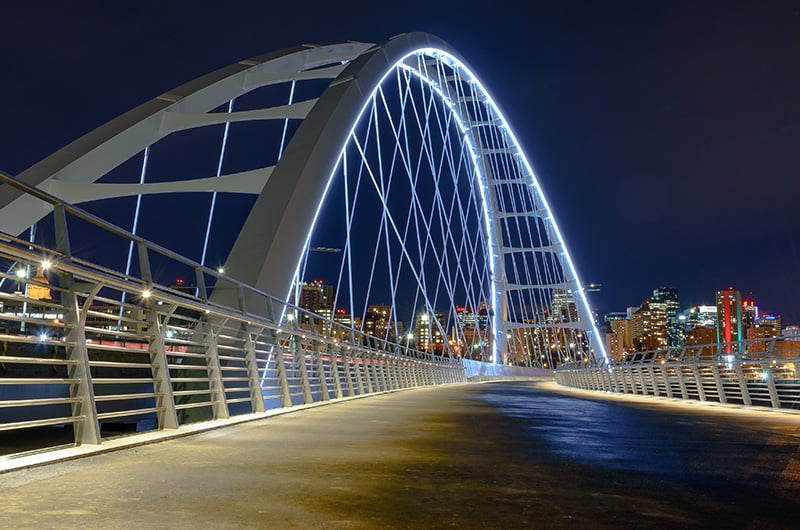 Getting to Edmonton
By Car
How far is Edmonton from Calgary? From city center to city center, 300km separate the two. It takes just under 3 hours to drive via the AB-2. Want a more scenic route? We have a guide outline two alternatives to get from Edmonton to Calgary, plus it gives plenty of ideas for great places to stop along the way.
How far is Edmonton from Saskatoon? 522kms sit between Saskatoon and Edmonton, and it takes roughly 5 1/2 hours to make the drive.
How far is Edmonton from Vancouver? A whopping 1,159kms via the most direct route. If you want to make this drive (which would take over 12 hours), consider splitting it up with stops in Kamloops, BC, and/or Jasper, AB.
By Plane
With non-stop service to 50 destinations around the world, the Edmonton International Airport (YEG) is a popular spot for people traveling to the city. Traveling from the airport to the rest of the city is easy through a number of options:
There are multiple options for renting a car at the airport. Book in advance to avoid any hassle! We recommend booking via RentalCars.com, to select the cheapest rate or to book with whichever company you prefer.
A taxi from the airport to downtown Edmonton will take approximately 40 minutes and all taxis charge a flat rate of $60. You can phone the Edmonton International Airport Ground Transportation Office at 1-800-268-7134 or 780-890-8553 for assistance booking a taxi.
Uber is in Edmonton and does pick-ups and drop-offs at YEG.
The Edmonton Transit Service (ETS) operates a bus (route 747), that travels from the airport to the southern transit station of Century Park (from there you can get on the light-rail-transit, or take a bus or taxi to get to your final destination). One-way fare is $5. The ETS has this handy trip planner to help you figure out the system from there.
The Edmonton Skyshuttle service from the airport has been suspended due to COVID-19.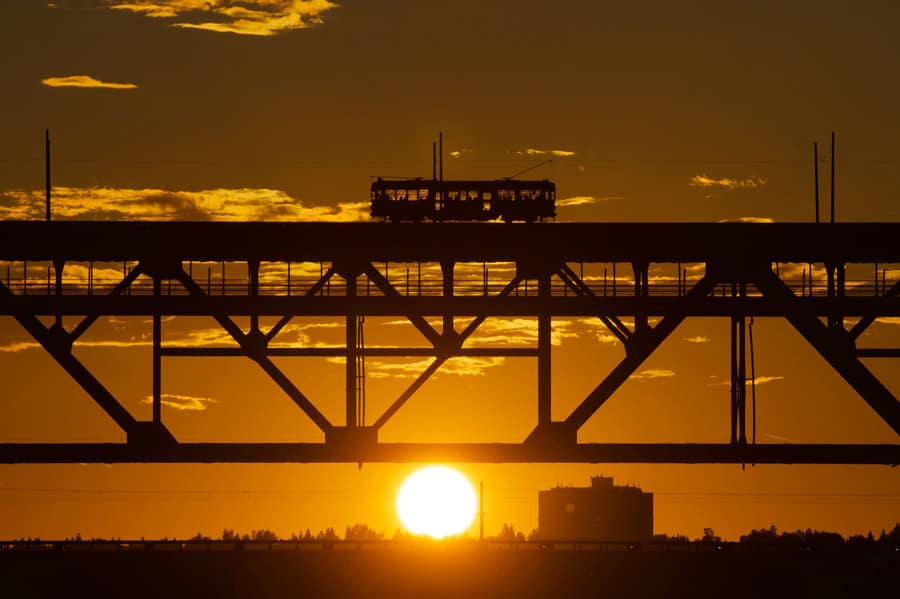 By Train
The Via Rail Canadian train connects to Edmonton! Experience traveling by train and you'll have time to appreciate all the beautiful sights out the windows. Connected destinations include: Toronto, Winnipeg, Saskatoon, and Vancouver.
By Bus
Several bus companies also service Edmonton (easy comparisons can be made on Busbud, but a couple of the options are outlined below):
We've personally taken Red Arrow several times, and always had a seamless and on-time journey. There are three drop-off points (south, downtown Edmonton, and the International Airport), and the current cost, if originating in Calgary, is near $80.
Ebus is Red Arrow's less-luxurious sister company, with similar pick-up/drop-off points but at a lower rate. If originating in Calgary, the cost is near $51.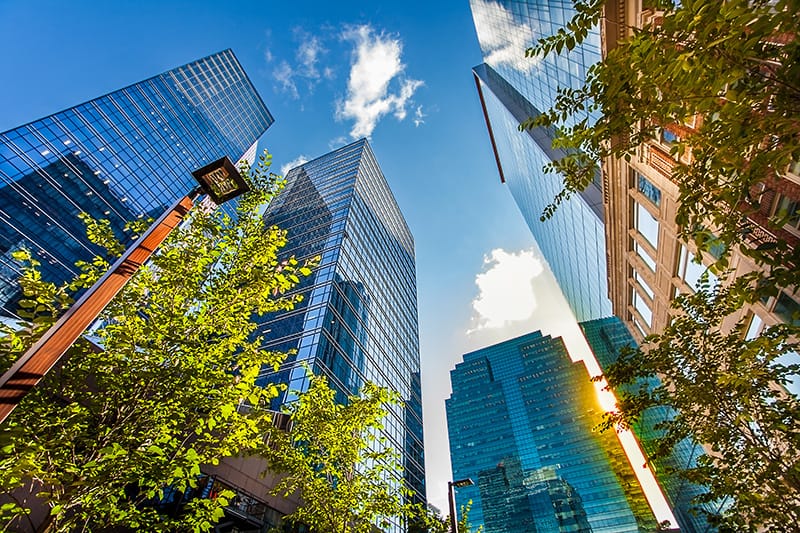 Take the guesswork out of building your itinerary for your Alberta trip!
We now offer two ways to help ease the burden of travel planning:
We've developed ebook itineraries (available at a very low price!) for a variety of 7-day trips.
Want a custom trip tailored exactly to your needs? We are pleased to also offer a custom service for planning your Alberta vacation.
Practical Essentials
Getting Around Edmonton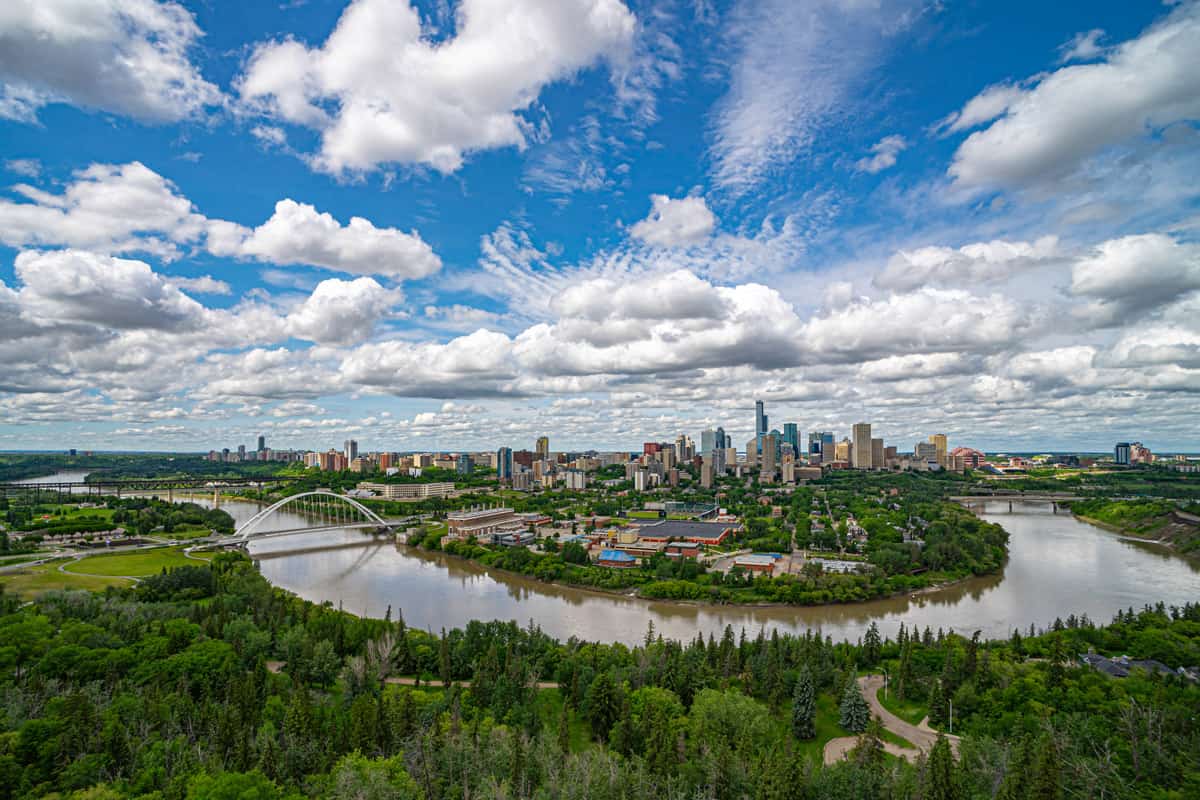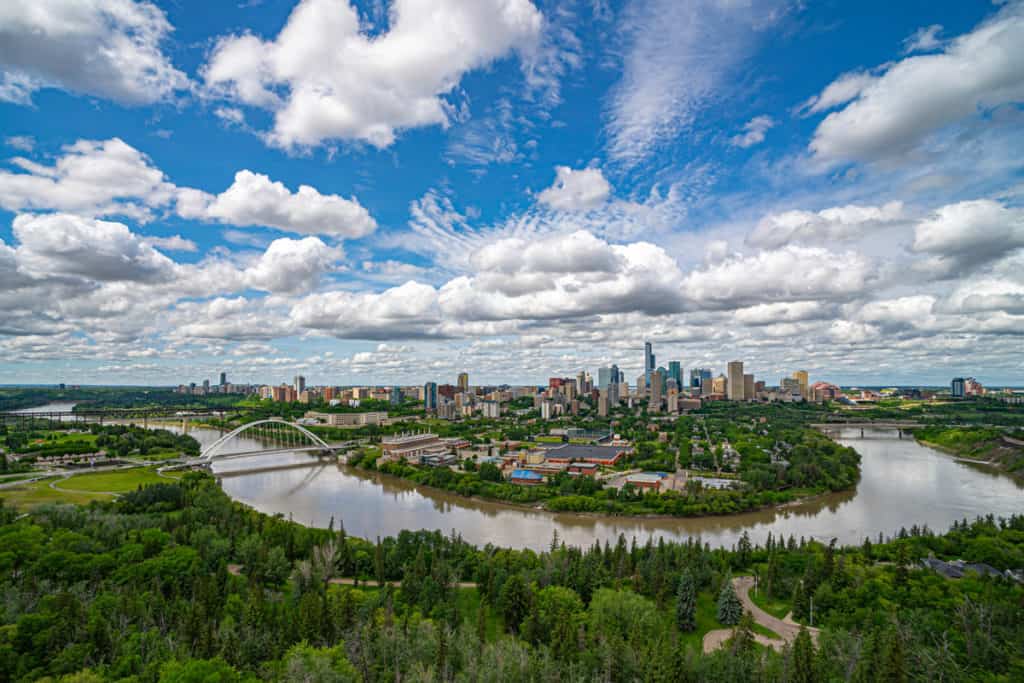 Best Time to Visit Edmonton
Though Edmonton is great to visit any time of the year, visiting from June through August will ensure a lot of available activities and a beautiful river valley bursting in green. You'll get to enjoy summer in the prairies – mild weather and no* snow! This is also peak time in festival season so there are plenty of activities to take part in. Longer days in the summer are also something to take advantage of.
If you are not scared by winter, then Edmonton should also be on your must-visit list. If you're lucky, you'll get to marvel at aurora borealis (the best time to see northern lights in Alberta is winter). Consider also planning your visit around the Ice on Whyte Festival, which features an ice carving competition and even an ice slide!
*Once in a blue moon, it will snow in summer, but that's Alberta for you.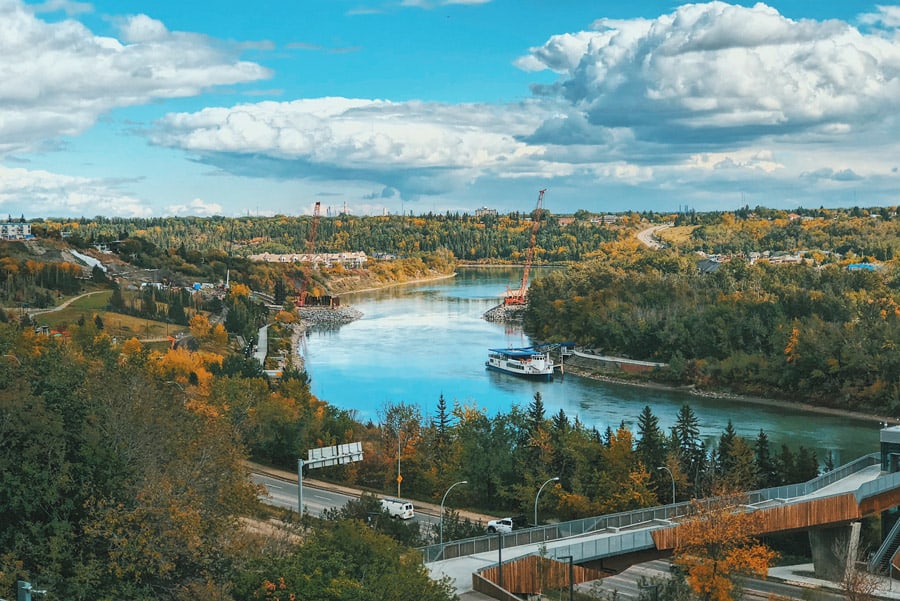 Where to Sleep
Being Alberta's capital city, there is no shortage of great Edmonton hotels to rest at during your travels. Not all are created equal though and the quality you get is really dependant on your budget.
Luxury – In terms of luxury accommodations in Edmonton, nothing beats the iconic Fairmont Hotel MacDonald. You can't miss this hotel as it offers spectacular views of the Edmonton river valley and features a restaurant and spa. Close to many Edmonton attractions and located right in downtown Edmonton, this hotel is worth the splurge even if it's just for one night!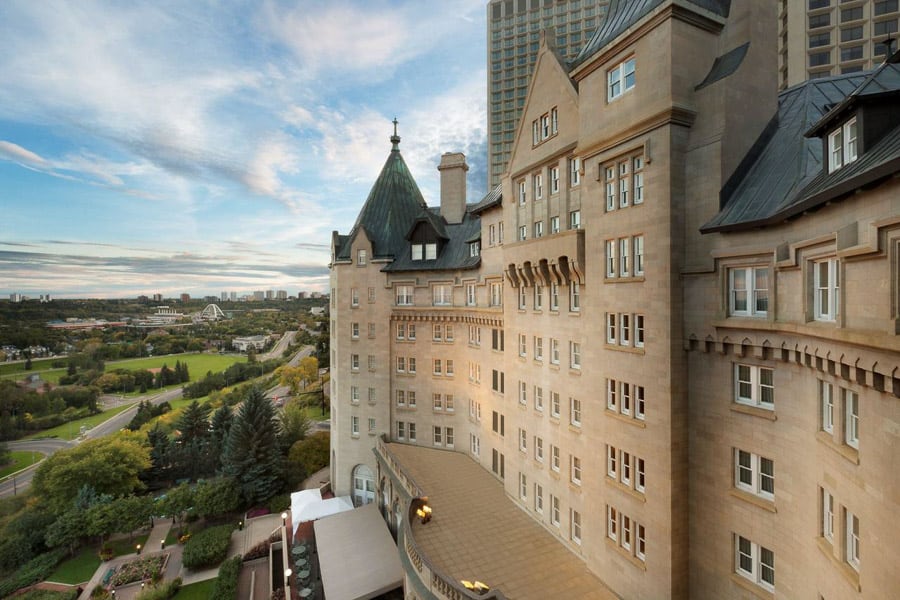 Mid-range – The Mettera Hotel on Whyte is close to the shopping and vibrant amenities Whyte Ave is known for. Fitting in with the funky vibe of Old Strathcona, Mettera Hotel on Whyte offers rooms decorated in fire, earth, air or water themes. Additionally, this boutique hotel features a cozy library with fireplace!
Budget – Close to Whyte Ave and West Edmonton Mall, Travelodge by Wyndham Edmonton South gives you access to Edmonton sightseeing without breaking the bank. Great for kids, it also has a hot tub and pool and also includes a complimentary continental breakfast.
Home away from home – Being such a large city, there are plenty of options for an Edmonton Airbnb to choose from. We recommend staying at the cozy carriage house in Strathcona, perfect for 2 people and close to Whyte Avenue.
Sights to See
There are so many places to visit in Edmonton. The city has a lot to offer and the choices can get overwhelming so we decided to narrow down the options to a top-five list of things to see in Edmonton.
Muttart Conservatory
The iconic glass pyramid structures of the Muttart Conservatory juxtaposes the river valley that surrounds them. Inside each pyramid is a climate-regulated biome with three different zones – arid, temperate, and tropical – with a mission of education and conservation. The conservatory is home to more than 700 species of plants and has an on-site restaurant to make a nice afternoon out of a visit.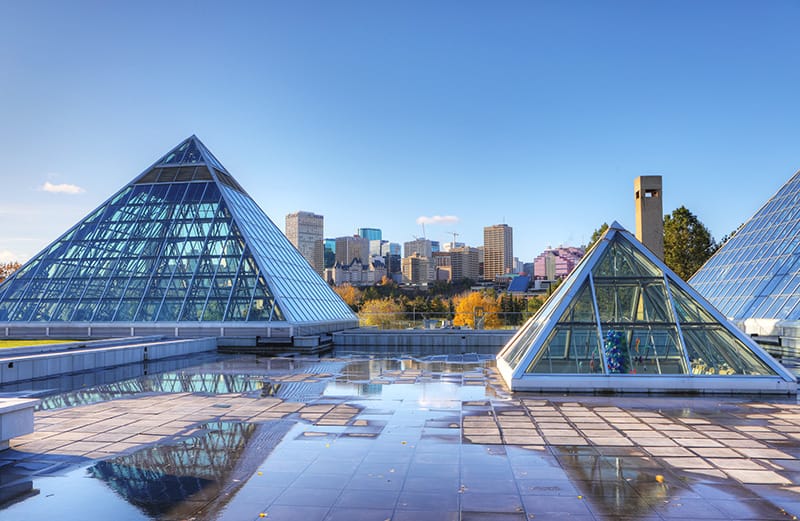 River Valley
Did you know that Edmonton has the largest urban park in all of Canada? With more than 160kms of maintained pathways and 20 major parks, the Edmonton River Valley provides endless outdoor opportunities for exploration and recharging in nature. Bonus: You don't even have to leave the city to immerse yourself in nature! The 20 Edmonton parks are all easily accessible by public transit.
Neon Sign Museum
The Edmonton Neon Sign Museum is a blast-from-the-past shining in neon! The first of its kind in Canada, 20 functional historic signs tell the story of Edmonton's neon past. You can find this installation 24 hours a day, 7 days a week on the east wall of the TELUS building and the south wall of the Mercer Warehouse building on 104 Street and 104 Avenue. No admission is required.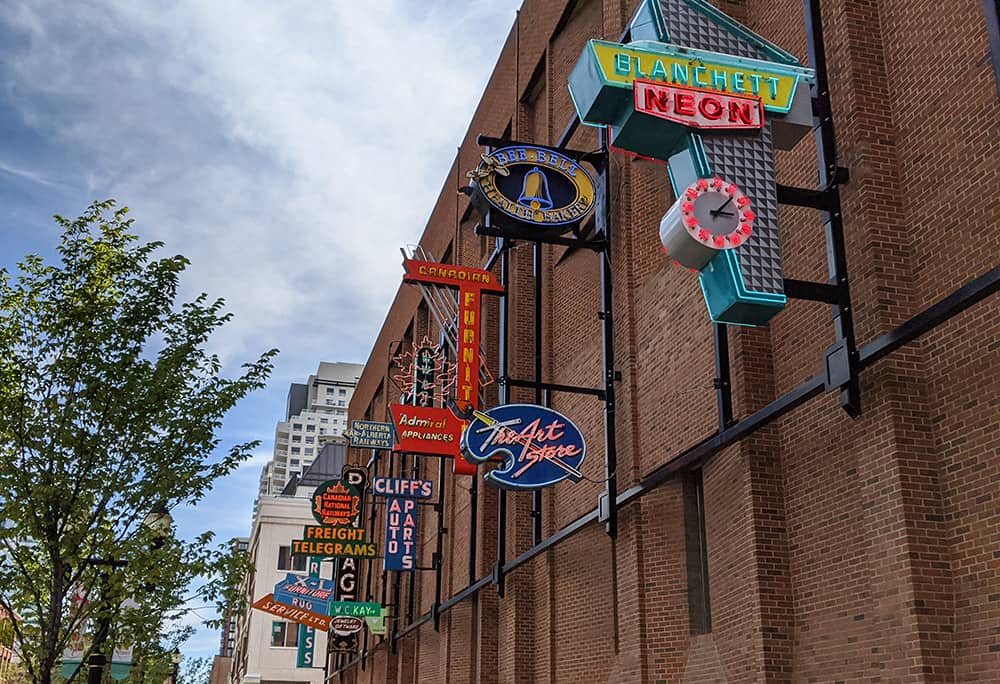 Alberta Legislature Building
Known to Edmontonians as "the Ledge," the Alberta Legislature Building is definitely a sight to see during your stay in this capital city. Built in 1913, not only is the building architecturally interesting to look at, political buffs would be interested to note that the building is the meeting point for the Legislative Assembly of Alberta and the Cabinet of Alberta.
Free tours of the building are available 362 days a year and cover topics related to the levels of government, Alberta's political history, and the art and architecture of the building.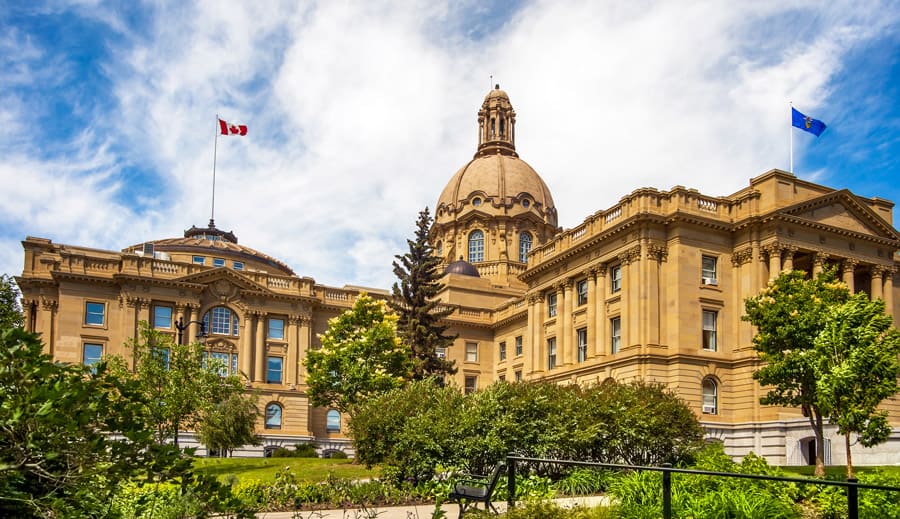 The Best Things to do in Edmonton
With the largest mall in North America, more festivals than any other destination in Alberta, and plenty of parks and nature to explore, Edmonton has a plethora of things to do in any season.
Festivals
Festival season never seems to end in Edmonton; there is a good reason why it is called 'the Festival City'. From music, street performing, heritage and culture, and even ice sculptures, Edmonton hosts over 50 festivals annually across all genres in locations all over the city.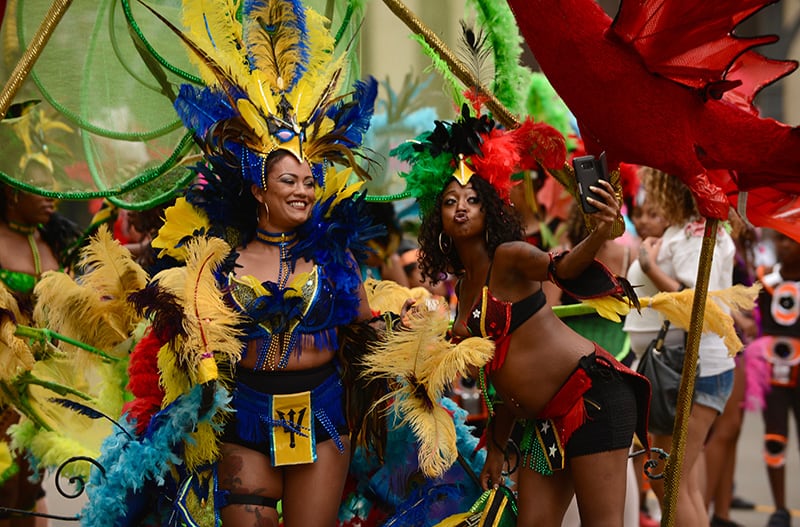 West Edmonton Mall
West Edmonton Mall is a destination in and of itself! It is the largest mall in North America with over 800 stores and services. Inside, the mall hosts theme parks, a massive water park and bungee jump, a miniature golf course, multiple movie theatre complexes, and even a large indoor skating rink so you don't just have to shop the whole time.
Conveniently, there is also an on-site hotel at West Edmonton Mall that has one-of-a-kind themed rooms including Pirate, Space, Polynesian, and more.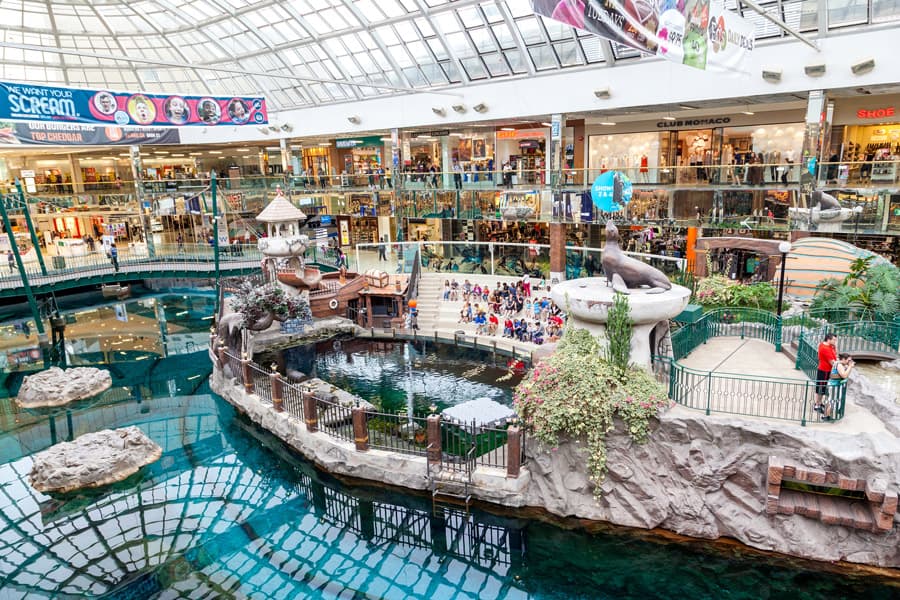 Walk Whyte Avenue
If you are in the mood to get a taste of Edmonton and really feel what the city is all about, a trip to Whyte Avenue in Old Strathcona is a must. This historic district is full of historic buildings but also is the trendiest part of town – full of art galleries, music shops, and trendy restaurants and cafes (including some of the best Edmonton cafes and coffee shops). Also take a stroll through the picturesque Dr. Wilbert McIntyre Park which, in true Edmonton fashion, is a place for festivals, public events, and informal gatherings at the notable gazebo.
Also don't miss the Old Strathcona Farmer's Market, which is just off of Whyte Avenue and is open every Saturday 8am – 3pm year-round!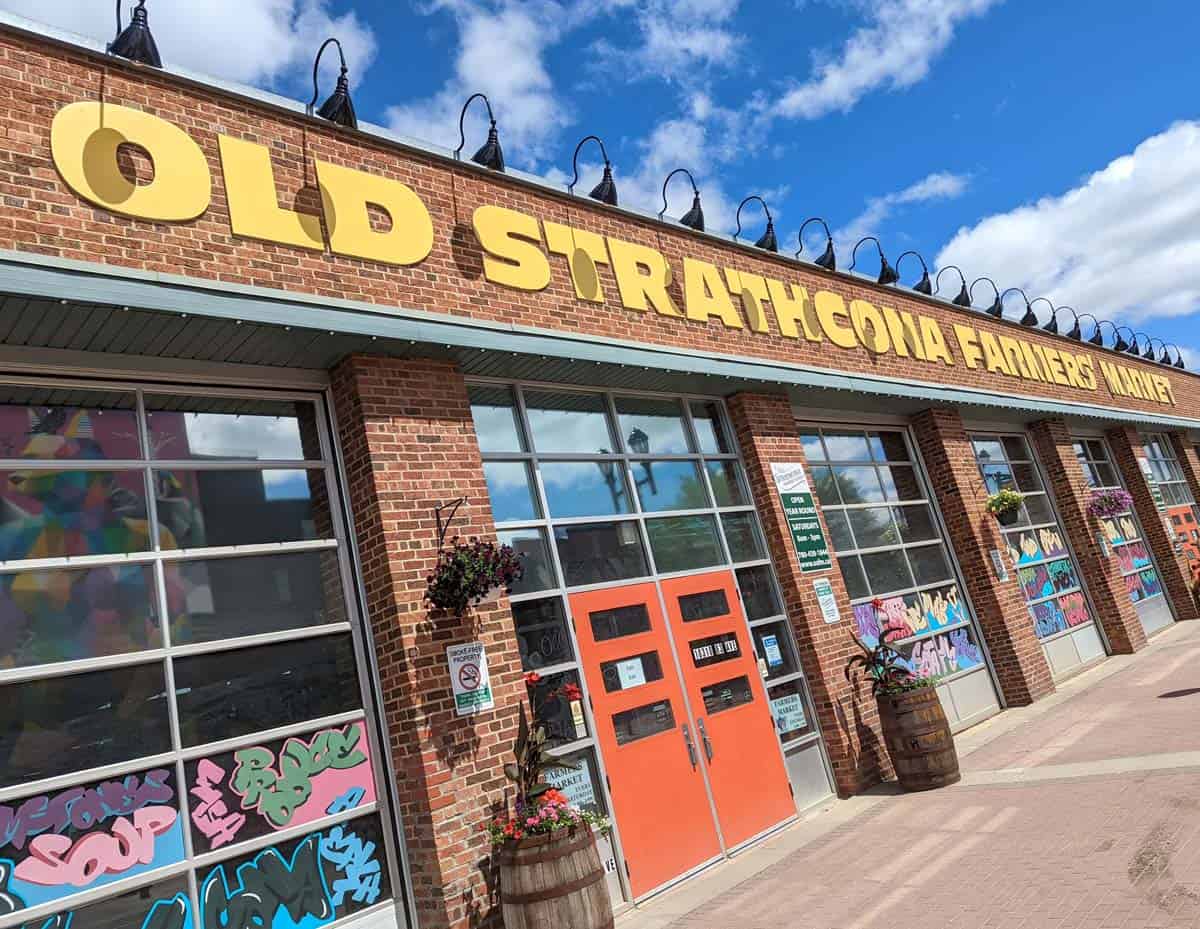 Take the High Level Bridge Streetcar
Running on what used to be Canadian Pacific Railway's mainline over the North Saskatchewan River (from Old Strathcona to downtown), the High Level Streetcar is a fun way to experience this piece of history plus get views of Edmonton's beautiful river valley. Running at limited times, and only from May through October, don't miss a chance to enjoy (and support) this volunteer-run streetcar service.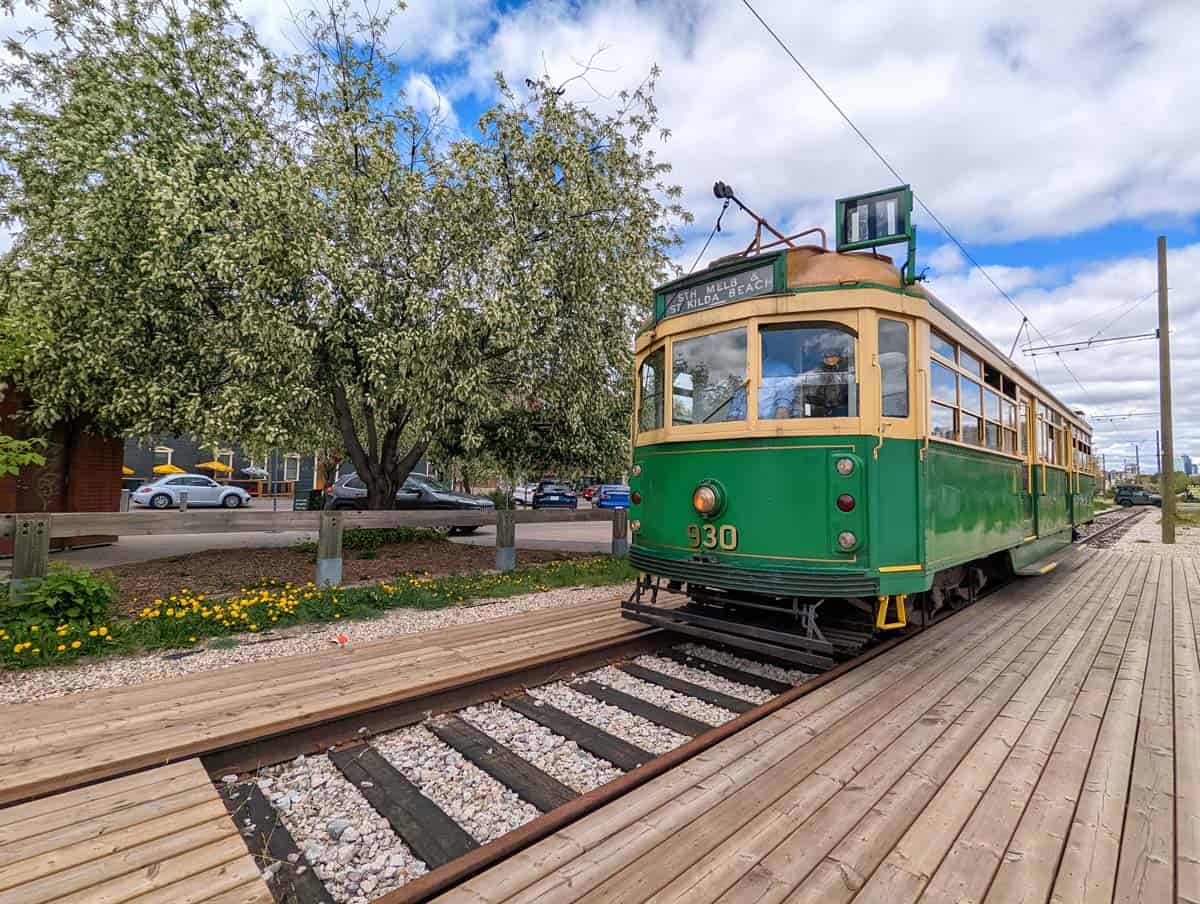 Fort Edmonton Park
Experience a true immersion into the history of Canada in one of the best Edmonton museums! Complete with costumed historical interpreters, Fort Edmonton Park is the largest living history museum in Canada by area at 64 hectares (158 acres).
The Park includes a reconstructed Hudson's Bay Fort from 1846, as well as historically accurate reconstructed streets from the years 1885, 1905, and 1920, each depicting the evolution of Edmonton's early history.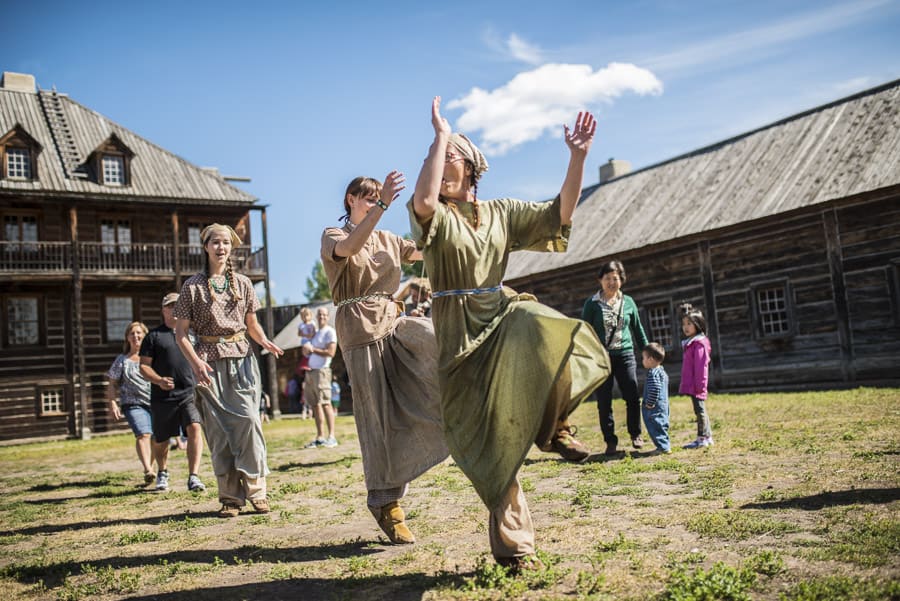 Ukrainian Cultural Heritage Village
Can't get enough of local history? Otherwise known as the Ukrainian Cultural Heritage Village and located 25 minutes east of Edmonton, this open-air museum houses refurbished buildings from east-central Alberta that tell the tale of early Ukrainian settlement in Alberta from 1892-1930.
These early settlers made a significant impact on Alberta's identity and the museum showcases the stories of survival and perseverance through more than 35 restored historic buildings and costumed interpreters. The 25-minute drive is worth it for the mouth-watering Ukrainian food available at the concession!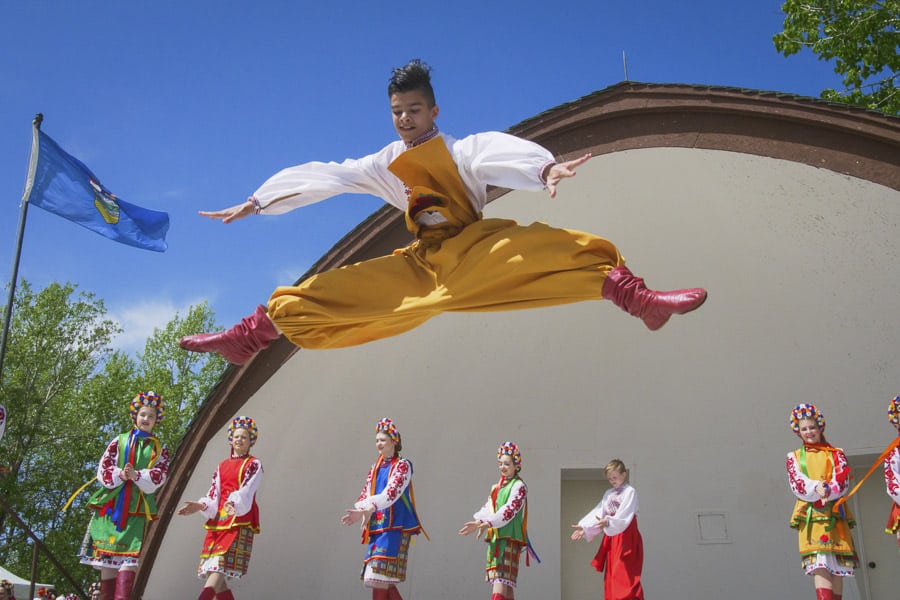 Elk Island National Park
Another wee jaunt from the city, Elk Island National Park is also well worth the trip. It is one of the best spots for stargazing and northern lights viewing, and the park is also an important refuge for bison, elk, and more than 250 species of birds.
The national park is open year-round, but a summer visit also includes some incredible camping options (including "comfort" camping)! Note the fees that come with visiting National Parks in Canada.
Elk Island National Park Fees
Effective January 1, 2022 Elk Island National Park daily pass fees are:
Adult: $8.50
Senior: $7.25
Youth (up to 17 yo): FREE
Family/group (up to 7 people): $16.75
Commercial group (per person): $7.25
Annual Elk Island National Park pass fees:
Adult: $41.75
Senior: $36.75
Youth (up to 17 yo): FREE
Family/group: $83.75
The daily passes expire at 4 pm the following day. If you're looking to enter multiple times or staying longer, consider the Parks Canada Discovery Pass. It gives you unlimited admission for a year to all the national parks in Canada.
Discovery Pass fees are as follows:
Adult: $72.25
Senior: $61.75
Family/group: $145.25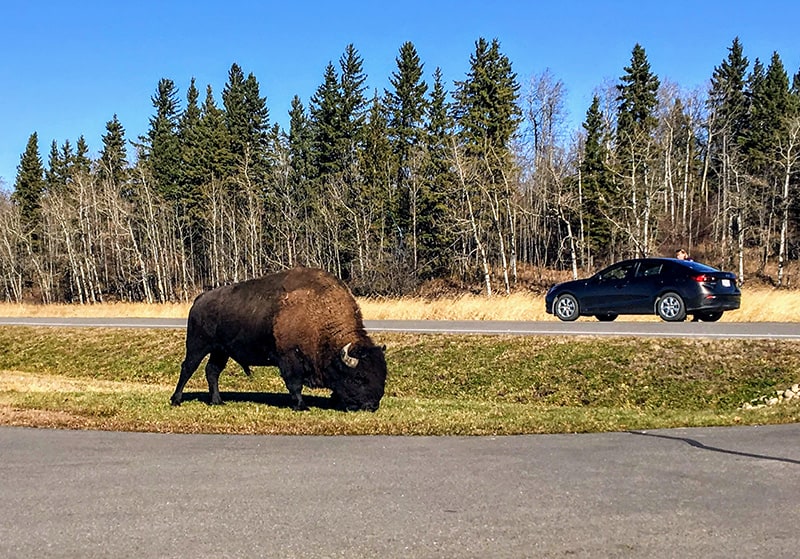 Where to Eat
In recent years, Edmonton has really grown into a foodie paradise with cuisines from all over the world in many different budget ranges. Below, we have listed some of our favourites.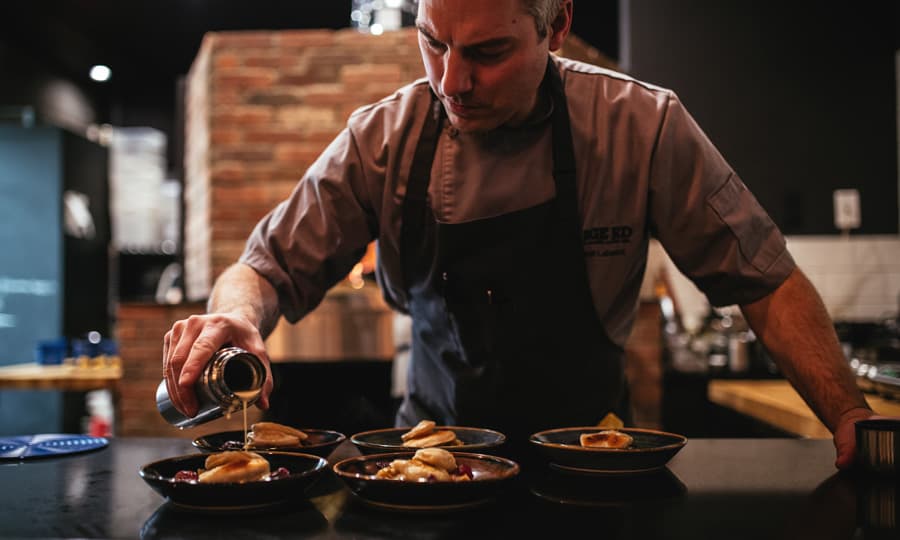 In the Area
Sylvan Lake
You don't need to go all the way to British Columbia to enjoy time at a quality lake! Sylvan Lake is one of the most popular lakes in Alberta and is less than a two-hour drive away, making it a perfect day trip from Edmonton. The 2.5km white sand beach is perfect for relaxing. Grab some ice cream at the 'Big Moo' on Lakeshore Drive to help you cool off on those hot summer days. During the summer, catch the weekly movie at the beach. The food trucks are always out during movie nights so you can grab some great local food too! There are campgrounds, hotels, and cute cabins to stay in to extend your visit.
Alberta Beach
On the southeast shore of Lac St. Anne sits Alberta Beach, just an hour north of Edmonton. The beach is in the center of town with a grocery store and ice cream store within walking distance. This cute cottage-filled village is a popular spot for boating, swimming, and fishing. There is a campground in the middle of town too, open from May 1 to Sept. 30. Check out local goods at the weekly farmers market every Sunday from spring until fall.
Jasper
The town of Jasper is a four-hour drive from Edmonton and one of our favourite towns in Alberta. It's the anchor to Jasper National Park in the Canadian Rockies, and is the laid-back counterpart to the more popular Banff. For more information, check out our post on traveling from Edmonton to Jasper, as well as our guide on what to do in Jasper!