Disclaimer: This page may contain affiliate links. Please review our full Terms and Conditions for more information and our Privacy Policy. Note that any pricing, operating hours, or other such information provided below may have changed since initial publication.
Compiled by the Road Trip Alberta team
Last updated on July 12, 2023
The summer of 2023 is the perfect time to embark on an exciting road trip adventure east of Edmonton and discover a trail of northern and central Albertan highlights. From impressively vast landscapes to quirky roadside attractions, this journey promises an exciting blend of fun, learning, and natural beauty for the whole family.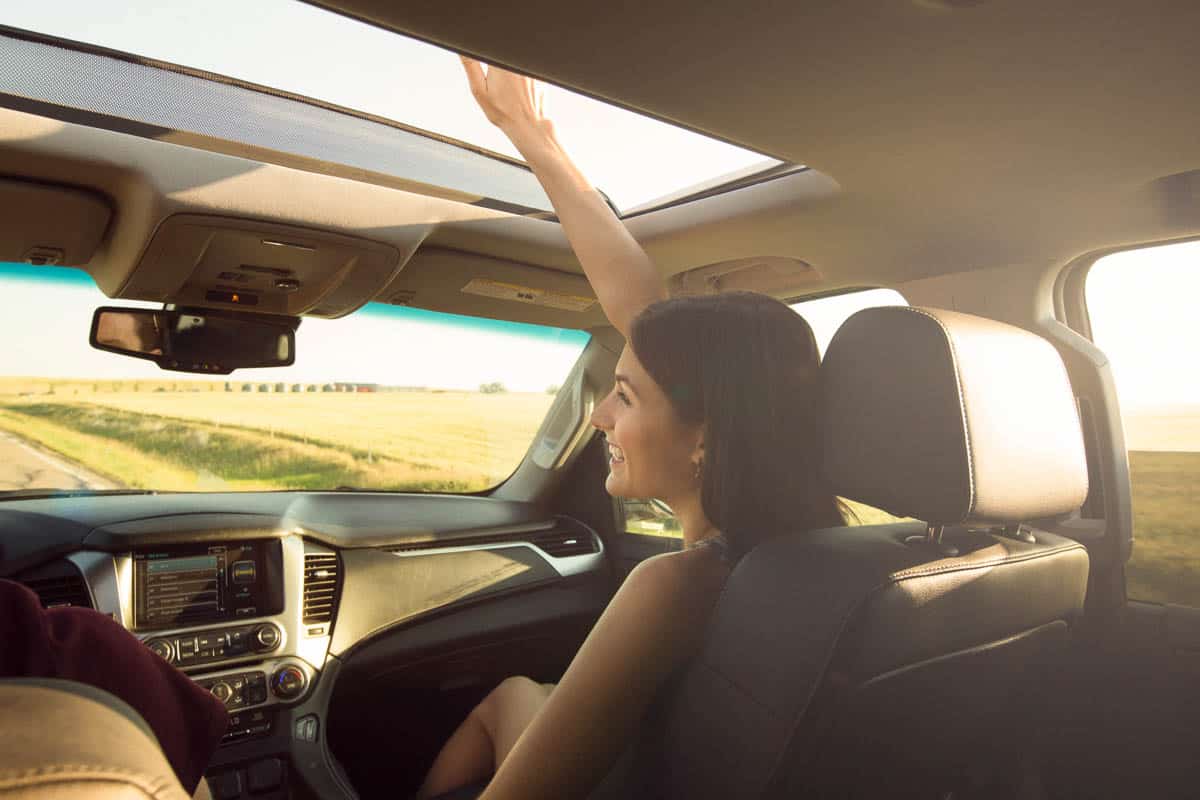 With so much to choose from regarding activities, where to eat, outdoor fun, family recreation, shopping options, festivals to plan for, and where to stay if you're making a multi-day trip — you might need a little help mapping out the logistics. This online travel guide will help you create the ultimate road trip east of Edmonton.
The Go East of Edmonton 2023 Travel Guide makes trip-planning a breeze, complete with easy to navigate colour-coded map, events guides, dining and shopping recommendations, recreational activity ideas, camping and lodging information, and more. Conveniently broken down into six parts, the guide maps out road trips out of Edmonton by region, with various things to discover.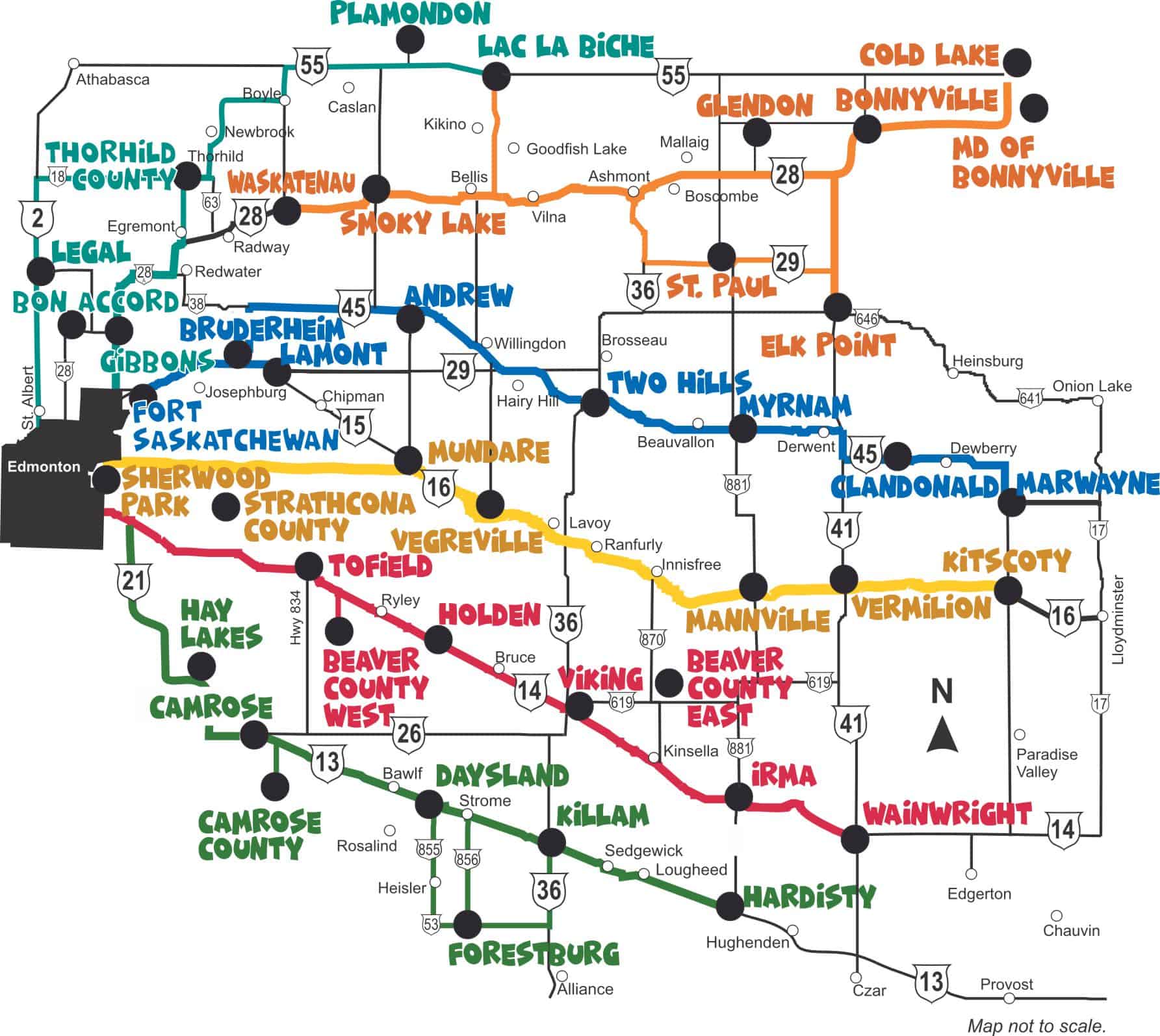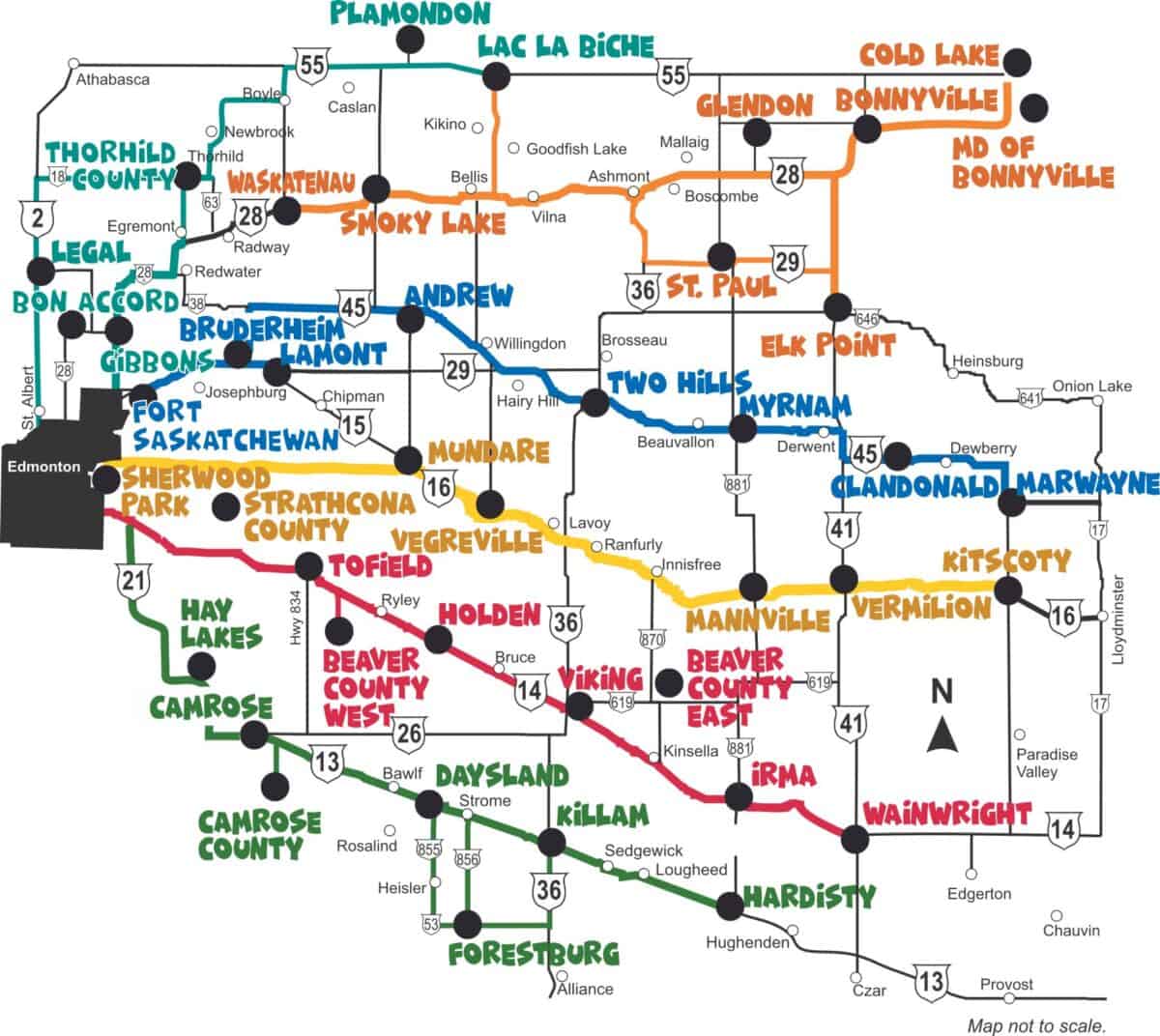 As you venture eastward, prepare to be stunned by the vistas of rolling prairies framed by picturesque fields and vibrant wildflowers that stretch as far as the eye can see. The open road beckons, inviting you to immerse yourself in the captivating beauty of Alberta's countryside!
There is something for everyone on a journey east of Edmonton — whether you're up for a summer carnival, or just want to find a good spot to relax in nature. Or, maybe it's just about getting a shot of the World's Largest Pyrogy for the 'gram (which is a totally legit reason to take the trip).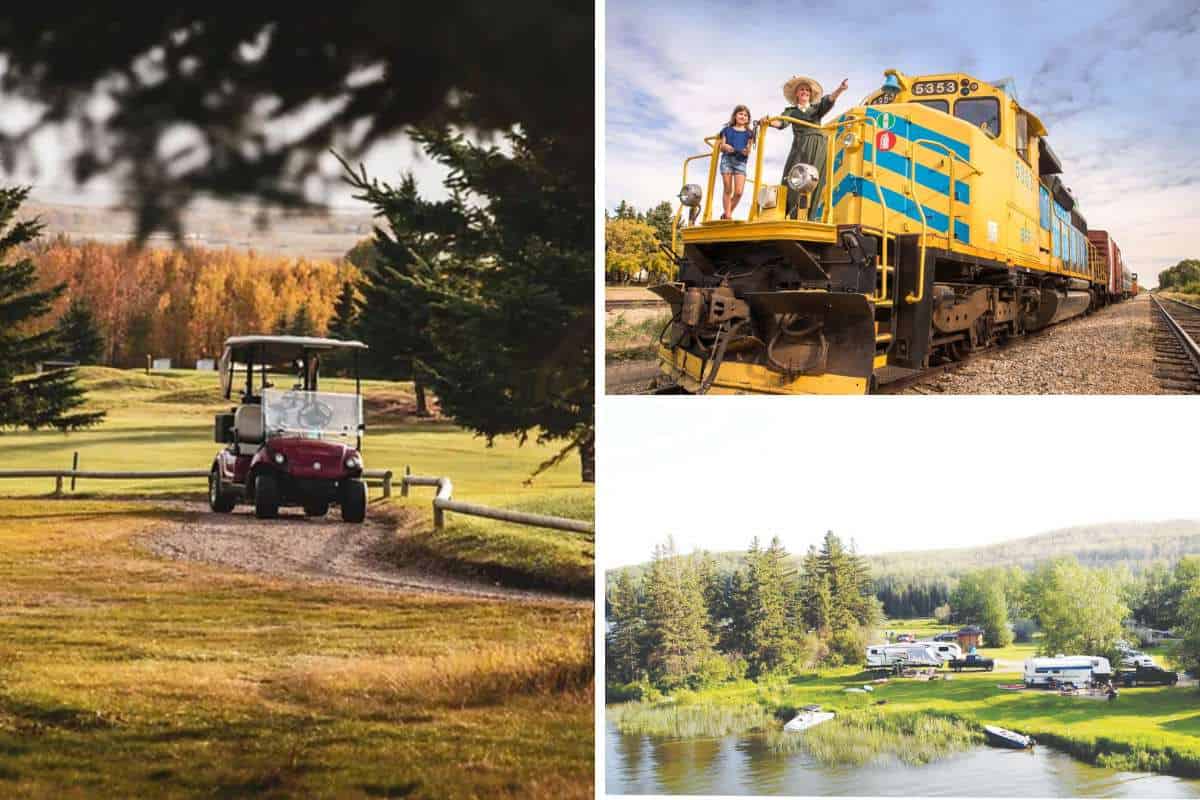 The drive and destinations alone are worth the trip, but why not make some more fun out of it with the Roadtrip Adventure Game? You'll have a chance to explore new places and make fun memories with the family while competing for over $6000 worth of goodies from local businesses. You can win fuel, food, merchandise, golf and attraction passes, camping and accommodations, cash, and more.
Journey through the picturesque landscapes east of Edmonton and enjoy charming small towns with delightful local shops and eateries to vibrant festivals celebrating the region's rich cultural heritage. Capture the essence of your road trip with stops at local farmers' markets, where you can savour farm-fresh produce and support local artisans.
Depending on your interests and what you'd like to see along the way, you have options…
6 Road Trips East of Edmonton
Teal Hwy 2-55: Bon Accord to Lac La Biche
Go north of Edmonton, where the Francophone culture abounds in Legal and Plamondon. Enjoy the beautiful river valley adventures in the Athabasca region and lakes throughout the Lac La Biche area surrounded by pristine parks, beaches and trails.
Gibbons
Discover Gibbons, a delightful little town perched on the scenic Sturgeon River. From Mile 26 Park, the starting point of the historic Athabasca Landing Trail, to the intriguing Oliver Park with the Gibbons Historic Museum, this town is steeped in history.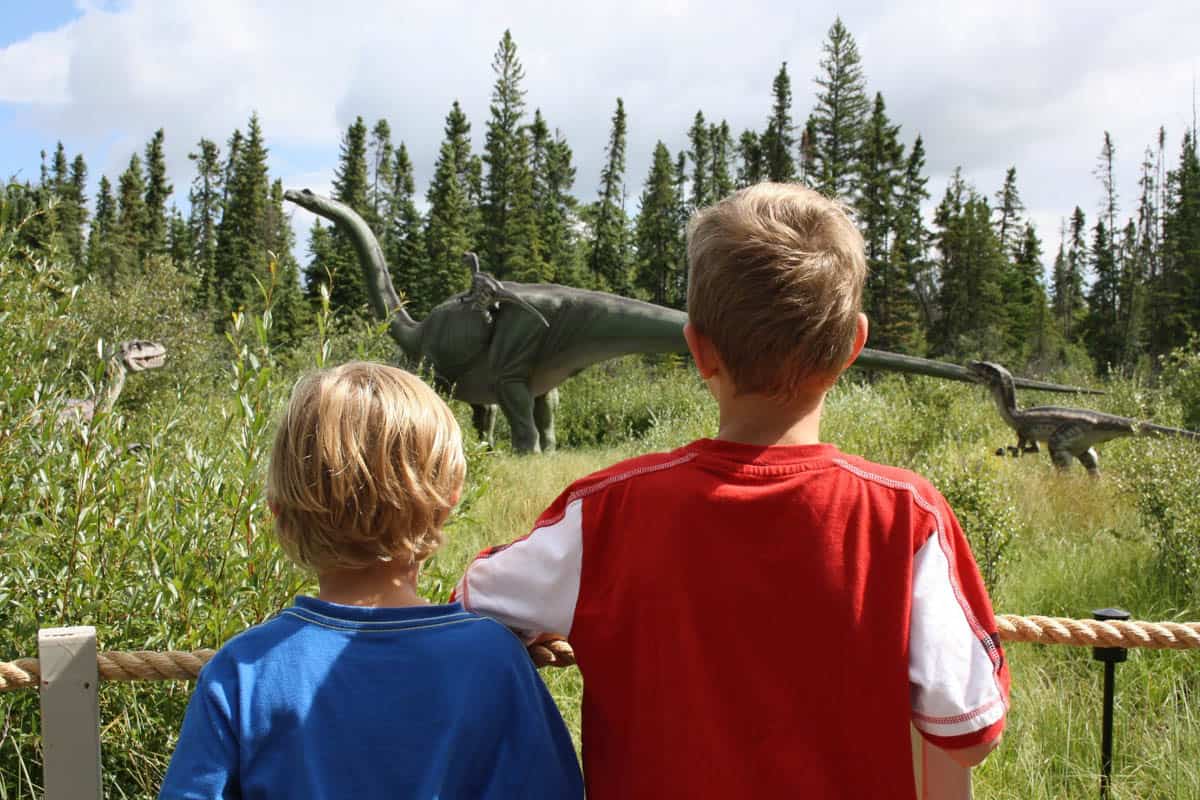 Enjoy annual events like Pioneer Days and the Community Garage Sale, and take advantage of fantastic facilities, including the skateboard park and spray park. Just north of town, find adventure at the thrilling Jurassic Forest Park and Goose Hummock Golf Resort. Gibbons perfectly blends heritage, natural beauty, and modern amenities for unforgettable family fun.
Legal
The town of Legal is committed to preserving its French culture, which dates back to 1894, when settlers from France and then Quebec came to the area. Legal is also known as the French Mural Capital of the World per capita!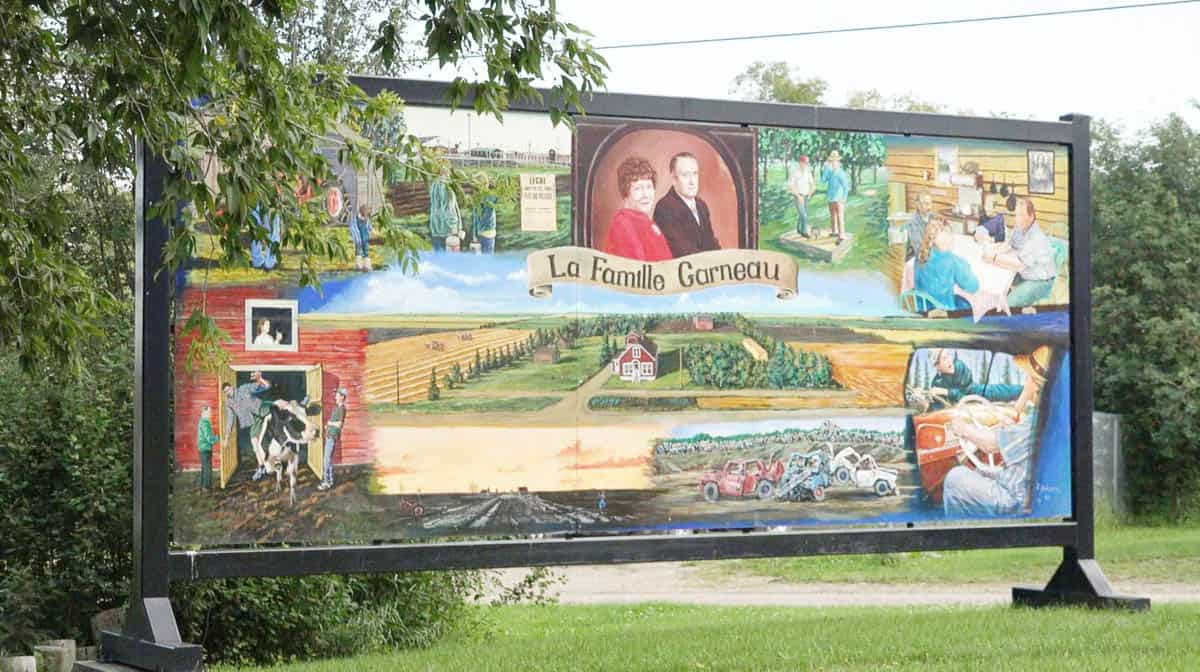 There are over 35 murals proudly displayed around Legal, welcoming visitors to this bilingual community. Additionally, you can browse the shops on Main Street, enjoy the local cuisine, or drop a fishing line in the stocked trout pond. Legal prides itself on being a safe, active, and bilingual community.
Lac La Biche
Experience the natural wonders of Lac La Biche, surrounded by sandy beaches, lush boreal forests, and picturesque lakes. It's an outdoor adventurer's paradise with over 100 lakes and 1,000 campsites. Enjoy fishing, hiking, and boating right in Lac La Biche or explore Sir Winston Churchill Provincial Park, Alberta's only island provincial park, with its appealing trails and campsite areas. Check out the annual Lac La Biche Pow Wow Days in July and the exciting Lakeland Country Fair & Rodeo in August!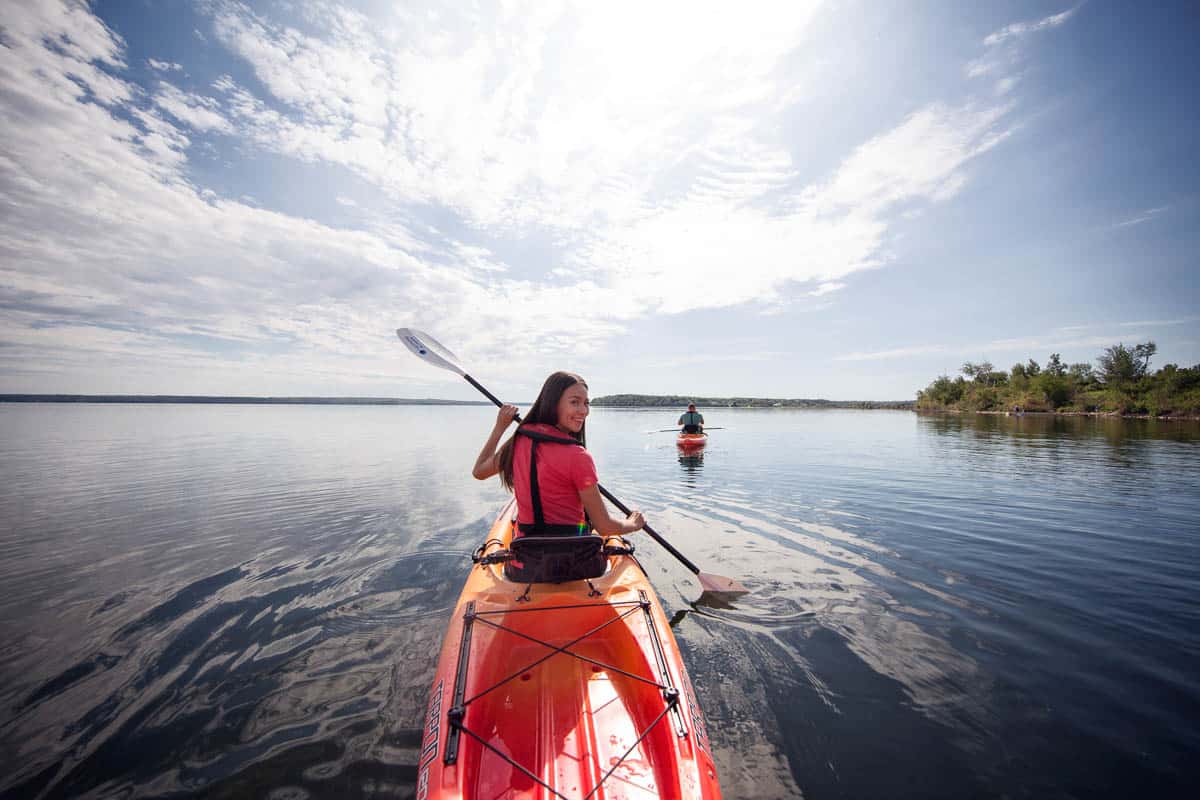 Other worthy stops on this route:
Athabasca Region
Plamondon
Bon Accord
---
Orange Hwy 28: Waskatenau to Cold Lake
This route will take you northeast of Edmonton from the Smoky Lake region to St Paul, Lac La Biche regions and east to Bonnyville and Cold Lake.
Smoky Lake
This picturesque town and area offer abundant opportunities for outdoor recreation, camping and hiking. Known as the Pumpkin Capital of Alberta, Smoky Lake hosts the annual Great White North Pumpkin Weigh-off & Fair, a delightful event held every October. Experience the awe of giant pumpkins, explore the vibrant Farmers' Market and Art Show, and engage in fun kids' activities.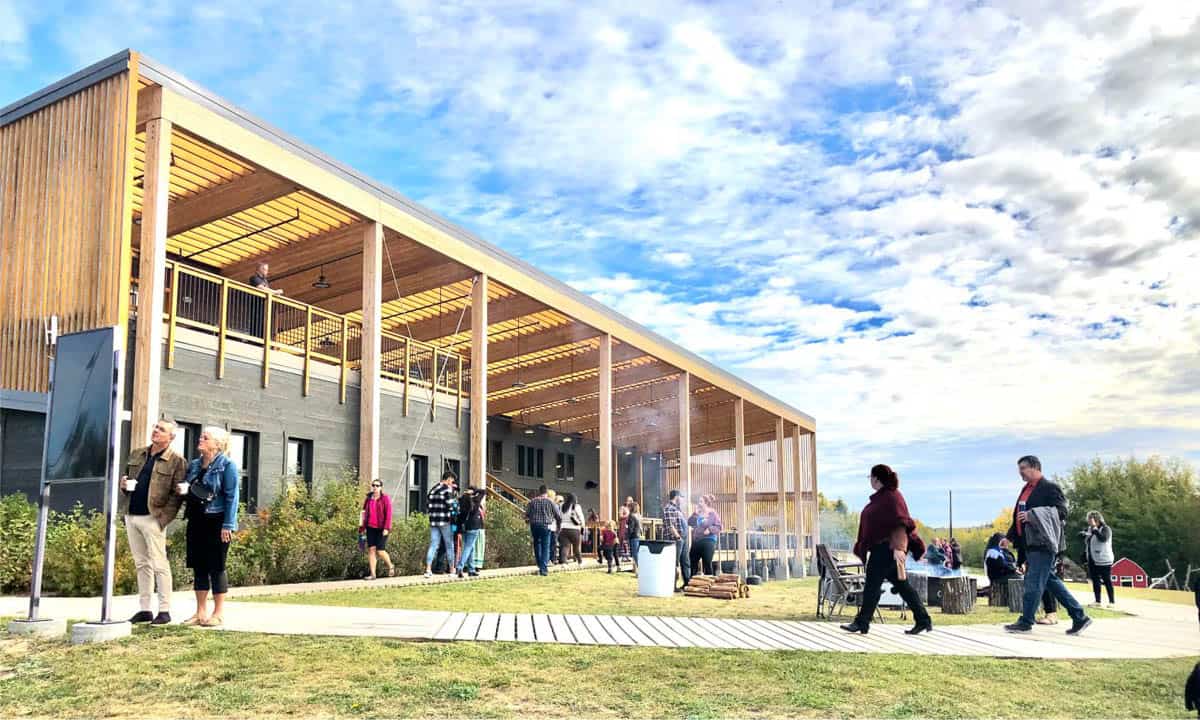 Smoky Lake Region is also a gateway to Alberta's Iron Horse Trail, providing endless adventure for hikers, bikers, ATV enthusiasts, and horseback riders throughout the year. Don't forget Alberta's first major Métis cultural interpretive destination: Métis Crossing. Created as a place for Métis people to share Métis stories, they welcome everyone to join them for family-fun and cultural learning.
MD of Bonnyville
Have you ever wondered what standing underneath a 25-foot-tall Pyrogy would be like? Luckily you can experience it in Glendon! Visit Pyrogy Park for a family picnic and capture unforgettable moments. Enjoy modern playgrounds, including a fun zip line, and don't miss the famous Glendon Pyrogy Festival.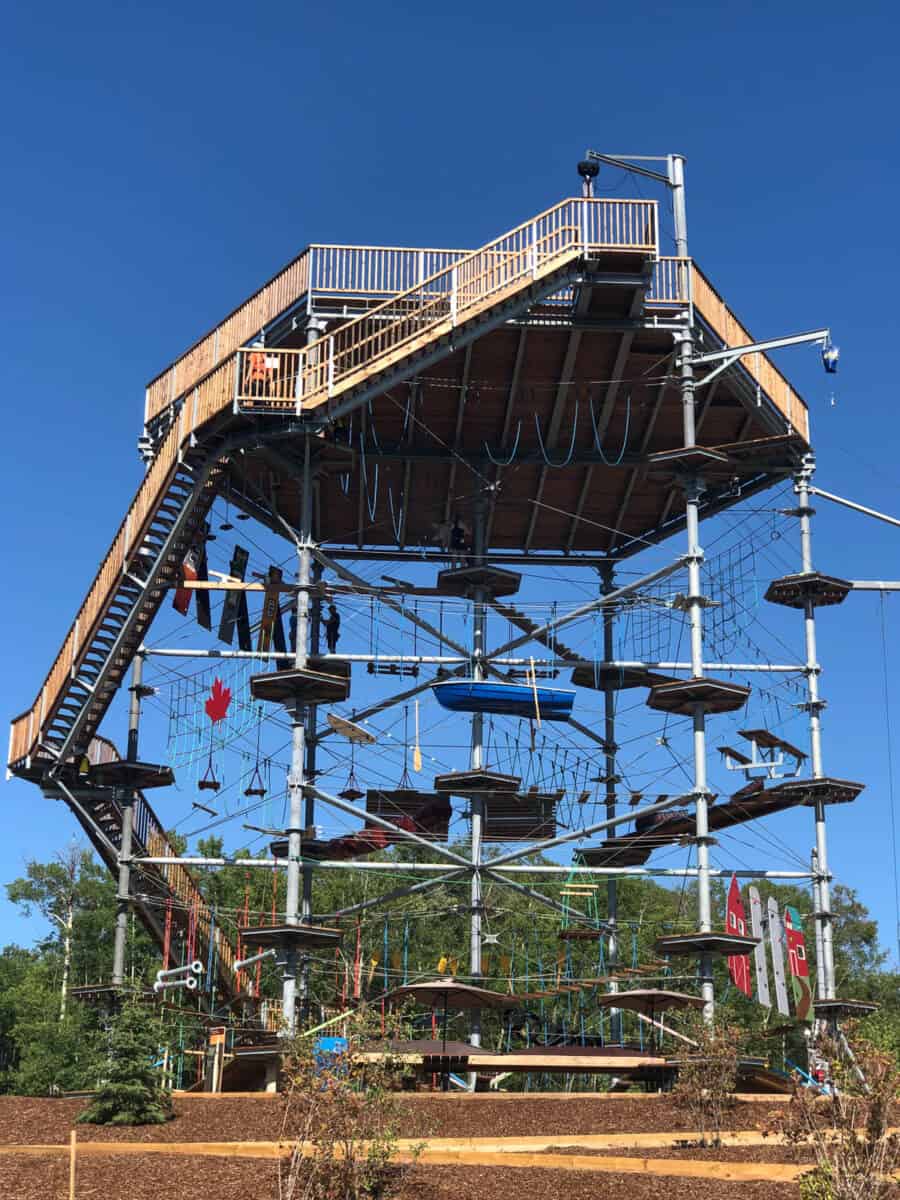 The MD of Bonnyville is famous for its lakeside campgrounds, and be sure to check out the new Kinosoo Ridge Aerial Adventure Park for a one-of-a-kind experience in the region.
Cold Lake
Cold Lake is a captivating city surrounded by natural beauty, offering a year-round playground for adventurers. With clear blue waters, sandy beaches, and lush forests, it's a paradise for water enthusiasts, beachgoers, fishermen, and outdoor lovers. Experience the thrill of the 1/2 km long Beaver River Trestle on the Iron Horse Trail, and discover endless camping opportunities.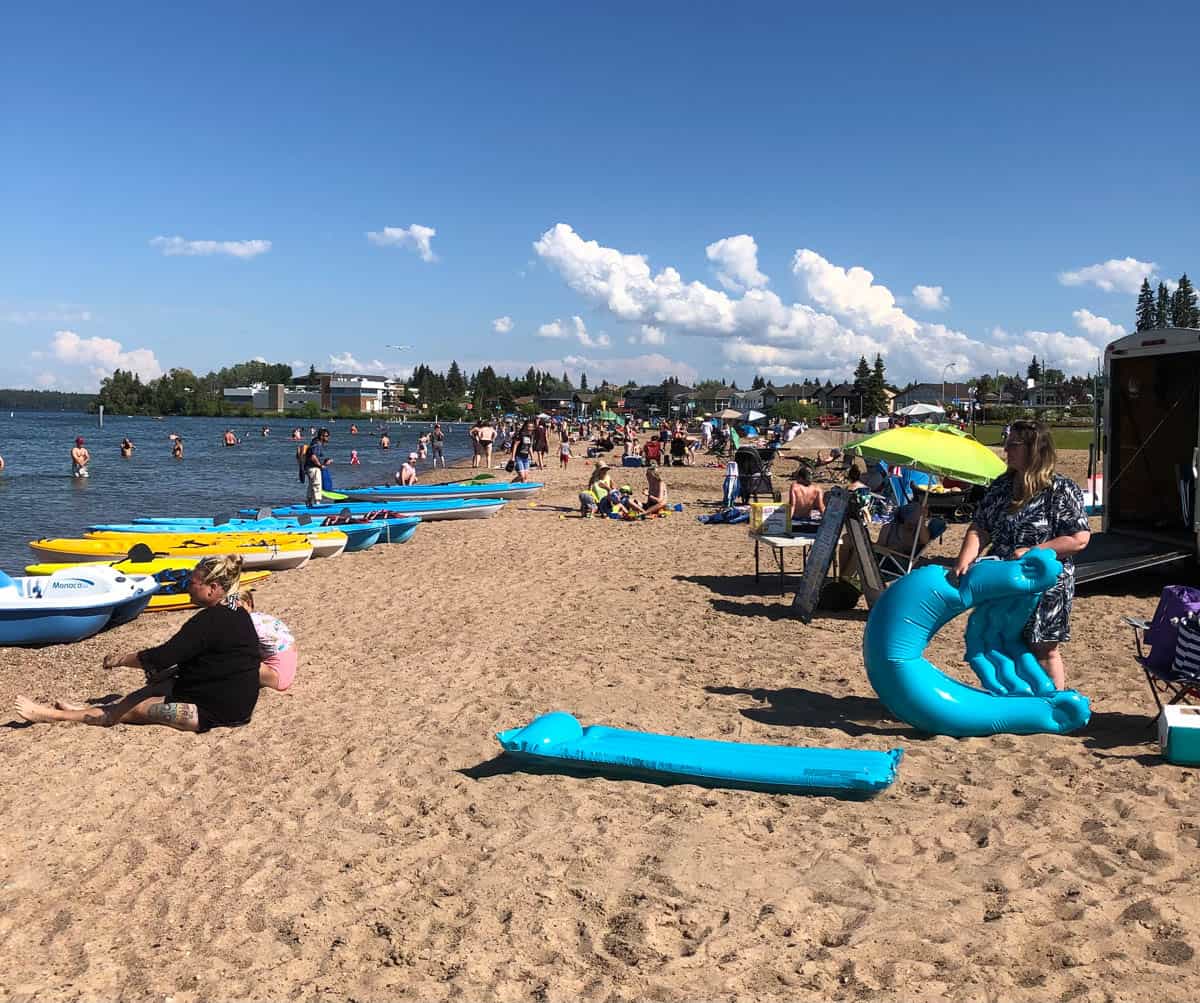 The Energy Centre hosts exciting events, from sports to concerts, while Casino Dene provides gaming, dining, and relaxation. Cold Lake is where nature meets adventure, creating unforgettable experiences for all.
Other worthy stops on this route:
St. Paul
Bonnyville
Elk Point
Waskatenau
Vilna
---
Blue Hwy 15-45: Fort Saskatchewan to Marwayne
This route will take you through the city of Fort Saskatchewan, Lamont County, as well as many towns and villages, including Bruderheim, Andrew, Two Hills and more.
Fort Saskatchewan
Discover Fort Saskatchewan, nestled in Alberta's Heartland, offering a delightful fusion of urban amenities, rich history, and small-town charm. Explore the Fort Heritage Precinct downtown, situated along the serene North Saskatchewan River.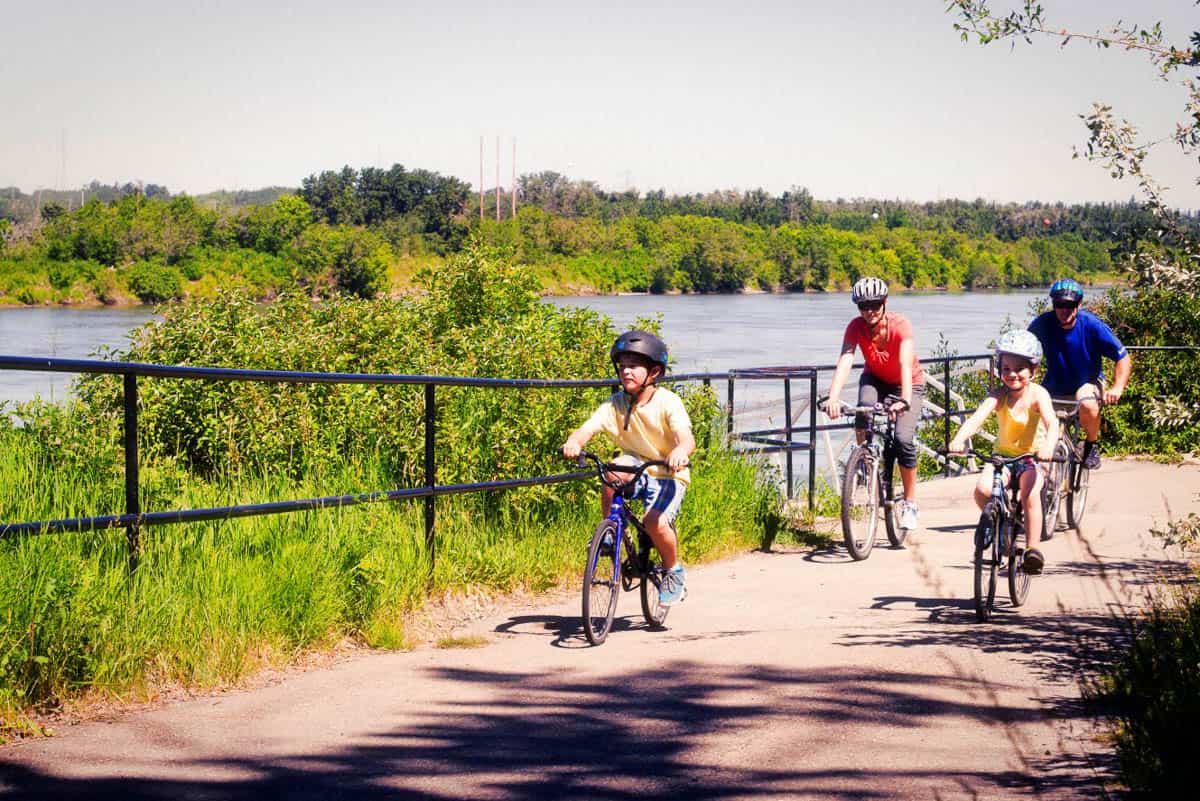 Enjoy picnics at Turner or Legacy Park, relax at the Lions Campground, cool off at the Kin Family Spray Park, or fish at the Lion's Fish Pond. With over 75 km of paved trails, it's perfect for scenic walks, bike rides, or cross-country skiing. There's even a skateboard park and local golf courses for added excitement.
Andrew
Indulge in the quaint allure of Andrew, where a leisurely stroll down Ed Stelmach Avenue, named after Alberta's 13th Premier and a local resident, invites you to soak up the small-town charm. Don't miss the chance to snap a picture with the iconic World's Largest Mallard! Discover wildlife viewing areas, delve into history at the Andrew Museum, and join the lively Garlic Festival in October.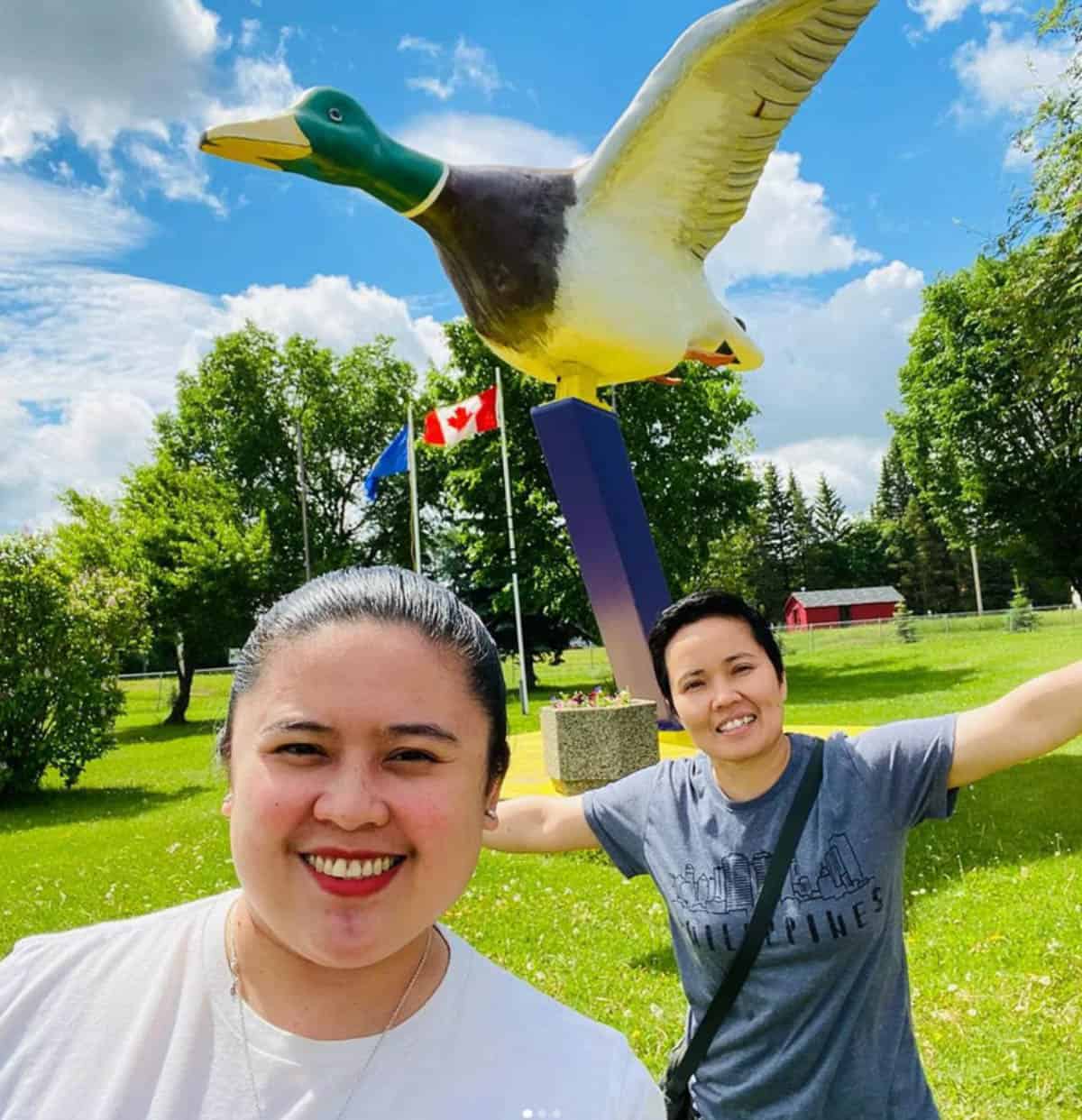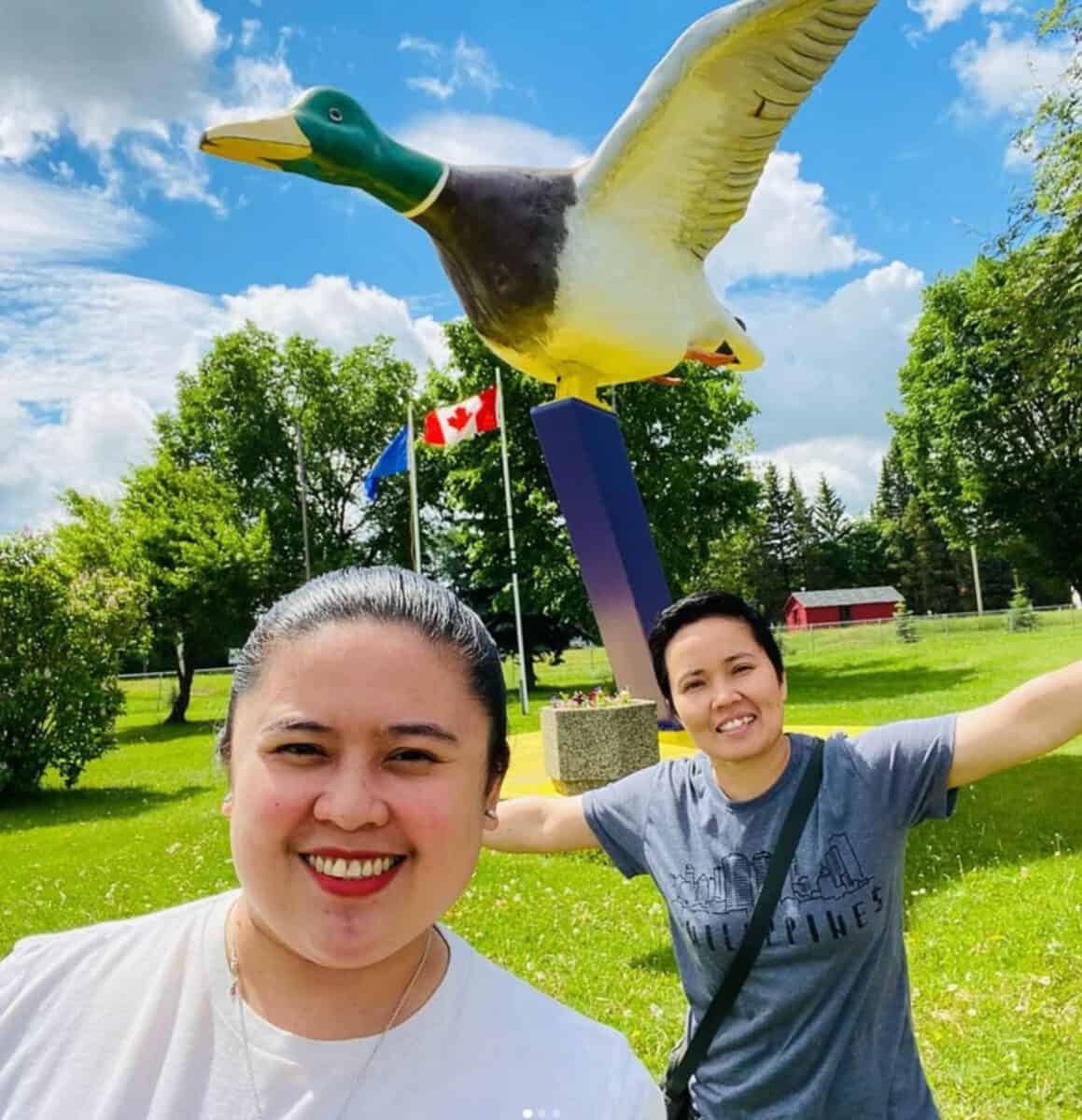 Don't miss the Saturday Farmers' Market for fresh produce and unique crafts. Andrew can provide history, nature, and community spirit in one delightful package.
Two Hills
Embrace the multicultural charm of Two Hills, a location that warmly welcomes diverse backgrounds. Discover the unique blend of European and Mexican influences in local dining and shopping, thanks to the Mennonite families who have made this town their home.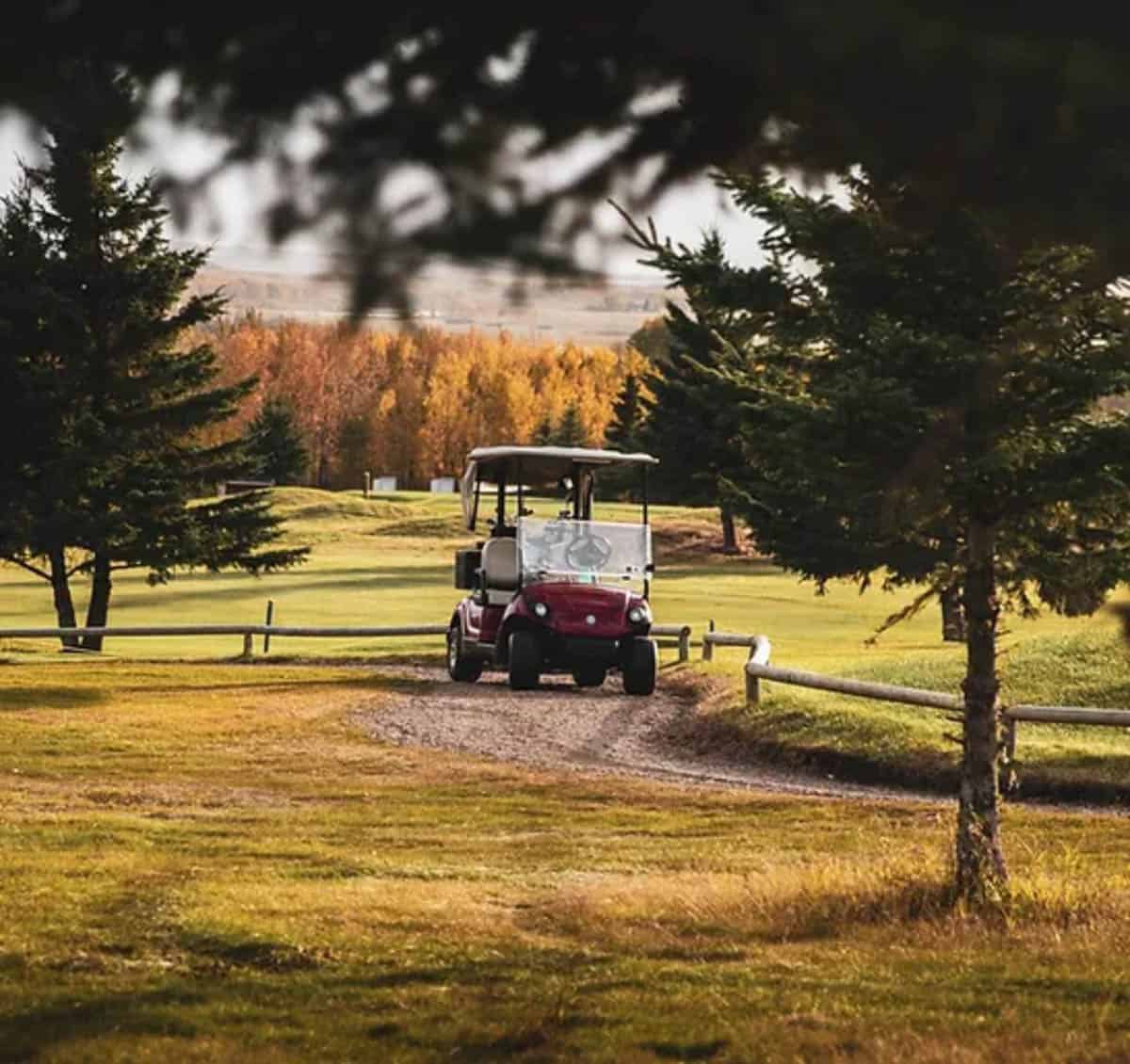 Pay tribute to the Ukrainian settlement with a visit to Pioneer Park, where a bronze statue honours the Dowhaniuk pioneers. The scenic and challenging Lions Golf & Country Club awaits golf enthusiasts, offering a meticulously designed links-style course with breathtaking surroundings.
Other worthy stops on this route:
Bruderheim
Lamont
Chipman
Myrnam
Marwayne
---
Yellow Hwy 16: Sherwood Park to Lloydminster
The Highway 16 route takes you east of Edmonton from Sherwood Park, the newly established Beaver Hills Biosphere through Vegreville, Vermilion to Lloydminster at the Saskatchewan Border. Enjoy lots of awesome attractions and shops all along the way!
Vermillion
With a population of over 4,500, Vermilion offers cultural, recreational, and commercial attractions. Explore Vermilion Provincial Park for kayaking and outdoor adventures. This year-round park features hiking trails, a spray park, mini-golf, soccer fields, a trout pond, and playgrounds.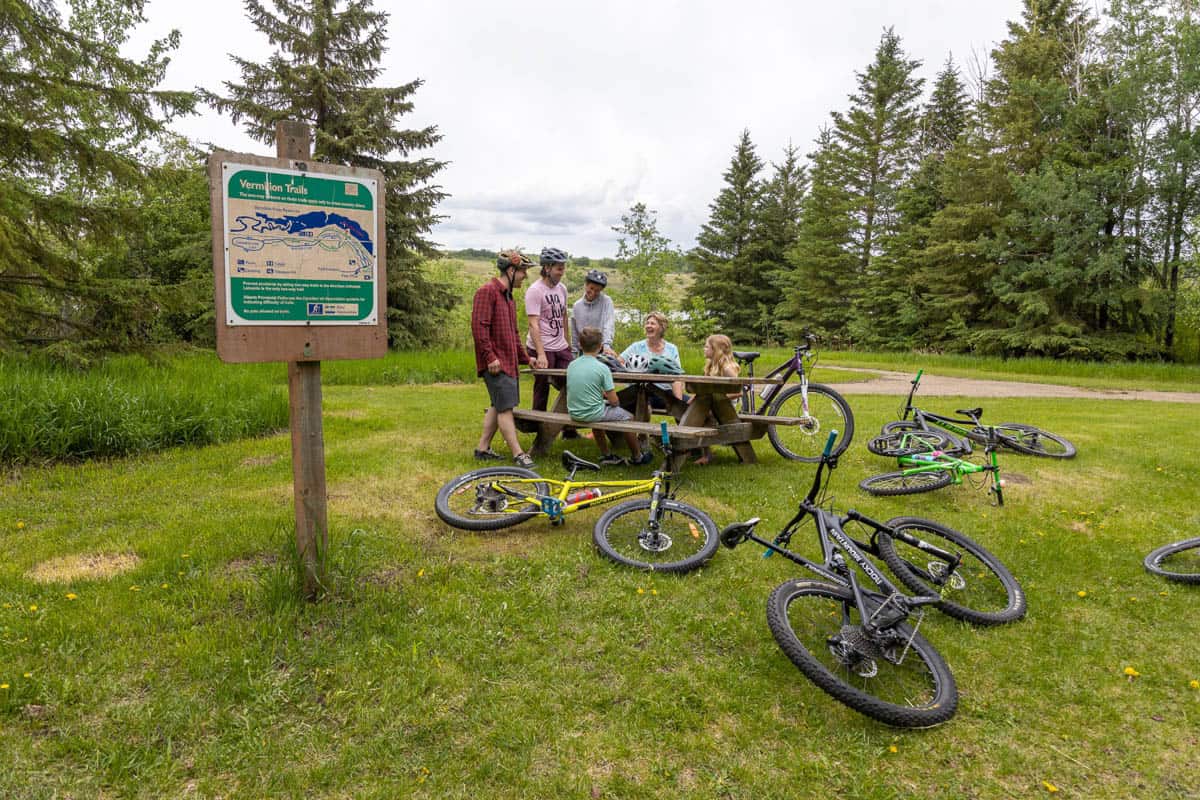 You can also step into the past at the Vermilion Heritage Museum, housed in a historic school with seven galleries and two display buildings. And finally, explore downtown Vermilion for a unique variety of must-see shops, including the Craigs Cornerstone shopping experience.
Vegreville
Vegreville has a rich history with many new shops and services which makes this growing community of over 5,700 residents a welcoming stop on any road trip! Be sure to visit the World's Largest Pysanka, an amazing, giant Ukrainian Easter Egg that was built in 1974 to honour the RCMP. Interestingly, Borrow-A-Bike and Borrow-A-Boat Programs are available at the Visitor Information Centre, where you can take a bike or paddle boat for an hour, or for the day.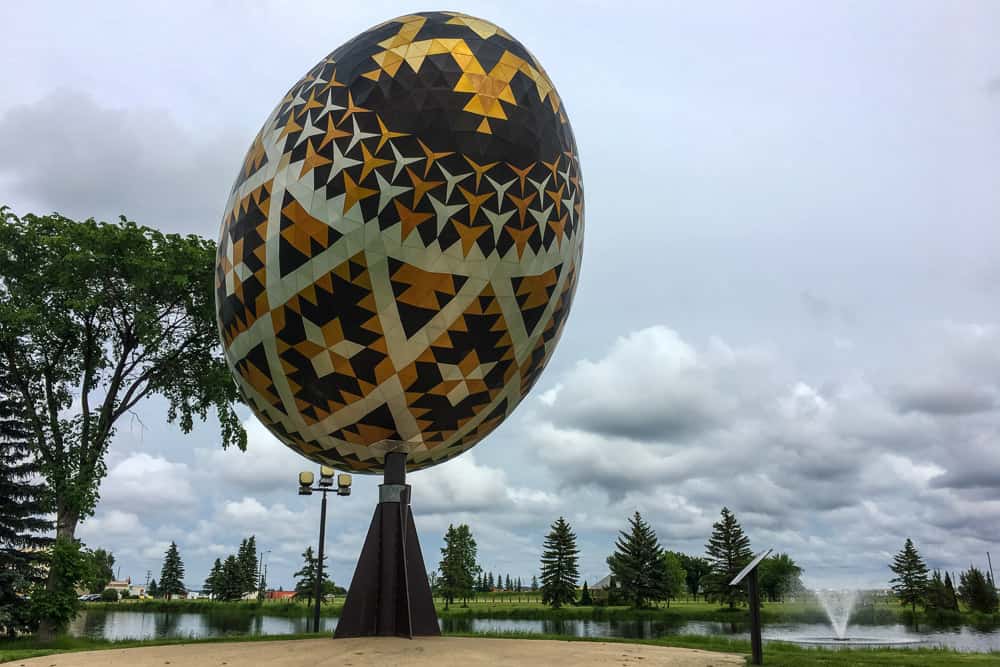 A must-see is the Pysanka Park area, where you can #pickupthepysanka (a social media photo challenge), or enjoy a lovely picnic and a game of mini-golf (coming soon). Don't forget to make plans for the annual early July Pysanka Festival (celebrating 50 years this year)!
Strathcona County
Strathcona County, situated in the heart of Alberta's energy and agricultural region, is a flourishing community with over 98,000 residents residing. This county encompasses Sherwood Park, a bustling urban centre with amazing shopping, Farmers' Markets, local eateries and breweries, as well as a substantial neighbouring rural area of expansive parklands, productive farms, and charming hamlets.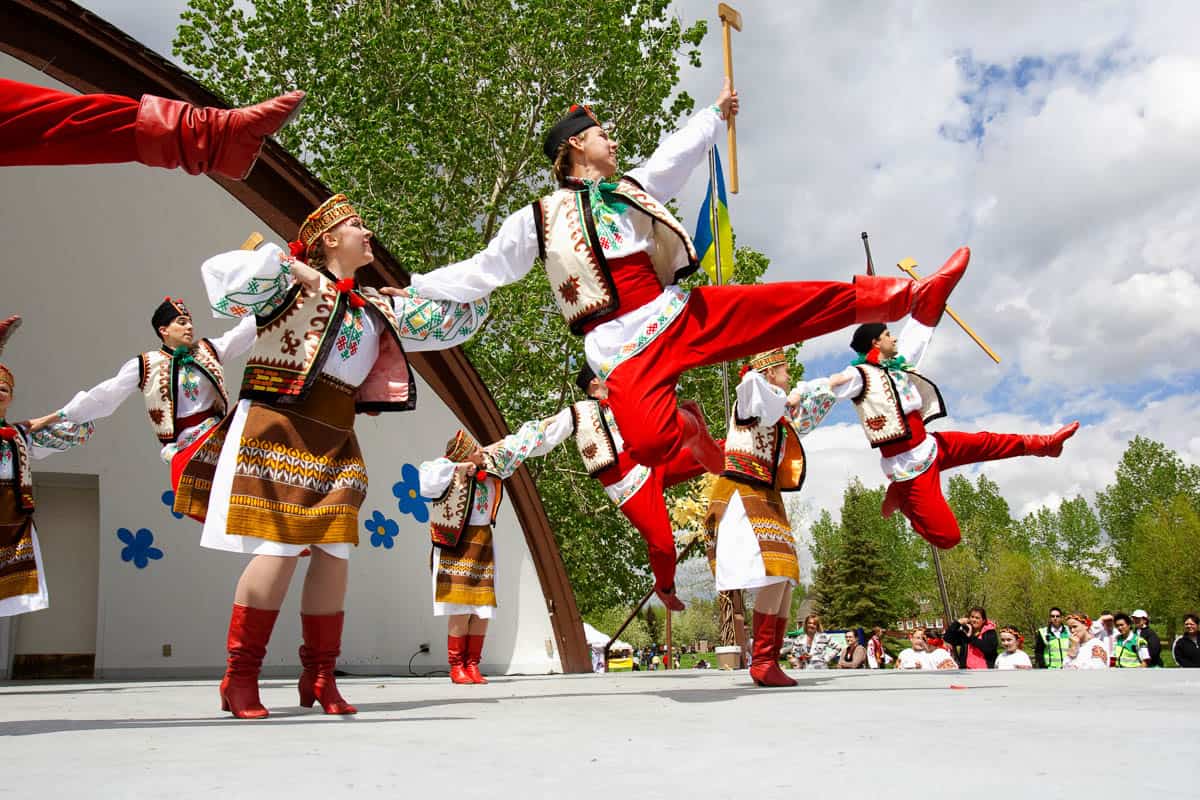 Must-see stops include Elk Island National Park where you can watch bison roam wild, the trails at the Strathcona Wilderness Centre, the Ukrainian Cultural Village, and the new Beaver Hills Biosphere.
Other worthy stops on this route:
Kitscoty
Innisfree
Paradise Valley
Mannville
Lloydminster
---
Red Hwy 14: Tofield to Wainwright
Take a journey along the Highway 14 route for exciting events throughout the year as well as some great markets, museums and much more.
Tofield
Tofield, a thriving small town with a population nearing 2,100, offers a range of unique local businesses. With planned growth in residential and commercial sectors, the community is focused on the future. Start your visit at the Beaverhill Lake Nature Centre and Museum, conveniently located on the service road.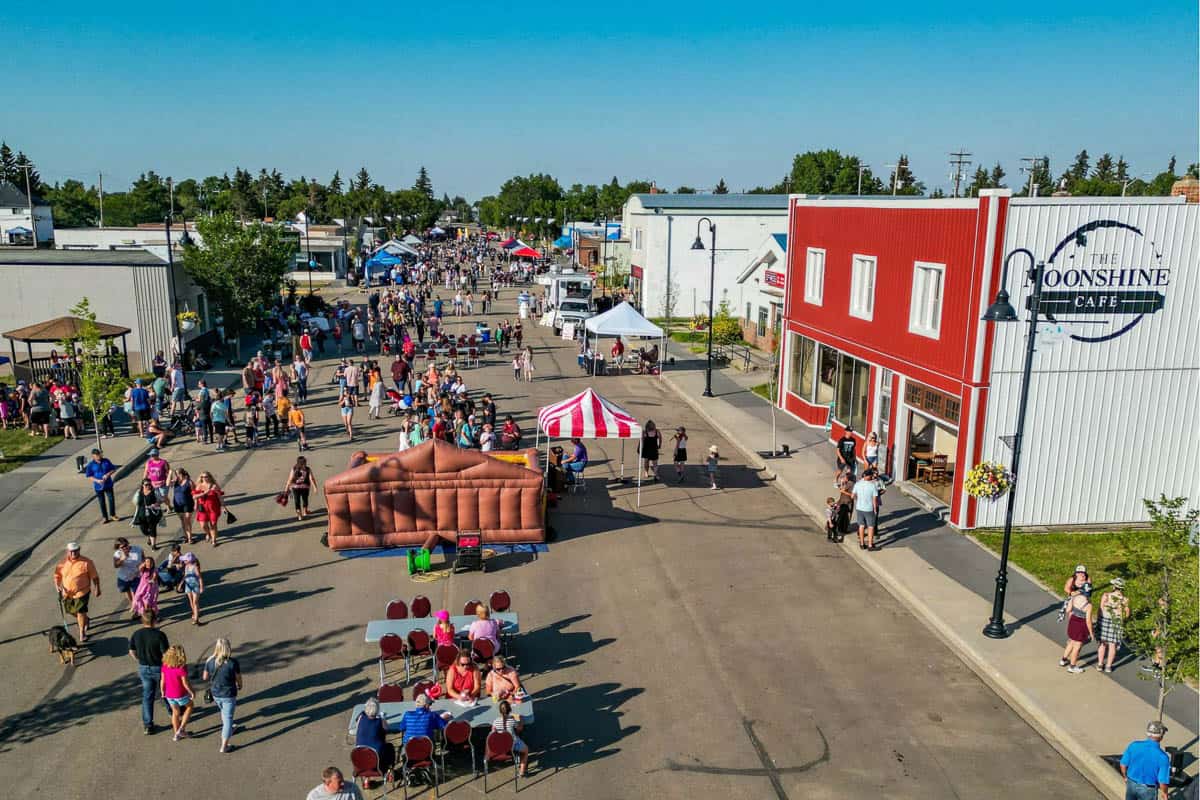 Discover helpful tourist information and explore the top-notch Tofield Museum. Enjoy a leisurely afternoon of birdwatching at Beaverhill Lake, a federally recognized Bird Sanctuary in Canada.
Viking
Viking is a charming small town that makes for a great place to visit. The Town of Viking is known famously as the home of the Sutter brothers; six Sutter brothers played in the NHL at the same time, often as team captains.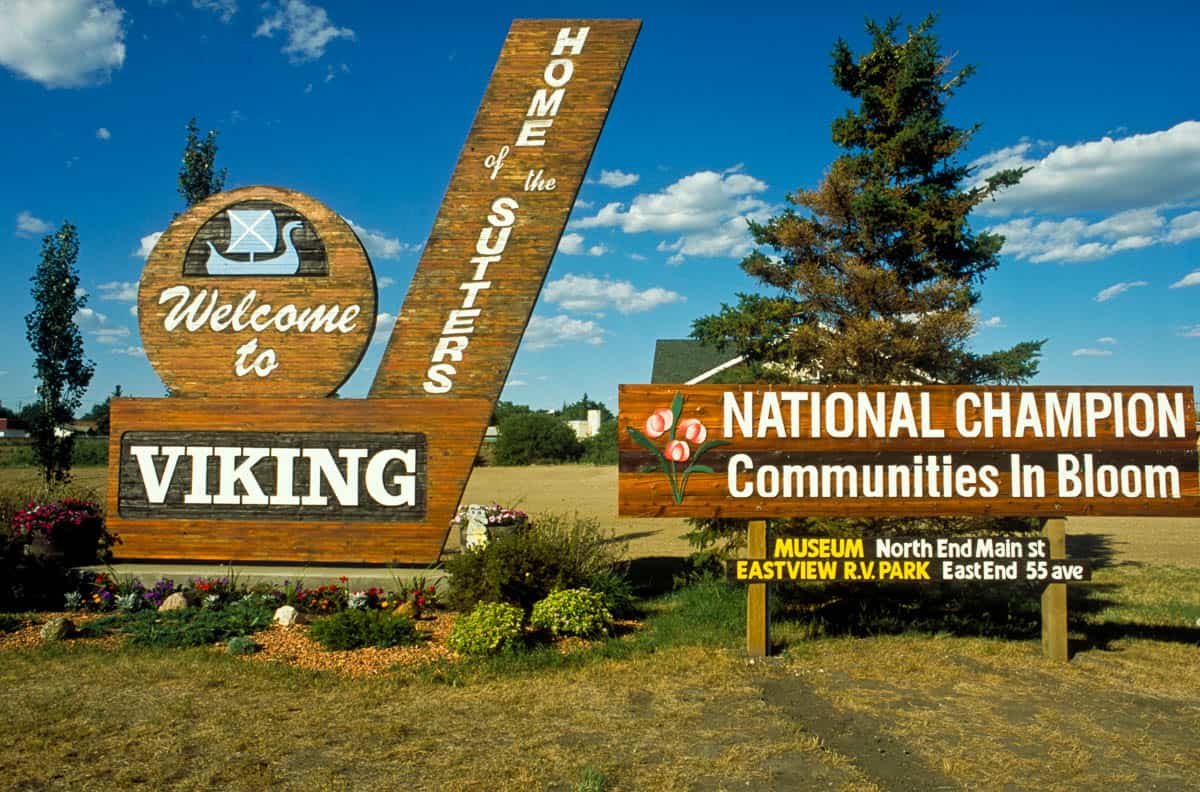 Take a trip back in time to the Viking Museum. Stroll through the village of restored buildings dating back from 1905-1938, including a one-room schoolhouse, log store, church, farmhouse, and hospital.
Wainwright
Wainwright, the Buffalo Capital of Canada, showcases its pride with the largest Buffalo Statue. Stay active at the Peace Memorial Multiplex, offering ice surfaces, a running track, and a climbing wall. Immerse yourself in prairie history at the Wainwright Museum, located in a historic train station.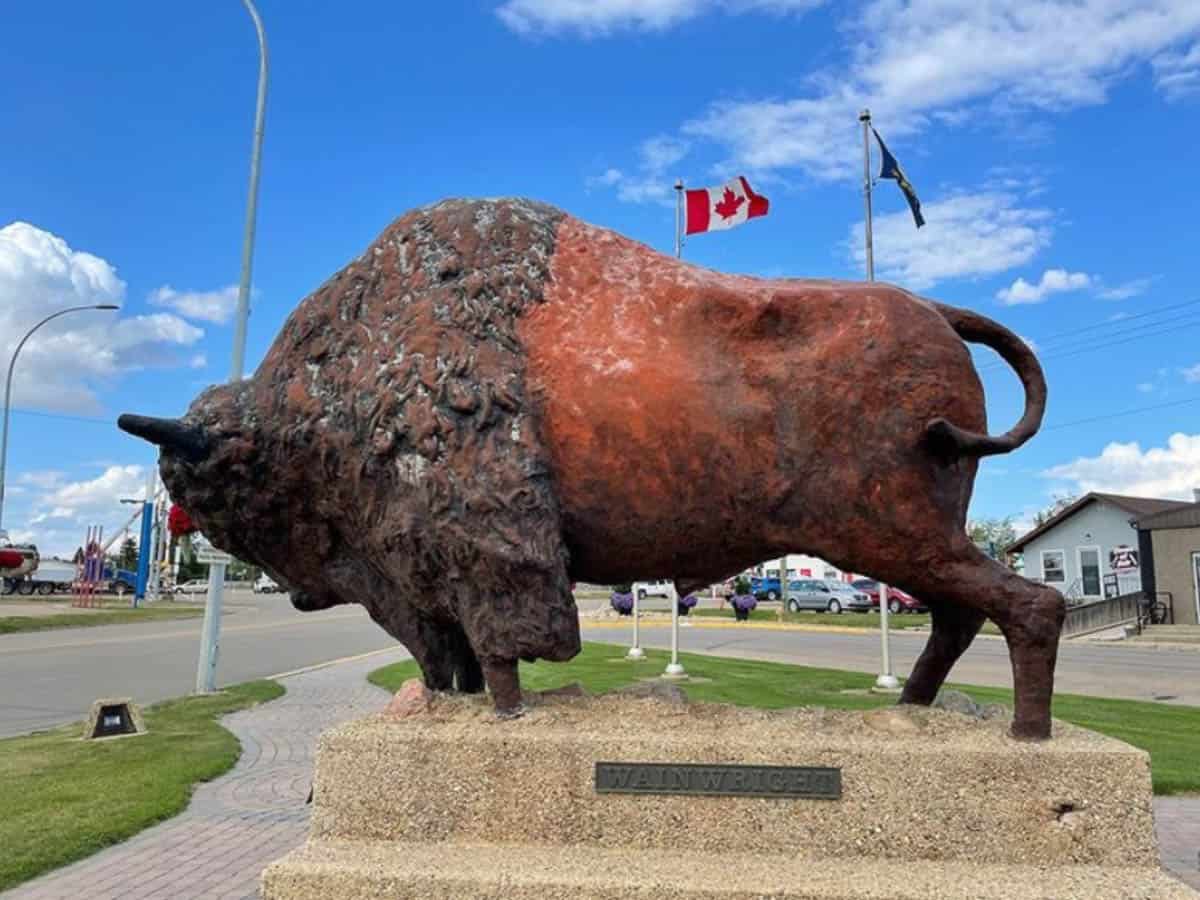 Visit the impressive Battle River Train Trestle. Discover the vibrant shops and boutiques in Historic Downtown Wainwright. Experience a lively town with city amenities but without the hustle and bustle.
Other worthy stops on this route:
Ryley
Holden
Irma
Edgerton
Chauvin
---
Green Hwy 13: Hay Lakes to Hardisty
This route will take you directly through the beautiful city of Camrose and Camrose County, as well as many towns and villages, including Daysland, Sedgewick and Provost. Fill up the tank and get started on a leisurely tour of Highway 13 and don't miss stopping in at some of the amazing destinations below!
Camrose
Upon arrival, you'll discover a lively and refined urban centre brimming with small-town charm. Historic structures are home to distinctive boutiques and specialty shops, offering a diverse range of products, including fashion for all ages, home decor, furniture, antiques, crafts, and exceptional dining experiences.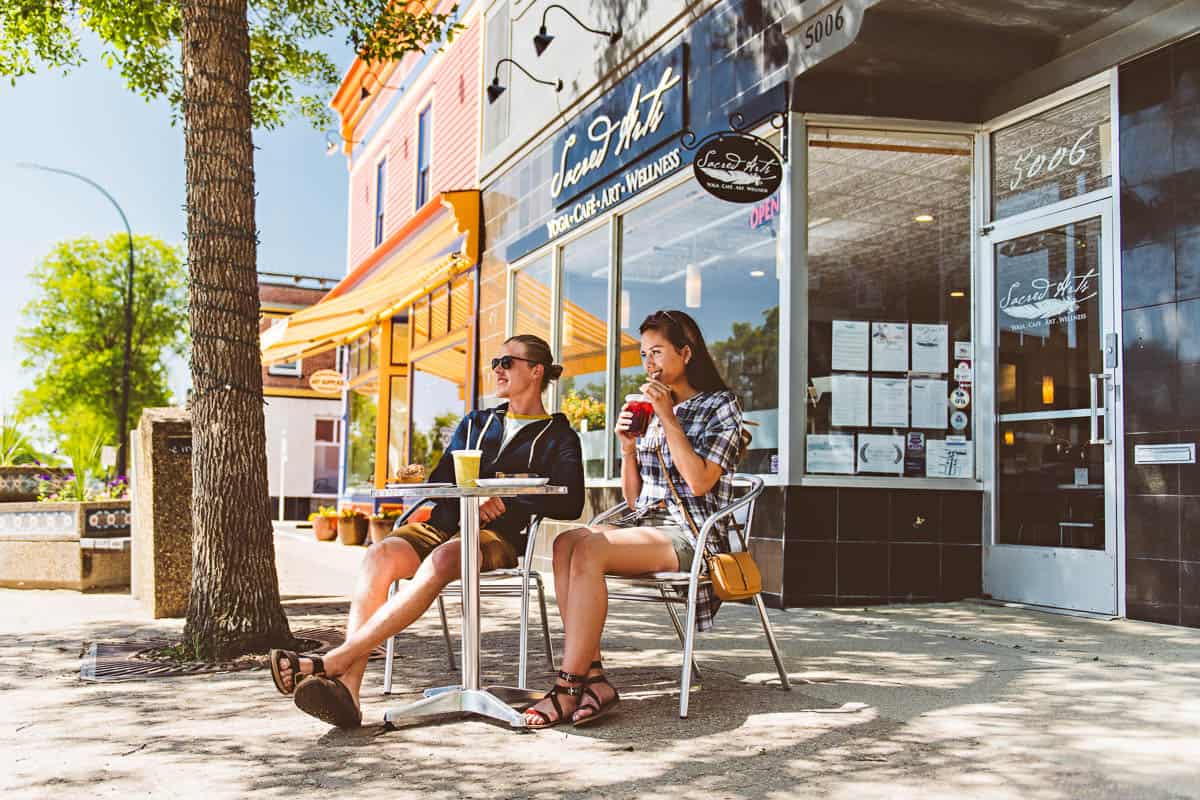 Don't miss the opportunity to hop on the Mirror Lake Express Train Rides, a meticulously crafted 92-ft long train carriage that accommodates 24 passengers, created by a talented local resident of Camrose.
Hardisty
With the slogan "More Than You Can Imagine," Hardisty embraces its stunning surroundings, offering abundant outdoor activities and year-round events. Don't miss the Annual Hardisty Rodeo, featuring a street fair, parade, chariots, chuckwagons, and combine crunch.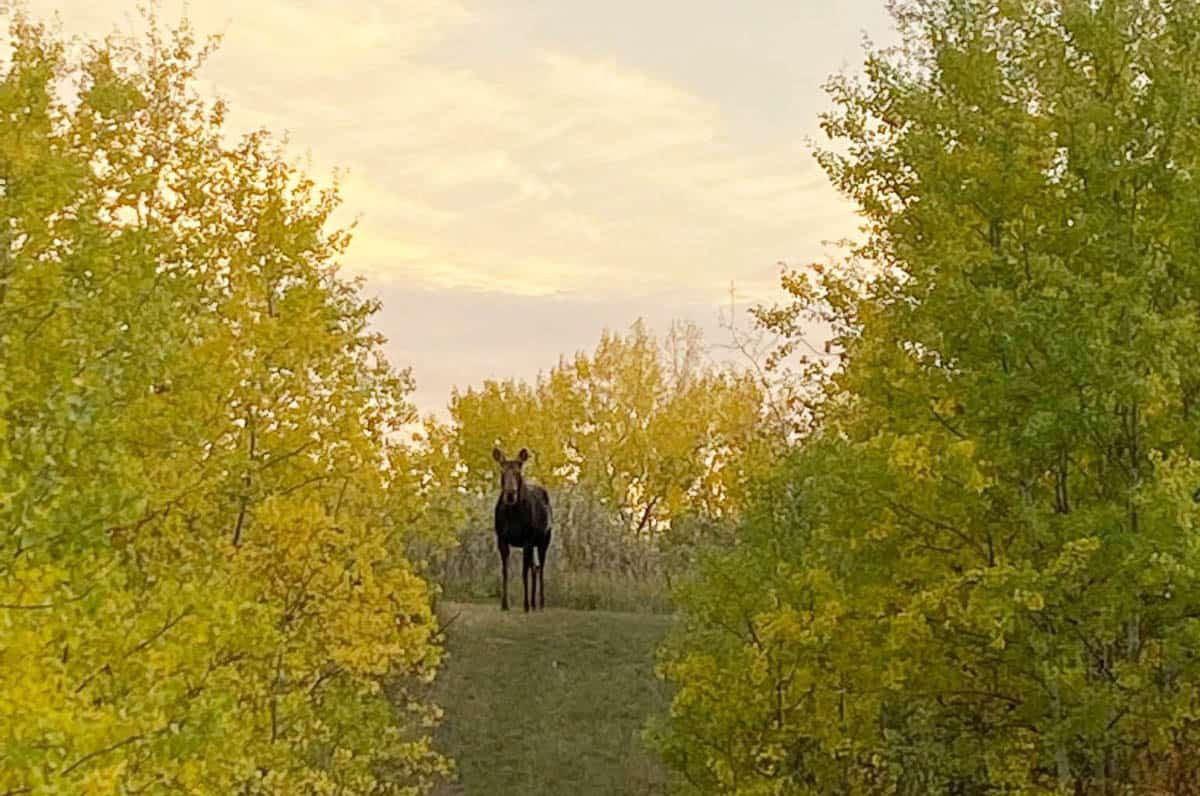 The convenient Hardisty Lake campground and public beach in town welcome campers and day visitors throughout the summer. Its picturesque sandy beach evokes warm-climate vibes and is perfect for a leisurely afternoon.
Forestburg
Just 20 km south of town, you'll find the scenic Battle River Valley, offering a distinctive natural environment and diverse recreational activities. Throughout its history, Forestburg has been shaped by coal mining, agriculture, and the railway, which continues to serve the region through the Battle River Railway.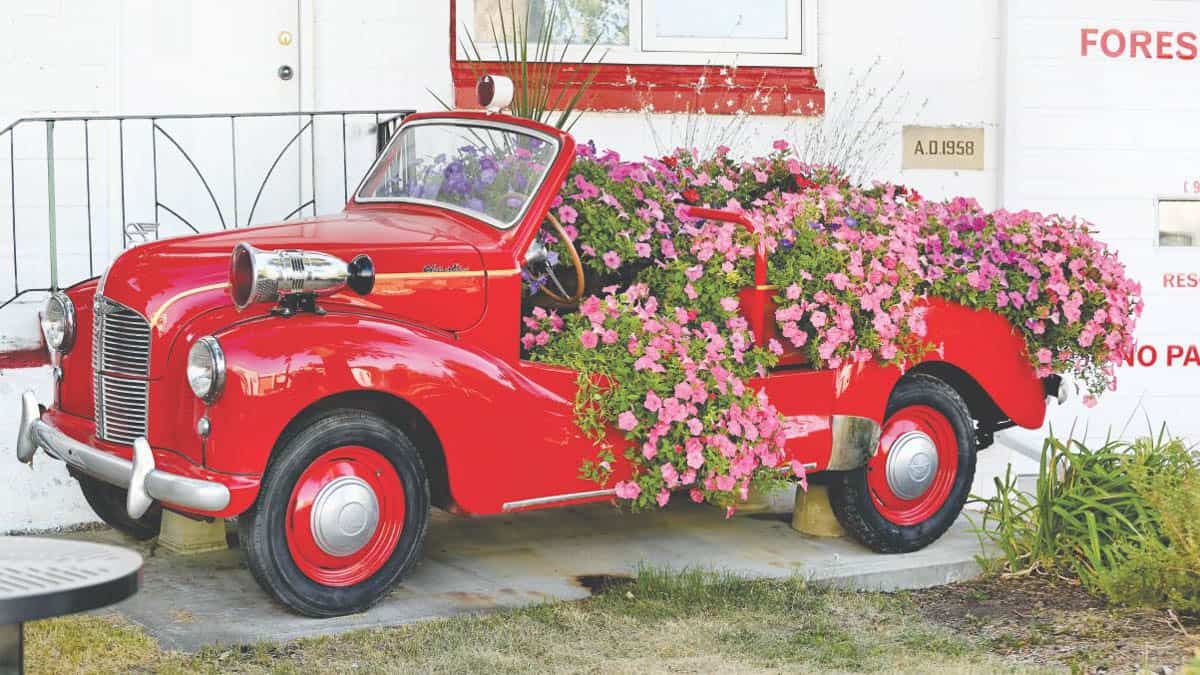 The town takes great pride in their well-kept homes, beautiful yards, and friendly atmosphere. Forestburg has also been recognized as a former National Winner of the Communities in Bloom competition, showcasing its commitment to civic excellence.
Other worthy stops on this route:
Hay Lakes
Daysland
Sedgewick
Killam
Lougheed
Provost
---
Join the fun and get ready to win with this exciting "Go East of Edmonton" game! How to play:
1. Sign up online
Why signup? Well, for starters, you'll be in the loop! Any changes or updates to the Game will be sent directly to you. Plus, some special promotions and surprises are planned exclusively for signed-up players. You'll automatically be entered for over $1,000 in Bonus Prizes in 2023! Don't miss out…sign up here.
2. Plan an epic road trip
Whether you choose to explore one or all of the regions, get ready for an adventure like no other! You and your family can use the Travel Guide or visit the East of Edmonton website for more inspiration. Check out the Game Map and decide: East, Northeast, or Southeast.
3. Get your game board
Download your game board from the website.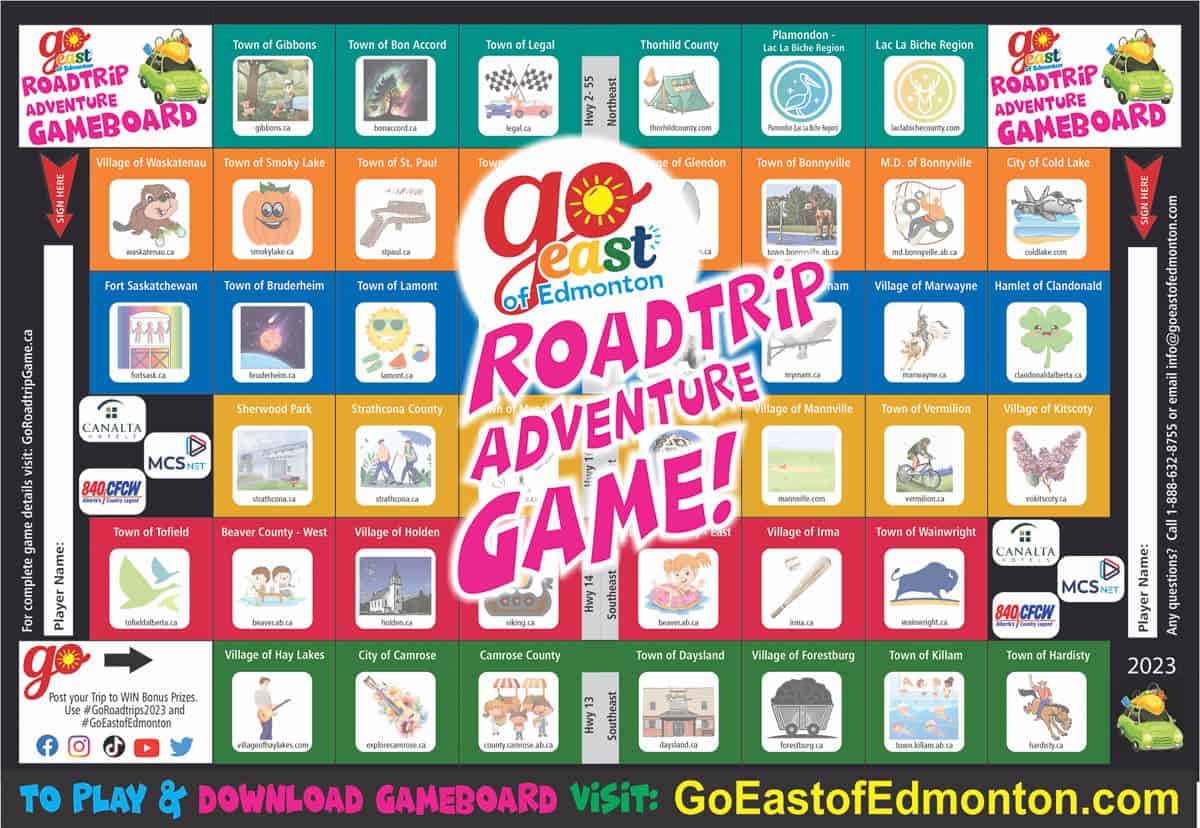 4. Collect stickers
Collect FREE fun Icon Stickers at the Sticker Stations located in 43 Communities. Don't miss the Sticker Station pages for all the details. The Game starts on June 1 and ends on September 3, 2023.
5. Find your treasure
Remember, you must present your Game Board at the Sticker Stations to collect your awesome stickers. Each family can have up to 4 Game Boards, so you can download extra ones, just in case! At each station, be sure to scan the QR code so you can enter for even more bonus prizes and learn about deals and places to go in that area.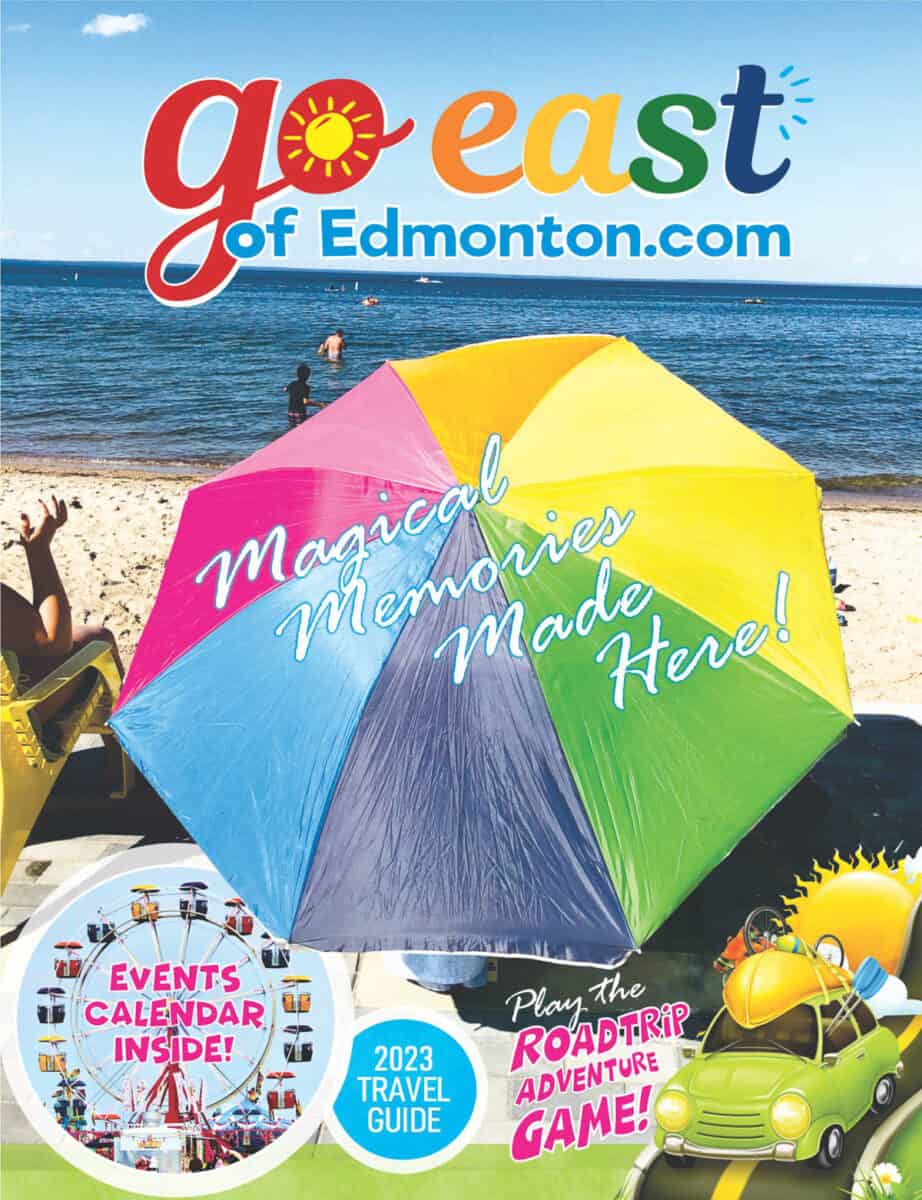 6. Upload your completed Game Board
Sticker Stations close on September 3, but don't worry, you have until September 10, 2023, to upload your Game Boards and enter for the prizes. The game isn't over until it's over!
7. Don't delay!
Be an early bird and submit your entries. Bonus Prizes will be drawn monthly from players who have already entered their Game Board. Check out the Wall of Fame to see who's in the running and feast your eyes on some incredible photos from this year's game.
A road trip east of Edmonton is not just a journey from one destination to another; it's an opportunity to embrace the beauty of Alberta's landscapes, immerse yourself in diverse cultures, and create unforgettable family memories. So pack your bags, hit the road, and let the wonders of the East unfold before you.
Adventure awaits east of Edmonton!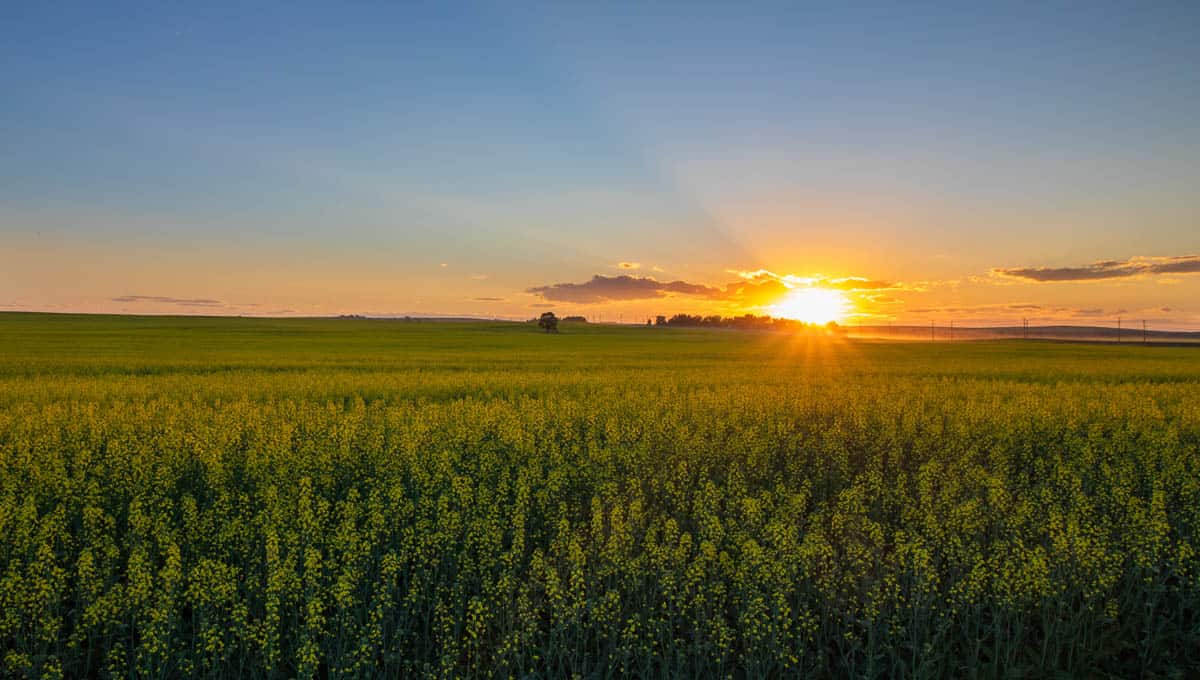 ---
This post was produced by us, and sponsored by Go East of Edmonton.