Disclaimer: This page may contain affiliate links. Please review our full Terms and Conditions for more information and our Privacy Policy. Note that any pricing, operating hours, or other such information provided below may have changed since initial publication.
Compiled by the Road Trip Alberta team
Last updated on June 2, 2022
The food scene in Calgary has come a LONG way, especially since when we lived there full-time (over a decade ago). We were most often left to choose just between steakhouses and chain restaurants. Don't get us wrong, there's nothing like a good steak, but variety is the spice of life, right?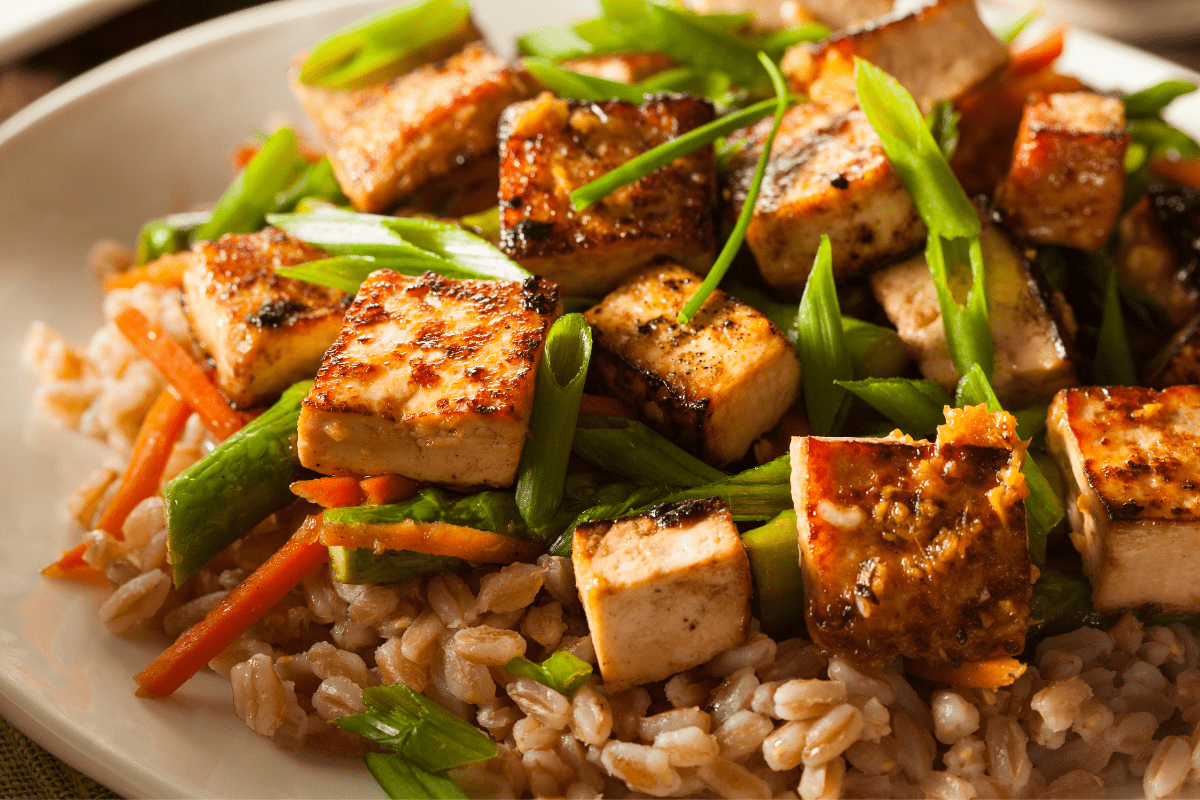 Nowadays, there are so many great Calgary restaurants that narrowing down this list was a hard task. On every visit to Alberta's biggest city we endeavour to try something new, but also can't help but return to our top faves (we're looking at you, Modern Milk and Native Tongues)!
Our Favourite Calgary Restaurants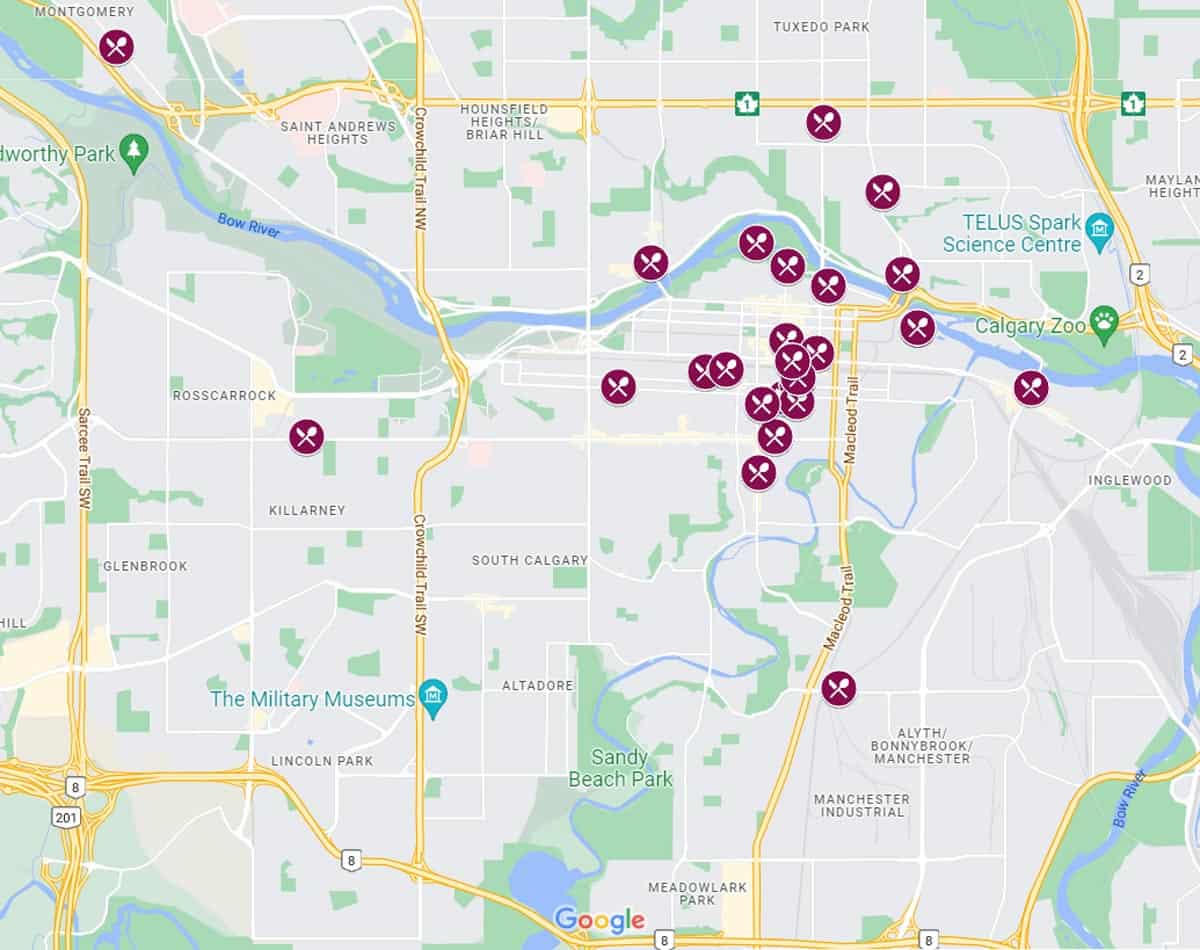 NOtaBLE Restaurant
Location: 4611 Bowness Rd NW #133
Serving Canadian cuisine with a creative twist, NOtaBLE Restaurant is routinely named one of the best Calgary restaurants. Open for lunch, dinner, and weekend brunch, the chic interior design and commitment to sourcing only the finest of local ingredients means the restaurant is consistently winning over new patrons every single day.
With a tagline of "passion, community, and made-right-here-goodness", you can expect some pretty fantastic Canadian food. Go for the Alberta bison carpaccio, the baby kale salad with stone fruit, or the seared East Coast scallops to start; for your main, try the mussels and frites, seared duck breast, or the Alberta lamb shank. And don't miss happy hour from 3pm to 5:30 pm, where there's an excellent selection of snacks, craft beer, cocktails, and wine by the glass.
Model Milk
Location: 308 17 Ave SW
Calling themselves "rustic chic", Model Milk is one of our easy fave Calgary restaurants. Beautifully designed with colourful touches, this warm space makes for an ideal dinner out on the town. Aiming to source only the best ingredients, the restaurant has formed strong relationships with regional farmers, fisheries, and vineyards, so the food you're eating at Model Milk is not only tasty, but you can feel good about supporting local, too.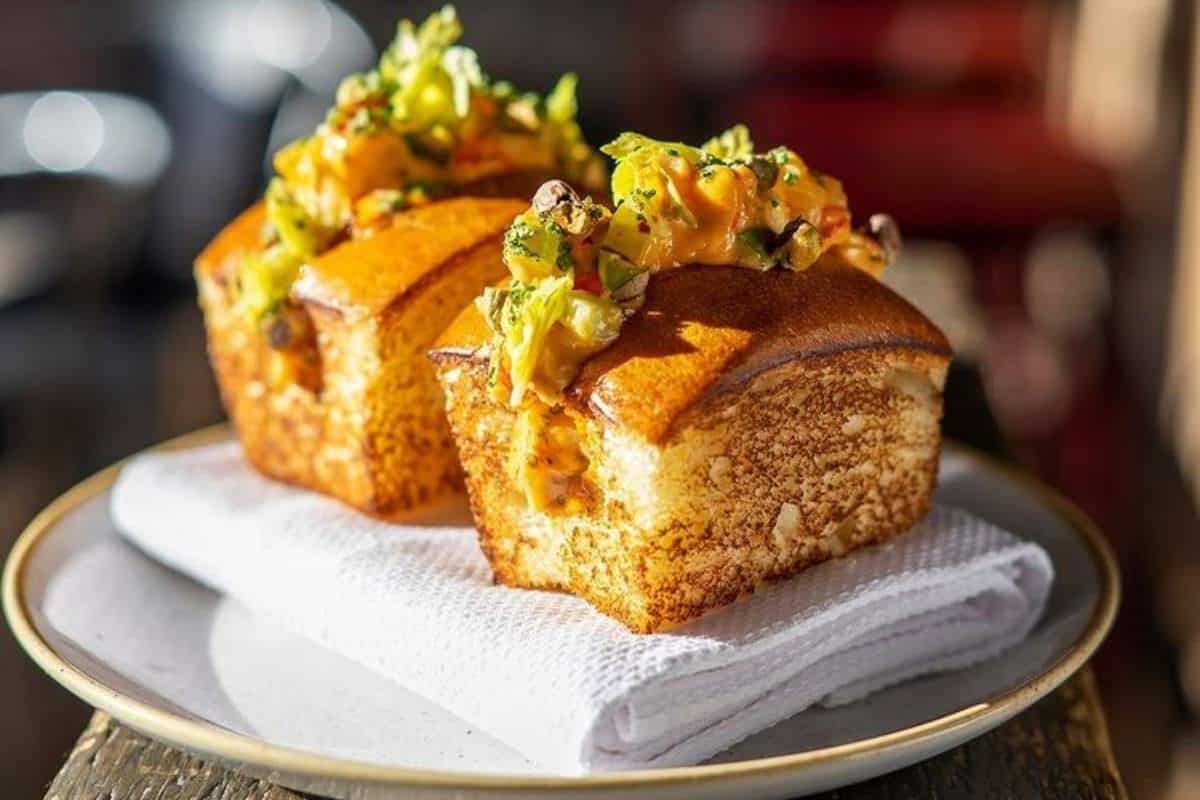 The menu is one of the most innovative in Calgary, with an extensive list of dishes that are sure to knock your socks off. Starters include charred shishito peppers, mortadella and cheddar donuts, plus fried buffalo sweetbreads; you can even make an entire meal out of shared starters with friends. But the large plates are not to be forgotten, as the Model Milk hot fried chicken, crispy maitake mushrooms, and Alberta rainbow trout are all terrific. There aren't many restaurants that can do what Model Milk does.
Big T's BBQ & Smokehouse
Locations: 2138 Crowchild Trail NW; 14935 Deer Ridge Dr SE; 510 77 Ave SE
With two restaurant locations in the city as well as a spot within the Calgary Farmers' Market, Big T's BBQ is famous for – what else? – its flavour-packed barbecue. Serving American-style barbecue and Southwestern cuisine, get ready for generous portions, fabulous service, and a meal you'll be talking about for a long time. All of Big T's meats are slow smoked for hours over Okanagan applewood, giving every single dish a unique (and delicious) taste.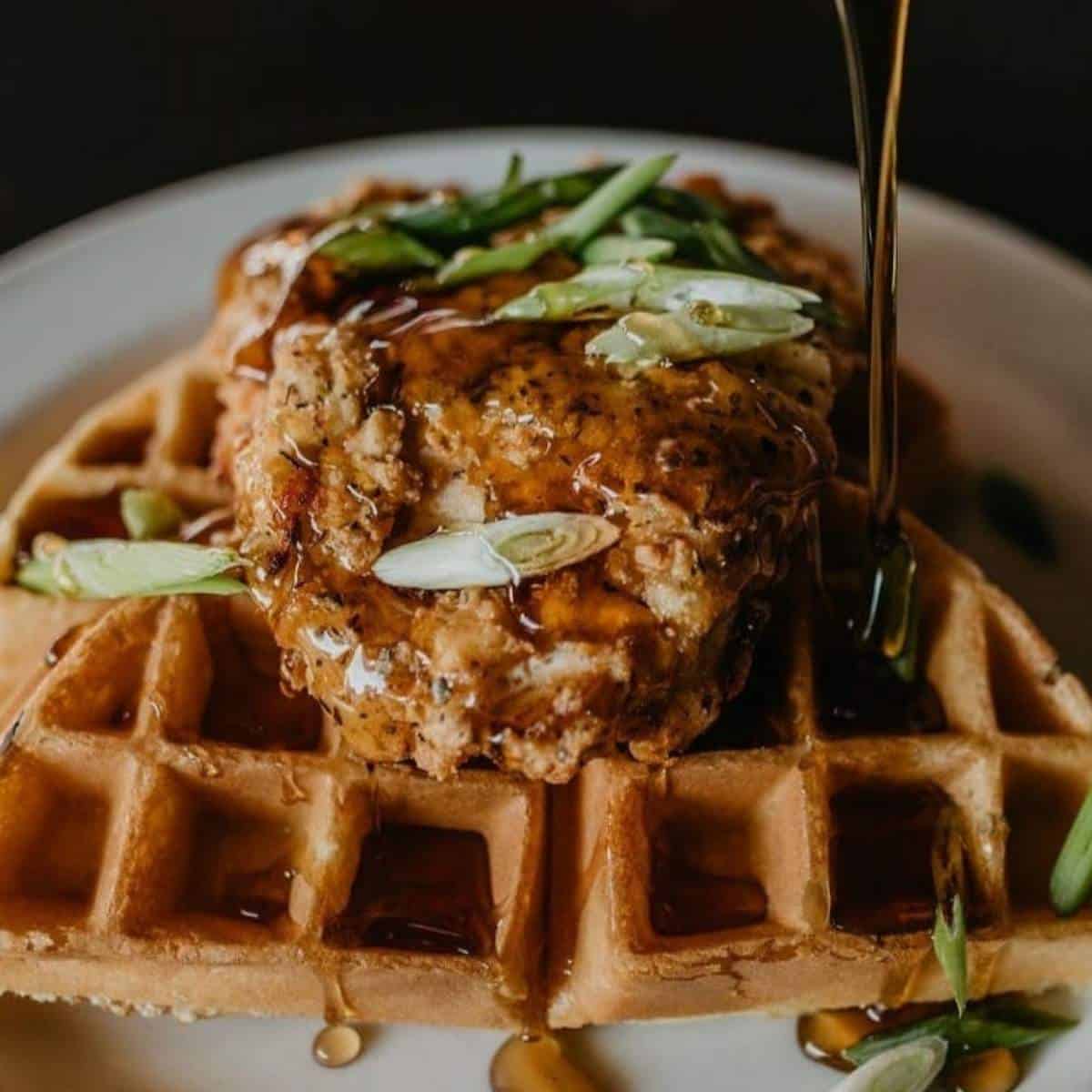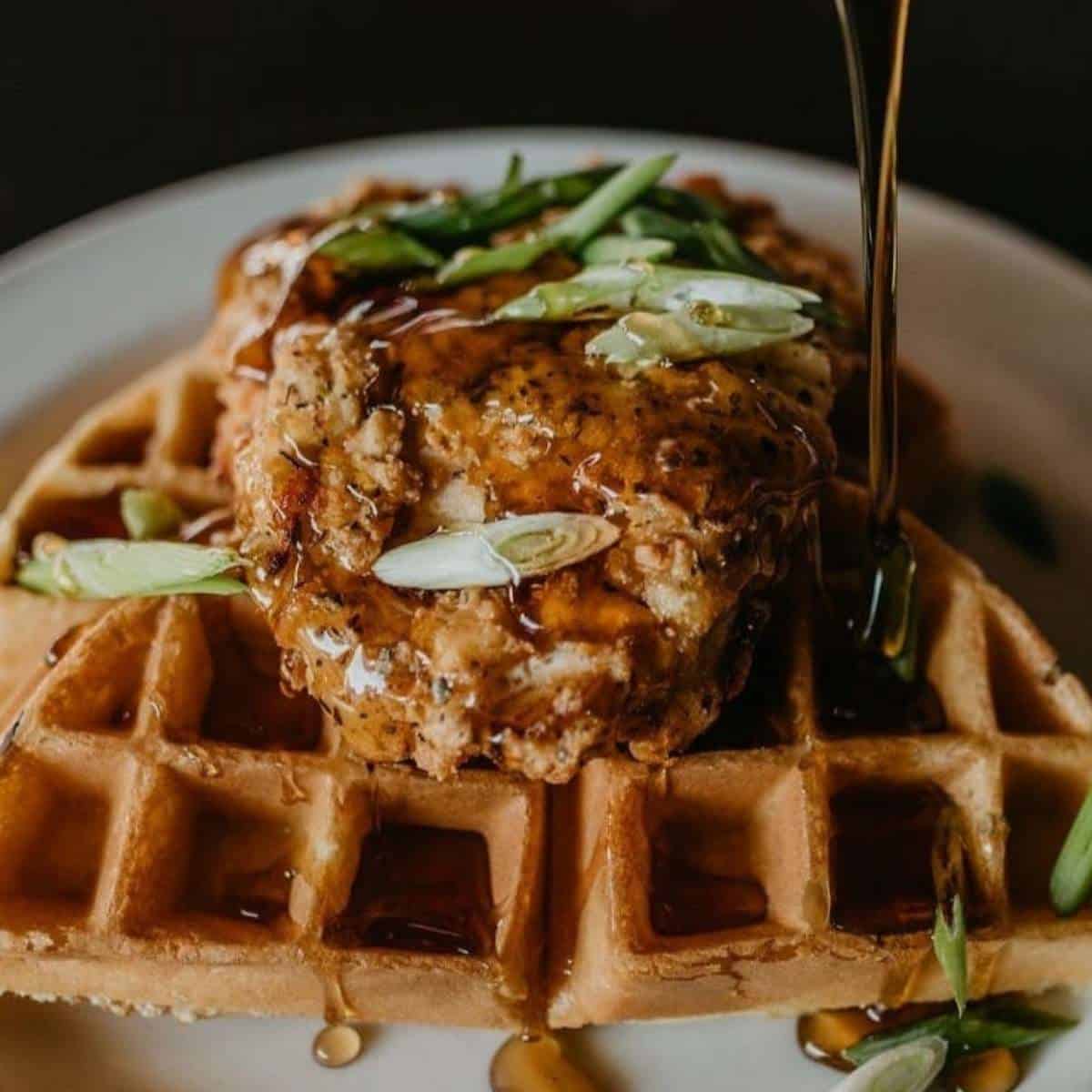 Open for lunch, dinner, and weekend brunch, there are amazing options no matter which meal you're after. For lunch, try the sliced brisket bun or the mac 'n' cheese served with cornbread. The ribs at Big T's are some of the best in the city, so you can't go wrong with them; other menu standouts are the pulled pork dinner, the blackened catfish in a traditional Cajun style, and the burgoo soup, a thick Kentucky style stew. Heading here for brunch? You can't miss the biscuits and gravy or the peaches and cream waffles.
Native Tongues Taqueria
Location: 235 – 12th Ave SW
Considering we are frequent visitors to Mexico (and especially as those who regularly seek out street-side taco stands), we can tell you that Native Tongues' flavours are LEGIT. To be honest, we rarely stray far from our regular order of chilaquiles to start with (morita over verde), and an array of divine tacos as our main. And we always make sure to save room for dessert – the donas (donuts) made in-house are to die for.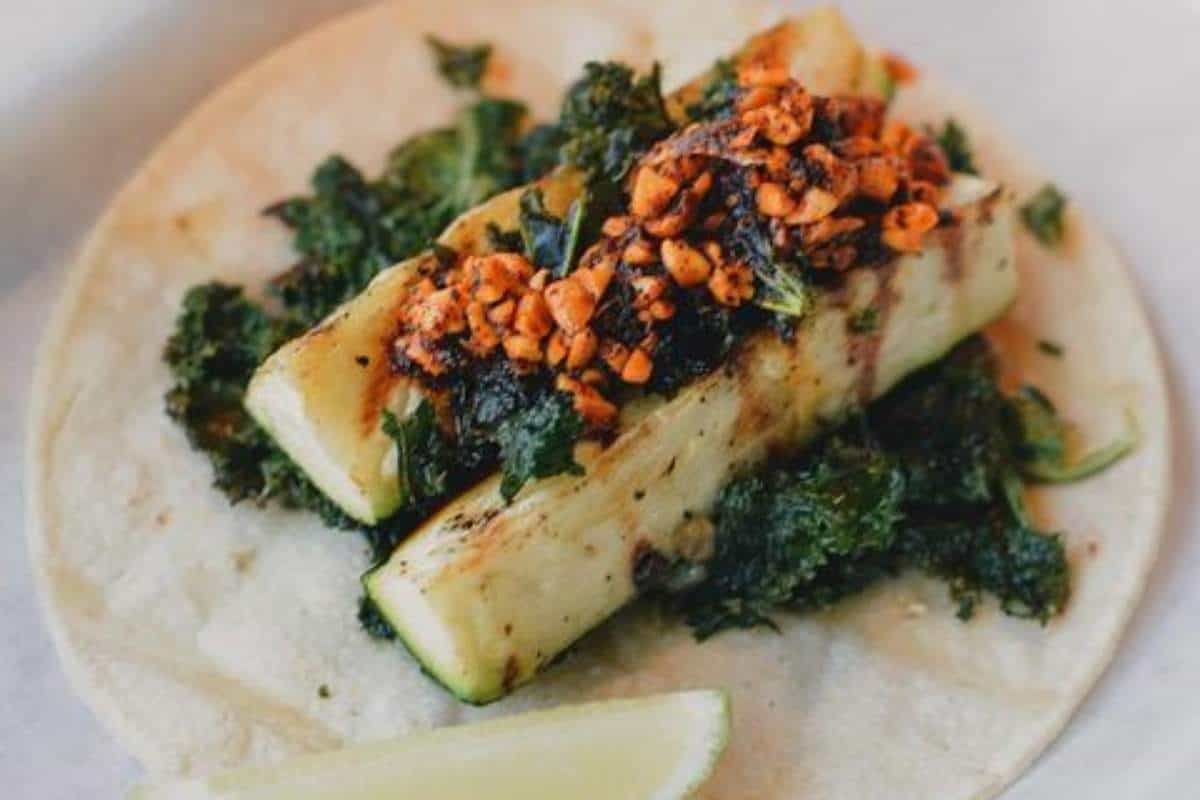 We love the relaxed atmosphere and the inspired cocktail menu with healthy doses of mezcal and tequila. Note that they don't take reservations, so be prepared for a wait on busy nights. Believe us, vale la pena (it's worth it). While we haven't tried all the Mexican restaurants in Calgary to know for sure, we're pretty certain that Native Tongues is one of the best.
SALTLIK
Location: 101 8 Ave SW
If you're after fine dining, head to SALTLIK, a classic steakhouse with a modern flair. This upscale restaurant offers a cozy atmosphere, detail-oriented service, and mouthwatering cuisine that will have you already planning your next visit. Found near the Calgary Tower, it's a great choice for a memorable meal downtown.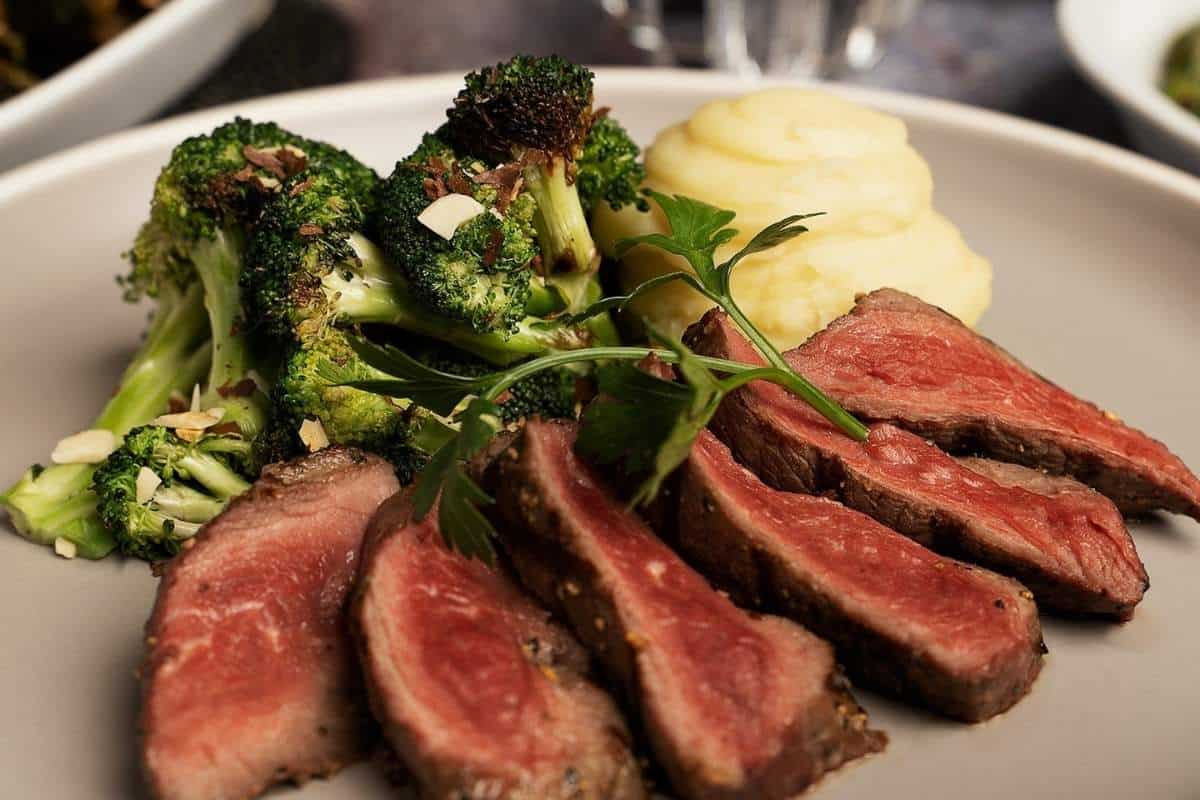 On the menu, you can expect to find some of the best steak in the city, from a filet mignon to a bone-in ribeye. The steaks pair perfectly with their additions, including lobster mashed potatoes, sautéed mushrooms, or a red wine sauce. Not in the mood for steak? There are a lot of other comfort food choices on the menu, including grilled organic salmon with truffle beure blanc, scallops and gnocchi, French onion soup, and, one of our favourite starters, the house-baked focaccia with whipped butter.
Santorini Greek Taverna
Location: 1502 Centre St N
Regularly considered one of the best restaurants in Calgary by locals – which means you know you're in for good food – Santorini Greek Taverna has long been the place to go for authentic Greek food in the city. In business for over 30 years, the restaurant has dedicated itself to remaining as classically Greek as possible, whether that's the menu, the decor, or the warm, friendly atmosphere you'll find whenever you visit.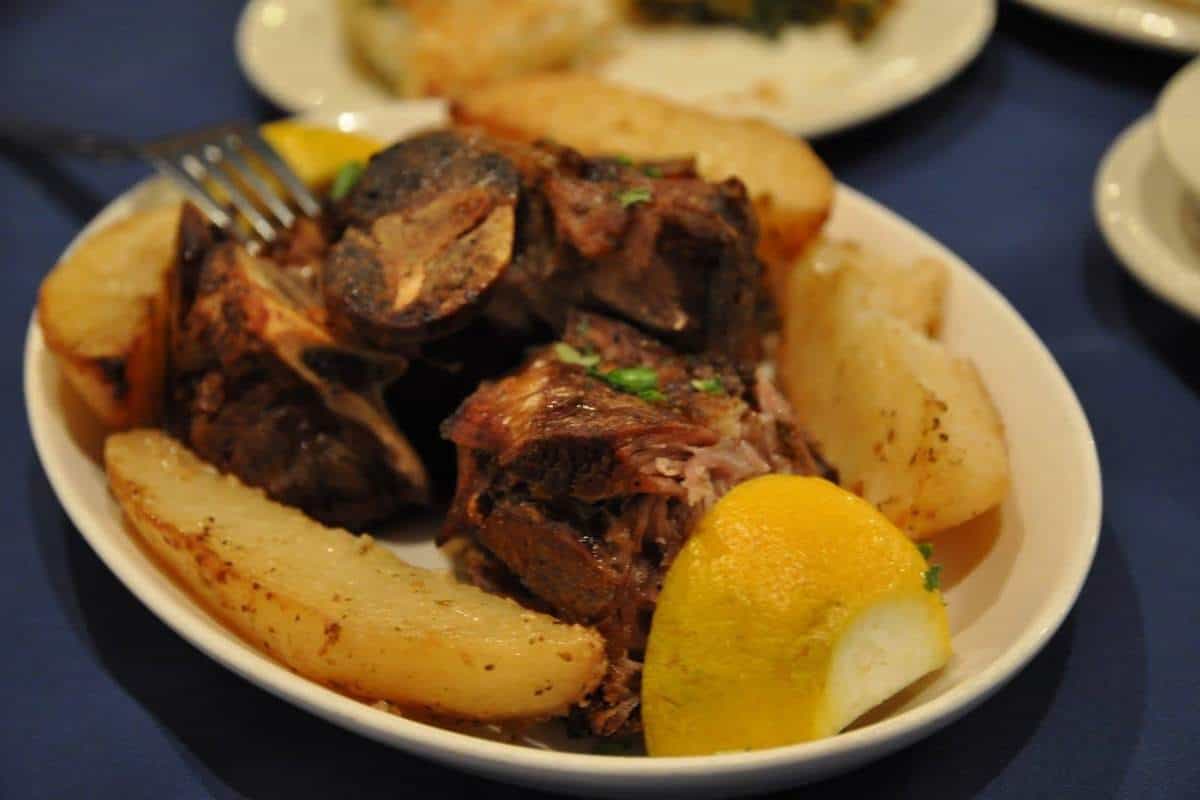 Open for lunch and dinner, choose from favourites you might recognize such as kalamari, spanakopita, or hommus to start, or go for appetizers you may not have heard of before: Papoutsakia (roasted zucchini stuffed with beef), mithia (mussels sautéed in butter and fresh tomato), or soutzoukakia (lightly spiced meatballs). For your main course, go for one of the delicious seafood dishes, broiled lamp chops, or moussaka, one of Greece's most famous meals. And make sure to save room for a crisp baklava for dessert!
Alloy
Location: 220 42 Ave SE
If you're looking for one of the best fine-dining restaurants in Calgary, head to Alloy. Inspired by both their backgrounds and their travels, chefs/owners Uri Heilik and Rogelio Herrera have created a menu that always delights and surprises. Open for lunch and dinner, there are many innovative dishes on the menu, as well as an extensive wine list. With a beautiful interior and exquisite plating to match, you'll no doubt be inspired to take a photo or two of your experience at Alloy!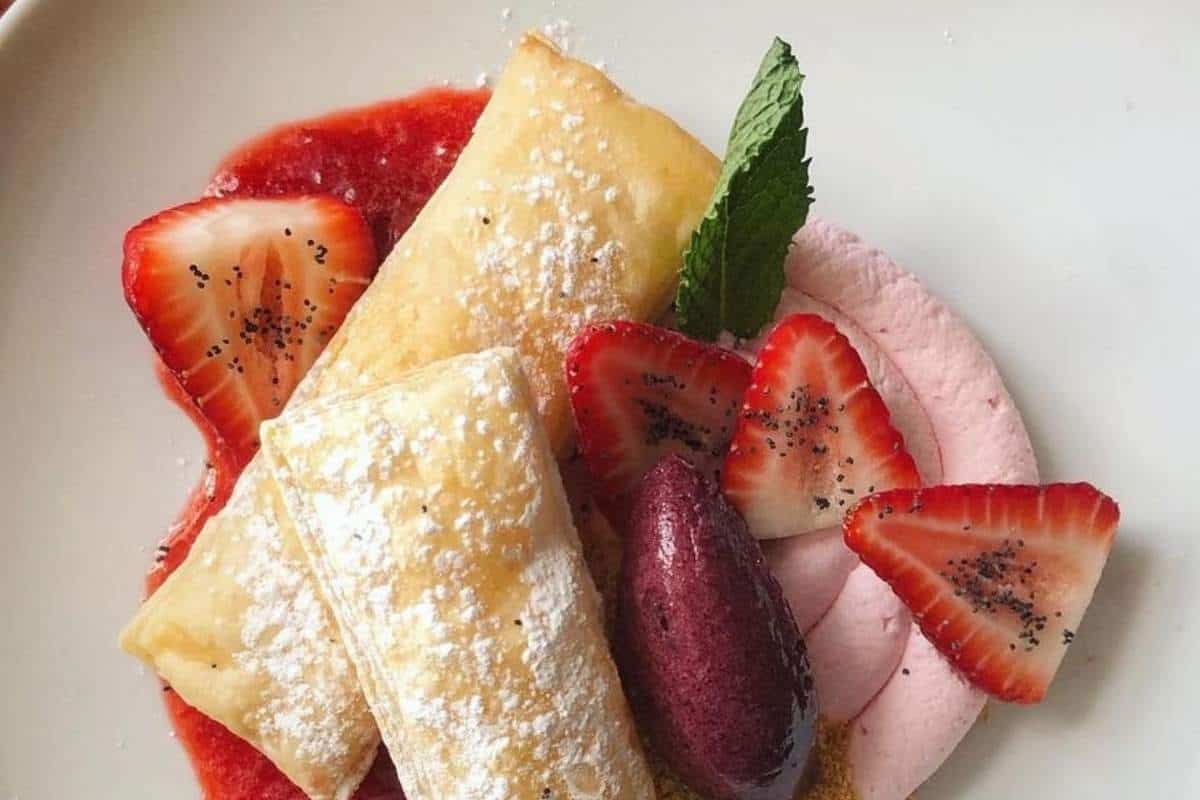 For lunch, try the truffle gnocchi, the koji chicken sandwich, or the short rib enchilada. The dinner menu is equally filled with delicious offerings, including pacific red snapper, braised short rib with a tomato balsamic reduction, and the beef tenderloin with squash risotto and a cherry tomato barbecue sauce. While the meals at Alloy may be on the pricier side, they're absolutely worth the cost.
Foreign Concept
Location: 1011 1 St SW
Make your way to Foreign Concept for a dinner of incredible Pan Asian flavours. This unique fusion restaurant pairs chef Duncan Ly's Chinese and Vietnamese roots with French cooking techniques and Korean culture, so you know you're in for a meal to remember. With a focus on fresh produce, inventive ingredients, and a surprising twist on every plate, it might be tempting to order everything on the menu.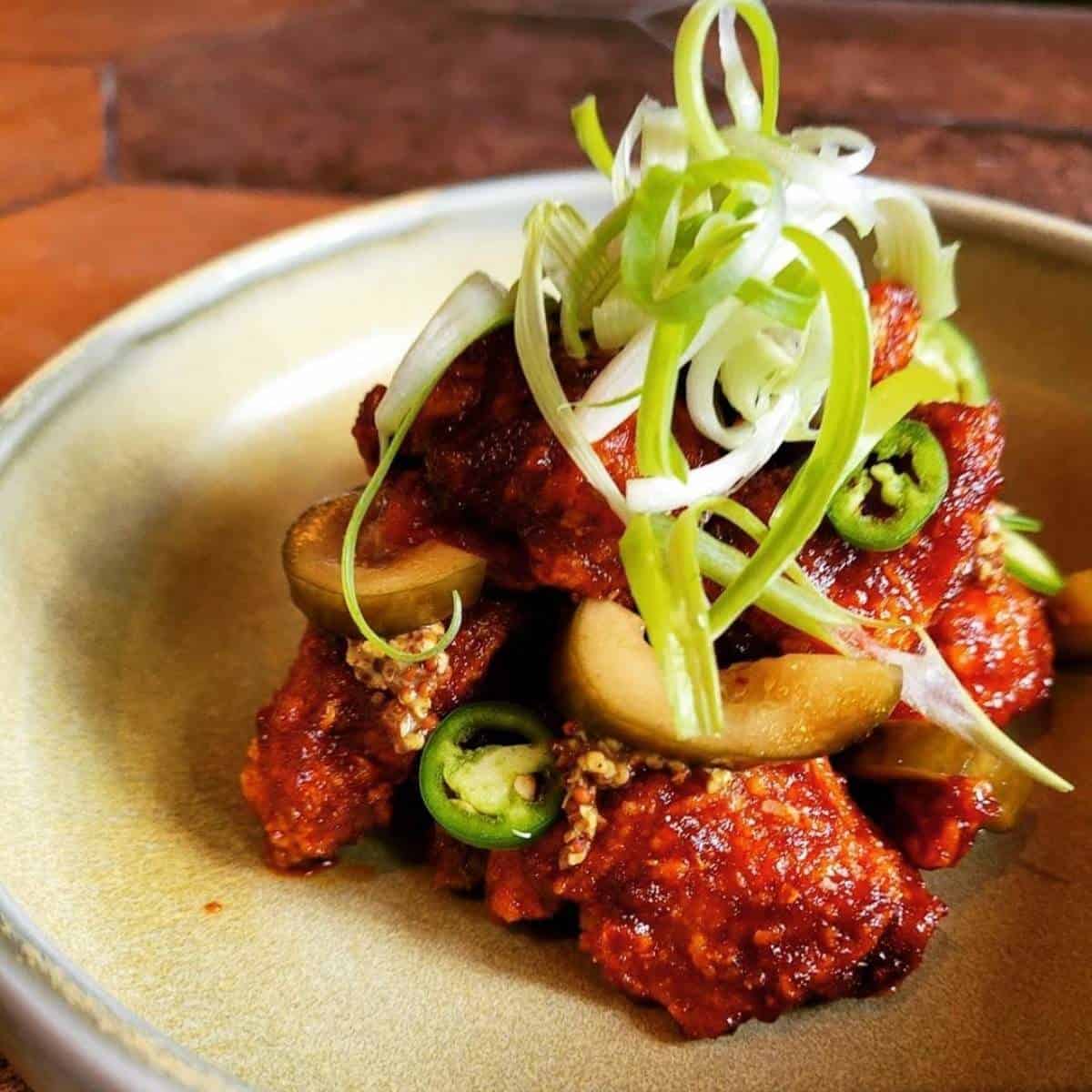 Faves include the beef bulgogi sliders, the squid ink spaghetti, and the Vietnamese chicken clay pot with baby bok choy and shiitake mushrooms. Whiskey lovers (that would be us!) will adore the "Japan Manhattan" made with Suntory Toki Whiskey, while those with a sweet tooth will have to try the Lemon Curd Beignet or the Chocolate "Cosmic" Brownie Cake for dessert.
Rouge Restaurant
Location: 1240 8 Ave SE
One of Calgary's premier fine dining restaurants, Rouge Restaurant features upscale urban rustic cuisine with an emphasis on farm-to-table meals. Set in an 1890s house in downtown Calgary, Rouge partners with local farms to bring you the freshest ingredients for your fine dining experience. Known for their incredibly attentive and personable service as well as their one-of-a-kind ambiance, Rouge is perfect for a special occasion or celebration.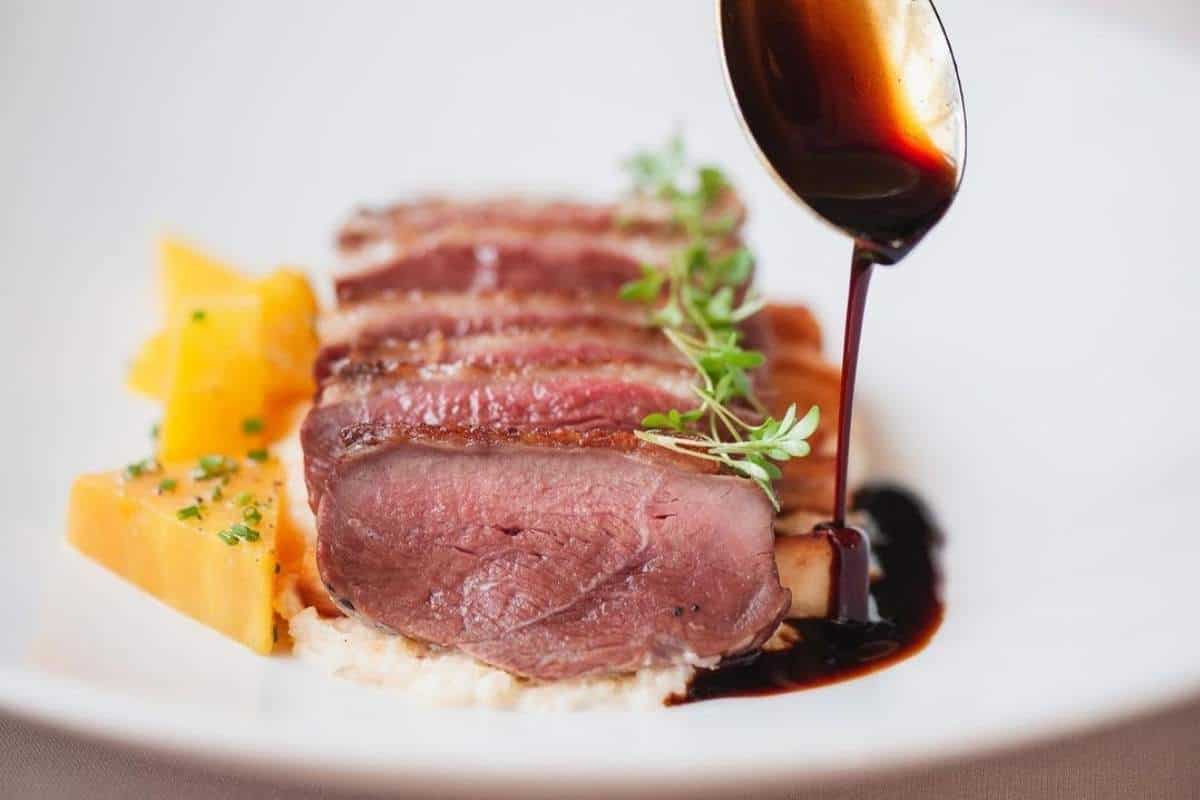 The cuisine is mostly French, with options on the menu such as rabbit two ways, duck a l'orange, and foie gras. There's also a fantastic tasting menu of six courses with an optional wine pairing. We recommend saving some room for the Canadian cheese tasting at the end of the meal.
Shokunin
Location: 2016 4 St SW
Shokunin is a sleek, stylish Japanese restaurant that prides itself on being welcome to all. Using Japanese culinary techniques with seasonal ingredients, Shokunin is a wonderful choice if you're looking for a meal of shared plates with friends (just don't forget the bottle of sake). Contemporary and modern yet still retaining the classic Japanese dishes we love, the restaurant definitely deserves its spot on this list of the best restaurants in Calgary, and as one of Canada's top 50 restaurants for 3 years running! Chef and owner Darren MacLean was the only Canadian to compete on the Netflix hit The Final Table and was even a finalist.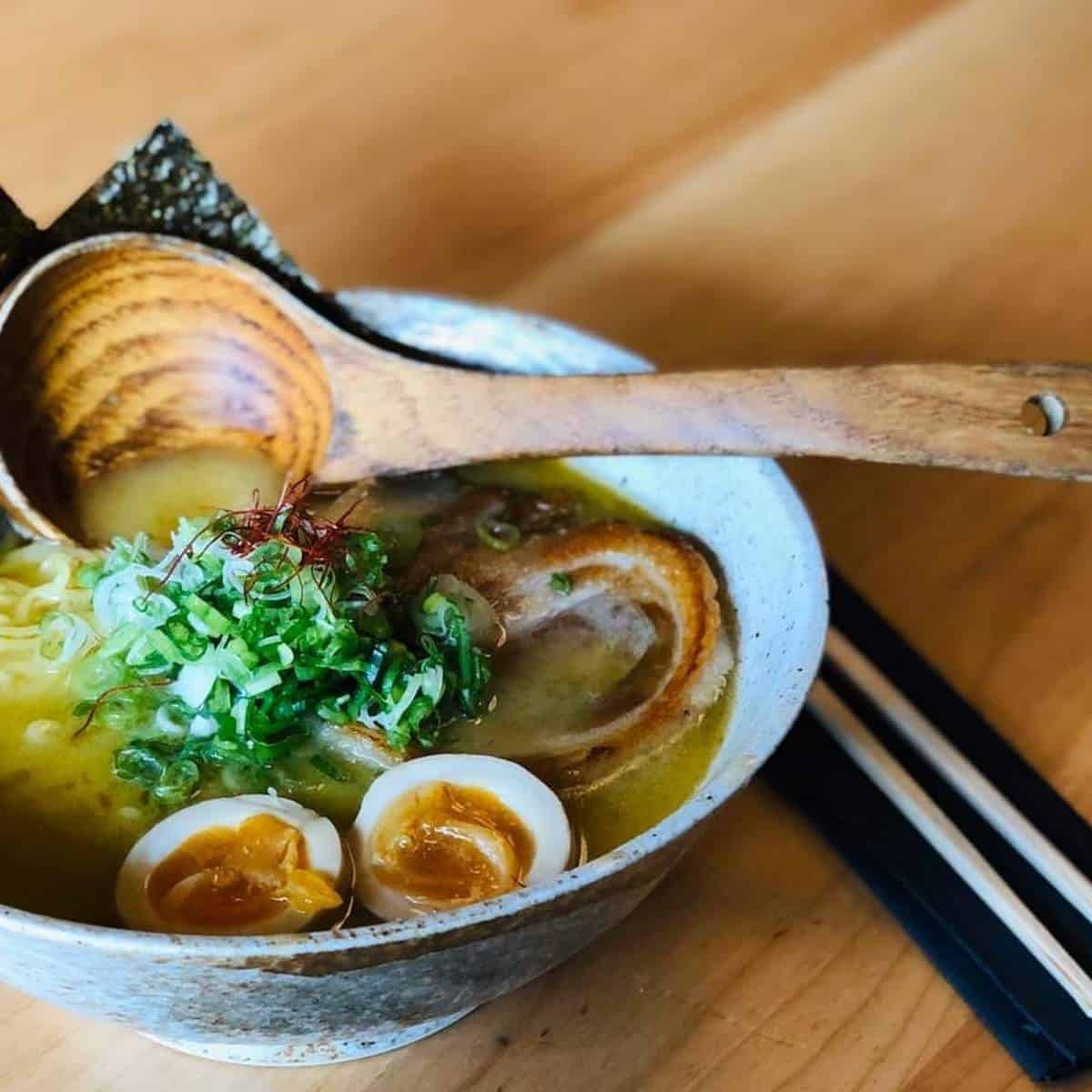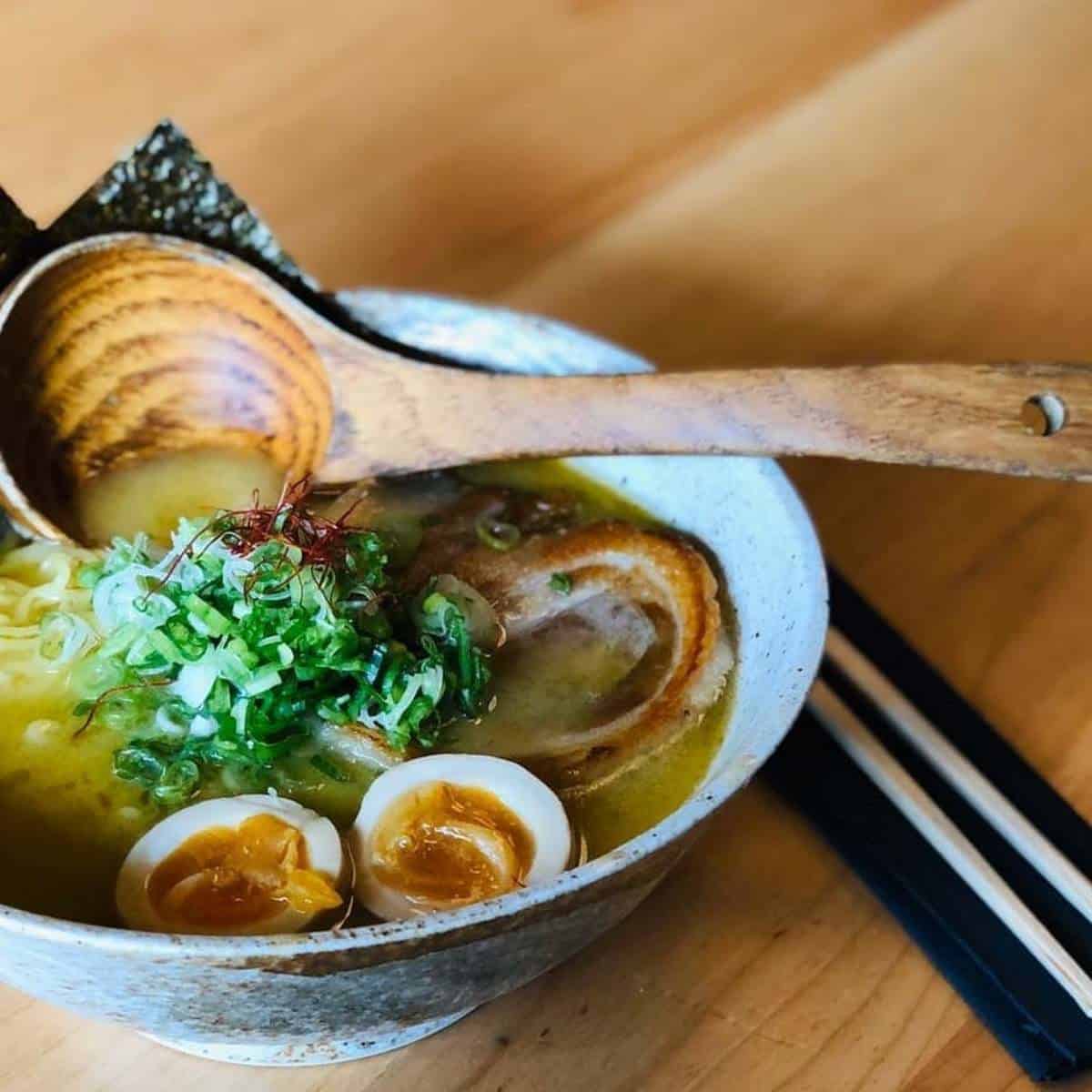 Try some of their famous yakitori (grilled chicken on a skewer), or one of their fusion dishes such as bison tataki or eggplant and goat cheese tempura. If you're in the mood for a noodle dish, try their incredible ramen. And the craft cocktails with Japanese spirits are out of this world!
Bridgette Bar
Location: 739 10 Ave SW
Bridgette Bar is a trendy, laidback locale found in Calgary's design district. Open for lunch, afternoon snacks, dinner, and late-night drinks, it's the perfect spot for just about any event in your life, whether that's a first date, a catch-up with an old friend, or a girls' night out. With generous portions that always manage to bring a new twist to comfort food, this chef-driven bar has quickly become a favourite with locals.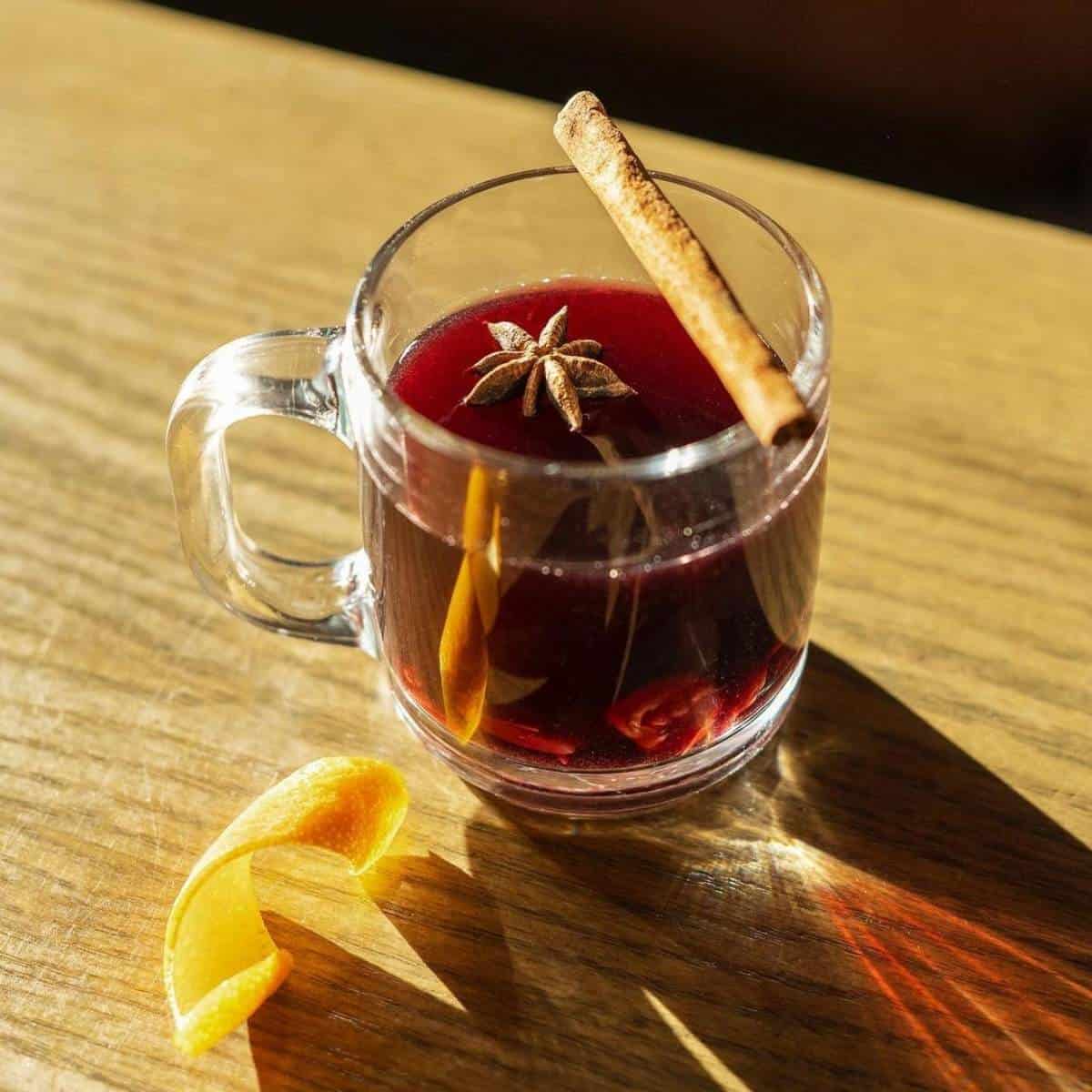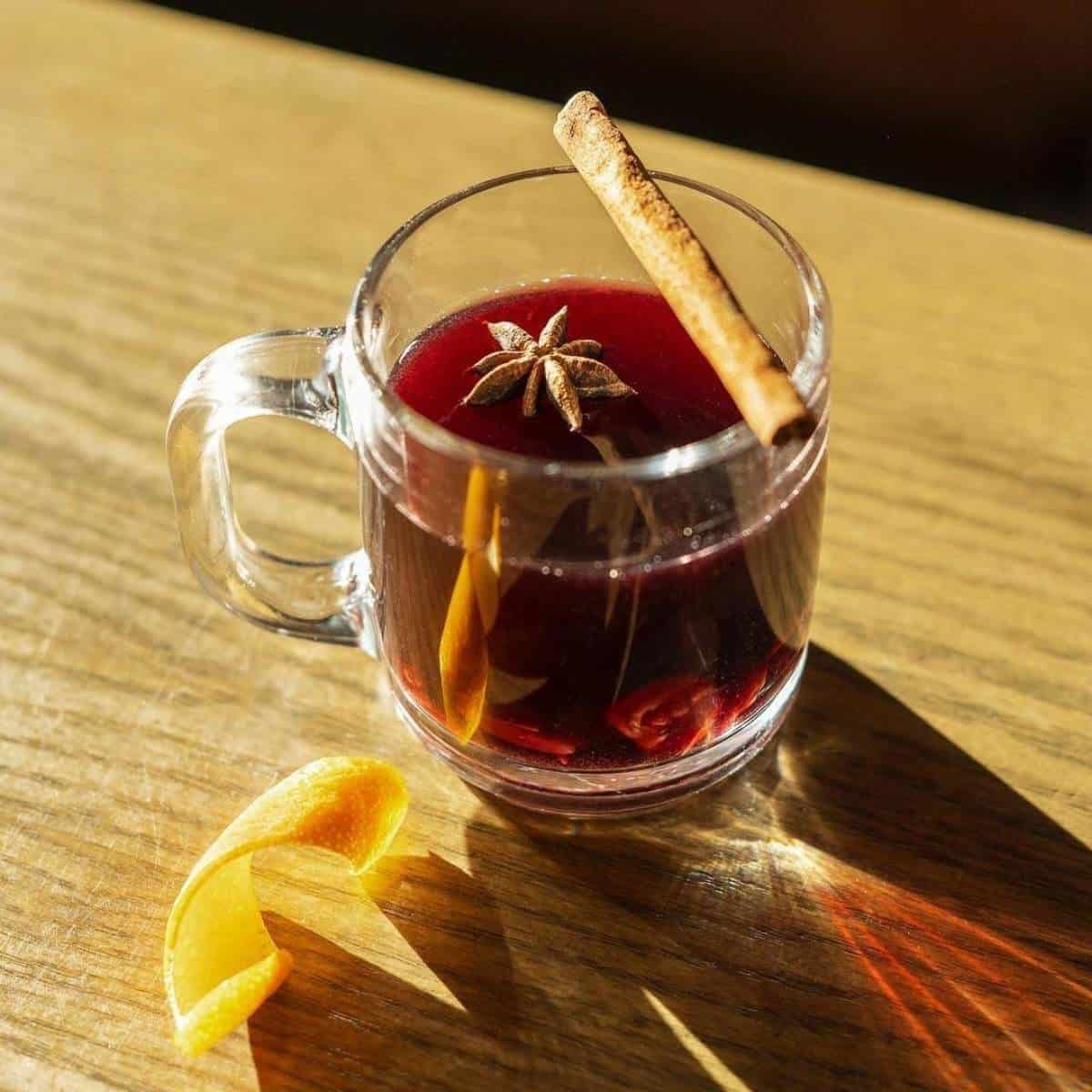 There's an excellent selection of wine, cocktails, mocktails, and craft beer, while snacks and small plates include eggplant fries, tuna crudo, and lamb sausage with labneh and a fried egg. For bigger meals, go for one of their vegetable dishes, pizza, pasta, or large plates. We also love the spiced beet salad, the wood-roasted halibut, and the ricotta dumplings.
Pizzeria Gaga
Location: 1236 12 Ave SW
If you're on the hunt for pizza restaurants in Calgary, look no further than Pizzeria Gaga. With a sweet story behind the name – chef Safeta Zeljic was given the nickname "draga" (darling) by her husband, which was eventually shortened to "gaga" – the restaurant has long been delighting customers with its thin-crust pizzas. Their mission is that "good food is the key to happiness"… and we can't argue with that!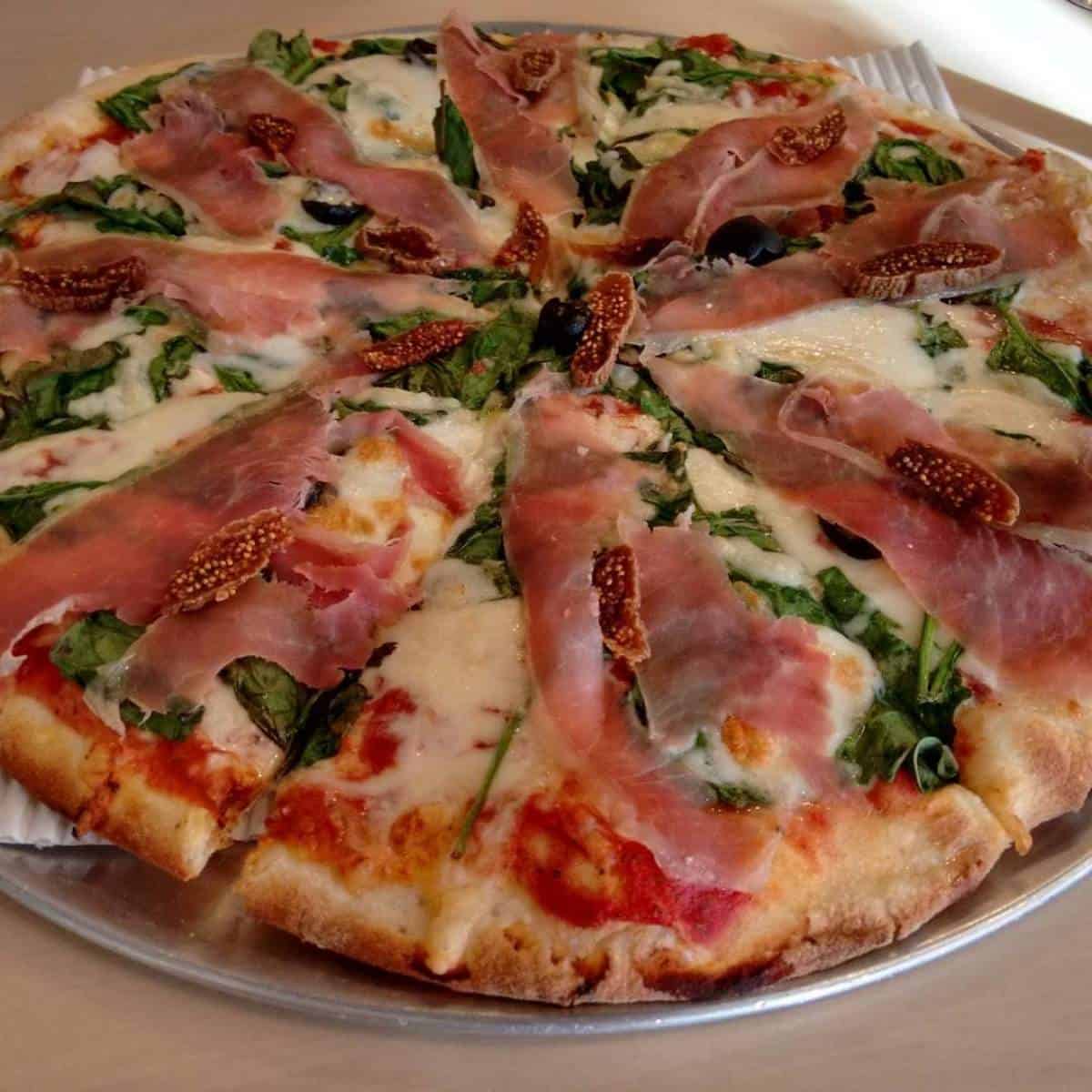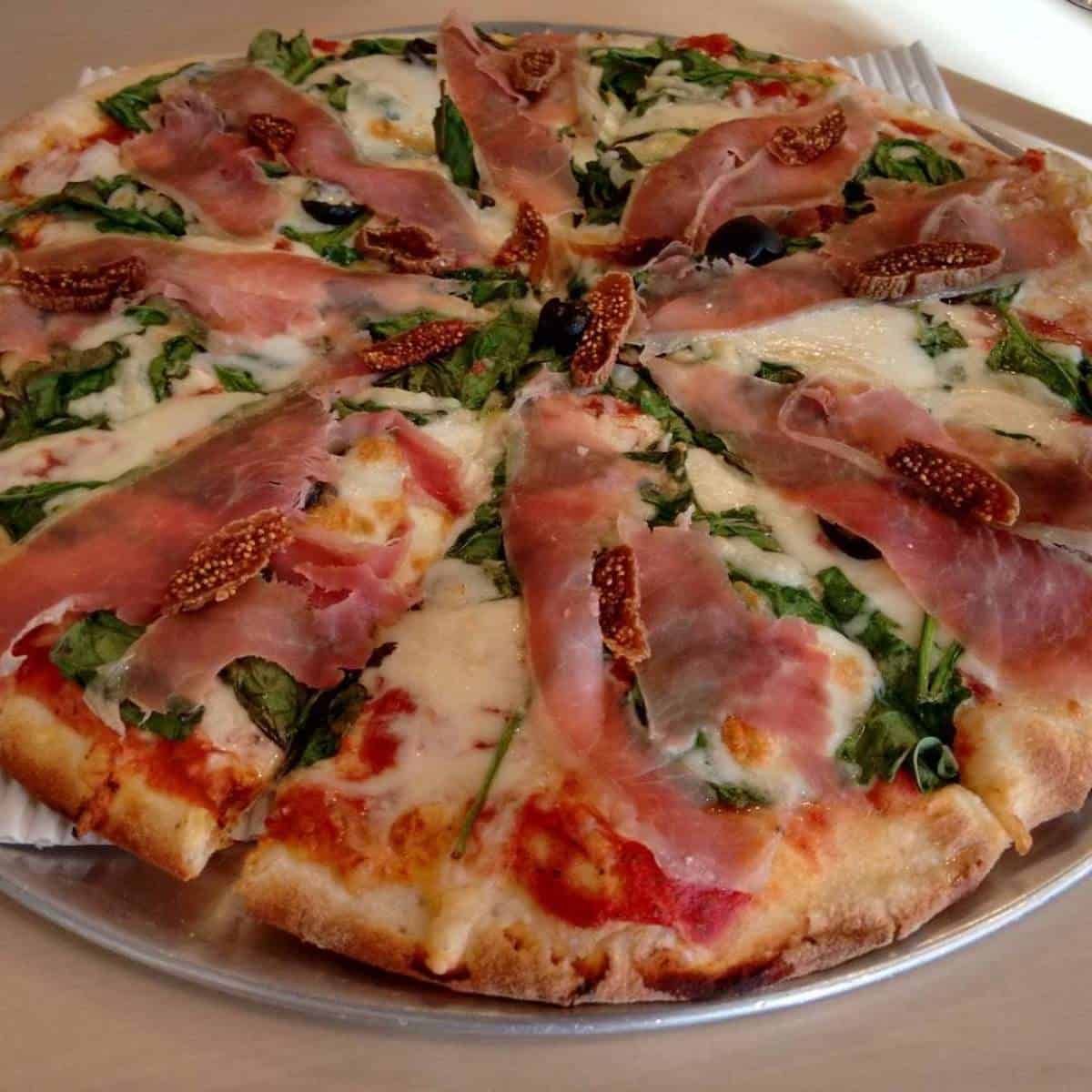 Head here for lunch or early dinner; there are a lot of choices for a quick take-out meal, too. With incredibly inventive pizzas that use ingredients such as figs, apples, walnuts, and more, you can also go for more traditional pies of pepperoni, onions, and mozzarella. There's a good selection of soups and sandwiches to order as well. Whatever you go for, it's sure to be delicious.
Vero Bistro Moderne
Location: 209 10 St NW
A favourite in the city for many years running, we'd be remiss to leave Vero Bistro Moderne off of this list of the best Calgary restaurants. With a sleek dining room, locally sourced and organic ingredients, and a reputation for never disappointing, Vero Bistro Moderne showcases the best of Italian, French, and Spanish cuisine.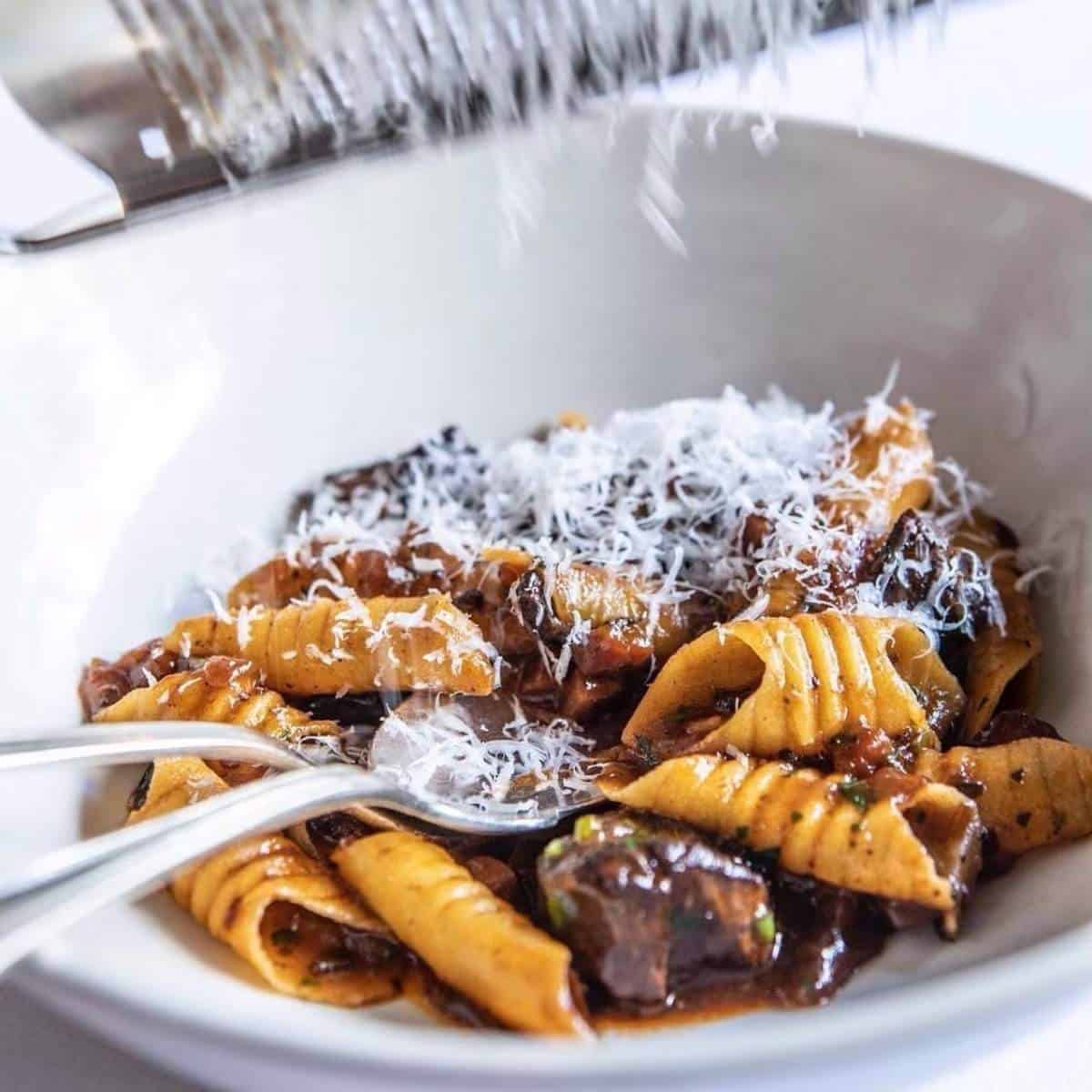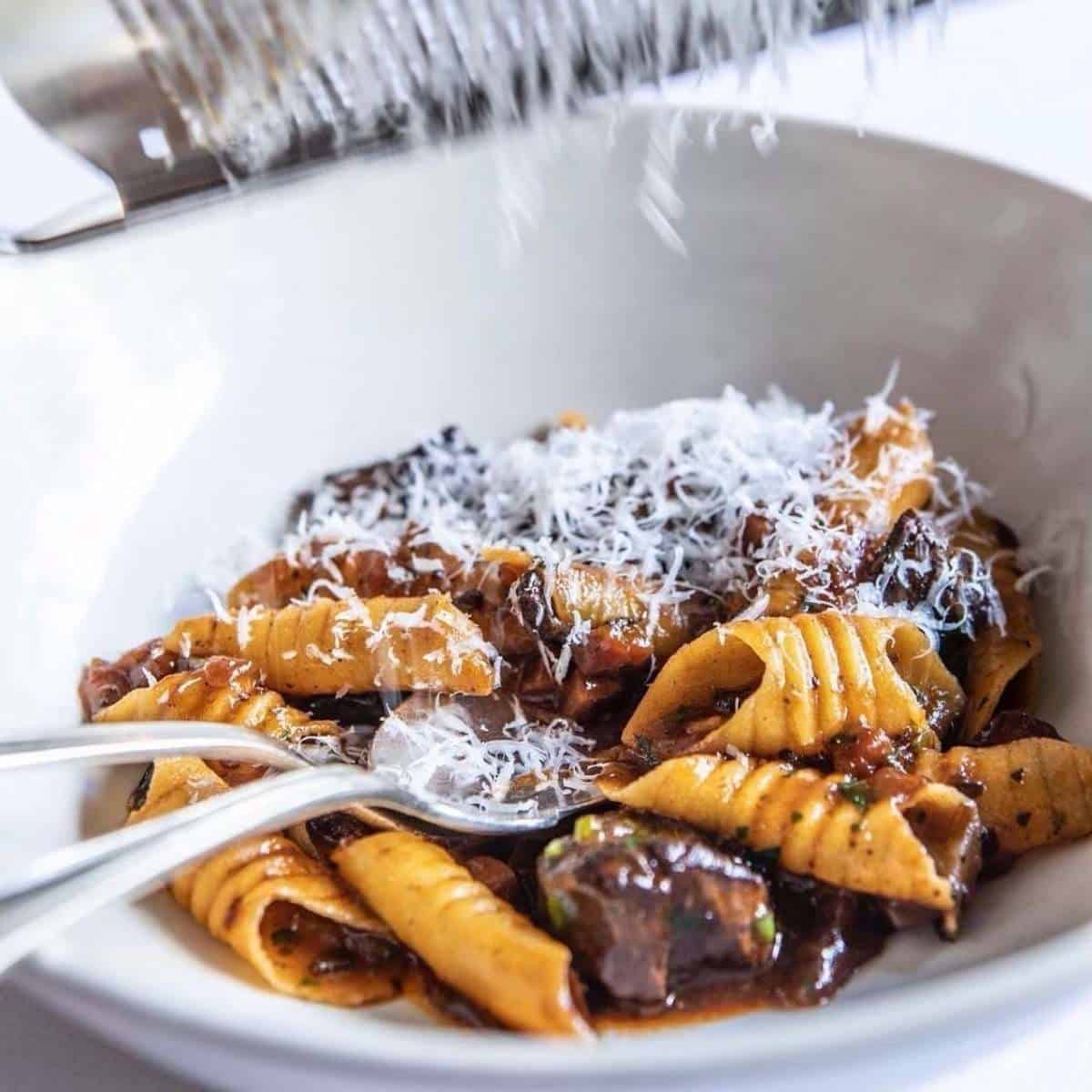 Open for dinner, you could make an entire meal out of the outstanding antipasti dishes. That being said, the porcini tagliatelle and the sweet potato gnocchi are to die for, while the steak frites dish is one of the best steak dishes in the city. If you're after rich flavours and a taste of Europe, definitely make your way to Vero Bistro Moderne.
The Himalayan
Location: 3218 17 Ave SW
The Himalayan is a casual eatery that serves incredible Nepali food. If you've never eaten food from Nepal before, we highly recommend a visit! Bringing you local ingredients and traditional Nepali techniques and flavours, eating at The Himalayan is a unique culinary experience in Calgary.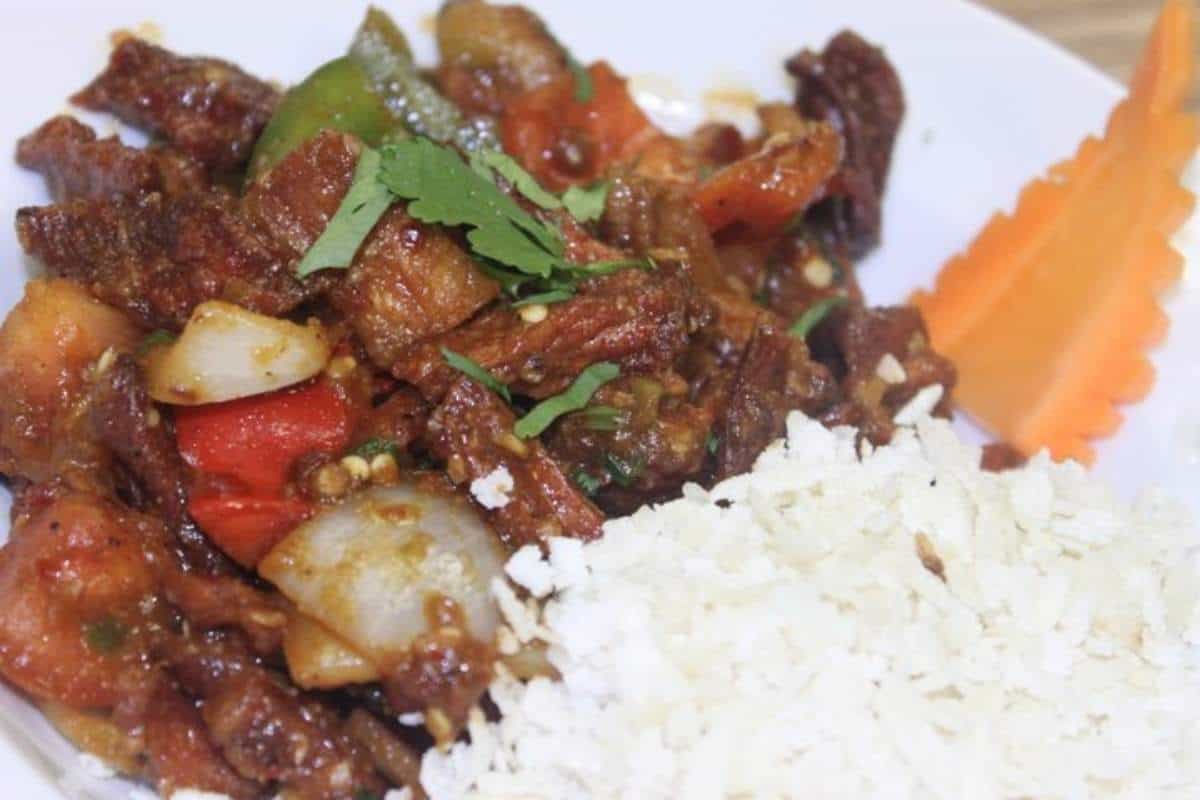 Featuring an amazing list of authentic dishes, start your meal with a plate of momos; these dumplings are served everywhere in Nepal, and are popular street food. For your main, try one of the superb curries or stir fry dishes, all served with saffron rice. We're big fans of the Maccha ko jhol (a curry with basa fish), the Bhuteko shrimp stir fry with grilled eggplant, and the Himalayan lamb cream curry with cashews. No matter what, you're sure to walk away from The Himalayan feeling full!
Ten Foot Henry
Location: 1209 1 St SW
A wonderful choice for vegetarian options, Ten Foot Henry definitely deserves its spot on this list. In a beautifully airy yet rustic setting, this modern bistro features family-style dining and a "vegetable anchored" menu. Head here for lunch or dinner, or, on weekends, for brunch. Moderately priced and defined by its warm atmosphere, Ten Foot Henry has very quickly skyrocketed as one of Calgary's best restaurants. It's a great choice to enjoy during Calgary Stampede as it's close to the main event.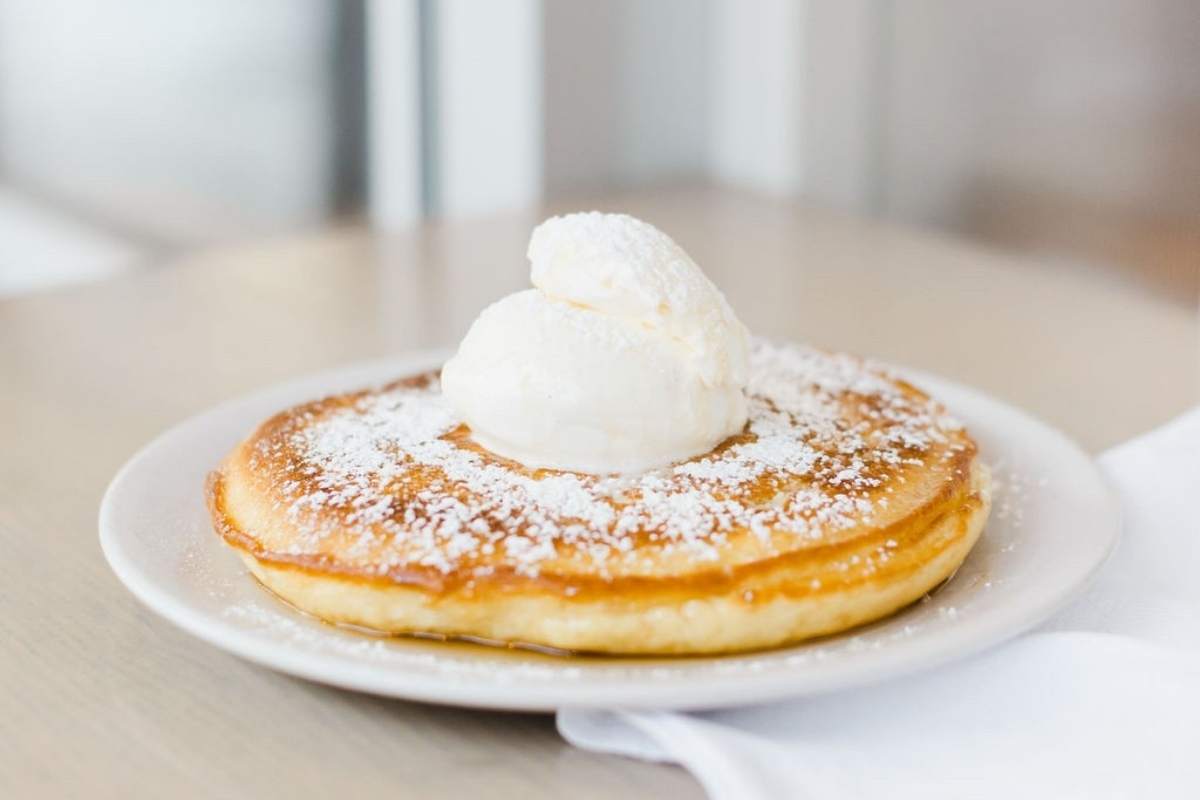 Fan favourite dishes include the cauliflower with spicy gochujang, the simple yet mouthwatering pasta cacio e pepe, and the hamachi with fennel, yuzu kosho, and grapefruit. On weekends, try the sourdough pancakes or four egg omelette with whipped goat cheese. Always fresh and always delicious, we bet you'll quickly fall in love with Ten Foot Henry.
Major Tom Bar
Location: 700 2 St SW #4000
Major Tom Bar is a stylish bar that boasts stunningly sleek decor, impeccable service, and an amazing menu that is sure to delight your taste buds. But don't just take our word, the restaurant is quickly earning accolades and was recently named as one of Canada's best new restaurants.
High above Calgary on the 40th floor of Stephen Avenue Place (formally the Scotia Centre), the views here are outstanding. That epic view pairs perfectly with one of their original cocktails; try the "Bold Fashioned", the "Saskatoon Sunrise", or the "Baked Apple Pie Sour", amongst others.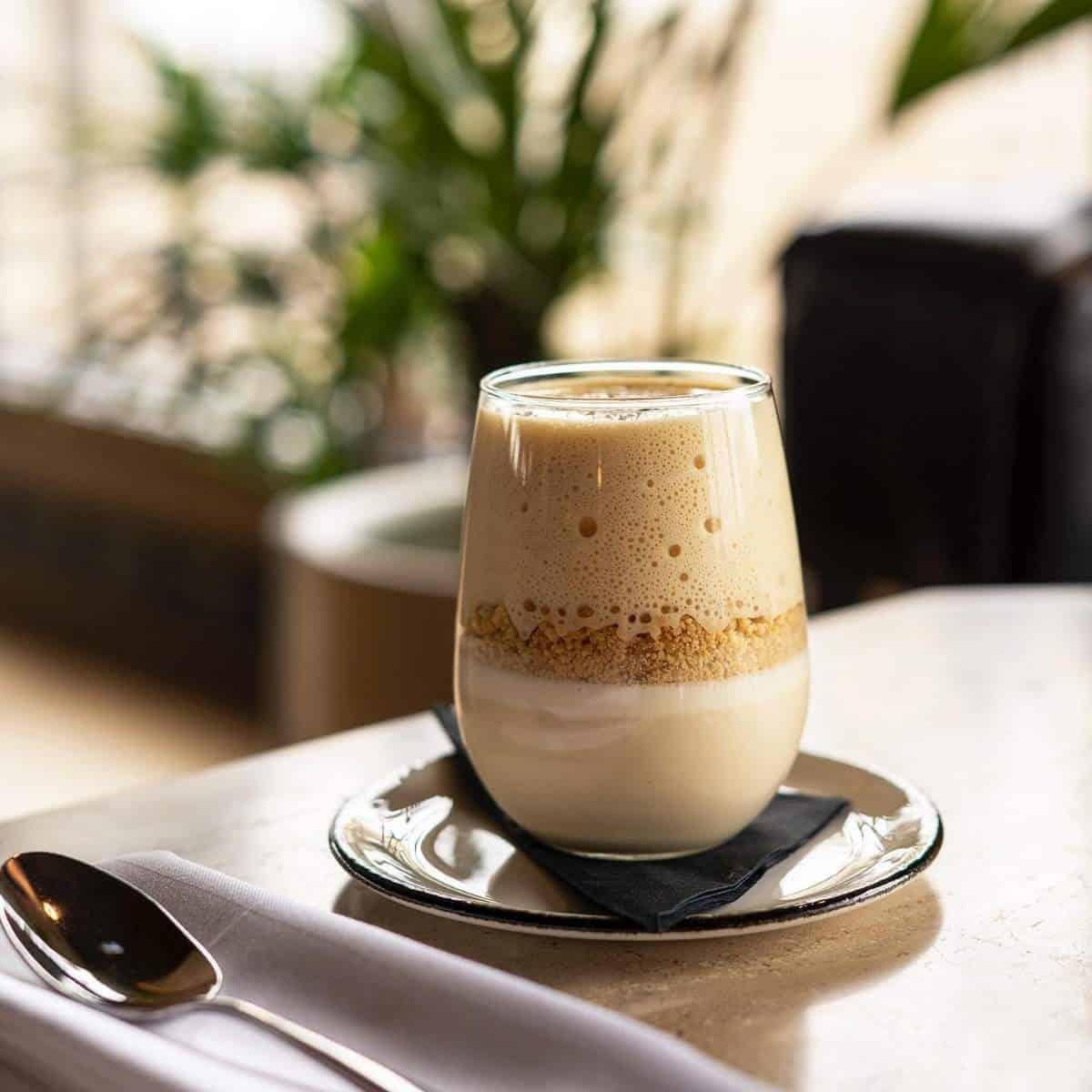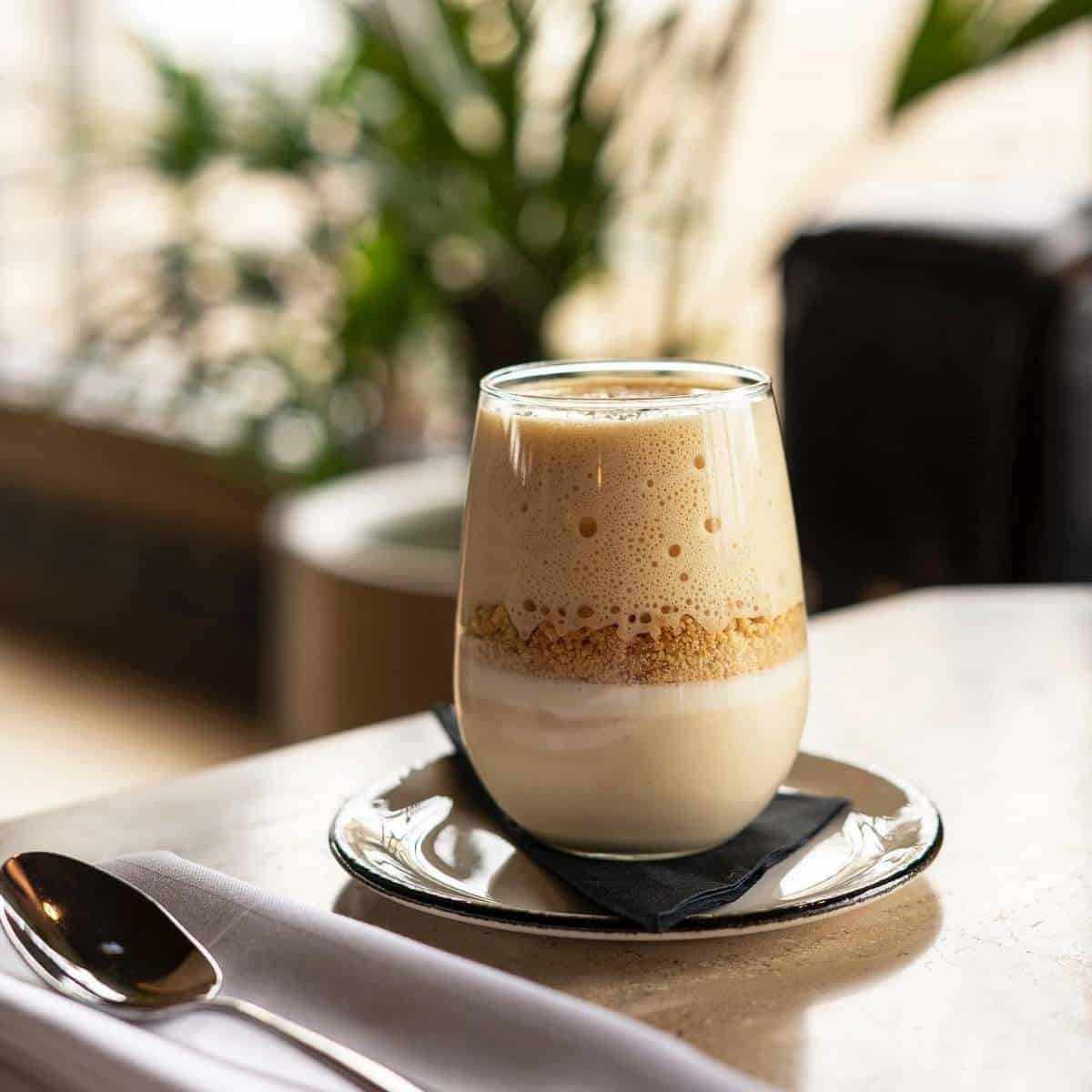 And while Major Tom Bar is known for its delectable cocktails, the food is just as exquisite. With a great selection of hors d'oeuvres, appetizers, salads, pastas, mains, and desserts, choose from classic dishes with a Canadian influence, such as a golden beet salad, fresh oysters, Alberta trout, and Alberta prime beef. Head here for golden hour every day from 3pm to 5pm, where there's an excellent list of nibbles to dine on.
Minas Brazilian Steakhouse
Location: 136 2 St SW
Minas Brazilian Steakhouse is known for its fantastic Brazilian food, bringing the tradition of tableside carved meats to downtown Calgary. Highlighting flavours from Southeast Brazil, chef Jose Montes delivers traditional cuisine in a sleek setting, whether you're visiting for a lunch meeting or a family dinner.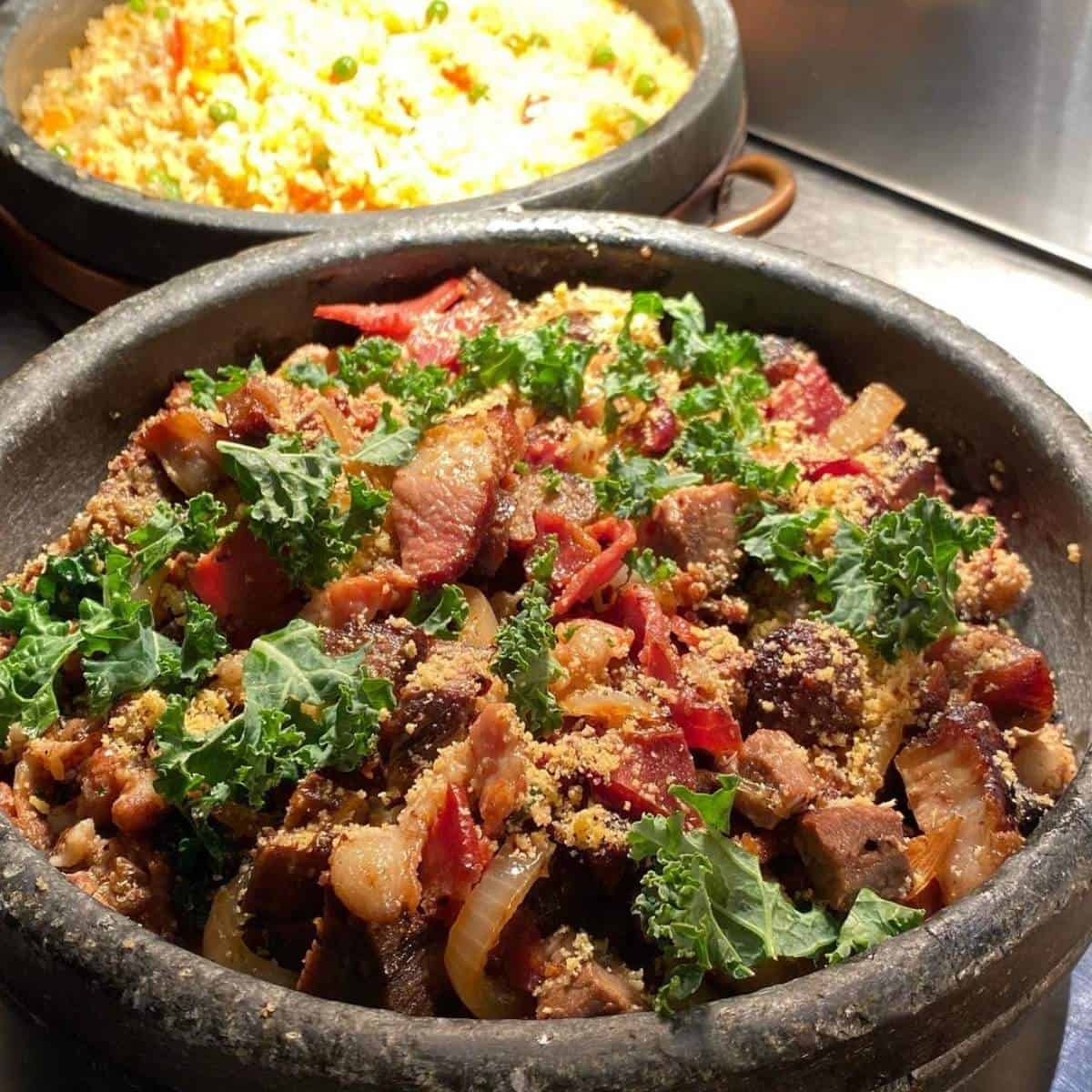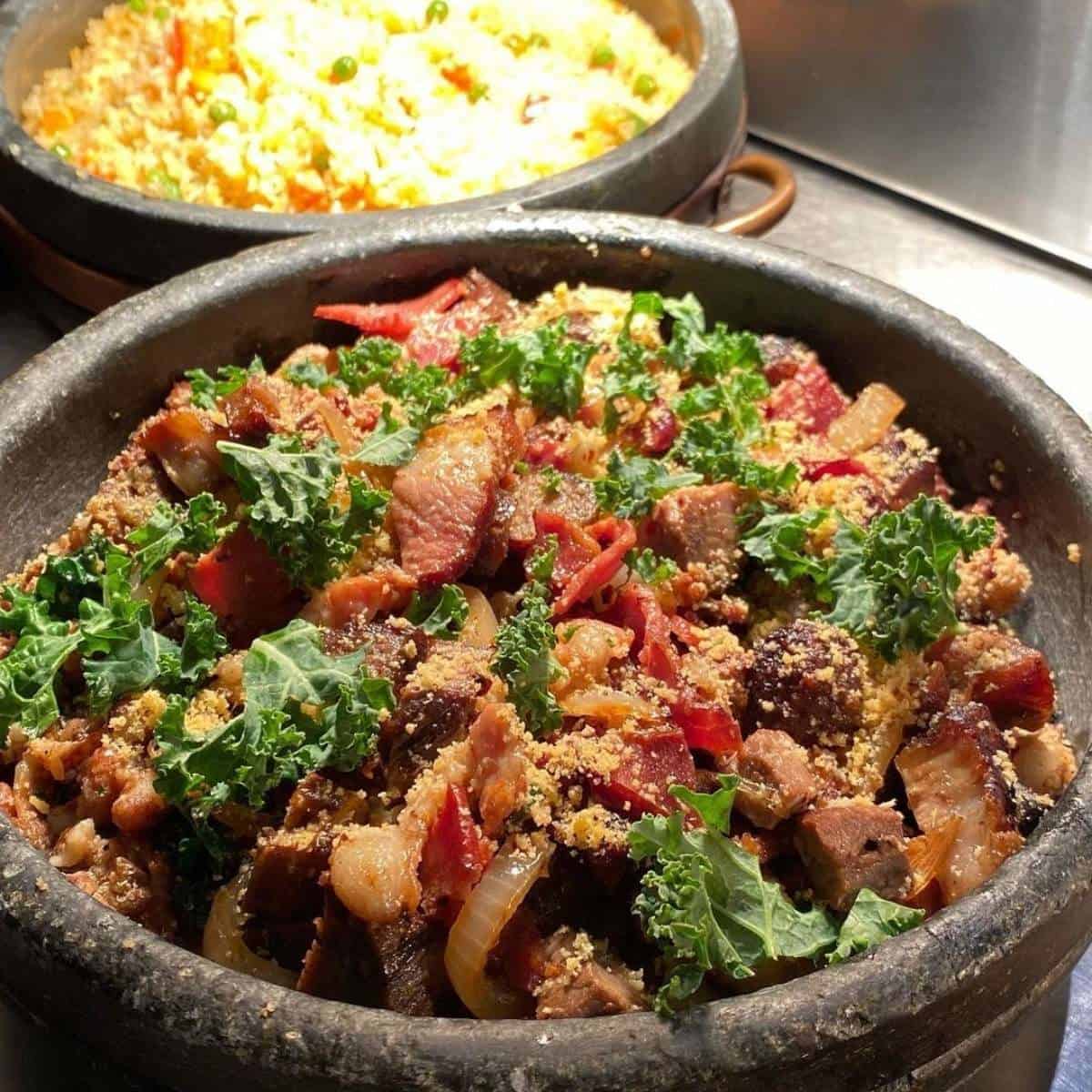 Enjoy your rodizio meal, an all-you-can-eat style of eating popular in Brazil with set prices. Choose from barbecue cuisine served on skewers alongside classic sides such as farofa (toasted cassava flour), fried sweet plantains, or black beans stew. There's also a fabulous selection of cocktails as well as a carefully curated wine list.
Nupo
Location: 631 Confluence Way SE
One of the most unique restaurants in Calgary, Nupo brings you a fine dining sushi experience. Incredibly intimate – especially if you sit at the Omakase sushi bar, where there are only six seats – you should make a reservation at this highly sought-after spot! With Canadian decor yet a Japanese menu, the restaurant is a beautiful representation of what it means to live in Canada and experience a blend of cultures and cuisines. Featuring vegan and plant-focused food mixed with sushi, Nupo is a place unlike any other in Calgary.
Enjoy the a la carte menu in the dining room, making sure to pair your meal with one of Nupo's tasty cocktails (all made with Japanese flavours such as yuzu, green tea, or Japanese whiskey). But for a really memorable time, book the Omakase sushi experience, where you get to sit at the bar and watch as the sushi chef prepares each of your pieces of nigiri with precision and care. While this experience is common in Japan, it's difficult to find in Calgary, making Nupo quite the hidden gem!
River Café
Location: 25 Prince's Island
This is a rare Calgary restaurant that has stood the test of time. From its exceptional surroundings on Prince's Island, and in a warm and inviting building to match, this is the perfect fine-dining spot for an especially important occasion. River Café started serving up local and sustainable cuisine long before it became the cool thing to do, and thus they have perfected Canadian food like none other.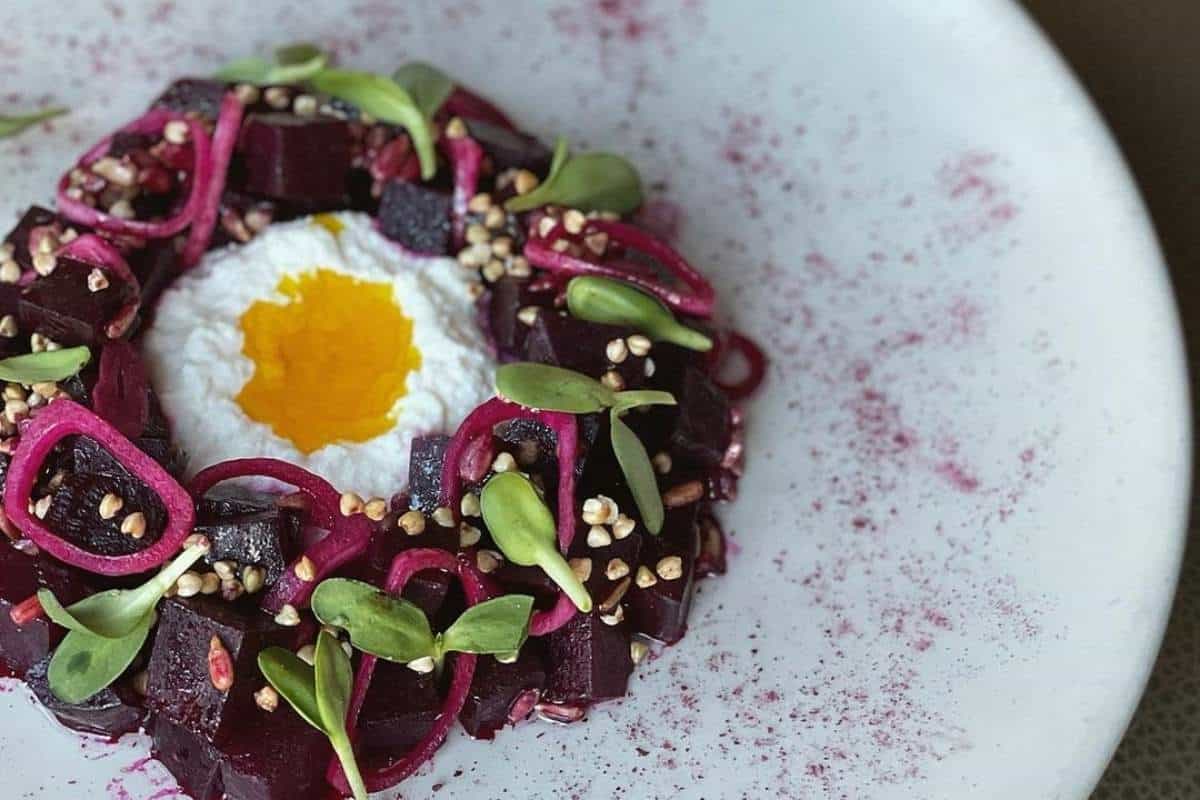 The menu changes with the seasons, but this is where you want to go for delectable originality. Indulge in a chef's tasting menu to be surprised with each plate, or if you want a more casual and intimate affair, the River Café even offers picnic baskets to amp up the romance in Prince's Island Park. This is a dining experience not to be missed.
D.O.P.
Location: 1005A 1 St SW
Head to D.O.P in downtown Calgary to experience the best in Italian cuisine. This cozy restaurant has made a splash since emerging onto the culinary scene in the city, and is often included on the list of Calgary's best restaurants. D.O.P stands for "Denominazione d'Origine Protetta" in Italian, meaning "Protected Designation of Origin", and it is only given to the food products that are traditionally produced, processed, and packaged in a specific part of Italy; the Calgary restaurant stays true to its name, serving up only the finest Italian ingredients.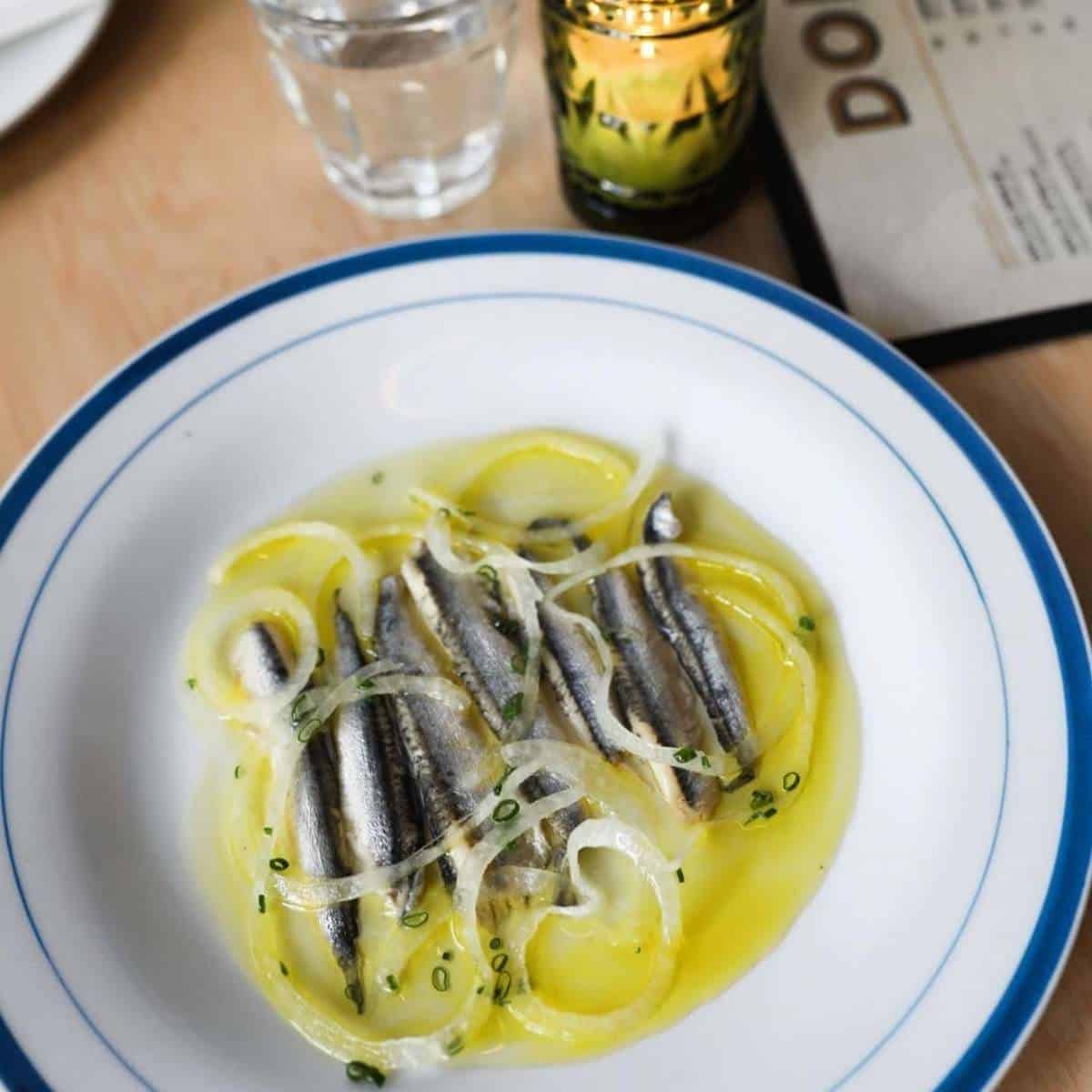 The menu is sure to delight, especially if you're after a taste of Old World Italian food. Just like in Italy, seemingly simple dishes are elevated by their cooking techniques and fresh ingredients. Go for antipasti dishes like whipped ricotta, white anchovies, and balsamic marinated eggplant, followed by primi dishes like handrolled spaghetti or a slow braised lamb ragu. The menu may be small, but it sure is mighty. Open only for dinner, reservations are required.
Park by Sidewalk Citizen
Location: 340 13 Ave SW
This Calgary restaurant is one of the very best. Using local ingredients and inspired by the bustling food markets of Israel and the Mediterranean, dine in a beautiful solarium with views of nature all around you. With a daytime menu, brunch specials, an extensive dinner menu, and happy hour snacks from 3pm to 5:30pm to choose from, you'll be spoiled for choice at Park by Sidewalk Citizen. And don't forget the drinks and dessert menus, too!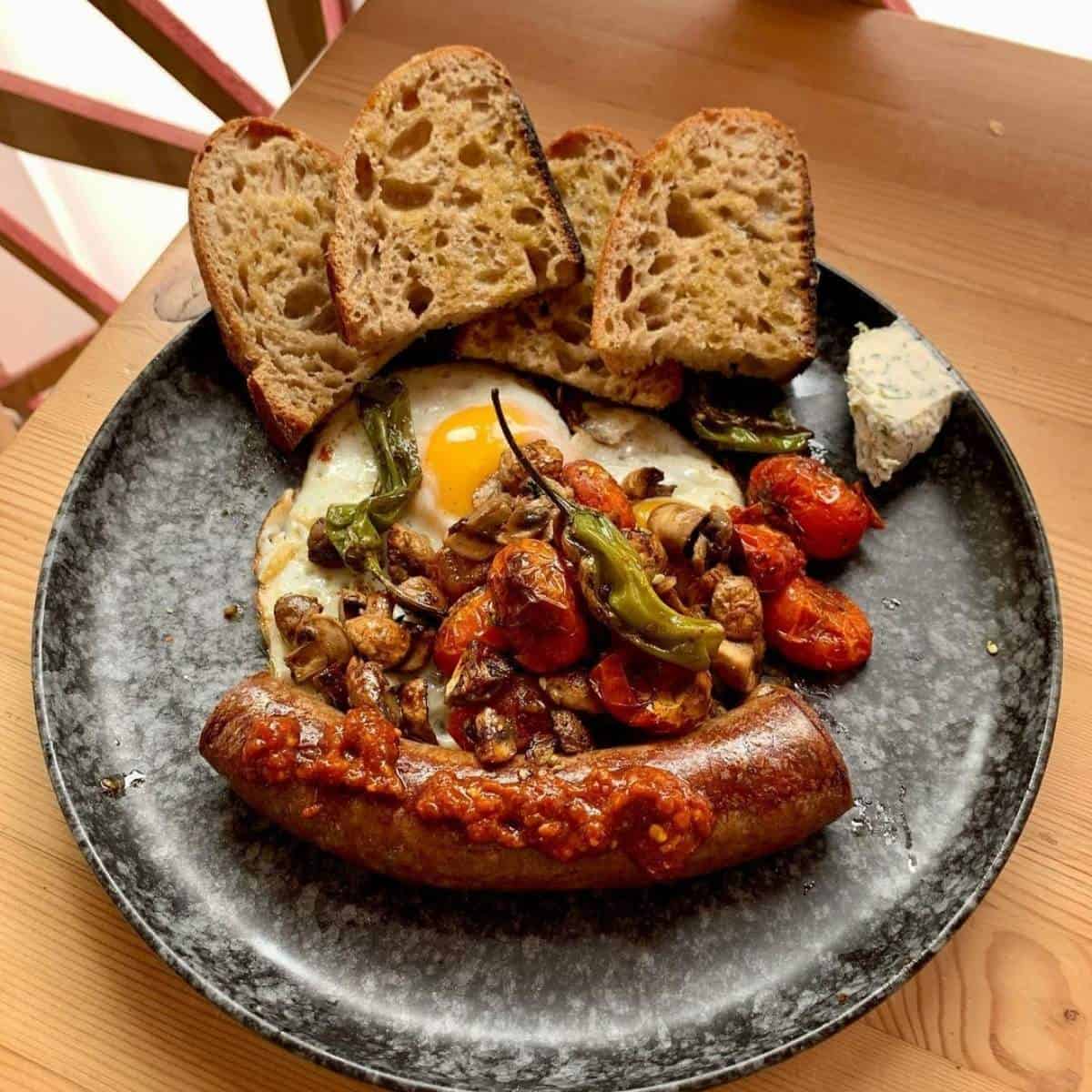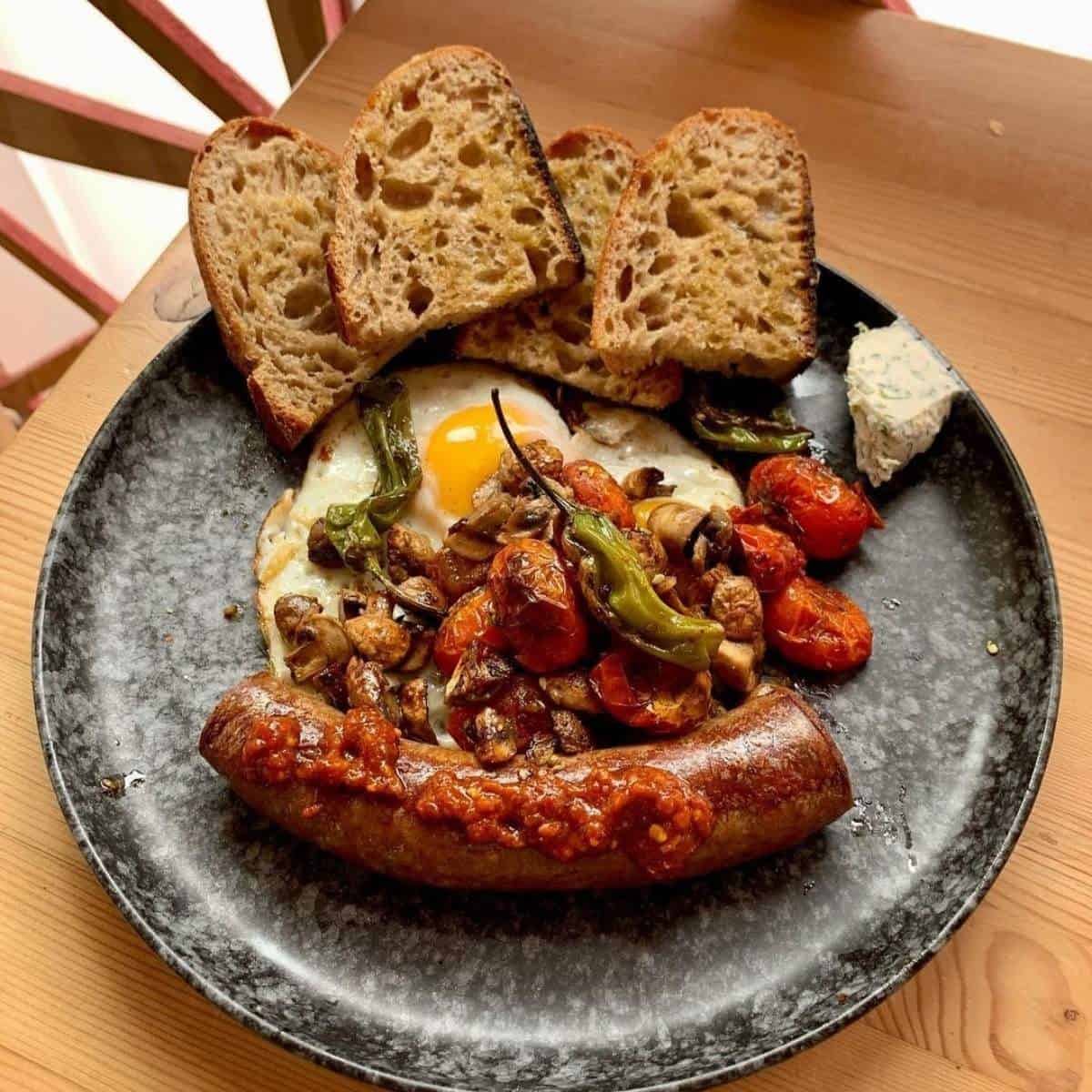 Some of our favourites include the shakshuka or cured salmon plate for breakfast, the green eggs and lamb for brunch, and the sautéed freekah, beef bavette, and chicken wings stuffed with garlic tahini and date barbecue sauce for dinner. One of the most flavourful restaurants in Calgary, this is sure to become one of your go tos.
Eight
Location: 631 Confluence Way SE
Found inside the Alt Hotel Calgary East Village, Eight is a high concept restaurant that is perfect for a meal to remember. Interestingly, the restaurant only books seasonally, so you'll have to book far in advance… each sitting sells out quickly! Using only the finest seasonal ingredients, Eight has created quite the name for itself in the city and has become an exclusive culinary experience, and one of the most unique Calgary restaurants.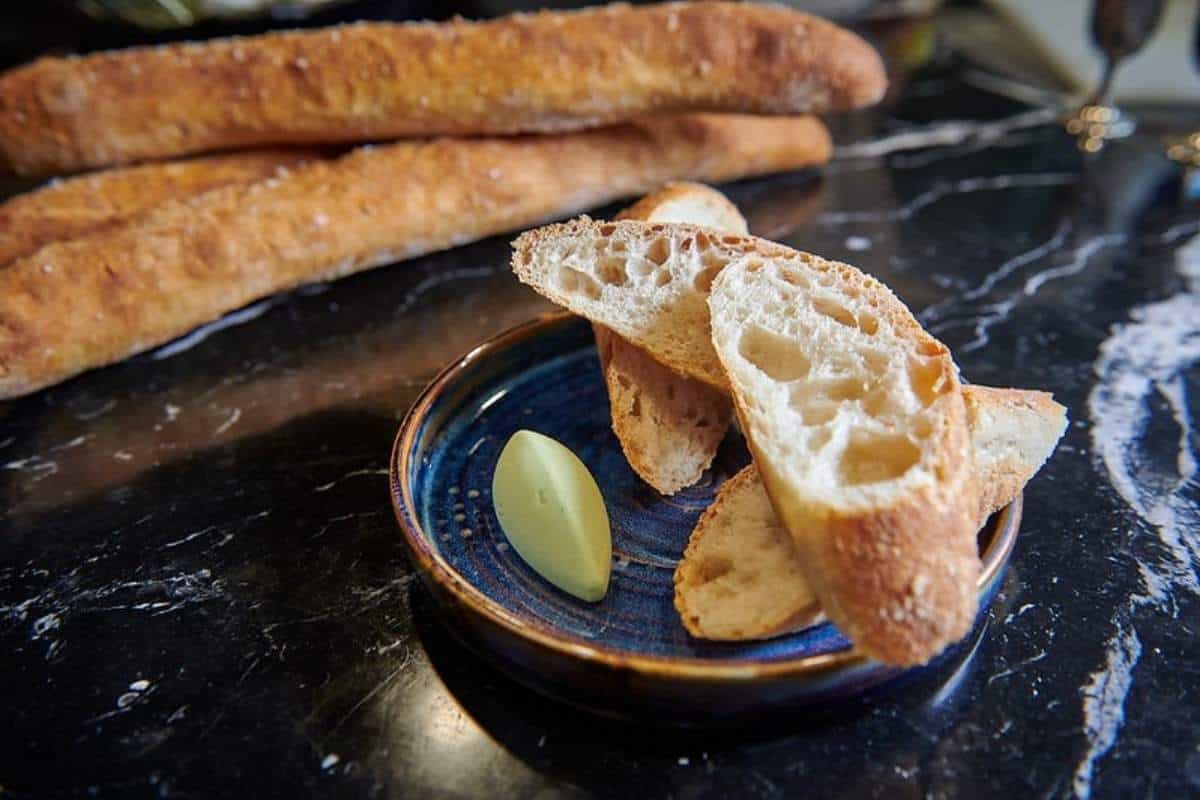 Lasting an entire evening, your meal will focus on Canadian cuisine, as the chefs look at "ingredients, techniques, and flavours that have found specific homes across our nation." This means you can find all sorts of dishes on the menu, influenced by the cultural mosaic of people that call Canada home. Expensive but memorable, eating at Eight is a once-in-a-lifetime kind of meal.
Paper Lantern
Location: 115 2 Ave SE Basement
You'd never expect a tropical Vietnamese escape tucked away in a basement in Chinatown, but Paper Lantern is full of surprises! This cocktail bar is known for its amazing atmosphere, delicious libations, and fabulous Vietnamese cuisine. Open from 5pm until late, head here for a cozy drink, a date night, or a few sharing plates with friends.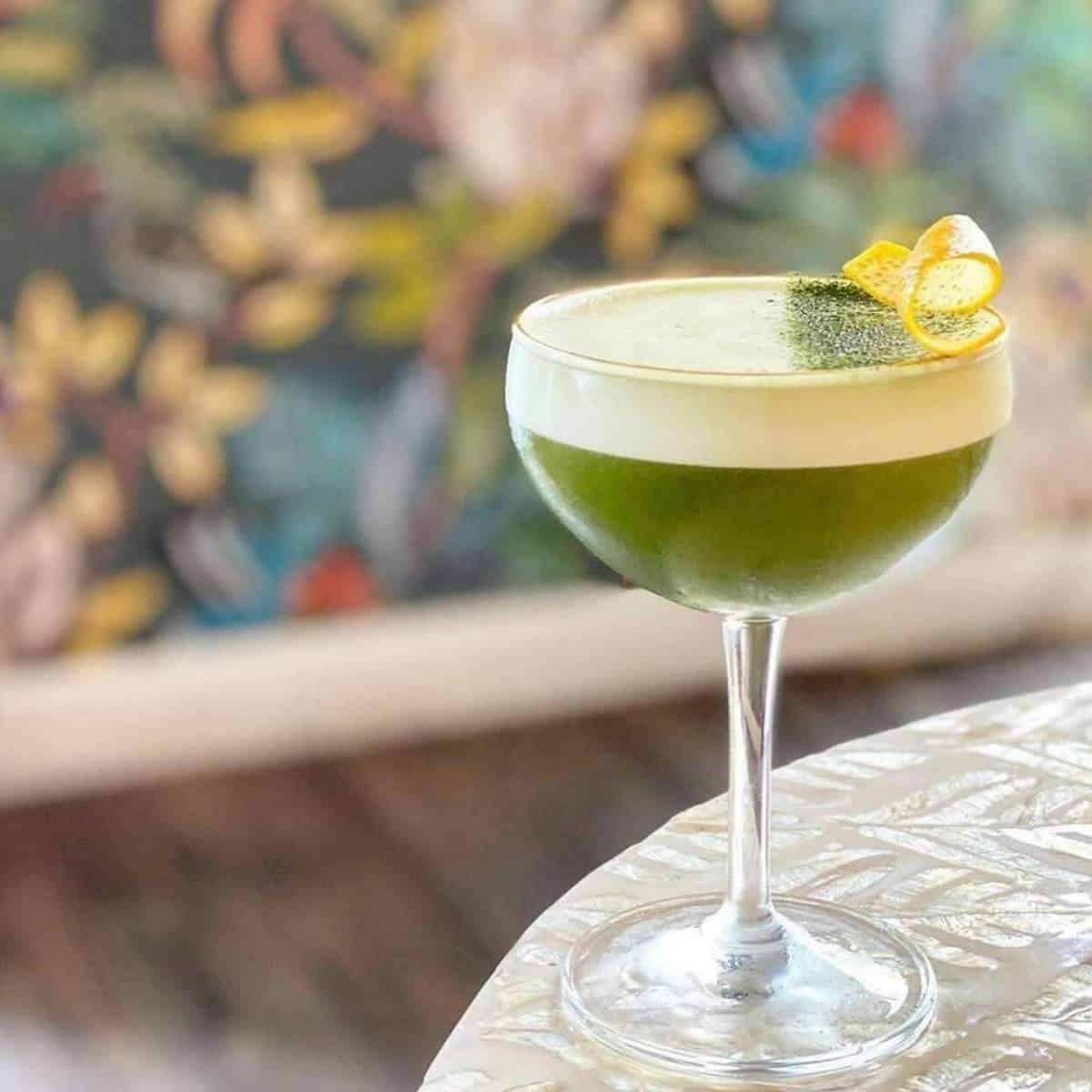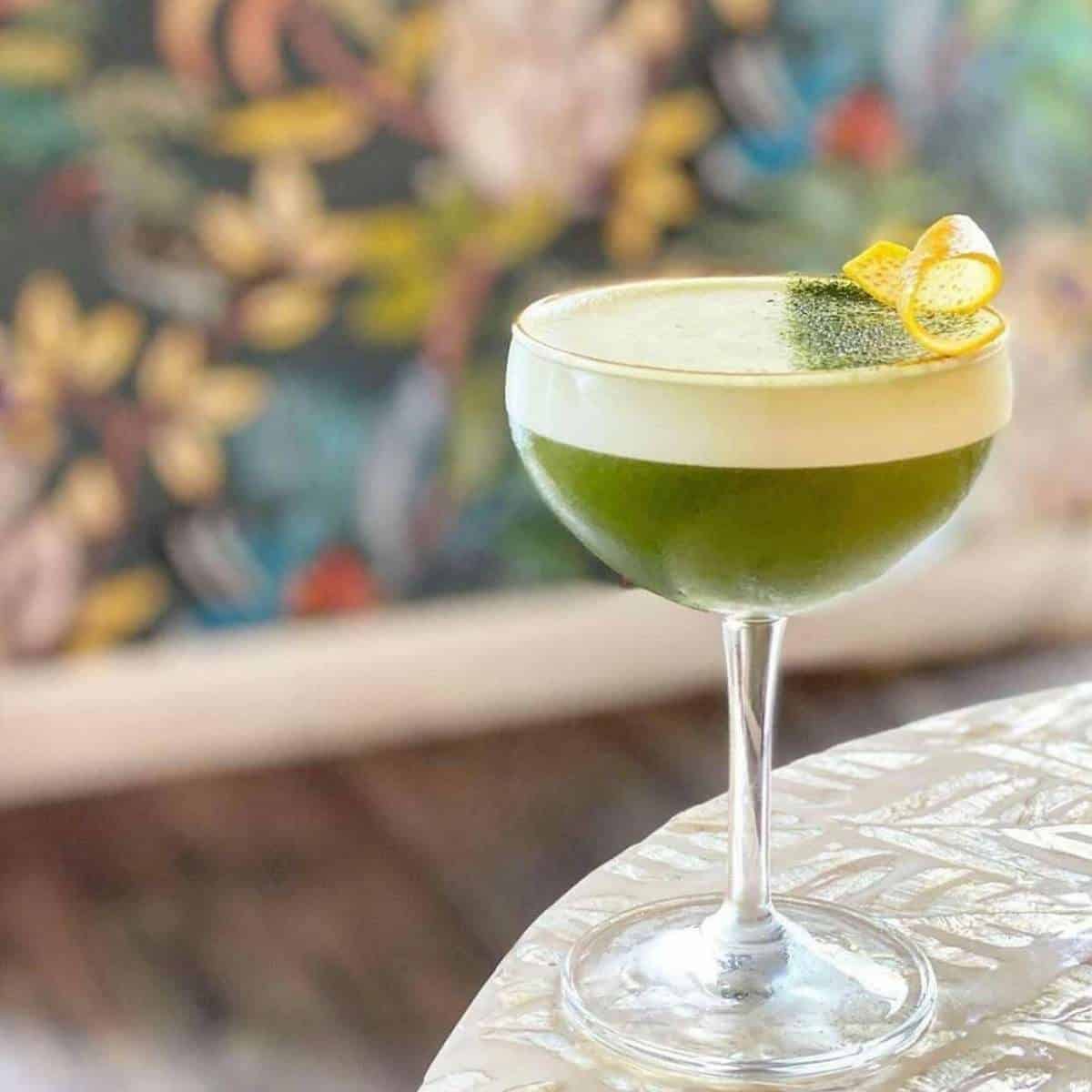 On the food front, we recommend one of the scrumptious banh mi sandwiches, the crackling salmon spring rolls, or the pineapple stir fry with pork belly (although every dish is worth trying). Craft cocktail connoisseurs will love Paper Lantern's drink menu; there's a terrific selection of innovative beverages, including the "Banana Old Fashioned", the "Penicillin Fizz", and the "Asparagus Piña".
JinBar
Location: 24 4 St NE
Originally from South Korea, Chef Jinhee Lee is known for her creative dishes and innovative approach to food. She's brought that talent and passion to JinBar, a fun and lively restaurant in Calgary that features spectacular cocktails and tasty meals of Korean-style tapas to match. Open only in the evenings, it's a cool spot to share a drink or two with friends – we love the "Guava in my Rum" and the "Jin Jin Mule", as well as their selection of craft beers – and dive in to a smorgasbord of delicious menu items.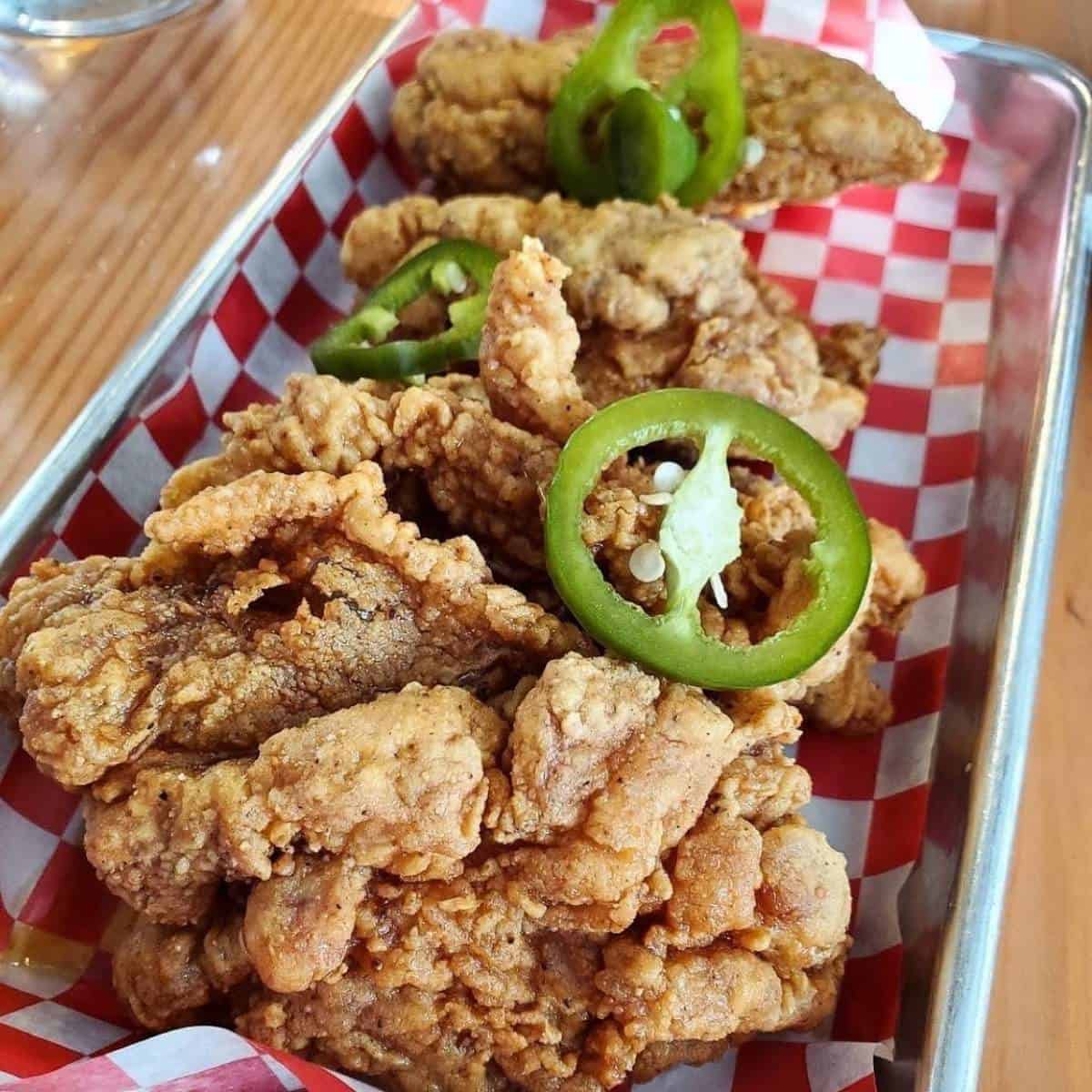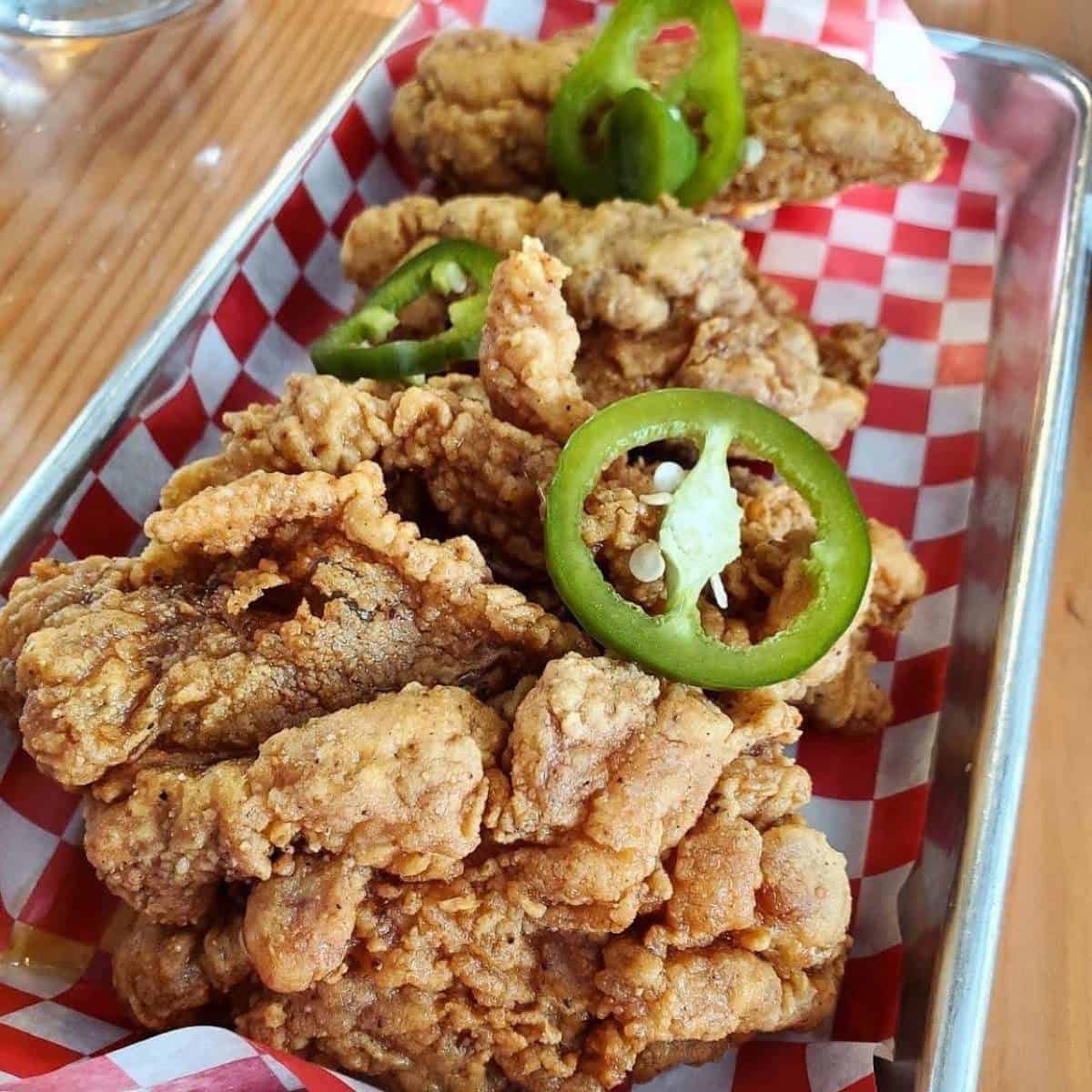 You'd be remiss if you didn't order some of the fried chicken, famous for its lengthy marinating period and crispy skin. Other standouts on the menu include the Korean Beef Bulgogi pizza, the Braised Pork Belly taco, and the incredibly fresh watermelon salad. Just make sure to save room for dessert!
Sukiyaki House
Location: 207 9 Ave SW #130
Found in Pennwest Plaza, Sukiyaki House is one of the best sushi restaurants in Calgary. Known for its modern and minimalist approach, the emphasis is on the freshest ingredients for the very best quality. With a history that dates back to 1976, there's a long tradition of excellence here, whether that's with the sushi served, the wine and sake list, or the exceptional service.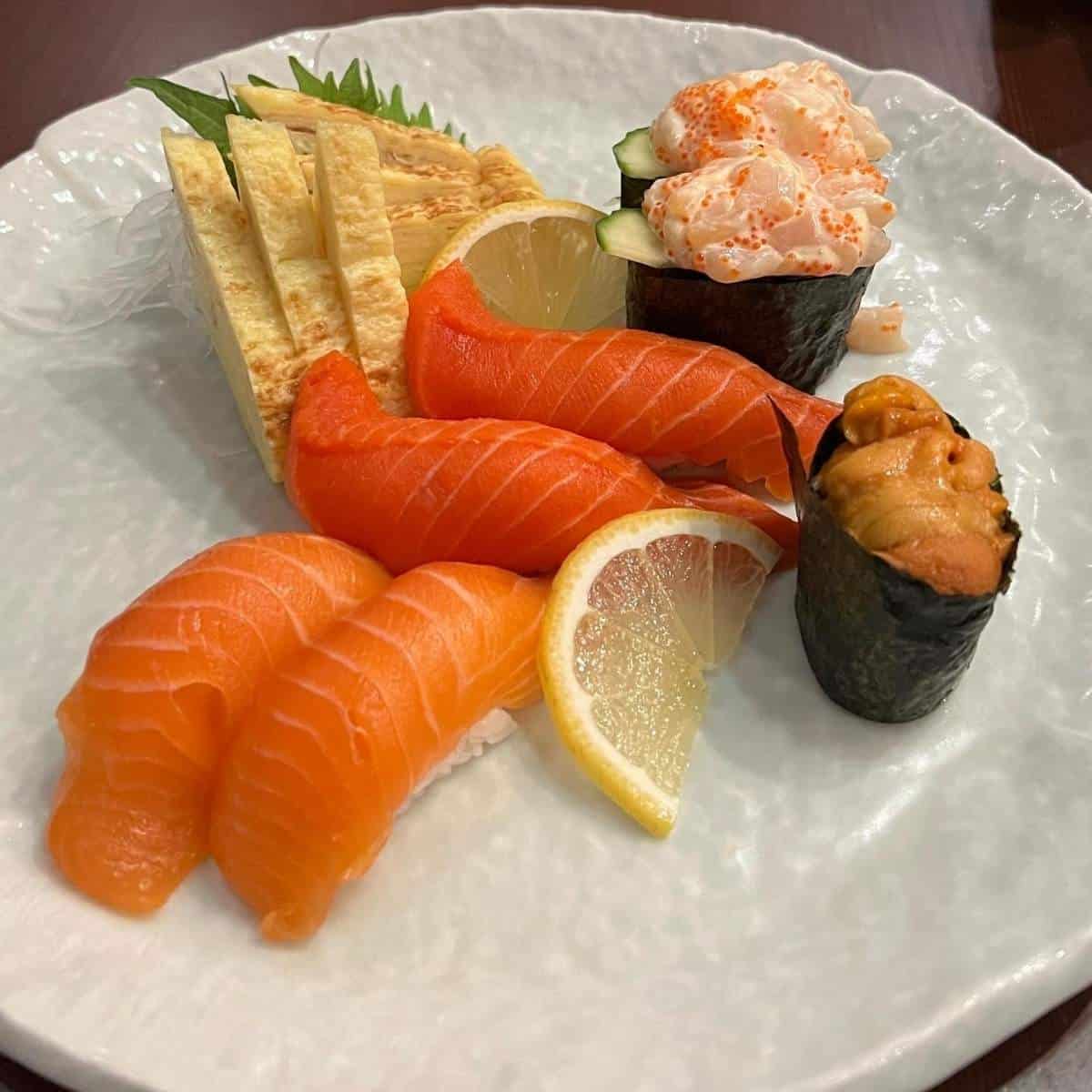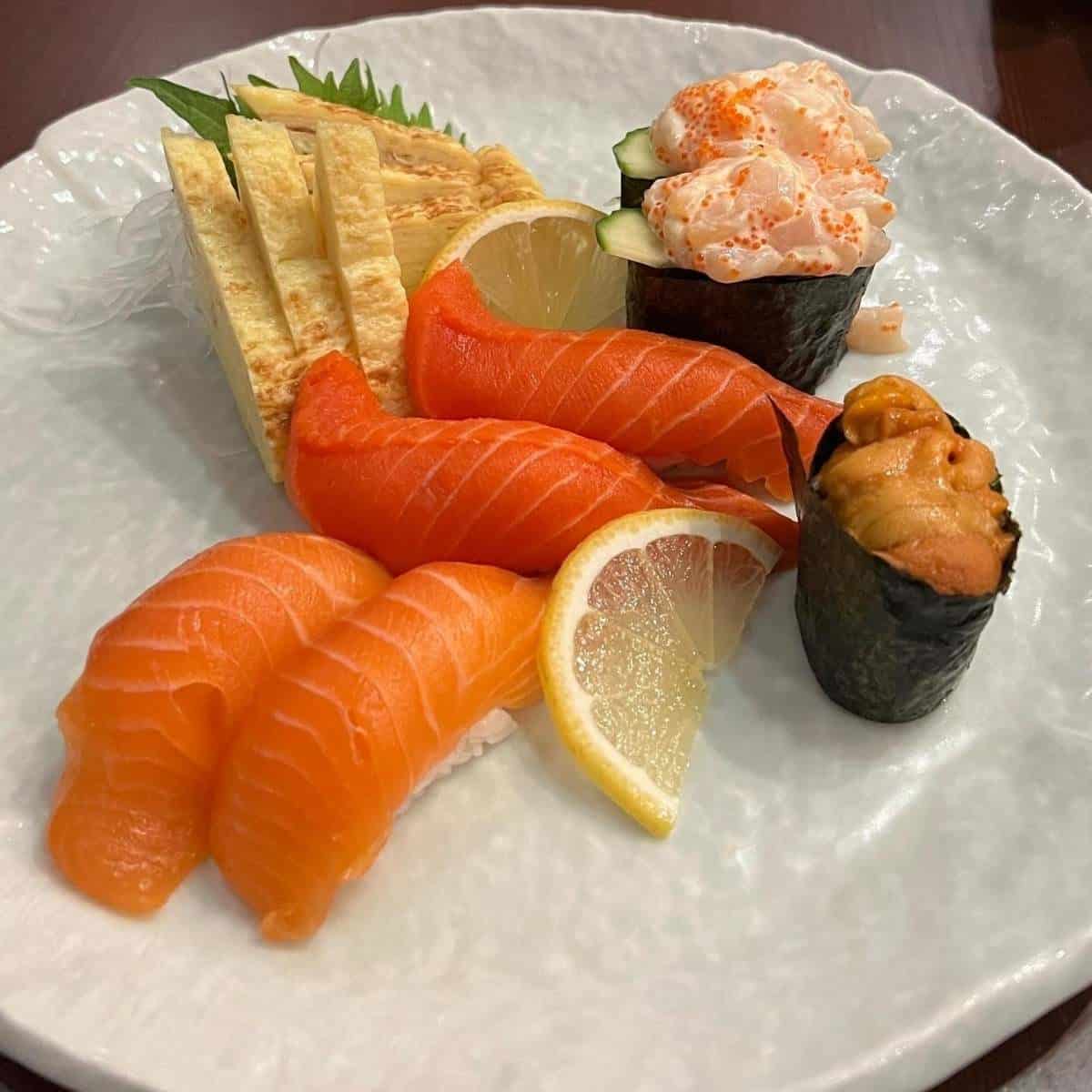 Featuring a sushi bar, you can also choose from many Japanese entrees as well as hot pots (to order a hot pot you need to give at least one day's notice). Some of our favourites include the Wagyu beef tataki, the miso sablefish, or the sashimi dinner, while go-to rolls include the inari (fried bean curd), kani (snow crab meat), and the tobiko (flying fish roe). Perfect for business meetings, lunch with friends, or a family dinner, Sukiyaki is always a great choice.
Orchard Restaurant
Location: 620 10 Ave SW #134
One of the hottest Calgary restaurants, get ready to be wowed as soon as you enter the dining room at Orchard Restaurant. Beautifully decorated with chandeliers, modern furniture, and tons of greenery, you'll be pleased to discover that the food at Orchard is just as fantastic as the decor. With an interesting menu featuring Asian Mediterranean flavours, you're always in for something special here.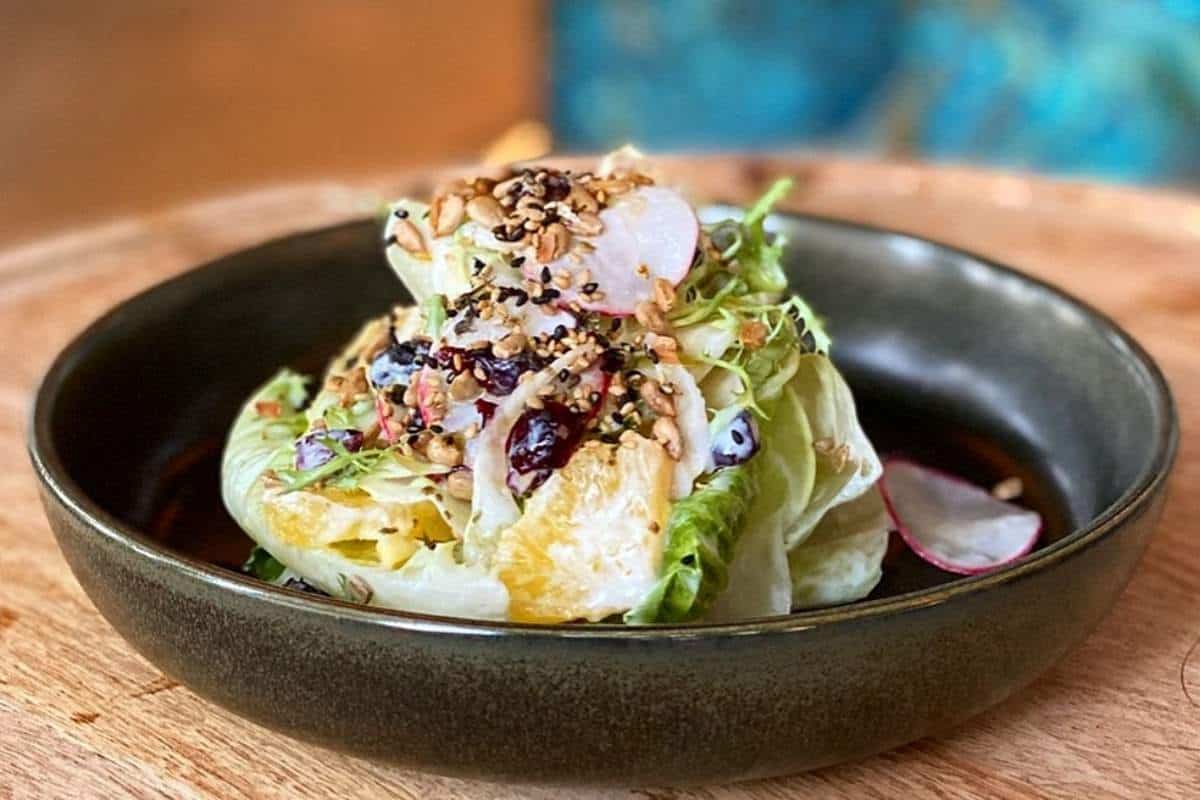 Open for lunch and dinner, this fine dining restaurant offers modern cooking techniques mixed with classic ingredients. With excellent choices for both vegetarians and meat-eaters alike, we love plates such as the Icelandic cod with bok choy and apple salsa, the cauliflower gratin with sumac and pickled onion, and, for lunch, the yellowfin tuna sandwich. No matter what you order, you know it's going to be memorable at Orchard Restaurant.
SS106 Aperitivo Bar
Location: 824D Edmonton Trail
SS106 Aperitivo Bar is cozy, welcoming, and perfect for socializing. With a lively atmosphere and an incredibly friendly staff, the restaurant is known for building a social environment while also serving delicious Italian fare. Open for lunch, dinner, and drinks, it's a great date spot or for hanging out with a few friends.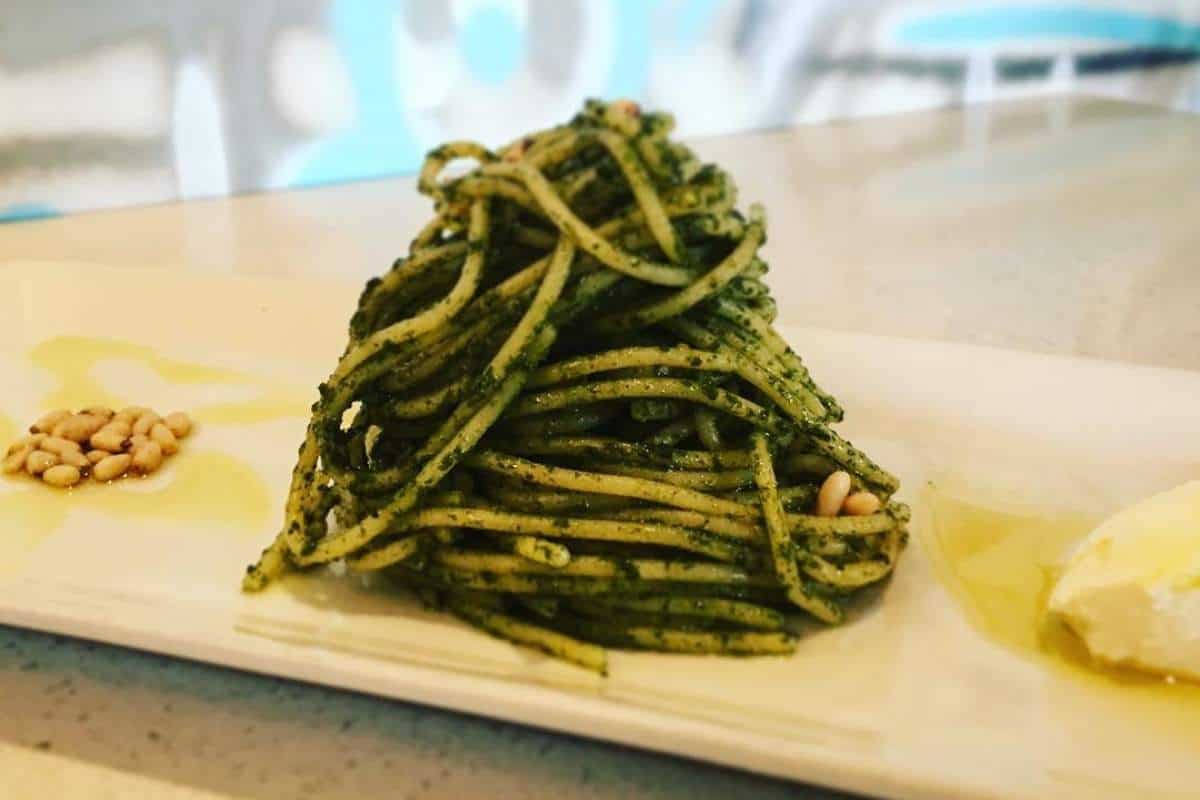 There's a substantial wine list, featuring one of the best selections of Italian wines in Calgary. You can also choose from classic Italian aperitivos and cocktails such as an Aperol spritz, an Italian sour, or a negroni. To eat, choose from an extensive list of starters – think Italian sausage, arancini, and calamari – as well as cheese and meat boards, salads, pizzas, and pastas. SS106 Aperitivo Bar is a terrific combination of delicious food and a fun atmosphere, so you know you're in for a good time whenever you visit.
Looking for a choice of specialty restaurants after a very fun night out? We've got a rundown on the best spots for brunch in Calgary, as well as some fabulous Calgary coffee shops to check out.
There's no doubt that eating is a fave activity in the city with all of the exceptional Calgary restaurants on offer, but don't miss out on all the other greatthings to do in Calgary!
And if you need a place to sleep off your food coma, we've got a guide to all of the best Calgary hotels. Or if you're not quite ready for bed and want to try some local craft beer, check out some of the best breweries in Calgary.