Disclaimer: This page may contain affiliate links. Please review our full Terms and Conditions for more information and our Privacy Policy. Note that any pricing, operating hours, or other such information provided below may have changed since initial publication.
Compiled by the Road Trip Alberta team
Last updated on August 9, 2023
The next time you're in Cow Town and find yourself craving Mexico's bold and vibrant flavours, you're in a great spot because there are several exceptional Calgary Mexican restaurants to choose from. Spanning almost every corner of the city, each restaurant brings its unique touch to the Mexican dining experience, offering a delightful blend of flavours, ambiance, and culinary expertise.
Get ready, your tastebuds are in for a treat. Buen provecho!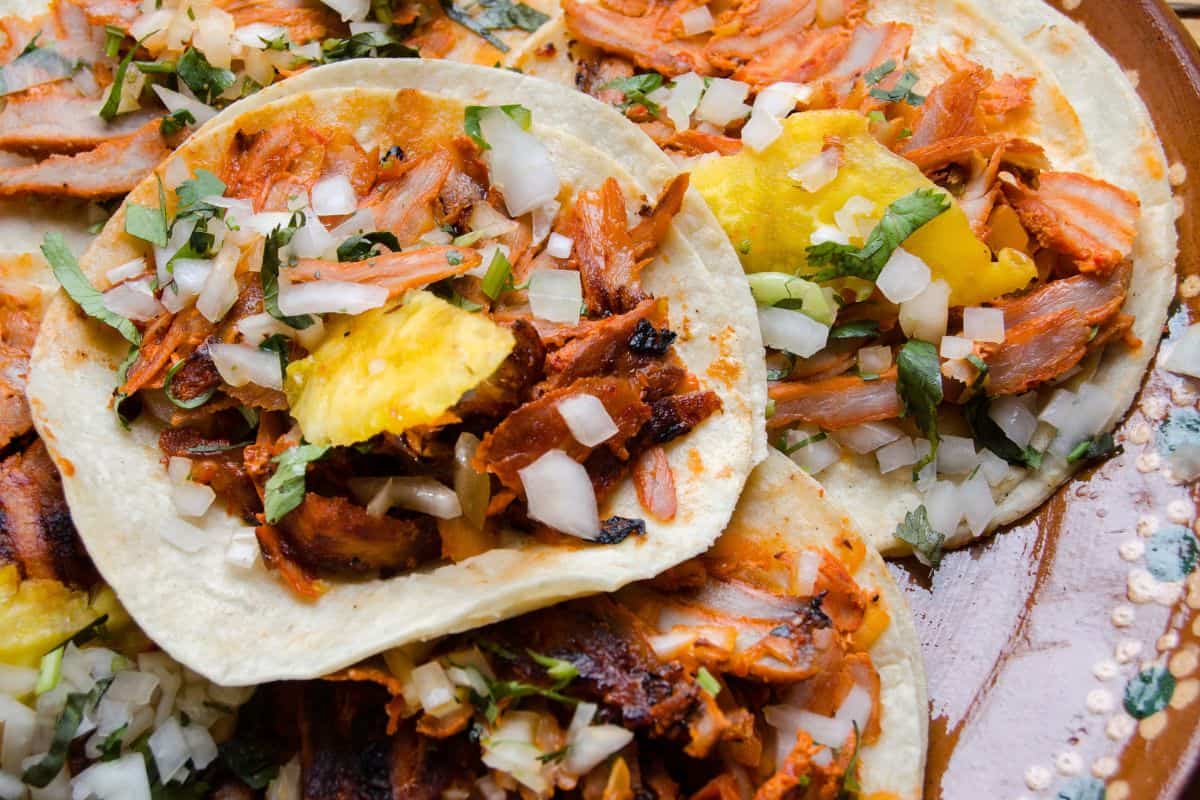 The Best Calgary Mexican Restaurants
Moose & Poncho – TOP PICK
Address: 1327 1 St SW #6
Moose and Poncho, in our opinion, is one of the best Mexican restaurants in Calgary. Located in the First Street Market just south of downtown, it offers a casual dining experience with authentic Mexican food. It's open for lunch and dinner and offers market-style eating with indoor and outdoor seating.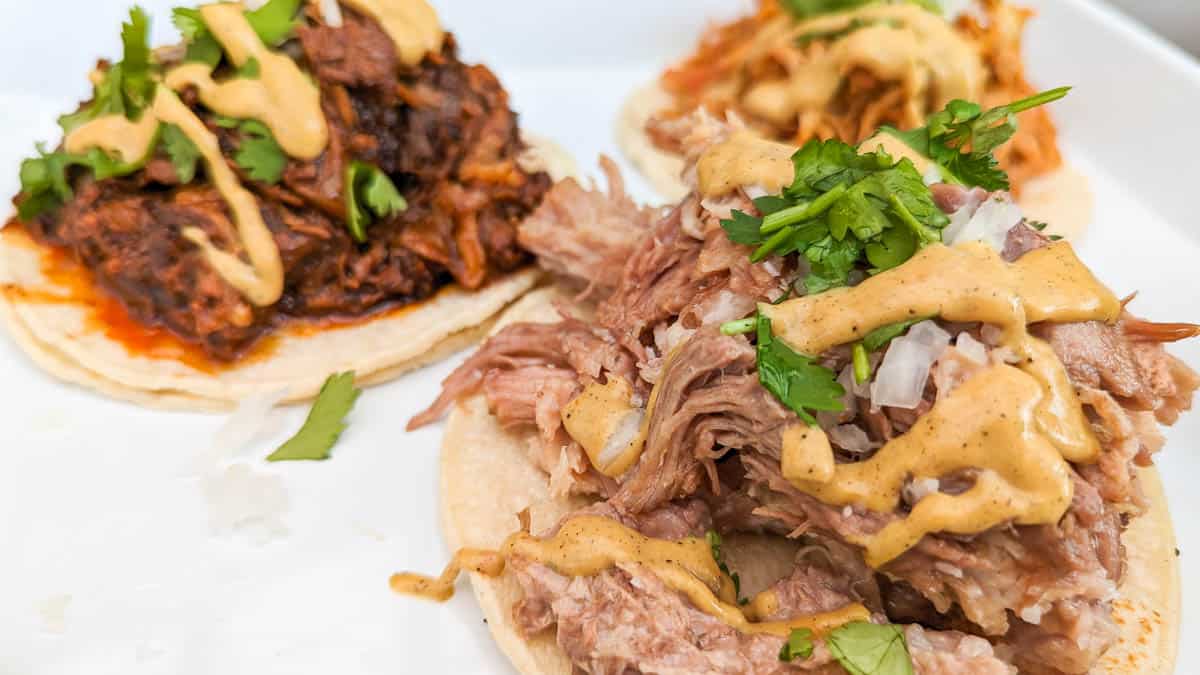 Their menu includes tacos, quesadillas, burritos and more. Be warned, the tacos are piled high, and it makes sense why they give two corn tortillas for each – grab a fork to sample the meat and also make the taco less messy to eat! Be sure to try the Birria and thank us later – the jus accompanying it is seriously slurpable. It's no surprise that Moose and Poncho have been awarded several accolades, including being named one of the best new restaurants in Calgary in 2020 and, more importantly, our top pick.
Native Tongues Taqueria – TOP PICK
Address: 235 12 Ave SW
Native Tongues Taqueria is a popular Mexican restaurant located in the heart of Calgary (and was our easy top pick before we tried Moose & Poncho). Known for its authentic cuisine, this restaurant offers a wide variety of delicious tacos, quesadillas, and other traditional dishes.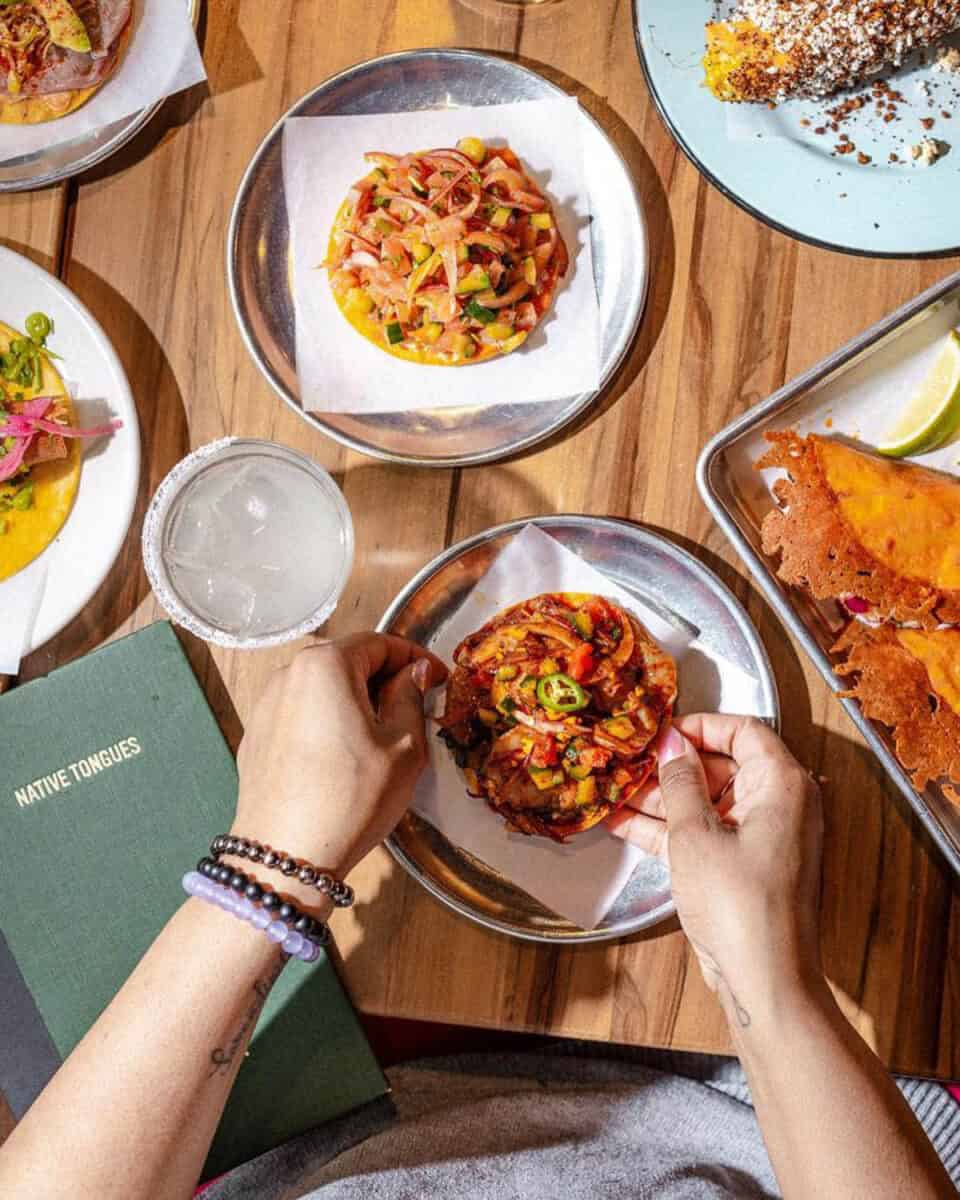 Of all their authentic Mexican food, the chilaquiles are a personal fave, and if they have tacos al pastor on their menu, be sure to order a couple. Just make sure to save room for the donuts made in-house and served as warm and fluffy as you'd ever want them! Note that the restaurant doesn't take reservations, so show up early on an expectedly busy night to claim your seat.
Fonda Fora
Location: 630 4 Ave SW (inside the Westley Hotel Downtown)
We're so happy to see quality Mexican dining options popping up in Calgary, and Fonda Fora is another one of our recommended Calgary restaurants. Chef Emilio Montenegro, a top 30 under 30 chef, brings a contemporary approach to traditional Mexican dishes. There's a focus on fresh seafood, and a seasonal, corn-forward menu incorporating the saying "Sin Maíz, No Hay País" (without corn, there is no country) says it all about the restaurant.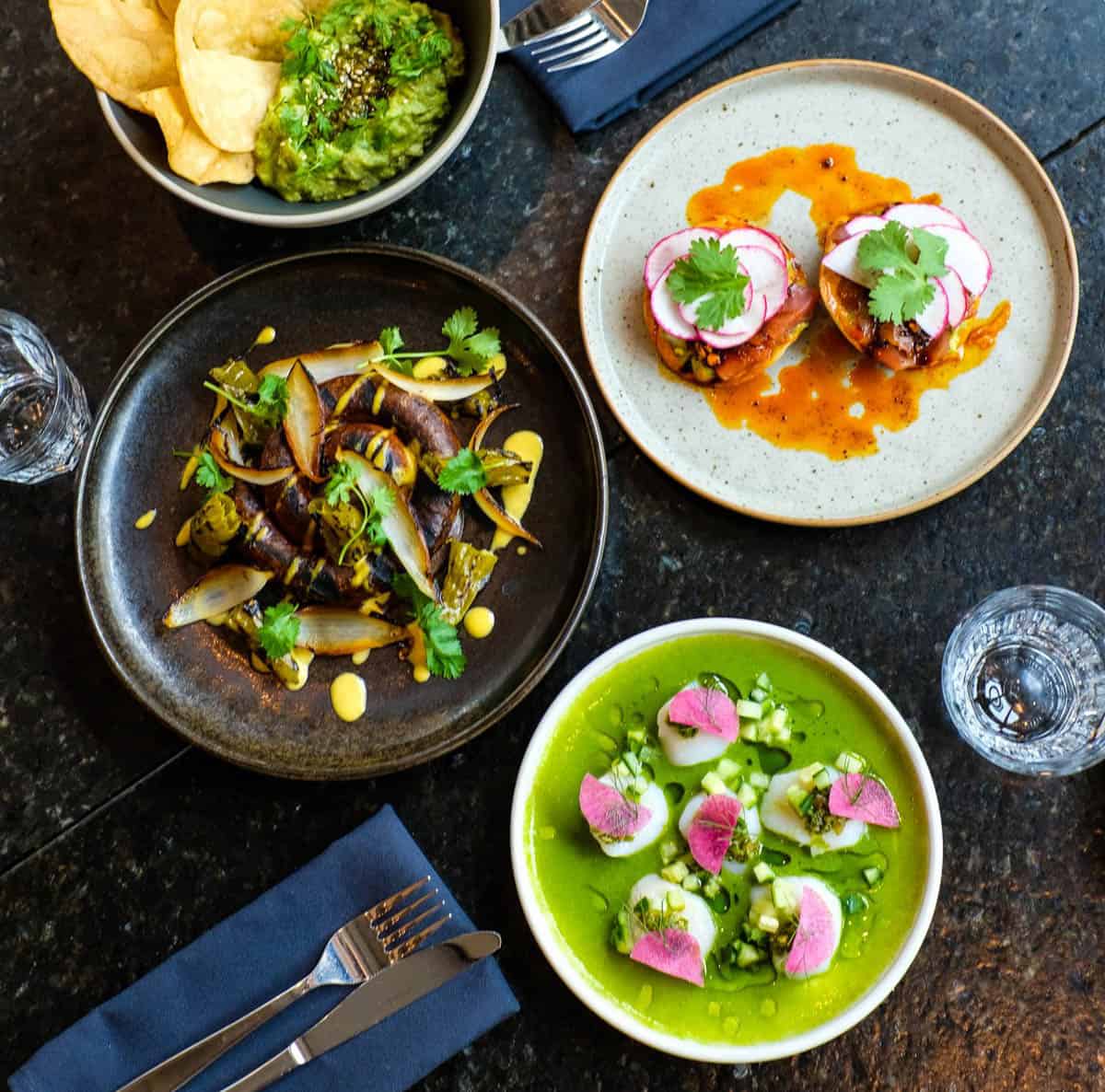 What we would recommend? Oh, where to begin, apart from the entire menu. Start with the Esquites Con Cangrejo, off-the-cob grilled corn slathered with creamy gorgonzola cheesy goodness and accompanied with wild crab and basil. Or try the Carne Apache or the Tostada de Tinga. For a main, dig into the Trucha Frita (fried Trout) that comes with a spiced corn dredge, greens, and chipotle aioli that is to DIE for! If you're craving meat (and a big dish), the Carne Asada, a Heritage Angus NY strip topped with their amazing fermented adobo butter, is a solid choice. For dessert, their Churros are brought to a whole other level with the passionfruit white chocolate ganache. One thing is for certain, a meal at Fonda Fora won't soon be forgotten and you'll be back before you know it.
Añejo Restaurant
Address: 2116 4 St SW
Añejo Restaurant is one of the best Mexican restaurants in Calgary. With its modern and stylish ambiance, Añejo offers a menu filled with mouthwatering dishes inspired by the flavours from Oaxaca. And it's not just their food, Añejo boasts about their largest selection of Tequilas in Canada, so you can wash down that delicious taco with a mezcal cocktail.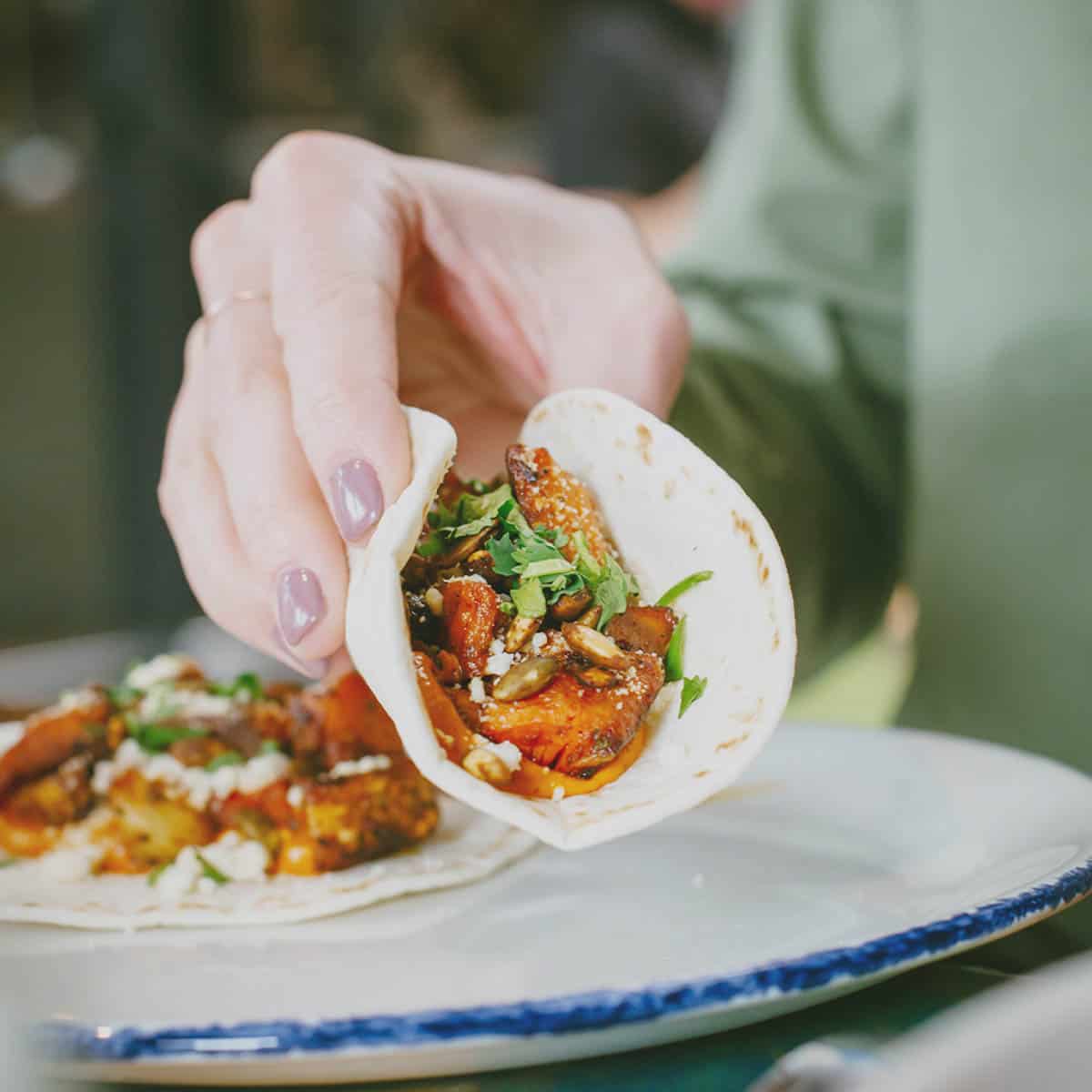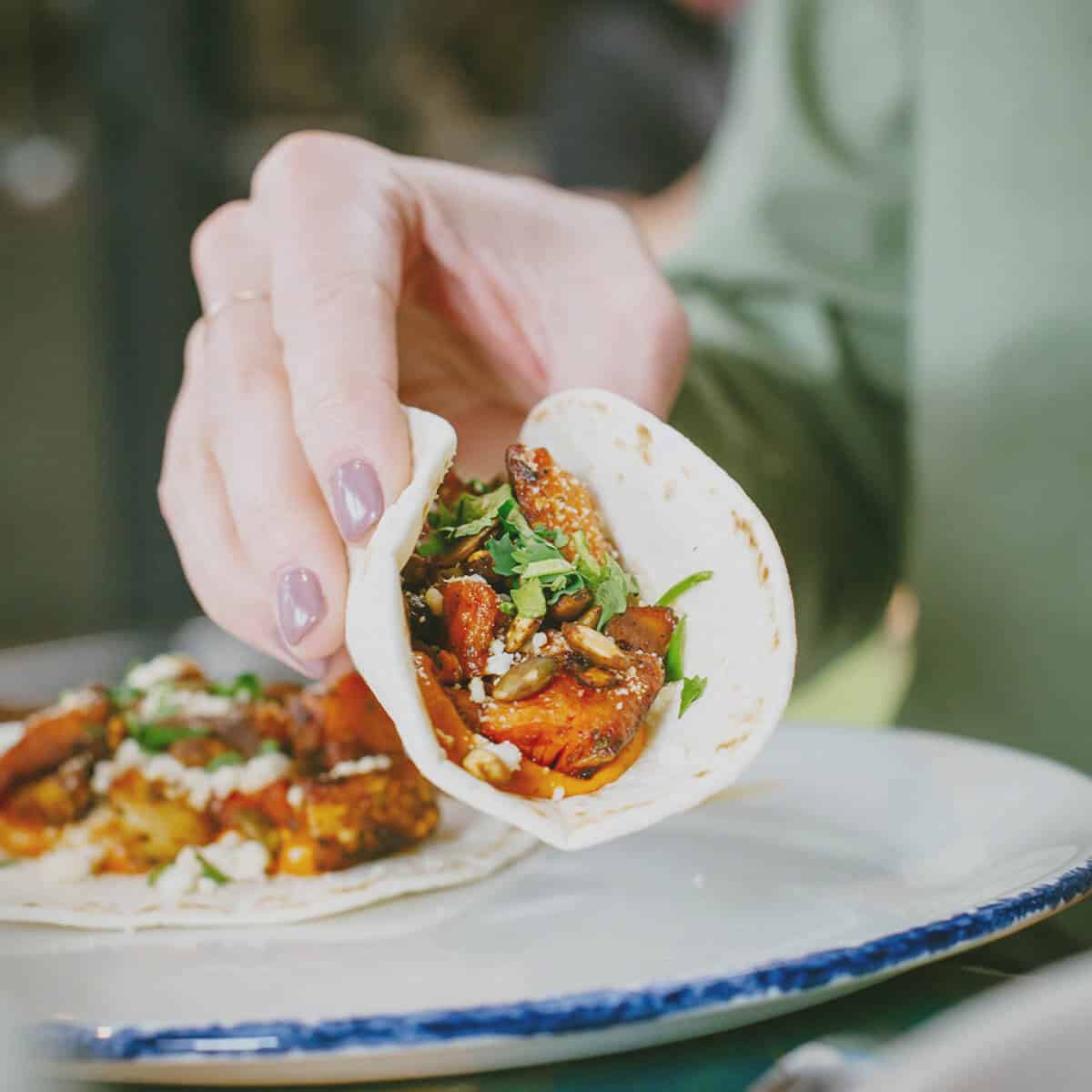 To start, try the salsa de molcajete or the fundido tradicionale, both are perfect for sharing. When you're ready to dive into the tacos, you can't go wrong with their chorizo, beef barbacoa, and our favourite, the pork carnitas. If you're craving a vegetarian taco, the braised mushrooms taco is a solid choice. But we guarantee their premium taco selection will tempt you. Especially the Quesabirria which is braised short-rib, cotija cheese, pickled onion and birria consomé. Other premium tacos include duck carnitas and tacos de pescado (with grilled mahi mahi).
Los Chilitos Taberna
Address: 1309 17 Ave SW | 510 77 Avenue SE (Calgary Farmer's Market)
Now with two locations in Calgary, Los Chilitos Taco & Tequila House is a popular spot offering authentic and delicious Mexican street food. And their newly opened Taqueria in the Calgary Farmer's Market is a perfect spot to grab a quick bite to eat.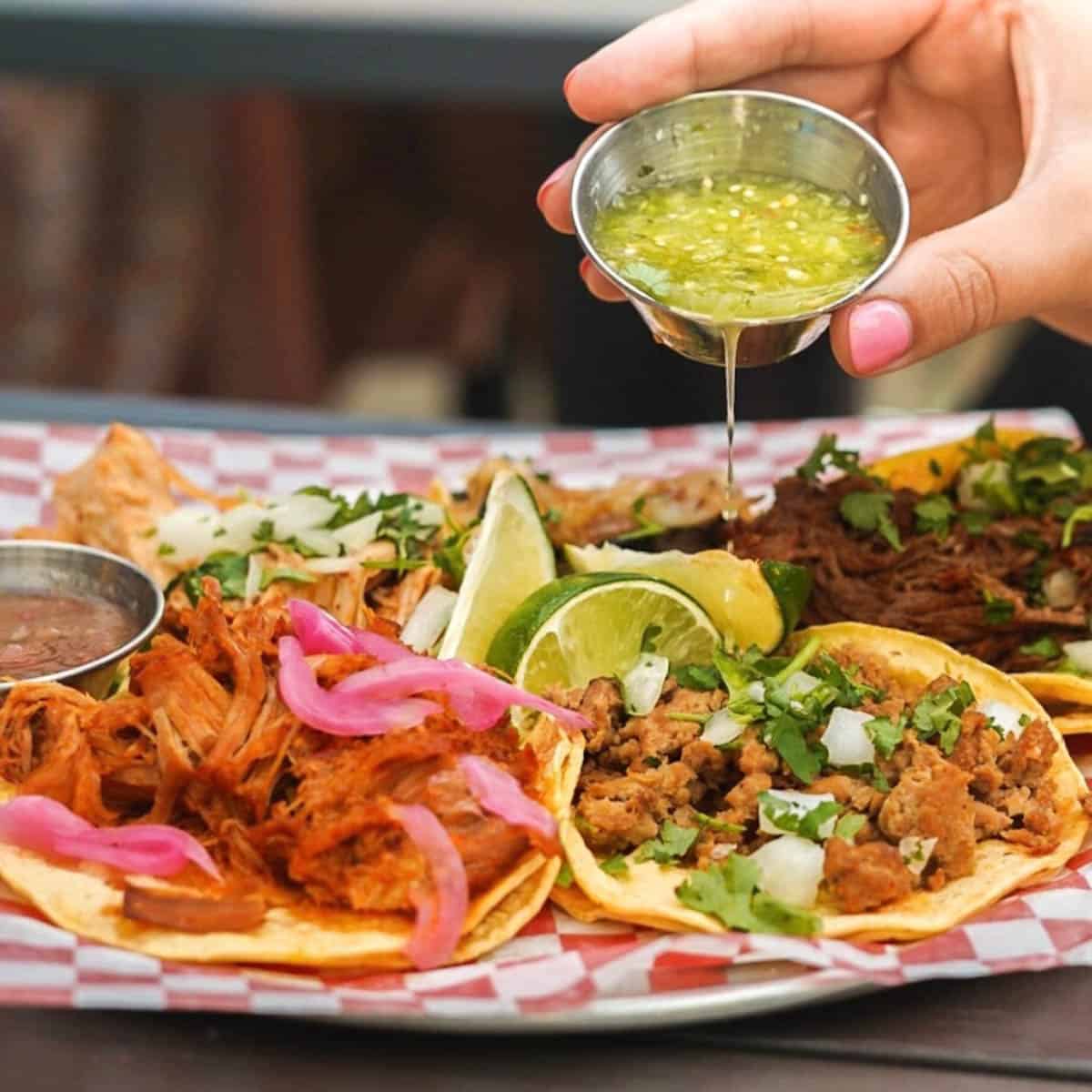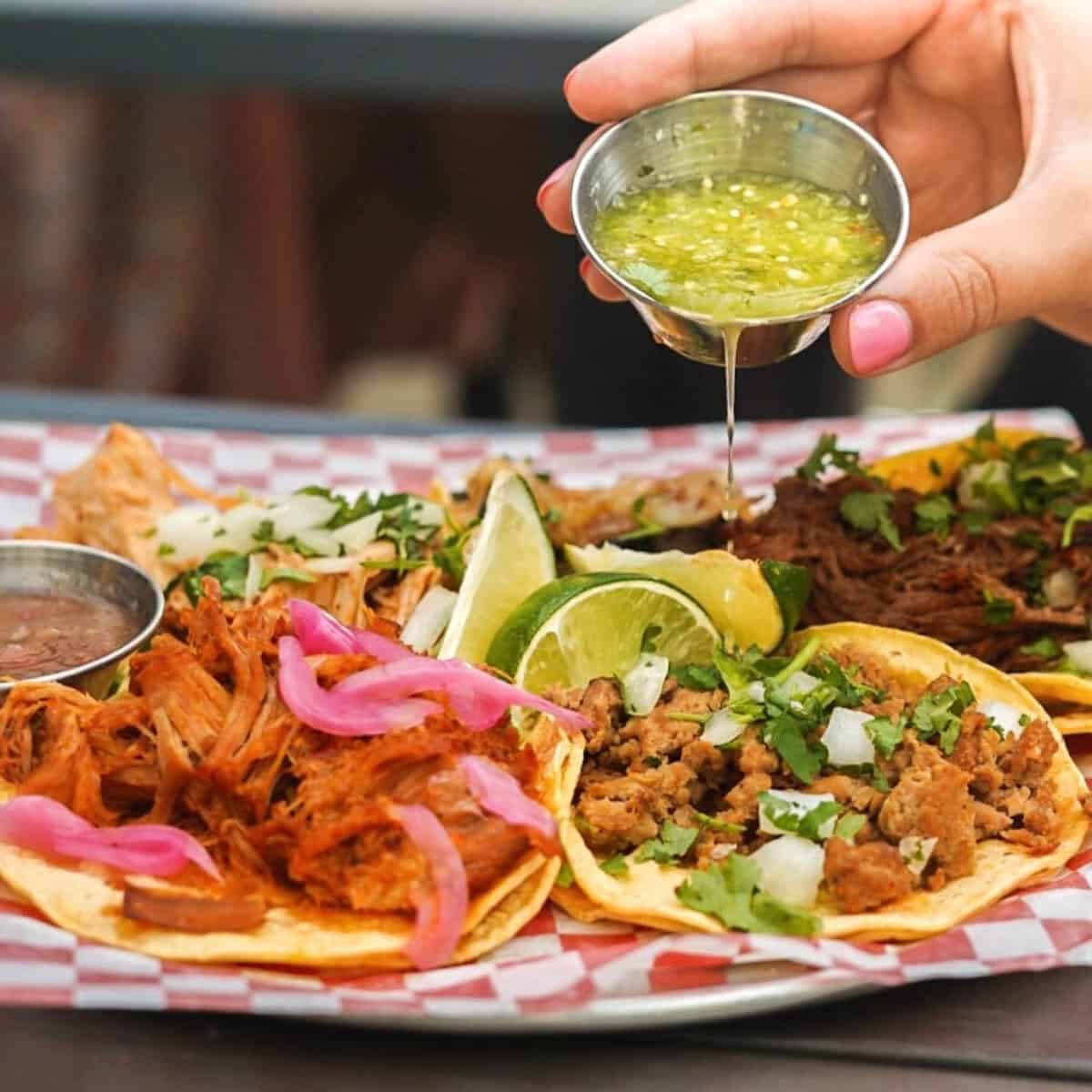 Their menu is robust and features an array of flavorful tacos, burritos, and other Mexican favourites. To start, we recommend trying the sopa de tortilla con Pollo (Tortilla soup with chicken), as it's a local's favourite. If you're unsure what else to start with, try the 'Fiesta Basket', which has corn ribs, jalapeno poppers, potato wedges and avocado poblano dip. For a main, their enchiladas are their specialty, and the cochinita is our favourite, which is slow-cooked pork in achiote sauce. Other popular dishes here include the quesabirria and their fish tacos.
Taqueria El Charrito
Address: 808 Edmonton Trail B2
Taqueria El Charrito is a hidden gem in Calgary, serving delicious Mexican cuisine. From their flavorful tacos to their hearty enchiladas, El Charrito offers Mexican food that showcases the authentic flavours of Mexico.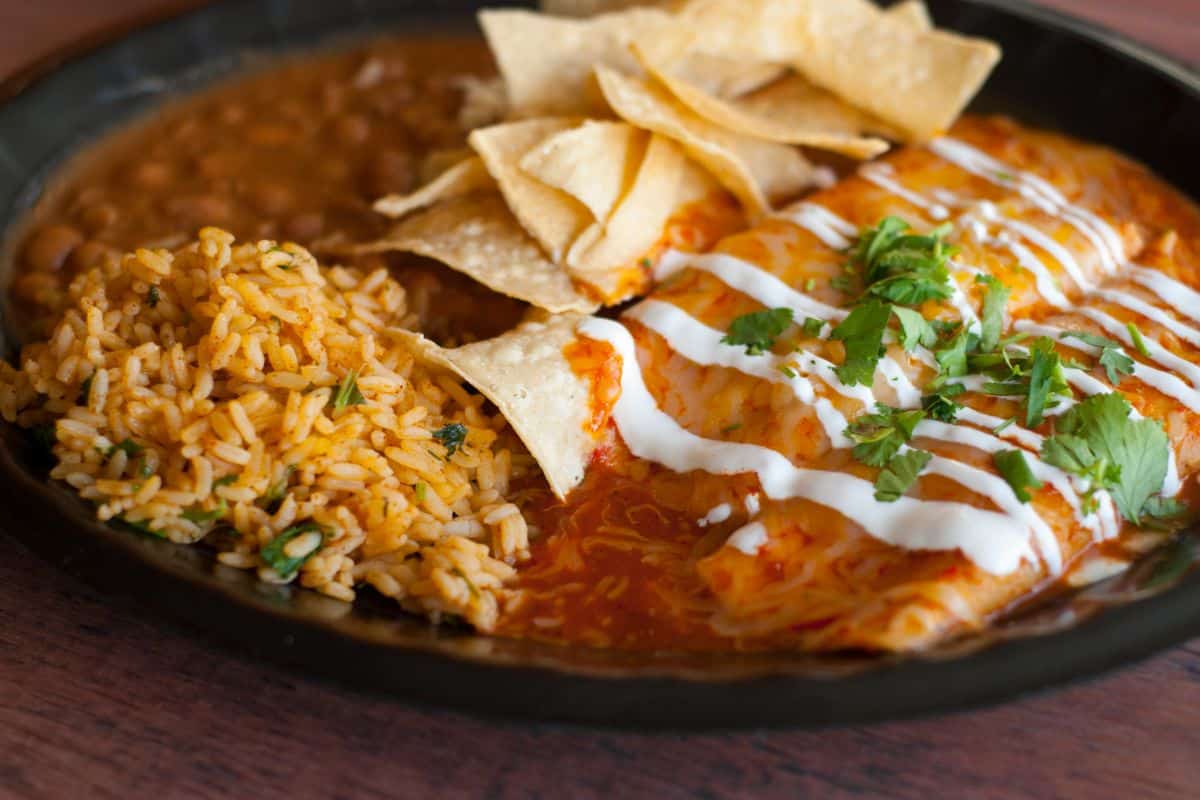 Their Mexican street-style tacos are always a good choice, and we always recommend going with the al Pastor or the barbacoa. If you're craving Mexican food, El Charrito is one of the most popular Mexican restaurants in Calgary.
La Casa Latina
Address: 1324 11 Ave SW #101
La Casa Latina is a cozy and charming Mexican restaurant that serves up authentic Mexican cuisine. It's a local's favourite for Calgary Mexican restaurants, and their house-made guacamole is some of the best you'll taste outside of Mexico. On top of being some of the best Mexican food in Calgary, the service here sets them apart.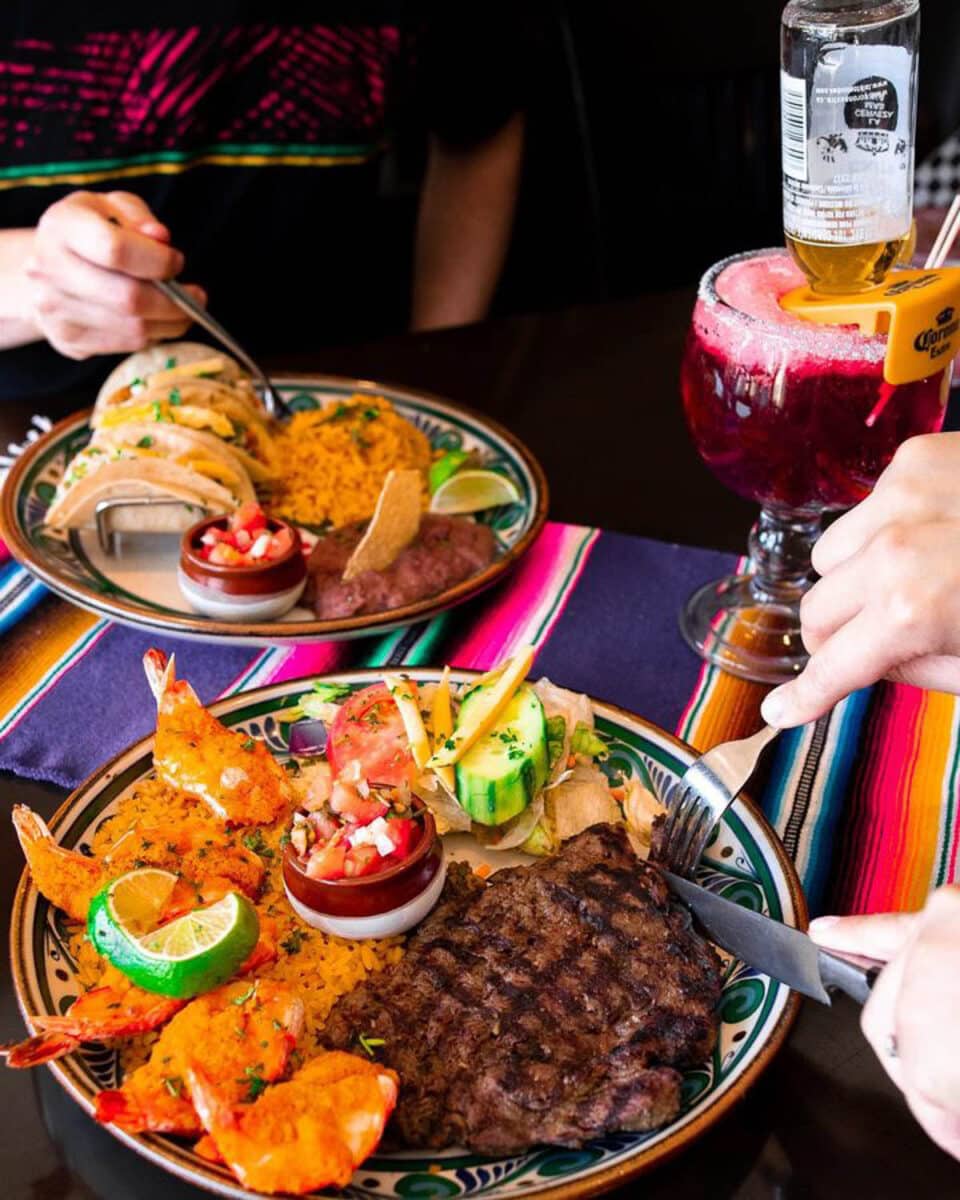 Be sure to try the Molcajete, which is one of their specialty dishes and is served in a volcanic rock bowl. It comes out bubbling hot and full of cheese, chicken, steak, veggies, and freshly made tortillas. It is definitely a sharing dish, so bring your appetite. Other classic dishes here include their tamales, homemade mole and, of course, tacos!
Tres Marias Mexican Food Market
Address: Marda Loop, 3514 19 St SW
Tres Marias Mexican Food Market is a family-owned and operated restaurant that has been serving the city for over 20 years. Locals have voted for Tres Marias as the best Mexican restaurant in Calgary over and over. The restaurant offers a wide variety of authentic Mexican dishes, including tacos, burritos, enchiladas, and more. Tres Marias also has a full bar, with a wide selection of margaritas, tequilas, and mezcals. The restaurant is known for its friendly atmosphere and its delicious food. Apart from dining in, there are ready-made homemade Mexican food options for takeaway.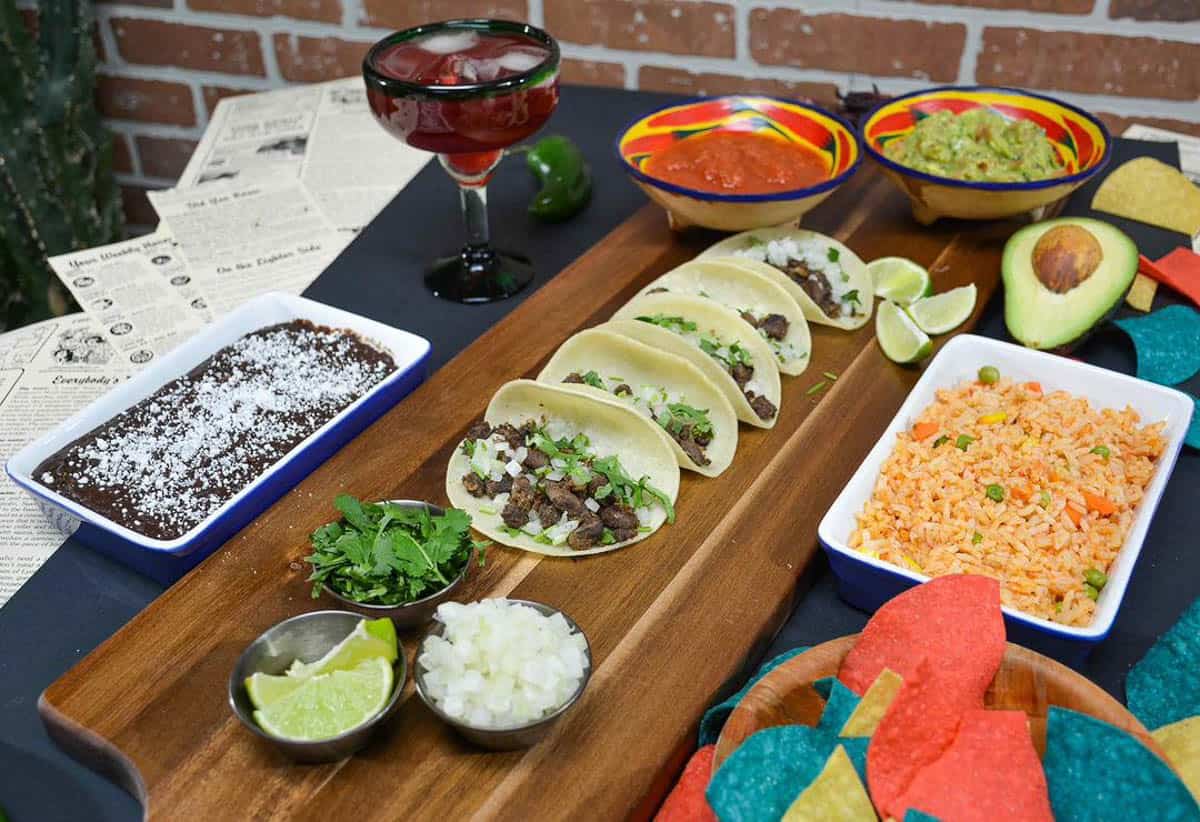 But if you're dining in and looking for good tacos, Tres Marias delivers. They offer a variety of tacos, including chicken, beef, fish, and veggie options. The tacos are made with fresh, high-quality ingredients and are served with your choice of salsa (our favourite is the salsa verde). If you're in the mood for enchiladas, you won't be disappointed. Their homemade corn tortillas are filled with your choice of meat, cheese, and vegetables and then covered in a rich, decadent sauce and baked until bubbly.
Spicy Amigos
Address: 821 4 Ave SW
If you're craving great Mexican food with an authentic Mexican atmosphere, then head to Spicy Amigos. Located in the heart of Calgary, this restaurant serves up traditional Mexican fare with a modern twist. There's also a full bar offering a wide selection of cervezas, margaritas, tequilas, and mezcals to wash down your meal.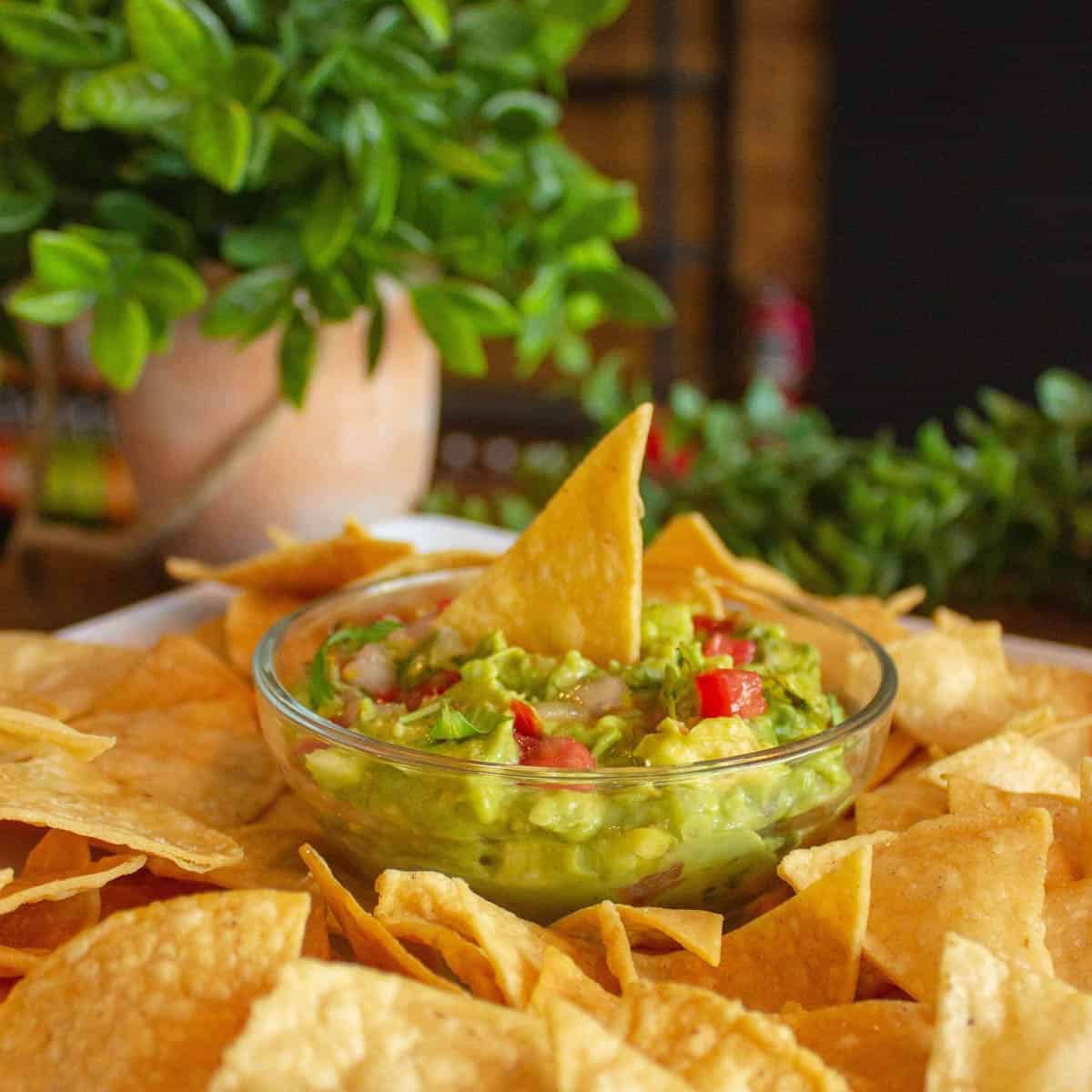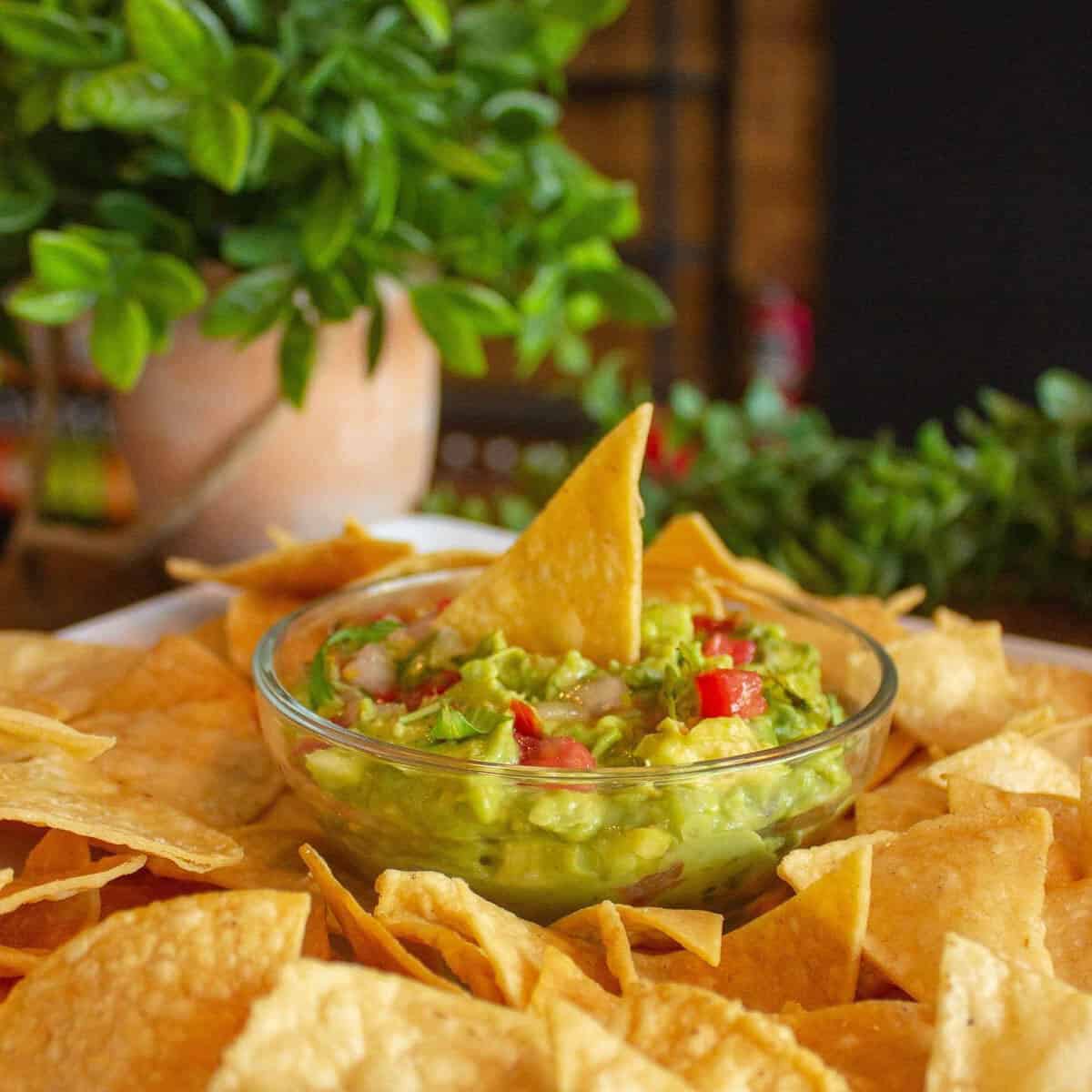 There is a wide variety of authentic Mexican dishes, including tacos, burritos, enchiladas, and more. Their Queso Fundido is a crowd-pleaser, and their burritos will surely fill the hunger void. The most popular are their spicy beef or chicken. For drinks, don't miss ordering a Jalapeño Margarita and add a little spice to your cocktail!
Golden Cactus Mexican Grill
Address: 5315 17 Ave SE #7
For the authentic flavours of Mexico in Calgary, head to the Golden Cactus Mexican Grill. Their goal is "to have a place people can come and feel as if they were in Mexico just by walking through the doors". Their house-made specialties include the Golden Burrito, a giant flour tortilla stuffed with Mexican rice and refried beans and a choice of al pastor, carne asada, or chicken.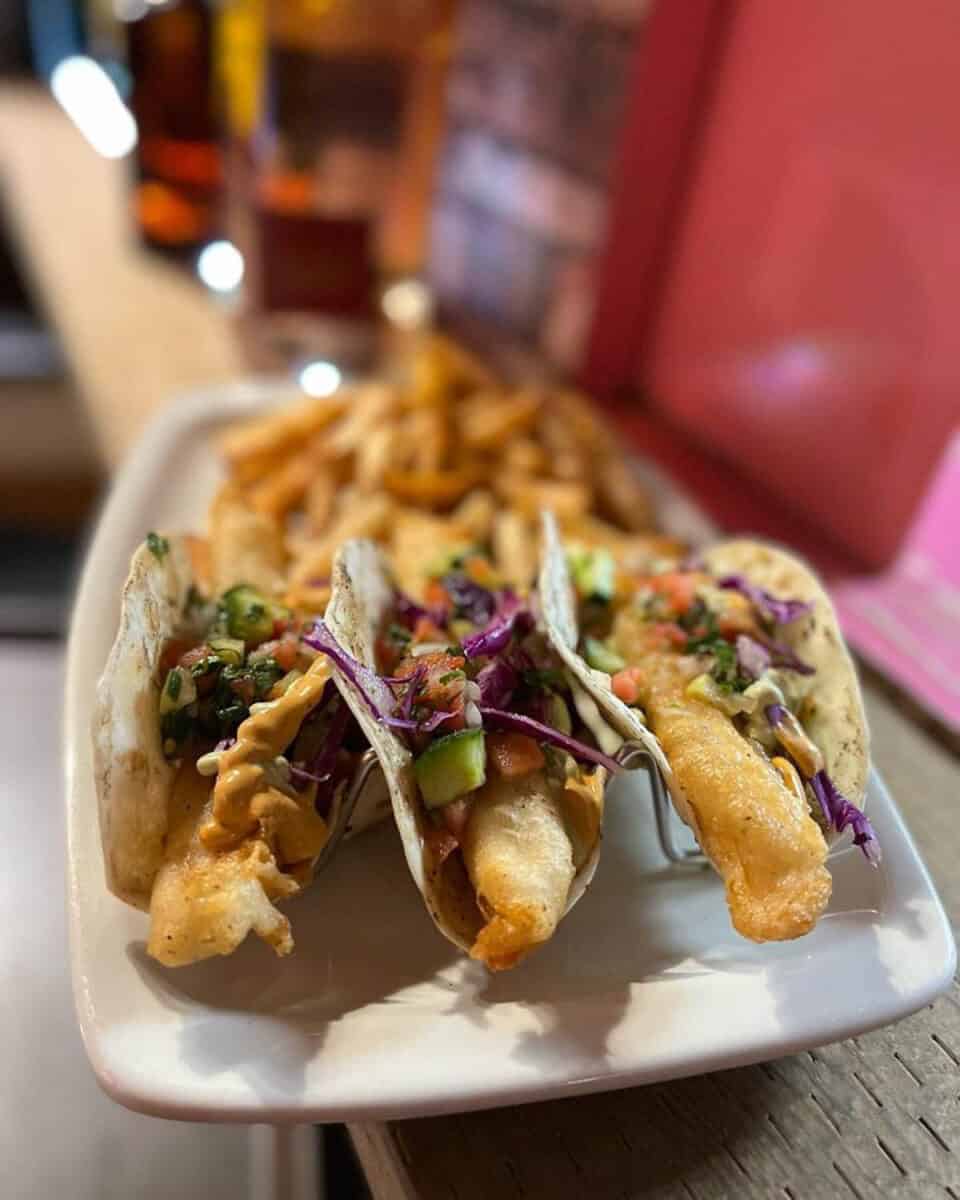 Also, be sure to try their Camarones a la Momia, which is shrimp wrapped in bacon (heck yeah) and served with Mexican rice. But if you're just in the mood for tacos, you're in luck, as their carnitas, barbacoa, and chorizo are all delicious. If you feel more adventurous, try the lengua (beef tongue). Whatever you do, be sure to save room for dessert and try their mouthwatering churros that are topped with dulce de leche.
Want more suggestions for where to eat in Calgary?