Disclaimer: This page may contain affiliate links. Please review our full Terms and Conditions for more information and our Privacy Policy. Note that any pricing, operating hours, or other such information provided below may have changed since initial publication.
Compiled by the Road Trip Alberta team
Last updated on January 12, 2023
People from all over the world descend on the Canadian Rockies and especially Jasper, Alberta, for big doses of adventure. And when they do, they can rest assured that there will be plenty of options to satisfy their appetites and provide delicious fuel to keep the adventures going. Given the small stature of the town, the restaurant scene packs a surprisingly big punch along with the epic mountain views. So whether you want a fine-dining experience or some grub to go, below are the best Jasper restaurants that you need to try.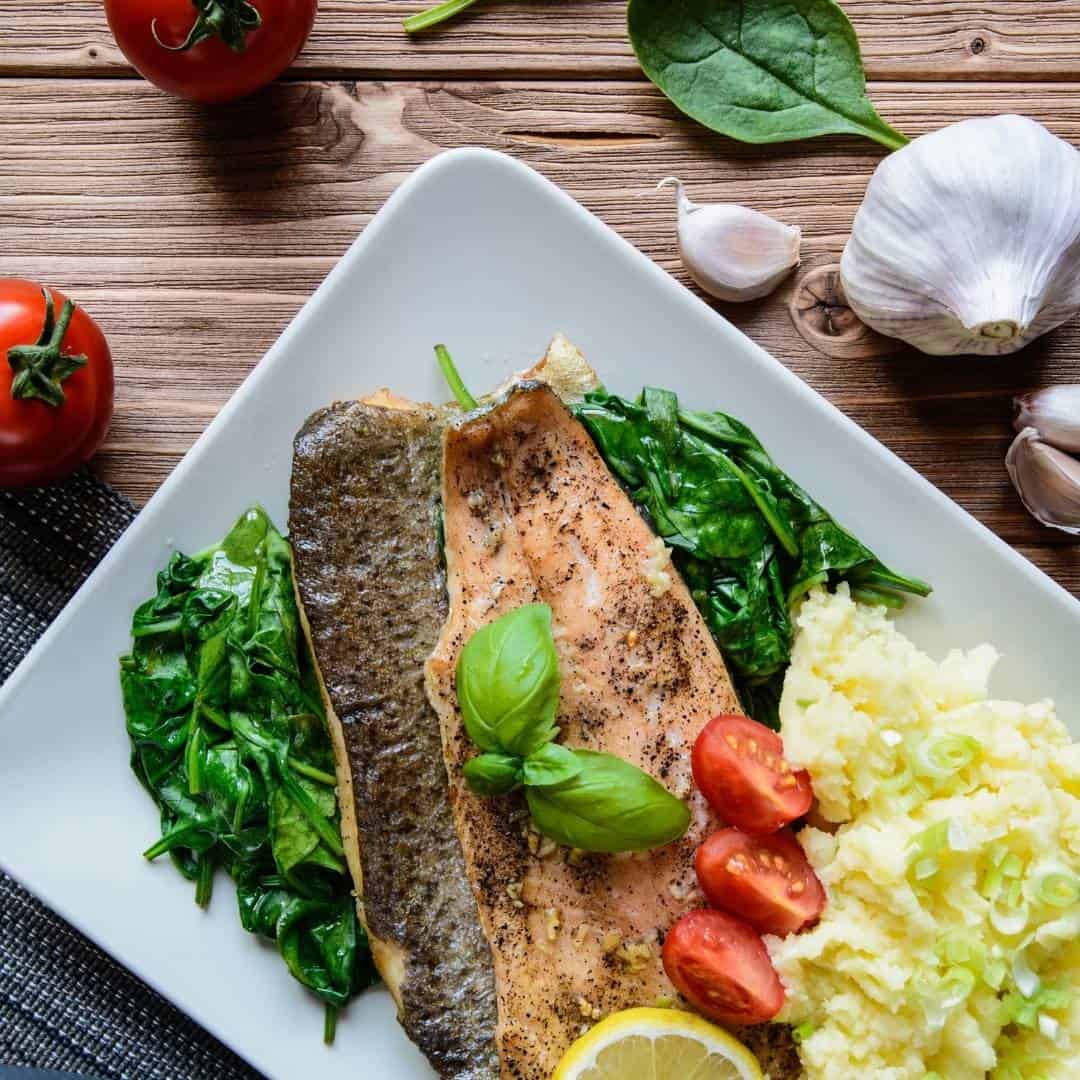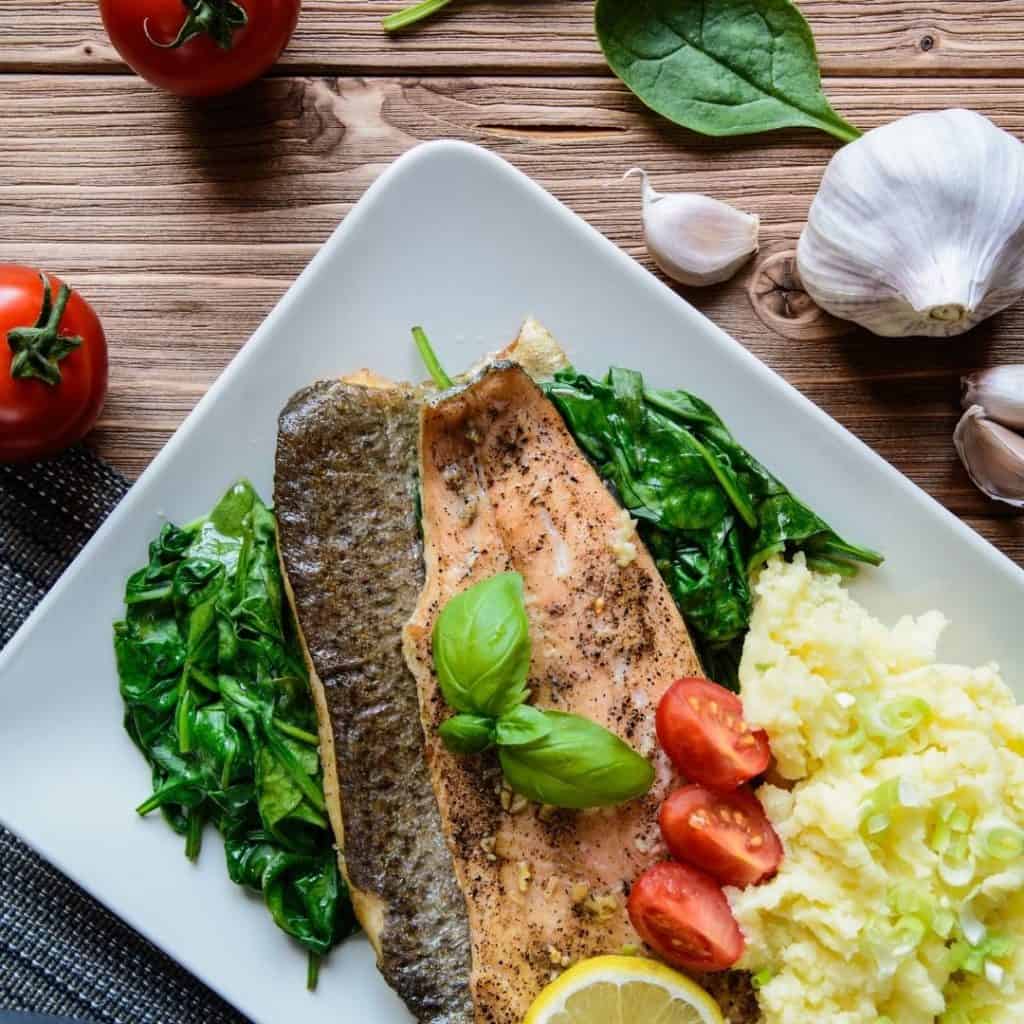 The Best Restaurants in Jasper
Syrahs of Jasper
Location: 606 Patricia St
It's no wonder Syrahs of Jasper regularly makes the list of the best Jasper restaurants! Known for its fine dining and excellent service, people flock to this downtown Jasper restaurant for innovative dishes that incorporate local Canadian flavours such as elk, bison, and wild salmon, not to mention the Certified Angus Alberta beef.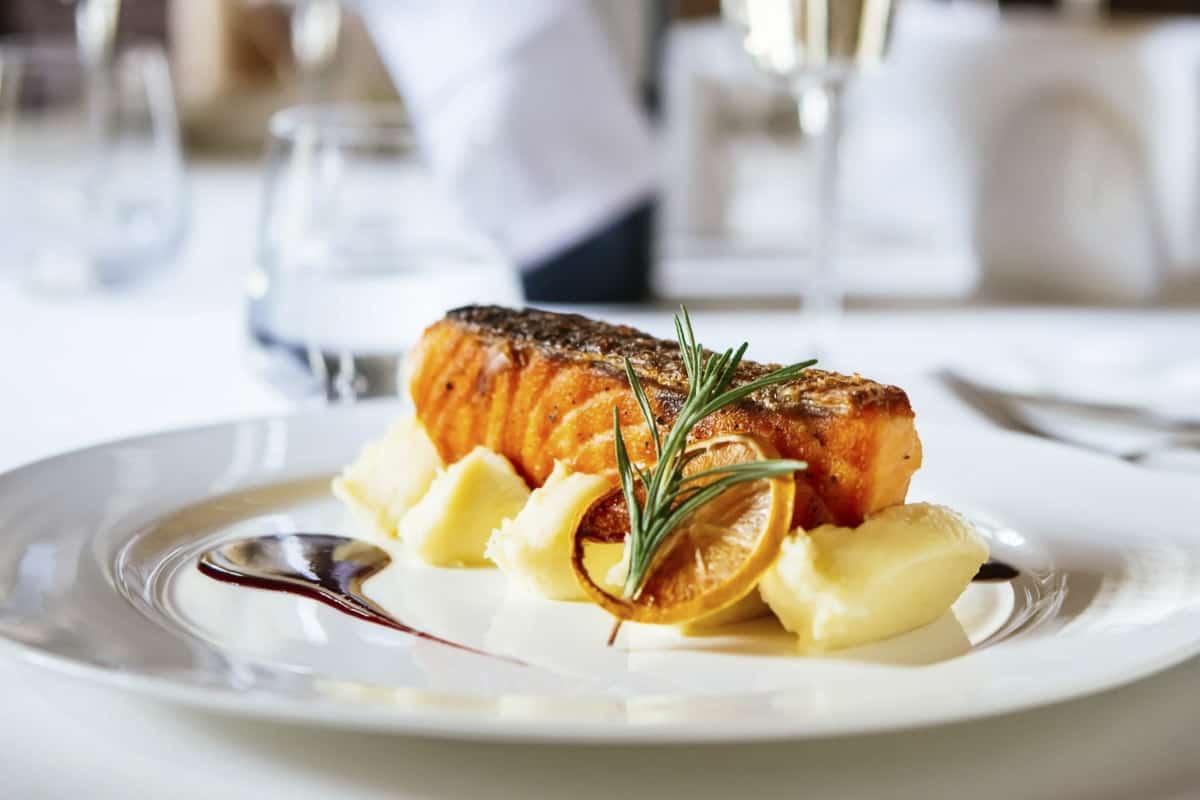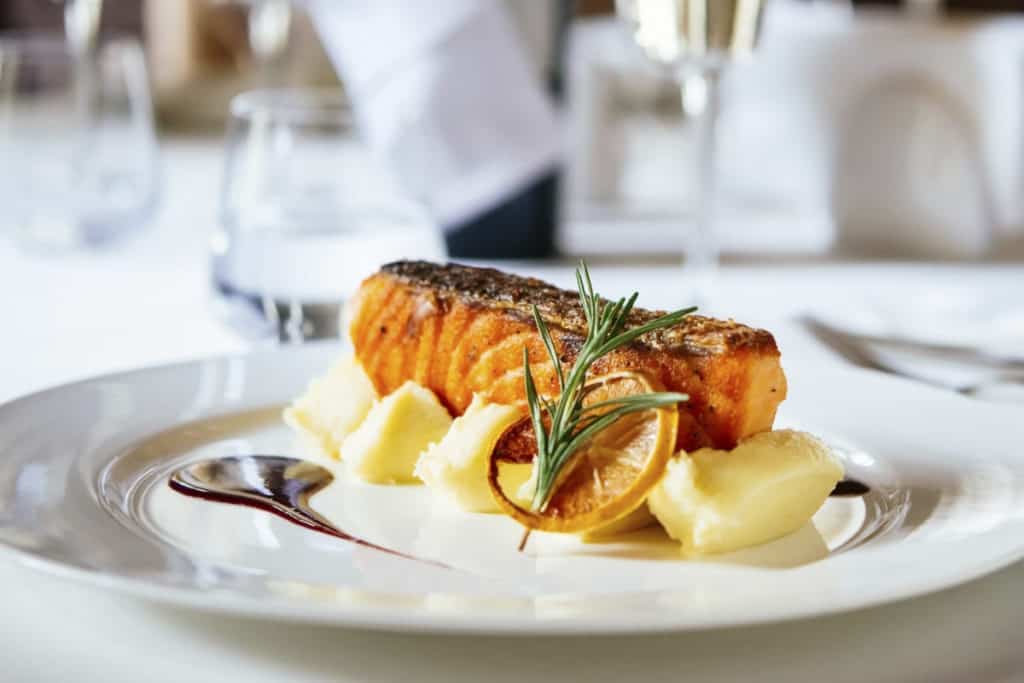 While there are a few vegetarian options on the menu, Syrahs of Jasper is definitely a meat-lovers and wild game paradise, with meals such as the Smoked Bison Ragout, Alberta Bison Ribeye, and Alberta Boar Chop garnering rave reviews. A fantastic wine list and cozy atmosphere round out the dining experience.
The Raven Bistro
Location: 504 Patricia St
With exceptional reviews across the board, The Raven Bistro is one of the must-try Jasper restaurants. If the modern, arty vibe of the intimate bistro isn't enough to entice you, the fantastic menu and cocktail list certainly will! Serving Mediterranean and Canadian fusion cuisine, The Raven Bistro is perfect for lunch, dinner, and even for a few drinks and a snack.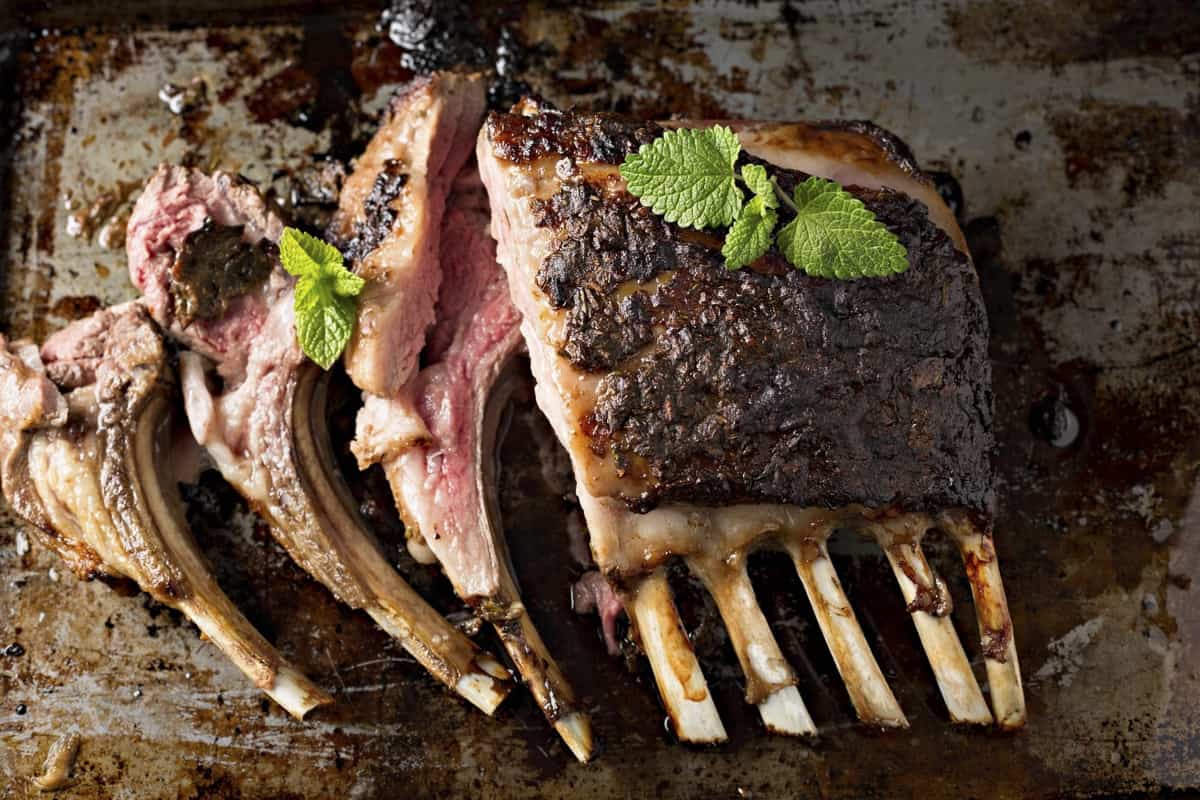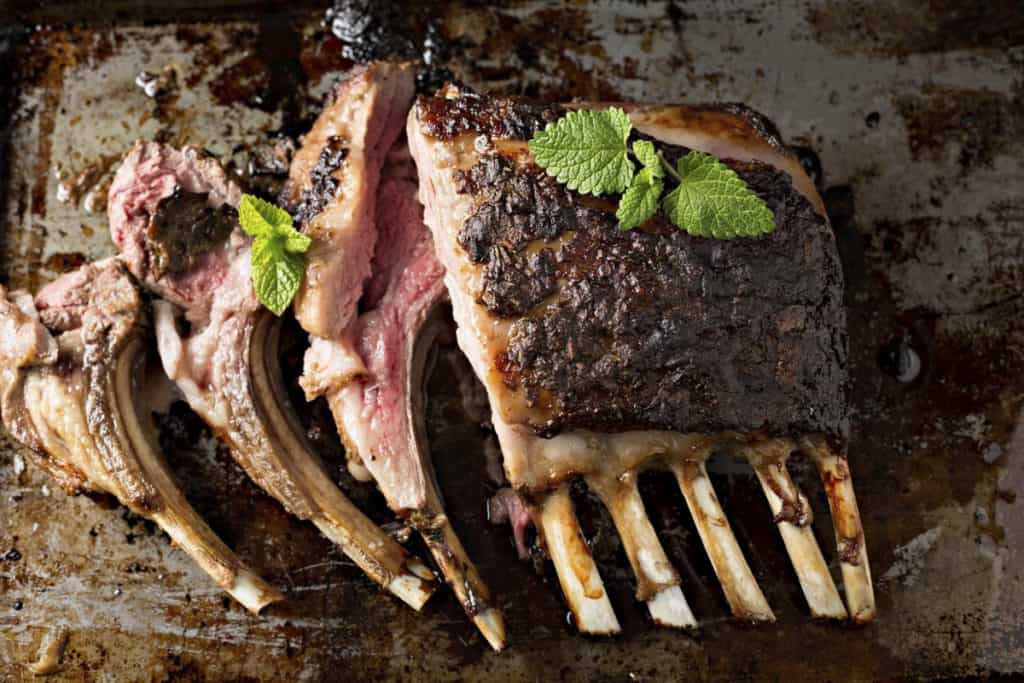 With an extensive menu catering for all – there are plenty of vegan, vegetarian, and gluten-free choices – the Moroccan-inspired menu will leave you craving more. For brunch, try the Late Riser Skillet, while lunch brings a huge array of sandwiches, bowls, soups, salads, and shareables, including Tofu Chorizo Tostadas and Bison and Boar Belly Flatbread. Dinner brings seafood and more vegan options, while the Elk Osso Bucco, Coconut and Lime Crusted Halibut, and Rack of Lamb are all favourites.
Maligne Canyon Wilderness Kitchen
Location: Maligne Lake Rd
If you're overwhelmed with the choices, starting at Maligne Canyon Wilderness Kitchen is a safe bet. Regularly noted as one of the best places to eat in Jasper, the Maligne Canyon Wilderness Kitchen is a terrific spot with one of the best views in town.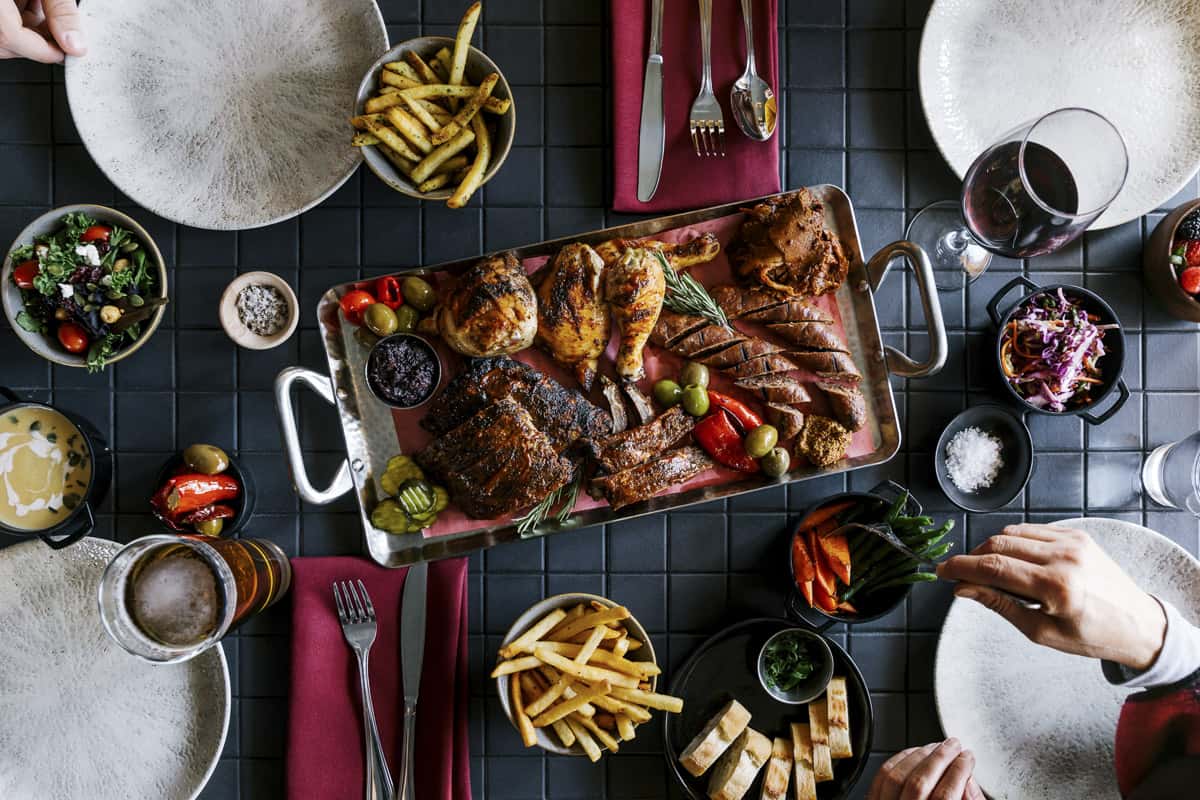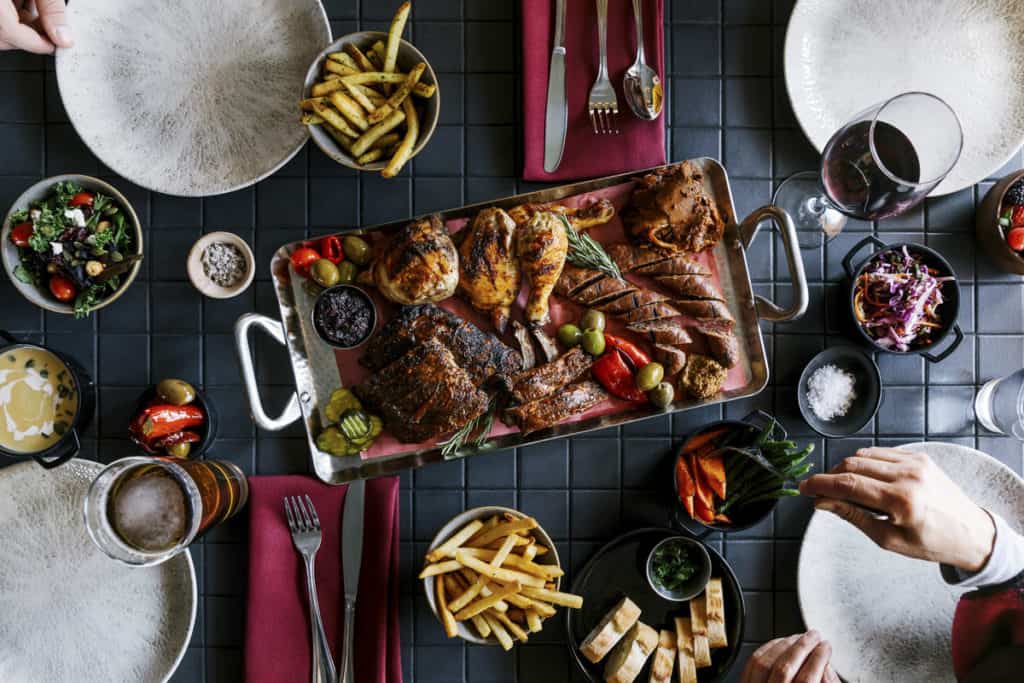 Guests are surrounded by nature as they dine on locally-sourced brisket, salmon, and trout for dinner, while hikers might want to stop in for a filling lunch after an arduous climb. There's also a Stargazers Canyon Dinner, a set menu complete with a telescope experience with the Jasper Planetarium. Tasty food and romantic to boot, who can resist?
Harvest Food and Drink
Location: 616 Patricia St
Don't underestimate the humble and charming vibe of Harvest Food and Drink in Jasper National Park… it's one of the best restaurants in town! With one of the best breakfasts in Jasper, their brunch menu boasts mouthwatering French Toast, Smoked Salmon Benny, Kale and Potato Hash bowls, and even "fancy toasts" (try the Scrambled Tofu or the Tuna Poke).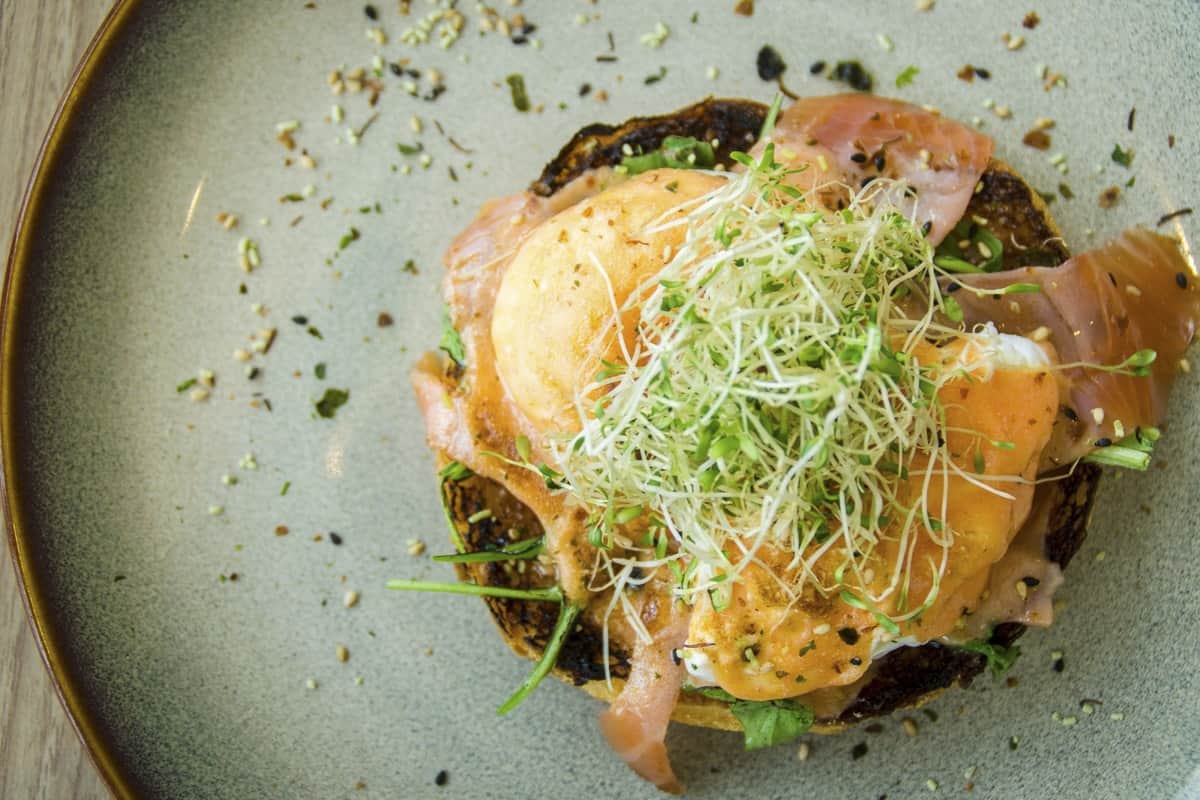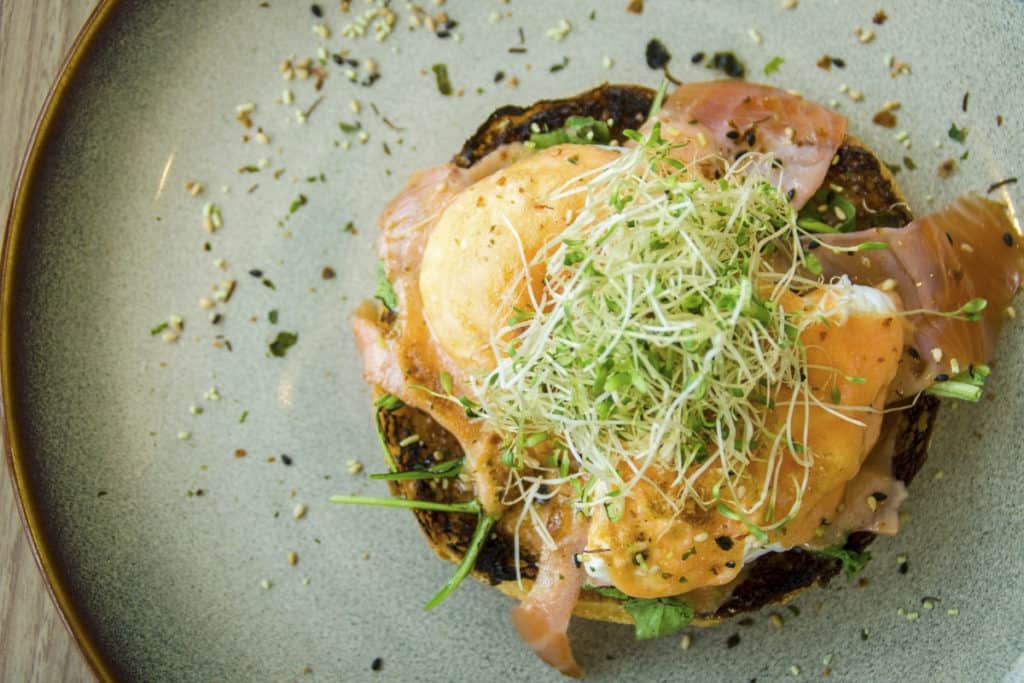 Lunch brings filling meals that feel warmly familiar – think elevated grilled cheese sandwiches and chickpea burgers – all with a distinctly homemade, delicious taste. For dinner, cozy up with one of their boards (meat, cheese, fish, and vegetarian are all available) or dive into Boar Sausage, Duck Confit, or Short Ribs. Canadian-inspired and filled with flavour in every bite, you won't be disappointed. Just make sure to save room for dessert!
Tekarra Restaurant at Tekarra Lodge
Location: Highway 93A South (in Tekarra Lodge)
The restaurant labelled as the "cabin in the woods," Tekarra Restaurant has been one of the best Jasper restaurants since 1952. Locally sourced ingredients inspire the menu. From charcuterie boards to sharing plates to main courses, there is something for everyone here.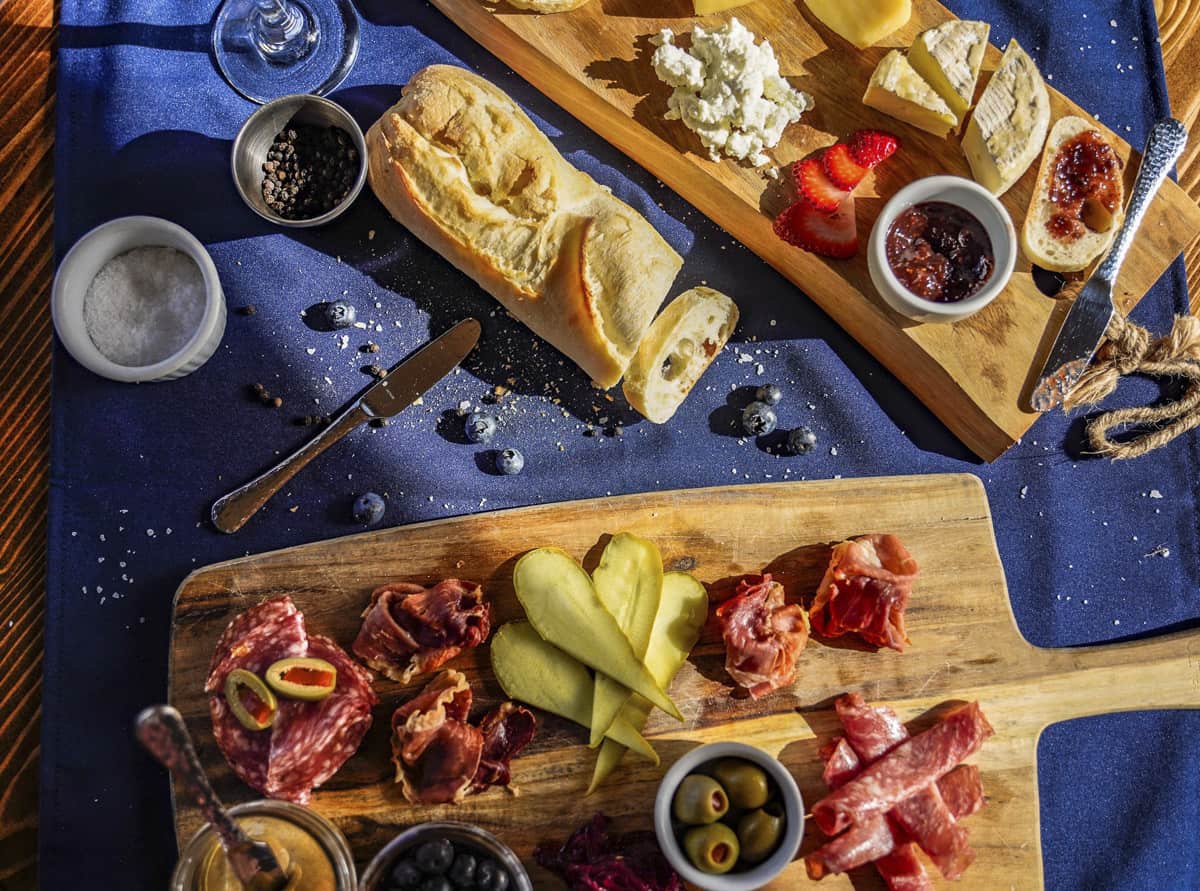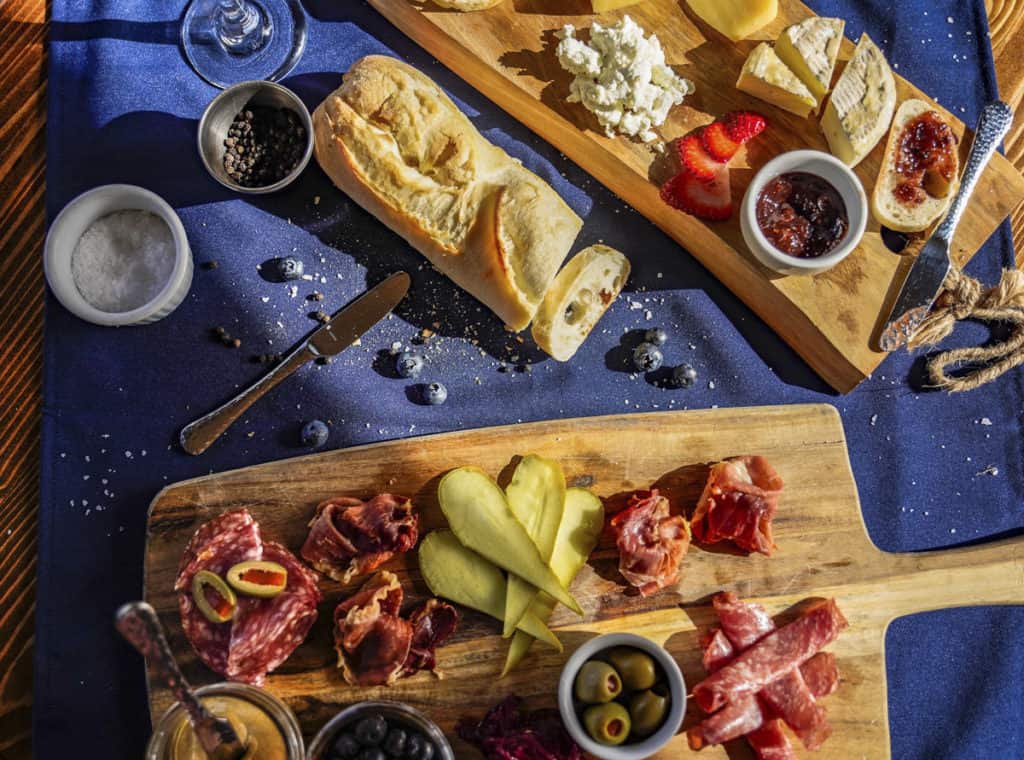 For meaty options on the menu, you will find many choices, including wild boar, bison Arctic Char, and Elk. There are, of course vegetarian and vegan options too. A dining experience at Tekarra is one you won't soon forget. Note that the restaurant is only open from May thru October.
Coco's CaféJasper
Location: 608-B Patricia St
The perfect spot to drop in for breakfast, lunch, or a quick coffee, Coco's Café is in a convenient location that's very walkable from many Jasper accommodations. It's especially great for those on the go, whether you're heading on a hike or need a few snacks as you hit the road!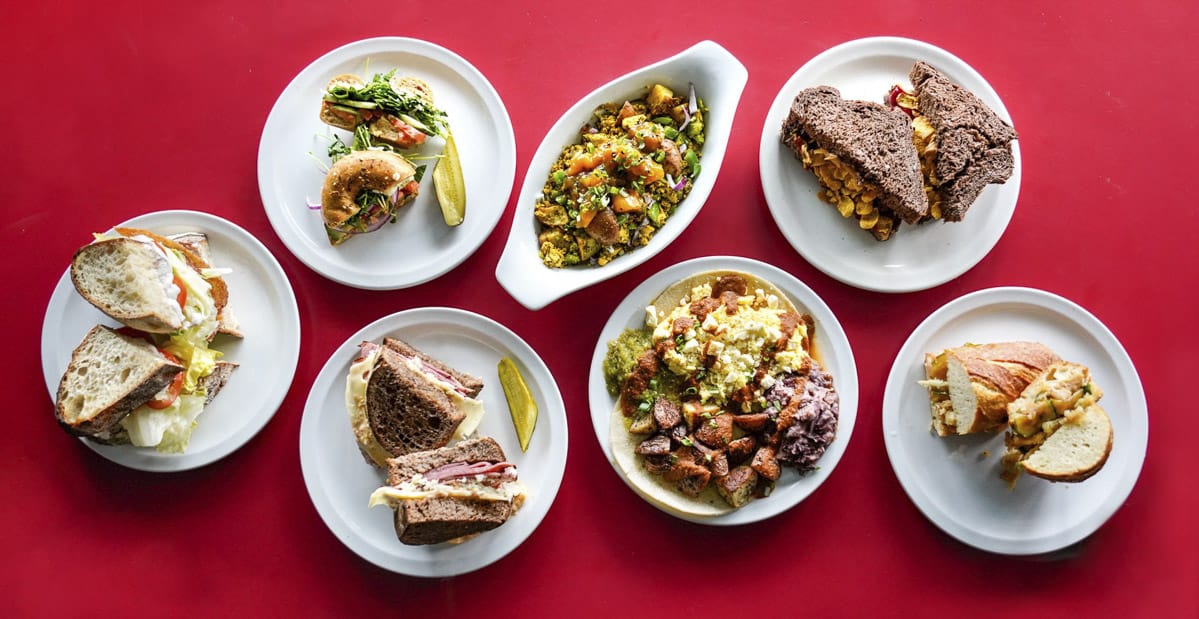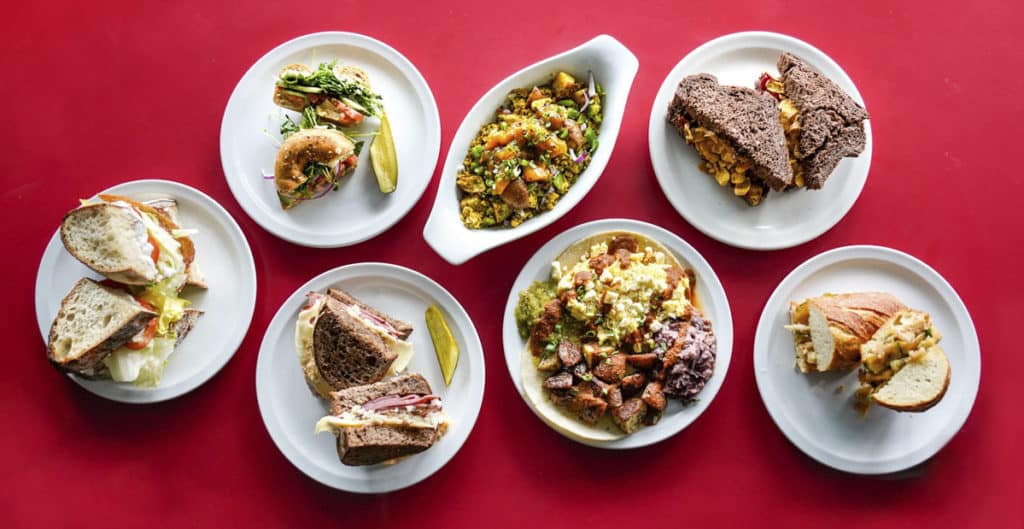 Sandwiches are their specialty, while the coffee is known as some of the tastiest in Jasper National Park. Fill up on homemade granola or the vegan breakfast before your Jasper adventures, and make sure to stock up on freshly baked sourdough bread, cookies, and muffins, too.
Downstream Lounge
Location: 620B Connaught Dr
Fresh and innovative plates, coupled with a dedicated culinary team, have earned Downstream Lounge a high reputation amongst visitors to Jasper. Starting in 2008, the owner had a vision for a modern, casual restaurant reflecting the natural vibe of Jasper. There is a variety of options, including vegetarian and vegan items to choose from. Be sure to try the miso steak bites or the Canadian Elk Sirloin, or for a vegan option, the Piri poutine is a hit!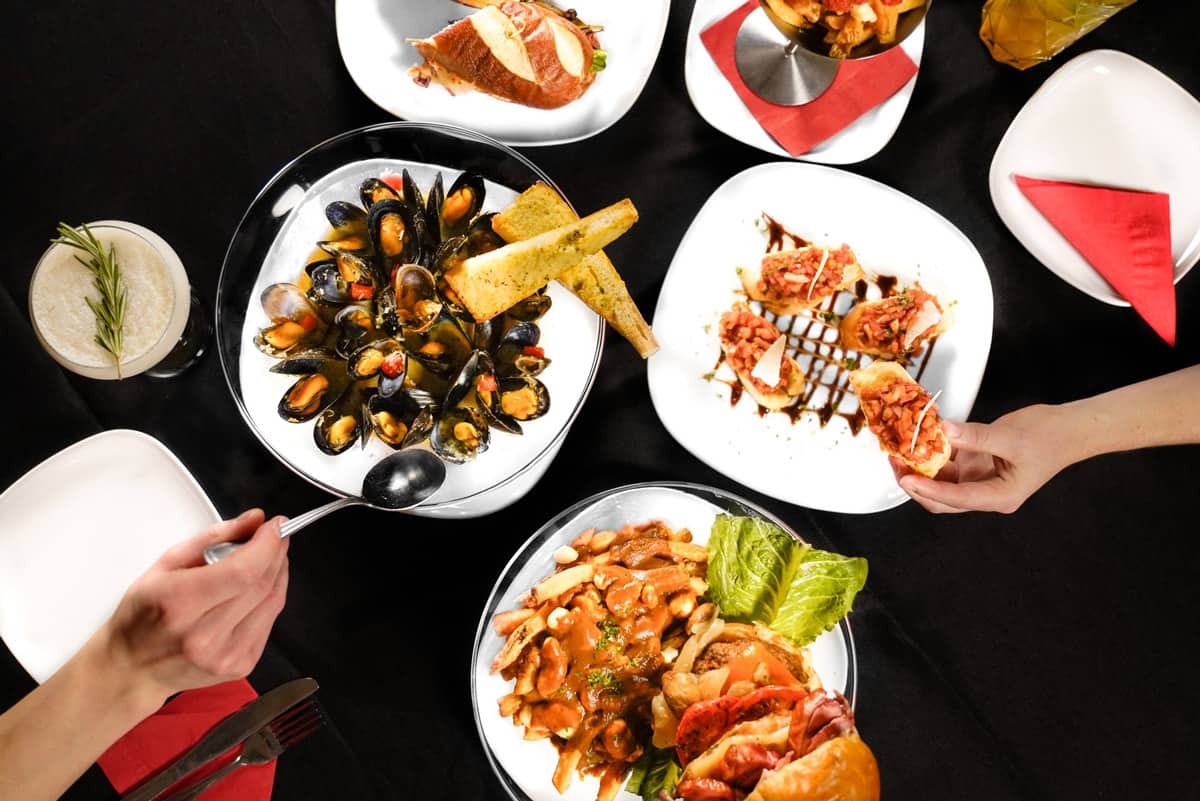 And if you don't believe us, trust the folks from The Food Network's "You Gotta Eat Here," who featured Downstream as one of the top spots to eat in Jasper. You can check out the episode here!
Terra
Location: 200 Connaught Dr
Inspired by the "rawness of Jasper," at Terra, they always offer something new and unexpected. Found in The Crimson Hotel, Terra is a delightfully new and chic Jasper restaurant with an extensive menu sure to please anyone who walks through its doors.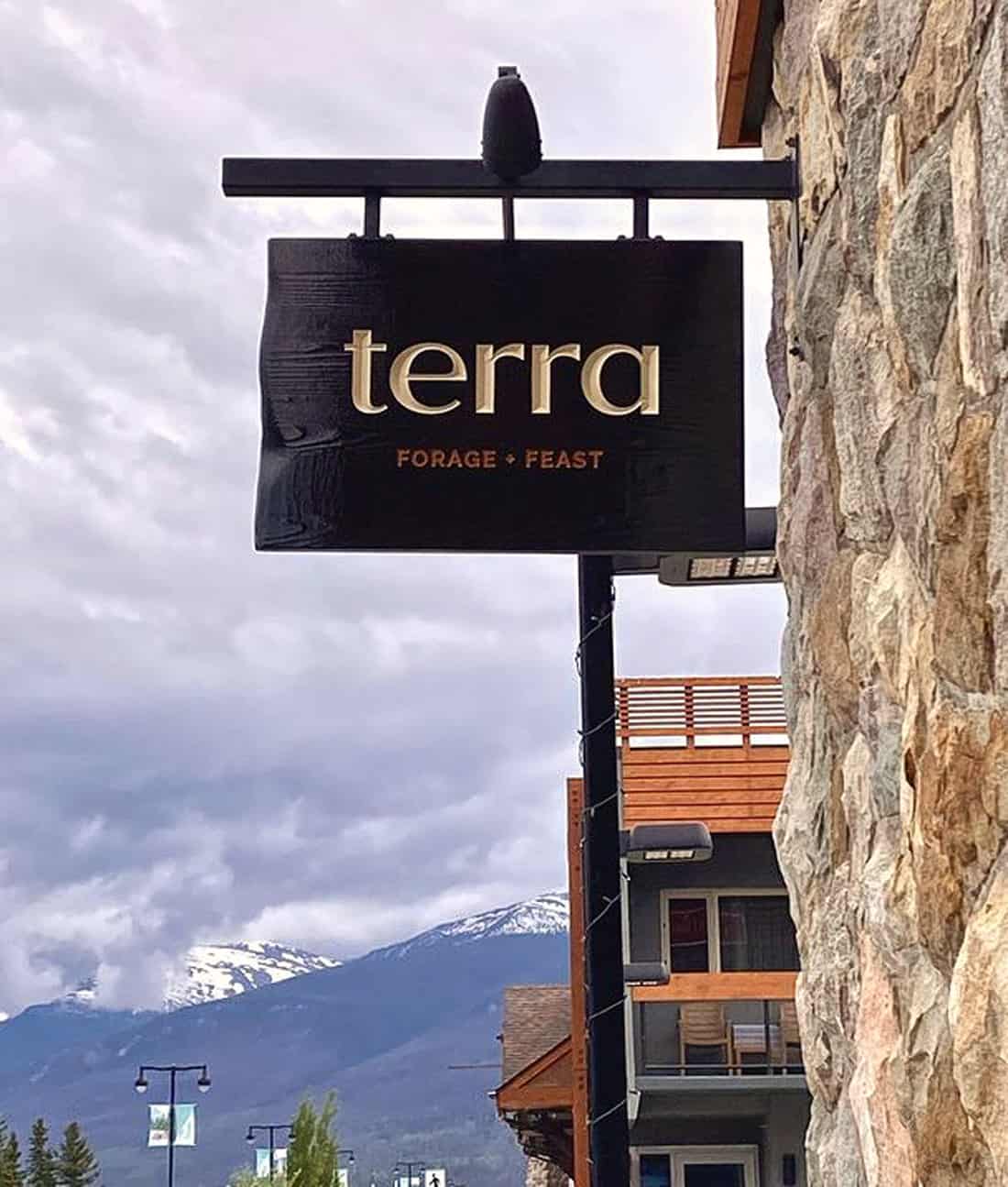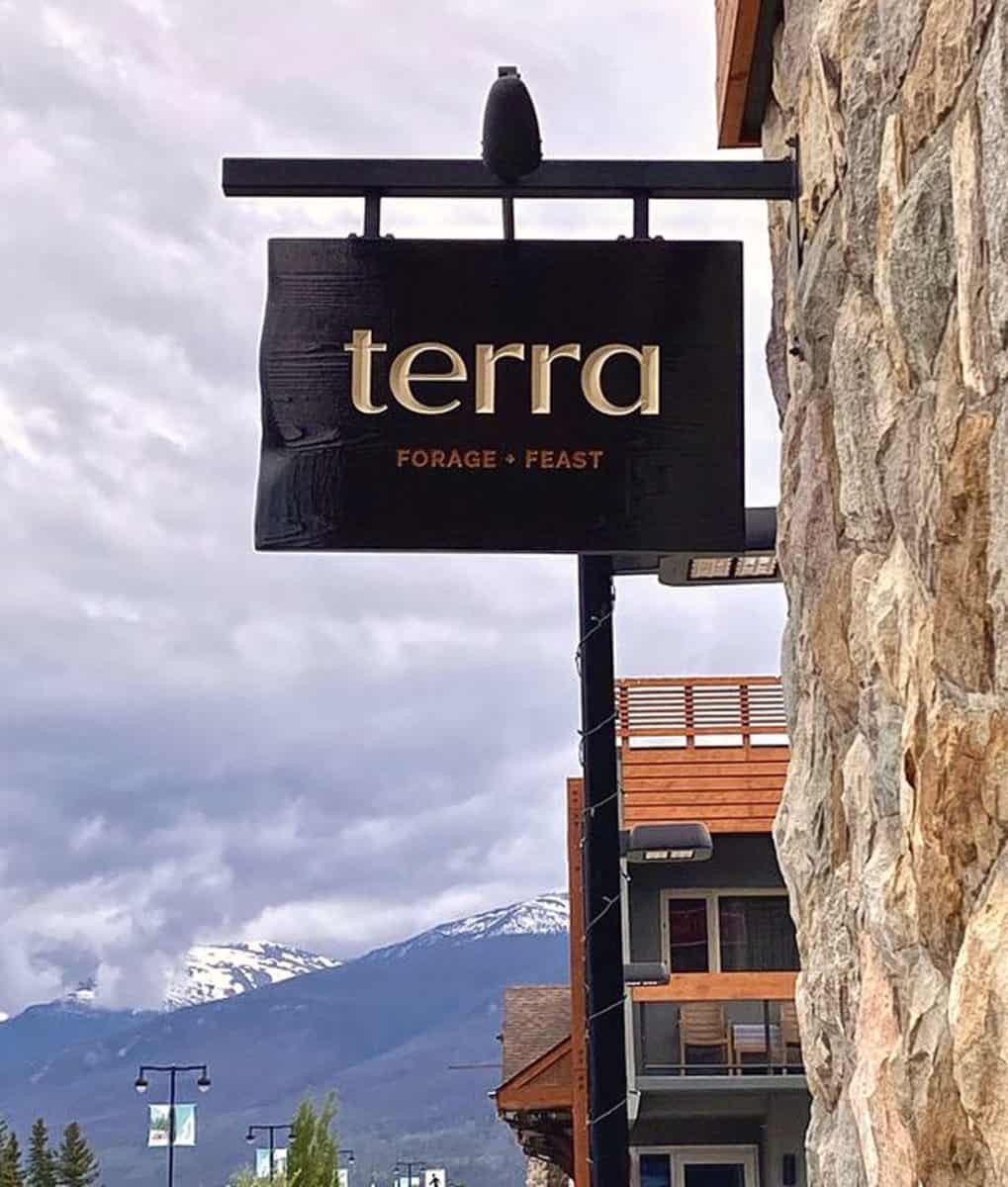 Fill up on a hearty breakfast to start a day of Rocky Mountain adventures, or relax and unwind in the evening with a signature cocktail and Canadian-inspired cuisine using only natural and local ingredients.
Jasper Brewing Co.
Location: 624 Connaught Dr
The first National Park brewery in Canada, Jasper Brewing Co. has been an institution in Jasper National Park since 2005. The place to sample Rocky Mountain-inspired beverages, the beer menu is impressive. Jasper, the Bear Ale, is a tried-and-true classic, while the Crisp Pils is made with local malt found right here in Canada.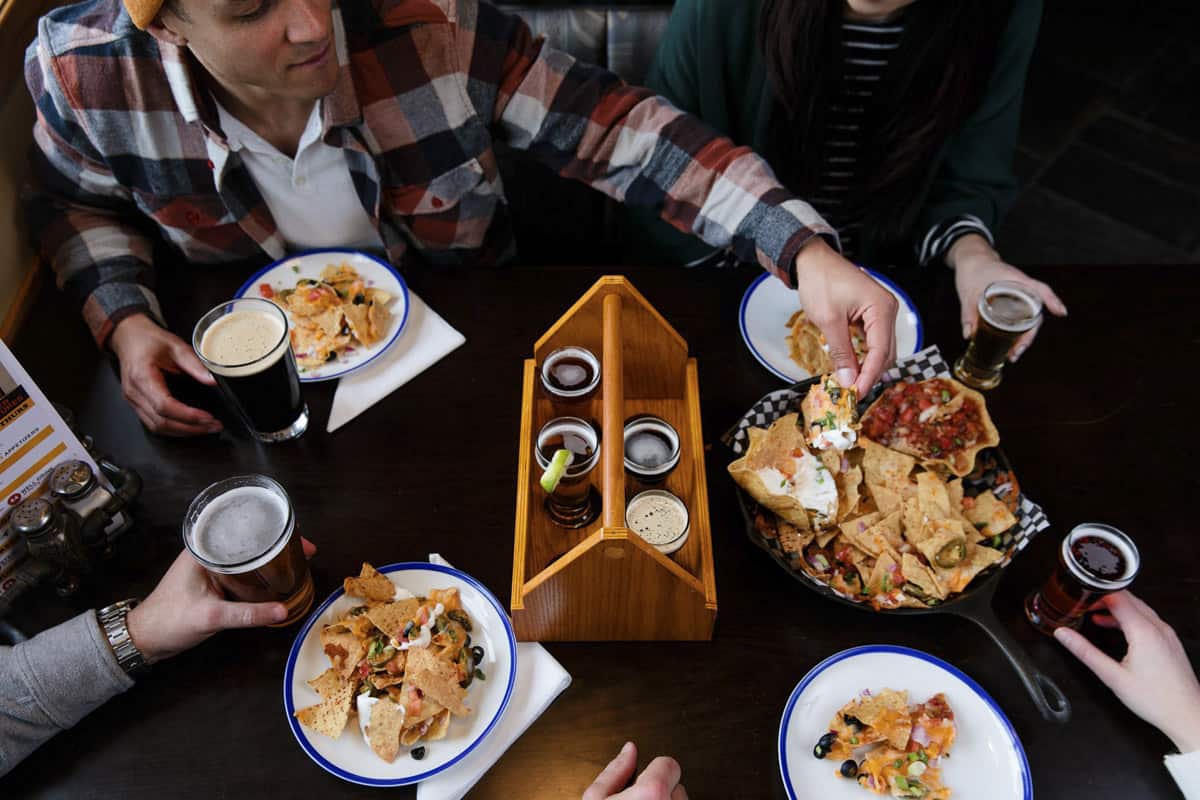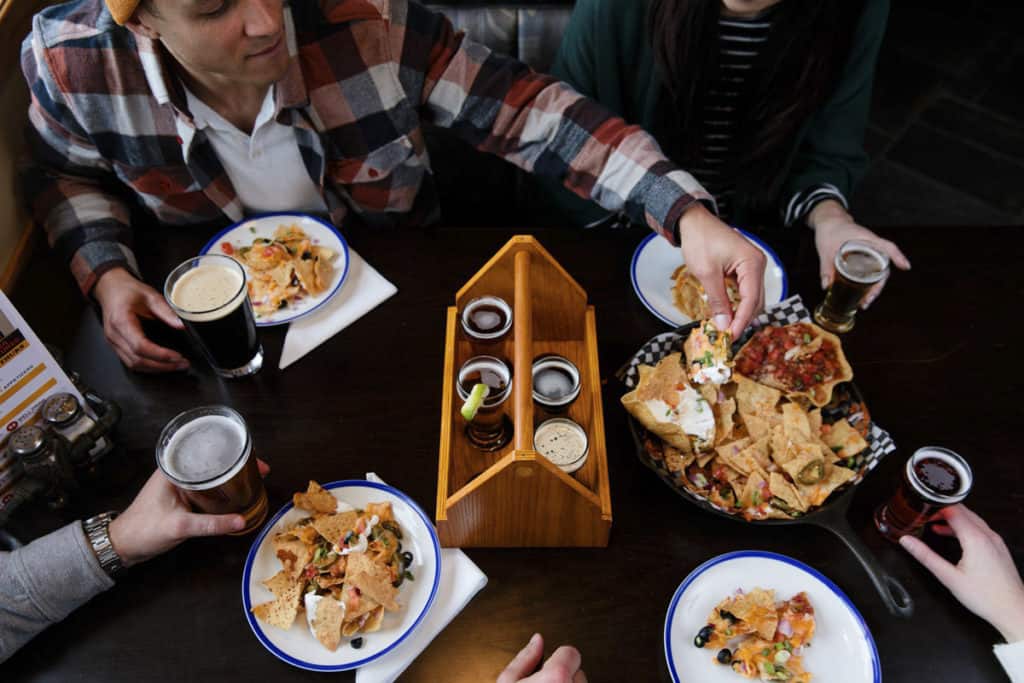 There is also the bread and butter of any brewery; you've got your IPAs, stouts, and red ales, all with a local Alberta spin. But it's not just about the beer at Jasper Brewing Co… the food is worth a visit, too! Try their fantastic poutine, wild boar tacos, Rustic Elk Meatloaf, or one of their signature burgers or sandwiches. If you want delicious but casual dining, then this may be the perfect fit for you of all the Jasper restaurants.
Olive Bistro and Lounge
Location: 401 Patricia St
The Olive Bistro and Lounge serves up an exquisite mix of classic cuisine and innovative dishes. The chef and restaurant cater to all patrons; head here for a long, decadent meal, a quick glass of wine and a cheese plate, and everything in between.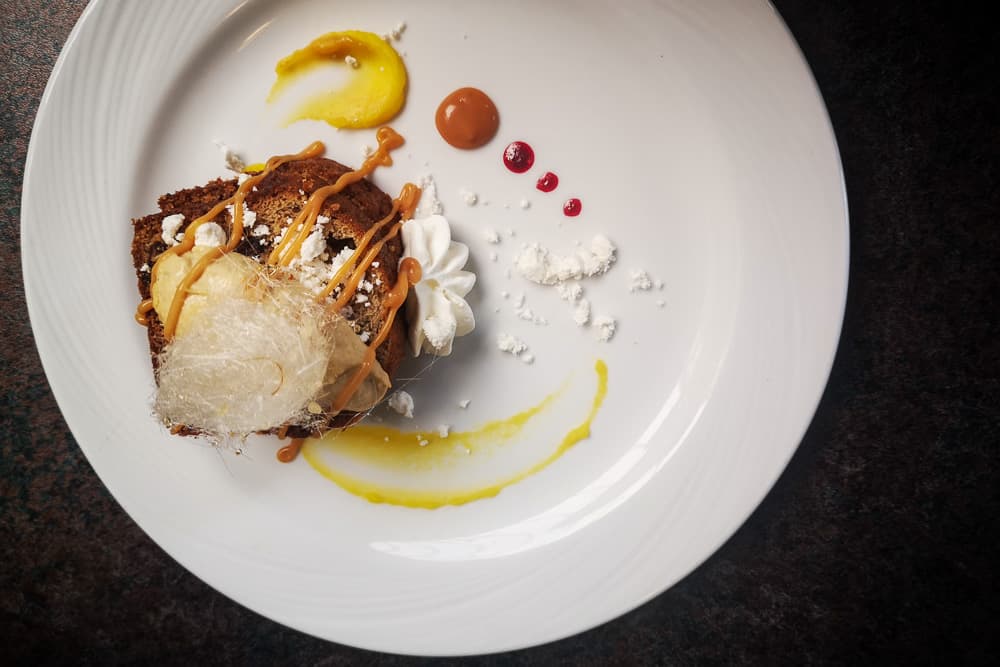 Specializing in Mediterranean fare, the restaurant focuses on small plates perfect for sharing alongside the eclectic entrée menu… think Greek, French, Spanish, and Italian classics all in one place. Try the Moules et Frites, the Truffle Poutine, or one of their many delicious kinds of pasta, and discover why this is a fave among all the Jasper restaurants.
WickedCup
Location: 912 Connaught Dr
Head to WickedCup for a cup of coffee made with love. This specialty organic coffee is some of the best in the province – if not Canada – and you can stop in for a cup or purchase some beans to bring home. Organic teas are also available, and if you have time to stay awhile, there's an impressive list of snacks and breakfast options to fill up on.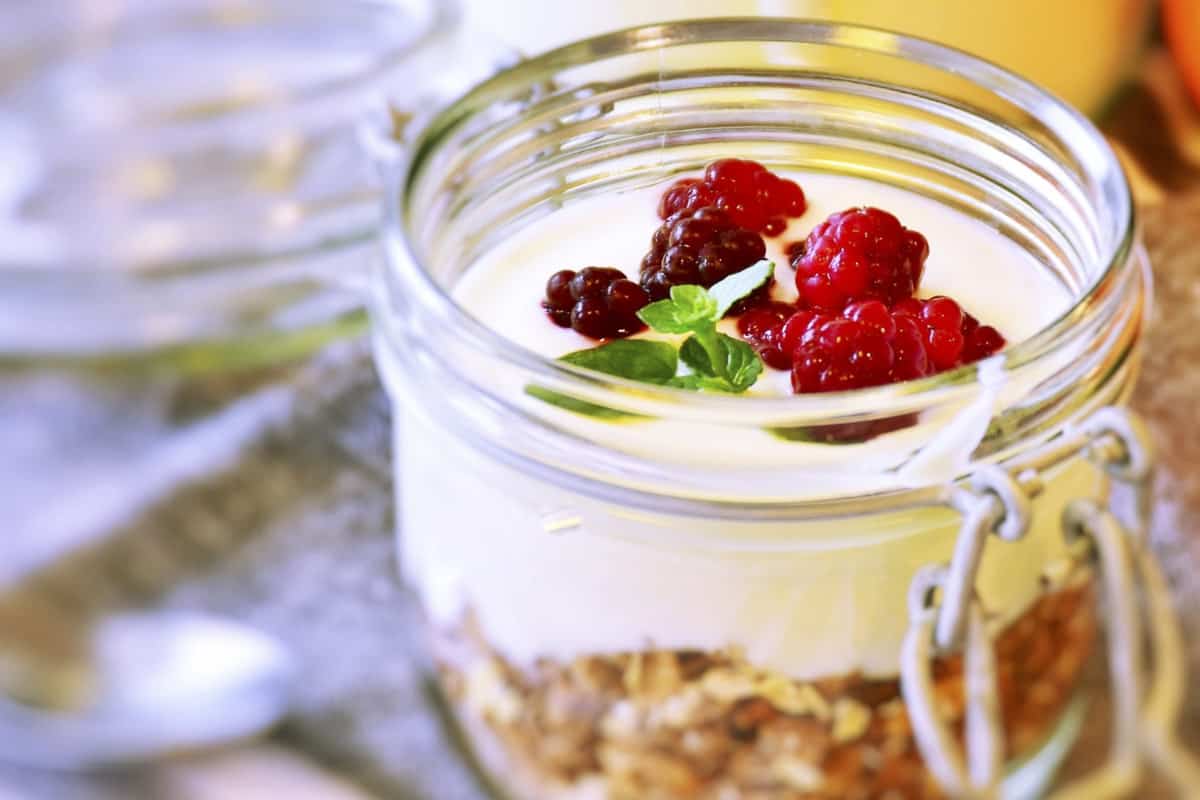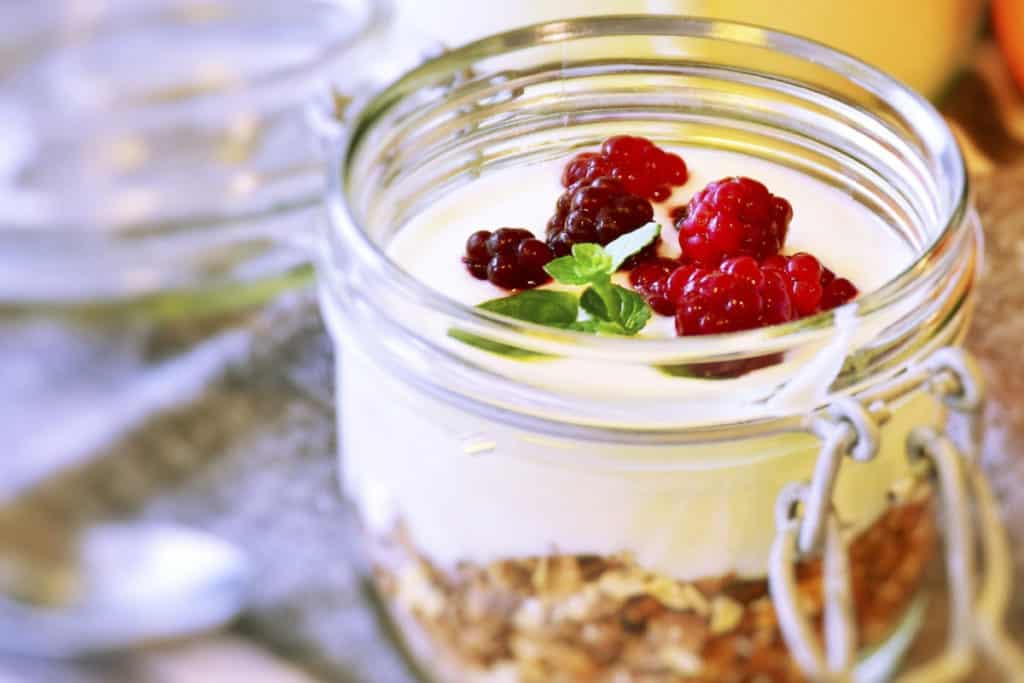 Try the Canuck Classic (a must for any Canadian holiday), Archie's Famous Pancakes, or the Morning Mason Jar for lighter fare. Enjoy your meal on the adjoining patio, and you've got yourself one of the best breakfasts in Jasper!
Orso Trattoria (Jasper Park Lodge)
Location: 1 Old Lodge Rd
You can't get much better if you're looking for Italian cuisine in Canada! Head to the Fairmont Jasper Park Lodge to enjoy the food at Orso Trattoria, a restaurant often rated as one of the top places to eat in Jasper, Alberta. This stunning setting, complete with views of the mountains and beautiful Lac Beauvert, also boasts one of the most delicious menus in the park.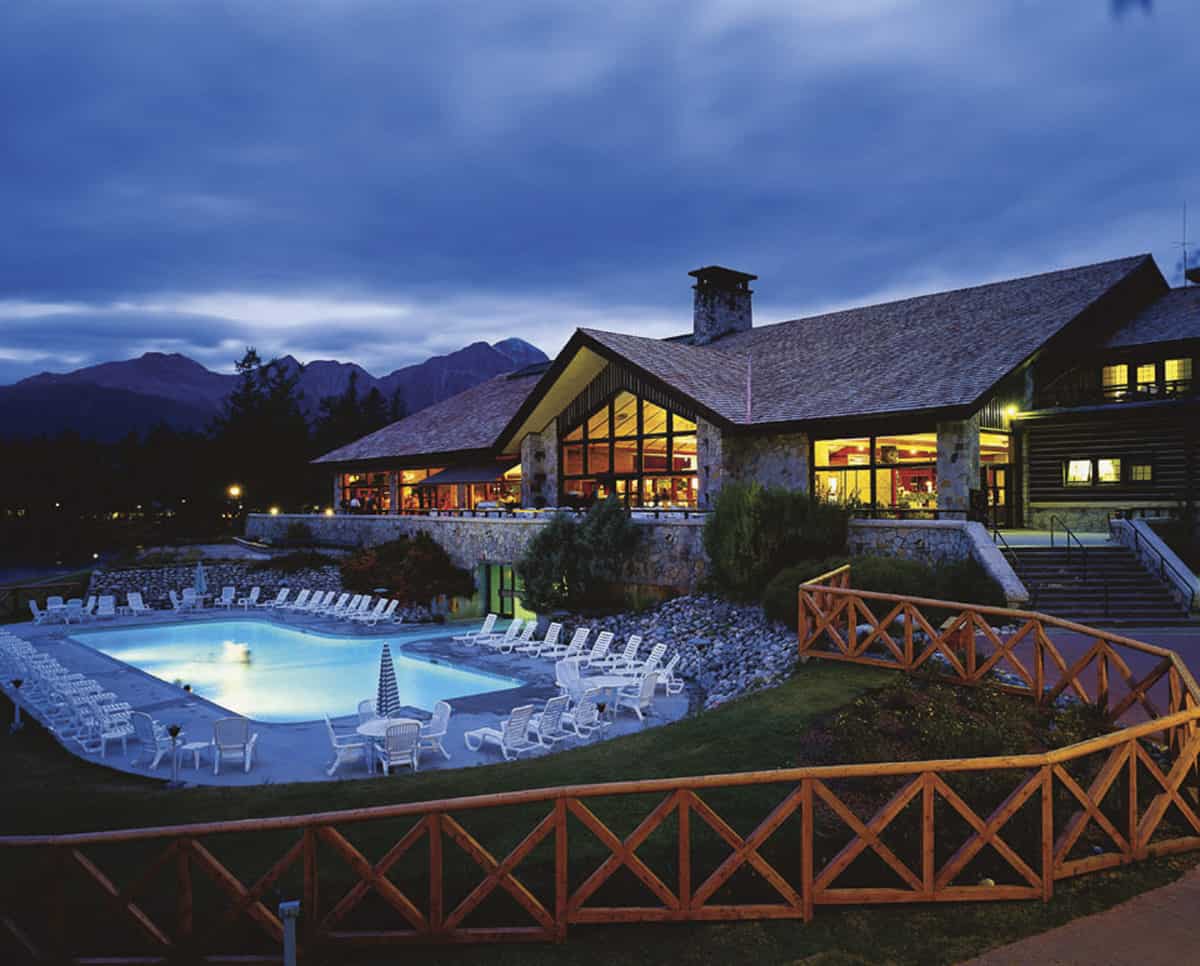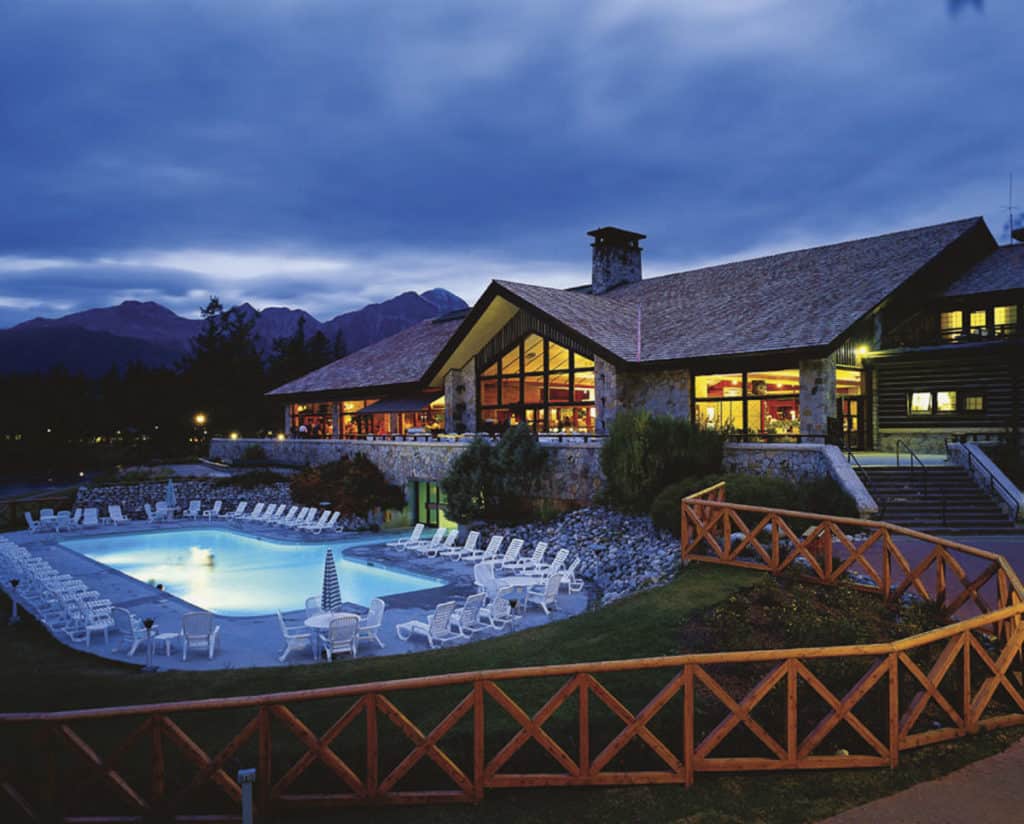 The food is made with fresh and local ingredients that combine to produce Modern Italian cuisines such as Duck Leg Gnudi, Braised Leek Agnolotti, or a 3-course menu of your choosing (and at a reasonable price, too). There's also an impressive meat list that includes AAA Alberta meat. Either way, this is one dining experience you'll never forget.
De'd Dog Bar and Grill
Location: 404 Connaught Dr (click for directions)
The De'd Dog Bar and Grill is a casual bar and restaurant great for a quick bite and a few drinks, all at a reasonable price. You can't go wrong with their classic cuisine; think burgers, chicken wings, and, of course, the D'ed Dog Platter, an assortment of appetizers and dips.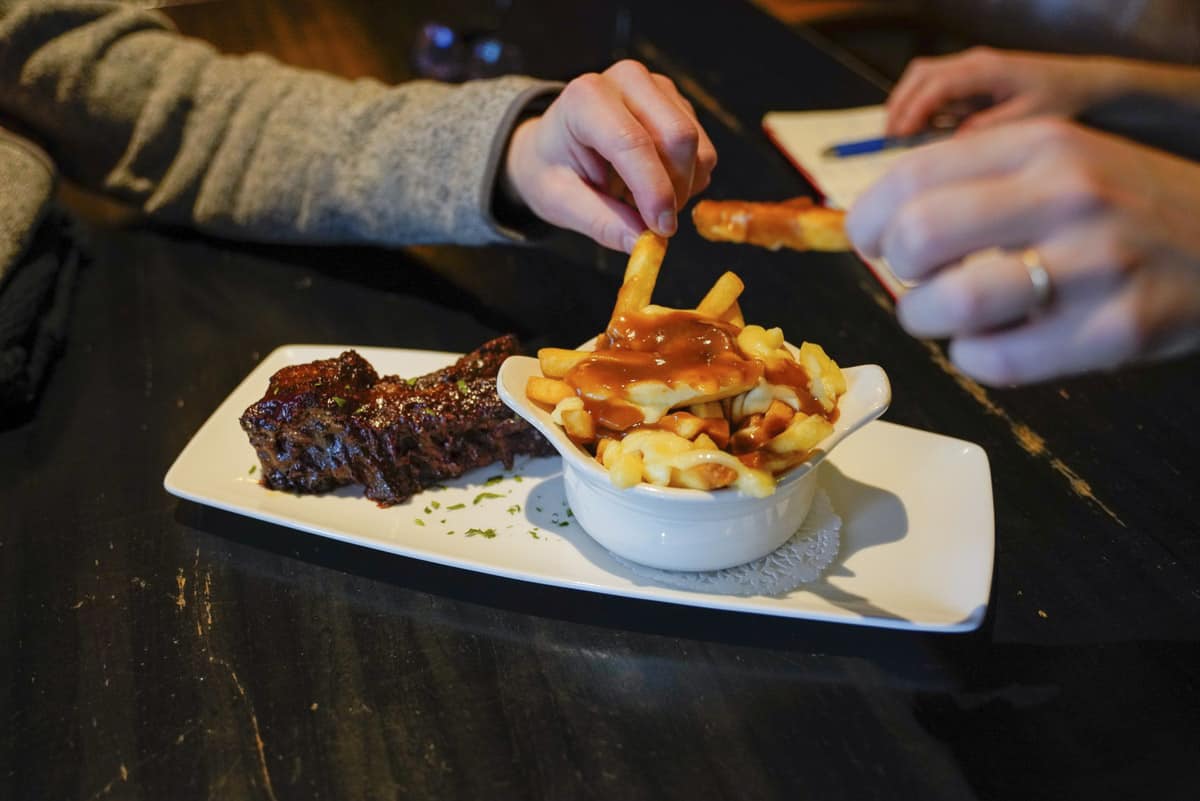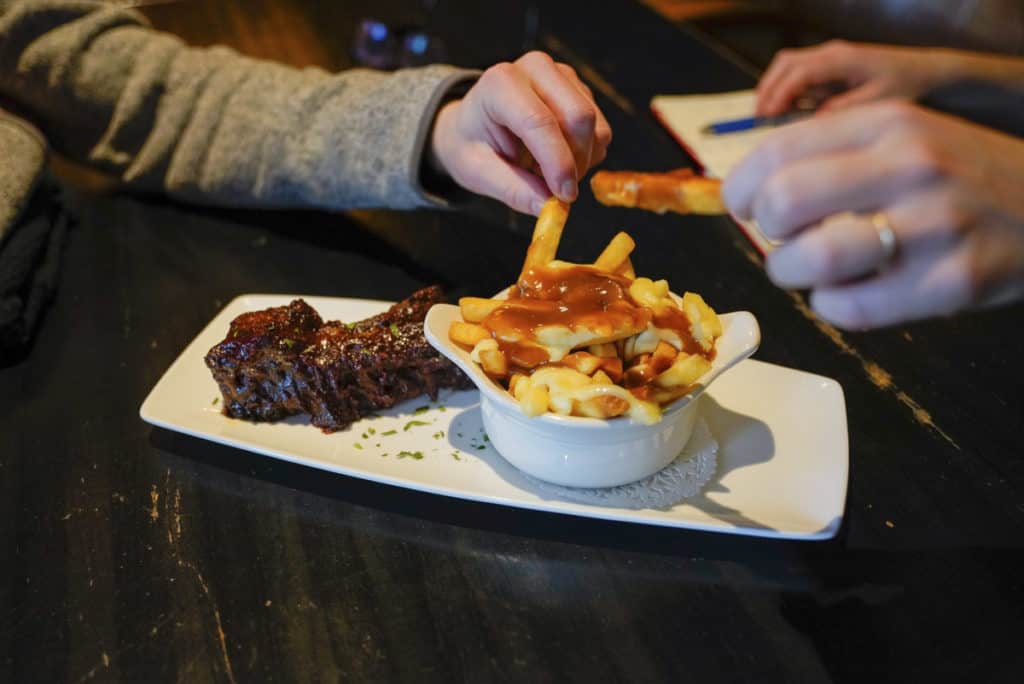 D'ed Dog Bar and Grill is more than just a restaurant, though… it's a fantastic nighttime spot with great music, a lively atmosphere, and a team of helpful bartenders and servers. Also, don't miss their daily food deals, including Wednesday wing nights and Sunday steak nights!
Fiddle River Restaurant
Location: 620 Connaught Dr. UPSTAIRS
Fiddle River Restaurant is known for fresh seafood, delicious cocktails, and some of the best homemade Maple Pecan Cheesecake in all of Canada. Start your meal with one of their signature martinis, including the Mango-Basil or, for the ultimate Canadian experience, the Mapletini.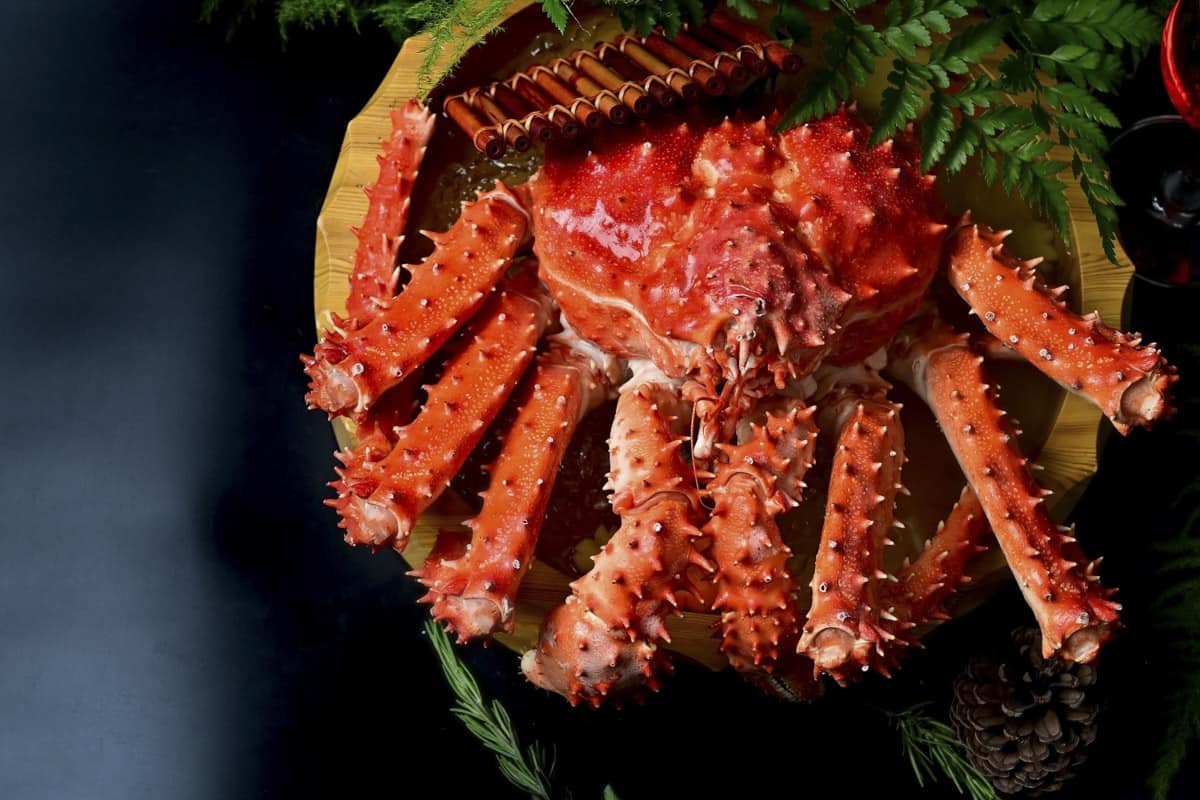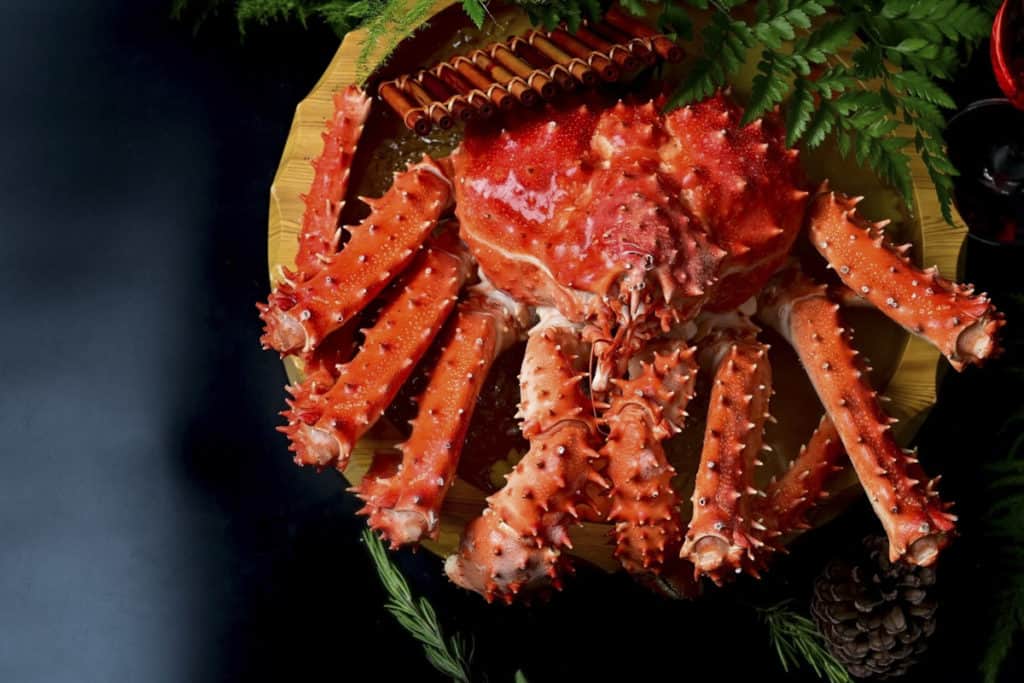 Indulge in Alaskan King Crab, local Rainbow Trout, or Alberta Elk Stroganoff. Alongside a cozy atmosphere and a patio with a view of the mountains, you may have just discovered your new favourite place to eat in Jasper.
Jasper Pizza Place
Location: 402 Connaught Dr (click for directions)
Pizza lovers, you've found your home in Jasper Pizza Place. Serving patrons since 1979, this traditional wood-fired pizza is beloved by locals because of its use of inventive and fresh ingredients. There are also vegan options (including vegan cheese) as well as gluten-free options, so all are welcome. With a choice of hand-stretched wood-burning pizzas or thick-crust pizzas, you can choose one of the set selections or create your very own dream pizza.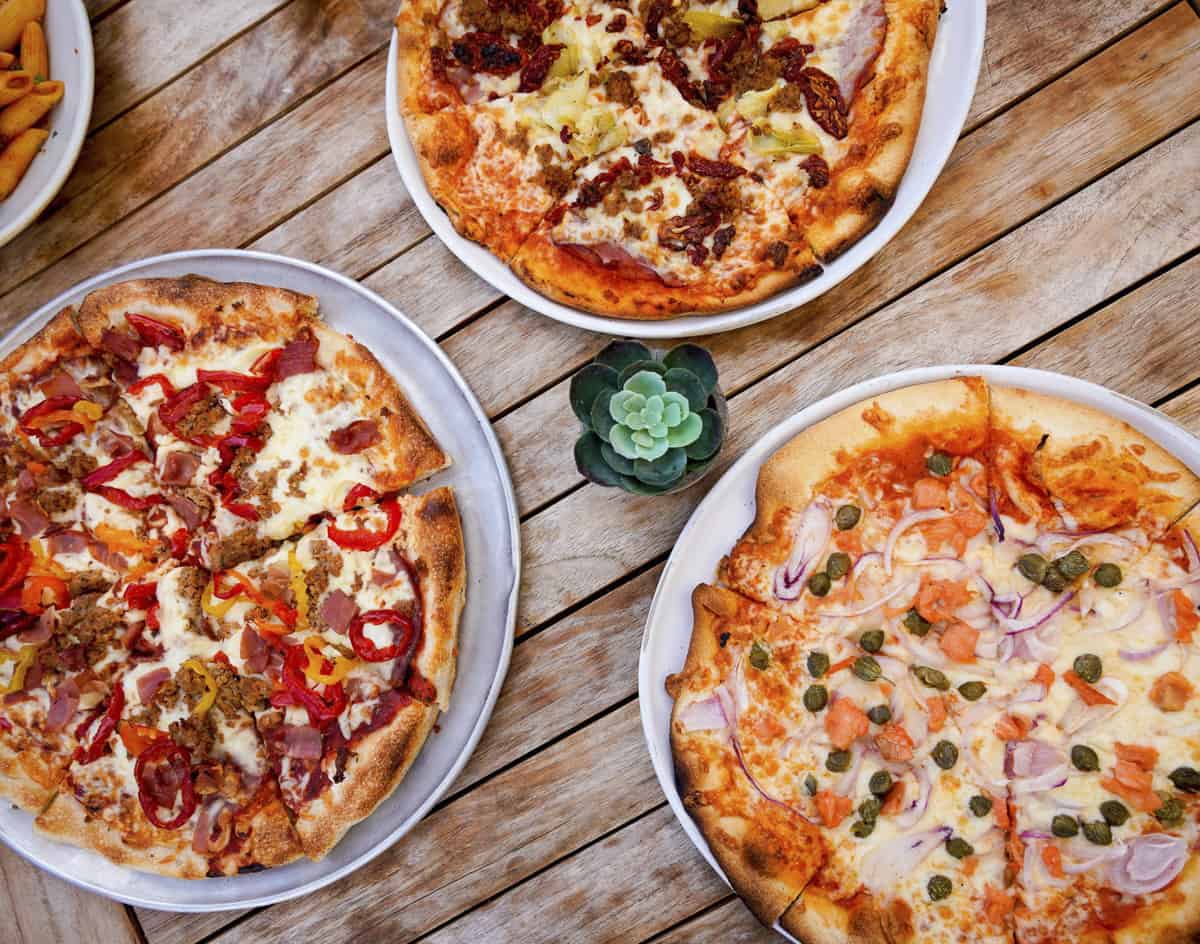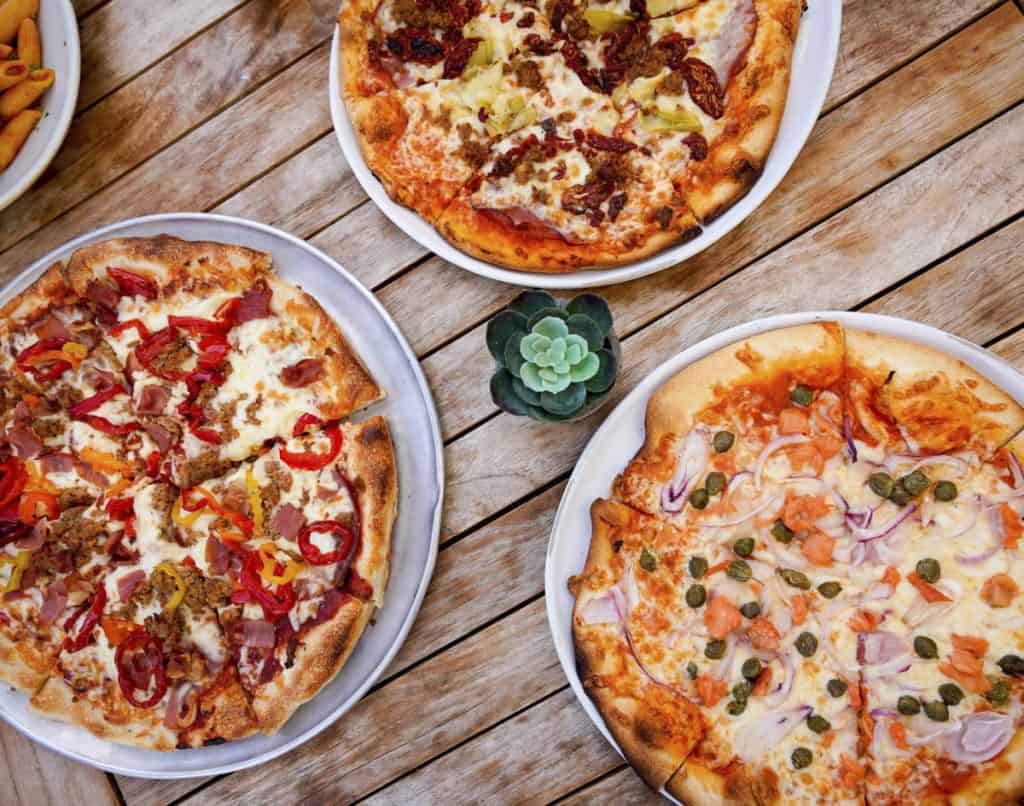 We recommend the classic Canadian (pepperoni, bacon, mushrooms on a thick crust) or the innovative Golden Duck (smoked duck breast, pickled golden beets, sun-dried tomatoes, arugula, and fior di latte on an olive oil base). And don't worry, nobody will judge you if you order pineapple on your pizza!
L&W Family Restaurant
Location: 701 Patricia St & Hazel Ave
L&W Family Restaurant is an excellent spot for a home-cooked meal at a reasonable price. Specializing in Greek cuisine, there are options for breakfast, lunch, dinner, and takeout. Boasting simple food that doesn't need to be over-complicated to taste good, their menu features seafood and barbecue dishes as well as a fantastic range of appetizers.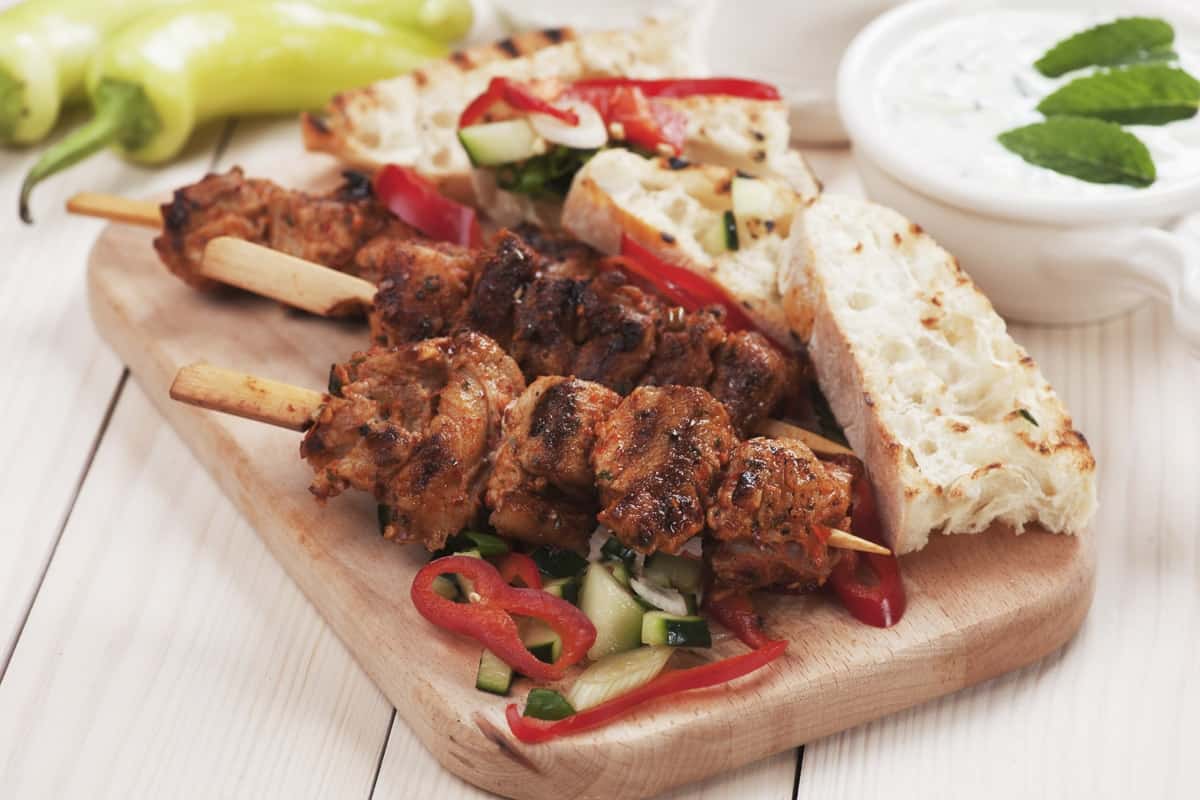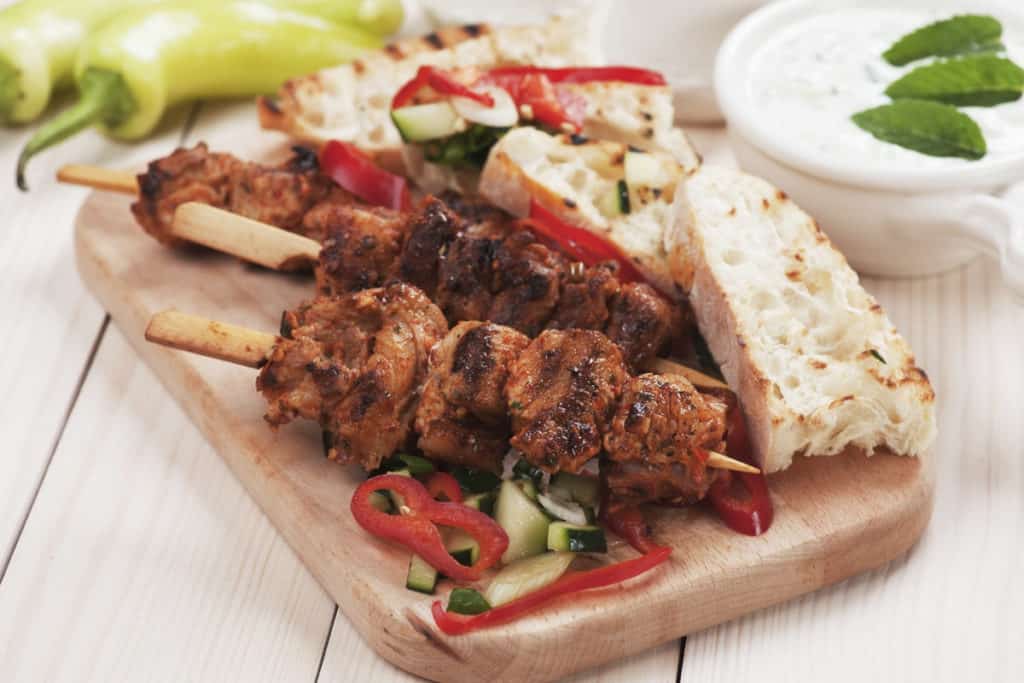 The flavours really stand out, though, when it comes to their Greek food, including souvlaki, spanakopita, and calamari.
Menu: L&W Family Restaurant
The Pines (Pyramid Lake Lodge)
Location: North Pyramid Lake Road – at Pyramid Lake Resort
If you're looking for fine dining in Jasper, look no further than The Pines at the Pyramid Lake Resort. You truly can't beat this view of Pyramid Lake as you dine on the highest quality Canadian-inspired cuisine. With a simple but delicious breakfast menu and all-day dining that includes a mouthwatering mix of local produce, fish, and meat, there's something for everyone at The Pines.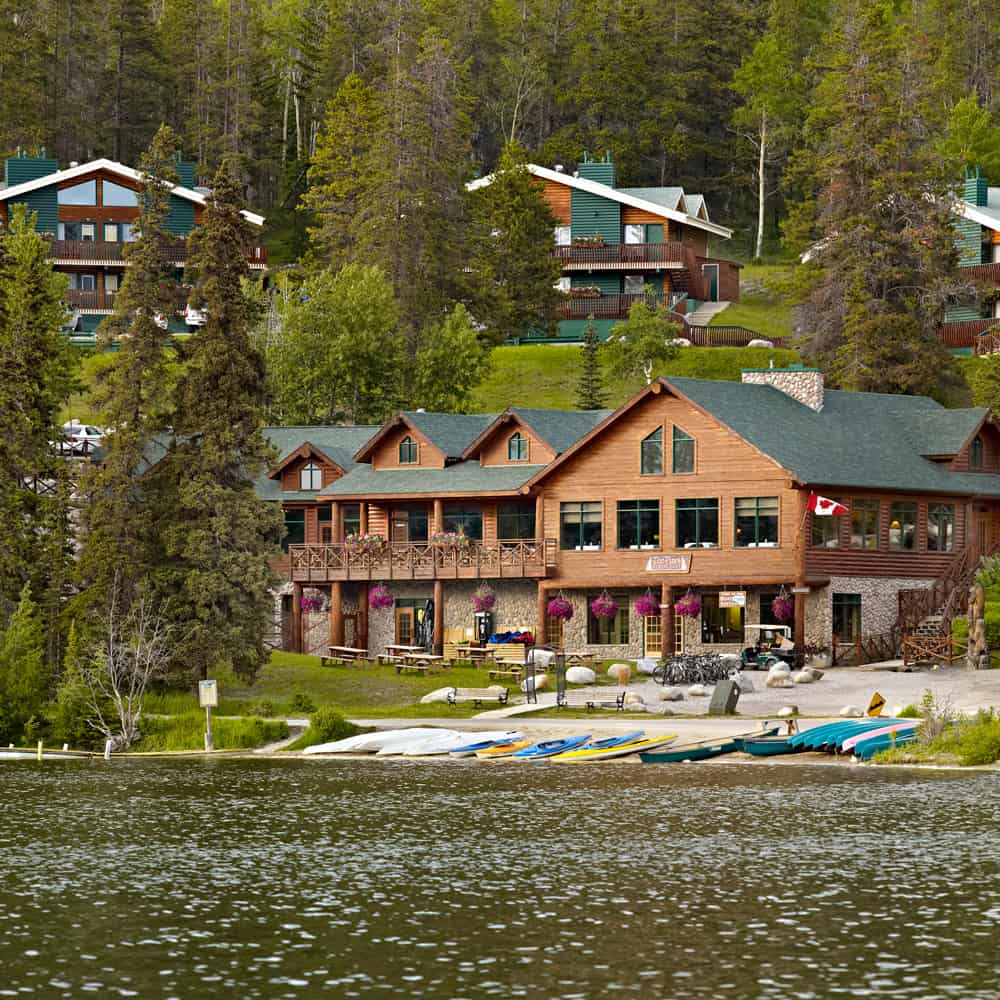 If you're looking to splurge, try one of their Lakeside Patio Tastings (options for meat or vegetarian, with or without wine pairings) or their Stargazers Lakeside Dinner, a 3-course meal with a telescope excursion at the Jasper Planetarium. Take it from us: this is one of the most unique dining experiences in Canada and in the top tier of all the Jasper restaurants.
Evil Dave's Bar and Grill
Location: 86 Connaught Dr
Their tagline is: "Evil Dave's. Wicked Food"… and we can't argue with that! With a sleek and modern interior, Evil Dave's Bar and Grill features a broad-ranging menu that will leave you wanting to sample a little bit of everything. With vegan and gluten-free options, particularly when it comes to their bowls, there's also a good kid's menu.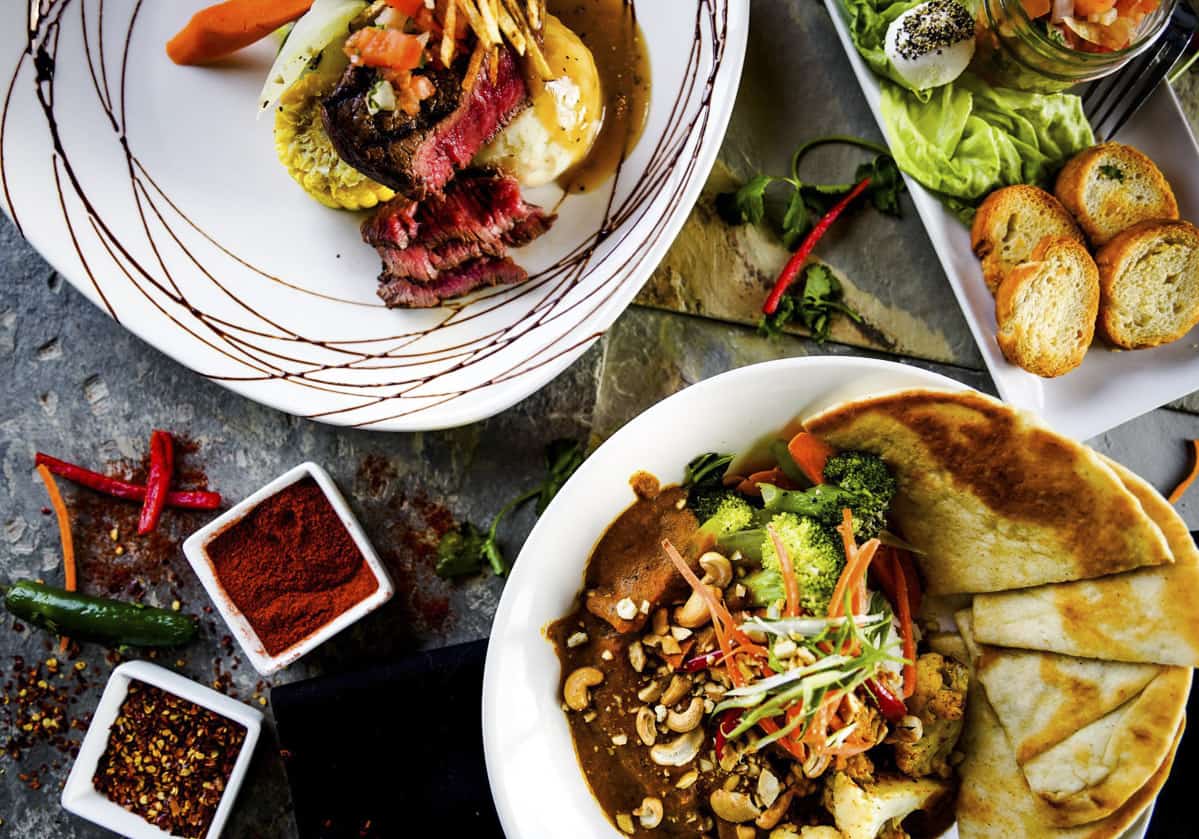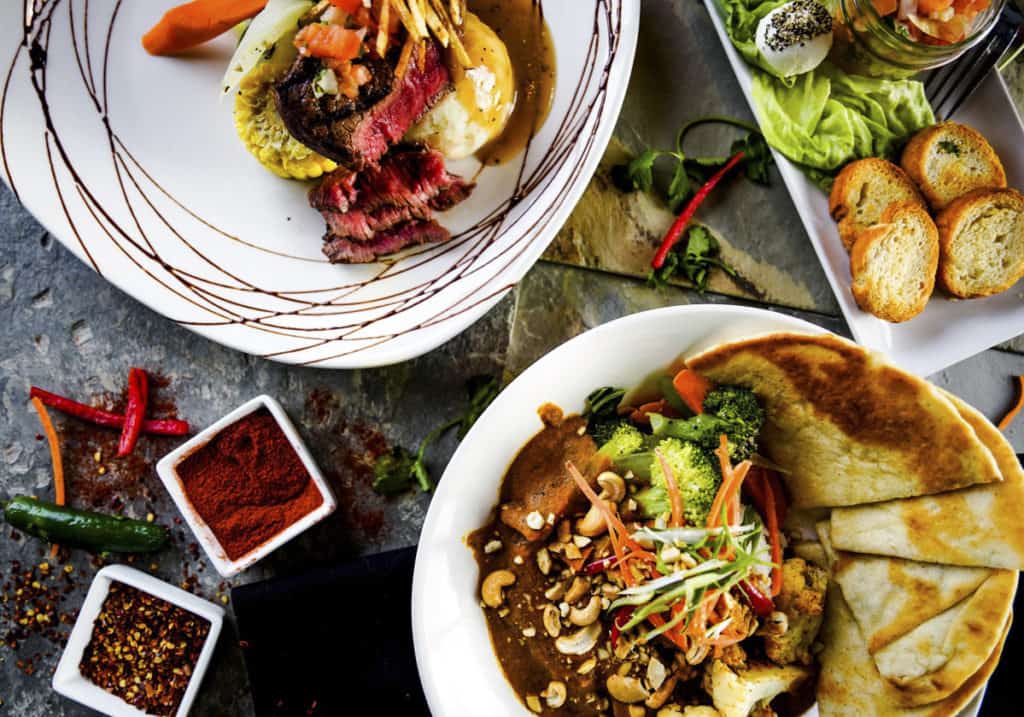 We recommend choosing from a few of their shared plates, including the gyoza or the bao buns, while the Nefarious Chicken (yes, that's really its name) will have you wanting to come back for more.
The View Restaurant at Maligne Lake
Location: Maligne Lake Rd
The name says it all: The View Restaurant at Maligne Lake has one of the most jaw-dropping views in all of the area, making this one of the essential Jasper restaurants not to be missed! Featuring flavours that showcase the best of Canada, you can't go wrong with a meal alongside the shimmering Maligne Lake.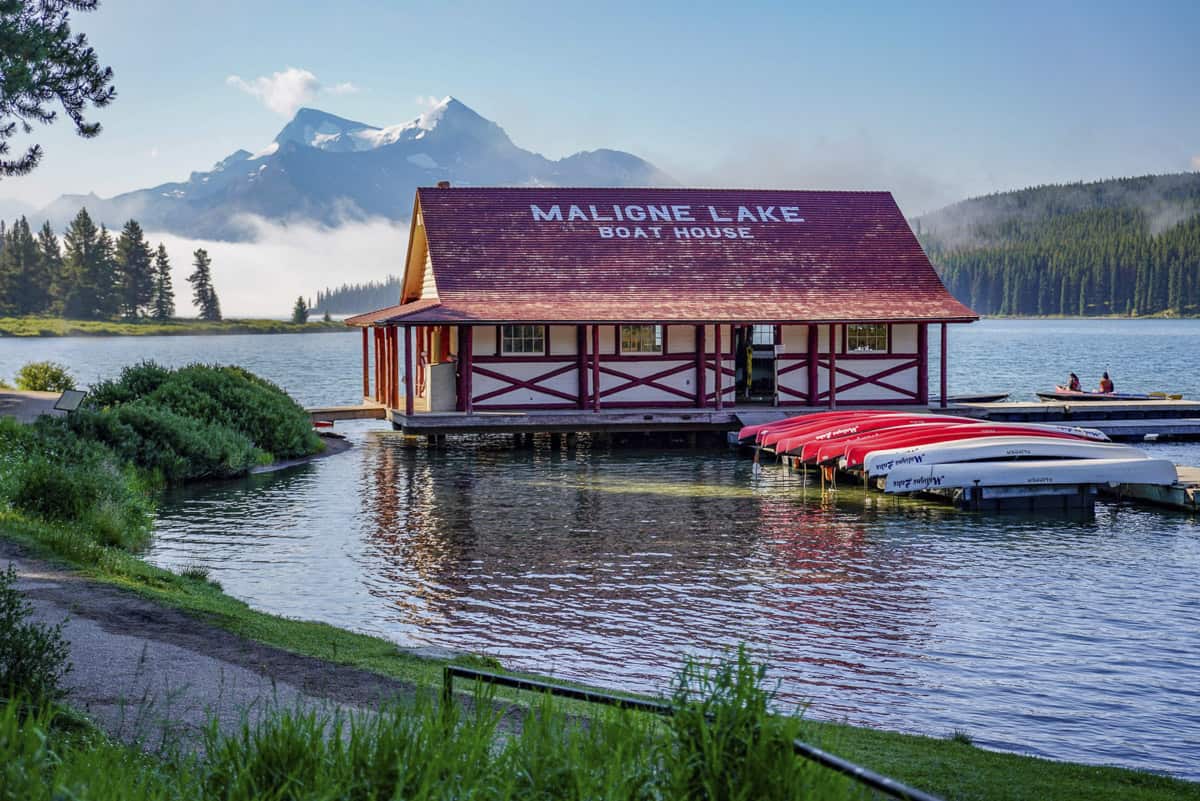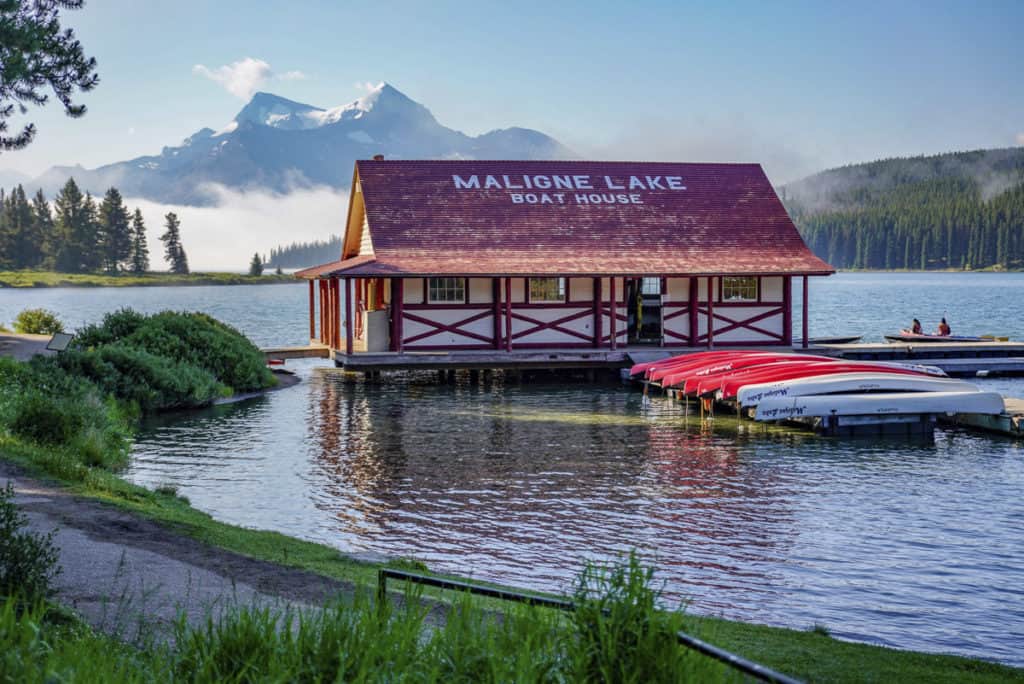 It's a perfect place for a quick snack and a glass of wine on a sunny day. Or perhaps a bigger meal of Bison Short Rib, Rocky Mountain Steelhead Trout, or Trailside Chicken. Regardless, you'll swear the food tastes that much better paired with the view from the most stunning patio in Jasper. Just make sure to save room for dessert; the Snowy Mountain is fitting considering the backdrop, don't you think?