Compiled by the Road Trip Alberta team
Last Updated on January 26, 2023
There's a reason we humans are drawn to road trips.
There are the little things: like the feeling of movement, the wind in your hair, and shouting along to your favourite tunes.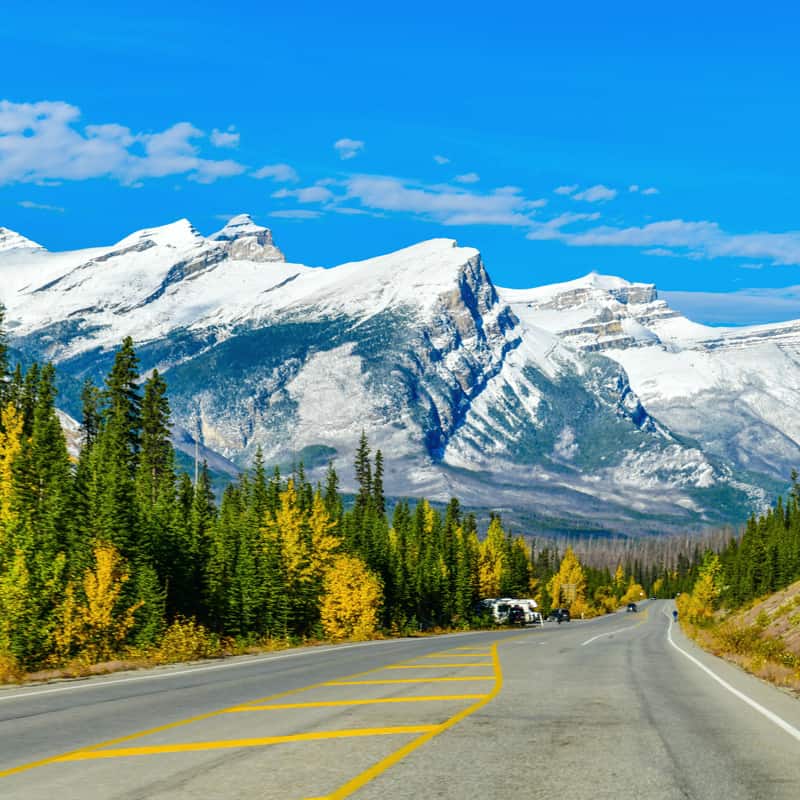 There are character-building things: like stretching your bladder, and fighting boredom and exhaustion as the kilometres slip by.
And there are those soul-colouring moments when you're lost inside the forest of your thoughts: when that Bon Iver song raises the hair on your arms, and the rain glides across the windshield as you wind your way on a mountain road in the dark.
How very specific of us. 😉
Road trips, especially road trips in Alberta, are more than a vacation. They're a romance all your own, with your faithful steed carrying you to the place you'll discover a brand new part of yourself – be it in an ocean of waving prairie grass, or among jagged mountains of stone.
So let the urge to cruise that open road overtake you.
It's About Your Journey
You don't need a destination in mind when you hit the road. What you do need is a great playlist, some fun passengers, and a few odds and ends that will keep you safe (check our summer road trip packing to help with those).
However, if you're looking for some inspiration to get you out the door, we've got a list of our fave destinations for cool Alberta road trips that will get you started. After that, the world (or at least Alberta) is your oyster.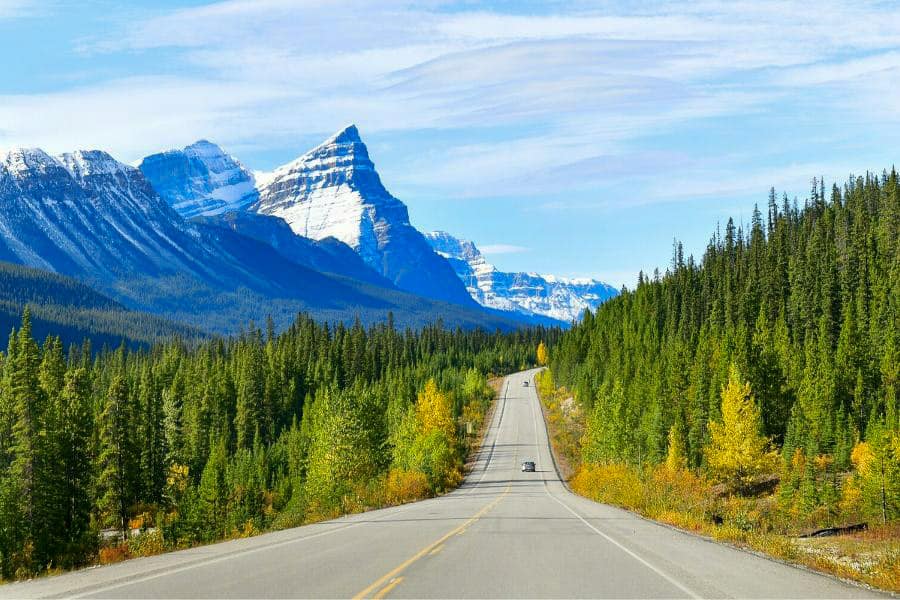 12 Must-Do Road Trips in Alberta
Highwood Pass
The highest paved road in Canada, Highwood Pass is renowned for its beautiful views. The pass climbs through the Rocky Mountains, connecting the Trans-Canada Highway to Highway 22. Be sure to take your camera, along with some sturdy shoes/hiking boots, as opportunities for both are endless.
Where to Start/End
From Longview, take Highway 541 which will then connect with Highway 40. From here you will head through the Kananaskis Trail and connect with the Trans-Canada Highway (just west of Calgary). It is also possible to go from Canmore through Spray Lakes and then head south on Highway 40 and then connect with the 541.
Duration
The Kananaskis Trail is about 150km long, so you should budget about 2 hours, plus the time it will take to get back to your home base.
Things to Note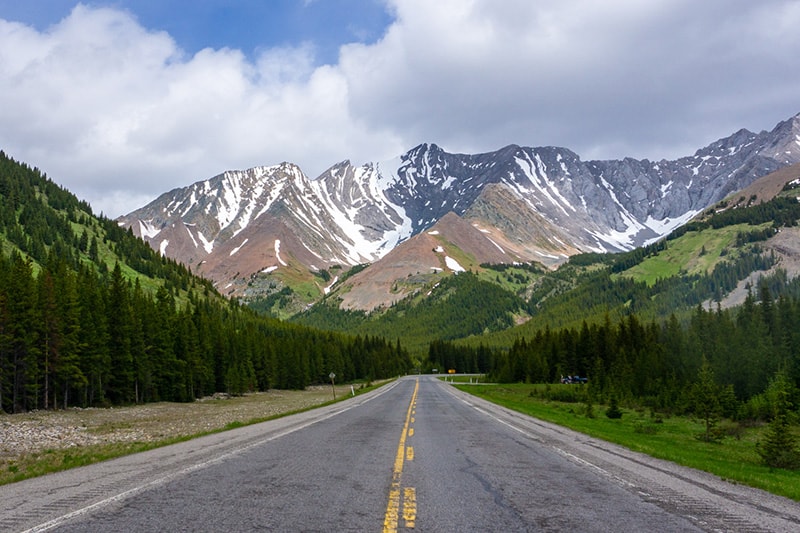 Icefields Parkway
The 288 km Icefields Parkway connects Banff to Jasper, making it one of the most scenic drives in western Canada, end to end. It is the ultimate Rocky Mountain road trip and features passes over 2,000 metres above sea level, like the Sunwapta pass and Bow Summit.
Where to Start/End
You can start either from Banff and head to Jasper, or vice versa, depending on your home locale.
Duration
Without stopping (or getting caught behind a slow-moving tourist bus 😬), the Icefields Parkway takes about 3.5 hours to drive in good weather conditions. But with all there is to see and do, like touring the Columbia Icefield, stopping at scenic pull-outs, and even doing the Columbia Icefield Skywalk, we recommend leaving at least another hour or three to give yourself time to enjoy everything!
Things to Note
There is one fuel station on the parkway, at Saskatchewan River Crossing – and that's not open year-round. So, before leaving Banff (or Jasper) make sure your vehicle has enough fuel to make the whole trip.
You will need a National Park Pass which can either be ordered online in advance or purchased at the gate.
Most importantly, if you are driving the Parkway in the winter or in snowy conditions, snow tires or chains are required by law for safety.
Click through to our extensive guide of everything to see and do on the Icefields Parkway!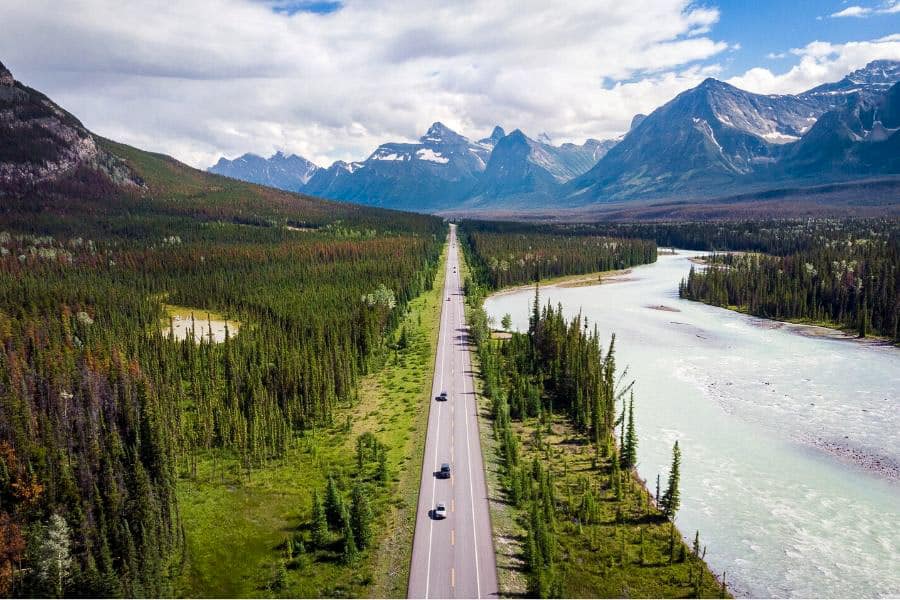 Cowboy Trail
At 700 km long, the full Cowboy Trail covers most of southwest Alberta, where the rolling golden prairies meet the Rocky Mountains. While the adventurous among us may want to take a couple of days in a camper van to fully experience everything (from antique shopping to horseback rides), those on a tighter timeline can enjoy the Cowboy Trail in smaller bites with quick day trips.
Where to Start/End
Depending on whether you're starting from (Edmonton, Calgary, Banff National Park, or Southern Alberta), the whole experience changes. The complete Cowboy Trail runs (north to south) from Mayerthorpe to Waterton Lakes National Park and ends in Cardston. Unless you're planning on taking a week and seeing everything (and count on time to be distracted by all the things to do in Waterton), we recommend finding one focus for your road trip and building the experience around that.
Duration
The Cowboy Trail is as open as the plains, so you get to decide how far you want to drive that cattle!
Things to Note
A handful of other road trips in Alberta listed in this article actually start/end on the Cowboy Trail (i.e. Highwood Pass, Ya Ha Tinda, David Thompson).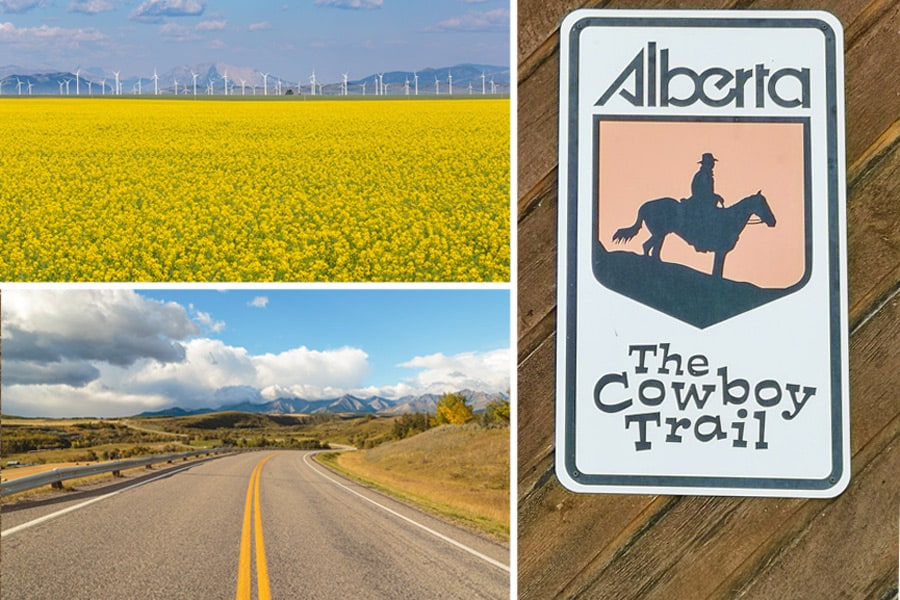 Dinosaur Trail and Hoodoo Trail
The Drumheller area has a ton to offer road trippers – from alien-looking hoodoos to museums chock-full of dinosaur bones. If you're in the Drumheller area and want to hit the road, both the Dinosaur Trail (south and north) and the Hoodoo Trail (Highway 10) offer breathtaking sites and a variety of activities, including hiking near Drumheller and the aforementioned museum.
Where to Start/End
Drumheller is both the start and end point for the Dinosaur Trail and the starting point for the Hoodoo Trail. The Dinosaur Trail south begins at the intersection of 2nd St. NW and South Railway, heading west, and the loop ends/begins at the intersection of Hwy 9 and 56 in Drumheller. The Bleriot Ferry, a cool, cable-operated ferry that carries cars across the Red Deer River, connects the north and south trail. The Hoodoo Trail extends east for 22 km from that intersection.
Duration
The Dinosaur Trail is roughly a 56 km route that takes about an hour to drive – and even includes a ferry ride! The Hoodoo Trail is about 22 km and takes roughly a quarter of an hour for a one-way trip.
Things to Note
The Bleriot Ferry, which connects the north and south sides of the Dinosaur Trail Loop, only operates from late April to November. The ride offers a brief respite from cruising giving drivers a built-in rest to enjoy the river.
Note that we have a whole other article dedicated to themed trips in the Alberta Badlands to help you even more!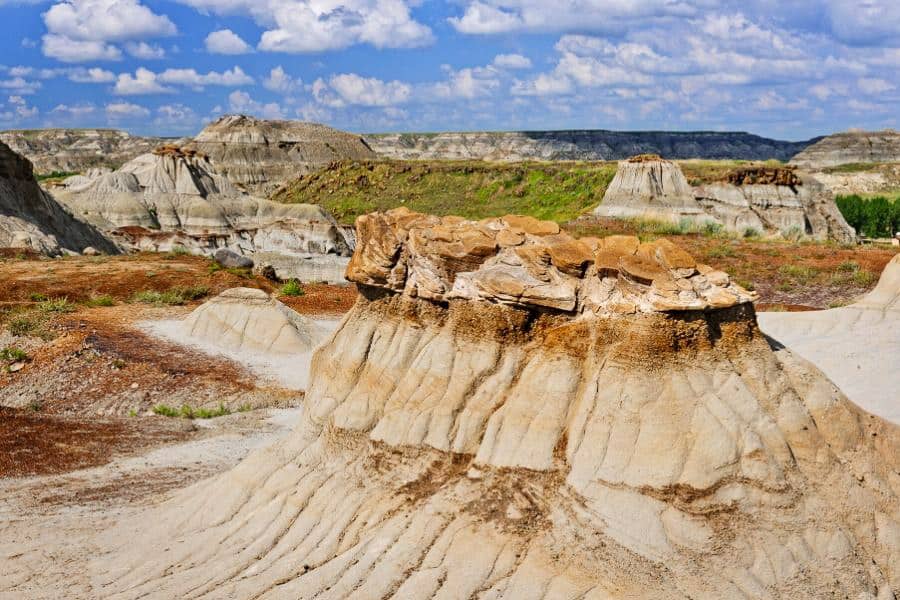 Smith Dorrien Trail
One of the more adventurous road trips in Alberta, the Smith Dorrien Trail is a lot closer to a trail than most of the highways that bear the name. The almost 70 km gravel road can take nearly 2 hours to drive but passes the famous Three Sisters mountains along with the Spray Lake Reservoir.
Where to Start/End
The trail starts just south of Canmore and finishes on the Kananaskis Trail. Depending on the season, and where you want to end up, drivers can:
Head north, back onto the Trans-Canada, which will take you back to Canmore or on to Calgary.
Head south over the Highwood Pass, which finishes at Longview, one hour south of Calgary.
Duration
The Smith Dorrien Trail takes about 1.75 hours for drivers who are comfortable on gravel roads. For those who aren't, or for those who want to take their time and see the sites, budget an extra hour or two for the drive.
Things to Note
There are no services on the Smith Dorrien trail, so make sure to fuel up and check tire pressures before heading out.
The road is completely gravel so give plenty of space between vehicles to avoid getting a cracked windshield.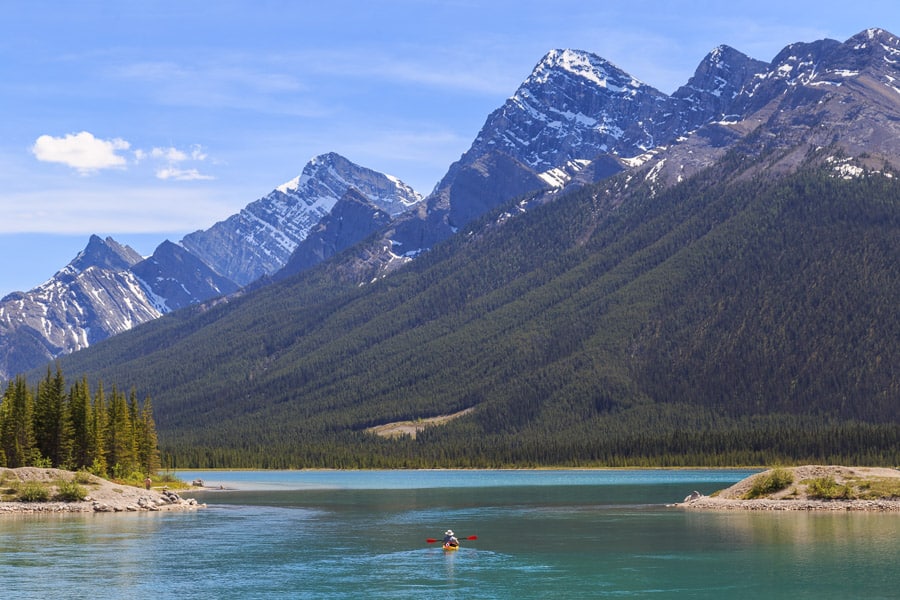 Bow Valley Parkway
The Bow Valley Parkway is the alternate route between Banff and Lake Louise and is the definition of 'the scenic route'. The road tacks on a couple of extra kilometres and takes almost twice as long to make the trip! However, the road snakes through gorgeous scenery and past the trailheads of amazing hikes, making those slower speeds a perk.
Where to Start/End
If you're coming from Banff, head north to Lake Louise, and exit onto Highway 1a, about 7 km outside of Banff (just before you cross over the Bow River).
If you're coming from downtown Lake Louise, take Whitehorn Rd./Highway 1a east, over Highway 1 (toward the ski hill), then turn right to take Highway 1a (about 500 m after the highway).
Duration
At just under 60 km, this drive takes about an hour due to its winding nature and lower speed limits. There are plenty of places to stop along the way to take in the breathtaking scenery, so we recommend budgeting at least another half hour for driving time.
Things to Note
Though the parkway is open year-round, the section between Banff and Johnston Canyon does close nightly, from 8 p.m. to 8 a.m., from March 1 to June 25. 
The Bow Valley Parkway is a favourite for both bicyclists and animals, so keep those eyes peeled!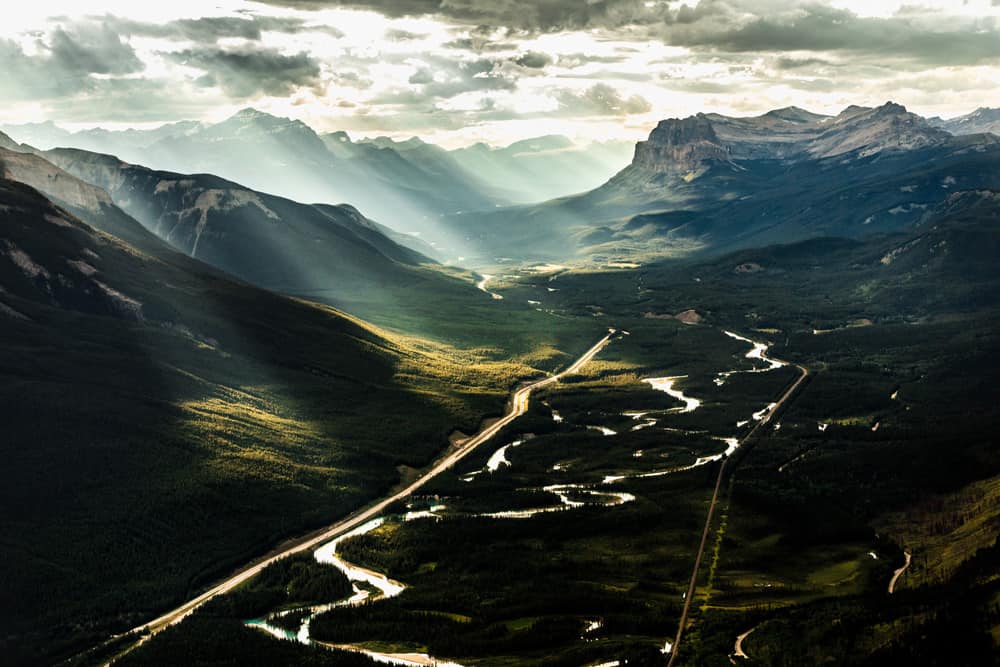 Sheep River Falls
A gorgeous drive west from Turner Valley will put you at Sheep River Falls Provincial Recreation Area. The road dips and winds through Alberta's foothills into Kananaskis with the Rocky mountains on the horizon. Once arriving to the park the main attraction is the falls themselves. It's a simple 1km trail with a viewing area to showcase the water cascading through the rocks.
There are plenty of other things to do in the area as well. In the summer there are multiple hiking trails, horseback riding, kayaking, fishing spots and 2 large campgrounds. In the winter, it's a cross-country skiers' paradise with 37km of groomed trails.
Where to Start/End
From Calgary take Highway 22 south towards Turner Valley. From Turner Valley head west on AB-546. Follow the signs to Sheep River Falls.
Duration
From Turner Valley, it is 36km to Sheep River Falls. It should take no longer than 30 minutes to arrive at the falls. But with all the scenic photo spots it may take a bit longer ;).
Things to Note
The road is open year-round, but in the winter months winter tires would be recommended. Take extra caution when the road is icy and snowy condition.
Be sure to stop at Bighorn Lookout to take in the incredible view.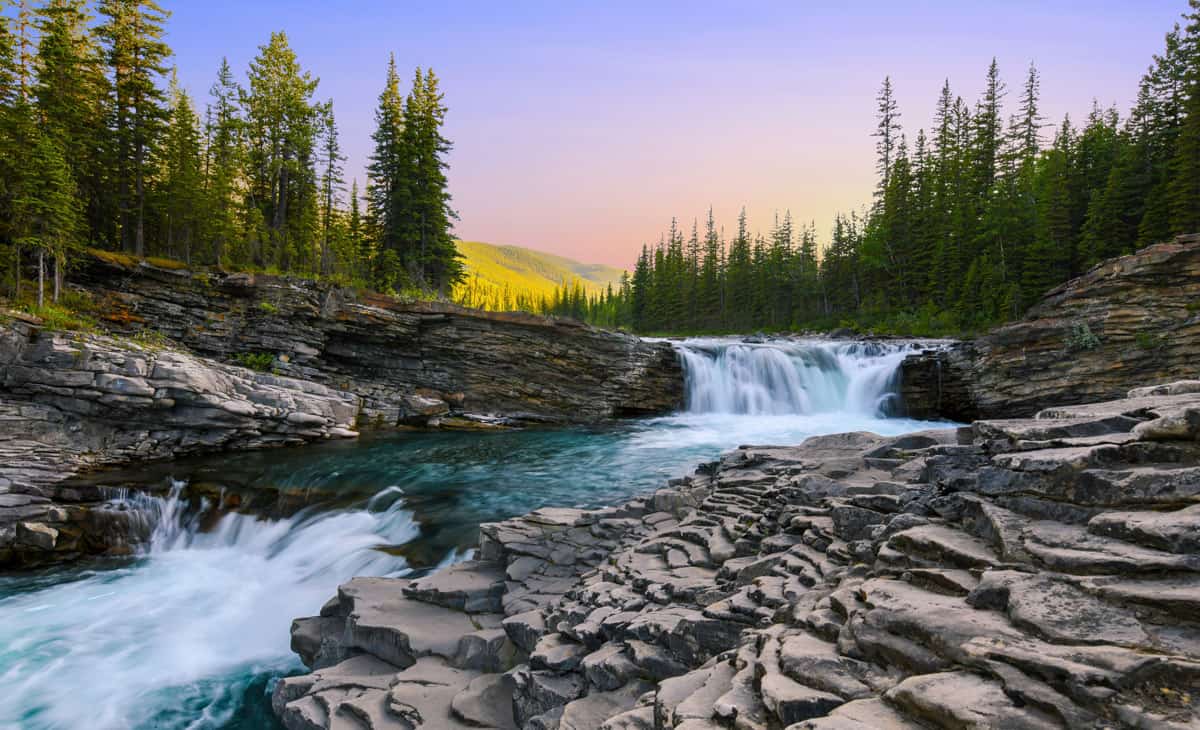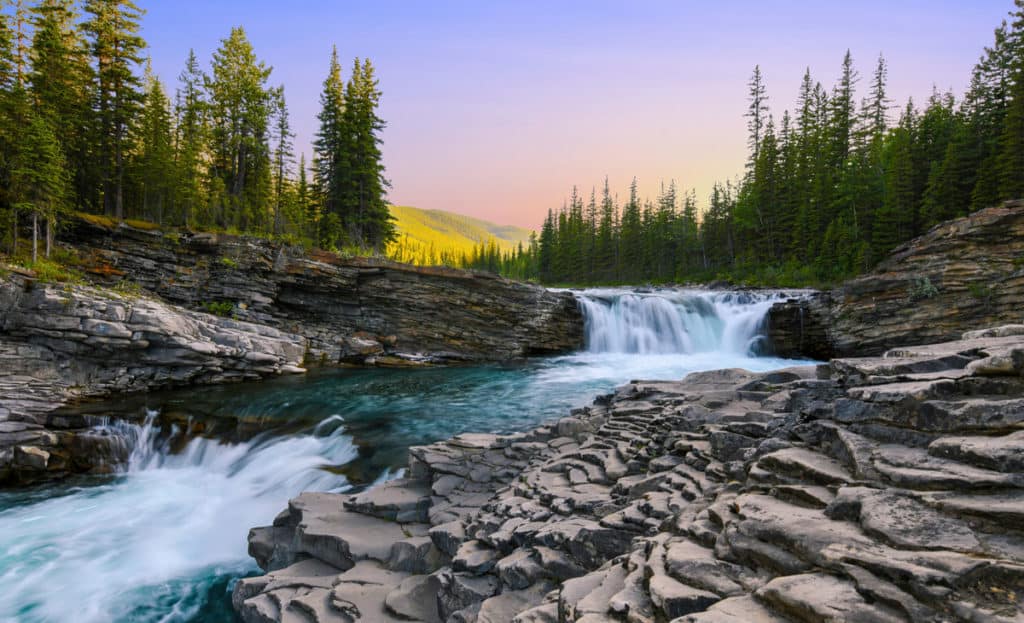 Iron Horse Trail
If you're looking to get out of the vehicle and bike/walk/ride your way across the province, the Iron Horse Trail offers the perfect (off) road trip in Alberta. The Iron Horse Trail comprises over 300 km of the Trans Canada Trail, including an old railway right-of-way from Waskatenau to Cold Lake, with an arm branching off to Heinsburg.
Where to Start/End
There are five staging/rest points to start from, which feature maps, washrooms, picnic tables, off-loading ramps and plenty of parking. These include:
Warspite Staging Area
Town of Smoky Lake Staging Area Bellis Staging Area
Ashmont Staging Area
Town of St. Paul Staging Area Town of Elk Point Staging Area Lindbergh Staging Area
Middle Creek Station Area Heinsburg Staging Area
Duration
With 300 km of trails connected to 27,000 km of trails across the nation, you can spend as many hours, days, or even years (?) seeing the raw, natural beauty of Alberta and Canada. Time to choose your own adventure, eh?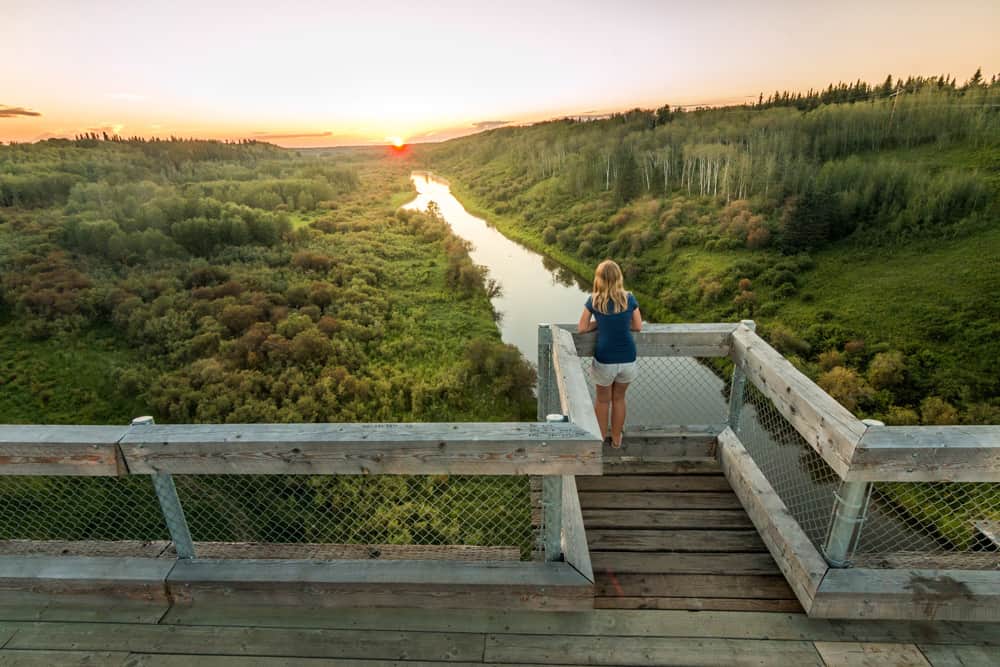 Boomtown Trail
Highway 2 does a fine job of getting you from Calgary to Edmonton (or vice versa) in good time – it is the most travelled road trip in Alberta! – but it doesn't have a whole lot of character. If you prefer to take your time, we recommend taking the Boomtown Trail. This path takes you further east through quaint towns and villages that still retain the rustic charm of Alberta's boomtown past.
Where to Start/End
From Calgary: Head north on Highway 2 then take exit 340A, east on Highway 27 toward Trochu.
From Edmonton: Take exit 66 off Anthony Henday to Camrose and Wainwright.
Duration
From Anthony Henday in Edmonton to Deerfoot Trail in Calgary takes just over four hours of driving time if you don't stop and don't take any of the offshoots. However, with all the beautiful side-trip opportunities to Donalda, Rochon Sands, and Dry Island Buffalo Jump, you're probably looking at 8+ hours or more!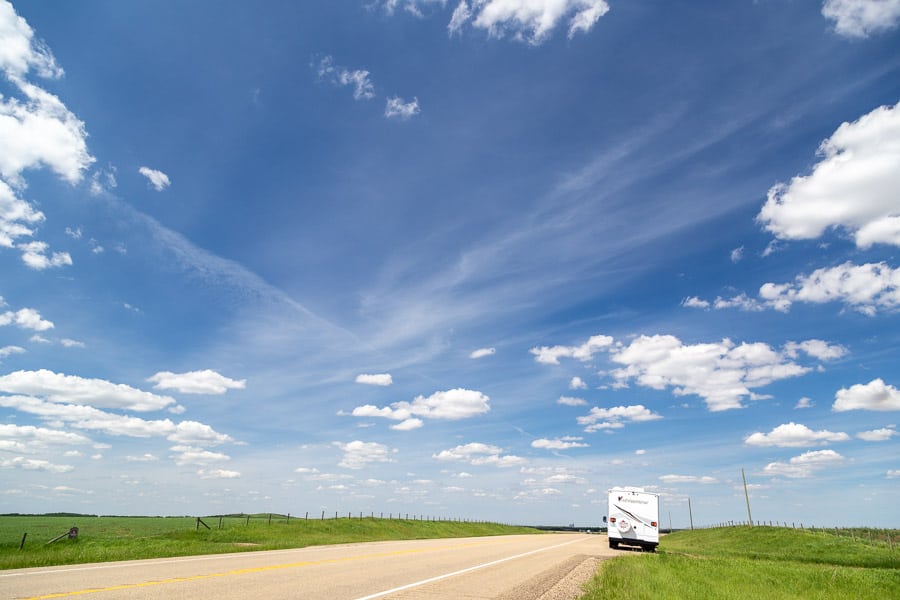 The Road to Ya Ha Tinda
If you find yourself riding out along The Cowboy Trail near Sundre/Calgary, heading to the Ya Ha Tinda Ranch is worth the detour. The ranch itself covers nearly 4,000 hectares of land on the edge of Banff National Park, with near-endless opportunities to hike and horseback ride. Expect to see wild horses along the way and be sure to stop at Big Horn Falls.
Where to Start/End
The simplest place to start is to take Highway 584 west out of Sundre, then turn south on Township Road 324A. Signage on the road is limited, so get acquainted with the map above. From the north or south, Ya Ha Tinda Road is accessible from Highway 40, otherwise known as Forestry Trunk Road.
Duration
The road from Sundre to Ya Ha Tinda is about 85 km, which takes around 1.25 hours to drive. For an out-and-back trip, schedule at least 4.5 hours to allow yourself to get out, stretch your legs and see all the sights along the way.
Things to Note
The gravel road can get rough, so budget extra time if you're uncomfortable driving on gravel.
Cell reception is spotty to unavailable, so plan accordingly.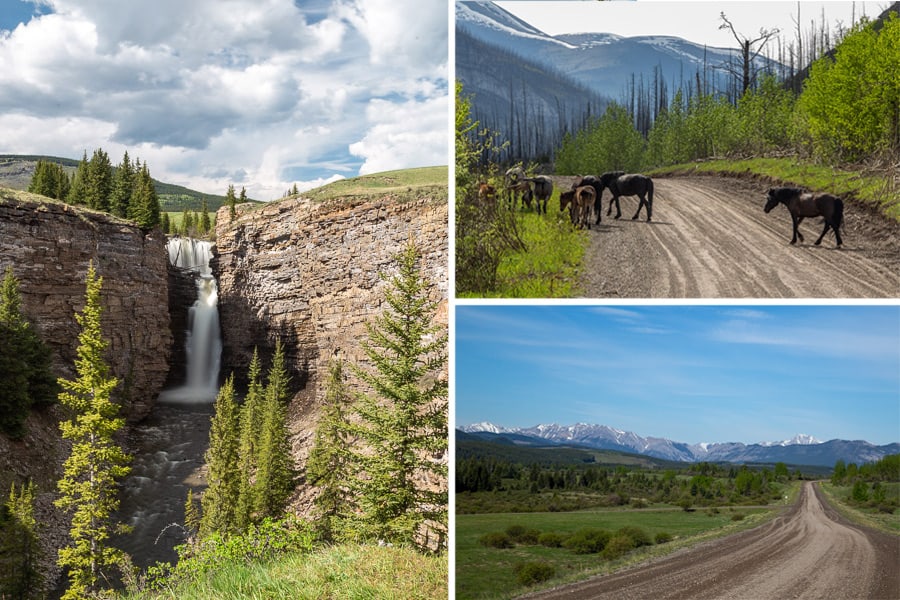 David Thompson Highway
The David Thompson Highway extends from the prairies east of Red Deer to the heart of the Alberta Rockies, giving road trippers a great diversity of scenery which easily makes this a top road trip in Alberta. While it is possible to start at Red Deer and follow the road all the way to the parkway, we recommend starting near Rocky Mountain House for a quicker trip into the mountains.
Where to Start/End
The easiest place to start is Rocky Mountain House, on the Cowboy Trail. Head north on Highway 22/11 from downtown, then stay right on David Thompson Highway on the edge of town. During the spring/summer/fall, there's both gas and lodging available at the Saskatchewan River Crossing, but it is closed through the winter months. We recommend taking the parkway either south to Banff or north to Jasper to round out the trip.
Duration
The David Thomson Day Trip is just shy of 2 hours (178 km) from Sundre to Saskatchewan Crossing. Continuing on to Jasper takes about 2 hours (156 km) or south to Banff is just over 1.5 hours (139 km).
Things to Note
There is only one fuel station on the parkway, located at Saskatchewan River Crossing – and it's not open year-round. Make sure your vehicle has enough fuel to make that drive during the winter months.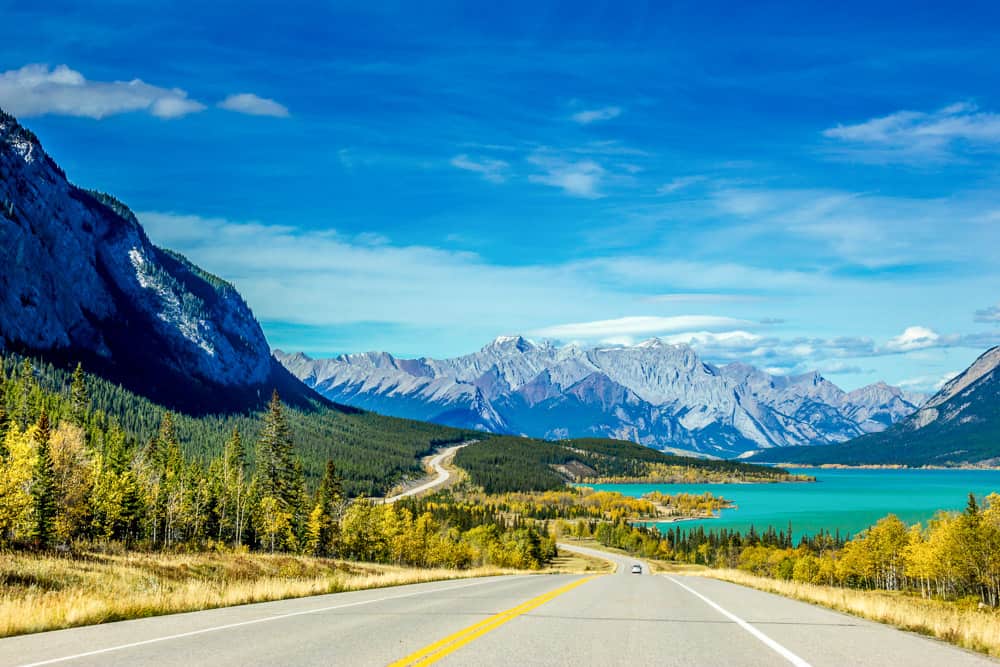 Crowsnest Highway
Starting in neighbouring British Columbia and finishing in the small city of Medicine Hat in eastern Alberta, this epic road trip of over 1,100 km is as notable for its history as it is for its majestic scenery. It's home to some of Canada's darker moments including the deadliest landslide and its most tragic mining accident but also delights with expansive mountain views that give way to vast prairies. It is certainly one of the most diverse road trips in Alberta (and can be a part of the journey from Vancouver to Calgary, if you need to make that trip)! Watch for mountain sheep in the east and elusive pronghorns in the west.
Where to Start/End
If we're keeping all of our recommended road trips in Alberta, then you can start from the west in the town of Crowsnest on the Crowsnest Pass. If you're starting in the east, then jump on Highway 3 westbound in Medicine Hat.
Duration
Medicine Hat to Coleman is just over 300km and thus just over a 3-hour drive. There are several stops to make along the way (don't miss Lundbreck Falls or Frank Slide), so this is easily a full-day trip if you have the time.
Things to Note
When in the eastern Crowsnest Pass or if you continue into BC (the highway ends at the city of Hope), be extra careful in winter as that range of the drive is entirely mountainous.
Note that if driving into BC in the winter months, snow tires are mandatory for some roads.