Disclaimer: This page may contain affiliate links. Please review our full Terms and Conditions for more information and our Privacy Policy. Note that any pricing, operating hours, or other such information provided below may have changed since initial publication.
Compiled by the Road Trip Alberta team
Last updated on October 23, 2023
Whatever time of year we visit Banff National Park, a trip to Johnston Canyon happens. It's a really special place to take a hike. The canyon is majestic to wander through along the elevated path platforms as Johnson Creek winds its way through. And to be rewarded with waterfalls at the end of the trail is the icing on the cake. It's one of the most popular things to do in Banff National Park for good reason and why we keep going back year after year.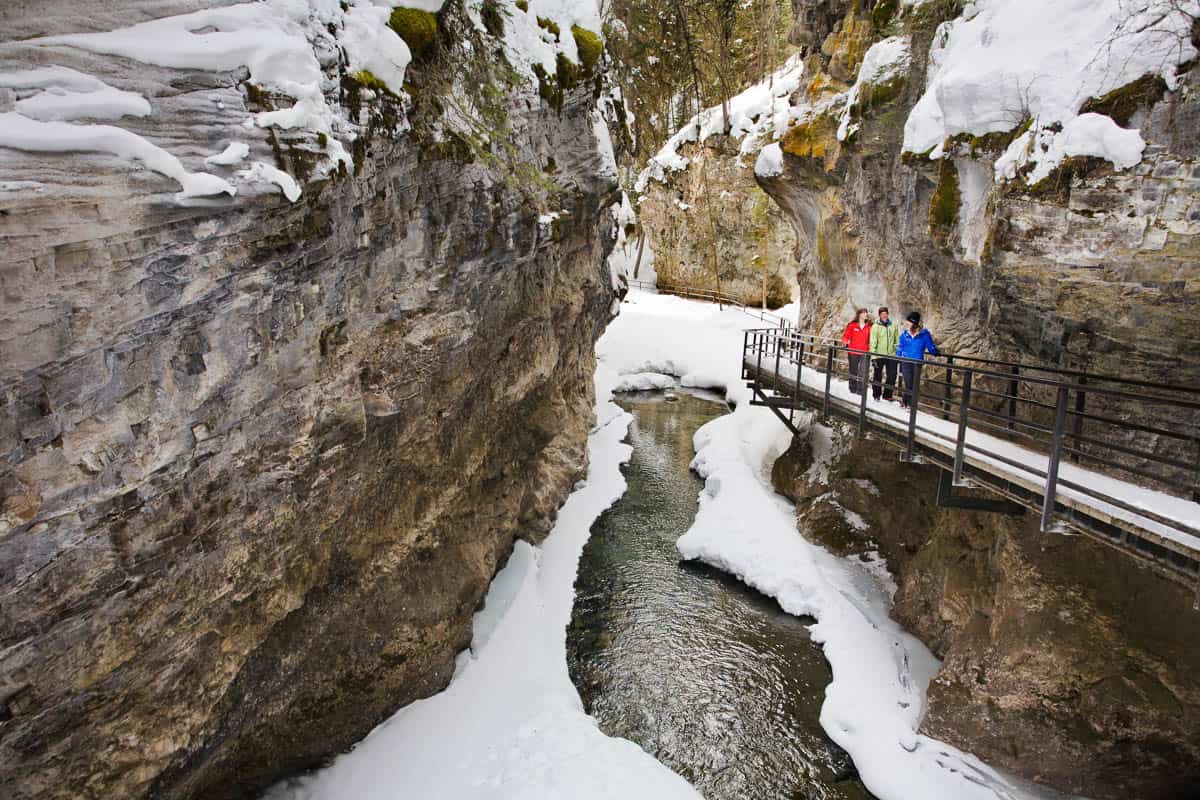 Your Guide to Johnston Canyon
How to Get to Here
Johnston Canyon is found in Banff National Park and is easily one of the most popular spots in the park. The entrance to the canyon, including the Johnston Canyon Trailhead, is off of the Bow Valley Parkway about 25 kilometres north of Banff en route to Lake Louise. It is well-marked, so you shouldn't miss it if you're driving or cycling to Johnston Canyon.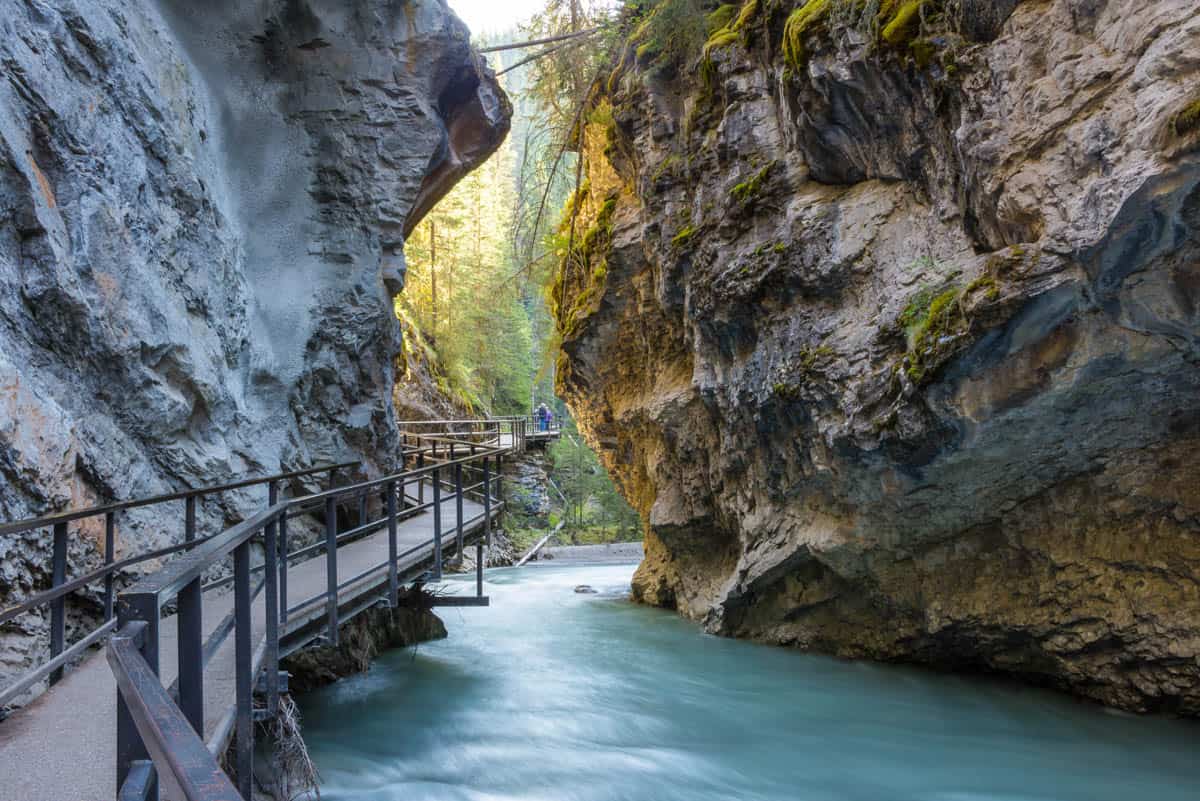 That being said, there is currently a three-year pilot program (from 2022 to 2024) where sections of the Bow Valley Parkway are closed to cars to reduce vehicle traffic and encourage cycling. To reach Johnston Canyon, you can also take the Trans Canada Highway to exit AB-93N (Castle Junction) and turn right onto the Bow Valley Parkway. You'll find it, approximately six kilometres south of Castle Junction.
If you do not have your own vehicle, Roam Transit offers buses to Johnston Canyon from Banff. There are also multiple tour companies that offer transportation here.
Parking
Thankfully, there is free parking at Johnston Canyon, and you'll find a huge parking lot (P1) at the main trailhead. A smaller parking lot (P2) is available near the Johnston Canyon Campground.
Note that the parking lot fills up quickly – especially in the busy summer months – so we recommend getting there as early as possible or taking a Roam Transit bus to avoid parking altogether.
What Can You See
Johnston Canyon is a beautiful spot to explore in Banff National Park. With elevated pathways along the canyon walls, lush forest and greenery, and numerous waterfalls along Johnston Creek (Upper Falls and Lower Falls being the most famous), it has so many things to see.
It's the perfect spot to enjoy the natural beauty of Banff National Park, spend some time outdoors, and get in some light hiking, too!
Lower Falls
The easiest falls to access (see below for information on the trail), the Johnston Canyon Lower Falls is one of the most picturesque scenes in Banff National Park. With gorgeous turquoise water, mighty falls, and green foliage surrounding you, take in the views from the bridges and viewing platforms along the way.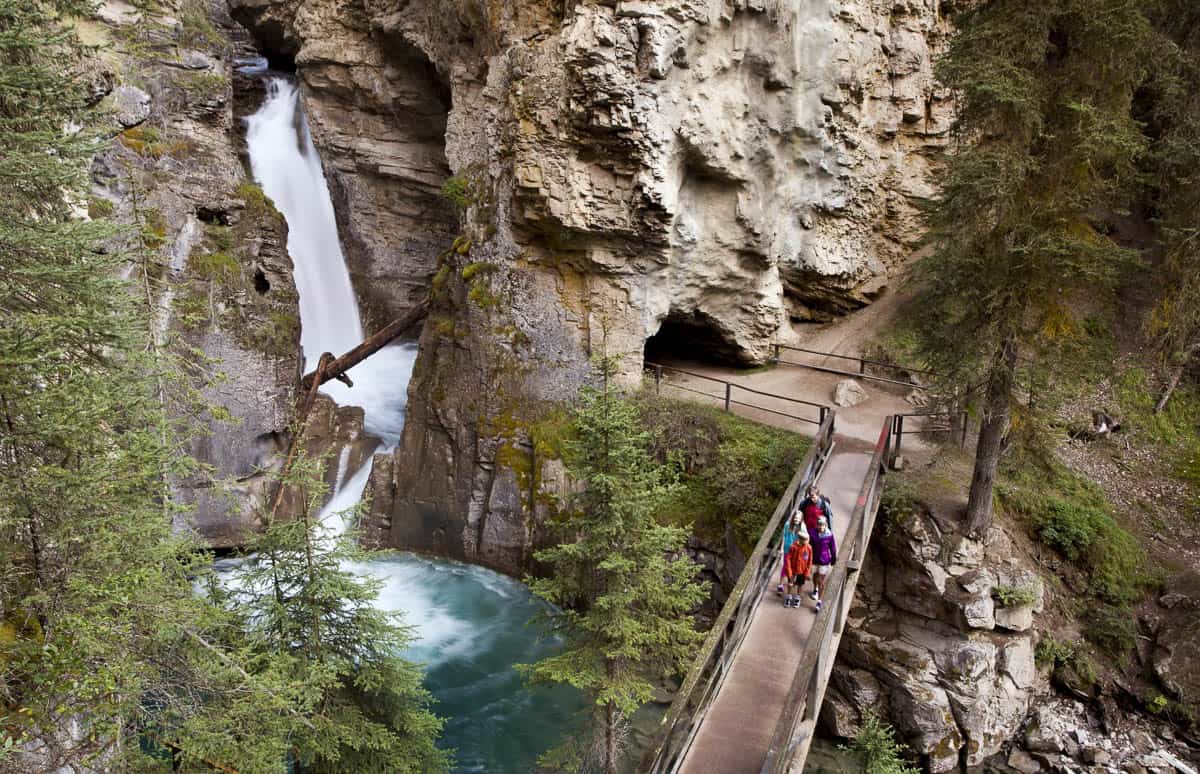 While there's a great view from the bridge over Johnston Creek, you can also enter a small tunnel nearby for an even closer look at the Lower Falls. Just be prepared to get wet from the waterfall's spray!
Upper Falls
The Johnston Canyon Upper Falls are further from the Lower Falls, requiring more walking time (see below for more information on the hike to Upper Falls).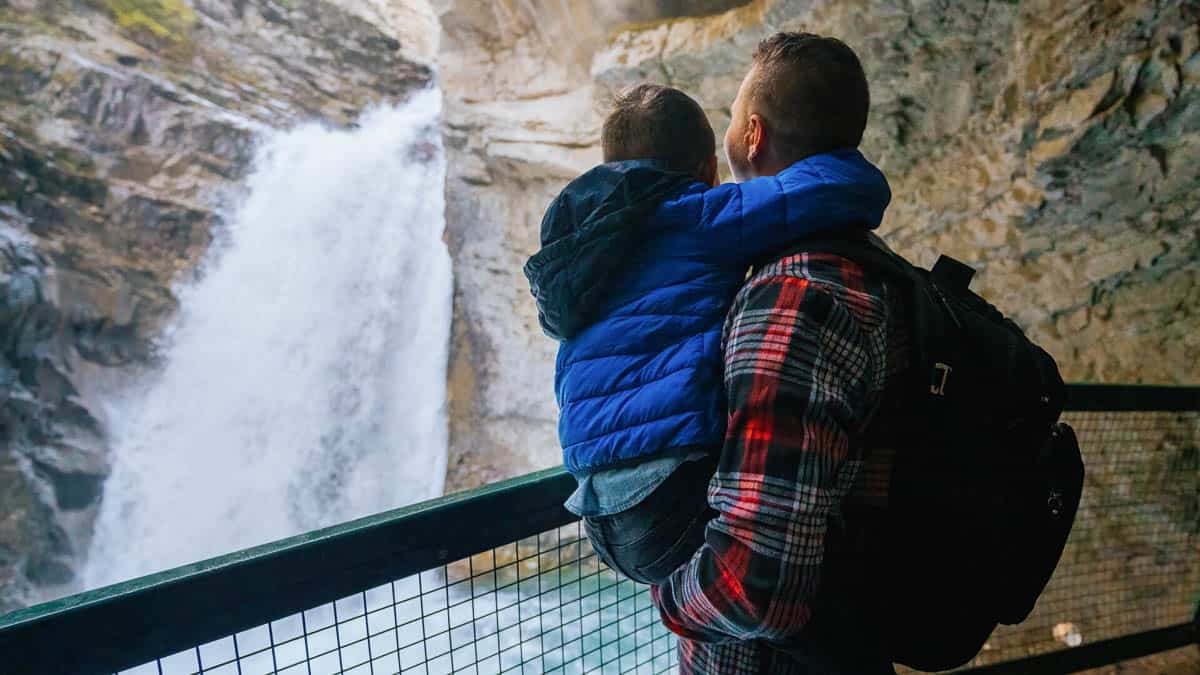 Once you reach the Upper Falls, there are two viewing platforms; the lower platform is smaller and tends to get quite crowded, while the upper platform has more space. You also get a unique view of the Upper Falls from above from the upper platform.
Ink Pots
If you have the time to hike to the Johnston Canyon Ink Pots, we highly recommend it. These small mineral springs change colour slightly throughout the year, but you're sure to fall in love with their vibrant blues and greens instantly.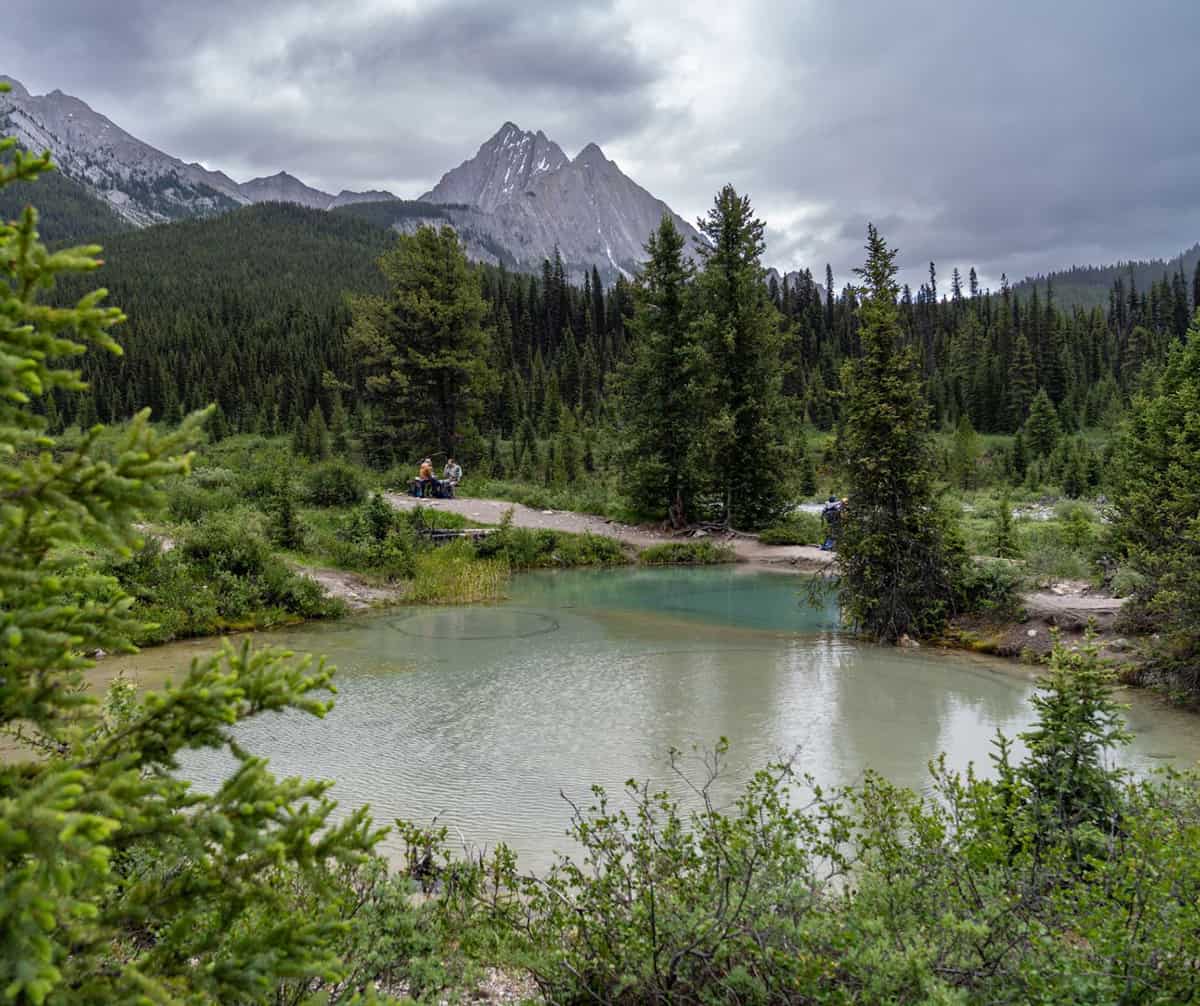 The surrounding meadows make for a beautiful view, so take the opportunity to stay a while, have a picnic, and enjoy your time outdoors. Note that the springs are not for swimming, but you can cool off in the nearby Johnston Creek.
Best Johnston Canyon Hikes
"Hike Johnston Canyon" is on many people's bucket lists, and for good reason: the canyon is absolutely stunning! Thankfully, Johnston Canyon has some of the easier and more accessible trails in Banff National Park; we've even included the trails on our list of the best hikes in Banff.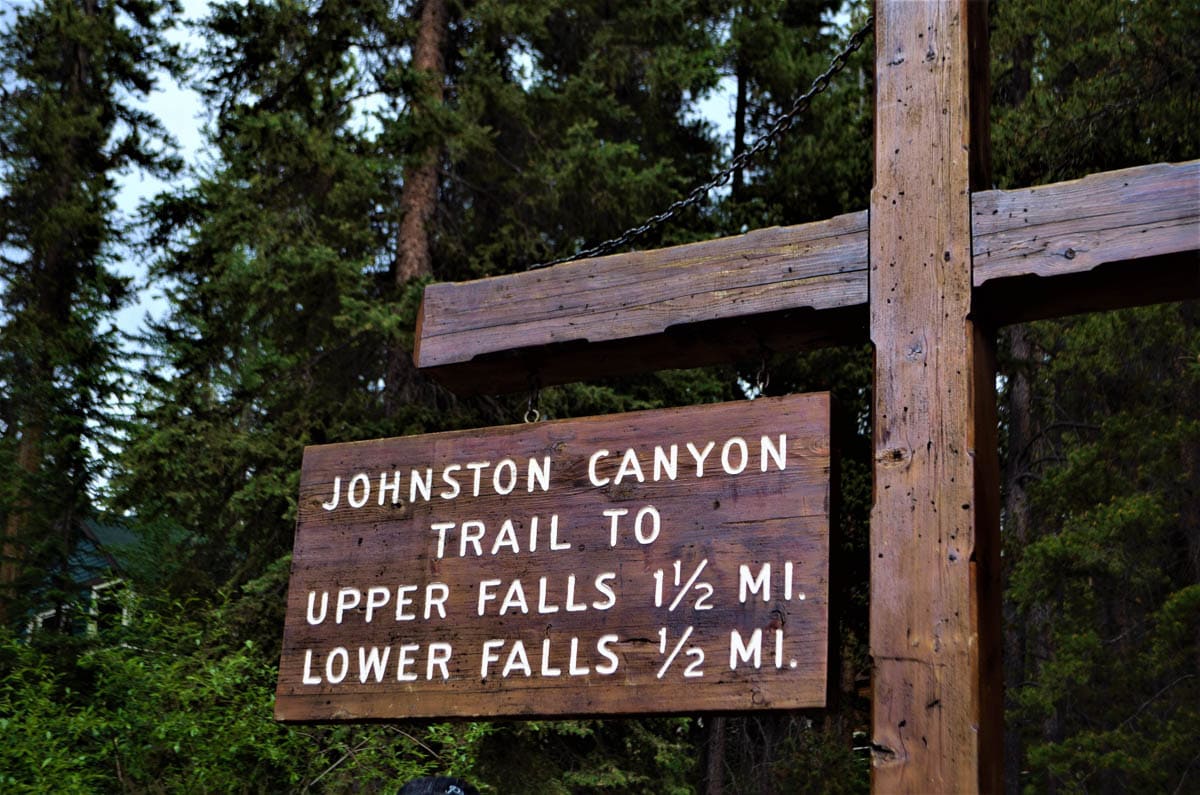 Each Johnston Canyon hike below has the same trailhead and starts with a walk through the forest before you reach the canyon itself, and as these are all out-and-back trails that begin at the same point, you can choose how far you go and when you turn around. All of the Johnston Canyon trails are open year-round, so consider hiking or snowshoeing them in winter!
Dogs are welcome to join you when hiking Johnston Canyon, but they must be leashed. Remember: this is still considered bear country, so take every precaution necessary.
Lower Falls Hiking Trail
The Johnston Canyon to Lower Falls hike is the easiest of the hiking trails listed here, with an elevation gain of 143 metres and a length of 2.3 kilometres. This is the perfect hike if you're short on time, as it generally only takes about an hour.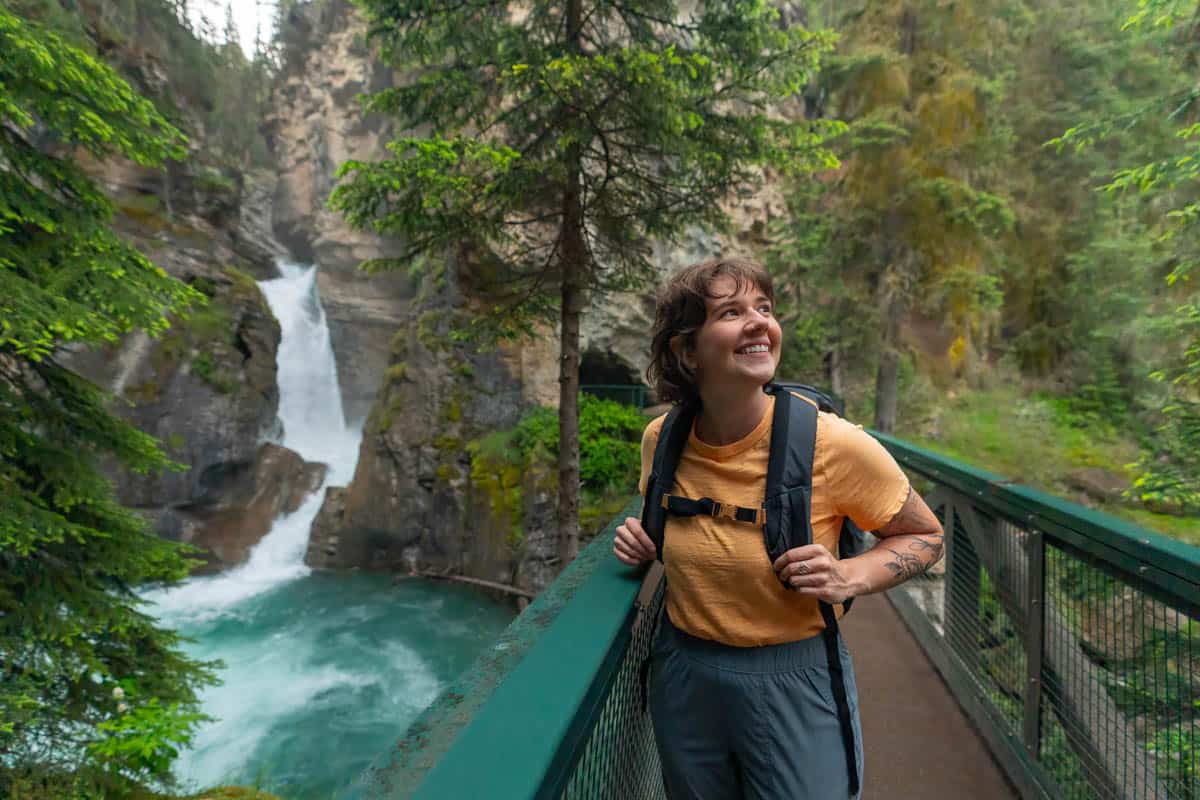 The trail is fully paved, but be warned: it becomes jam-packed as the day goes on in peak season, so it's best to visit as early as possible.
Upper Falls Hiking Trail
The Johnston Canyon to Upper Falls hike is an easy to moderate hike with an elevation gain of 270 metres. Many sections of the hike are paved, including bridges you cross, so it is manageable for most people, no matter their hiking experience. This out-and-back hike takes you to Upper Falls and back for a total of 5.3 kilometres; plan for at least two hours to complete the hike and enjoy the gorgeous views.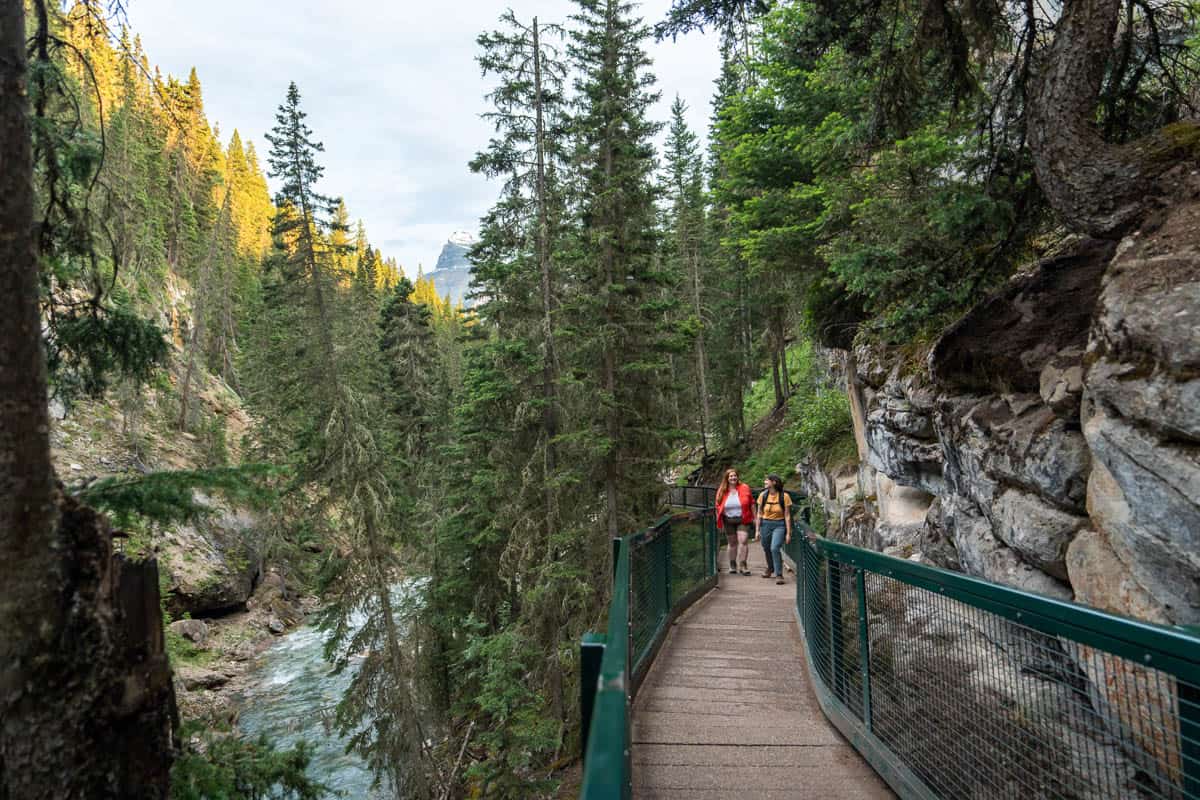 This particular Johnston Canyon trail is extremely popular with tourists. We highly recommend visiting as early in the morning as possible to avoid crowds.
Johnston Canyon to Ink Pots Hiking Trail
The Johnston Canyon to Ink Pots Hiking Trail is a moderate hike with an elevation gain of 579 metres. This out-and-back trail is approximately 11 kilometres and will take around four hours to complete.
Once you get to the Upper Falls, continue on the trail to the Ink Pots. Thankfully, most of the crowds thin out once you hike past Upper Falls, so this section is the quietest of the Johnston Canyon hikes.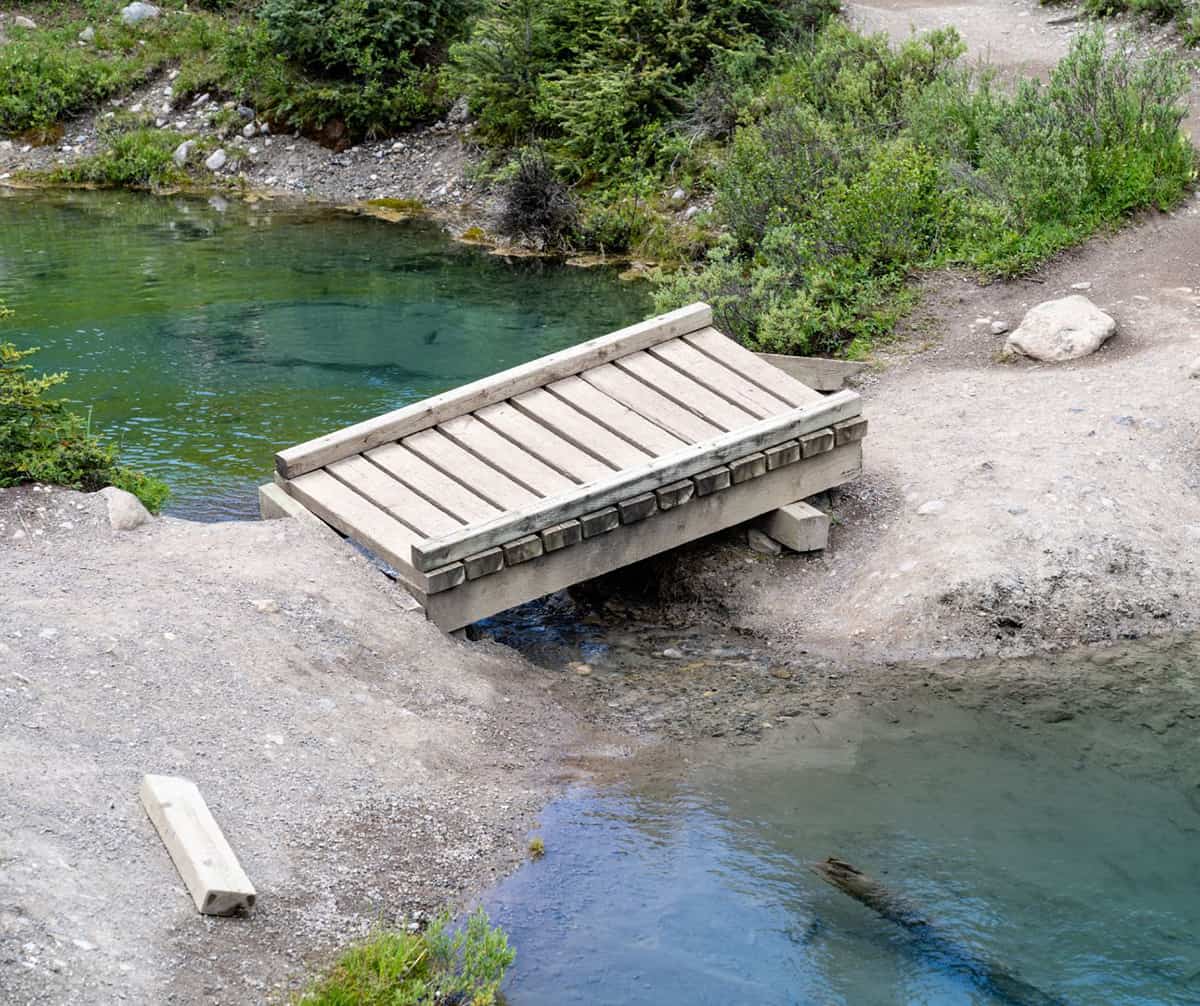 One thing to note: once you start your way back from the Ink Pots, make sure you retrace your footsteps. Another hiking trail – Moose Meadows – intersects the Ink Pots trail, but that descent will lead you to another parking lot.
Visiting in Winter
While we love visiting Johnston Canyon in the winter as it is just as beautiful as the in the summer! Seeing the frozen waterfalls is a magnificent sight, and because there aren't as many tourists in the canyon in winter, you'll often have moments to yourself on the trails.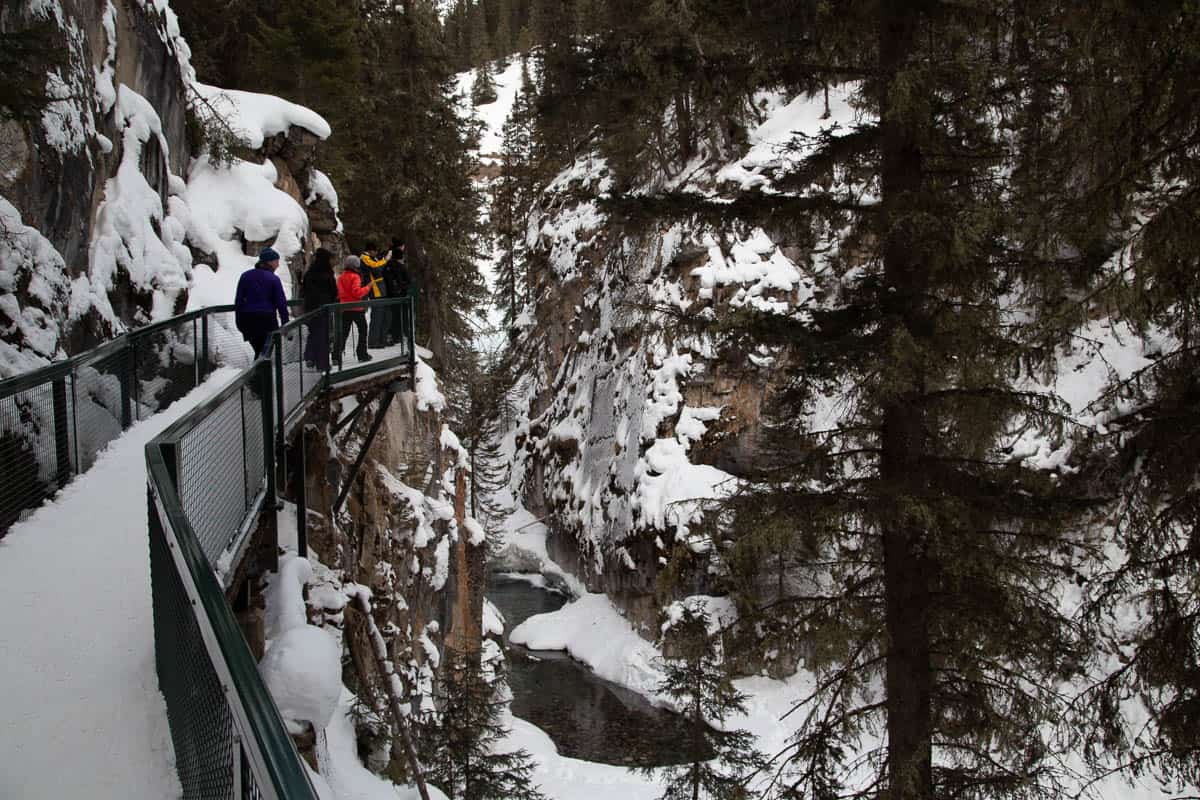 Just make sure to wear proper footwear, as the area can be very slippery with ice (we recommend wearing grips or spikes with your boots).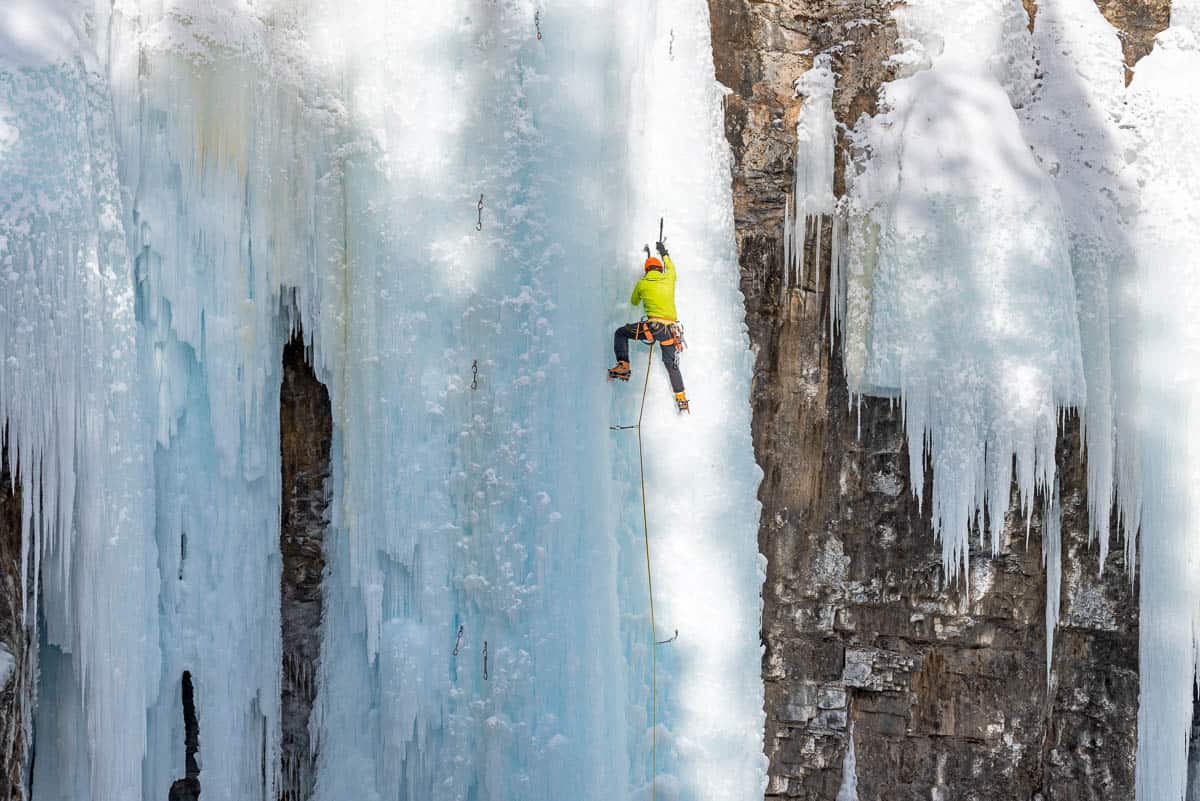 Many people snowshoe along the trails during the winter, so that's also an option! And if you're feeling extra adventurous, some tour companies in Banff will take you ice climbing up the falls when they're frozen over.
Where to Stay
Camping in Johnston Canyon
Located on the Bow Valley Parkway, the Johnston Canyon campground is directly across from the main hiking trailhead. It also has a Roam Transit stop for easy access to the rest of Banff National Park. It is usually open from mid-May through mid-September and is available for tents and small RVs (up to 27 feet). While there are 132 sites, reservations are highly recommended. Some amenities include drinking water, flush toilets, showers, cooking and picnic shelters, and fire pits.
Camping in Johnston Canyon is a fantastic way to spend as much time here as possible while being close to both Banff and Lake Louise.
Cabins
Listed as one of our favourite cabins in Banff, the Johnston Canyon Lodge and Bungalows is a historic resort that offers a variety of cabin rentals, from rustic one-room cabins to modern two-bedroom suites.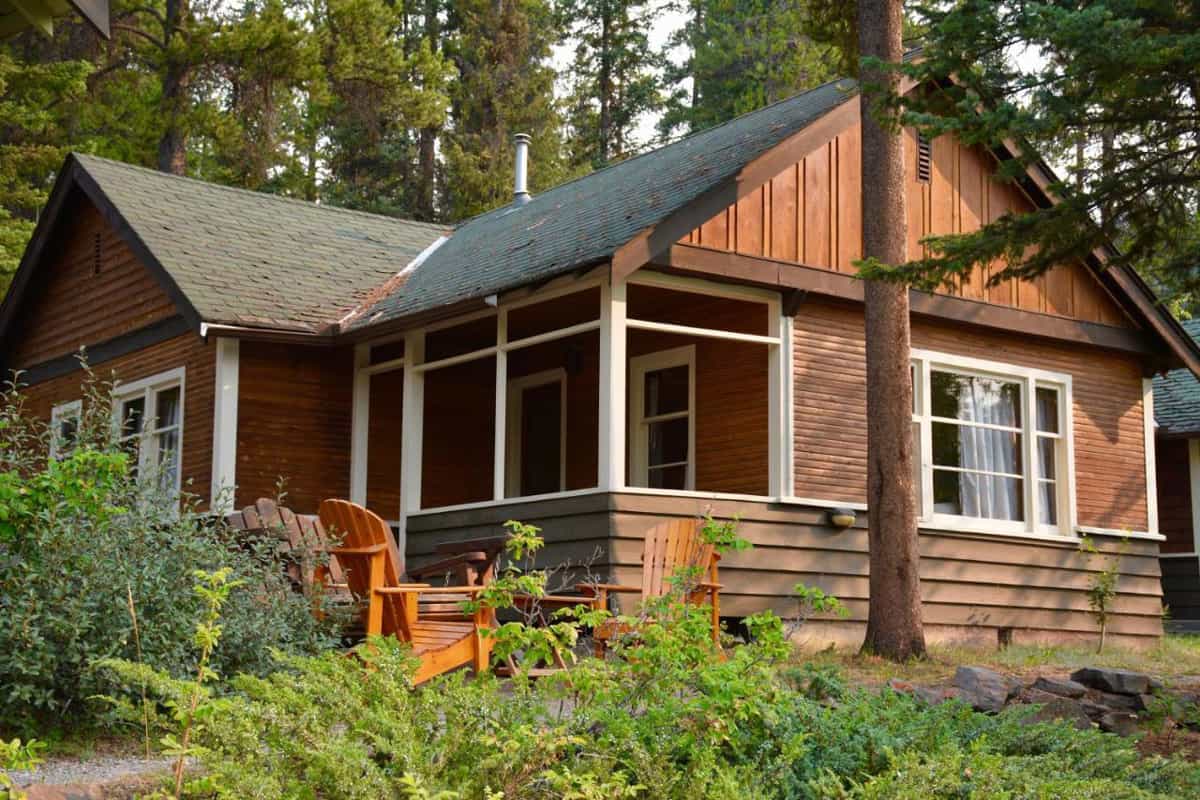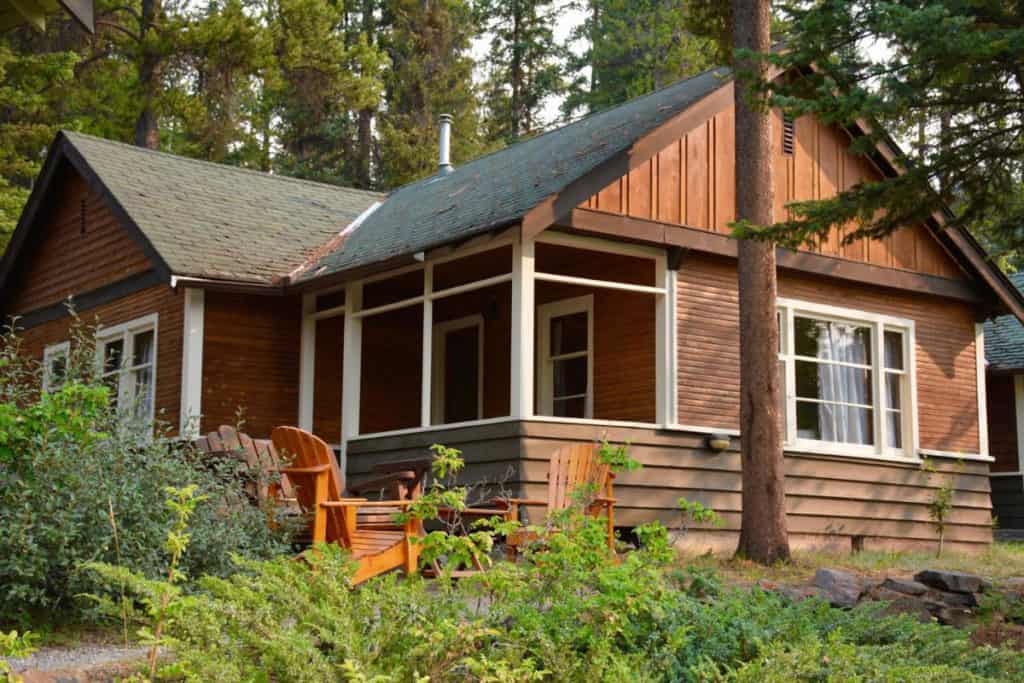 All cabins and bungalows come with fireplaces and private balconies or patios, and they're also pet-friendly.
Banff Townsite
If you'd rather accommodations in the Banff townsite to have a few more amenities (including easy access to shops and restaurants), there are many places to stay in Banff.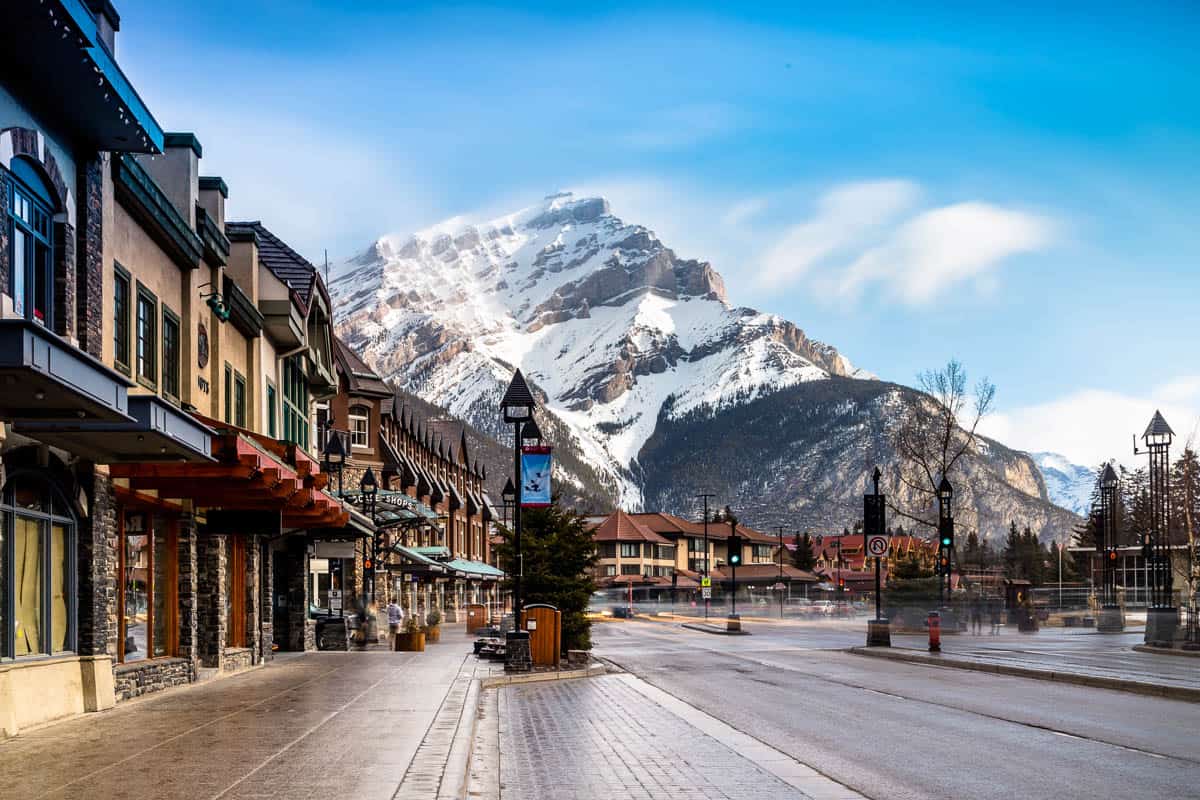 From luxury hotels to budget-friendly hostels, Banff and the surrounding area have it all… and Johnston Canyon is only a short drive or bus ride away!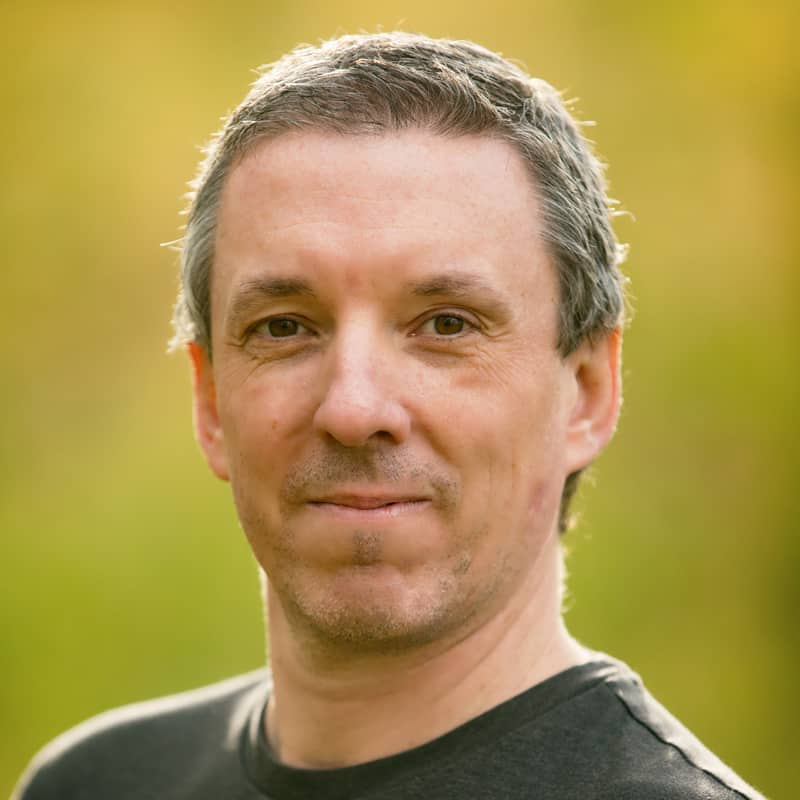 Pete is a co-founder of Road Trip Alberta. Growing up in Edmonton he has an extensive knowledge of Alberta and everything the province has to offer. He loves to eat good food, hike (especially in the winter), play tennis and curl. Apart from running Road Trip Alberta, he is a director with HMI, a digital media agency, half of the Hecktic Travels duo, and a co-creator of the popular card game Trip Chaser.