Compiled by the Road Trip Alberta team
Last Updated January 26, 2023
Your first view of the city from the top of the coulee, if you're coming from Calgary to Lethbridge, is breathtaking. The High-Level Bridge, which the town is known for, stands tall and dark against the green, gold, or white coulees (depending on the season) while the Oldman River meanders along the bottom.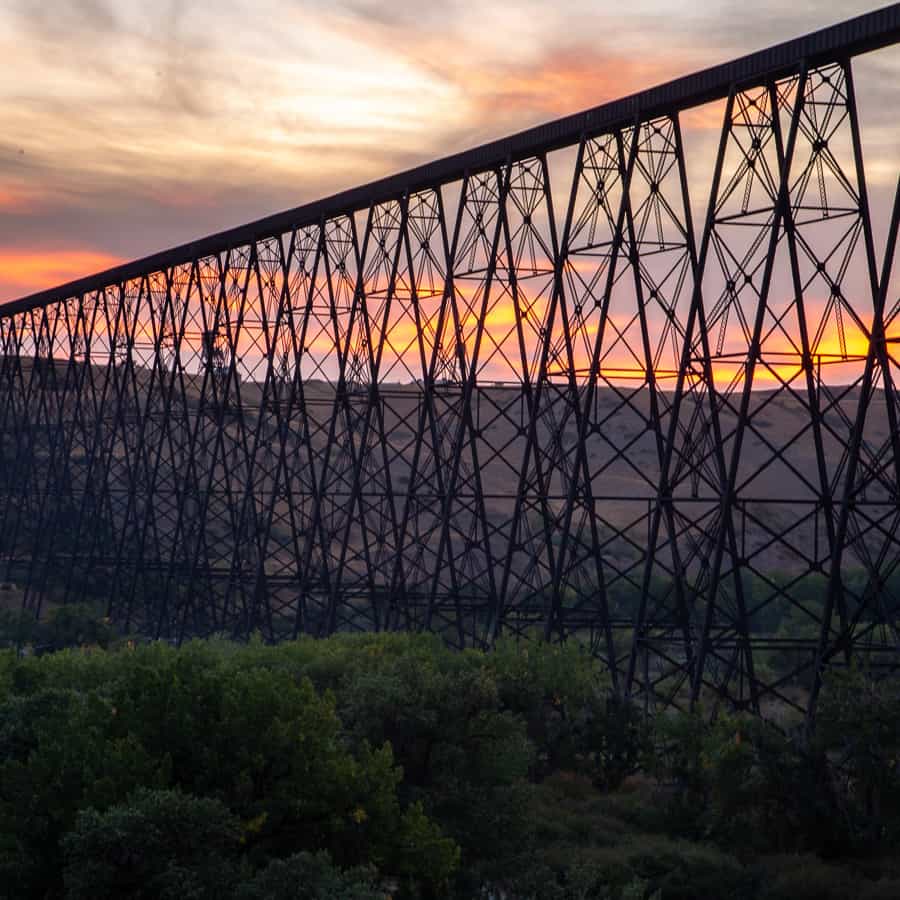 Lethbridge is quite spread out, which can make finding interesting things to do difficult. But with this guide beside you, it's going to be easy to have a great time during your visit to Lethbridge!
Where is Lethbridge?
Driving from Calgary to Lethbridge is a relaxing 210 km, 2-hour drive through small prairie towns with mountains and foothills on the west horizon. Tucked between the U.S. border and the Rocky Mountains, Lethbridge is a great launching pad to visit various national parks (like Waterton and Glacier), and a curious little place in its own right.
There is also the option to fly into the Lethbridge airport with daily flights being offered by WestJet from Calgary.
Acknowledgments
The land on which Lethbridge is located on is Treaty 7 territory and the traditional territory of the Niitsitapi (Blackfoot), Nakoda (Stoney), and Tsuut'ina.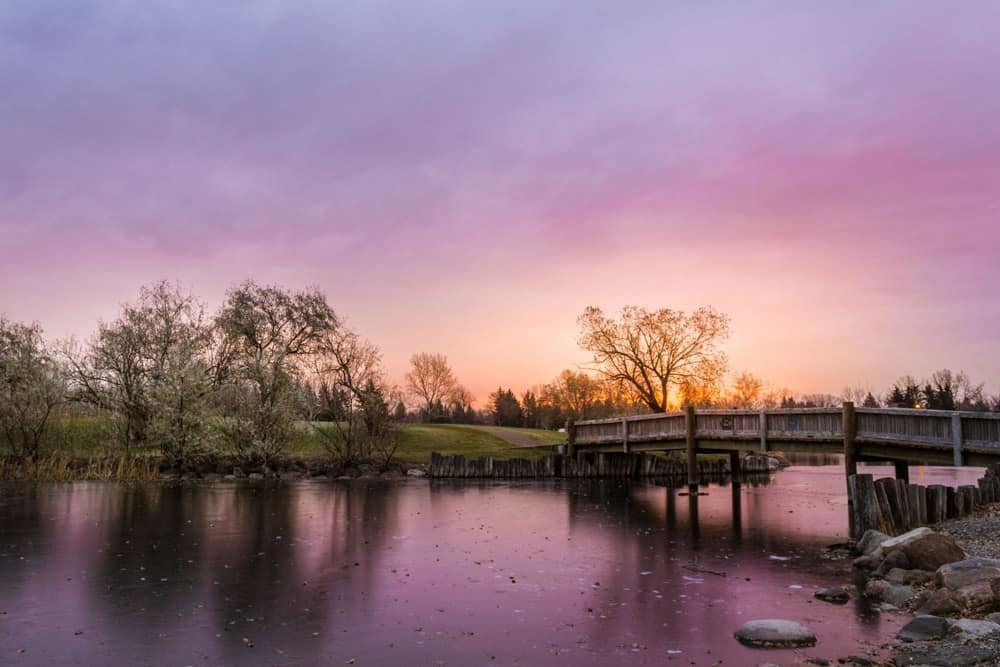 About Lethbridge
Lethbridge is split neatly into three sections by Highway #2 (Crowsnest Highway) that bisects the town north and south, as the Oldman River cuts the coulee separating east from west. That means there's a section in Lethbridge for each point on a compass, except for the east. There's the Westside which is west of the coulees and the river, the Northside which is north of the highway, and the Southside, which is where the downtown is situated.
Each area has its own charm, and list of things to do, but the south is both the oldest and busiest part of the city, making it much denser with history, culture, and opportunities to 'see it all.' For most visitors, it's easiest to stay on the south side, especially if you've just rolled into town on a bus and don't have a car.
However, if you have easy access to a vehicle, there are places in both the north and the west side that are worth the drive!
Downtown Lethbridge
The Lethbridge core is easily walkable, and the historic buildings that dominate downtown make for a great atmosphere.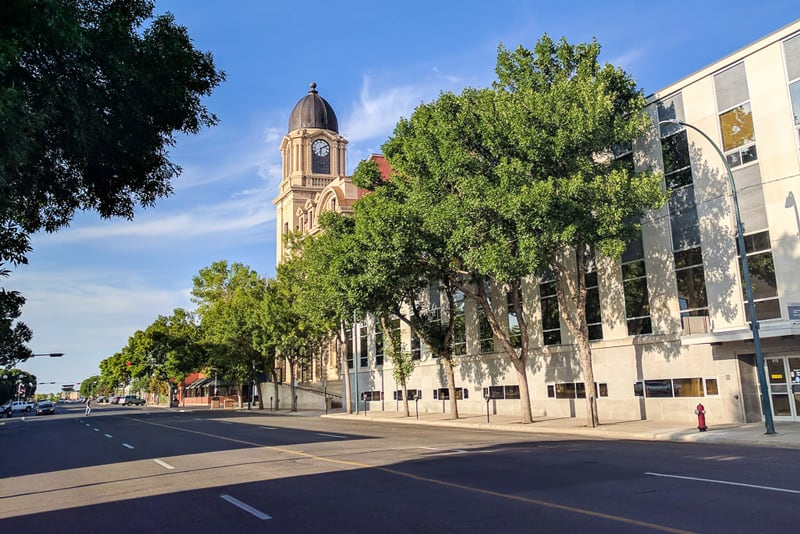 There's a great sense of Canadian and Albertan history in downtown Lethbridge. Many of the buildings that came with the boom in the early 1900s are still standing, including the town's first public library turned art gallery. It houses the Southern Alberta Art Gallery (SAAG), the recently renovated Oliver Building, and the old Catholic Charities building (which is currently being completely renovated).
Because of this history, Lethbridge's downtown core is more interesting and beautiful than most towns its size in western Canada, making getting acquainted a pleasure.
Where to Stay – Lethbridge Hotels
There are a number of hotels in Lethbridge, and do note that all are on the east side of the river. But if you're looking for something more interesting than Super 8, these are the Lethbridge Hotels (and a Bed and Breakfast) we recommend:
Sandman Signature Lethbridge Lodge – This hotel has changed hands many times since it was built, but the Sandman Signature Lethbridge Lodge is popular for its gorgeous tropical atrium and a pool at its centre. Be sure to get a room with a view of the coulees.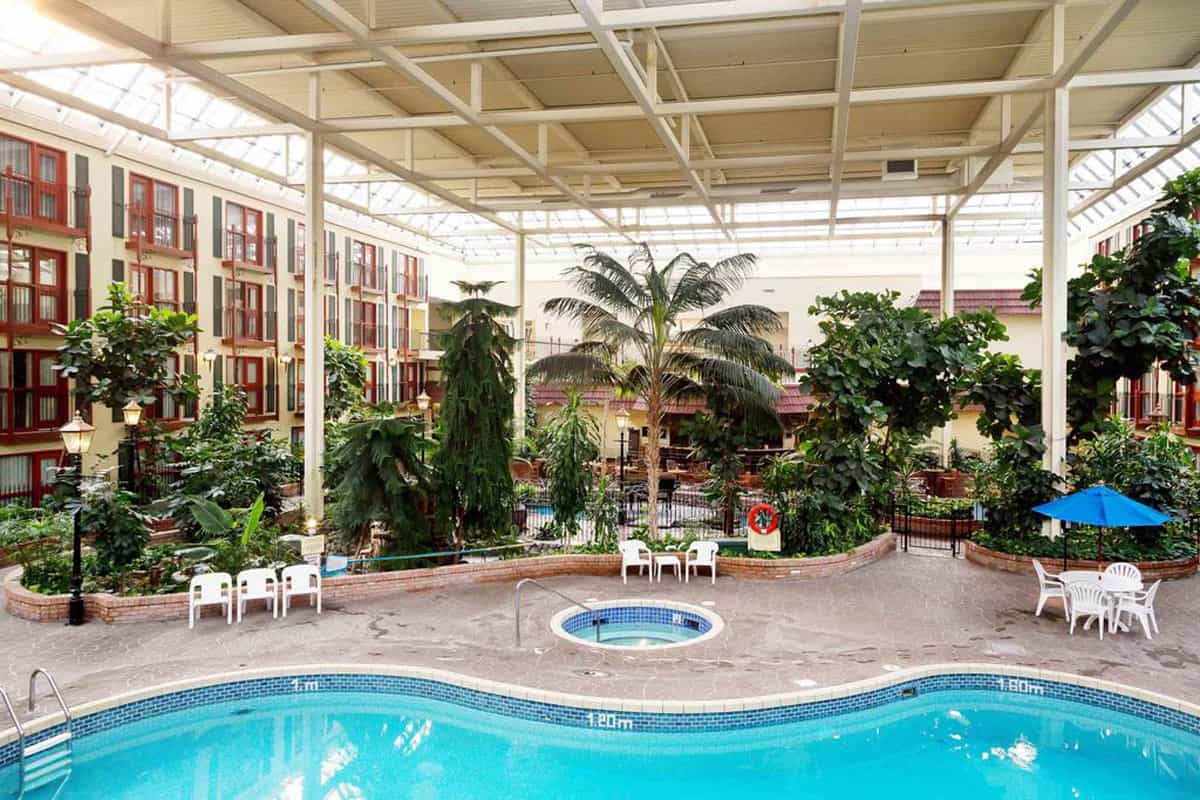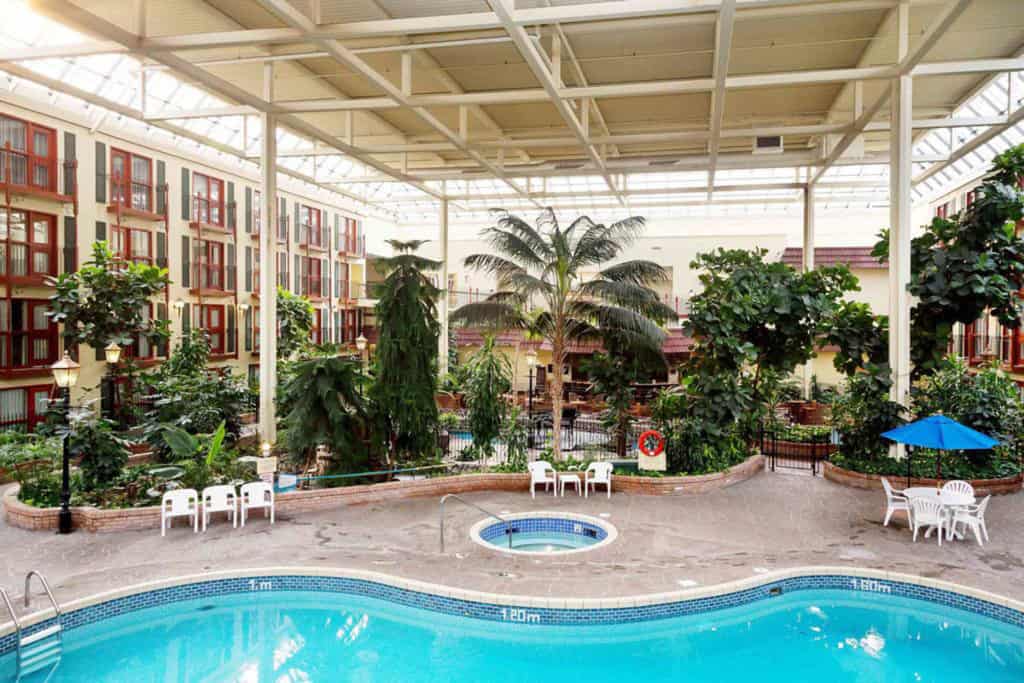 The Coast Hotel & Conference Centre – Right across from the Lethbridge Water Tower, the Coast Hotel and Conference Centre features the Firestone Restaurant, which has the most delicious Sangria and one of the best patios in the city. The location is also good being nearly kiddy-corner to Henderson Park.
Charles Street Suites – A little hidden gem in Lethbridge is the Charles Street Suites. It's a quaint and cozy little Bed and Breakfast that's close to Lethbridge's gorgeous bike boulevard (7th Avenue) which is also a thoroughfare to the coulees, Henderson Lake Park, and the Southside!
Want to review more options? We've got an entire guide dedicated to Lethbridge hotels.
Best Things To Do In Lethbridge
There is no shortage of things to do in Lethbridge if you know where to look. If you need some suggestions to get you started, including the best restaurants in Lethbridge, then you're in luck.
Although, even with these great recommendations in hand, the best way to see the town is still by talking with the locals, who are plenty friendly and love talking up their town to visitors.
Shopping in Lethbridge
Urban Prairie – Featuring many different curators, this vintage shop covers the gamut from 1800s ephemera to mid-century modern furniture.
Populess – Both a clothing brand and a store, Populess was born here, 'where the mountain meets the prairies', and stocks some of the finest denim and workwear-inspired menswear available south of Calgary.
Splurge & Co – A local favourite, Splurge sells trendy clothes and jewelry for women.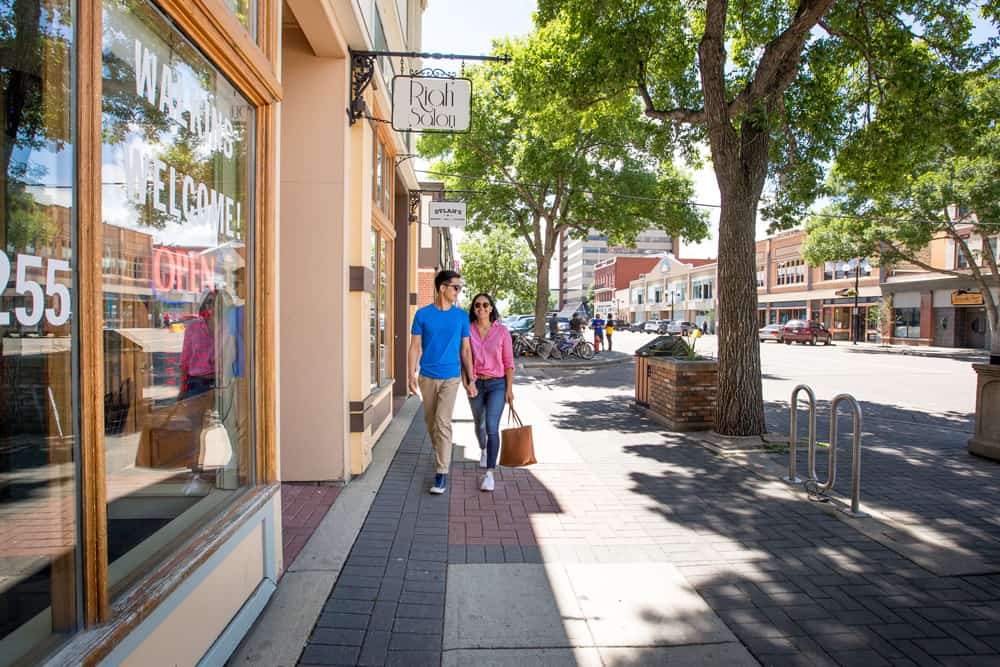 Lethbridge Art Galleries
Lethbridge should not be underestimated for its talented artists. There are a number of art galleries featuring paintings, sculptures, photography, and other various projects.
SAAG – The Southern Alberta Art Gallery not only highlights local and Southern Alberta artists but invites curators and collaborators from abroad to display as well. The gift shop, which doesn't require admission, is worth popping into just to get a sense of the space and peruse the artisan goods.
CASA– Part training facility for musicians, artists, and dancers, and part gallery for local artists, admission to CASA and this beautiful building is free, including their art gallery.
The Geomatic Attic – One of the most dependable venues in town, the Geomatic Attic is technically on the south side. While you're there checking out a show, you can also peruse the venue's art gallery to get a feel for Southern Albertan artists.
Galt Museum and Archives – The largest museum south of Calgary, the Galt chronicles Lethbridge's past, from its very beginnings as Fort Whoop-Up (which featured a local distillery that earned it the epithet) to its current role as the hub of Southern Alberta.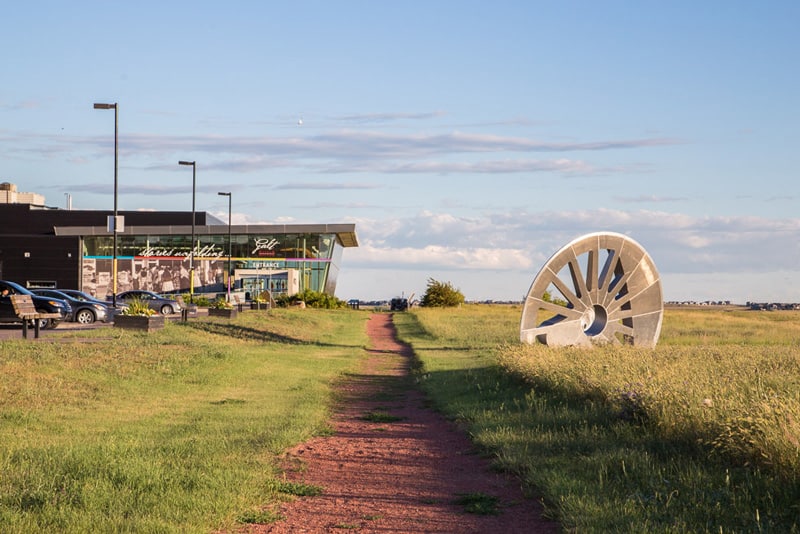 Where to Eat: Lethbridge Restaurants
There are a good number of options for local Lethbridge restaurants to choose from, along with a variety of classic chains. You should be able to find something that you're looking for but here are our top picks for places to eat:
Two Guys and A Pizza Place – Combining a wide-ranging selection of beers with its award-winning (and boundary-defying) pizza, Two Guys and A Pizza Place is a favourite of locals and one of the best restaurants in the city. They were even featured on Canada's You Gotta Eat Here!
Italian Table – This is a top-notch Italian dining experience! Italian Table is tightly knit with the local community, sourcing the majority of its ingredients from Alberta producers, and this dedication also made the restaurant an easy addition to a self-drive southern Alberta food tour. New for 2021 is their outdoor patio to relax and enjoy a cocktail and a meal.
ITEA Express – Fresh Vietnamese and Asian cuisine and their portion sizes are legendary, yet will keep you coming back for more! Be sure to try the noodle bowls.
Via Cibo – If you're looking for a quality, quick meal, then Via Cibo is where you need to go. It's authentic Italian street food made with the freshest ingredients. Be sure to head there on a Wednesday for their pizza special night and don't forget that kids eat free on Mondays!
Milkman YQL – Ice cream lovers rejoice! This newly opened ice cream shop will satisfy any ice cream craving. Unique flavours and funky art wall that is perfect for the 'Gram!
Streatside Eatery – Have a sweet tooth and a weakness for desserts? This place is the best place to stop in for a piece of pie. Dare we say they have the best key lime north of Florida?
Bootsma Bakery – The best spot in town for fresh baked goods that will leave you weak in the knees. Don't miss their cheese buns or apple fritters!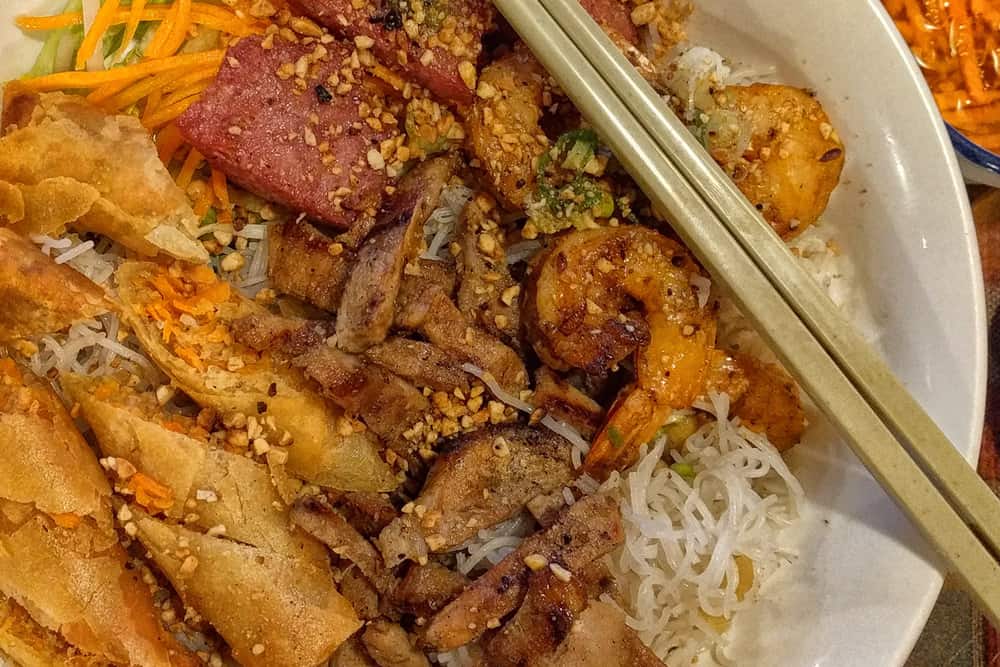 Coffee Shops in Lethbridge
Lethbridge is home to a pretty cool coffee scene. From ethically sourced beans to self-roasters, you'll be bound to find the perfect cup of coffee at one of these fine spots:
Sonder Coffee Bar – It's a popular spot with the locals, and every cup of coffee that Sonder serves has been ethically and consciously sourced. Their coffee is their craft, and if you are looking for a bite to eat, their waffles are to die for.
The Penny Coffee House – A Lethbridge favourite for over 25 years, this downtown coffee house serves both great java and some damn tasty treats. Stop in and have a peek at the walls which are lined with art from many local artists.
Bread Milk & Honey – A trendy downtown local favourite is all about serving its clients quality coffee and baked goods. Their all-day breakfast sandwich is sinfully delicious!
Jonny Bean – a trip to Jonny Bean on the north side of Lethbridge is worth the journey. Their coffee is ethically sourced, all organic and made from the best roasters in Canada. Their pursuit is to "make you amazing coffee".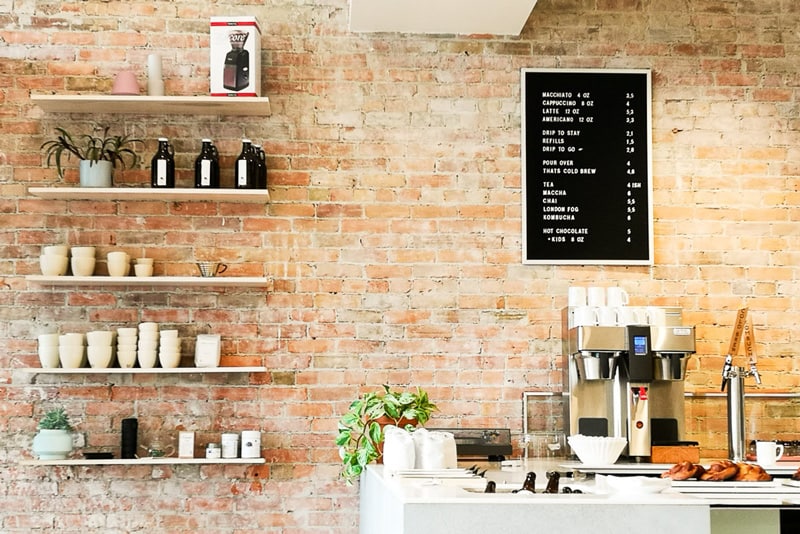 Lethbridge Pubs and Breweries
Theoretically Brewing Company – Founded in 2012, 2 home-brew enthusiasts began a journey that has led them to some of the best-brewed beer in Alberta. The founders at Theory Brew focus on a scientific method for their creations and even serve their beers in lab beakers. Their location has a spacious 60-seat patio to enjoy a beaker or two.
Mojos Lethbridge – A nice spot on the west side of Lethbridge, this pub has a good selection of beers and one of the best burgers in town – the Dirty Doctor burger topped with smoked gouda, candied jalapenos, and a Dr. Pepper reduction.
Coulee Brew Co. – Love, respect, and pride all go into Coulee Brew's beers. This southern Alberta craft brewery is winning awards with its beers, and its food is pretty darn good too. Head on down to see their massive taproom and enjoy a few pints on their huge patio afterward.
Spectrum Ale Works – New to the Lethbridge craft beer scene is Spectrum Ale Works. Stop in for a pint, or grab a growler to go. Be sure to try the Razzapeach Fruit Ale, perfect for a hot day!
Both Theoretically Brewing and Spectrum Ale Works made our list of best Alberta breweries for craft beer!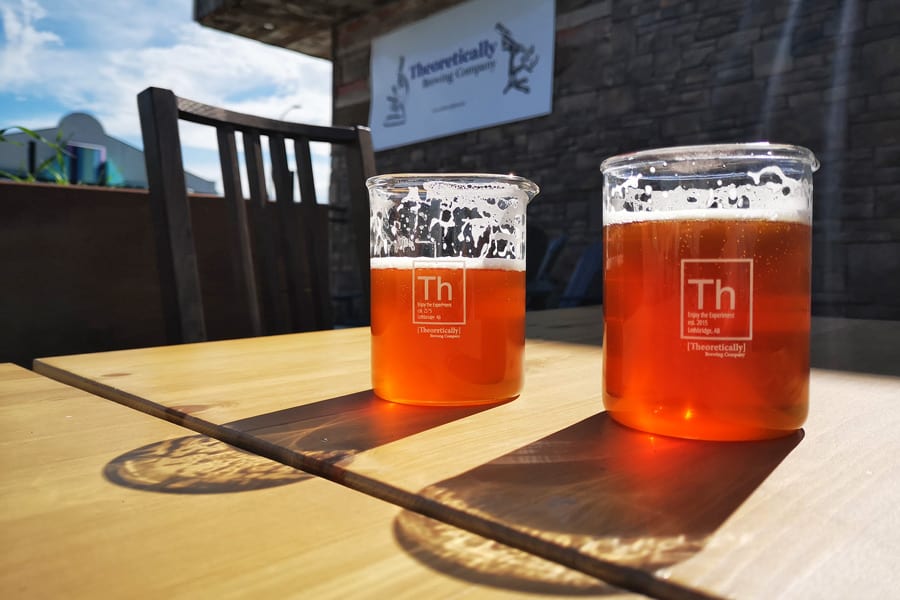 Music and Entertainment Venues
The Owl Acoustic Lounge – The Owl, as it's colloquially known, has a quirky ambiance that keeps locals coming back. And, with nightly events, The Owl always has something going on to enjoy.
Good Times Comedy Club – A local comedy club, Good Times features both local and national comedians, along with quiz nights to keep the good times rolling.
The Slice – The Slice focuses on three things: pizza, beer, and music, and all three make for a delicious and relaxing evening out.
Take a Tour of the Planets
Have you ever considered how big the universe really is? Well, the Lethbridge Astronomy Society has decided to show you! The society has erected the planets to scale around the city and region, starting with the sun on top of the historic clock tower downtown Lethbridge. If you follow the self-guided tour, you'll head out to all the corners of the city and beyond, giving you a real gauge of the distance between planets.
Lethbridge Parks and Pools
Henderson Lake Park – Over 7 kilometres of walking paths will lead you around Henderson Lake. There are plenty of activities throughout the summer including kayaking, canoeing, and the very popular Lethbridge Dragonboat Races.
Nikka Yuko Japanese Garden – Designed by a garden architect in Osaka and constructed by artisans from Kyoto, these Lethbridge Japanese Gardens are a beautiful symbol of friendship between Canada and Japan. Here, visitors can take part in tea ceremonies, participate in Sumo Sumo Sundays or do yoga in the serenity of the garden. Of course, you can also simply walk the paths and experience an authentically Japanese-Albertan experience.
Henderson Pool – If you're looking for a little more action, look north from the gardens and you'll see Henderson Pool with its bright, colourful waterslides and spray park. The outdoor pool is the perfect place to spend a couple of hours during Lethbridge's long, hot summer days. And once you've been worn out by all the swimming and splashing (or perhaps by all the screaming children!), Henderson Lake offers a lovely 3 km loop to wind down.
Cor Van Raay YMCA – The newest and largest fitness facility in Lethbridge. Including a surf simulator, pool, water slides, hockey and curling rinks, a running track, and so much more. Cor Van Raay YMCA is a one-stop shop for all things active!
Nicholas Sheran Park – Not only is Nicholas Sheran Park a great place to take a stroll or have a picnic, but it also has the only Disc Golf Course in the city.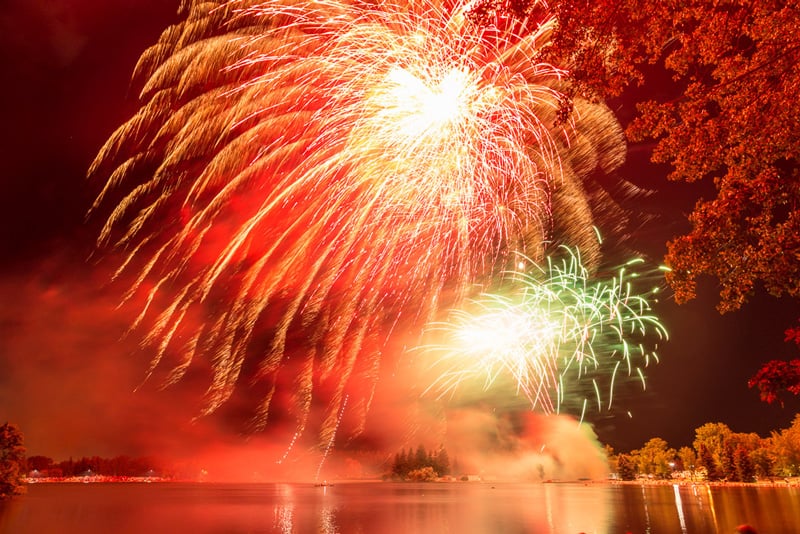 Tee it Up! Lethbridge Golf Courses
Henderson Lake Golf Course – For those who prefer to spend their time on the links, Henderson Lake has you covered. The Henderson Lake Golf Course is right around the corner, and is open early in the season and stays open much later than courses in most other cities!
Paradise Canyon Golf Course – Play in paradise, as the name says it all. It's a bit of a long drive (pun intended) to get here, but it's worth it. Nestled right in the coulee, Paradise Canyon is one of Alberta's best golf courses that will challenge any golfer and offer stunning scenery through all 18 holes.
Bridge Valley Golf Course (Par 3) – A short nine-hole course along the Old Man River. It's a beautiful walk with great views of the Lethbridge train bridge. The course is simple and great for golfers of all ages.
Evergreen Golf Centre – This golf centre has it all. There is a short challenging par 3 (with one par 4) to work on your short game. Before your round hit some golf balls at the state-of-the-art driving range including TopTracer to evaluate and monitor your swing.
Lethbridge Country Club – A beautiful (private) golf course that runs along the bottom of the coulees, it's a beautiful and serene area for a relaxing game or two with some friends. A trip to the restaurant is worth it if you're looking for somewhere nice to eat.
Drop Zone Golf Centre – Keep the golf clubs out all year long, Drop Zone is Lethbridge's only simulated golf centre. Featuring over 200 worldwide courses, detailed range analysis or fun games, it's the perfect way to spend an afternoon working on your golf game.
Exploring the Coulees in Lethbridge
You don't need a car to get to the coulees from downtown Lethbridge, or from the eastern edges of the Westside, but you do need to plan for the hike back up if you're going down under your own two feet.
Whether you choose to make the hike on foot, use a bike, or make it easy on yourself and take a car, once you get down into the coulees the city melts away, leaving you in almost undisturbed nature.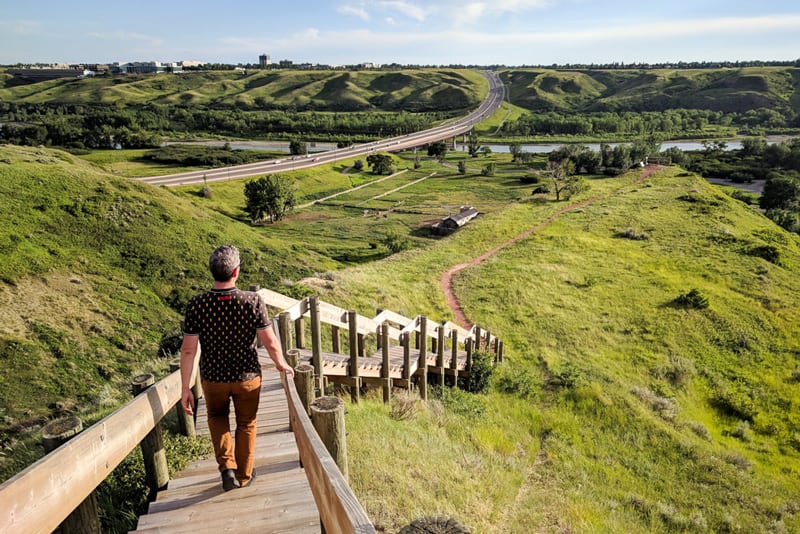 It's easy to find both parking spots and trails at the bottom of the coulee, whether you prefer the more strenuous climb and descent at the edges, or want to simply stroll next to the Oldman River as it slowly winds its way through Southern Alberta.
The coulees are more than just walking/biking paths. Once down at the bottom, be sure to make time for:
Helen Schuler Nature Centre – Both a nature preserve and activity centre, the Helen Schuler Nature Centre is the perfect place to spend some time learning about local flora/fauna and exploring the nearby forested trails with kids.
Pavan Park – Considered a hidden gem in Lethbridge, Pavan Park has over 125 hectares of natural park nestled up along the Old Man River. There are ample spots for a picnic, hiking in the coulees (10km of trails), and even spots to dip your toes in the water on a hot summer day. It's a popular spot for river tubers to get out when starting at the High Level Bridge.
Popson & Cottonwood Park – Just a little past the neighbourhood of Sundridge on the west side of the city, these two remarkable parks offer a serene slice of nature. While Popson is popular for dog-owners to walk, Cottonwood is actually a city preservation area and habitat for many prairie wildlife species (thus, dogs are not allowed).
Fort Whoop-Up – Commemorating the wild past of the area and nestled right in Indian Battle Park at the base of the coulee, Fort Whoop-Up is a re-creation of the fur trading fort that pre-dated the city.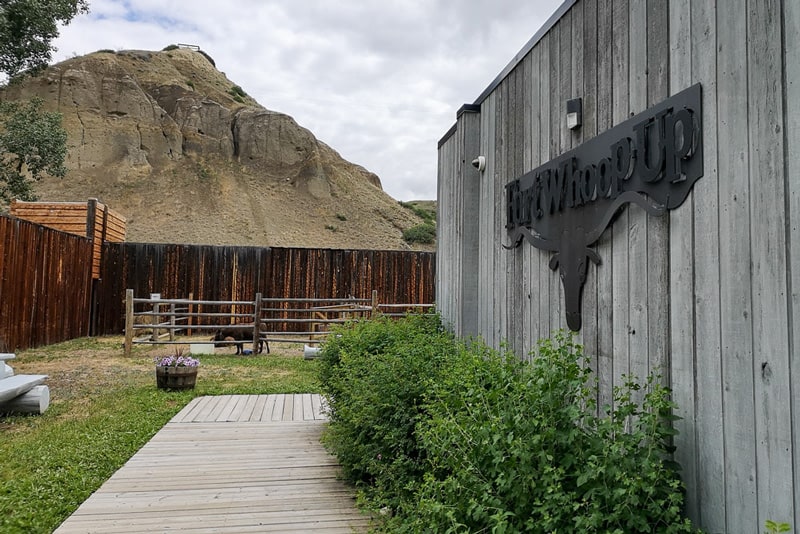 Day Trips From Lethbridge
Alberta Birds of Prey Foundation
After a short 17-minute drive east to the town of Coaldale, you will arrive at this unique interactive experience with some of Alberta's famous species of birds. Let an owl rest on your arm, learn ancient falconry training methods, and get up close to trained eagles or hawks. Gain admission to this non-profit organization by donation only, in which they rely solely on to run its day-to-day operations and help injured and orphaned owls, hawks, and eagles back into the wild.
Waterton
Head southwest to the majestic Waterton Lakes National Park. Experience the Canadian Rocky Mountains at their finest by taking in crystal clear lakes, waterfalls, and a variety of wildlife and wildflowers as well as offering some world-famous scenic hiking trails. It's a quick drive, only 132 km from Lethbridge to Waterton.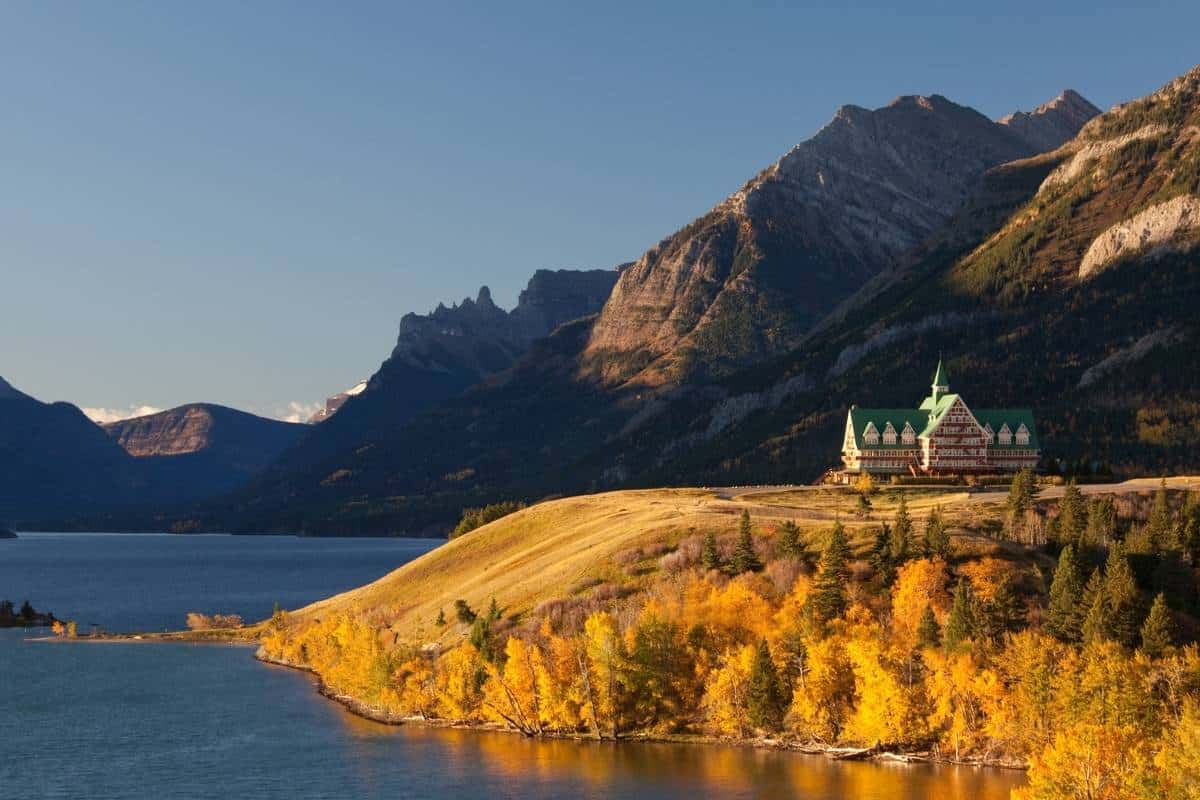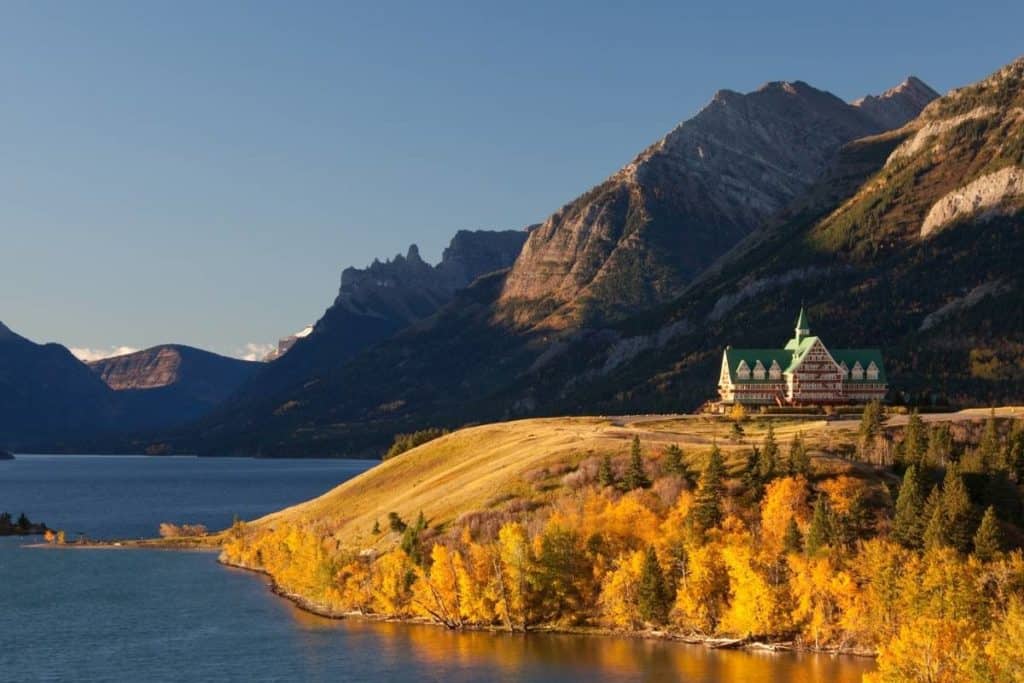 Writing-on-Stone Provincial Park
About 100 km southeast, Writing-on-Stone Provincial Park was named a National Historic Site in 2004, and a UNESCO World Heritage Site in 2019. Explore among the hoodoos and find ancient carvings and rock paintings dating back to 1050 BCE. In the summer months, enjoy camping, swimming, hiking, canoeing or kayaking or take in one of the interpretive programs or guided walks.
Head-Smashed-in-Buffalo-Jump
Just 71 km west of Lethbridge is Head-Smashed-in-Buffalo-Jump, a UNESCO-designated World Heritage Site and Interpretive Centre. A museum to the Blackfoot culture and a place that preserves and interprets over 6,000 years of Plains Buffalo culture. Explore the indoor and outdoor exhibits or take a short interpretive hike beneath the cliffs.