Disclaimer: This page may contain affiliate links. Please review our full Terms and Conditions for more information and our Privacy Policy. Note that any pricing, operating hours, or other such information provided below may have changed since initial publication.
Compiled by the Road Trip Alberta team
Last Updated on February 6, 2023
Getting to Alberta's third-largest city is quick and easy. It's such a fast jaunt from Calgary to Lethbridge, but few will actually make the trip (save to see family or friends who may happen to live there). Which, I suppose, is a good thing for the people who do make the rewarding journey.
Lethbridge is an excellent base to explore three nearby UNESCO World Heritage Sites and one beautiful national park, and as an added bonus the drive there can be entertaining as well.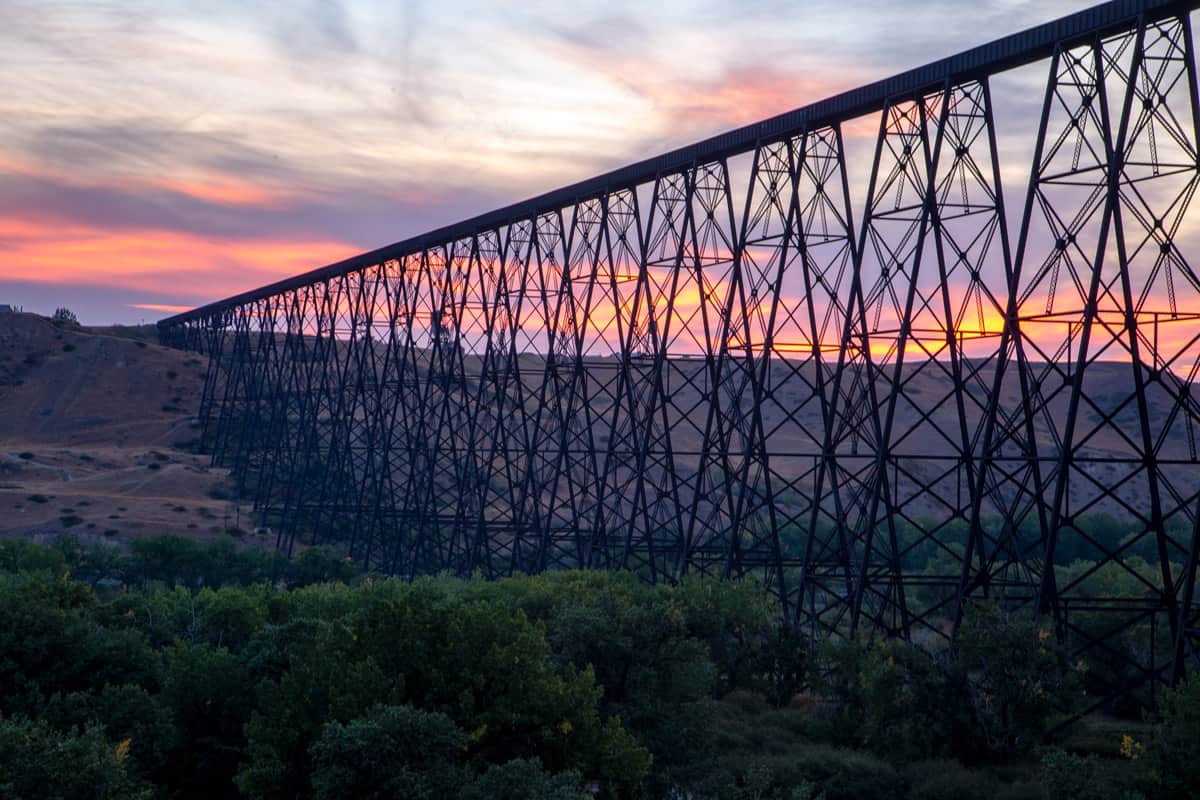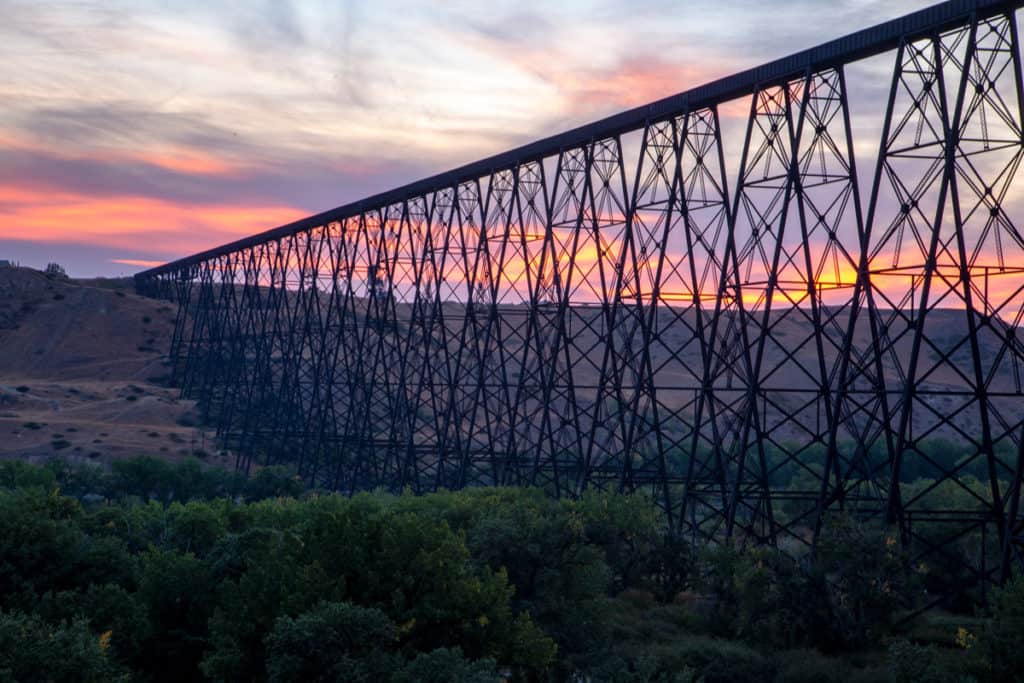 It offers mountain views to the west and prairies to the east, nearly splitting the Rockies from the Canadian Badlands. The journey from Calgary to Lethbridge is very near two hours if taking the fastest route (see below), but we've mapped out one interesting side trip for you too. Options via other modes of transportation are slim but also noted below.
About the Route From Calgary to Lethbridge
The distance differs depending on the route you choose. But no matter which way you go, you will experience a relaxing drive through small prairie towns.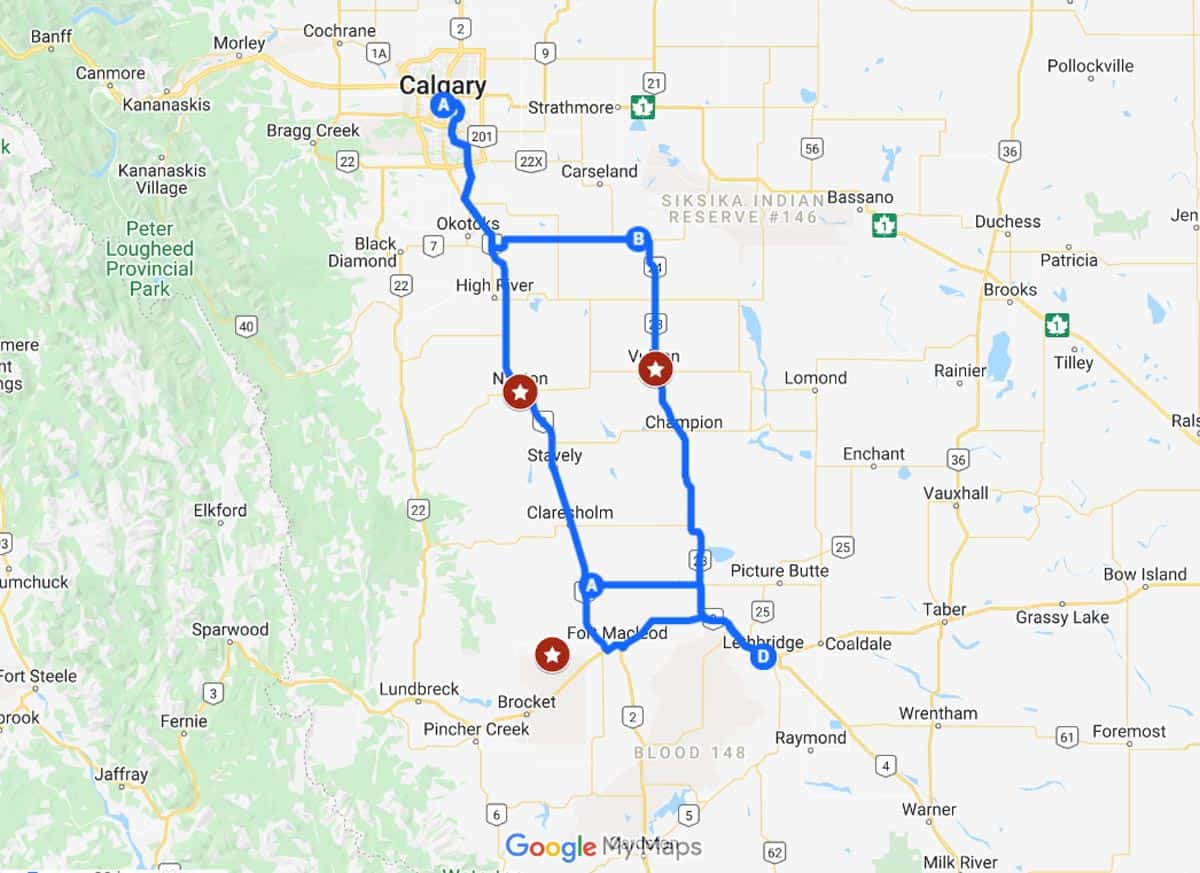 The Fastest Route
For the most straightforward route, it's 212 kilometres between Calgary and Lethbridge and you take Highway 2 south before turning onto Highway 3 east. This will lead you straight into the windy city of Lethbridge. What's nice about this route is that it's a double-lane highway the whole way.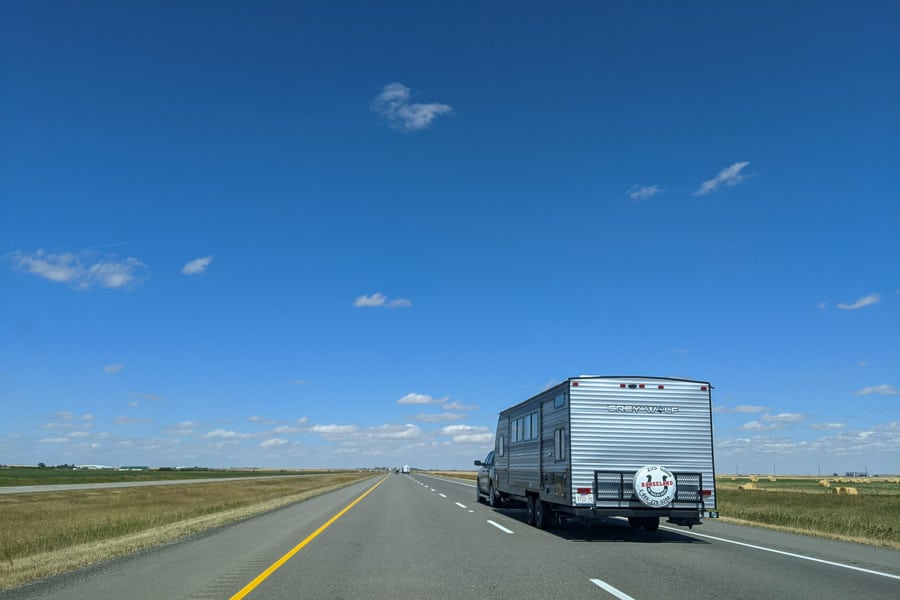 A quick alternative that will likely save some time is turning from Highway 2 onto either the 519 or 520 and heading east. After approximately 30 kilometres you will turn south onto Highway 23 and eventually meet up with Highway 3 en route to the city. This will shave off a few minutes, as long as you don't get stuck behind traffic as it's only a two-lane road.
This route from central Calgary will take a little over 2 hours.
An Alternate Scenic Route
Take Highway 1 east out of Calgary and then turn to Highway 24 south (along the way, it turns into Highway 23). When you eventually reach Highway 3, turn east. At 225 km long, it isn't that much farther but will likely take a bit longer as it is single lane for most of it. But it is certainly worth taking it at least once to enjoy a couple of fun stops along the way.
Always keep in mind that the driving hours proposed are valid as long as there aren't any accidents, traffic, or weird weather phenomena (which are indeed known to happen in southern Alberta). Before you get on the road, be sure to check out Alberta 511 for up-to-date road reports.
Just arrived in Calgary and need a night's rest before heading out to Lethbridge?
Take a load off at our favourite Calgary airport hotel: Hotel Clique is a super chic and affordable hotel that has free parking, free WiFi, and a great restaurant onsite. It is a quick shuttle ride from the airport, and we have stayed here several times when we have an early flight out of Calgary. Bonus: it has two rooftop pools!
Or, if you prefer to book a "home-away-from-home", we've got a guide dedicated to the best Calgary Airbnbs that includes some options by the airport for a quick and easy stay in the city.
Getting from Calgary to Lethbridge
By Car
If you have your own car, this is by the far the easiest way to get to Lethbridge. If you are flying into the Calgary International Airport (YYC) it will be extremely easy for you to get started with this journey. Calgary offers plenty of car rental options at the airport. Book in advance to ensure less hassle:
We recommend booking via RentalCars.com, to select the cheapest rate or to book with whichever company you prefer.
If you are not interested in a traditional car rental through an agency, you can also rent cars through a website called Turo (think AirBnB for car rentals).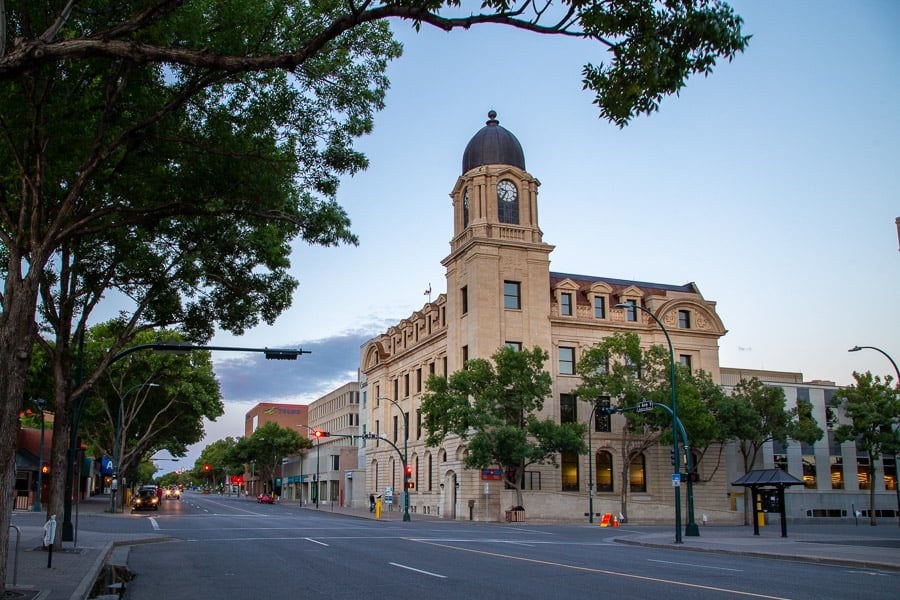 By Bus
Taking the bus to Lethbridge is a great idea for those who want to sit back and enjoy the scenery. Red Arrow buses leave Calgary every Monday, Tuesday, Thursday, Friday, and Sunday and pick up passengers in four different spots around the city, including the airport. Their last drop-off site in Lethbridge is their ticket office at 8:45pm. Going from Lethbridge to Calgary, buses depart the small southern city on the same days at 8:15am. One-way tickets are $62 and the trip takes approximately 2 hours and 45 minutes.
By Air
At the moment, Westjet is the only carrier which will get you from Calgary to Lethbridge. There are plans for Air Canada to return at a later date. That being said, flight options are usually quite expensive between the two cities.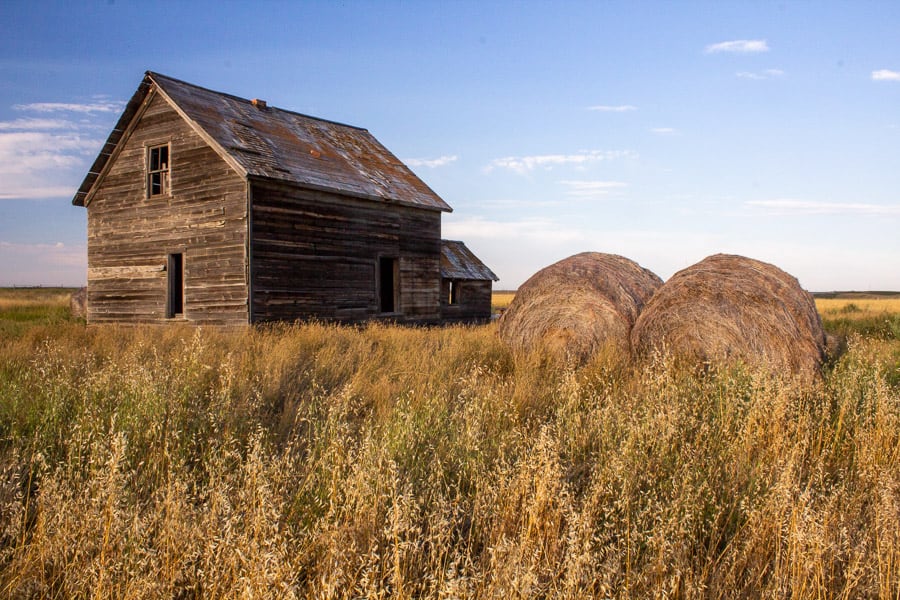 Calgary to Lethbridge by Other Options
Taxis are always an option – you will be able to find them all over Calgary but it will be expensive considering it's a 2 hour journey.
Uber is available in Calgary; however, you need to keep in mind that there are drivers that may not be willing or capable to make the drive and the price is close to what a taxi would cost for just one way.
Poparide.com is another option for much less money. This is a rideshare app for Canada where you can get a driver based on your luggage and equipment requirements. At the time of writing this guide, there were at least two drivers but there might be more on the dates you want to travel. Currently, no seat appears to cost more than $30 for the ride from Calgary to Lethbridge.
Ambassador is a luxury sedan service that can get you there in style.
Fun Things to Do Along the Way
If you are powered by your own set of wheels and looking for fun things to do, make it an even better experience and spend more time out of the car than in it!
Along the Fastest Route
This a great route because it is short and scenic but still makes you feel like you are exploring an entirely new place as the foothills give way to the southern prairie. And never mind that along the way are some interesting stops and even a UNESCO World Heritage Site.
Stop first in Nanton, just a half-hour south of Calgary, and go relic spotting (and shopping) along the Antique Art Walk. If your sweet tooth needs soothing, there's also a giant candy store on the main street through town that you can't miss!
A bit further along, and just 18kms north and west of Fort MacLeod (where Highway 2 and Highway 3 meet), don't pass by Head-Smashed-in-Buffalo-Jump without a stop. This is one of the oldest and best-preserved buffalo jumps in the world, used by the Plains Buffalo People starting over 6,000 years ago. This historical and cultural marvel has certainly earned its UNESCO World Heritage Site designation.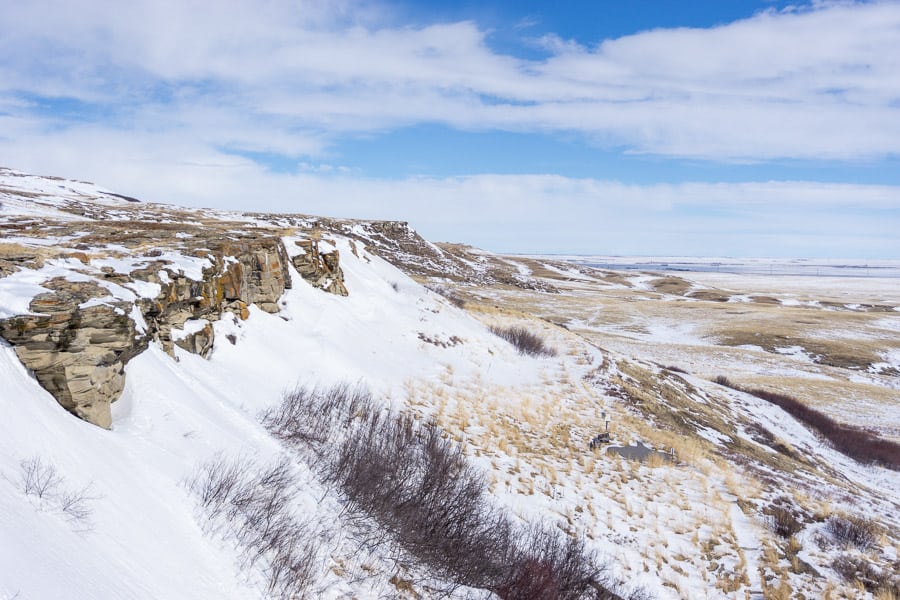 Along the Alternate Route
If you're a Star Trek fan – this isn't an alternate route – this is the route that you need to take.
Almost exactly halfway from Calgary to Lethbridge on Highway 23 sits the small town of Vulcan. Wanting to take full advantage of the town's name, residents opened the Tourism & Trek Station. This visitor center was built to look like a landed space station, and yes, there is even a replica of the Starship Enterprise. The staff is even dressed to fit the scene!
But before you even get that far when heading south from Calgary, also plan for a stop at Aspen Crossing. This train-themed destination has a multitude of things to keep you busy – from escape rooms to a garden shop, to a tasty restaurant and train excursions. You can make a whole day of it, and even spend the night in a decommissioned caboose if you want to carry on the fun the next day.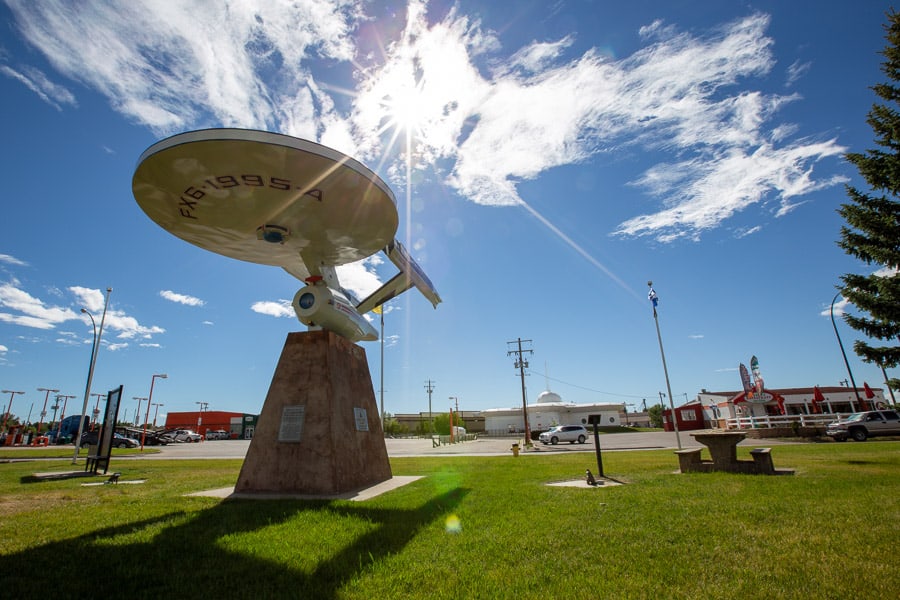 Arrival in Lethbridge
You made it!
If you are looking for detailed information about what to do in Alberta's third-largest city, then take a look at our guide of things to do in Lethbridge. And assuming you will want to eat (as most humans do), take a look at our guide to Lethbridge restaurants.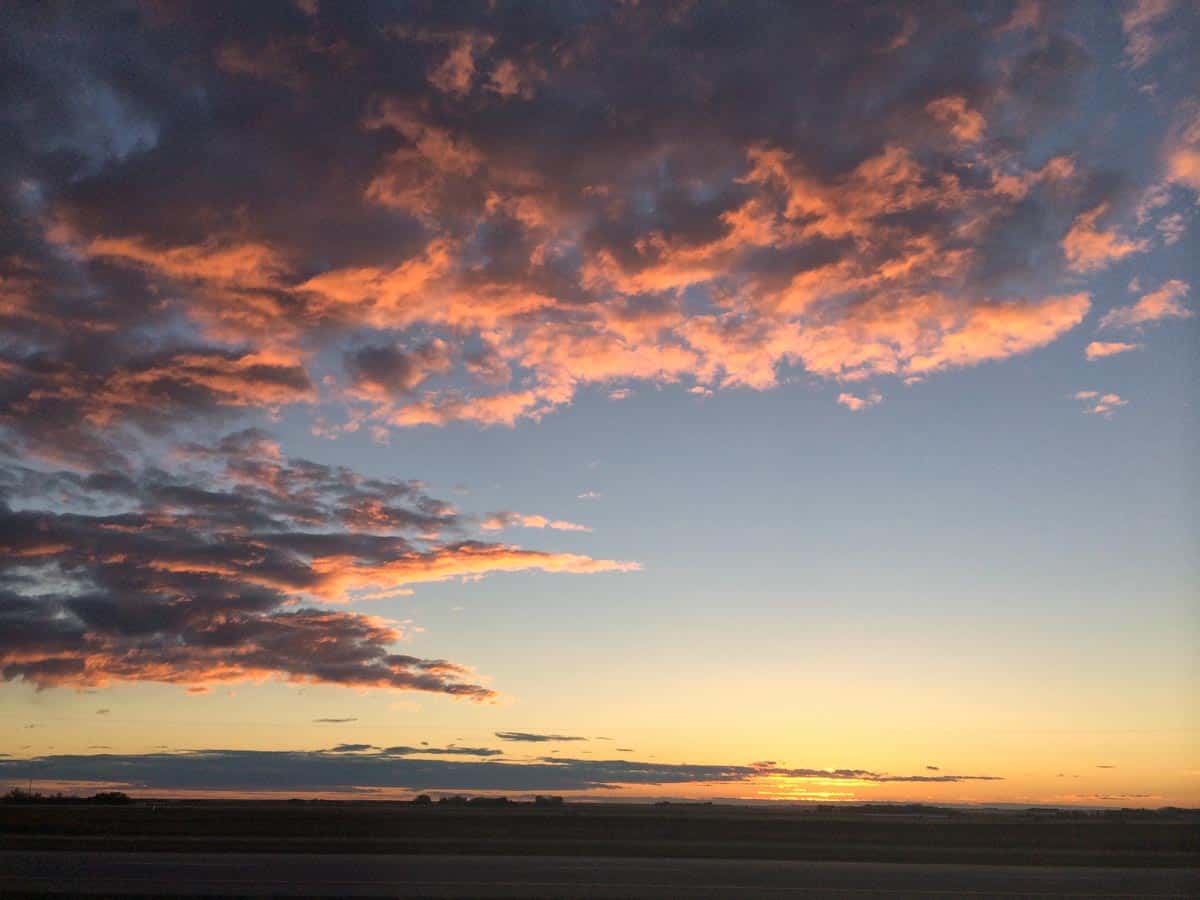 Where to Stay in Lethbridge
There are some good options for quality accommodations in Lethbridge, and this city makes a fantastic base for exploring so much in the surrounding area. Note that all of these hotels are east of the river (nothing exists yet on the west side).
Sandman Signature Lethbridge Lodge – This hotel has changed hands many times since it was built, but the Sandman Signature Lethbridge Lodge is popular for its gorgeous tropical atrium and pool at its center. Be sure to get a room with a view of the coulees, and also plan a night at the restaurant on site (Italian Table) for some good eats.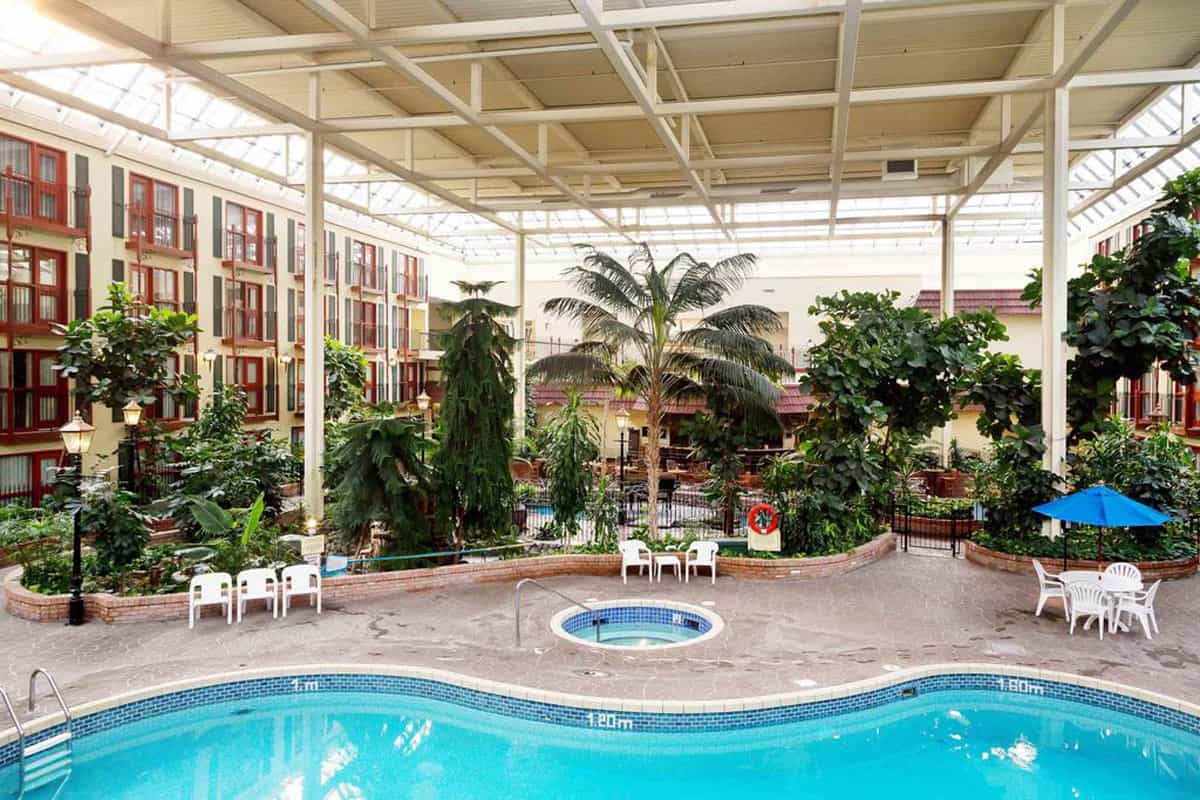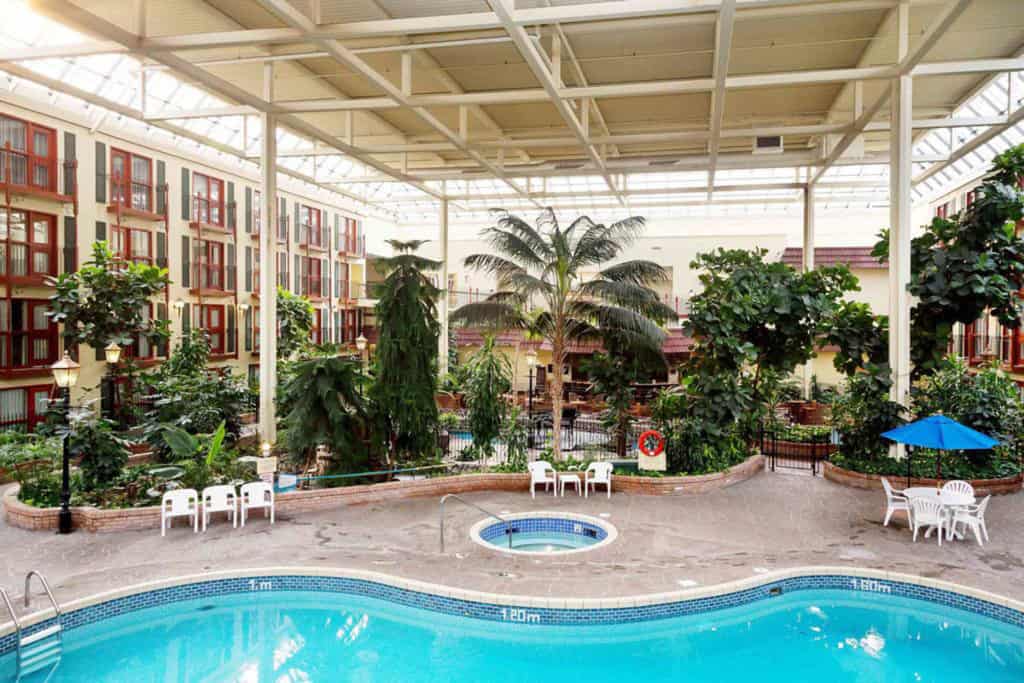 The Coast Hotel & Conference Centre – Right across from the Lethbridge Water Tower, the Coast Hotel and Conference Centre features the Firestone Restaurant, which has the most delicious Sangria and one of the best patios in the city. The location is also good, being nearly kiddy-corner to Henderson Park.
Charles Street Suites – A little hidden gem in Lethbridge is the Charles Street Suites. It's a quaint and cozy little Bed and Breakfast that's close to Lethbridge's gorgeous bike boulevard (7th Avenue) which is also a thoroughfare to the coulees, Henderson Lake Park, and the south side.
Want to review more options? We've got a complete guide to accommodations in Lethbridge.