Disclaimer: This page may contain affiliate links. Please review our full Terms and Conditions for more information and our Privacy Policy. Note that any pricing, operating hours, or other such information provided below may have changed since initial publication.
Compiled by the Road Trip Alberta team
Last updated on April 17, 2023
The town of Banff is most famous for what surrounds it – it's certainly hard to deny the appeal of the lofty Rocky Mountains that the town snuggly sits in. But some people don't realize how diverse and simply delectable the food scene is. Some of the best restaurants in Alberta are in Banff. In fact, finding a Banff restaurant should be easy for anyone.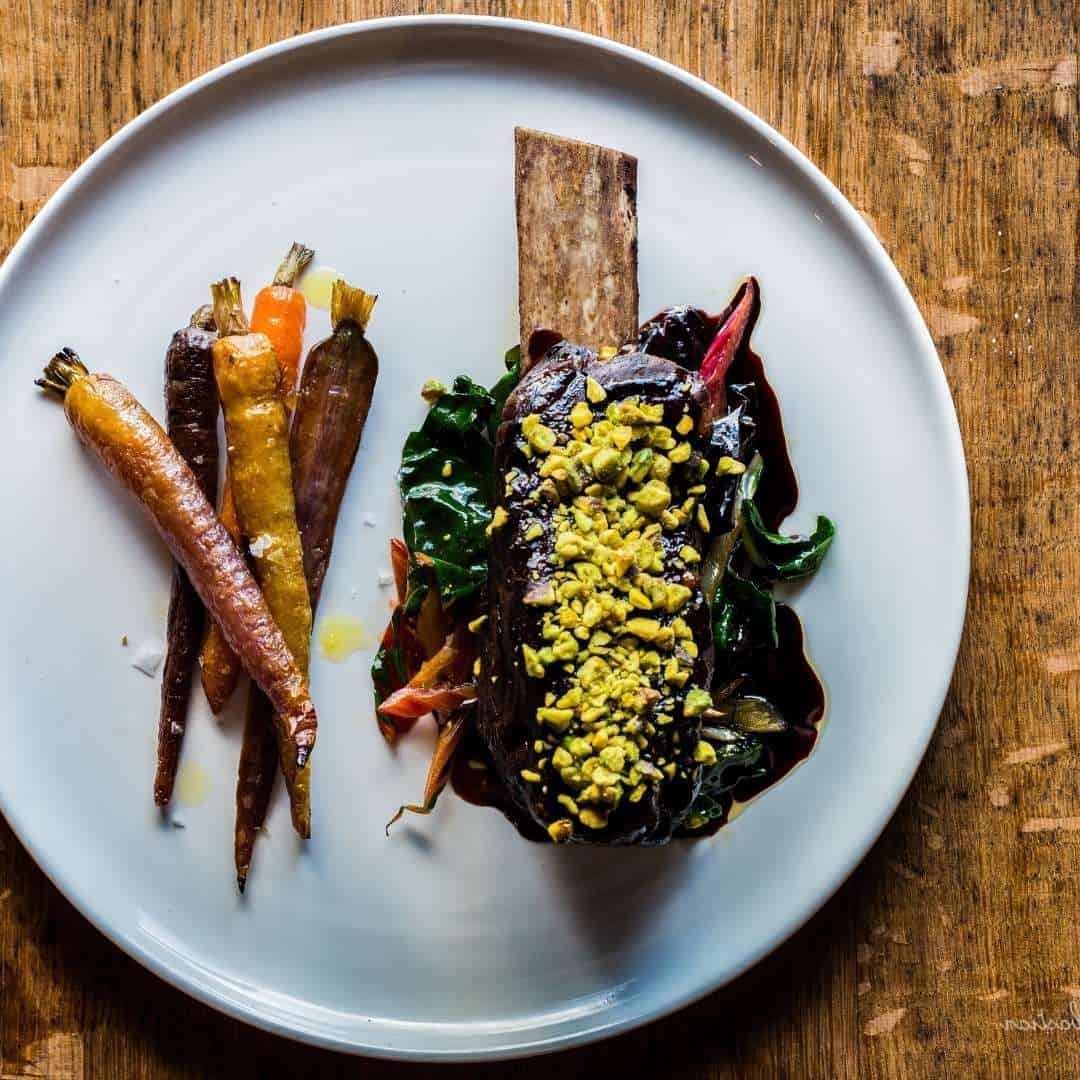 The town attracts a large international crowd, and there are a great number of fantastic Banff restaurants that have risen to feed the people. Personally, it is hard for us not to fixate on our one or two favourites every time we visit, but we also try to venture out and try something new as often as we can. (The problem now is that our list has grown a little long and unwieldy!)
Are you heading to the jewel of the Canadian Rockies sometime soon? Then be sure to mark these popular restaurants in Banff National Park on your "to eat at" list and let us know what your favourites are!
Try these Top Rated Restaurants in Banff
Grizzly House
Location: 207 Banff Ave
This has to be at the top of our list as this place is an institution among Banff restaurants. The Grizzly House is quirky and full of character, and in this modern age, it inexplicably still has old-school phones at every table so that you can call another. Because why not?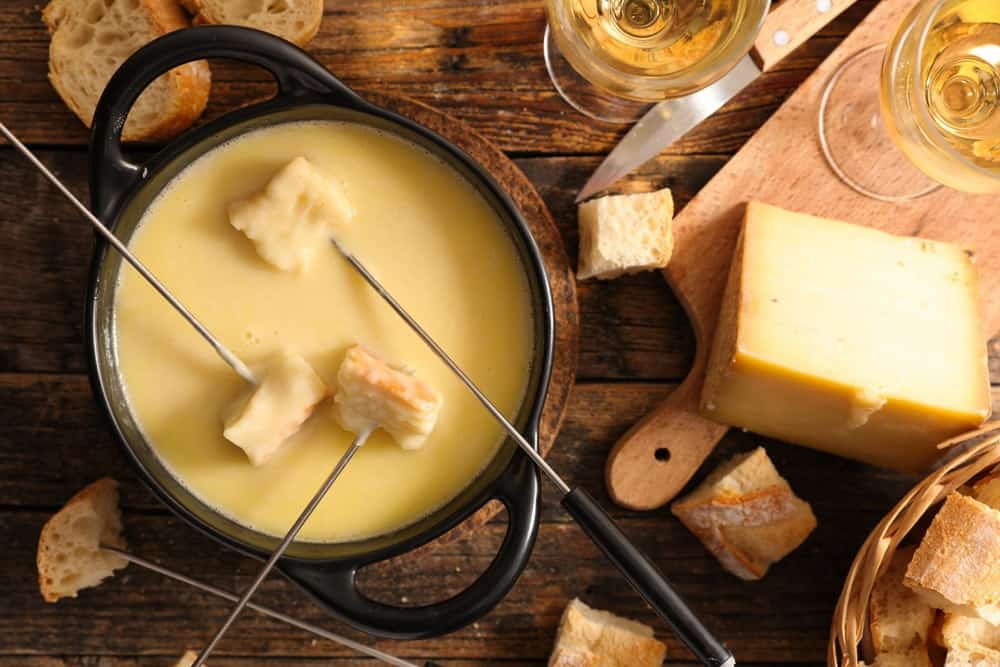 If you like fondue, then this is an excellent place to indulge. They offer the standard cheese fondue, but for the adventurous eaters, they have a selection of Alberta game (venison, bison) and even some exotic meats that should be tried at least once when you visit Alberta. Pro tip: don't wear your wool jacket unless you plan on getting it dry-cleaned soon anyway – the smell of grill will sink in and be hard to remove.
The Bison
Location: 211 Bear Street, #213
Come for the food, and stay for the views! The Bison is definitely one of our favourites for both their food and scenic terrace. Their season-changing menu, created with a farm-to-table approach, gives diners an experience to enjoy the best food from the region. It's always fresh and always delicious. Braised pork arancini, bison short ribs, or braised elk are all tempting items that have been featured throughout the year.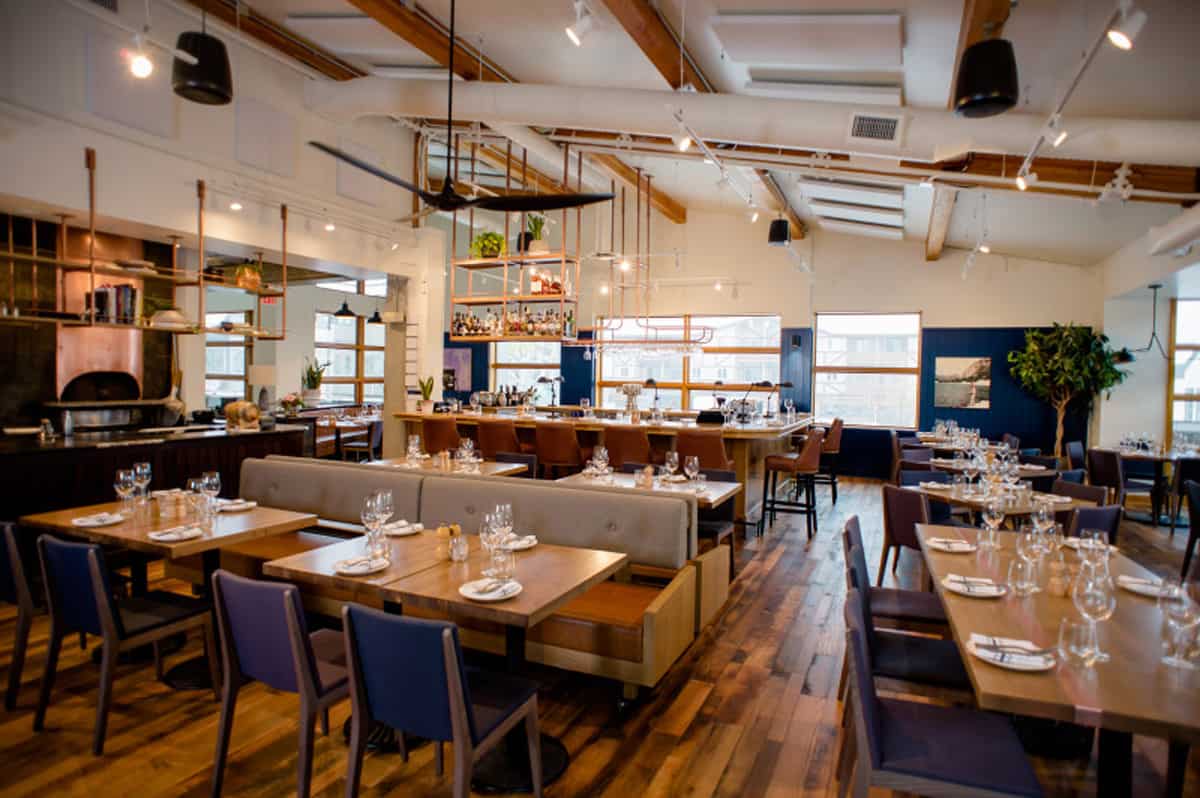 And their patio terrace? They say it was built to soak in the mountain views, and they're not kidding. It's a perfect place for a cocktail and a bite to eat. Just be sure to book a table in advance to be blown away by the atmosphere and the food. As they say, "You're going to love the taste of Alberta."
Bear Street Tavern
Location: 211 Bear Street
If you're craving good pizza and brews in a laid-back atmosphere – then look no further than this popular restaurant in Banff – The Bear Street Tavern – as the pizza especially doesn't get any better than this. It's right next door to The Bison and is a very popular spot for locals and visitors.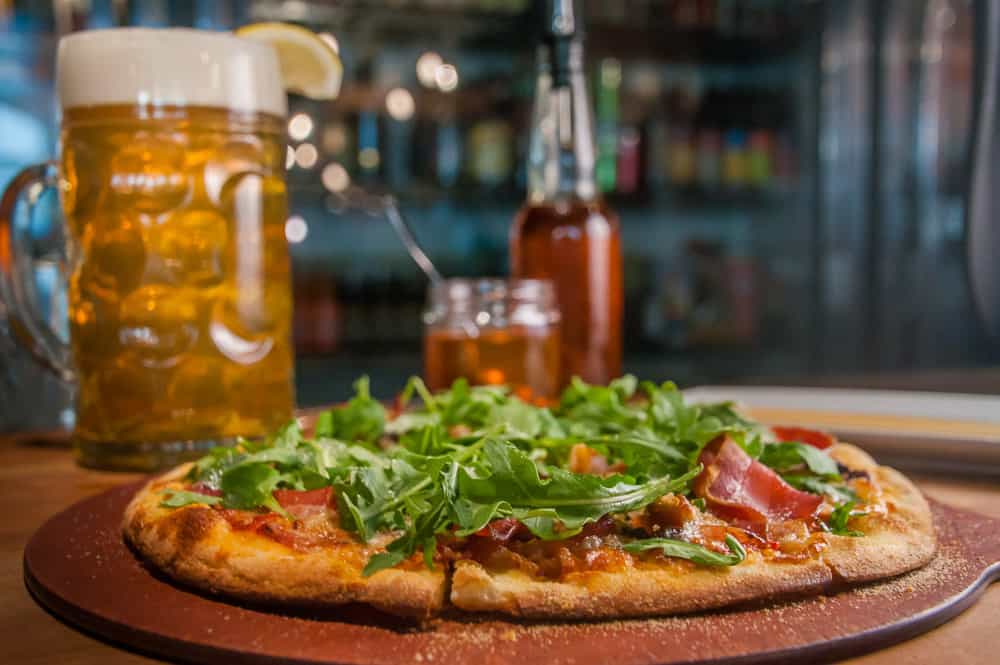 "The Godfather" is a must-try, topped with prosciutto, confit garlic, olives, herbed panko, truffle oil, and more and don't forget to choose a dipping sauce to go with it. Also, you'll want to save room for dessert. Their sweet menu is set daily, and while we certainly haven't tried them all, if their cast iron apple crumble is available, be sure to get it in your belly.
Añejo
Location: 111 Banff Ave Unit 101
We're always suckers for good Mexican cuisine, and Añejo delivers just this. Inspired by Jalisco and Central Mexico (our favourite regions), their selection of authentic Mexican dishes will satisfy any craving for Mexican food. Try one of their tacos or premium tacos, ordered individually, in 3's or 6's. Naturally, we gravitate towards the Birria al Res (Short Rib), Al Pastor (always our go-to), and the chorizo.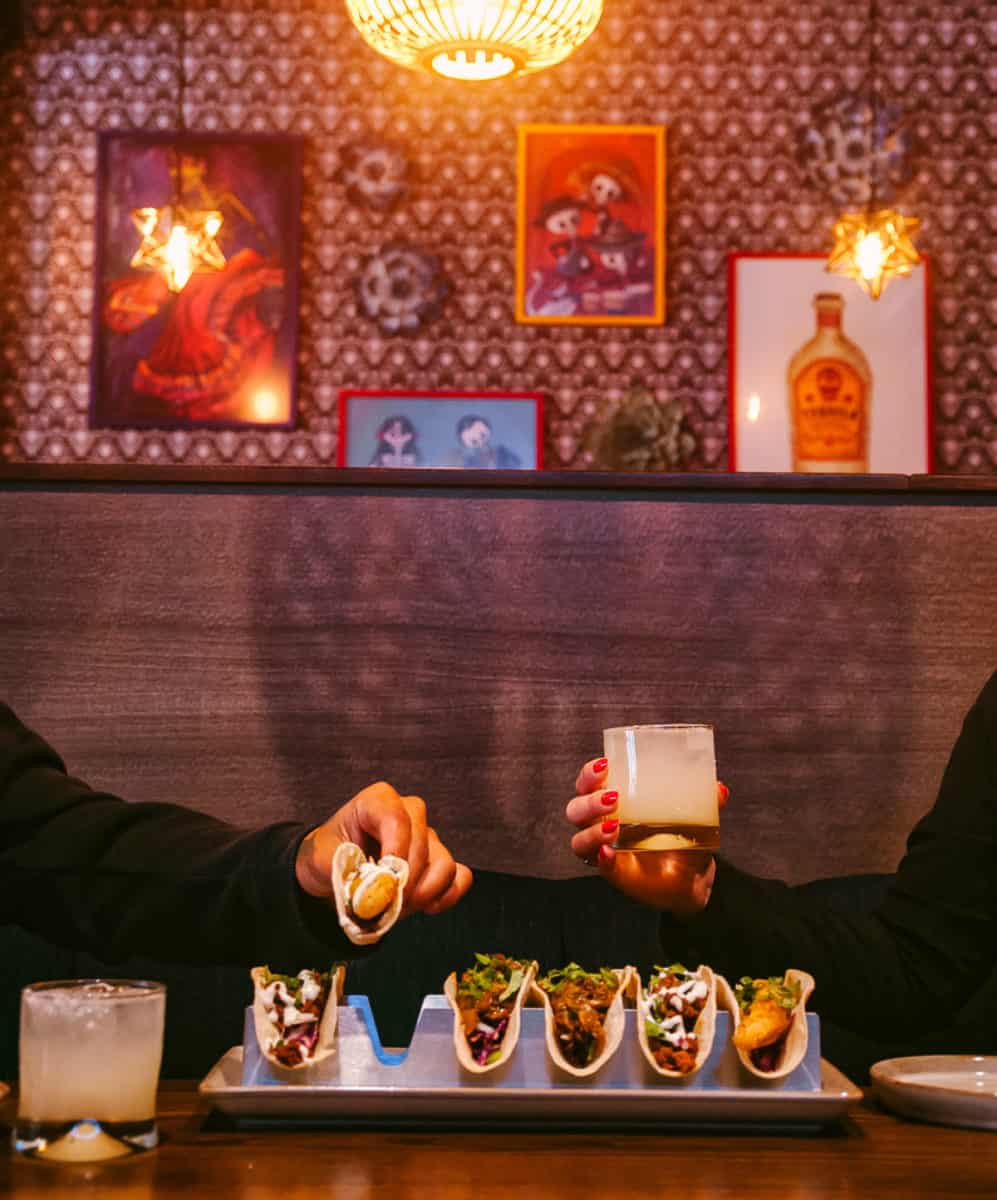 And don't forget about Tequila. They are home to the largest selection of Tequila in Canada, and their handcrafted cocktails and margaritas are original and delicious. Be sure to try the Cucumber Cilantro, the Chili Coconut (for that hit of habanero), and the Blood Orange for that incredible burst of citrus.
The Maple Leaf
Location: 137 Banff Ave
Another high-end dining experience, this time right in downtown Banff, The Maple Leaf, offers a uniquely Canadian meal with a rustic log-cabin interior and fresh ingredients brought in from coast-to-coast. Their steaks are particularly stellar, but this is also a fantastic place to indulge in seafood. The Maple Leaf's cocktail game is also very strong.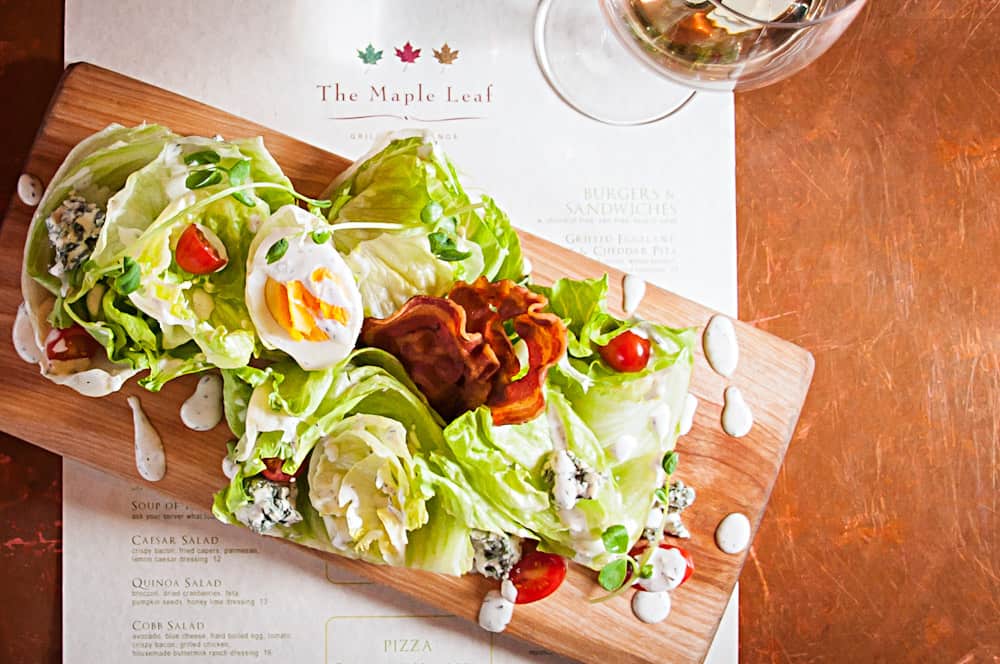 Farm & Fire
Location: The Elk + Avenue Hotel – 333 Banff Avenue
One of the top-rated restaurants in Banff National Park is Farm & Fire. Food that is simple, slow-roasted and wood-fired. Chef Jason's intent is to creatively bring out the natural flavours from the best locally sourced ingredients.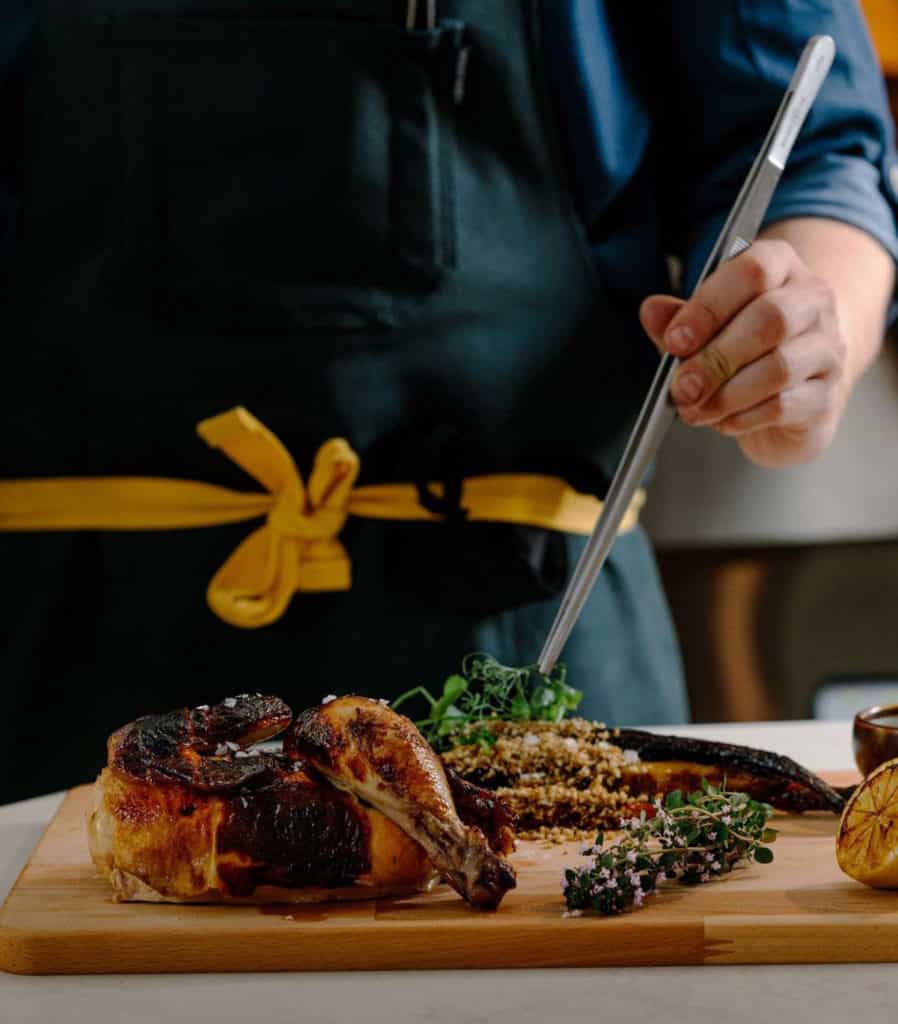 We recommend Classic breakfast or their "Lox to Look Forward To" bowl for brunch. For dinner, be sure to try their smoked beetroot tartare, low and slow lamb neck, or even a scotch egg! Also, if you're craving pizza, they've been chosen as one of the top places in Banff for their wood-fired creations. Don't forget dessert, their Nanaimo bar, which does Canadian heritage justice.
Eden
Location: 300 Mountain Ave (Rimrock Resort Hotel)
If you want a special night out or a romantic evening with a loved one, a meal at Eden in the Rimrock Resort is the answer. It's one of Banff's finest dining experiences, and the high-end restaurant is inspired mainly by French cuisine. Internationally renowned Chef de Cuisine of Eden, Brandon Clemens, utilizes locally sourced game and farm-fresh vegetables to shape his menu and creative dishes aiming to please each of his guests that arrive.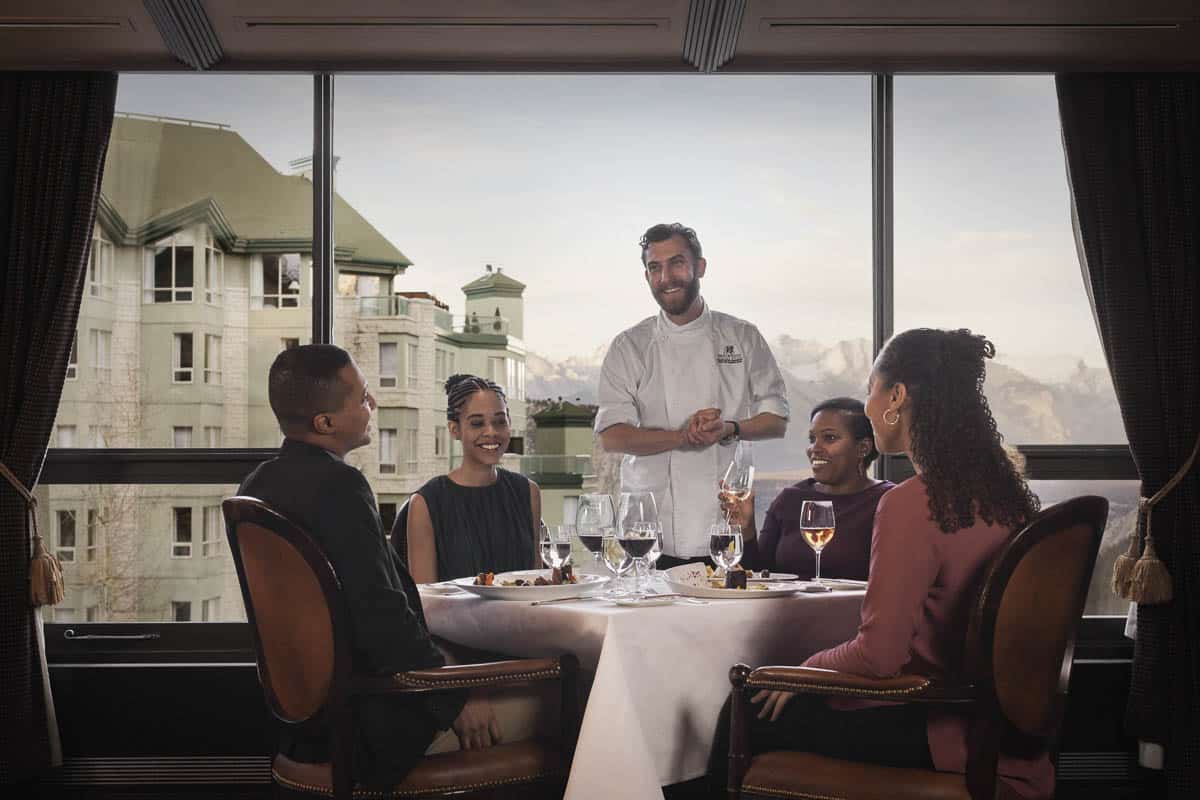 Guests can choose between a three-course, five-course and incredible eight-course menu (vegetarian meals are also available). Our top picks for appetizers include the Caribou Tataki and Burgundy Escargot. We recommend the Brant Lake Wagyu, Icelandic Cod and the Smoked Raclette for entrees. But let's be honest here; you won't go wrong with any of the dishes you choose.
The Block Kitchen & Bar
Location: 5 Banff Ave #201
Whether you're in the mood for small plates, a full meal, or just cocktails, The Block Kitchen and Bar is a fantastic choice. This place has a cozy and intimate feel so expect things to be a little tight when seated and most of all expect to share some outstanding food. The sharing-inspired menu here reflects Izakaya influences from Chef Stéphane Prévost and his brand of cuisine from Asia.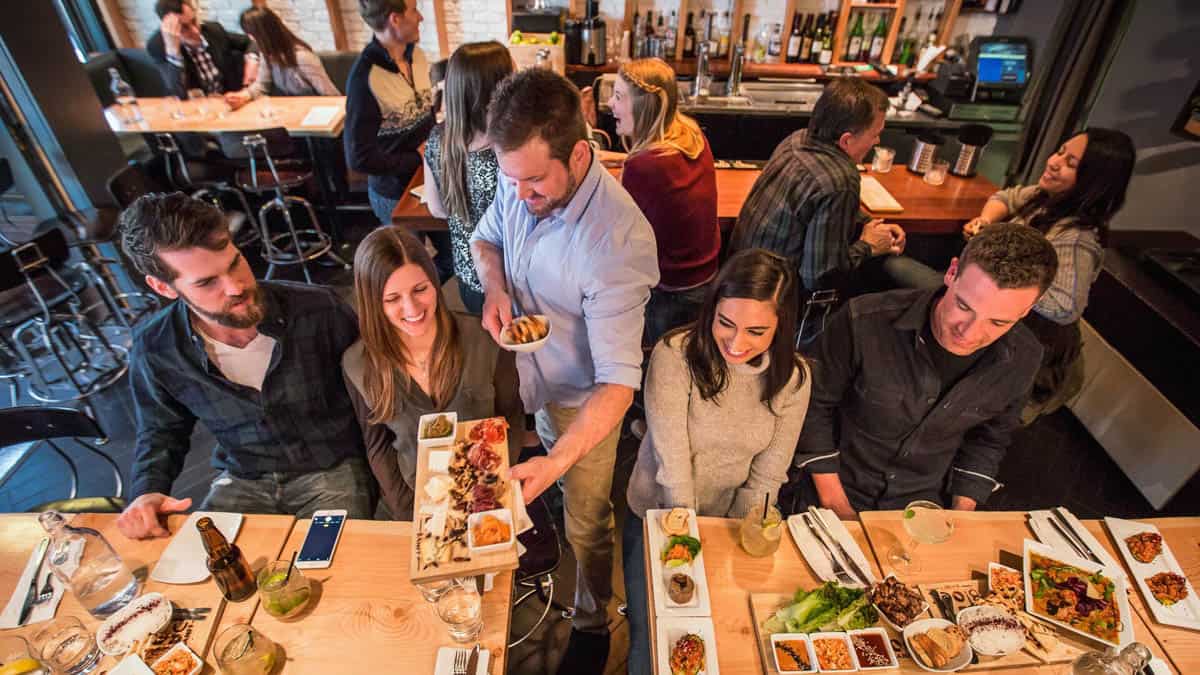 In our experience, the Char Siu BBQ Pork Belly with house-made buns and kimchi are always a solid choice for a starter. Other recommended starters include the Korean fried chicken and the tako yaki – dumplings with octopus chunks and worth a try. For slightly larger plates, dive into the Red Devil Calamari, pulled-duck Asian lettuce wraps or an order of the Tokyo Fries which are Nori-dusted fries topped with Japanese mayo.
Ramen Arashi
Location: 215 Banff Ave, Sundance Mall 213
Ramen Arashi is an excellent low-budget option for a restaurant in Banff without sacrificing food quality. They offer take-out only and a wide menu to serve many tastes. Try the "Black Arashi Tantan Men" – the sesame base and melt-in-your-mouth pork belly make this a stand-out.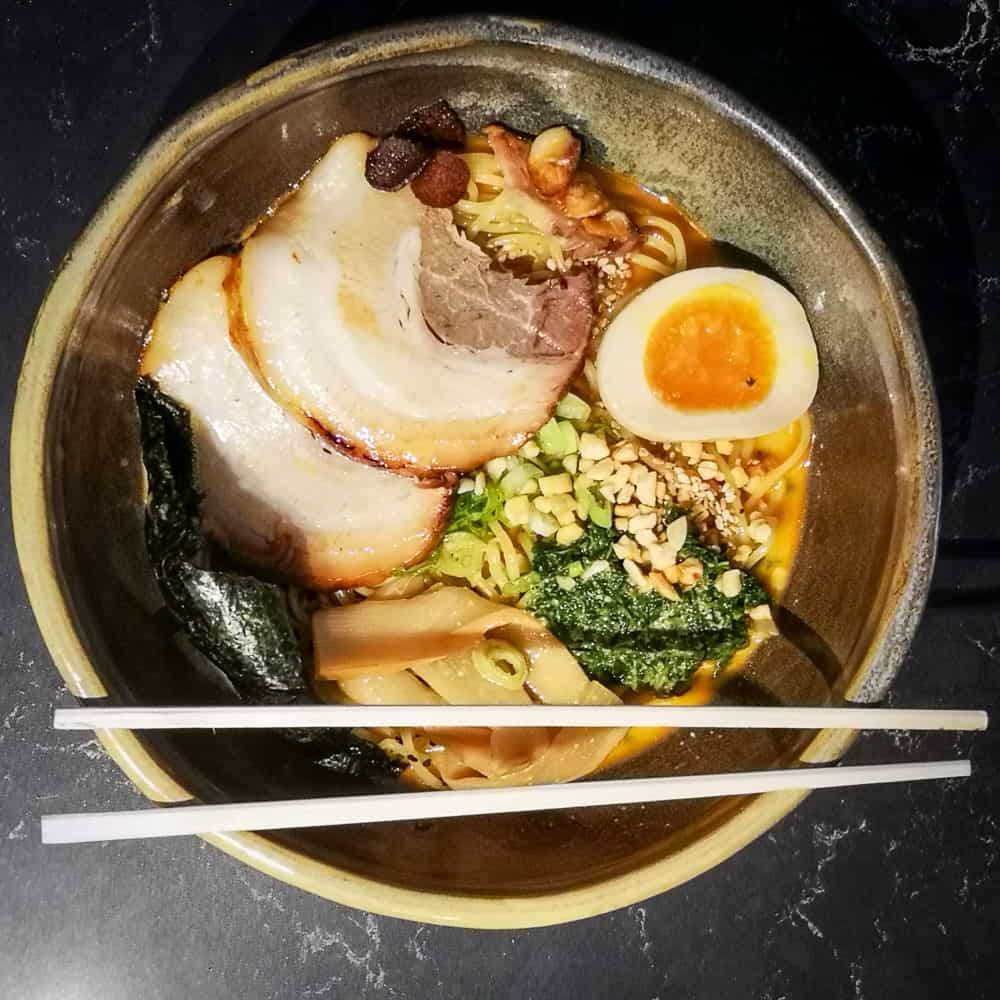 The smaller rice bowls on offer are of incredible value – a perfect, slightly larger-than-snack-size serving can fill the void for only $6. There's a location in Canmore too!
Juniper Bistro
Location: 1 Juniper Way
This is a certified local favourite for the food and the spectacular mountain views. A frequent award-winner among other Banff Restaurants (including Best Breakfast Menu and Most Romantic Place to Eat), Juniper Bistro is open for breakfast, brunch, lunch and dinner. But in our opinion, their brunch is their specialty!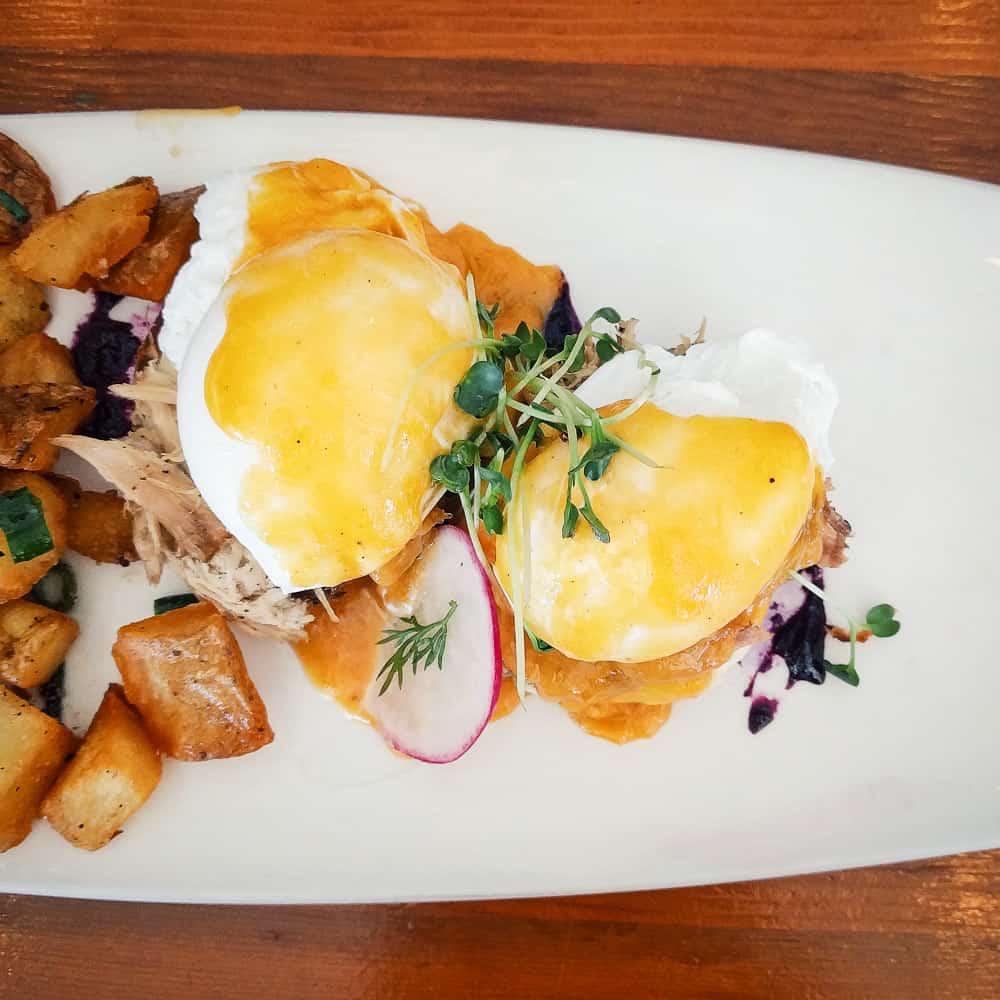 If eggs benedict is a fave of yours (as it is ours), then opt to try the "Juniper Benny" with braised rabbit and smoked cheddar.
Reservations are definitely recommended for this popular Banff restaurant.
The Balkan
Location: 120 Banff Ave
Indulgent Greek food makes this a popular choice among all Banff restaurants. The Balkan lunch special of a pork shoulder gyro and fries is hard to beat at only $14. Their menu reads like a definitive list of favourite Greek foods, and the "Ultimate Greek Feast for Two" is something to behold.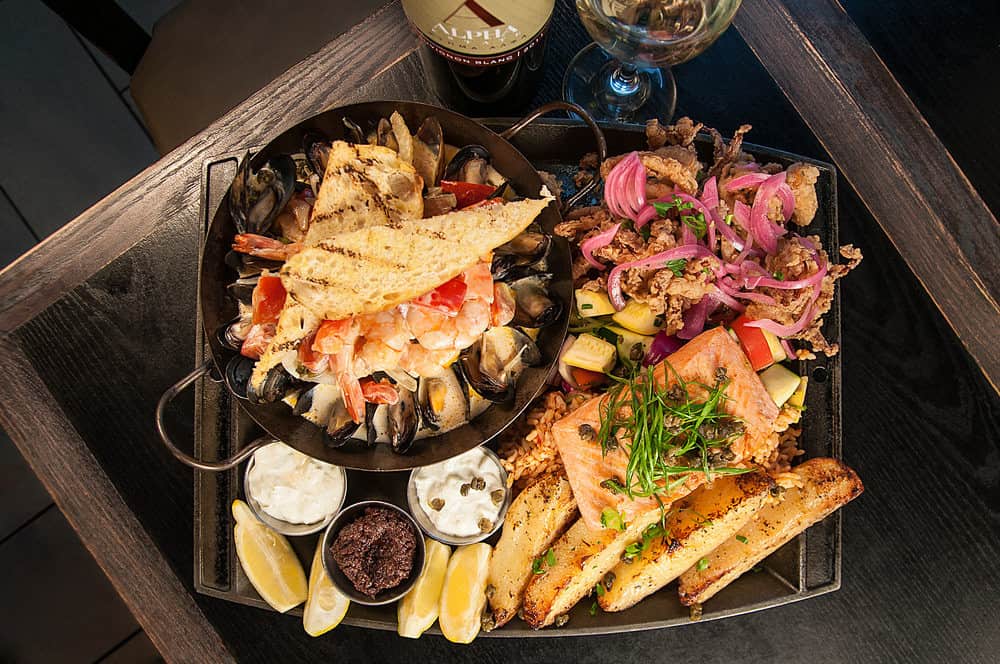 Also, "Fried Feta Balls"? Where have you been all of my life? It's hard to believe that a Mediterranean diet is one of the healthiest in the world, but since it is, get your fill at the Balkan.
Park Distillery
Location: 219 Banff Ave
Cocktails are a meal…right?
KIDDING (kind of). They have good food too. But start your visit off right with a delicious spirit to lift yours, using alcohol distilled right onsite. Start with the "Hard Rootbeer" for you sweet-seekers or the "Sawback" to get a taste of their distinct chilli vodka.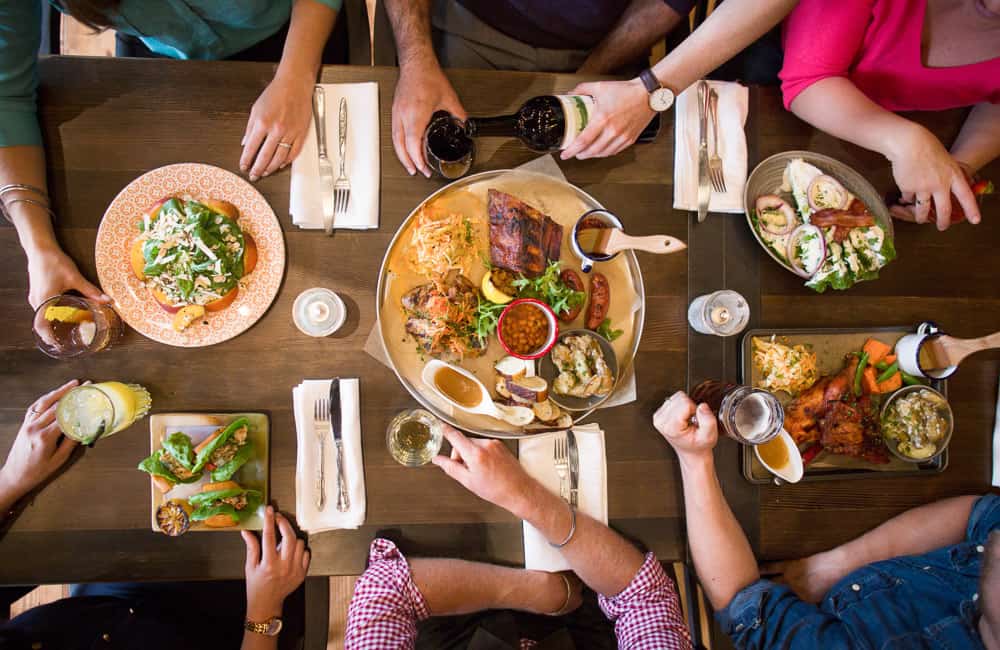 Park Distillery food is campfire-inspired, with an exciting array of simple dishes that will fill you up after an epic outdoor adventure. The "Rotisserie Chicken" is certainly something to write home about.
Tooloulous
Location: 204 Caribou Street
Self-described as a little Louisiana, a little Acadiana, and a little Canadiana…we call it pretty deliciousana. (Okay, bad joke, sorry.)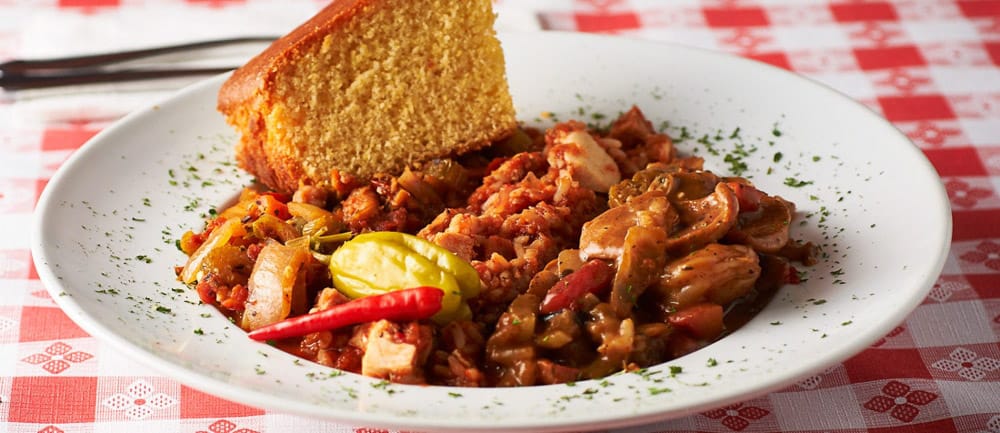 Tooloulous is a Banff restaurant that uses its menu to plot the connection of the Acadians who left Canada for Louisiana and helped forge the Cajun culture. Chef Steve loves to combine his love of hearty home-style cooking that compliments southern & Louisana favourites. Everything is made of fresh and natural ingredients, and expect diverse items like a "New Orleans Breakfast" (with Canadian bacon!), "Red Neck Grits" and the Taste N'Awlins Jambalaya.
Their breakfast menu is especially what this place is known for, and it just may be the perfect spot after a big night out. In addition, their "10 am Eye Opener" drink menu may help you through a rough morning paired with their breakfast poutine (think cheese curds and hollandaise sauce!)
Melissa's Missteak
Location: 201 Banff Ave #2
Are you looking for the best steakhouse in Banff? You can't go wrong with Melissa's Missteak. Their steaks are the best certified Angus Beef (CAB) and AAA beef from Alberta. And if you're not in the mood for a steak, the dinner menu has something for everyone, including a wide selection of burgers and finger foods.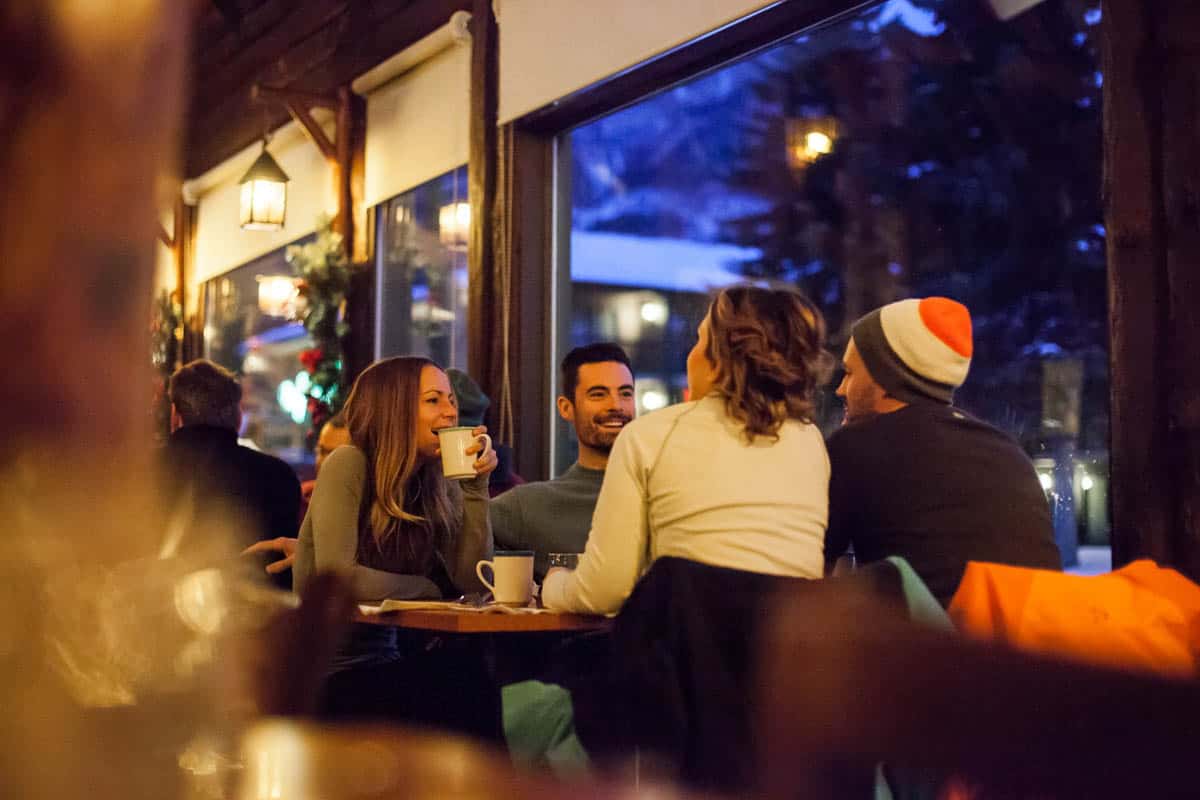 They also serve a mean breakfast, voted "Banff's Best Benny." It's a Prime Rib benny served on a Yorkshire pudding (YUM!). Other creative options are the Montreal smoked meat breakfast sandwich and the crab and asparagus omelette. One thing is for sure if you come to Melissa's, you need to bring your appetite!
Fairmont Banff Springs Restaurants
Location: 405 Spray Ave
Experiencing fine dining at the majestic Fairmont Banff Springs Hotel shouldn't be missed on your visit to the Canadian Rockies. There are several options when dining here. Their Rocky Mountain Afternoon Tea is a must-do experience.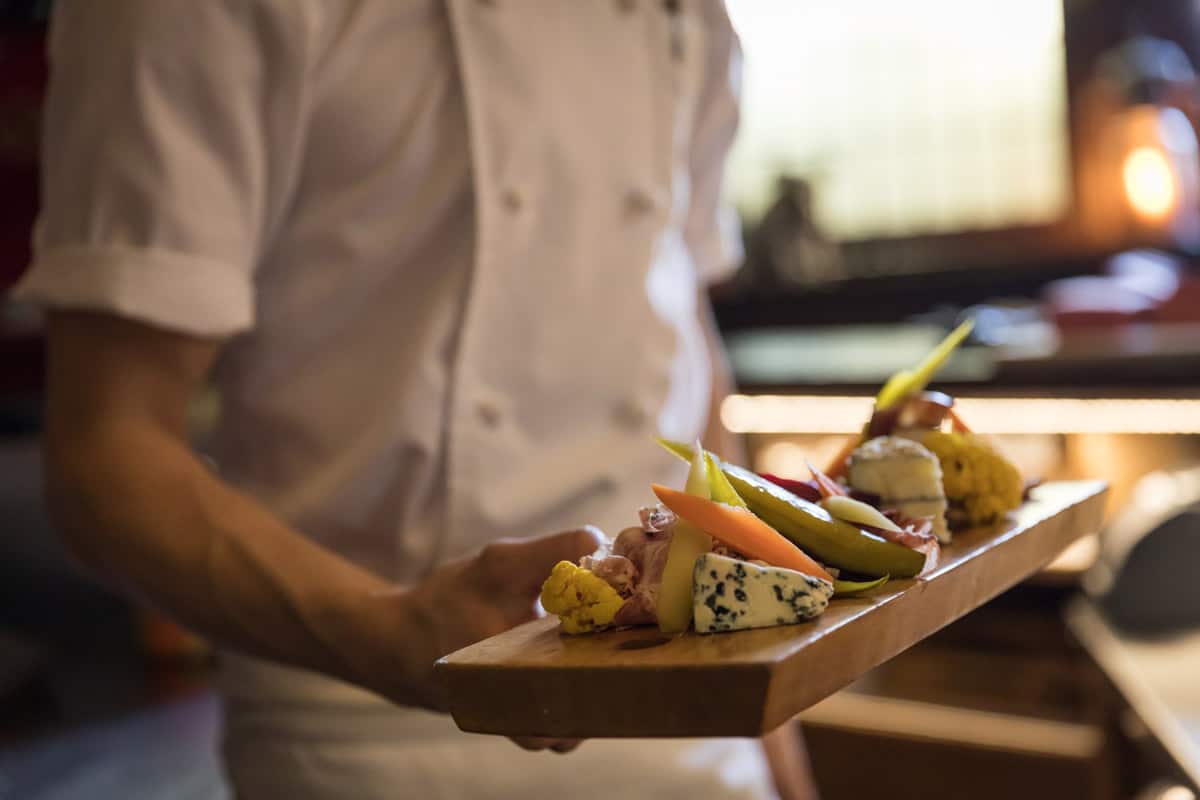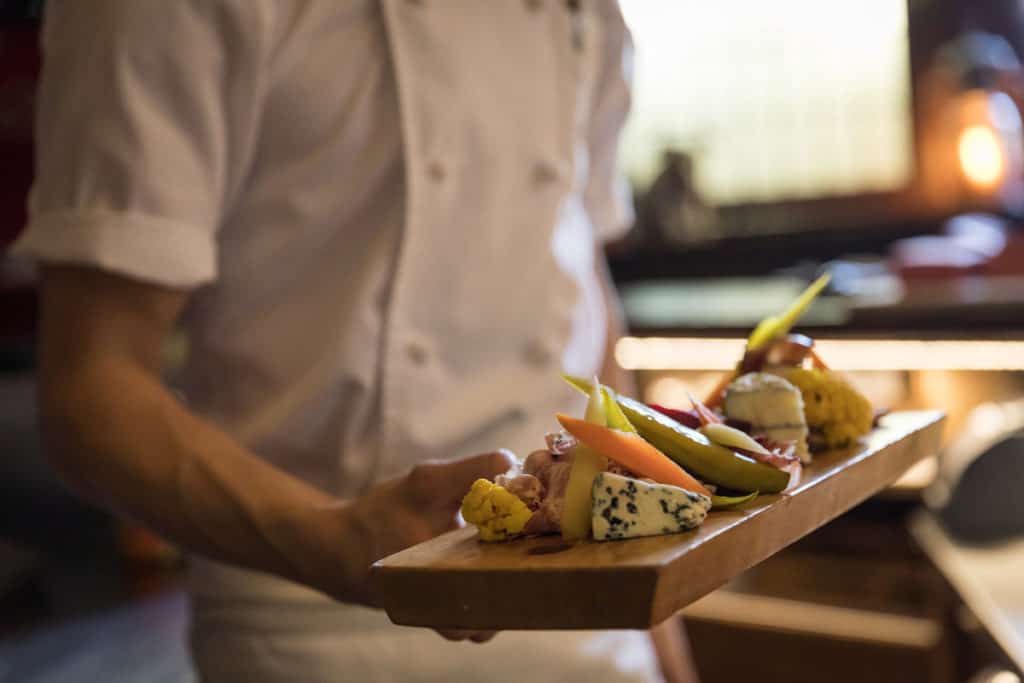 A tradition that dates back MANY years, you will indulge in some of the finest loose-leaf teas and relieve that hunger with an assortment of fancy finger sandwiches, Victorian scones, and lots of other tasty sweet treats. The afternoon tea is served from 11:30 am – 3:00 pm.
Book the Banff Springs Afternoon Tea
Looking for an evening meal instead, book a table at any one of the different restaurants at the Banff Springs Hotel, including the 1888 Chop House, The Vermillion Room, Waldhaus Restaurant or Castello Italiano. With so many choices, there really is a restaurant at the Banff Springs Hotel for every taste.
Sky Bistro Banff
Location: Mountain Ave, Banff
There may not be a more gorgeous setting for a meal and a glass of wine than at the Sky Bistro. Nested atop Sulphur Mountain, a meal here will be one to remember. Eating here is a "world-class taste of the Canadian Rockies," and their menu features dishes inspired by food produced by the top farmers and producers in Western Canada.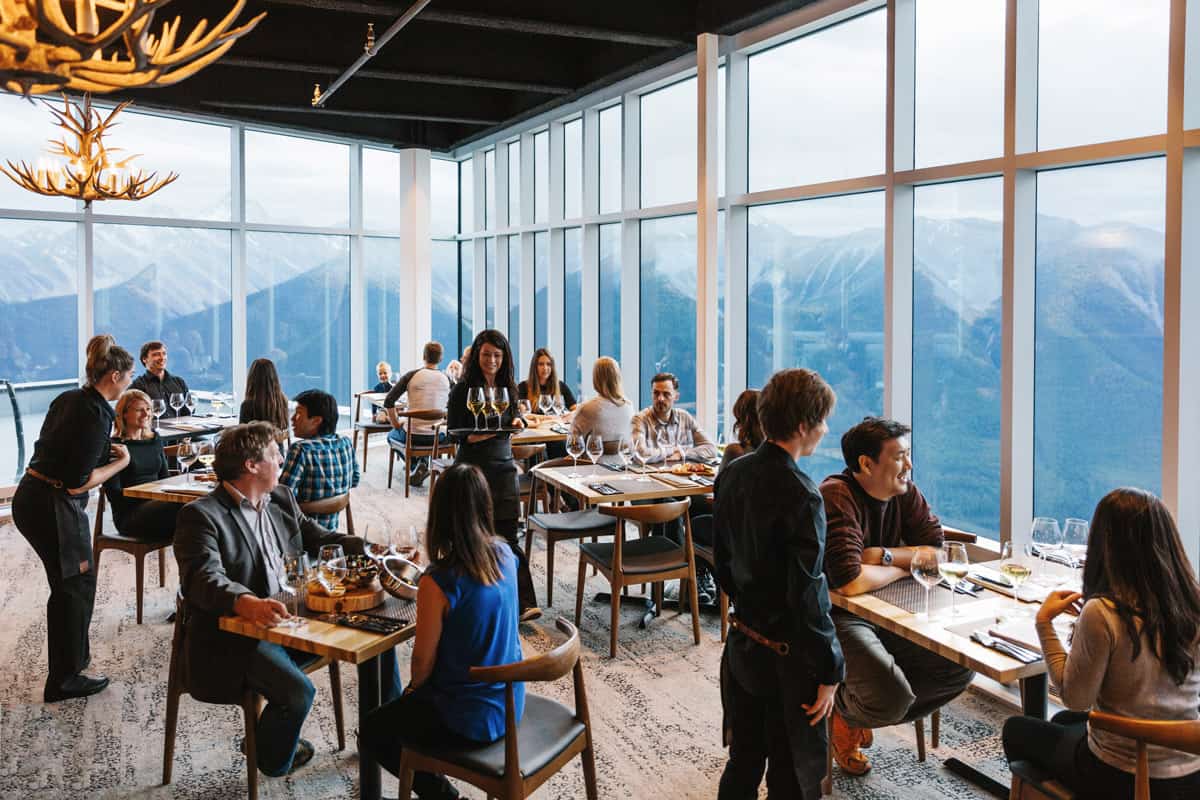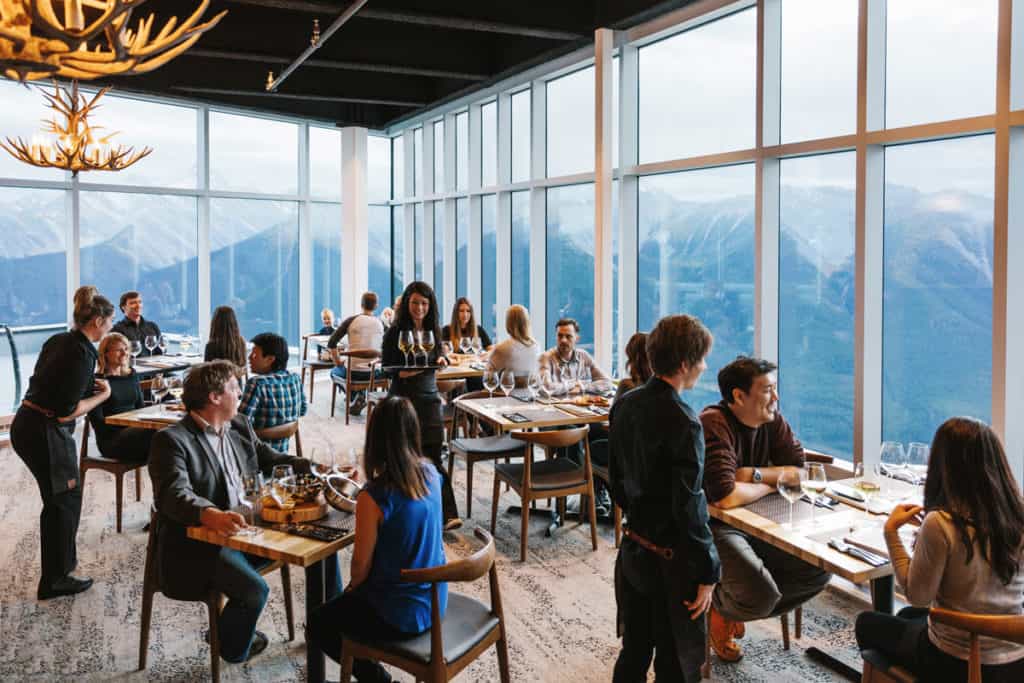 There are two ways to experience the Sky Bistro. First, you can dine a-la-carte, but note that you will have to book your Banff Gondola Experience separately. Or you can book the Sky Experience (from $80 per person) – which includes a Banff Gondola / Sulphur Mountain admission and dining at the Sky Bistro for lunch or dinner with a choice of appetizer & entrée.
Nourish Bistro
Location: 211 Bear St, #110
If you're looking for vegetarian or vegan cuisine, Nourish Bistro is where you want to head. They've been around since 2005 and have been committed to providing their clientele with fresh dishes.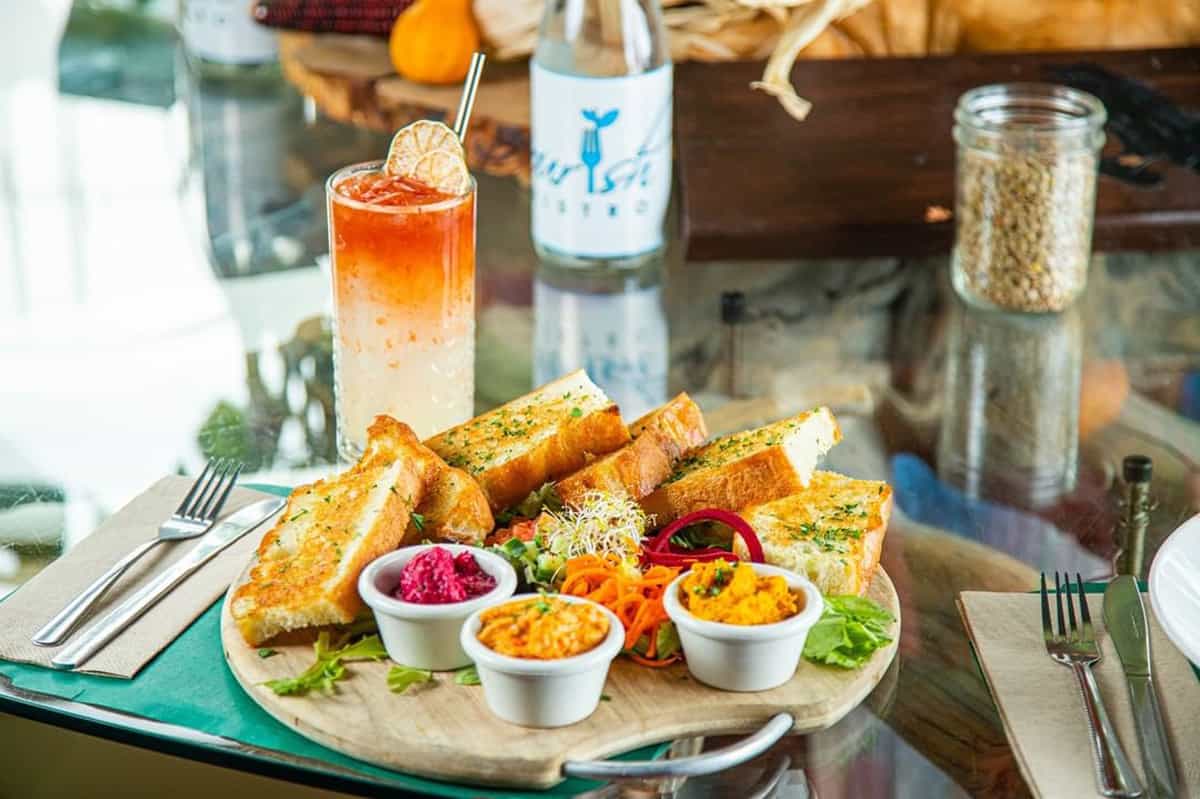 Their globally inspired plant-based comfort food is sourced locally and is simply delicious. And their drinks are fabulous as well. From cocktails to local craft beer, and also their in-house juices, sodas, and smoothies, there is something for everyone.
Three Ravens
Location: Sally Borden Building, 3rd Floor, 107 Tunnel Mountain Drive
**Temporarily closed**
This is one of our faves for fine dining. Situated on the Banff Centre for Arts and Creativity campus, Three Ravens offers spectacular views and high-end dishes. They specialize in local and organic fare, with impeccable attention to detail in their presentation. Try the seared Alberta bison tenderloin, served with black truffle marinated portabella mushrooms and more.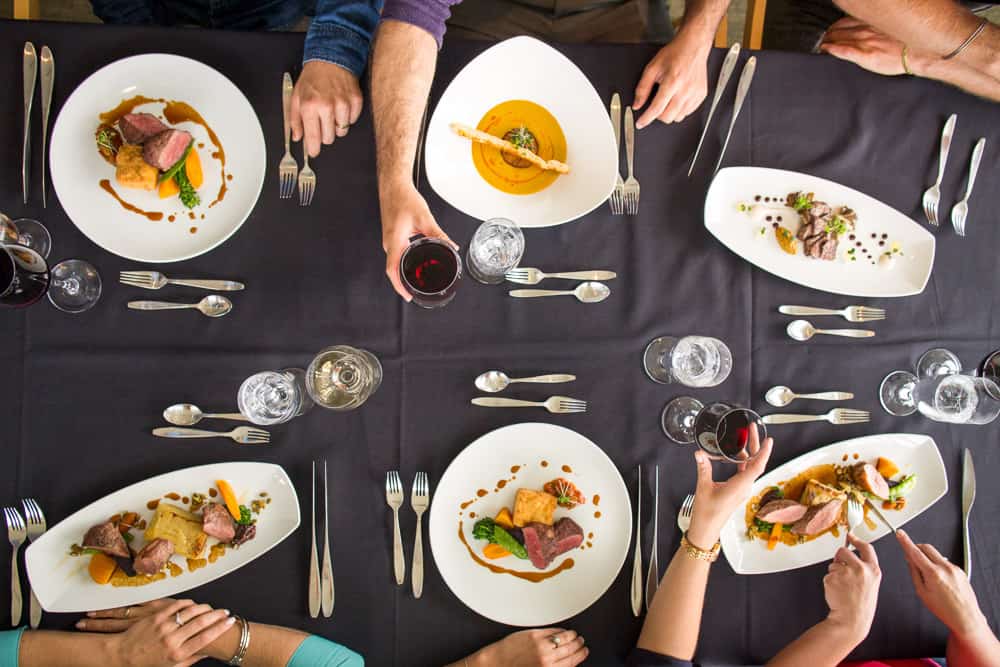 Looking for more to do in Banff National Park?