Compiled by the Road Trip Alberta team
Last updated on January 27, 2023
Tucked away in the southwest corner of Alberta, Waterton Lakes straddles the mountains and the prairies, creating a park with a diverse ecosystem that offers the rugged outdoors-type plenty to do. While the natural beauty of the park is overwhelming, the tiny town at its heart packs more activity than imagined, with a small-town charm you won't find anywhere else along the Canadian Rockies. You will certainly not run out of things to do in Waterton, and this post will help guide you in enjoying it fully.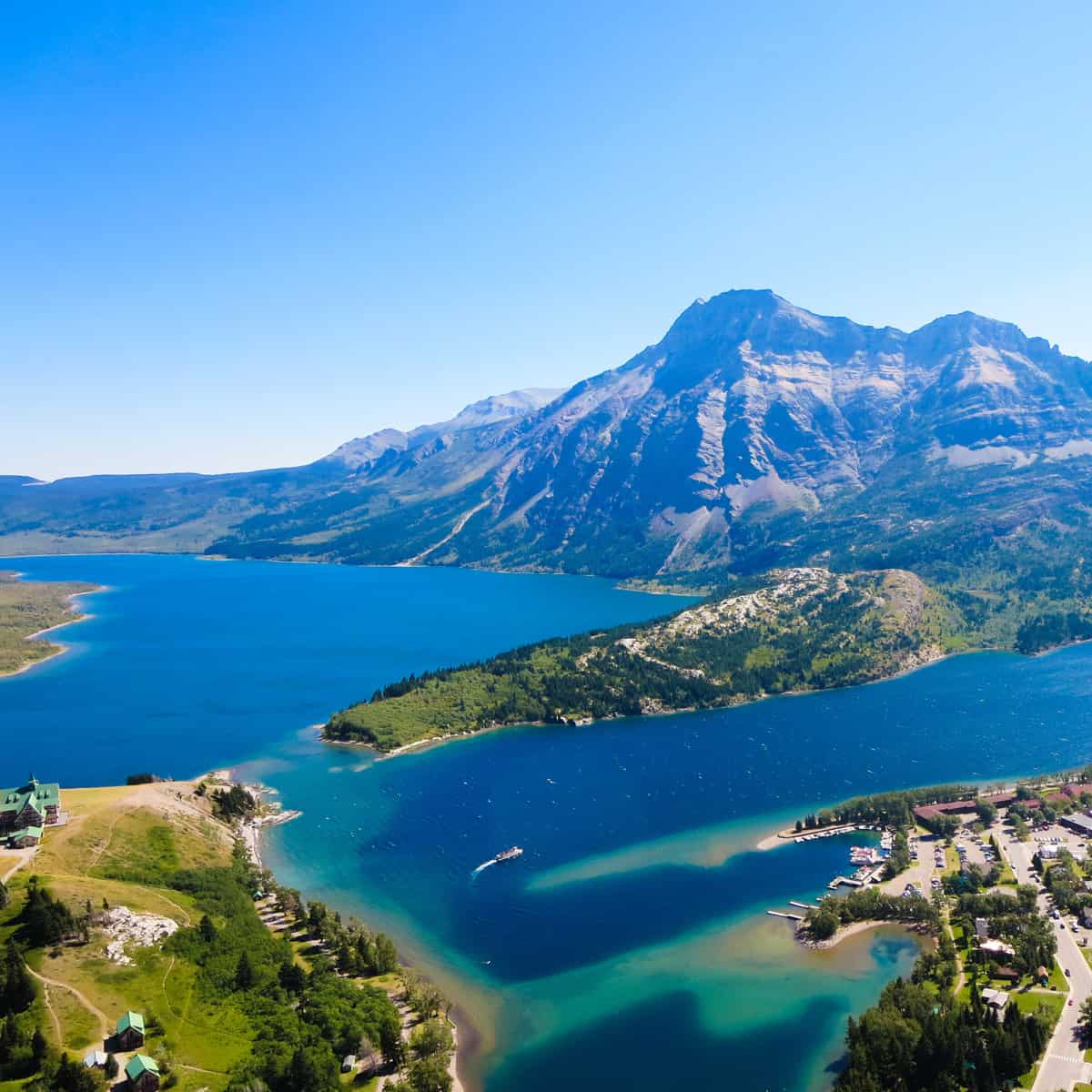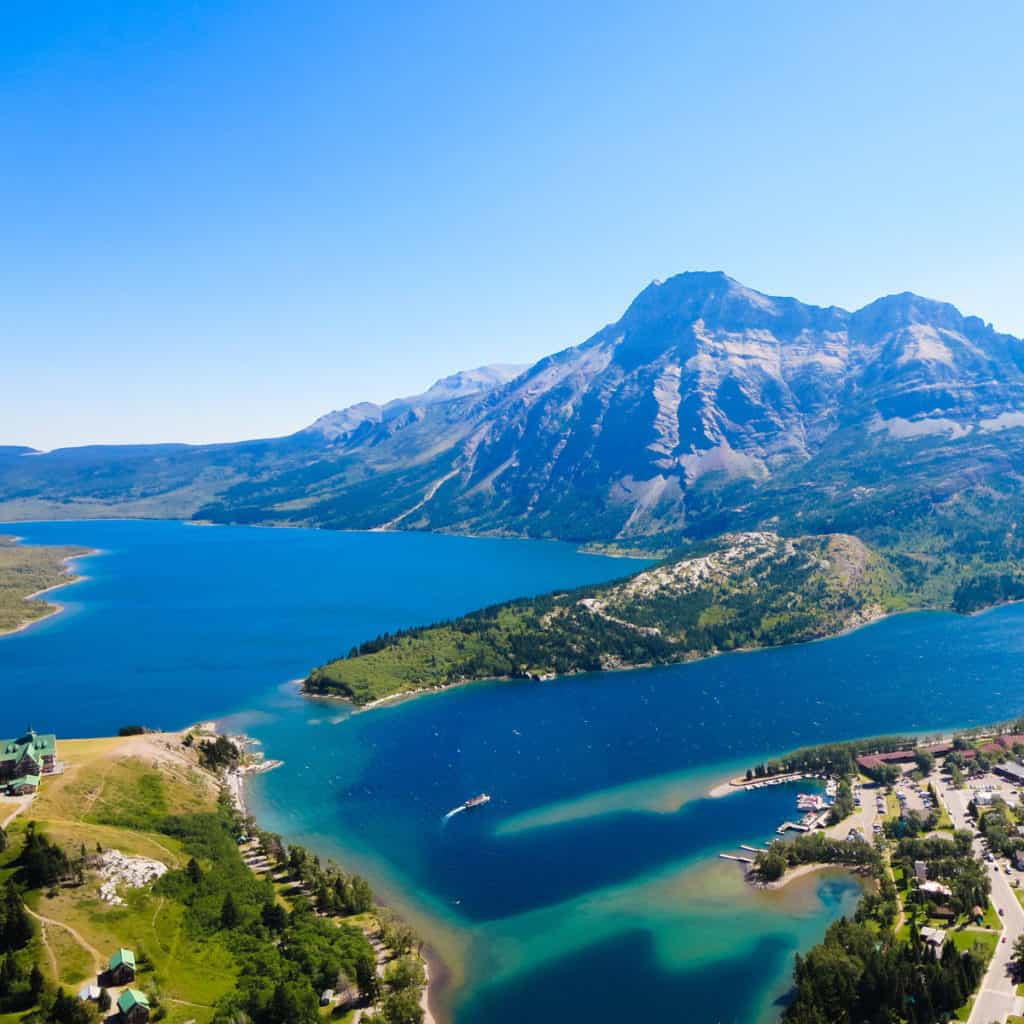 About the area
Acknowledgments
The land on which Waterton Lakes National Park is located on Treaty 7 territory and the traditional territory of the Niitsitapi (Blackfoot), Nakoda (Stoney), and Tsuut'ina.
History
Created in 1895, Waterton Lakes National Park joined forces with Glacier National Park in Montana in 1931 to form the Waterton Glacier International Peace Park – the first of its kind in the world. In fact, the Waterton Glacier International Peace Park is a Unesco World Heritage Site.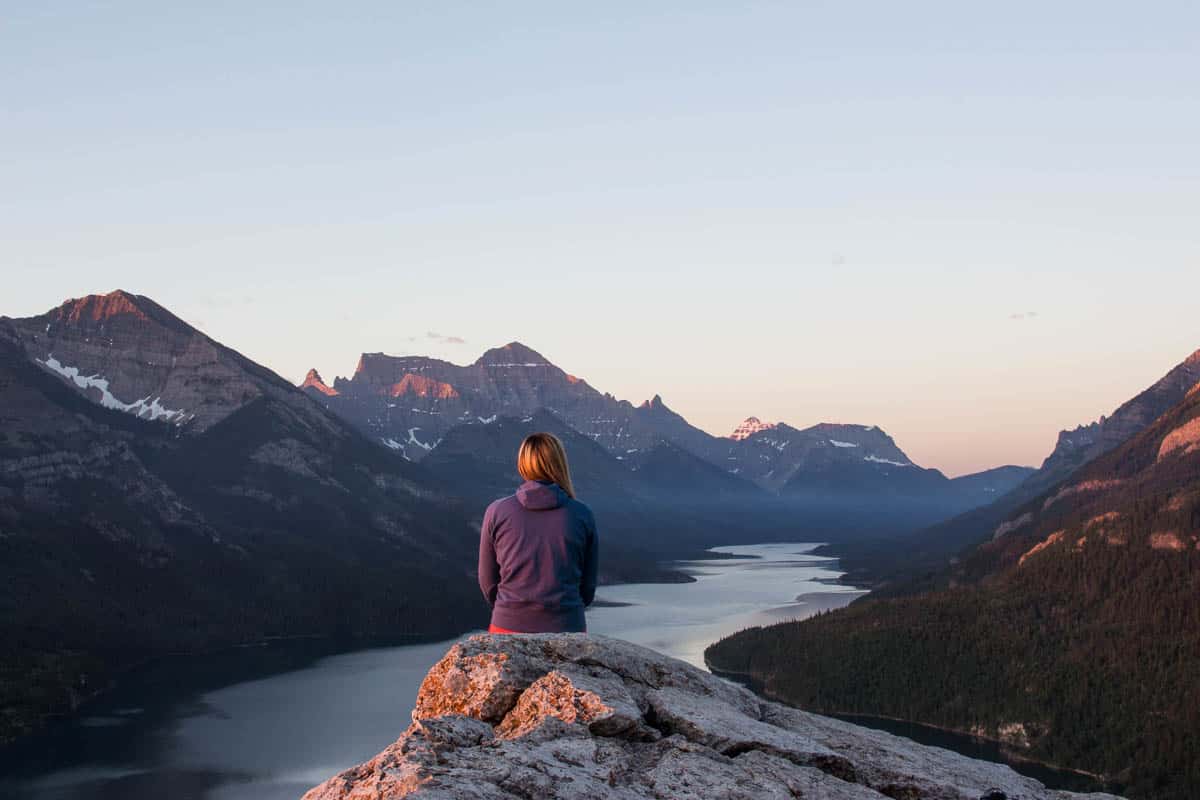 Because of its Some of the tours and hikes below will even take you over international boundaries, without needing a passport (unless you choose to stay beyond the half-hour stop to hike, in which case you have to pre-clear customs before leaving)! In 1927, the prominent Prince of Wales Hotel was constructed and still stands alone on a bluff overlooking Waterton Lake, the Rockies, and the U.S.A./Canada border.
Get your Waterton Lakes National Park Pass
Note that Waterton Lakes National Park requires a pass in order to enter. You can buy a pass at the park entrance or order a pass online.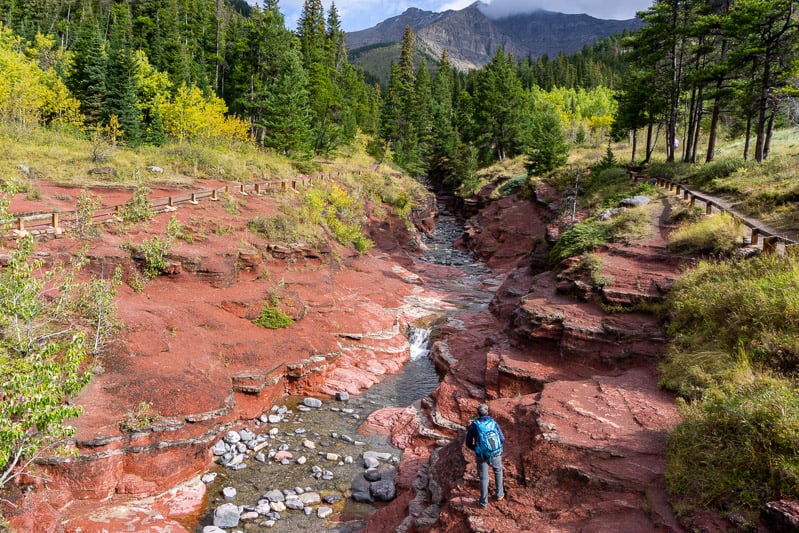 Where to Stay in Waterton
Rest up for an exciting visit to the area (see all of the things to do in Waterton below) by ensuring that you get a good night's sleep. There aren't a large number of options in the town, but those that are there will all serve you very well.
Hotels in Waterton
Luxury – Be sure to enjoy a quintessential 'afternoon tea' at the Prince of Wales Hotel, and then unpack your bags! Standing for almost 100 years, this iconic hotel offers more than just a bed to sleep in – it's an actual historic experience. Enjoy the onsite bar and restaurant with views that can't be beaten.
Read Reviews | Check Availability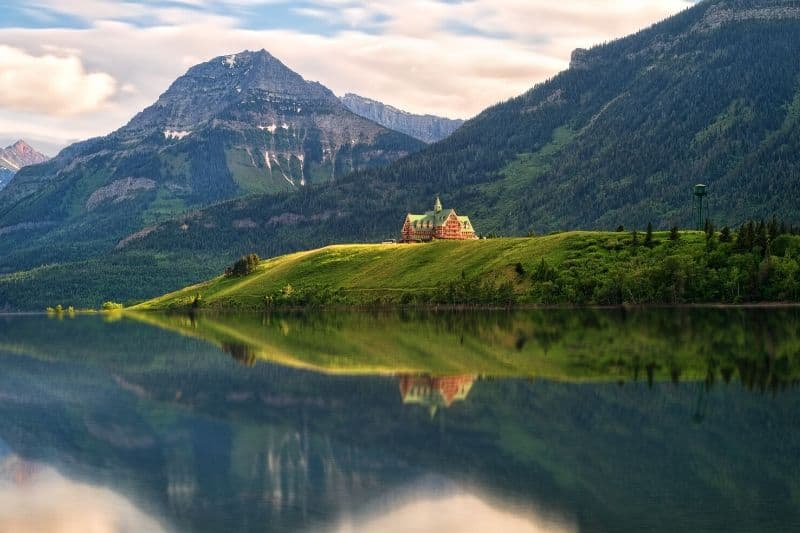 Mid-range – The Waterton Glacier Suites are well-located and furnished to spoil. Enjoy your own fireplace, balcony, and even a spa bath right in your suite.
Read Reviews | Check Availability
Another recommended mid-range option for accommodation in Waterton is the Bayshore Inn.
Budget – About a 15-minute drive from Waterton, the Rocky Ridge Country Lodge offers an affordable and comfortable alternative. Choose from an attached room or your own cabin, and enjoy soaking in the outside tub and the gorgeous views around it!
Read Reviews | Check Availability
Want to see more options? Check out our exhaustive guide to Waterton hotels.
Airbnb in Waterton
There are no Airbnbs in Waterton National Park, but there are a number of nice options nearby.
Camping
If you are eager to become one with the beautiful natural surroundings, there are several lovely campgrounds to choose from in the area, as detailed in our extensive guide to camping in Waterton. If those are full, "free" or crown land camping in Alberta is also an option. And if you need something to sleep in – we have a guide to RV rentals in Alberta too!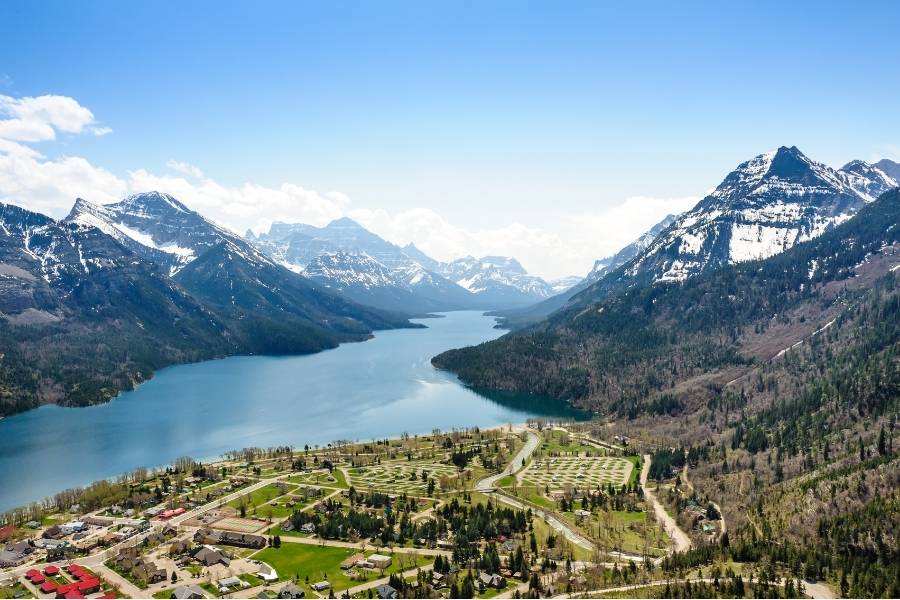 Things to do in Waterton's Great Outdoors
Whether you prefer placid lakes or million-mile views from the tops of mountains, Waterton has a trail to get you there.
With that in mind, let's start with hiking.
Hiking in Waterton
Straddling the prairies and the mountains, Waterton offers some of the most panoramic views in Canada. From the summit of its mountains, hikers have a view that extends nearly to Saskatchewan as the prairies roll away to the east. To the west, a no less majestic (but much shorter) view features a rugged mountain vista.
While the view alone may be worth the hike, Waterton trails are as much about the journey as the payoff at the top. With beautiful lakes cradled in hanging valleys, vertigo-inducing waterfalls and heart-pounding traverses, the trip up just may be the best part of these top hikes below.
Crypt Lake Hike
Named one of the "World's 20 Most Thrilling Trails" by National Geographic in 2014, the Crypt Lake hike is one of the best in the park. The hike starts with a ferry ride across Waterton Lake that effectively limits the hikers on the trail, so make sure to book your ferry ticket early.
Make sure you're up for the trek – at almost 17km and 700m in elevation – it is not an easy walk in the park.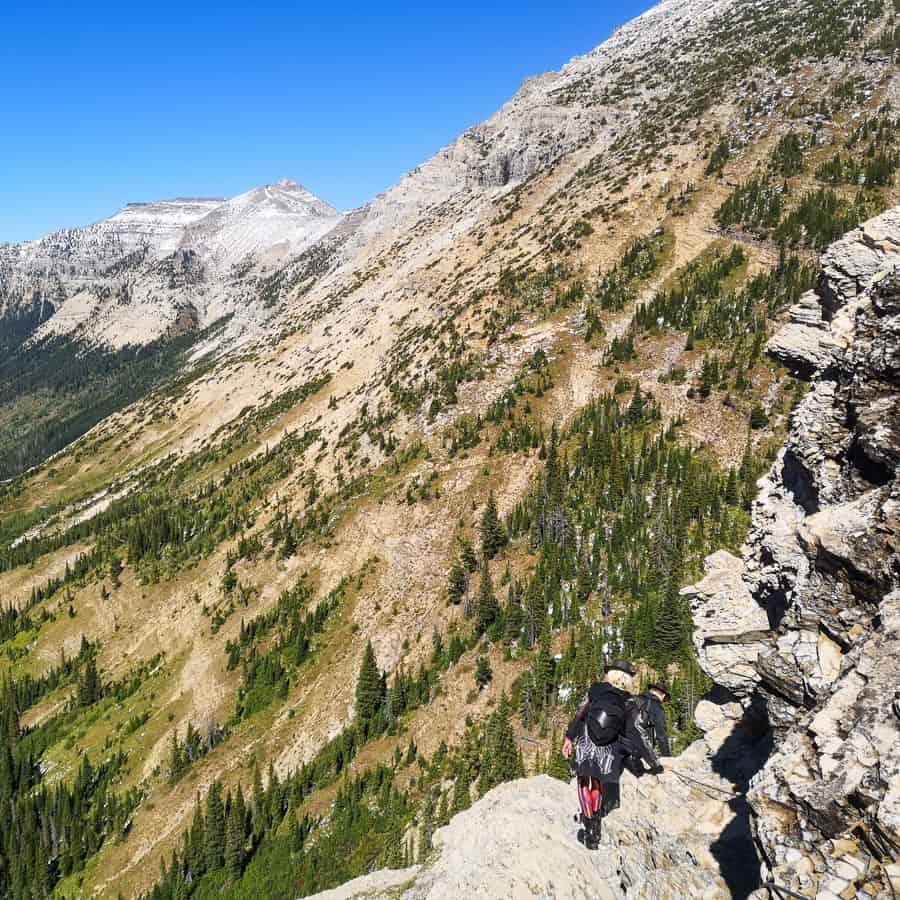 Red Rock Canyon Trail
More of a walk than a hike, the Red Rock Canyon Trail is very popular for good reason. The loop trail is less than 1km (although currently the bridge is closed and is an in-and-out hike). Go early to avoid the big crowds and enjoy the dramatic red rock against a bluebird sky.
Blakiston Falls
From Red Rock Canyon, don't miss the short and easy hike to the new viewing platforms that give visitors a close-up look at Blakiston Falls.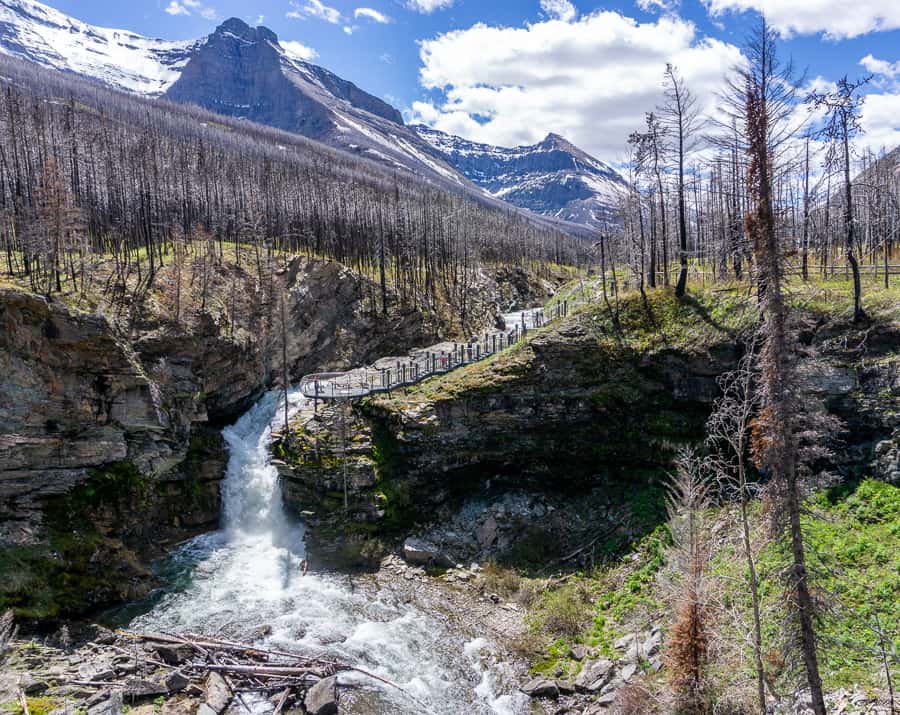 Upper Bertha Falls and Bertha Lake Trail
Not every hike needs to take a full day to be beautiful and memorable. Bertha Falls offers beginners the chance to stretch their legs and enjoy Waterton scenery without long trails or mountainside traverses. Though at times it is a steep climb, the 10.4 km (round trip) is worth it. The trailhead leaves from town, on the west side of the townsite campground on Evergreen Ave, making access super easy. This hike is one of our favourite things to do in Waterton, providing beautiful views that we never tire of.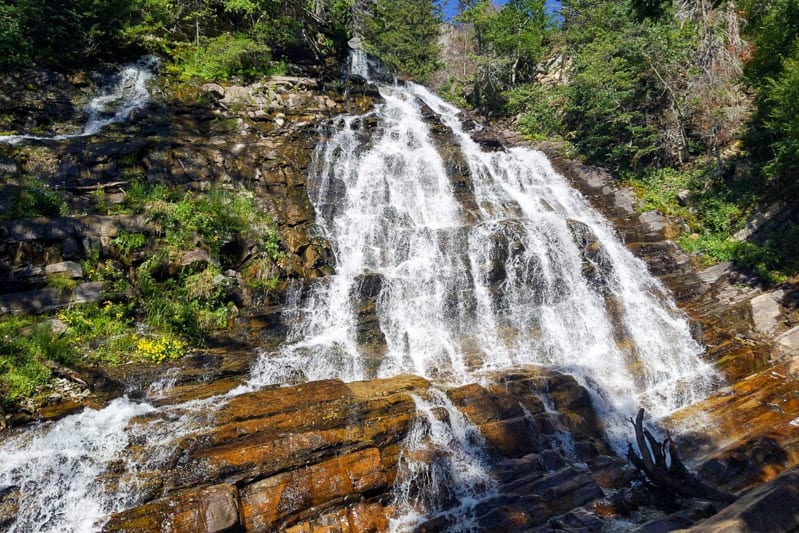 Carthew-Alderson Trail
One-third of the Waterton 'Triple Crown' (along with Crypt Lake and the currently closed Akamina Ridge) the Carthew-Alderson Trail is a point-to-point hike featuring both Carthew Summit and Alderson Lakes. At 20.1 km with an elevation gain of 650m, it might not be a hike to undertake at the start of the season!
Bear's Hump
Devastated by the 2017 Kenow wildfire that ravaged the area but rebuilt to be even better than before, Bear's Hump is a short and steep hiking trail that is worth the incline. The trailhead is located at the parking area across from the Prince of Wales turn-off. The hike is only 2.8km and offers breathtaking views of all of Waterton below.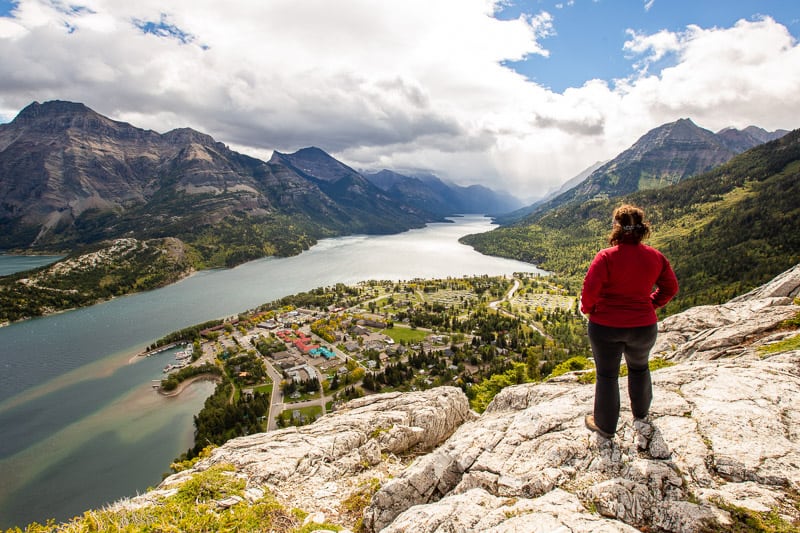 For more hikes in Waterton, click here.
For those who prefer to take things a little easier, there are plenty of trails around the Waterton townsite offering relaxed trails and great scenery without all those hours of walking.
On (or in!) the Water
As notable as its mountains, Waterton is also known for its water (some of the most gorgeous lakes in Alberta). The park's jewels are the string of Waterton Lakes (Lower, Mid, and Upper), which extend across the border into the U.S. Nearby Cameron Lake is worth the drive as well.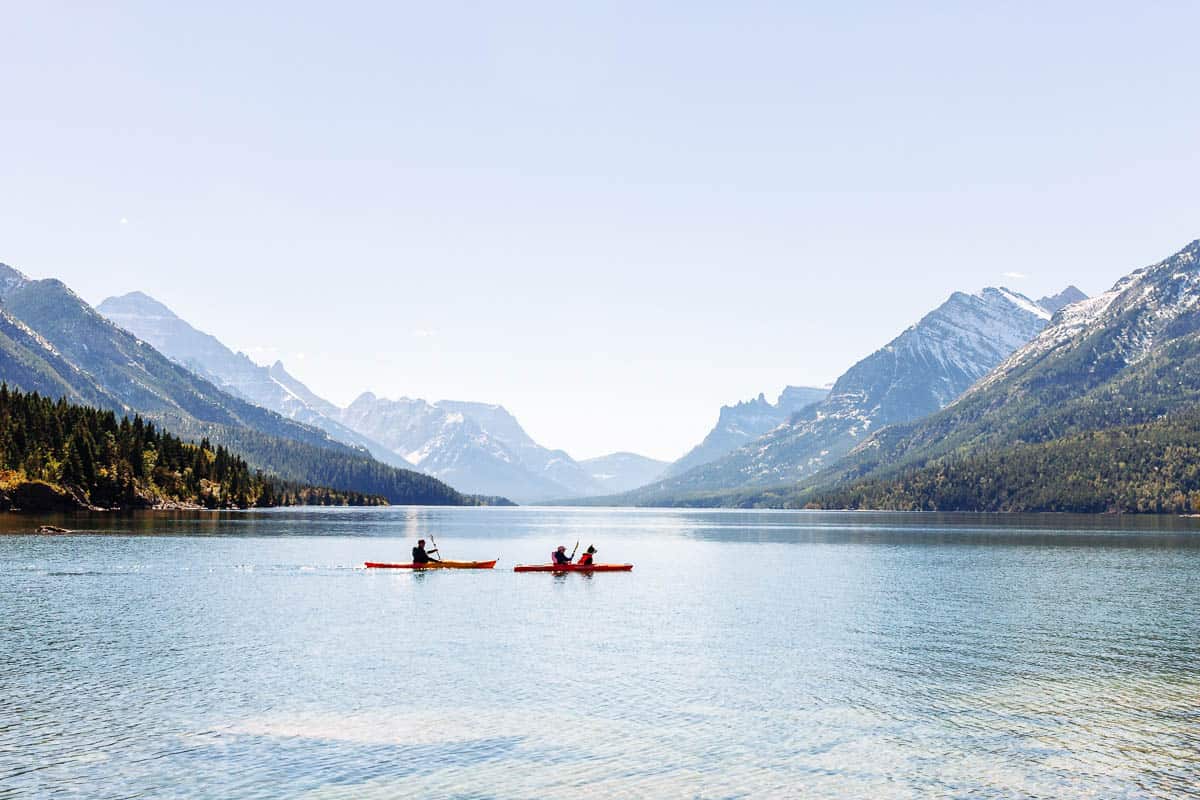 Kayak, Canoe or SUP
The views from the lakeshore often compete with those from the tops of the mountains, so bring along your own canoe or paddleboard if you want that water-level scenery. For those who don't have their own, or prefer not to pack it on a trek, Blakiston & Co. offers rentals for a variety of self-propelled aquatic vehicles, including stand-up paddleboards, canoes, and single and tandem kayaks.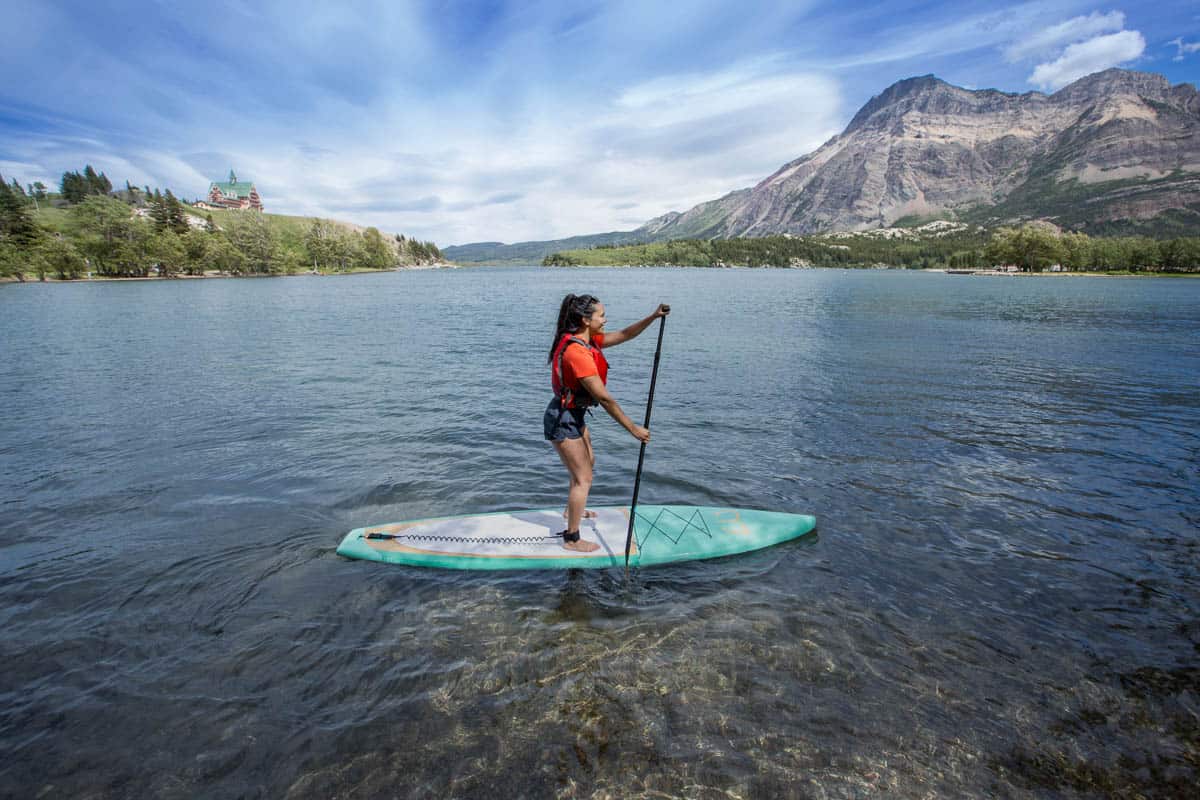 Cruise Waterton Lakes
If you prefer your water activity to include less rowing and more viewing, consider taking a boat tour or cruises on Waterton Lakes. A popular tour is the Shoreline Cruise taking you along the shore of Upper Waterton Lake giving beautiful panoramic views of the surrounding mountains.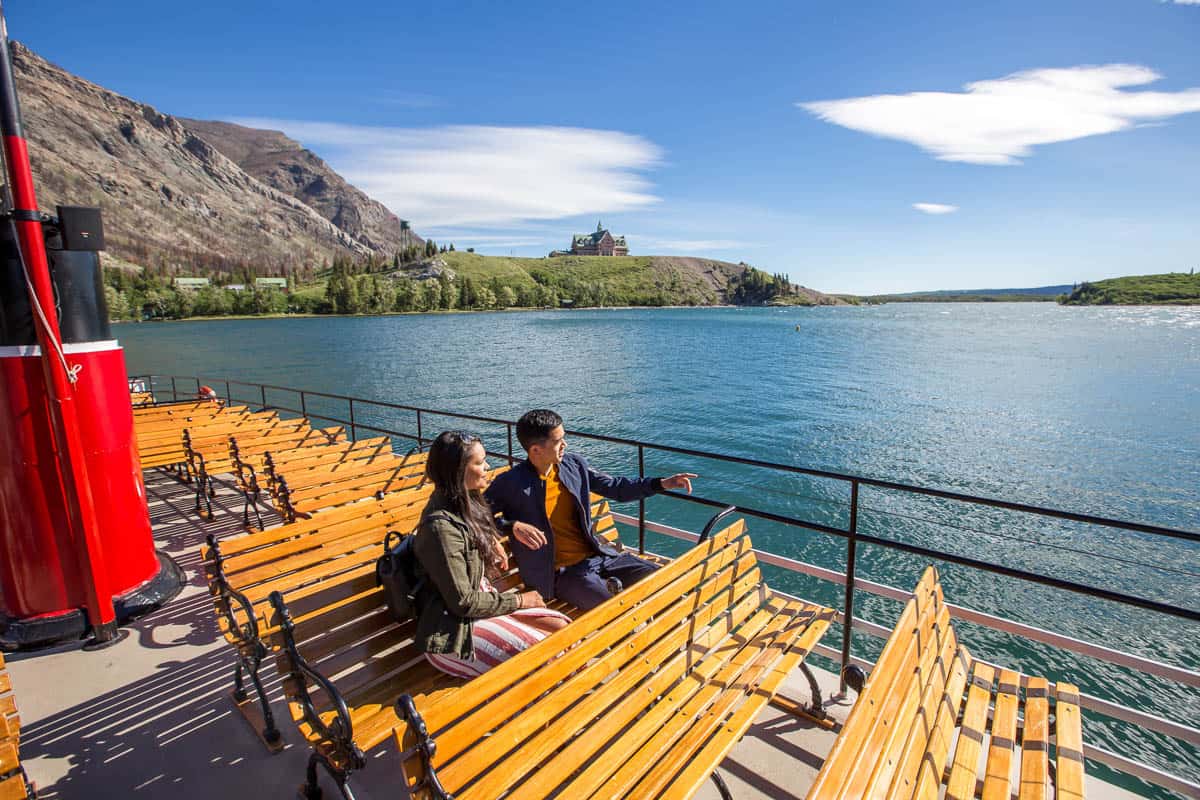 Sailing
With the infamous chinooks charging down the slopes of the Rockies, the Waterton Lakes are a great place to put in your sailboat. However, because the winds can change in a moment, and the lake is cold, it is important that sailors come prepared for a tumble into the lake by wearing a thick wetsuit, or even a dry suit.
Scuba Diving
Despite the frigid water, the Waterton Lakes are still a popular spot to scuba dive. There's plenty to see down there, but one of the main attractions remains the old Emerald Bay Shipwreck – 'Gertrude.' She's an old sternwheeler wreck that's been moored at the bottom of Emerald Bay for nearly 100 years.
Just remember, Waterton Lakes, and all lakes in the park are cold (and we mean take-your-breath-away cold – even in August) so come prepared if you plan to spend any time out on (or in) the water.
Cycling
Of course, you can just peddle around Waterton under your own steam, but also consider an e-bike. Using an electronic bike gives you the ability to see more without wearing yourself out. E-bikes are available at Blakiston & Co. Adventure Rentals as well as Pat's Waterton.
While the first few cycling destinations below don't require e-bikes, cruising easily in the open air will allow you more time to take in all the gorgeous sights.
Red Rock Canyon via Red Rock Parkway
This popular 36km return trip from the townsite is a stunning ride. You can begin in the Waterton townsite. It's a relatively easy ride with a few spots of elevation. But the views make it all worth the effort, especially when the flowers are in full bloom.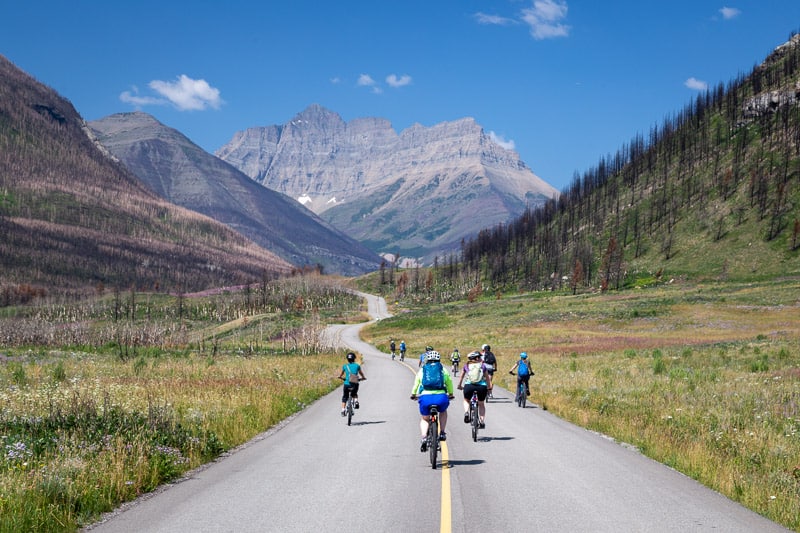 Cameron Lake via Akamina Parkway
This popular route just reopened for vehicle traffic on October 1, 2020, after the devastating Kenow wildfire. A 32 km round trip from the Waterton townsite will give you a workout and reward cyclists with amazing views back of Waterton. Once arriving at Cameron Lake, enjoy a picnic lunch or a quick paddle on the lake. Note that on the opposite side of the lake is United States soil.
Kootenai Brown Trail
Built in 2010, the scenic multi-use path connects from the entrance of the park all the way to the Waterton townsite. The trail is perfect for families and is an easy ride offering stunning views of the lakes and surrounding mountains.
For those who prefer to mountain bike, there are four trails within the park that are open to mountain bikers. The Snowshoe Trail, Akamina Pass Trail, Wishbone Trail and Crandell Loop. All information regarding these four trails can be found on the Waterton Parks Canada website.
Spot Wildlife
Year-round, there's a very good chance you will some wildlife on a trip to Waterton Lakes National Park. Wildlife includes bears, elk, deer, moose and mountain sheep plus many birds and rodents. A reminder to always treat animals with respect, give the wildlife space and if you do see some, stay in your vehicle. Also, feeding wildlife in a national park is prohibited and unlawful.
Horseback Riding
Whether you choose to bring your own horses or rent some in the park, there are so many places to go and trails to follow for horse enthusiasts. Novices, or even those who've never jumped on a horse before, can enjoy gentle, guided tours through meandering, elk-dotted meadows, while more advanced riders can challenge alpine trails, or even take multi-day, guided pack trips.
Golf
Be enveloped by mountain views as you tee off at the Waterton Lakes Golf Course. Designed by the same architect who crafted the Banff Springs Hotel and Jasper Park Lodge courses, it is easily one of the best Alberta golf courses. (And you can be sure of a challenging and fun layout at a fraction of the price of the other two.)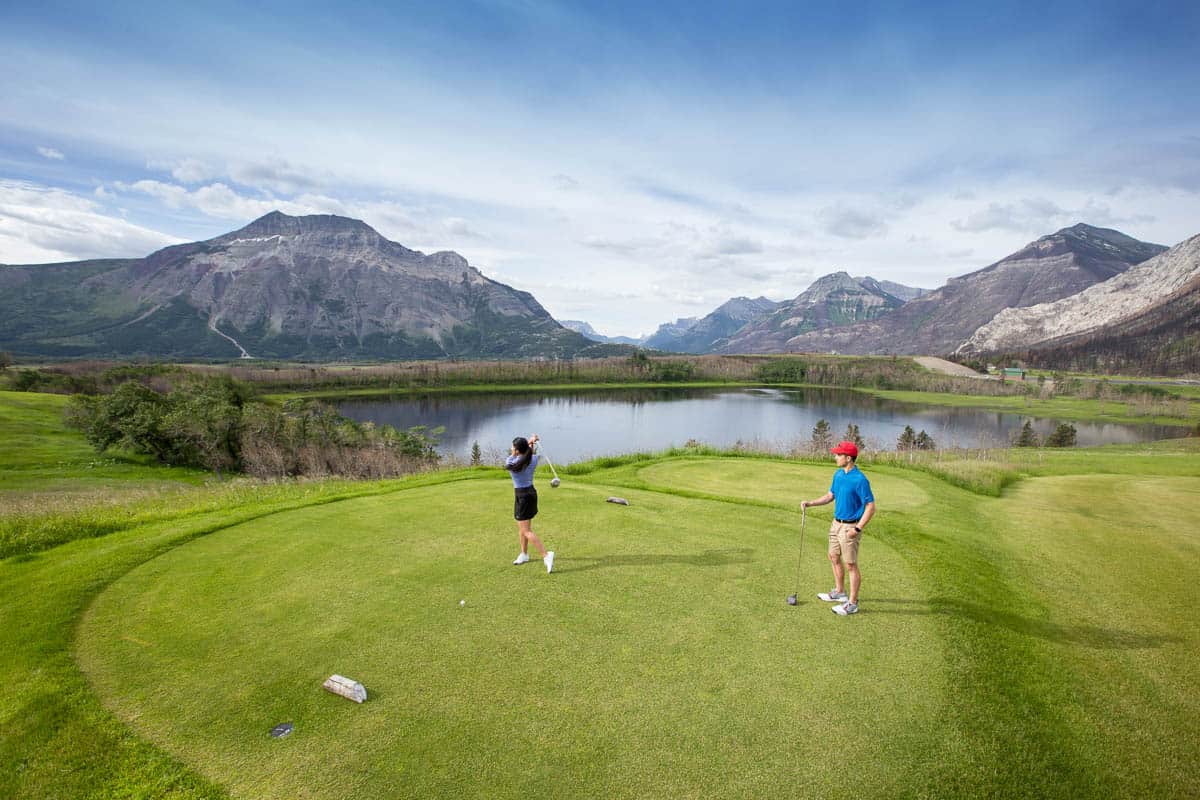 Things to do in Waterton Townsite
Waterton may only have about 100 residents year-round, but that number swells in the summer with plenty of visitors and summer dwellers. That means, in spring there's more than the flowers blooming! Typically, the town starts to open in April, and by June the townsite is bustling. By September/October, restaurants start to close down once again to prepare for the long winter's slumber.
Check out Cameron Falls
This is the most accessible attraction (and one of the most easily accessed waterfalls in Alberta) and you'll find it on the southwest corner of town. Take a short walk up a path to get an overhead view and even feel a bit of spray.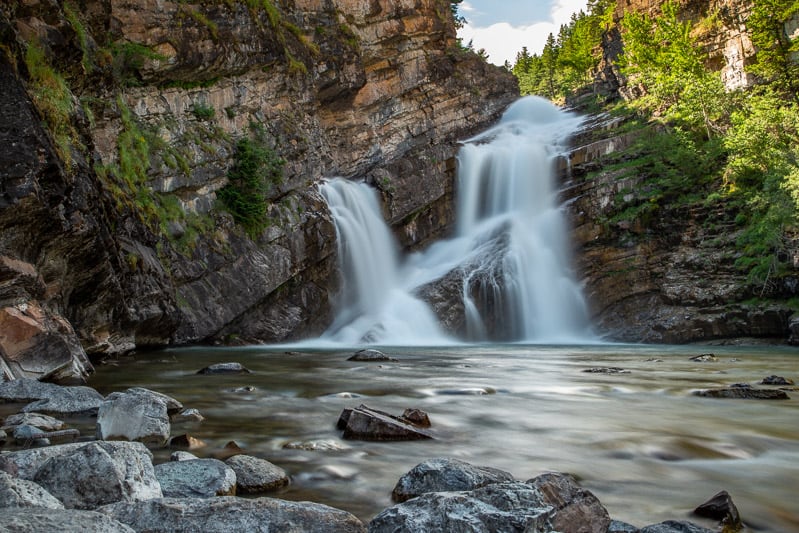 Eat at the Best Restaurants in Waterton
For such a small town, there is actually some relatively good choice among Waterton restaurants. Note that many of them are seasonal (only open in warmer months).
Waterton Fast Food:
Waffleton
Order a well-deserved treat after a day of exerting a lot of energy! Take a golden liege waffle made from scratch and top it with strawberries and whipped cream or a wide variety of other toppings.
Wieners of Waterton
This hot spot quickly became an institution in Waterton and is often lined up out the door. The dogs are big and reasonably priced; be sure to add the deep-fried pickles to your order.
Windflower Corner Cafe
Find your fuel (in the form of caffeine and/or a quick bite) at this modern cafe attached to the Waterton Lake Opera House.
Waterton Pubs and Casual Dining:
Thirsty Bear Kitchen & Bar
Take in some local craft brew while enjoying live bands on most weekends. Make sure to save room for the mini-doughnuts for dessert!
Zum's
Their legendary milkshakes are matched by any number of delicious menu items. Fill up on a hearty breakfast or indulge in a wide variety of standard fare and fusion foods later in the day.
Waterton Fine Dining:
Prince of Wales Hotel
Dining at the Prince of Wales Hotel comes with one of the most incredible views you'll ever have for a meal. The Royal Stewart Dining Room serves elegant breakfasts and dinners. If you're in Waterton and want a treat for a meal, this is the place. Note that it's only open during the summer.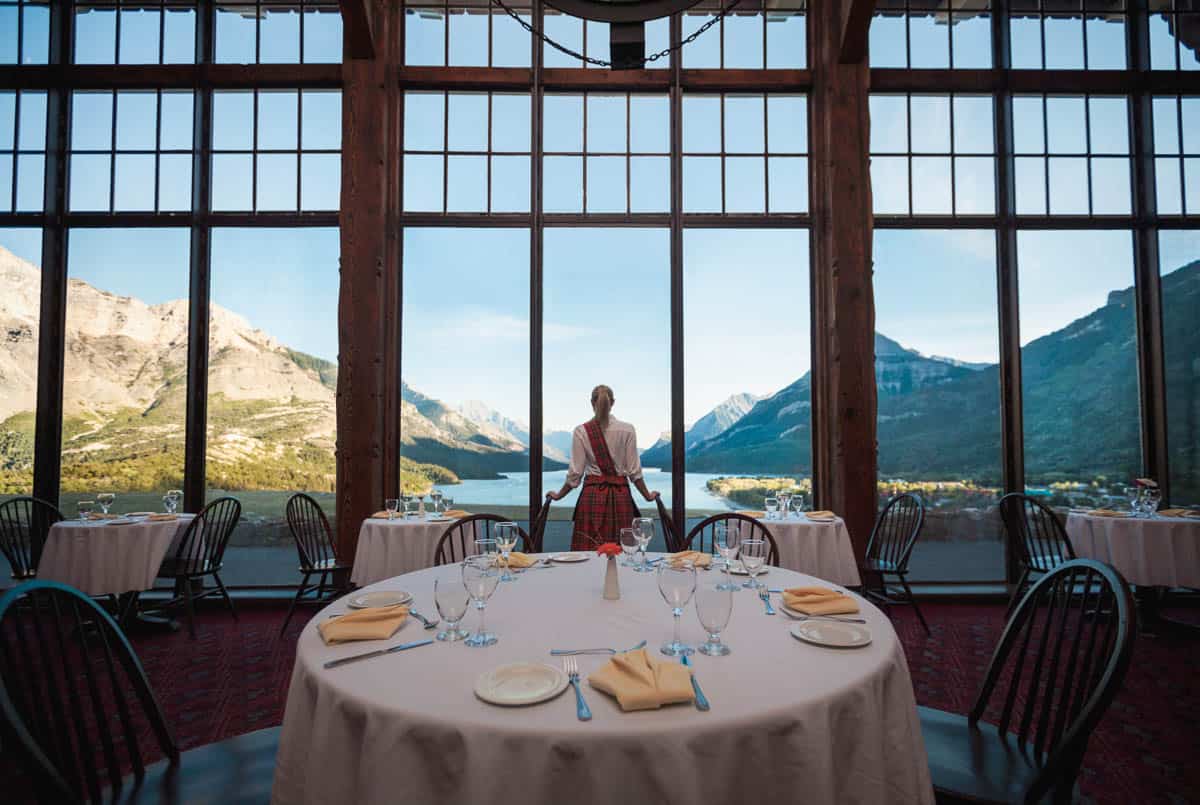 Lakeside Chophouse
This is Waterton's only restaurant on the lakefront; it has been recently renovated and offers an international menu with local flair. Don't miss the saskatoon berry pie or the locally raised bison rib eye.
Windsor Lounge & Royal Stewart Dining Room
Located at the Prince of Wales Hotel, this is the most elegant and refined experience that you'll find in the area.
Red Rock Trattoria
Located in the Waterton Glacier Suites, this Italian restaurant is the most 'popular restaurant in Waterton'. And for good reason, their world-class Italian cuisine is paired with their amazing selection of fine local & Italian wines.
Afternoon Tea at Prince of Wales Hotel
Whether you choose to 'take' afternoon tea at the Prince of Wales Hotel or not, the old hotel is worth the trip, and a 'must capture' for many photographers. Overlooking the lake since 1927, the Prince of Wales offers classic luxury in the midst of rugged, natural beauty. Drop by and do a quick tour of the building, or pretend you're royalty as you sip tea from fine china and eat cucumber sandwiches and other delicious baked treats. It's an unforgettable experience!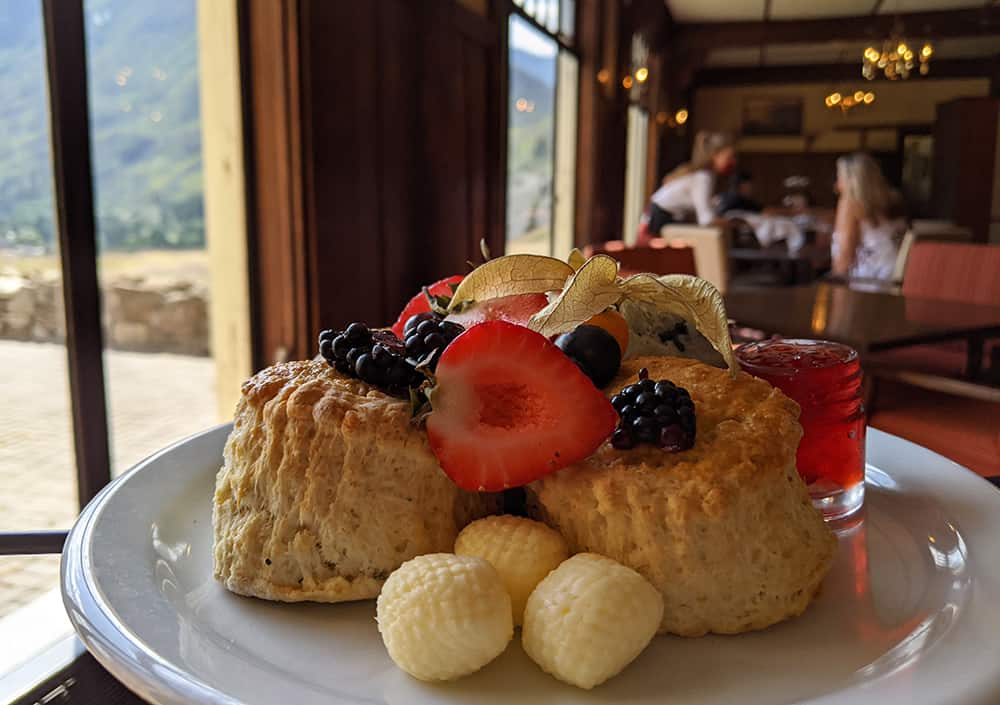 Art Galleries & Shopping
From tiny art galleries to tourist shops, Waterton townsite has more shopping than you think would fit into its four-block 'downtown.' We recommend taking an hour and wandering the whole downtown loop so you don't miss any of the town's charm.
Things to do in Waterton in Winter
It's a well-known fact that the townsite almost completely shuts down in winter. Only two hotels are open during the snowiest months (Waterton Lakes Lodge Resort and Waterton Glacier Suites) and most restaurants are closed as well.
For more choices, stay nearby in Mountain View, Pincher Creek or at one of these accommodations in Lethbridge – but don't ignore Waterton entirely. The park still makes a great day trip to enjoy winter in the mountains, with plenty of options for things to do in Waterton in winter.
Snow-Shoeing and Cross-Country Skiing
Both are very popular activities in the park. Popular trails include Crandell Lake, Rowe Trail, and Summit Lake. Pay mind to avalanche conditions before you head out.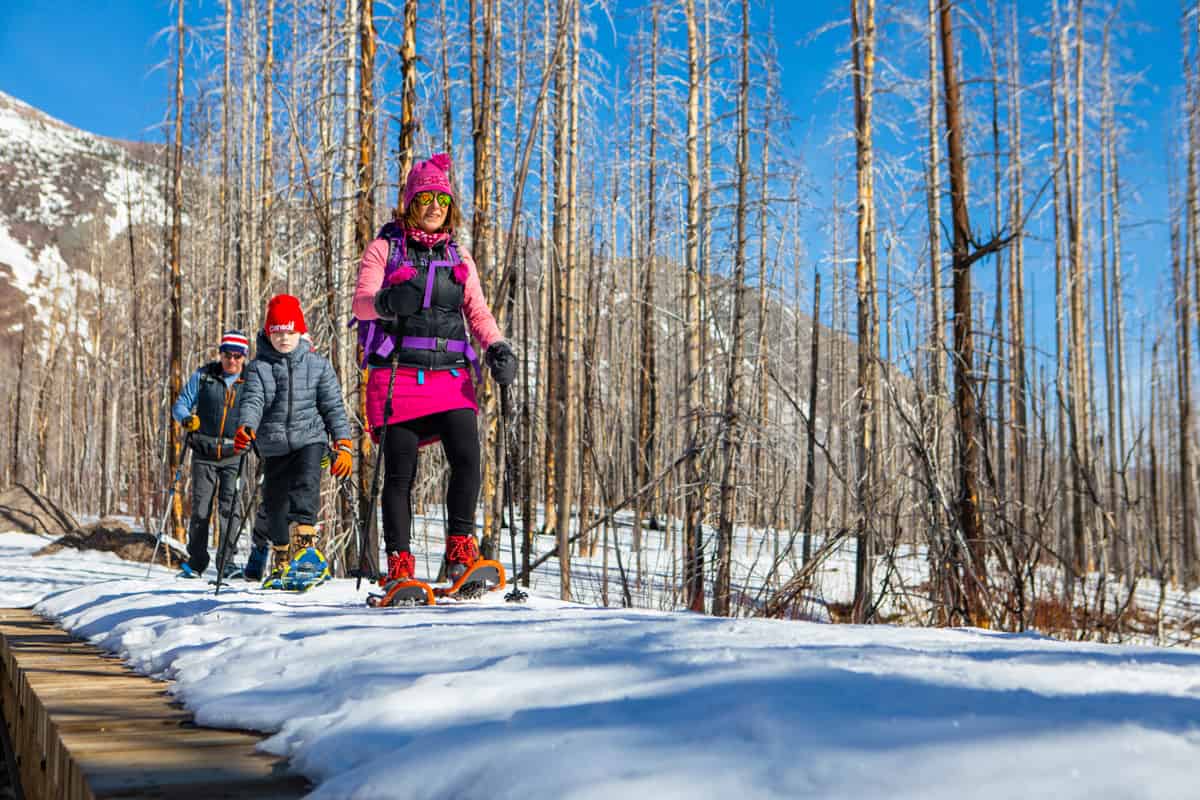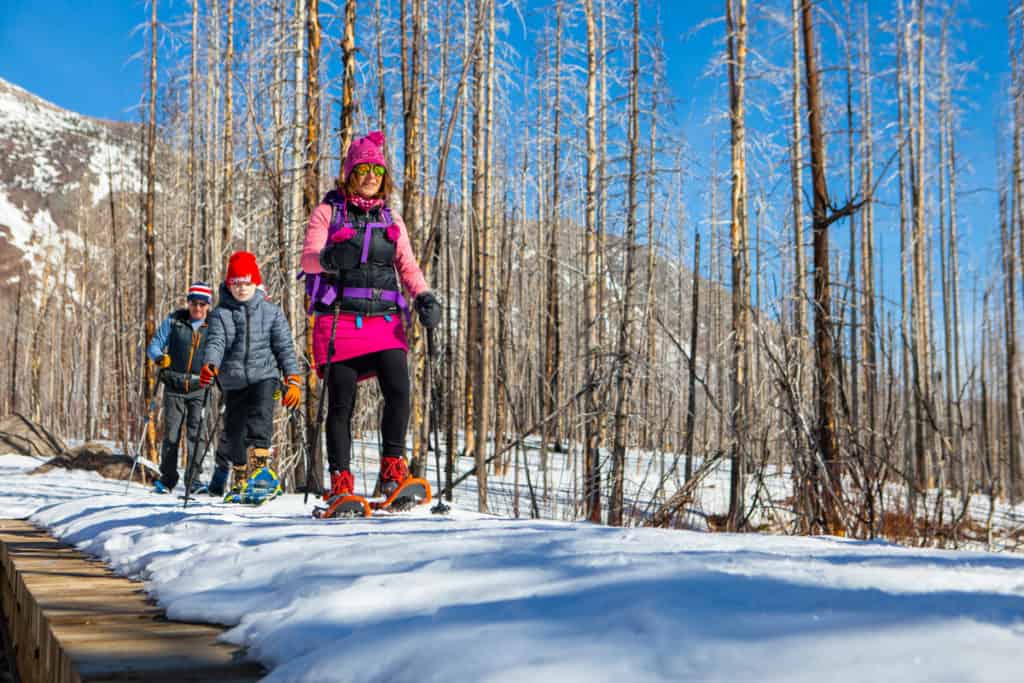 Ice Skating
If the conditions are right, strap on a pair of skates and head to one of the beautiful lakes to spend some time gliding across. Linnet Lake (near the Prince of Wales Hotel) is a popular choice. Note that the bigger lakes (Upper, Middle, and Lower) are not recommended by Parks Canada as safe spots considering their size and depth.
Hiking
Hiking in winter is possible and very enjoyable if the winds are low and the paths are available. We recommend wearing ice spikes or crampons in order to stay safe on the trails.
Waterton Lakes Dark Sky Preserve
The Waterton-Glacier International Peace Park is a designated dark sky preserve, and because the night lasts longest in the winter months, this is the perfect time to go stargazing! Dark Sky Guides offers a variety of interpretive tours so that you can learn more about the vast space above us. If you're lucky, maybe some aurora borealis will even come out to play!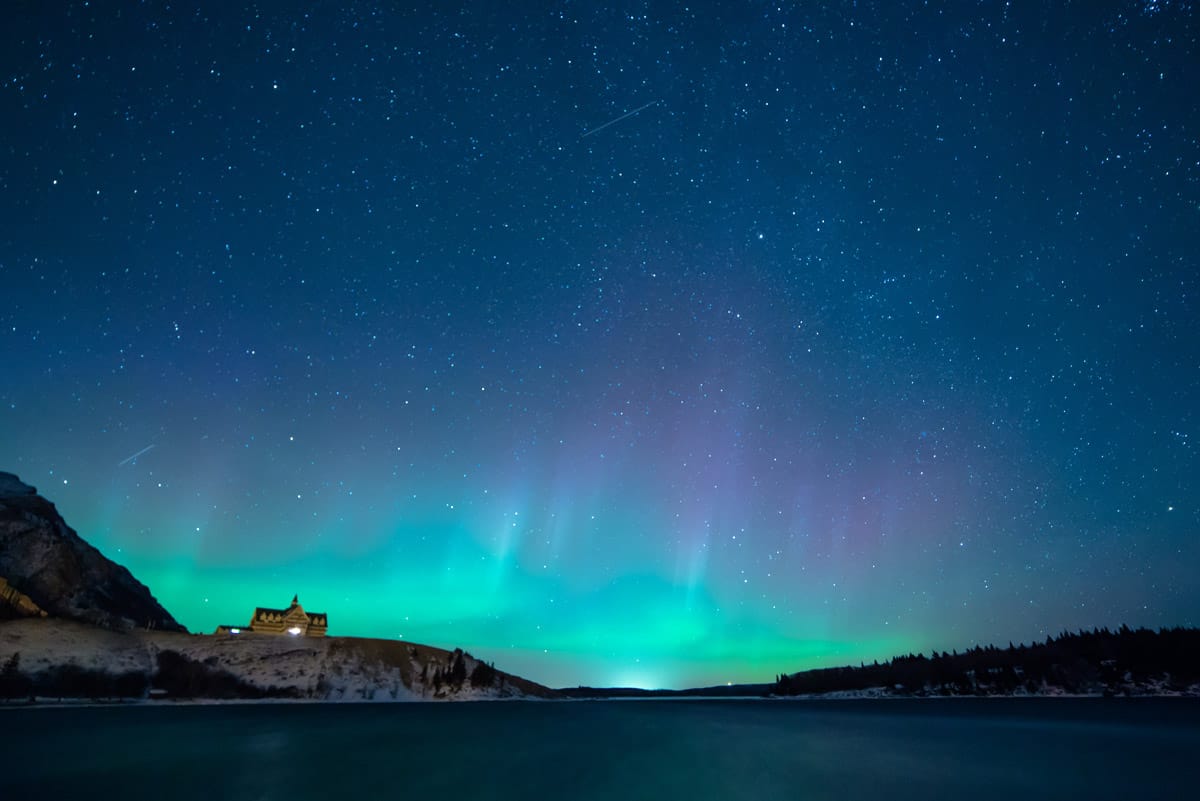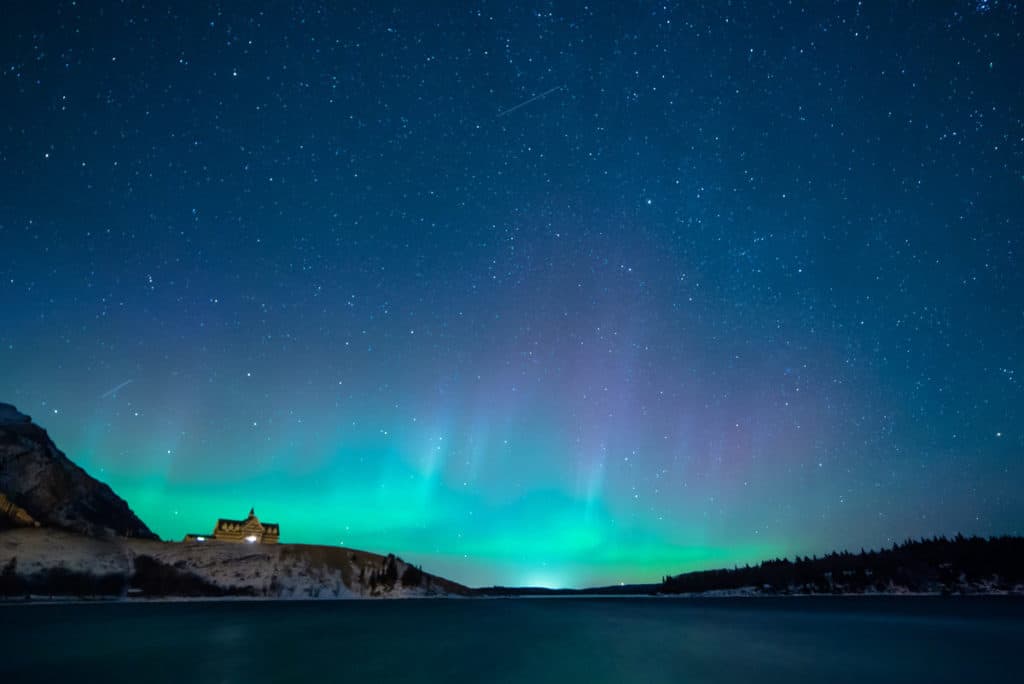 As Banff and Jasper get more and more popular with tourists from all over the world, the Rockies are getting increasingly packed. In the peak holiday season, it can be hard to find a trail where you can enjoy nature on your own, let alone a quiet little town to explore. But Waterton retains that small-town feel where you can stop, take your time, and enjoy the Rockies at your own pace.
For us, that alone is worth the trip.