Disclaimer: This page may contain affiliate links. Please review our full Terms and Conditions for more information and our Privacy Policy. Note that any pricing, operating hours, or other such information provided below may have changed since initial publication.
Compiled by the Road Trip Alberta team
Last updated on January 30, 2023
Camping in Waterton Lakes National Park is a cherished experience, as this area is one of the most beautiful spots to pitch a tent in all of Canada. Tucked away in the southwest corner of Alberta, there are plenty of options for campers of all sorts. It truly is a campers paradise with stunning scenery surrounding and so many great things to do in Waterton while you're there.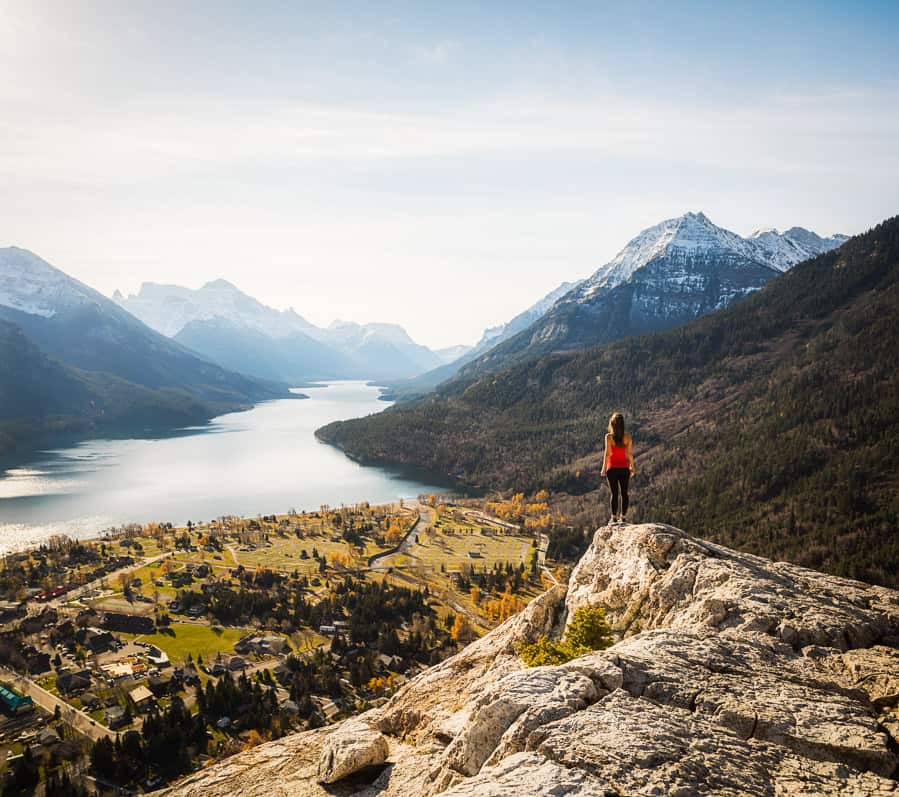 Camping in Waterton – What to Know
General Information
Camping in Waterton gets busy during peak season! It is highly recommended to make a reservation well in advance of your camping trip if you want to guarantee to get a site, even if you plan on backcountry camping. Note that for 2023, the reservation system launches on Thursday, March 30, 2023, at 8am MT.
It's also imperative to note that a valid camping permit and Parks Canada pass are required for the entire length of your camping trip in Waterton. You must register your permit before setting up camp, and fire permits are required for each night you have a fire. All information about fees in Waterton Lakes National Park can be found on the Parks Canada website.
The peak season for camping in Waterton is mid-June through September, with July and August being the absolute busiest. July and August are also the warmest and driest months in Waterton Lakes National Park (more on the weather below).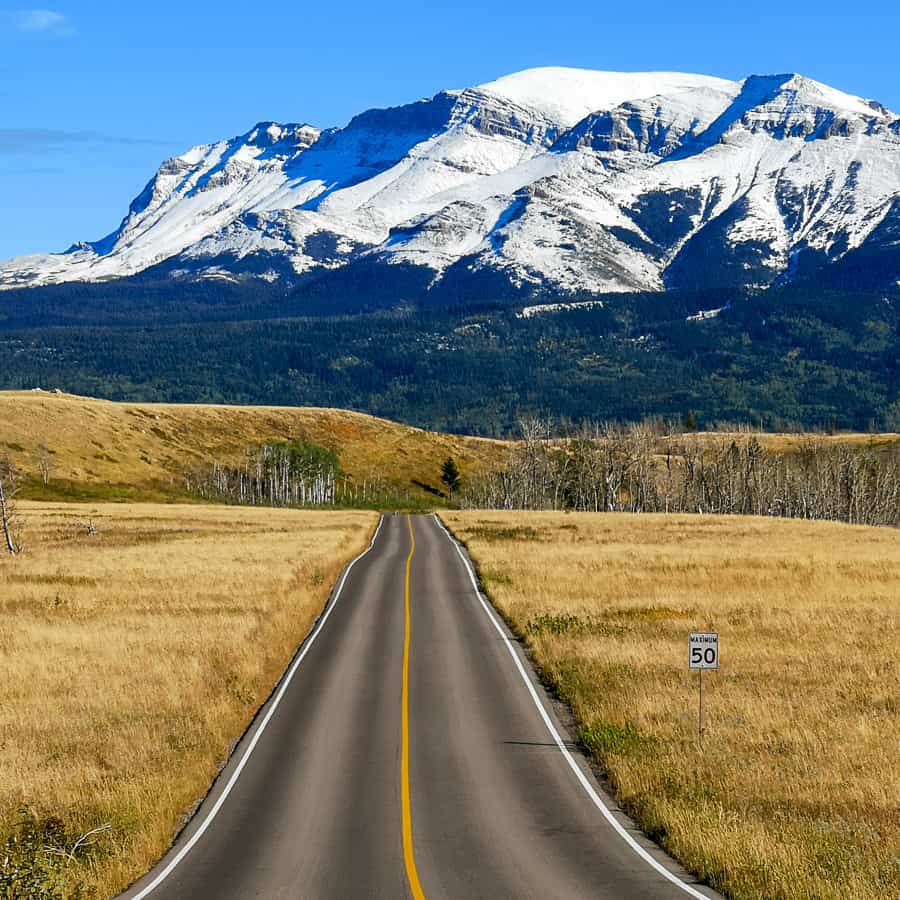 Bear Aware and Wildlife Safety
Seeing an animal in the wild is one of the most exciting parts of camping, but it's crucial to avoid contact or cause any risk of injury either to you or to the animal. The rule to remember is that if you cause the animal to move or run away, you're too close. Bringing binoculars and/or a telephoto camera lens is definitely recommended for safe wildlife viewing.
Waterton Lakes National Park is home to black bears and grizzly bears, so you need to be knowledgeable of bear safety before visiting. Bear encounters are very low, and encounters with an aggressive bear are even lower, but knowing how to prevent any contact can make a huge difference.
Some general bear safety tips include:
It may seem obvious, but never, ever approach a bear (or any wildlife). It may be tempting to stop and take a photo of a cute bear cub, but remember… if you see a baby cub, mama is close behind!
Always carry bear spray, especially when hiking and/or on the trails. Keep it within easy reach and know how to use it before you embark on your camping trip.
Always pack away smells around your campsite, especially at night. Leave all food, garbage, toiletries, and even dishes in your vehicle or at a designated bear-proof location. Coolers are not bear-proof!
On trails, always walk in groups and make noise as you walk together. This can include clapping, talking loudly, playing music, wearing bells, and so on.
Pets should always be leashed and always within your reach. Do not leave pets unattended, even at night.
If you do encounter a bear, stay calm and don't run. Back up slowly while talking in a low, steady voice. Do not stare at the bear, as this can be seen as a challenge. If the bear continues to approach, the best bet is to use your bear spray and/or to play dead.
More bear safety information can be found on the Parks Canada website. And more information for all Waterton Lakes National Park wildlife information including what to do if you see wolves, elk, cougars, or coyotes, can be found on the Waterton Lakes wildlife page.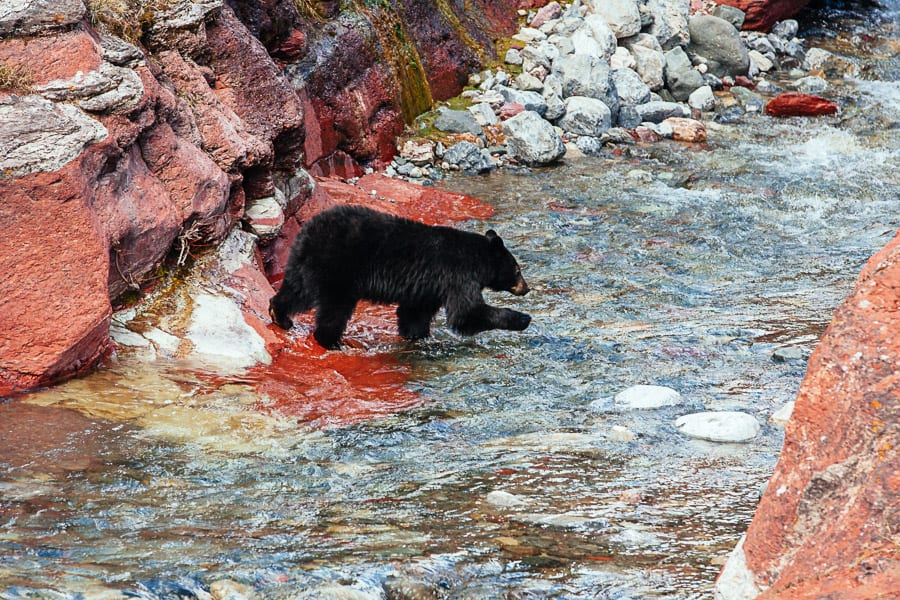 Weather in Waterton
Even in peak summer – July and August – prepare for chilly weather in Waterton Lakes National Park. When camping in Waterton, it's essential to be prepared for all types of climates, including heat, cold, rain, wind, and even snow.
In Waterton's busiest months for camping, expect highs of 23°C and lows of around 9°C at night, with an average of 15°C. There is also the least amount of rain in these months, although being prepared for rain showers is definitely recommended no matter when you camp in Waterton.
May and June are the rainiest months, while you can expect snow as early as October and as late as April. The winter season technically begins in November, when winter camping is available (make sure to check out the section on Waterton winter camping below). In winter, expect temperatures of -1°C in the day and -10°C at night (though it can feel much colder with the windchill).
Waterton Lakes National Park is also known for being quite windy all year round, so bring sturdy camping equipment, including windproof clothing and a tent that can sustain high winds.
Check here for the current weather in Waterton.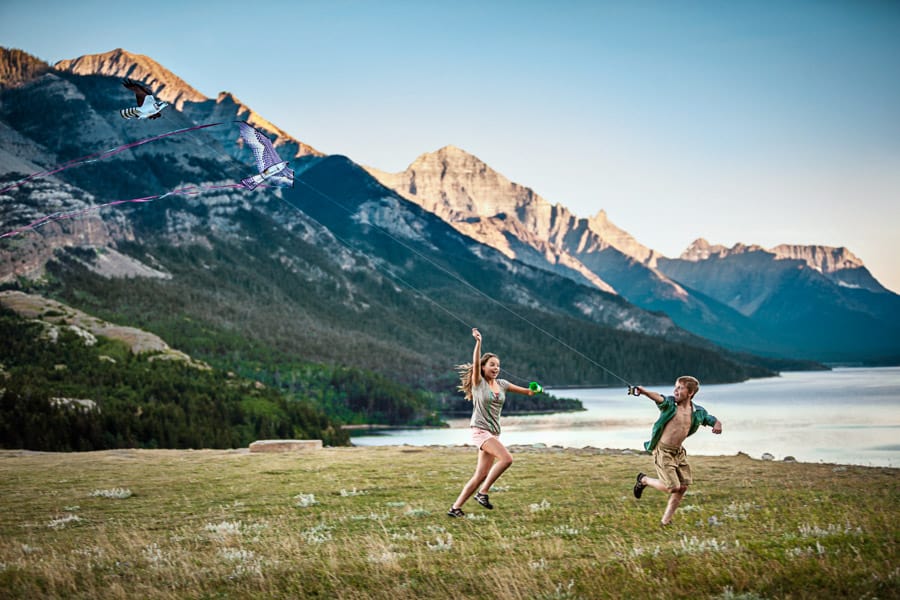 Campgrounds in Waterton Lakes National Park and Area
Townsite Campground
Townsite Campground is a fantastic base to spend a few days exploring the park. The campground is definitely the most well-known of all the Waterton campgrounds, as it is the most accessible being in the centre of the Waterton townsite. There are 238 sites (142 serviced sites and 96 non-serviced sites) and it's open from April to November (weather permitting). It's a very popular choice by campers seeing it is a drive-up campsite and proximity to the lake and the town. The infrastructure at the campground is well-maintained; there are dump stations, showers, and wheelchair-accessible sites and washrooms. The fees for Townsite Campground range from $24-$40.75 per night depending on the services you choose.
The Townsite Campground books up very quickly, especially in the peak camping months of June to September, so make sure to reserve your site as soon as possible!
Reservations are required by using the Parks Canada website or by calling 1-877-RESERVE within North America, and +1 (519) 826-5391 outside of North America.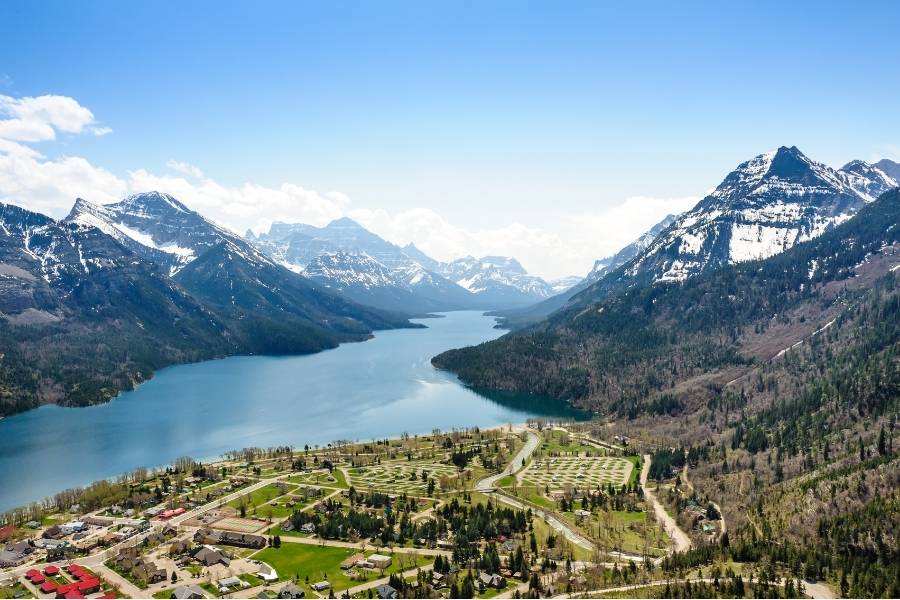 Belly River Campground
The other drive-up campsite in Waterton Lakes National Park is Belly River Campground. It should be noted that Belly River campground is not directly in the national park, but along highway 6 near the U.S. border.
However, when open, the campground is available on a first-come, first-served basis (no Parks Canada reservations are required), and fills up quickly as there are only 24 sites. The campground itself is rustic, although there are outhouses available. Groups of 25 or more can reserve camping from mid-May until Labour Day by calling (403) 859-2224 (reservations can be made any time after April 1st).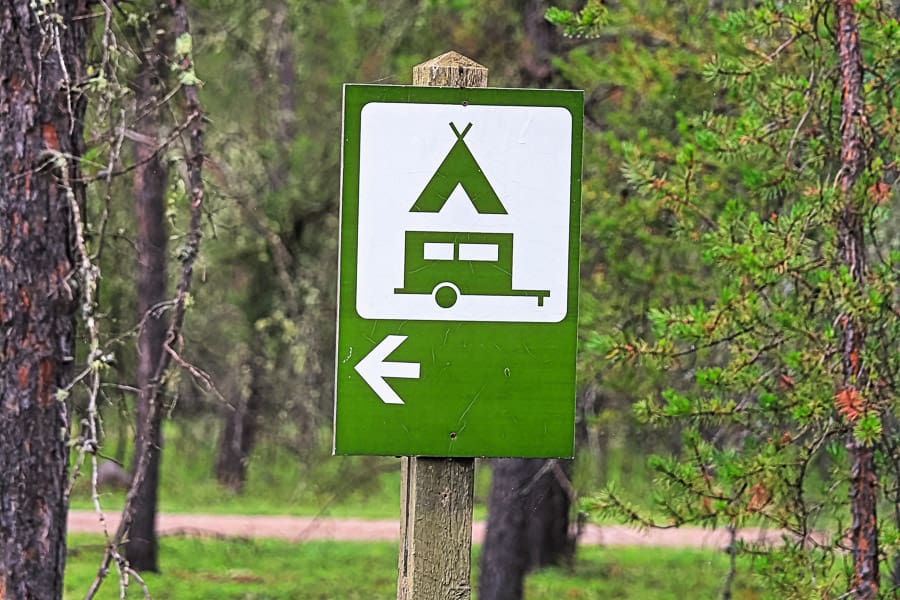 Crandell Mountain Campground
Unfortunately, Crandell Mountain Campground, along with its nearby backcountry site of Crandell Lake Campground, is currently closed due to wildfire damage from the 2017 Kenow Wildfire. Hopefully, it will open soon!
Crandell Mountain Campground welcomes caravan, teepees, and tent camping (there are five teepees on site, set up and maintained by Parks Canada). The campground is normally open mid-May to early September, and is found just off Red Rock Parkway, on the border of the park. There are 129 camping sites, along with designated fire rings, outdoor toilets, and picnic tables.
Please contact Parks Canada via their website or call toll-free 1-877-RESERVE for more information about its re-opening.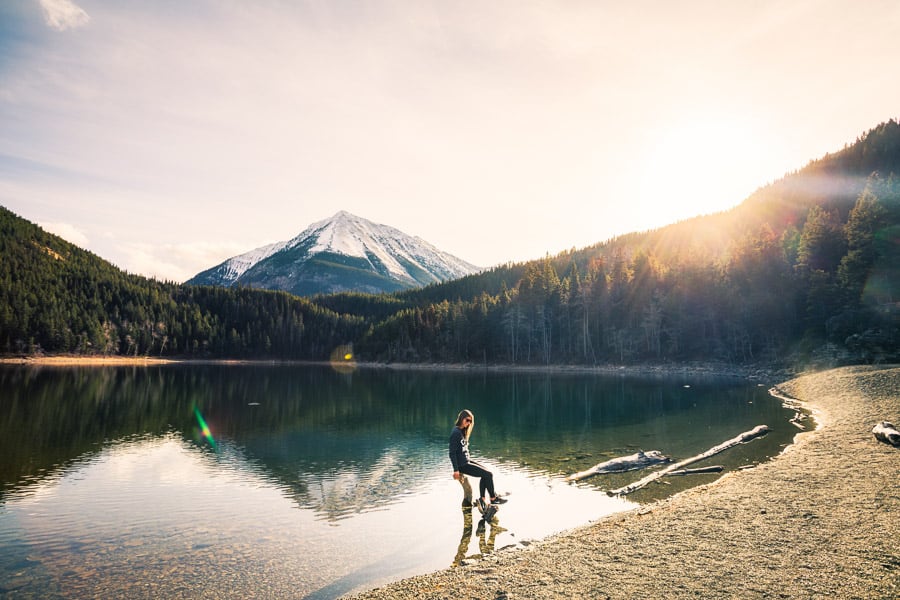 Campgrounds Near Waterton
If you're worried about finding a spot in one of the Waterton campgrounds, don't worry… there are other campgrounds nearby! Keep in mind there are plenty of opportunities for camping near Waterton in private campgrounds, ranging from 15 minutes to one hour from the park.
It can feel overwhelming to try to book campsites near Waterton, especially in the busy months, but there is almost always something available if you're willing to drive a short distance outside the park for your camping needs. Here are a few of the best spots for camping near Waterton so that you can still fully enjoy exploring the park.
Crooked Creek Campground
Located approximately 5 kilometres east of Waterton Lakes National Park, Crooked Creek Campground is home to 79 sites. As with any other Waterton campgrounds, reservations are recommended if you'd like to guarantee a spot, and you can book starting on January 15th, 2023. You can call (403) 653-1100 or email crookedcreekcampground@gmail.com to reserve.
Open from May 1st to September 30th, Crooked Creek Campground offers Wi-Fi, showers and flush toilets, on-site laundry, a cash-only store for basic amenities, and firewood for sale. Tents and caravans are welcome. Prices for campgrounds begin at $30 a night, and there is a 2-night minimum stay.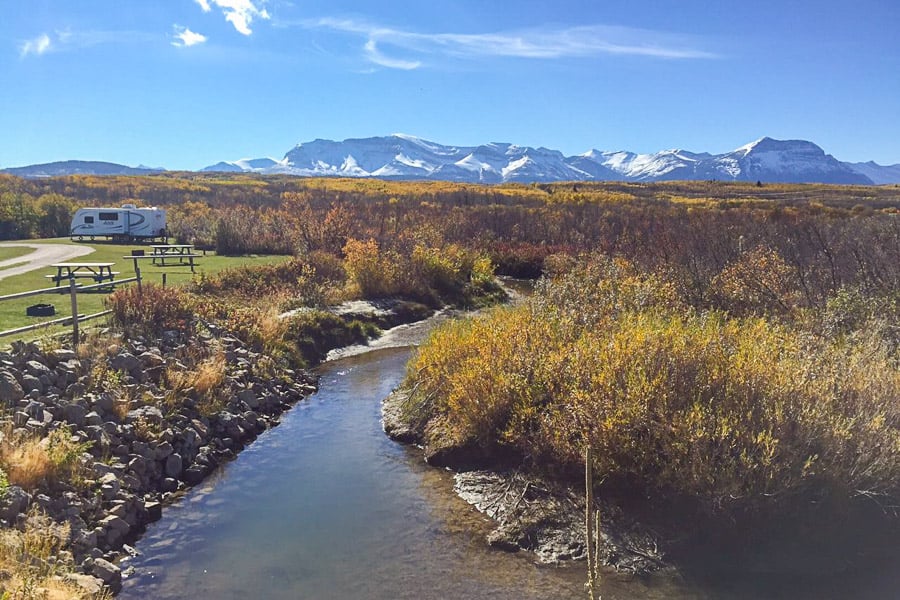 Payne Lake Recreational Area
Payne Lake Provincial Recreational Area is located 18 km from Waterton Lake National Park (on highway 5) and 7 km south of Mountain View. The campground is open from April to the end of December and has 46 unserviced sites to choose from including scenic lakeview spots or more private and shady forest spots. There are plenty of activities to choose from including hiking, canoeing, power-boating and fishing. It's first-come first-served and prices for camping spots are $24 per night. Firewood is sold on site.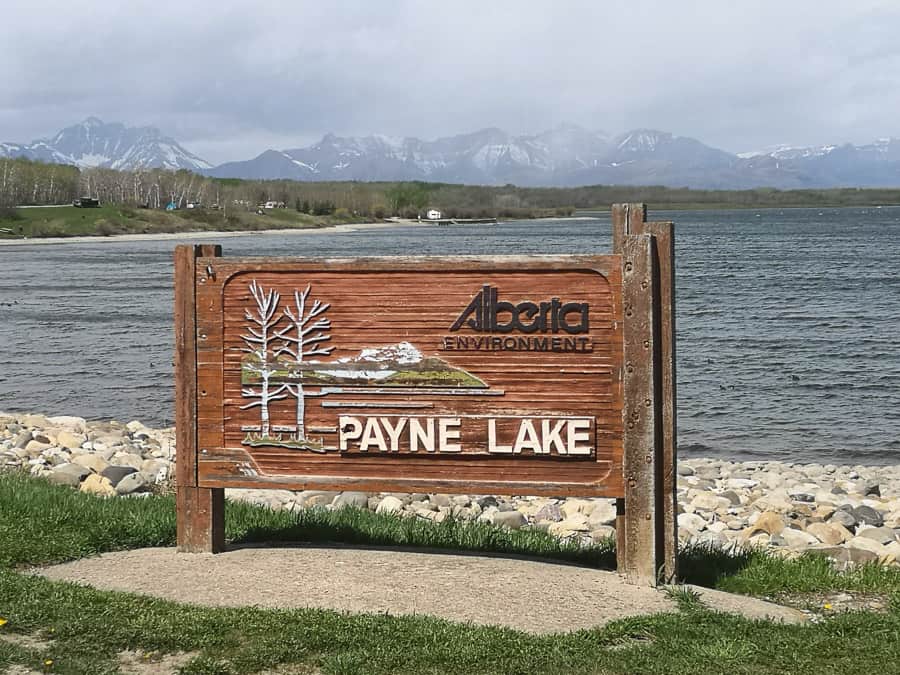 Police Outpost Provincial Park
Police Outpost Provincial Park is located 52 km east of Waterton Lakes National Park and is a scenic lakeside campground open from April to October. Campers here enjoy spacious spots that are suitable for both tents and RVs. There are plenty of activities for visitors including hiking through the poplar forest, canoeing, and fishing on Outpost Lake. It's also a popular spot for birdwatching and wildlife viewing. Relax and spend lazy days fishing from your boat, canoe or shore. It's a great spot for watching water birds and other wildlife. Reservations are required to book any of the 46 unserviced campsites and it's $24 per night.
Waterton Resevoir Campground
The Waterton Resevoir Campground is 52 km north-east of Waterton Lakes National Park along highway 505. Open from May – September, this scenic waterfront campground has 25 unserviced campsites and is first-come, first-serve. It's a popular option in the summer as campers can be close to the water and enjoy swimming, paddling, waterskiing, and windsurfing as it's usually a windy spot. It's $21 per night to stay and reservations are not required but self-registration upon arrival is necessary.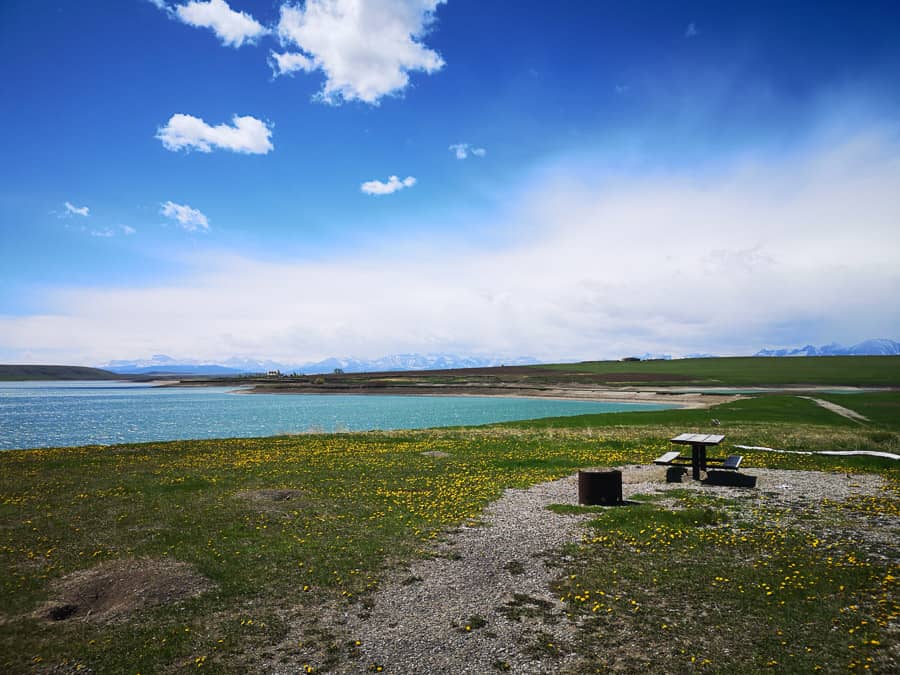 Fort Heritage and Frontier RV Park
Found about 15 kilometres from Waterton Lakes National Park, the Fort Heritage and Frontier RV Park is a good option for RVs and caravans with spots costing $27-$33 per night, and a tenting area is available for $23 a day, too. There are powered RV pads available as well as grassy RV and tenting areas. This is a relatively new site so amenities are always being added; make sure to call (403) 653-4883 for information and bookings, or book through their online portal.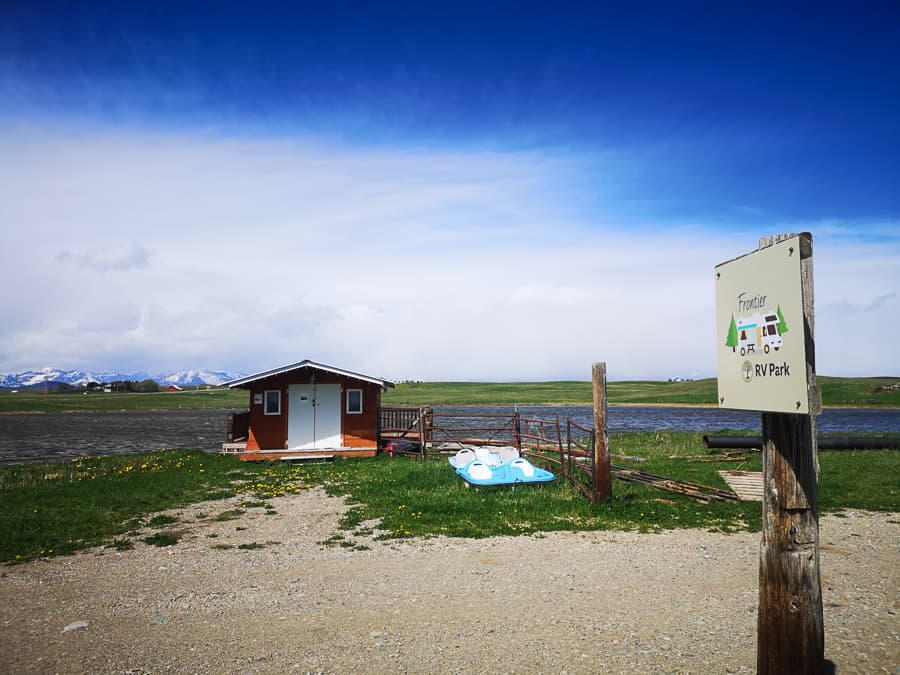 Prairie Peaks Campground
With the backdrop of the Rocky Mountains, Prairie Peaks Campground offers seasonal camping for short or long-term campers. The campground is located approximately 50 km from Waterton Lakes National Park and is open from May to October. There are plenty of amenities offered here including large RV sites, full hookups, potable water, playground, pond for fishing, canoeing, or swimming, and coming soon are pickleball courts, laundry facilities, and even a small movie theatre. It's a great spot for families to relax and then head into the national park for a day of adventures. The campground is not equipped for tenting. Rates for a site are $48 per night or $285 per week.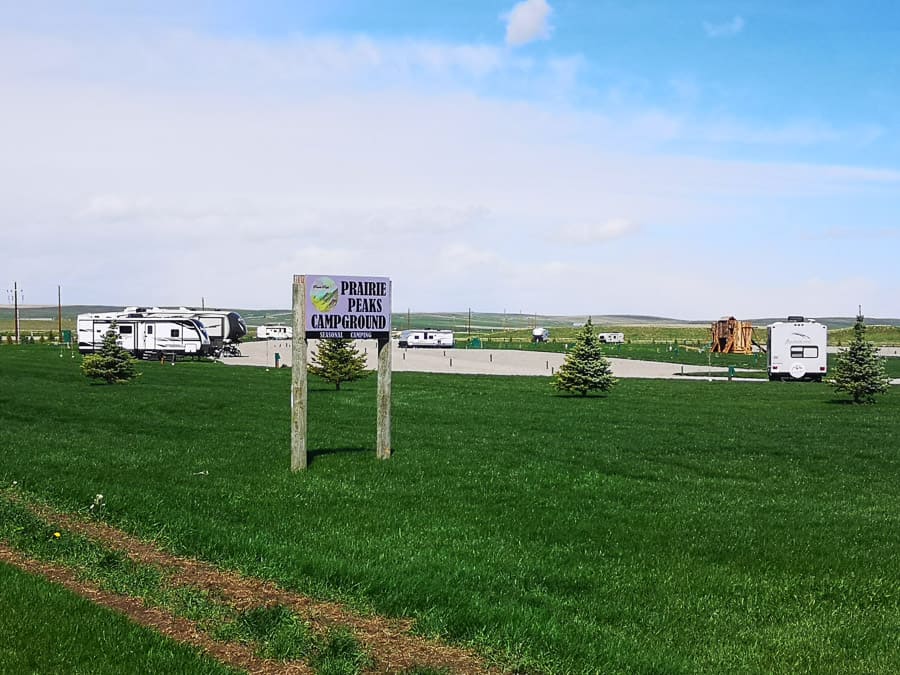 Backcountry Camping in Waterton
Backcountry camping in Waterton Lakes National Park is an amazing way to get to know the park and to feel completely immersed in nature. While backcountry camping takes a lot more work than a drive-up campsite, it is totally worth it for those who love being in the outdoors and want a rugged, down-to-earth experience.
It is important to note that the backcountry Waterton campgrounds are not accessible by road and require using the hiking trails. This means that you must be able to comfortably carry all of your supplies with you as you make your way to your backcountry campground. Bertha Bay and Boundary Bay can also be accessed by personal watercraft.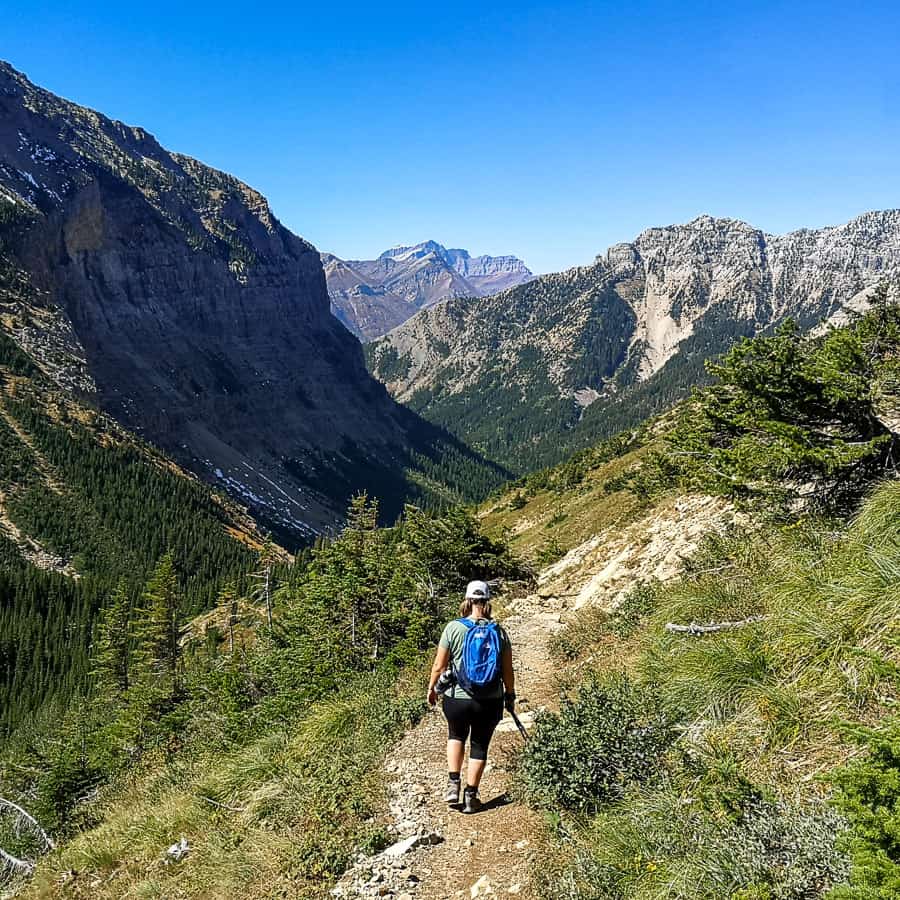 Don't be fooled, though… Waterton backcountry camping still comes with many campsite perks. Of the ten backcountry camping sites in Waterton, all but one have outhouses, tent pads, picnic tables, and food storage poles (Lineham Lakes does not have any campground facilities).
Reservations are highly recommended, even for backcountry camping in Waterton. You can call (403) 859-5133 to reserve your site up to 90 days in advance of your trip, and a non-refundable reservation fee of $11.50 is required. There is also a nightly fee of $12.75 for each adult camper (17 years old and over). All fee information for Waterton backcountry camping can be found here.
The backcountry campsites available in Waterton Lakes National Park are:
Alderson Lake
Bertha Bay
Bertha Lake
Boundary Bay
Crandell Lake (currently closed)
Goat Lake (currently closed)
Lineham Lakes
Lone Lake
Snowshoe
Twin Lakes
Fires are only allowed at Bertha Bay, Boundary Bay, Crandell Lake, Lone Lake, and Snowshoe, and all fires must be contained within the designated metal fire rings.
Make sure to read up on backcountry camping before you head out to one of these sites in Waterton, as you'll need to take special care regarding water treatment, adequate food, proper clothing, waste removal, and so on.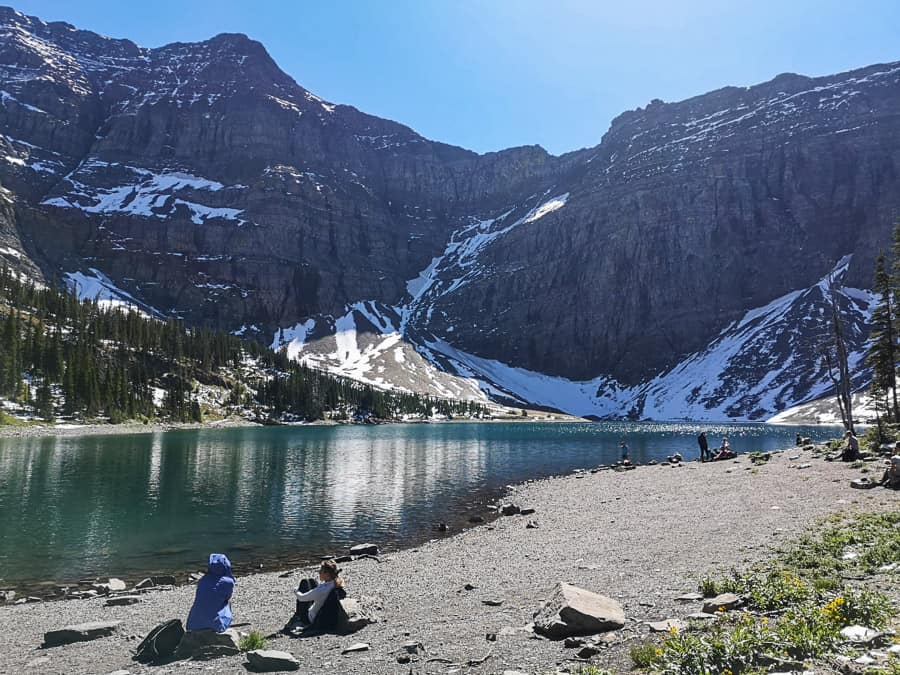 Winter Camping in Waterton
There are two options for you if you'd like to camp in winter in Waterton Lakes National Park. The first is random or non-designated camping; this is only allowed during the winter season (November 1st to April 1st) and all park fees and camping regulations are still applicable. If you are interested in non-designated winter camping in Waterton, please call (403) 859-5133.
The second option is to camp in the Pass Creek Day Use Area, which is found next to the entrance road by the Red Rock Parkway junction. This area is available on a first-come, first-served basis, but registration and camping permits are not needed (although a valid park pass is still required inside the park). Both tents and RVs are welcome to camp here, as the area is snow plowed during the winter months. While there is no electrical service, washrooms are open and fires are permitted in the fire rings provided (firewood is supplied).
With Waterton winter camping, it is crucial to check the weather before heading out. Temperatures can plummet overnight, and the climate can be highly unpredictable. Bring suitable clothing and sleeping bags, and always watch for signs of hypothermia in fellow campers. Winter camping is not for the faint of heart, but the chilly weather is certainly worth it. For more tips on snowy camping be sure to check out our guide for winter camping in Alberta.