Disclaimer: This page may contain affiliate links. Please review our full Terms and Conditions for more information and our Privacy Policy. Note that any pricing, operating hours, or other such information provided below may have changed since initial publication.
Compiled by the Road Trip Alberta team
Last updated on January 29, 2023
Waterton Lakes National Park, tucked in the western corner of southern Alberta, is a true treasure to visit. Not only has it earned a great number of designations and accolades (including being a UNESCO World Heritage Site, a Biosphere Reserve, an International Peace Park, and more), but for a relatively small town and park, it offers an incredible number of unparalleled adventures.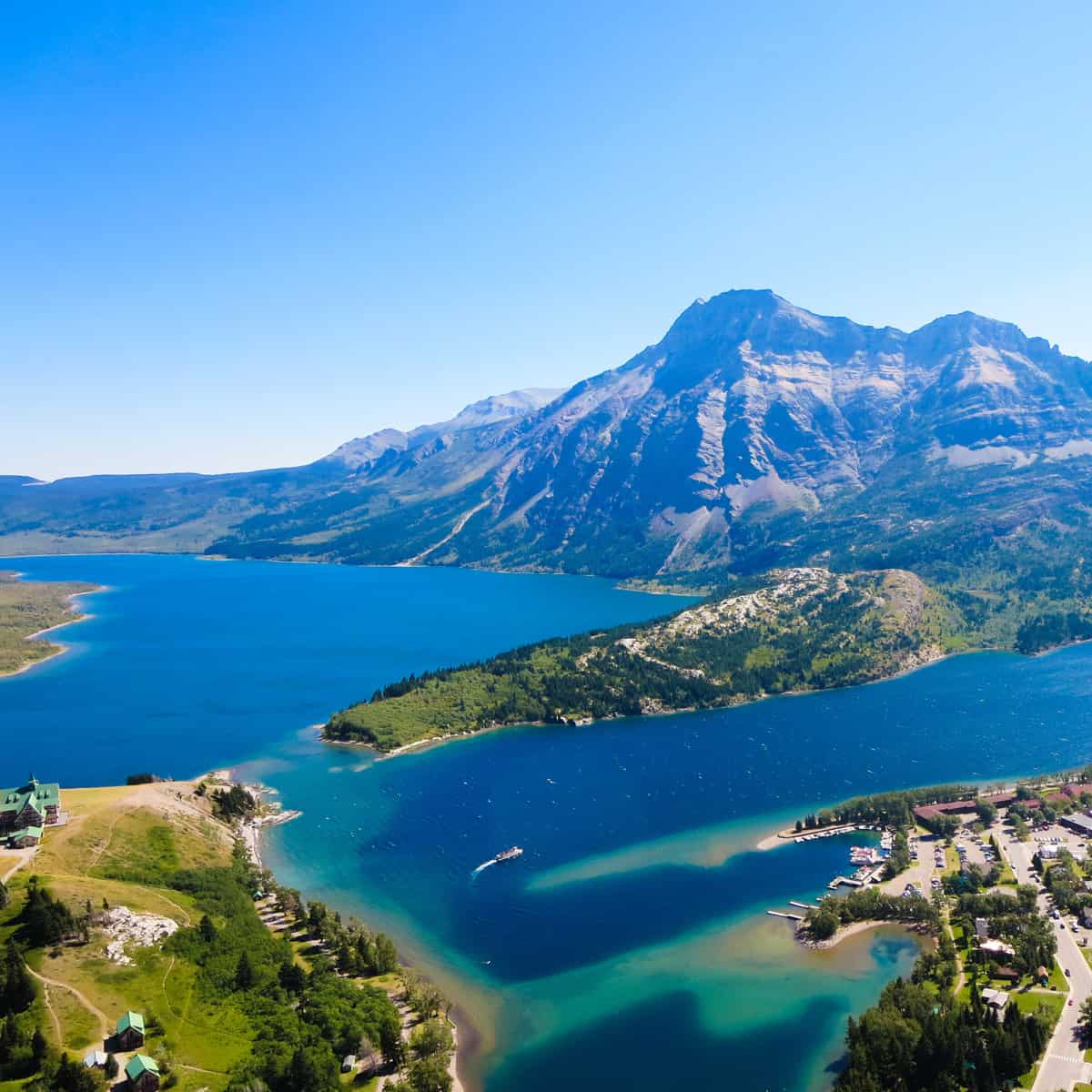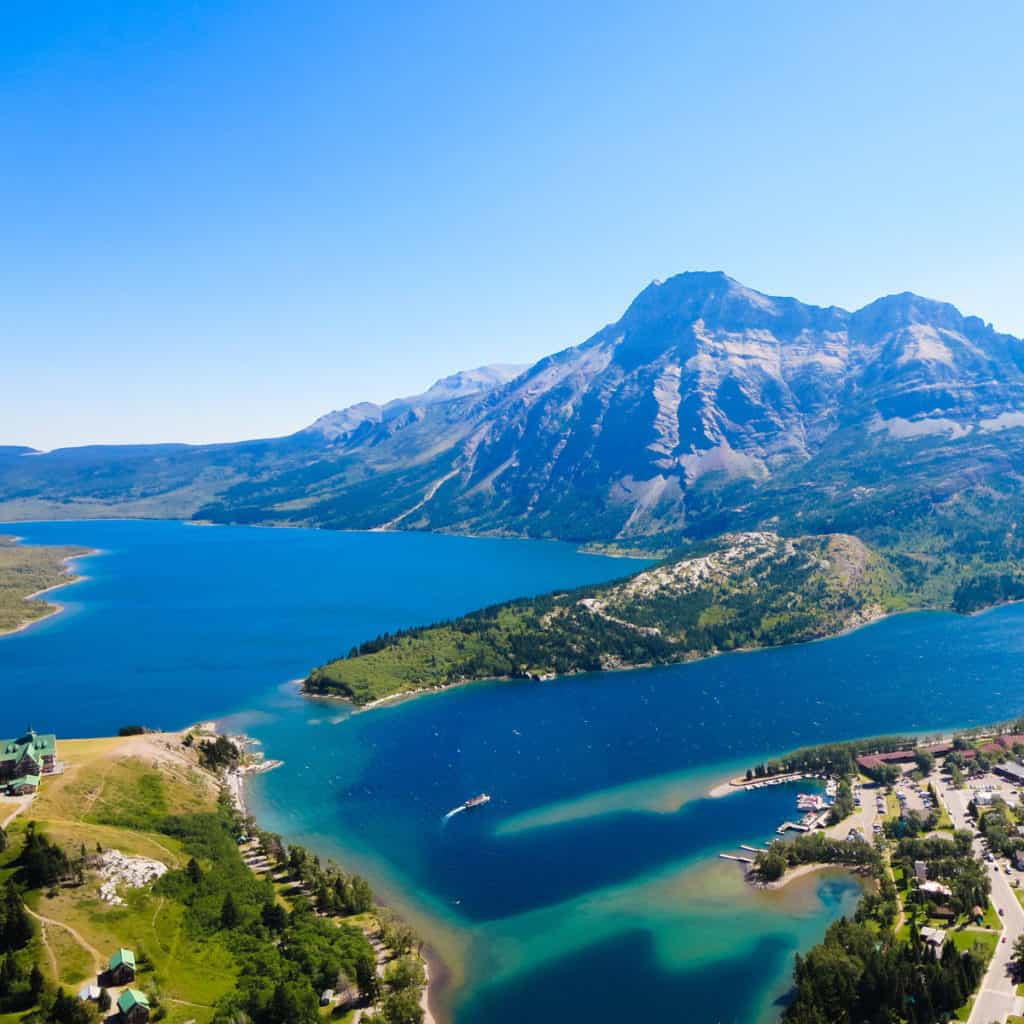 There are so many amazing things to do in Waterton and the surrounding area that we will always recommend more than three days, but if that's all you have, the following itinerary allows you to pack in as much marvellous activity as possible.
Know Before You Go
Waterton Lakes National Park Pass
If you don't already have one, you'll need a park pass to spend time in Waterton.
Effective January 1, 2023 Waterton Lakes National Park daily pass fees are:
Adult: $10.50
Senior: $9.00
Youth (up to 17 yo): FREE
Family/group (up to 7 people): $21.00
Commercial group (per person): $9.00
Annual Waterton Lakes National Park pass fees:
Adult: $52.25
Senior: $44.50
Youth (up to 17 yo): FREE
Family/group: $104.50
The daily passes expire at 4 pm the following day. If you're looking to enter multiple times or staying longer, consider the Parks Canada Discovery Pass. It gives you unlimited admission for a year to all the national parks in Canada.
Discovery Pass fees are as follows:
Adult: $72.25
Senior: $61.75
Family/group: $145.25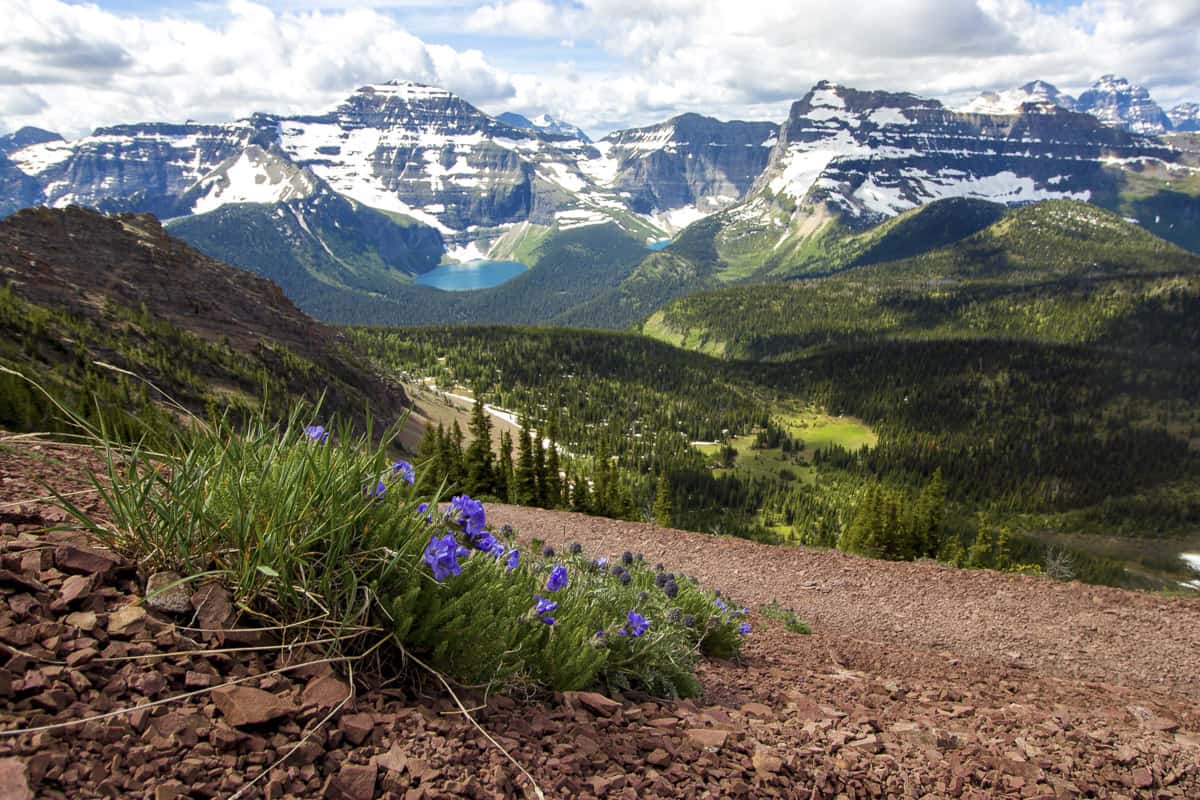 Animal Safety
Seeing an animal in the wild is almost a guarantee in the Canadian Rockies (and especially in Waterton), but it's crucial to avoid contact or cause any risk of injury either to you or to the animal. The rule to remember is that if you cause the animal to move or run away, you're too close. Bringing binoculars and/or a telephoto camera lens is definitely recommended for safe wildlife viewing.
Waterton Lakes National Park is home to black bears and grizzly bears so you need to be knowledgeable about bear safety before visiting. Bear encounters are not common, and encounters with an aggressive bear are even less so, but knowing how to prevent any contact can make a huge difference.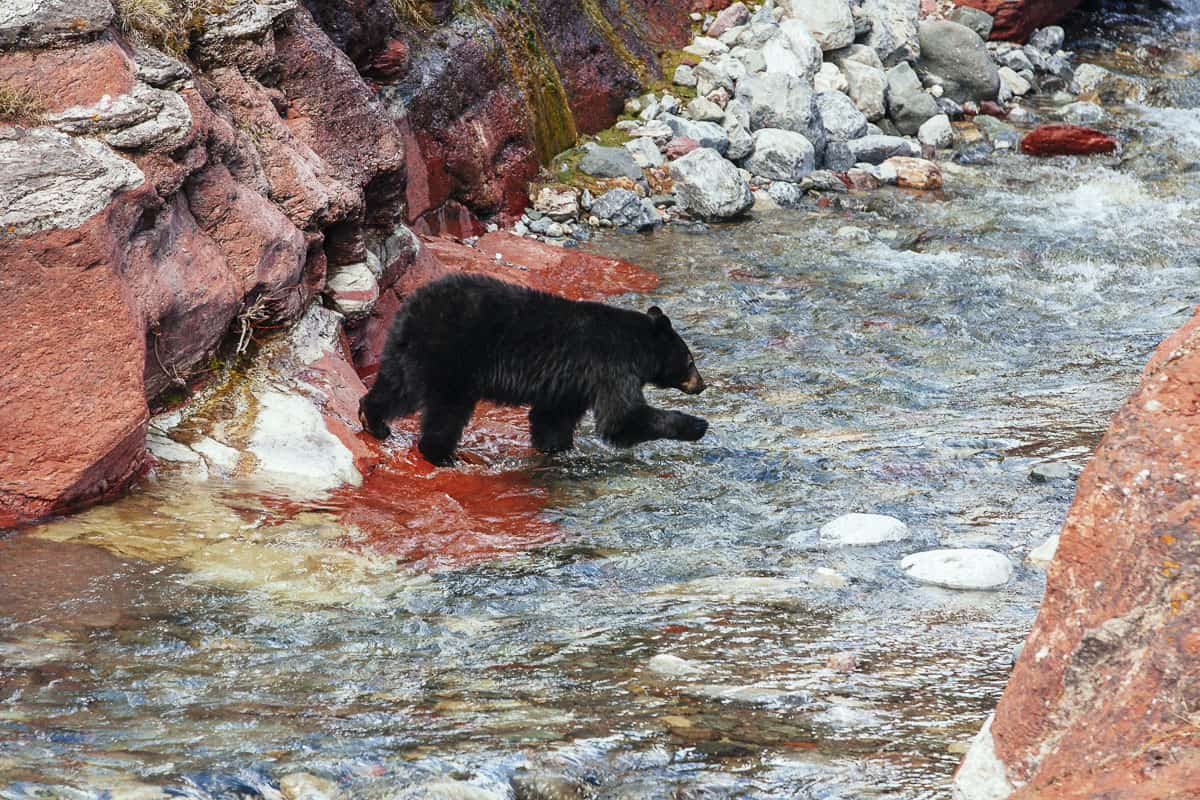 Read this for bear safety tips. Also, given that you will spend a large amount of time in the wilderness with this itinerary, we recommend packing bear spray and knowing how to use it.
How to Spend a Perfect 3 Days in Waterton
We're giving you 3 very full days of activity (with some restaurant suggestions at the end)! So whether you are driving from Calgary to Waterton or from farther away, be sure to pad your schedule with appropriate driving time and/or extra nights in the area in order to take in all of the incredible adventures that Waterton has to offer!
Day 1 in Waterton
Get the Blood Pumping on Bear's Hump
Are you still shaking off some winter rust in your muscles? There is no better way to start your adventures in Waterton Lakes National Park than to do this short but steep trek that will also give you incredible views of Waterton townsite and some of the most beautiful lakes in Alberta. Ravaged by the 2017 Kenow fire, this path was recently rebuilt and is better than ever.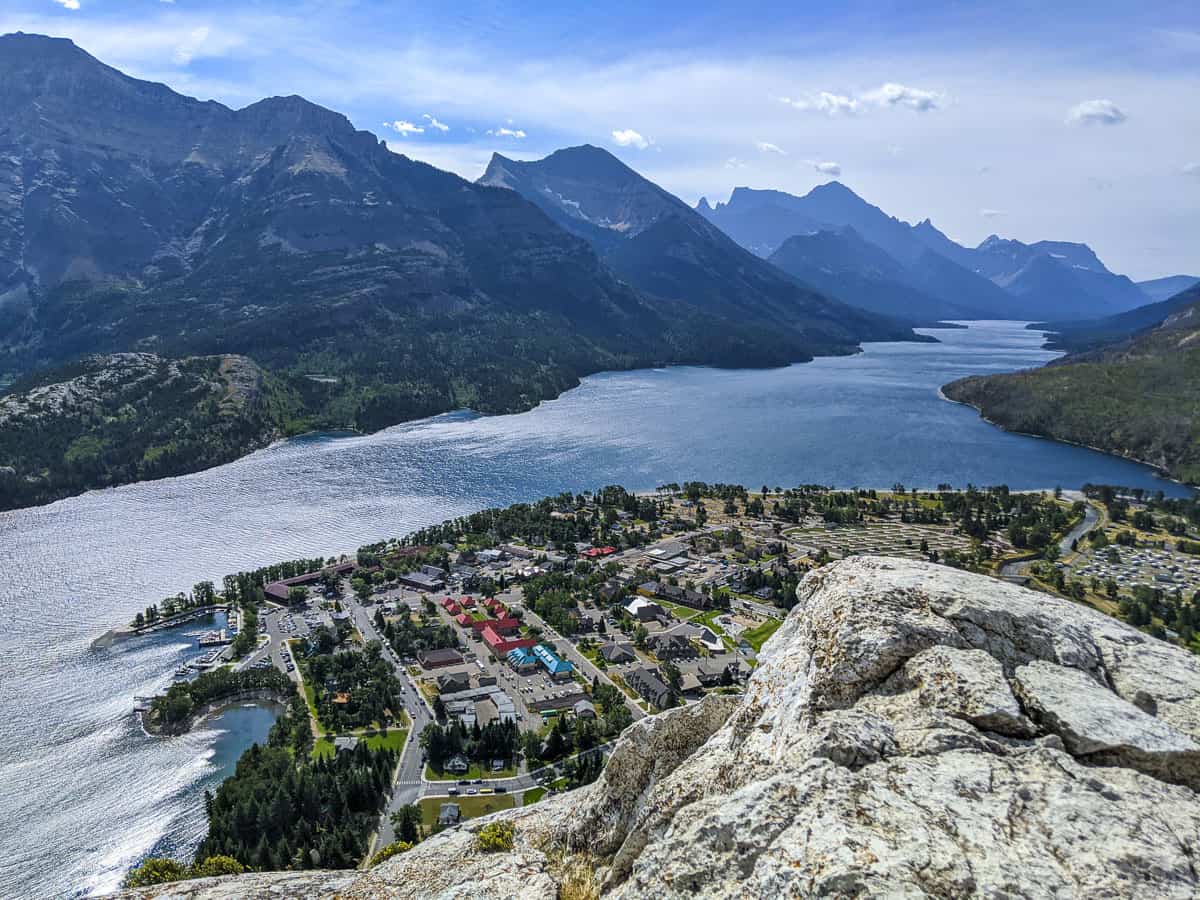 Difficulty: Moderate
Distance: 2.8 km; 225 m in elevation
Time to complete: 1 hour (usually less)
Location: Find the trailhead located directly across from the access road to the Prince of Wales Hotel (a National Historic Site).
Need to know: The winds are usually howling at the summit of this trek, so be sure to bring layers to stay warm.
Cycle the Akamina Parkway
The Akamina Parkway is a twisty mountain road offering spectacular scenery from the Waterton townsite through the Cameron Valley and all the way to Cameron Lake (16 km each way). It is popular for cyclists and motorists alike – it can get crowded on weekends in the summer and because the road is narrow with slim shoulders, cycling should be done with the utmost caution.
Difficulty: Moderate; it is uphill almost the entire way there (but this makes the way back super fun).
Distance: 32 km round-trip
Time to complete: 2 hours round-trip
Location: Follow the signs from the Waterton townsite on the AB-5 until you turn left onto Township Rd 13A. From there, the road will turn into the Akamina Parkway.
Need to know: If you don't want to bring your own bike, there are a couple of places to get them in Waterton including Pat's Waterton and Blakiston & Company.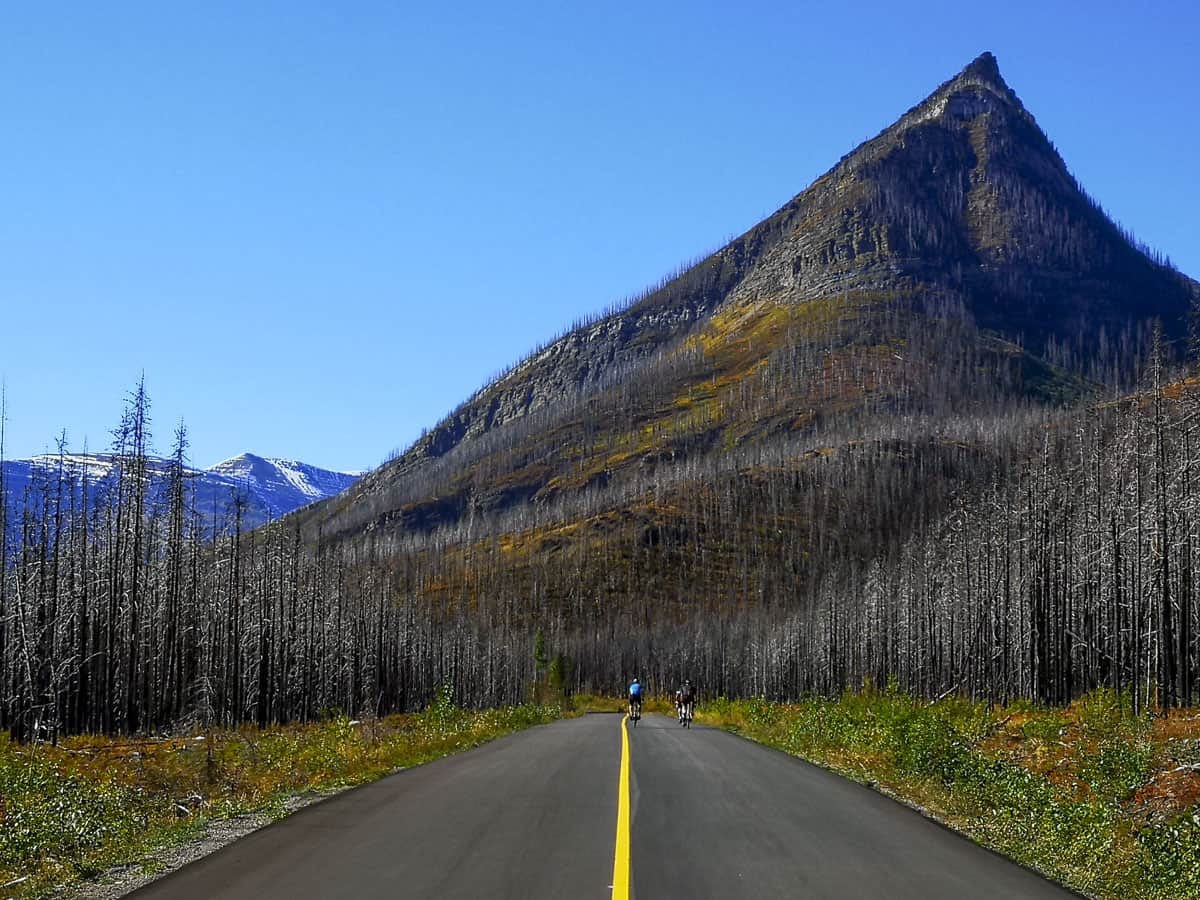 Canoe Across the Border
Did you know that Waterton is a part of the International Peace Park because it shares its national park status with Glacier National Park (in Montana) just across the border? This is also the reason that Waterton is a UNESCO World Heritage Site!
At the end of the Akamina Parkway, you'll arrive at stunning Cameron Lake nestled in a glacial basin. While there are great hikes in the area, we recommend getting a new perspective by gliding atop the frigid water. It is an easy paddle and more sheltered from the wind than the main Waterton Lakes; it's roughly a 6-7 km trip along the perimeter of the lake.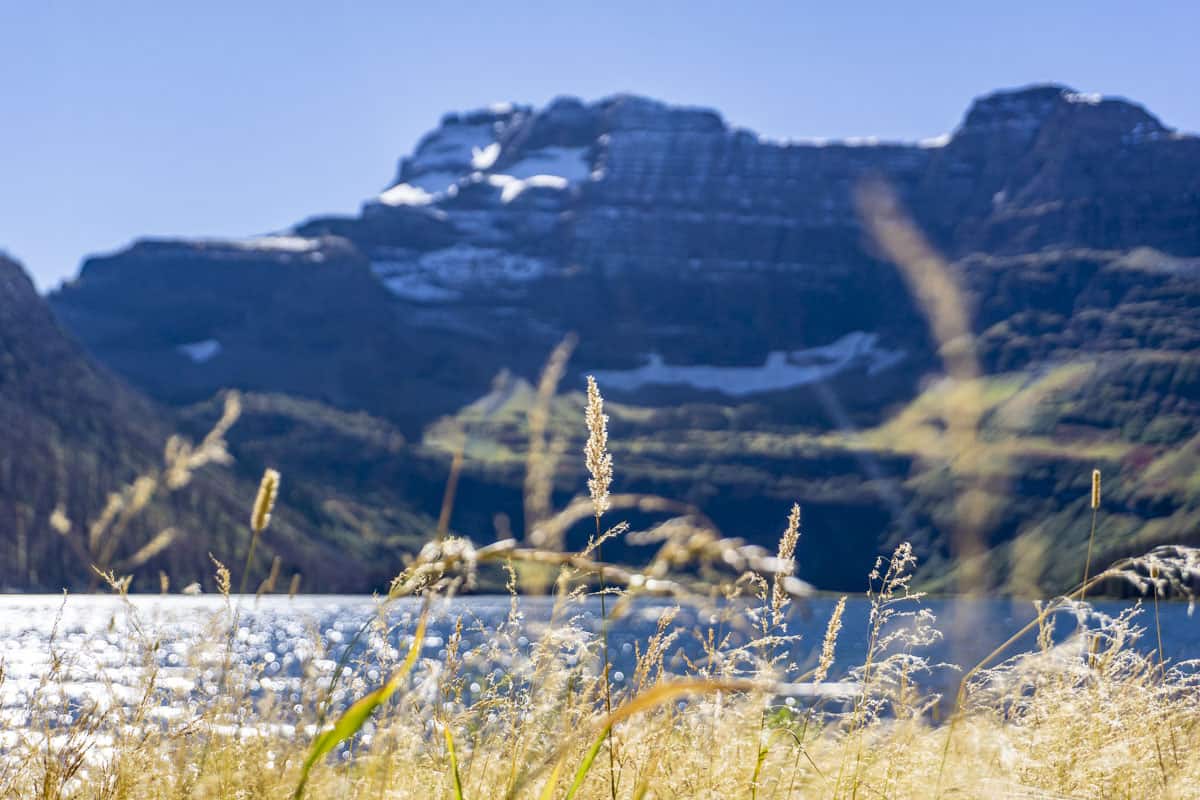 You'll likely, even in the hot days of summer, still see snow along the shores. But most interestingly, the lake runs across the 49th parallel! So when you make it to the far end of the lake, you'll actually be in America for a wee bit.
When you've returned the canoe or kayak, settle on your bike and make the ride back into town.
Difficulty: Easy, if it's not too windy and you're skilled with a paddle!
Distance: 6-7 km
Time to complete: It typically takes one hour to canoe 6km on calm waters.
Location: Cameron Lake; 17km from Waterton along the Akamina Parkway.
Need to know: While you can bring your own kayak or canoe, you will need a special permit to use it in Waterton Lakes National Park. It is likely easier to just pick up a rental for a few hours.
Day 2 in Waterton
There are plenty of opportunities for outstanding hikes in this section of the Canadian Rocky Mountains, and with just three days in the area, this is the perfect place to fill every minute with memorable trekking adventures. And because we can't bring ourselves to definitively recommend one full-day hike over another, we're outlining two options for you to choose from.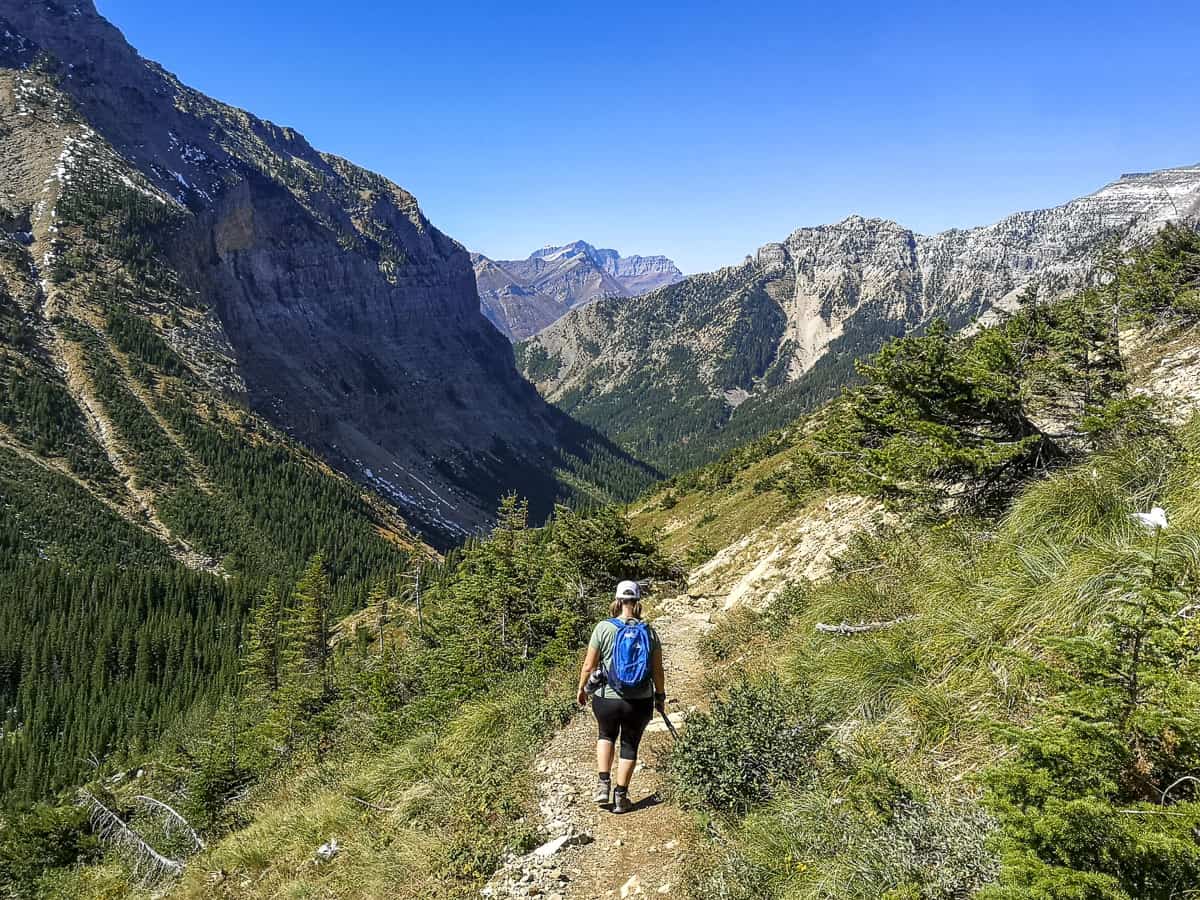 Crypt Lake
Named one of the world's most thrilling hikes by National Geographic, this is undoubtedly a crowd favourite. It includes hiking along small ledges and through a narrow tunnel to a hidden lake – exceptional features that you won't find on any other Alberta hikes.
While we personally don't consider this the prettiest hike in Waterton Lakes National Park, if testing your nerve and pushing your stamina on a long trek is your ultimate desire, then you can't go wrong with the out-and-back hike to Crypt Lake.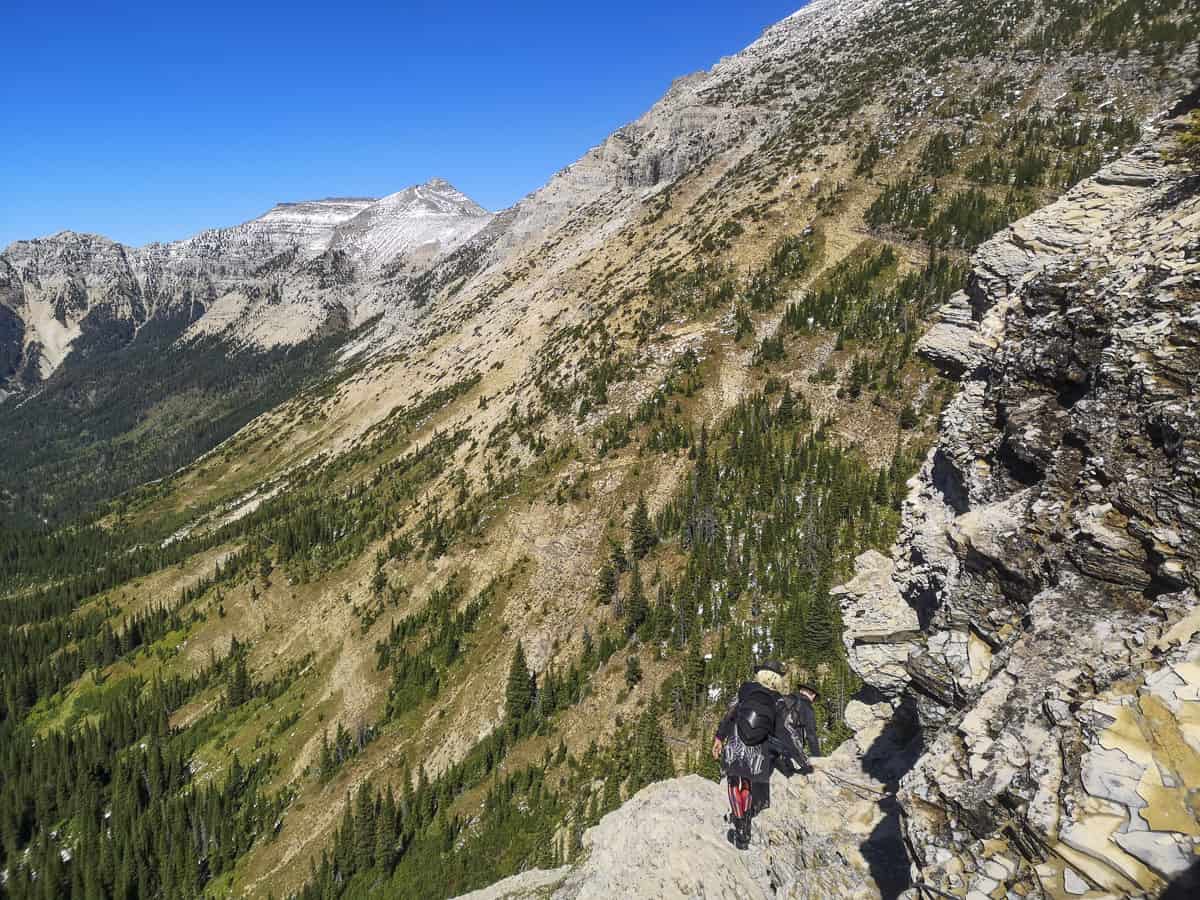 Difficulty: Hard
Distance: 17.5 km; 675 m elevation
Time to complete: 5 – 8 hours
Location: It starts with a 15-minute boat ride via Waterton Shoreline Cruise Co. across Upper Waterton Lake to the trailhead; you can purchase tickets the day of your hike at the office along the marina. (Note that the boat typically runs only from early/mid-June to early October.) Want to push yourself even further? You can also access the trailhead by hiking/biking 14 km of the Wishbone Trail.
Need to know: Hiking poles will be helpful.
Carthew Alderson Trail
This is a true beauty of a trail that offers a wide variety of terrain to experience. It includes views of glaciers, red slopes, high alpine lakes, trickling streams, and more. It is especially spectacular when wildflowers are in bloom.
As this is a less popular trail than Crypt Lake, expect to enjoy a more serene experience with nature. Don't expect to be alone, however, as wildlife encounters are common (be SURE that you have bear spray for this one). This is a point-to-point trail, so you will either need to have one vehicle parked in Waterton and another at Cameron Lake, or you can book a shuttle to Cameron Lake and hike back to town.

If this trek seems like more than you can handle – you can also complete part of this trail as an out-and-back from Cameron Lake to a number of other lakes (Summit, Carthew, or Alderson), or Mount Carthew or Mount Alderson.
Difficulty: Hard
Distance: 20.3 km; 997 m elevation
Time to complete: 6.5 – 8 hours
Need to know: The incline and decline are quite gradual, but hiking poles will still likely be helpful as there are some sections of scree. It can be extremely windy and exposed in parts, so be sure to pack clothing layers.
Day 3 in Waterton
Have we tired you out yet? Depending on if you're worn out or still buzzing with energy, we've included a variety of options for your final day – pick and choose whatever you'd like to do based on the stamina you have left!
Work Your Core With a SUP Session
Standup paddleboarding is an increasingly popular activity, especially on Waterton Lakes. Note that it can get fairly windy (it's typically a north wind), so be sure to factor that in when you decide where to partake in a paddle. Emerald Bay is a fairly protected and calm spot; another option is Cameron Lake, where the wind is usually not as strong. Also note that the water is extremely cold all over Waterton Lakes National Park, so prepare yourself accordingly (and try hard to stay ON your board)!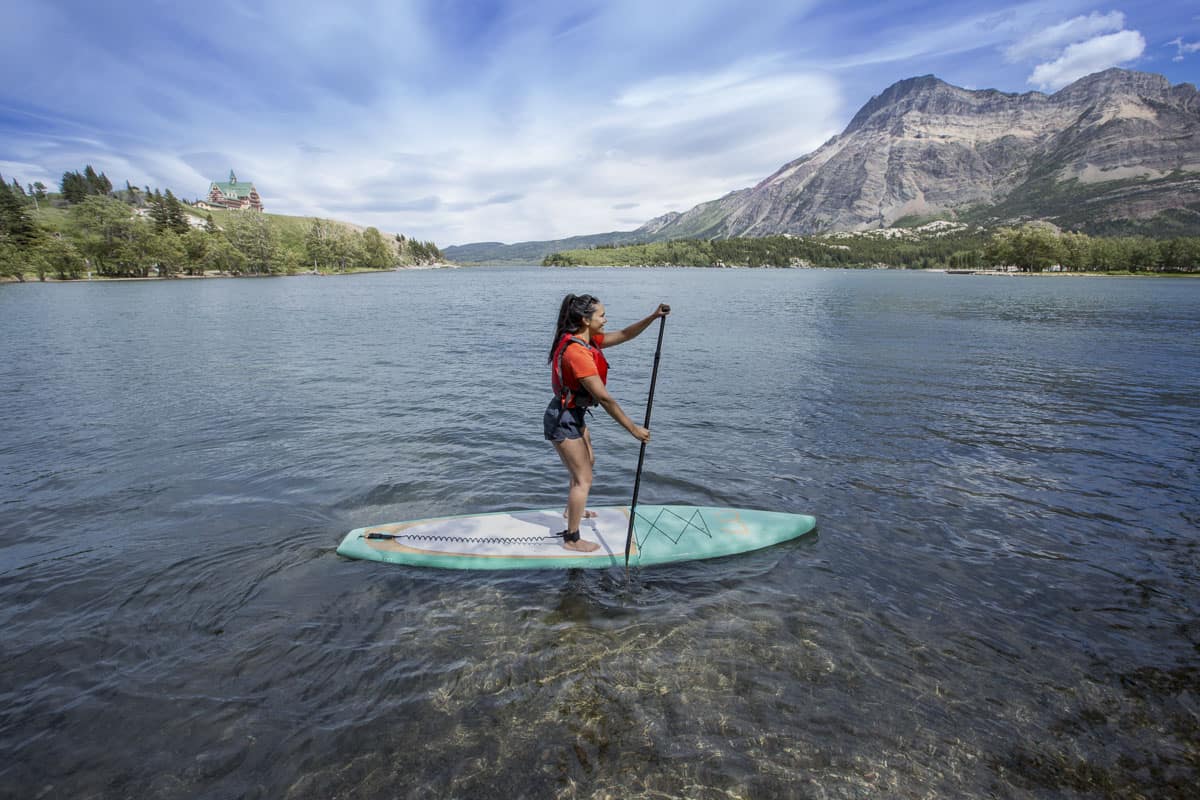 Remember, if you bring your own SUP, you will need to have it inspected before getting it on the water. Instead, you can rent boards in the Waterton townsite at Blakiston & Company.
Get Back on a Bike and Cycle to Red Rock Canyon
It's only a 15km cycle from Waterton townsite to Red Rock Canyon, and the trip is worth every rolling hill you need to ascend. View spectacular scenery from your bike seat – there are few roads in the entire province of Alberta that can compare. While the road is a bit narrow and you can sometimes find yourself crowded with cars, there are also several spots to pull over to discover interpretive displays and more. The Red Rock Parkway is closed to vehicles from November to May, so as long as the snow isn't flying, you may even have the opportunity to enjoy the road all to yourself.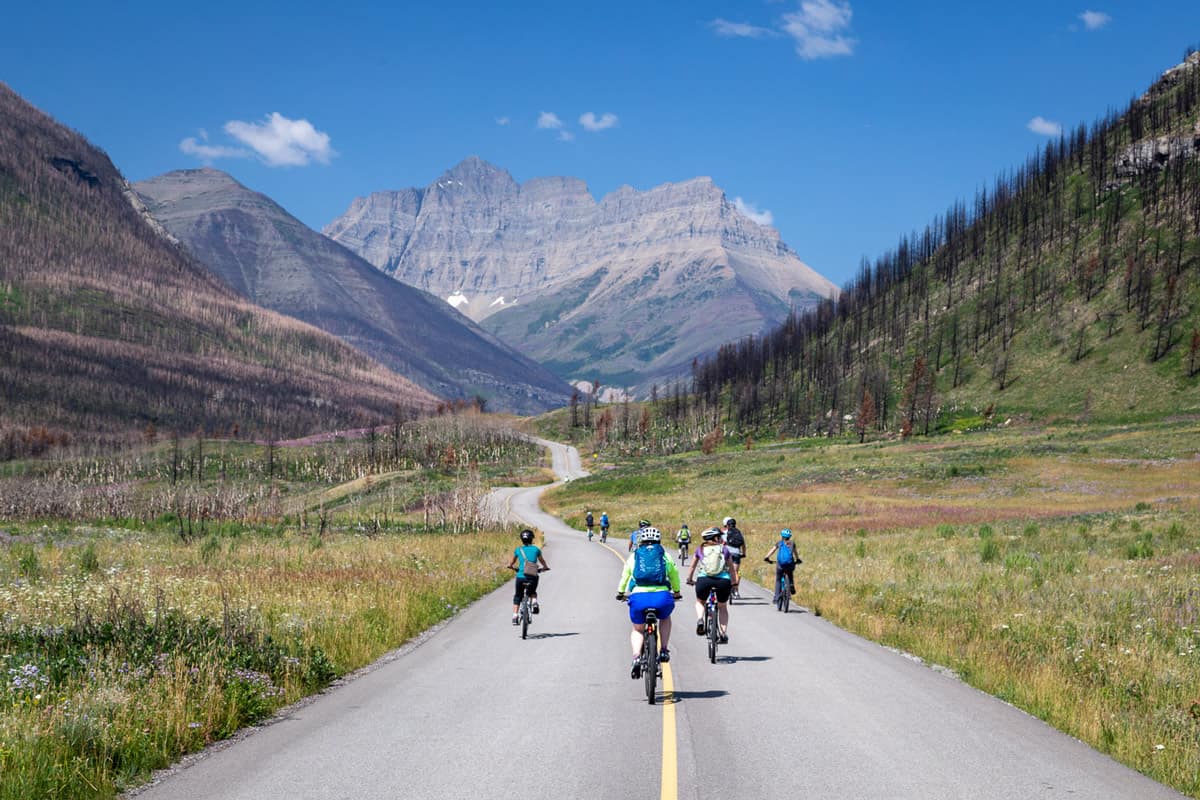 There are a number of hikes that you can also stop to do along the way and upon arrival. Our suggestions would be to do the short walk around Red Rock Canyon itself, as well as to Blakiston Falls. If you want more, the Blakiston Valley trek is a moderate day hike (taking roughly 7 hours) that will fill all your adventure desires on the final day!
Go by Horse
If you'd rather exercise the limbs of another living creature (instead of your own), consider adding a horseback riding excursion to your itinerary. There are a variety of trails to experience, choose from anything from a one-hour ride to a full-day trip with Alpine Stables.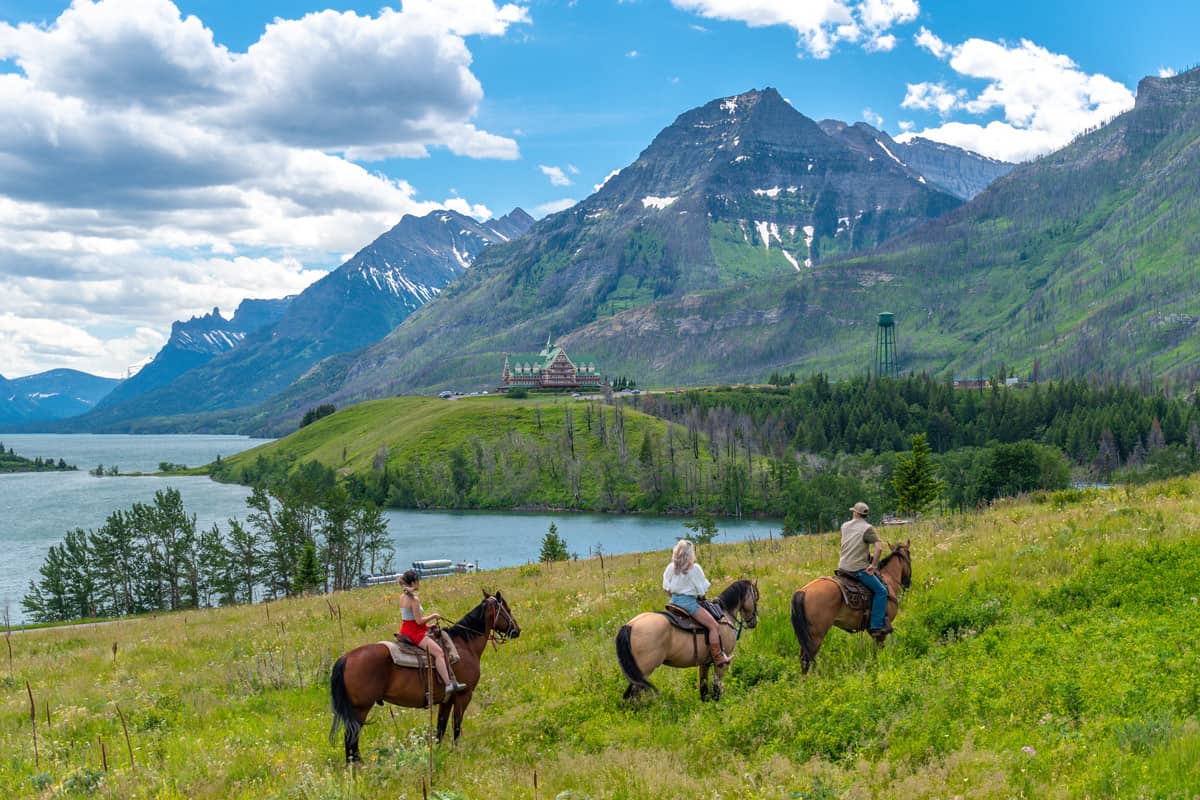 The most adventurous will even take you up Vimy Mountain – a challenging ride with some scramble – but with views that can't be beat. Waterton River Trail Rides also offers a good number of options, the sunset ride has certainly piqued our interest and would be a nice serene and scenic add-on to a day full of action.
Squeeze in One More Hike
One of the top-rated hikes in Waterton Lakes National Park for its lovely mountain vistas, gentle waterfalls, and more, getting on the trail to Bertha Lake is always a good idea.
The best part about it is that it can be as easy or difficult as you like. There are three natural turn-around points – Lower Bertha Falls, Bertha Lake, and Bertha Peak – that enable this trek to range from 5.2km to 15km. They progressively get steeper and more difficult, with the rewards also increasing with each milestone. Be prepared for scrambling past Bertha Lake, and even some bushwacking as the route is not clearly marked. (We recommend that portion of the hike only for very experienced hikers who are fully prepared for the conditions.)
Where to Fuel Up During Your Stay
All of that activity means you'll also require a lot of fuel! Following are our top recommendations for nourishment when you need it (but also see our post on Waterton restaurants for more options).
Windflower Corner Cafe
Find your fuel (in the form of caffeine and/or a quick bite) at this modern cafe attached to the Waterton Lake Opera House. This is also the spot to pick up home-baked goodies and other snacks that you will need for a long day of adventuring.
Wieners of Waterton
This hot spot quickly became an institution in Waterton and is often lined up out the door. The dogs are big and reasonably priced; be sure to add the deep-fried pickles to your order.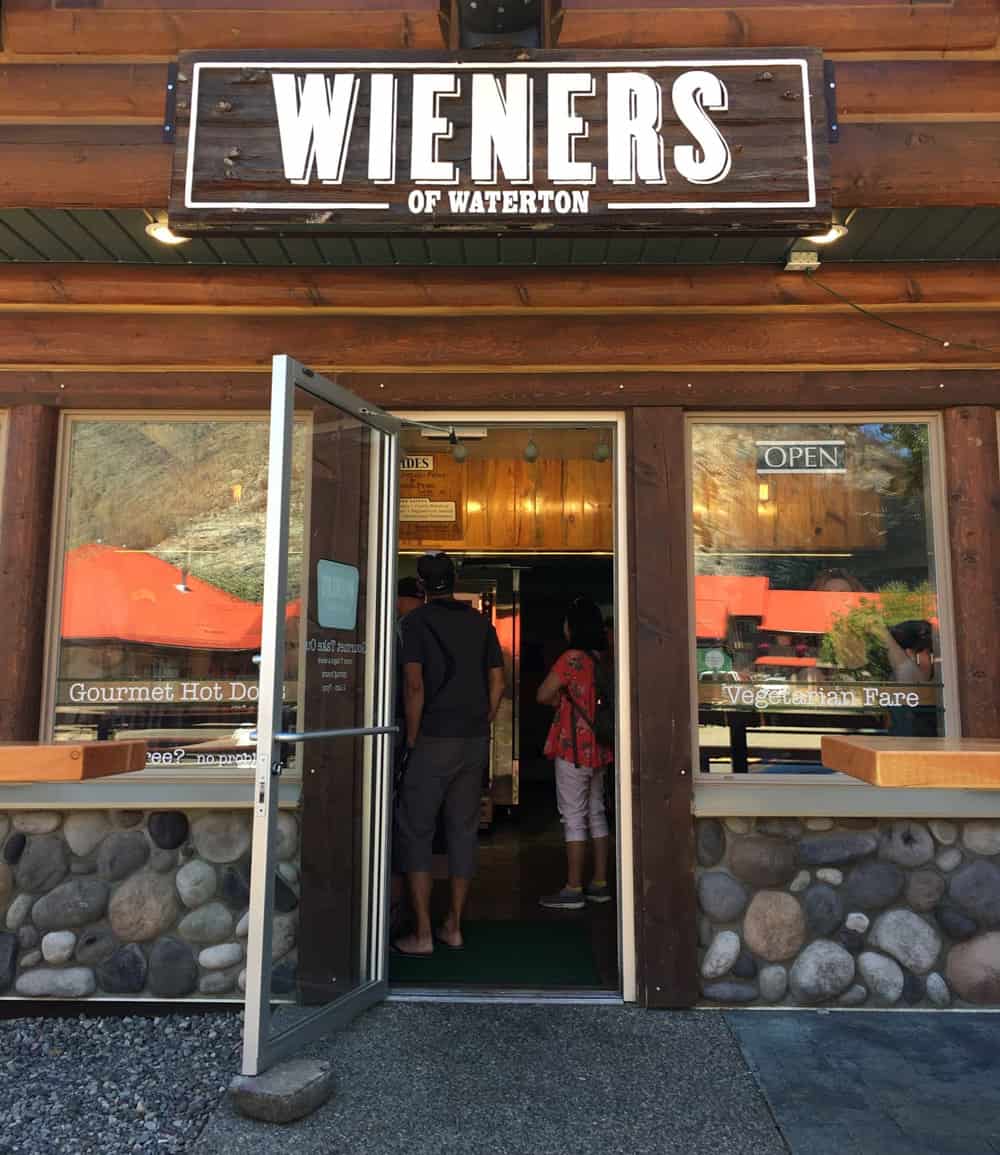 Zum's
Their legendary milkshakes are matched by any number of delicious menu items. Fill up on a hearty breakfast or indulge in a wide variety of standard fare and fusion foods later in the day.
Thirsty Bear Kitchen & Bar
We love this patio! Take in some tasty eats and a local craft brew while enjoying live bands on most weekends. Make sure to save room for the mini-doughnuts for dessert.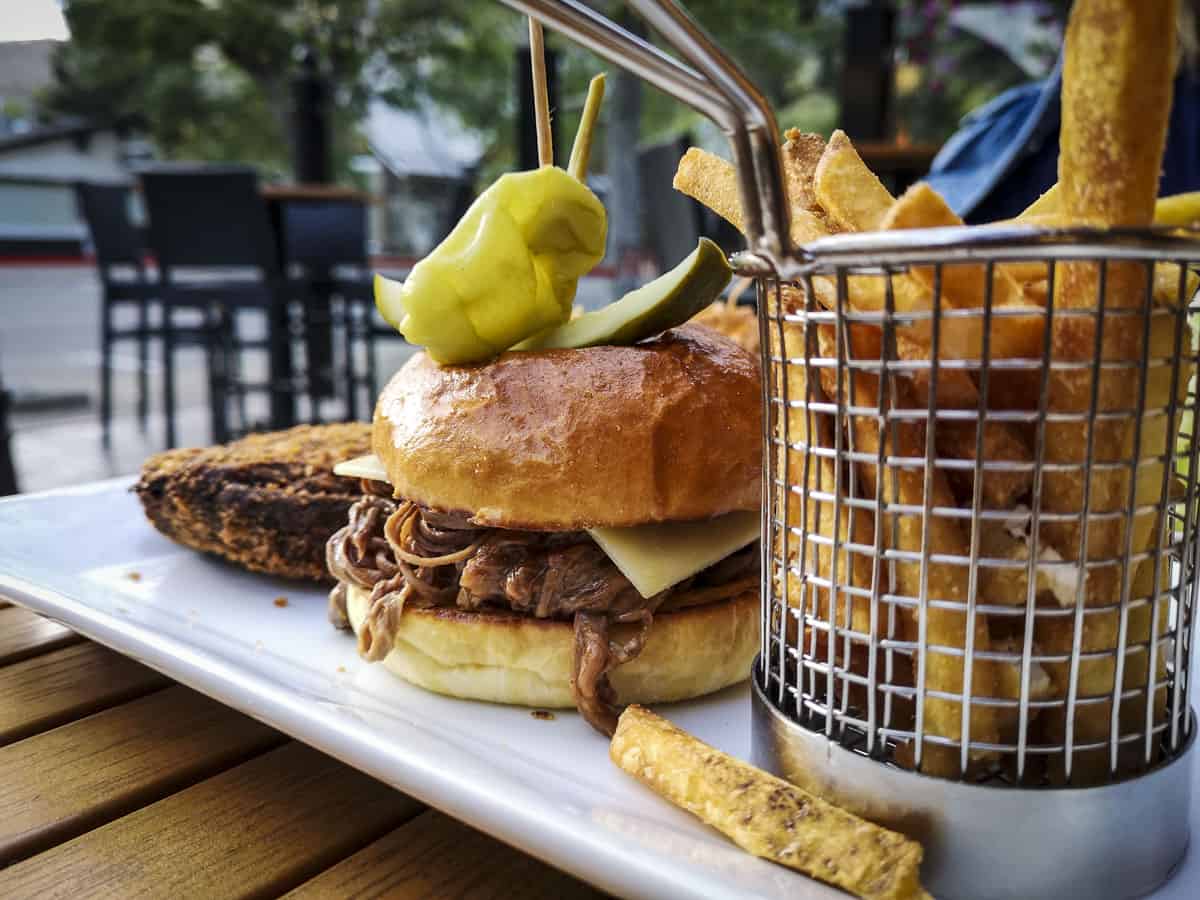 Where to Stay in Waterton
For your two-night stay, get recommendations via our guide to Waterton hotels (tip: choose one with a hot tub to soak your tired limbs). Or if you'd rather pitch a tent, we also have exhaustive info on camping in Waterton Lakes National Park. If you plan on spending even more time in the area, don't miss our extensive guide on all the best things to do to explore Waterton Lakes National Park.