Disclaimer: This page may contain affiliate links. Please review our full Terms and Conditions for more information and our Privacy Policy. Note that any pricing, operating hours, or other such information provided below may have changed since initial publication.
Compiled by the Road Trip Alberta team
Last updated on January 15, 2023
For us, staying in Jasper is always a magical experience. The slower pace, crisp mountain air, abundant wildlife, and towering Rocky Mountains always remind us that we are in an extraordinary place. Family vacations to Jasper happened at least once a year as kids, and those trips have also inspired many returns in adulthood.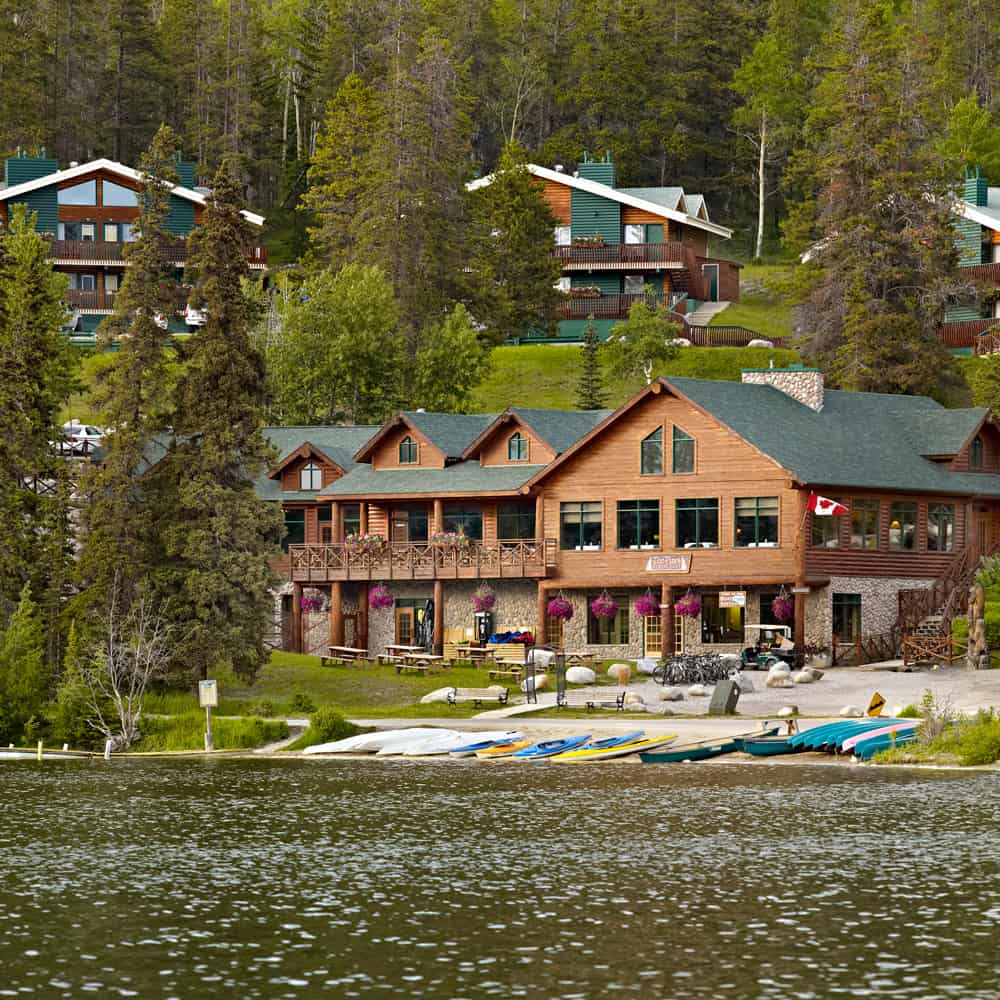 There are plenty of options for accommodations and Jasper hotels in the surrounding area, and we've certainly stayed at a few ourselves. Throughout the years, we've altered between staying a few days in a hotel, finding a quaint and charming bed and breakfast, or, if we were feeling more adventurous, sourcing a camping spot for a tent.
Regardless of wherever we stayed in Jasper National Park, after a full day of adventure, it was essential to have a place to rest our tired beings and get a good sleep.
Below you'll find a variety of accommodations, sorted by our top picks and also by budget. In our numerous trips to Jasper over the past years, we've stayed at many of the places within. If not, we have also relied on the suggestions and recommendations from colleagues to ensure that this guide offers a good variety of options.
Note that high season is from May thru September, and rooms should be booked well in advance as hotels sell out of rooms. It should be noted that most of the hotels suggested are located within a few minutes of downtown Jasper and have ample free parking and free wi-fi. But there are a few special locations outside of town worth considering a stay at if you're looking for a more remote experience.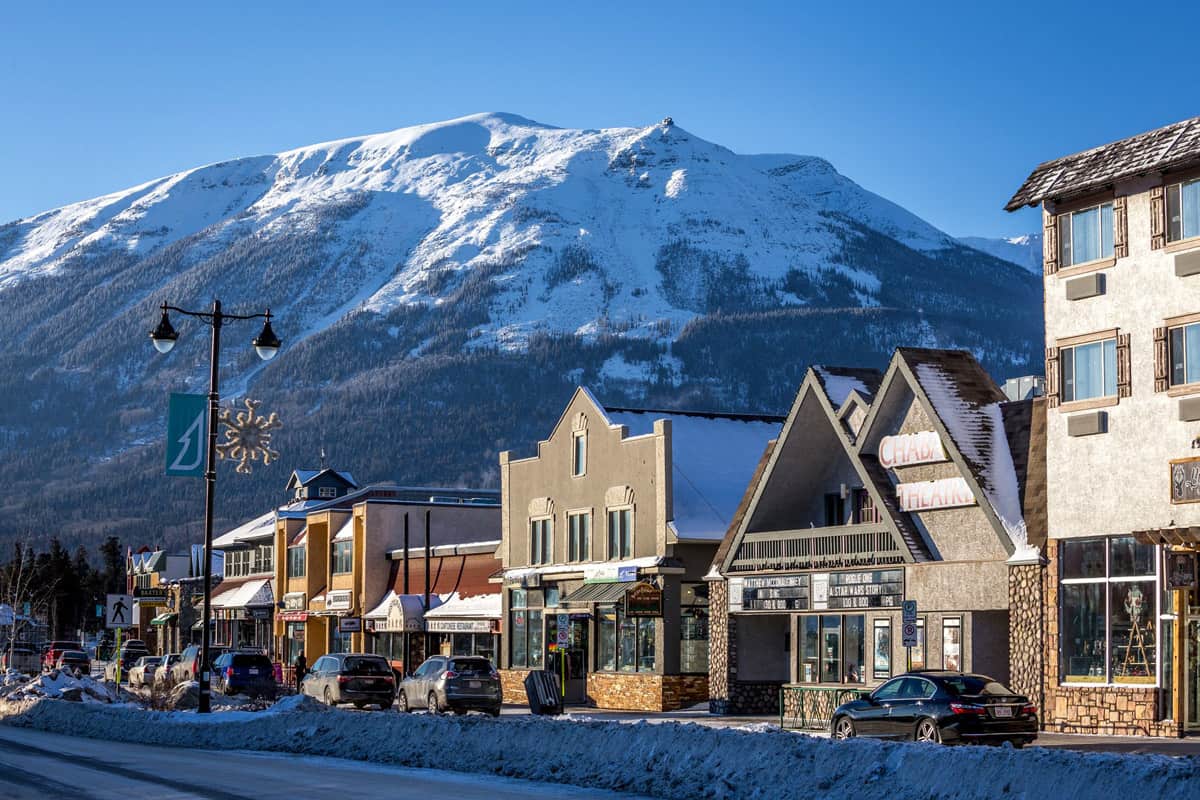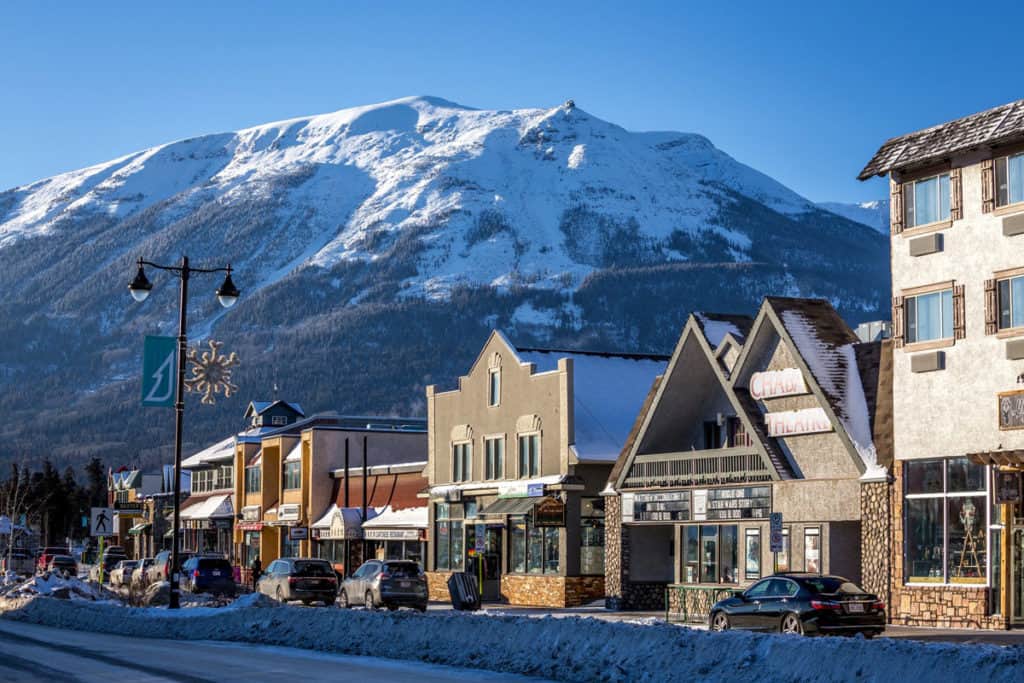 The Best Accommodations in Jasper
Our Top Picks
Fairmont Jasper Park Lodge (Luxury)
It's hard to describe how truly beautiful this place is. It is one of the most popular accommodations in Jasper, and for a good reason. On the shores of Beauvert Lake in the Canadian Rockies, you'll find the single most luxurious resort in Jasper. Featuring an award-winning golf course, heavenly restaurants, and a vast spa area (nearly a whole square kilometre of blissful indulgence), this is an exquisitely designed hotel.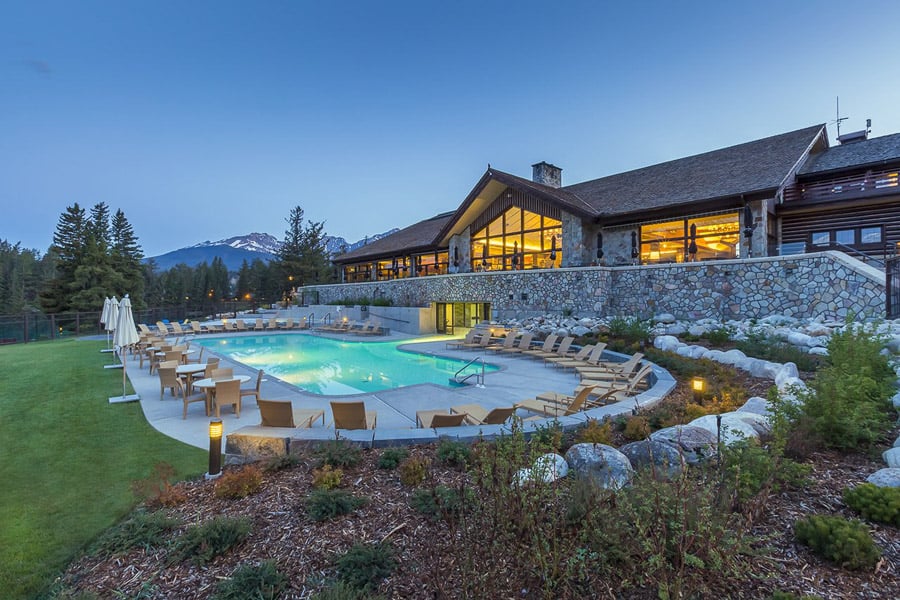 If you want to splurge, be sure to book a suite featuring incredible views of the lake and mountains, which will provide the quintessential Canadian atmosphere. During the summer, you can relax in the outdoor pool, hike in the area, or even go horseback riding. For winter, the Marmot Basin ski area is just 30 km away. A small tip to lower the cost: Take the "no housekeeping service" option at check-in to save on your stay and help save the environment!
Check availability and see reviews.
Jasper Inn & Suites (Mid-Range)
In the heart of the national park, Jasper Inn & Suites offers everything you need for a comfortable stay, from suites built for big families to amazing views of the mountains. The hotel also features an indoor pool, a sauna, and a steam room so you can relax after exploring the great outdoors.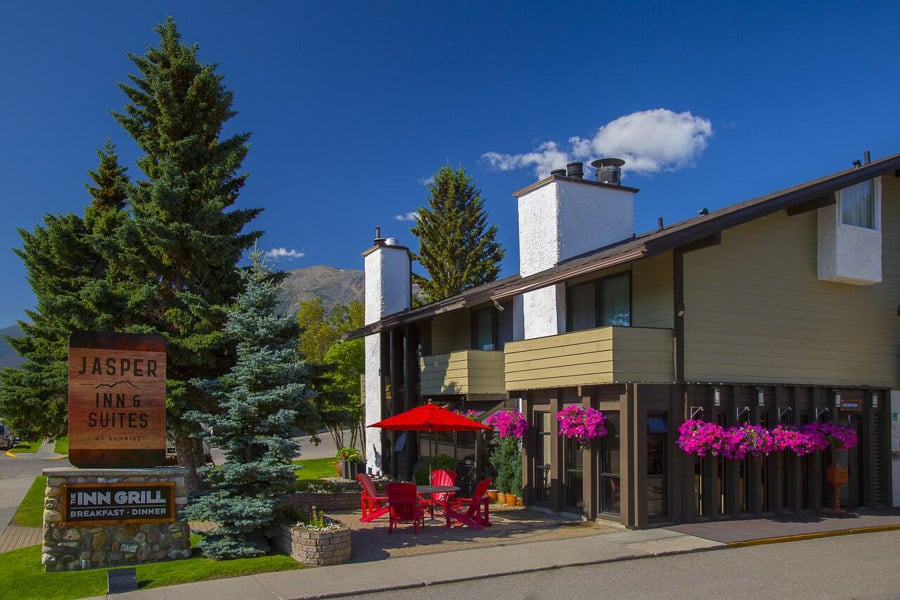 During the summer, you can dine on the outdoor terrace surrounded by nature. It's a quick 10-minute walk into the city center.
Check availability and see reviews.
Chateau Jasper (Mid-Range)
Chateau Jasper is an environmentally-friendly hotel with an award-winning restaurant where you can enjoy seasonally fresh produce and locally sourced ingredients. Rooms are spacious and feature everything you need to relax. Especially enjoy the underground parking when it's cold out!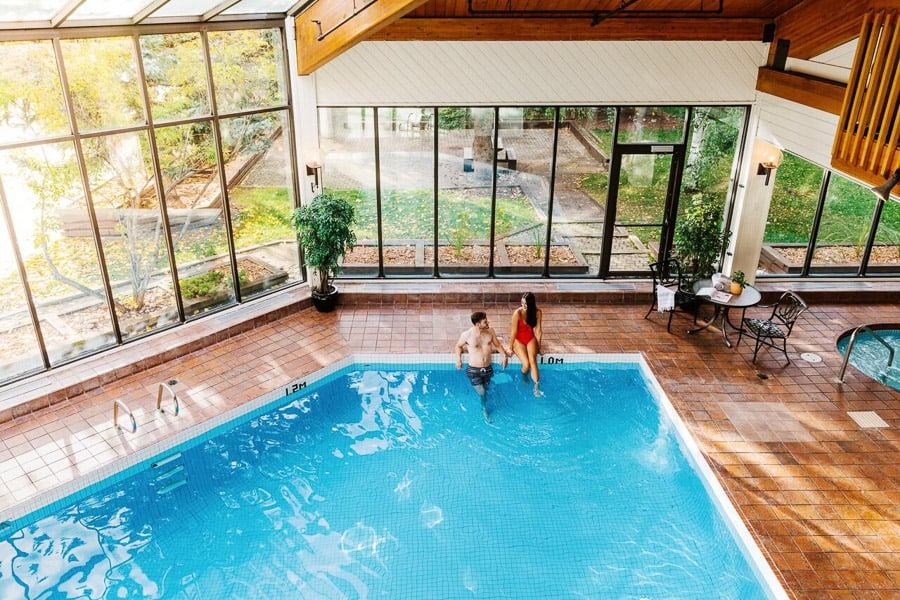 The indoor swimming pool, hot tub, and fitness centre add to the sublime comfort of Chateau Jasper. It's a pet-friendly place, so feel free to bring Fido, but don't worry if you are pet-less, you're still likely to see plenty of animals roaming near the hotel itself!
Check availability and see reviews.
Maligne Lodge (Budget)
Known as one of the friendliest places in Jasper, Maligne Lodge's staff will help you find the best to do in the area. This place features a sauna, indoor pool, and outdoor hot tub, making it a great place to relax after hiking in the mountains.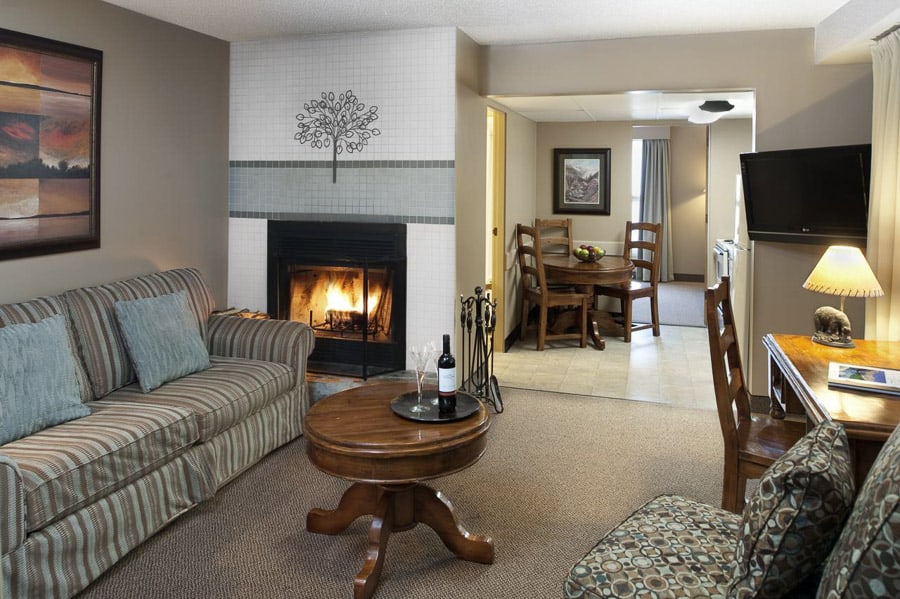 All rooms include all the essential amenities, while some rooms also include kitchen facilities. Guests can also work out in an on-site fitness center.
Check availability and see reviews.
Luxury Accommodations in Jasper
Tekarra Lodge
Comfort + great outdoors = Tekarra Lodge. Located in the middle of the woods and overlooking Jasper National Park's rivers, stay in spacious cabins while enjoying nature with your family in one of the coziest accommodations in Jasper.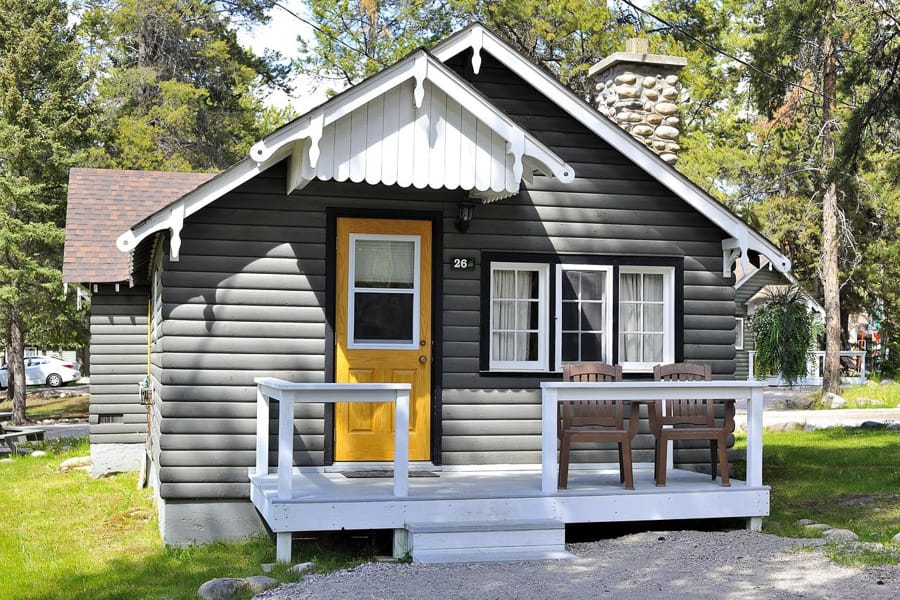 During the warm months, guests can experience various activities, such as magic shows, children's scavenger hunts, and a fitness boot camp. Tekarra Restaurant also offers several gourmet options, both local and international. For dessert, take in some complimentary s'mores by the fire pit!
Check availability and see reviews.
Pyramid Lake Resort
The views are to die for. Right on the shores of Pyramid Lake, just 5km outside of Jasper, Pyramid Lake Resort allows you to try many different outdoor activities, such as canoeing, fishing, and hiking. Each room includes a refrigerator, a coffee machine, and a gas fireplace, providing the ultimate cozy environment.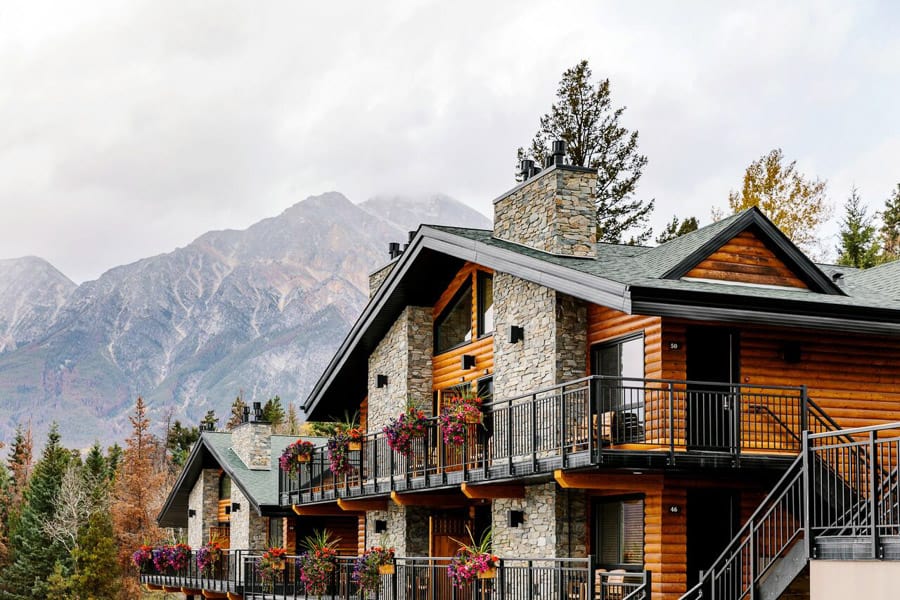 The resort also has a private beach and features a gym and a hot tub; the whole property has excellent panoramic views of the lake and the surrounding mountains. A bonus is that guests can use BBQs to cook their own food!
Check availability and see reviews.
Mid-Range Accommodations in Jasper
Lobstick Lodge
Lobstick Lodge features everything you need after exploring Jasper. You can choose between snacking at the Season's Cafe, having a nice meal at Country Inn Restaurant, or enjoying a couple of drinks while being surrounded by the magnificent views of the Canadian Rockies at Skylight Lounge.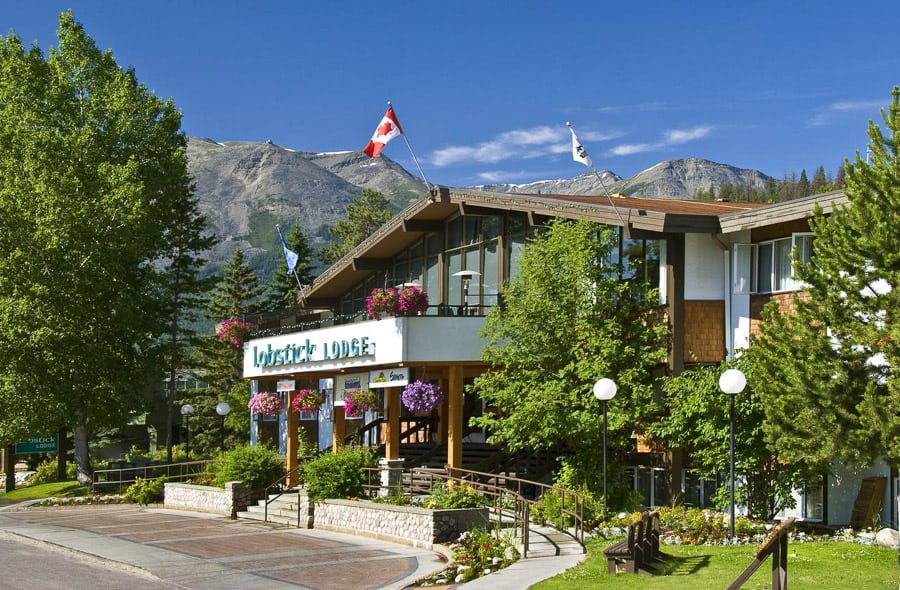 The rooms at the Lobstick Lodge are spacious, quiet, and comfortable. This 3-star hotel also has an indoor swimming pool and a gym with a sauna to rest those weary hiking muscles.
Check availability and see reviews.
Whistlers Inn
Does a rooftop hot tub surrounded by astonishing views of the Canadian Rockies sound appealing to you? If so, the Whistlers Inn also features two on-site restaurants, two gift shops, a steam room, and a pub. Rooms at the front face Jasper's main street and the historic train station; in the back, an epic mountain backdrop.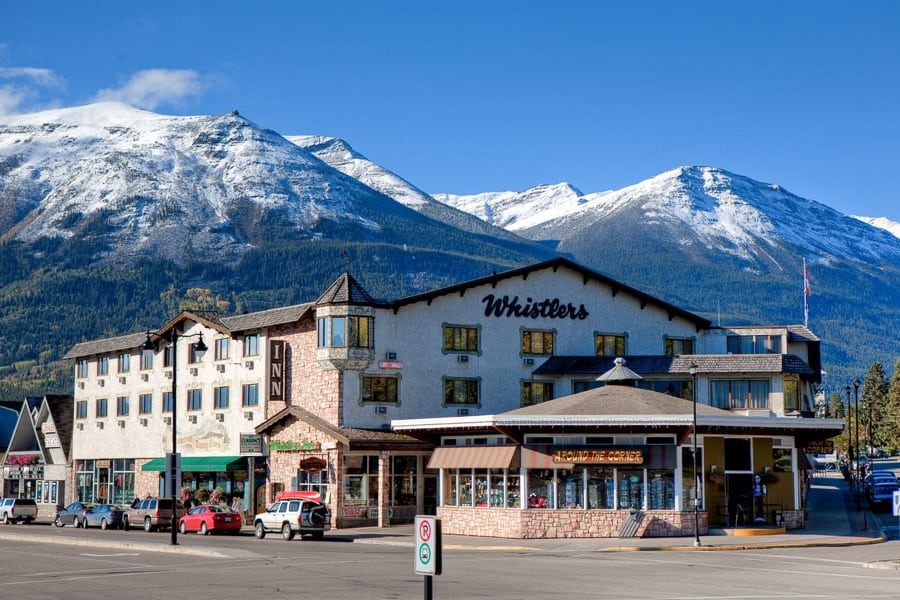 For golfers, Jasper Park Golf Course (one of the best golf courses in Alberta) is just a few minutes from the hotel. And so is the Jasper Tram for those wanting to go up the mountain for some epic views.
Check availability and see reviews.
Forest Park Hotel
The newest hotel in Jasper National Park is the Forest Park Hotel (formerly the Sawridge Inn). The beautifully renovated hotel opened its doors in June 2022 and is located minutes from downtown. The entire hotel design is "wilderness-inspired" and is a perfect spot to stay for those exploring the town or the national park.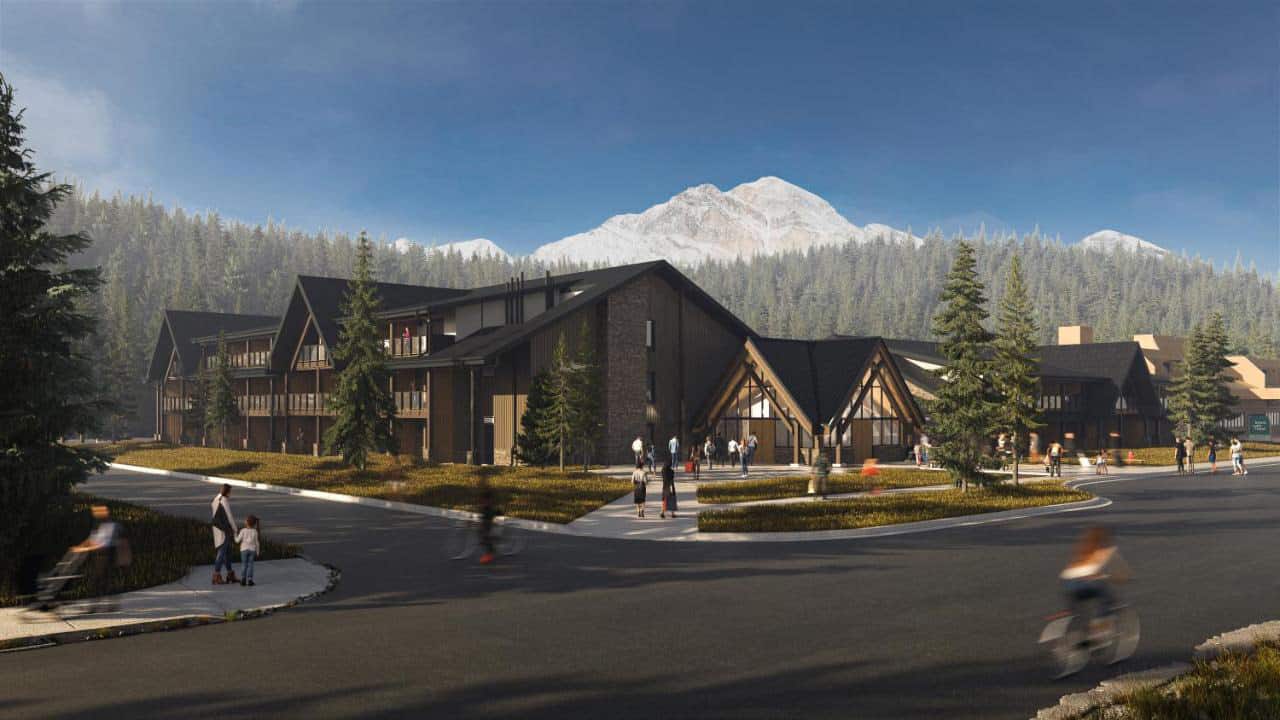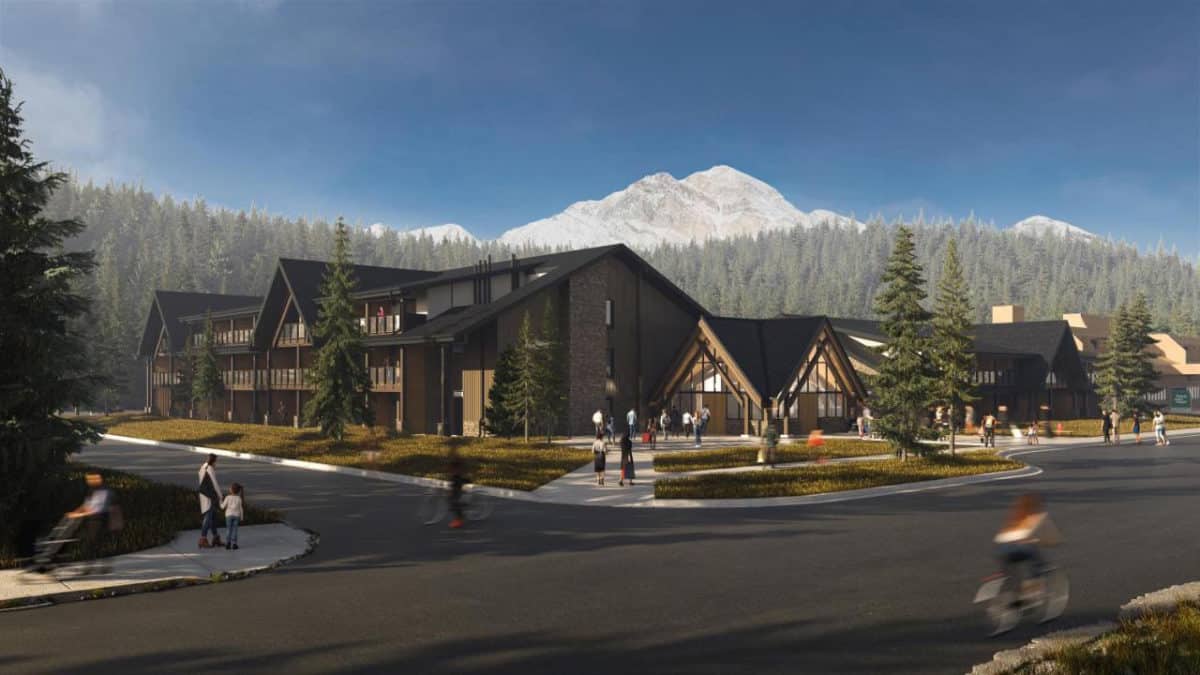 Visitors are treated to their signature hospitality, spacious and extremely comfortable guest rooms, and delicious dining options. The hotel also has a fitness centre, pool and hot tub, and, more importantly, an on-site day spa and steam room for rest and relaxation.
Check availability and see reviews.
Budget Accommodations in Jasper
Tonquin Inn
It's the little things that matter most at the Tonquin Inn. Such as the welcome kit for pets, or the fireplaces having a log ready to burn, the Inn has incredible attention to detail. And not to mention the unique architectural design!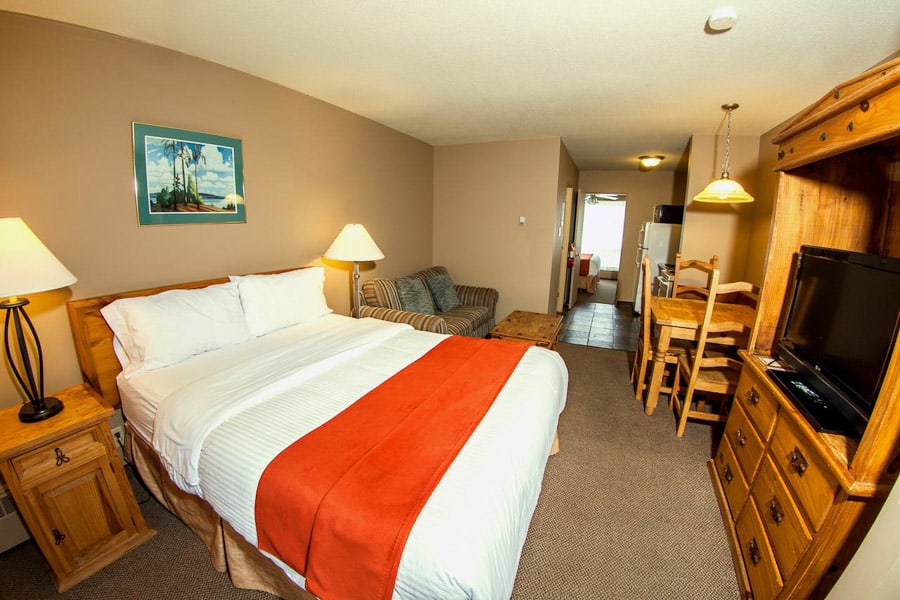 The modern construction, indoor swimming pool, two outdoor whirlpools, and three saunas make this Inn an elegant option for staying in the heart of Jasper. The staff is always helpful and willing to go the extra mile to give you excellent service.
Check availability and see reviews.
Athabasca Hotel
This classically designed hotel with a boutique style is easy on your wallet while still allowing you to enjoy magnificent views from every room. Guests of the Athabasca Hotel can have fun at the Atha-B nightclub, which is located on-site. O´Shea lounge is also very close – you can go for a couple of drinks and enjoy the billiards table.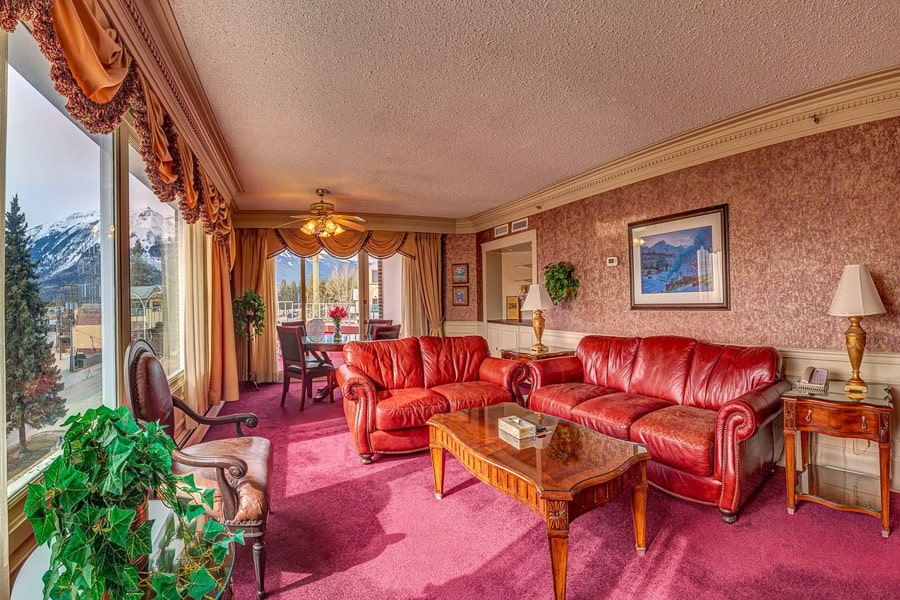 Apart from the free wifi and other freebies, as an added bonus, guests staying at this hotel can visit Jasper's Aquatic Center with complimentary passes provided by the staff.
Check availability and see reviews.
Accommodations Near Jasper
Overlander Mountain Lodge
If you're planning to stay as close to the woods as possible, then the Overlander Mountain Lodge is the right place for you. Characterized by its amazing views of the Athabasca River and peaks of the Rockies, this place sits 44km from Jasper town centre, but you barely need to leave anyways as you can enjoy a different array of activities like biking, fishing, hiking and golfing.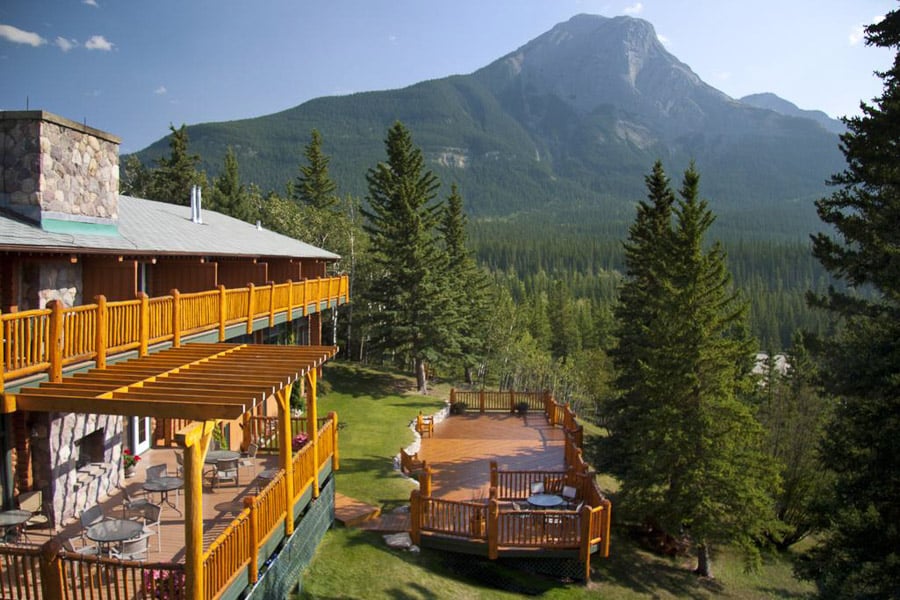 The Stone Peak Restaurant offers breakfast and dinner daily, while the Fireside Lounge lets you enjoy a drink beside the fireplace. It also has a fantastic patio to soak in that clean, crisp mountain air while enjoying a beer or glass of wine.
Check availability and see reviews.
Glacier View Lodge
One thing is for sure, is that the Glacier View Lodge is worth the splurge! Upon arrival, there's a welcome reception cocktail and charcuterie board in the main reception area. And be prepared for the best views of Athabasca Glacier from every room at this hotel. Also, there is a pull-out sofa and satellite TV in each suite's living room. In addition, the Columbia Icefield Restaurant is on-site, and you can find everything from snacks to an all-day dining room.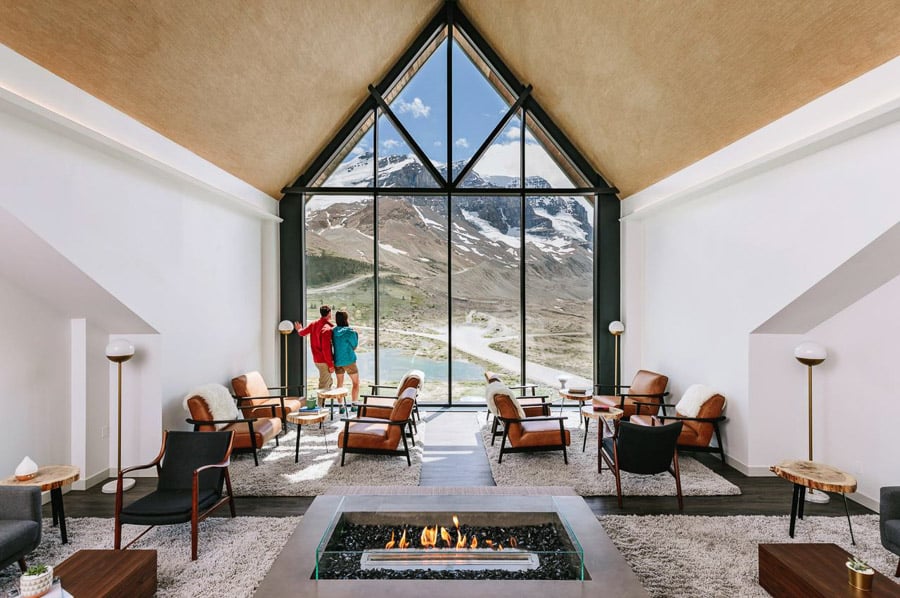 This hotel is the perfect place to explore the glacier; just ask for the hotel tour in the evening or the morning Skywalker for an additional cost. The terrace is accessible to all guests and features excellent views of the highest parts of the Canadian Rockies. Note that this hotel is about an hour's drive from Jasper.
Check availability and see reviews.
Cabins in Jasper and Nearby
Nothing screams "Jasper" more than staying in a cozy cabin. Several charming and authentic cabin properties in and around Jasper National Park give visitors the perfect getaway in the Alberta Rockies. A stay in one of these cabins will have all the modern comforts with the natural cabin aesthetic. We have an entire post dedicated to cabins in Jasper, if you want more to choose from.
Bear Hill Lodge
Bear Hill Lodge offers cozy cabins where you can have lots of privacy and comfort, with Jasper's main tourist area being just a ten-minute walk away. Staying here gives you direct access to Bear Hills hiking trails, which lead to Pyramid and Patricia Lakes.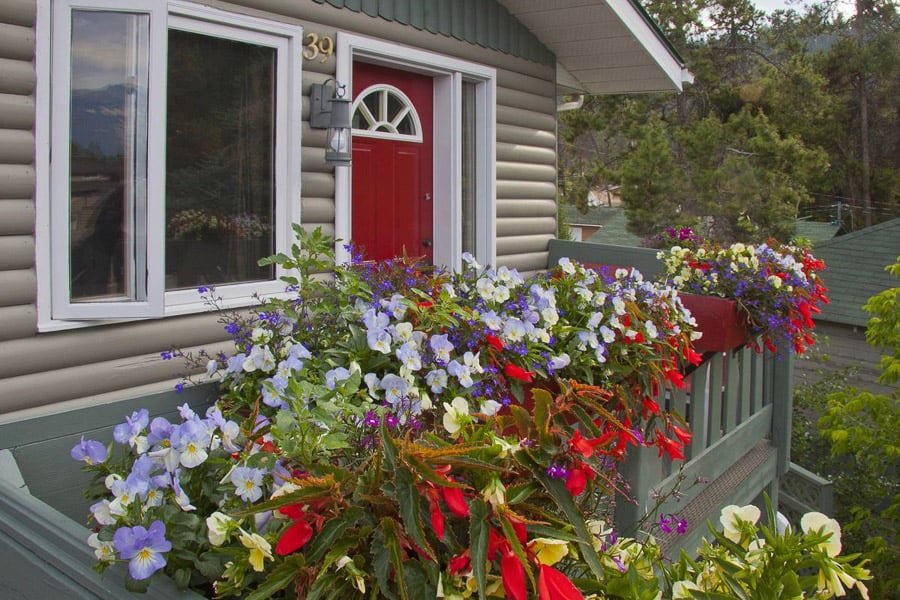 Muffins, scones, and fruit salad are included for breakfast, which you can enjoy next to the fireplace. Rooms are spacious and feature a coffee machine; some even have a kitchenette area. Guests often comment enthusiastically about the cleanliness, making this an attractive choice for accommodations in Jasper.
Check availability and see reviews.
Pine Bungalows
If you're looking for a full immersion in nature, this is the place for you. Built on the banks of the Athabasca River, these classic Canadian-designed cabins are comfortable and cozy while allowing you to stay in close contact with local wildlife in its natural habitat, and Jasper is just a couple of minutes away.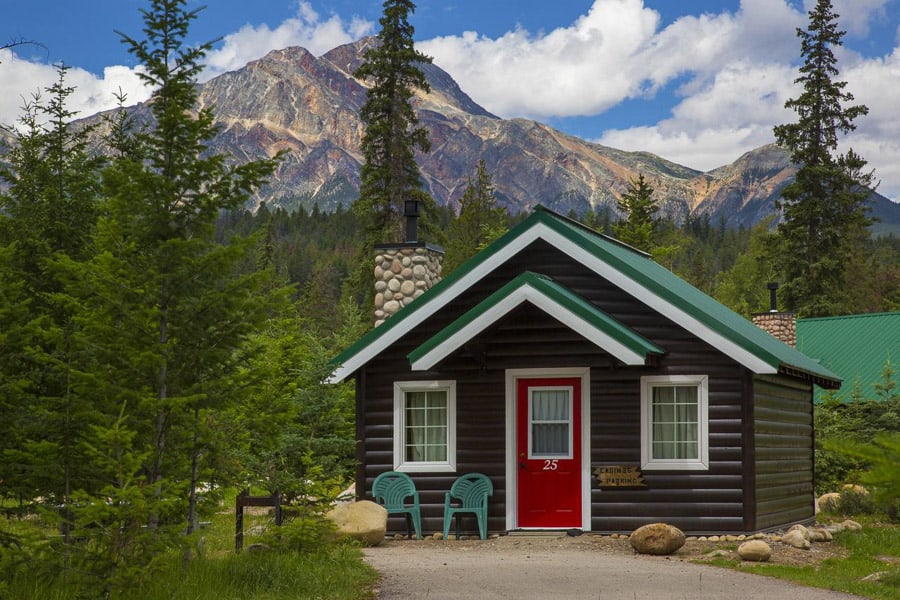 Enjoy your stay at Pine Bungalows in the middle of the forest while also enjoying modern conveniences. All cabins feature tea/coffee-making machines, refrigerators, and excellent views of the woods.
Check availability and see reviews.
Jasper House Bungalows
Nestled in the beautiful mountains, Jasper House Bungalows gives its guests a 360-degree panoramic view of the neighbouring peaks and the Athabasca River valley. Their cedar log cabins provide all the services one can expect from quality accommodations, including an on-site restaurant.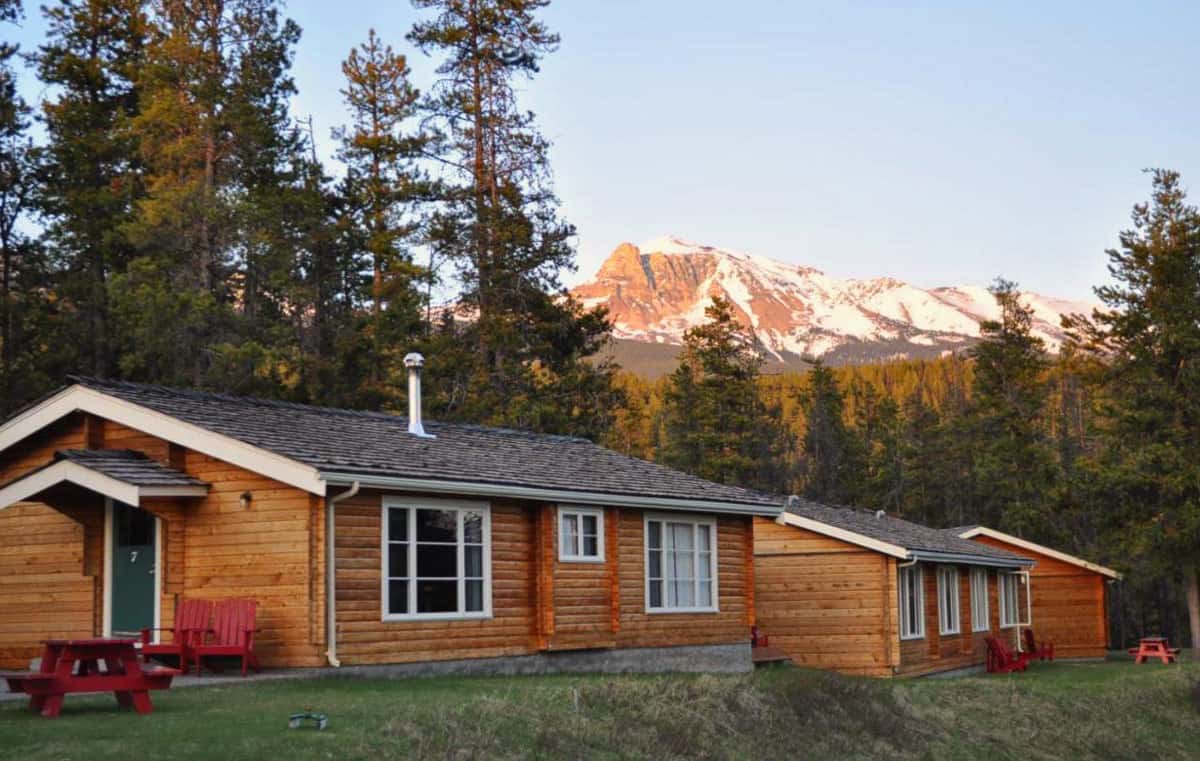 The resort is located just minutes outside Jasper, and there are non-smoking rooms and cabins for guests' comfort. It's the perfect spot if peace and tranquillity are what you seek.
Check availability and see reviews.
Jasper Bed and Breakfast
There are plenty of options for a bed and breakfast in Jasper. In fact, most of the locations are quite charming, and the bonus of staying at one is the home-cooked breakfast you will receive in the morning. Here are a few options to check out:
Airbnb in Jasper
We often stay in an Airbnb when we travel. They allow us to explore areas we would not necessarily explore otherwise, and by meeting the locals who own them, we can experience each destination in a whole new way. There are several options for Jasper Airbnb rentals as well as nearby. The options are varied and include guest suites (like the Nest Suite Apartment) or private rooms (like this room in the Blue Moose Guest House).
Campgrounds in Jasper
There are plenty of campgrounds to consider as options for accommodations in Jasper. From RV to rough-and-tumble tent camping, you're bound to find the perfect spot.
Here are some resources to get you started: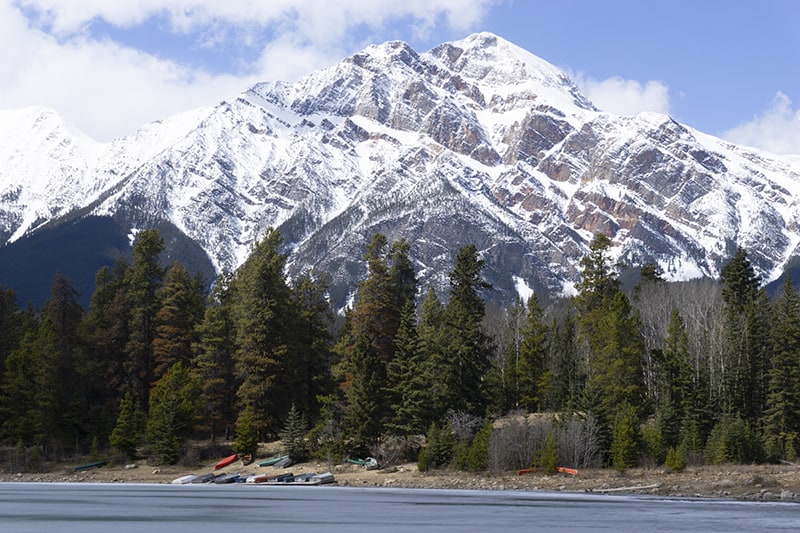 Practical Information for your Jasper Trip
Getting to Jasper is relatively easy, and the closest major city and airport to Jasper is Edmonton (365km). Banff National Park is approximately 3.5 hours south (288km), reachable via the Icefields Parkway. Visitors entering Jasper via motor vehicle will need to purchase a park pass either in advance or at the park gates.
Here is more information on getting from Edmonton to Jasper or the Icefields Parkway from Banff to Jasper.
And if you're looking for good eats…don't miss our guide to the best Jasper restaurants.
Need some help planning your stay? We've got many suggestions for things to do in Jasper, too!