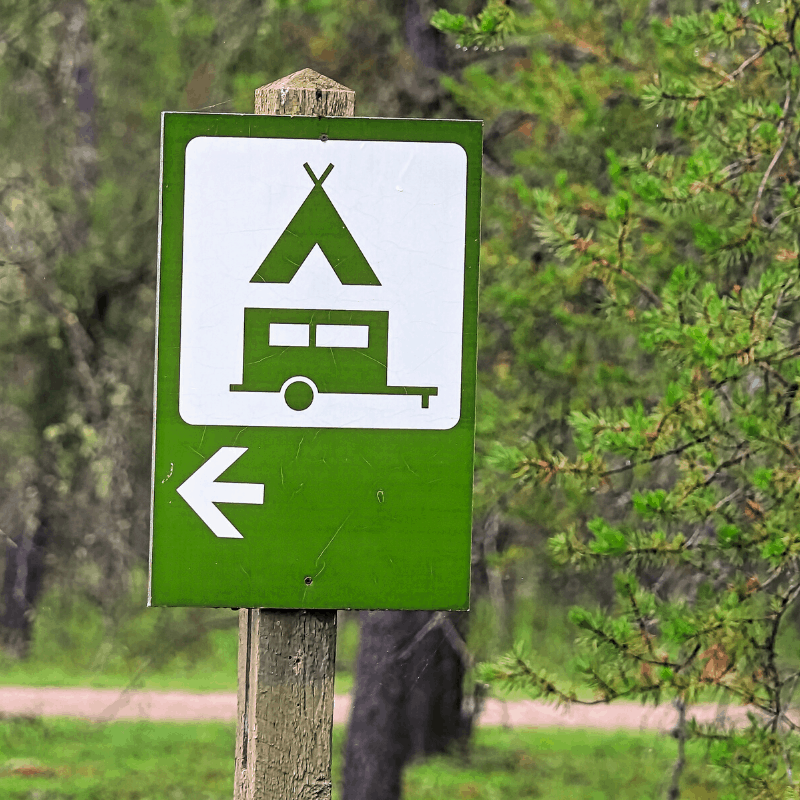 Compiled by the Road Trip Alberta team
February 27, 2020
It's that moment when you're snuggled inside a cozy sleeping bag, listening to the sound of a crackling fire, overwhelmed by millions of stars piercing the dark night sky that you realize: this is why you camp.
At 11,000 square km, Jasper National Park is the second-largest dark sky preserve in the world, which gives you more space and more stars to fulfill that perfect camping moment.
There are more campgrounds in Jasper than you can pitch a tent at, so, to help you find the best jasper camping spots, here's a list of some of the best places to camp in the park! From RV camping (and glamping) to rough and tumble tent camping, you're bound to find the perfect spot for you and your loved ones.
But remember, spots fill up fast, so be sure to book your Jasper camping reservation early to avoid disappointment!
Jasper National Park Camping: everything from tenting to fully-serviced RV hookups
Below, we've compiled a list of our favourite campgrounds. Even with strict criteria, and a heavy hand cutting out anything that didn't meet our expectations, there are still quite a few available for you to set up camp.
Nestled on the shores of the Athabasca's babbling river, Wapiti Campground is close enough to Jasper's townsite to make it convenient, but far away enough to feel like you're in the middle of the wilderness. There are 363 sites available to reserve, and a babbling river to keep you company.
If you're hungry but don't want to venture into town, there's a neat little restaurant just south of Wapiti Campground called Becker's Gourmet Restaurant (open May 1st – October 11), with rave reviews on their food and service!
Winter camping at Wapiti Campground
Wapiti operates year-round, sporting 75 winter camping spots with amenities such as electricity, hot showers and fire pits so you can stay toasty, no matter the temp! Wapiti is a welcome spot for Jasper RV camping too, with plenty of electrical hook-up spots for RVs. Come early even in the off-season as spots are first-come, first-served in the wintertime.
Highlights
Size: 362 campsites (75 winter spots)
Season: Year-round
Cost: $28 to $33/night
Amenities: Washroom and shower facilities, RV electrical hookups, fire pits
Just 20 minutes south of Jasper townsite you'll find the quiet riverfront campsite, Wabasso, with 231 campsites, and tons of hiking trail access. There are basic amenities like fire pits and toilets but few hookups and no showers. That makes Wabasso best-suited for campers that are ready to 'rough it' at least a little in tents and modest RVs, trailers, and motorhomes (under 35 feet).
A titch more rugged than other sites, Wabasso is still clean, and plenty spacious which keeps the noise levels down, and your camping experience more private. Rustic, charming and beautiful – if you don't mind not having showers, this is your spot to stay. And with the gorgeous Athabasca River flowing nearby, you can always go for a bath au naturel! 😉
Highlights
Size: 231 campsites
Season: May 6 – September 28
Cost:$22 to $28/night
Amenities: Washroom facilities, fire pits, RV electrical hookups
This is a primitive camp spot that is rugged yet beautiful with a scenic, 25-minute drive to the townsite of Jasper. There are flushable toilets, fire rings, and plenty of chances to see wildlife since it's so secluded and quiet. Pocahontas Campground is also very close to the Sulphur Skyline Trail hike, so if you want to get a jump on your day on this hike, this is the campsite to choose!
While there is running water here, there are no showers available, so be sure you know that going in! It's a nice and quiet spot for tents, RVs, trailers and motorhomes under 27 feet.
Highlights
Size: 140 campsites
Season: May 13 – September 14
Cost: $22
Amenities: Flushable toilets, fire rings
With just under 800 campsites available to reserve, Whistler Campground is Jasper's largest campsite. It's located just minutes outside of Jasper's townsite, and it's right next to Jasper's Skytram, a major tourist attraction with hiking access to Whistlers Peak, making it a hotspot for locals and visitors alike.
With great proximity comes great facilities. Spiderman's dad said that, didn't he? 😉
Whistler Campground boasts well-maintained washrooms, hot shower facilities, and even kitchen shelters (if the weather doesn't permit you to cook over a campfire). That may sound like city-camping with not much in the way of a true Jasper experience, but in this neck of the woods, the wildlife comes to you. Campers regularly report elk sightings in this prime Jasper camping spot.
Size: 781 campsites
Amenities: Washroom and shower facilities, kitchen shelters, fire pits
*Whistler Campground is currently closed for renovations and will reopen spring 2021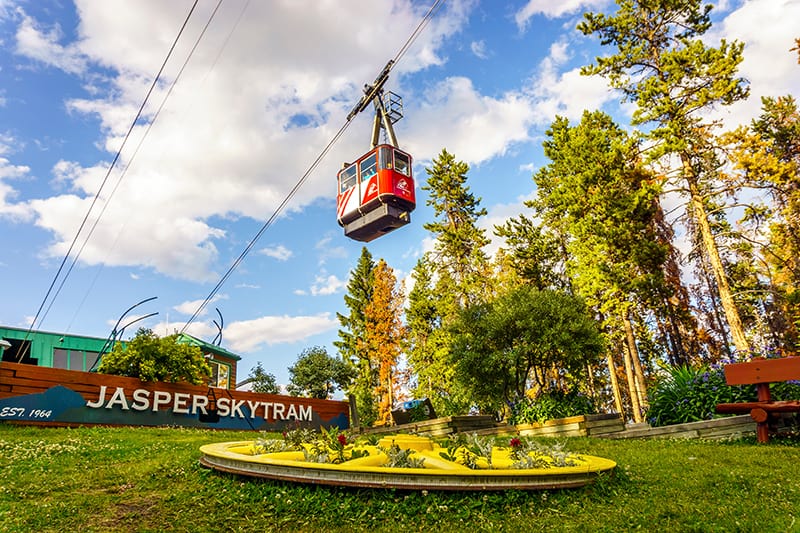 Cheap Jasper camping options
For these first-come, first-serve locales, you'll truly be at one with nature. While most have potable and running water, it's best to bring most of your supplies, including extra water with you and be prepared for a rough and tumble type of camping experience.
Camping in Jasper's Icefields
Want to take your experience of the Columbia Icefields to the next level? Campgrounds and parking lots just across the highway give you the chance to soak in all the grandiose views the icefields have to offer. Plus, can you imagine your friends' and family's reaction when you tell them you camped in Canada's icefields? Yes. You will 'thenceforth' be considered a superhero.
Just minutes away from the epic Canadian icefields, the Columbia Icefields Campground gives you a view of some of the most amazing scenery on the planet. Most sites, along with the log cookhouse, offer glacier views. Alternatively, if this site is full, there's also Wilcox Creek Campground closeby.
Details:
Tenting only
33 campsites
Open June 3 – October 12
$16/night
Columbia Icefield Discovery Centre
If you've got an RV but want those same glacier views, then this is your spot! Though it's not much more than a parking spot, the Discovery Centre acts as something of a lighthouse, a comforting sight through the long, cold nights. It's also the most central, ideal location if you want to head out on a tour of the icefields during your stay.
Details:
RV and trailer parking only
Water not available
100 sites
Open May 6 – October 12
$16/night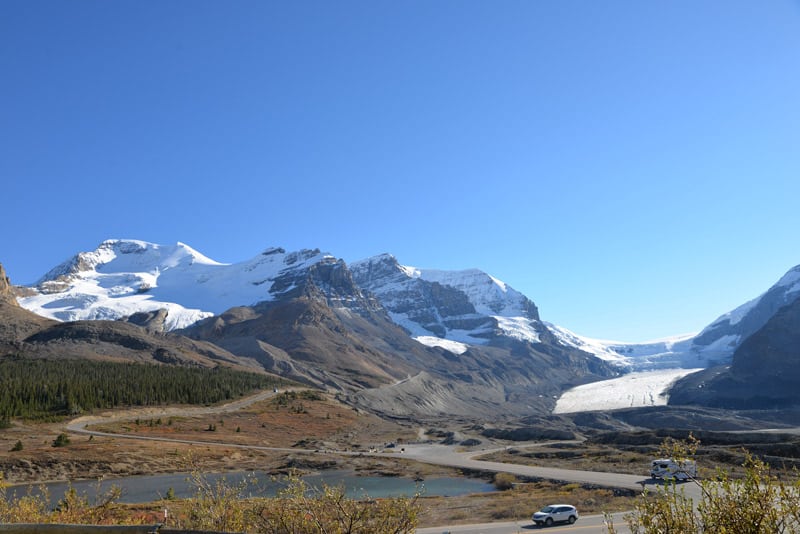 Wilcox Creek Campground Jasper
This secluded spot offers picturesque views and trailhead access to Wilcox Pass, a breathtaking hike in the area. It's also just minutes away from the Columbia Icefields. Wilcox Campground is best suited for tenting and those with RVs under 27 feet.
Highlights
Size: 46 campsites
Season: June 3 – September 21
Cost: $16/night
Amenities: Potable water, toilet facilities, cooking shelters
Enjoy a striking mountain setting as you set up camp in this gorgeous area. Snaring offers 62 campsites ranging from fully treed and private, to sprawling, wide-open spaces with plenty of sunshine. It's best suited for tenting and RVers with units under 27 feet.
Highlights
Size: 62 campsites
Season: May 13 – September 28
Cost: $16/night
Amenities: Potable water, toilet facilities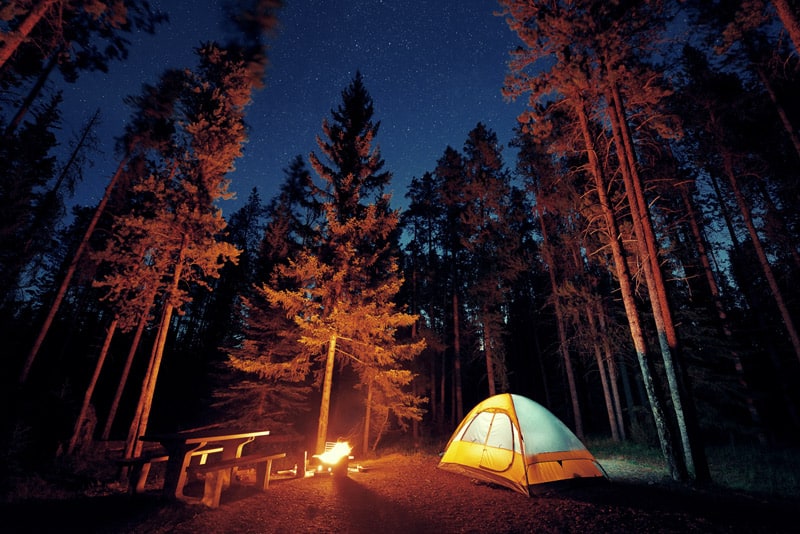 Mount Kerkeslin Campground Jasper
Just 30 minutes away from Jasper townsite sits this humble campsite at the base of Mount Kerkeslin. This quiet, secluded spot offers a nice amount of shade and is a great stop off for cyclists and RV owners with units under 25 feet. Mount Kerkeslin also offers a short jaunt down to the river, too, so be sure to enjoy it, and even take a dip if you dare, while you're there!
Highlights
Size: 42 campsites
Season: May 13 – September 21
Cost: $16/night
Amenities: Potable water, toilet facilities
Honeymoon Lake Campground Jasper
You don't have to be on your honeymoon to head here. 😉 Get back to nature and enjoy the sweet, sweet sounds Honeymoon Lake has to offer at this low-key lakeside campsite. This spot is best suited for tenting and RVs under 25 feet.
Highlights
Size: 35 campsites
Season: May 13 – September 21
Cost: $16/night
Amenities: Potable water, toilet facilities
Beside the eponymous (and quite frigid) creek, there's not much at Jonas Creek Campground, which is part of its charm. Offering a cook shelter for when the weather turns nasty, potable water, and toilet facilities, Jonas Creek has everything you need and nothing you don't. It's a campground best suited for tenting and RV trailers under 25 feet.
Highlights
Size: 25 campsites
Season: May 13 – September 14
Cost: $16/night
Amenities: Potable water, toilet facilities, cooking shelter
Need some help planning your itinerary while you are camping in the area? Check out our guide for all the things to do while visiting Jasper.
ALSO, don't forget that while you're on the road, you can download our FREE Road Trip Alberta bingo cards, to make it just that much more fun!