Compiled by the Road Trip Alberta team
Last updated on January 26, 2023
The small mountain town of Canmore has so much to offer year-round, yet in summer, it really shines. Not only is this compact town home to great amenities like exceptional dining spots, art galleries, and more, but it also serves as an important hub for all of the surrounding nature. So if you really want to enjoy some convenient attractions while also sleeping under the stars in the shadow of mountains, inside the town itself (and within an hour's drive) you'll find some fantastic Canmore camping spots to give you the best of both worlds.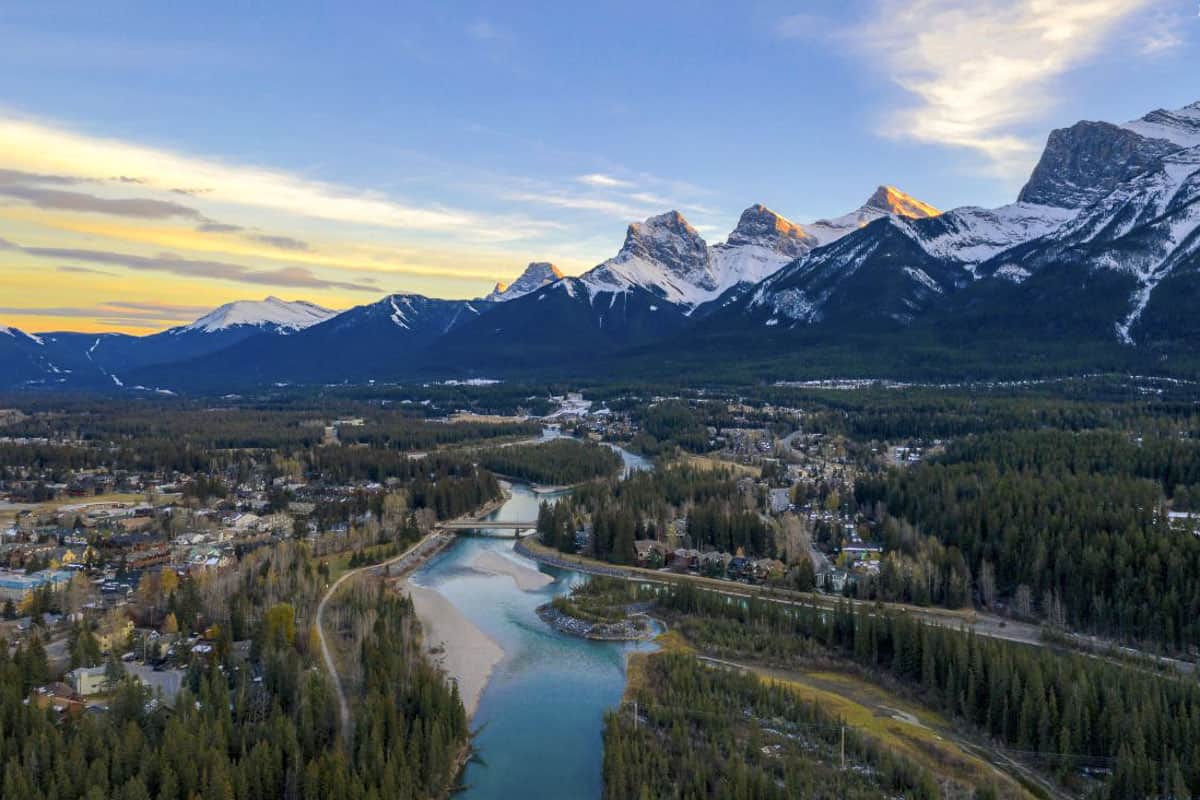 And if you really want to go off-grid, that's possible too. Backcountry camping options are nearby and available, read on to get all of the information.
Information to Know Before you Go
Kananaskis Conservation Pass
Canmore Weather
The weather in Canmore in summer is quite pleasant and has an average of 22 degrees Celsius (72 Fahrenheit). Note that summer storms can bring rain, intense thunder and lightning and sometimes even snow so it's best to be prepared for all sorts of weather. Canmore winter weather is typically snowy and cold. The average temperature during winter months is -12 degrees Celsius (10 degrees Fahrenheit).
Be Bear Aware
Canmore and Kananaskis are right in the heart of bear country and you need to be "bear aware". Always carry bear spray with you and have it on hand at your campsite. Keep food, when not in use, in sealed coolers and in vehicles or storage lockers (where available). Always dispose of trash and rubbish in the locked bins and ensure that the lids are closed when leaving.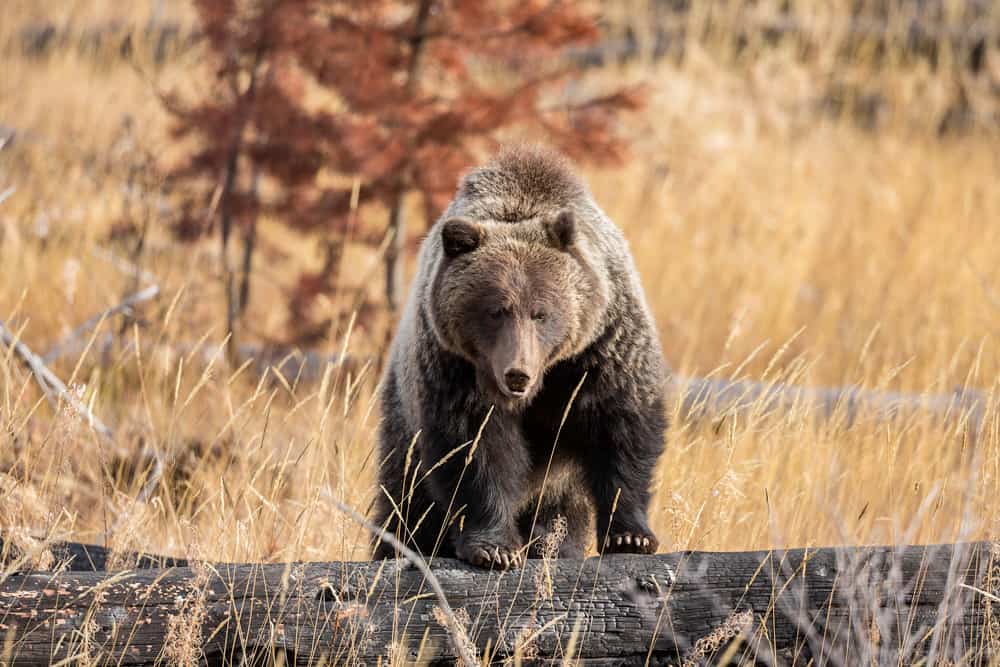 The Best Canmore Camping Spots (and Nearby)
Wapiti Campground
One of the only campgrounds actually found within the town of Canmore itself, Wapiti Campground is hugely popular. Nestled in the foothills of the Rocky Mountains, expect unbelievable views from your campsite. This Canmore campground is a short walk from the beginning of the Legacy Trail that connects Canmore and Banff for those who are interested in hiking or biking the trail. It's also an amazing location to explore all of the things to do in Canmore, as well as being within driving distance from Banff National Park, Jasper National Park, and more.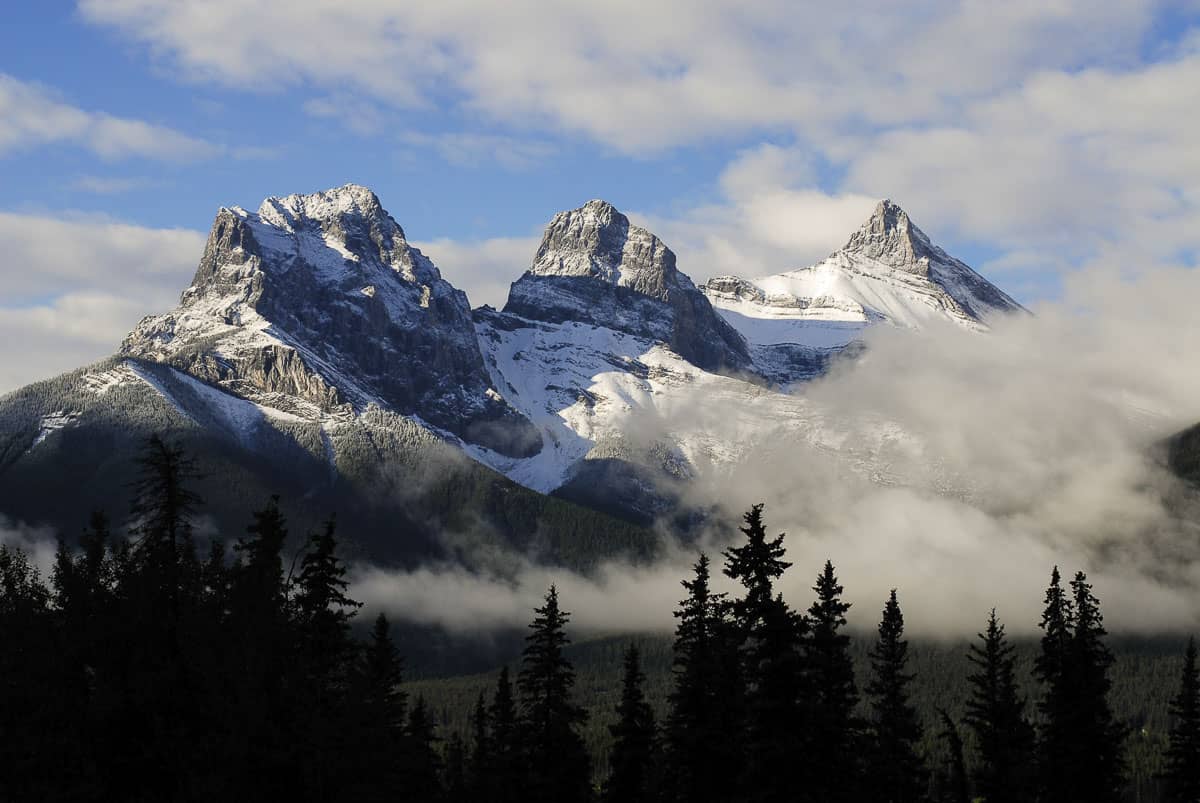 Interestingly, there are no reservations available at Wapiti Campground; each of its tent sites and RV sites is on a first-come, first-served basis. Choose from 37 unserviced tent sites or 50 serviced RV sites. There is also a limited amount of monthly stays available upon request. Potable water is available, and firewood is available for purchase (although you can find it much cheaper in town).
Please note: there's also a Wapiti Campground in Jasper, so make sure not to get that one confused with Canmore's Wapiti Campground!
Spring Creek RV Park
One of the most convenient RV parks in Canmore, Spring Creek RV Park is found in the heart of the town. An excellent base for exploring all of the great Canmore restaurants and other attractions, you're also within easy access to the surrounding provincial and national parks. With 28 RV sites, all with Rocky Mountain views, Spring Creek RV Park fills up quickly every summer for its location and equally fantastic amenities.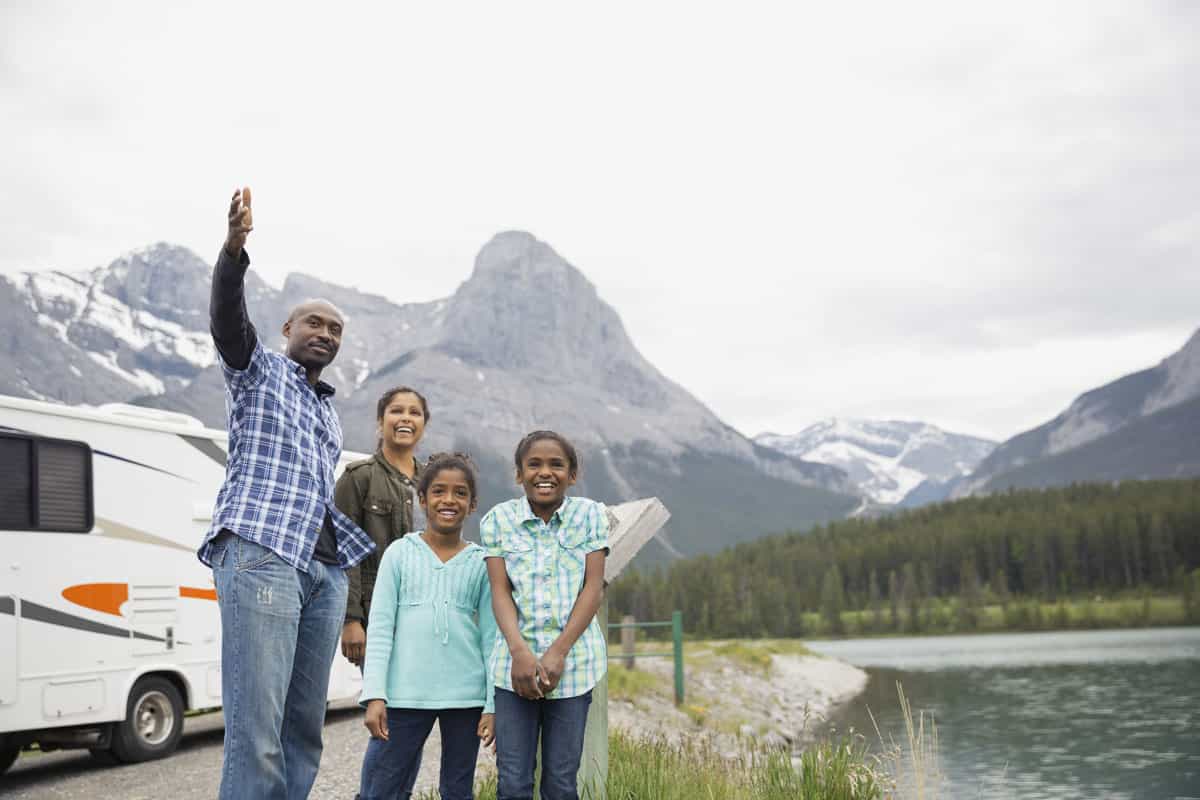 Enjoy 30-amp to 50-amp services, a picnic table and fire pit at every site, plus a playground, making it the kind of place families will want to return to year after year. And with downtown Canmore less than a ten-minute walk away, it's no wonder it's considered one of the best places to stay in Canmore.
Please note that there is a two-week minimum stay at Spring Creek RV Park and that there are no tent sites available.
Rundle Mountain RV Park
Found right in the centre of Canmore, Rundle Mountain RV Park is a fantastic choice for a place to camp in town. Within walking distance of restaurants, convenience stores, the Canmore Golf and Curling Club, the Canmore Brewing Company, and more, it's a perfect location for those wanting to be in the heart of the action. Rundle Mountain RV Park has 35 summer sites and 9 winter sites, and there are small back-in sites, medium back-in full-service sites, large back-in-water/30-amp sites, and large back-in full sites to choose from. Be sure to book early, as this RV park does fill up quickly!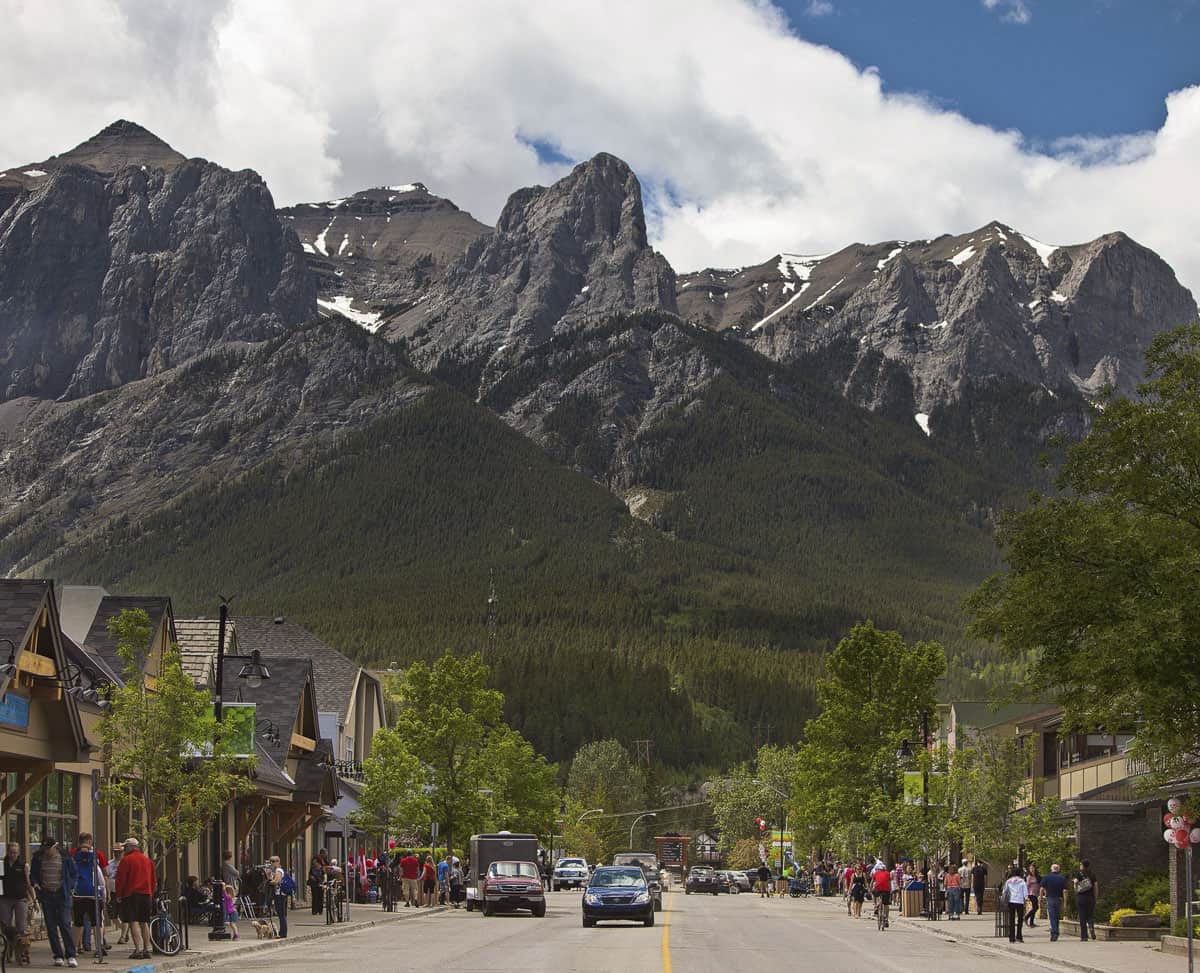 Amenities include bikes for rent (perfect for the nearby Legacy Trail to Banff National Park), a main fire pit as well as individual fire pits, and laundry facilities. The park is also pet friendly, provided you keep all animals on a leash at all times.
Bow River Campground
The Bow River Campground is one of the best options when it comes to Canmore camping. With such gorgeous surroundings, it's easy to see why this campsite books up so quickly every year! Only five kilometres east of Canmore on the Trans Canada Highway, Bow River Campground is located within Bow Valley Provincial Park. With 59 serviced sites and 7 unserviced sites, you'll want to reserve your spot well in advance of your trip to Canmore; book your campsite through the Alberta Parks website.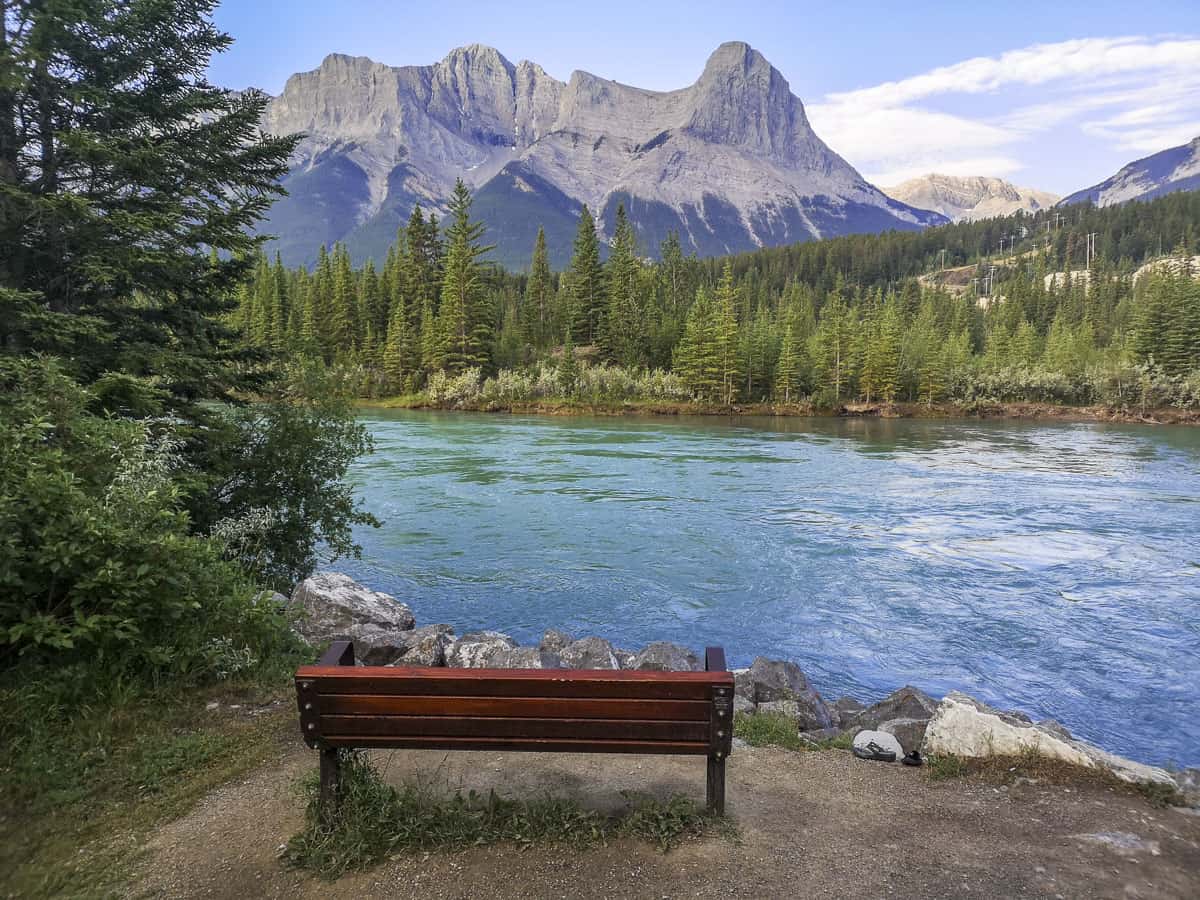 Found on the Bow River, you can try your hand at fishing (if you're a beginner, please read our fishing in Alberta article). The river is also popular for kayaking and stand-up paddleboarding, while the rest of the park has fantastic hiking and biking options. Take advantage of those stunning backdrops all around you, including the Rocky Mountains and forests full of trees. While there is sometimes a bit of traffic noise from the nearby highway, Bow River Campground is still a peaceful and beautiful place to camp near Canmore.
Three Sisters Campground
Three Sisters Campground is located within Bow Valley Provincial Park, only 10 kilometres from the centre of Canmore. While it is found along the Trans Canada Highway, meaning you'll occasionally have some noise from the passing traffic, the campsite is perfect for those who want to be close to Canmore while still spending time outdoors in the beautiful Kananaskis Country.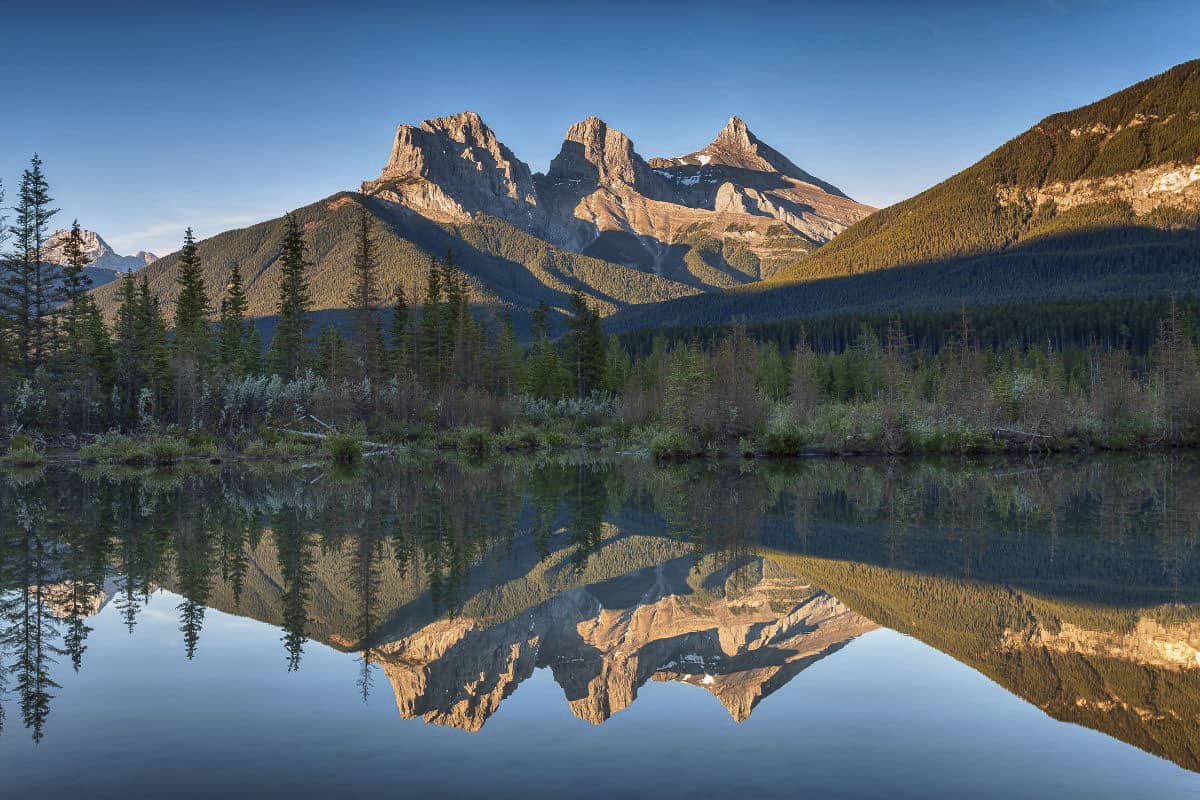 With 36 unserviced sites available for tent camping amongst the trees, amenities include picnic shelters, fire pits, firewood for sale, and a hand launch for small, non-motorized boats. Enjoy the nearby Bow River as well as accessibility to all of the available hiking and biking trails, including the nearby Bow Valley Trail.
Unlike some of the other Canmore camping options, the Three Sisters Campground is a first-come, first-served campground, meaning we recommend you get to the site as early as possible. Available from late April to early October, you can find all of the updated camping dates on the Alberta Parks website.
Lac des Arcs Campground
Another option in Bow Valley Provincial Park, Lac des Arcs Campground is only 14 kilometres east of Canmore, meaning you're close to all of the town's amenities while still getting to experience the fun and adventure of camping in the outdoors. Unlike many of the nearby campsites that are situated along Bow River, this campground is found on the shores of Lac des Arcs, making it incredibly popular with windsurfers. The area is also known for its fabulous hiking, biking, and fishing.
Lac des Arcs Campground has 28 unserviced campsites available from spring until autumn. Amenities include a playground, a hand launch for non-motorized boats, and fire pits, but the campground is fairly rustic otherwise. Make sure to book ahead for your campsite using the Alberta Parks website.
Spray Lakes West Campground
Head to stunning Spray Valley Provincial Park to camp at the Spray Lakes West Campground, found just 16 kilometres south of Canmore. One of the more peaceful camping options near Canmore, you can rest your head near the gorgeous Spray Lakes Reservoir. With sites for both RVs and tents, the area holds excellent opportunities for hiking, fishing, boating, canoeing, kayaking, birdwatching, and more. Immerse yourself fully in nature as you breathe in the fresh mountain air and try to spot wildlife amongst the trees.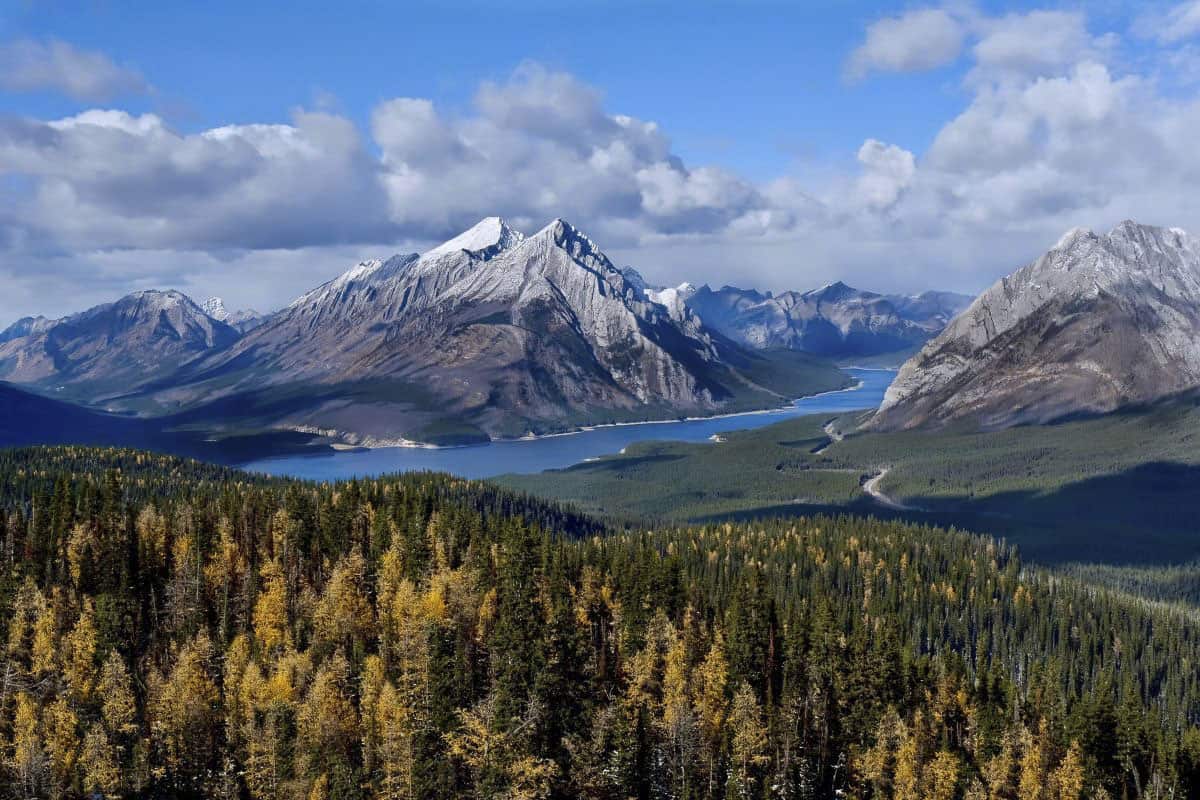 Spray Lakes West Campground has 50 unserviced sites, all of which are on a first-come, first-served basis. We obviously recommend that you get to the campground as early as possible in order to snag a spot, especially as it fills up quickly in the summer months. Amenities include a hand launch for non-motorized boats, fire pits, and food storage, but the campground is a lot more rustic than many others nearby… meaning you can expect pit toilets and a water hand pump!
Bow Valley Campground
Not to be confused with the Bow River Campground, Bow Valley Campground is found approximately 30 kilometres from downtown Canmore. Although only about a 25-minute drive from Canmore, you can still experience all the beauty and serenity of Bow Valley Provincial Park.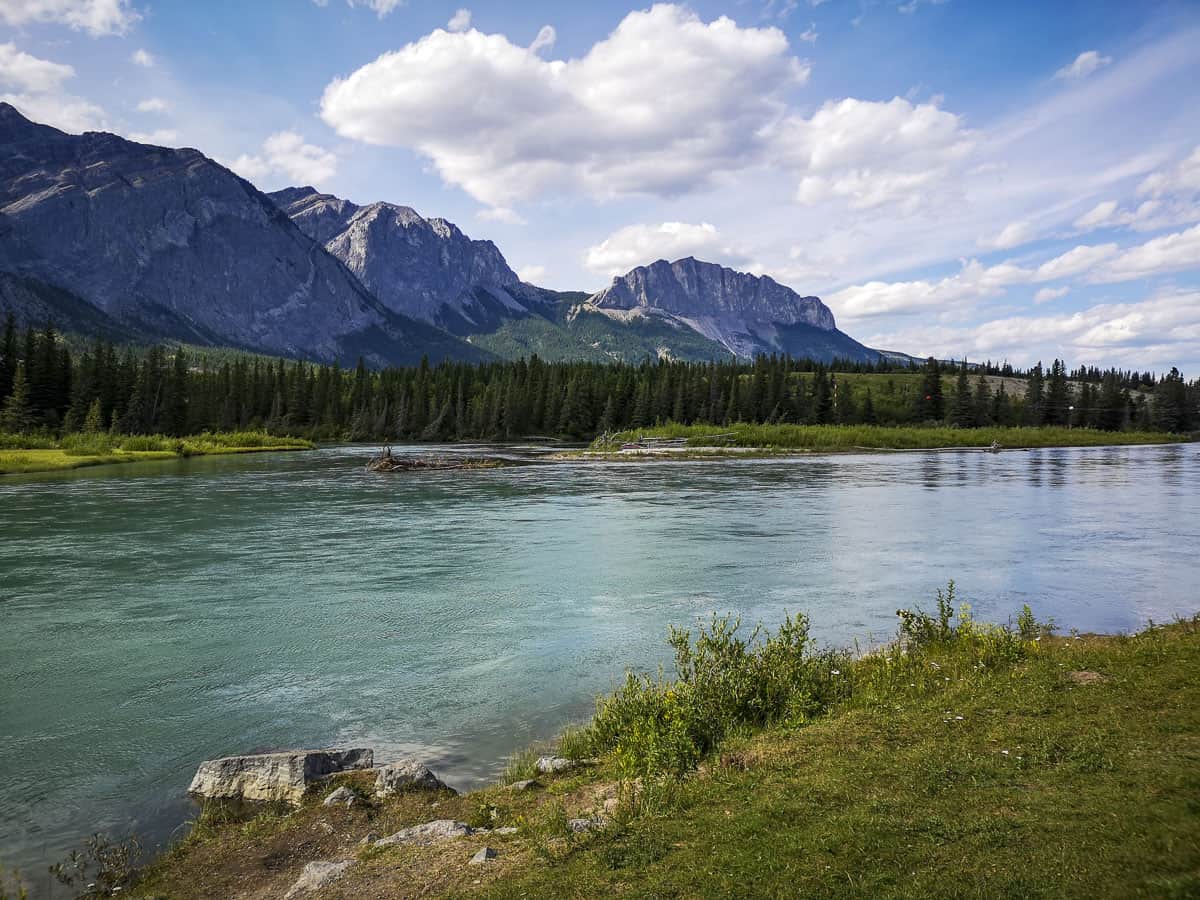 It's a perfect base for those looking for all the best hiking trails in Kananaskis Country, and, as it's slightly further afield from the Trans Canada Highway than the Bow River Campground or Three Sisters Campground, it's a bit quieter and more secluded within the park. Take advantage of the flowing Bow River right beside the campground as well as the thick forests and jaw-dropping mountain views.
This large campground has many campsite options, including 36 unserviced sites, 131 power/water sites, and 6 walk-in tenting sites. Other amenities include a playground, a grocery/supplies store, paid showers, flush toilets, an amphitheatre, and fire pits. 100% reservable, we recommend booking your campground through the Alberta Parks website long before you plan on visiting Canmore.
Willow Rock Campground
Found near the Bow Valley Campground and Owl Group Campground, Willow Rock Campground is yet another option for Canmore camping in Bow Valley Provincial Park. Approximately 28 kilometres from Canmore, you have the option of heading into town for shopping and restaurants while still enjoying the natural settings of Bow River and the surrounding Kananaskis Country.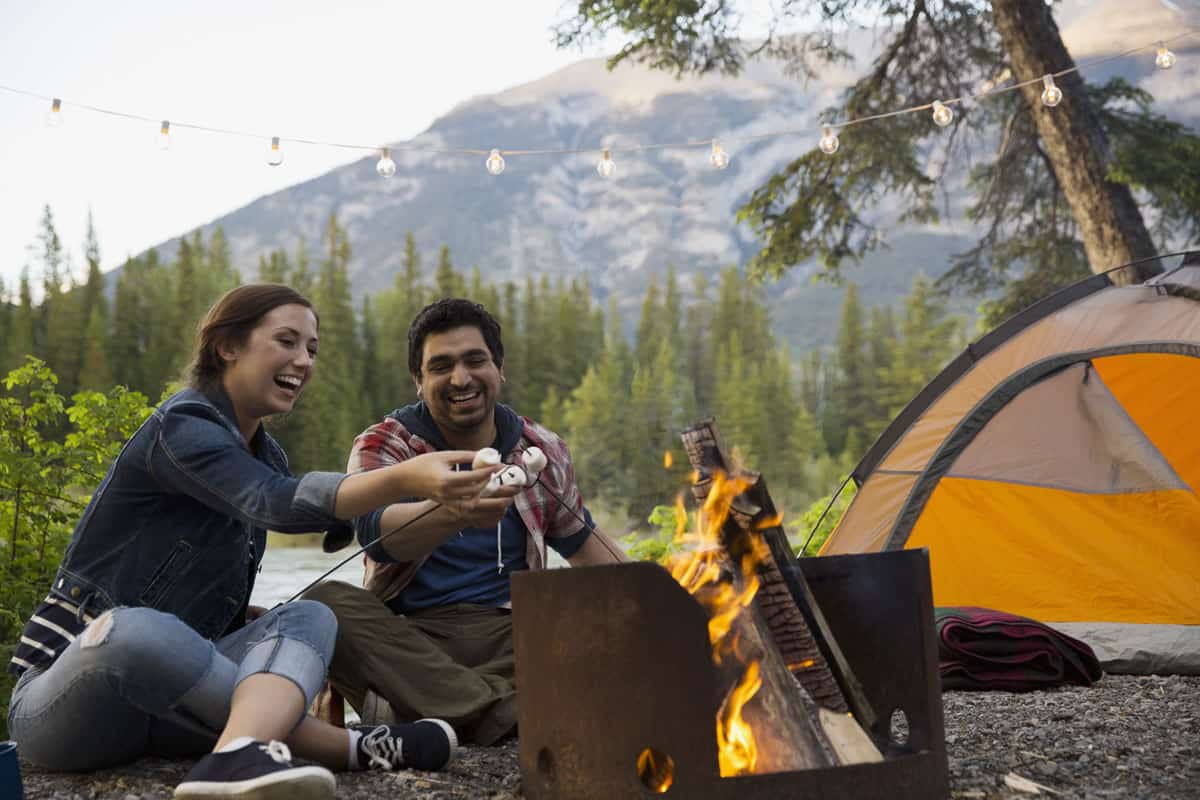 While Willow Rock is a first-come, first-served campground, there are plenty of amenities here, including a playground, fire pits, firewood sold, flush toilets, paid showers, and picnic shelters. As you can't reserve a campsite ahead of time, head here as early as possible in the day so as to not miss out on a site. There are 90 unserviced sites as well as 34 power (15-amp) sites available, some open and some in treed spots.
Mount Kidd RV Park
One of the most popular RV parks in the Kananaskis region, Mount Kidd RV Park is about a half-hour's drive from Canmore. Offering year-round camping near Canmore, the RV Park is extremely accommodating; motor homes, trailers, truck campers, tent trailers, and tents are all welcome here.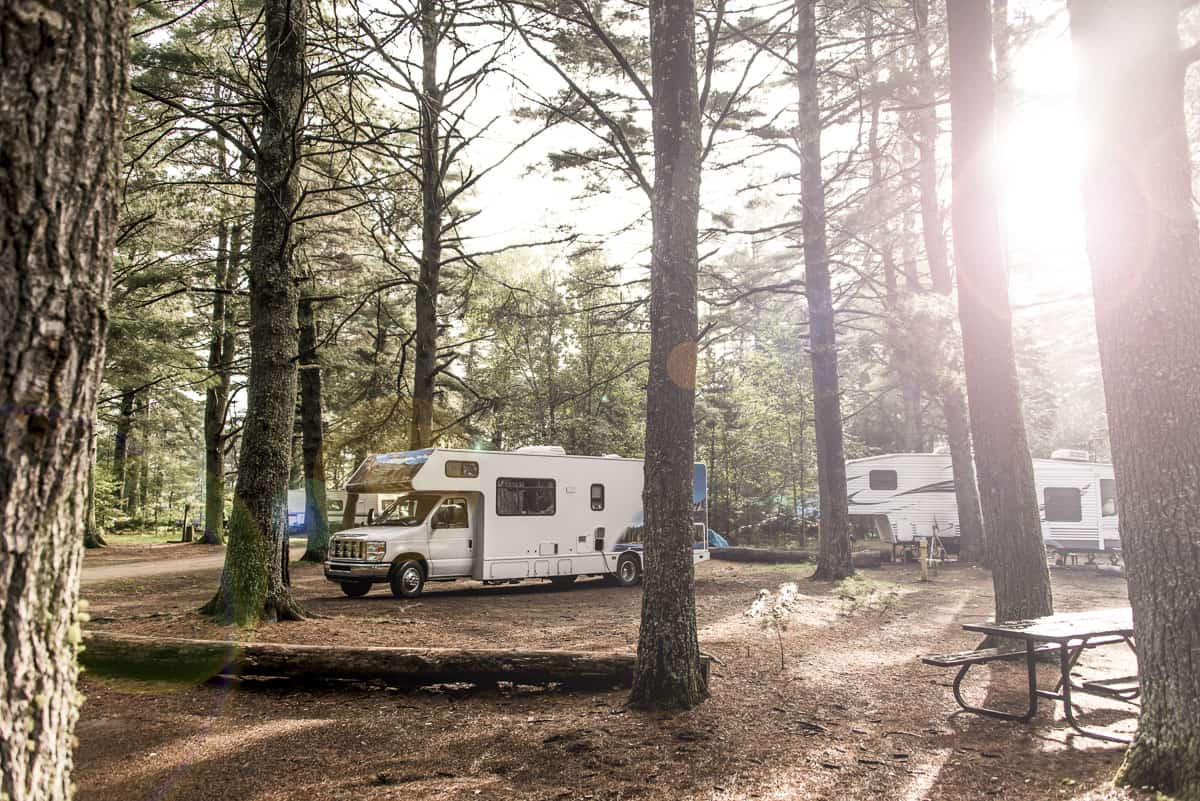 And with 229 campsites, there's plenty of room… although the park still books up very quickly every year, so it's crucial to reserve your spot well in advance! Choose from fully-serviced, semi-serviced, and no hook-up campsites, all of which have a picnic table and fire pit.
With an excellent location in the heart of the Kananaskis region, Mount Kidd RV Park also has tennis courts, horseshoe pits, a volleyball court, an amphitheatre, a wading pool, and a playground, making it ideal for families. There are also lots of hiking trails and biking paths nearby, as well as the Kananaskis Country Golf Course next door.
Owl Group Campground
Only 26 kilometres east of Canmore, the Owl Group Campground is found in Bow Valley Provincial Park. Operated by Alberta Parks and open from spring until autumn every year, the Owl Group Campground is fantastic for those looking to camp with a large gathering of people. With 40 units available, there are fire pits, flush toilets, picnic shelters, and 15-amp power available at the main hall (not at campsites). The heated hall can accommodate up to 150 people. Bonus? There's also firewood provided!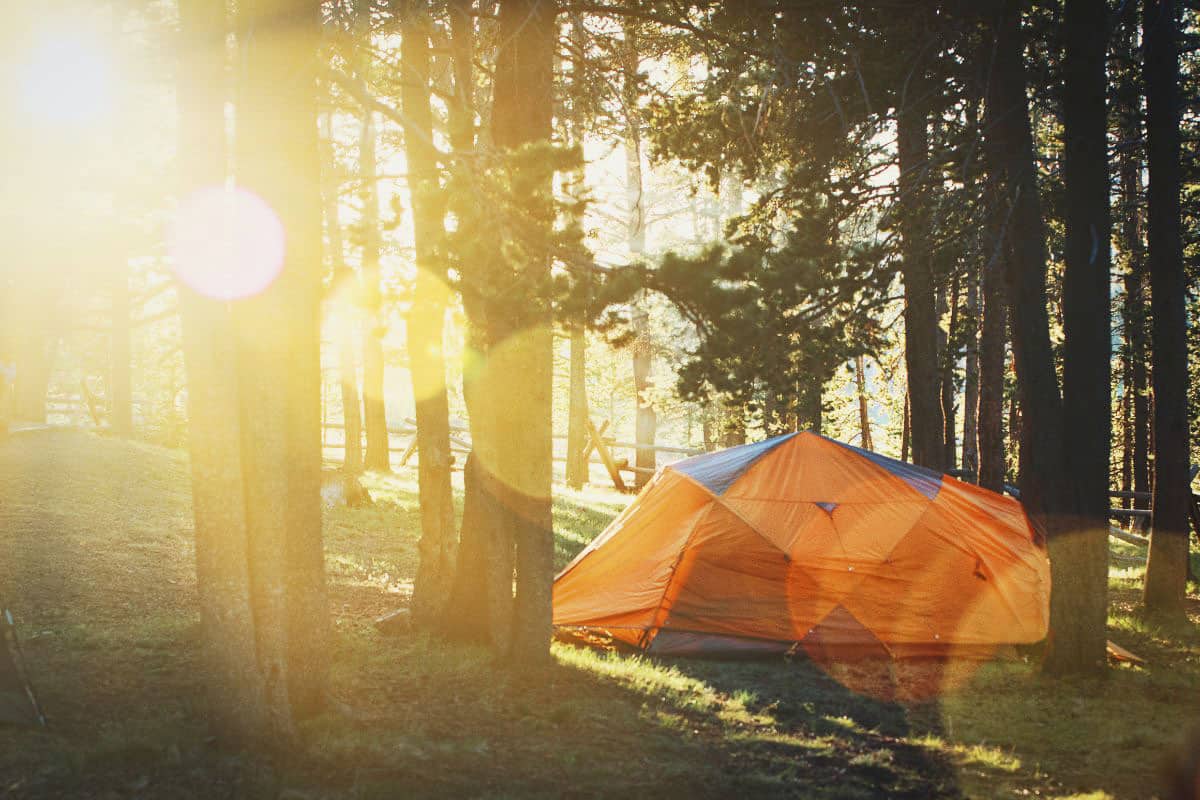 Bow Valley Provincial Park is one of the most beautiful provincial parks in Alberta, so it's the perfect spot for a family reunion or a camping trip with friends. Make sure to book the Owl Group Campground well in advance through Alberta Parks. Another group camping option near Canmore is the Stoney Creek Provincial Recreation Area.
Backcountry Camping in Canmore
Another option when it comes to Canmore camping is to try your hand at backcountry camping. While we'd only recommend this for more seasoned campers, it certainly is a great alternative if you're after a camping experience far from the crowds. It is definitely an adventure – you'll need to completely provide for yourself – it is also a surefire way to create a lifelong memory of your time near Canmore. For more on backcountry camping, make sure to read our beginner's guide to Alberta crown land camping.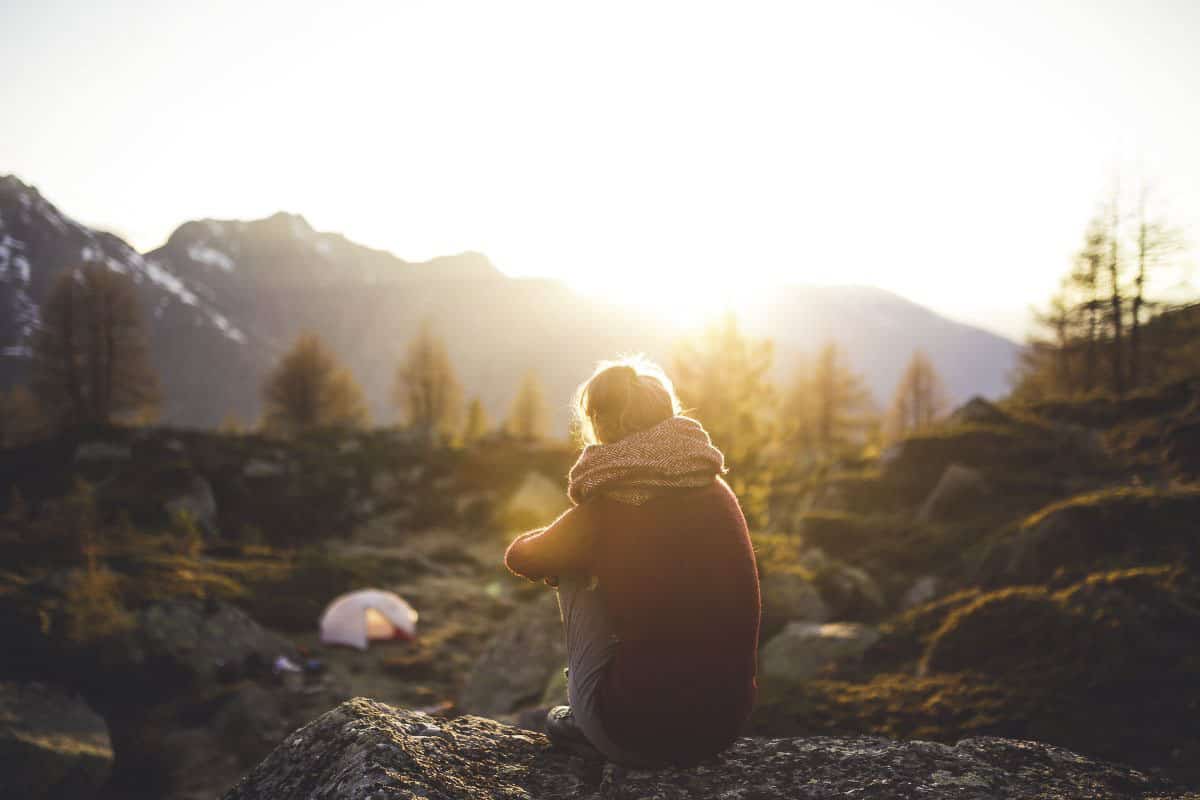 Some potential backcountry or crown land sites near Canmore include Jewell Bay in Bow Valley Provincial Park, Quaite Valley in Bow Valley Wildland Provincial Park, and Ribbon Lake, Ribbon Falls, and Lillian Lake in Spray Valley Provincial Park. These sites are available for $12 a night. There are also a few in Peter Lougheed Provincial Park, though that's at least an hour's drive from Canmore.