Disclaimer: This page may contain affiliate links. Please review our full Terms and Conditions for more information and our Privacy Policy. Note that any pricing, operating hours, or other such information provided below may have changed since initial publication.
Compiled by the Road Trip Alberta team
Written by Dalene Heck
Last updated on January 27, 2023
If you skip down to the first photo in this post, you'll find me, holding a fish by a napkin.
Let's be honest…fish are kinda slimy and gross. And truthfully, I don't even like how they taste, either! Yet, if anyone asks me to go fishing in Alberta, I am all over it. There is something meditative about the whole process – whether rocking gently in a boat waiting for that first bite, or standing in waders while cool river water rushes around me – it is an experience that I will happily do over and over again. (As long as someone has napkins on hand if I need to hold a fish, and/or someone else who will gladly consume whatever I catch.)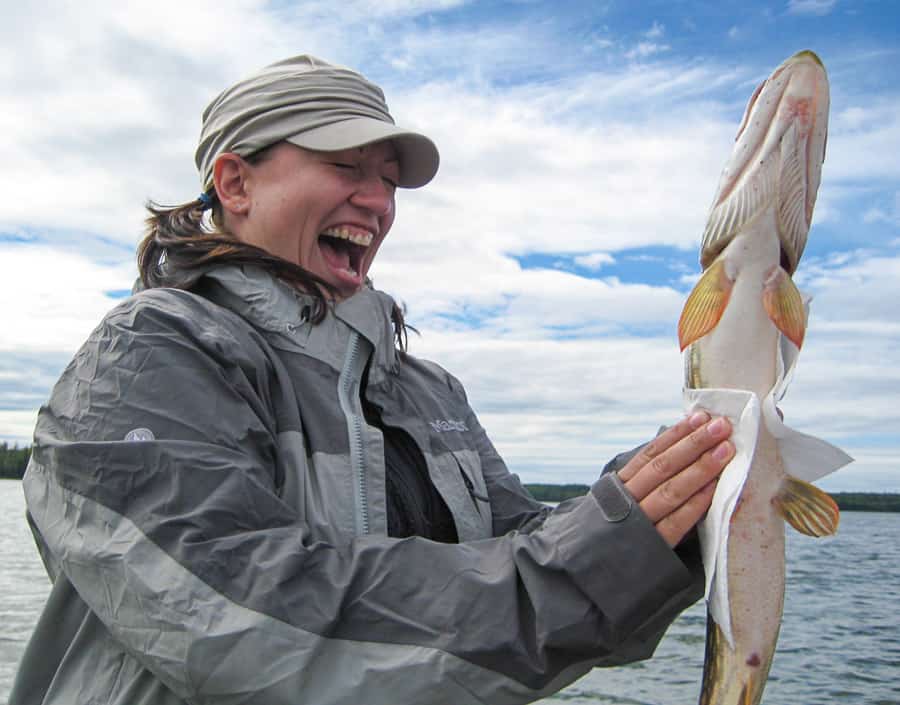 Another honest declaration: I am not an expert on fishing in Alberta by any means. But as someone who grew up here, I know plenty of people who are! And so this post is a compilation of great advice from friends across the province to help out beginners who want to take to the waters to try their hand at one of Alberta's great pastimes.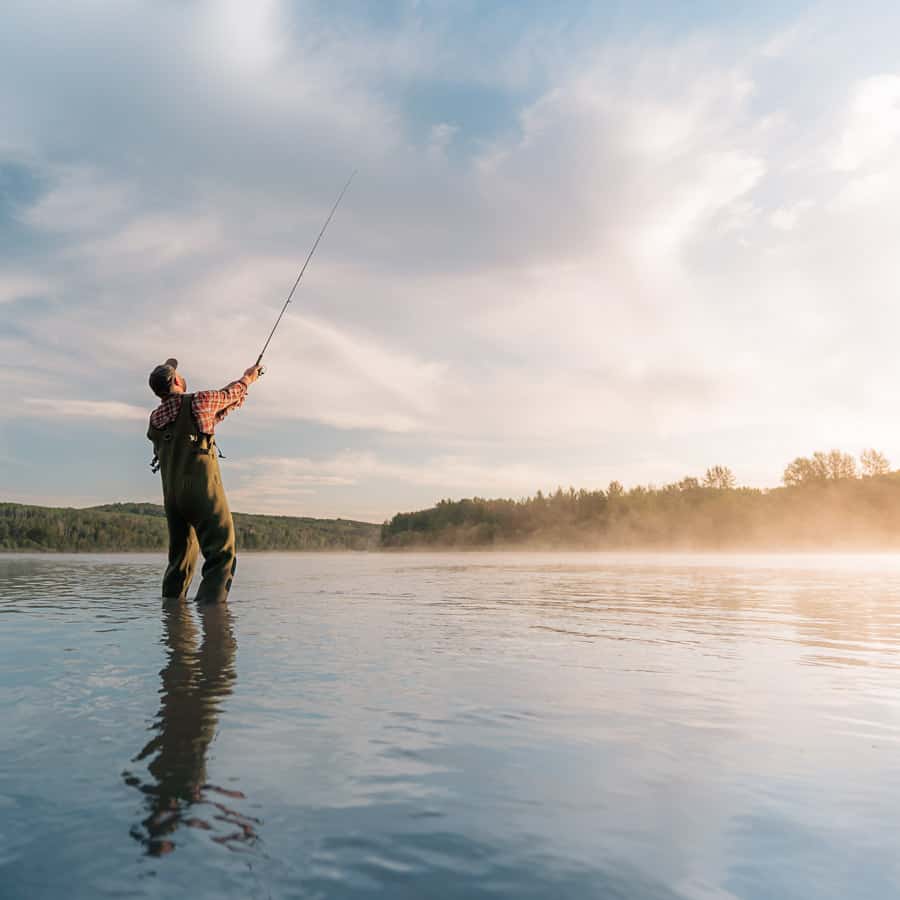 Fishing in Alberta
Whenever you go fishing in Alberta, it's extremely important to follow all rules and regulations, and you must possess a valid Alberta fishing license (or be lawfully exempt; more on that below). These government regulations are there to help keep Alberta's environment safe, and to make sure that there will be plenty of fish for generations to come. All people interested in Alberta fishing should download and read the latest Alberta fishing regulations in order to stay up-to-date.
Alberta Fishing Regulations
In general, it is crucial to understand where you can fish in Alberta, how you are allowed to fish, which fish you are allowed to keep, and how many fish you are allowed to keep. Every person who fishes in Alberta should know these regulations before setting out.
For example, when fishing in Alberta, it is unlawful to:
Use gaffs, gaff hooks, spring-loaded hooks, firearms, or snares to catch fish.
Use types of live bait to catch fish, including live crayfish, amphibians, or other fish (minnows included).
Use more than one line when angling into open water, or two lines when ice fishing.
Cull fish, meaning keeping live fish in a holding device until a more desirable fish is caught.
It is also a necessity to know your fish and to know what your daily catch limit is. For example, you can keep 15 yellow perch, but you must release all lake sturgeon (they are considered an endangered species). There are also certain lakes that are catch-and-release only.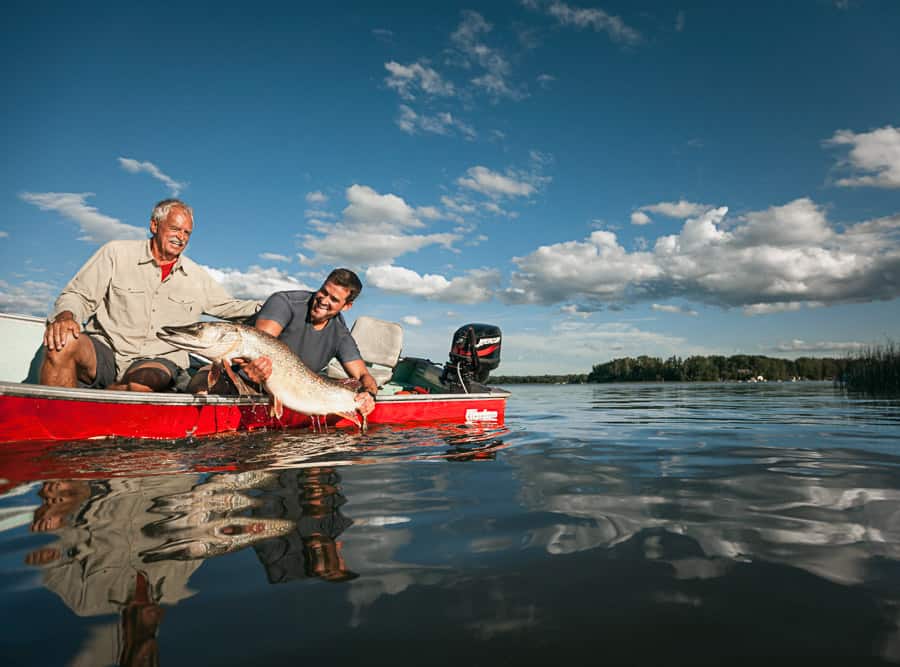 Fishing in a national park also has different rules and regulations. For example, it is unlawful to fish with more than one line, fish from 2 hours after sunset to one hour before sunrise, and to use or possess within 100 metres of a shoreline any natural bait and/or chemical attractants.
These are just a few examples, but it really is critical that you are aware of all of the current Alberta and national park fishing regulations before you head out on the water.
Alberta Fishing License
Before you go fishing, knowing which Alberta fishing license you need is important. Firstly, all anglers must have an active Wildlife Identification Number (WIN) before purchasing any fishing license. The cost for a WIN is $8 and can be ordered online.
In Alberta, there are different fishing licenses required based on your age, your residence, and what you intend to catch. There are also different prices for residents of Alberta. Those under 16 or over 65 do not need sportfishing licenses. Indigenous people also do not require fishing licenses and have specific fishing rights in Alberta. You can purchase your Alberta fishing license from AlbertaRELM or from select private license issuers (i.e. some sporting goods stores).
Current Pricing for Alberta Sportfishing License:
Alberta Resident – 16 – 64 years – $28 per year (no charge for under 16 or 65+ years)
Canadian Resident Outside Alberta – Annual $60 / 7-day License $41 / 1 day $25
Non-Resident from outside Canada – Annual $85 / 7-day License $55 / 1 day $26.63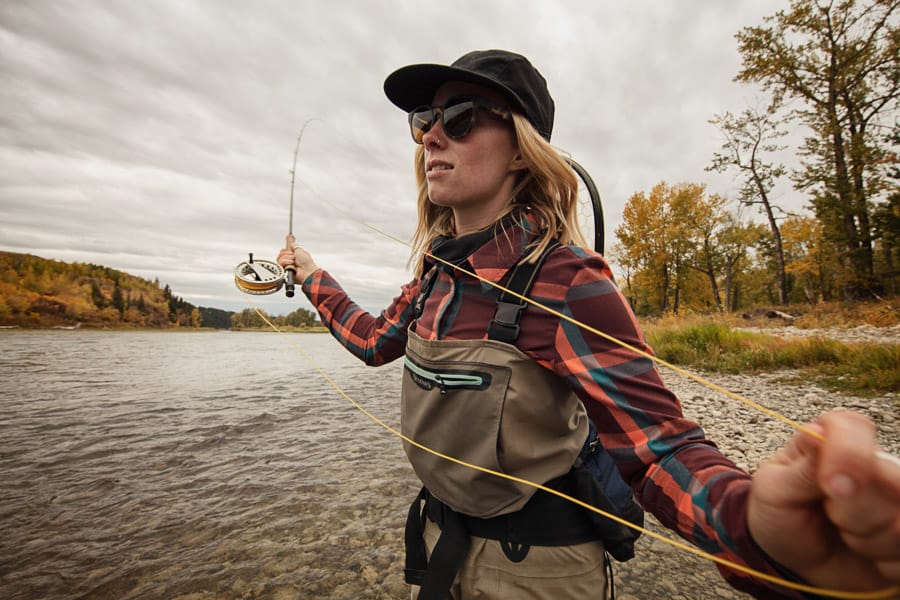 There are also special harvest licenses you must purchase for walleye fishing, so make sure to stay up to date with those licenses. Walleye licenses are only available by draw, so enter early if you intend on fishing for walleye in Alberta.
Fishing in a national park in Alberta requires a national park fishing license. A provincial fishing license is not valid. The national park fishing license is $9.80 per day or $34.30 for an annual pass and is not included in the standard park entry fees.
Fishing Season in Alberta
Fishing licenses in Alberta are generally valid for one year, from April 1st until March 31st of the following year. Always research the spot you'd like to visit in order to plan your most successful fishing trip, as there are optimal times for fishing in each lake or river. Certain bodies of water also have specific opening days, so it's imperative to make sure you follow all opening day laws.
For some, the best fishing season in Alberta is in warmer weather, while others love ice fishing (more on that below). The typical summer fishing season is from May – October while the ice fishing season can start as early as October in some areas.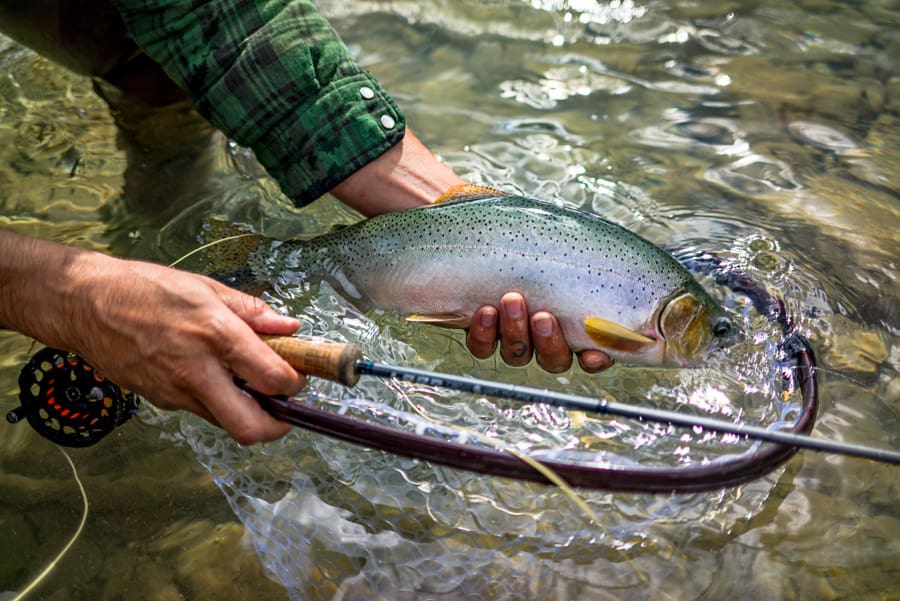 Types of Fish in Alberta
Alberta's lakes and rivers are full of a wide array of freshwater fish, leaving you spoiled with opportunity. With some of the best fishing in Canada, there are many types of fish in Alberta to choose from. Trout enthusiasts will especially love fishing in Alberta, as there are many spots across the province known for trout fishing; whether you're after lake, bull, golden, brook, rainbow, cutthroat, or brown trout, you might get lucky while fishing in Alberta.
Burbot is another species that people love to fish for in Alberta, but you'll also find goldeye, walleye, northern pike, whitefish, and yellow perch, among others. And let's not forget the magnificent lake sturgeon; there are a few records of lake sturgeons weighing more than 100 pounds caught (and released, of course) in Alberta!
Best Spots for Fishing in Alberta
We asked a friend of ours who is an avid fisher about their favourite Alberta fishing spot and his answer was quick: "Zipper Mouth Creek". (Meaning, of course, that he's zipped his mouth shut and didn't want to give away his secret spot!) But he still obliged by revealing many of the prime fishing locations that are well-known in the province and are great starting spots for beginners.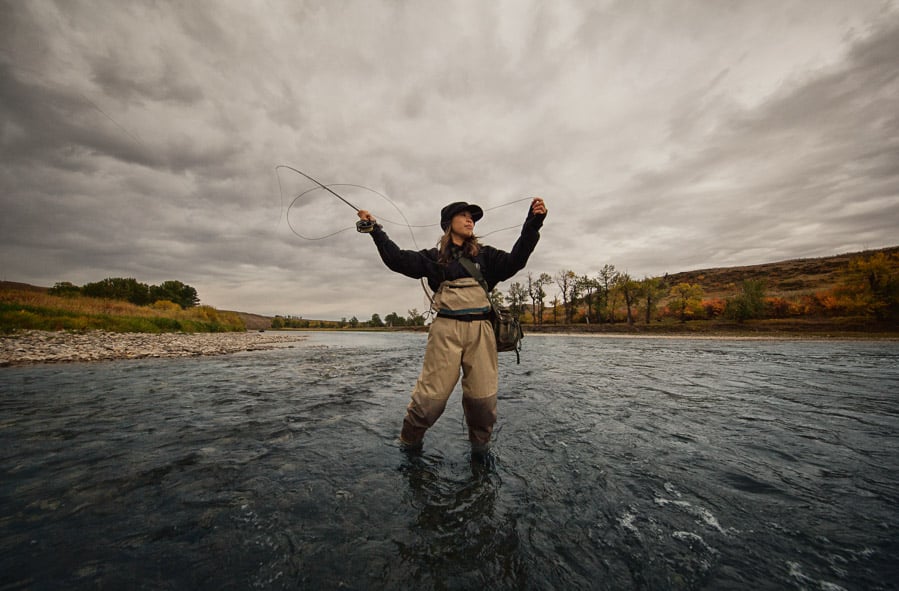 Popular Spots for River Fishing in Alberta
River fishing is very popular in Alberta, but keep in mind that no ice fishing is allowed on rivers in the province.
As always, research the river you plan on fishing and ensure you're current on all regulations. Some rivers may also have closures throughout the year, so plan ahead. You'll be spoiled for choice of river fishing spots in Alberta!
Bow River
The Bow River forms in the Rocky Mountains and snakes its way east toward Calgary. An excellent choice for trout fishing – it's home to rainbow, brown, brook and bull trout, among other species – this is a great spot for those looking to fish near Calgary or Banff, especially if you only have one day or a few hours on the water.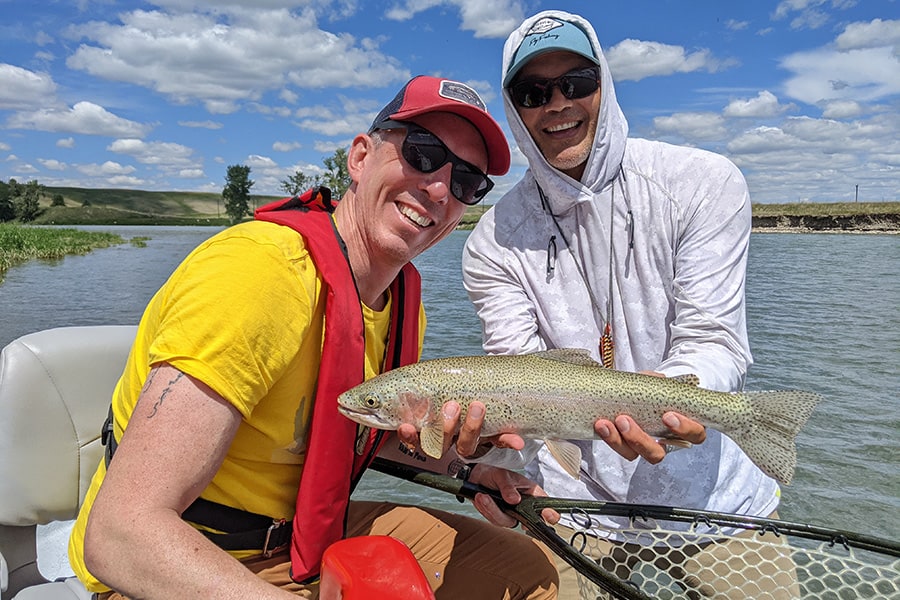 We recently took to the Bow River with Quinn from Drift Out West Flyfishing for a full day – floating from Policeman's Flats to McKinnon Flats and fishing along the way. For beginners like us, there was no better way to experience the river and learn from such a knowledgeable fisherman who was so dedicated to maximizing our experience. On many, many occasions, Quinn paddled upriver to give us extra attempts at areas he knew where fish were likely hanging out. He was always right (meaning, we caught fish!) and he quite literally went the extra mile to ensure that we had an exemplary time. We learned so much and have proud notches in our fishing poles to show for it.
Crowsnest River
Approximately 90 minutes west of Lethbridge is the Crowsnest River. Spawning from the Canadian Rockies and a tributary of the Oldman River, it is touted as one of the most beautiful spots for fly fishing in Western Canada. The river may look small enough, but don't be fooled as there are plenty of trophy fish here. Fish found here include Brown Trout, Rainbows, White Fish, or even Cutthroat.
Ram River
Another popular trout fishing spot in Alberta, the most abundant species here are bull trout, brown trout, and cutthroat trout. Found in the heart of the Rocky Mountains, it makes for one scenic fishing trip you won't soon forget.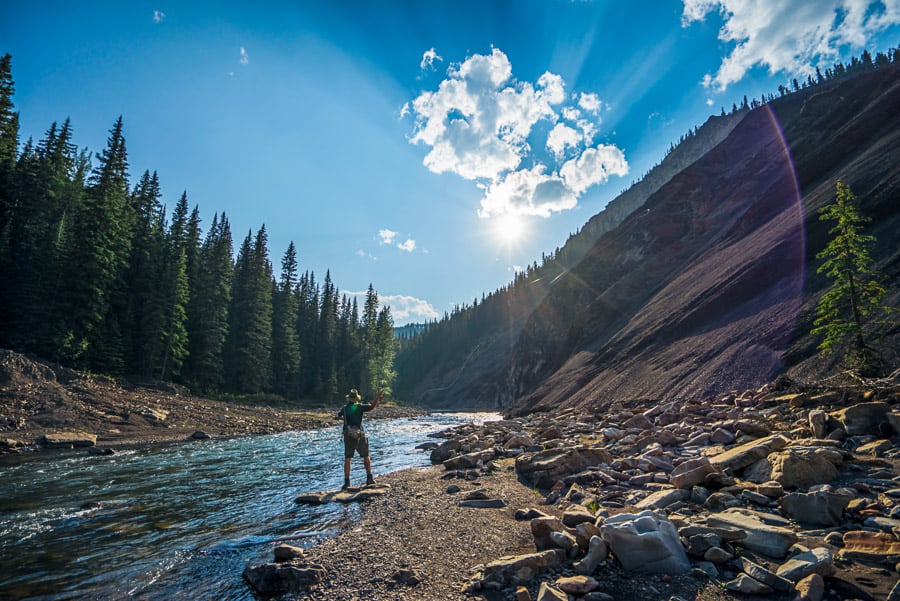 North Saskatchewan River
This glacier-fed river that flows from the Rockies into neighbouring Saskatchewan makes for exceptional fishing in Alberta. With close proximity to Edmonton, the North Saskatchewan River produces burbot, lake sturgeon, walleye, northern pike, goldeye, and mountain whitefish, so it's always an exciting day out!
Oldman River
The Oldman River flows through southern Alberta, beginning in the Rocky Mountains and making its way toward Lethbridge. While many flock to both the Bow and the Crowsnest rivers for trout fishing, Oldman shouldn't be overlooked for its terrific fly fishing. Head to Upper Oldman for the best fishing opportunities.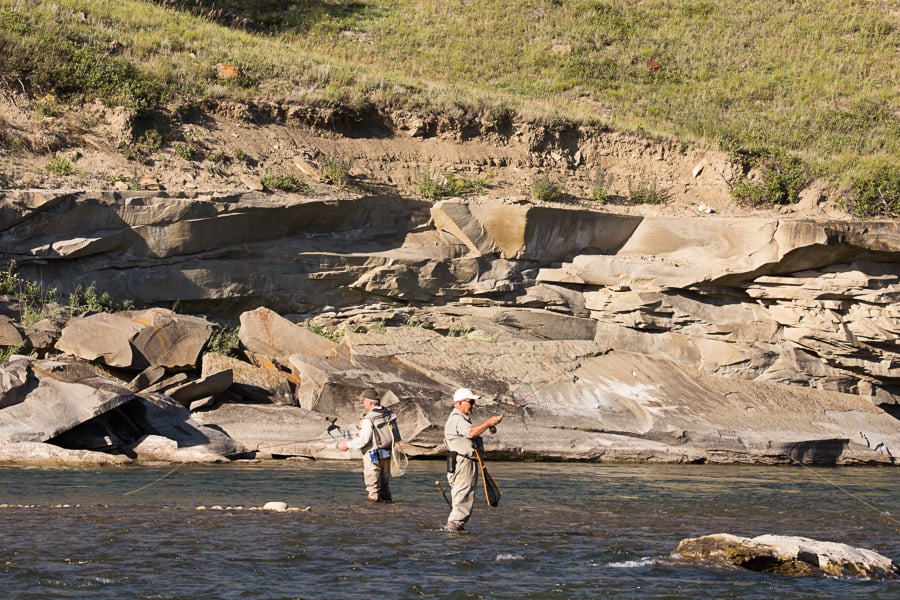 South Saskatchewan River
One of Canada's major rivers, it's no wonder that the South Saskatchewan River provides fantastic fishing opportunities in Alberta. Flowing through southern Alberta, the river is popular for walleye, northern pike, goldeye, yellow perch, and gigantic sturgeon.
Berland River
Berland River is one of those special fishing spots. The river will challenge any paddler and besides the prime fishing, the location holds some of the most stunning rock cliffs and scenery in the province. Expect to find many fish types here including rainbow trout, bull trout, and graylings.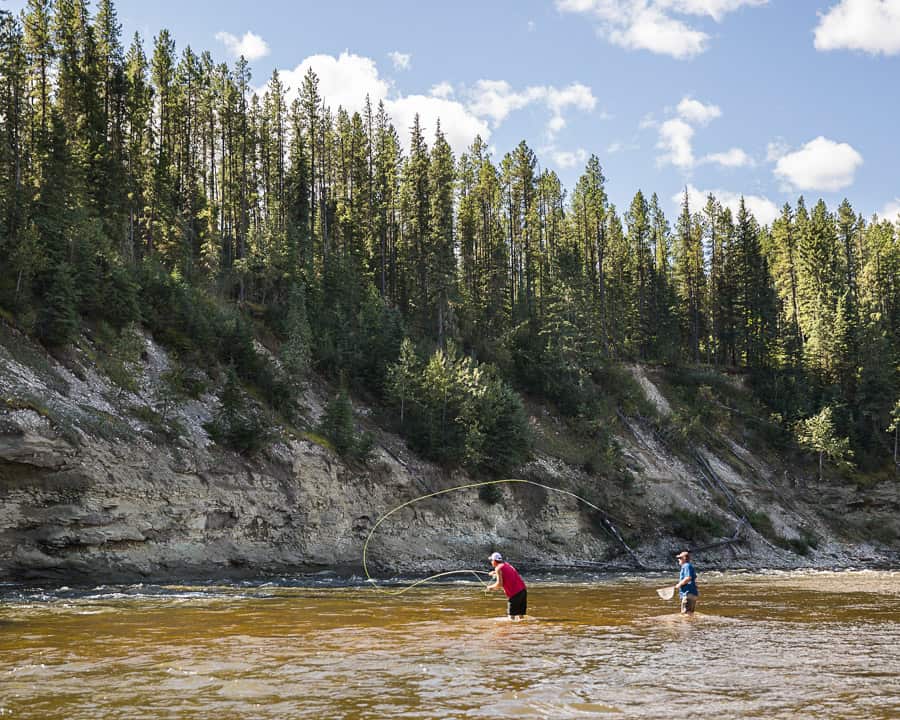 Popular Spots for Lake Fishing in Alberta
There is extraordinary lake fishing in Alberta throughout the year, though it's important to keep track of closure dates for certain lakes. The lakes listed below are some of the best for fishing both in warmer weather and for ice fishing in Alberta!
Maligne Lake (Jasper National Park)
Known for its gorgeous colour, the turquoise waters of Maligne Lake are home to many species of fish, especially trout. Found in Jasper National Park, the lake produces some of the biggest rainbow trout in Alberta.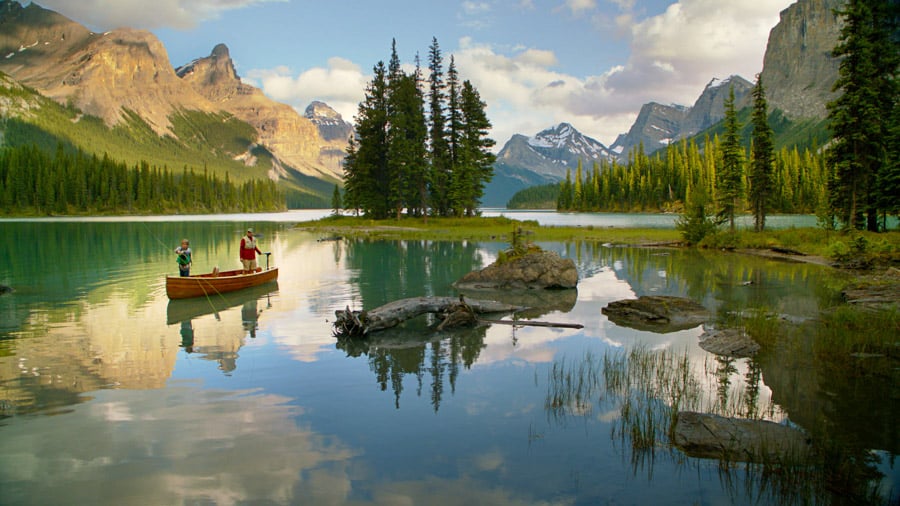 Lake Minnewanka (Banff National Park)
A glacial lake located in Banff National Park, Lake Minnewanka is home to both incredible scenery and excellent fishing (it is certainly one of the most scenic lakes in Alberta). Head here for one of the best trout fishing spots in all of Canada, although you may also catch a few Rocky Mountain whitefish. They don't call this fisherman's paradise for nothin!
Marvel Lake (Banff National Park)
Crystal clear water and a beautiful backdrop are reasons that any fisher will come to Marvel Lake in Banff National Park. The lake is known for its big cutthroat. It's a long lake and accessing the shoreline can be difficult at times, but there is a backcountry campground nearby and this is the most popular spot to fish from.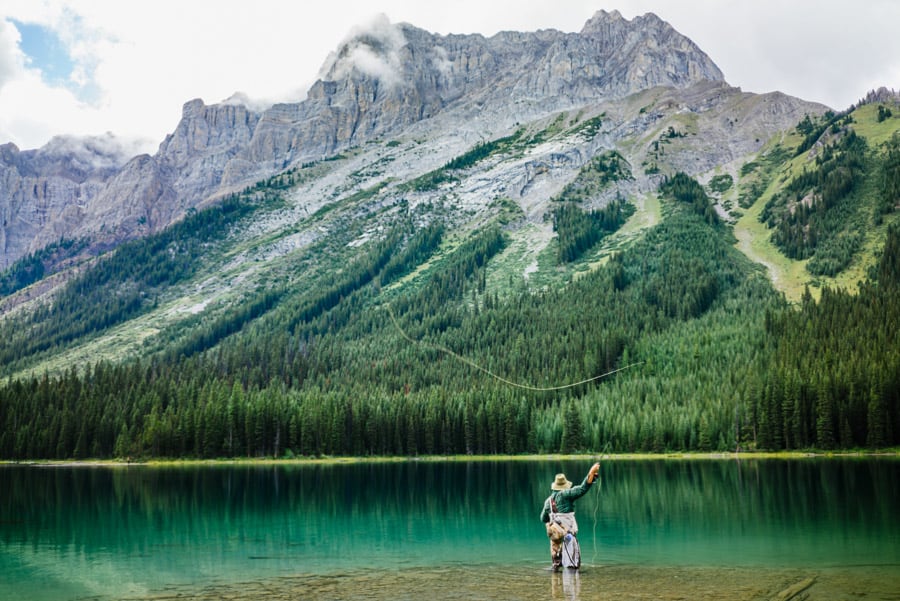 Upper Kananaskis Lake
Kananaskis Country is home to Upper Kananaskis Lake, where you'll find rainbow, brown, brook, cutthroat, and bull trout. With Canmore and Calgary nearby, it makes for the perfect day or weekend fishing trip.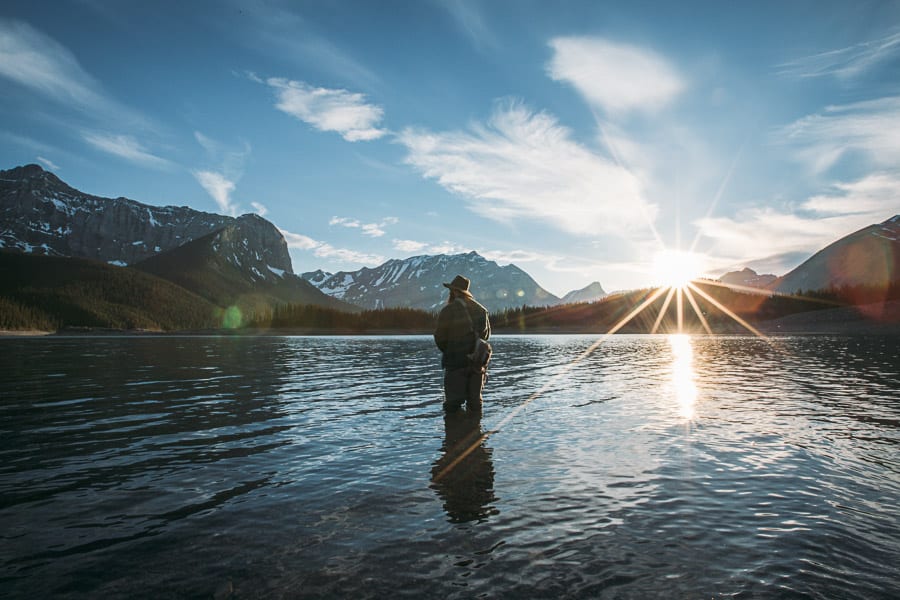 Calling Lake
Found in northern Alberta – about a 2 1/2 hour drive north of Edmonton – Calling Lake is well worth the visit. With a sandy shore and plenty of shallow water to explore, the lake is known for its northern pike, yellow perch, and walleye, though you might also catch a burbot or two!
Lac La Biche
Lac La Biche, also found in northern Alberta, is a phenomenal fishing destination, especially for ice fishing. You're sure to catch pike here, although walleye and burbot are big draws as well.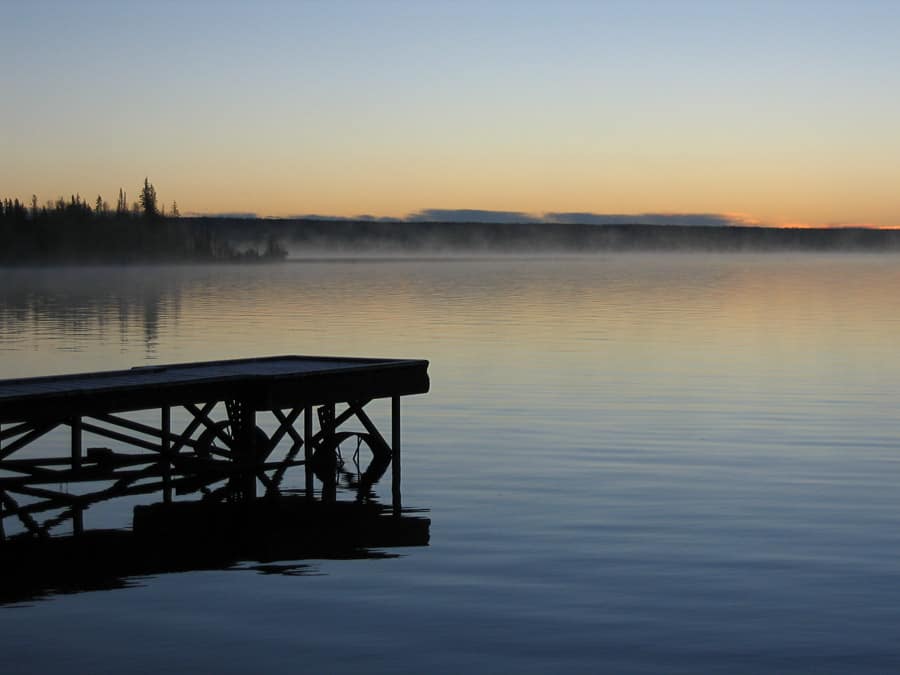 Wabumun Lake
Wabumum Lake is one of Alberta's most popular lakes, as it's found less than an hour west of Edmonton. It's notable for its pike and walleye, though anglers might also catch burbot and yellow perch. It's important to note that Wabumun is a catch-and-release lake!
Cold Lake
Located near the Saskatchewan border, Cold Lake is chock full of trout, burbot, walleye, northern pike, and yellow perch. What makes Cold Lake special is that it really has it all; whether you're after fly fishing, ice fishing, or fishing from a boat, there's a spot on Cold Lake for you!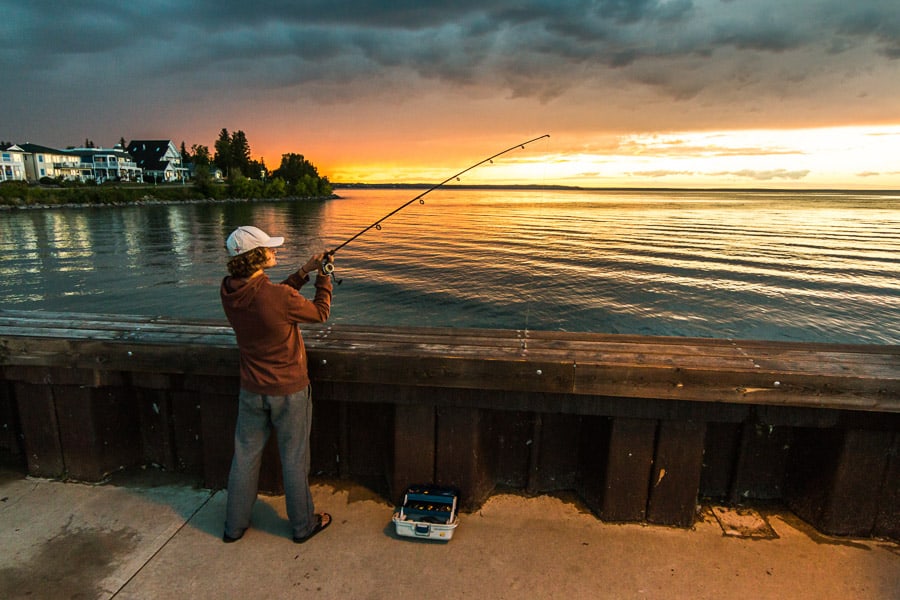 Lake Newell
Lake Newell is a man-made reservoir in southern Alberta with warm, clear water. Though it has strict regulations on catch-and-release, it's fantastic for those looking to catch huge pike or walleye. There's also good whitefish and rainbow trout fishing.
Lesser Slave Lake
Lesser Slave Lake is in northern Alberta and is the second-largest lake found entirely within the province. Often touted as the "fishing hub of the north", the lake is famous for its walleye, though you're also likely to catch burbot, whitefish, yellow perch, and pike. The lake is especially known for its outstanding ice fishing.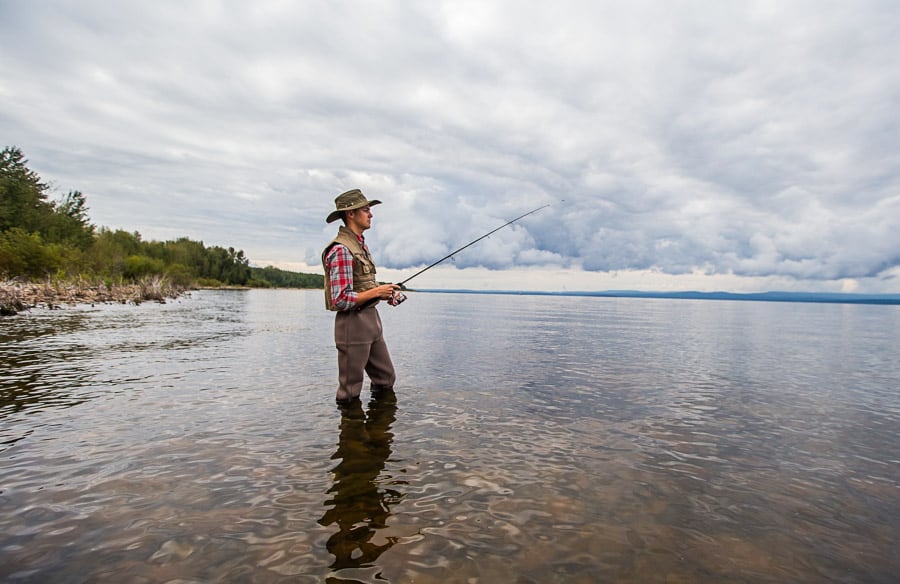 Ice Fishing in Alberta
You can't talk about fishing in Alberta and not talk about ice fishing! Ice fishing in Alberta is arguably just as popular (or even more popular) than fishing in warmer weather, and it's a great way to spend a winter day. Make sure you're well prepared for a day in the cold, including warm clothing, a comfortable chair, and a fishing tent or shack (many popular fishing spots have rentals nearby). See this graphic for important tips on ice fishing safety.
In general, the ice should be at least 10 cm thick before venturing on it, although it's imperative to check all opening days for the body of water you plan on visiting to stay safe. Many lakes will have huts you can rent for the night; Gull Lake even has luxury ice shack rentals!
Another important point to consider is that there is no ice fishing on flowing water in Alberta, meaning you can't go ice fishing on rivers or streams (only lakes). You're likely to catch lake and bull trout, walleye, yellow perch, and walleye while ice fishing in Alberta.
Where to Buy Fishing Gear in Alberta
If you're looking for fishing gear in Alberta, you're in luck; there are many reputable retailers that can help equip you with everything you'll need. Most towns with fishing nearby will have a fly shop where you'll be able to find everything you need. Even better, many of the staff at these shops are avid anglers themselves, so they can help you purchase everything you'll need for the location you're visiting and the fish you want to catch.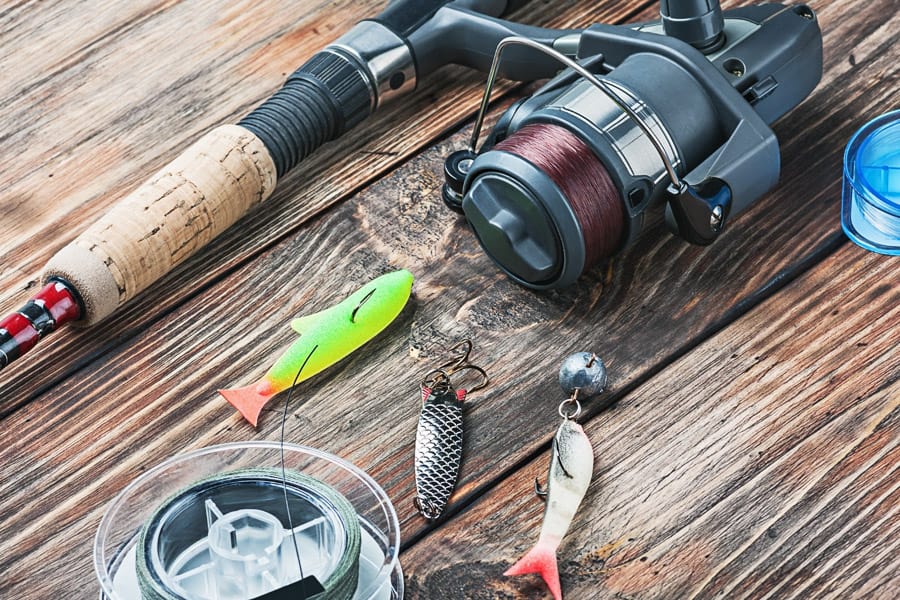 Other Information for Fishing in Alberta
If you want to stay up to date on the best fishing spots in Alberta, make sure to follow some of the live fishing reports maintained by avid fishing enthusiasts. This includes the Alberta fishing report by The Fishin' Hole in Edmonton and Calgary.
Finally, if you are a beginner when it comes to fishing in Alberta, you might want to consider hiring a guide for a day or a trip! There are many excellent guides and tours around the province that can guarantee a safe and exciting fishing excursion. You can also relax knowing that your guide will have all the current information on Alberta fishing regulations.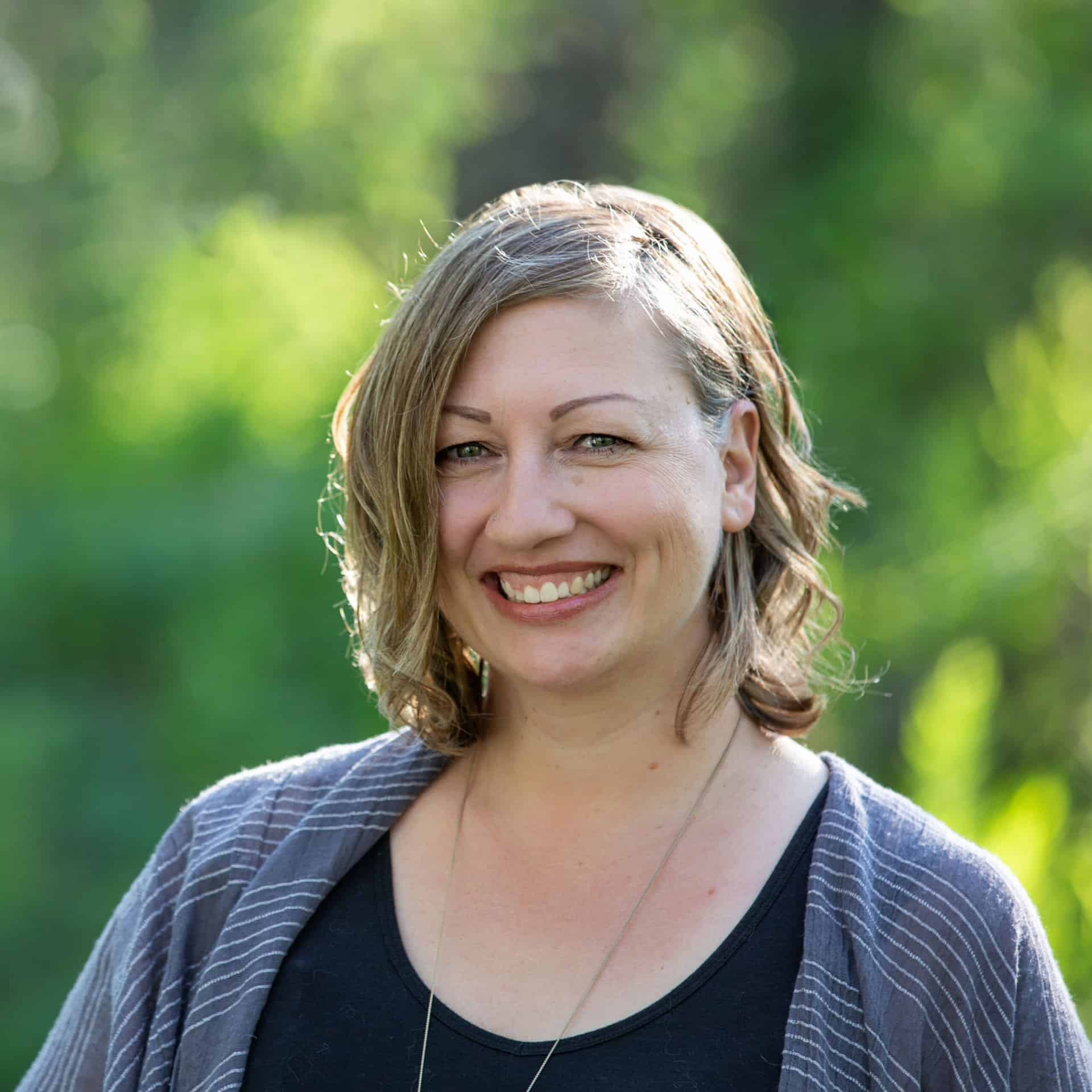 Dalene Heck is a co-founder of Road Trip Alberta. She was born in Edmonton, grew up in the Peace Country, and has ventured to almost every corner of Alberta and the world (she's travelled to 60 countries)! She is a serial blogger, the CEO of HMI Marketing, co-creator of the Trip Chaser card game, a leukemia-slayer, and cat whisperer.