Disclaimer: This page may contain affiliate links. Please review our full Terms and Conditions for more information and our Privacy Policy. Note that any pricing, operating hours, or other such information provided below may have changed since initial publication.
Compiled by the Road Trip Alberta team
Last updated on July 4, 2023
Sure, Alberta is known for the Rocky Mountains and prairie landscapes, but don't forget about its lakes! Plan any road trip in Alberta and you will likely find reason to pack a swimsuit and beach towel on the hottest summer days, or ice skates in winter.
Most importantly, don't forget your camera!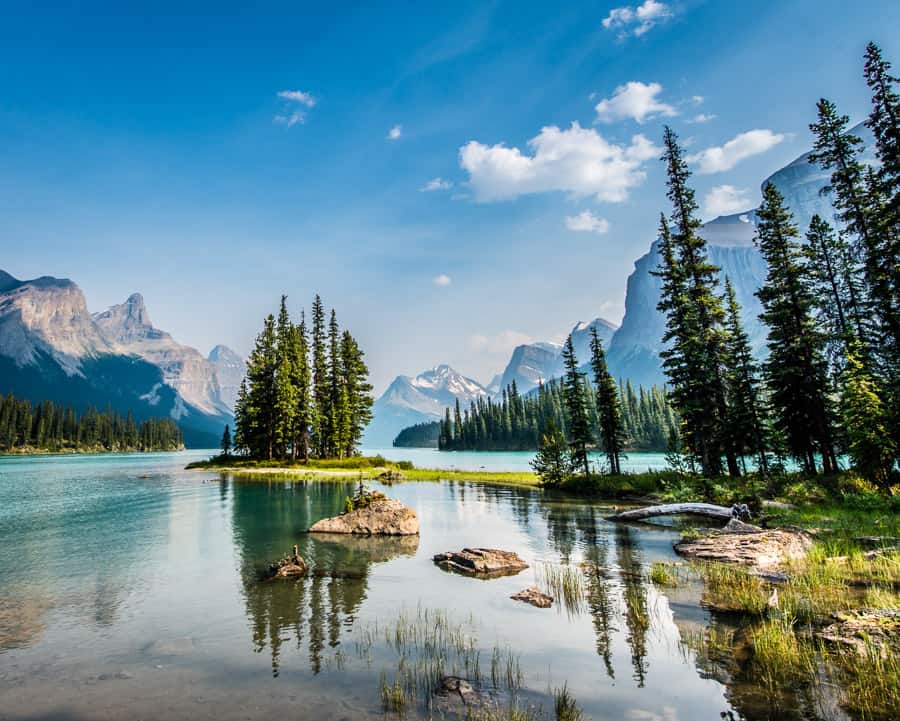 Quick Facts About Lakes in Alberta
With over 600 freshwater lakes around the province, there are plenty to choose from for an adventure. There's Alberta's deepest lake, Lake Athabasca, that boasts a maximum depth of 410 feet. Lake Athabasca is shared with the province of Saskatchewan, so if you want the largest lake solely in Alberta, that would be Lake Claire, which is a whopping 1,436 square kilometres. And then there's Alberta's warmest lake for those looking for a perfect swimming spot, Lake Newell!
Whichever lake in Alberta you choose to visit, one thing's for sure: the water won't disappoint you. Here are 21 of our favourite lakes in Alberta worth visiting.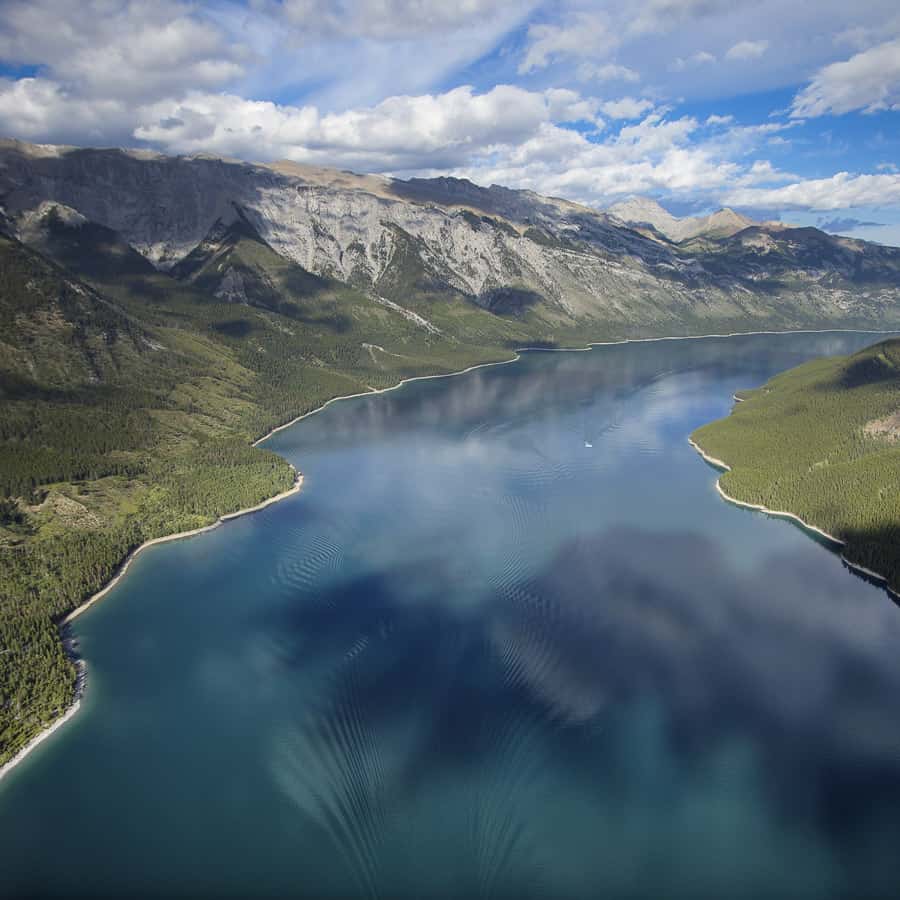 21 Beautiful Lakes in Alberta
Lake Louise (Banff National Park)
If you've heard of one lake in Canada, you've probably heard of Lake Louise. One of the most scenic and most photographed lakes in Alberta, its turquoise glacier-fed waters surrounded by the jagged peaks of the Rocky Mountains make it a sight to remember. In summer, canoe on the glassy waters or take in the view from above on one of the many hikes in the area. In winter, when the cold takes over, you can skate and cross-country ski across the thick ice. This spot is famous for a reason, and there are great things to do in Lake Louise year-round.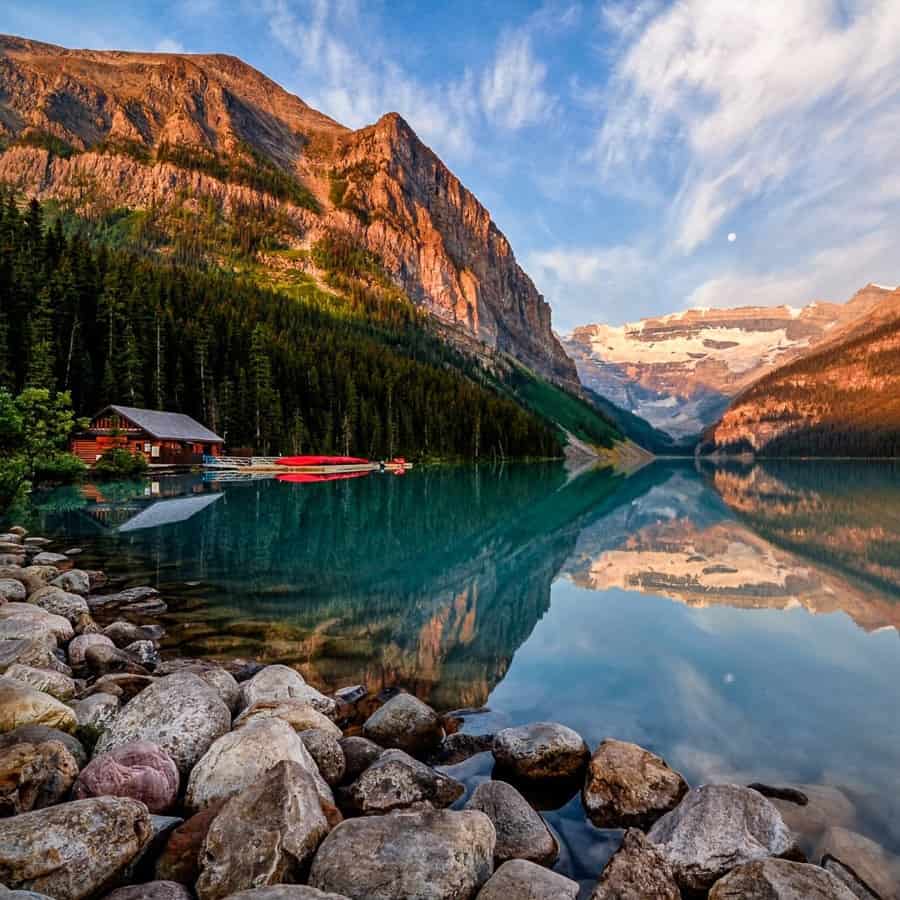 Moraine Lake (Banff National Park)
Moraine Lake is a glacier-fed lake found approximately 14 kilometres from Lake Louise and is definitely worth a visit. Picture natural, smooth-as-glass, brilliantly blue water – you'll quickly realize why this Alberta lake is so popular! Hike to the famous Rockpile, where you'll be treated to the most beautiful view of the lake and the Valley of the Ten Peaks in all its glory. It's no wonder it's one of the best photo spots in Banff.
Note that starting in 2023, Moraine Lake is closed to personal vehicles. We recommend booking a shuttle with the Moraine Lake Bus Company – not only are they the only company to offer sunrise shuttles (gotta get those epic shots for the 'Gram!) but they are also the only company that lets you pre-book your return journey (so that you don't have to wait).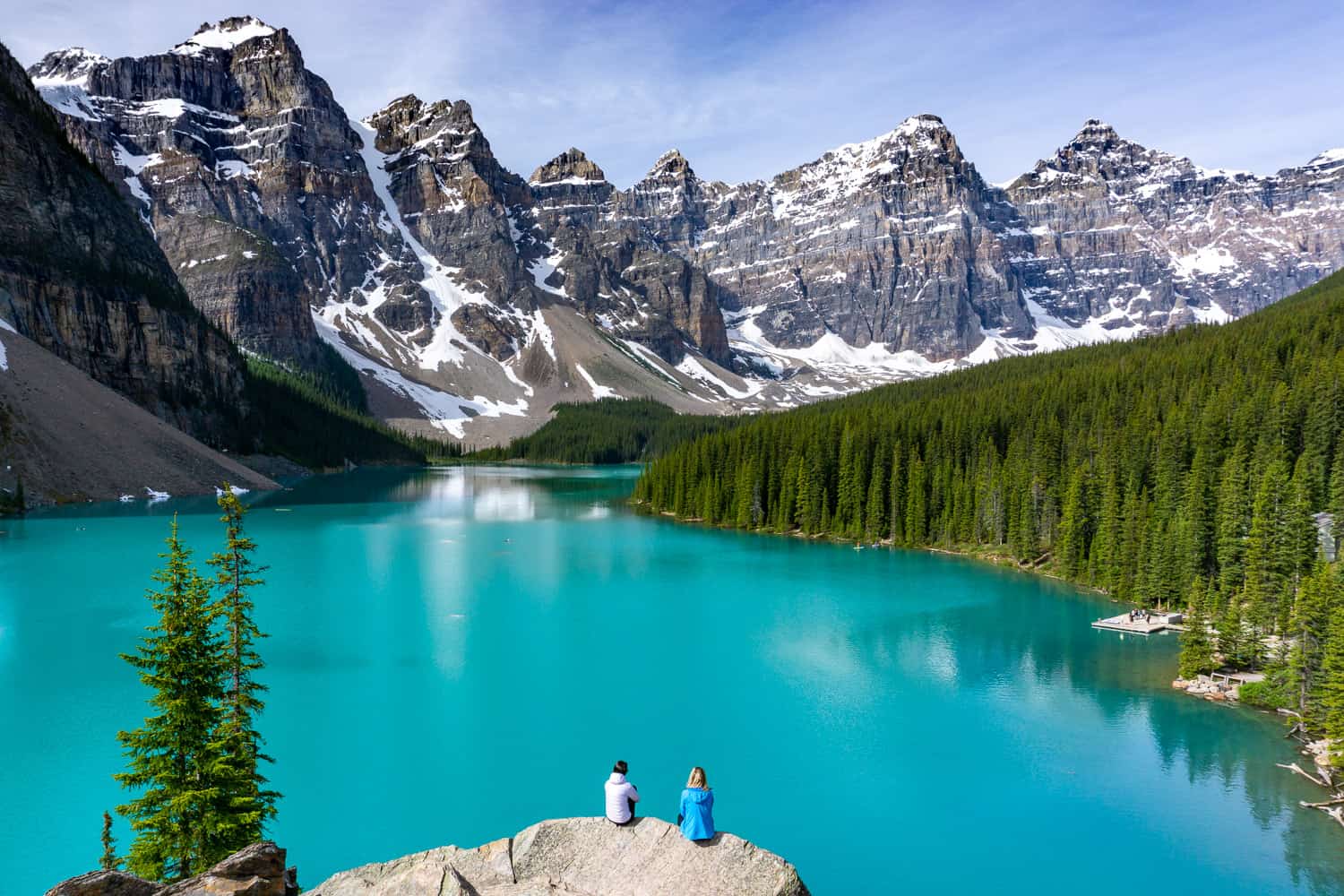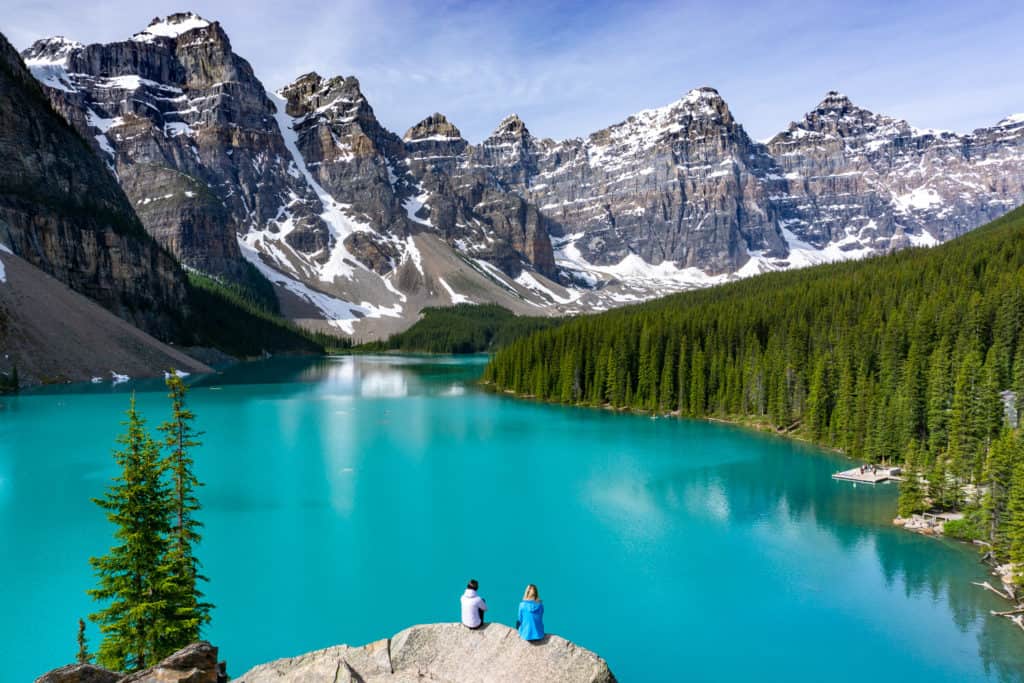 Two Jack Lake (Banff National Park)
Sightseers often flock to Banff National Park's Lake Louise and Moraine Lake, but don't skip out on Two Jack Lake. This emerald-green beauty is found approximately 15 minutes from Banff, and is a wonderful spot for hiking, camping, and a family picnic. With views of Mount Rundle in the distance, Two Jack Lake also makes for an amazing sunrise or sunset spot.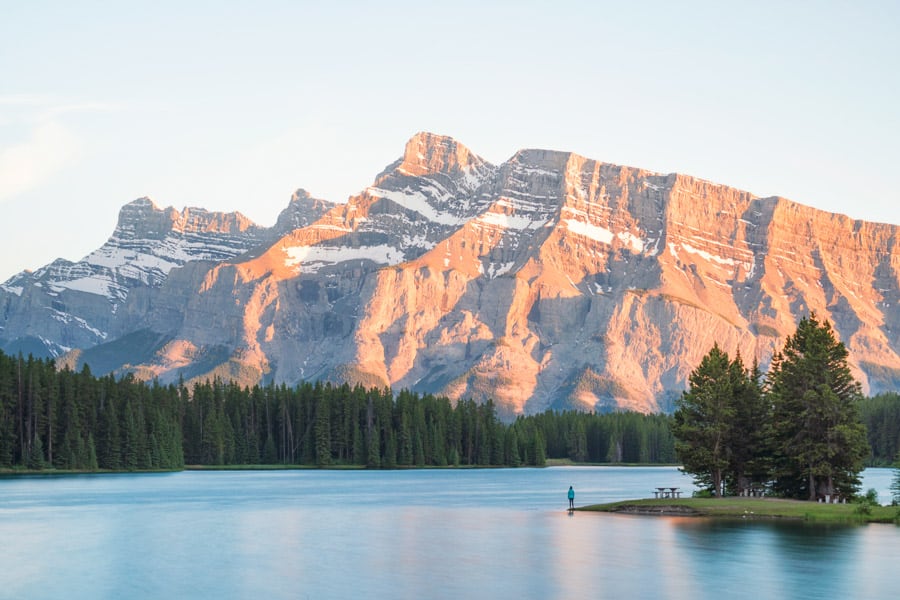 Lake Minnewanka (Banff National Park)
Lake Minnewanka is yet another one of the must-see Alberta lakes to add to your list, and it's right next door to Two Jack Lake. With an area plentiful in wildlife – think elk, deer, mountain sheep, and bears – there's also a rich history when it comes to the people who inhabited this land. As early as 10,000 years ago, Indigenous people lived on the land around the lake, leaving behind stone tools and spearheads later found by modern archaeologists. Today, the lake is popular for scuba diving, boating, and fishing, as well as its hiking and biking trails.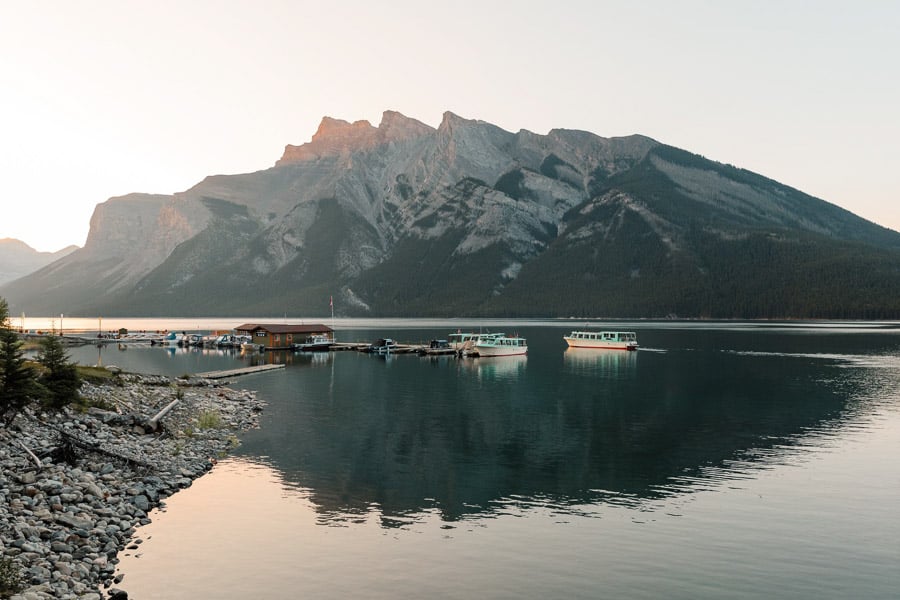 Peyto Lake (Banff National Park)
Named for Bill Peyto, an early park warden and mountain guide of Banff National Park, Peyto Lake is undoubtedly one of Alberta's most breathtaking turquoise lakes. Popular with photographers, its viewing platform can get crowded in peak season, but hikers can find spots along the various trails with fewer people. Visiting very early in the morning is a great way to beat the crowds, too. And while many people stop at the lookout for photos, not many make the hour trek down to the lake itself – which means you might just get it to yourself after all!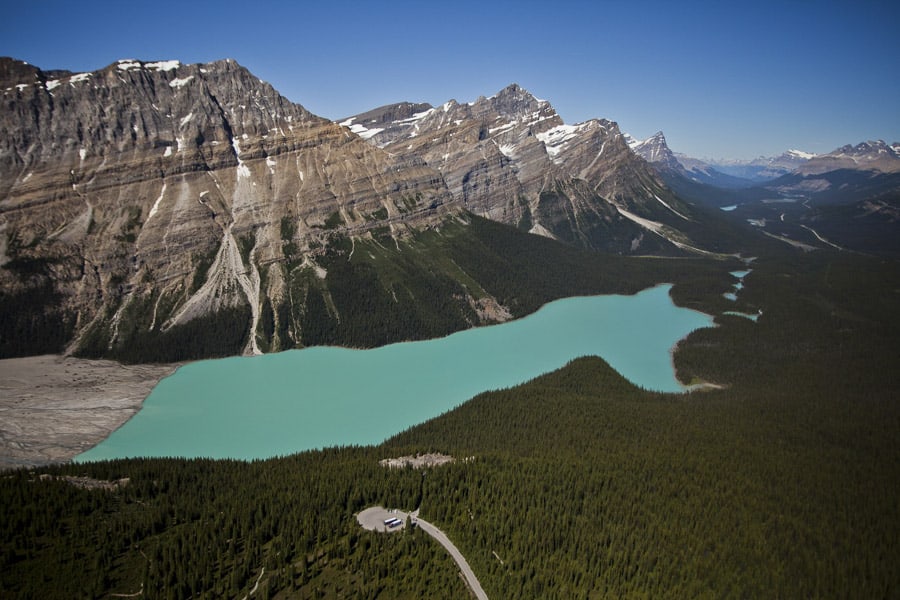 Bow Lake (Banff National Park)
Head thirty minutes north of Lake Louise and you'll find Bow Lake, a superb spot for a picnic or short walk. With its azure waters reflecting the majestic mountains that surround it, it's difficult to take a bad photo of Bow Lake. It's also ideal for hikers, especially those who love scrambling, and is the starting point for the hike to Bow Glacier Falls. The lake itself is home to excellent fishing, canoeing, and kayaking.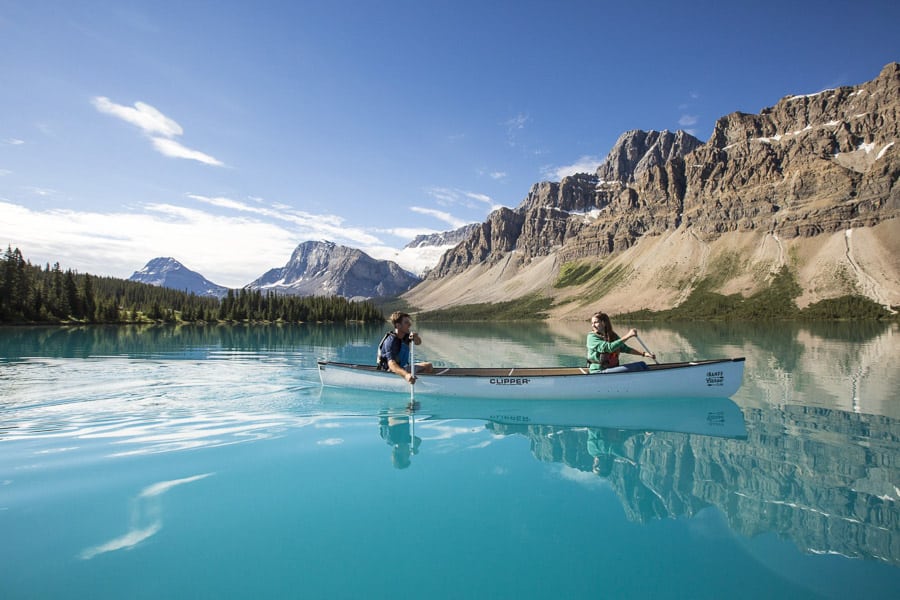 Pyramid Lake (Jasper National Park)
Pyramid Lake is a must-see when you're in the town of Jasper. This kidney-shaped lake, found at the foot of Pyramid Mountain, has everything you need: calm water, views of the Rockies, and even one of the most beautiful beaches in Alberta. There's also a wheelchair and stroller-friendly wooden bridge that will take you to Pyramid Island for a picnic. Head here for birdwatching, fishing, stargazing, kayaking, or to just take in the serenity you'll find all around you. If you can spend more than one day here, book a room at the Pyramid Lake Resort to experience the stars shining over the lake and Pyramid mountain.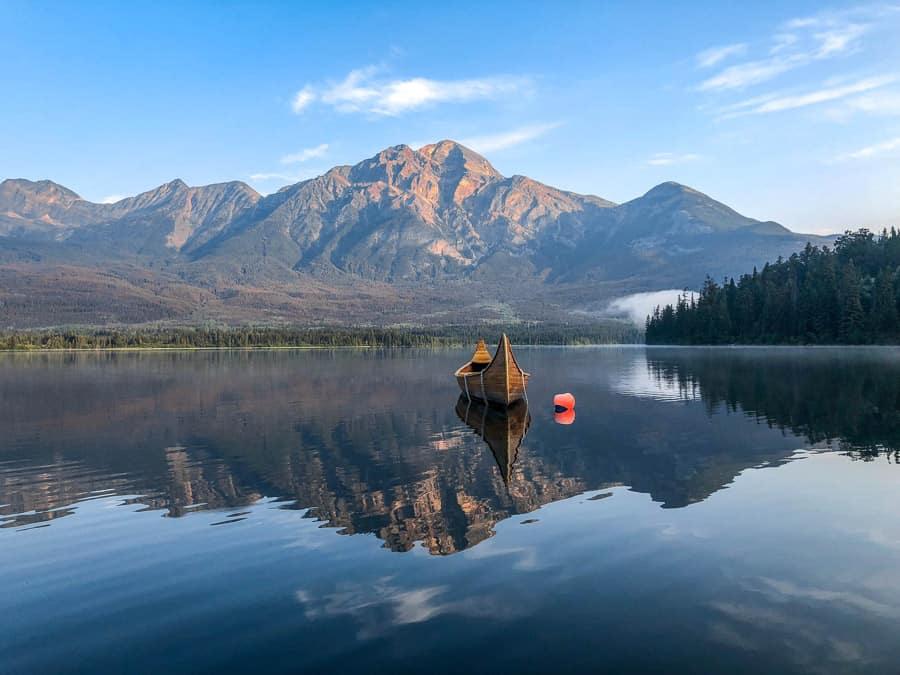 Maligne Lake (Jasper National Park)
If you're looking for jaw-dropping views, you've come to the right place. The aquamarine waters of Maligne Lake are unbelievably striking, so it's no wonder it has grown so famous among sightseers and photographers. Encompassed by mountains, the lake is also home to Spirit Island, a beautiful islet. Expect to see a lot of wildlife here, too, including bald eagles, golden eagles and osprey. There's so much to do at Maligne Lake: walk along the lakeshore trail, fish for trout, take a relaxing canoe ride, or enjoy afternoon tea at the Maligne Lake Chalet.
You can get there by your own power (although beware, it is quite a long way to paddle and will make for a LONG day trip), or via organized tours. Head there and back quickly with this 1.5 hour cruise, or take a more leisurely boat trip (6 hours) that includes other scenic points of interest (Maligne Valley, Medicine Lake and Spirit Island).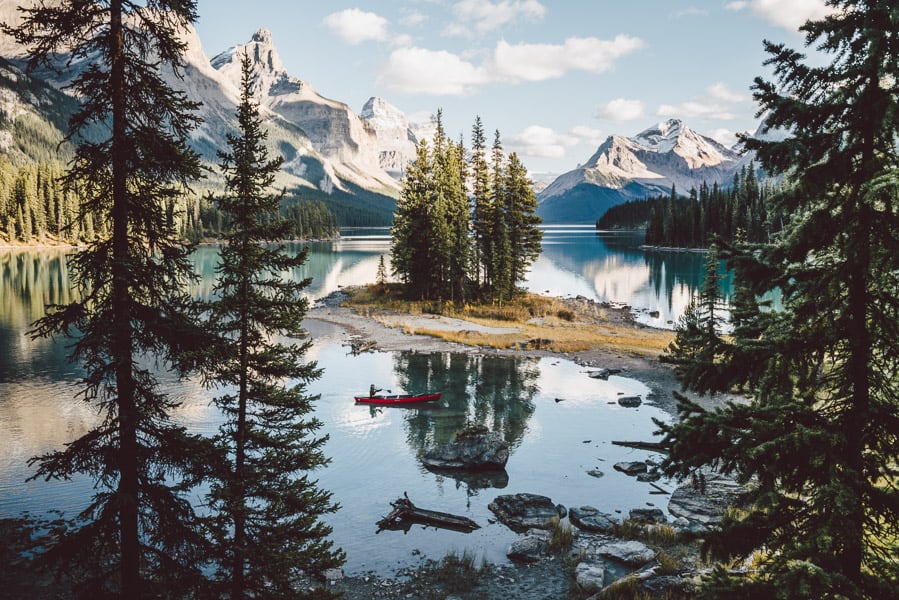 Lake Annette (Jasper National Park)
One of the best beaches in Alberta, the shores of Lake Annette guarantee a fantastic day out for the whole family. With mesmerizing views of the Rocky Mountains, lush forests, and peacock-blue waters, Lake Annette is one of the warmest lakes you'll find in the Rocky Mountains. There are also hiking trails around the lake if you need a break from the swimming and the sand.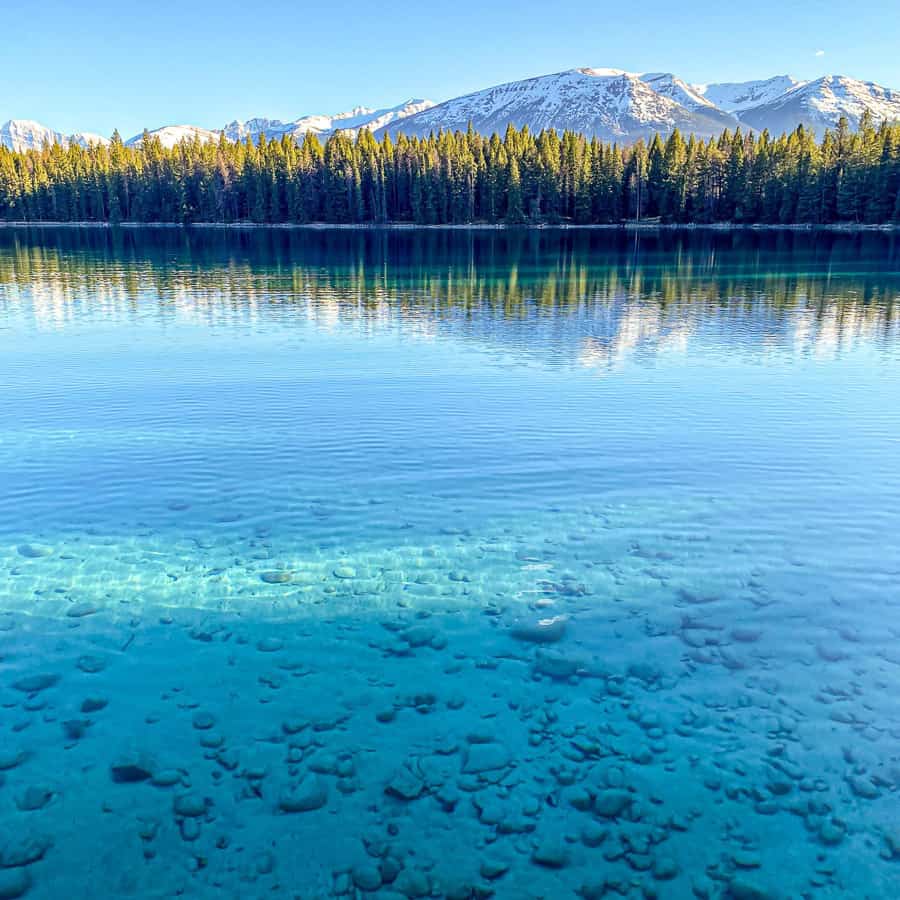 Medicine Lake (Jasper National Park)
Approximately 20 kilometres southwest of Jasper lies Medicine Lake, where you'll find some of the best views in the national park. But Medicine Lake is so much more than a pretty view – in fact, Medicine Lake is not a lake at all, but a geologic anomaly of underwater caves that fluctuate depending on glacial run off. If you visit in winter, you'll see it's not much more than a winding river, a far cry from the vast lake it becomes every summer. It's worth a visit just to learn more about this amazing underground system!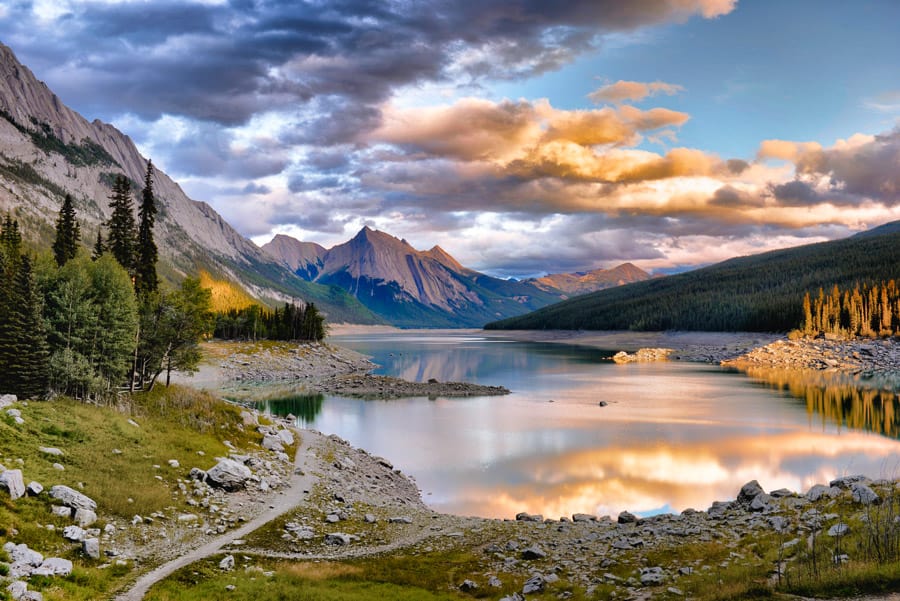 Abraham Lake (David Thompson Country)
This manmade lake is notable for its beautiful jade colour water, but many people choose to visit in winter. That's because Abraham Lake is home to a phenomenon wherein trapped methane causes frozen bubbles to form beneath the lake's surface; to walk or skate on the frozen lake becomes an almost otherworldly experience. In fact, Abraham Lake in winter is often listed as one of Alberta's top bucket list destinations!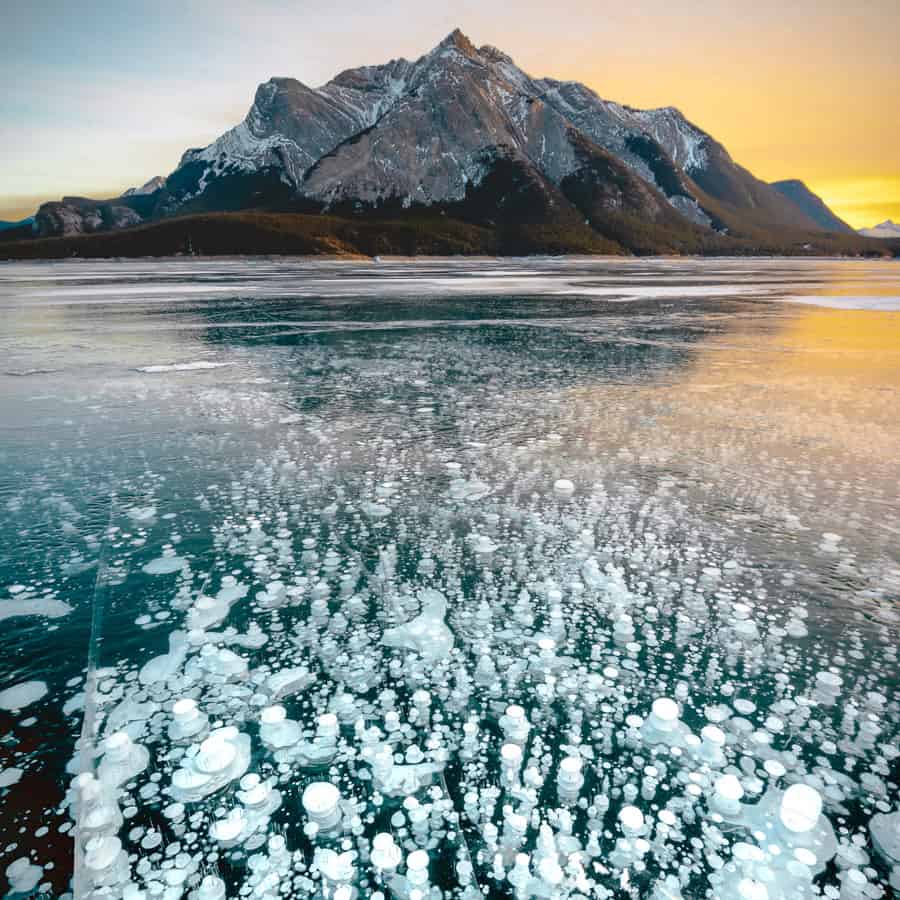 Waterton Lakes (Upper, Middle, and Lower)
Waterton Lakes are an adventure lover's dream. With so many things to do in Waterton Lakes National Park, you can easily spend a few weeks exploring these lakes in Alberta's south and still not run out of activities. You'll be spoiled for choice with hiking trails around the lakes, not to mention the kayaking, canoeing, stand-up paddle boarding, sailing, and scuba diving available in the lakes themselves. Oh, and did we mention the absolutely awe-inspiring views?!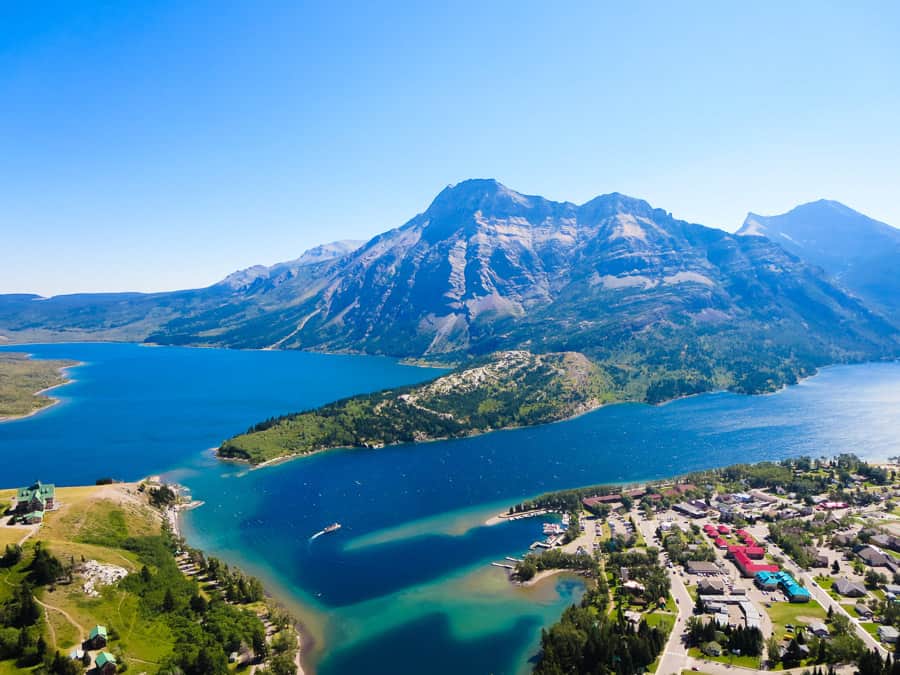 Grassi Lakes (Canmore/Kananaskis)
The Upper and Lower Grassi Lakes are found near the mountain town of Canmore, and they are an amazing destination if you'd like to enjoy some hiking in Kananaskis. The hike to both of these lakes is one of the most popular here for good reason. These iridescent water make for stunning photography, and history buffs will love searching for the rock paintings near the top of the canyon beyond the lakes; it's believed that the paintings were made by the Kutenai peoples over 1,000 years ago. The Grassi Lakes definitely deserve their spot on this list of the best lakes in Alberta.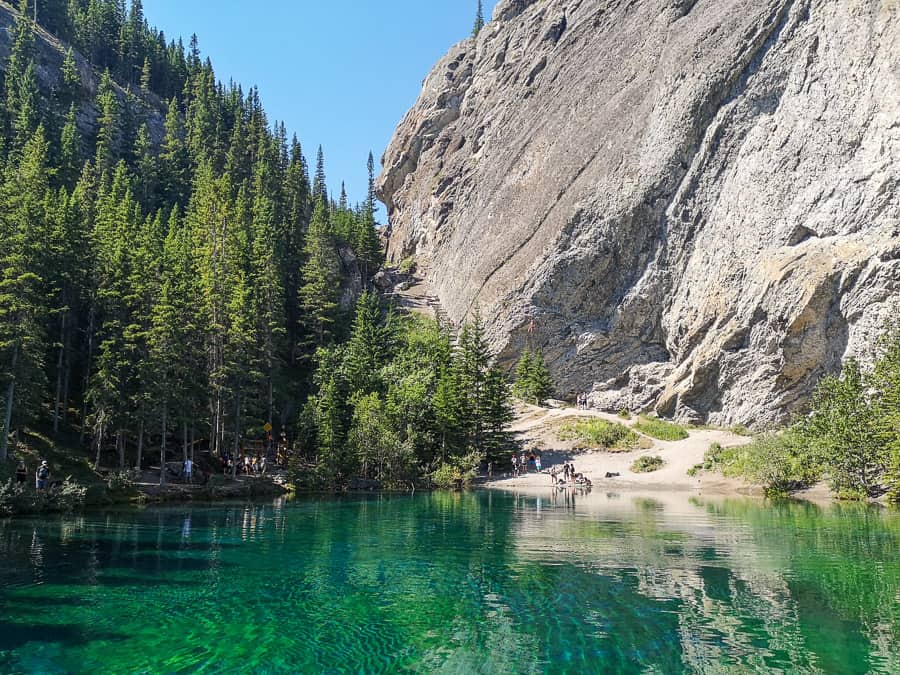 Spray Lakes (Canmore/Kananaskis)
Spray Lakes, found in Spray Valley Provincial Park, is a gorgeous mountain reservoir in the Kananaskis region. Surprisingly, it doesn't get as many tourists as Banff National Park or Jasper National Park, which means far fewer people vying for the best views. Kayak, canoe, or fish for trout and whitefish in summer, or try ice fishing or cross-country skiing in winter.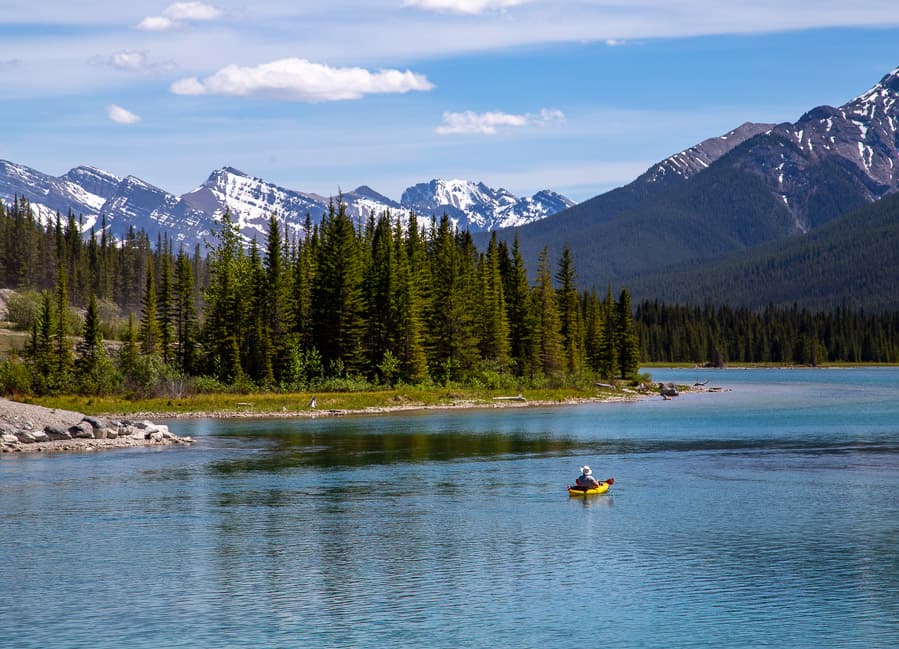 Upper Kananaskis Lake/Lower Kananaskis Lake
With sweeping mountain views and rich cobalt waters, the Upper and Lower Kananaskis Lakes are two of the most scenic spots in the southern half of the province, and also some of the most famous lakes in Alberta. Head here for some of the best hiking in the province, while those who love fishing will enjoy the abundance of trout, including rainbow, brown, brook, bull, lake, and cutthroat trout.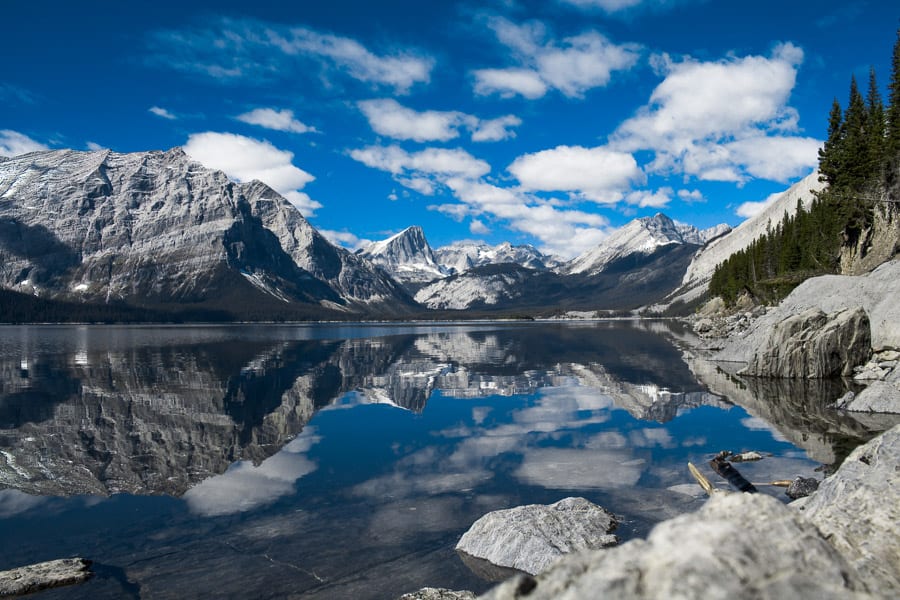 Elkwater Lake (Cypress Hills Provincial Park)
Head south to Cypress Hills Provincial Park in Alberta for a fantastic day at the beach. With boat and bike rentals, food trucks, and water that's perfect for boating, swimming, and fishing – you'll find northern pike and yellow perch here – Elkwater Lake is one of those Alberta lakes that makes you want to stop and stay a while.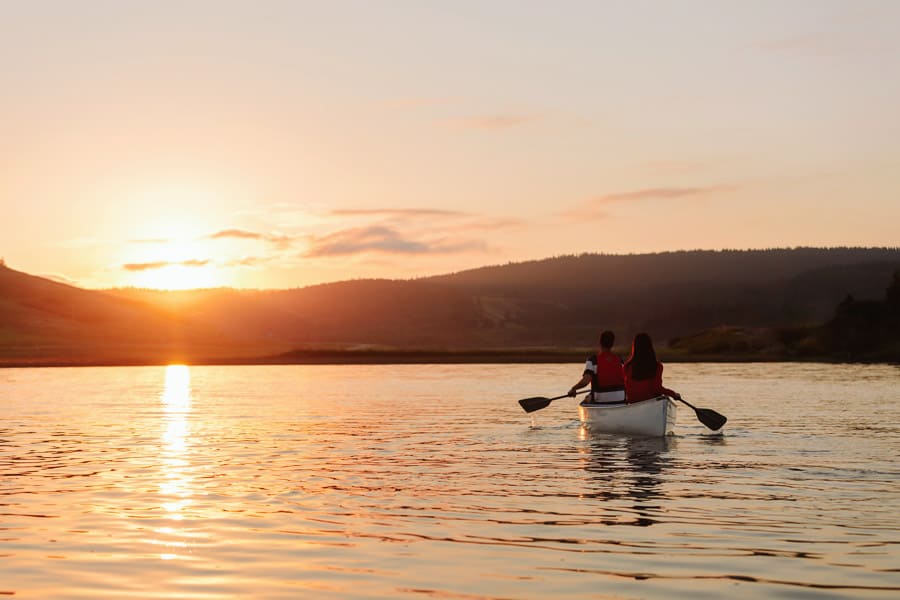 Lesser Slave Lake
Located in north-central Alberta, Lesser Slave Lake has it all: camping, swimming, fishing, hiking, wildlife viewing, and all the winter activities you could hope for. With a sandy shore and calm water, some people call this a little slice of paradise in the province, and it deserves its spot among the top beaches in Alberta.
Gull Lake
If you're looking for one of the most fun lakes and a sandy beach in Alberta to visit, look no further than Gull Lake! This local favourite is located about half an hour northwest of the city of Red Deer, or equidistant from Calgary and Edmonton. Gull Lake is known as being one of Alberta's premier recreational lakes and is also popular for camping (check out our guide to Gull Lake campgrounds). Its large, sandy beaches are ideal for beach volleyball, swimming, fishing, camping, picnicking, and so much more – but if you're content to laze away the day in the sand, that's OK, too! Just don't forget the sunscreen.
Pigeon Lake
About an hour southwest from Leduc, you'll find Pigeon Lake, a marvelous spot to spend a relaxing family holiday. This lake is known for excellent fishing, while photographers will love how the surrounding prairies create picture-perfect sunrises and sunsets. Camping is also popular here (see our list of Pigeon Lake campgrounds) and in summer, make sure to bring your bathing suit for a swim to cool off!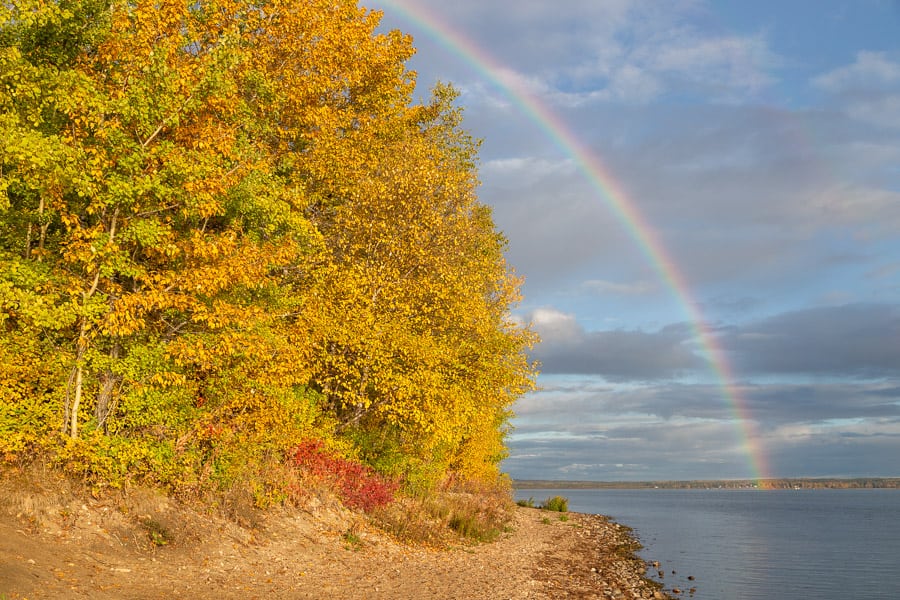 Sylvan Lake
Sylvan Lake is located south of Edmonton in the central Albertan town of the same name. It's an excellent spot for a hot summer day, and for families to take a holiday trip providing everything you'd want in a lakeside vacation. (Want to camp there? We have an article on Sylvan Lake campgrounds.)
From kayaking on calm water, summer fun on a sandy beach, lively boardwalk restaurants in Sylvan Lake, and scenic lighthouses you'll find plenty of things to do in Sylvan Lake. This town combines the best of natural beauty with welcoming charm, so don't be surprised if you and the kids want to return again and again.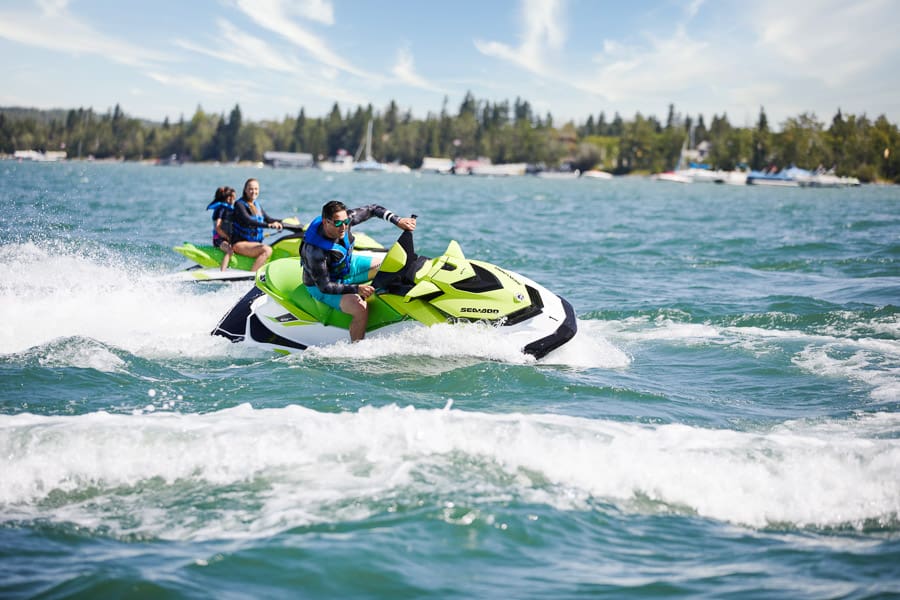 Lake Newell (near Brooks)
If you're looking for the warmest lake in Alberta, or you're looking for lakes near Calgary, Lake Newell is an amazing choice for a summer's day. This man-made lake near the city of Brooks is known for its camping spots, terrific fishing, and fantastic place to hang out in the sun and lay on the beach all day. Make a day trip out of it, or better yet, spend a few days camping in the area to fully enjoy the relaxing days in the sun and on the water.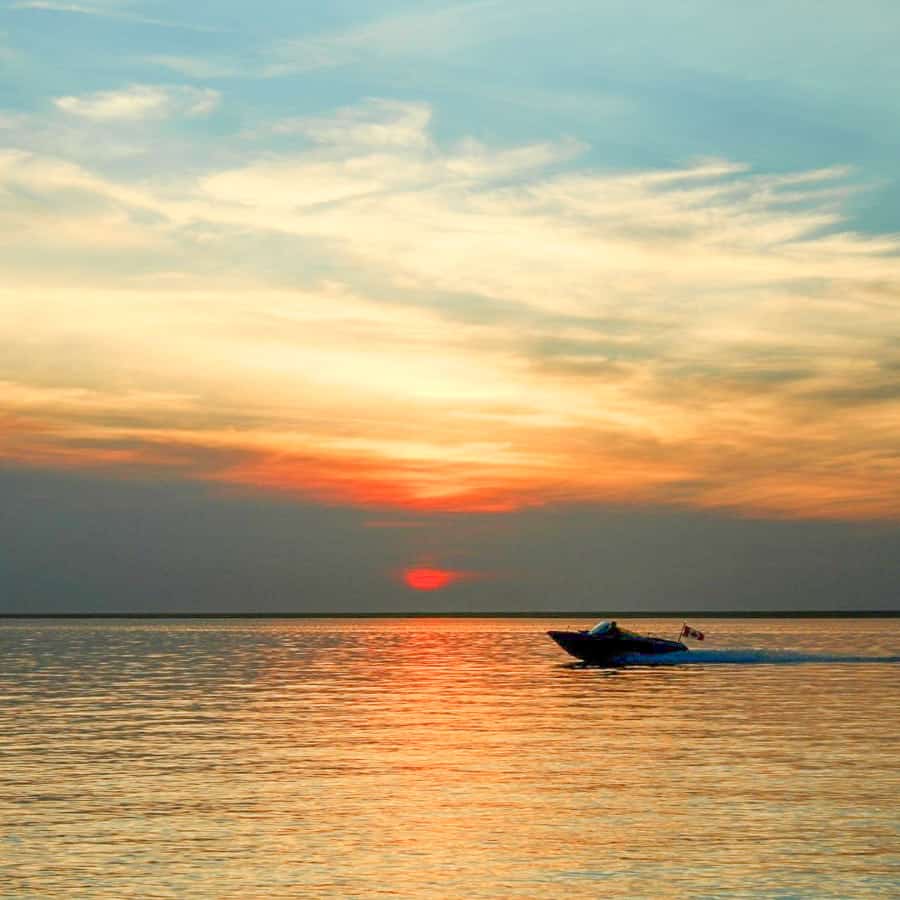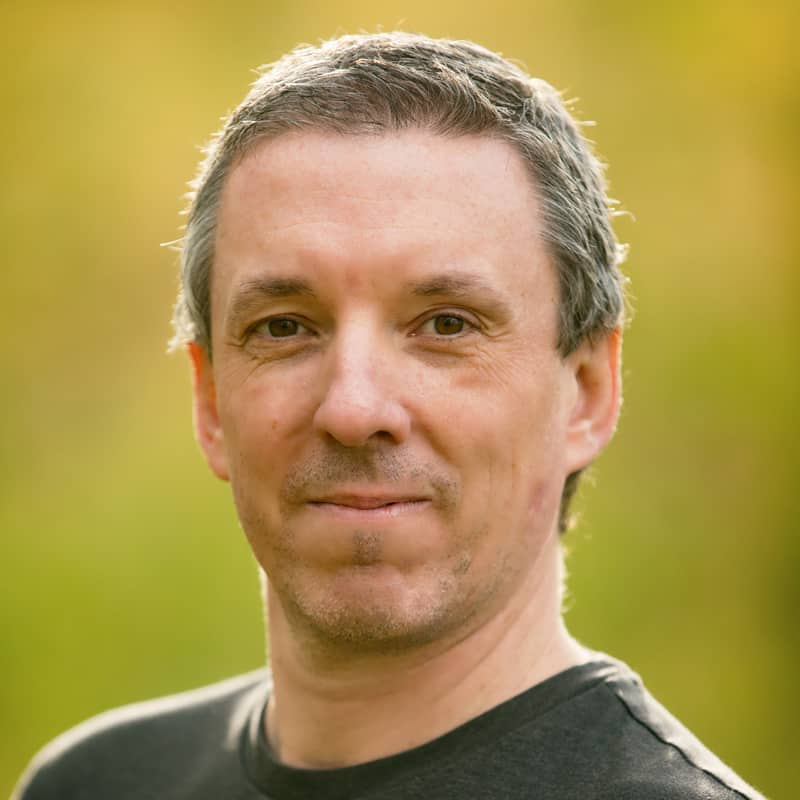 Pete is a co-founder of Road Trip Alberta. Growing up in Edmonton he has an extensive knowledge of Alberta and everything the province has to offer. He loves to eat good food, hike (especially in the winter), play tennis and curl. Apart from running Road Trip Alberta, he is a director with HMI, a digital media agency, half of the Hecktic Travels duo, and a co-creator of the popular card game Trip Chaser.