Disclaimer: This page may contain affiliate links. Please review our full Terms and Conditions for more information and our Privacy Policy. Note that any pricing, operating hours, or other such information provided below may have changed since initial publication.
Compiled by the Road Trip Alberta team
Last updated on August 17, 2023
Considering how popular Sylvan Lake is, it's no surprise that good quality restaurants are popping up in this sleepy lake town. And we've made it easy by putting together this list of places to eat, so get ready to take a delectable journey. From pizza to pasta, noodle bowls to Buddha bowls, cute cafes and fantastic brewpubs, these are the 11 best restaurants in Sylvan Lake you need to eat at!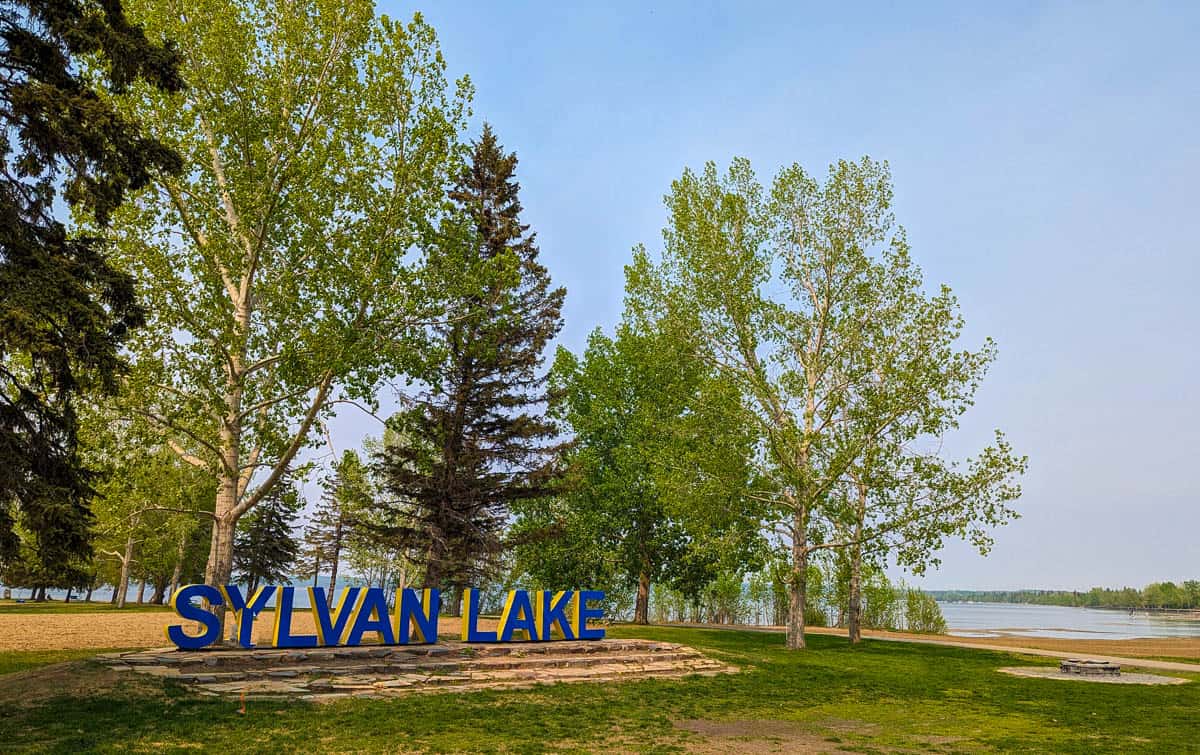 Best Restaurants in Sylvan Lake, Alberta
Sun of a Beach
Location: 4607 Lakeshore Dr
For lovely views of the lake and for a fun, relaxed meal, head to Sun of a Beach. One of the most popular restaurants in Sylvan Lake, this beach-themed restaurant has a large rooftop patio that is perfect for a warm day. With fresh, innovative food as well as a variety of handcrafted cocktails, it's an easy choice for lunch, dinner, or evening drinks in Sylvan Lake. The laid-back vibe of the restaurant perfectly matches the name and the decor.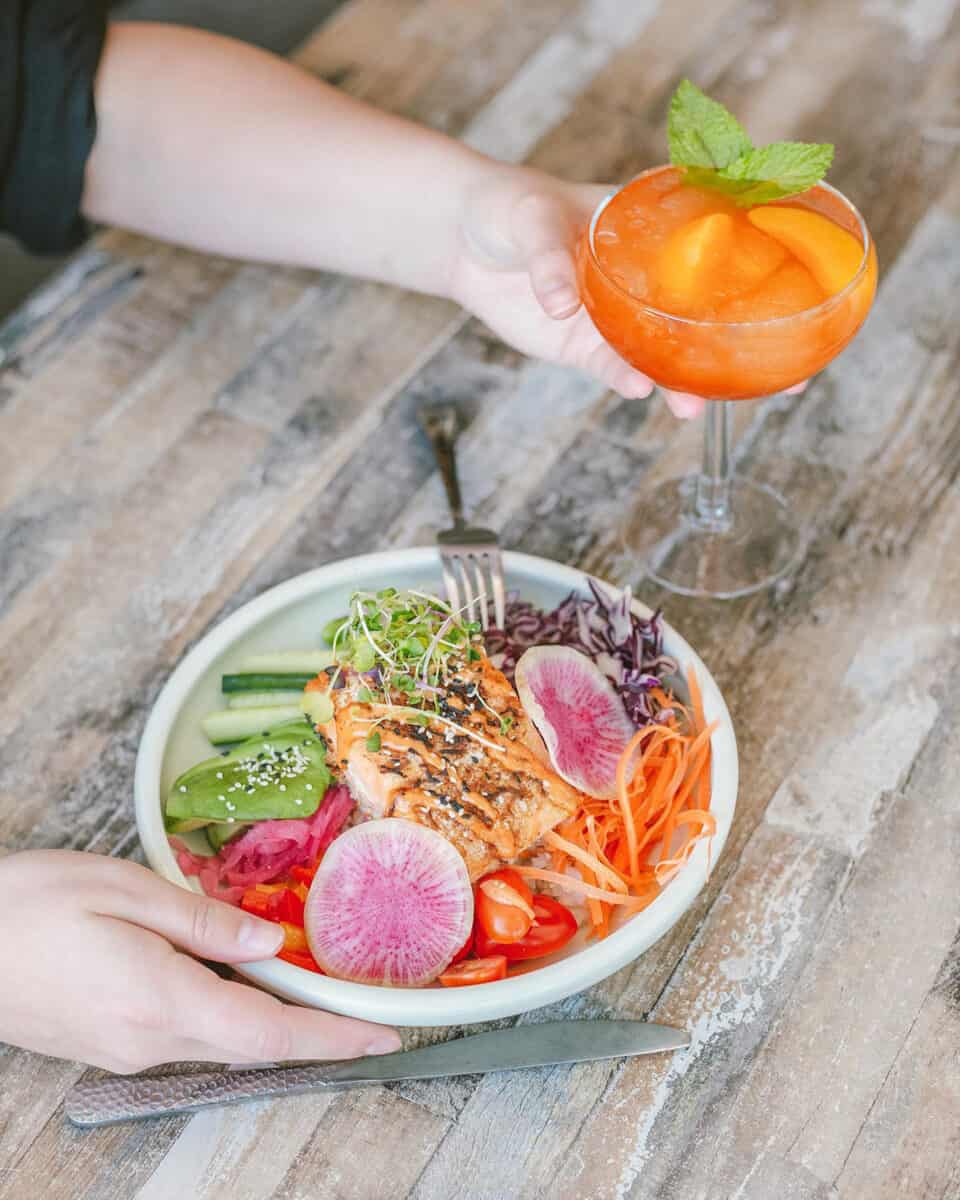 On the menu at Sun of a Beach, you'll find an assortment of beloved dishes such as burgers, fish and chips, bowls, pizza, tacos, and more, including a long list of starters. Some of our favourites include the Cajun Chicken Burger, the Ahi Tuna Bowl, the fish tacos, and the Aloha Poutine (with pulled pork, bacon, cheese curds, gravy, green onions, chipotle aioli, and crispy fries). There's also a small kids' menu as well as a dessert menu. And don't forget to check out the cocktail list, where you'll find everything from the classics to some of their signature drinks, including a delicious pineapple mango margarita.
Lokal Kitchen
Location: 4923 33 St
Lokal Kitchen is a charming restaurant in Sylvan Lake that is known for its fantastic breakfast, lunch, and dinner. Always fresh and always made with the utmost care, their dishes have a wonderful homemade quality that makes it feel as though you're instantly at home. Famous for its Korean barbecue and crispy chicken, the spot also offers a lot of other mouthwatering dishes that easily make this one of the favourite Sylvan Lake restaurants with both tourists and locals alike.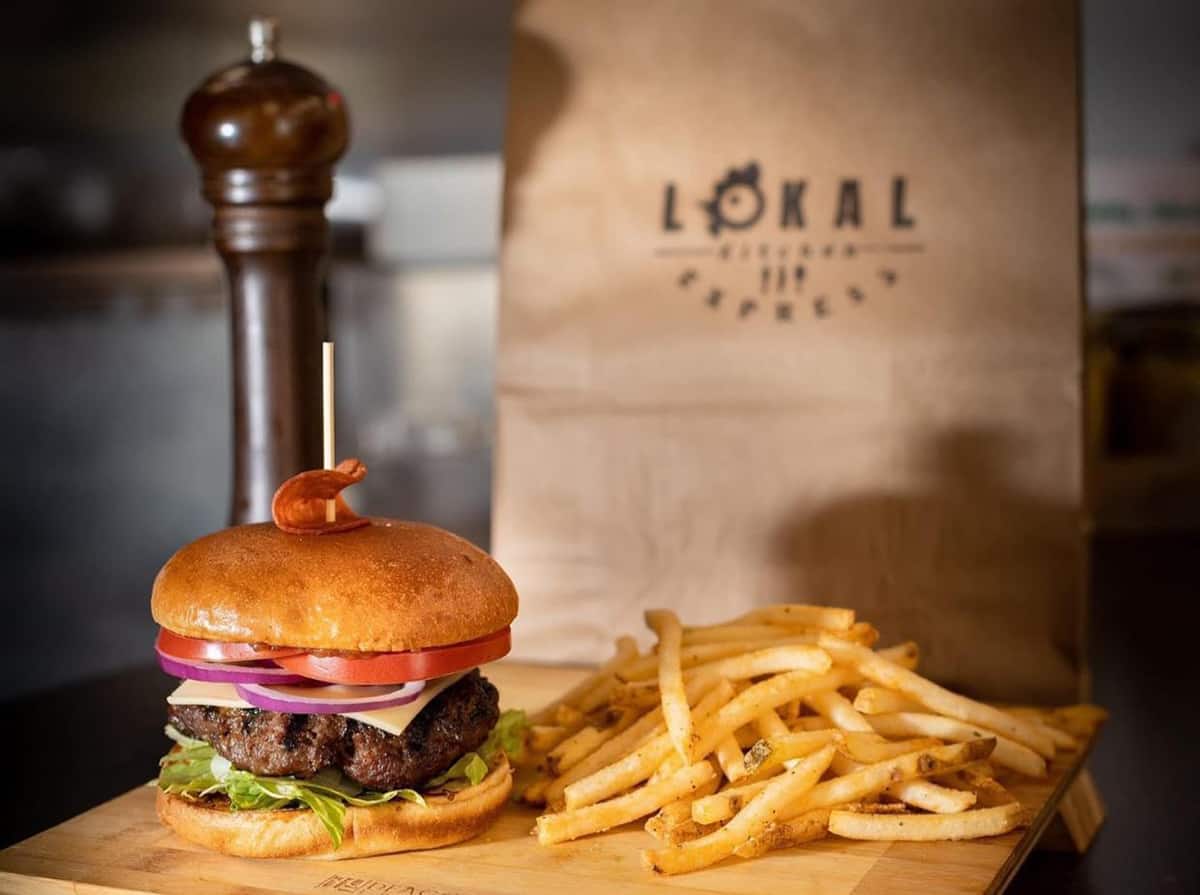 While most of the food on the menu at Lokal Kitchen is Korean-inspired, there are also a lot of typically Canadian meals, too. You'll find burgers, sandwiches, salads, and pasta alongside rice dishes and Korean barbecue. Some of our favourite dishes combine the two, including the Bulgogi Burger (with thinly-sliced bulgogi beef, swiss cheese, lettuce, red onions, tomatoes, honey mustard, mayo, and teriyaki sauce) and the bulgogi nachos. But the authentic Korean meals won't leave you disappointed, as their barbecue, bibimbap, and Korean fried chicken are truly divine.
Lago Pizza and Pasta
Location: 49 Hinshaw Dr #330
If you're looking for some great food alongside friendly staff, head to Lago Pizza and Pasta. Thankfully, there are a few pizza restaurants in Sylvan Lake, and this one is one of our favourites. The food all tastes fresh and homemade, and there's so much variety that you can order from their menu again and again and seemingly never get bored. It's also fabulous for families; portions are big and prices are reasonable, so you can't ask for much more.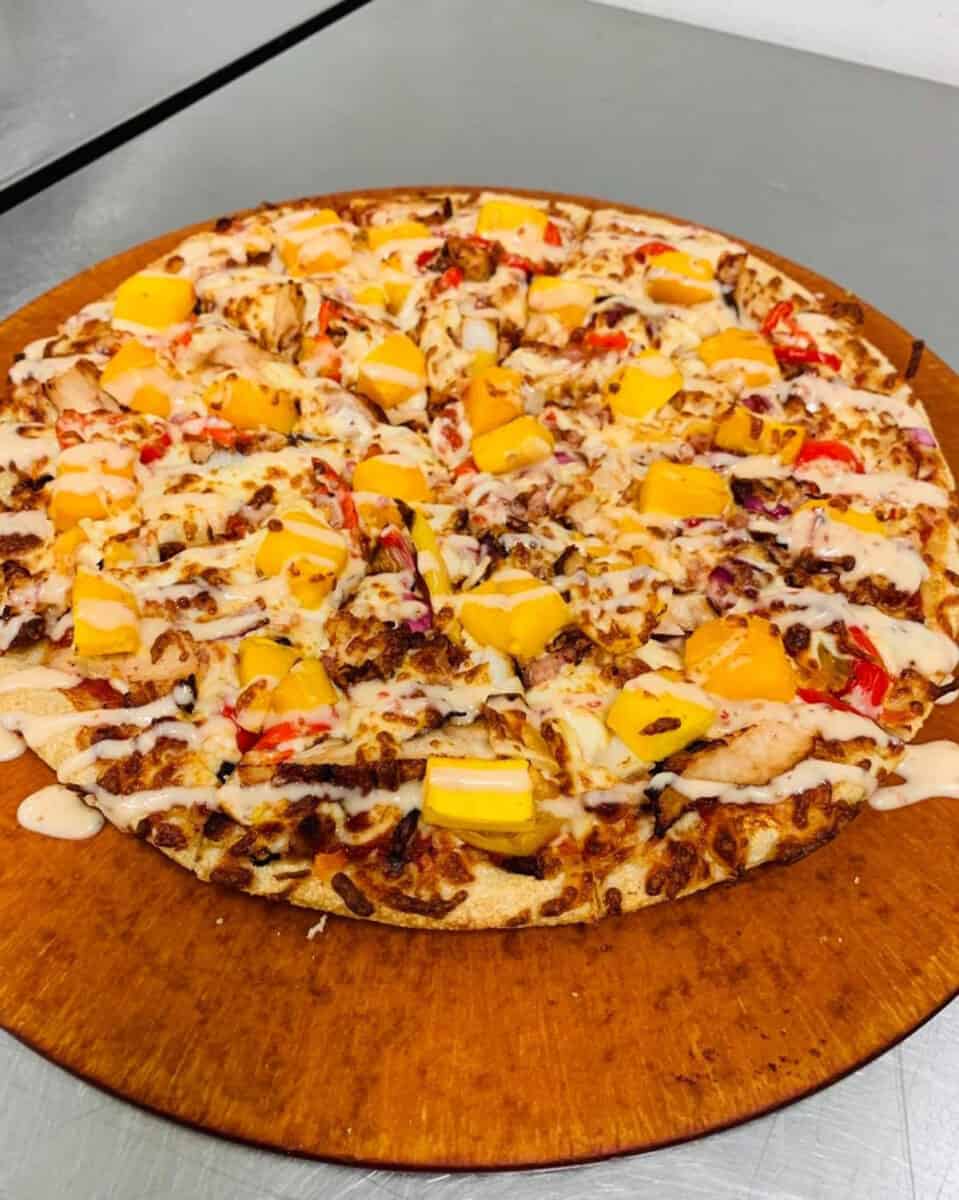 Lago Pizza and Pasta has a bit of everything, with items such as chicken tenders, poutine, and wraps found on the menu. But the stars of the show really are the pizza and pasta, and there's even the option of creating combo deals of the two. Some of our favourites include the Mango Tango pizza (forget the debate about pineapple on pizza, have you ever tried mango?!), the Oh Canada pizza (a signature recipe that includes smoked ham–the perfect Canadian lunch), the classic lasagna, and the pesto chicken penne. There's a lot to love about this Sylvan Lake pizza place, and it's an easy choice for a delicious bite when you're in town.
Bamboo Hut Southeast Asian Cuisine
Location: 5052 46 St
Open for lunch and dinner, Bamboo Hut Southeast Asian Cuisine is a great place to eat in Sylvan Lake. From the amazing hospitality to the tasty food, it's one of the most highly-rated restaurants in Sylvan Lake. Aiming to share their personal story in each and every dish, this family-run restaurant is all about welcoming you and making you feel as comfortable as possible. And from every bite of their vibrant, flavourful food, it's obvious that there's a lot of history embedded in the cuisine.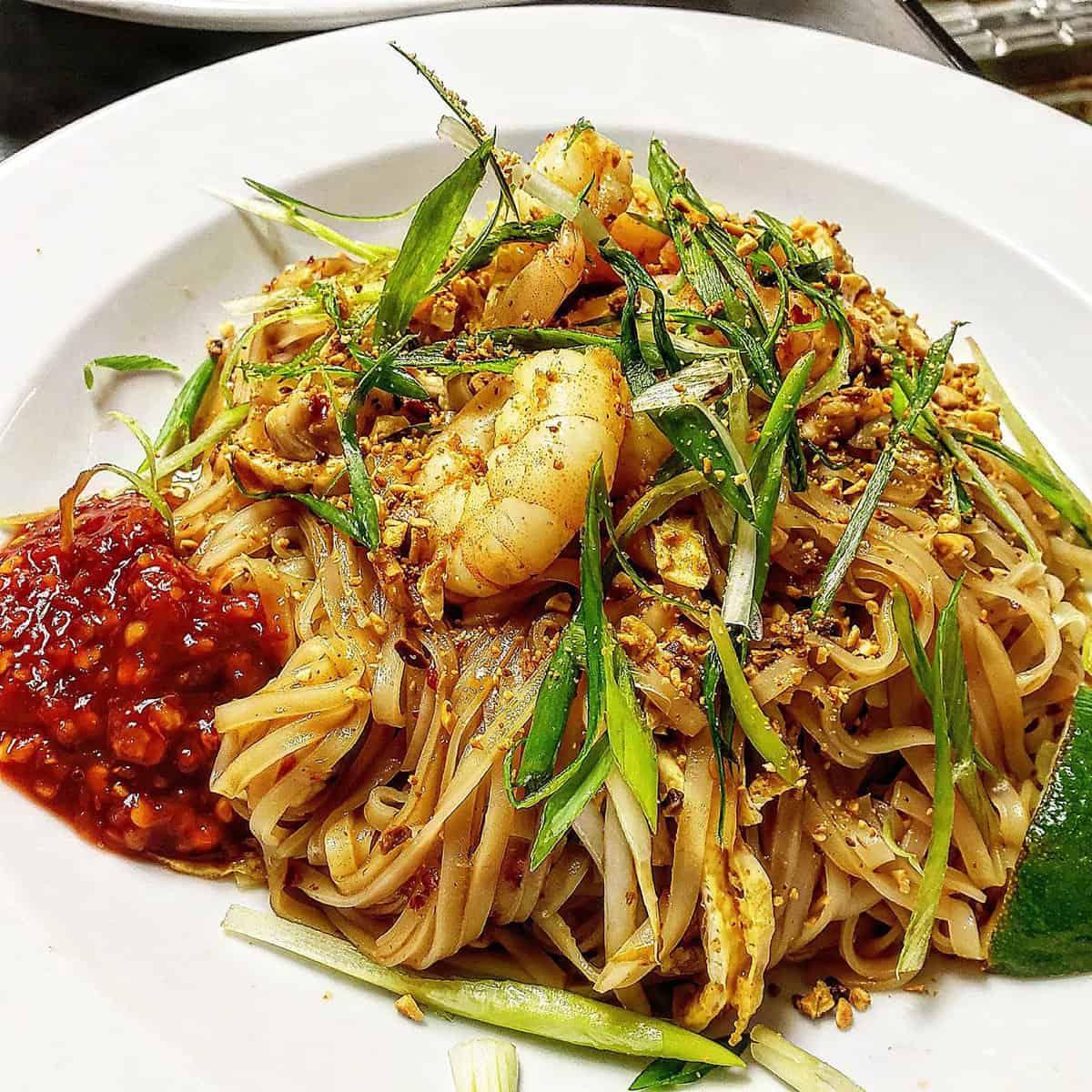 Enjoy many popular Southeast Asian dishes such as curries, noodle bowls, skewers, and stir fries; there are a lot of vegetarian options, so it's a good restaurant choice for those with dietary needs. Some of the best dishes – at least in our opinion – include the Golden Chicken Curry, the Panang Curry, the Tom Yum soup, the Monster Bowl, the Lemongrass Beef Skewers, the Asian Street Fries, and Sue's Seafood Stew (our personal favourite). There are also a few fusion dishes on the menu, including a Spicy Pad Thai Poutine that is unlike anything else we've ever tried. Also save room for dessert… the deep-fried bananas are to die for.
The Burger Parlour
Location: 1 Iron Gate Blvd #110
Who doesn't love a burger? Thankfully, if you're looking for a burger in Sylvan Lake, The Burger Parlour is here to satisfy your craving. What we love most about this spot is that it's a no-nonsense, laid-back kind of place… the menu is small but packs a real punch, and you know that whatever you order is going to be an amazing meal. Serving high-quality food at affordable prices, people love the tasty meals, the cleanliness of the fast-casual dining, and the welcoming service.
As for the menu at The Burger Parlour, you'll find an assortment of fresh, housemade burgers, all made with 100% Canadian beef. Even better? The patties are made fresh every single day. Choose from options such as the Mushroom Swiss, the Western, or the Country Chicken; the Bacon Cheeseburger is our personal favourite. Sides include fries, sweet potato fries, onion rings, poutine, mozza sticks, and deep-fried pickle sticks, to name a few. Also, save room for dessert, as they have some of the best ice cream in Sylvan Lake! Travelling as a family? They have fantastic deals on family meals and combos, too.
Mukbang
Location: 25 Beju Ind. Dr #101
Consistently listed as one of the best restaurants in Sylvan Lake, Mukbang is a Korean restaurant with a lovely selection of meals to choose from, whether you're visiting for lunch or dinner. With exceptional service, delicious food, large portions, and sensible prices, it's no wonder so many people love Mukbang so much! Known for their Korean barbecue "in a cup", if you love street food, you'll love this spot. There's also a fun selection of corn dogs in different flavours, so it's easy to mix and match to create your perfect meal.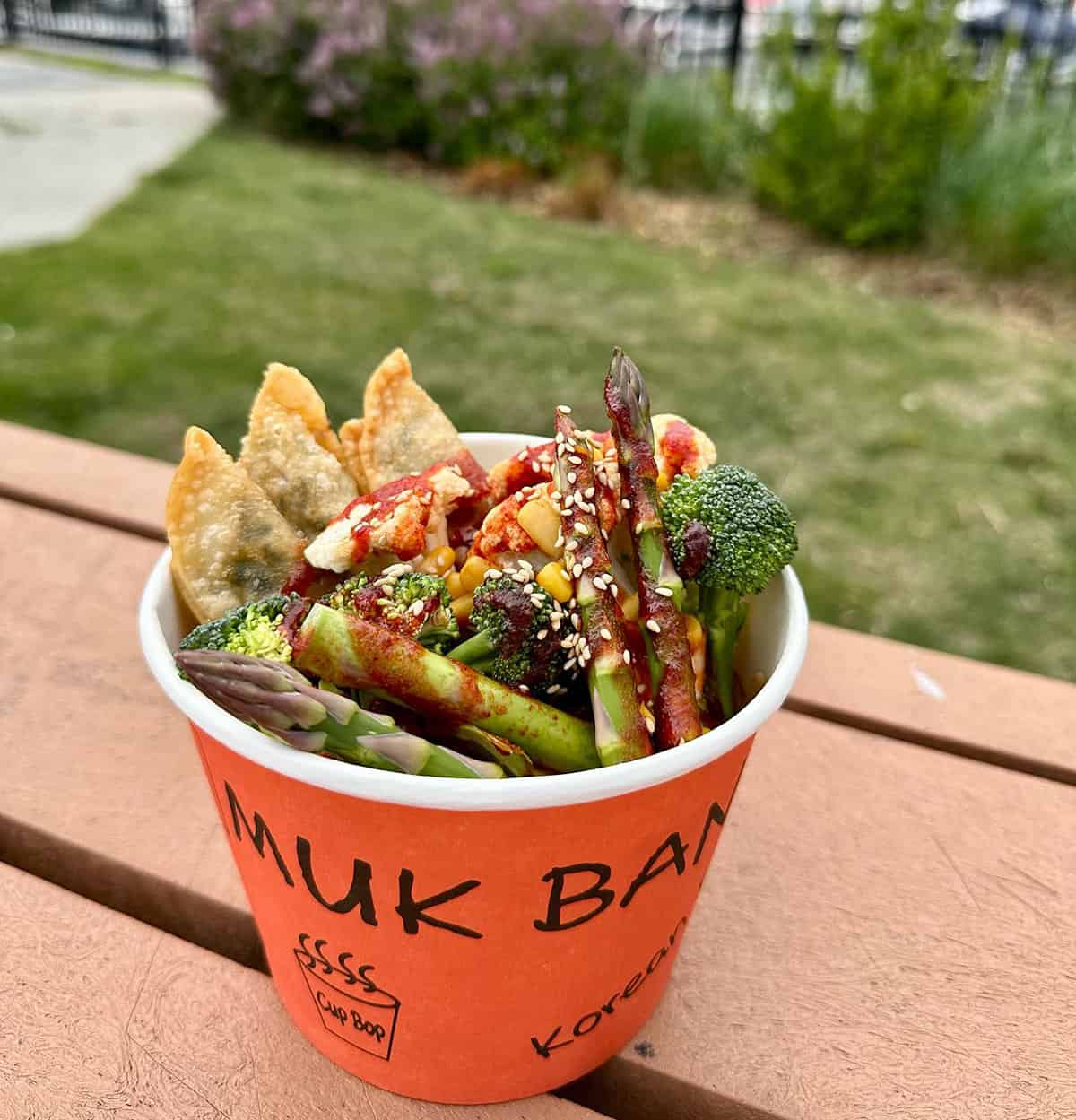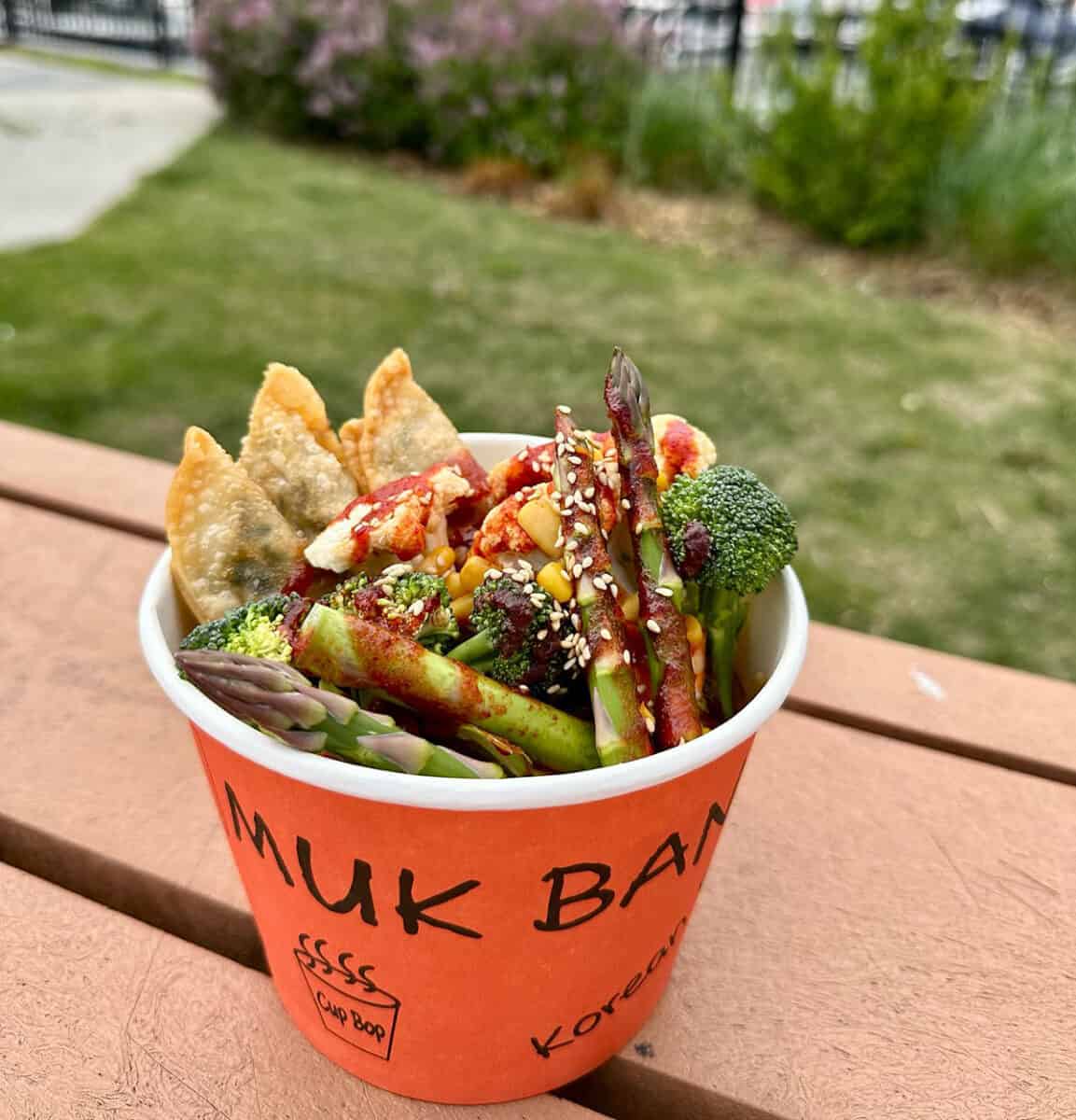 The "cupbop"s at Mukbang include rice, noodles, veggie mandoo, lettuce, green onion, carrots, onions, sesame seeds, and the restaurant's secret sauce; choose from sweet and spicy fried chicken, spicy pork, and more to go in your "cup". We love getting one of the cupbops as well as a few of the Korean street food options or corn dogs, as it makes for both a filling and a unique meal. There's also a good list of bubble tea, including mango, strawberry, taro, watermelon, and honeydew.
Sushi Hon
Location: 21 Beju Ind. Dr #3
This cozy little sushi restaurant in Sylvan Lake draws a lot of people due to their welcoming service, fresh sushi, and authentic flavours. Sushi Hon is a Japanese and Korean restaurant that serves up a taste of Asia right here in Alberta, and people flock here to sample the array of meals (including the lunch bento combos, which are a terrific deal).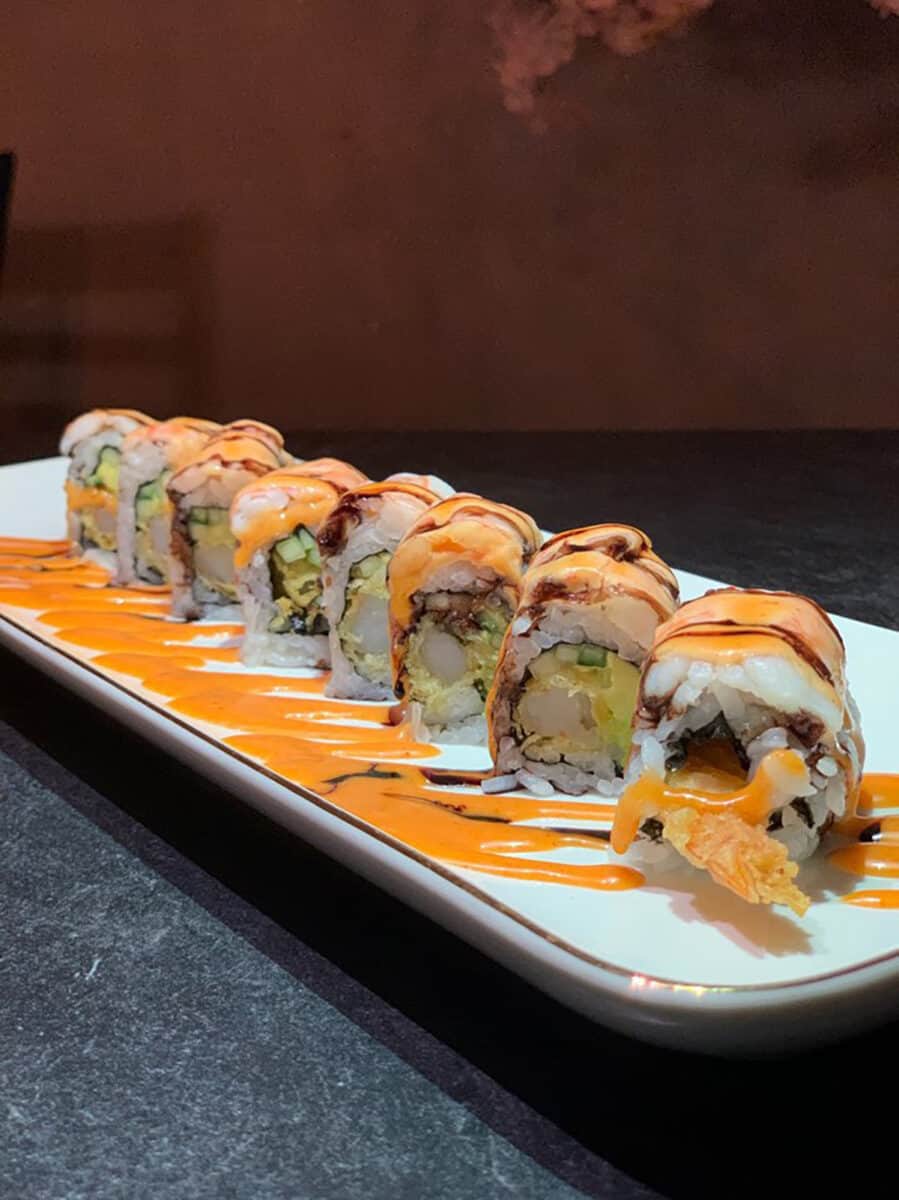 Choose from an assortment of appetizers (including fried chicken, gyoza, and tataki), salads, sashimi, nigiri, maki rolls, special rolls, and rice and noodle dishes. Some of our favourites include the Sylvan Dragon Roll (with a spicy tuna base), the Lobster Hon Roll (a dynamite roll topped with torched lobster tail sashimi), and the assorted sashimi of 24 pieces. If you love sushi, you're in a great place!
The Fireside Restaurant and Lounge
Location: 4907 Lakeshore Dr
Another one of the best restaurants in Sylvan Lake, The Fireside Restaurant and Lounge is popular with both locals and tourists. This bar and grill has a large rooftop patio that overlooks the lakeshore, so you know you'll be eating in a fabulous setting no matter what. Locally owned and operated, Fireside is dedicated to making sure everyone feels both welcome and happy at their establishment. There are also lots of drink specials and wing nights on Wednesdays, so it's often a happening place to be in town!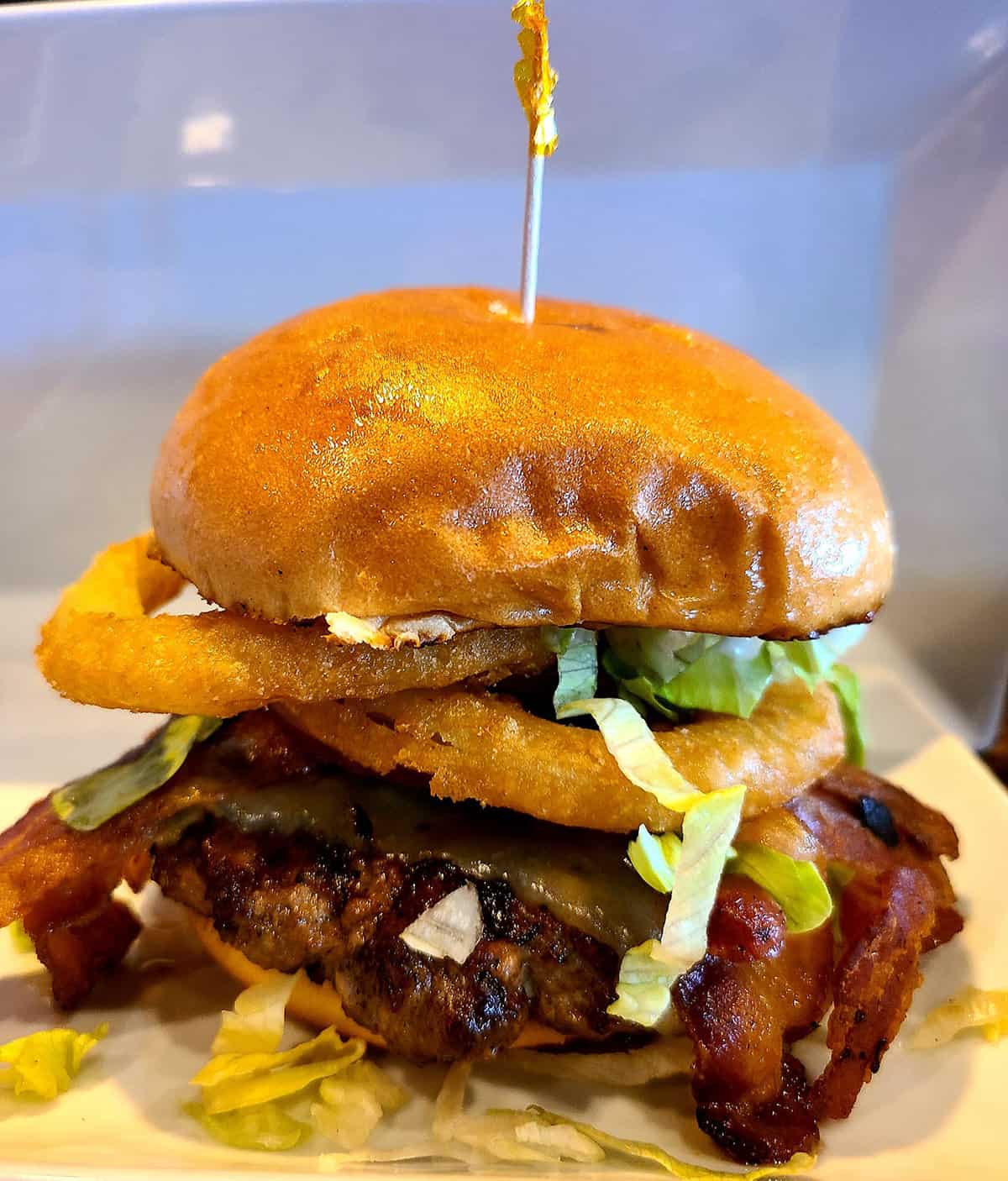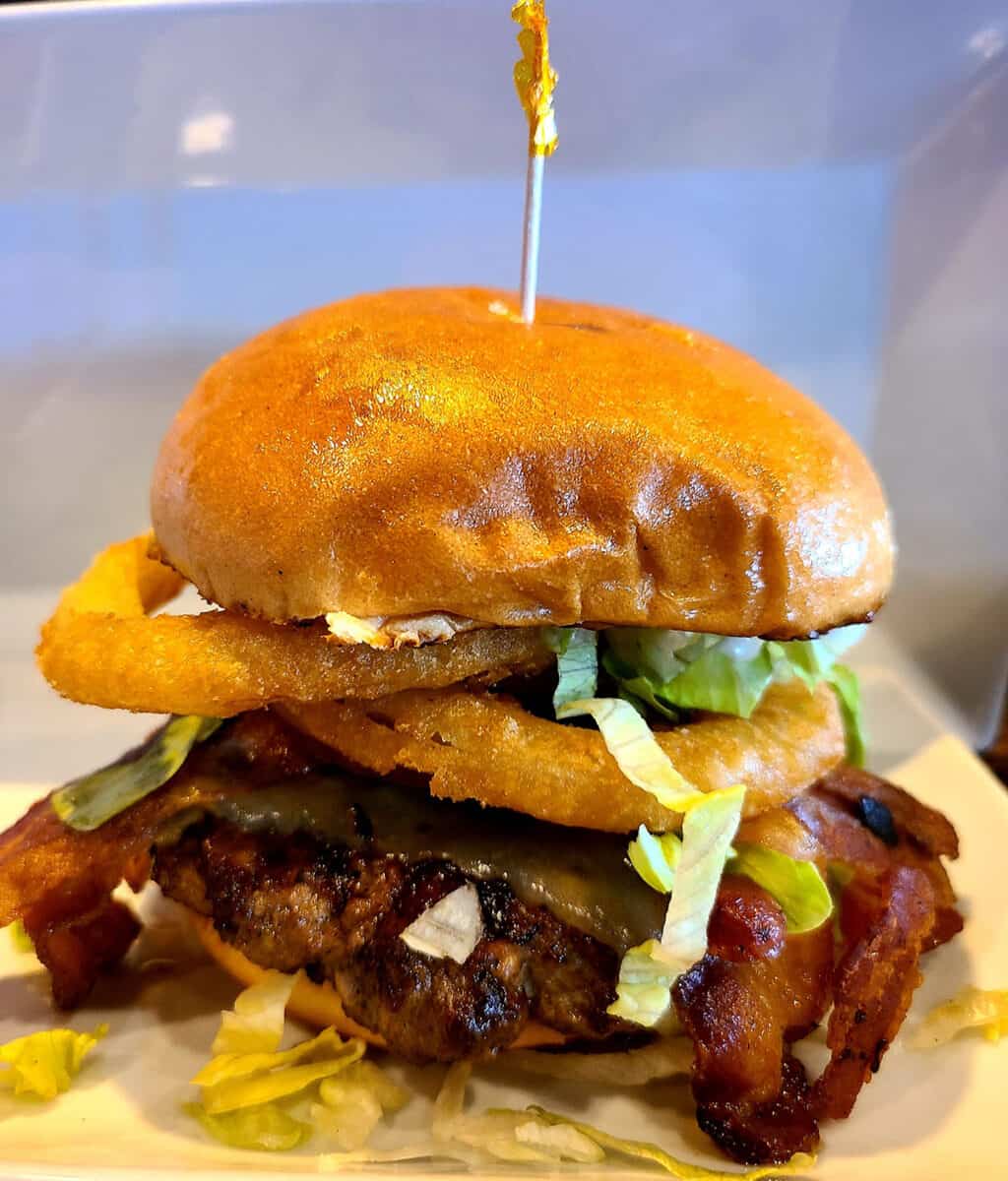 You'll find a lot of Canadian standards on the menu, including burgers, sandwiches, mussels, pasta, and more. There's also a good selection of Mexican food, with plenty of nachos, quesadillas, and tacos to be found. Some of our favourite dishes come from the mains, as we love their fish and chips, steak sandwiches, and baby back ribs. Going with a group? It has a lot of shareables and options to share dishes, which always makes for a fun meal.
Timber Coffee Co
Location: 4425 50 St
Head to Timber Coffee Co for an easy meal and a fantastic cup of coffee. This coffee shop not only serves delicious food and drinks, but it also gives back to the community… what could be better than that? With incredibly warm service and a nice atmosphere to boot, Timber Coffee Co is perfect for a quick breakfast or lunch or when you're on the go.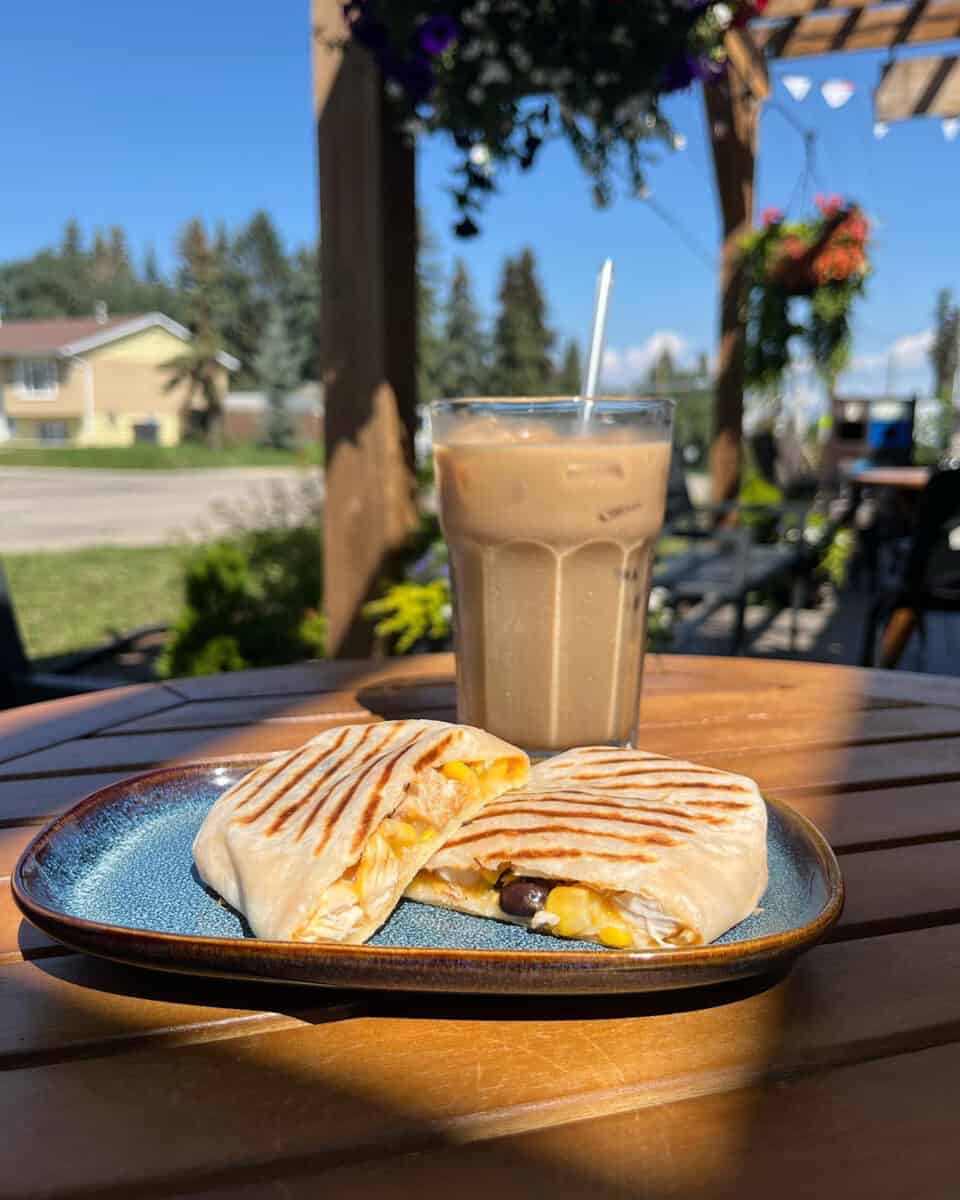 With lots of seating and rustic decor, the coffee shop instantly feels like your friendly neighbourhood spot. Choose from your favourite coffee drinks, whether that's a caramel macchiato, a chai tea latter, or just a plain black cup of joe. They also have some wonderful food options, including breakfast bagels, wraps, cinnamon buns, cheesecake, cookies, and more.
Bukwildz
Location: 4715 Lakeshore Dr
Another spot found right on the lake, Bukwildz happily boasts that they have been "creating libations and howling at the moon since 2014." By far one of the most bustling and lively restaurants in Sylvan Lake, Bukwildz is open for lunch, dinner, evening drinks, and late-night drinks, as they stay open until 2 am every night of the week. Other than the great food and fun atmosphere, Bukwildz is also well-known for its large patio space as well as live music performances.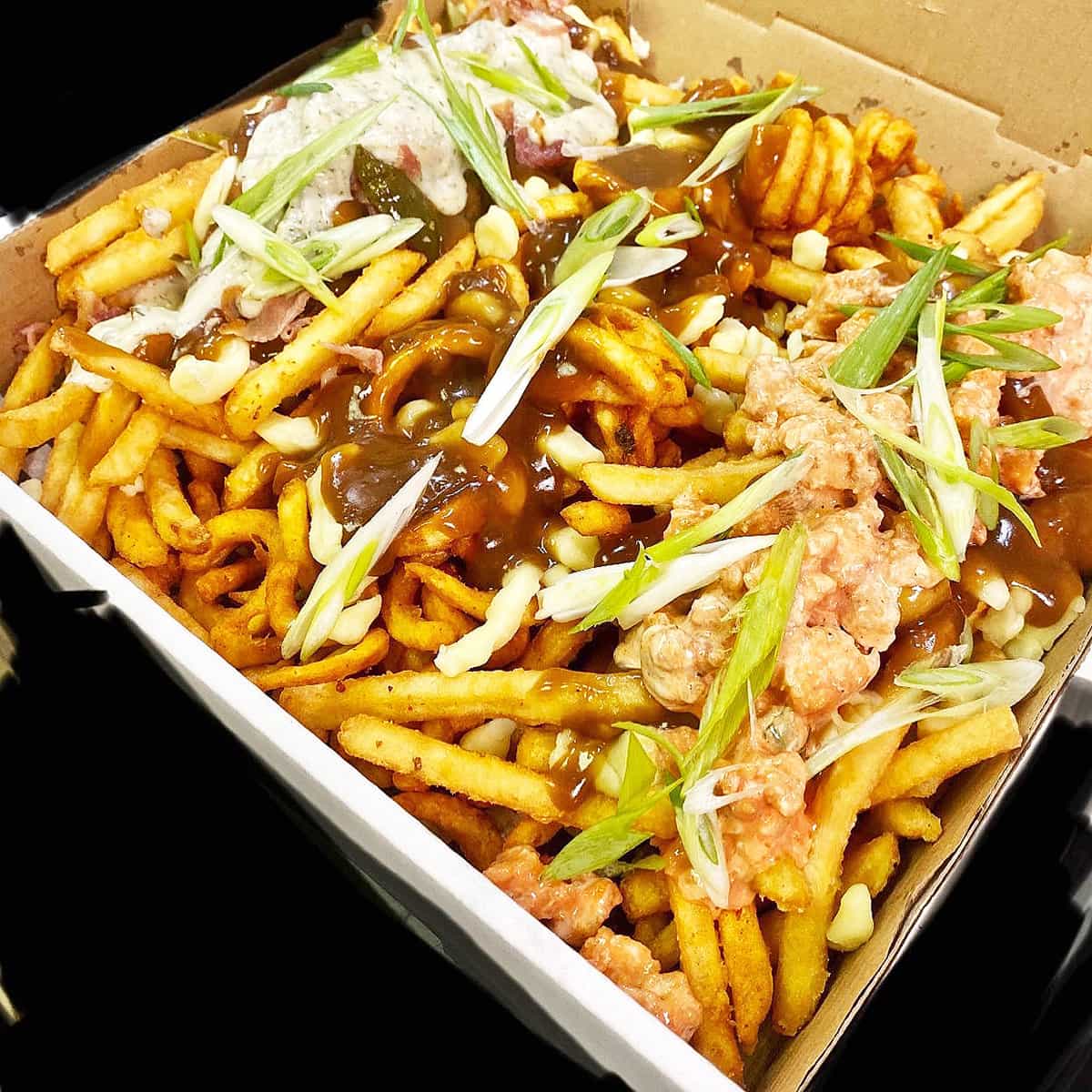 On the menu, you'll find a ton of options, including Canadian cuisine, international cuisine, bar food, and everything in between. Try the Wild Boar Cherry Whisky Candied Bacon Hand-Pressed Cheeseburger (try saying that three times fast) for something totally different, but their 10-ounce New York steak also hits the spot. The Pulled Duck Sandwich, Lobster Bites, and Mexican Street Corn are also favourites of ours. Feeling adventurous? Try the TikTok famous Lumberjack Poutine, which is five pounds – yes, five pounds – of fries, duck, bacon, crispy chicken, boar, onion, cheese curds, mozzarella, and poutine gravy. Don't forget to wash it all down with one of their signature cocktails or craft beers on tap!
Spinnaker's Cafe
Location: 5227 Lakeshore Dr #109
If you're in the mood for a casual but tasty meal, make your way to Spinnaker's Cafe in Sylvan Lake. With a nice atmosphere and great service, this restaurant specializes in Vietnamese food; it's also fairly affordable, so is perfect for those who'd like to stretch their dollar. Open for lunch and dinner every single day, it's a reliable choice when it comes to restaurants in Sylvan Lake.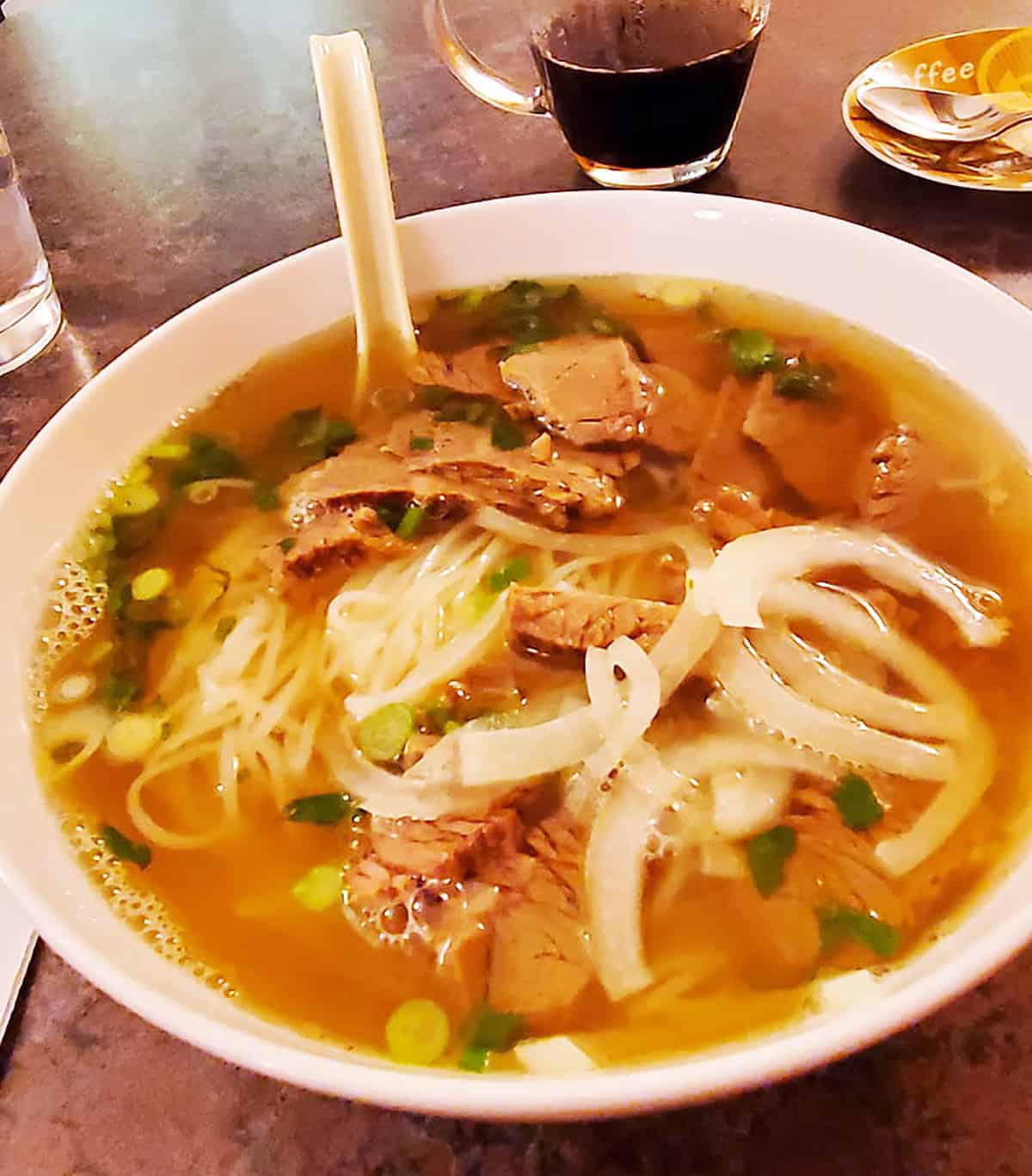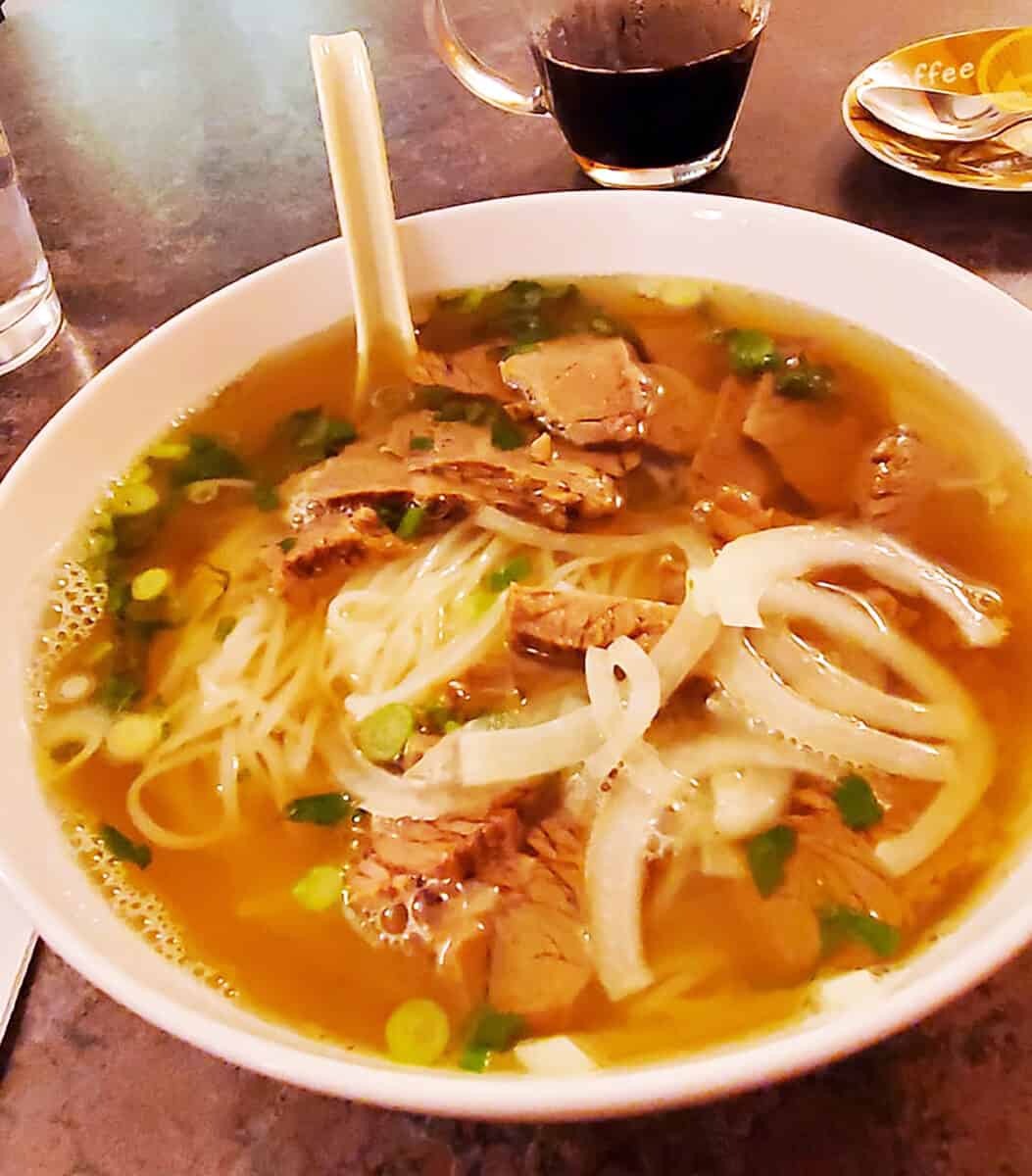 People rave about how fresh and authentic the food is, especially when it comes to the pho. There isn't anything too fancy here; the main focus is serving genuine Vietnamese food, and they certainly hit the mark. There's a decent list of appetizers, noodle soups, vermicelli, and more, including a bunch of refreshments. Don't miss the bubble tea or the Vietnamese coffee, which are both a fun treat when you're in Sylvan Lake!
MORE THINGS TO DO
Looking for more to do than eat? Check out our article on things to do in Sylvan Lake.
If you're visiting Sylvan Lake, you'll also be near Red Deer. Be sure to try these Red Deer Restaurants.
And, if you're looking for more places to eat in Alberta, here you go!