Disclaimer: This page may contain affiliate links. Please review our full Terms and Conditions for more information and our Privacy Policy. Note that any pricing, operating hours, or other such information provided below may have changed since initial publication.
Compiled by the Road Trip Alberta team
Last updated on September 4, 2023
Ask any Albertan where to indulge your need for #LakeLife, and Sylvan Lake will be one of the first mentioned (it made our list of best lakes in Alberta)! Not only does it have an attractive beach, but it also has a lot going on for a relatively small town. Between suntanning sessions, you can sample some excellent craft beer, enjoy an array of water sports, and eat very well! Read on for our recommendations of the best things to do in Sylvan Lake, and then add this town as a vital stop on your next central Alberta road trip itinerary.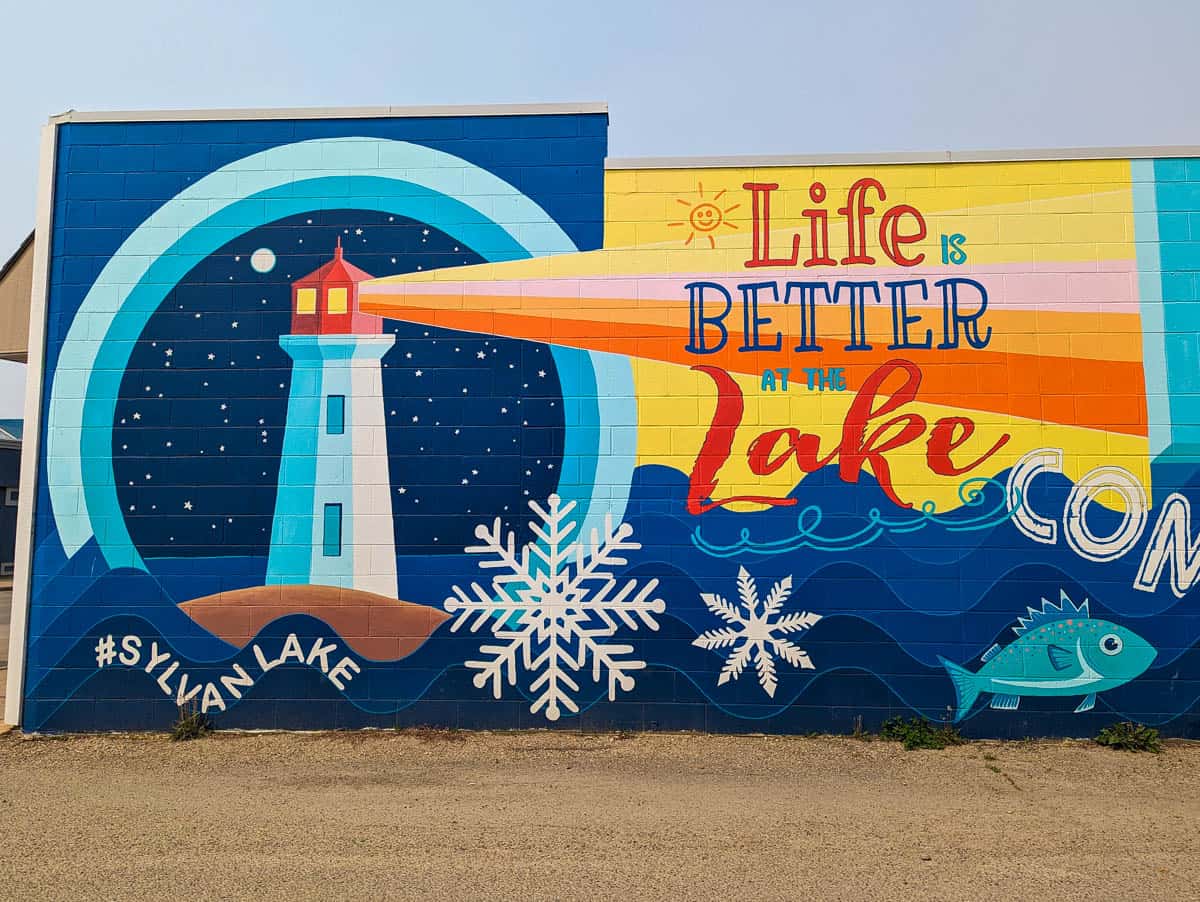 Things to Know
How to Get There
Sylvan Lake is a small town located in Central Alberta. Conveniently found between both Edmonton and Calgary, it is only about an hour and a half drive from either city. The town is found on the actual Sylvan Lake from which it gets its name.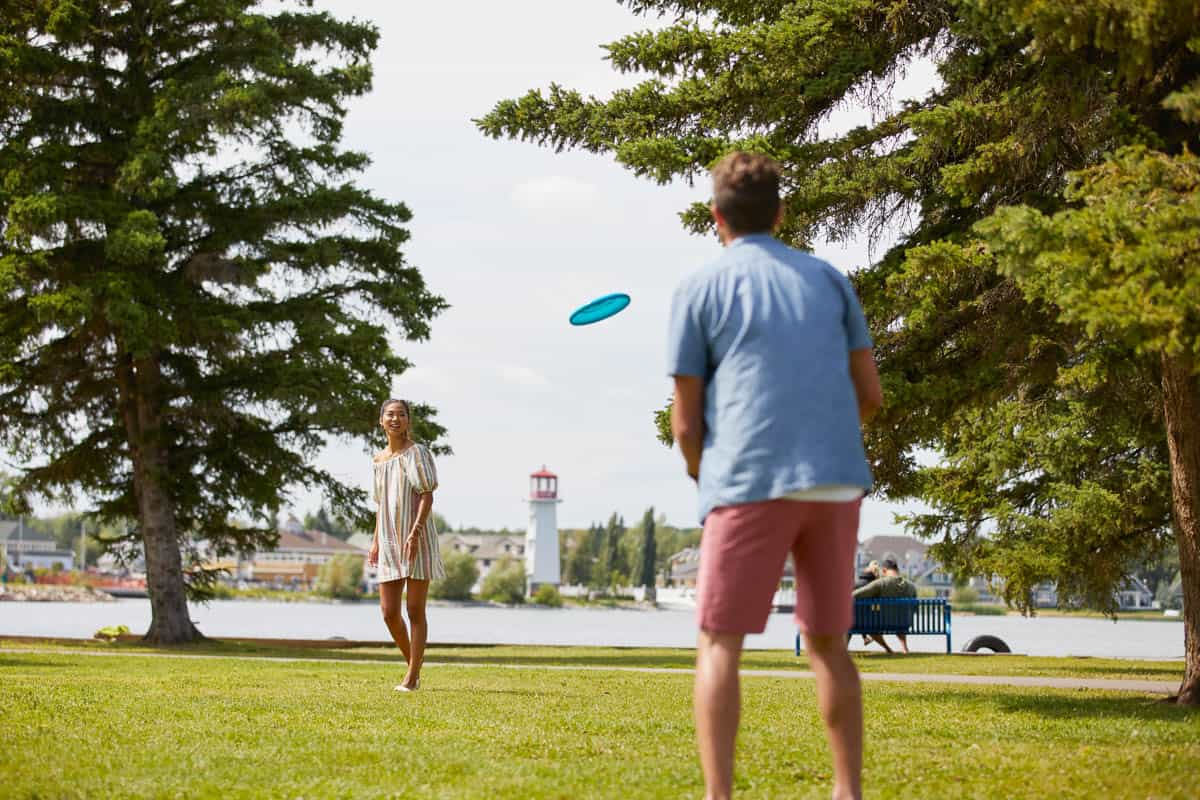 Straddling the boundary between Red Deer County and Lacombe County, Sylvan Lake is 25 kilometres west of the city of Red Deer.
Sylvan Lake Weather
Thankfully, there are many very pleasant months at the lake; from late May until late September, you will often find sunny, warm weather. Because of its location in Central Alberta, you'll often find very temperate, comfortable days, even in the hottest months of July and August; expect an average high of 22°C and an average low of 10°C in those months.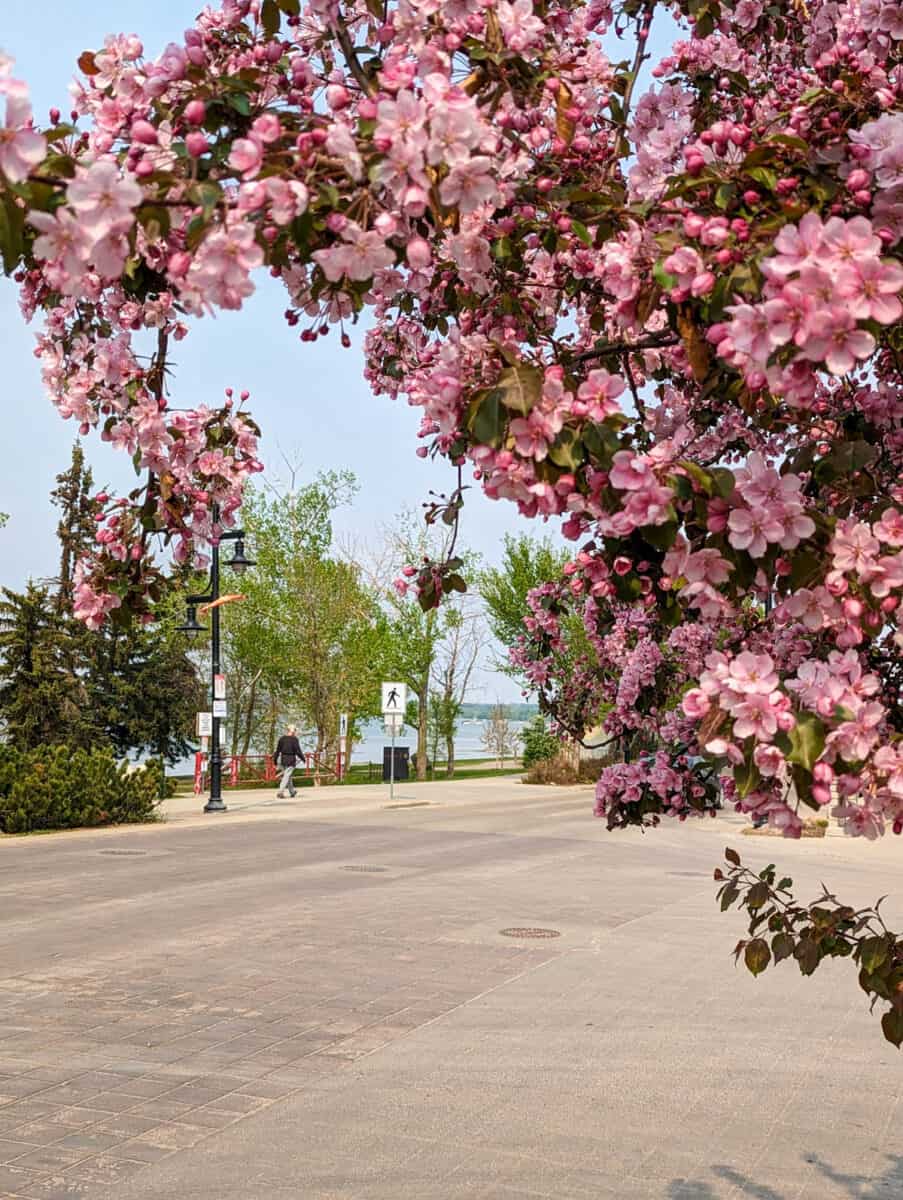 Spring and autumn are usually cloudy and chilly, while winter – usually classified as late November, December, January, and February – is quite cold. In January, the coldest month, you can expect an average high of -6°C and an average low of -16°C.
Best Things to Do in Sylvan Lake
Go to the Beach
Without a doubt, if you're in Sylvan Lake in the warmer months, you have to spend some time on the beach. With a grass park, walking trails, a beach boardwalk, beachside shops, a marina, a boat launch, picnic tables, and wilder natural areas, there's a lot to do and see on the beach; in fact, you'll probably find yourself visiting again and again, as all roads seem to lead to the water. It's the perfect spot to orient yourself when you're in downtown Sylvan Lake! With a shallow shoreline, there are also sandy beach areas near Lakeshore Drive and 50 Street, which make those spots perfect for families.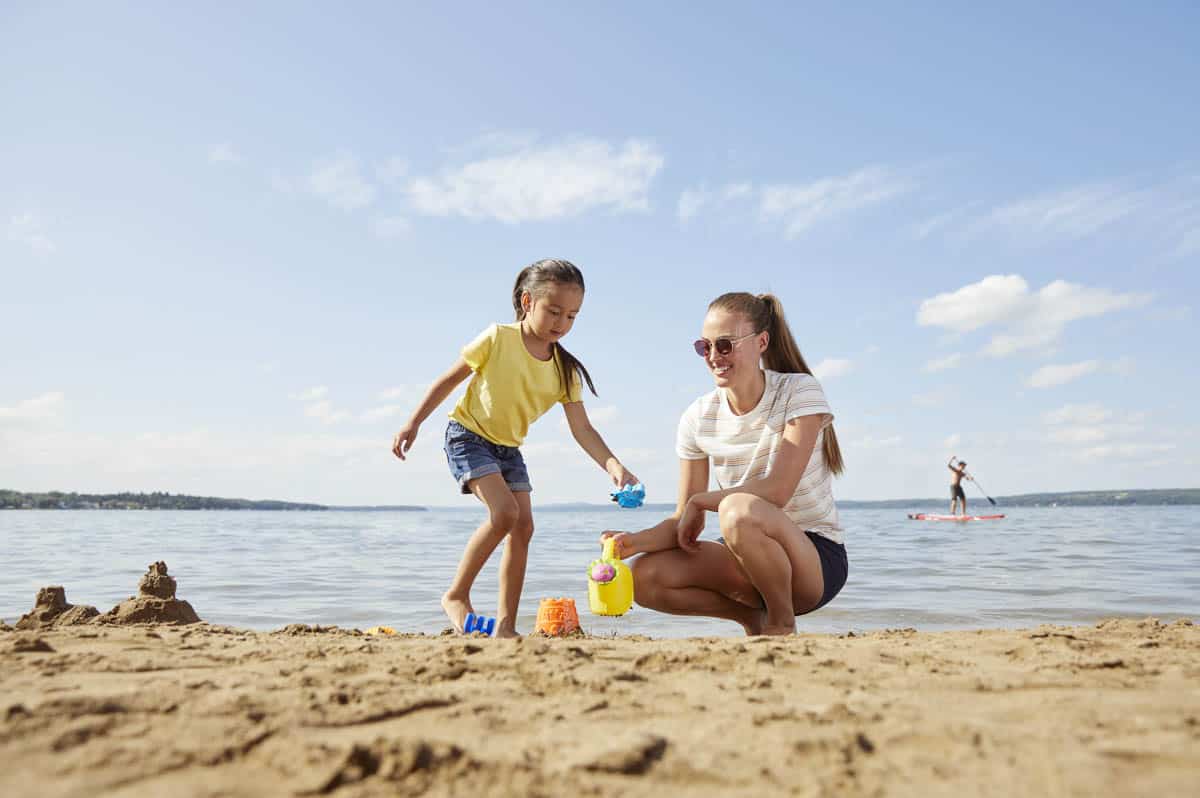 Plan for at least half a day at the beach, especially if you bring a picnic, plan on doing any water sports, or want to visit some of the walking trails. If you want to walk from one end of the beach to the other, it takes approximately one hour.
Take a Walk Along the Boardwalk
Walking along the Sylvan Lake Boardwalk is probably the second most popular thing to do here, next to going to the beach. It's the perfect spot for an early morning walk or an evening stroll to catch the sunset. The paved boardwalk runs alongside the water, offering gorgeous views of the lake and with plenty of benches along the way it's a perfect spot for enjoying an ice cream. If you want to walk the whole thing it will take you about an hour.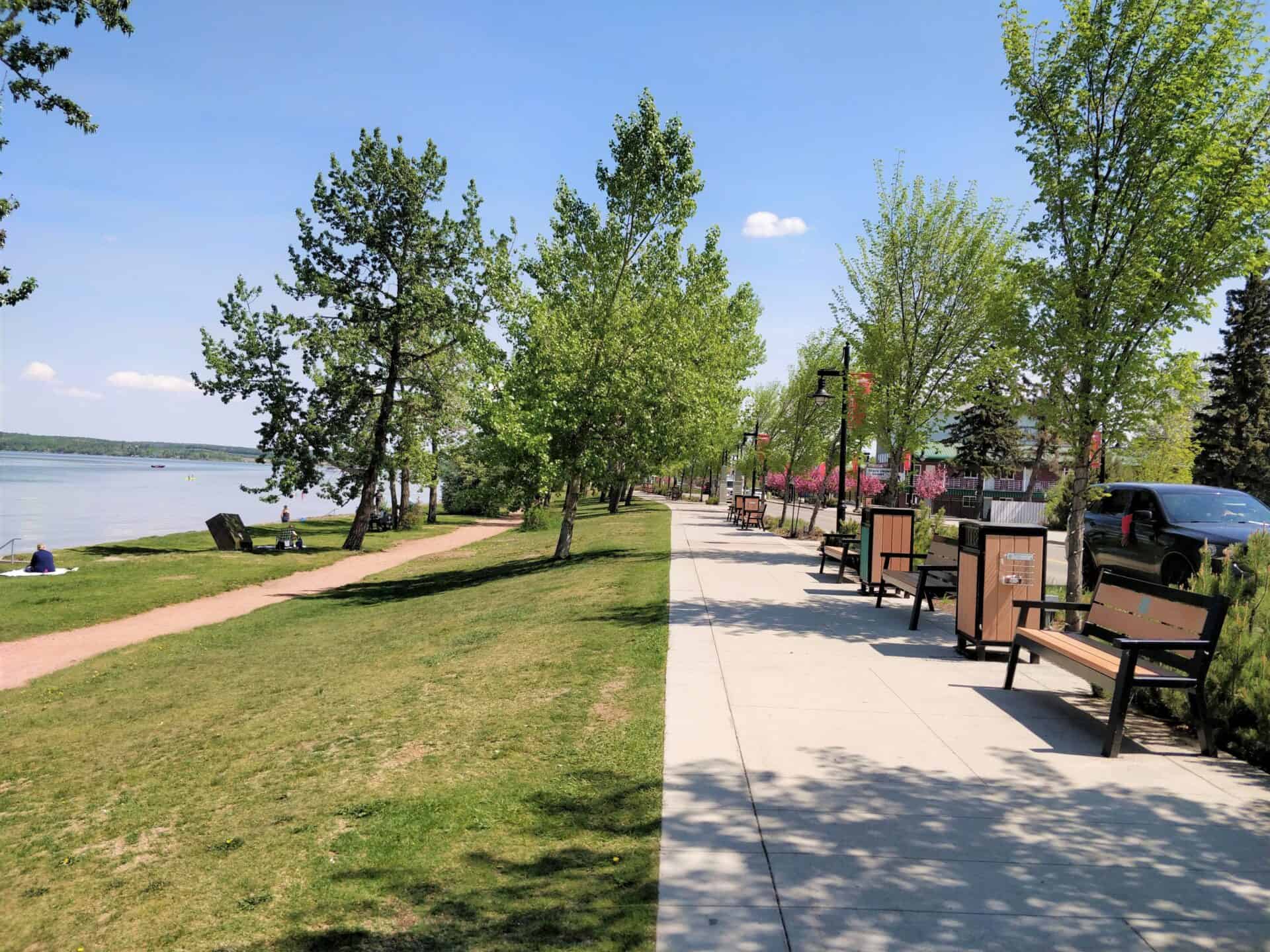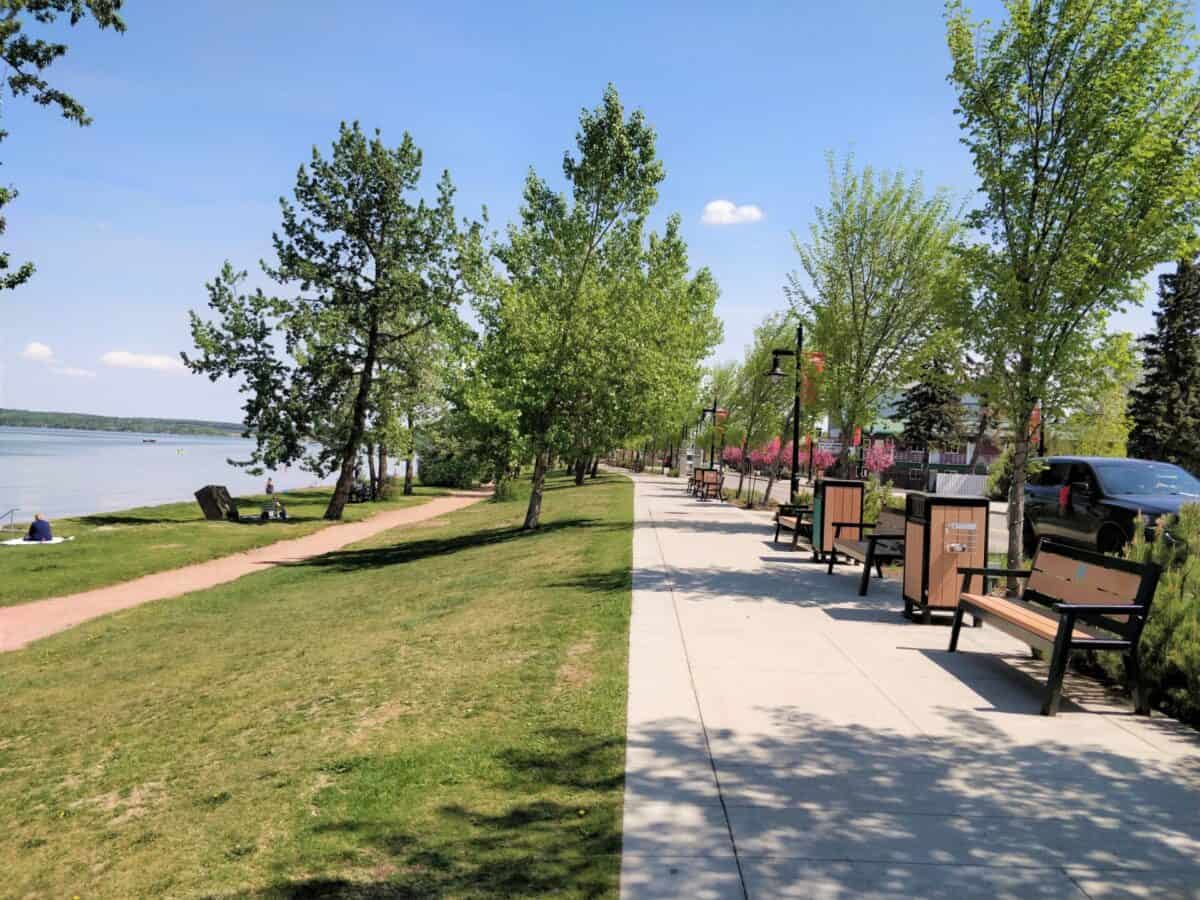 Get a Selfie at the Lighthouse
Have you really been to Sylvan Lake if you haven't taken a selfie at the iconic lighthouse in town?! After the original lighthouse had to be demolished due to its deteriorating state, the town's new lighthouse was unveiled in 2016.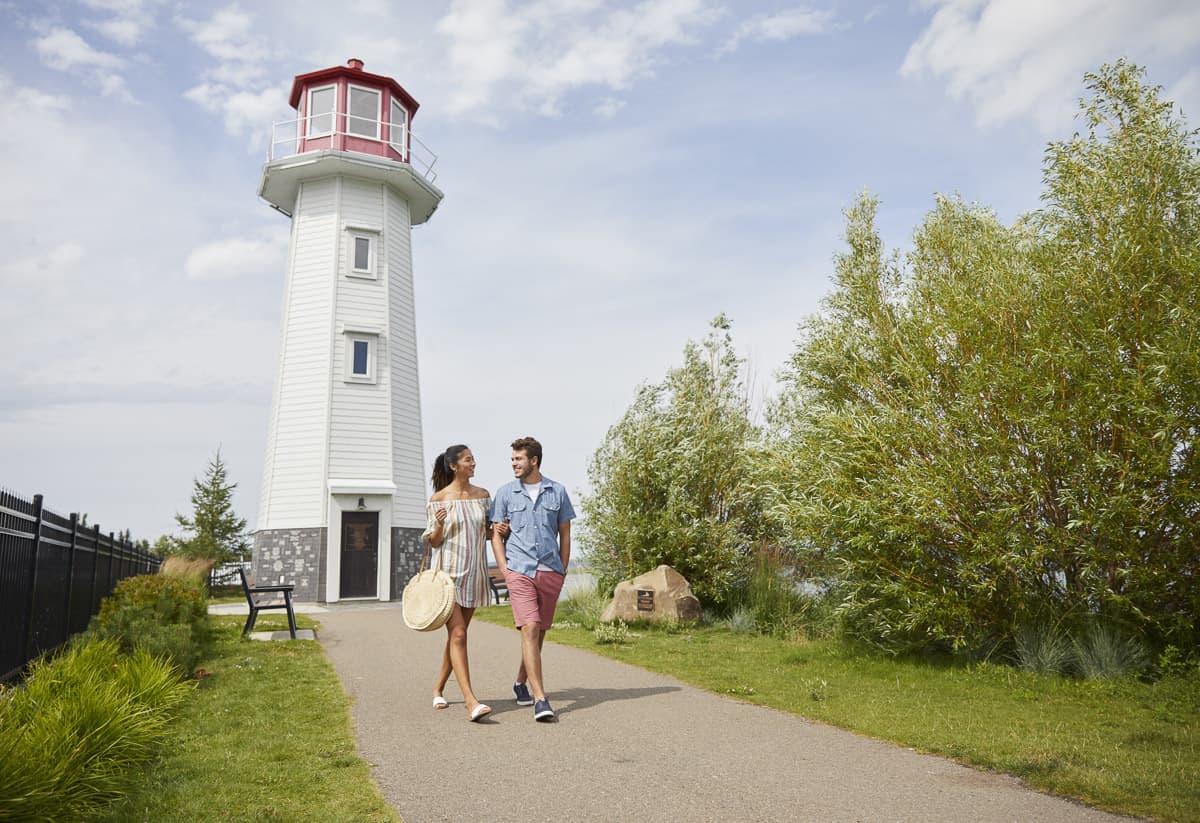 Modelled after the famous lighthouse in Peggy's Cove, Nova Scotia, Sylvan Lake's lighthouse is perhaps its most recognizable landmark. Make sure to walk along the boardwalk and snap a photo with it while you're in town… It's the most quintessentially Sylvan Lake thing you can do.
Enjoy Water Sports on the Lake
You're visiting a lake… so why not take advantage of the water? Thankfully, Sylvan Lake has an abundance of water sports to try, whether that's scuba diving, kayaking, paddle boarding, boating, seadooing, and so much more. And because the lake is so shallow near the shore, beginners can feel extra confident if they're trying out a kayak or paddleboard for the first time.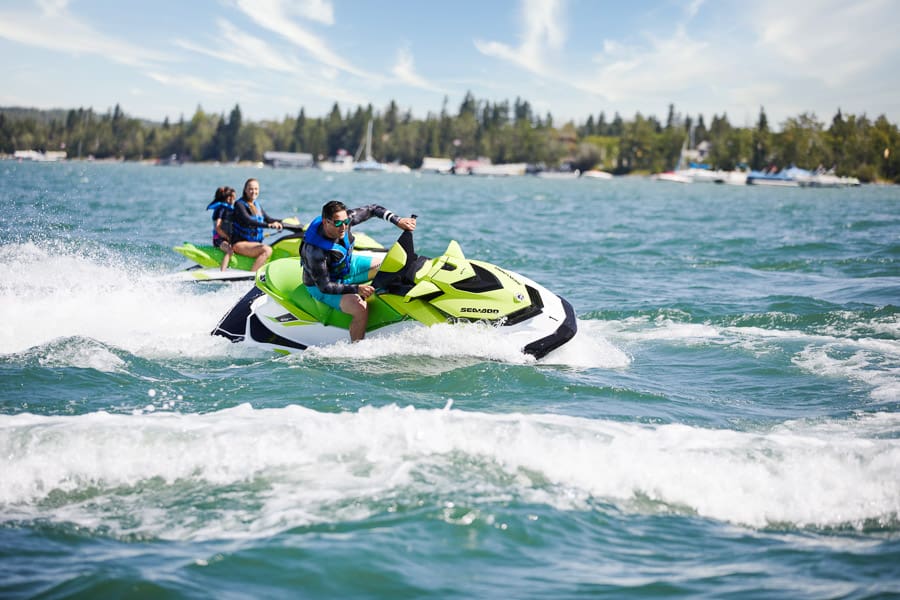 Sun Sport Recreation is a great choice when it comes to boat, seadoo, kayak, and paddleboard rentals in Sylvan Lake, while Aqua-Nuts Diving in nearby Rocky Mountain House can set you up with cold-water dive gear.
Browse the Sylvan Lake Farmers Market
Location: 5104 Lakeshore Drive
Found right by the lighthouse is the Sylvan Lake Farmers Market, and it's a wonderful thing to do on a Friday evening. Open every Friday from May to September (make sure to check their website for exact dates), you'll find a plethora of local food and crafts. It's the perfect place to find a souvenir! Choose from items such as jewellery, jams, fresh vegetables, woodwork, flowers, honey, pet products, wines, and more.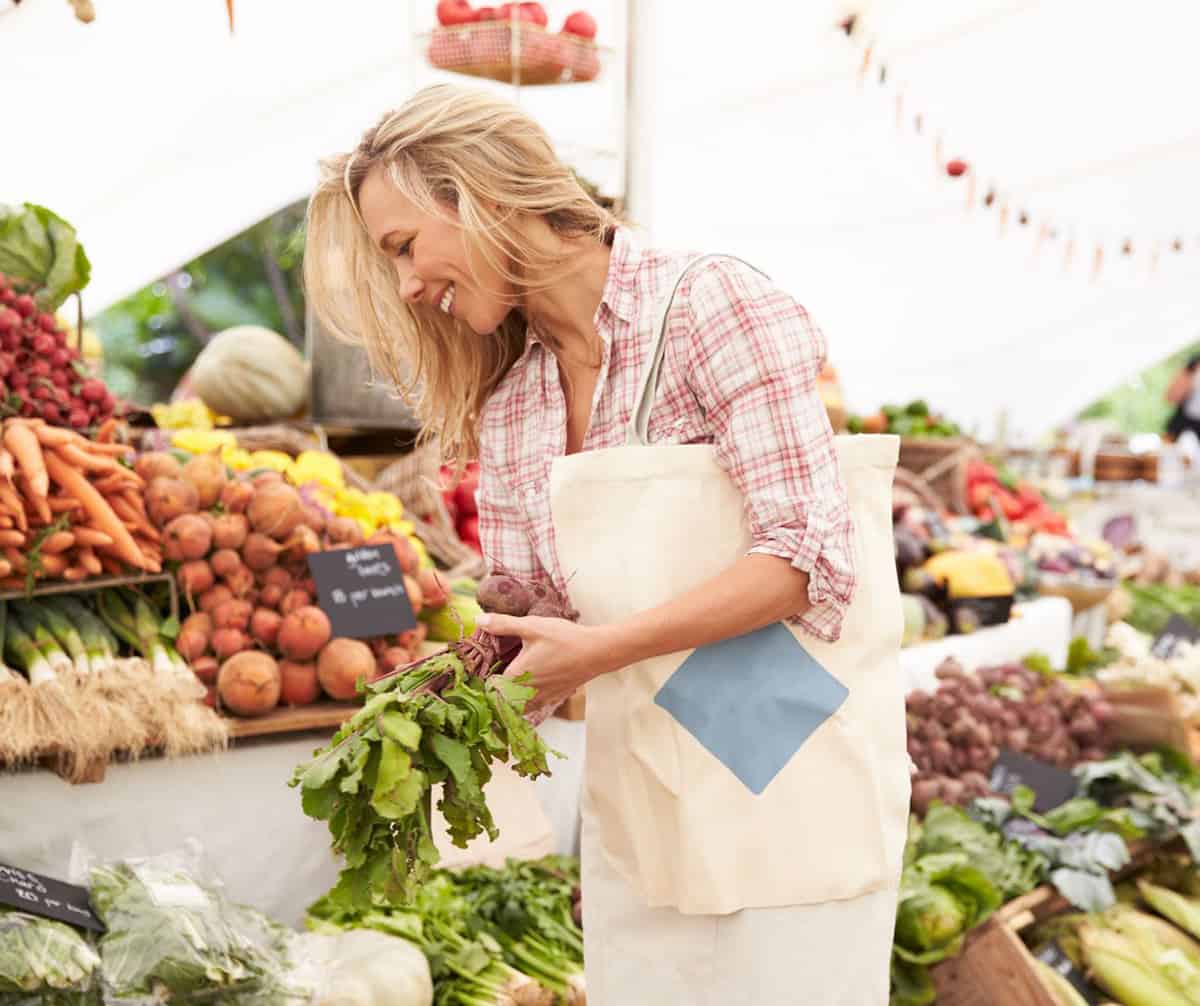 Also, keep an eye out for other upcoming events such as the Yuletide Market (usually in November) as well as the Winterfest Market (usually in February).
Make a Splash at Sylvan Lake Aqua Splash
Location: 5104 Lakeshore Drive
Located at the West End of Lakeshore Drive, the Sylvan Lake Aqua Splash is a must-visit if you have little ones (children aged six and up). Found next to the famous lighthouse – see above – it makes for a convenient and very fun stop on your visit!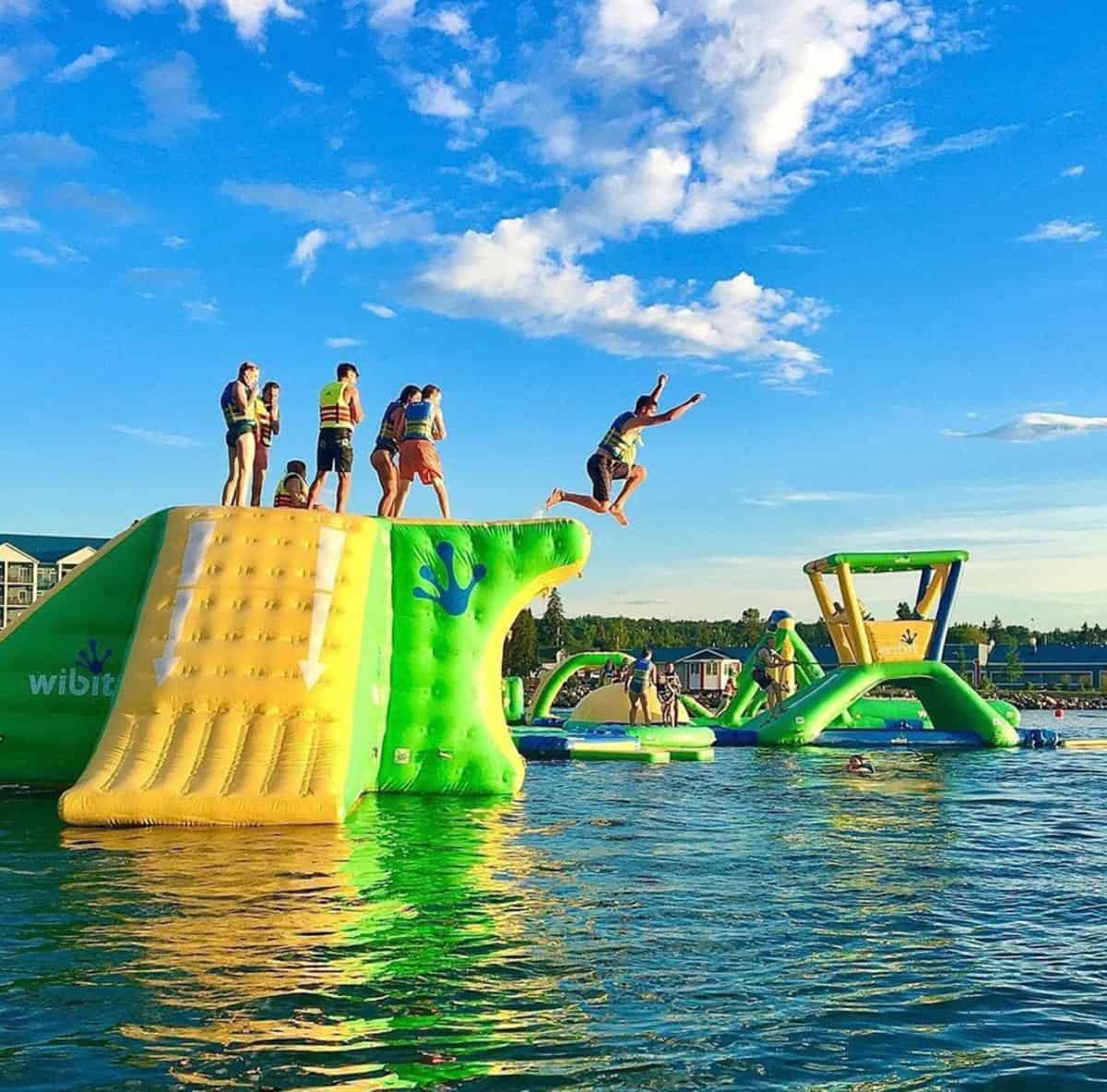 This open-water aquatic park is perfect to burn off a ton of energy while also having a great time; kids will love the oversized trampoline, 15-foot tower, wiggle bridge, slide, trapeze swing, climbing wall, and so much more. Good to know: Sylvan Lake Aqua Splash provides life jackets and there are lifeguards on duty.
Taste Sylvan Star Cheese
Location: 39008 Range Rd 10, Red Deer County
A visit to Sylvan Lake wouldn't be complete without a stop at Sylvan Star Cheese. This famous cheesemaker – six generations strong now – has been producing some of the top Dutch gouda in all of Canada for many, many years.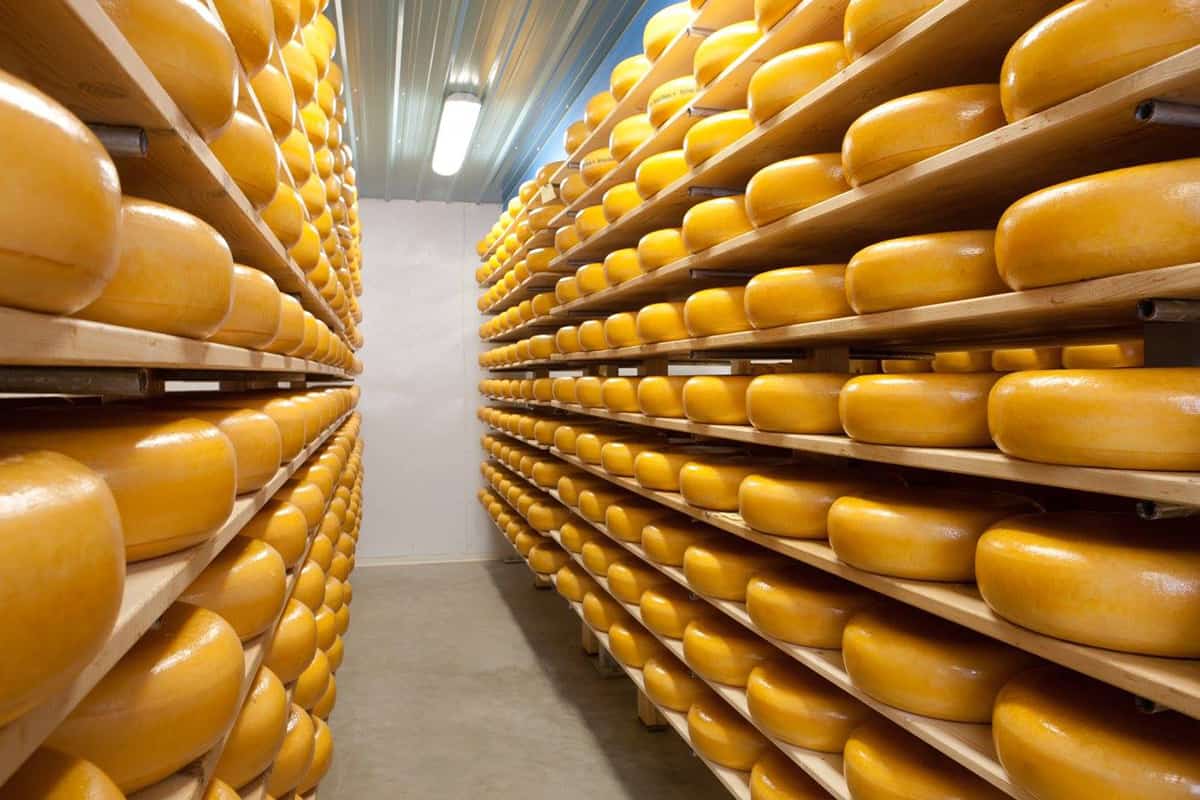 You'll have to drive a little bit east of town to visit, but it's definitely worth it; made with local ingredients, their cheese comes in such an amazing array of flavours that you may have a difficult time choosing which ones to bring home!
Sample Some Craft Beer
If you love craft beer, you'll love the fact that there are two breweries in Sylvan Lake, both of which are worth a visit!
Snake Lake Brewing
Location: 26 Industrial Dr
Inspired by Sylvan Lake's history, Snake Lake Brewing has a wide variety of beers on offer, from crisp lagers to rich stouts. With a great lineup of core beers, they have a frequently rotating selection of seasonal beers on tap, too.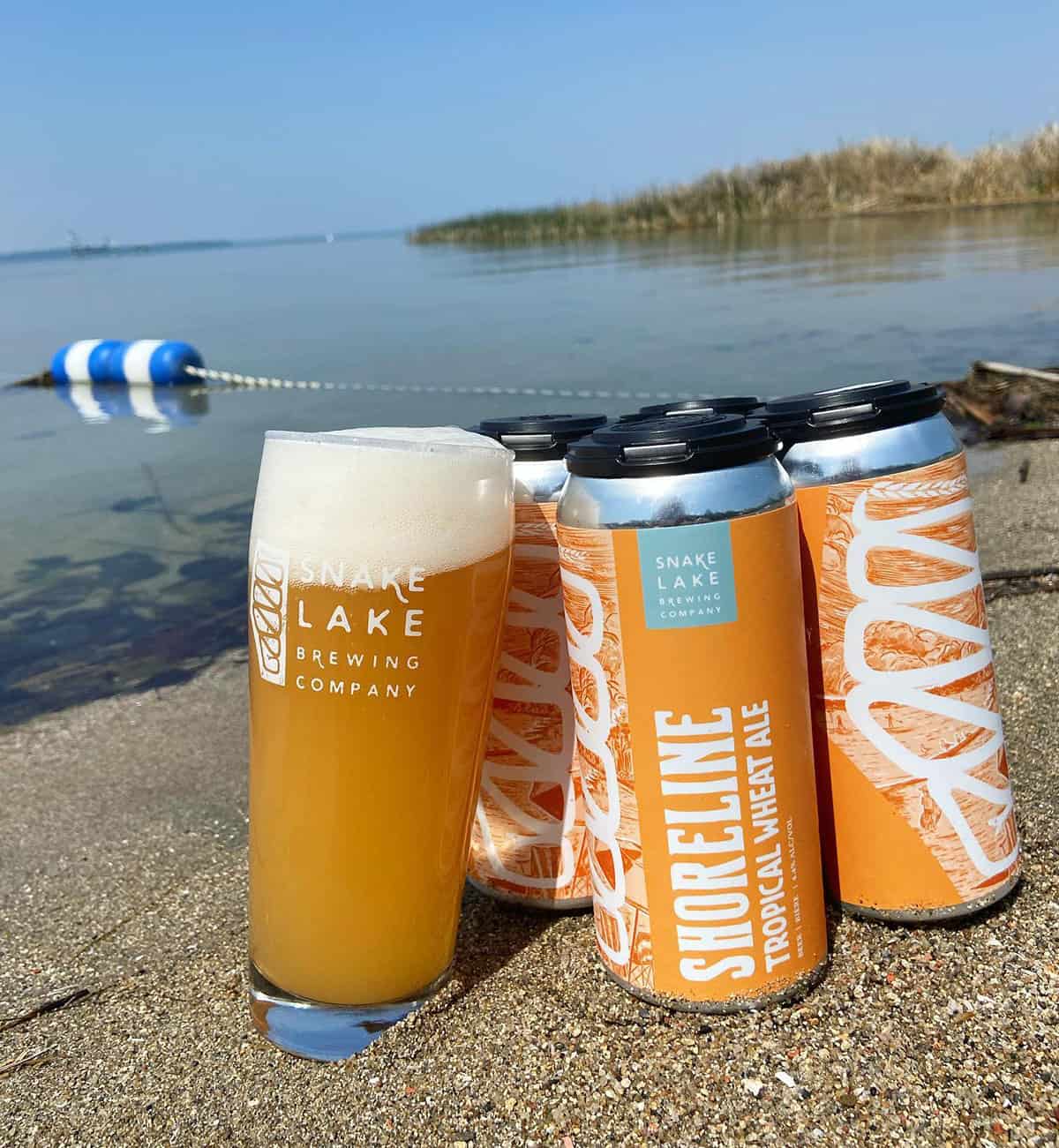 With a fantastic community-focused vibe, an arsenal of delicious beer, and even live music, it's no wonder Snake Lake Brewing has a huge fan base.
2nd Wind Brewery and Eatery
Location: 5003 Lakeshore Dr #170
Head to 2nd Wind Brewery and Eatery for fantastic beers and tasty meals, including many specials throughout the week. This family-friendly environment has plenty of space to spread out as well as lots of games and activities to keep you entertained.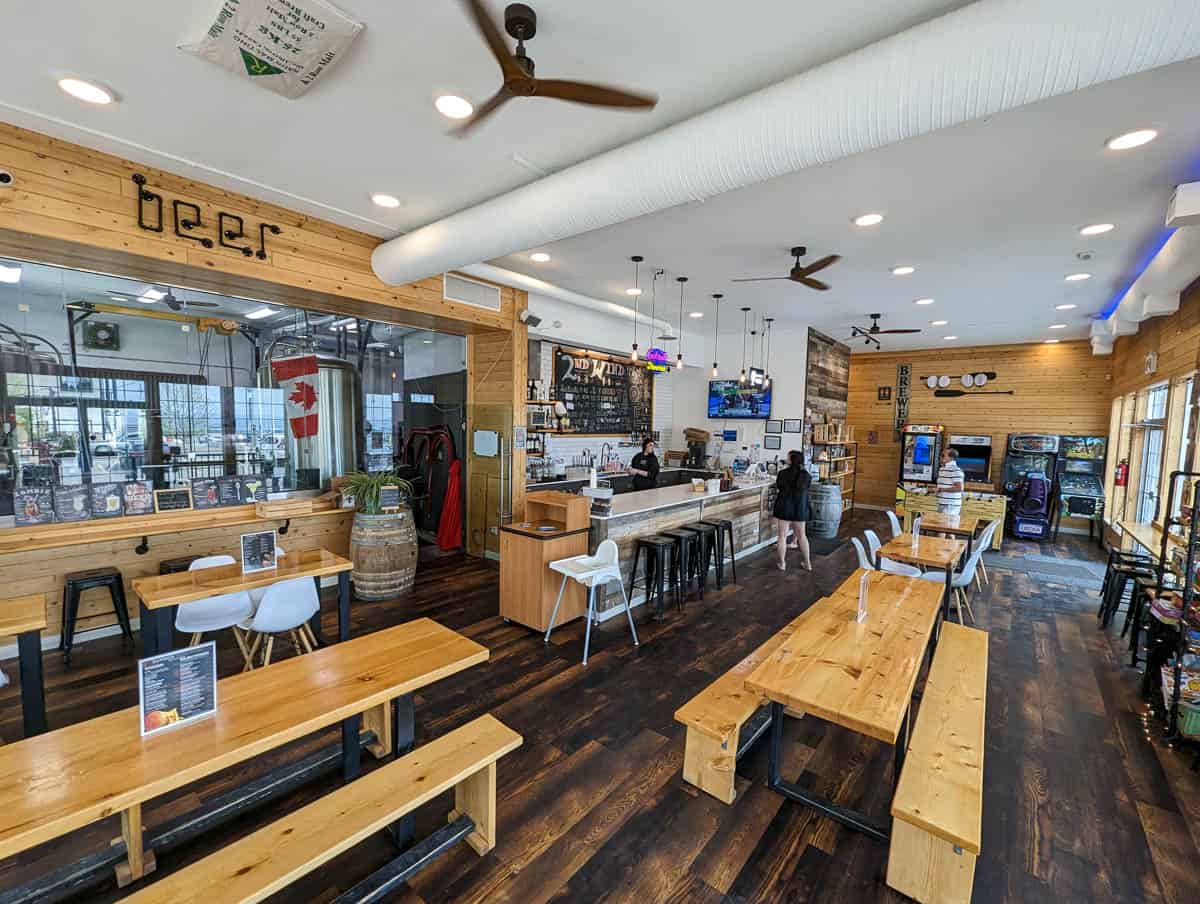 With a fabulous patio to enjoy in the warmer months, we love the burgers, the atmosphere, and, of course, the cold beer.
Catch a Baseball Game
After a day at the beach, how about catching a baseball game at the brand-new state-of-the-art stadium for the Sylvan Lake Gulls. The season runs from May through October, and the team is part of the WCBL which has players and teams from across Canada and the United States. It's lots of fun, especially on the theme nights. So get your tickets and cheer on the Gulls!
Try Axe Throwing
If you're looking for something fun to do, head to Wood Shed Axe Throwing. In fact, it's been rated the number one group activity for things to do in Sylvan Lake. It's perfect for large groups and parties and for families (kids 10 and up). There are eight lanes for throwing, and the team at Wood Shed will teach you how to unleash that lumberjack within. The coolest part is that the targets are all digitally projected, so there are different games and challenges to mix it up.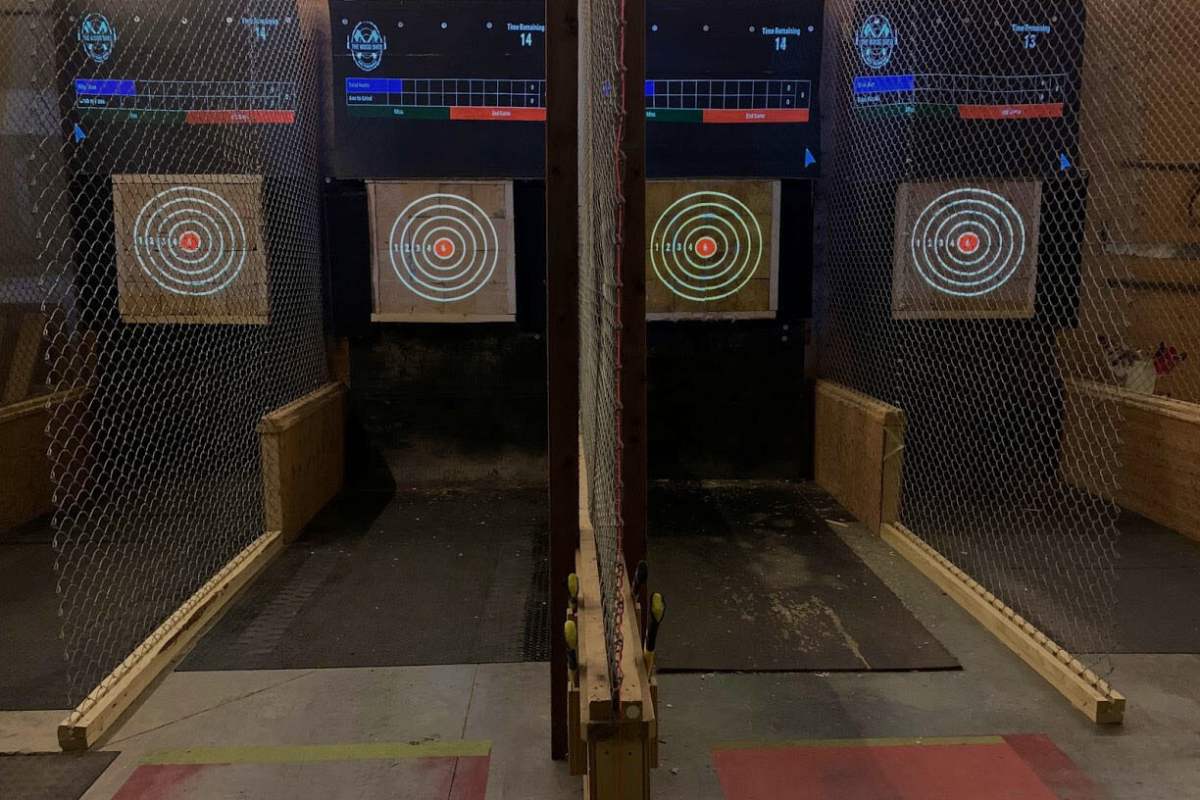 Go Golfing
If you love to golf, you're in luck; there are three golf courses here! Check out the Sylvan Lake Golf and Country Club, the Meadowlands Golf Club at Sylvan Lake, or the Lakewood Golf Resort (which is just slightly out of town).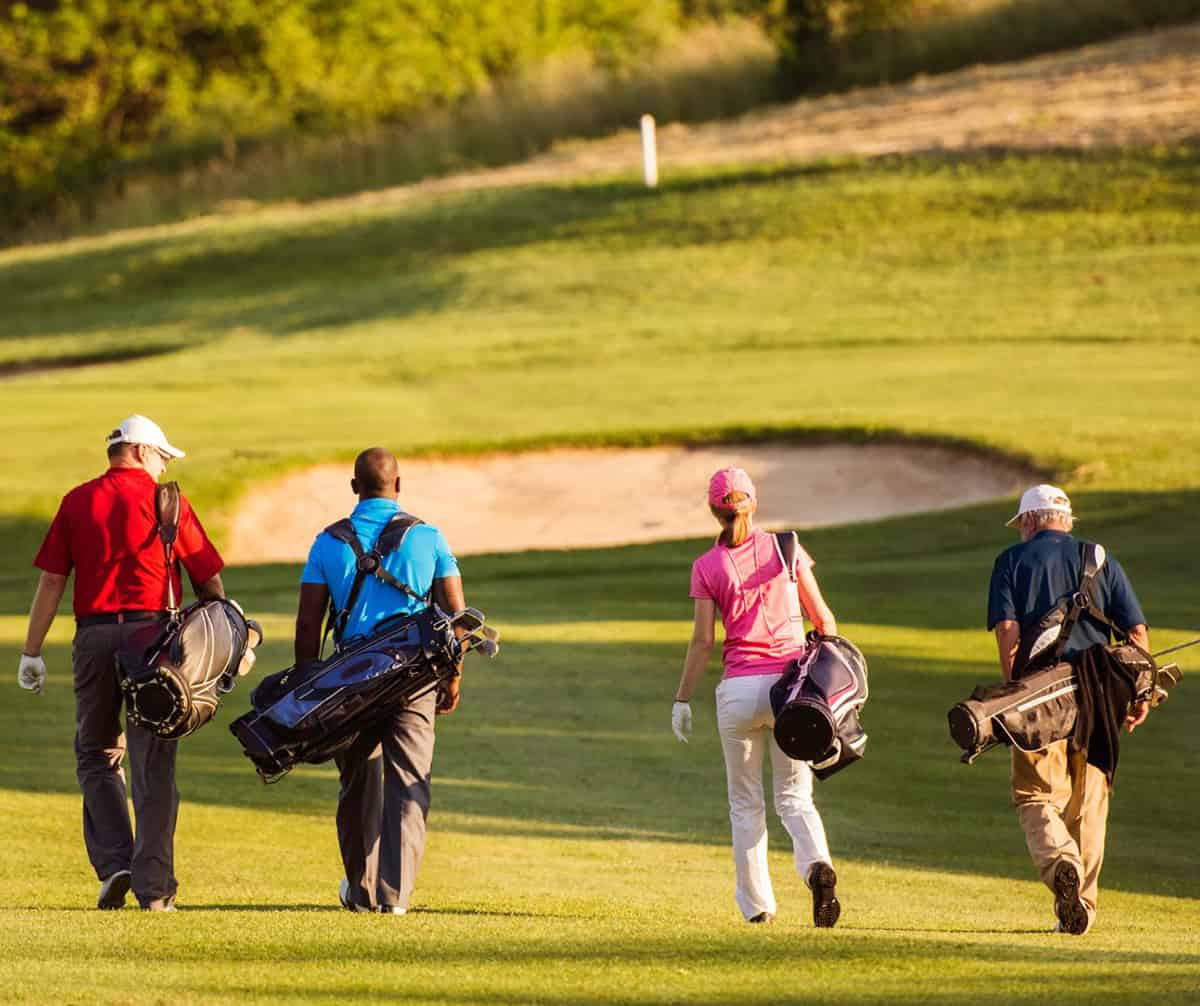 All three golf courses boast beautiful views, challenging greens, and well-groomed fairways. And when you're done golfing for the day, all three also have restaurants and/or lounges to relax in!
Try Lakeside Go-Karts and Mini Golf
Location: 5324 Lakeshore Drive
Found on Lakeshore Drive, make your way to Lakeside Go-Karts and Mini Golf for a super fun activity while you're in Sylvan Lake. This seasonal spot is ideal for those with kids, but let's face it… We all love a round of mini golf from time to time!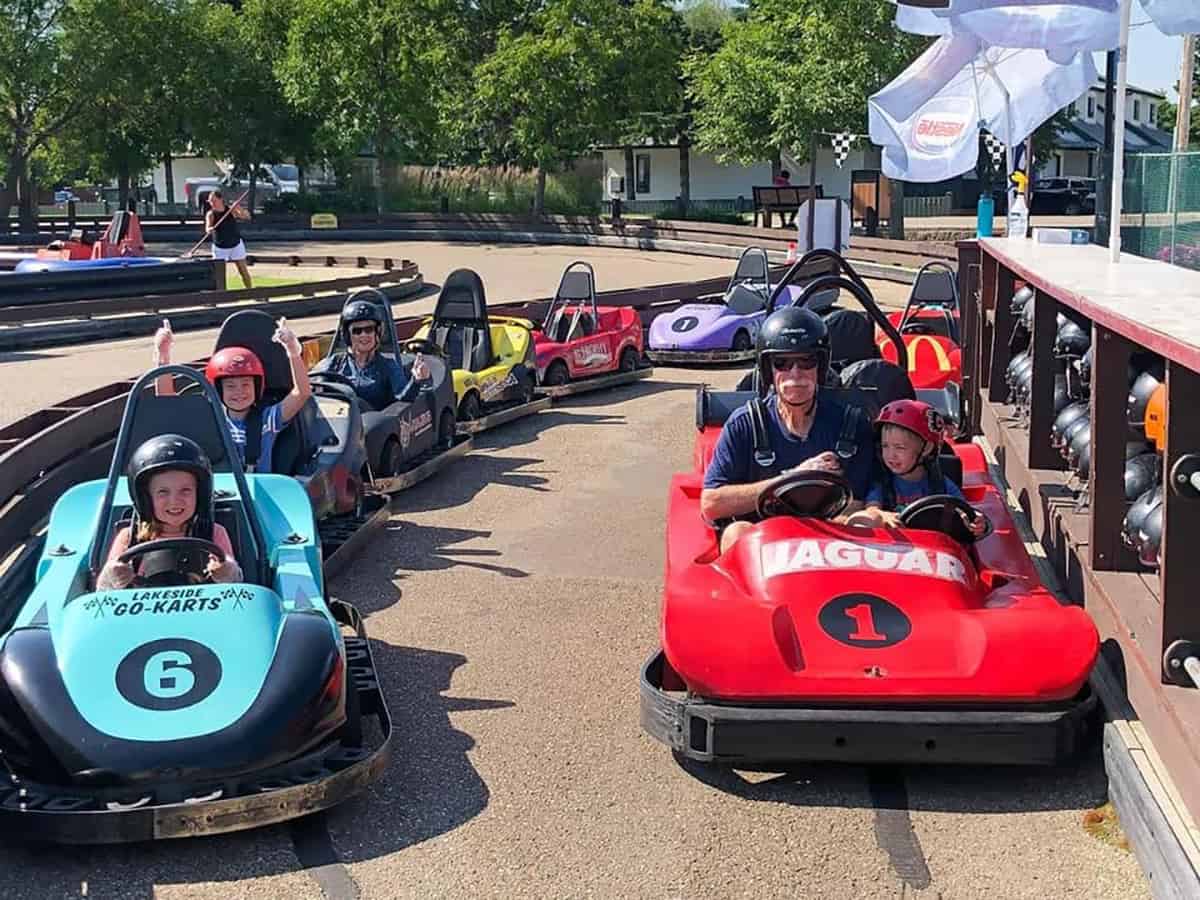 There are also bumper cars and kiddie karts available, so it really is great for the entire family. For those looking for outdoor activities while in town, this is the place to be.
Enjoy the Sylvan Lake Nightlife
For such a small town, there's plenty to do in the evening! You'll find tons of restaurant and bar options on Lakeshore Drive; running parallel to the beach, it means you'll often have a beautiful view of the lake while you wine and dine.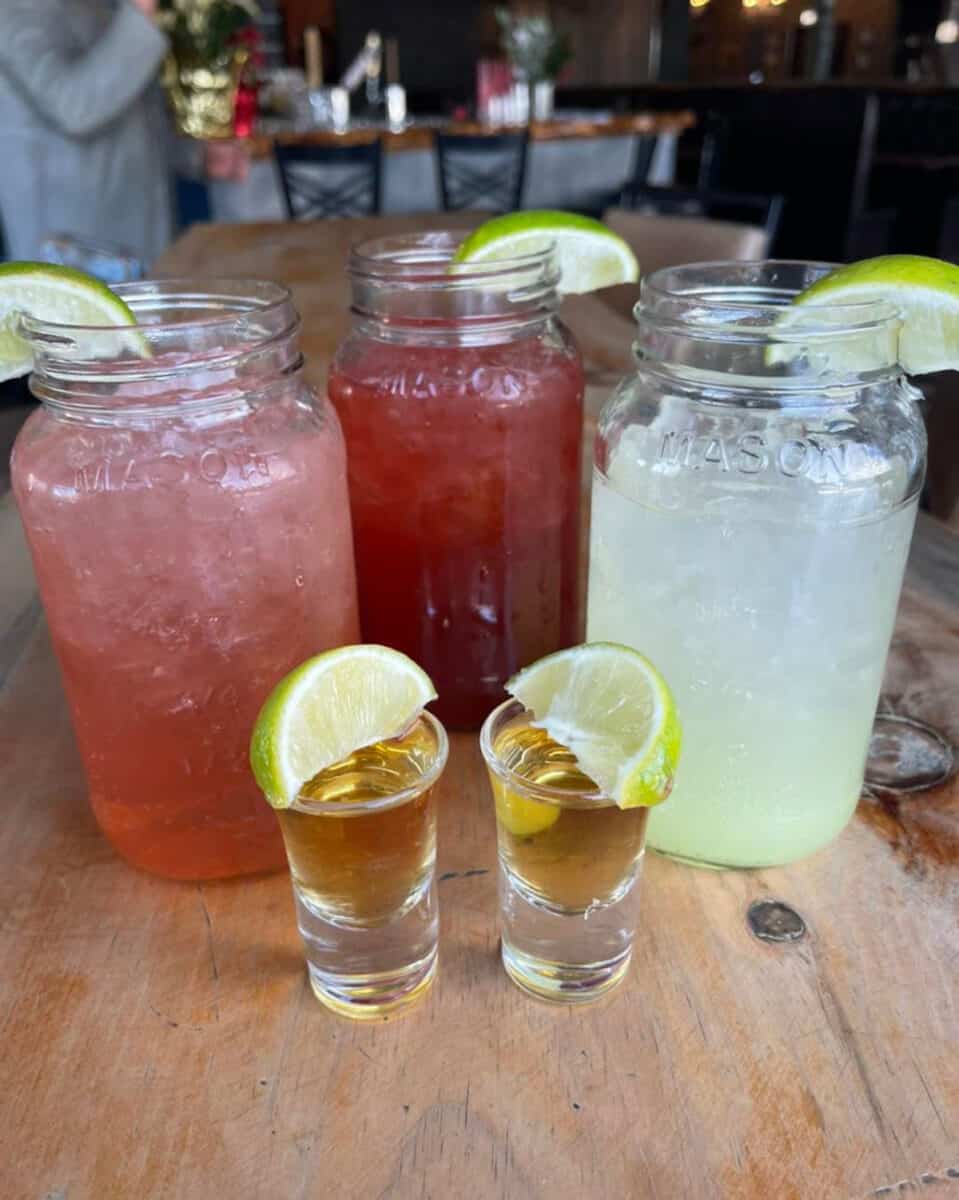 One of our favourite spots is Bukwildz, as they have live music, tasty food, and an award-winning Caesar cocktail on the menu. Other nightlife options include Fireside Restaurant and Lounge, Chief's Pub and Eatery, The Driftwood, Hazzard County Bar and Grill, and Sun of a Beach (which we mention in detail below). Some places even stay open until 2 a.m. If you're looking for a party, you're sure to find one in Sylvan Lake.
Sylvan Lake Festivals
As a popular tourist spot as well as a great day trip from cities like Red Deer, Edmonton, and Calgary, Sylvan Lake has some fantastic festivals on offer. There's CulinART in September, where you can sample a wide variety of local bites, beverages, art, and music, as well as Light Up the Lake in December, where you can have breakfast with Santa, watch the Santa Claus Parade, and enjoy seeing the lake being lit up with fireworks.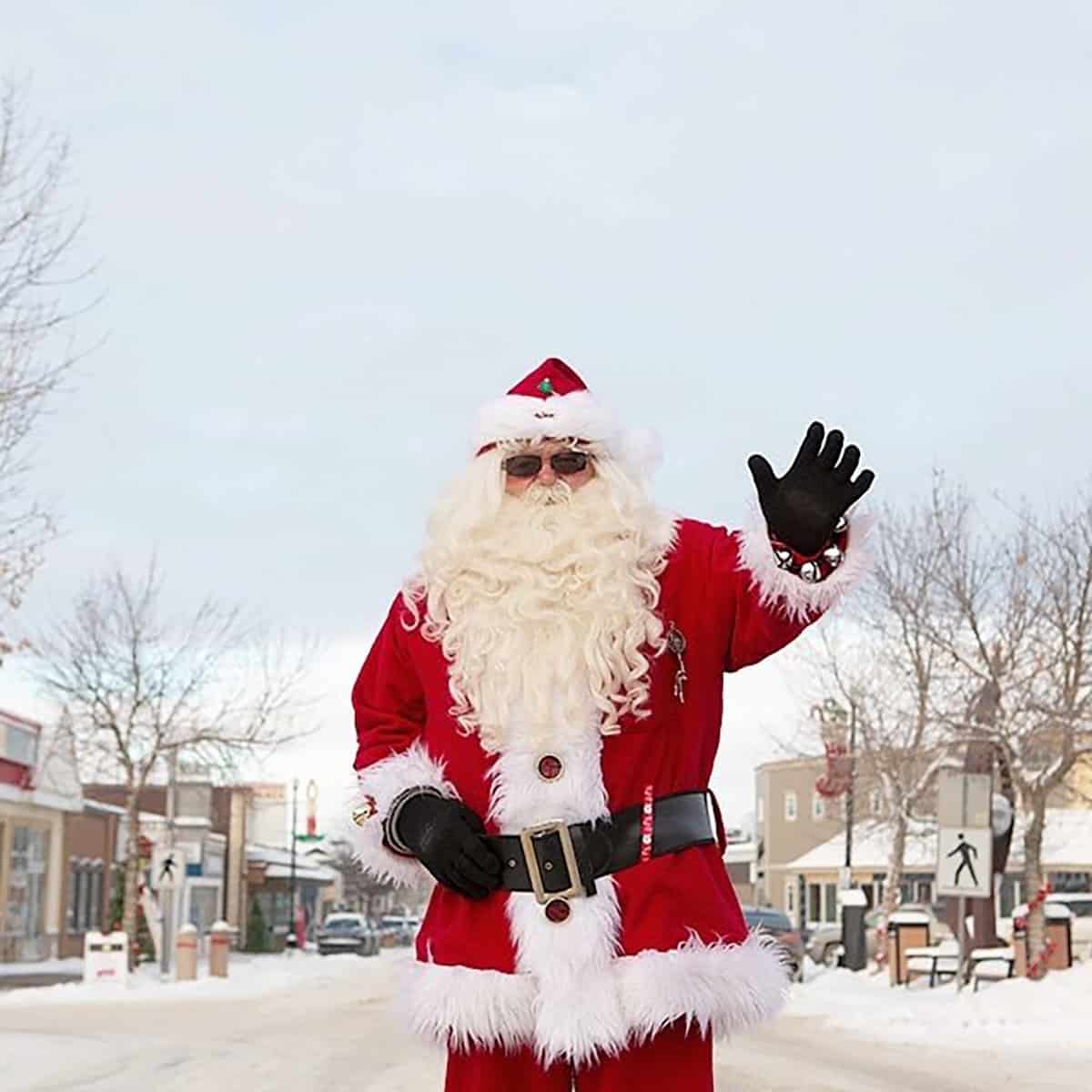 Summer brings lots of festivities as well, with music, art, and sports being celebrated almost weekly. Make sure to stay abreast of all of the festivals and events in Sylvan Lake here.
Where to Eat
There are quite a few choices of where to eat in town. Here are three of our favourites, but if you want more options, check out our post on the best restaurants in Sylvan Lake.
Sun of a Beach
If you're looking for a great patio and a fabulous atmosphere to match, Sun of a Beach is the Sylvan Lake restaurant for you.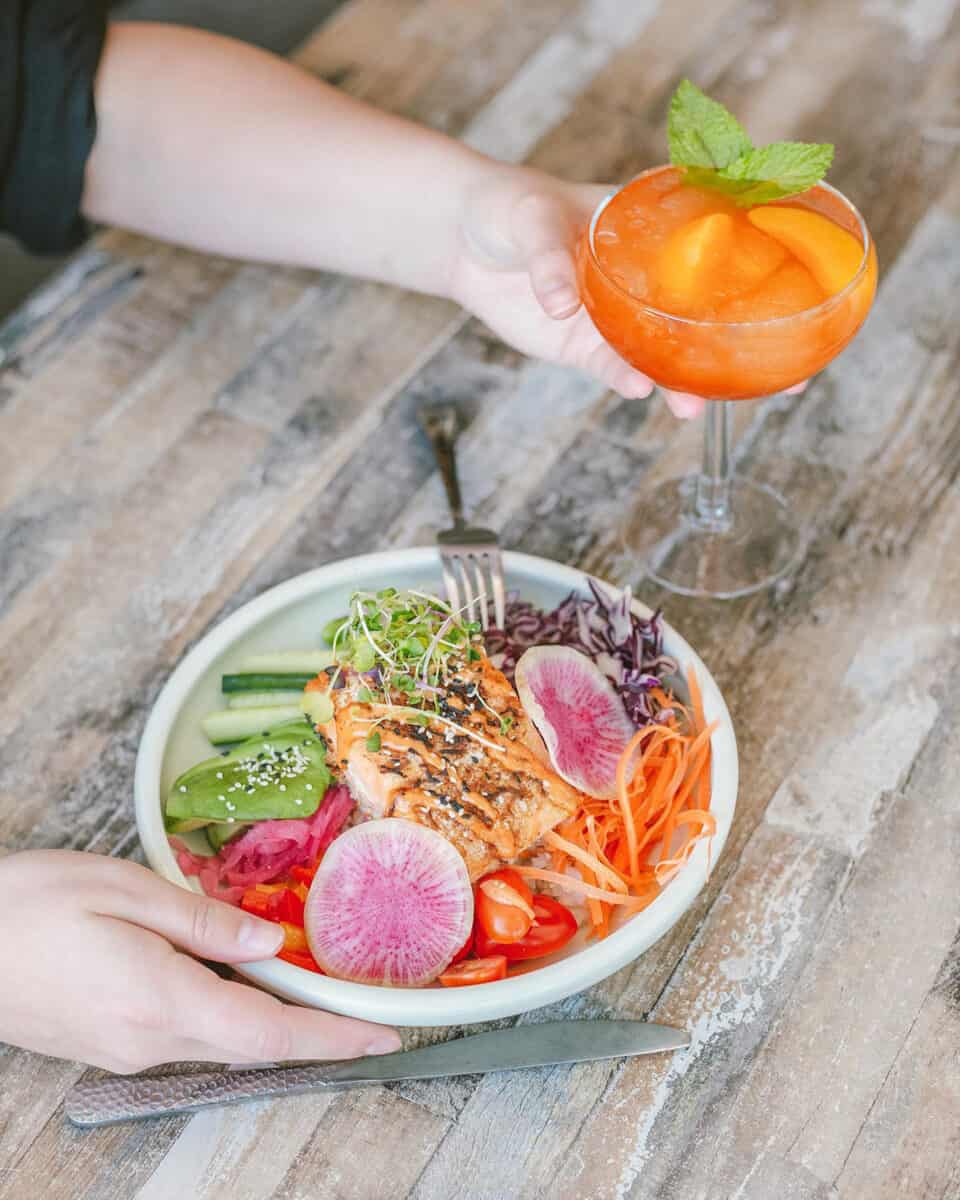 You'll find a ton of beloved dishes on the menu, including burgers, fish and chips, pizza, tacos, and more, alongside a long list of starters. This beach-themed restaurant is known for its friendly service, tasty meals, and overall fun vibe.
Lokal Kitchen
While most of the food on the menu at Lokal Kitchen is Korean-inspired, there are a lot of fantastic Canadian dishes, too.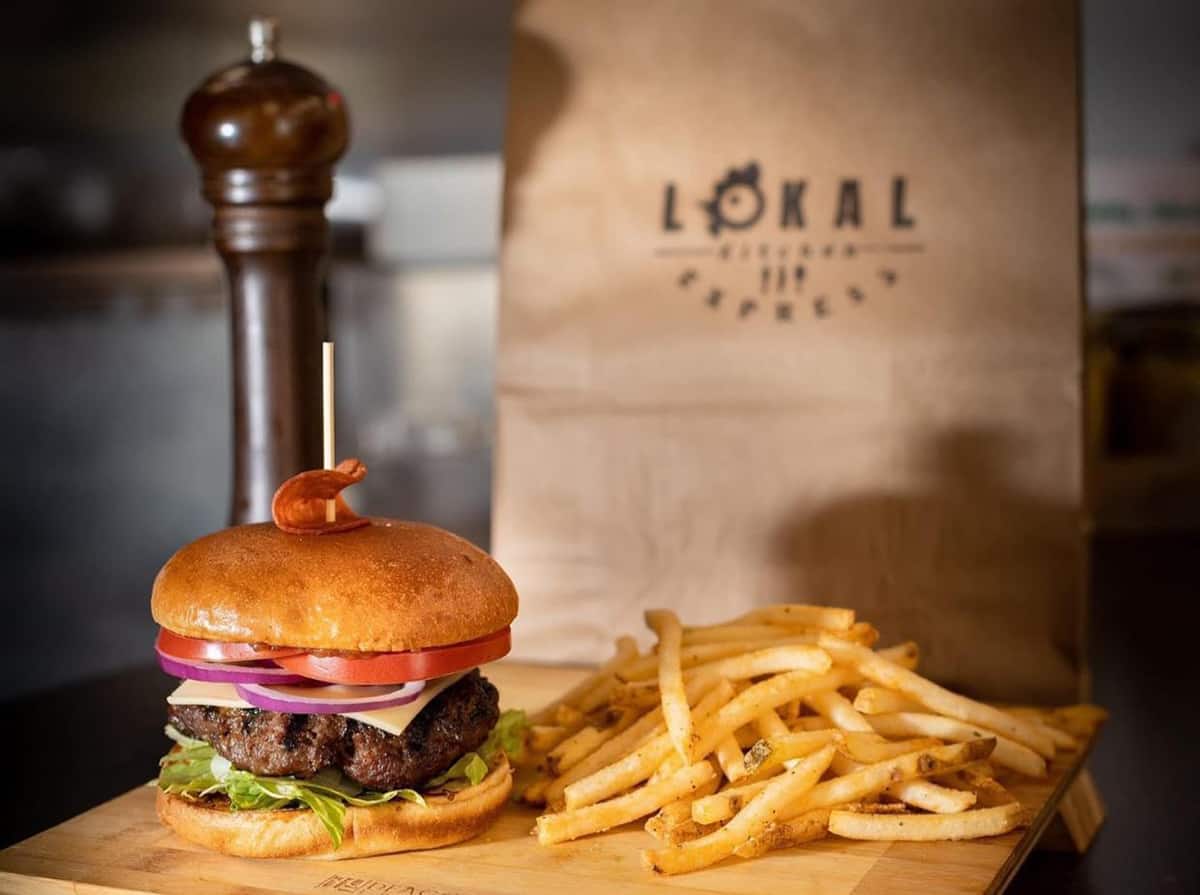 Popular with both tourists and locals alike, the restaurant serves breakfast, lunch, and dinner; try the authentic barbecue, bibimbap, and Korean fried chicken for a delicious meal.
Lago Pizza and Pasta
In the mood for Italian food when you're in Sylvan Lake? Head to Lago Pizza and Pasta, where you're sure to get some of the best of, well, pizza and pasta!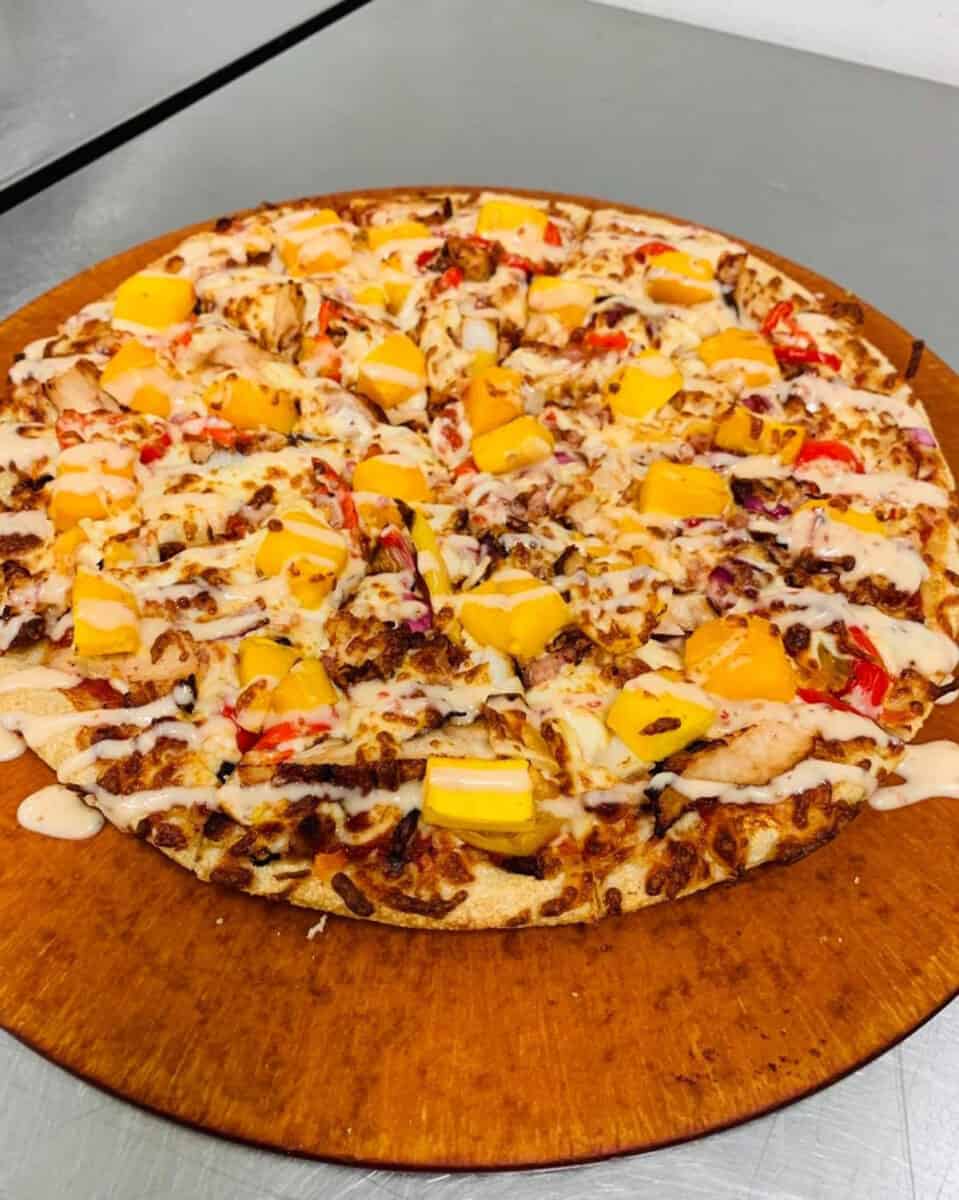 While there are items such as chicken tenders, poutine, and wraps found on the menu, we love the inventive pizzas and the mouthwatering pasta. It's clear why this is often considered one of the best restaurants in town.
Big Moo Ice Cream
Ice cream and a beach go hand in hand, so head to Big Moo Ice Cream and get yourself a delicious treat. This family-owned and operated ice cream parlour has been serving ice cream in Sylvan Lake for over thirty years. They are known for their "Outrageous" Ice Cream Sandwiches. Our favourite? The 'Salted Caramel Bliss'. It's vanilla ice cream in between two salted caramel chocolate chunk cookies and lots of goodies on top. A piece of advice: You may want to start with dessert before your meal. But in case you're still hungry they do have burgers and fries and such here too.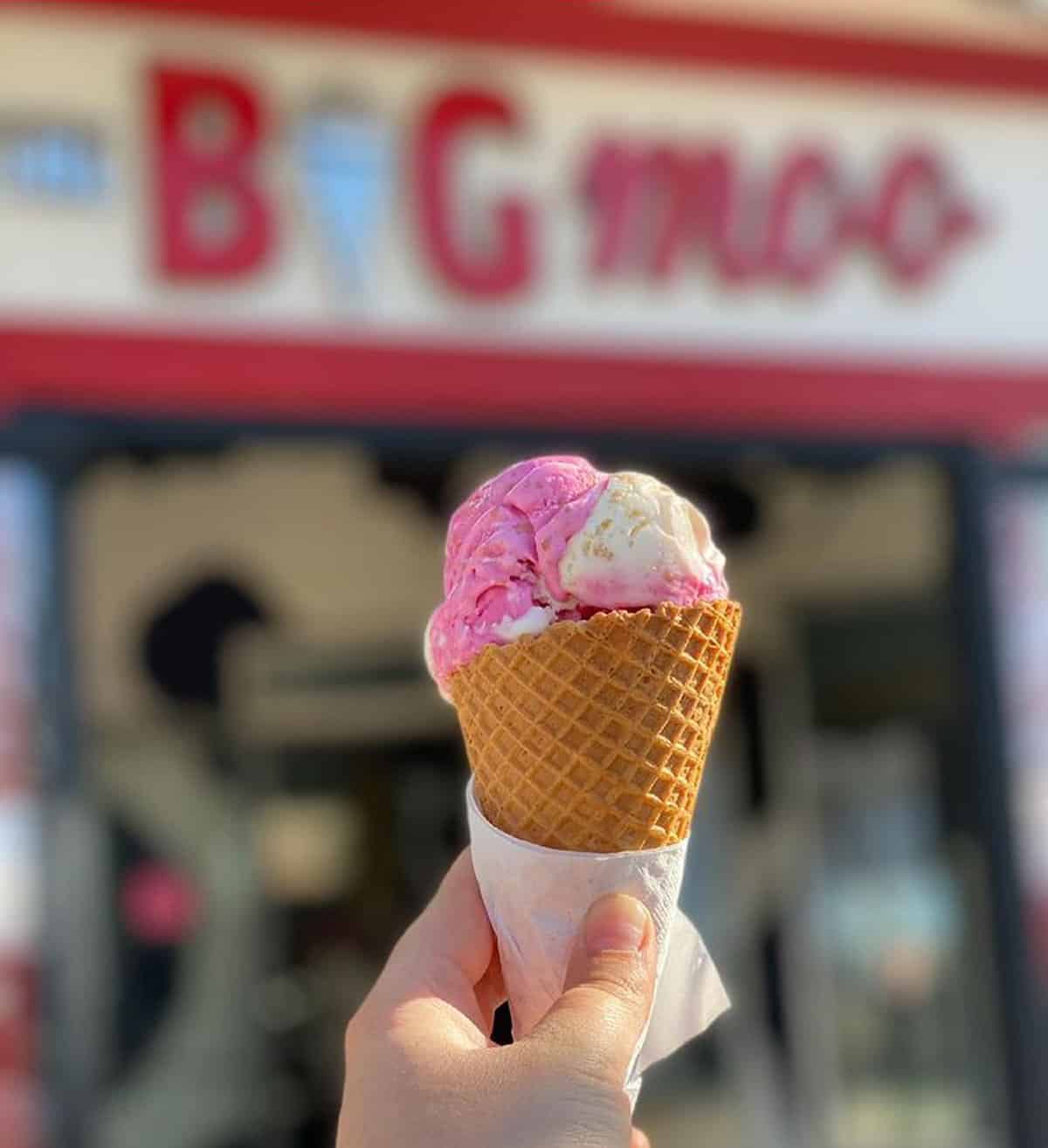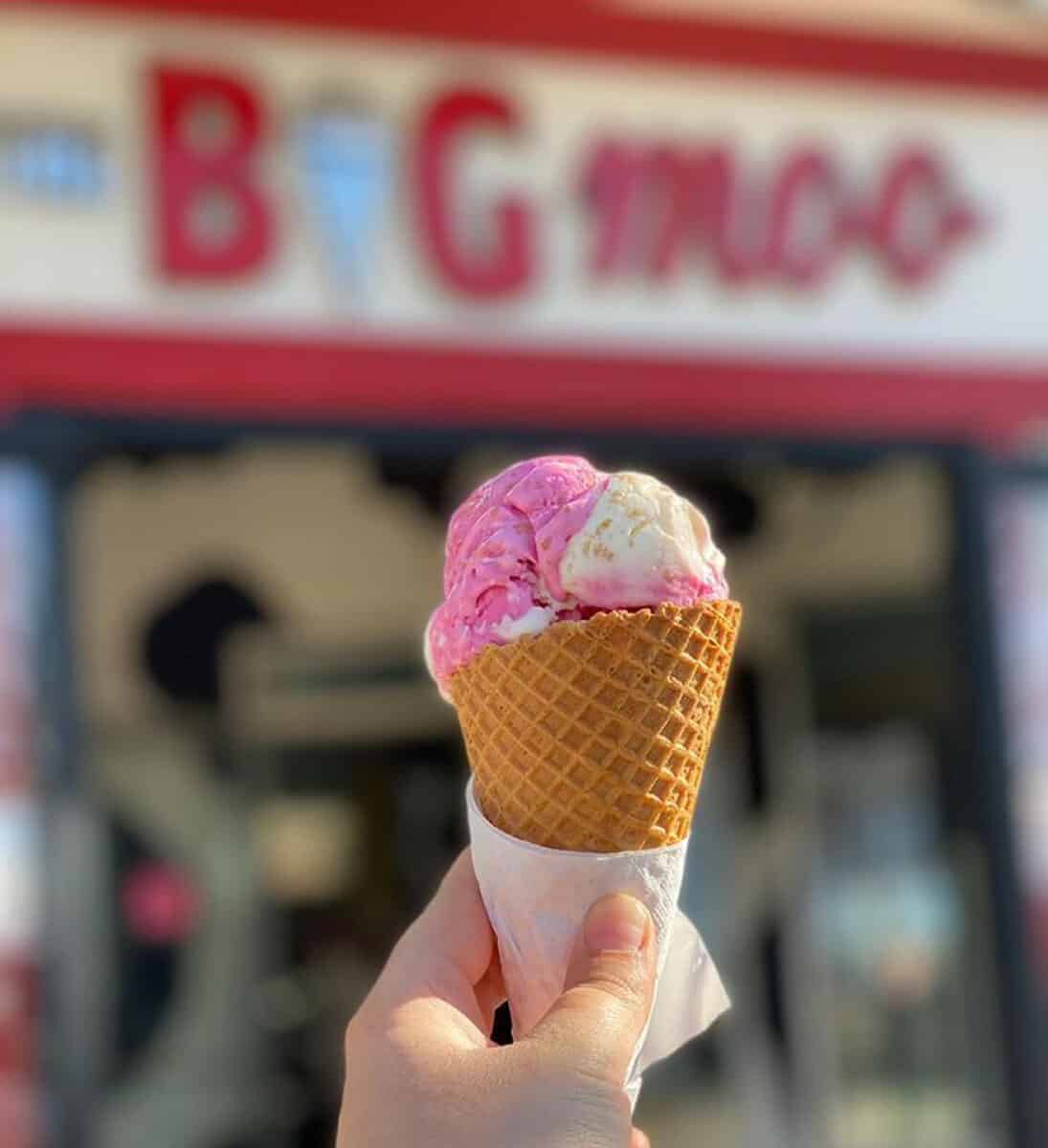 Where to Stay in Sylvan Lake, Alberta
Hotels
Best Western Plus Chateau Inn Sylvan Lake
Location: 5027 Lakeshore Drive
Stay in the comfortable and conveniently located Best Western Plus Chateau Inn Sylvan Lake. Whether you're in town for only one night or are staying for a while, it's a fantastic option when it comes to hotels in Sylvan Lake. Found on the banks of the lake, amenities include plush bedding, an indoor pool and hot tub, a fitness centre, free breakfast, and more.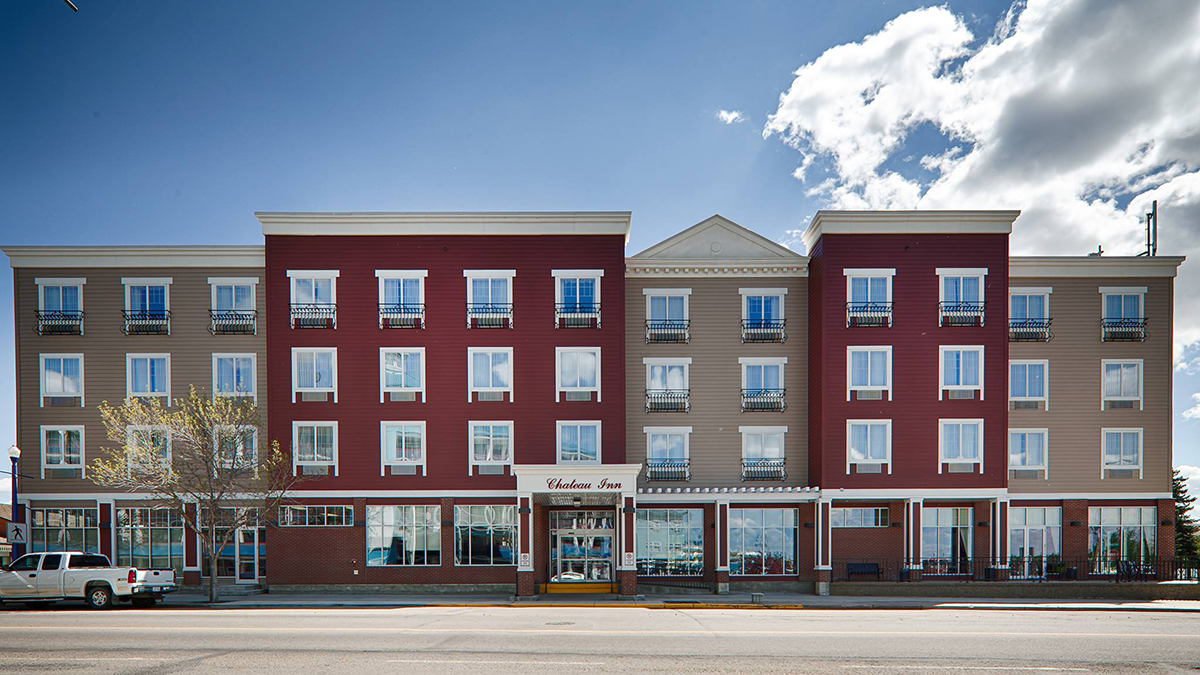 Prairie Moon Inn Sylvan Lake
Location: 13 Beju Ind. Drive
Another terrific option, the Prairie Moon Inn Sylvan Lake offers a pool, hot tub, and waterslide, a fitness centre, complimentary breakfast, and more, including some rooms with jacuzzi tubs. Located in the eastern part of town, it's a perfect location for exploring Sylvan Lake, walking to the beach, and so on.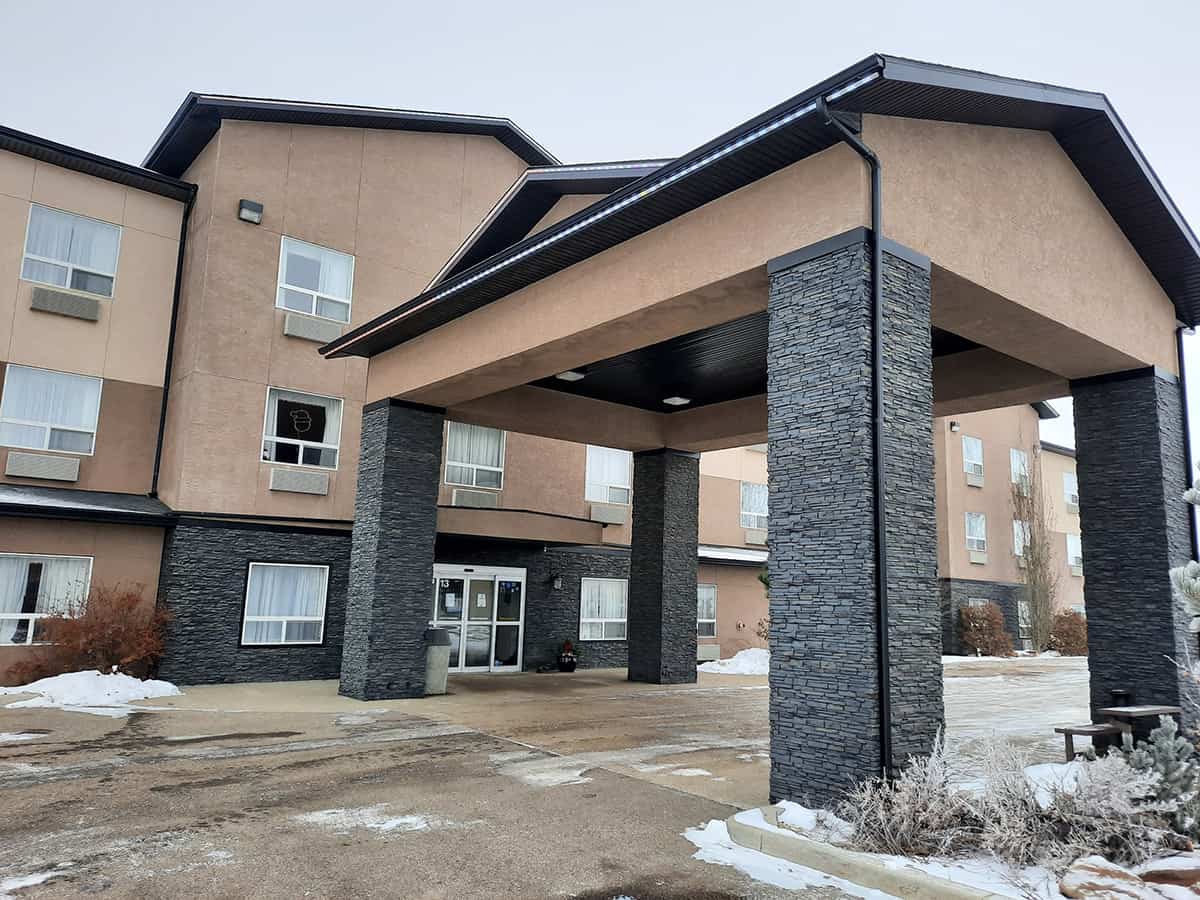 Camping
Jarvis Bay Provincial Park
Thankfully, we have an entire post dedicated to camping in Sylvan Lake, but one of our favourite spots to camp in town is Jarvis Bay Provincial Park. With a huge campground – boasting 193 campsites, to be exact – Jarvis Bay Provincial Park campground is one of the best spots for camping in Sylvan Lake.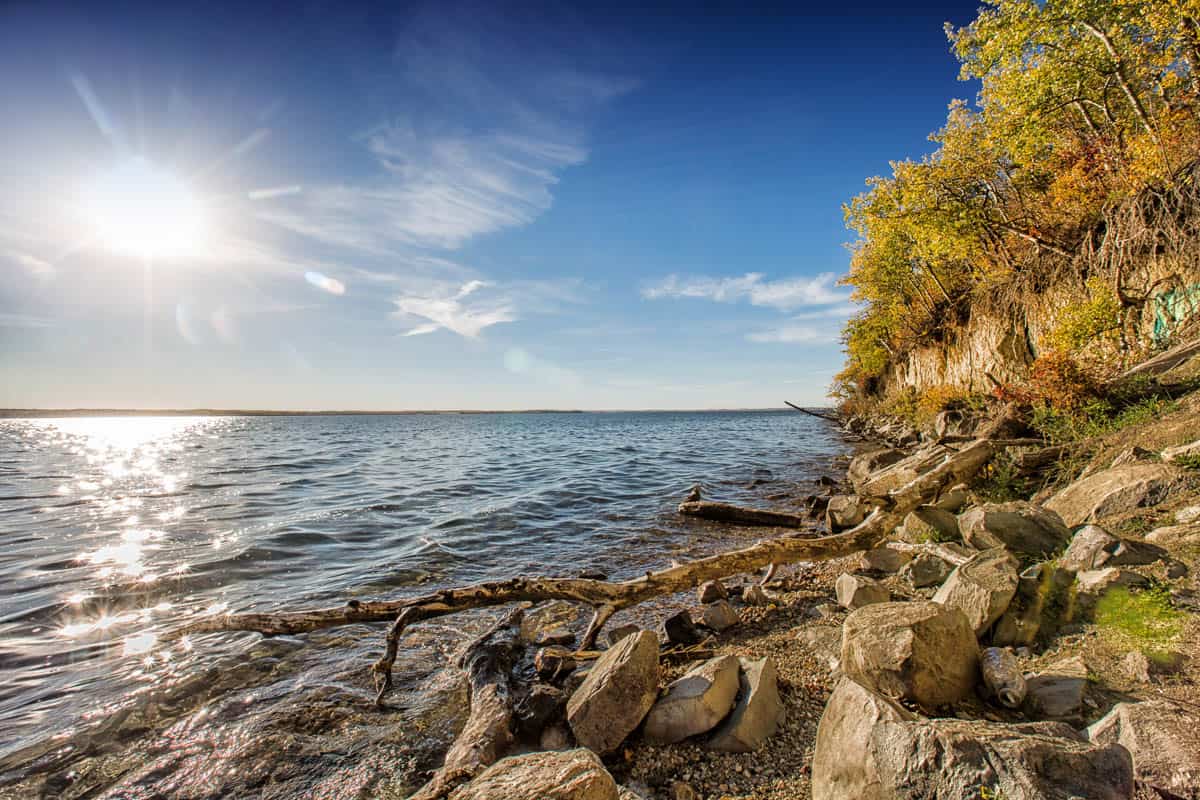 There are spaces for tents, trailers, and RVs, and all sites have 30 amp power. There is also an ice cream shop, a camper supply store, a potable water fill station, flush toilets, fire pits, showers, and excellent access to the town of Sylvan Lake, as well as the rest of the provincial park.