Disclaimer: This page may contain affiliate links. Please review our full Terms and Conditions for more information and our Privacy Policy. Note that any pricing, operating hours, or other such information provided below may have changed since initial publication.
Compiled by the Road Trip Alberta team
Last updated on August 28, 2023
Alberta is known for a lot of things – but water-side living isn't typically one of them. Landlocked as it is, the province is more well-known for stunning mountains and waterfalls, prairie landscapes, and some natural wonders that you can't find elsewhere.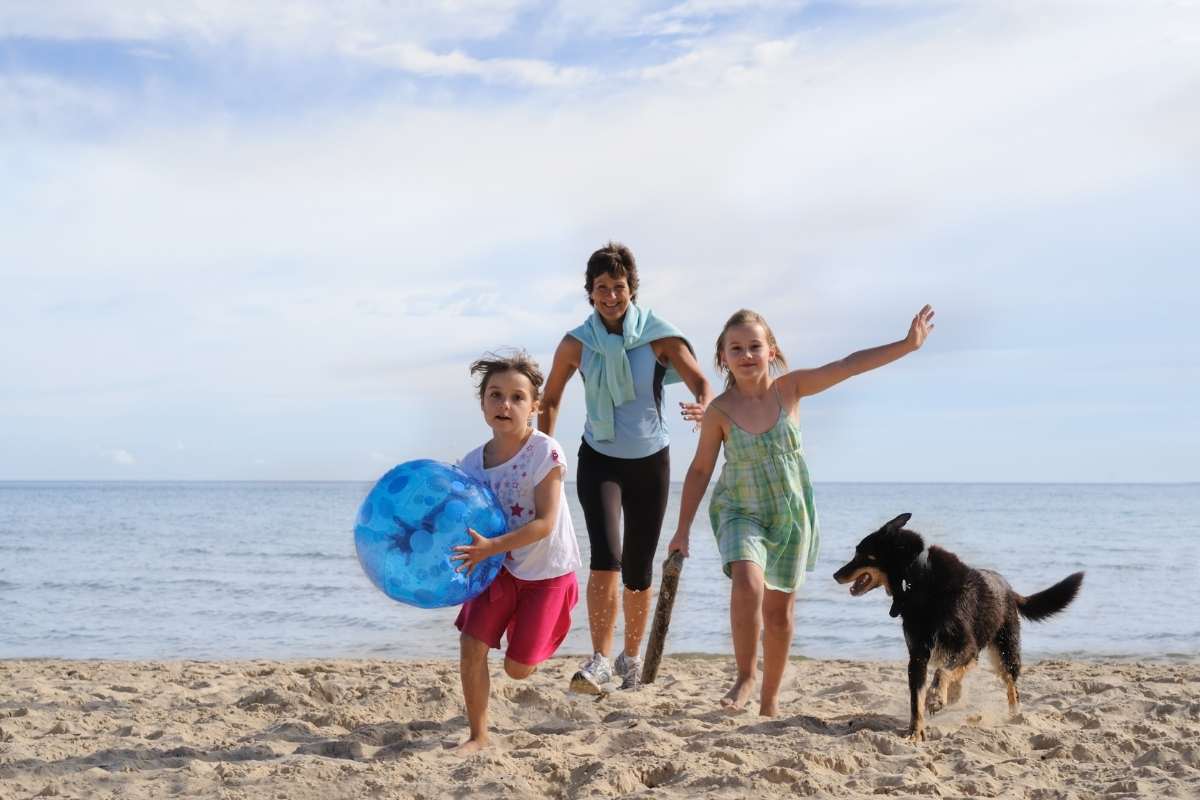 But! The water that we do have, we appreciate wholeheartedly. And along with having some stunning rivers and lakes to marvel at, there are also some really gorgeous beaches in Alberta not to be missed. So if you want to add some splish-splashin' and sun-tannin' time to your next vacation here, then read on for our fave sandy escapes in the province.
Don't Miss These Best Beaches in Alberta!
Sylvan Lake
By far one of the most popular beaches in the province, this town is an excellent spot to visit in summer if you're looking for fun activities, lots of shopping, and great eating at Sylvan Lake restaurants. There are so many things to do in Sylvan Lake with tons of boat activities and water sports available thanks to two boat launches and 1.6 km of sand and grass beach. It's also found almost right between Calgary and Edmonton, making it a great choice for a holiday from either city.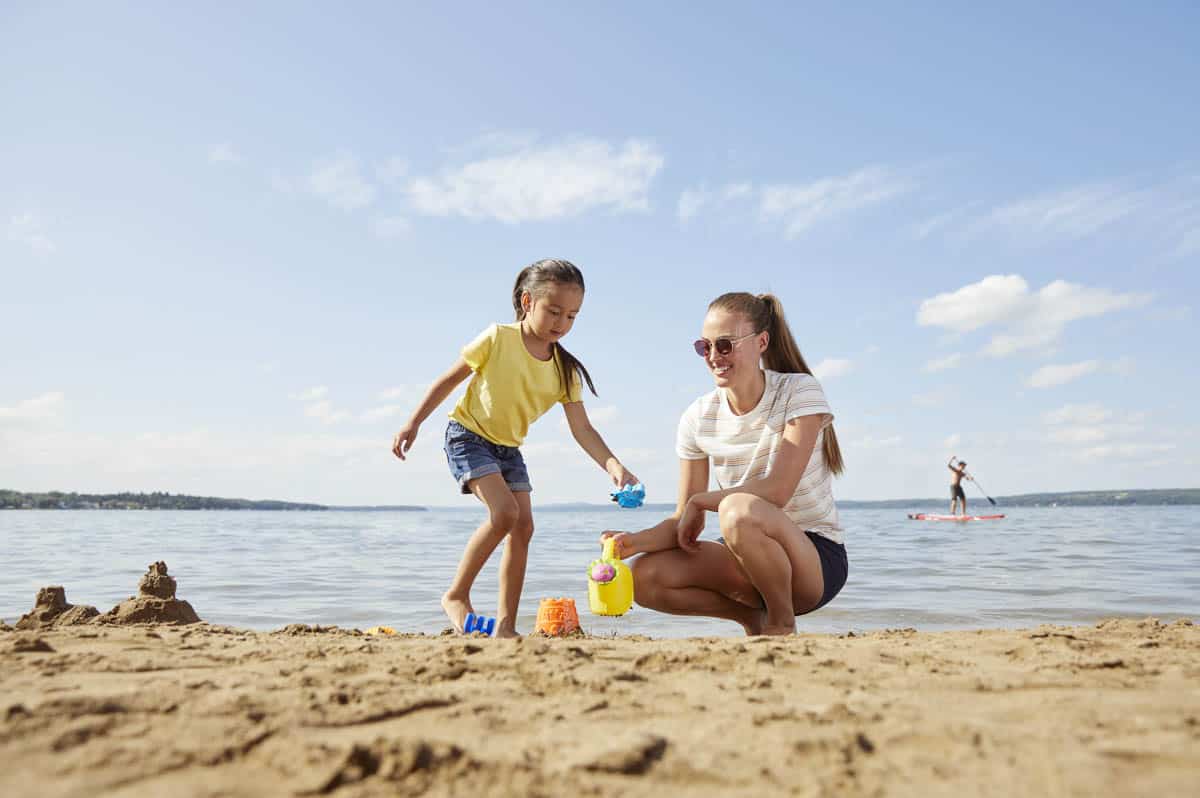 Best of all, the beach is known for its calm, shallow water to wade in, perfect for families looking to take a dip. As there are plenty of Sylvan Lake campgrounds nearby to choose from, you can happily spend a week or two relaxing by the water here. But a place like this isn't exactly a hidden gem; Sylvan Lake gets hundreds of thousands of visitors a year, so if you're looking for a quiet respite, this may not be the spot for you.
Quarry Lake
Quarry Lake is found just outside Canmore and is considered one of the best Alberta beaches due to its beauty and the sheer amount of things to do in the area. With beautifully crystal clear water in summer, the shore is shallow and sandy but eventually leads out to quite a deep lake. With the mountains in the background, a visit to the beach at Quarry Lake makes for an incredibly peaceful and serene day out.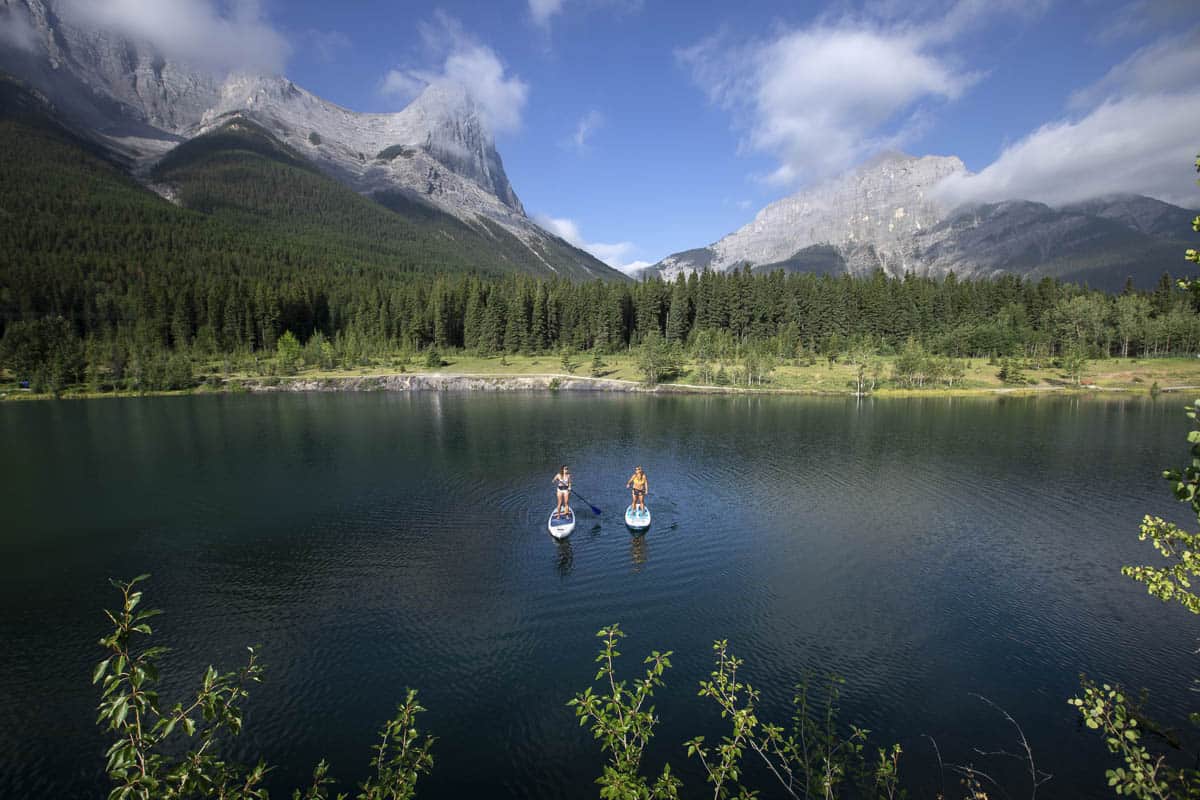 Because of its beautiful location and its proximity to Canmore, you can expect that the beach fills up quickly, especially on summer weekends. If possible, try to visit during the week; you'll be much more likely to get a parking spot as well as one of the prime beach locations!
* Note that visiting Quarry Lake requires purchasing a Kananaskis Conservation Pass. Also, due to its popularity, there will soon be a shuttle bus from Canmore to Quarry Lake, as the paid parking area is frequently overrun.
Kinosoo Beach
If you ask those in the know about the best Alberta beaches, chances are they'll mention Kinosoo Beach. With three blocks of sandy beach to explore, you can find the beach in Cold Lake near the Saskatchewan border, about a three-hour drive northeast of Edmonton. And a visit to Kinosoo Beach is so much more than just water and sand; there's also a splash park, a beach volleyball court, a children's playground, flush toilets, picnic tables, and a concession stand for mid-day snacks. There are also opportunities to rent paddleboards, kayaks, and other water sporting equipment on the beach, so there is no need to worry about bringing your own.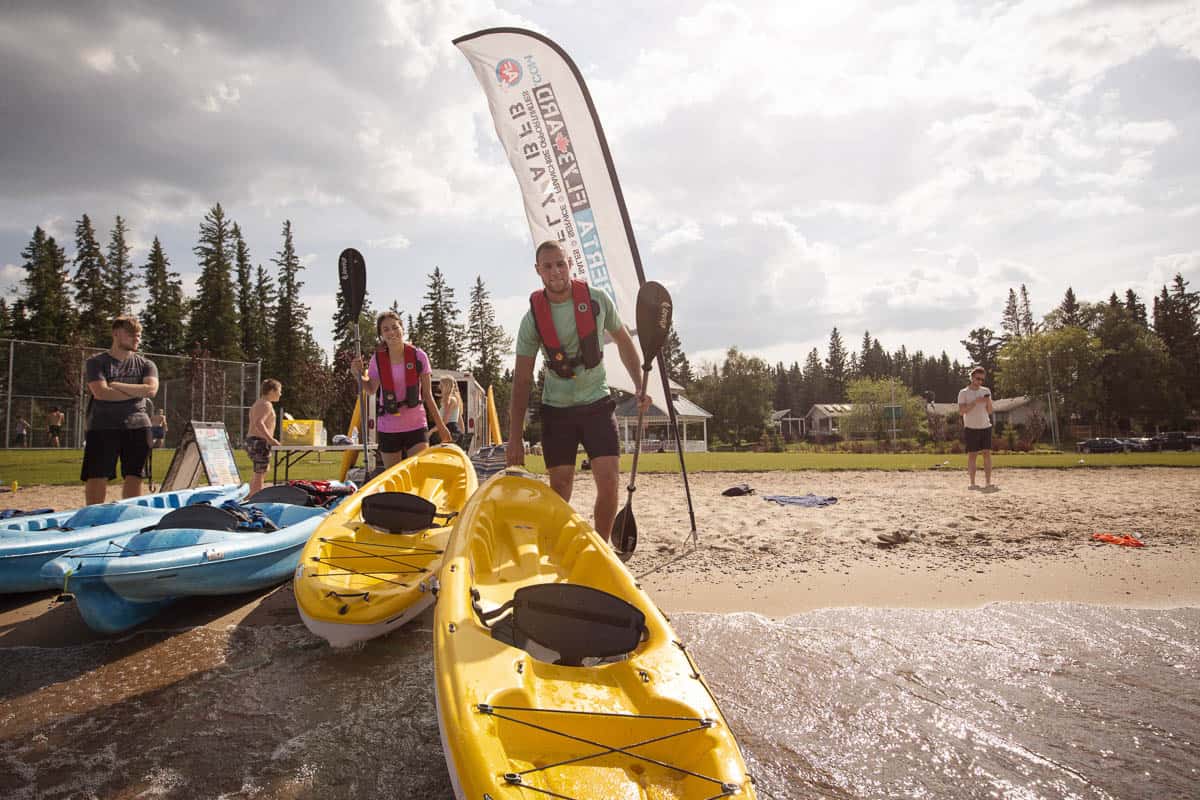 Parents and guardians of little ones will also appreciate the roped-off swimming area for safety. And one of the very best features of Kinosoo Beach? The zip line! That's right, you can actually zip line directly into the water. It doesn't get much more fun than that.
Sandy Beach
Alright, we're cheating a little here. Technically the beach is in Saskatchewan, but Sandy Beach Lake is divided in both Alberta and Saskatchewan so it makes our list for Alberta beaches. Fifteen minutes north of Lloydminster (and 2.5 hours from Edmonton) Sandy Lake Regional Park has a public dock and a boat launch available nearby, so you can indulge in just about every water sport you fancy. But the amenities don't stop there; their beach also has washroom and shower facilities, picnic sites, a children's play area, a golf course, and a snack stand for those afternoon ice cream cones.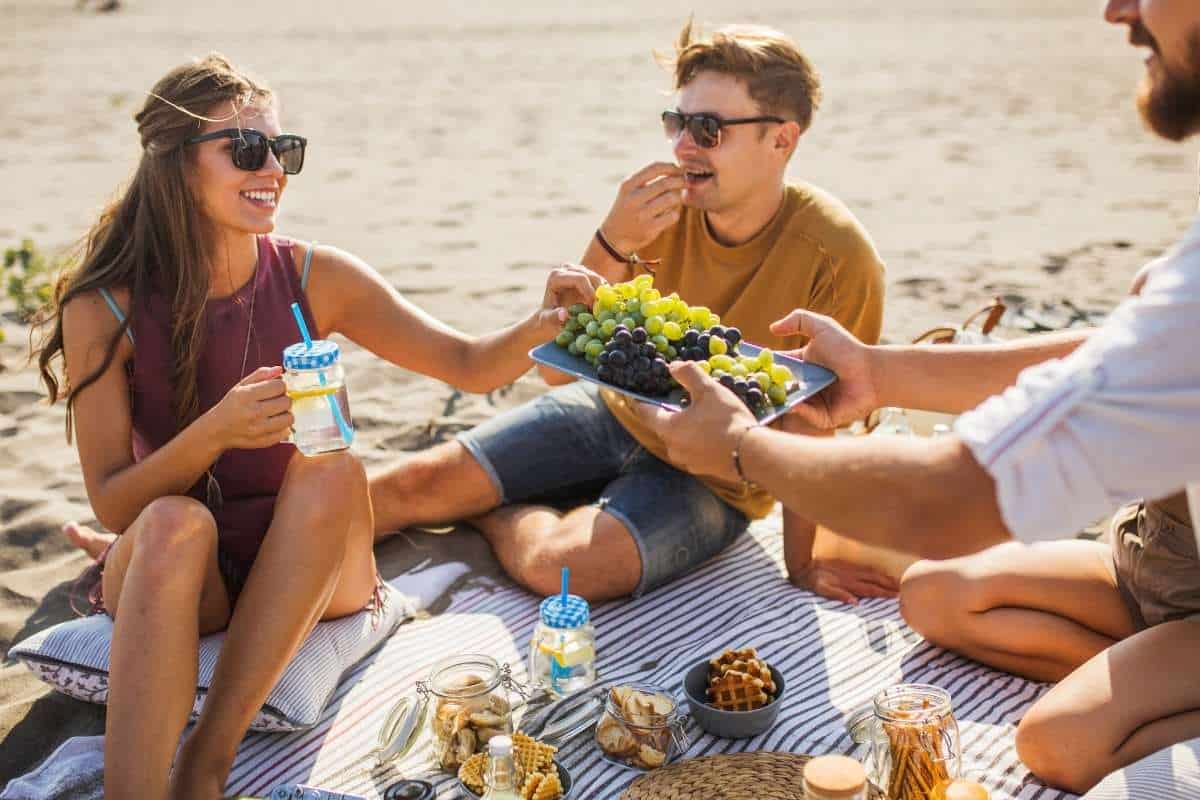 Sandy Beach Lake Regional Park itself has fully serviced camping sites as well as group camping areas. As far as beaches go, it's the kind of place where you can easily spend a few weeks enjoying nature, going for long swims, and taking in the starry skies at night.
Ma-Me-O Beach
Gorgeous Ma-Me-O Beach is found on Pigeon Lake, which is approximately 100 km southwest of Edmonton. In fact, the name Ma-Me-O derives from the Cree word for "pigeon", which is omîmîw. Renowned for its white sand and wide beach, Ma-Me-O has a playground, public washrooms, and a picnic area, making it a great choice for families with young kids. The swimming area is also shallow and fairly clear, so this is definitely one of the more family-friendly beaches in Alberta.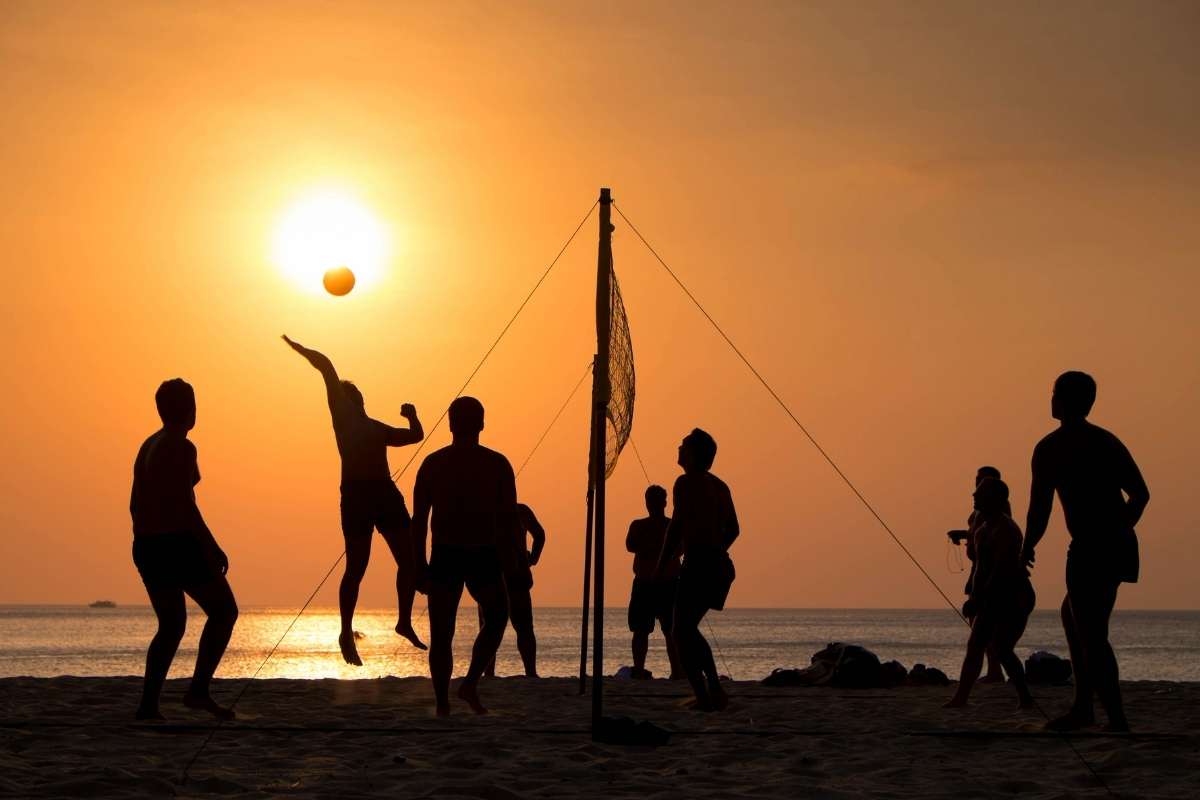 Another benefit of Ma-Me-O Beach? There's another beach just around the corner! Pigeon Lake Provincial Park Beach is only a short drive away, and both are part of the Village at Pigeon Lake, which is a lovely little resort village to explore for a day or two. There are also many walking trails in the area.
Lake Newell Beach
Southern Alberta has sandy beaches, too! Lake Newell is a great choice if you're looking for a beach near Calgary. This huge manmade lake is thankfully relatively warm every summer, so it's a terrific option for swimming, boating, water skiing, canoeing, and just about every other water sport you have in mind.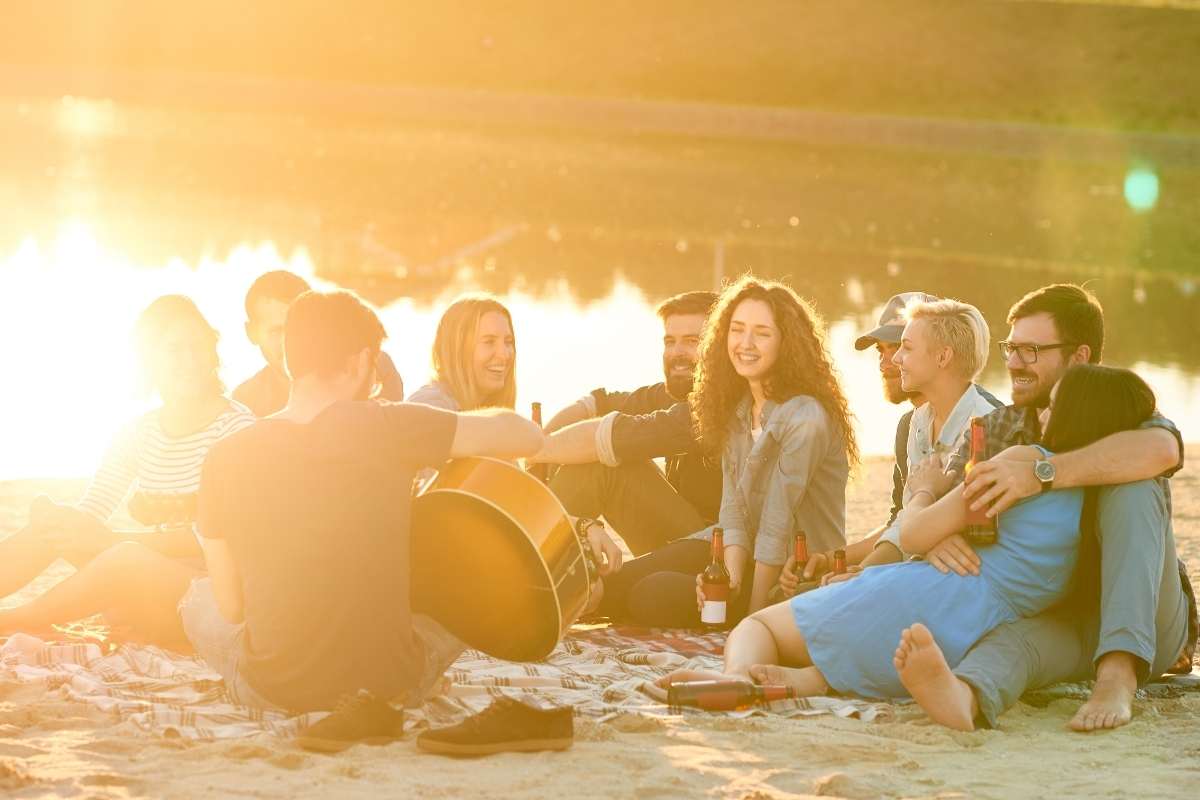 Camp at Kinbrook Island Provincial Park for even easier access to the sandy beach, or stay in Lake Newell Resort where you'll be close to the marina and boat launch. If you're on the search to relax on the sand and take in some sunshine, Lake Newell is a fantastic pick.
Ebeling Beach
One of the most popular beaches in Central Alberta, Ebeling Beach can be found in Aspen Beach Provincial Park. Spend your days relaxing and walking along beautiful Gull Lake, where you'll find a sandy beach with picnic tables, fire pits, a concession stand, and nearby campgrounds. But be warned: because Ebeling Beach is such a favourite, the parking lots and best spots near the water can fill up quickly! It's best to make your way here as early as possible so that you don't miss out.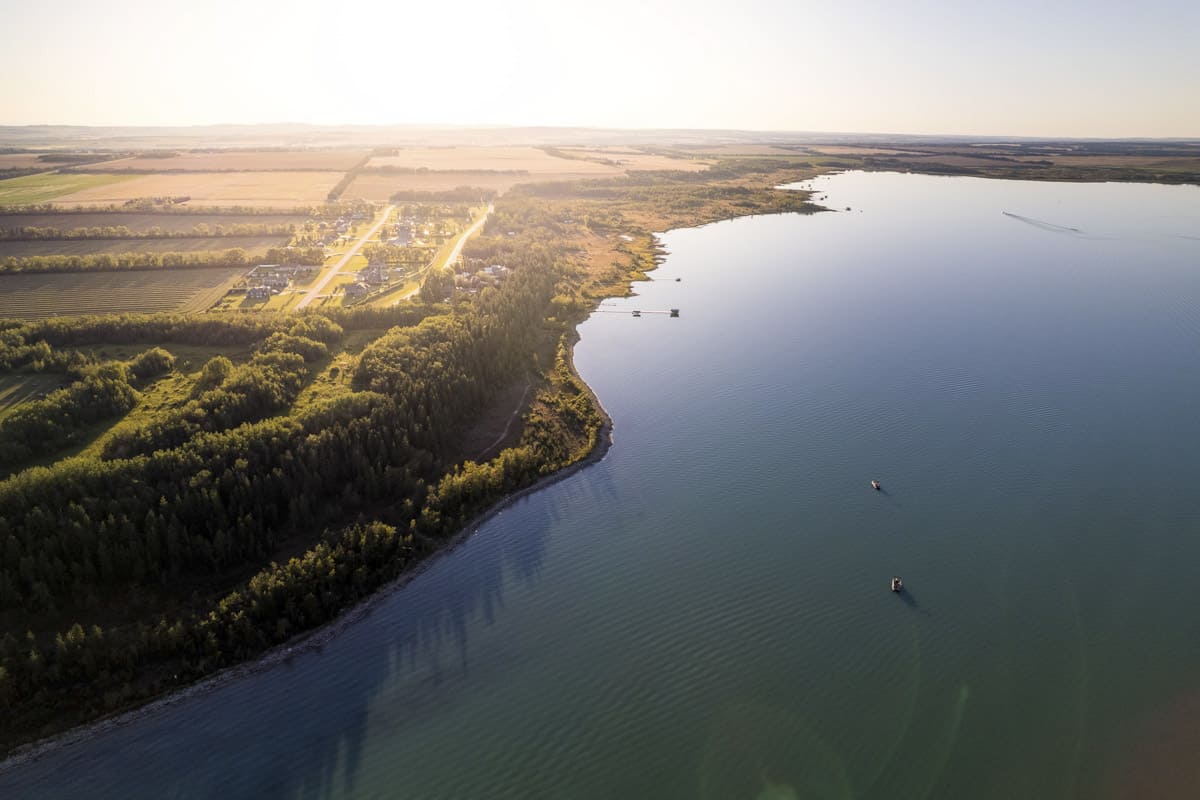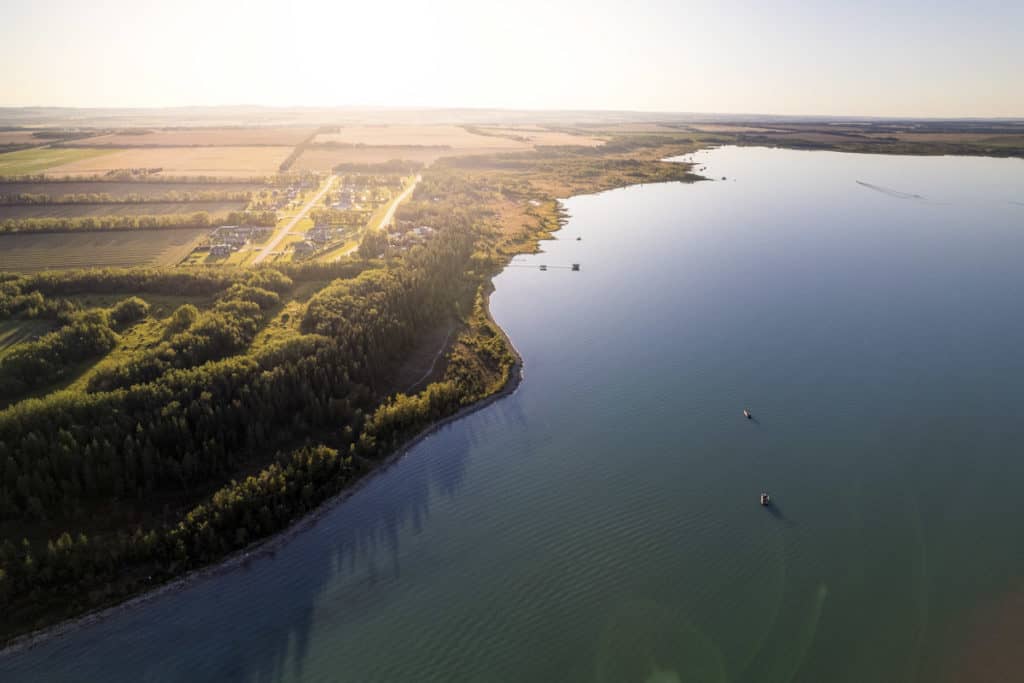 As for other activities on Gull Lake, enjoy swimming, fishing, canoeing, kayaking, and so much more. Occasionally the water levels can be too low to use the boat launch, so always check ahead of your visit before expecting to go power boating, water skiing, and so on.
Rochon Sands Provincial Park Beach
Head to Rochon Sands Provincial Park Beach on beautiful Buffalo Lake for yet another fantastic Alberta beach. Found nearly equidistant from Calgary and Edmonton, it makes for an excellent day trip from either city or a longer summer vacation, especially as there's a good campground just off of the beach. The activities are endless here; try swimming, sailing, canoeing, kayaking, fishing, hiking, water skiing, or windsurfing.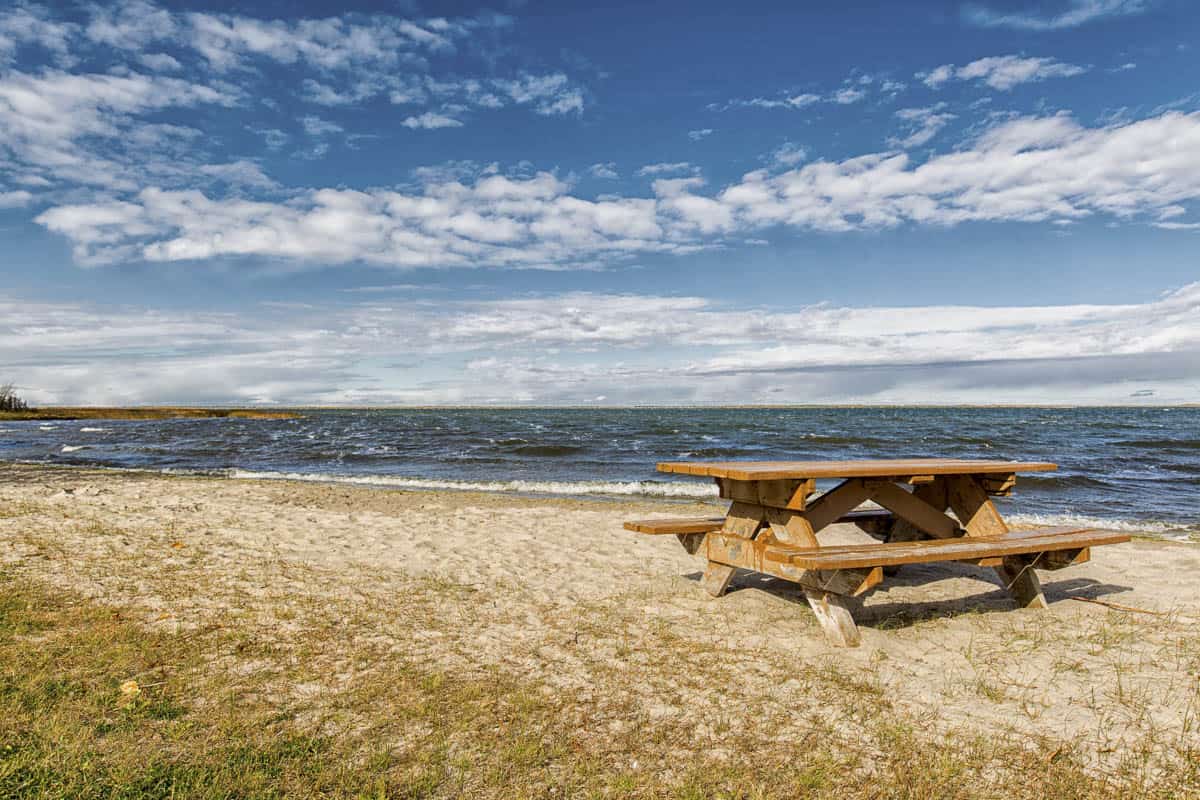 The beach itself is protected from the wind from multiple surrounding trees, while there's a good stretch of sand to relax on. There's also a swimming area, public bathrooms and change rooms, and a boat launch nearby.
Lake Annette Beach
While we don't often think of there being many beaches in the mountains, it turns out there are quite a few of them! One of the best beaches in the Rockies is found at Lake Annette, a short drive from Jasper. While the water is known to be quite cold, even in summer, you might feel brave enough for a quick dip on a hot day.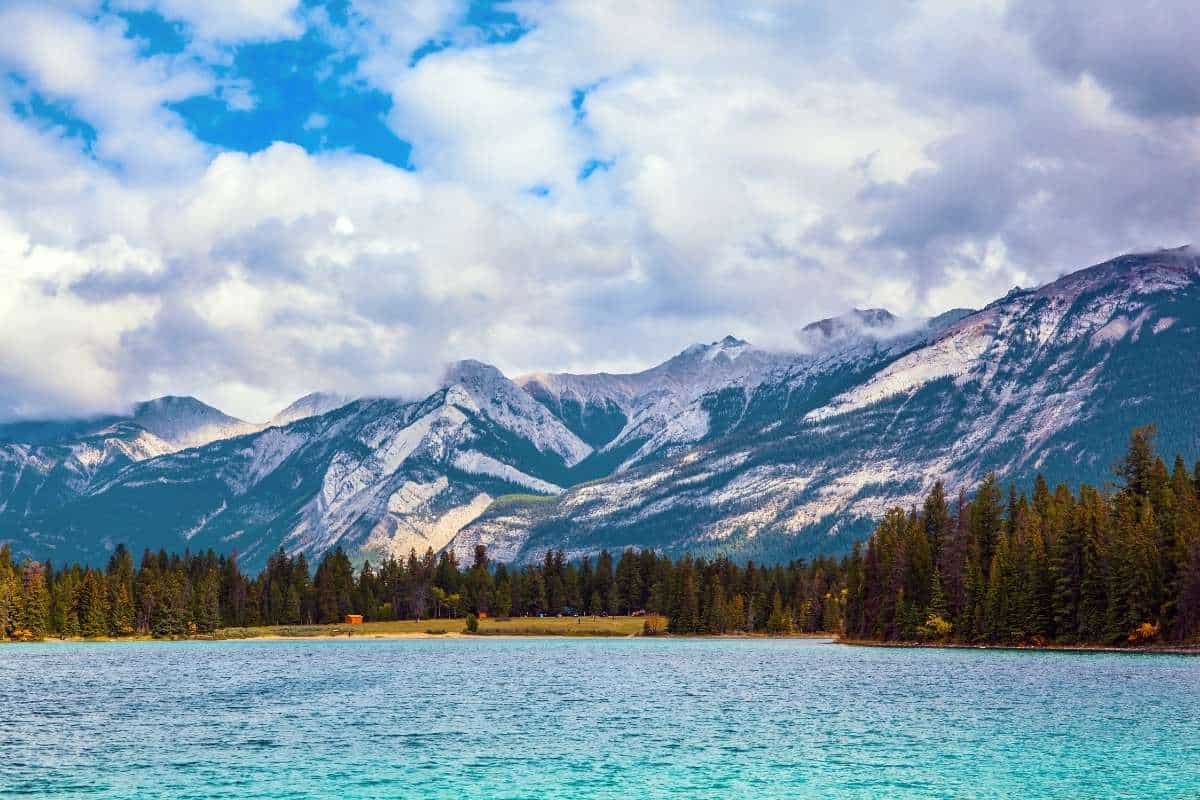 The real draw of the beach at Lake Annette, however, is the spectacular view. There's nothing like being on the water while gazing up at the beautiful mountains that surround you. Thankfully, there's also a lot to do at the lake, including canoeing and kayaking from the dock. There are also picnic tables, fire pits, a playground, and wheelchair and stroller-friendly trail loops along the shore.
Want even more Rocky Mountain beaches? Try Pyramid Lake or Lake Edith, both within a ten-minute drive of Lake Annette.
Devonshire Beach
With over one kilometre of sandy beach to enjoy, Devonshire Beach is often noted as one of the best beaches in Alberta. Found in Lesser Slave Lake Provincial Park in Northern Alberta, its slightly remote location means that you may just have the beach to yourself if you go during the week… and what could be better than your own private beach?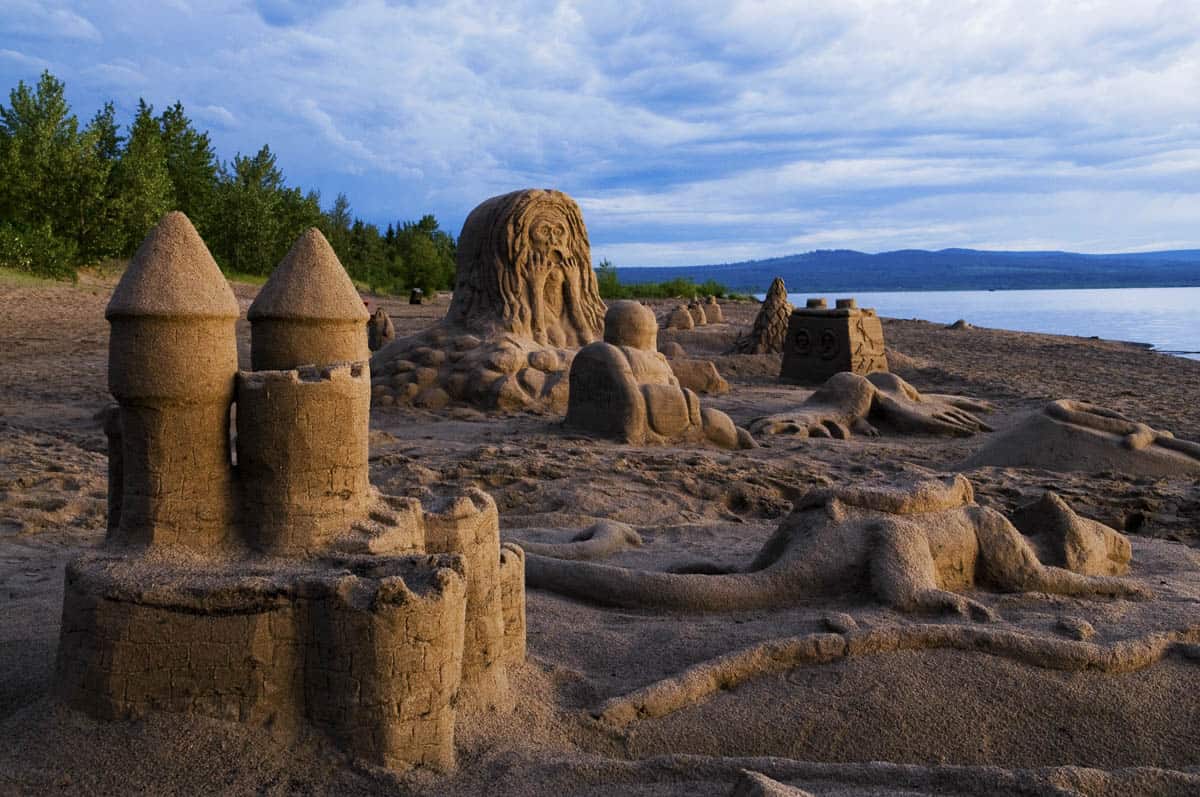 With lots of sand for relaxing, walking, and playing, there's also a viewing platform at the north end of the beach. Thankfully, the platform is wheelchair-friendly, and there's a ramp that continues down to the beach. There is also a beach wheelchair available for use from the nearby Marten River Campground booth.
Shaw's Point Resort
Known as one of the top beach getaways in Alberta, Shaw's Point Resort is found on the western shores of Lesser Slave Lake. Thankfully, there is so much to do here that you're spoiled for choice on filling your days! It's recommended to spend at least a long weekend in the area, as Shaw's Point Resort is about so much more than just the beach (although the white sandy beach is indeed pretty amazing).
With boat rentals, fishing opportunities, and plenty of water sports including water skiing and windsurfing available, there's also a local rodeo and golf course to keep you busy. Of course, if you're only after a relaxing time on the sand, there's plenty of time for that, too!
Wabamun Lake Beach
Meaning "looking glass" in Cree, Wabamun Lake is appropriately named; the smooth, glassy surface of the water is a stunning sight to behold in summer. Head to the beach at Wabamun Lake Provincial Park for lots of great water activities, including paddleboarding, kayaking, swimming, and more. There's also a campground, boat launch, dock, swimming area, and playground.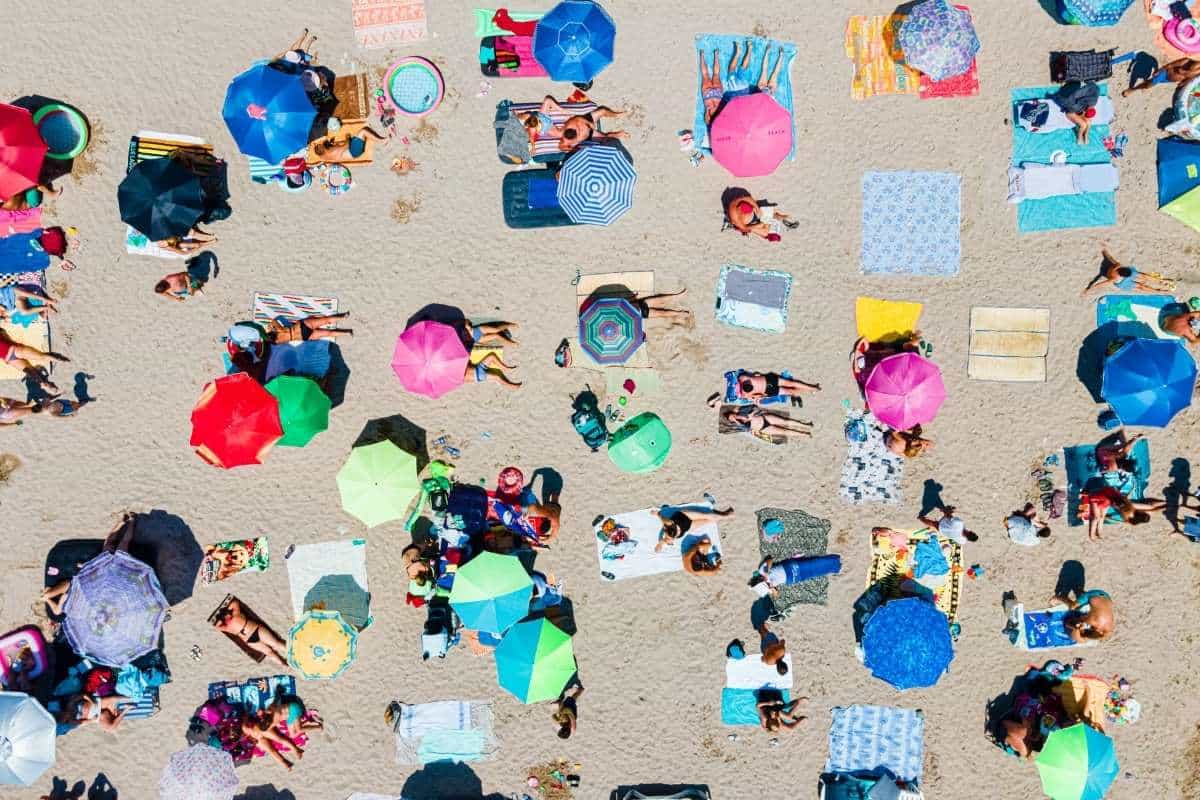 Found about an hour's drive west of Edmonton, Wabamun Lake has a small village to wander around in as well, so you can combine your beach day with a stop in some of the local restaurants, shops, and a small art gallery.
Elkwater Lake Beach
Families will love the beach at Elkwater Lake, and, although it has a fairly remote location (head from Calgary to Medicine Hat first, and then keep going!), it still fills up quickly every summer! Because it's not as easy to access from the major cities, it's the perfect place to stay for a week or two and really soak up all that there is to do in the area on a beach holiday.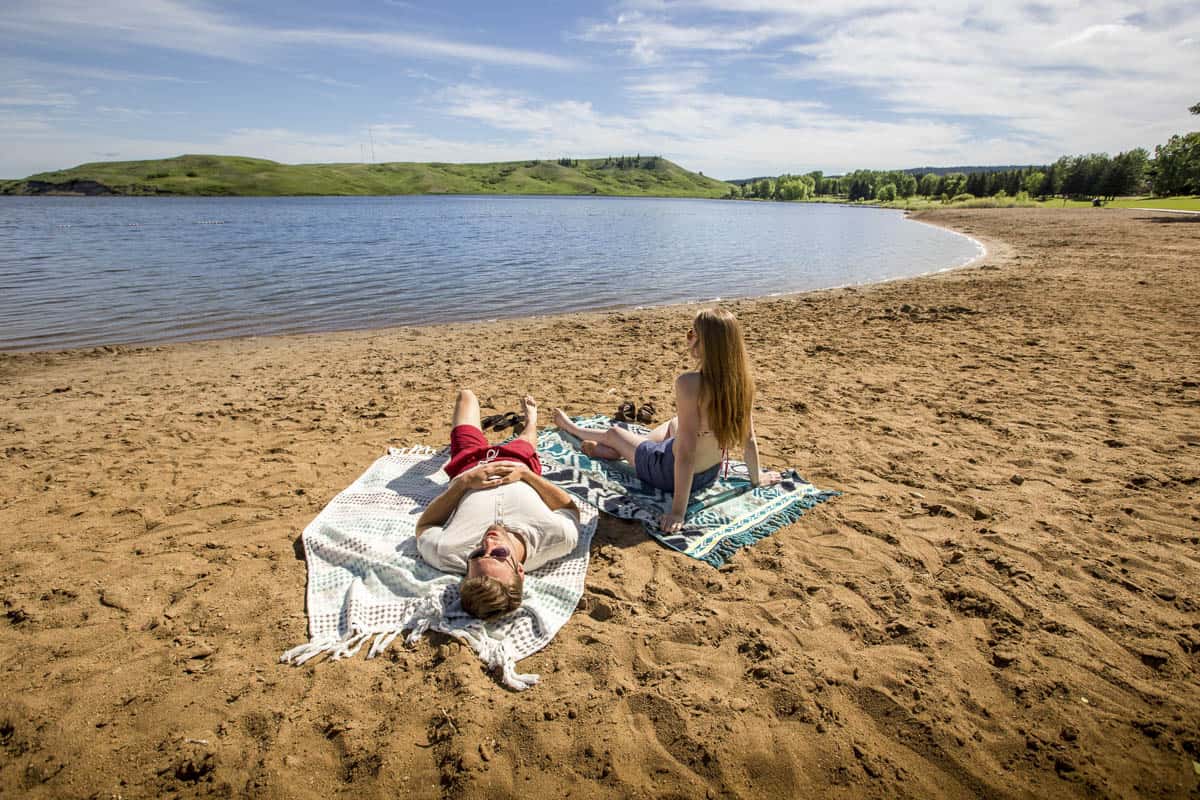 Ideal in July and August when the water temperatures are at their warmest, you'll find a large sandy beach as well as clear, relaxing water to enjoy. With multiple campgrounds nearby, the beach and marina are in the Elkwater Lake townsite. There's also a lot to do in Cypress Hills Provincial Park (where the lake sits), including hiking and walking trails in its unique ecosystem.
Long Island Lake Beach
Found approximately 90 minutes north of Edmonton, Long Island Lake is a popular spot for camping and enjoying the large sandy beach. If you plan on visiting only for the day, a fee of $5 is applicable; if you are bringing your own boat for water sports or fishing, there's a special parking area you can use.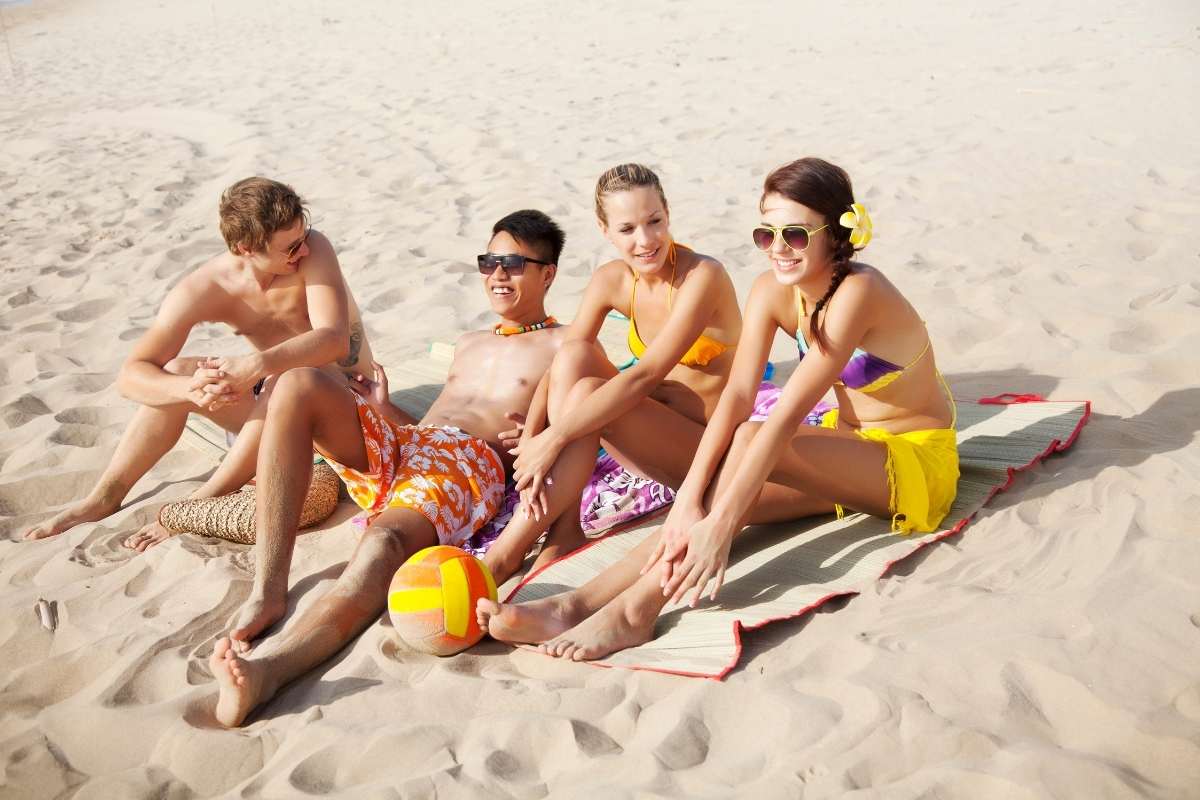 The beach is ideal for families, as there is an excellent playground directly on the sand with swings, tires, and plenty to keep your kids active. The sand is soft and the water is fairly shallow near the shore, so you can happily spend some quality beach time at Long Island Lake, no matter the ages of your group.
Johnson Lake Beach
Although not as sandy as many of the other beaches on this list, Johnson Lake is a wonderful choice if you're in the Banff area, especially as it's a bit more protected from the wind than other Banff lakes. Often overlooked for nearby Two Jack Lake and Lake Minnewanka, Johnson Lake is a fantastic option for canoeing, kayaking, paddle boarding, and yes, even swimming in the warmer months! You'll be blown away by the beauty of the surrounding Rocky Mountains, all while appreciating the water and the sun.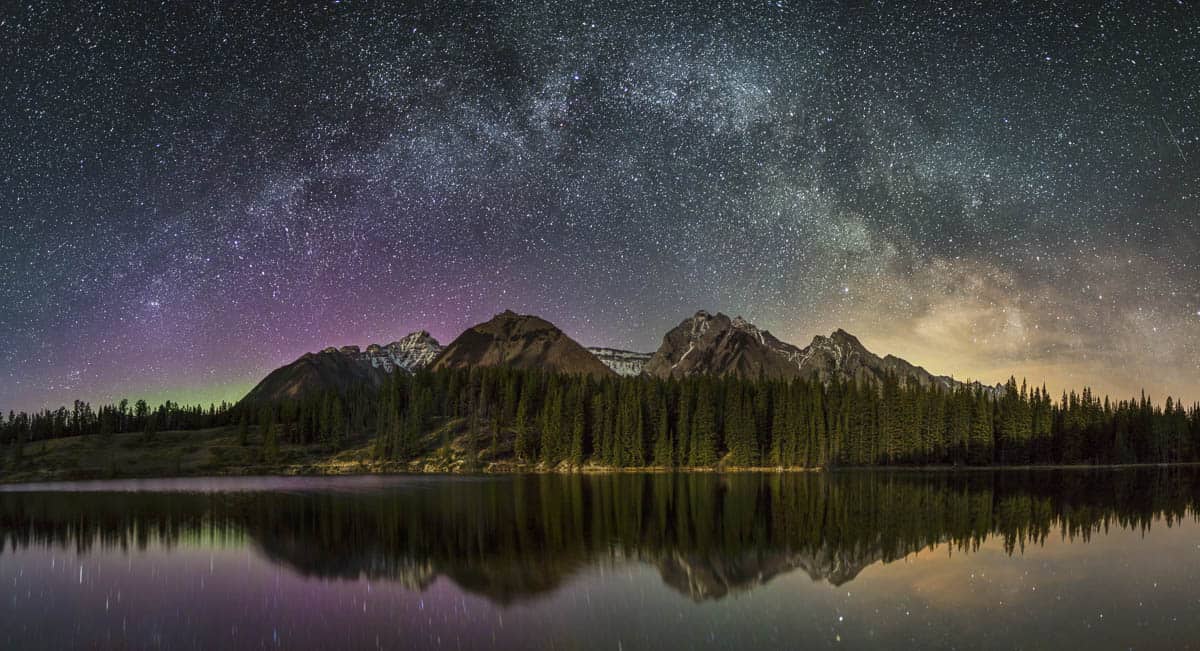 In the area, you'll find plenty of hiking trails and picnic tables; an ideal day at Johnson Lake would be a hike followed by a dip in the cool waters, followed by a picnic lunch. Looking for a little thrill? Try to find the rope swing along the lake!
Want to see more of our BEST OF posts? Click through to read about our favourite: