Disclaimer: This page may contain affiliate links. Please review our full Terms and Conditions for more information and our Privacy Policy. Note that any pricing, operating hours, or other such information provided below may have changed since initial publication.
Compiled by the Road Trip Alberta team
Last updated on January 27, 2023
Located in southeast Alberta, less than an hour from Medicine Hat, Cypress Hills Provincial Park is a beloved destination for Albertans from this corner of the province, but perhaps a little unknown to the rest.
But the area doesn't just belong to Alberta. Cypress Hills Interprovincial Park – which encompasses both of the provincial parks that exist on each side of the border with neighbouring Saskatchewan – offers a multitude of things to see, do, and explore throughout the year. Because the entirety of the Interprovincial Park spans such a wide and varied area, this article will focus solely on the Alberta side (solely Cypress Hills Provincial Park) so that you have all the details you need to add to your next Alberta road trip.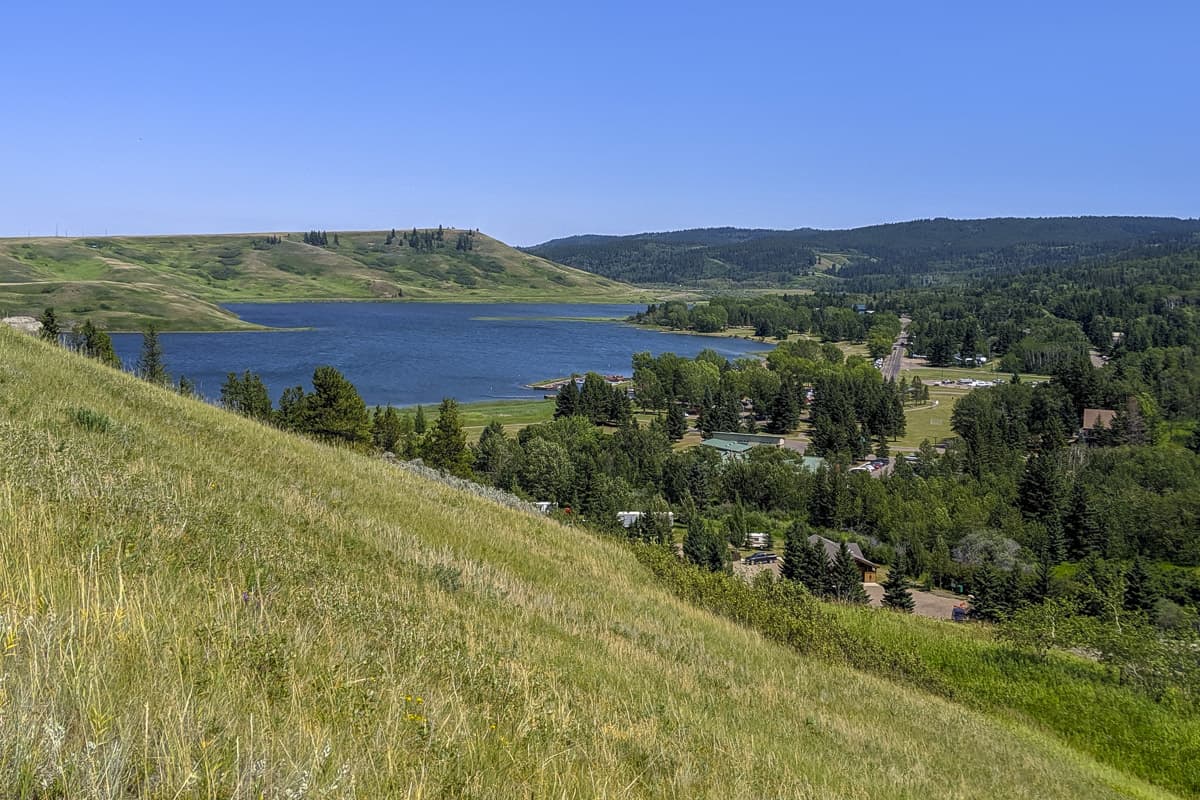 The majority of facilities for the Alberta side of Cypress Hills Interprovincial Park, including the visitor centre (open year-round) and the 7 campgrounds with over 350 individual campsites, can be found along the south shore of Elkwater Lake. In addition, 3 more campgrounds, as well as viewpoints and hiking trails, are found scattered throughout the Hills before reaching the Saskatchewan side.
Buckle in and prepare to learn everything there is to know about Alberta's Cypress Hills Provincial Park!
Land Acknowledgement
Cypress Hills Provincial Park is on the traditional territories of the Blackfoot Nations, including Siksika, Piikani, and Kainai, the Tsuut'ina, Nation and Stoney Nakoda First Nations. We acknowledge all of the many First Nations, Métis, and Inuit whose footsteps have marked these lands within and around Cypress Hills Interprovincial Park for centuries.
About Cypress Hills Provincial Park
In 1859, John Palliser led an expedition across the plains from Fort Edmonton to Cypress Hills. Upon arrival, he described the hills as a perfect oasis in the desert, and ever since there has been at least seasonal inhabitation or at least a whiskey trading post.
Fort Walsh was established by the North-West Mounted Police on what is now the Saskatchewan side in 1875, in the years following the bloody Cypress Hills Massacre, to aid in monitoring and enforcing law in the prairies and putting an end to the whiskey trade in the area. (Fort Walsh closed in 1882 and is now a National Historic Site.)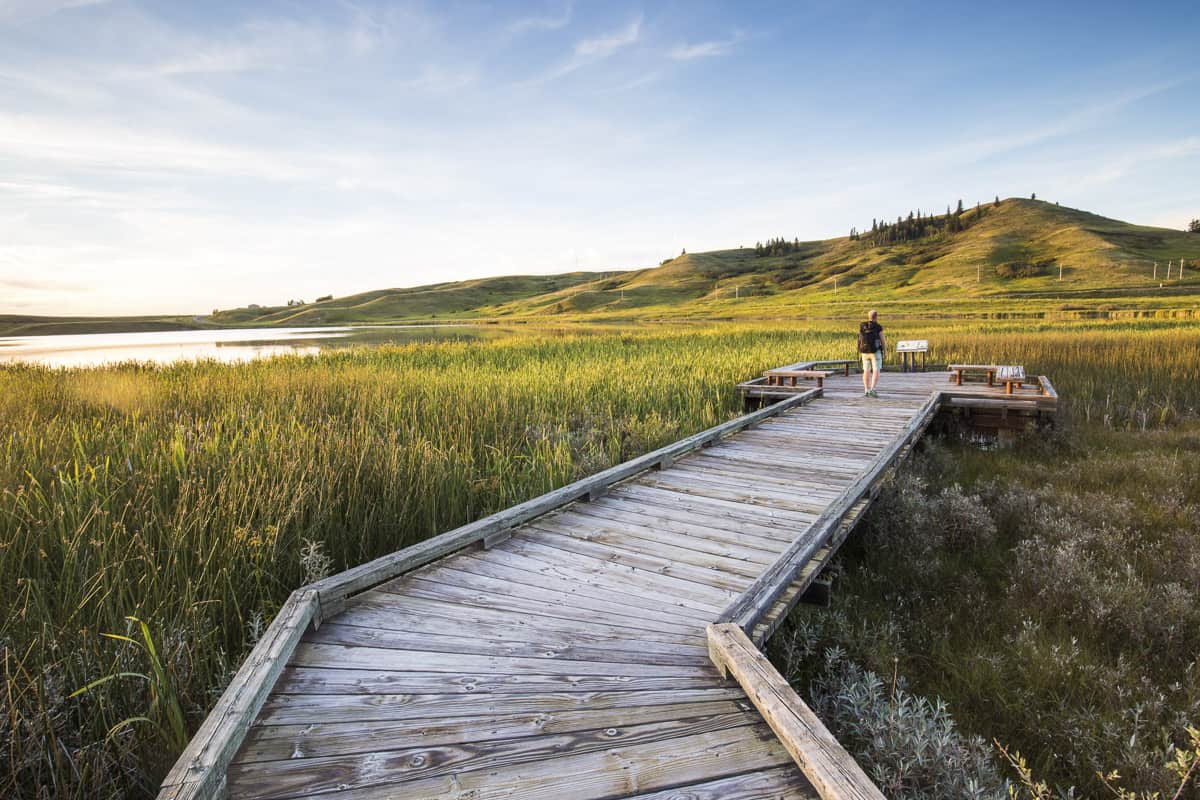 In addition to its varied history, the area of Cypress Hills Interprovincial Park is also rich in natural resources, so lumber operations, coal mining, and cattle grazing all occurred, but it wasn't until the Canadian Pacific Railway (CPR) reached the newly established community of Maple Creek in 1883 did an influx of farmers, ranchers, and homesteaders arrive.
Realizing how special this diamond in the prairies is, Elkwater Provincial Park was established in 1947, and Cypress Hills Provincial Park was created in 1951. Then in 1989, the Cypress Hills Interprovincial Park agreement was signed which created Canada's first Interprovincial park.
Getting to Cypress Hills Provincial Park
From Medicine Hat
Cypress Hills Provincial Park is located approximately 65.5 km (or a 45-minute drive) south of Medicine Hat. From the city, head southeast for 30 km on Trans-Canada Hwy/AB-1 E. Follow the signs for Havre/Elkwater and turn right onto AB-41 S. Follow the road for 34 km directly into the town of Elkwater.
From Lethbridge
The Elkwater townsite is approximately 2.5 hours from Lethbridge. Take Crowsnest Hwy 3 east out of the city for 156 km. After about 1.5 hours, turn right onto Township Rd 120 and follow the road for 18 km that will meet up with the Trans-Canada Hwy going East. Follow that for 16 km until you see signs for Havre/Elkwater and then turn right onto AB-41 S for 34 km, passing Elkwater Lake and bringing you to the town of Elkwater.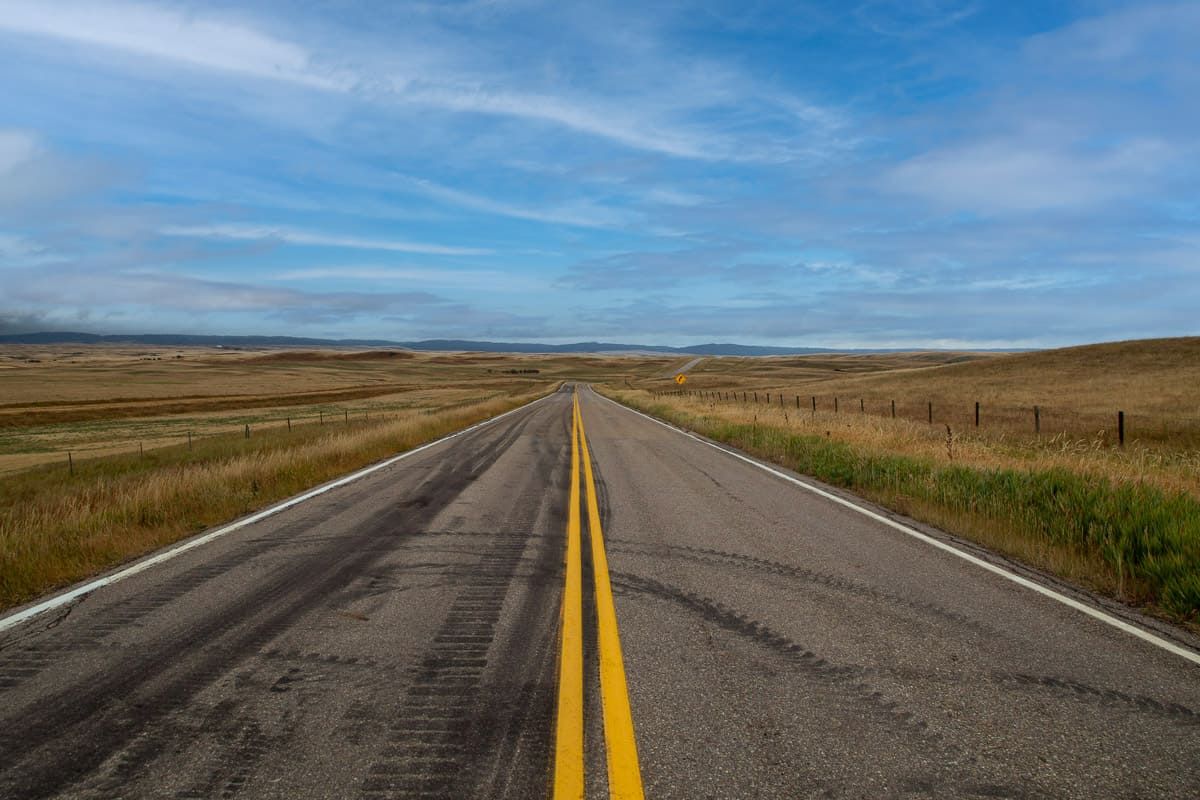 From Calgary
If travelling from Calgary, the drive to Elkwater is just over a 3.5-hour drive and a 359 km trek. The majority of the drive can be done on the Trans-Canada Hwy/AB -1 East which is well-marked from the city. Stay on the Trans-Canada Hwy/AB-1 E until you see signs for Havre/Elkwater, in which you will then turn right (south) onto AB-41 S which will lead into the Elkwater townsite within Cypress Hills Provincial Park.
Accessibility in Elkwater and Cypress Hills Provincial Park
Elkwater is extremely accessible with multiple paved pathways and easy access for handicapped parking stalls. The terrain is well maintained within campsites and popular spots within the town. However, more remote activities such as adventuring to the highest point in the hills or staying in one of the backcountry huts will not be easily accessible due to the forested nature and rough wilderness found in the park outside of the townsite.
Best Time to Visit Cypress Hills Provincial Park
With a year-round visitor centre, Cypress Hills Provincial Park is accessible and fun to visit any season of the year! It's just a matter of what you want to do while you're there. For the quintessential provincial park summer experience full of swimming, hiking the plethora of trails, and horseback riding, May to September is ideal.
The park is still a worthy destination in winter. The activities will of course be more geared toward snow activities if you visit between November to February. Think cross-country skiing, snowshoeing, tobogganing, and more. It's also a great time to encounter some wildlife.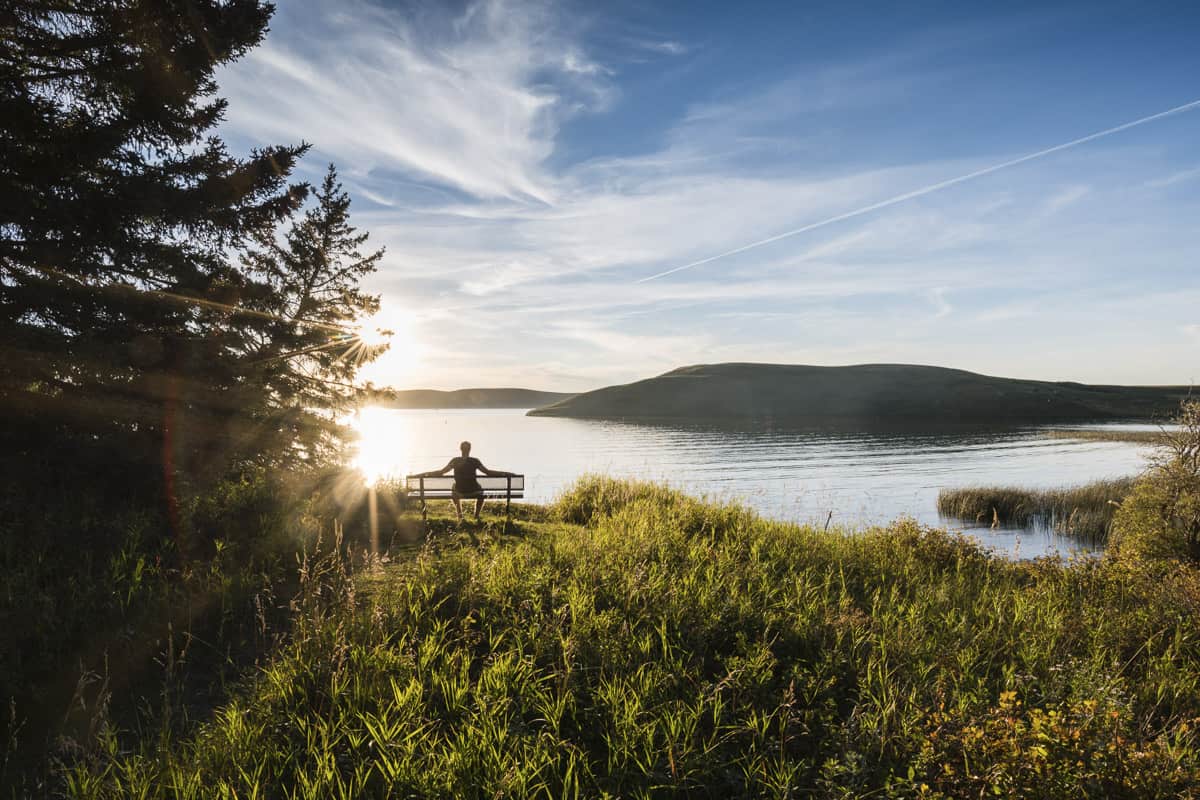 Where to Stay in Cypress Hills Provincial Park
Camping in Cypress Hills
With over 400 individual campsites, there is no shortage of camping opportunities on the Alberta side of the Cypress Hills with plenty of site options for RV's, tents, and group camping.
Elkwater has a number of campgrounds to choose from for those that prefer to camp close to amenities such as the visitor centre, beach, stores, and restaurants. The most popular campsites in town are Old Baldy campground, Elkwater campground, the Lakeview campground, and Aspen Ridge. Going further east, there are more secluded campsites nearby at Spruce Coulee, Reesor Lake, or Battle Creek.
Comfort Camping
For those looking for a step up from camping, Alberta Parks has comfort camping opportunities available in Cypress Hills Provincial Park that are open year-round. With a selection of cabins that vary from backcountry huts to quaint cabins that come with a mini-fridge and electricity, you can choose whatever level is comfortable for you.
In Elkwater you will find comfort cabin options at the Aspen Ridge, Elkwater and Firerock campgrounds.
Elkwater Lake Lodge
Camping (even comfort camping), isn't for everyone, so thankfully in town there is the Elkwater Lake Lodge which offers suites, condos, and cabins for a more refined environment to relax after a day out in nature. The lodge also has a restaurant on site which is popular amongst guests.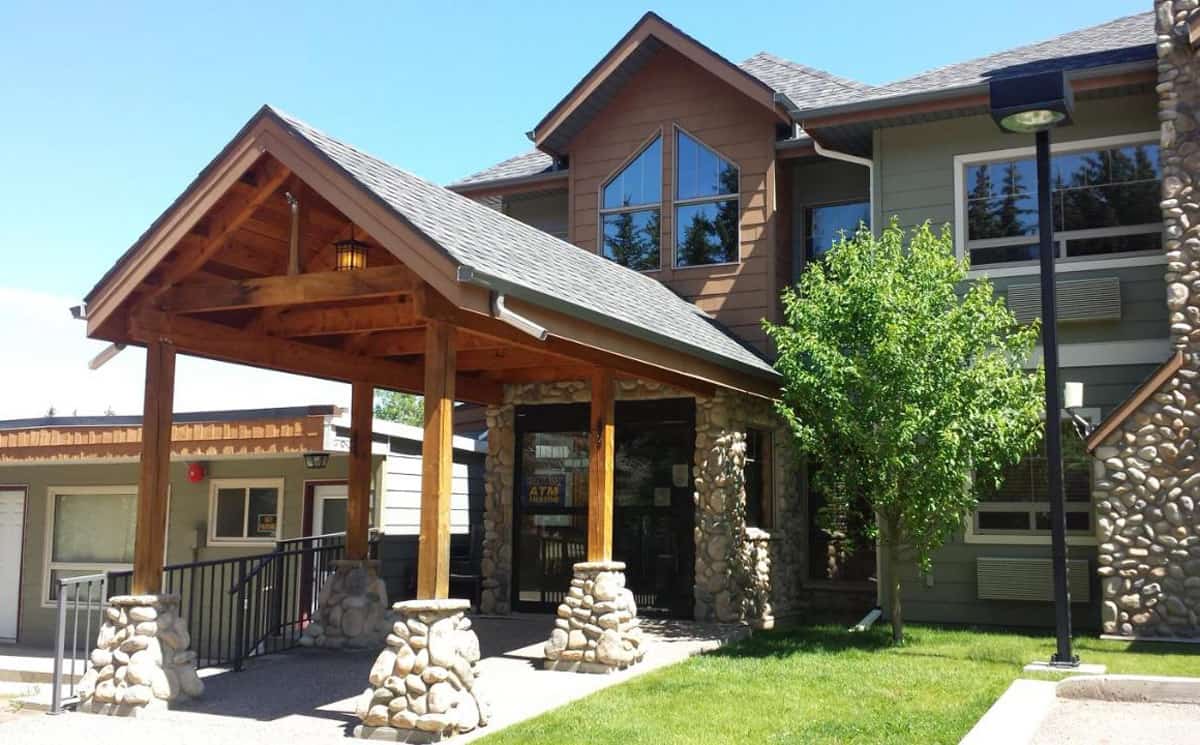 Sights to See in Cypress Hills Provincial Park
There is no shortage of fantastic sights to see and things to do in the area! From the dark night sky to various wildlife and rare species of flora and fauna, the nature viewing opportunities are endless. Climb from the prairie to the highest elevation east of the Canadian Rockies and marvel at the panoramic views and abundant wildlife found here.
Dark Sky Preserve
Due to its high elevation and lack of urban light pollution, Cypress Hills was the first designated Dark Sky Preserve in Alberta and is one of the largest in North America. Every summer the Royal Astronomical Society of Canada holds a Summer Star Party in Saskatchewan of this Interprovincial Park, and it is considered to be one of the largest stargazing events in the country.
If the conditions are right, you may even get to see aurora borealis while camping amid the starlit sky. (See our post on spotting the northern lights in Alberta for tips.)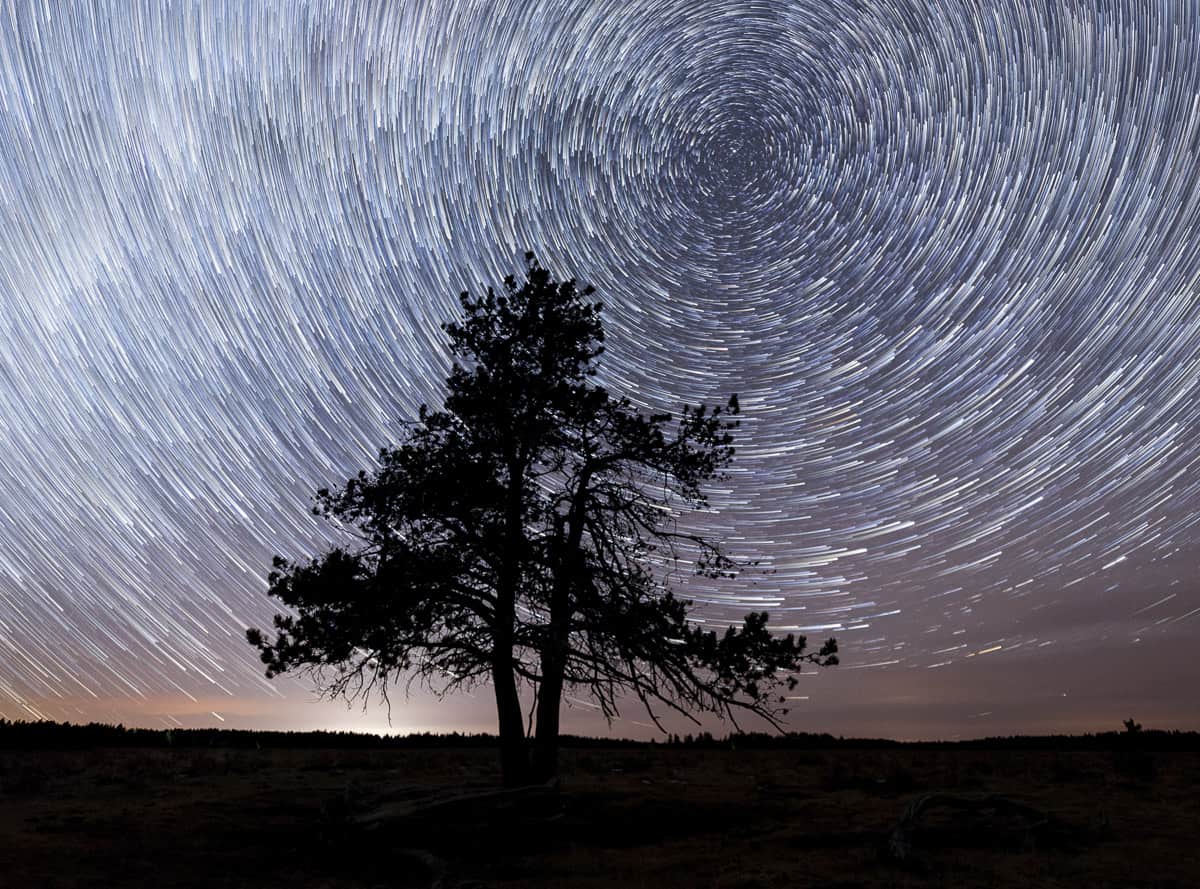 Scenic Drives
There are two driving routes in Cypress Hills, one for the west section and one for the east section, but both routes begin and end in Elkwater. Note that the majority of both routes are a mix of gravel and paved roads. Download a map that covers both routes here.
West Road Trip: A standout location along this drive is Horseshoe Canyon Viewpoint which offers a stunning panoramic view of the surrounding countryside to the north and northwest. History buffs will appreciate the view of Quarry No. 4 which used to supply clay to Medalta in Medicine Hat and was used to produce pottery, brick, and tile.. Afterward head towards 'Head of the Mountain Lookout' for the highest point in the park before looping back towards Elkwater.
East Road Trip: Get to Reesor Viewpoint which overlooks Reesor Lake and the landscape of the provincial park. The lake is managed as a rainbow trout fishery and the handy dock on the lake makes fishing a popular activity at this spot. Note that swimming is not recommended in Reesor Lake, and gas-powered motors are not permitted, however, electric motorboats are.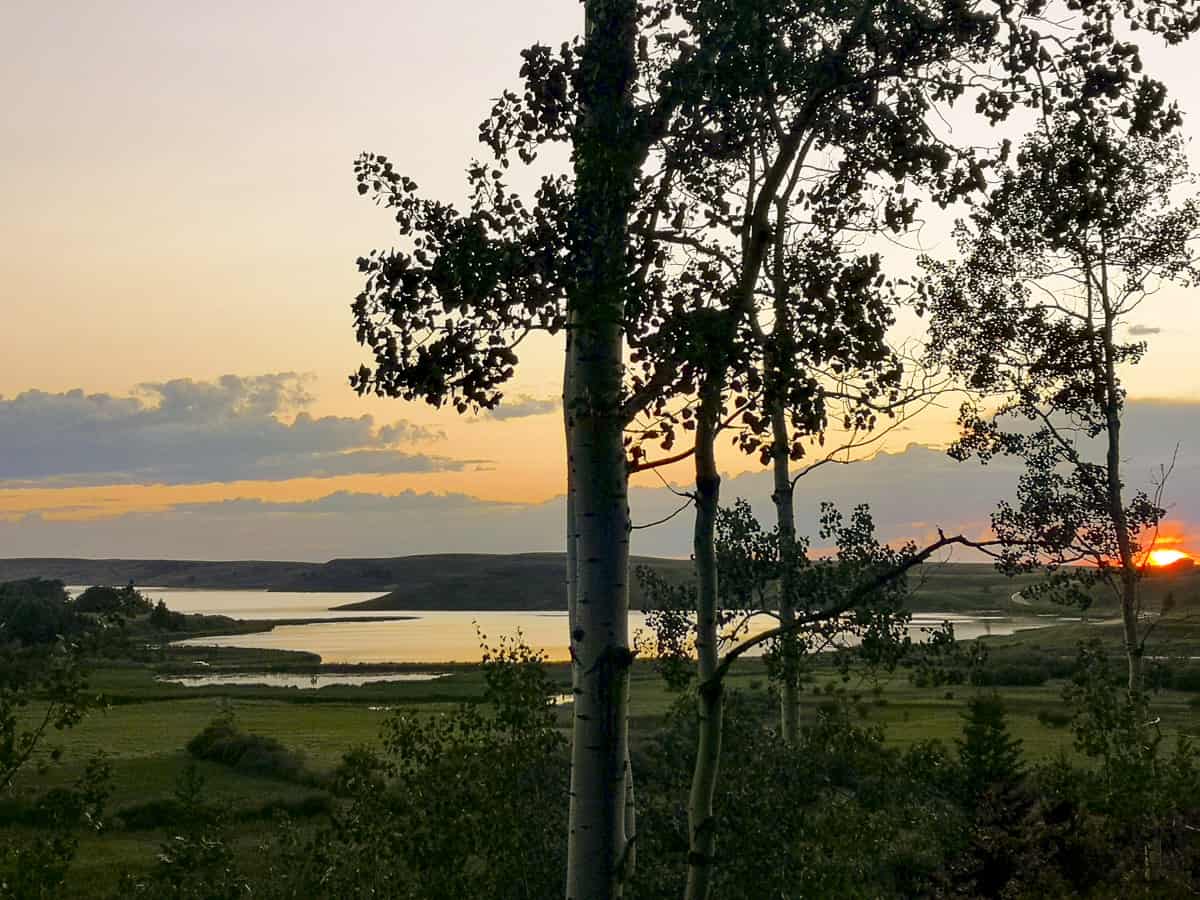 Elkwater Lake
It's impossible to miss Elkwater Lake as it is one of the highlights when arriving at the park and you literally drive right next to it! Its name is a translation of 'Ponokiokwe', the Blackfoot name for the lake, and at 4km long, it is the largest body of water in the park.
Fishing, swimming, and all types of water sports from canoes and sailboats to jet skis and windsurfing are popular activities on the lake. There is a marina on the west side of the lake and the main beach area is close to the visitor information centre. There you will also find a designated swimming area, playground, and bathroom/change facilities.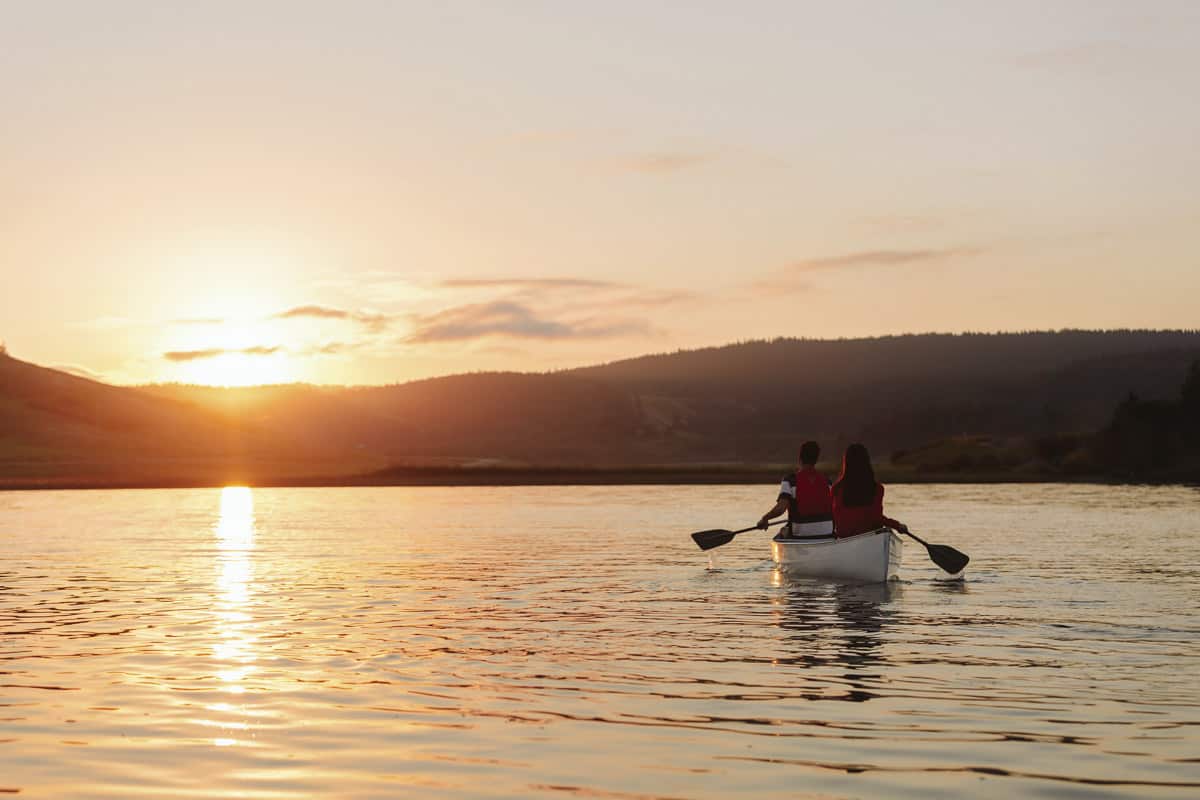 Wildlife Viewing
Within the various forest types found in Cypress Hills (such as Lodgepole pine, white spruce, and Aspen woodland) wildlife such as moose, elk, mule deer, cougars, and even wild turkeys call the park home. Spring and fall are the best seasons for wildlife viewing in the park. Note: although Alberta Parks reports that there are no bears in Cypress Hills, cougars are abundant and very dangerous and should be treated with extreme caution. Here are some helpful tips to prepare for travelling in cougar country. Also, read these general tips on safely viewing Alberta wildlife.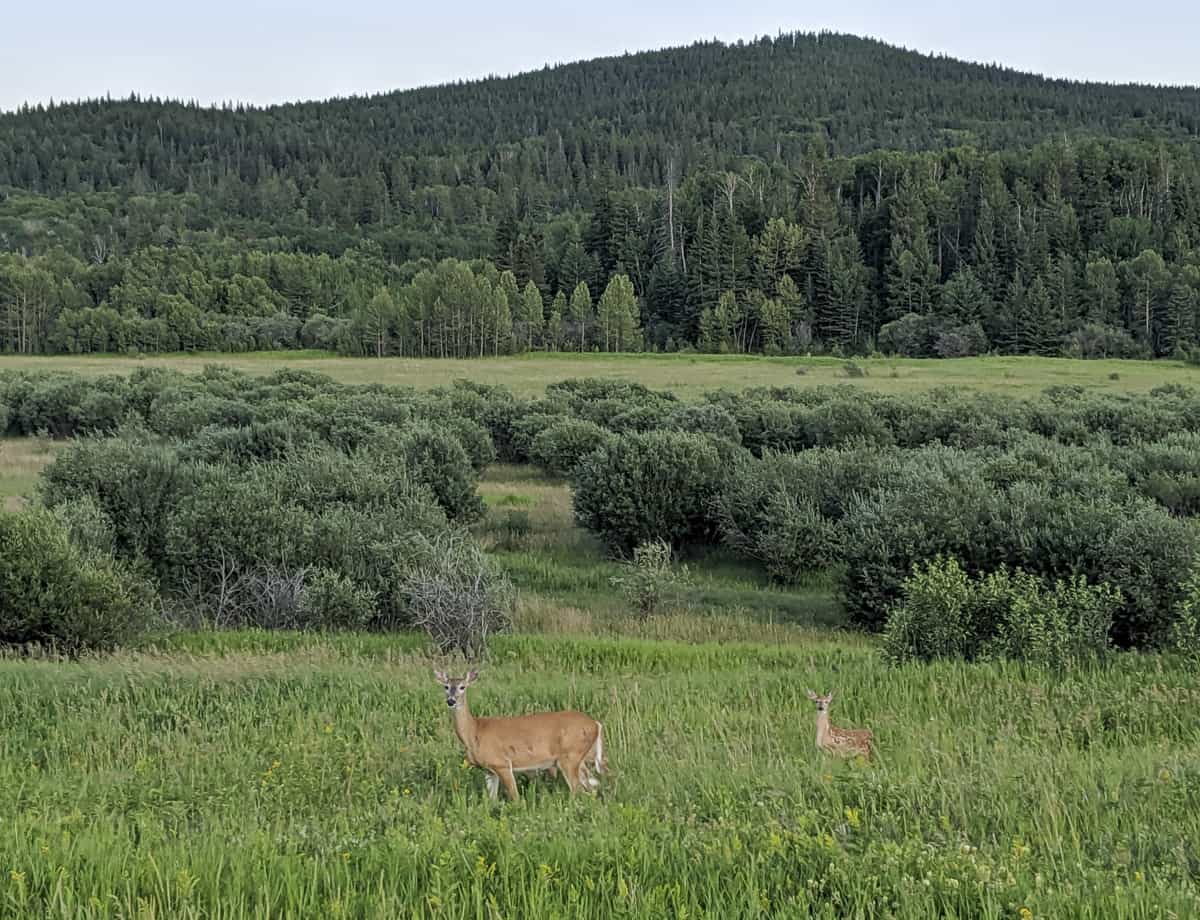 Head of the Mountain Viewpoint
The highest elevation in the Alberta Cypress Hills can be found at Head of the Mountain which rises to 1,466 m (4,810 ft). The panoramic views from this viewpoint are not to be missed! Tip: try to get here for sunset for a magnificent view that will take your breath away.
Fun fact:
Cypress Hills rise 600 ms above the surrounding prairies, making it the highest point between the Rocky Mountains and the Labrador Peninsula on the east coast.
Nature Viewing
This park is one of the best birdwatching locations in Canada, with more than 220 bird species recorded! However, the plants and flowers are not to be outdone, boasting a unique range of grasses and wildflowers. In fact, there are wildflowers in the park that are not found anywhere else on the prairies. In addition, the Cypress Hills are an orchid lover's paradise; fourteen orchid species are found here and are best seen on hiking trails in spring and early summer.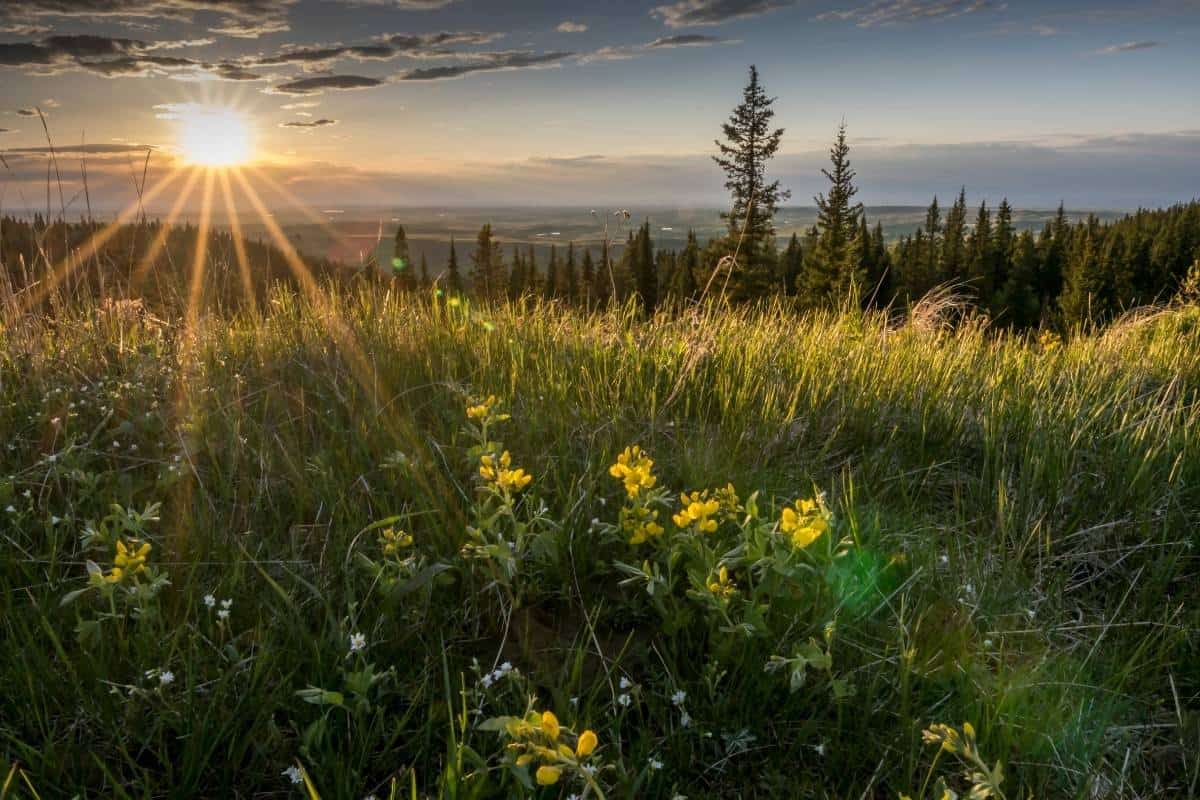 Best Things to Do in Cypress Hills Provincial Park
With the amazing range of sights to see, there is also no shortage of things to do! Some of the most popular are:
Hiking
Throughout the variety of terrain including forest, wetlands, and grasslands found in the park, there is an abundance of hiking trails available. Make sure to especially hike and find trails through the lodgepole pine forest that is plentiful in Alberta and specific to the Cypress Hills.
Water Sports
There are a variety of water sports that take place on Elkwater Lake including paddle boarding, jet skiing, windsurfing, canoeing, kayaking, and more. Rentals are available (during peak season only) at the marina onsite or phone 403-893-3833 for more information.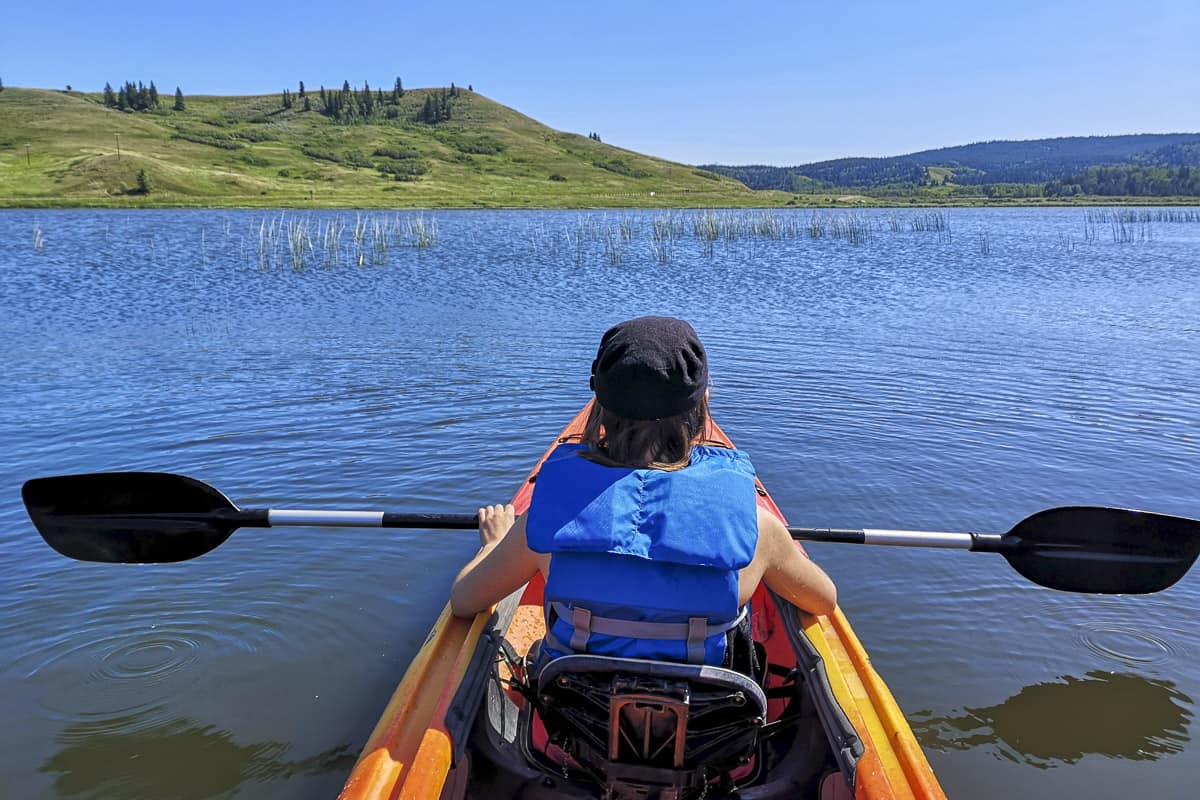 Head to the Beach
Out of the three lakes found in Alberta's Cypress Hills, Elkwater Lake is the only one where swimming is permitted. Elkwater Lake beach is large and sandy with clear, shallow waters that warm up in July and August; once you visit you'll understand why it makes our list of the best Alberta beaches! The beach area has a marked swimming area, playground, picnic area, and all of the other amenities for a trip to the beach.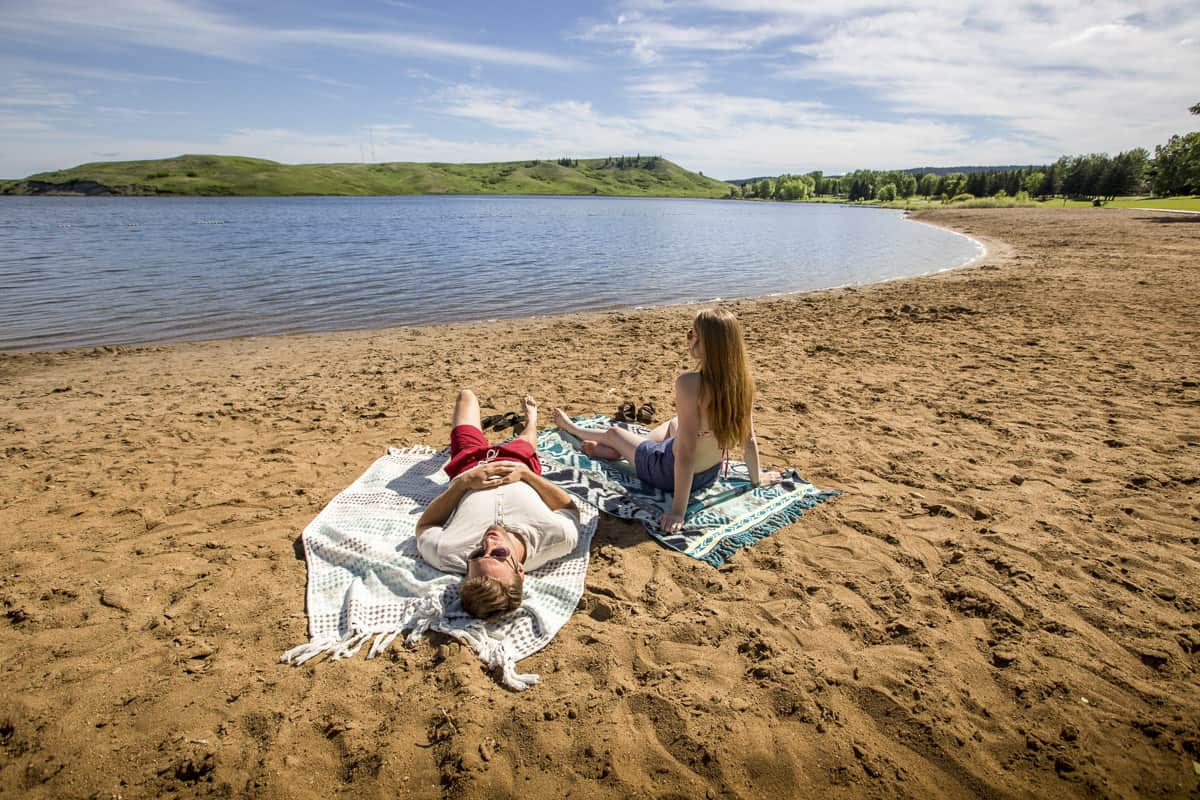 Horseback Riding
With close to 140 km of trails to explore, horseback riding is one of the best ways to see Cypress Hills. Marvel at the Sweetgrass Hills to the south and the seemingly never-ending grasslands to the north. There is even an equestrian-friendly campground with corrals for those that need more than one full day to explore the trails by horseback.
Mountain Biking
Mountain biking is extremely popular in the area and mountain bikers are drawn to the variety of trails available for biking throughout the Alberta side and Cypress Hills Interprovincial Park. The trails range from paved to more challenging and technical, so there is something for the casual biker through to the real mountain biking enthusiast.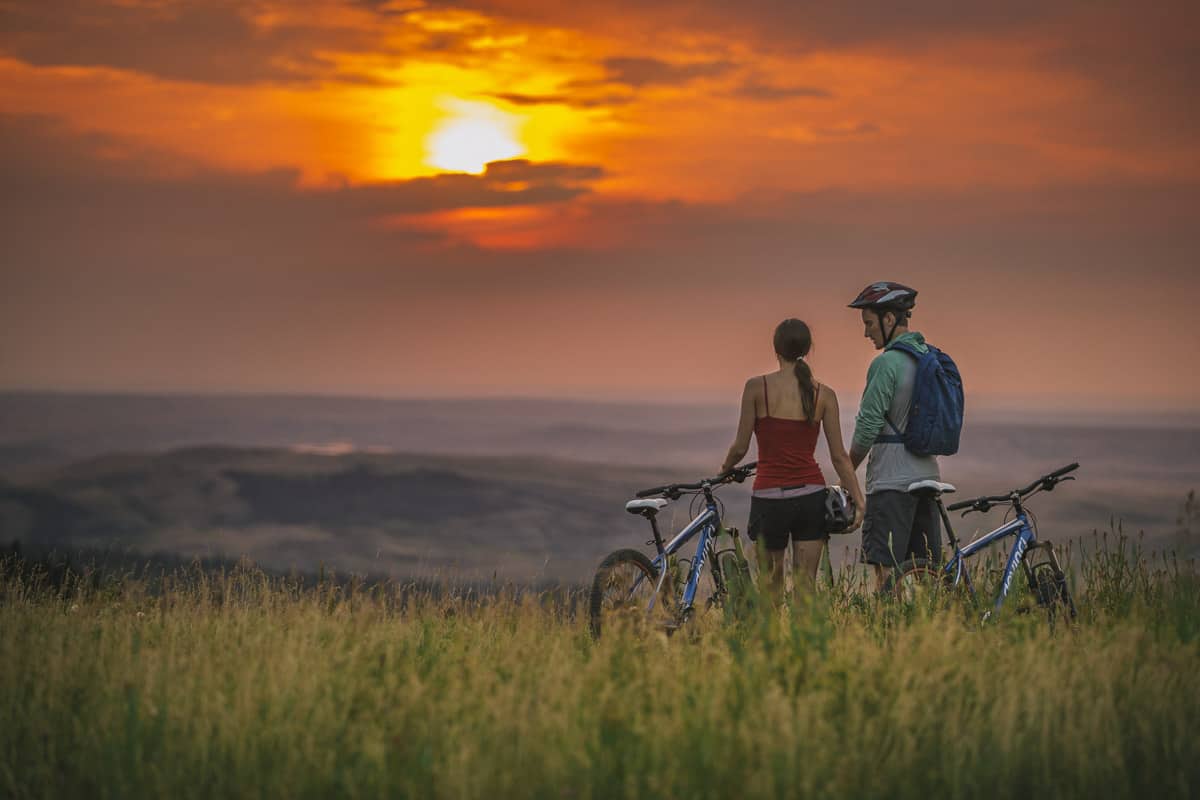 Golfing
There is one opportunity to golf on the Alberta side of Cypress Hills Provincial Park and that is at Elkwater Park Golf Club. It is an 18-hole, par 36 golf course with fantastic views of the Sweetgrass Hills in Montana.
Geocaching
For those looking to explore the hills and pretend to look for treasure, geocaching is a fun, family-friendly way to hike and do some outdoor adventuring while also participating in a gift exchange. All you need to get started is a GPS device or a GPS-enabled mobile phone and hunt down the coordinates in the park on geocaching.com.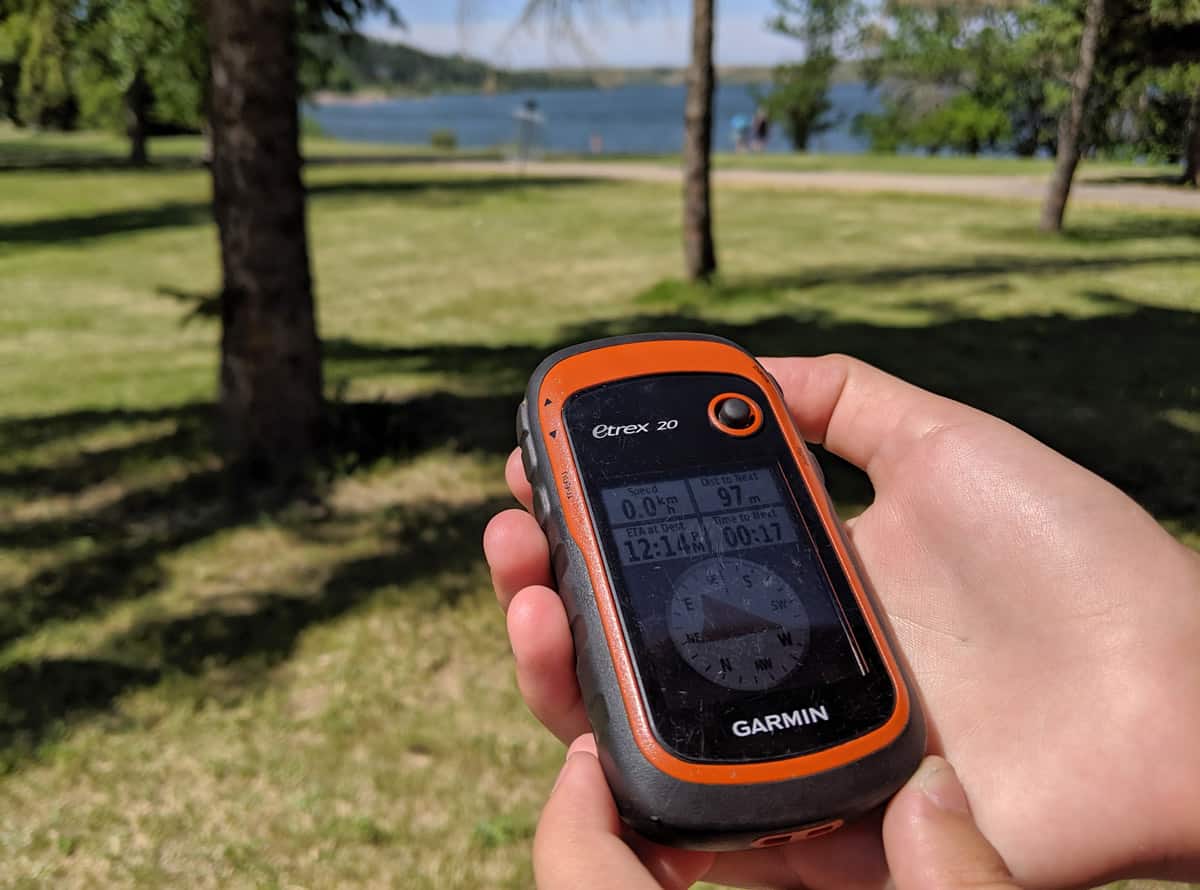 Fishing
Fishing is an extremely popular activity in Cypress Hills and there are several stocked lakes and reservoirs to give ample opportunity for some bites. Fish types found in the park include rainbow trout, northern pike, yellow perch, walleye, and arctic grayling, among others.
Winter Activities in Cypress Hills Provincial Park
There is MUCH winter fun to be had here, especially when the snow gets deep! Explore the trails in the area while fat biking, do some ice skating, winter comfort camping, or enjoy some of these other activities found in the park. *Please note that snowmobiles are not allowed on this side of the park, but are permitted in Saskatchewan.
Ice Skating
Outdoor ice skating in the winter months is a great Canadian past-time! There are a few outdoor skating opportunities in Alberta's Cypress Hills including a traditional outdoor skating rink located on 7th Avenue in Elkwater. In winter, the Old Baldy Campground loop is turned into an impressive 1.5 km long skating track, and Elkwater campground also has a skating loop available (although not as big).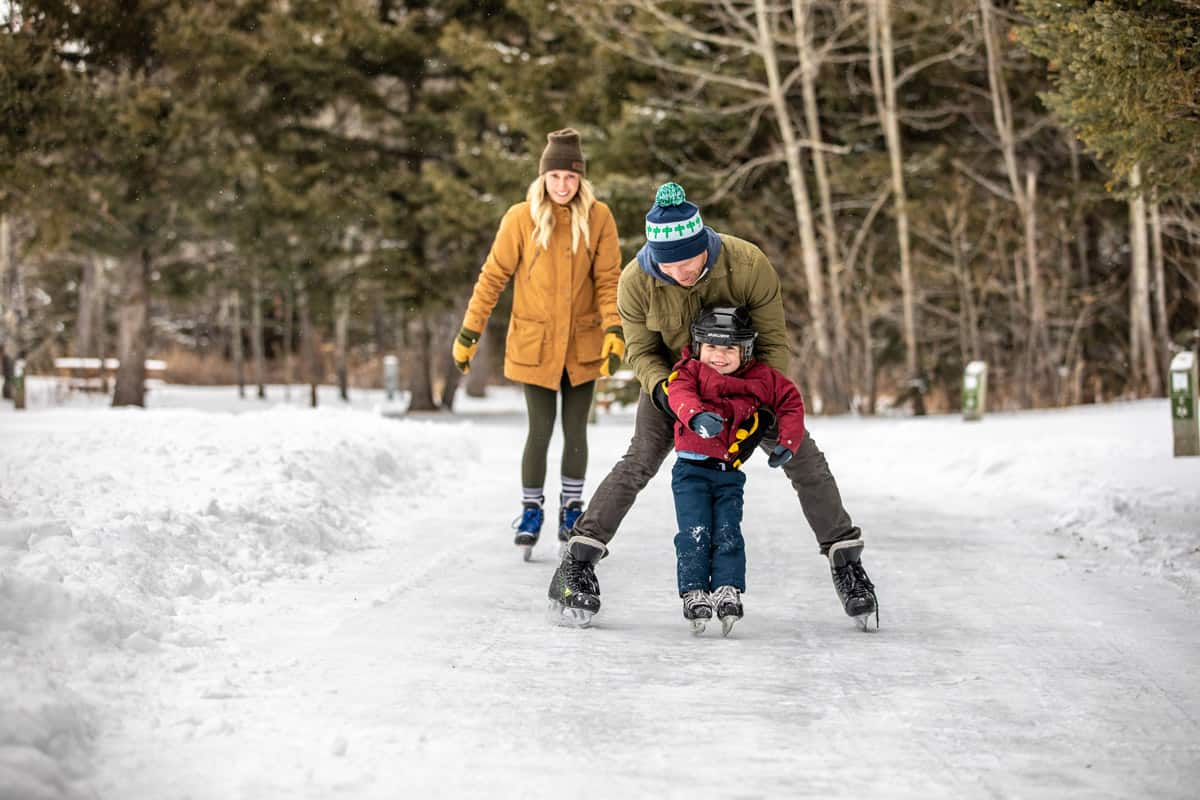 Cross-Country Skiing
Cypress Hills has about 30 km of groomed ski trails in addition to some non-groomed backcountry trails to explore on cross-country skis. Ski rentals to go cross-country skiing in the winter are available at the Cypress Hills visitor centre in Elkwater with full-day or half-day rates.
Downhill Skiing
Saskatchewan doesn't have this! Hidden Valley Ski Hill is a must once the snow hits in the winter months. Near Elkwater, the facility has 8 trails to try out from a simple beginner area all the way up to the show-off run. Ski and snowboard equipment, including helmet rentals, are available in the pro shop.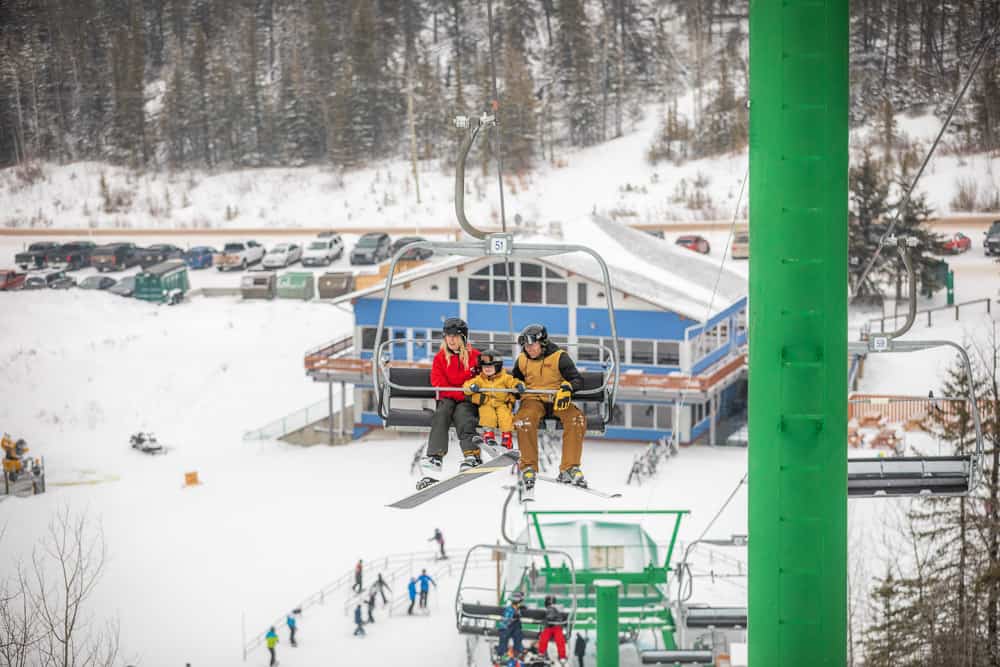 Ice Fishing
Ice fishing is one of the most fun Canadian winter activities and is allowed within Alberta's Cypress Hills at Elkwater or Reesor Lake, and Spruce Coulee Reservoir.
It is extremely important to check ice conditions before walking on the ice and a good measurement to have handy is that ice should be at least 20 cm thick to be deemed safe for ice fishing. However, thin sections can exist at any time during winter so be prepared and also check the Alberta Guide to Sportfishing Regulations for details on regulations and restrictions; also see our guide to fishing in Alberta for more info.
Winter Camping
Winter camping is available at Elkwater and Spruce Coulee campgrounds, or in the backcountry area at Reesor Dock (however this is subject to accessibility issues depending on the weather). Comfort camping is also available in winter at some of the cabins and reservations available through Alberta Parks.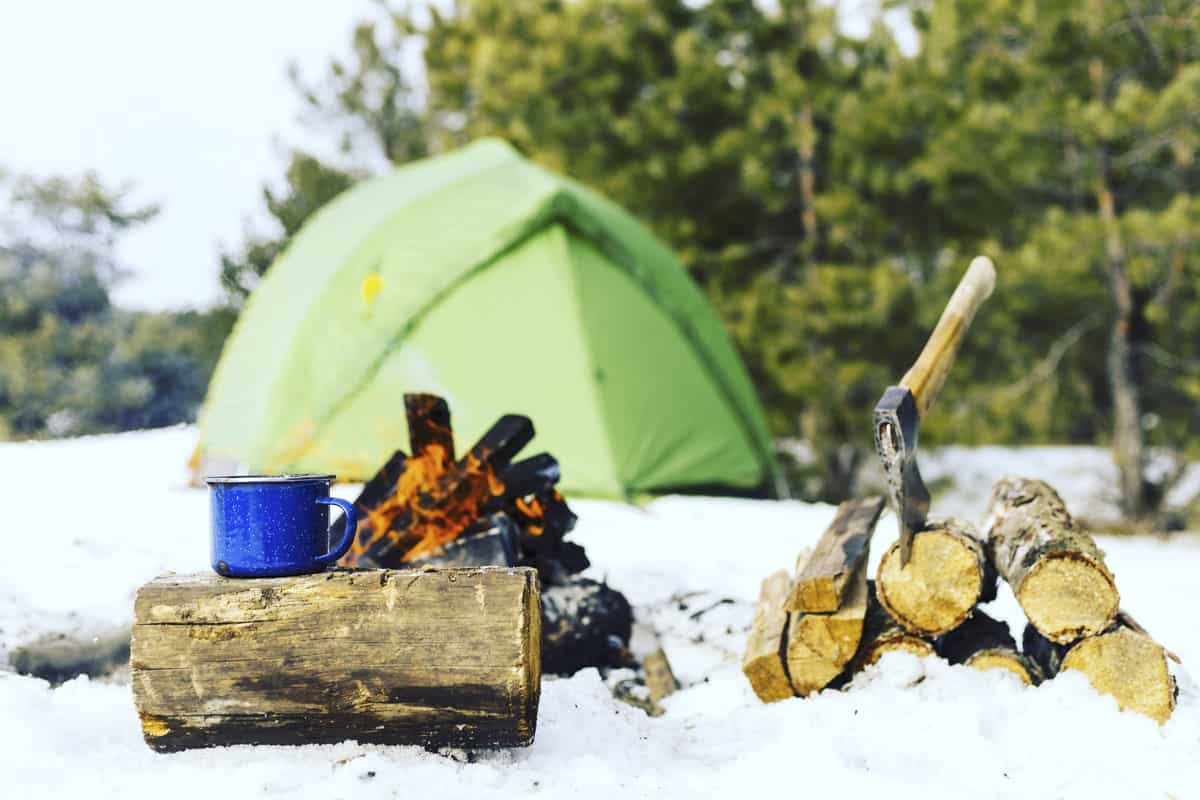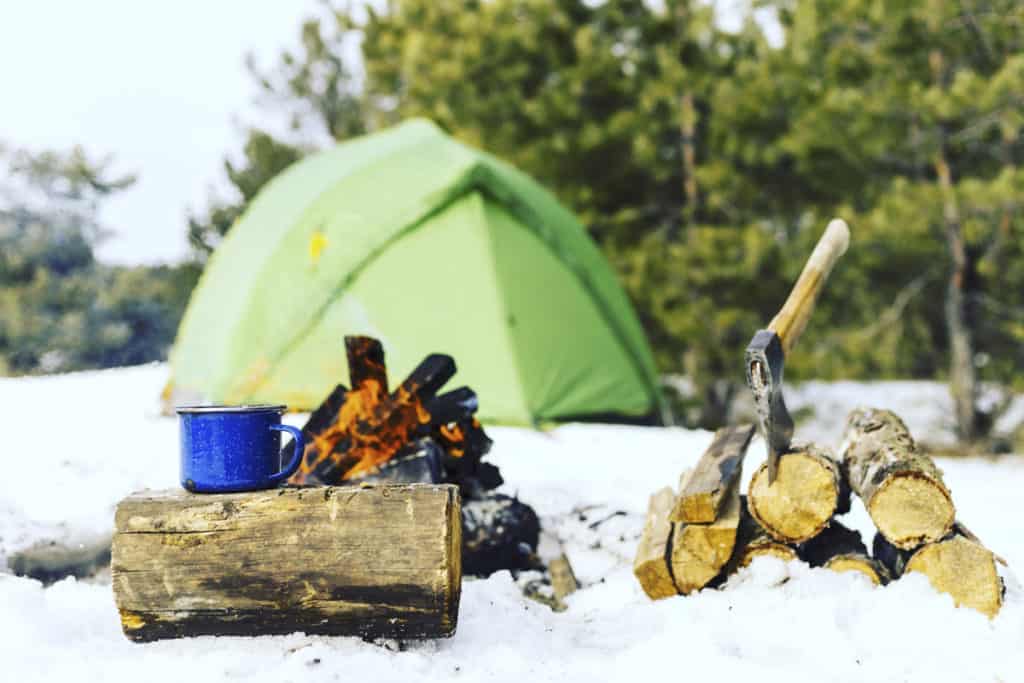 Fat Biking
Biking in the winter months is permitted on all groomed trails in Cypress Hills Provincial Park with the exception of the Spring Creek Ski Trail system which is exclusively used for cross-country skiing. Keep in mind that bikes with regular mountain bike tires are not permitted in winter. Fat bike tires must be 3.7 inches or wider and tire pressure should be 10 psi or lower.
Snowshoeing
Snowshoe rentals are available at the visitor information centre or at Hidden Valley Ski Resort. There are many trails in Cypress Hills that are perfect for snow showing, Alberta Parks just asks that trails that are set for cross-country skiing are not used for snowshoeing. These include the Spring Creek cross-country ski trail system and Spruce Coulee Trail.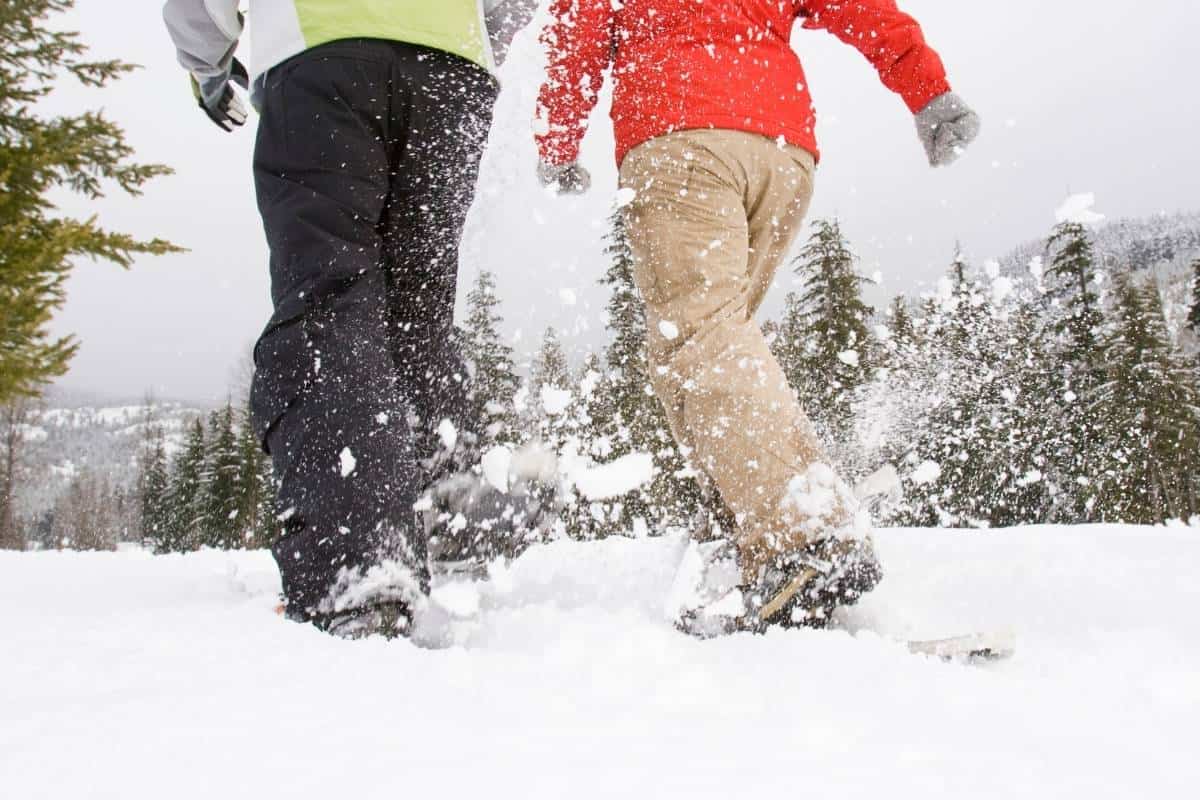 Snow Luge
South of Hidden Valley Ski Resort on Highway 41 is a toboggan hill maintained by Alberta Parks. Otherwise referred to as the "backyard luge," you can bring your own sled or borrow one of the Parks disc toboggans. Helmets are recommended and the track is weather-dependent based on snow conditions.
Where to Eat in Elkwater
Although not as robust of a selection for dining as Maple Creek in Saskatchewan's Cypress Hills, Cypress Hills Provincial Park in Alberta has three dining options to choose from. (And it you want more options, you can check out any of these great Medicine Hat restaurants just a short drive away.)
12-34 Café & Pub
12-34 Cafe & Pub is named after the altitude of Elkwater and is conveniently located next door to Elkwater Fuel Stop. Stop in for some traditional Canadian cuisine and then pop in next door for an ice cream cone while stocking up on camping supplies or some groceries for your camping needs.
Buglers Dining Room & Lounge
Buglers is accessible through Elkwater Lake Lodge and offers visitors a menu containing a wide range of cuisines, all with a strong emphasis on fresh and locally grown produce.
If you want city comforts after a day of visiting Cypress Hills Provincial Park, check out our guide on all the things to do in Medicine Hat that includes recommendations on where to eat, stay, and so much more.
In this region of the province you can tick off several boxes on our FREE downloadable Road Trip Alberta bingo cards! Don't miss out on the fun!