Disclaimer: This page may contain affiliate links. Please review our full Terms and Conditions for more information and our Privacy Policy. Note that any pricing, operating hours, or other such information provided below may have changed since initial publication.
Compiled by the Road Trip Alberta team
Last updated on January 27, 2023
The newest UNESCO World Heritage Site in Alberta is the remarkable Writing-on-Stone / Áísínai'pi Provincial Park. Added in 2019, Writing-on-Stone Provincial Park joins Head-Smashed-In-Buffalo-Jump, Waterton Glacier International Peace Park, Wood Buffalo National Park and Dinosaur Provincial Park, to make up the five UNESCO World Heritage Sites found in Alberta.
Featuring epic sandstone formations called 'hoodoos' and a sandy beach alongside the winding Milk River, this popular southern Alberta destination is a must-see on any southern Alberta road trip! Not only is the location of this site breathtakingly beautiful, but it is also full of culture and history, with ample adventuring and wildlife viewing opportunities.
History
The history of Writing-on-Stone goes back 85 million years ago when the landscape was first formed. The effects of natural forces such as wind, ice, and rain over time cause erosion of sandstone rock and the creation of the hoodoos, and melting glaciers formed the coulees and grasslands surrounding them.
Situated in the heart of the Blackfoot's traditional territory, the entire area holds great cultural and spiritual significance for their people. Archeological evidence from Writing-on-Stone Provincial Park shows that First Nations People regularly camped in the Milk River Valley as long as 3,500 years ago. Artifacts in the form of tipi rings, bison jumps, and buried campsites reveal information about Indigenous Peoples of the Plains. But the biggest evidence about their lives comes from the petroglyphs and pictographs that were used to tell stories and beliefs of their people.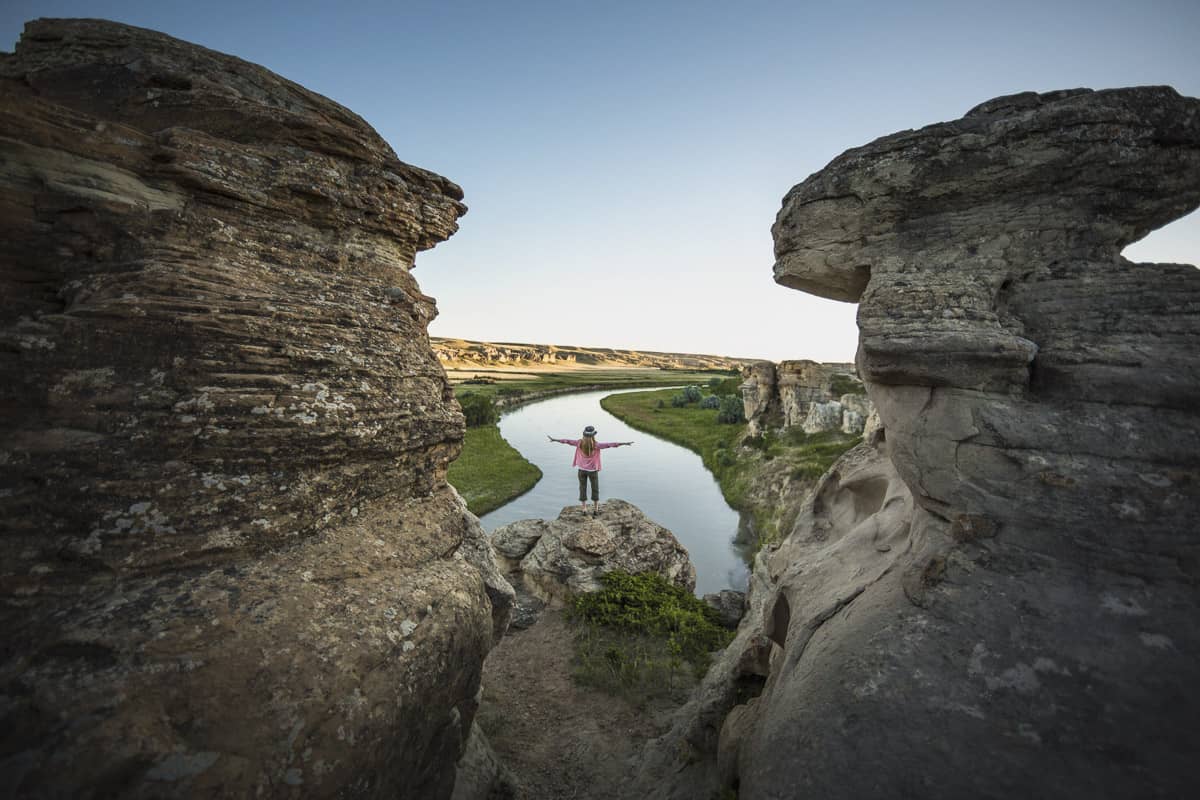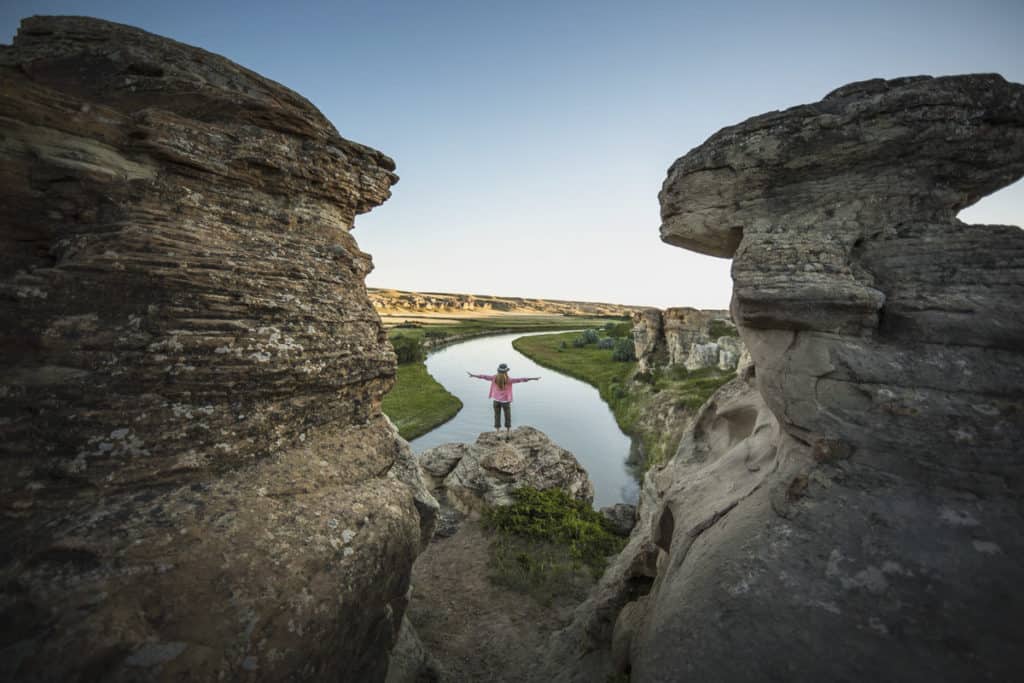 In fact, Writing-on-Stone has the largest collection of rock art on the North American Great Plains with over 50 clusters of petroglyph sites and thousands of works. It is no wonder why the name for Writing-on-Stone in the Blackfoot language is 'Áísínai'pi' meaning "it is pictured/written".
Writing-on-Stone was made a provincial park in 1957, and the local community was instrumental in making this happen and in continuing to preserve this important site.
Getting to Writing-on-Stone Provincial Park
Writing-on-Stone Provincial Park is located in southeastern Alberta, close to the United States border, 42 km (26 mi) east of the town of Milk River. The town of Milk River has basic services such as a gas station and visitor information centre, but there is little else (in the way of tourism infrastructure) in the area.
The closest city to Writing-on-Stone Provincial Park is Lethbridge, Alberta's third-largest city. The park is 128 km (79 mi) southeast of Lethbridge, and the drive to the park is easily done by taking Highway 4 south out of the city. Once you reach Milk River, take Highway 501 east, and then Highway 500 south until you reach the park. The scenic drive takes approximately 1.5 hours.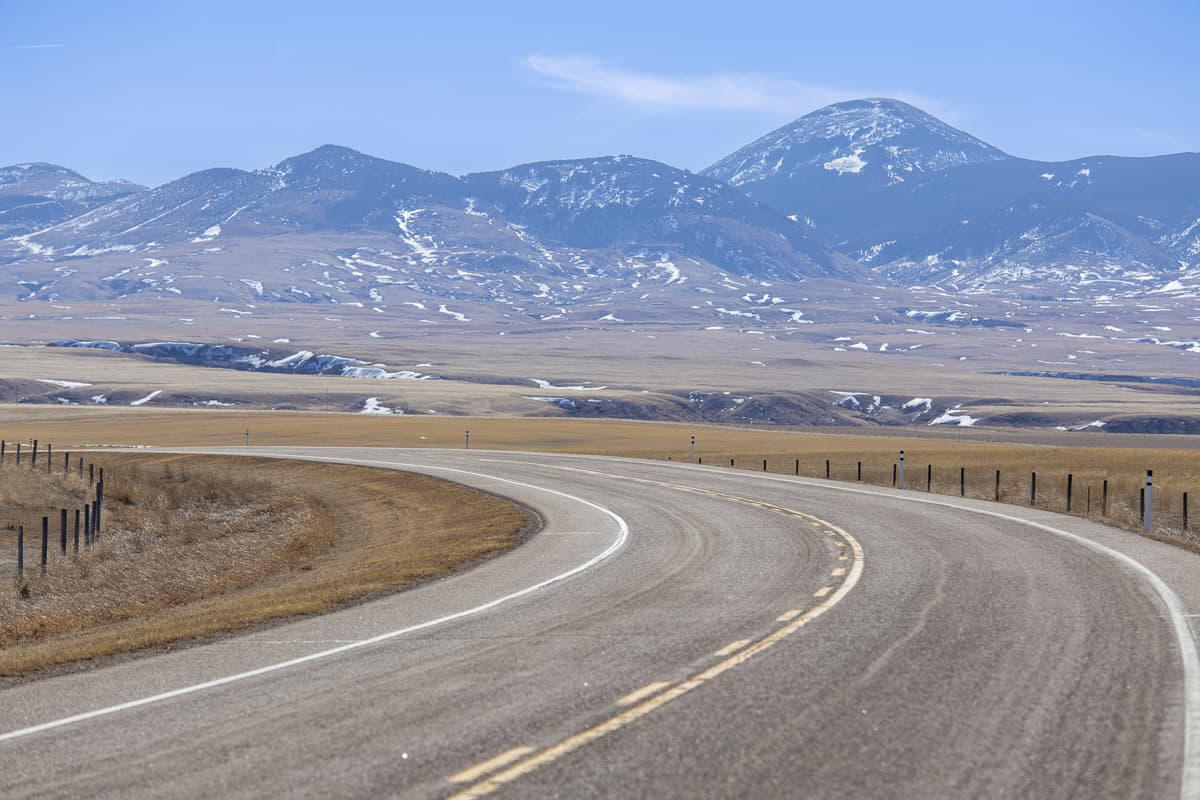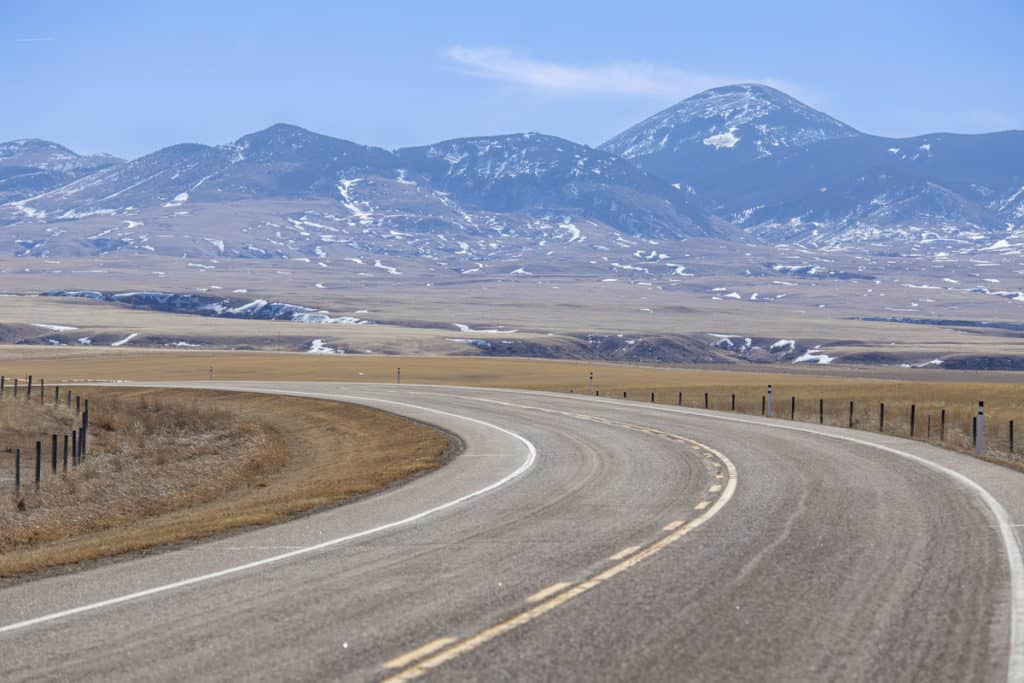 Unless you are camping at Writing-on-Stone (see below), then we suggest staying at one of the many accommodations in Lethbridge and making the drive southeast to the park as a day trip.
Camping at Writing-on-Stone Provincial Park
For those looking to soak up even more time in this unique park, there is a beautiful campground located within. This campground is maintained by Alberta Parks and includes amenities such as a small grocery/supply camp store, flush toilets, showers, a playground, sewage disposal, fire pits, and more.
The campground has 14 unserviced tent sites ($31 per night) and 47 serviced (15 or 30 amp) power sites ($39 per night). With plenty of trees and easy access to the beach, this campground provides a relaxing stay for families. The campground has a variety of activities and playgrounds that are easily accessible to entertain kids. Or it's a perfect spot amongst the Cottonwood trees to escape the city for a taste of wilderness.
The campground is open year-round, and given the relatively balmy temperatures, is an excellent place to try winter camping in Alberta.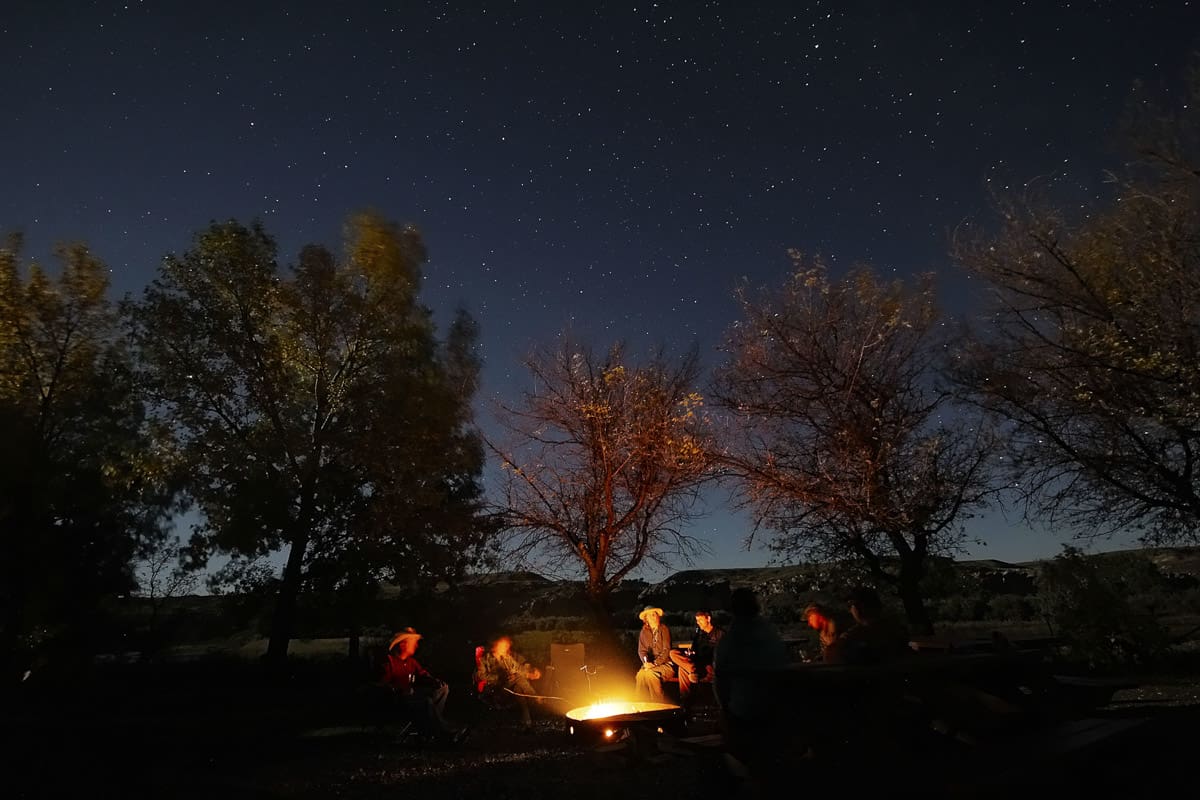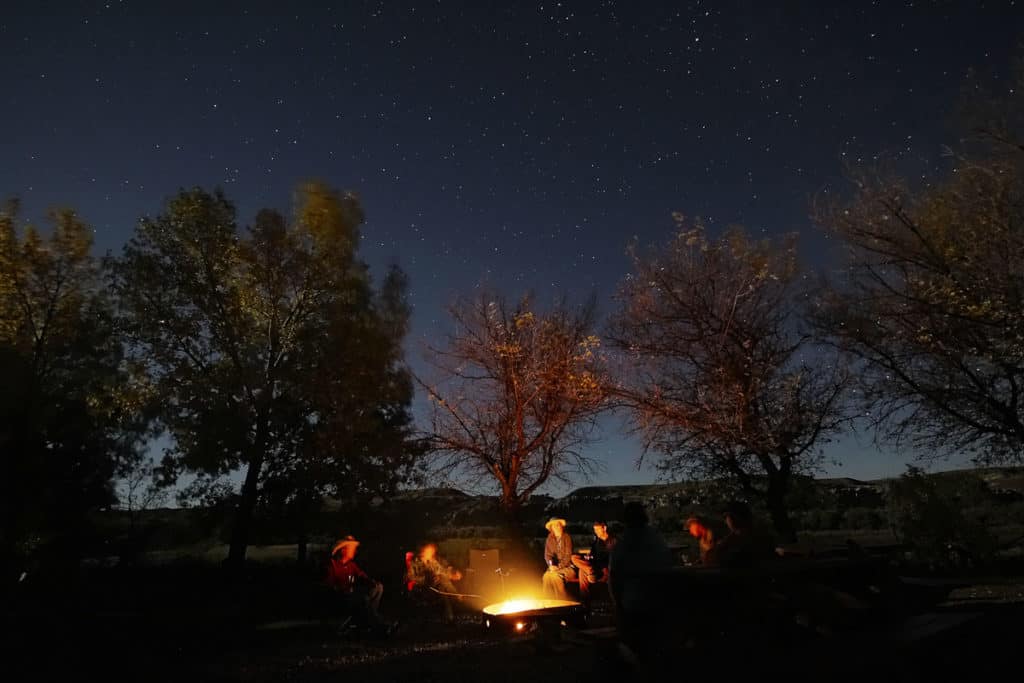 Additionally, if full-blown camping is not up your alley, Writing-on-Stone also offers comfort camping or "glamping"; the perfect way to get the rustic feel of camping while still having access to a real bed and electricity. There are three insulated cabins available ($125 per night), each with a private deck and sleeping accommodations for up to three people.
Reservations for camping at Writing-on-Stone Provincial Park campground are highly recommended via the Alberta Parks website.
Things to do at Writing-on-Stone Provincial Park in Summer
Hiking
One of the biggest draws to Writing-on-Stone Provincial Park is the unique hiking opportunities! People of all ages love to climb and explore the hoodoos; jumping from structure to structure and getting some selfies with an amazing backdrop.
Although there are some marked pathways that you can follow such as the Hoodoo Trail where you can see rock art that is open to the public and a reconstructed North-West Mounted Police (NWMP) outpost from 1889, getting lost and exploring is part of the appeal.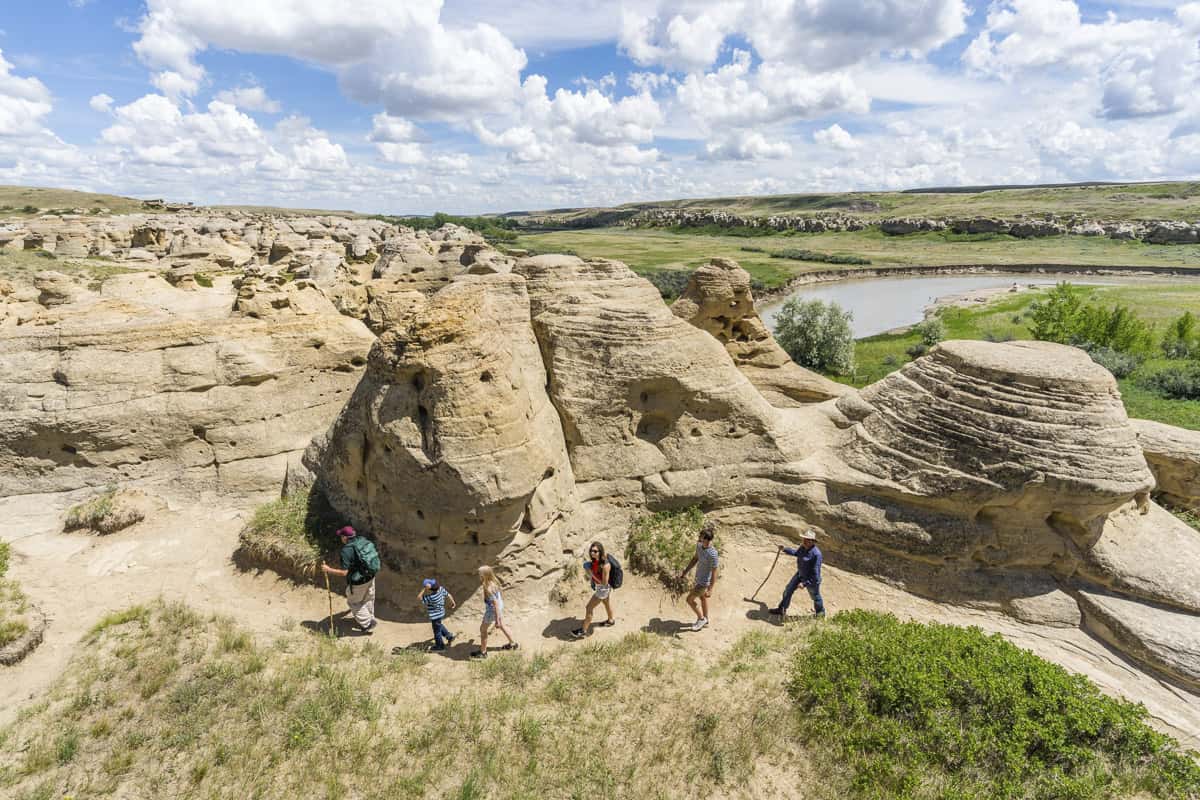 Please note that the hoodoos and trails are not wheelchair-friendly or easily accessible for those who have a hard time getting around. Proper footwear (ie: not flip flops) is recommended to not only ensure footing but also to protect against prairie rattlesnakes who are native to the area and love the dry hot summer temperatures and ample hiding coves the natural landscape provides.
Backcountry Hiking
There are excellent backcountry hiking options at Writing-on-Stone Provincial Park. We urge you to take extreme caution as connectivity is limited. The paths are unmarked and it also requires a river crossing the river (by foot) to hike in the unmarked "backcountry". There are even slot canyons (seriously!) that hikers can explore.
Maps are available at the Visitor Centre to ensure that you stay within the park boundaries.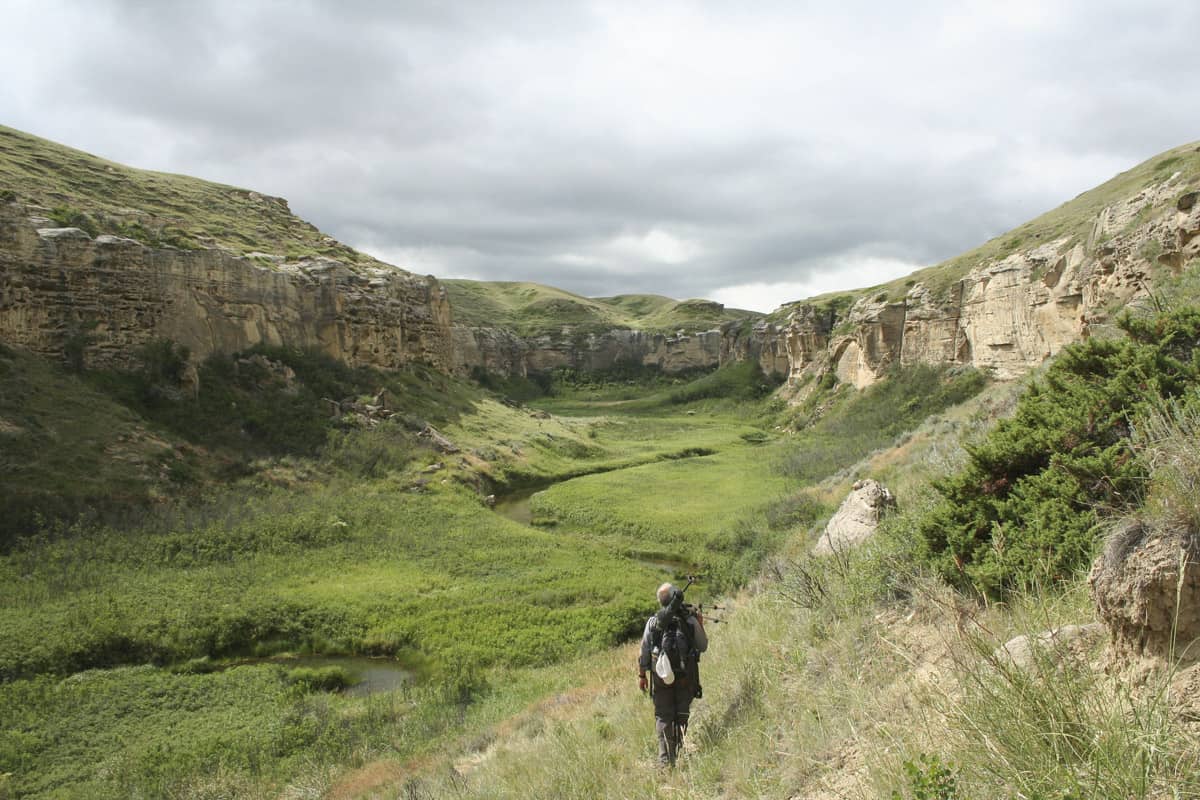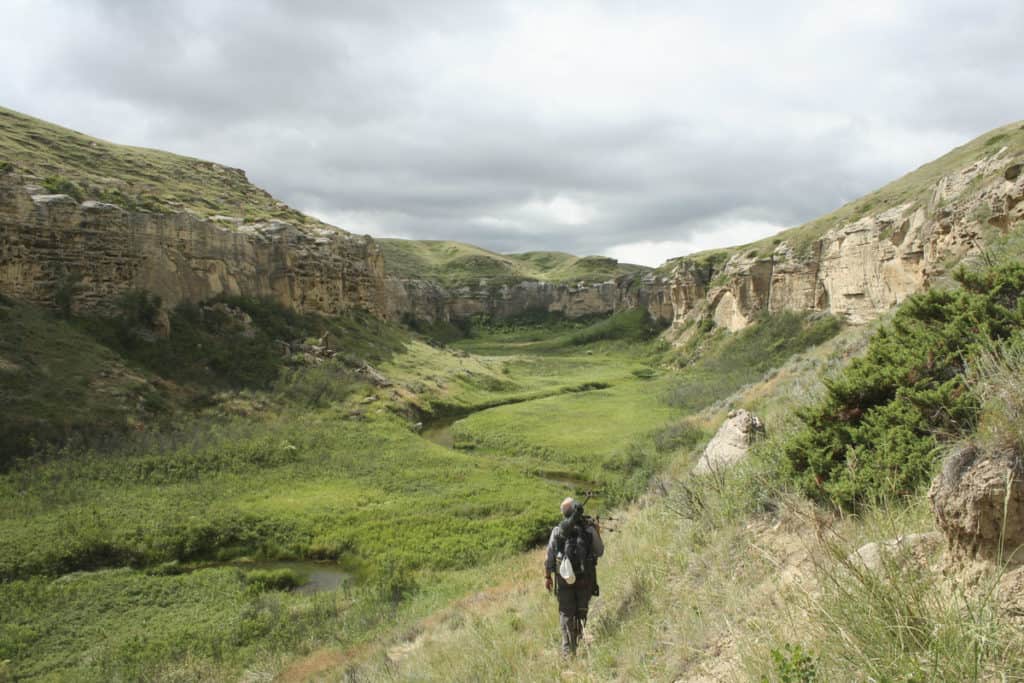 Enjoy the Beach
A happy surprise found at Writing-on-Stone that you don't find often in southern Alberta is a natural sandy beach! Along the bank of the Milk River, which is a tributary of the Missouri River, is a quaint beach that is perfect for playing, or used as an easy entrance into the water.
The river can flow quite fast at times and it is not monitored by lifeguards, so flotation devices (especially for children) are highly recommended. In the summer months, canoes, kayaks, and inner tubes are popular apparatuses for visitors to bring; letting the flowing river carry them throughout the park for an interesting perspective of the hoodoos.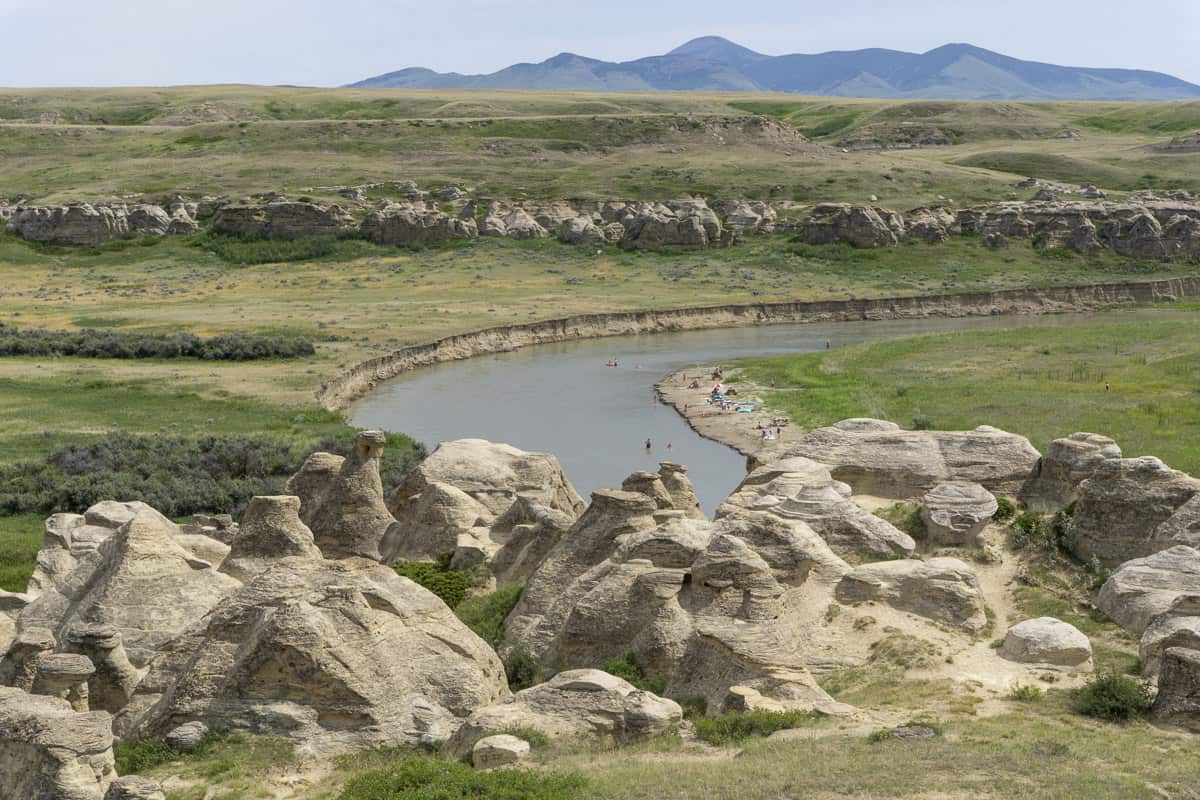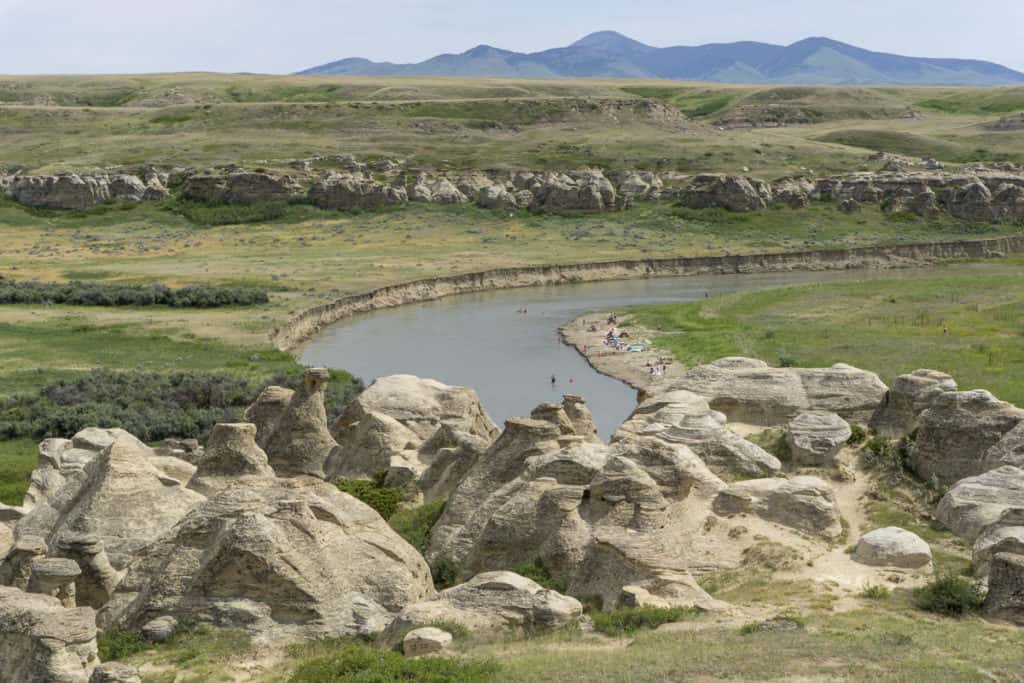 Rock Art Tour
Visiting Writing-on-Stone Provincial Park and not participating in a rock art tour led by an Alberta Parks guide is missing a huge component of why this sacred place is so significant. 
Beginning from the Visitor Information Centre, the tour starts on a bus that drives into a restricted area not otherwise available to the public. This is where the largest collection of pictographs and petroglyphs (rock paintings and rock carvings) are found. In fact, Writing-on-Stone Provincial Park is home to the largest concentration of Indigenous rock art in all of the North American Plains! This is a key factor as to why this archaeological preserve carries such special spiritual significance.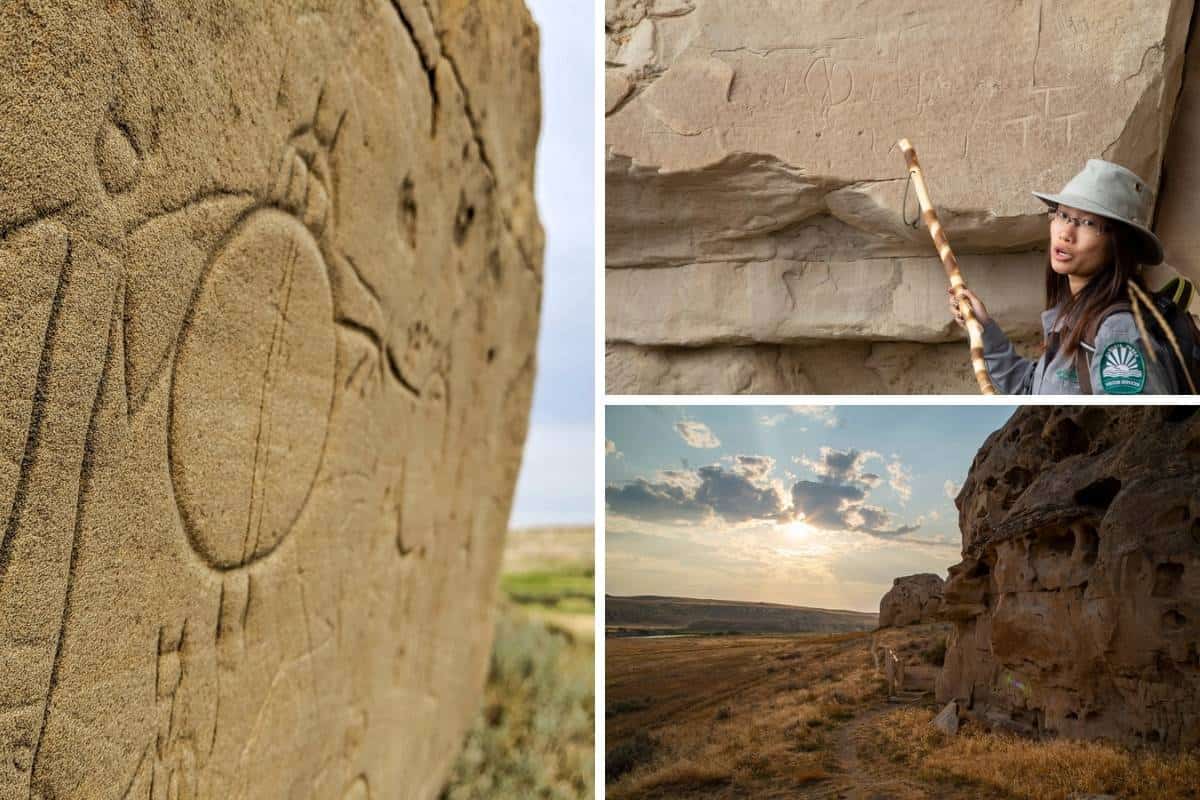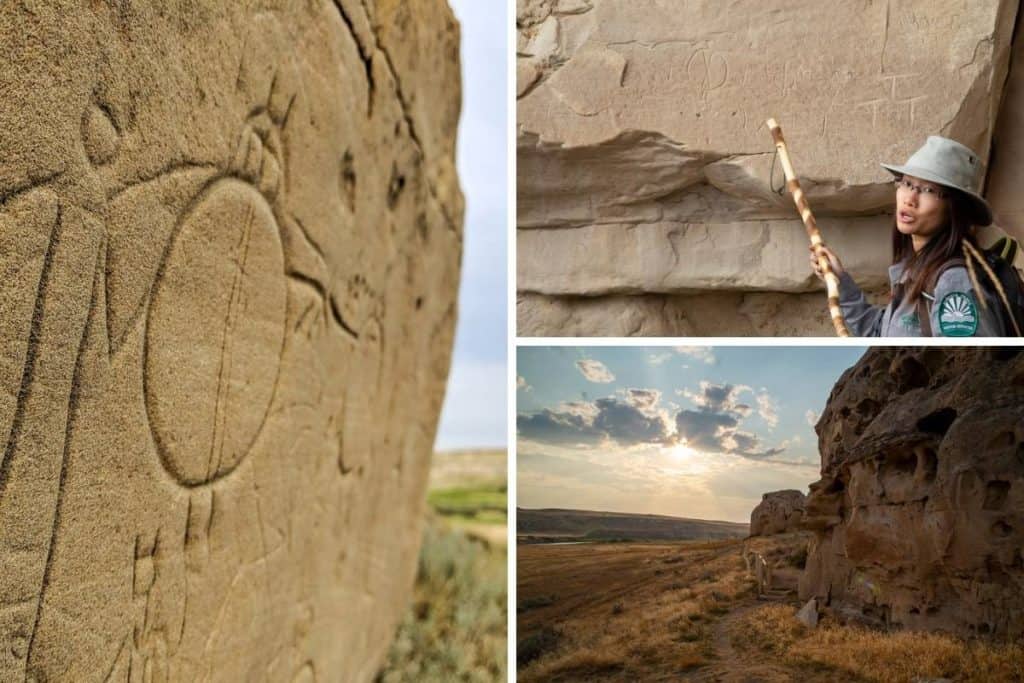 Most of the art was created over 3,000 years ago and each captures a glimpse of the world of those who created them. Watch along as the rock art evolves to reflect how changes occurred, notably with the arrival of Europeans, and later with the emergence of the North-West Mounted Police. In a very short timeframe, depictions of bow and arrows quickly changed into guns, and images of bison and horses sit alongside drawings of wheels with the arrival of the Ford Model T to the plains.
The Indigenous people carved and painted their world into the hoodoos in Writing-on-Stone Provincial Park, and hearing the interpretative tour puts the park in a more meaningful light. This Áísínai'pi National Historic Site is much more than just geological structures to climb – it is a deeply spiritual place full of stories and traditions of the past.
Reservations for the Rock Art tour are required and booking begins in February.
Writing-on-Stone Provincial Park Visitor's Centre
Updated in 2007, the Visitor Centre at Writing-on-Stone hosts displays to tell the story of the area. Found both in and outside the building, they showcase topics such as geology, history, culture, archeology, and nature found in the area. The Writing-on-Stone Visitor Information Centre is a fantastic resource to explore before setting off on a hiking or camping adventure.
Note that the centre is seasonally closed from mid-October to mid-May.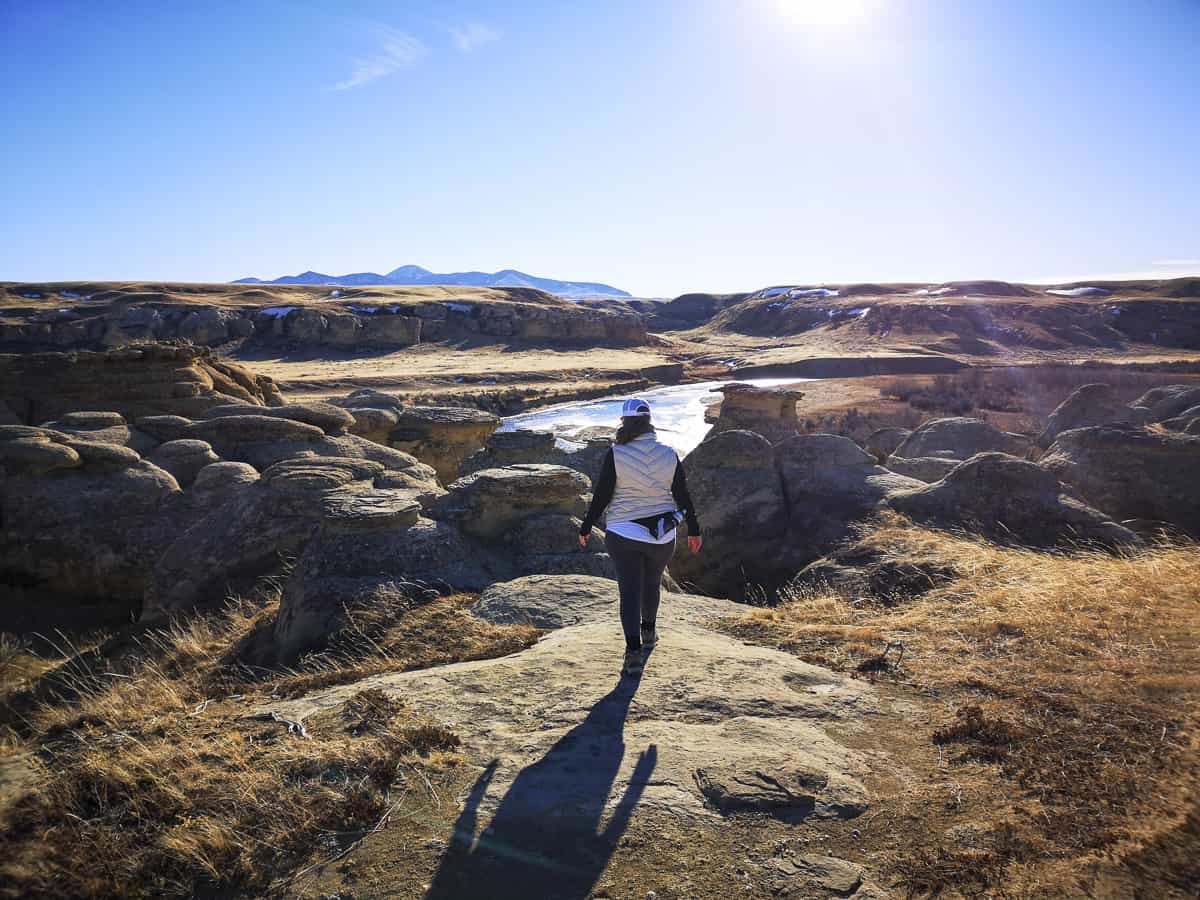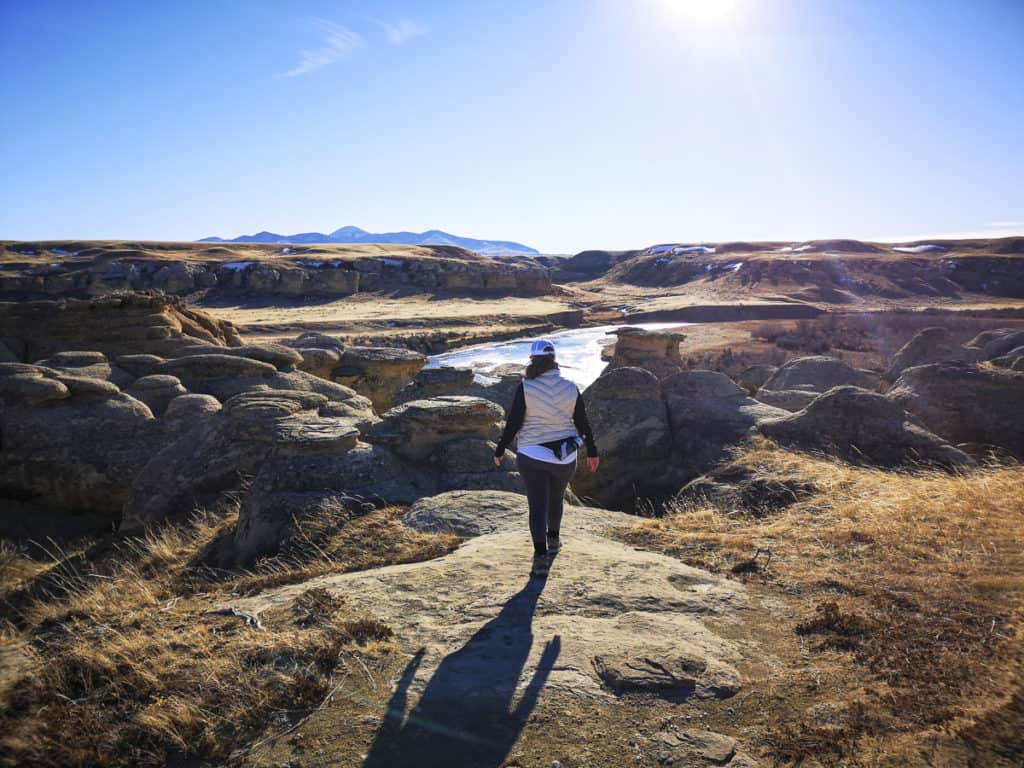 Wildlife Viewing
Writing-on-Stone Provincial Park is one of the largest areas of protected prairie in the Alberta Parks system and serves as both a nature preserve and protection for many at-risk animal species.
A unique combination of geographical factors contributes to the biodiversity and you can expect to see: pronghorn antelope, prairie rattlesnakes, northern leopard frogs, two-tailed swallowtail butterflies, ferruginous hawks, plains spadefoot toads, beavers, and many more. Writing-on-Stone is home to a number of significant bird species, so birding is also a popular activity.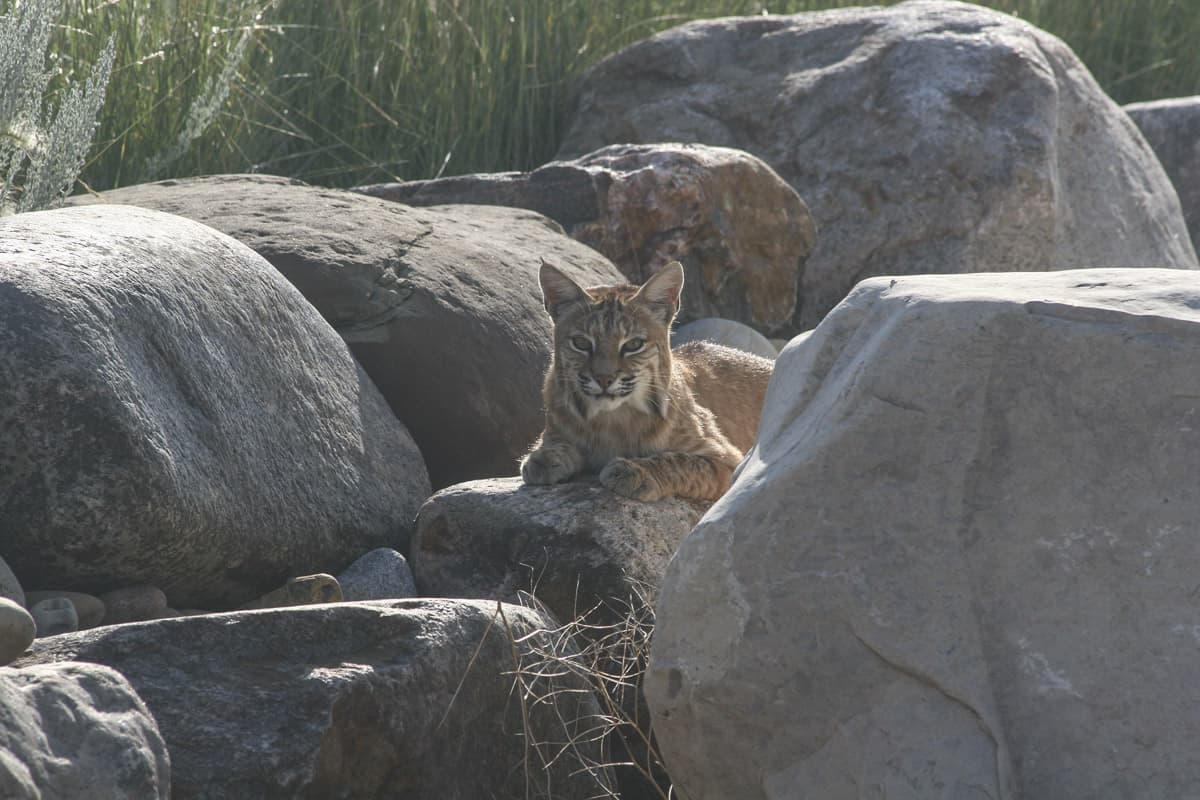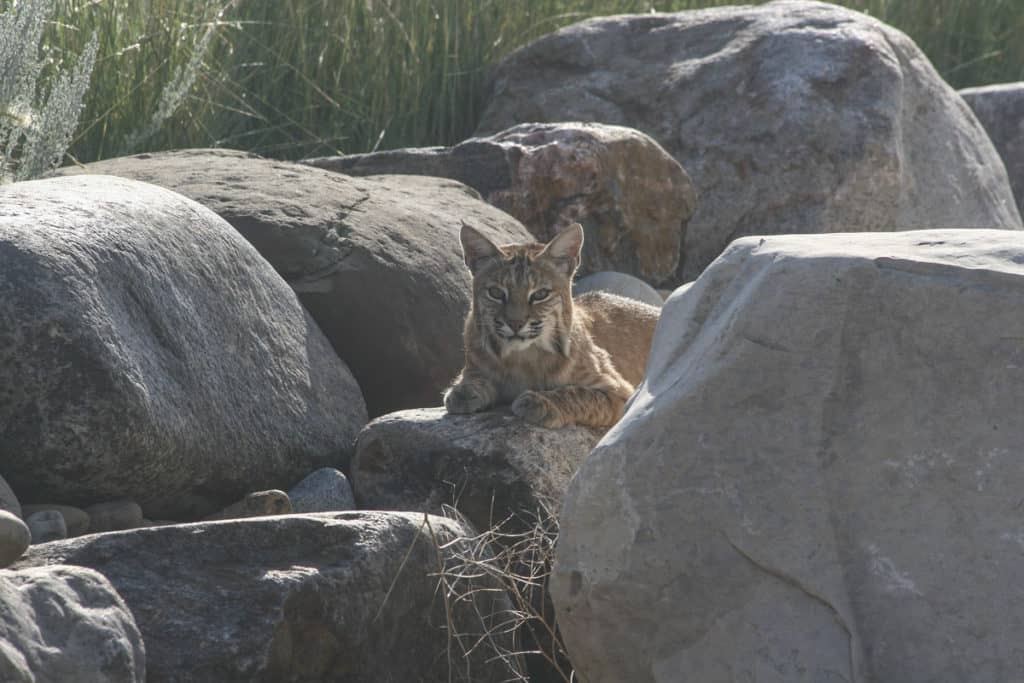 Besides the abundant and varied wildlife, it is important to also mention the unique flora and fauna found in Writing-on-Stone. This includes nearly 400 flowering plant species, and over 80 species that are uncommon or rare in Alberta found within the park.
Whatever you decide to do during a summer excursion, just note that Writing-on-Stone Provincial Park is quite isolated so remember to bring food, lots of water, sunscreen, and bug spray, and it would be handy to have a first-aid kit available just in case of emergencies. 
A Note About Rattlesnake Safety
Some people are deterred from visiting this part of the province because of the presence of prairie rattlesnakes. While a rattlesnake bite is very rarely fatal, it can certainly be uncomfortable. They generally emerge from hibernation in early spring (April), and then return to hibernation in September or October.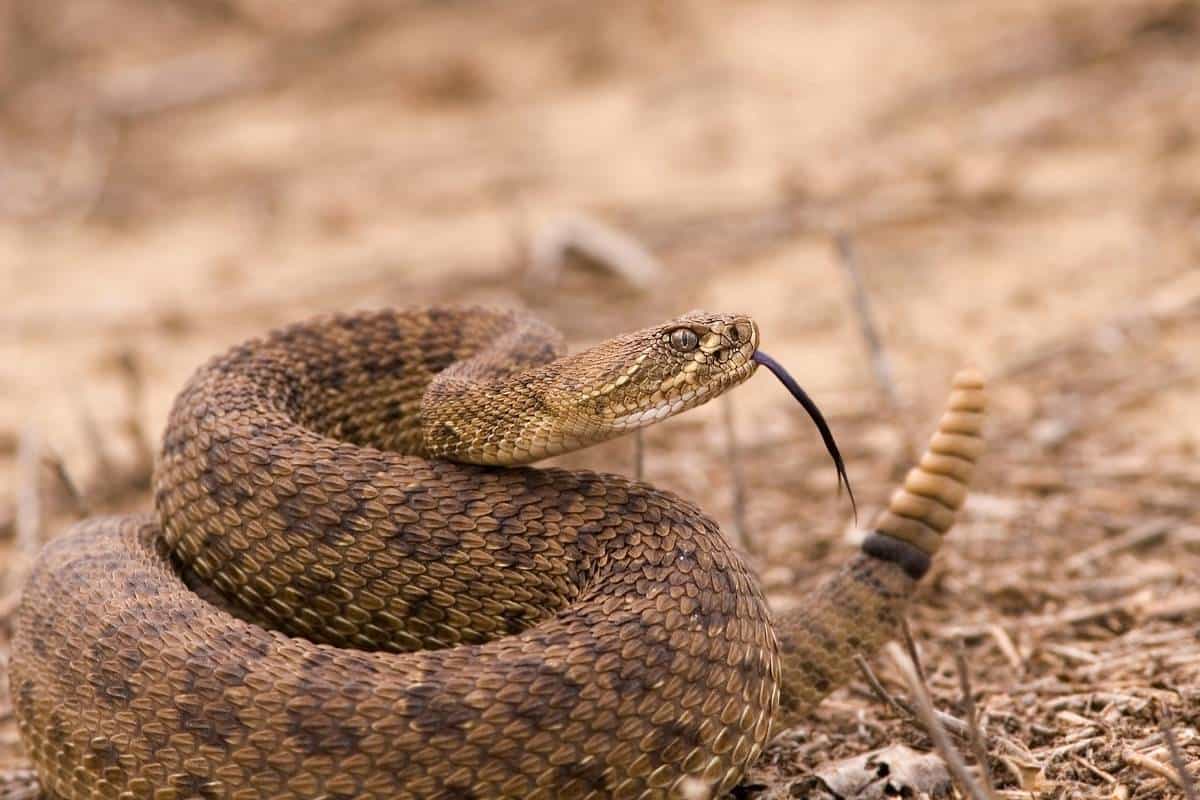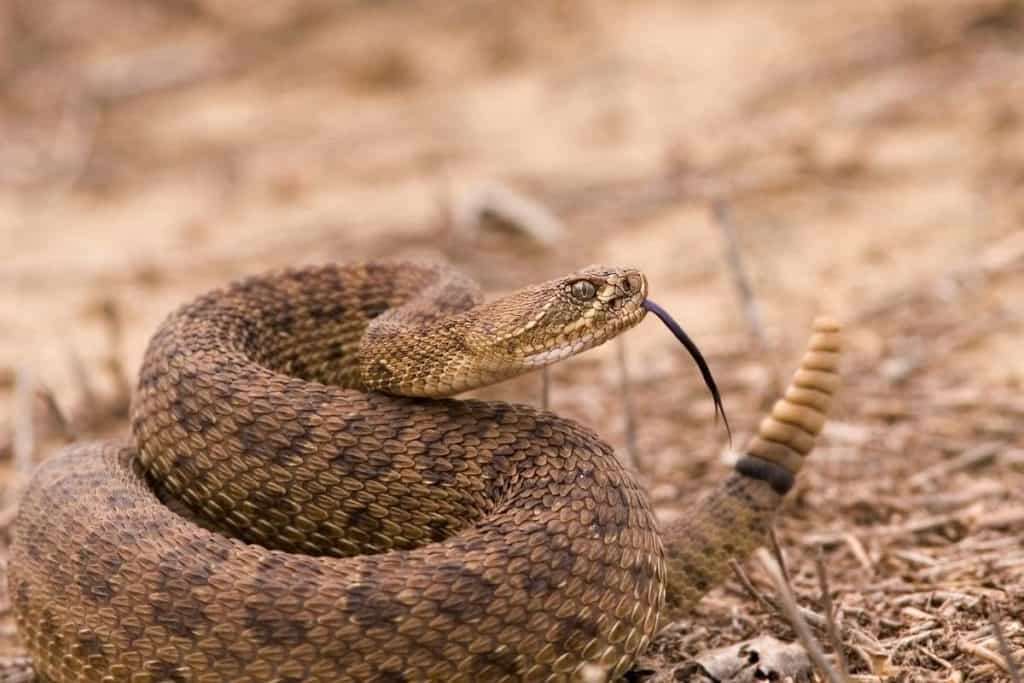 As frequent visitors to the park, we have only encountered a rattlesnake once, and he let his presence be known (by using his famous rattle!) well before we got too close. And this is an important point about rattlesnakes: they will only attack if provoked or surprised. Thus, in order to avoid any painful encounters, it is important to:
Pay attention to your surroundings, and listen for a rattle (it should be fairly loud).
Stick to established trails, which are typically sandy. With no grass or brush to hide in, if a snake is sunning itself on the trail, it will be easy to see and avoid.
Wear proper shoes so that your feet may be protected in a chance encounter.
For more safety tips, read this.
Things to do at Writing-on-Stone Provincial Park in Winter
The Visitor Centre is closed in the off-season, thus the rock art tours are not available, but Writing-on-Stone is still well worth a visit in the snow! For one, the views of the snow-capped hoodoos are incredible. For two, there will be far fewer people visiting and you can enjoy the serenity of this sacred landscape all to yourself.
Also in the winter months, the hiking opportunities are ripe for exploring! Winter hiking also means the absence of bugs, wasps, rattlesnakes, overcrowding, and heat exhaustion that runs rampant during the summer months. A reminder that the park is quite isolated and all the amenities are significantly scaled back in the winter months, not to mention that cell phone service is quite spotty in most areas of the park.
As with any other hiking day, please prepare for your visit, including ensuring that you tell somewhere where you are going and an estimated time of return.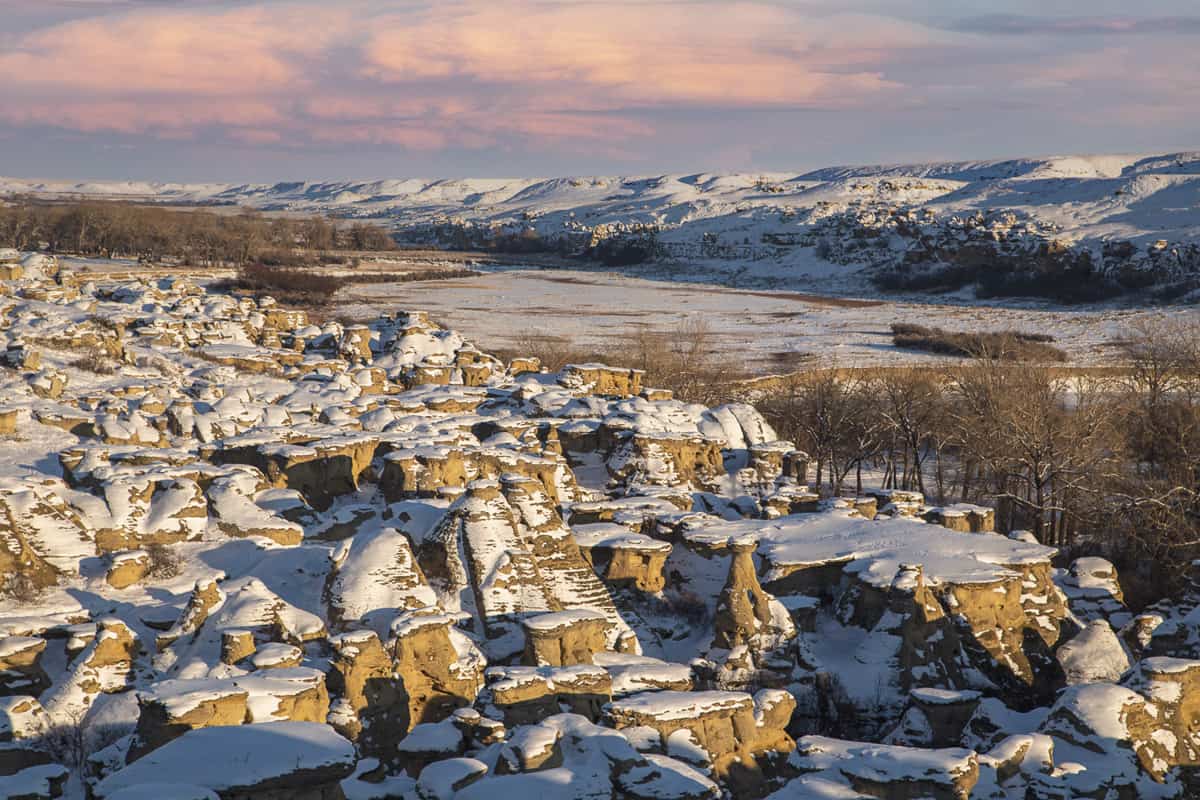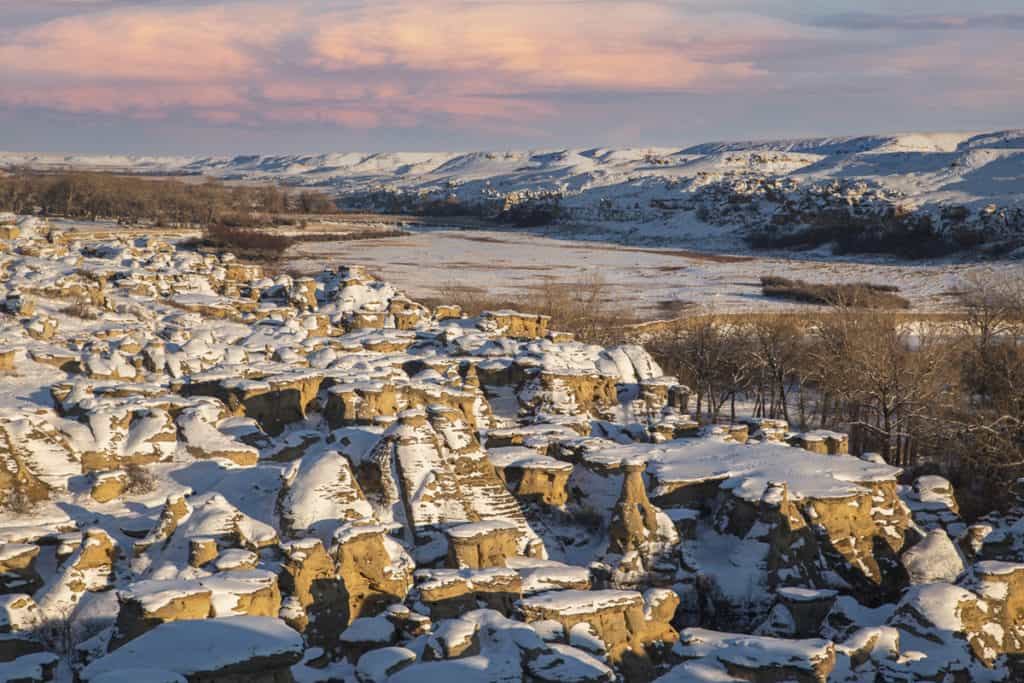 What are you waiting for?
With one visit to Writing-on-Stone Provincial Park, it will be easy to see why it was declared a UNESCO World Heritage Site! With its remarkable cultural history and the breathtaking topography that is frankly out of this world, it is a treasure in southern Alberta that must not be missed.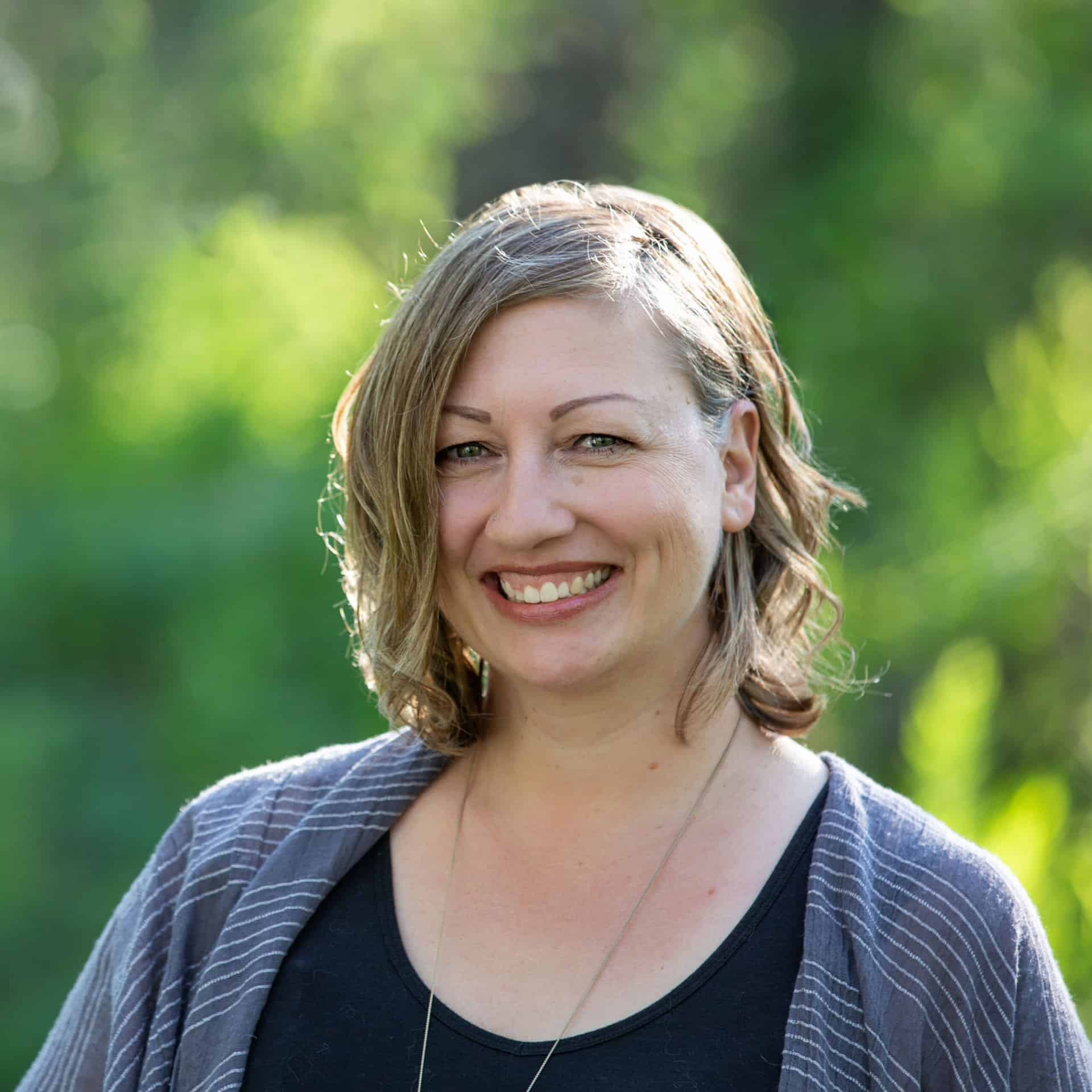 Dalene Heck is a co-founder of Road Trip Alberta. She was born in Edmonton, grew up in the Peace Country, and has ventured to almost every corner of Alberta and the world (she's travelled to 60 countries)! She is a serial blogger, the CEO of HMI Marketing, co-creator of the Trip Chaser card game, a leukemia-slayer, and cat whisperer.