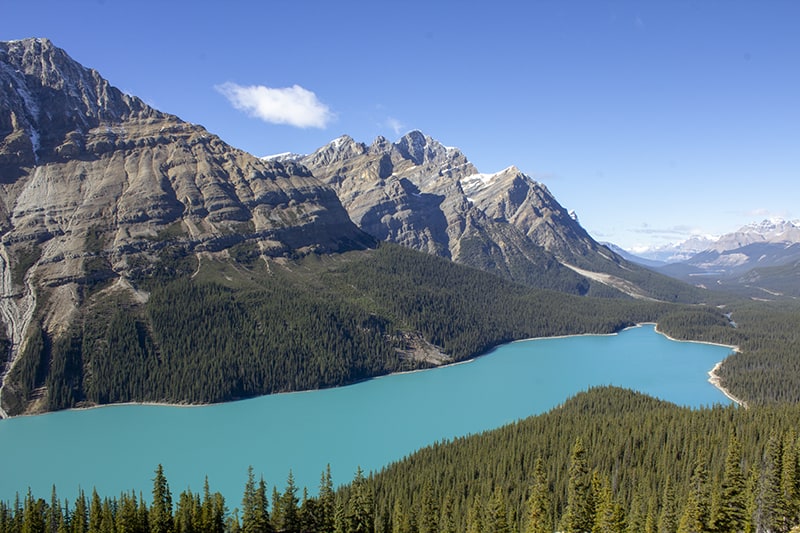 Compiled by the Road Trip Alberta team
Updated June 17, 2020
Alberta is a province that possesses immeasurable beauty seen while cruising the highways. The stretch from Banff to Jasper (or in the reverse, from Jasper to Banff!) might just be the corridor that tops it all. Otherwise known as the Icefields Parkway, it ranks as one of the most beautiful drives in the world and it makes for an ultimate Canadian Rockies road trip.
The Icefields Parkway stretches for 288km and driving should take no more than 4 hours in good weather. But we would never recommend driving it in a straight shot. There are so many things to see along the way that a whole day should be set aside for this drive. Don't want to drive? There are also plenty of tour companies that drive that route so that you can just kick back and enjoy the views. Make sure to check into their scheduled stops though, so that you'll get to see exactly what you want. Don't miss a thing on this once-in-a-lifetime drive!
Be forewarned though, that because this road is right in the mountains, it is susceptible to inhospitable weather, and even frequent closures during winter. If driving, it is important to be properly equipped. In the winter your vehicle will require mandatory winter tires and keep your eye on road reports before you set out. If you're taking a tour or are riding with someone else, build some flexibility into your plans just in case.
About the Route
Taking the AB-93 North, the total distance from Banff to Jasper is 288km. Breaking that up – the distance from Banff to Lake Louise (a MUST stop along the way) is 57km and the distance from Lake Louise to Jasper is 233km. Overall, the trip should take close to 4 hours if driving with minimal stops.
Fun fact: it used to take three weeks to make the trip by horse!
You will need a National Park Pass for the Icefields Parkway! You can buy the pass at the park gates or order it in advance online.
Current daily fees are:
Adult [18-64 years old] $10.00
Senior [65+ years old] $8.40
Youth [6-17 years old] FREE
Family [Up to 7ppl in a single vehicle] $20.00
Commercial Group (per person) $8.40
The daily passes expire at 4 pm the following day. If you're looking to enter multiple times – try the Discovery Pass! It gives you unlimited admission for a year. Fees are as follows:
Adult $69.19
Senior $59.17
Youth FREE
Family/Group $139.40
For more information, visit the Parks Canada website.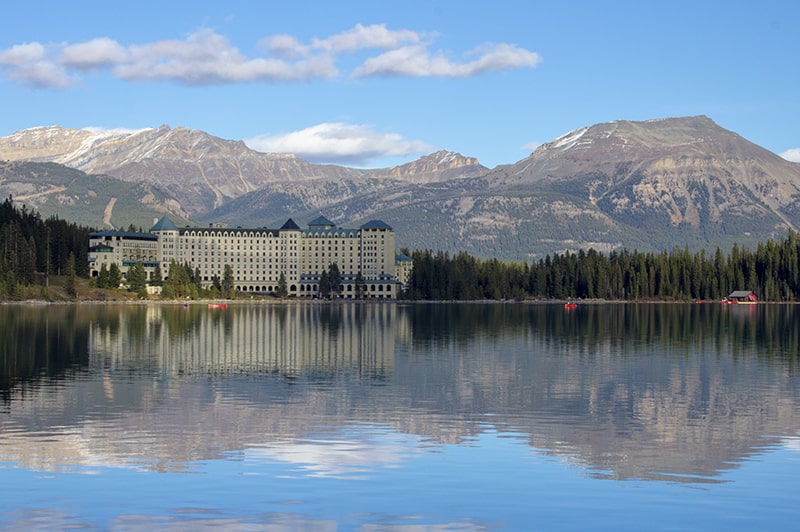 Banff to Jasper by Car
Take your Banff to Jasper experience into your own hands by driving yourself on this scenic route! Before departing from either Jasper or Banff, make sure to check the Icefields Parkway road conditions before getting in the car. Curate your road trip ahead of time so that you know exactly what you want to see and do along the way.
While driving, be sure to pay close attention to the stretch between Lake Louise to Jasper as the potential wildlife sightings are plentiful. If you do see wildlife and want to take a picture, we recommend finding a safe place to pull over to do so. No need to cause unnecessary accidents due to a sudden stop on the highway!
Note that there is only one gas station along the Icefields Parkway – at the Saskatchewan Crossing (almost exactly half-way between Banff and Jasper) – so make sure you top up your tank before the drive. Plan for food because the only food-stops are in Saskatchewan Crossing, the Icefields Visitor Center, and the Sunwapta Falls Resort. Packing your own meals and snacks is recommended.
The most common direction is to leave from Banff and drive to Jasper. If you took a shuttle from Calgary to Banff and require a rental car, there are a few car rental companies in Banff to choose from:
We recommend booking via RentalCars.com, to select the cheapest rate or to book with whichever company you prefer.
Banff to Jasper by Private Transfer
Sit back and relax in the comfort of a private vehicle with an experienced driver at the wheel, and enjoy one of the most scenic drives of your life.
Banff to Jasper by private transfer ensures the most leisurely and relaxed way to get between the two National Parks. The perk of this option as well is that you have a built-in guide to explain points of interest during your journey. The options mentioned below also work in reverse from Jasper to Banff.
SunDog Tours offers a private journey option for sedan, SUV, and shuttle rates between Banff and Jasper depending on the size of your group.
Banff Tours has different options of vehicles based on group size with a capacity of up to 24 people and you can customize your itinerary as much as you please.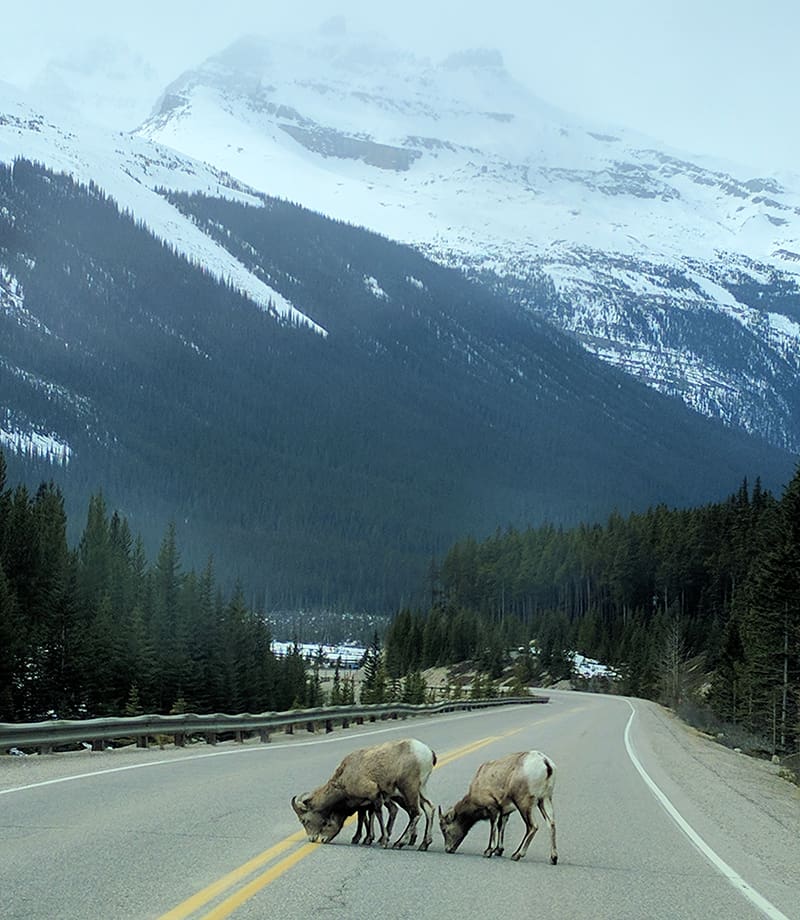 Banff to Jasper by Bus
By far the best way to experience the Banff to Jasper drive would be as a passenger! Taking a bus from Banff to Jasper (or vice versa!) is highly recommended to really soak in the sights. Here are some options:
Banff to Jasper by Train
Unfortunately, there is no direct train that goes just between Banff and Jasper. However, there are many train options that include the Icefields Parkway in their itinerary but are part of a bigger multi-day route. Some examples are:
Canada By Design Icefield Discovery – Tour leaves from either Vancouver or Calgary and explores the landscapes of western Canada including time in Jasper National Park and Banff National Park.
Rocky Mountaineer has multiple options of routes that include Jasper National Park and Banff National Park.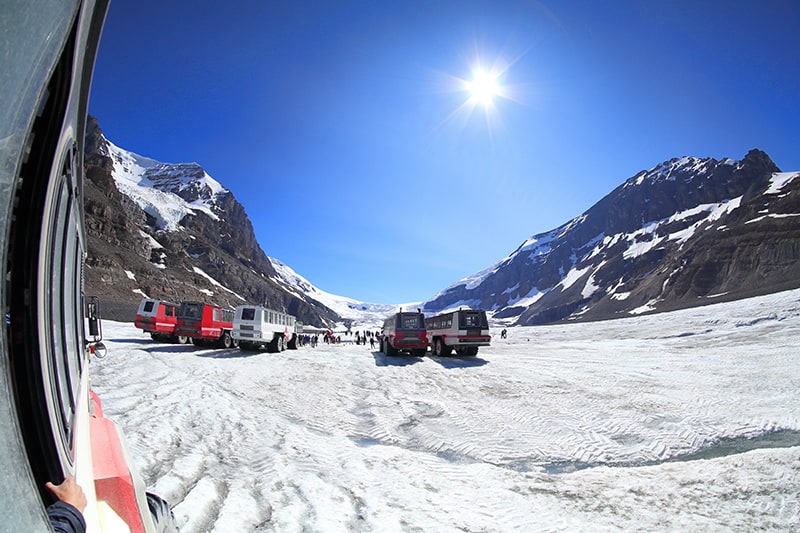 With the number of rideshare options nowadays, finding a ride from Banff to Jasper can be as simple as searching for a ride on Kijiji with your dates. However, with the complexity of the roads, it may be useful to use a rideshare option that allows you to read reviews on the drivers to ensure that the skill level is adequate to comfortably travel between Banff and Jasper. With Uber not currently available in the parks at this time, there is one option that allows you to see driver reviews before booking:
Poparide.com – There are options to select your driver based on your luggage and equipment requirements if you are traveling with skis, bikes, etc. Poparide charges per seat so you have an opportunity to meet other visitors if you are traveling solo between the parks. Prices vary depending on the day but the average is between $25-44 CAD.
Fun Things to do Along the Way
Taking the Icefields Parkway is all about the beautiful stops and sights – buckle in because this list is a long one. Here are some of the many fun things to do along the way, told in order from Banff to Jasper (just reverse the list if starting the other way!):
Vermillion Lakes (2km from Banff, 286km from Jasper) – Just 5min west of the Banff townsite are the stunning Vermilion Lakes. Enjoy views of Mount Rundle as it towers over. The area also has a short 2km boardwalk loop – a great way to stretch your legs before a long drive. Hit it at sunrise for some spectacular shots of the sun breaking over the ridgeline.
Johnston Canyon (25km from Banff, 263km from Jasper) – This is a popular day hike from Banff for good reason. Well maintained trails and catwalks take you right into the canyon and to two impressive waterfalls. The return trip is up to 2.5 hours, so note that this will eat up a good chunk of your driving day (but is well worth it).
Lake Louise (57km from Banff, 231km from Jasper) – This just might be your most memorable stop along the way. Admire the beautiful, impossibly blue lake and the mountains towering above. Go up the Lake Louise Gondola or go on a guided Lake Louise hike for prime mountain views. There are opportunities for dining, hiking, easy walks, and good ol' sight-seeing! It is one of the best places to spot wild grizzly bears too. The Wildlife Interpretive Centre at the top of the gondola offers interactive presentations, guided hikes and more for guests.
If you've got the time, we highly recommend at least one overnight stay at the historic Fairmont Chateau Lake Louise as well. It is another once-in-a-lifetime experience that will also allow you to fully appreciate all there is to do in the area.
Bow Glacier Falls/ Num-Ti-Jah Lodge (95km from Banff, 193km from Jasper) – This picturesque lodge (update that the lodge is closed for the 2020 season and will reopen May 2021) on the shores of Bow Lake is a center for storytelling in the Rockies. It is a hub for hiking and sightseeing with Bow Lake, Bow Glacier Falls and Peyto Lake nearby. The lodge has a restaurant with hearty food to enjoy too.
Bow Summit/Peyto Lake (100km from Banff, 188km from Jasper) – This is a perfect day hike to take while touring the Icefields Parkway! The return time on the Summit Lookout is only 2.5 hours. This easy hike is 40km North of Lake Louise and offers a gorgeous view of Peyto Lake.
Columbia Icefields (185km from Banff, 103km from Jasper) – This is one of Canada's most impressive sights as it is the largest icefield in the Canadian Rockies. If you're looking to get up-close and personal – take a tour to walk right on the Athabasca glacier, and/or visit the Icefield Skywalk. The glass-floored lookout and interpretive walk takes you through the story of the Icefields and gives you a unique perspective on the Sunwapta Valley. (Note that you will save money if you book in advance, and book both experiences together!) There are two dining options at this stop – one casual and one fancier, local-dining experience.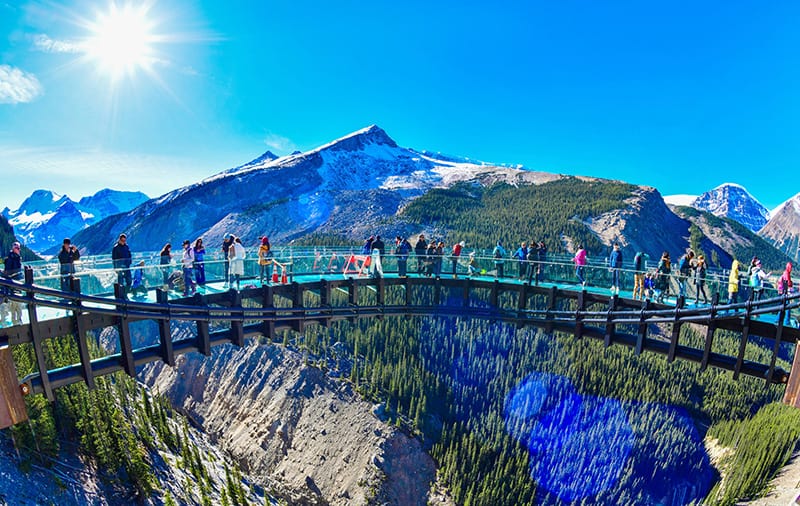 Sunwapta Falls (234km from Banff, 54 from Jasper) – Fed by the Athabasca Glacier, the Sunwapta Falls is a stunning place to stop. This site is good for a quick stop – the upper falls can be viewed from the viewpoint parking lot – or a long one! There are opportunities for white-water rafting, hiking and staying overnight.
Upon Arrival
You made it!
If you would like more information useful on local attractions, check out our Banff destination guide and Jasper destination guide, but you can also pay a visit to the visitor centres in each town:
Jasper Visitor Center at 500 Connaught Drive.
Banff Visitor Centre at 224 Banff Ave.
Banff Visitor Information Kiosk at the Banff Railway Station
Where to Stay in Jasper
We've published an entire guide for accommodations in Jasper, but if you just want to peruse a few quick options, we have our top picks below:
Where to Stay in Banff
Need some help planning your itinerary? Check out our guides for all the things to do while visiting Banff or Jasper.
ALSO, don't forget that while you're on the road, you can download our FREE Road Trip Alberta bingo cards, to make it just that much more fun!
Pin me!