Disclaimer: This page may contain affiliate links. Please review our full Terms and Conditions for more information and our Privacy Policy. Note that any pricing, operating hours, or other such information provided below may have changed since initial publication.
Compiled by the Road Trip Alberta team
Last updated on June 29, 2023
Alberta is a province that possesses immeasurable beauty seen while cruising the highways. The stretch from Banff to Jasper (or in the reverse, from Jasper to Banff!) might just be the corridor that tops it all. Otherwise known as the Icefields Parkway, it ranks as one of the most beautiful drives in the world and it makes for an ultimate Canadian Rockies road trip. It's no wonder we include it on our list of the best things to do in Alberta!
The Icefields Parkway stretches for 288 km and driving should take no more than 4 hours in good weather. But we would never recommend driving it in a straight shot. There are so many things to see along the way that a whole day should be set aside for this drive. Don't want to drive? You can also get a one-way (or return) tour so that you can just kick back and enjoy the views. (Make sure to check into their scheduled stops though, so that you'll get to see exactly what you want.) Don't miss a thing on this once-in-a-lifetime drive!
Be forewarned though, that because this road is right in the mountains, it is susceptible to inhospitable weather, and even frequent closures during winter. If driving, it is important to be properly equipped. In the winter your vehicle will require mandatory winter tires and keep your eye on road reports before you set out. If you're taking a tour or are riding with someone else, build some flexibility into your plans just in case.
About the Route
Taking the AB-93 North, the total distance from Banff to Jasper is 288 km. Breaking that up – the distance from Banff to Lake Louise (a MUST stop along the way) is 57 km and the distance from Lake Louise to Jasper is 233 km. Overall, the trip should take close to 4 hours if driving with minimal stops.
Note that you will need a National Park Pass for the Icefields Parkway! You can buy the pass at the park gates or order it in advance online.
Effective January 1, 2023 daily fees are:
Adult: $10.50
Senior: $9.00
Youth (up to 17 yo): FREE
Family/group (up to 7 people): $21.00
Commercial group (per person): $9.00
The daily passes expire at 4 pm the following day. If you're looking to enter multiple times or staying longer, consider the Parks Canada Discovery Pass. It gives you unlimited admission for a year to all the national parks in Canada.
Discovery Pass fees are as follows:
Adult: $72.25
Senior: $61.75
Family/group: $145.25
For more information, visit the Parks Canada website.
Fun fact: it used to take three weeks to make the trip by horse!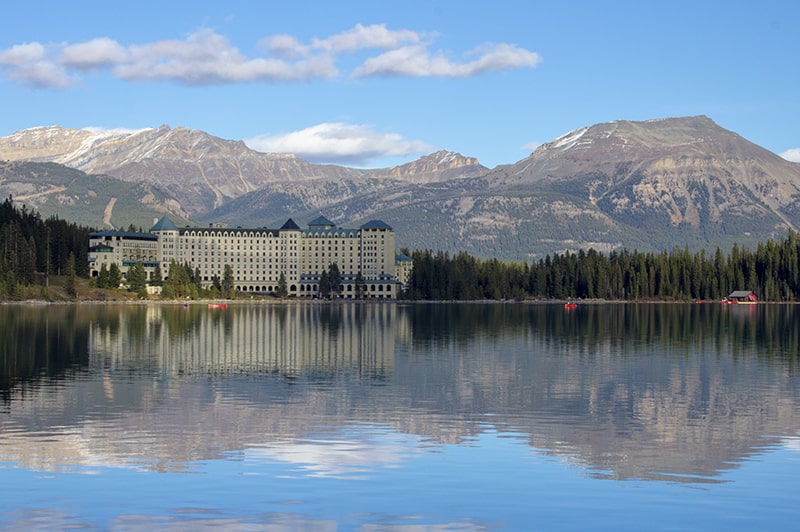 Take the guesswork out of planning your Alberta trip!
We now offer two ways to help ease the burden of travel planning:
We've developed ebook itineraries and travel guides for hot Alberta destinations and for a variety of 7-day trips. For one low price, you'll get local travel advice that you WON'T find elsewhere!
Want a custom trip tailored exactly to your needs? We are pleased to also offer a custom service for planning your Alberta vacation.
Banff to Jasper by Car
Take your Banff to Jasper experience into your own hands by driving yourself on this scenic route! Before departing from either Jasper or Banff, make sure to check the Icefields Parkway road conditions before getting in the car. Curate your road trip ahead of time so that you know exactly what you want to see and do along the way.
Tip: If you are driving the Icefields Parkway in winter (between November 1 and March 31) or any other period during which the highways are snow-covered, winter tires or chains are mandatory and required by law .
While driving, be sure to pay close attention to the stretch between Lake Louise to Jasper as the potential wildlife sightings are plentiful. If you do see wildlife and want to take a picture, we recommend finding a safe place to pull over to do so. No need to cause unnecessary accidents due to a sudden stop on the highway!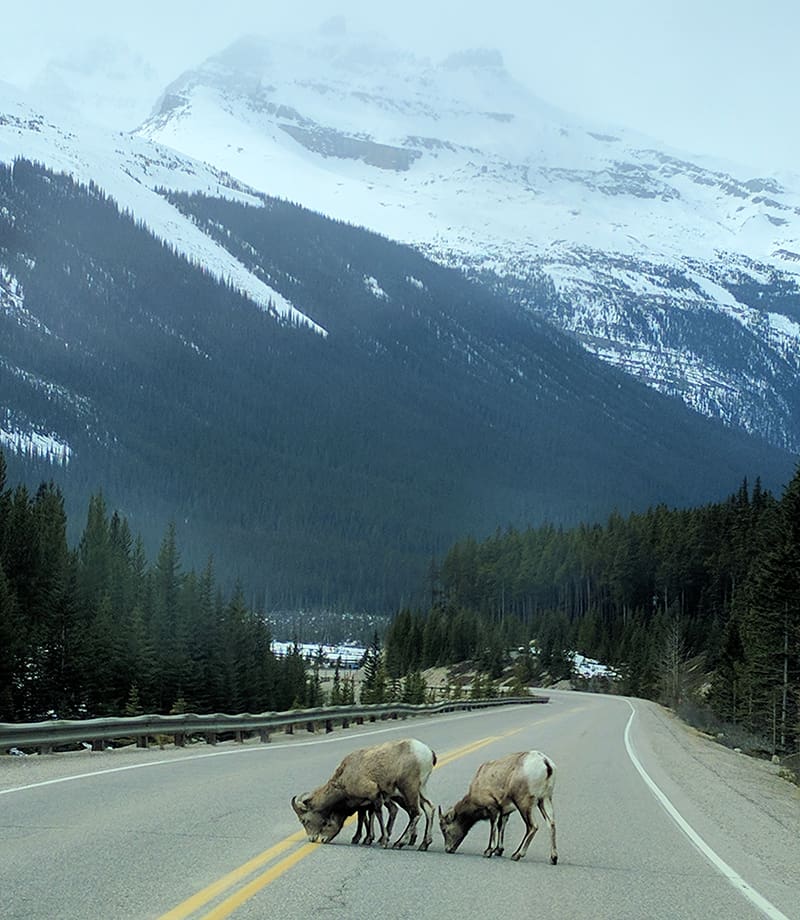 Note that there is only one gas station along the Icefields Parkway – at the Saskatchewan Crossing (almost exactly halfway between Banff and Jasper) – so make sure you top up your tank before the drive. Plan for food because the only food stops are in Saskatchewan Crossing, the Icefields Visitor Center, and the Sunwapta Falls Resort. Packing your own meals and snacks is recommended.
The most common direction is to leave from Banff and drive to Jasper. If you took a shuttle from Calgary to Banff and require a rental car, there are a few car rental companies in Banff to choose from:
We recommend booking via RentalCars.com, to select the cheapest rate or to book with whichever company you prefer.
Banff to Jasper by Tour
We'd hate for you to spend all that time behind the wheel without really appreciating the scenery around you! If you are in Banff without your own wheels and need to get to Jasper, consider this one-way tour that lets you enjoy the sights but will also stop for the Columbia Icefields along the way (you won't get that with a regular transfer).
Banff to Jasper by Private Transfer
Sit back and relax in the comfort of a private vehicle with an experienced driver at the wheel, and enjoy one of the most scenic drives of your life.
Banff to Jasper by private transfer ensures the most leisurely and relaxed way to get between the two National Parks. The perk of this option as well is that you have a built-in guide to explain points of interest during your journey. The options mentioned below also work in reverse from Jasper to Banff.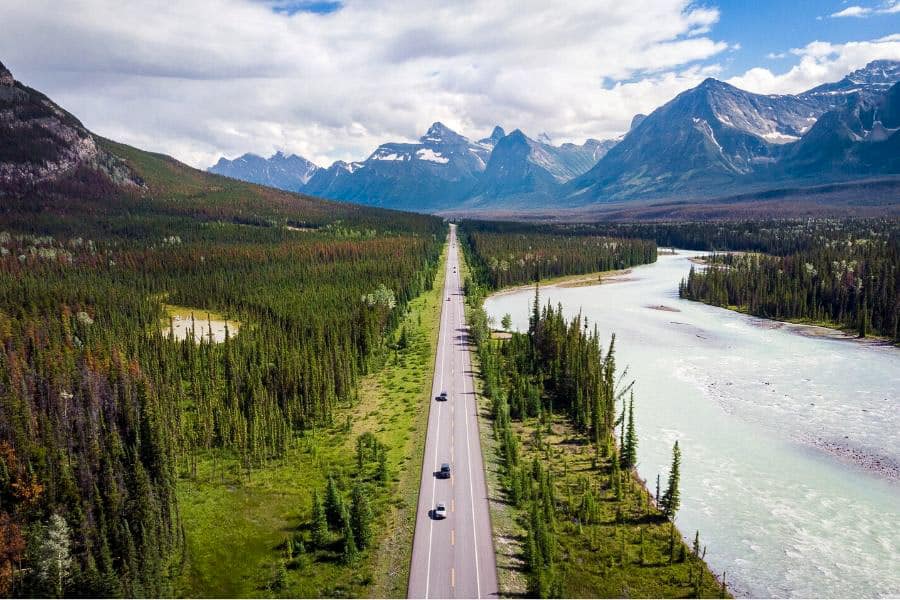 SunDog Tours offers a private journey option for a sedan, SUV, and shuttle rates between Banff and Jasper depending on the size of your group.
Banff Tours has different options of vehicles based on group size with a capacity of up to 24 people and you can customize your itinerary as much as you please.
Banff to Jasper by Bus
By far the best way to experience the Banff to Jasper drive would be as a passenger! Taking a bus from Banff to Jasper (or vice versa!) is highly recommended to really soak in the sights. Here are some options:
Viator
Viator offers to you pick up from any hotel in Banff, Jasper, Lake Louise, Calgary or Kananaskis and customers can expect a worry-free ride to their next stop, with drop-off at most major hotels and resorts in the region.
SunDog Tours
In the summer months, SunDog Tours has a one-way Banff to Jasper tour running from May thru October. It makes stops in Lake Louise and includes a four-hour stop at the Columbia Icefield. There is also a stop at the iconic Athabasca Falls. This tour lasts for approximately 12 hours and is an incredible way to sit back and enjoy seeing the Icefields Parkway. The cost for the tour is approximately $280 for adults and $140 for children.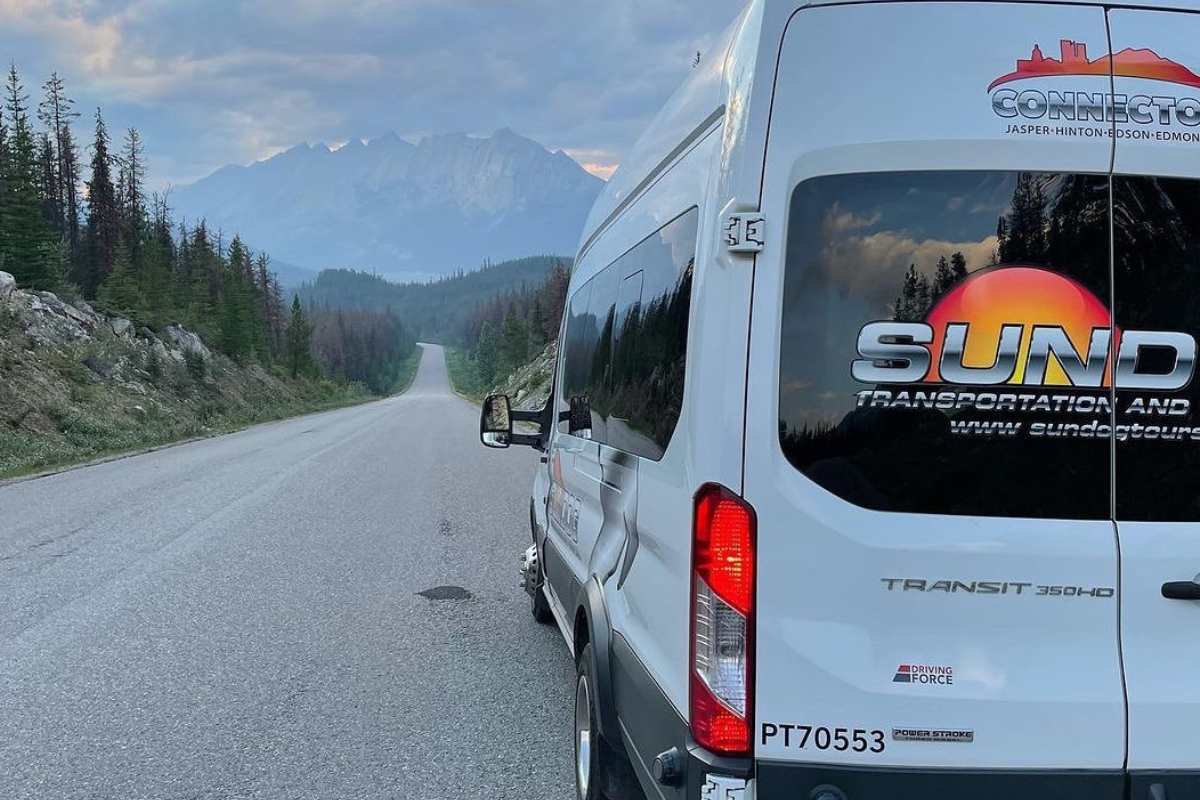 In the winter months, SunDog also has a direct route between Banff and Jasper that is part of their Calgary Connector which is a daily winter service between Jasper, Lake Louise, Banff, and Calgary. This service operates from October to April.
Brewster Express
Brewster Express offers a more direct route with a shuttle service right from Banff to Jasper. Bus departure and drop-off locations can be conveniently customized to your hotel stays, and keep in mind that you can save more if you book a return trip instead of just one way.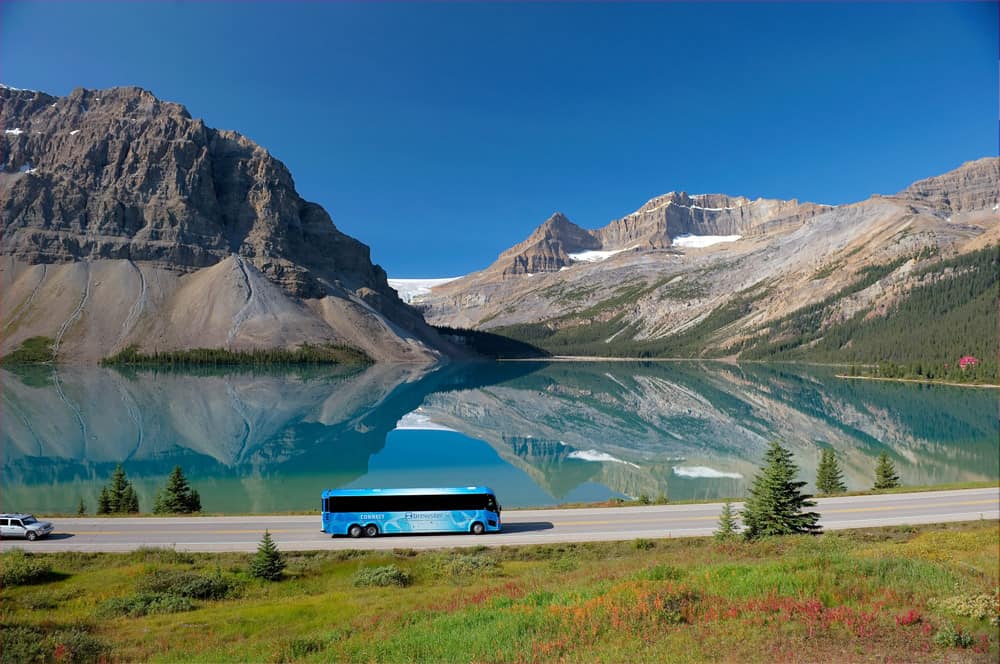 Banff Tours
Banff Tours also provides a coach shuttle service between Banff, Canmore, Lake Louise and Jasper in the Canadian Rockies. Pick-up points are at select hotels within each destination.
Banff to Jasper by Train
Unfortunately, there is no direct train that goes just between Banff and Jasper. However, there are many train options that include the Icefields Parkway in their itinerary but are part of a bigger multi-day route. Some examples are:
Canada By Design Icefield Discovery – Tour leaves from either Vancouver or Calgary and explores the landscapes of western Canada, including time in Jasper National Park and Banff National Park.
Rocky Mountaineer has multiple options of routes that include Jasper National Park and Banff National Park.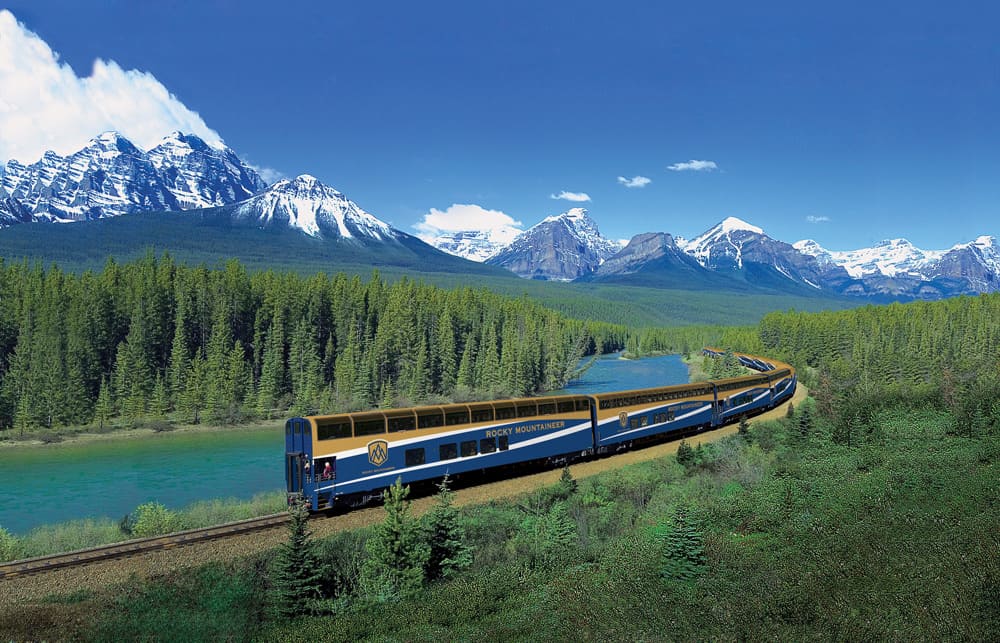 With the number of rideshare options nowadays, finding a ride from Banff to Jasper can be as simple as searching for a ride on Kijiji. However, with the complexity of the roads, it may be useful to use a rideshare option that allows you to read reviews on the drivers to ensure that their skill level is adequate to comfortably travel between Banff and Jasper. With Uber not currently available in the parks at this time, there is one option that allows you to see driver reviews before booking:
Poparide.com – There are options to select your driver based on your luggage and equipment requirements if you are travelling with skis, bikes, etc. Poparide charges per seat so you have an opportunity to meet other visitors if you are travelling solo between the parks. Prices vary depending on the day but the average is between $25-44 CAD.
Fun Things to Do Along the Way
Taking the Icefields Parkway is all about the beautiful stops and sights. Here are some of the many fun things to do along the way, told in order from Banff to Jasper (just reverse the list if starting the other way!)
Vermillion Lakes (2 km from Banff, 286 km from Jasper)
Just 5min west of the Banff townsite are the stunning Vermilion Lakes. Enjoy views of Mount Rundle as it towers over. The area also has a short 2 km boardwalk loop – a great way to stretch your legs before a long drive. Hit it at sunrise for some spectacular shots of the sun breaking over the ridgeline.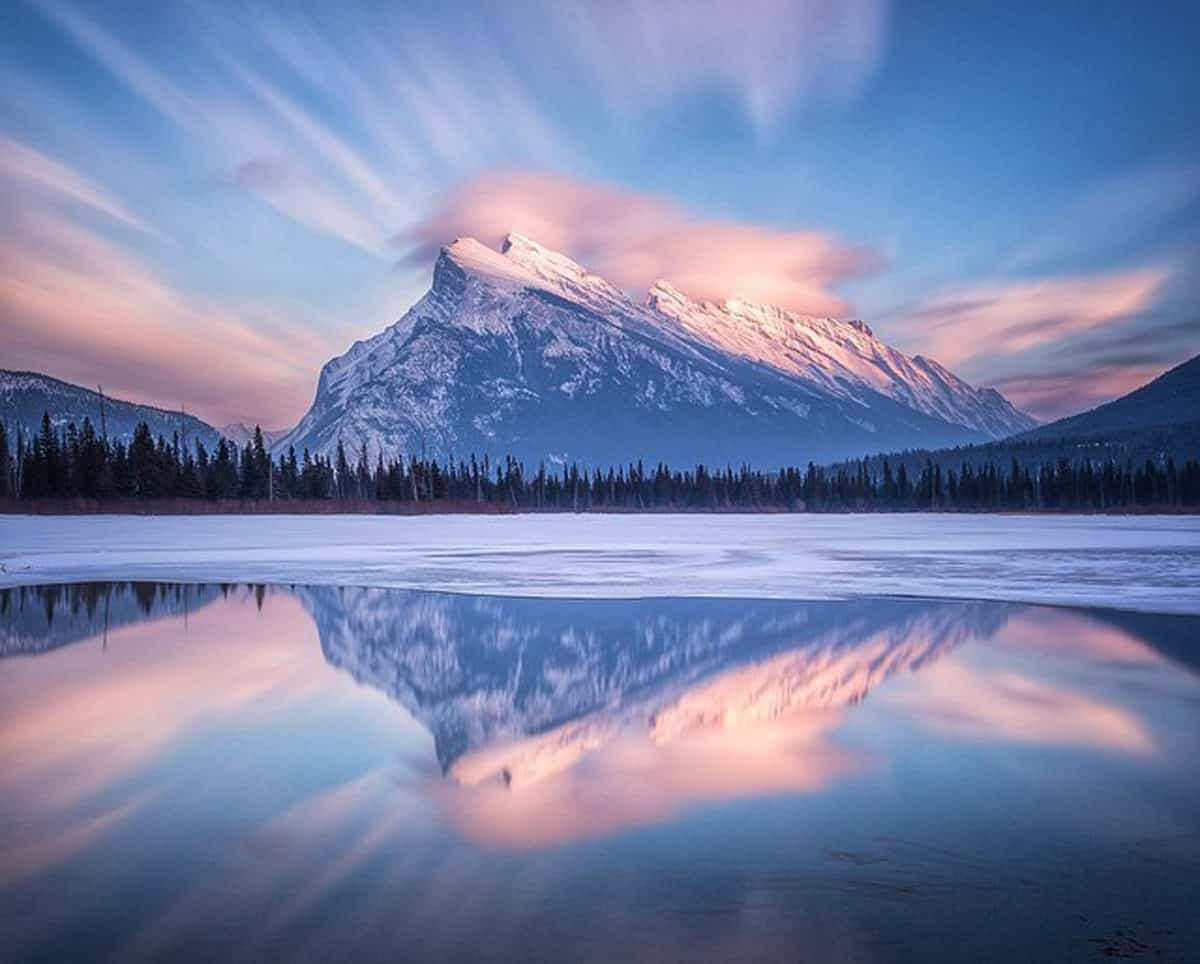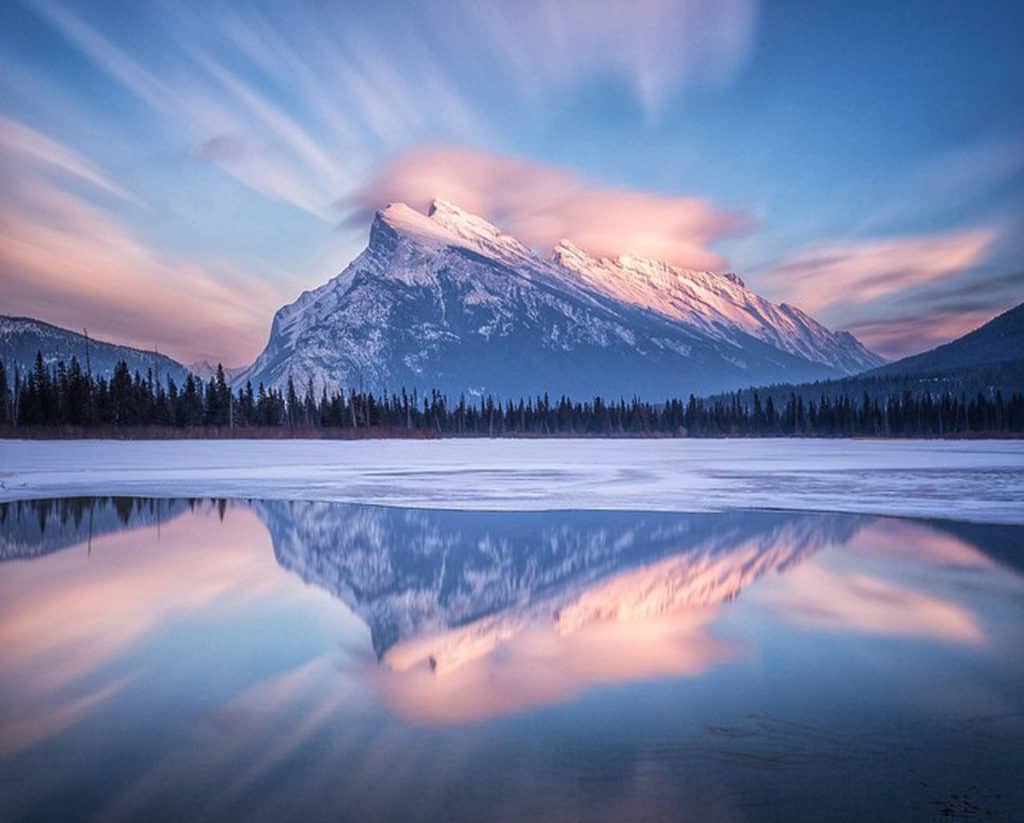 (**Be sure to read our guide to the best photo spots in Banff National Park. You will get equipment tips and more to ensure you take the best photos on this drive!)
Johnston Canyon (25 km from Banff, 263 km from Jasper)
This is a popular day hike from Banff for good reason. Well-maintained trails and catwalks take you right into the canyon and to two impressive waterfalls. The return trip is up to 2.5 hours, so note that this will eat up a good chunk of your driving day (but is well worth it).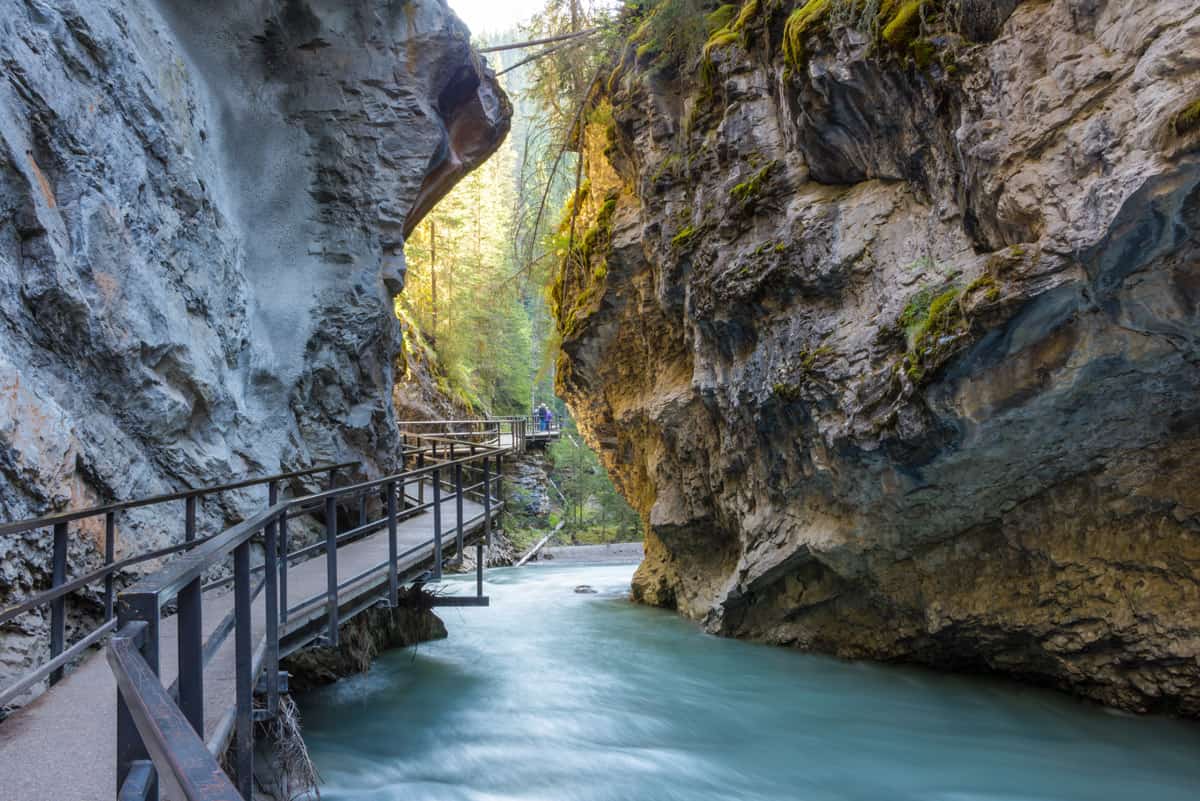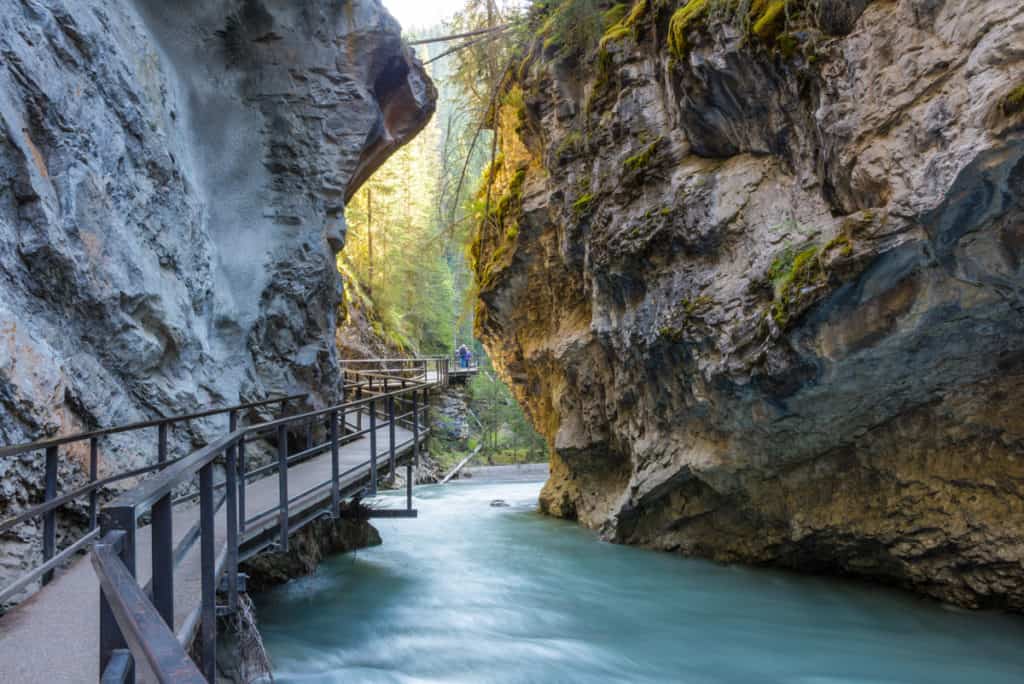 Lake Louise (57 km from Banff, 231 km from Jasper) and Moraine Lake
This just might be your most memorable stop along the way. Admire the beautiful, impossibly blue lake and the mountains towering above. Go up the Lake Louise Gondola or go on a guided Lake Louise hike for prime mountain views. There are opportunities for dining, hiking, easy walks, and good ol' sightseeing! It is one of the best places to spot wild grizzly bears too. At the top of the gondola, the Wildlife Interpretive Centre offers interactive presentations, guided hikes and more for guests.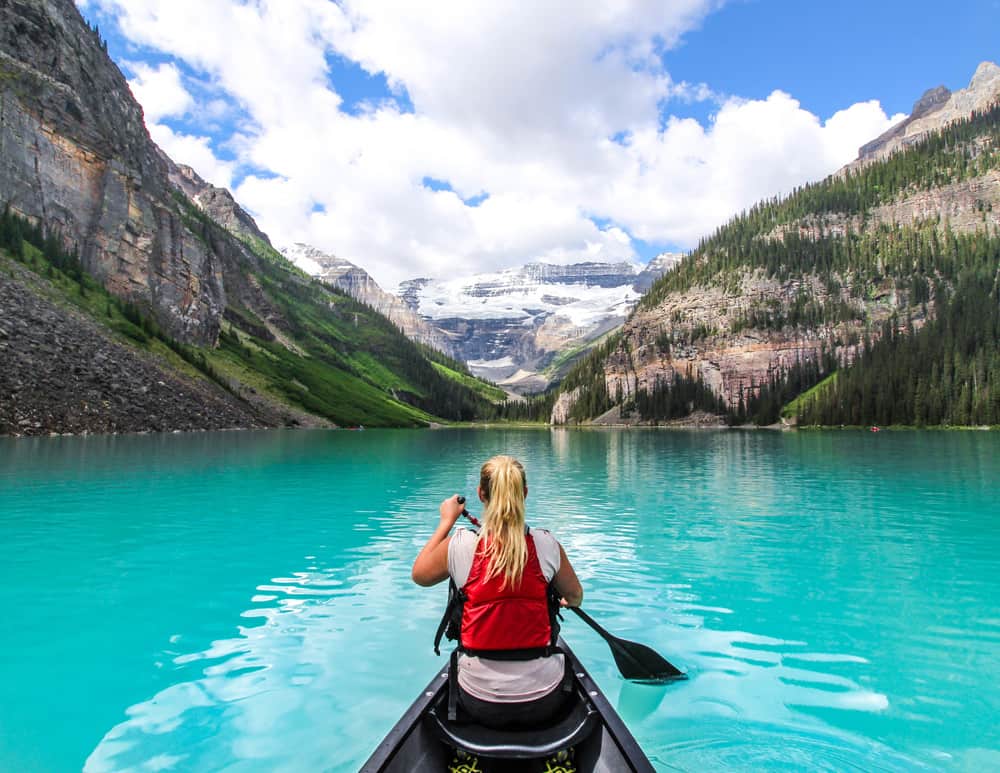 If you're in Lake Louise, you are very near to Moraine Lake, and that is a CANNOT miss spot (just look at the image on any Canadian $20 bill and you'll see why)! However, note that starting in 2023, Moraine Lake is closed to personal vehicles. We recommend booking a shuttle from Banff or the Lake Louise Summer Gondola with the Moraine Lake Bus Company – not only are they the only company to offer sunrise shuttles (gotta get those epic shots for the 'Gram!) but they are also the only company that lets you pre-book your return journey (so that you don't have to wait). It may seem a bit of a hassle to make this stop, but we promise you, it's worth it (and easier than you think if you plan it right).
Tip: If you've got the time, we highly recommend at least one overnight stay at the historic Fairmont Chateau Lake Louise as well. It is another once-in-a-lifetime experience that will also allow you to fully appreciate all there is to do in the area.
Bow Glacier Falls / The Lodge at Bow Lake (95 km from Banff, 193 km from Jasper)
This picturesque lodge on the shores of Bow Lake is a center for storytelling in the Rockies. It is a hub for hiking and sightseeing with Bow Lake, Bow Glacier Falls and Peyto Lake nearby. The lodge has a restaurant with hearty food to enjoy too.
Bow Summit / Peyto Lake (100 km from Banff, 188 km from Jasper)
This is a perfect day hike to take while touring the Icefields Parkway! The return time on the Summit Lookout is only 2.5 hours. This easy hike is 40km North of Lake Louise and offers a gorgeous view of Peyto Lake.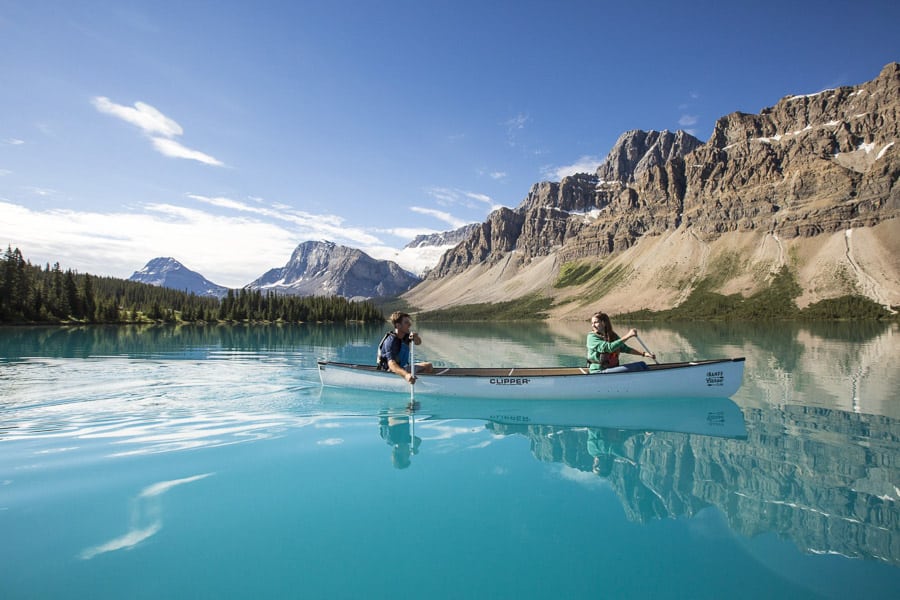 Mistaya Canyon (130 km from Banff, 158 km from Jasper)
Mistaya Canyon is a scenic gem that is definitely worth stopping for. Often overlooked, this canyon is a short hike in to see the sculpted canyon and rushing water.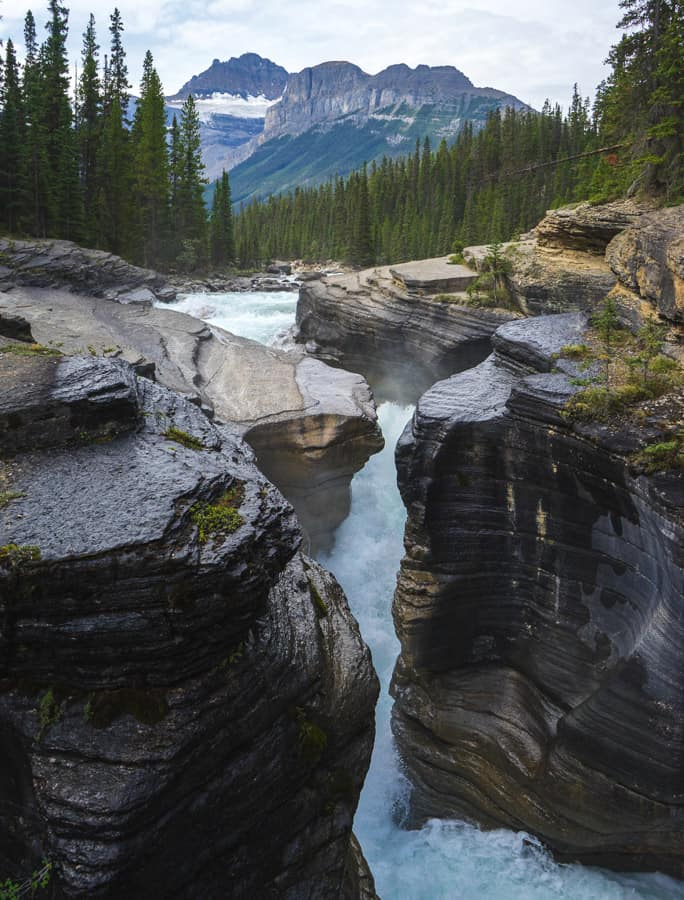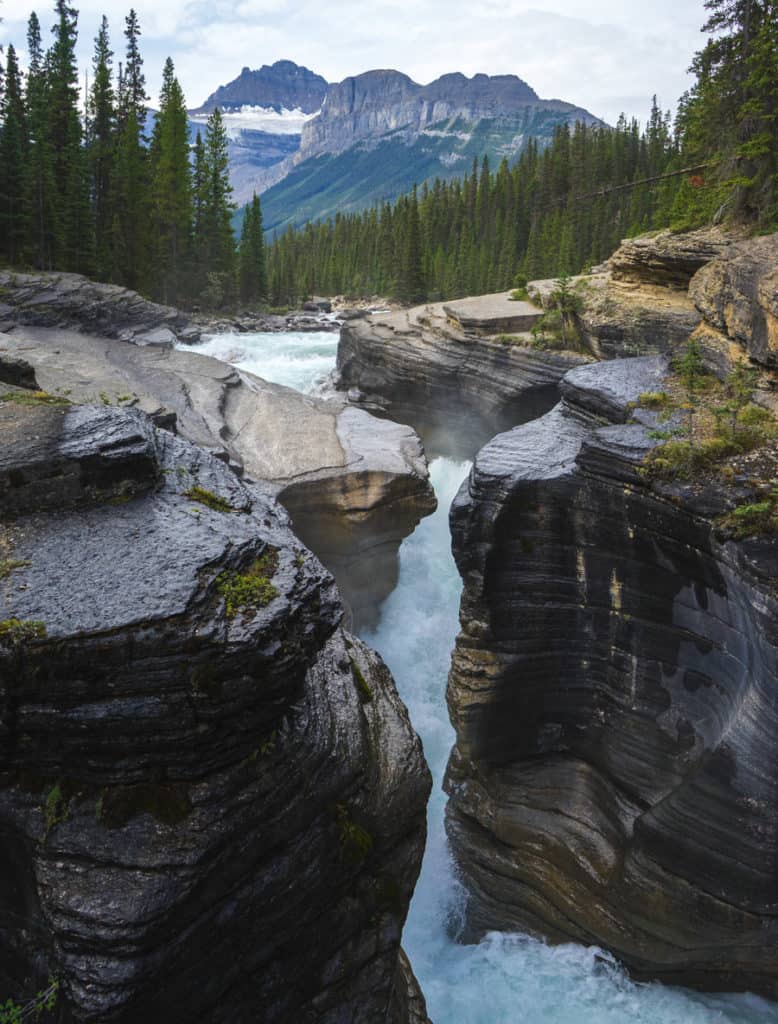 Big Bend Viewpoint (171 km from Banff, 118 km from Jasper)
This is a stop that is a DO NOT MISS (click here to find the exact spot). Pullover atop the pass, and from the viewing platform you will have your eyes set on some of the most beautiful scenery along the Icefields Parkway. We don't even want to put a photograph in here so you will be surprised at the stunning scenery once you have arrived. You're welcome.
Columbia Icefields (185 km from Banff, 103 km from Jasper)
This is one of Canada's most impressive sights as it is the largest icefield in the Canadian Rockies. If you're looking to get up close and personal – take a tour to walk right on the Athabasca glacier, and/or visit the Icefield Skywalk.
The glass-floored lookout and interpretive walk takes you through the story of the Icefields and gives you a unique perspective on the Sunwapta Valley. (Note that you will save money if you book in advance, and book both experiences together!) There are two dining options at this stop – one casual and one fancier, local-dining experience.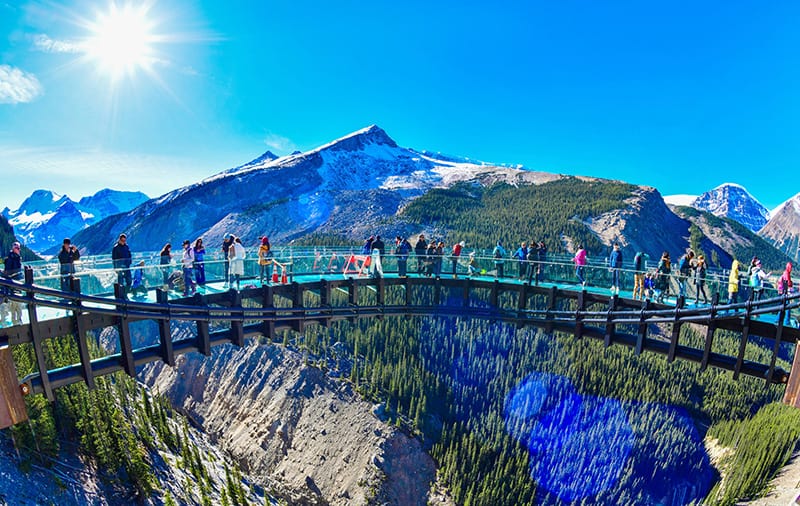 Sunwapta Falls (234 km from Banff, 54 km from Jasper)
Fed by the Athabasca Glacier, the Sunwapta Falls is a stunning place to stop. This site is good for a quick stop – the upper falls can be viewed from the viewpoint parking lot – or a long one! There are opportunities for white-water rafting, hiking and staying overnight.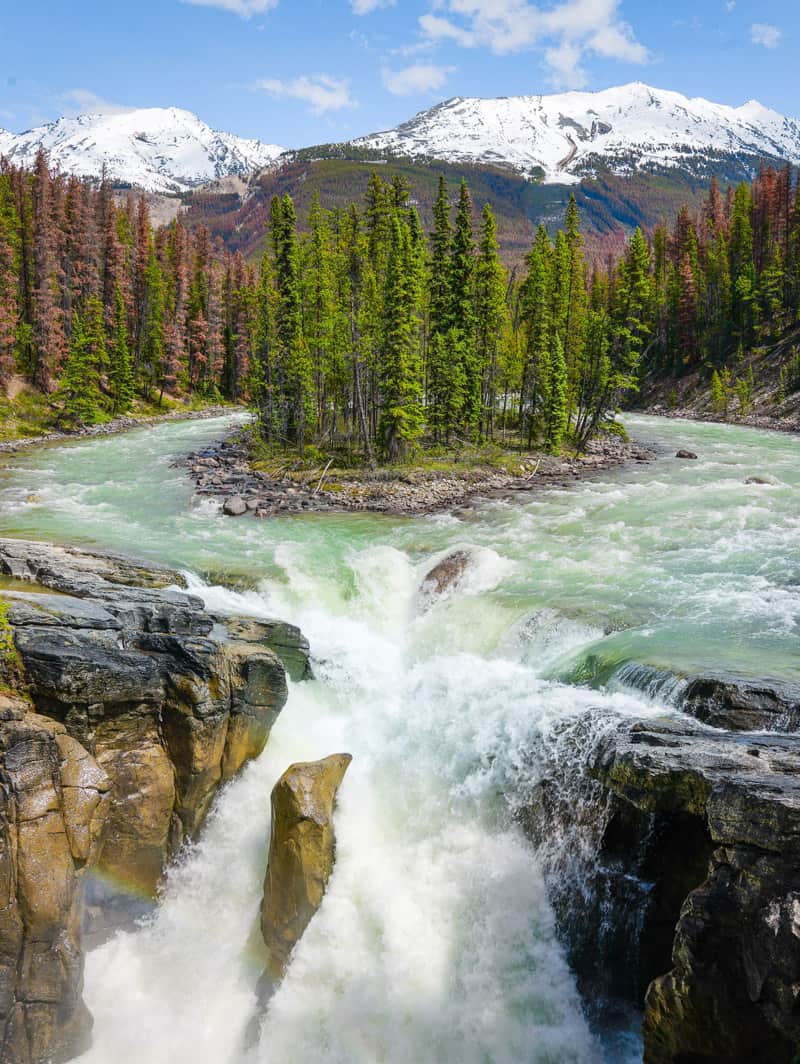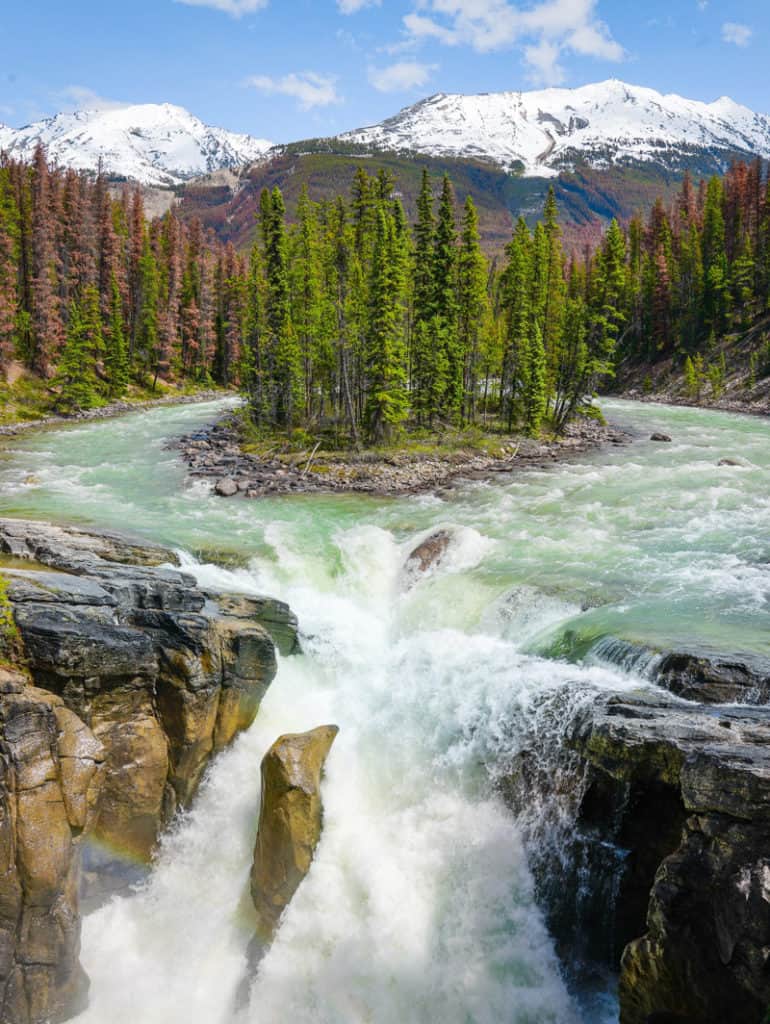 Athabasca Falls (257 km from Banff, 32 km from Jasper)
This waterfall stemming from the Athabasca River drops 23 metres to where it is known as Athabasca Falls. There are a number of lookout points where you can see the power of the falls. The falls themselves are not very high compared to others in the Canadian Rockies, but the size of the river makes these falls one of the most powerful in the Canadian mountain national parks.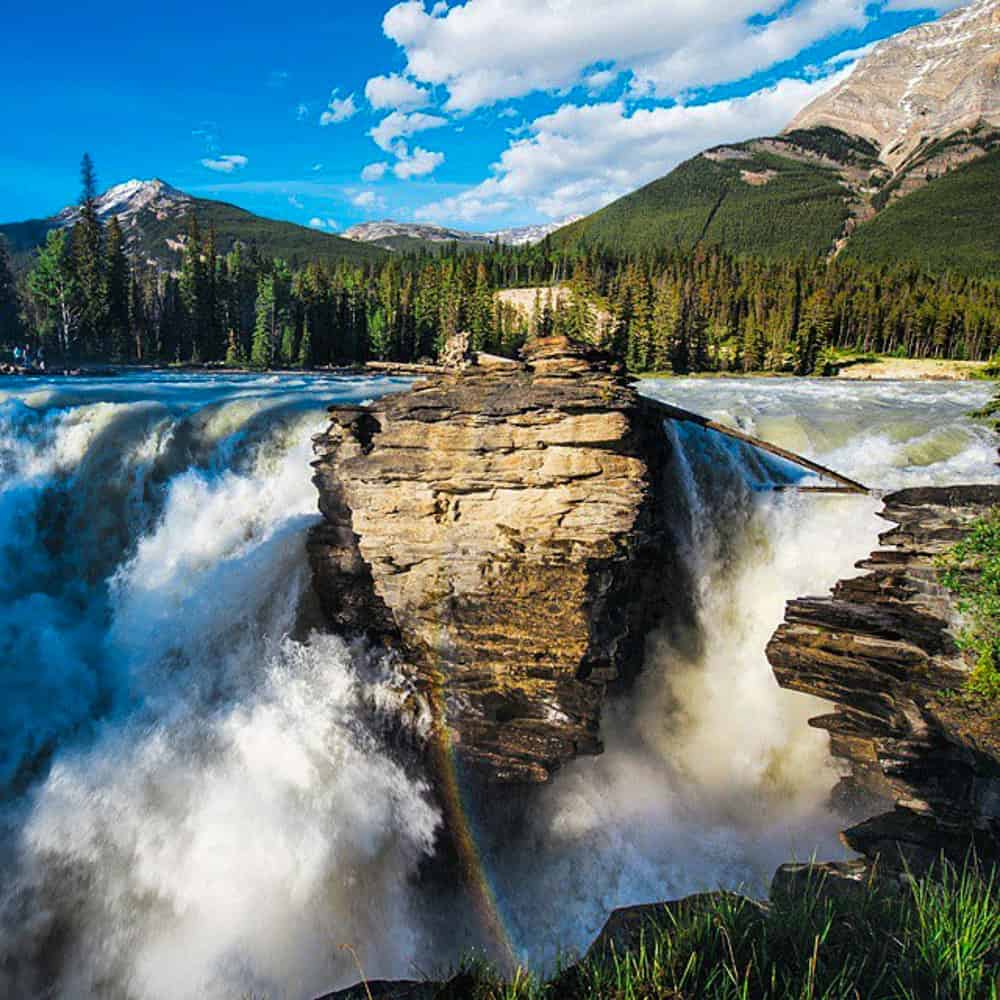 Upon Arrival
You made it!
If you would like more information useful on local attractions, check out our Banff destination guide and Jasper destination guide (we also have an itinerary for 3 days in Jasper, and a list of great Jasper tours to take, which should help you plan your stay). Be sure to pay a visit to the visitor centres in each town:
Jasper Visitor Center at 500 Connaught Drive.
Banff Visitor Centre at 224 Banff Ave.
Banff Visitor Information Kiosk at the Banff Railway Station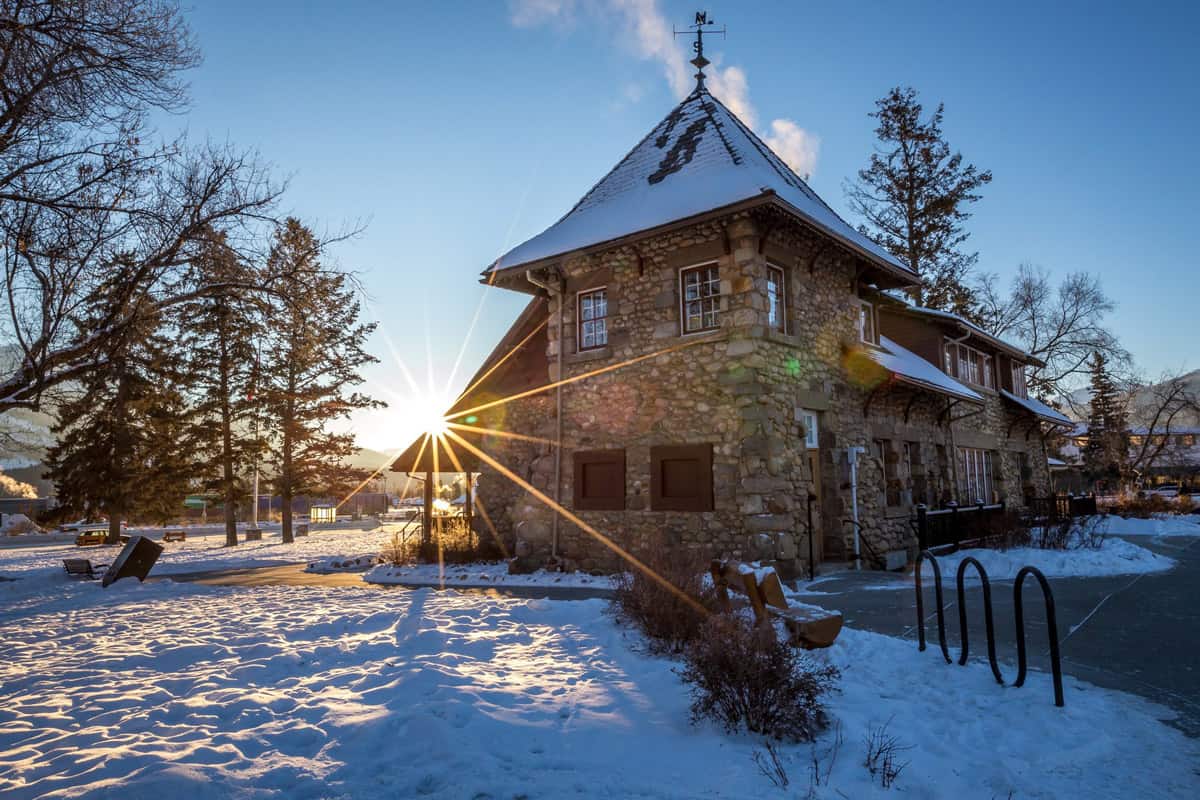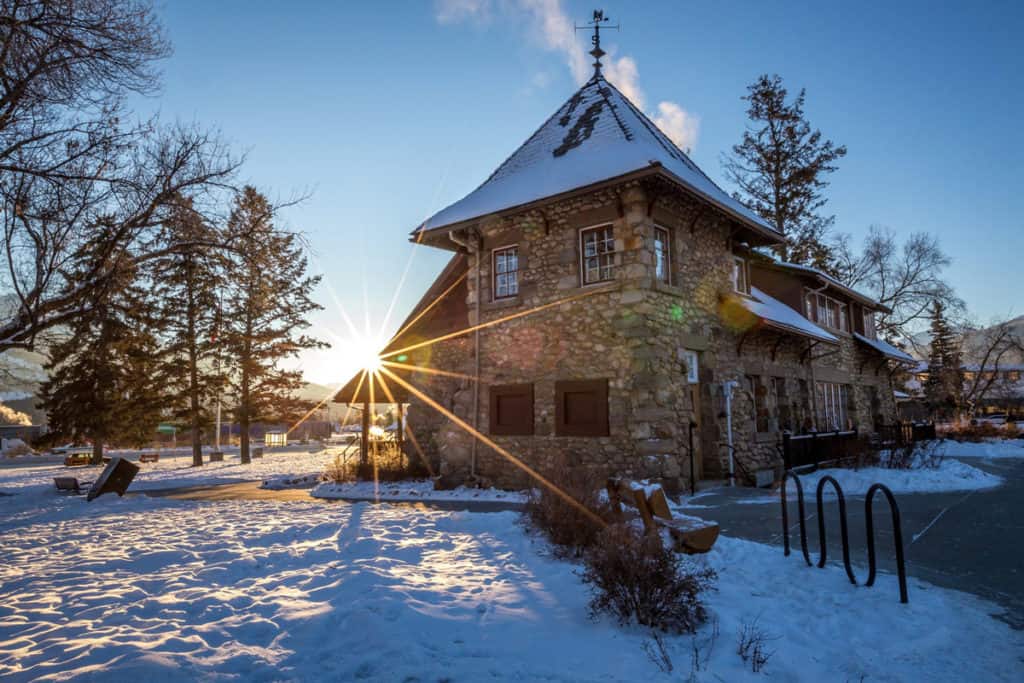 Where to Stay in Jasper
We've published an entire guide for accommodations in Jasper. If you just want to peruse a few quick options, we have our top picks below:
Luxury – Although not quite as jaw-dropping and impressive as its Banff neighbour, the Fairmont Jasper Park Lodge is notable in its own right. With impressive lakefront views of Beauvert Lake, 8 on-site restaurants, a spa, and an award-winning golf course, this resort is worth the splurge.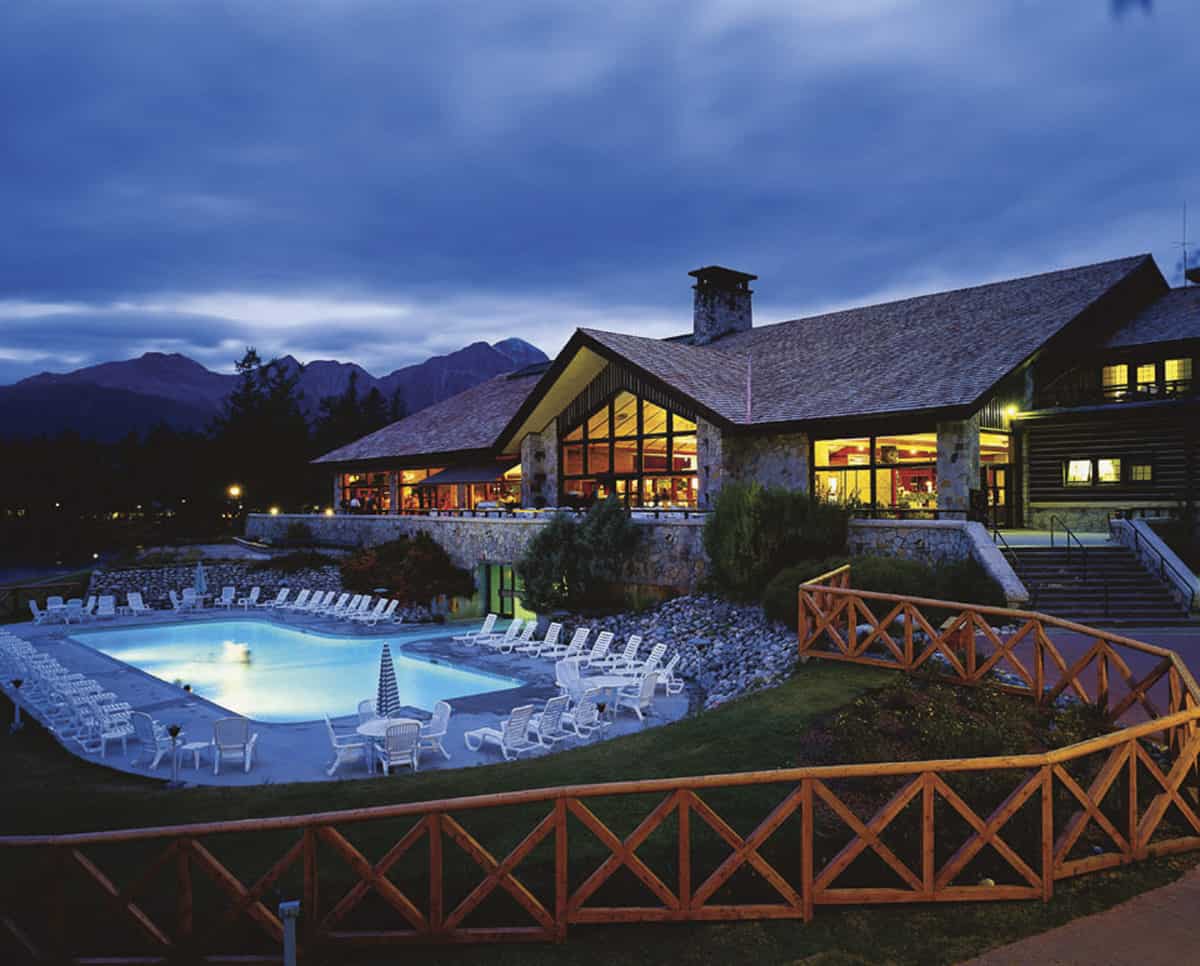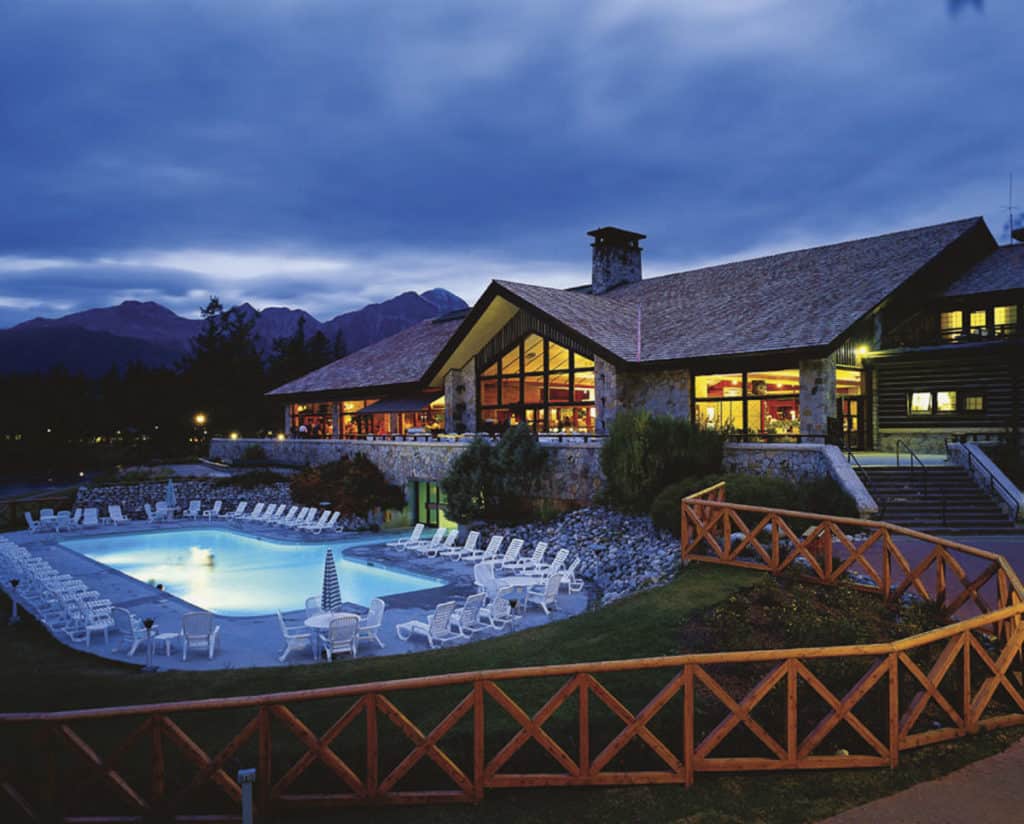 Mid-Range – For a unique accommodation experience in Jasper National Park, we recommend renting a cabin at Jasper East Cabins. They are more budget-friendly than Jasper Park and you get to stay in your very own wood cabin that has all the amenities like a fireplace and kitchenette.
Budget – Jasper is a year-round camping destination with campground options for every level of camper from rugged backcountry to family-friendly with easy access to amenities. Parks Canada allows you to book a site online to reserve your spot ahead of time for camping in Banff and Jasper. And if camping is not your cup of tea, Maligne Lodge is a Jasper hotel that won't break the bank.
Home away from home. There are plenty of B&Bs in town and many Jasper Airbnbs to choose from.
Where to Stay in Banff
Luxury – We cannot mention hotels in Banff National Park without presenting the iconic Fairmont Banff Springs. This is a once-in-a-lifetime type of stay that is totally worth the experience. This stunning and historic hotel is full of shops, a world-class spa, and amazing restaurants that offer breathtaking views of notable peaks. The Bow Falls are also right on site.
Mid-Range – As the Fairmont can run many hundreds of dollars a night, a more budget-friendly option is the Canalta Lodge. Recently renovated, we really enjoyed our stay amid its eclectic design. With a hot tub, free breakfast, and underground parking, this property has been recognized as the best value in Banff.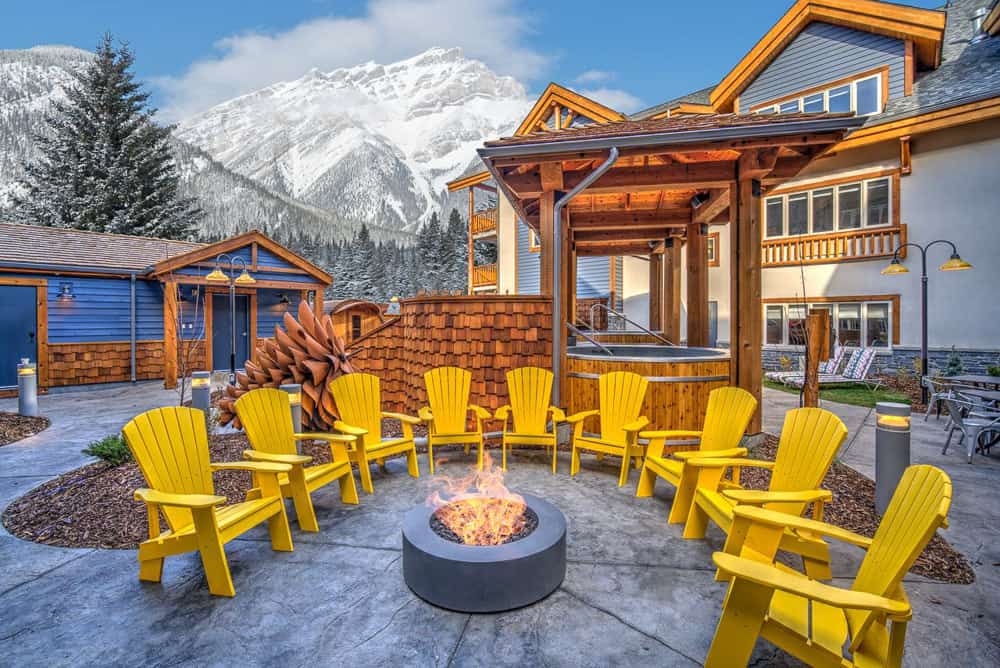 Budget – If your budget is better spent exploring all that Banff has to offer and you don't want to splurge on accommodations, then look no further than the Banff International Hostel. The hostel is located on the beautiful property of the Banff Centre. It's easily walkable to downtown Banff, has a fully equipped kitchen for all to use, free breakfast, and is highly rated.
To see all the recommended places to stay in Banff, see our where to stay in Banff guide, plus this smaller guide to Banff cabins.
Home away from home – There are options to find a Banff Airbnb. Be aware that the town does not allow Airbnbs to operate in the townsite, but there are options just outside to accommodate.
Don't Forget!
Need some help planning your itinerary? Check out our guides for all the things to do while visiting Banff or Jasper.
ALSO, don't forget that while you're on the road, you can download our FREE Road Trip Alberta bingo cards, to make it just that much more fun!