Disclaimer: This page may contain affiliate links. Please review our full Terms and Conditions for more information and our Privacy Policy. Note that any pricing, operating hours, or other such information provided below may have changed since initial publication.
Compiled by the Road Trip Alberta team
Last updated on August 3, 2023
No shade intended to the hotels in Banff and the area, but to truly live out your best Canadiana fantasy, there's no better way to do it than to book yourself into a rustic cabin in the wilderness. Nothing beats opening up your door and being overcome with that fresh alpine scent, while a deer prances across the path in front of you. Okay, well, maybe we can't quite guarantee that any frolicking wildlife will greet you, but your chances are MUCH better if you book one of these stellar cabins in Banff for your next trip!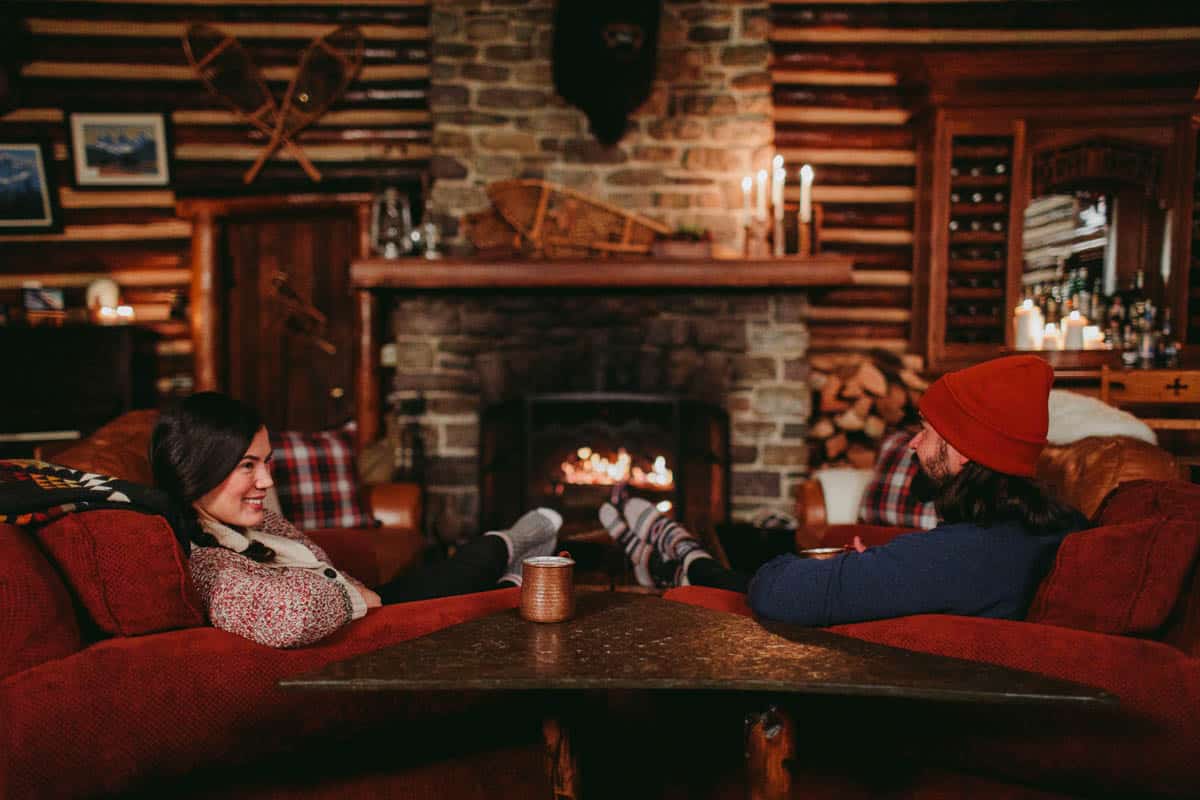 The Coziest Cabins in Banff National Park
Castle Mountain Chalets
Located between Banff and Lake Louise on the Bow Valley Parkway – making it an amazing spot for exploring both areas – the Castle Moutain Chalets are extremely popular. With unbelievable views of Castle Mountain, you also have panoramic views of Storm Mountain and the Sawback, Misty, and Bow Ranges of the Rocky Mountains. Feeling authentically rustic and yet still luxurious, the chalets are generously spaced throughout the property so that you always feel as though you have a little slice of heaven to yourself.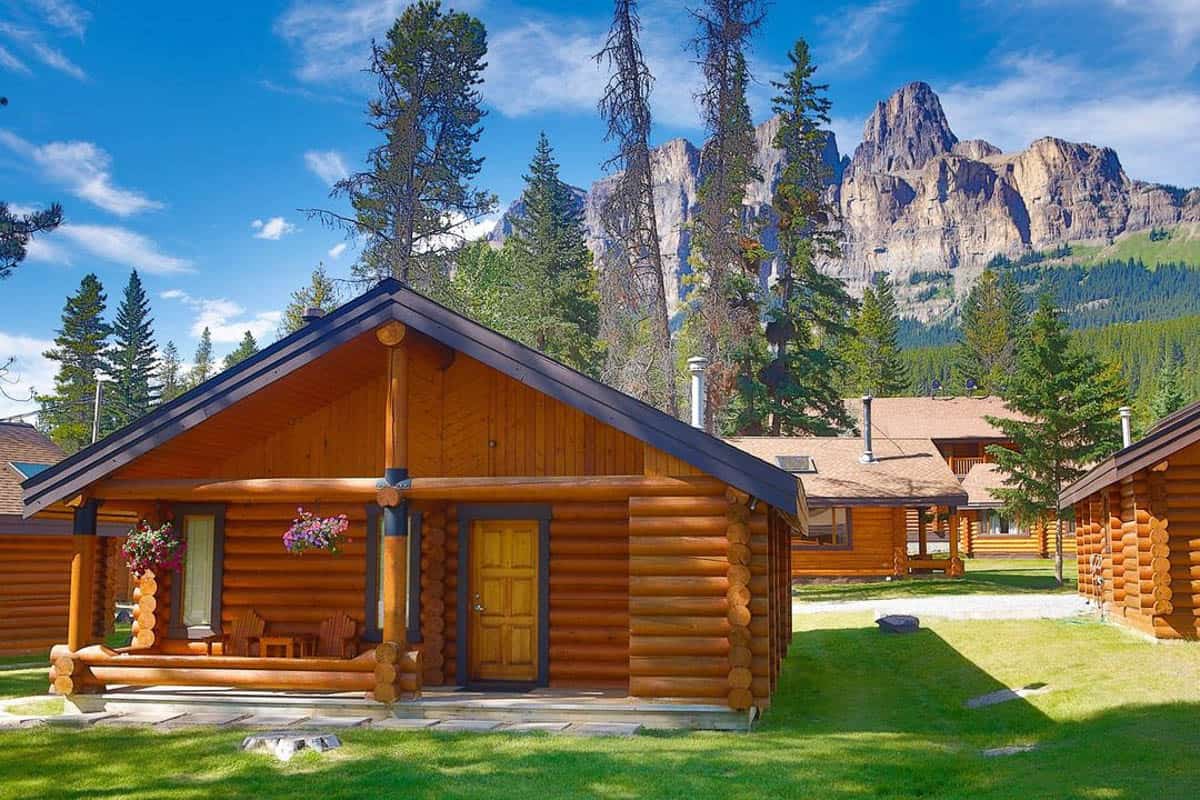 Each of the Castle Mountain Chalets has jaw-dropping views of the scenery around you, while other amenities include fireplaces, full kitchens, and jet tubs. With wood accents and comfortable bedding, the chalets will instantly feel like your own little mountain retreat, a place to unwind and relax after exploring Banff National Park. If you're looking for some of the best cabins in Banff, make your way to the Castle Mountain Chalets.
Johnston Canyon Lodge and Bungalows
You can't write about Banff cabins and not mention the Johnston Canyon Lodge and Bungalows! This historic resort is located near the popular Johnston Canyon hiking trail and offers a range of cabin rentals, from rustic one-room cabins to modern two-bedroom suites. It's actually the only place to stay in Johnston Canyon! Some of the cabins include hide-a-beds, which means those cabins can sleep up to six people. All cabins and bungalows come with fireplaces and private balconies or patios.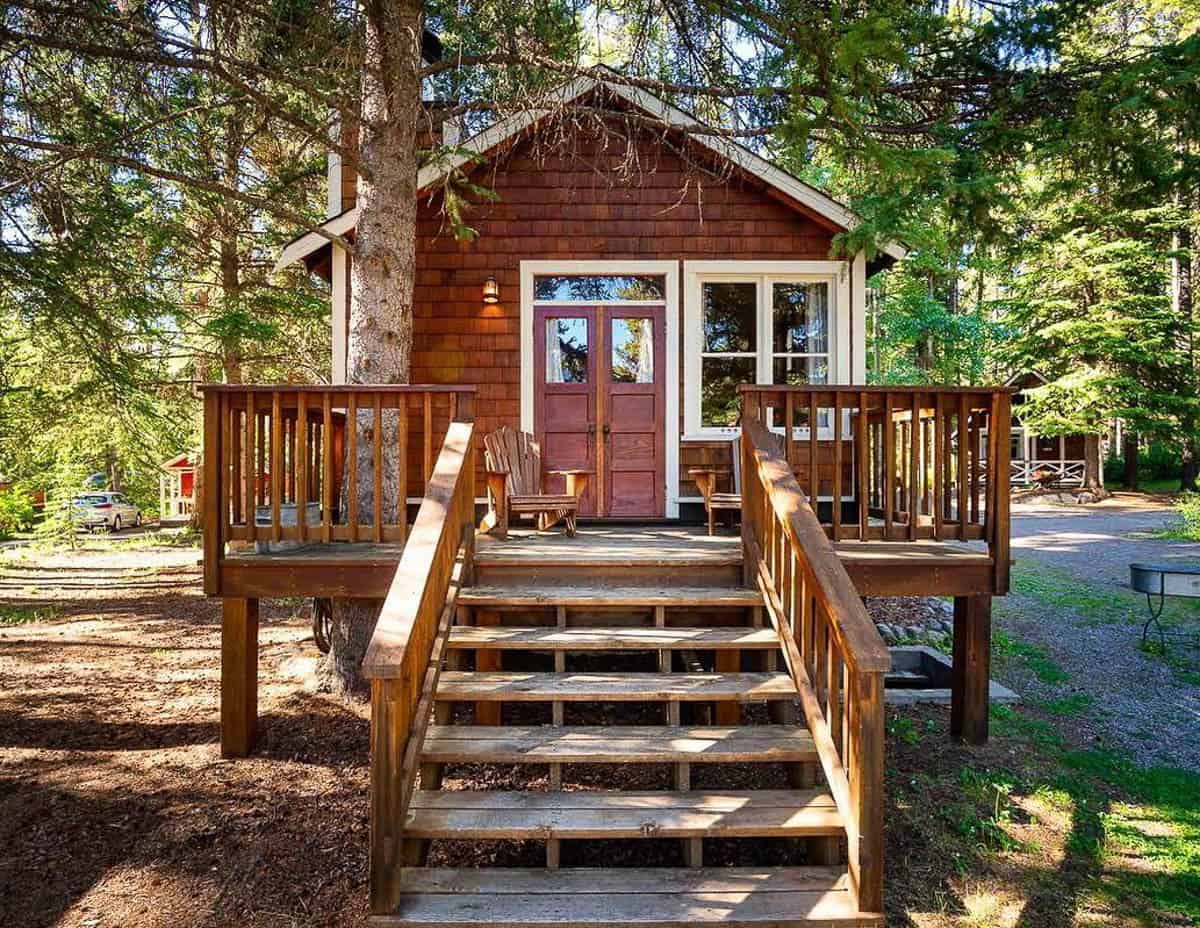 At the lodge, you'll find a ton of bonuses, including the Market Cafe, Blackswift Bistro, and "The Shack"; it's tradition to do the Canyon walk and then stop at The Shack for ice cream. Another reason to stay at the Johnston Canyon Lodge and Bungalows? You can bring your pet! This pet-friendly spot means that everyone in your family is welcome, and we can't ask for more when it comes to cabins in Banff. Comfortable, welcoming, and in a fantastic spot for Banff hikes and, we're huge fans of this place.
Shadow Lake Lodge
What started as a backcountry log cabin in the 1930s by CP Rail, Shadow Lake Lodge is now a stunning property with 11 backcountry cabins for visitors. But you won't be able to drive here. These unique accommodations are only accessible in the summer by hiking in, and in the winter by snowshoe or cross-country skiing. Luxury awaits those who make the 14 km trek through the stunning Banff National Park wilderness. Guests will enjoy their own comfortable private cabins far from the hustle of modern civilization.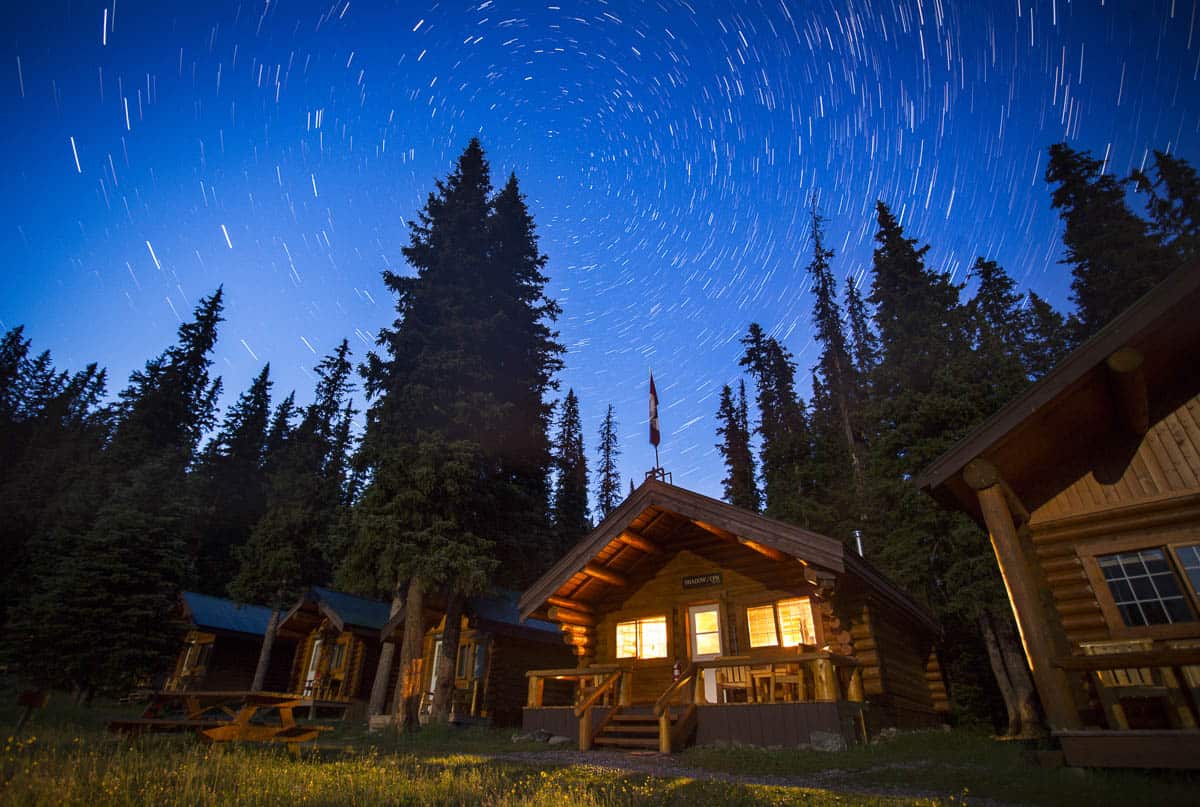 Each cabin offers comfortable beds, a propane heat source, solar-powered lights, and a wash basin. There are washroom facilities that offer hot showers. In the main cabin, the restored original 1930s cabin is a wood-burning fireplace where guests can mingle with one another, or nestle into a comfy seat to read a book. Meals are served in the dining cabin, where creative and set menus are prepared with the freshest seasonal ingredients. Prices for Shadow Lake Lodge include your accommodation, showers, breakfast, dinner, afternoon tea and packed lunches. They only suggest bringing warm clothes!
Paradise Lodge and Bungalows
When you think of Banff cabins, you're probably picturing something like Paradise Lodge and Bungalows. With the option to stay in both cabins or suites, you're only one kilometre from Lake Louise. With their signature red exteriors and charming, cozy interiors, these cabin rentals are somewhat famous in Banff National Park. Although originally built in the 1930s, they have been equipped with modern amenities and renovated for your absolute comfort.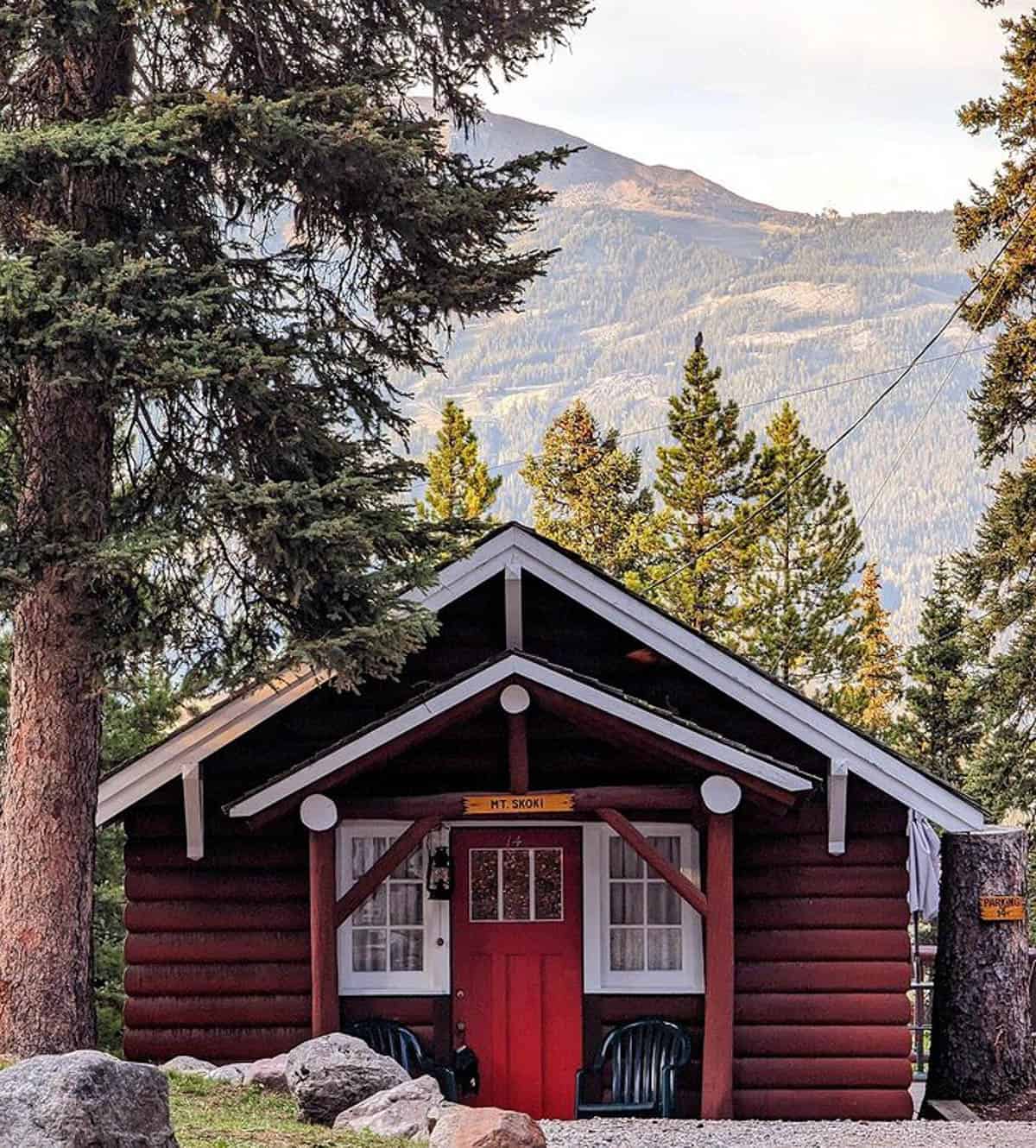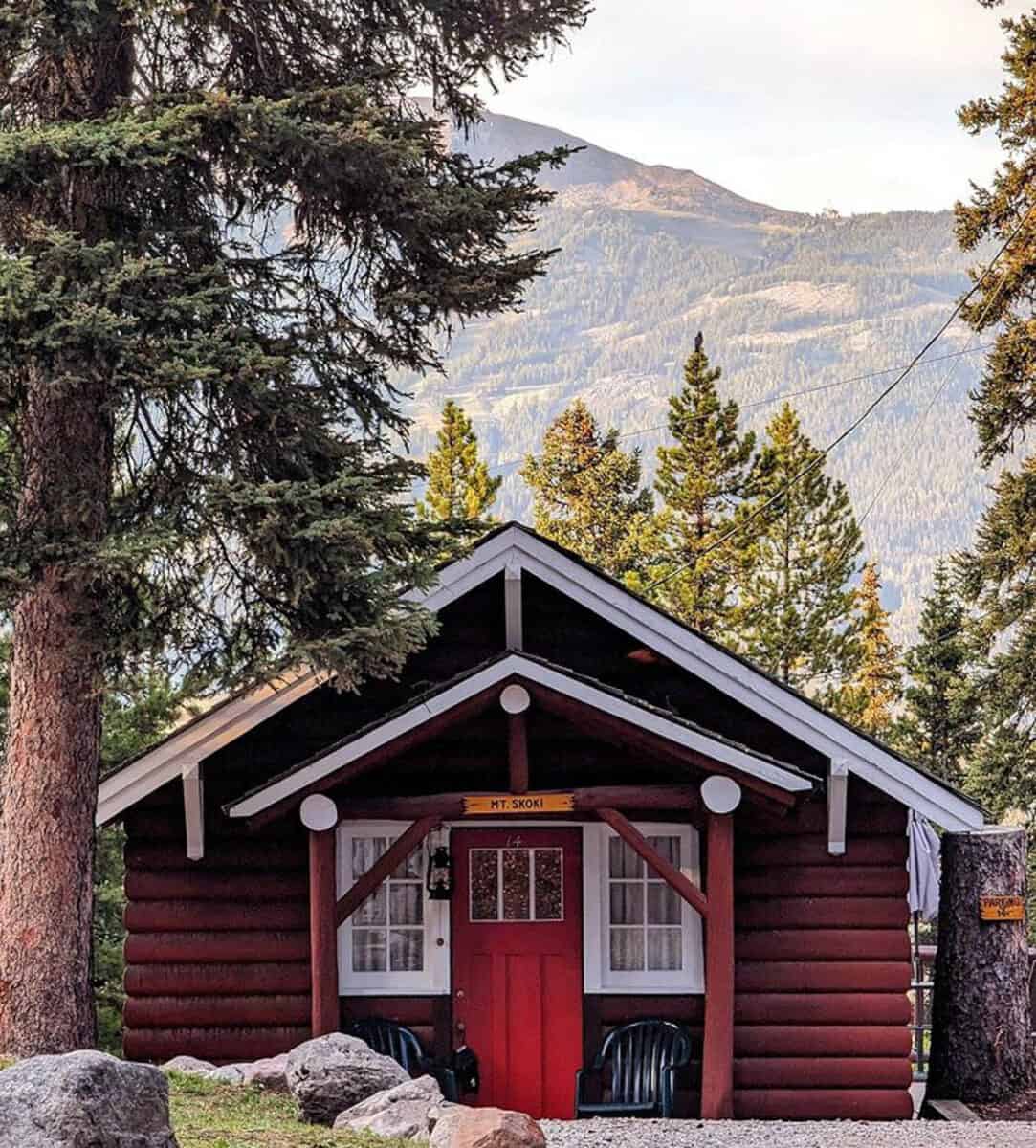 With four types of cabin accommodations, you can choose from a variety of floor plans and amenities at the Paradise Lodge and Bungalows; some have full kitchens, and some don't, for example. While the Wilson cabins are smaller, the Cooper and Peyto-style cabins have large bathrooms with claw-foot soaker tubs, making them perfect for a romantic stay. Thankfully, all of the cabins have decks or patios as well as indoor fireplaces to enjoy.
Storm Mountain Lodge and Cabins
Located directly between Banff and Lake Louise, Storm Mountain Lodge is a wonderful choice of Banff cabins if you're looking for something a bit more off-grid and remote. While there aren't a lot of modern amenities – don't expect any TVs or wifi here – it's the perfect place for a true mountain retreat. Completely self-sufficient for water, sewer, and even power, Storm Mountain Lodge is as close to backcountry camping as you can get without having to do all of the hiking to get there!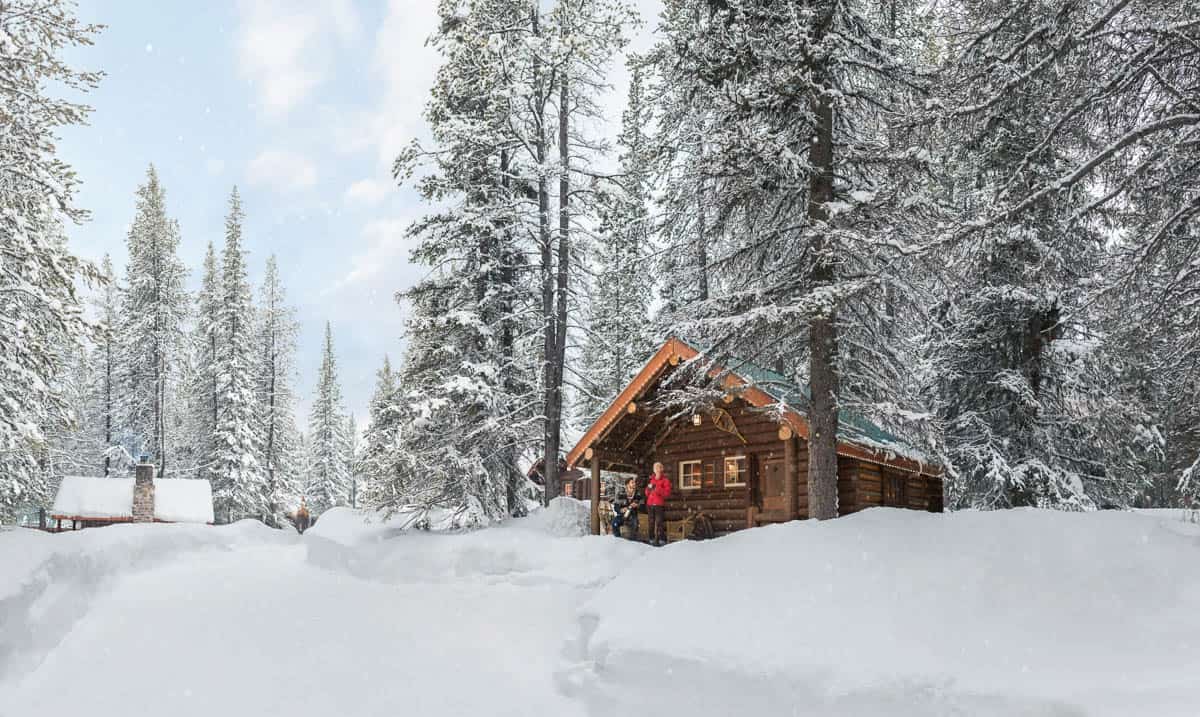 As for the cabins themselves, they are absolutely magical. Each cozy log cabin will make you feel as though you've stepped back in time; cuddle up by the fireplace and relax after a day spent outdoors. While cooking is not allowed in the cabins, there is a fantastic restaurant onsite as well as the option for packed hiking lunches. Other amenities include claw-foot soaker tubs and private decks, while another bonus is that all of the cabins are dog-friendly.
Banff Log Cabin Bed and Breakfast
This charming log cabin is located in a quiet residential area just a short walk from downtown Banff. The Banff Log Cabin Bed and Breakfast features a cozy bedroom for two, a private bathroom, and a tasty breakfast served each morning. Perfect for a romantic getaway, you have the benefits of being close to everything and yet will still feel as though you're in a peaceful, quiet resort far from the hustle and bustle of downtown Banff.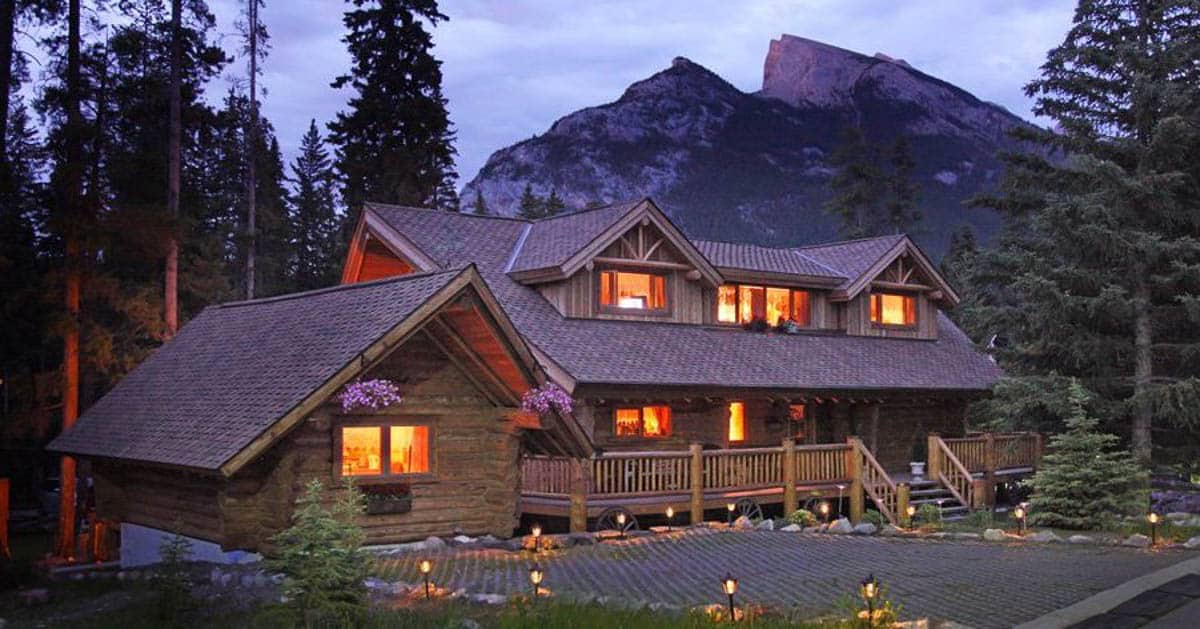 Built by hand in 1974, the little log cabin has been delighting visitors to Banff for 50 years. Decorated in the decor, you'd expect from a charming log cabin – think a hand-crafted deer antler chandelier and black iron queen-sized bed – there is also wifi, a flat-screen TV, a kitchenette, and a full-sized bathtub. Evening turndown service is also included. If you're looking for the coziest bed and breakfast experience in Banff, this is it.
Moose Hotel Corner House
Fancy a unique place to stay in Banff National Park? Check out the Moose Hotel Corner House, which is an experience unlike any other. Found in the courtyard of the Moose Hotel and Suites in downtown Banff, this quaint abode is actually a heritage house; one of Banff's original mining dwellings, it dates back to the early 1900s and was moved from the nearby mining village of Bankhead. Now fully restored, it offers guests the chance to stay in an original Banff National Park home.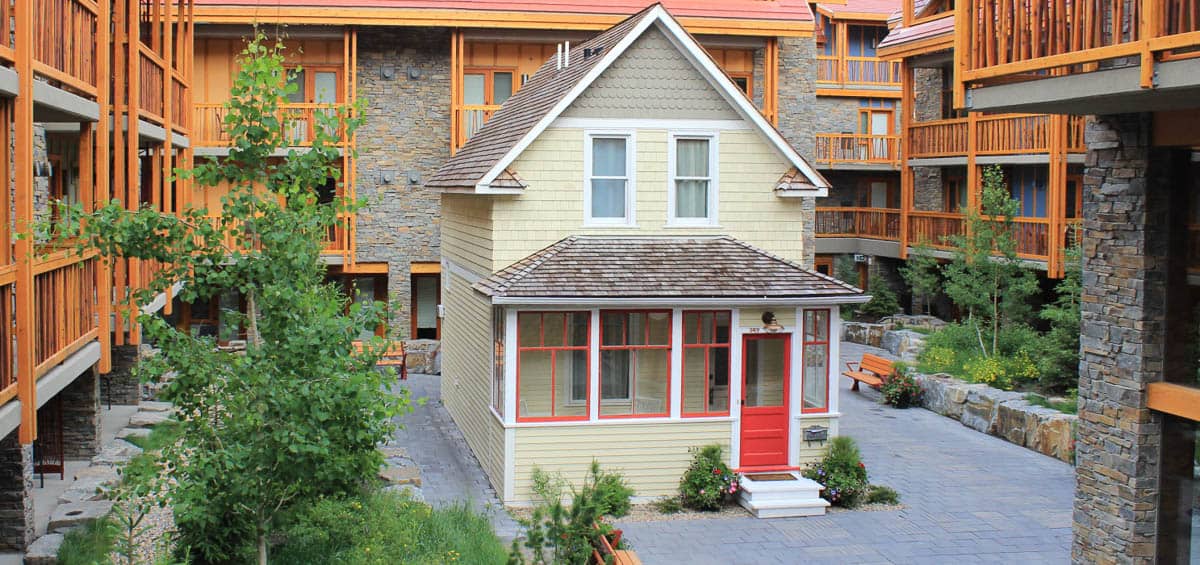 Inside, you'll find a bedroom with a queen-sized bed, a sitting area, a bathroom with a clawfoot soaker tub, a living room with a wet bar kitchen, and wifi. There's also a covered porch to enjoy after a day of exploring things to do in Banff. Because it is such a unique accommodation and because it has such an interesting history, guests should expect that others staying at the Moose Hotel may be curious to learn more… so it may not be the most private, but it will certainly be one of the most memorable!
Tunnel Mountain Resort
Tunnel Mountain Resort has it all, whether you're after a cabin, a suite, or a condo. This resort is found just a short drive from downtown Banff, making it one of the best Banff cabins when it comes to convenience and location. The Mountain Cabin is a free-standing unit consisting of a primary bedroom with a queen-sized bed, a loft with two double beds, and a living room area with a double pull-out sofa, so you can fit a lot of people inside the space.
Other perks of the cabin at Tunnel Mountain Resort are the private balconies, kitchenette, wood-burning fireplace, and complimentary wifi. The cabin rentals are clean and comfortable, with outstanding views of the surrounding landscape. At the resort itself, you'll find an indoor pool, a sauna and steam room, bike rentals, onsite laundry, a children's play area, a fitness room, and more, including complimentary firewood and complimentary Banff Roam bus passes. The amenities and the location of Tunnel Mountain Resort make it one of our favourite Banff cabin rentals when it comes to staying as a family or large group.
Baker Creek Mountain Resort
Head to the Baker Creek Mountain Resort for a bit of outdoor paradise. These rustic cabins are located in a peaceful forest setting and feature wood-burning fireplaces and outdoor patios, and they offer a laid-back vibe that you may not as easily feel in downtown Banff. One of our favourite cabins in Banff National Park, you can't find much cozier; combine that with the Lake Louise area location and the luxury amenities, and it's easy to see why the Baker Creek Mountain Resort is so popular.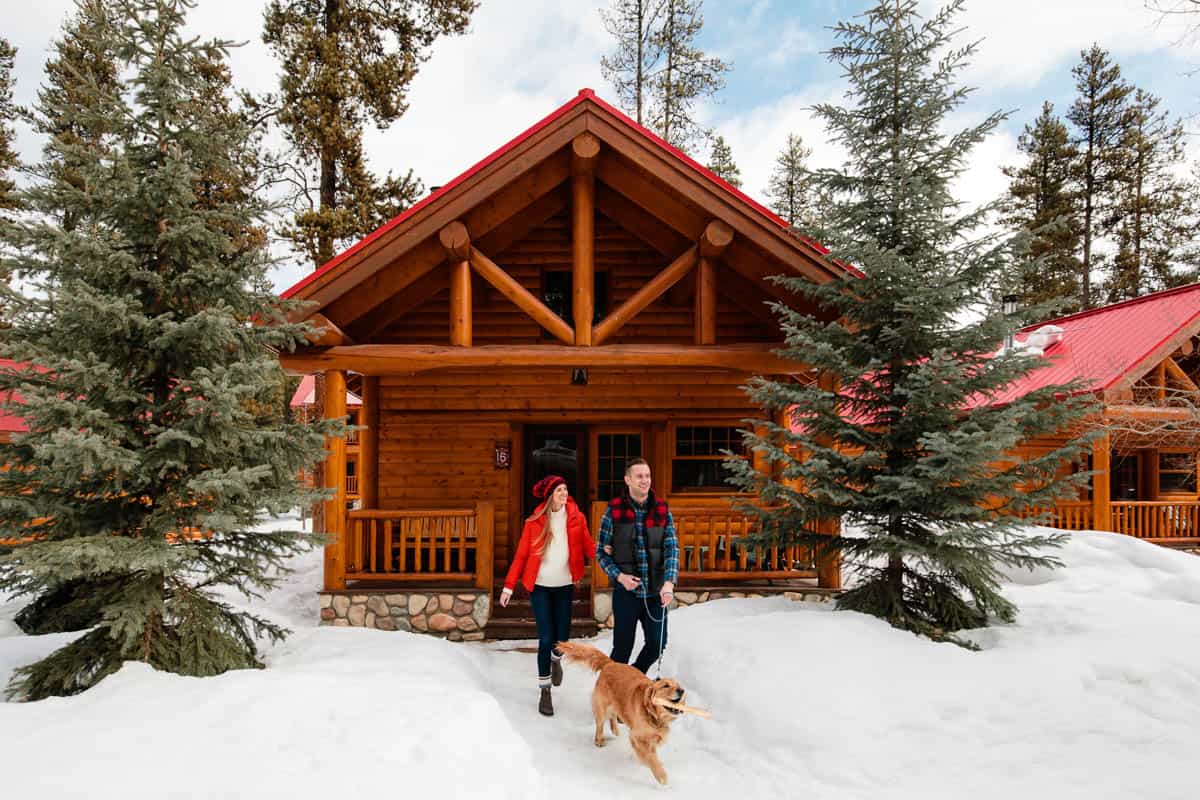 Found on the Bow Valley Parkway, choose from stand-alone cabins as well as lodge rooms. The cabins have authentically Canadian decor as well as options such as fireplaces, jacuzzi tubs, full kitchens, and so much more. Other amenities onsite include the Creekside Cafe, food packages (that can include s'mores kits), outdoor fire pits, an outdoor ice rink, and shuttles to Moraine Lake and Lake Louise, to name a few.
Moraine Lake Lodge
While the Moraine Lake Lodge definitely has some of the more expensive of the Banff National Park cabins, they are certainly worth the splurge! Ideal for a special occasion, these stunning cabins are situated on one of the most beautiful lakes in Banff National Park, Moraine Lake. Offering the height of luxury, we can't think of a better place to spend a honeymoon, anniversary, or any type of trip you'd like to remember forever. While there are no TVs or phones available, who needs them with that unbelievable view?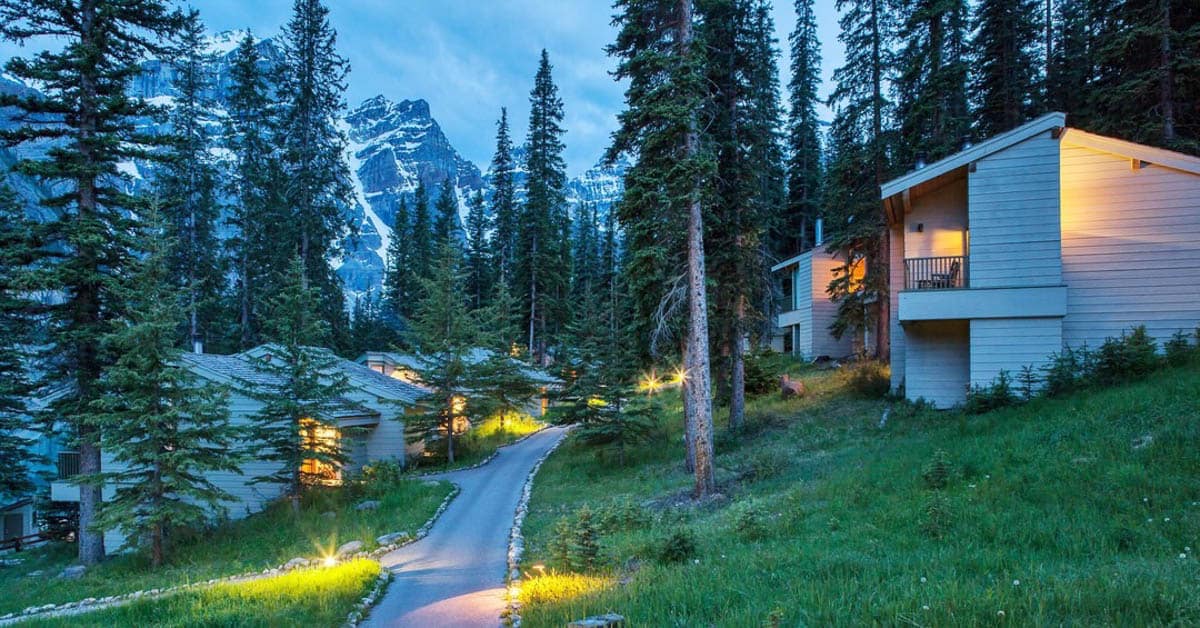 As for the cabins themselves, there are king and twin cabin rentals, all tastefully decorated in what we can only describe as Canadiana chic. With private balconies facing the lake and the stunning mountain scenery, there are also wood-burning fireplaces in every cabin. Not only that, but the complimentary amenities are fantastic, including breakfast, afternoon tea, canoeing on Moraine Lake, and more. Want a once-in-a-lifetime experience? This is the Banff cabin rental for you.
VRBO in Banff National Park
There are tons of rentals in Banff National Park, especially if you're looking for a condo, room, or townhouse. A cabin, though? Those are a bit more difficult to find. Here are a few of our recommendations for VRBO Banff cabins.
Private Mountain Chalet
Found in the heart of Banff, this private mountain chalet is another excellent rental if you're on the search for cabins in Banff National Park. With three bedrooms and three bathrooms, amenities include wifi, a fireplace, views of the Canadian Rockies, a kitchen, onsite laundry, and more. It's also gorgeously decorated, with lots of natural light, wood accents, and some modern touches.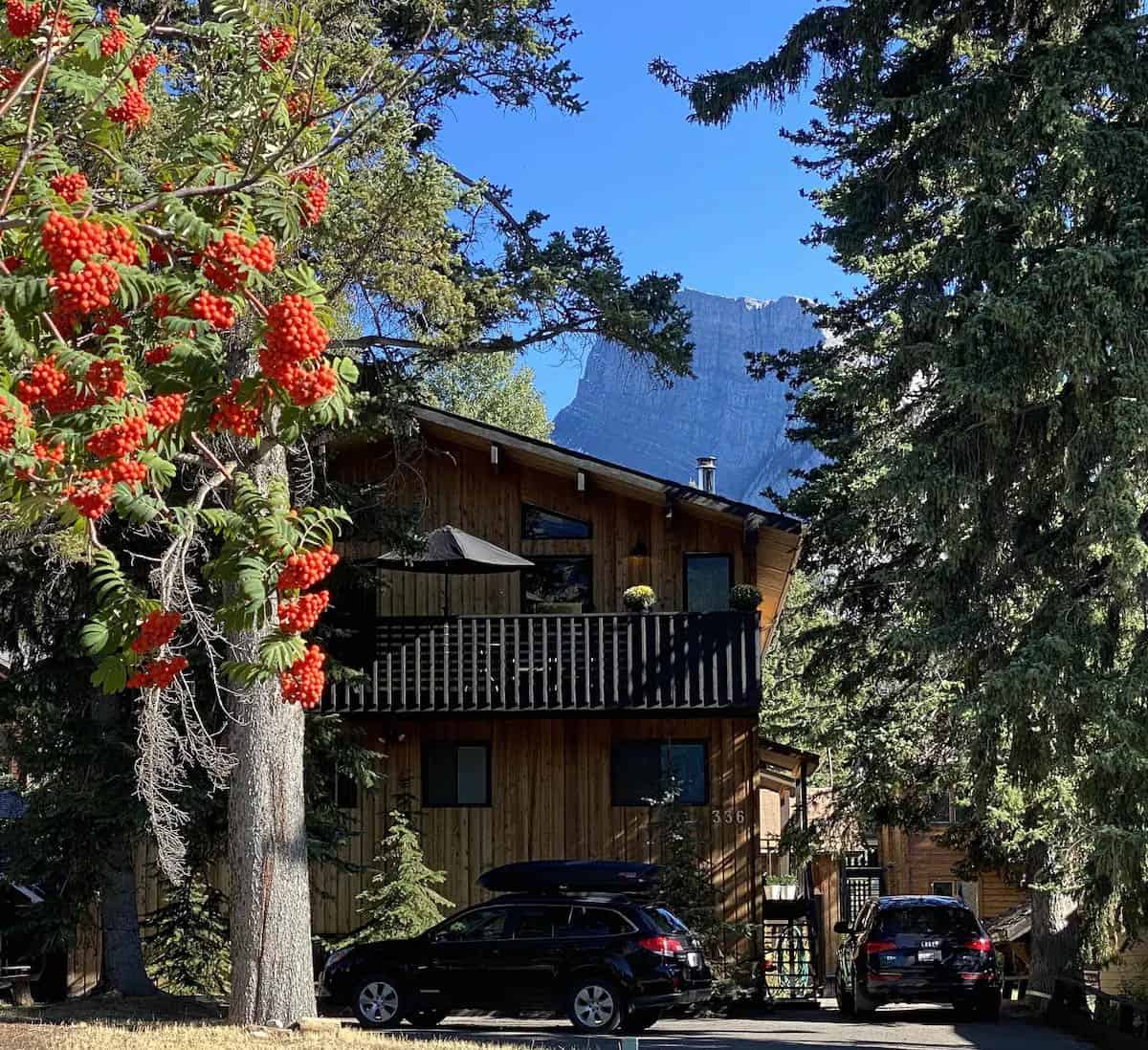 Mountain Suite
With incredible mountain views, this mountain suite has fantastic reviews across the board. With two bedrooms and two bathrooms, it's ideal for a small family or group. Located at the foot of Tunnel Mountain in Banff, it's only a five-minute walk from downtown, the Bow River, and the Banff Centre. Not only is it beautiful – reminiscent of a Banff log cabin – amenities include a large outdoor space, a kitchen, and wifi. It's also known for being extremely clean and welcoming.