Disclaimer: This page may contain affiliate links. Please review our full Terms and Conditions for more information and our Privacy Policy. Note that any pricing, operating hours, or other such information provided below may have changed since initial publication.
Compiled by the Road Trip Alberta team
Updated on January 6, 2022
With 660,000+ square kms of rugged land around us, we're a province rich in gorgeous sights and ways to enjoy them. And when the time comes to get away from it all, to take a brief reprieve from the chaos that is the world, you, my friend are spoiled for choice. We suggest you indulge in some new scenery by road-tripping to a retreat at one of the coolest cabins in Alberta.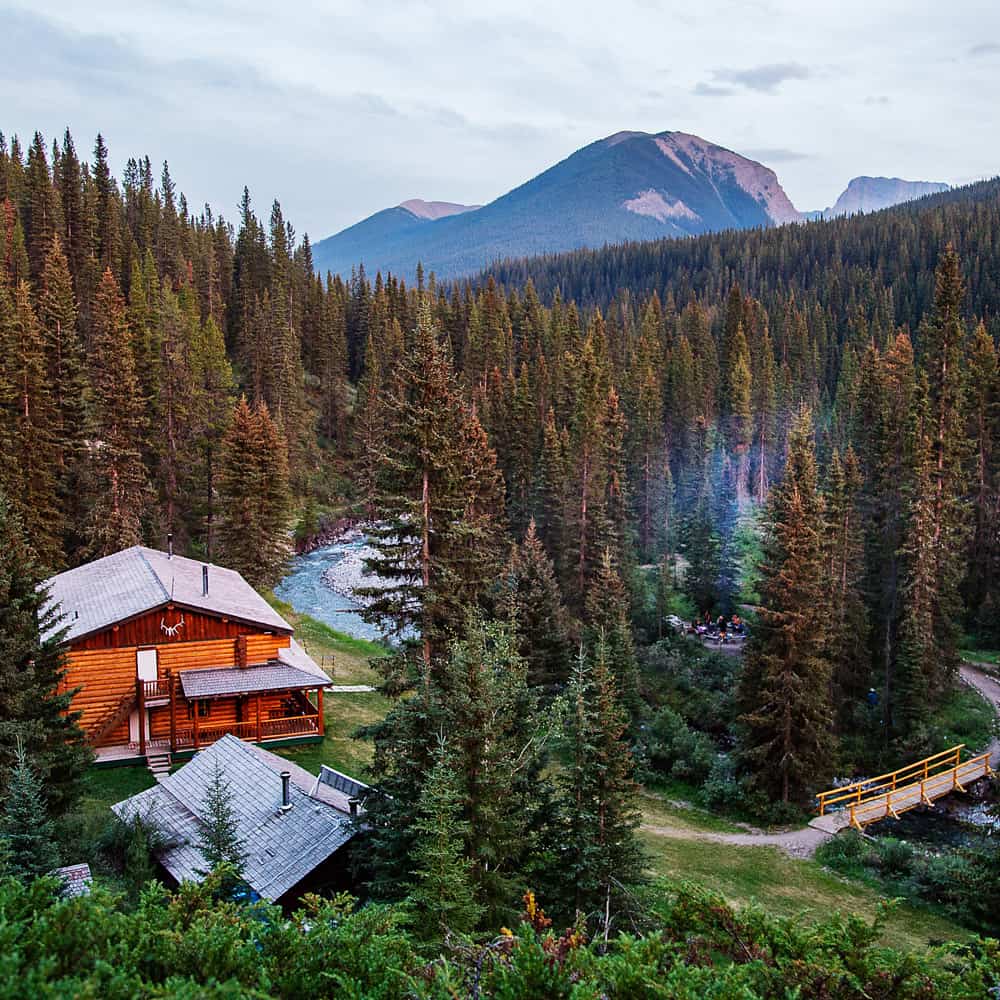 No matter where you go in the province – from the cold, quiet woods of the north, to the looming mountains in Banff and Jasper, all the way to the wide skies and prairie lights in the south – the cabins in Alberta will always connect you with nature.
With so many options, each amazing in its own right, the hardest part will be deciding where you should go.
So, let's help you out with that.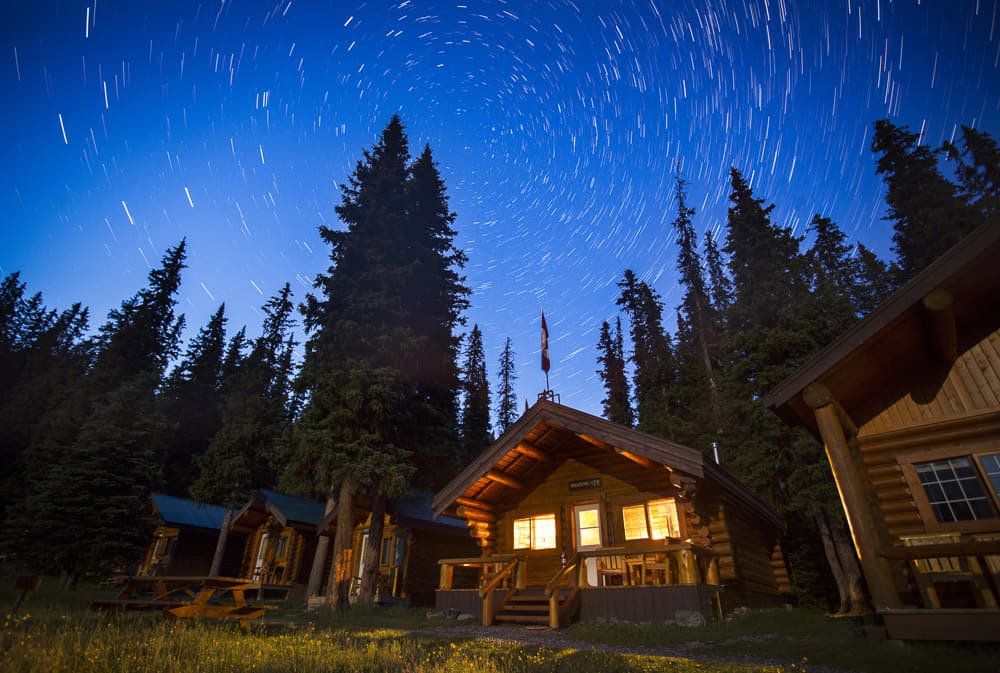 Cabins in Alberta: the Rocky Mountains
HI Rampart Creek Hostel (Saskatchewan River Crossing)
Looking for 'rustic' with a capital 'R'? The HI Rampart Creek Hostel is your place – as long as you don't mind bunk beds. Featuring a complete lack of both electricity and – gasp! – wifi, this hostel is the perfect 'back-to-basics' getaway from the modern world. Located just north of Saskatchewan River Crossing, it's smack dab in between Jasper and Banff on the Icefields Parkway, right in the heart of the mountains where you belong.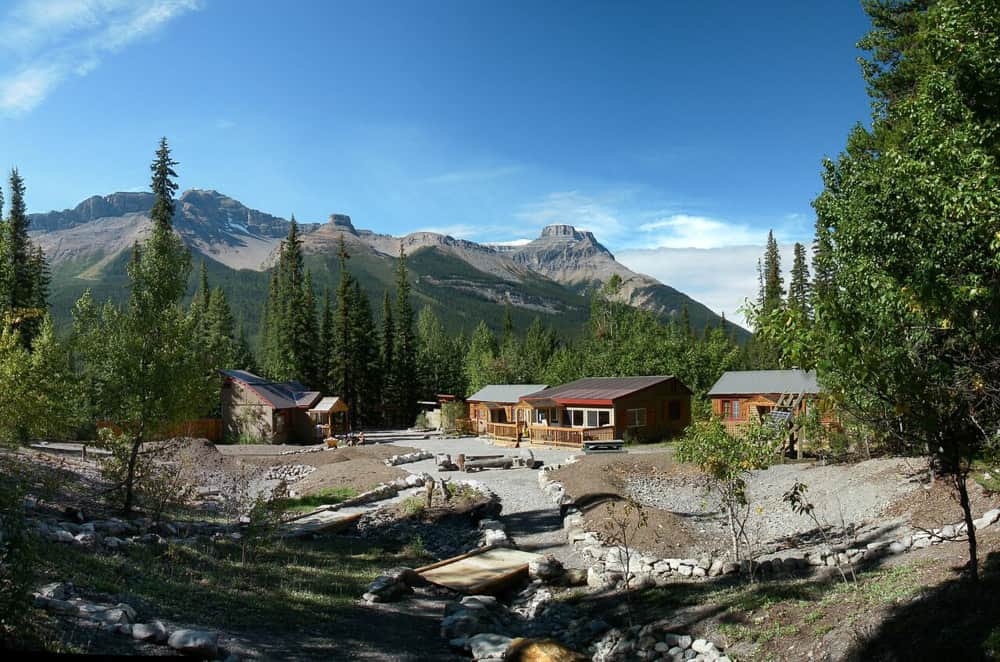 The Gingerbread Cabin (Jasper)
This 'Gingerbread' Cabin may not be made of its namesake, but we think it's just as sweet. Situated on the border of Jasper National Park, this log cabin sits on half an acre of forest, within sight of the park. That gives you plenty to see and do, with Jasper townsite only a half-hour away, Miette Hot Springs just kilometres away, and mountains and lakes for miles. That's if you can tear yourself away from this cabin's comfy embrace, including a classic log interior, plenty of room to cook, and of course a crackling fire!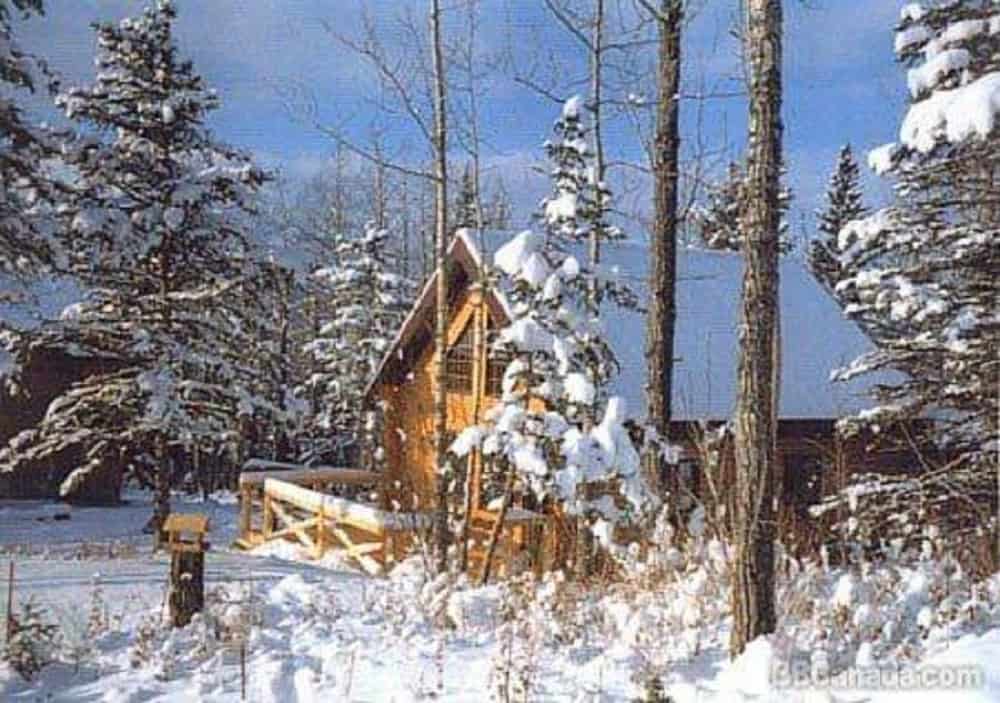 Tekarra Lodge (Jasper)
Tucked into the heart of Jasper National Park, you're surrounded by tall pines and babbling brooks as you snuggle in close at Tekarra Lodge. A particular favourite for couples, Tekarra features stone fireplaces and balconies in each cabin.
For some fresh air, there's hiking and walking trails nearby, as well as the town of Jasper which is just 2km away. For a longer trek, visit Marmot Basin, a half-hour drive away, then head back to Tekarra Restaurant for some globally-inspired cuisine you can sink your teeth into.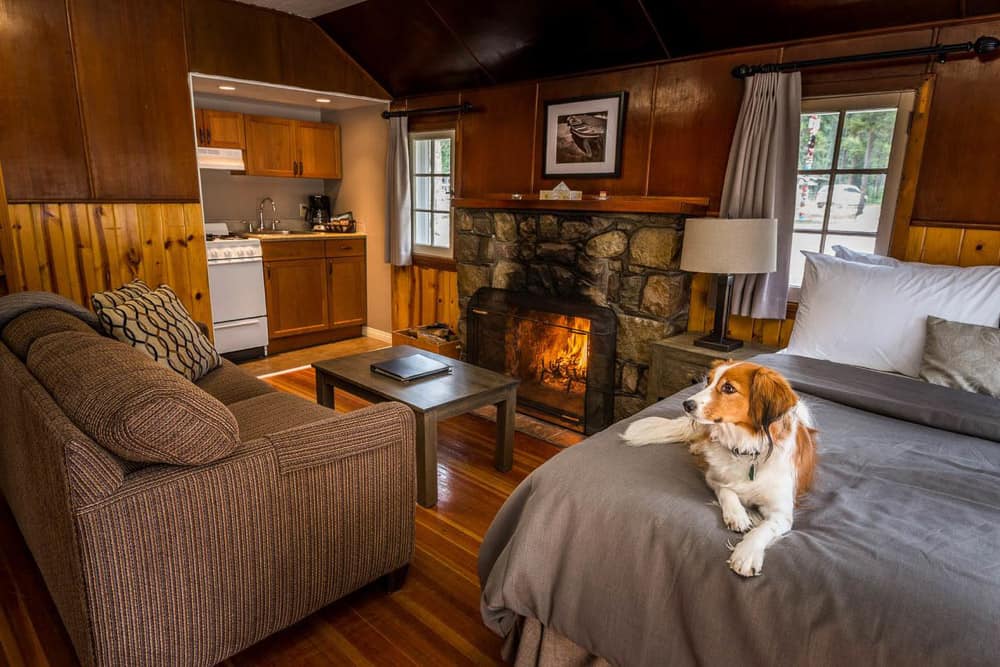 Pocanhontas Cabins (Jasper)
The Pocahontas Cabins will have you in awe with the surrounding mountain peaks and crisp Rocky Mountain air right outside your door in Jasper National Park. The cabins are available year-round and located 30 minutes from the Jasper townsite. They are the perfect choice for family vacations or romantic getaways. These cozy cabins have kitchens and some also have an extra bedroom and balcony.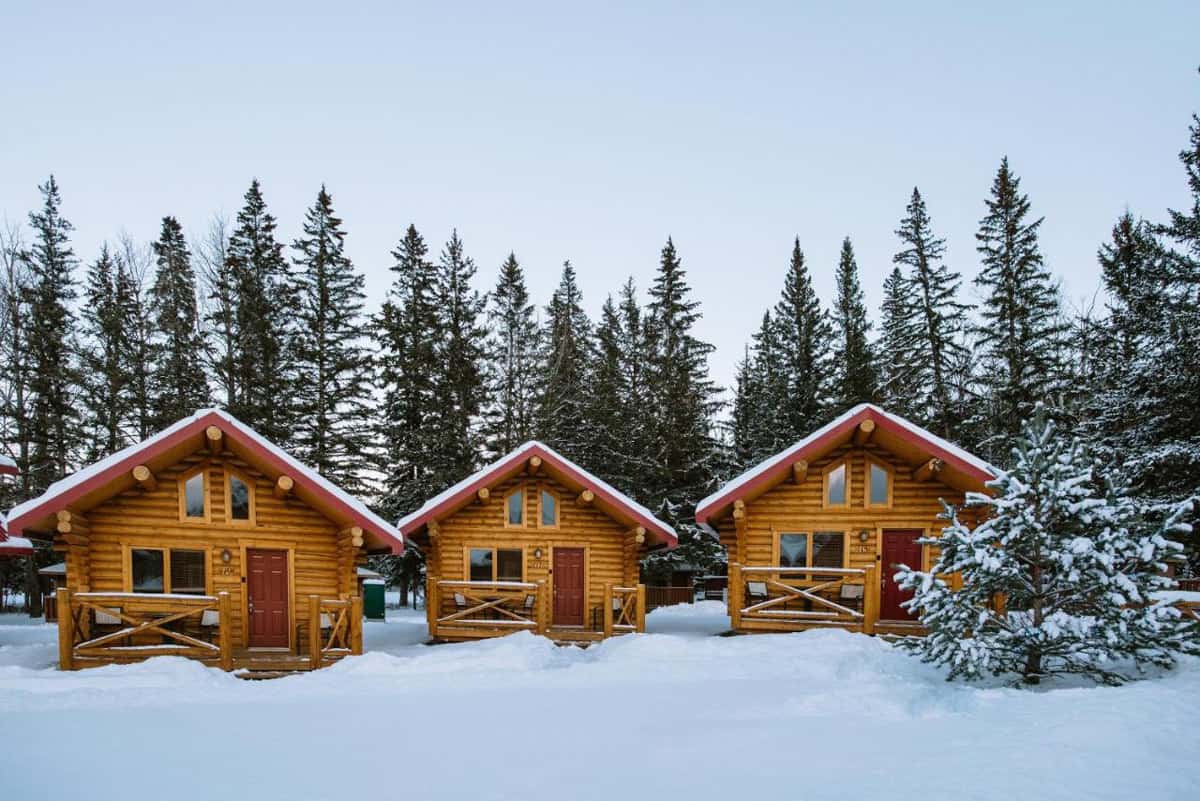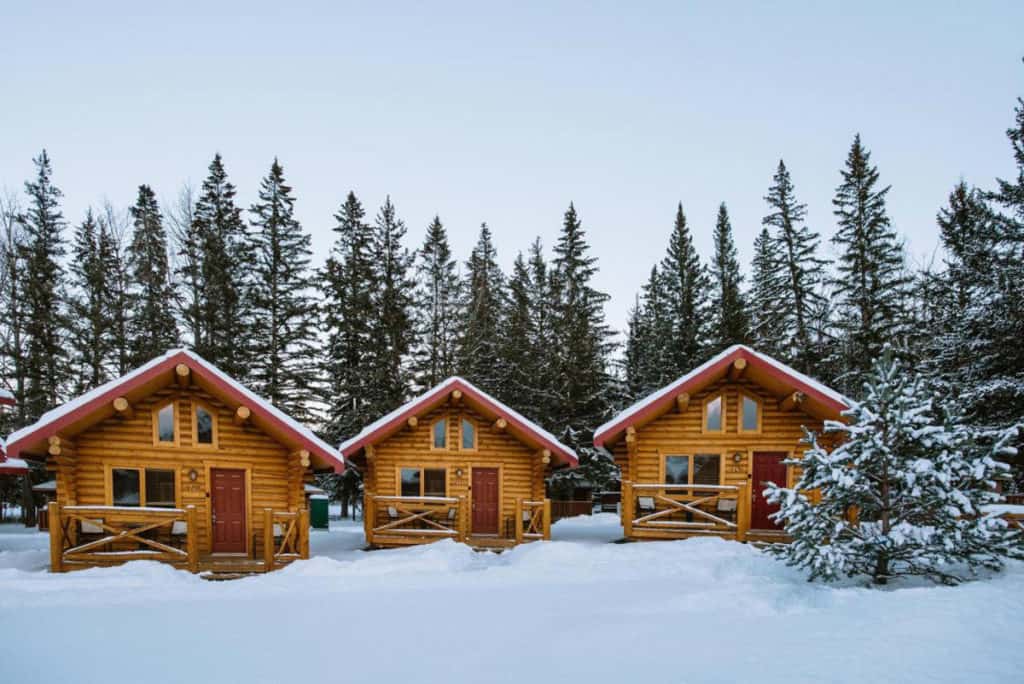 Johnston Canyon Lodge and Bungalows (Banff)
Surrounded by nature in Banff National Park and operating since 1926, Johnston Canyon Lodge & Bungalows are family owned and located at the trail-head of the beautiful Johnston Canyon. There are 42 heritage bungalow/cabin accommodations with a number of sizes and amenities offered. If you don't bring your own food to the cabins, there is a market/cafe and a restaurant bistro in the lodge.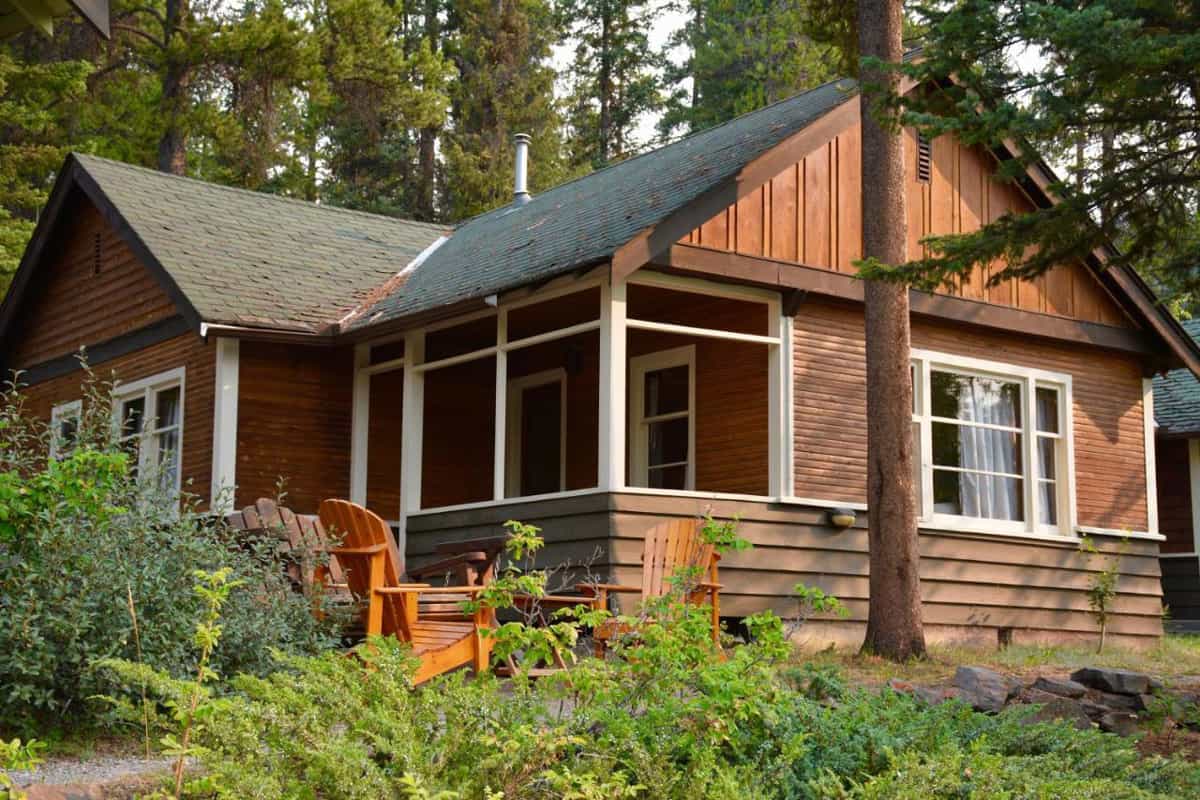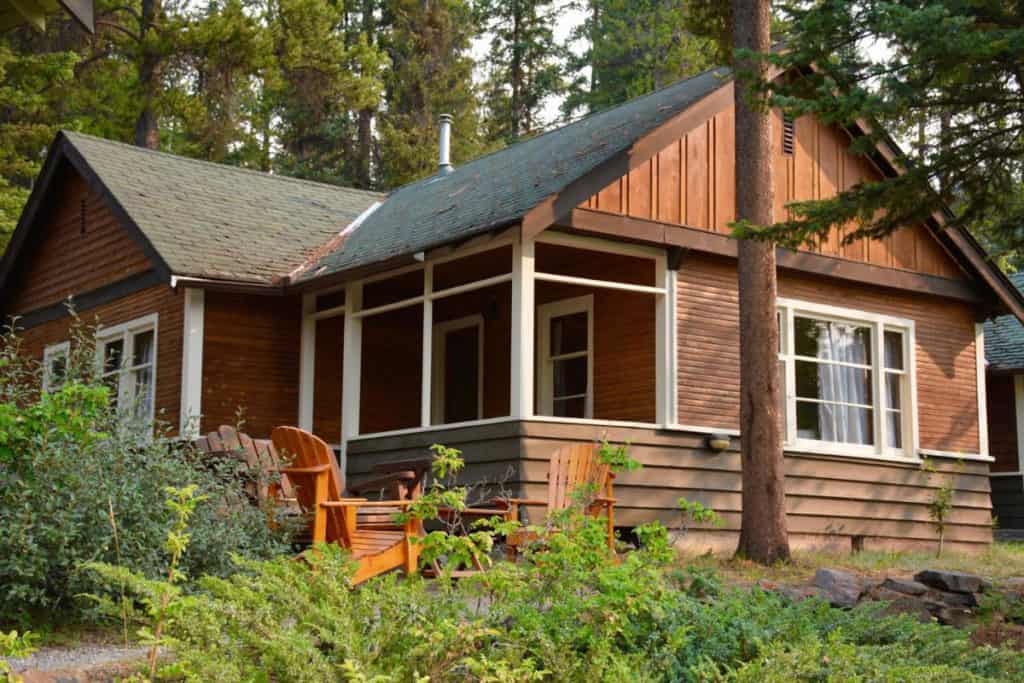 Baker Creek Mountain Resort (Lake Louise)
Panoramic mountain views coupled with a crackling fire await for you at Baker Creek Mountain Resort – and you don't get much more Canadian than that! With a variety of cabins, from Loft to Heritage Trapper, you can choose the floor plan that best meets your needs, family and cabin vacation style. Once you're 'cozied in', there's plenty to do, from outdoor adventures to the delicious, on-site bistro.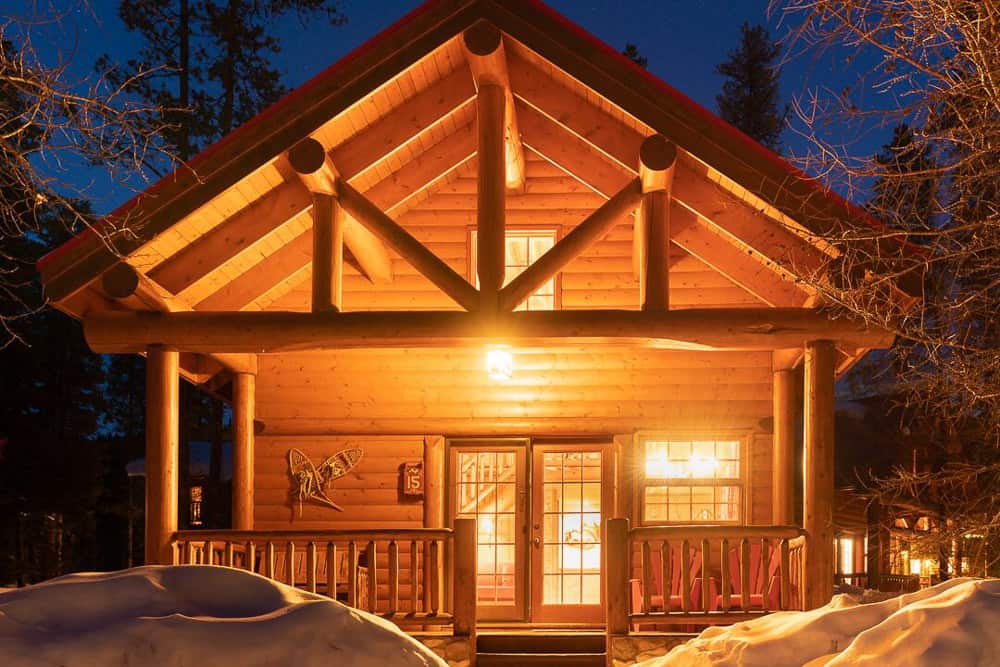 Cabins in Alberta: South
Caboose Cabins (Mossleigh)
Nestled amidst trees at Aspen Crossing just outside the town of Mossleigh, sits a charming attraction maintaining strong 'ties' to history – The Caboose Cabins. Choose to stay at a number of iconic CPR cabooses (cabeece?) that suit your personality. And just because it's got a historic feel doesn't mean it's short on amenities either. With your own private deck and luxury design, you'll feel like a veritable tycoon! You can even bring your trusty side-kick pup along for an extra $50.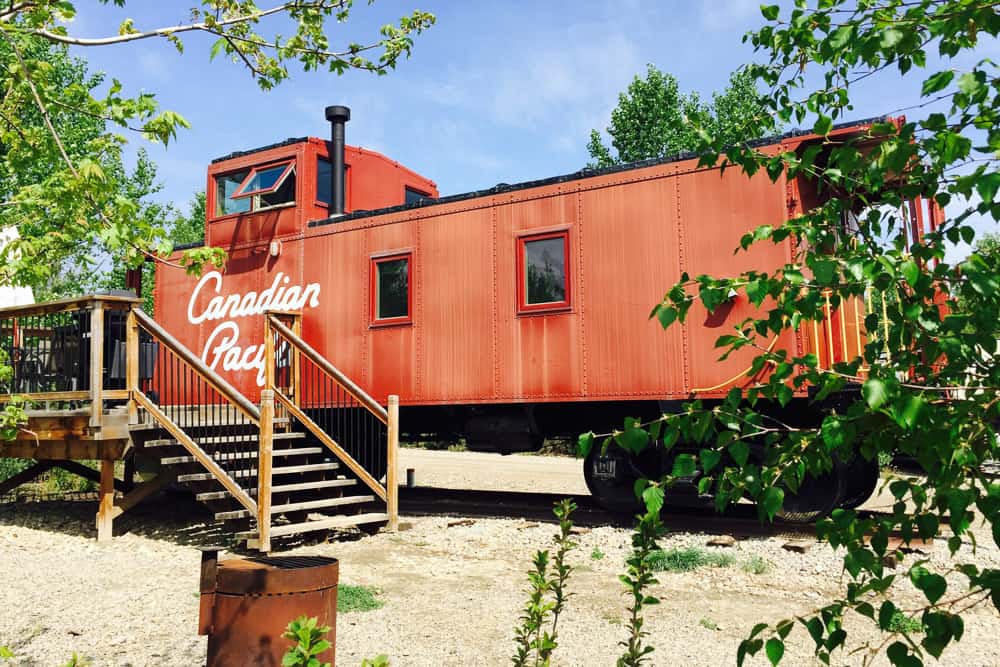 Prairie Rose Cottage (Fort Macleod)
Only ten minutes south of Fort Macleod lies the Prairie Rose Cottage and it's a fantastic spot to catch a prairie sunset. This charming "little cottage on the prairie" is fully equipped with a queen-sized bed, a fully stocked kitchen, a patio with a bbq, bicycles for guests to use, and a fire pit to sit around in the evening. It's also a great spot to stay if you want to explore so many of the surrounding attractions including Waterton Lakes National Park, Writing-on-Stone Provincial Park, or Head-Smashed-In Buffalo Jump.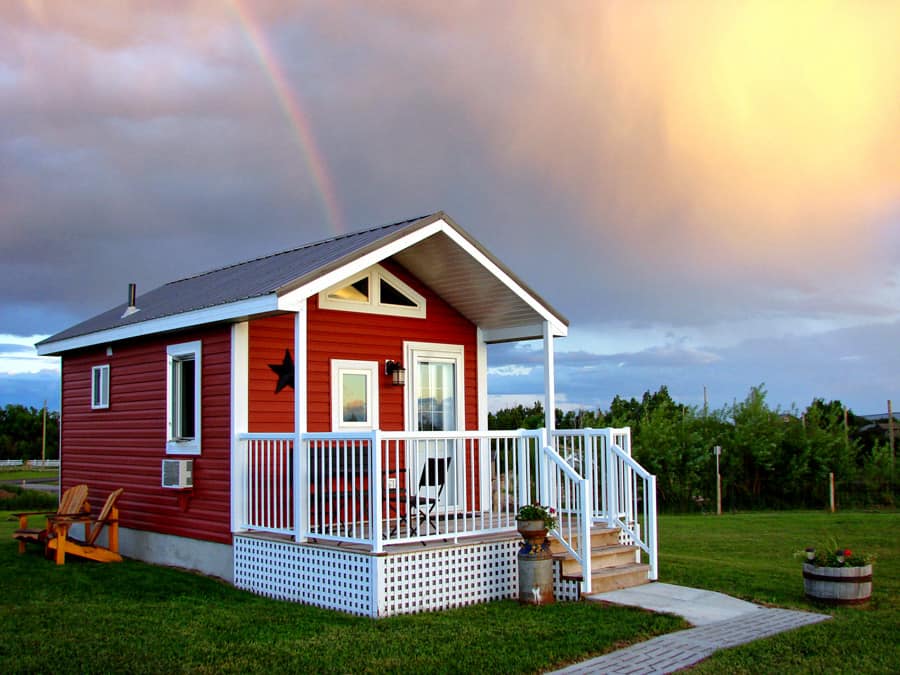 Enchanted River Cottage (Drumheller)
Cottage or cabin – they both mean cozy in our books. At the Enchanted River Cottage, you're immersed in tons of rustic, old-world charm. With a lazy river, water features and hearth worthy of the word, this cottage is the perfect place to kick up your tootsies and melt into the furniture. And if the view isn't enough, you can visit Drumheller's giant dinosaur just metres away, or check out some hoodoo hiking a short drive away. If you're extra distinguished (old chap!), then head to the Royal Tyrrell Museum for a laid-back perusal.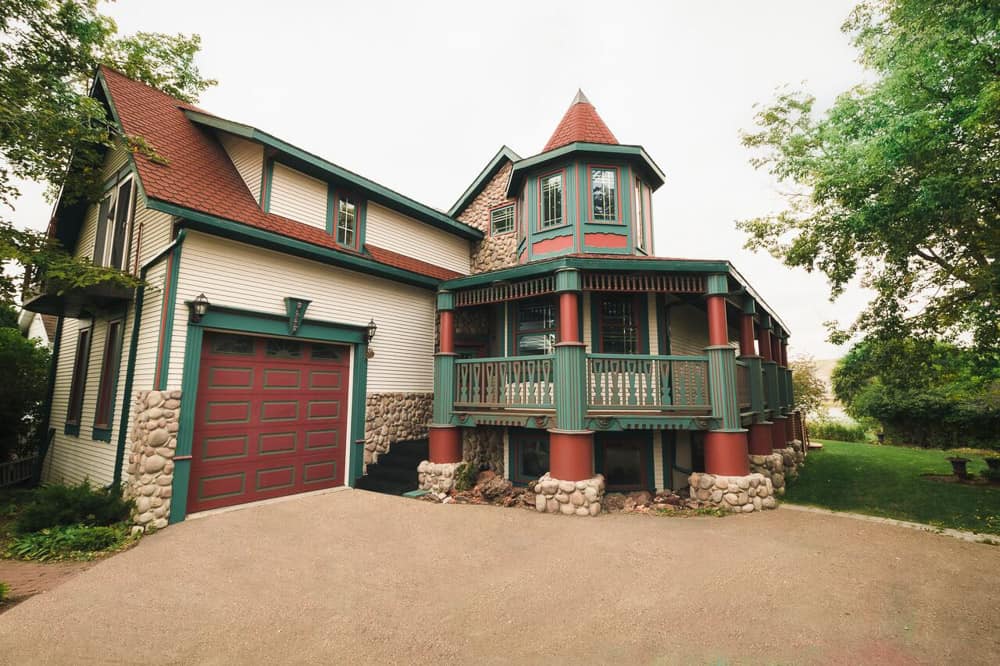 Stardust Inn and Chalets (Pincher Creek)
On the more modern side of things, the Stardust Inn and Chalets offer all the amenities of home on the doorstep of the southern Rockies. Nestled nearly equidistant from Frank Slide Interpretive Centre, Waterton National Park and Head-Smashed-In-Buffalo Jump, there's plenty of hiking, learning and exploring available within about a half-hour drive. If you prefer to relax with a club in your hand, Pincher Creek Golf Club is just 3 km away.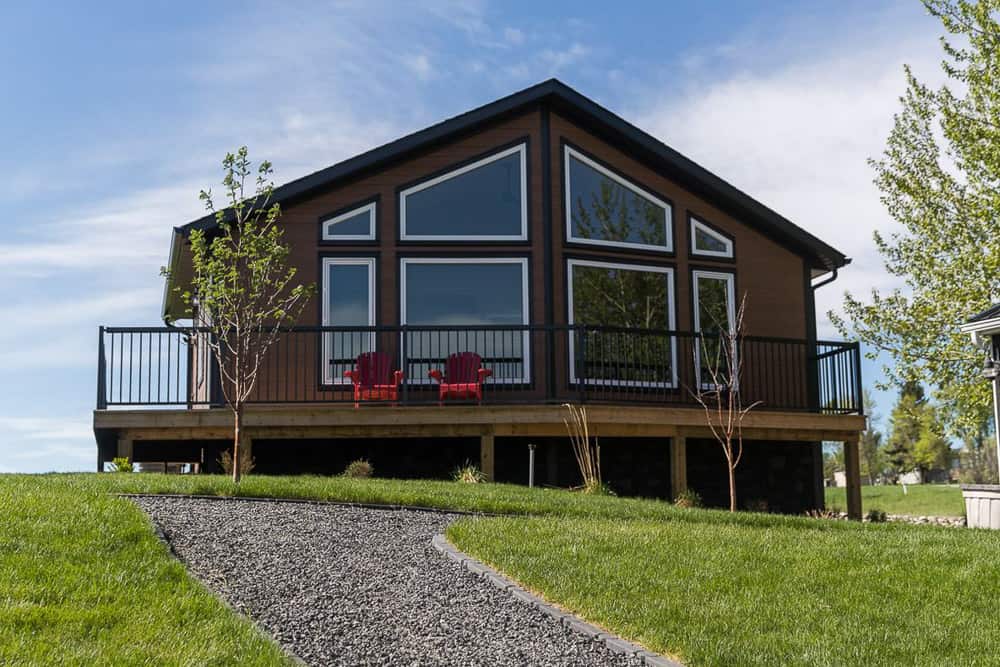 Midsummer Cottage (Crowsnest Pass)
In the heart of Crowsnest Pass and minutes away from the PowderPass Ski Resort is the Midsummer Cottage, a creation by Charmed Family Resorts. One of the most magical cabins in Alberta is inspired by Shakespeare's, "A Midsummer Night's Dream". Rumour has it if visitors are paying close attention, they will find themselves amongst flying fairies. The cottage comfortably sleeps 6 (220 square feet) and is perfect for a family getaway. Inside there are 2 queen beds, 2 single bunk beds and a willow tree fireplace to keep you warm and cozy on the cool Alberta nights.
Outside there's a cooking area with grill, a fire pit, hot-tub and a full bathroom (sink, shower, toilet). There are currently five cottages to rent – Elvyn's Cottage, Lia's Cottage, Rapunzel's Cottage, and Rumpelstiltskin's Cottage are the other four – and they range in price from $295 to $345 per night.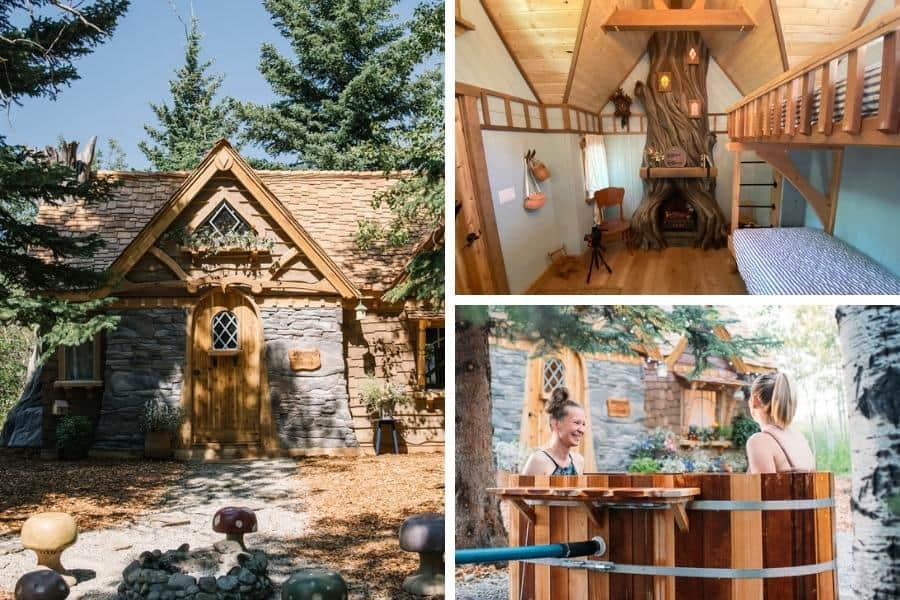 Cabins in Alberta: Central
Fox Lake Retreat (Hanna)
Looking for that charming 'lake side' of life? The Fox Lake Retreat, right outside of Hanna, boasts beautiful lake views from your own private patio along with a requisite BBQ. Unwind your hours away fishing, canoeing, hiking or just sitting around the fire enjoying the serenity. If it gets a bit too quiet for your liking, The Fox Lake Park and Playground is a quick walk away, or for restaurants and a golf course, you can take a quick drive into town.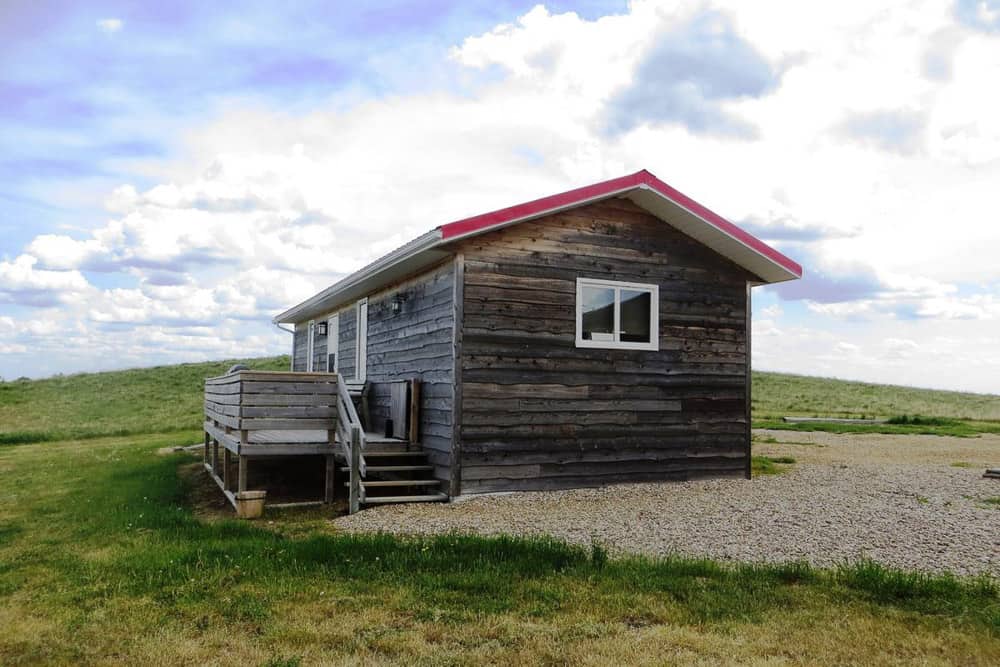 Gone Fish Inn (Alberta Beach)
Just 35 minutes west of Edmonton, the Gone Fish Inn offers the whole rustic experience of a cabin without the long drive to the mountains. Fixed on the shores of beautiful Lac Ste. Anne, these cabins boast almost half a kilometre of private lakefront property for you to enjoy. From fishing to water skiing, to just embracing that serene lake life, the Gone Fish Inn has just about everything you could want from your cabin retreat!
Cabins in Alberta: North
Peace River Cabins and Outdoors (Peace River)
From full-service cabins to something a little more 'rustic', these Peace River Cabins give you options. Placing you right there on the banks of the mighty Peace River, and out of the reach of all that city stress, these small cabins are the perfect cure for too much hustle and/or bustle. Hang out by the fire, or launch your boat and explore the river – your options for relaxing are endless.
Christina Lake Lodge (Conklin)
Love to fish? Christina Lake Lodge is your spot to cast! Get up early, rent a boat and glide across that crystal clear water – then head back to your cabin for a freshly barbecued meal (fresh fish, or like us unlucky fishermen, a hot meal from the A La Carte menu on-site). That's what (cabin) life's all about, right? Simple. Living. Of course, when you get back to the cabin, all the modern amenities (wifi, bathroom, electricity, heat, television) are waiting to keep you snug.
Wondering about how to get from A to B? We've got an extensive list of Alberta route guides that not only outline the quickest routes, but also gives options of alternate (more fun!) routes.
And don't forget to download our FREE Road Trip Alberta bingo cards to make any journey more fun!