Disclaimer: This page may contain affiliate links. Please review our full Terms and Conditions for more information and our Privacy Policy. Note that any pricing, operating hours, or other such information provided below may have changed since initial publication.
Compiled by the Road Trip Alberta team
Last updated on June 9, 2023
When you spend any amount of time in Waterton Lakes National Park, you're likely to work up an appetite! With so many amazing outdoor adventures to be had, you'll need to fuel up in a big way. Lucky for you, although many are open only for the warm weather months, there are some truly fab Waterton restaurants to choose from.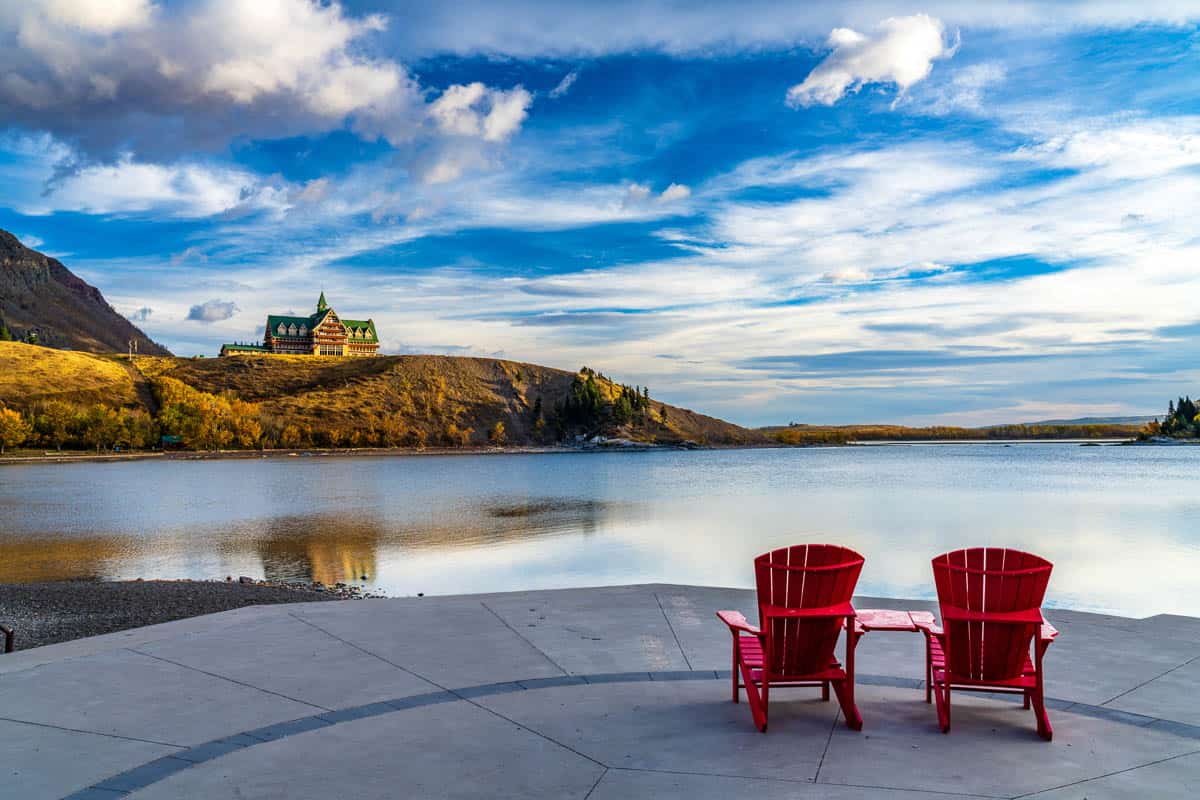 The Best Restaurants in Waterton
Red Rock Trattoria
Location: 107 Wind Flower Ave
Found inside the Waterton Glacier Suites, Red Rock Trattoria is open year-round. Formerly the Red Rock Café, this Waterton restaurant features Italian cuisine made with the freshest ingredients possible, from starters to pasta to an amazing selection of Italian wines. One of the only restaurants in Waterton Village that remains open for the entire year, it's the perfect place to relax and unwind after an adventure-packed day in the park.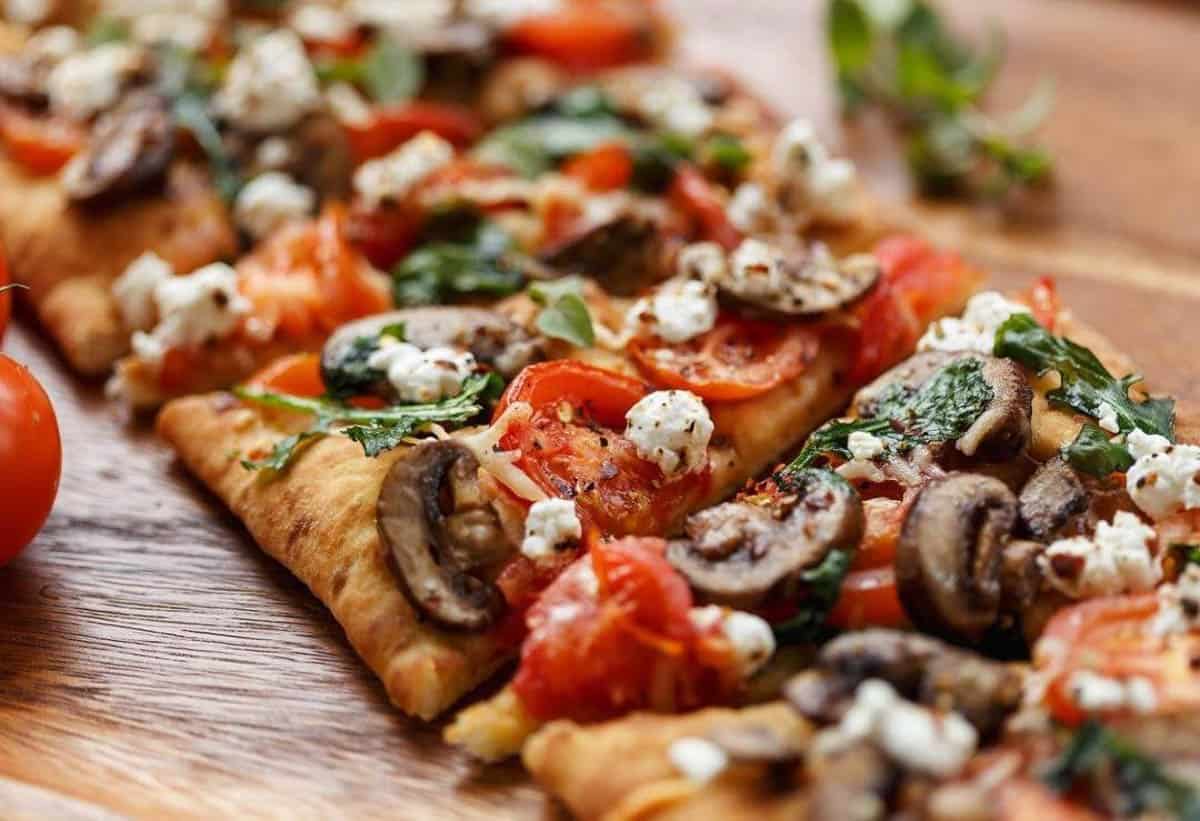 The trendy, modern restaurant has a welcoming atmosphere and even a fireplace to cozy up next to. While the menu is relatively small, it packs a real punch; you'll find many classic Italian dishes that will satisfy any cravings for authentic Italian food. On the "primi" list, you'll find calamari, mussels, and minestrone, while the "secondi" meals of pasta are divine, with options such as seafood fettuccine, ricotta gnocchi, and even bison lasagna made with local Alberta bison. Save room for the "dolce", as they have a stellar tiramisu at Red Rock Trattoria!
Thirsty Bear Kitchen and Bar
Location: 111 Waterton Ave
With a fantastic location right on the lake, Thirsty Bear Kitchen and Bar is definitely one of the best restaurants in Waterton. This gastropub is known for its lively atmosphere, as there are pool tables, foosball, and nightly specials; we also love the Canadiana decor, with lots of wood accents and dark leather. Technically the only pub in Waterton Lakes, it's a great spot to grab a drink and a tasty meal as well as enjoy the local music and entertainment.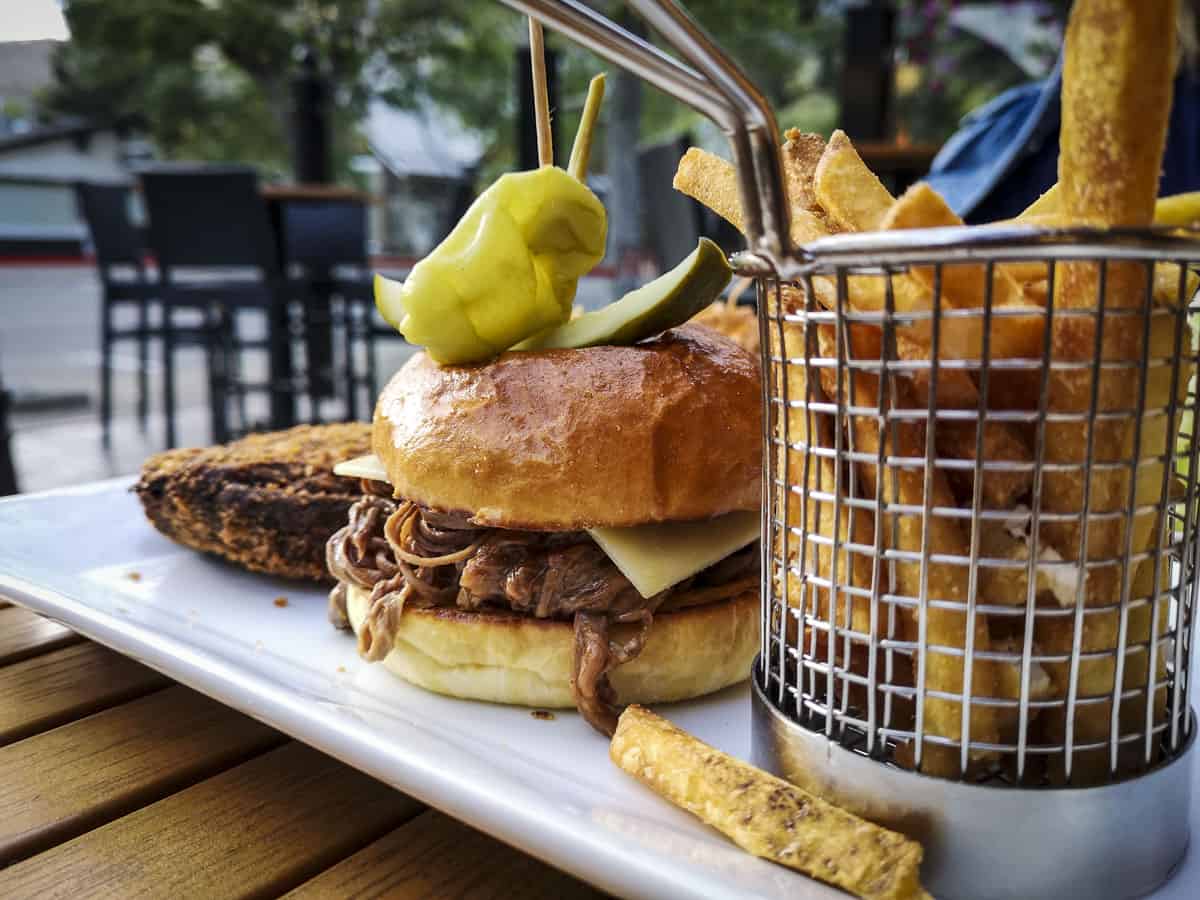 The menu has tons of starters and sharing plates, including a nacho platter, Korean lettuce wraps, chicken wings, and a delicious shishito queso dip. As for the mains, expect drool-worthy pub fare, including burgers, fish tacos, beef brisket, and an unbelievable grilled cheese sandwich (with smoked pork belly and halloumi cheese). So if you're looking for good food and beautiful views, you can't miss Thirsty Bear Kitchen and Bar on your next trip to Waterton Park.
Wieners of Waterton
Location: 301 Wind Flower Ave
Wieners of Waterton is one of our favourite places to eat in town. And it's not just us, there's always a line-up outside, and believe us, it is worth the wait. This gourmet hot dog spot is perfect for a snack, a meal, or to satisfy that hot dog craving whenever it strikes! Thankfully, there are also "anti-dogs" (AKA a falafel wrap), so everyone can find something they love at this restaurant. There are also a lot of delicious side dishes, such as sweet potato fries and poutine, so there's lots of fuel for your next Waterton adventure!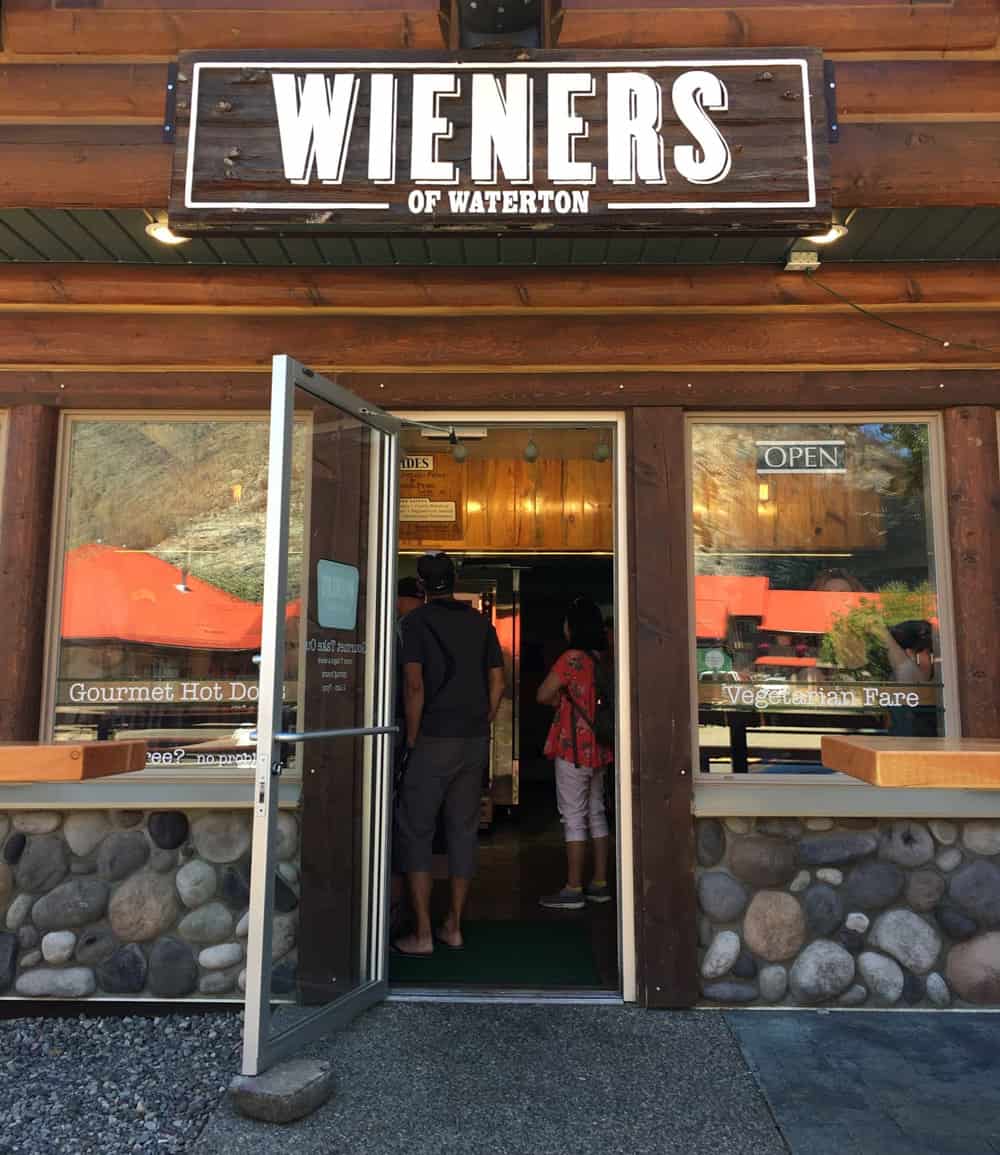 On the menu, you'll find smokies, a 1/4-pound hot dog, and even hot dogs sized perfectly for kids. The toppings are unreal, with options such as house sauerkraut, ginger carrot, pickled onion, banana peppers, and creamy coleslaw, and there's a good choice of sauces, too. As for the sides, the Canadian poutine is fantastic, and we're suckers for the deep-fried pickles. So if you're after a fun, easy meal in Waterton Lakes National Park, this may just be your new go-to spot.
Waffleton
Location: 301 Wind Flower Ave
Waffleton in Waterton, doesn't that have a nice ring to it? This seasonal restaurant is perfect for a sweet treat when you're in Waterton Lakes National Park. With outdoor seating and a quaint, friendly vibe to the café, Waffleton has a mix of savoury and sweet dishes, although we always tend to go for the dessert. Stop here for waffles and other breakfast snacks or an afternoon pick-me-up; the staff is very generous with the whipped cream, butter, and fruit, so you know you're in for a filling treat!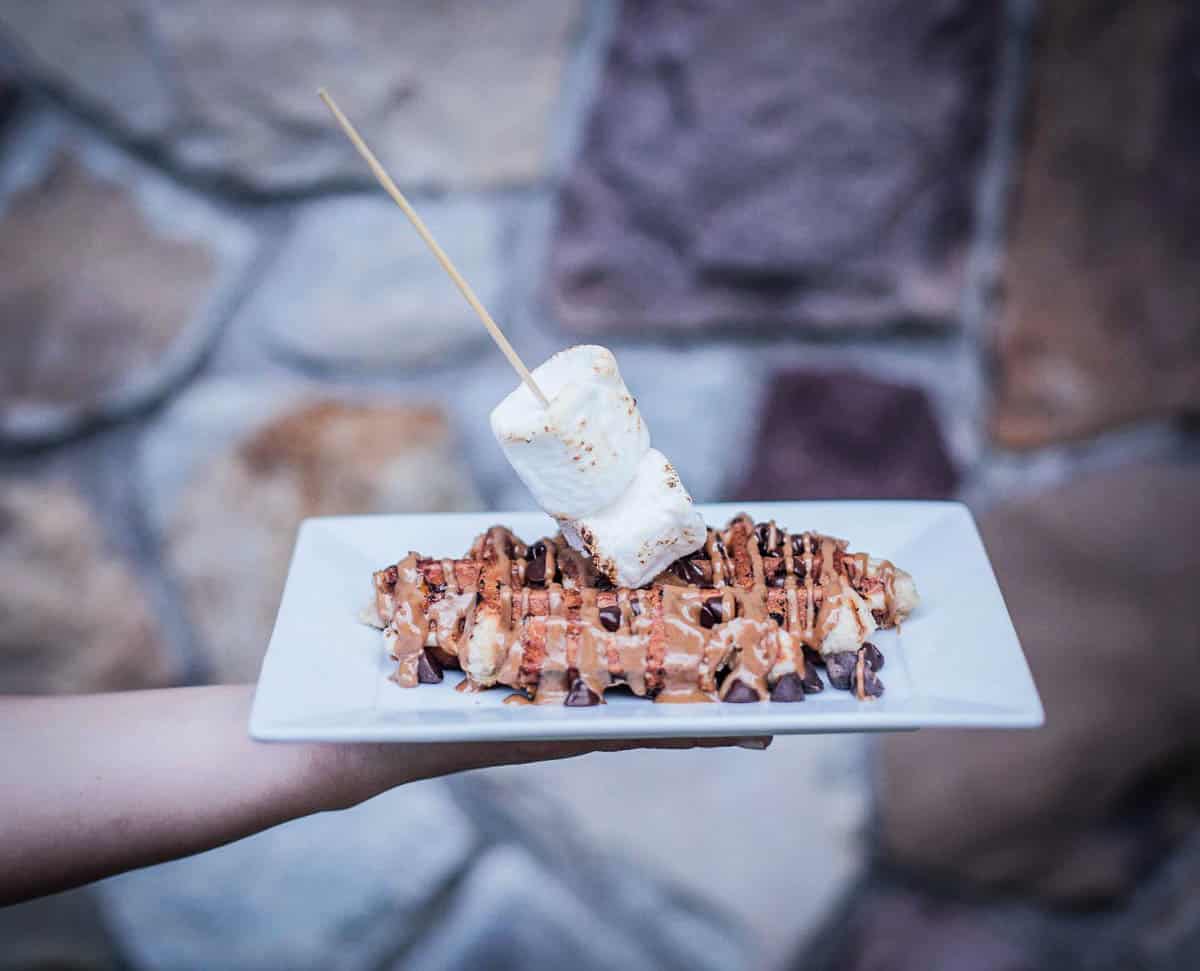 Their waffles are made daily from scratch, and we can't resist their delicious golden liege waffles with fresh fruit. But there's an incredible selection of heartier meals, too, in case you're after a proper breakfast, brunch, or lunch; last summer, for example, Waffleton featured a dish with basil poached oranges, whipped mascarpone cream, orange curd, candied orange zest and a basil leaf garnish, all served on their famous liege waffles. They also offer coffee and other beverages, including lattes, espresso, and more.
The Lakeside Chophouse
Location: 111 Waterton Avenue
By far one of the most popular restaurants in Waterton, Lakeside Chophouse is one of the only Waterton restaurants by the lake. This means it has some of the best views out of any of the restaurants in the park or village! Always bustling, Lakeside Chophouse has a menu filled with ingredients from all over the world, yet it still manages to showcase the best of Western Canada, too. Snag a spot on the patio in summer for the very best views of the mountains and the lake, making this a meal you won't soon forget.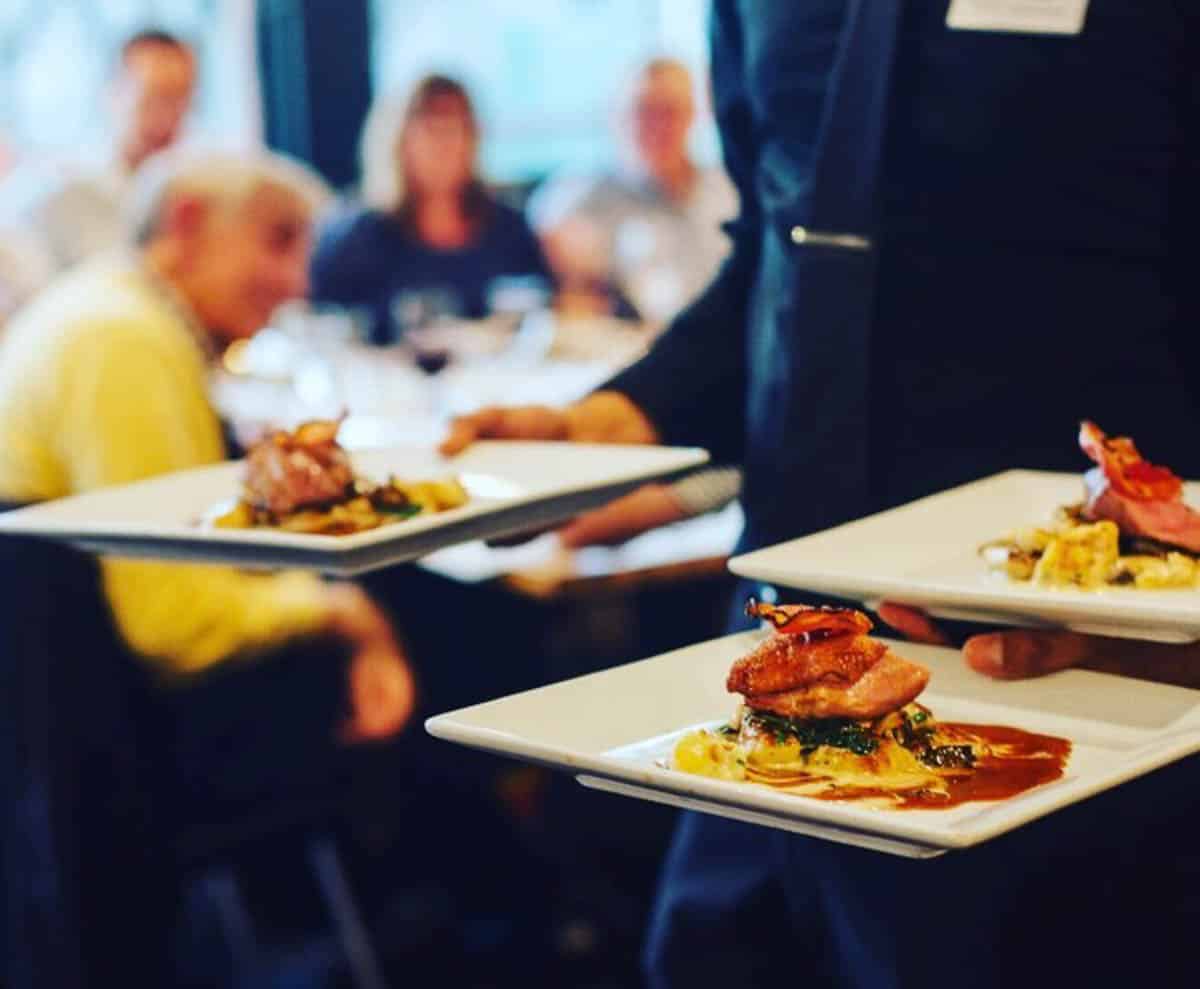 Open for breakfast, lunch, and dinner, Lakeside Chophouse has an amazing selection of meals; no matter what you're after, the restaurant probably has some variation of it. Try one of their bowls (we love the West Coast Bowl with turkey sausage), chicken and waffles, or the incredible banana chocolate chip pancakes for breakfast. You'll find starters on the main menu ranging from crab cakes to tortilla soup to baked brie. There are also salads, sandwiches, and an excellent list of signature dishes, including braised short ribs and grilled dijon salmon. And all of the restaurant's steaks are Alberta-certified Angus beef, aged a minimum of 32 days for the best tenderness and flavour.
Don't forget to check out the Fireside Lounge and Wine Bar next door, where you can enjoy craft beers, fine wines, cocktails, and more, including live music.
Zum's Eatery and Mercantile
Location: 116 Waterton Ave
One of our favourite places to eat in Waterton Lakes National Park, Zum's Eatery and Mercantile is a casual, family-friendly restaurant that serves breakfast, lunch, and dinner… so no matter what you're after, they can probably sort you out! With a lovely, large patio outside and a fun, eclectic vibe inside, Zum's is the kind of place where you instantly feel at home.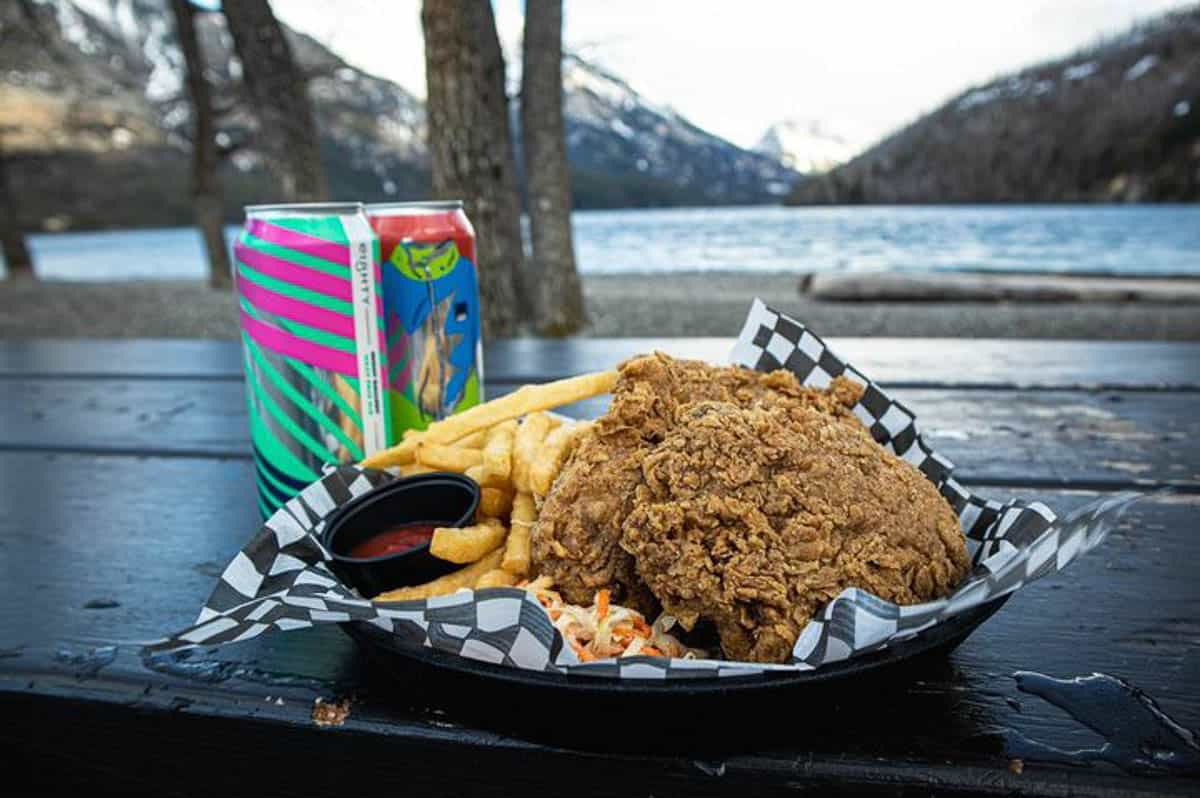 For breakfast, enjoy a range of Canadian and international meals, including breakfast bowls, omelettes, hot cakes, French toast, and more. Lunch is just as hearty, with options ranging from burgers to salads to fish and chips. Dinner is similar to lunch but with even more options; we love Zum's Famous Fried Chicken, the Baby Back Ribs, and the Hearty Homemade Chili. There's also a solid selection of appetizers, sides, and drinks (try one of the amazing milkshakes), as well as options to make meals vegetarian and gluten-free.
Pearls Café
Location: 305 Wind Flower Ave
Known as a "haven for hikers", Pearls Café is a lovely little spot to eat in Waterton Lakes. Whether you want to pick up a meal to take with you on your adventure for the day, sit and relax on their patio with a coffee, or stay a while for a meal, Pearls Café has a lot of great options. There's also a weekly hiking group that meets here that you are welcome to join!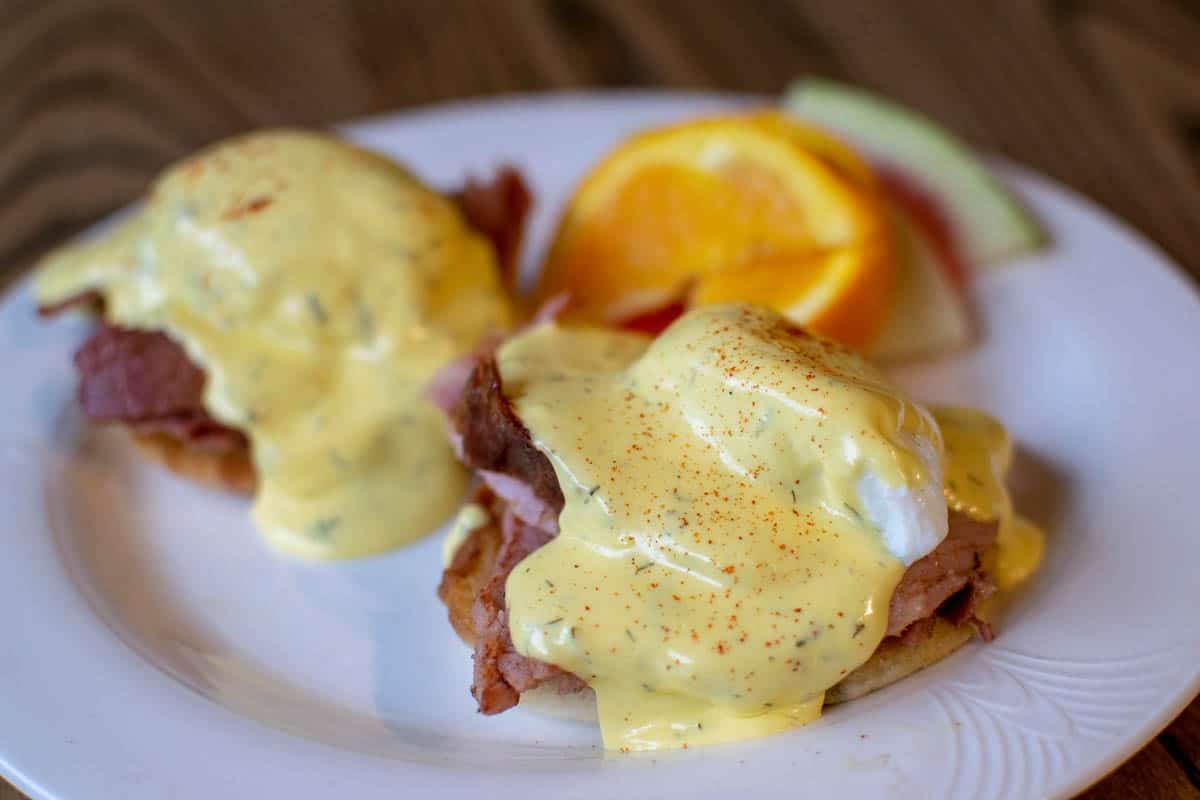 Interestingly, Pearls Café shares a roof with Pizza of Waterton, so you can order off of that menu as well. But if you're after more traditional café or breakfast fare, there's a great menu to choose from; there are waffles, French toast, pancakes, granola bowls, breakfast sandwiches, and a fantastic Pearl's Eggs Benny that will start your day off right. Warm and inviting, we always love popping into Pearls Café in Waterton.
Pizza of Waterton
Location: 305 Wind Flower Ave
Sharing a roof with Pearls Café (see above), Pizza of Waterton is another popular choice for restaurants in Waterton Lakes. A beloved restaurant in the village for over 20 years, there's a wonderful patio to enjoy in warm weather that's open until 10 pm so that you can chill here after a day exploring the park with a cold beer and a delicious pizza.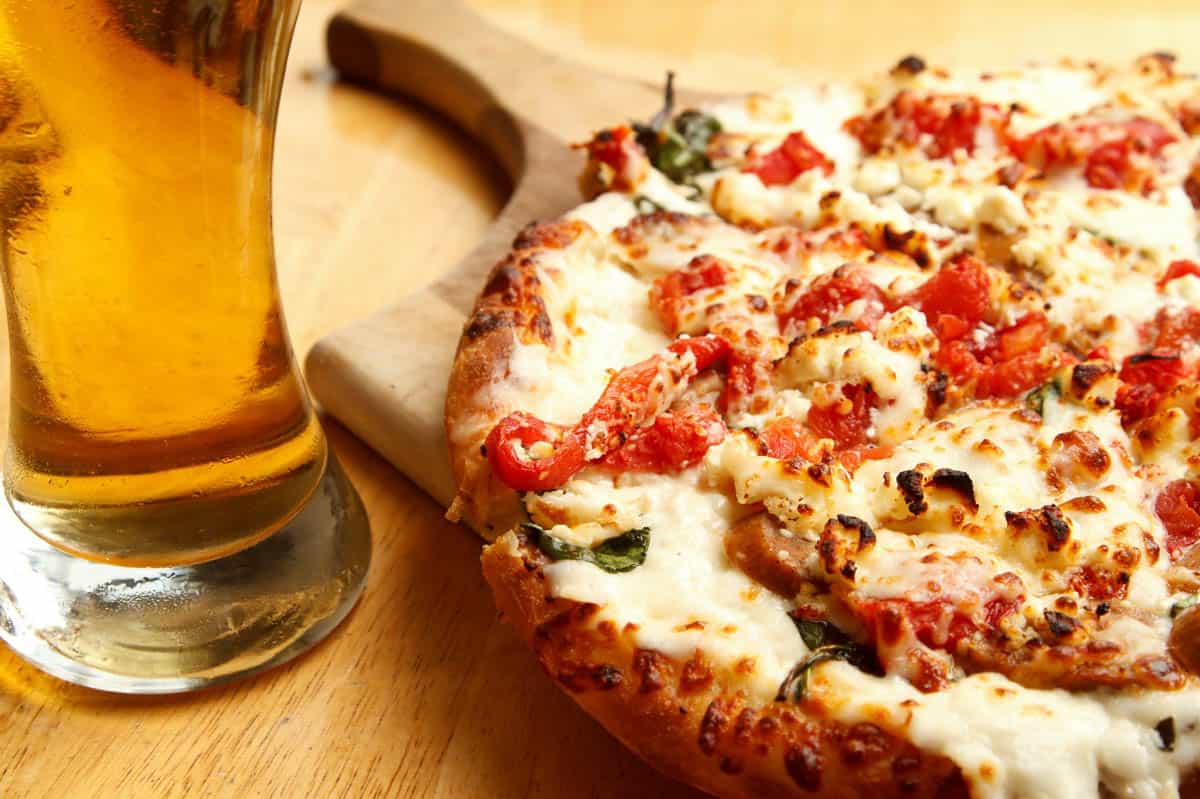 There's a good mix of meals on the menu, as despite the name, Pizza of Waterton doesn't just serve pizza! Choose from appetizers such as nachos, salads, or soups; there's also a selection of wraps and sandwiches, as well as a couple of pasta options. But we do recommend the pizza, as there are both specialty pizzas as well as build-your-own pizza options available. We love the Wild Bear (with Alberta beef, jalapeños, banana peppers, onions, mushrooms, and a zesty tomato sauce) as well as the Greek (with spinach, black olives, onion, tomato, feta cheese, and tomato sauce, all topped with a balsamic glaze).
Waterton Park Cafe
Location: 110 Waterton Ave
With a friendly atmosphere and a homey feel, an hour or two spent at the Waterton Park Cafe will provide much-needed unwinding after a strenuous day of hiking! Offering affordable prices and homemade food, this family-run spot is a popular place in Waterton Lakes.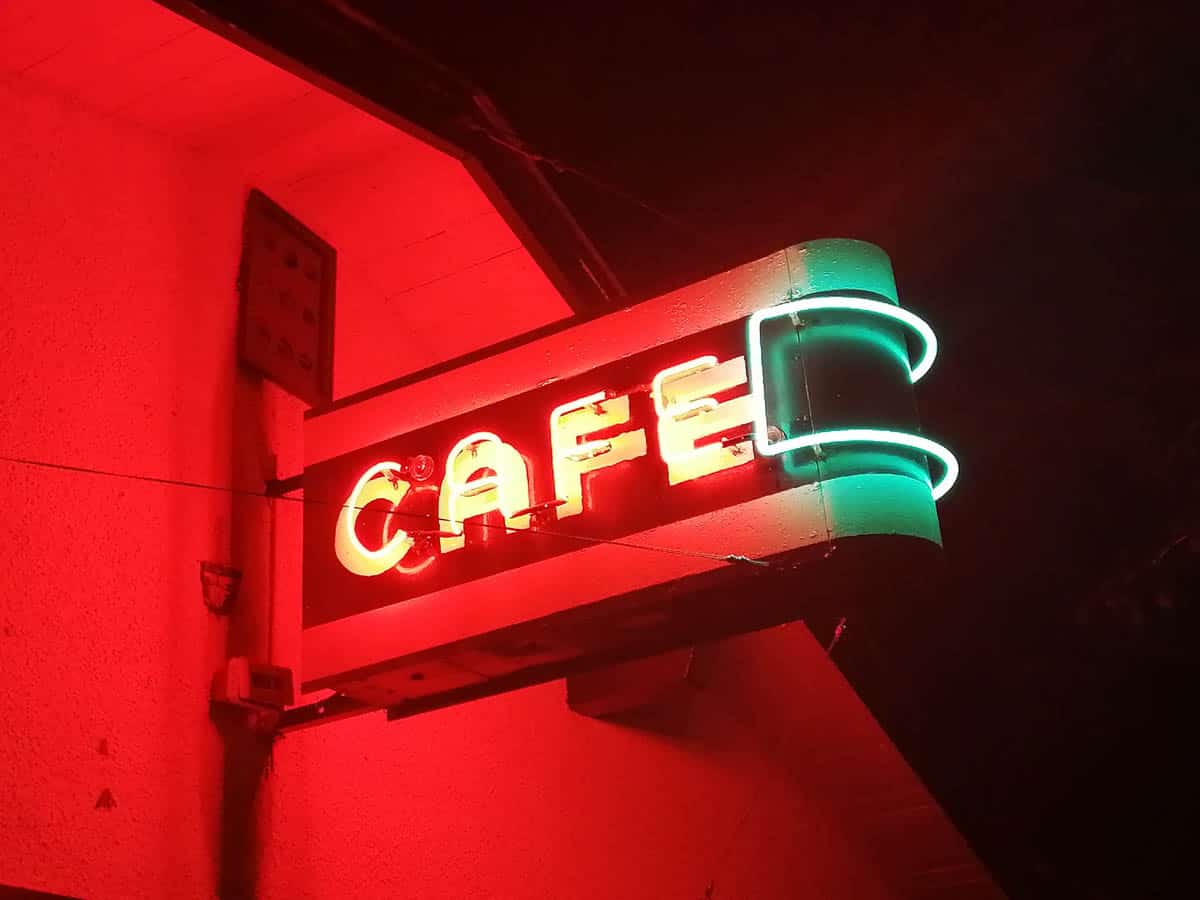 On the menu, you'll find Waterton's best burgers, made with grass-fed, locally-sourced Alberta beef. There's also a good range of poutine and other sides, and all meals are made with the freshest ingredients possible. Don't expect a lot of bells and whistles here; seemingly simple ingredients shine through based on their amazing taste and quality. There are also gluten-free and vegetarian options, so all patrons can hopefully find something to enjoy at Waterton Park Cafe.
The Taco Bar
Location: 398 Wind Flower Ave
Fresh, fast, and authentic. That's how The Taco Bar describes itself, and we have to wholeheartedly agree! With all tacos made from scratch every single day, this casual dining option is perfect for when you are in the mood for really good food with a ton of flavour. Because they use as many local ingredients as possible, the menu may vary from day to day; we love their fresh salsas, creative spin on Mexican cuisine, and their idea that "quality over quantity" is what matters.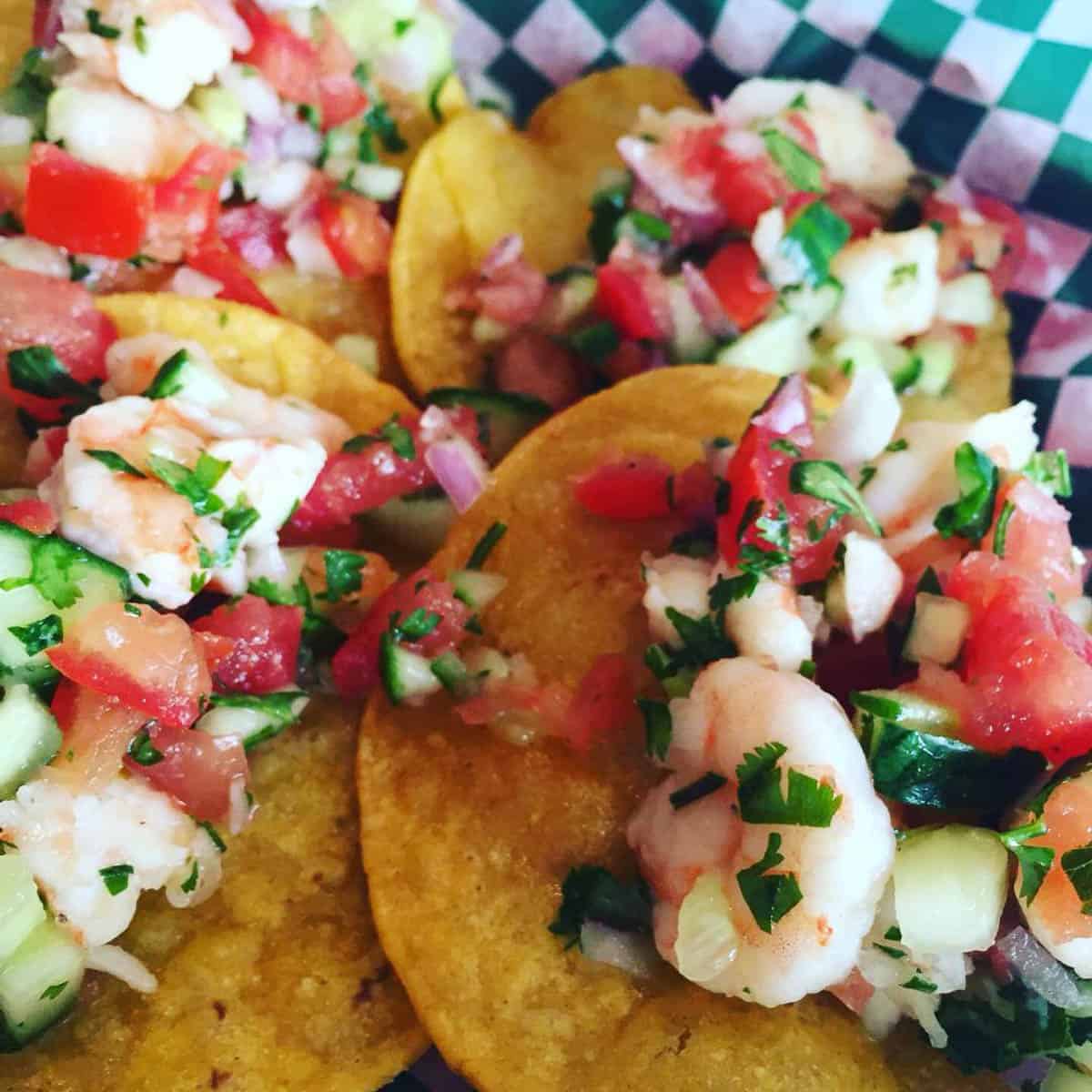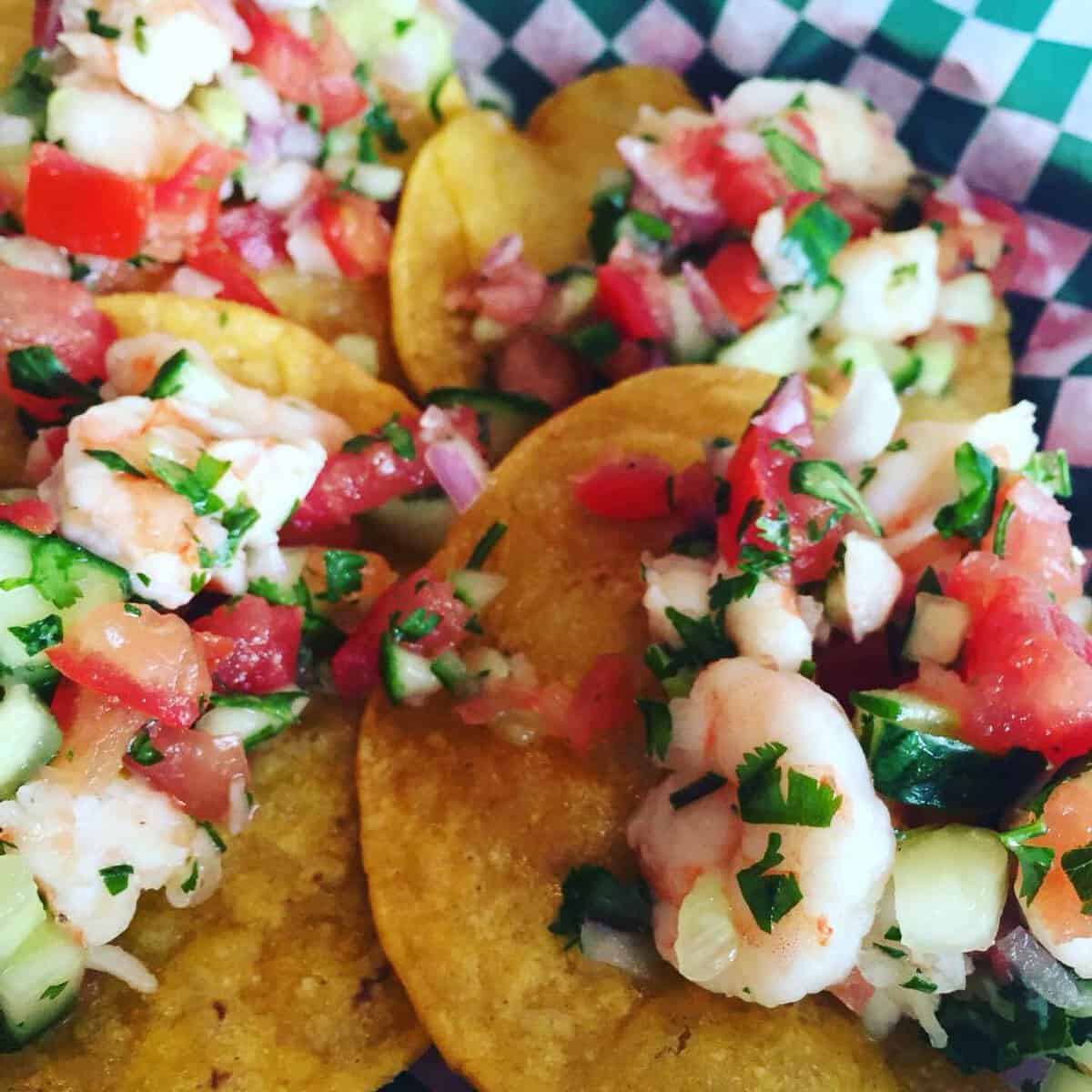 The menu is simple but authentic, with options ranging from a burrito bowl to tacos to plenty of tasty side dishes. All meals come with your choice of shredded chicken, garlic pork, beef, or loaded with fresh vegetables, so there's a good range for both meat-eaters and vegetarians. You'll also find options for kids, including burritos and quesadillas, as well as craft beers and desserts. We think you'll agree that The Taco Bar is one of the best restaurants in Waterton Park.
Royal Stewart Dining Room
Location: Prince of Wales Hotel
Found inside the Prince of Wales Hotel, the Royal Stewart Dining Room has one of the most beautiful views of all of the Waterton restaurants. With views overlooking the lake and the surrounding mountains, you can enjoy breakfast a la carte from 7 am to 10 am, afternoon tea from 12 pm until 4 pm, and dinner from 5 pm until 9 pm. We definitely recommend making a reservation here, especially for afternoon tea! There's also the Windsor Lounge (see below) which serves a more casual menu alongside a good selection of drinks.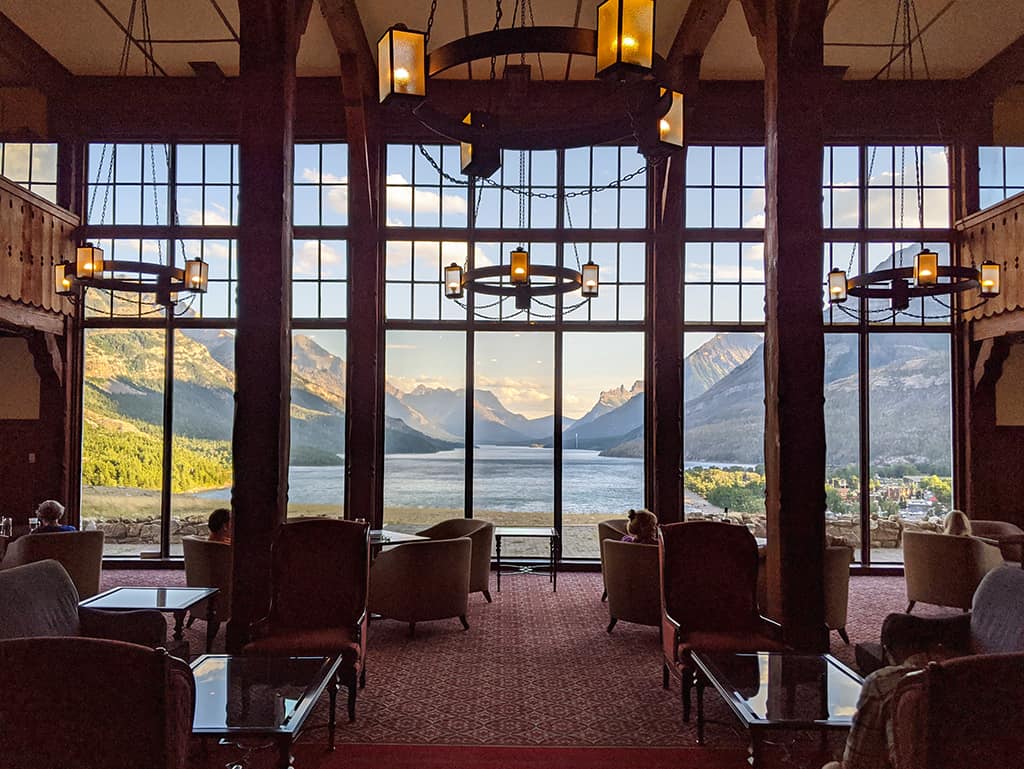 With a carefully curated menu, there are quite a few tasty dishes for you to try in the Royal Stewart Dining Room. Dinner includes starters such as bison meatballs, PEI mussels, and a fantastic whipped feta dip, while entrees include elk ragout, Alberta bison sirloin, BC steelhead trout, and cauliflower gnocchi. As for afternoon tea, you can enjoy a selection of quality teas alongside pastries and sandwich squares, all while looking out over the stunning expanse of the park.
Windsor Lounge
Location: Prince of Wales Hotel
Also found in the Prince of Wales Hotel, the Windsor Lounge is the more casual answer to the formal Royal Stewart Dining Room (see above). Open from 12 pm to 11 pm, the lounge is often lively, with many people stopping in for a pint and a snack after a long day of adventuring around the park, or for a nightcap before retiring to their accommodation. With friendly service and a great list of wines, beers, spirits, and more, it's no wonder so many people find themselves here in the evening.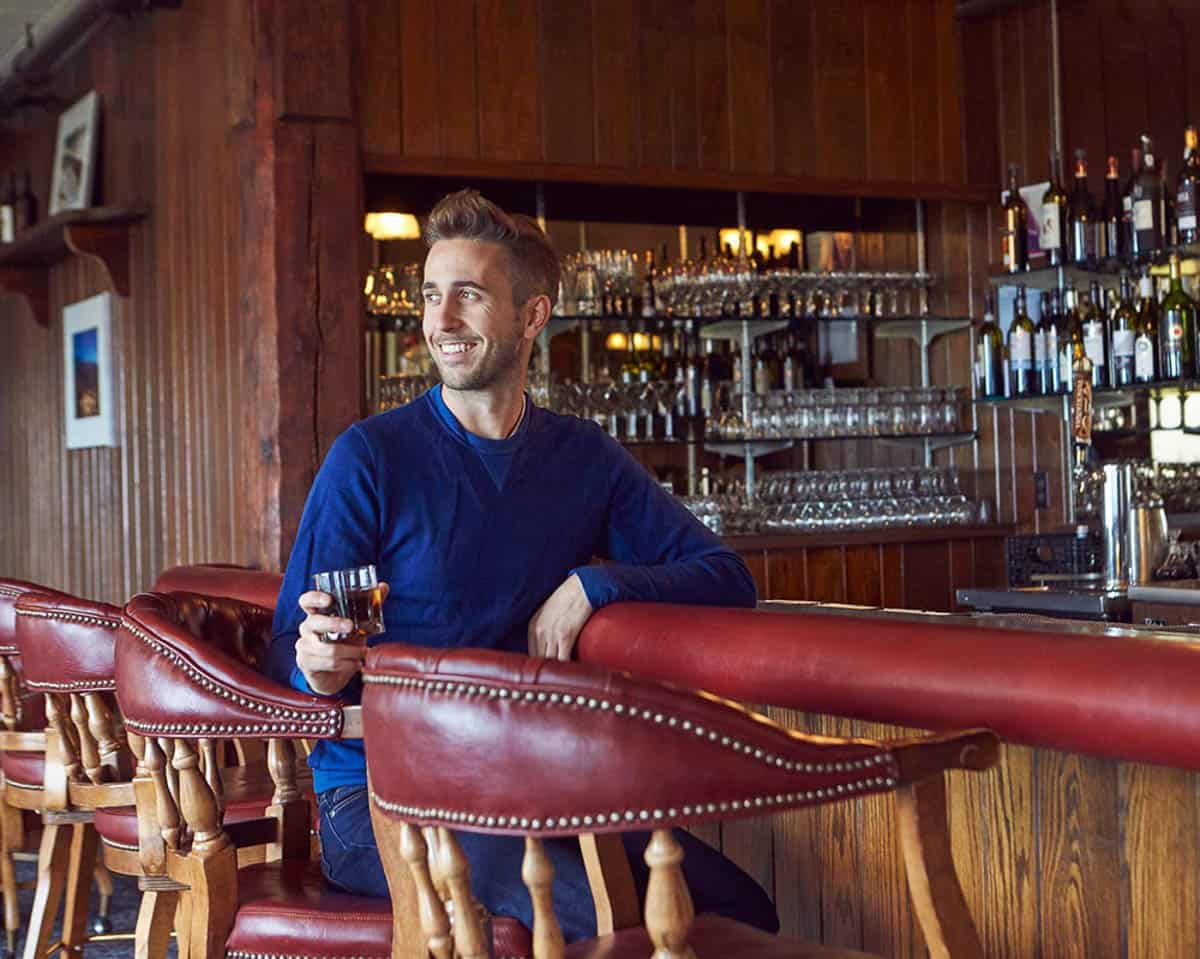 The lounge's menu is also terrific, whether you're after a few sharing plates or a larger meal. Choose from starters such as a charcuterie board or stuffed Yorkshire pudding, while mains include a veggie burger, cottage pie, fish and chips, and a mouthwatering Cuban grilled cheese with shaved porchetta, sliced ham, swiss cheese, pickle, and grainy mustard aioli on grilled sourdough bread.
Windflower Corner Coffee
Location: 309 Wind Flower Ave
If you need a coffee to start your day (or for any time of day, really), head to Windflower Corner Coffee. This lovely little café serves breakfast and lunch as well as coffee beverages, tea, snacks, and desserts. While there isn't a ton of seating available, it's perfect for a quick bite to go or when you need to eat on the move. Keep in mind the coffee shop is seasonal, so you should always check if they're open before you visit.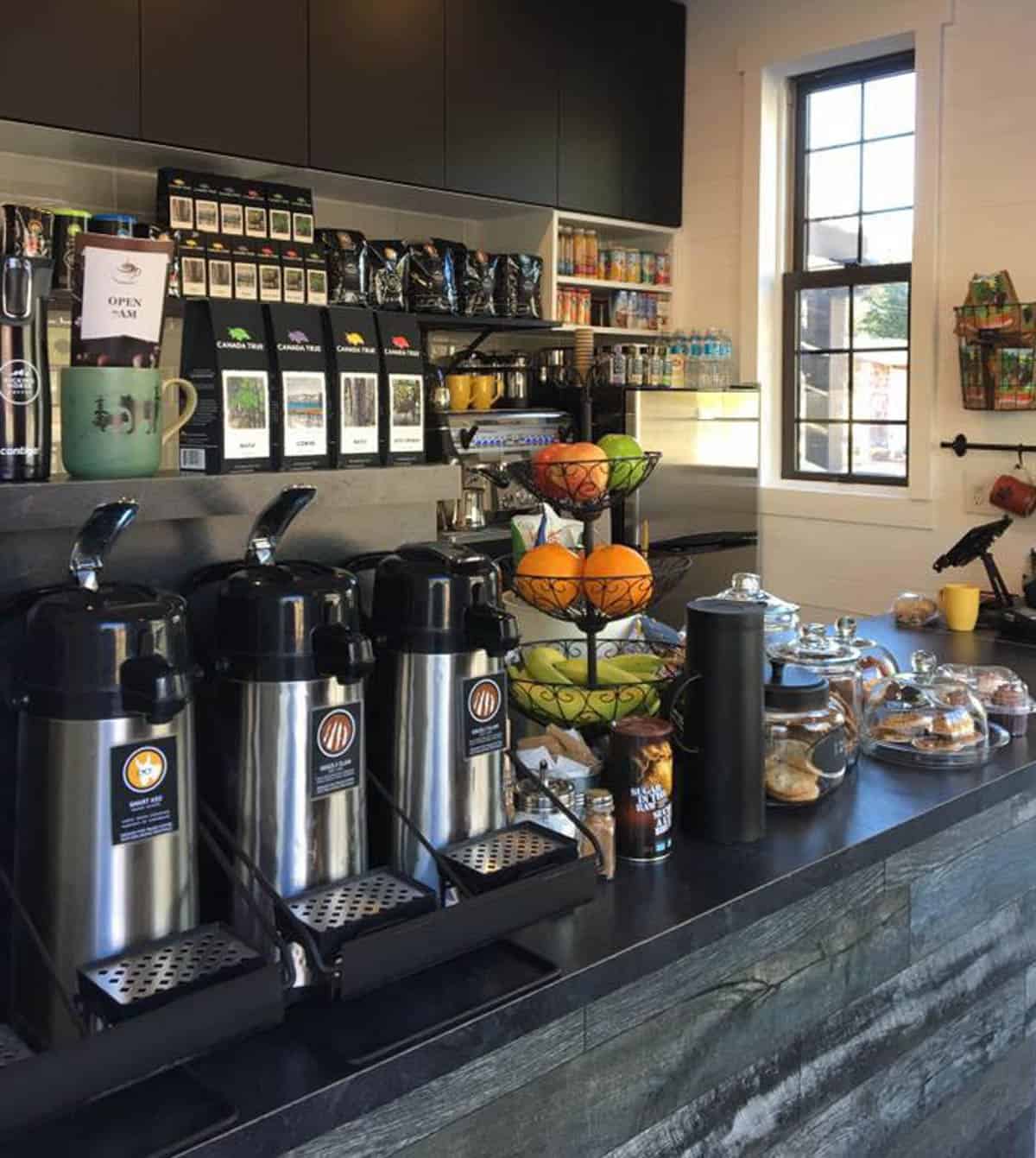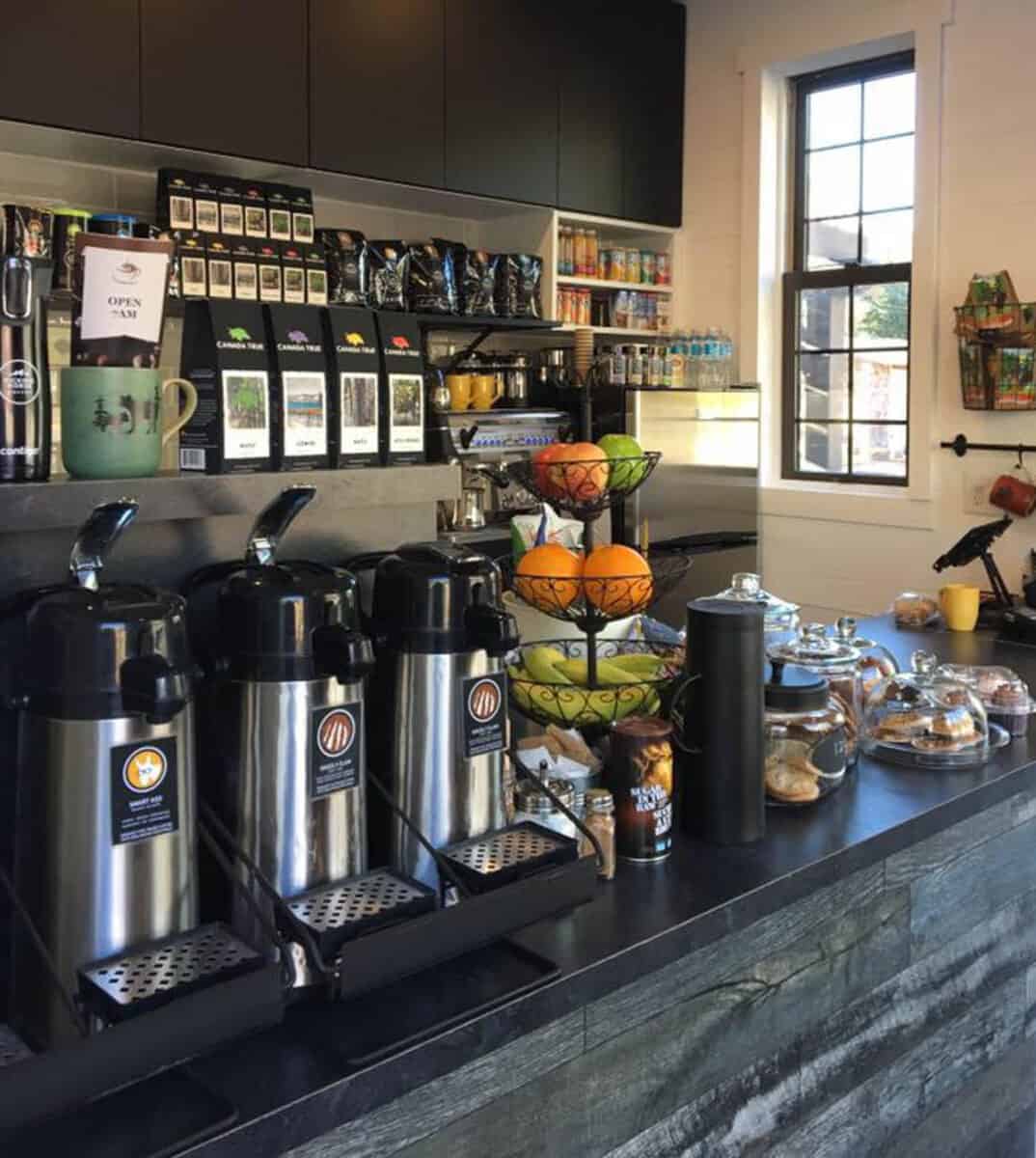 Their pies, tarts, cookies, and desserts are fantastic, with a menu filled with home-baked goods. They also serve Canadian Kicking Horse Coffee, which every Canadian knows makes the best coffee drinks and other beverages! If you're after a heartier meal, try one of the breakfast sandwiches; they'll fill you up well for the day ahead.
Want more suggestions in Waterton?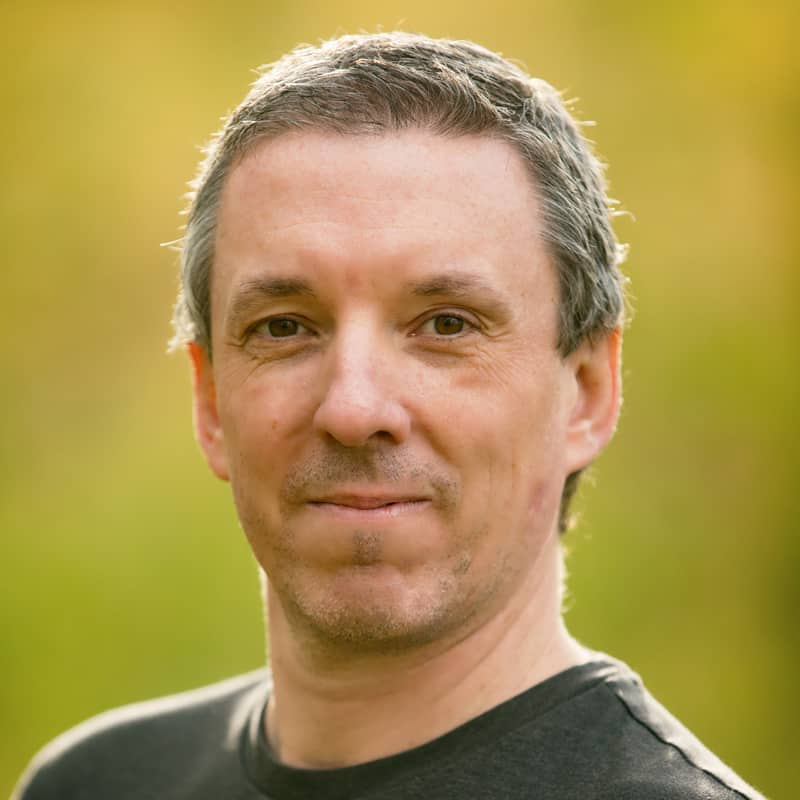 Pete is a co-founder of Road Trip Alberta. Growing up in Edmonton he has an extensive knowledge of Alberta and everything the province has to offer. He loves to eat good food, hike (especially in the winter), play tennis and curl. Apart from running Road Trip Alberta, he is a director with HMI, a digital media agency, half of the Hecktic Travels duo, and a co-creator of the popular card game Trip Chaser.