Disclaimer: This page may contain affiliate links. Please review our full Terms and Conditions for more information and our Privacy Policy. Note that any pricing, operating hours, or other such information provided below may have changed since initial publication.
Compiled by the Road Trip Alberta team
Last Updated on September 11, 2023
Banff is a town that barely needs an introduction. It's a world-renowned and well-loved place, often earning top awards like Best of the World by National Geographic Traveller and Traveler's Choice by AFAR. There are so many incredible things to do in Banff that it deserves every accolade.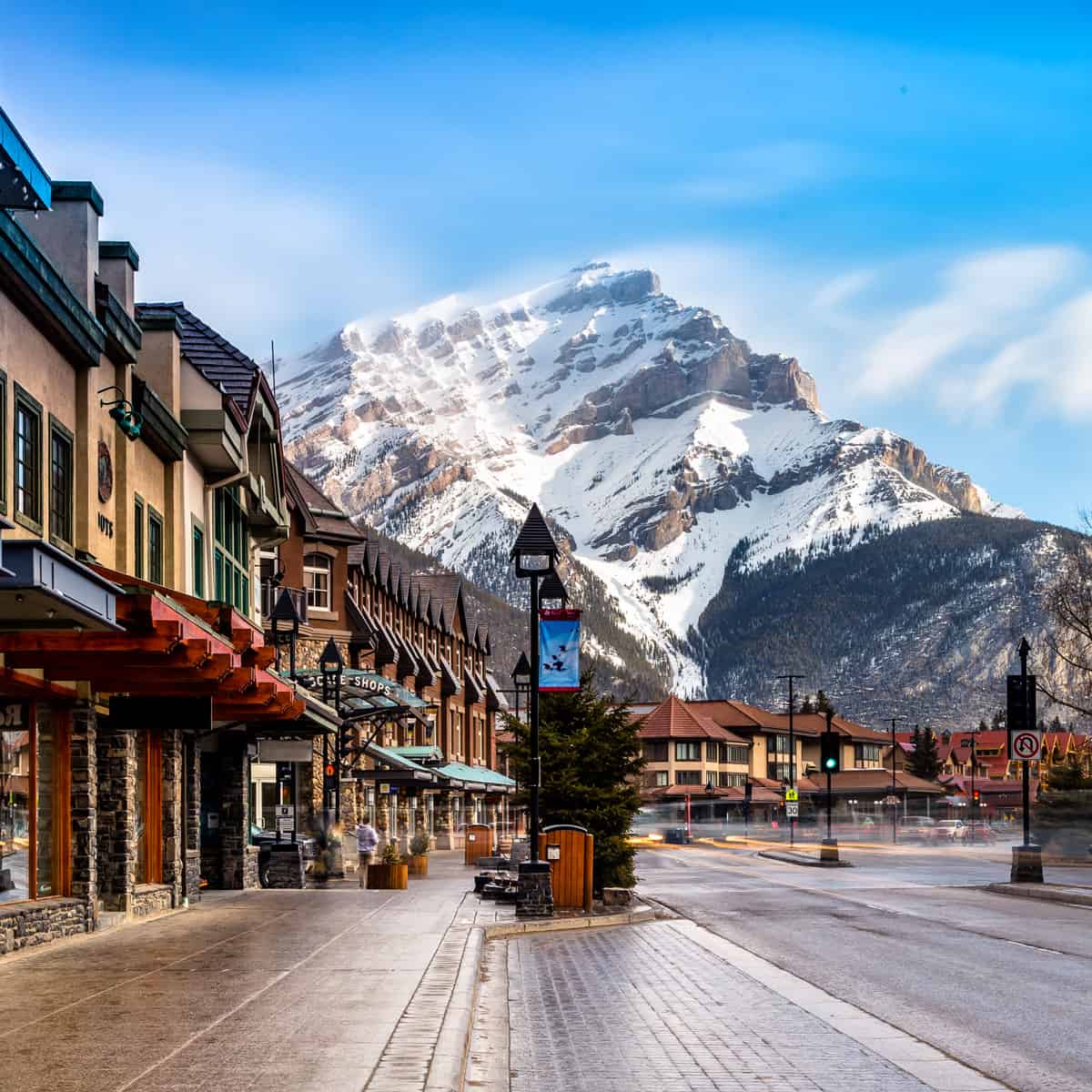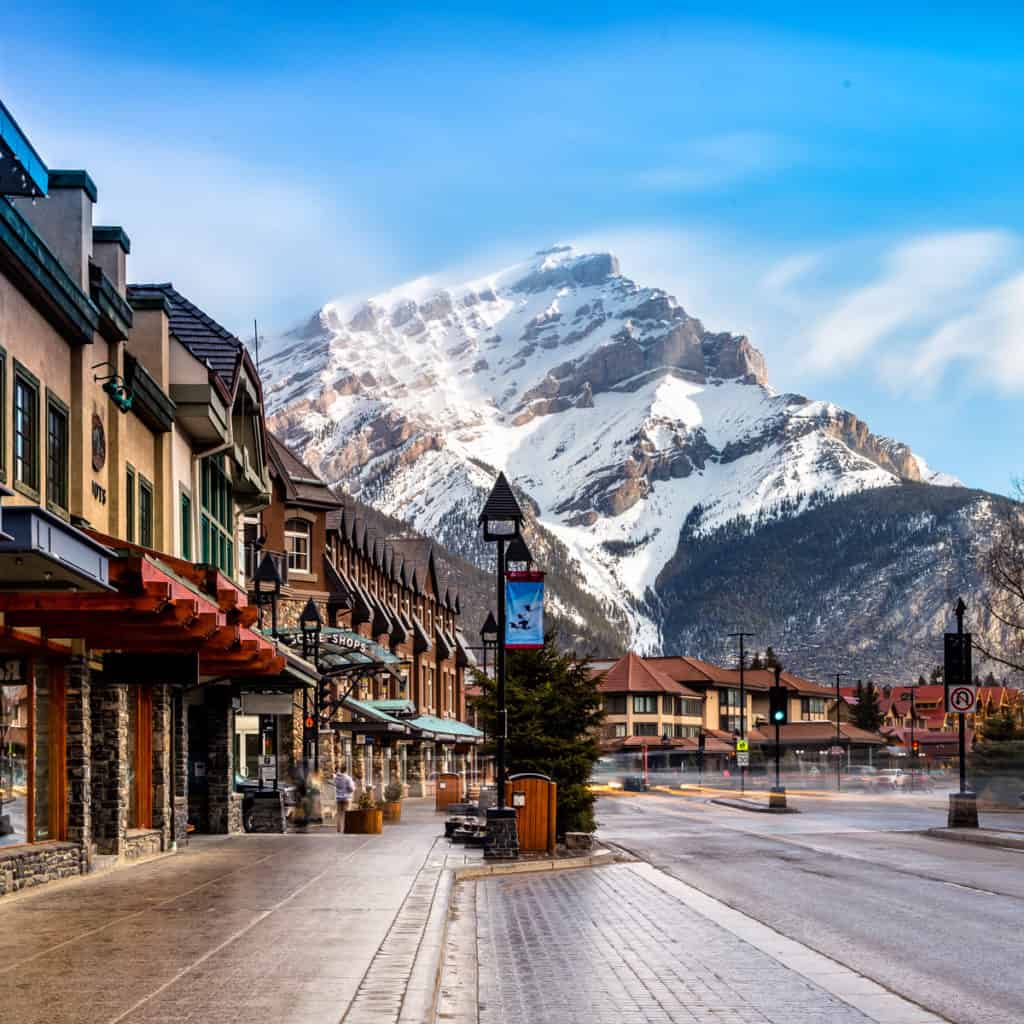 As Albertans, this is a town we often visit and know well. To our benefit, we can purposefully time our trips to avoid prime tourist season, but the mountain town still shines as a once-in-a-lifetime destination even if immersed in a crowd. We all count ourselves blessed to have Banff National Park on our doorstep.
This guide will give you a taste of all the best things to do in Banff, Canada. And there is a LOT. From best hikes and canoeing spots in summer to skiing and tubing in winter, and spa-ing (is that a word?) to wildlife-spotting all year round. So it's no shock this resort town is truly one of the most popular destinations in the world for all seasons.
Acknowledgments
Banff is located on the traditional lands of Treaty 7 Territory including the Stoney Nakoda Nations of Wesley, Chiniki and Bearspaw; three Nations of the Blackfoot Confederacy: the Pikani, Kainai, and Siksika; and the Tsuu T'ina of the Dene people. Banff is also shared with the Métis Nation of Alberta, Region III..
Information About Banff
History
Banff National Park was formed in 1885 (and became Canada's first national park) after discovering the natural hot springs (the Cave and Basin) in Sulphur Mountain. This, of course, happened after centuries of Indigenous people living in this region of the Rockies. Initially, policies excluding indigenous peoples from National Parks were enforced, but over the last 50 years, they were reversed. As a result, Parks Canada is now focused on building stronger, healthier relationships with indigenous people and the land.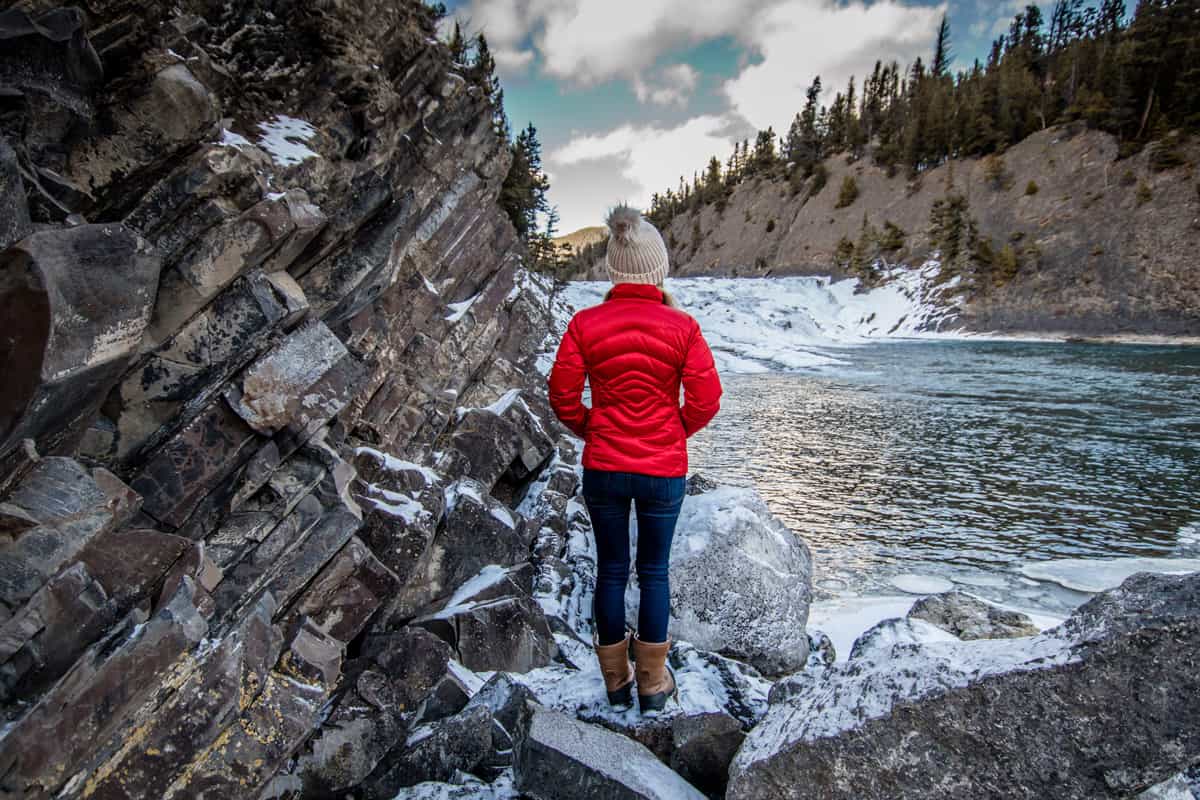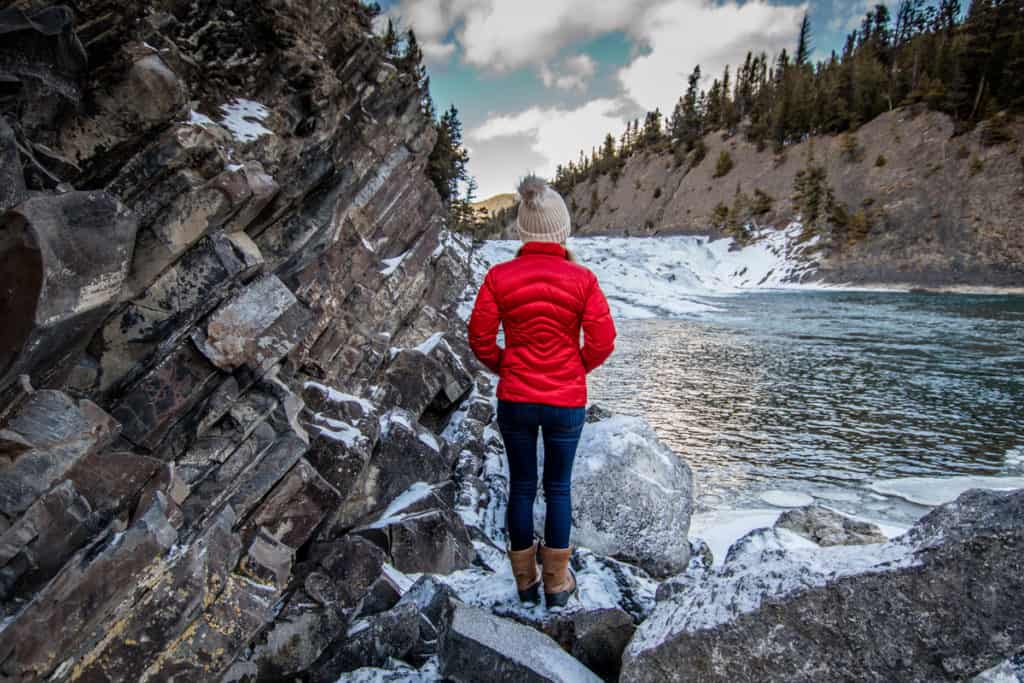 It is Canada's first national park, and after the creation of the Banff Springs Hotel and the Chateau Lake Louise, roads were built to make tourism easier. Completing the Trans-Canada Highway was the final step in creating this fantastic world-class tourism spot. 
Fun Fact: The town of Banff, Canada was originally named Banffshire after a Scottish district! The town was incorporated in 1990.
Where is Banff?
The town of Banff is located on the Bow River, just off Highway 1, and 127km west of Calgary. With an elevation of 1,383 metres, it is the highest town in Canada!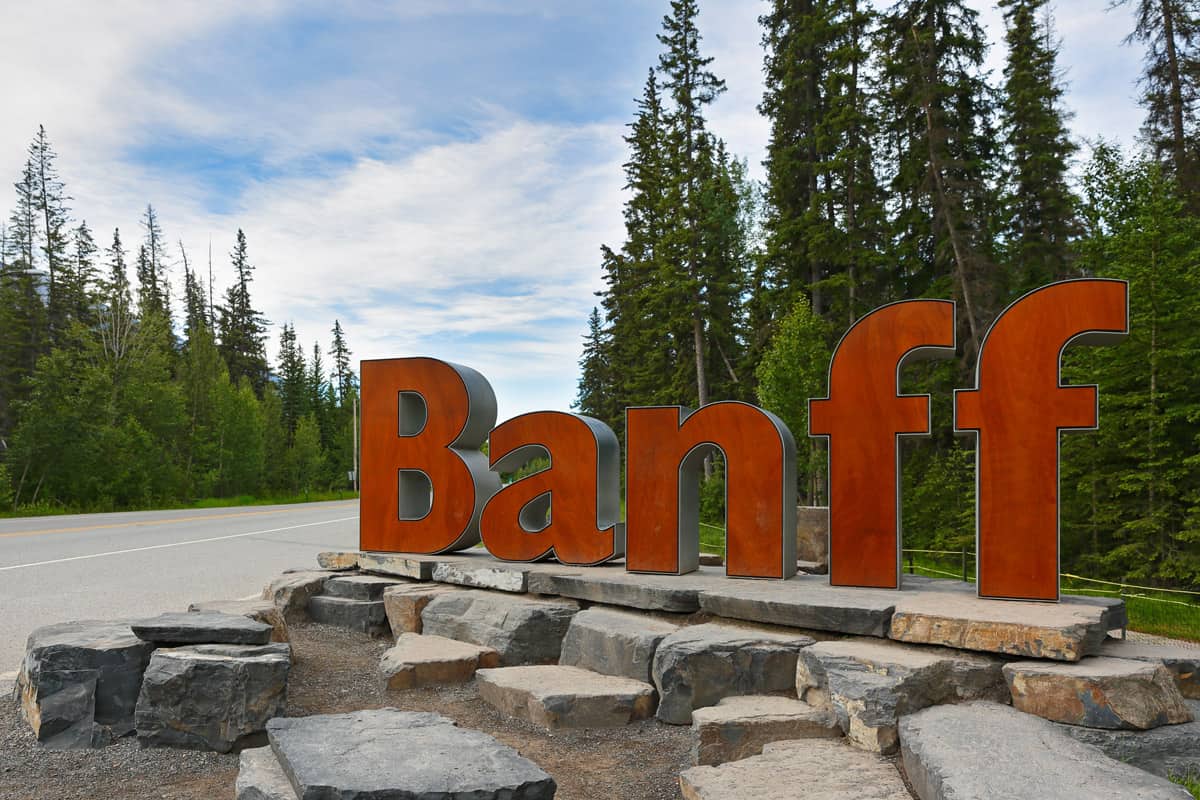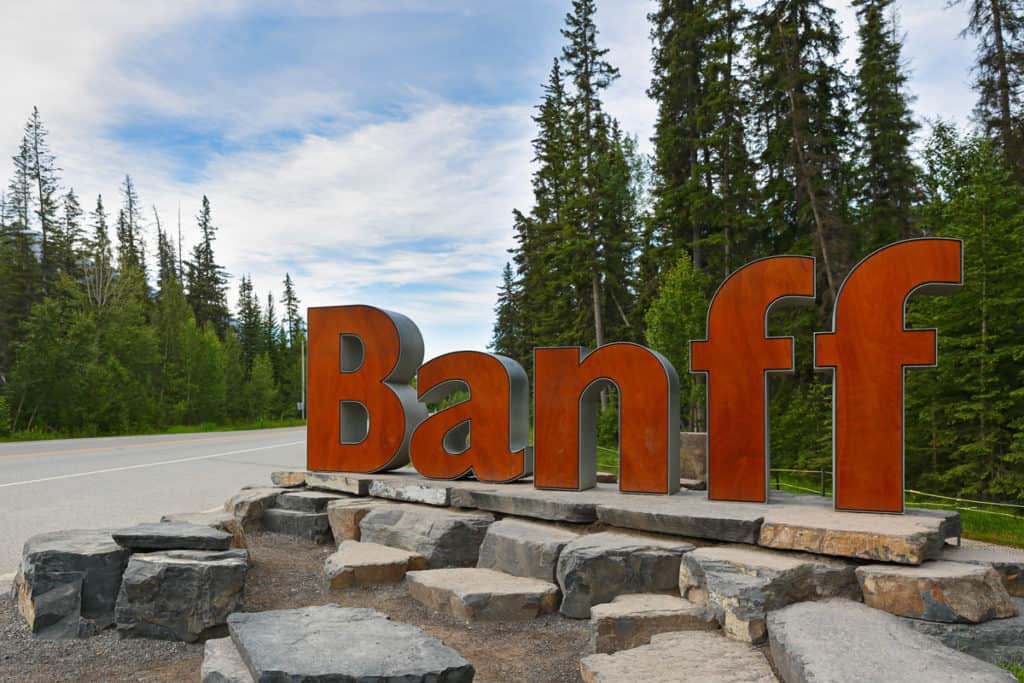 It's located smack dab in the middle of the Rocky Mountains. Mount Rundle, Sulphur Mountain, Mount Norquay, and Cascade Mountain surround the townsite. From downtown Banff, you'll have access to hikes, the best Alberta hot springs (natural), horseback riding, great shopping, and, of course, good food.
Getting to Banff
There are no direct flights to Banff National Park – the closest airport is Calgary International, and Edmonton International Airport is also a reasonable option. However, you have several options to get to here from either of those locations. You can rent a car and drive or use a bus or shuttle service, and there are even rideshare options. If you do either of the last two, you can rent a car to get you around the area upon arrival in Banff.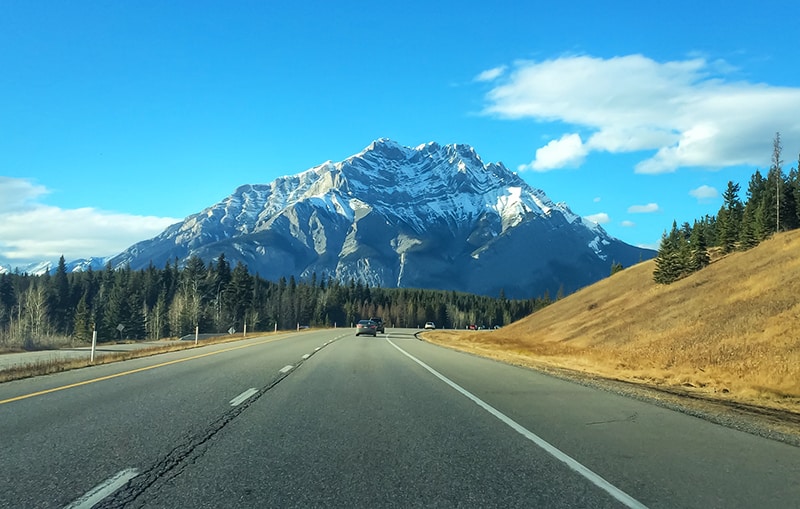 The most direct route would be to leave from Calgary, and we have outlined detailed options in this post on getting from Calgary to Banff. However, brief details, including those for other originating cities, are available below.
By Car
How far is Banff from Calgary? Banff is 127km west of Calgary; driving there can either be done via the Trans-Canada (Highway 1) or Highway 1A. Although the Trans-Canada route is slightly faster and takes approximately 1 ½ hours, the Highway 1A route is more scenic and will take you through Cochrane and Morley for only 15 minutes extra.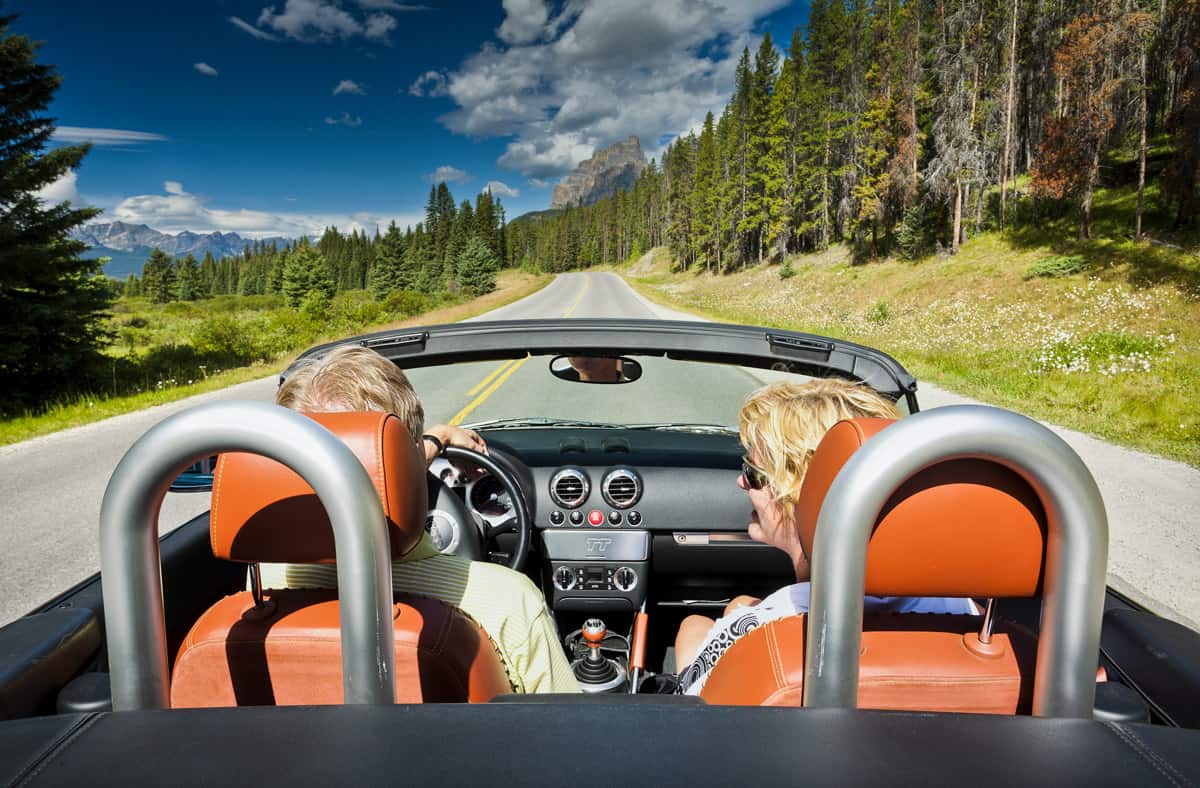 How far is Banff from Edmonton? Banff is 389 km from the Edmonton International Airport (just south of Edmonton, in Nisku). The fastest route from Edmonton to Banff is on the AB-2 South and Trans-Canada (Highway 1). This will take just under 4 hours.
How far is Banff from Jasper? Banff is 288km from the town of Jasper (inside Jasper National Park) and just over a three-hour drive if you don't make any stops. But that is nearly an impossible assumption, as the Icefields Parkway is a very popular road trip and is touted as one of the most scenic in the world. So plan for lots of time to make it, and read up on our Banff to Jasper guide for important information about this trip.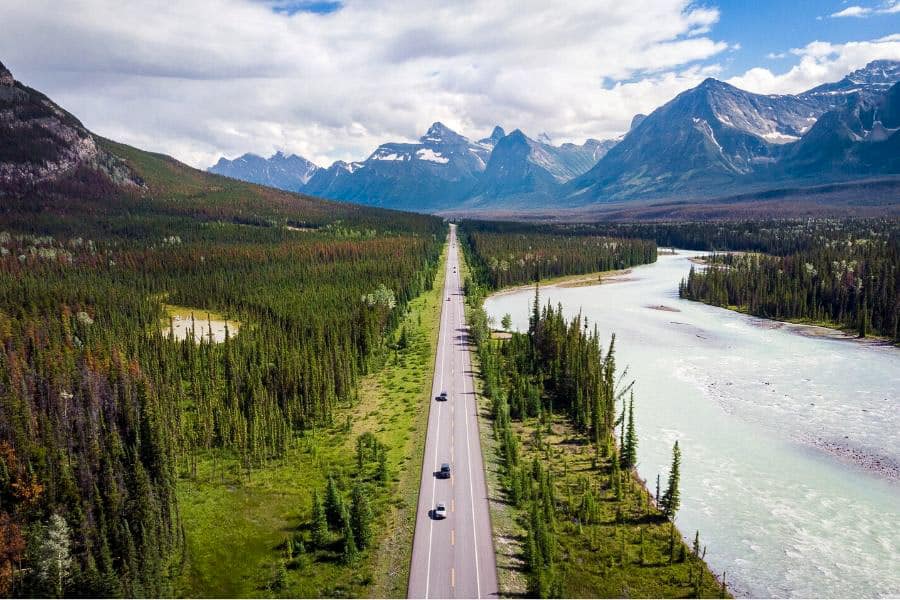 How far is Banff from Vancouver? The drive from Vancouver to Banff is just over 9 hours long, or 870 km. It is a highly scenic route, and you'll want to take your time – stopping in Kamloops can help you split up the drive!
By Train
If travelling to Banff from Vancouver, Rocky Mountaineer has some great options to choose from. Unfortunately, there is no train between Banff and Calgary and Banff to Edmonton.
By Bus
There are a few bus services with routes to Banff from either Edmonton or Calgary. However, Calgary to Banff by bus has the best options with the most direct routes.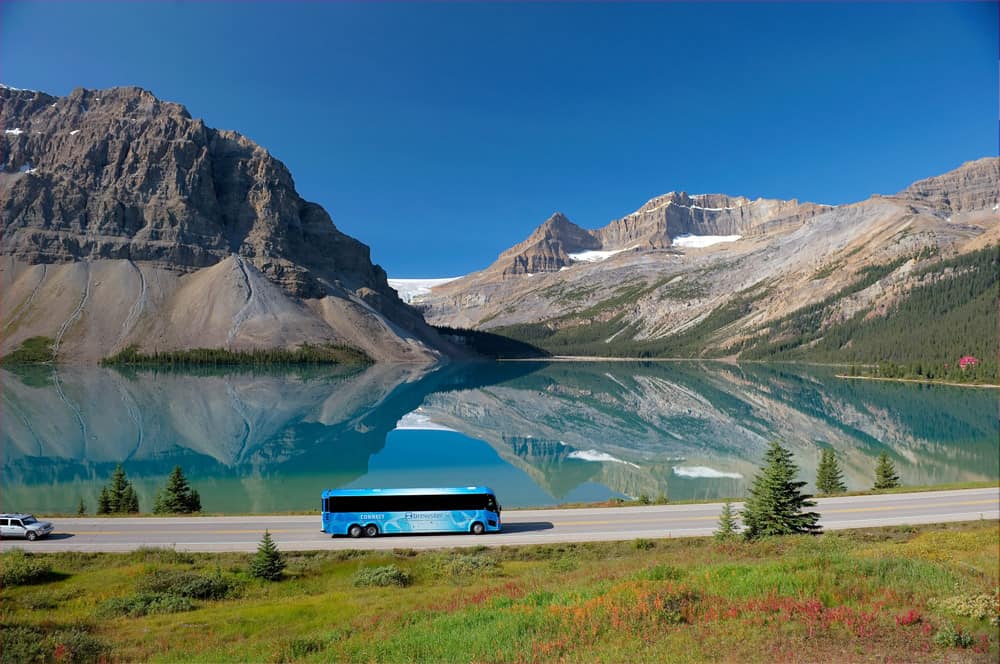 Coming from Vancouver? The Rider Express has a drop-off in Banff on its Vancouver to Calgary route, which currently costs $143.
Lake Louise and Banff Day Tour
Short on time and want a quick and easy option to visit Banff, Lake Louise and Moraine Lake in one day? Take this Lake Louise and Banff Day trip and experience all the best sights from the comfort of a private air-conditioned van. The tour accommodates up to 5 people and starts early in Calgary. The stops include Moraine Lake, Lake Louise, Bow Falls, Surprise Corner (for an epic view of the Fairmont Banff Springs), and Banff with a stop at the Gondola (optional if you want to go up). Lunch and water are included.
Practical Essentials
Banff National Park Pass
Note that Banff National Park requires a pass to enter.
Effective January 1, 2023 daily fees are:
Adult: $10.50
Senior: $9.00
Youth (up to 17 yo): FREE
Family/group (up to 7 people): $21.00
Commercial group (per person): $9.00
The daily passes expire at 4 pm the following day. If you're looking to enter multiple times or staying longer, consider the Parks Canada Discovery Pass. It gives you unlimited admission for a year to all the national parks in Canada.
Discovery Pass fees are as follows:
Adult: $72.25
Senior: $61.75
Family/group: $145.25
The park gates are 100 kilometres on Highway 1 west of Calgary, and passes can be purchased there. Alternatively, they can also be purchased online in advance. For more information, visit the Parks Canada website.
Take the guesswork out of planning your Alberta trip!
We now offer two ways to help ease the burden of travel planning:
We've developed ebook itineraries and travel guides for hot Alberta destinations and for a variety of 7-day trips. For one low price, you'll get local travel advice that you WON'T find elsewhere!
Want a custom trip tailored exactly to your needs? We are pleased to also offer a custom service for planning your Alberta vacation.
Getting Around Town
Banff is a small town; you can access a lot on foot if you stay near the center. But there is also so much to see in the surrounding area that you want to be sure to have your transportation options figured out to plan accordingly!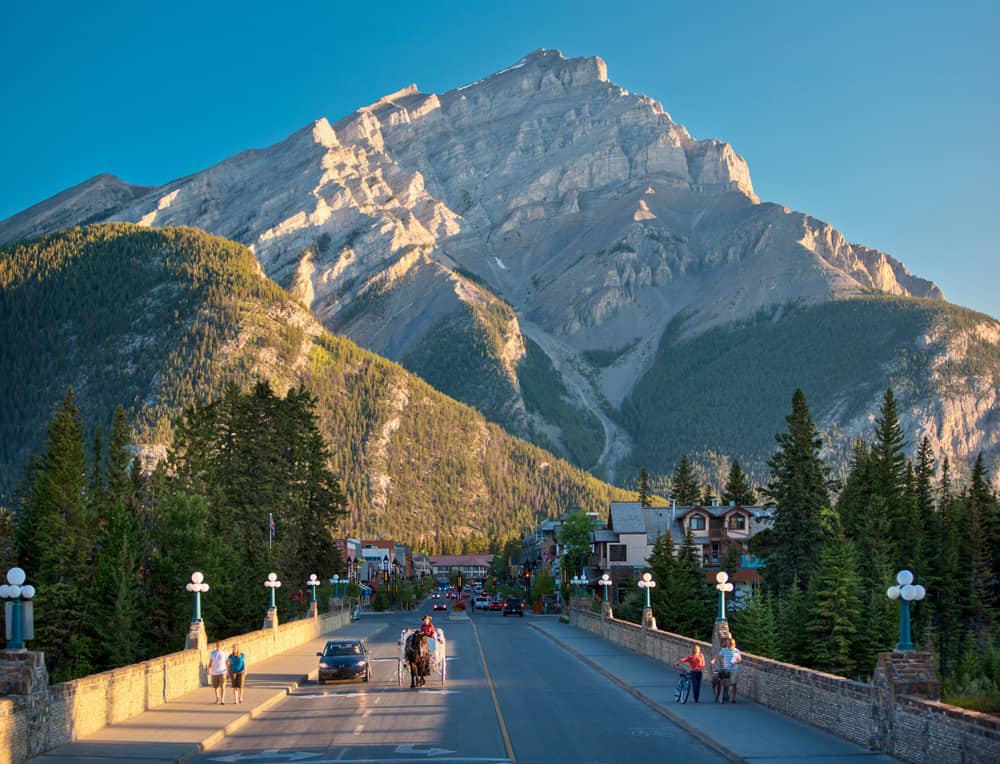 Hire a rental car: If you arrive in Banff via a shuttle or bus service and want to rent a car while you are there, there are a few rental companies in Banff to choose from:
We recommend booking via RentalCars.com to select the cheapest rate or to book with whichever company you prefer.
Parking: The Town of Banff has ample street and lot parking. Finding parking is easy to do with Banffparking.ca. Just select your vehicle type – car, bicycle or RV – then the map gives you the location of open spots.
Transit: Roam Transit will get you around the towns of Banff, Canmore, and Lake Louise. It's essential to know the differences between the routes you're taking – some require local fare, and some require regional fare. Check their website for current fares, routes, and schedules.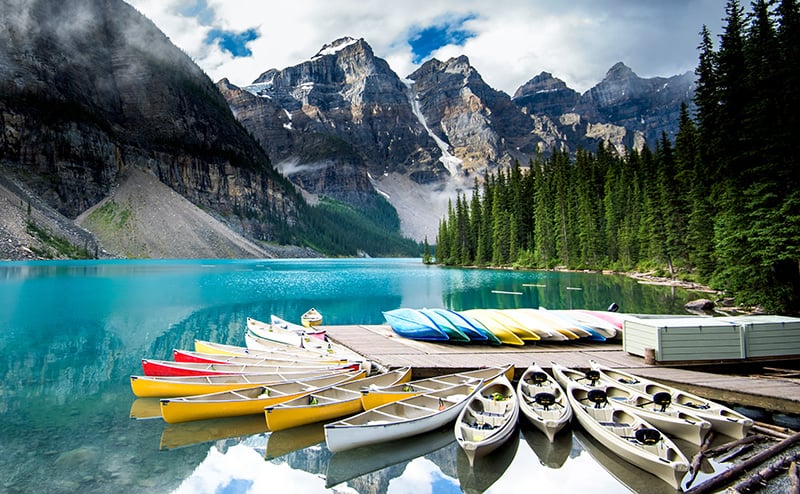 Shuttles: Don't have access to a car but want to see the sites? Don't stress! Most attractions have shuttles that make travel easy. Here are some of the most popular ones:
Banff Gondola: Take Roam Transit Route 1, or there is a shuttle from the Elk & Avenue hotel.
Cave and Basin: Take Roam Transit Route 4 from downtown Banff, or a short walk from the river will also get you there.
Lake Louise: Roam Transit Route 8X (fast) or 8S (scenic) will get you to Lake Louise.
Moraine Lake: Starting in 2023, Moraine Lake is closed to personal vehicles. We recommend booking a shuttle with the Moraine Lake Bus Company – not only are they the only company to offer sunrise shuttles (gotta get those epic shots for the 'Gram!) but they are also the only company that lets you pre-book your return journey (so that you don't have to wait).
Taxi: There are two taxi services available in town – Taxi Taxi and Banff Taxi (run by the same company). They have everything from cars to full-size sedans, so most groups can be accommodated.
Scooters: If walking isn't your 'thing,' you can ride around Banff in style on a Vespa or an e-bike! There are rentals by the hour or full-day rentals. Scooters are available at Banff By Scooter.
Walking Paths: The Banff townsite itself is incredibly walkable. There are many walking pathways on the main streets, so exploring downtown Banff is easy! Join a guided walking tour if you want to learn more about the town. Banff Walk does tours of the town, food tours, and hiking tours!
Weather
Banff can be enjoyed in every season, but the most popular months for visitors are during the summer (June through September). Enjoying your time in Banff can be significantly affected by what you wear. Even though the summer months can see daytime highs of 25 degrees C, the evenings can be pretty cool.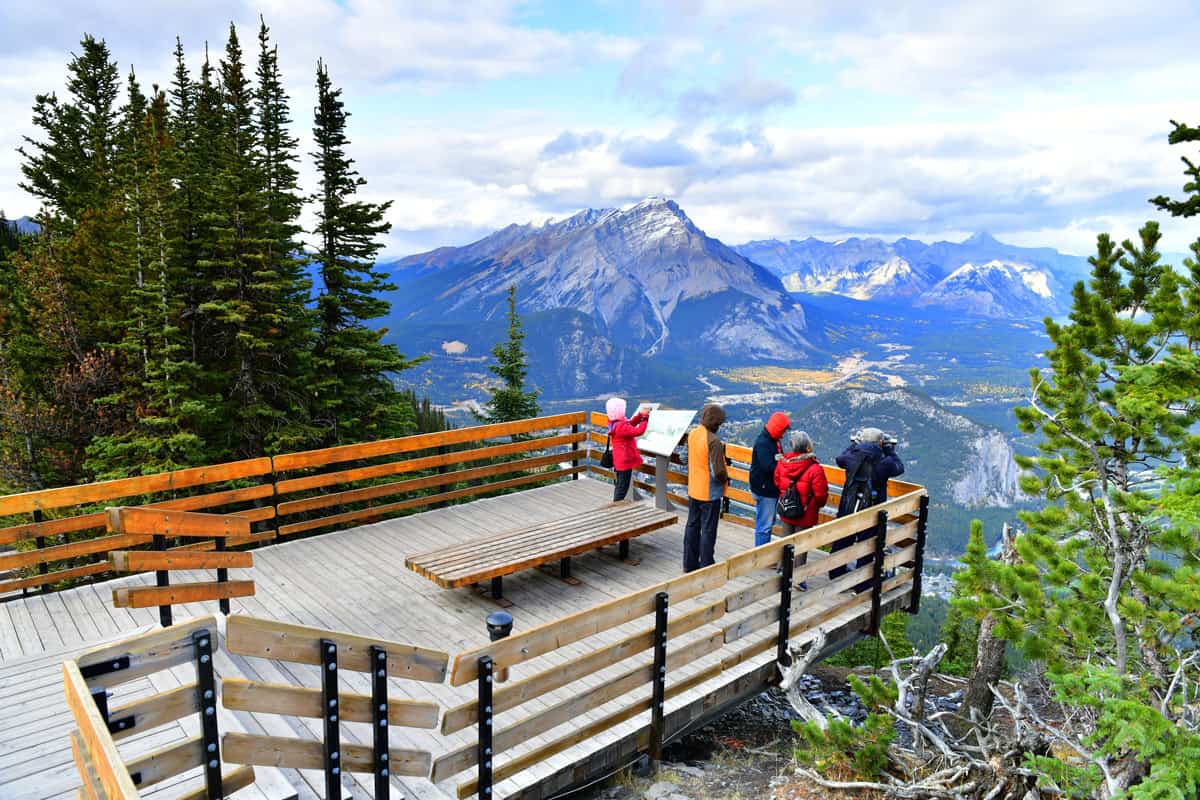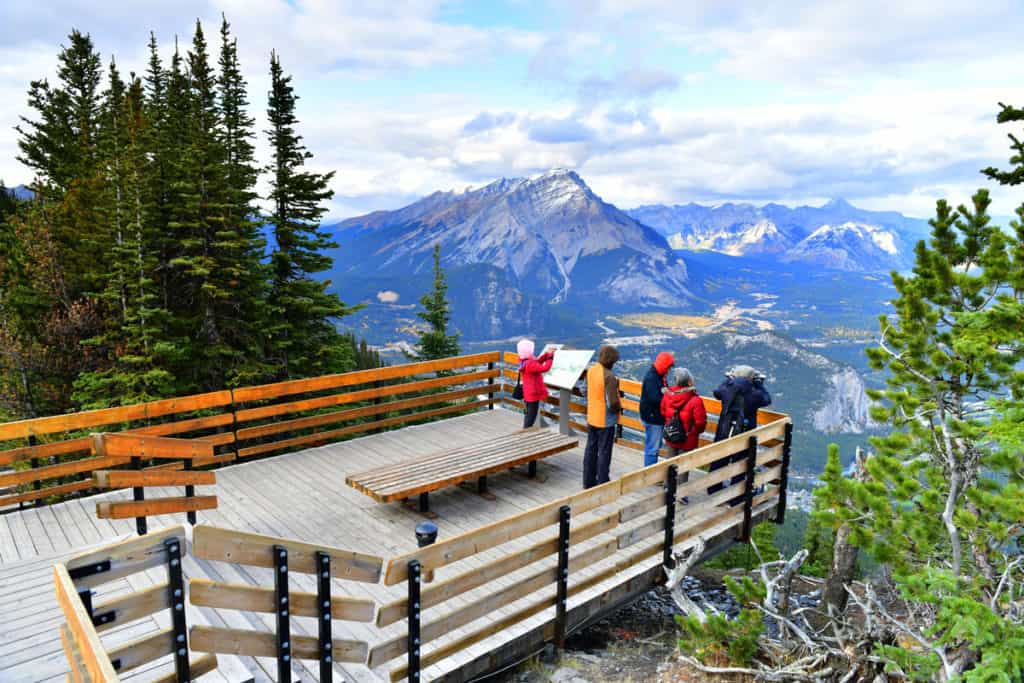 During the winter months, don't be surprised to see a few days where the thermometer reads as low as -40 degrees C. So come prepared with appropriate layers to squeeze in as many beautiful moments in nature as possible without feeling chilled!
Where to Stay in Banff
The accommodations in Banff are plentiful and varied depending on how much you want to spend.
Fairmont Banff Springs (Luxury)
This is one of the most iconic hotels in the world, and a stay at Fairmont Banff Springs is a must! For over 130 years, this luxury hotel has been the epitome of class and a must-see destination in Banff National Park. This is a once-in-a-lifetime type of stay that is totally worth the experience (we've stayed once, so we can say that!) Fun Fact: Marilyn Monroe stayed at the Fairmont for eight days in 1953 while shooting the film River of No Return.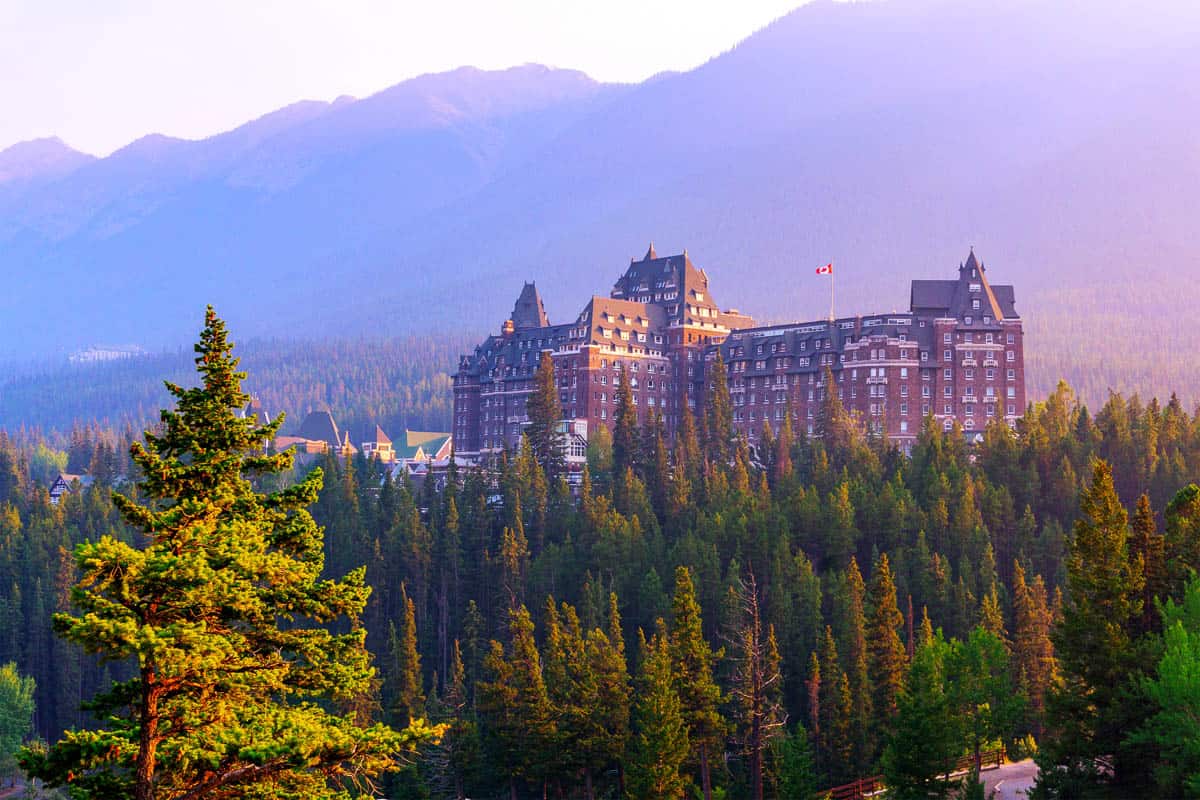 Banff Canalta Lodge (Mid-Range)
Rubbing shoulders with celebrities at the Fairmont is pretty pricey, so a more budget-friendly option is the Canalta Lodge. Recently renovated, we really enjoyed our stay amid its eclectic design. In a small town such as Banff, this property's underground parking feature is a huge perk. Additionally, this property has been recognized as the best value in Banff.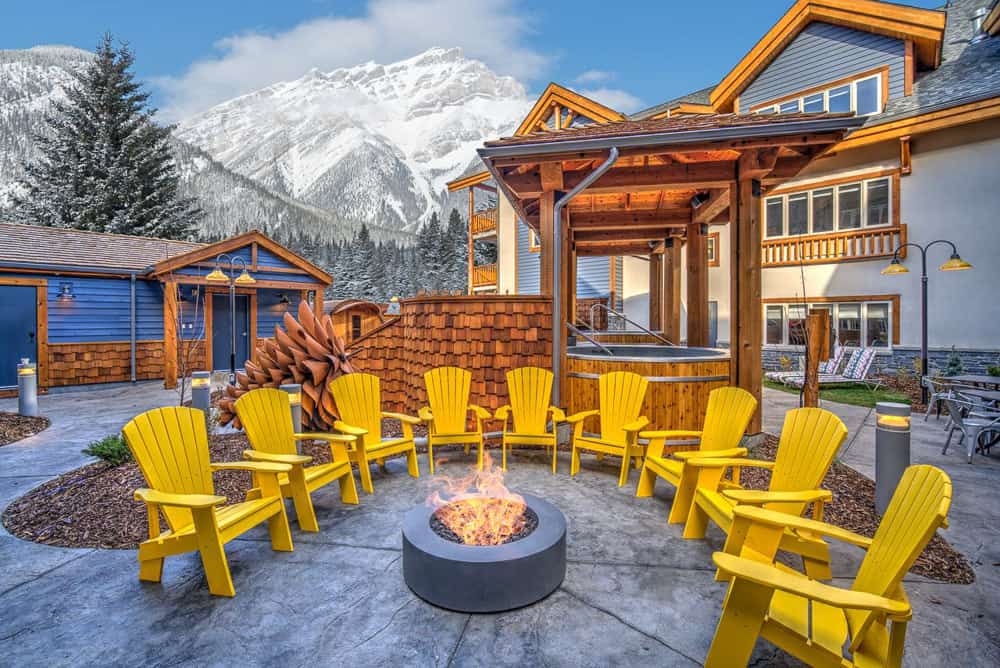 Banff International Hostel (Budget)
Save your budget for exploring all that Banff has to offer and stay at the Banff International Hostel. It's located on the beautiful property of the Banff Centre, has a fully equipped kitchen for all to use, complimentary breakfast, and is highly rated.
Banff Airbnb and VRBO Rentals
If you want a rental right in town the best option is VRBO. There are plenty of amazing Banff VRBO options for that perfect cozy stay. Note that there are not many Banff Airbnb options because of strict zoning laws in the townsite.
Camping in Banff
Camping – If you want to spend your nights in the great outdoors, then check out our guide to the Best Spots for Camping in Banff and if you need a camper, our post for RV rentals in Alberta.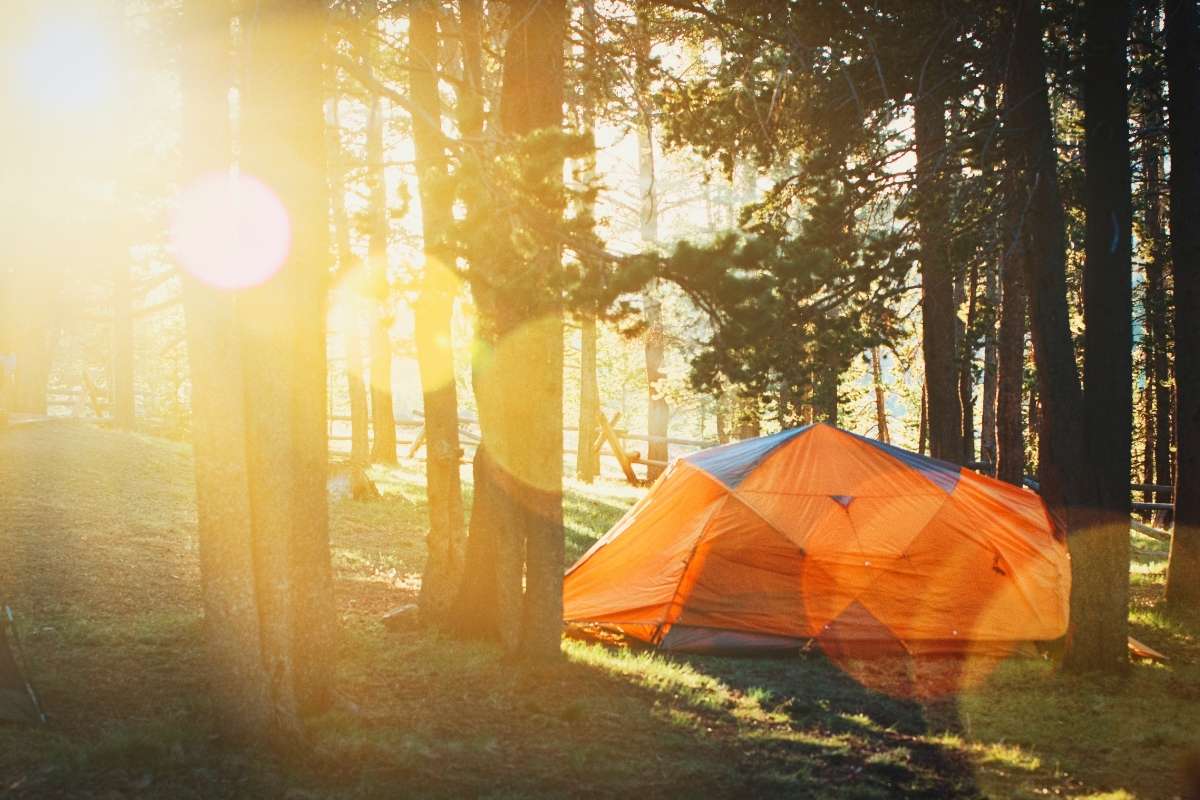 For more accommodation recommendations, we have written a complete guide for where to stay in Banff and a guide just for cabins in Banff. Is Banff full? Then take a look at nearby accommodations in Canmore.
Best Sights to See in Banff
The sights and scenery in Banff are endless and entirely up to what you want to see. Of course, there are numerous iconic nature spots, but Banff also has a unique history and lively arts scene that are notable in their own right. Whether you plan to see it all on your own or via a curated Banff tour, here are some of our favourites:
Wildlife Viewing
The number of possible wildlife sightings makes Banff National Park one of the most exciting parks to visit. Walking in the townsite and on some popular trails can reveal caribou, deer, elk, bighorn sheep, and even bears! With more than 50 species of mammals calling Banff and the surrounding Rocky Mountains home, you are bound to catch sight of at least one of the locals during your trip.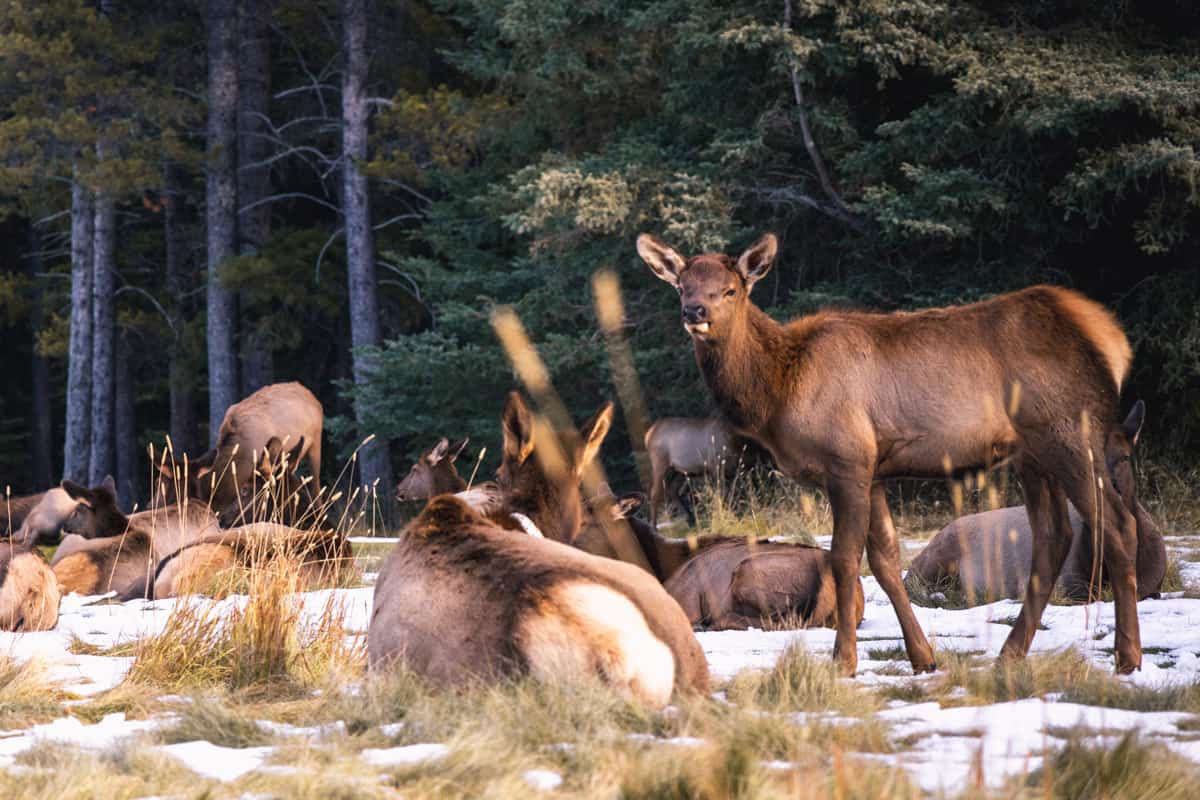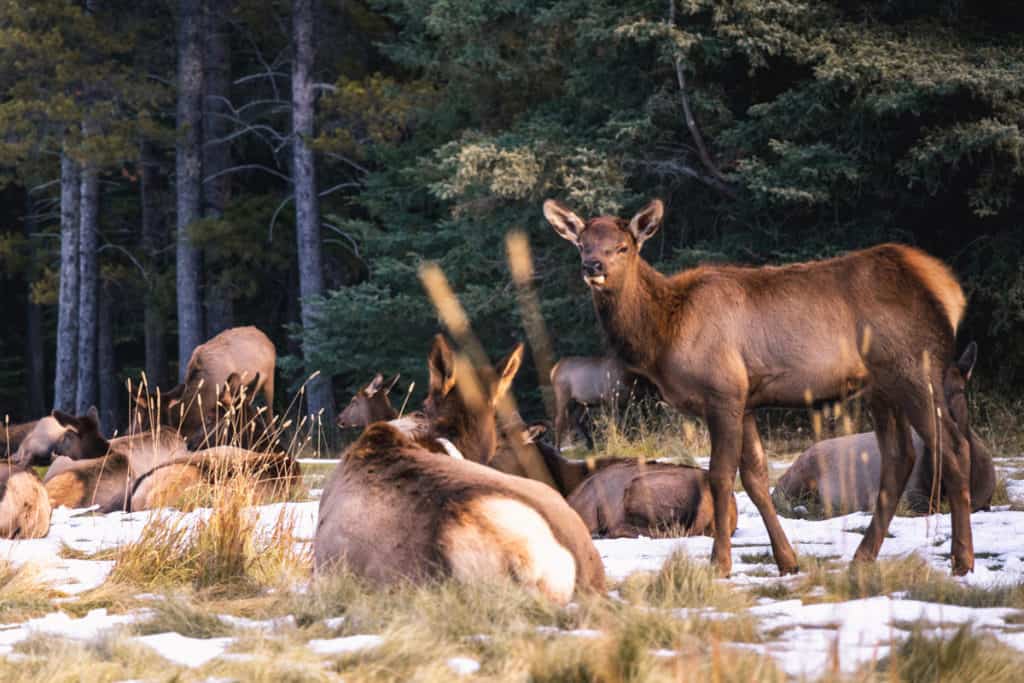 We are always game (pun intended) for a good wildlife tour and Banff has some really good ones – check out these tours for summer and winter. Just remember, the best time to see wildlife is early or late in the day.
It also helps to know where certain animals frequent. For example, elk can usually be found in the valleys, while caribou and deer prefer the thicker woods and meadows. Alternatively, mountain goats and bighorn sheep are mainly found on the higher mountain slopes. Grizzly bears and black bears are a bit harder to navigate as each forage for food depending on the season, but they usually prefer heavily wooded areas. If you are planning on hiking during your time in Banff, we highly suggest being safe and doing your research on proper wildlife viewing best practices.
Fairmont Banff Springs
A visit to Banff is incomplete without at least setting eyes on the Fairmont Banff Springs Hotel, Canada's "Castle in the Rockies." Multiple clearly marked lookout points will help you get an Instagrammable shot of this UNESCO World Heritage Site. Even if you're not a guest, tours of this iconic hotel are available, including this fun food tour that (almost) literally lets you "Eat the Castle".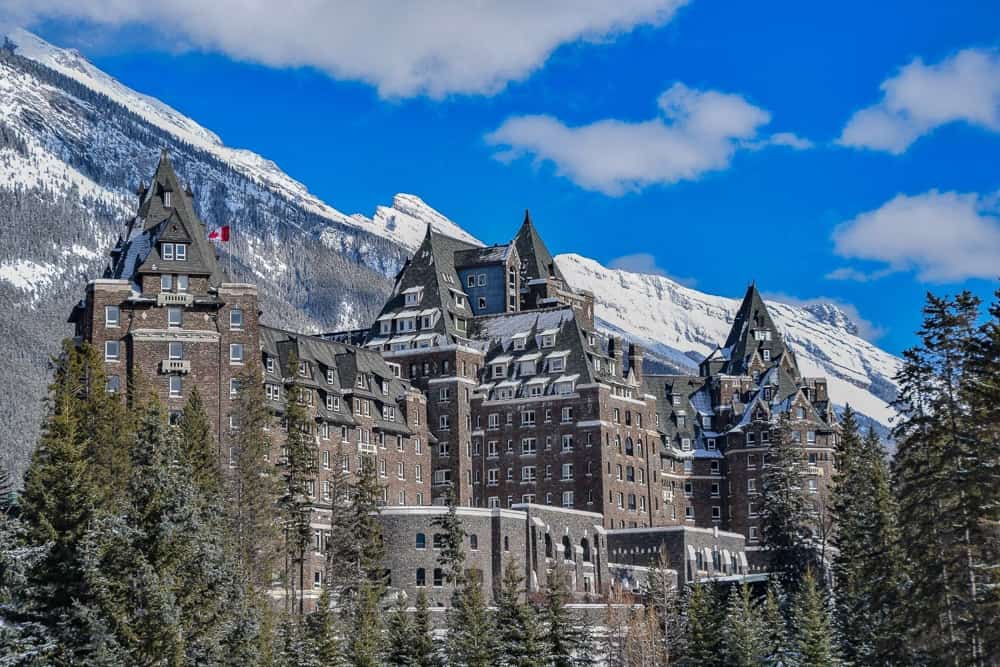 The luxury mountain resort is also a destination with a championship golf course, an award-winning spa, multiple dining experiences, art galleries, and shopping opportunities. Tip: Challenge yourself to navigate the tunnels connecting the conference center with the hotel!
Museums
The history of the Rocky Mountains is as tumultuous and jagged as the peaks that mark the land. Step into Canada's oldest natural history museum or learn about the engaging cultural history of the area.
Banff Park Museum
Location: 91 Banff Avenue
The Banff Park Museum, built in 1903, is the oldest natural history museum in western Canada and the oldest surviving federal building in Canada's National Parks. It's located in downtown Banff and exhibits more than 5,000 vintage botanical and zoological specimens.
Whyte Museum of the Canadian Rockies
Location: 111 Bear Street
The Whyte Museum is best described as a gathering place to engage with the evolving peoples, cultures, environment, and history of mountain cultures. It's a place where stories are shared and explain how the culture of Banff National has been shaped by this mountain landscape.
Cave and Basin National Historic Site
Location: 311 Cave Ave
The Cave and Basin National Historic Site was discovered when three railway workers found the natural springs, and it led to a series of events that led to Banff becoming a National Park (and the first one in Canada). For over ten thousand years and still to this day, the mineral springs are a very special place for Indigenous Peoples. Visitors can take part in interactive exhibits, view short films, and enjoy stunning views of the Rocky Mountains.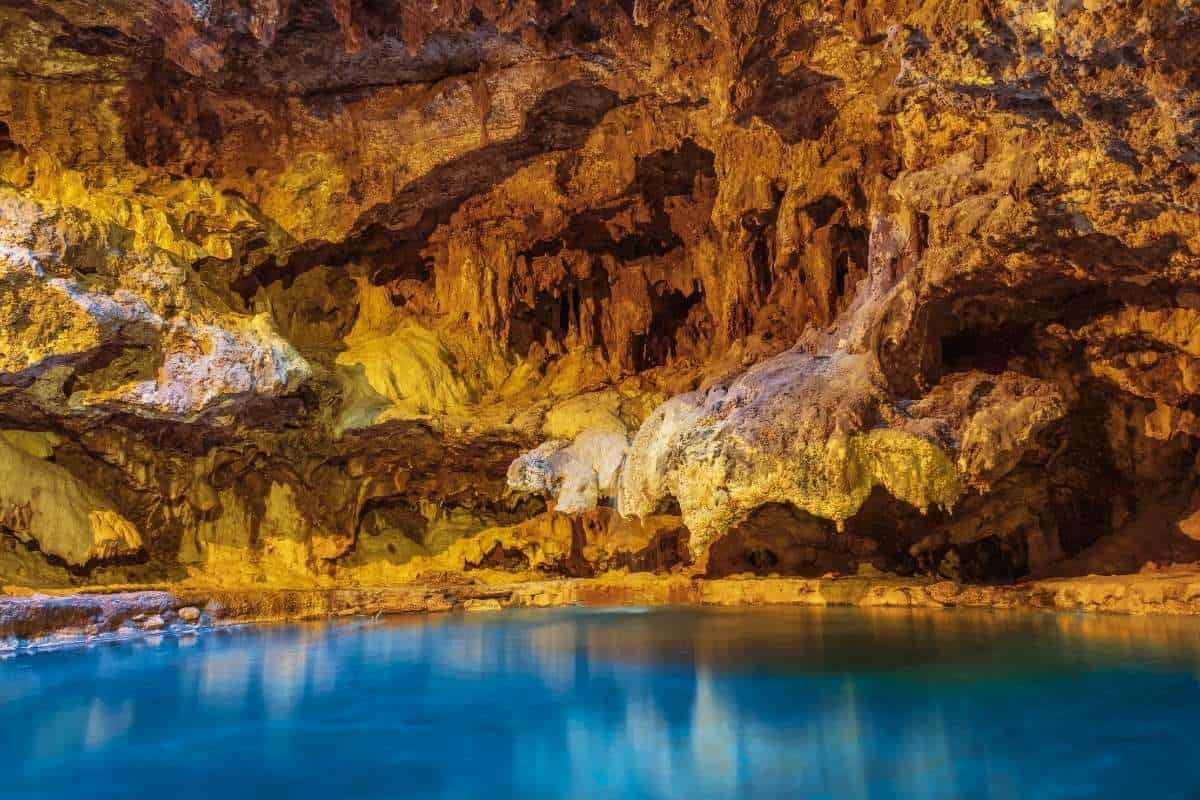 Note that swimming or entering the pools is strictly prohibited. You can, however, purchase a 'Thermal Waters Pass' (Adult $25, Senior $21.25, Youth $14.25), which gives visitors access to both Cave and Basin and the Banff Upper Hot Springs thermal pools.
Buffalo Nations Luxton Museum
Location: 1 Birch Avenue
The Buffalo Nations Luxton Museum is a beautiful display that links the past and present and showcases a wealth of Indigenous arts. Visitors will learn about the interesting heritage of the First Nations People of the Canadian Rockies and Northern Plains through a cultural display celebrating the Indigenous Peoples of Banff National Park.
The Historic Luxton Museum
Location: 206 Beaver Street
The Historic Luxton Museum is the home of an influential family credited with shaping Banff into what it is today. Every room on the Museum's main floor offers a glimpse into Banff, with the walls covered in photos, artwork, beadwork and paintings from its history. Currently, the museum is only open from June thru September and by appointment only – call 403-762-2105 to schedule a tour.
Art
Bolstered by the talent that the Banff Centre for Arts and Creativity brings to the area, Banff has a thriving art scene with multiple art galleries in the townsite to explore. Even if art galleries aren't your thing, make sure you at least see one: the Carter-Ryan Gallery. This Banff art gallery has been a staple in Canmore and Banff since 2012 and showcases the work of acclaimed Indigenous artist Jason Carter.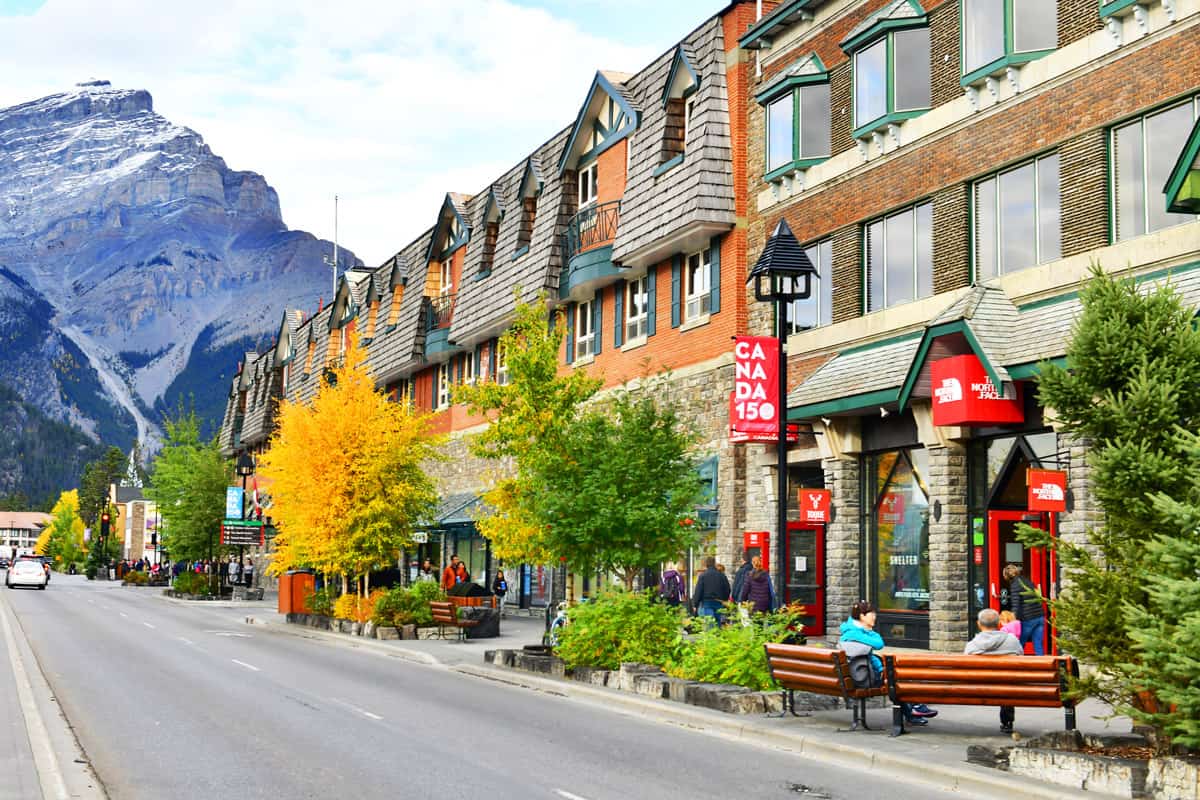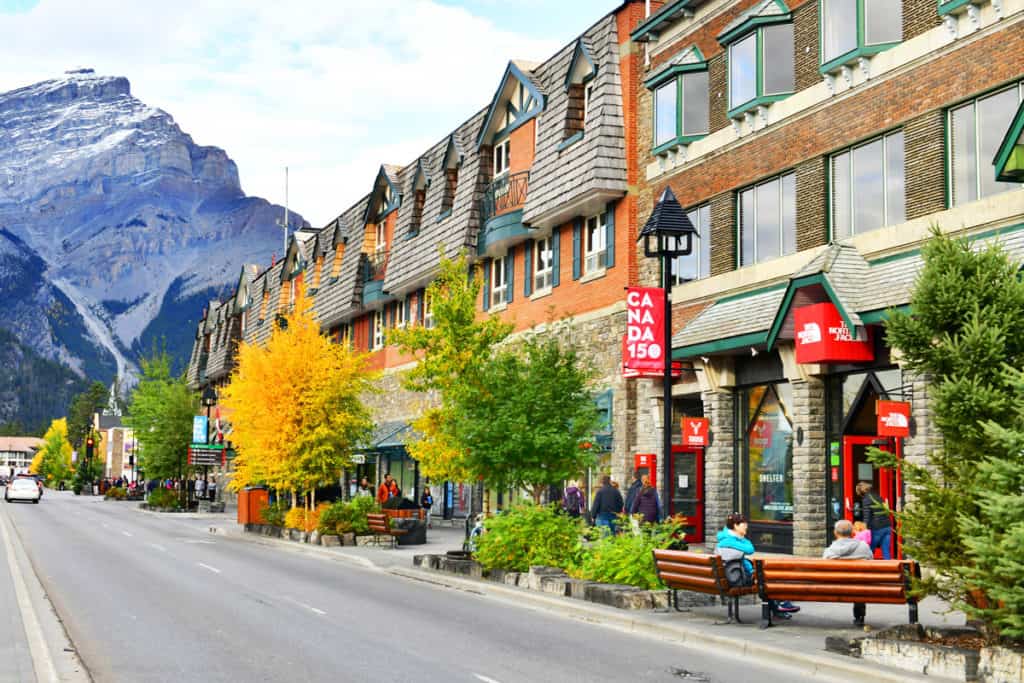 Best Photo Spots in Banff
The iconic photo spots from Banff National Park are what put the park on the map and made it a must-see destination! So get your camera (or phone) ready for these views:
Turquoise Blue Lakes
The turquoise waters of Banff's glacial lakes are likely what you will see first when googling 'Banff'. The intense blue colour results from sunlight reflecting off of glacier silt suspended in the water, so the best time to see the stunning blue is when the glacier and subsequent silt have had a chance to melt and feed the lake. In terms of timeline, July and August are when the flow of the meltwater levels are at their highest and, thus when the lakes have the most intense colour.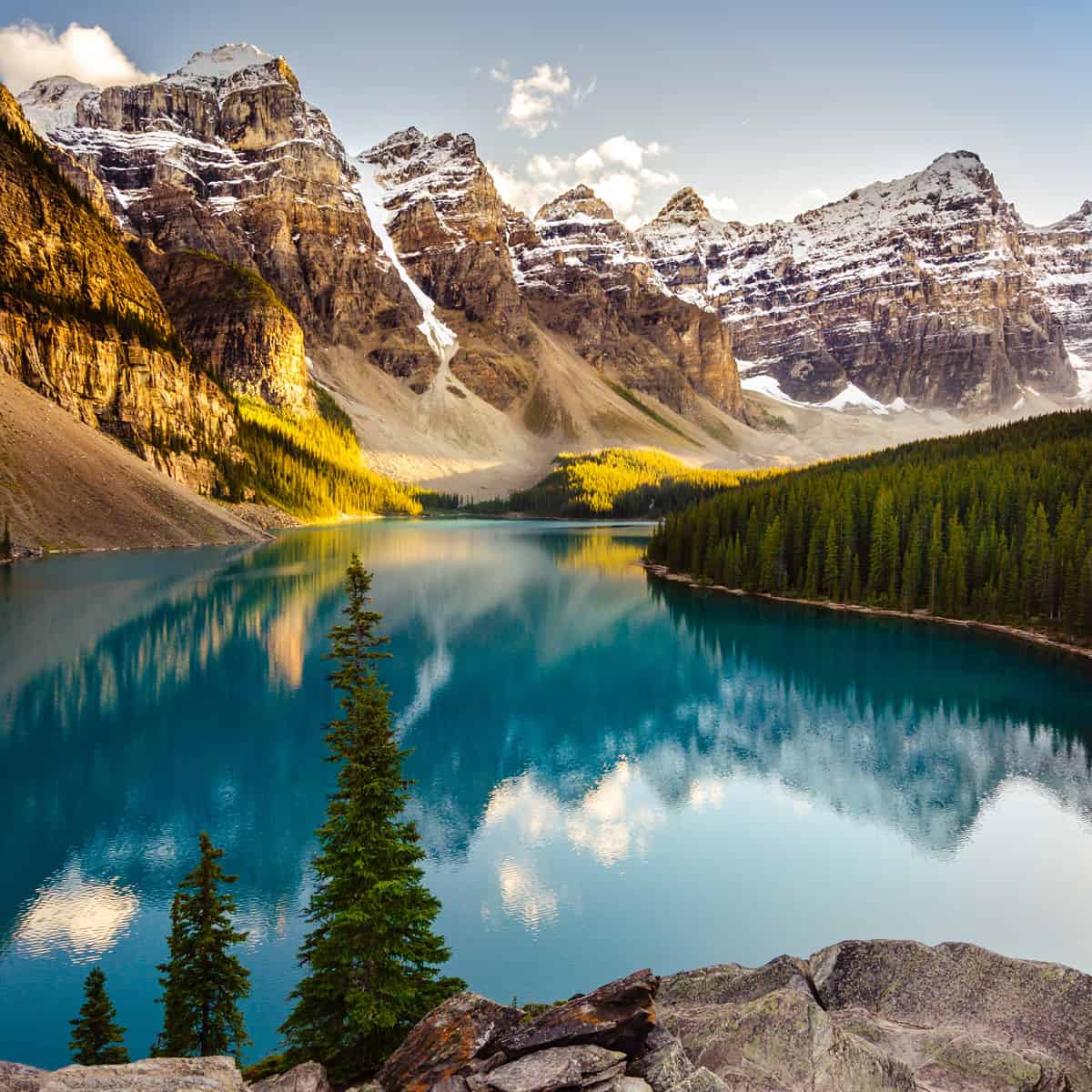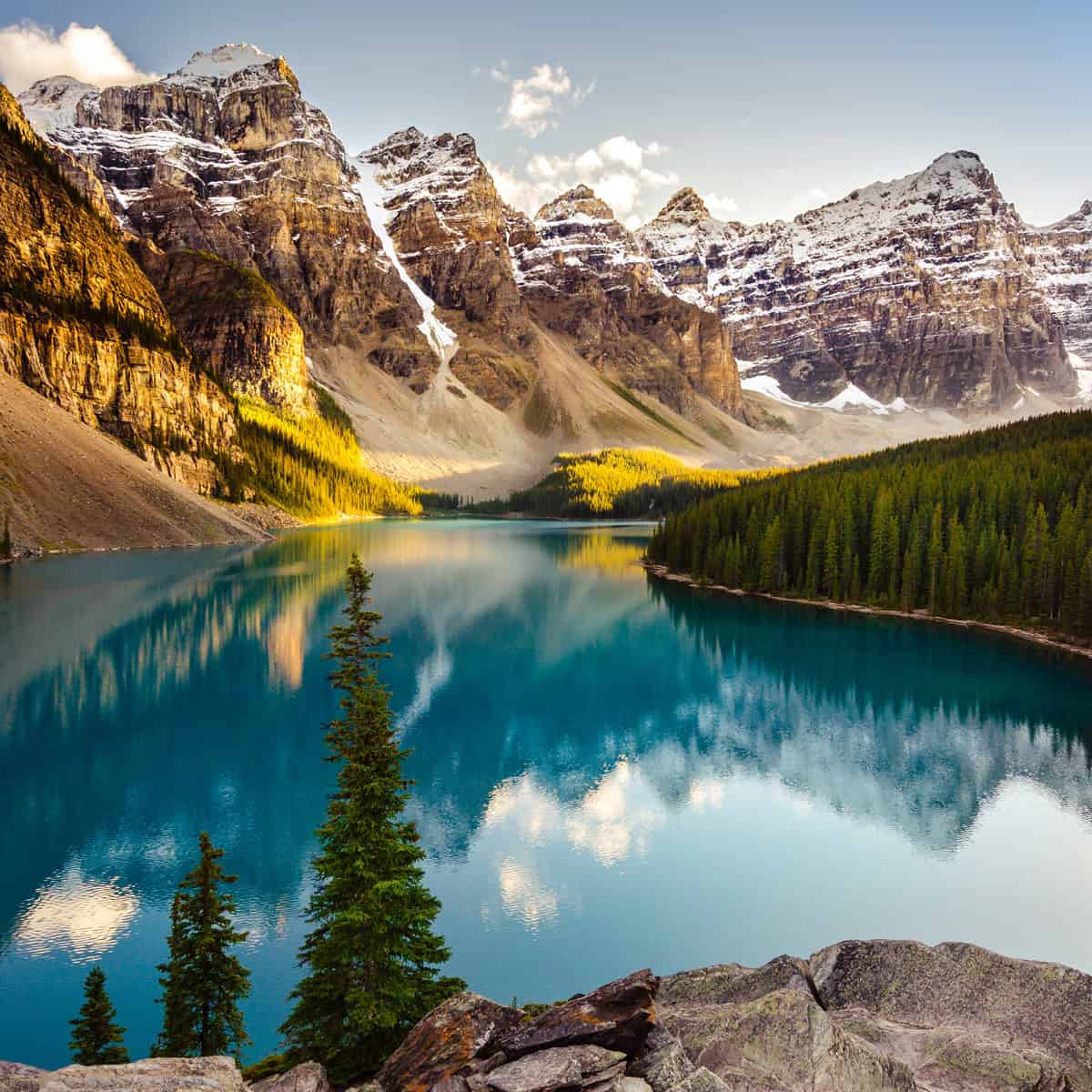 So it should be no surprise that two of the most popular photo spots in Banff National Park are lakes, specifically Moraine Lake and Lake Louise. Other scenery and lakes in Banff National Park that are worth a 'shot' are Two Jack Lake, Peyto Lake, and Bow Lake (note that some of these are on the way from Banff to Jasper, so if you are also making that trip, you can save them for that journey!)
Lake Louise
The blue-green water of Lake Louise leading to a 'V' in the mountains is the most famous photo op in Banff National Park. But, unfortunately, most people don't know that there is also a beautiful luxury hotel called the Fairmont Chateau Lake Louise just on the other side of the lens! Getting both the hotel and lake in on the photo? Magic.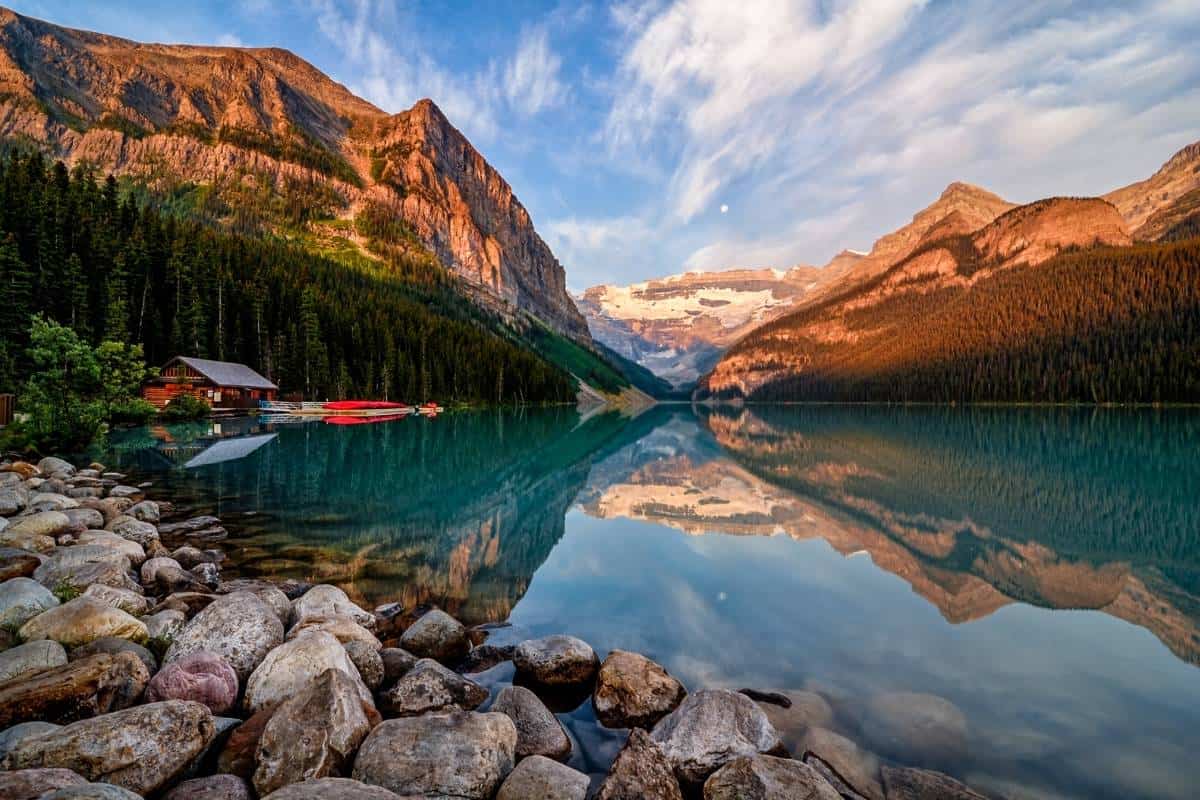 Lake Minnewanka and Two Jack Lake
It is possible to see the northern lights in Banff, but the best chance you have to see them is away from town lights. Lake Minnewanka is a popular spot to look north in hopes you see the aurora.
Vermillion Lakes
Just west of town, you'll find Vermillion Lakes, arguably one of the best spots to view both sunrise and sunset, with the famous Mount Rundle in front of you.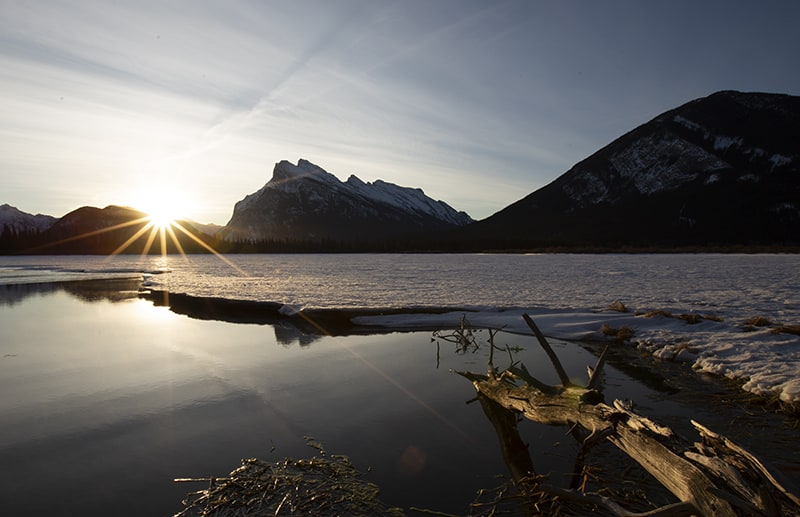 Banff Townsite
Cute and cozy but bursting with flavourful food, souvenir shops, and unique stores just begging to be explored, the Banff townsite offers great photo ops to capture your time in the Rockies.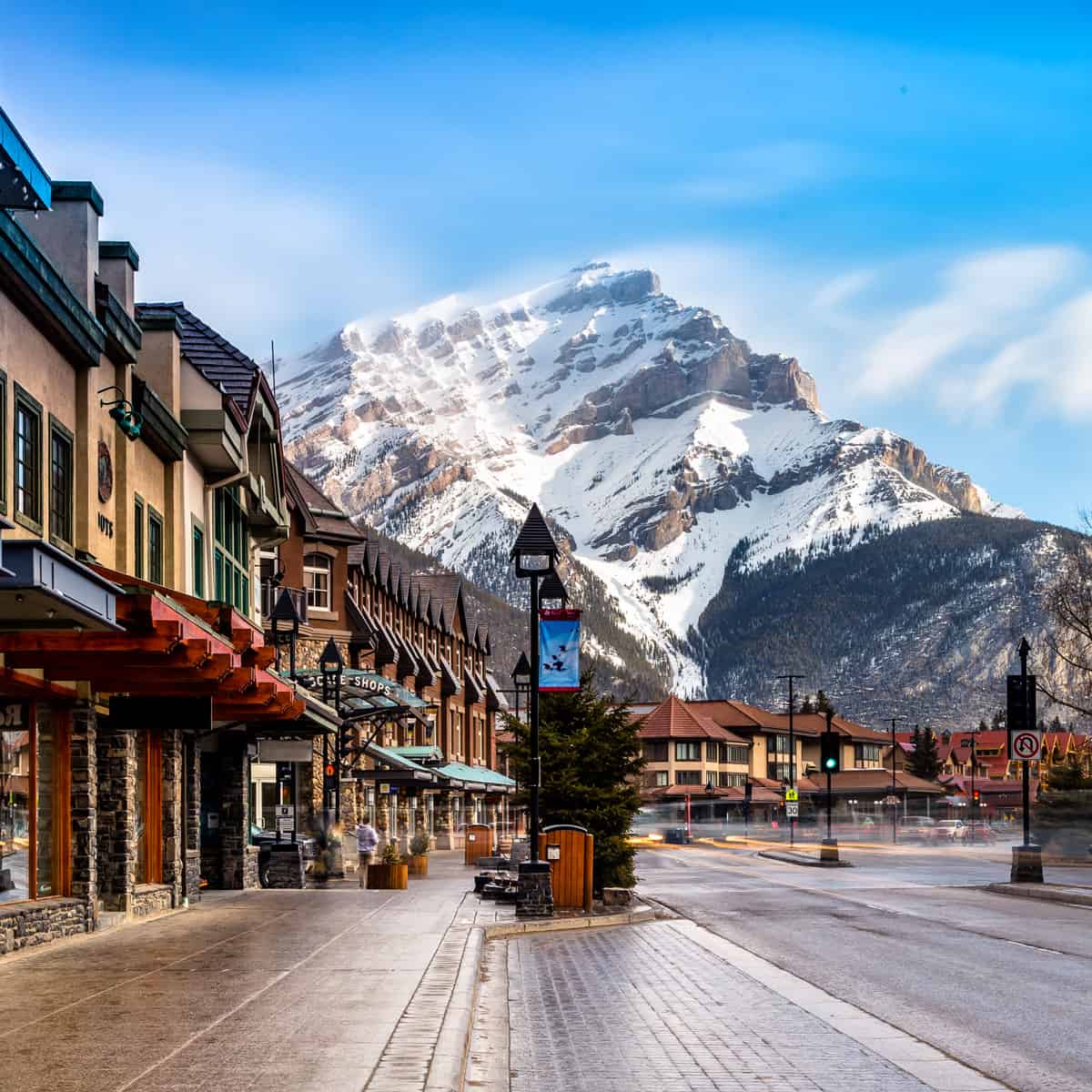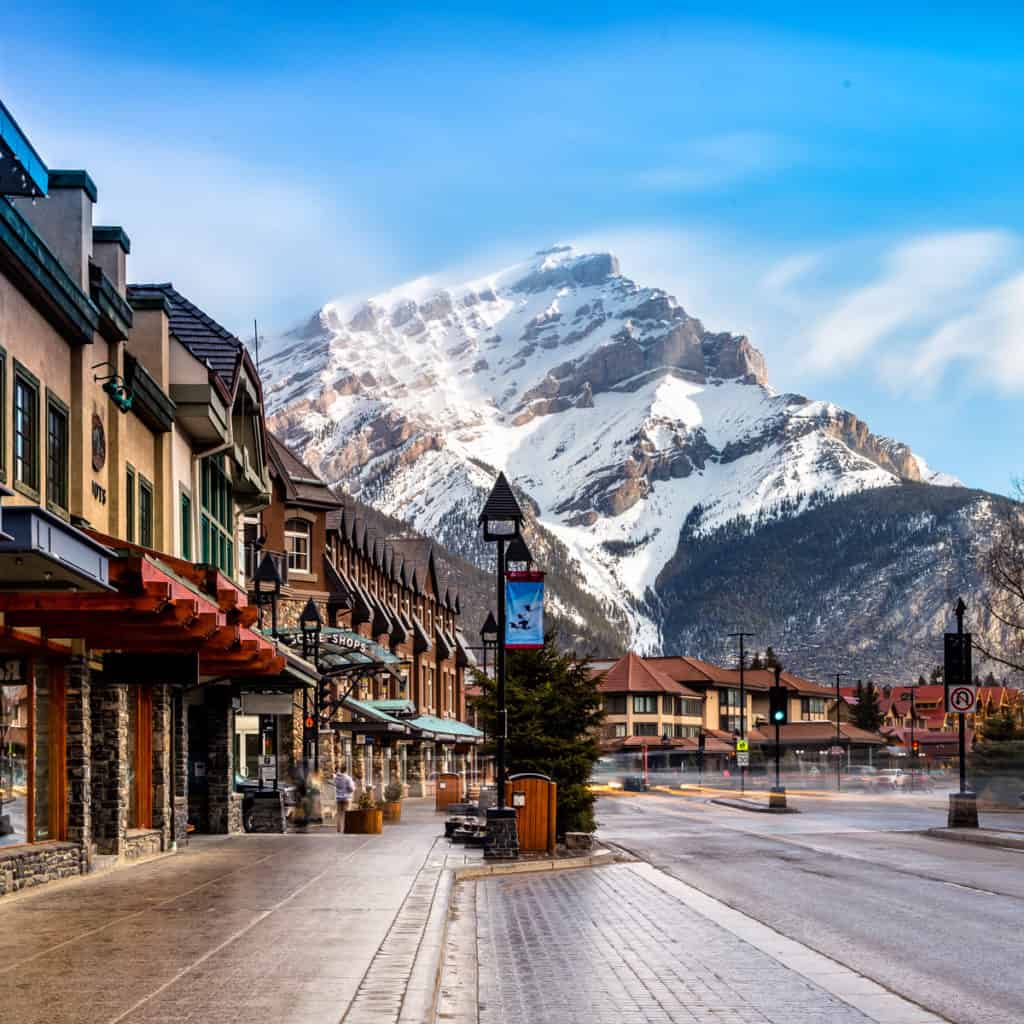 Want more? We have a complete guide to the best photo spots in Banff, contributed by an exceptional local photographer.
Find the Iconic Red Chairs in Banff
Looking for a run road trip? Try finding all the Parks Canada red chairs in Banff National Park. There are 11 different spots throughout the park, all of which reward their "sitters" with amazing views.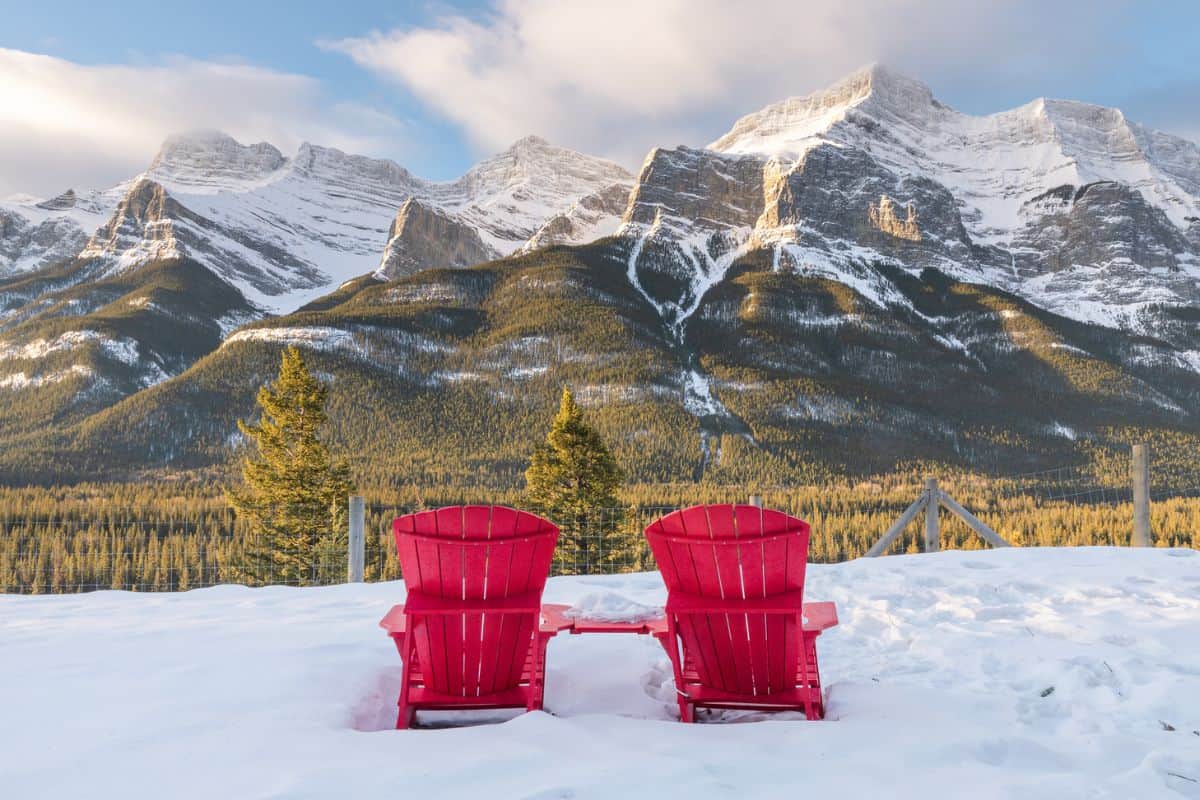 Best Things to Do in Banff
There are so many things to do in Banff for such a small town. Some of the best views and scenery in the world can be found here, and the outdoor activities are endless depending on the level of activity you like!
See the History of the Lands
Why not infuse meaningful learning into your experiences in Banff and the area? Several Indigenous-led tours will offer another lens of seeing the true history of these lands. Whether it's via a guided hike or a visit to the gallery of an exceptional Indigenous artist, don't miss out on your chance to gain a deeper understanding of the area. (See our guide on Indigenous experiences in Alberta for more information.)
Take a Ride Up a Mountain
Seeing Banff National Park from on top of a mountain is a must-do experience for any visitor. You get a bird's eye view of the Canadian Rockies and all the surrounding lakes and valleys. There are three different gondola experiences in Banff National Park to choose from.
Banff Gondola – Sulphur Mountain
It is no wonder that the Banff Gondola is the town's #1 attraction. The glass-encased lift offers the ultimate view of the dynamic landscape of the Rockies as it ascends to the top of Sulphur Mountain along the 1-mile line (a one-way trip takes approximately 8 minutes).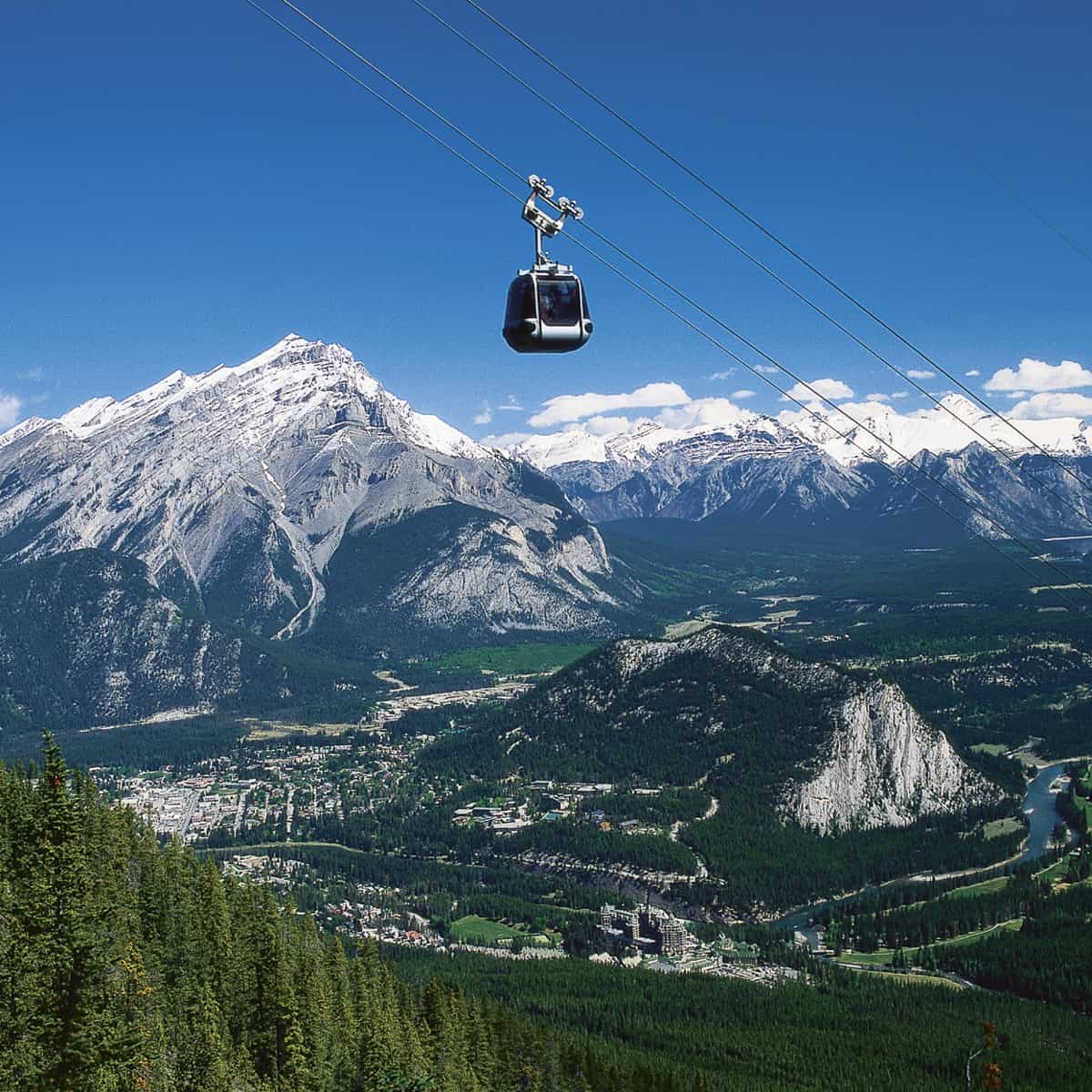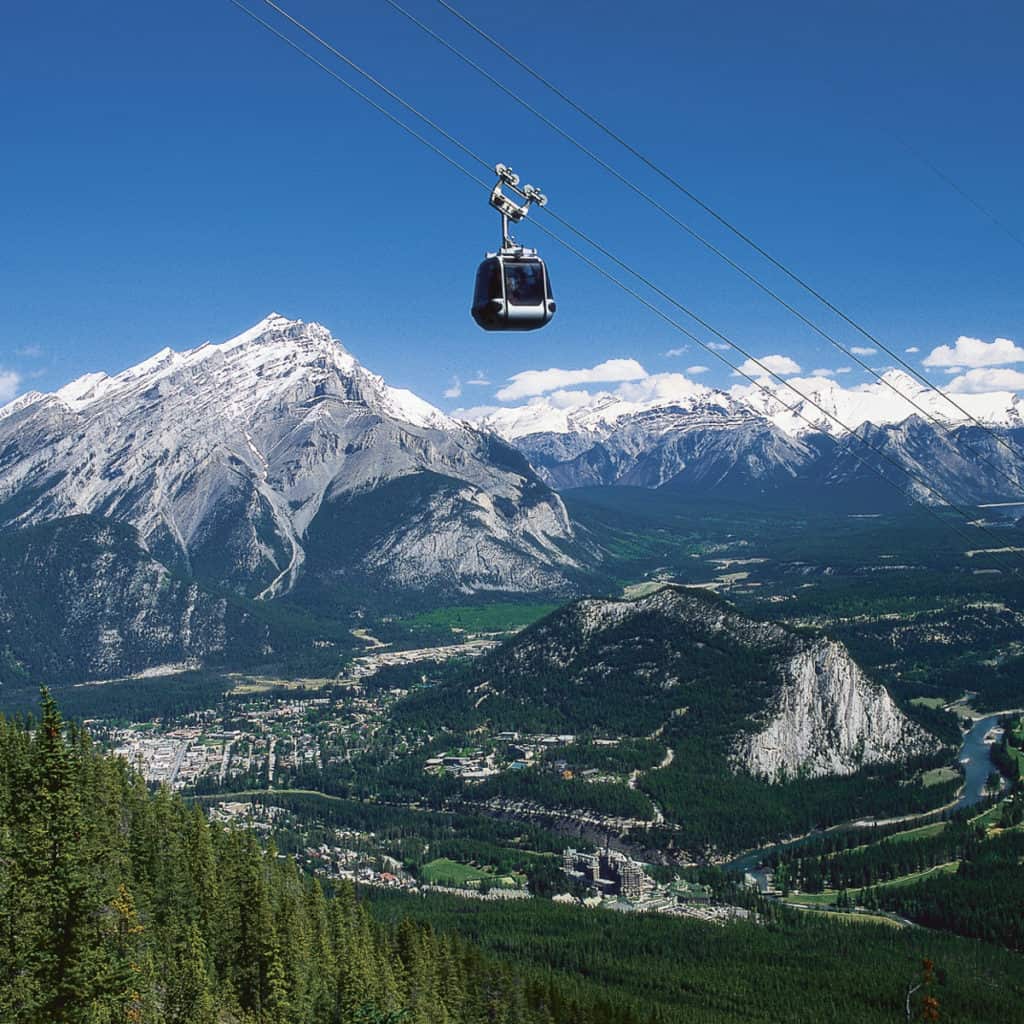 At the top, take in the interpretive centre, walk along the scenic boardwalk and take photos of the neighbouring mountain peaks, or dine at one of the two delicious restaurants on the summit. It's open year-round, and you can buy tickets here in advance. In the winter months, see "Nightrise" – a display of vibrant lighting, video projections, and music honouring the sacred mountains' magic.
Sunshine Meadows
With a max capacity of 8 people, the biggest gondola can be found at Banff Sunshine Village! Conveniently, the Sunshine Village Access road is only 8 km west of Banff, and they offer a daily shuttle service to and from the Banff townsite. You can ride the gondola to the top Village terminal at 2,159 m and enjoy the views. From there, you can take the 8-minute Standish Sightseeing Chairlift to the Standish Viewing Deck at 2,385 m and gaze out to the Banff Sunshine Meadows.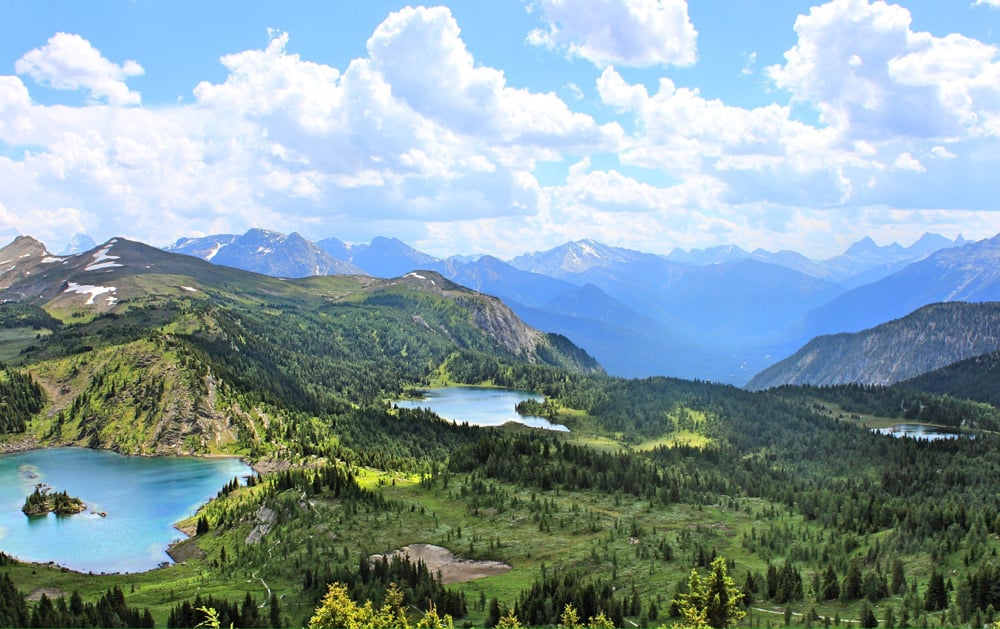 Lake Louise Gondola
The Lake Louise Summer Gondola is one of the best-kept secrets of things to do in Banff National Park. It gives visitors an incredible opportunity to see amazing wildlife safely. There is a chance to see grizzly and black bears, elk, moose, mountain goats, plus much more. Once you reach the top, you will have amazing scenery and vistas to explore and take photographs.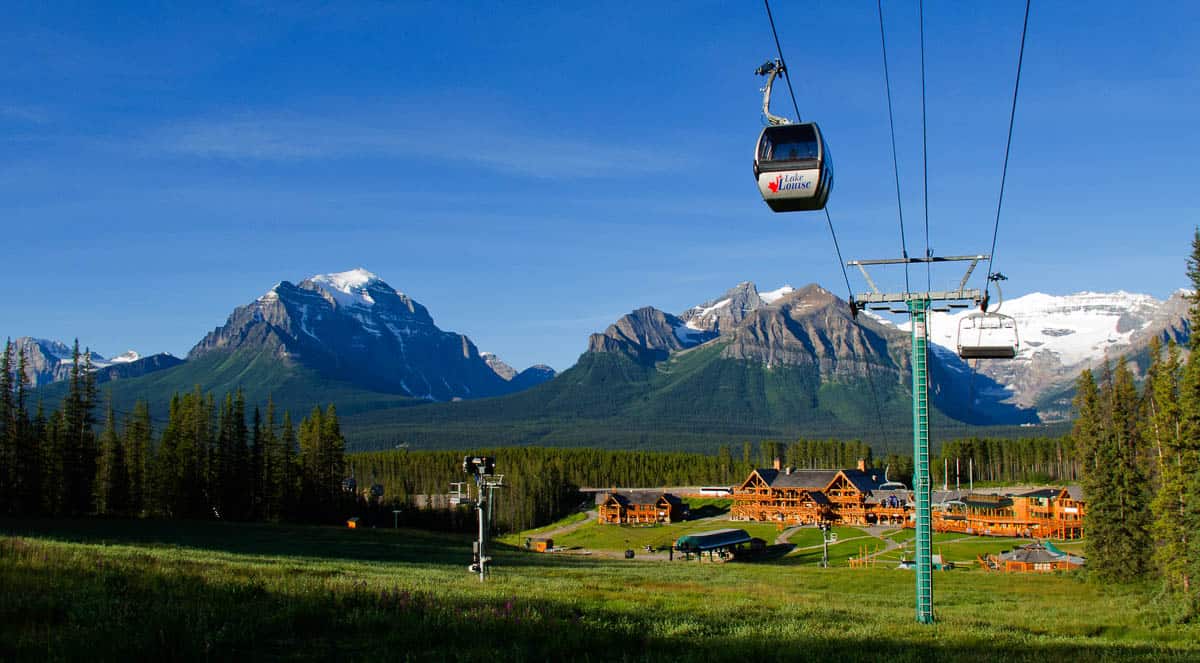 Mount Norquay Sightseeing
Technically not a gondola, but still offering spectacular sightseeing opportunities, the Mt. Norquay chairlift in the summer is the best seat in Banff National Park! With panoramic views that sometimes include the wildest locals (most notably black and grizzly bears), take a ride up to 7,000 ft elevation and dine at the historic Cliffhouse Bistro.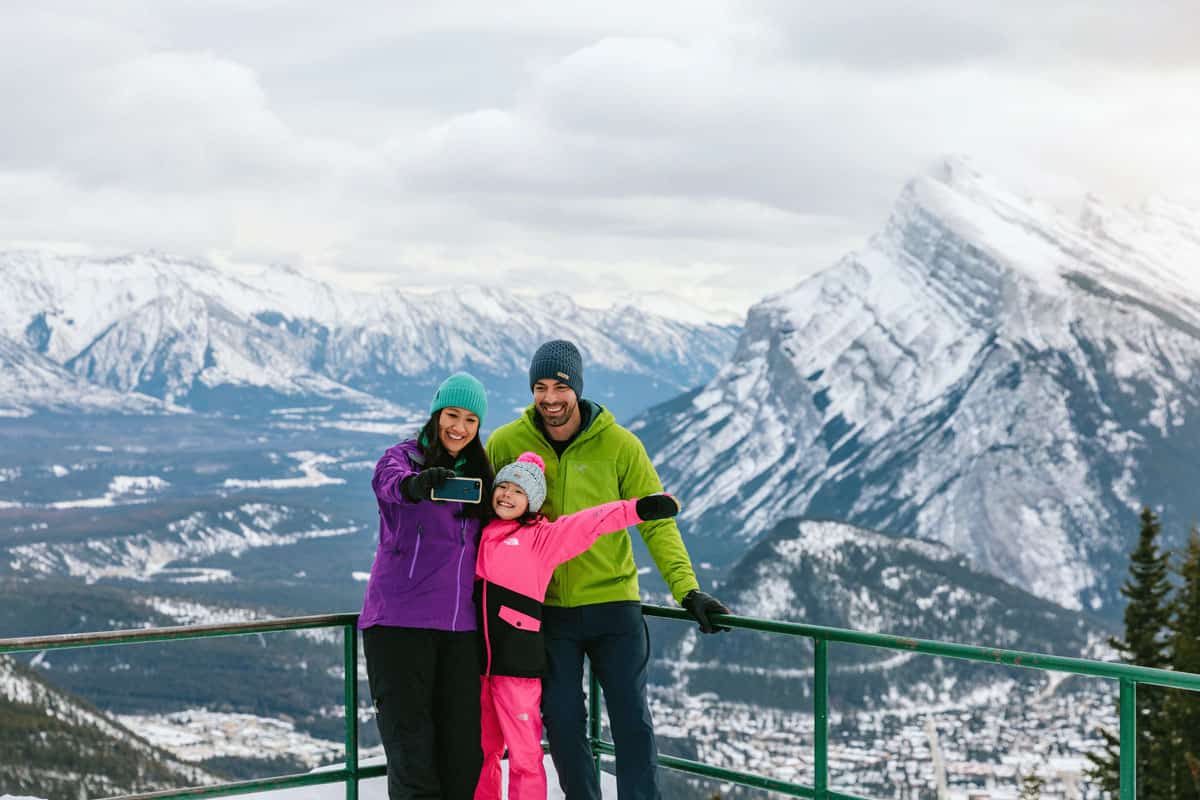 Open Top Touring
Open Top Touring is one of the most unique ways to see and experience Banff. Hop on board the custom-made open-top touring automobile. You'll feel like you jumped back in time with the vintage machine whisking you around the park. Even the guides are in costume and will tell rich stories along the way. The best part is you get to breathe in the crisp mountain air and be able to take countless photos with unobstructed views out of the open top.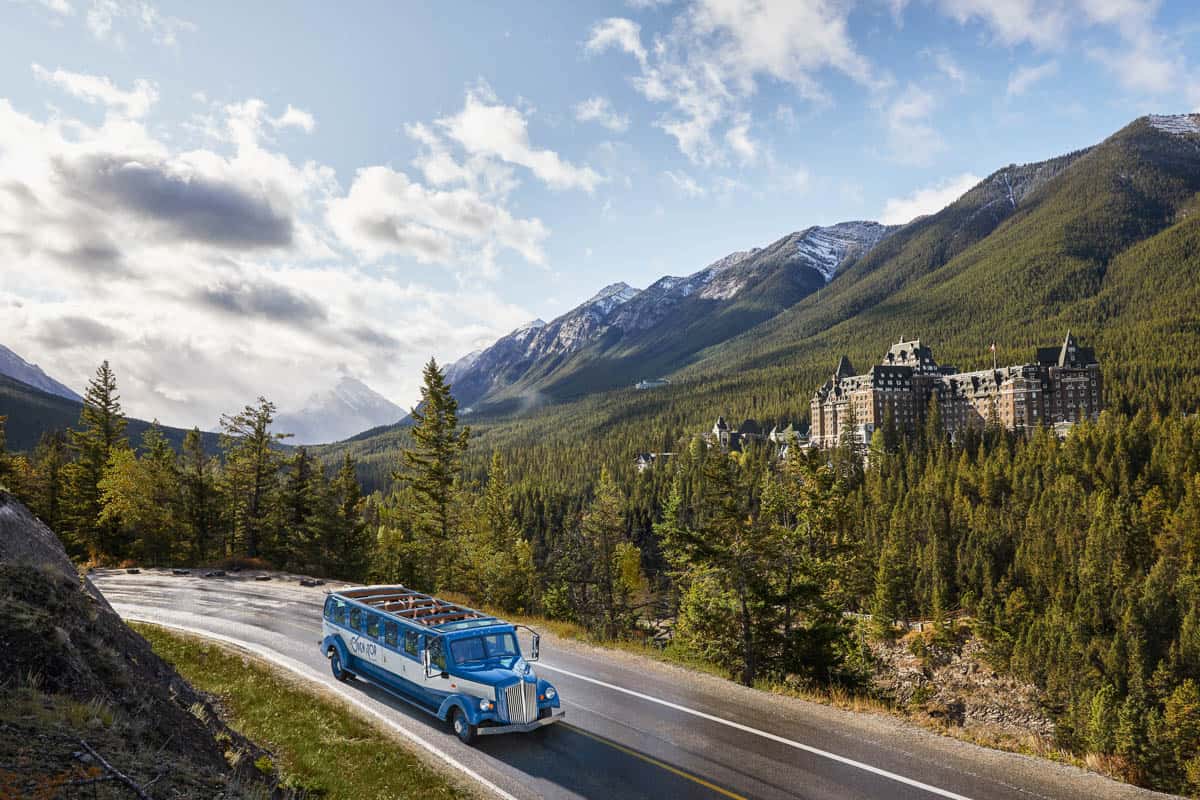 Sample Local Craft Drinks
After a long day of touring the sights, continue your immersion into Banff by indulging in one (or all three) of the local craft breweries and distilleries. For good pub fare to pair with your brews, you can't go wrong with either Three Bears Brewery & Restaurant or Banff Ave Brewing Company (the Black Pil is a particular fave of ours).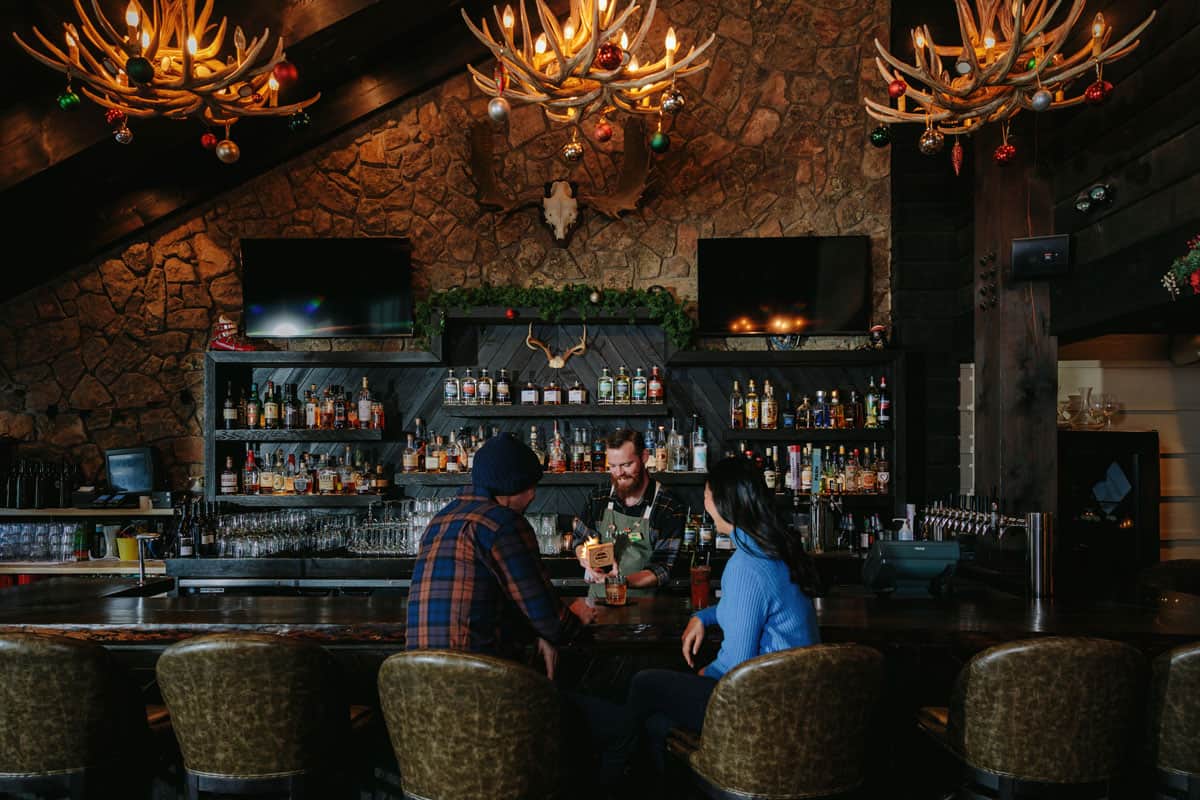 For palates more inclined towards cocktails, head to Park Distillery for some Banff-born spirits. Fed by water from six glaciers in the Rocky Mountains and other world-class ingredients from right in Alberta, it's impossible to be disappointed. Grab a bottle to take home, book a tour, or settle into their restaurant for the night with a menu full of upscale pub fare. The campfire ribs are always a crowd-pleaser.
Cycling
There are plenty of cycling and mountain biking trails to take advantage of in Banff National Park.
Banff Legacy Trail
The Banff Legacy Trail connects the Town of Banff and Canmore. It's a very popular route and activity, with the entire trail spanning a distance of 26.8 km and a 30 m elevation gain, taking an estimated 2 – 3 hour round trip for a cyclist. There are numerous rest stops along the way and countless photo opportunities.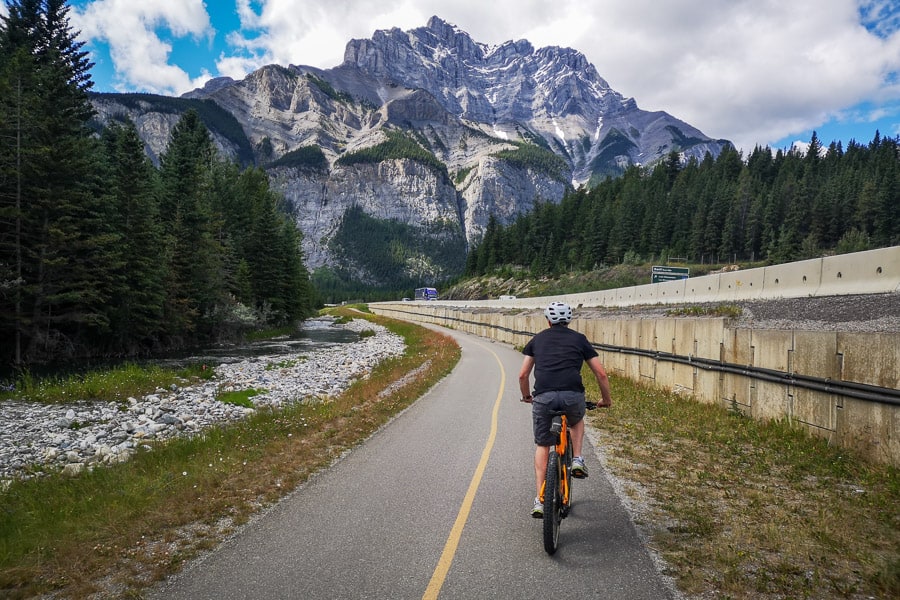 The Bow Valley Parkway
Another popular cycling route is the Bow Valley Parkway. The parkway winds from Banff all the way to Lake Louise and is extremely popular with cyclists. From May until the end of August, Banff National Park has introduced the "Enhanced Cycling Experience" for visitors. As a result, 17km of the Bow Valley Parkway, starting at the Fireside Day Use area to Johnston Canyon, will be restricted to public vehicles. Bicycles, e-bikes, and hikers are welcome to take advantage of this.
Mountain Biking
Mountain biking is extremely popular in Banff National Park, but it should be noted that mountain bikes are only allowed on specific trails. There is over 190 km of designated mountain biking trails in the park for riders of all levels. Some popular trails include:
Bow River Loop (Easy)
The Bow River Loop is a 7.1km easy loop perfect for families and beginner riders. The trail winds alongside the Bow River and is a short, easy ride. The trail starts at the Lake Louise campground.
Spray River Loop (Easy)
Spray River Loop is another easy loop for beginners or families; this 11.3km trail runs along the Spray River. Start at the Bow Falls parking lot, and don't forget to bring a lunch for along way.
Lake Minnewanka (Moderate)
Lake Minnewanka Trail is a popular 15 km out-and-back off-road trail. There's not much for elevation, and it isn't super technical, but it does offer beautiful views along the lakeshore. Note that the trail closes from July 10 to September 15 to protect riders and bears in the area.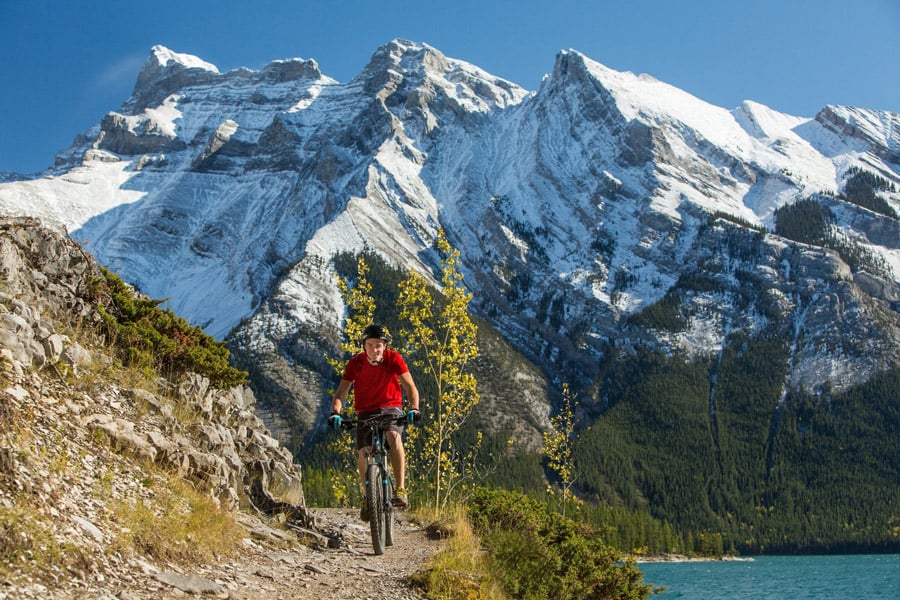 Tunnel Bench Loop (Moderate)
Starting at the Hoodoos parking lot, Tunnel Bench Loop is a 5.7km loop and is a moderate track for mountain biking. It's one of the most popular trails in Banff and rewards cyclists with stunning views of Mount Rundle and Cascade Mountain.
Moraine Lake Highline Trail (Hard)
Moraine Lake Highline Trail is rated as one of the best trails in the Lake Louise area and will test the skills of any advanced rider. With the tough efforts, cyclists will be rewarded with gorgeous views of Moraine Lake and the Valley of the Ten Peaks. Note that this trail is closed mid-to-late summer due to berry season and bear activity.
Soak in Hot Springs
Marvelled for their soothing and healing properties, visitors have been flocking to the multiple hot springs found on Sulphur Mountain to "take the waters" for over 100 years.
Banff Upper Hot Springs
Banff Upper Hot Springs is the highest-operating hot spring in Canada and is the only one open to the public for bathing in Banff National Park.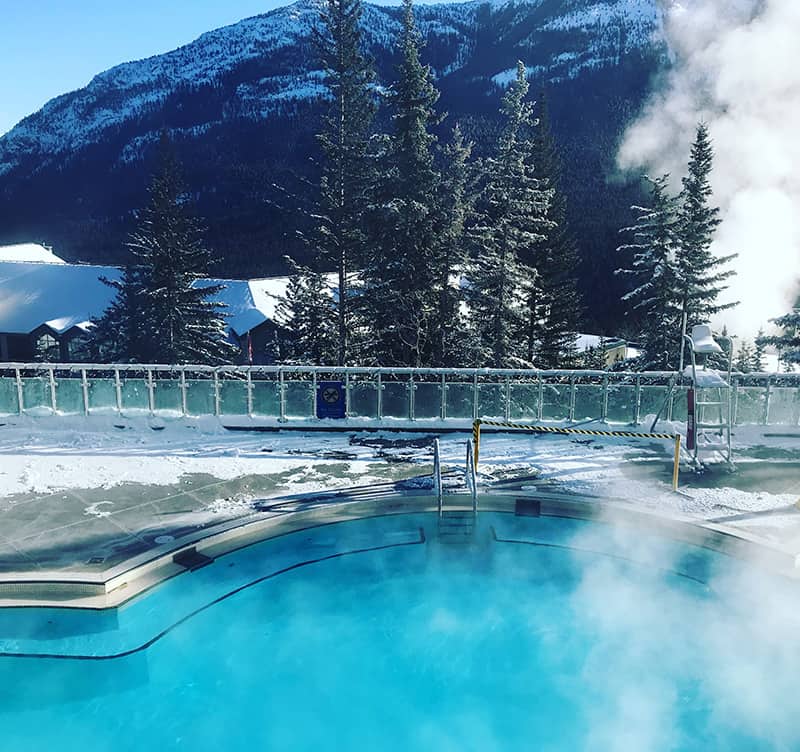 The water is geothermal heated and bubbles to the surface from a fracture in Sulphur Mountain. The temperature is dependent on the season and varies between 47°C (116°F)- 27°C (81°F). The Banff Upper Hot Springs facility conveniently has towels and lockers you can rent, plus a cafe! Aim to arrive at the hot springs first thing in the morning for the most relaxing experience.
Hiking in Banff
The hiking trails in and around Banff are plentiful and world-class. A few of our favourite hikes include:
Johnston Canyon Hike
Johnston Canyon is an easy and popular hike where you can see spectacular views of either the lower falls or upper falls, depending on the distance you want to trek. Tip: We recommend following the trail past the upper falls viewpoint and seeing the Ink Pots anomaly! These Ink Pots are found in a meadow past the falls and result from water bubbling from deep below the Earth's surface.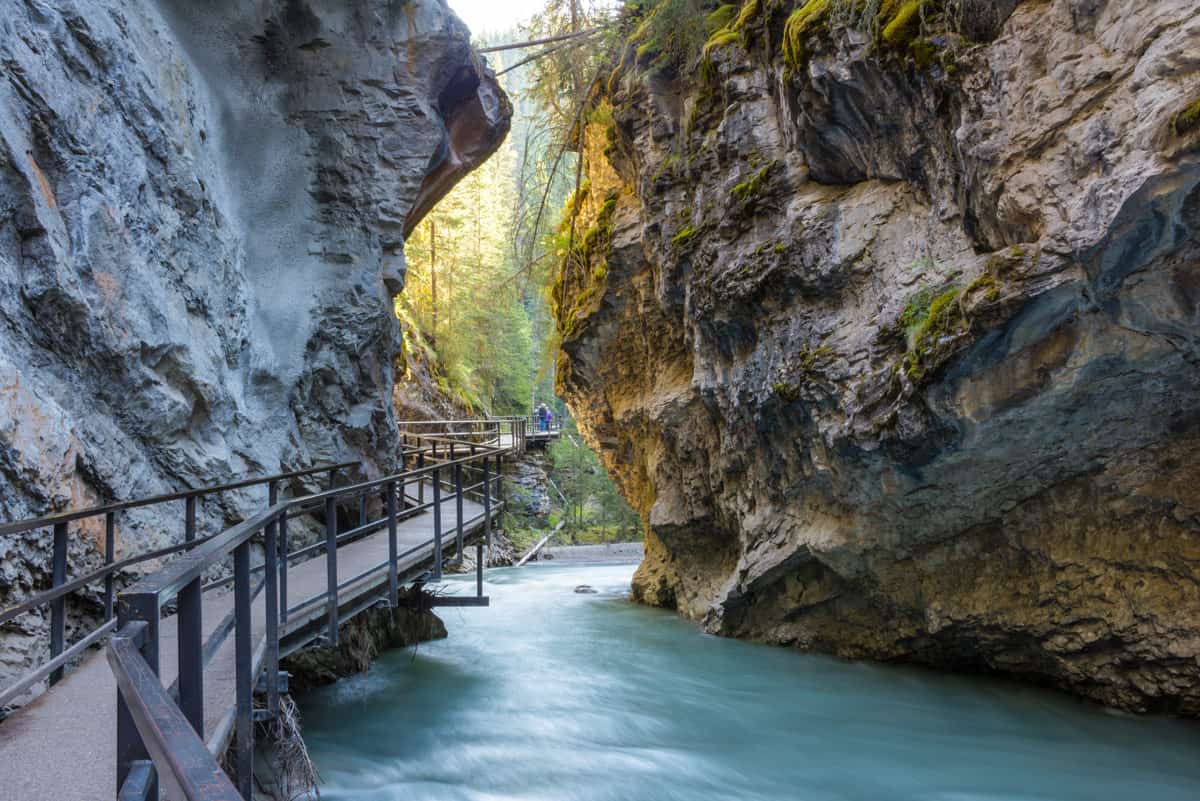 Johnston Canyon is open year-round, but be extra careful if trekking it in winter – and if you want an informative guide to help you on the ice walk (the canyon freezes!), try this one for during the day, or be extra brave and take a night tour! Note during summer months, vehicle access to Johnston Canyon is via the Castle Junction only, with a portion of the Bow Valley Parkway closed for cyclists.
Tunnel Mountain Hike
For a moderate and less busy hike, Tunnel Mountain is a quick 2-hour hike that is accessible from downtown Banff. The trail switchbacks to a low summit, offering fantastic views of the town, Bow Valley, and Mount Rundle along the way.
Mt Norquay Via Ferrata
For an adrenaline-pumping, unique hiking opportunity, Via Ferrata is an assisted climbing experience along four routes on the cliffs of Mt Norquay. This jaw-dropping hike crosses suspension bridges and climbs ladders while taking in rarely-seen views of Banff. Don't fret though, you are securely fastened in a harness attached to the mountain at all times and led by a certified guide.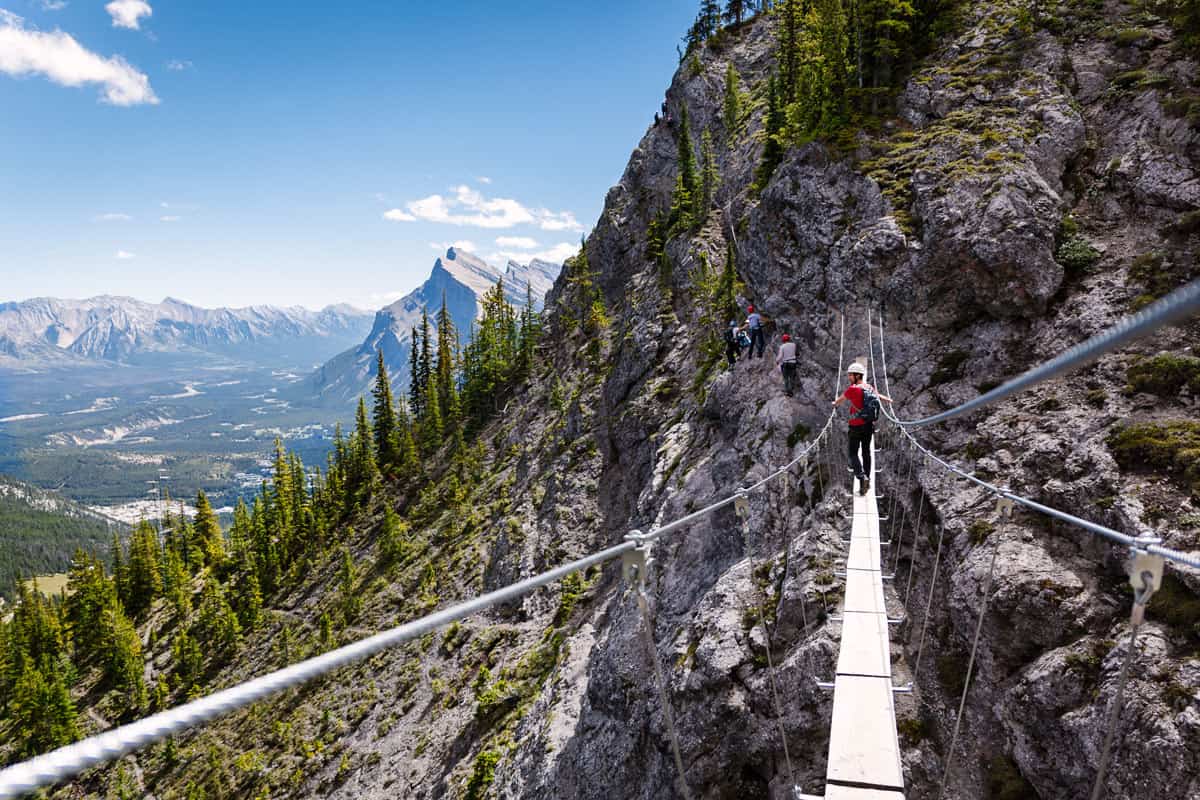 If you want more recommendations, check out our ultimate list of places to hike in Banff and Banff National Park.
Go Canoeing and Kayaking
Have we mentioned how much we love the lakes in Banff? More than just a backdrop for a picture, we recommend getting out on the water on a canoe, kayak, or paddleboard! There are even some fun guided tours available that we have added to our itinerary the next time we are in Banff, including this one in a big canoe (you can't get much more Canadian than that).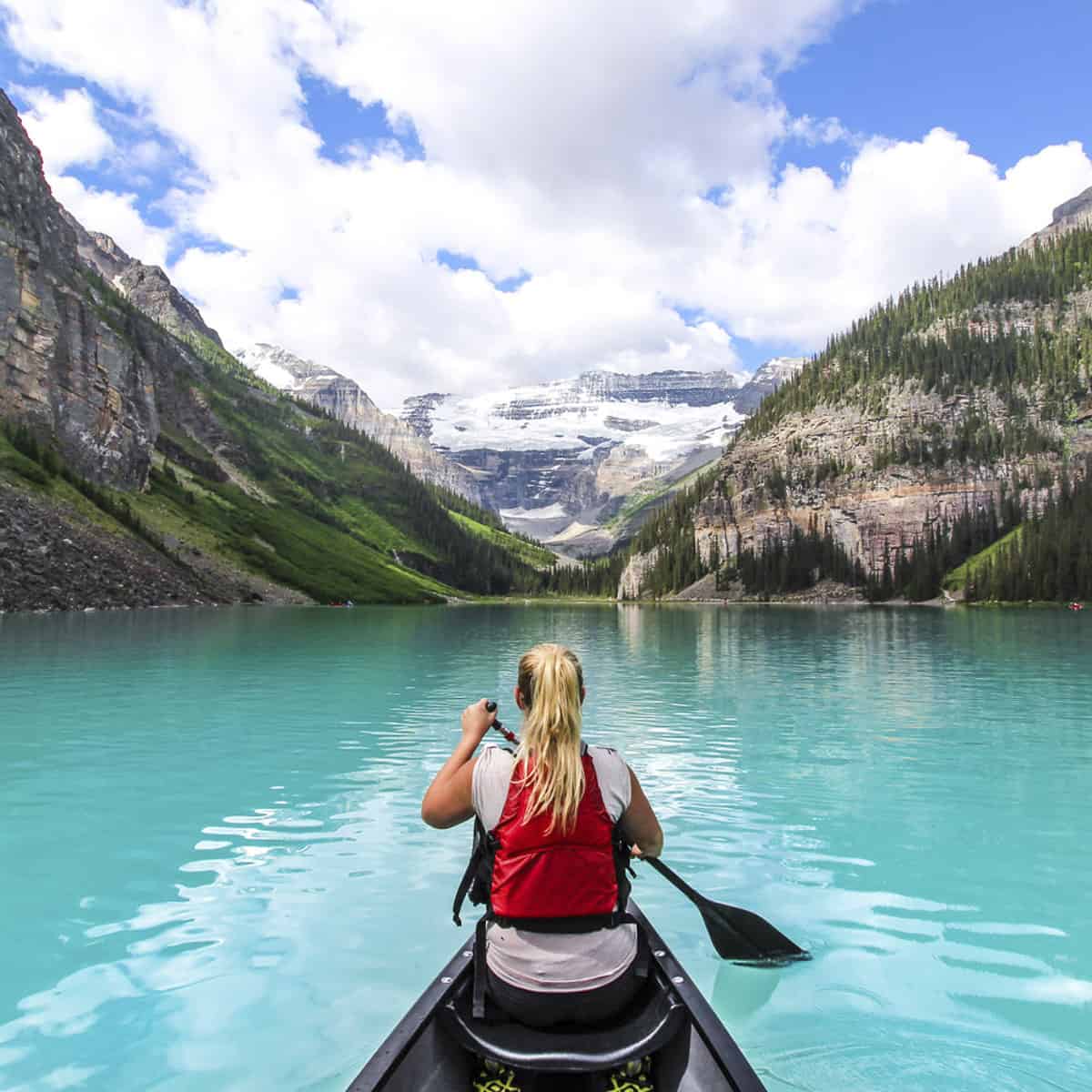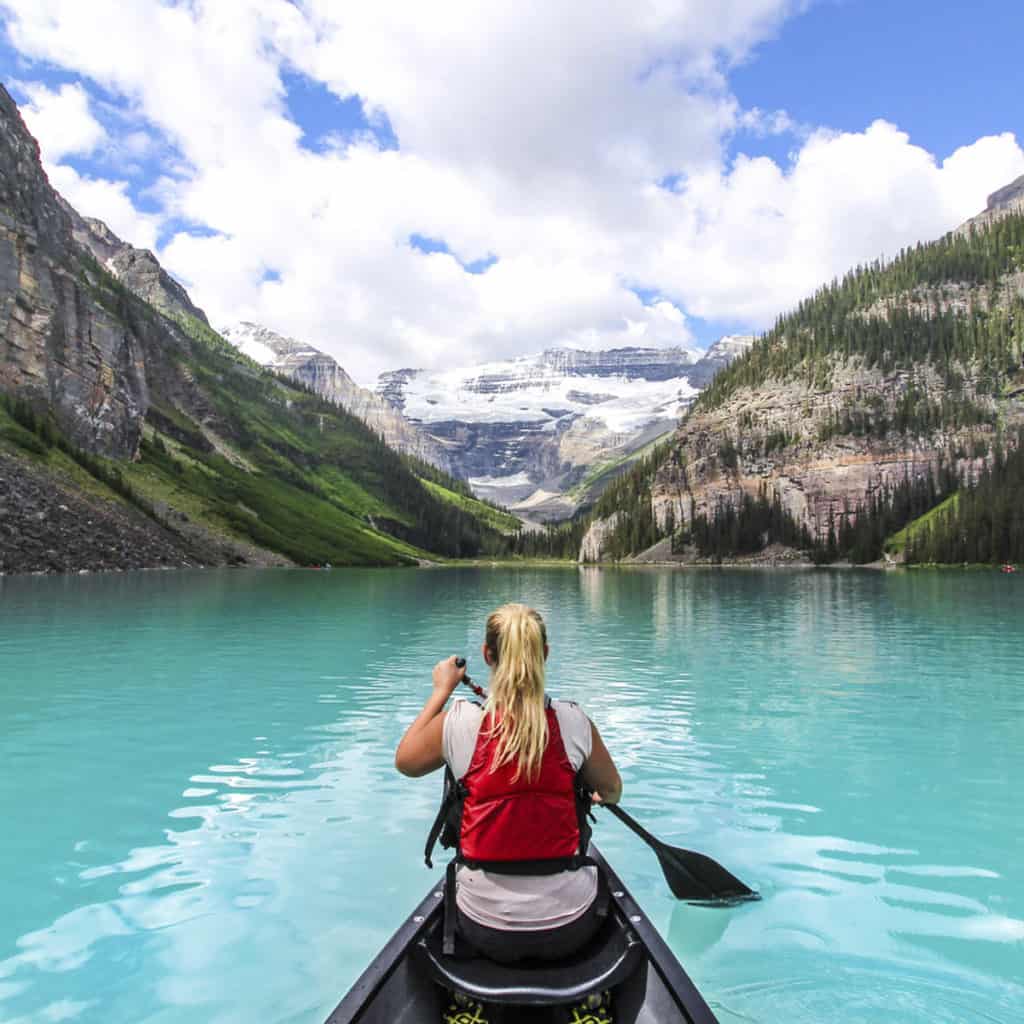 Are you a pro and looking to head to the waters unguided? Then you can also rent kayaks, canoes, or paddleboards that come fully equipped for your adventure.
Explore Banff by Horse
Consider exploring the beautiful Canadian Rockies on horseback! You are planning to visit Alberta, after all, and you should keep with the wild wild west aesthetic.
If you want to take the reins yourself, saddle up for this two-hour tour with a cowboy leading the way. Or if you really want to go for it and pretend you're a rancher in the Rockies backcountry, this two-day tour includes a night at a luxurious lodge and delicious meals.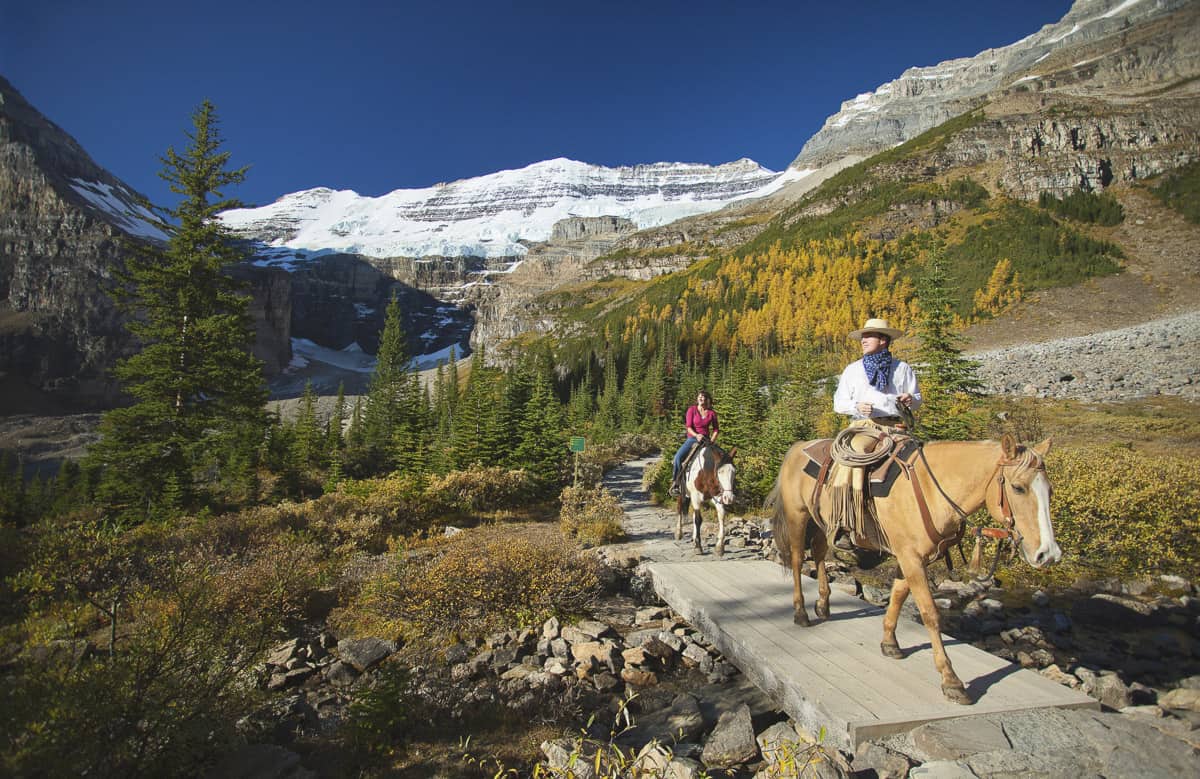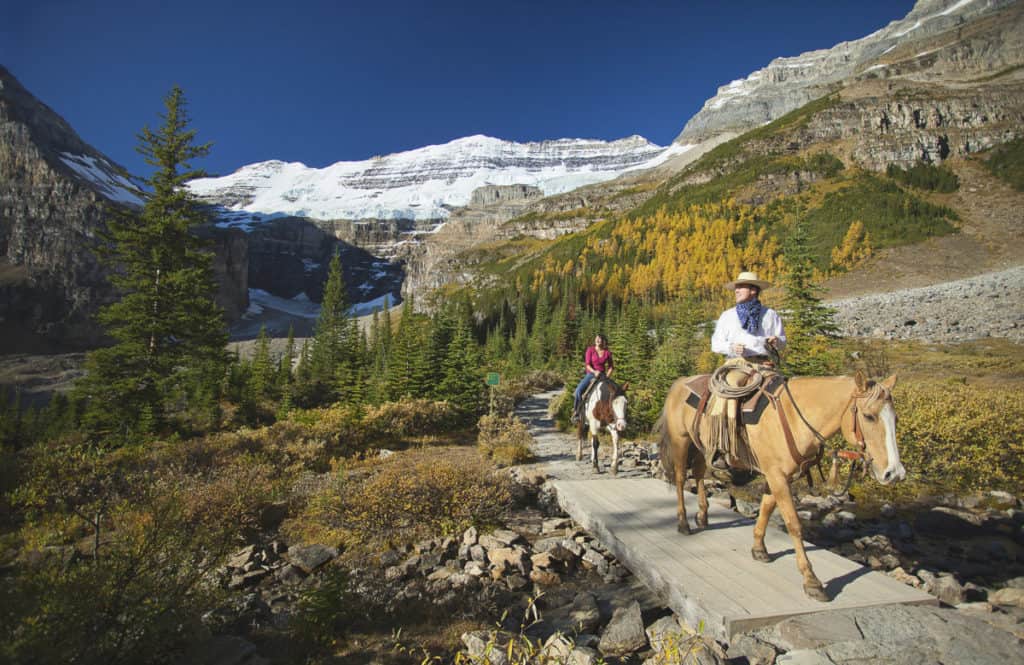 We also love the option to enjoy a charming horse-drawn sleigh ride in winter (get a quintessential Canadian selfie)! And if you are not that handy on a horse but want a rustic experience, the kids will love this 3-hour covered wagon tour that will cruise you along the Bow River. It comes complete with a hearty cook-out meal.
Play a Round of Golf in Banff
Playing a round at the Fairmont Banff Springs Golf Course will challenge any golfer and provide breathtaking views on every hole. Originally built in 1911 and expanded to an 18-hole golf course in 1924, Stanley Thompson designed and created one of the world's most stunning courses.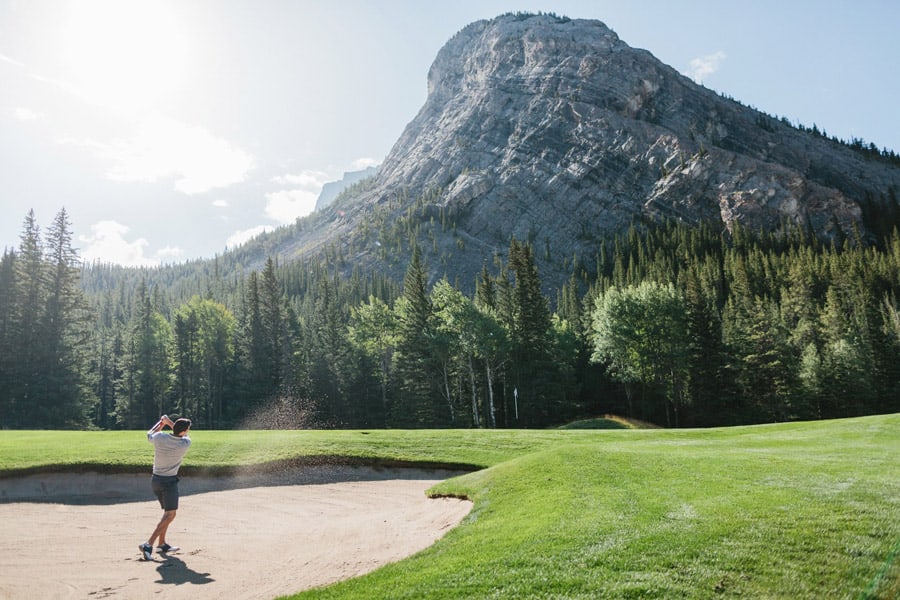 It's a traditional links-style course that winds through the Bow Valley and emphasizes the surrounding mountain landscape. It will thrill any golfer who plays 18 here.
Enjoy a Spa Day
If nature is not your jam, Banff offers some great pampering experiences that don't require too much strenuous activity. The pampering options in Banff are abundant! If the ultimate relaxing experience is what you are looking for, the best place to start is the Fairmont Spa Banff Springs located at the Fairmont Banff Springs.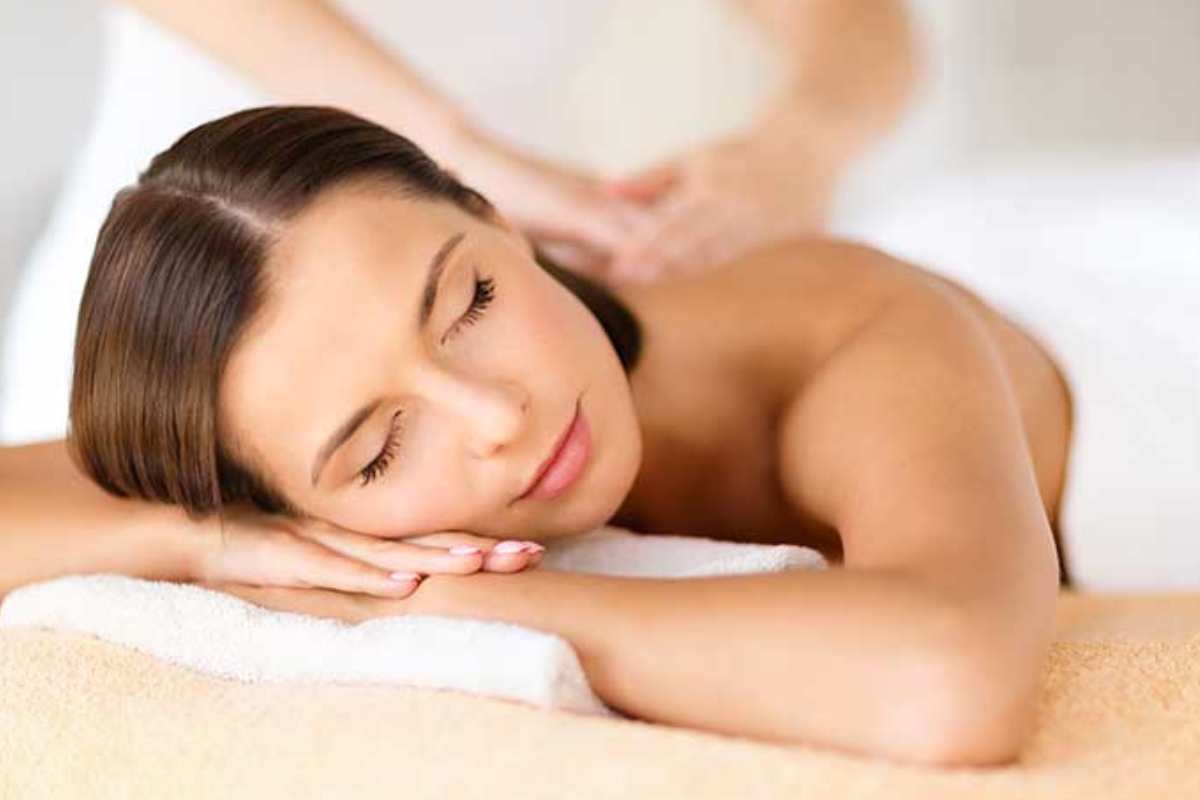 Cedar and Sage Co. is located downtown for a more central option and prides itself in offering the perfect massage. Finally, if you prefer your pampering with a side of adventure, make your way 14km into the backcountry to visit the sauna at Shadow Lake Lodge!
Downhill Skiing in Banff
One of the most popular things to do in Banff National Park during the winter months is to shred some pow on the "Big Three." It's world-class downhill skiing and snowboarding at the Big Three ski resorts found in Banff National Park: Sunshine Village Ski Resort, Lake Louise Ski Resort, and Mt. Norquay Ski Resort.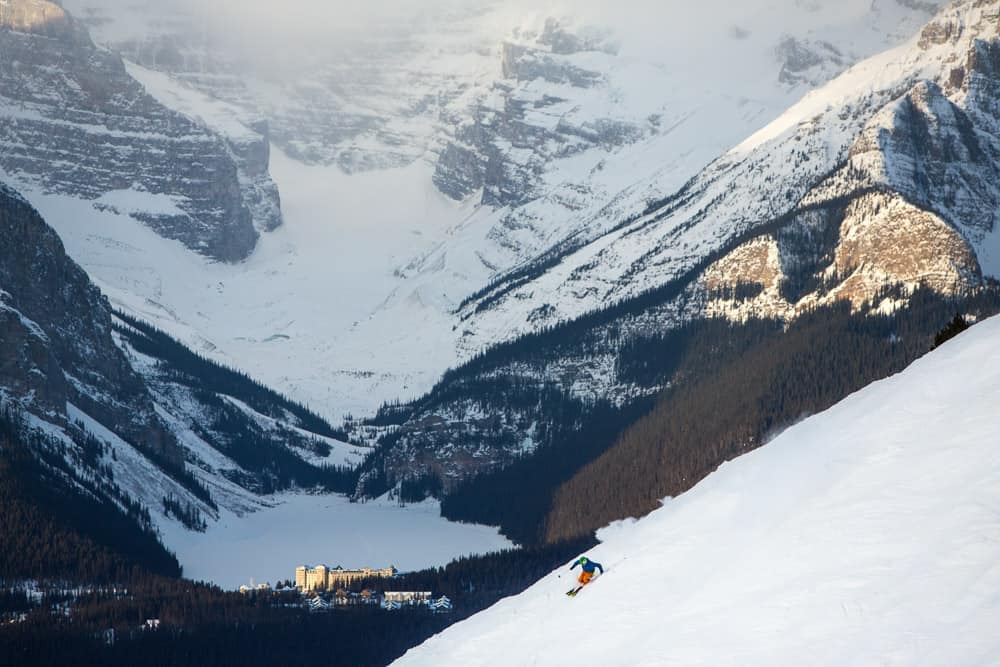 Conveniently, through SkiBig3, you can buy one lift ticket and have access to all three resorts. The Banff ski season typically runs from November to May between the three resorts. (For more information, including prices and current ski conditions, see our complete guide to skiing in Alberta.)
Fun fact: the Banff resorts have the longest non-glacial ski season in North America!
Are you tired of strapping on skis or a snowboard but still want to play in the snow? Mt Norquay also offers a tubing slope, which is fun for all ages!
Ice Skating in Banff
Skating in Banff National Park is one of the most popular and picturesque winter activities to partake in. However, remember that Parks Canada does not monitor these locations for safety so you will be skating at your own risk. Nevertheless, this is a helpful list of popular locations to skate and also gives some safety tips.
Snowshoe or Cross-Country Ski
These quintessential winter activities hit their prime late in the year and extend to early spring. Keep in mind, however, that this coincides with avalanche season. So before even thinking about hitting the trails, check in with local conditions and these tips to prepare yourself. Parks Canada has excellent resources for where to snowshoe and where to cross-country ski.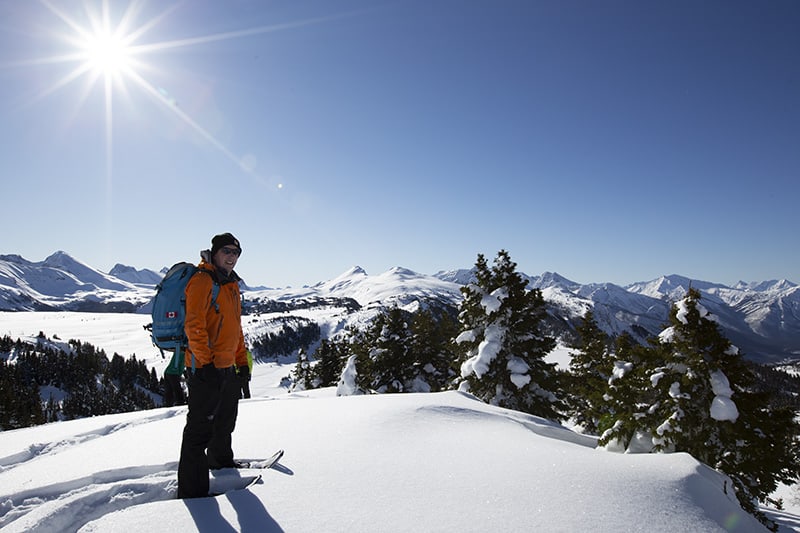 If conditions are favourable, then don't hesitate to get out there! Winter walking and skiing can take you to places and views that you wouldn't anticipate. There are plenty of trails for you to partake in on your own, but also consider a guided tour to an elevated place like Sunshine Village, where the views will be unparalleled.
Explore the Townsite
For a small town, the Banff townsite has many shopping opportunities for all different price points. From clothing to candy and all the way from art galleries to tacky souvenirs, shopping is fun in Banff National Park in any season.
Enjoy a Festival
These three festivals are worth a look if you happen to be in town when they are in full swing, or may even be worth planning your trip around, depending on your personal interests.
Banff Mountain Film and Book Festival
This annual event, put on by the Banff Centre for Arts and Creativity, features over 60 live events showcasing films and stories from adventures around the world. For 2023, it is being held from October 28th to November 5th, and you can get more info and tickets here.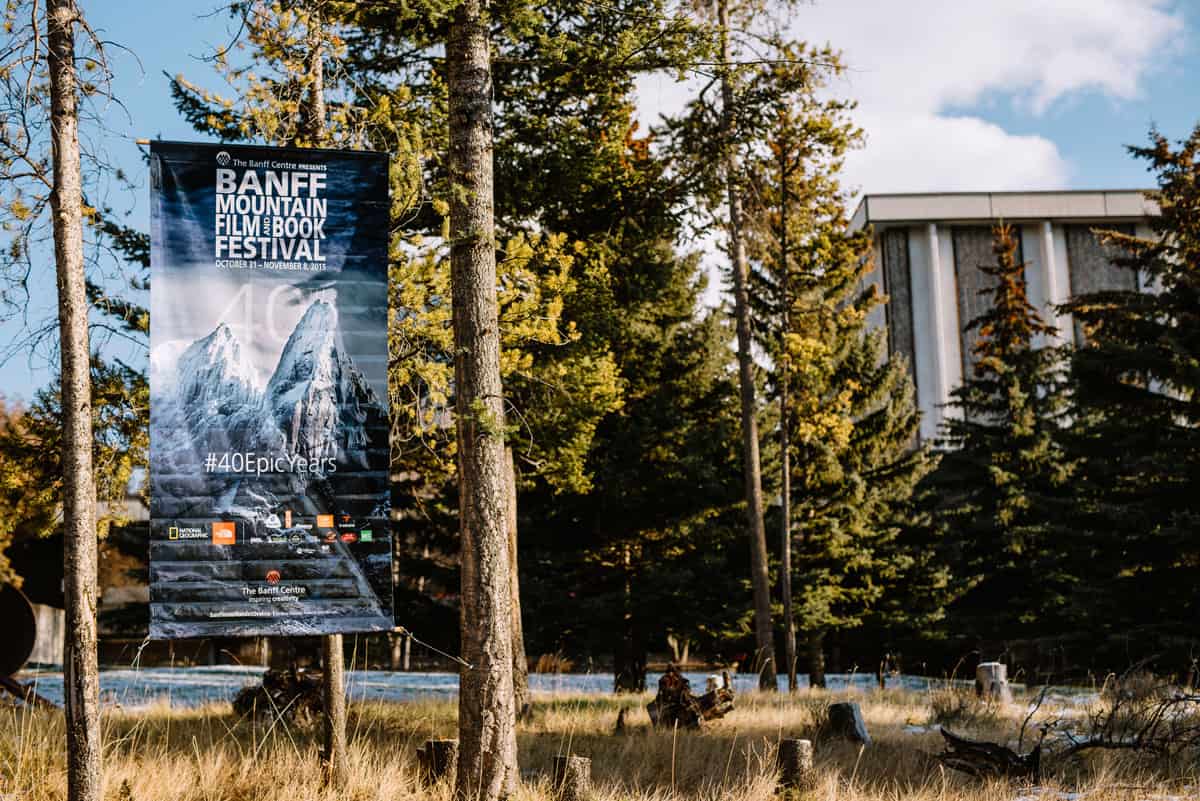 Banff Craft Beer Festival
From November 23rd to 25th, 2023, sample brews and spirits from Banff and all over Alberta at the self-proclaimed "world's most beautiful beer festival" held at the Cave & Basin National Historic Site. More info and tickets are here.
SnowDays Festival
Held annually in January, this multi-week event is a celebration of all-things-winter in Banff and Lake Louise. Find snow sculptures throughout town, and even witness a demonstration of the sport of skijoring right in the middle of town. For 2024, plan to partake from January 19th to February 4th. More info can be found here.
Where to Eat in Banff
Banff is a foodie paradise with a little something for everyone, from fine dining to classic Canadian comfort food. Here are three of our recommendations for breakfast, lunch and supper.
Breakfast – Nourish Bistro
It's one of the best weekend brunches in Banff. Serving exceptional vegetarian and vegan fare, Nourish Bistro may be plant-based, but their food is a local favourite! Nourish Bistro's food is highly thoughtful and satisfying, sustainable, local, seasonal, GMO-free, and served in an intimate and unique setting. Located two blocks off Banff Ave, we urge you to step outside your comfort zone and give it a try.
Lunch – Bear Street Tavern
Being featured on the Food Network's "You Gotta Eat Here" put Bear Street Tavern on the map. But regular visitors and locals already knew where to find the best pizza in the Rockies. With a relaxed atmosphere and great food, Bear Street Tavern is the perfect spot to recharge after a day of hiking. Tip: pair your pizza with a bear-sized cocktail!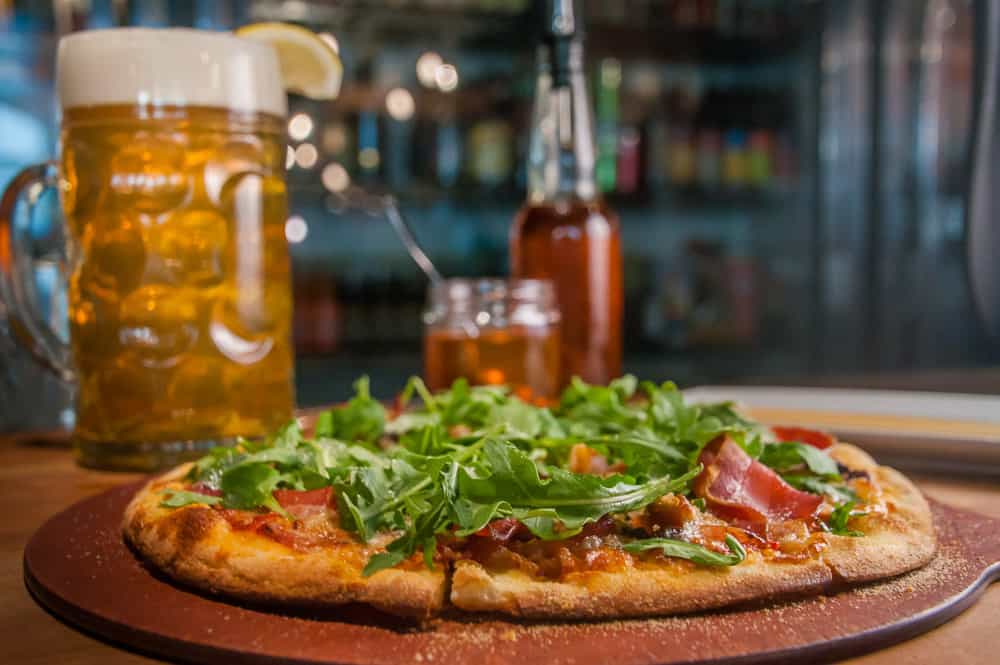 Dinner – Grizzly House
As the tagline for Grizzly House Banff says, it's "for lovers & hedonists." Many are taken aback by how much of a time warp stepping into this restaurant is, but they have been an institution since 1967! Famous for their fondue and sizzling rock selections and one-of-a-kind protein choices (anyone for rattlesnake?), the decor may be dated, but the experience is a must-try!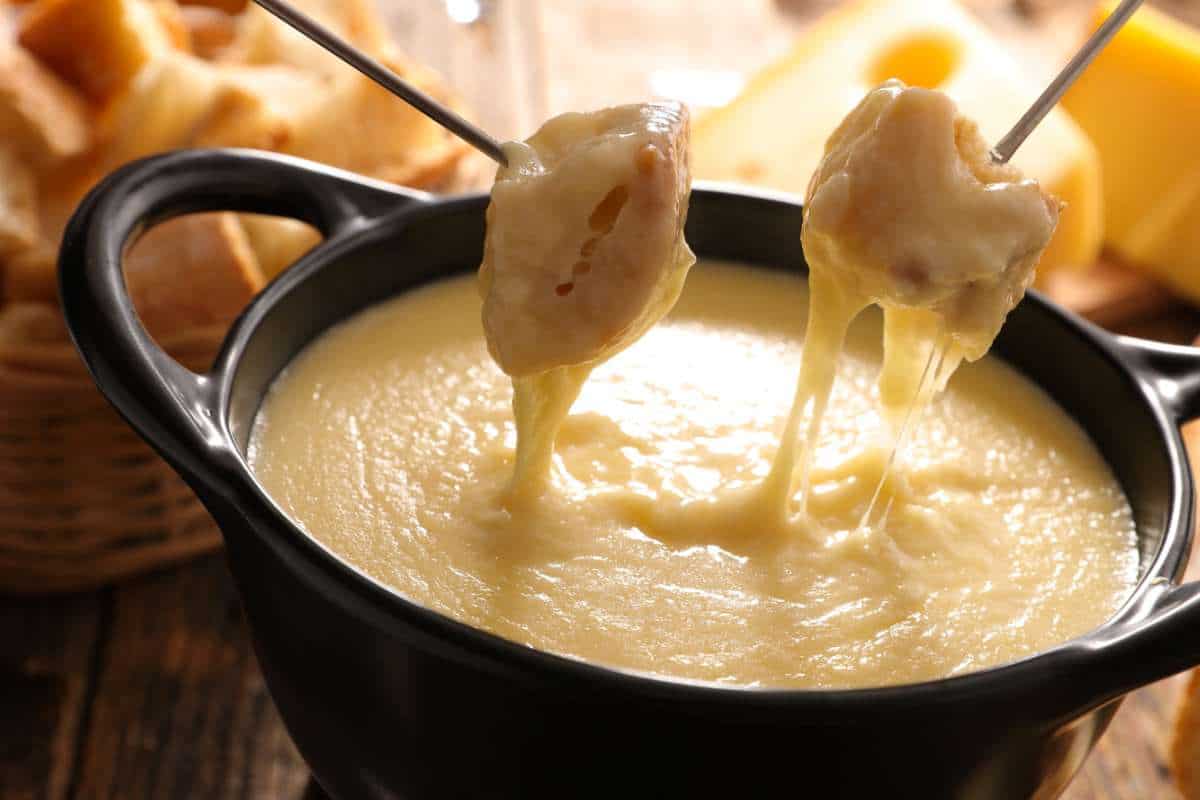 Bonus: A trip to Banff is not complete without satisfying your sweet tooth with a treat (or two) from the Banff Candy Store. We also recommend trying a famous Canadian beaver tail during your visit!
Need more suggestions? We have a whole blog post on where to get the best brunch in Banff, plus a bunch of other Banff restaurants that you need to try!
Other Things to Do in Banff and Nearby
There is absolutely no shortage of things to do in the area. Adventure is always on your doorstep (or just a short drive away) when you're in the midst of the Rocky Mountains.
Lake Louise
People lump Banff and Lake Louise together so commonly that you would think they are only a street apart. Alas, they are almost 60 km apart, but don't let that stop you. This hamlet is famous for its turquoise lake, fed by a glacier against a backdrop of jagged peaks and anchored by a large but elegant chateau.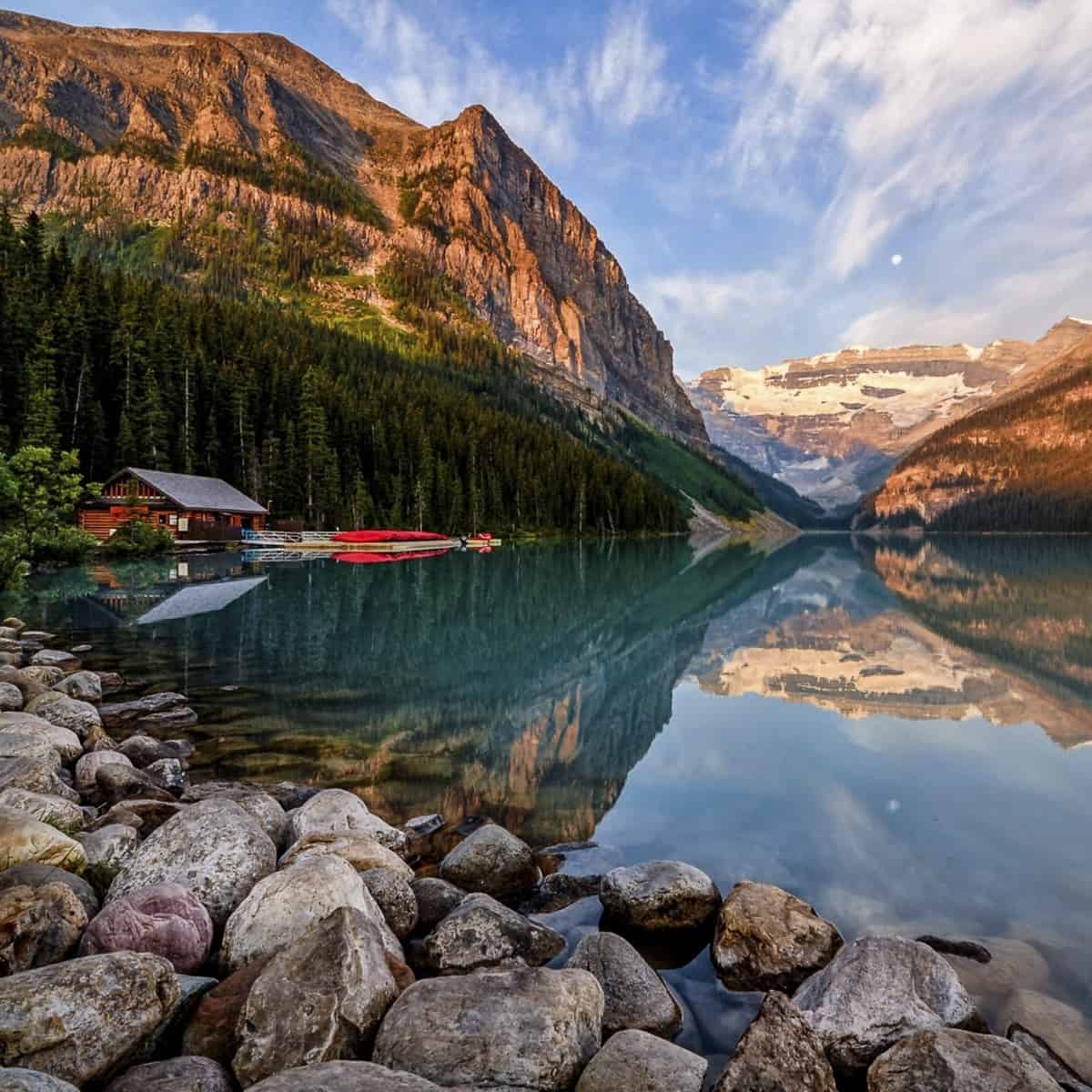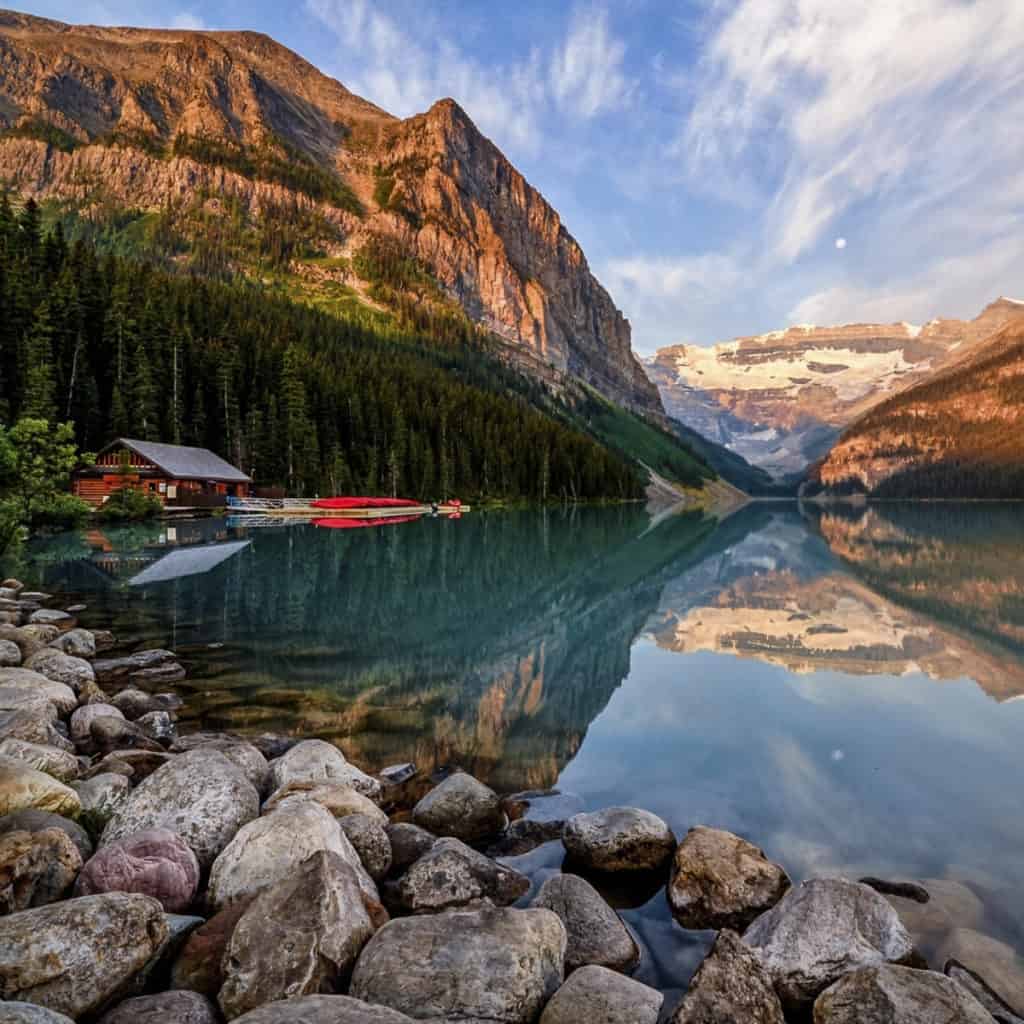 You can get there with your own wheels or via a shuttle, but this popular tour is designed to give you time to explore the area before escorting you along the Icefields Parkway as well.
In summer, the lake's colour causes sheer awe, but the area becomes a pure snowy playground when it's frozen in winter. In summer, canoe the lake or hike to the Lake Agnes Tea House for bird's-eye views. Or take a walk along the lakeshore for views of the glacier, mountain and lake all in one frame.
In winter, you can also enjoy one of the largest ski resorts in North America. (For more ideas, see this post on things to do in Lake Louise). While it can all be taken in via a day trip, at least one night at the Chateau Lake Louise will prove a memorable one.
Canmore
Just 20 minutes down the highway from Banff is Canmore! This adventure-filled town is full of art, excellent Canmore restaurants, culture and the great outdoors. Visit the Canmore Nordic Centre in all seasons for world-class skiing, mountain biking and more. Another great adventure from Canmore is Mount Yamnuska. This large, picturesque mountain on the edge of the Rockies is a popular (but challenging) hiking spot. Stay overnight at one of the Canmore hotels to give you more time to explore.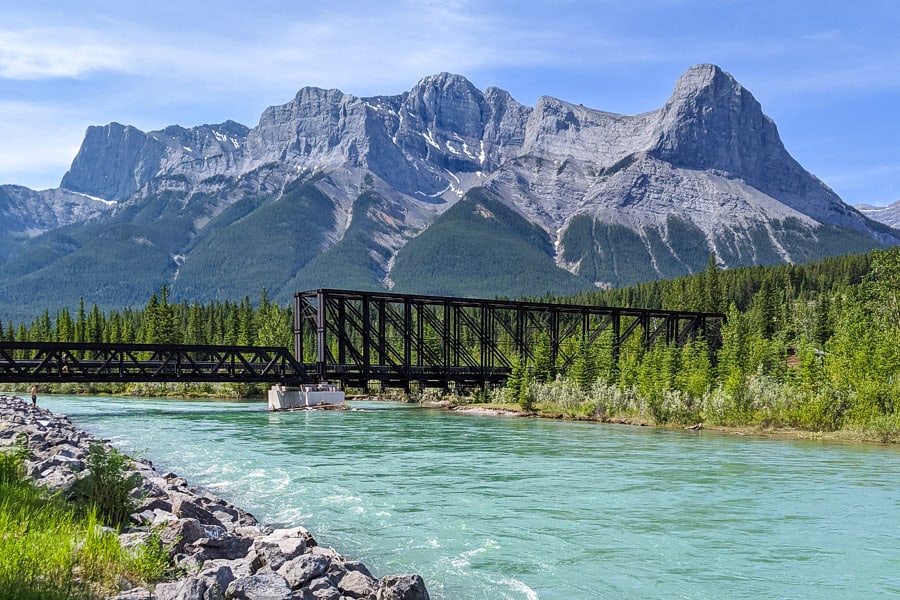 Read more in our detailed guide of things to do in Canmore.
Kananaskis Nordic Spa
Another popular stop nearby is the Kananaskis Nordic Spa. It's the first spa of its kind in Alberta. This Nordic Spa has a more relaxed atmosphere than other similar facilities, and its bistro is licensed. Follow along the spa's five-step relaxation process: hot, warm, cold, rest and repeat!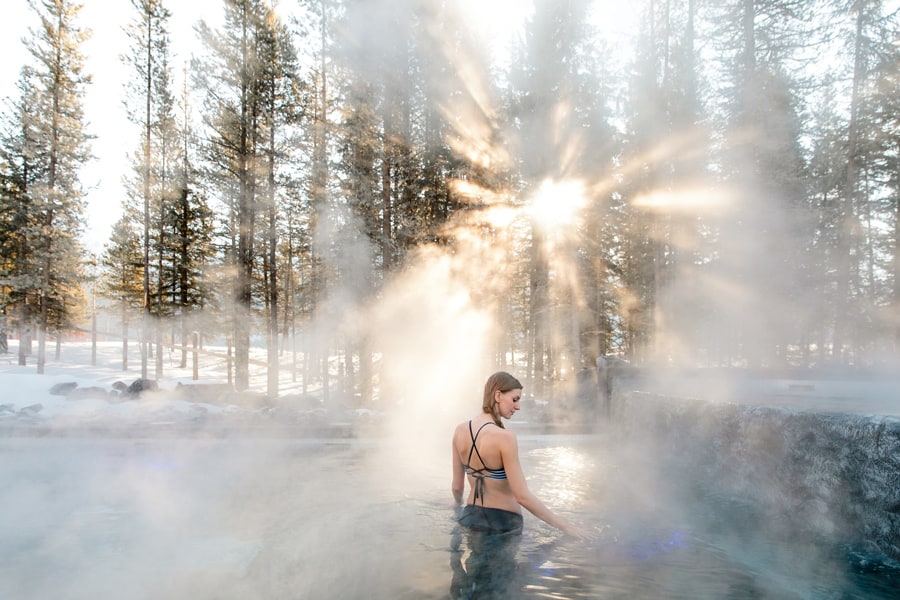 Drive the Icefields Parkway
A beautiful stretch of 288km between Banff and Jasper National Park is known as the Icefields Parkway. It is often ranked one of the most breathtaking road trips in the world for good reason.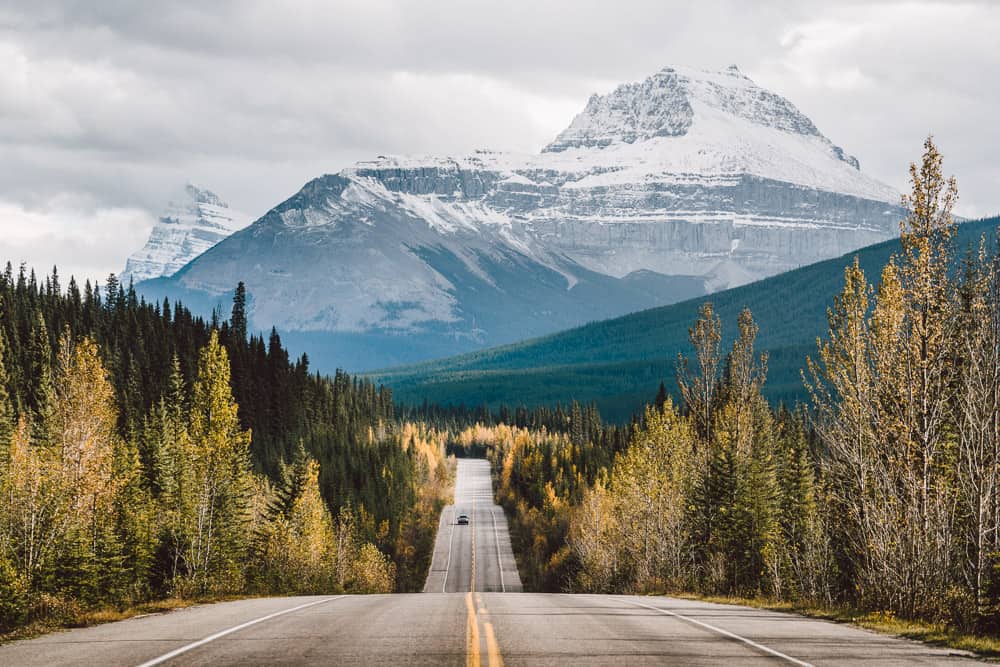 It's important to plan your day carefully with all the sightseeing stops to make along the way, including the Columbia Icefield and Athabasca Glacier. We've made it easy for you in our guide about getting from Banff to Jasper!
Want someone else to take the wheel? This popular tour is designed to let you enjoy sightseeing along the Icefields Parkway as well as a stop at Lake Louise.
Explore Calgary
You may start your trip here by flying into the Calgary International Airport, and "Cowtown" is definitely worth some of your time. Being the largest city in Alberta, it offers many activities for many tastes! Explore the city's growing foodie and brewery scene, experience local art projects, and take in the brand new National Music Centre or the award-winning Public Library. We've covered all the options in our guide to things to do in Calgary.