Disclaimer: This page may contain affiliate links. Please review our full Terms and Conditions for more information and our Privacy Policy. Note that any pricing, operating hours, or other such information provided below may have changed since initial publication.
Compiled by the Road Trip Alberta team
Last updated on February 2, 2023
This may have been our toughest route guide to put together because, with this long stretch of travel from Edmonton to Banff, there are so many great options for things to do along the way. We've got you covered with details below if you want to get there quickly, but we've also provided two options if you have time to spare and desire some epic scenery along the way.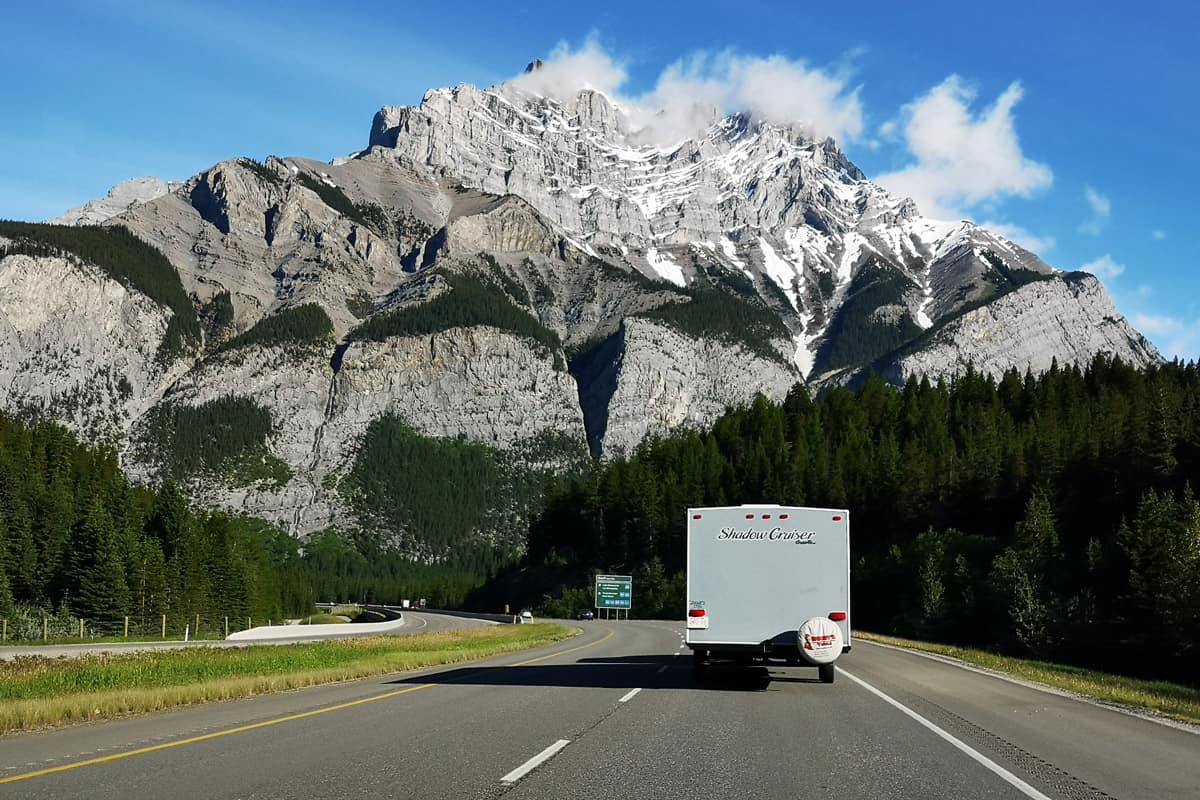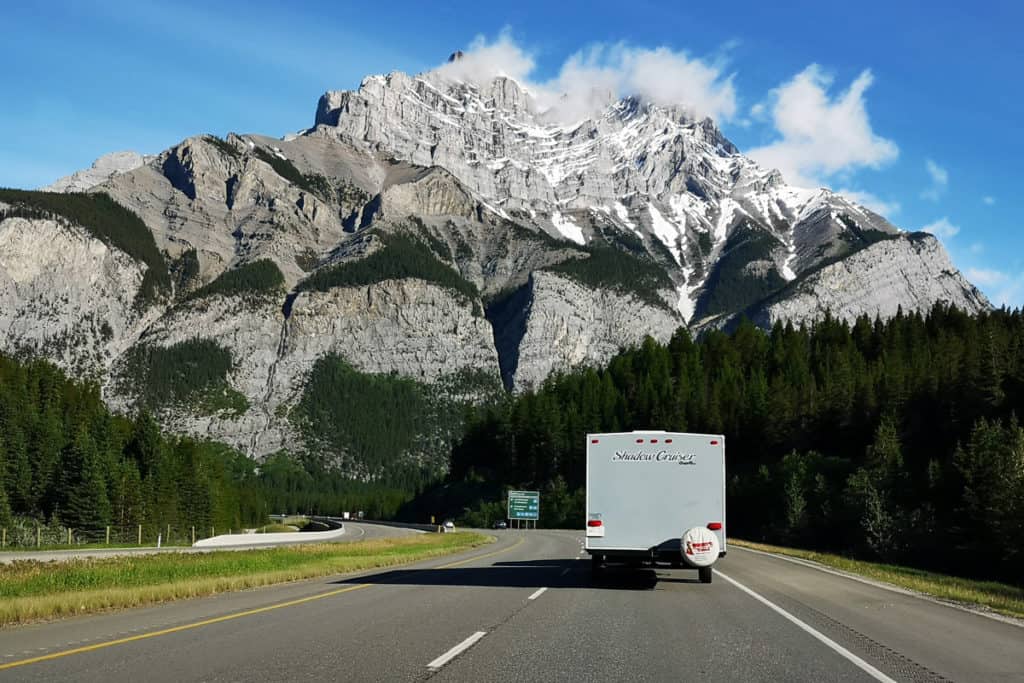 About the Route
You have options, and your choice will likely depend on how much time you have to spare, or if you're in the mood for exploration and epic scenery. But before you decide on which way to go, check for current road conditions, especially for Highway 93. It is not uncommon for it to close for stretches of time during the winter because of unsafe conditions.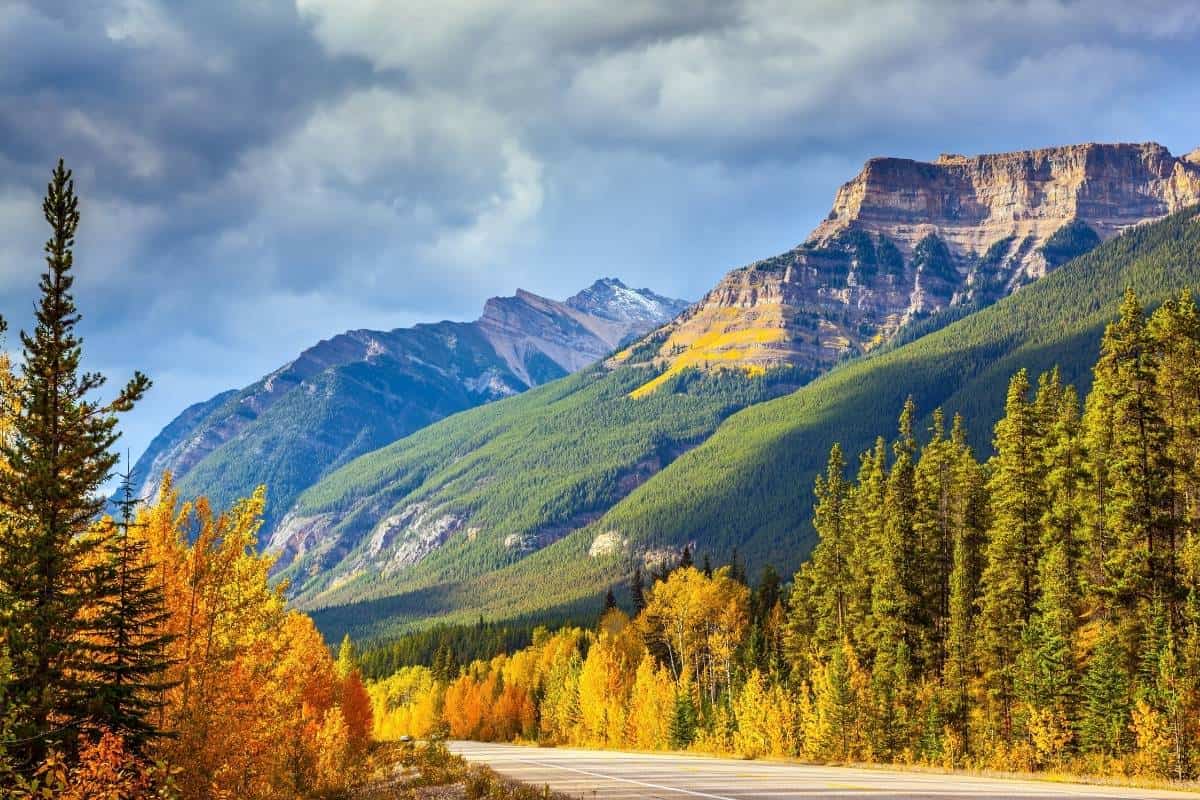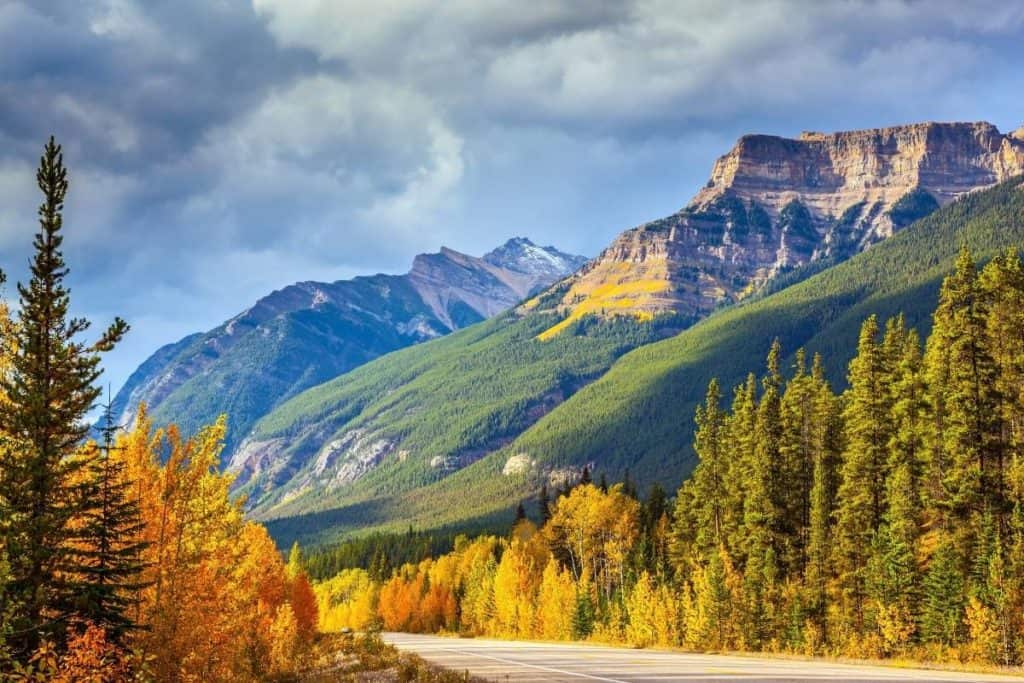 It may be safer to have someone else get behind the wheel for this trip if you're not used to driving Alberta roads in winter. If the roads are clear, however, we highly recommend making the drive yourself so that you can enjoy all the stunning stops along the way.
The Fastest Route from Edmonton to Banff
You can arrive in under 4 hours if you take the QEII south from Edmonton, then take the Stoney Trail (ring road) west, bi-passing Calgary before hopping onto the Trans-Canada Highway 1. Stay on this and you will soon see the turn-off into Banff. The total distance is 382 km.
A More Scenic Route
If you have a bit more time, from Edmonton take Highway 16 west to Entwistle, and then turn south on Highway 22 to Rocky Mountain House. From there, take Highway 11 (David Thompson Highway) west, and then go south on Highway 93 until you get on Highway 1 east into Banff. This route adds up to 435 km and should take about 5 hours, but as you careen through the foothills and stare at the mountains, you'll probably be glad you did.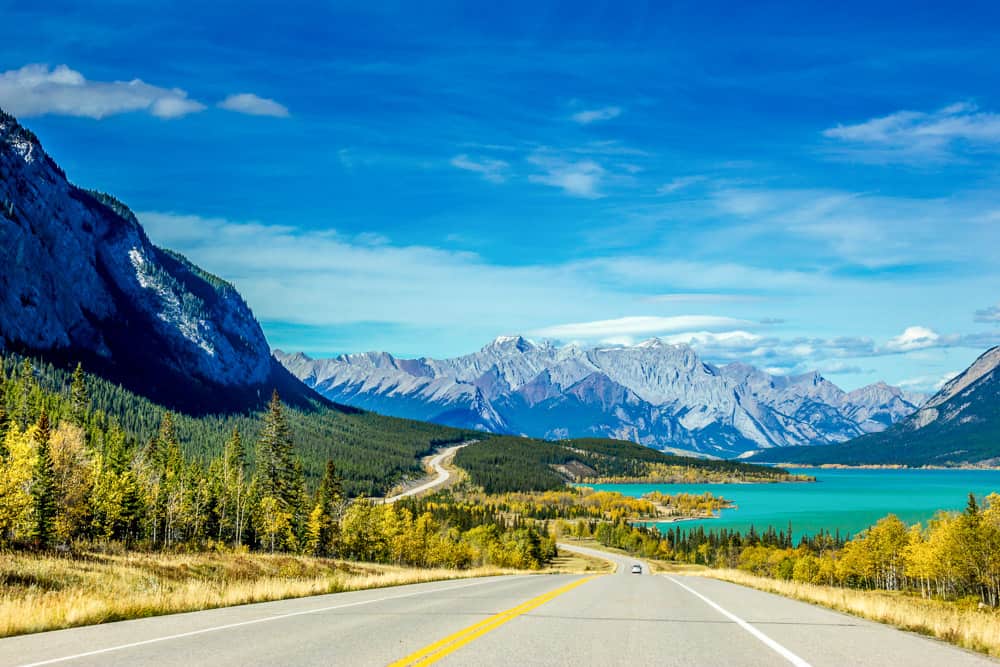 The MOST Scenic Route from Edmonton to Banff
Honestly, this route just can't be beaten and is worth the extra hours in the car.
The first few hours aren't the most thrilling (getting from Edmonton to Jasper). In good conditions, it will take just under 4 hours to travel the 366 km from Highway 16 (also known as Yellowhead Highway). From there, you'll take the 93 south until you get on Highway 1 east into Banff. In total, count on an almost 7-hour drive for 520 km, depending on how often you stop for photos.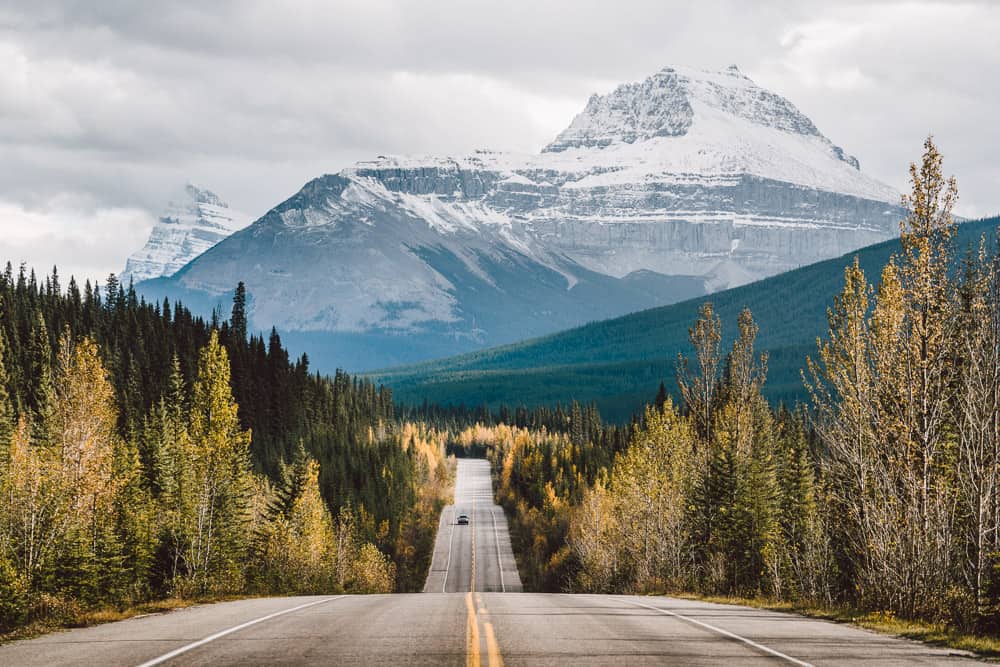 Count on stopping often. The Icefields Parkway is consistently rated one of the most scenic drives in the world and is simply stunning. (See our guide on getting from Jasper to Banff for all of our recommendations of where to stop along the way.)
Edmonton to Banff by Car
If you are flying into the Edmonton International Airport (YEG) to start your journey, there are plenty of car rental options at the airport. Book in advance to ensure less hassle:
We recommend booking via RentalCars.com, to select the cheapest rate or to book with whichever company you prefer.
If you are not interested in a traditional car rental through an agency, you can also rent cars through a website called Turo (think Airbnb for car rentals).
Alberta's highways and roads tend to be in great shape and well maintained, but they aren't immune to weather, especially in winter, where the conditions can change fast and cause some chaos. In summer, road maintenance or repairs can slow down the traffic. For more details, you can check out Alberta's road laws and driving guidelines. In addition, check current road reports before you leave.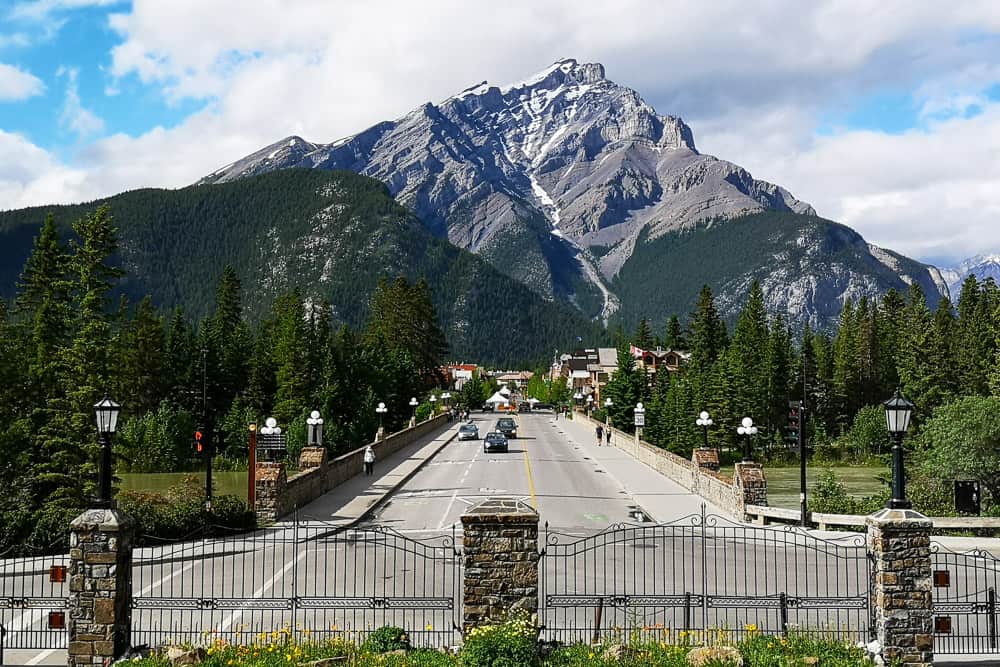 Important…
Note that Banff National Park requires a national park pass once you arrive. If you plan to take the third route outlined above, you'll need to buy the pass in Jasper, as you will also need it to stop there and when driving on the Icefields Parkway.
Effective January 1, 2023 daily fees are:
Adult: $10.50
Senior: $9.00
Youth (up to 17 yo): FREE
Family/group (up to 7 people): $21.00
Commercial group (per person): $9.00
The daily passes expire at 4 pm the following day. If you're looking to enter multiple times or staying longer, consider the Parks Canada Discovery Pass. It gives you unlimited admission for a year to all the national parks in Canada.
Discovery Pass fees are as follows:
Adult: $72.25
Senior: $61.75
Family/group: $145.25
Edmonton to Banff by Bus
There is no direct bus route that takes you from Edmonton to Banff and vice versa. But you will be able to reach it if you coordinate two buses: one from Edmonton to Calgary and another one from Calgary to Banff.
Edmonton to Banff by Private Transfer
If you'd prefer to relax in a bit of luxury while someone else gets you there, you have some options:
Sundog Tours – A great option for those looking for a private vehicle. Sundog Tours offers a little bit of everything, from luxury cars to busses for large groups. They even offer a few summer and winter tours that you might be interested in.
National Motor Coach – This is a good option for those travelling with larger groups. They specialize in creating custom, private bus trips all over Alberta.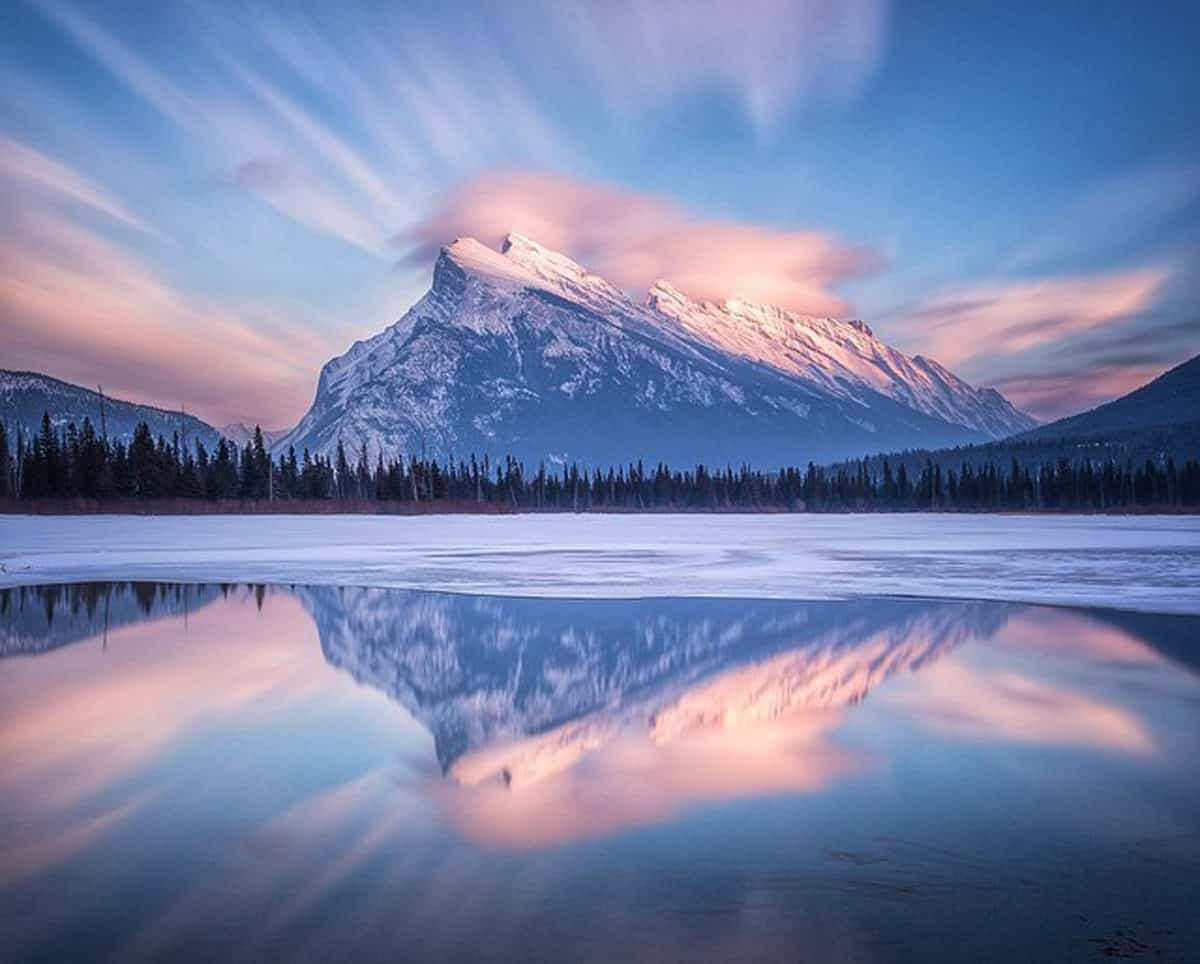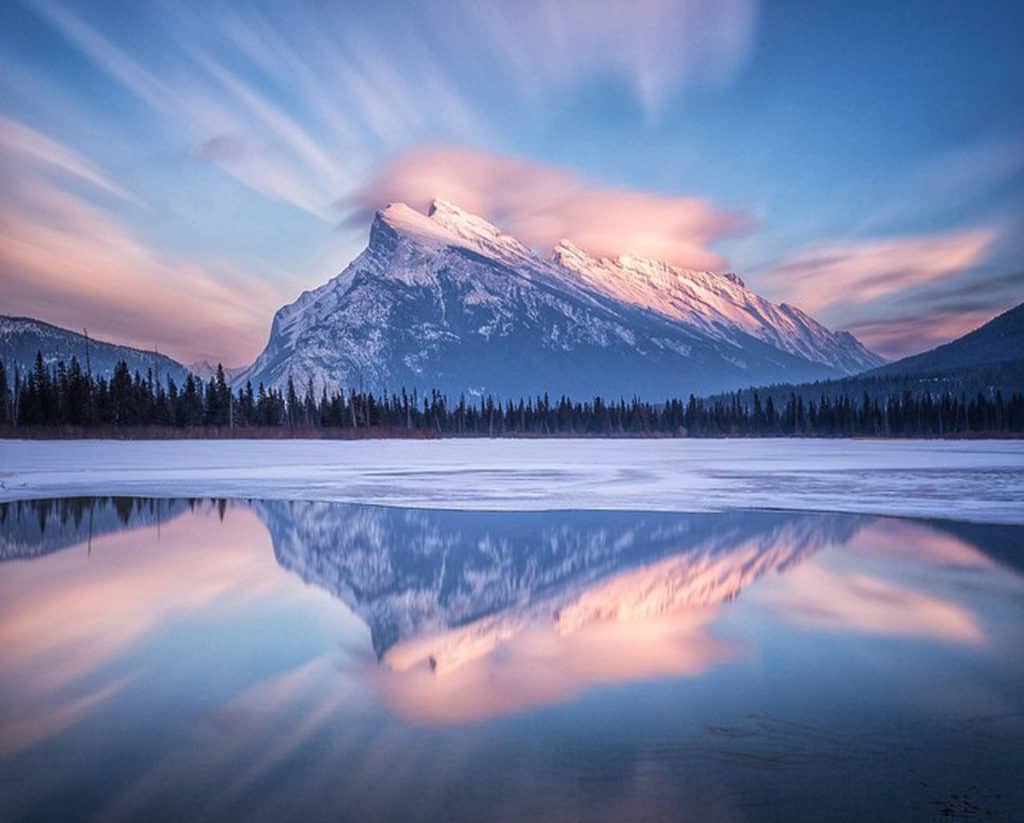 Edmonton to Banff by Rideshare
Poparide.com gives you options to select your driver based on your luggage and equipment requirements if you are travelling with skis, bikes, etc. Poparide charges per seat so you have an opportunity to meet other visitors if you are travelling solo! At the moment of writing this guide, there were at least four drivers looking to share their cars between Edmonton and Banff. So check out the app before you travel and you might find something.
Uber also serves Edmonton; there may be drivers willing to do this long drive, but keep in mind that fees are similar to those of a taxi, so it can get pricey.
Fun Things to do Along the Way
There are so many cool things to do along either route, you won't be disappointed!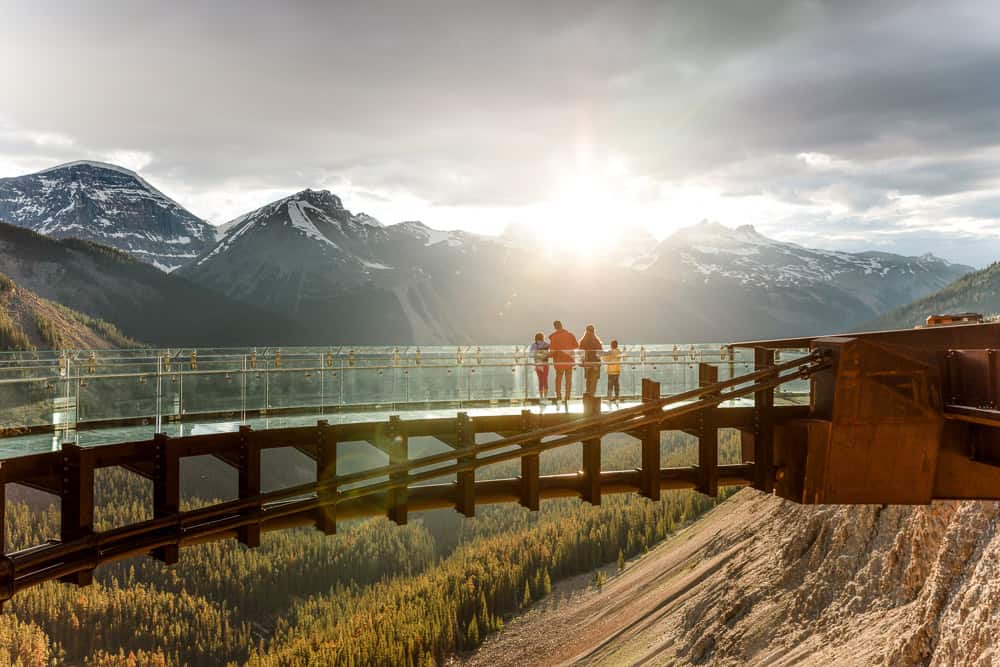 The Fastest Route
If you take this route you will pass very near Calgary, and on the west end of the city, we recommend a stop at WinSport. This non-profit owns and operates Canada Olympic Park in Calgary, and is home to an array of funtivities. Rip down the ski hill in winter, and in summer there is a monster zip-line, mini-golf, and so much more. And the best part of it is that the money that comes from visitors is used to support local athletes.
A little further down the road is the spectacular Yamnuska Wolfdog Sanctuary. It's just a short detour from the main road and is a knowledgeable and experienced rescue organization that makes the rehabilitation and rehoming of displaced wolfdogs a priority. Their educational tours of the sanctuary are well worth the time, and all the proceeds help care for the wolfdogs.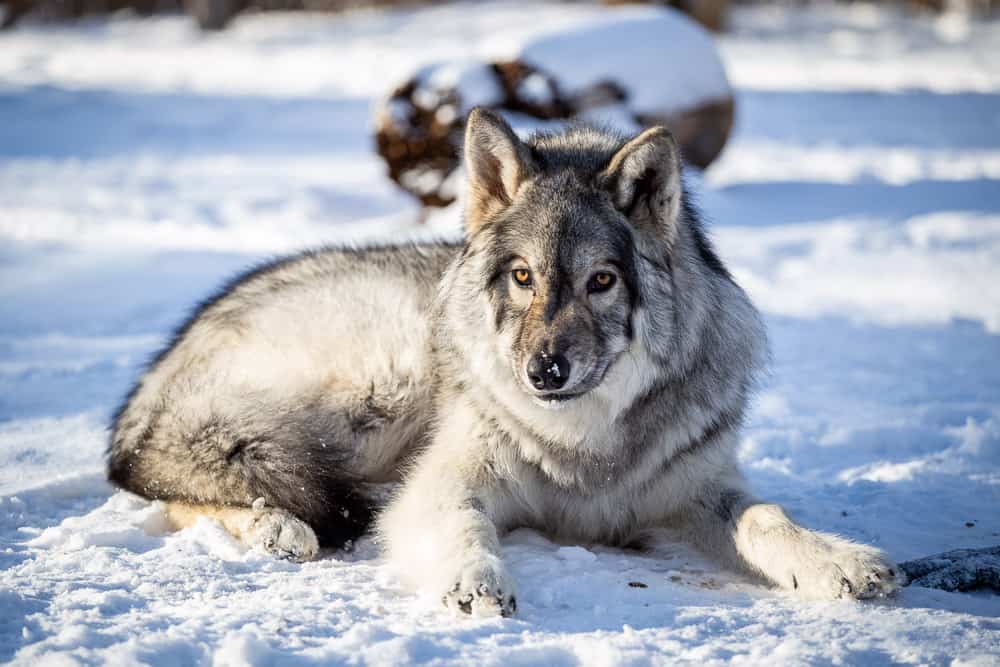 Finally, enjoy some of the wonderful things to do in Canmore – this mountain town is just a few minutes shy of your final destination of Banff. In summer, explore Canmore's over 112 great hiking trails, mountain biking, and running trails; in winter, slap on your cross-country skis and get to gliding!
The More Scenic Route
On Highway 11, about 20 km before you need to turn onto Highway 93 south you, will find a trailhead to start the trek to Siffleur Falls. It is a 7 km trail but not too steep, and the views will certainly reward the effort! This is a great place to stretch your legs along the way.
If you are looking for something that is no less stunning but a shorter stop, take the 1 km walk to Mistaya Canyon. You will find the trailhead within 7 km after getting on Highway 93 south.
Half an hour down the same road you will find Bow Lake. This is one of the largest lakes in Banff National Park and has trails surrounding it (if you have the time, we recommend completing the Bow Glacier Falls trail as it is highly rewarding with a variety of scenery). If you just want a quick stop, Bow Lake has a small dock where you can take a lot of cool photos or have a tasty picnic to rest from the long driving hours.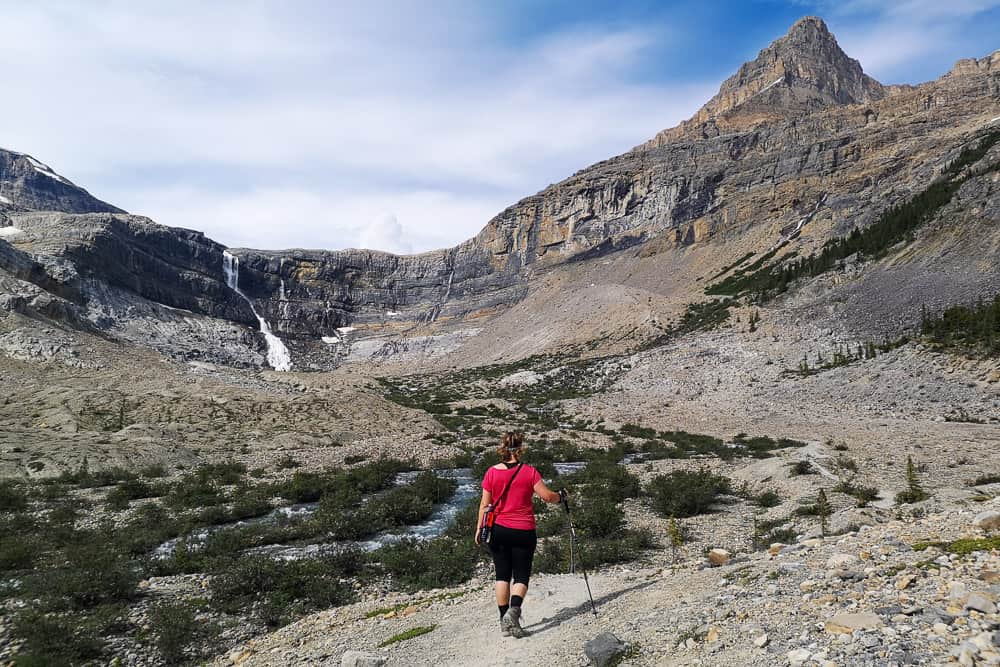 The MOST Scenic Route
Our first recommendation is to actually split this up into a two-day drive if you can. Spending a night in Jasper will allow you to enjoy that remarkable town a wee bit, plus give you plenty of time to get to Banff the next day. You'll need it. The drive is STUNNING and you'll want to stop for photos a lot. If you decide to follow this advice, we have a guide to accommodations in Jasper and all the things to do in Jasper.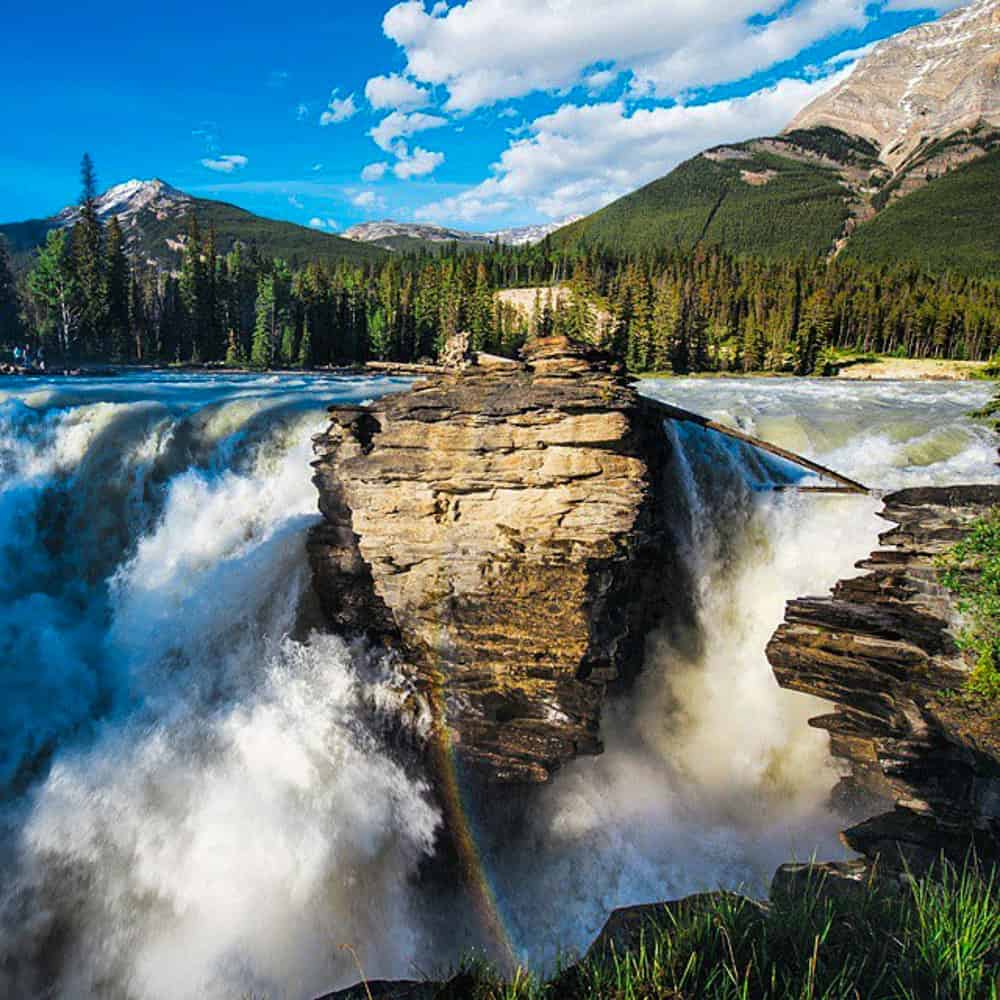 As mentioned, the first part of the drive (from Edmonton to Jasper) isn't the most scenic, but we do recommend a stop at Miette Hot Springs just 51 km east of Jasper. It is a 17 km detour from Highway 16, but who can pass up an opportunity to soak in naturally heated spring pools? Note that they typically only operate from May-October.
From Jasper, get on Highway 93 towards Banff. The entirety of the drive should be less than four hours in good condition and with minimal stops, but we recommend budgeting several hours extra. We recommend a couple of the stops below, but for more, see our guide to the Icefields Parkway.
Upon Arrival in Banff
You made it!
If you would like to get more information about Banff, we have lots of resources to get you started:
When in the town, you may also want to pay a visit to the two Visitor Information Centres in Banff National Park:
Banff Visitor Centre at 224 Banff Ave
Banff Visitor Information Kiosk at the Banff Railway Station
Where to Stay in Banff
There are SO many options. Here are our picks:
Luxury – We cannot mention hotels in Banff National Park without presenting the iconic Fairmont Banff Springs. This is a once-in-a-lifetime type of stay that is totally worth the experience (we've been lucky enough to do it twice)! This stunning and historic hotel is full of shops, a world-class spa, and amazing restaurants that offer breathtaking views of notable peaks.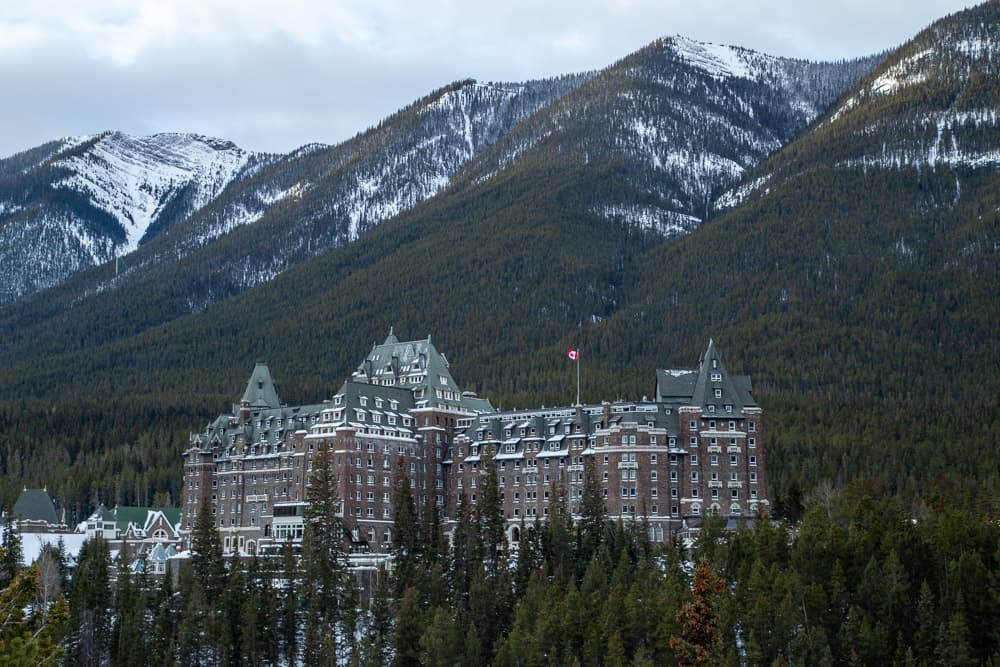 Mid-Range – As the Fairmont can run many hundreds of dollars a night, a more budget-friendly option is the Canalta Lodge. Recently renovated, we really enjoyed our stay amid its eclectic design. With a hot tub, free breakfast, and underground parking, this property has been recognized as the best value in Banff.
Budget – If your budget is better spent exploring all that Banff has to offer and you don't want to splurge on accommodations, then look no further than the Banff International Hostel. It's located on the beautiful property of the Banff Centre, is easily walkable to downtown Banff, has a fully equipped kitchen for all to use, free breakfast, and is highly rated.
Vacation Rentals – There are plenty of Banff Airbnb options in and around the town. If you haven't signed up for Airbnb yet, use this link to get a discount on your first stay!